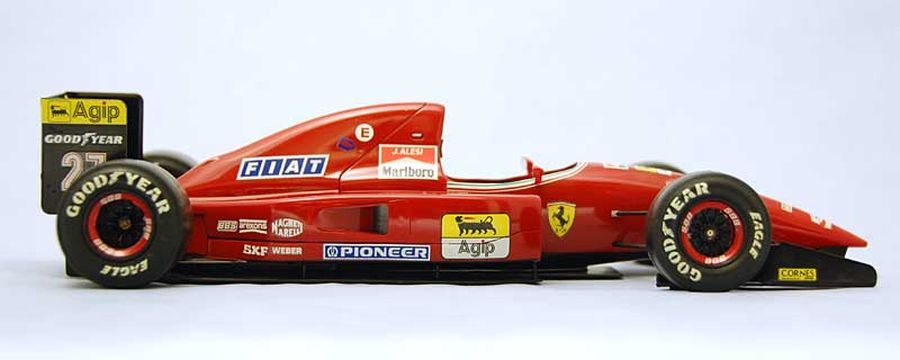 Verder met een nieuwe F1 wagen op de lijst. Deze keer de 1992 Ferrari F92AT zoals deze werd bestuurd door Jean Alesi tijdens de GP van Japan. Dit was een poging van Ferrari om gebruik te maken van active vering. Daarmee werd de wagen 30 kg zwaarder dan de F92A. Dat was te merken aan de finishplaats. Eerst zoals gebruikelijk de foto's van de inhoud van de kit en de extra's. De kit is van Modeler's in schaal 1/20 (kit nr. 5008-3400). Ik heb nog wat extra decals gekocht en een set photo etched van Perfect Parts.
Now continue with another F1 car from the list. This time the 1992 Ferrari F92AT as driven by Jean Alesi during the Japanese GP. This was an attempt of Ferrari to use the active suspension. The car was about 30 kg more heavy than the F92A. Therefor the finish was not that good.. As usual first the pictures of the kit and the extra's. The kit is from Modeler's in scale 1/20 (kit no. 5008-3400). I bought some extra decals and a set of photo etched from Perfect Parts.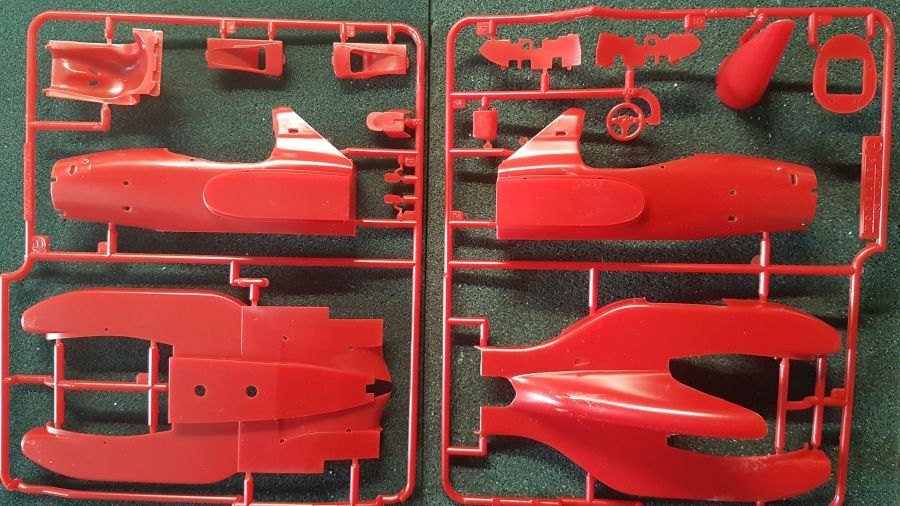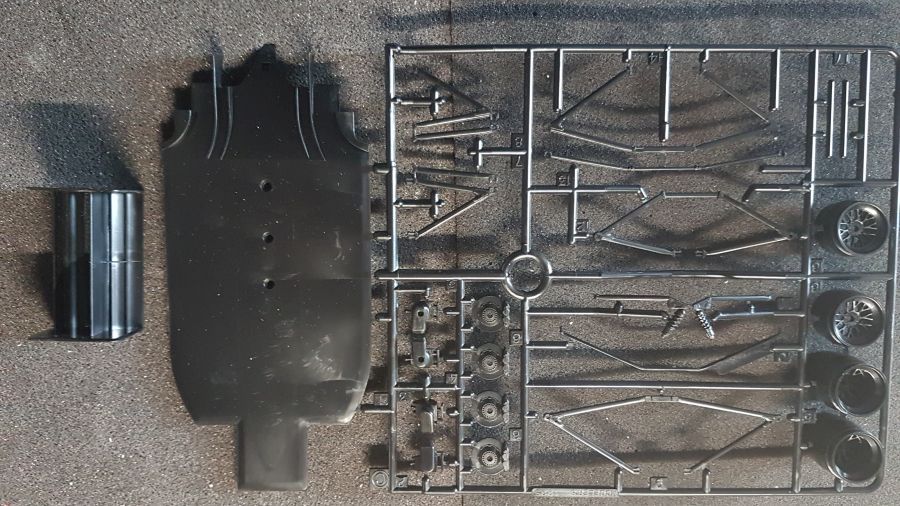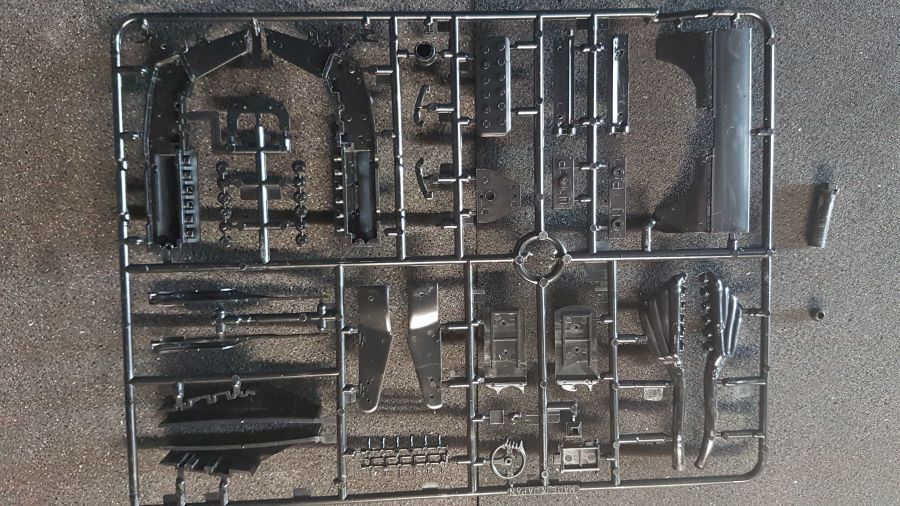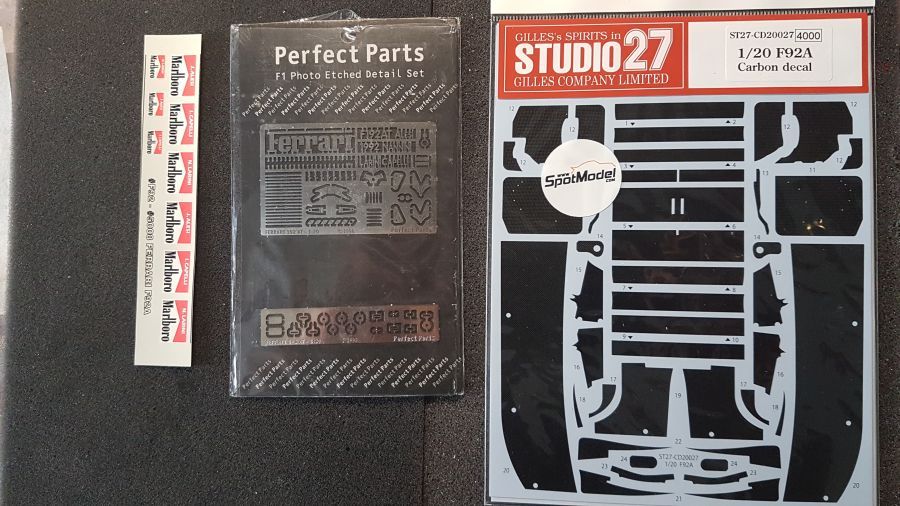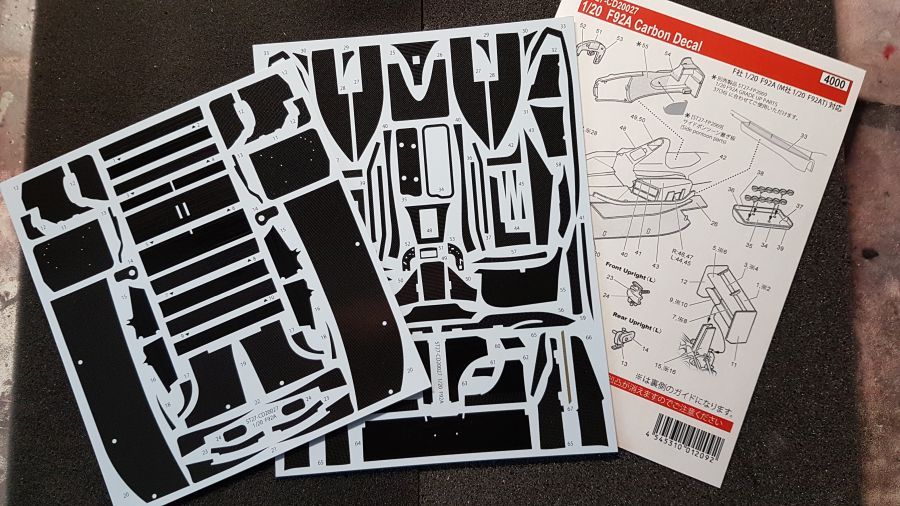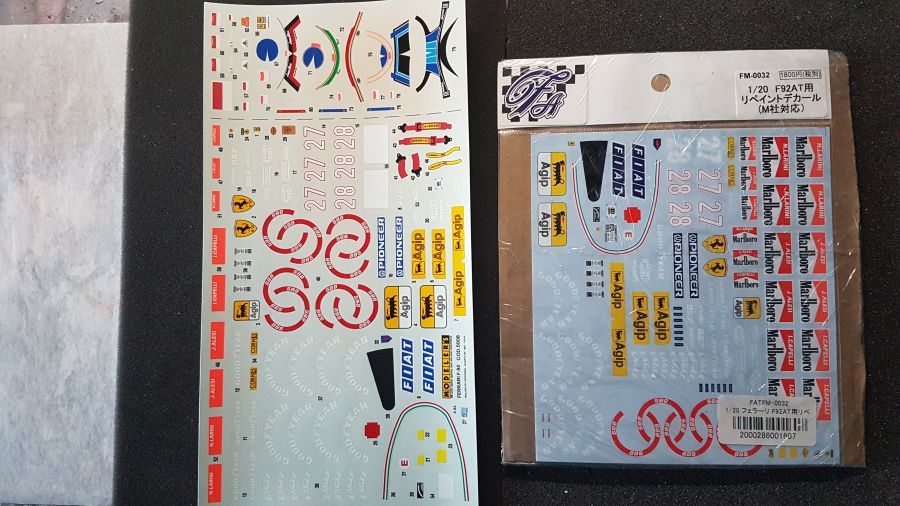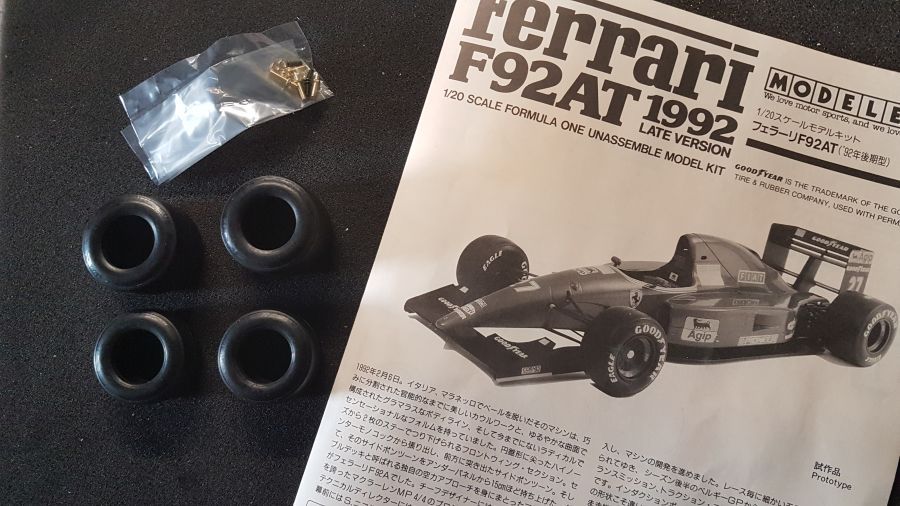 De velgen en de achtervleugel worden gespoten met Tamiya Zijdemat Zwart TS-29.
The rims and the rear wing were painted with Tamiya Black Silk TS-29.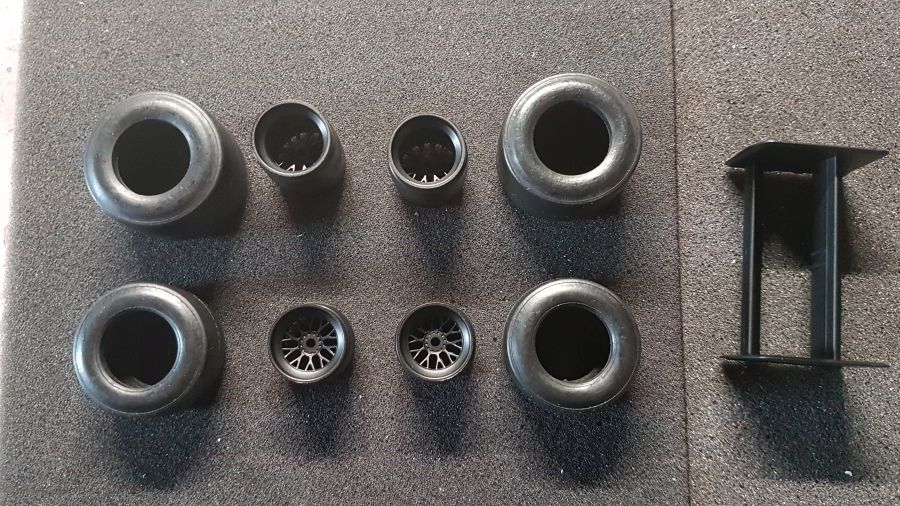 Dan begint het decal proces aan de velgen en banden.
Then the decal process to the rims and tires starts.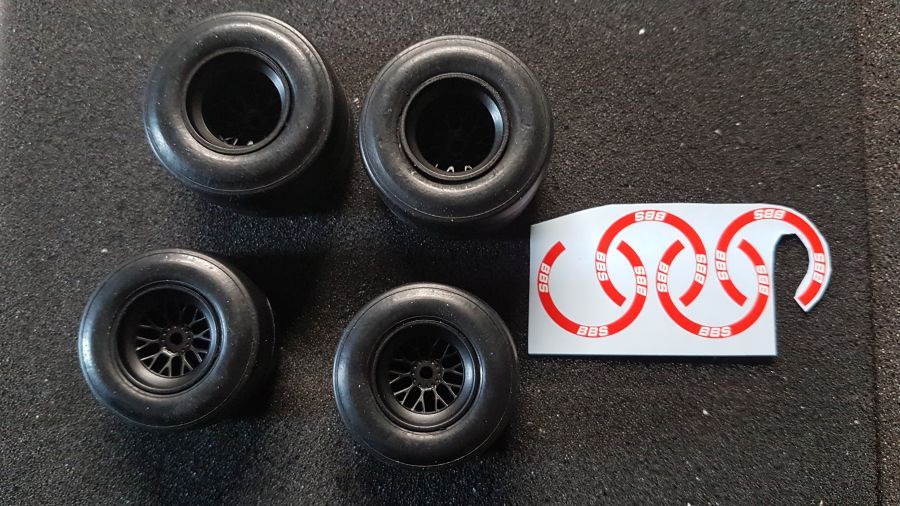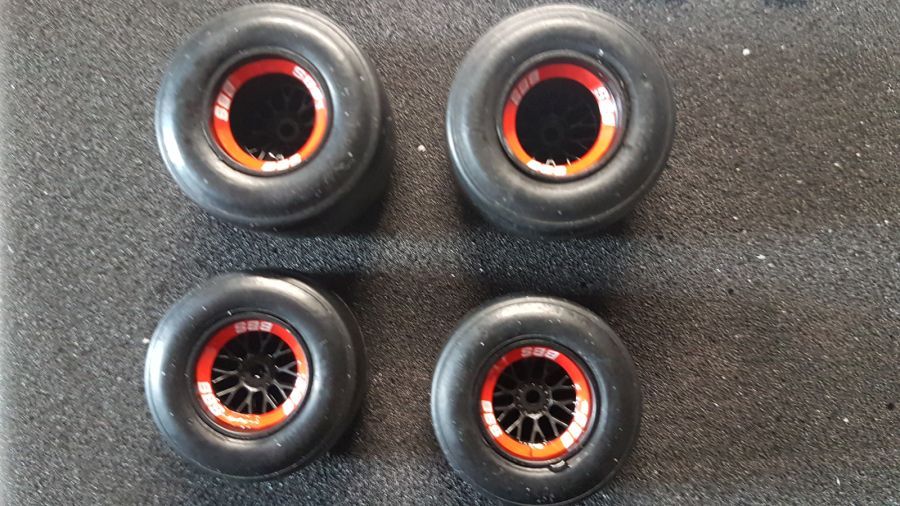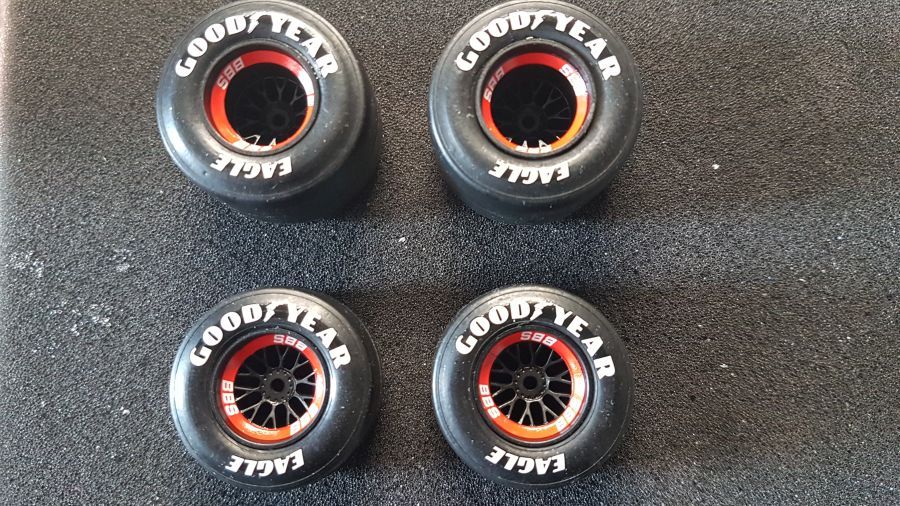 Dat zijn er heel wat decals voor de achtervleugel.
That's a huge amount of rear wing decals.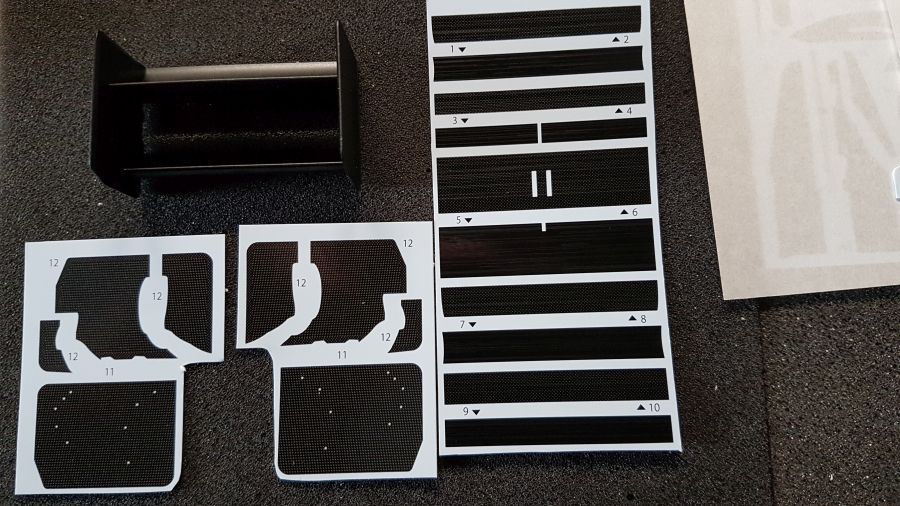 En aangebracht.
And applied.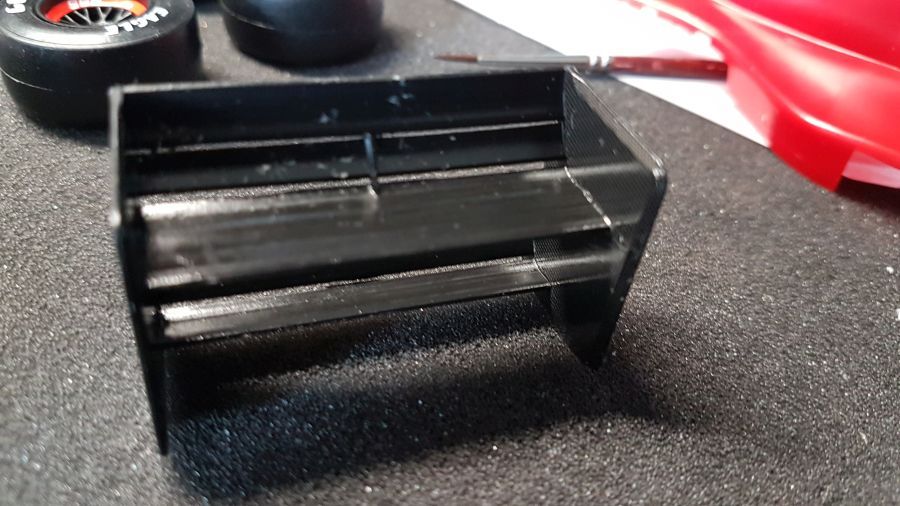 Een paar rode onderdelen worden vast voorbereid.
Some red parts are being prepared.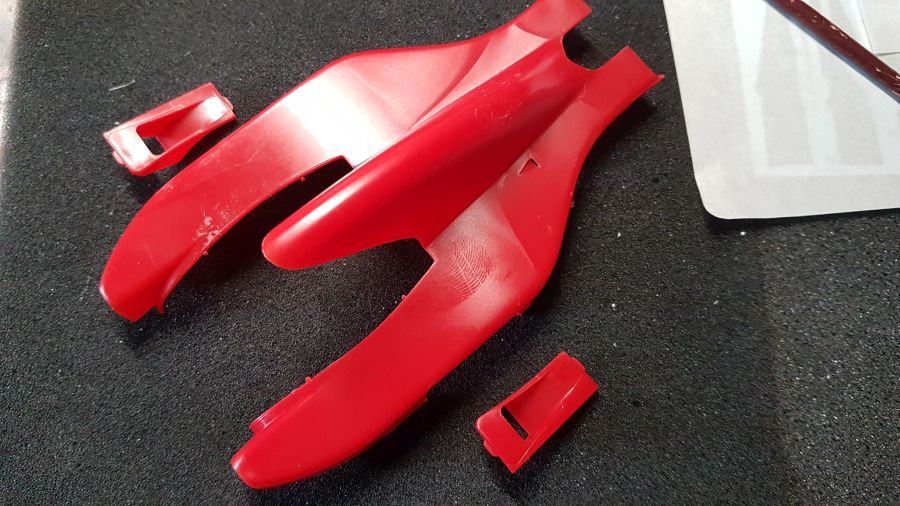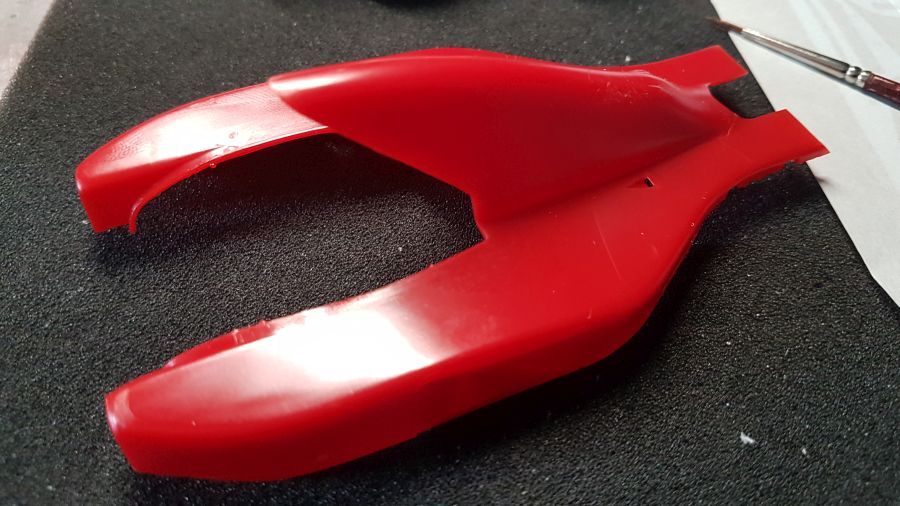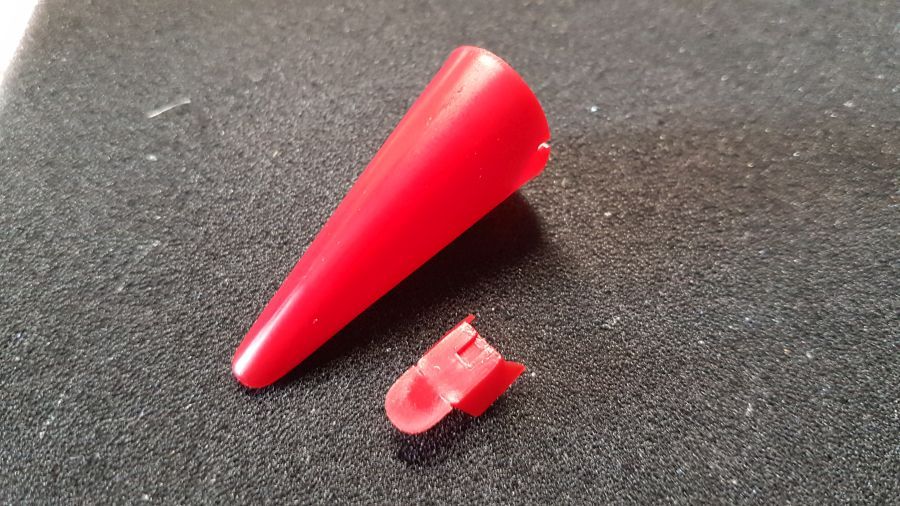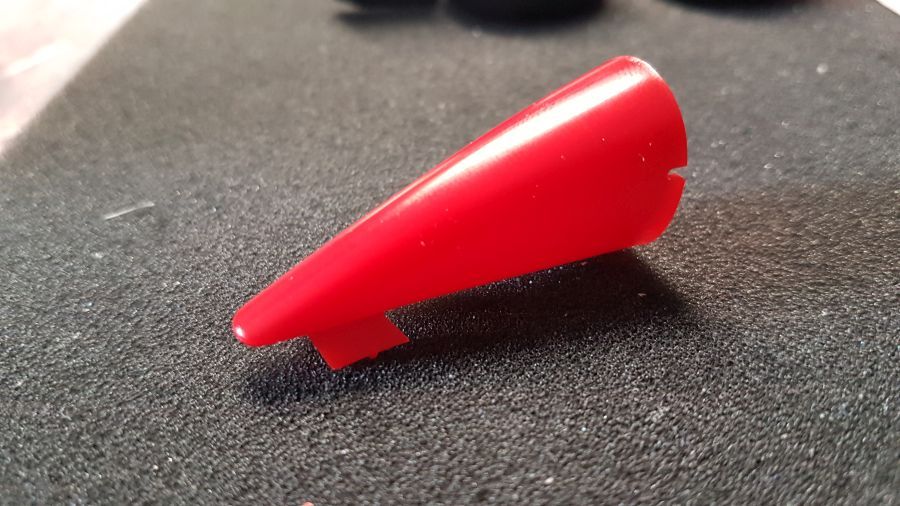 Tamiya Semi Gloss Black TS-29 aan de binnenkant.
Tamiya Semi Gloss Black TS-29 to the inside.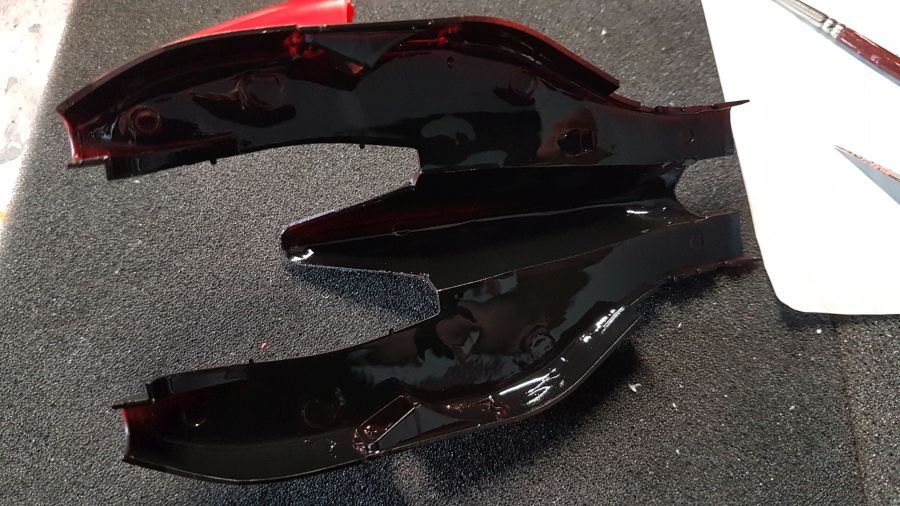 Grijze primer aan de buitenkant.
Grey primer to the outside.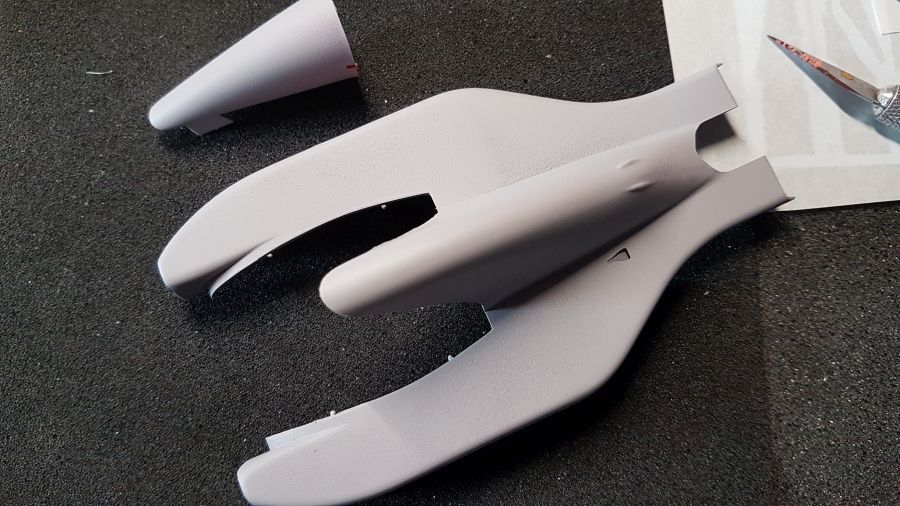 Dan de eerste stappen aan de voorvleugel.
Next is the first steps to the front wing.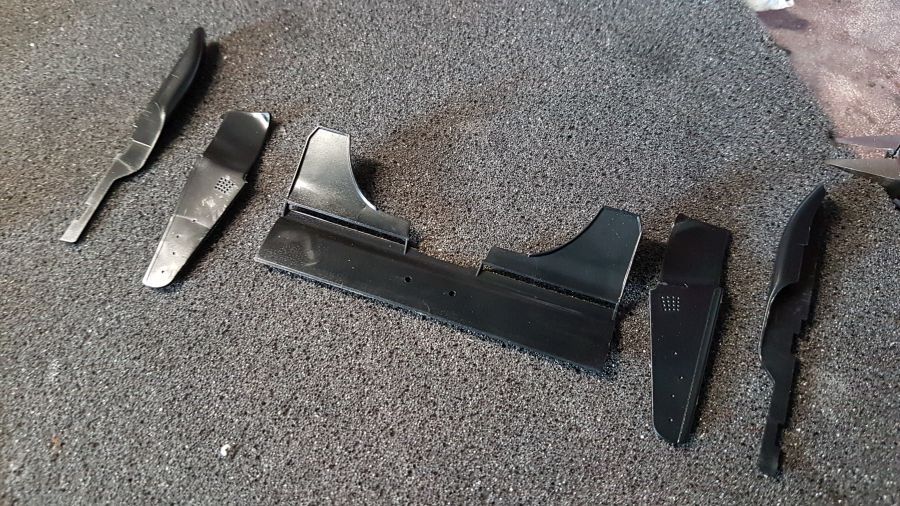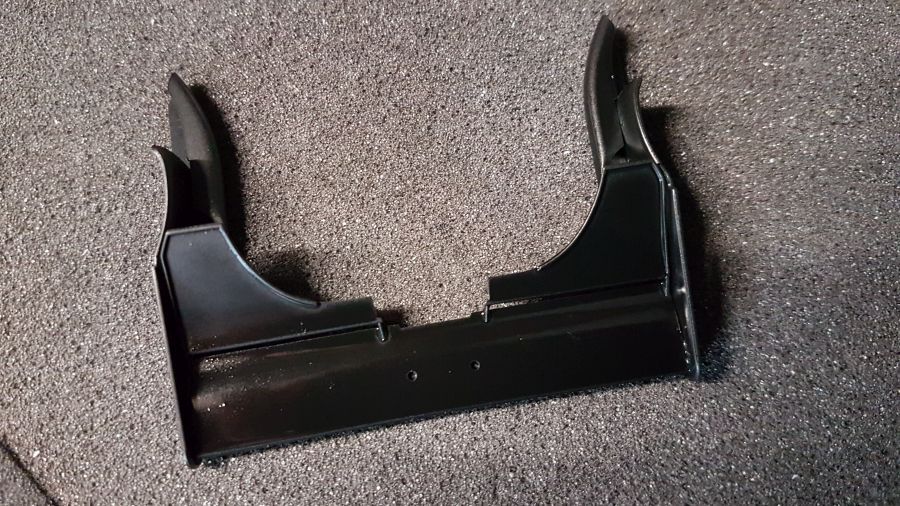 Dan worden wat body onderdelen voorbereid.
Then some body parts are being prepared.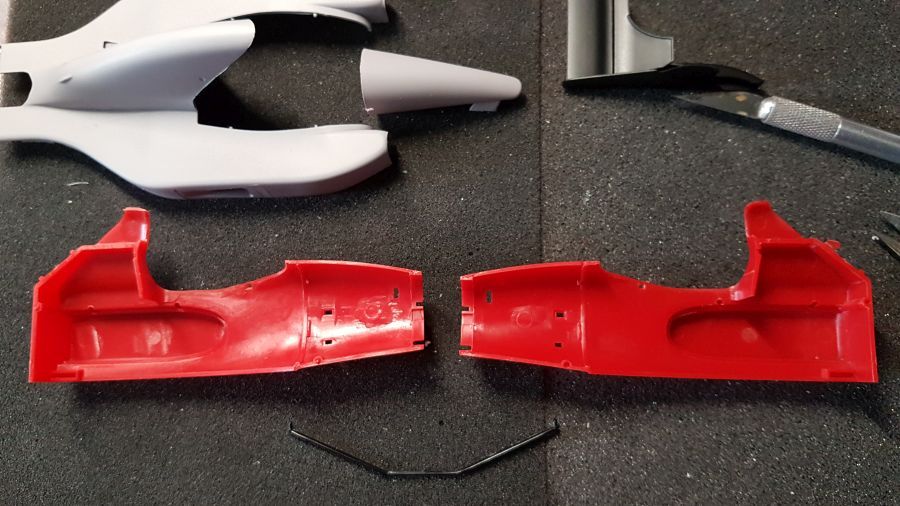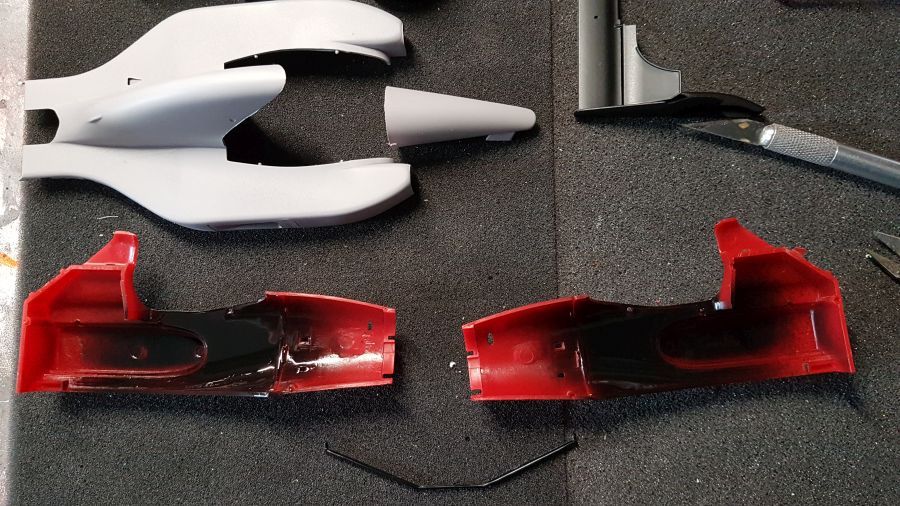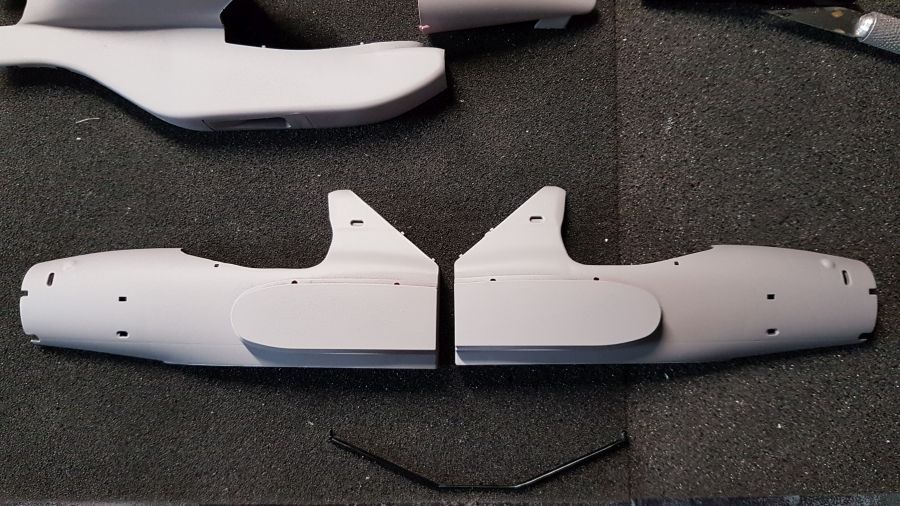 De stuurstang moet geplaatst worden voordat de bodydelen met elkaar worden bevestigd.
The steering rod needs to be attached before the two body parts are connected to each other.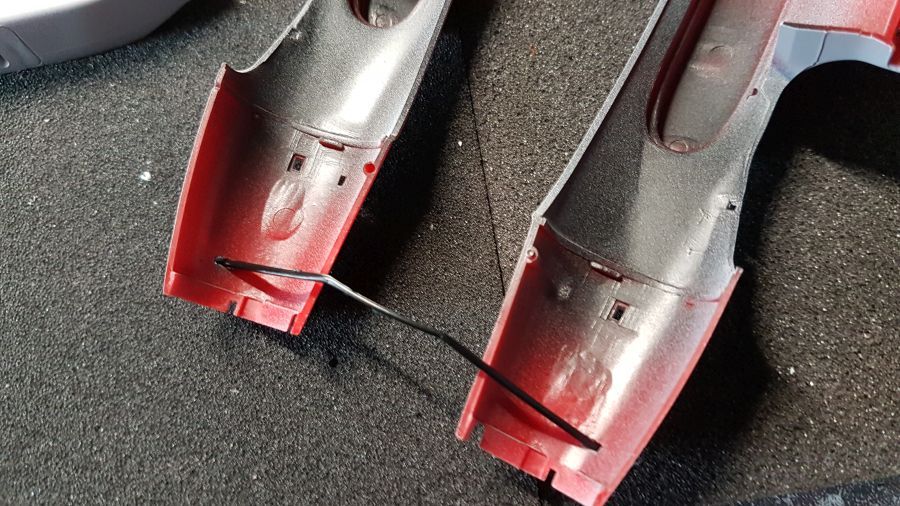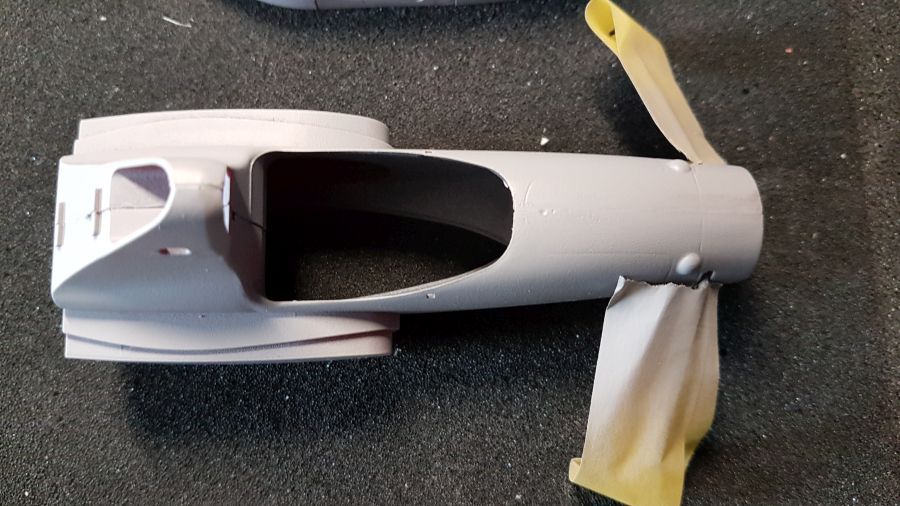 Dan een onderdeel dat een stuk van de bodemplaat en de body is. Zwart aan de binnenkant, grijs voor een deel aan de buitenkant.
Then a part that's a part of the floor as well as the body. Black to the inside, grey to a part of the outside.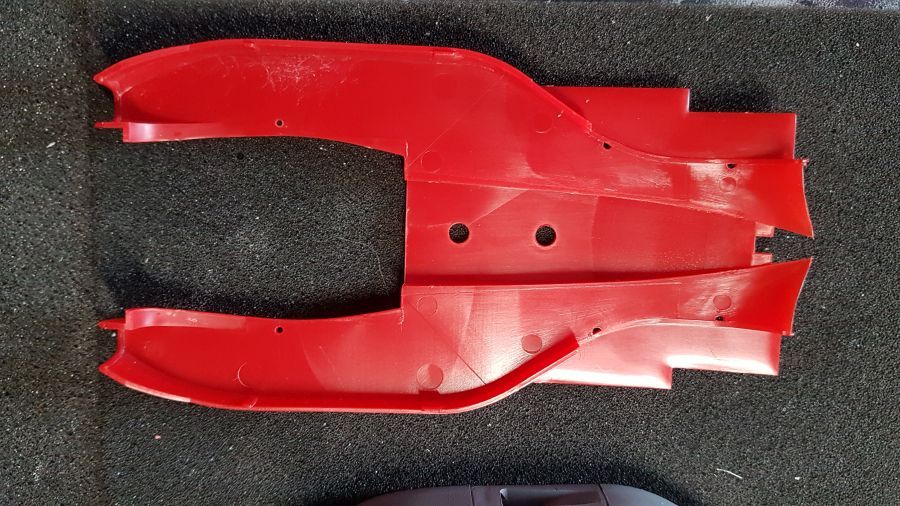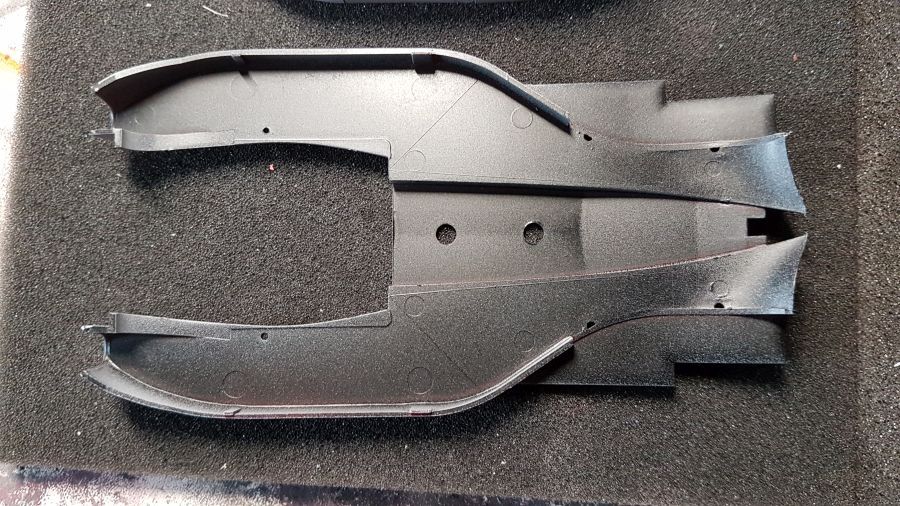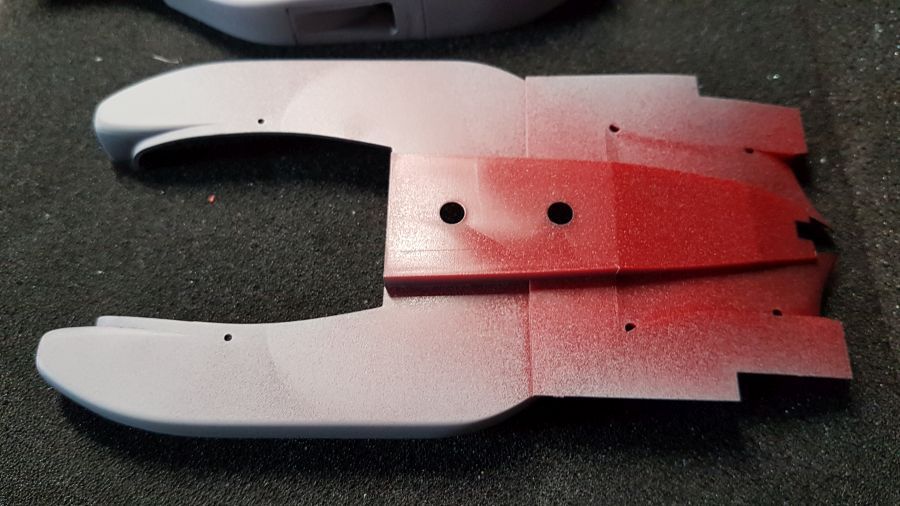 Het rood en de heldere glanzende lak zit er weer op.... Even laten drogen.
The red and the clear gloss lacquer have been applied....  Now let it dry for a while.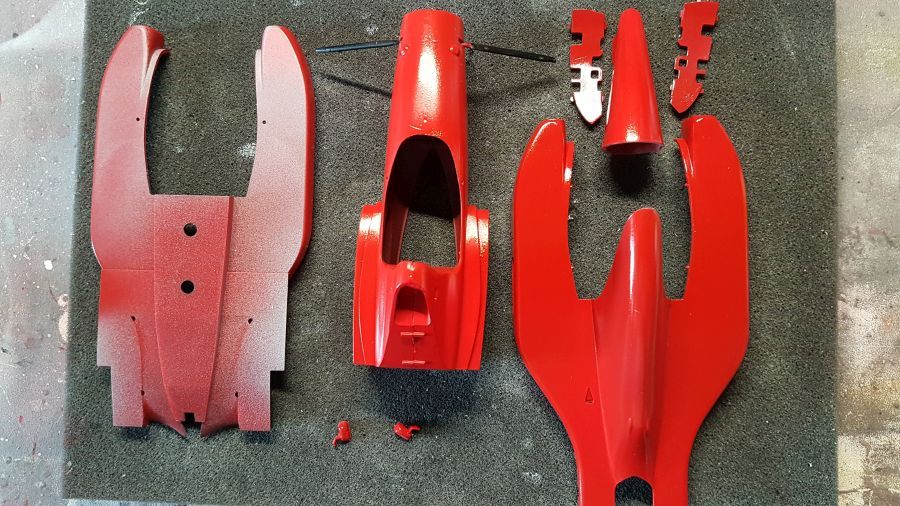 Dan het zwart op de bodemplaat, nadat de zijkanten zijn afgeplakt.
Then the black to the floor, after the side walls have been masked.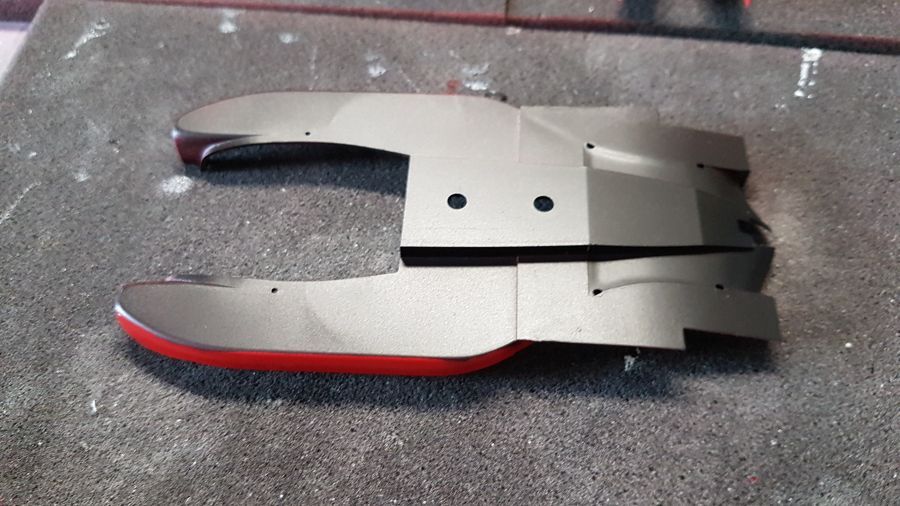 Dan verder met de stoel en het dashbord.
Next are the seat and the dashboard.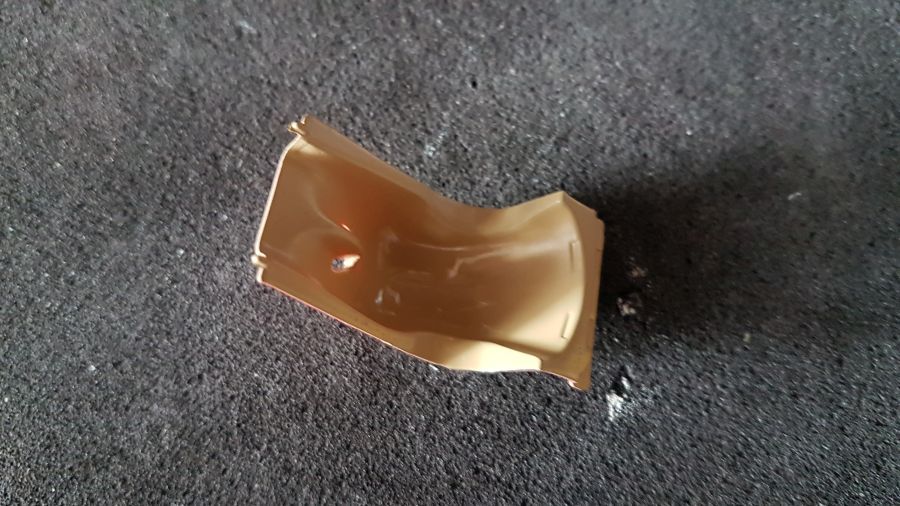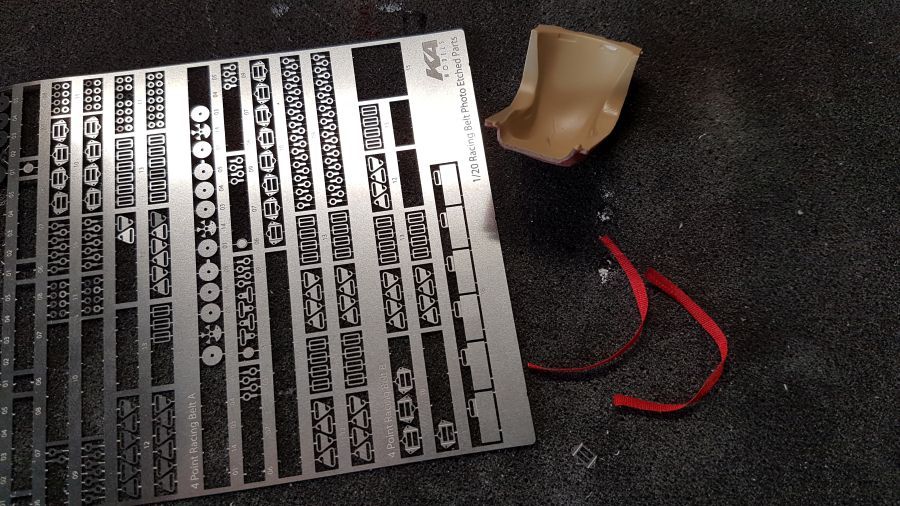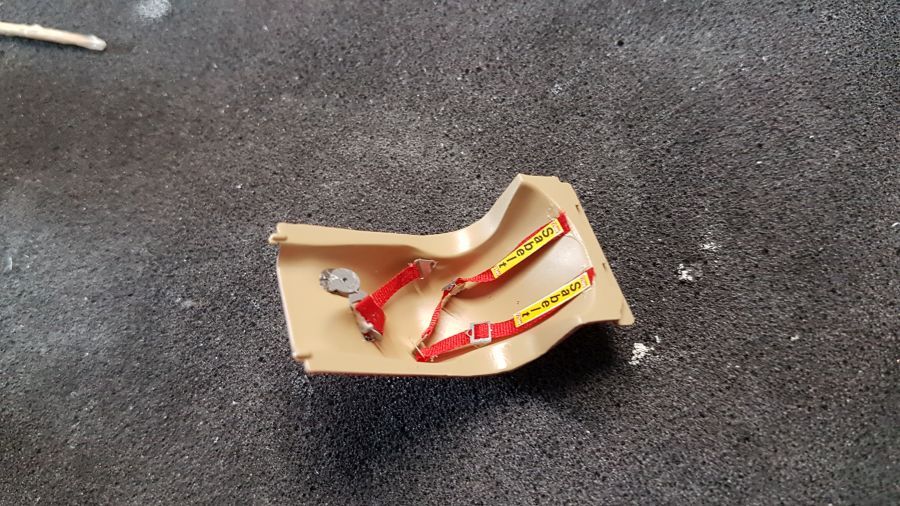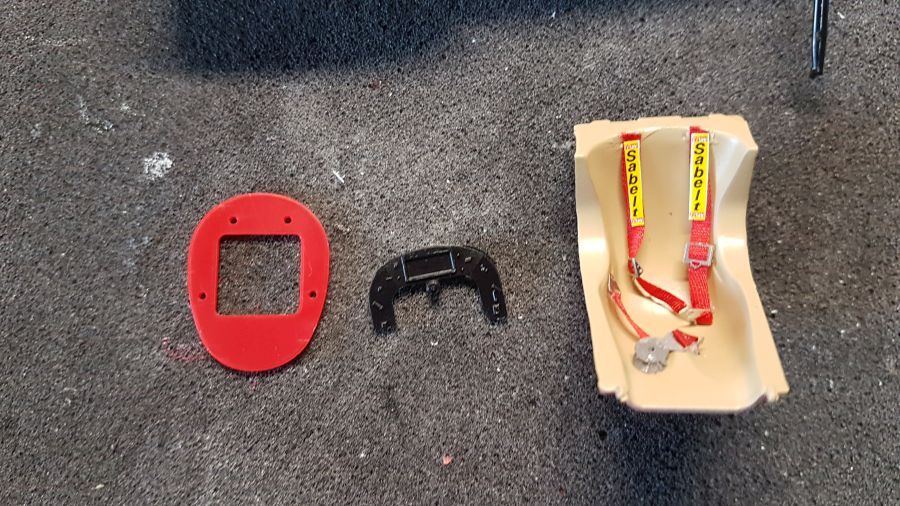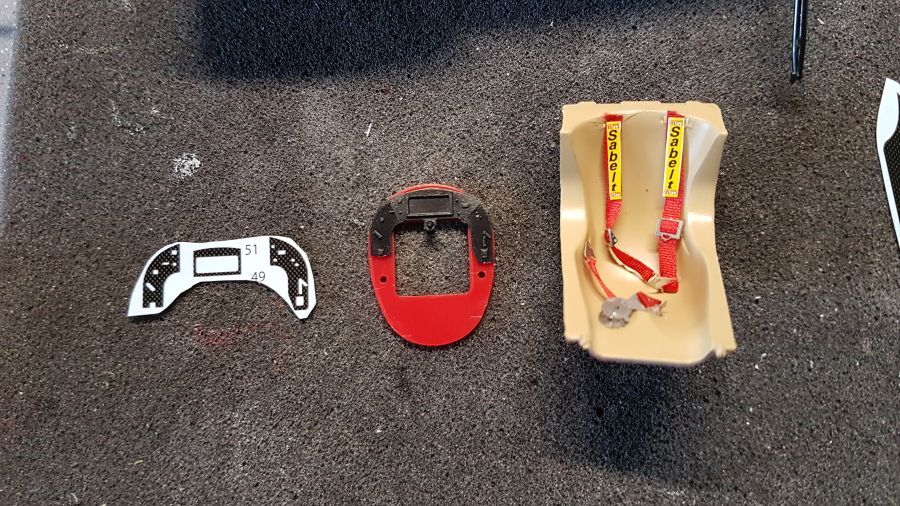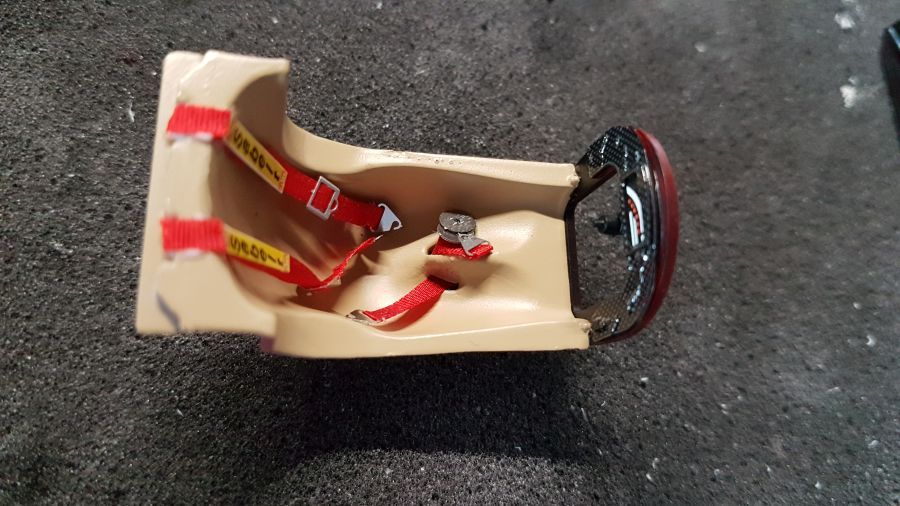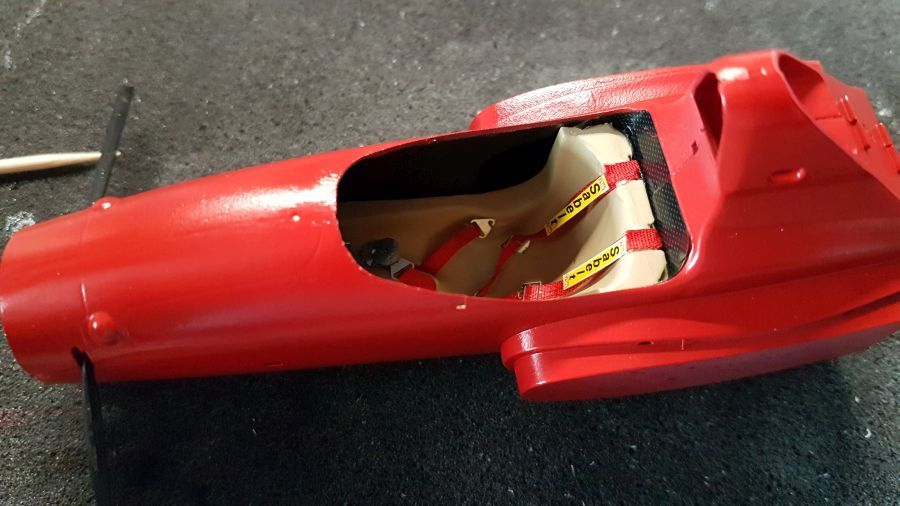 Dan wat CF-decals.
Then some CF-decals.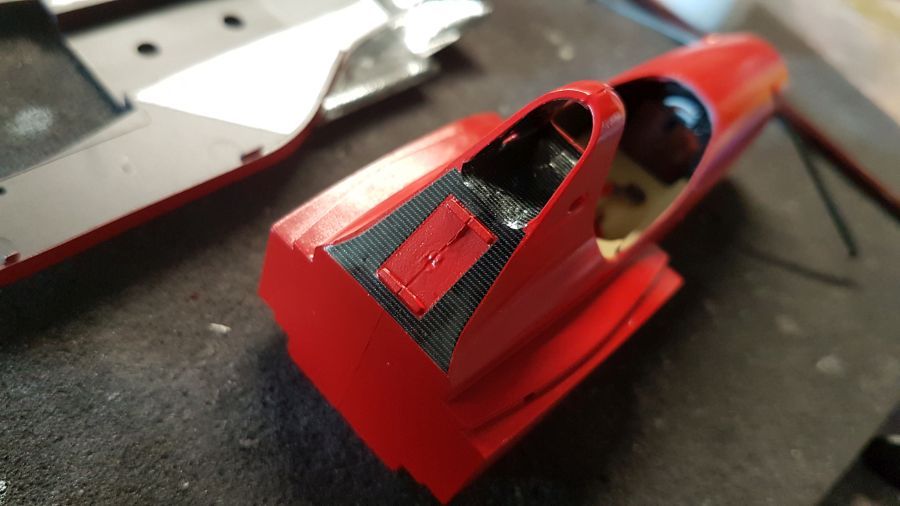 Wat verf aan de binenkant van de sidepods.
Some paint to the inner side of the side pods.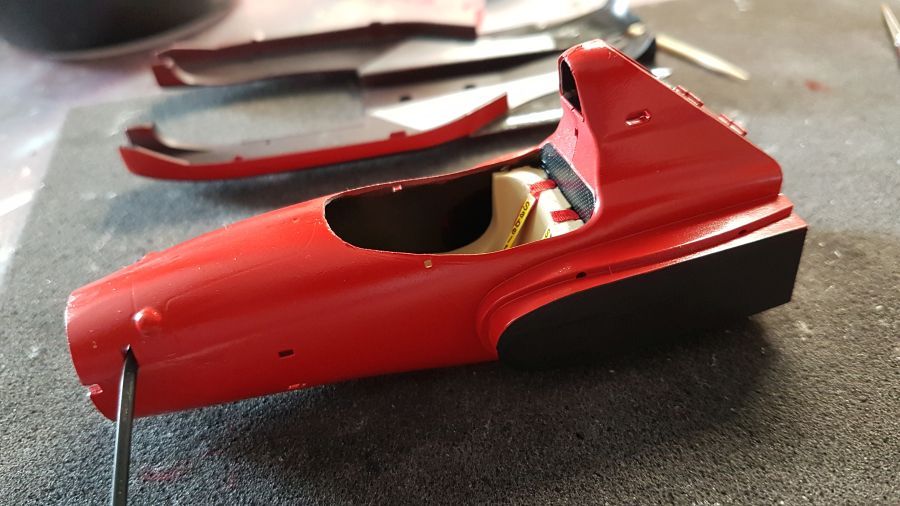 De subvloer krijgt wat metaalverf en CF-decals.
The sub floor gets some metal paint and CF-decals.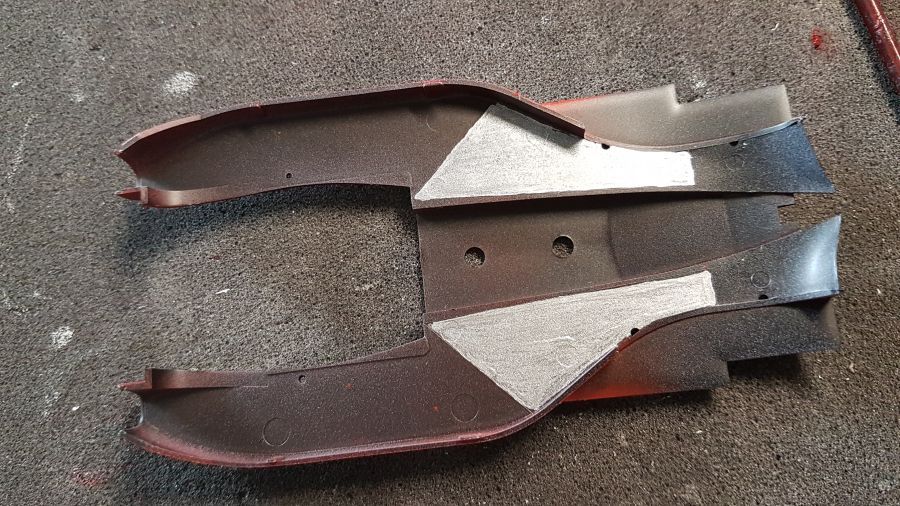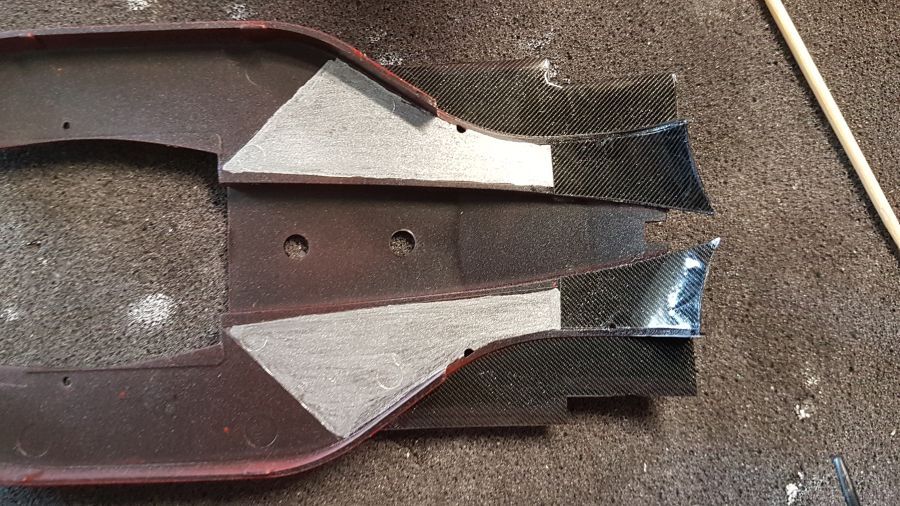 De vloer wordt zwart gespoten.
The floor gets some black paint.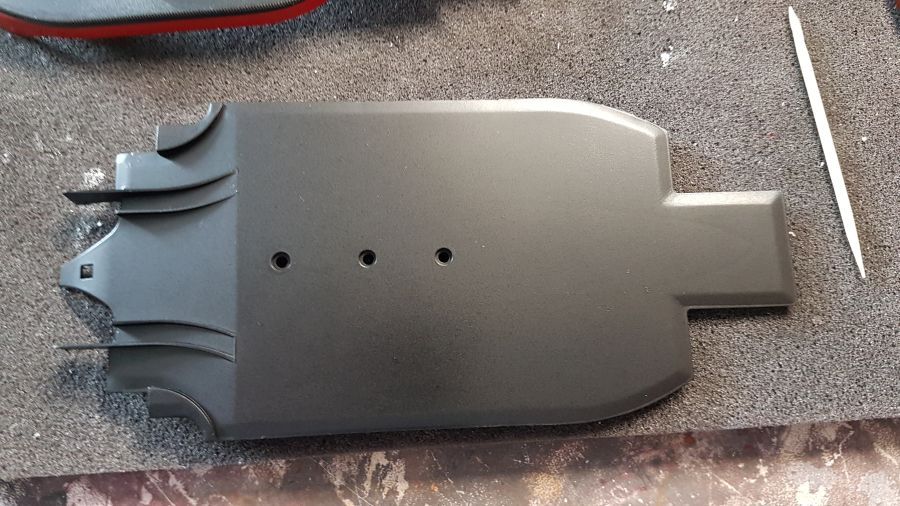 En CF-decals aan beide kanten.
And CF-decals to both sides.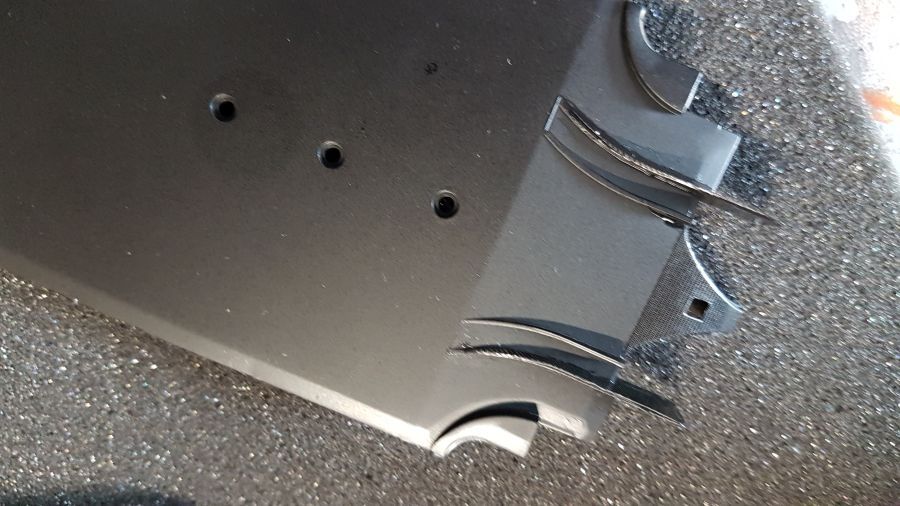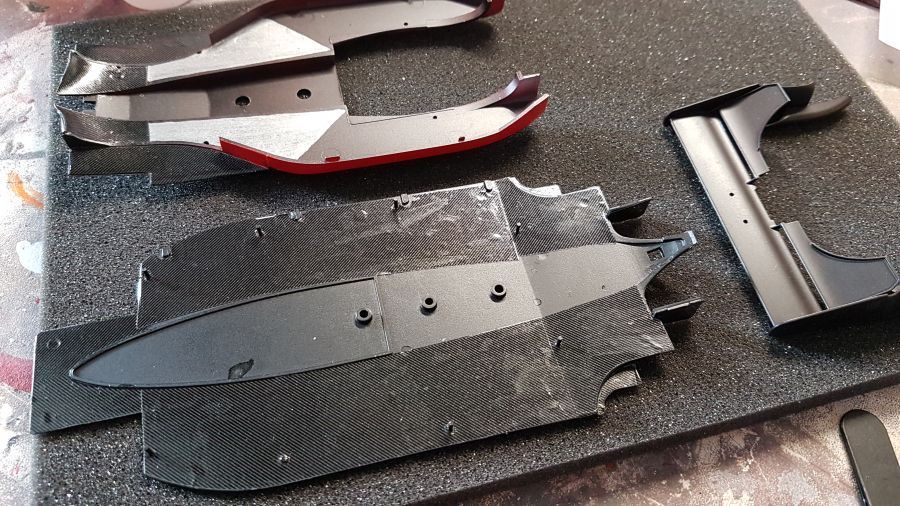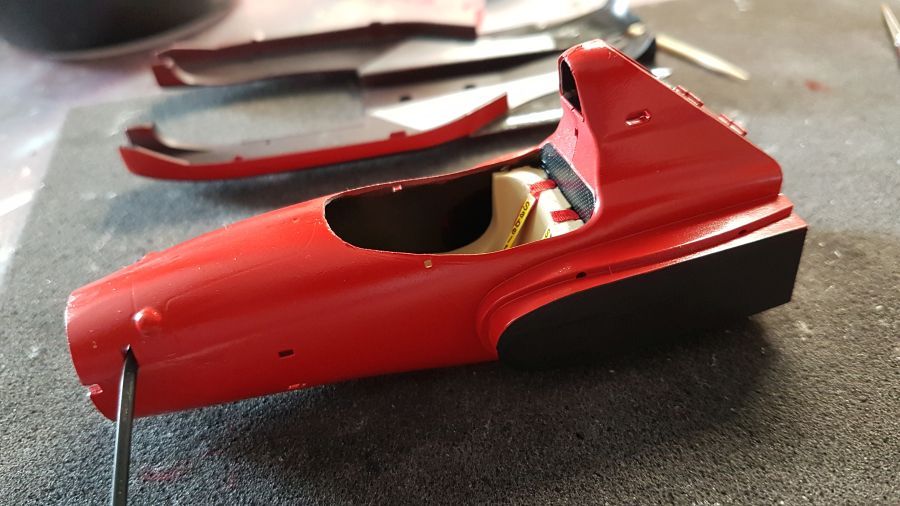 Nu eerst verder met de carbon fiber decals voor de voorvleugel. Ik moet zeggen, wat een gigantisch mooie decals van Studio27. Ze passen echt perfect.
Now to continue with the carbon fiber decals for the front wing. I have to say, what a gorgious set from Studio27. They fit perfectly.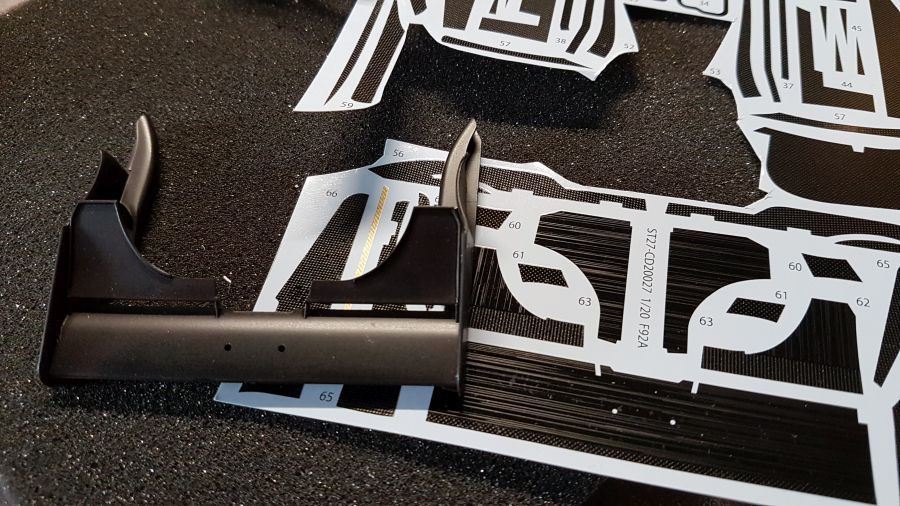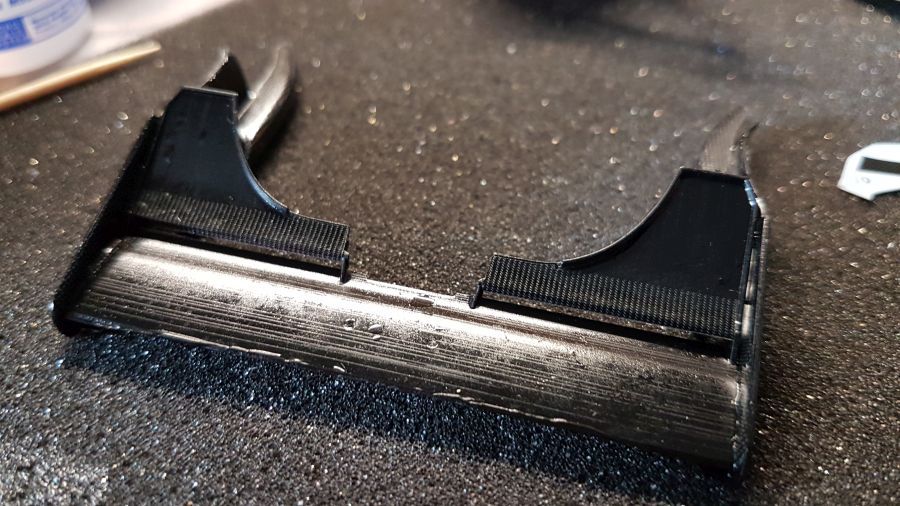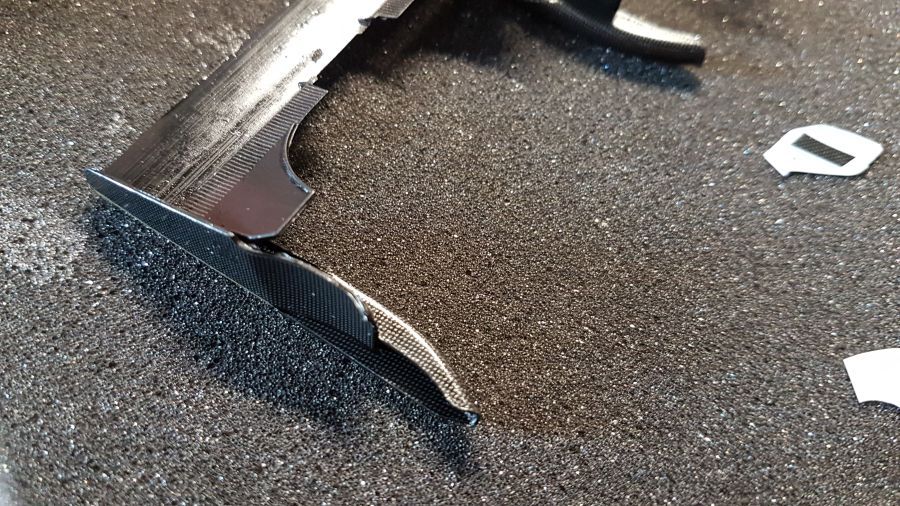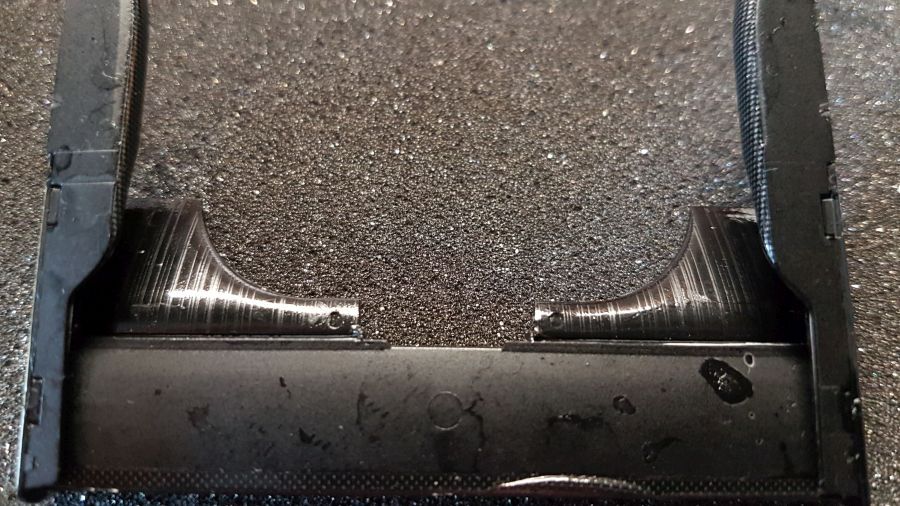 Een paar onderdelen voor de voorwielophanging.
Some parts for the front wheel suspension.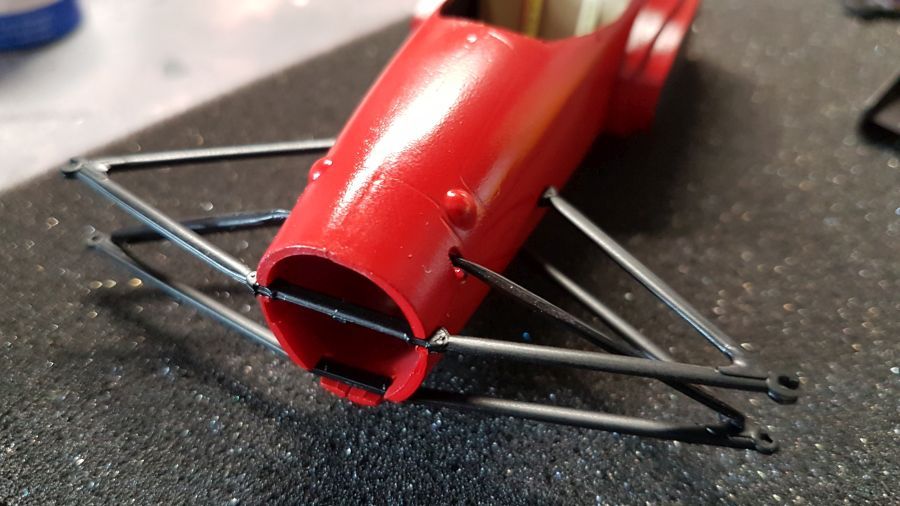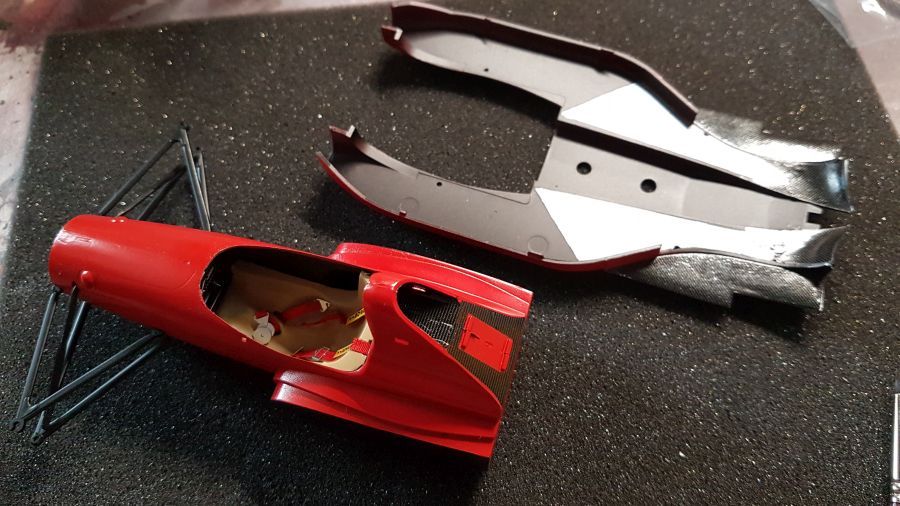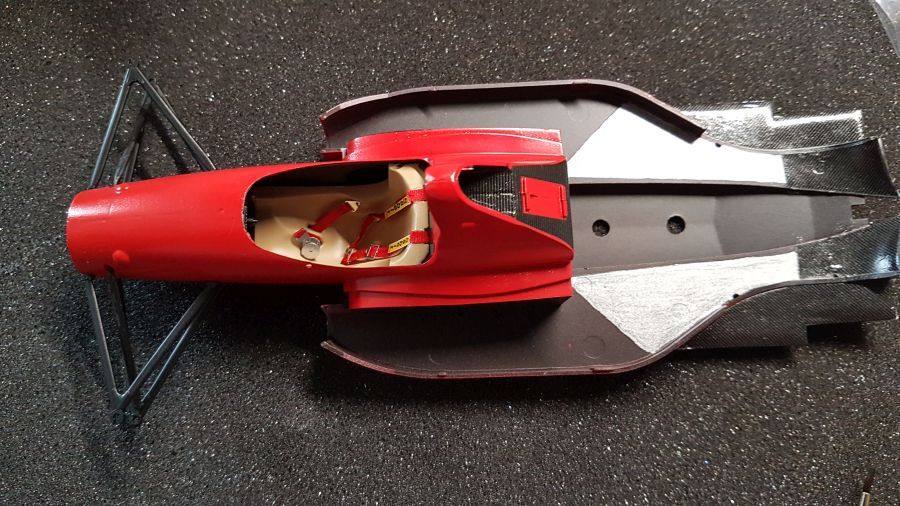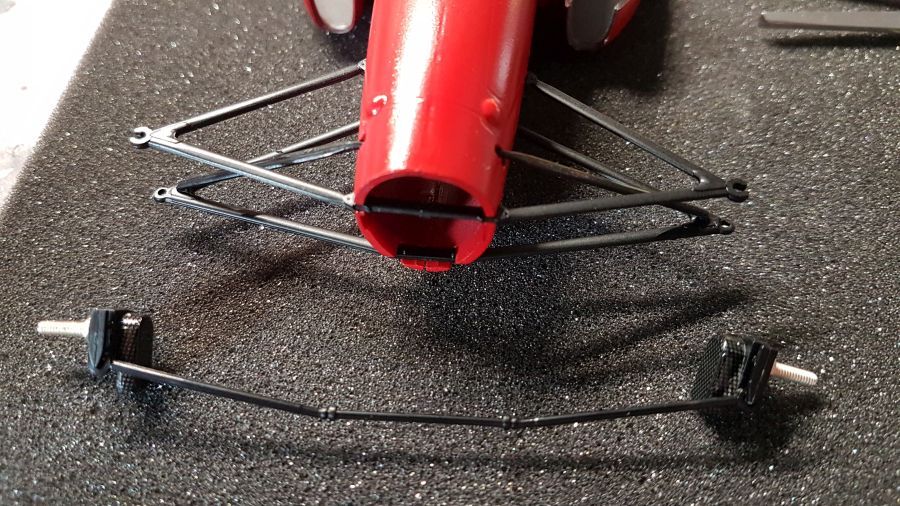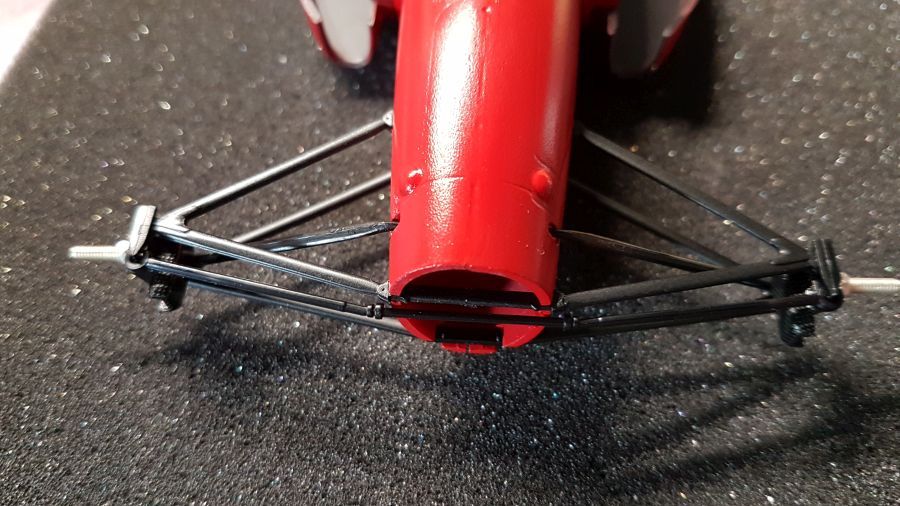 Nu eerst verder met het binnenwerk van de sidepods.
Now to continue the work on the inside of the side pods.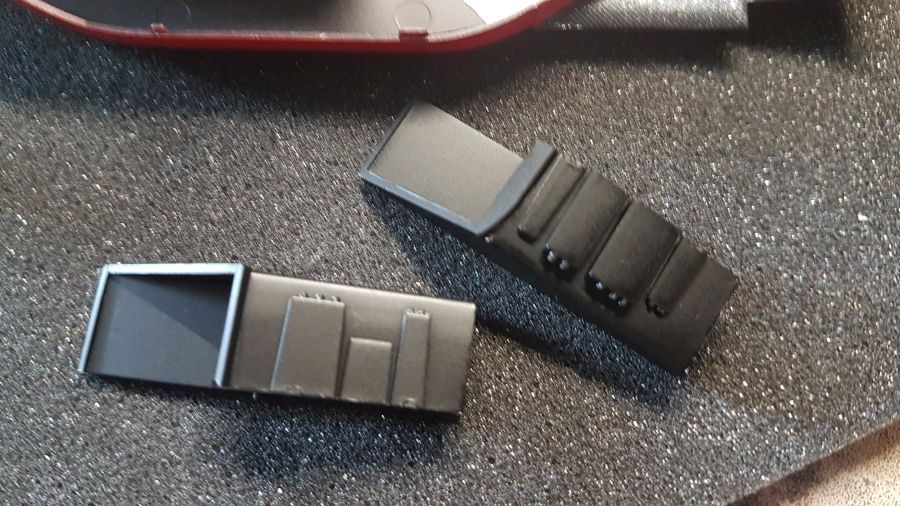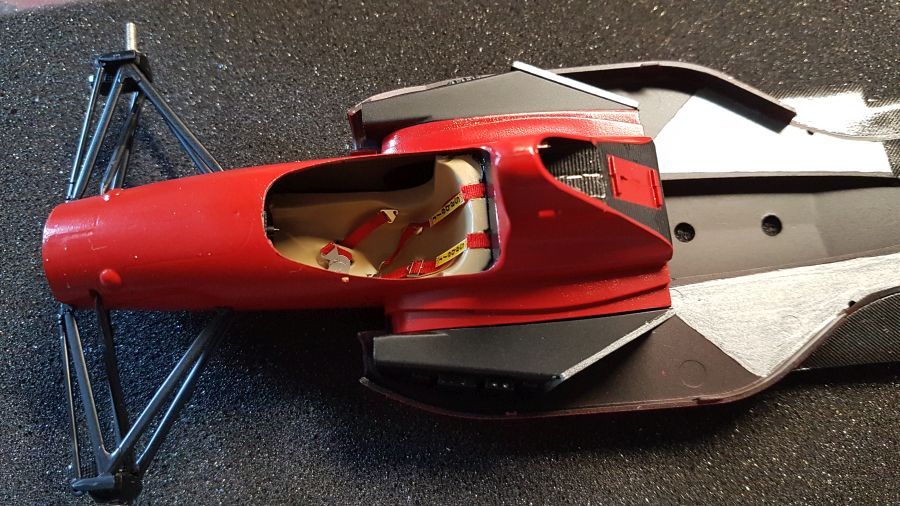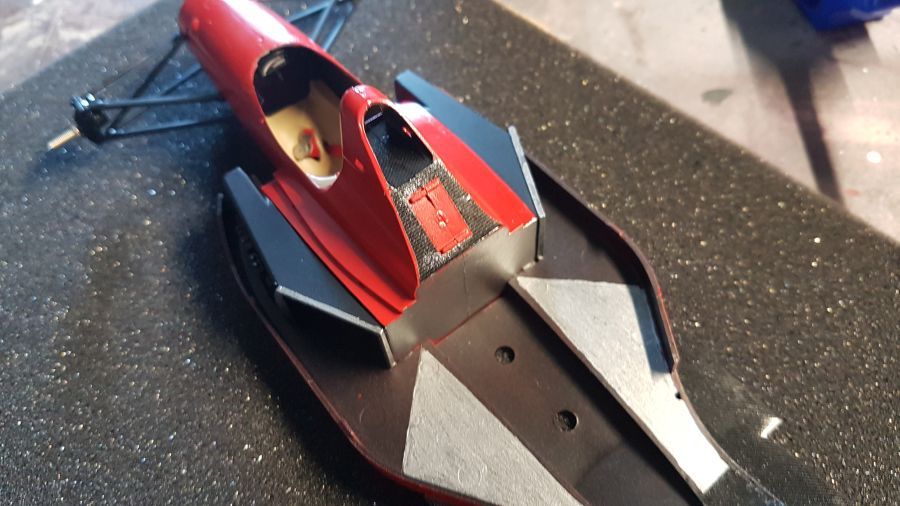 Microsol moet zijn werk nog doen.
Microsol still has to do it's work.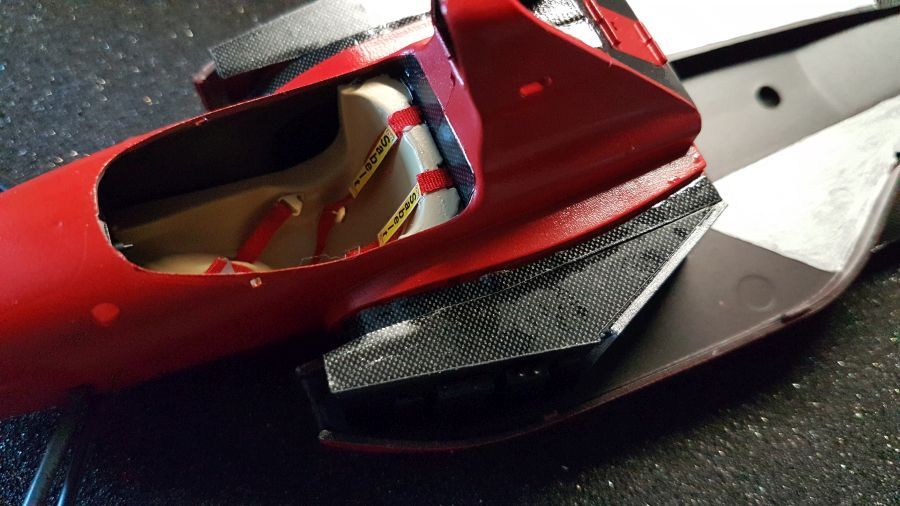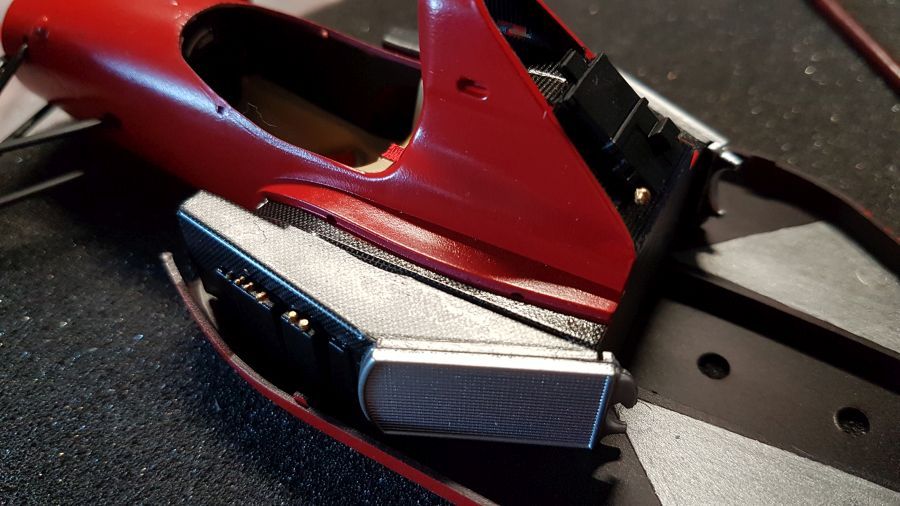 Dan de motor.
Then the engine.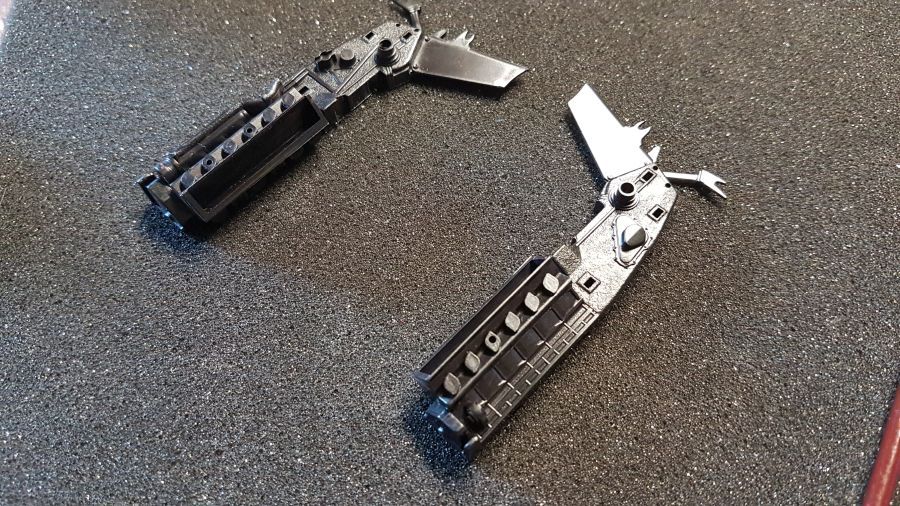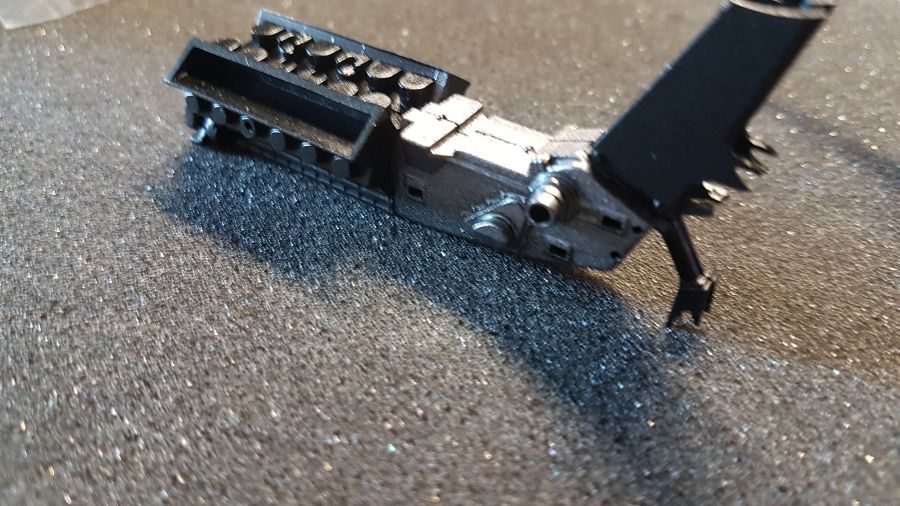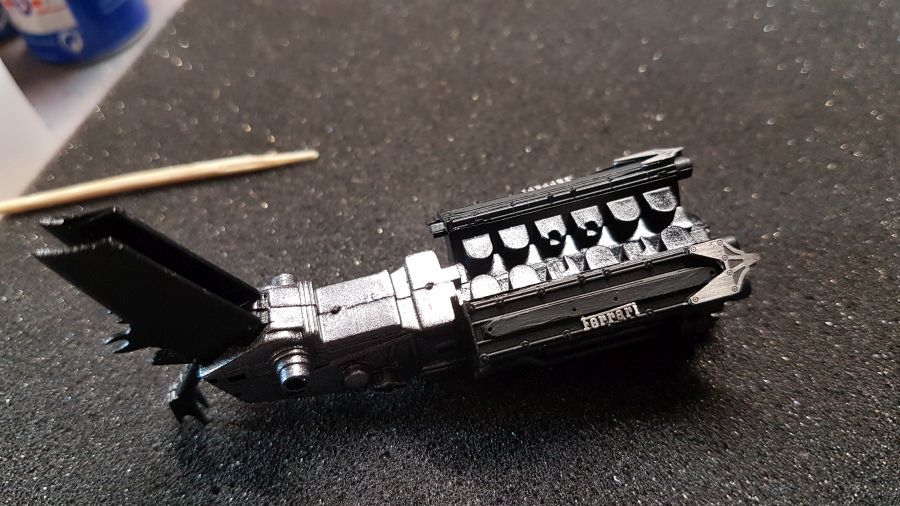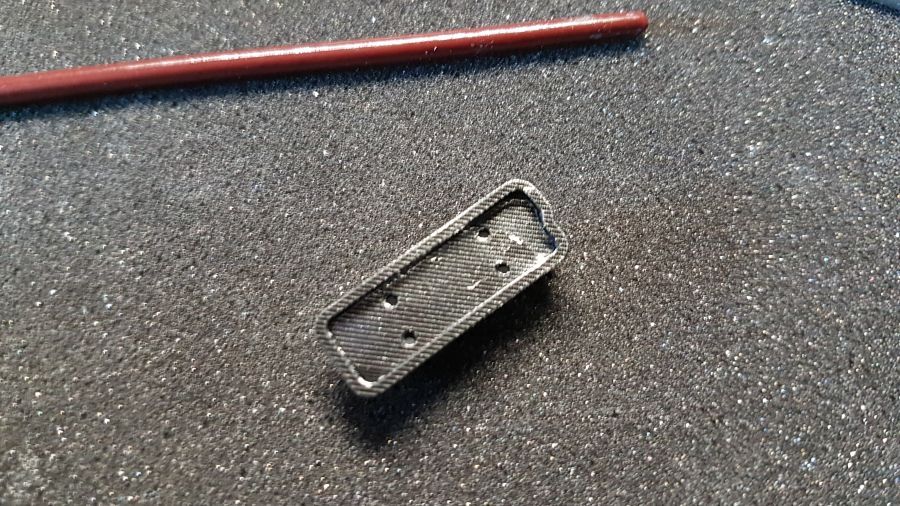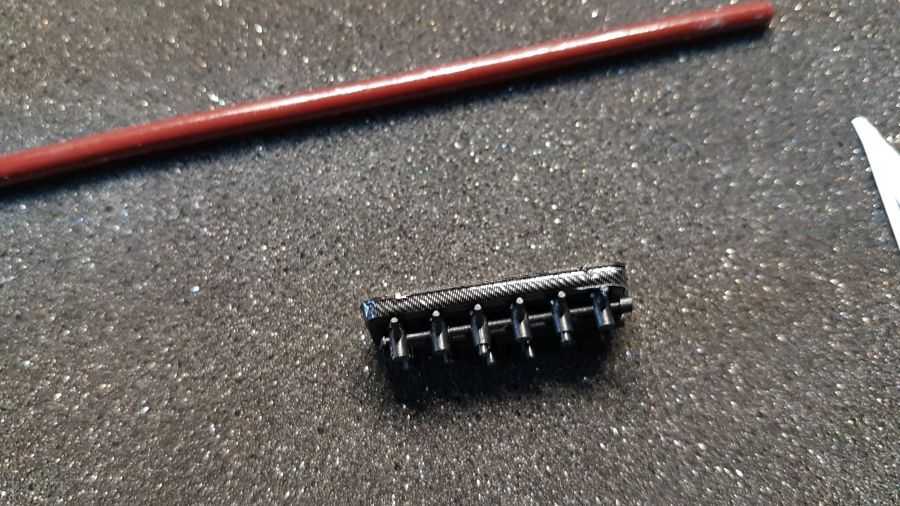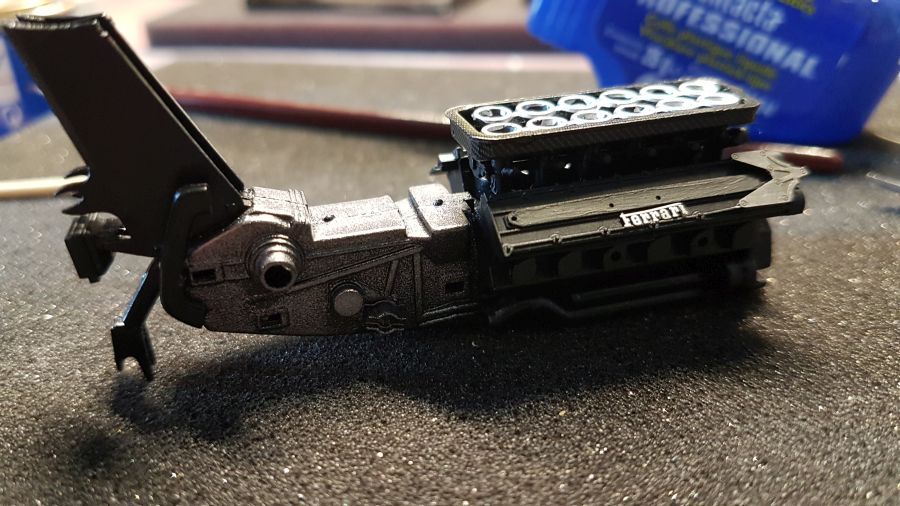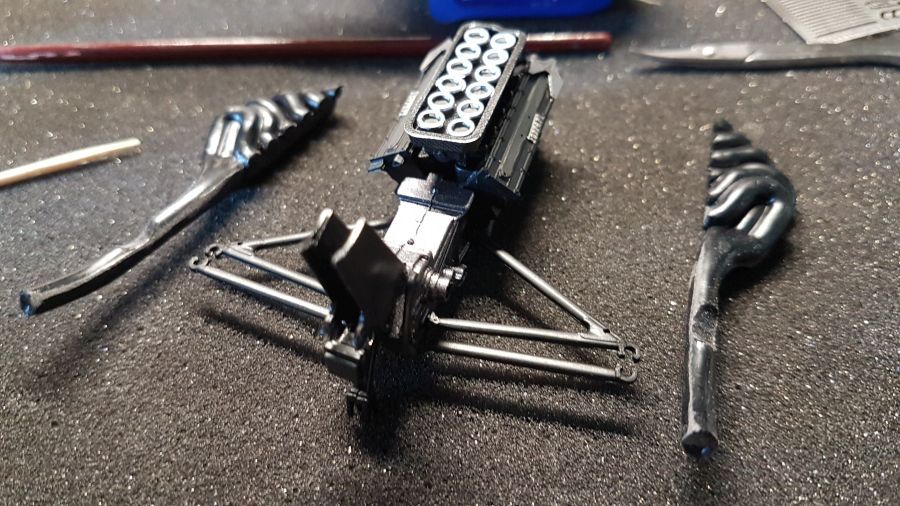 Dan werken aan de uitlaten.
Next is working on the exhausts.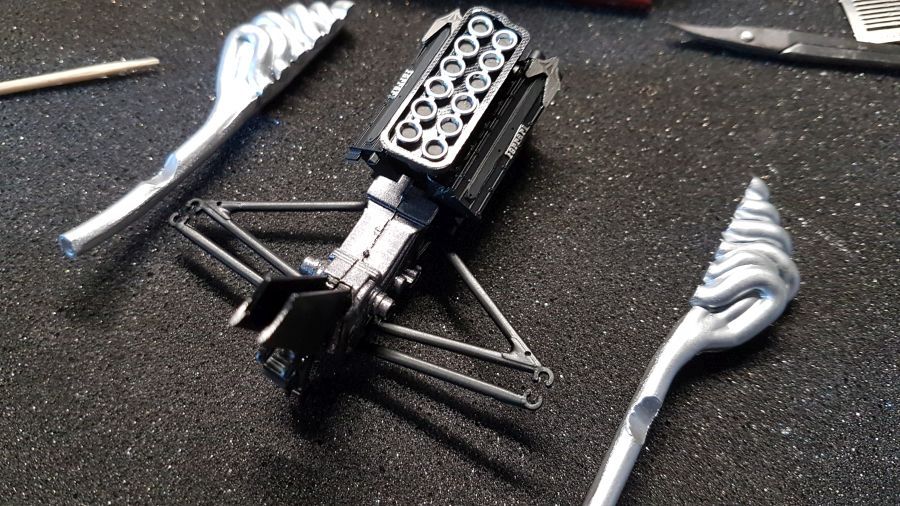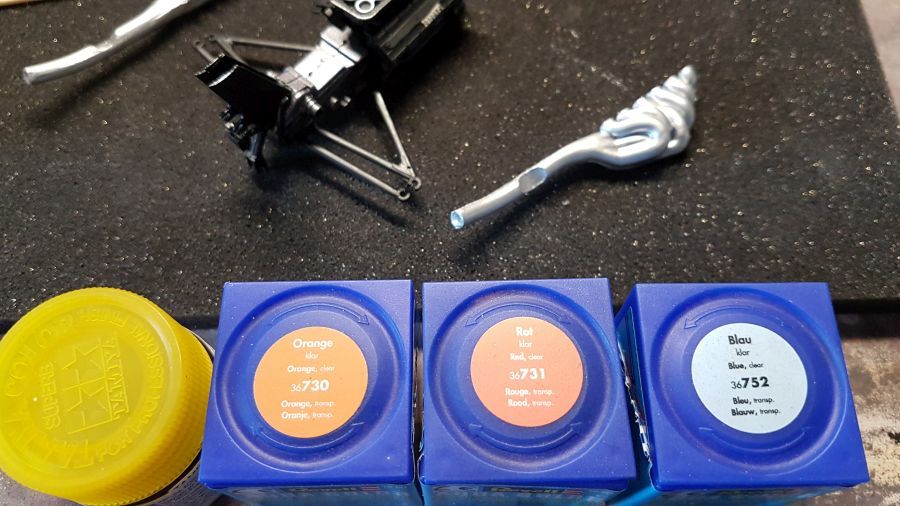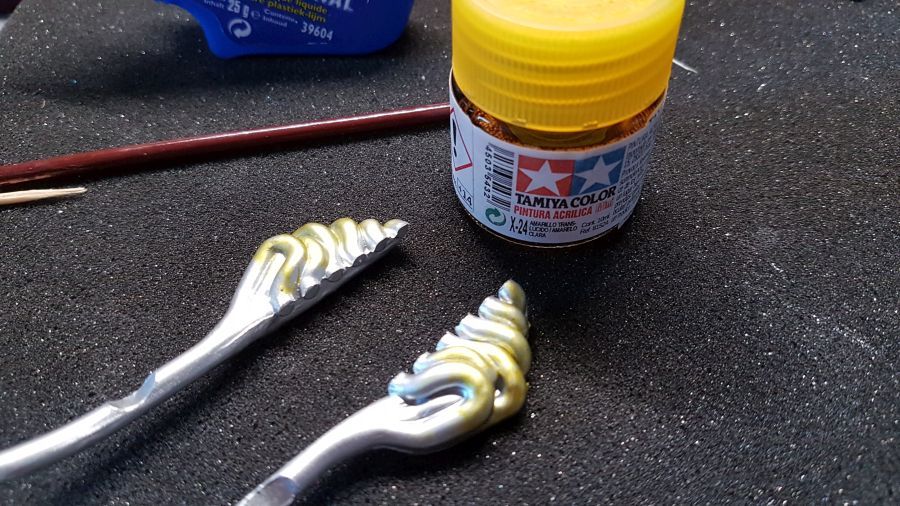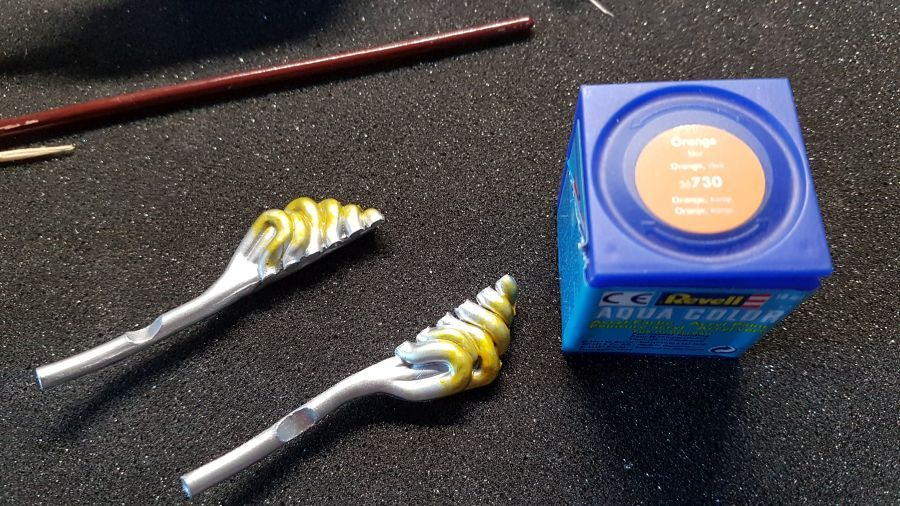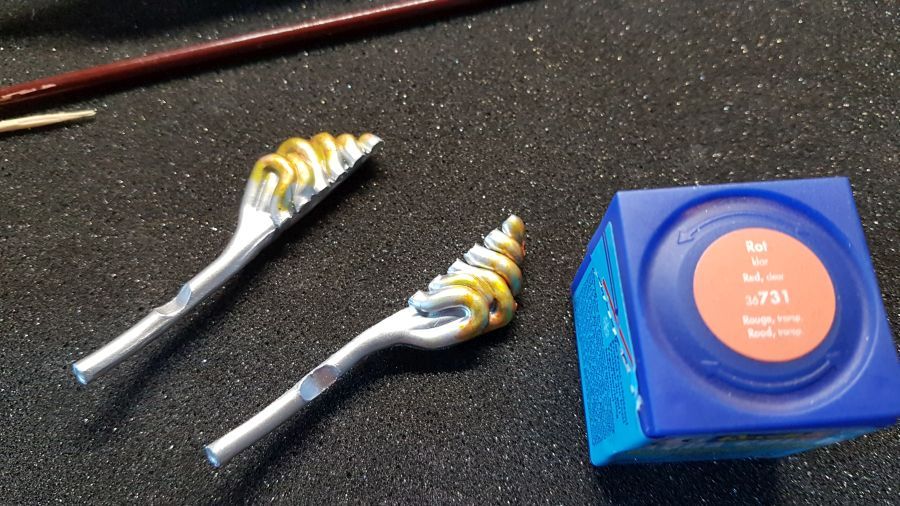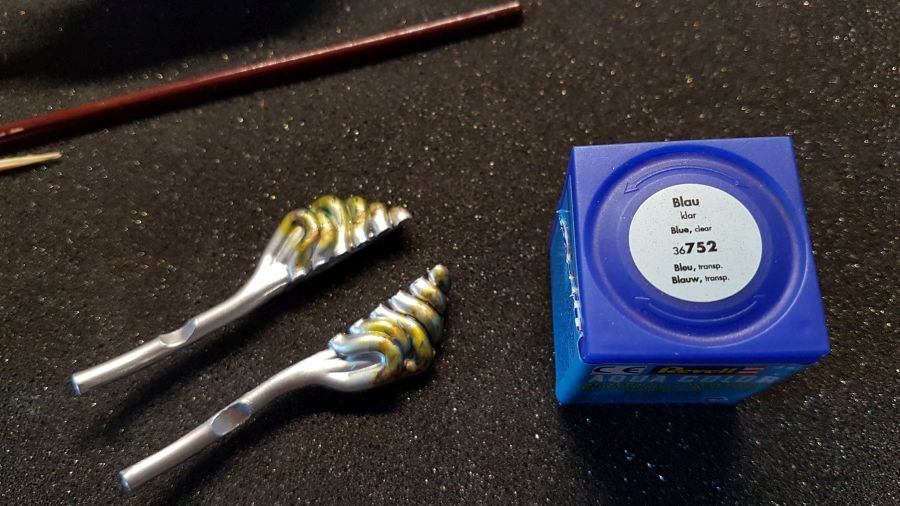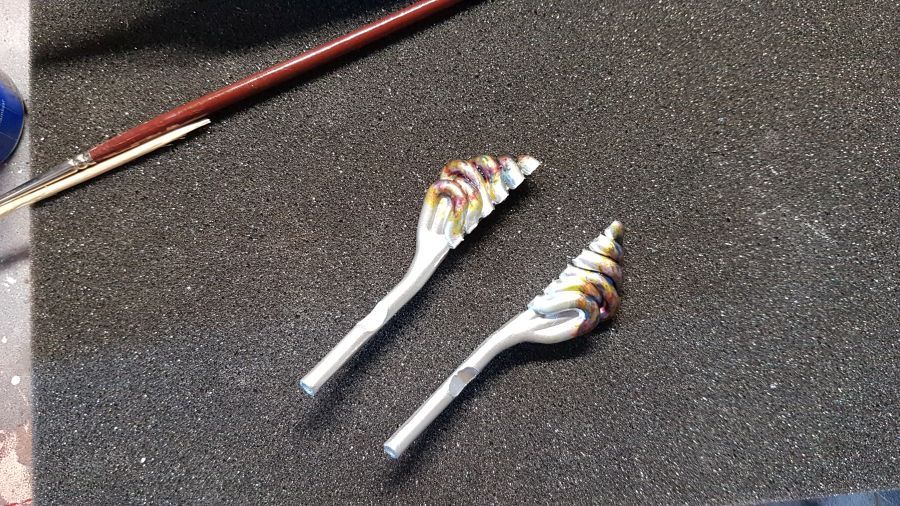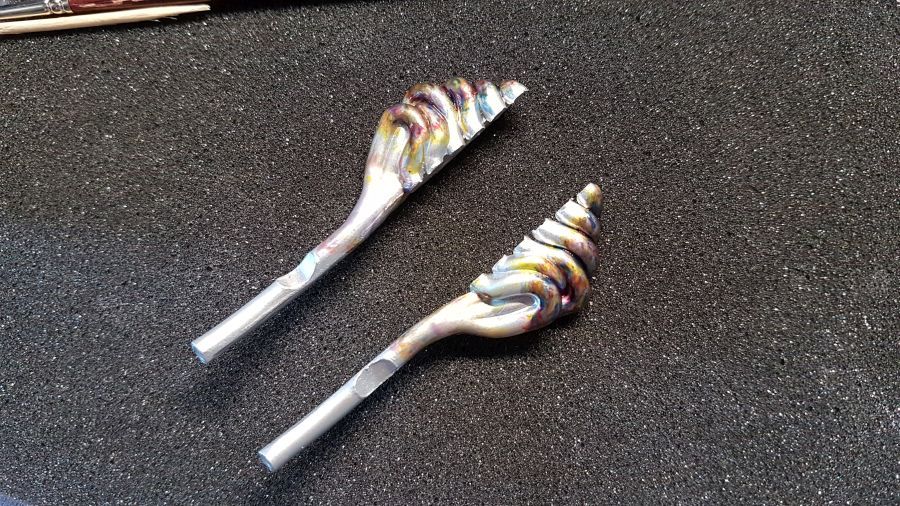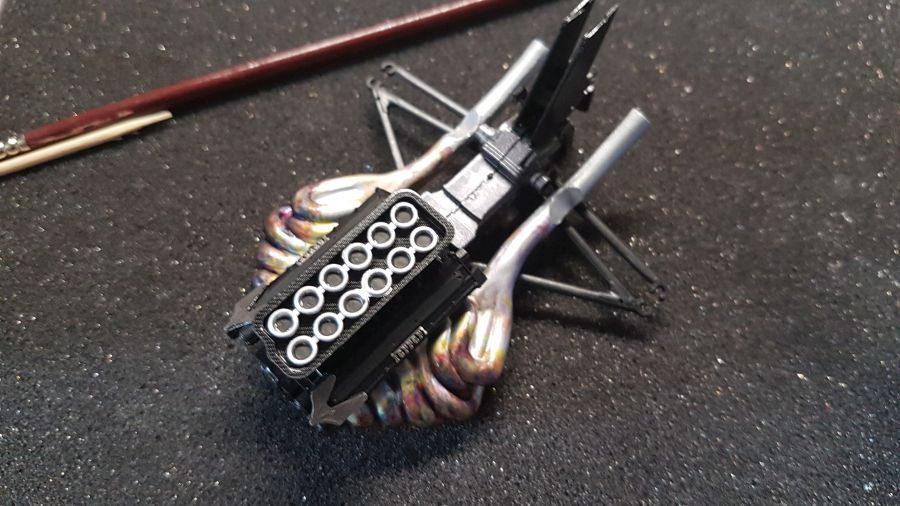 Tijd om de motor in te bouwen.
Time to add the engine to the body.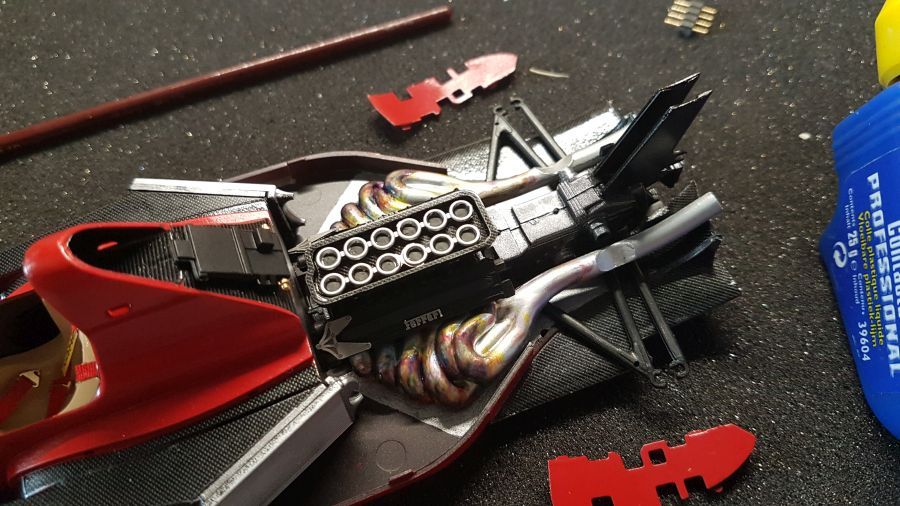 En de zijkanten gaan erop.
And the sides are being added.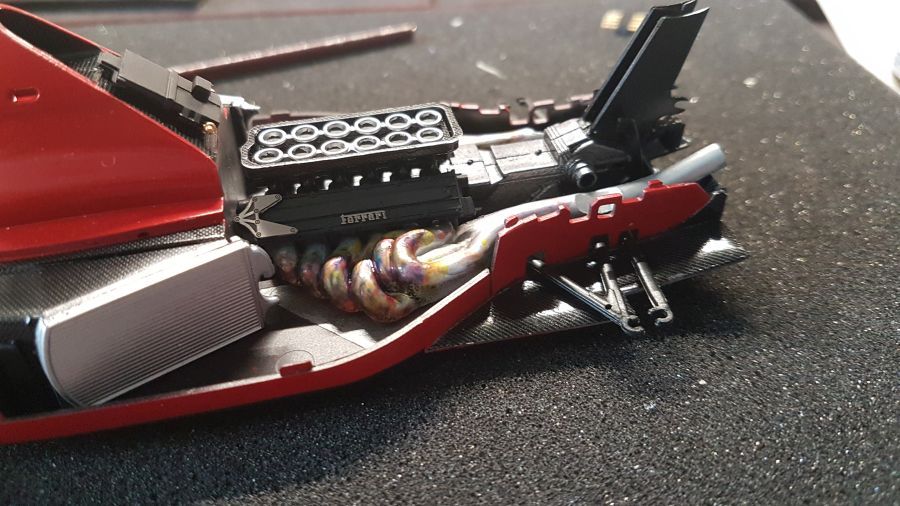 Eerst maar even passen.
Now for a test fit.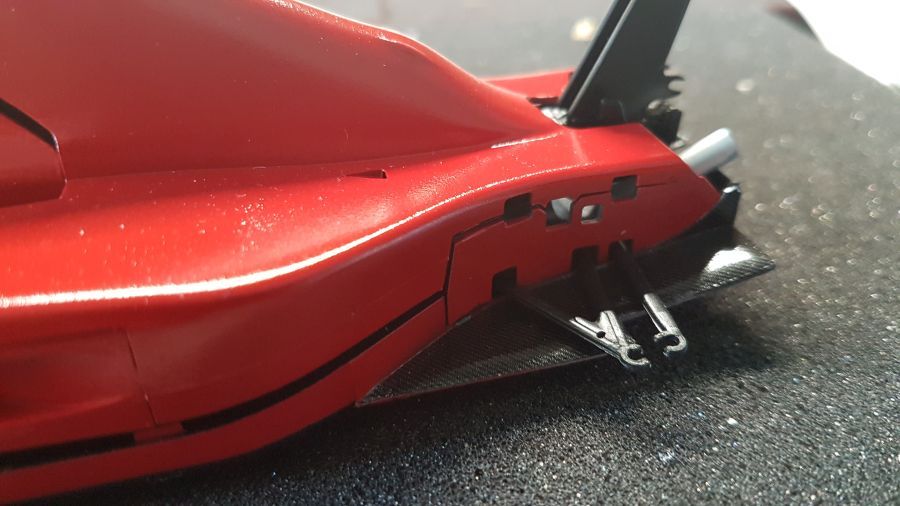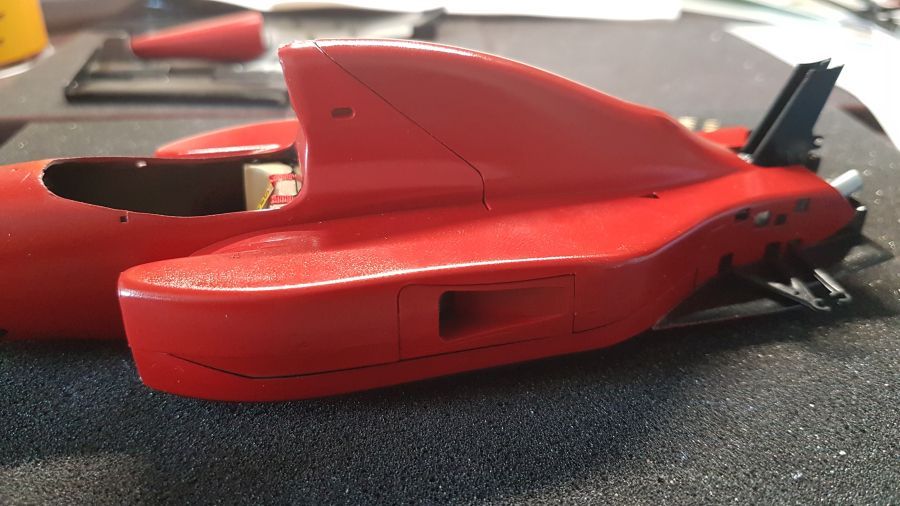 Verder met de achterwielophanging.
Now to continue the rear wheel suspension.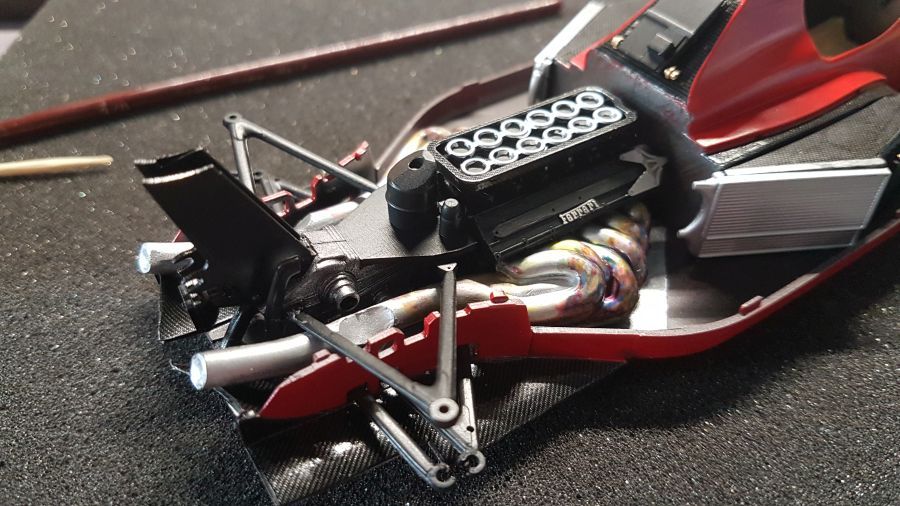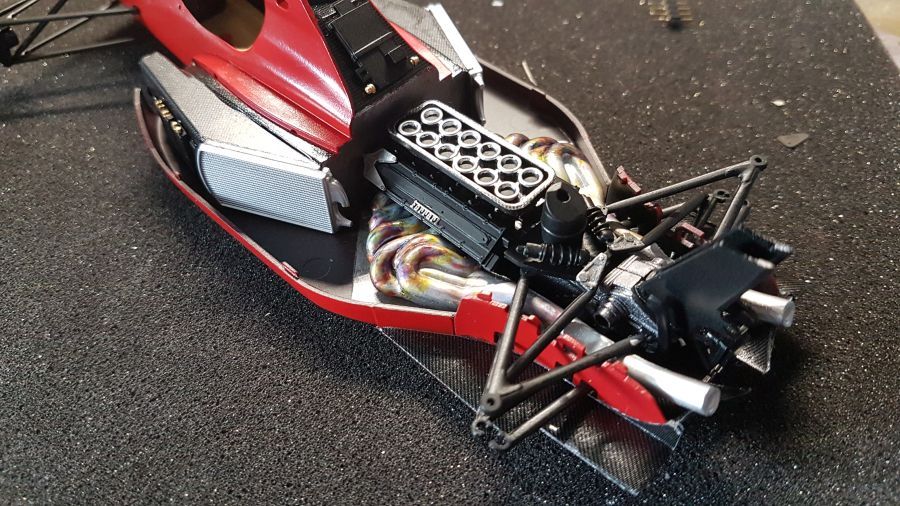 Tijd voor de vloer. Zeer vreemd zo'n dubbele vloer.
Time for the floor. Very strange this 2nd vloer.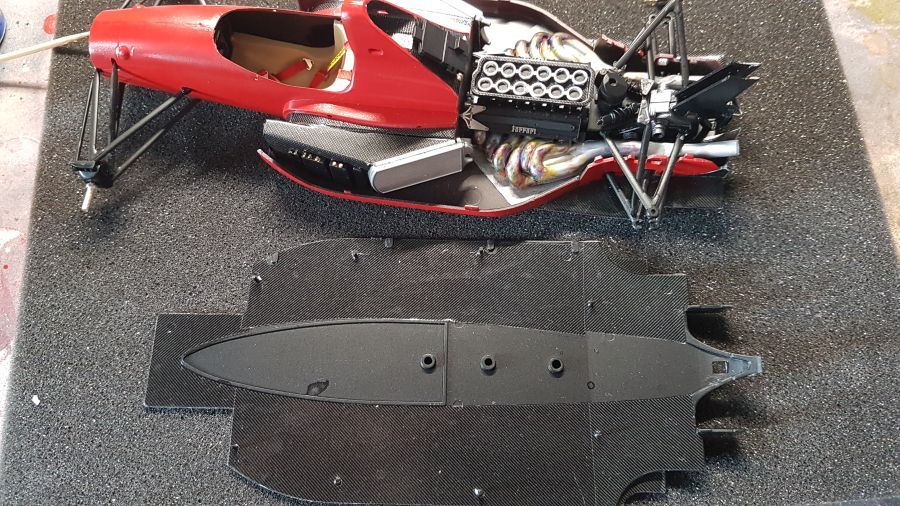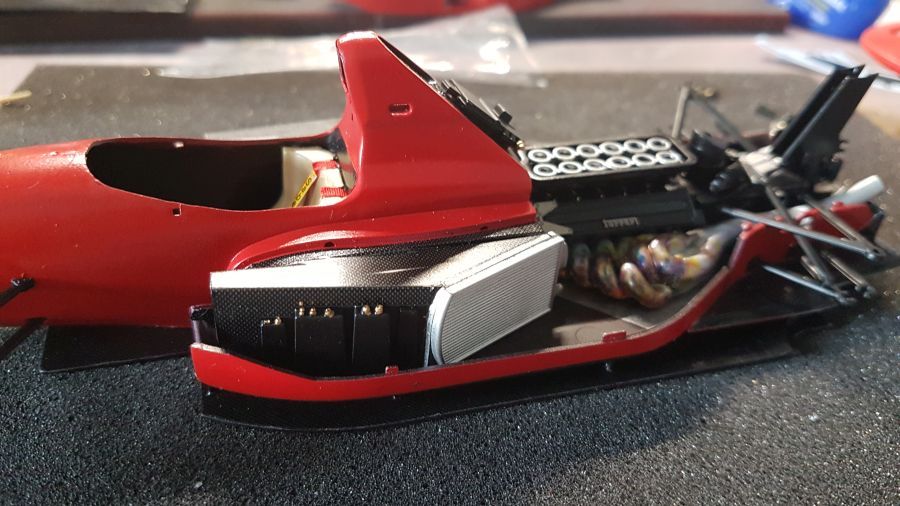 Dan worden de bevestigingen voor de velgen klaargemaakt.
Then the uprights are being prepared.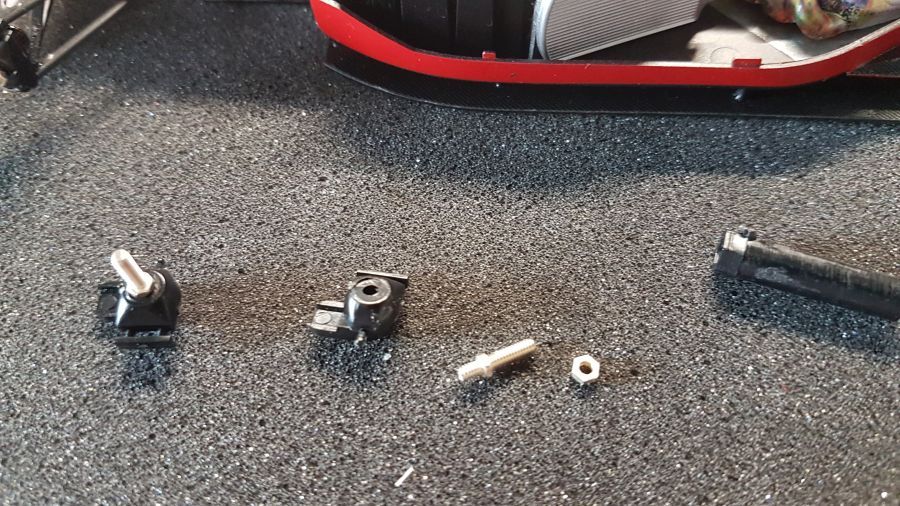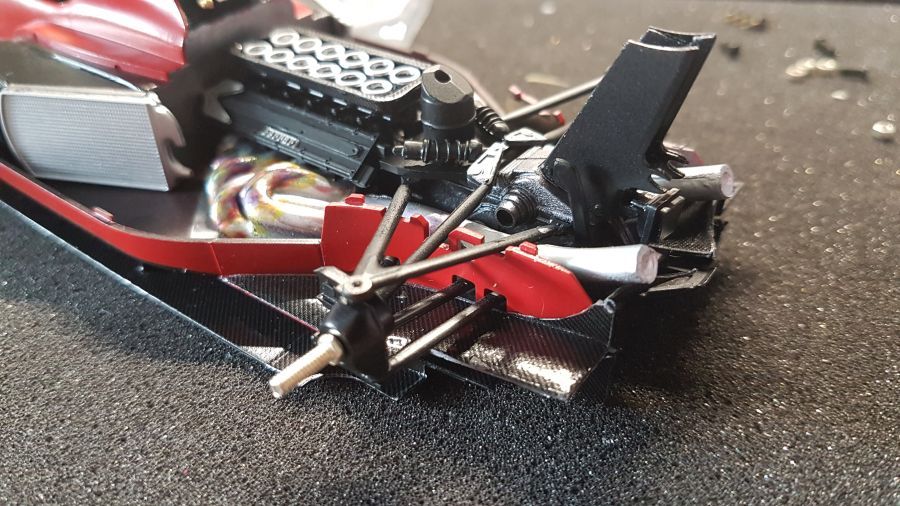 De neus wordt geplaatst.
The nose gets mounted.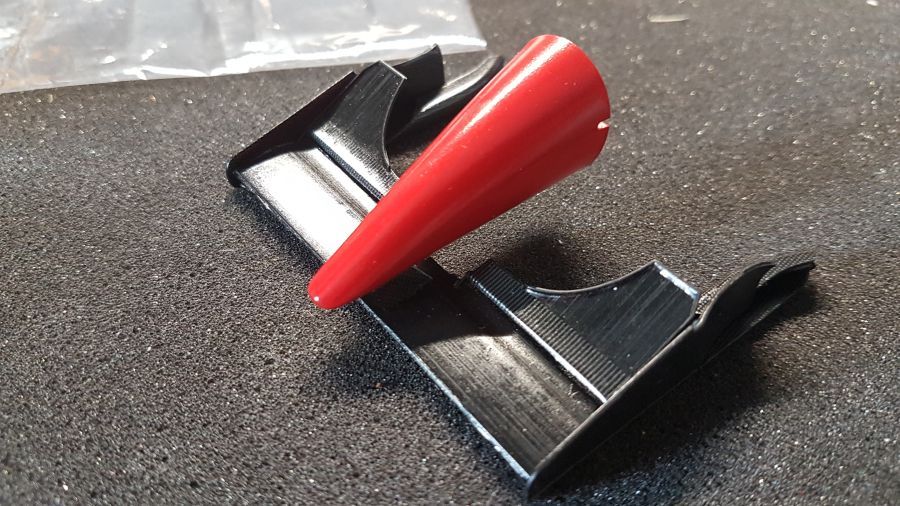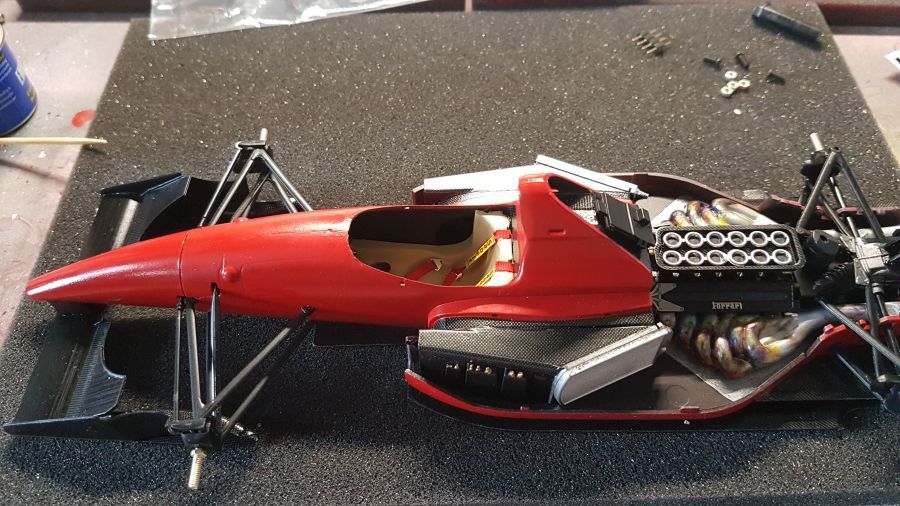 De remmen zijn geverfd en kunnen worden geplaatst.
The brakes were painted and are ready to be added.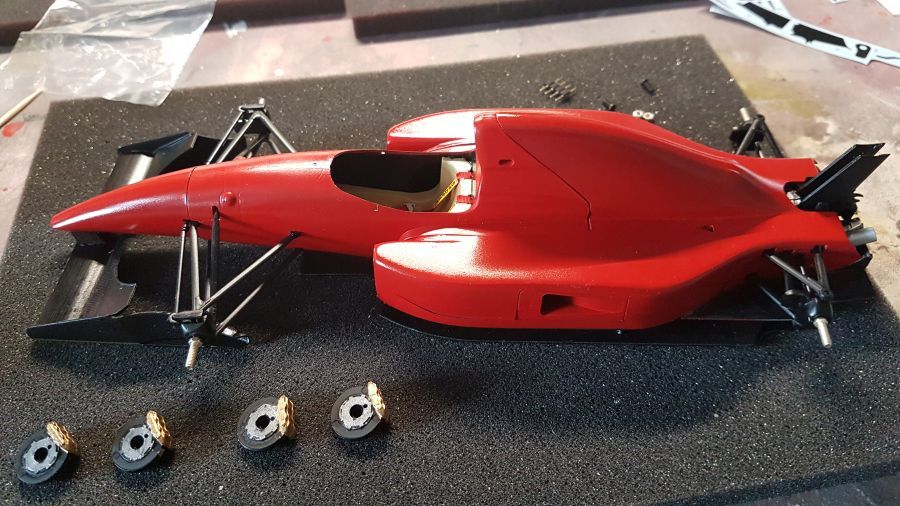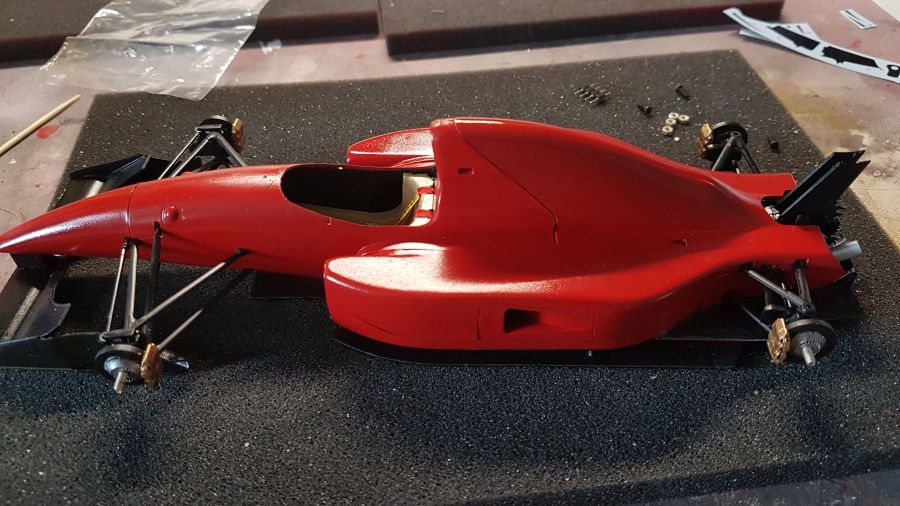 De banden ruw ik weer wat op.
The tires are roughened again.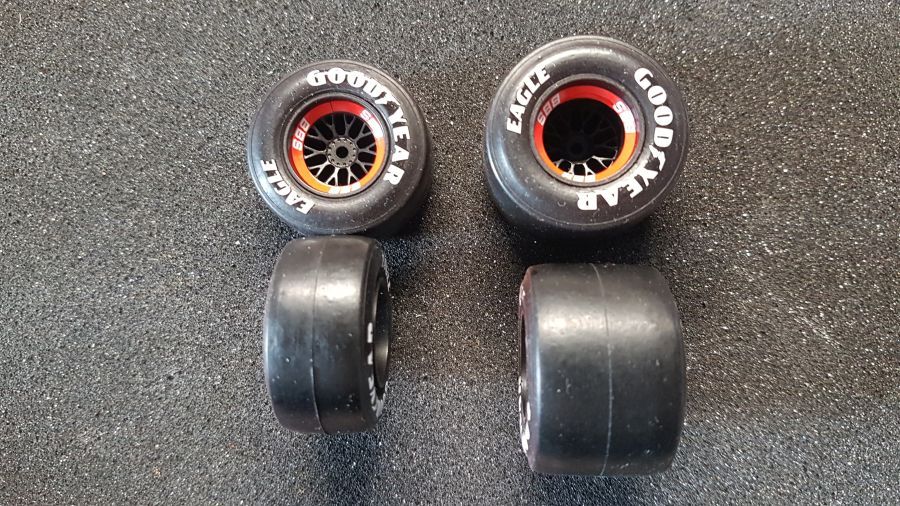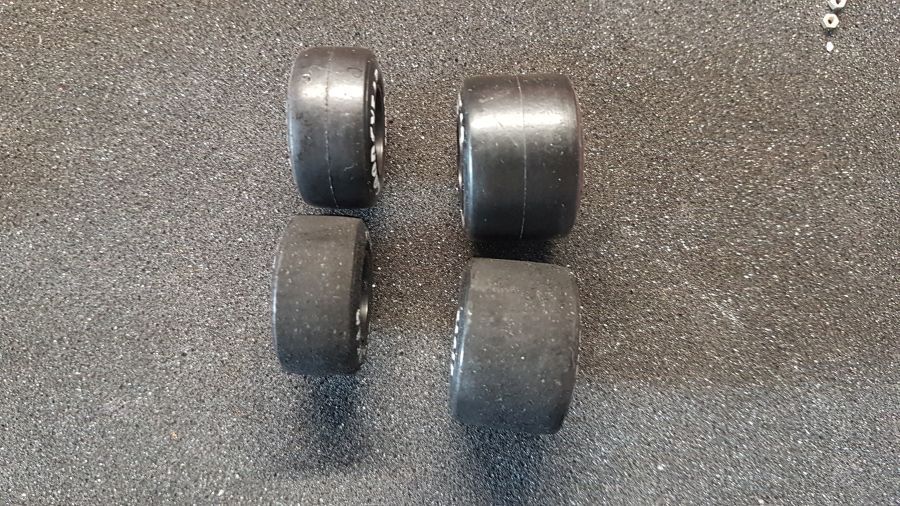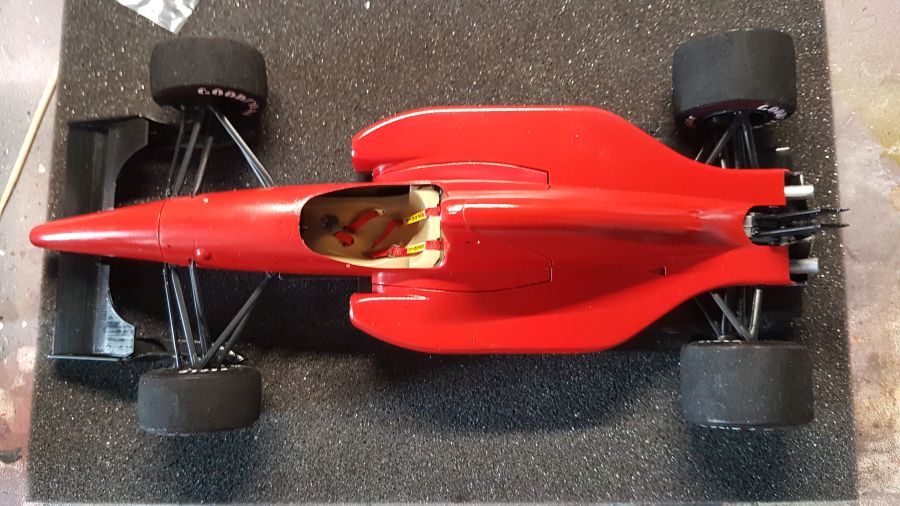 De decals gaan erop.
The decals were added.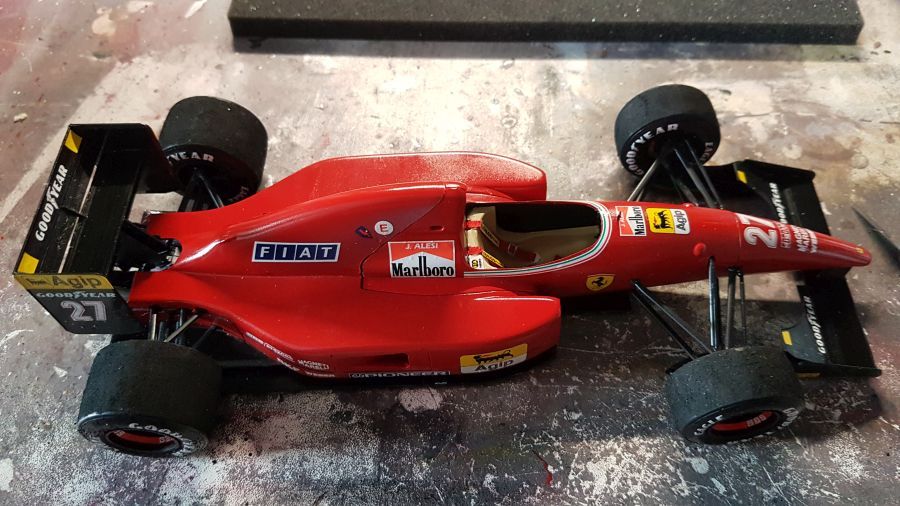 Nog een paar onderdelen zoals spiegels, stuur, snelsluiters enz.
Some small parts like mirrors, wheel, fasteners etc.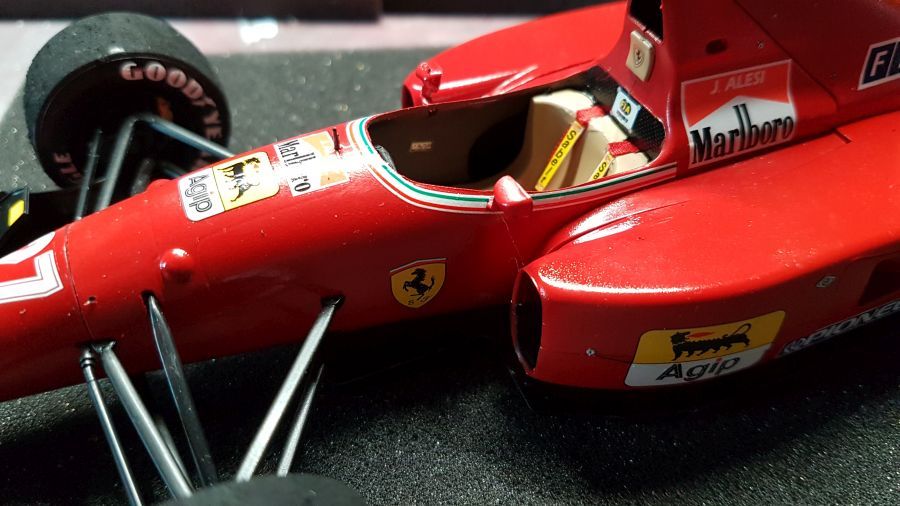 En weer een rode voor de collectie.
And another red one for the collection.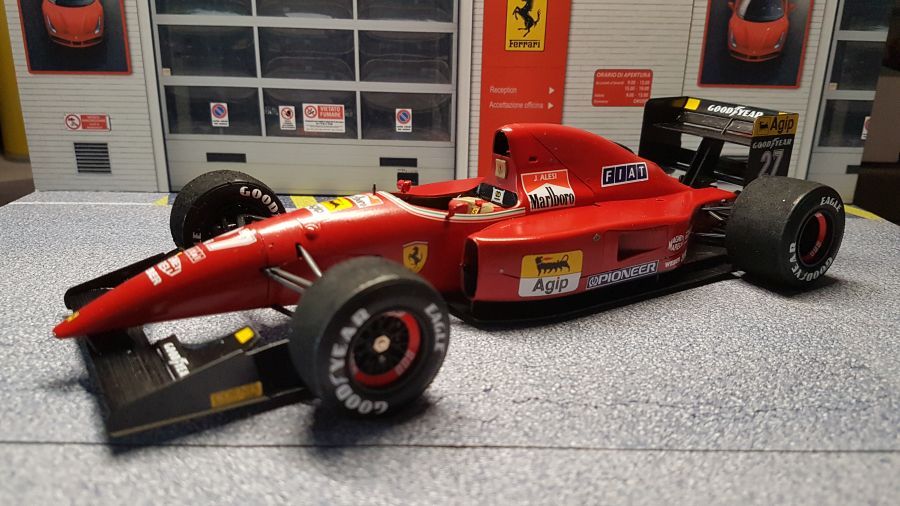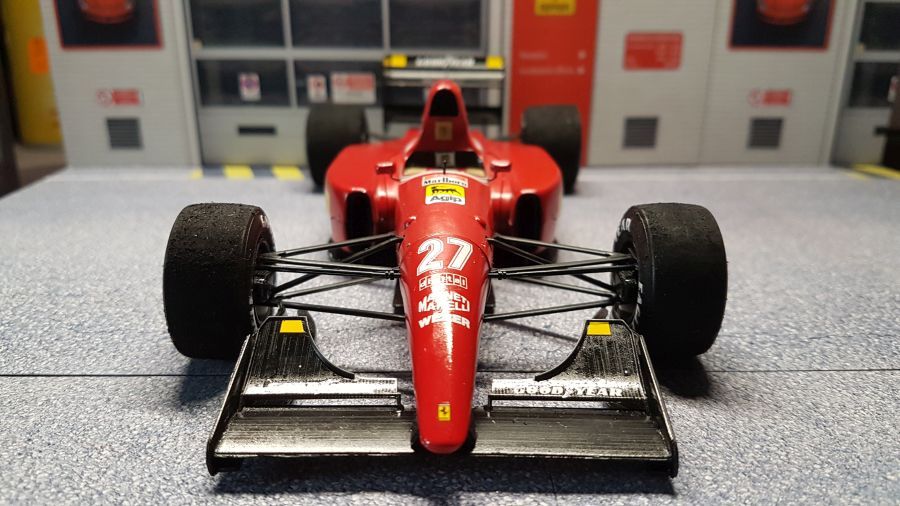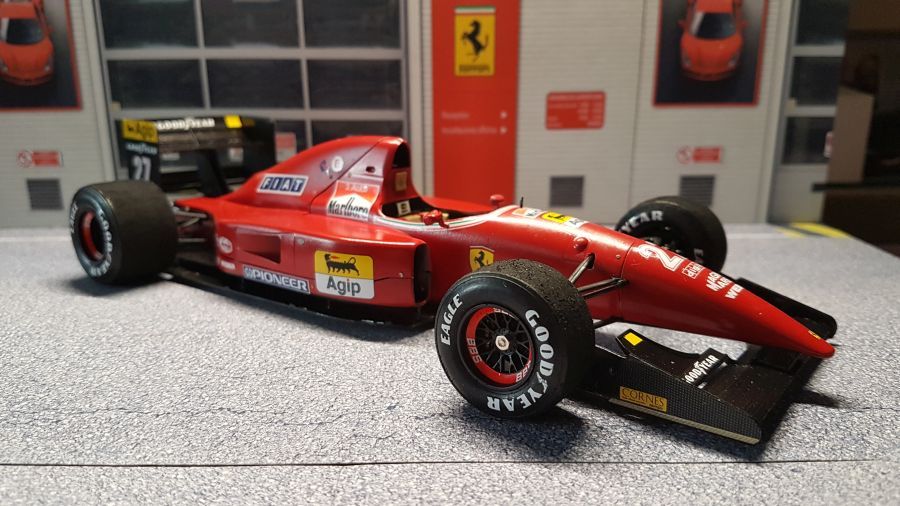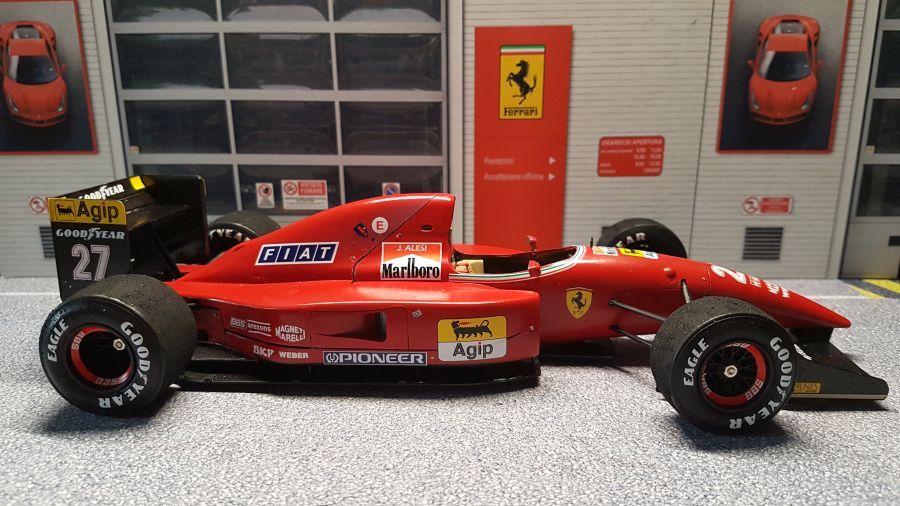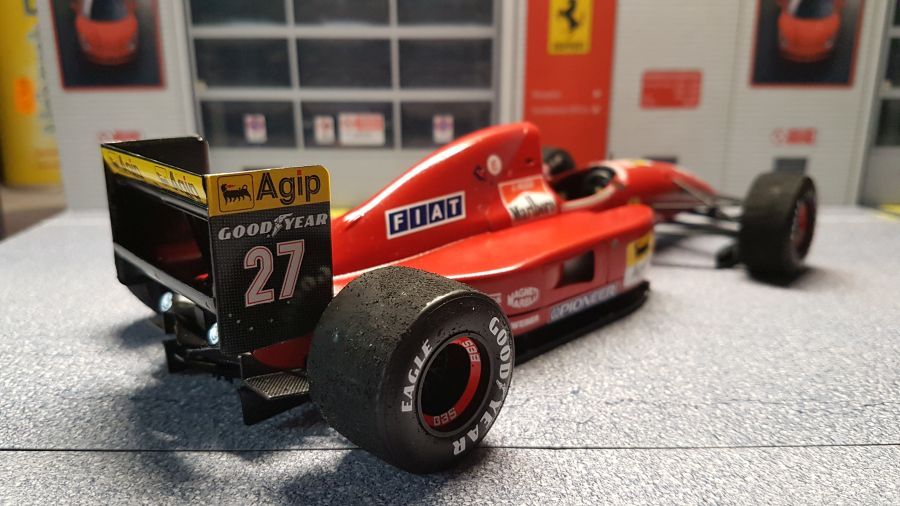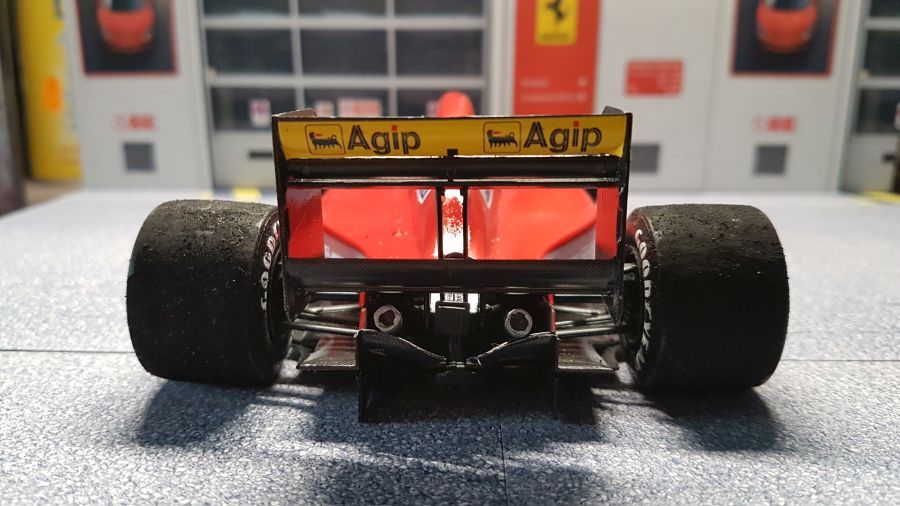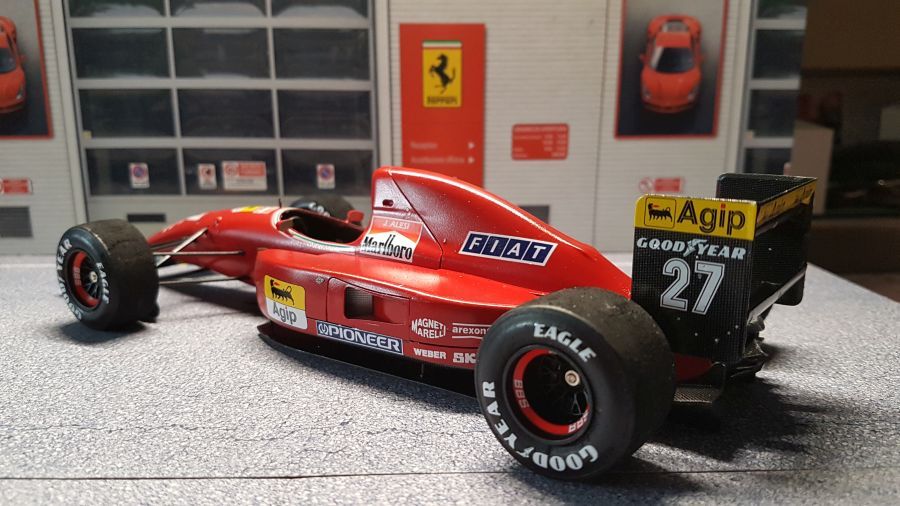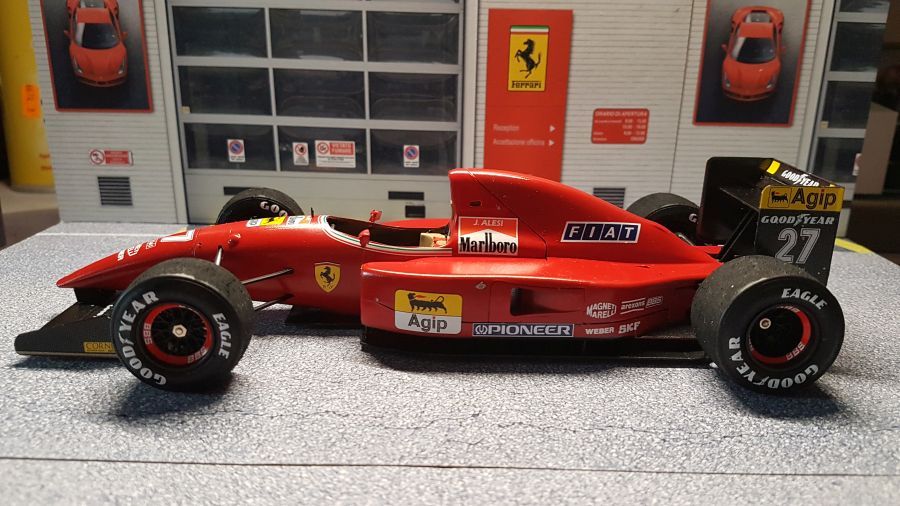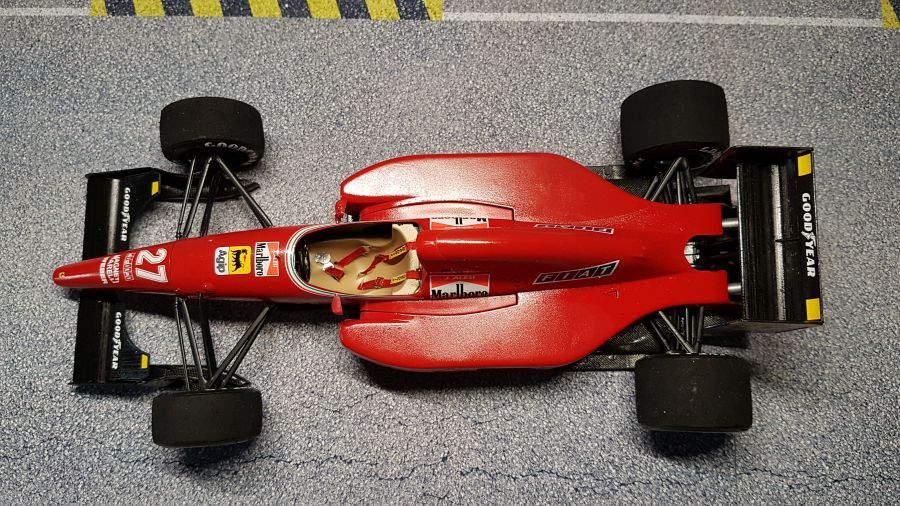 Deze ging zeer goed in elkaar. Eigenlijk weinig te melden. Alleen wat aandacht voor de achterwielophanging. Wanneer de zijplaten zijn geplaatst heb je weinig ruimte om de bovenste armen vast te klikken aan de motor. De Studio27 CF-decals zijn echt perfect.
This one went very well. Not much to add. Just some attention to the rear wheel suspension. When the side walls are attached, there is just little space to click the upper arms to the engine. The Studio27 CF-decals are perfect.