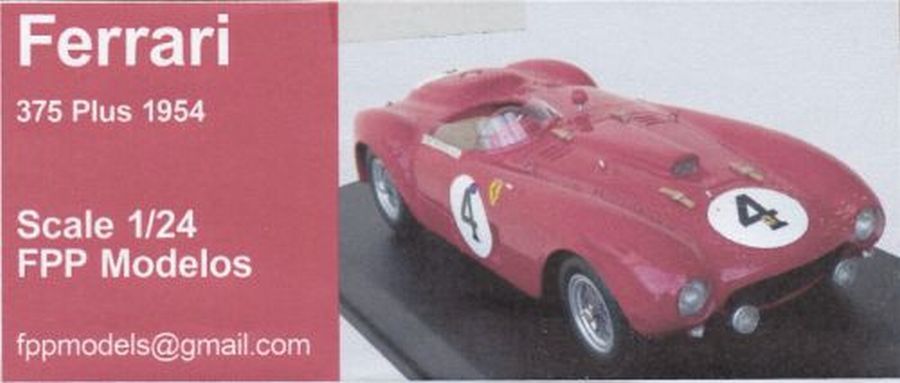 Door omstandigheden (drukte met penningmeesterschap van de VVE) staat de bouw van de F92AT even op een laag pitje. Daarom even verder met deze kit van Fernando Pinto Portugal Models. De 1954 Ferrari 375 Plus Le Mans versie zoals bestuurd door José Froilán Gonzalez en Maurice Trintignant. Een kit die qua aantal onderdelen redelijk eenvoudig is. De afwerking van het giethars is een ander verhaal. Veel werk om het acceptabel te maken. Eerst de inhoud.
Due to circumstances (busy with the job of treasurer of owners association) the build of the F92AT has to be on hold. That's why i decided to start this kit of Fernando Pinto Portugal Models. The 1954 Ferrari 375 Plus Le Mans as driven by José Froilán Gonzalez and Maurice Trintignant. A kit slow on parts. The finish of the resin will take a lot of work to be acceptable. First of all the content.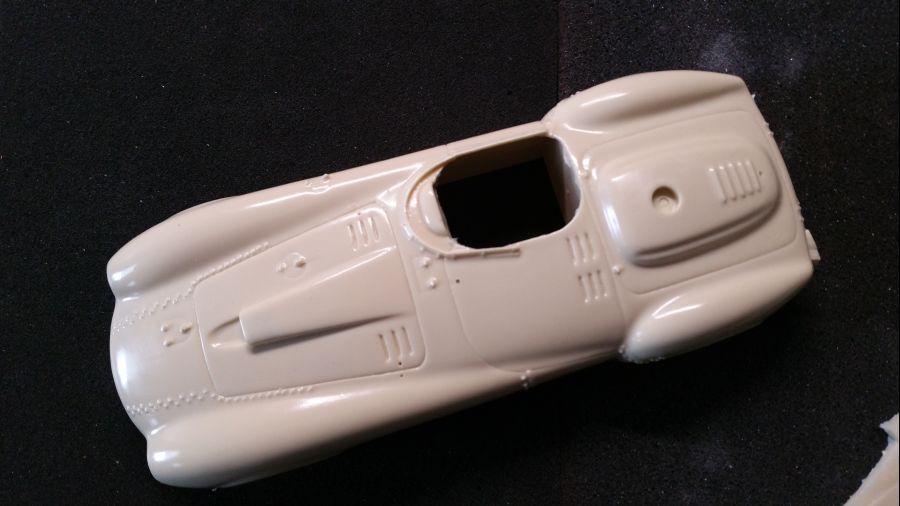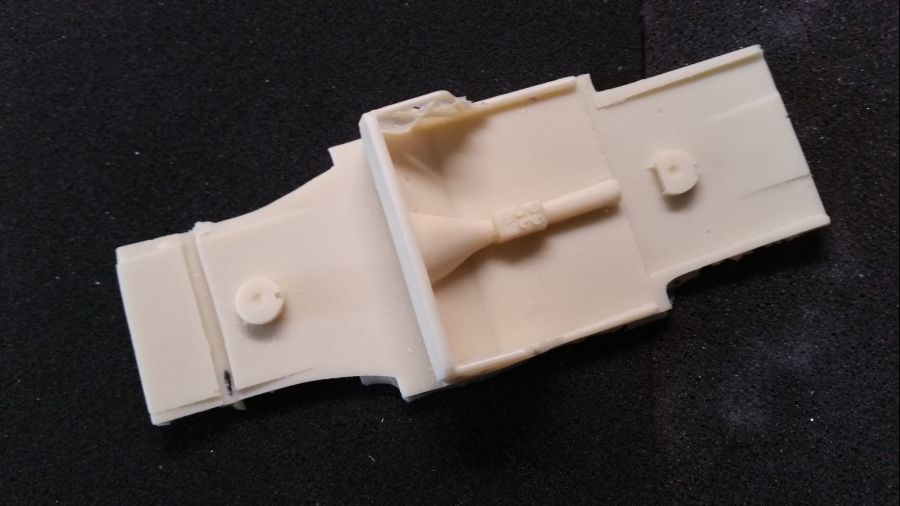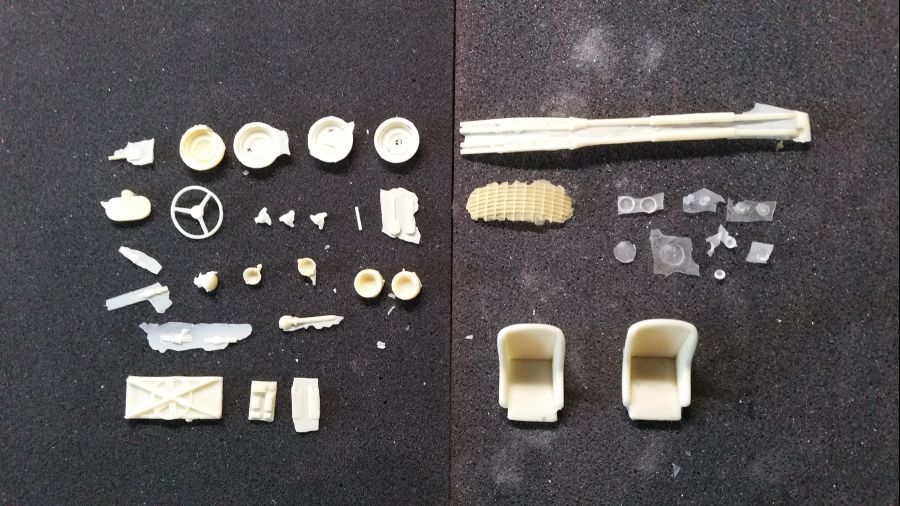 Niet best.
Not good.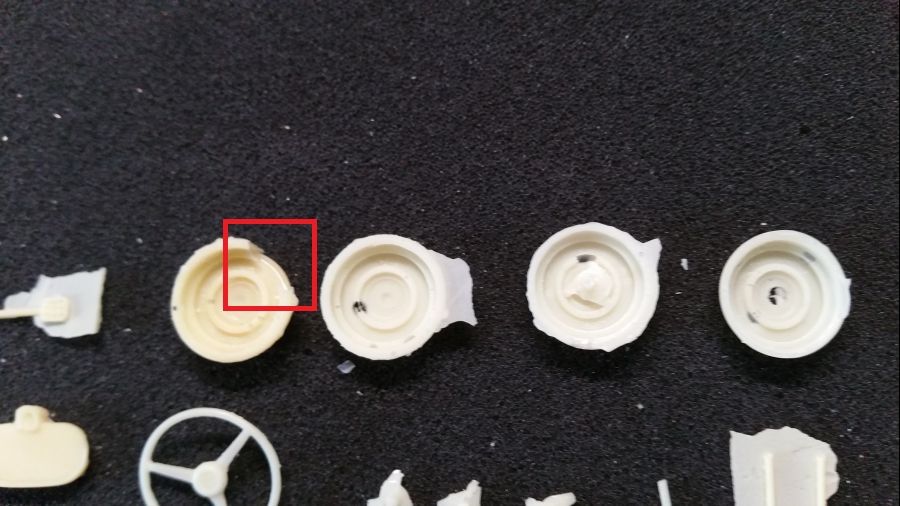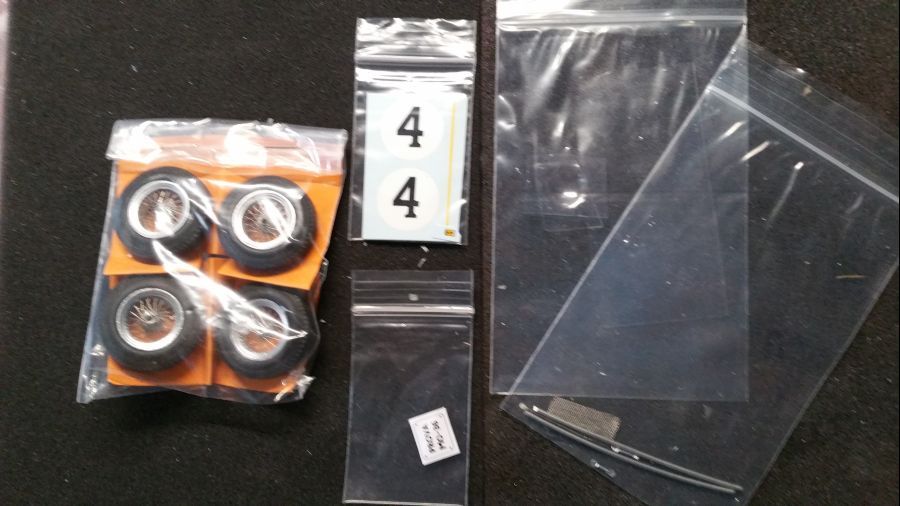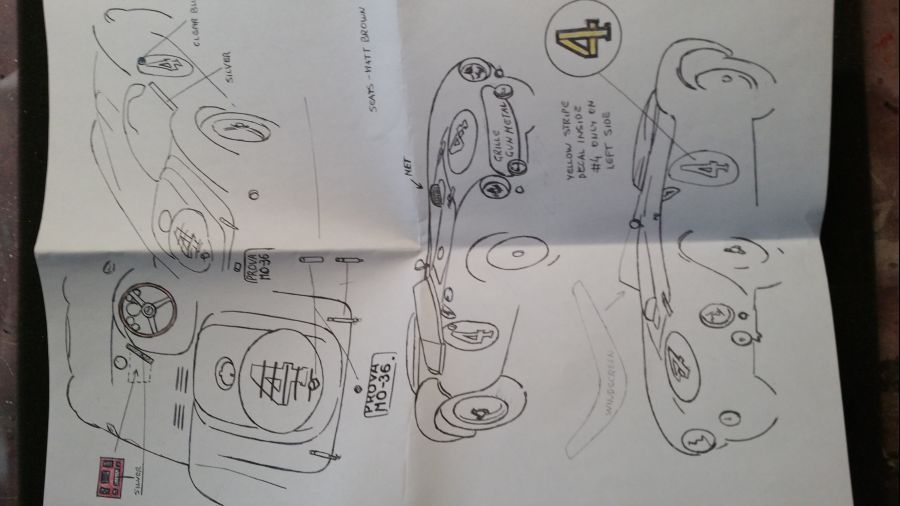 Zei ik eenvoudiger? Veel werk om er wat van te maken.
Did i say less demanding? A lot of work on this.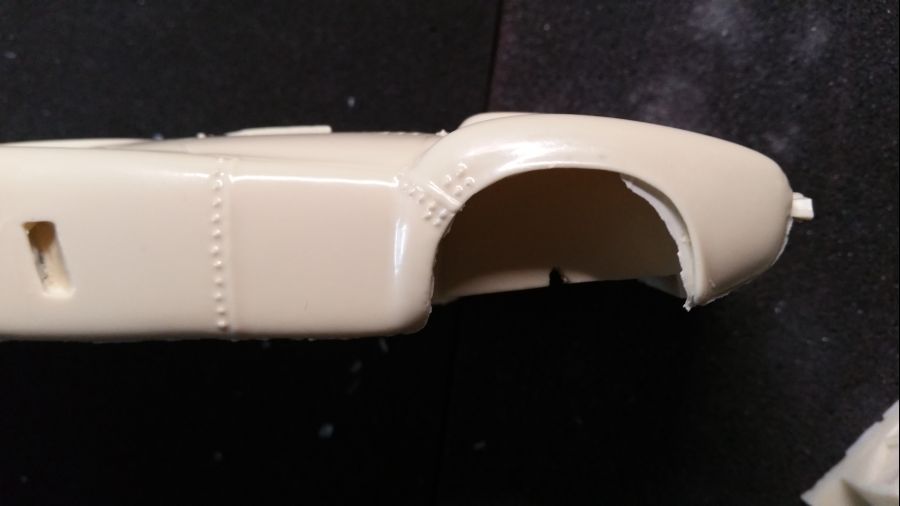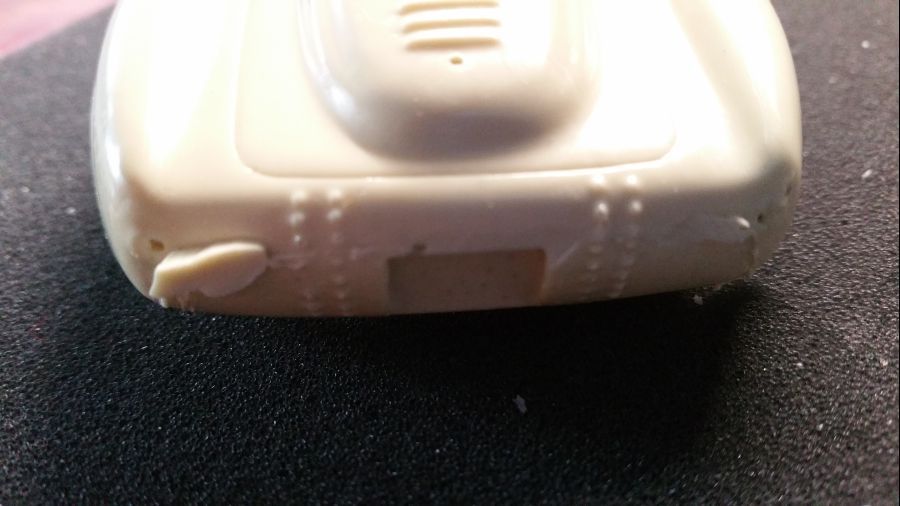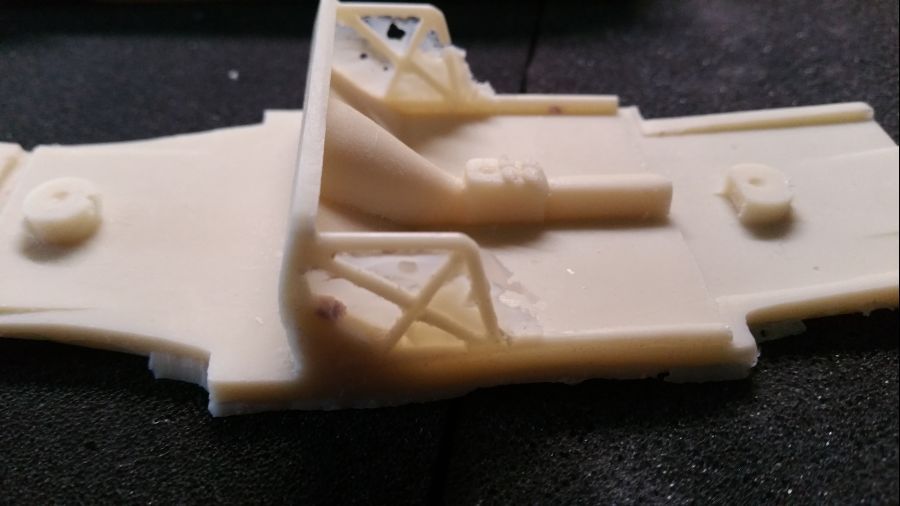 Eerst de boel bijwerken. Al het overtollige giethars verwijderen en schuren.
First work on the resin. Cutting off the excess and sanding.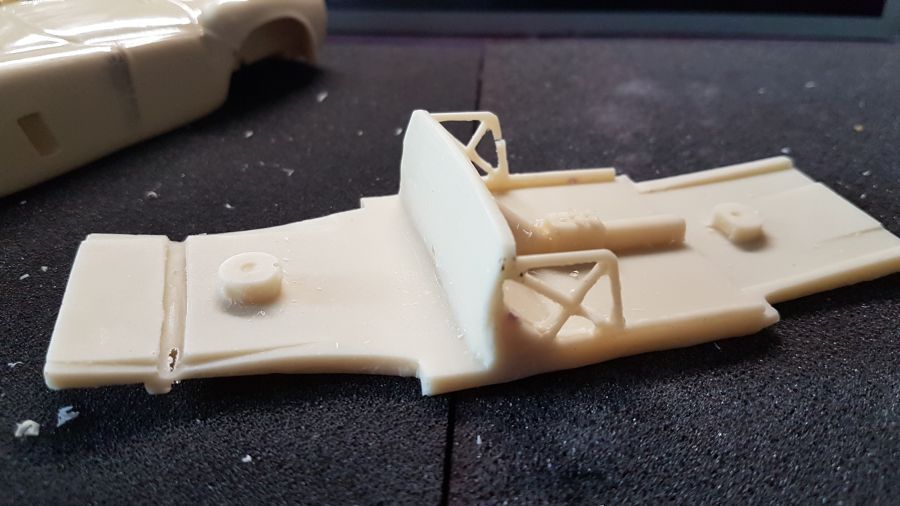 Ook de popnagels haal ik weg. Deze zijn veel te groot, dus ik ga ze vervangen.
Also the rivets are being removed. These are far too large, so i will replace them.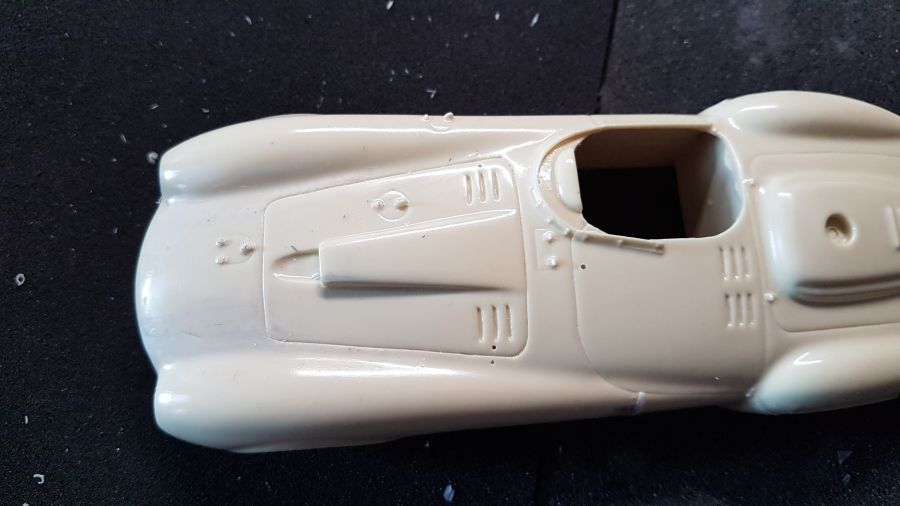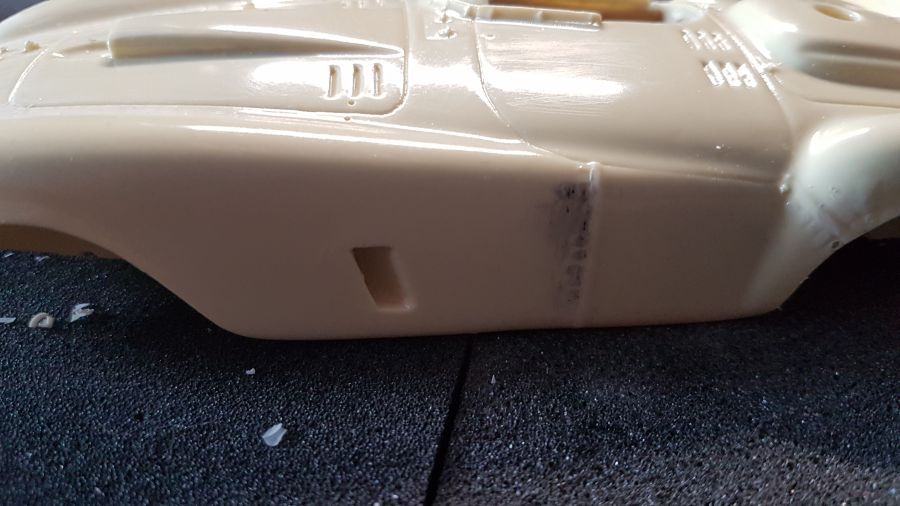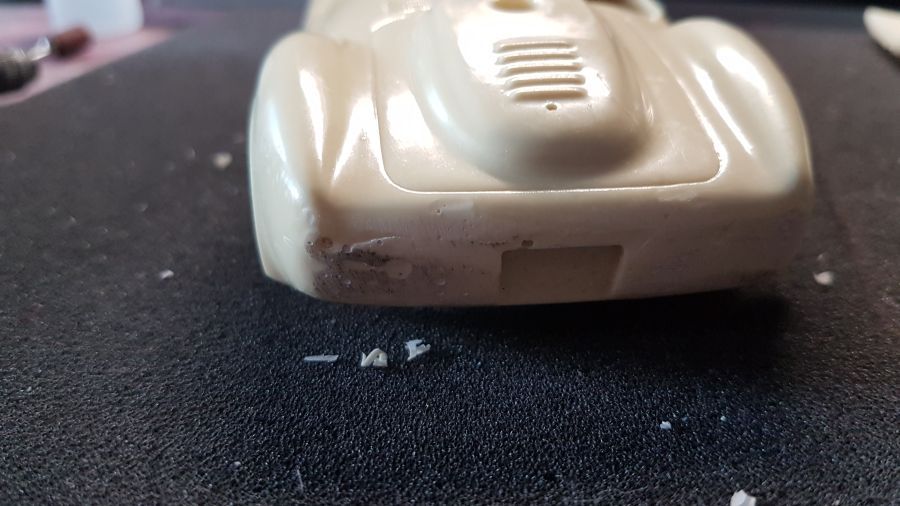 Wat werk om de bodem passend te maken.
Some work to make the floor fit the body.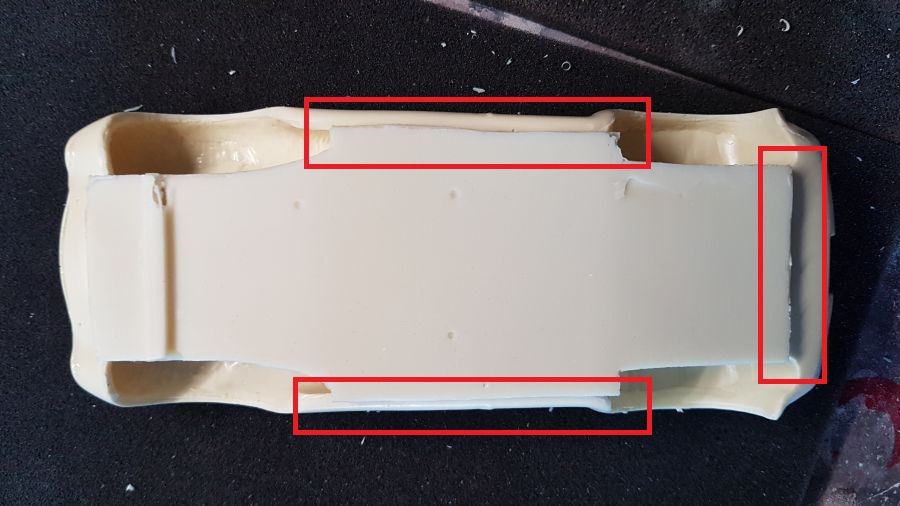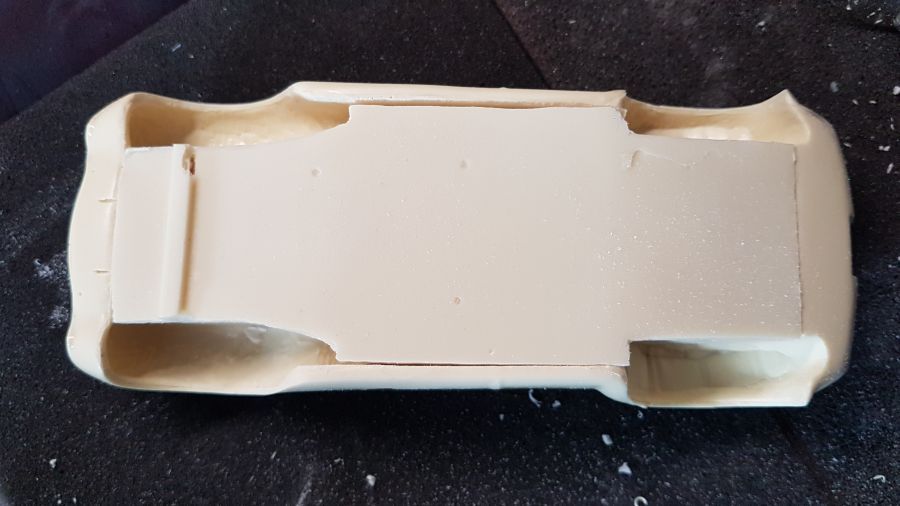 De kleine onderdelen worden wat bewerkt.
Some cleaning up on the small parts.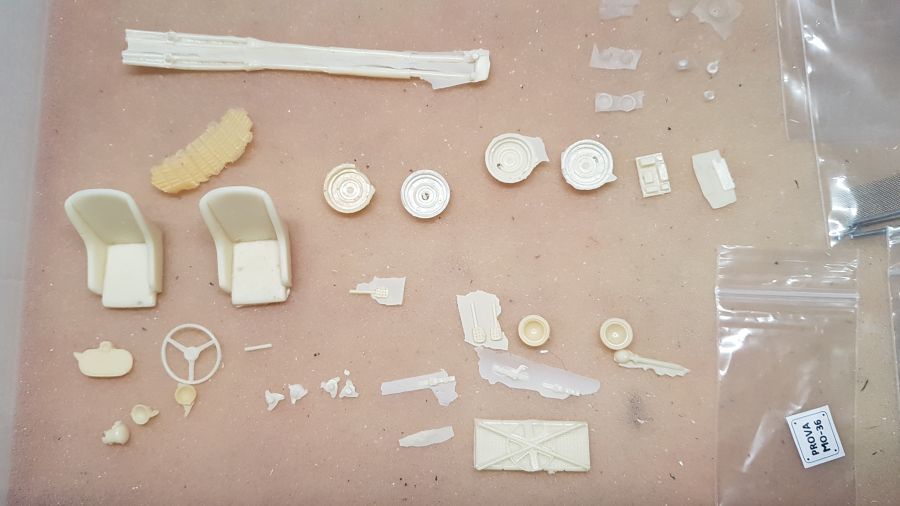 De voorkant wordt geopend.
Opening the front.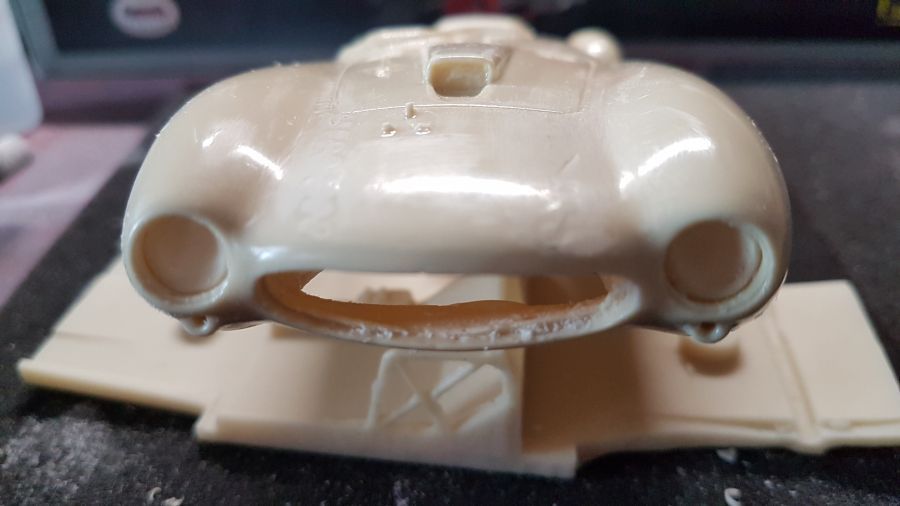 De grille is erg kwetsbaar...
The grille is very vulnerable...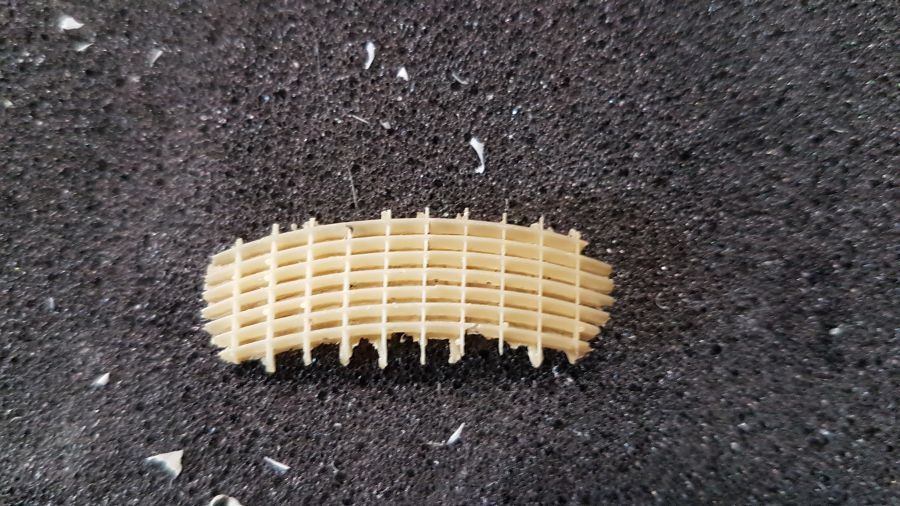 De vloer krijgt een aluminium verf. 
The floor gets some aluminium paint.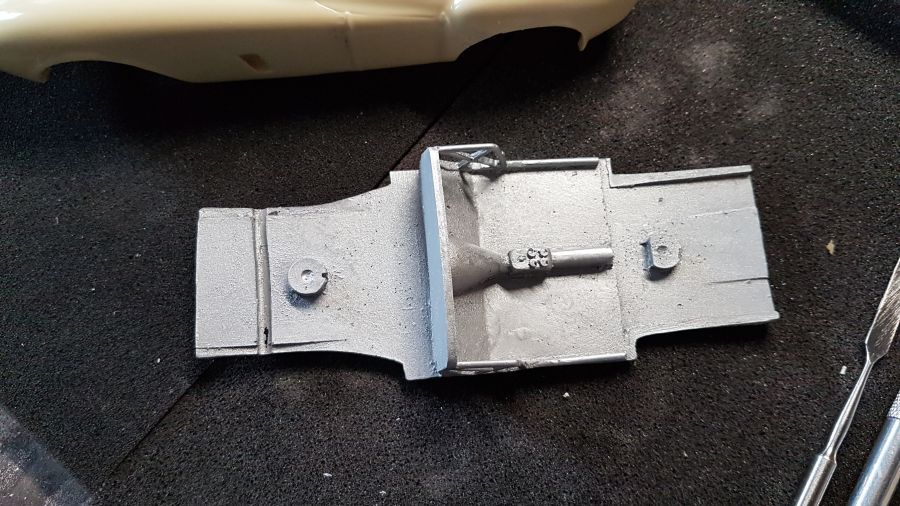 Het bodywerk moet wat bijgewerkt worden met putty.
The body work needs some putty at some places.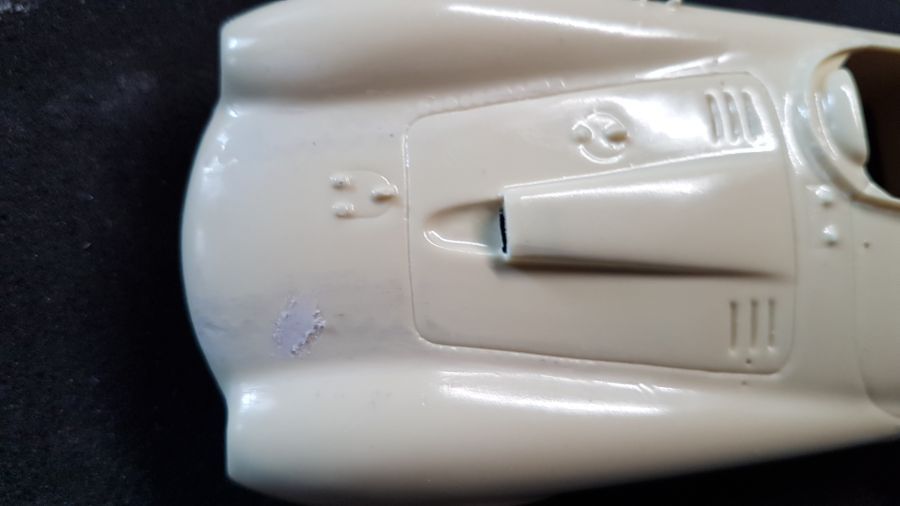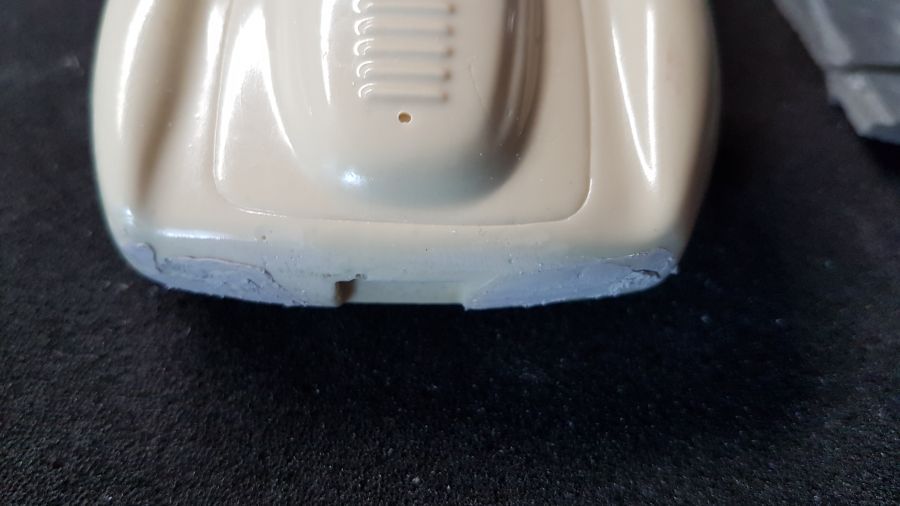 Dan voorzichtig de grille proberen te openen. Een lastig karweitje. Dit ding is erg breekbaar.
Next is carefully trying to open the grille. A tricky job. This thing is very brittle.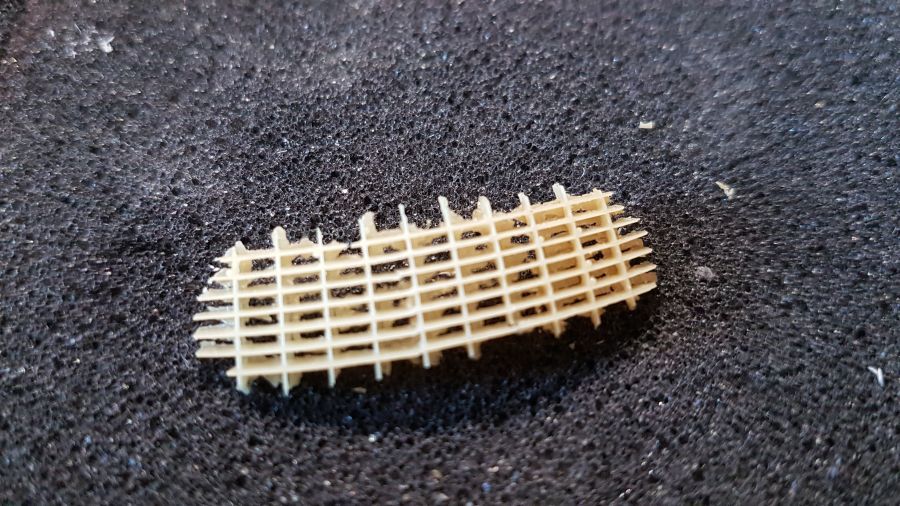 Op maat maken.
Cutting it to size.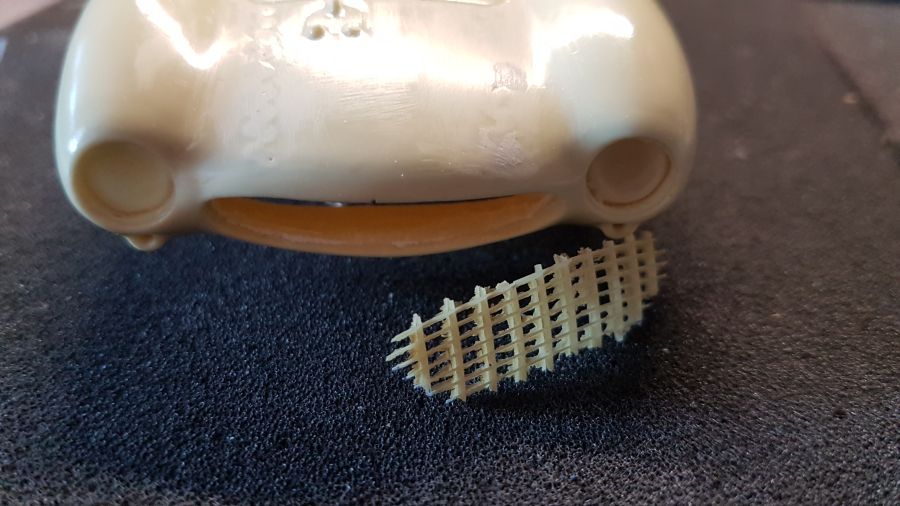 Even passen.
A test fit.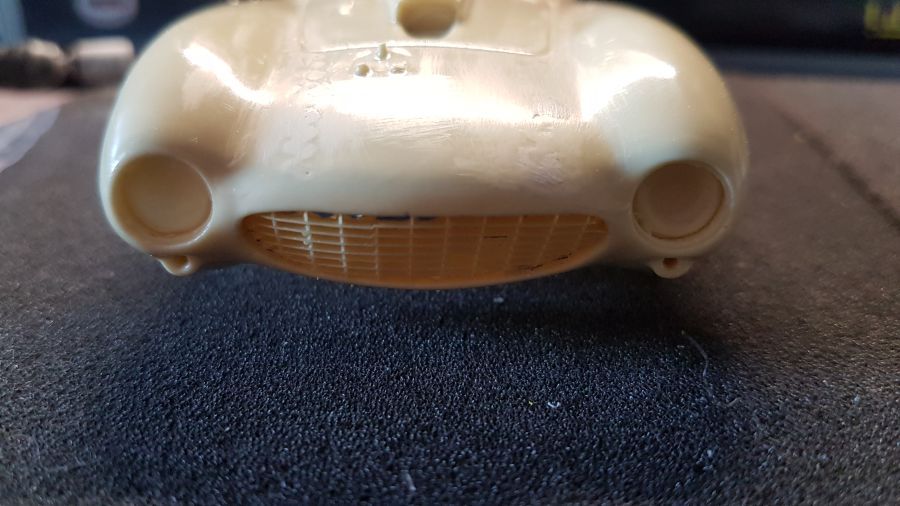 En een verfje.
And some paint.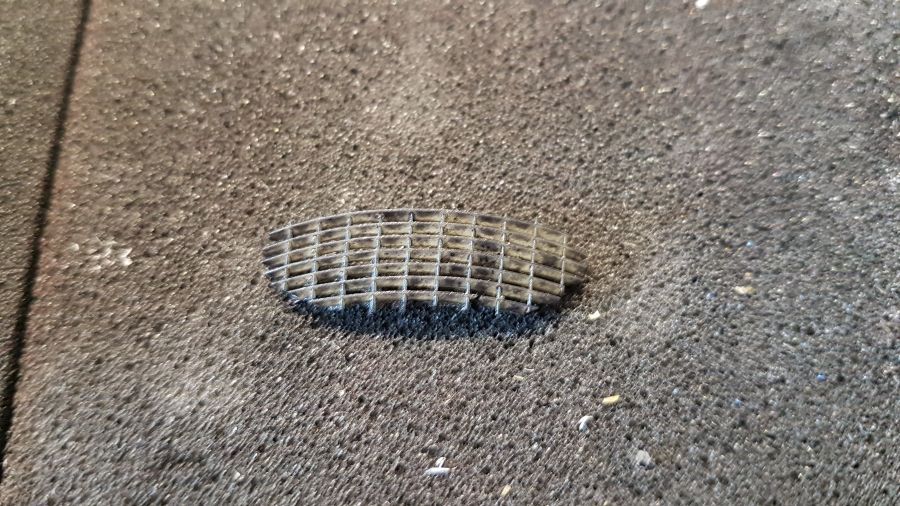 Dan nieuwe popnagels. Ik gebruik weer de Archer Transfers.
Then new rivets. I am using the Archer Transfers again.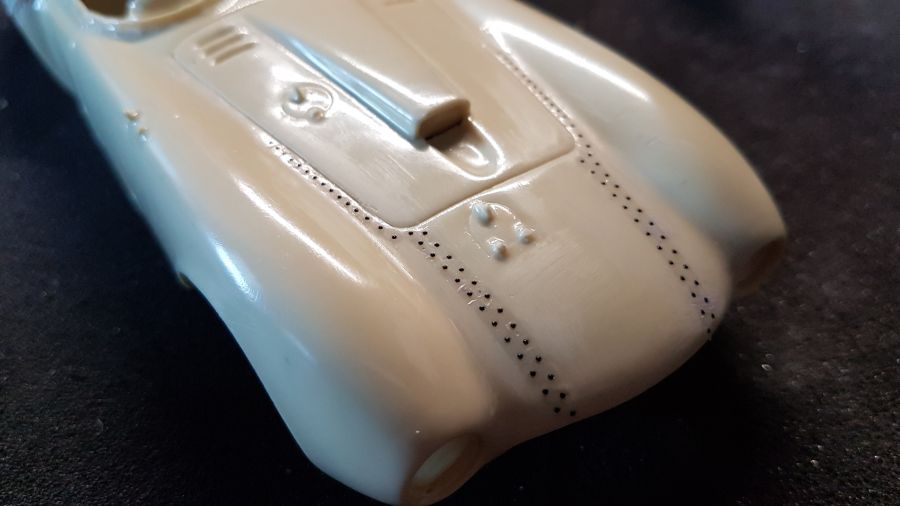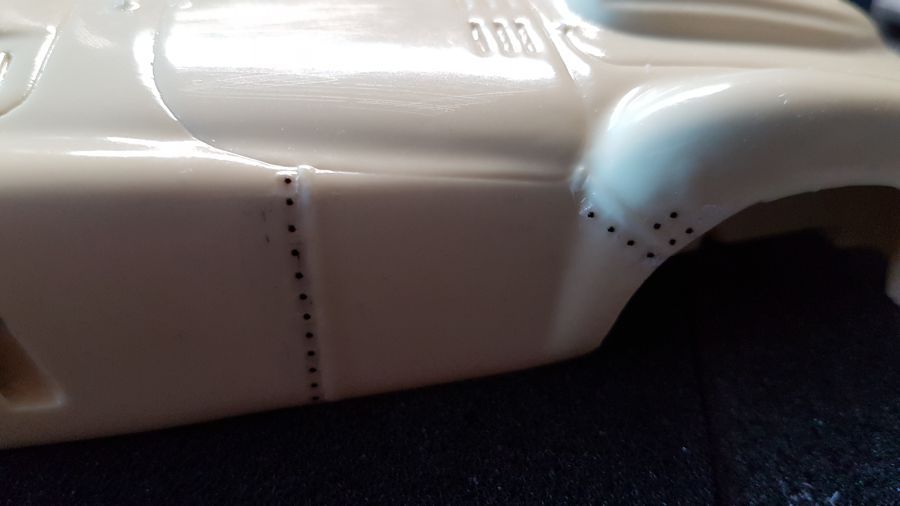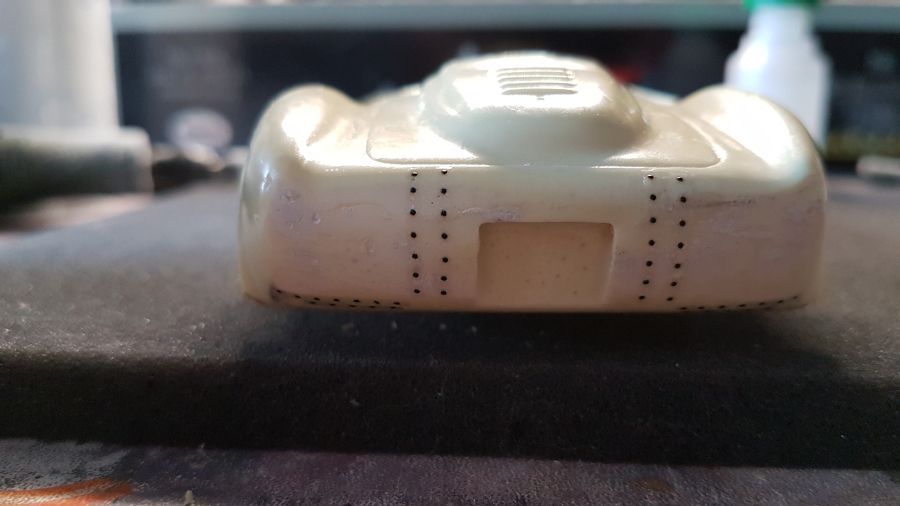 De grondverf wordt gespoten.
The primer has been applied.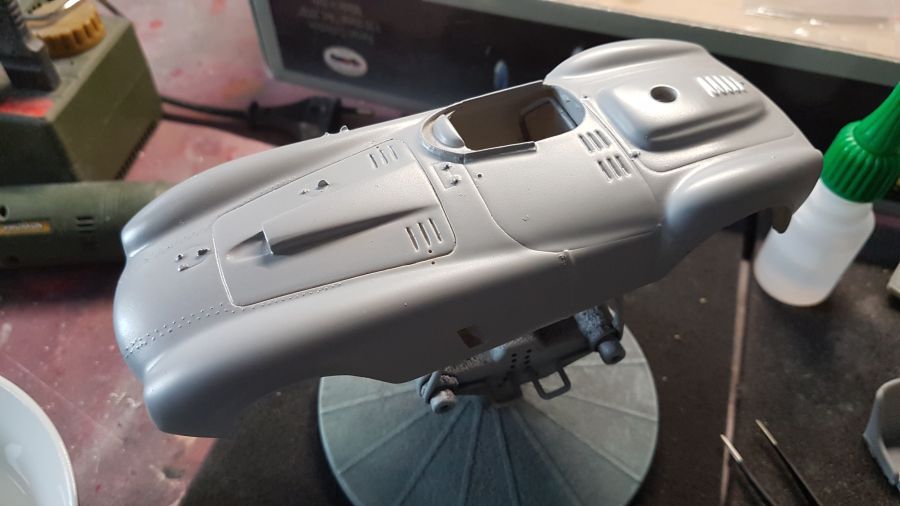 De stoelen eveneens.
The seats too.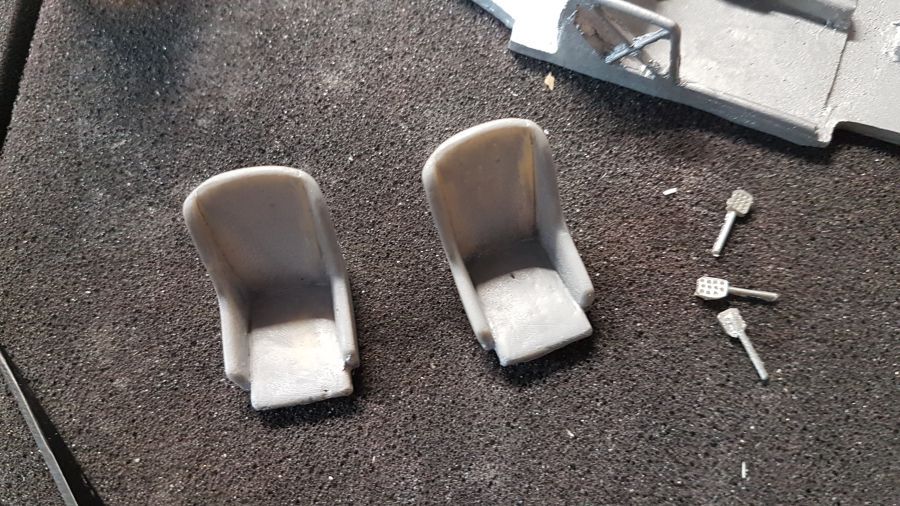 Rode vrijdag.
Red friday.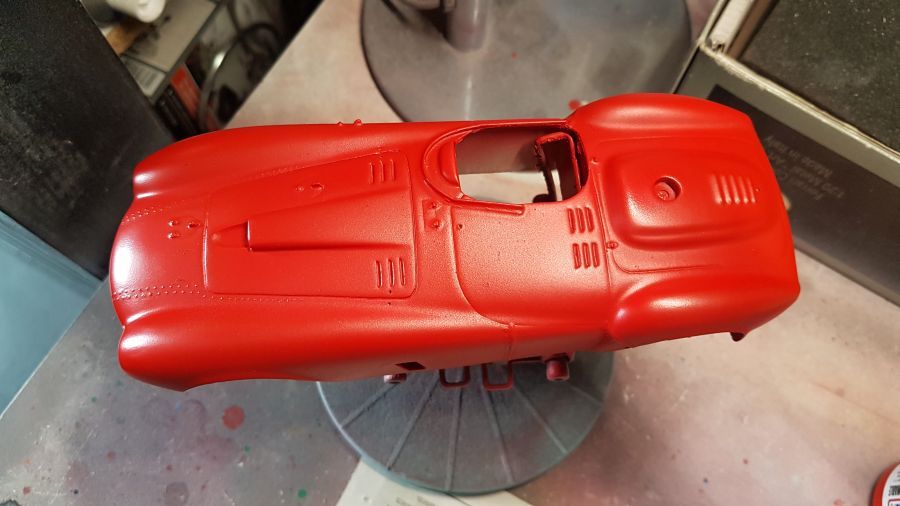 En de heldere glanslak.
And the clear gloss lacquer.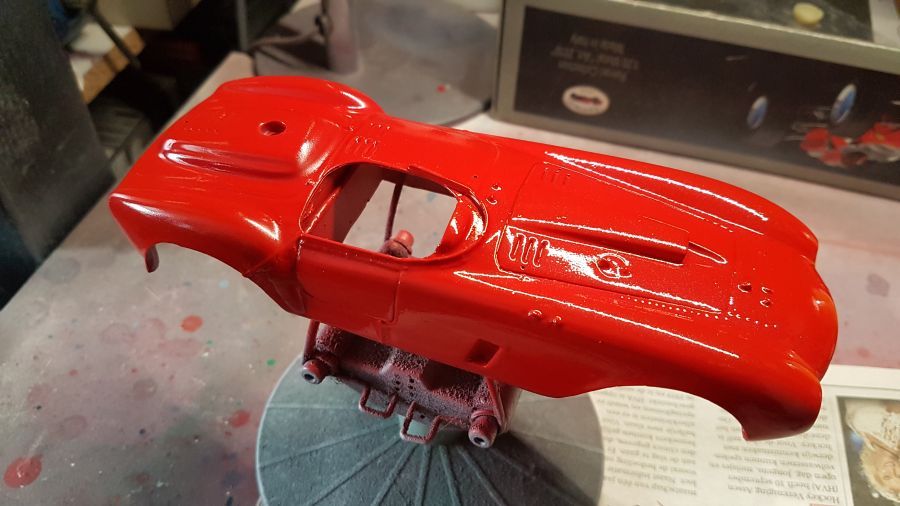 Verder met de stoel.
To continue with the seat.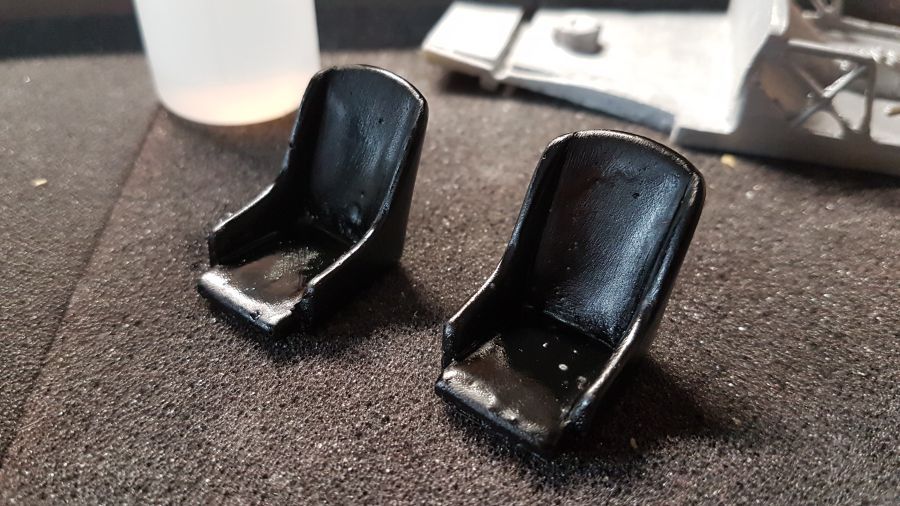 Tijd voor wat decals.
Time for some decals.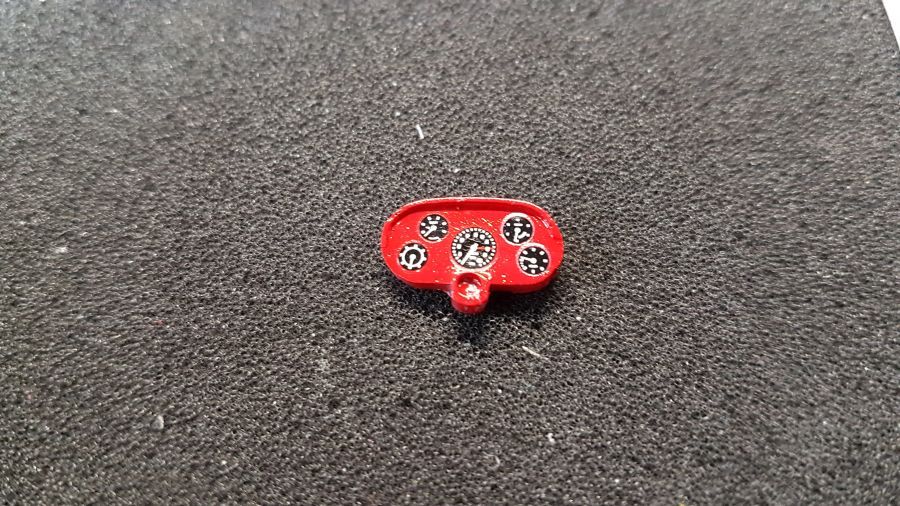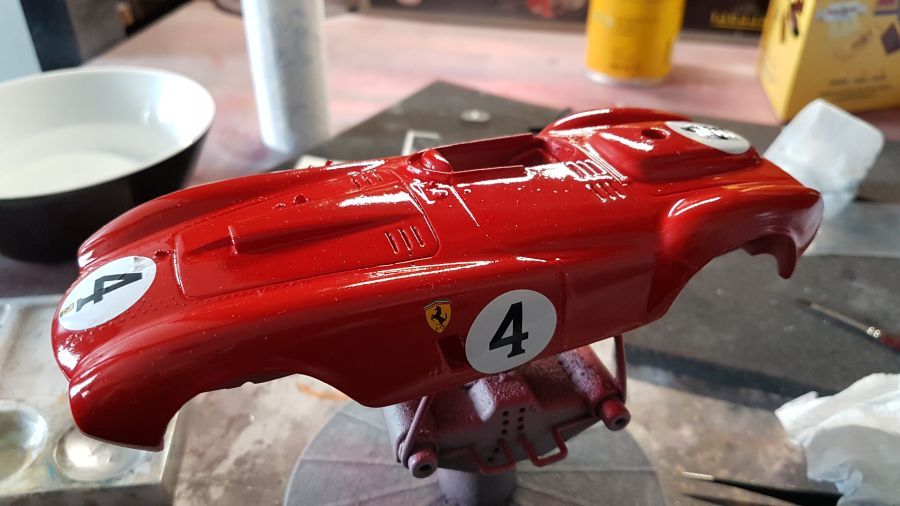 De binnenkant krijgt de kleuren.
The inside gets it's colours.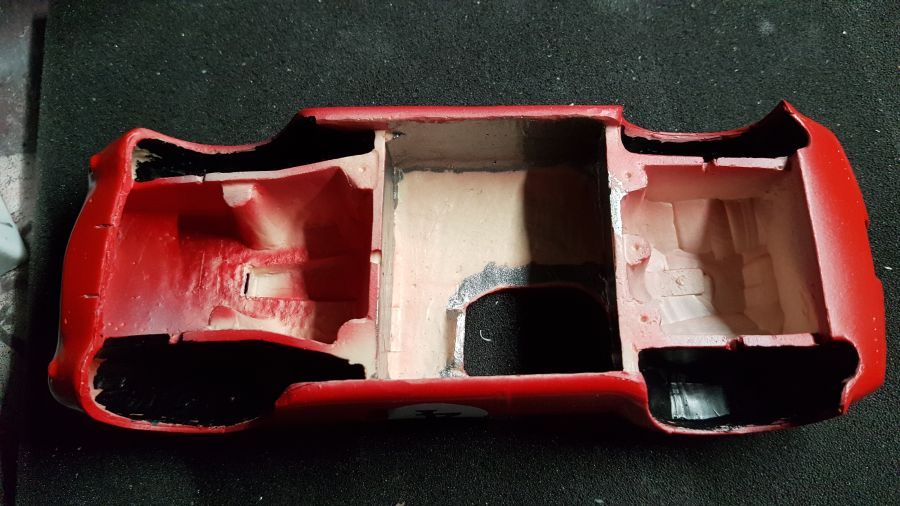 De 4 aan de linkerkant krijgt een gele inleg.
The 4 on the left side gets a yellow inlay.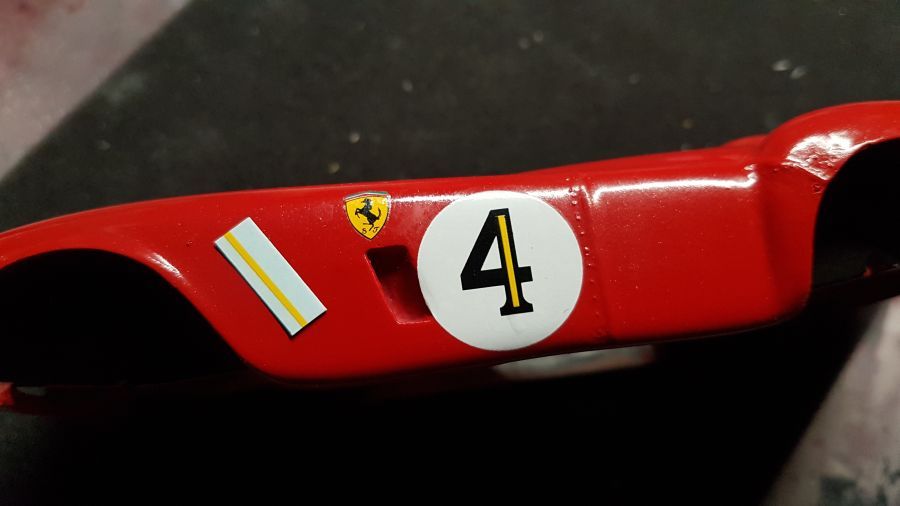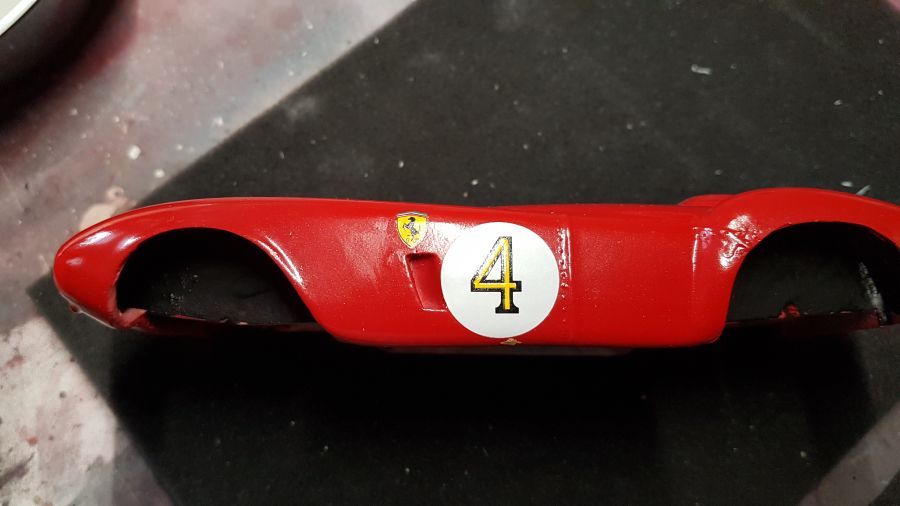 De radiateur wordt geplaatst. Ik maak me niet druk om de kleine opening. Deze is geheel verdwenen wanneer de grille wordt geplaatst.
The radiator will be added. I don't mind the small gap. This will be completely gone when the grille has been attached.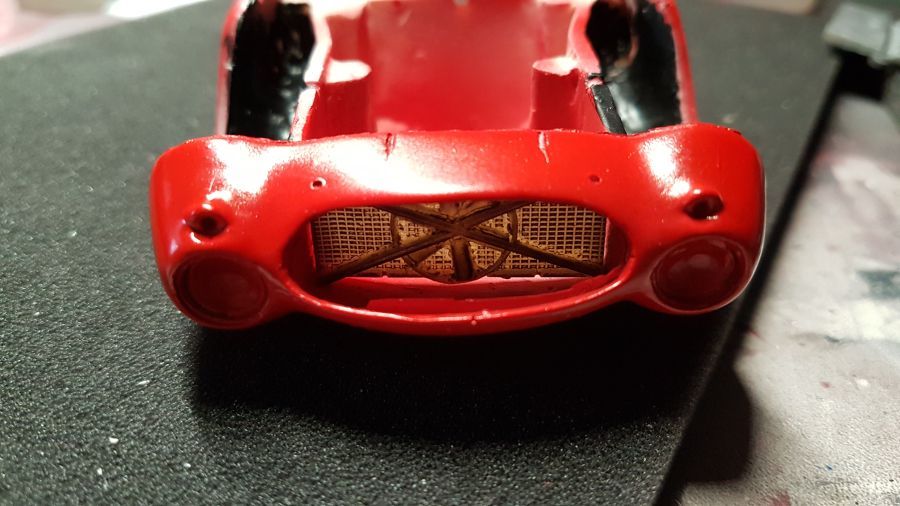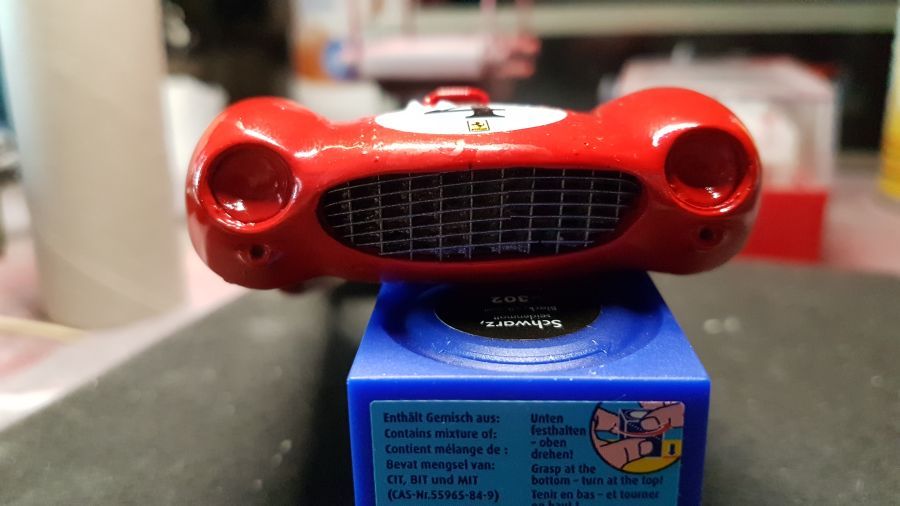 Het gaas komt in de opening. Neem er even de tijd voor.
The mesh is added to the opening. Take your time for it.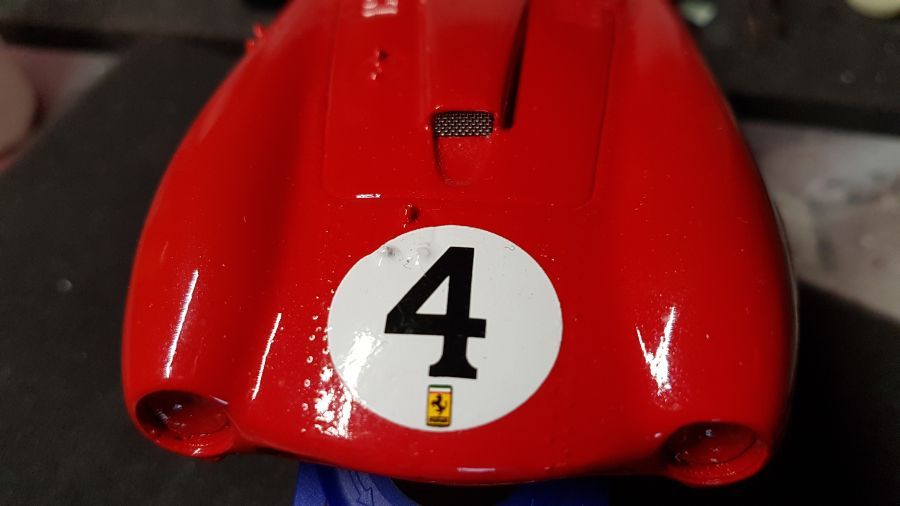 Wat kleine onderdelen zijn verder voorbereid.
Some small parts were prepared.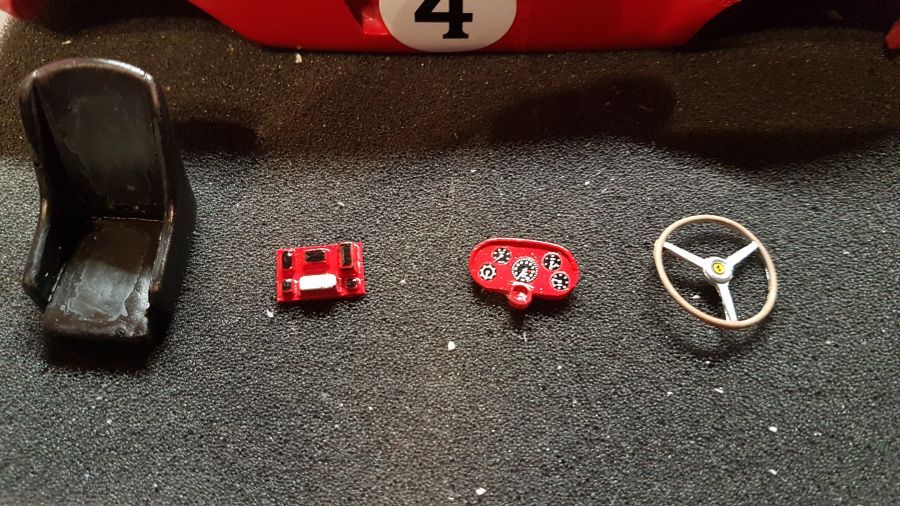 Tijd om de lengte van de assen te bepalen.
Time to determine the length of the axles.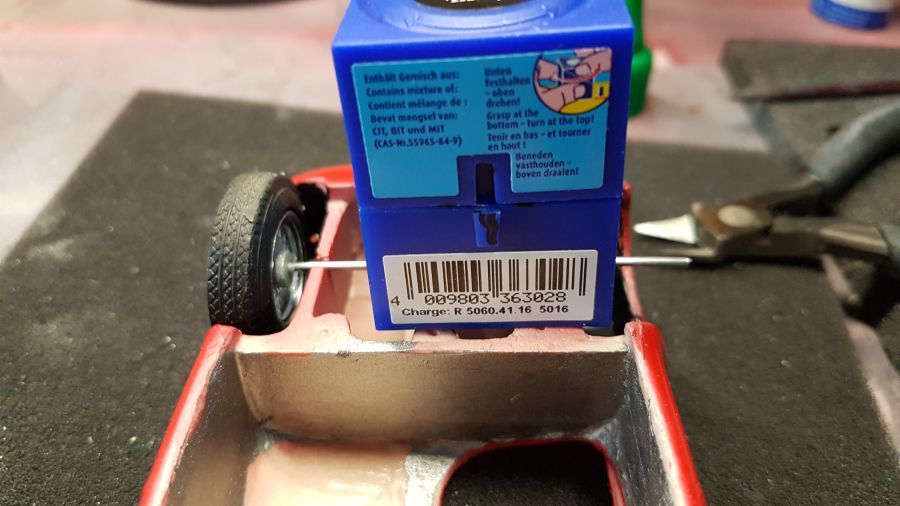 Vergeet de remtrommels niet.
Don't forget the brakes.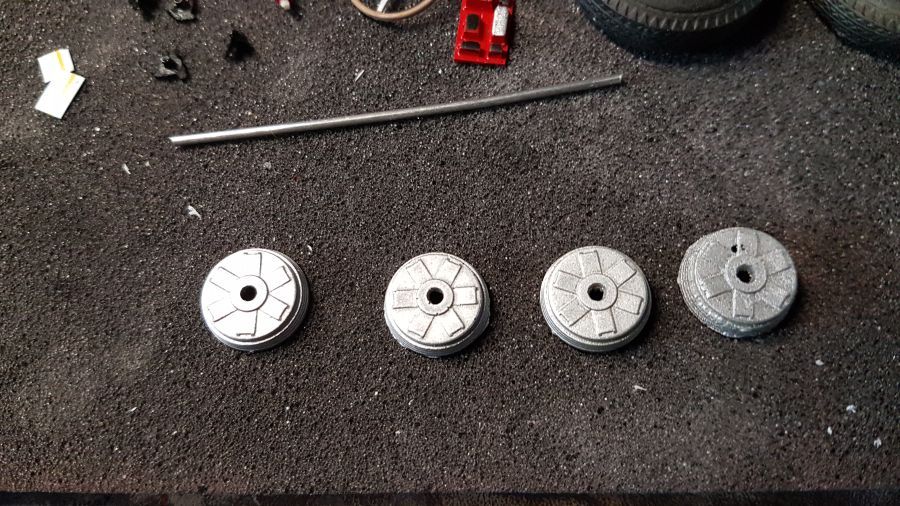 Ik laat een beetje ruimte over voor de wielmoeren.
I leave some space for the wheel caps.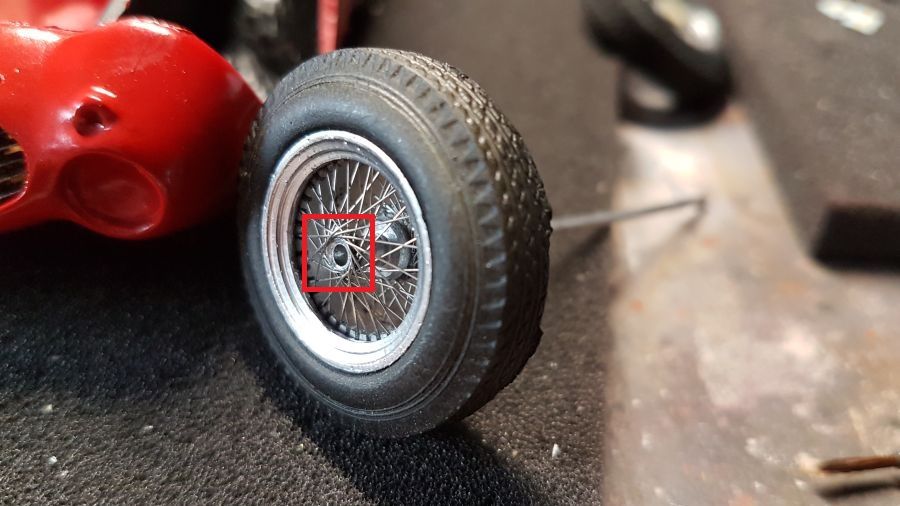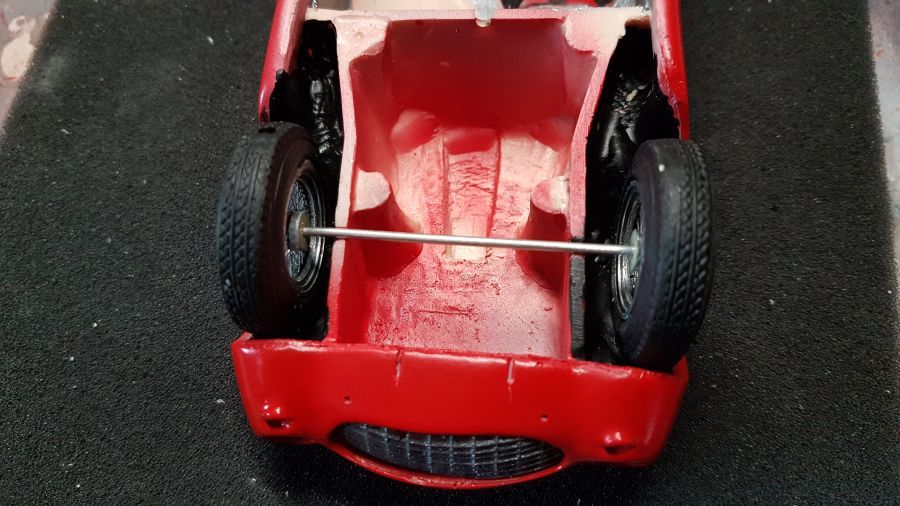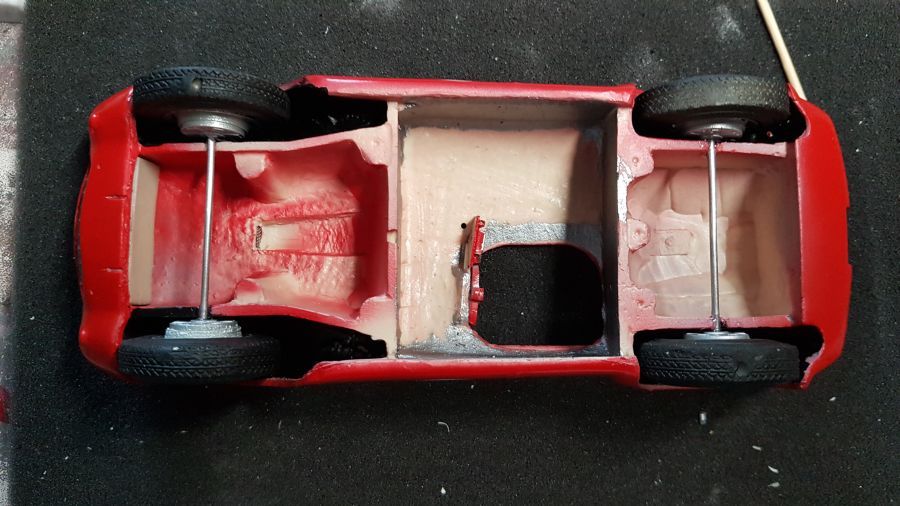 Dan kan de vloer worden gemonteerd.
Next is mounting the floor.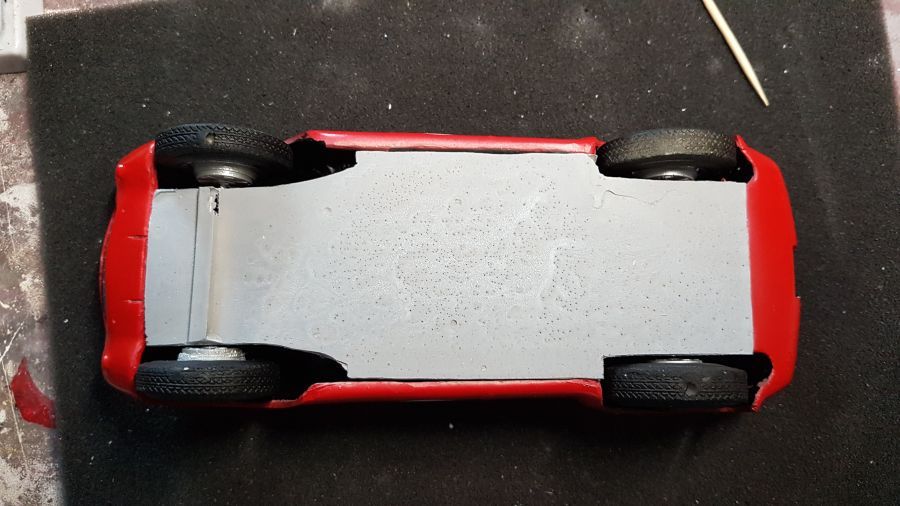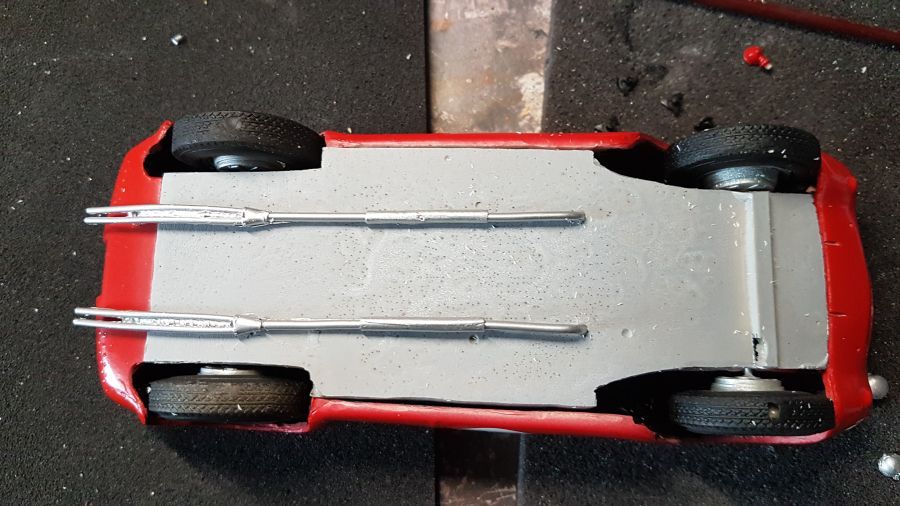 Ik haal de stoel er weer even uit. Deze hoort bruin te zijn.
I remove the seat. It needs to be brown.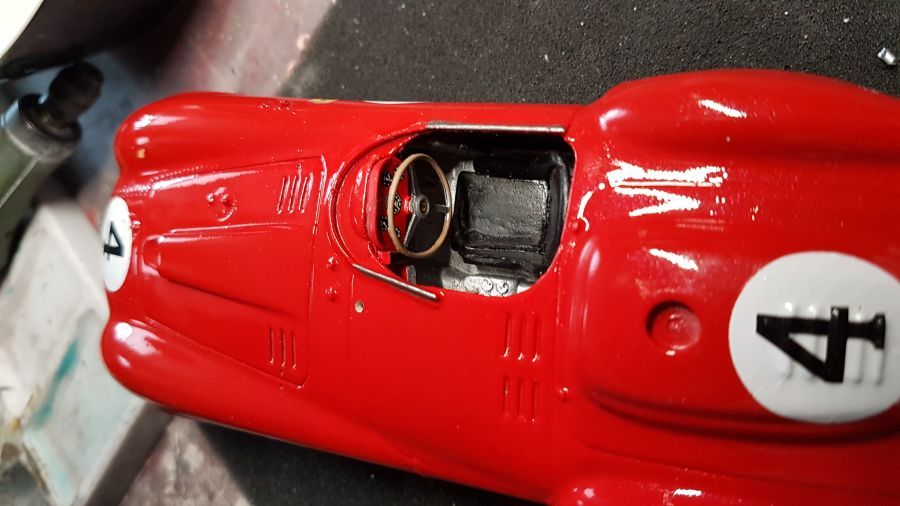 De eerste lichten gaan erop.
The first lights are being added.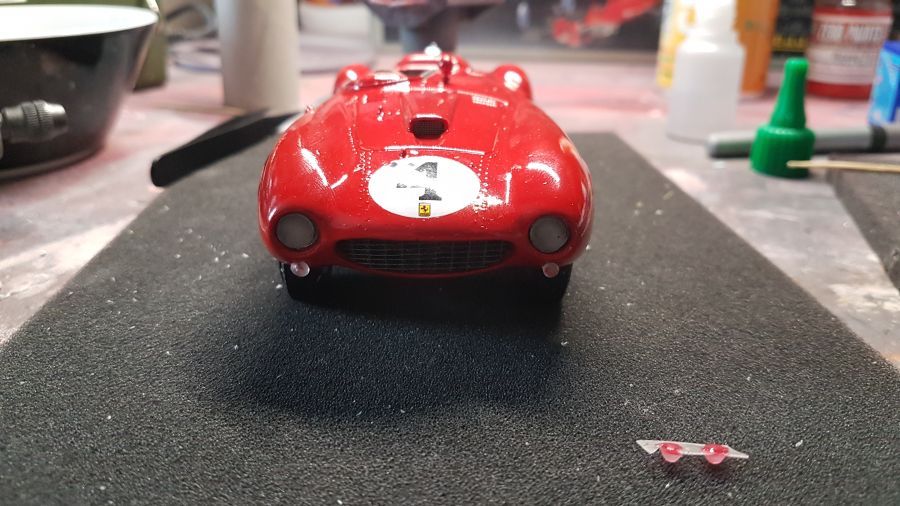 Ik lijm een staafje achterin de mistlamp om deze aan de auto te bevestigen.
I will glue a small pin in the back of the fog light to attach it to the car.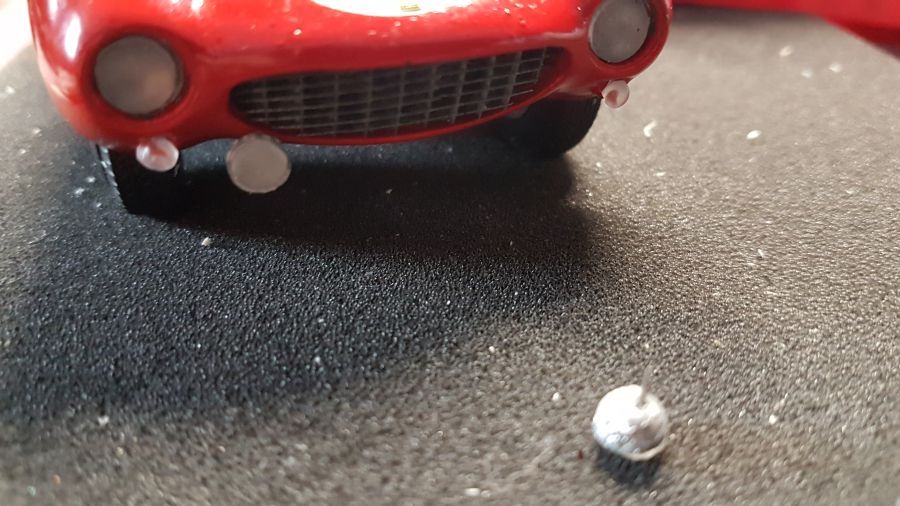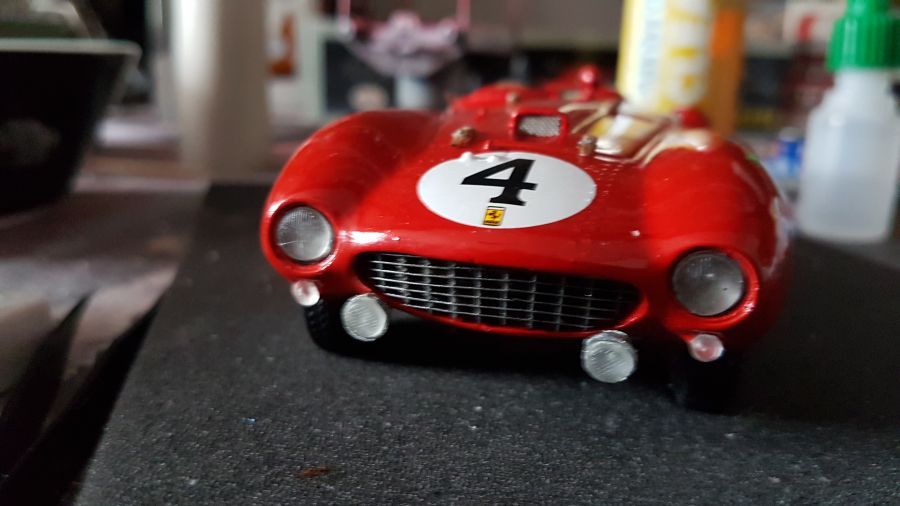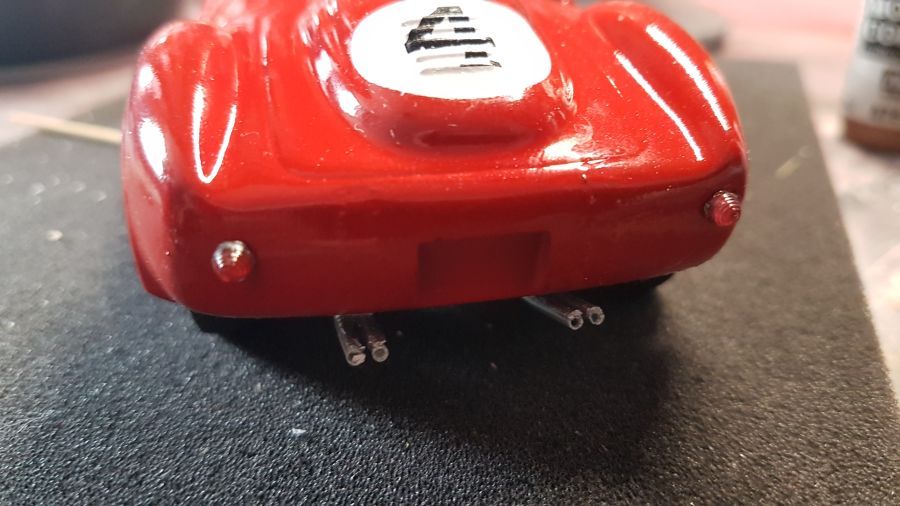 De stoel is overgdaan en de leren riemen zijn gemaakt.
The seat has been redone and the leather belts have been prepared.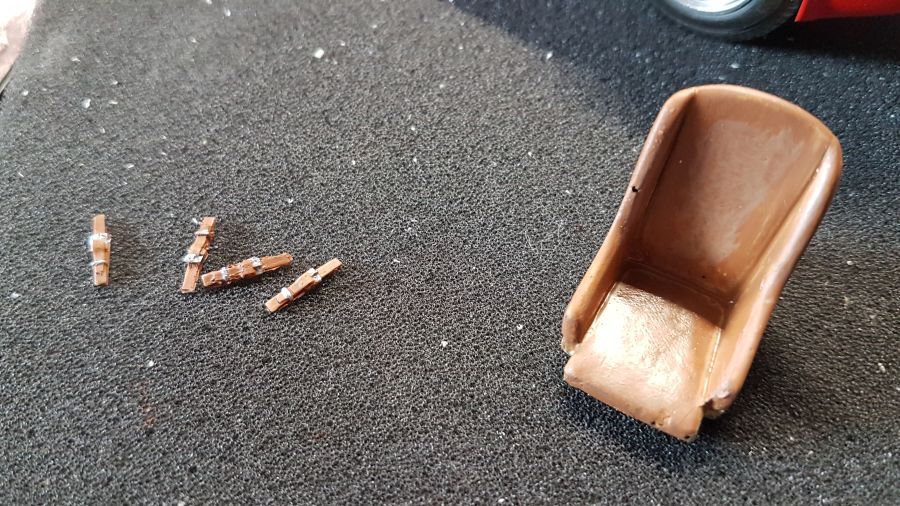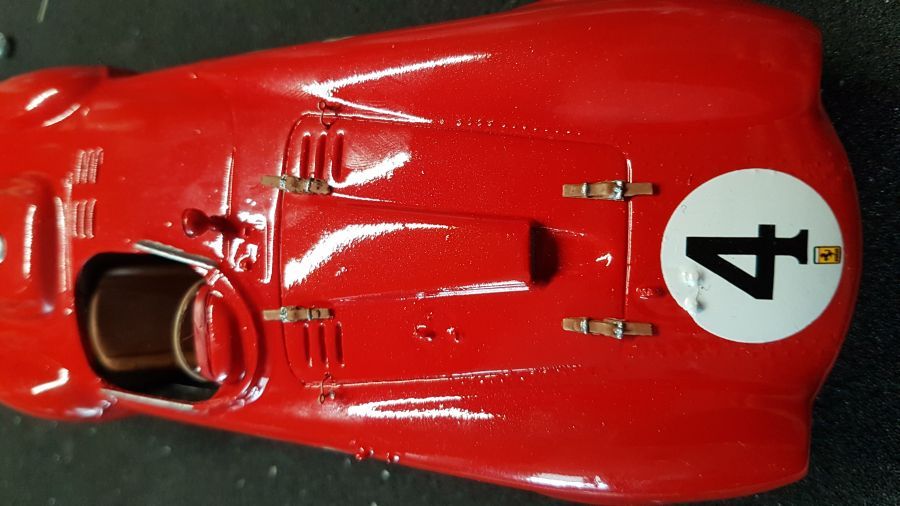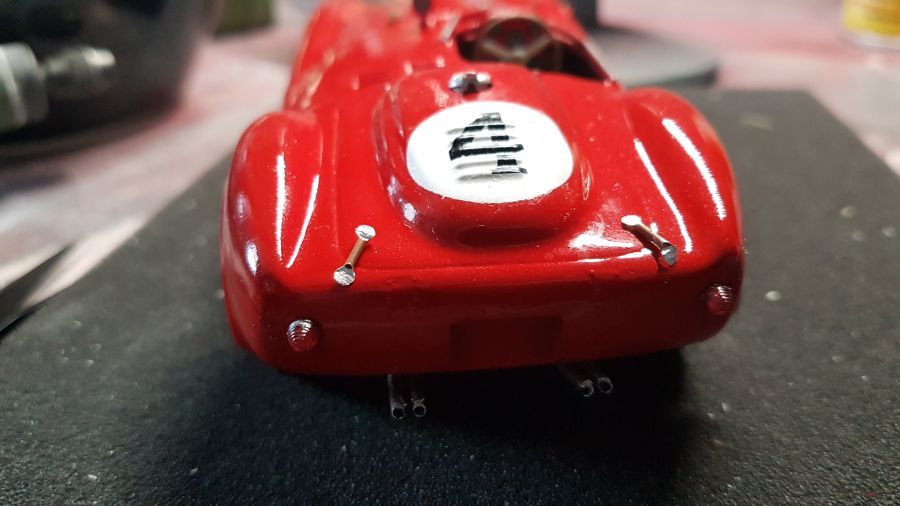 Het begint erop te lijken.
It comes along fine.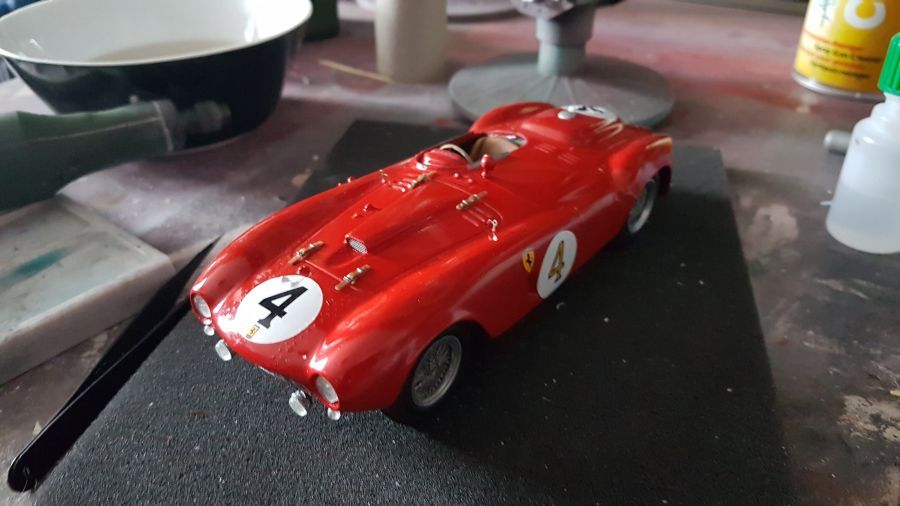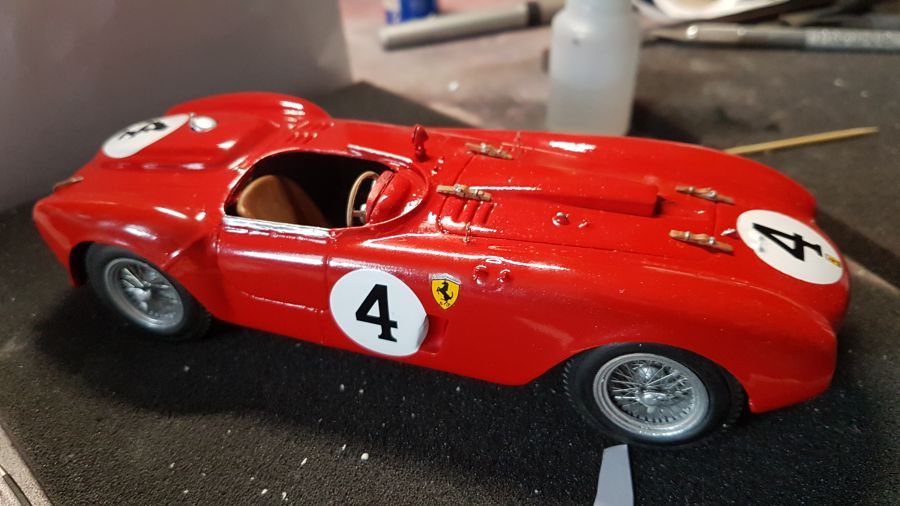 Als laatste het werk aan het raam. De tekening heeft een mal die ik ga gebruiken.
And now final the work to the window. The instructions contain a template i will use.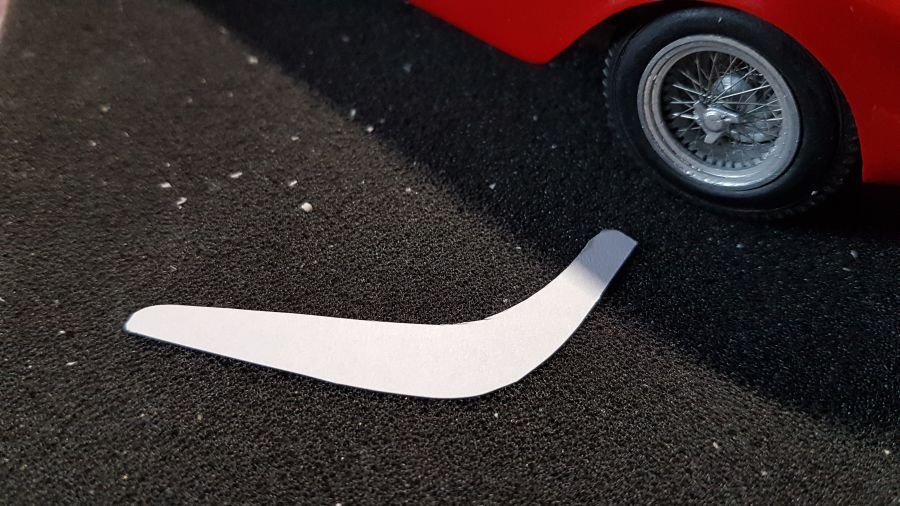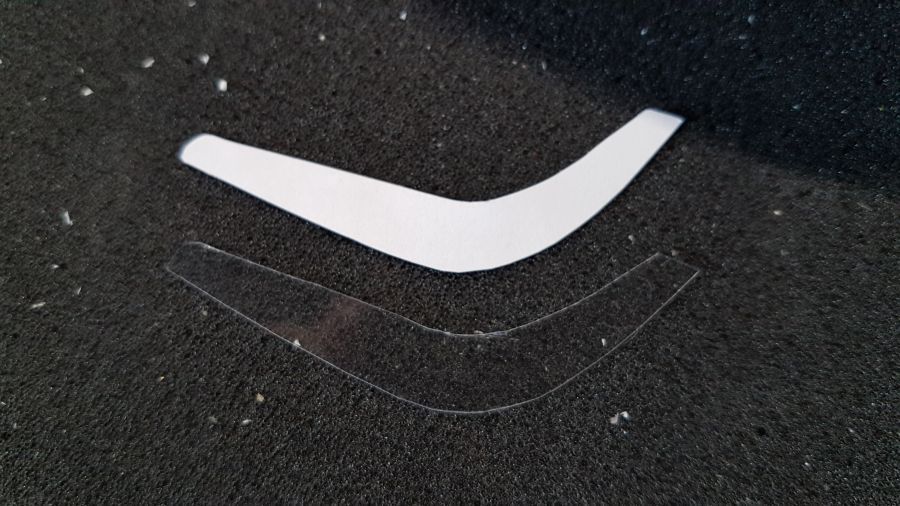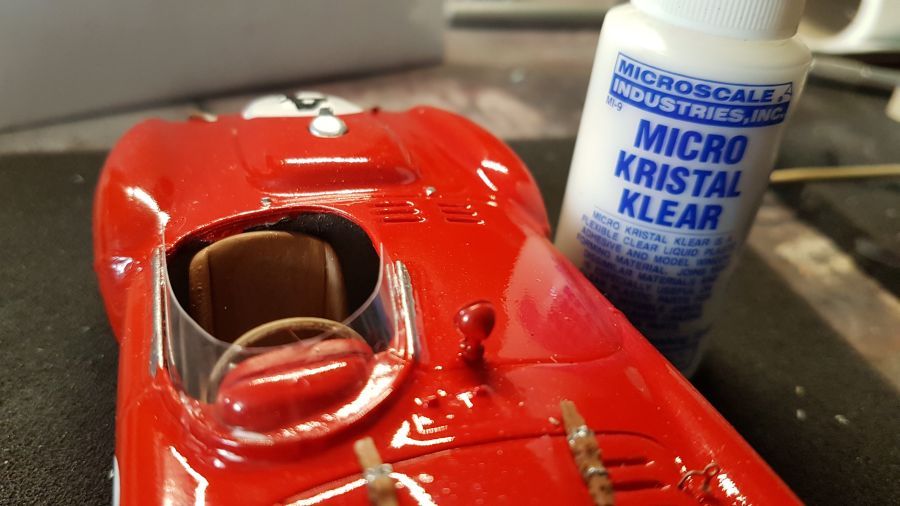 De popnagels worden geverfd met een tandenstoker.
The rivets are painted by use of a toothpick.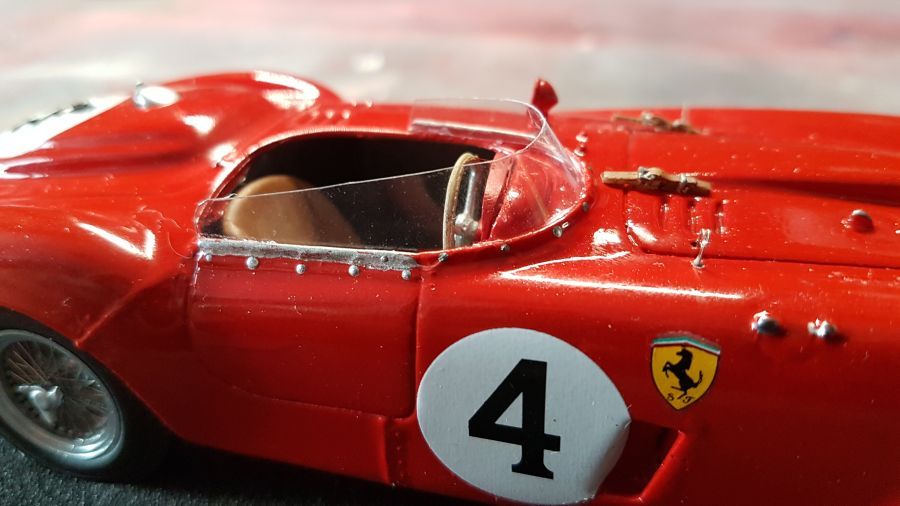 En er is er weer 1 klaar, nadat de naden zijn gevuld met verdunde waterverf.
And another one is finished, after the seems have been treated with diluted water paint.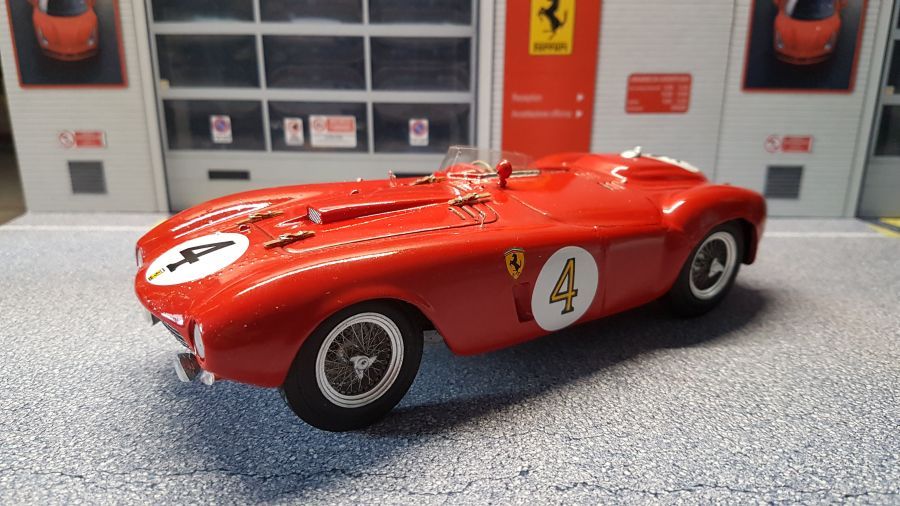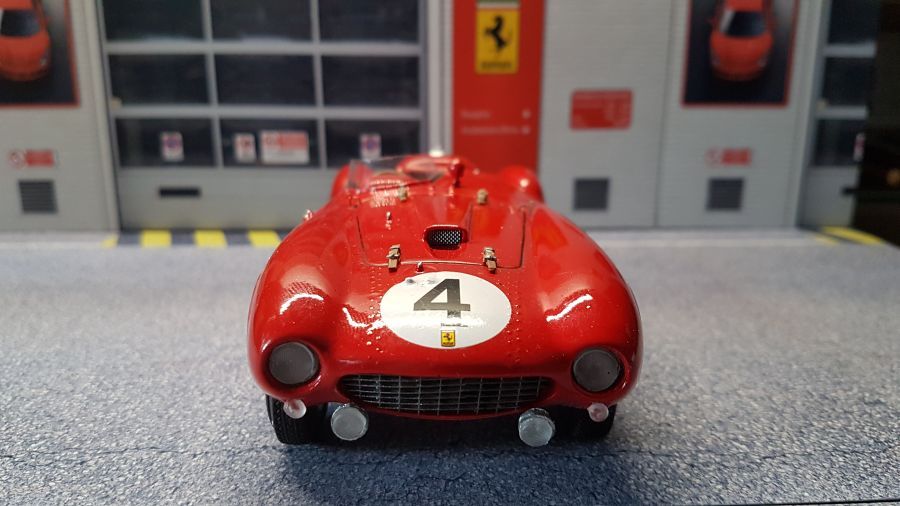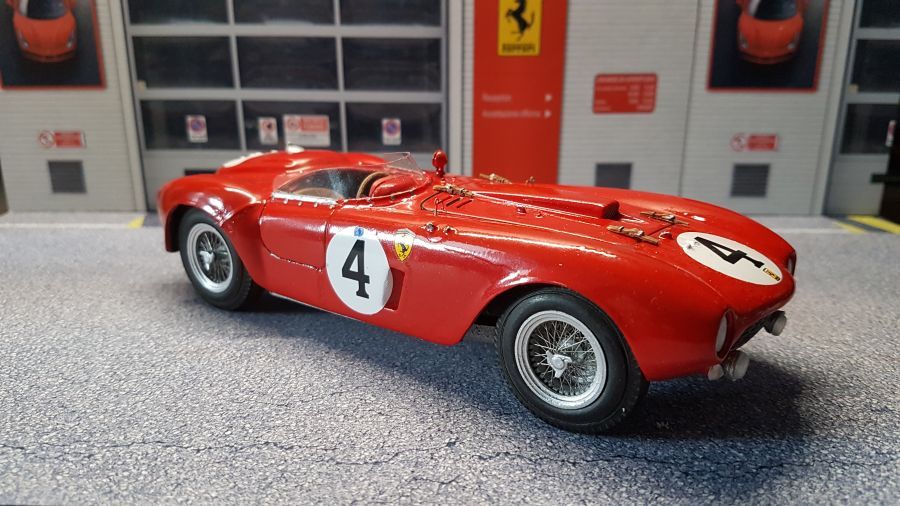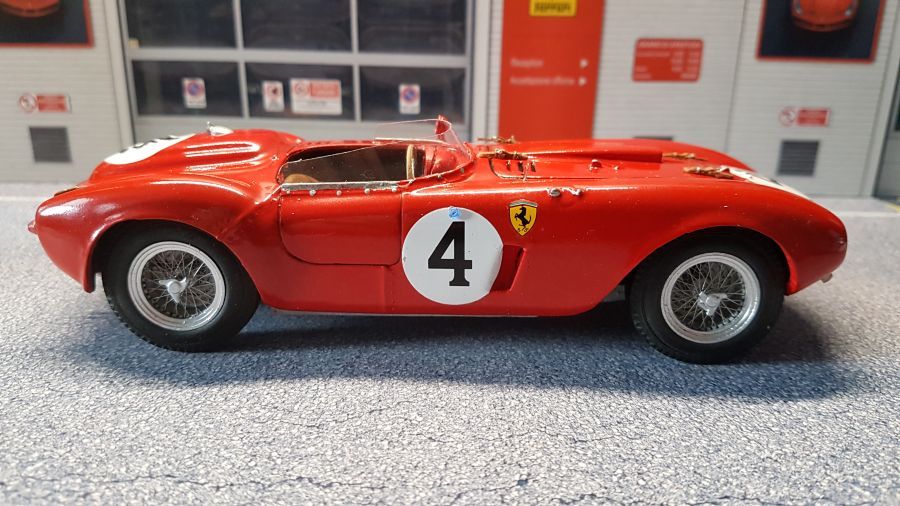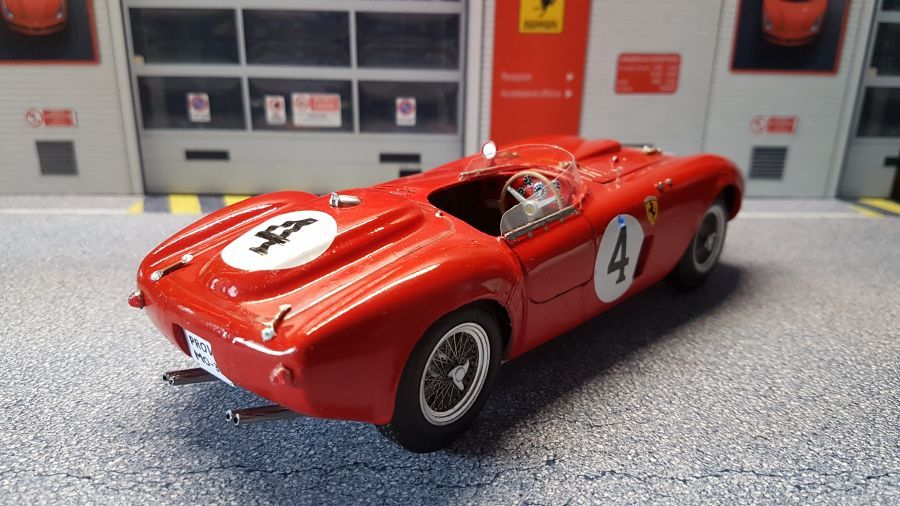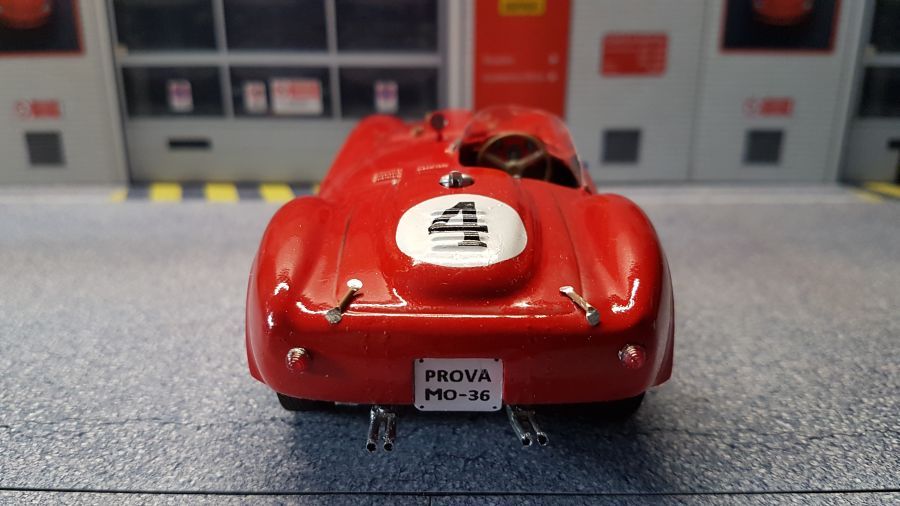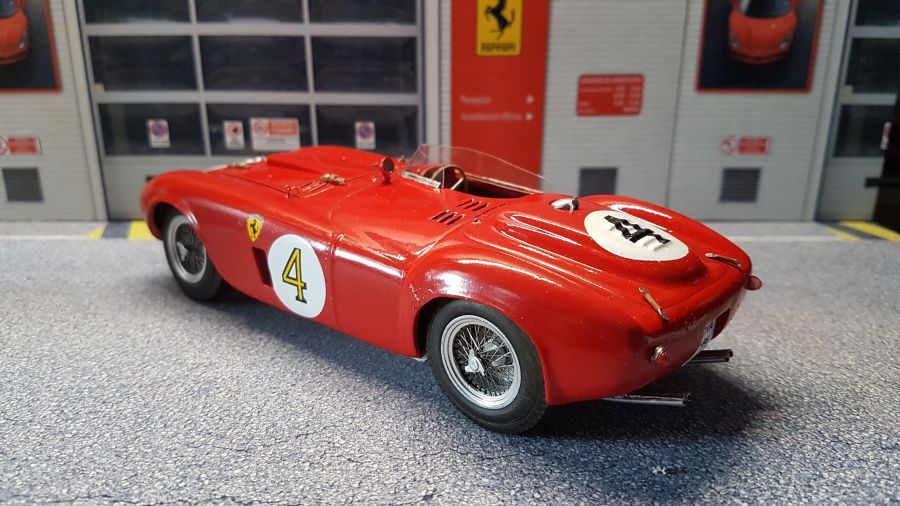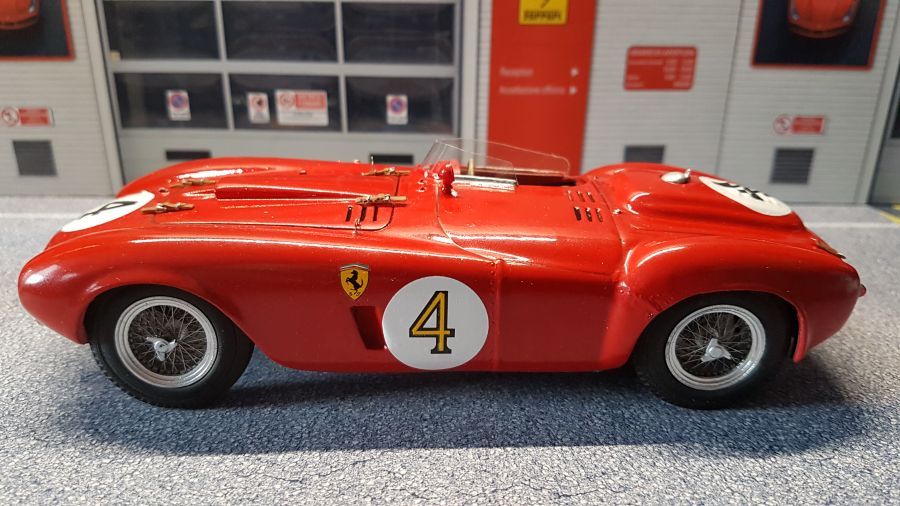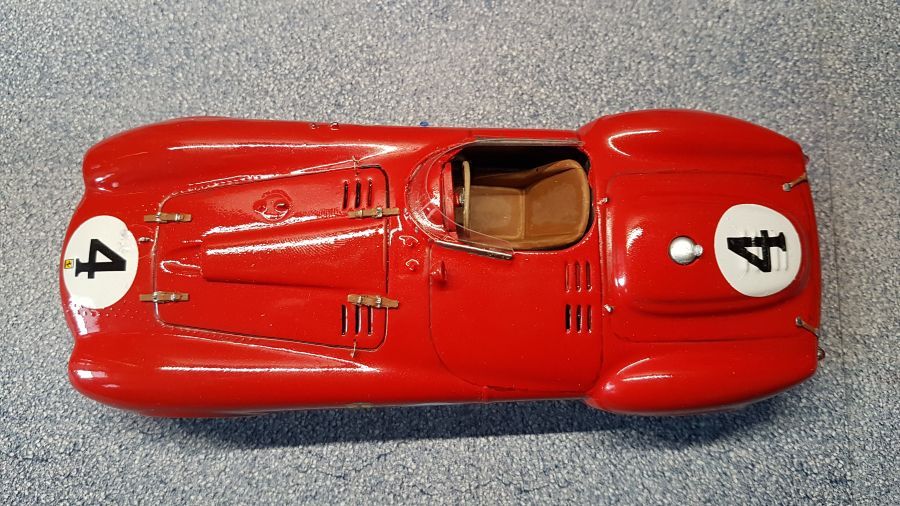 Hoewel het gieten van de hars beter van kwaliteit had kunnen zijn, heb ik veel plezier gehad aan deze kit. Aandachtspunten zijn de grille en de velgen met remtrommels. Deze heb ik moeten bijwerken, omdat ze anders niet zouden passen in het bodywerk.
Though the casting might have been better, i enjoyed this built. Points of attention are the grille and the rims with the brakes. I had to work on these quite a lot before they fitted in the body.