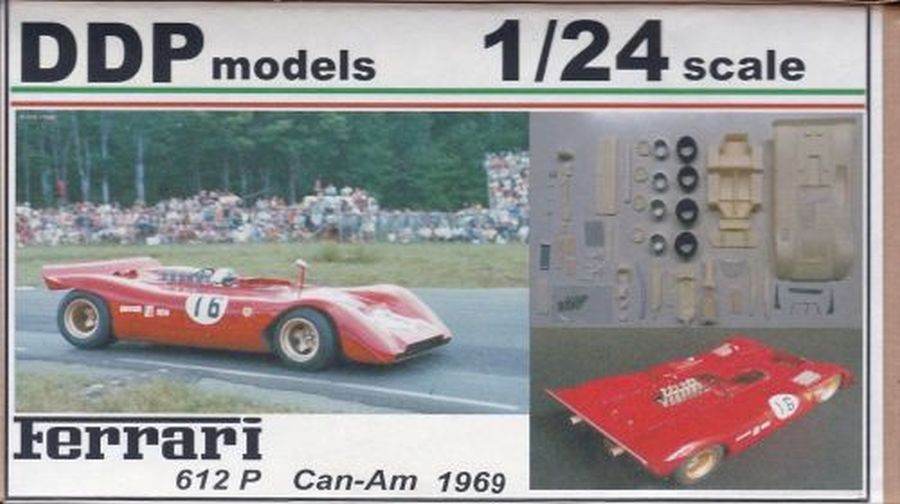 Zoals al voorspeld is de ombouw naar de Ferrari SF15-T een lastig en langzaam proces. Terwijl putty moet drogen voor mij alle tijd om een volgend project te starten. Deze keer de 1969 Ferrari 612 Can-Am zoals deze werd bestuurd door Chris Amon tijdens de race op Watkins Glen. Het is een mooie kit van DDP Models. Het gietwerk lijkt goed. Hier en daar wat kleine foutjes, maar dat is vrij normaal, zeker voor zo'n kleine producent. En het kan zonder problemen verholpen worden. Het gebeurt ook bij Modelfactory Hiro kits, dus niets bijzonders. Door naar de bouw en de foto's van de inhoud. Ik verkoop deze kits ook. Kijk gerust in mijn webwinkel.
As predicted the conversion to the Ferrari SF15-T is hard and a slow proces. As the putty needs to dry i have all the time to start a next project. This time the 1969 Ferrari 612 Can-Am as driven by Chris Amon during the race at Watkins Glen. It's a very nice kit from DDP Models. The resin looks good and smooth. Some small flaws, but that's quite normal, certainly fro a small manufacturer. And it can be corrected without a problem. It also happens to Modelfactory Hiro kits, so nothing special. Next to continue to the build and the photo's of the content. I am a reseller of these kits. Feel free to visit my webshop.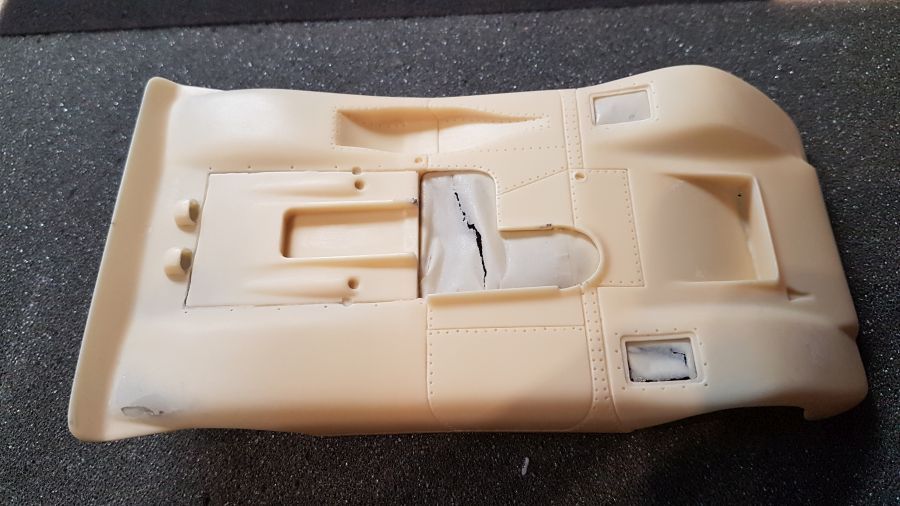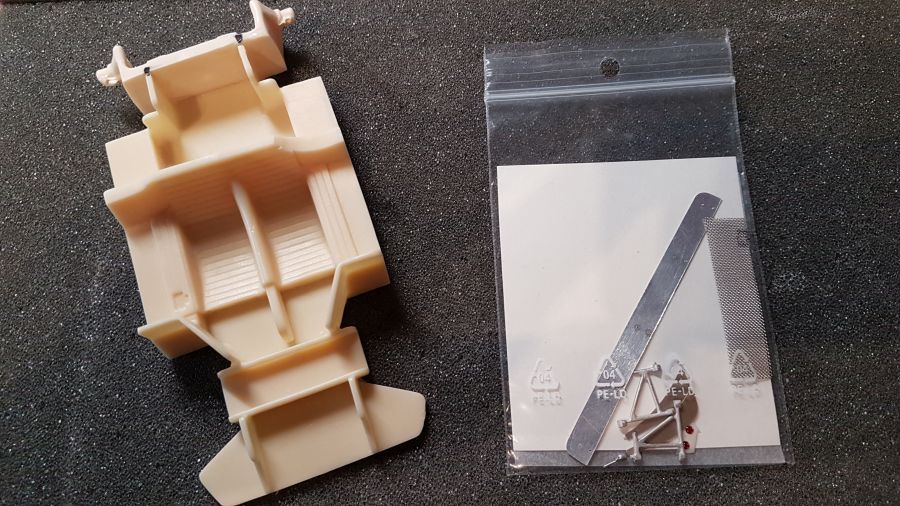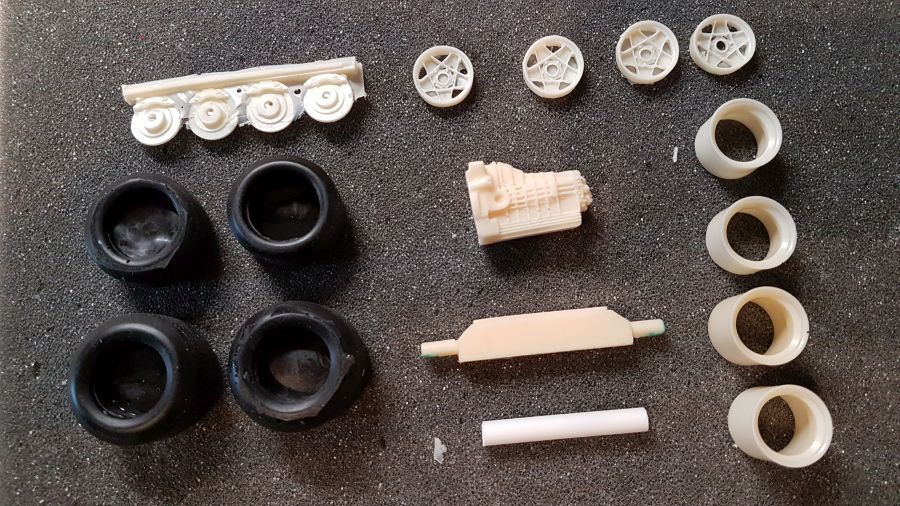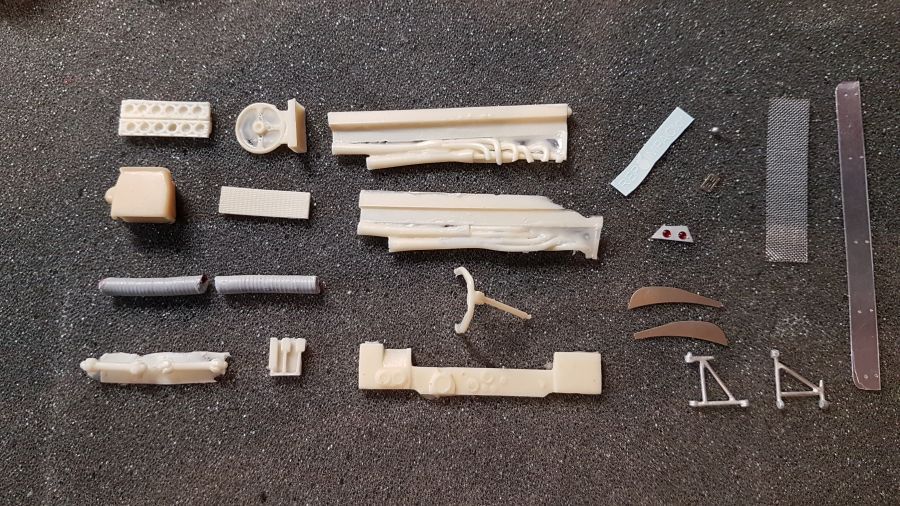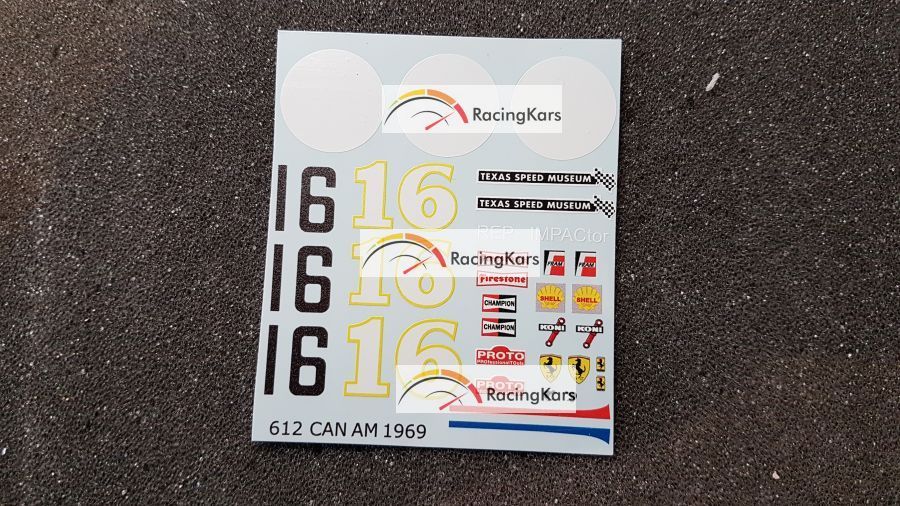 Naast het ontvetten en het maken van 'openingen', wat klein werk aan de body. De maker heeft het al bijgewerkt, maar er zat nog een heel klein gaatje. Een beetje putty aan de binnenkant en het is opgelost.
Next to some de-greasing and creating some openings, some small work to the body. The manufacturer has already done some work, but i noticed a tiny hole. Some putty on the inside and it's solved.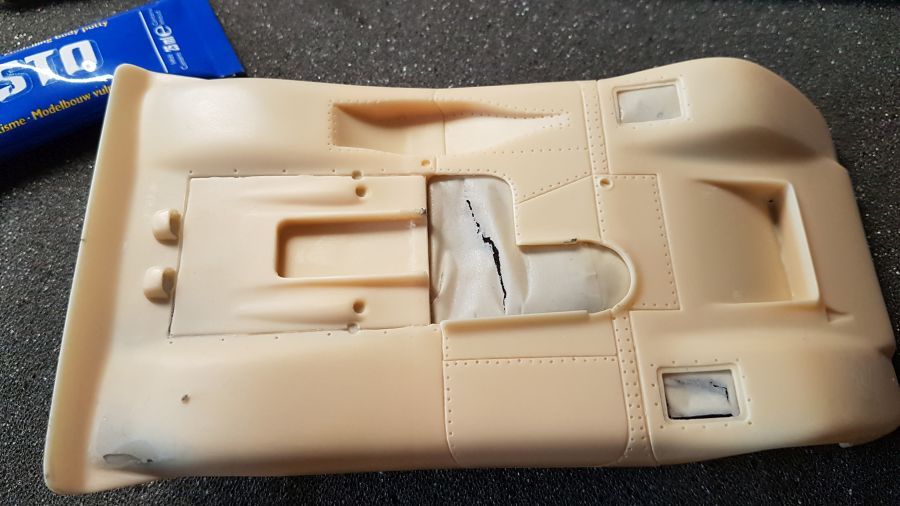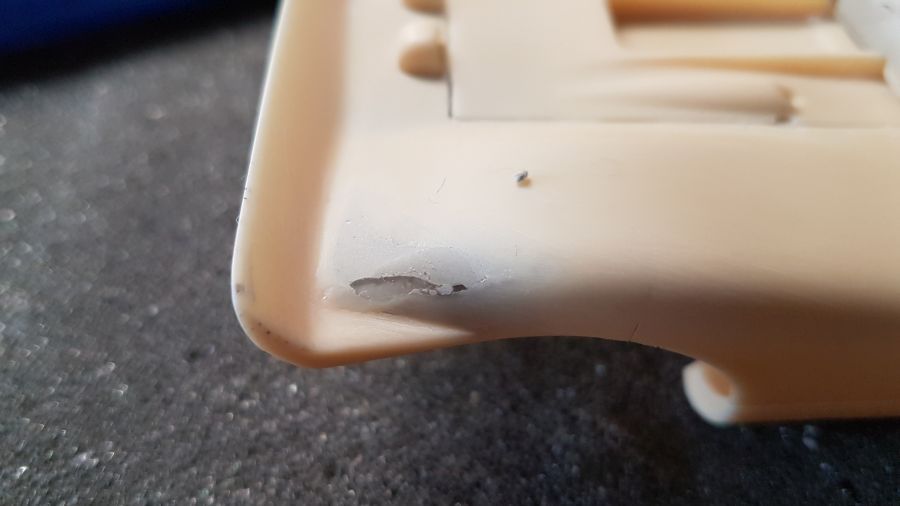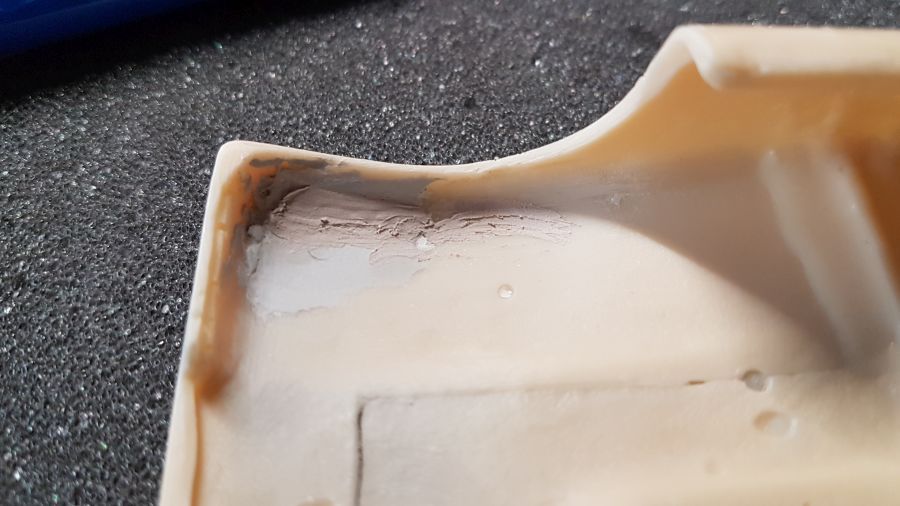 Wat wegslijpen van resin en veel passen...
Cutting some resin and a lot of test fit...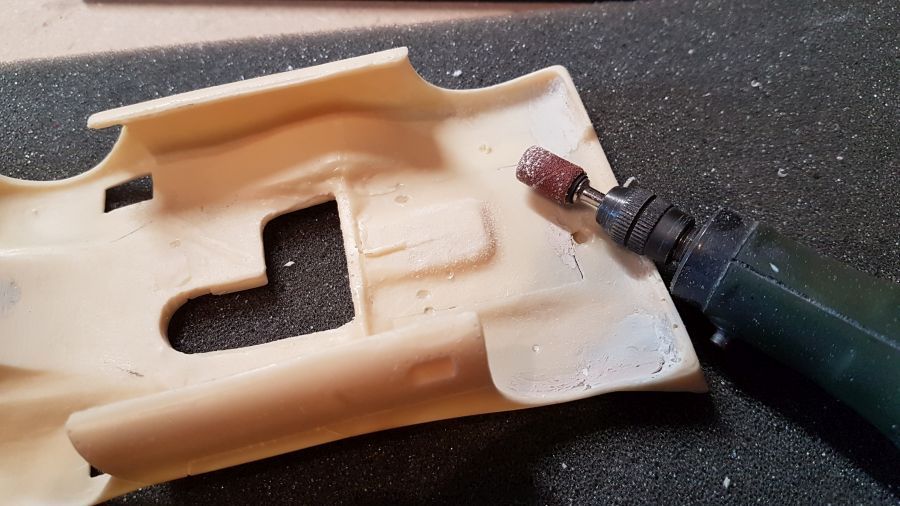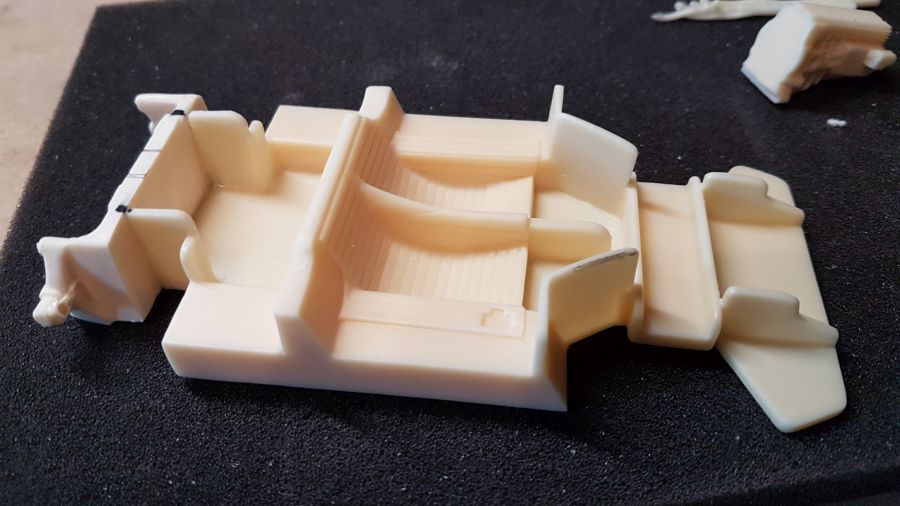 Eerst wat aluminium evrf en witte primer...
First some aluminium paint and some white primer...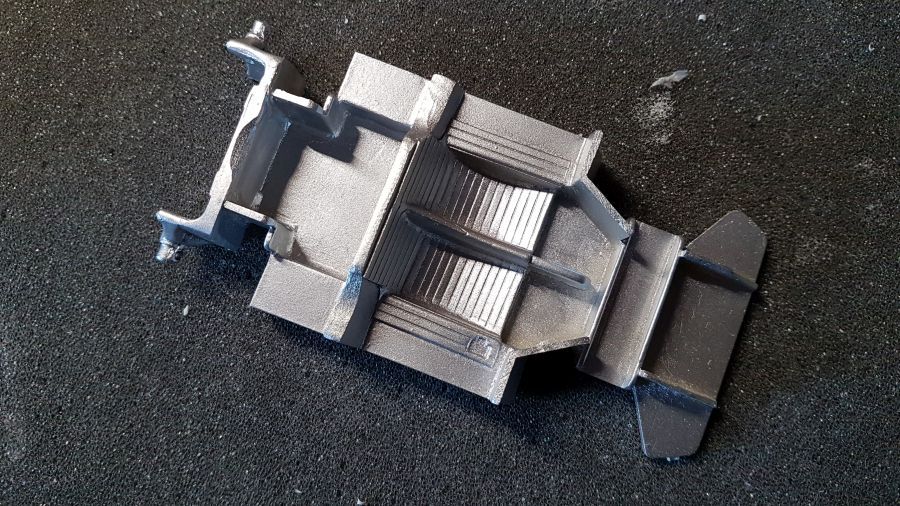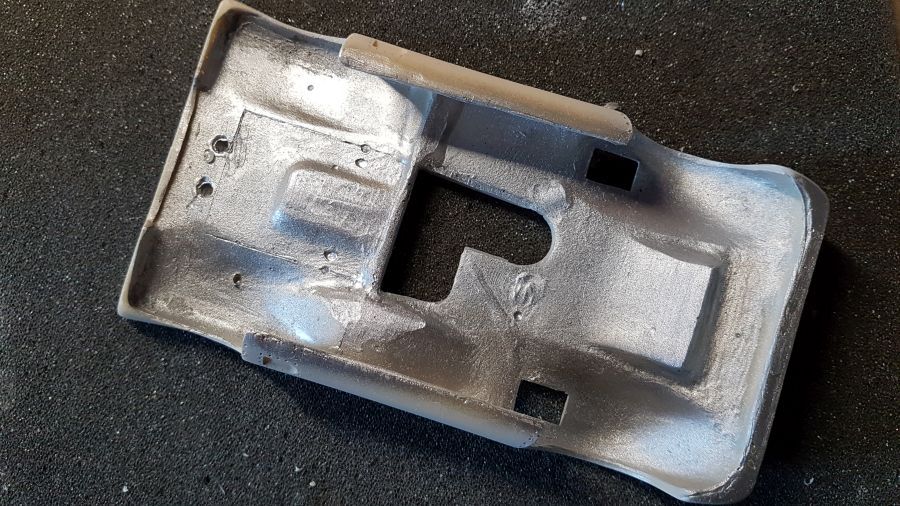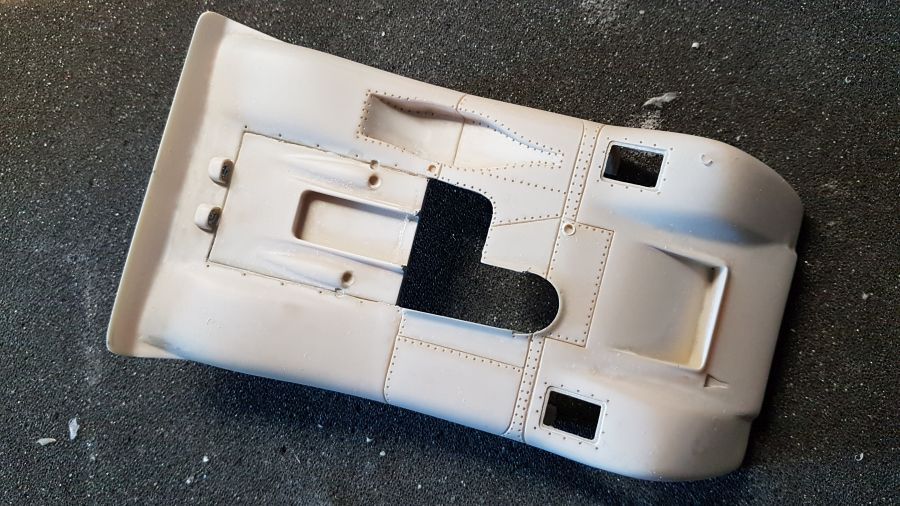 De velgen zijn wat lastiger. De inzetstukken passen niet in de hulzen. Dat wordt heel wat aanpassen. Ik hoop dat ze heel blijven.
The rims are more tricky. The fronts do not fit in the tube. That needs a lot of attention. I hope they keep undamaged.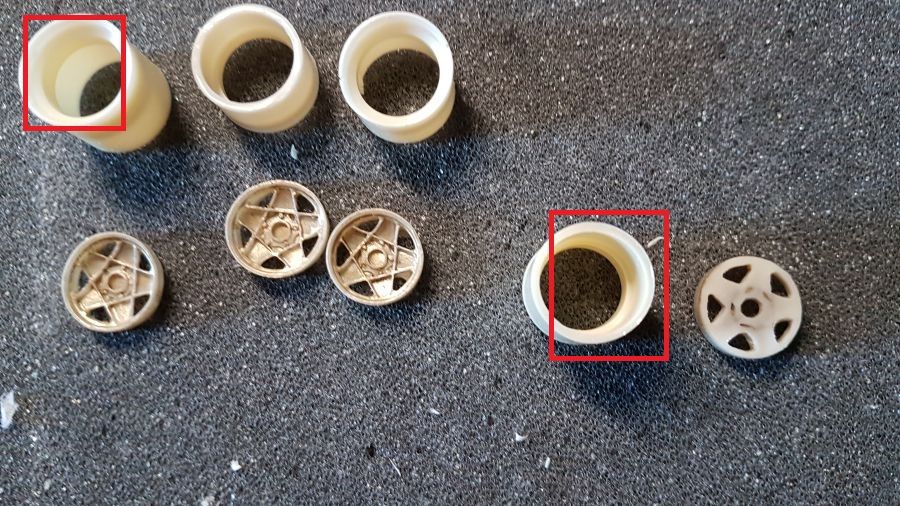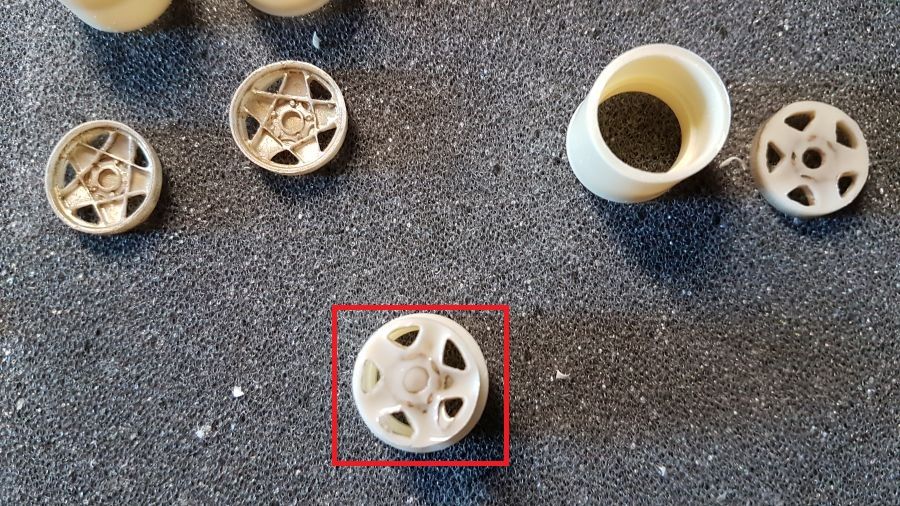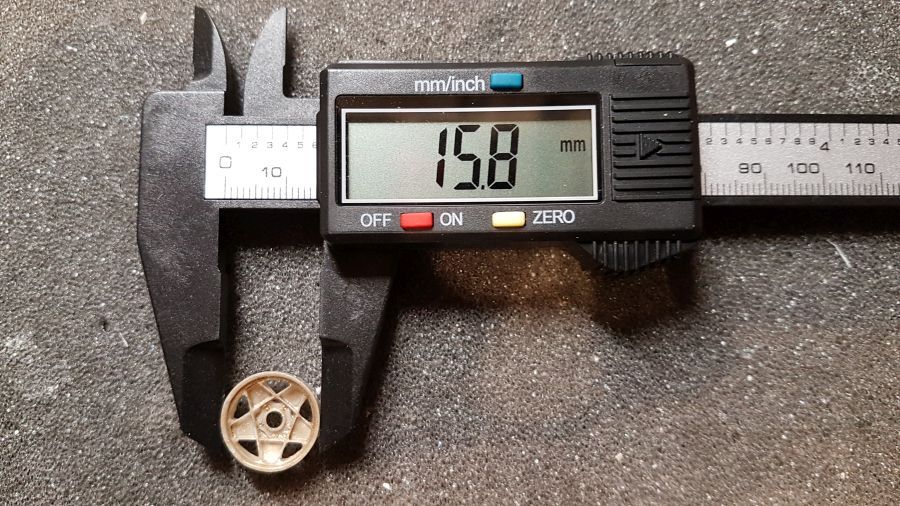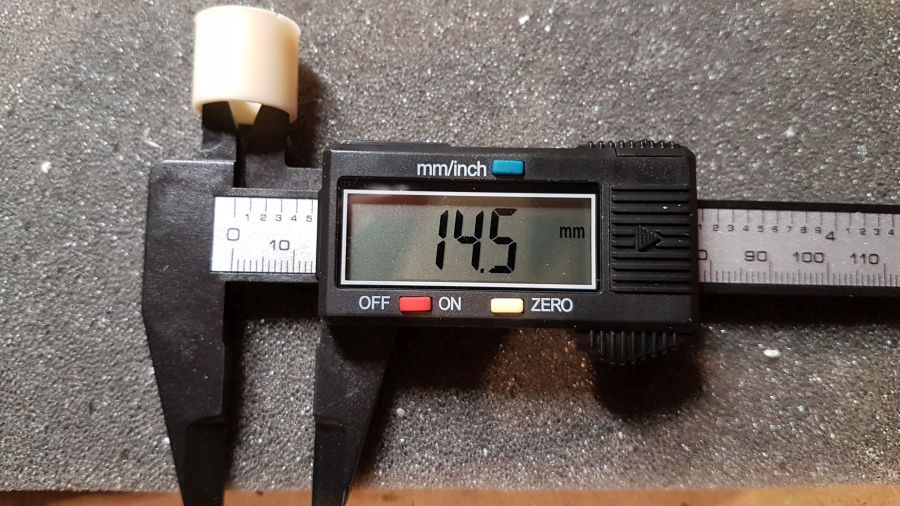 Daar was ik bang voor. Wanneer je een test fit doet en het past niet helemaal, dan krijg je ze er niet goed meer uit.
That's what i feared for. When you do a test fit and they are not good yet, you can hardly remove them.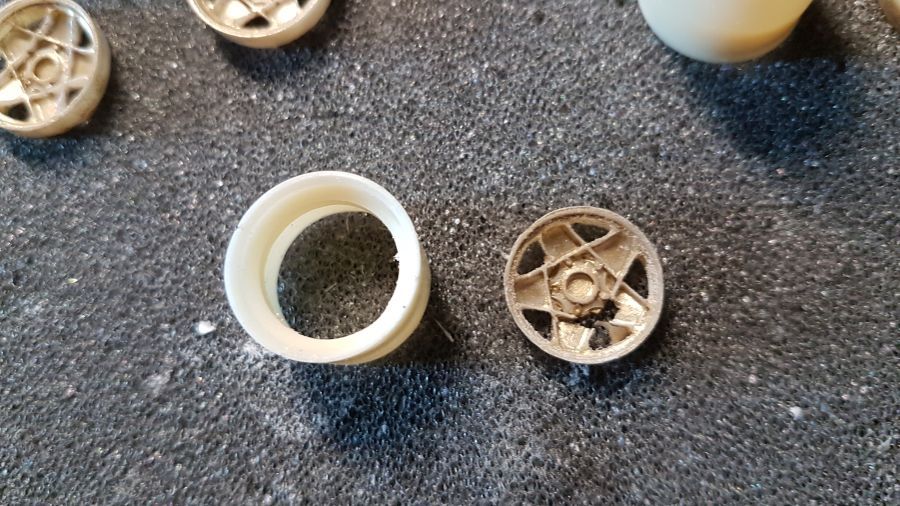 Even een kleine reparatie gedaan, het kan zijn dat je het nauwelijks meer ziet wanneer de remschijf erachter zit.
I did a small repair, maybe you can hardly see it when the break disc has been mounted.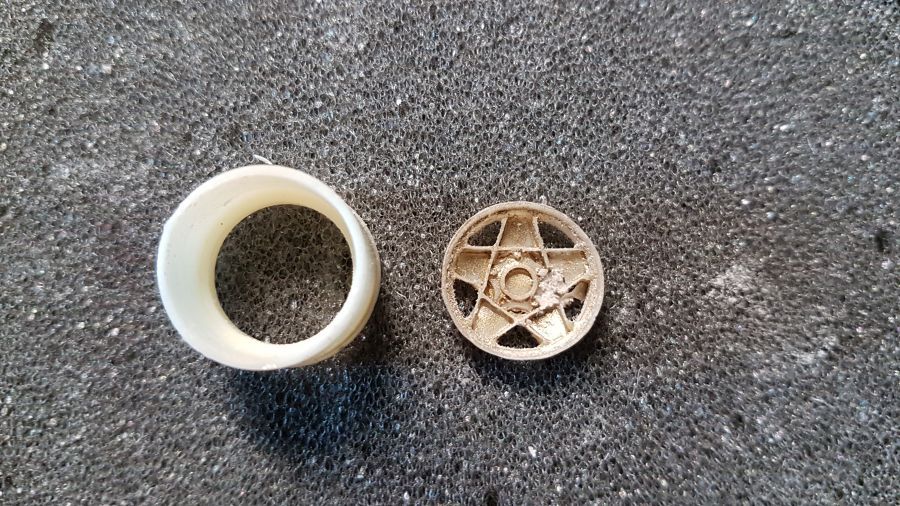 Voor het monteren van de koeling moet de luchtopening open worden gemaakt. 
For mounting the cooler you need to open the intake.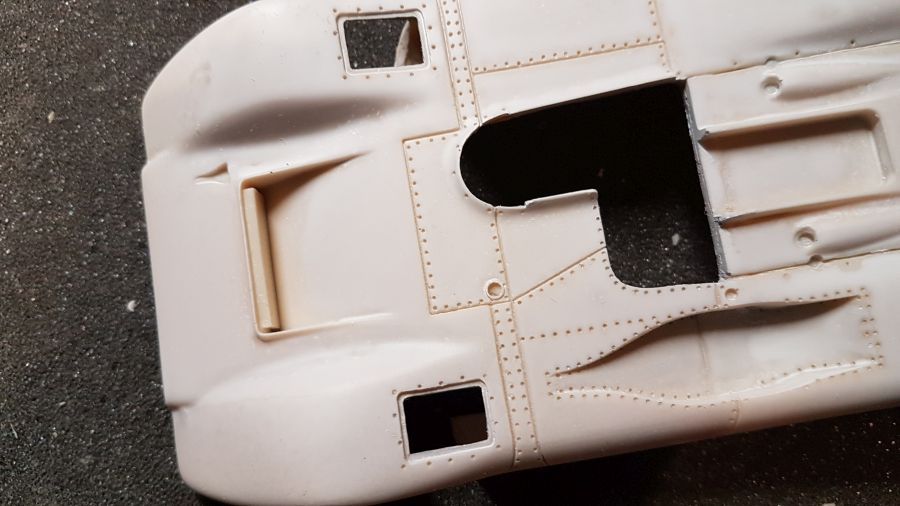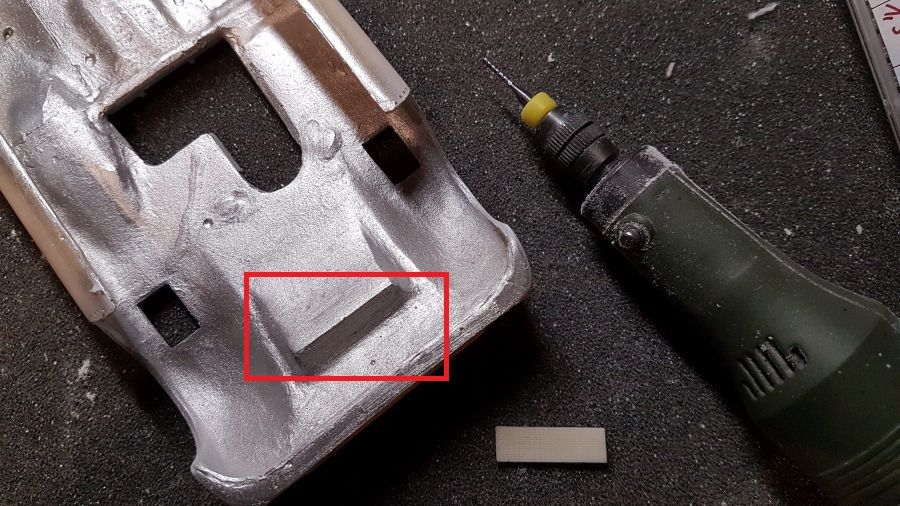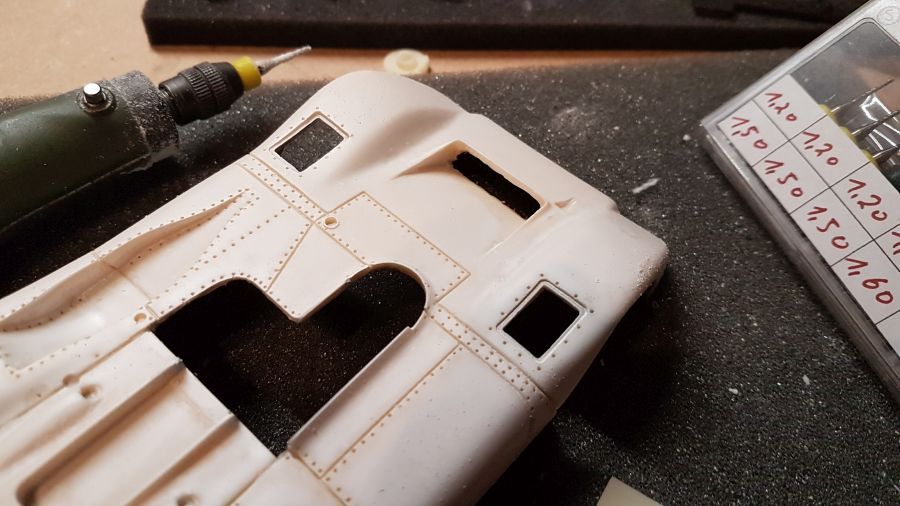 Mijn vriend Pierpaolo heeft me nieuwe inserts gestuurd om de beschadigde te vervangen. Waar zou ik zonder hem zijn. :-)  Veel waardering hiervoor. Dan spuiten met Tamiya TS-21 Gold.
My friend Pierpaolo has sent me new inserts to replace the damaged one. Where would i be without him. :-)   Much appreciated. Then paint it with Tamiya TS-21 Gold.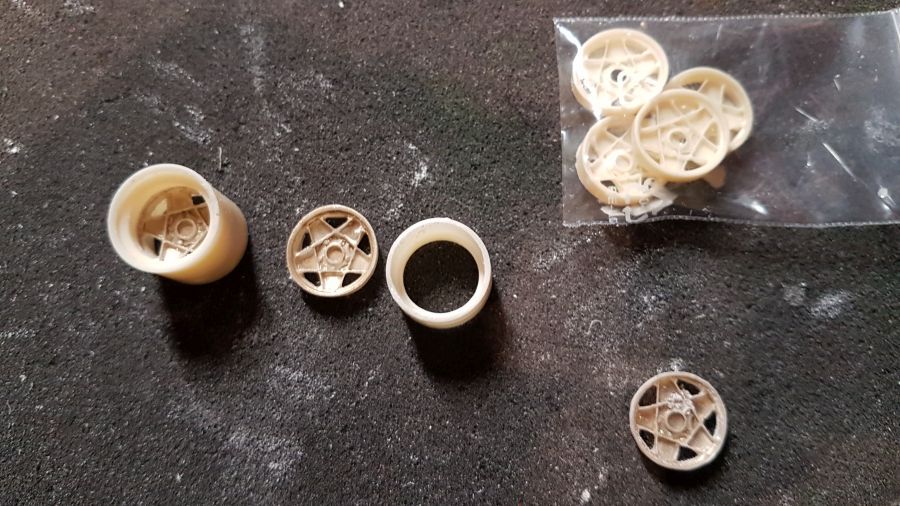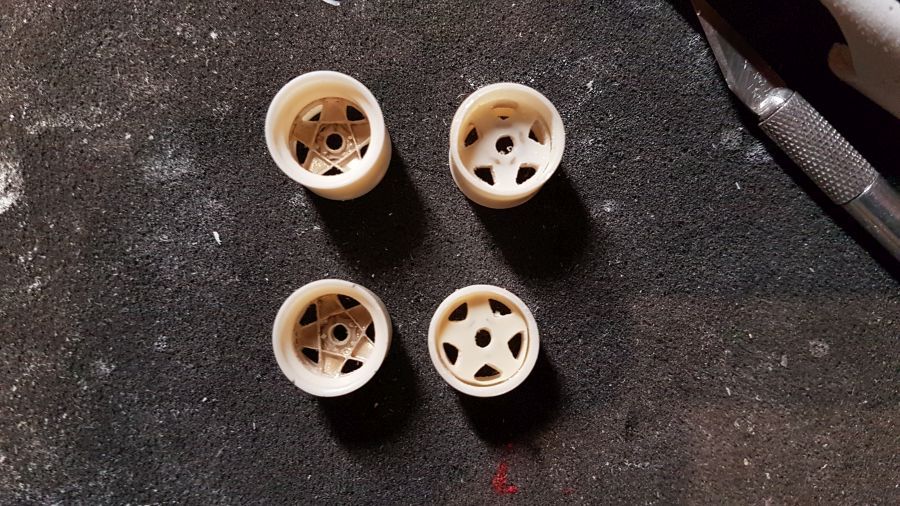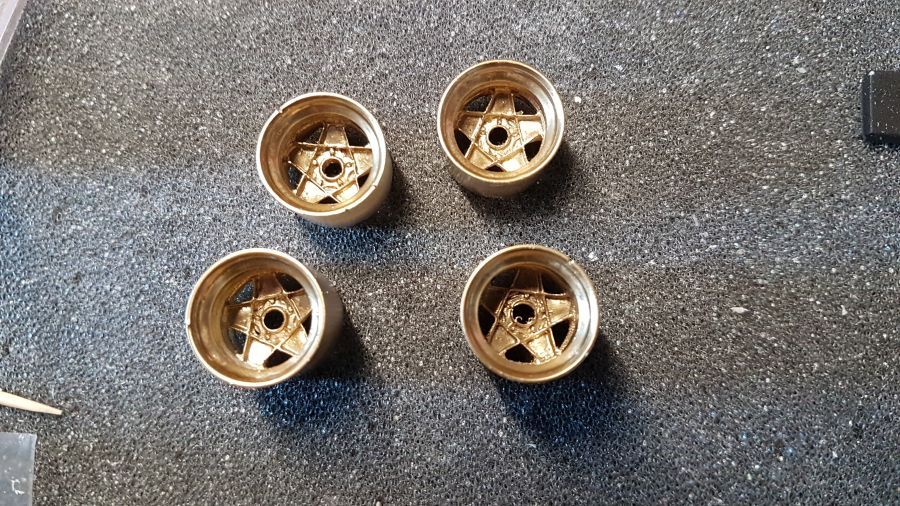 Nu begin ik met het popnagel-proces. Ik hou ervan als een wagen ook daadwerkelijk 'bultjes' heeft. Ik gebruik eerst 0,7 mm popnagels van Modelmotorcars. Ik boor de gaatjes voor met een 0,4 mm boortje. Ik heb niet genoeg popnagels dus ik heb nieuwe besteld. Ik hoop dat ze er snel zijn. Ik moet maar eens op zoek naar een leverancier die wat dichterbij zit.
Now the riveting process starts. I love it when a car actually has 'bumps'. I use 0,7 mm rivets from Modelmotorcars. First i drill the holes with a 0,4 mm drill. I have not enough rivets, so i ordered new ones. I hope they arrive fast. I need to look for a seller more near by.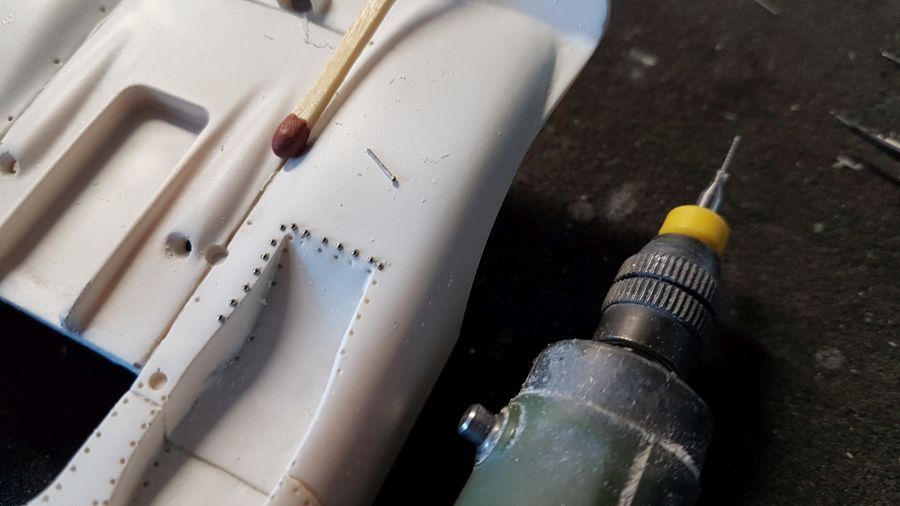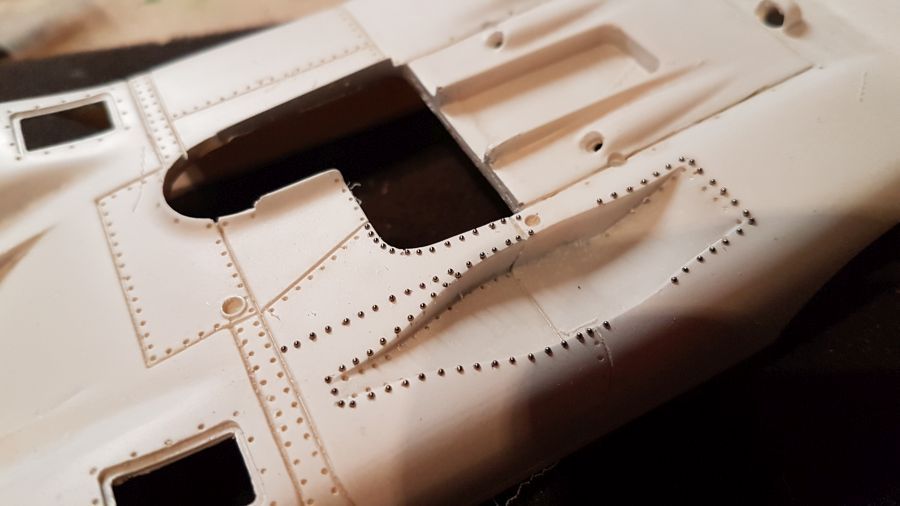 Terwijl ik wacht op de bestelling van 200 popnagels, maak ik de voorkant maar vast open.
While i am waiting for my order for 200 rivets, i will open the front.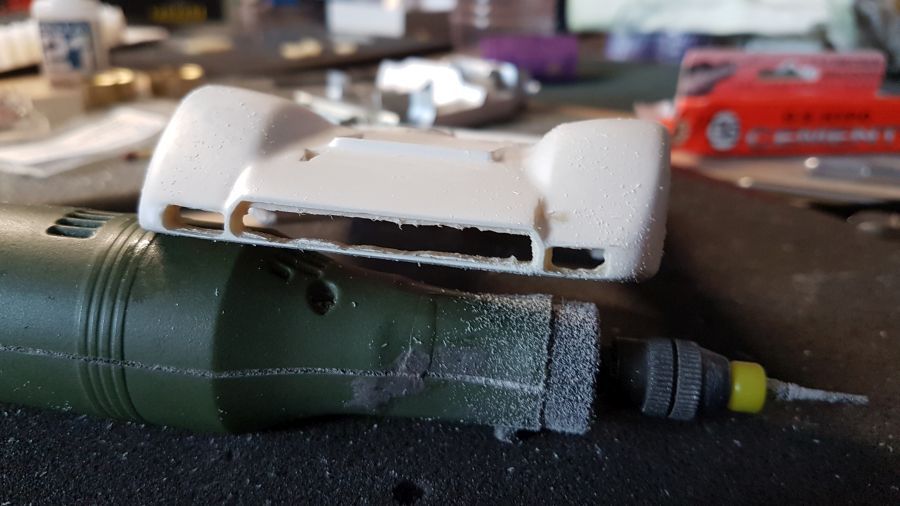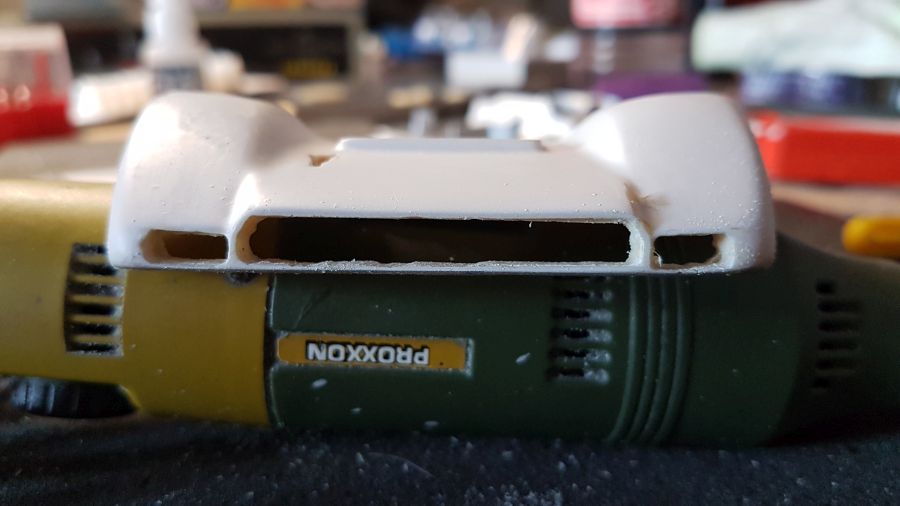 De stoel krijgt wat rood opgespoten...
The seat gets some red...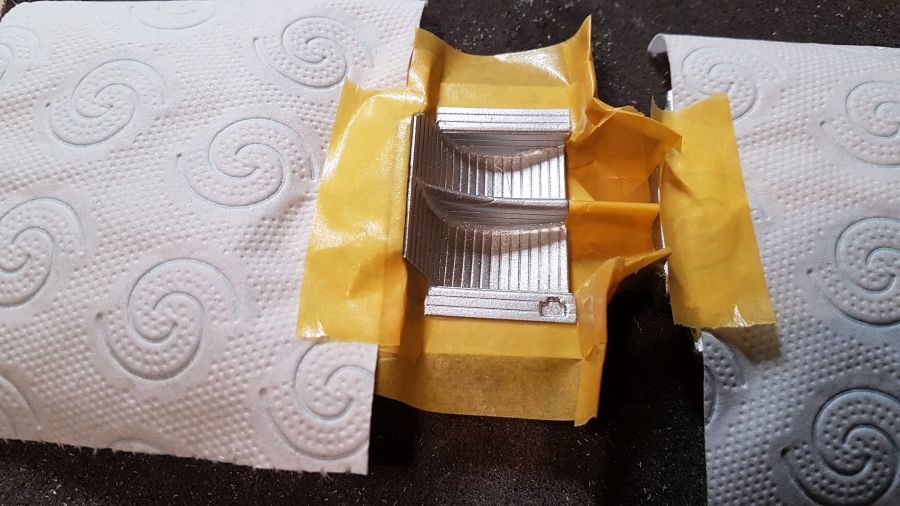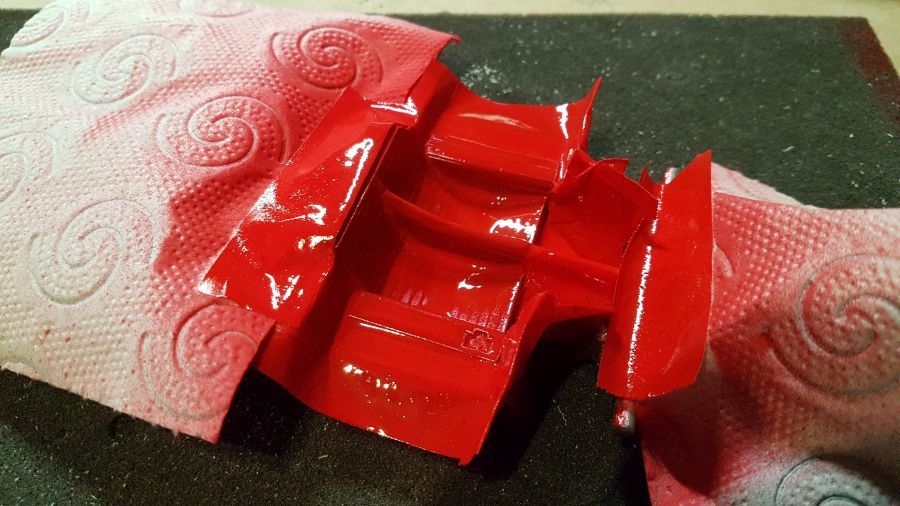 Dan zijdemat lak erover.
Then semi gloss lacquer over it.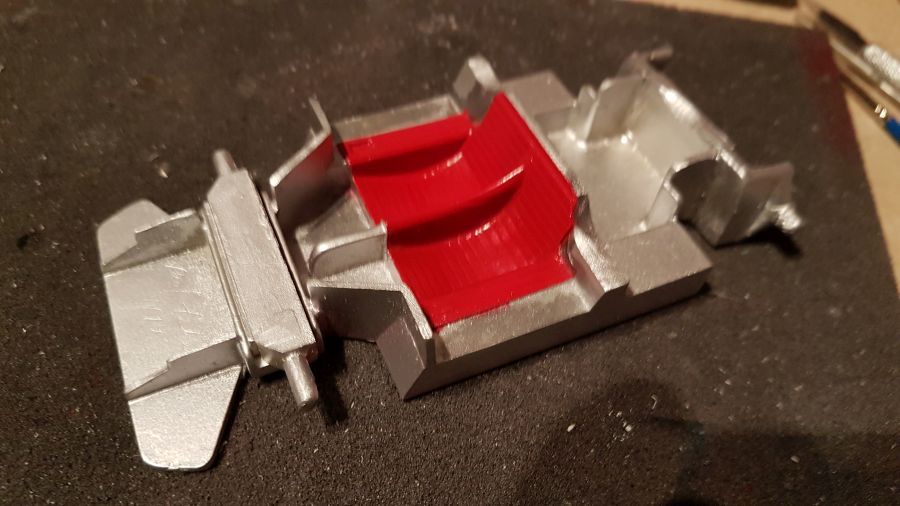 Weer een zakje popnagels leeg...   Om en nabij 300 nu en nog niet genoeg... Ik moet weer nabestellen...
Another bag of rivets empty...  About 300 now and still not finished... I need to order more...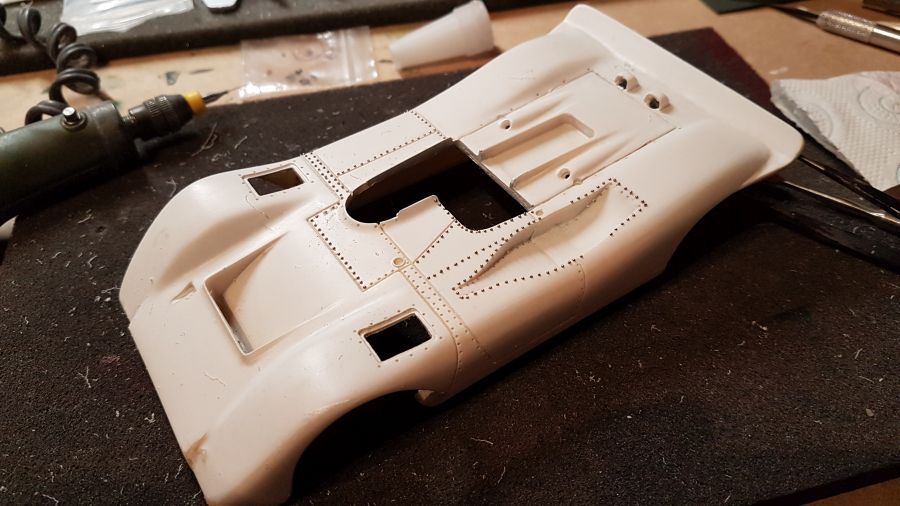 Intussen maak ik de wielen klaar. De banden worden wat bijgewerkt en worden op de velgen gemonteerd. Volgens mijn foto's zijn er geen gouden ringen nodig.
In the meantime i will turn to the rims. The tires are worked on and mounted to the rims. According to my pictures there's no need for golden circles.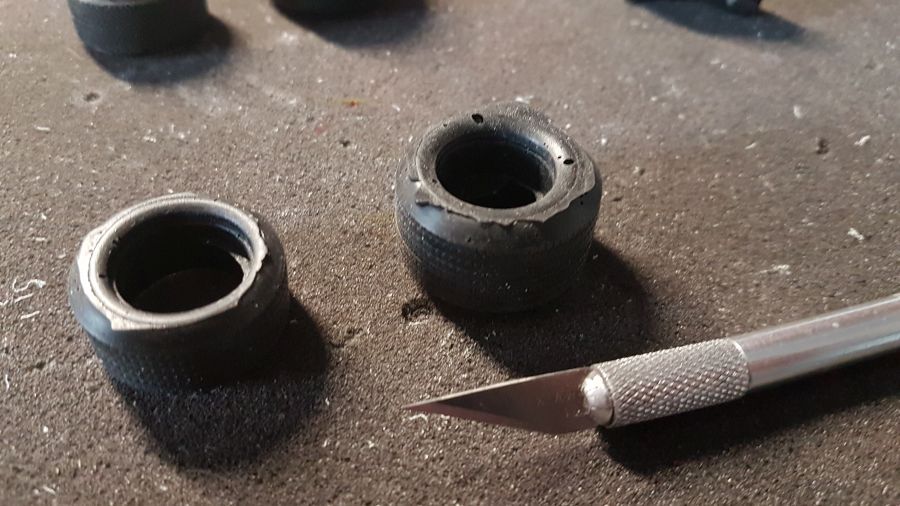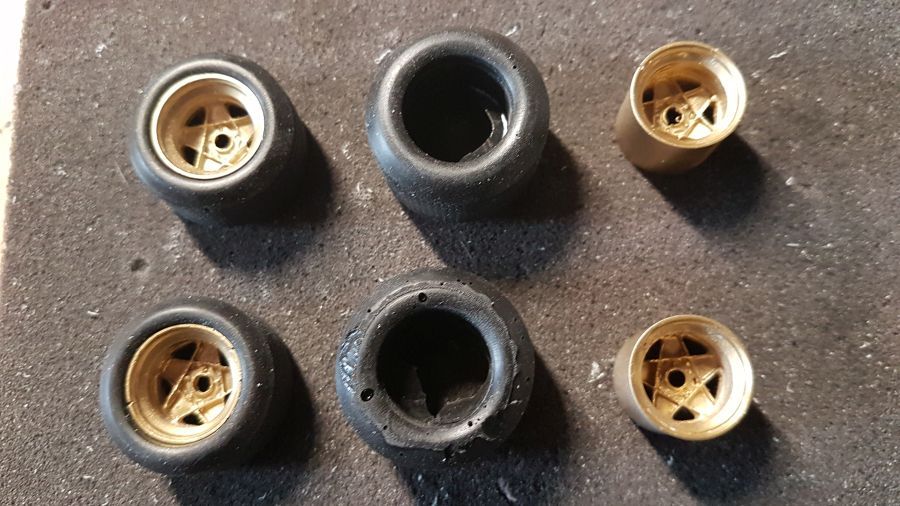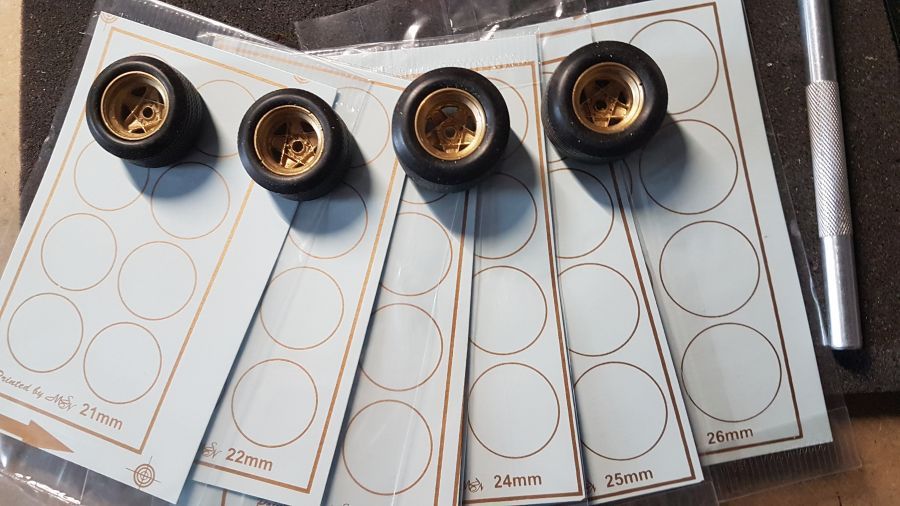 De motor/versnellingsbak kan ik ook vast voorbereiden... Er zijn maar weinig goede foto's beschikbaar. Degene die voor mij bruikbaar was laat, volgens mij,  zien dat de versnellingsbak een andere kleur had dan de motor. Ik gok titanium goud, net als in de F1. Dus mijn keuze. Je kan zien dat de kleur redelijk afwijkt van het aluminium van de kuip.
The engine/gearbox can also be prepared... There'are not many usable pictures available. The one i used shows, in my opinion, the gearbox had a different colour from the engine. I guess it might be titanium gold, just like in F1. So that's my choice. You can see the colour differs quite from the aluminium of the tub.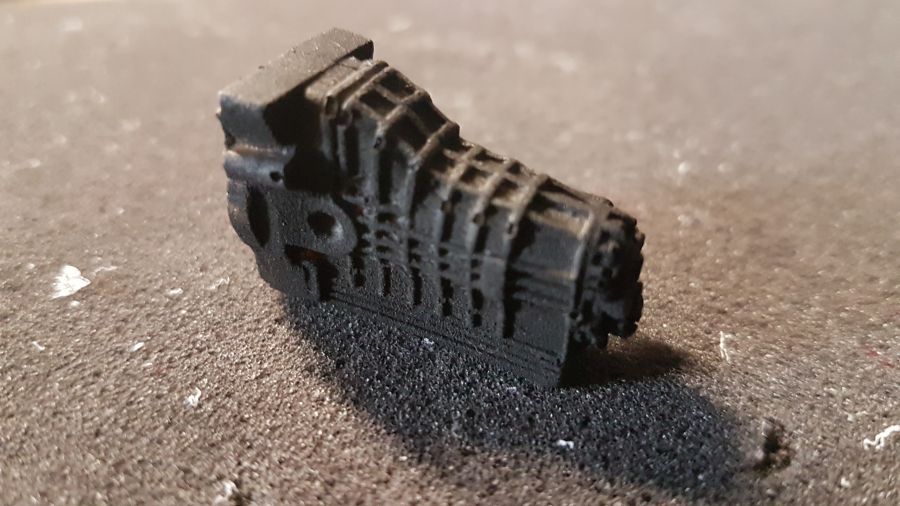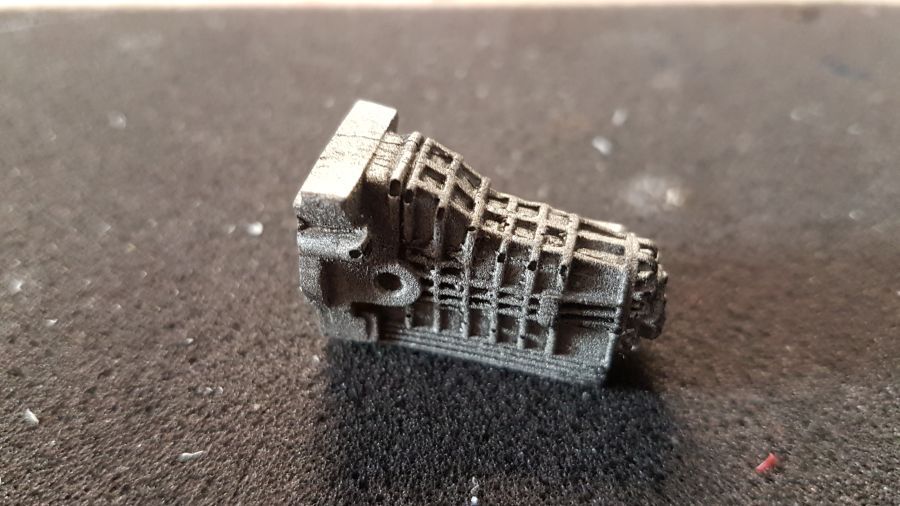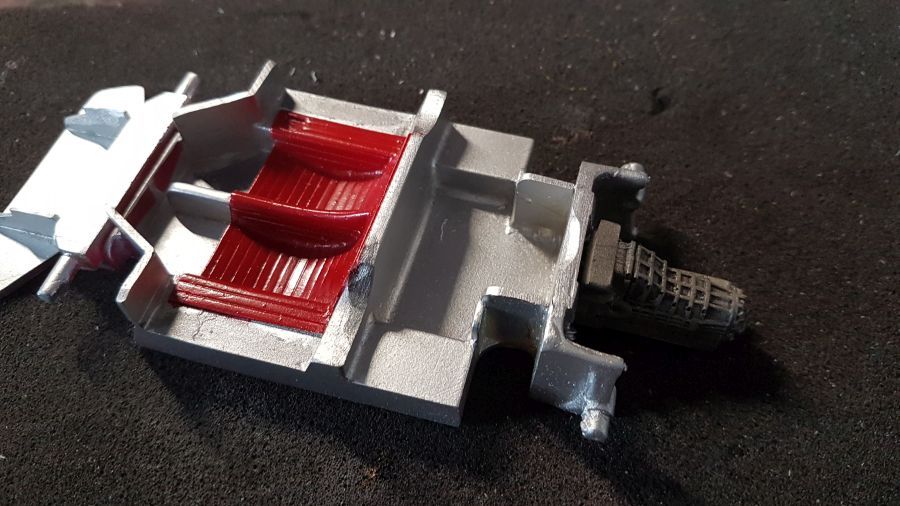 De aandrijfassen worden gespoten... De pedalen worden voorzichtig voorbereid. Pas op, ze kunnen zo breken.
The rear axles are painted... The pedals are prepared. Be careful, they might break easy.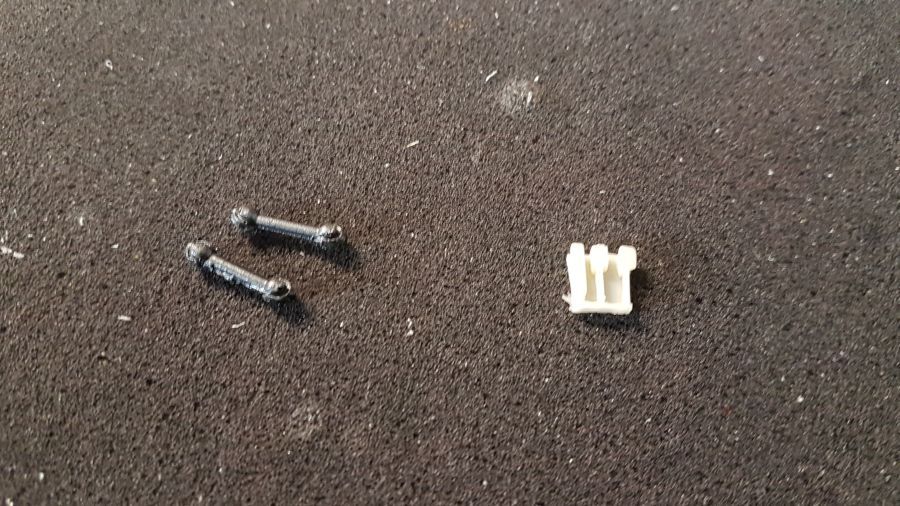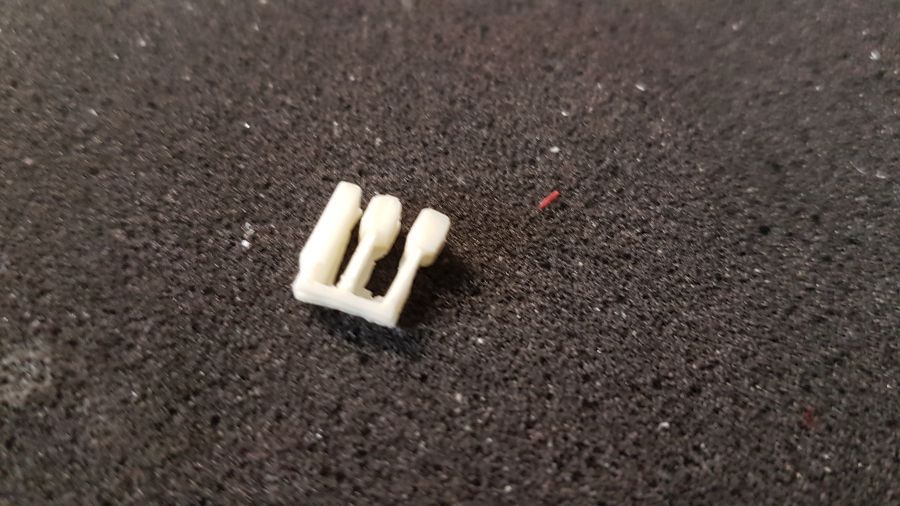 De pedalen zijn geverfd, net als de remschijven. De remklauwen worden iets donkerder gemaakt.
The pedals were painted, just like the break discs. The brake calipers are painted a little more dark.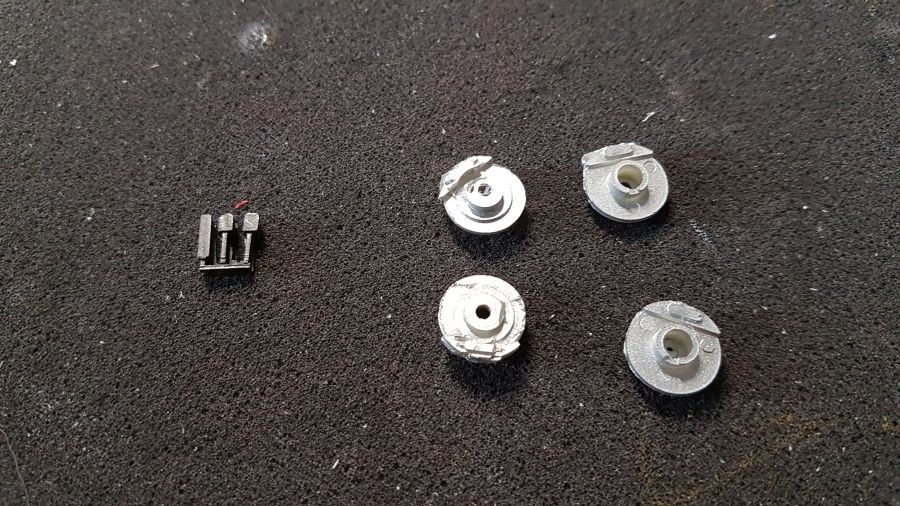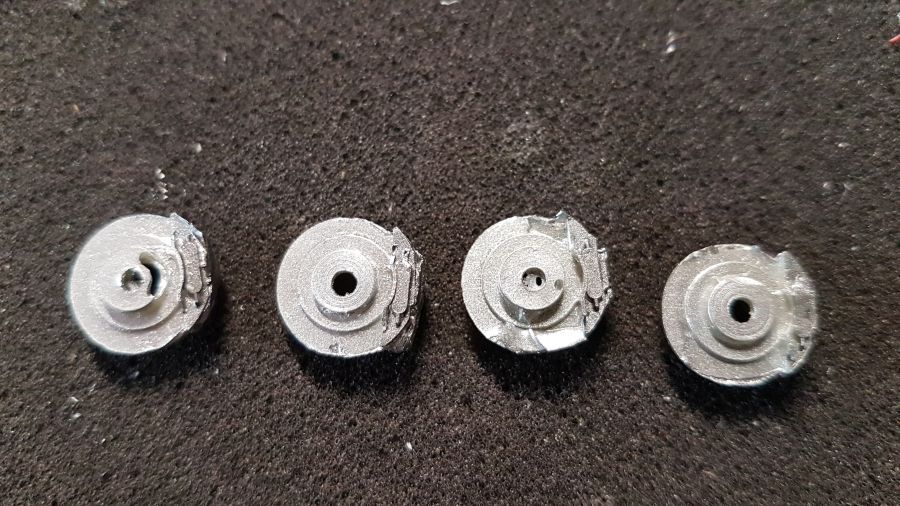 De stoelen krijgen een wash zodat ze wat meer gebruikt lijken.
The seats get a wash so they look more used.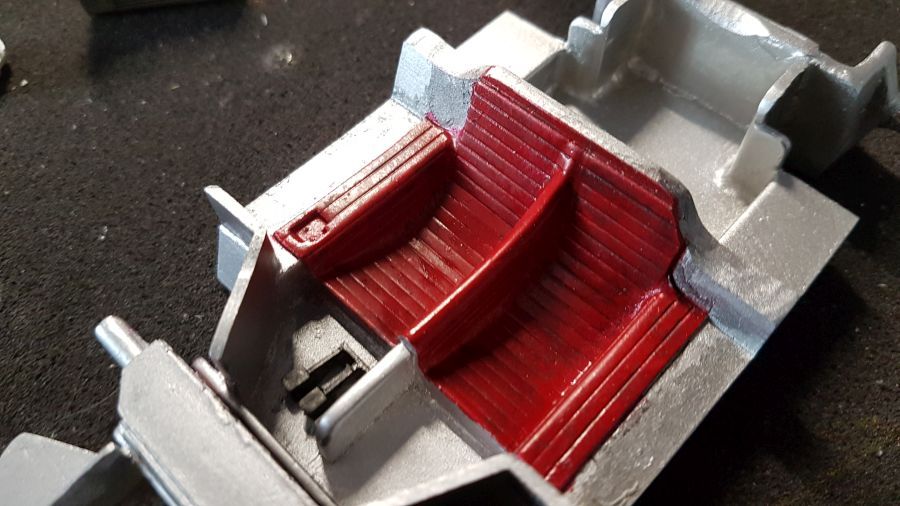 De versnellingsbak en de assen worden geplaatst.
The gearbox and the axles are added.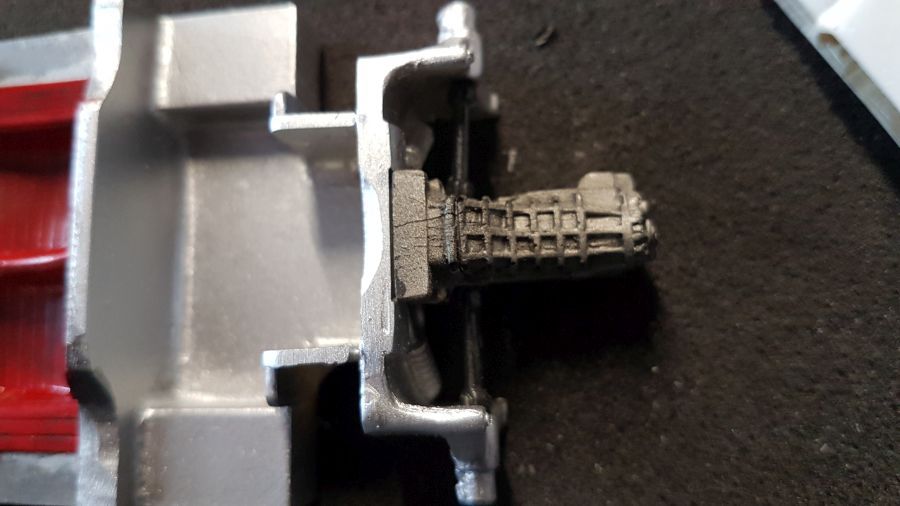 En de koeling...
And the cooler...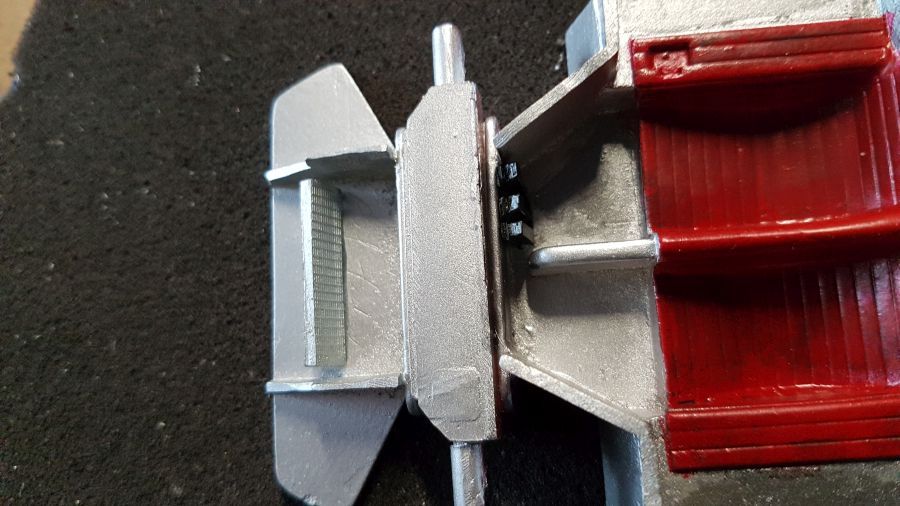 De popnagels zijn binnen. Aan de zakjes te zien zijn er nu meer dan 350 stuks geplaatst. Nog niet allemaal, want sommige mogen niet rood gespoten (rode delen). In het groene deel worden kleinere geplaatst, ik denk 0,4 mm.
The rivets are in. Looking at the bags ican say more than 350 pieces have been added. Not yet all of them, as some don't need to be painted red (reed areas). In the green part smaller ones will be added, i think 0,4 mm.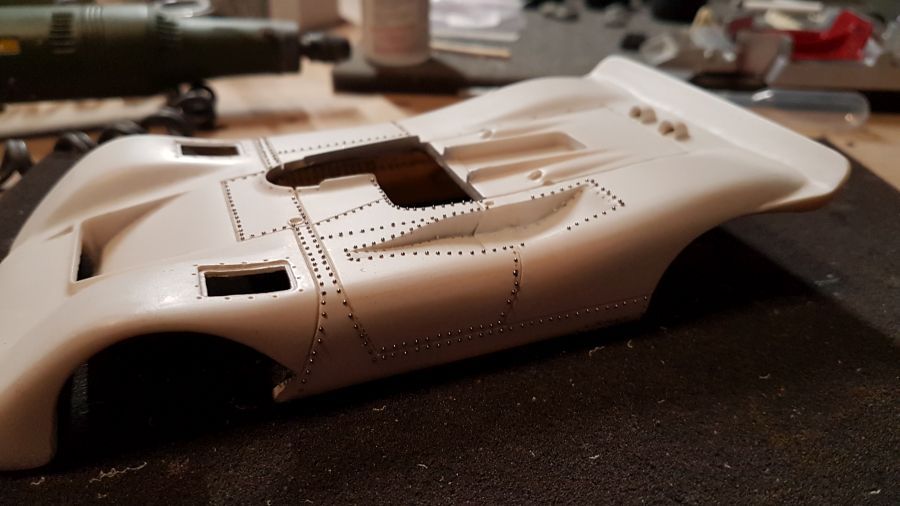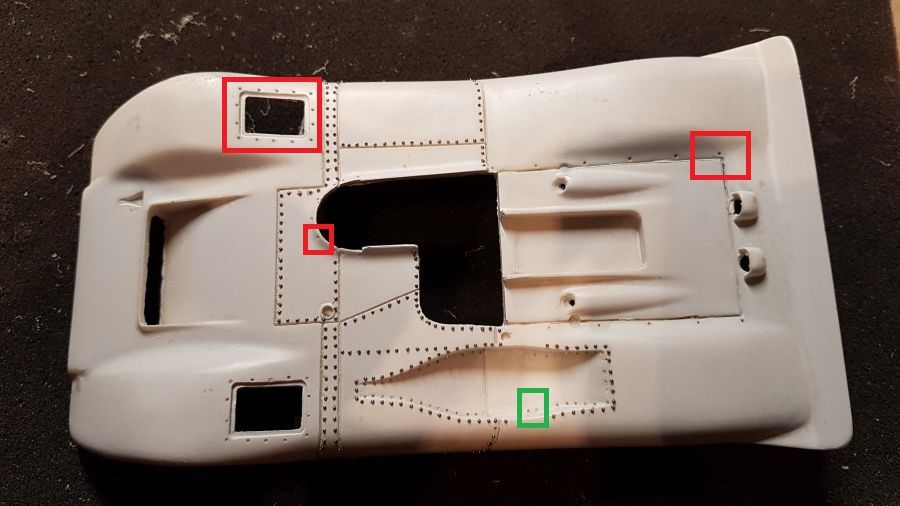 De 0.4 mm popnagels hebben eigenlijk geen zin. Ze zijn niet of nauwelijks te zien.
The 0.4 mm rivets are of no use. They can't be seen or can be seen hardly.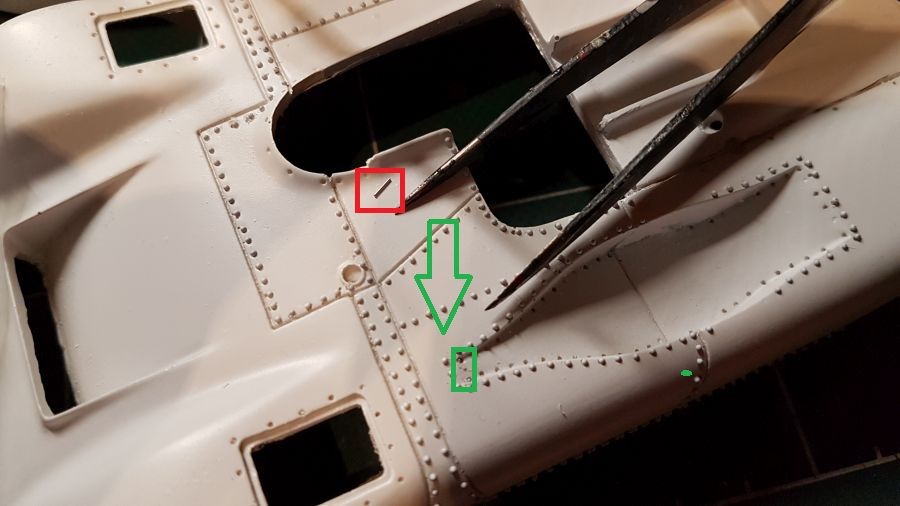 De vleugels zijn geplaatst...
The wings are in place...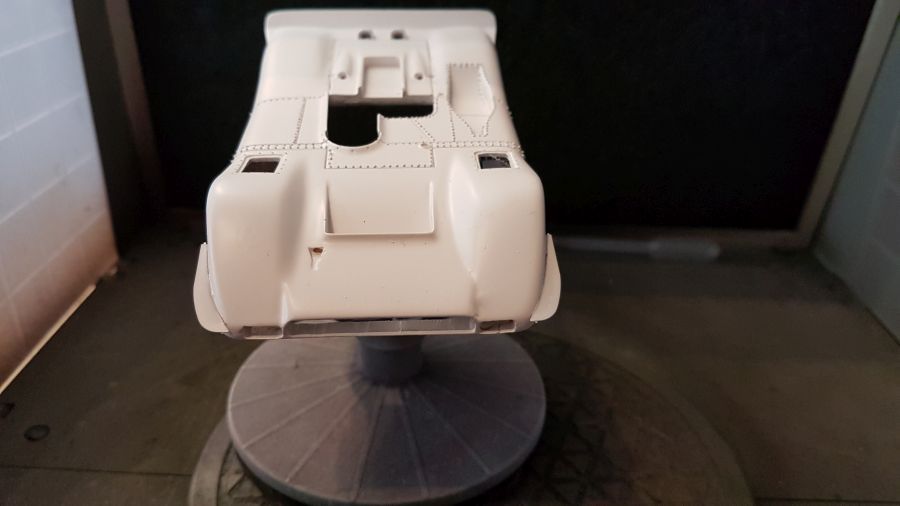 Tijd voor het rood. Deze keer weer Zero Paints ZP-1007 1960's Rosso Formula 1. 
Time for the red. This time Zero Paints ZP-1007 1960's Rosso Formula 1.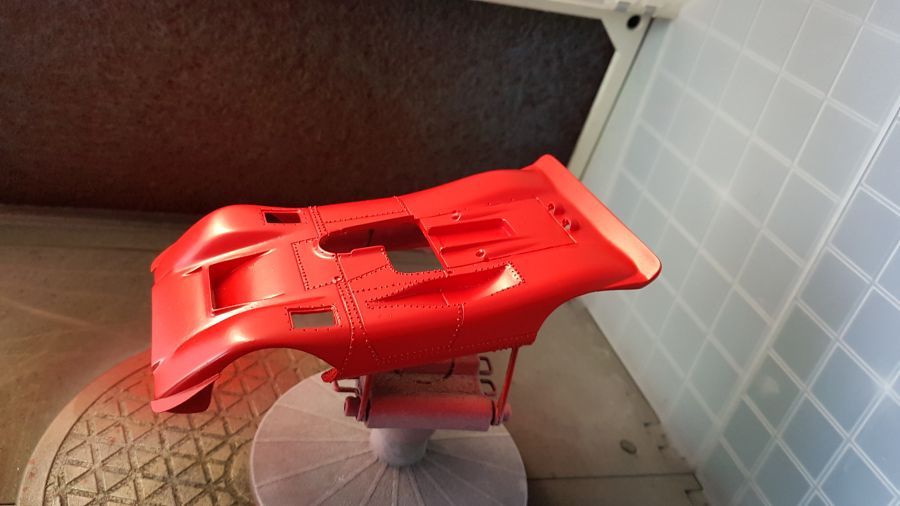 Dan heldere lak. Geen 2K lak, dat glimt teveel.
Then clear gloss. No 2K lacquer, it will shine too much.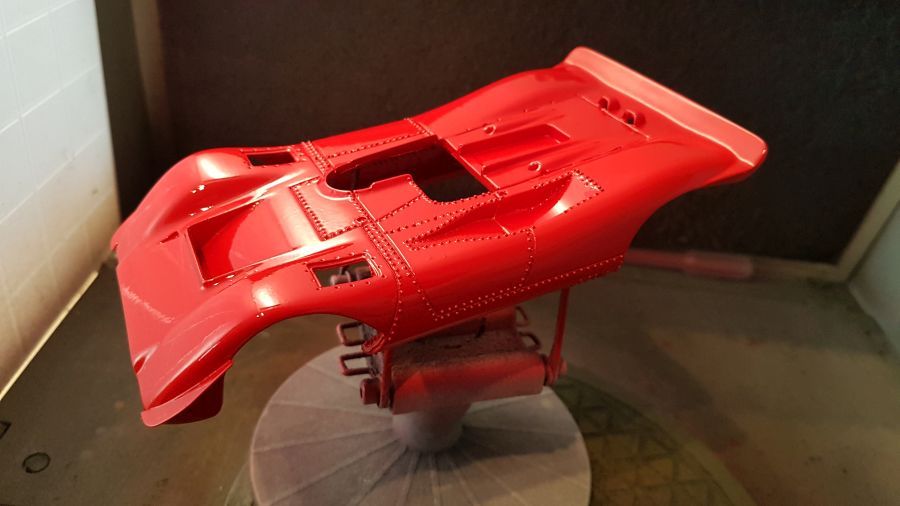 Dan de roosters en de rest van de popnagels.
Then the louvres and the rest of the rivets.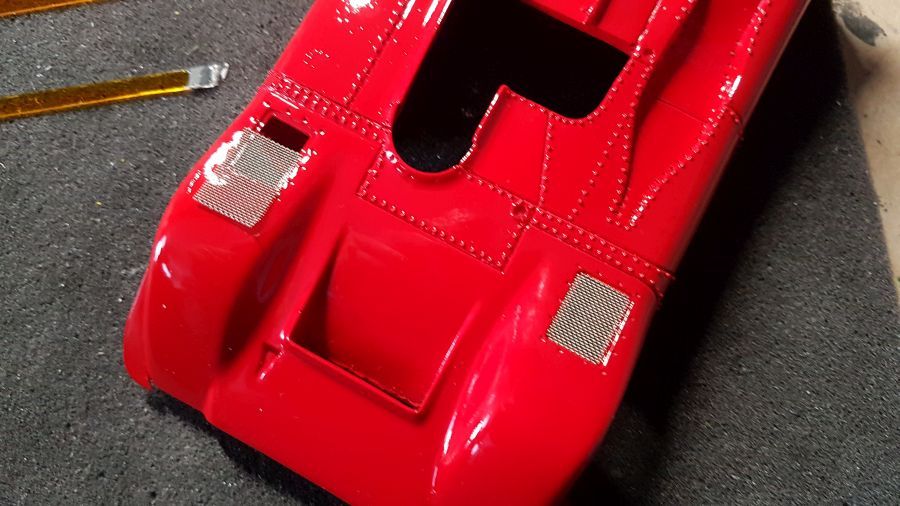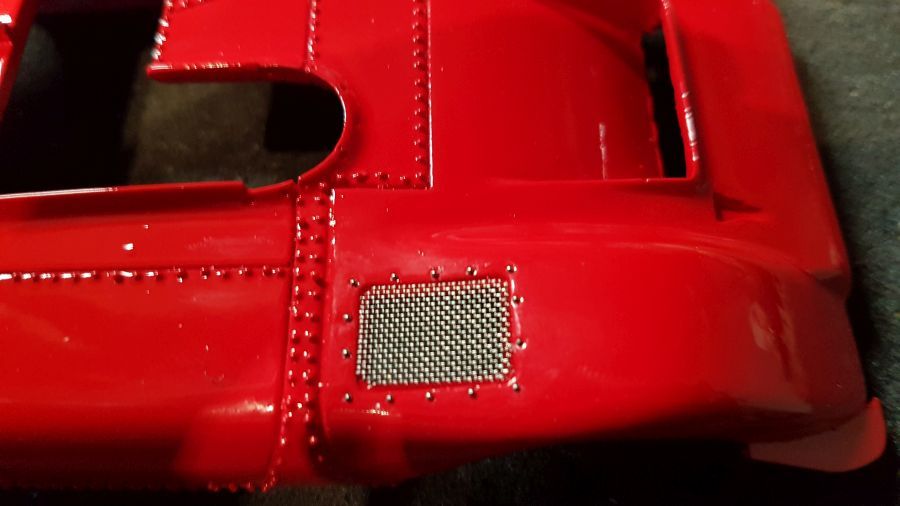 Tijd voor de decals... Eigenlijk is de witte ronde op de voorkant iets te groot, maar het moet maar.
Time for the decals... The round white one on the front is a little too big, but it will have to do.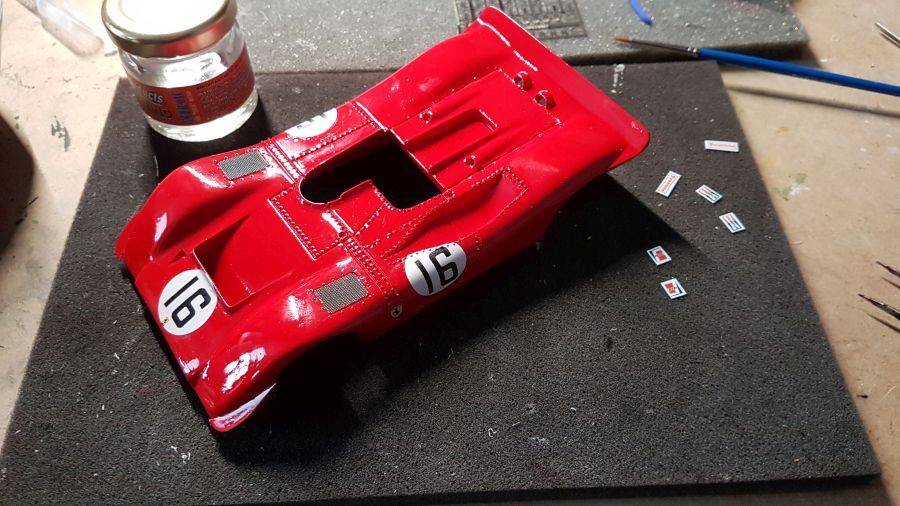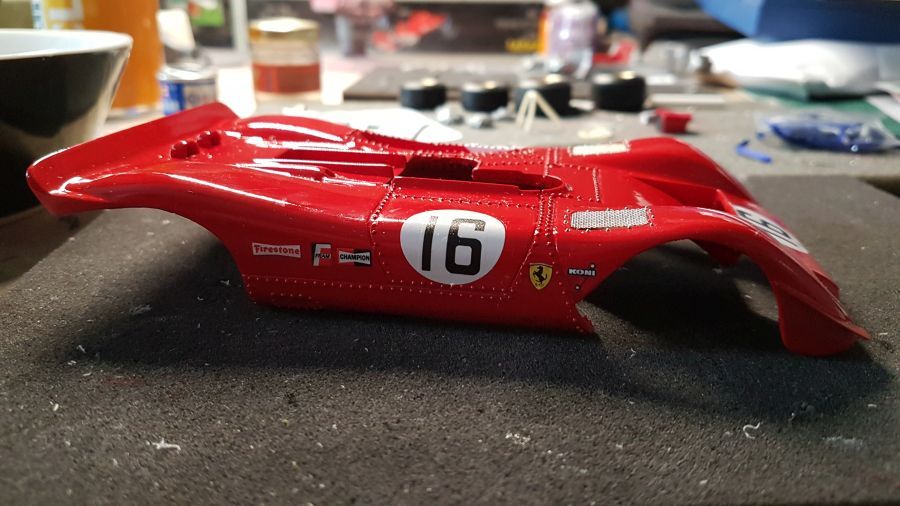 Mijn persoonlijk adviseur geedt aan dat de gordels blauw moeten...
My personal advisor claims the belts need to be blue...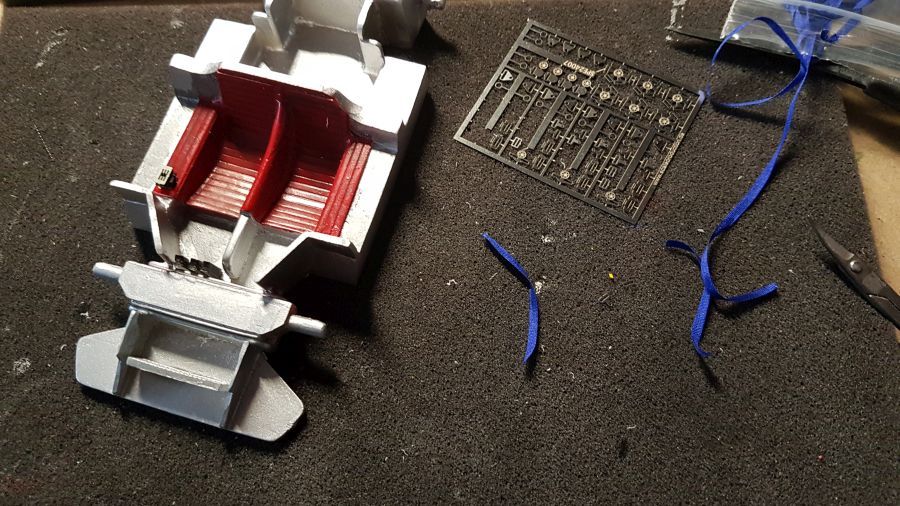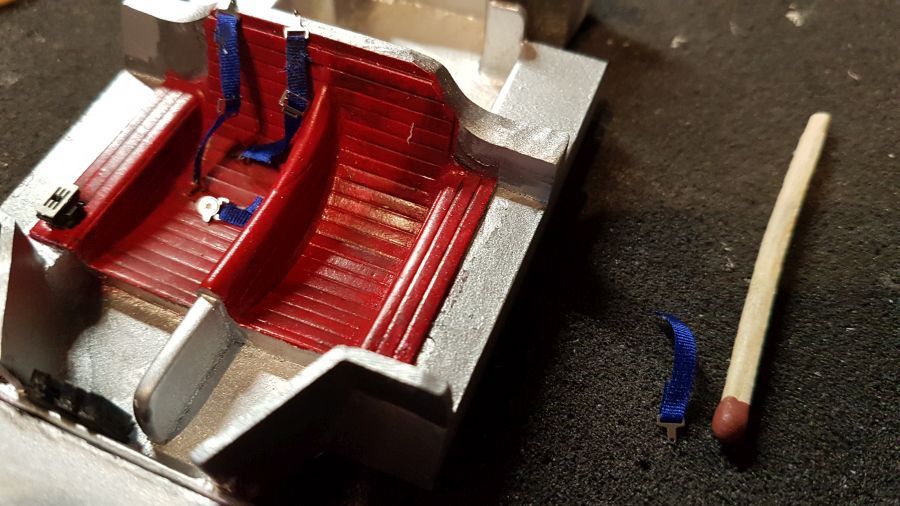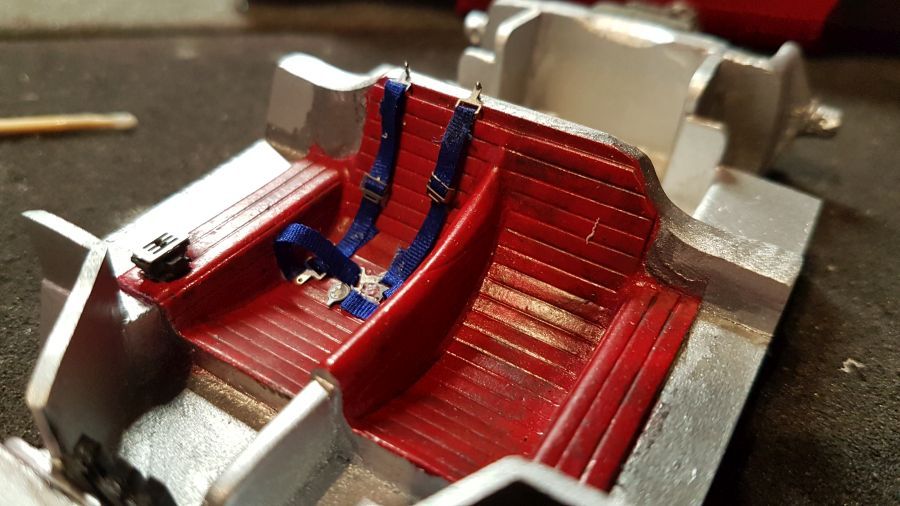 De rolbeugel krijgt een kleurtje.
The roll bar gets some colour.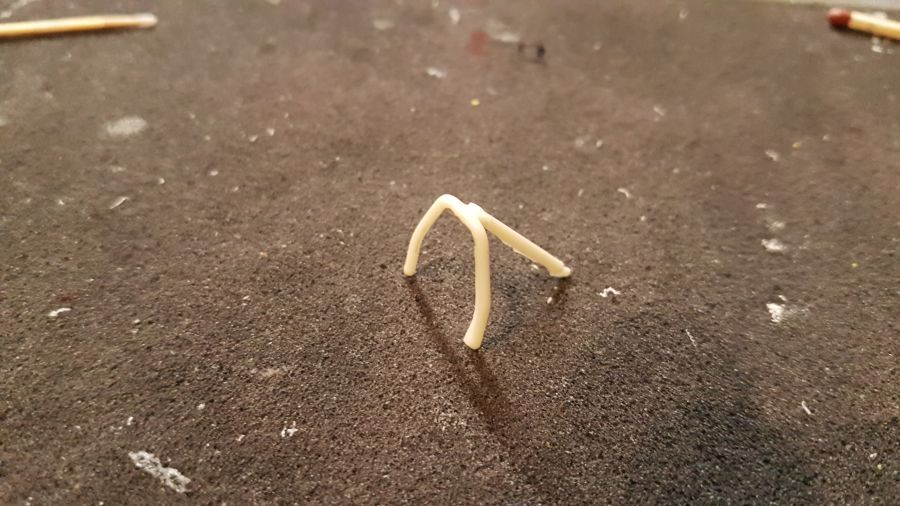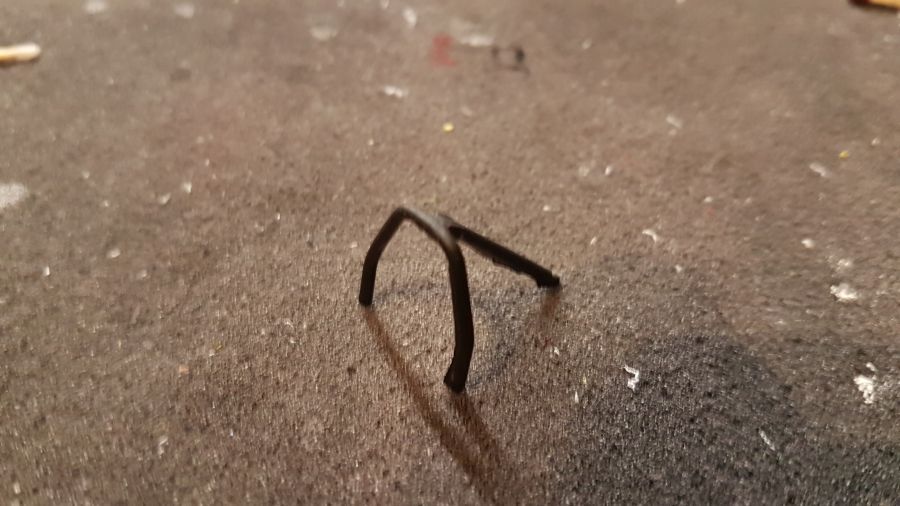 De remschijven gaan erop..
The brake discs are attached..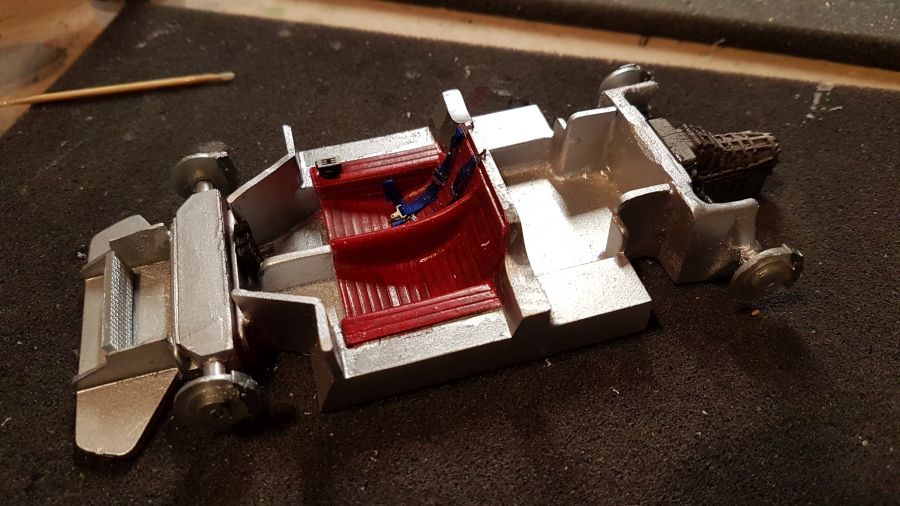 De wielen kunnen erop. Pas wel op dat het niet te breed wordt. Zo nodig de assen wat inkorten.
The wheels can be mounted. Be sure it doesn't get too wide. If necessary the axles need to be cut a bit.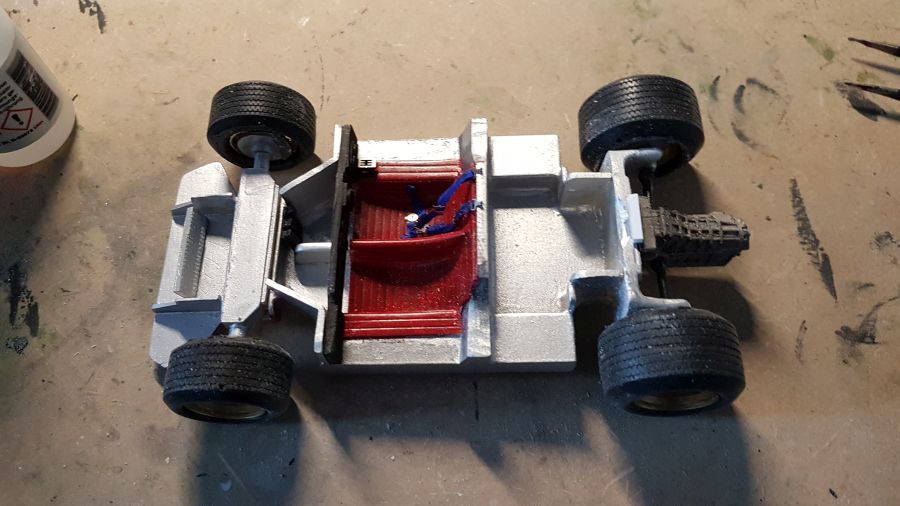 Dan het interieur...
Then the interior...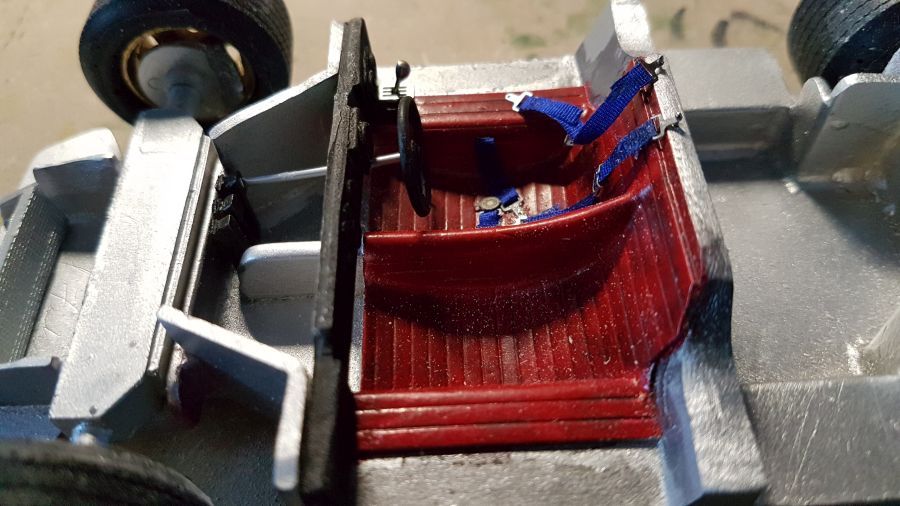 De box heeft wat werk nodig... Ik verf de voorkant en de achterkant zwart en gebruik wat zilver weathering poeder van Tamiya.
The box needs some work... I paint the front and rear black and use some silver weathering powder from Tamiya.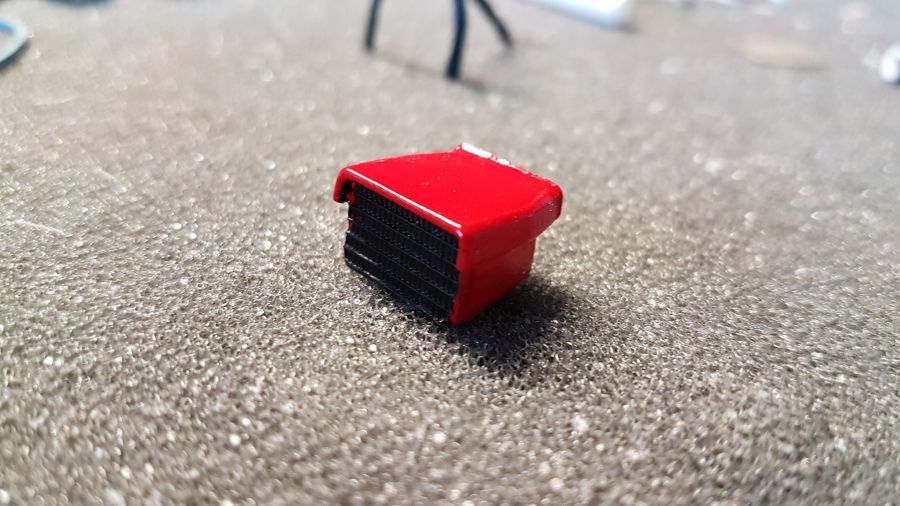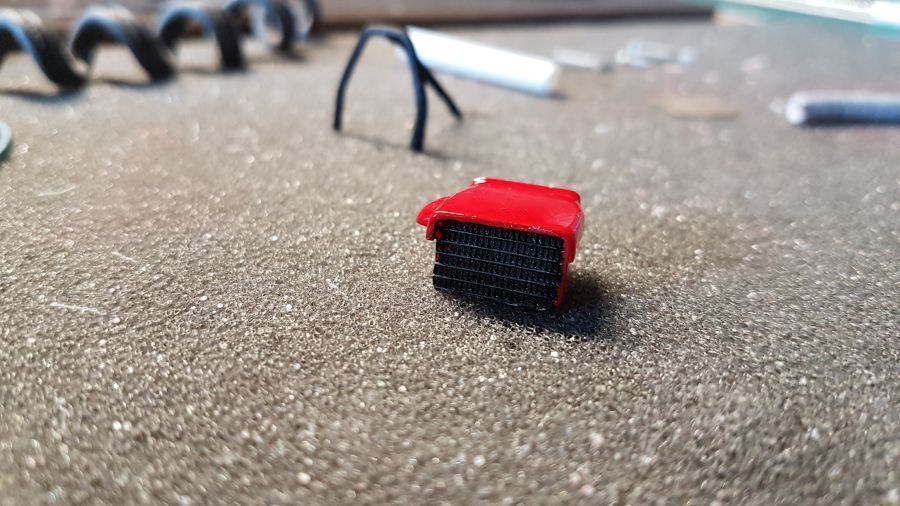 Dan kan ook die geplaatst.
Then it can be added too.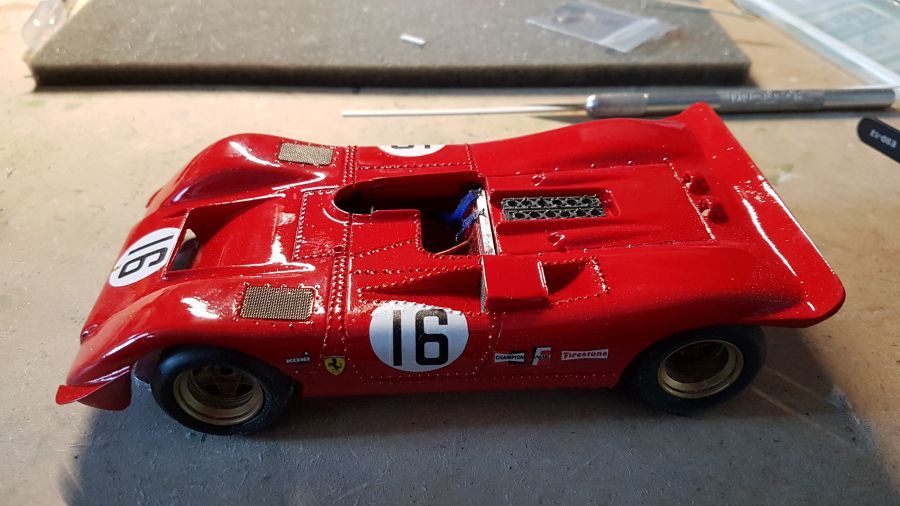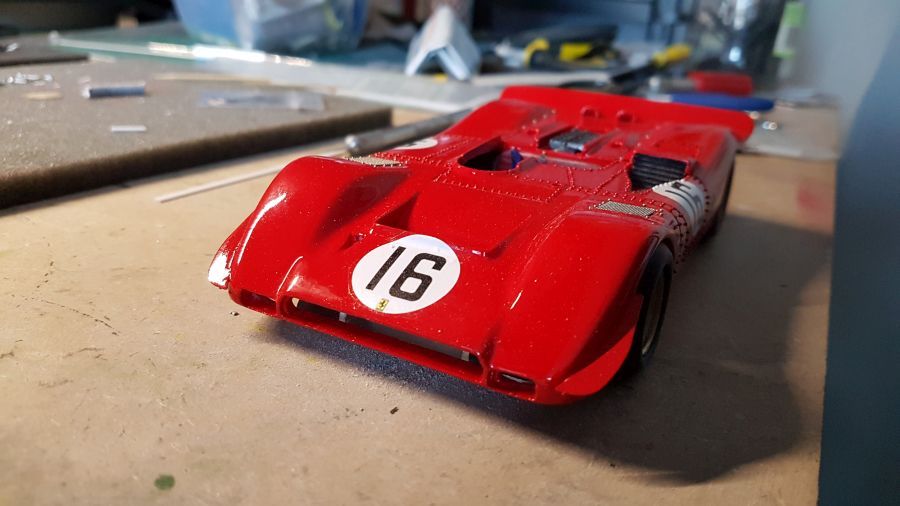 De achterkant krijgt nog meer details...
The rear gets some more details...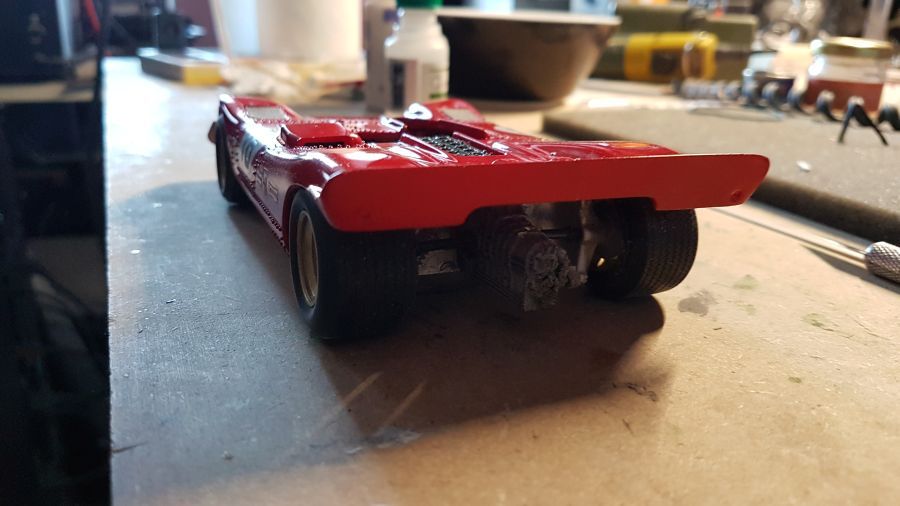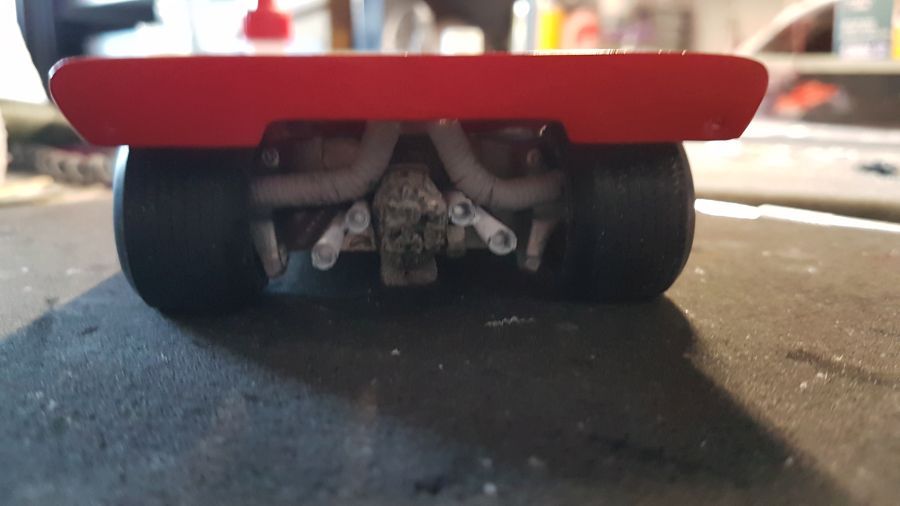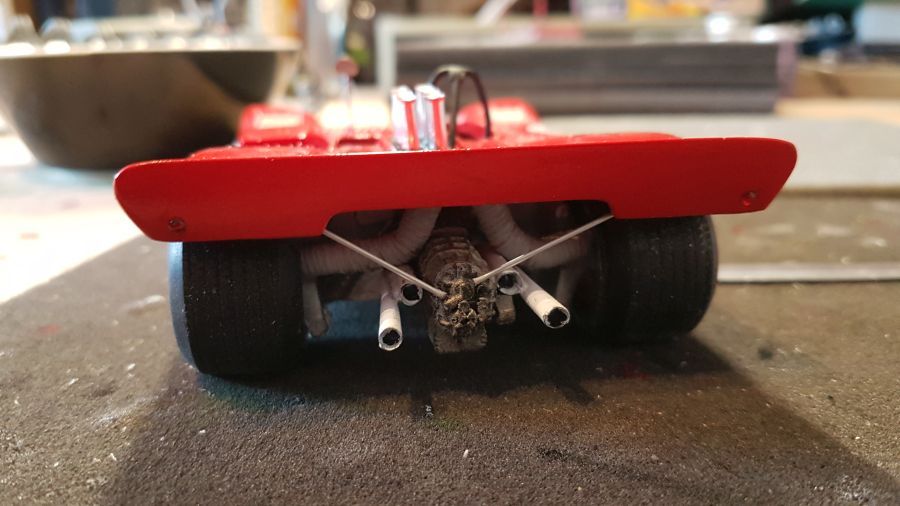 De pijpen gaan erop... een lastig karwei om het een beetje recht op een rij te krijgen.
The pipes are being installed... a tricky job to get them somewhat straight lined up.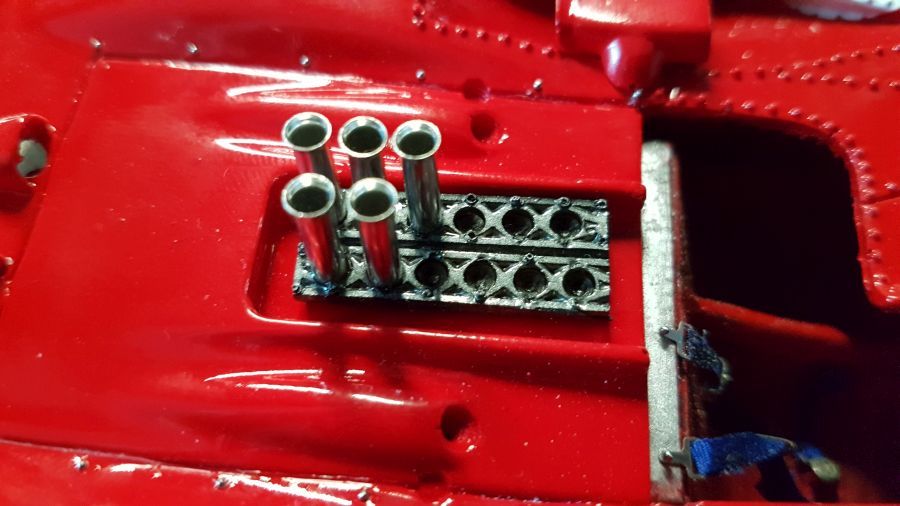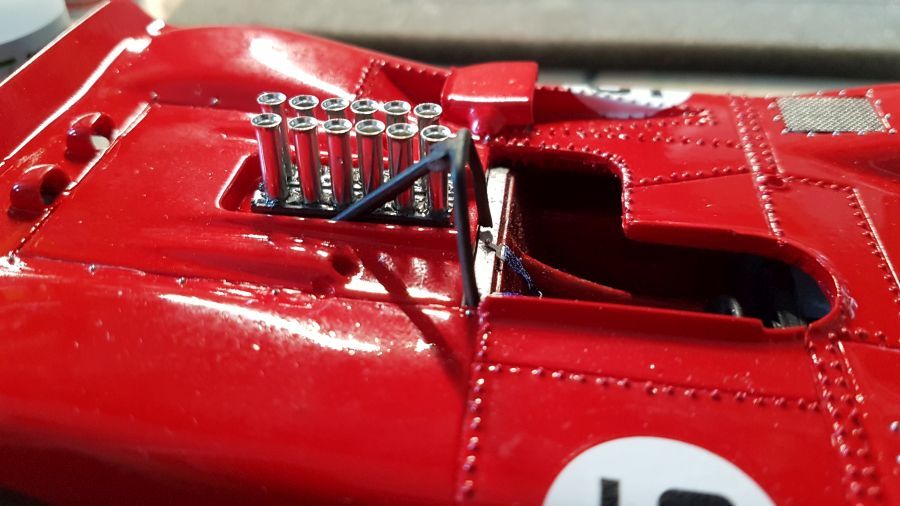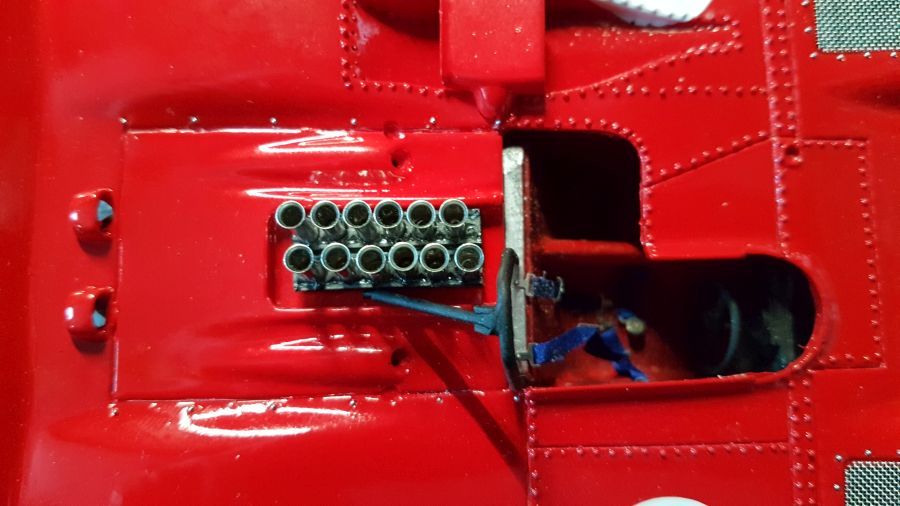 Verder met de spiegel...
To continue with the mirror...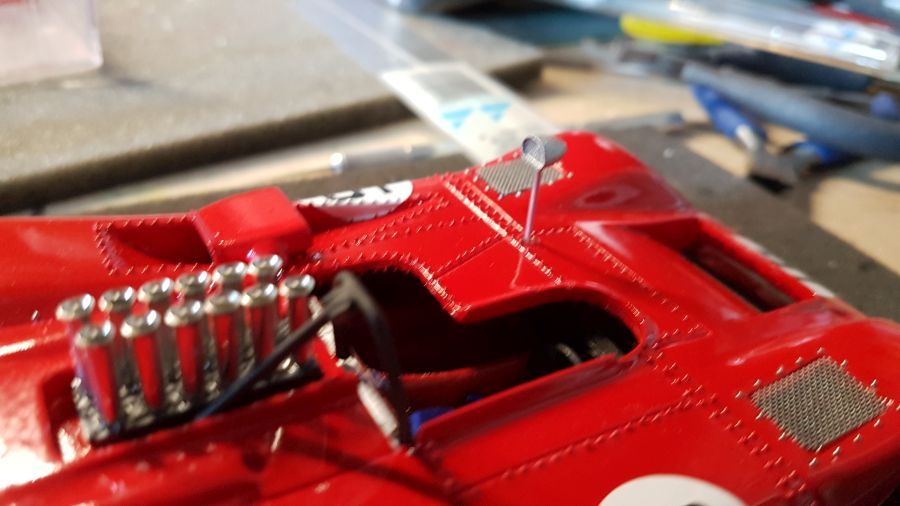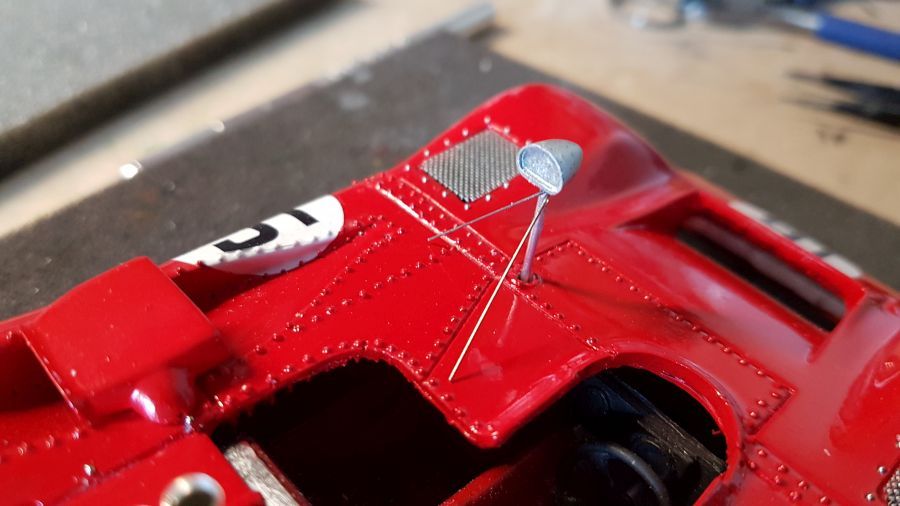 En het raam...
And the window...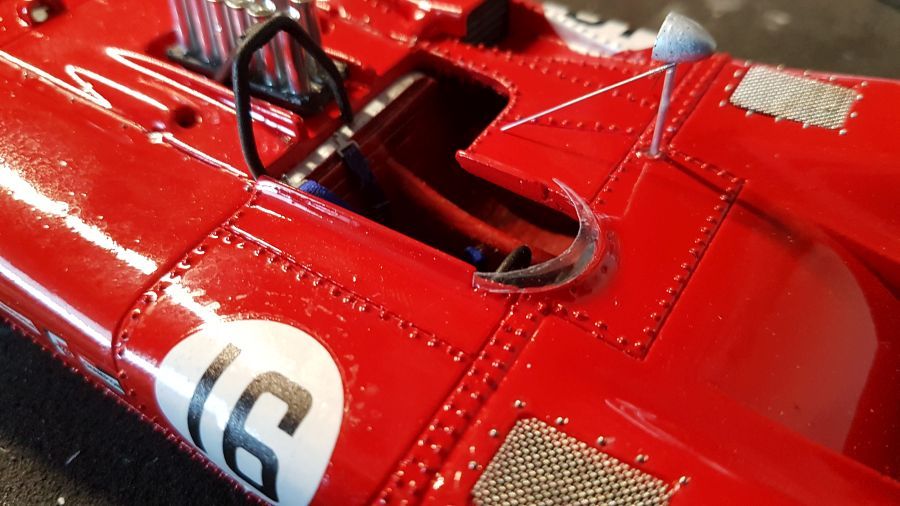 Op foto's zie ik dat de achterspoiler een 'knik' heeft....
On pictures i noticed the rear spoiler has a 'bend'....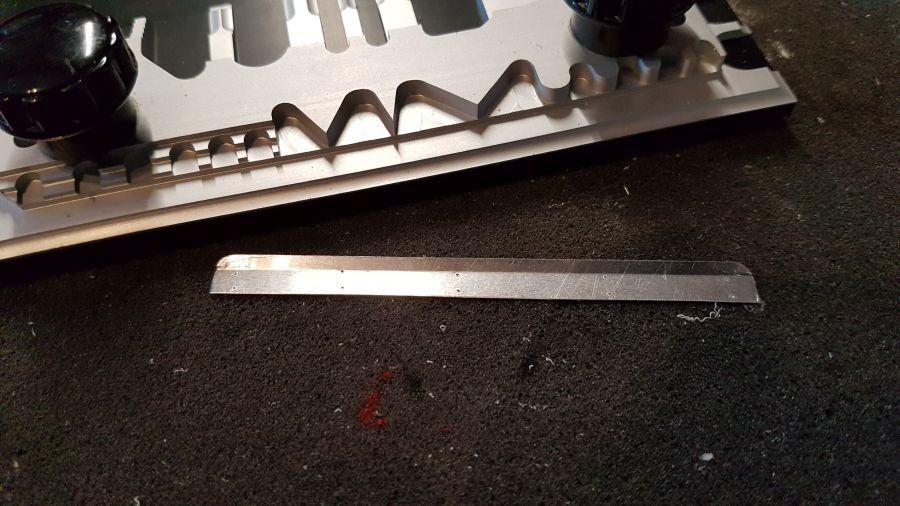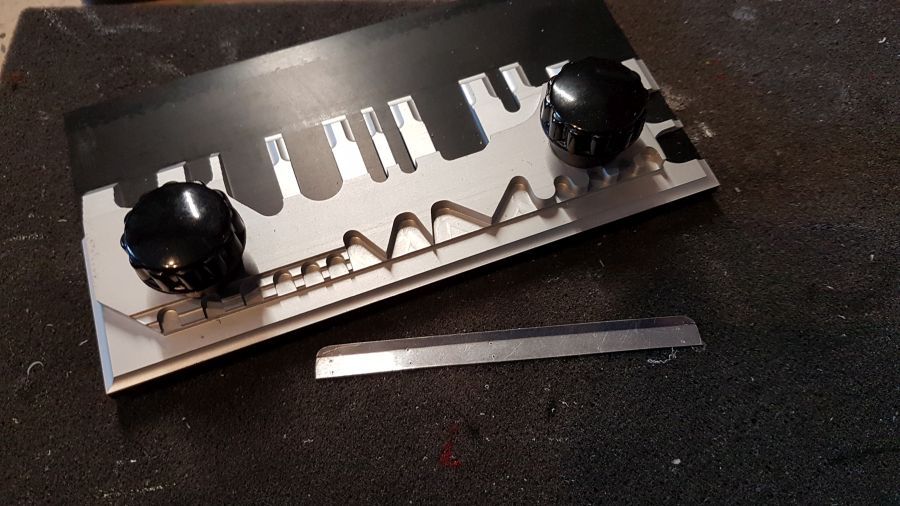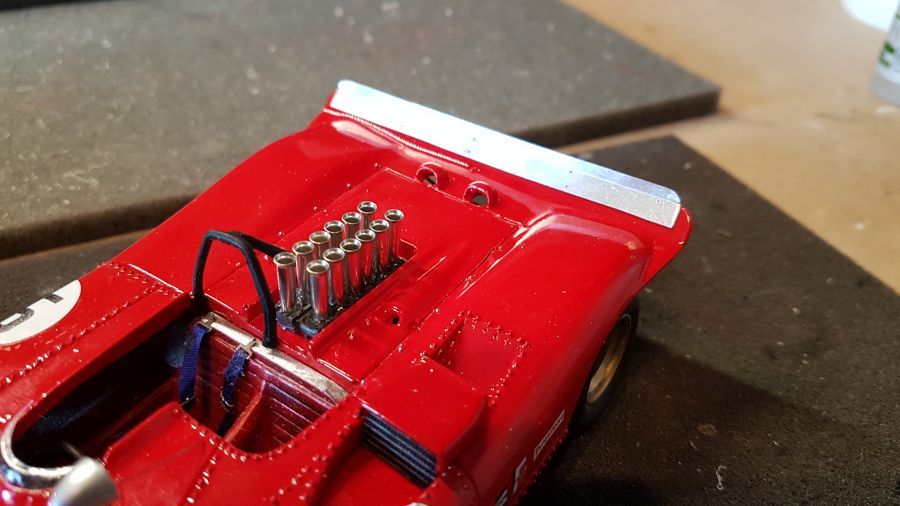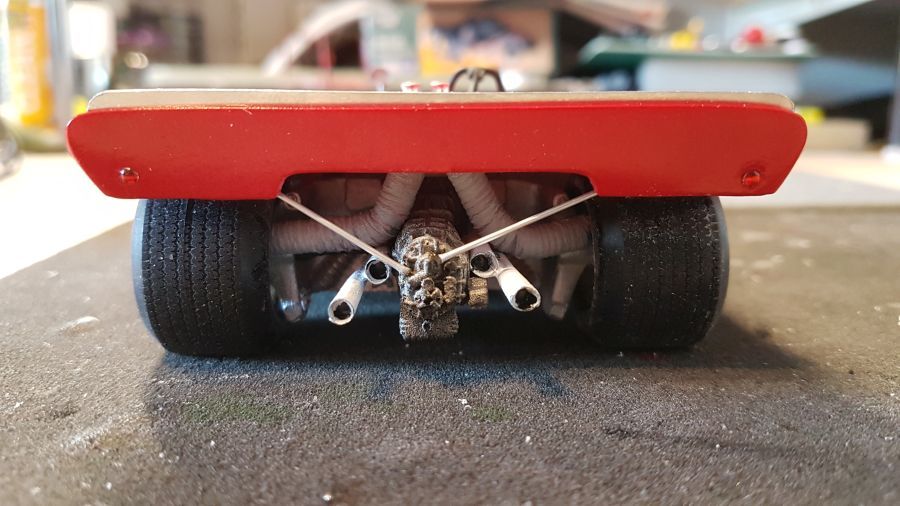 Ik kan niets meer bedenken.  Ik beschouw deze als klaar.... Alleen nog wat vingerafdrukken verwijderen.
I can't think of anything anymore. I consider it done....  Just some cleaning of fingerprints.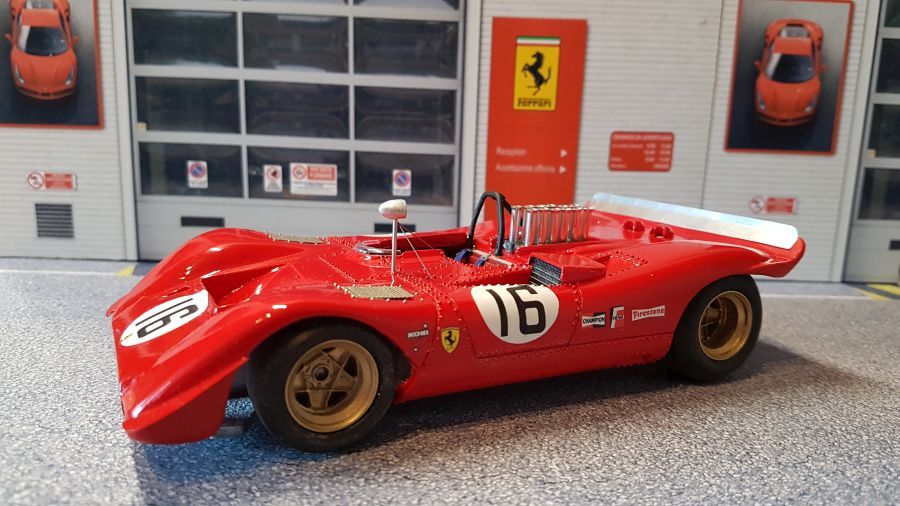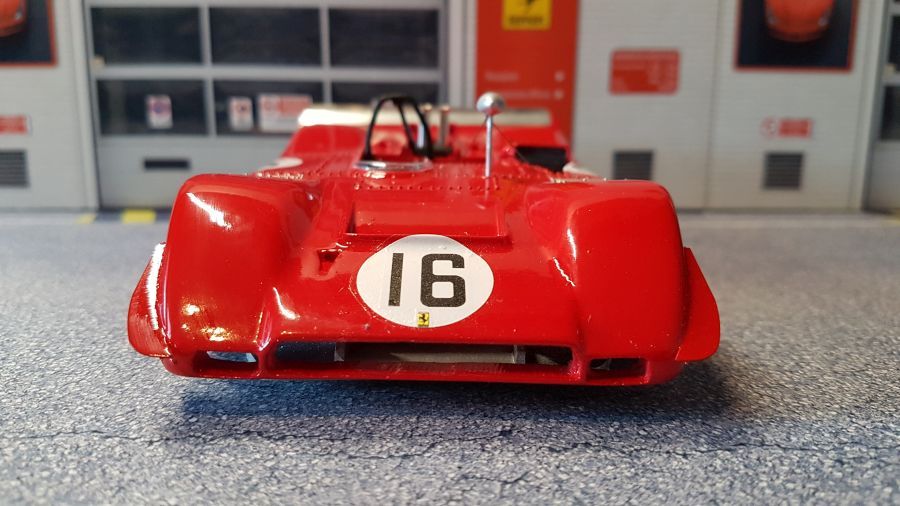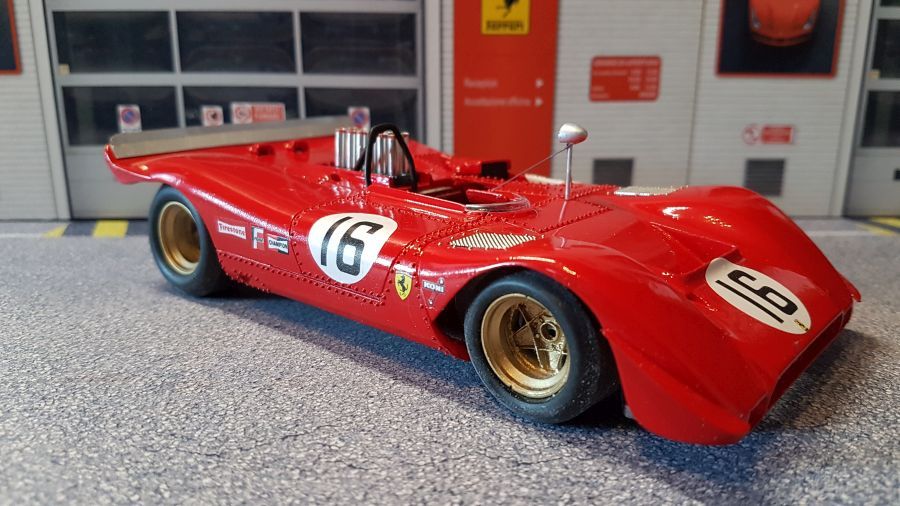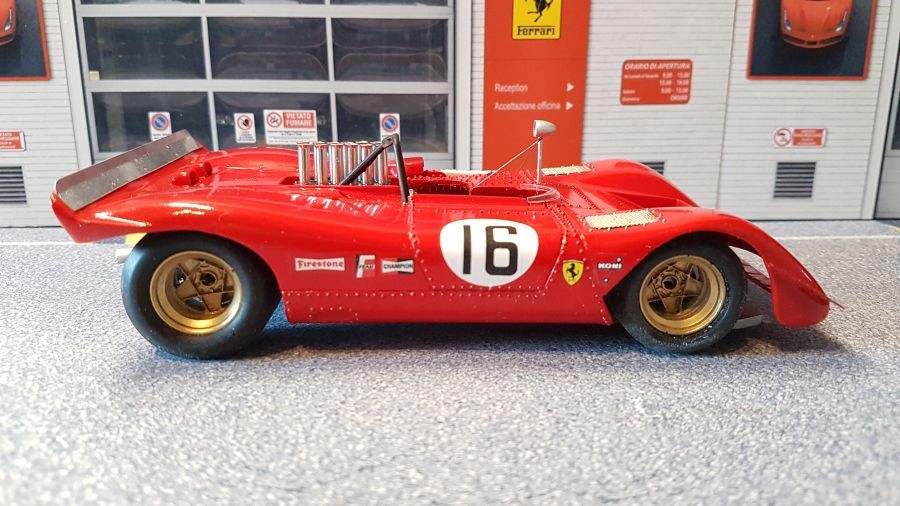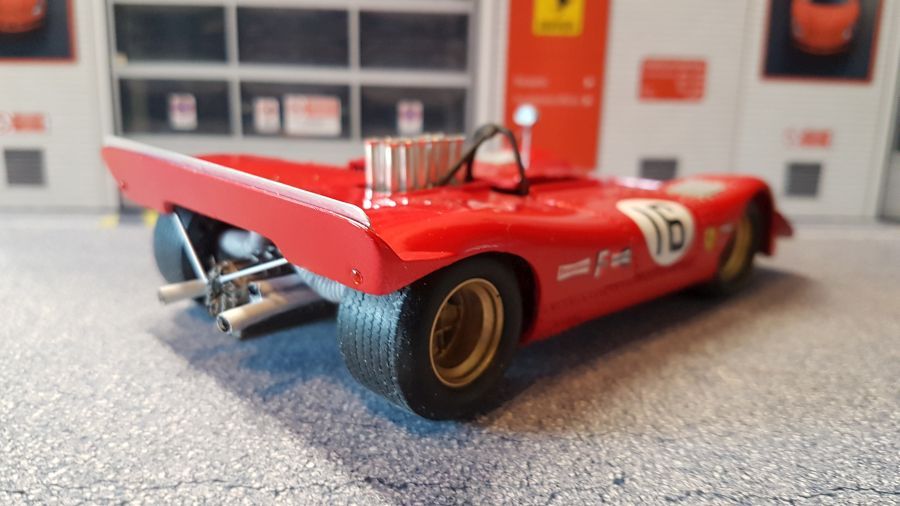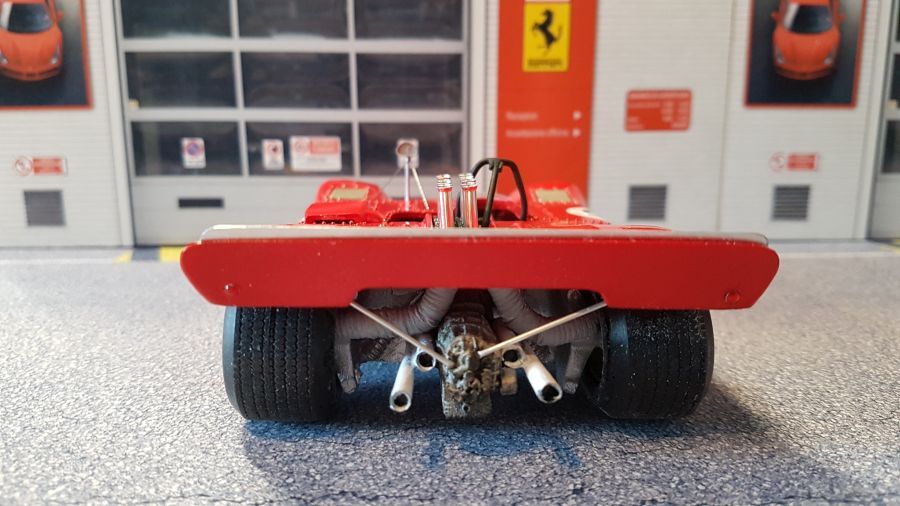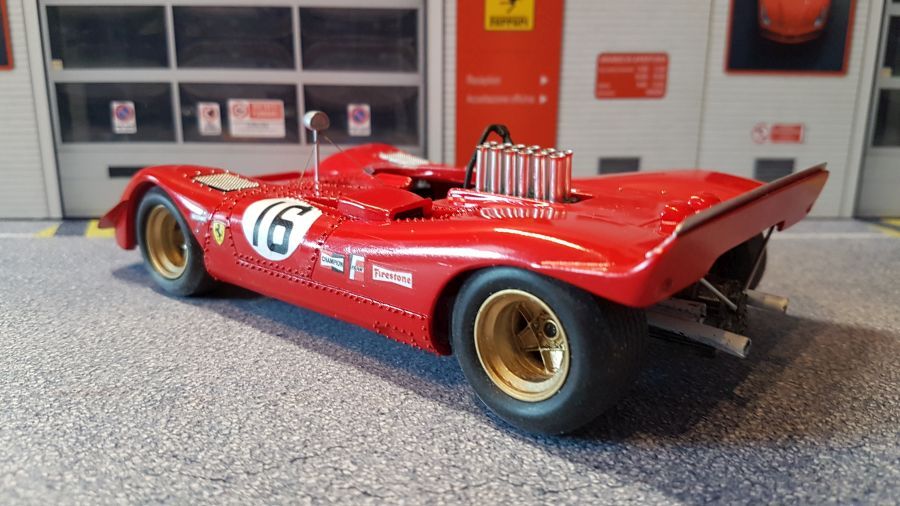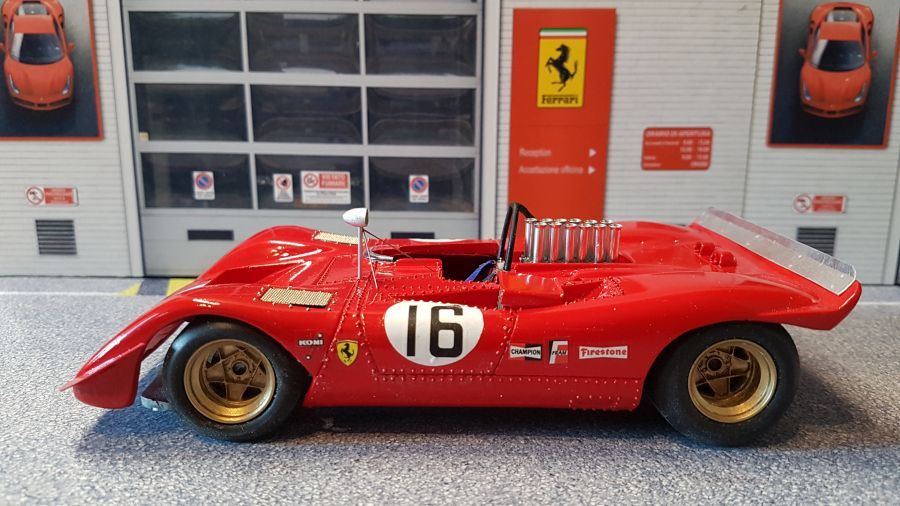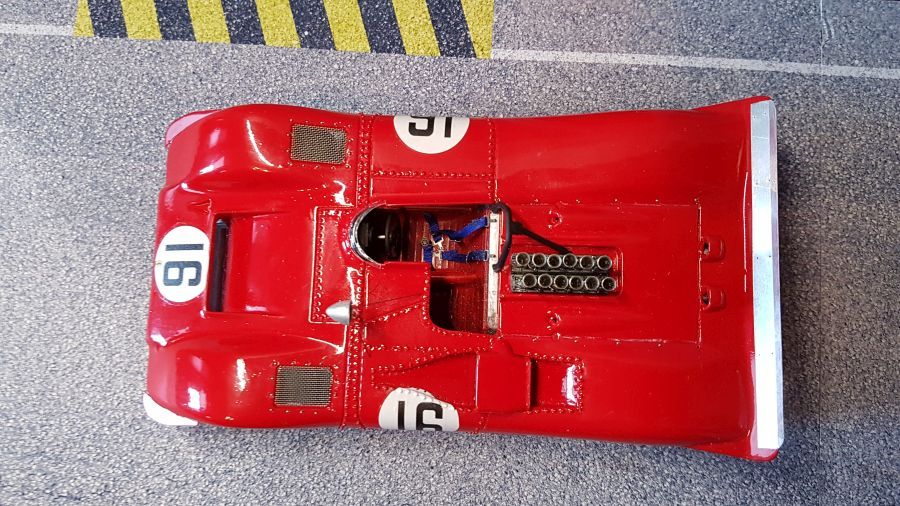 Een kit zonder problemen? Niet helemaal, maar dat hoort er natuurlijk een beetje bij. Let in ieder geval op de breedte van de assen. De banden moeten onder de body passen. Ik had het idee dat de bodem ietwat scheef was, maar zoals je ziet heeft dat geen problemen opgeleverd. Ook kon ik de body niet helemaal met de vloer verlijmen. Een klijn stukje strip op de juiste plek heeft dat opgelost. Mogelijk was het plaatsen van de vele popnagels de oorzaak. Wanneer je een kit wilt, kun je contact met me opnemen.
A kit without problems? Not completely, but that's modelling. Be sure to watch out for the width of the axles. The tires should fit under the body work. I believe the floor might be a little out of line, but as you can see i have had no problems with it. Also i was unable to glue the body to the floor. A small piece of strip solved the problem. Maybe it was due to the large amount of rivets i have added. If you want a kit, feel free to contact me.