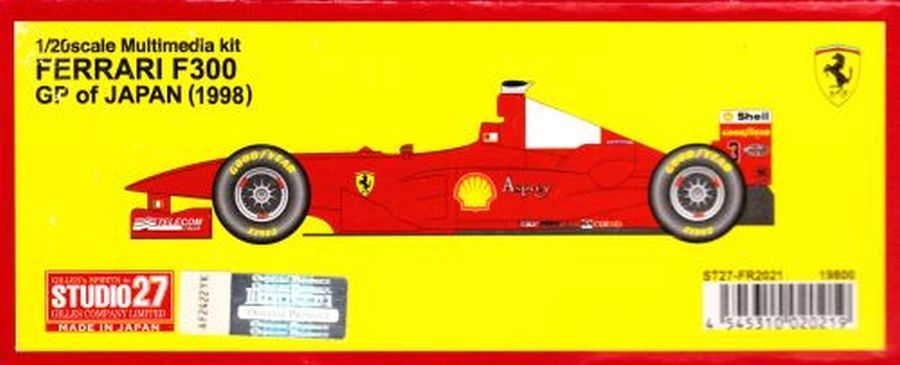 Ik heb vrij veel Ferrari kits van 1996 t/m 1998 op de plank liggen. Dus nu maar even weer 1 van deze aan de beurt. Nu dus de 1998 Ferrari F300 zoals deze werd bestuurd door Eddie Irvine tijdens de GP van Japan. Deze Ferrari F300 werd bekend als eerste Ferrari met een zogenaamde delta vormige voorvleugel. Wel de moeite waard dus om deze Japanse versie te bouwen. Studio27 leverde geen cigaretten decals. Deze zijn dus apart gekocht. Eerst maar weer de bekende foto's van de inhoud.
I have several Ferrari kits of 1996 to 1998 on the shelf. So now it's time for 1 of these. Now the Ferrari F300 as driven by Eddie Irvine during the GP of Japan. This Ferrari was known as the 1st Ferrari that had a delta shaped front wing. So it's worth it to build this Japanese version. Studio27 didn't deliver the cigaret decals. So these were bought seperate. First of all the well known photos of the content.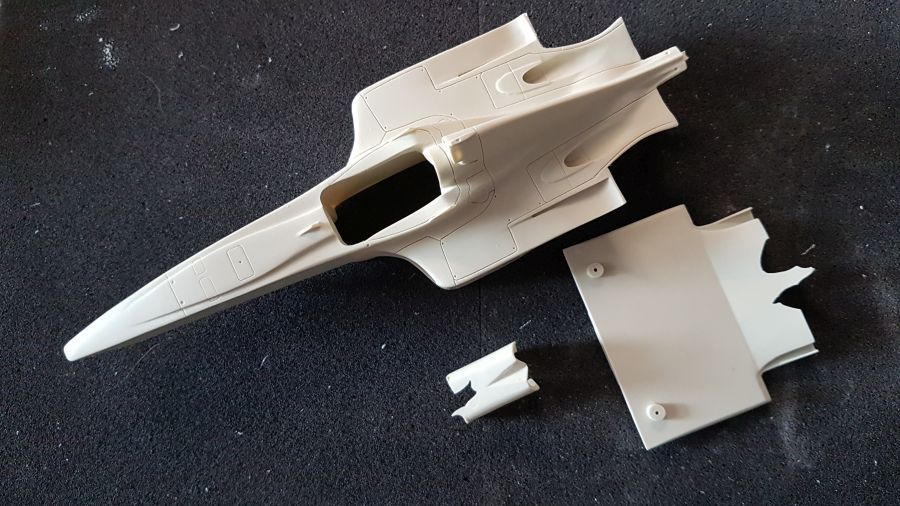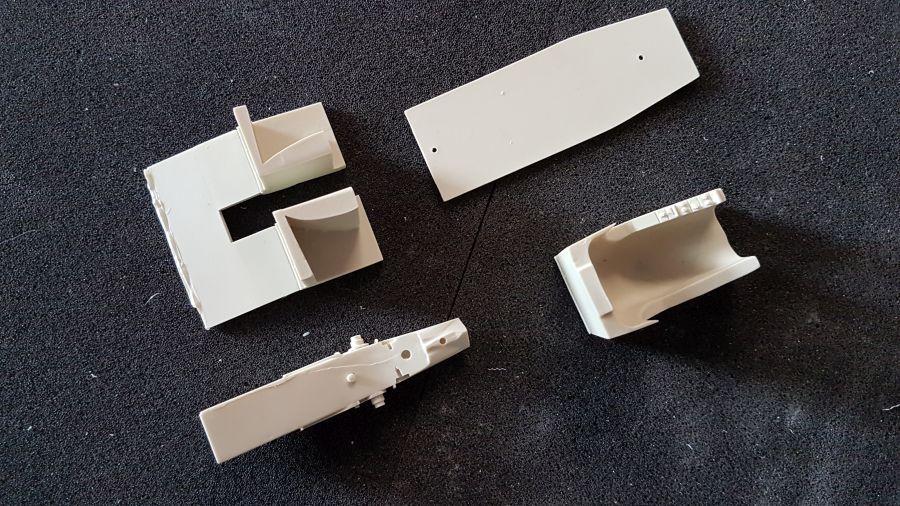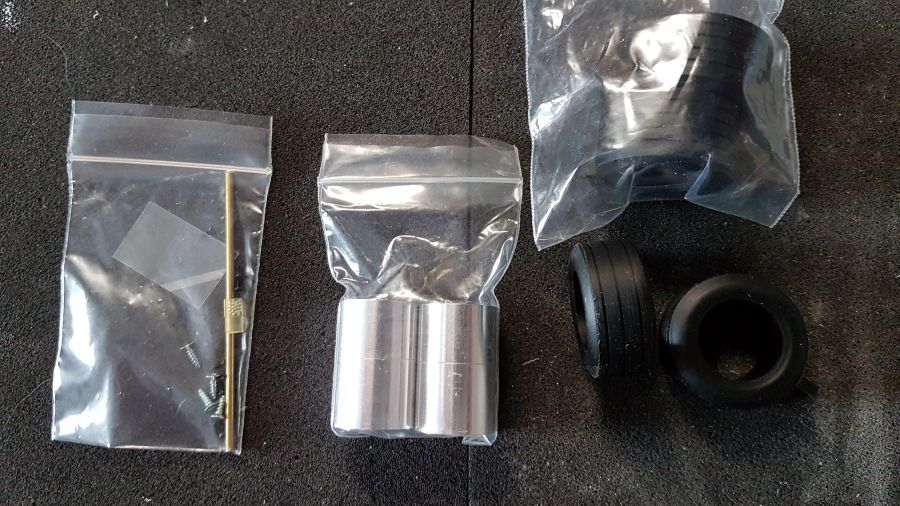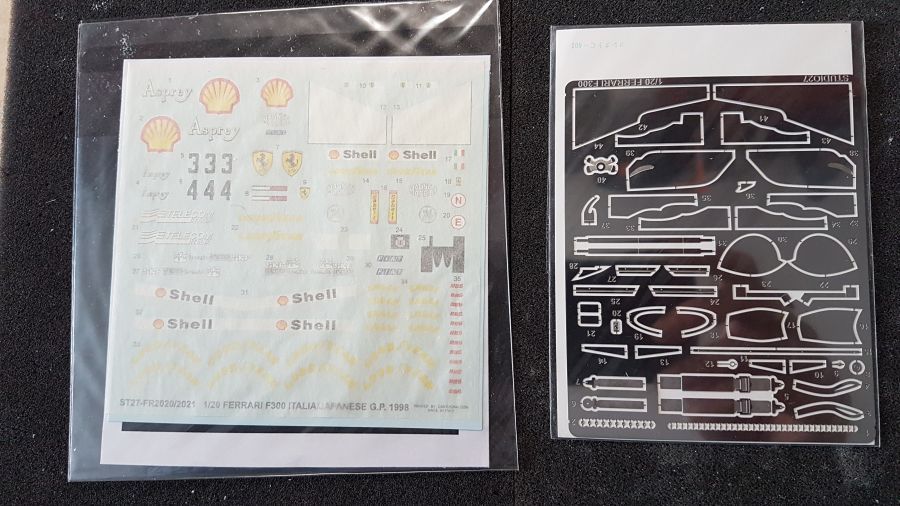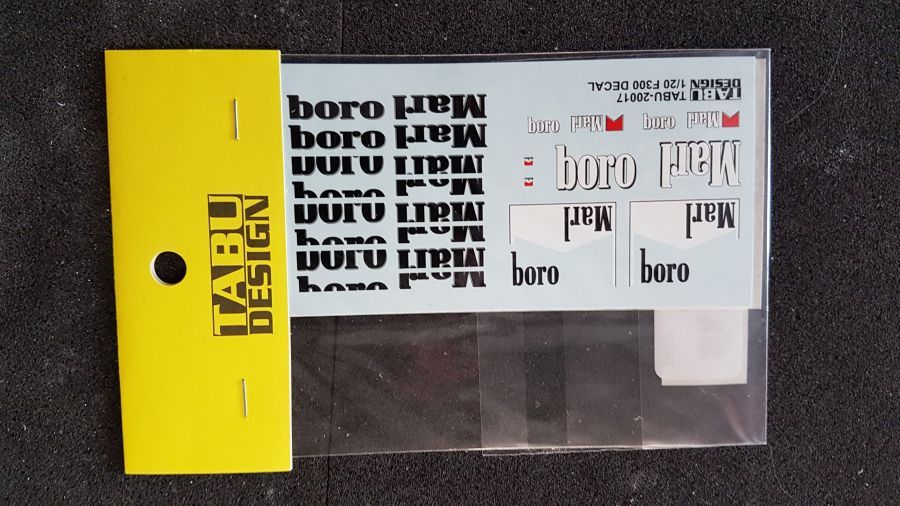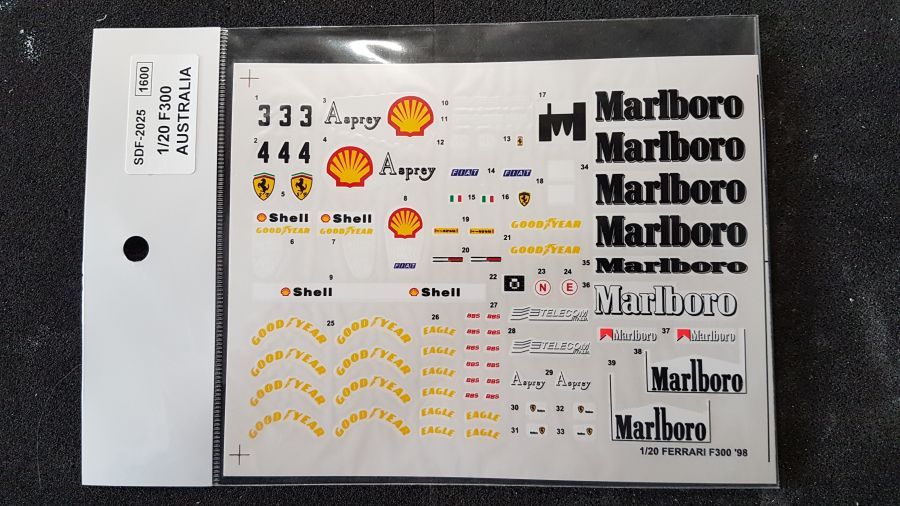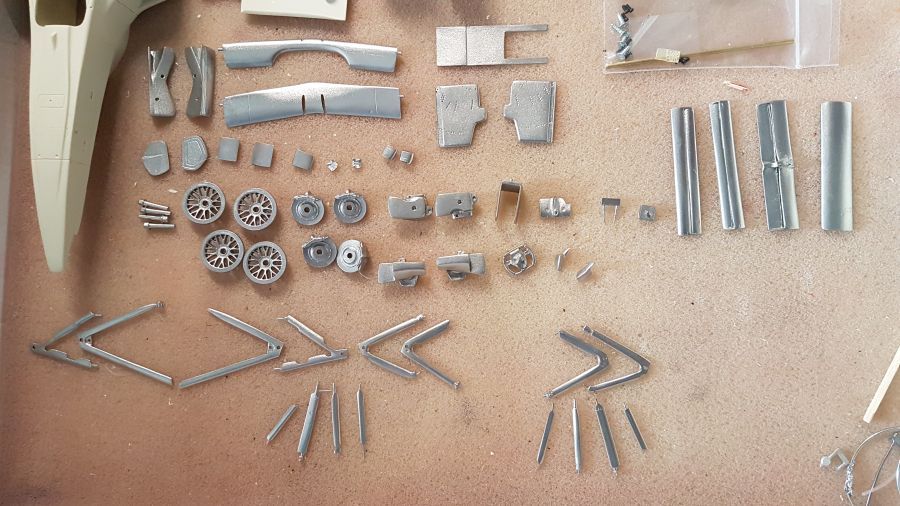 Ik haat wanneer mensen op Ebay je beschadigde spullen verkopen.
I hate it when people on Ebay sell you damaged goods.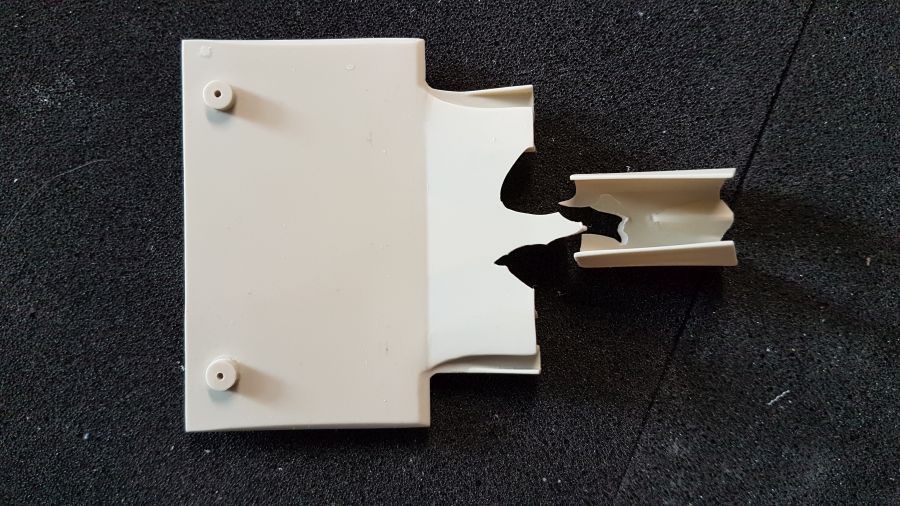 Repareren?
Repair?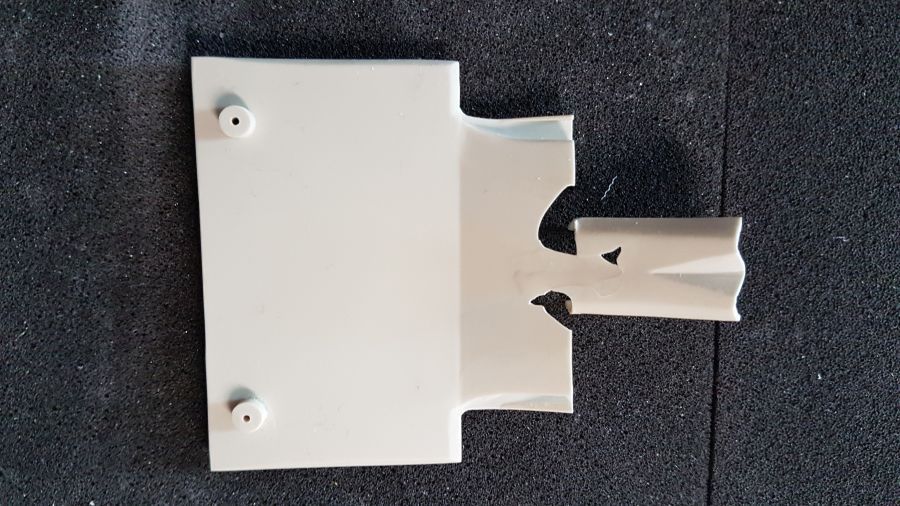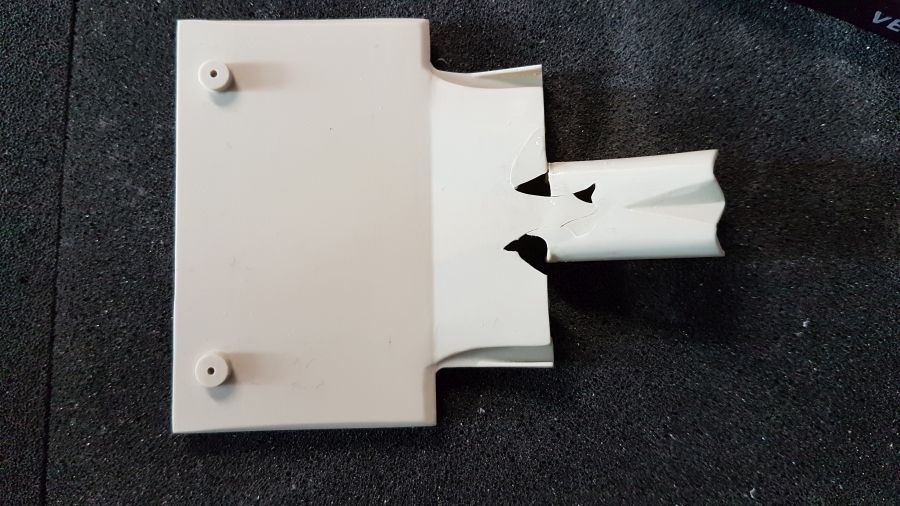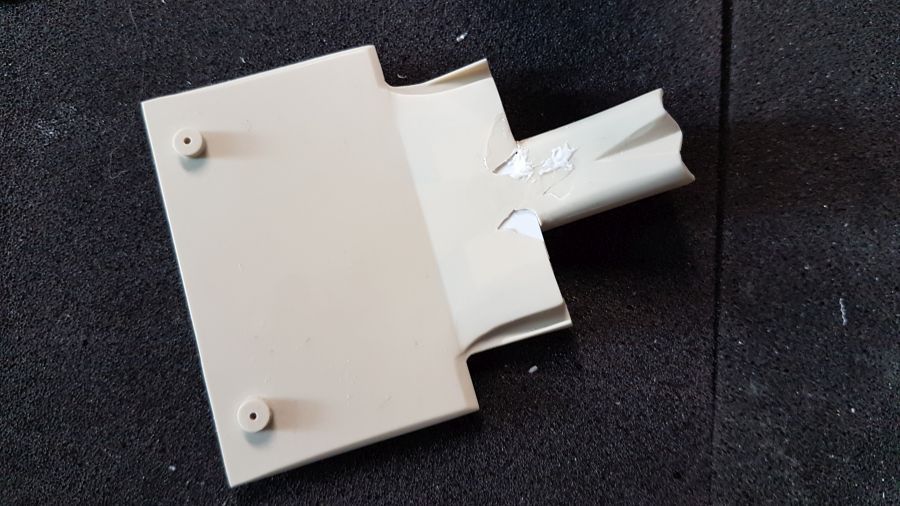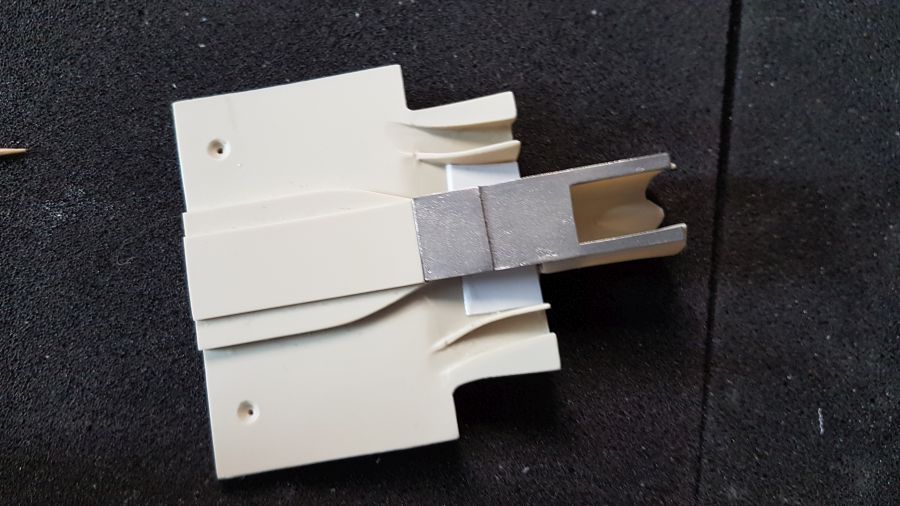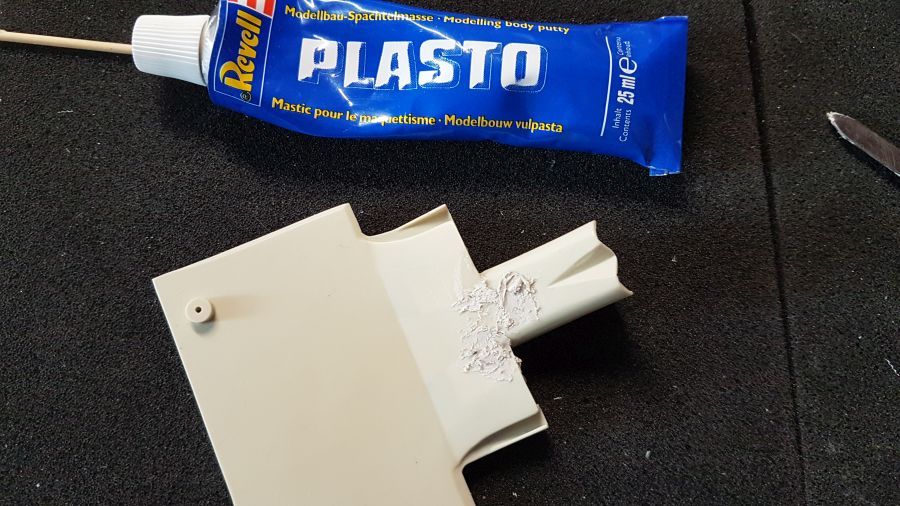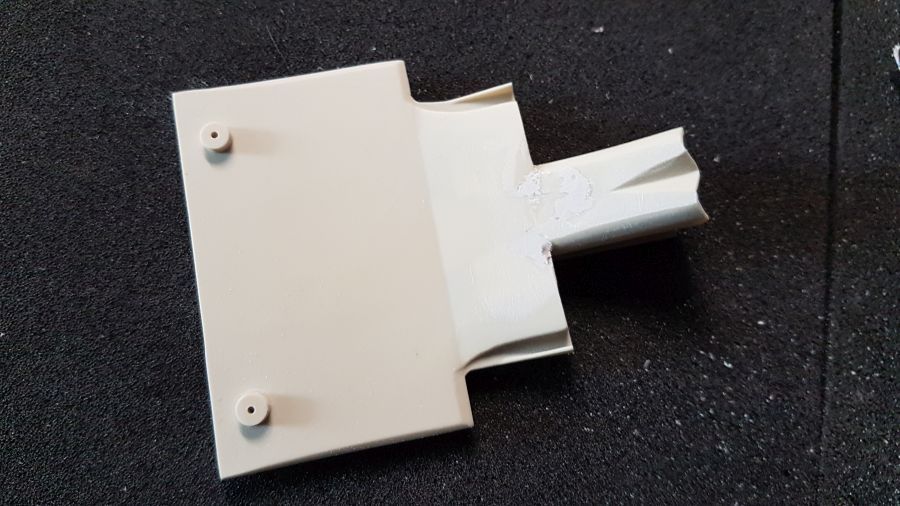 Uiteraard kun je aan de onderkant de verstevigingsplaatjes zien. Ik probeer dit nog wat bij te werken. Eenmaal zwart zal er weinig van te zien zijn. De dikte van de diffuser valt erg mee.
Of course you can see the support sheet at the downside. I will try to work on it some more. When painted black you can hardly see it. The diffuser isn't that much thicker.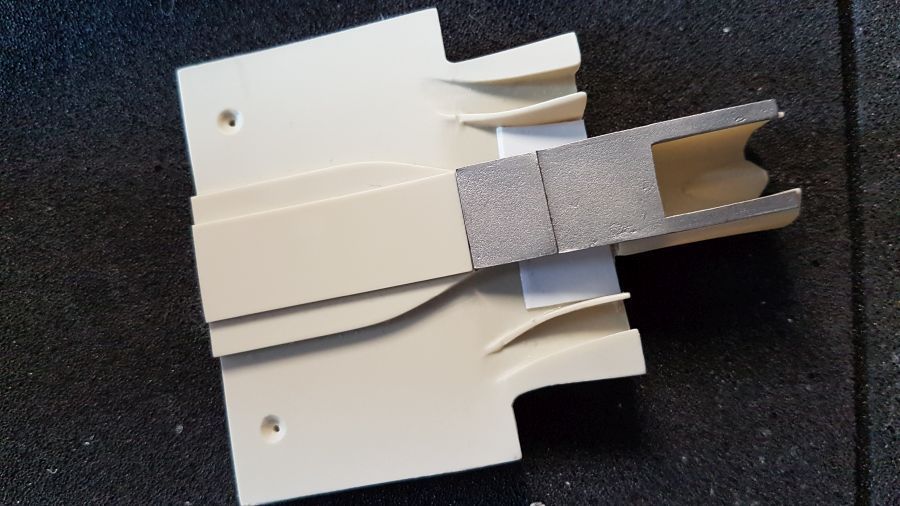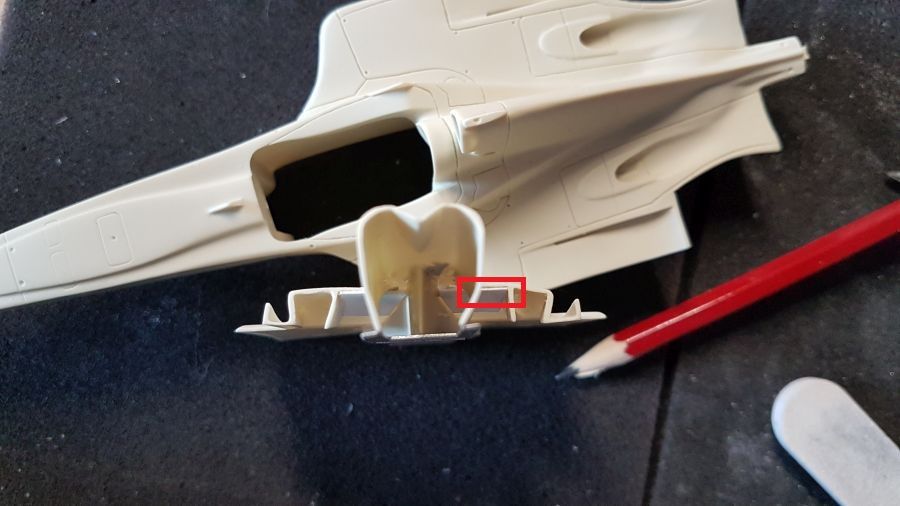 De vloer wordt zwart gespoten.
The floor is painted black.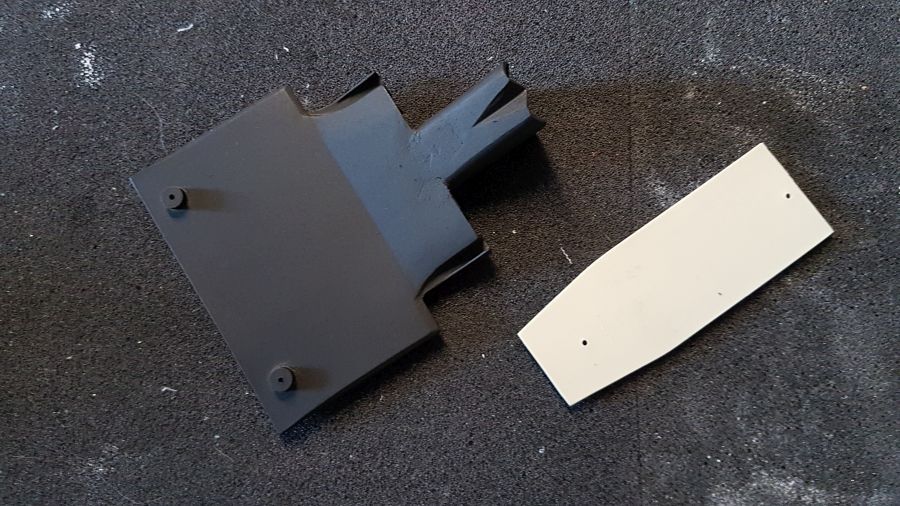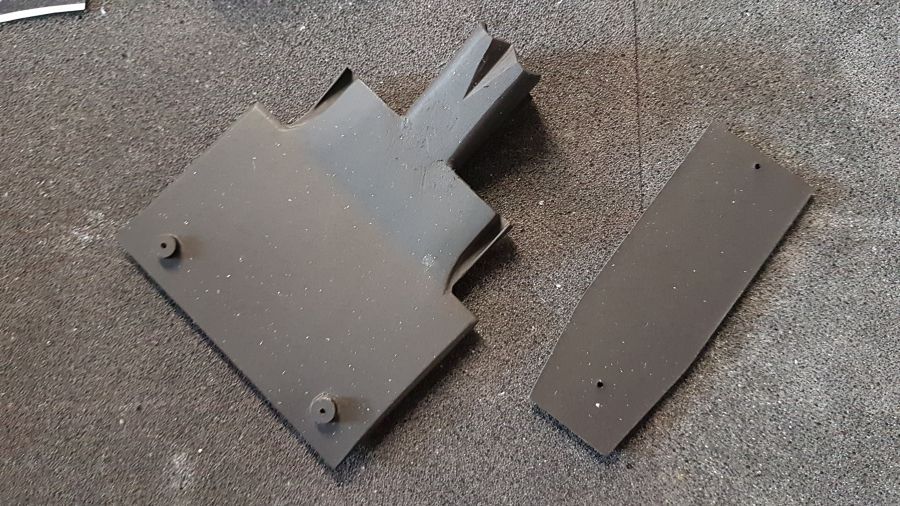 Dan carbon fiber decals plaatsen.
Then add carbon fiber decals.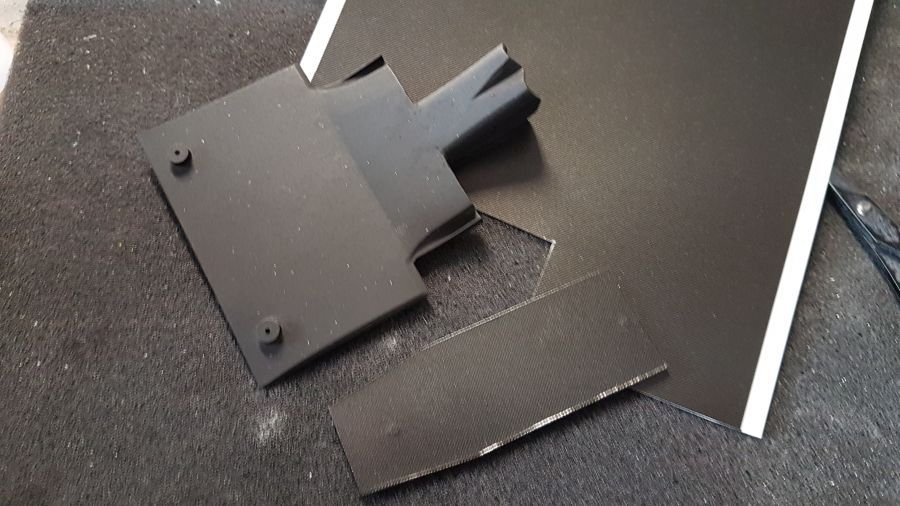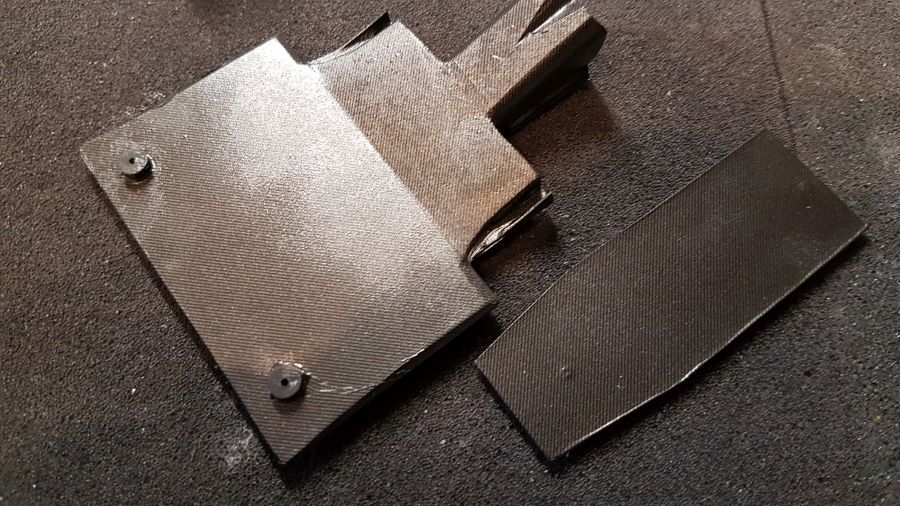 Vleugels worden aan de body geplaatst.
Wings are added to the body.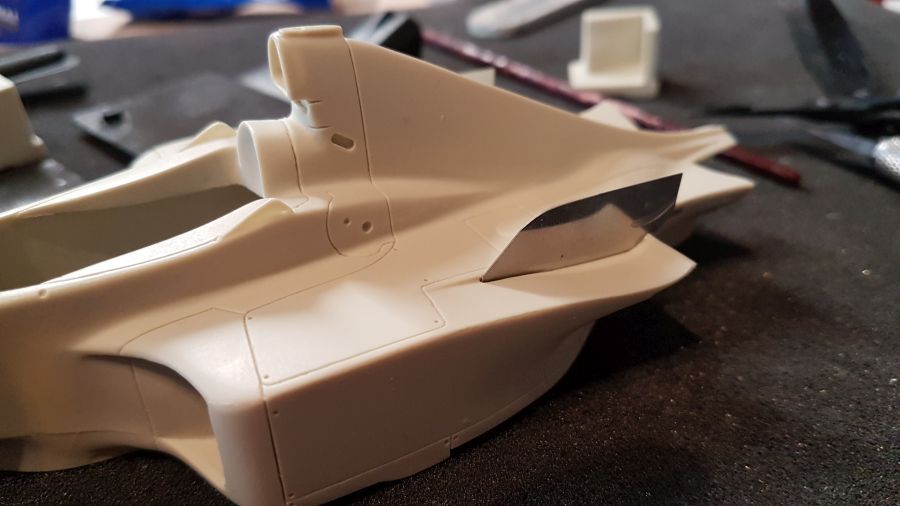 Ook dit deel van de voorwielophanging moet gerepareerd. Daarvoor gebruik ik de digitale soldeerbout. Daarvan kan de temparatuur per graad ingesteld worden. Een normale soldeerbout zou het witmetaal doen smelten.
Also this part of the front wheel suspension needs repaits. I use a digital soldering unit. The temp can be adjusted by degree. A normal soldering unit would melt the white metal.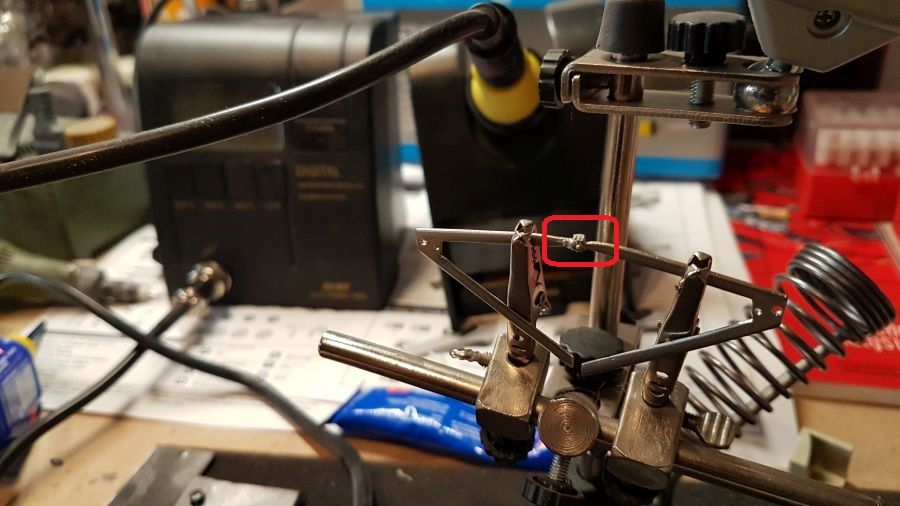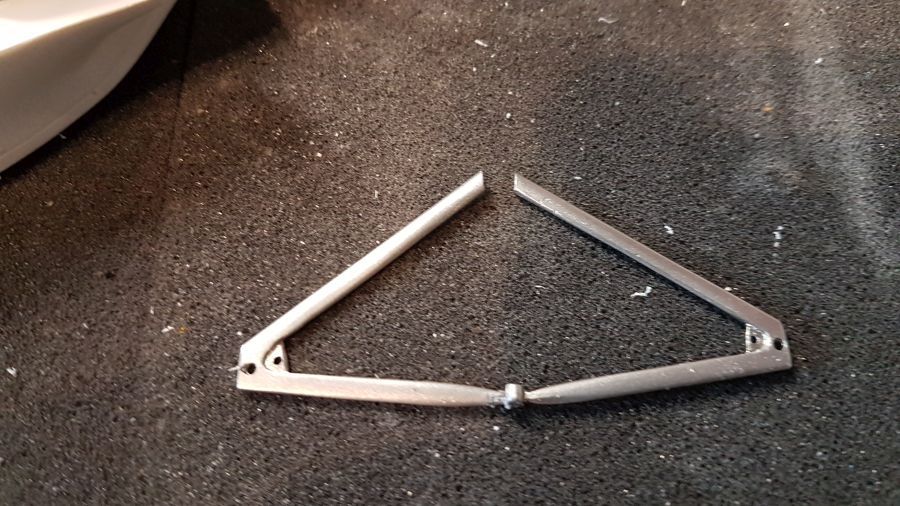 De eerste witte primer is aangebracht.
The first coat of white primer has been added.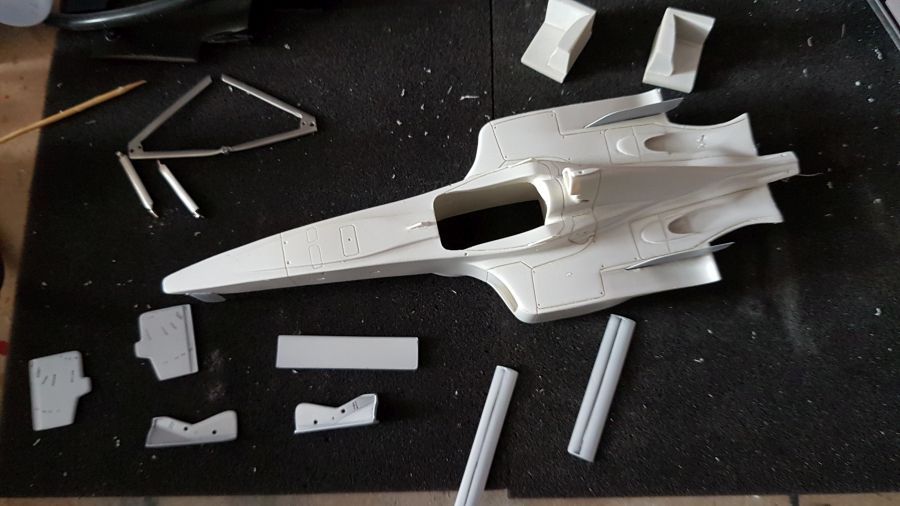 Wat kleur erop.
Some colour added.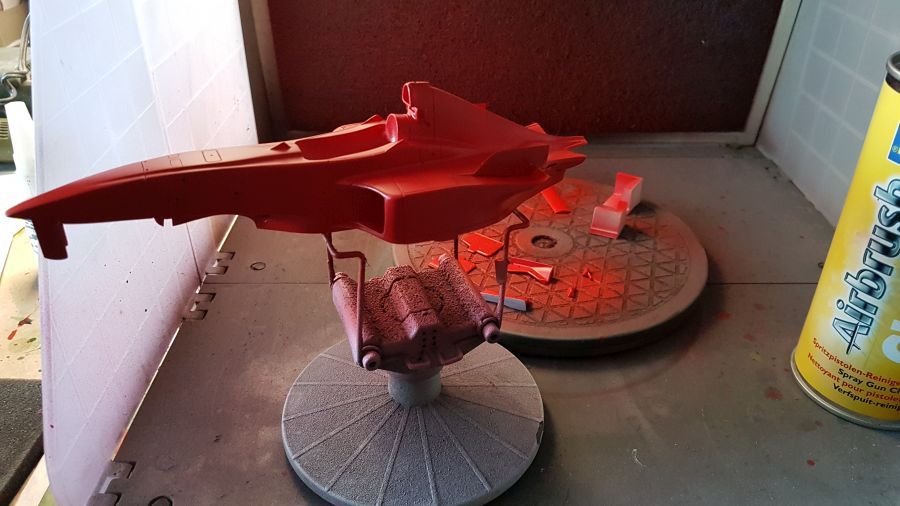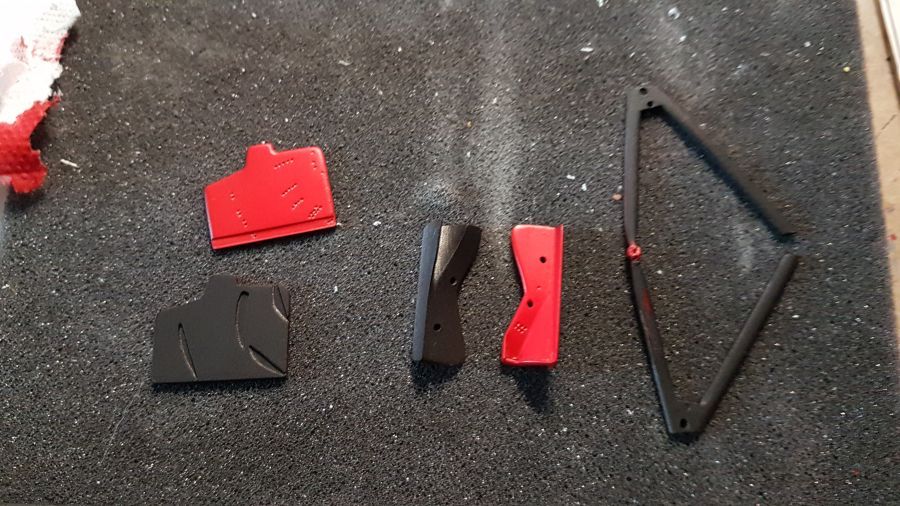 Dan de glanslak.
Next is the gloss clear.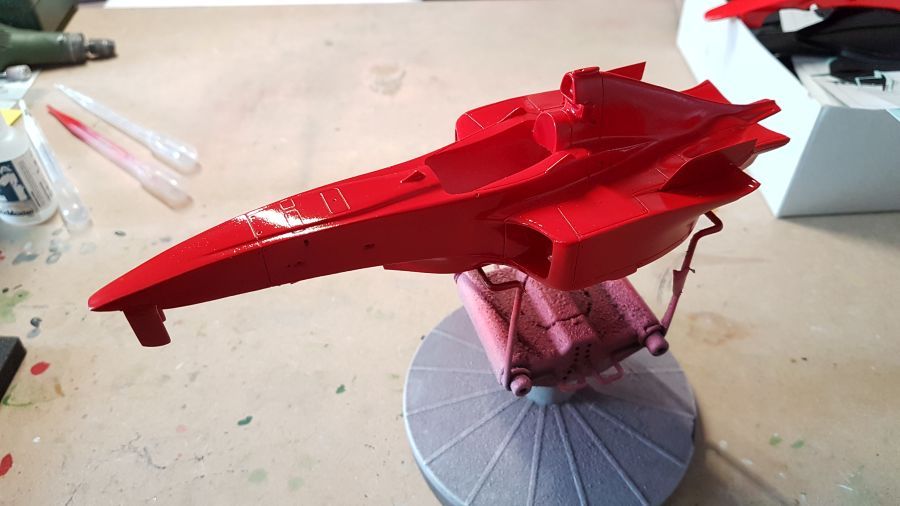 De binnenkant kan in de sidepod... 
The inserts can be added to the sidepod...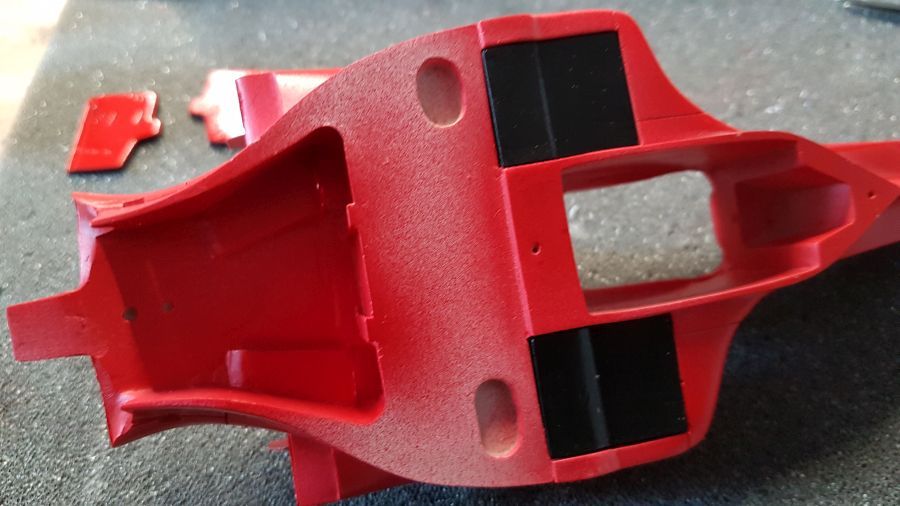 De wielophanging krijgt vast een kleurtje.
The wheel suspension gets some colour.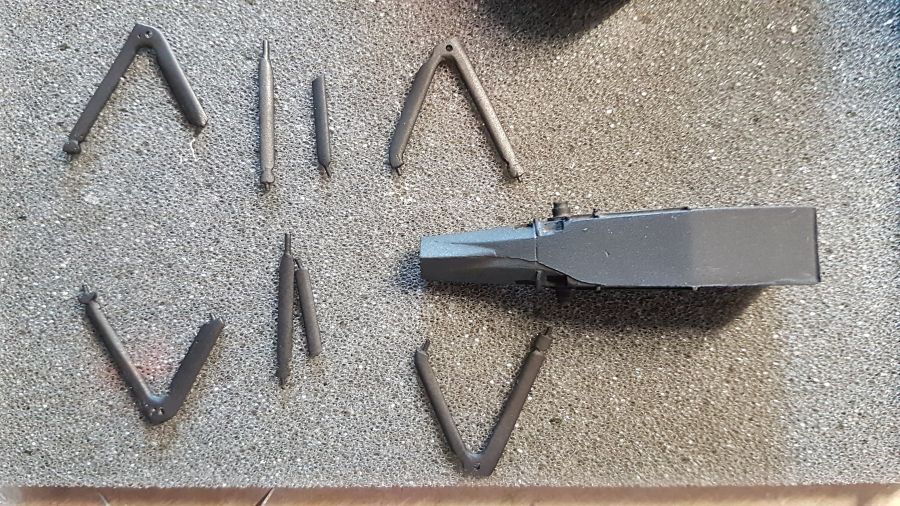 Dan worden de wielen in elkaar gezet. Die ben ik nodig om de juiste hoogte in te stellen.
Then the wheels are combined. I need them to give the car the correct heigth.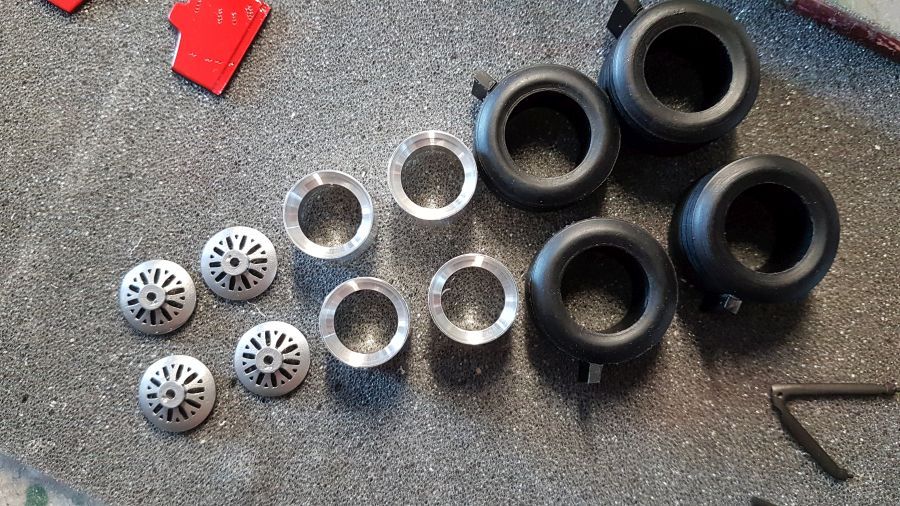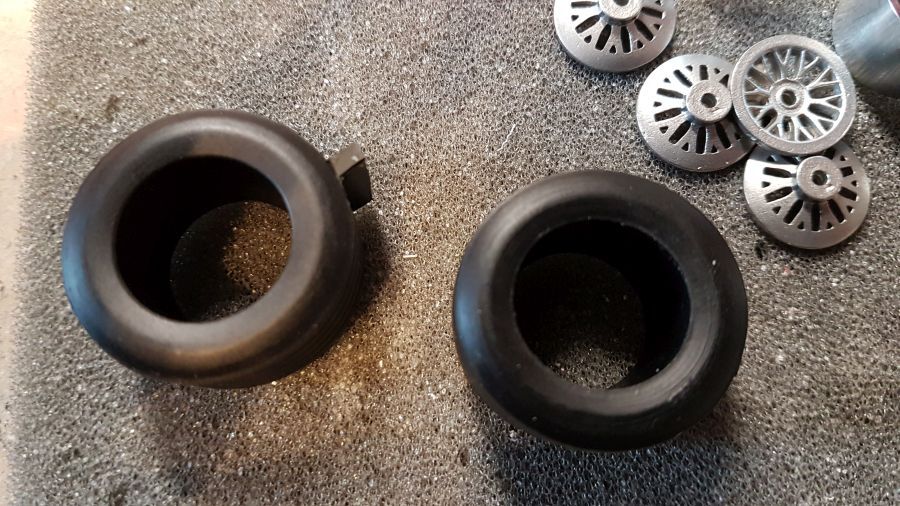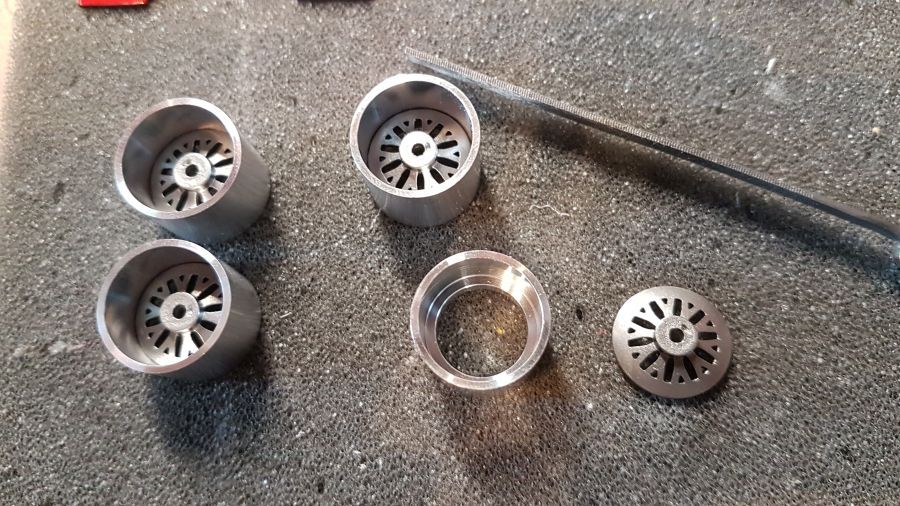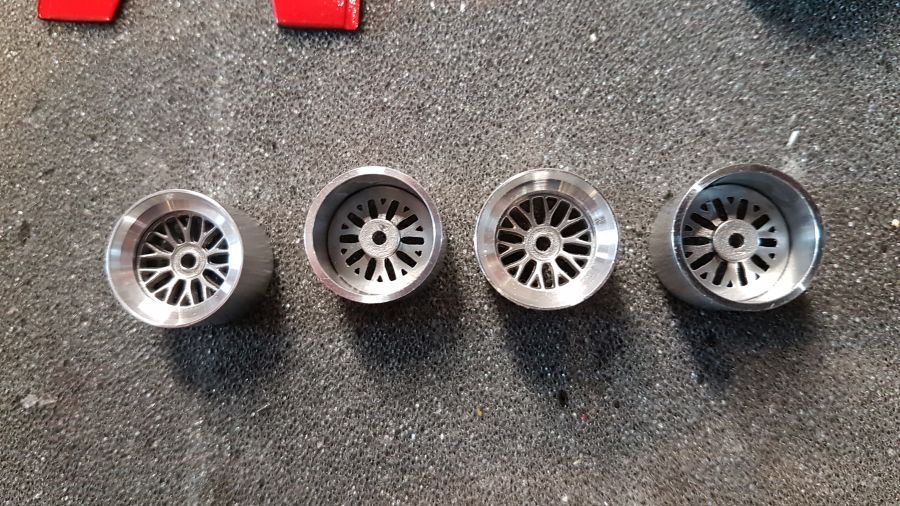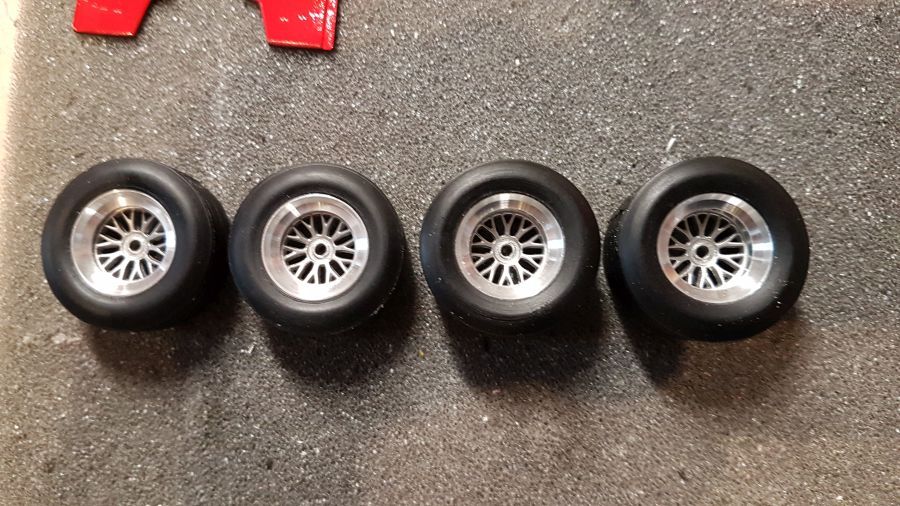 De vloer wordt tijdelijk geplaatst om de hoogte van de wagen te bepalen. Zo wordt het iets gemakkelijker om de achterwielophanging goed te plaatsen.
The floor was mounted temporarily to determine the height of the car. This way it's a little easier to attach the rear wheel suspension correct.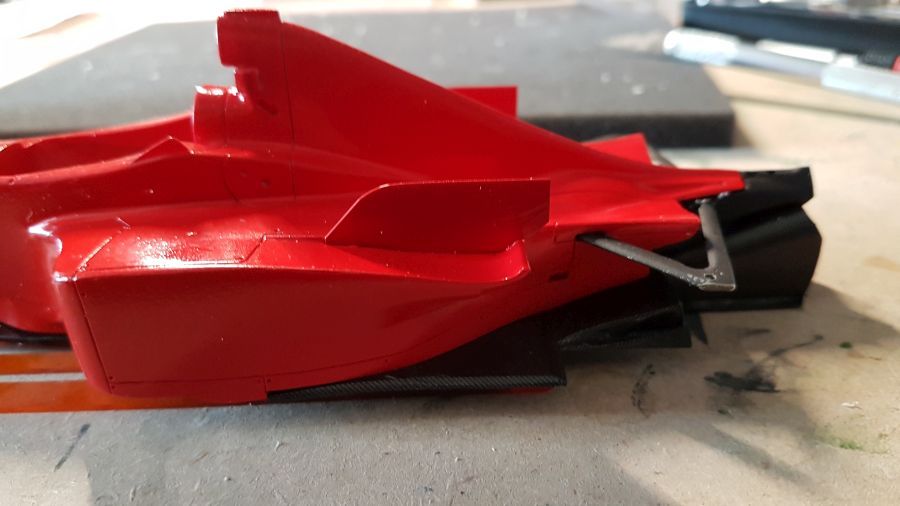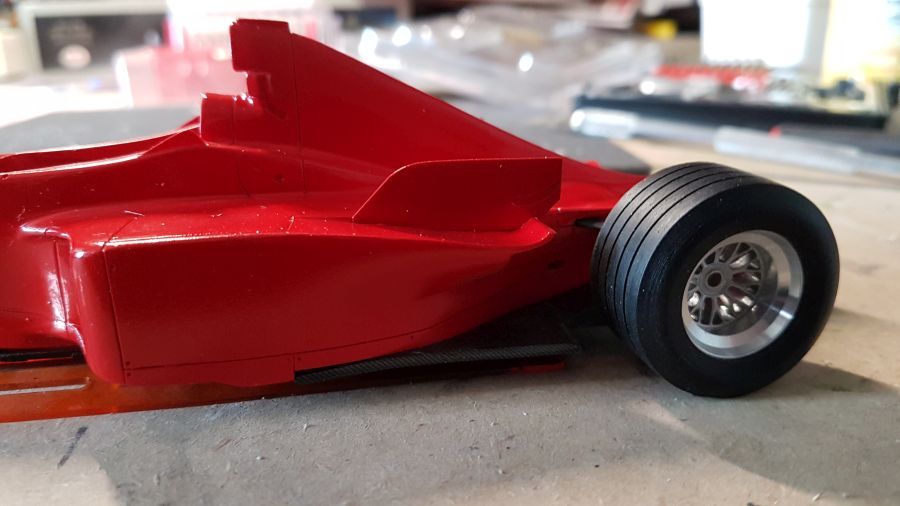 De remdelen plaats ik altijd met behulp van rivets (1.2 mm). Ik vind dit beter werken als de kleine schroefjes.
I always add the uprights by using rivets (1.2 mm). In my opinion this works better than the small screws.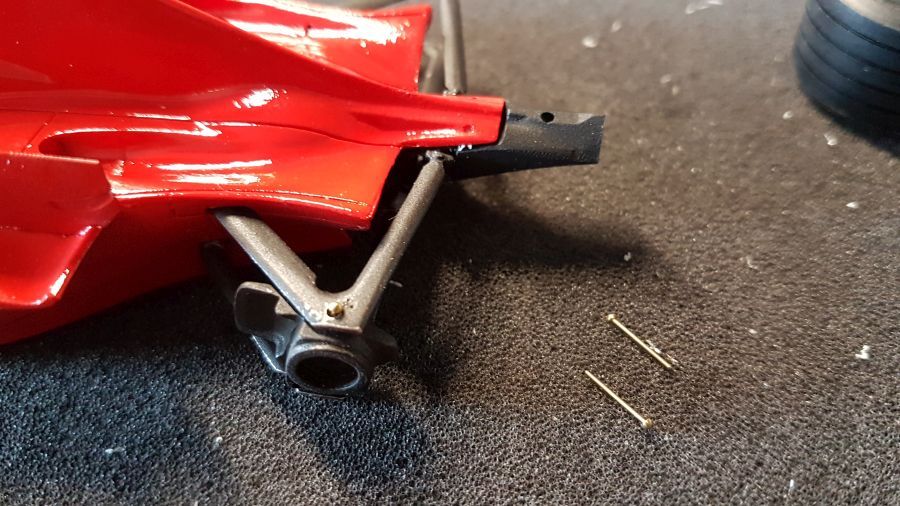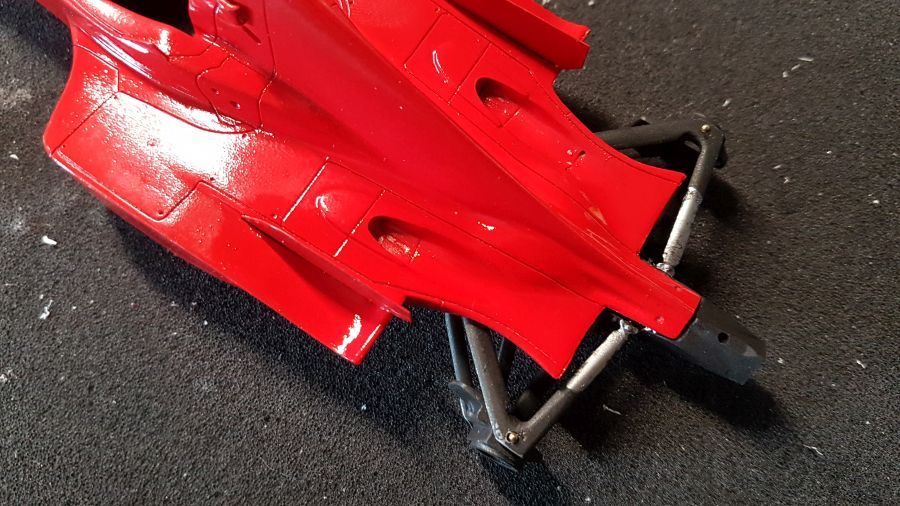 Voordat de bodem eronder kan, moet de stoel gemaakt worden.
The seat needs to be worked on, before you can add the floor.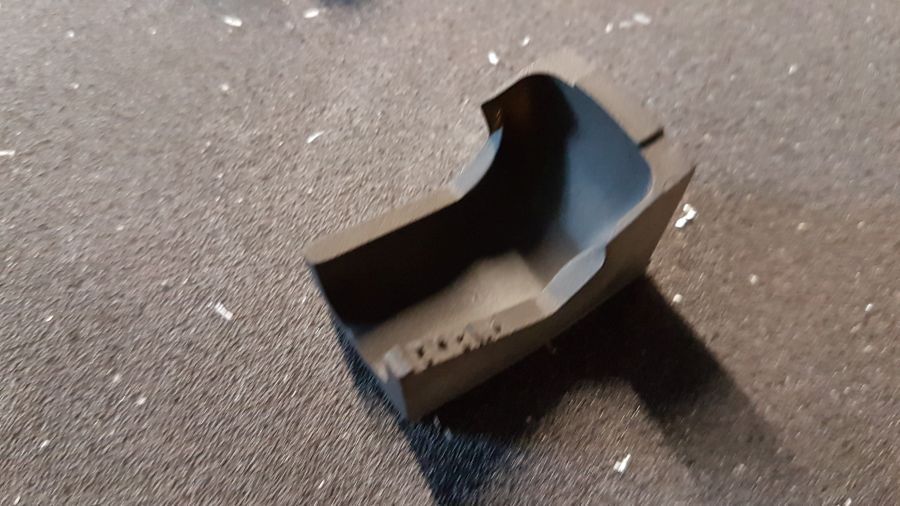 De gordels zijn geplaatst...
The belts have been added...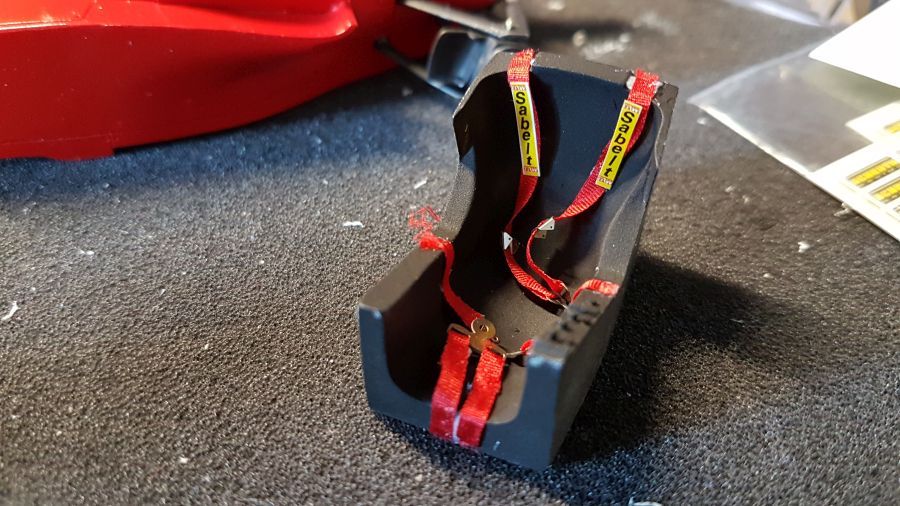 Dan is de stoel geplaatst in de body en zit de vloer eronder...
Then the seat has been attached to the body, as well as the floor...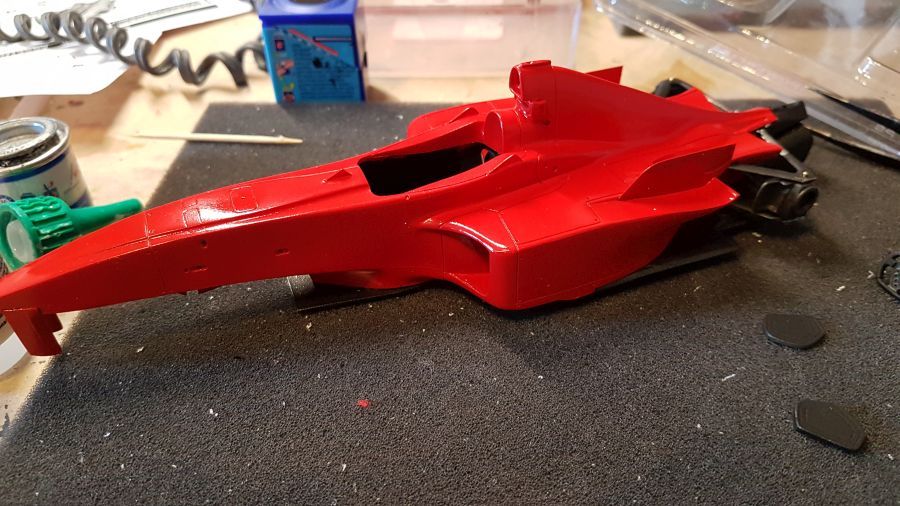 Vervolgens verder met de remmen...
Next is to continue with the brakes...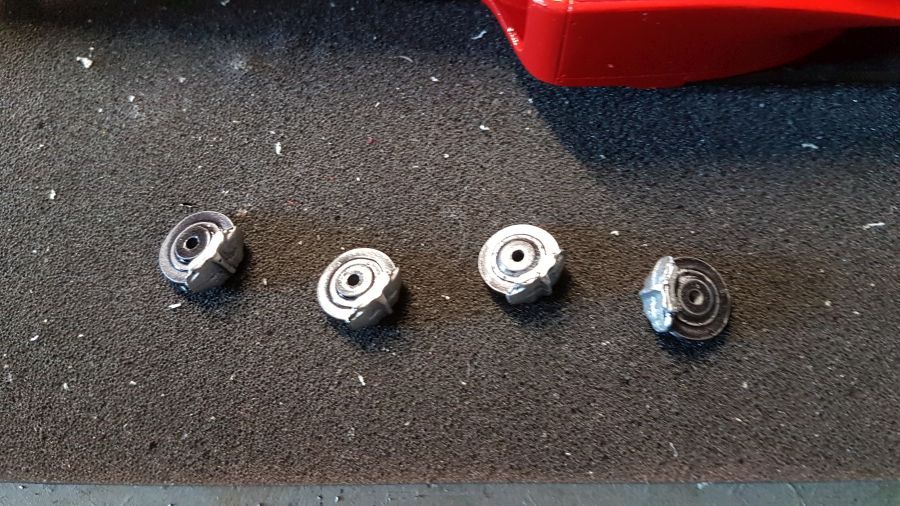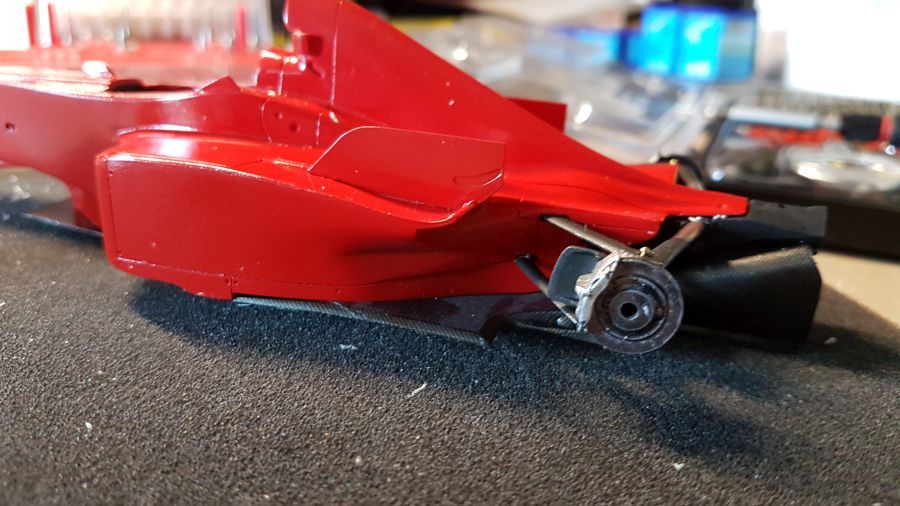 Door naar de voorwielophanging. Ook nu weer zet ik de auto op een dunne plaat om de juiste rijhoogte te kunnen instellen.
Next is the front wheel suspension. Again i will put the car on a flat sheet to be able to get the correct height.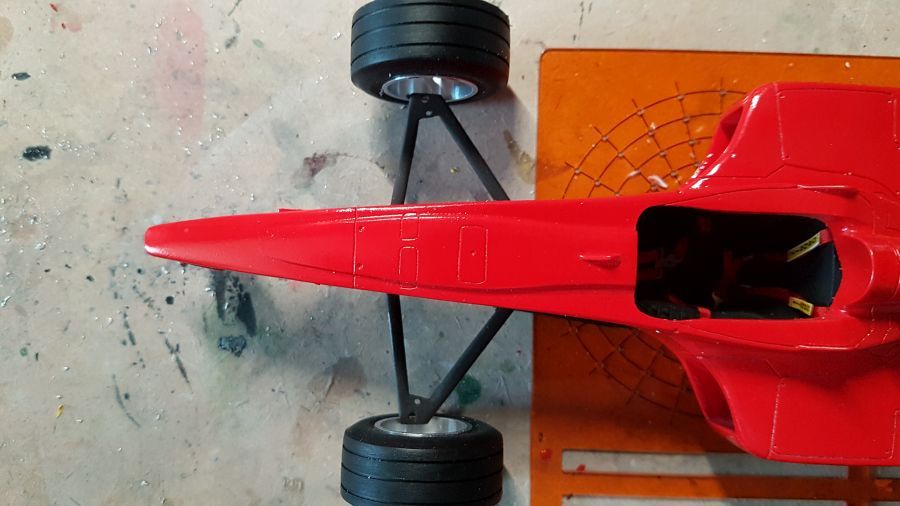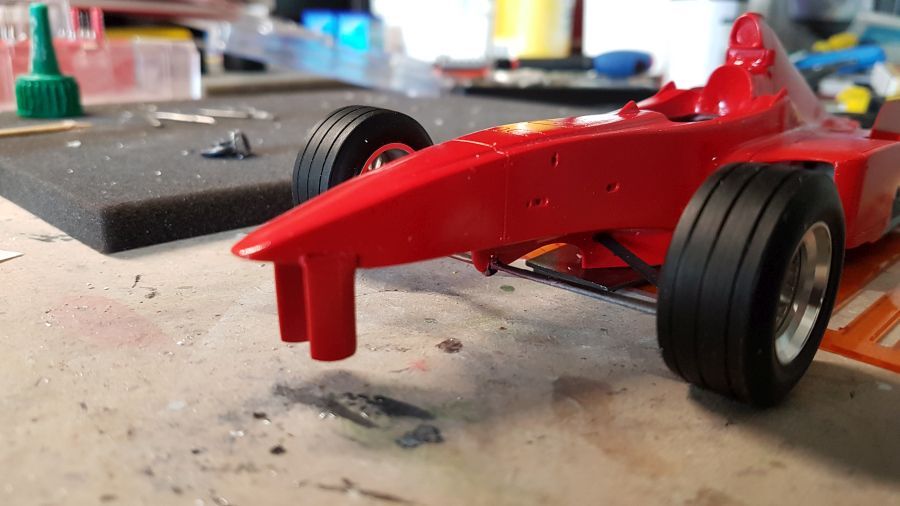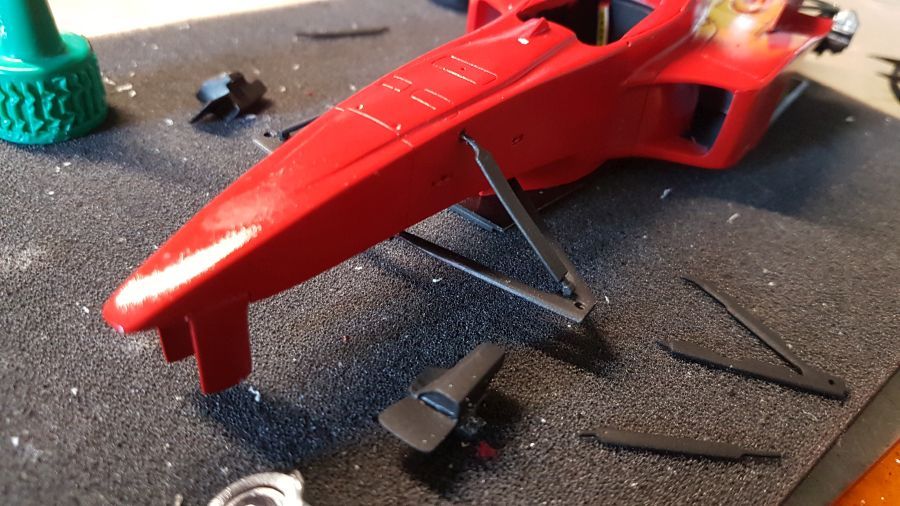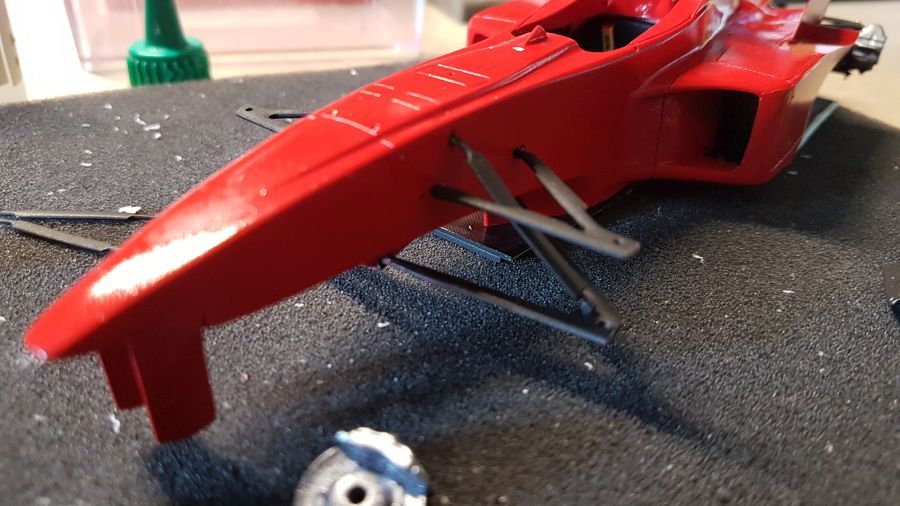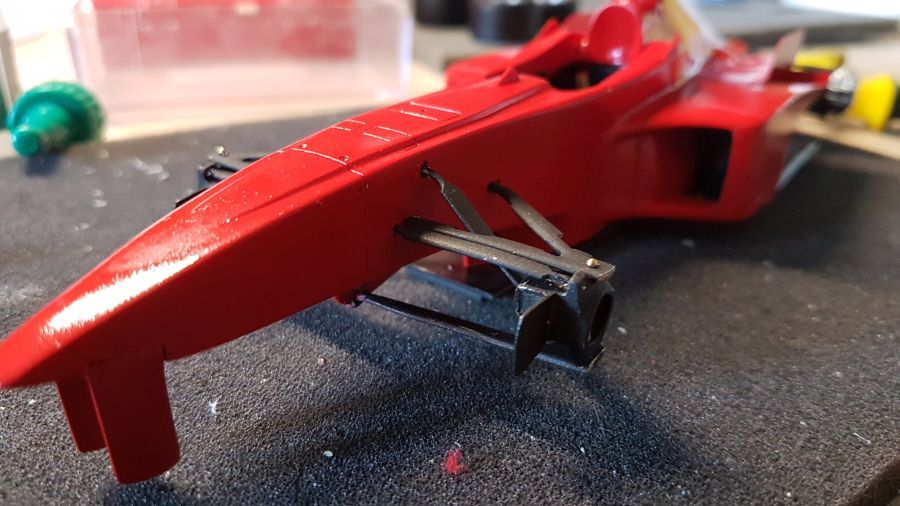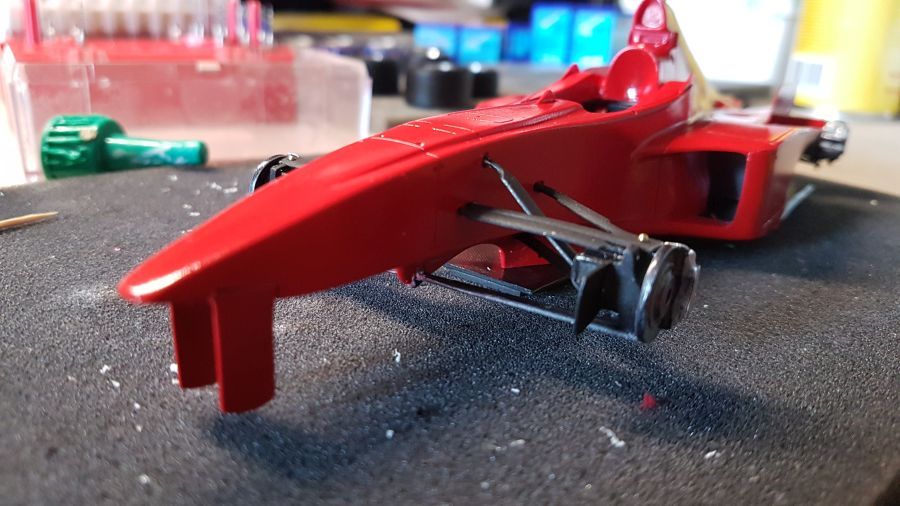 Dan begint het 1e deel van het decalproces...
Then the 1st part of the decal process starts...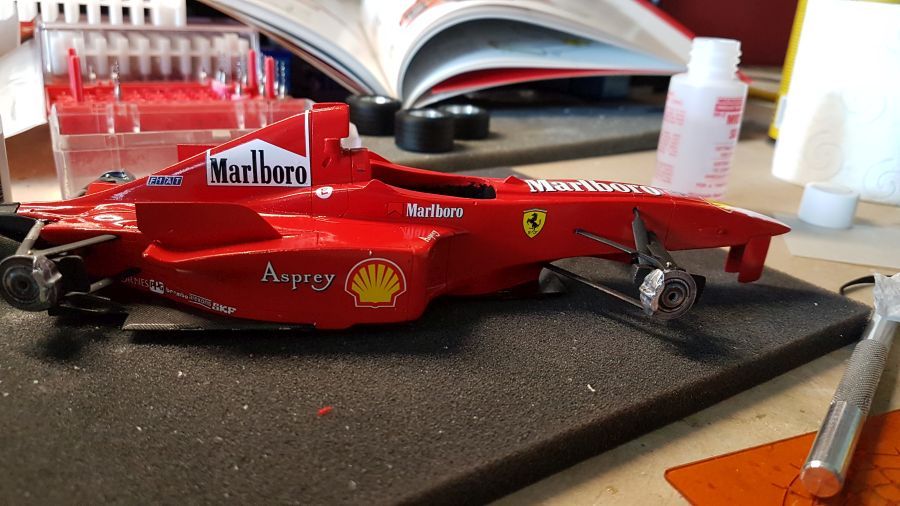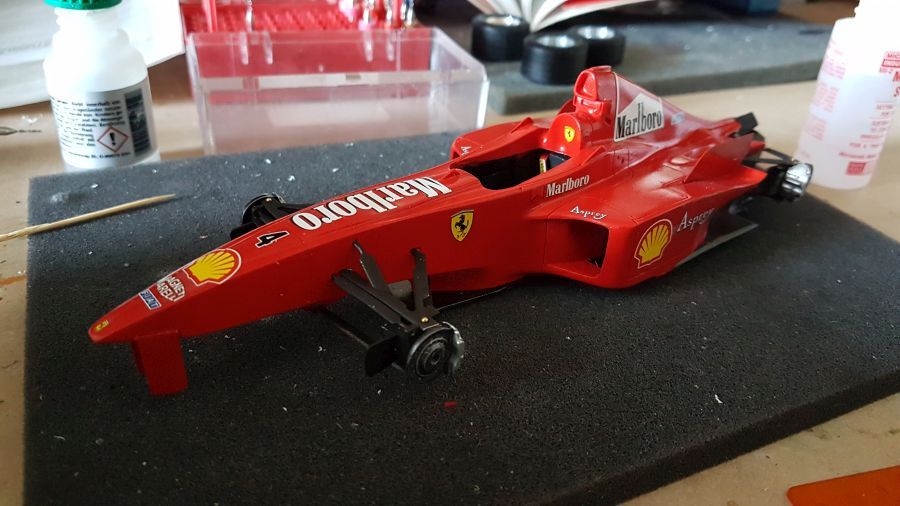 Nu is de voorvleugel aan de beurt...
Time for the front wing now...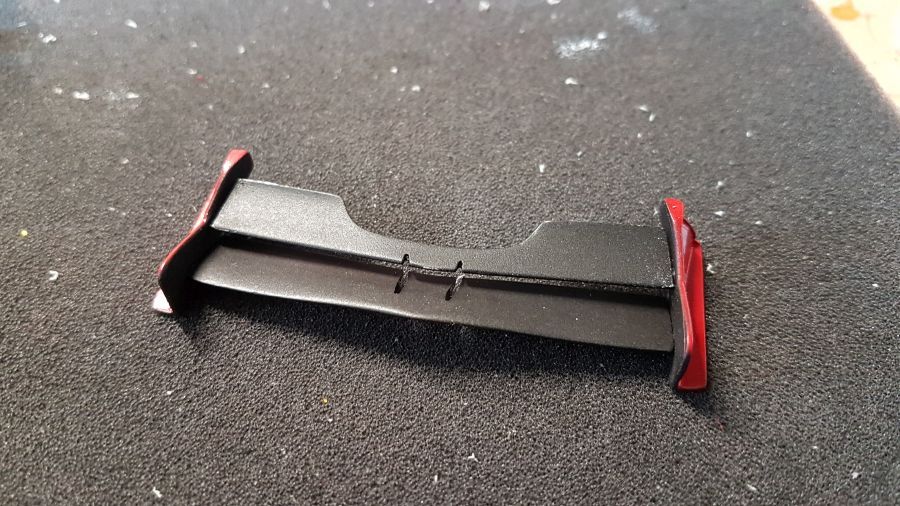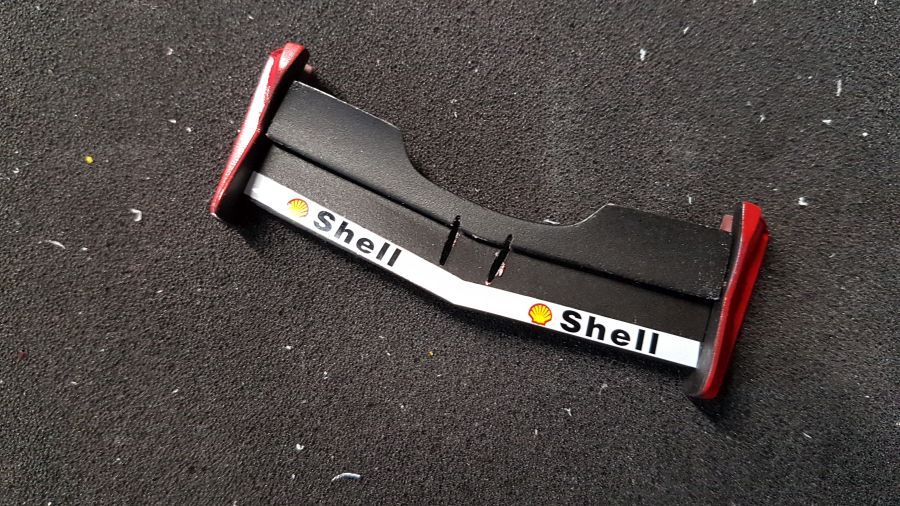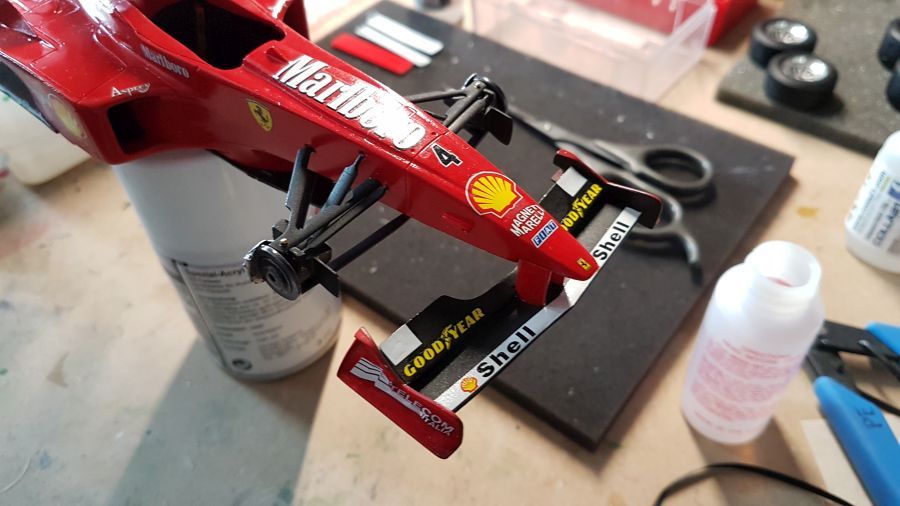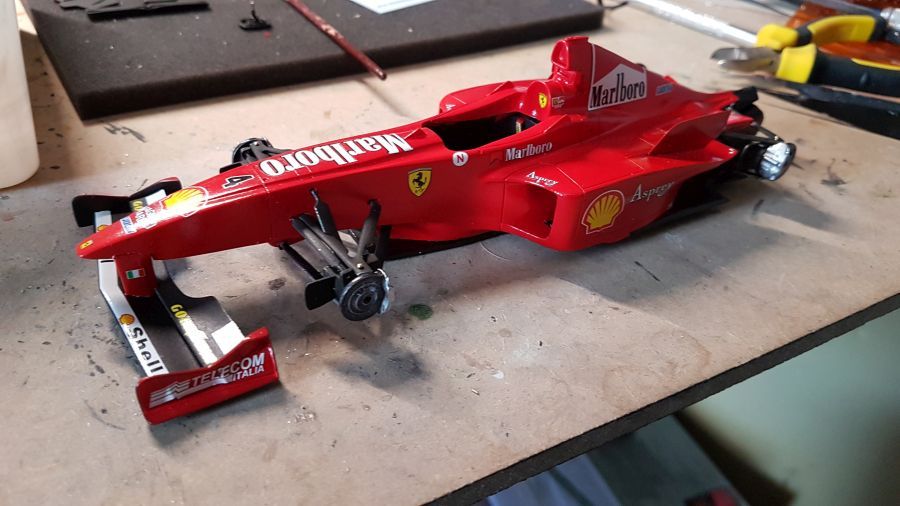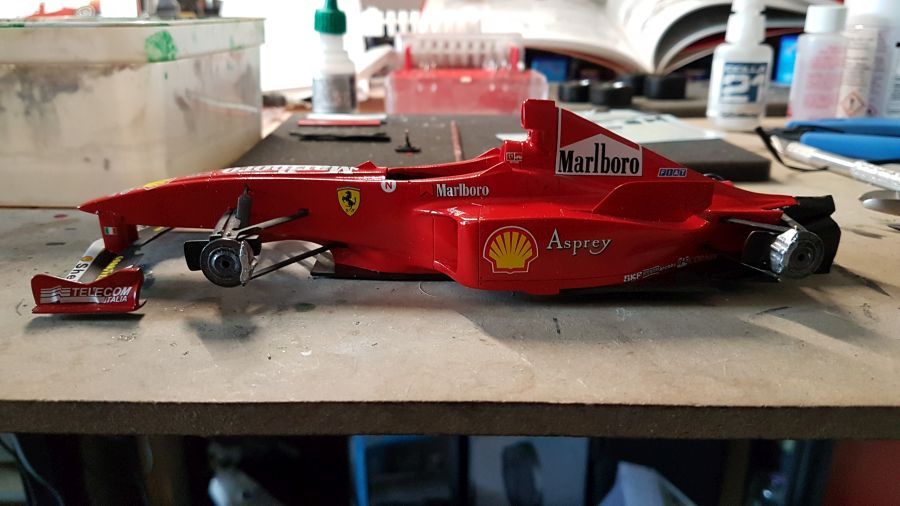 Verder met de achtervleugel. Voor mij altijd een van de meest lastige dingen. Deze keer moeten eerst alle horizontale delen op gelijke lengte worden gemaakt. Pas daarna kan de vleugel in elkaar gezet.
Next is the rear wing. To me always one of the most difficult parts. This time all the horizontal parts need to be cut to the same size. Just then the wing can be assembled.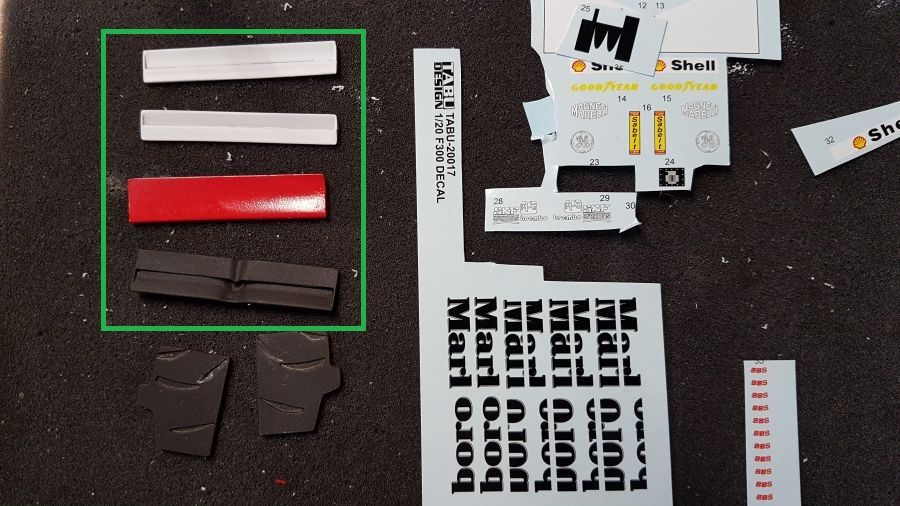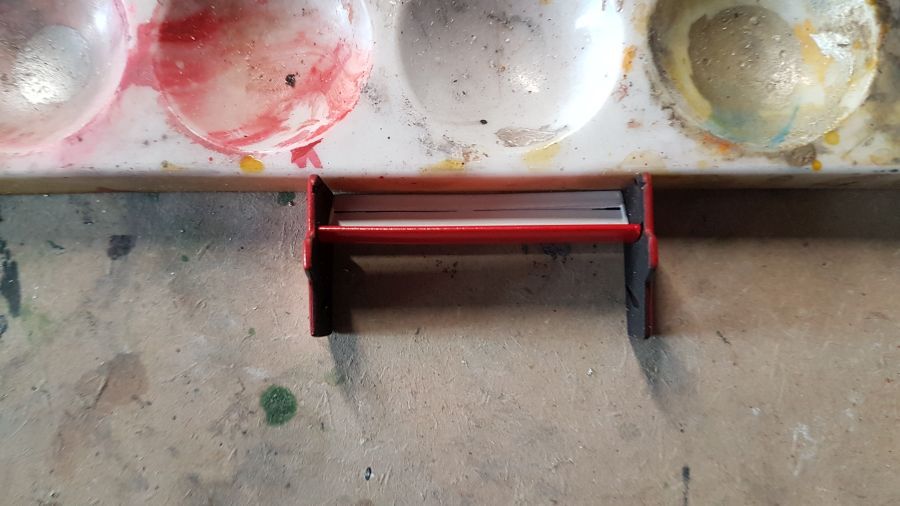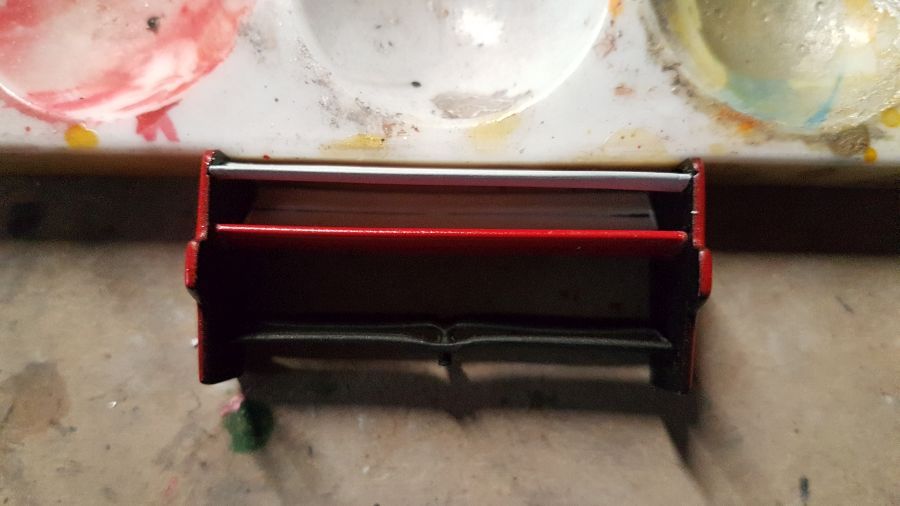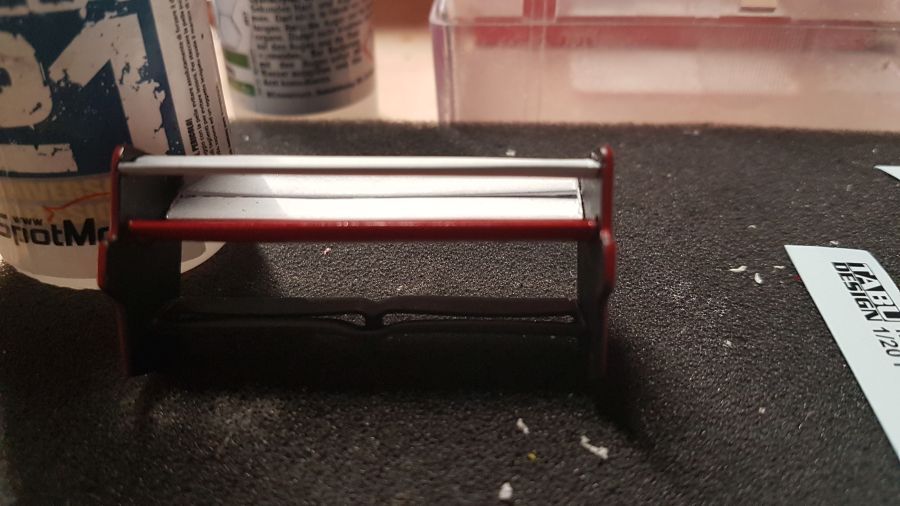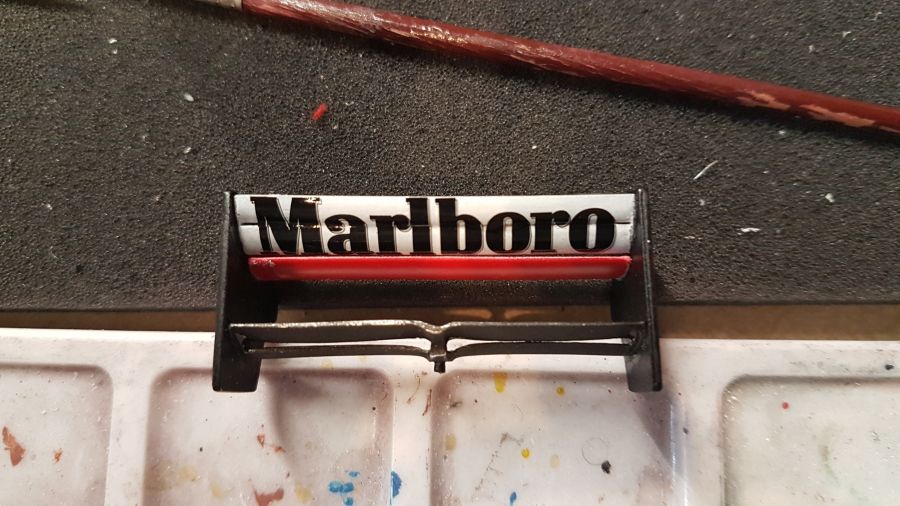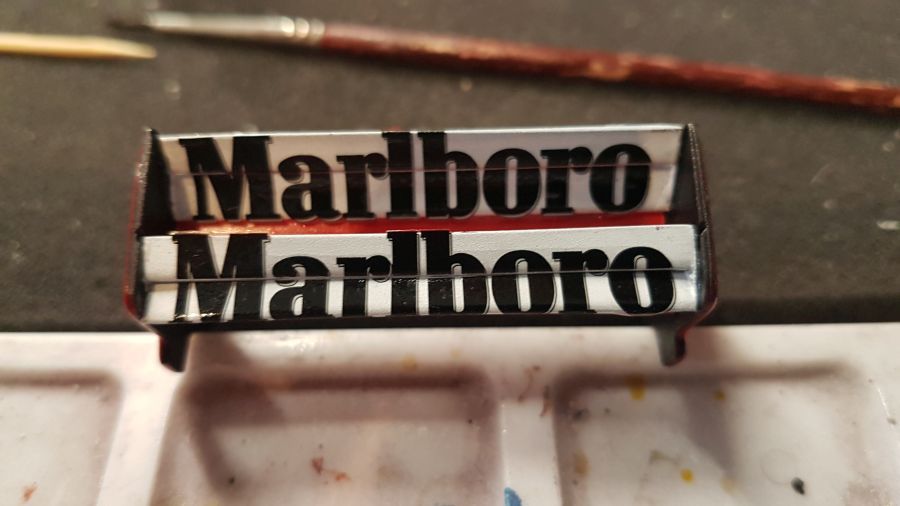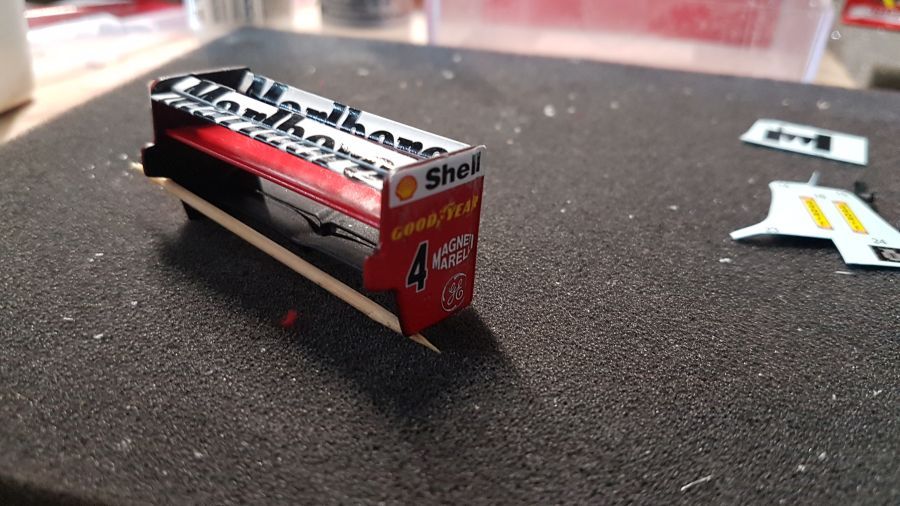 De wielen voorbereiden..
Preparing the wheels..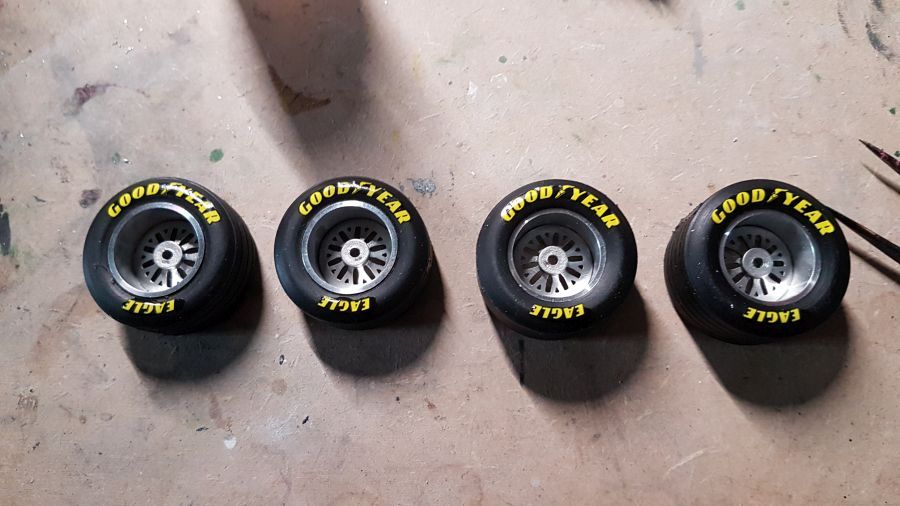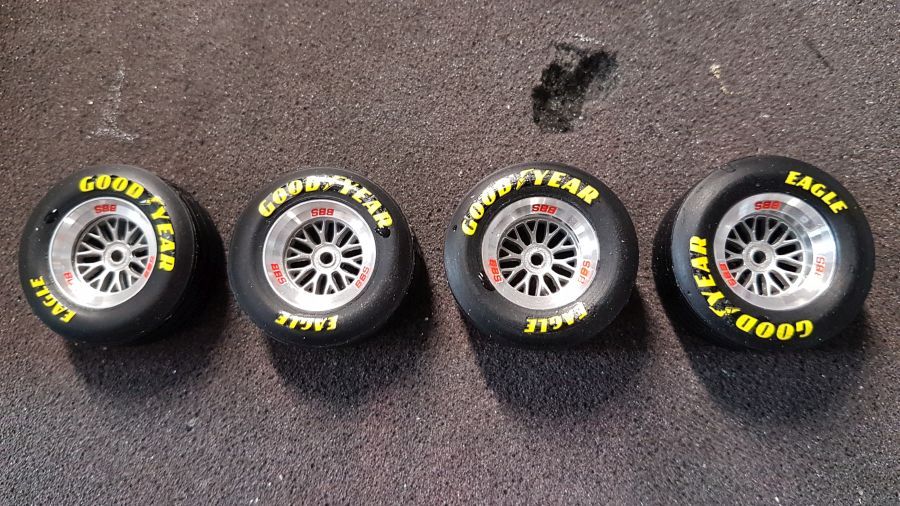 De barge boards worden gevormd met behulp van de rolling tool.
The barge boards are being shaped by using the rolling tool.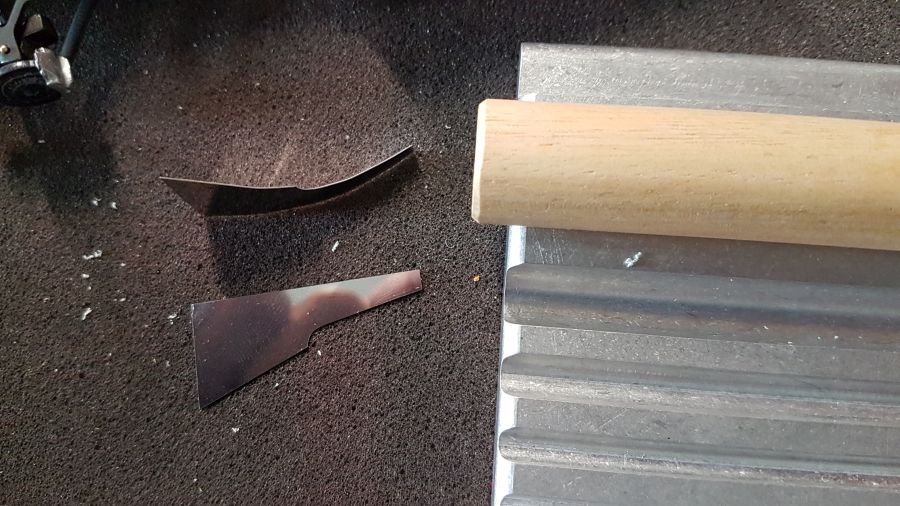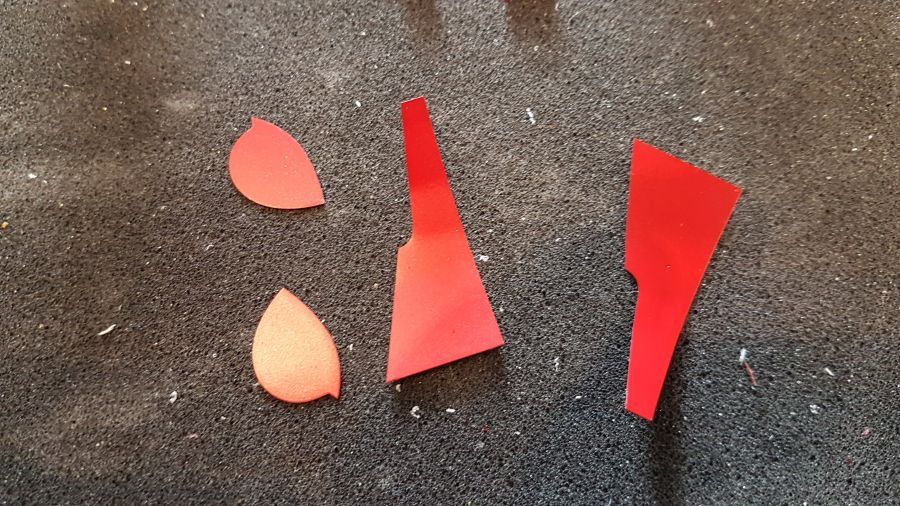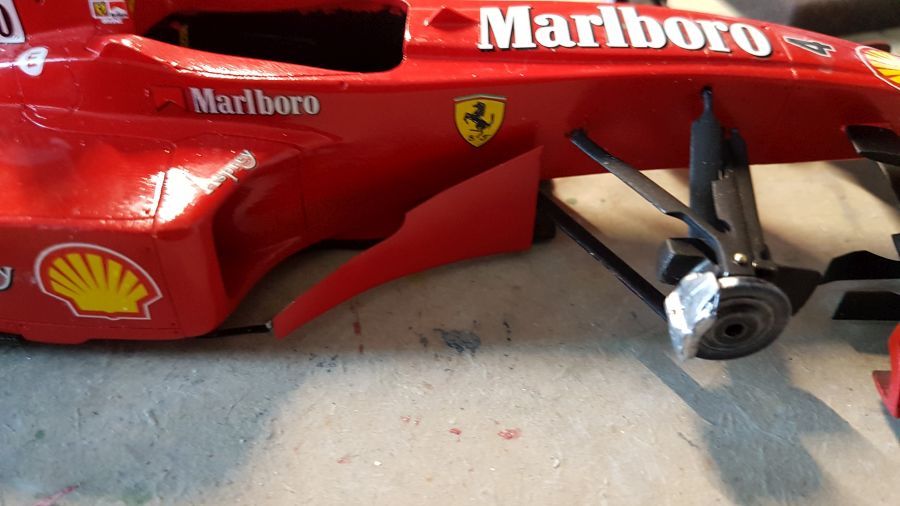 Tijd voor meer winglets...
Time for more winglets...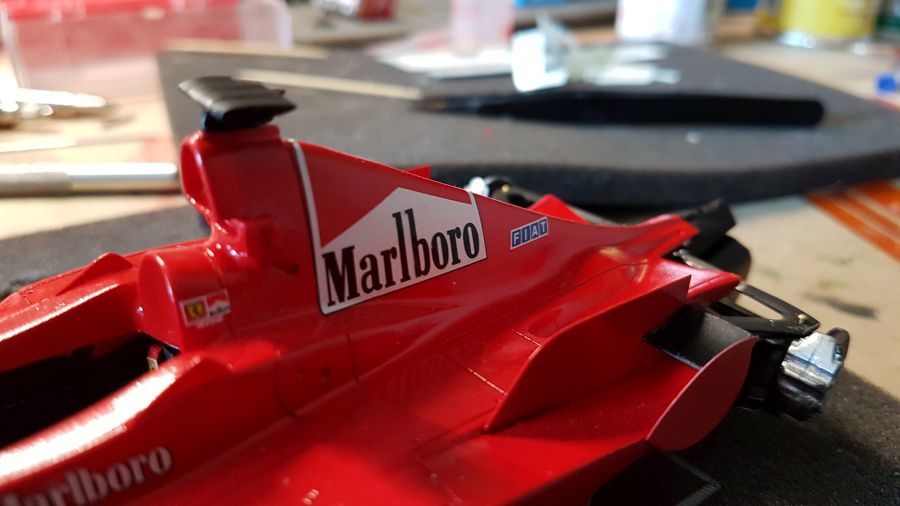 Bij de uitlaten moet de boel zwart gemaakt...
Near the exhausts everything needs to be colored black...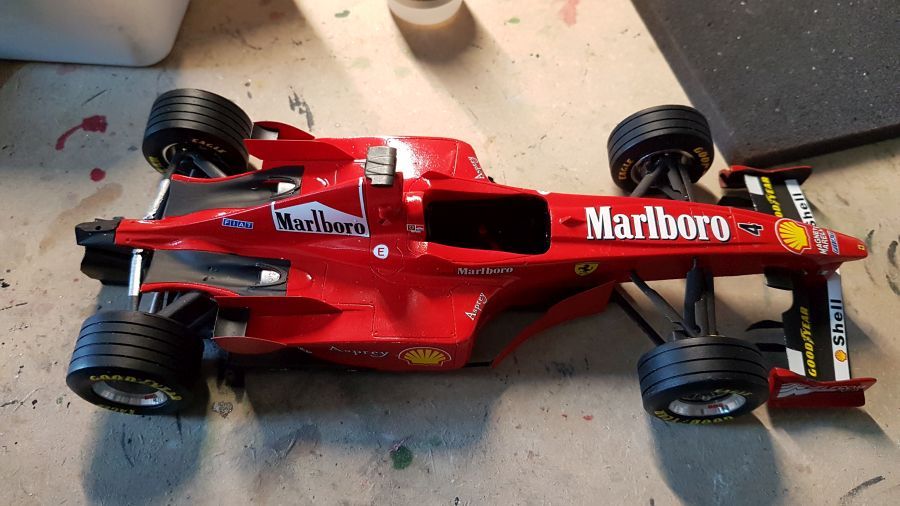 De achtervleugel gaat erop.
The rear wing was added.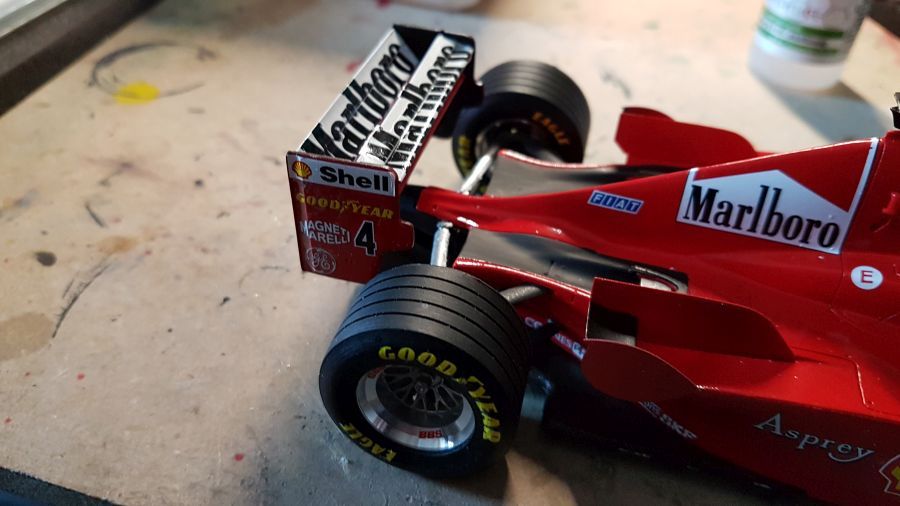 Wat meer kleine onderdelen.
Some more small parts.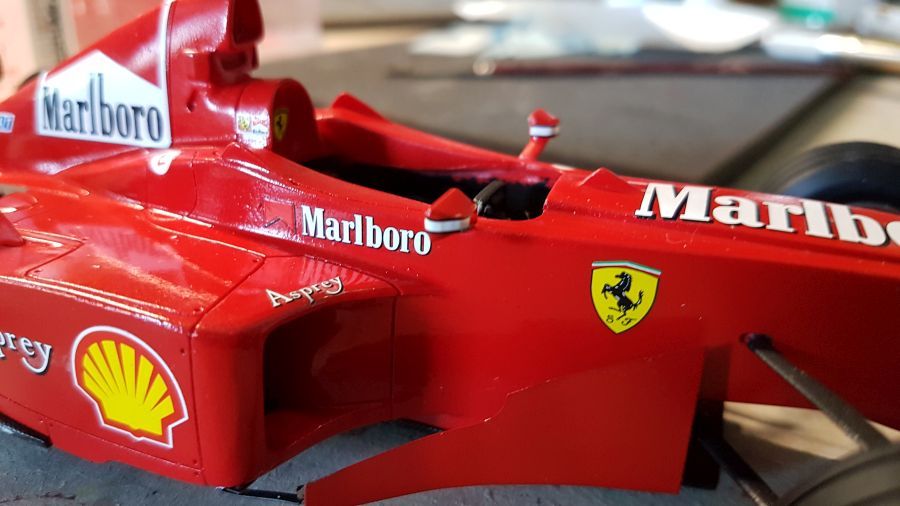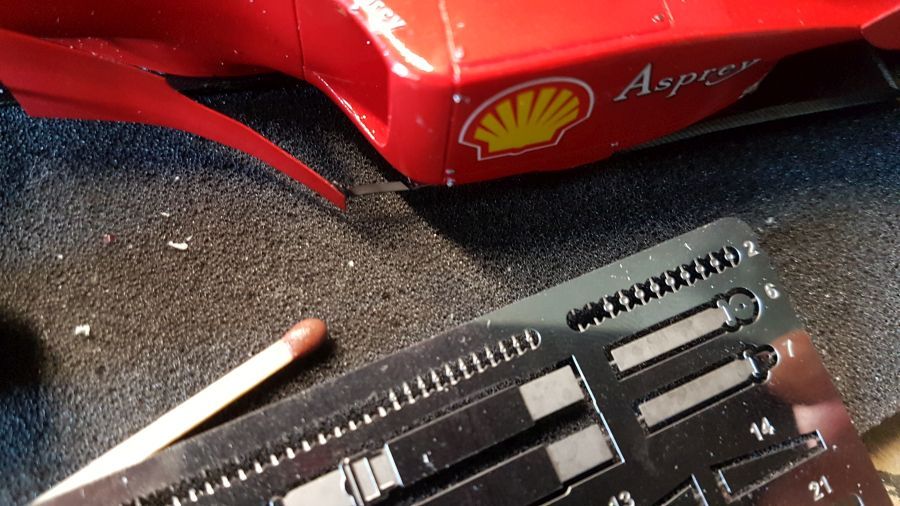 En deze is weer klaar...
And another one was done...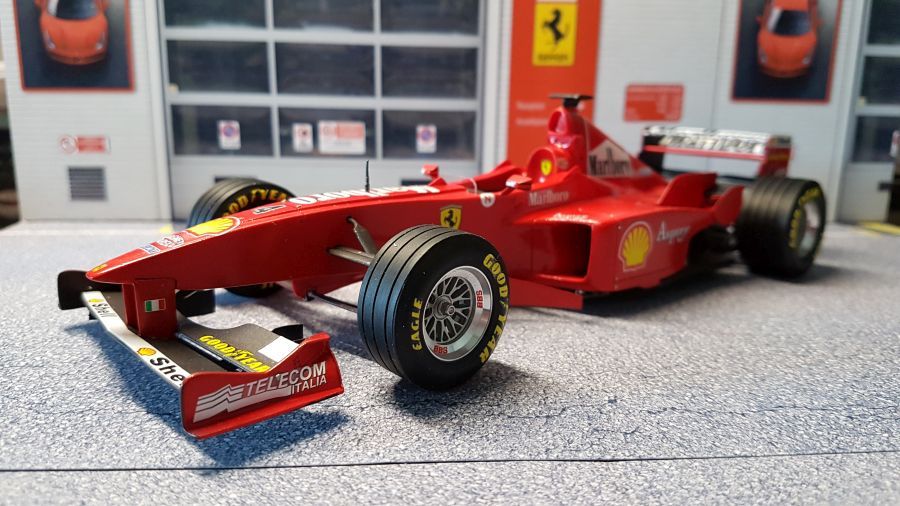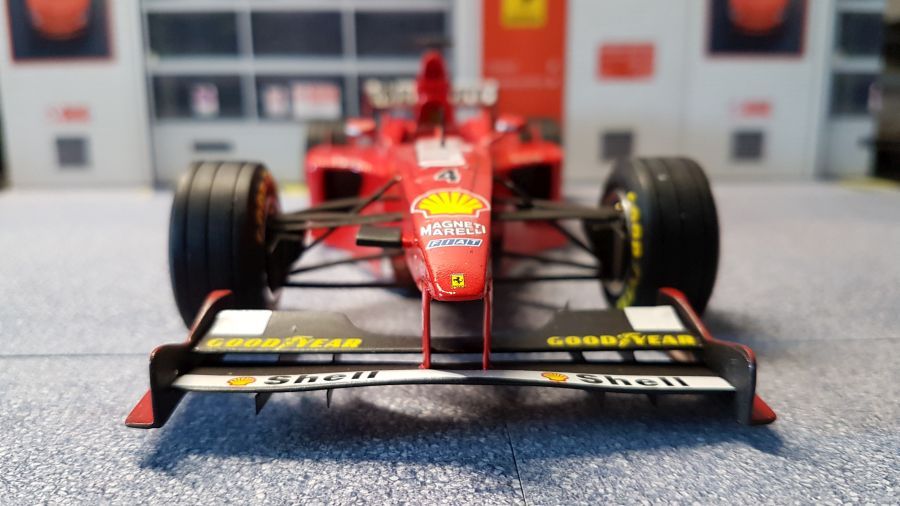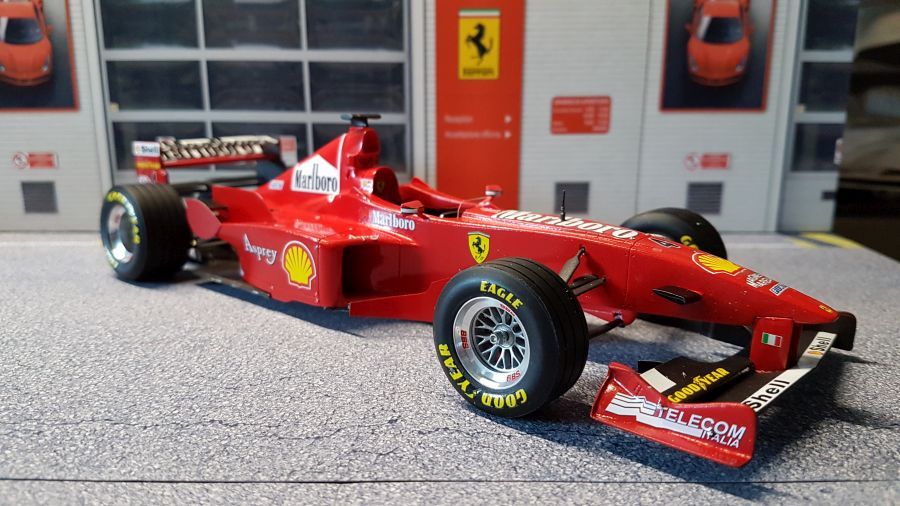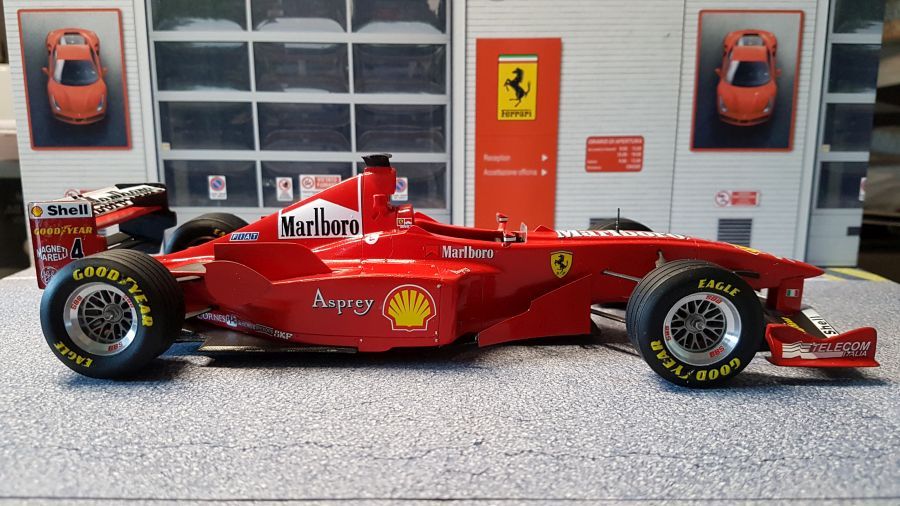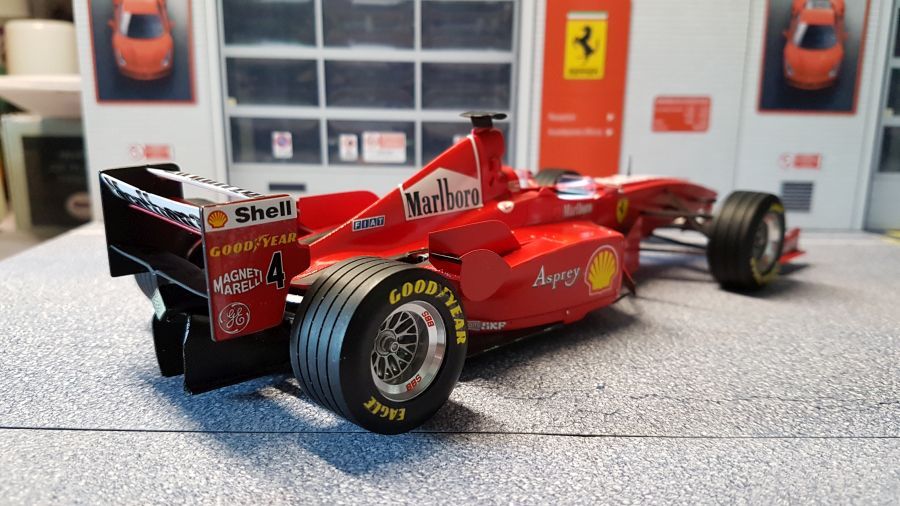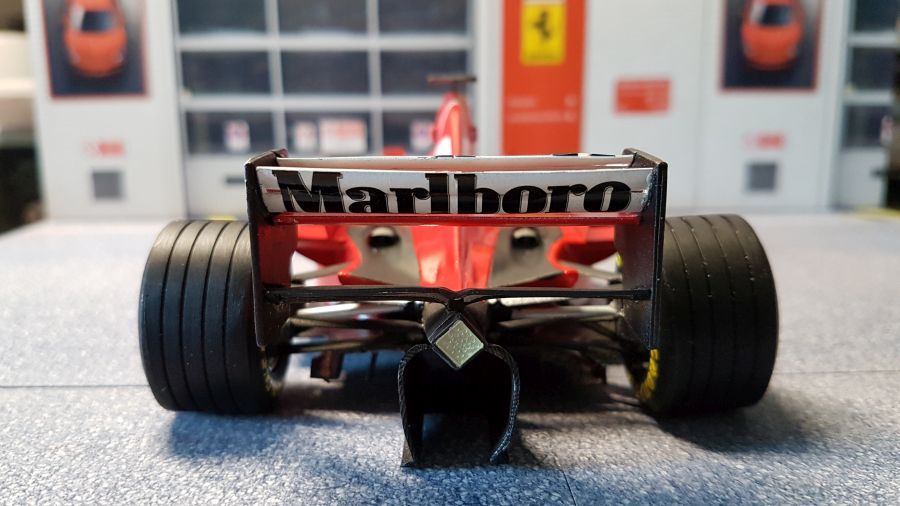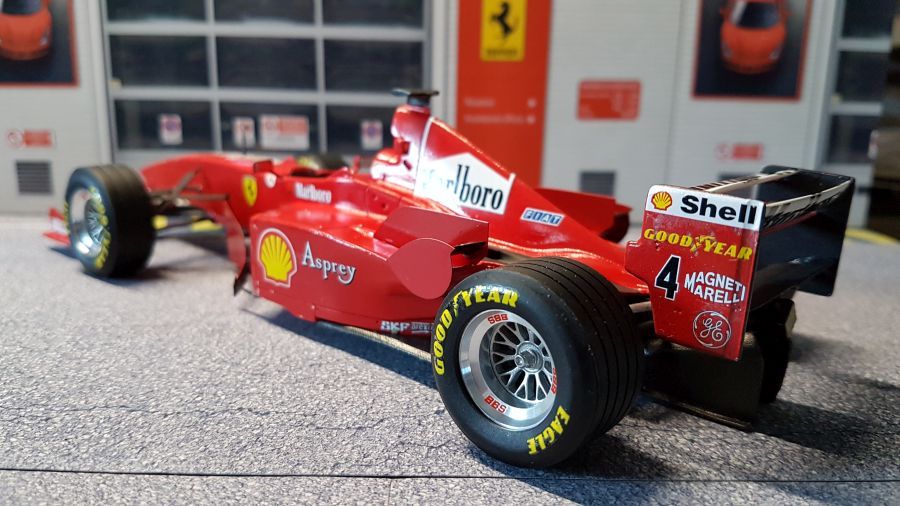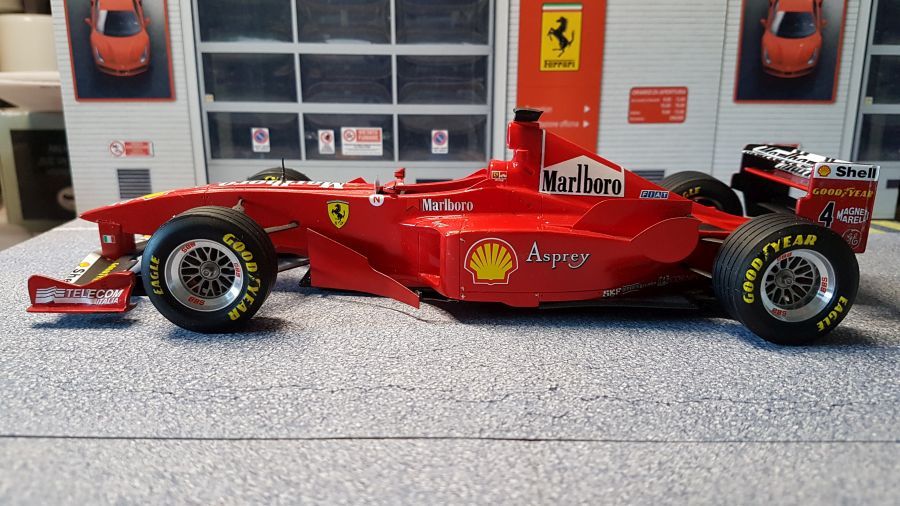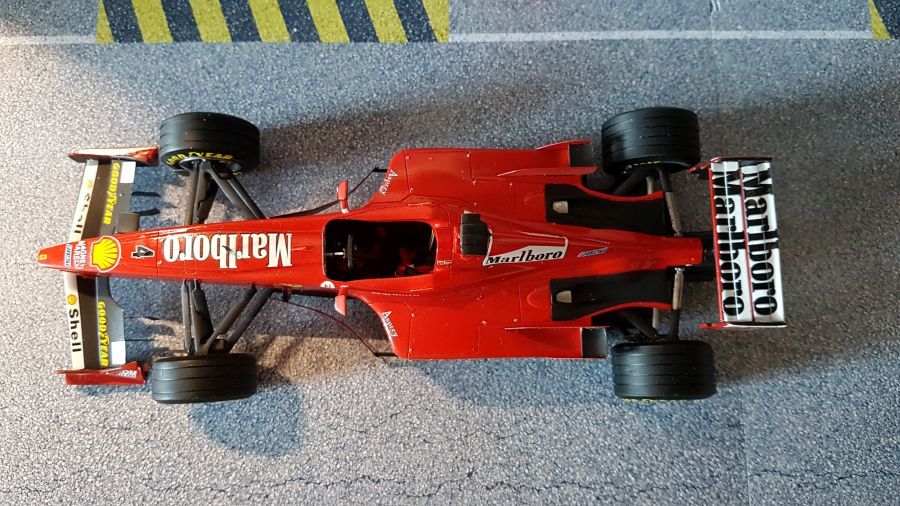 Dus eigenlijk niet veel problemen met deze kit. Niets bijzonders te melden wat extra aandacht nodig is.
So, not many problems with this kit. Nothing to report that needs extra attention.