Mijn volgende project. De 1993 Ferrari F93A Australische versie. Deze wagen werd gereden door Jean Alesi tijdens de GP van Adelaide. Bij toeval kwam ik erachter dat dit merk de kit leverde. Je kunt met deze kit 2 versies maken. Ik ga nu voor de messt onbekende versie. De andere is volgens mij gelijk aan die van Studio27. Eerst weer de foto's van de inhoud van de kit. Ik ga deze keer ook proberen de kit voor een deel te voorzien van carbon fibre decals. Als het lukt tenminste, want de decals die ik heb reageren niet lekker op de Micro Set/Sol.
My next project. The 1993 Ferrari F93A Australian version. This car was driven by Jean Alesi during the GP of Adelaide. By coinsidence i noticed this brand delivers this kit. You can make 2 versions. I am going for the 'unknown' version. The other is, i believe, the same as the version of Studio27. First of all again the pictures of the content of the kit. I will also try to add some carbon fibre decals to some parts. I hope it works, because until now my decals don't like the Micro Set/Sol.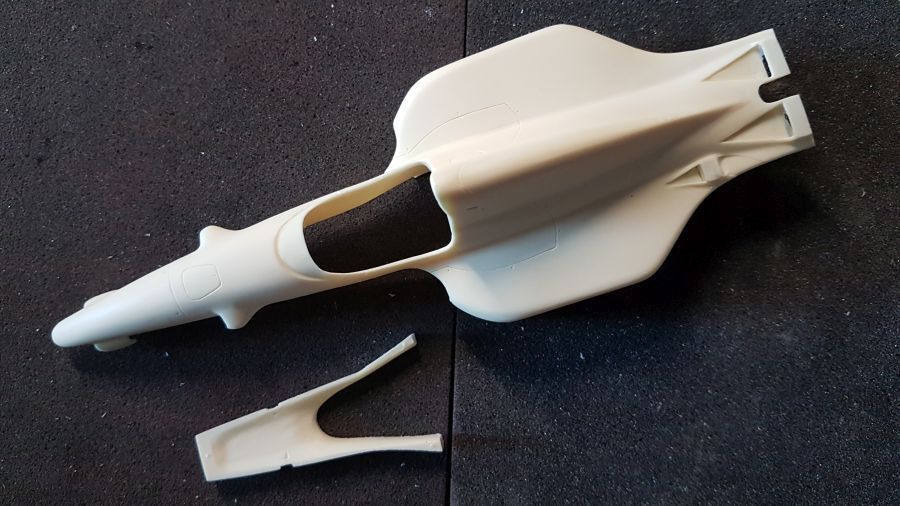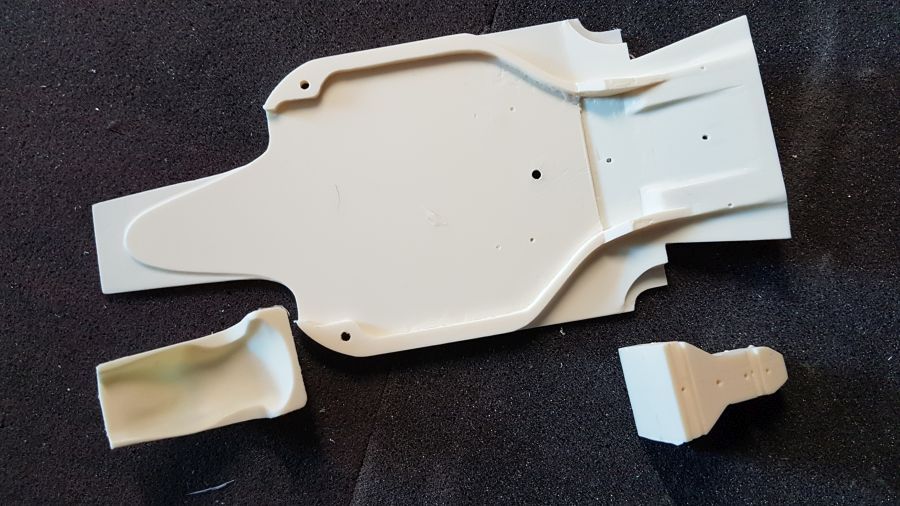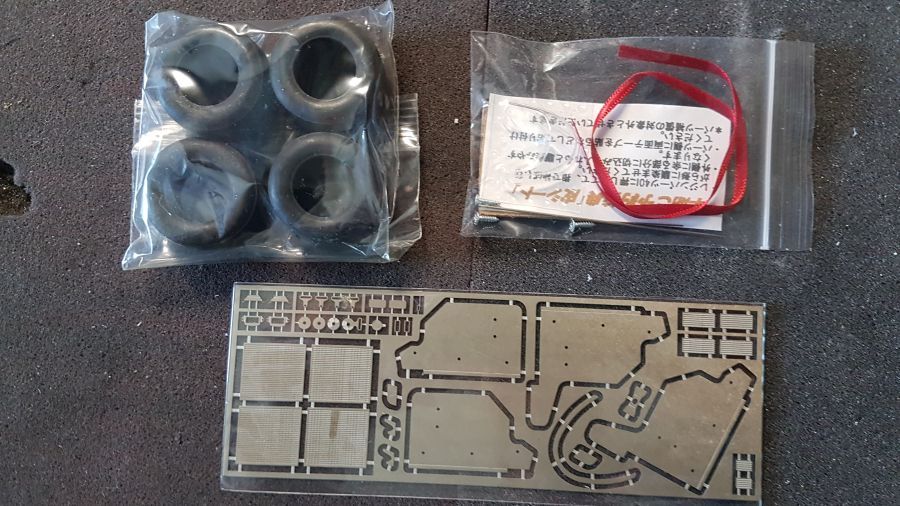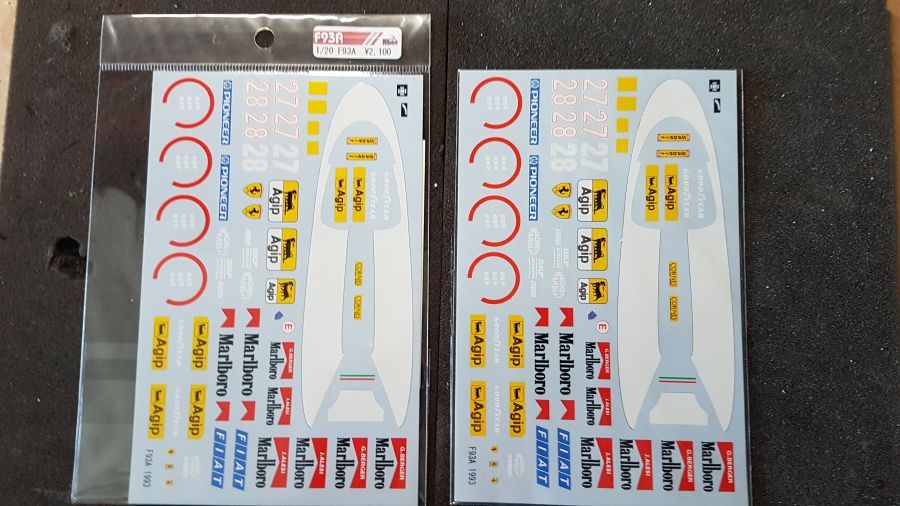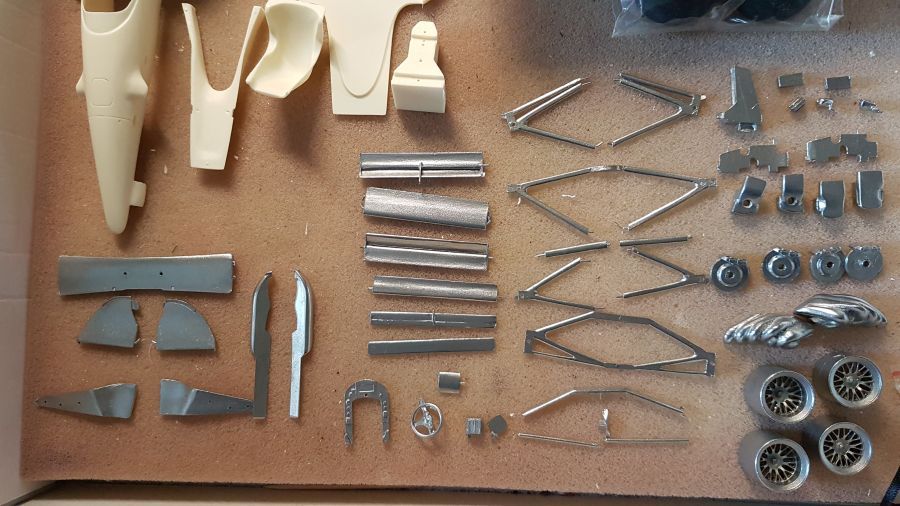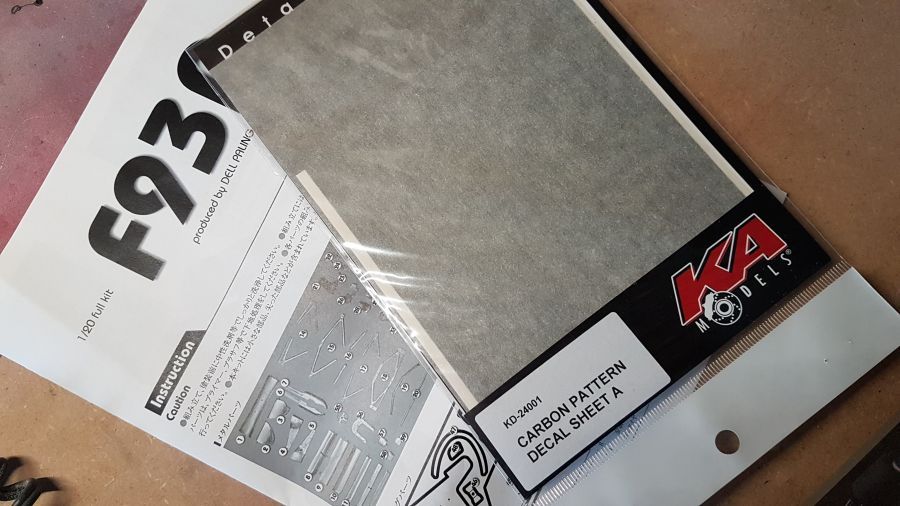 Ik begin met de voorvleugel. De horizontale delen krijgen wat carbon fibre.
I am starting with the front wing. The horizontal parts will be getting some carbon fibre.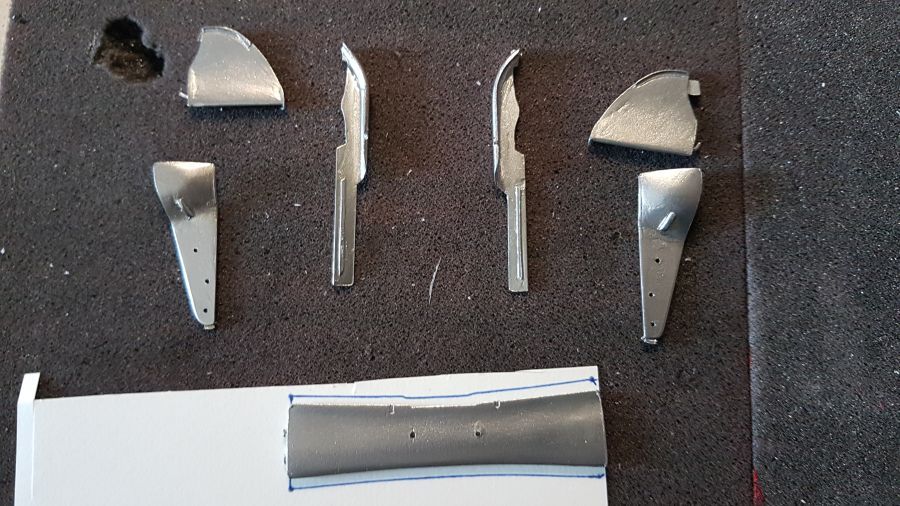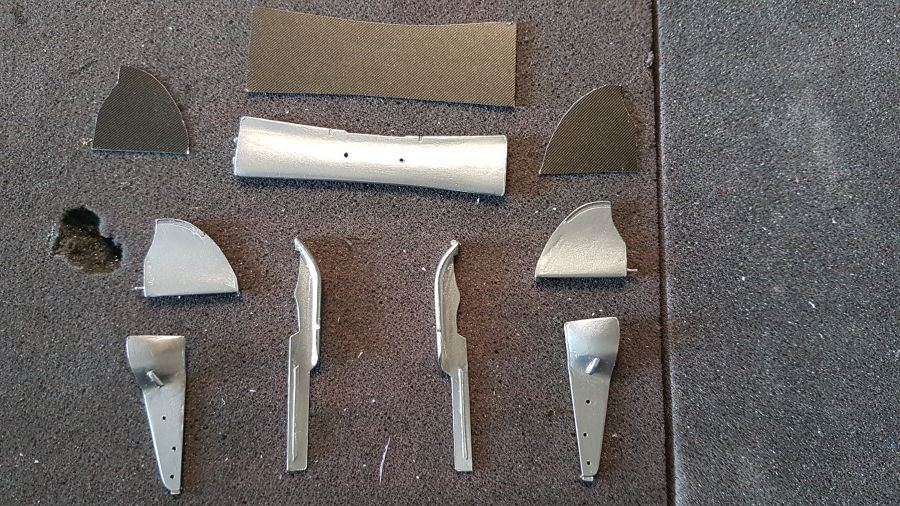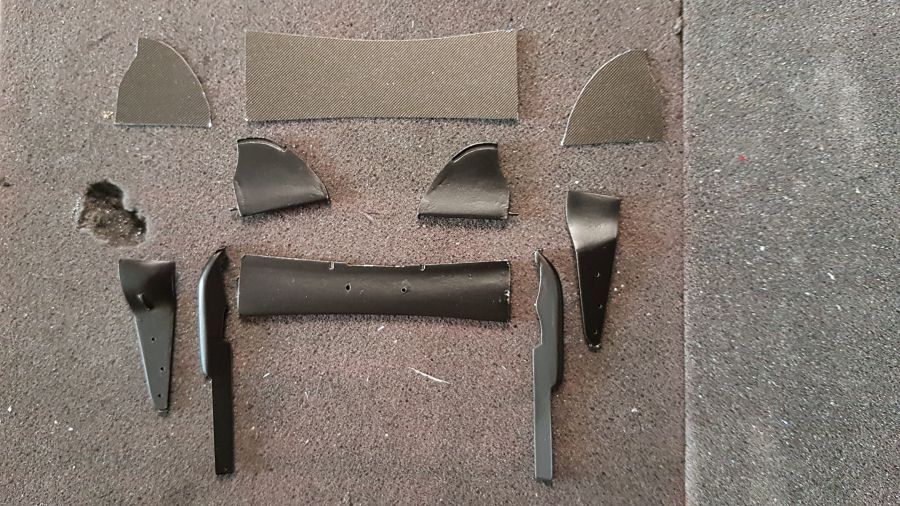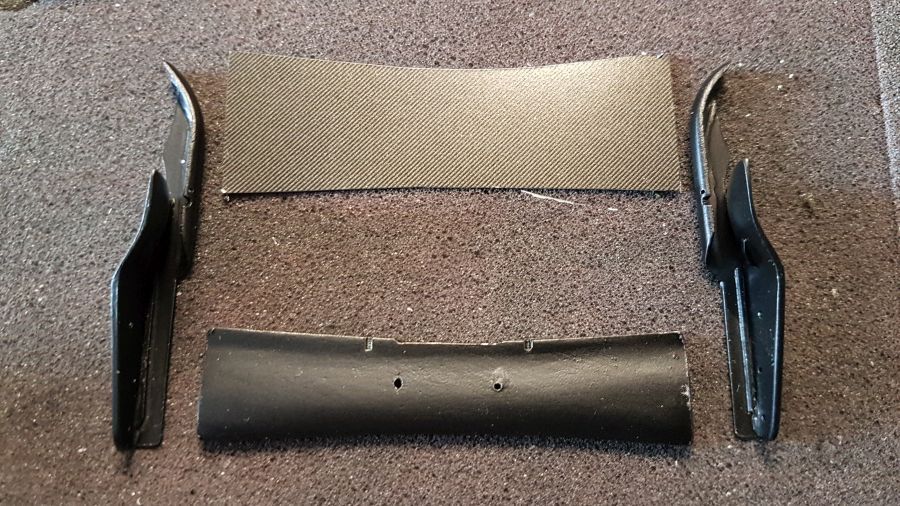 De wing-end-plates worden met popnagels vastgezet...
The wing end plates are attached by using rivets...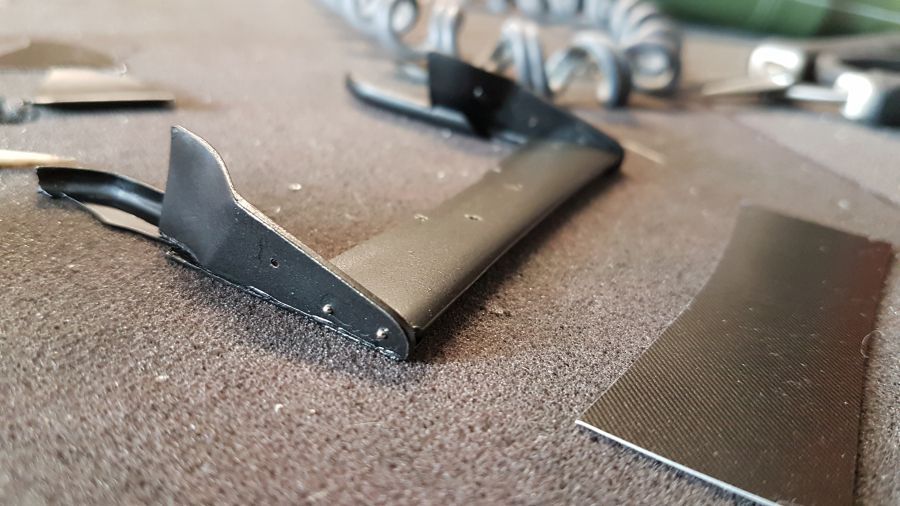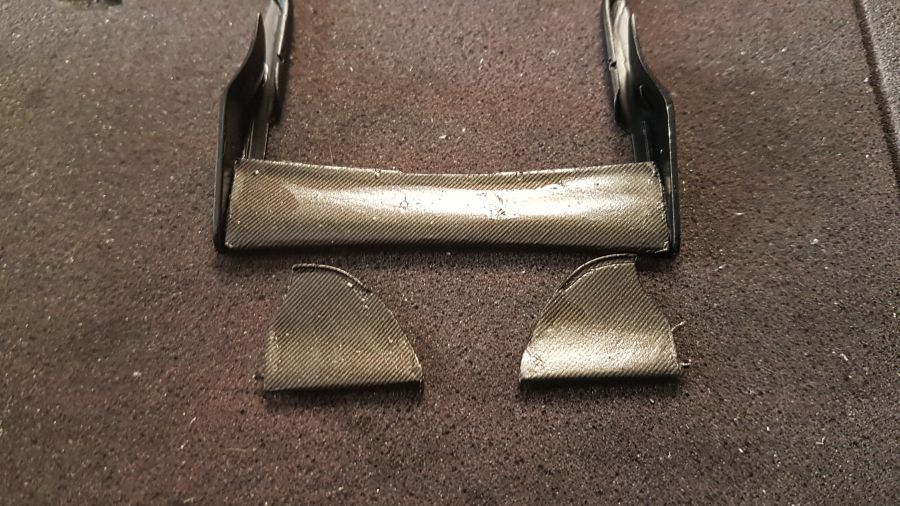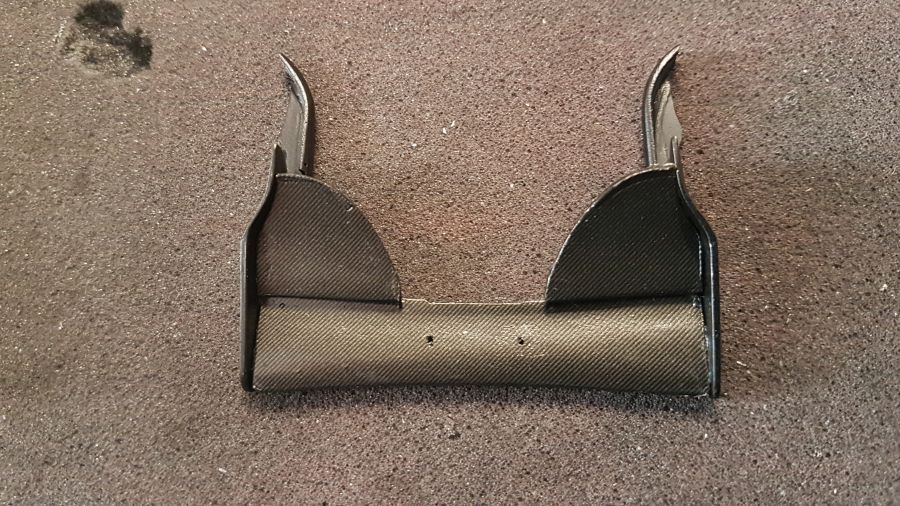 Verder met de vloer. Deze wordt zwart gespoten en carbon fibre decals worden geplaatst. Deze reageren gelukkig wel goed op de Micro Set/Sol.
On to the floor. This is painted black and carbon fibre decals are applied. Luckily these react great on the Micro Set/Sol.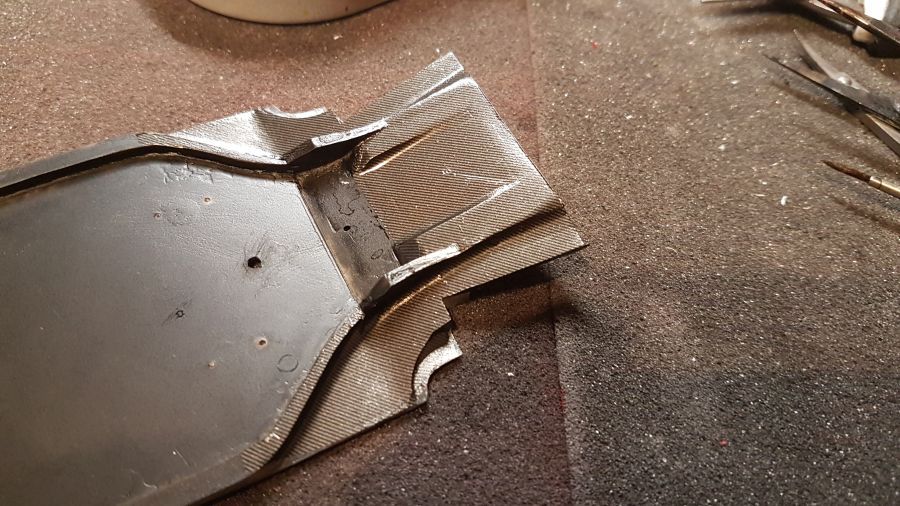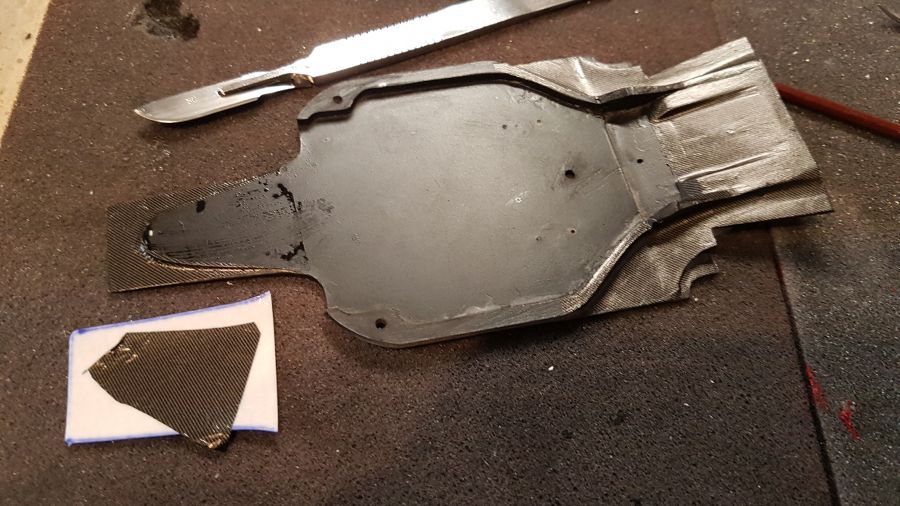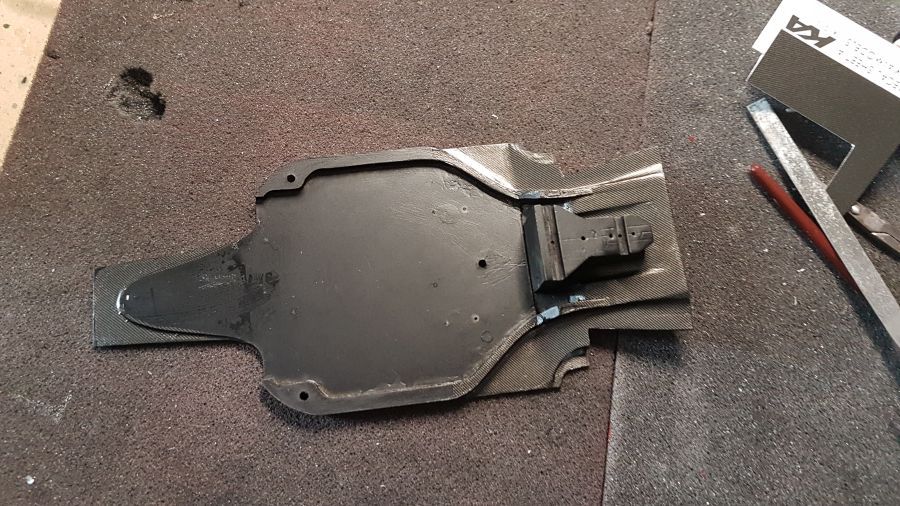 De vloer is erg simpel uitgevoerd. Er moeten nog 2 delen van uitlaten worden geplaatst, waarschijnlijk omdat je ze door een opening achter in de body kan zien.
The floor is very basic. There have to be added to parts of exhausts, probably because you will see them through an opening at the back of the body.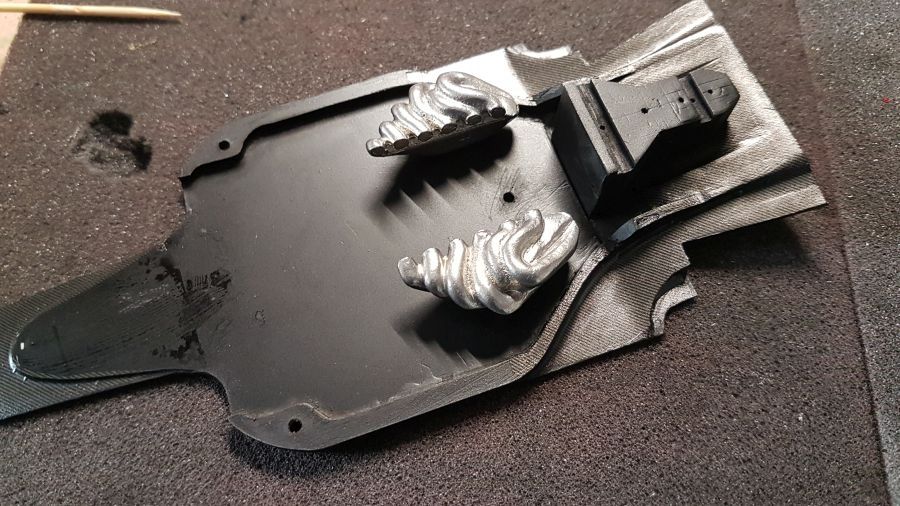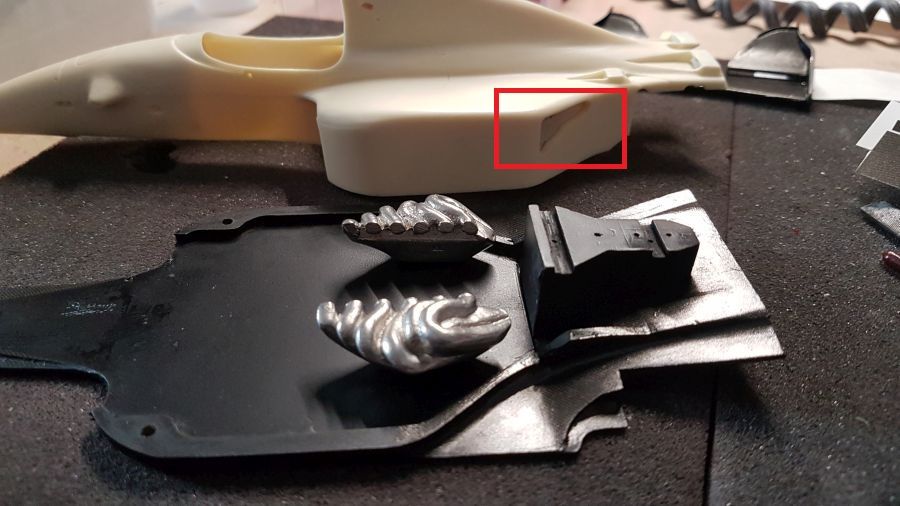 Deze naad moet weggewerkt.
This seam needs to go.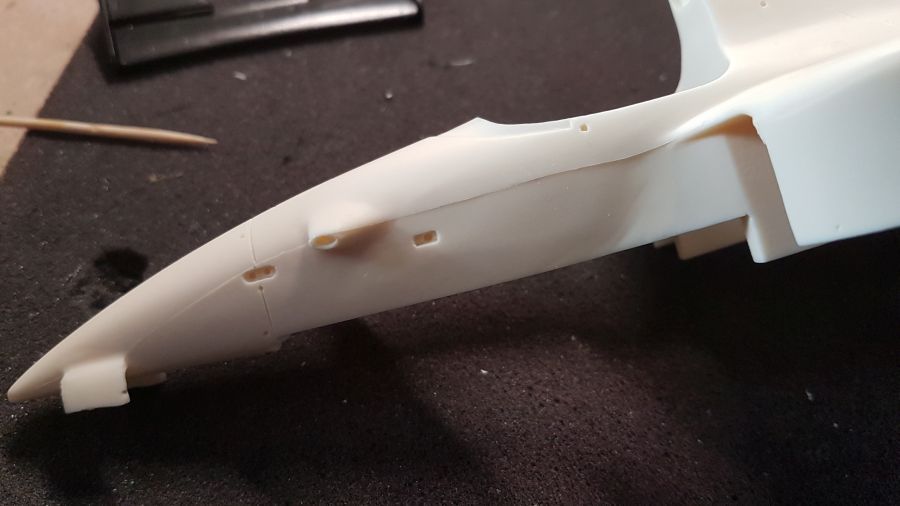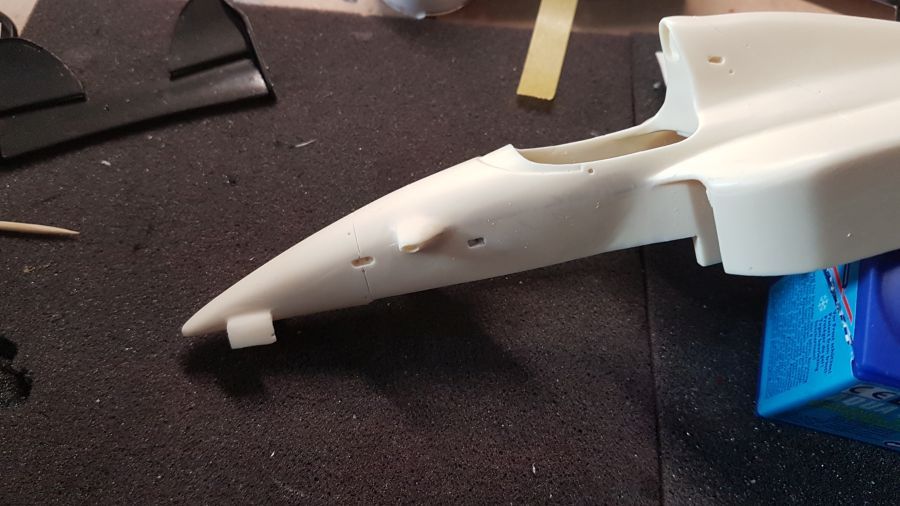 Omdat de uitlaten niet of nauwelijks zichtbaar zijn, besteed ik er niet veel aandacht aan. Wat blauw poeder om hittevlekken te simuleren en dat is het. Wel even oppassen met het plaatsen dat de body er nog op past wanneer ze op de vloer worden geplaatst.
Because the exhausts will hardly be visible, i will not put too much work in it. Some blue powder to simulate heat stains, that's it. Be careful though the body will fit over them when adding them to the floor.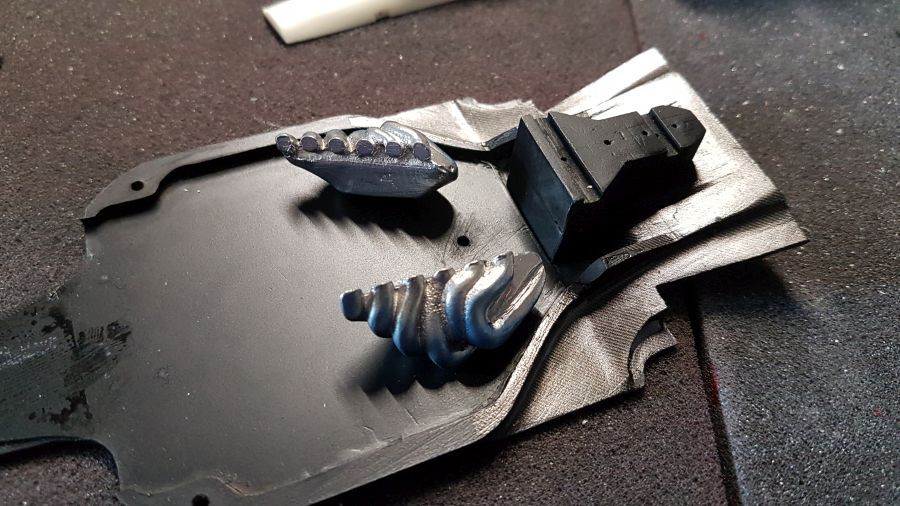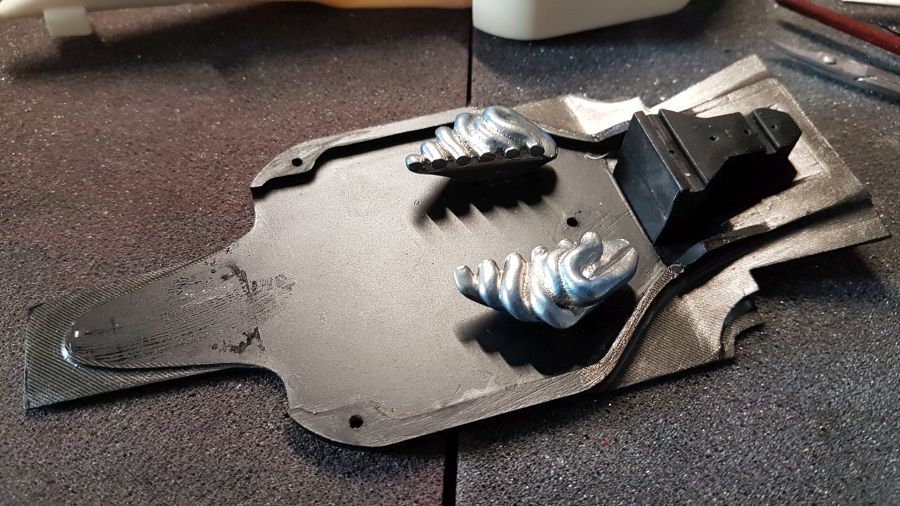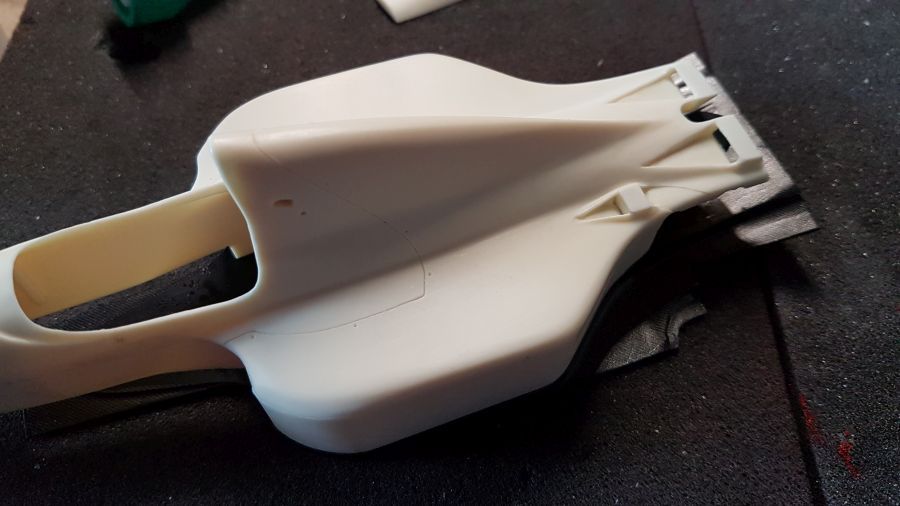 De onderkant wordt aan de neus toegevoegd. Dan weer de naad wegwerken...
The downside is being added to the nose. The seam needs to be worked on too.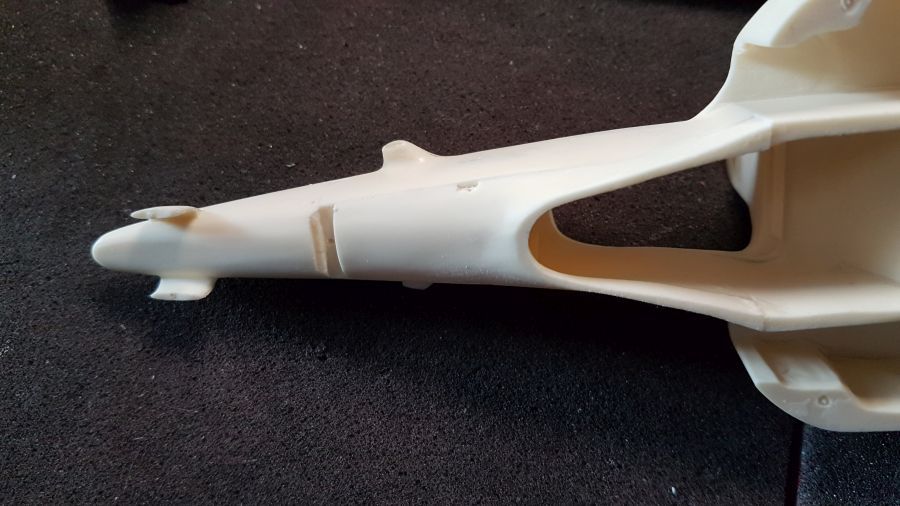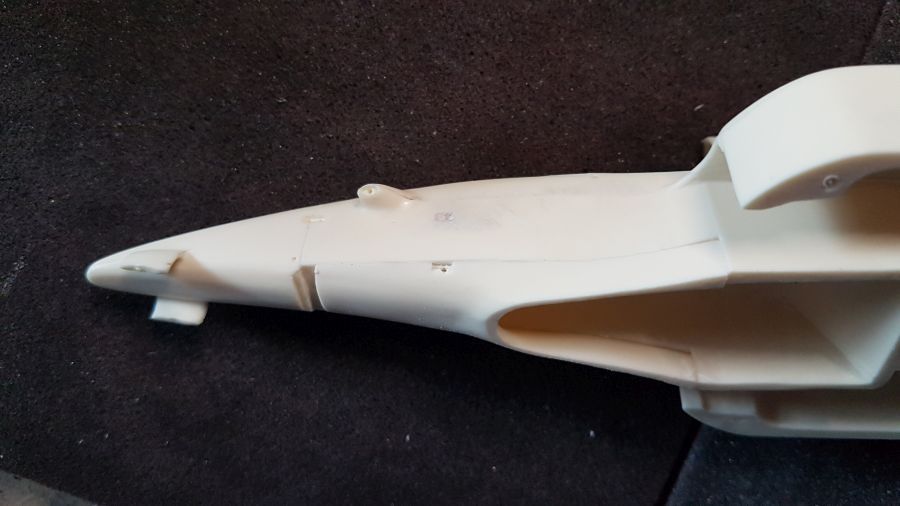 De onderdelen van de achterwielophanging krijgen wat kleur...
The parts of the rear wheel suspension get some tan...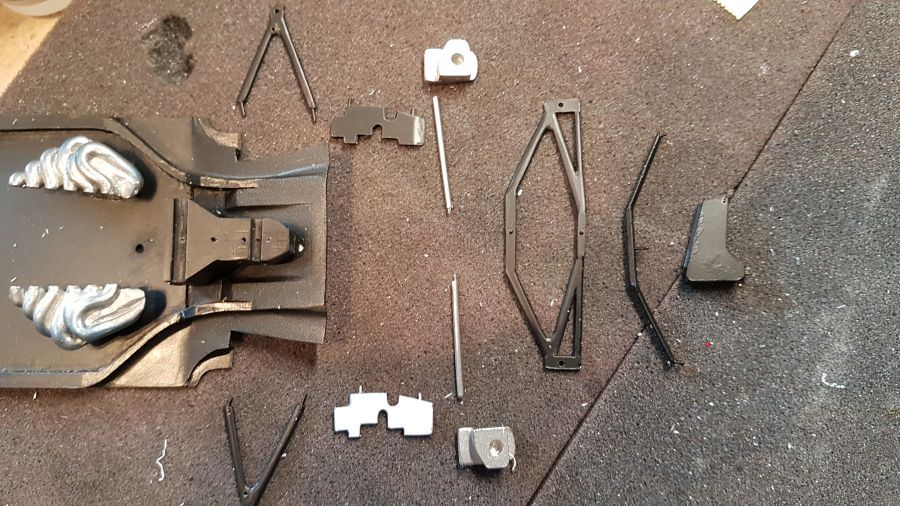 De body krijgt wat primer...
The body receives some primer...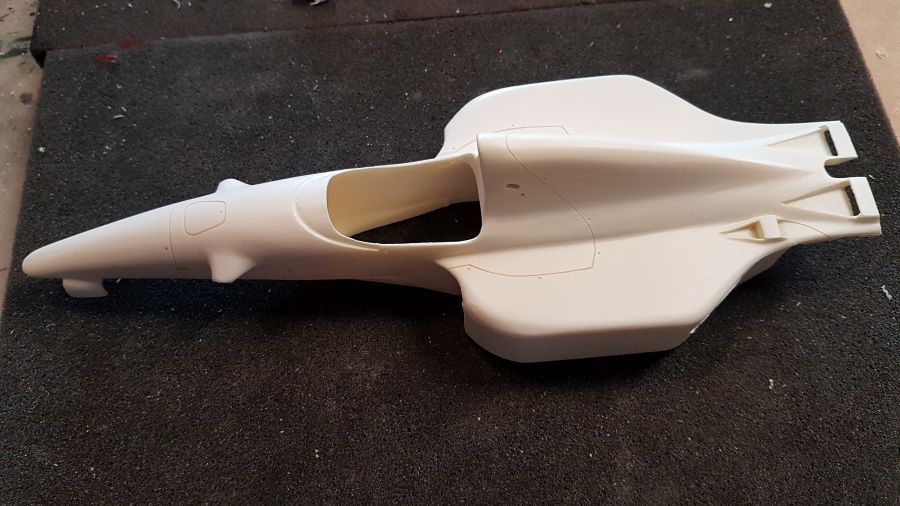 En putty...
And putty...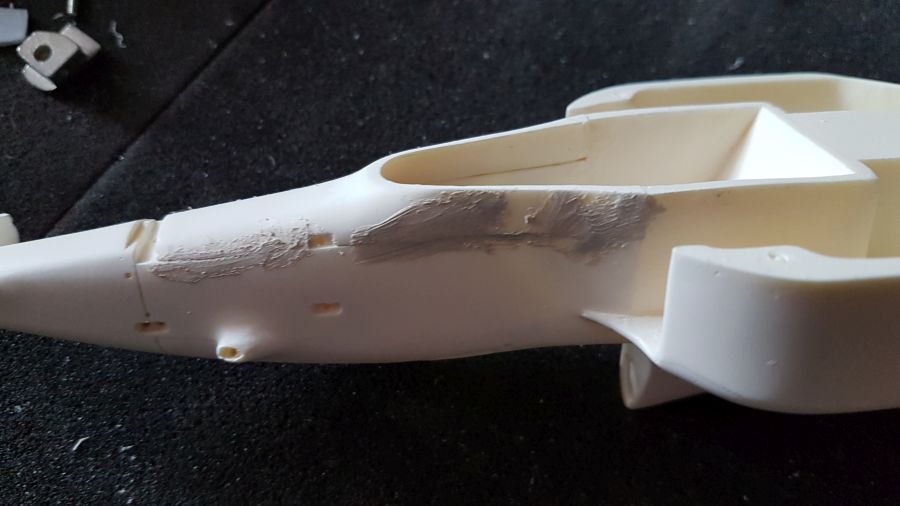 Vandaag is het verfdag...
Today is paint day...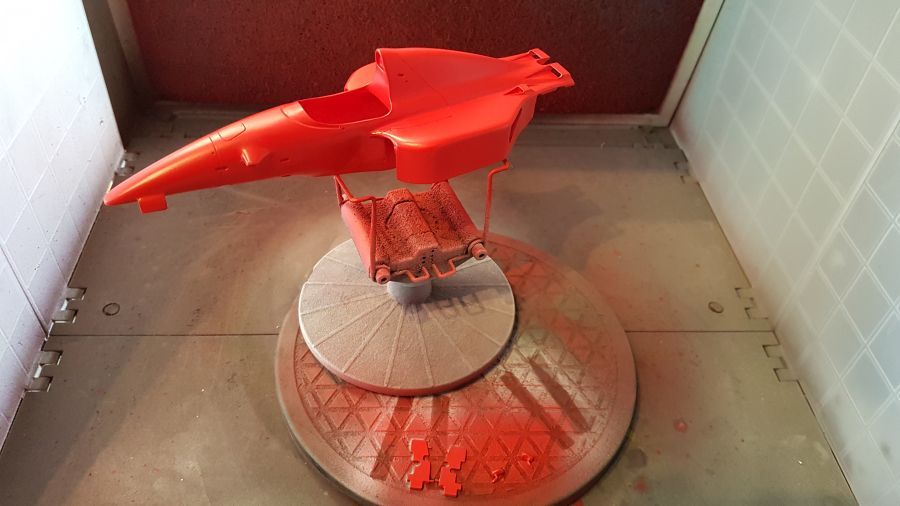 Dan heldere glanslak...
Then a gloss clear coat...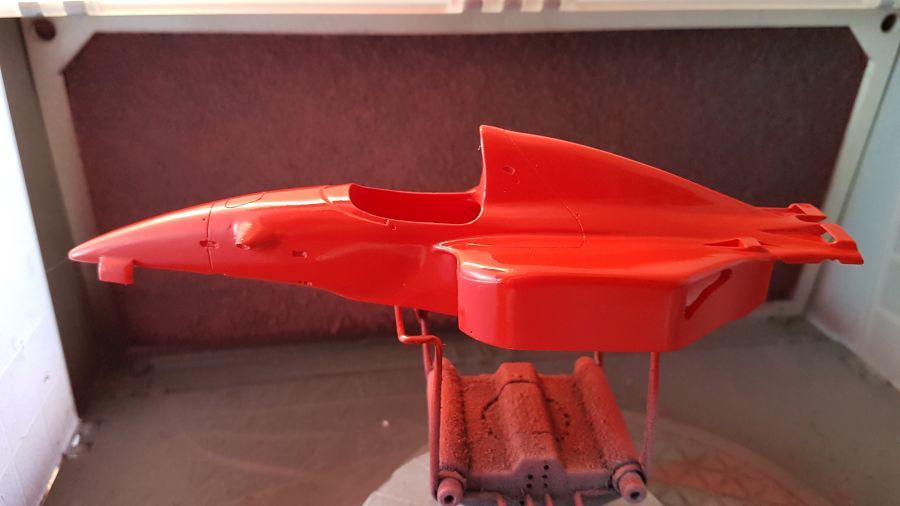 Voor de achterwielophanging probeer ik weer de juiste hoogte vast te stellen...
I am trying to get the correct heigth again for the rear wheel suspension...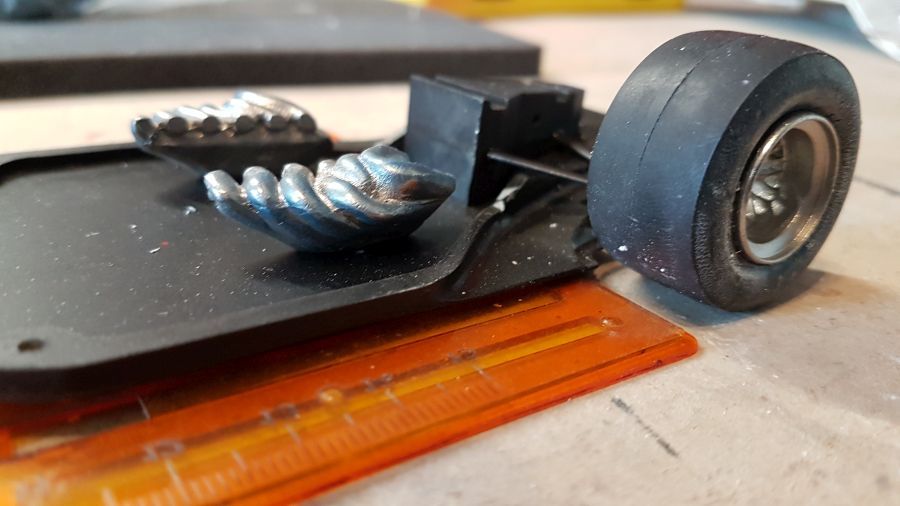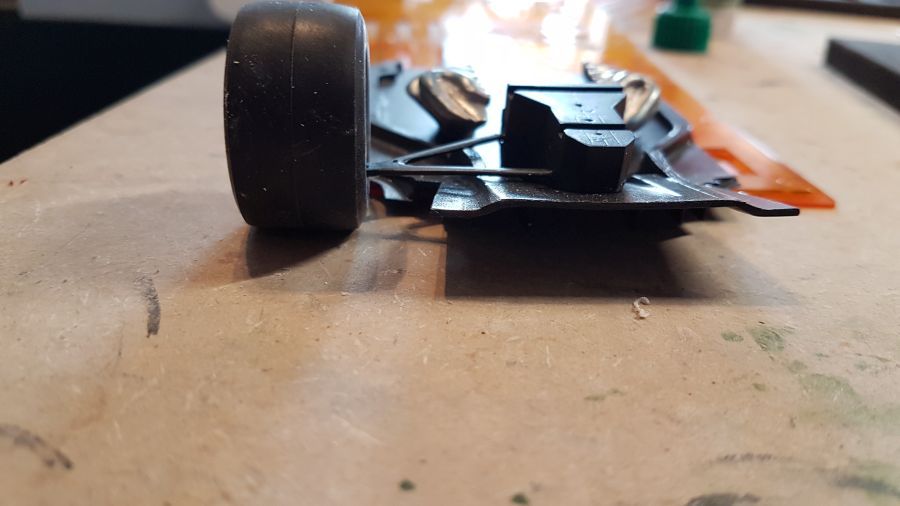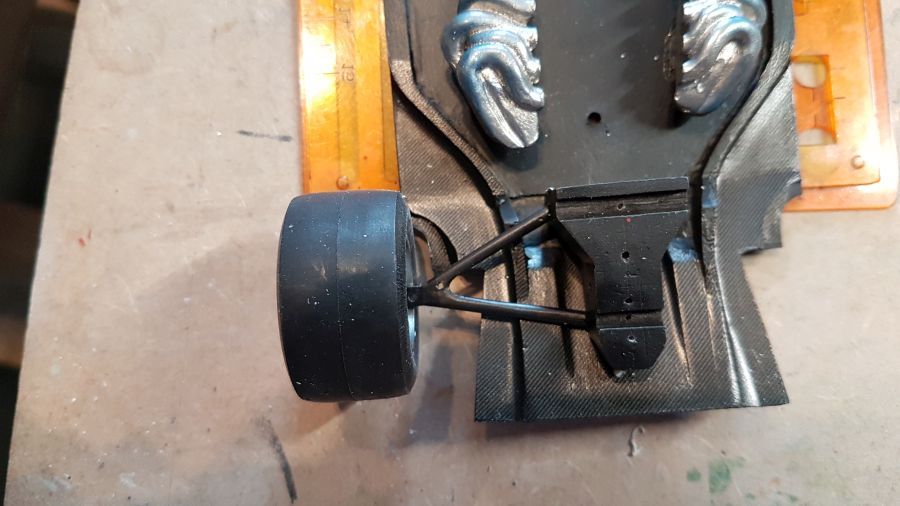 Daarna kan de steun worden aangebracht.
Then the support can be added.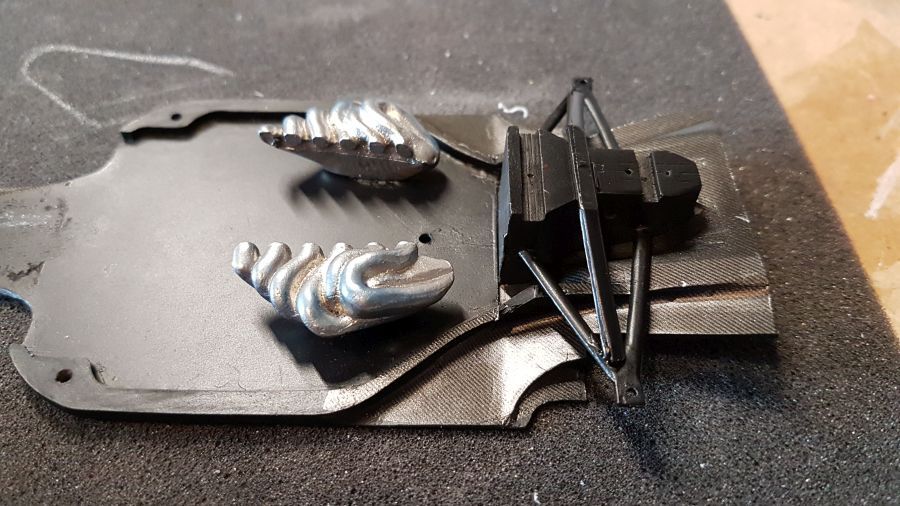 De zijplaten zet ik nog niet vast. Ik zal de body gebruiken om te bepalen of ze goed staan, maar de lak moet eerst drogen. Dit lijkt een beetje op de procedure met de Tamiya F189 kit.
The sides are not glued yet. I will use the body to be sure they have a correct angle, but the clear gloss needs to dry first. THis looks a bit like the procedure on the Tamiya F189 kit.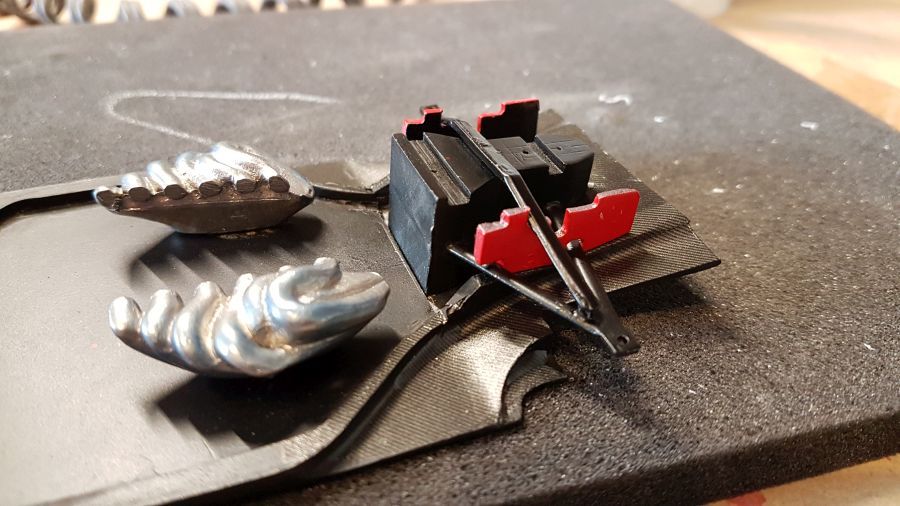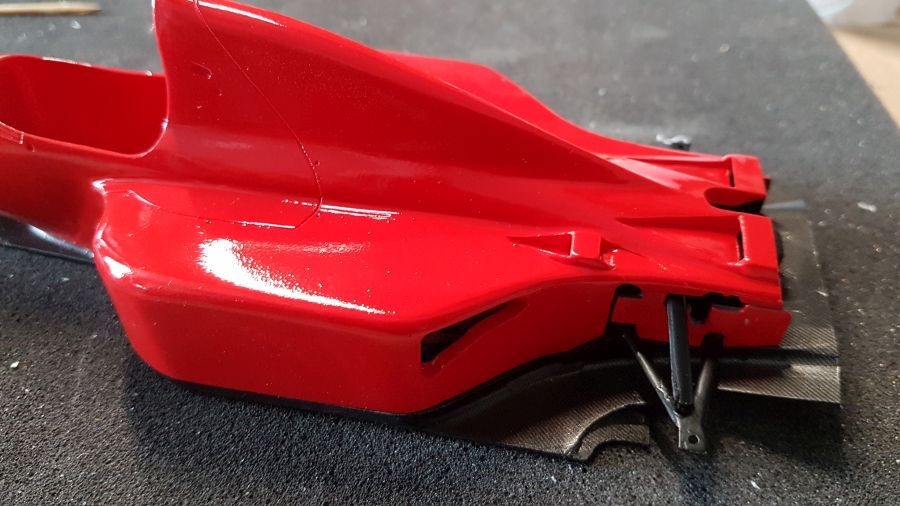 Kleine beschadiging aan de decal. Dell Paling heeft het opgelost door een stukje pin stripe decal bij te voegen.
Small damage to the decal. Dell Paling solved it by adding a small piece of pin stripe decal.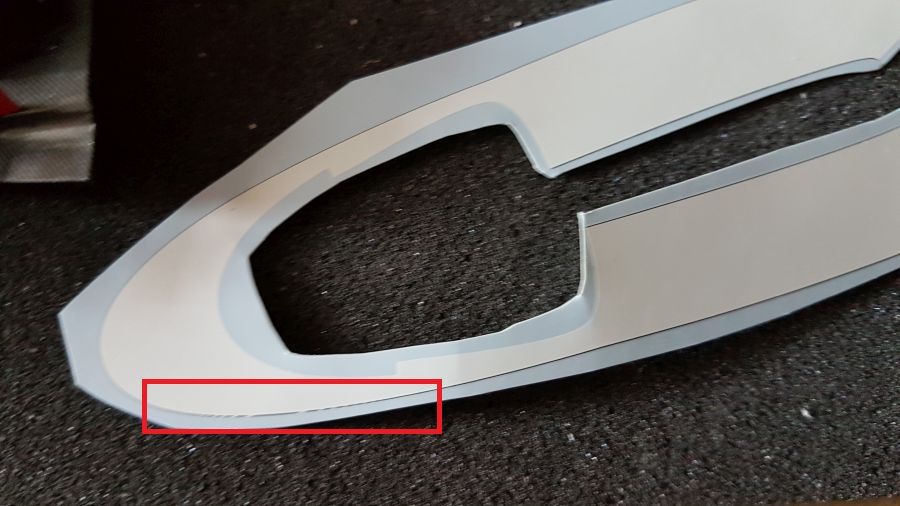 Een rot decal... stijf en groot... De Daco extra strong maar weer tevoorschijn halen.
A nasty decal... stiff and large... Getting the Daco extra strong again.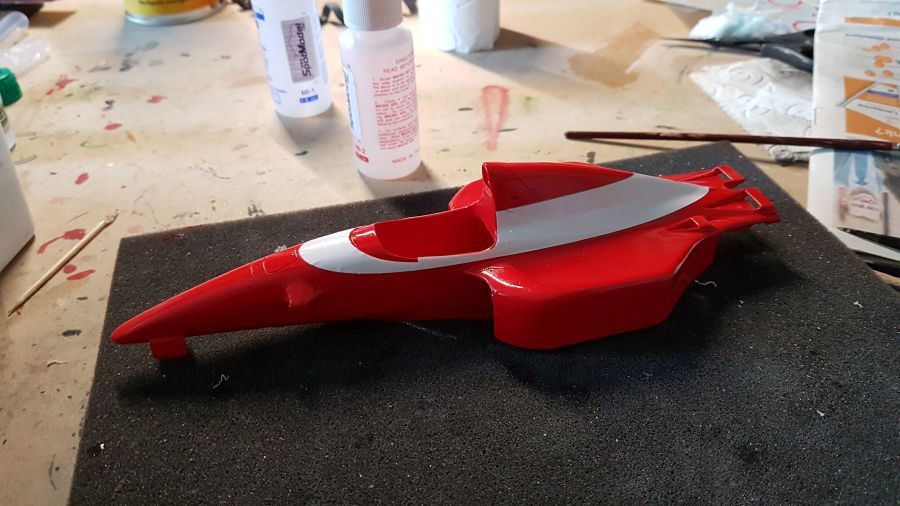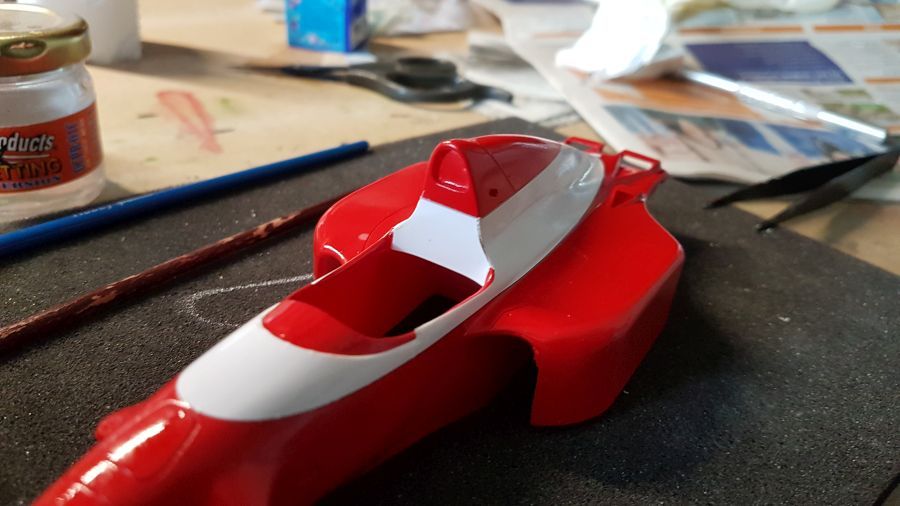 Meer decals... Daarna weer wat lak eroverheen...  Voorzichtig in verband met het smelten.
More decals... Then some gloss over it... Careful because of melting.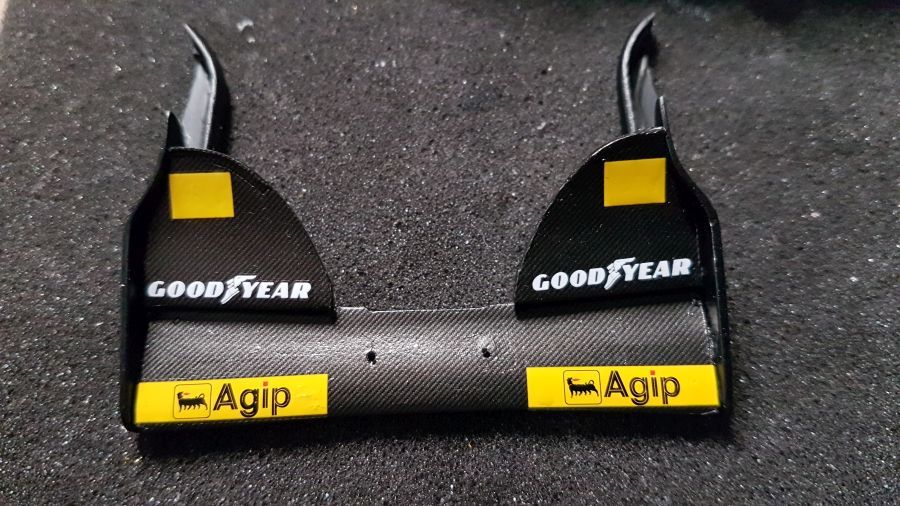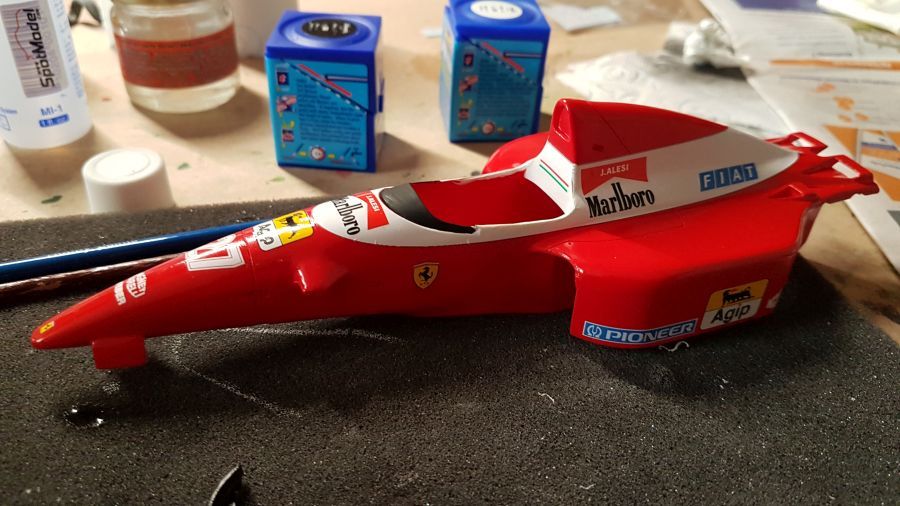 Intussen weer verder met de achterwielophanging...
In the meantime back to the rear wheel suspension...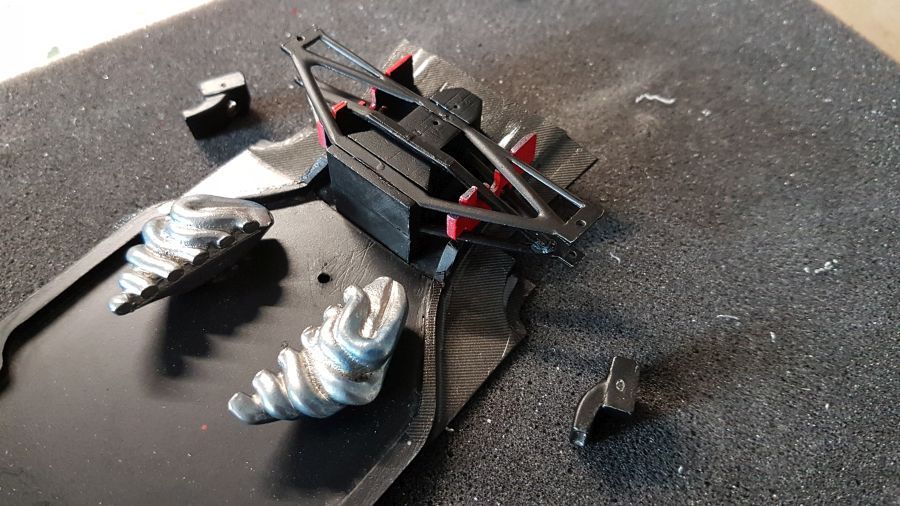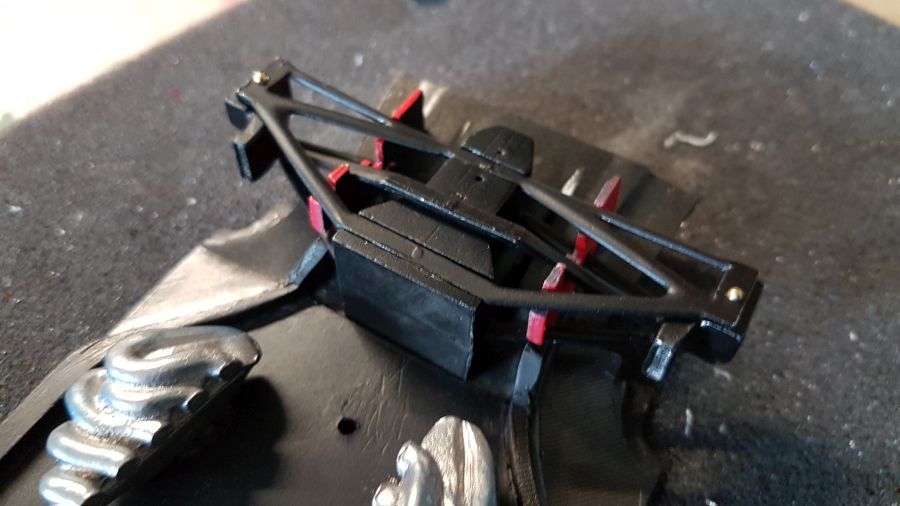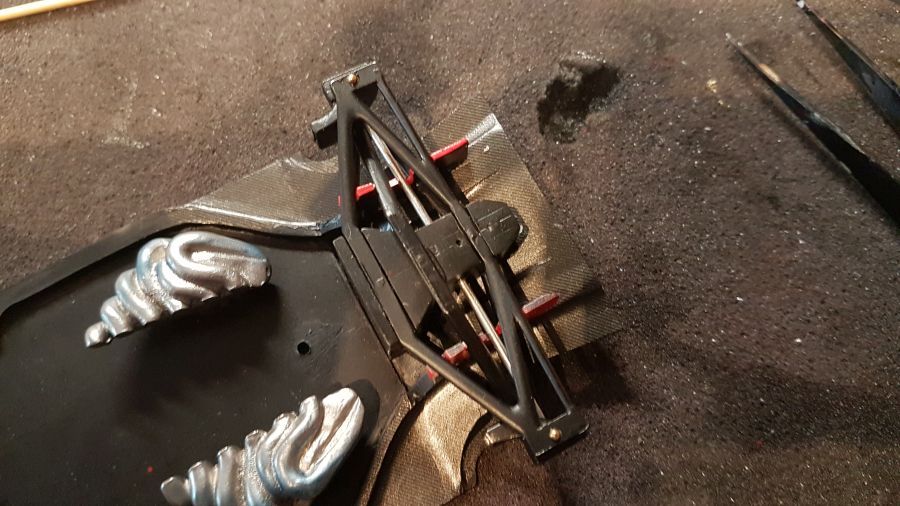 Een nieuw product testen... Aangebracht over witte primer. Ik vind het iets te oranjeachtig.
Testing a new product... Added over white primer. I think it's a bit too orange.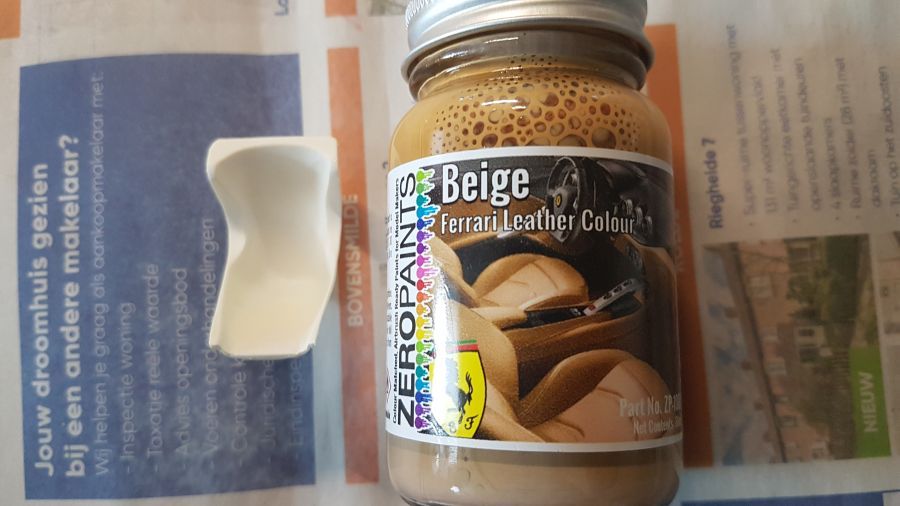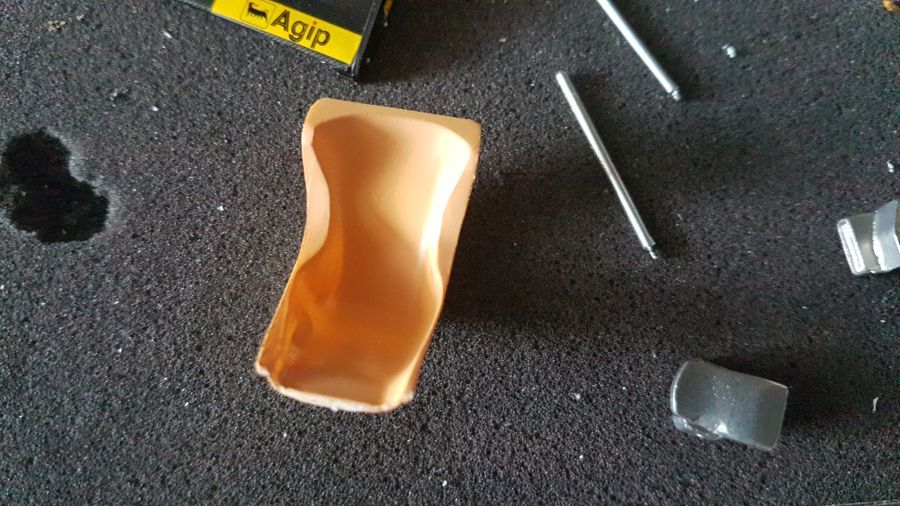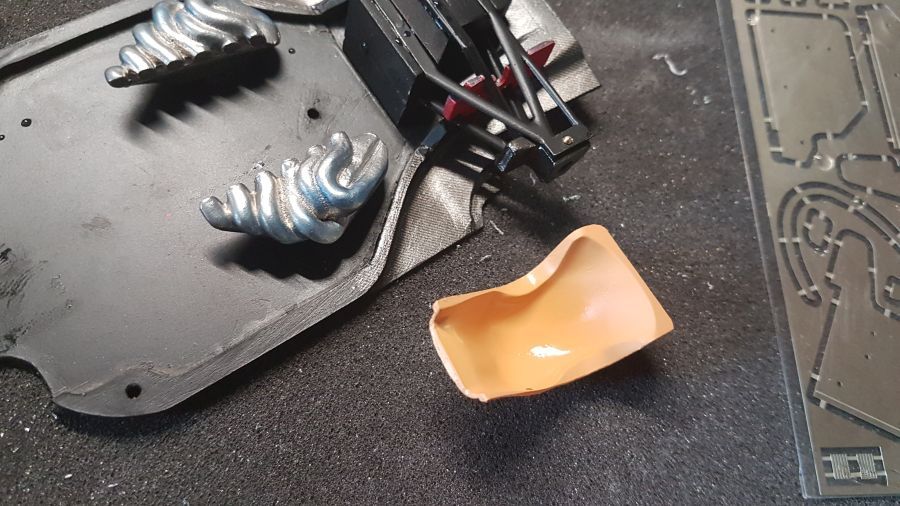 Dan weer de bekende gordels..
Next the well known belts..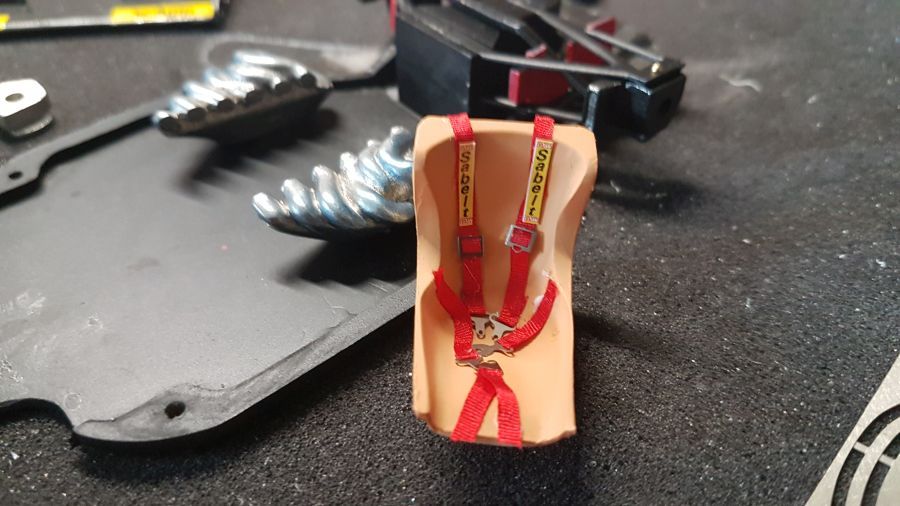 Tijd voor het dashbord.
Time for the dash board.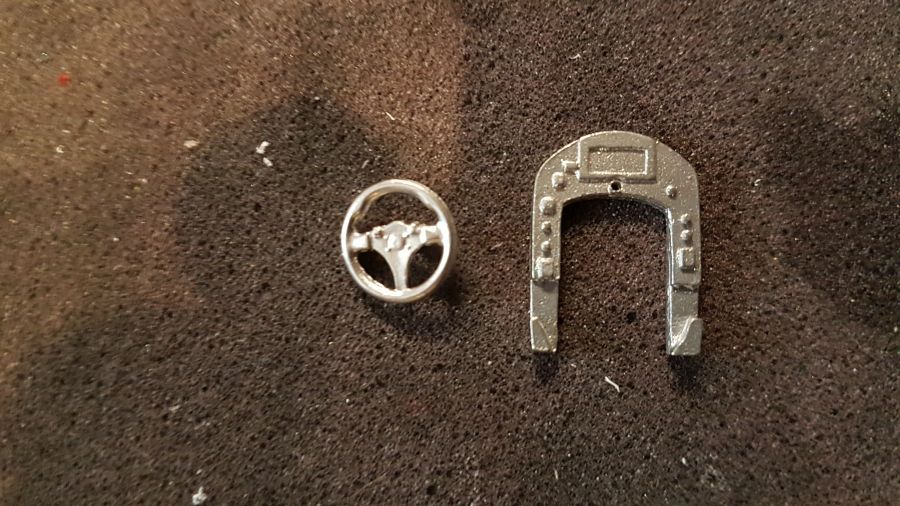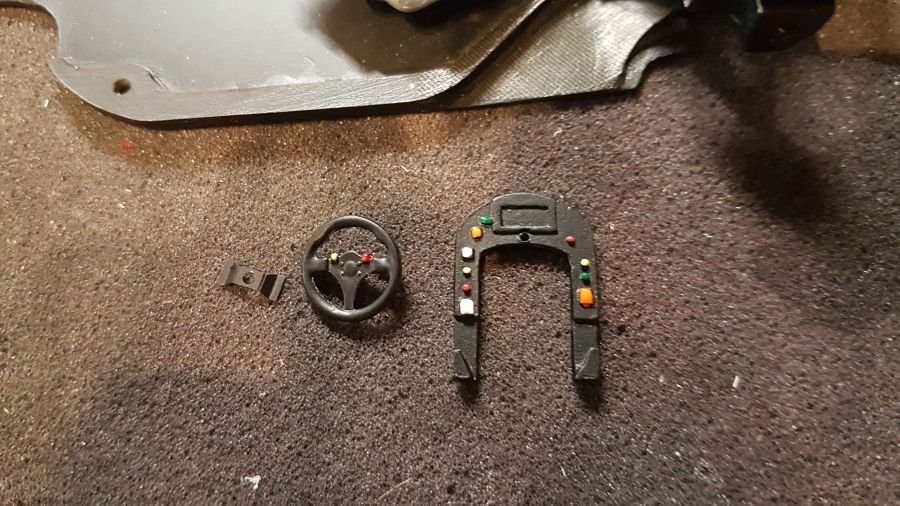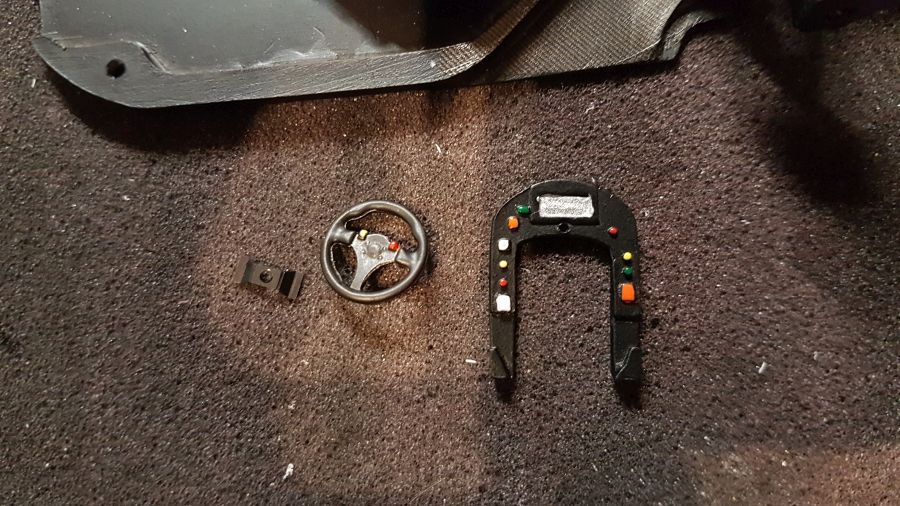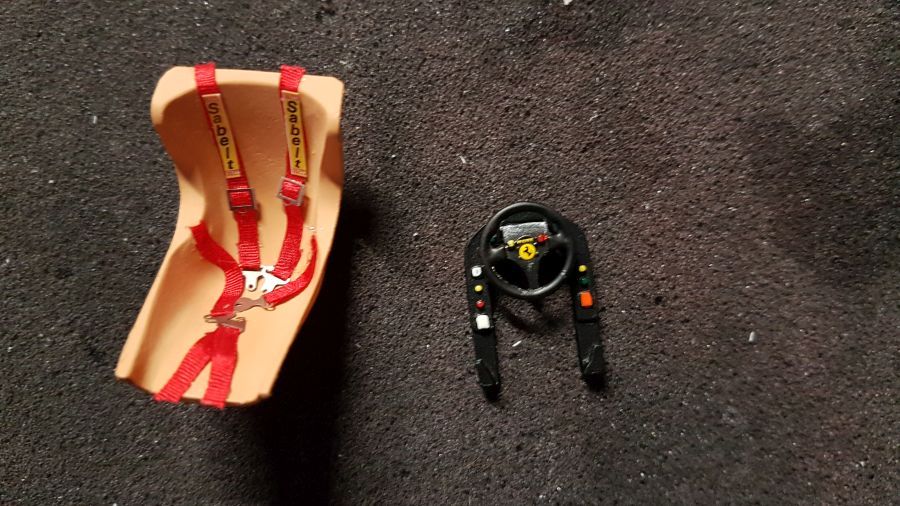 Dan kan alles in de romp geplaatst..
Then everything can be added to the hull..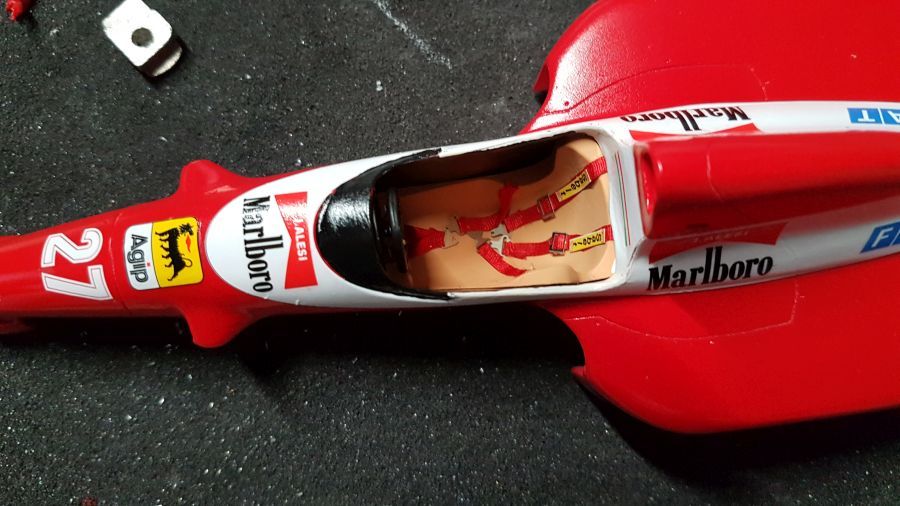 En de vloer...
And the floor...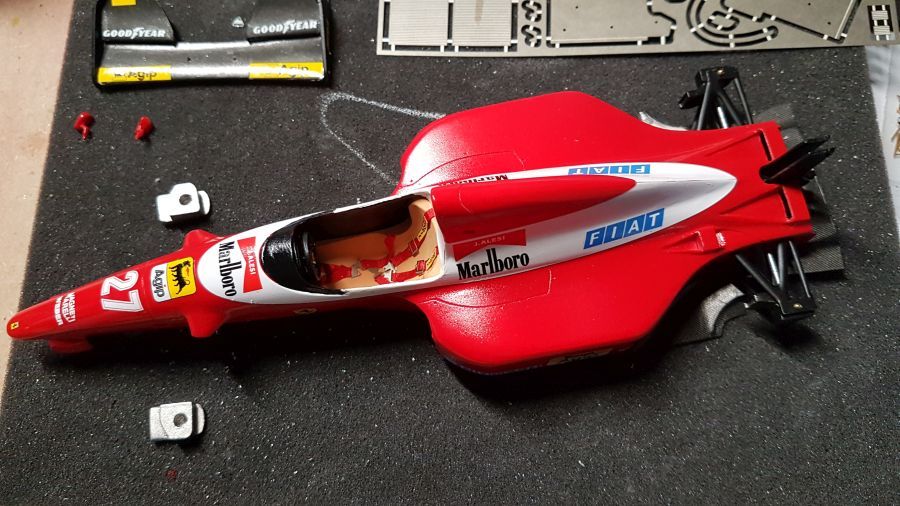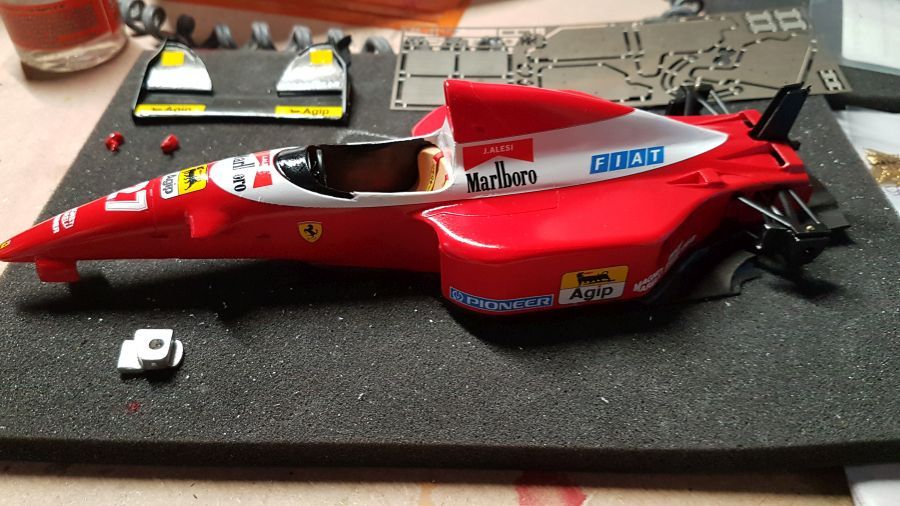 Dan door met de voorwielophanging...
Next is the front wheel suspension...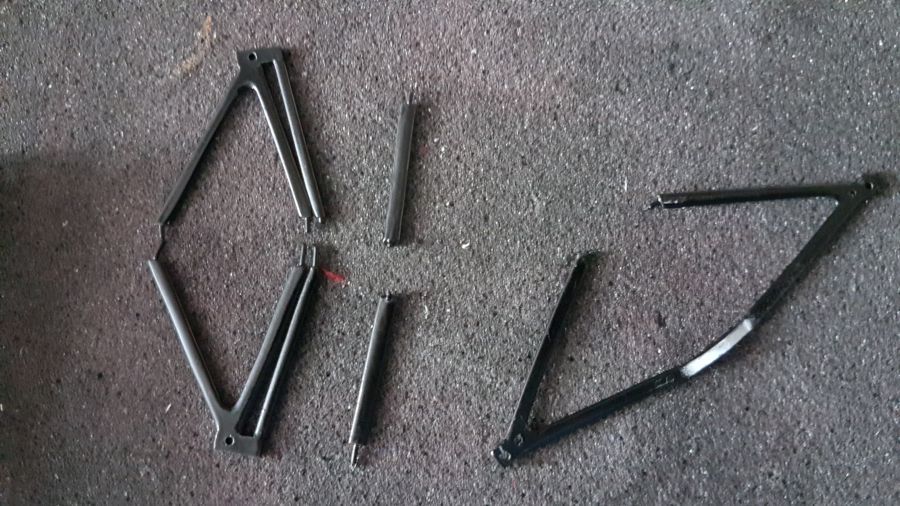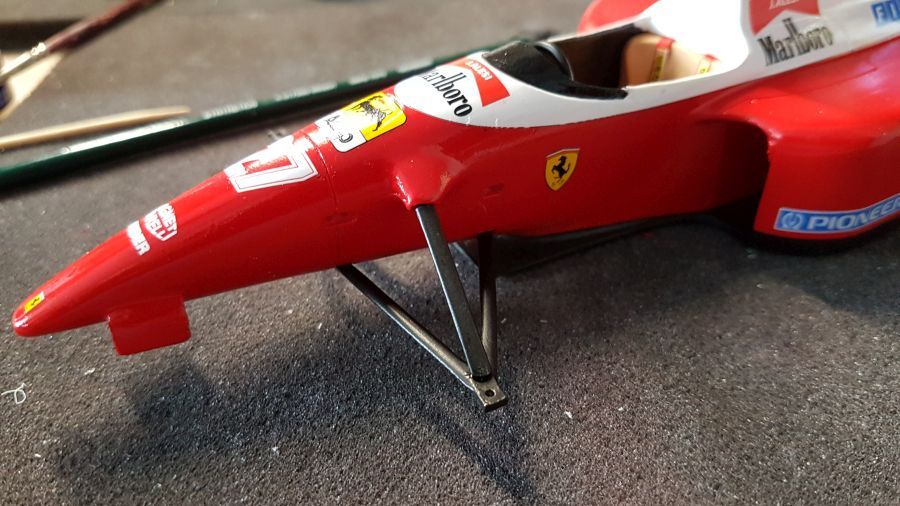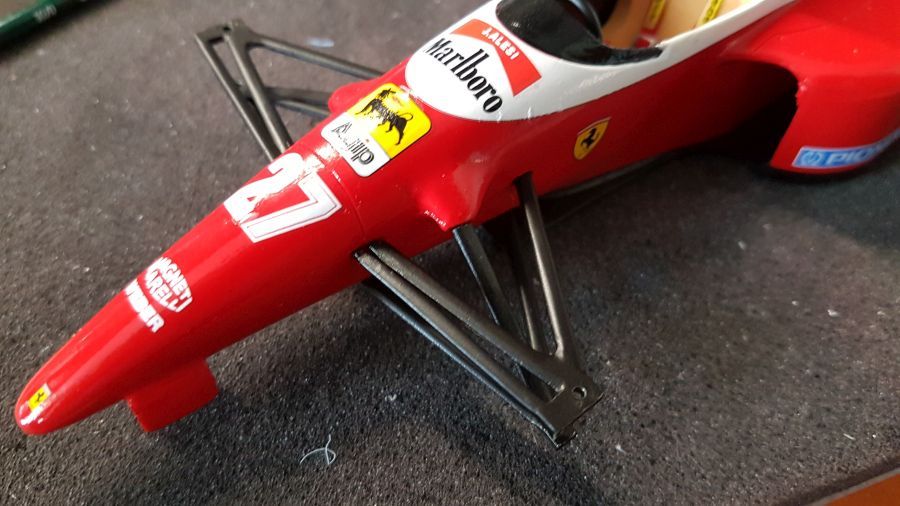 De banden gaan op de velgen. Daar ga ik af en toe aan werken, wanneer iets anders even moet liggen.
The tyres are added to the rims. I will work on it now and then, when something else needs to rest for a while.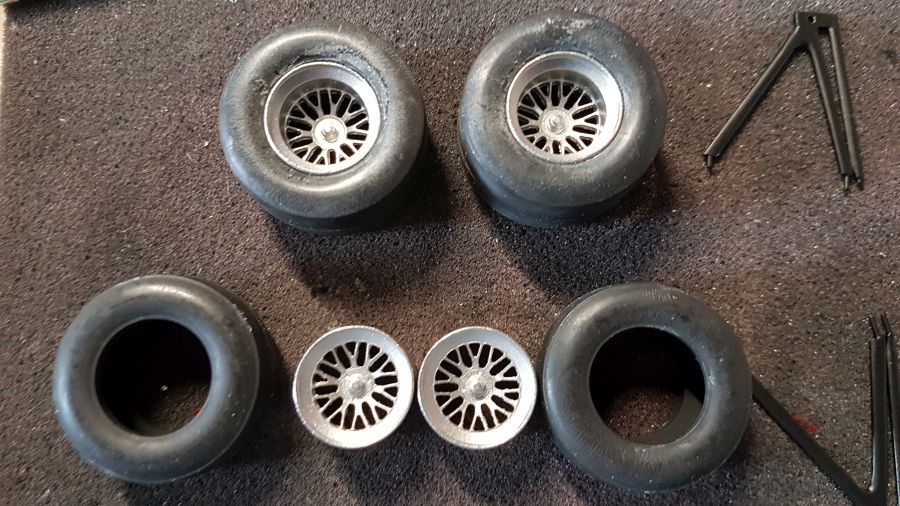 Dit wordt een drama...  Ps. Hier is de volgorde nog goed. Helaas bevat de gebruiksaanwijzing niet een duidelijke aanwijzing voor de Adelaide achtervleugel. Ik heb onderstaande foto's gevonden.
This will be drama...  Edit. This is the correct sorting order. Unfortunately the instructions do not contain clear directions on assembly of the Adelaide rear wing. I managed to find the pictures below.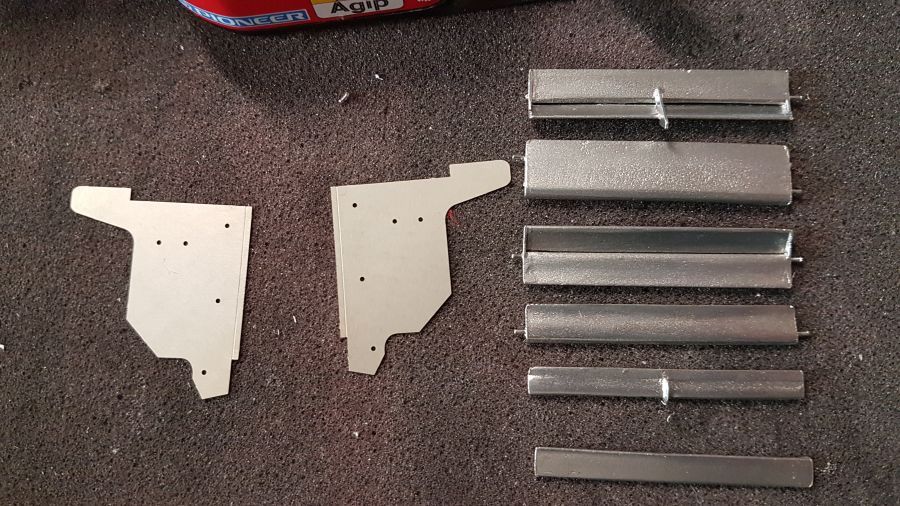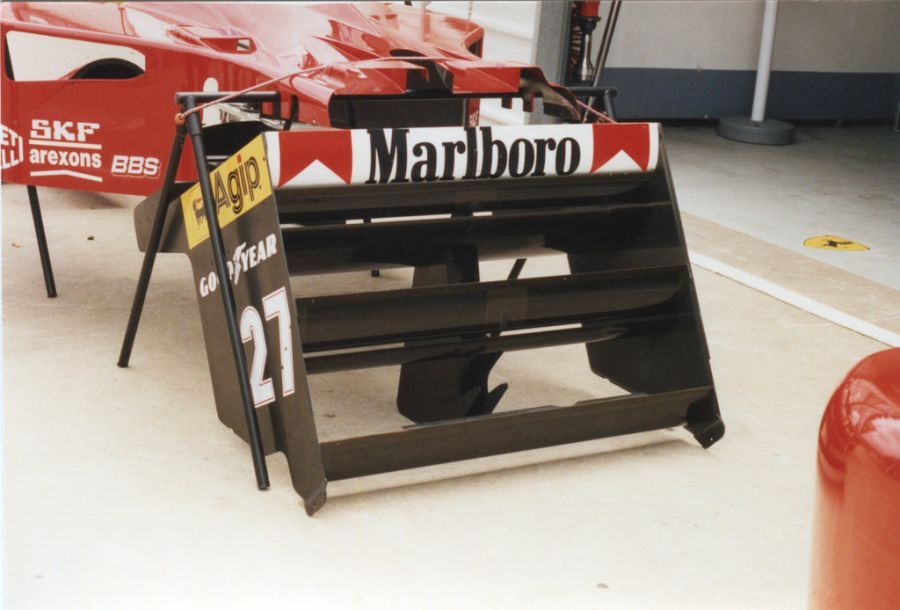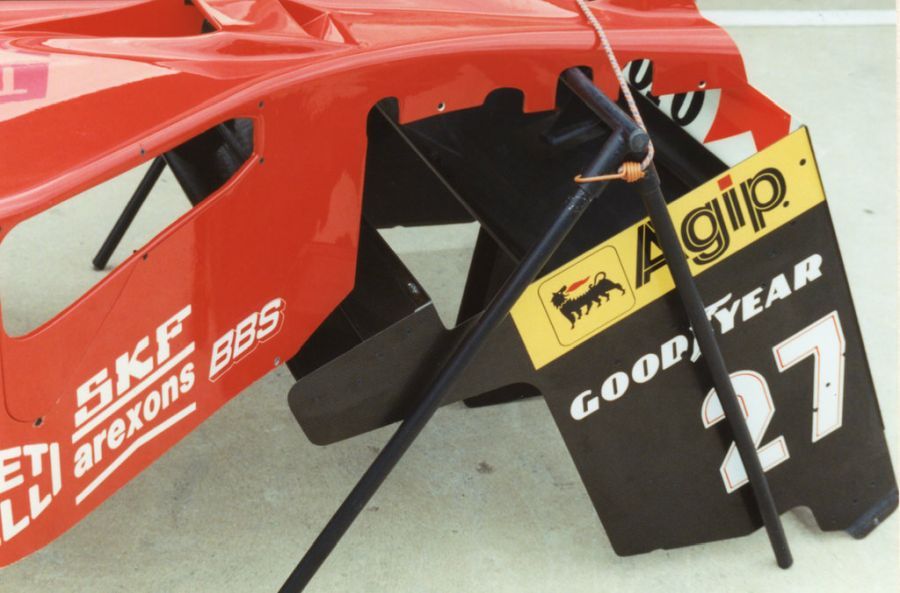 Voor het vouwen van dit kleine randje komt de folding tool keurig van pas...
For folding this small ledge the folding tool is very useful...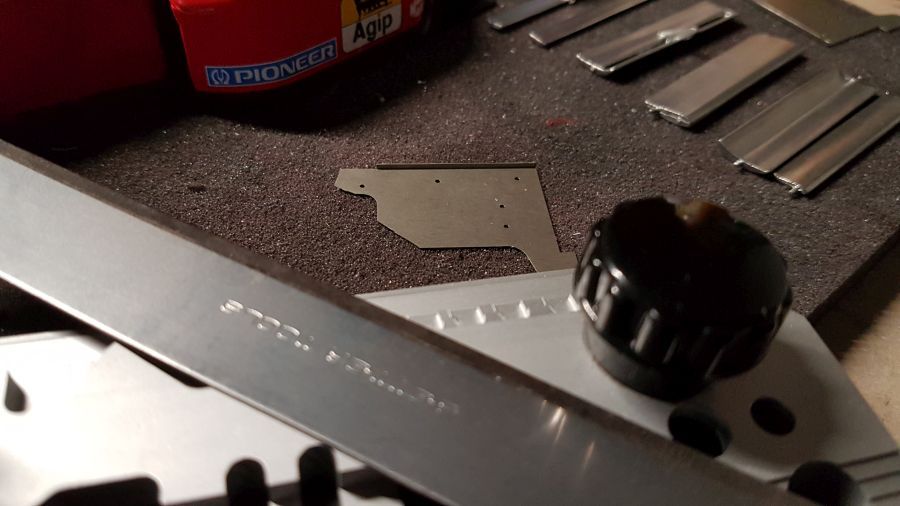 Dan wat kleur.. De verf moet nog even drogen.
Then some colour.. The paint needs to dry.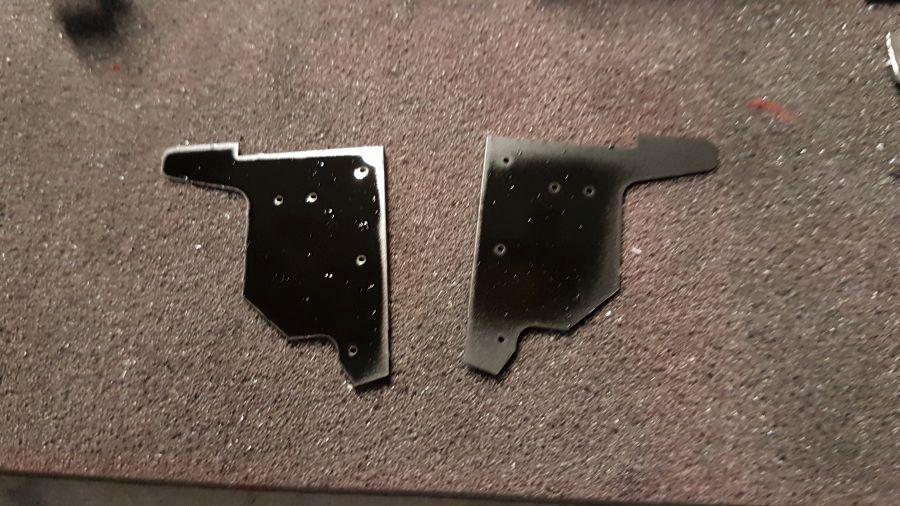 De pinnetjes worden afgeknipt en op de juiste plek worden gaatjes geboord voor het plaatsen van popnagels.
The pins are being cut off and at the correct spot holes are being drilled for adding rivets.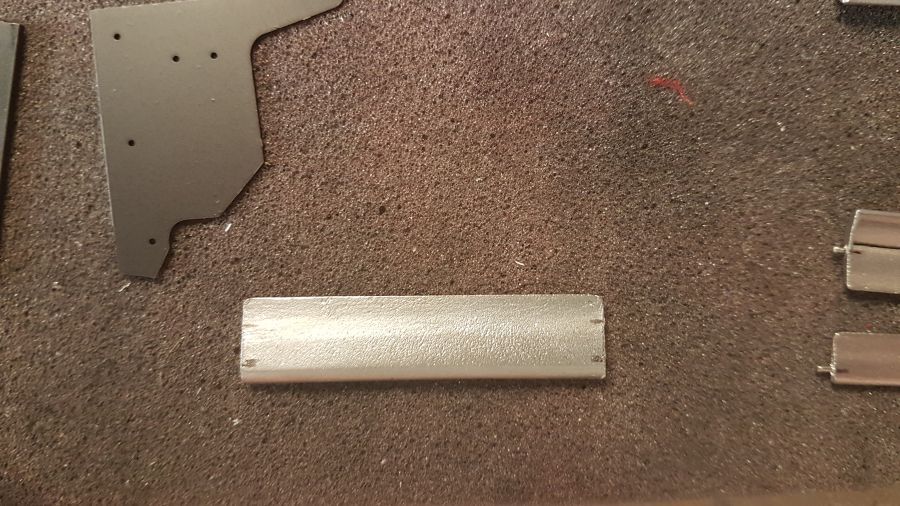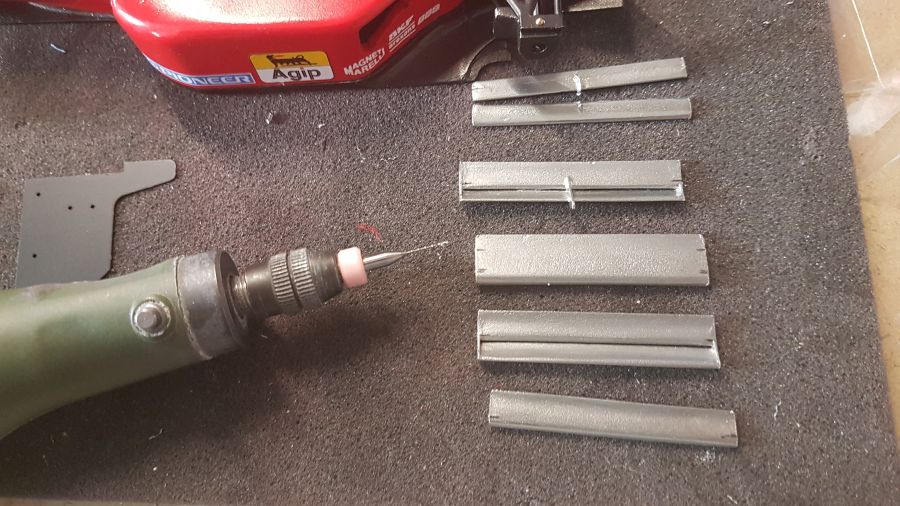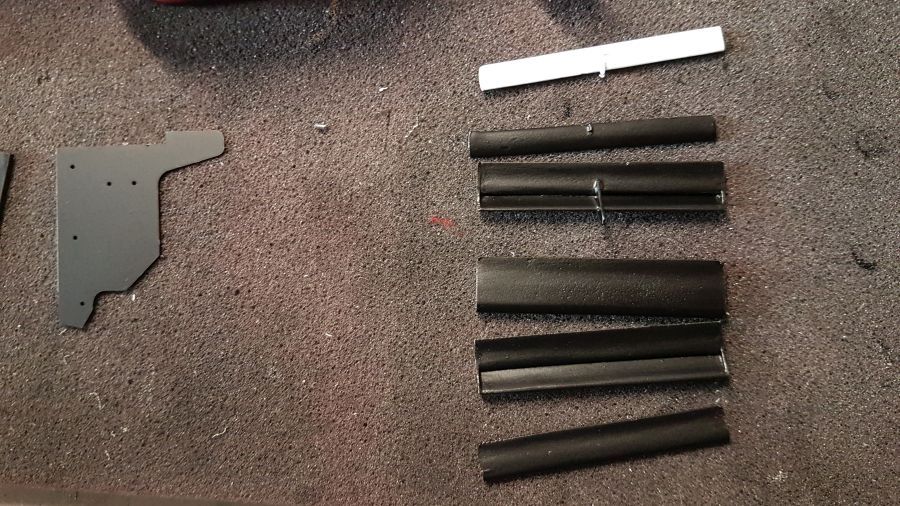 Tijd voor carbon...  Ps. Hier heb ik opeens een foutje gemaakt in de volgorde van de achtervleugel. Dit ga ik corrigeren. Zie iets verderop.
Carbon time...   Edit. I suddenly made a small mistake in the sorting order of the rear wing. I will correct it. See a little further below.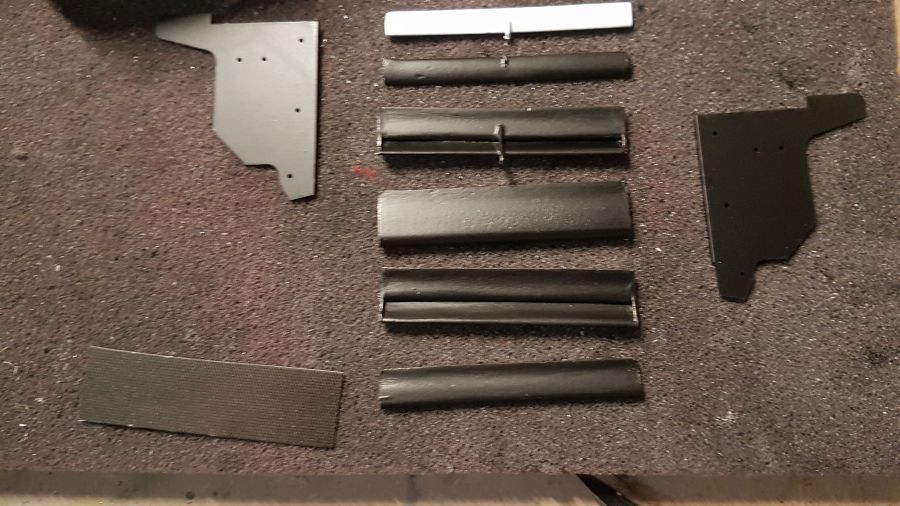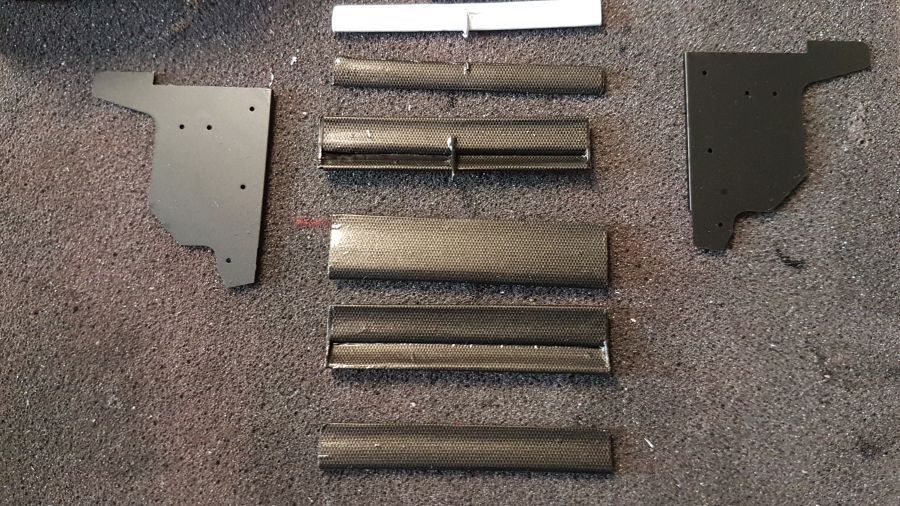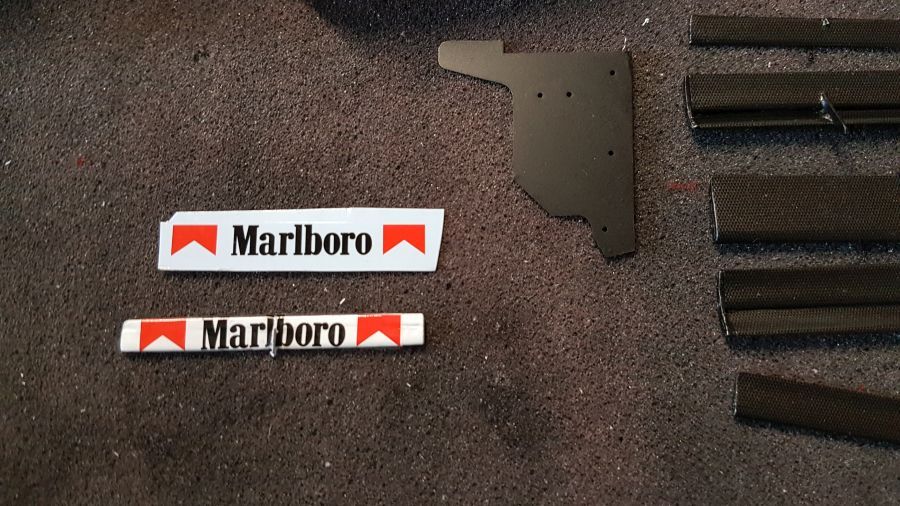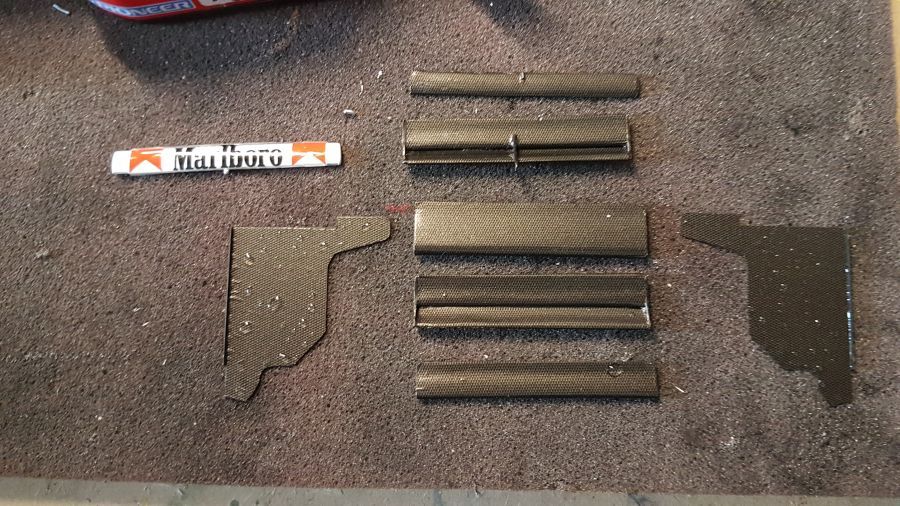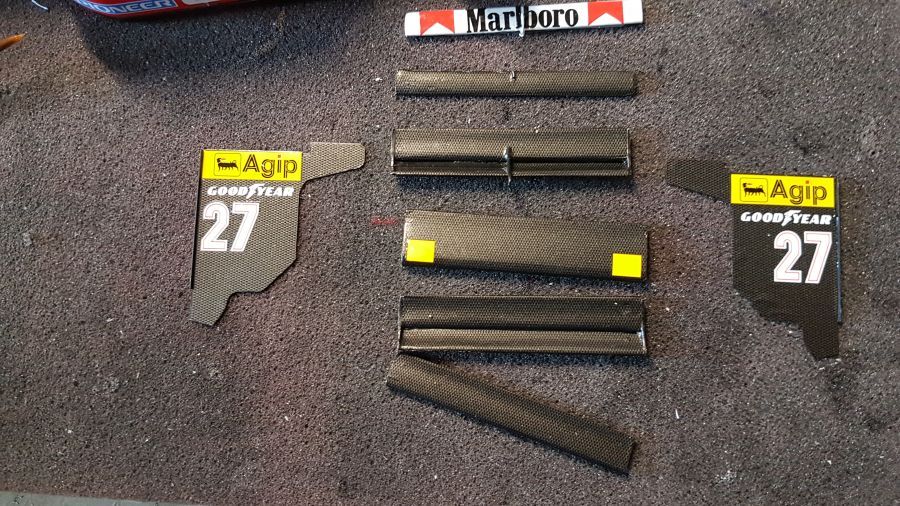 Ooeps, een foutje gemaakt met de volgorde van de achtervleugel... Dit ga ik corrigeren.
Ooops, I made a mistake  in the sorting order of the rear wing... I will correct that.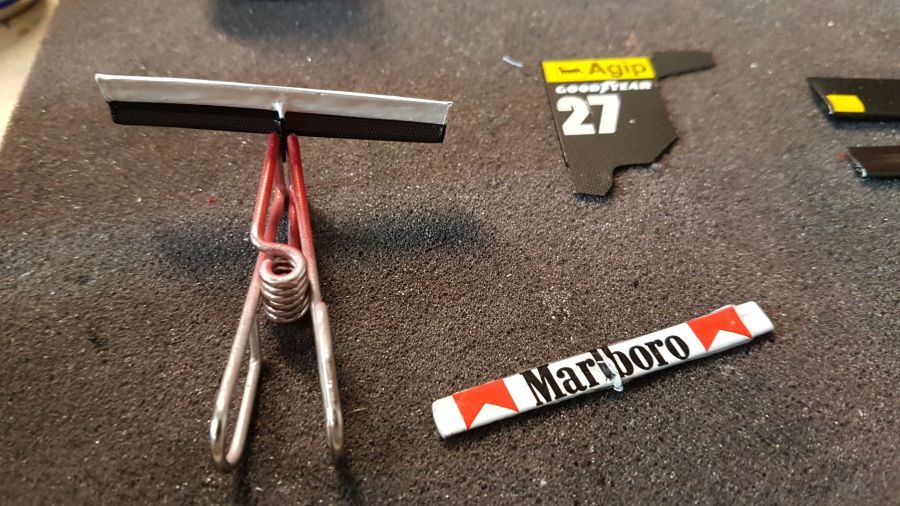 Gecorrigeerd!
Corrected!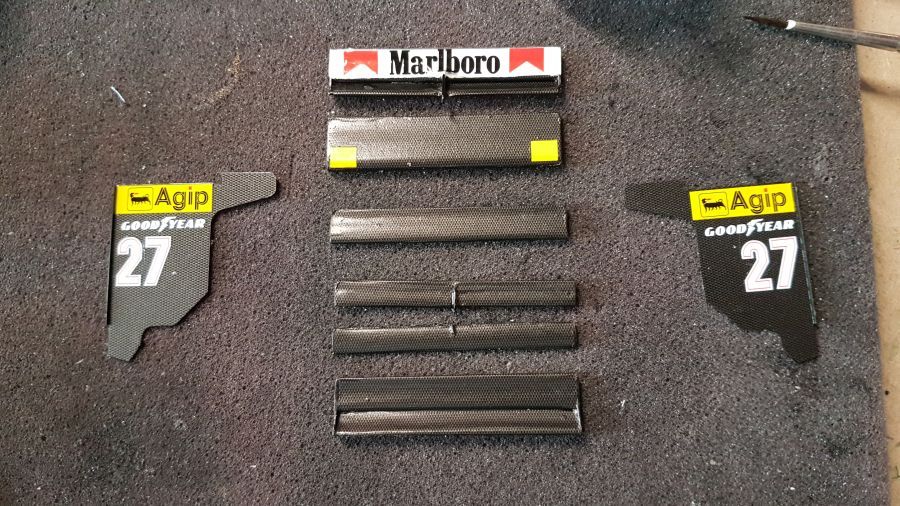 Terwijl alles droogt, ga ik verder met de wielen...
While everything dries, i will continue with the wheels...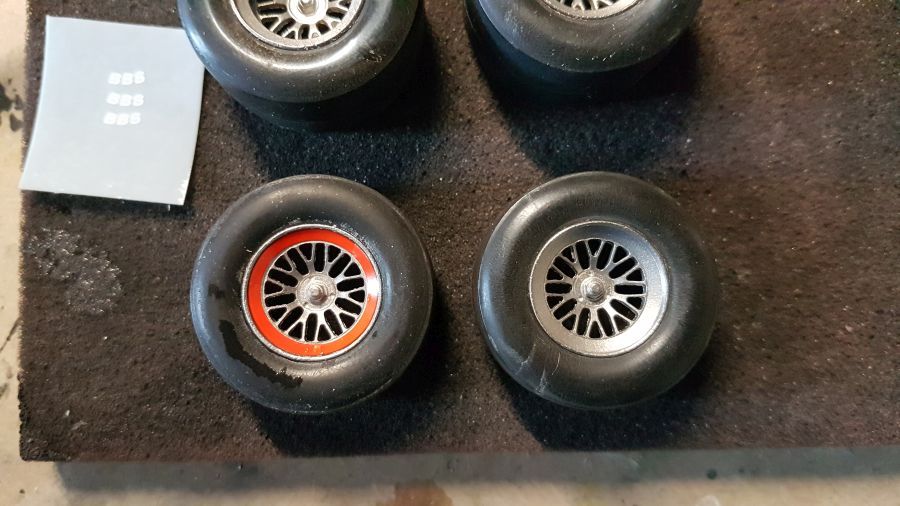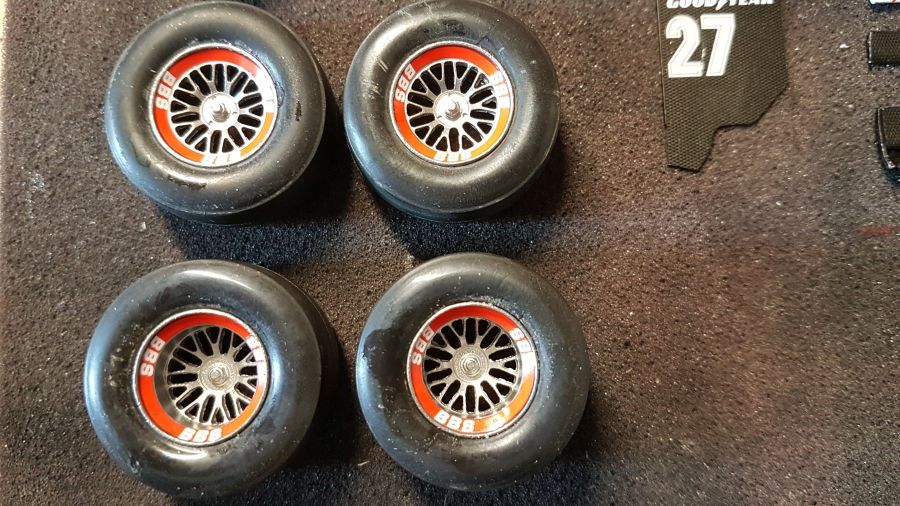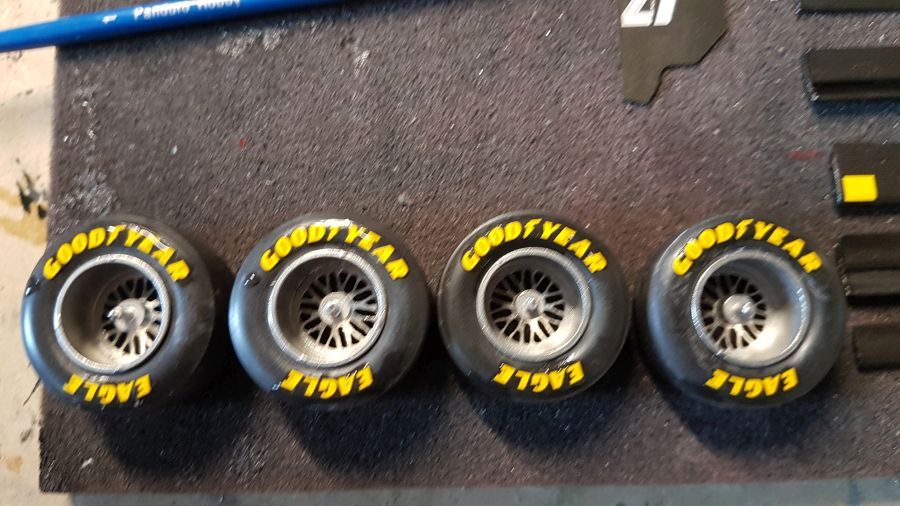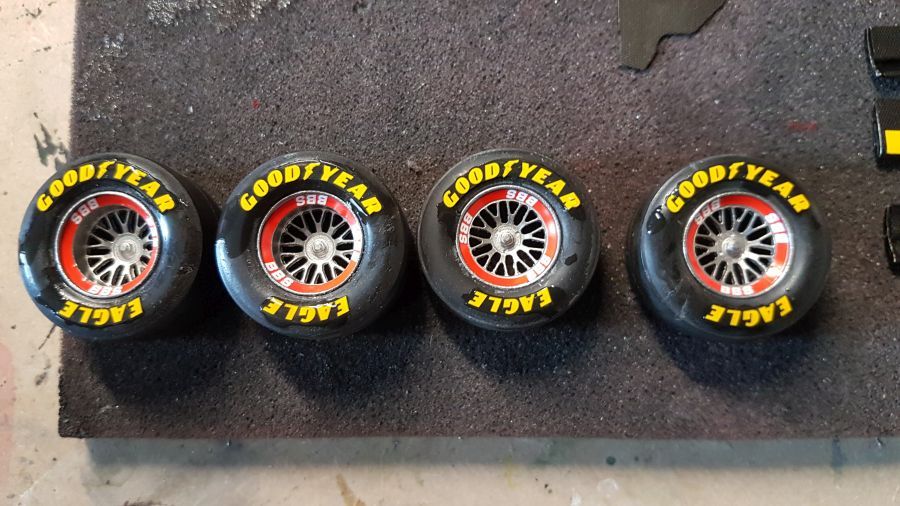 De banden worden 'gebruikt' gemaakt. 
The tires get some 'wear'.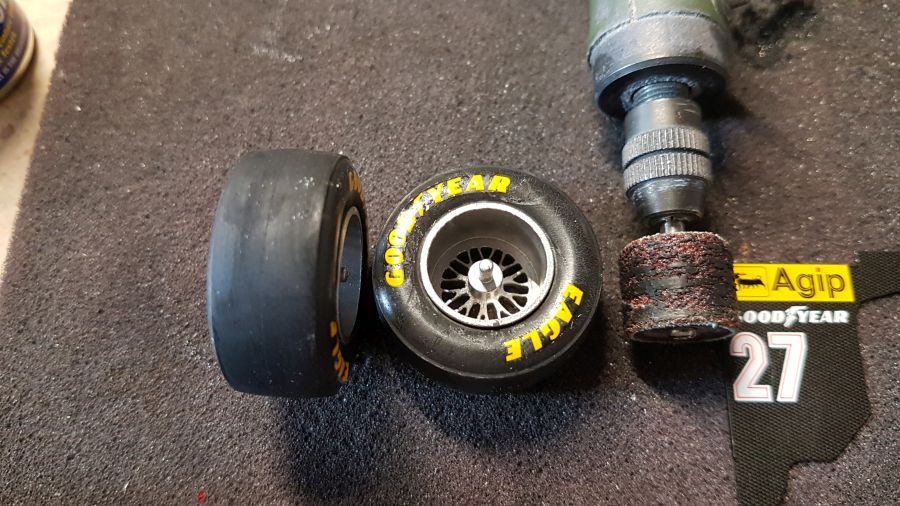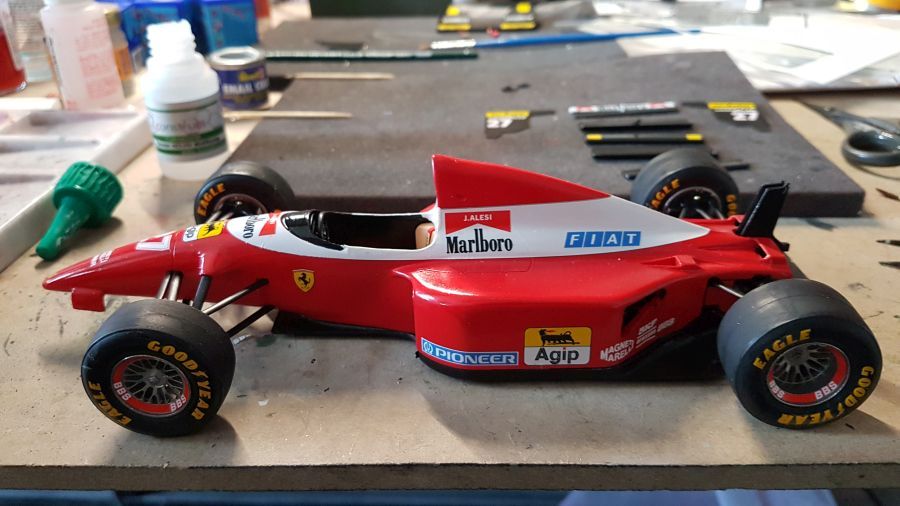 Hoe gemakkelijk je soms over details heen kijkt. Martijn attendeerde me erop dat de velgen zwart moeten. Zo goed en kwaad als het gaat gecorrigeerd. 
How easy to overlook details sometimes.  Martijn informed me the rims need to be black. Corrected it as good as i can.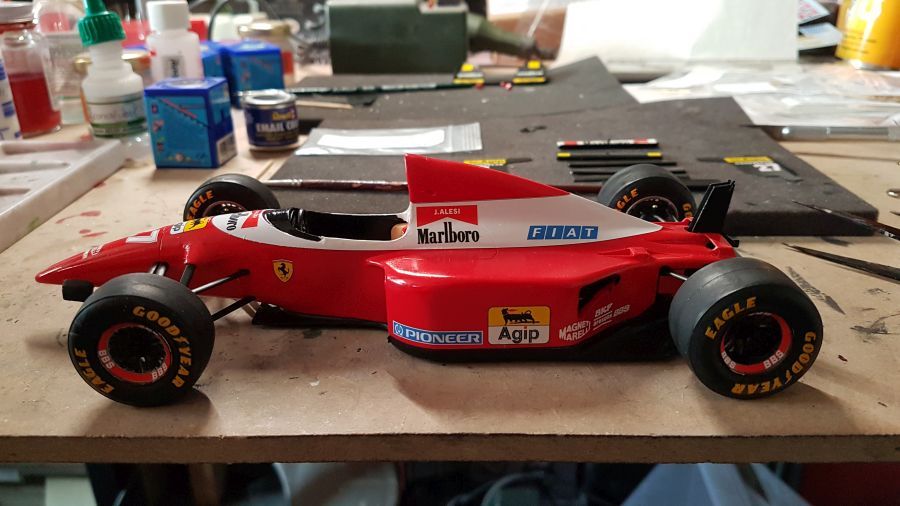 Zoals voorspeld, wat een draak van een vleugel. Maar na 4 uren en veel geduld....
Like i predicted, what a drag of a wing. But after about 4 hours and a lot of patience...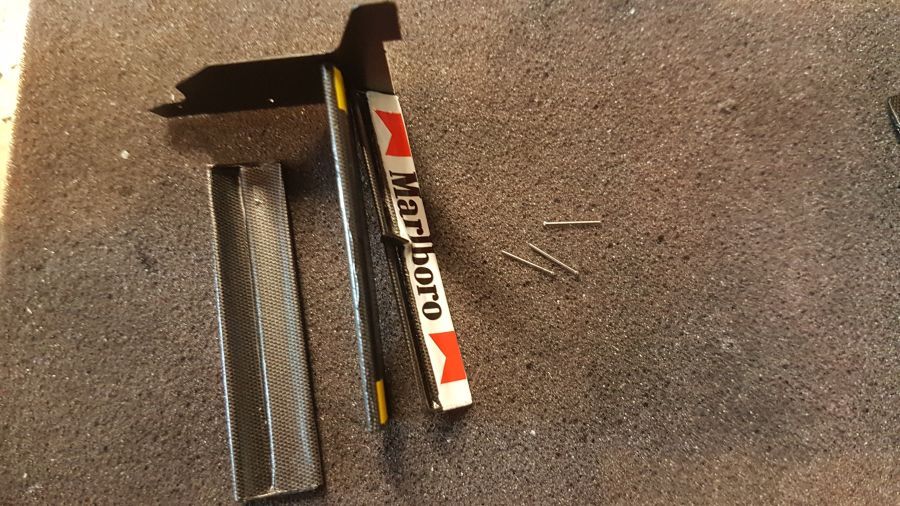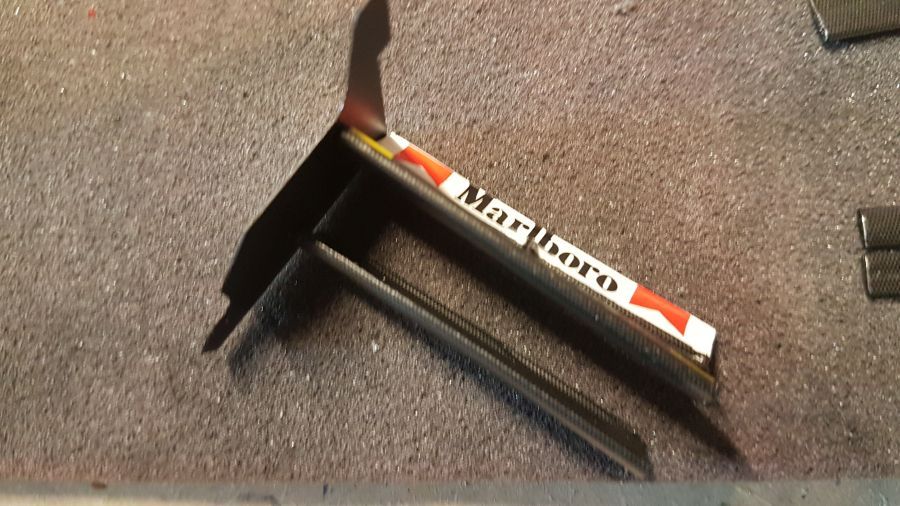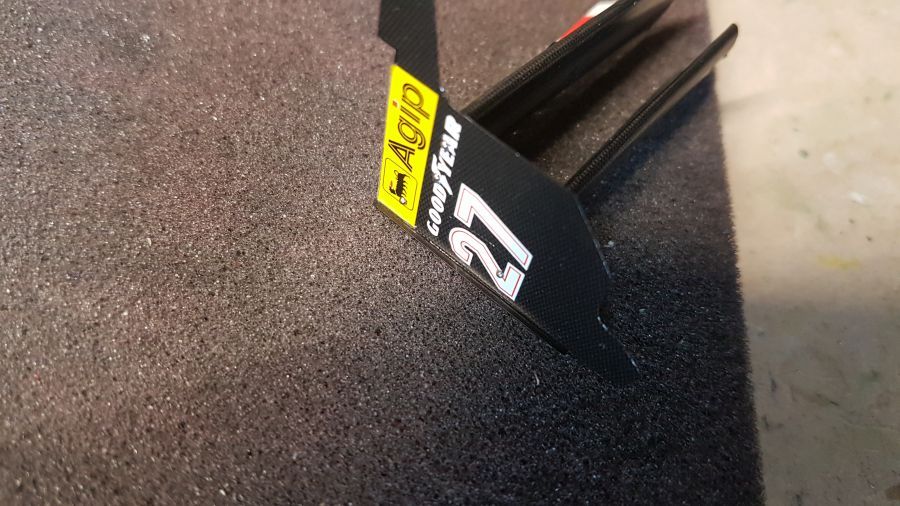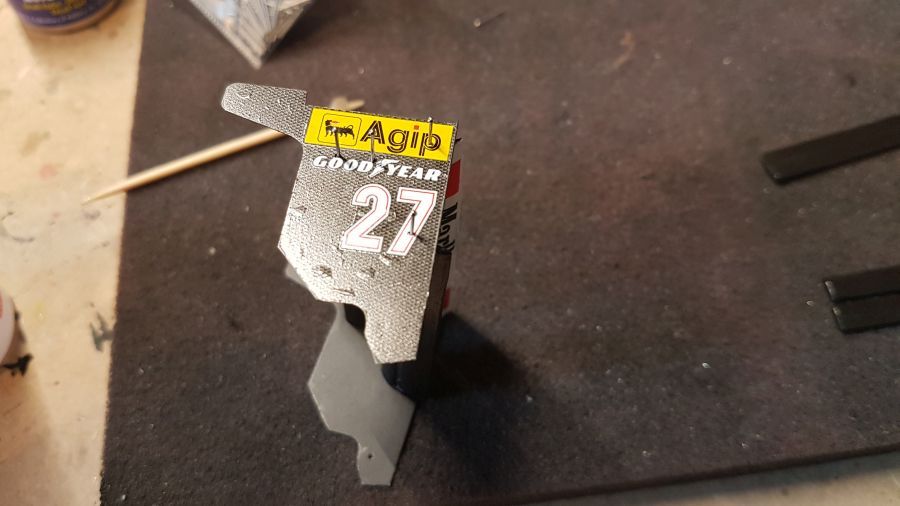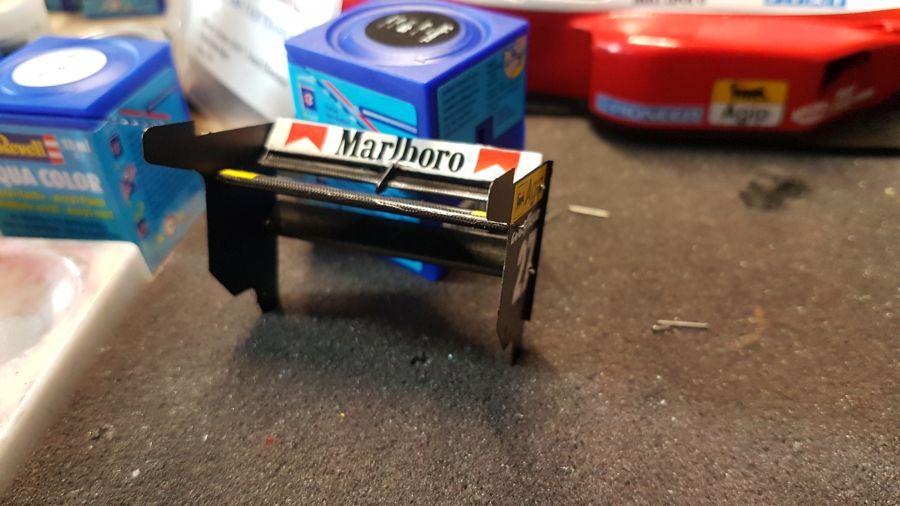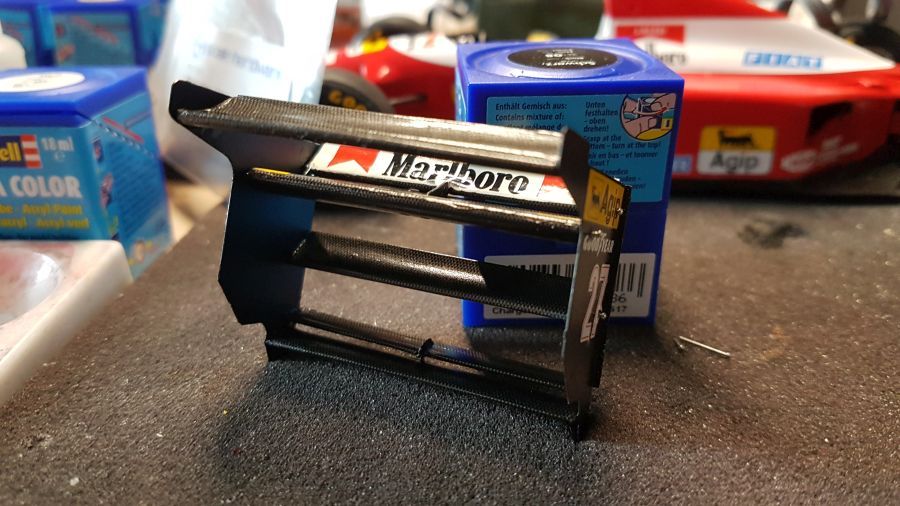 De vleugels monteren...
Mounting the wings...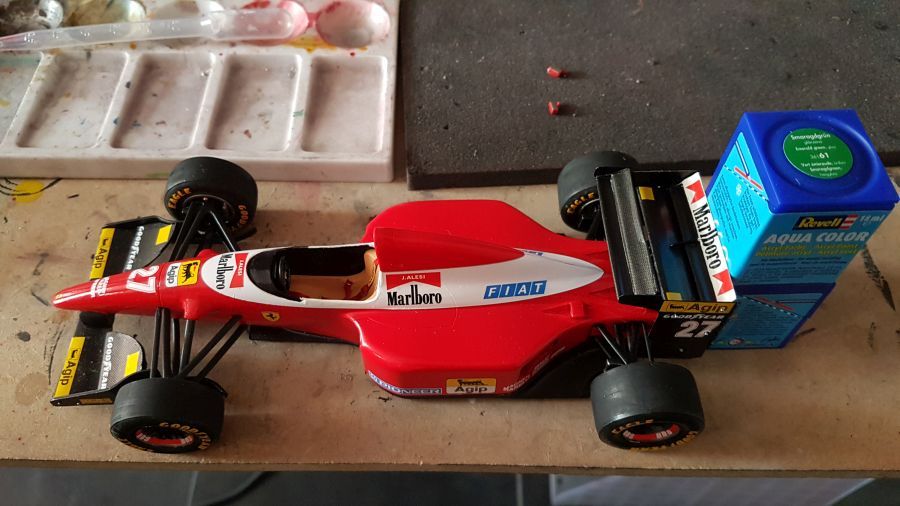 Het einde nadert...
Coming close...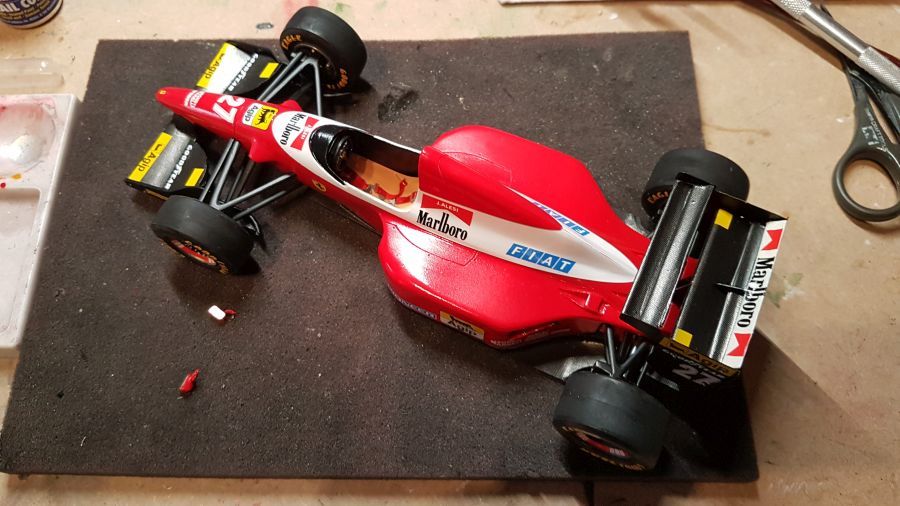 Nog een paar kleine details...
Some small details...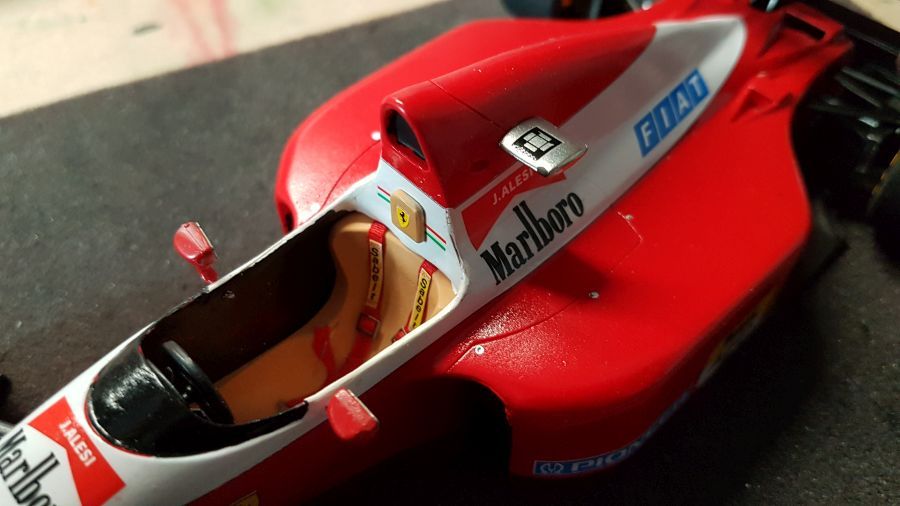 En klaar..
And ready..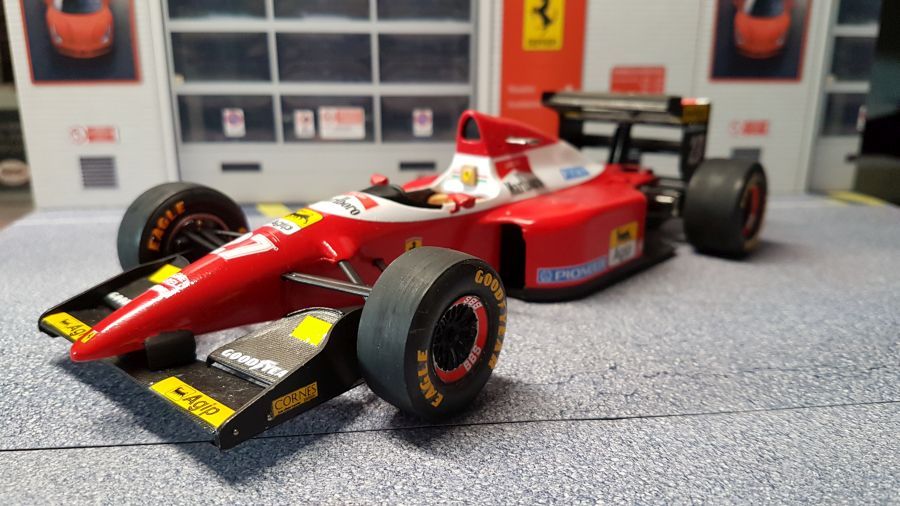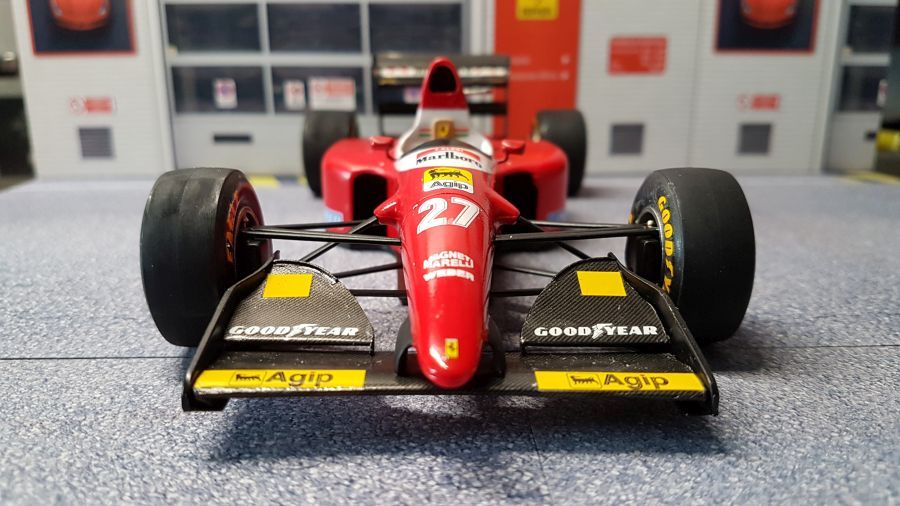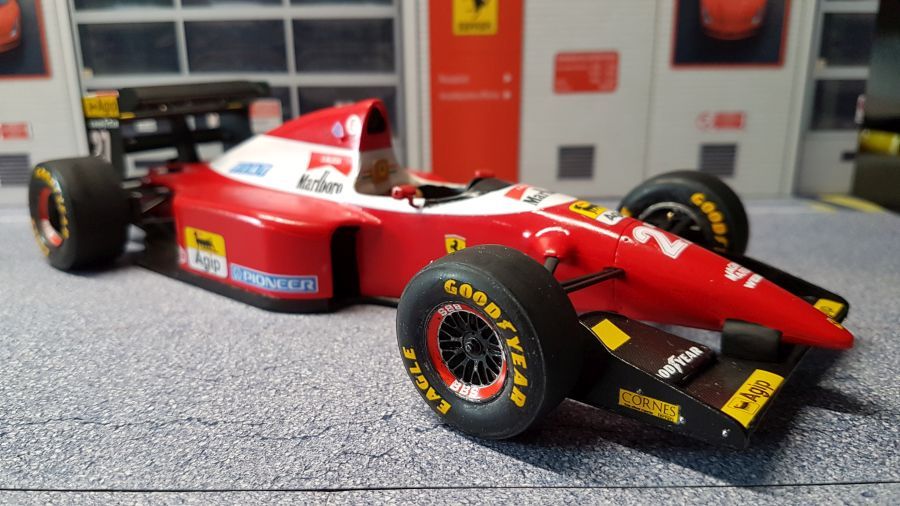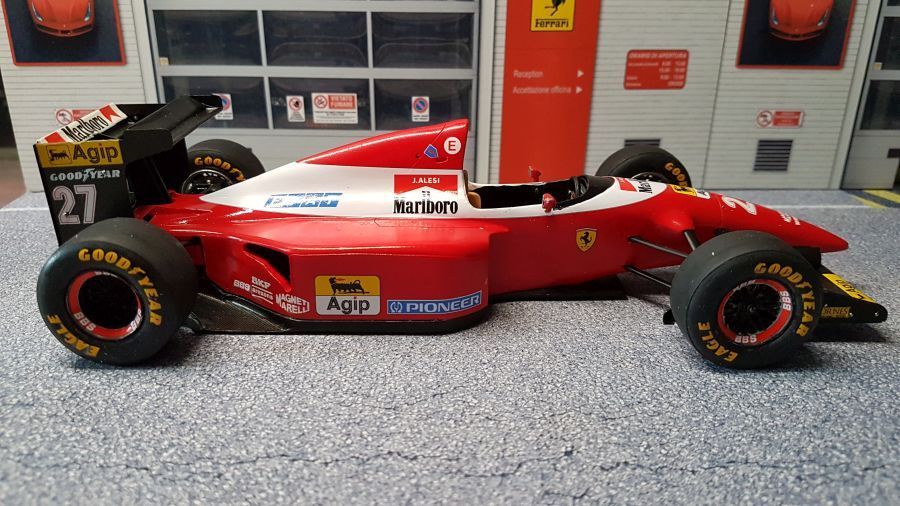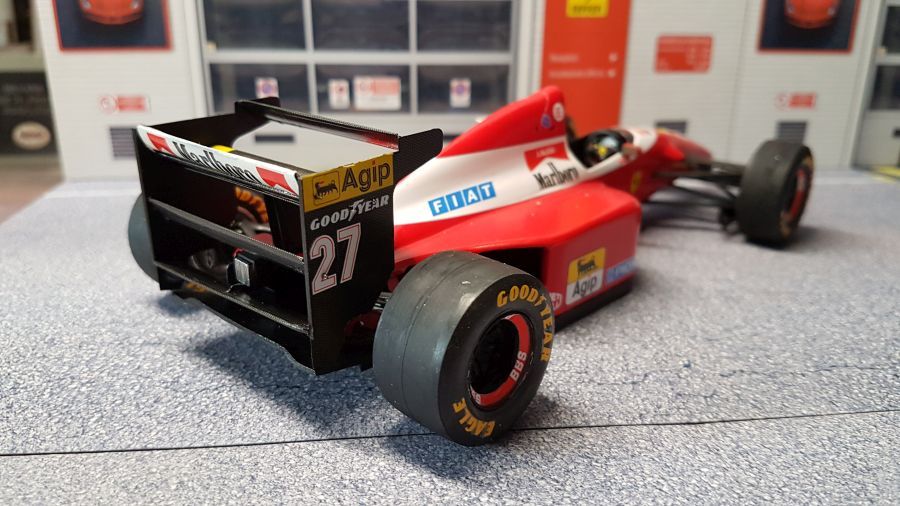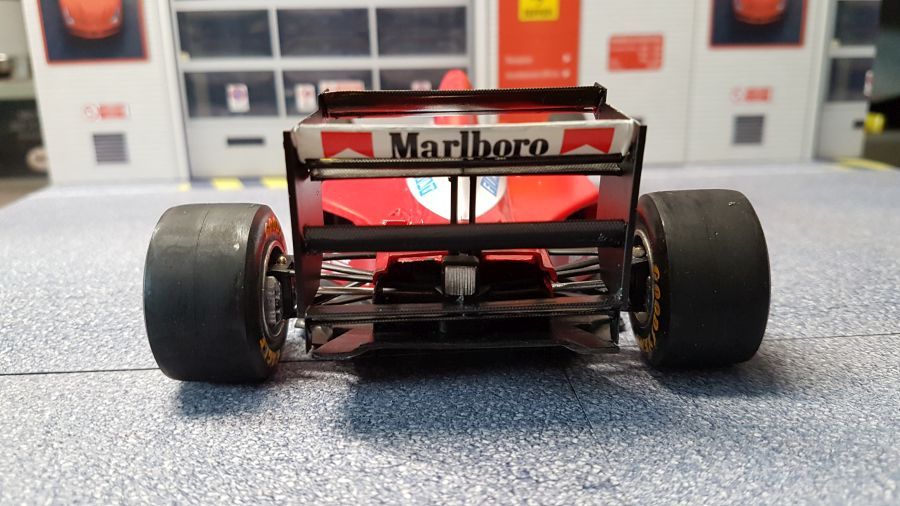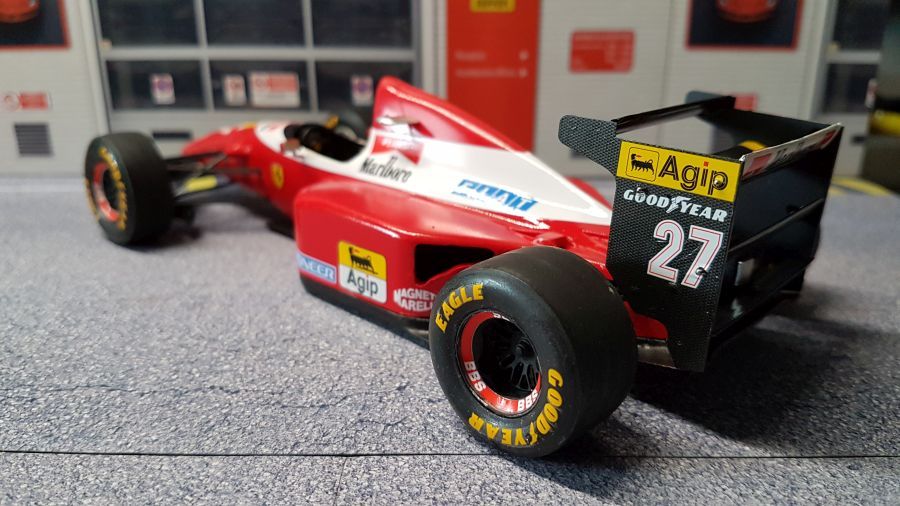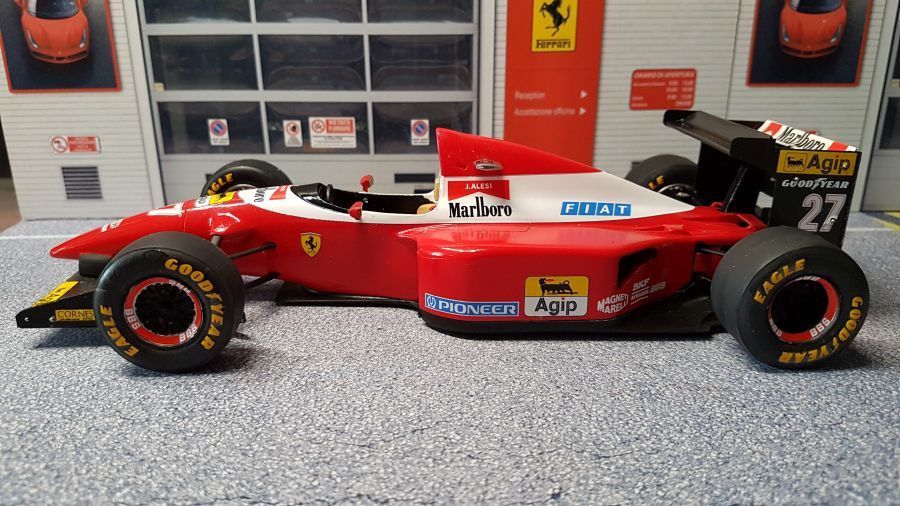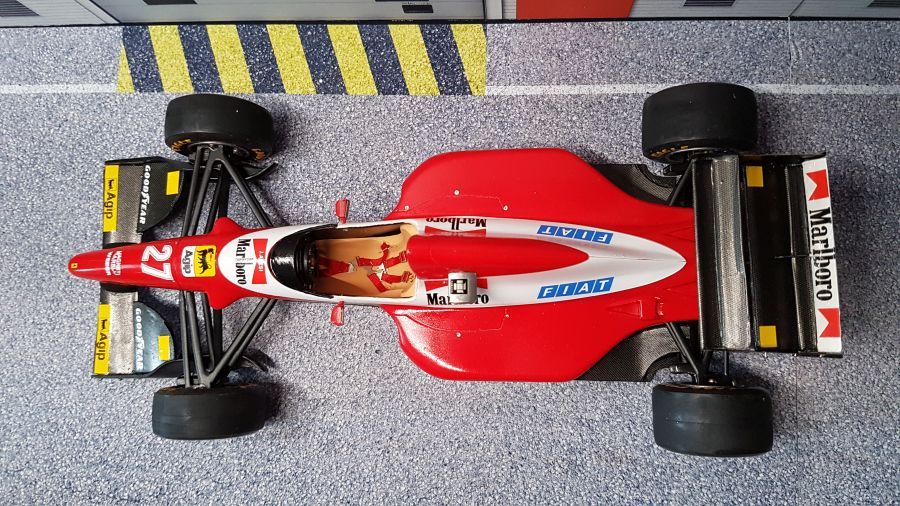 Problemen met deze kit? Eigenlijk geen, behalve dat het in elkaar zetten van de Adelaide achtervleugel niet duidelijk is beschreven.
Problems with this kit? Actually none, except that the instructions on the assembly of the Adelaide wing is not in the manual.