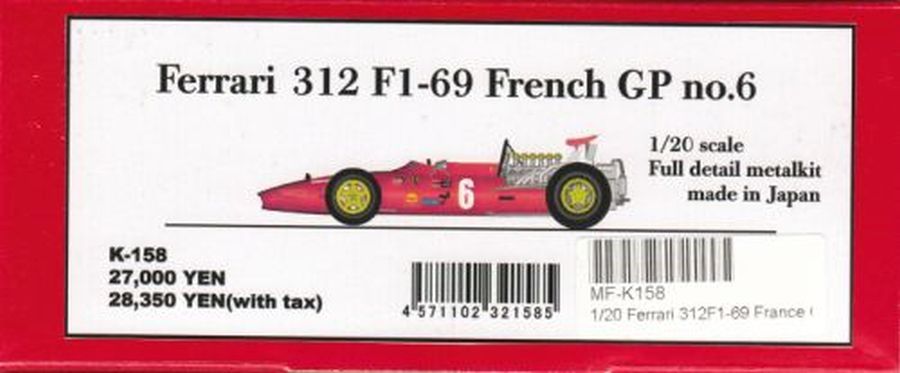 Via Facebook gaat er een 'wedstrijd' van start voor het bouwen van een MFH kit tussen 10-09-2018 en 31-12-2018. Normaal laat ik me niet gauw verleiden door zoiets, maar men heeft leuke prijzen. Dus ik denk waarom ook niet? Ik heb wel weinig tijd, want er komt nog een vakantie aan en ik moet de financiële administratie van de VvE nog afronden met de jaarcijfers, budgetten voor 2019 enz. Maar ja, als je toch altijd aan het bouwen bent, kun je net zo goed een keer meedoen. Maar ja, met welke kit? Ik wil natuurlijk weer iets aparts doen. Daarom heb ik besloten de Ferrari 312 F1 uit 1969 te maken, waarbij Mike Parkes de wagen testte met een dubbele hoge vleugel. Deze wagen heeft uiteindelijk nooit meegedaan met een race, want kort daarna werd dit concept verboden. Een behoorlijke conversie, want ik moet het doen met slechts 3 foto's. Ik heb alvast wat hulplijnen gezet om wat maten te kunnen bepalen. (Uiteindelijk heb ik de 7e plaats gehaald van de 8 die het project hebben ingediend. In totaal waren er 14 deelnemers. Geen feestje natuurlijk voor mij. Slechts 4 punten van de te verdelen 125. Niet eens 1 punt per jurylid.  Daar doe je het niet voor.) Hieronder eerst weer de bekende plaatjes om mee te beginnen.
On Facebook there is a 'contest' starting for building an MFH kit between 10-09-2018 and 31-12-2018. Normally i do not get tempted by this, but there are some nice prices. So i think why not? If you are always building, you might as well join. Now i have limited time as there is a vacation coming up and i need to do the finacial administration of the owners association of my apartment building, year end, budgets for 2019 etc. But if you are always building, you might as well join. But with which kit? Of course i want to do something different. That's why i decided to do the 1969 Ferrari 312 F1, in which Mike Parkes tested a double high wing. This car never actually raced, as shortly after that this configuration was banned. Quite a conversion coming up, as i have to do with 3 pictures. I already made some guide lines to help me to detremine some sizes. (At the end i managed to be 7th of the 8 projects that got ended for judging. There were 14 contestors in total. To me not a party at all. Only 4 points of the 125 to share among the contesters. Not even 1 point from each jurymember. That's not why you are in.) Below the usual pictures to start with.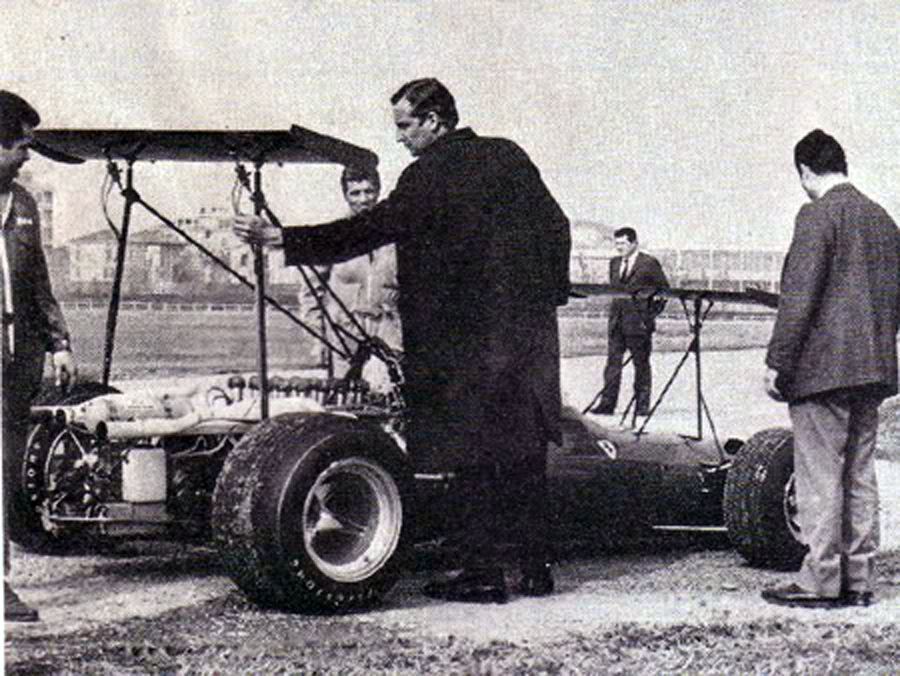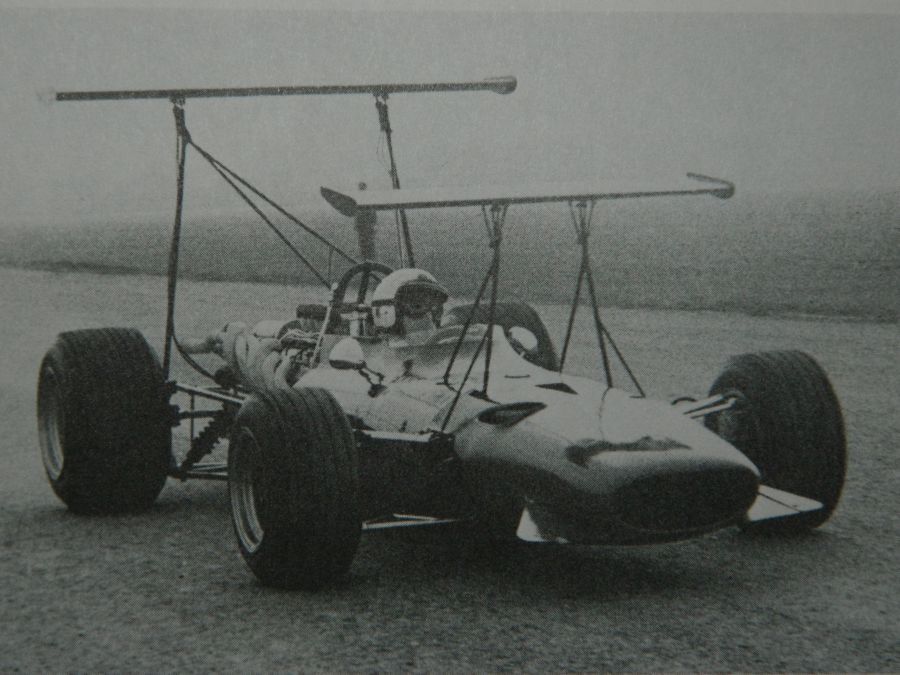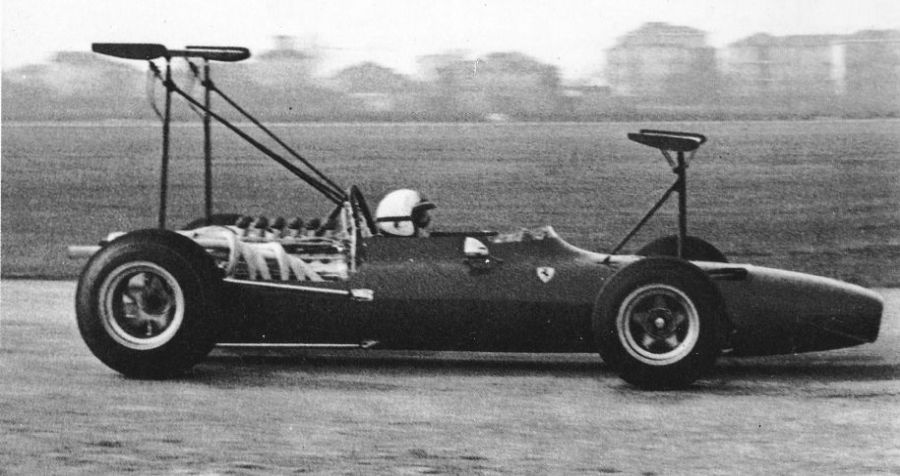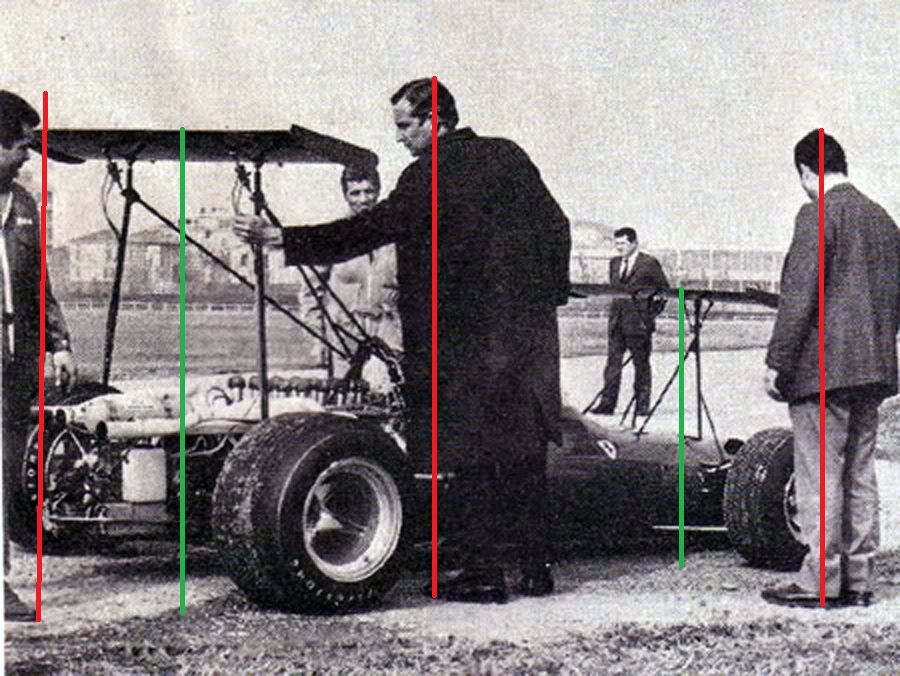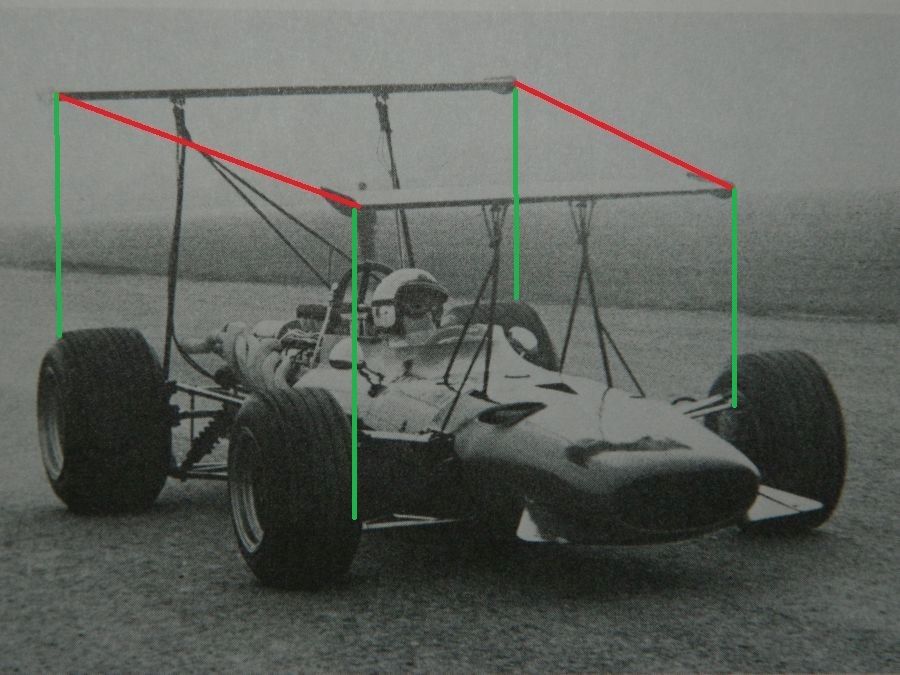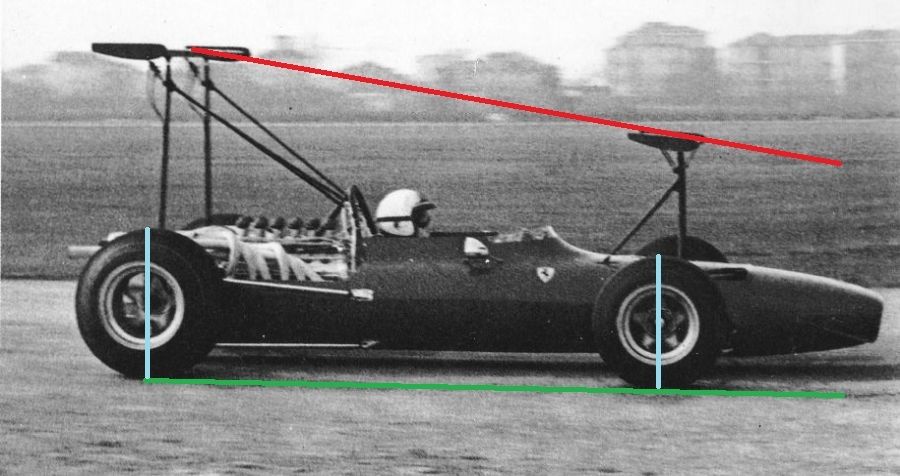 Alle witmetalen onderdelen krijgen een schoonmaakbehandeling met de magnetische polijstmachine. Ik heb het in 3 sessies gedaan.
All white metal parts are being cleaned by use of a magnetic polisher. I did it in 3 sessions.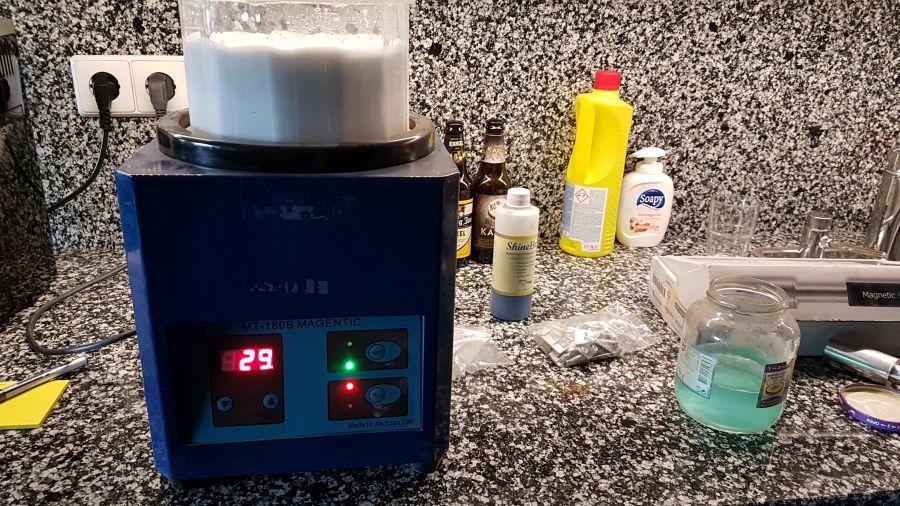 Hier de onderdelen van de kit. Daarnaast komt een deel van de benodigde etched onderdelen uit de rommelkist.
Below the kits parts. A part of extra etched parts to be used come out of the scrap box.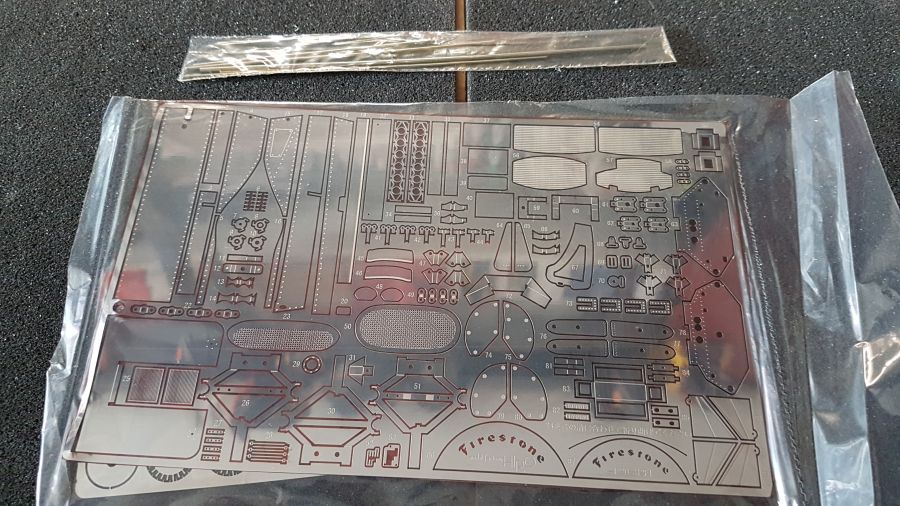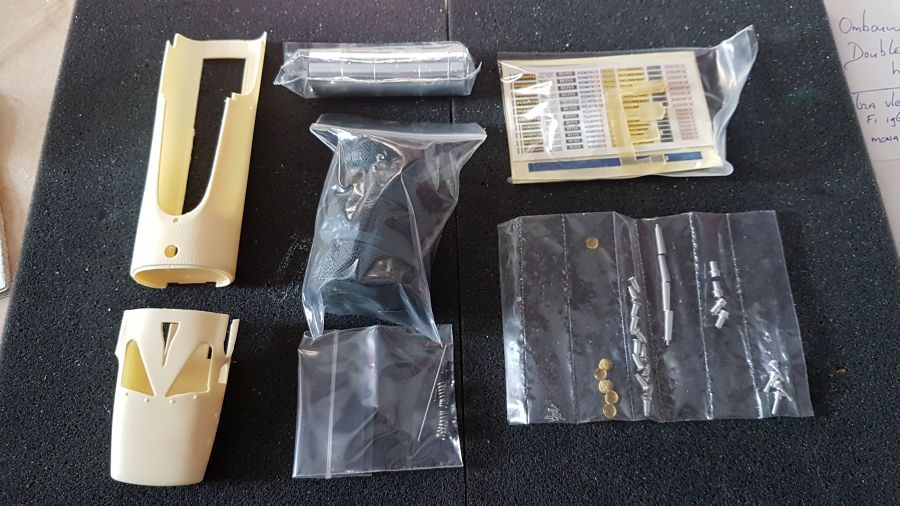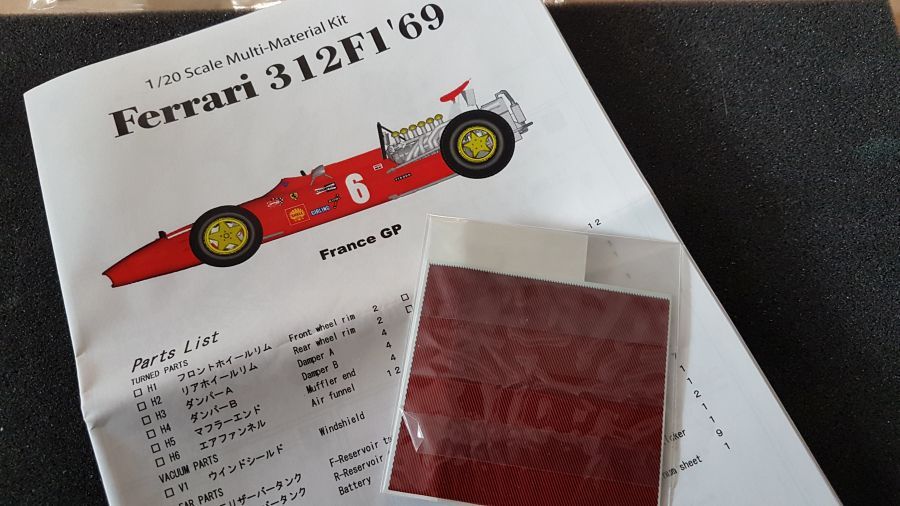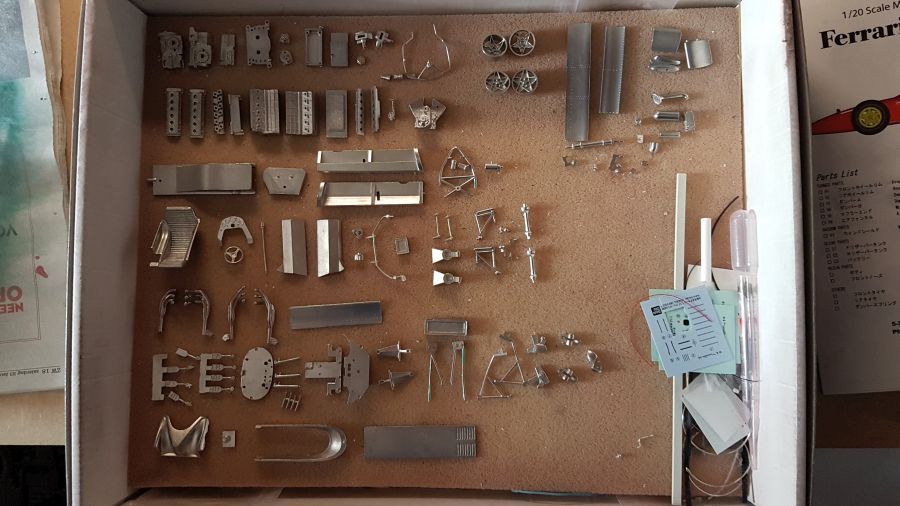 Daar gaan we. Eerst de versnellingsbak in elkaar zetten en spuiten met Titanium Gold van Alclad II.
There we go. First assemble the gear box and paint it with Titanium Gold from Alclad II.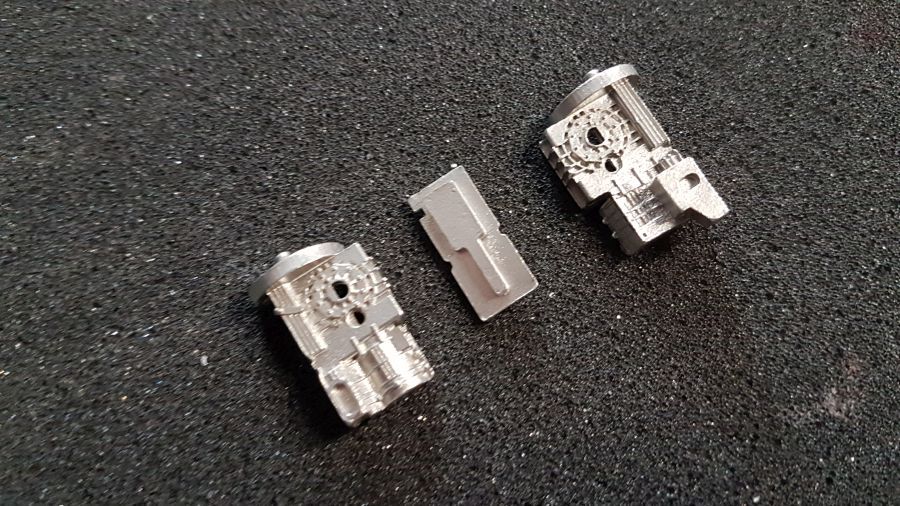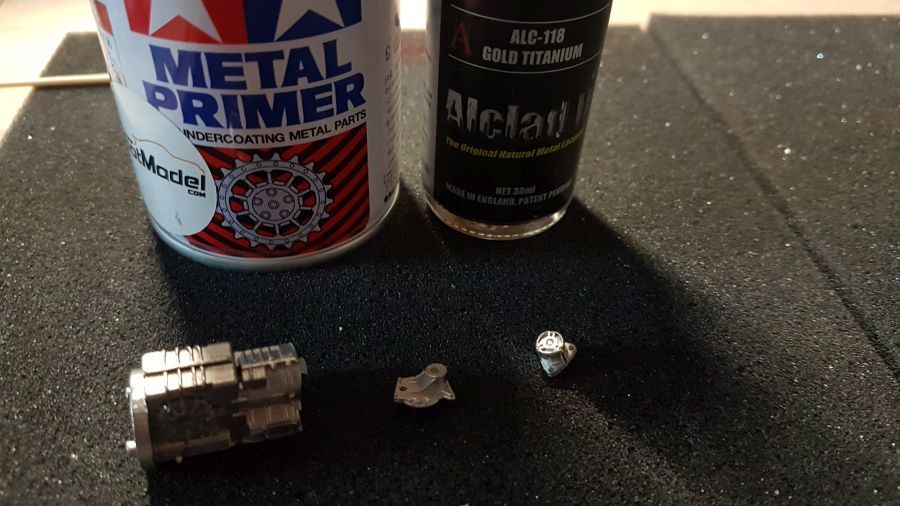 Dan de steun voor de uitlaten. Deze bevat ook een bevestiging voor een grote oliekoeler. Op mijn versie is deze overbodig, dus deze ga ik verwijderen. De 3 steunen worden tot 1 steun gelijmd.
Then the support for the exhausts. It also has a mounting point for a big oil cooler. On my version it's not needed, so i will remove it. The 3 supports are being glued to 1 piece.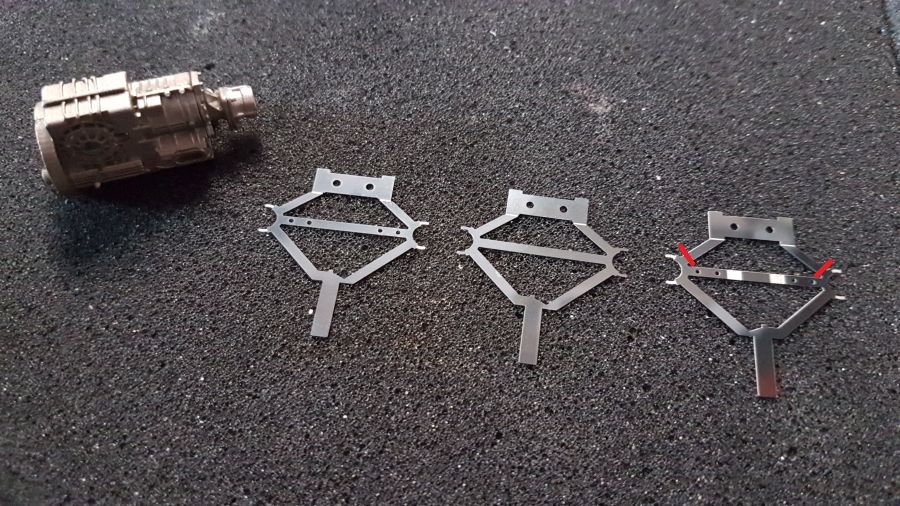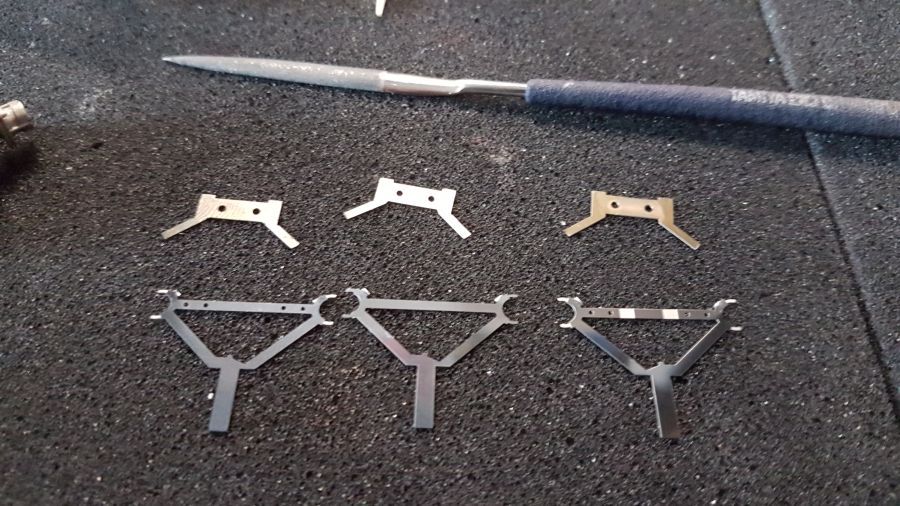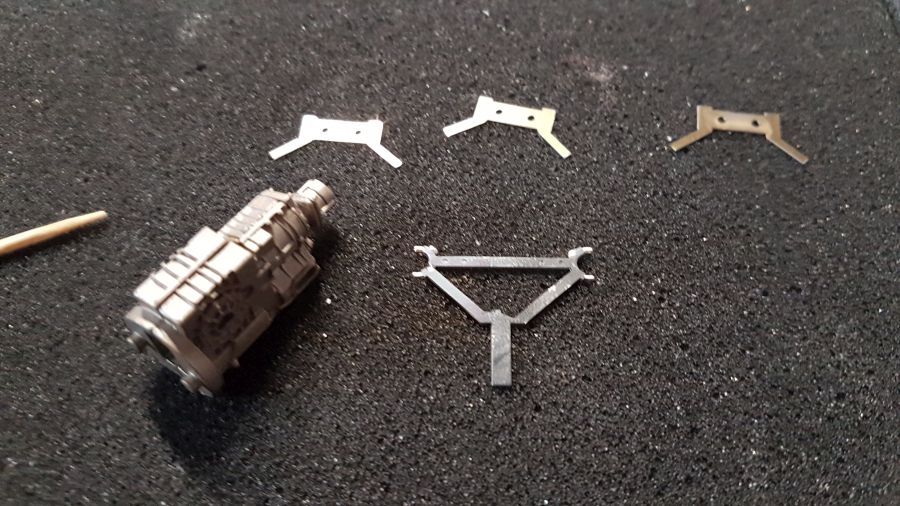 De gaten ( 1.5 mm) voor de steunen voor de achtervleugel worden geboord.
The holes (1.5 mm) for the supports for the rear wing are drilled.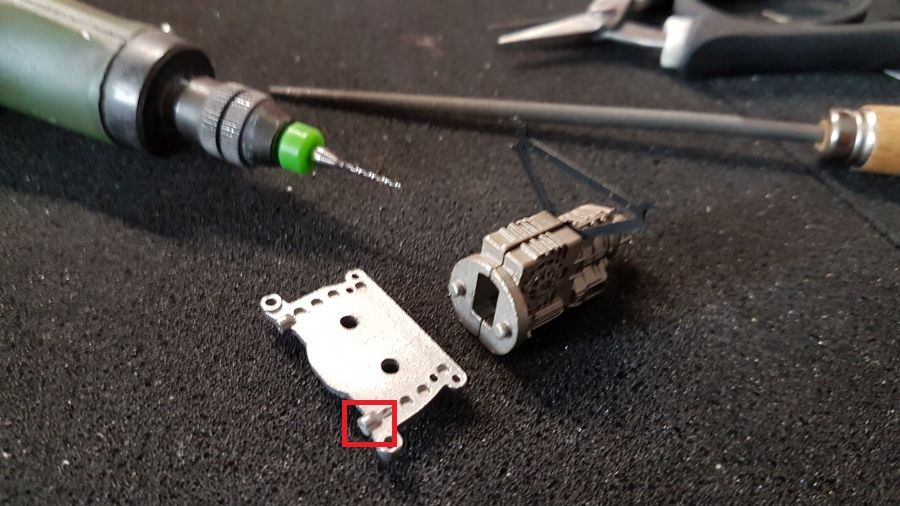 Meer onderdelen worden geplaatst. De remklauwen zitten nog los om later definitief te plaatsen met de remschijven. Volgens mij gaat dat anders problemen opleveren.
More parts were added. The brake calipers are still removable, to glue them later together with the brake discs. Otherwise it might create problems i think.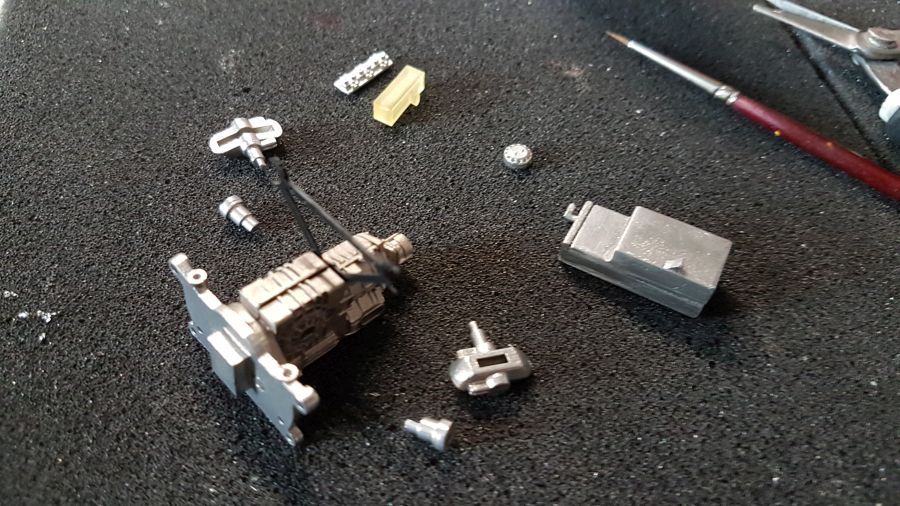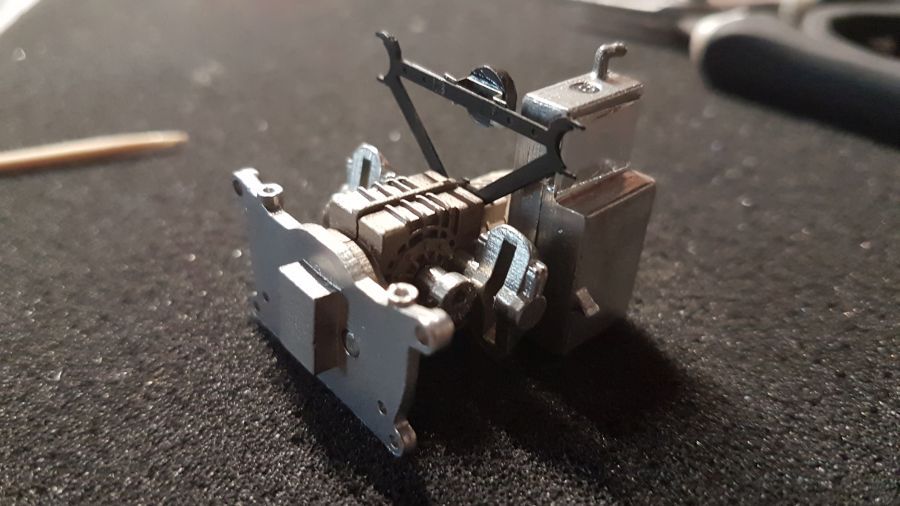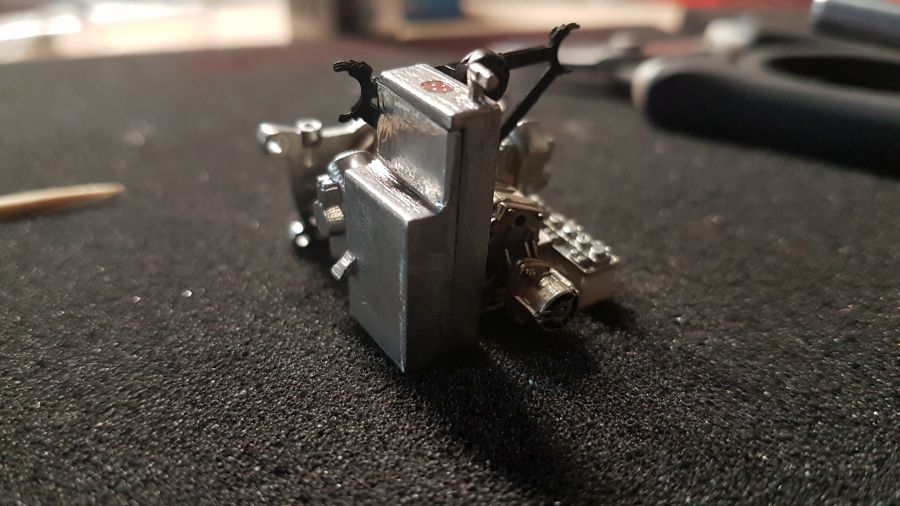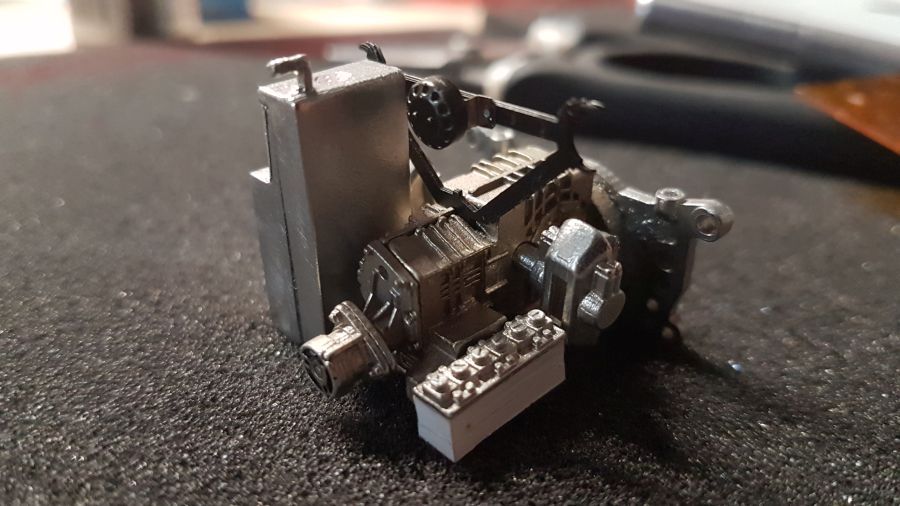 De remschijven zijn aan de beurt.
Time for the break discs.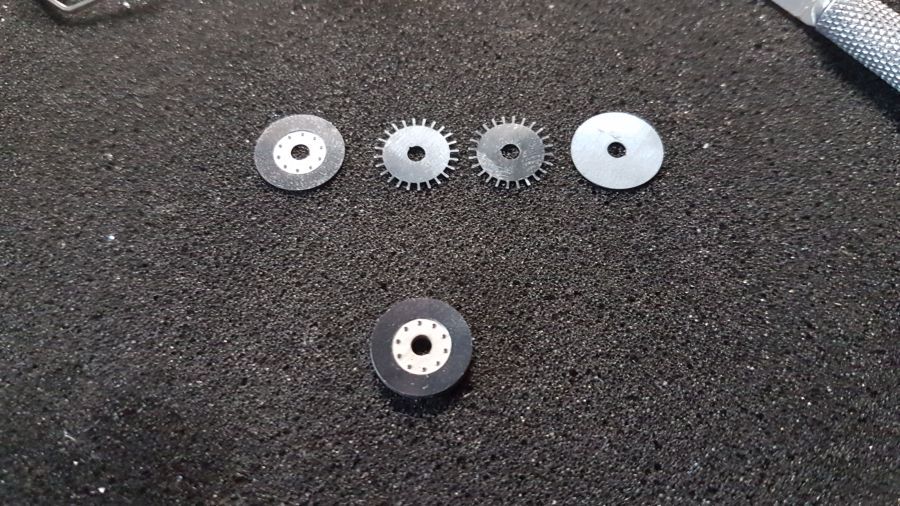 Dit bedoelde ik met het probleem wanneer de remklauwen al waren gemonteerd. Met geen mogelijkheid zou je de schijven nog kunnen plaatsen.
This is what i meant with problems if the break callipers would have been mounted. There would be no way to add the break discs.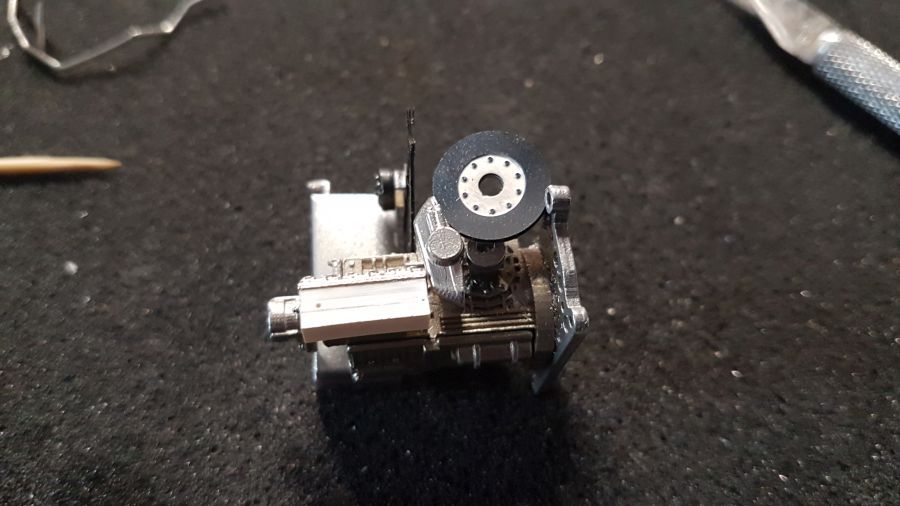 Ook moet alles gemonteerd worden voordat deze beugel erop gaat.
Also everything needs to be mounted before this part is being mounted.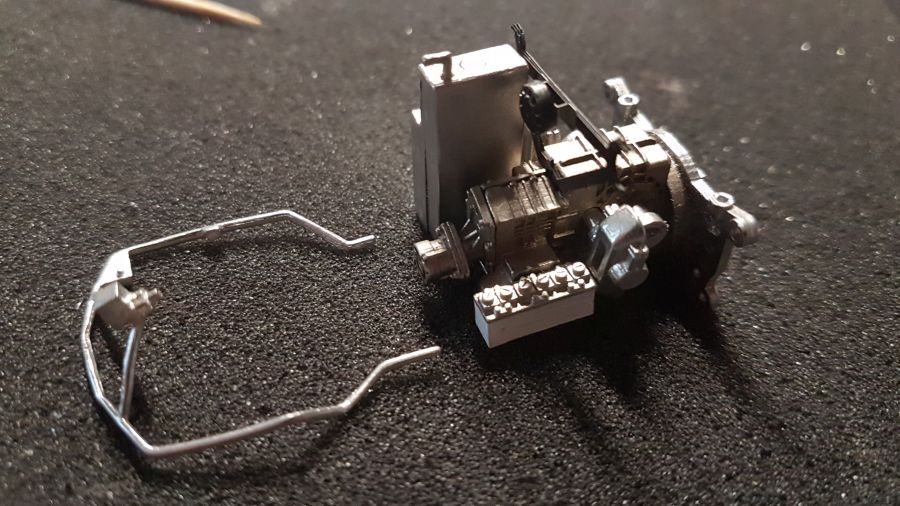 Eerst nog wat meer werk aan de remklauwen. Ik boor gaatjes boven in (groen 0.4 mm / blauw 0.7 mm) om als extra olieleidingen te plaatsen. Ik gebruik hiervoor 0.3 mm draad. Daarna worden ze op de versnellingsbak geplaatst met de remschijven.
First some more work to the callipers. I will drill holes on top (green 0.4 mm / blue 0.7 mm) to add extra oil tubes. I use 0.3 mm wire for this. Then they are mounted to the gear box together with the break discs.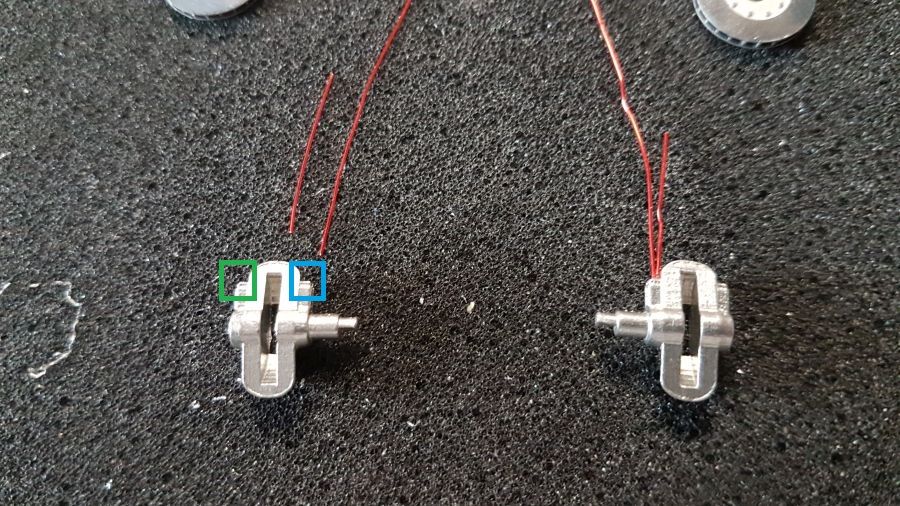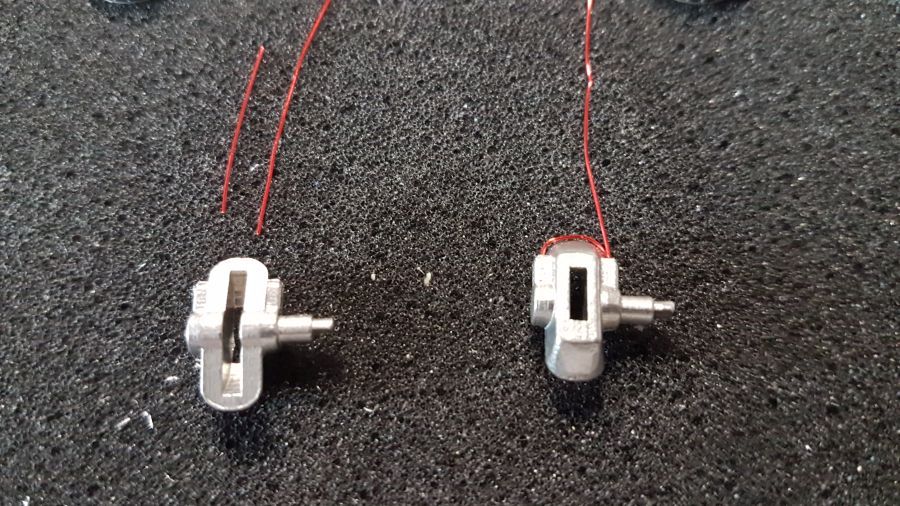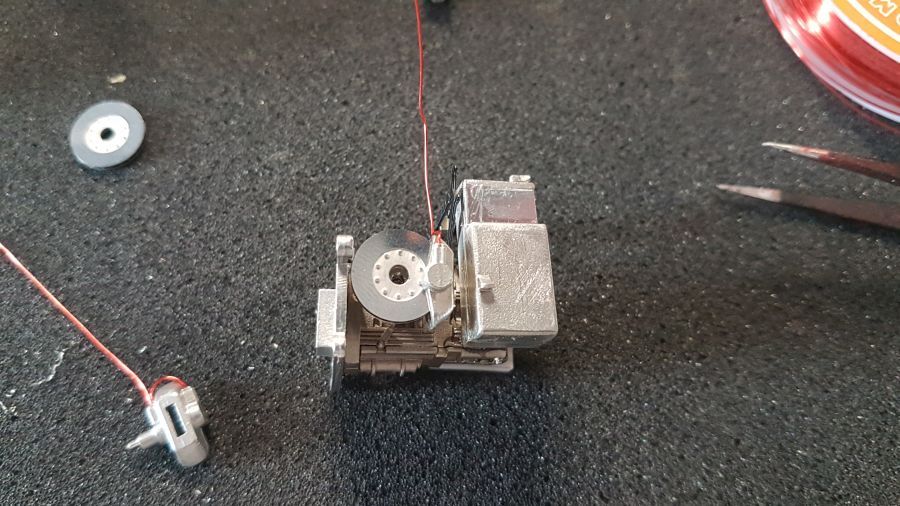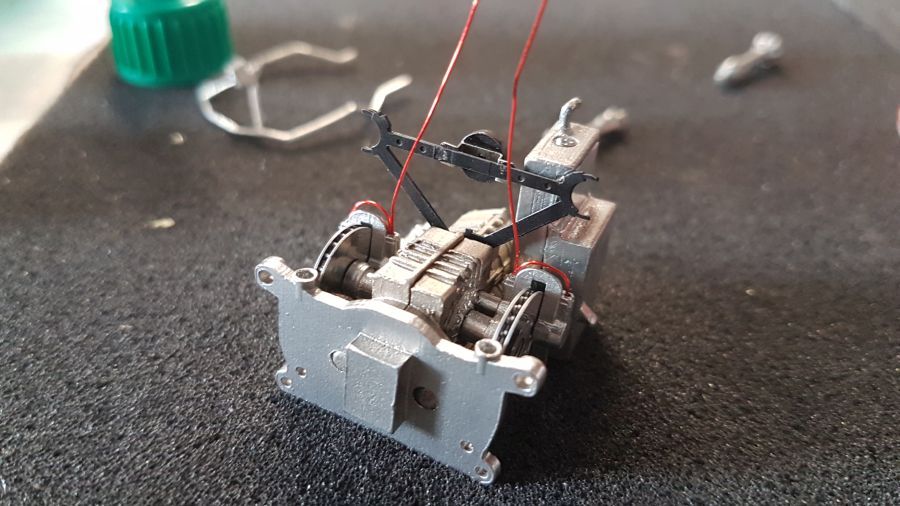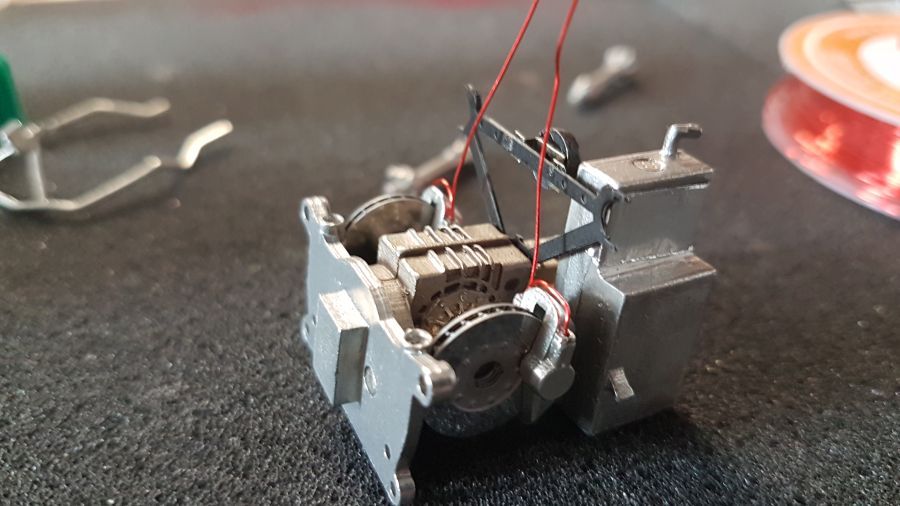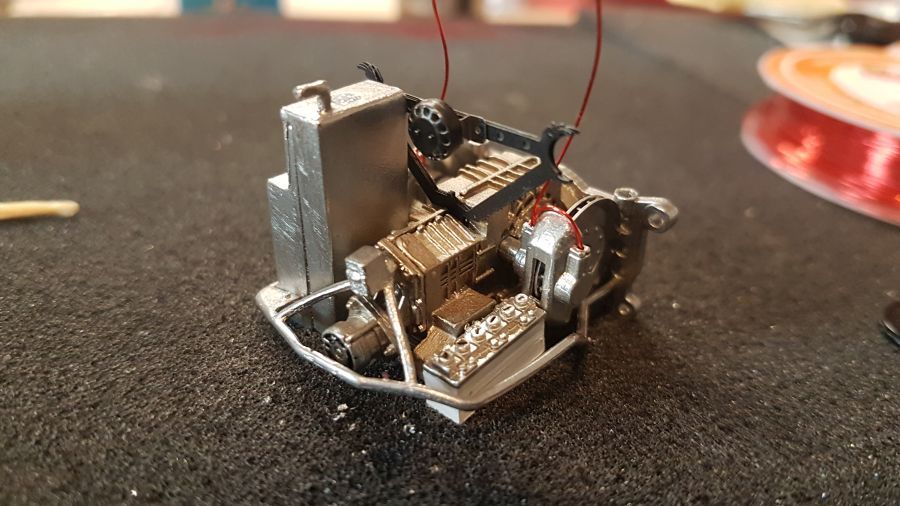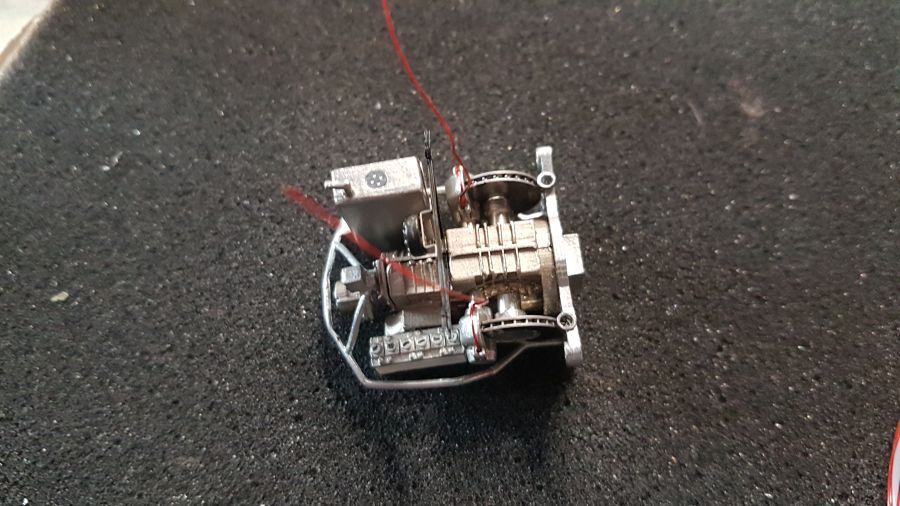 Dan op naar de motor...
Then on to the engine..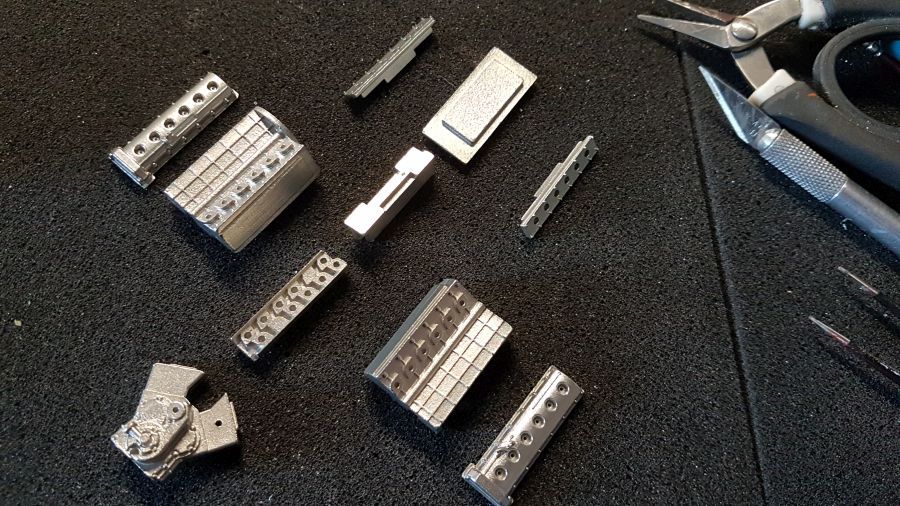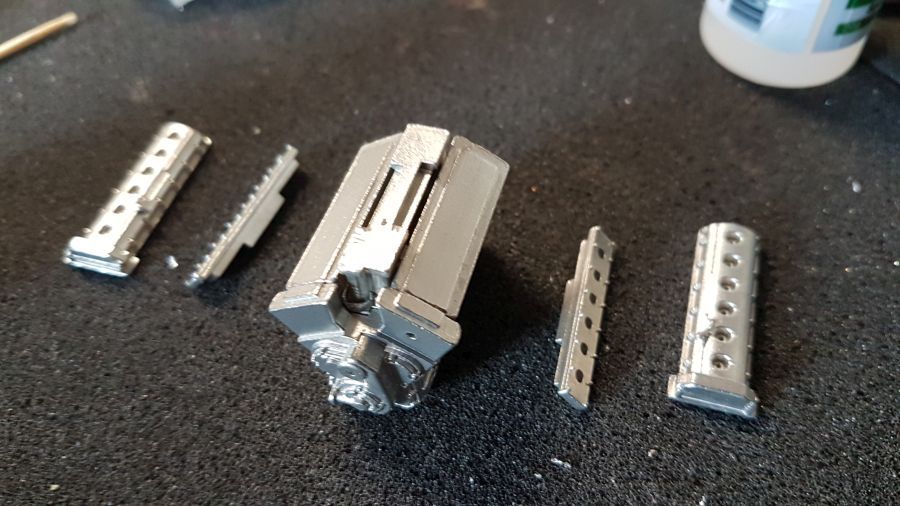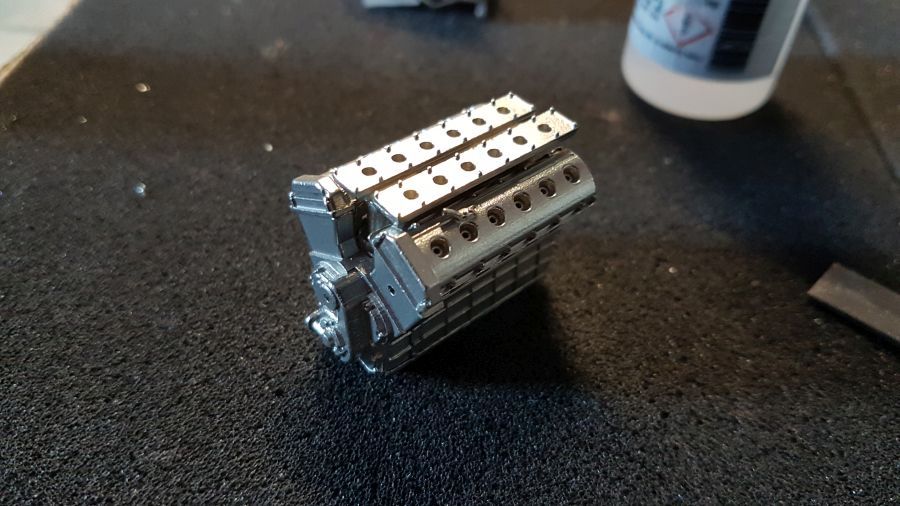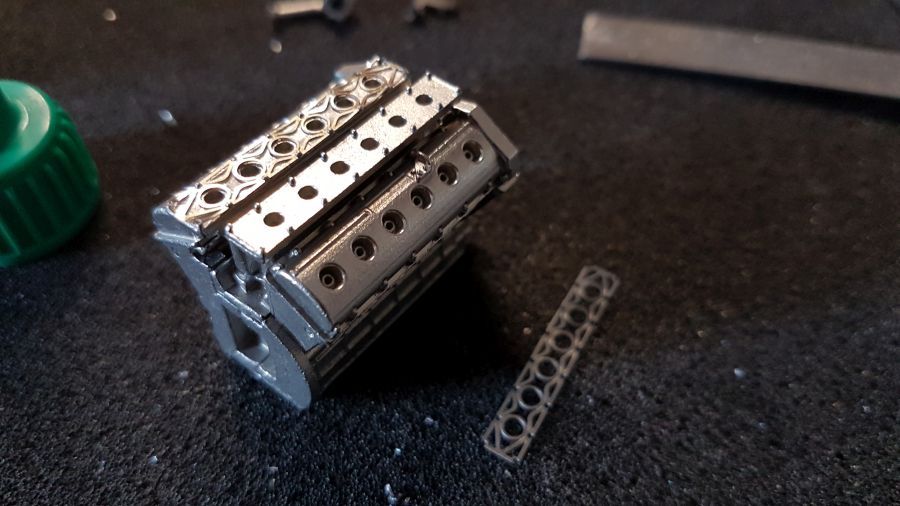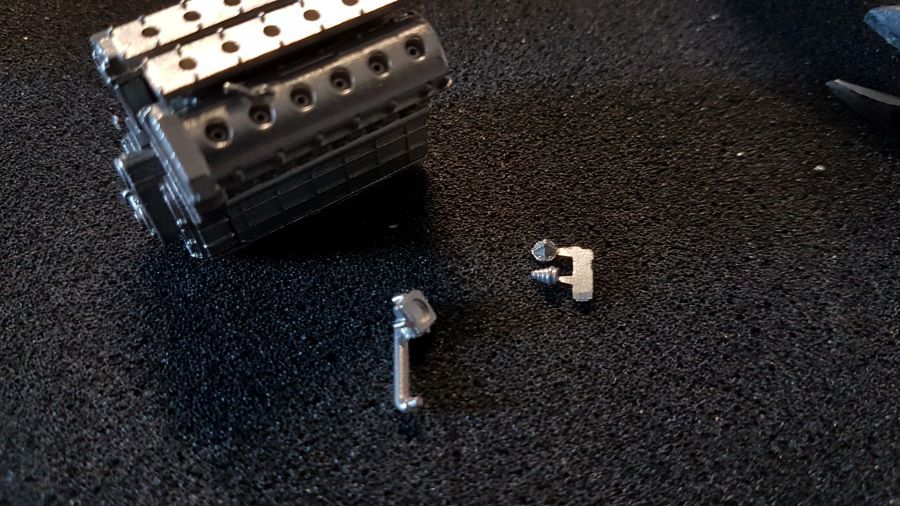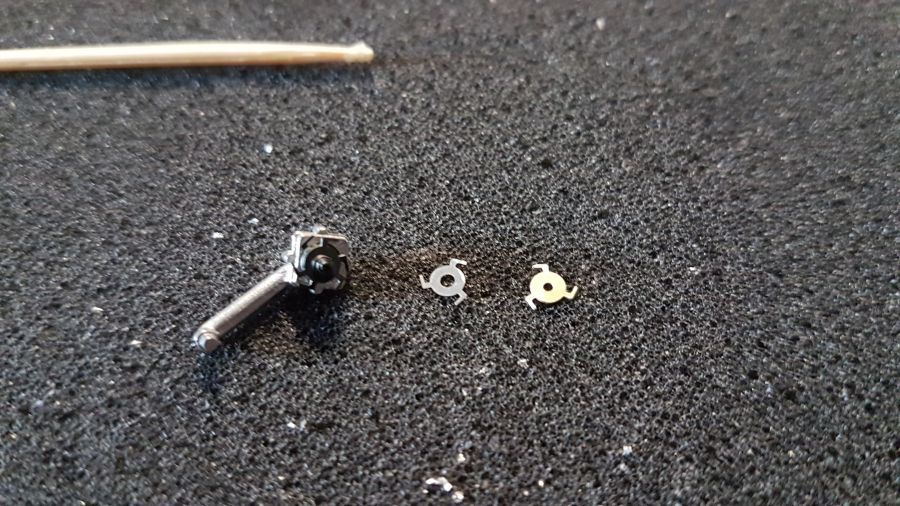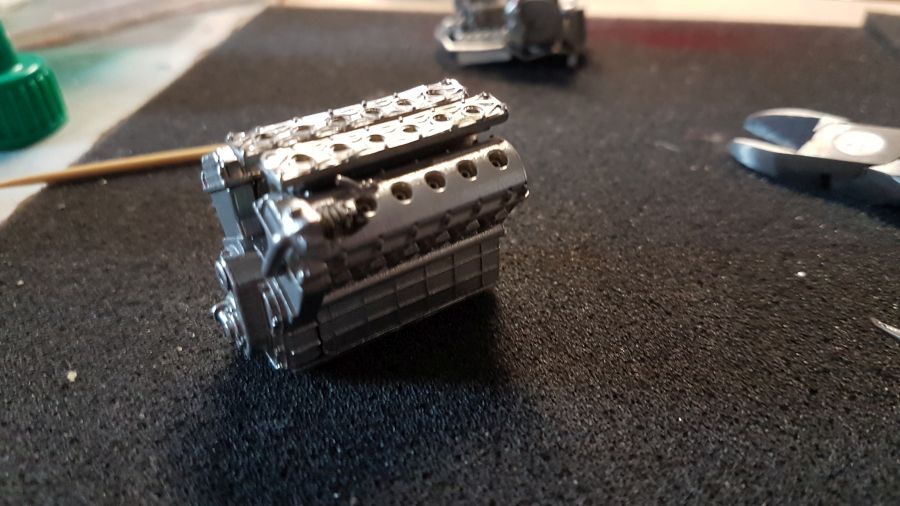 Even passen.
Test fit.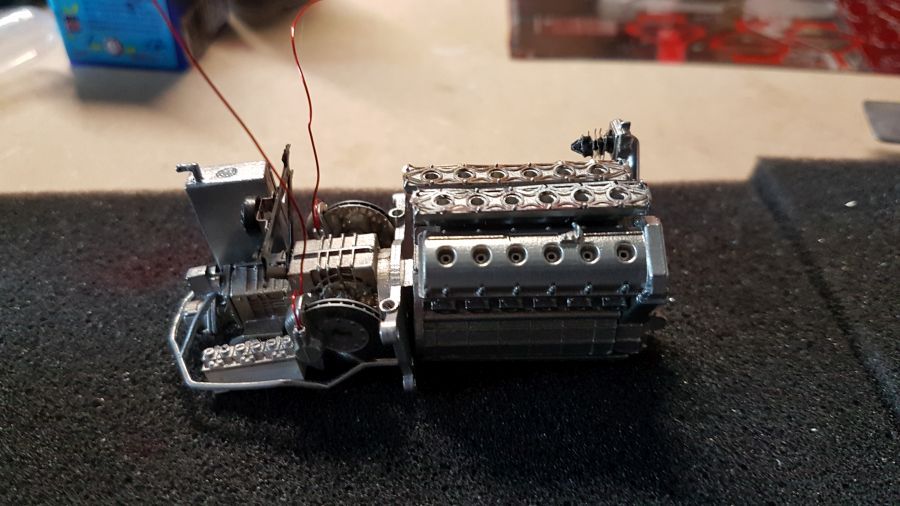 De kuip krijgt etched beplating.
The tub receieve etched sheet.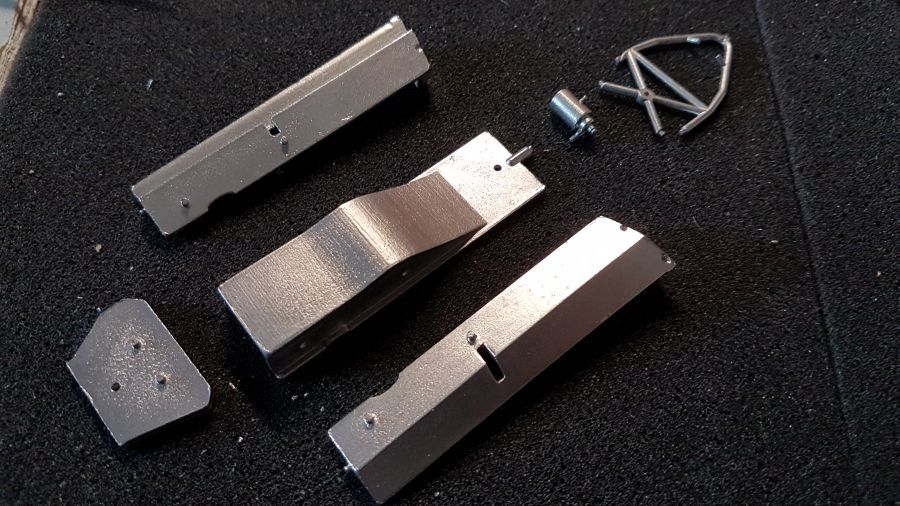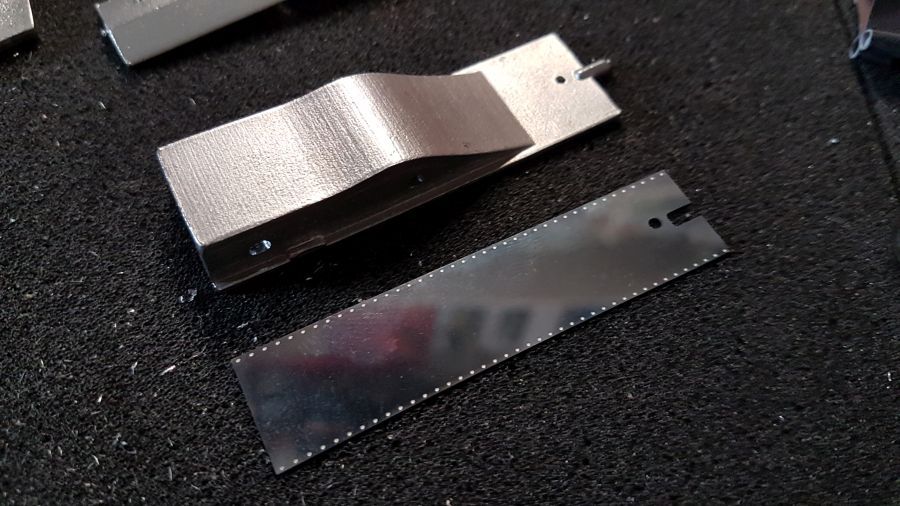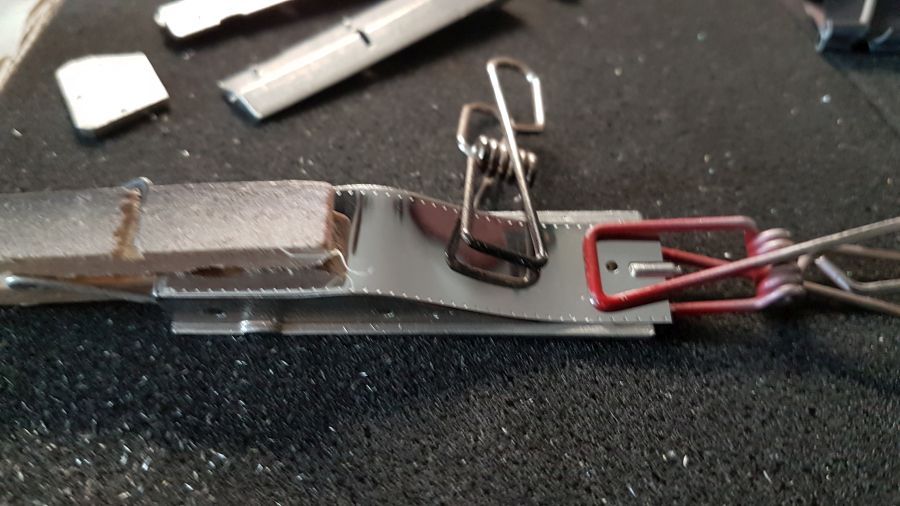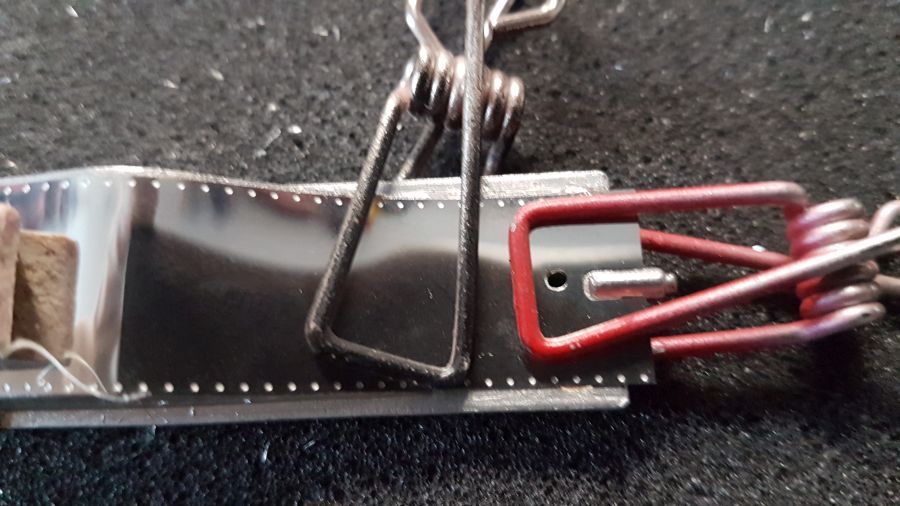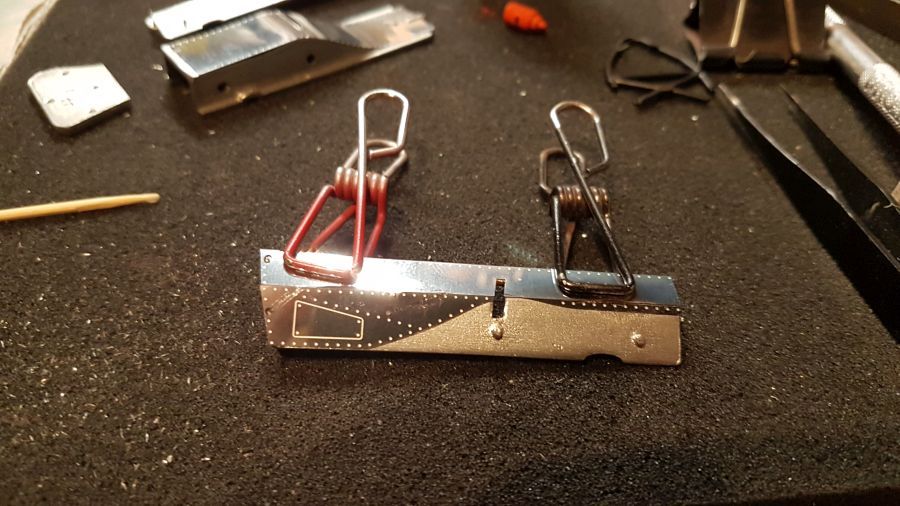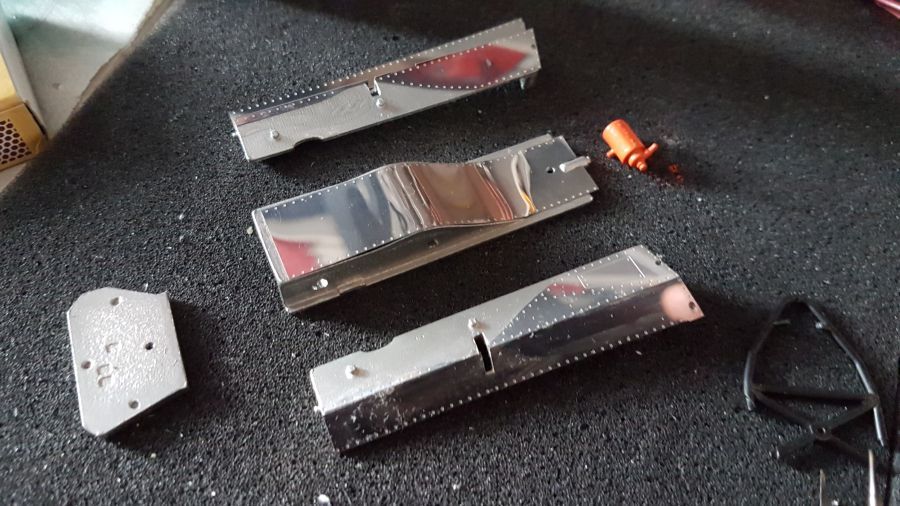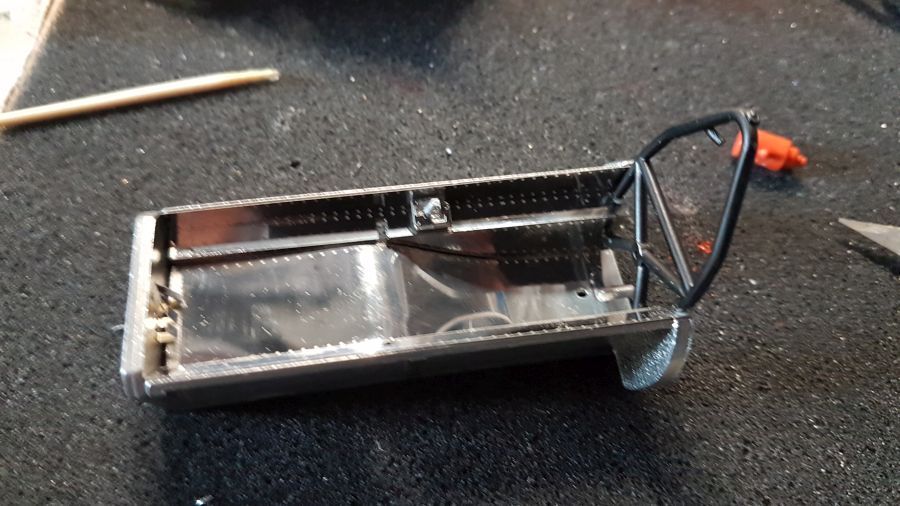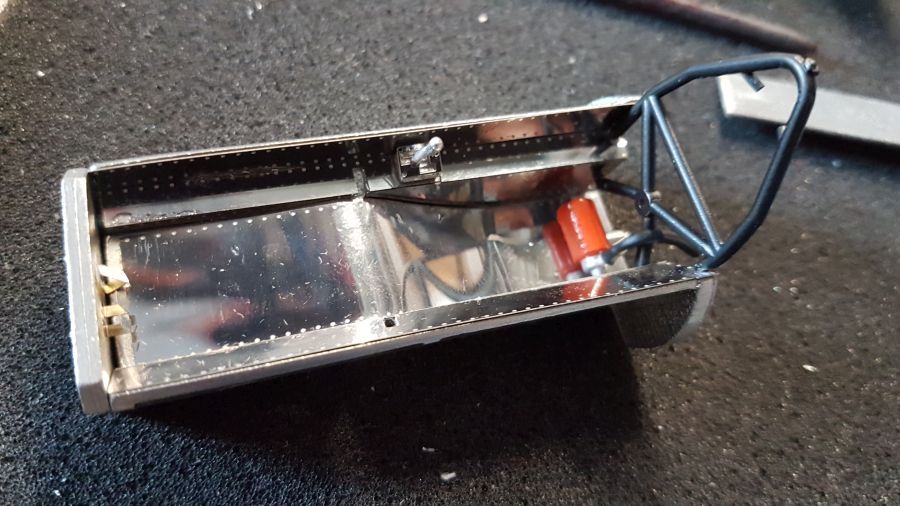 De trompetten worden geplaatst.
The funnels are being added.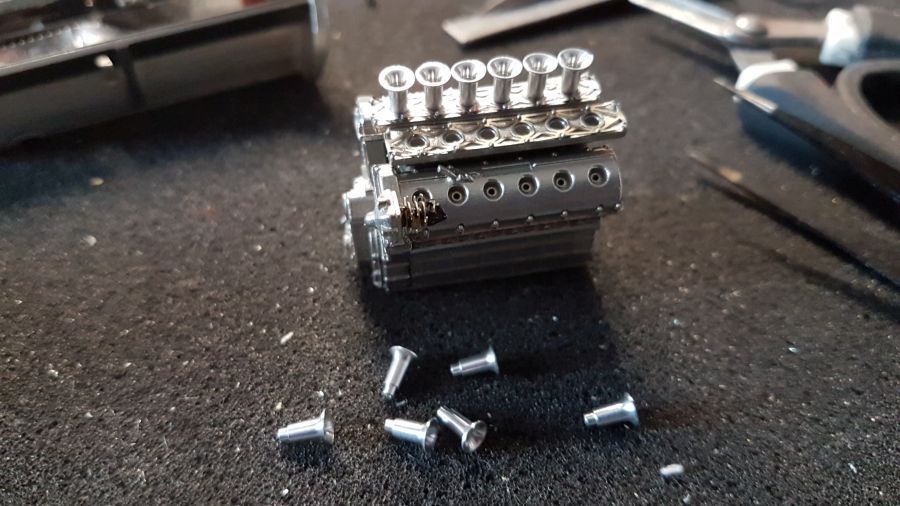 Dan het huwelijk...
Then we have a marriage...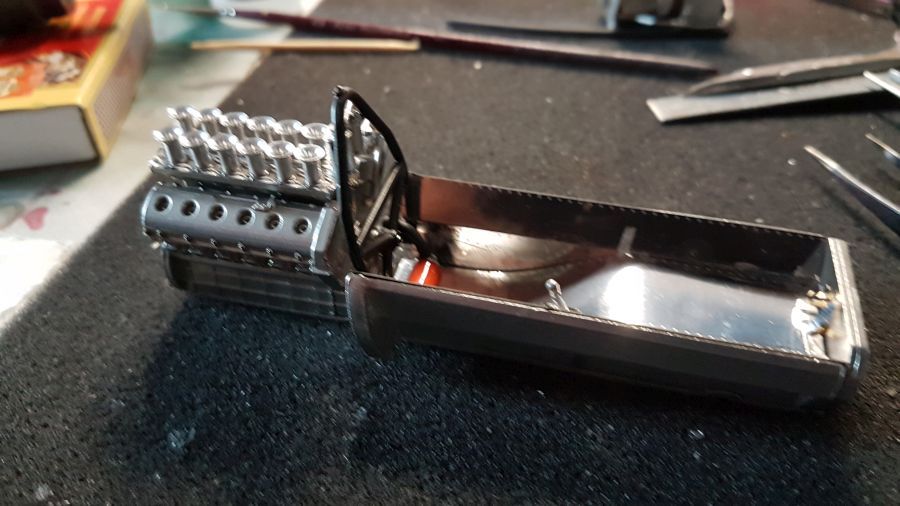 In het dashboard boor ik gaatjes aan de achterkant van de klokken en voeg bekabeling toe. Ik doe dat voordat ik het dashboard zwart spuit, zodat ik nog wat kan zien.
The dashboard gets some holes drilled at the backside of the gauges and wires are added. I do this before painting the dashboard back, so i can see what i am doing.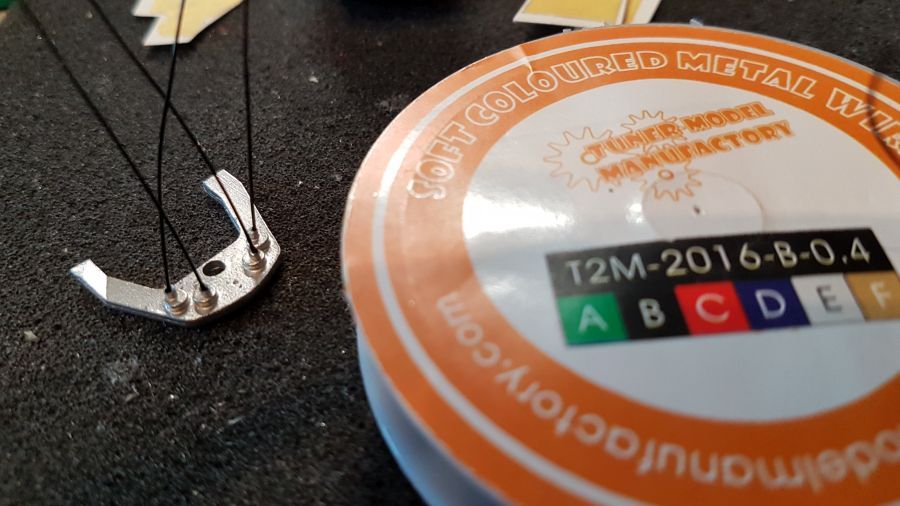 Voor de stoelbekleding duik ik even in mijn voorraad templates. Ik heb al meer van deze auto's gemaakt, dus is er vast wel 1 die past.
For the seat upholstery i take a dive in my stash of templates. I have made more of these cars, so there will be 1 that fits.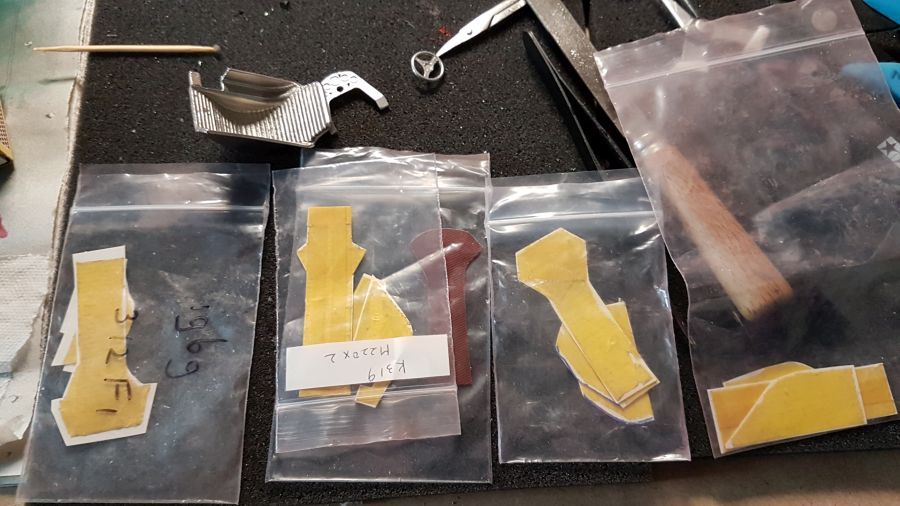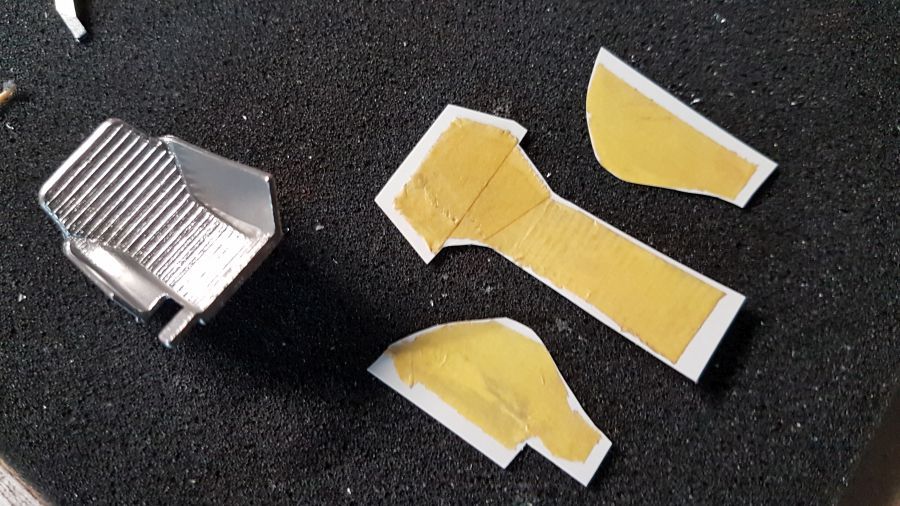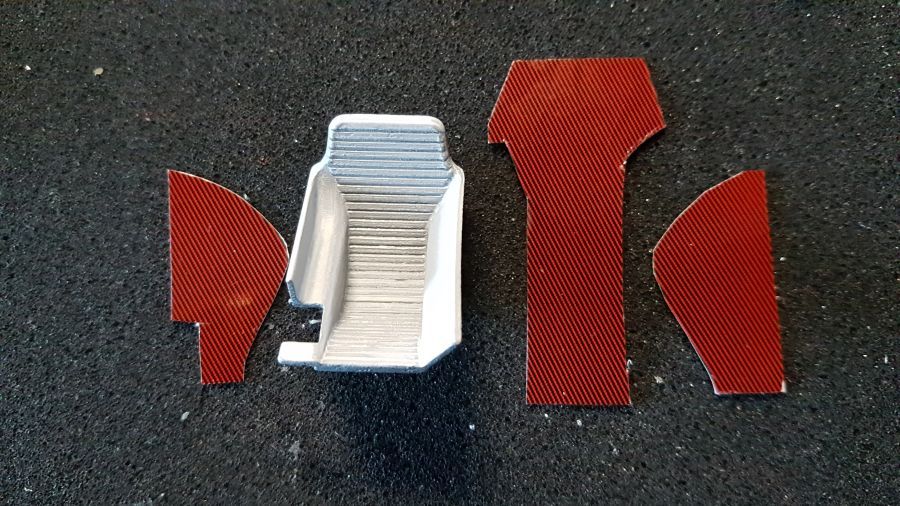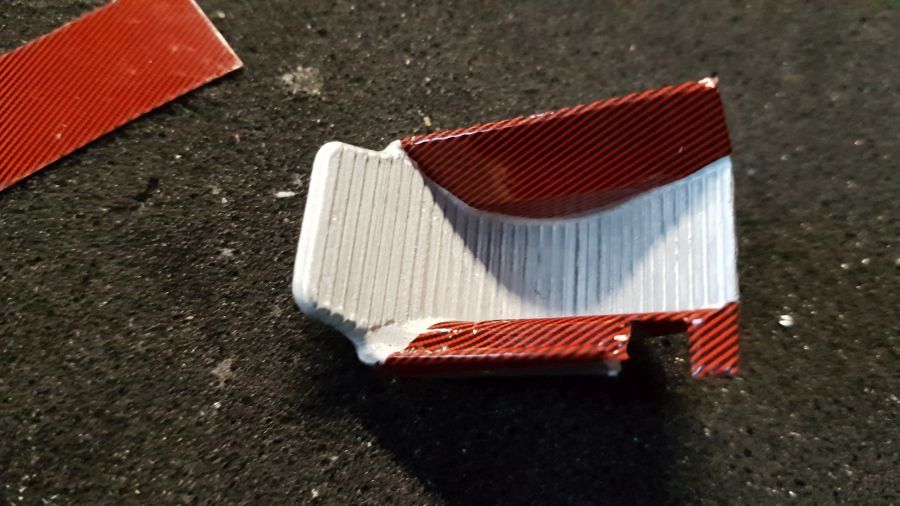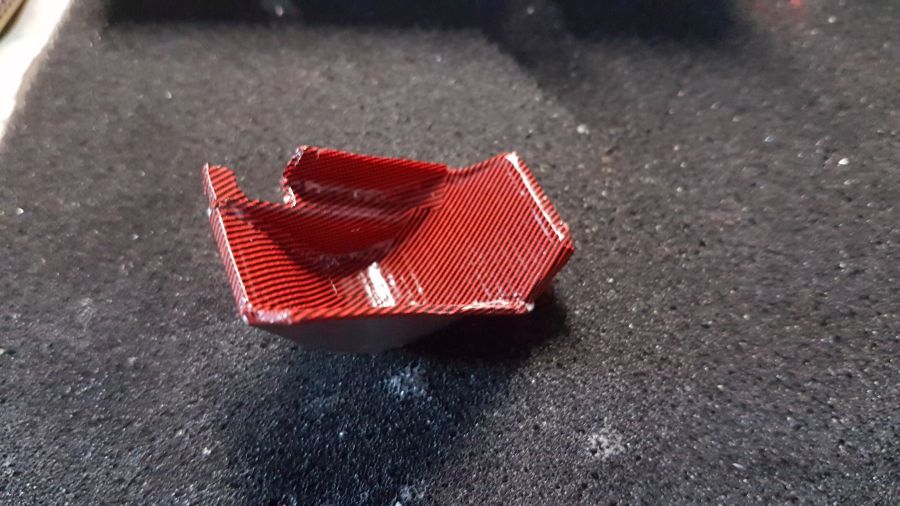 Dan weer werken aan de gordels...
Next is working on the seat belts again...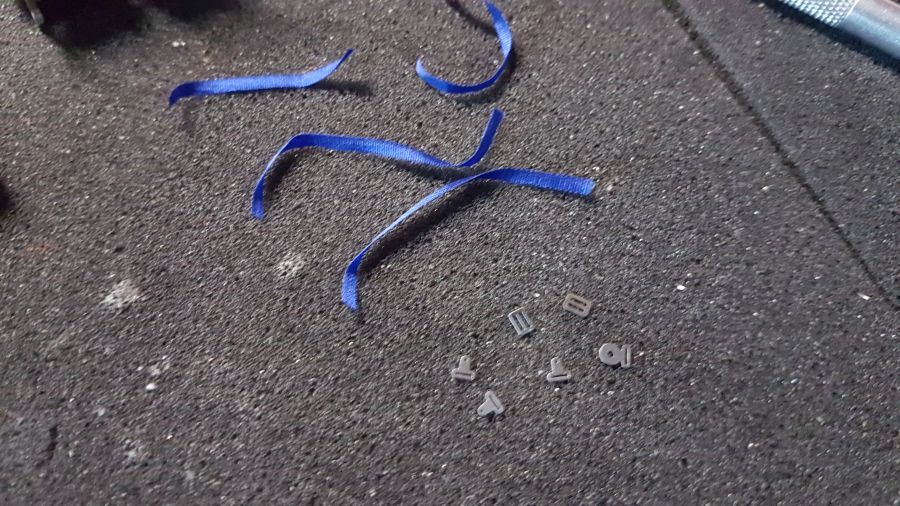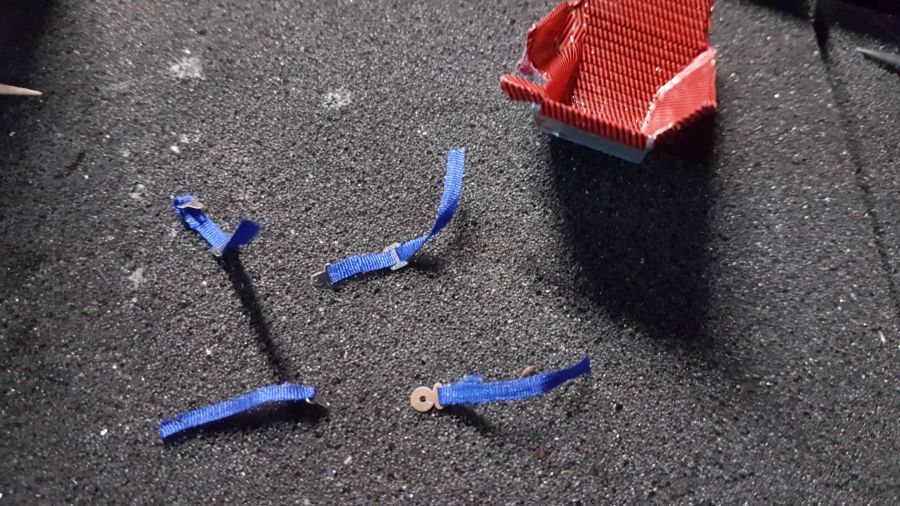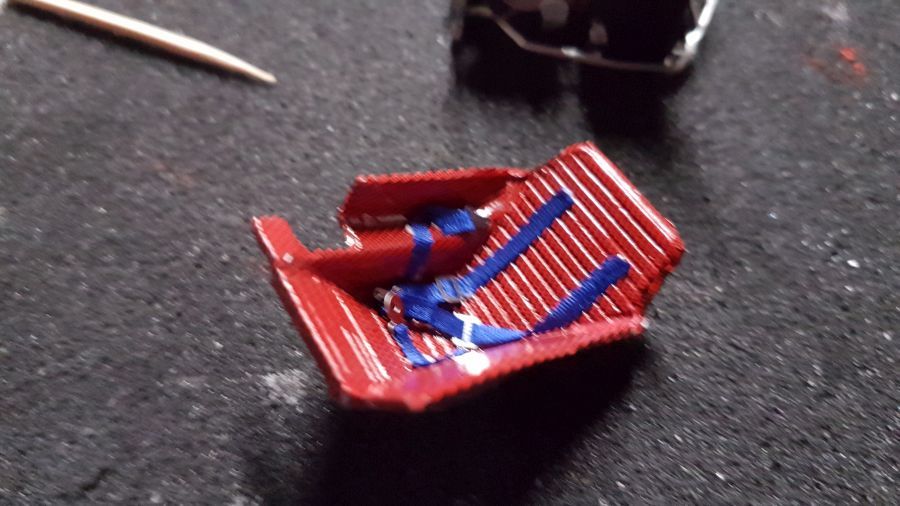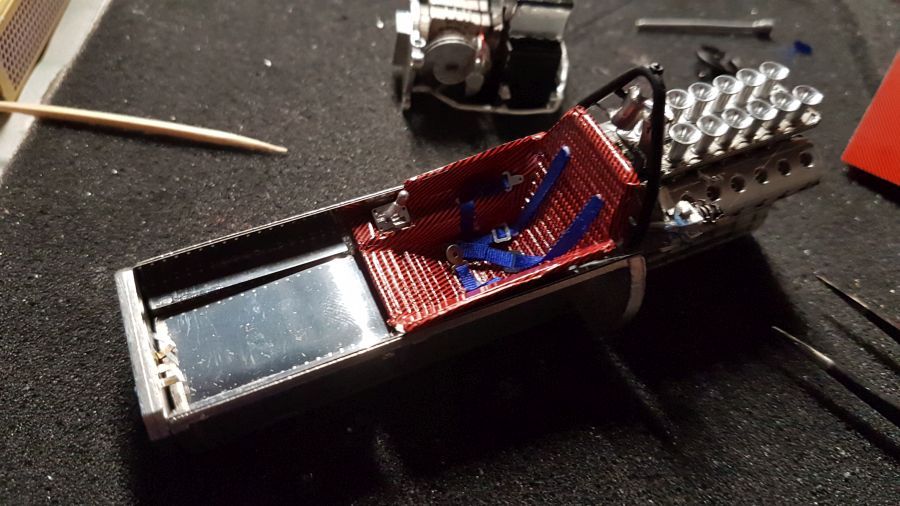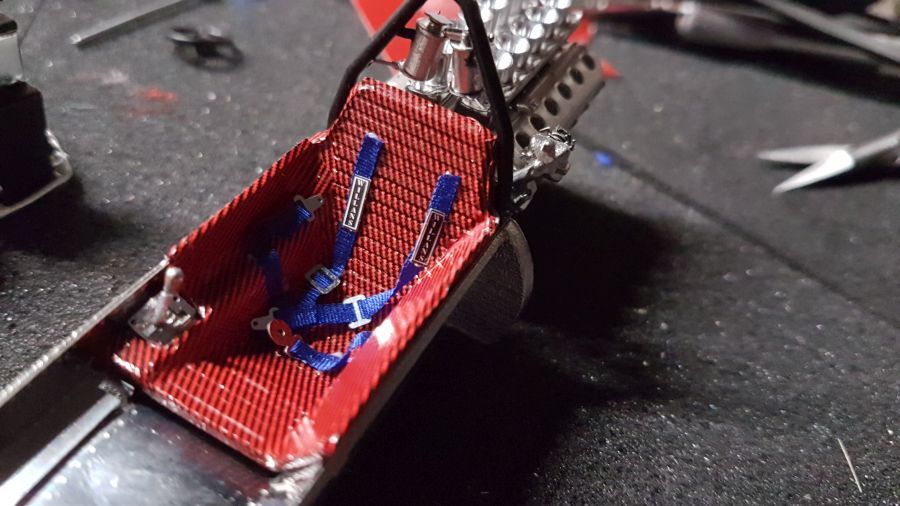 Op een foto zag ik opeens dat de box aan de zijkant zwart moet zijn, dus even aangepast. 
On a photo i noticed the box on the side of the engine needs to be black, so adjusted.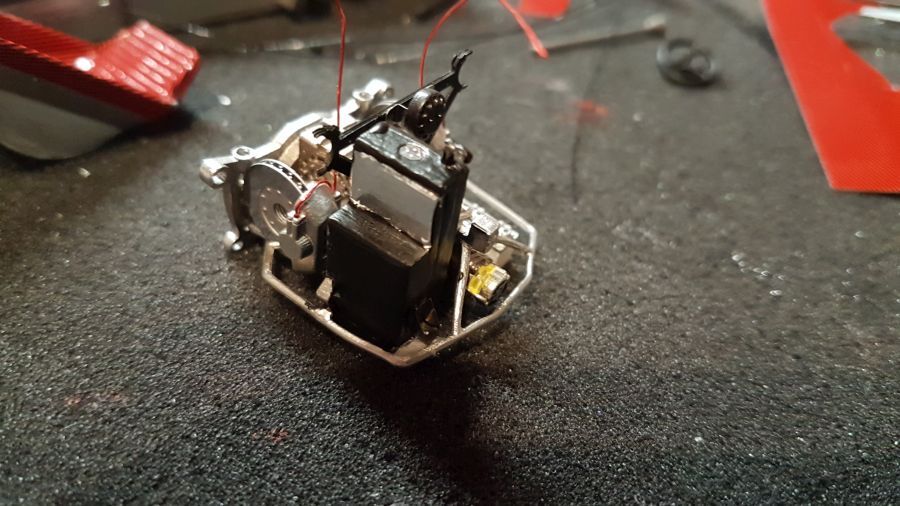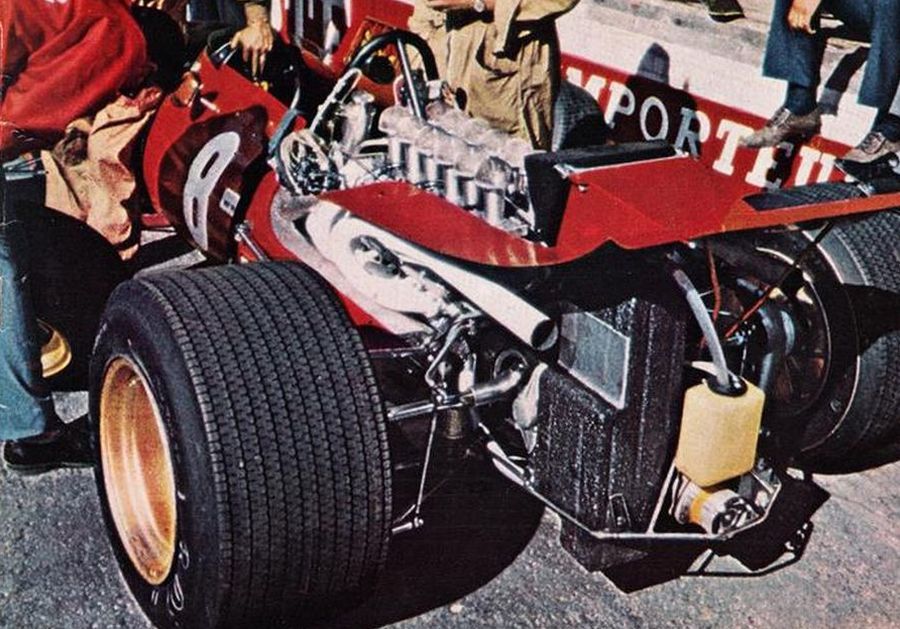 Door met het dashboard... De decals gaan erop en wat Micro Crystal Clear om het glas te simuleren...
To continue with the dash... The decals ware being added and some Micro Crystal Clear to simulate the glass.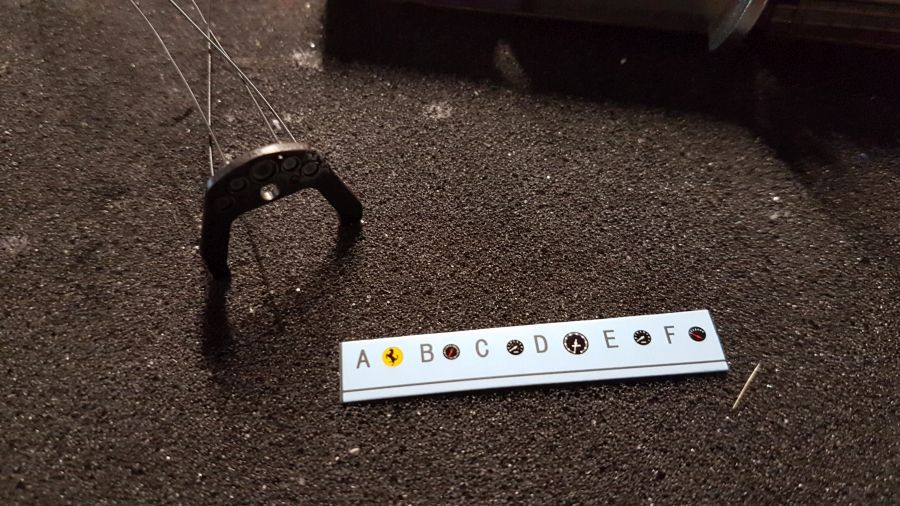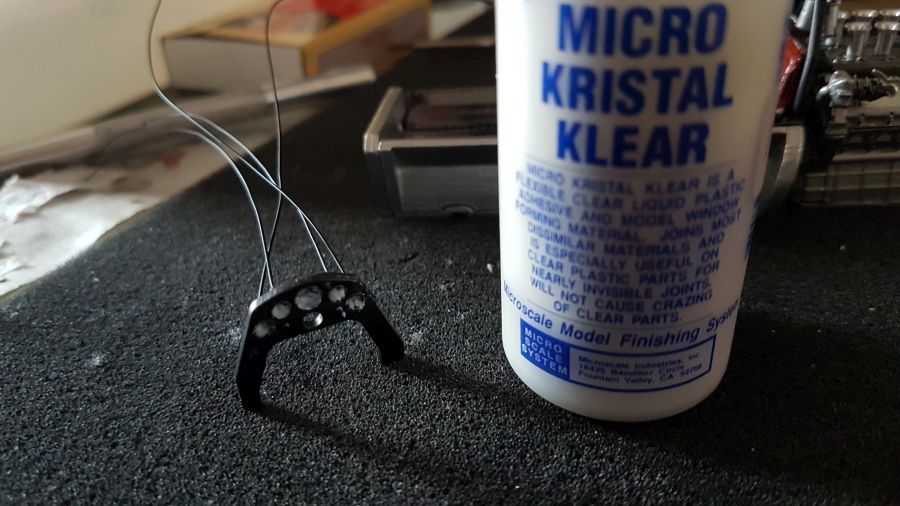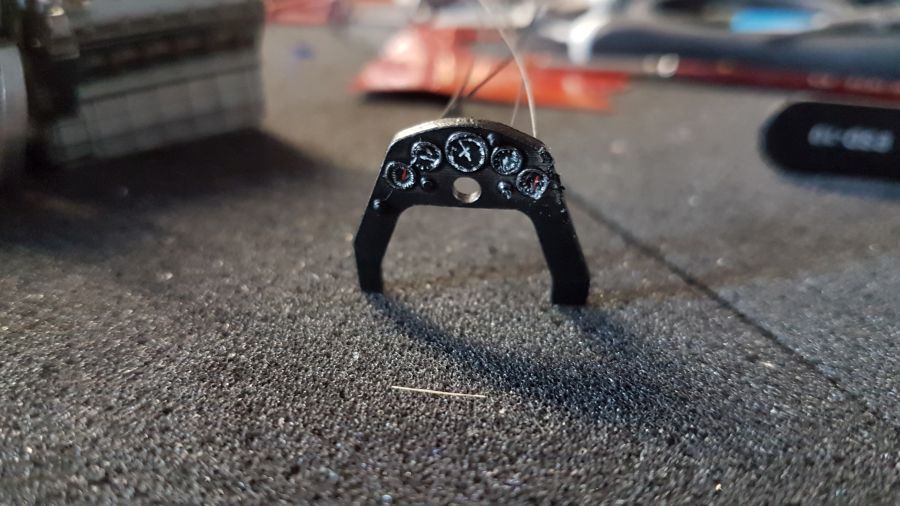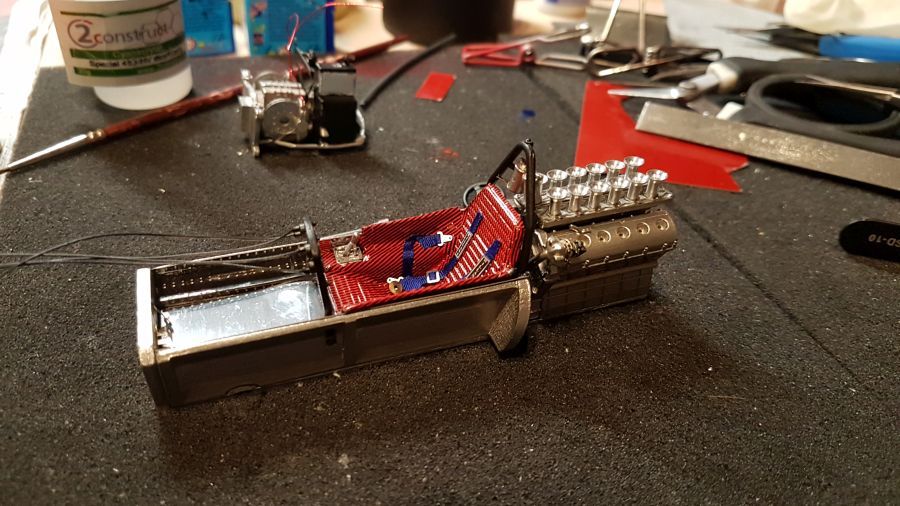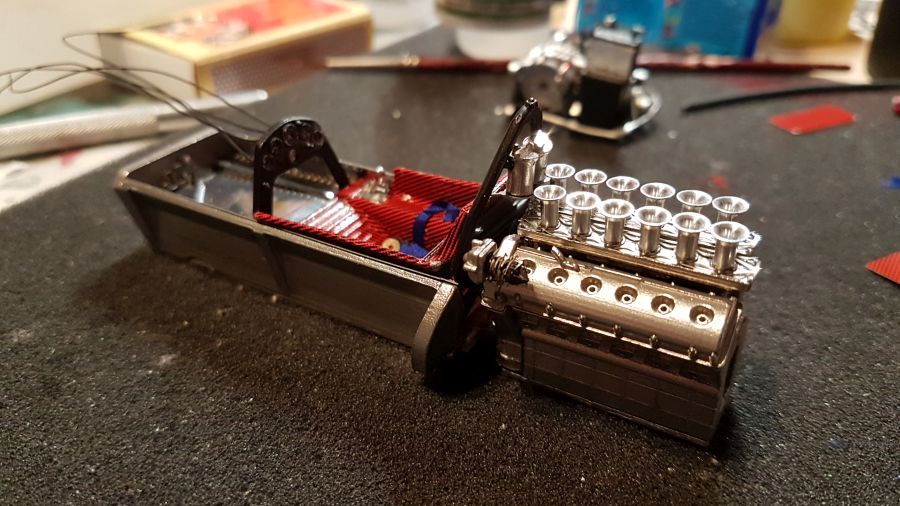 Over naar de body. De achterkant moet afgezaagd worden, opdat het geheel er zo in geschoven kan worden.
Now to the body. The rear needs to be cut off, so the full tub can be shoven into the body.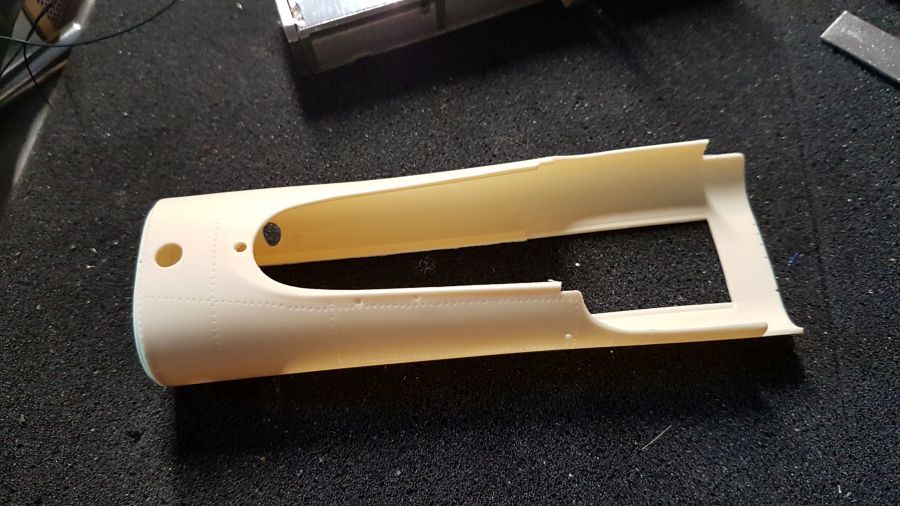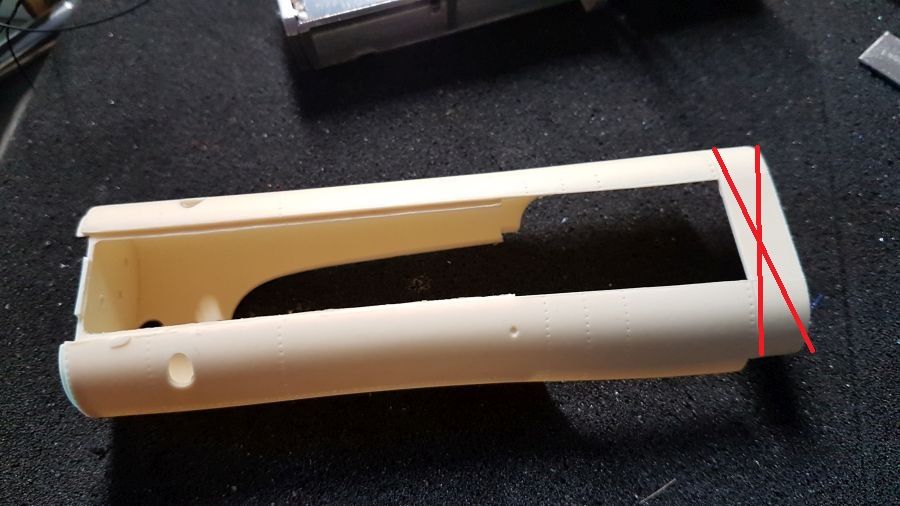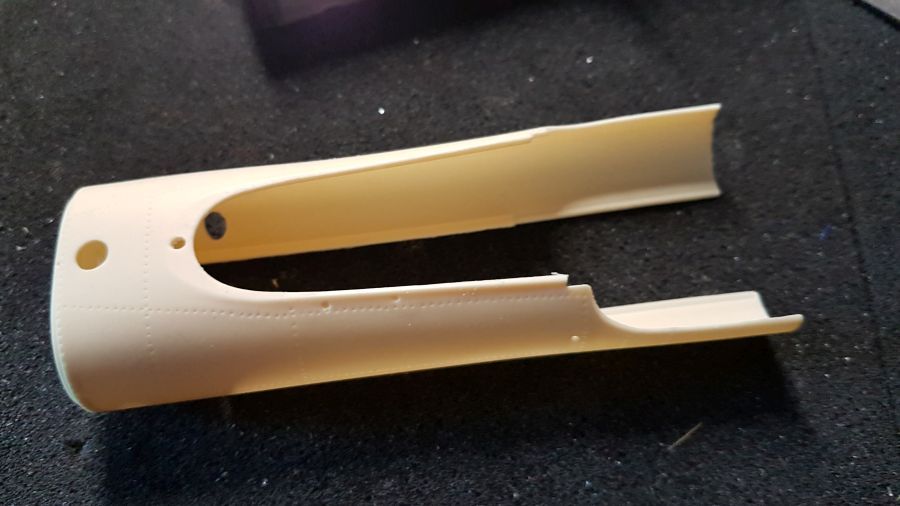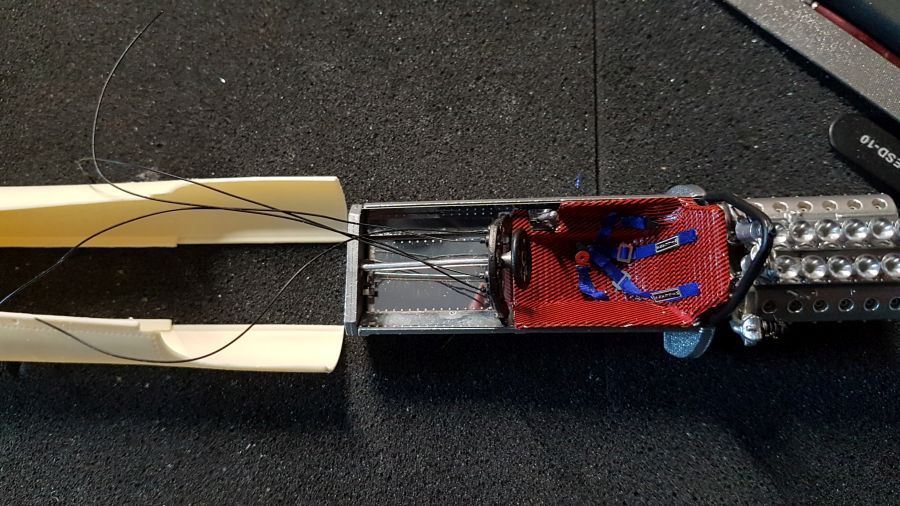 Maar voordat ik de body ga spuiten met primer en verf, ga ik eerst de popnagels aanbrengen. Ik kies voor de decals van Archer Transfers. Hier heb ik reeds goede ervaringen mee.
But before painting the body with primer and paint, i will add rivets. I choose to apply the Archer Transfers decals. I have positive experience with these.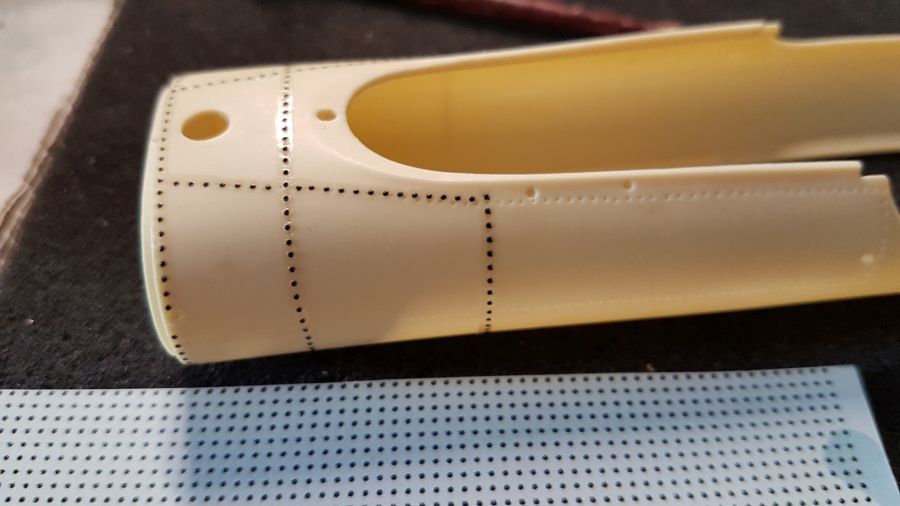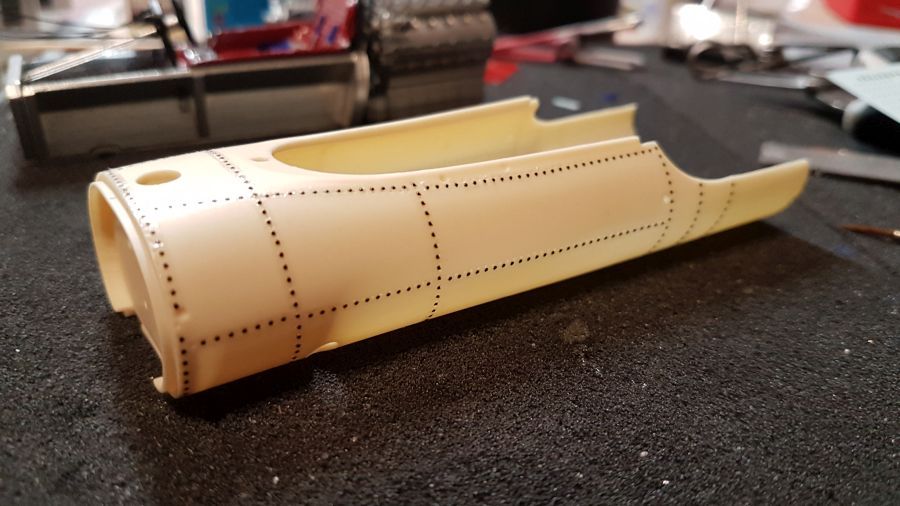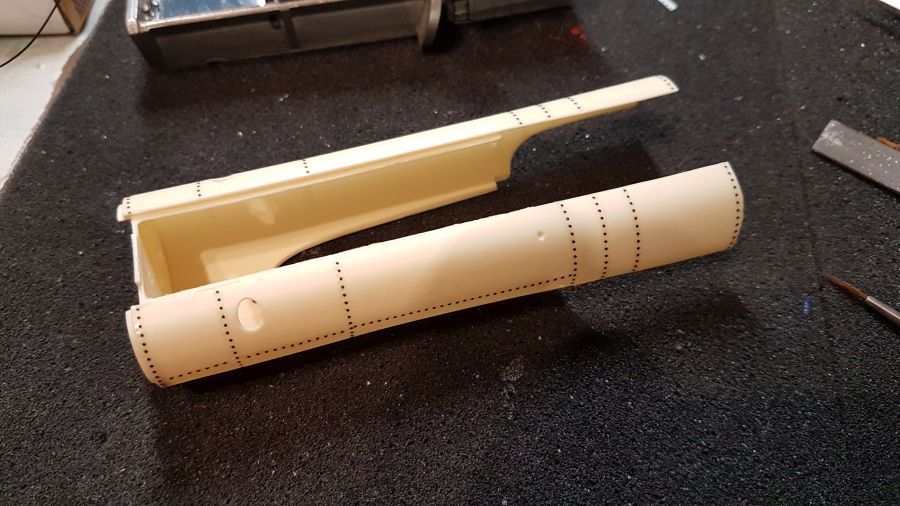 Dan verder met grondverf, het rood en de heldere glanslak... Ik heb de neus nog niet gespoten, omdat daar nog aan gewerkt moet worden voor het plaatsen van de hoge voorvleugel.
Next continue with primer, the red and clear gloss... I haven't painted the nose cone yet, as it needs to be worked on for adding the high front wing.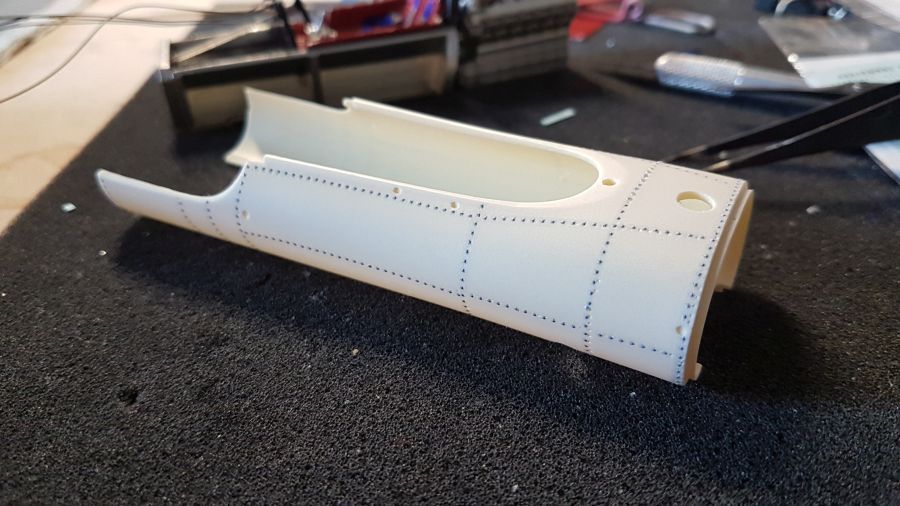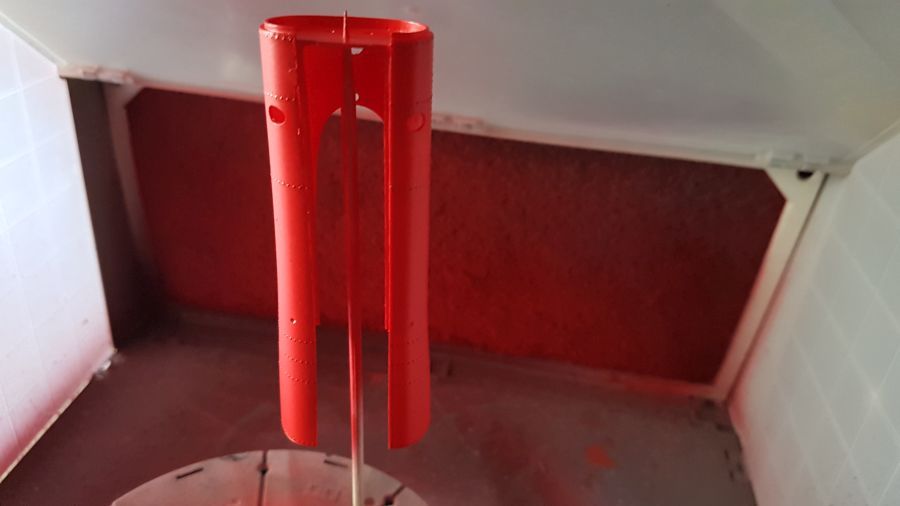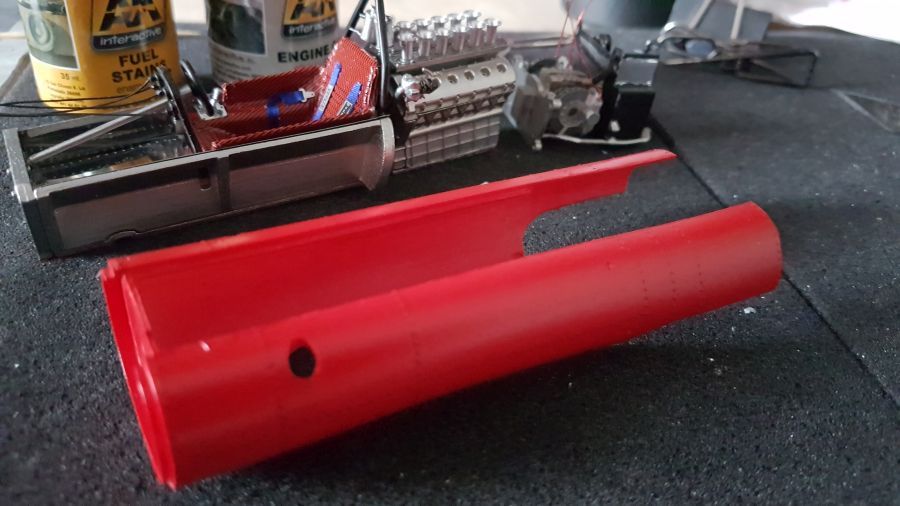 Het motorblok wordt behandeld met verdunde olieverf. Ik gebruik hiervoor terpentine.
The engine gets a wash of deluted oil paints. I use white spirits for this.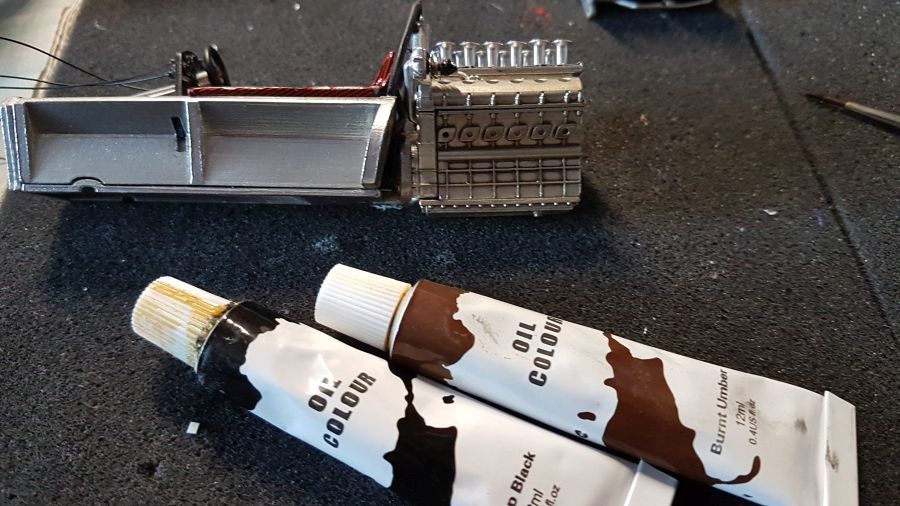 Dat geldt ook voor de versnellingsbak...
The same goes for the gearbox...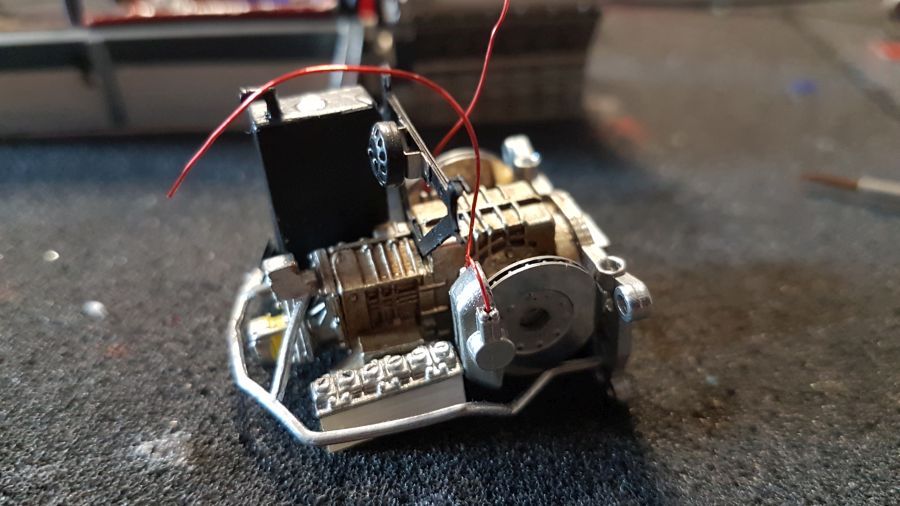 Dan weer een duik in de onderdelendoos om benzineleiding te zoeken. De leiding die MFH heeft bijgesloten is veel te stug...
Then another dive on the scrap box to search some fuel line. The hose MFH included is much to harsh...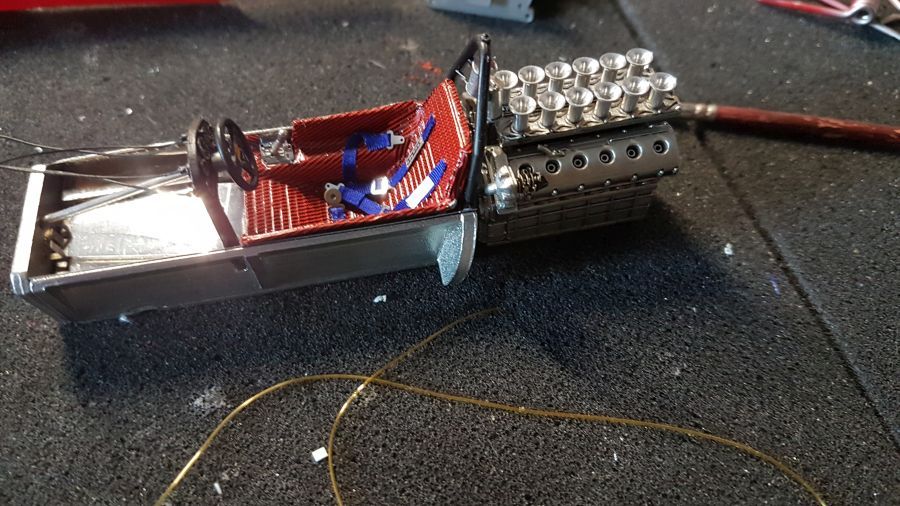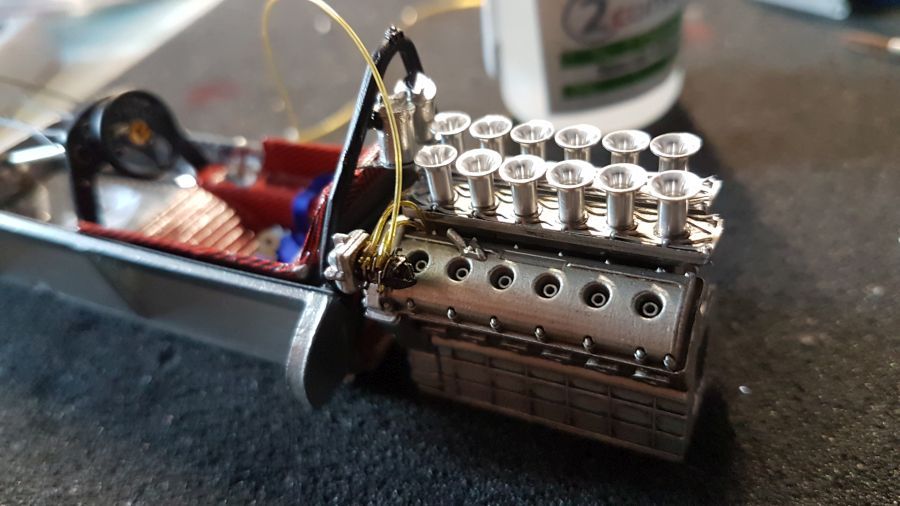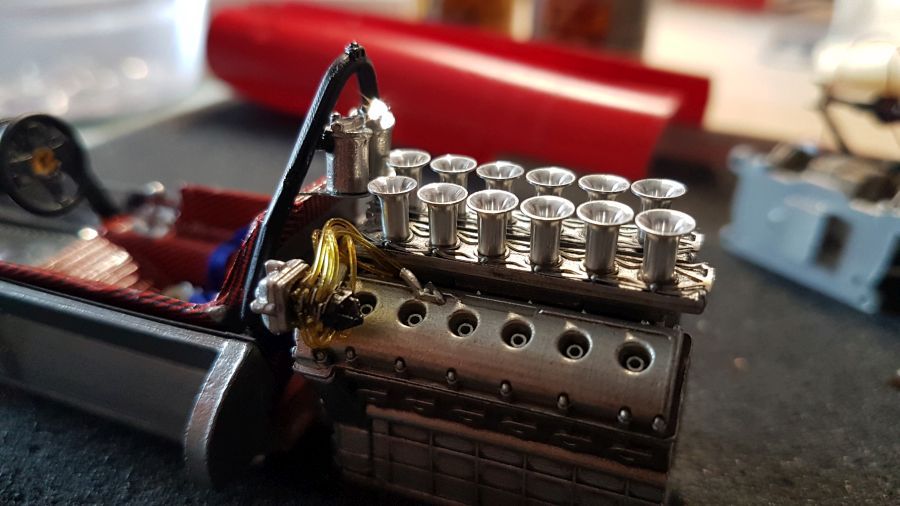 De kuip en het bodywerk schuiven in elkaar met wat passen en meten....
The tub and bodywork can be joined together carefully...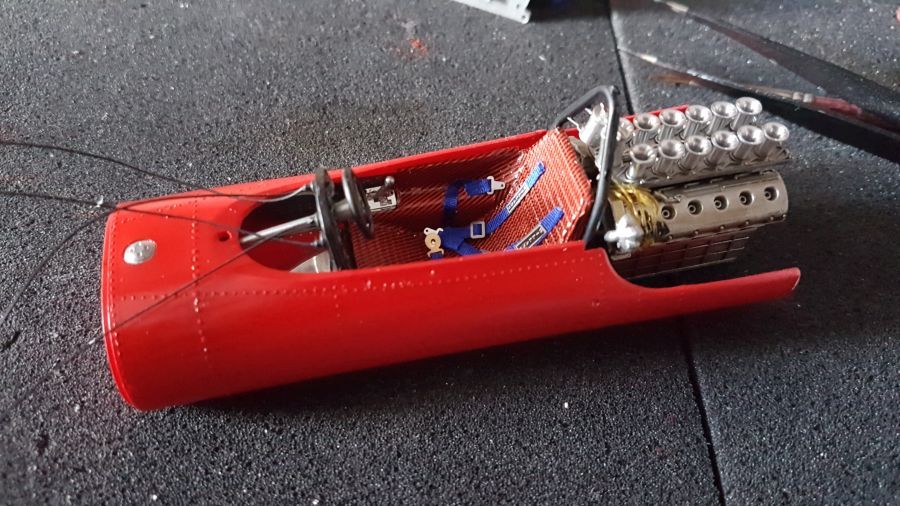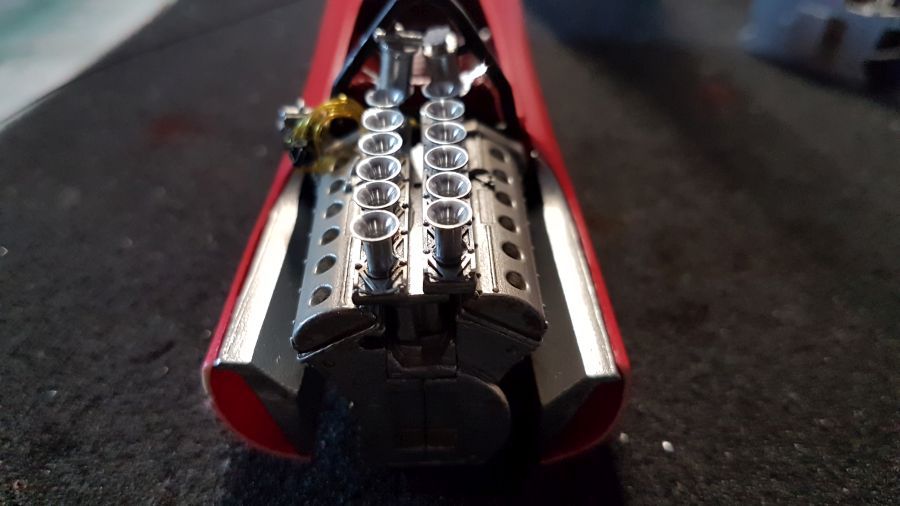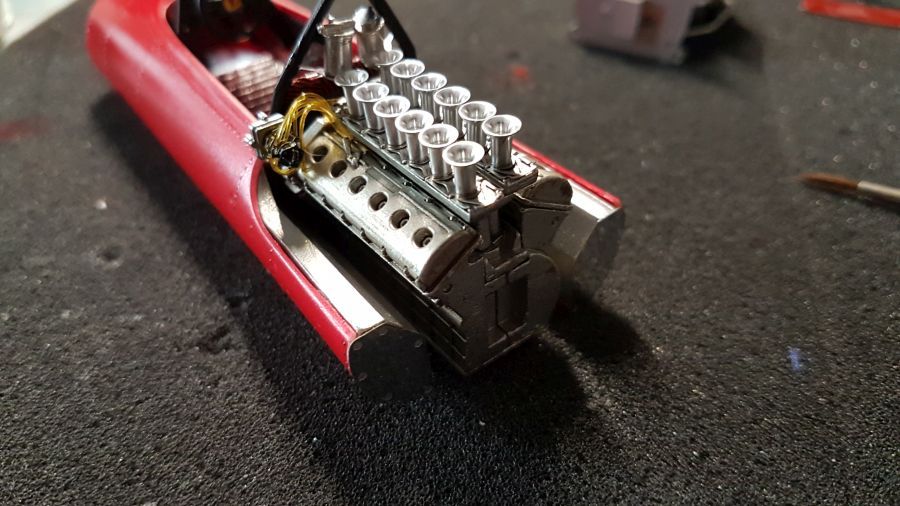 De neus laat ik nog even met rust. Ik moet iets bedenken voor het plaatsen van de hoge vleugel.
I am leaving the nose untouched for now. I need to think of something to add the high wing.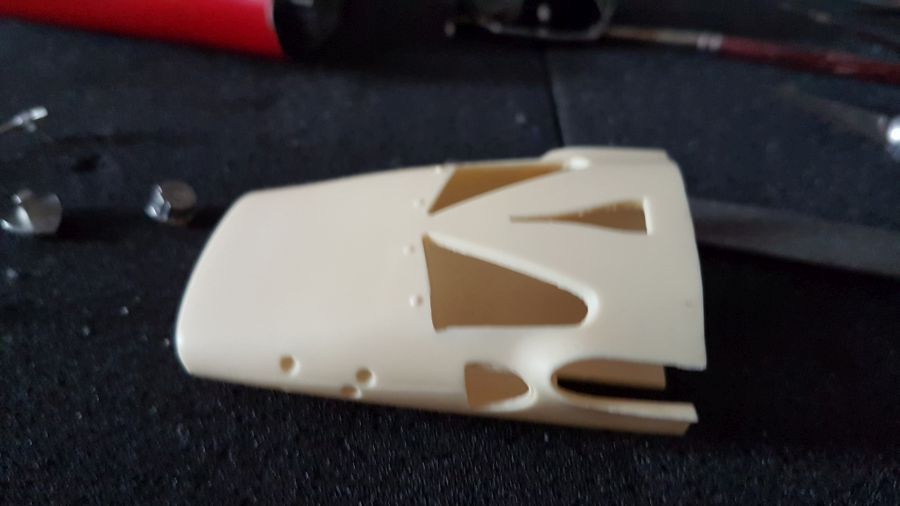 Een deel van de achterwielophanging is geplaatst. De ontseking moet geboord en bedraag worden.
A part of the rear wheel suspension has been added. The ignition needs to be drilled and wired.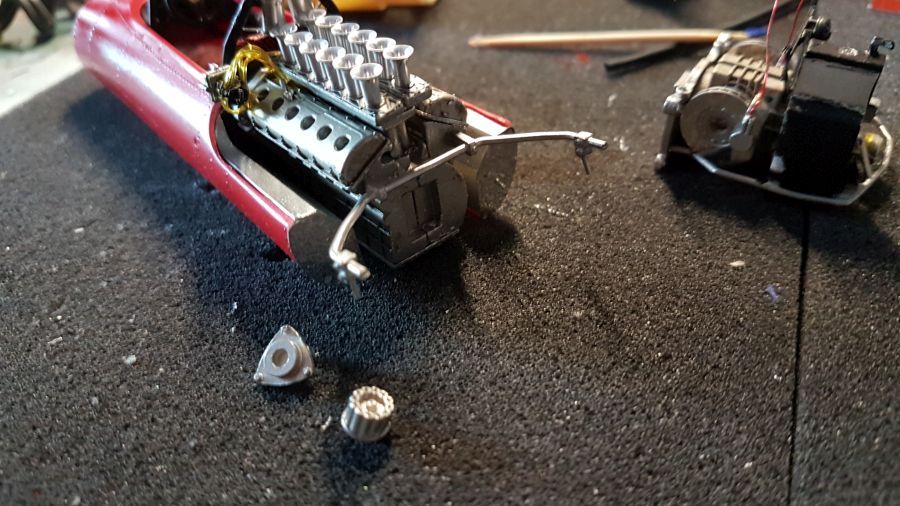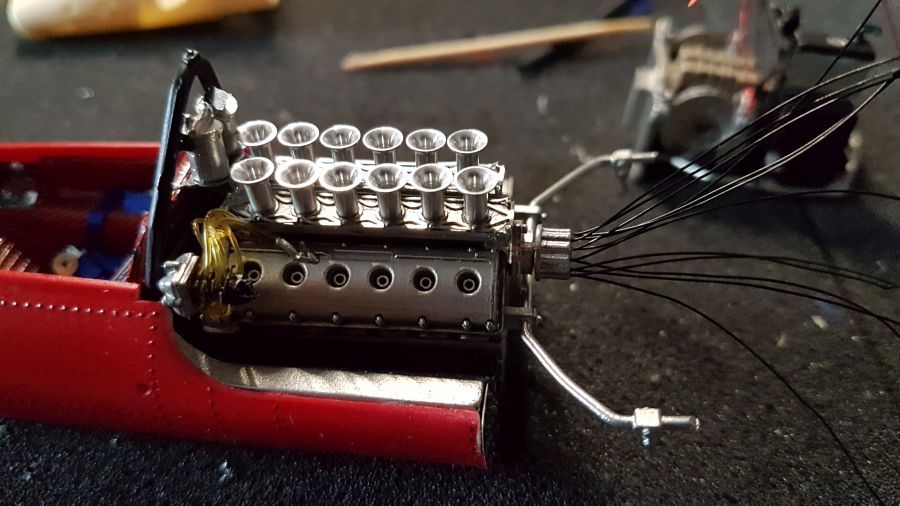 Ik maak de de hittebescherming met behulp van de rolling tool. Zeer nuttig gereedschap naar mijn mening.
I create the heat protection with the rolling tool. A very usefull tool in my opinion.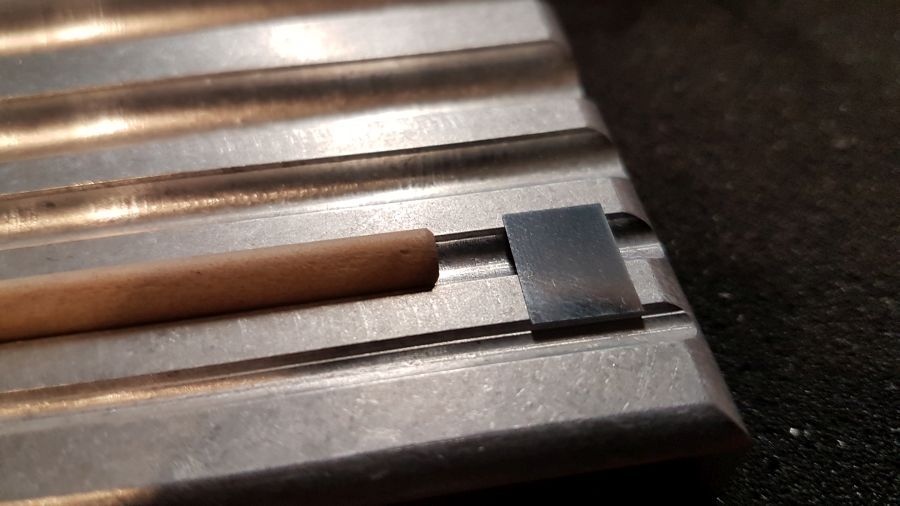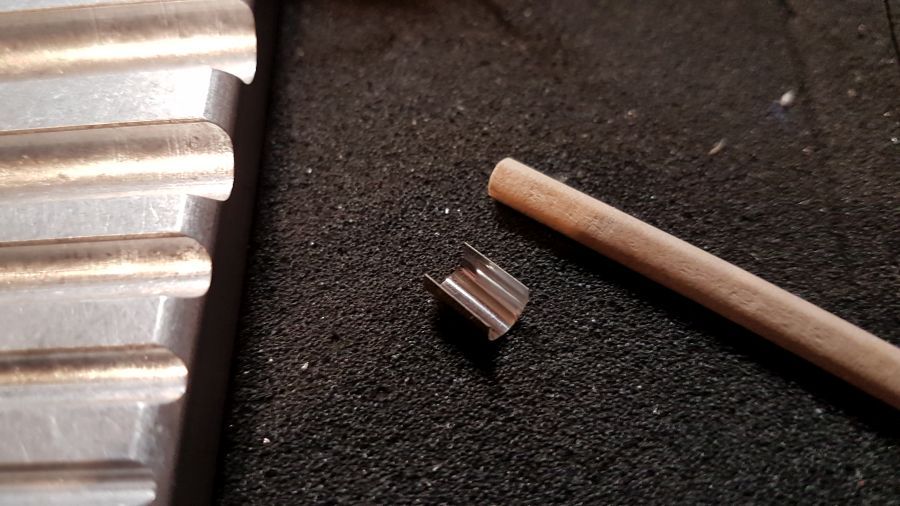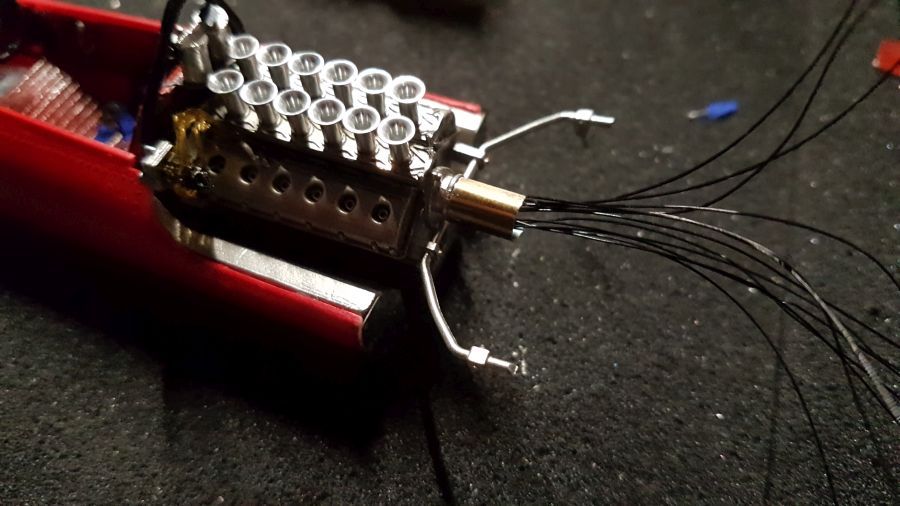 De ontsteking wordt verder afgewerkt.
The ignition gets more attention.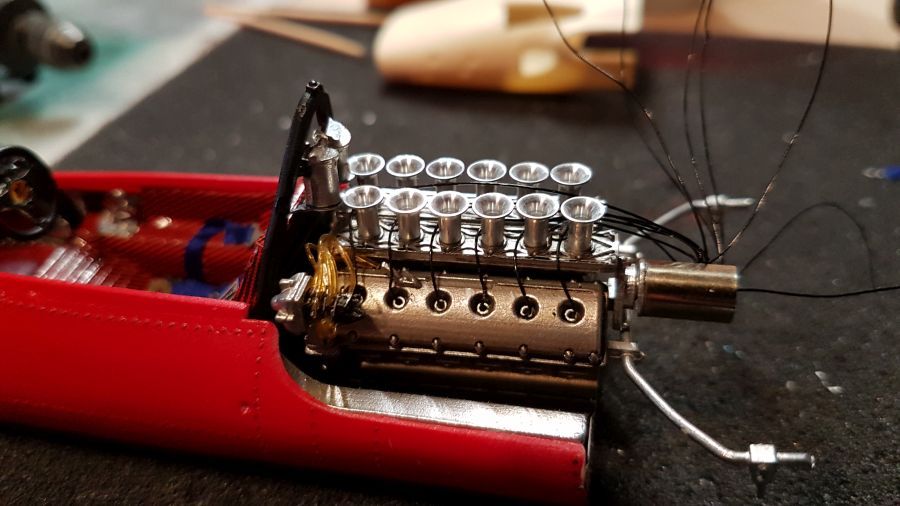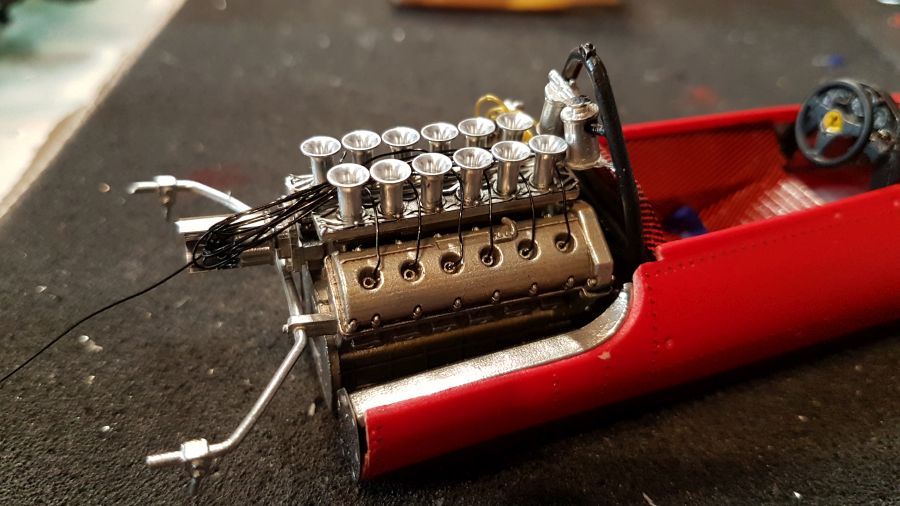 Dan de klokkenbedrading...
Then the wires of the gauges...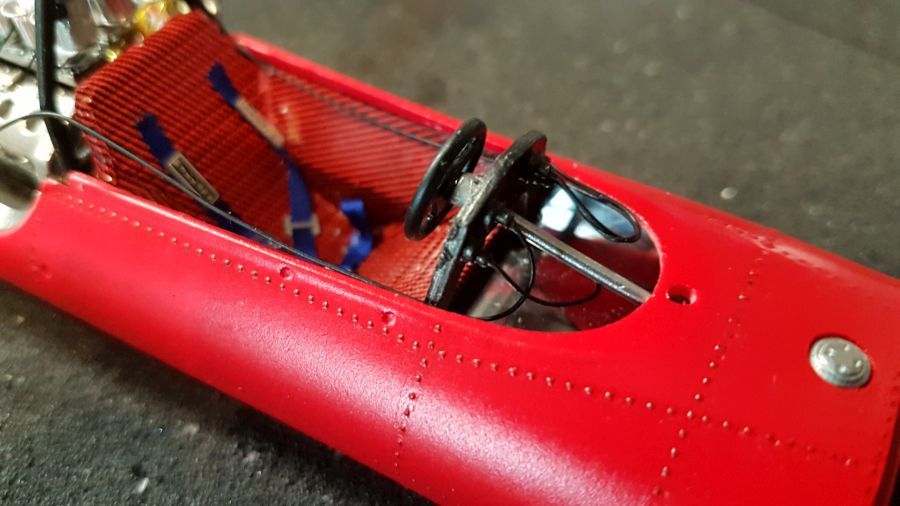 Het reservoir wordt geplaatst..
The reservoir is being added..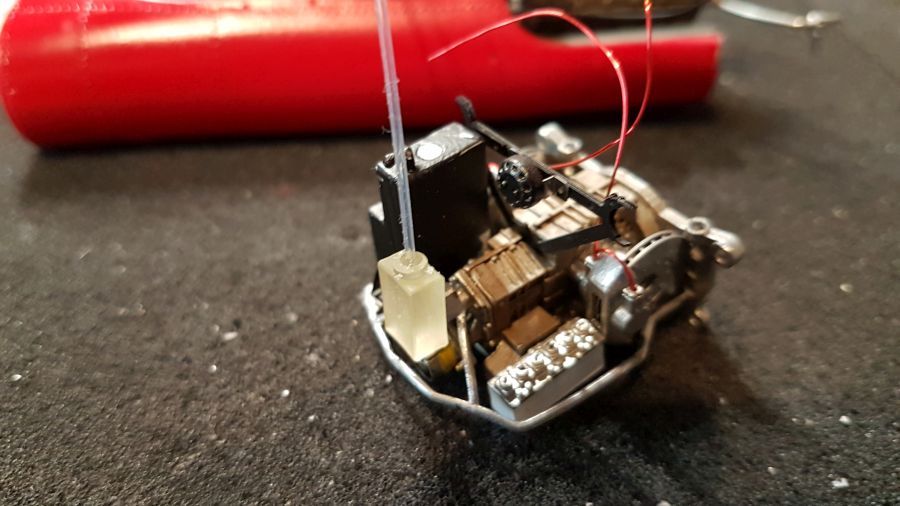 Dan wordt de versnellingsbak geplaatst en de olieleidingen van de remmen aangesloten.
Then the gearbox was attached and the oil pipes of the brakes connected.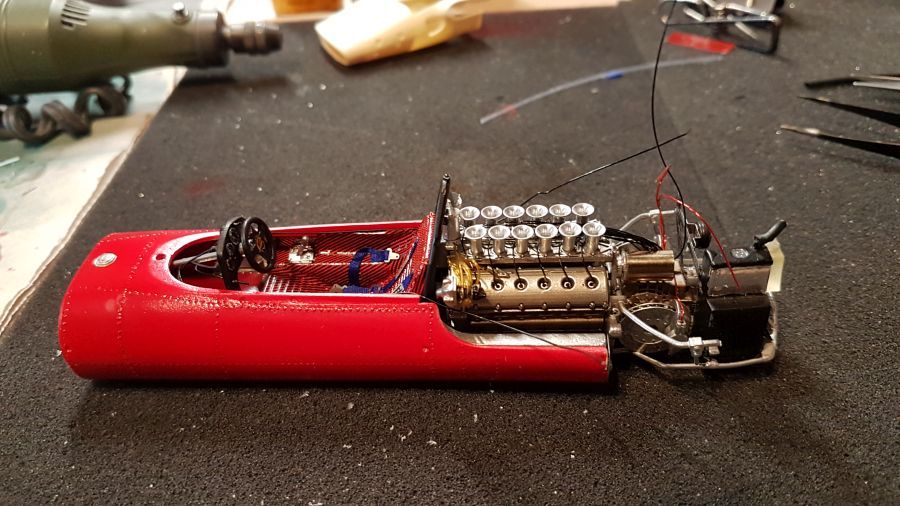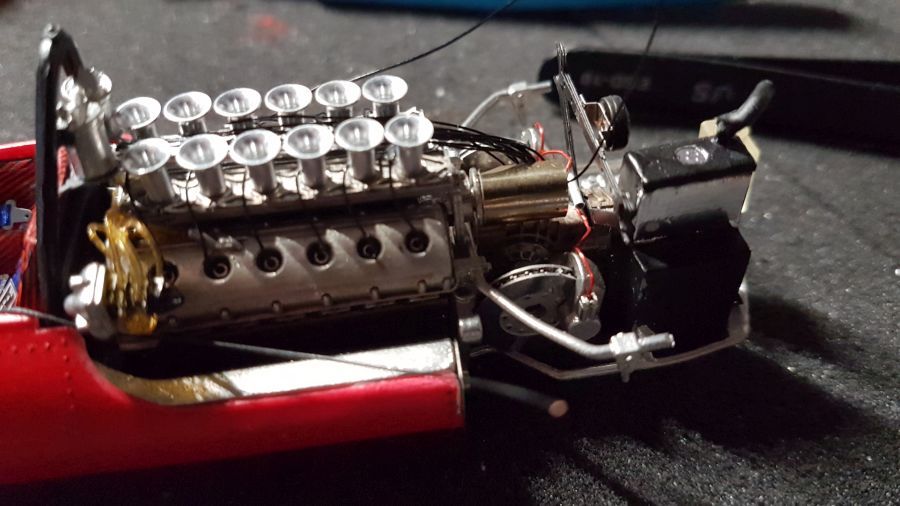 Onderdelen voor de achterwielophanging... Lastig karwei.
Parts for the rear wheel supension...  A tough job.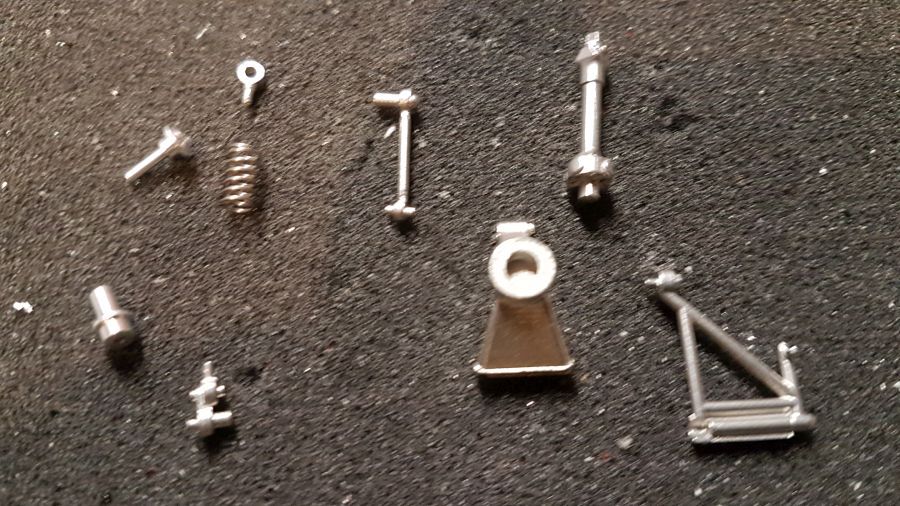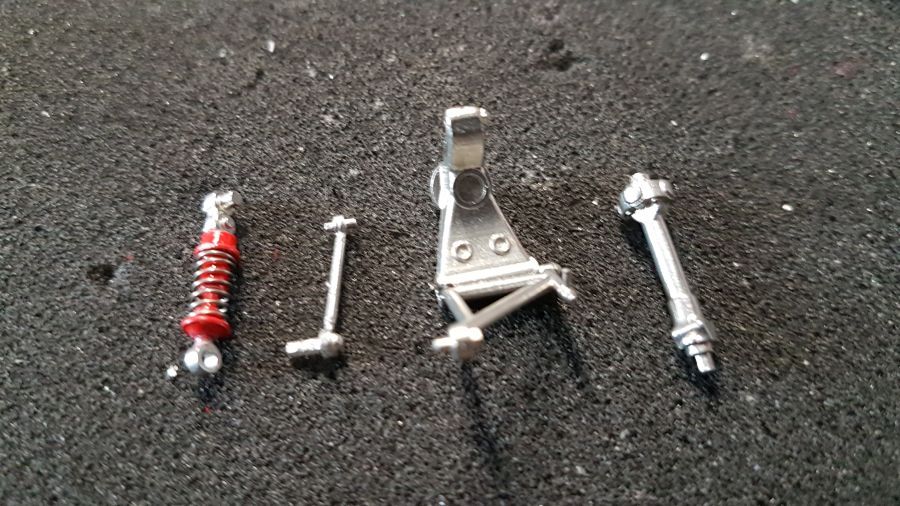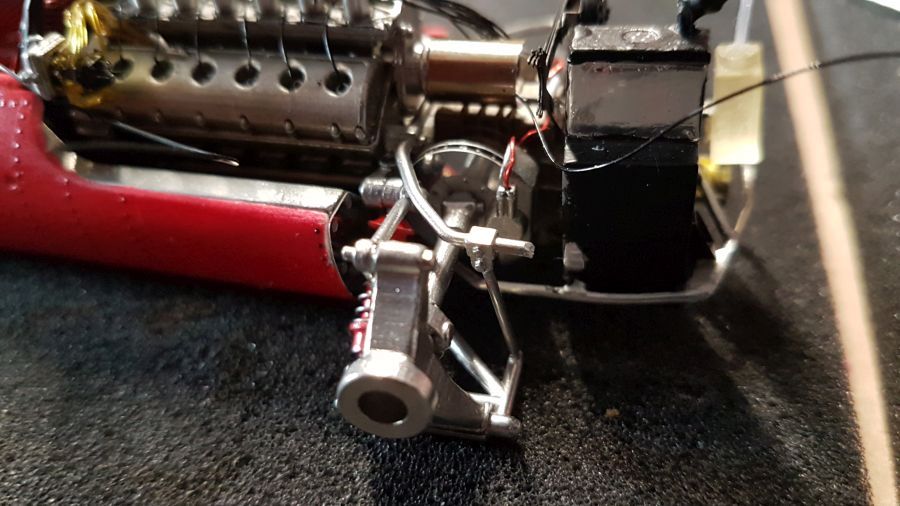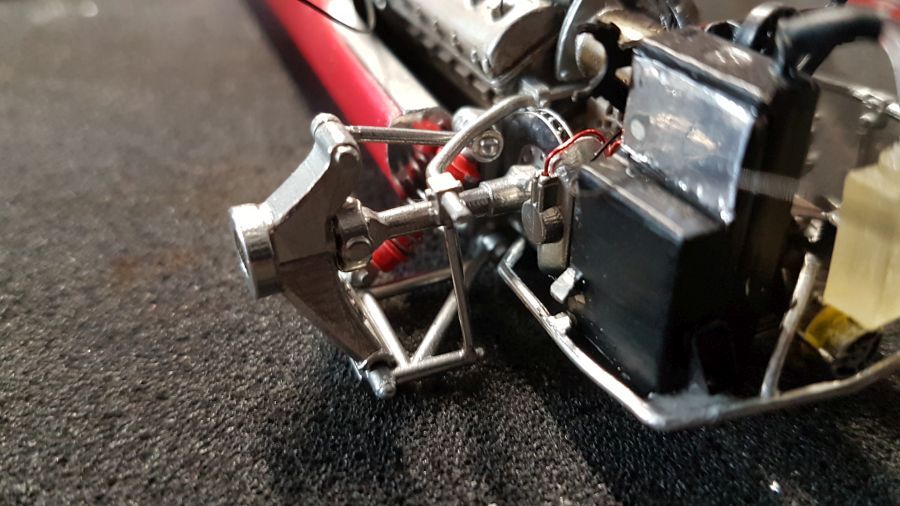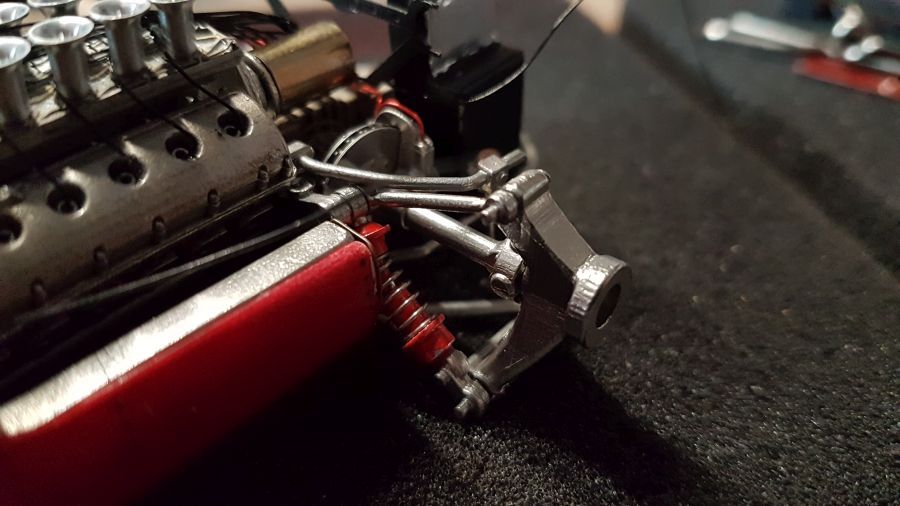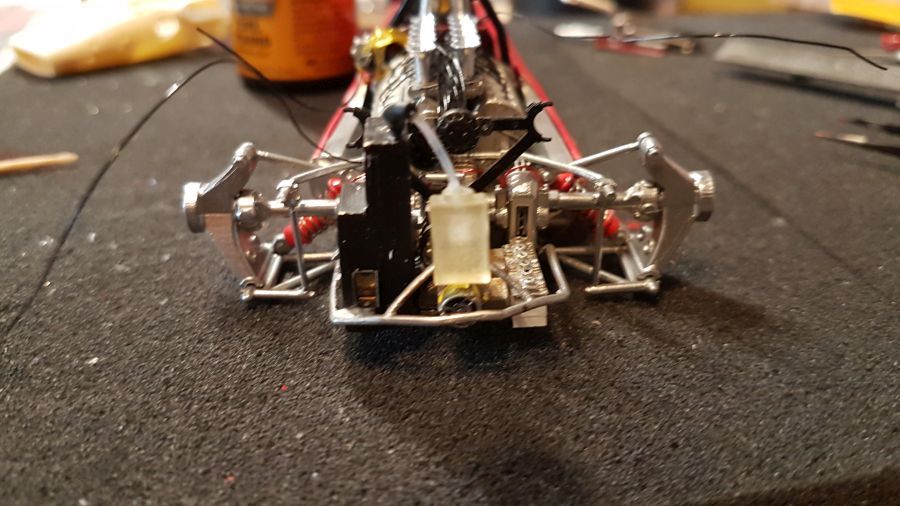 Door naar de uitlaten...
To continue with the exhausts...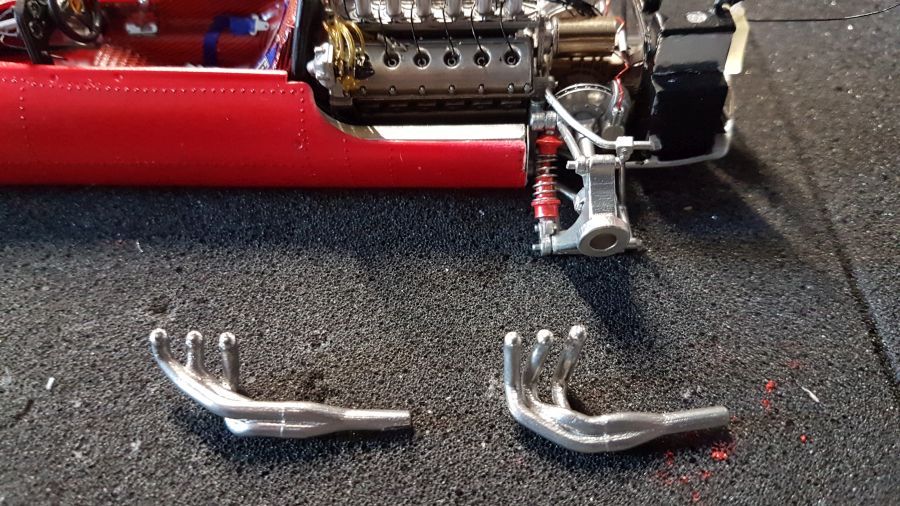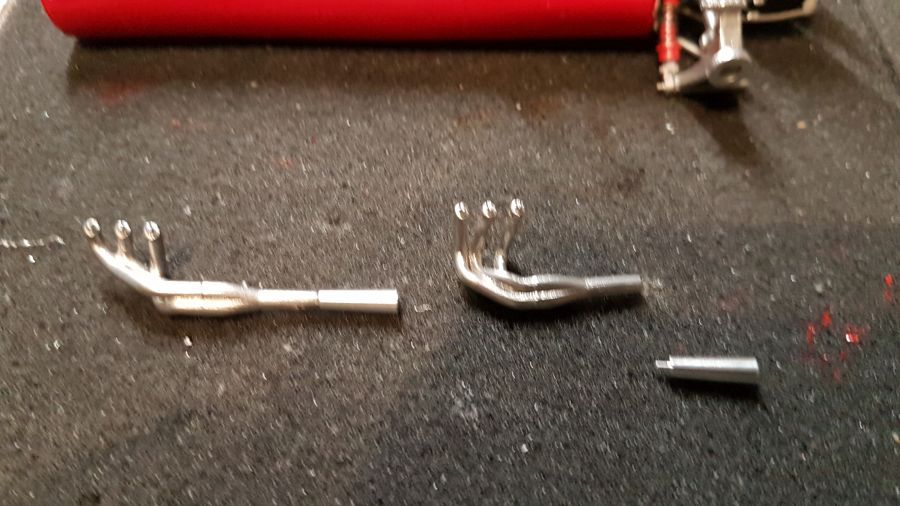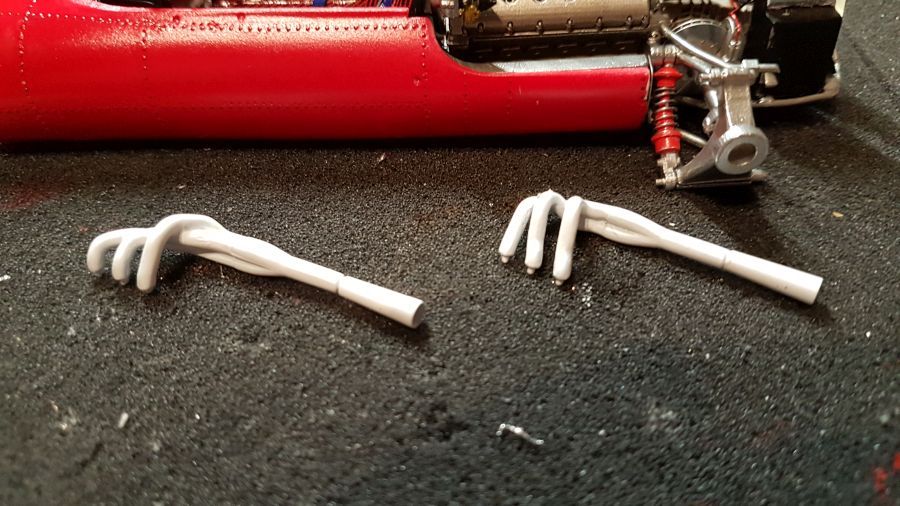 Ik wil wat lasnaden op de uitlaten plaatsen. Helaas werken de Archer transfer niet lekker. Ze zijn niet flexibel genoeg voor de rondingen en breken daardoor.
I wanted to create some weld lines on the exhausts. Unfortunately  the Archer transfers do not work. They are too stiff for the small roundings and break.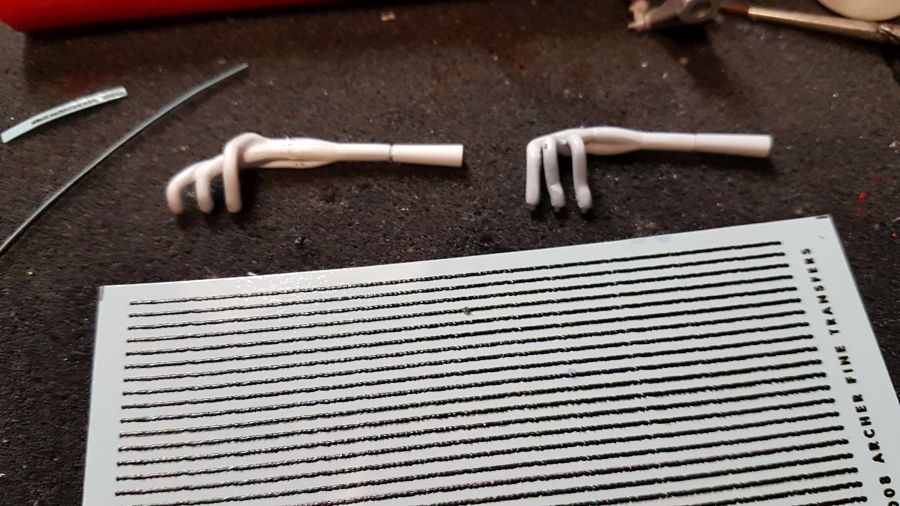 Ik probeer het daarom met wat Micro Crystal Clear. Ik breng dunne lijntjes aan met een tandenstoker. Niet slecht denk ik.
Therefor i tried it with some Micro Crystal Clear. I did apply small lines with a toothpick. Not bad i think.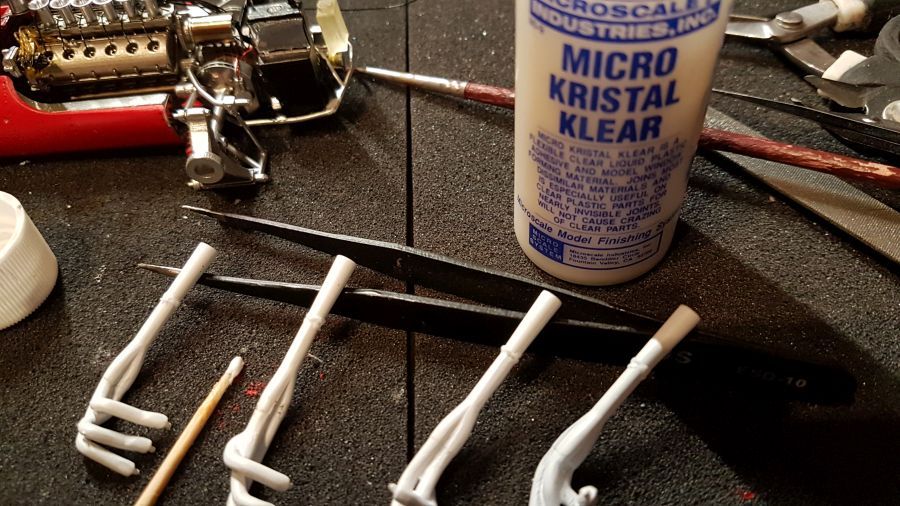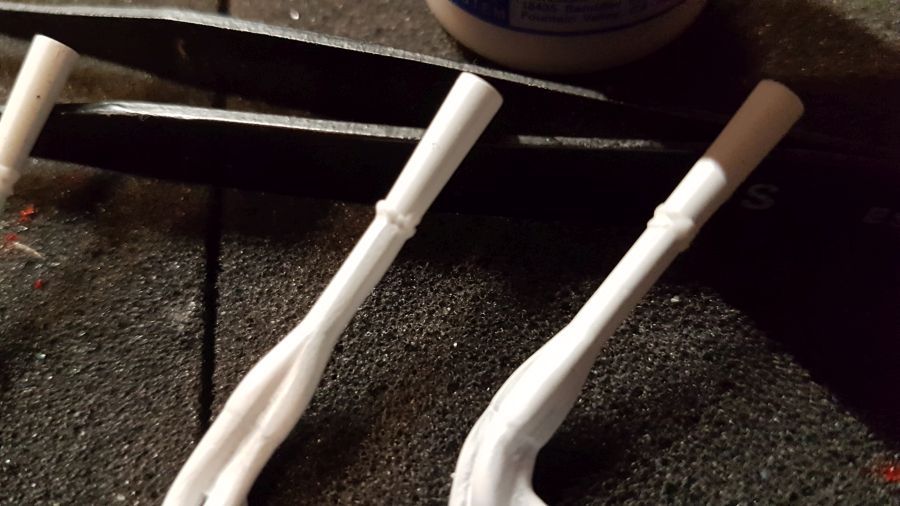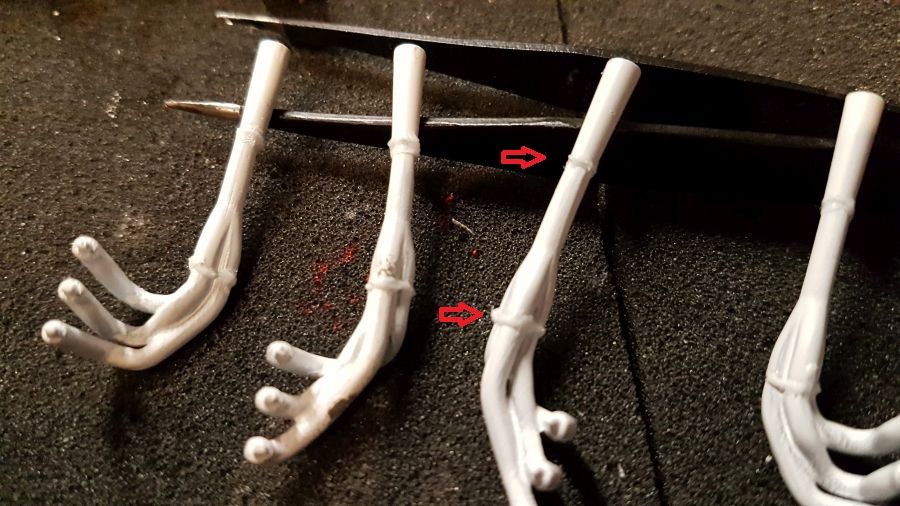 Tijd voor het aanbrengen van vuil...
Time to apply some dirt...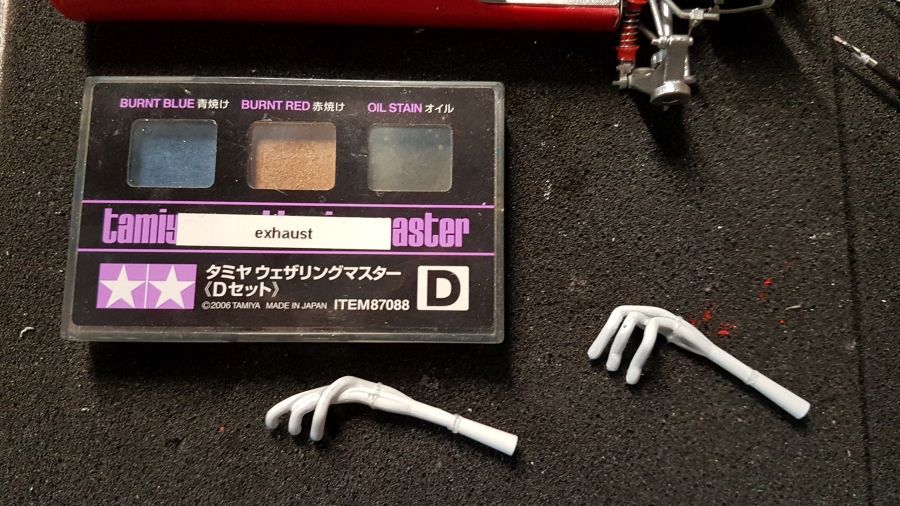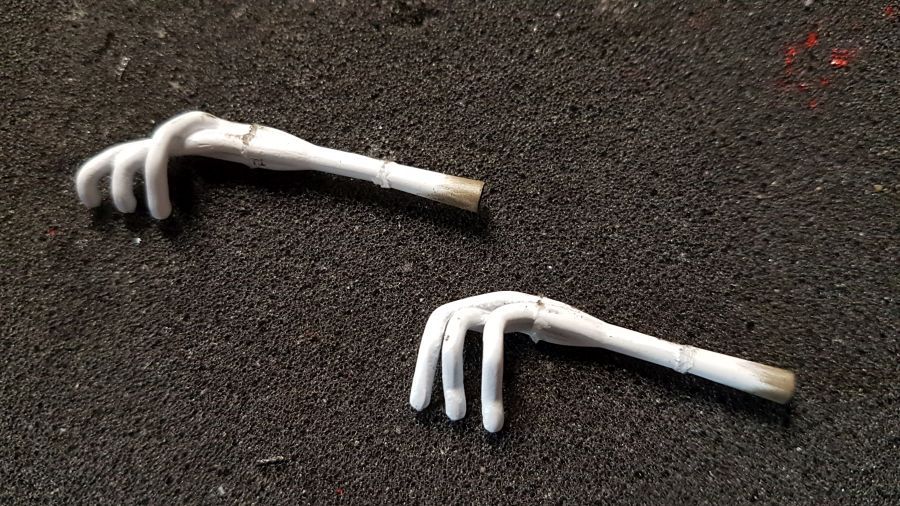 Dan het plaatsen...
Then attaching them...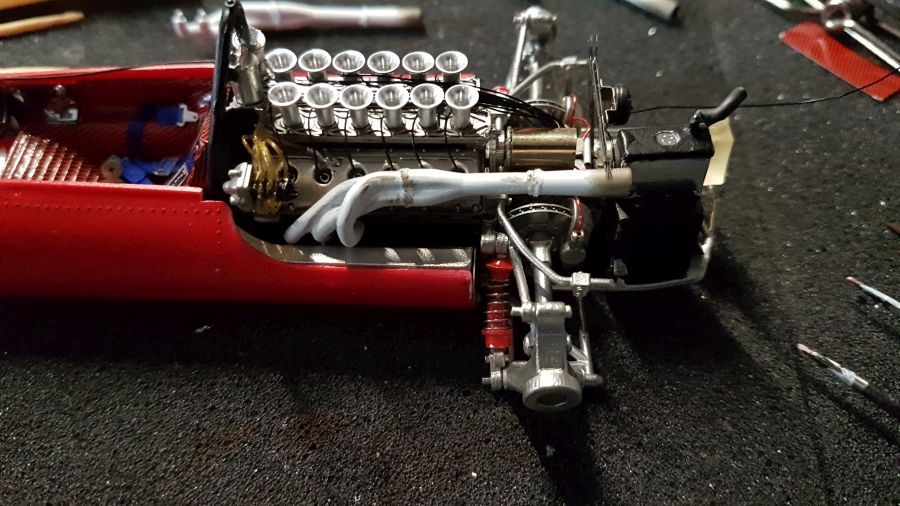 En de veer...
And the spring...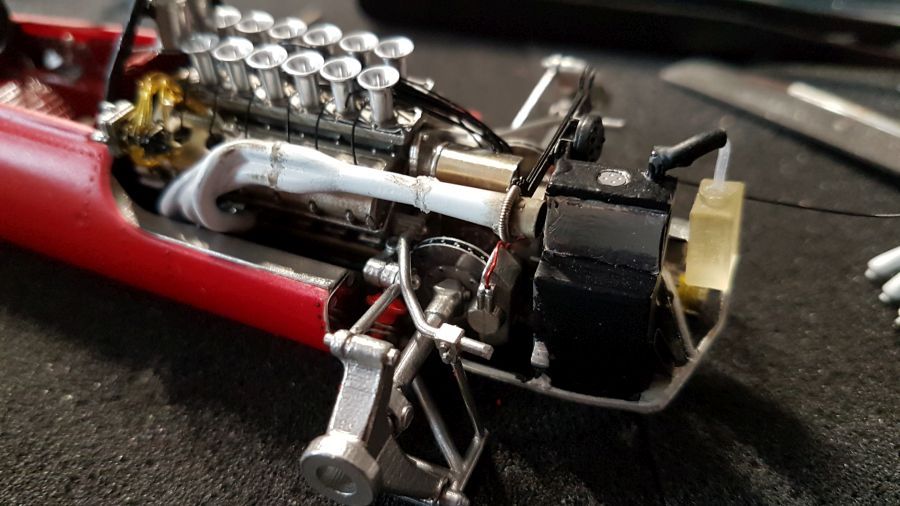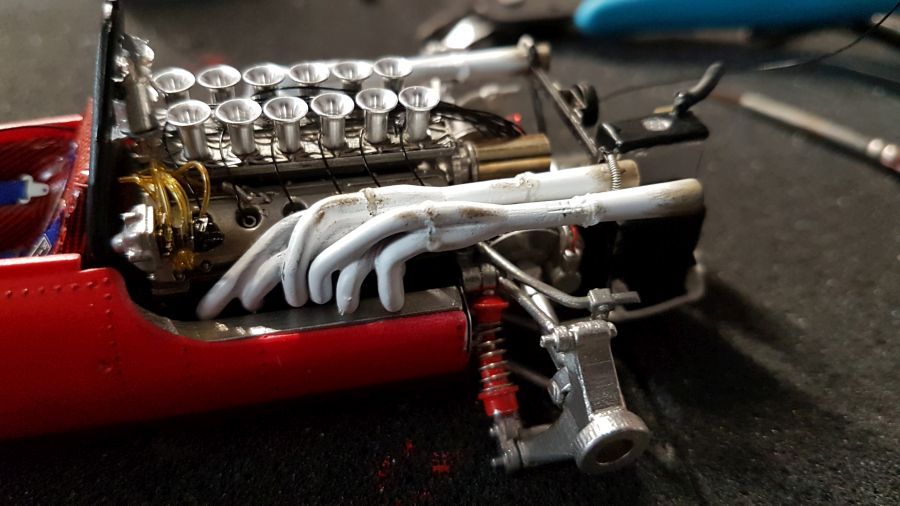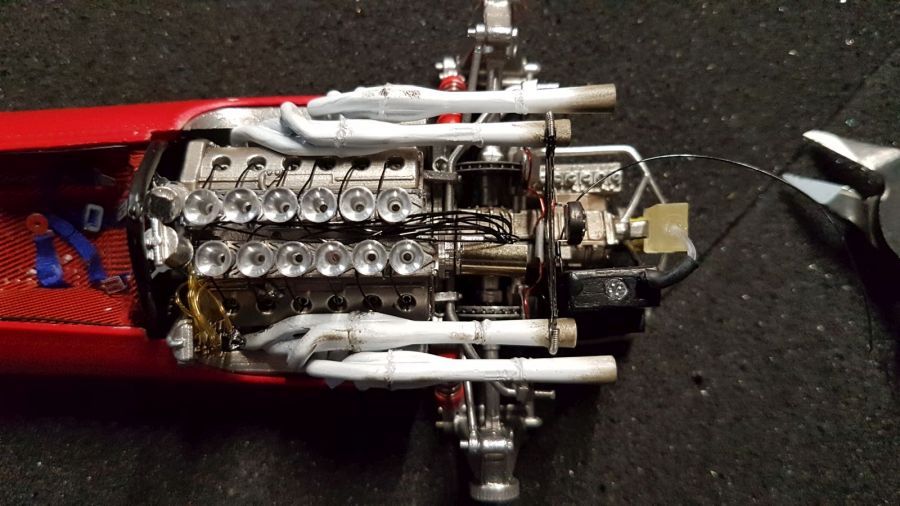 Daarna kunnen de steunen worden geplaatst... De buis wordt op maat gezaagd en de kleine onderdelen worden gevijld, zodat ze in de buis passen.
Then the supports can be added... The tube is being cut to size and the small parts are being filed so they fit into the tube.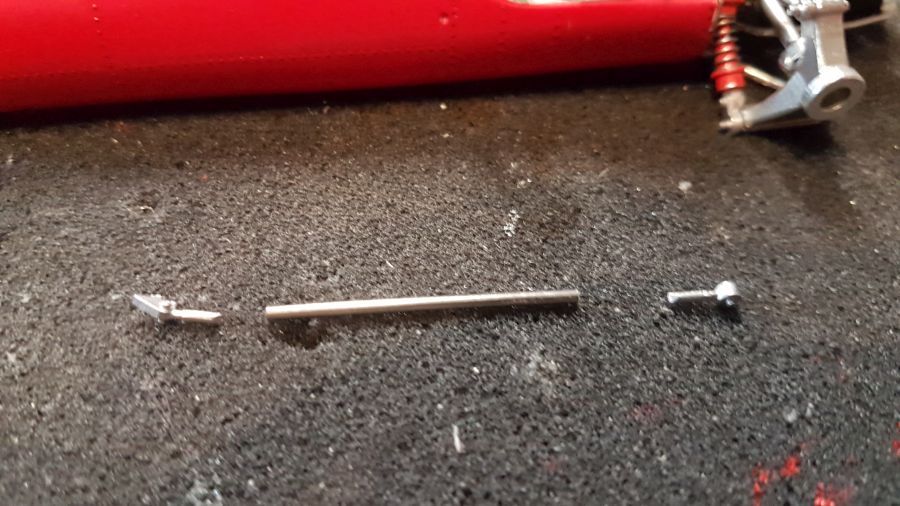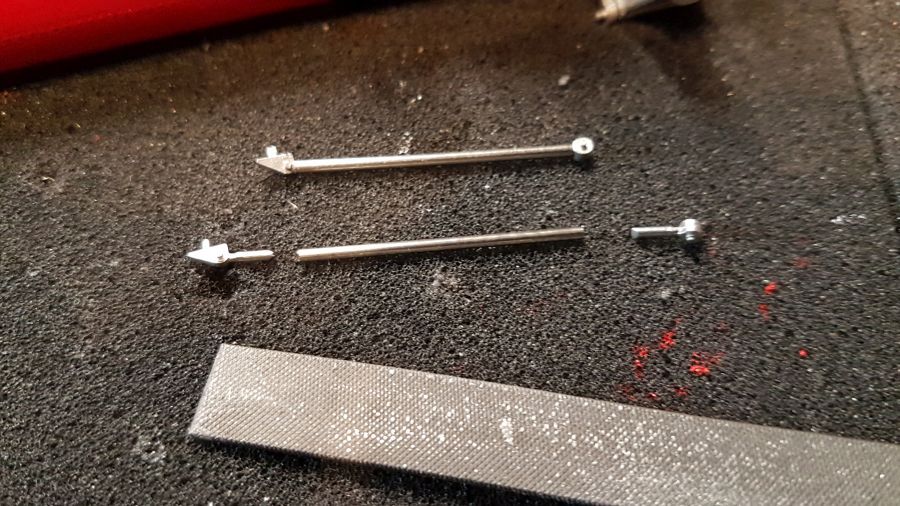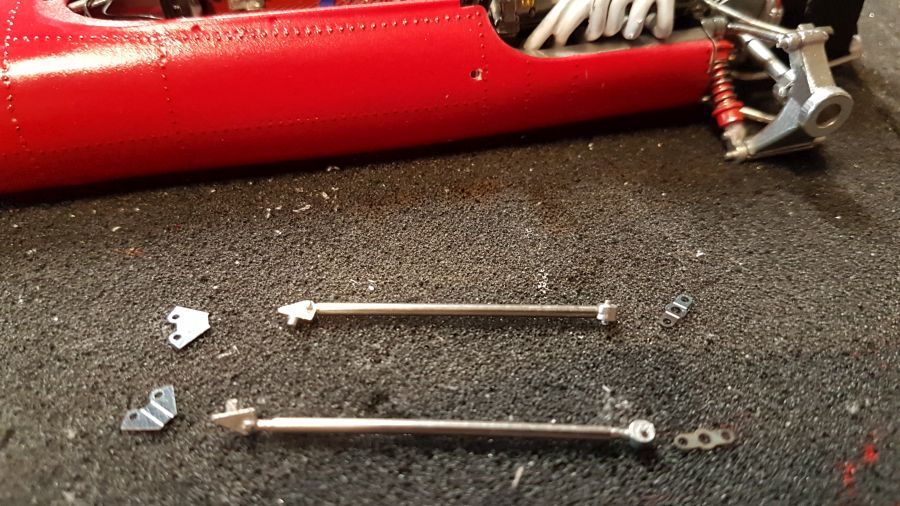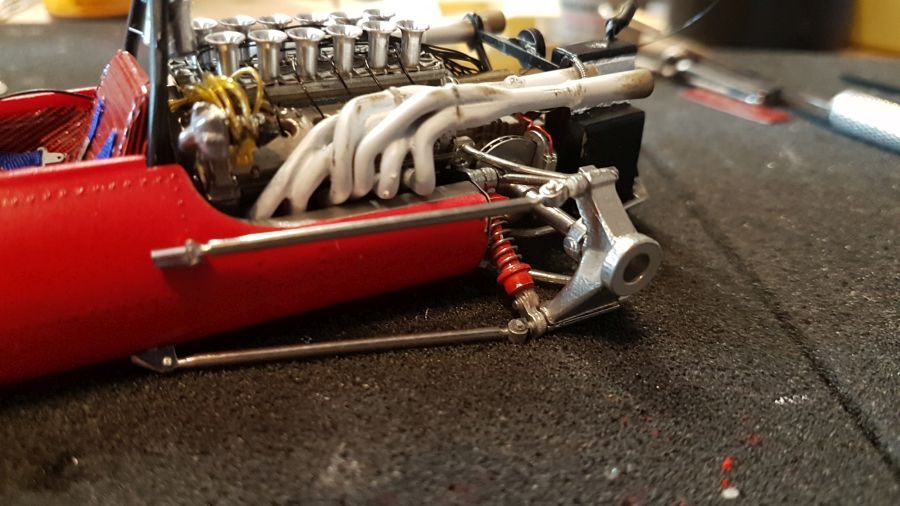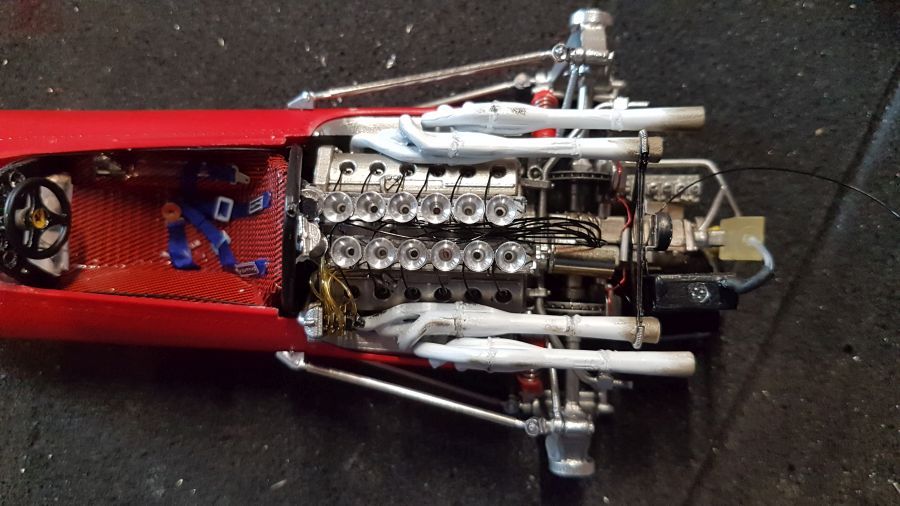 Nu eerst door naar de voorkant. De gaten worden geboord zodat alles geplaatst kan worden. Dan wordt de 1e plaat op het bodywerk gelijmd.
Now to the front. The holes are being drilled so everything can be attached. Then the 1st bulkhead was glued to the bodywork.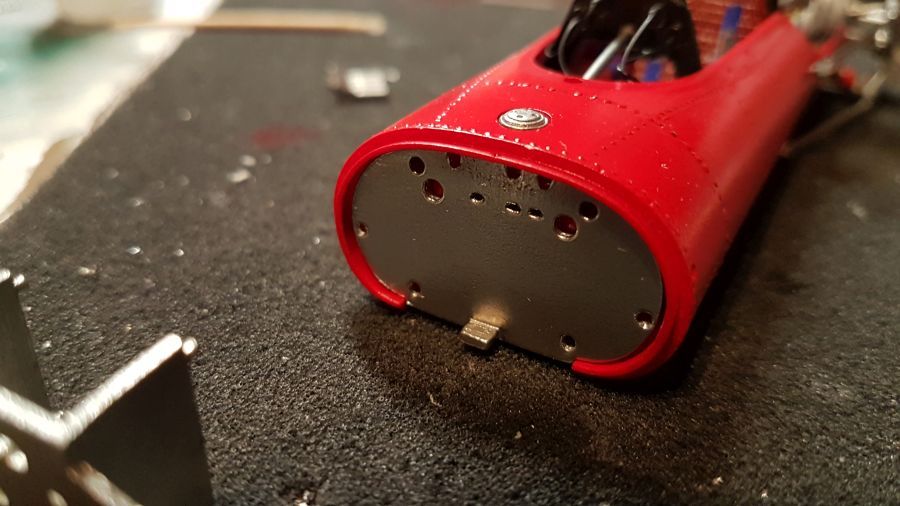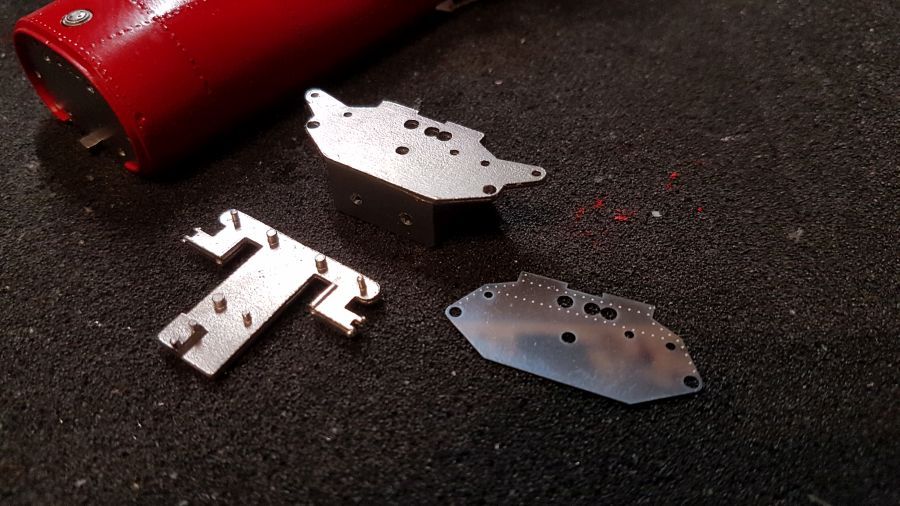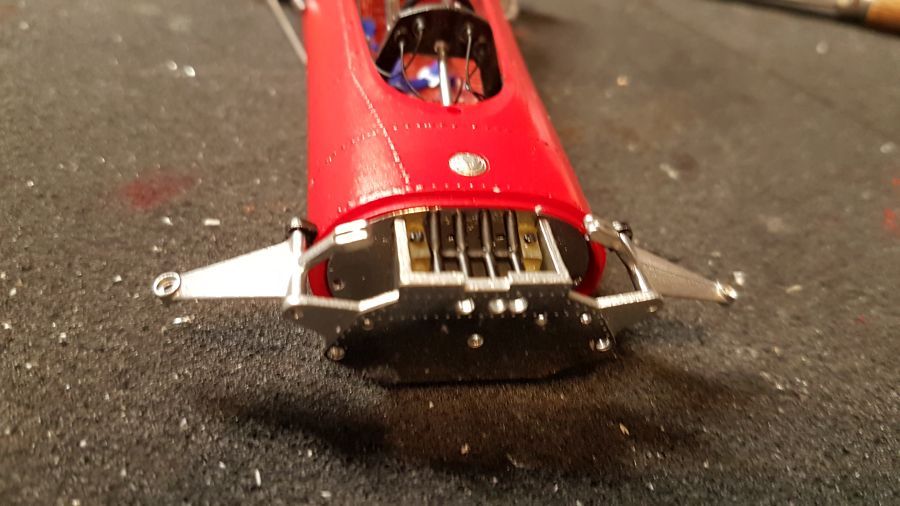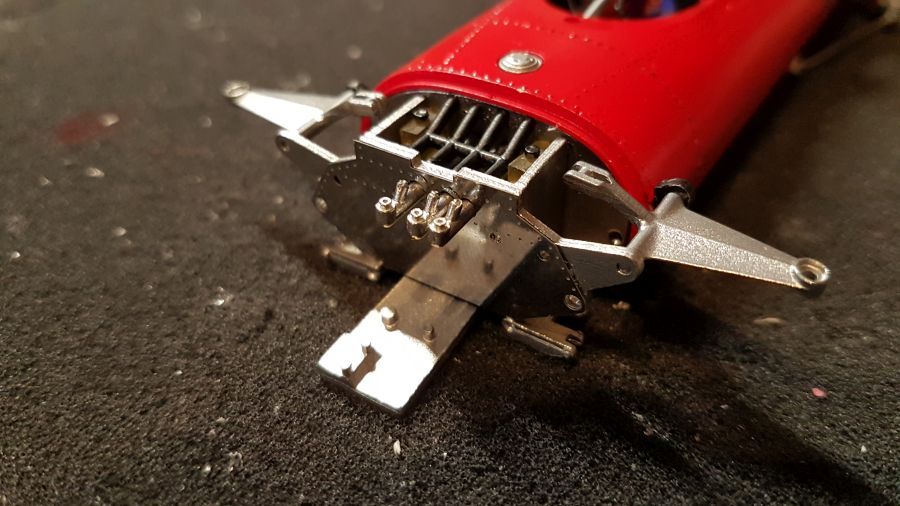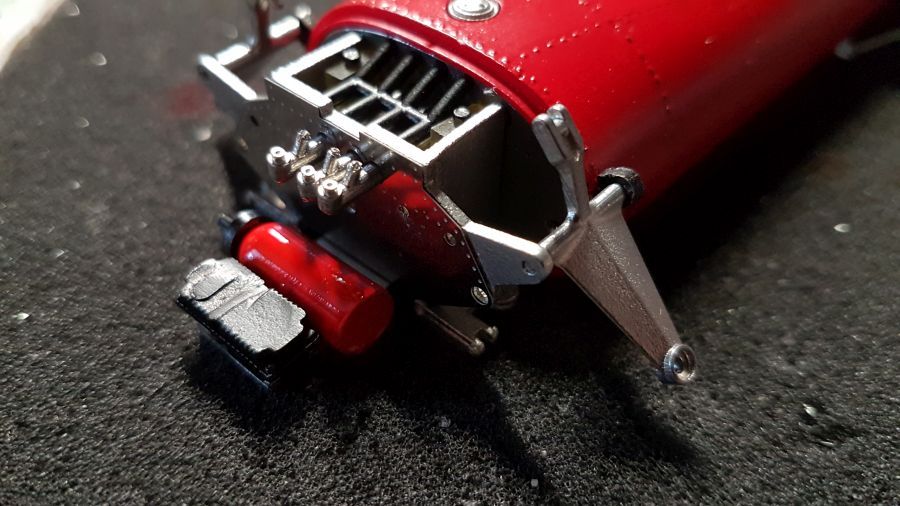 De neus krijgt de gaten gevuld. Er komen ander vleugels op.
The nose gets the holes filled. Different wings will be attached.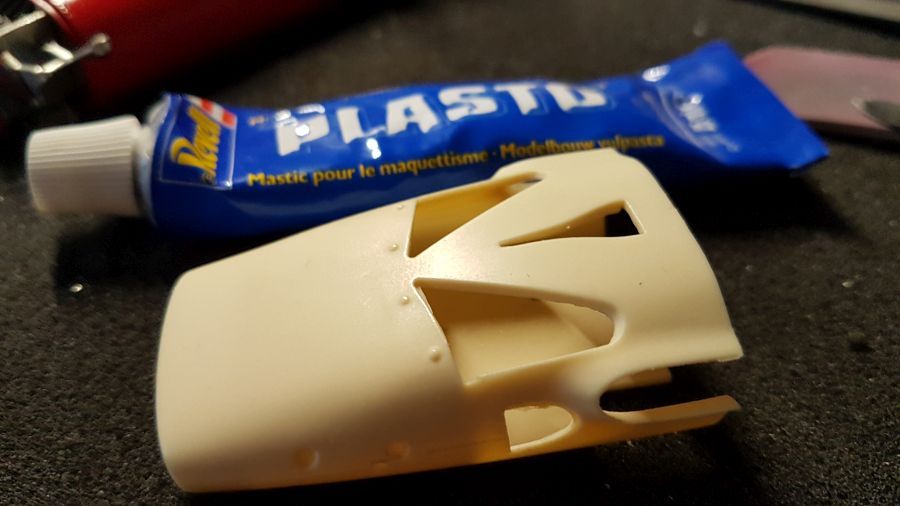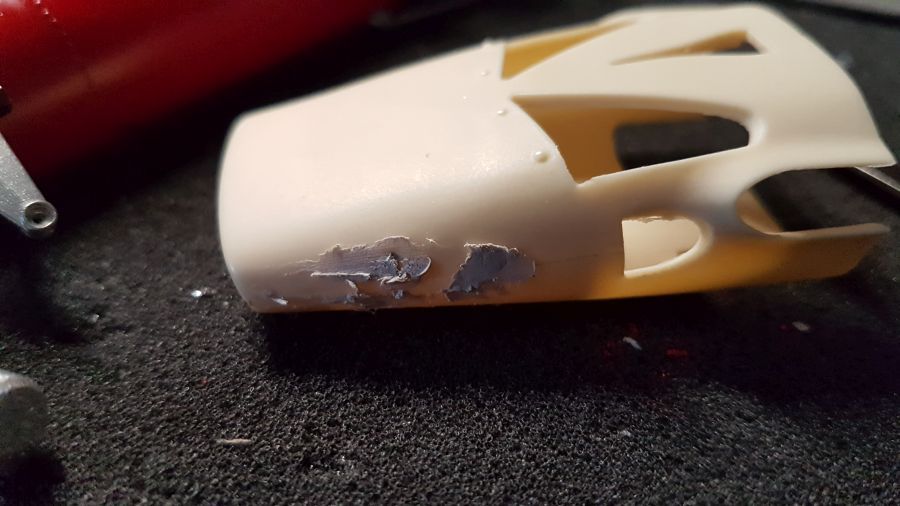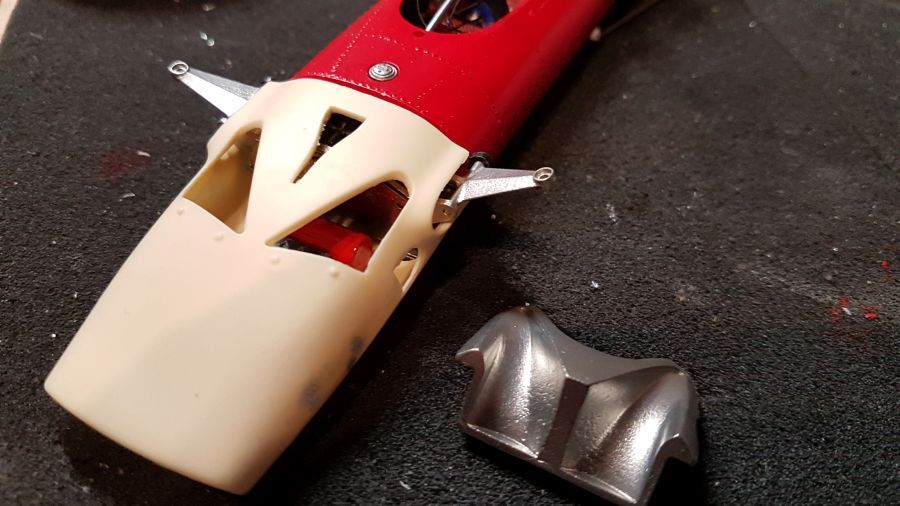 Intussen alvast verder met de koeler.
In the meantime i am working on the cooler.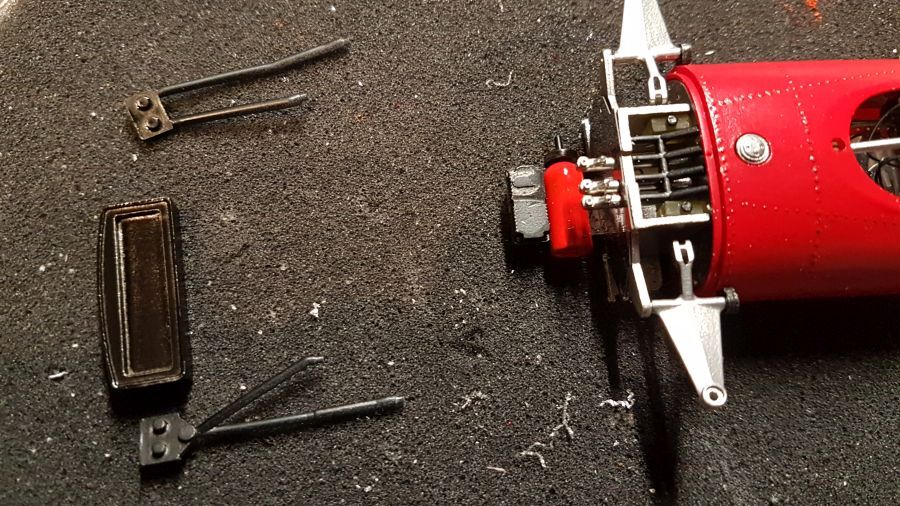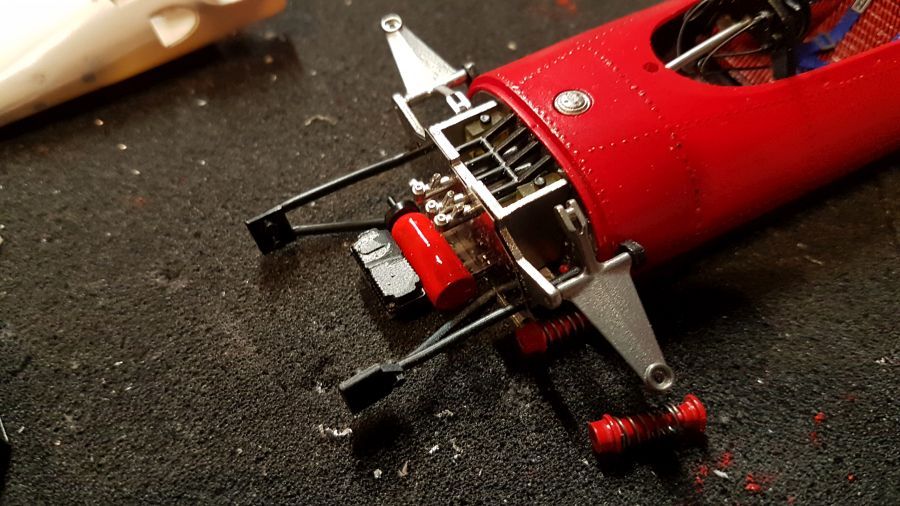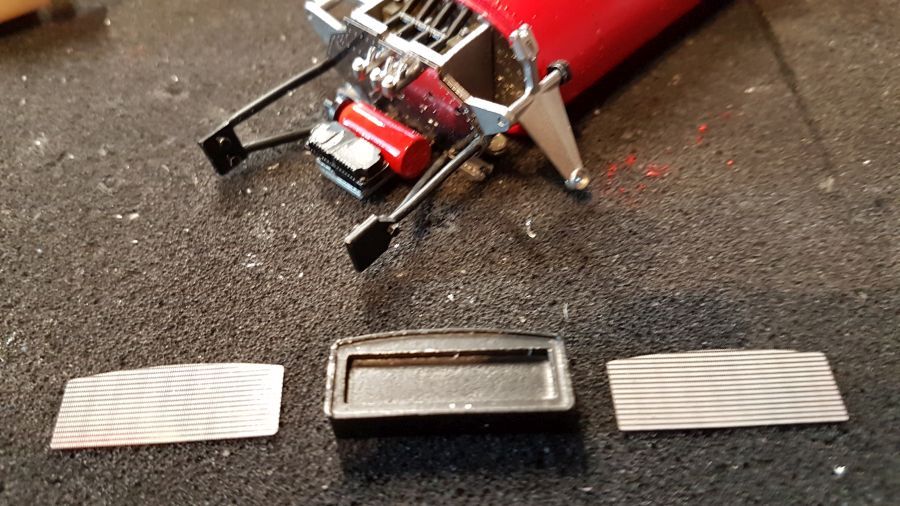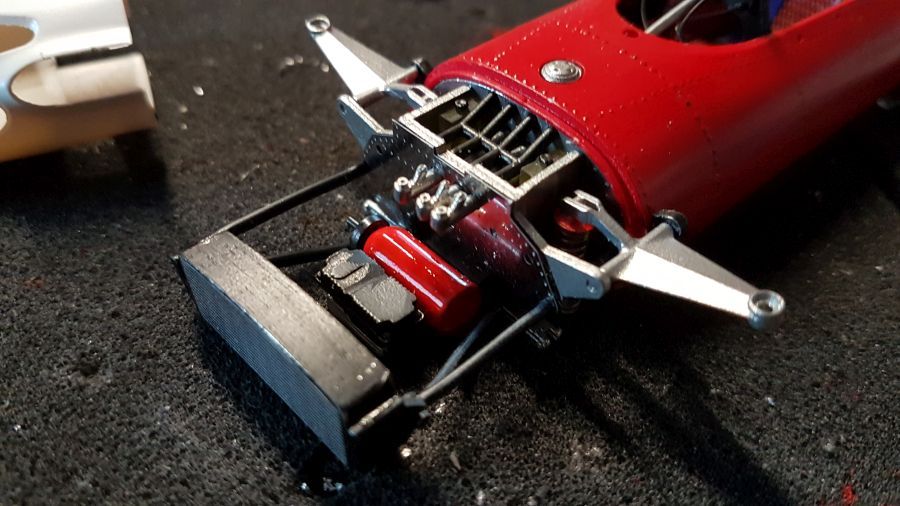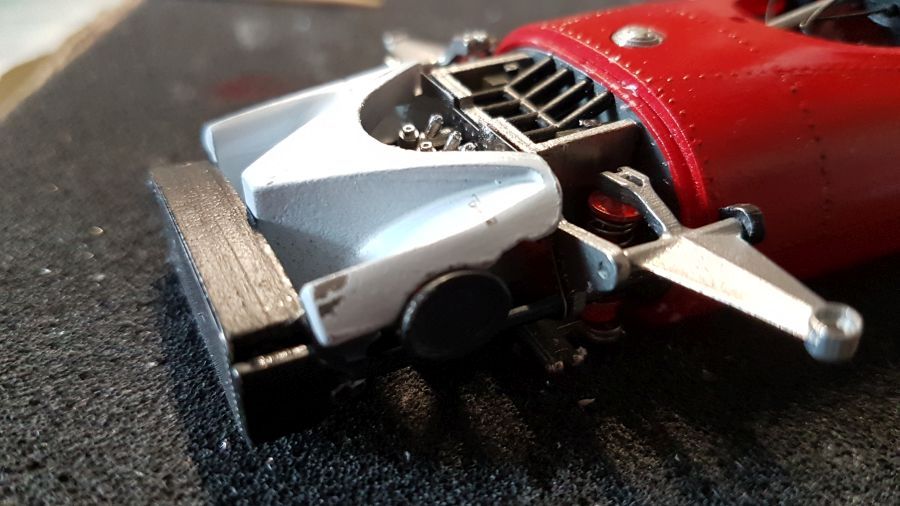 Beide kanten van de voorwielophanging worden op dezelfde hoogte gezet.
Both sides of the front wheel suspension are lined up to the same heighth.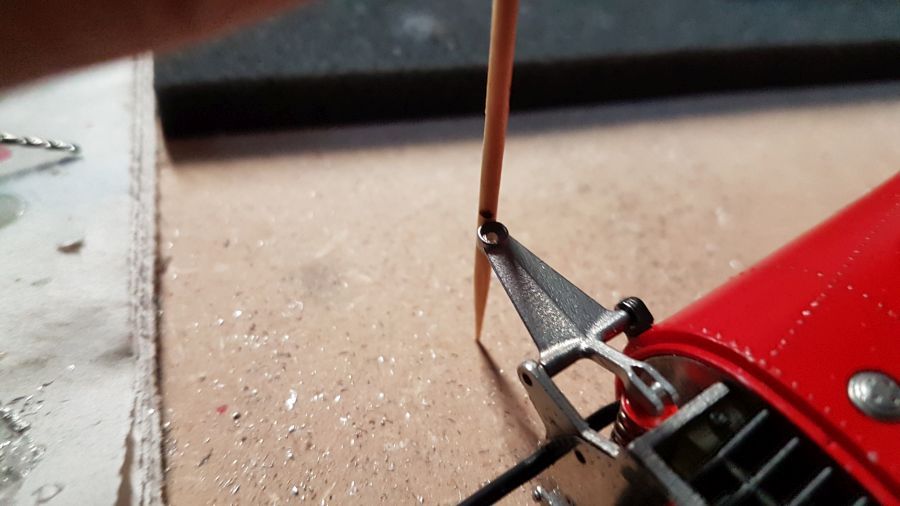 Passen is nu nodig!
Carefully test fit!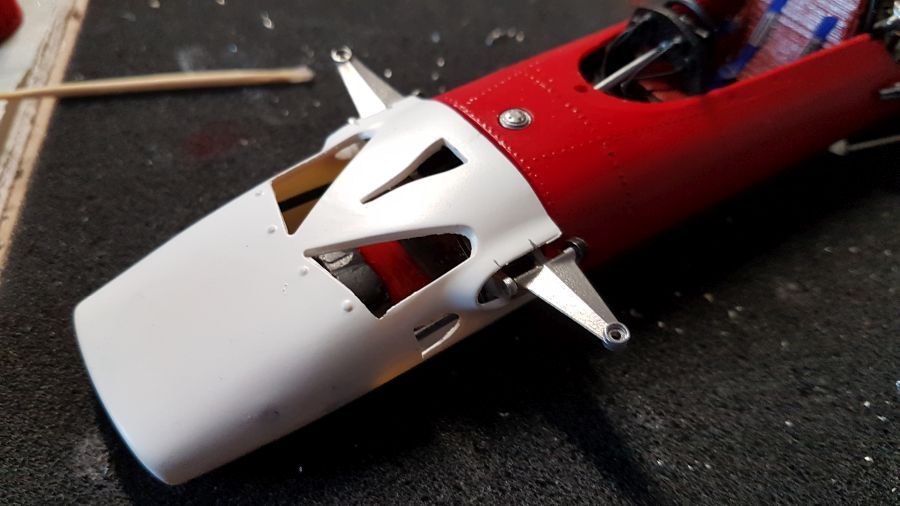 Even weer terug naar deze foto's. Het is belangrijk te bepalen wat er aan de neus moet worden gewijzigd. Moeten de koelingsgaten kleiner? Lastig te zien. Het Brumm model geeft ook niet echt uitslag. Die ziet er weer heel anders uit.De achtersteunen staan op de ophanging. De achtersteunen staan ter hoogte van het midden van de achterwielen. De voorsteunen gaan door de neus. De voorsteunen staan voor het midden van de voorwielen.
Back to these photos. It's important to determine what cganges need to be made to the nose. Do the holes of the cooling need to be smaller? Hard to see. The Brumm model doesn't give info either. It looks quite different. The rear supports are mounted to the suspernsion. The rear supports are in the middle of the rear wheels. The front supports go through the nose. The front supports are a little bit in front of the middle of the front wheels.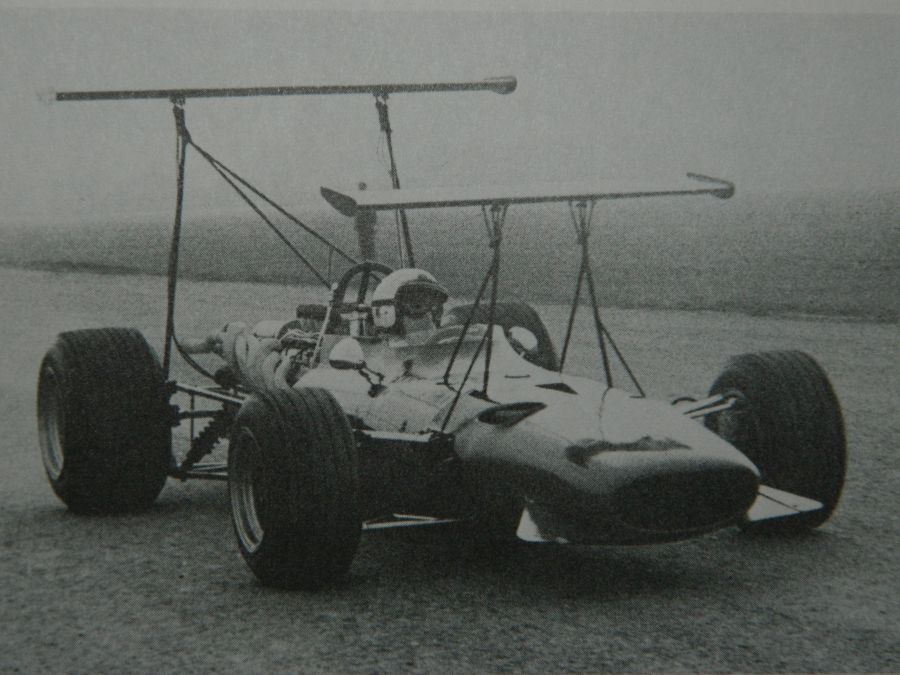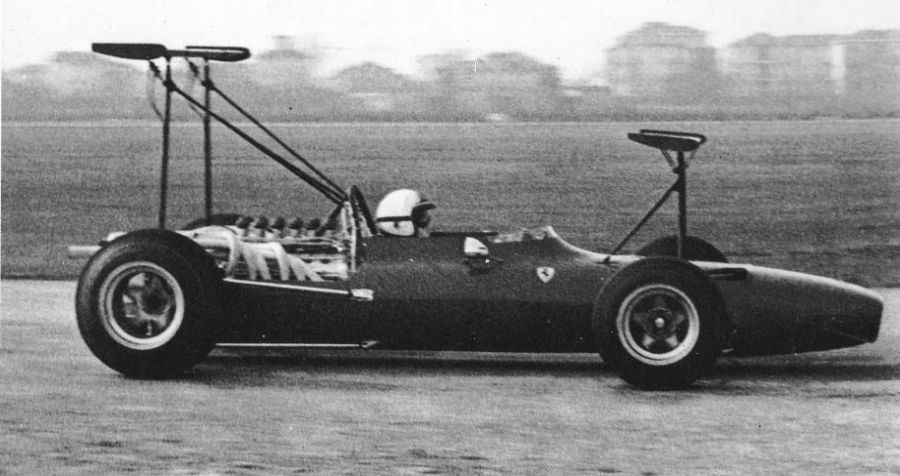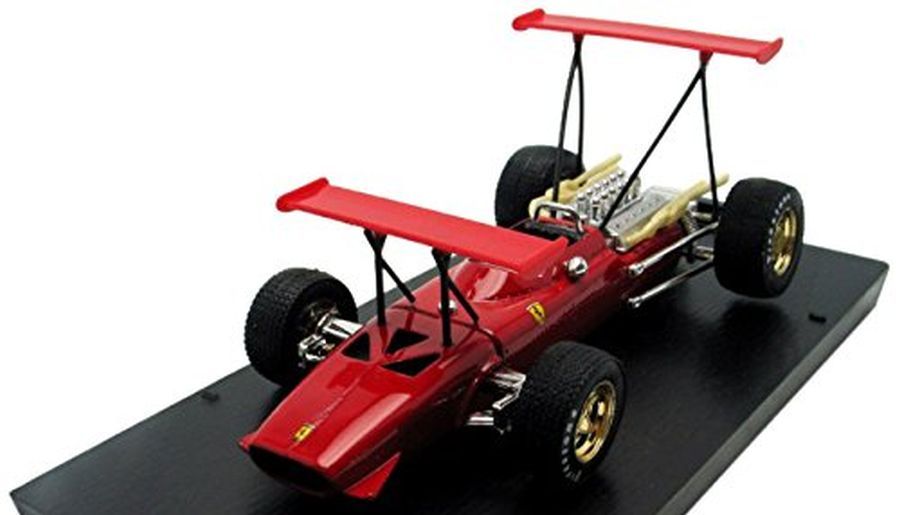 Hier zijn de 2 vleugels gezien vanaf de onderkant. De bevestigingspunten van de achtervleugel zijn niet te gebruiken. Die van de voorvleugel wel. De plaats is ook niet slecht denk ik om iets te bedenken voor het vastmaken van de vleugel. Misschien een stukje buis waarin de steun past?
Here are the 2 wings seen from the downside. The points of attaching are not useful on the rear wing. Those on the front wing might be. The spot of them might also be o.k. to think of something to attach the wing. Maybe a piece of tube in which the support fits?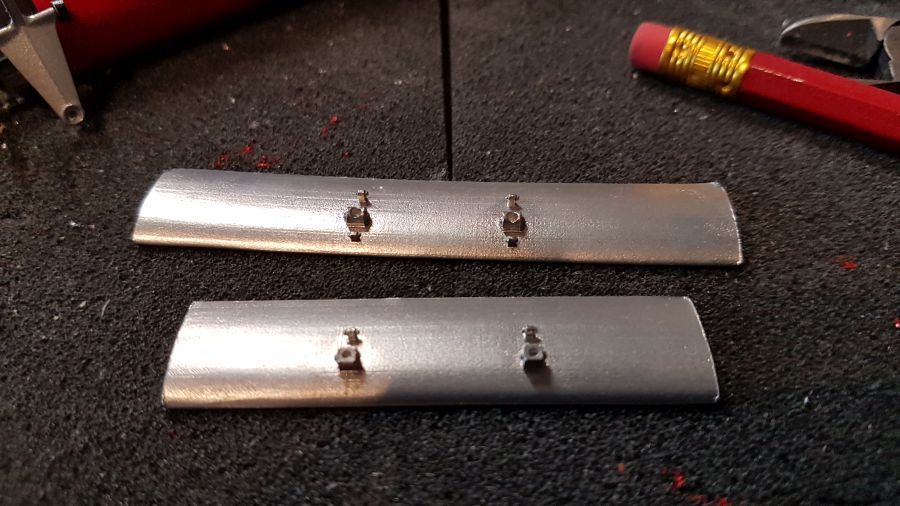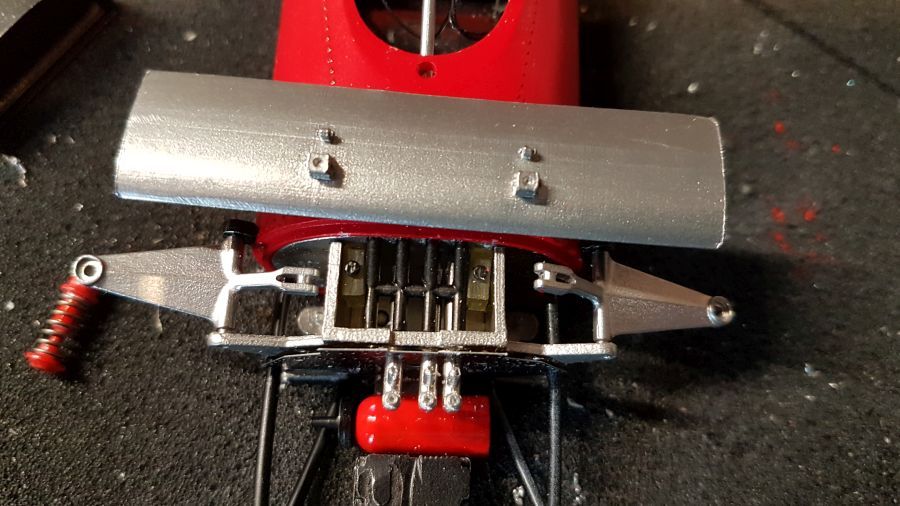 Hulplijnen op de neus.
Drawn lines to help.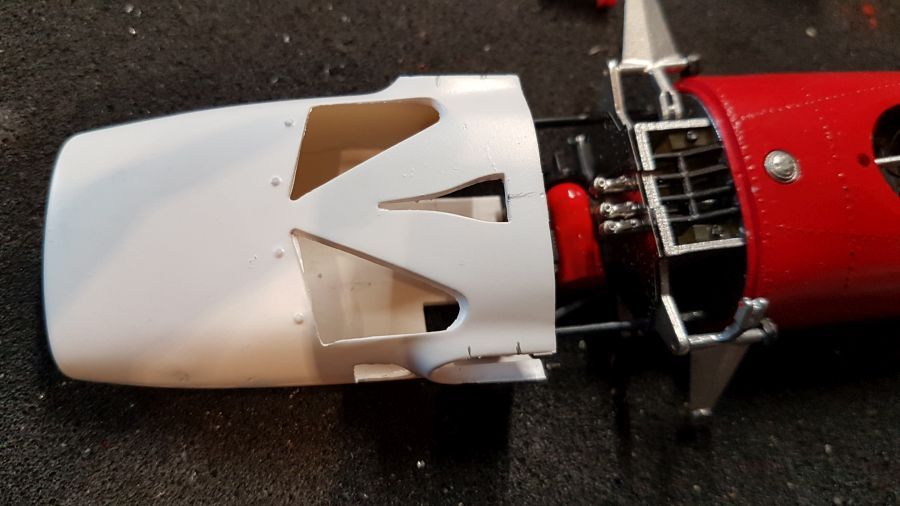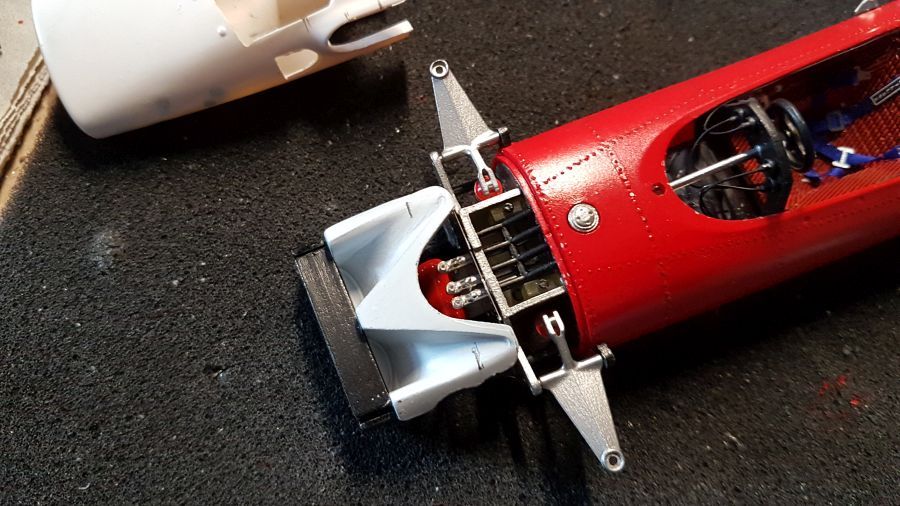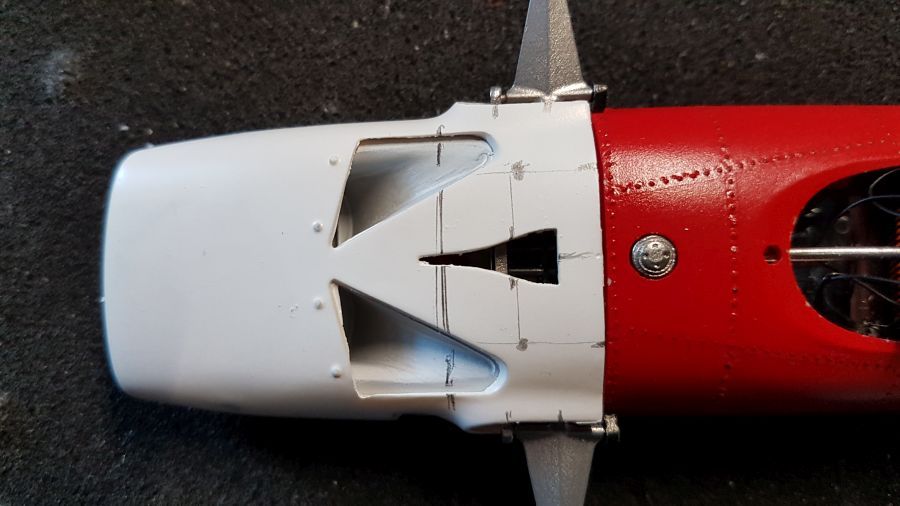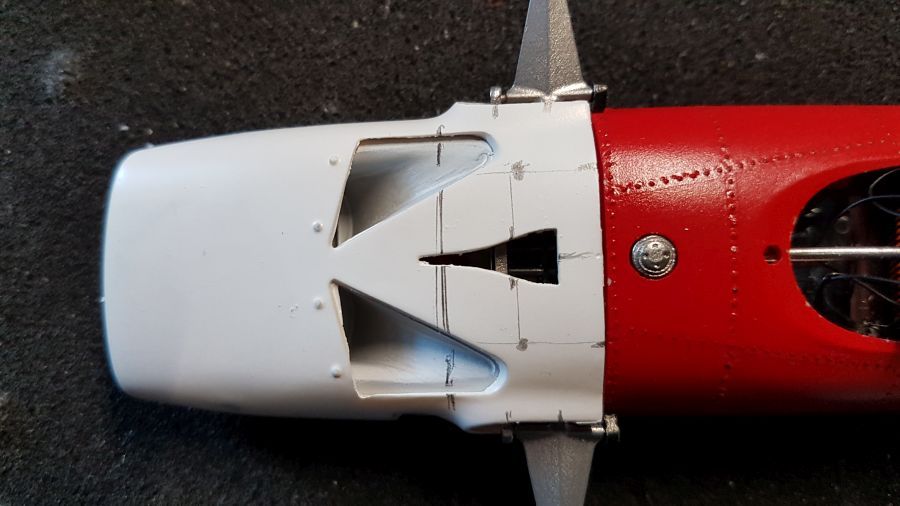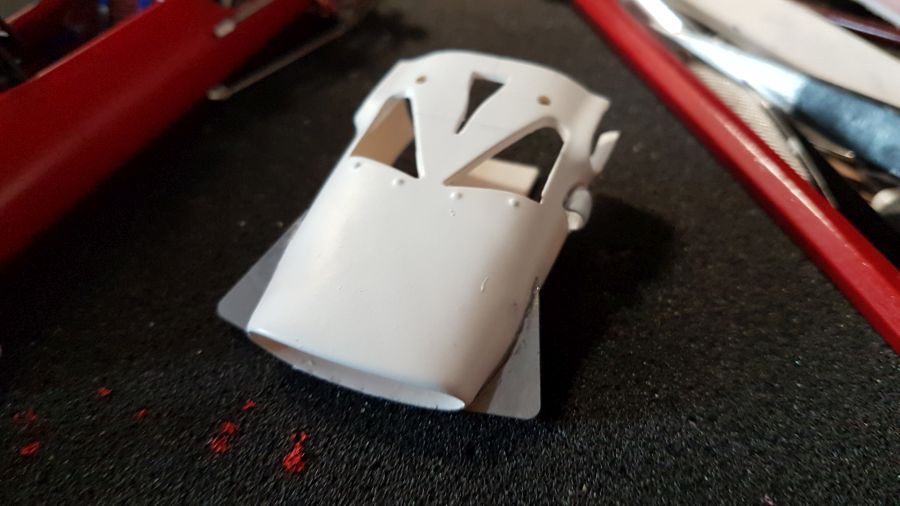 Ik heb besloten de achterkant wat te veranderen, omdat daar een oliereservoit geplaats moet worden voor de 'besturing' van de achtervleugel.
I decided to change the rear a bit, as i needs an oil reservoir for the 'steering' of the rear wing.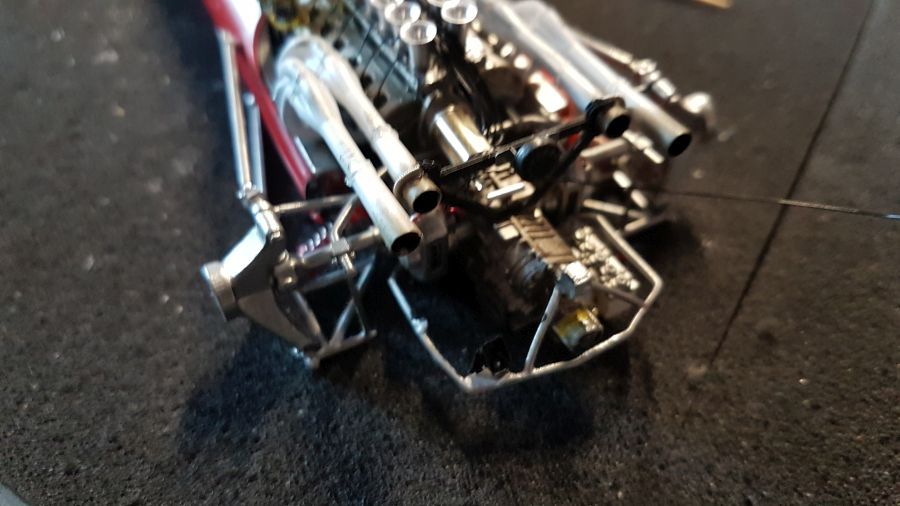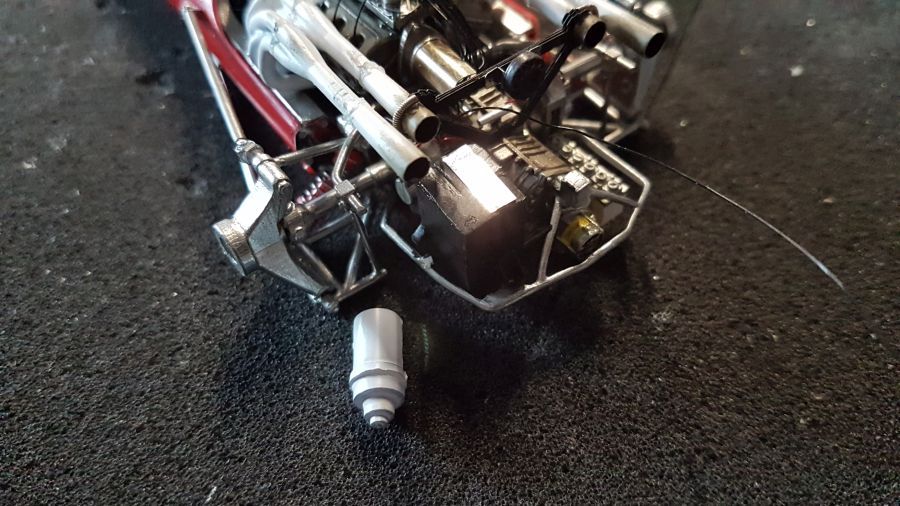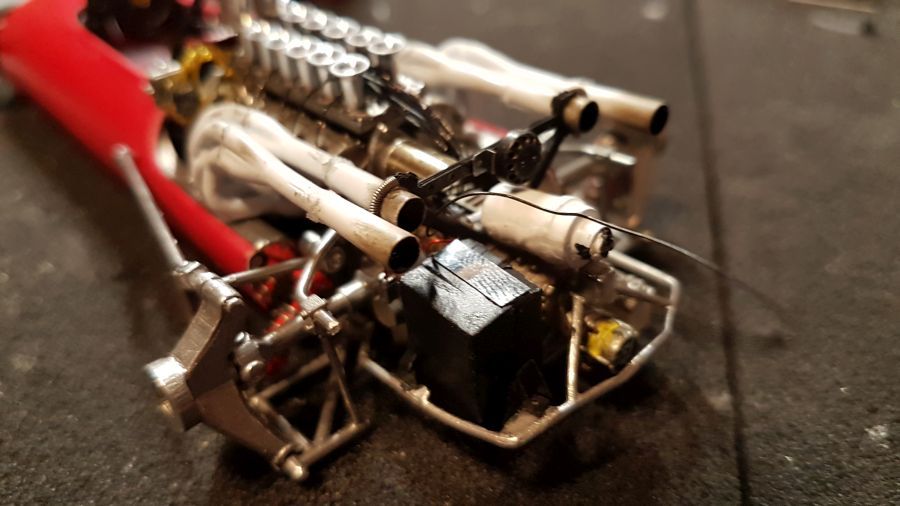 Intussen zijn onderdelen voor de voorkant rood gespoten...
In the meantime parts of the front have been painted red...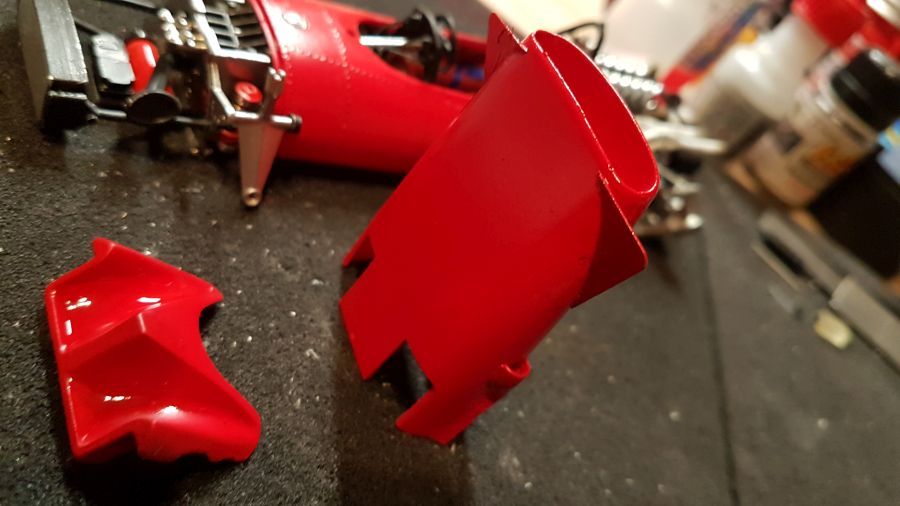 De onderste arm van de voorwielophanging wordt geplaatst. 
The lower arm of the front wheel suspension was added.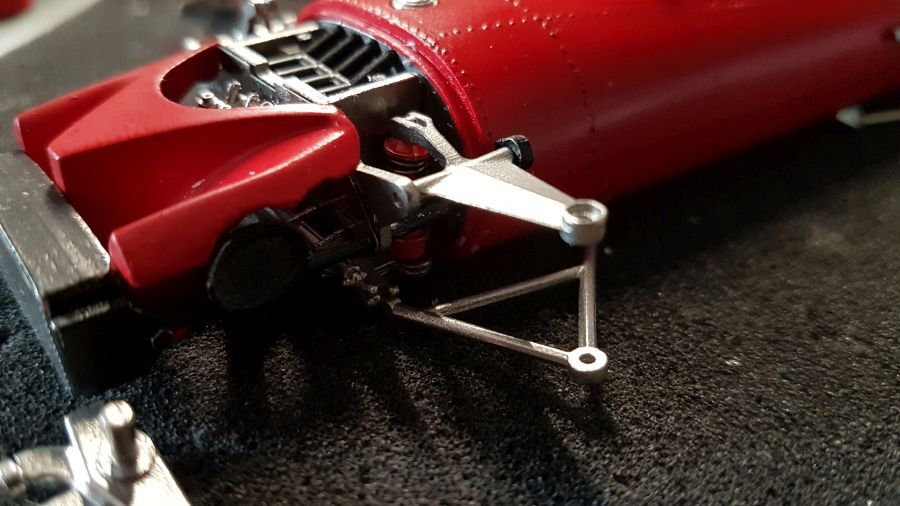 De delen waar de wielen op komen bevestig ik weer met popnagels.
The parts which will keep the wheel are added by using rivets.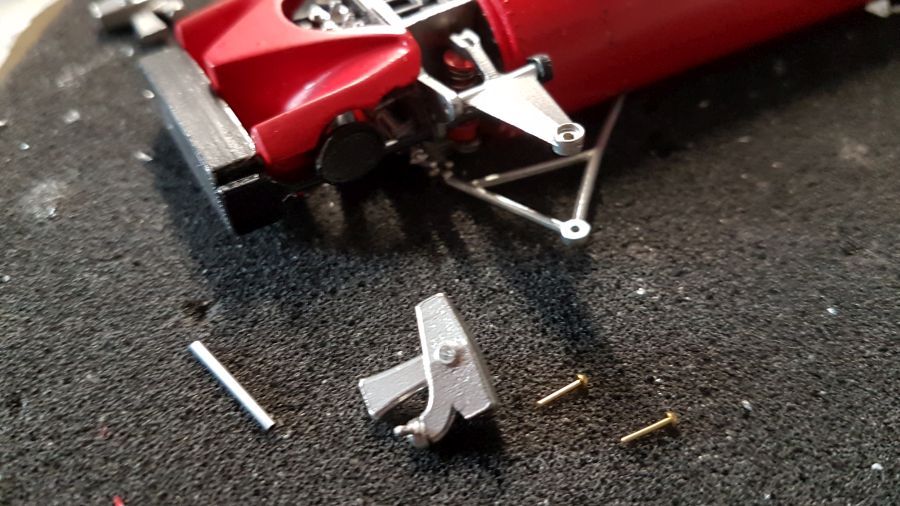 Om de juiste plek voor de buisjes voor de vleugel te bepalen, steek ik een cocktailprikker met een beetje verf door het gat.
To determine where to glue the tubes for the wing, i will stick a tooth pick with some paint through the hole.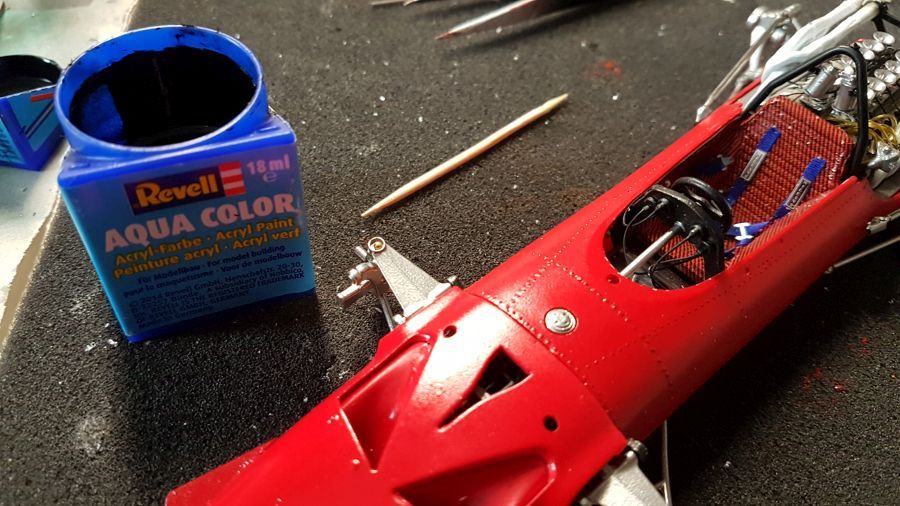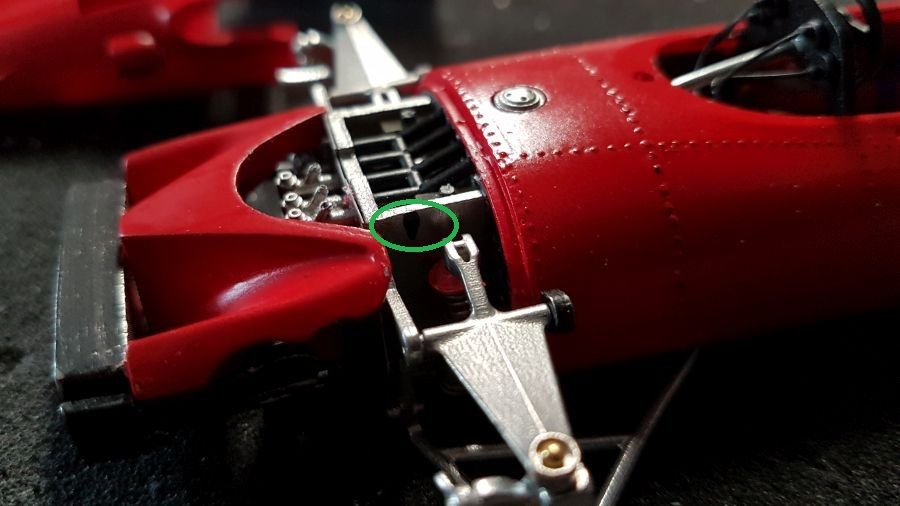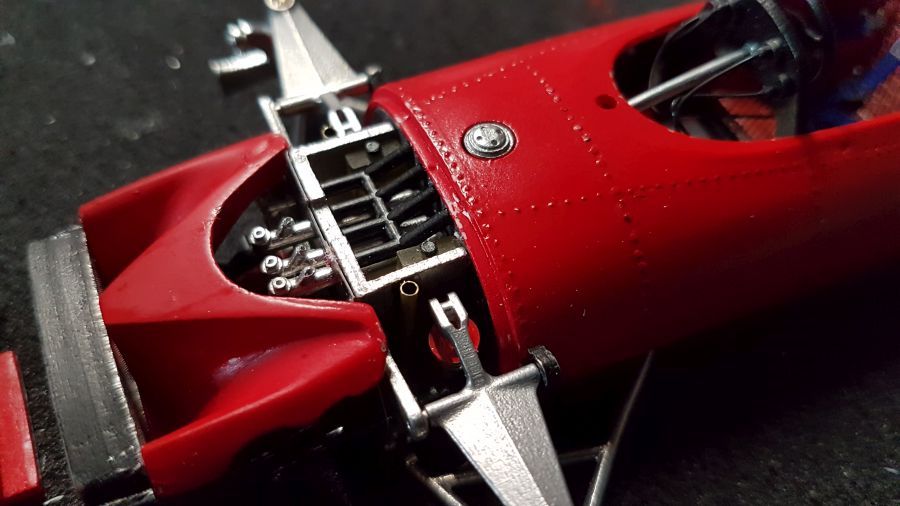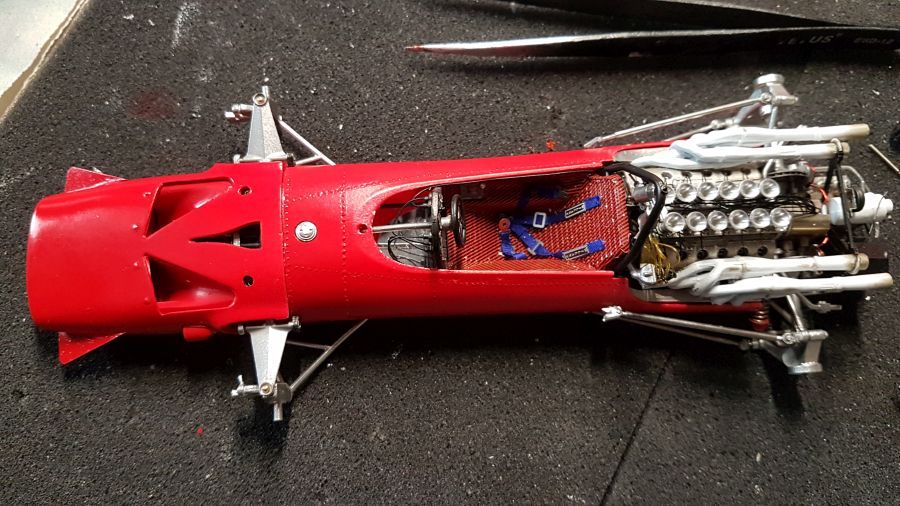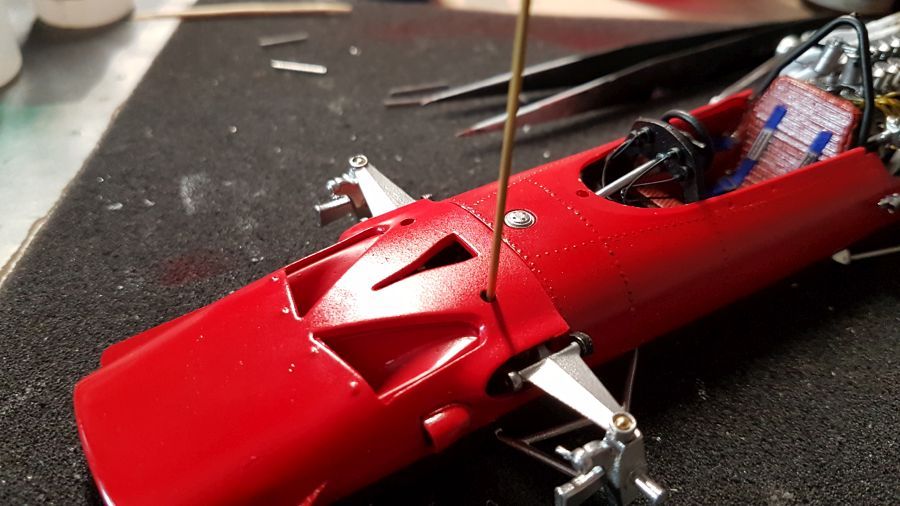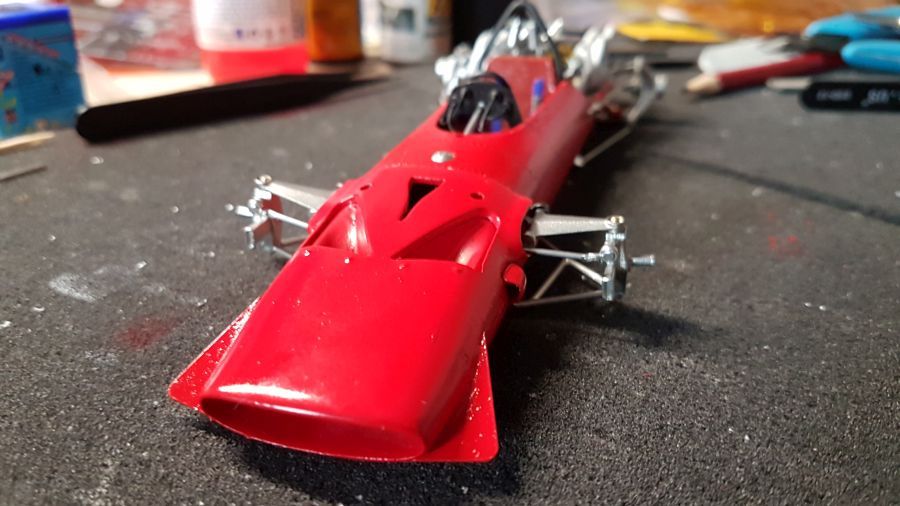 Door naar de velgen... Ik haat altijd het aanbrengen van de cirkels.
On to the rims... I always hate adding those circles.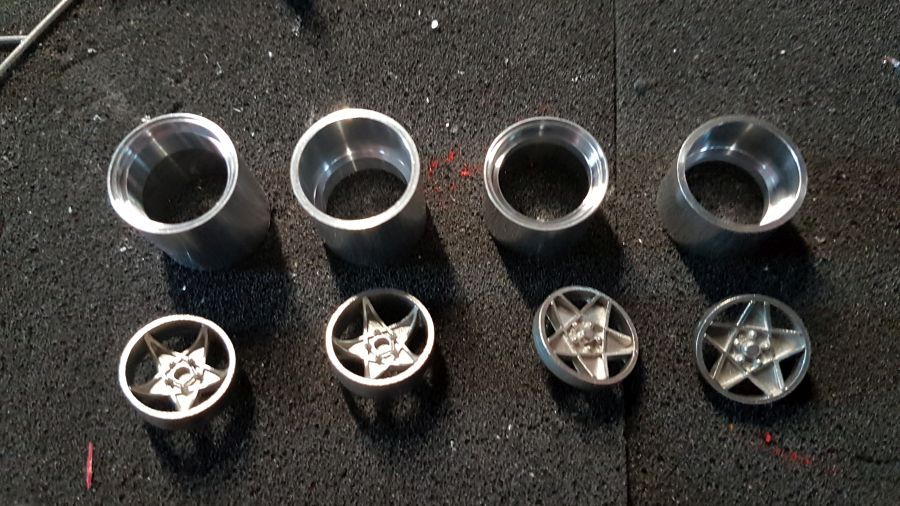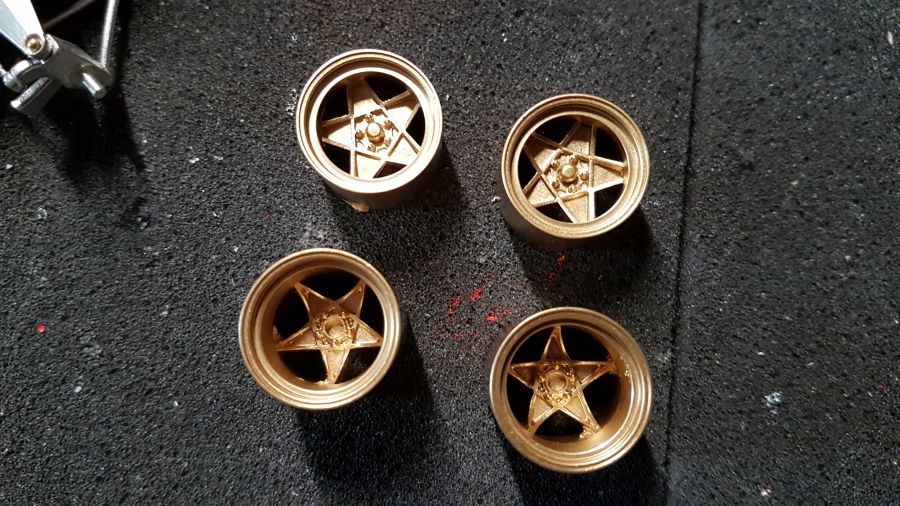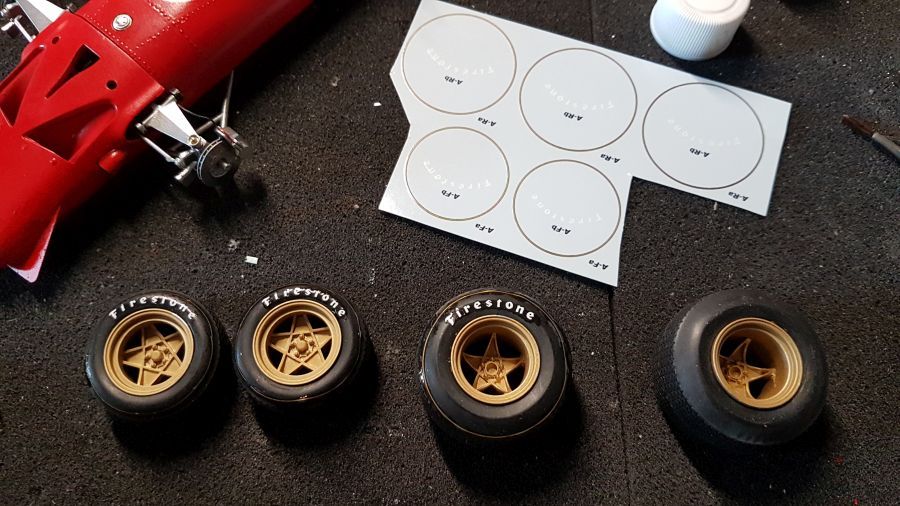 Terwijl dit droogt ga ik weer verder met de remmen aan de voorkant.
While this dries i will continue with the brakes to the front.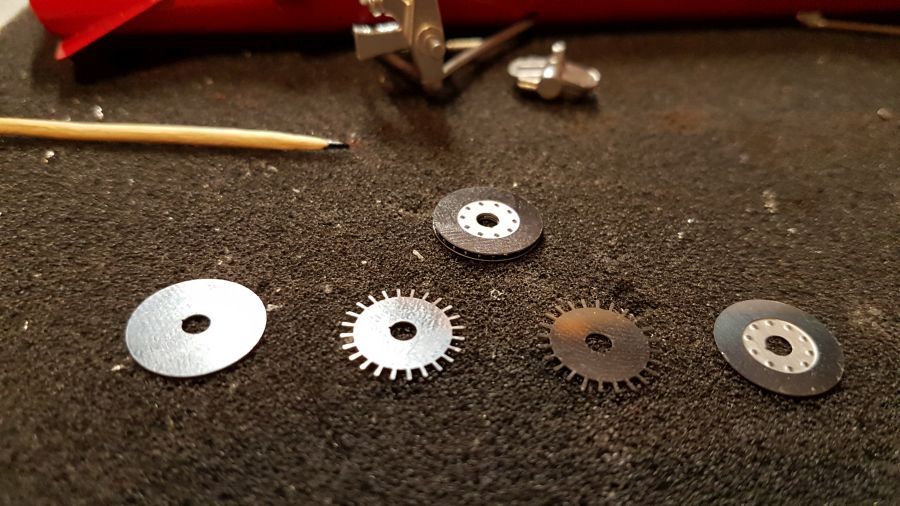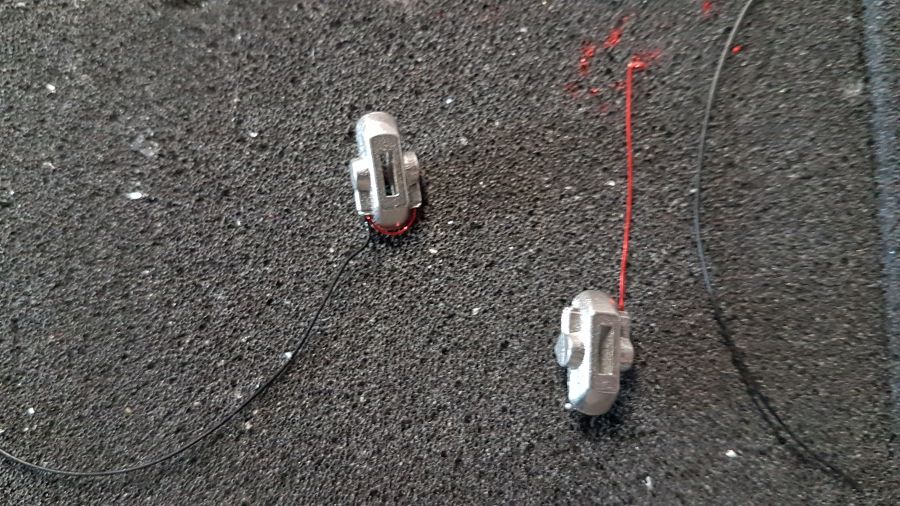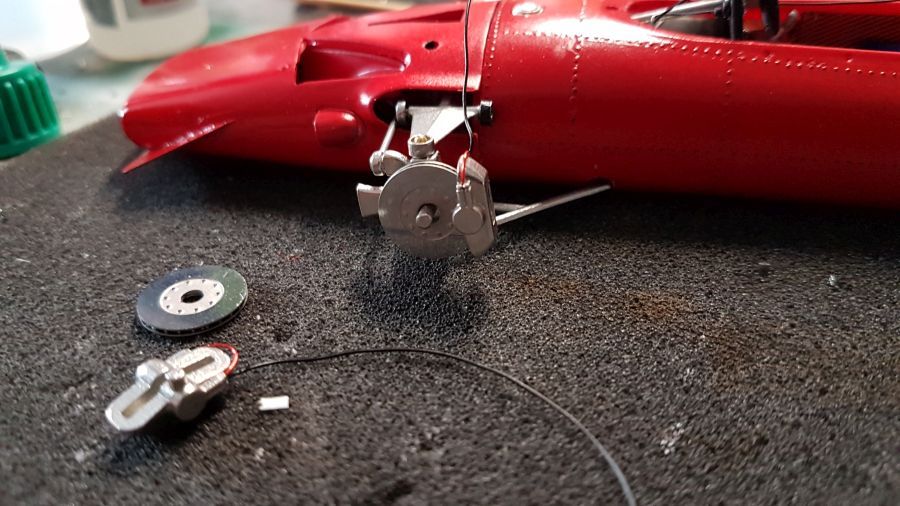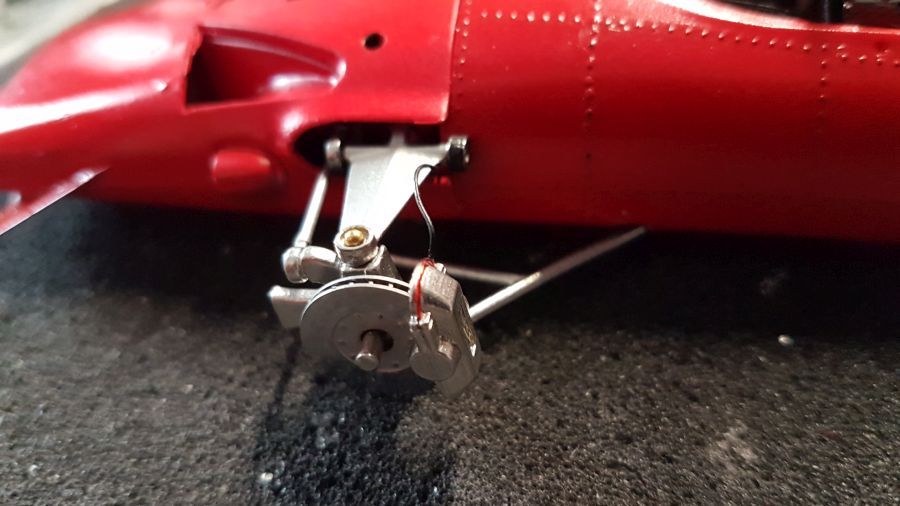 Dan weer kijken naar de voorste vleugel...
Next is looking at the front wing again...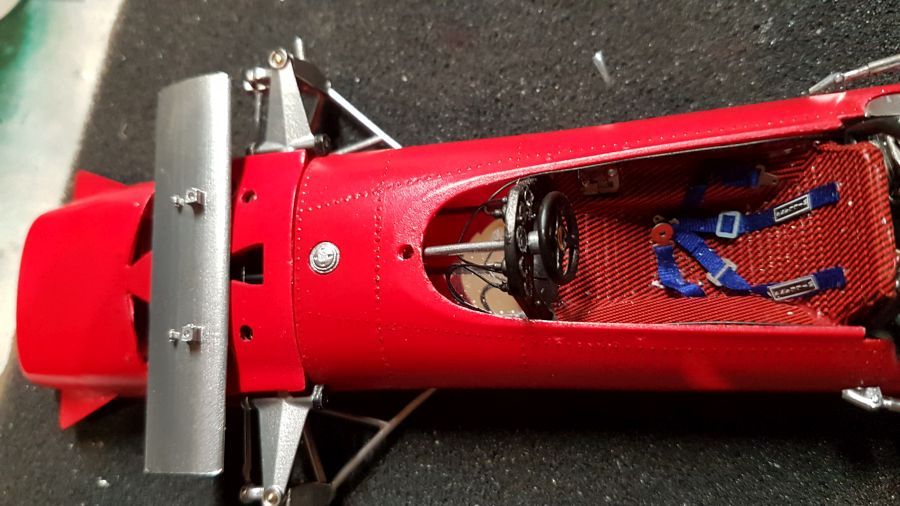 Dus rood is ongeveer gelijk aan groen. Dus de lengte van de pijp boven de body is 1 band voorbandhoogte. Bij de achterkant is geel ongeveer 2,5 keer de hoogte van de achterband (blauw).
So red is almost equal to green. So the rod above the bodywork is the same height as the front tire. The rear yellow is about 2,5 times the height of the rear tire (blue).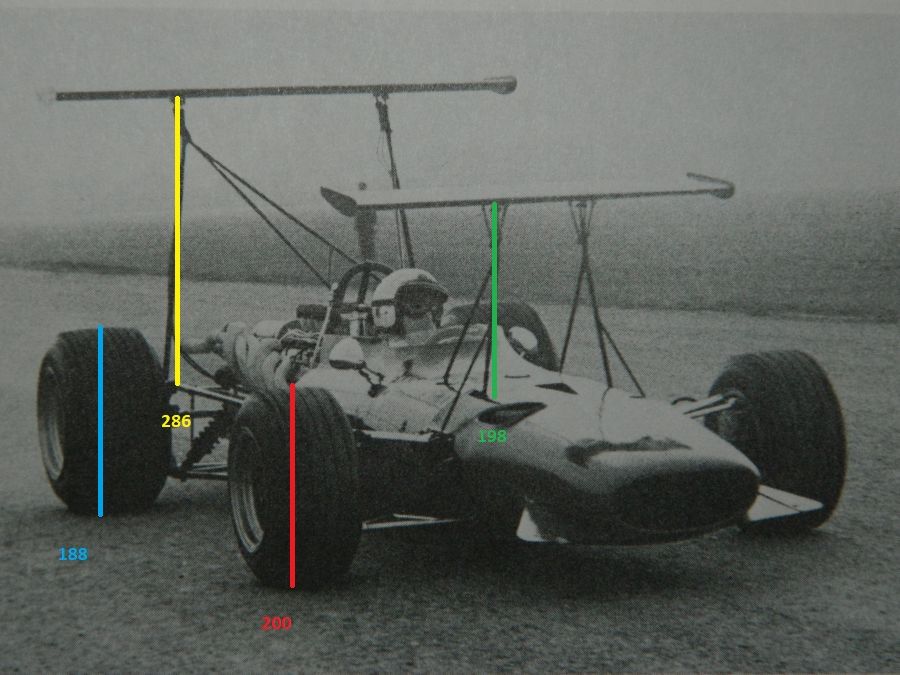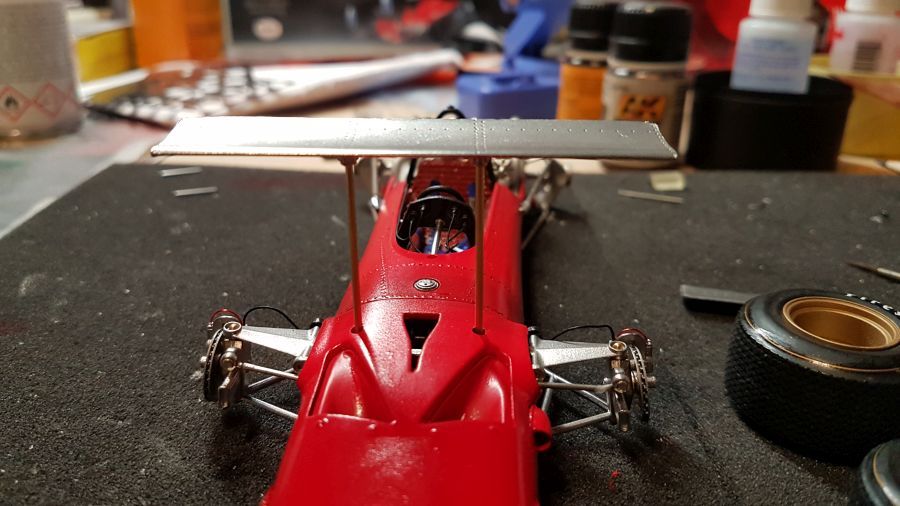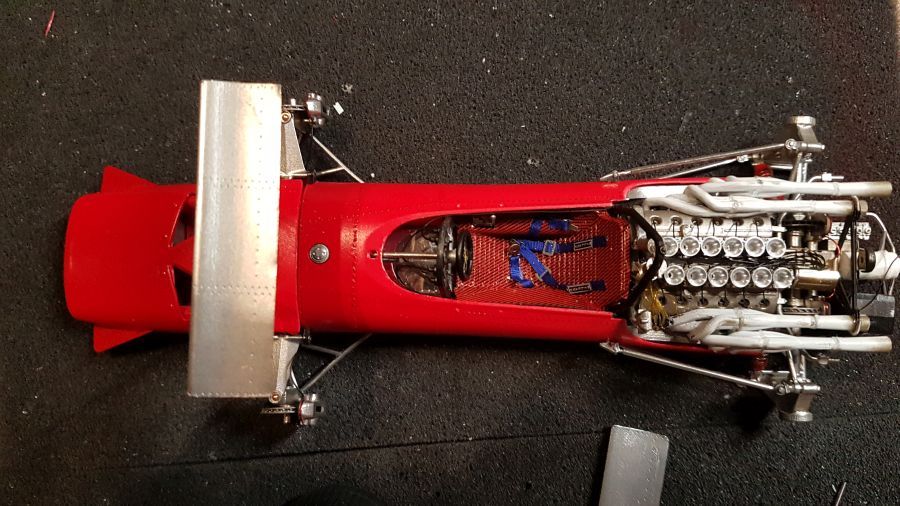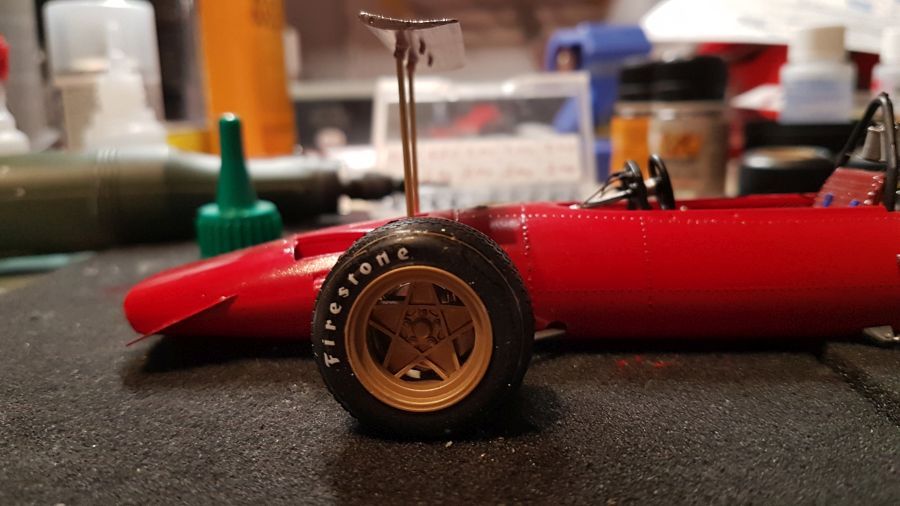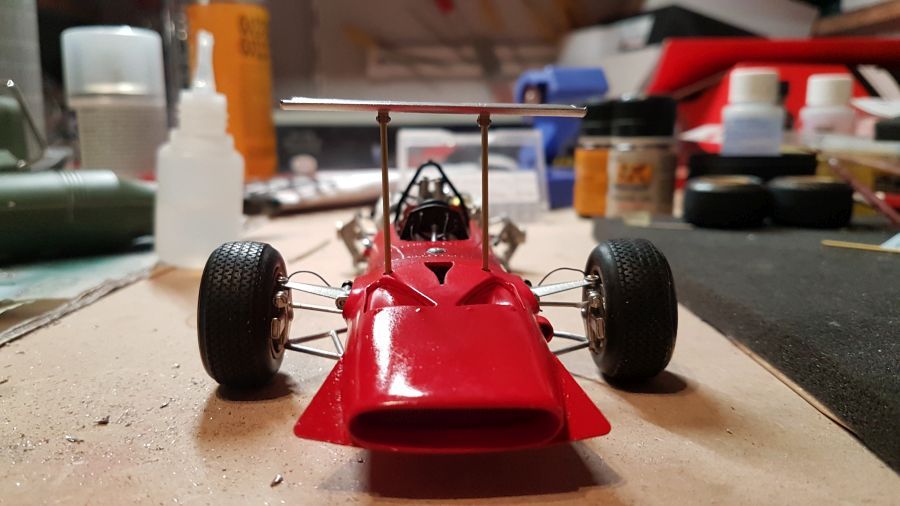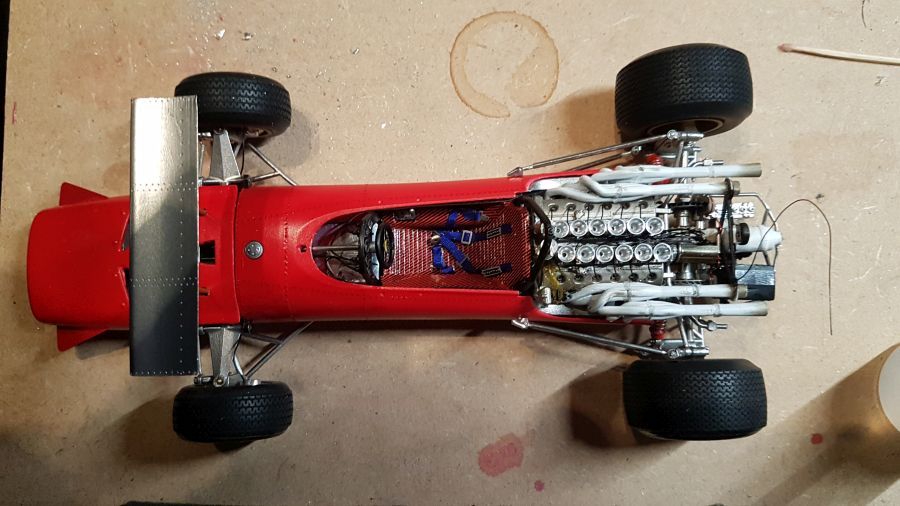 Dan iets dragends maken voor de achtervleugel. Wat buis wat in elkaar schuift. De basis is Albion 1,5/1,3 mm en daar schuift 1,3/1,1 mm buis in.
Next is making something to bear the rear wing. Some tubes that fit each other. The base is Albion 1,5/1,3 mm and 1,3/1,1 tube fits into it.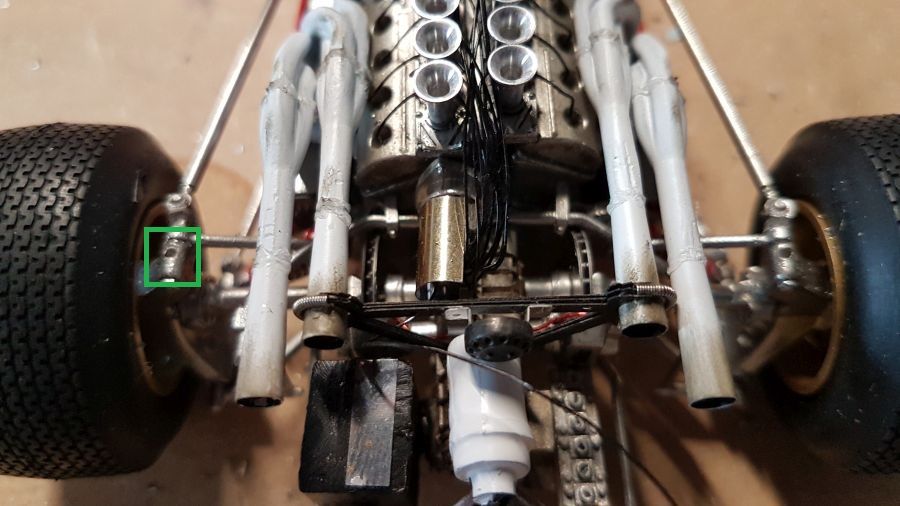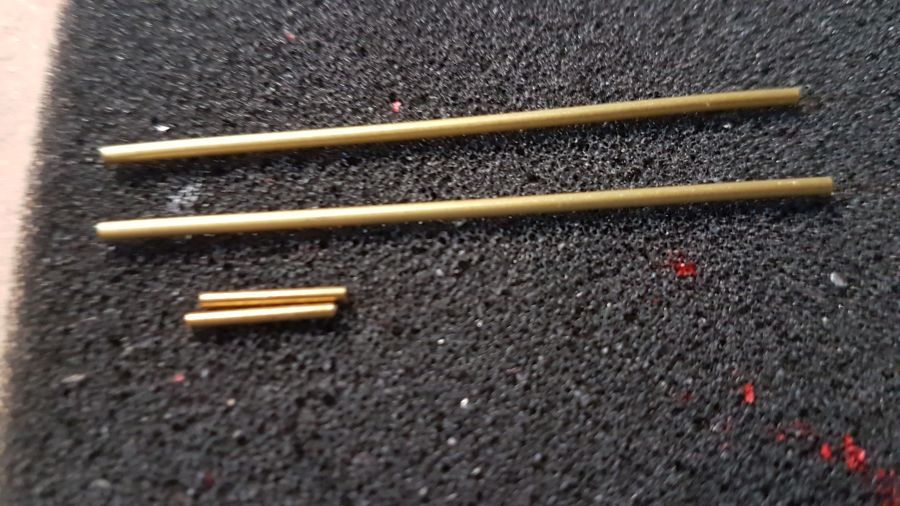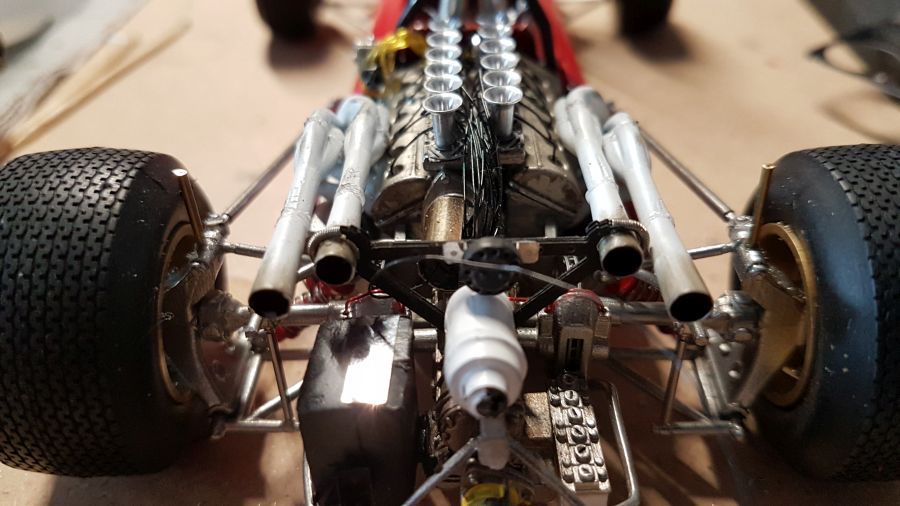 Terug naar de vleugels... De achtervleugel krijgt nieuwe bevestigingspunten.
Back to the wings... The rear wing gets new mounting points.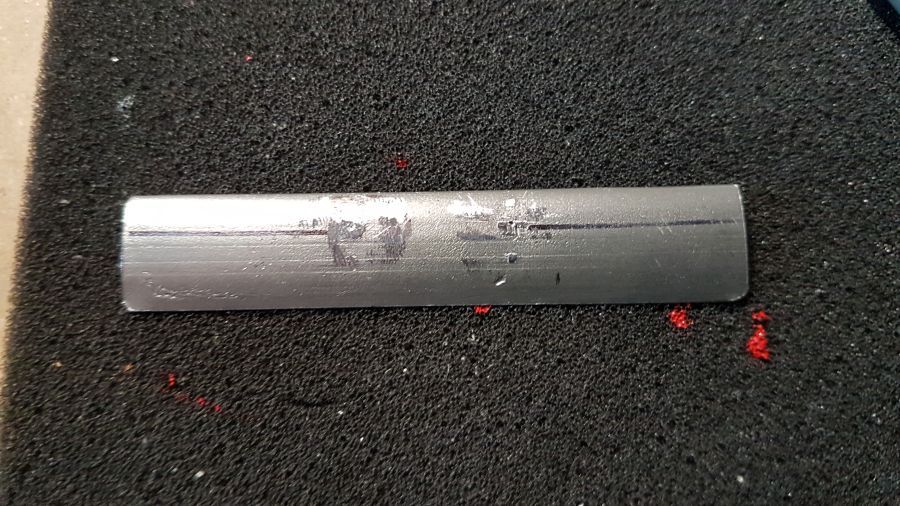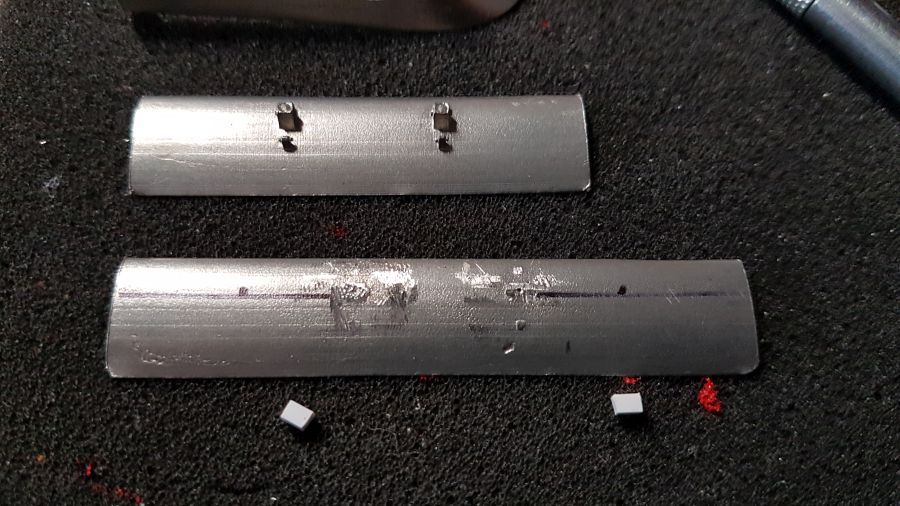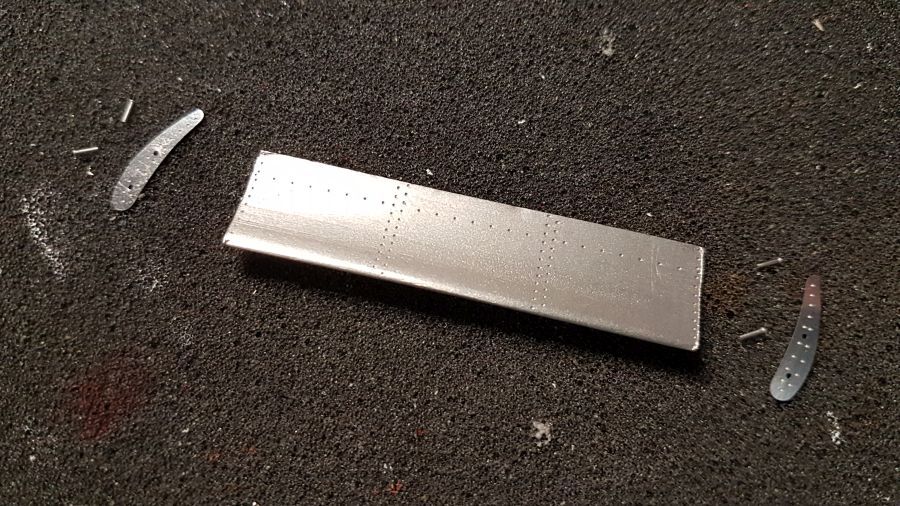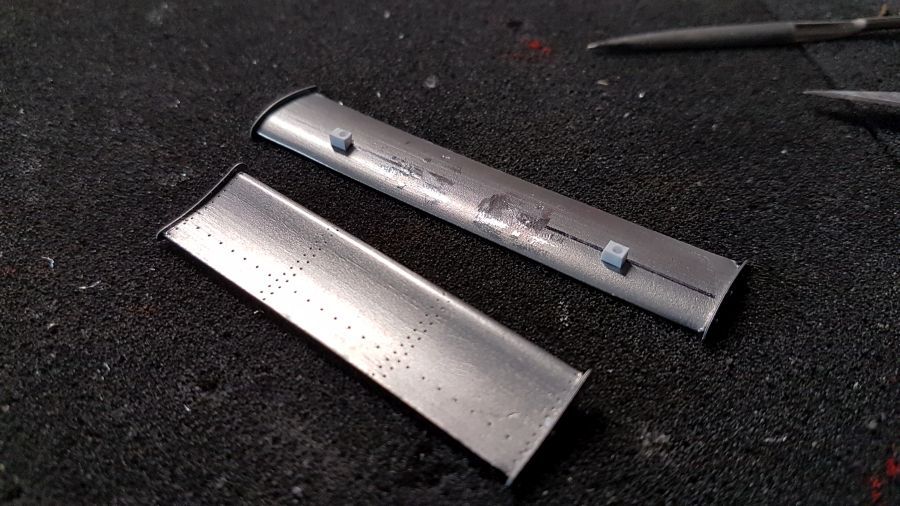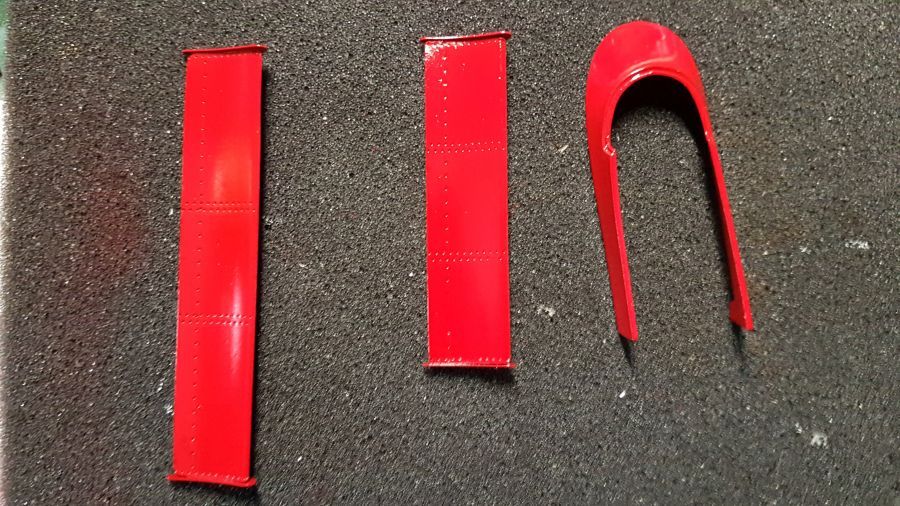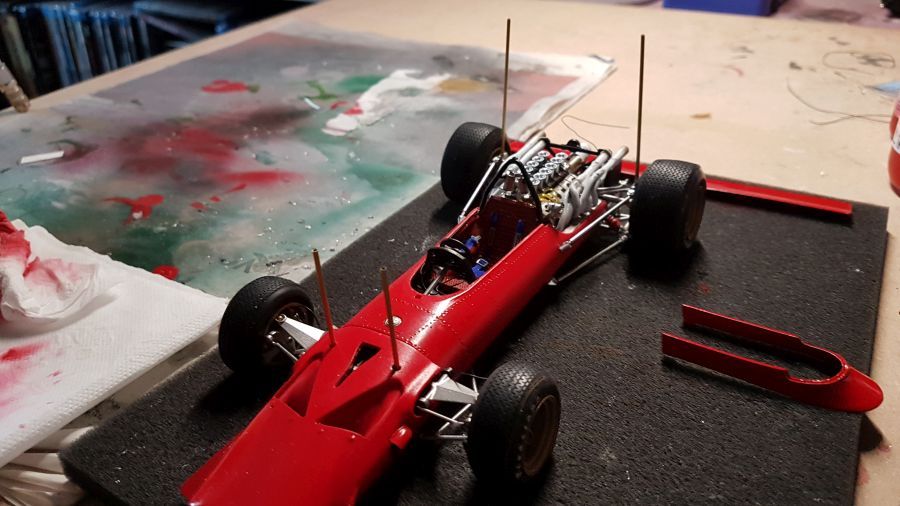 De eerste stappen van de montage...
The first steps to mounting...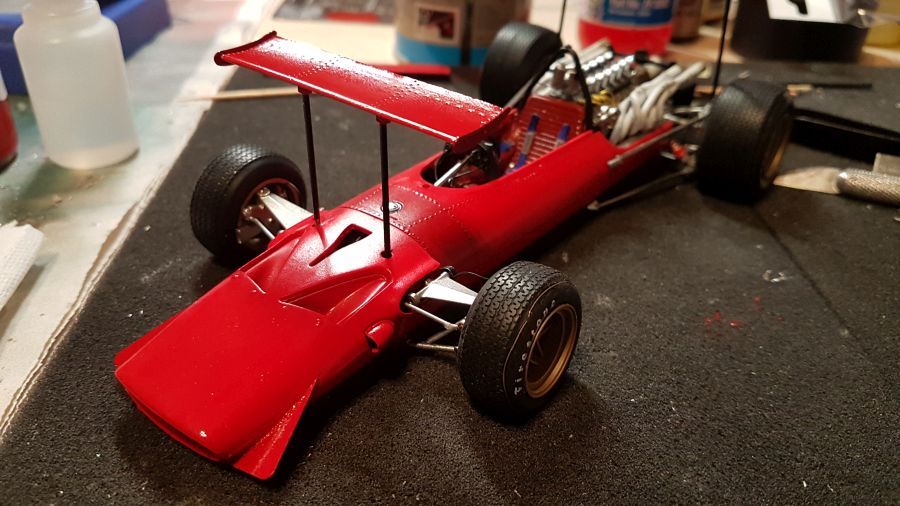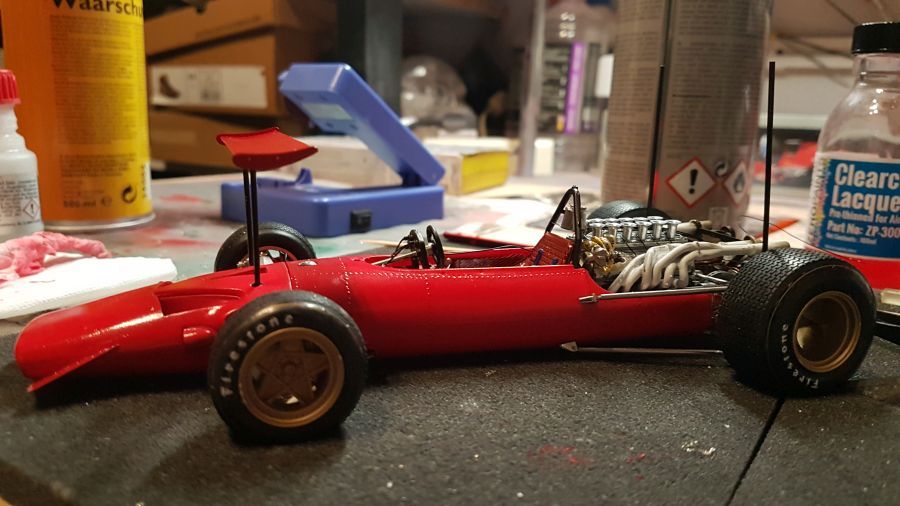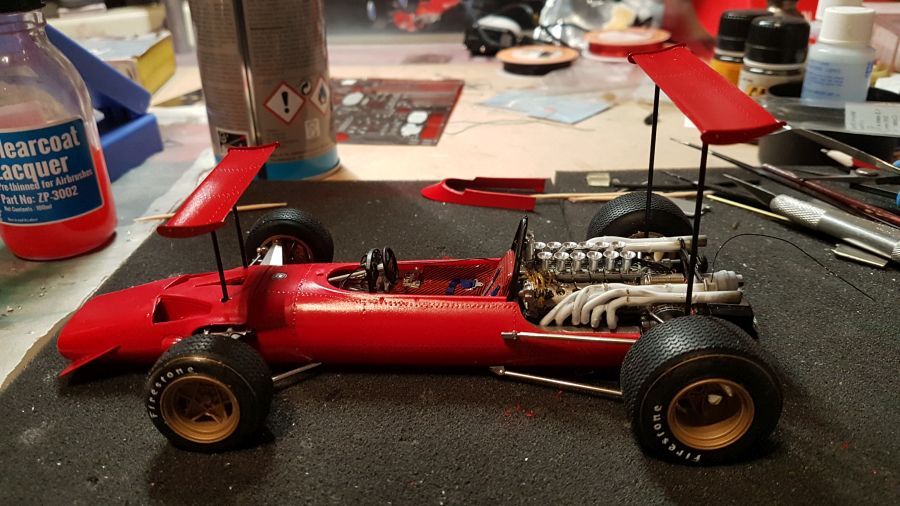 De trompetroosters worden eerst geplaatst.
The funnel covers are being added.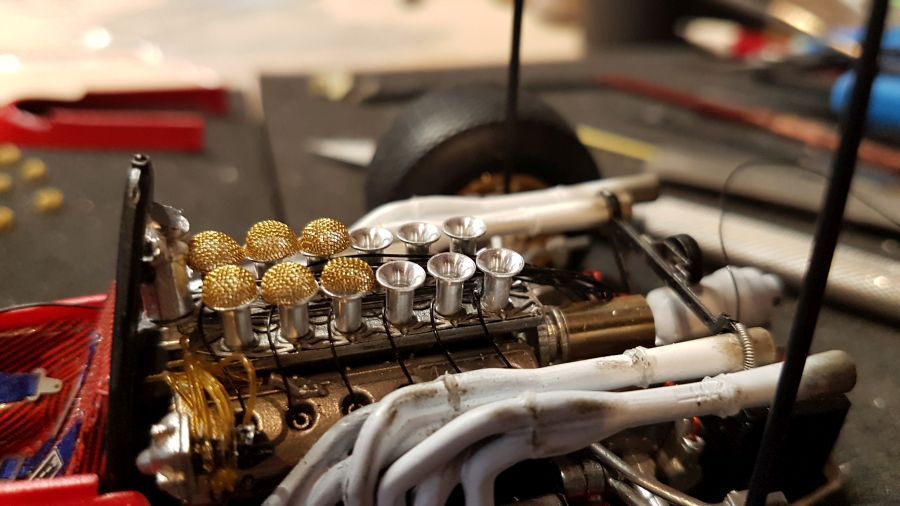 Dan verder werken aan de steunen. Dit neemt veel tijd.
Then more work to the supports. Very time consuming.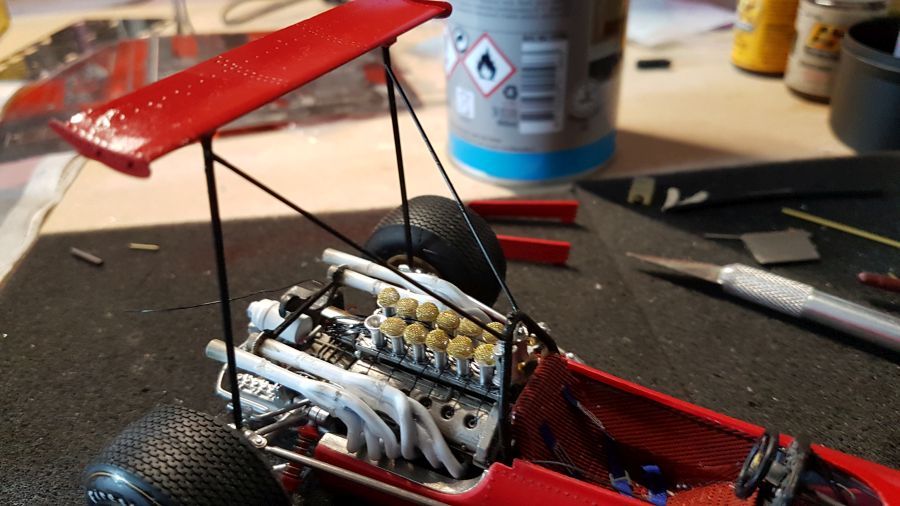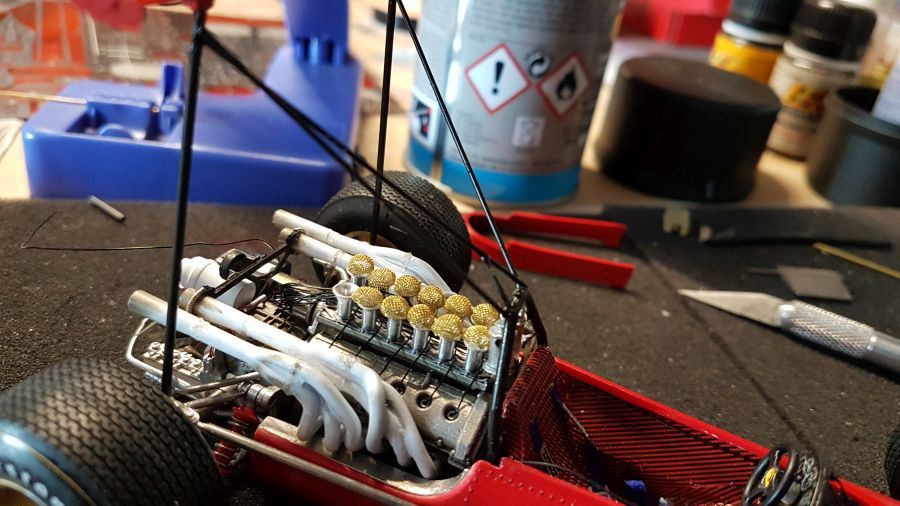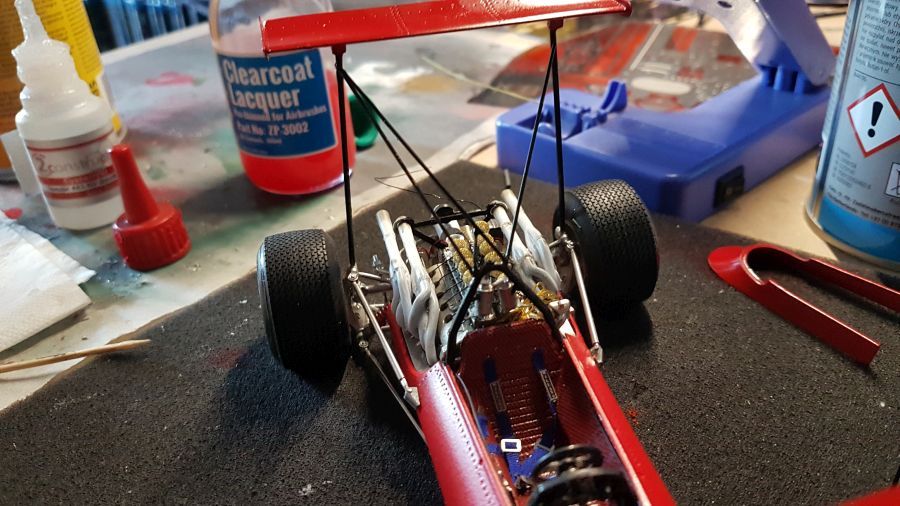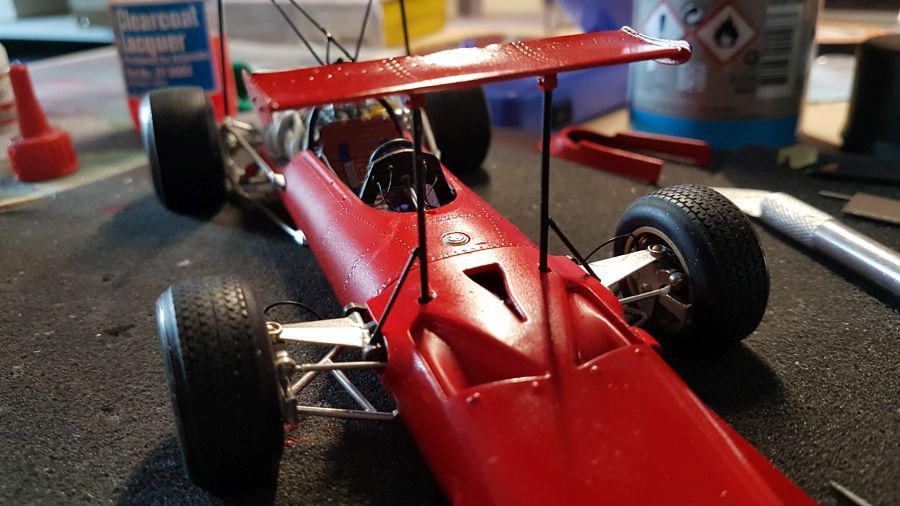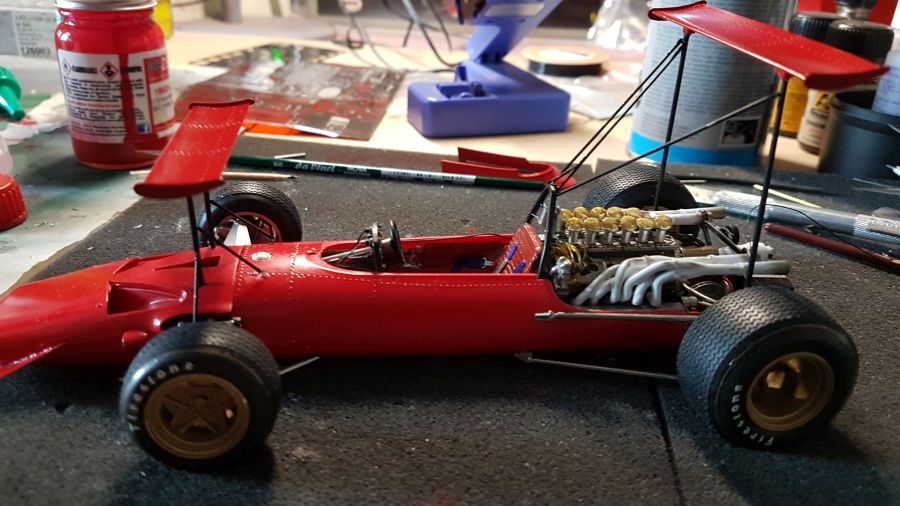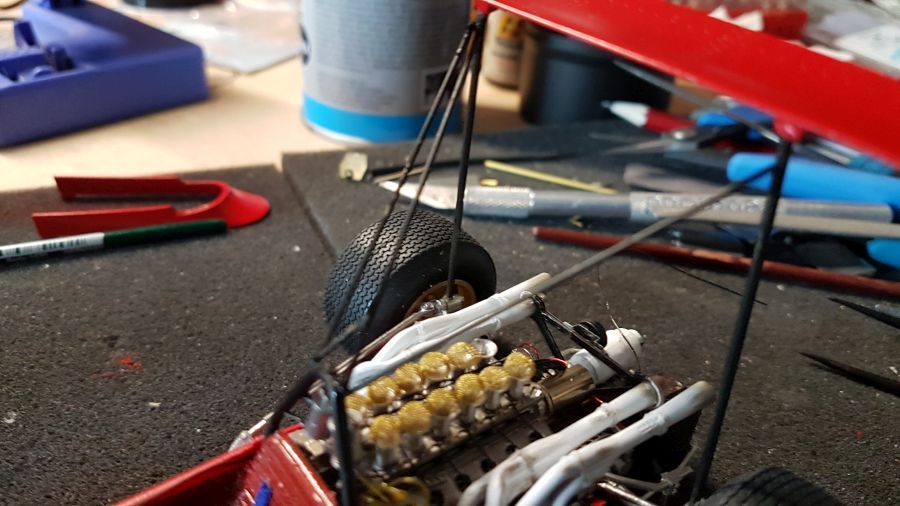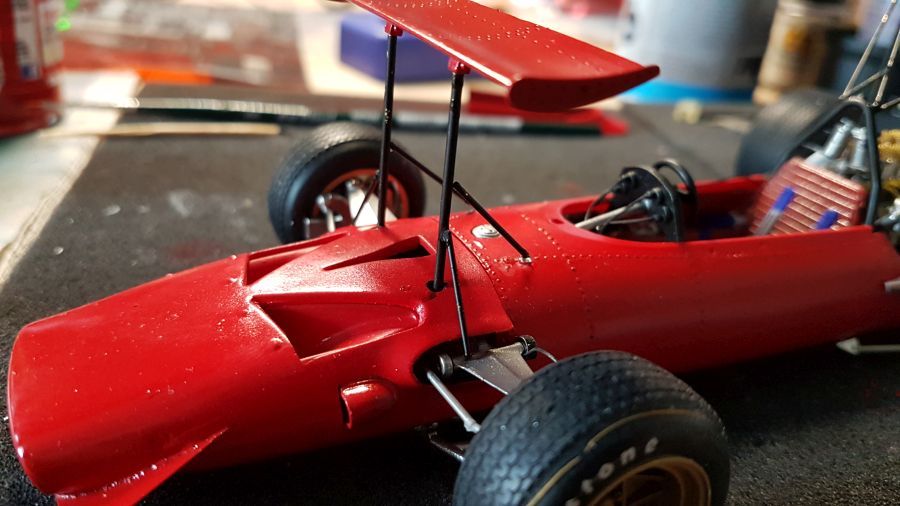 Dan een soort instelsysteem maken voor de achtervleugel.
Next is making an adjustment system for the rear wing.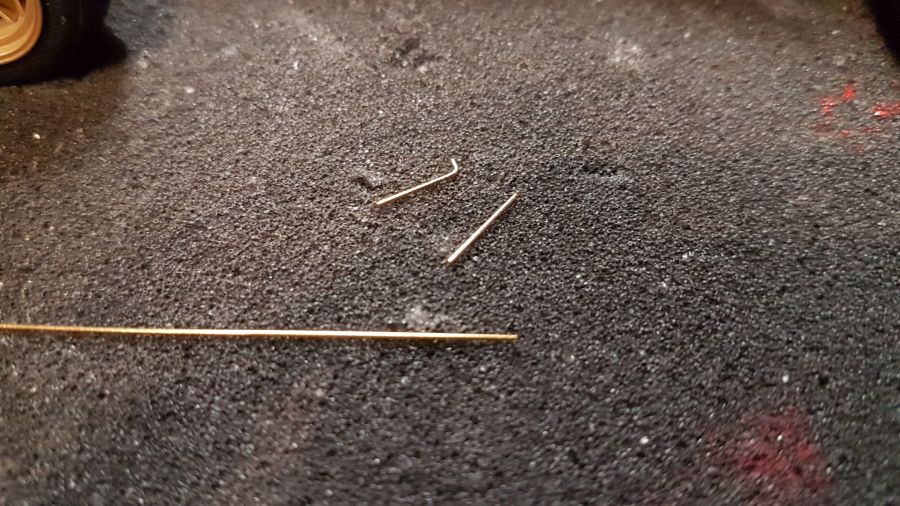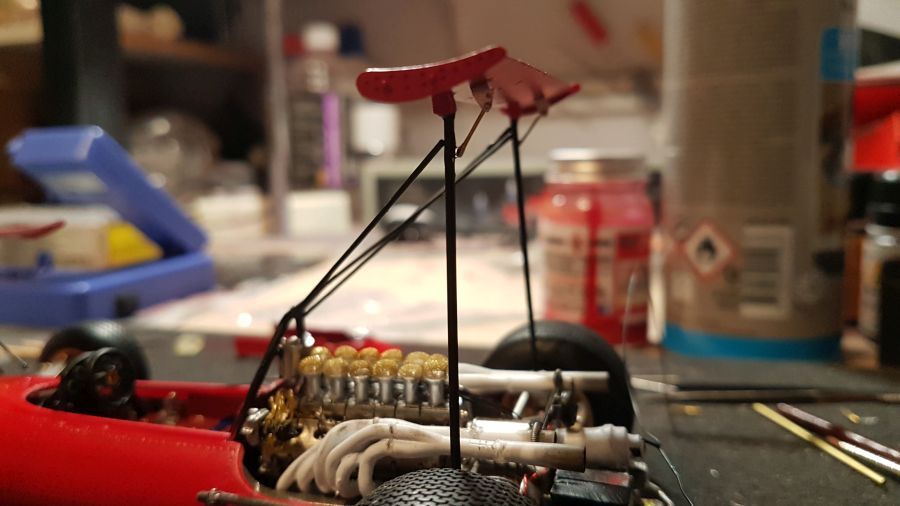 Dan wordt de leiding aangebracht voor het veranderen van de stand van de vleugel. En nog wat kleine onderdelen.
Then the piping is being added to change the position of the wing. And some small parts.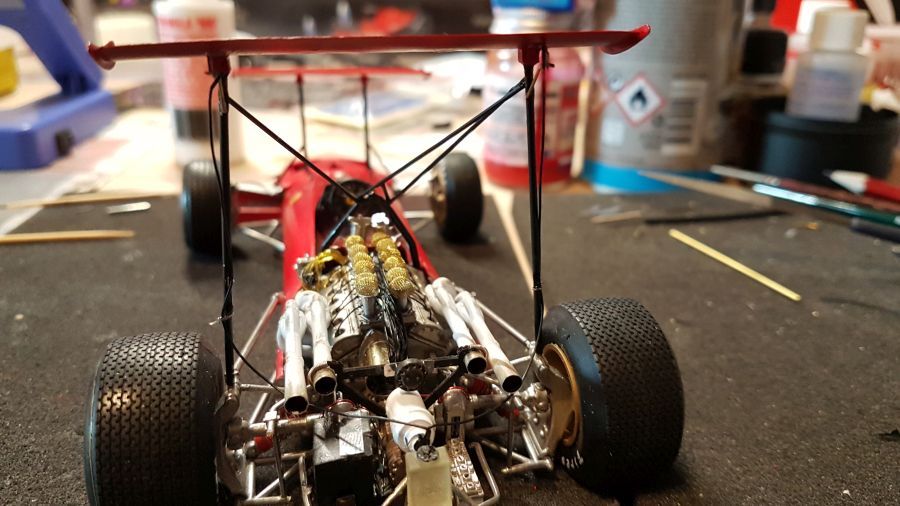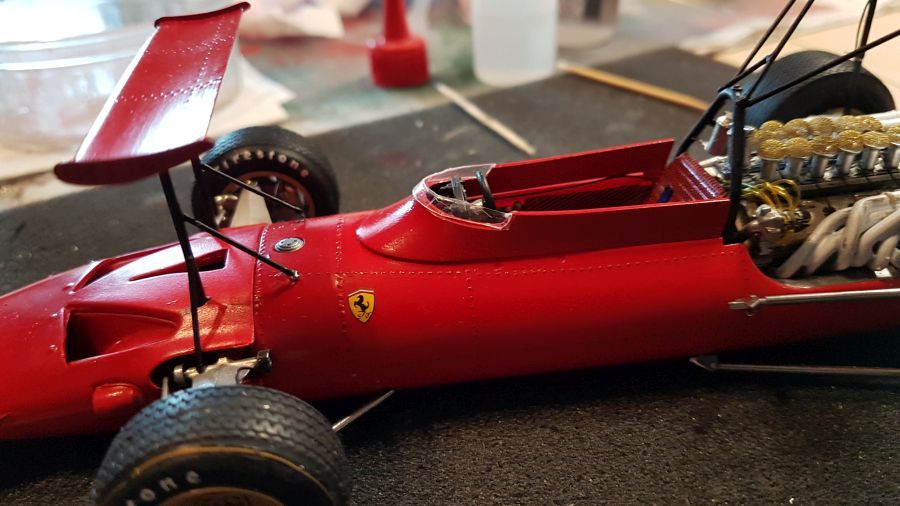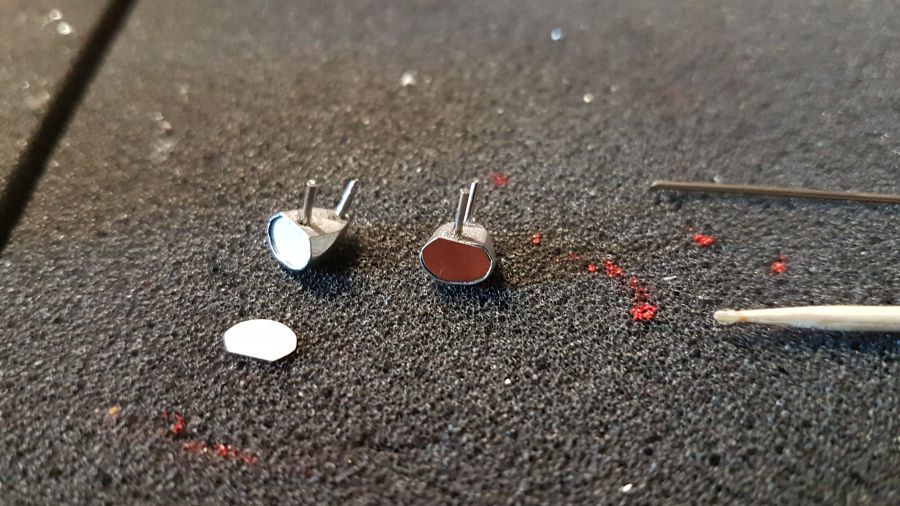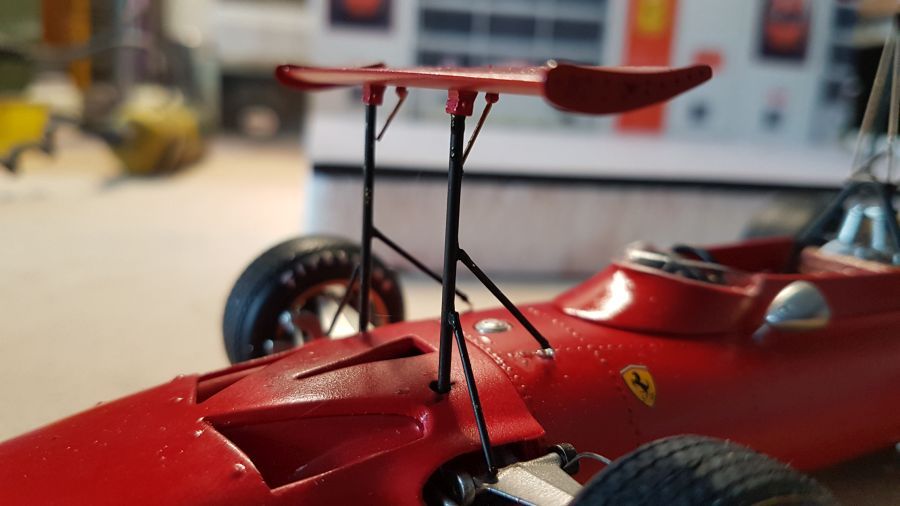 Ik denk dat deze nu wel klaar is...
I think i can call it done...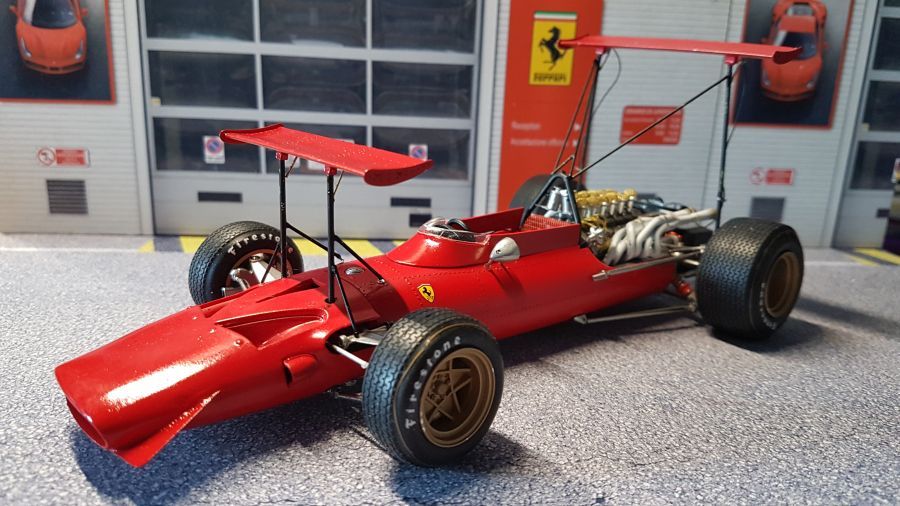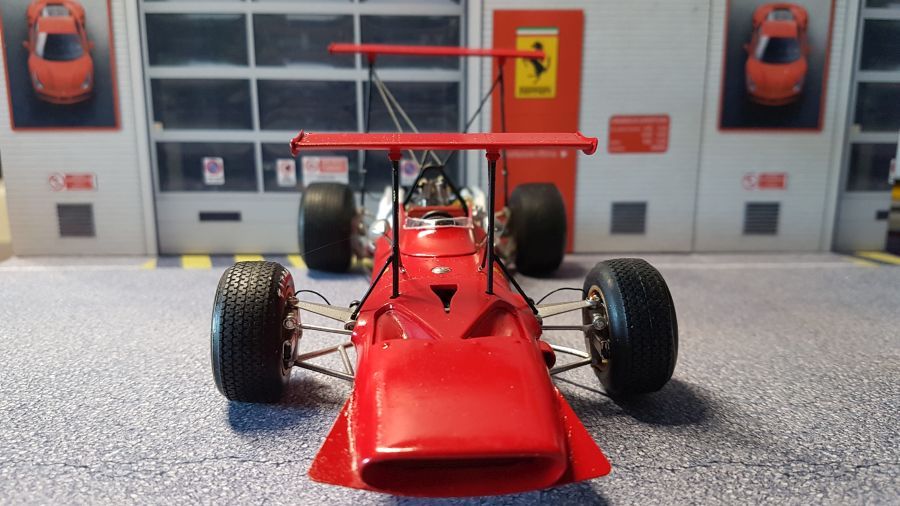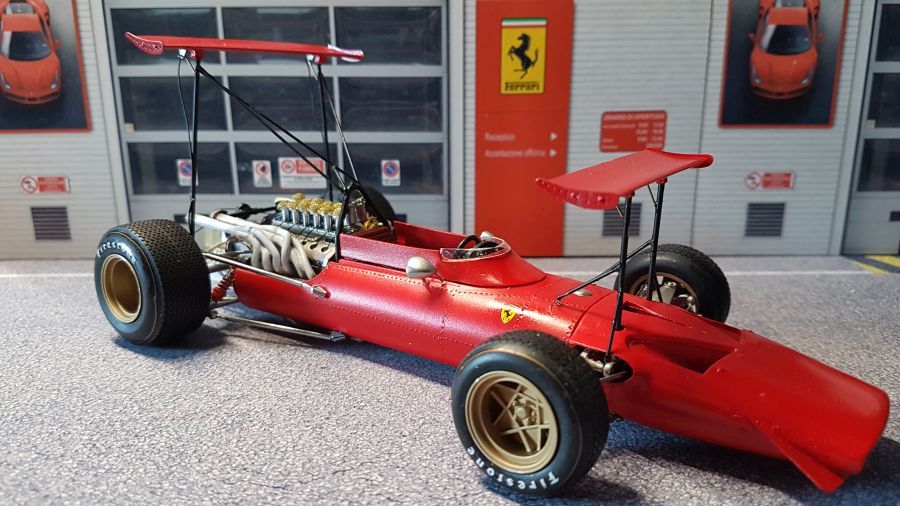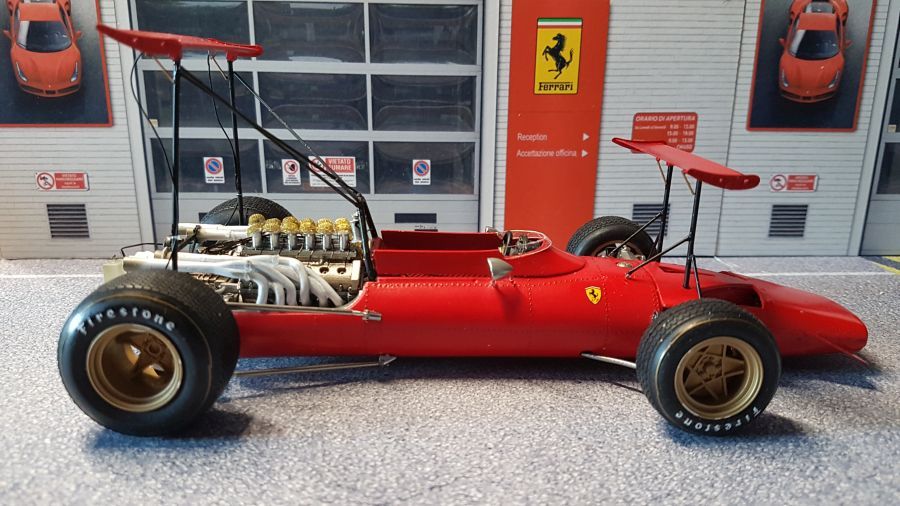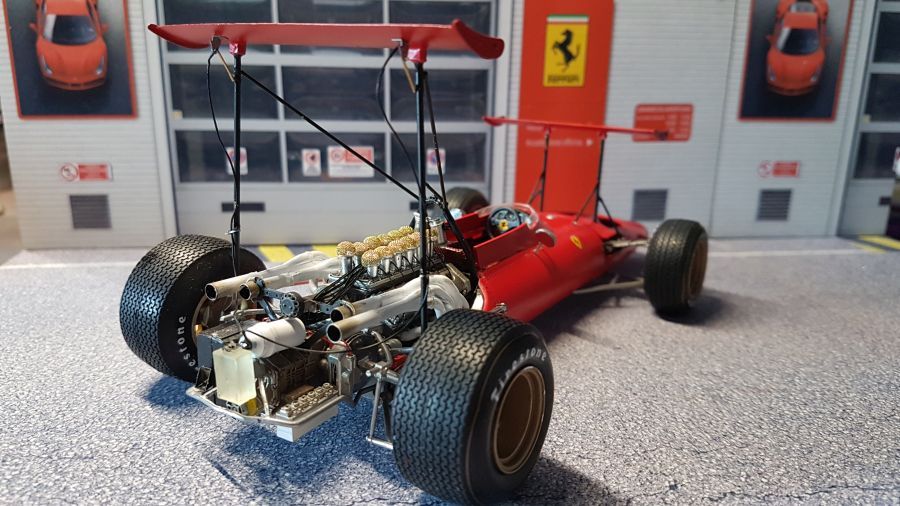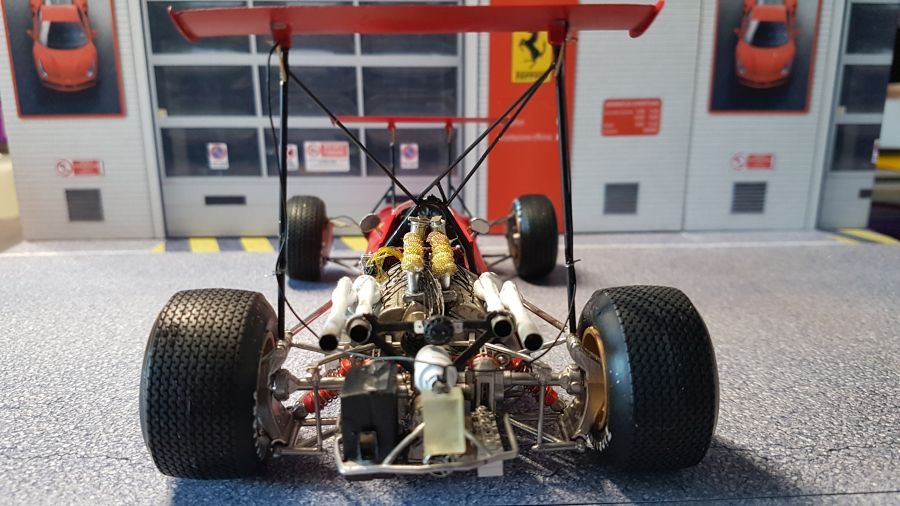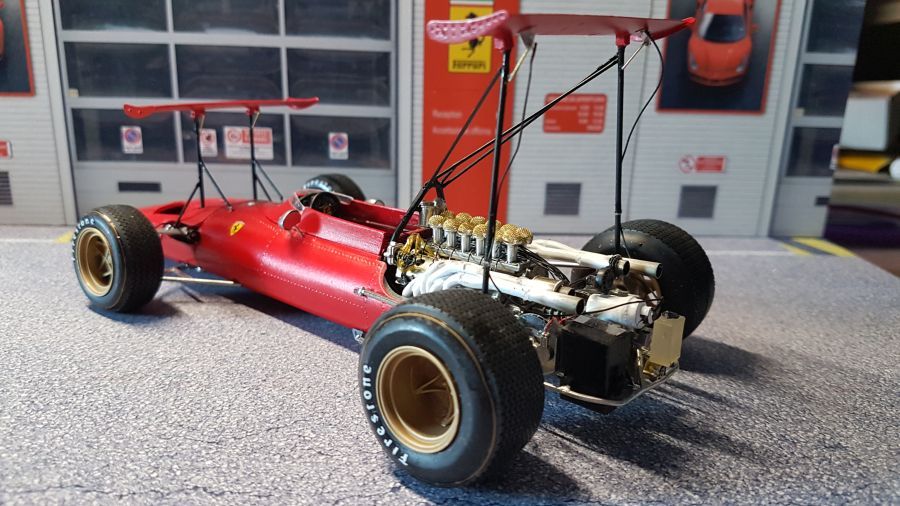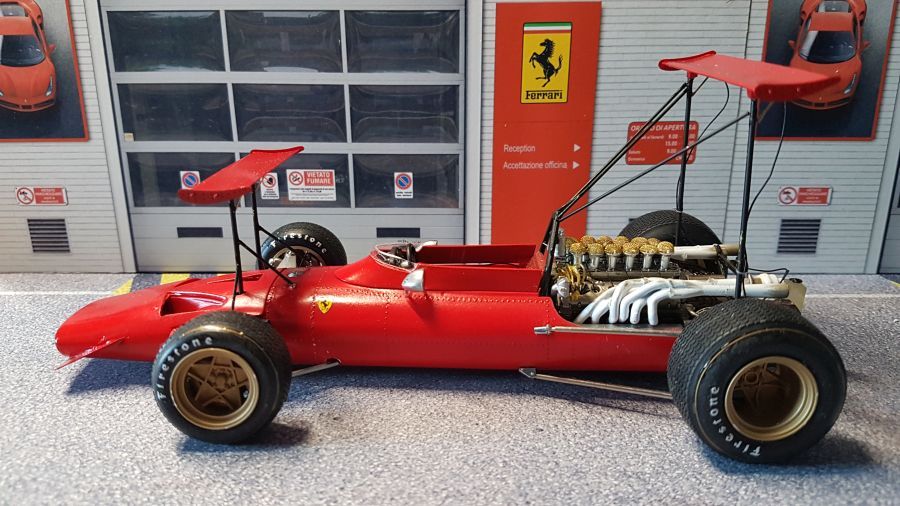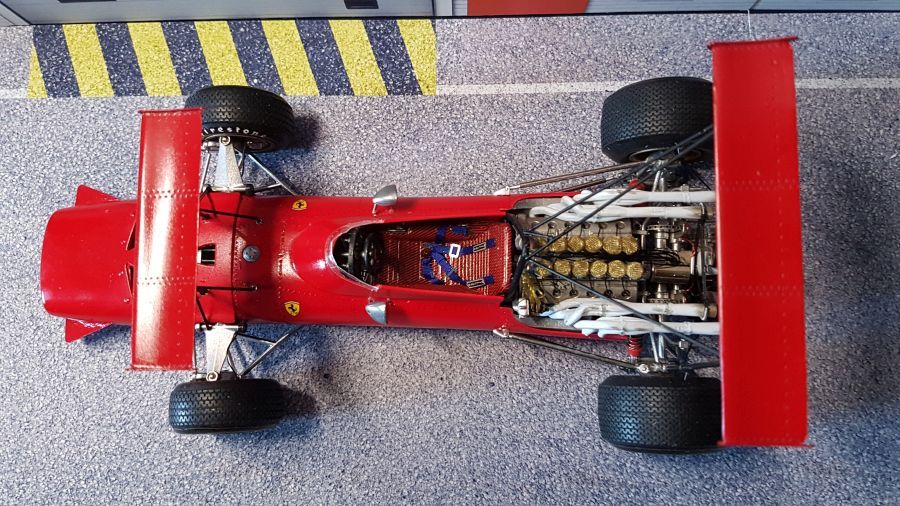 Ook nog wat foto's zonder led-licht...
Also some photos without the led-light...