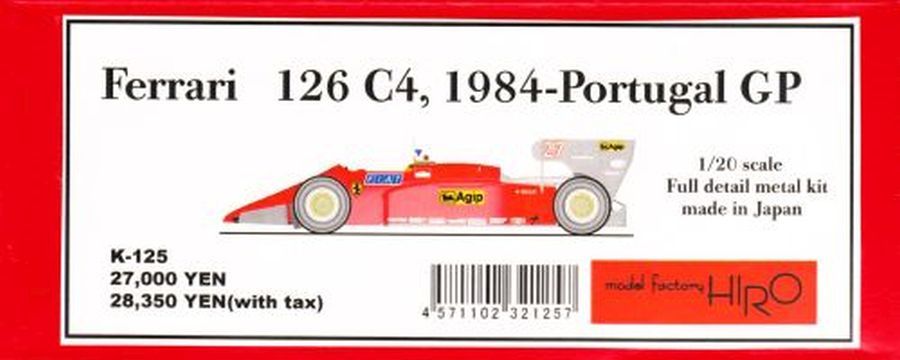 De volgende op mijn lijst. Deze keer de Ferrari 126 C4-M2 zoals deze door Rene Arnoux werd bestuurd tijdens de GP van Portugal in 1984 (kit nr. K-125). Ik zelf vind dit een prachtige wagen, dus ik hoop dat ik deze bouw tot een goed einde kan brengen. De kit is bijna volledig van metaal. Hoge kwaliteit dus. Hieronder eerst de foto's van de inhoud van de kit. Ik moet even kijken welke carbon decals ik heb. Zo mogelijk moet ik wat bestellen.
The next kit on my list. This time the Ferrari 126 C4-M2 as driven by Rene Arnoux during the GP of Portugal in 1984 (kit no. K-125). In my opinion a beauty of a car, so i hope i can build this one to a good end. The kit is nearly a fully metal one. So high quality. Below the pictures of the content of the kit. I need to see which carbon decals i have. Maybe i need to buy some.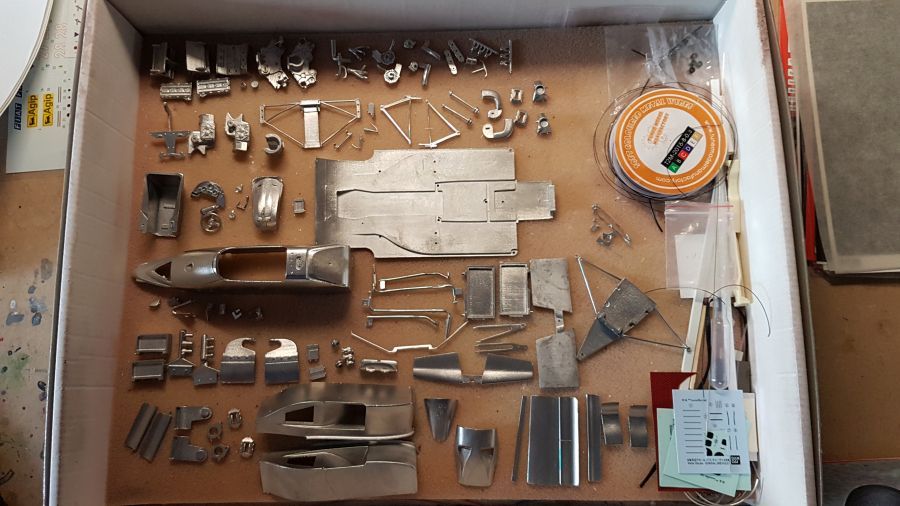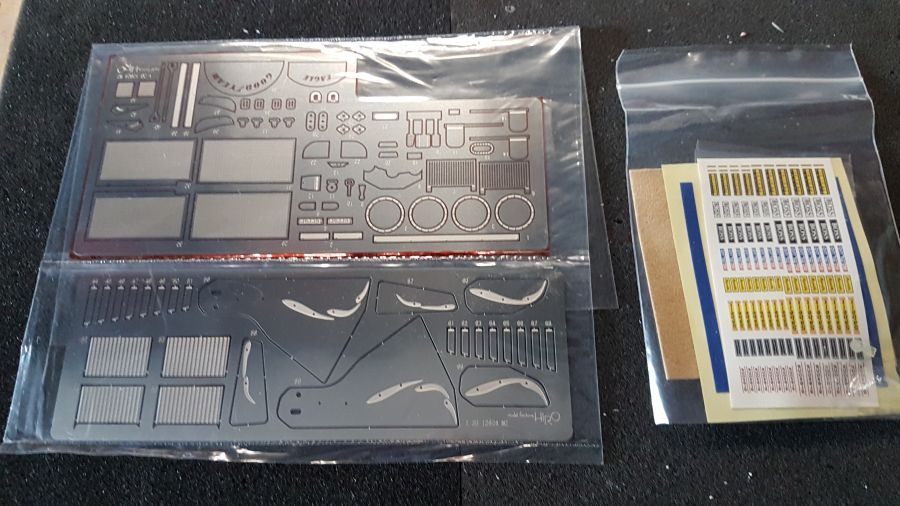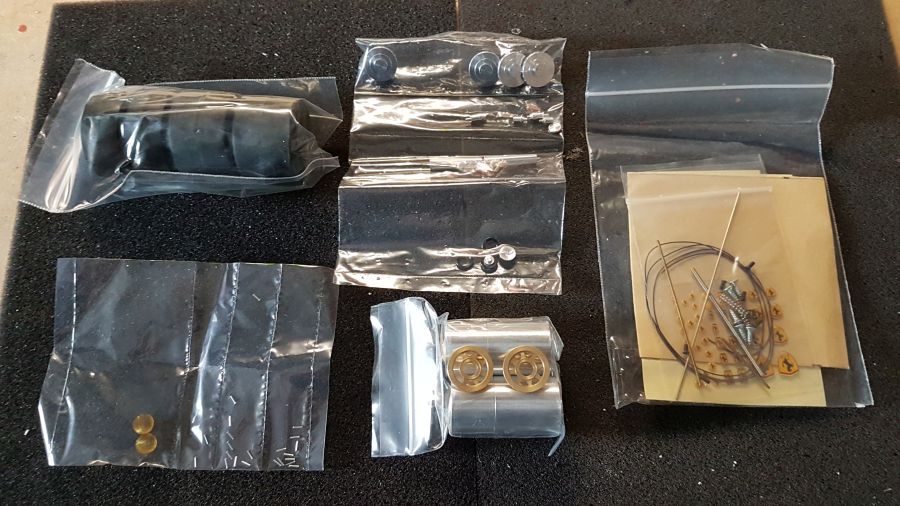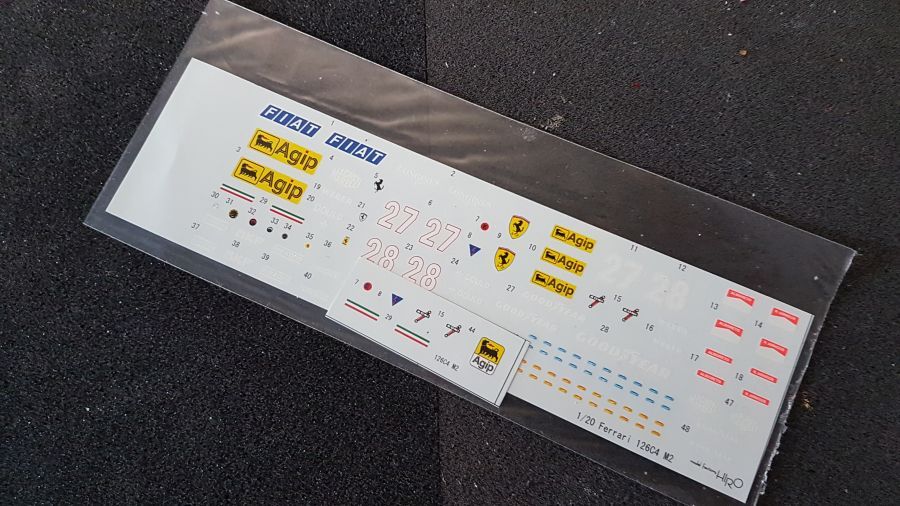 Ik ga wat van deze carbon decals gebruiken.
I will use some of these carbon decals.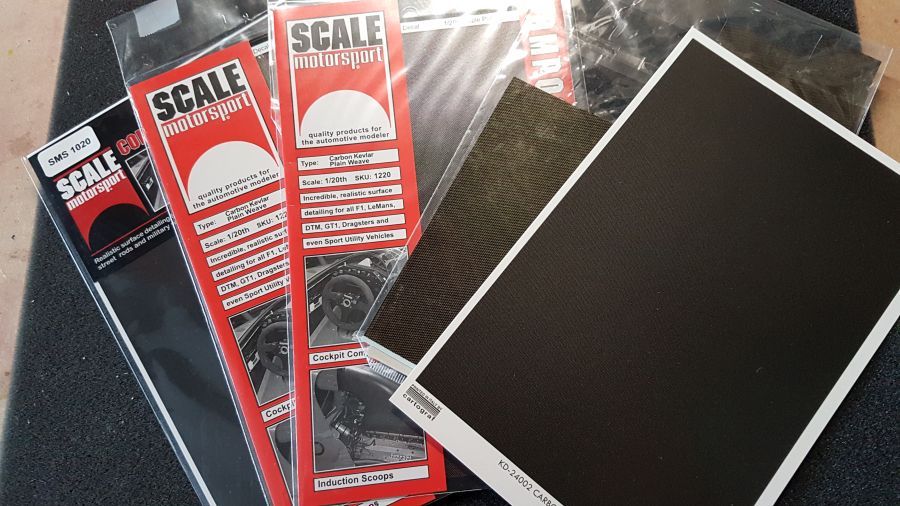 Terwijl ik de metaaldelen in de magnetische polisher deed, viel me op dat er een verkeerde voorvleugel in de doos zit. Dit is al af-fabriek zo, getuige de instructies waarop ook een onjuiste vleugel staat afgebeeld. In de schaal 1/12 kit doet MFH het goed.
While i put the metal parts in the magnetic polisher, i noticed there is a wrong front wing in the box. This has been done by the factory, you can see it on the instructions with the wrong wing drawn. The scale 1/12 kit has been done correct by MFH.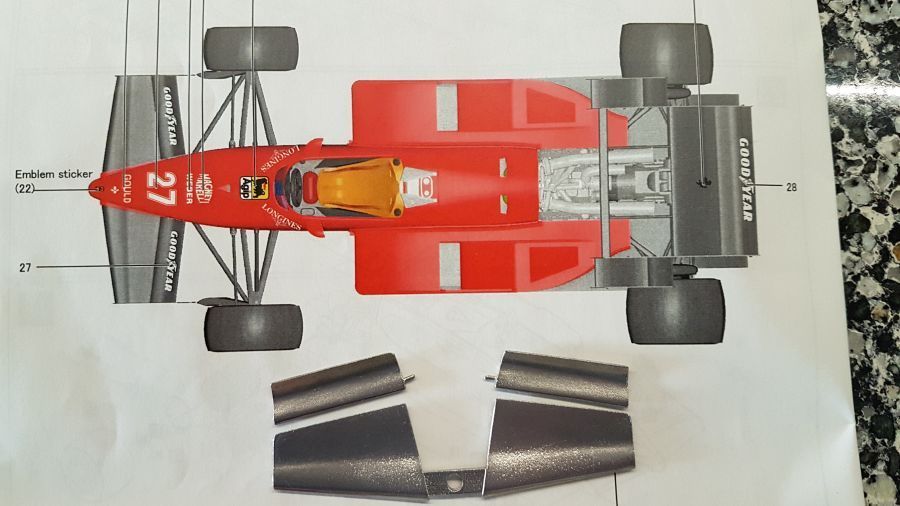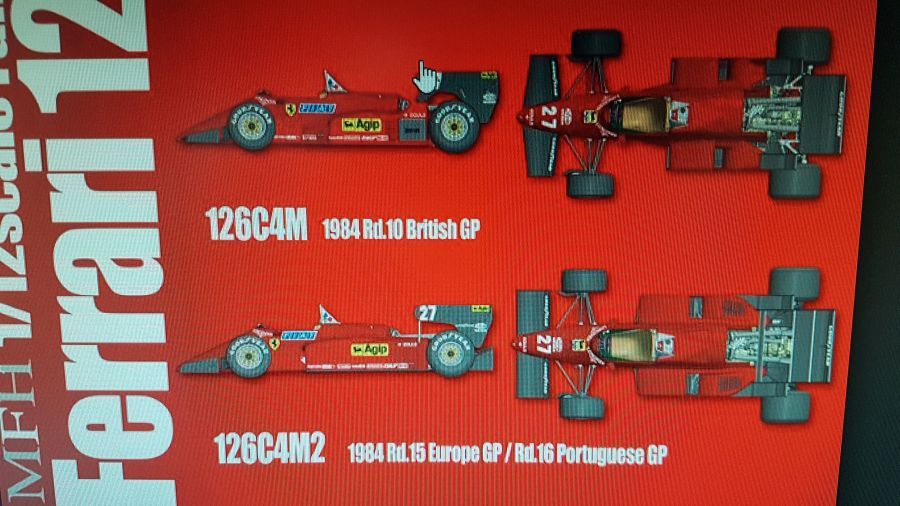 Ik heb een extra vleugel in mijn MFH 156-85 kit. Die kit heeft 2 versies van een voorvleugel en deze blijft over. Dus misschien ga ik deze gebruiken na een conversie.
I have an extra wing in my 156-85 MFH kit. That kit has 2 versions of a front wing and this one will be left. So i might use this one after some conversion.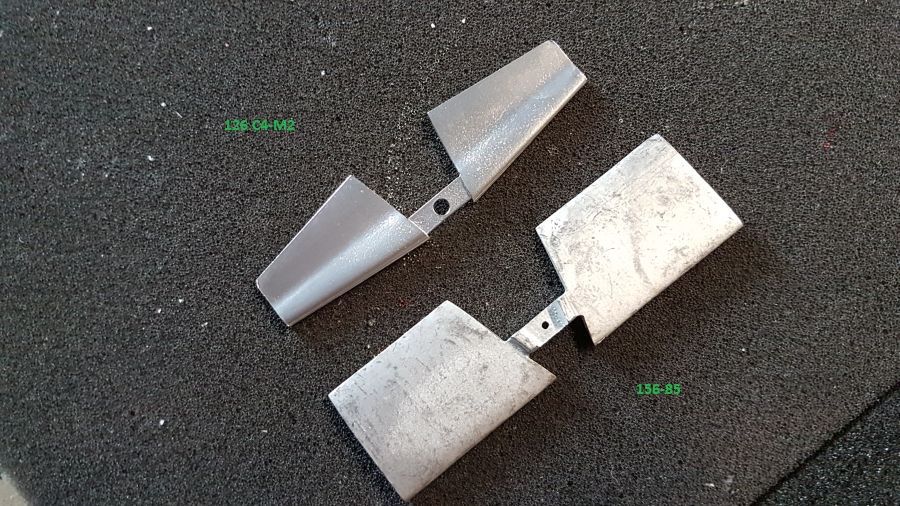 De eerste stappen aan de motor. De kleppendeksels zijn rood gespoten met Tamiya TS-8. De motor is gespoten met Tamiya TS-88.
The first steps to the engine. The valve covers have been painted red with Tamiya TS-8. The main engine with Tamiya TS-88.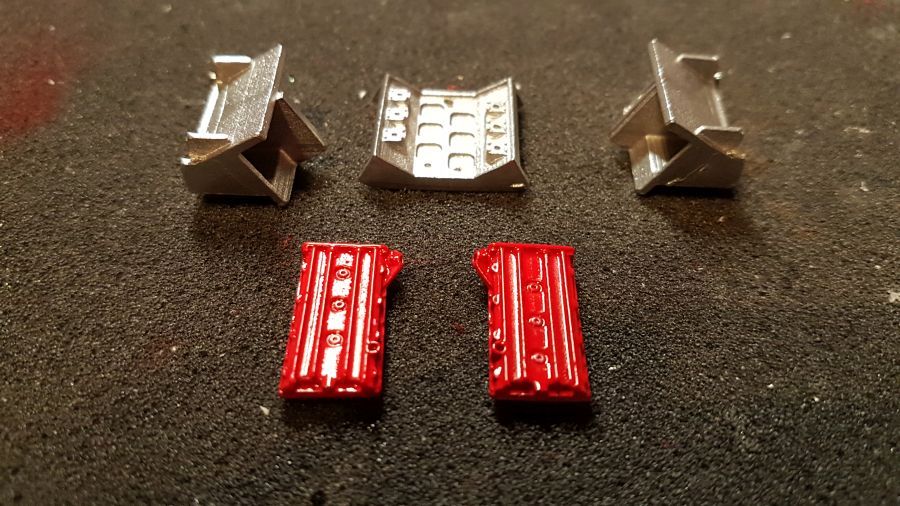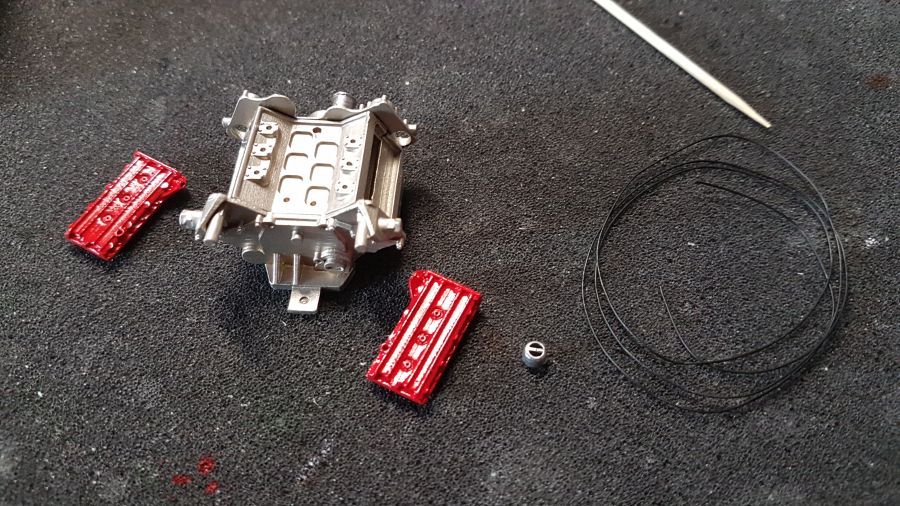 Terwijl de verf droogt ga ik vast met de voorvleugel aan de gang. Ik heb besloten eerst te proberen of ik 1 kan maken van Evergreen plaat. Ik heb 2 stukjes plaat op elkaar gelijmd om wat dikte te krijgen. En dan gebruik ik de bestaande vleugel als mal.
While the paint dries i will continue with the front wing. I decided to try to make one out of Evergreen sheet. I glued 2 pieces together to make it thick. Then i use the existing wing as a template.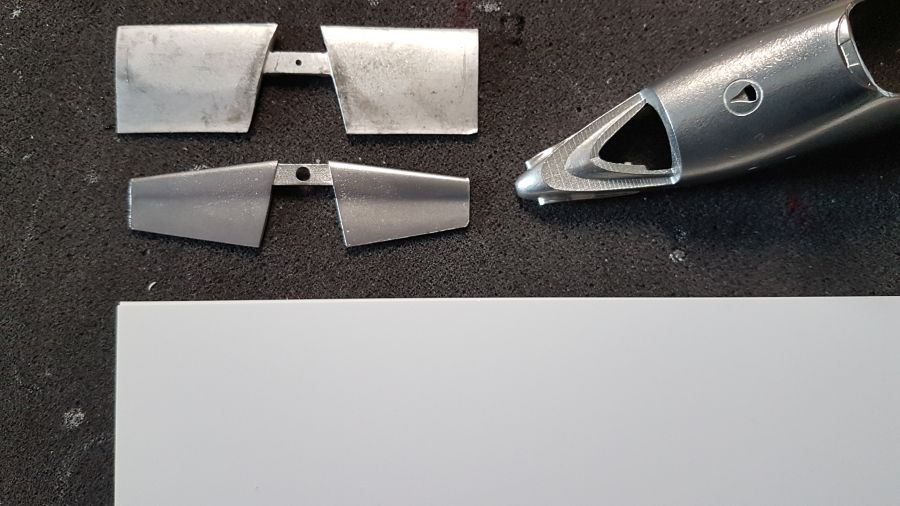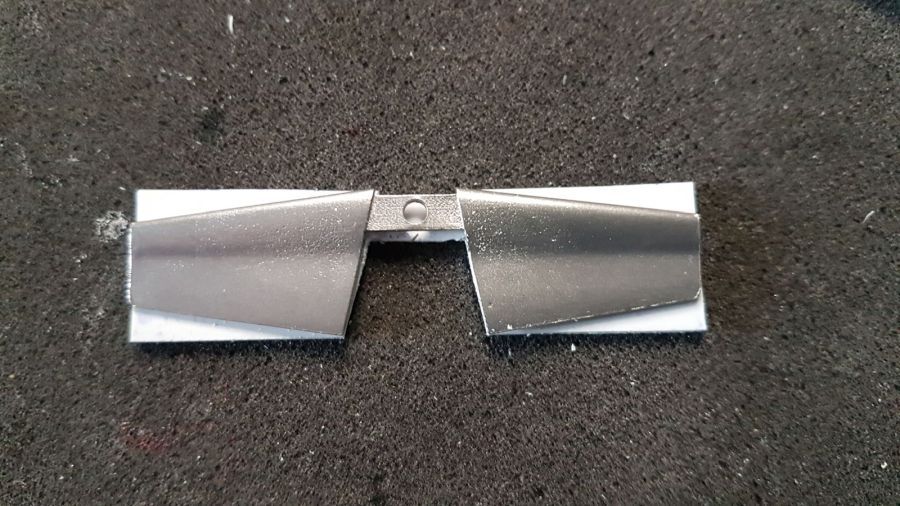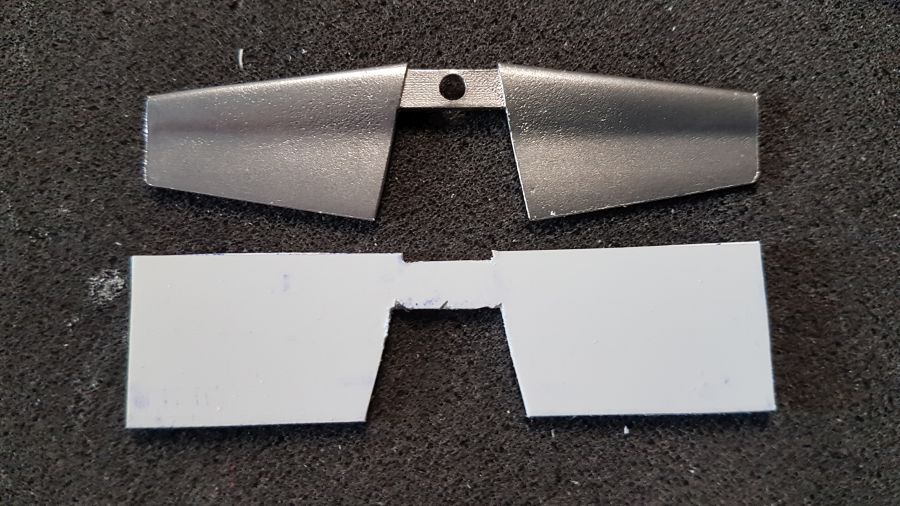 Dat ging prima... Nu nog wat rond vijlen...
That worked out well... Now just file it round shaped...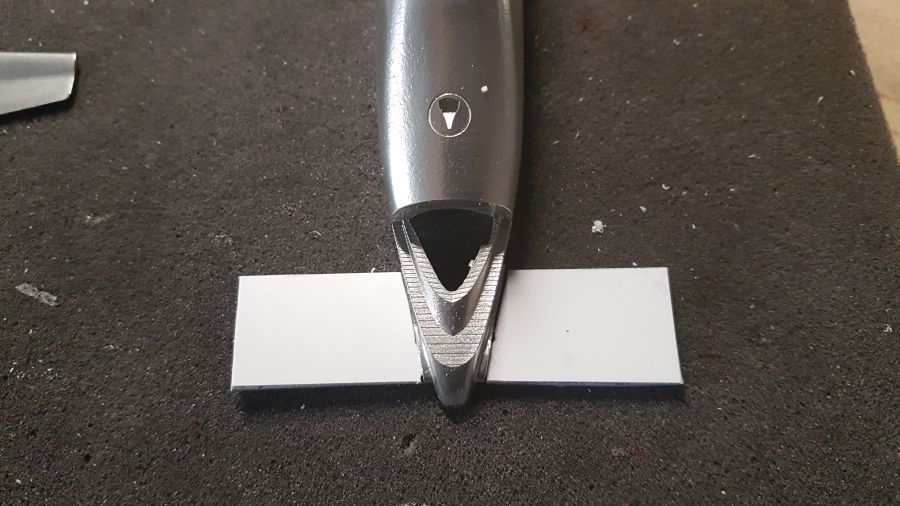 De body is bespoten met grondverf. Nu licht schuren an dan weer opnieuw grondverf. Zo worden de kleine gaatjes gevuld.
The body has been sprayed with primer. Now light sanding is needed and then primer again. This way small holes are being filled.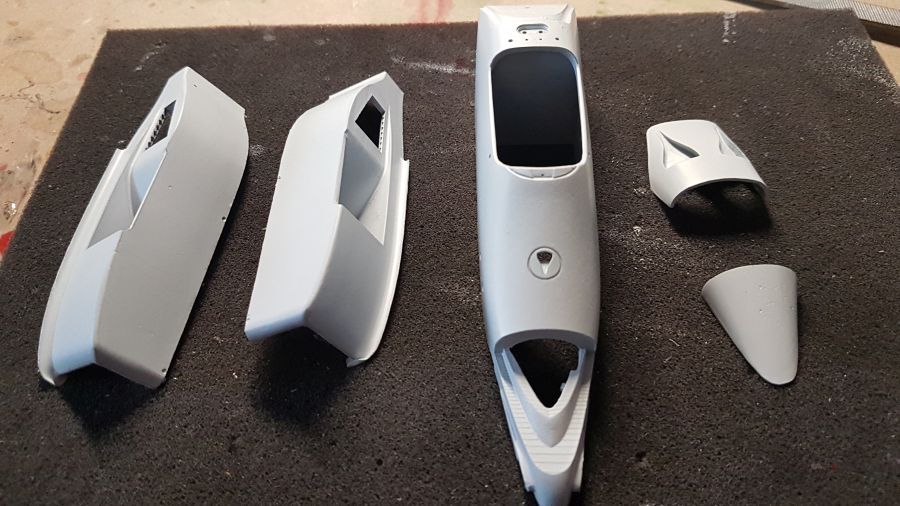 Alle deukjes en gaatjes in het metaal zijn weggeschuurd en gevuld.
All dents and holes in the metal have been sanded away and filled.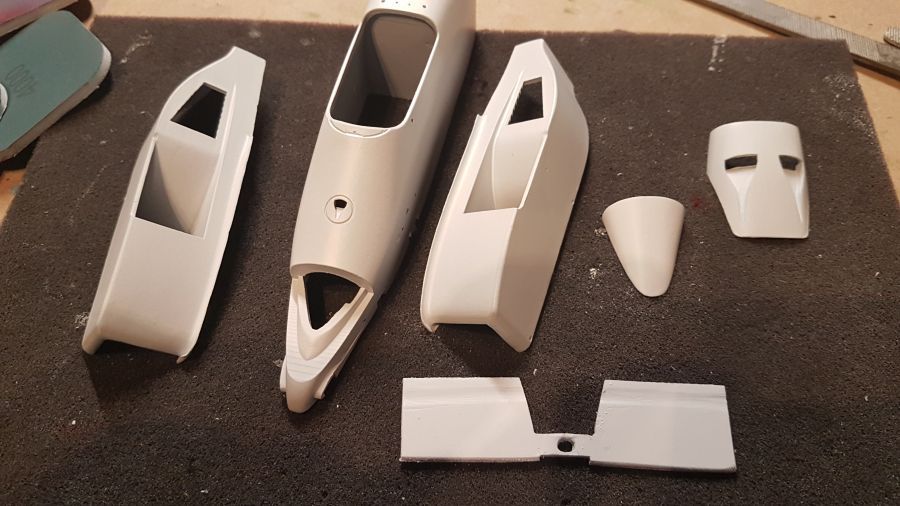 De delen van de voorspoiler zijn zwart gespoten voordat straks de carbon fiber decals erop gaan.
The parts of the front spoiler have been painted black before the carbon fiber will be added.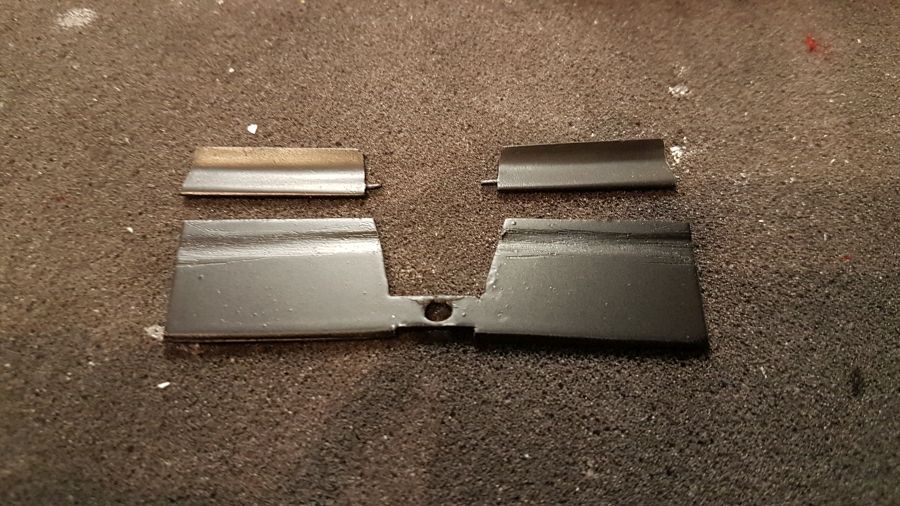 De louvres worden aan de sidepods bevestigd.
The louvres are being added to the side pods.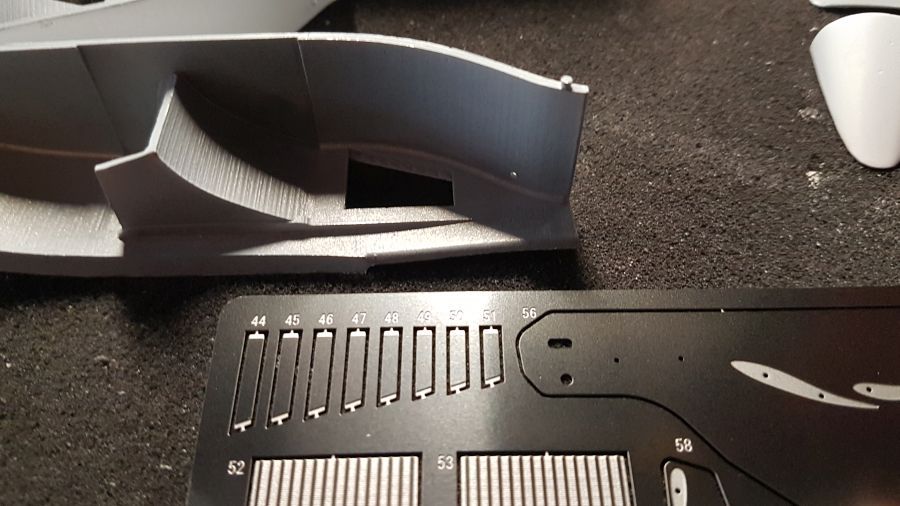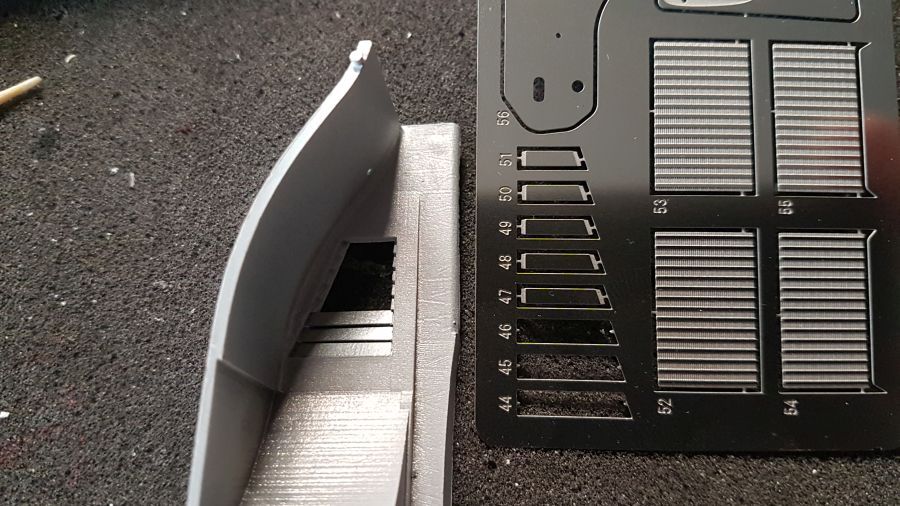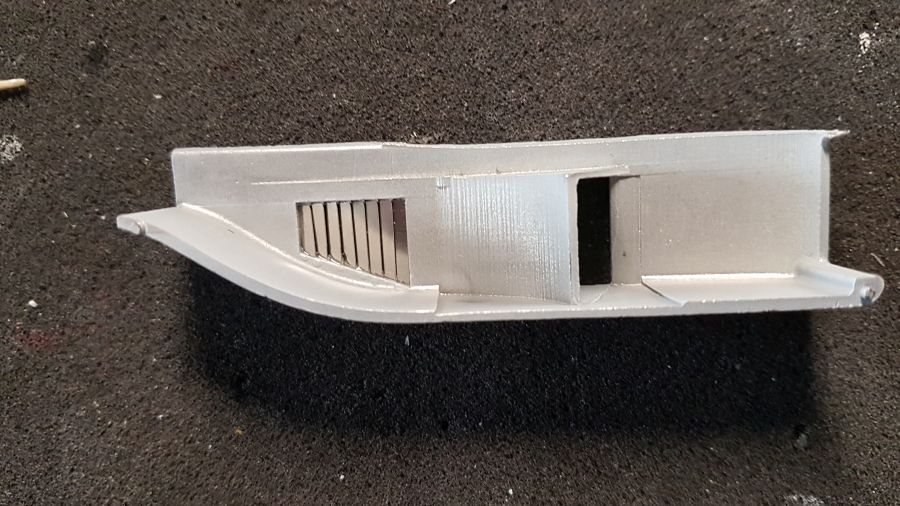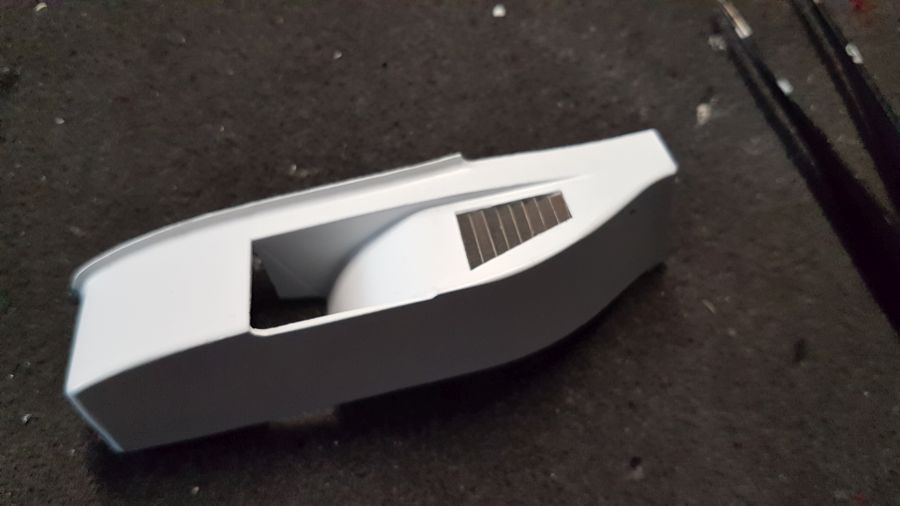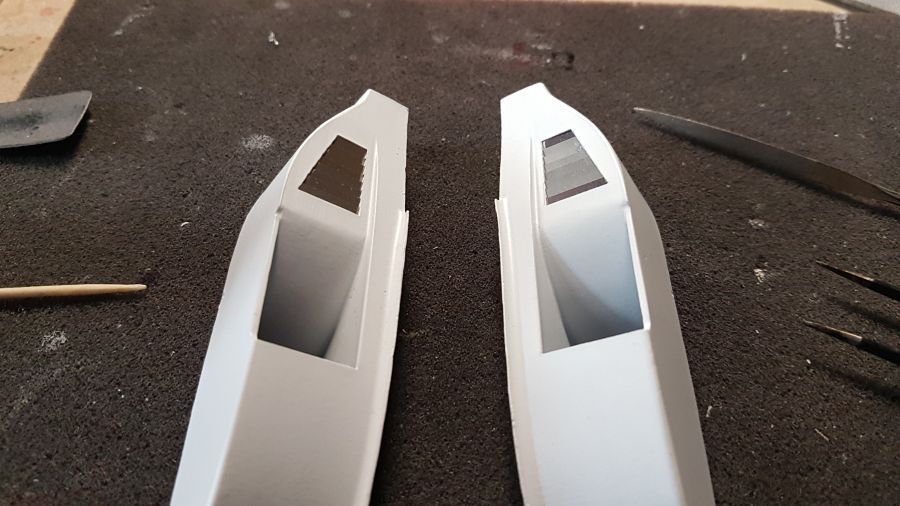 De motor krijgt een wash van verdunde olieverf en er wordt wat roest aangebracht op de plek waar de pijpen van de turbo's komen. 
The engine receives a wash of diluted oil paint and some rust was applied to the spot where the turbo pipes will be.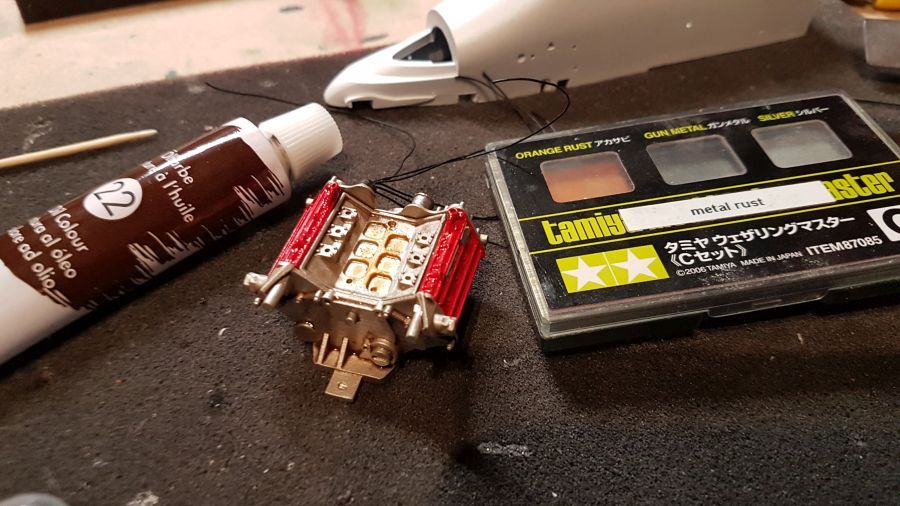 Datzelfde doe ik met de pijpen. Eerst wat olievlekken, dan wat roest.
I do the same to the pipes. First some oil stains, then some rust.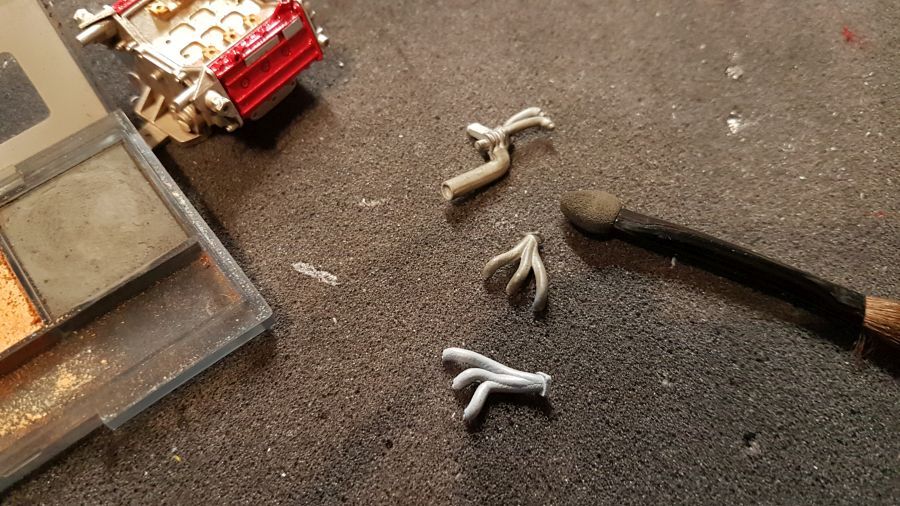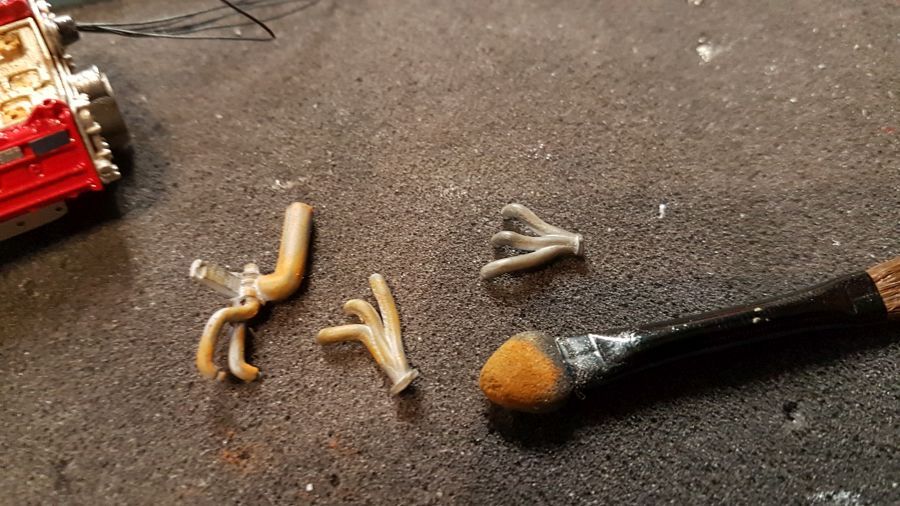 De kleppendeksels krijgen moeren geplaatst.
The valve covers receive some nutters.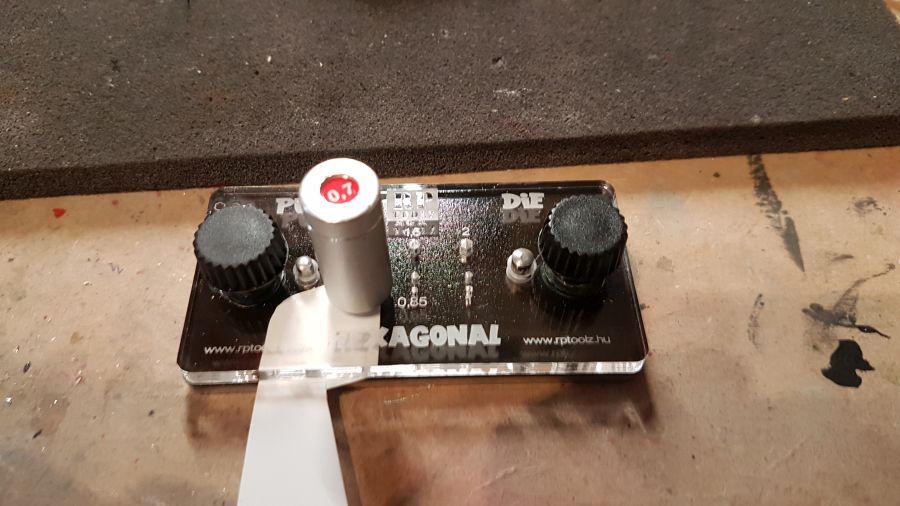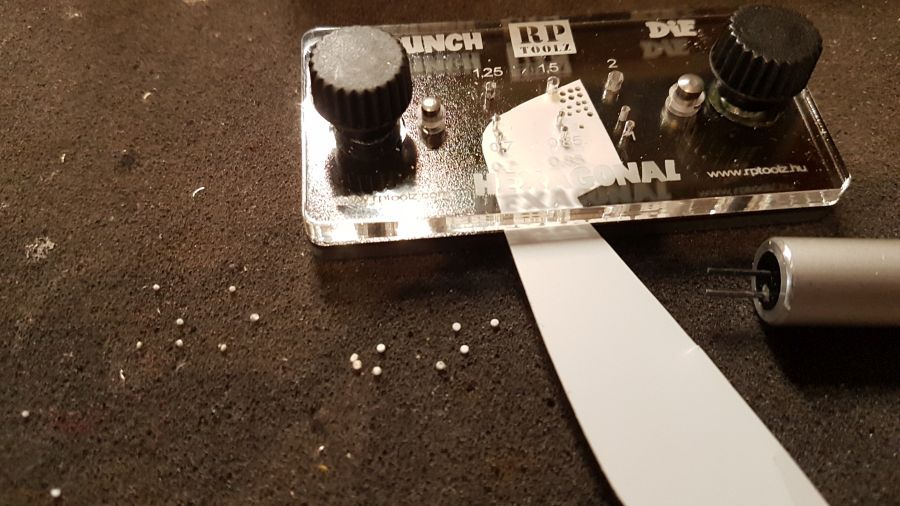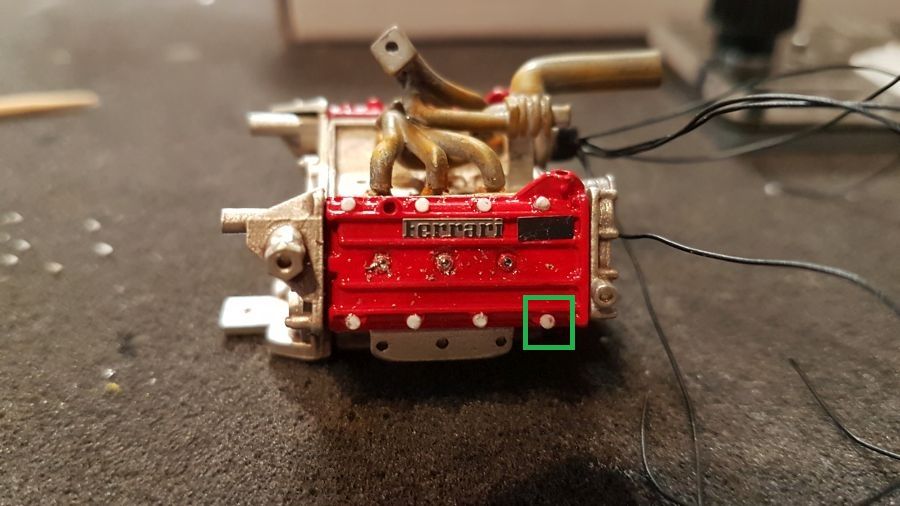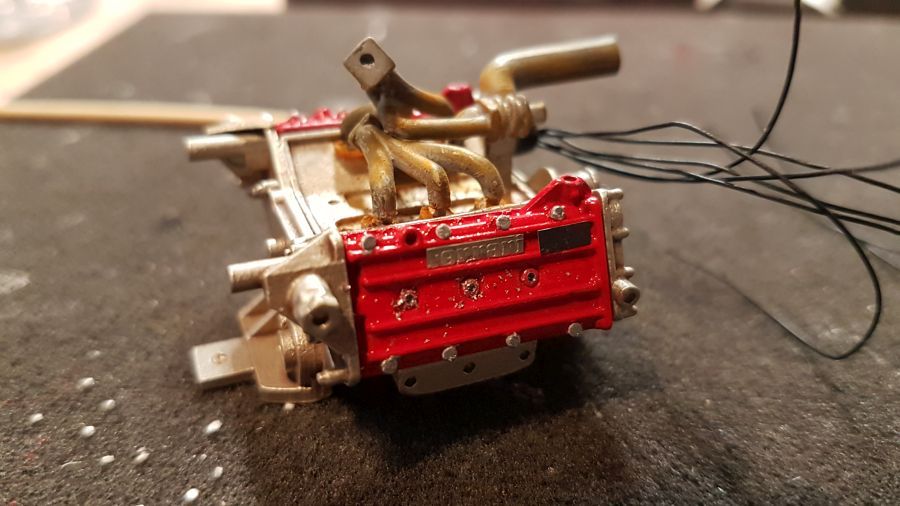 Tijd voor het rood...
Time for the red.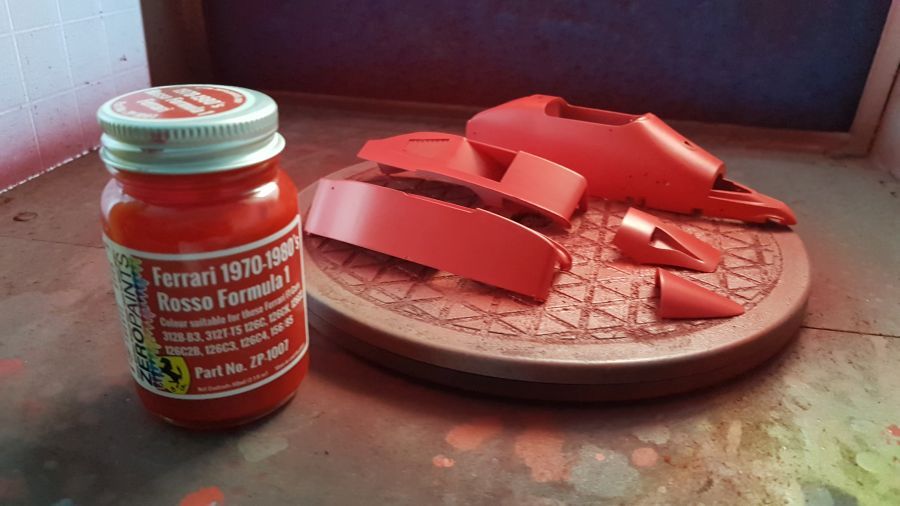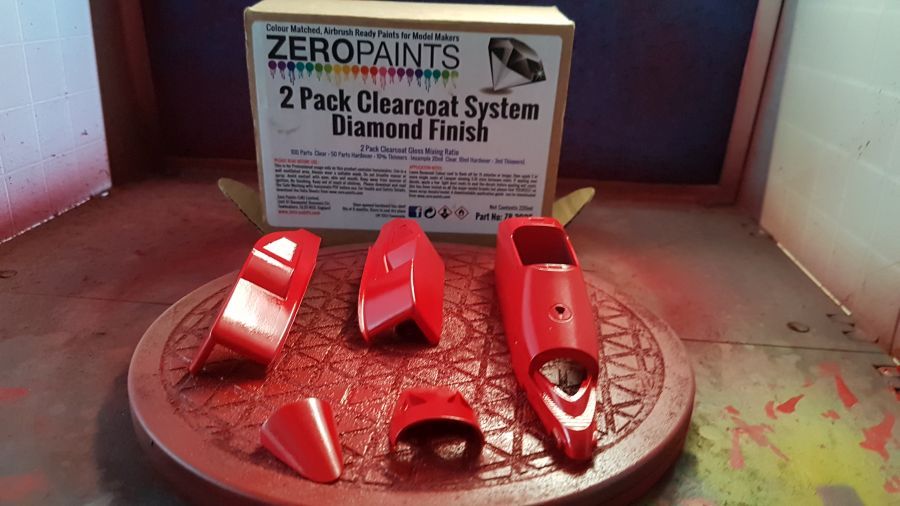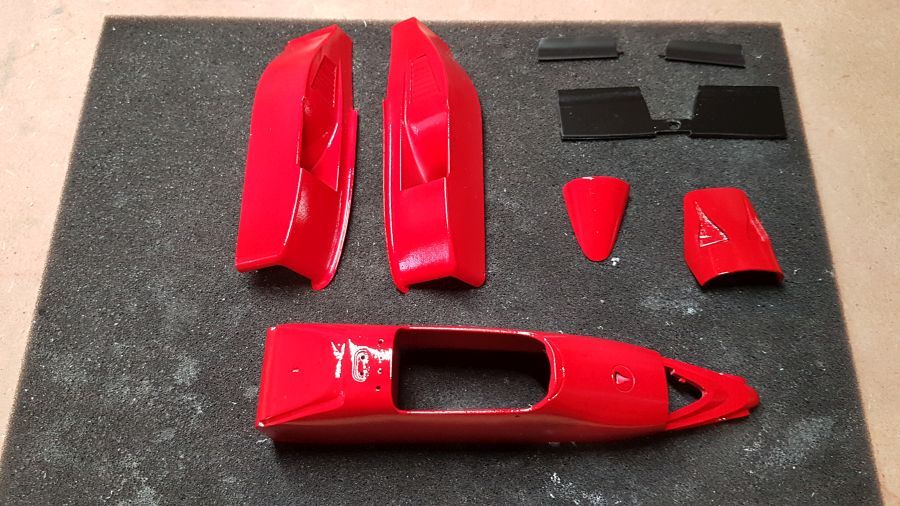 Terug naar de motor.
Back to the engine.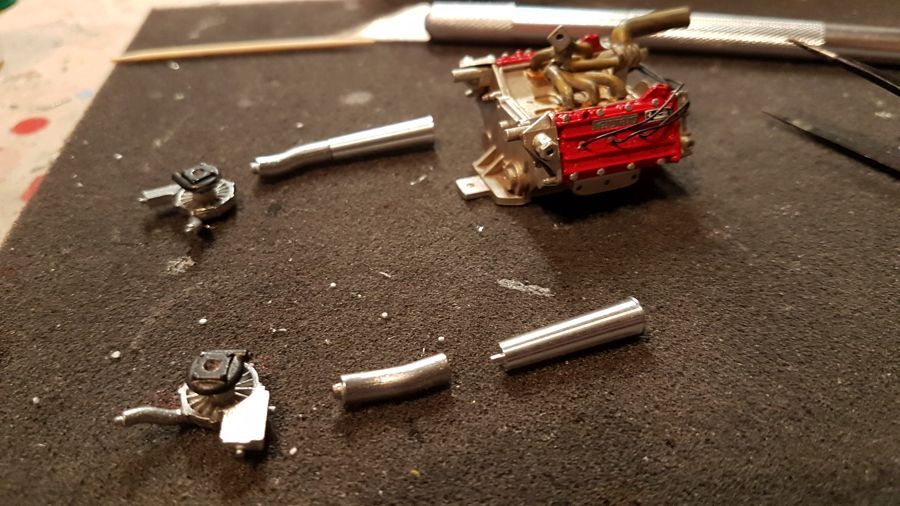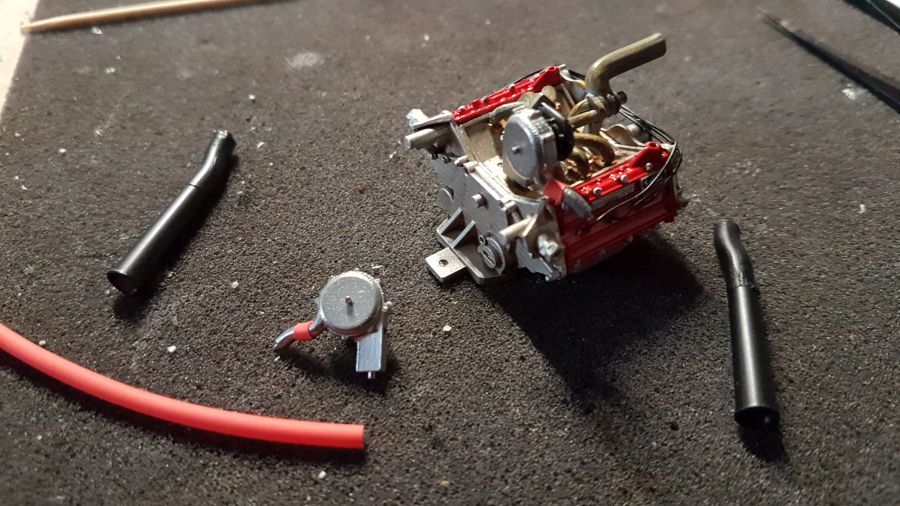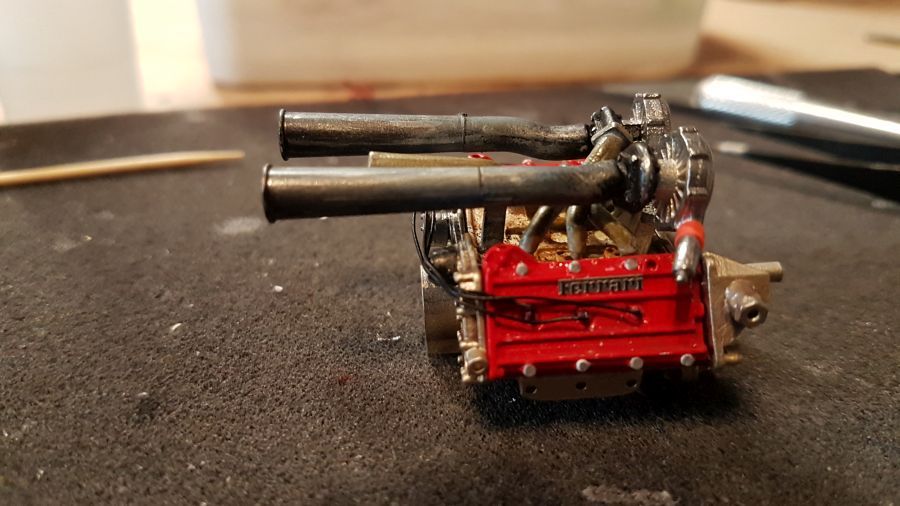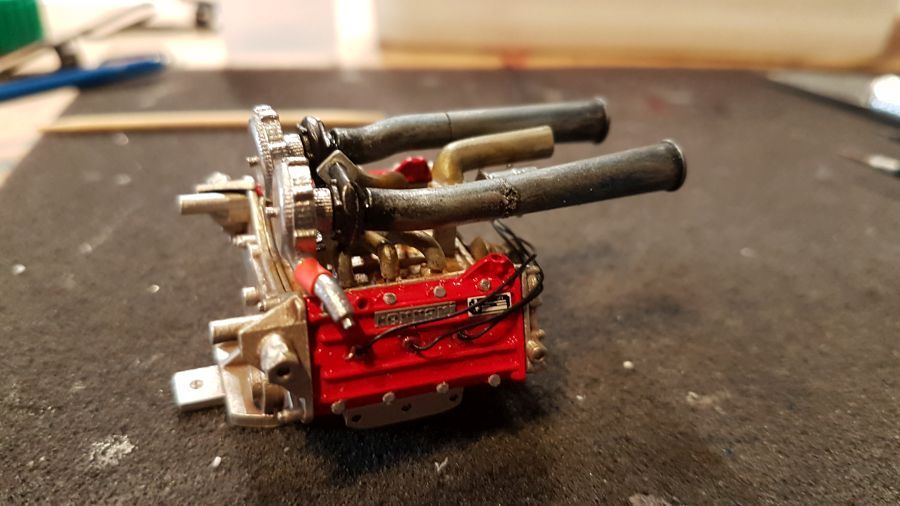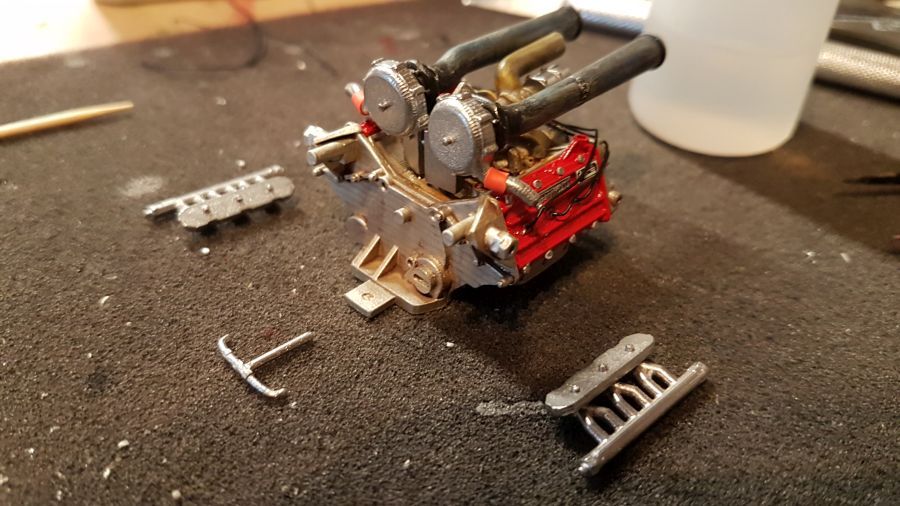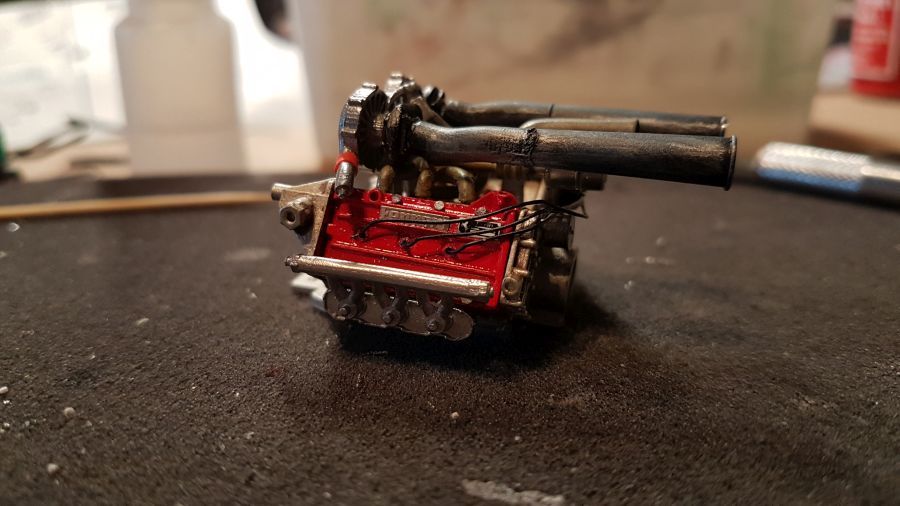 Terug naar de body. Deze vind ik nog niet glad genoeg. Ik zag op Facebook de tip van een modelbouwer om een beetje nat te schuren met water en zeep. Gedaan. Inderdaad minder aggressief. Bij mij is toch wat verfwerk beschadigd geraakt. Weer even nabehandelen dus.
Back to the body. I think it's not smooth enough. On Facebook i noticed a hint to sand it wet with water and soap. I did it. Yes, less aggressive sanding. Some paint got a bit damaged. So i have to re-do some.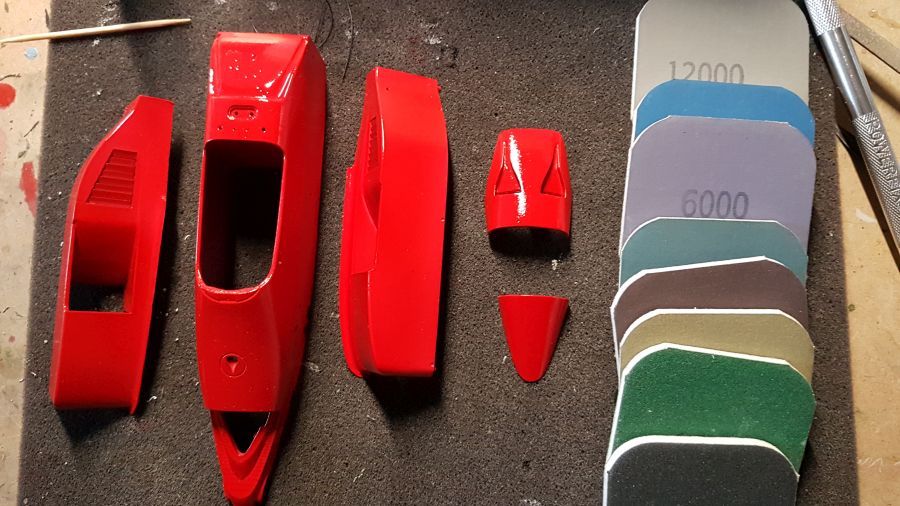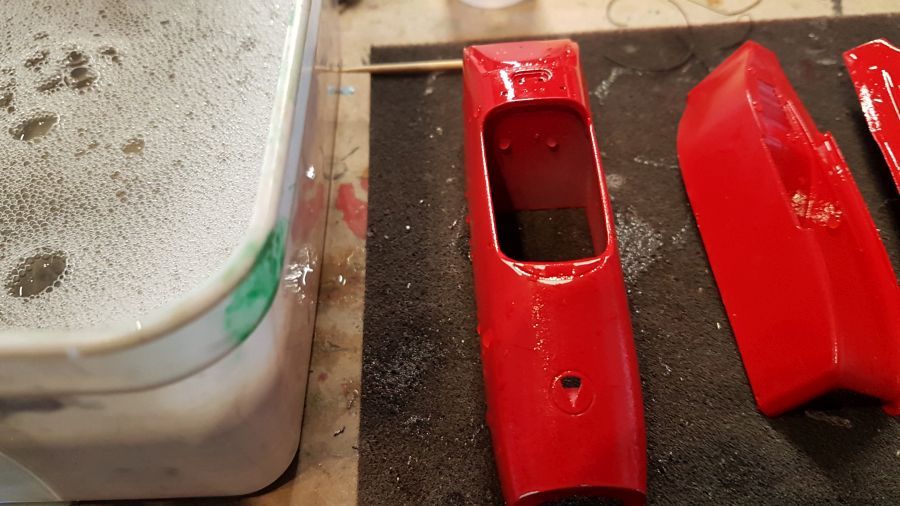 Verfherstel...
Paint repairs...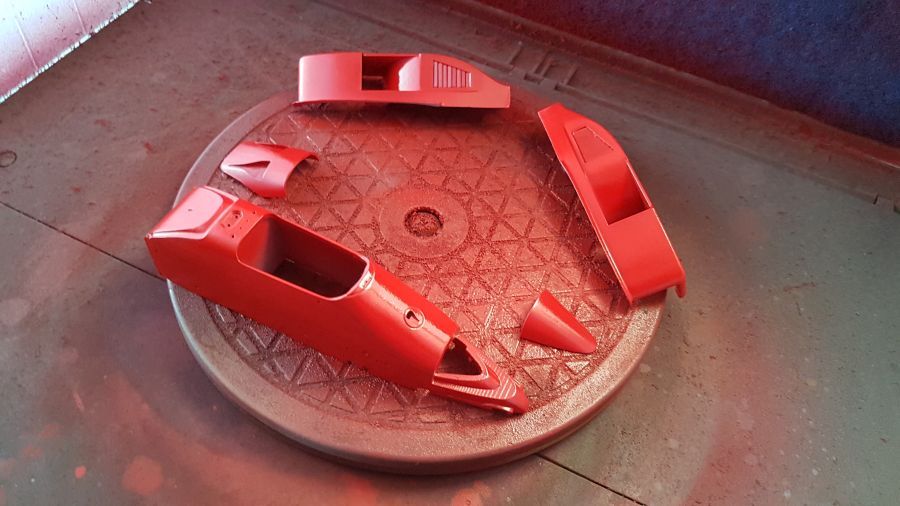 De voorvleugel is geplaatst en de carbon fiber decals zijn geknipt.
The front wing has been added and the carbon fiber has been cut.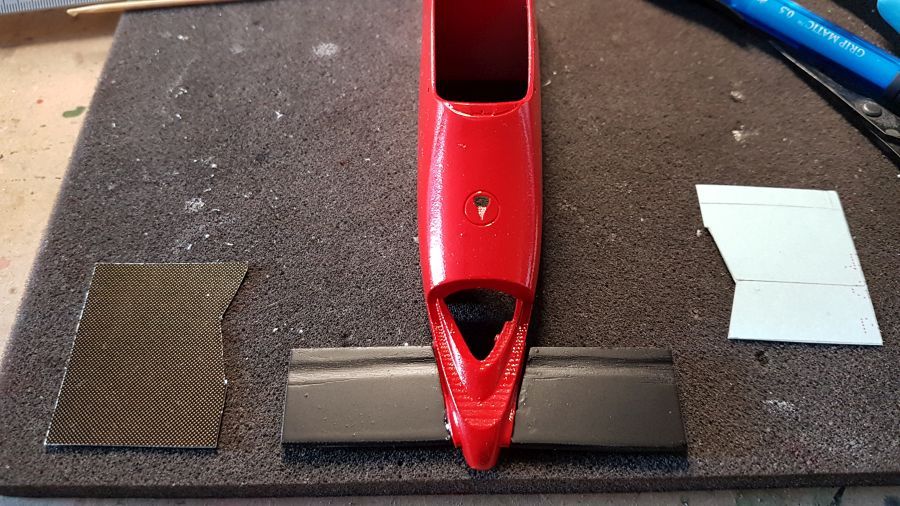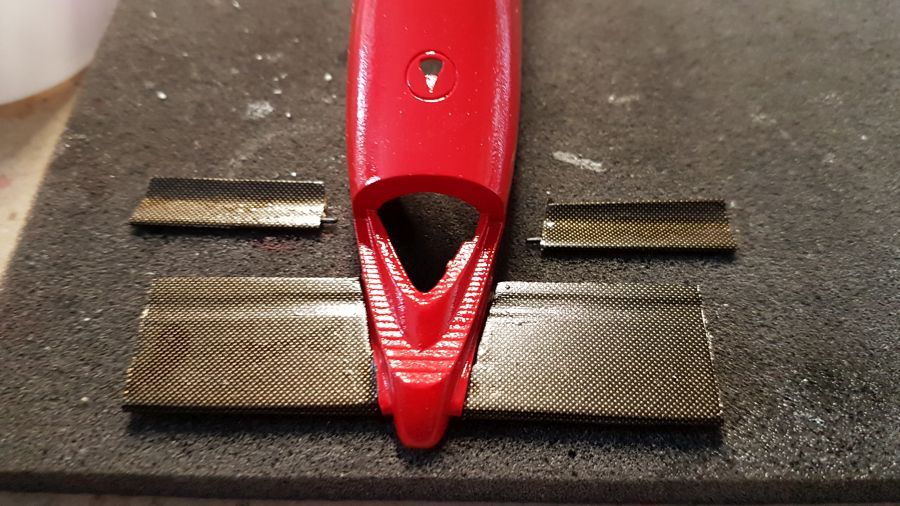 Door naar de achterwielophanging en versnellingsbak.
Next are the rear wheel suspension and the gear box.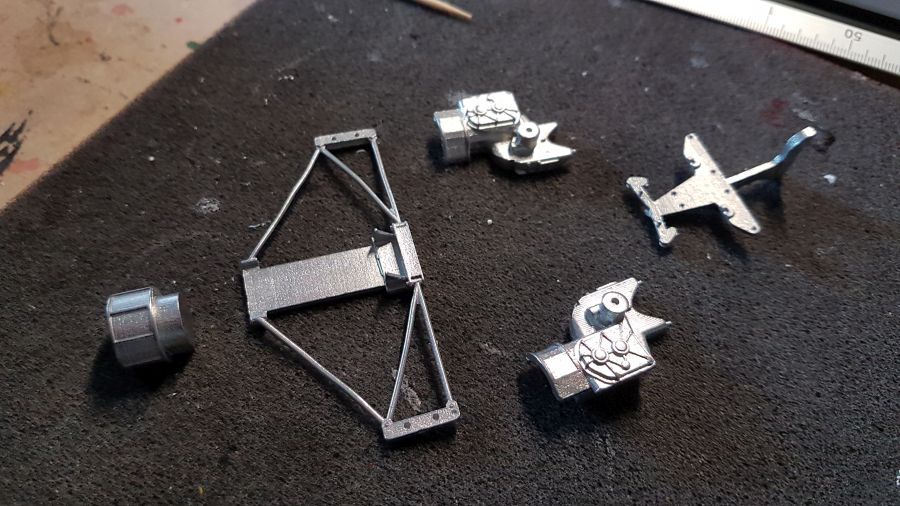 De veren zijn te lang. Er komt enorm veel spanning op te staan bij het samenvoegen van de schokbrekers. Ik maak van 1 veer 2 stuks.
The coils are too long. There is a lot of tension on it when adding them together. I make 2 coils out of 1.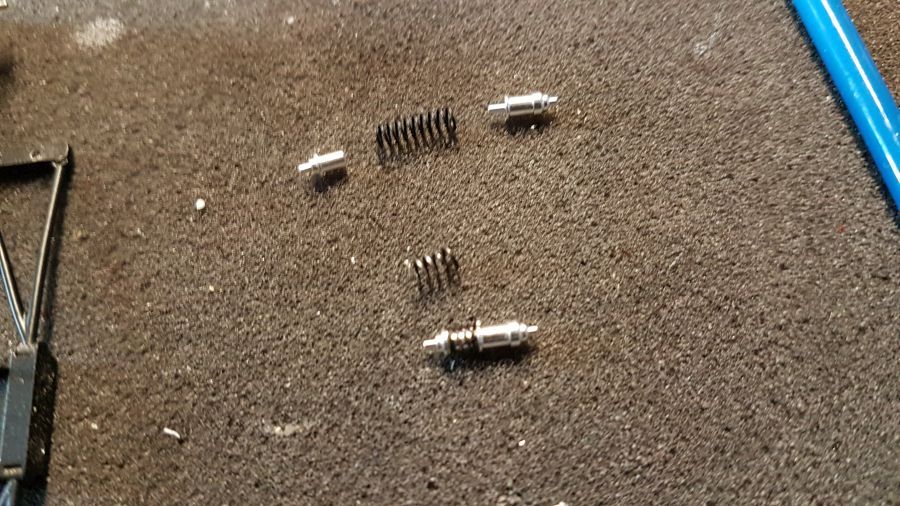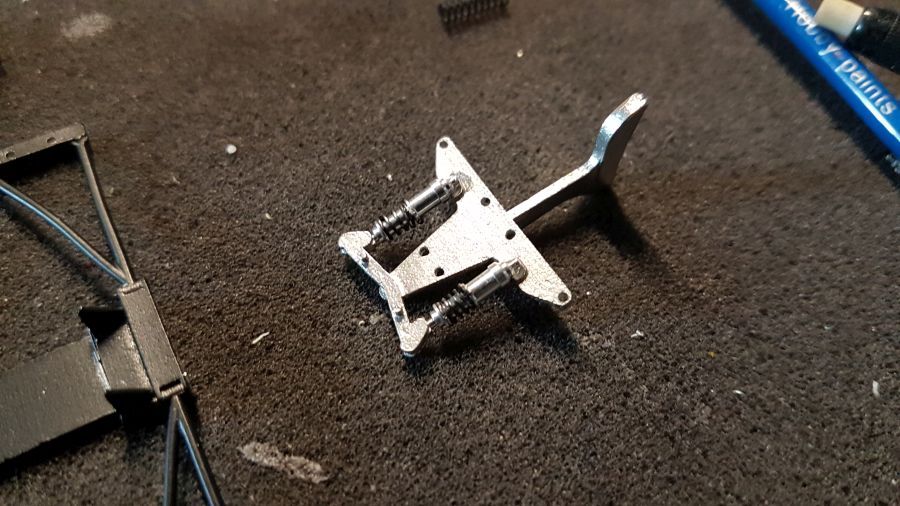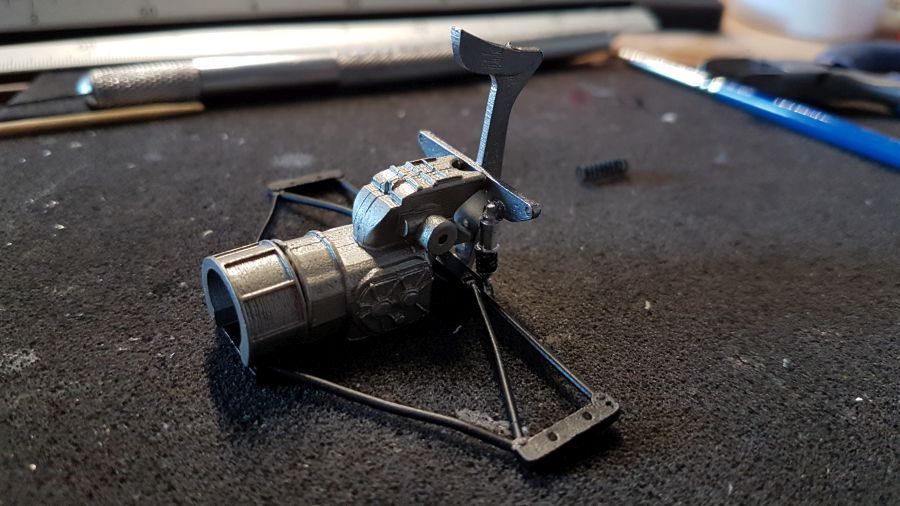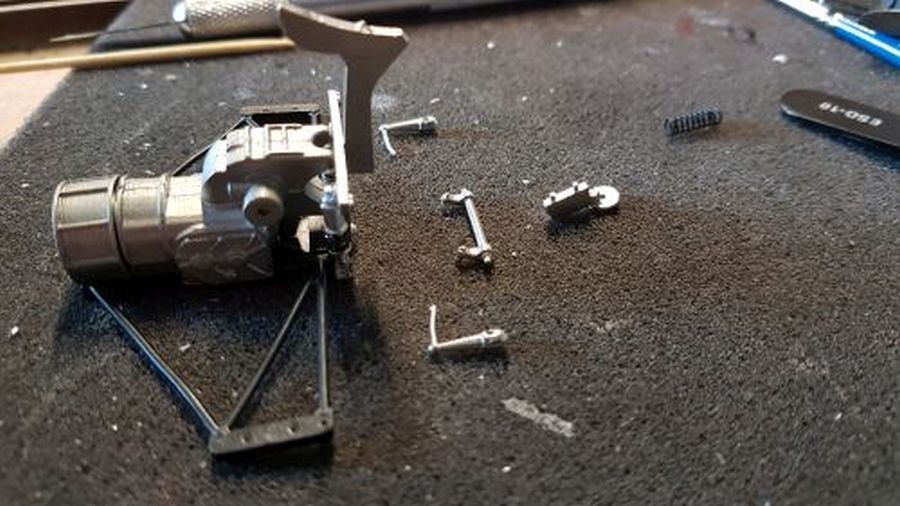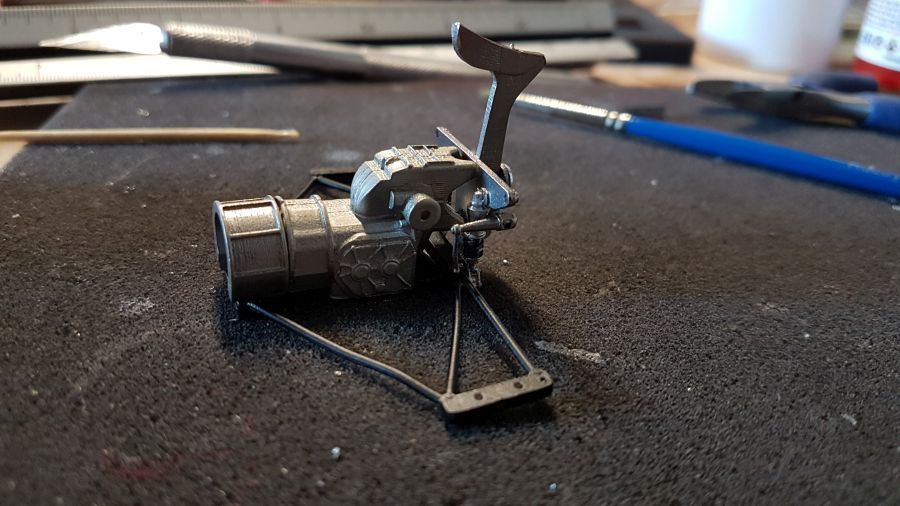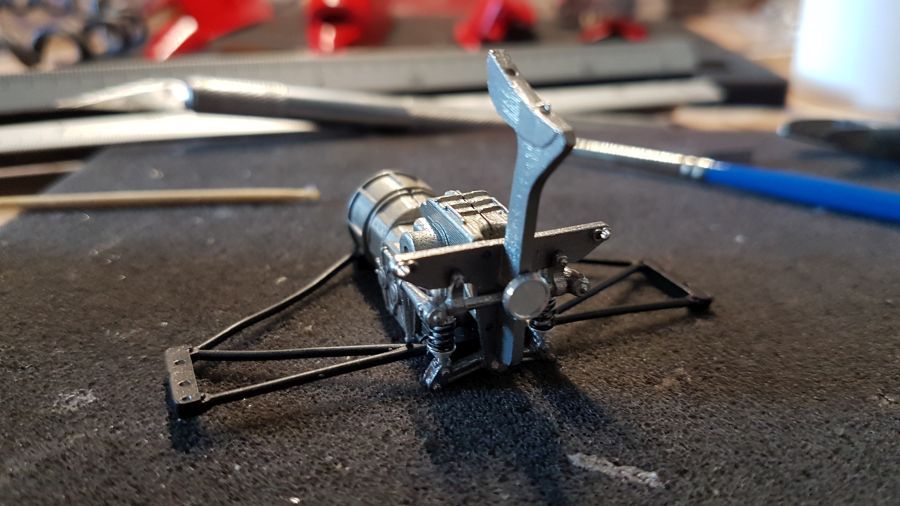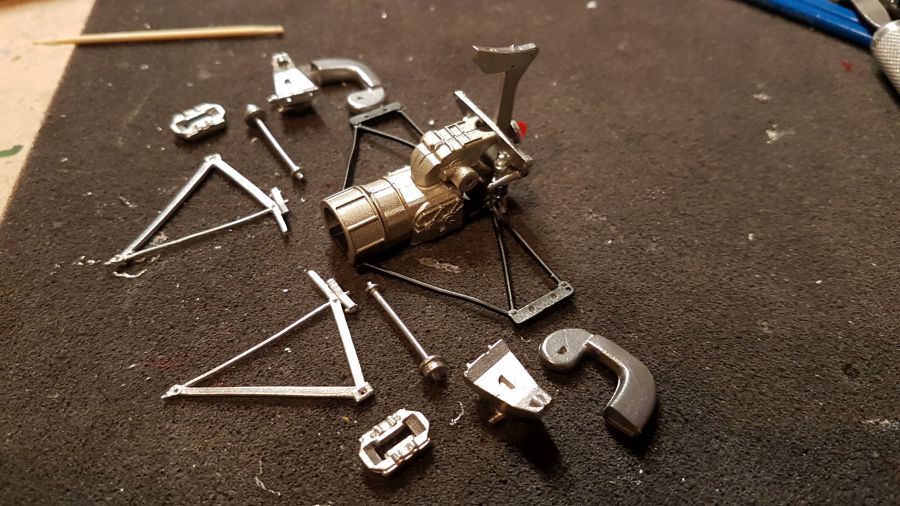 De luchthappers van de remmen zijn opengewerkt.
The intakes of the breaks have been opened.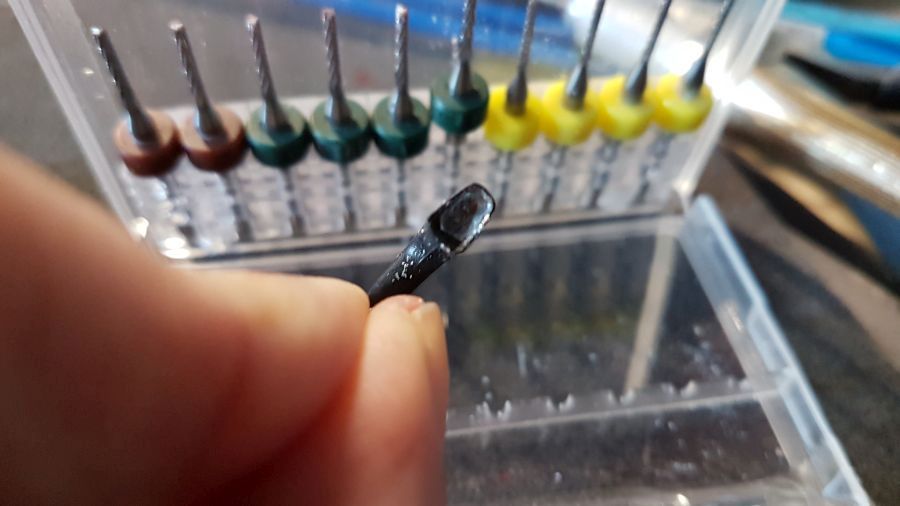 Door naar de ophanging. De armen moeten eerst aan de opstaande delen worden bevestigd, voordat de luchthappers worden geplaatst.
On to the suspension. The arms need to be attached to the uprights, before adding the air intakes.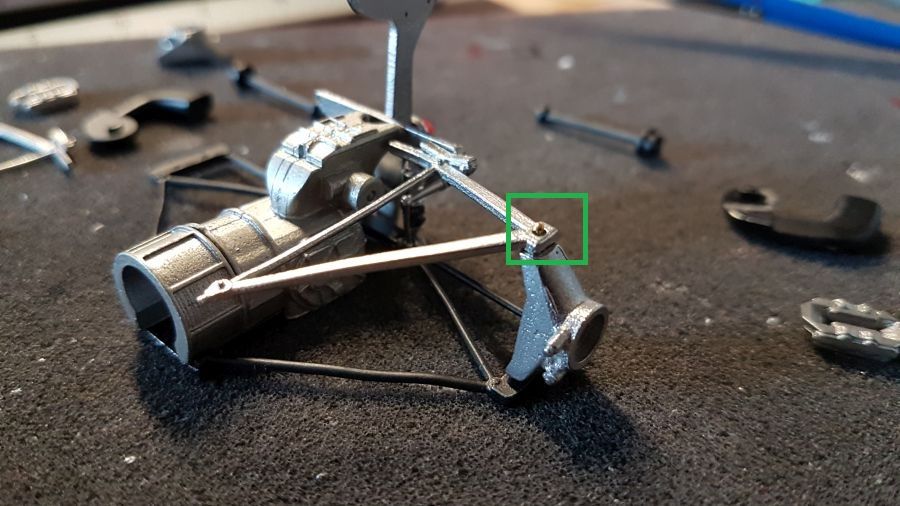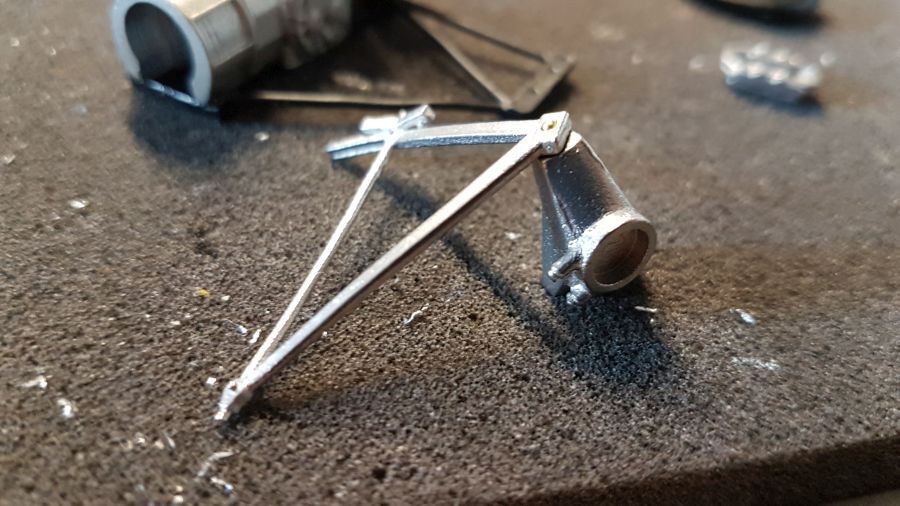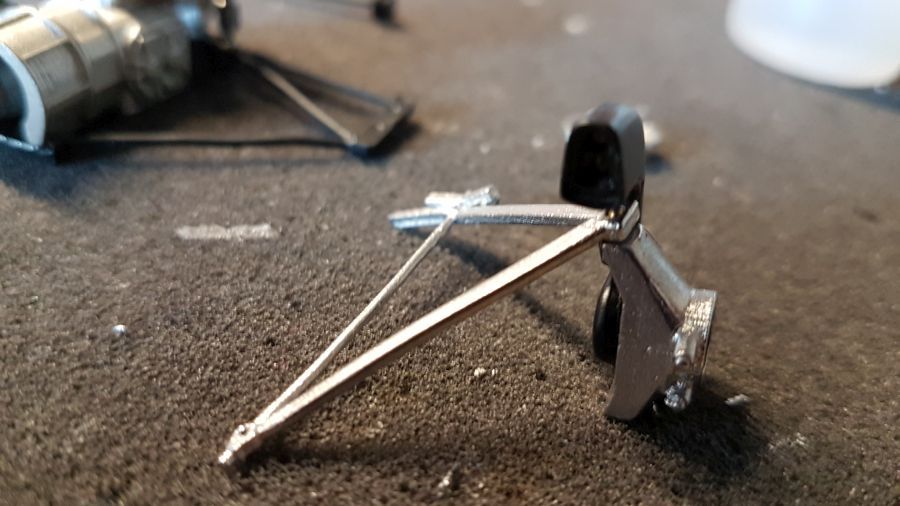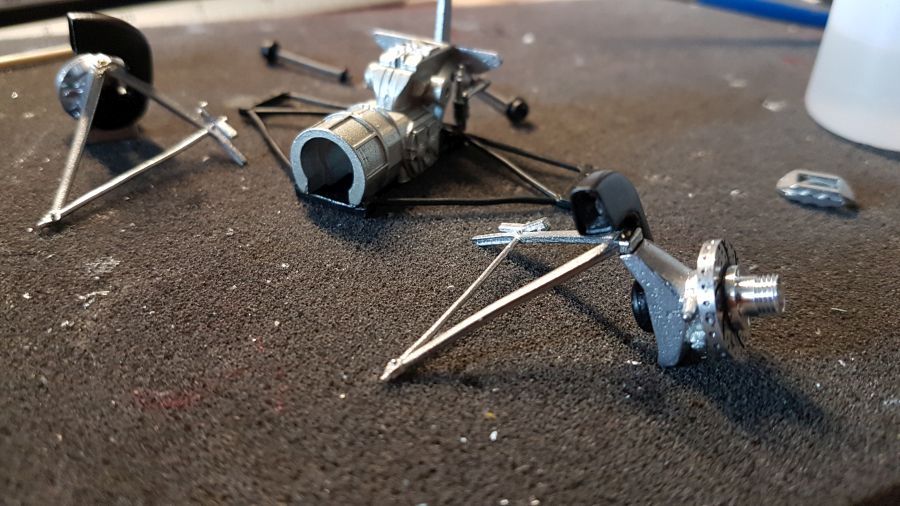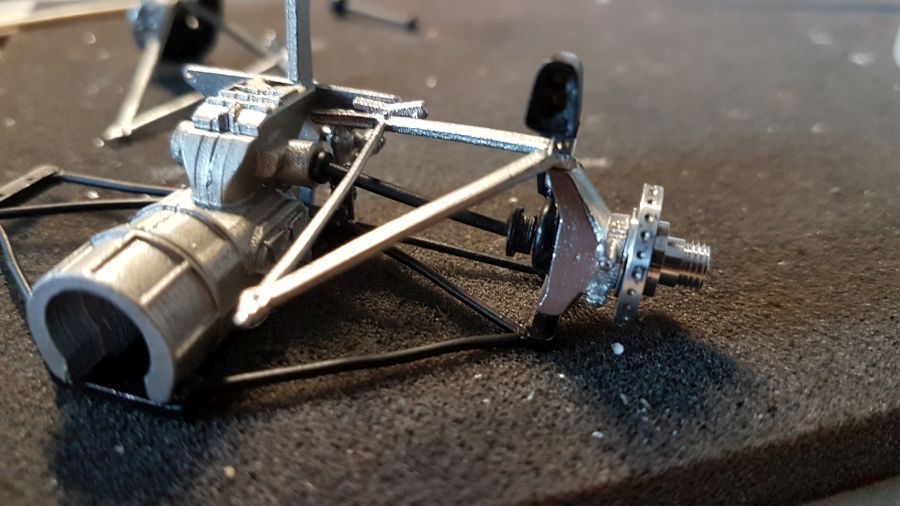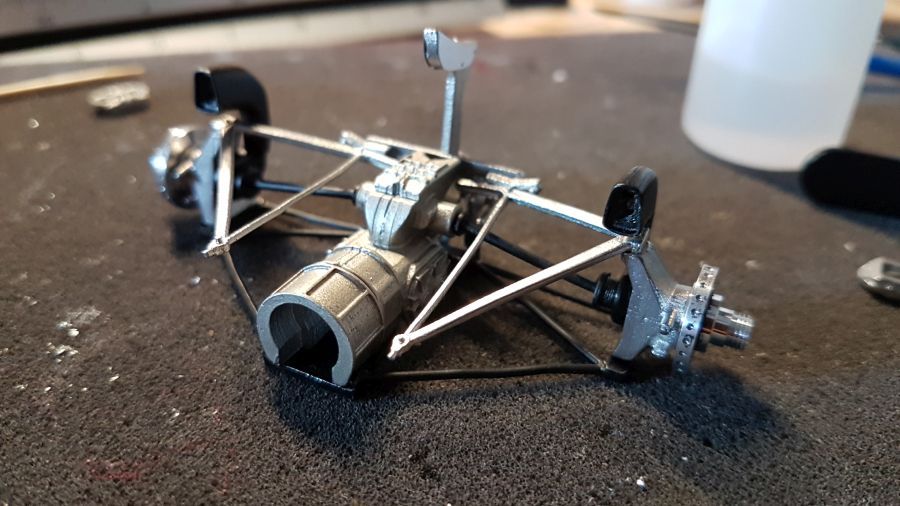 Testen, opdat de armen correct uitgelijnd zijn.
Test fit, to be sure the arms are lined up correct.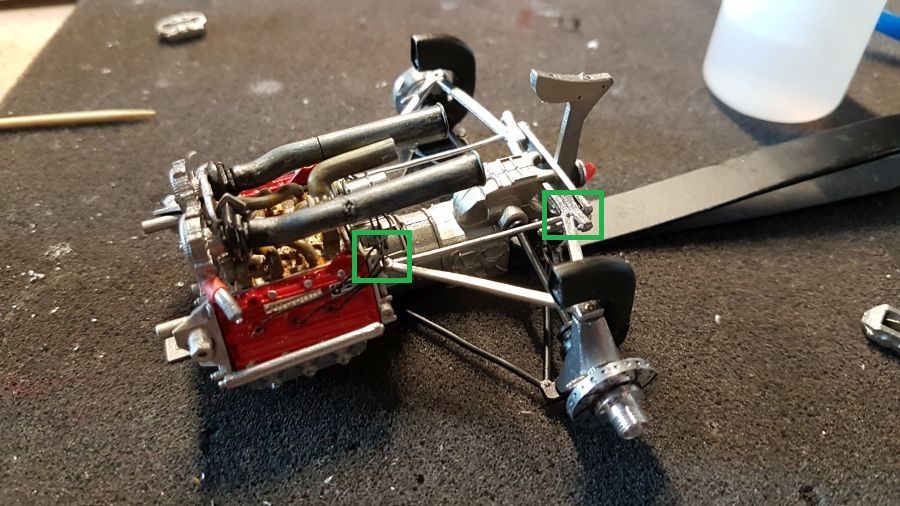 Extra bedrading en leidingen worden toegevoegd.
Extra wires and piping are being added.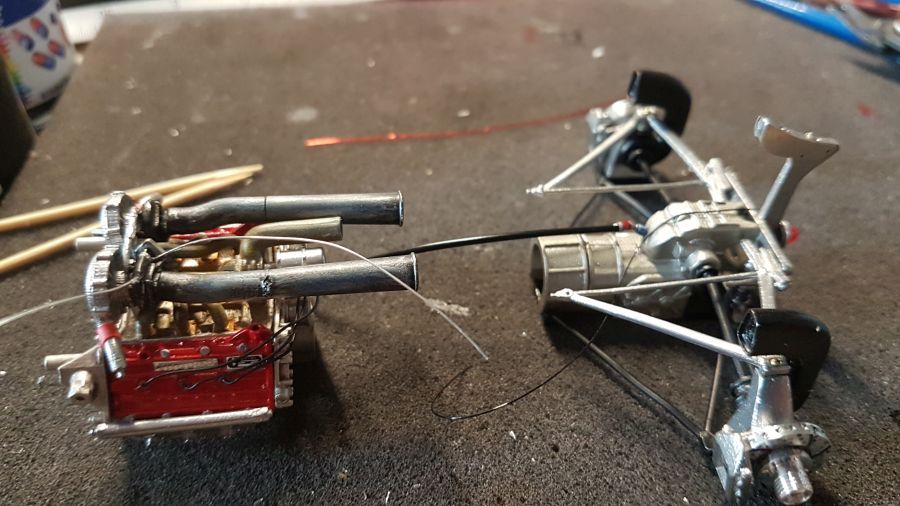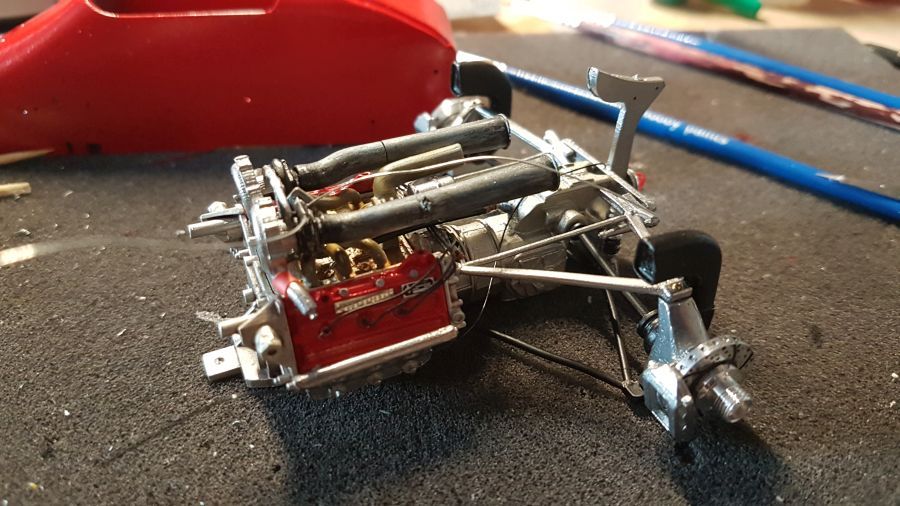 Testen.
Testing.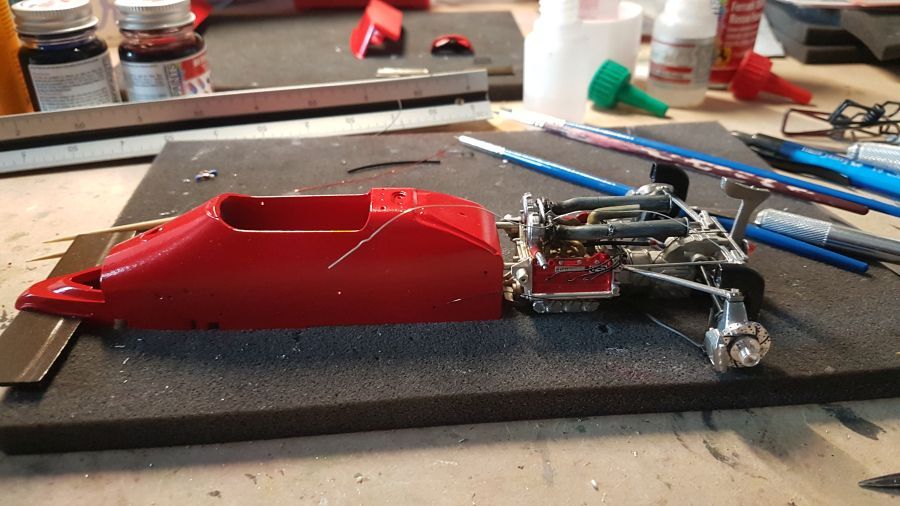 Verder met het interieur.
To continue with the interior.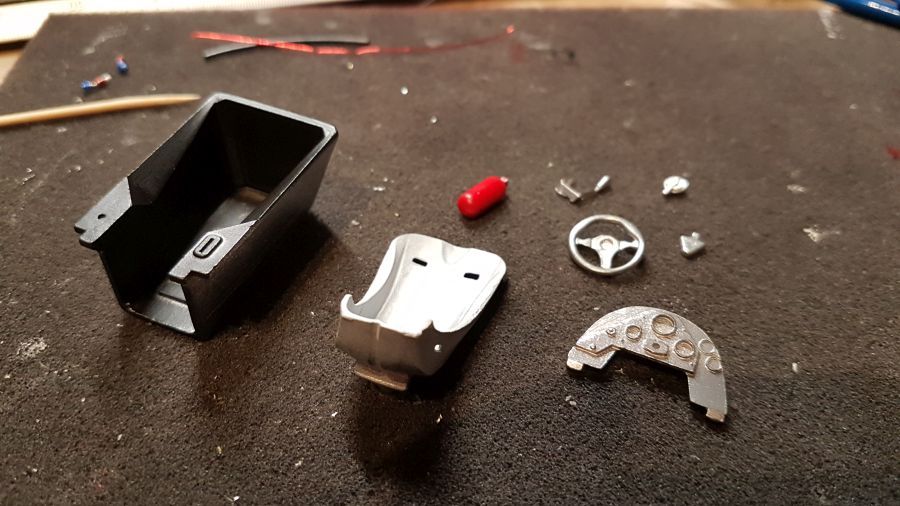 De stoel lijkt me een beetje leerachtig... Lastig. Maar eens proberen met olieverf.
The seat looks to be a bit leatherish... Tough. I will try some oil paints.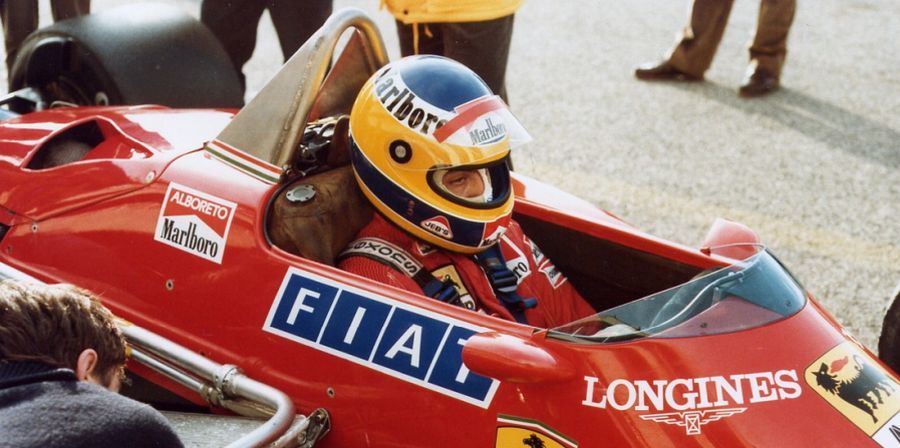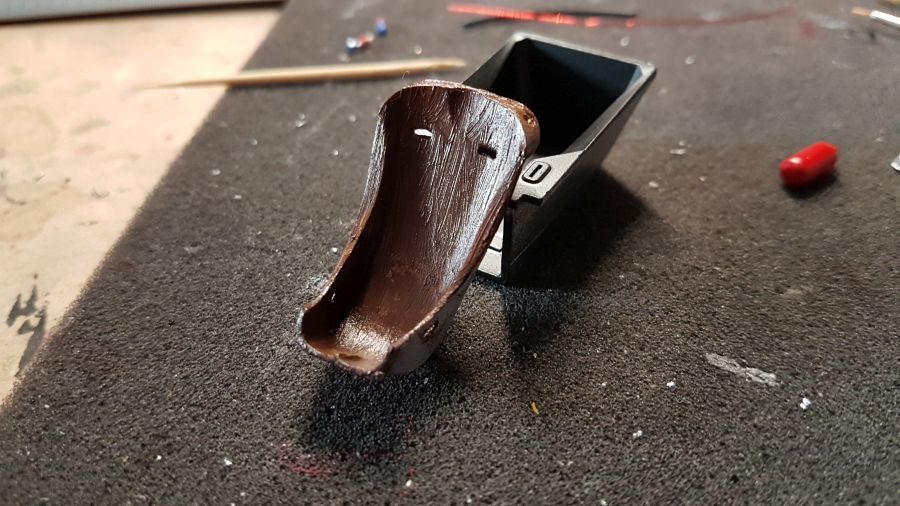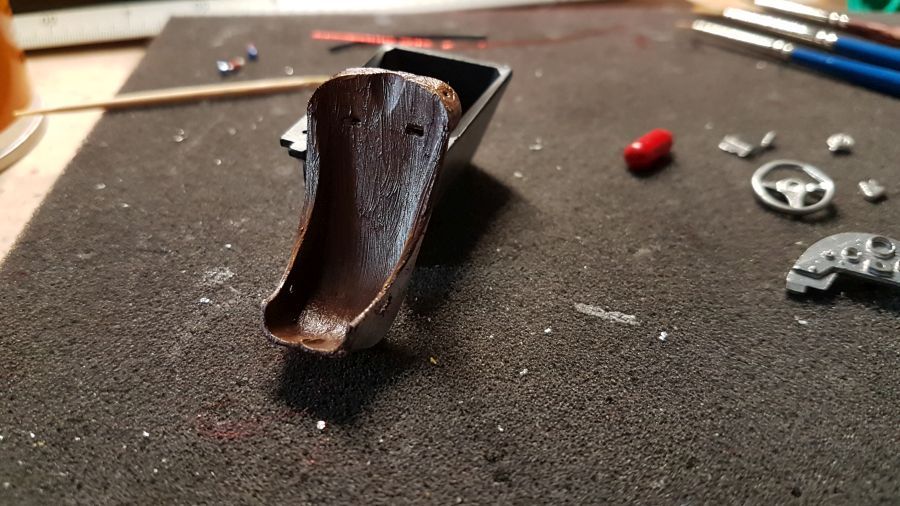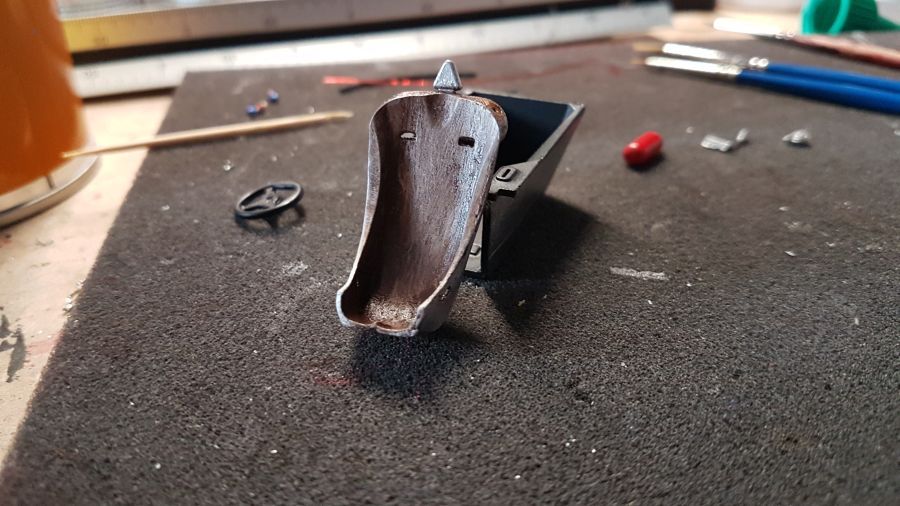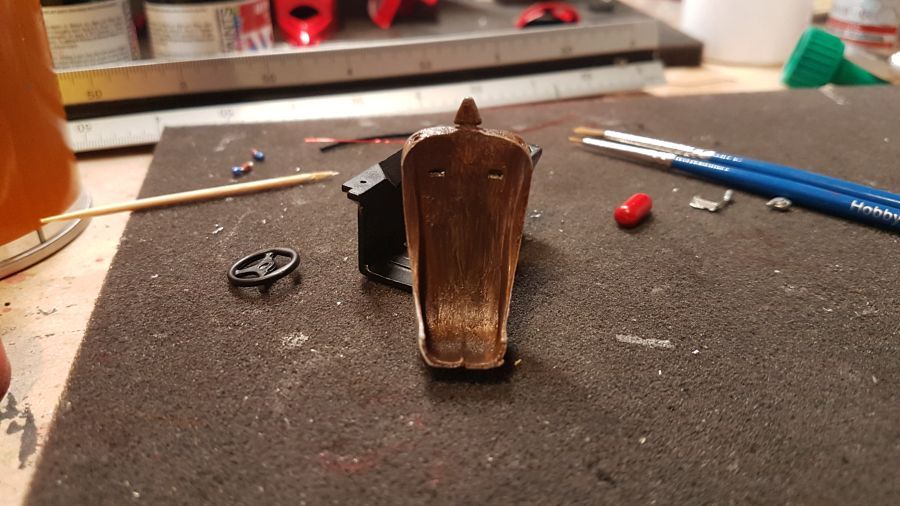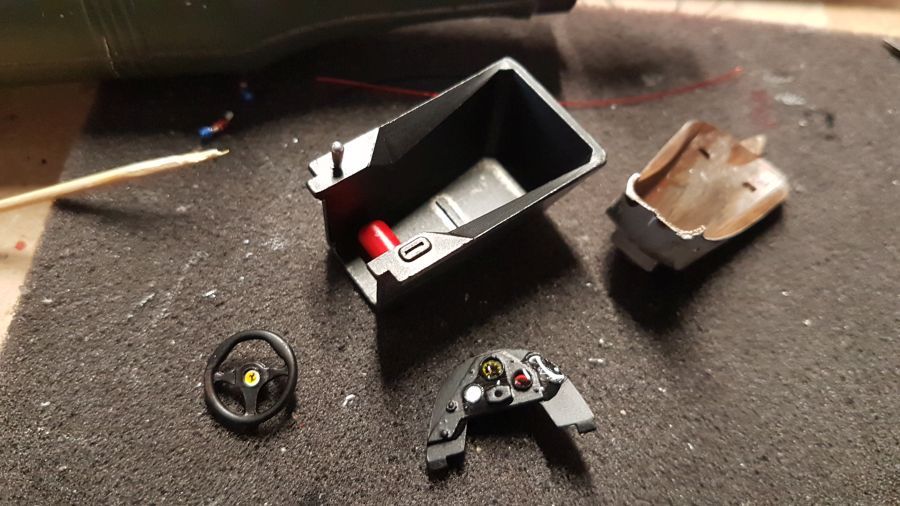 Terwijl alles droogt, spuit ik de vloer alvast.
I am painting the floor, while everything dries.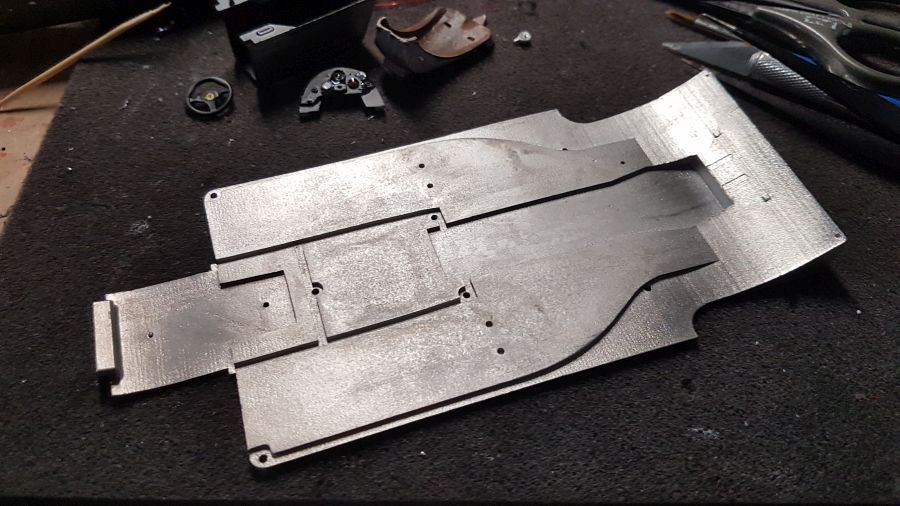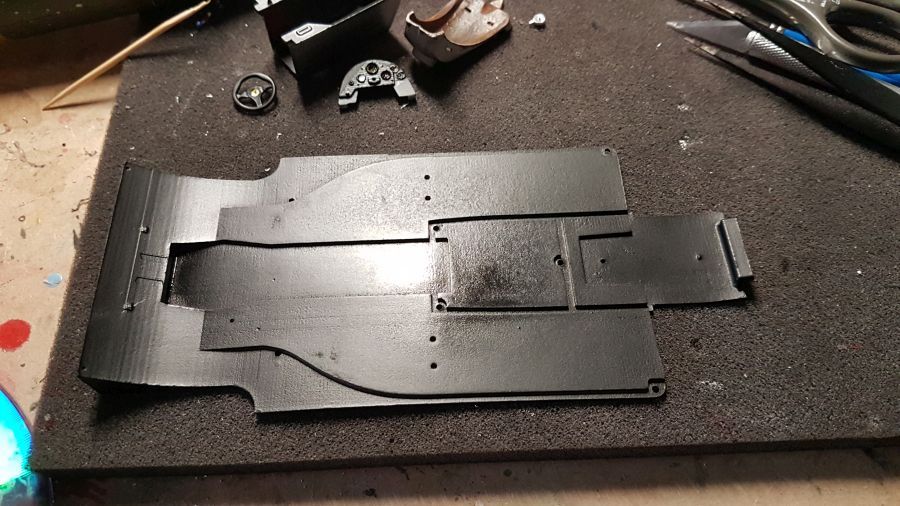 Tijd voor de carbon fiber decals. Let niet op de rimpels. Micro Sol is nog aan het werk.
Time for the carbon fiber decals. Don't mind the wrinkles. Micro Sol is still doing it's work.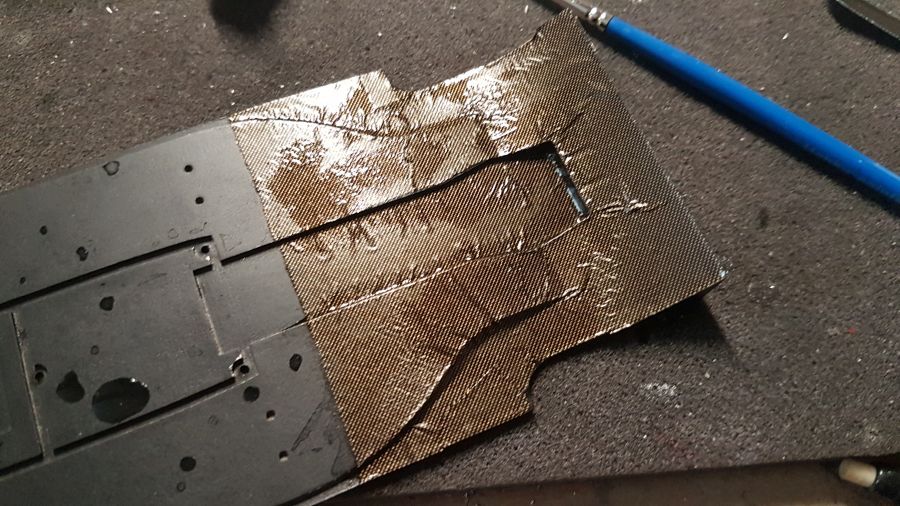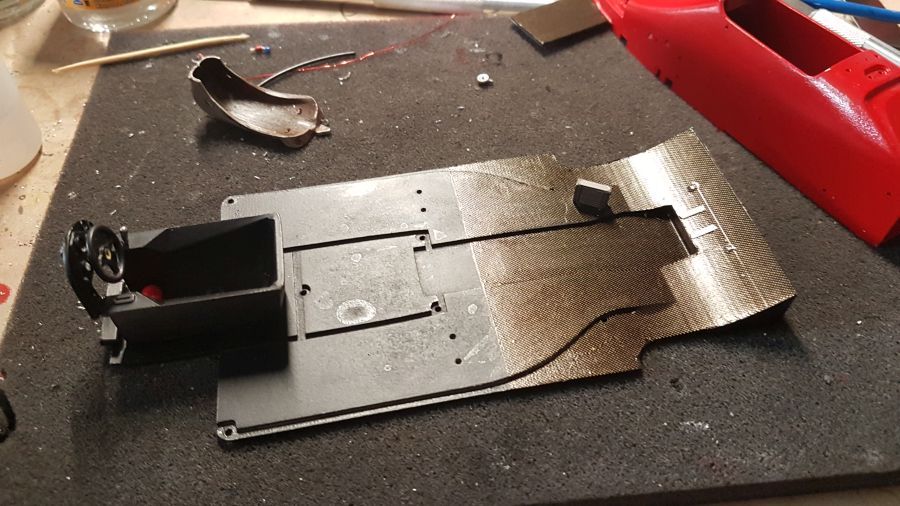 Micro Sol deed zijn werk.
Micro Sol did the job.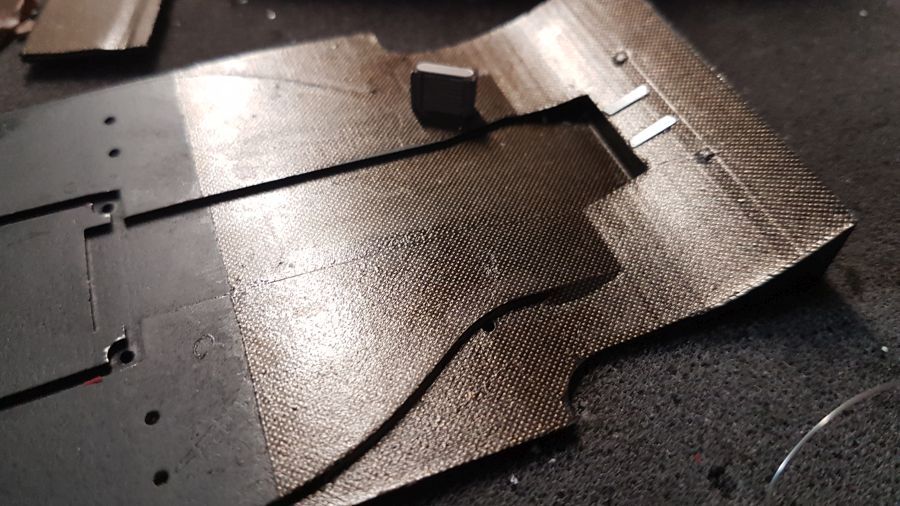 Het huwelijk...
The mariage...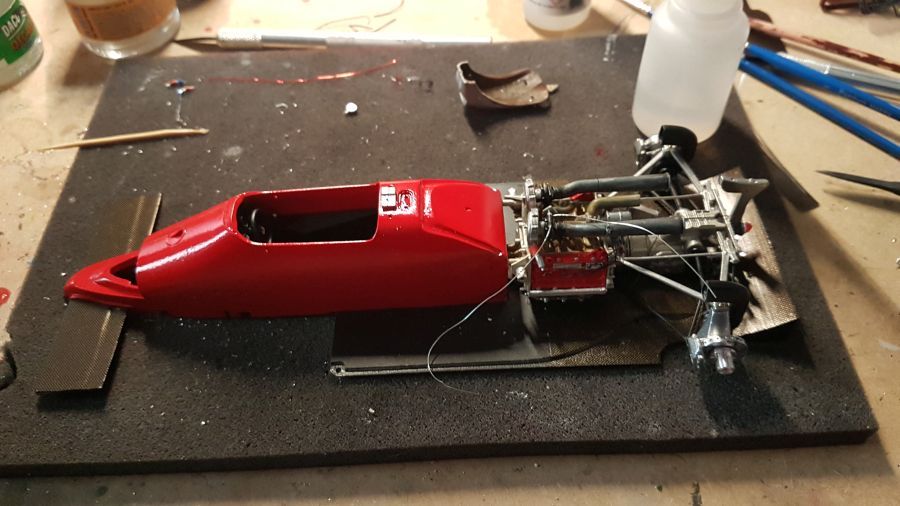 Dan de stoel.
To the seat.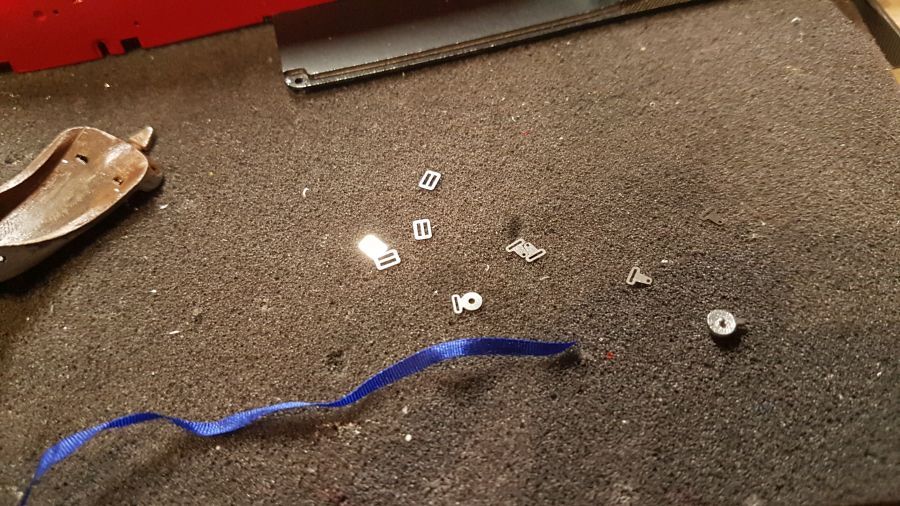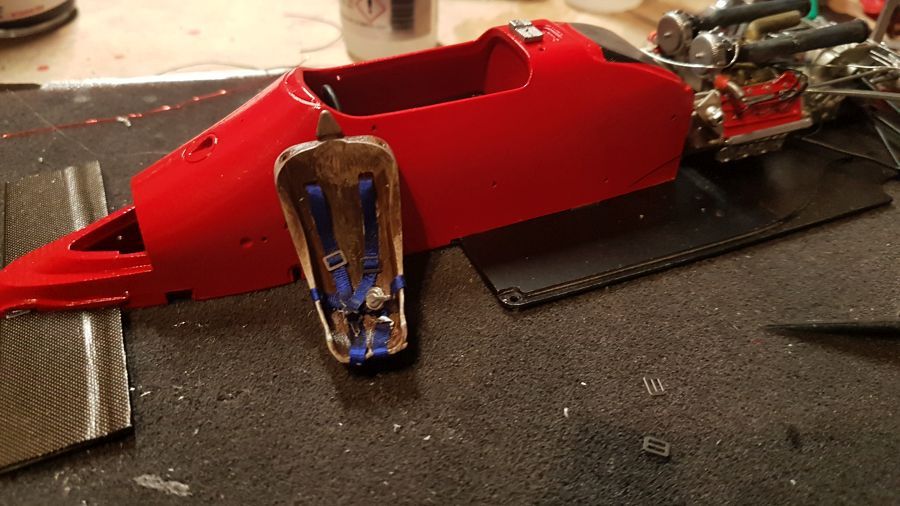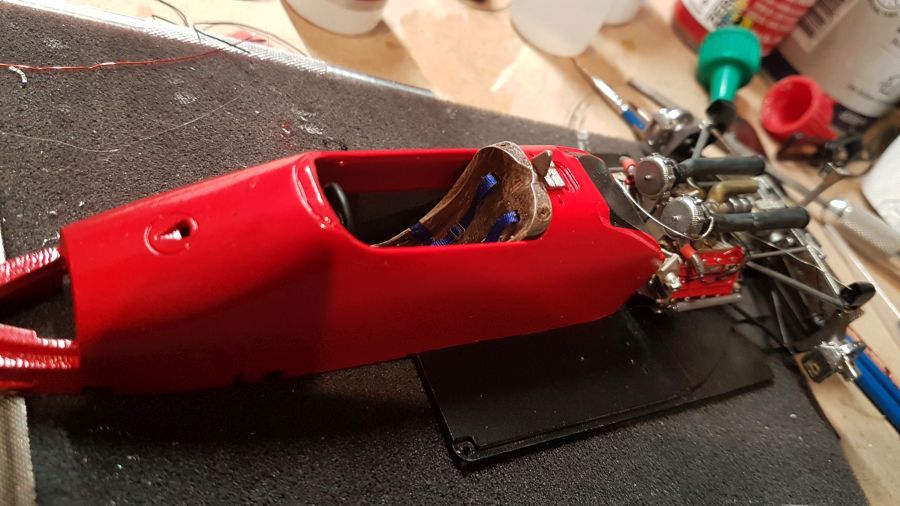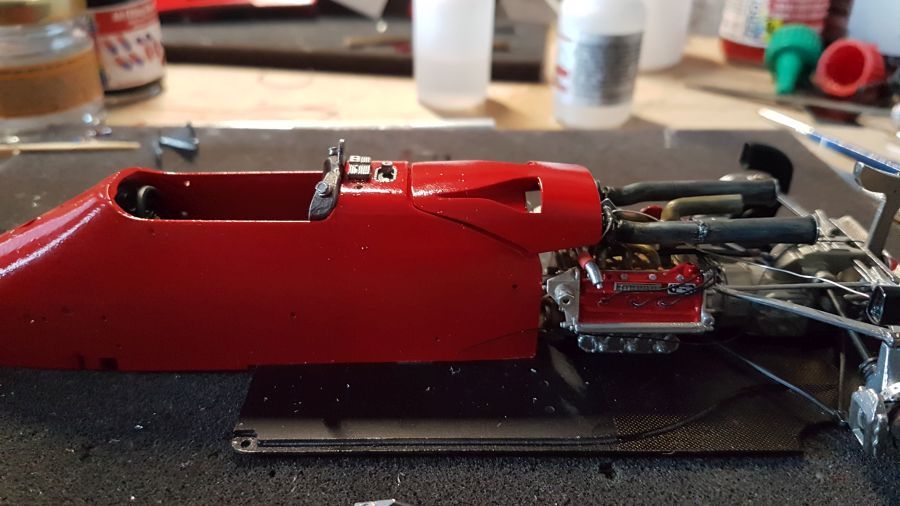 Normaal gesproken zou ik een slang plaatsen. Dat doe ik nu niet, anders past de afdekking totaal niet.
Normaly there should be a hose. I will not add it, because the cover will not fit at all then.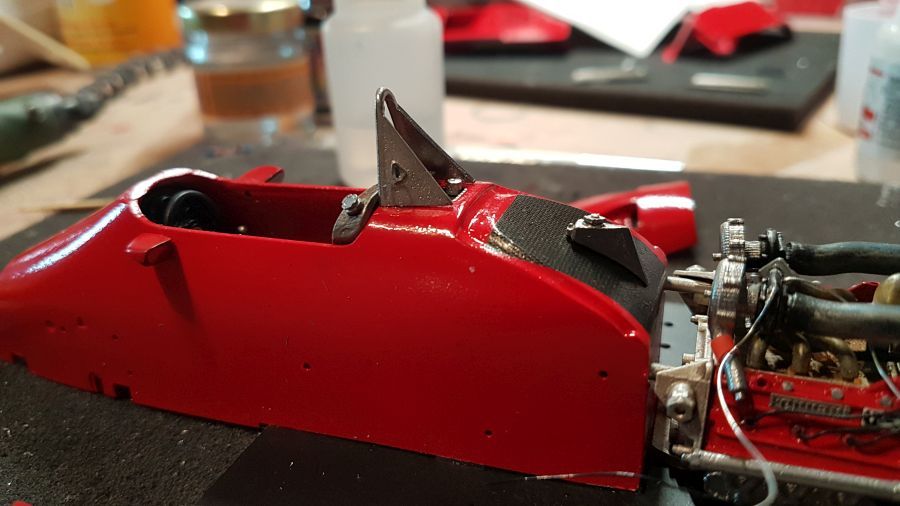 De gaten voor de koelers zijn niet goed uitgelijnd. Dat had ik natuurlijk vooraf moeten checken. Daarom ga ik de achterste/onderste pin wat bijvijlen.
The holes for the coolers are not lined up correct. I should have checked that first. Now i am going to file the back/lower pin a bit.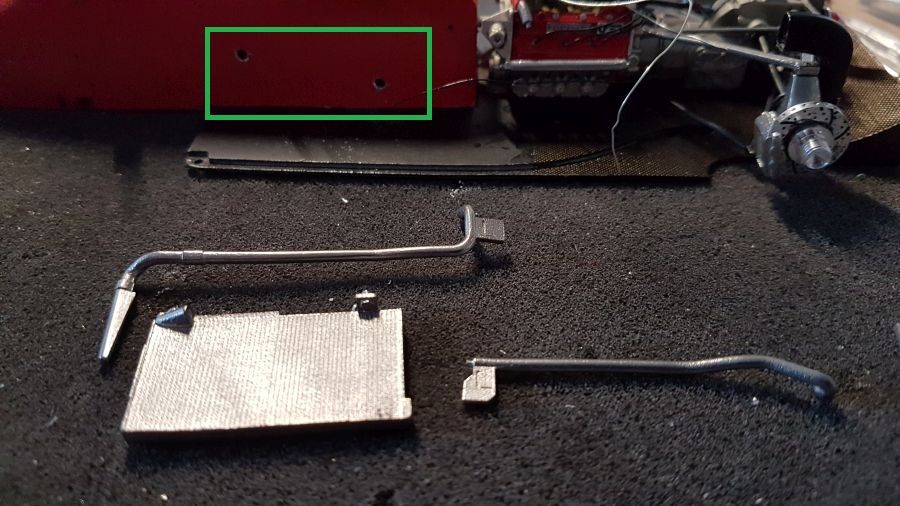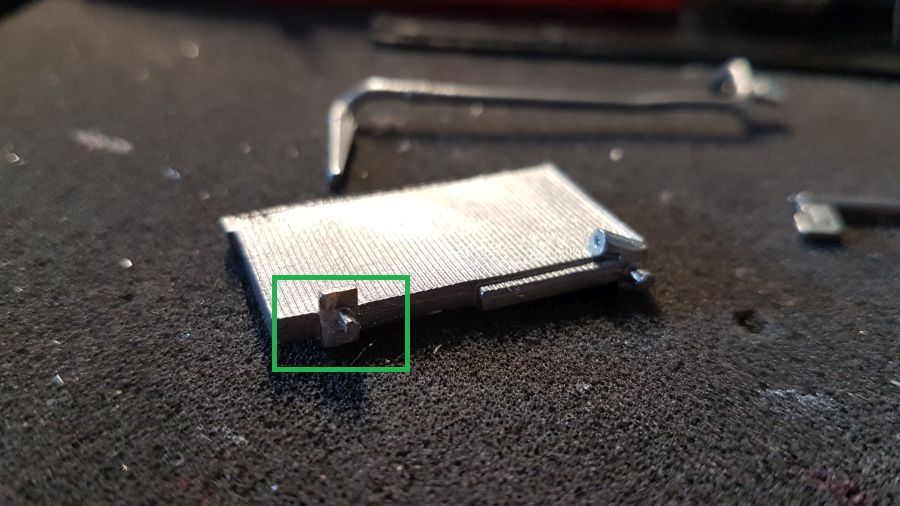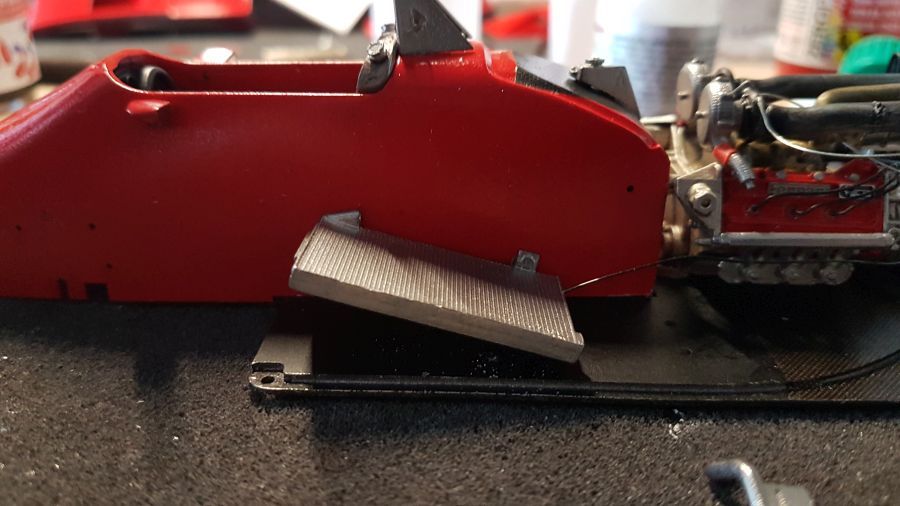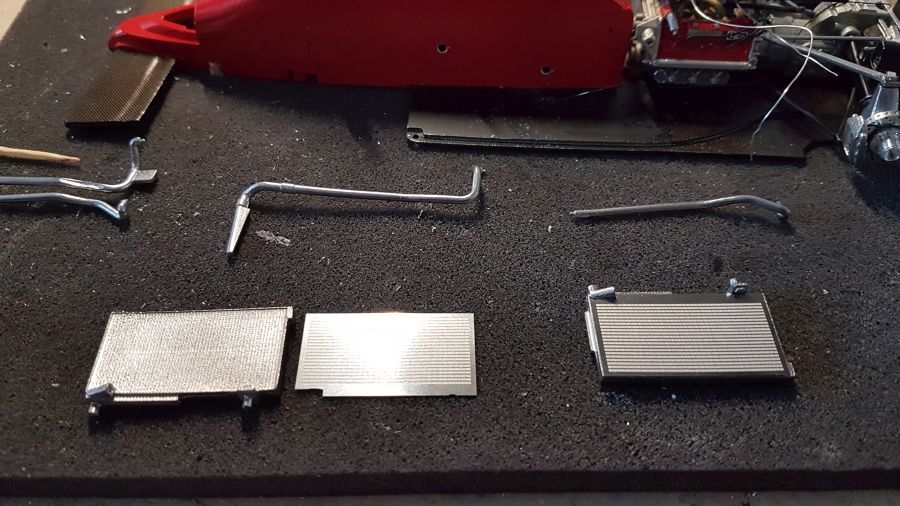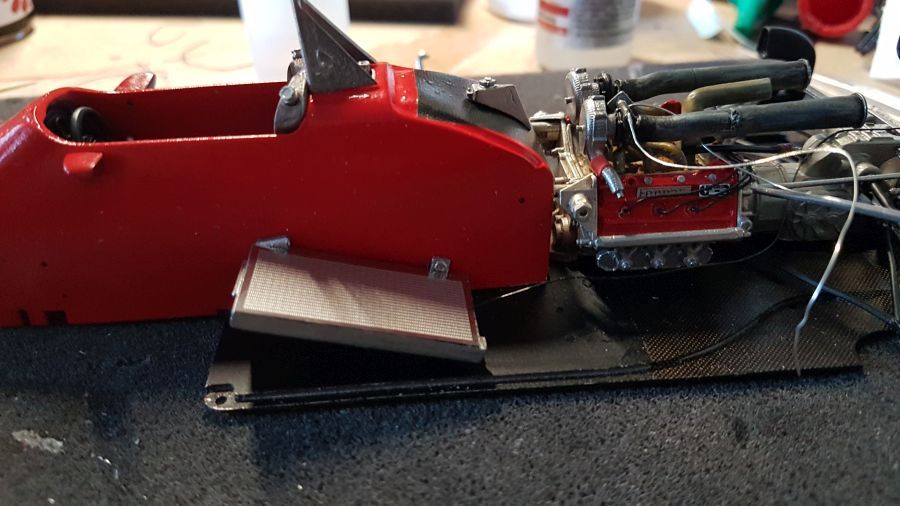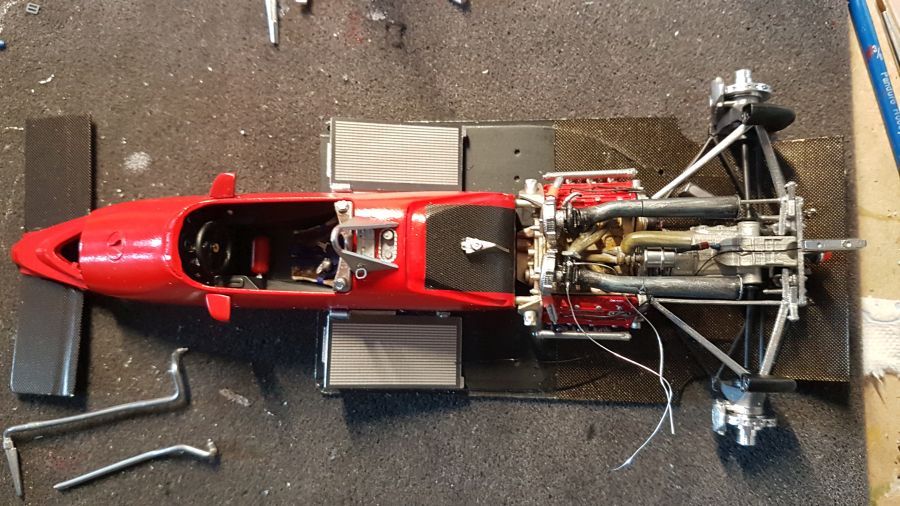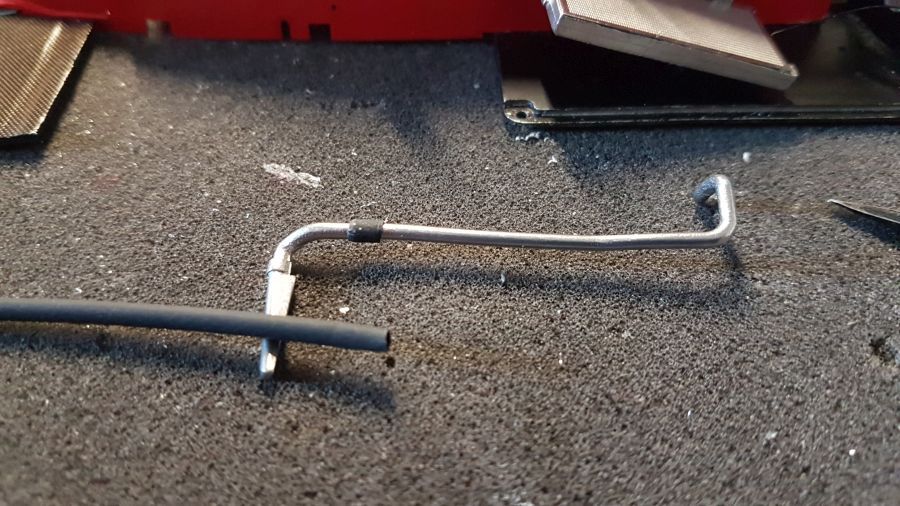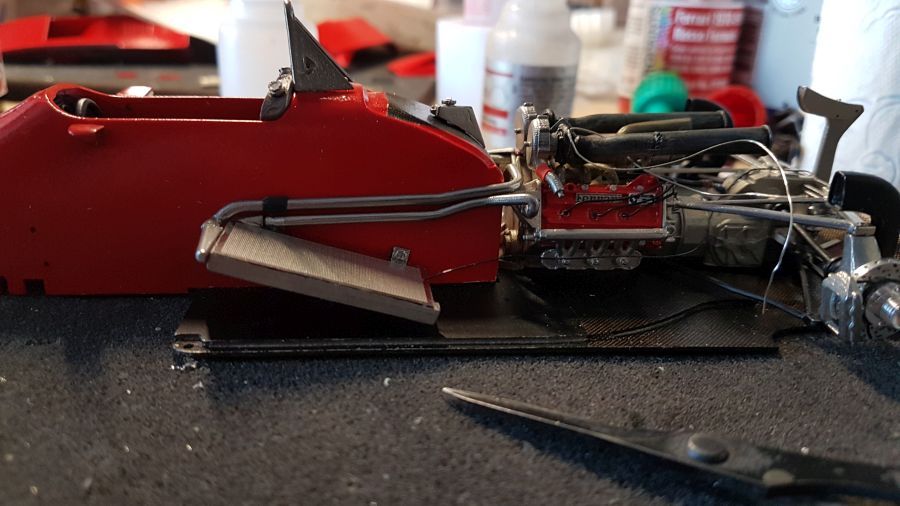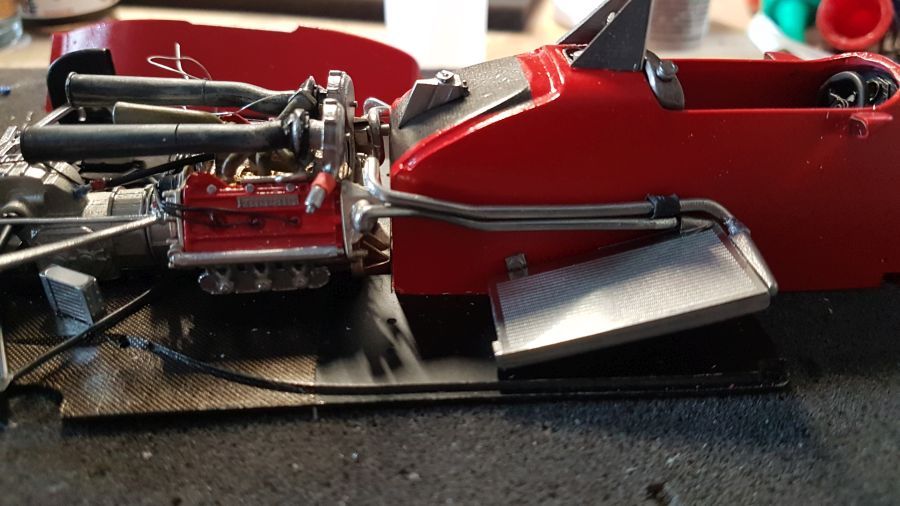 Testen...
Testing...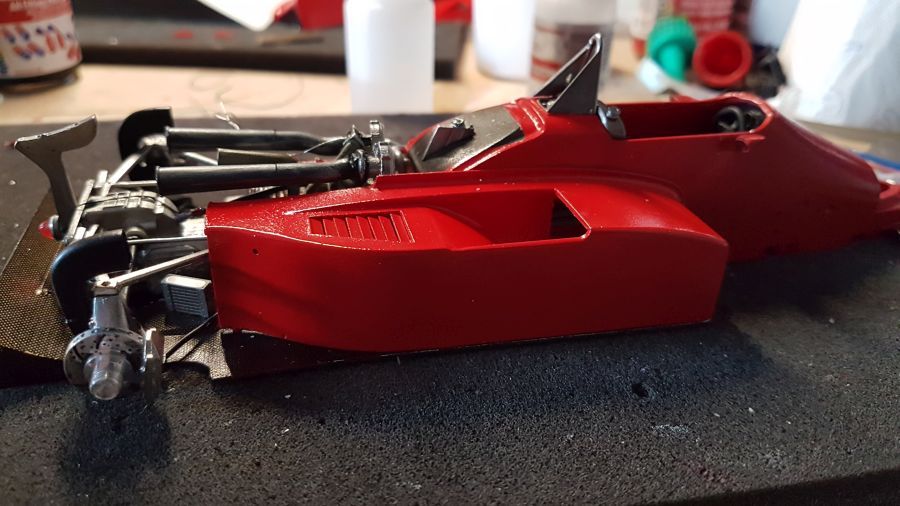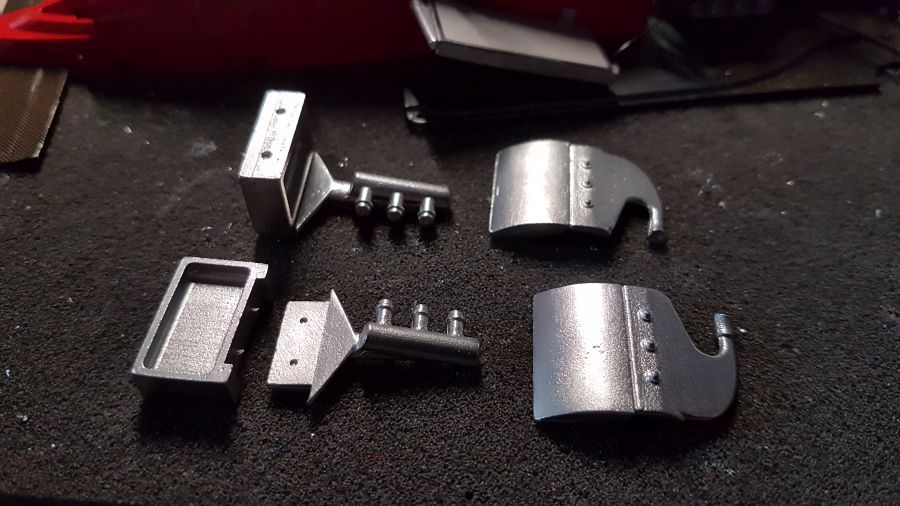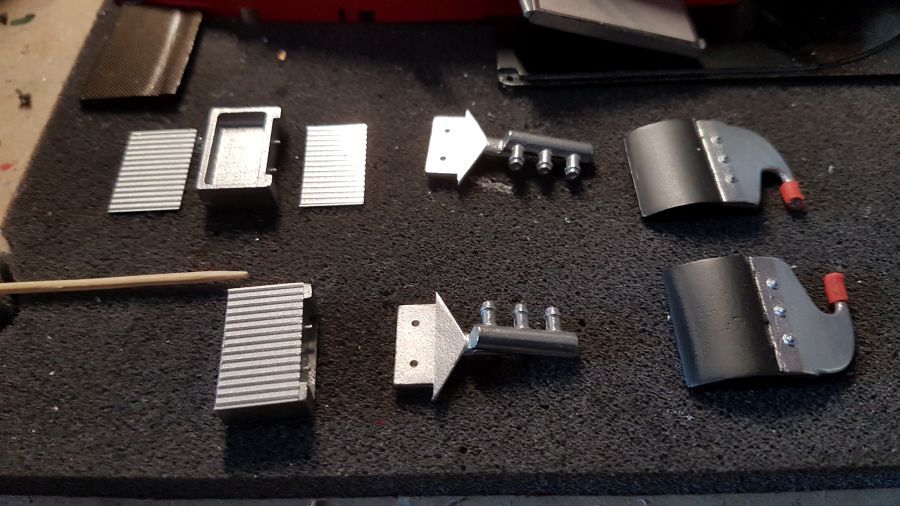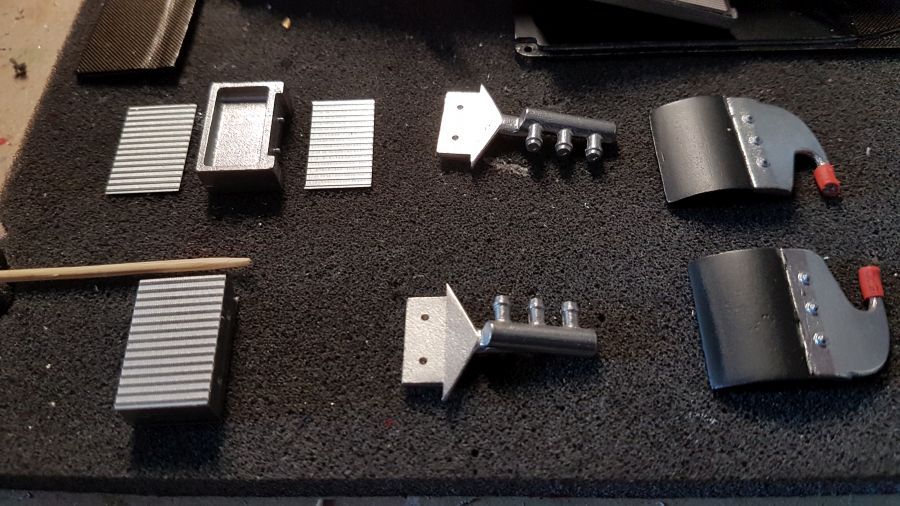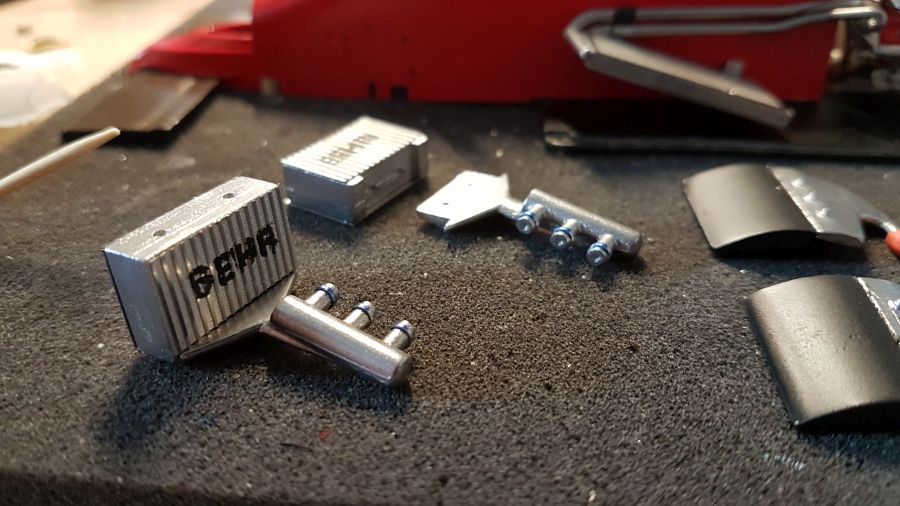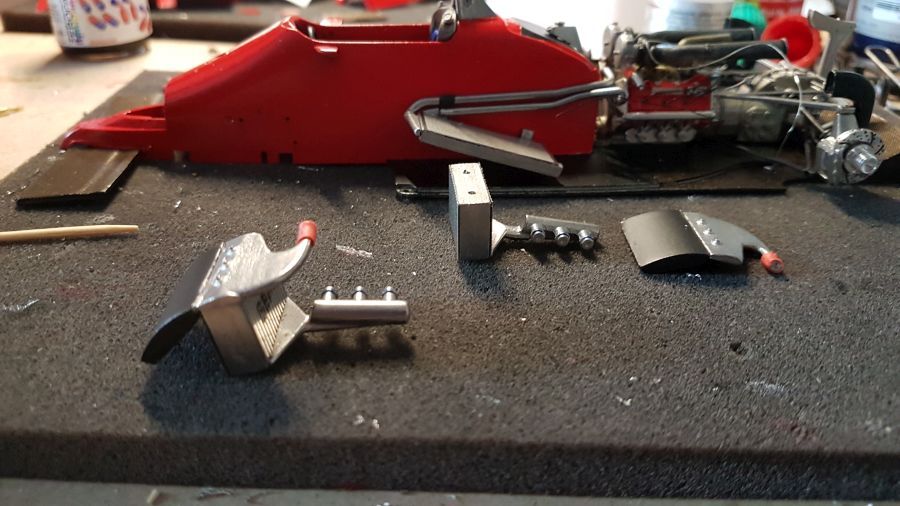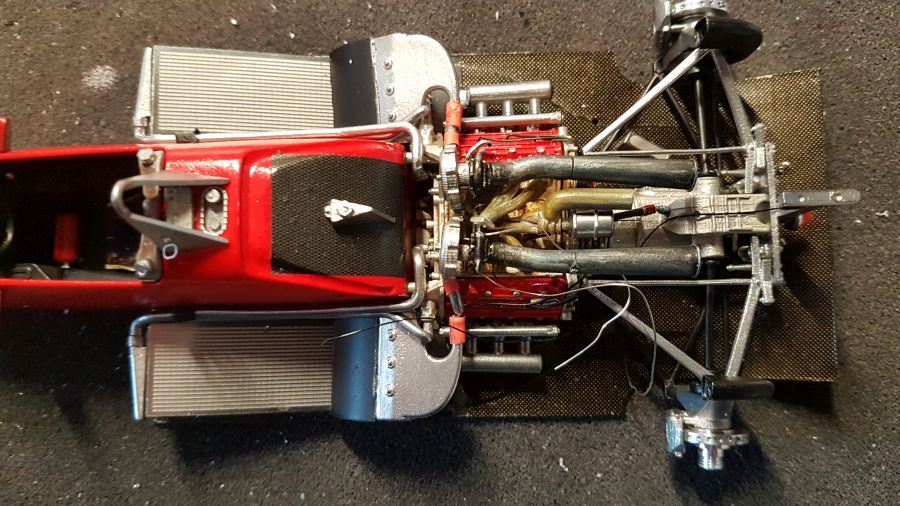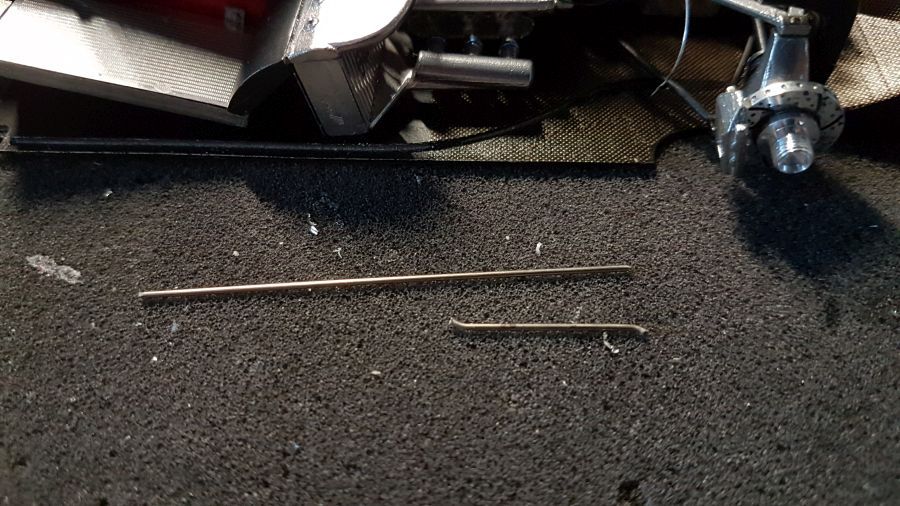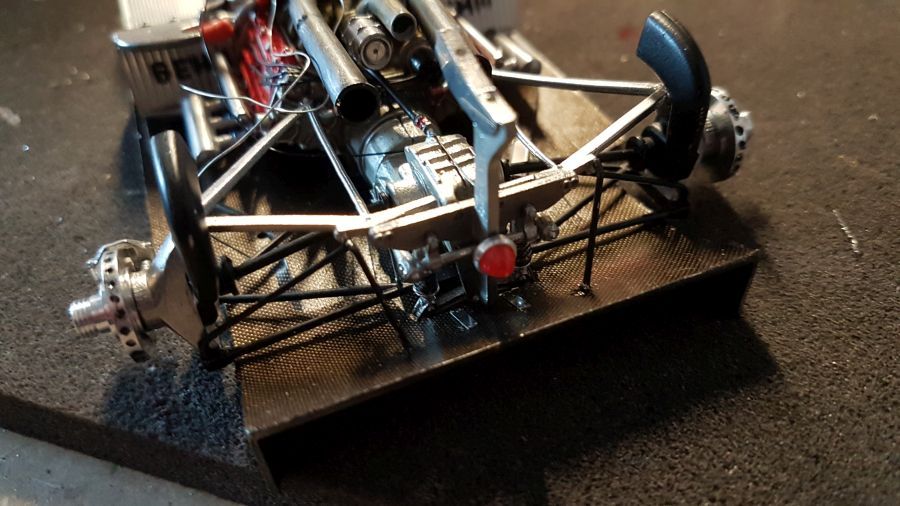 Verder met de turbo inlaten...
To the turbo intakes...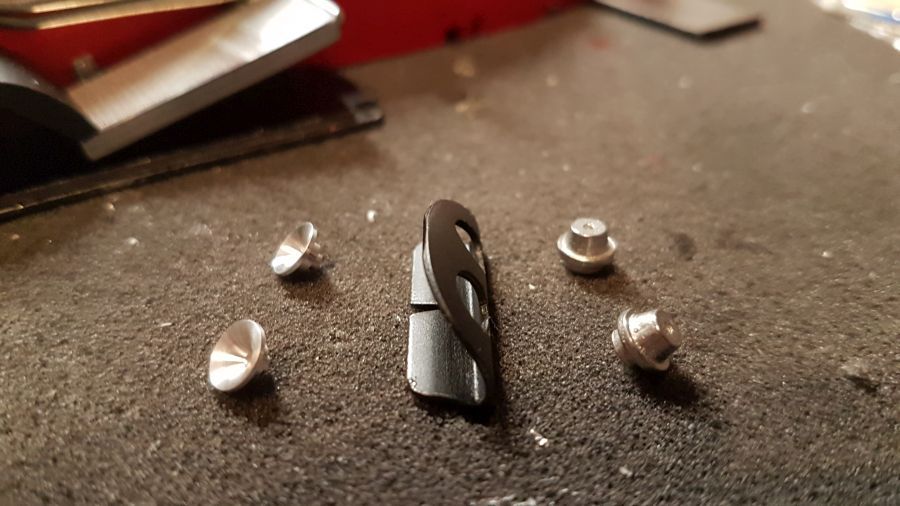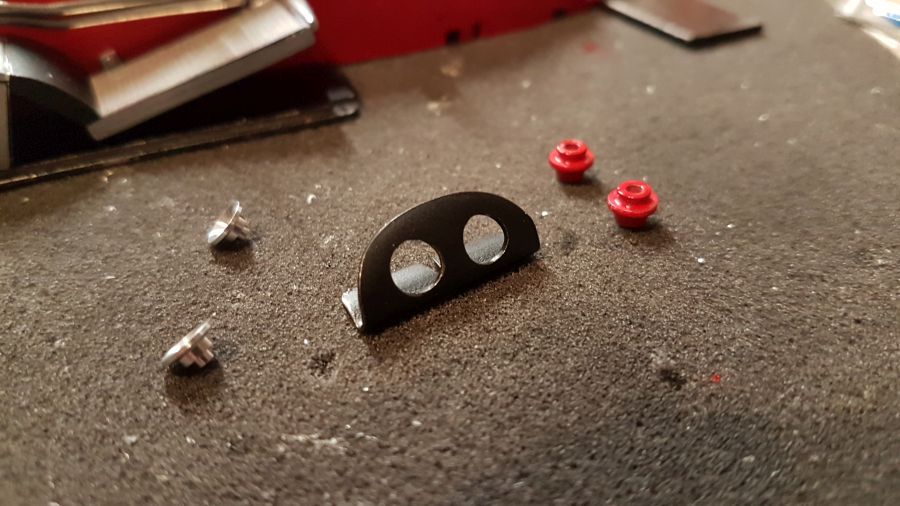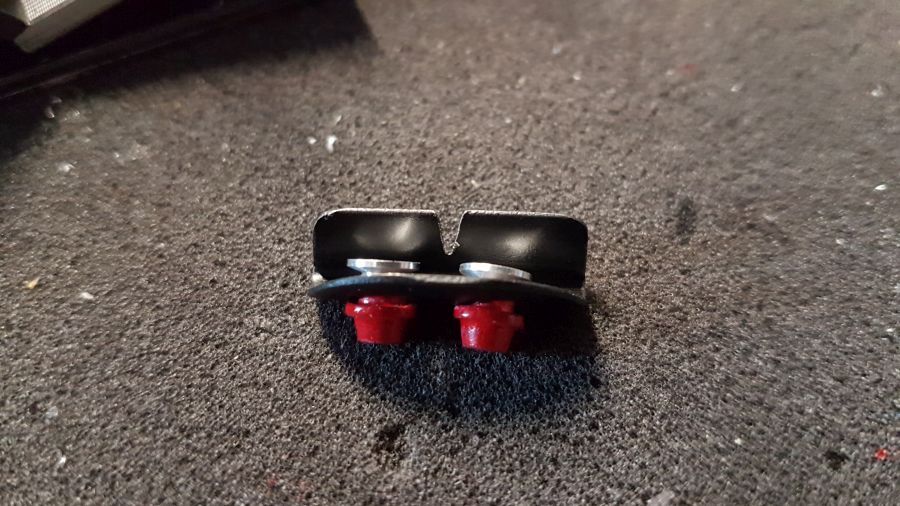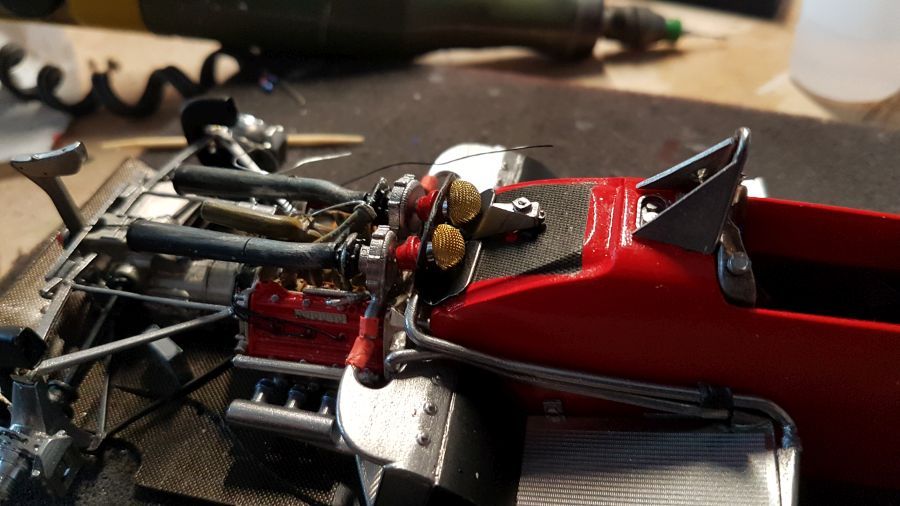 Dan de voorwielophanging.
Then the front wheel suspension.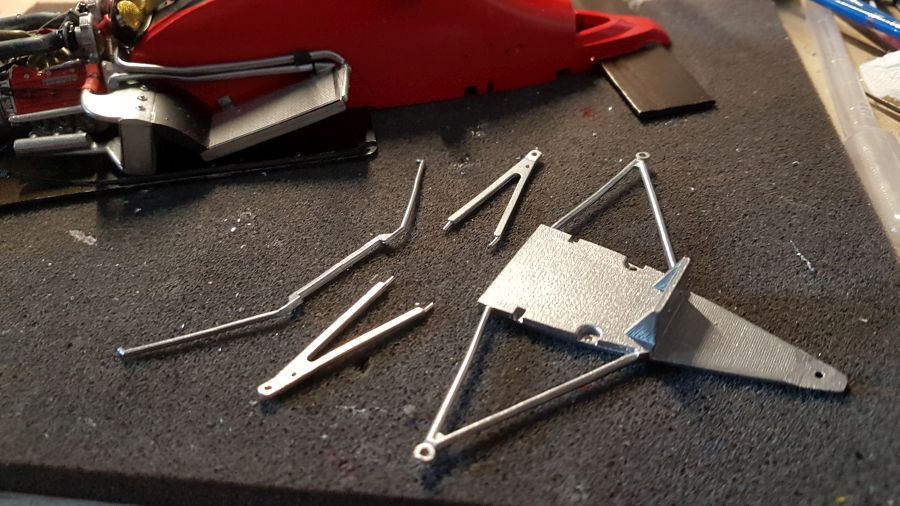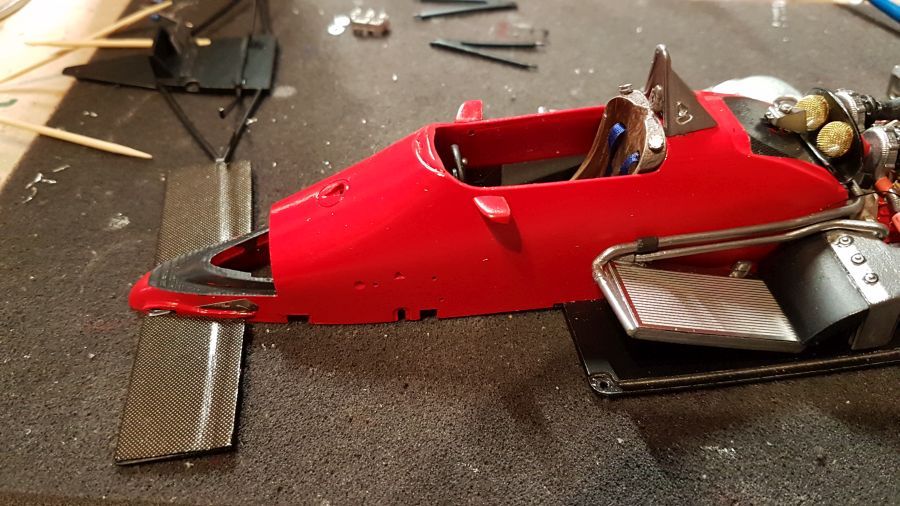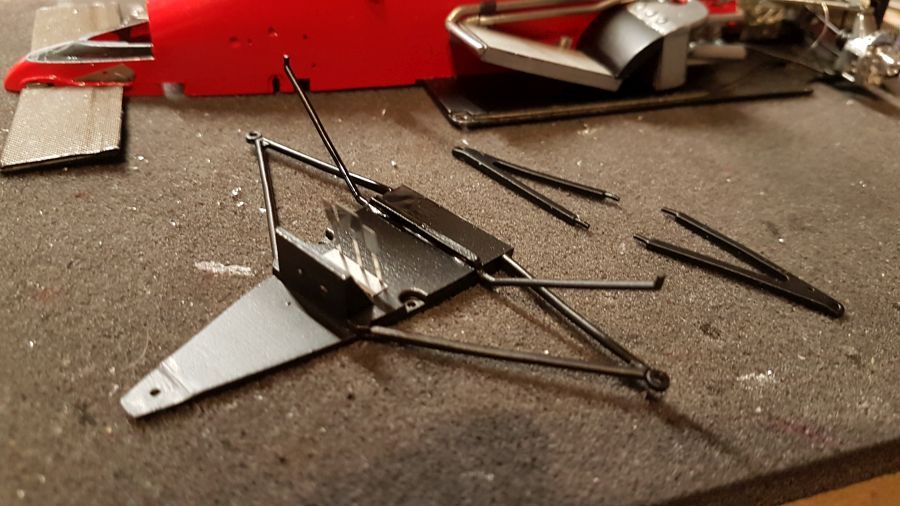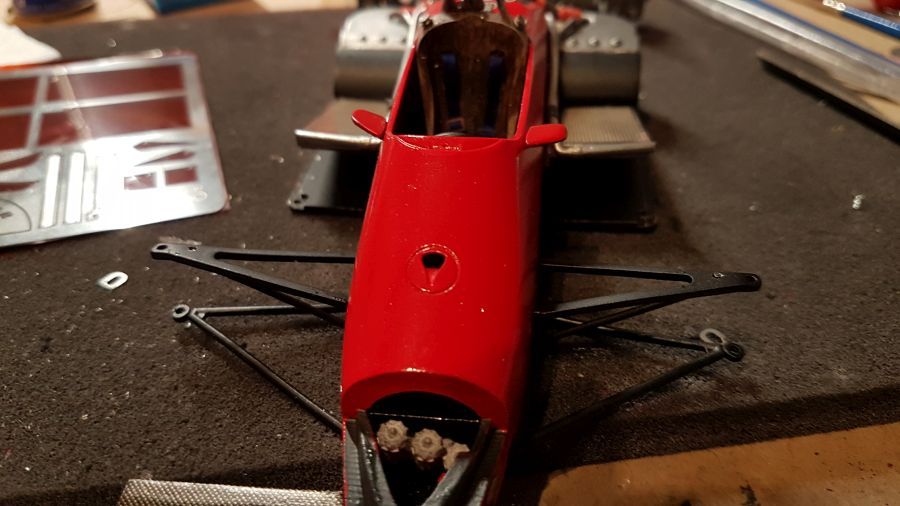 Electrisch...
Electric...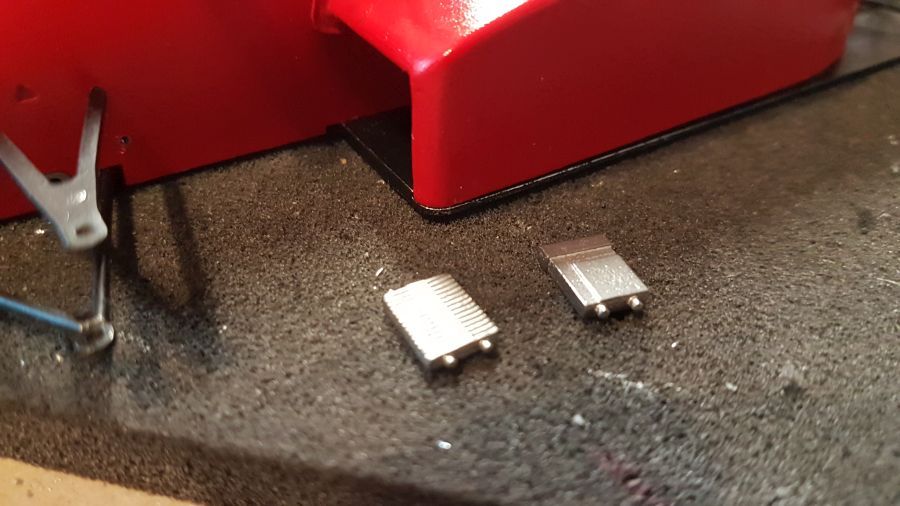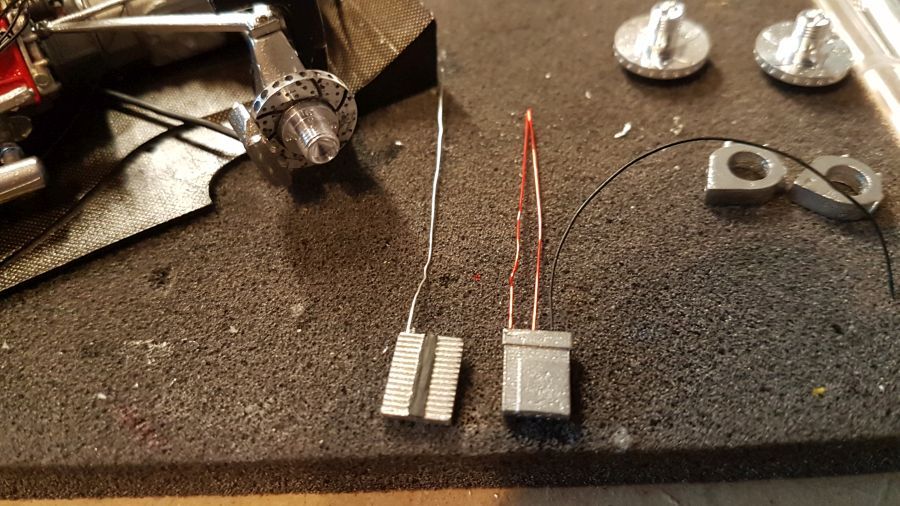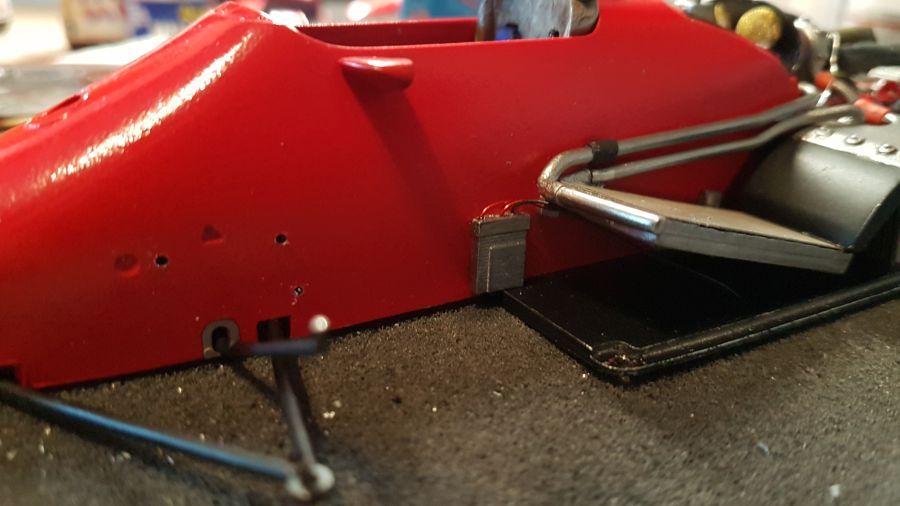 Op naar de remmen...
Let's go to the brakes...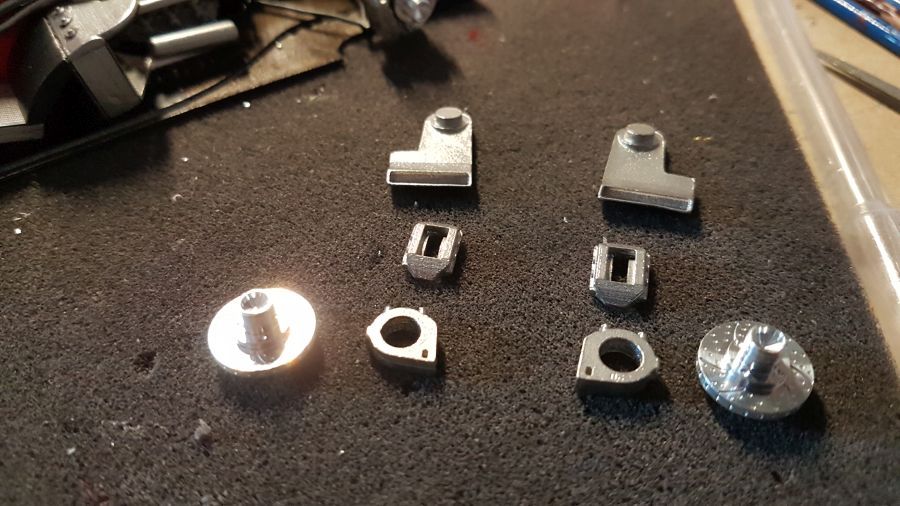 Er moeten gaten geboord voor de pinnen.
Holes need to be drilld for the pins.
e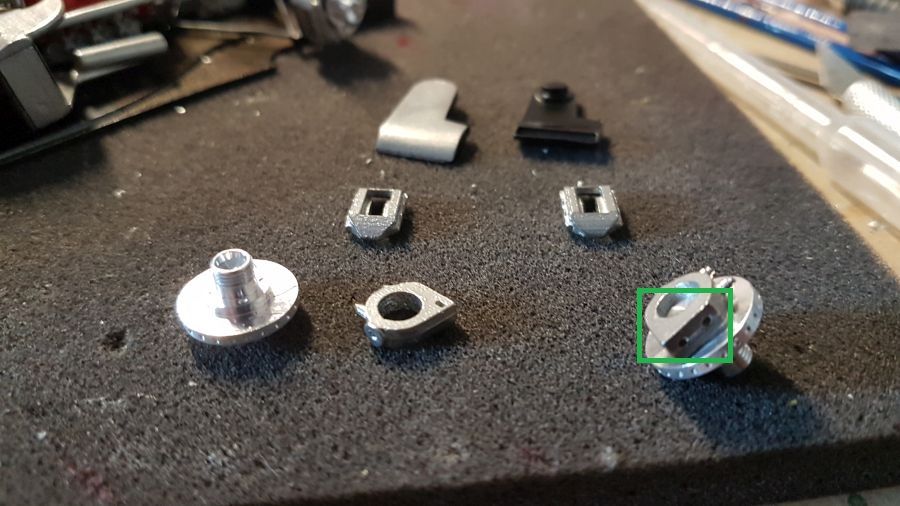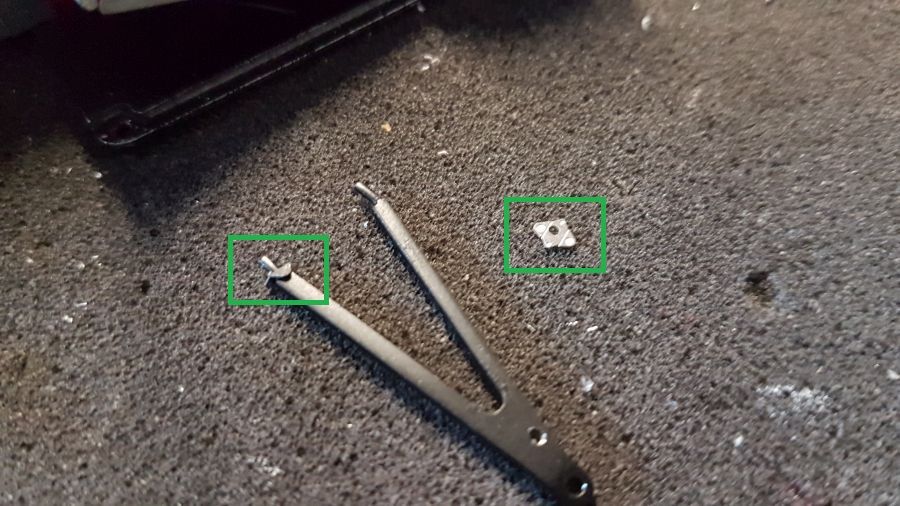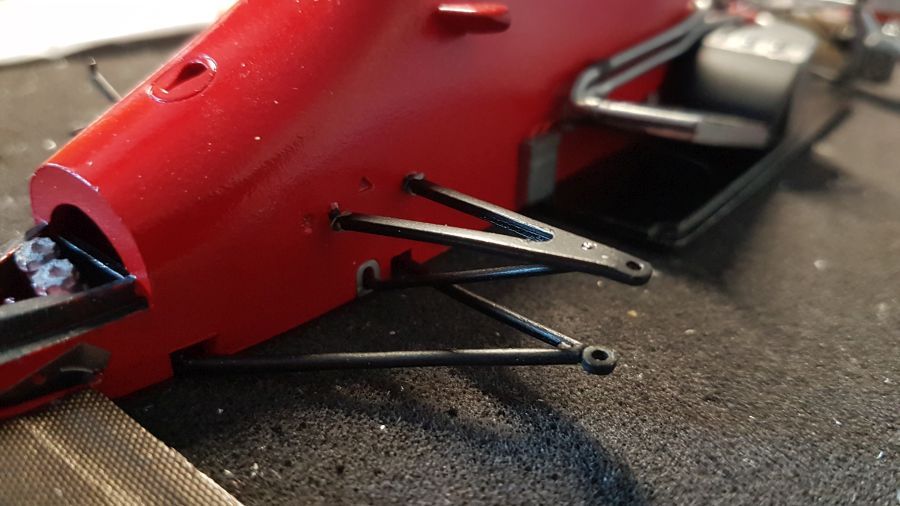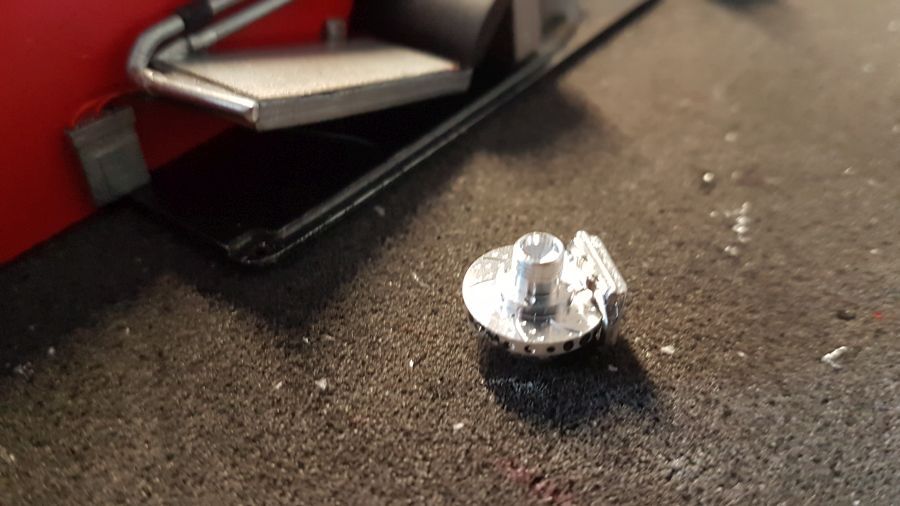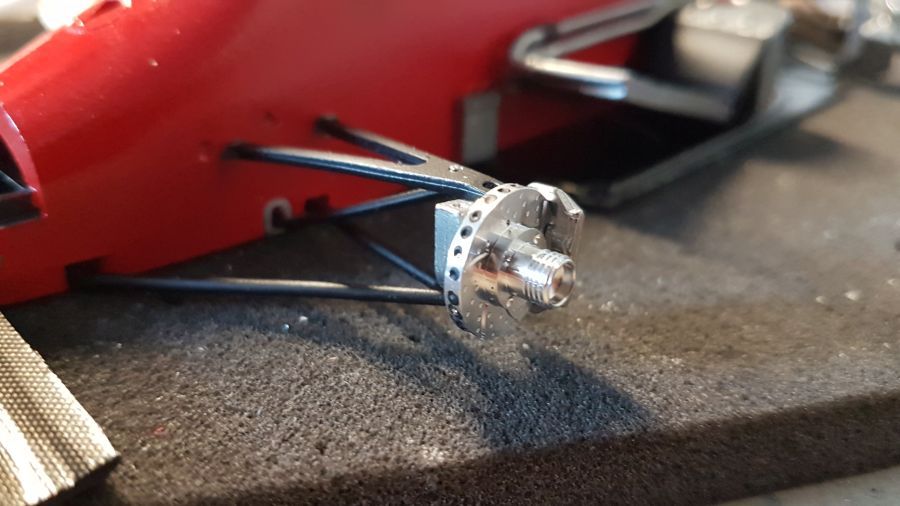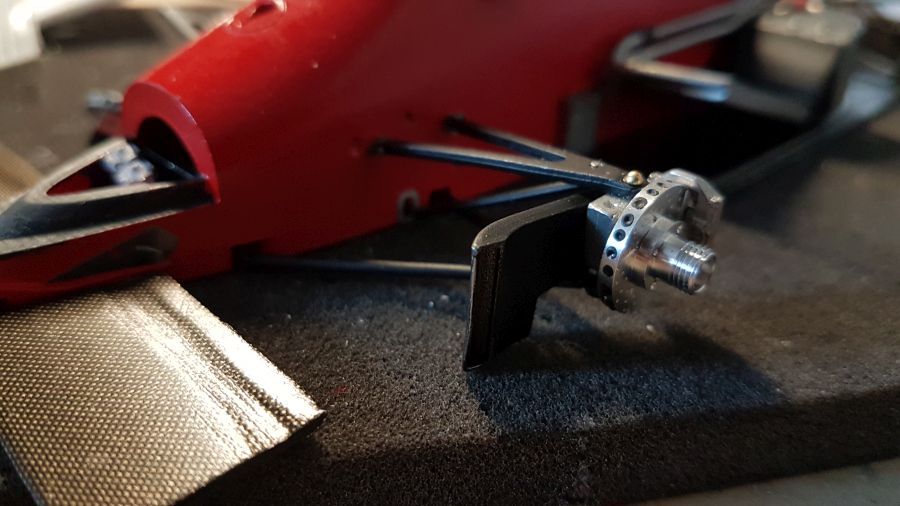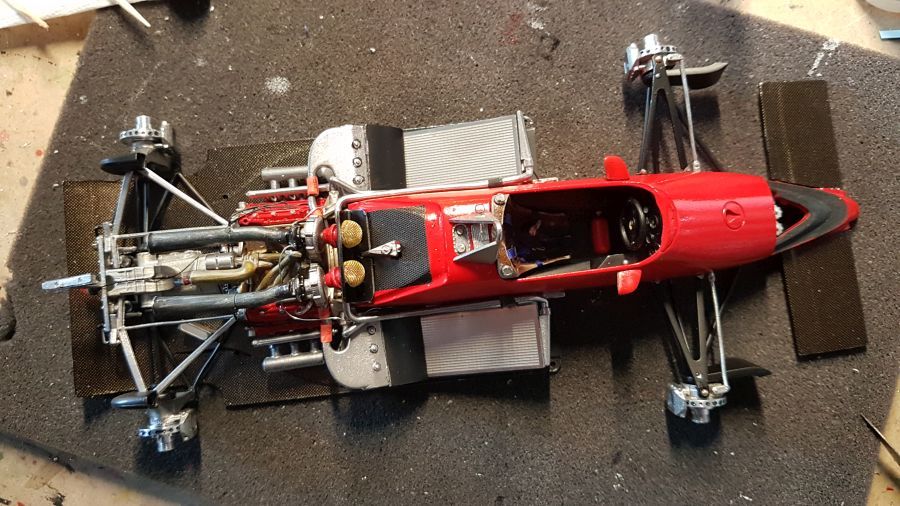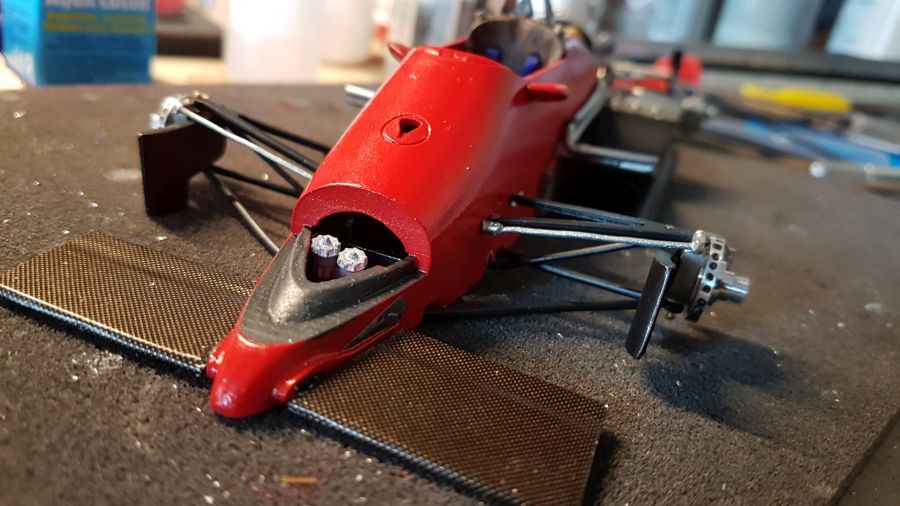 Dan de steunen voor de koeling.
Next are the supports for the coolers.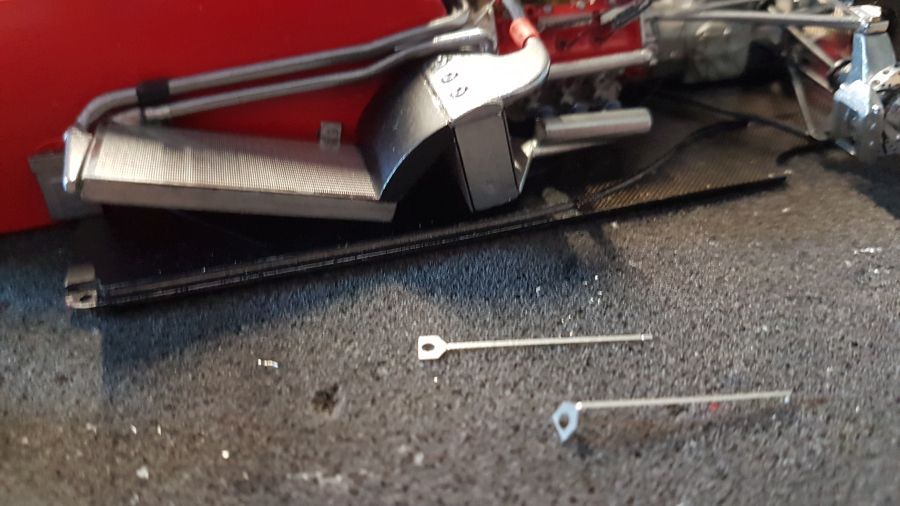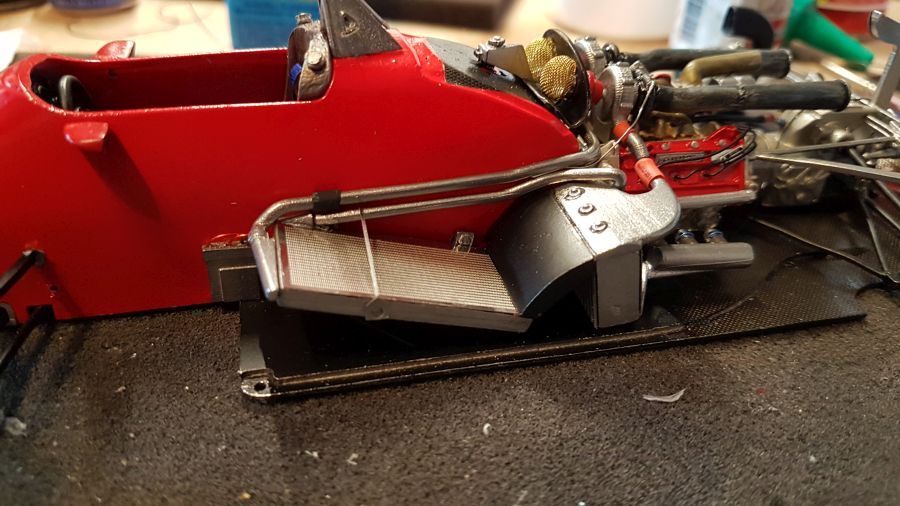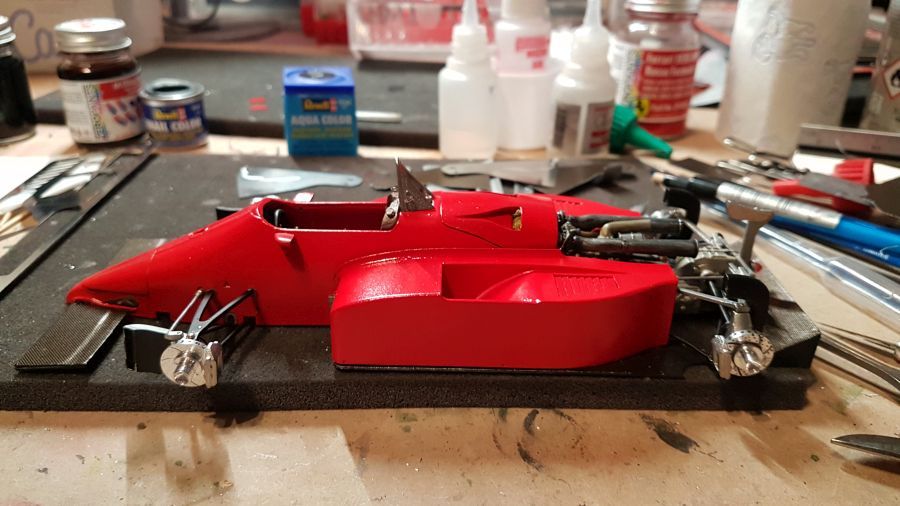 Dan de achtervleugel. Voor mij altijd het meest moeilijke.
Then the rear wing. To me always the most difficult part.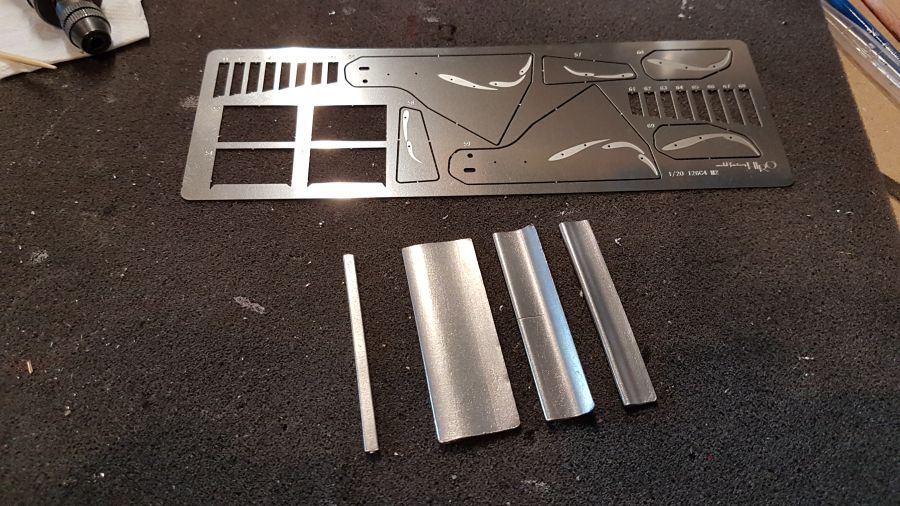 Eerst carbon decals knippen...
First of all cutting the carbon decals...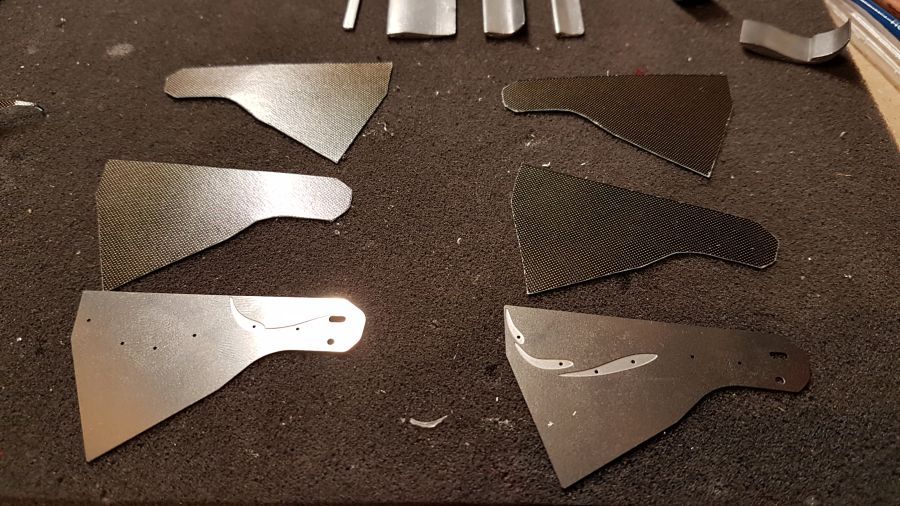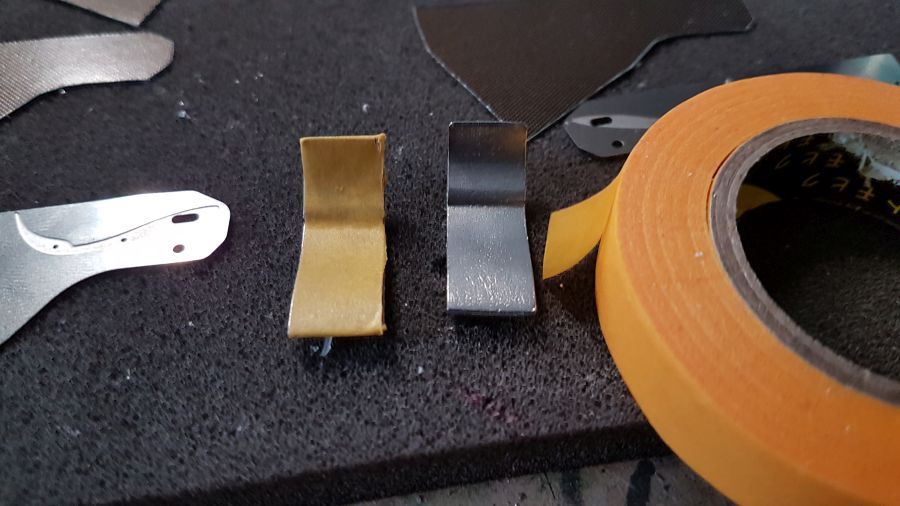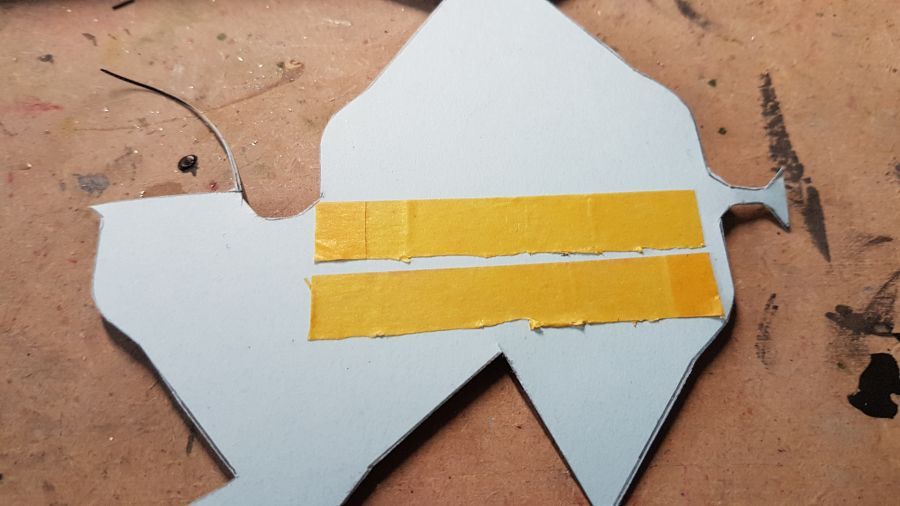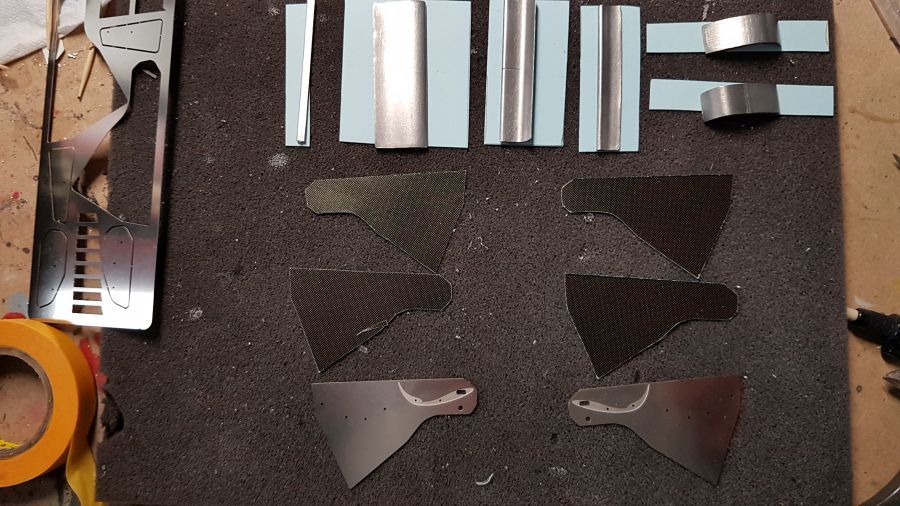 Alle vleugelonderdelen hebben de carbon fiber decals.
All wing parts have the carbon fiber decals.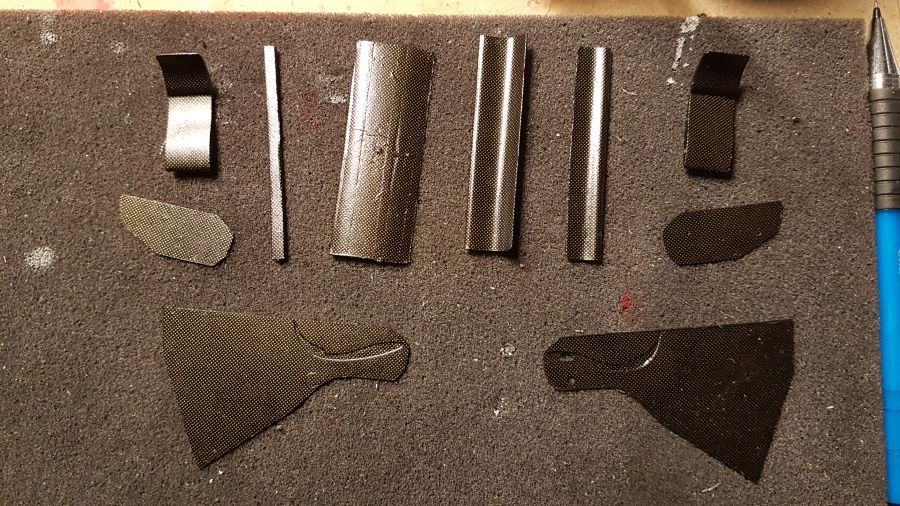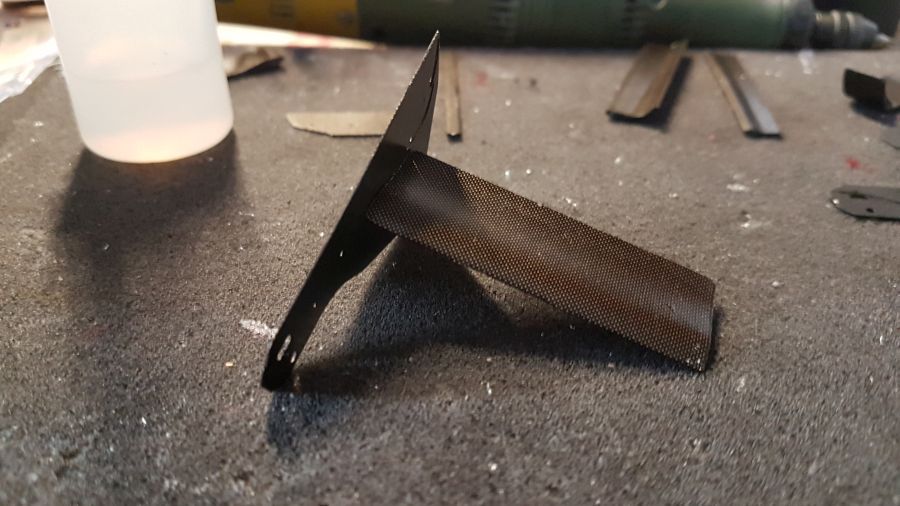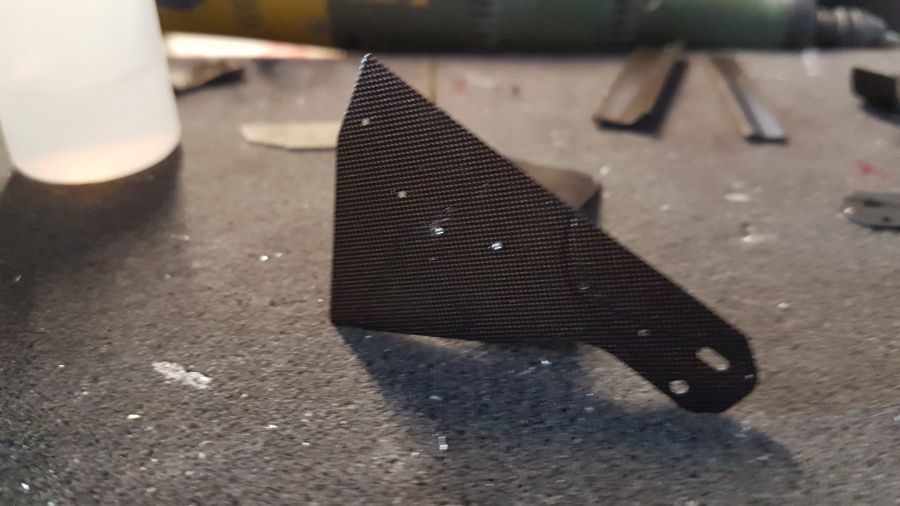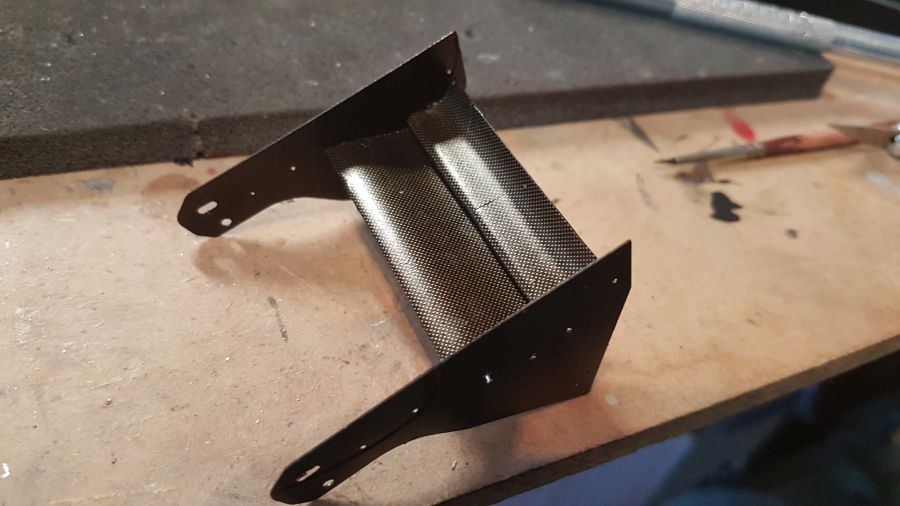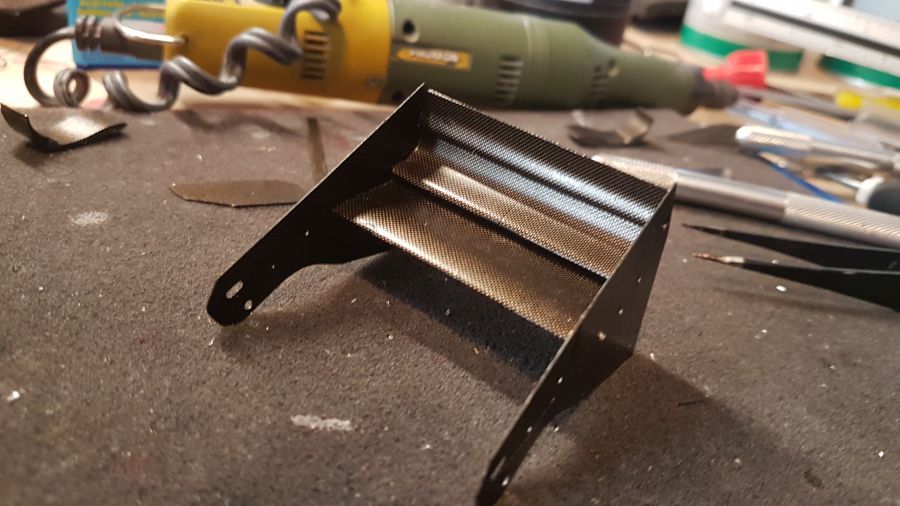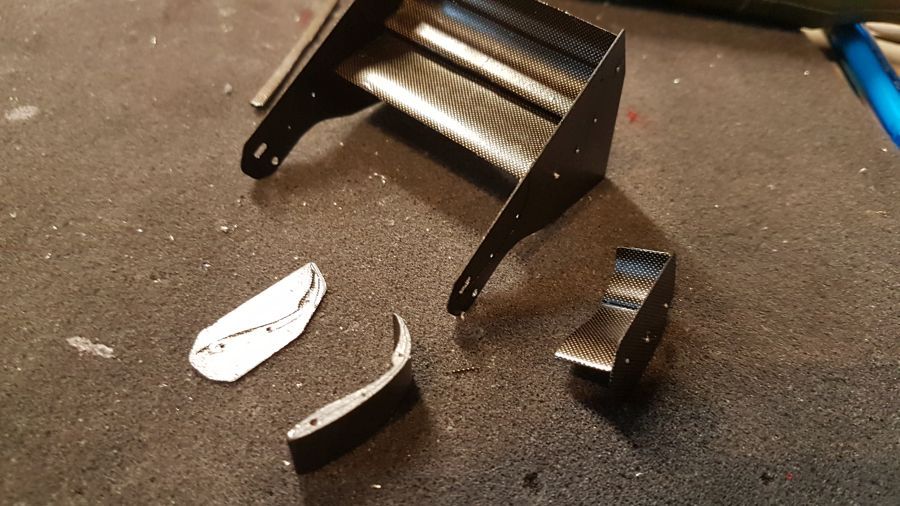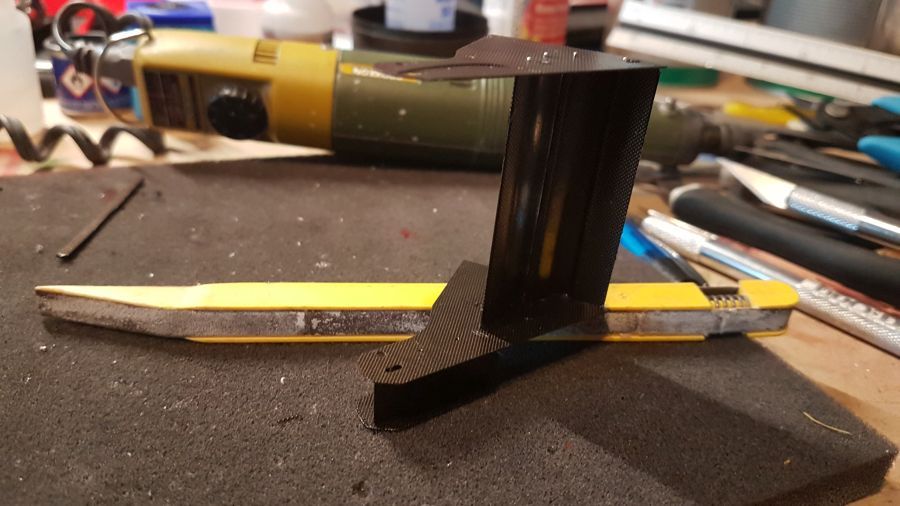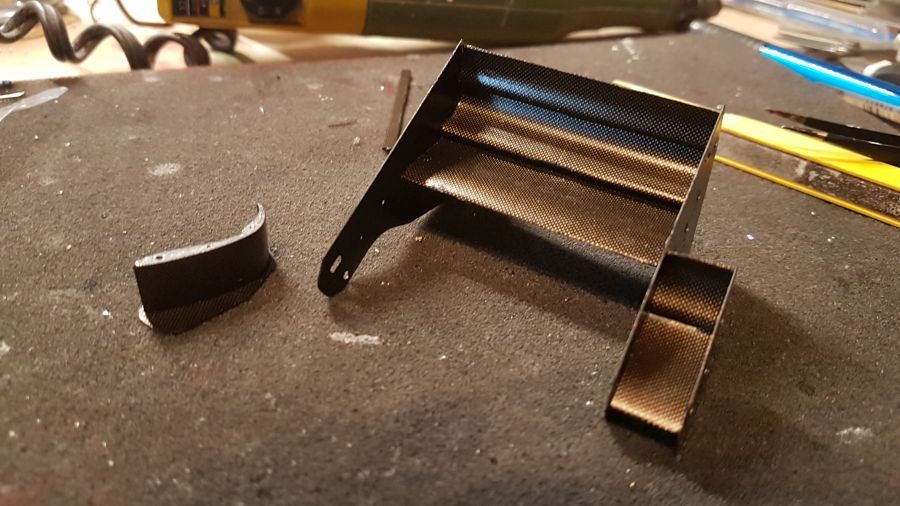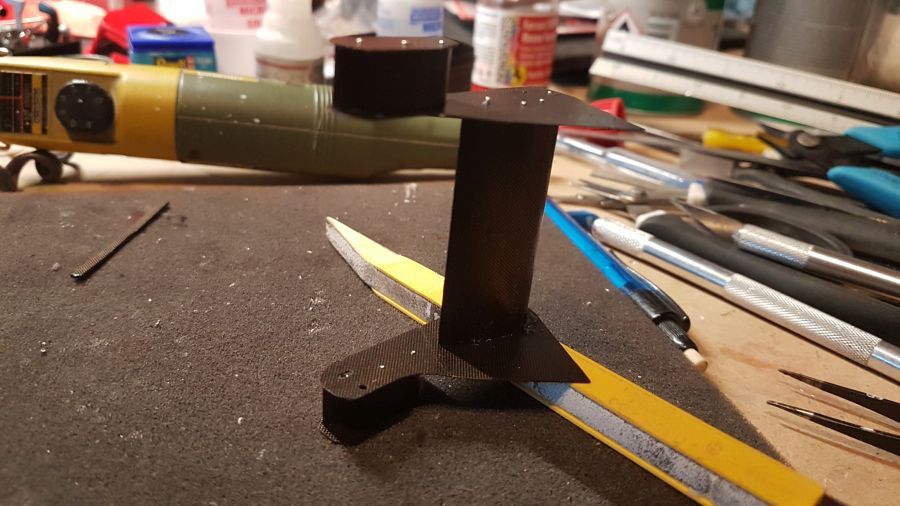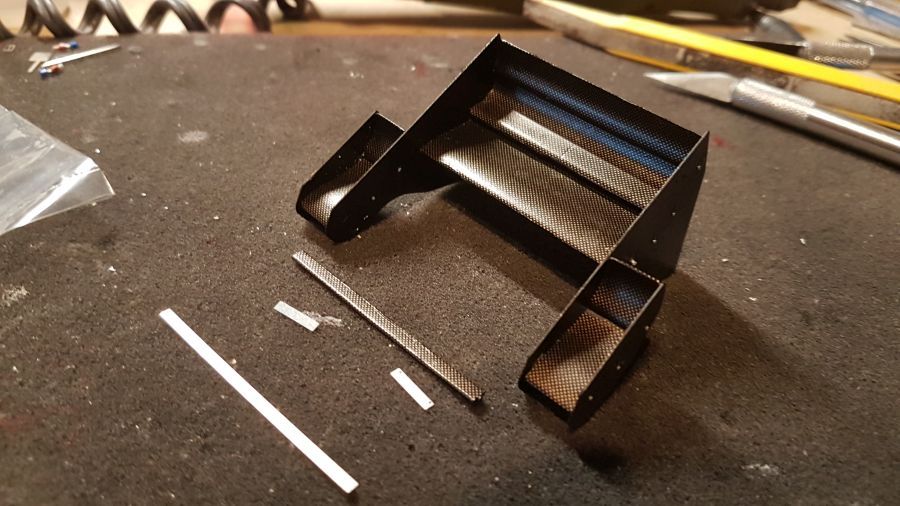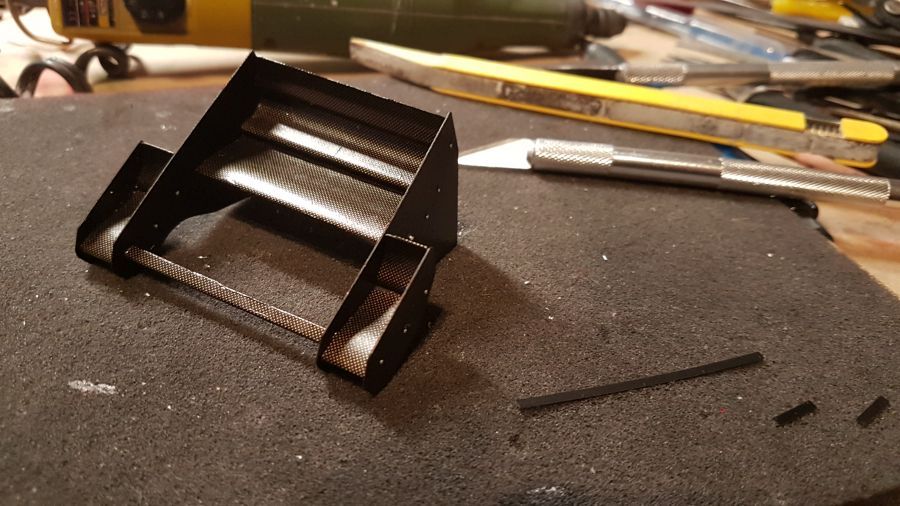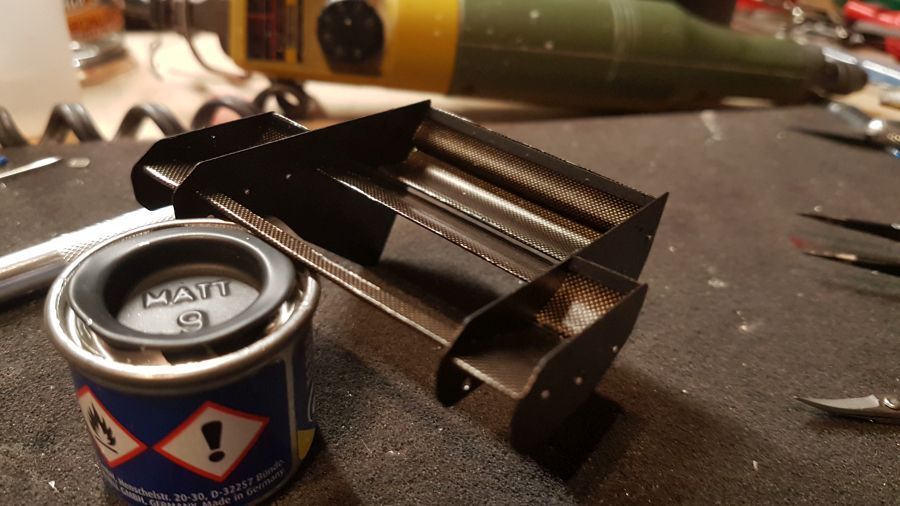 Tijd voor decals.
Decal time.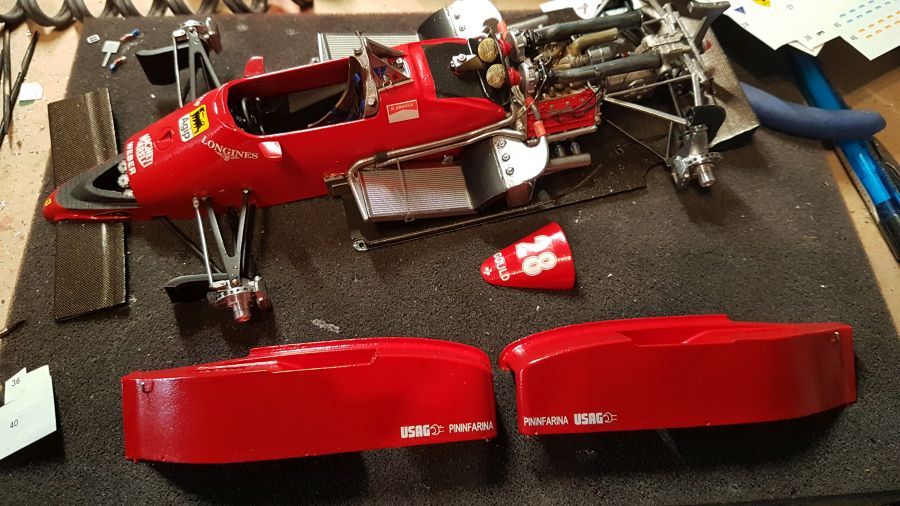 Meer CF...
More CF...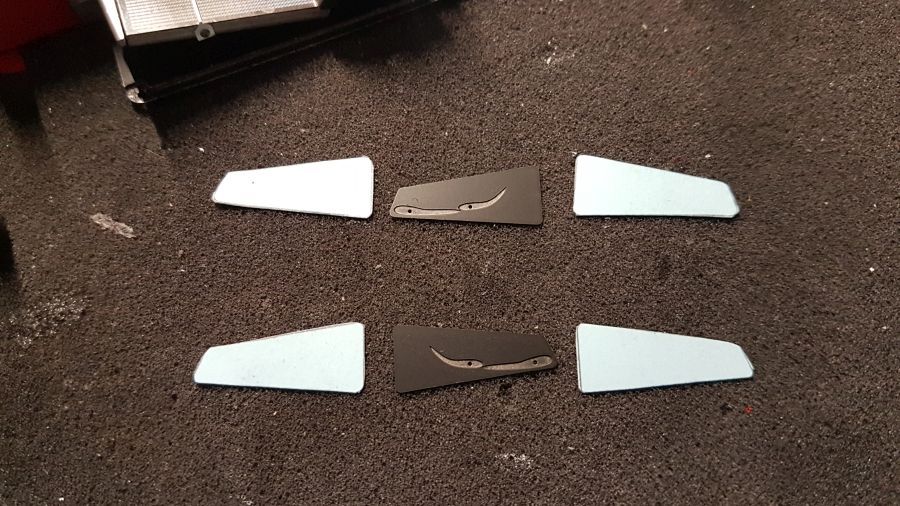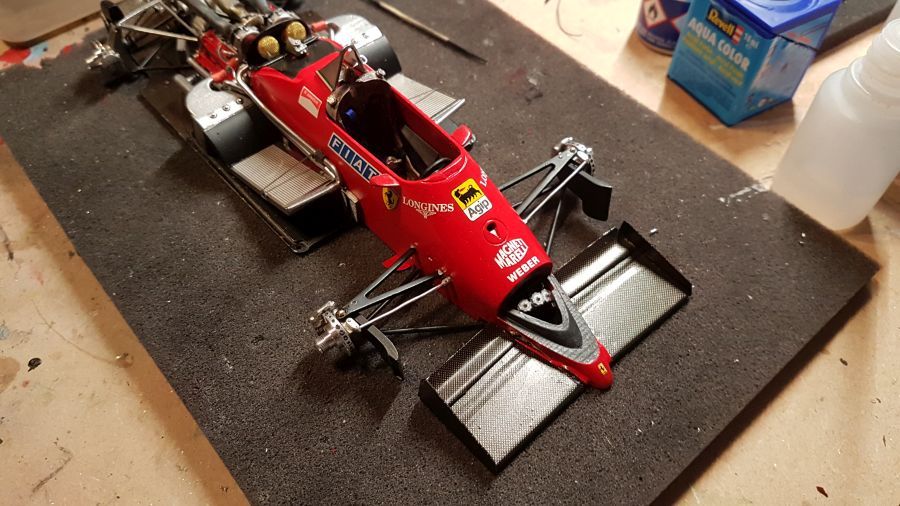 De middenstukken van de velgen moeten wat afgevijld worden om goed te passen.
The inserts to the rims need to be filed to fit properly.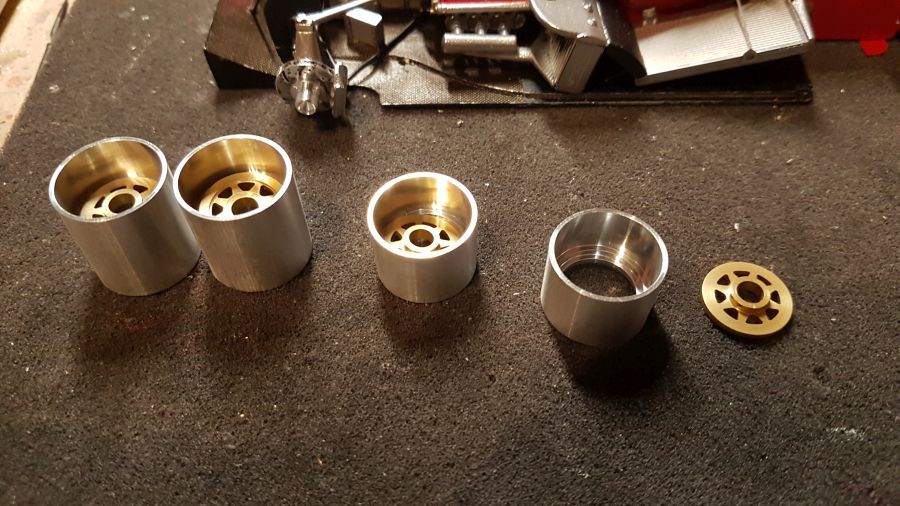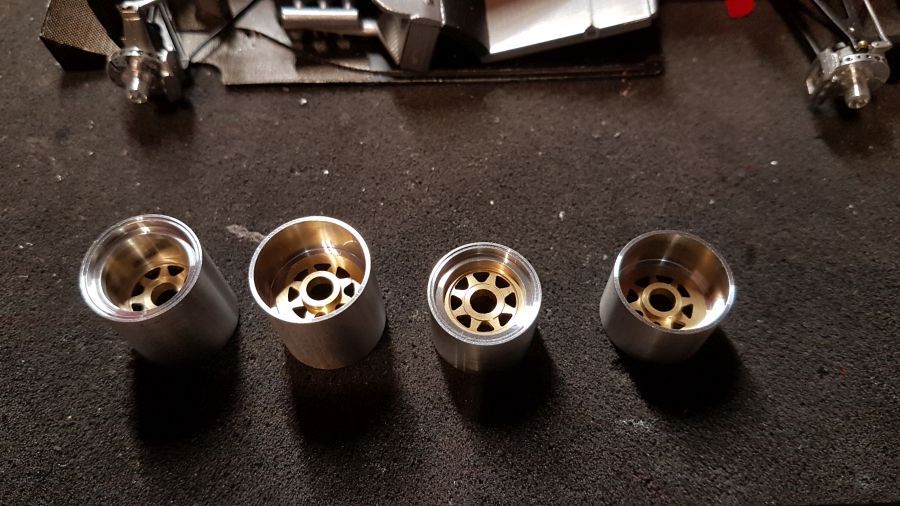 Testen..
Testing..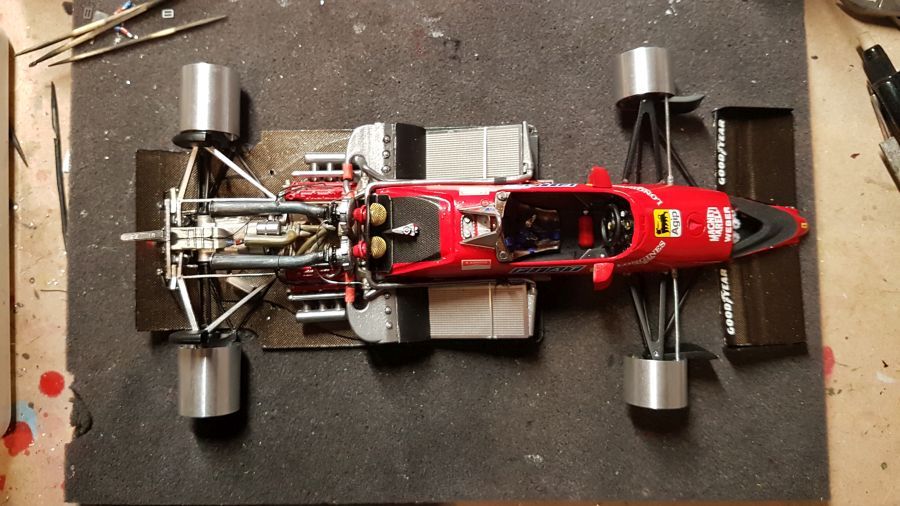 'Zelfde procedure als altijd, mevrouw?' .. 'Zelfde procedure als altijd, James!'
'Same procedure as always, madam?' .. 'Same procedure as always, James!'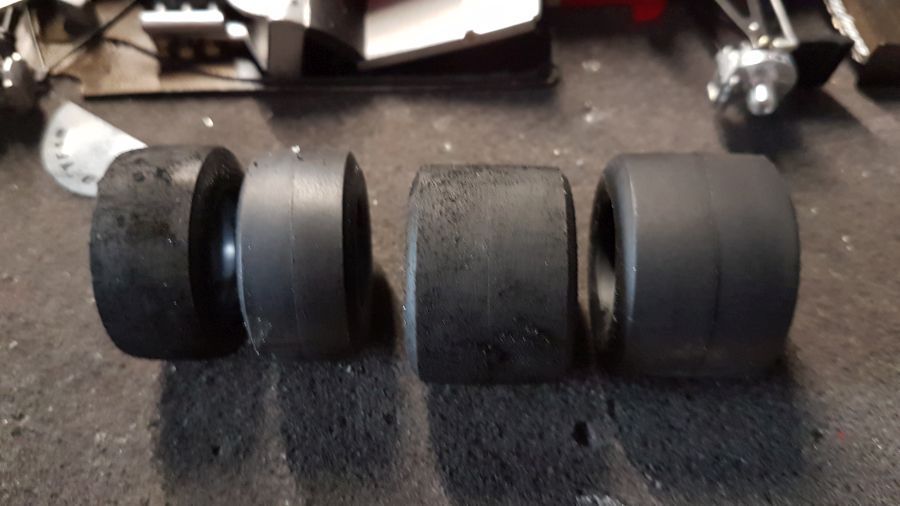 Ik heb geprobeerd de bandenmerken te spuiten. Ik ben er niet tevreden over. Niet scherp genoeg.
I tried to paint the tire markings. I am not happy with it. Not sharp enough.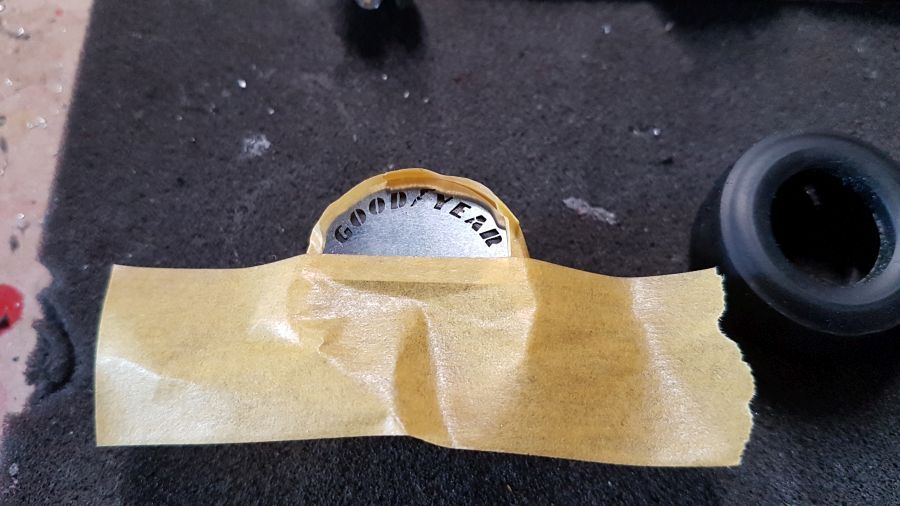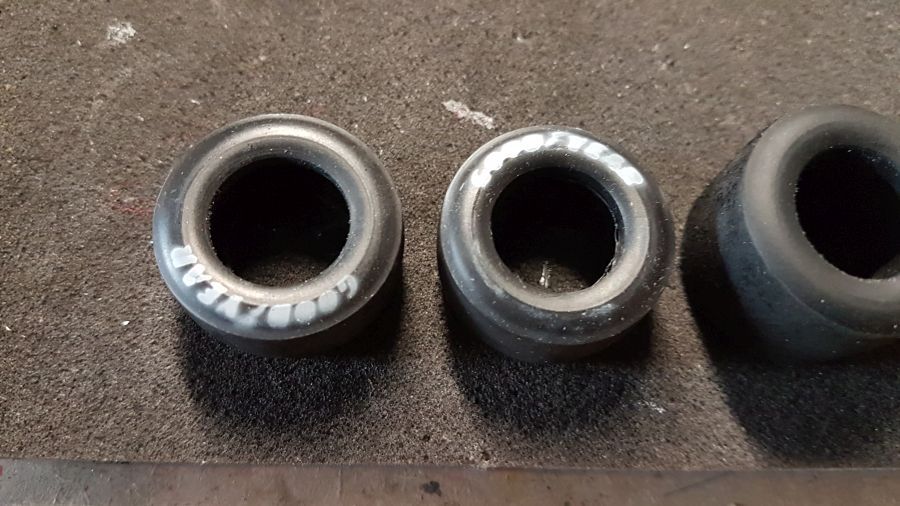 Dus maar weer in de decalbak gedoken en maar weer de ouderwetse manier...
So a dive in the decal box and do it the old fashioned way...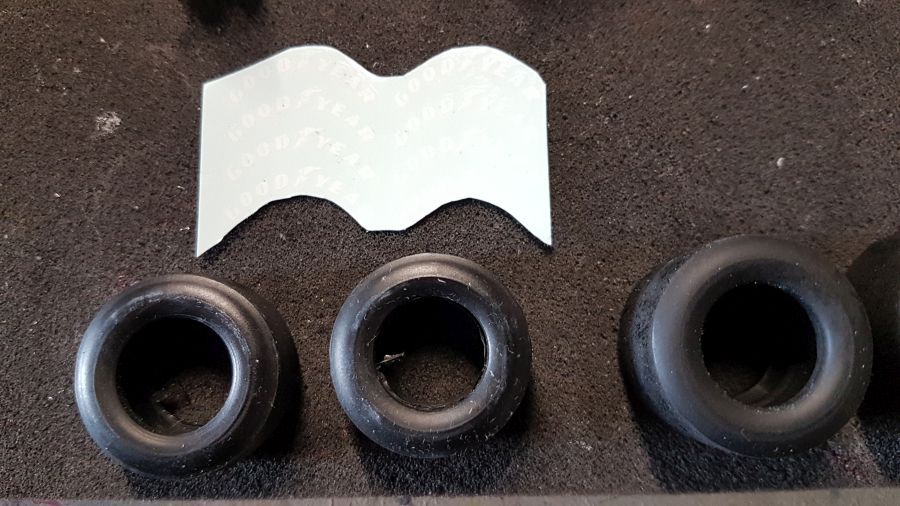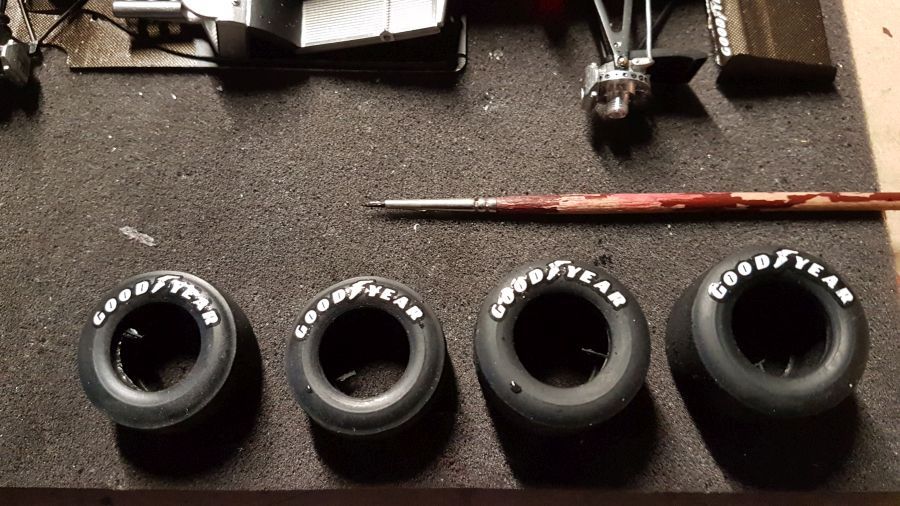 Ik doe er wat matlak op om de glans van de decalfilm weg te werken.
I am adding some mat lacquer to get rid of the shine of the decal film.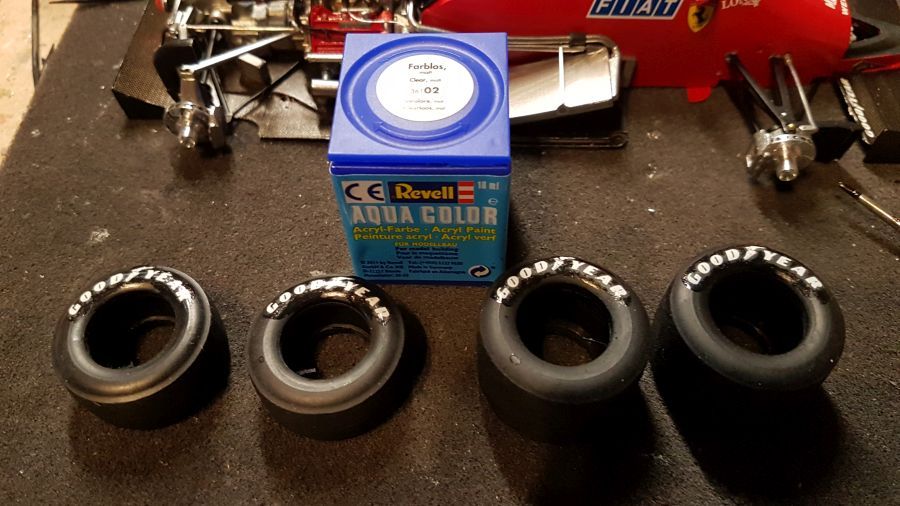 Nog steeds teveel glans. Ook is de belettering wat te wit. Dat ga ik alsnog proberen weg te werken met de Tamiya poeders.
Still too much shine. Also, the tire marks are too white. I will try to correct that with the Tamiya powders.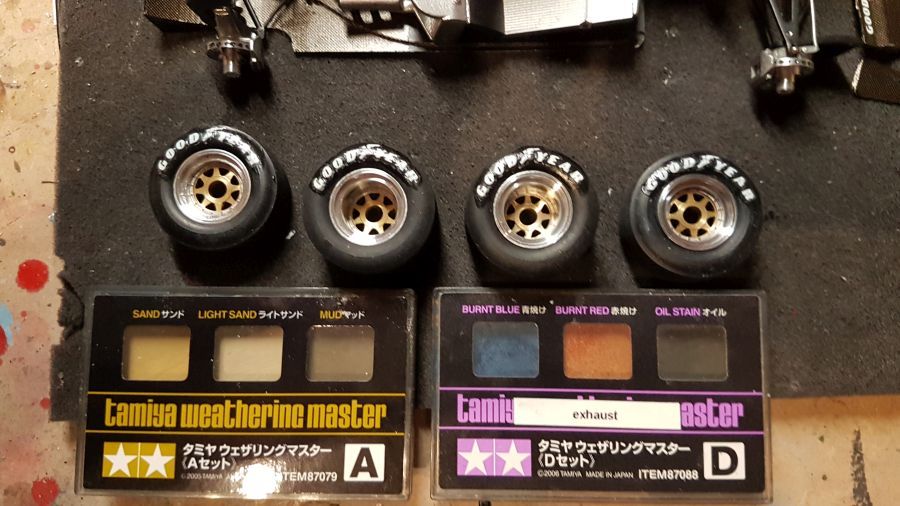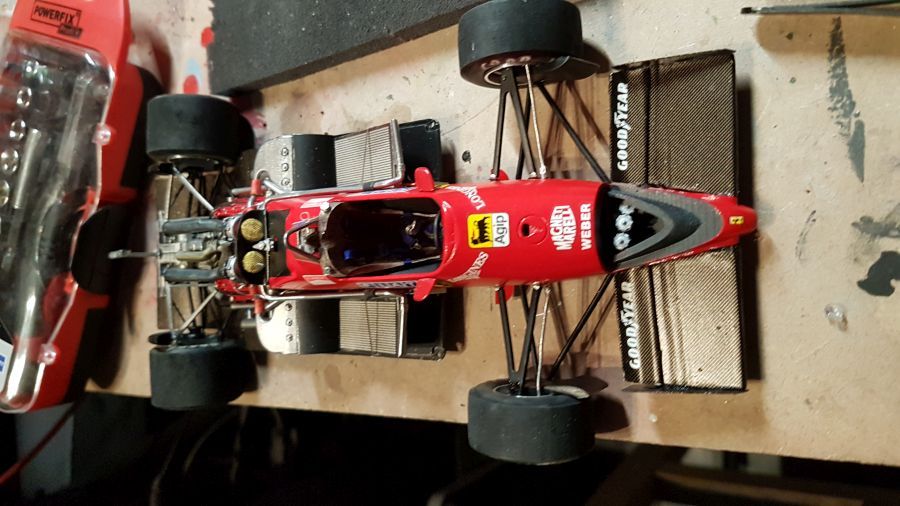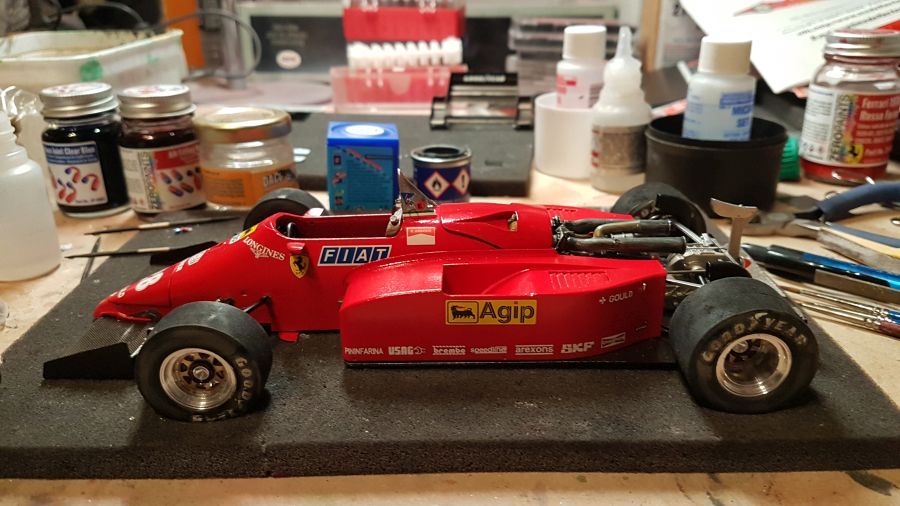 Klaar?
Done?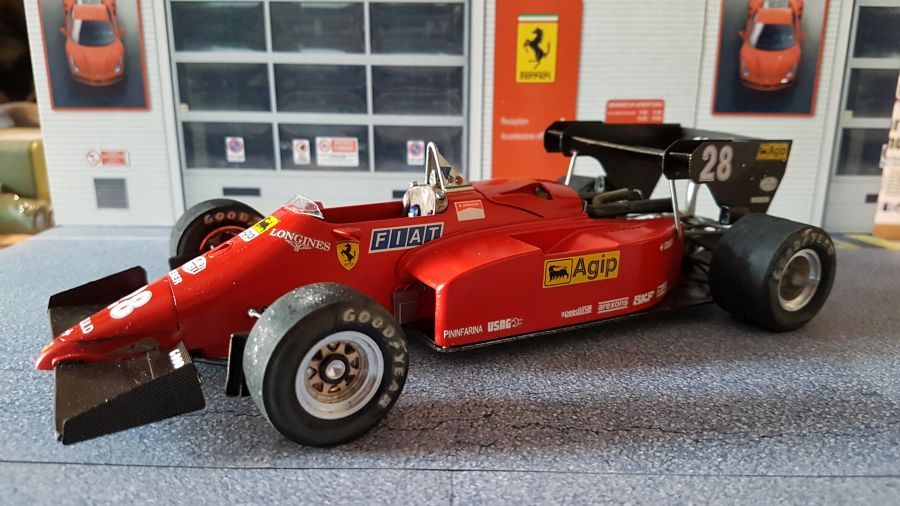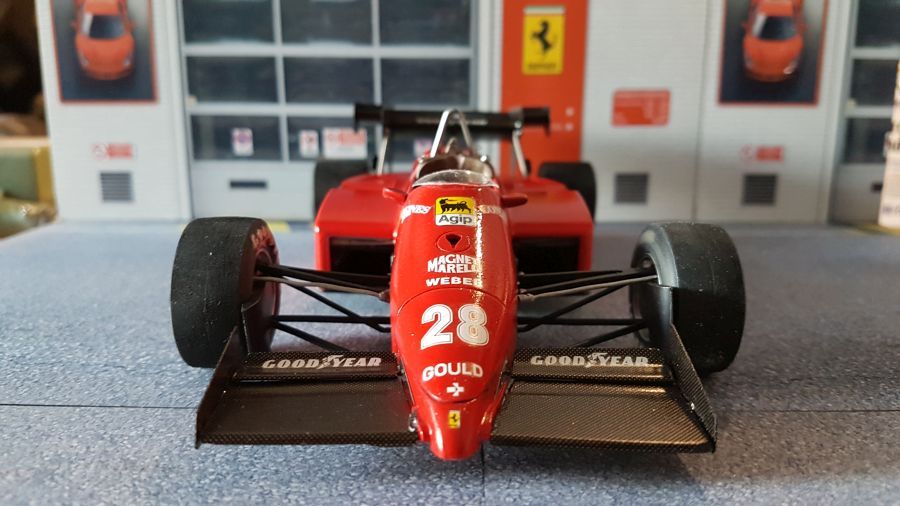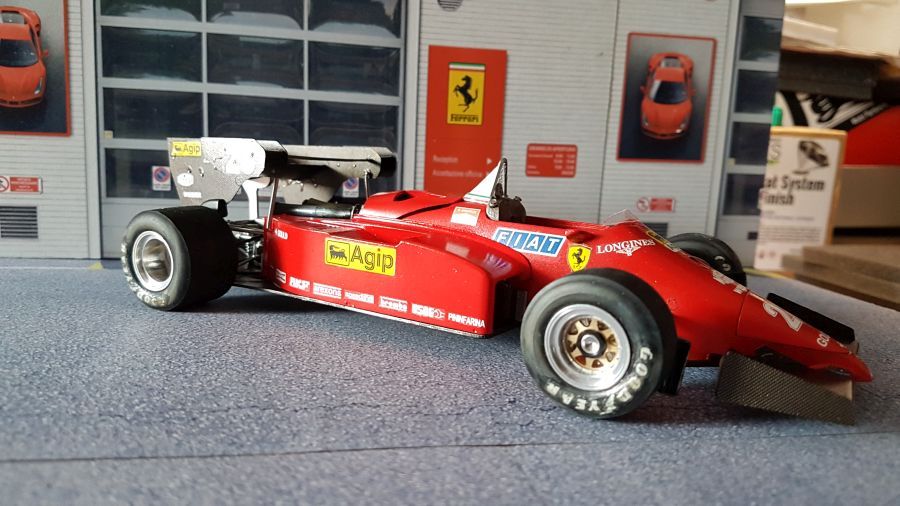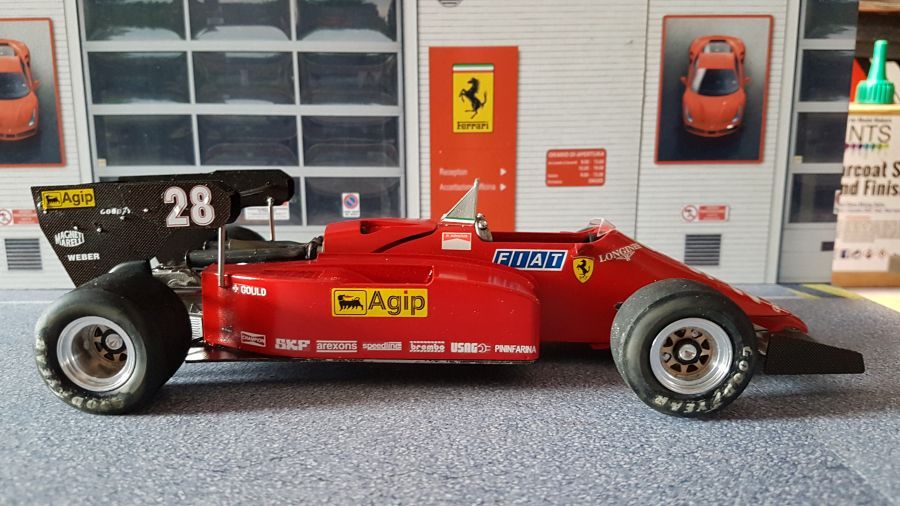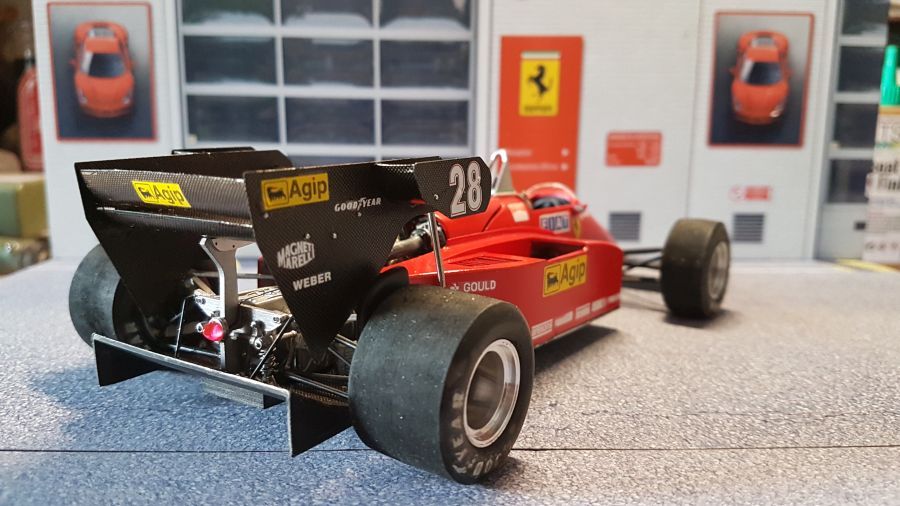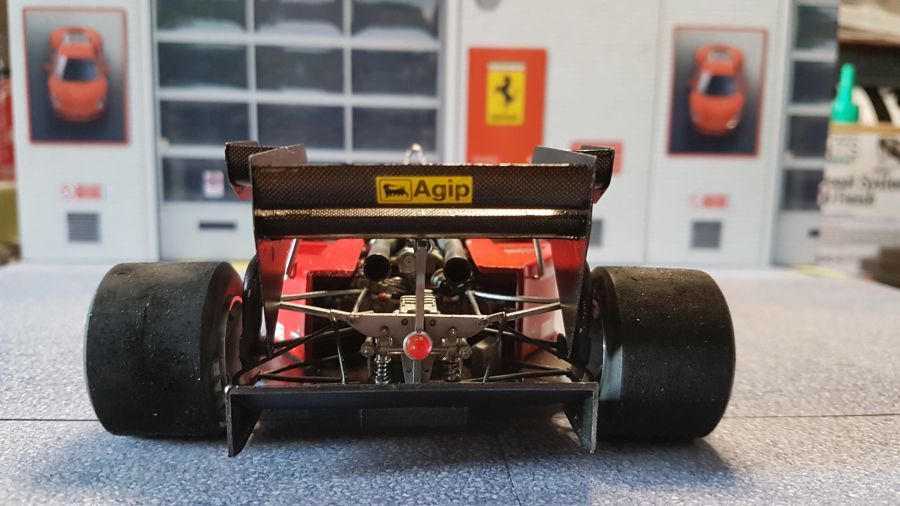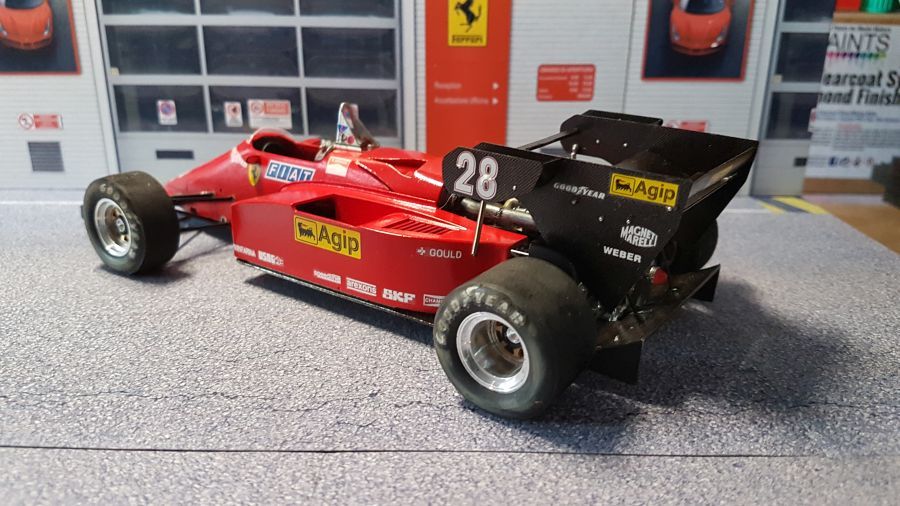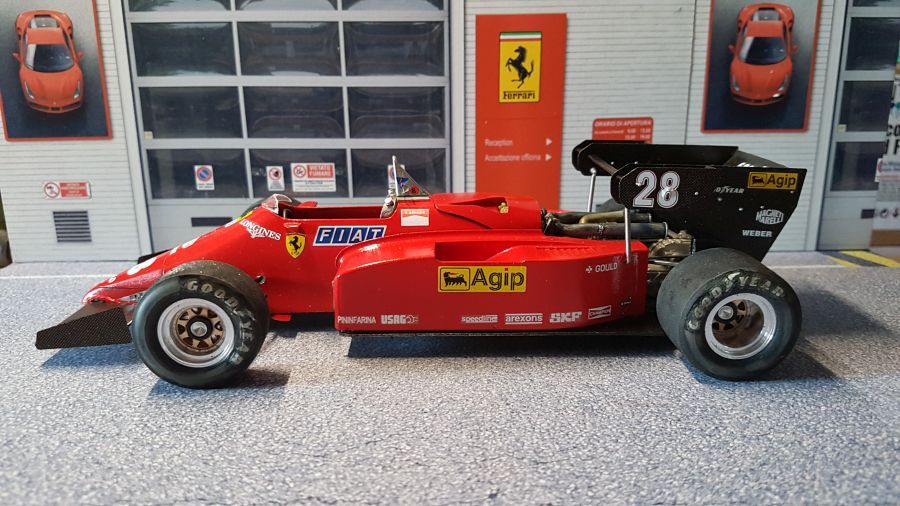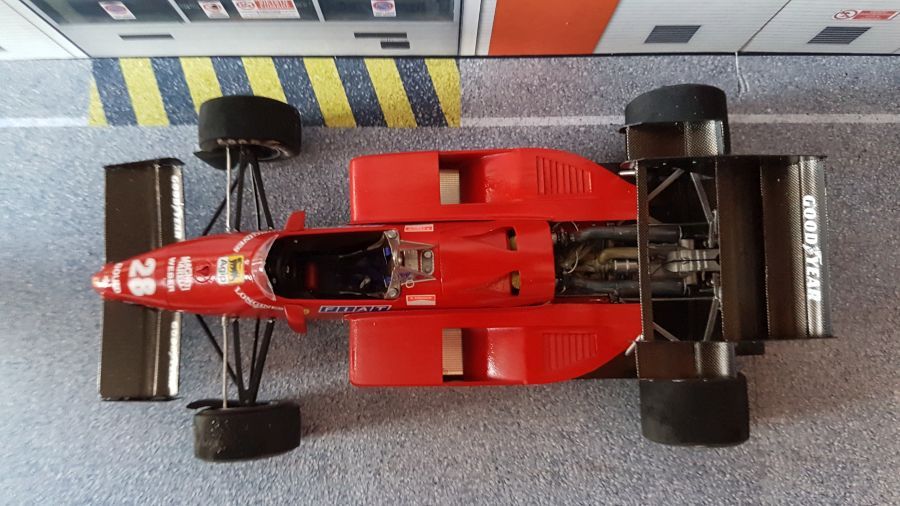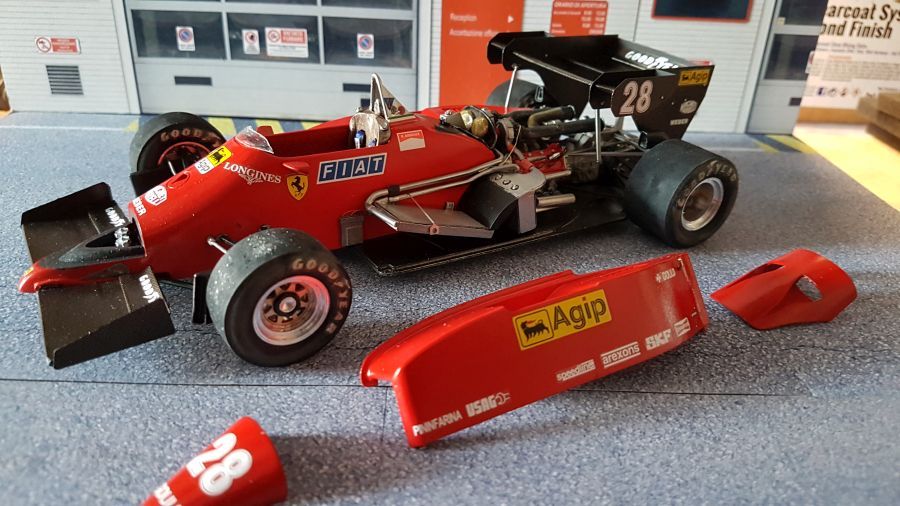 Problemen met deze kit? Eigenlijk niet veel bijzonders. Uiteraard veel passen voordat je iets definitief maakt. Het grootste probleem is natuurlijk dat MFH een verkeerde voorvleugel heeft bijgesloten. Deze is echt niet voor de Portugese versie. Je kunt dan natuurlijk een andere versie bouwen, het is aan jou. Ik wilde echt een 126 C4M2.
Problems with this kit? Nothing special. Of course you need to do a lot of test fits before making it definitive. The main problem is of course the incorrect wing MFH has included. This is certainly not for the Portugese version. Of course you can make another version, it's up to you. But i wanted the 126 C4M2.