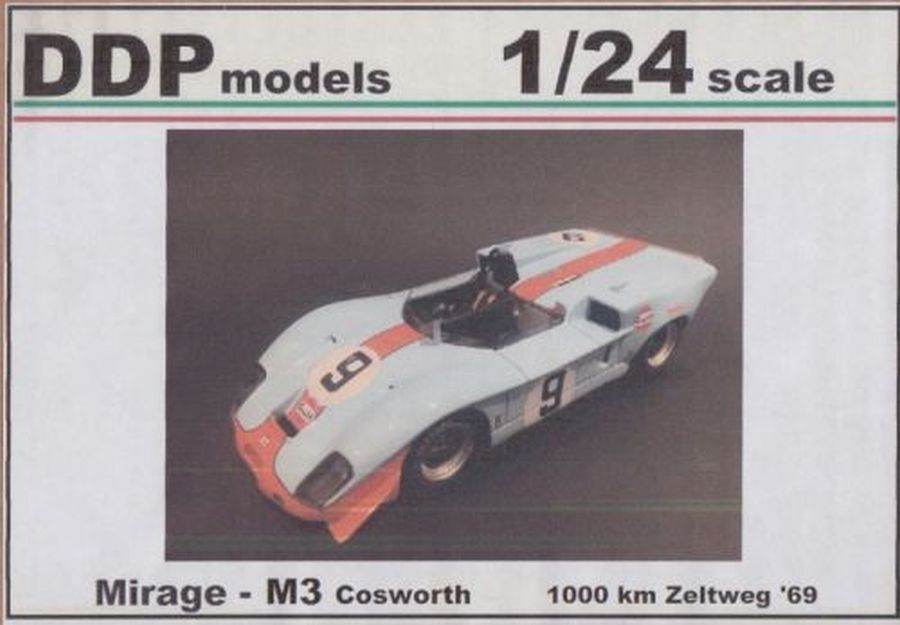 De kits van DDP Models zijn te koop via mijn webshop. Maar dan moet je ze zelf ook bouwen vind ik. Mijn collectie GULF heeft wat kleur nodig. Daarom bouw ik nu deze kit van DDP Models. Een kit van een 'kleine producent' uit Italië. Ik vind het prachtige kits wat deze man maakt. Natuurlijk wat aan de prijs, maar dat is gewoon logisch. Het is geen producent met een oplage van weet ik hoeveel. Daarnaast, wat een werk om een goed gelijkend model te maken. Vergeet dat niet. Juist dat maakt dat deze man bijzondere dingen maakt, die door een grote/bekende fabrikant niet worden gefarbriceerd. Juist dat is natuurlijk zijn kracht. Nu dus de 1969 Mirage M3 Zeltweg versie, zoals bestuurd door Jacky Ickx en Brian Redman. Allebei iconische coureurs natuurlijk. Ik zou liever de Watkins Glen versie bouwen, maar ik kan niet de juiste wagennummer decals vinden. Het zij zo. De kit is er niet minder om. Onder andere deze kit is te koop via mijn webshop: www.racingkars.com. Eerst maar weer de foto's van de inhoud. Ik verkoop deze kits ook. Kijk gerust in mijn webwinkel.
The kits from DDP Models can be bought through my web shop. Therefor i should build them myself too, right? My collection GULF needs some color. That is why i am going to build this kit from DDP Models. A kit from a 'small manufacturer' from Italy. I love the kits this man makes. Of course not cheap, but that is logical. It is not a producer with a large amount of kits. Don't forget, what a huge amount of work to create a good looking model. This is exactly what makes it special.  He makes kits no large/well known manufacturer produces. This is exactly his force.  So now the 1969 Mirage M3 Zeltweh version as driven by Jacky Ickx and Brian Redman. Both iconic drivers of course. I would rather like to build the Watkins Glen version, but i can't find the correct car no. decals. So it is what it is. The kit is still a very nice one. Amongst others, this kit is for sale on my webshop: www.racingkars.com. First of all the pictures of the kit's content. I am a reseller of these kits. Feel free to have a look at my webshop.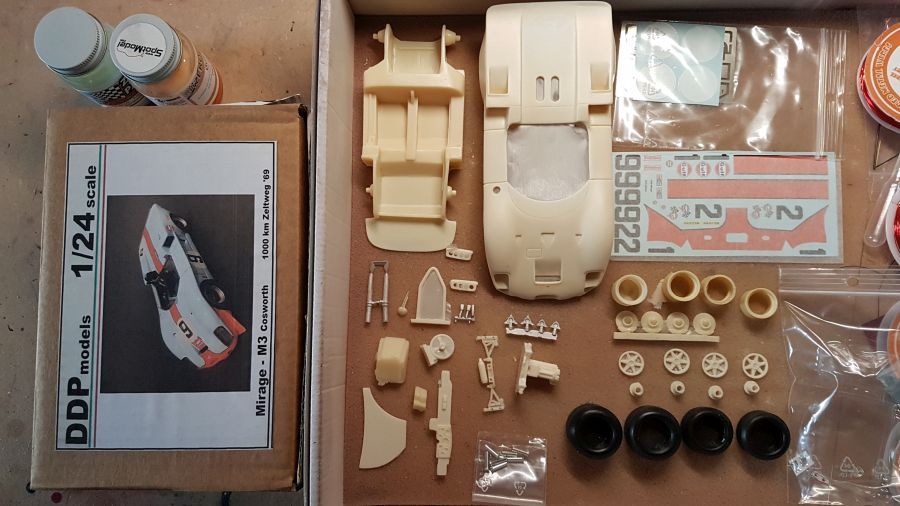 De bovenkant van de resin body is mooi glad afgewerkt. De wielkasten en de onderkant achter behoeven wat aandacht. Op zich niets bijzonders.
The top of the resin body is very smooth. The wheel cabs and the downside at the back need some attention. Nothing special.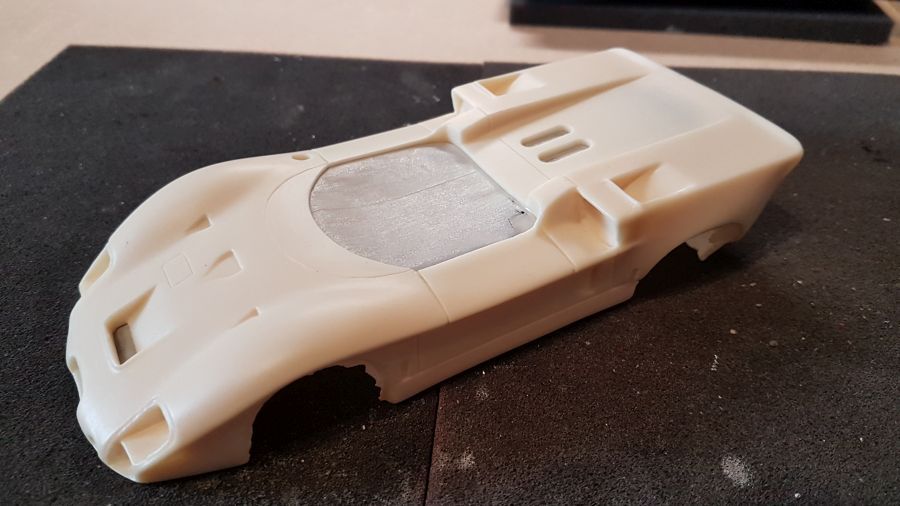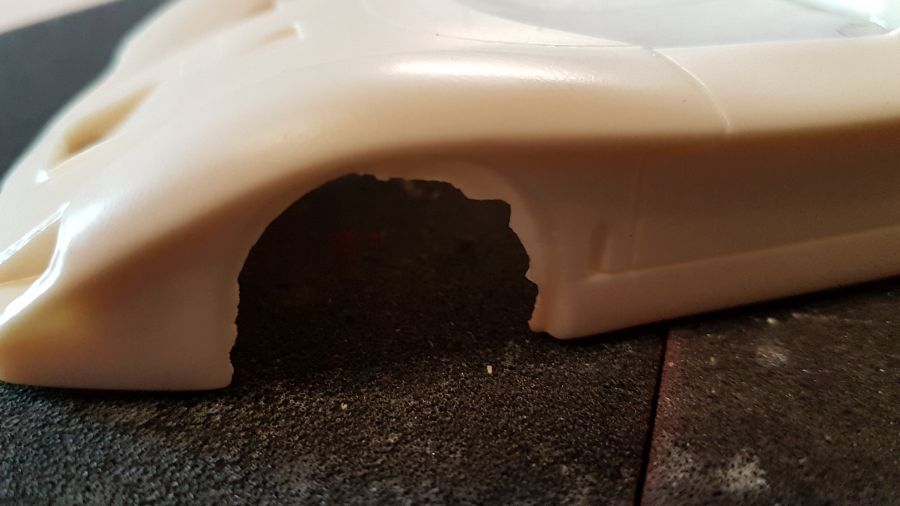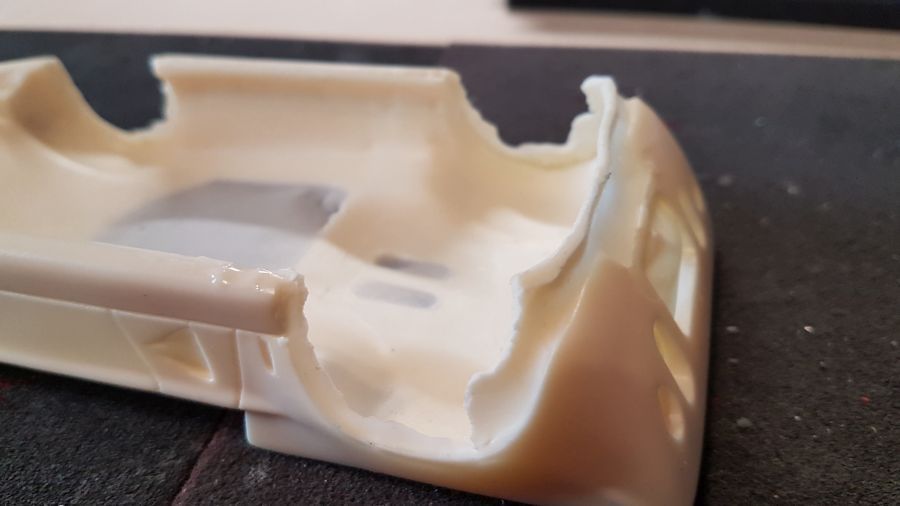 De eerste stappen...
The First steps...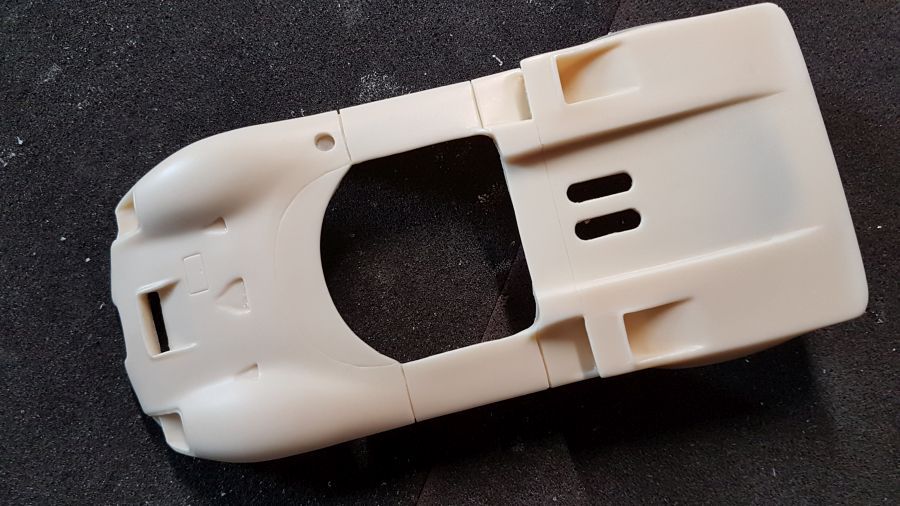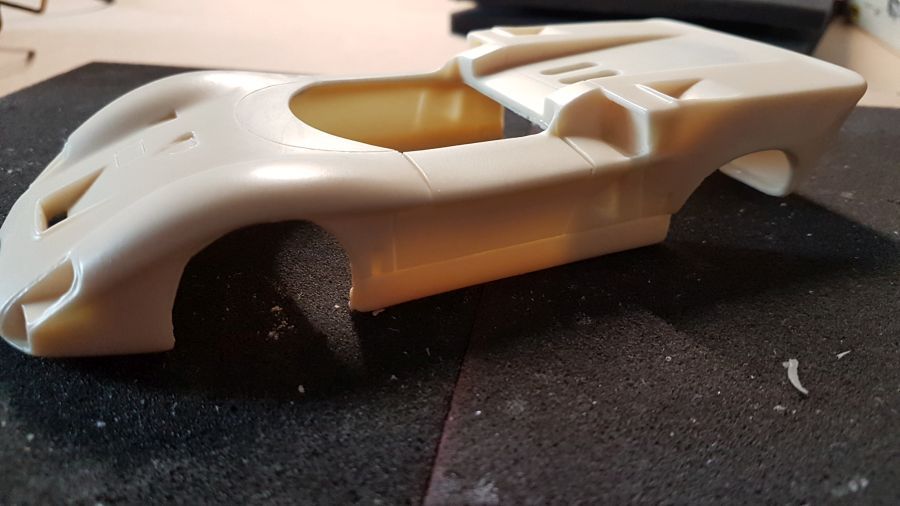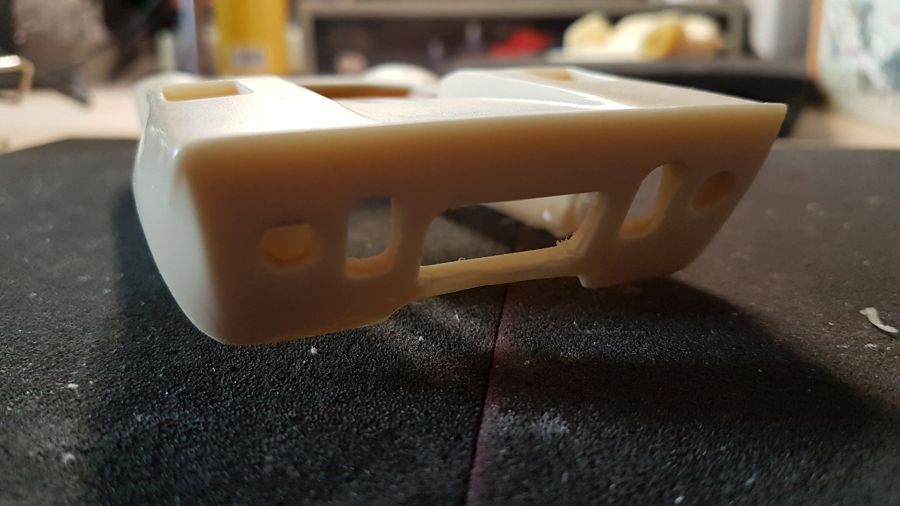 Ook aan de voorkant maak ik nog wat gaten open.
I am also opening some holes on the front.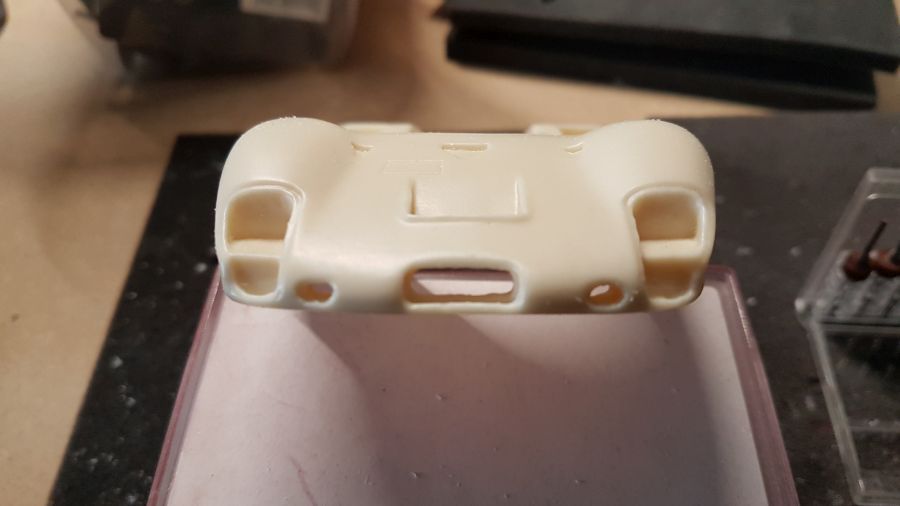 Aan de achterkant zit een klein foutje bij het linker achterlicht. Eenvoudig te corrigeren.
At the back there's a small error at the left rear light. Simple to correct it.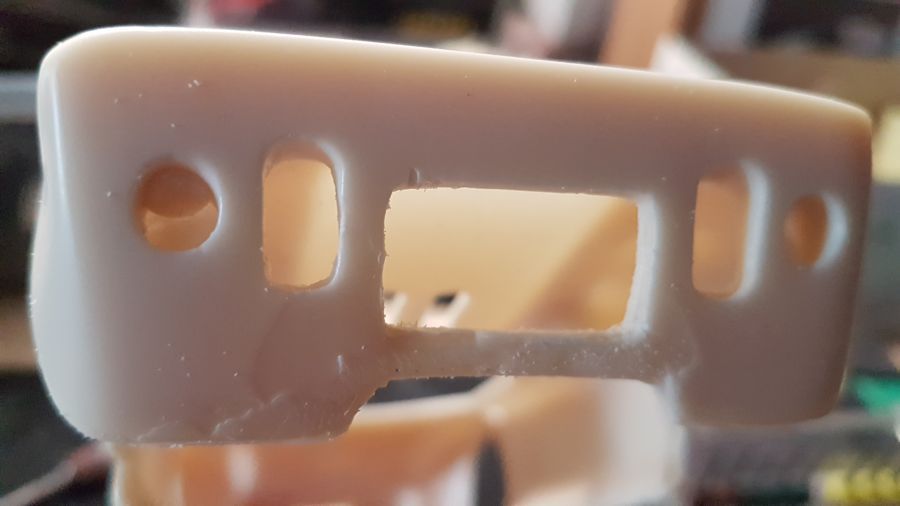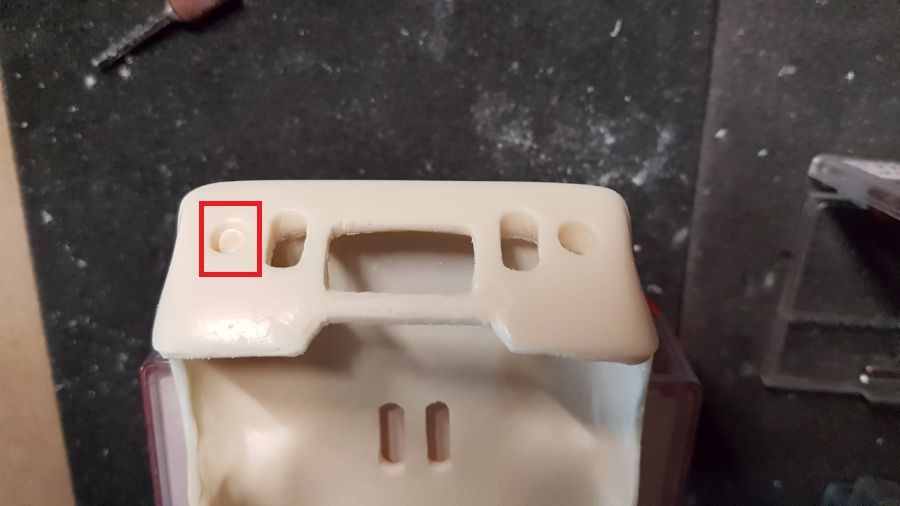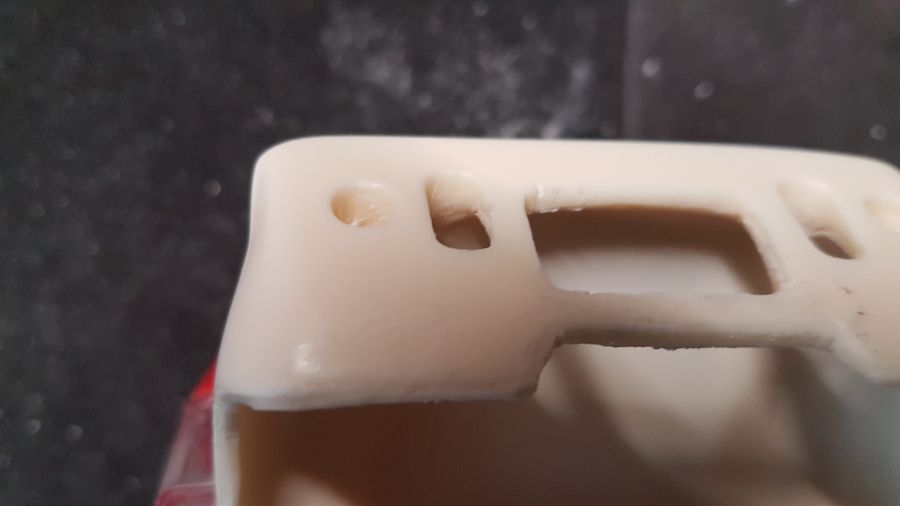 Dan maak ik de boel schoon met wat ontvetter.
Next is cleaning the parts with some degreaser.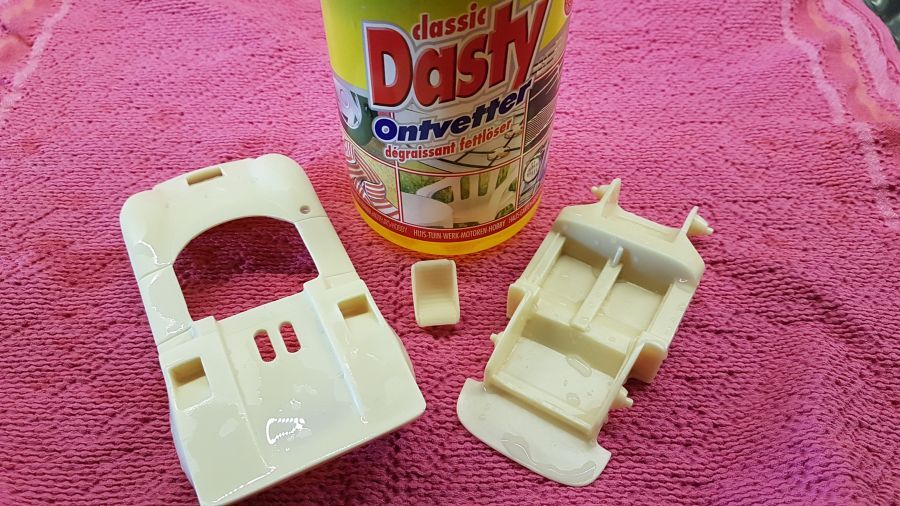 Na het spuiten van de primer is duidelijk dat het nog steeds wat vet is. Ik ga in ieder geval de body alsnog met wasbenzine schoonmaken.
After spraying the primer it's clear that there is still some grease. I will clean the body with white spirit.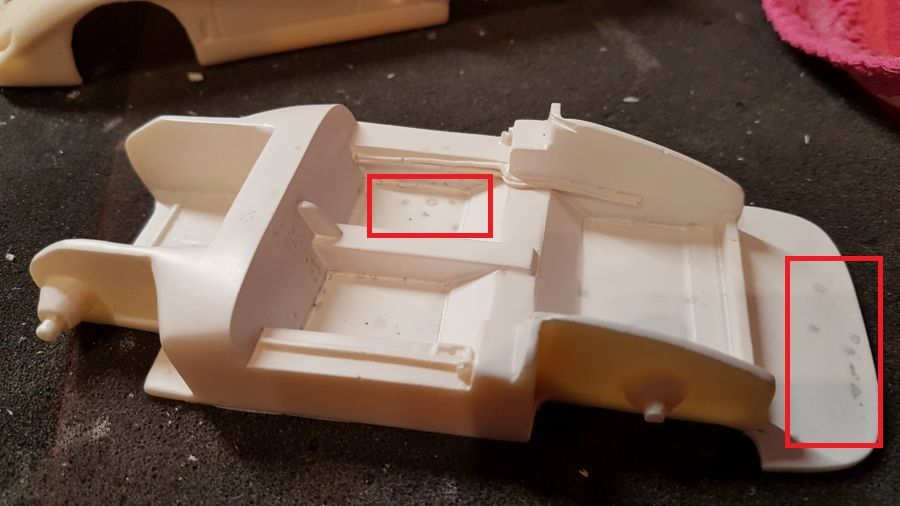 Meer delen zijn vast gespoten.
More parts have been painted.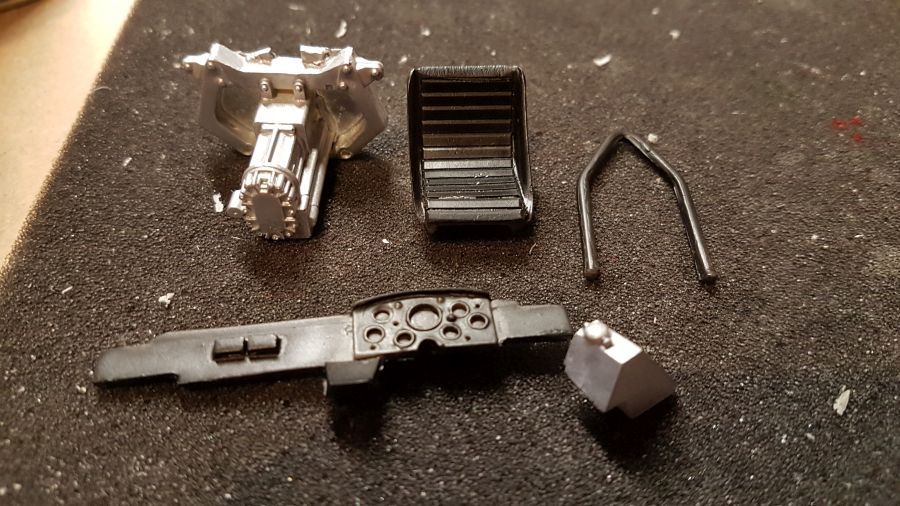 De vloer krijgt voor een deel zilver verf en voor een deel zwarte verf. Dit zwarte deel wordt later ook bespoten met zilver. Op deze manier wordt de kleur wat donkerder.
The floor gets silver and partially black paint. The black part will get silver later too. This way the silver is toned down a bit.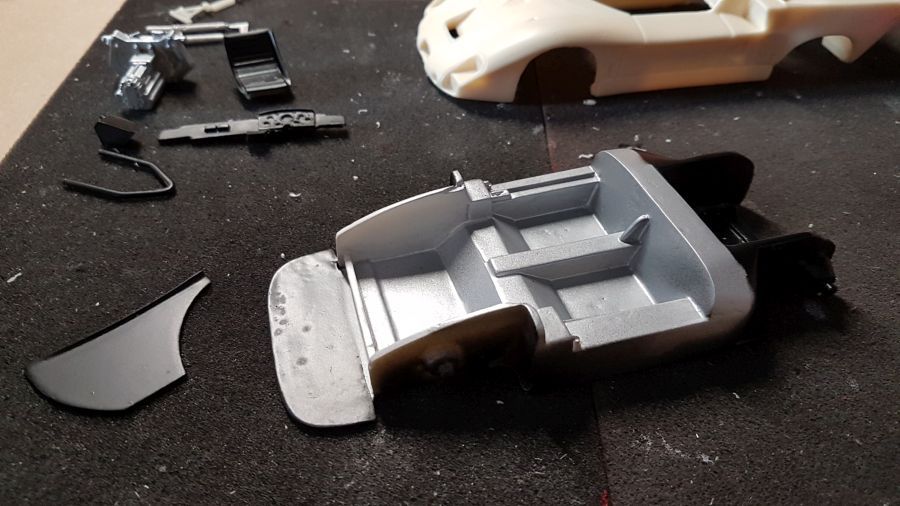 Hetzelfde voor de binenkant van de body.
The same goes for the inside of the body.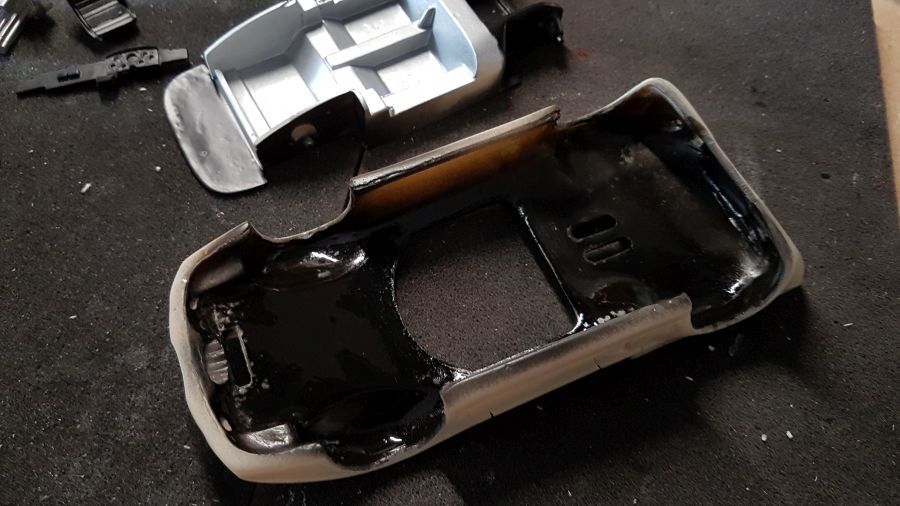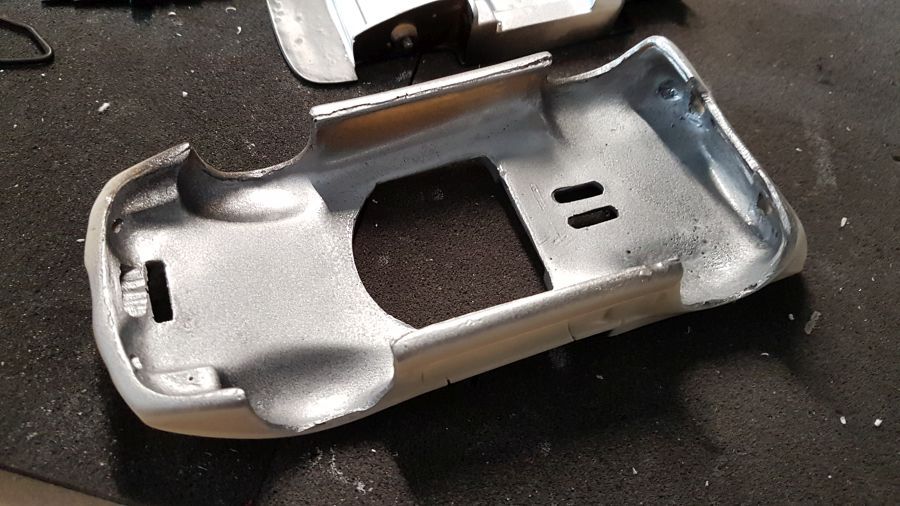 Zie het verschil.
See the difference.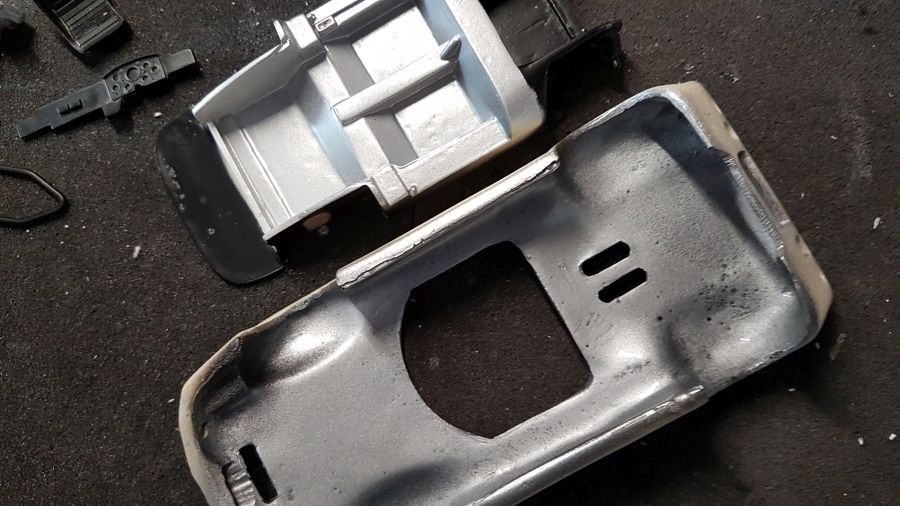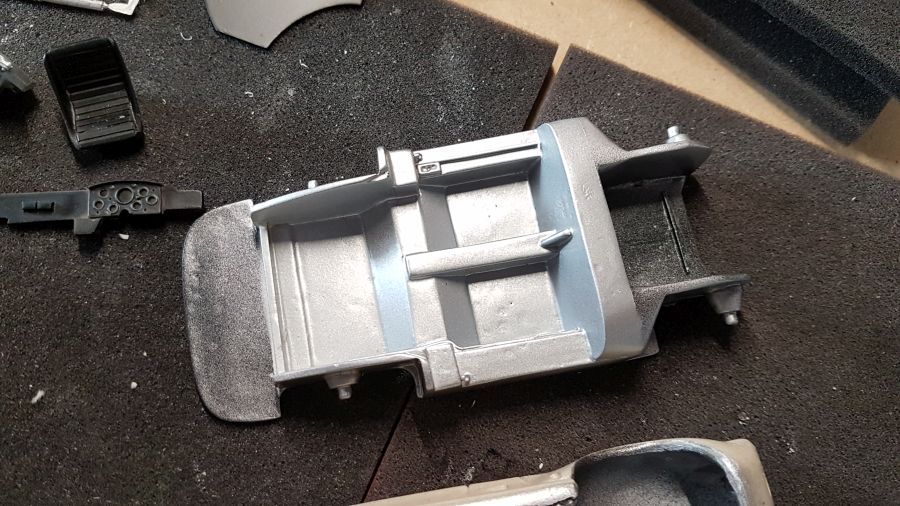 Daarna witte grondverf op de buitenkant.
Then white primer to the outside.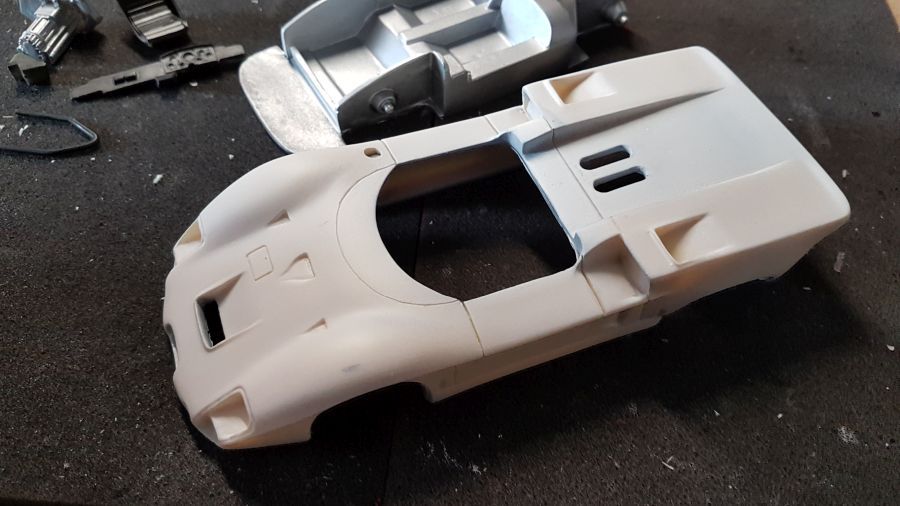 Het dashbord wordt aangekleed.
The dash is being dressed up.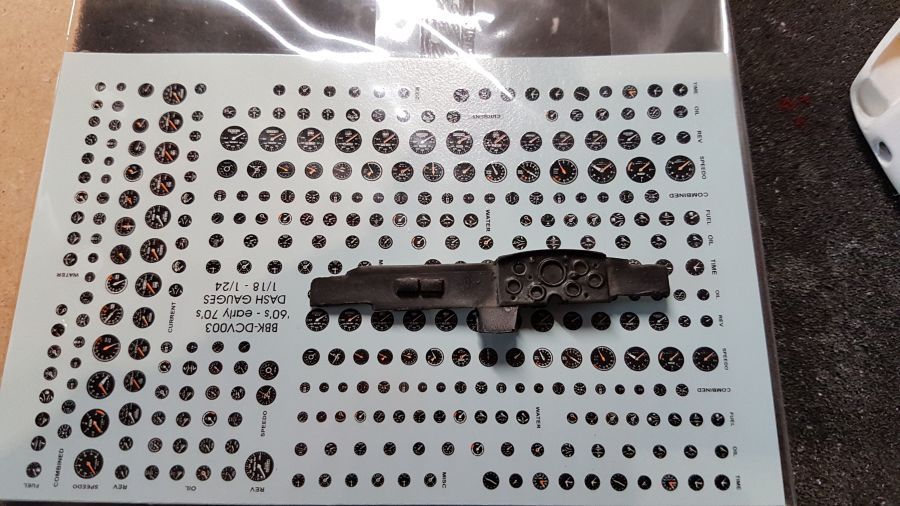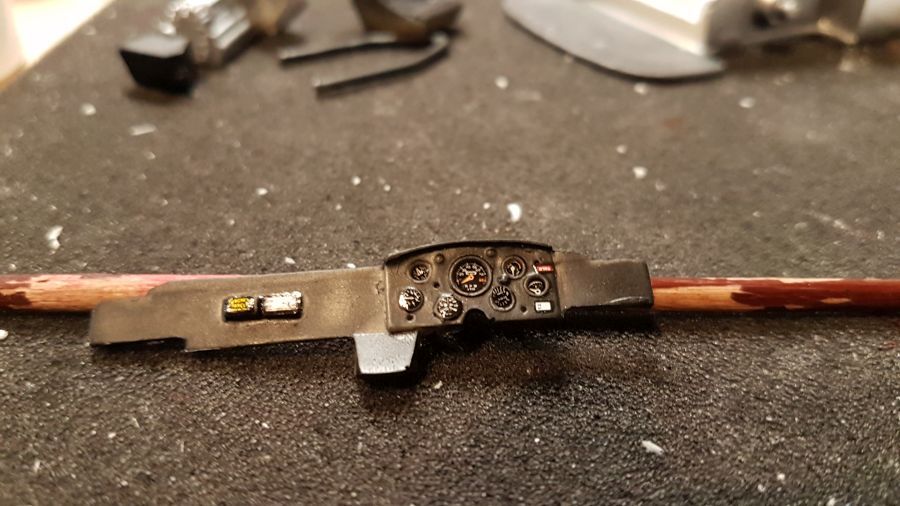 I'm blue da ba dee da ba daa.
I'm blue da ba dee da ba daa.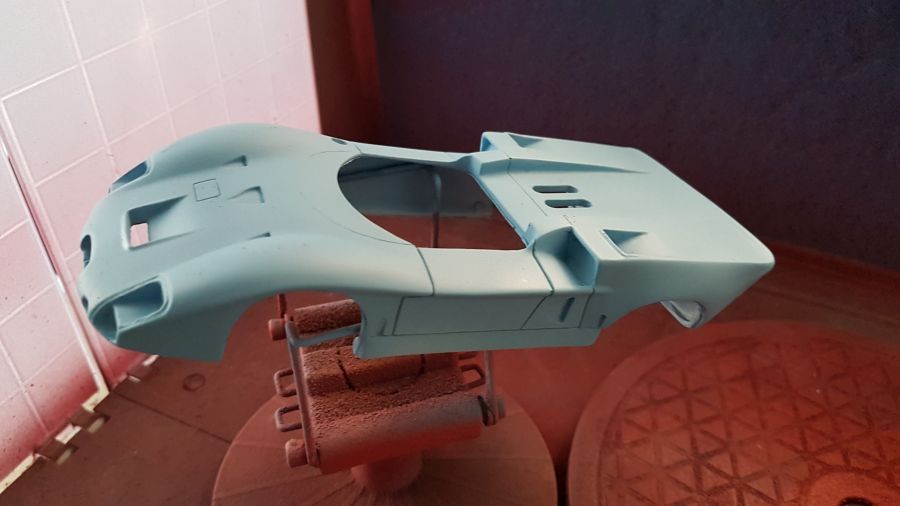 En de heldere lak.
And the clear coat.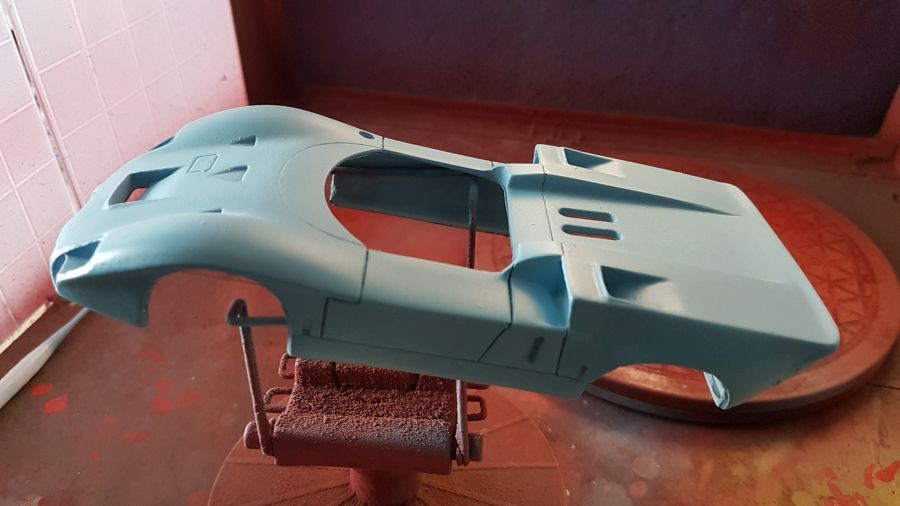 De vloer wordt verder klaargemaakt.
The floor is being updated more and more.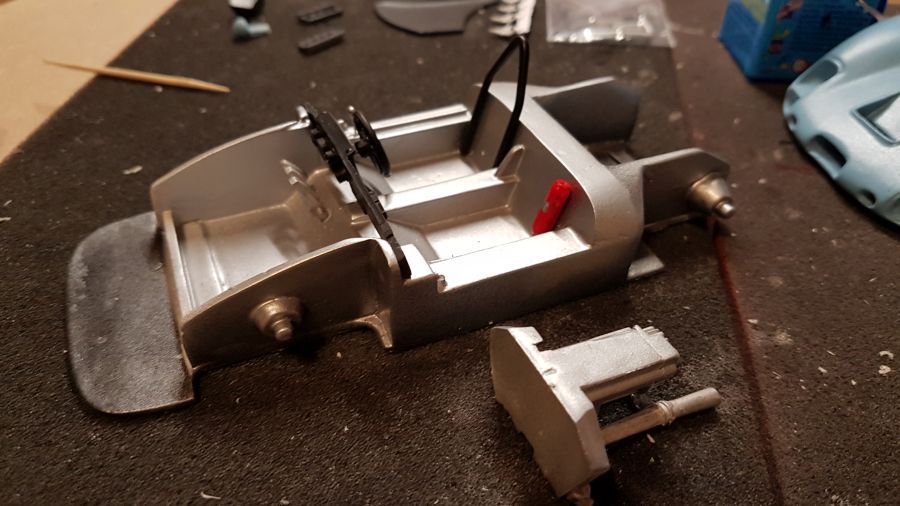 Testen.
Test fit.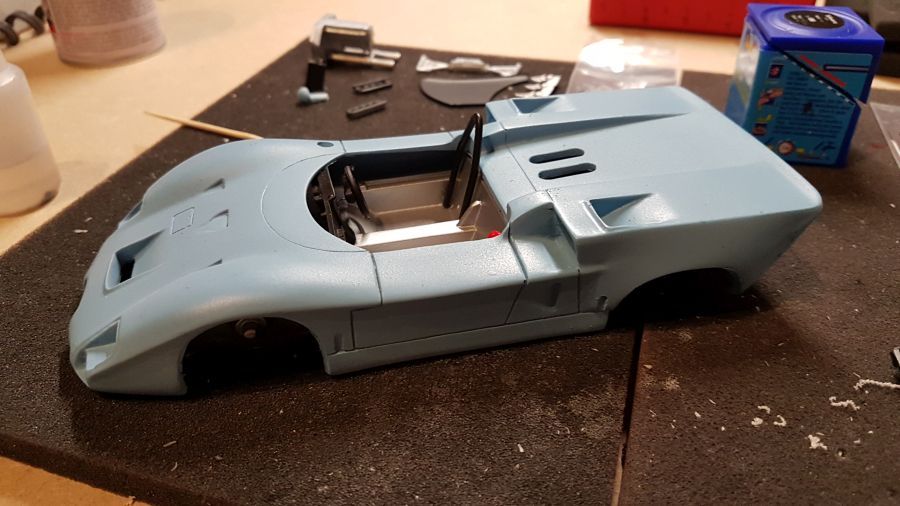 De trompetten worden in de houders geplaatst. Deze worden later aan de body bevestigd.
The funnels are being added to their supports. These will be attached to the body later.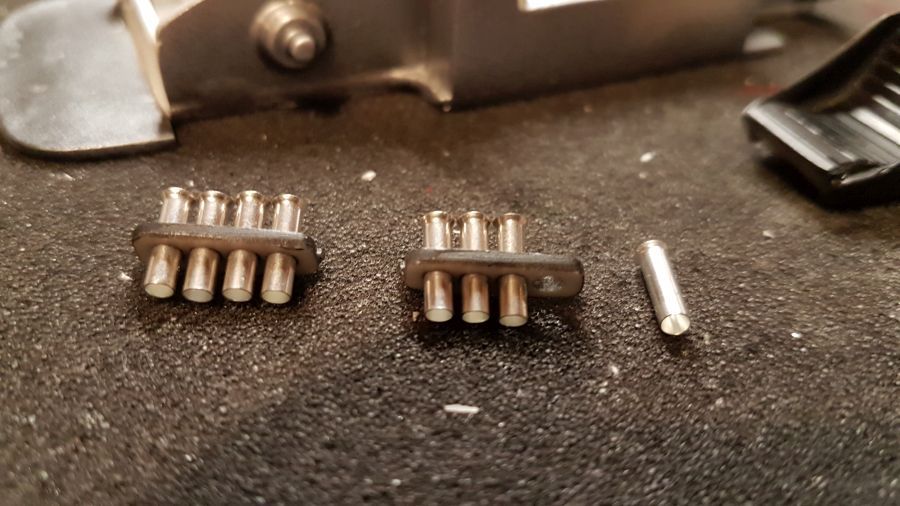 De stoel wordt een beetje bewerkt met wat poeder. Niet teveel.
The seat is being worked on with some powder. Not too much.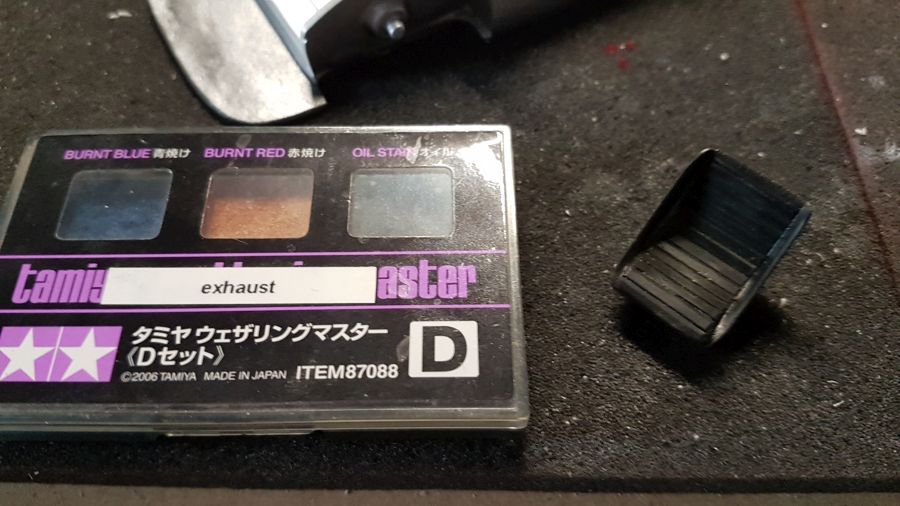 Dan kan de stoel geplaatst samen met de gordels.
Then the seat can be added together with the belts.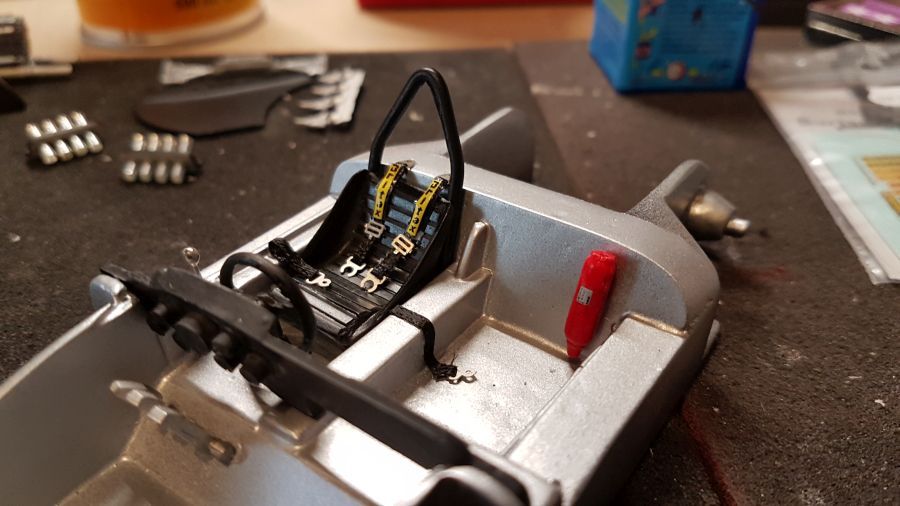 De body wordt licht bewerkt met korrel 12000.
The body is slightly worked on with grid 12000.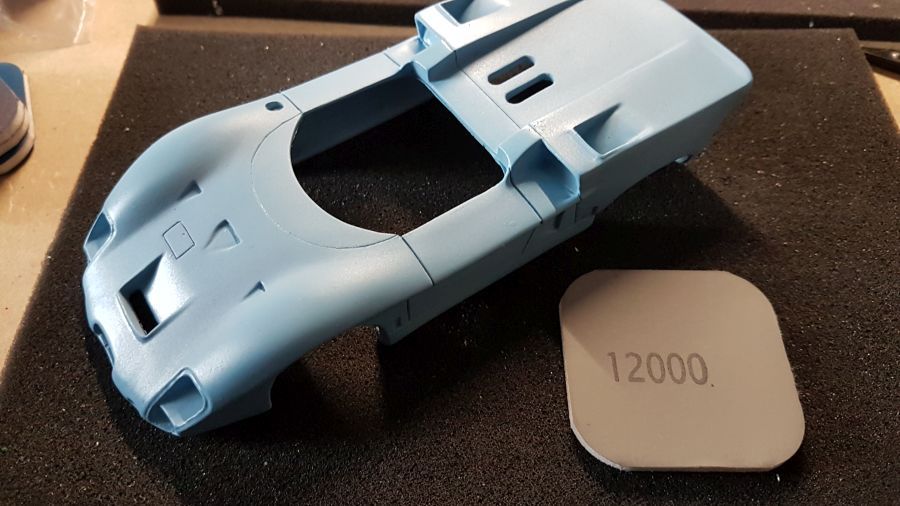 De remschijven worden uitgeboord met een boor en ruimer gemaakt met een frees.
The break discs were drilled and made wider with a cutter.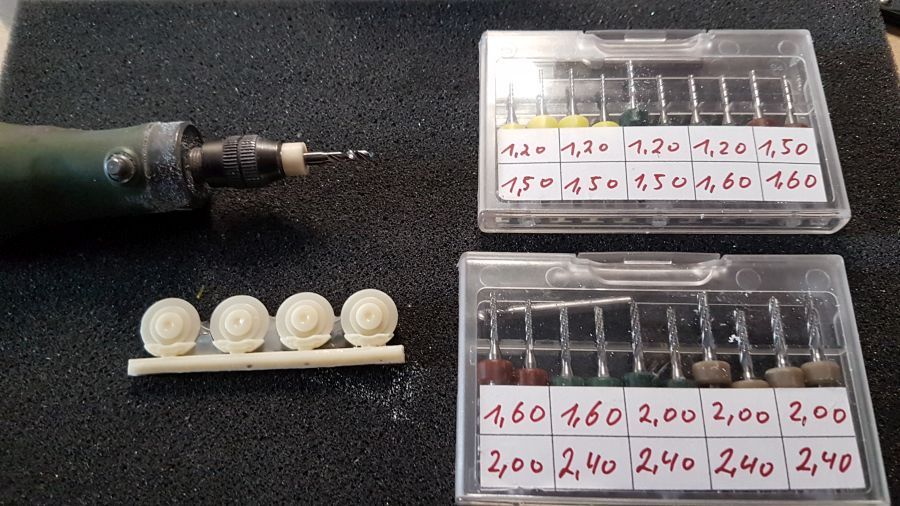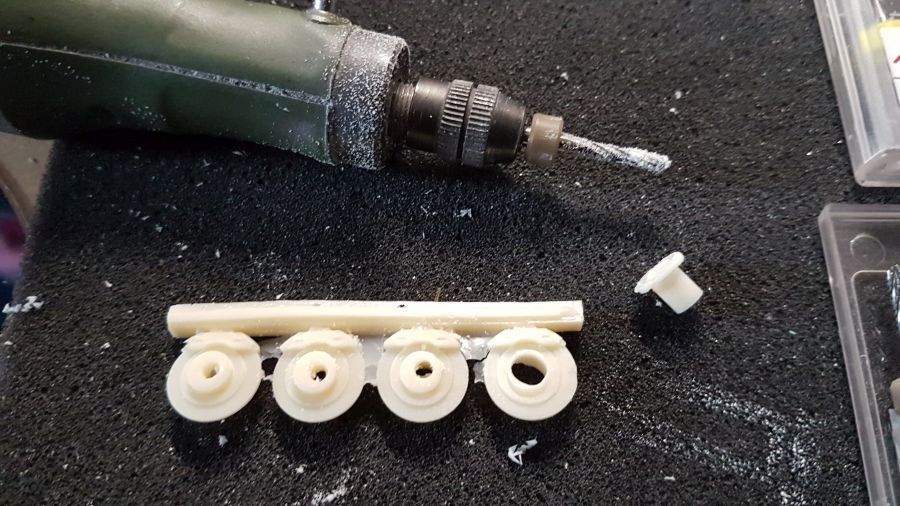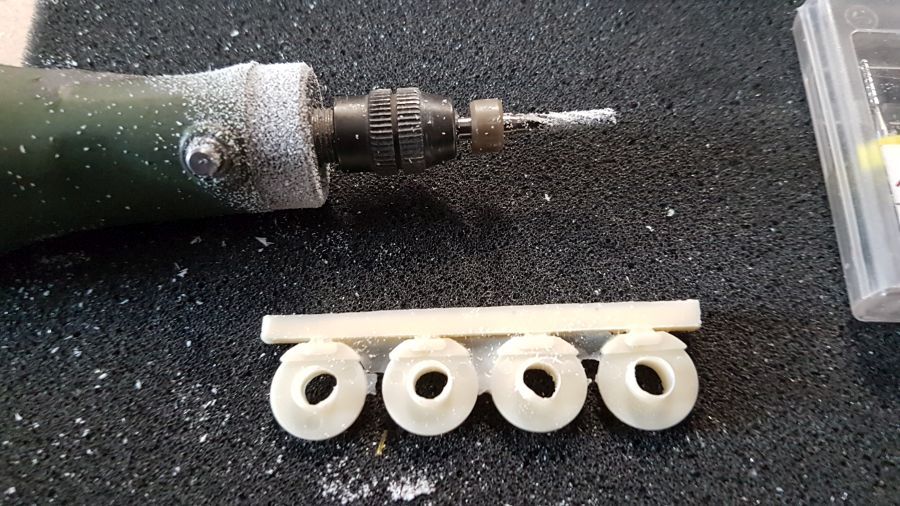 Alle onderdelen zijn klaargemaakt voor assemblage.
All parts were made ready for assembly.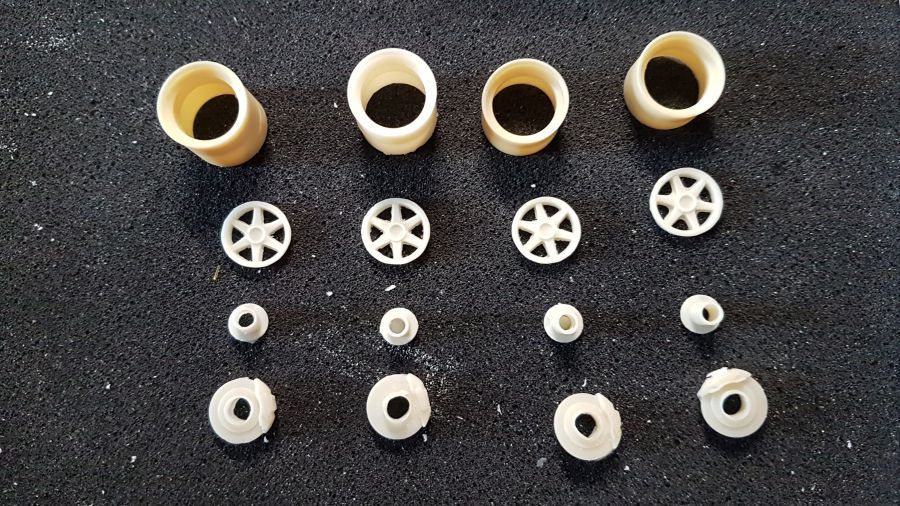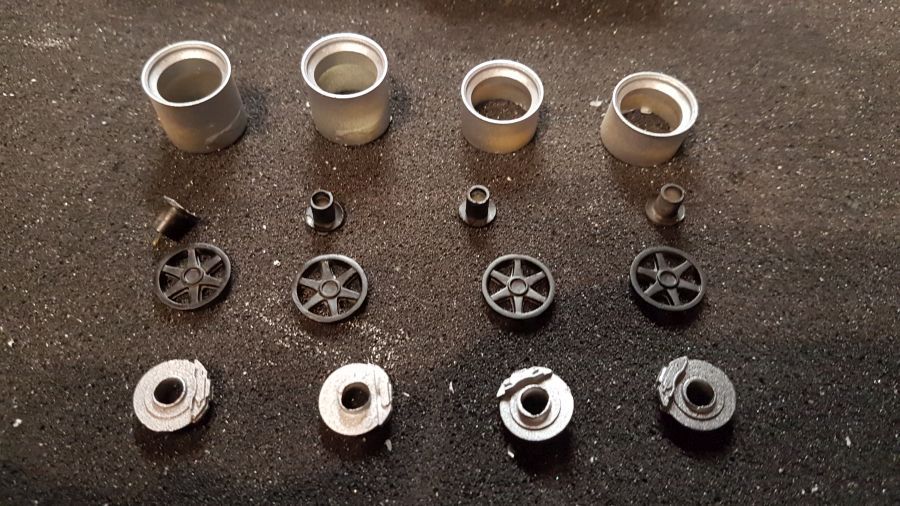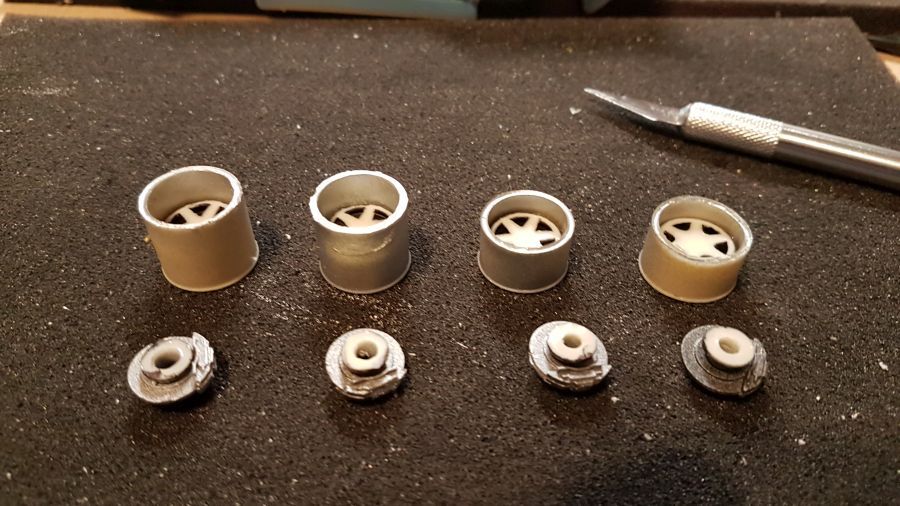 De buitenkant van de banden ziet er perfect uit. De binnenkant minder. Maar goed dat je dat niet ziet wanneer de banden zijn gemonteerd.
The look of the outside of the tires is perfect, the inside not so good. Good that you will not even notice when the tires are on.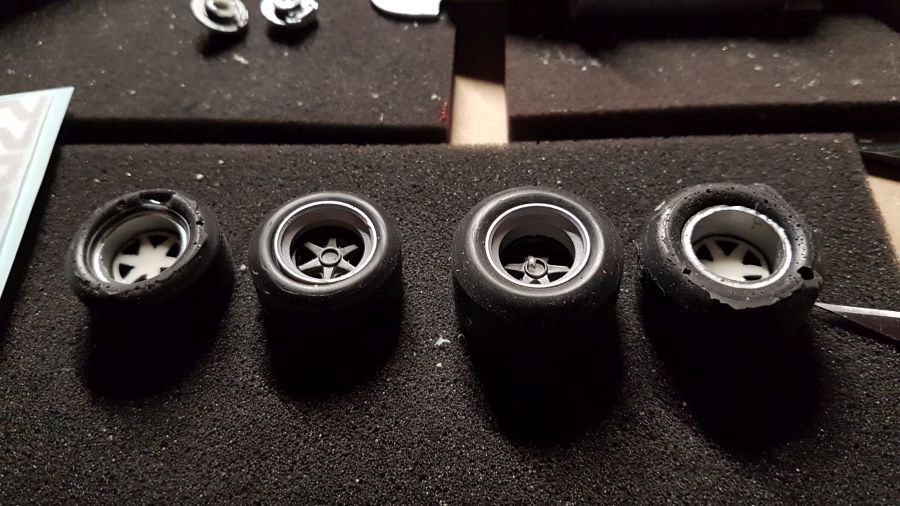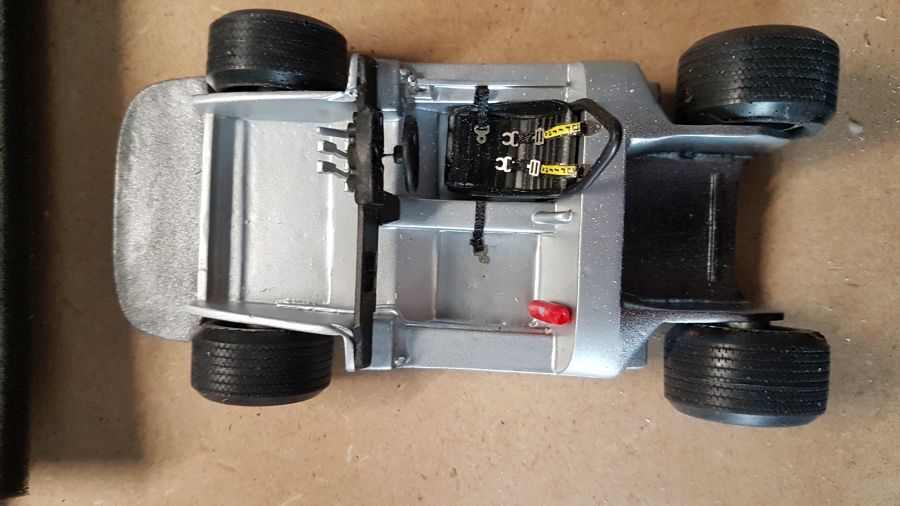 Oeps, de decals zijn verkloot. Ik heb geen rekening gehouden met het feit dat de decals deels over het glas van de koplampen heen lopen. Natuurlijk helpt mijn vriend van DDP Models me weer uit de brand.
Oops, i messed up the decals. I noticed too late that the decals partially fall over the glass of the head lights. Of course my friend from DDP Models is able to help me.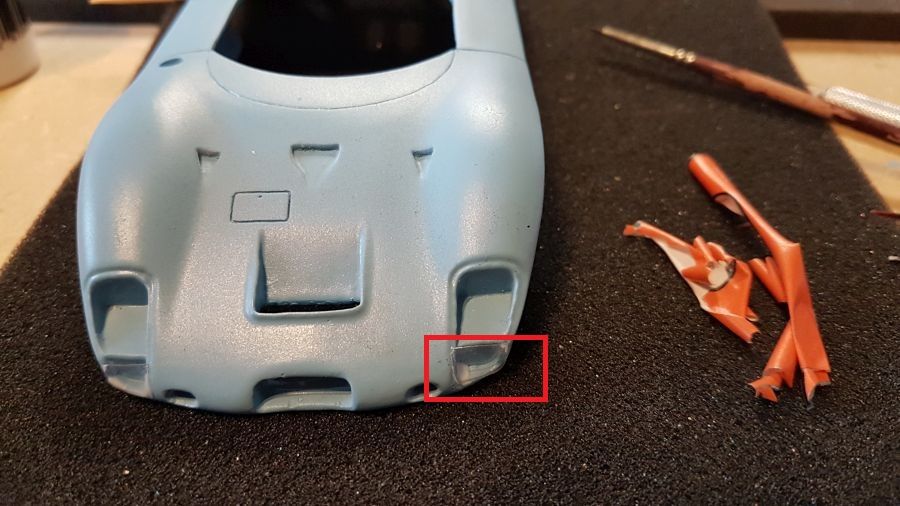 Terwijl ik wacht op de nieuwe decal voor de voorkant, ga ik vast verder met ander werk. De binnenkant van de lampen wordt geverfd en de roosters geplaatst bij de luchtinlaten. Ik moet zeggen geweldige etched. Erg gemakkelijk op maat te knippen.
While i am waiting for the new decal for the front, i am going to continue with other work. The inside of the head lights are painted and the intake covers are being added. I must say, the etched is great. Easy to cut to size.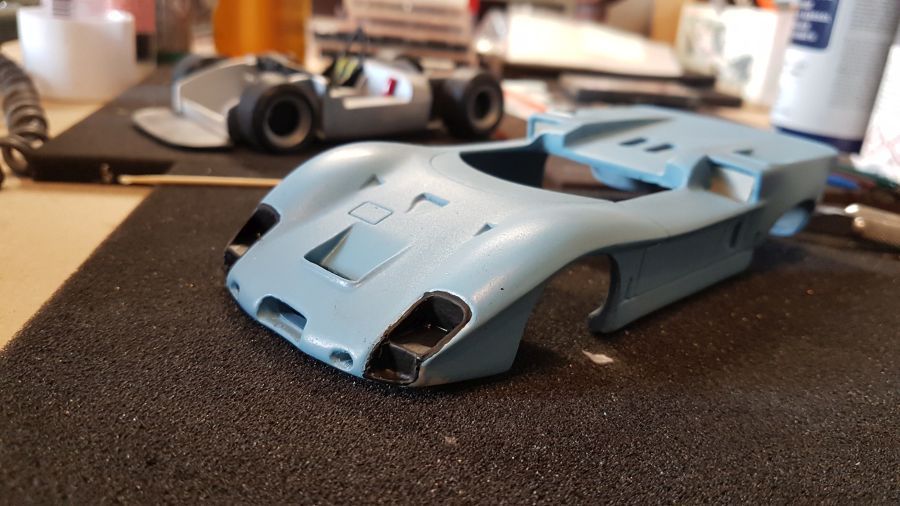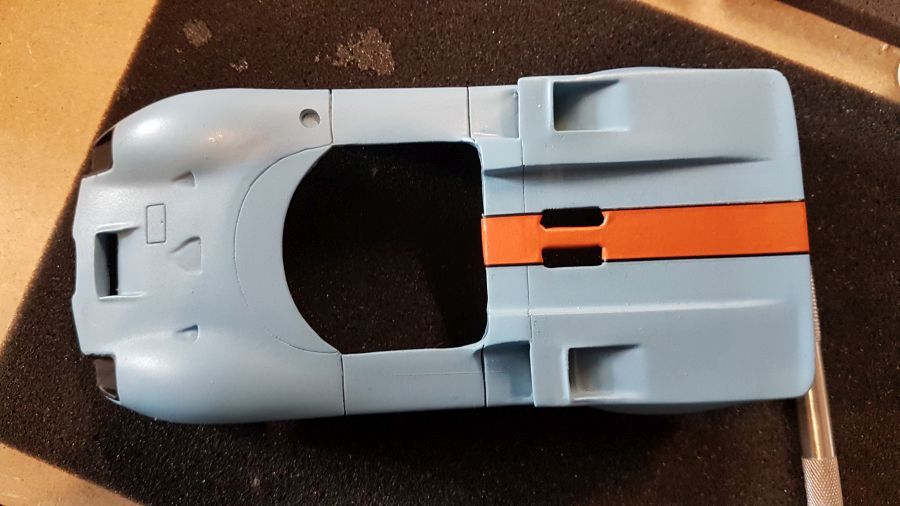 De decals voelen een beetje vreemd. Alsof ze heel rekbaar zijn. Micro Set en Micro Sol lijken niet echt effect te hebben. Daco Decal Setting lijkt iets beter te werken, maar toch. Voorzichtigheid geboden.
The decals have a bit of a strange feel. Like they are 'stretchy'. Micro Set and Micro Sol don't seem to have much influence. Daco Decal Setting appears to be working better. Advice is to be cautious.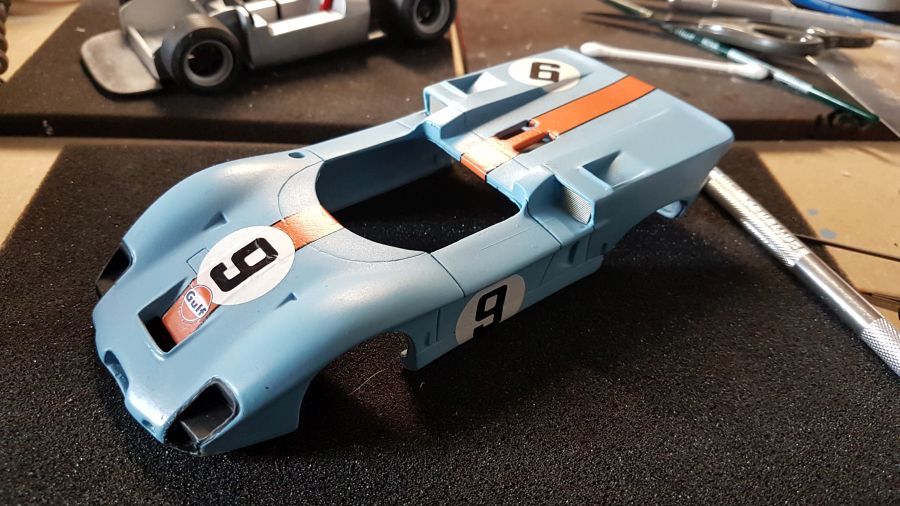 De paneellijnen kleur ik in met behulp van een cocktailprikker en verdunde waterverf.
The panel lines will be colored with help of a toothpick and diluted water paint.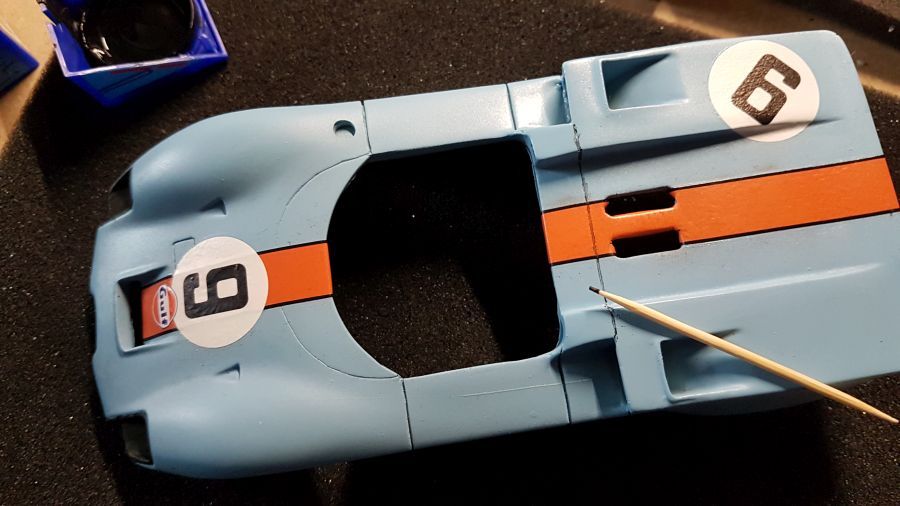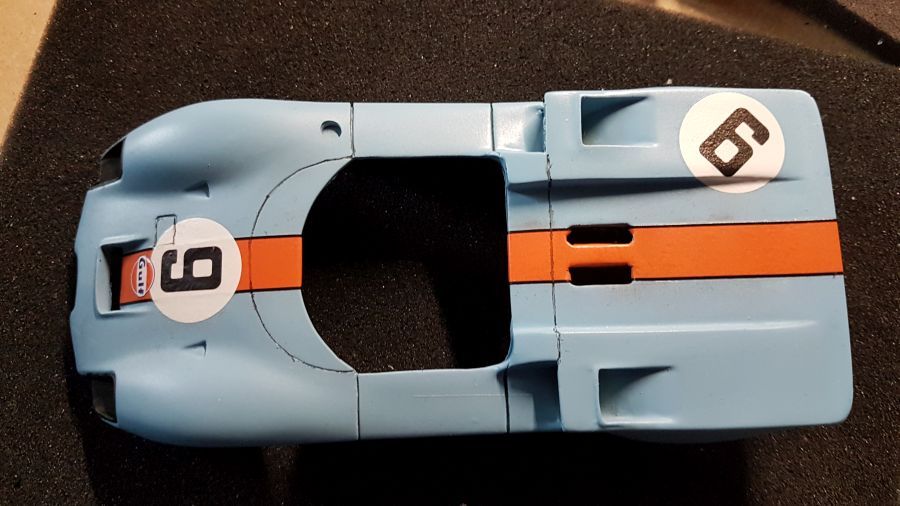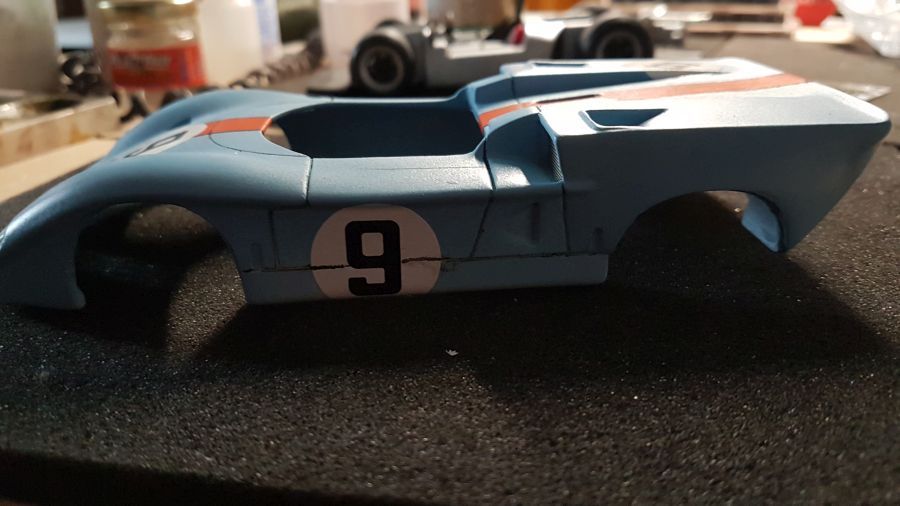 De vleugeltjes worden Gulf oranje gespoten, omdat er geen decals voor zijn. Ook aan de voorkant spuit ik de zijkanten wat oranje. Dit omdat ik (bij het plaatsen van mijn vorige decal) bemerkte dat de decal de zijkant niet helemaal bedekte.
The winglets are being painted Gulf orange as there are no decals for them. I also add some paint to the front sides. This because i noticed (when applying the decal) the sides were not fully covered.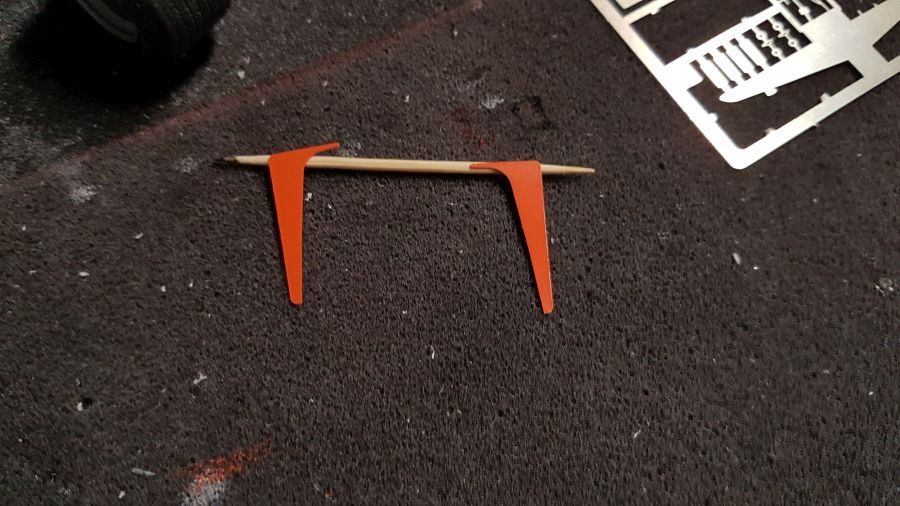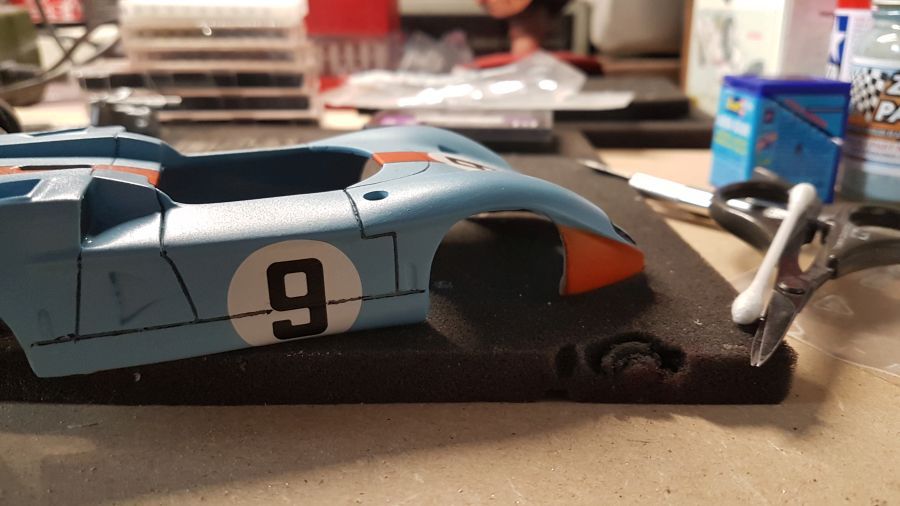 De koplampen worden geplaatst.
The head lights were added.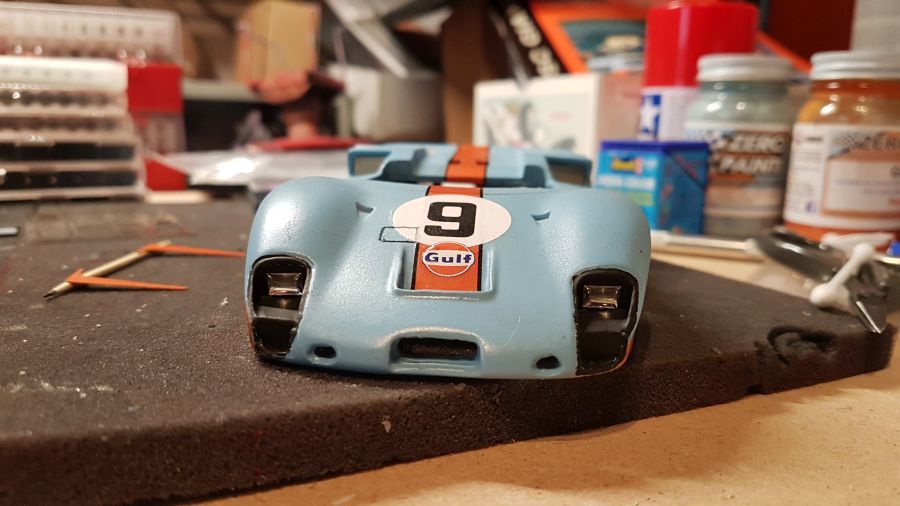 En de achterlichten.
And the tail lights.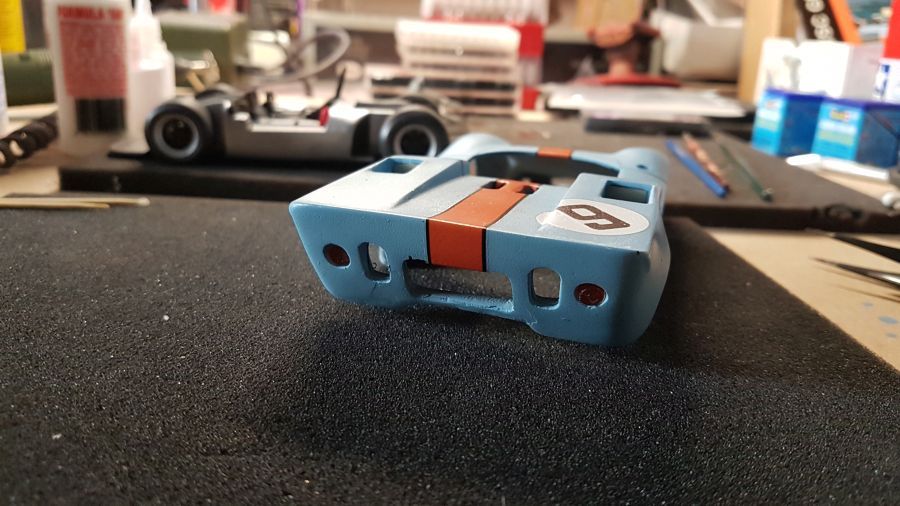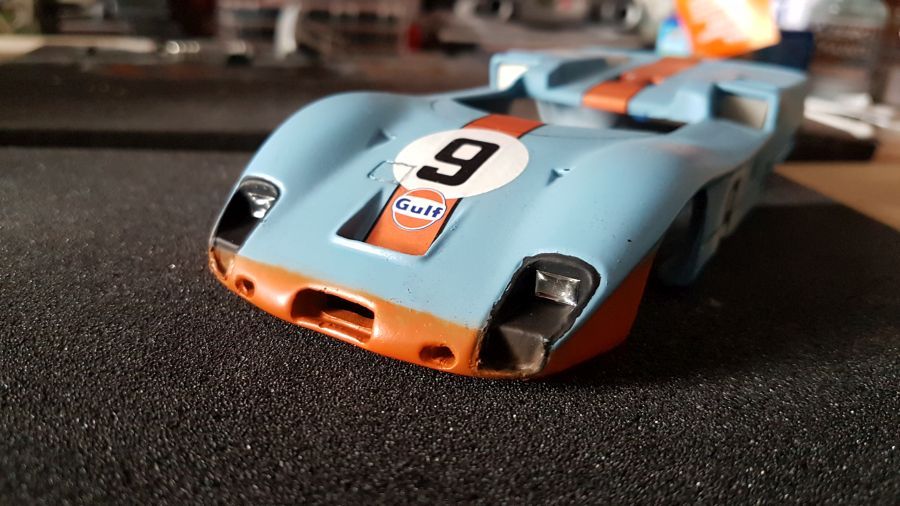 De nieuwe decals zijn binnen. Deze keer dus even de goede volgorde. Eerst het koplampglas knippen en plaatsen. 
The new decals are in. So this time mind the correct order. First cut and add the head light glasses.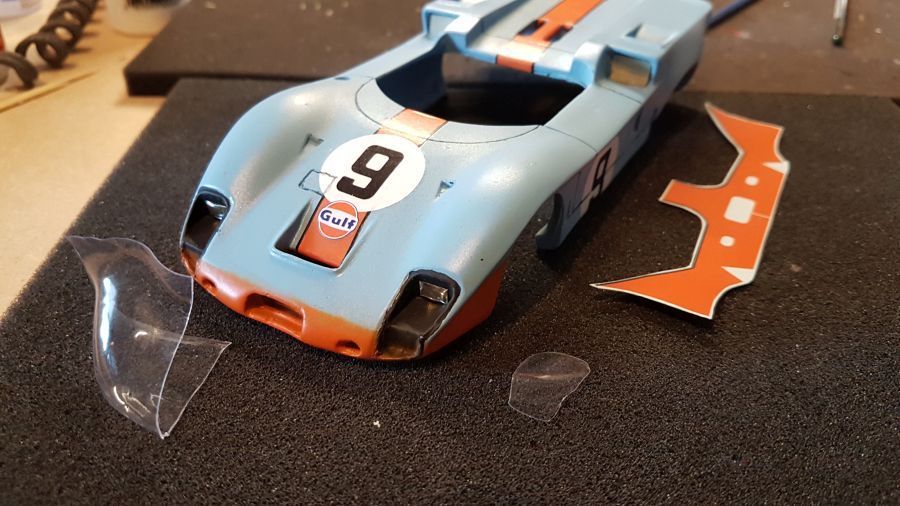 Een tijdje geleden heb ik dubbelzijdig tape gekocht. Het is zwarte tape dat gebruikt wordt om het glas van mobiele telefoons te plakken. Ik heb het in verschillende maten. Kost haast niets, een gigantische rol voor 'de rest van mijn leven'. Ik probeer het eerst op een stukje afval om te zien of het een beetje bochten kan volgen.
A while ago i bought two sided tape. It's black tape that is used to glue glass of mobile phones. I have it in different sizes. Costs are low, a large roll for 'the rest of my life'. I will try it on some waste to learn if it can follow curves.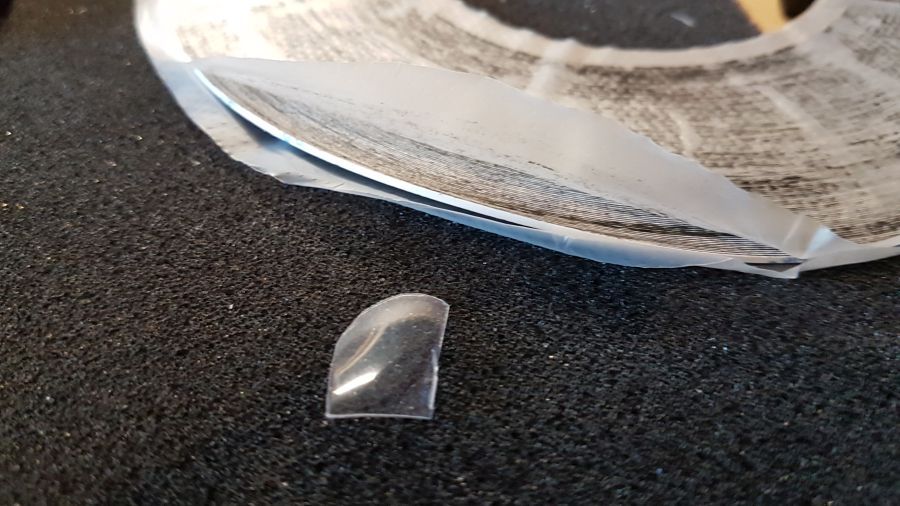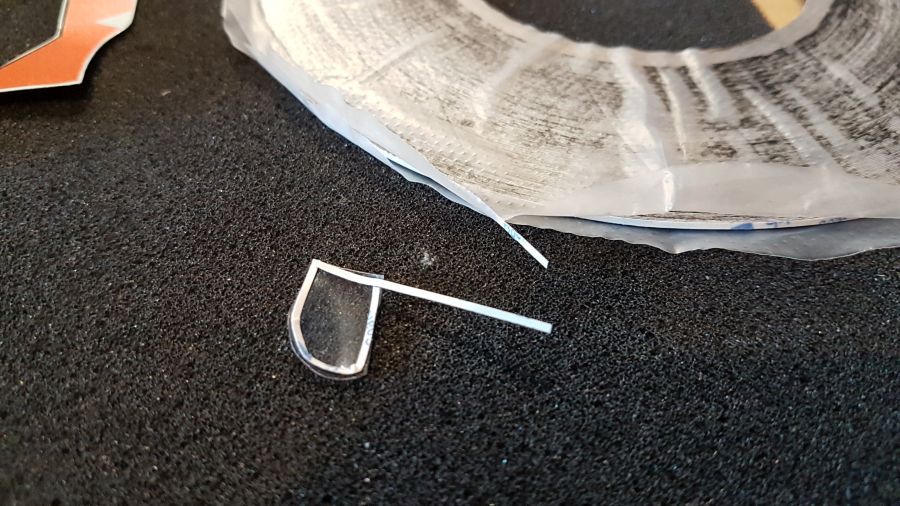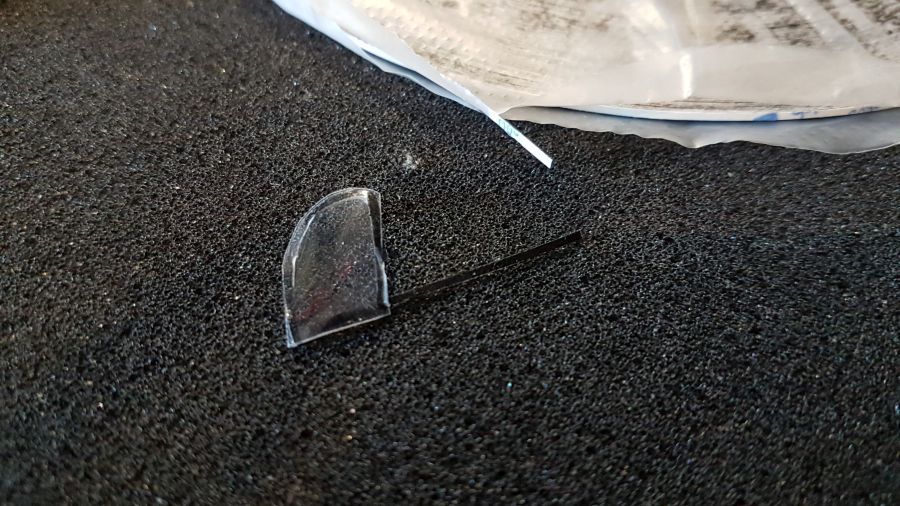 Dan de witte folie verwijderen om te zien hoe het lijkt. Ik ben er blij mee.
Then remove the white foil to see how it looks. I am happy with it.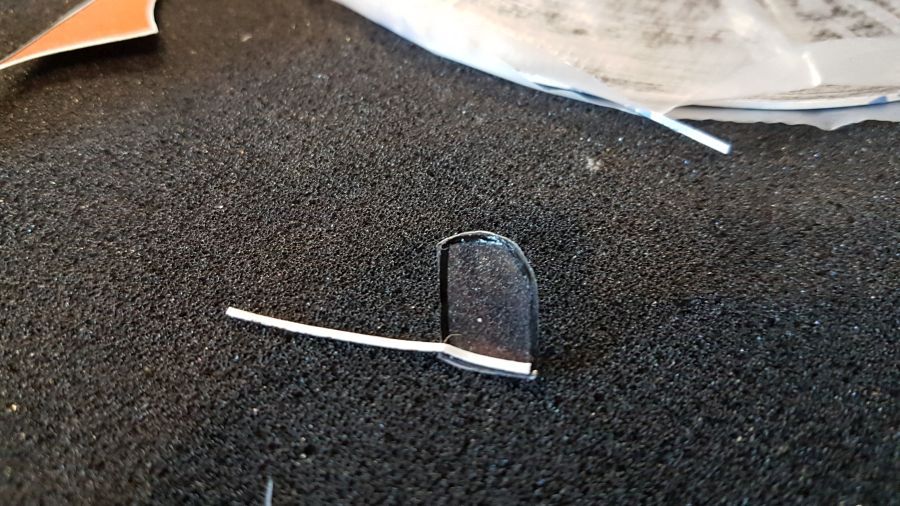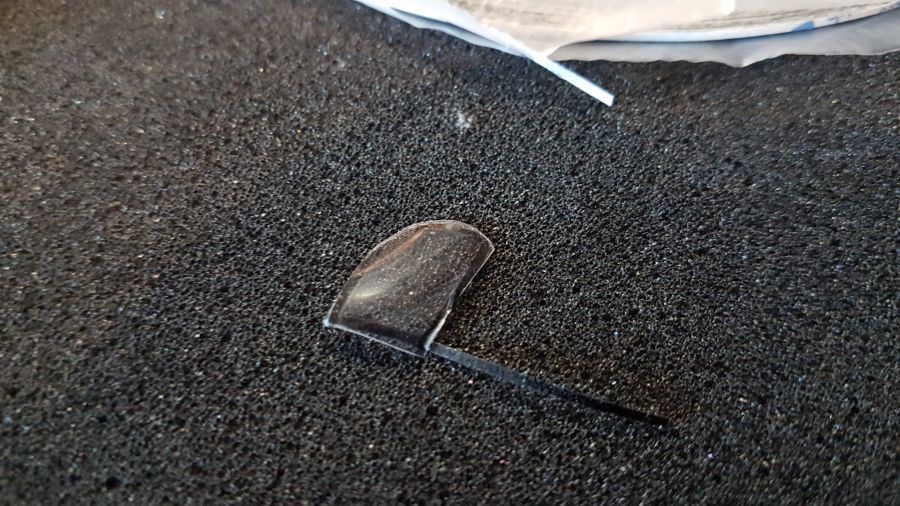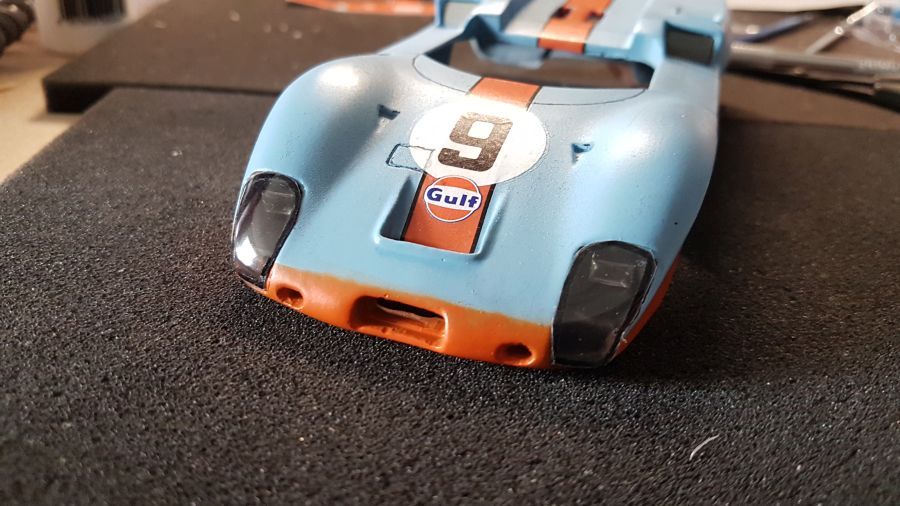 Dan de decal.
Next is the decal.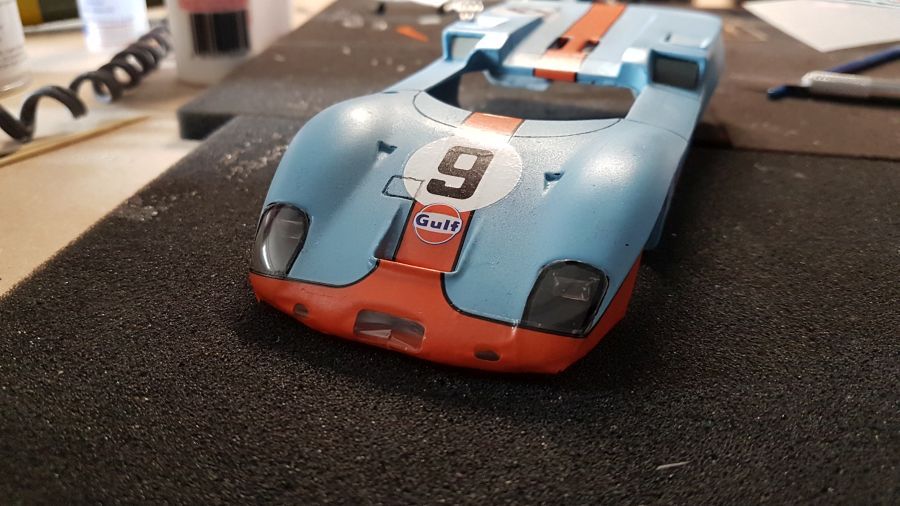 Meer en meer onderelen worden geplaatst.
More and more parts are being added.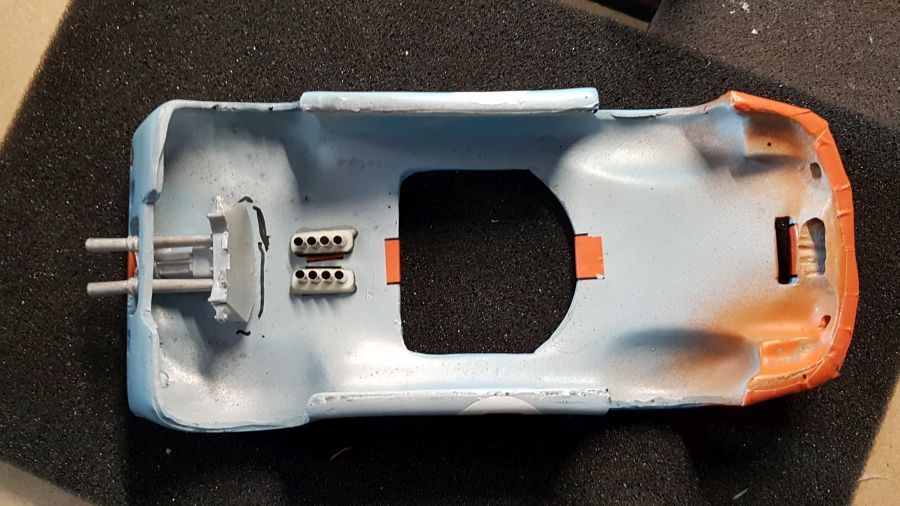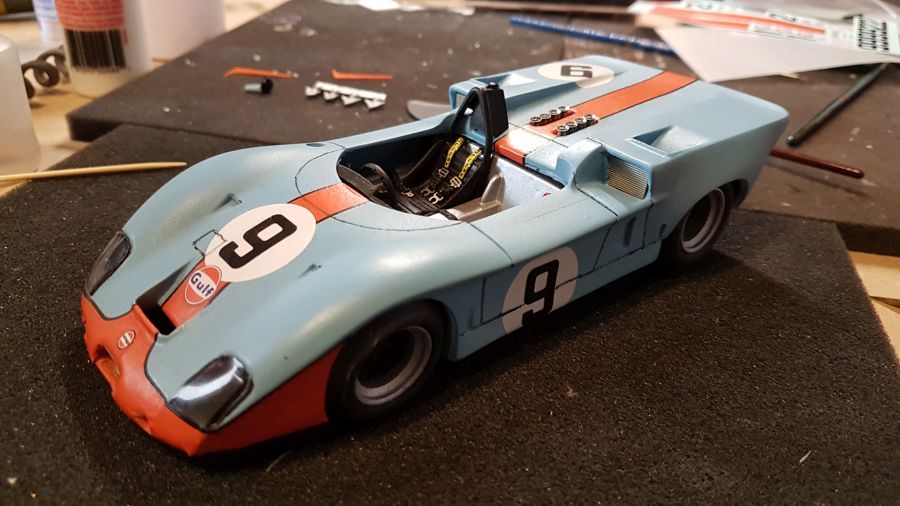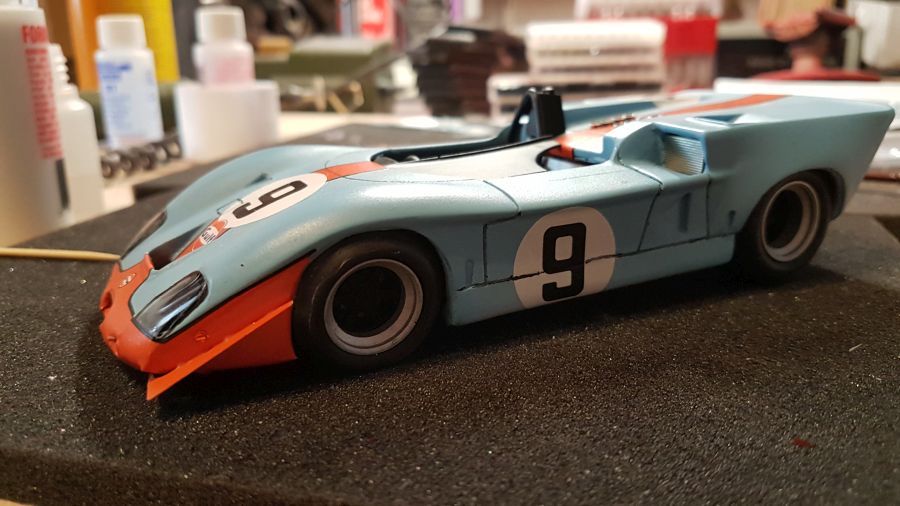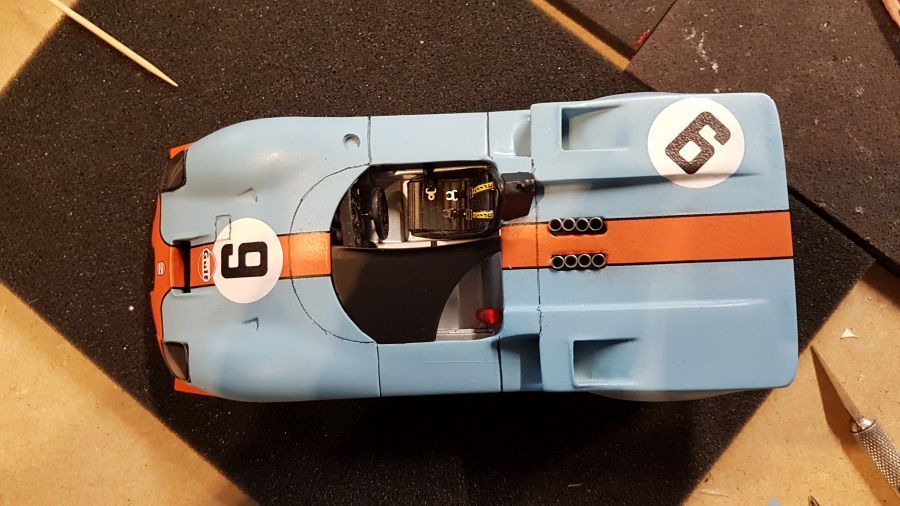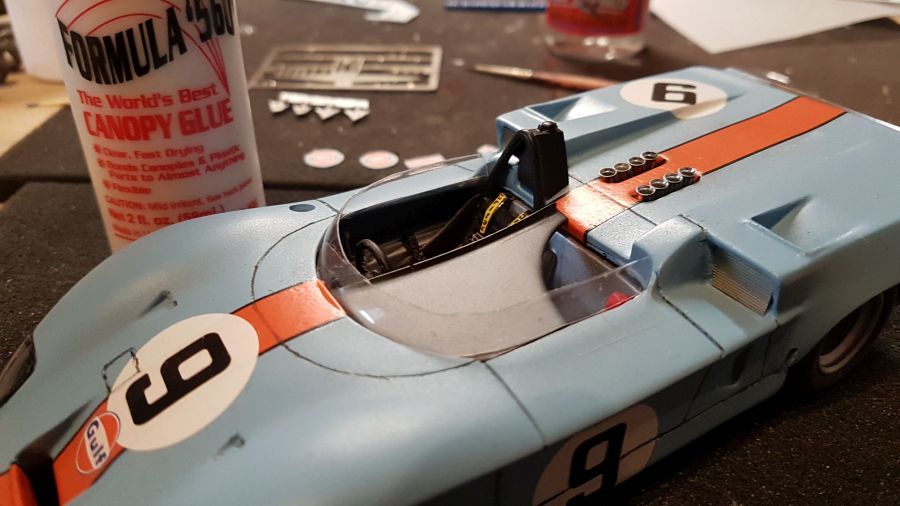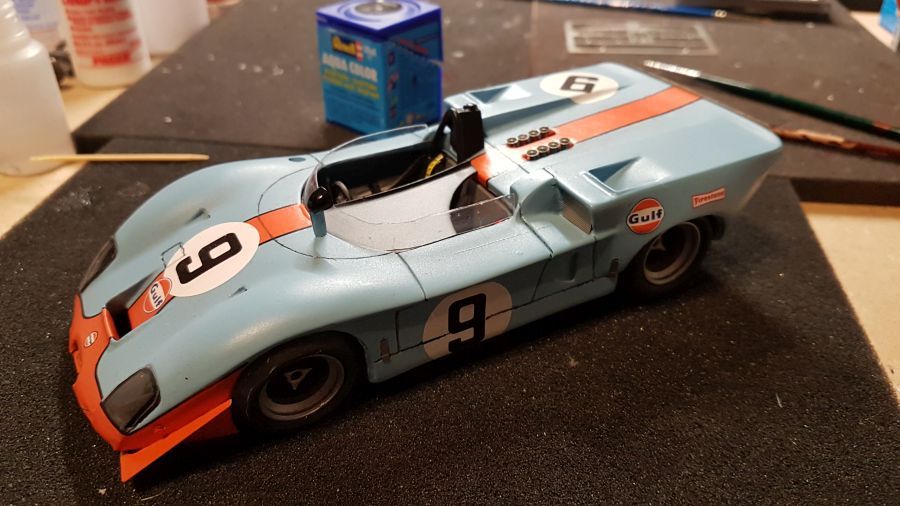 Ik zat nog te denken om wat racevuil aan te brenegen, maar ik doe het maar niet. Ik ben bang dat de vleugeltjes dat niet aankunnen.
I was thinking of adding some race dirt, but decided not to. I am afraid the small wings will not survive it.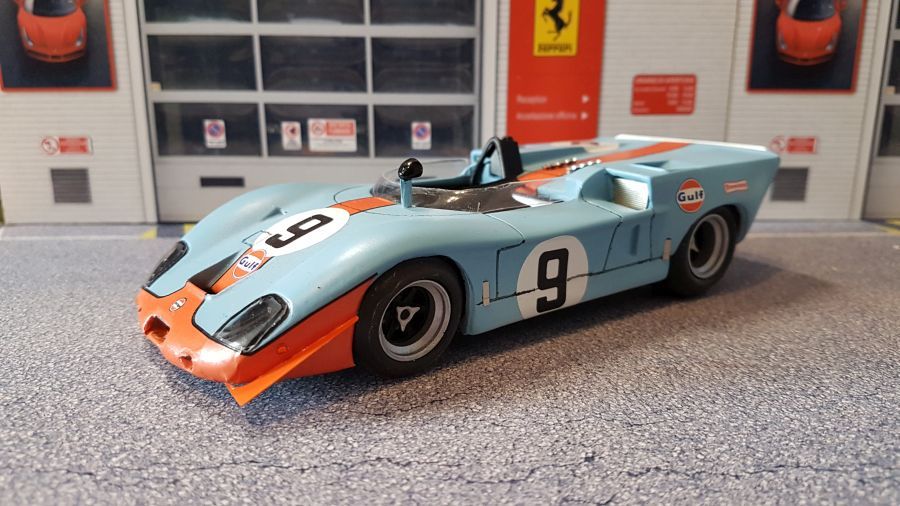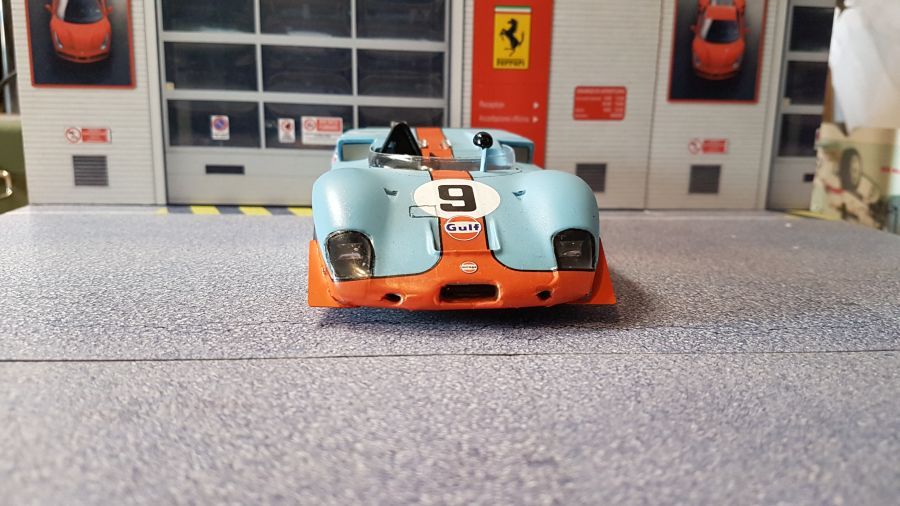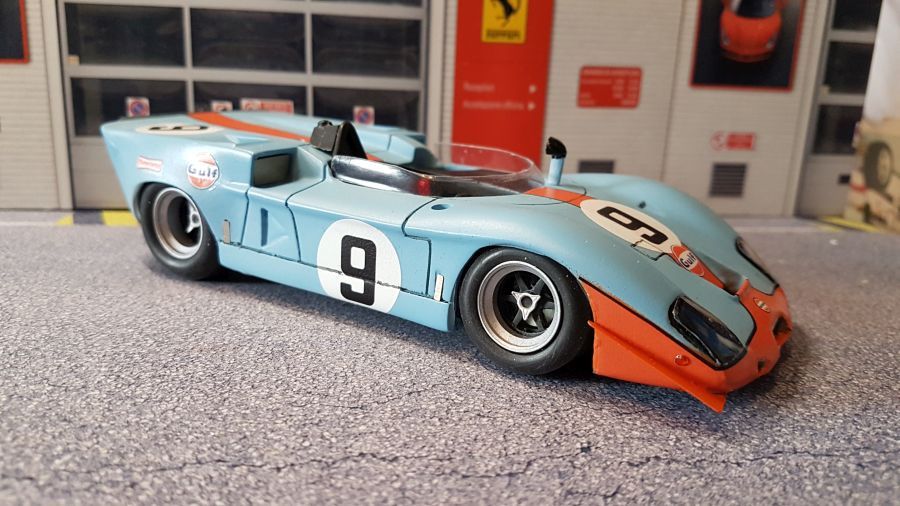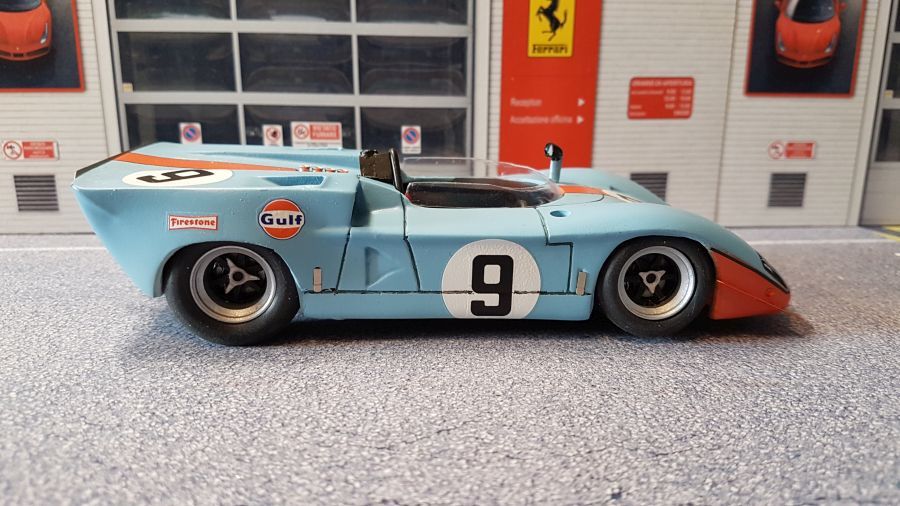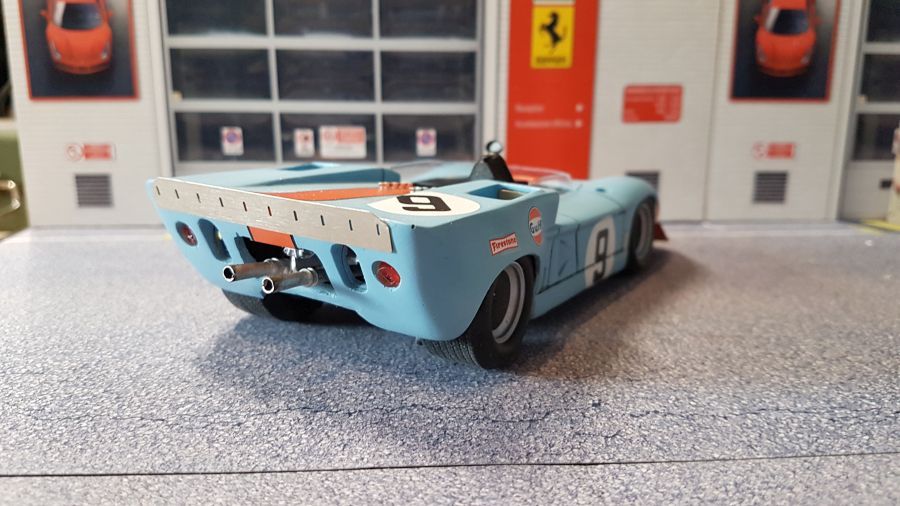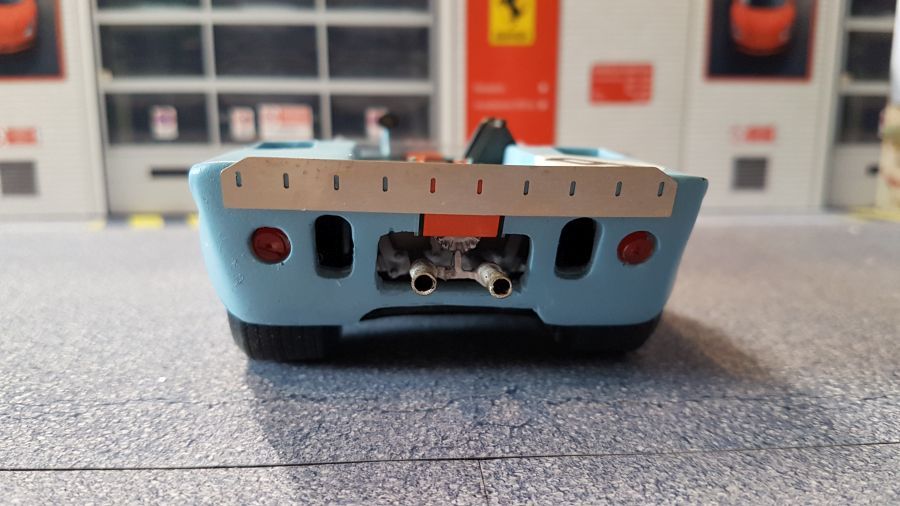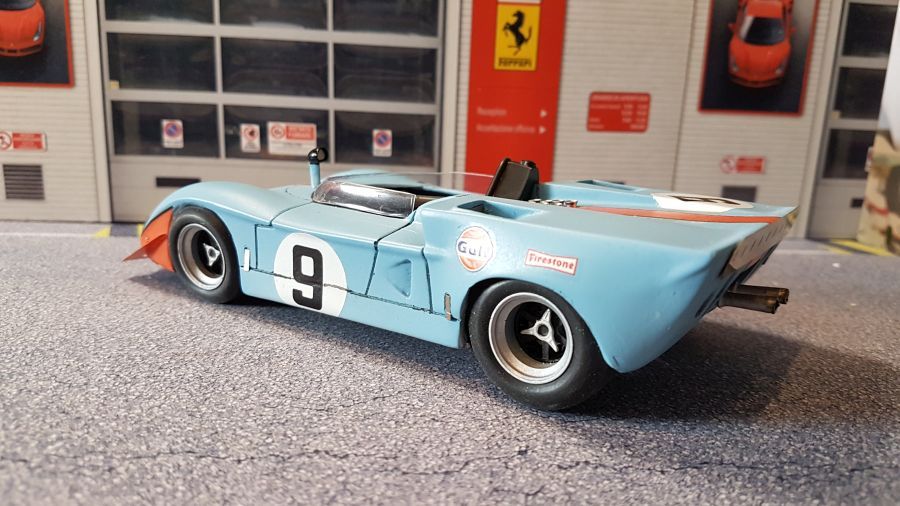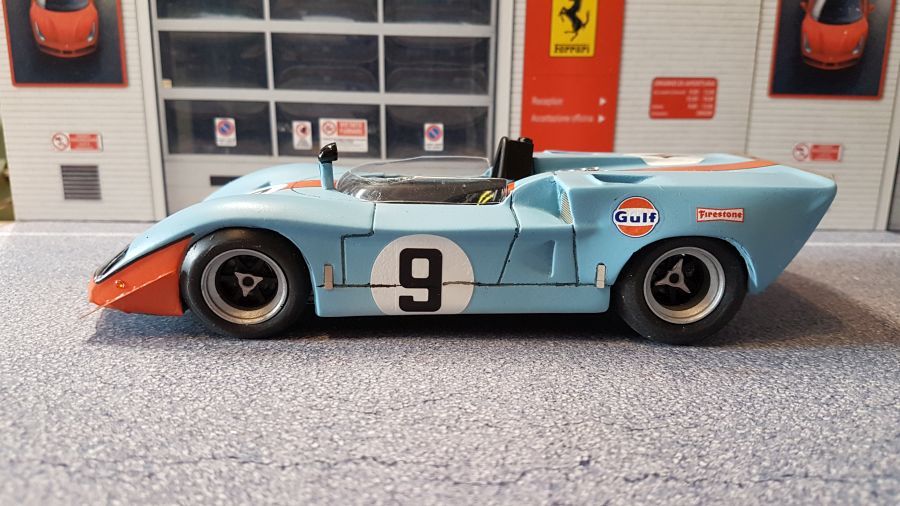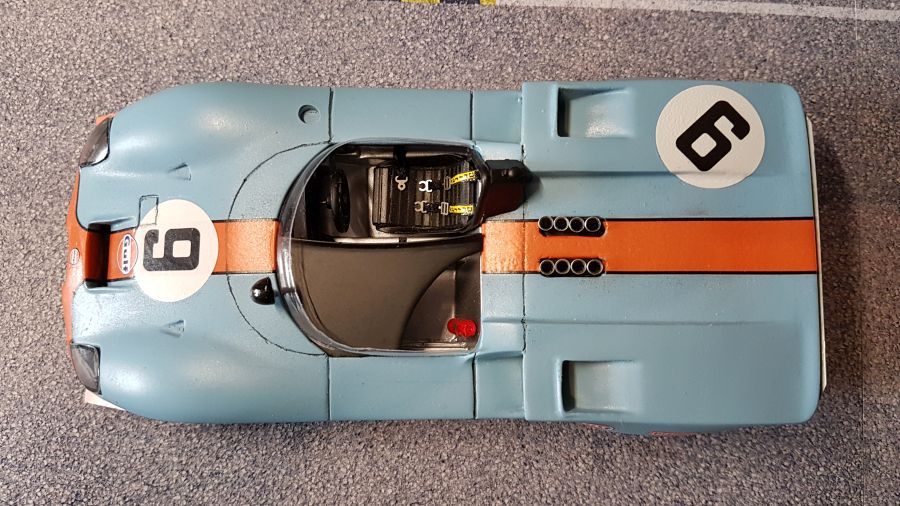 Voor mij een prachtige kit. Niet zwaar moeilijk, maar je moet er toch de nodige aandacht aan besteden. Eigenlijk zijn er geen noemenswaardige problemen te melden. De DDP Models kits hebben geen tekeningen. Dat is nog wel eens even wat zoeken en passen.
To me a great kit. Not very difficult, but you need to pay attention. This one had no problems worth mentioning. The DDP Models kits have no manual. So it's a bit of trying and test fitting.