Omdat de pot met blauwe verf toch open is, doe ik er direct nog maar 1 achteraan. Nu een ombouw van een Tamiya Aston Martin DBS (kit nr. 24316) naar een 2008 Aston Martin DBR9 met behulp van een Carrera Digital body set, BvH decals en velgen van Hobby Design. Dit zal wel weer een hele klus worden. Maar omdat ik me eigenlijk op 1/20 F1 concentreer, had ik geen 250,- euro over voor een MFH kit. Dit alles was ongeveer 125,- euro. En tenslotte, dit is hobby niet waar? Eerst weer de fotot's.
Because the jar of blue paint is open, i will do another one. This time a conversion of a Tamiya Aston Martin DBS (kit no. 24316) into a 2008 Aston Martin DBR9 with a Carrera Digital body set, BvH decals and rims from Hobby Design. This will be a nasty one i guess. But since i concentrated on scale 1/20 F1, i didn't want to pay 250,- euro for an MFH kit. This all was about 125,- euro. And after all, it's hobby right? Again the pics first.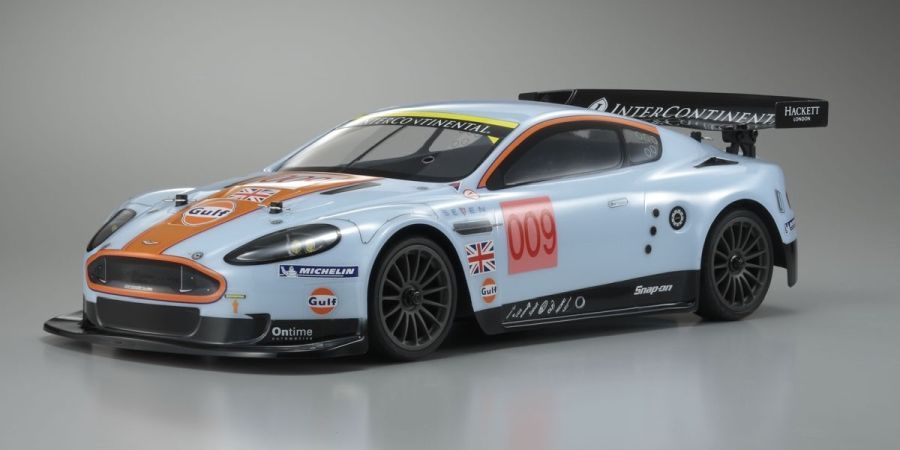 Eerst de onderdelen van Tamiya.
First the Tamiya parts.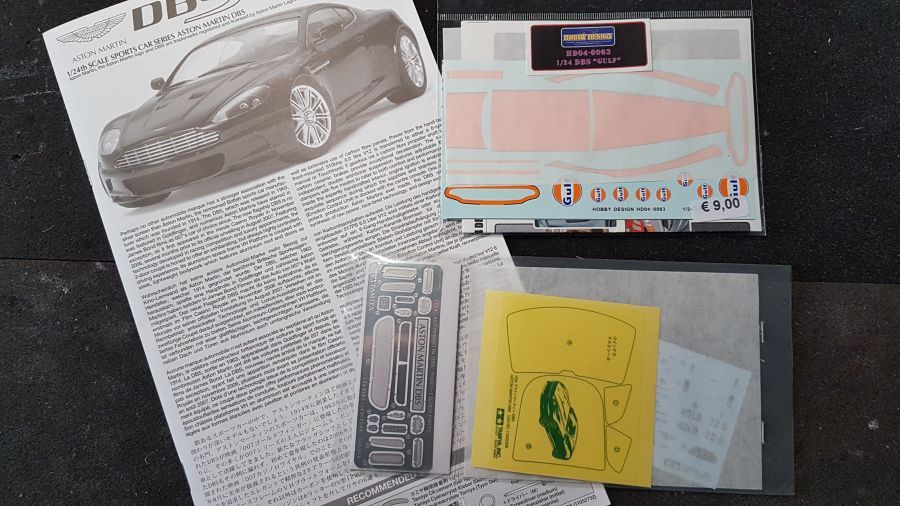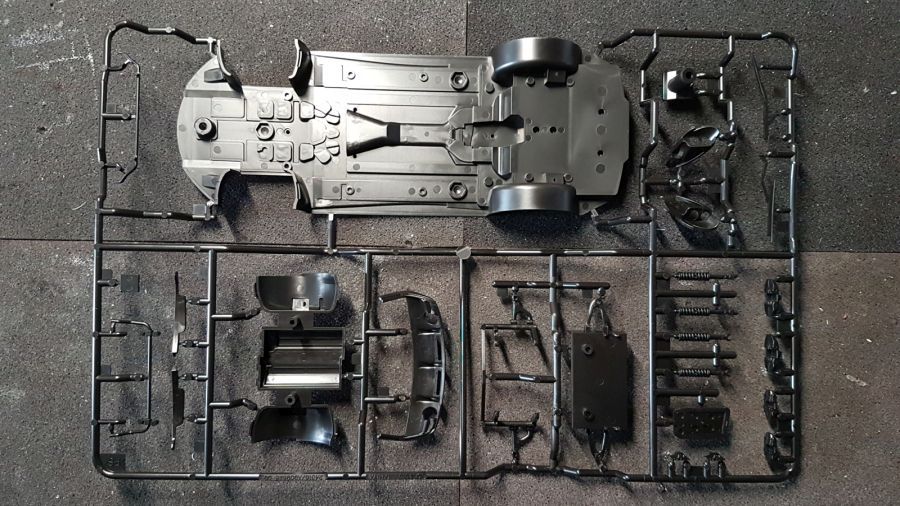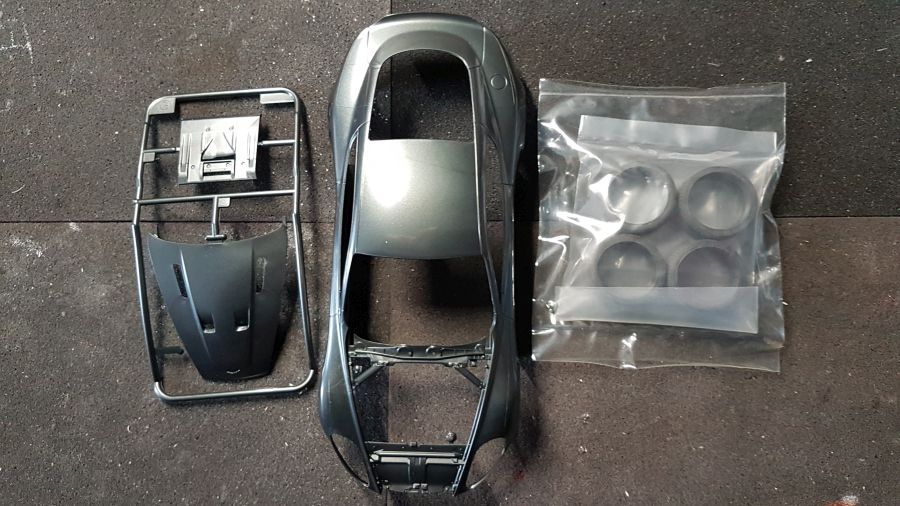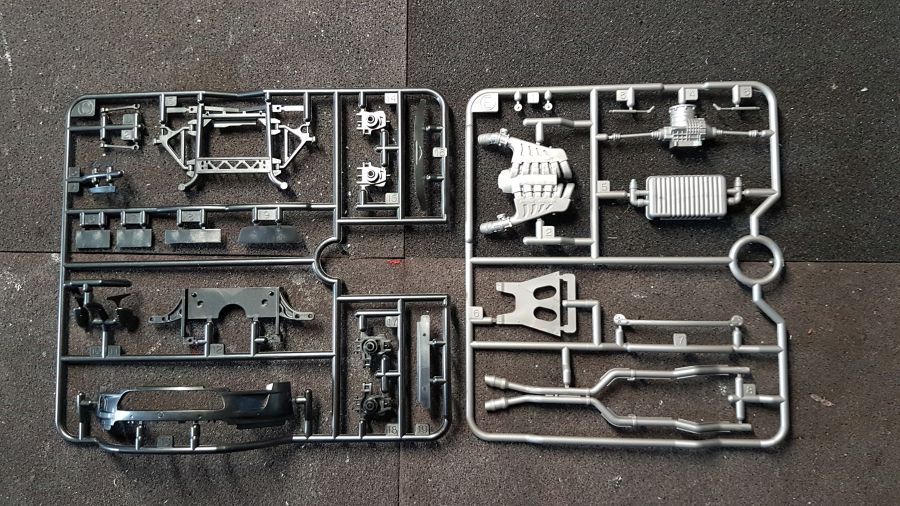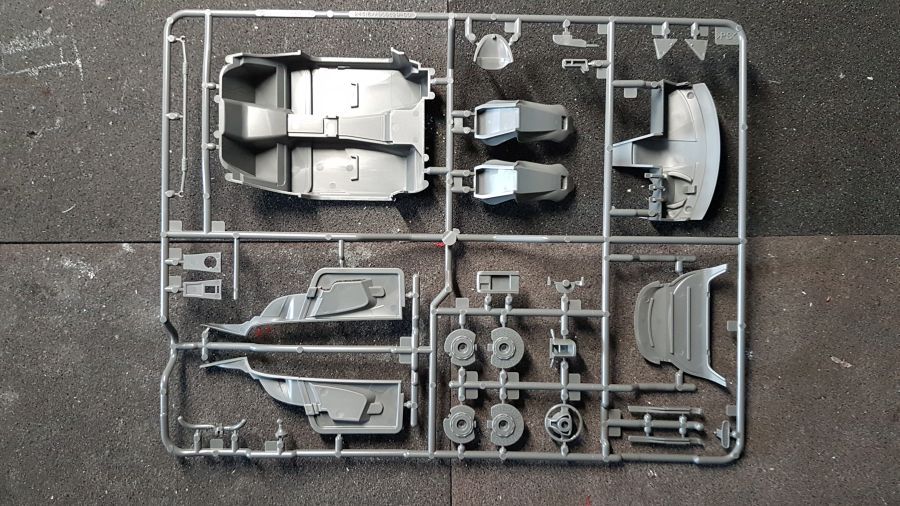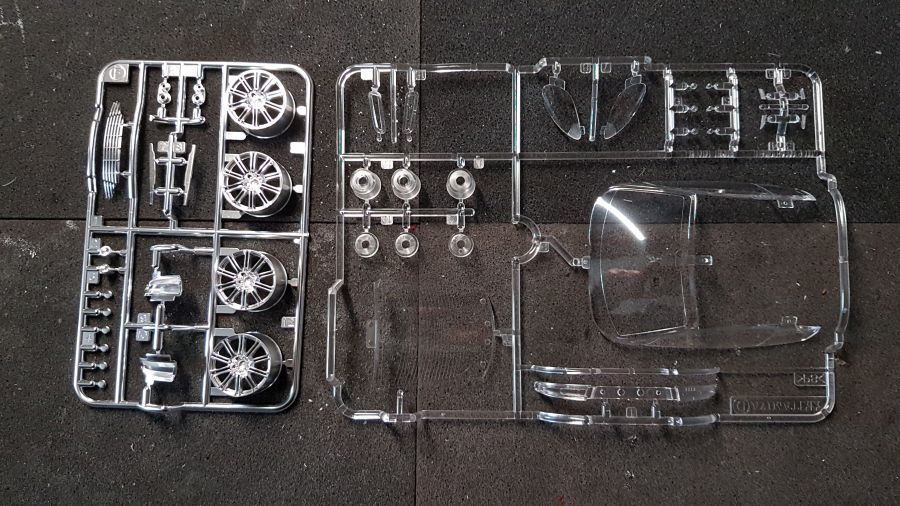 De extra decals.
The extra decals.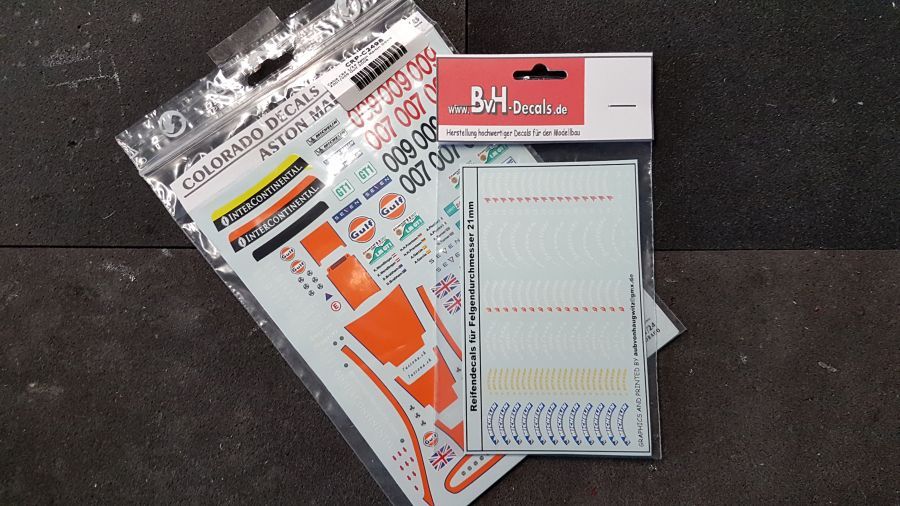 De Carrera onderdelen. Veel zal ik niet nodig zijn denk ik.
The Carrera parts. Many will be obsolete i think.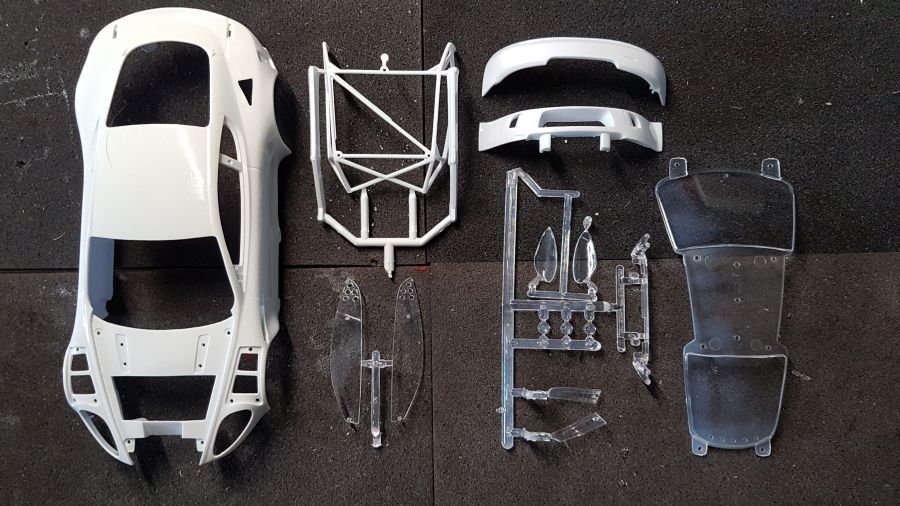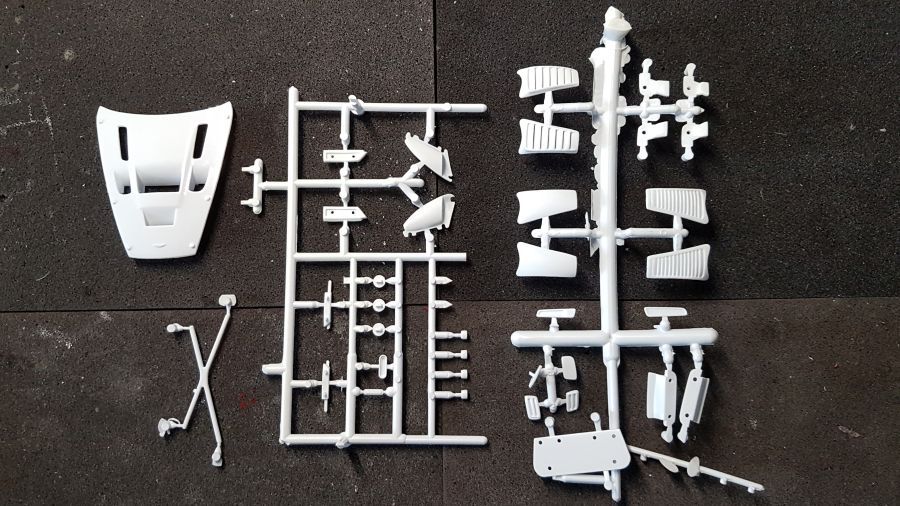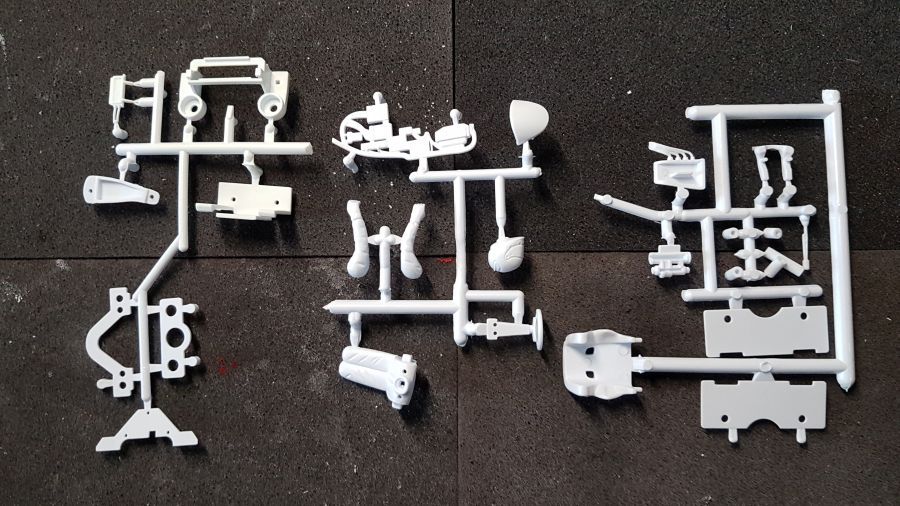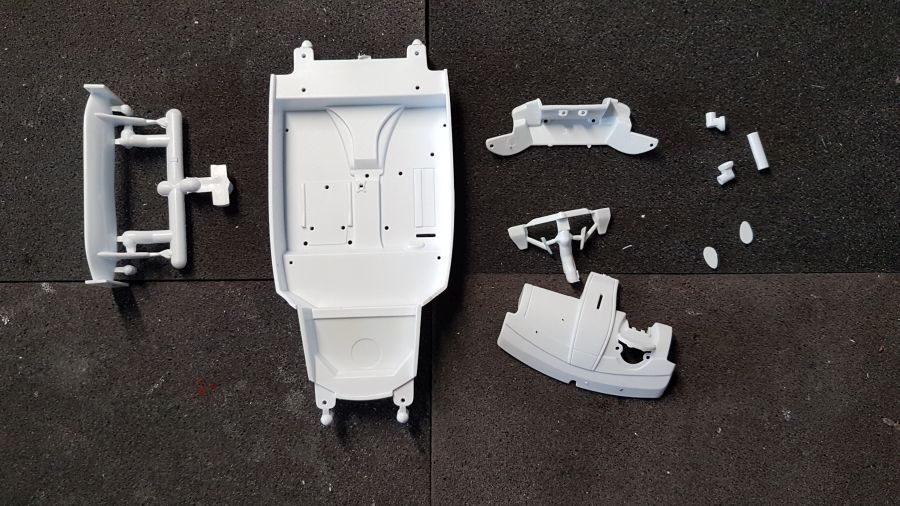 Dan even wat verschillen tussen wat belangrijke onderdelen.
Then some differences between some important parts.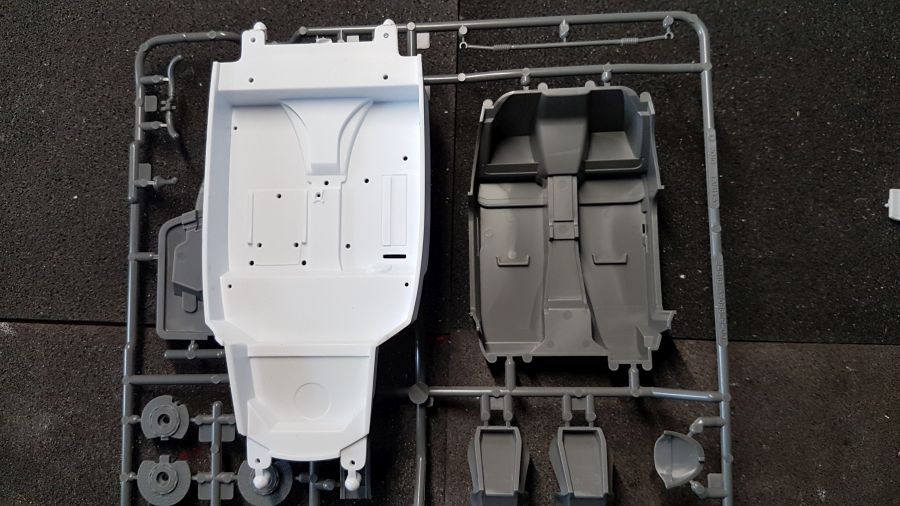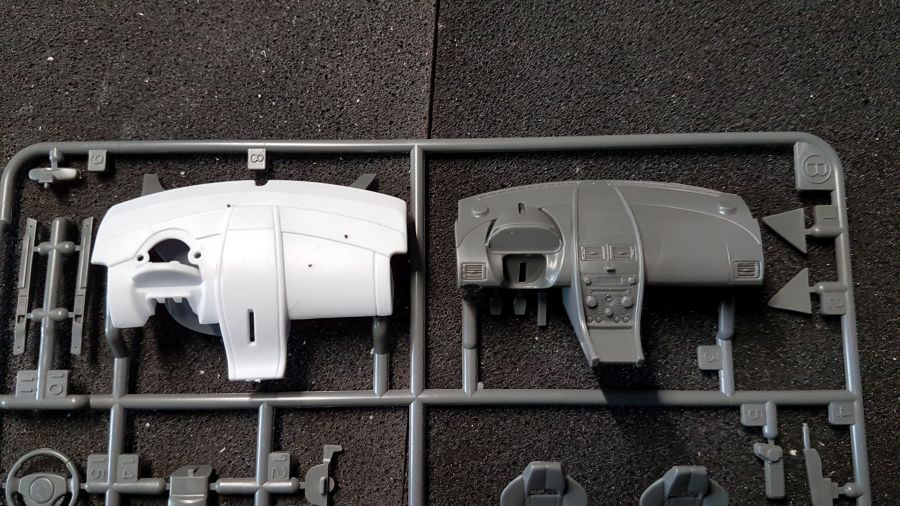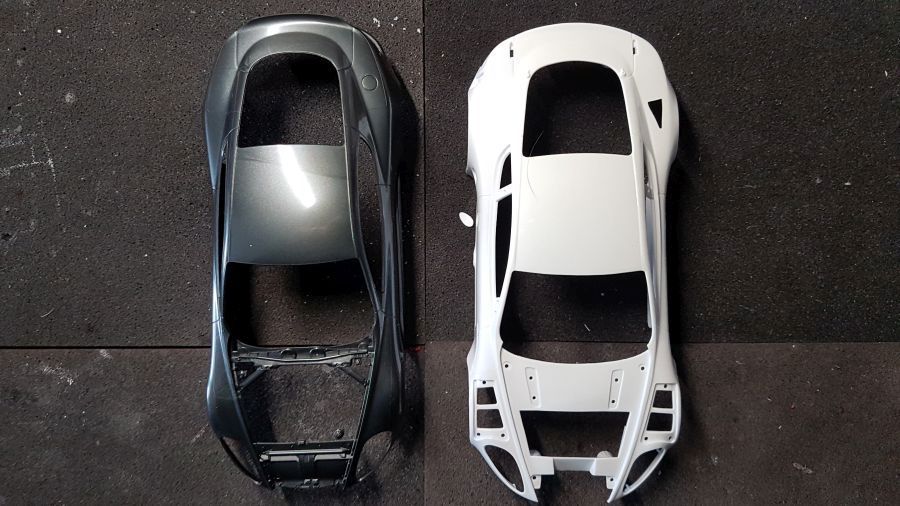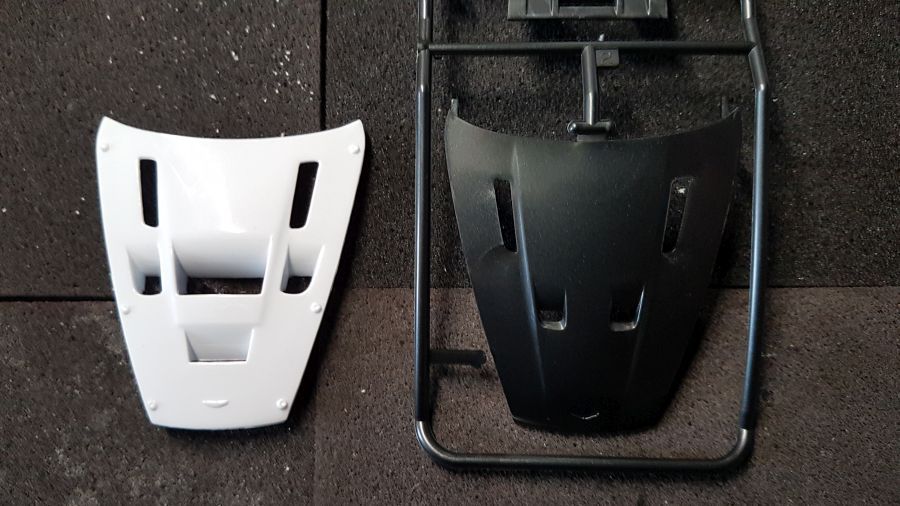 De velgen zijn nog onderweg met de post.
The rims are on their way by mail.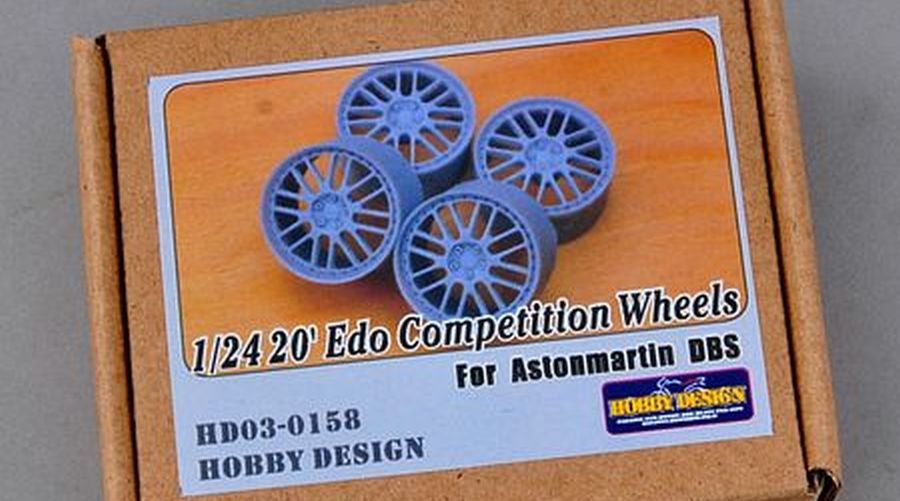 Dit moeten zo'n beetje de onderdelen voor het bodywerk en de binenkant zijn... Ik weet echt niet hoe dit verder gaat.
This should be about all parts for the body work and the inside... I really don't know where it will be going.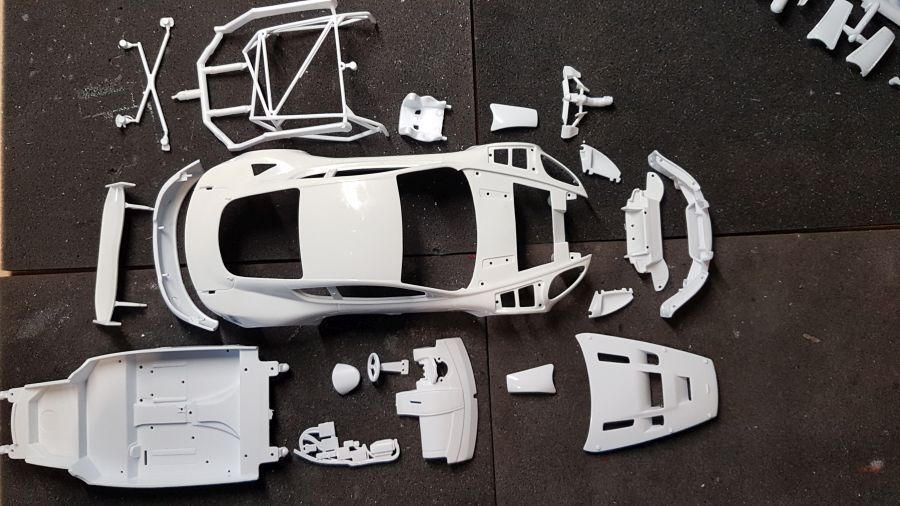 Tot nog toe onbekende onderdelen. 
Until now unknown parts.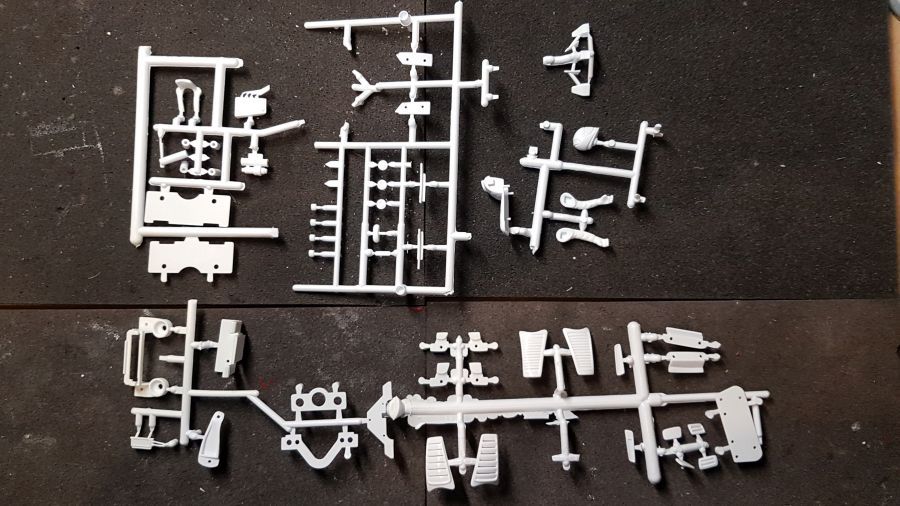 De vloer is iets te klein, maar de wielkasten zitten op de juiste plek. Dat is altijd spannend. De vloer kan waarschijnlijk gewoon wat breder worden gemaakt.
The floor is a little too small, but the wheelhouses appear to be on the correct spot. Always exciting. The floor can be widened possibly.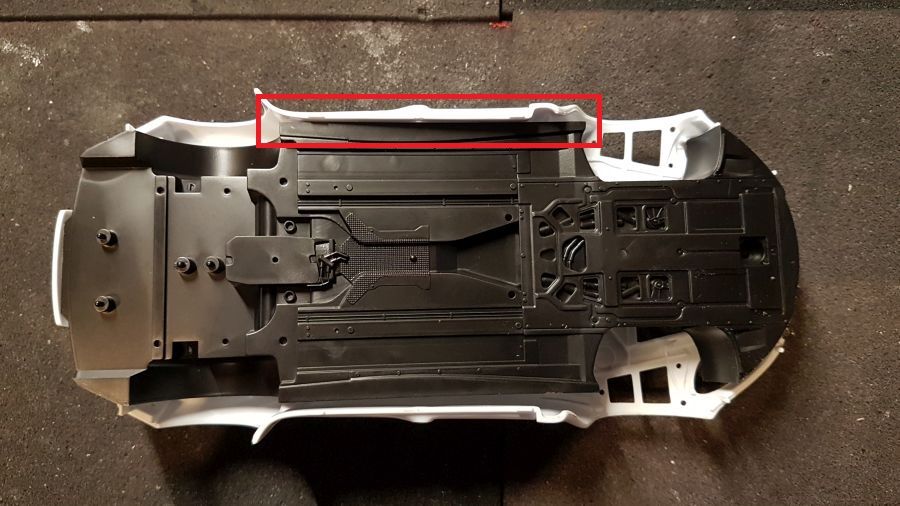 Het testplaatsen van het interieur.
Testfit of the interior.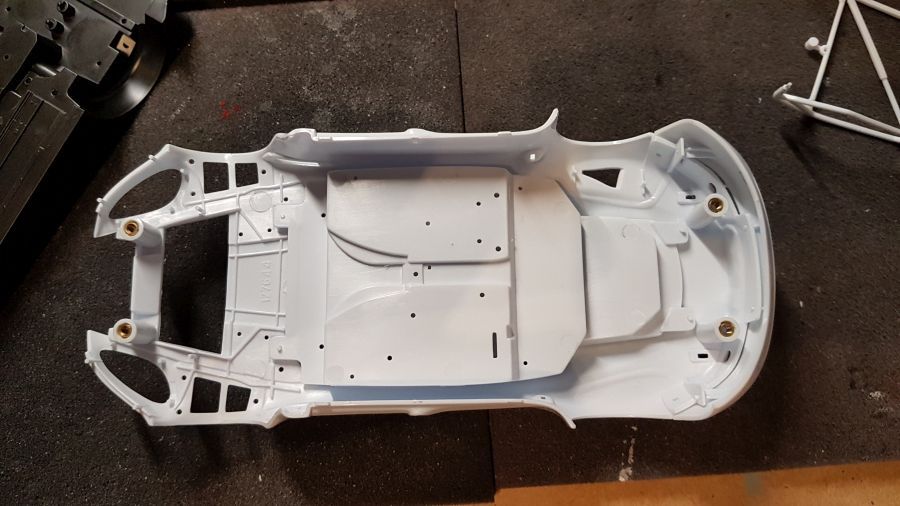 Dan de vloer erop...
Then the floor was added...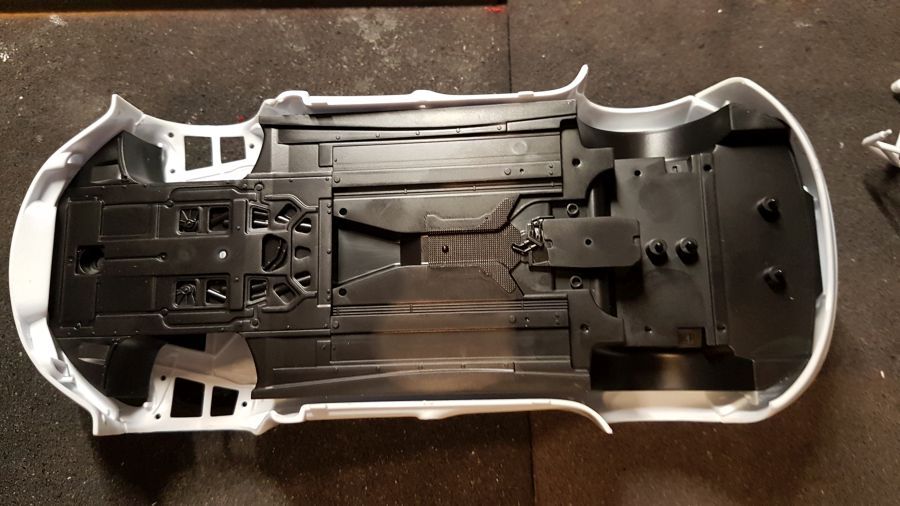 De voorste wielkast lijkt redelijk o.k., de achterste behoeft aanpassing.
The front wheel housing looks pretty o.k., the rear one need adjusting.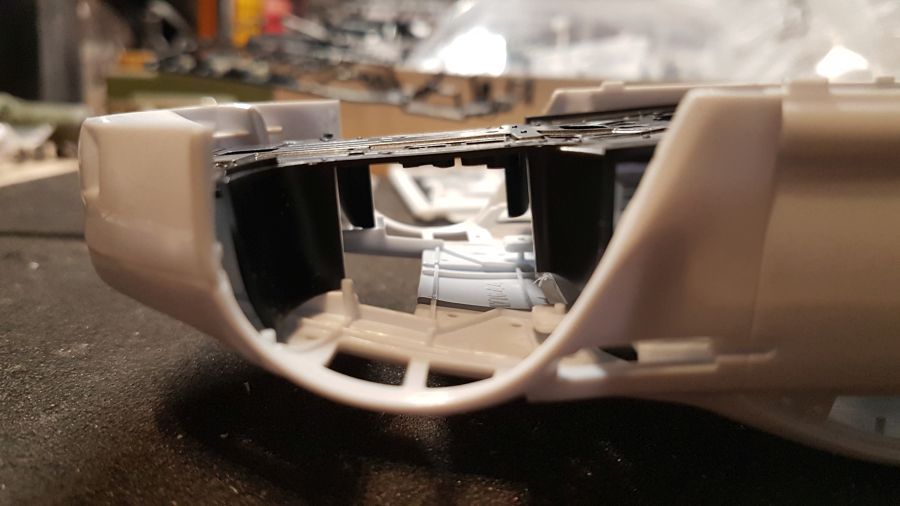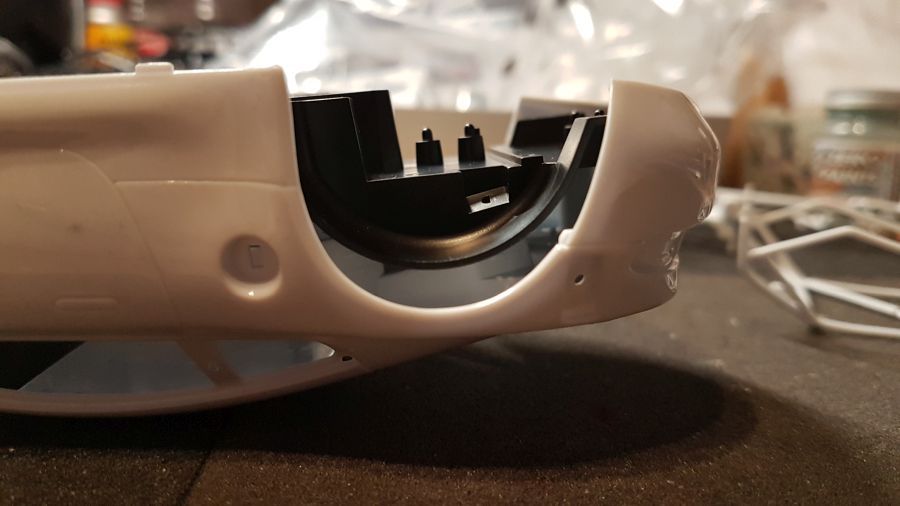 Punten van aanpassing....
Points of adjustment...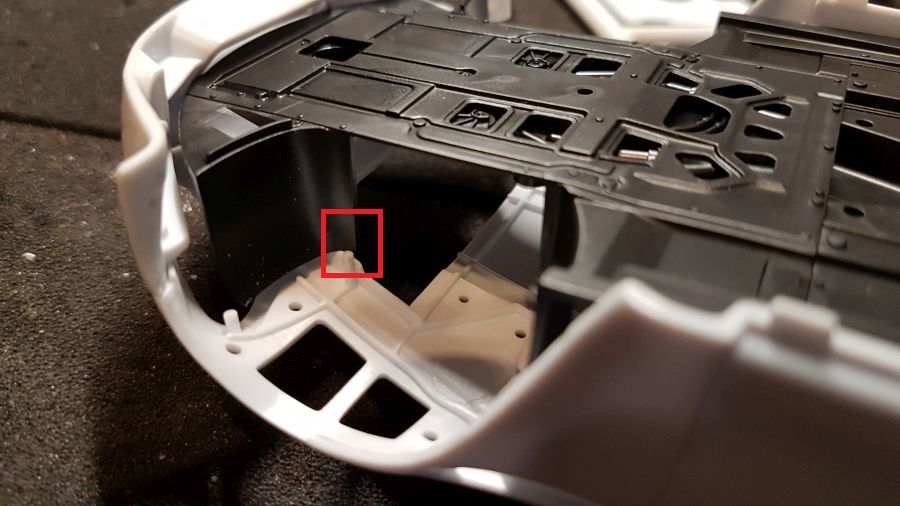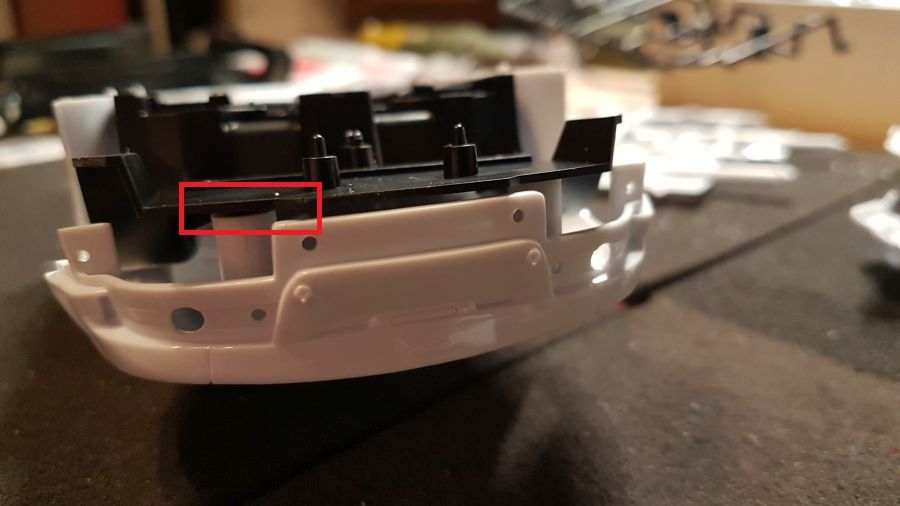 Dit moet ik ook nog even bekijken. Kan er een motor onder de kap? Aan de andere kant, waarom druk maken over de motor. Deze van Tamiya ziet er heel anders uit dan de DBR9 motor. Misschien gewoon curbside?
I also need to have a look at this. Does an engine fit? On the other hand, why bother? The one from Tamiya looks very different from the DBR9 engine. Maybe just curbside?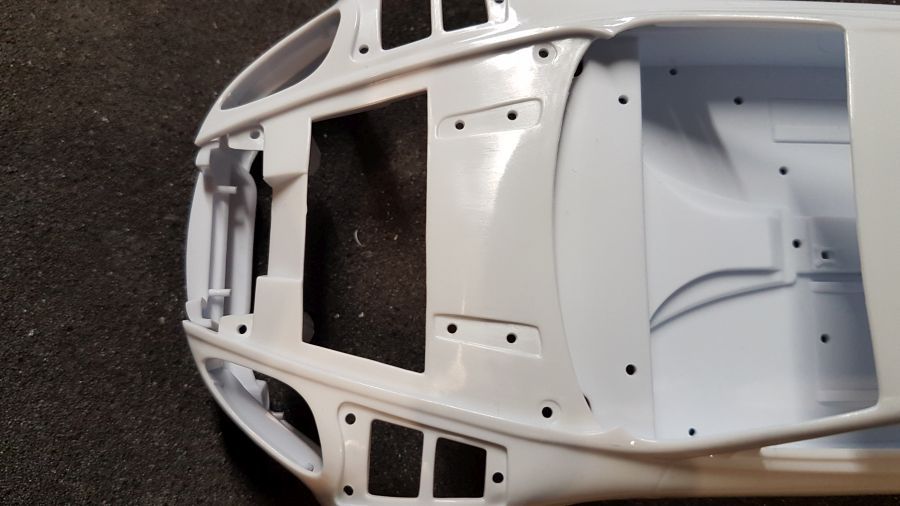 O.k., de motor past. Misschien toch maar doen. Beter iets dan niets.
O.k., the engine fits. Maybe i should do it. Better than nothing.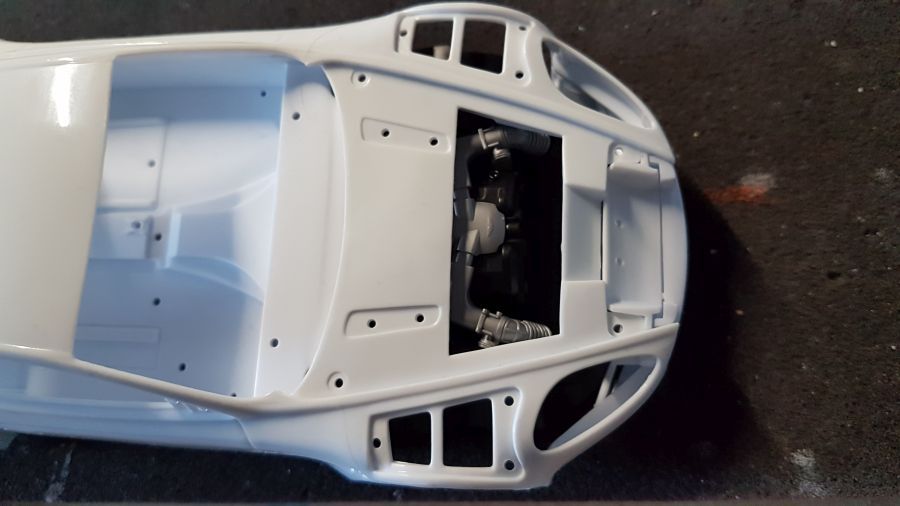 De binnenkanten van de wielkasten moeten aangepast. 
The inside of the wheel housing need adjustment.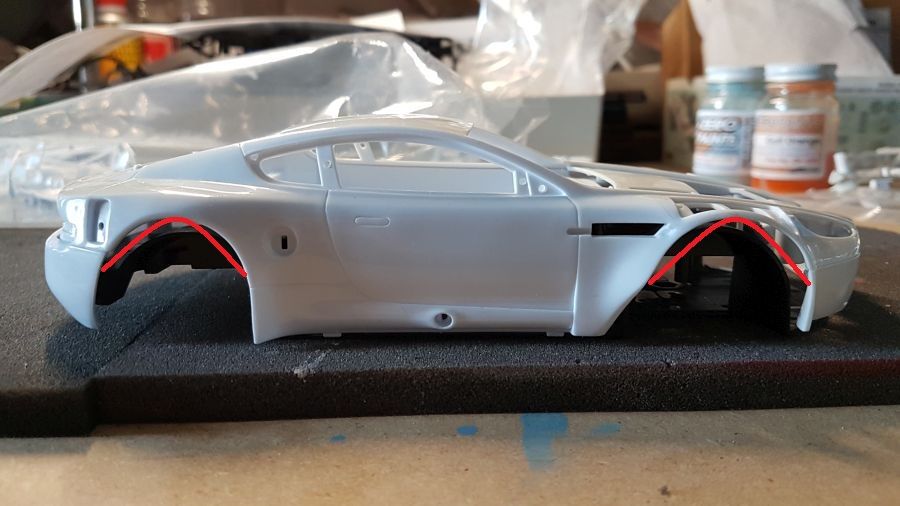 De eerste sneden om de vloerhoogte te kunnen aanpassen. Omdat ik bij het aanpassen op veel onderdelen moet letten, ga ik een beetje kris kras met de aanpassingen. Vergeef me, het kan niet anders.
The first cuts to be able to adjust the height of the floor. Because i need to pay attention to a lot of parts while adjusting, i go from here to there a bit. Forgive me, there is no other option for me.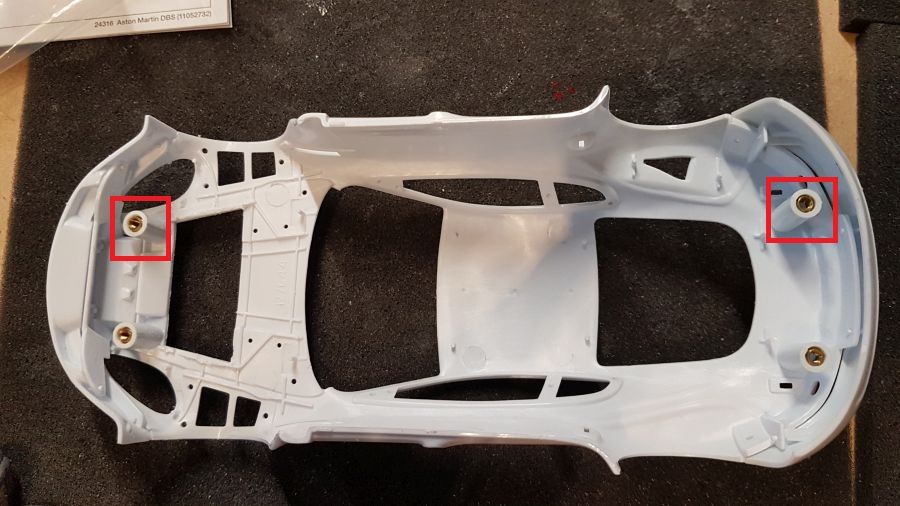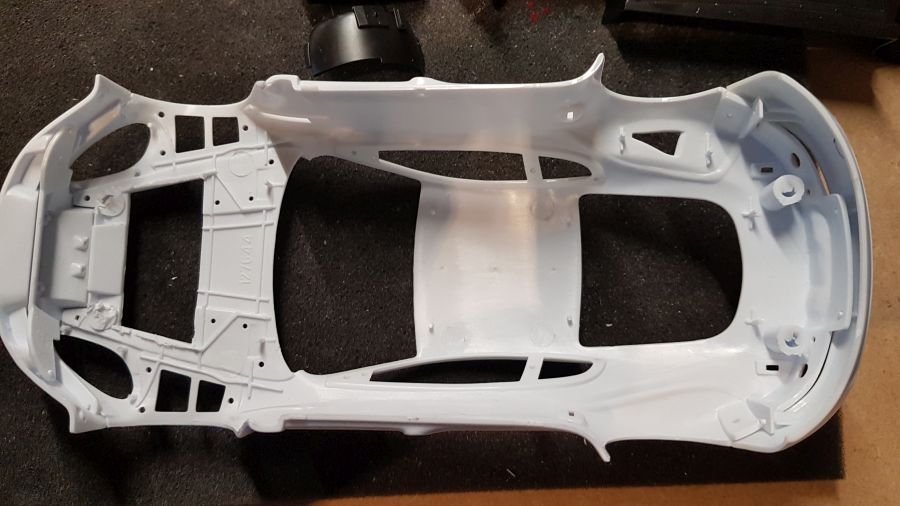 Een deel van de motorruimte is weggezaagd. De motor staat nog steeds te hoog. Dat moet nog aangepast als het lukt.
A part of the engine room has been cut. The engine is still too high. That needs some attention later.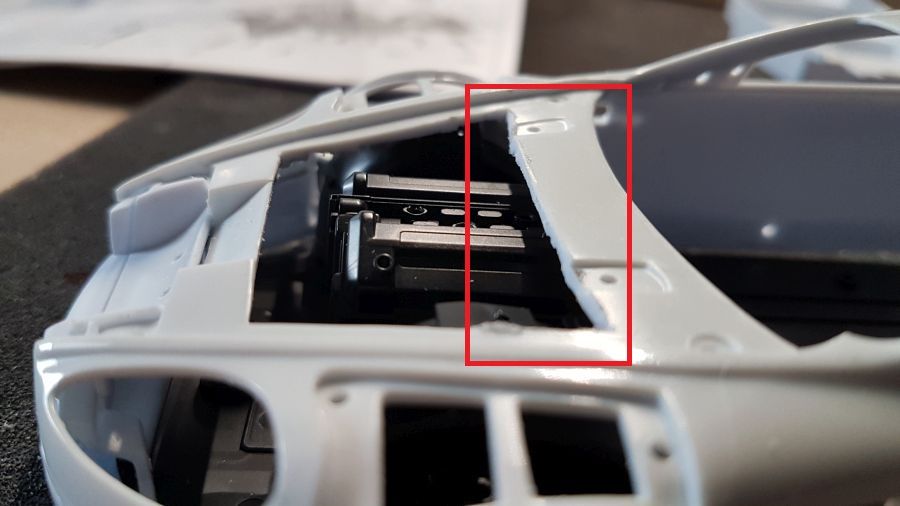 Een deel dat de luchtgaten afsluit is wat te groot. In ieder geval ga ik dat eerst afzagen.
A part that covers the air holes is too large. I will shorten this.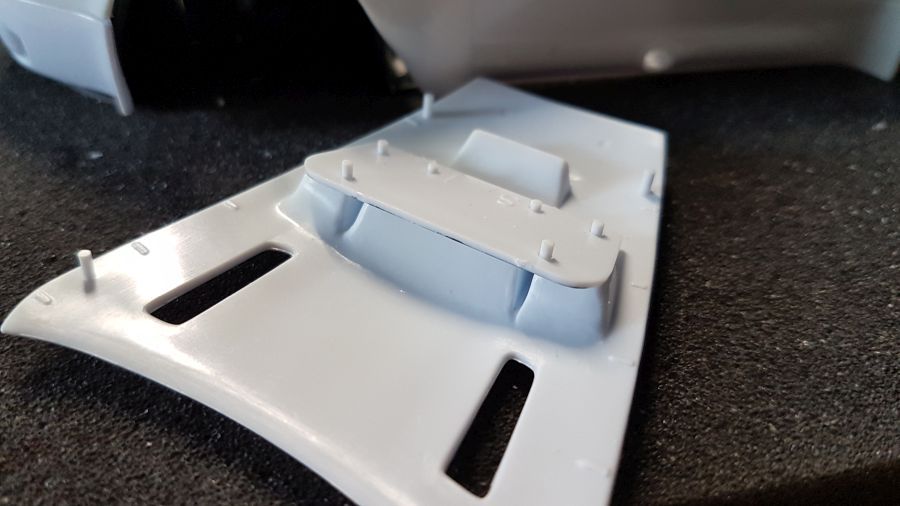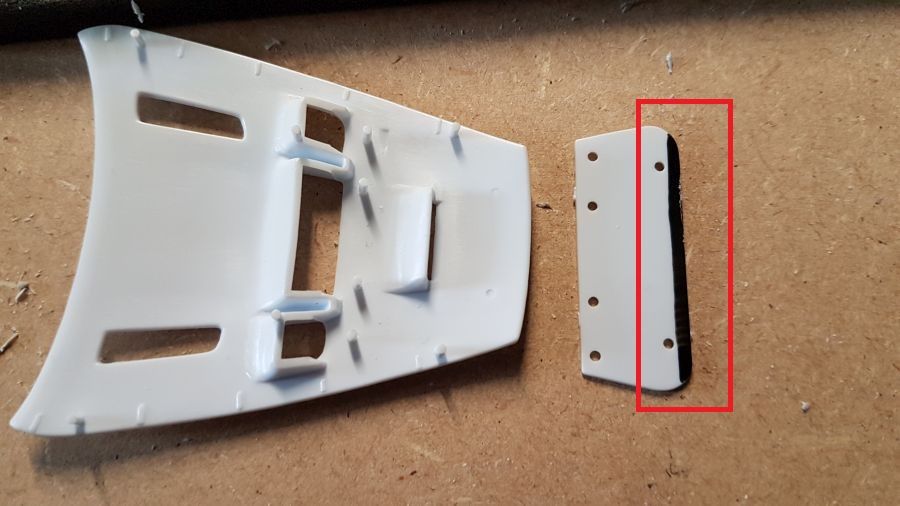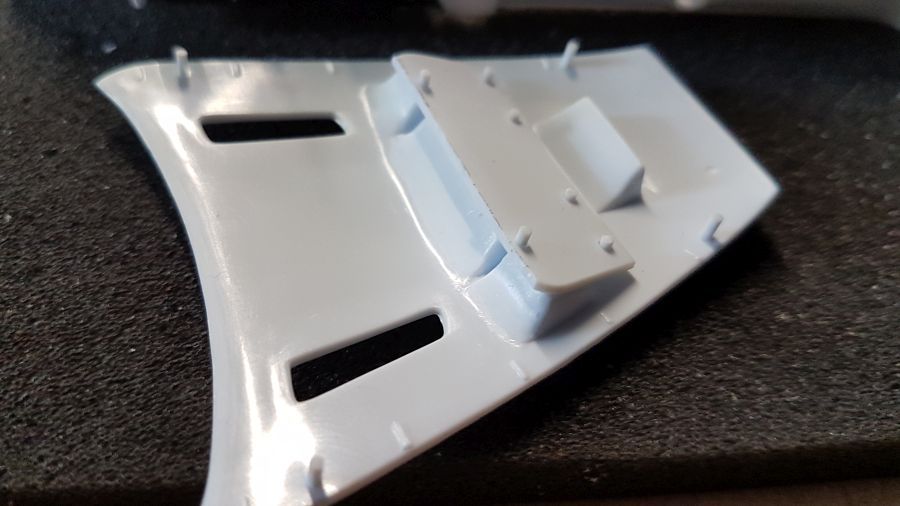 Dit is zo'n beetje het gehele interieur, voorzover ik de delen kan herkennen. Alles ligt een beetje hoog naar mijn idee. Dat komt natuurlijk omdat dit eigenlijk voor een racebaanauto bedoeld is. Eerst maar eens foto opzoeken op het web.
This is about the full interior, as far as i can recognize the pieces. Everything sits a bit high in my opinion. It must be because it's meant for slots cars. First i need to find some pictures at the web.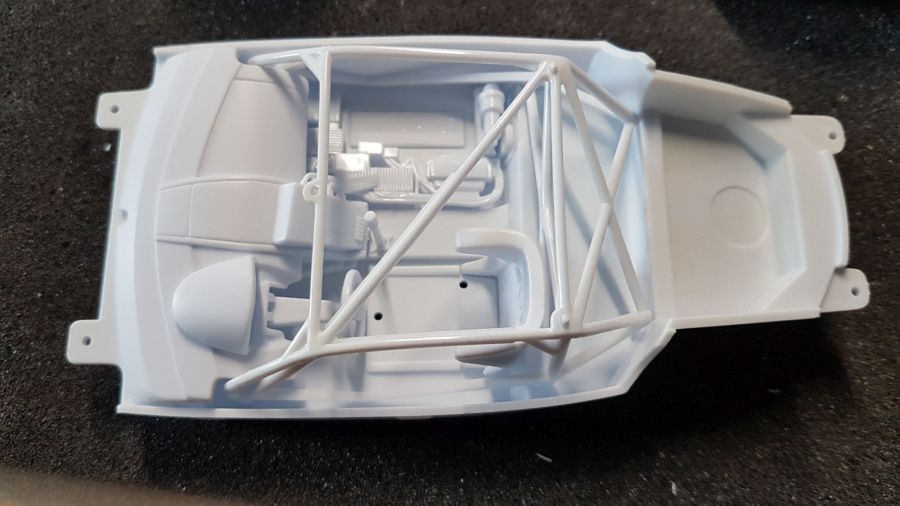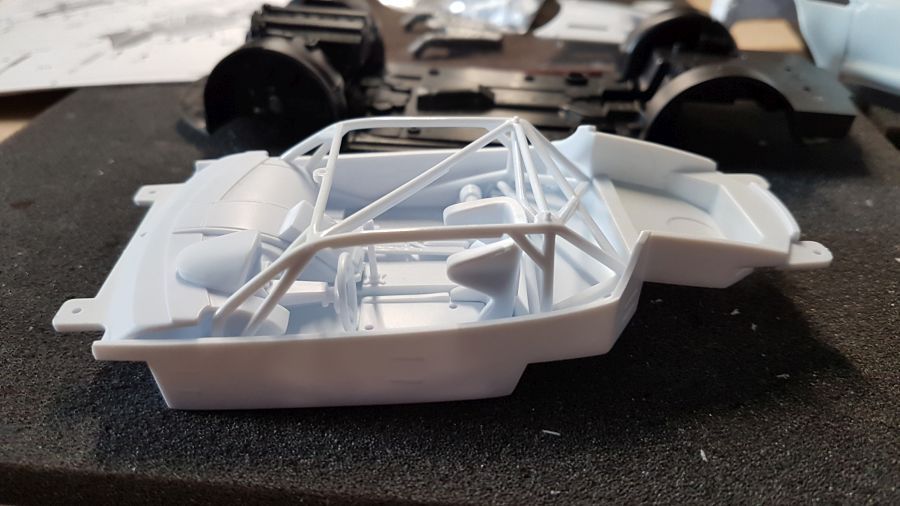 De voorste wielkast moet wat aangepast aan de binnenkant. Ik moet wat voorzichtig zijn met mijn beslissing, want ook de wijziging aan de motor moet ik in de gaten houden.
The front wheel housing needs some adjustment on the inside. I need to be careful with my decision as it also needs the engine adjustment.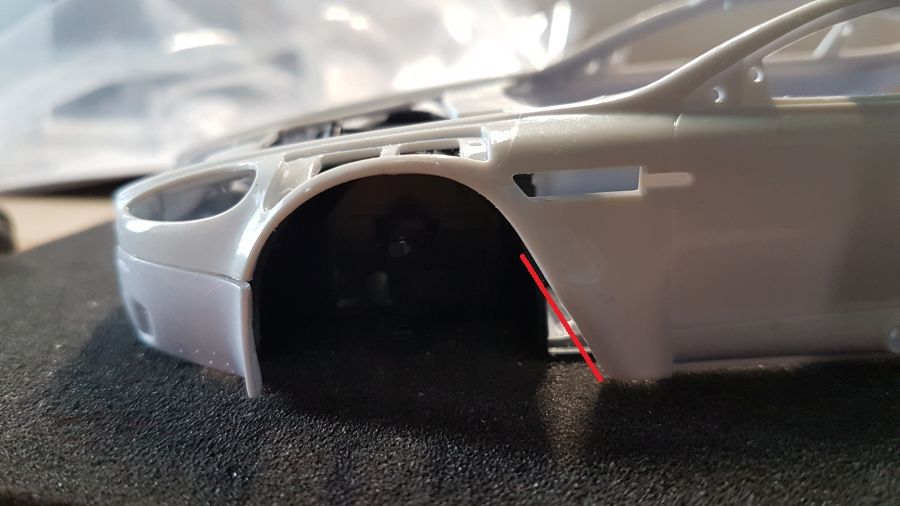 Op de vloer heb ik even tijdelijk de ophanging geplaatst. Het motordeel met een stukje binnenspatbord moet daarop geplaatst. Ik ga het spatborddeel afzagen en los plaatsen. Het motordeel kan ik vervolgens lager plaatsen door iets van de pootjes te zagen.
I added the wheels suspension temporarily to the floor. The engine part has a piece of the inside fender attached to it. I am going to cut this off and attach it separately. Then the engine part can be lowered by cutting the tubes on the down side.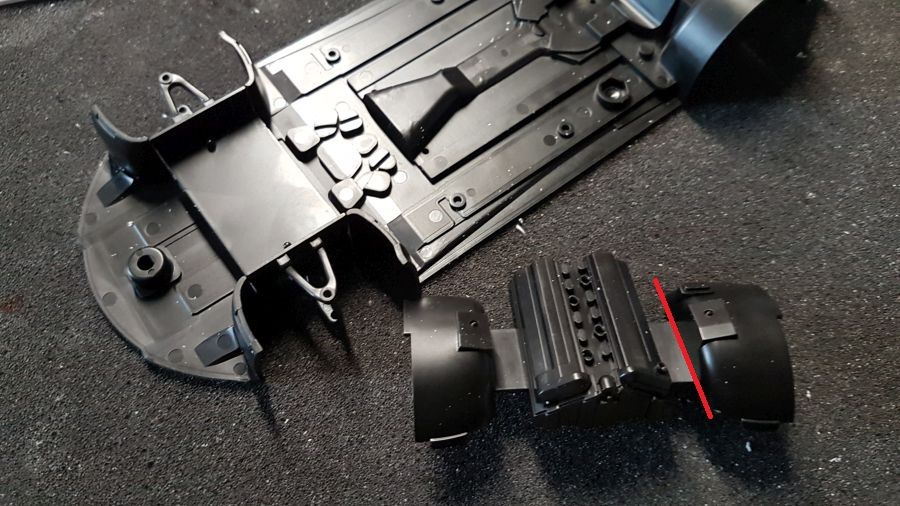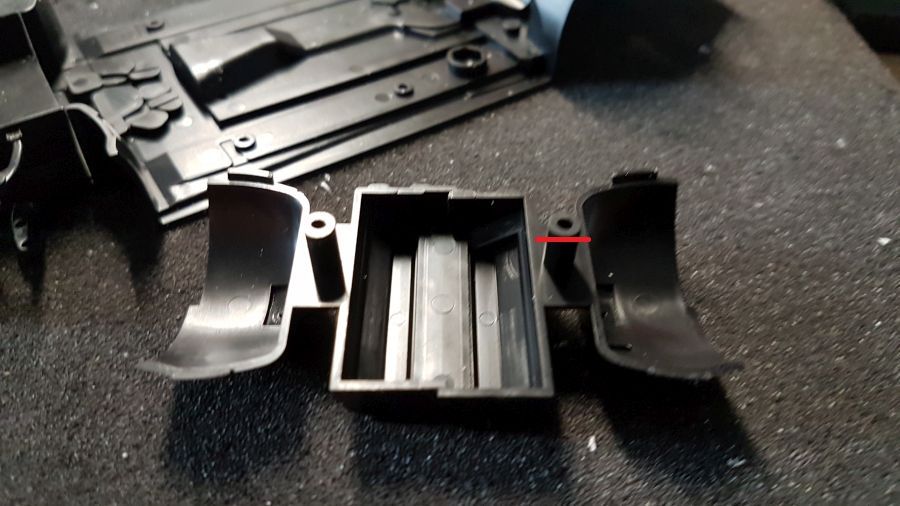 Daar gaat ie...
There we go...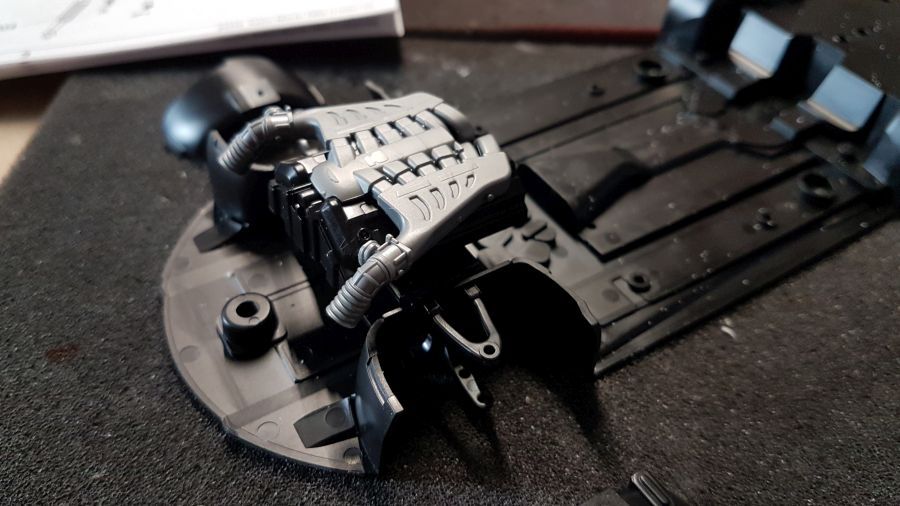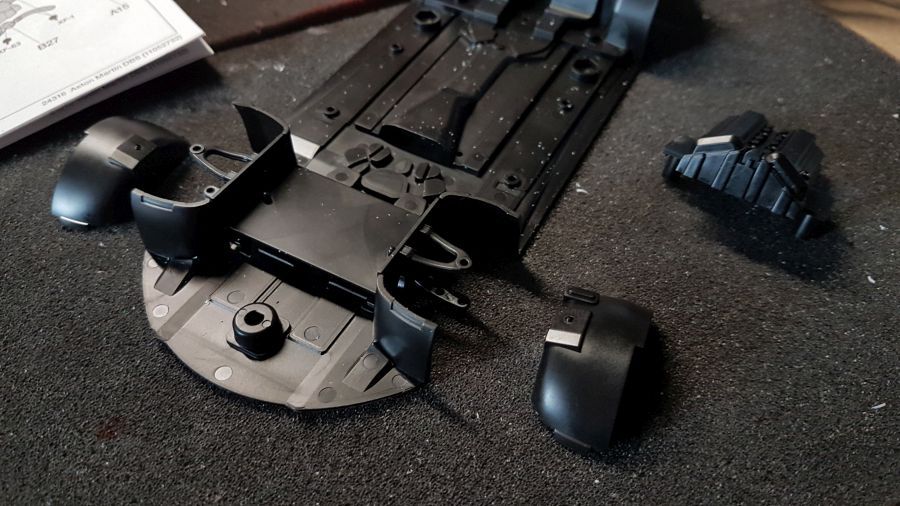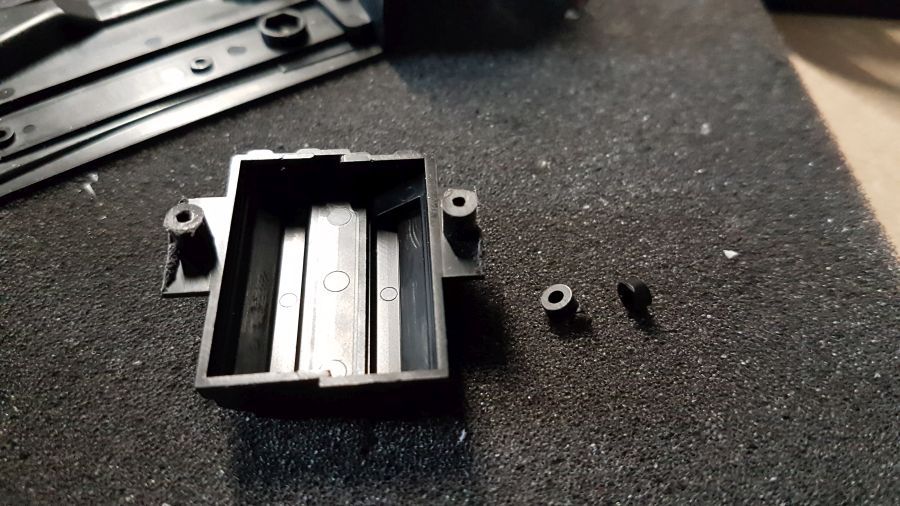 Niet goed genoeg. De binnenkant afdekking gaat zelfs los. De motorkap staat nog wat open.
Not good enough. The inside cover even falls off. The hood is still open a bit.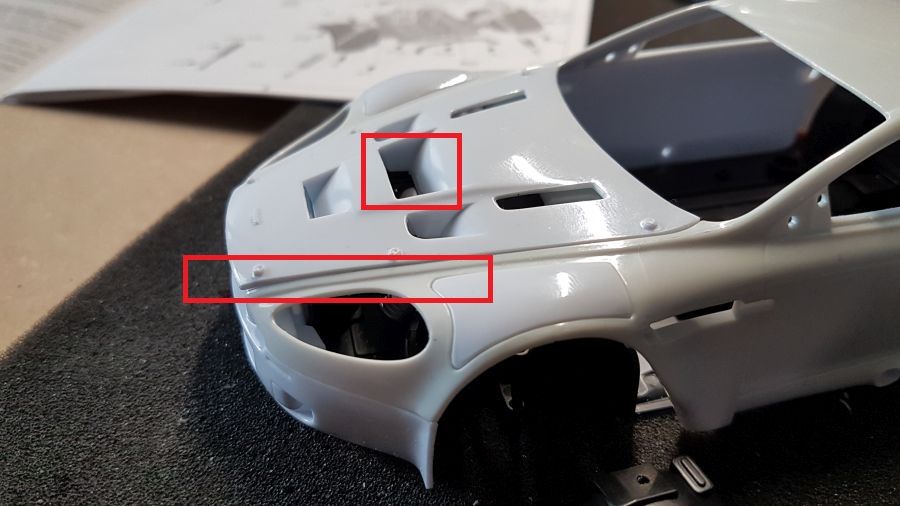 Na veel passen uiteidelijk de hele pootjes afgezaagd.
After a lot of testing i decided to remove the whole tube.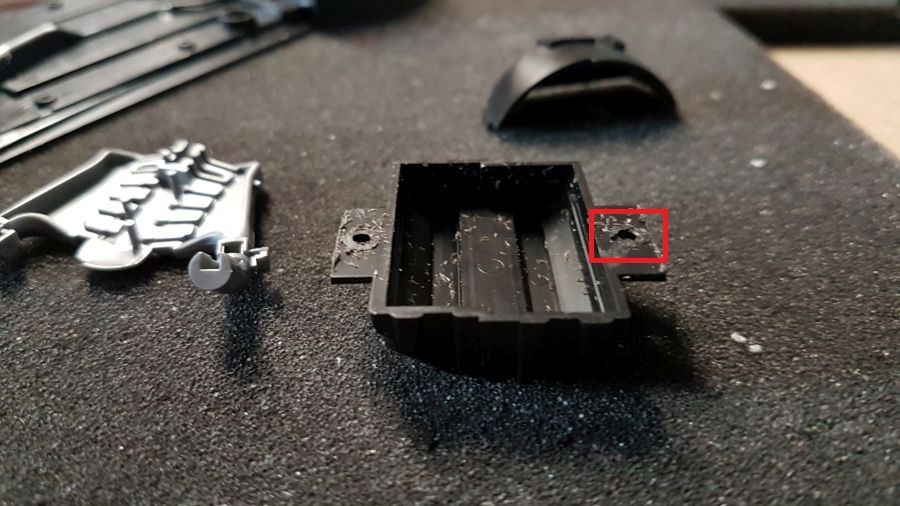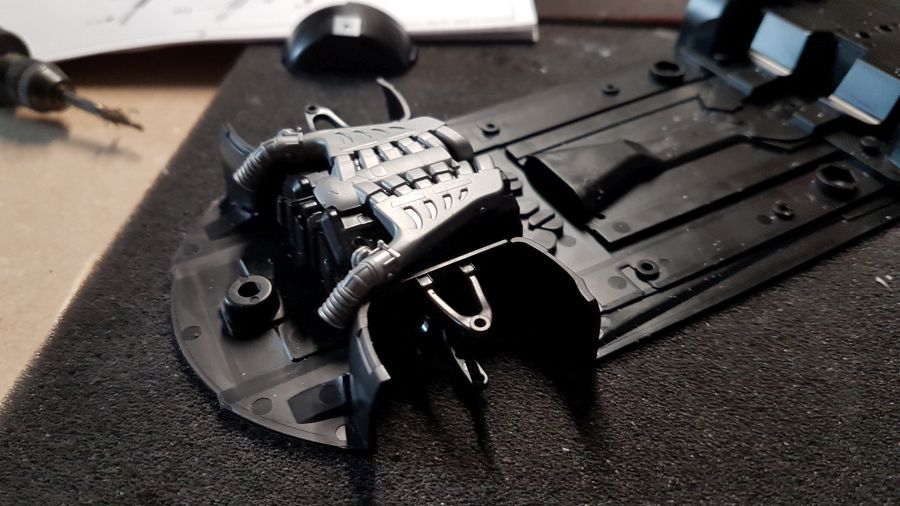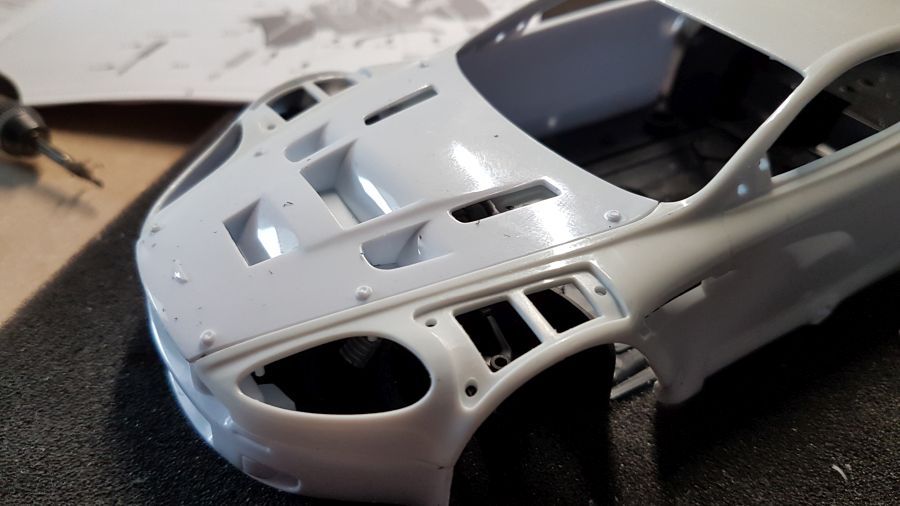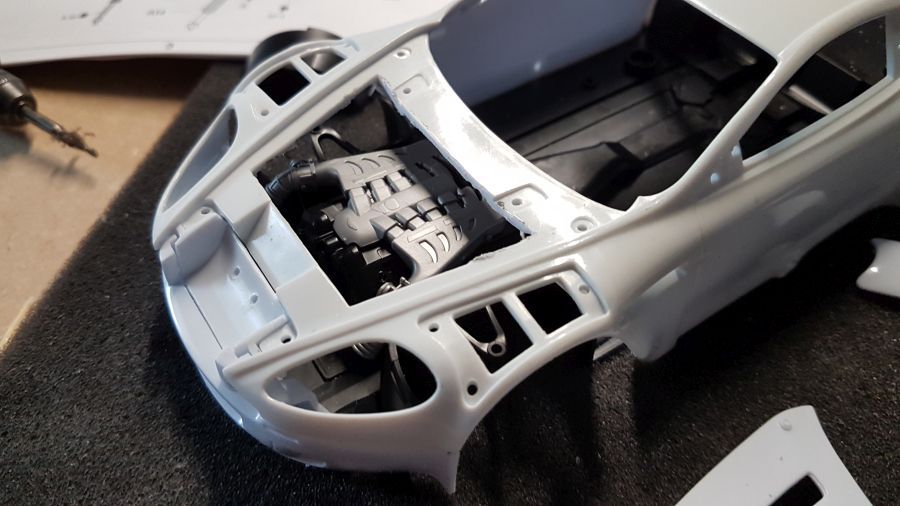 Hierdoor ontstaat wel een nieuw probleem. De afdekking overdekt de plek waar het spatbord moet worden geplaatst.  Ik denk gemakkelijk op te lossen.
A new problem turns up. I think it will be easy to solve. The cover covers the spot where the inside fender should be added. I think it will be easy to solve.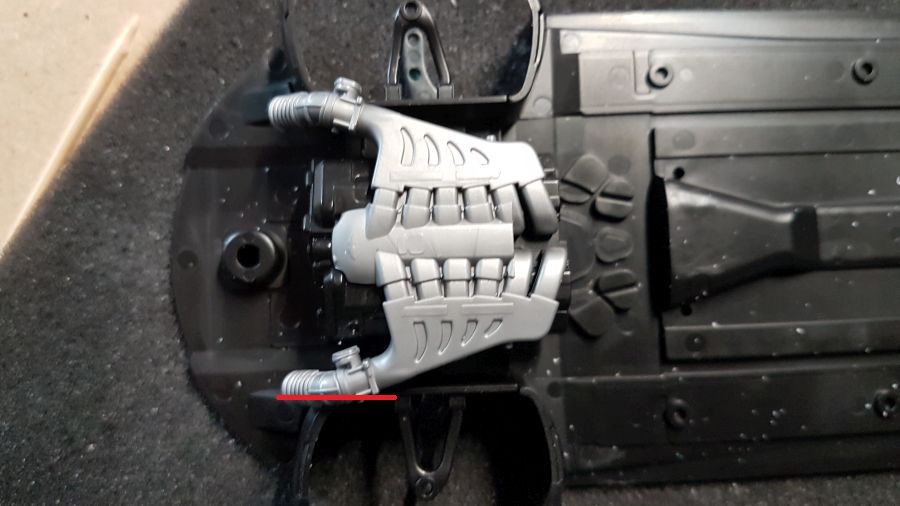 Klaar.
Done.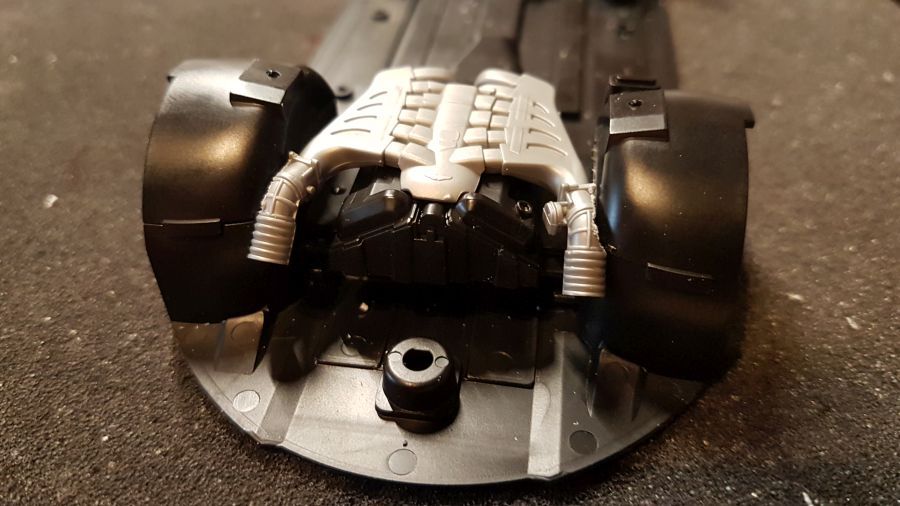 Ik wil een stoelzitting nabootsen. Daarvoor gebruik ik de Tamiya-stoel. Ik zaag de rugleuning eraf en maak hem vervolgens platter.
I want to create the sitting piece of the seat. I will use the Tamiya seat for it. I will cut off the back side and make it more flat.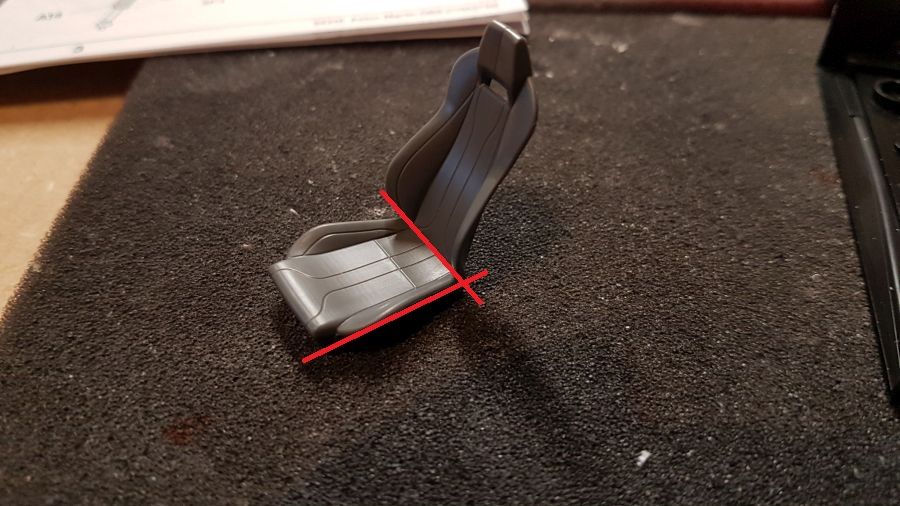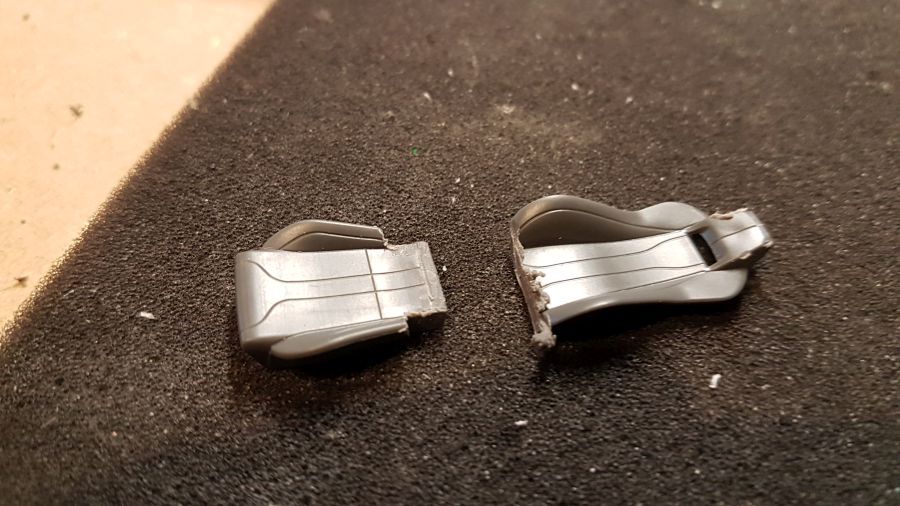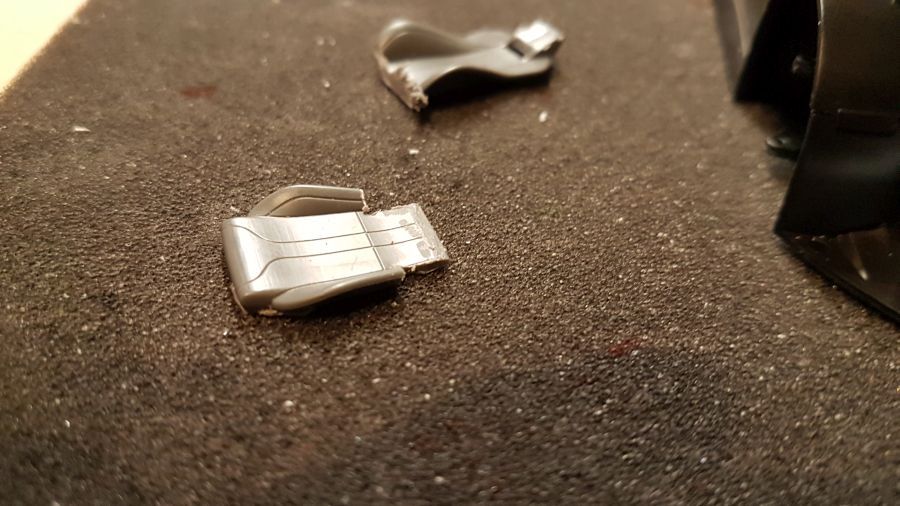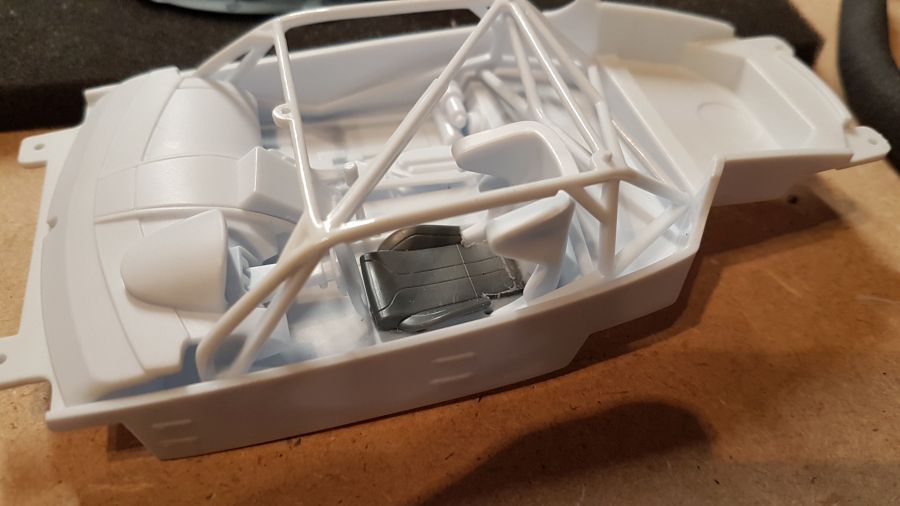 De motoropening is toch nog wat groter gemaakt.
The opening of the engine bay was cut a bit more.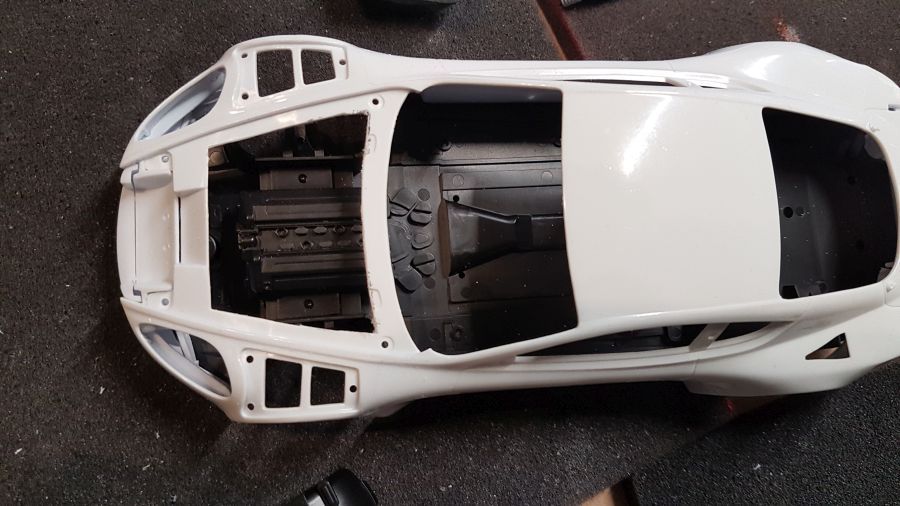 De binnenkant van de spatborden hebben een markering gekregen waar gezaagd moet worden.
The inside of the fenders received a marking where to be cut.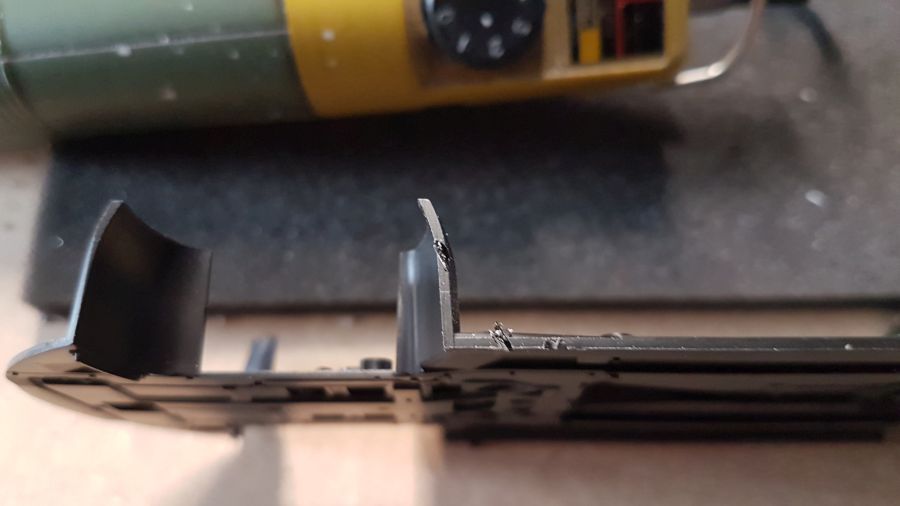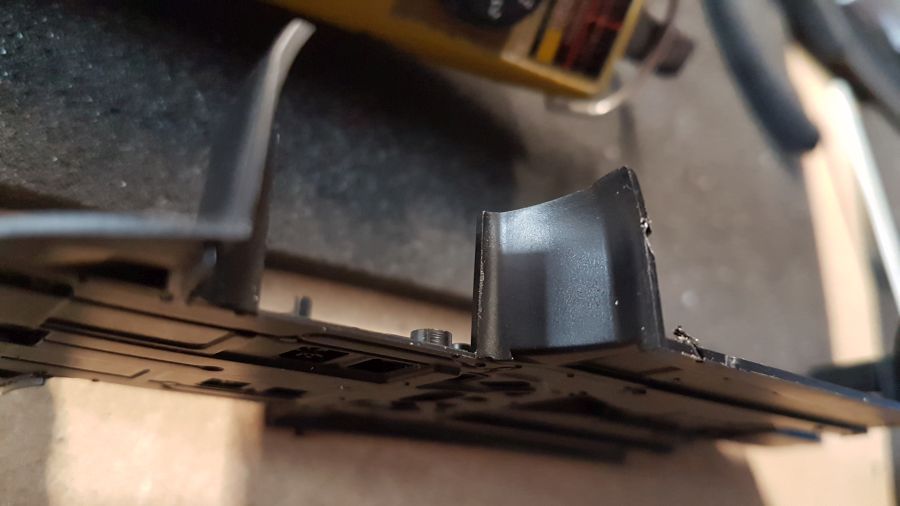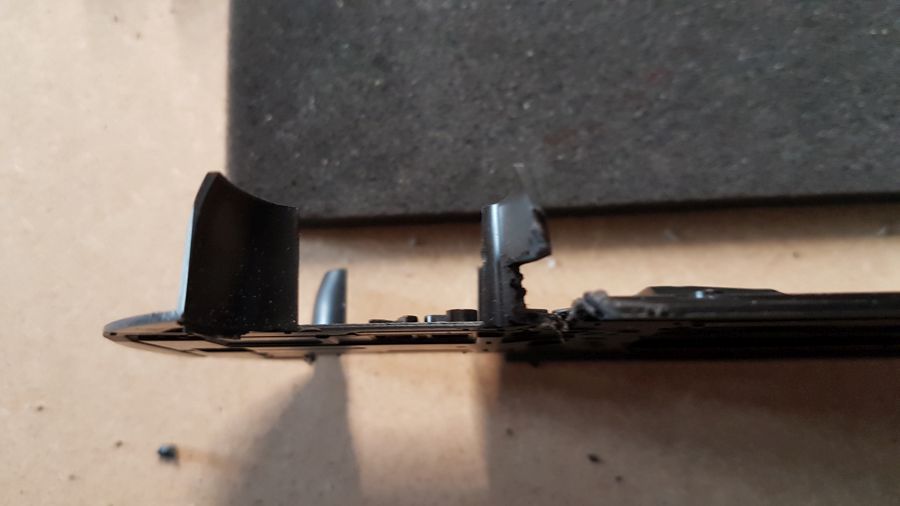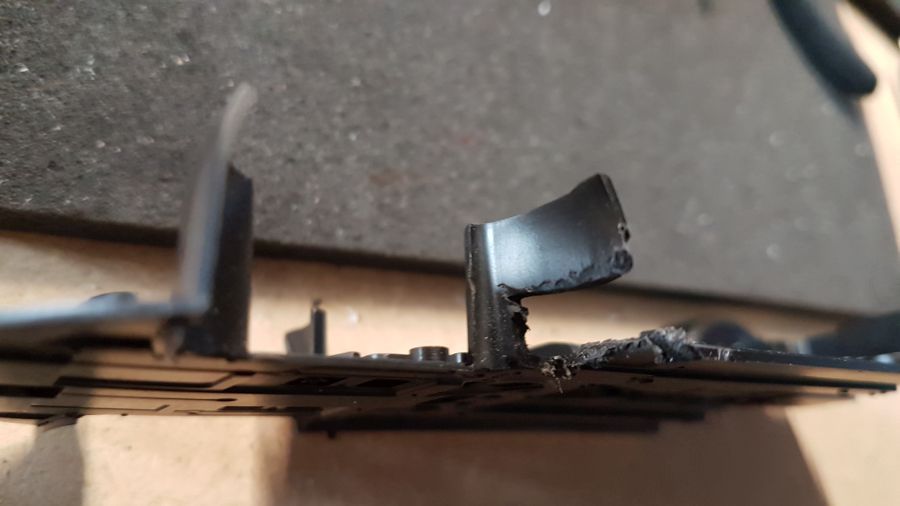 De hoeken zijn nu weg. Ik hoop dat de nieuwe 20 inch velgen en banden gaan passen.
The corners have been removed. I hope the new 20 inch rims and tires wil fit.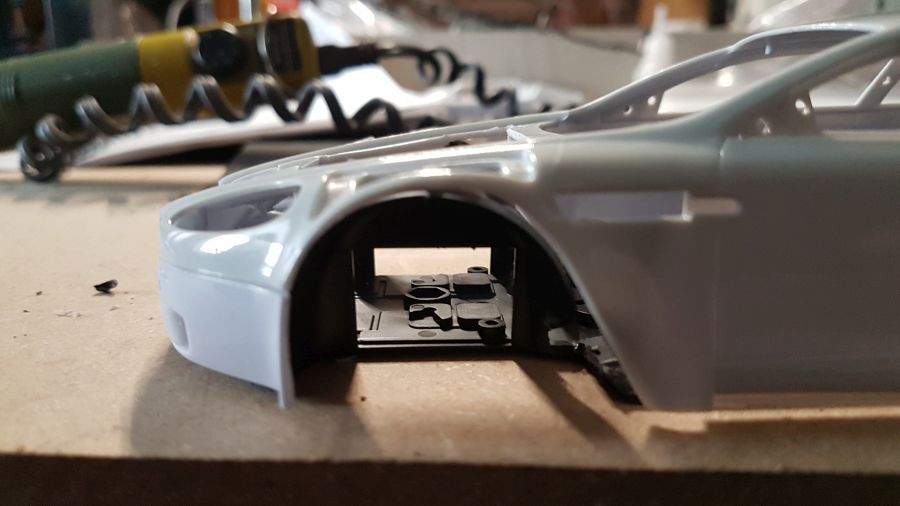 Normaal gesproken zou ik de bogen bevestigen om wat meer steun te krijgen voor de binnenkant. Alles zou wat steviger zijn. Dat gaat helaas niet, omdat dan de voorwielophanging niet meer geplaatst kan worden.
Normally i would add the arches now to have more support for the inside. Everything would be more firm. Unfortunately this will not work, as it will be impossible to add the suspension then.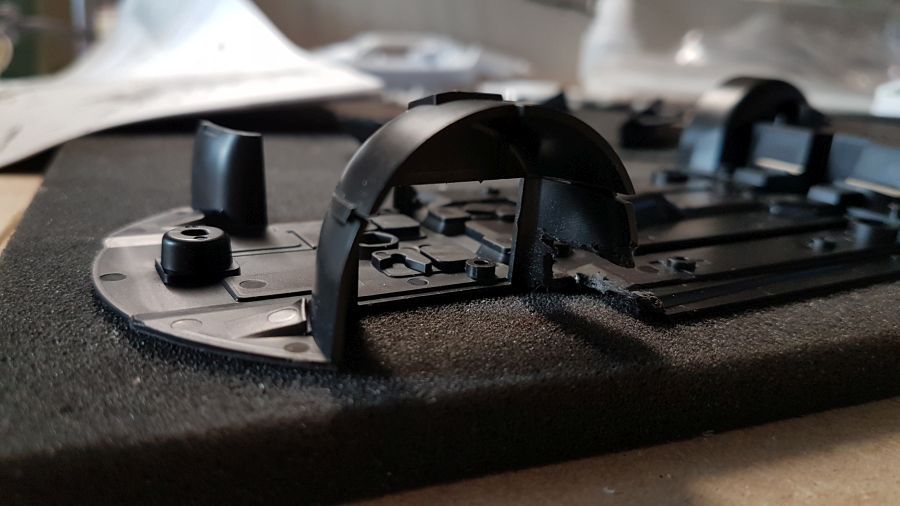 De vloer wat wordt breder gemaakt waar nodig.
The floor is being widened where ever necessary.
De voorste wielkasten worden weer opgebouwd.
The front wheel housing get rebuilt again.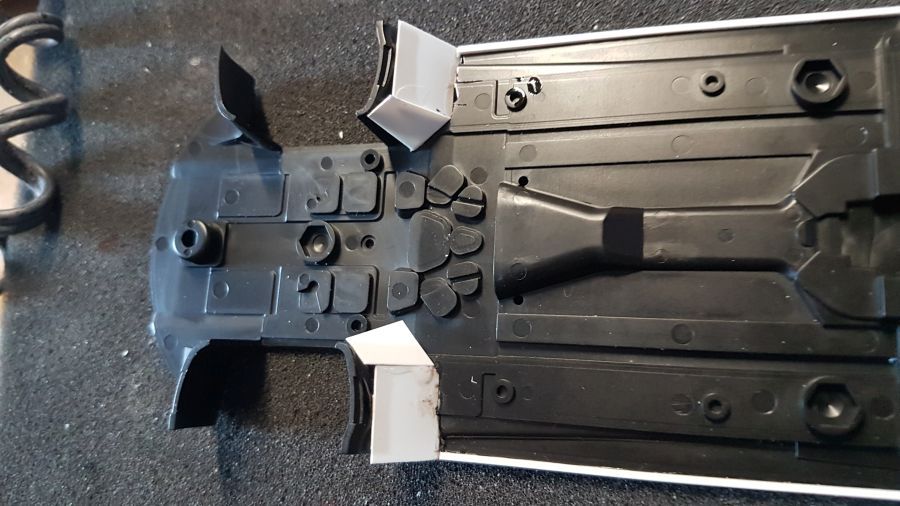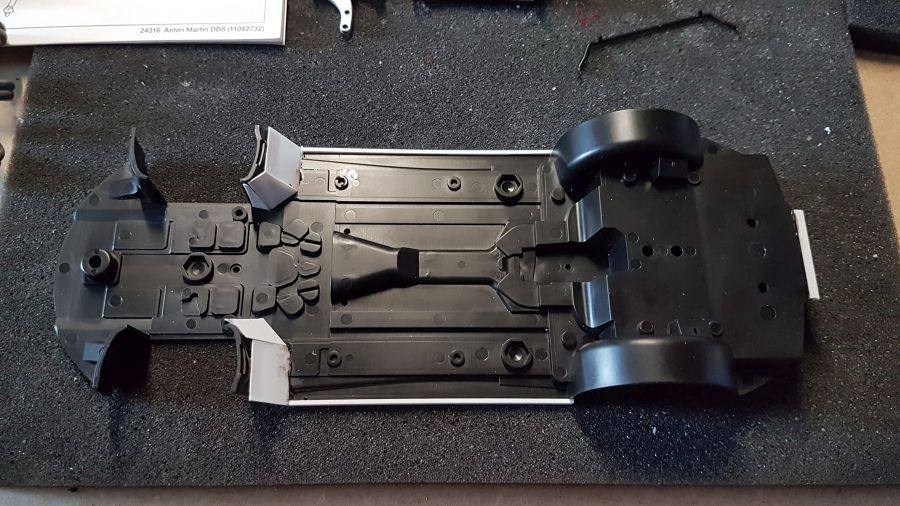 De achterste worden nu afgezaagd.
The rear ones are being cut now.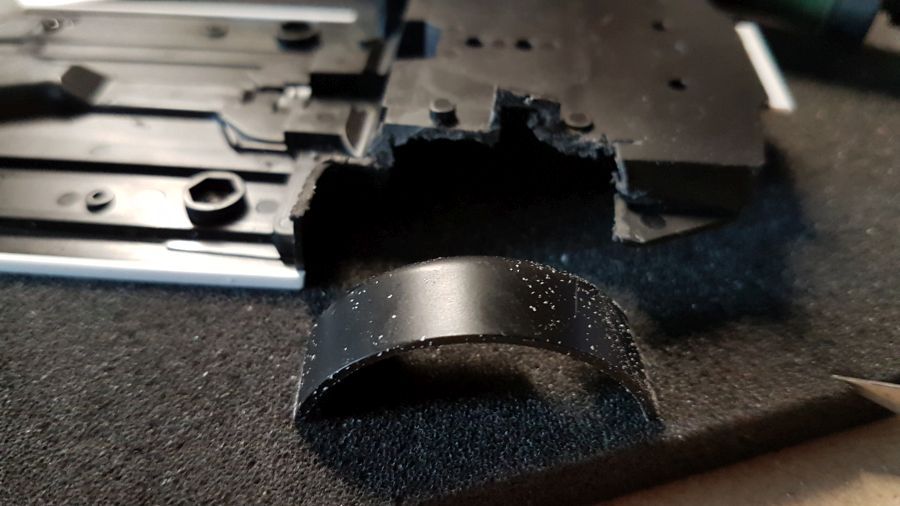 Dan wordt het wat opgehoogd met 2 mm strip.
Then 2 mm strip is being added to gain height.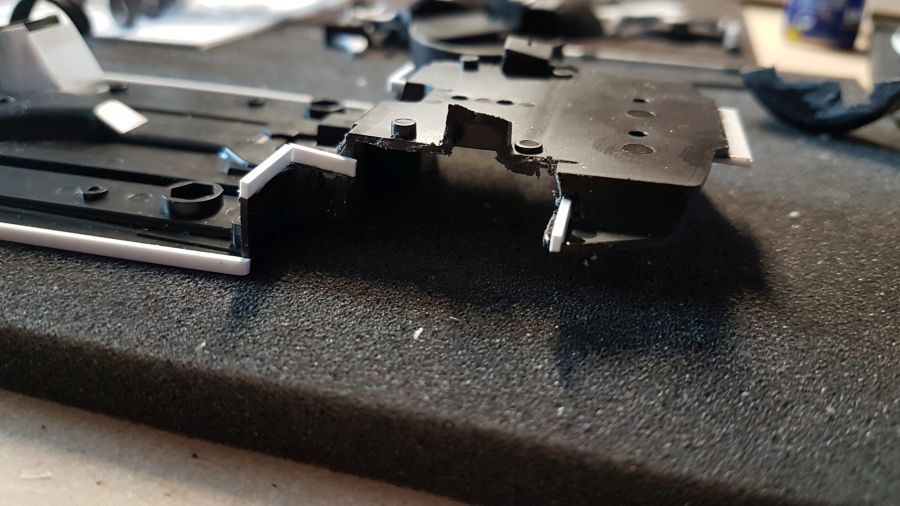 Ziet er goed uit.
Looks good.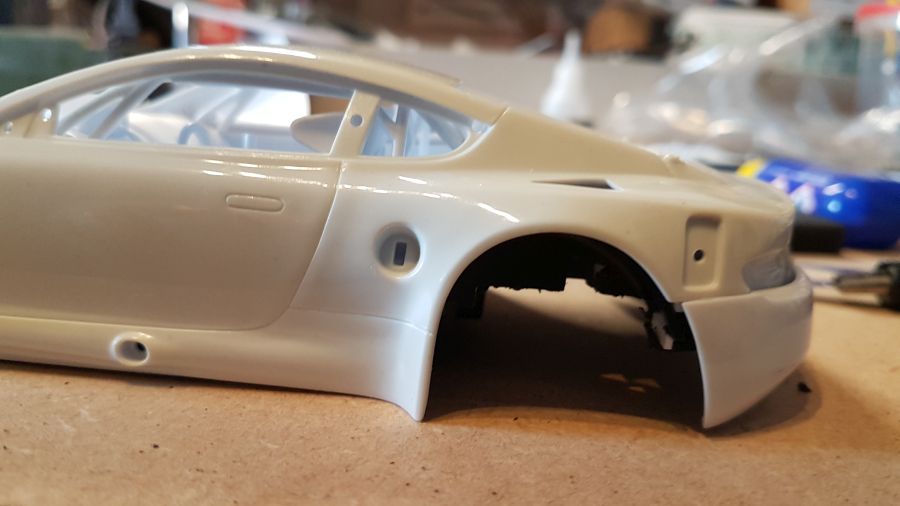 De afgezaagde delen gaan er weer op.
The cut off pieces are being added again.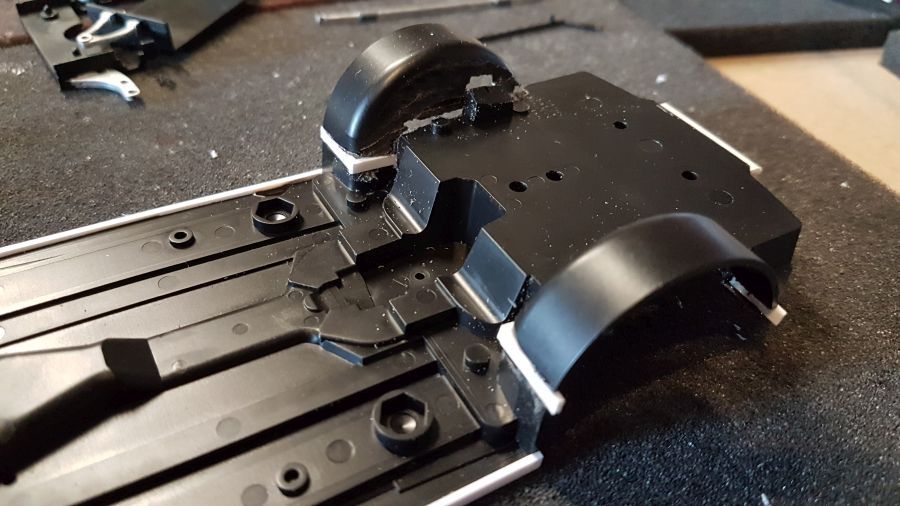 Dan wat zwarte verf.
Tîme for black paint.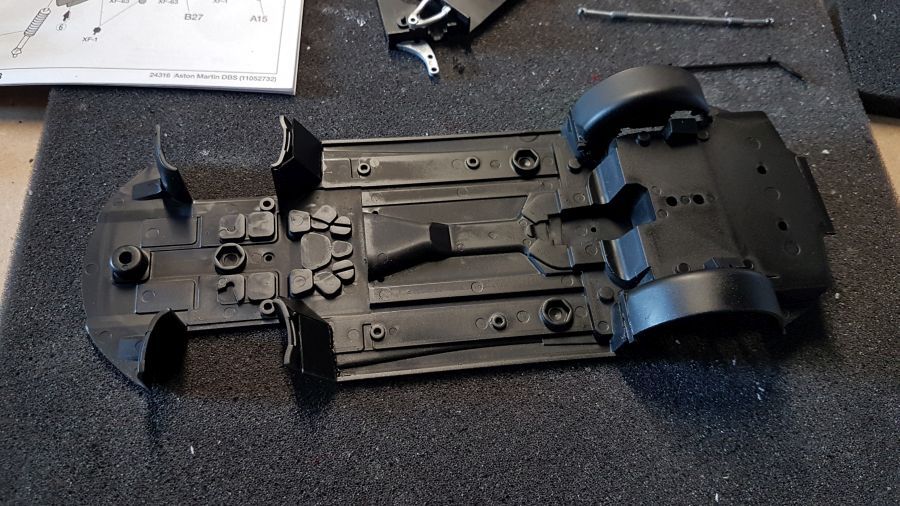 Het interieur vast wat zilver.
The interior some silver.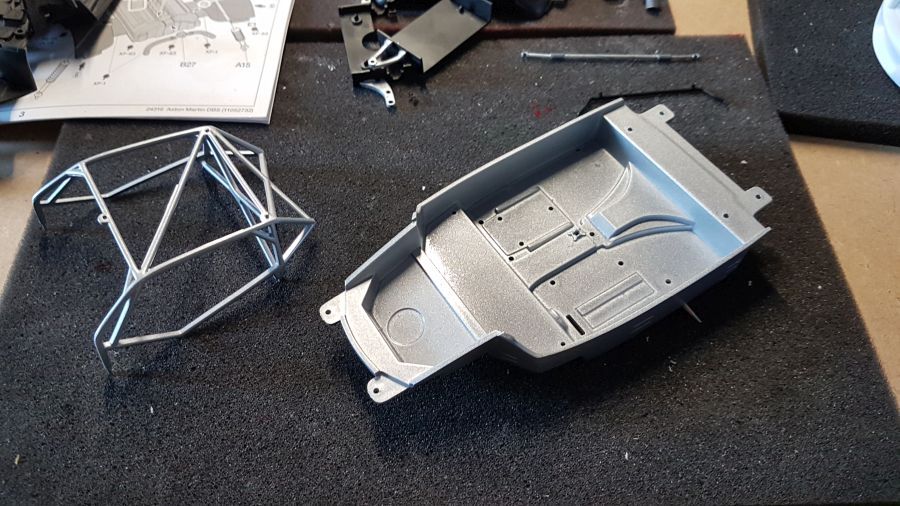 De binnenkant vanhet bodywerk wordt gespoten.
The inside of the body work gets painted.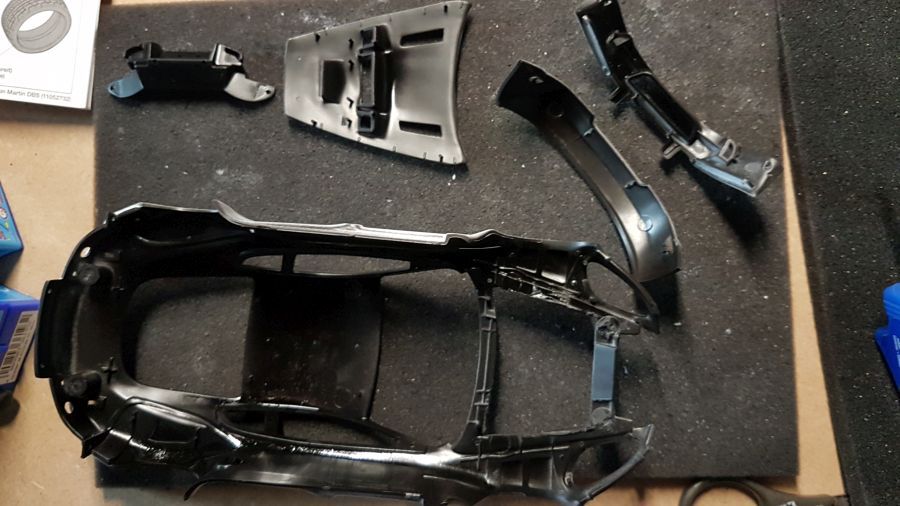 Ook alvast een begin gemaakt met het interieur.
And the interior was started.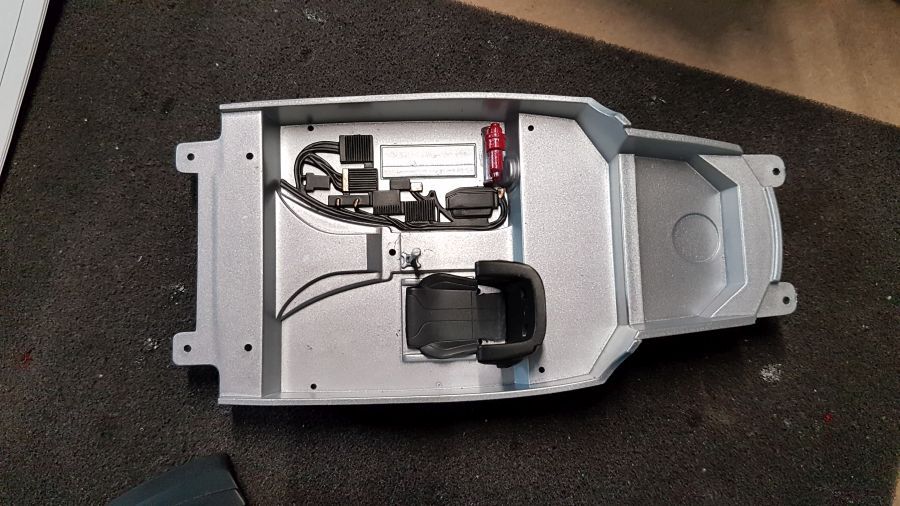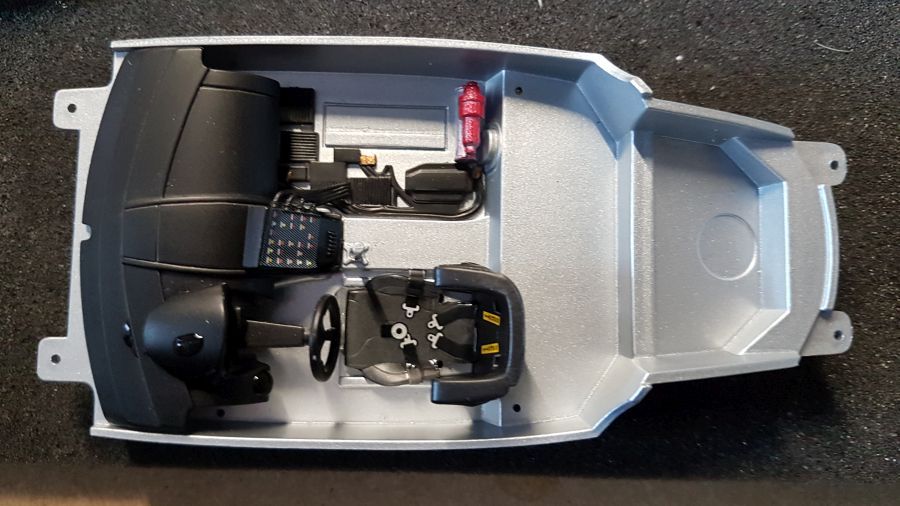 Terug naar de vloer. Het uitlaatsysteems wordt geplaatst, nadat er wat hittevlekken zijn aangebracht. Daarna gaan de remmen en ophanging erop.
Back to the floor. The exhaust system is being added, after creatimng heat stains. Then the brakes and the suspension.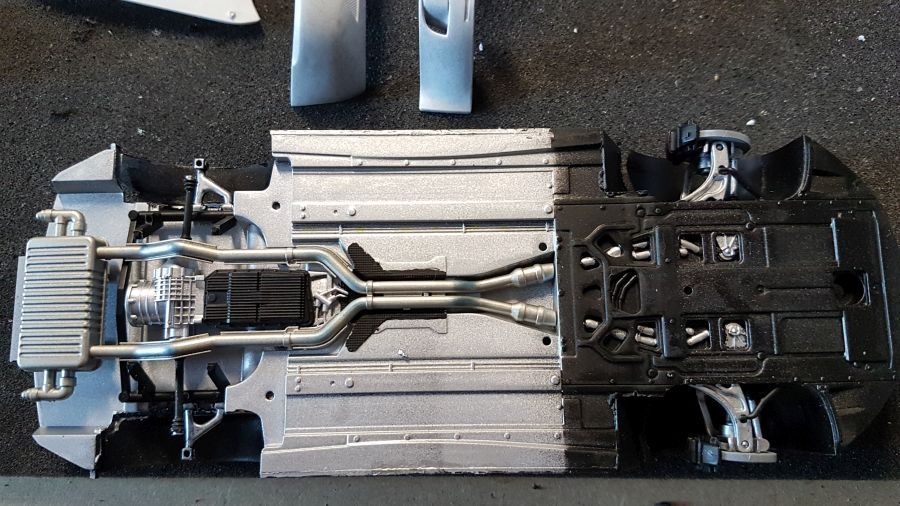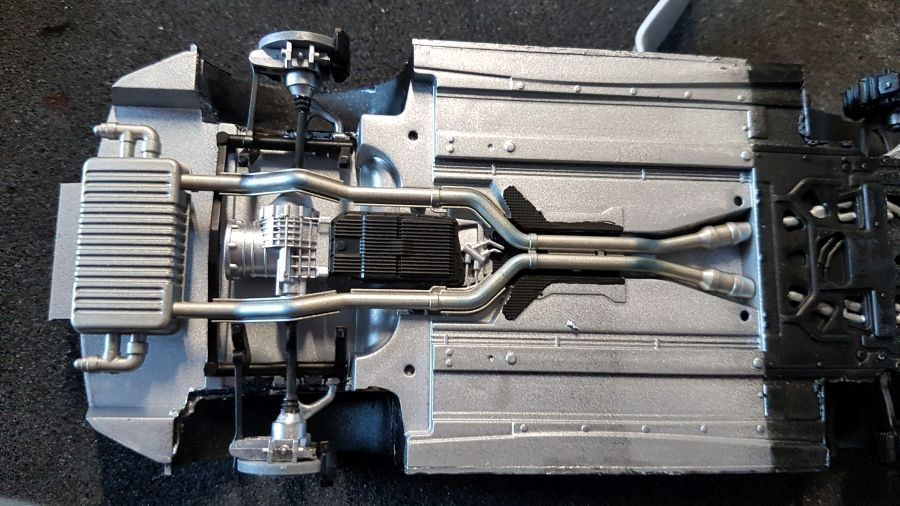 De velgen zijn binnen. De Tamiya banden passen redelijk. Ik zal eens zien of andere 20 inch banden beter passen, maar ik denk dat die te smal zijn.
The rims are in. The Tamiya tires fit reasonably. I will see if other 20 inch tires fit better, but i think they are too small.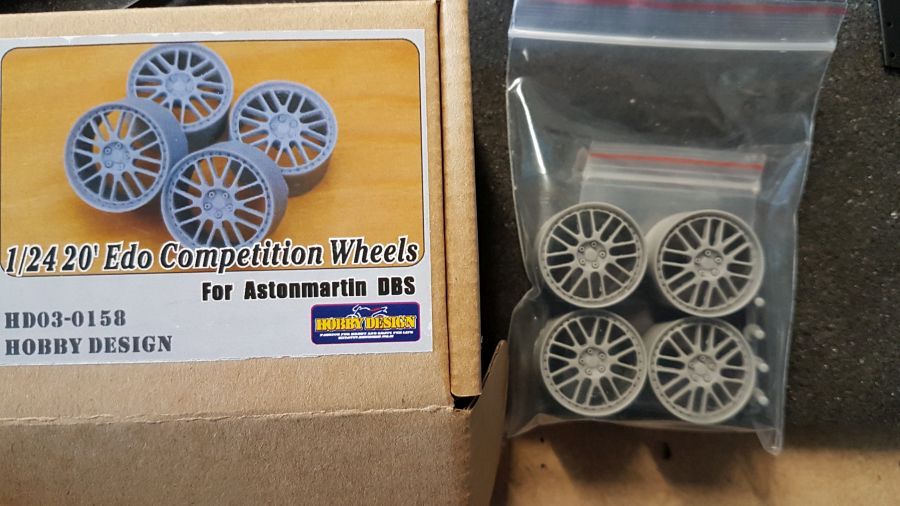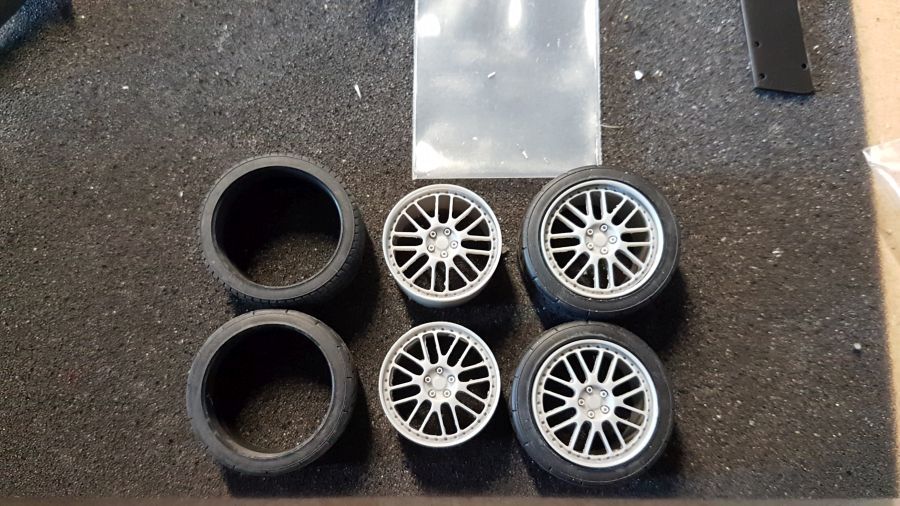 Terug naar de ophanging.
Back to the suspension.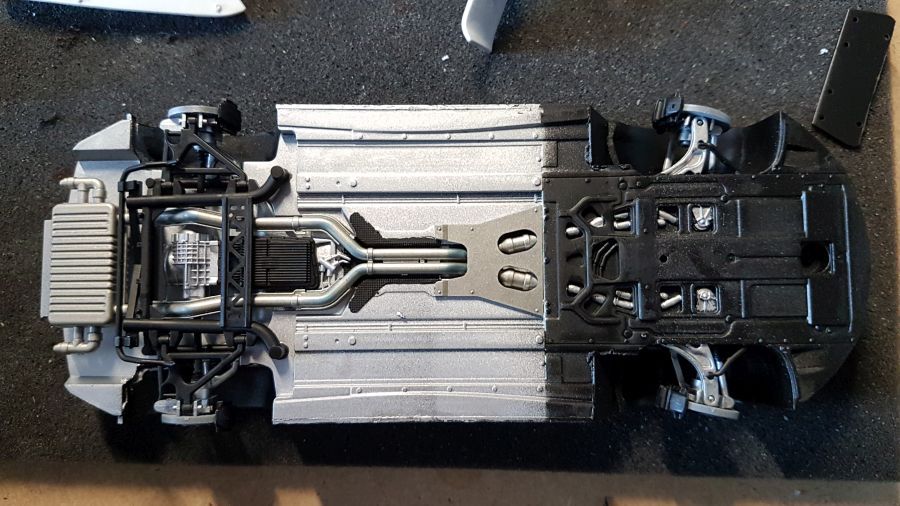 Het blauw zit erop en daarna de heldere lak. Ik wilde 2K lak spuiten, maar helaas was de harder niet meer goed.
The blue is on.and then the clear gloss. I wanted to spray 2K, but unfortunately the hardener was not good anymore.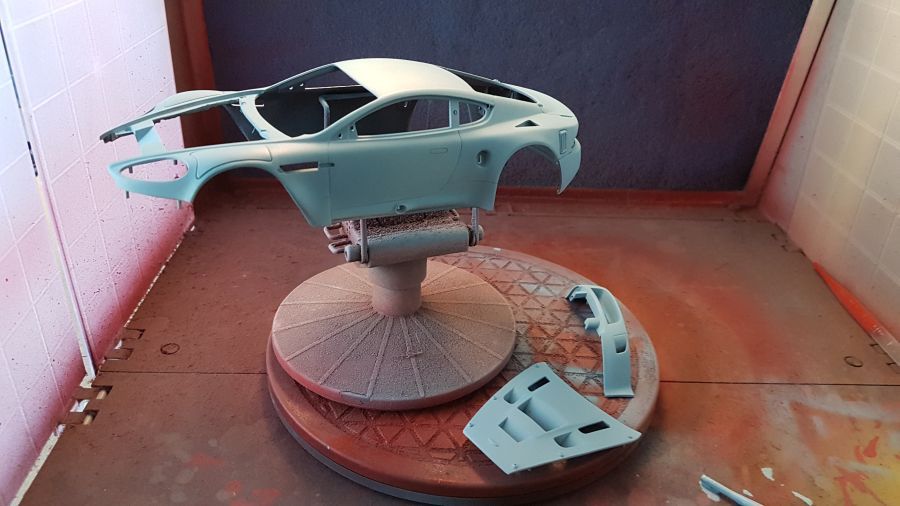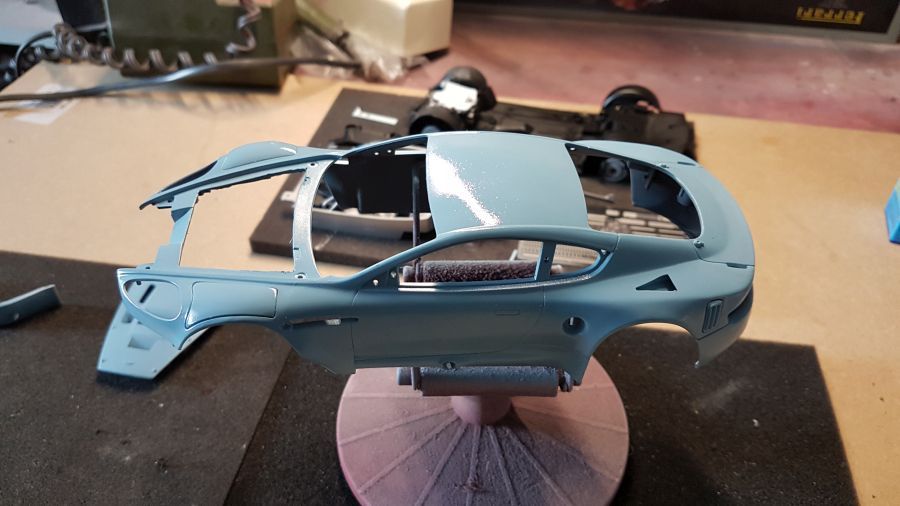 Afplakken...
Masking...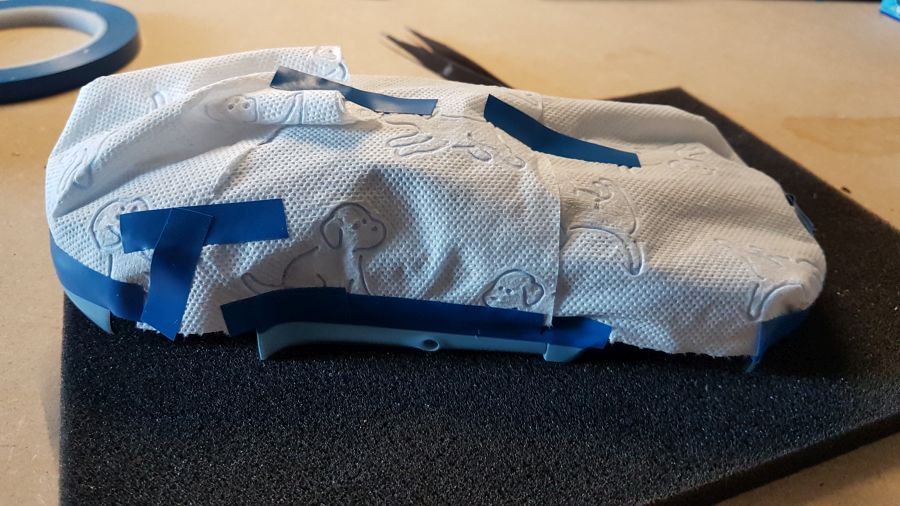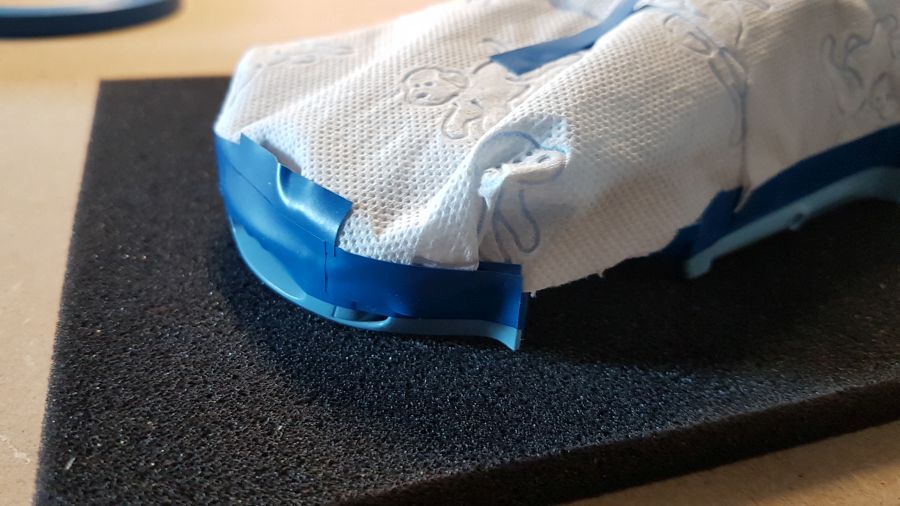 De onderste rand is zwart gespoten. Helaas wat last van bloeden onder de tape. Ik probeer dat weg te halen met Tamiya compound.
The lower ledge was painted black. Unfortunately there is some bleeding. I will try to remove it with Tamiya Compound.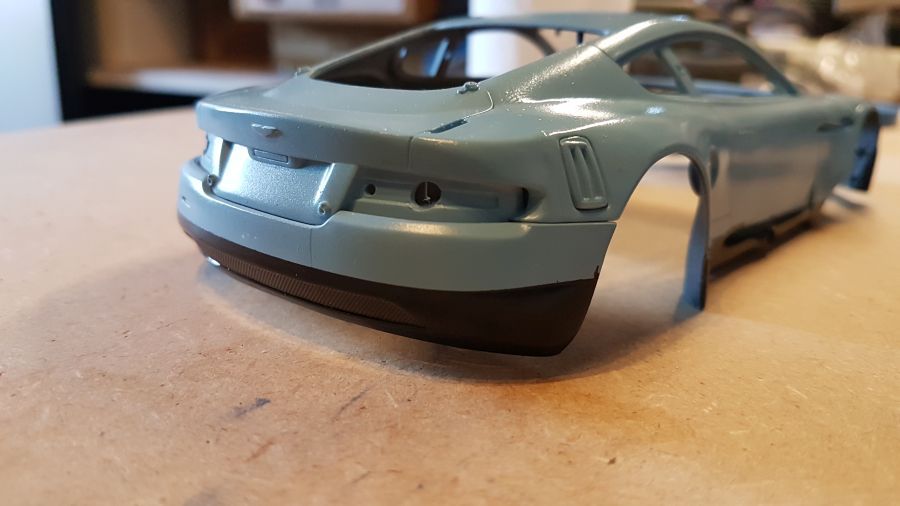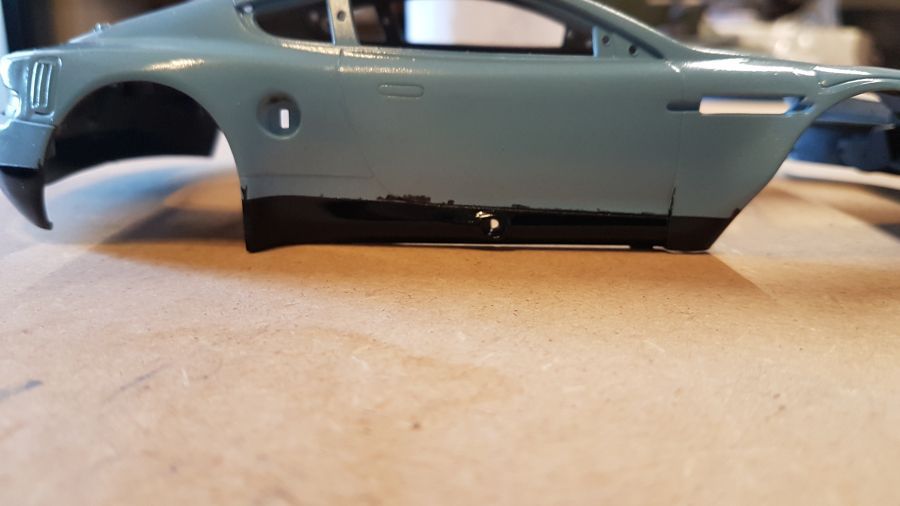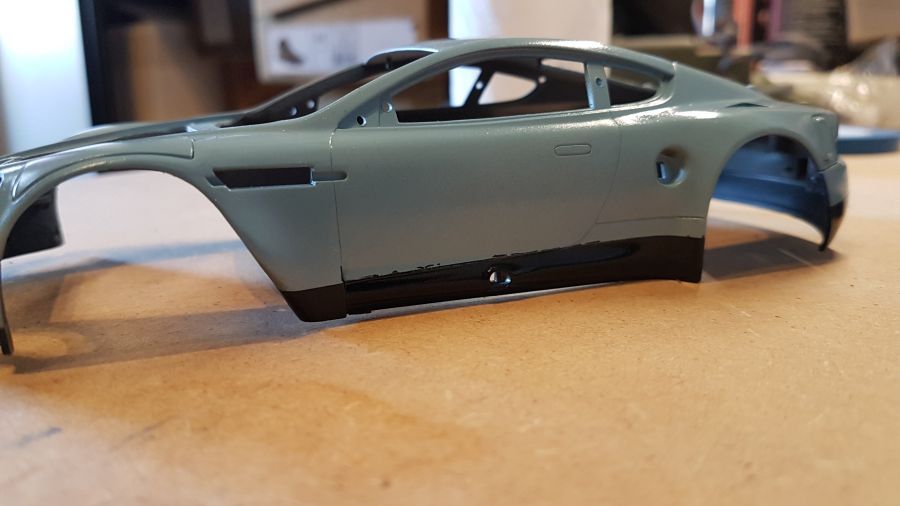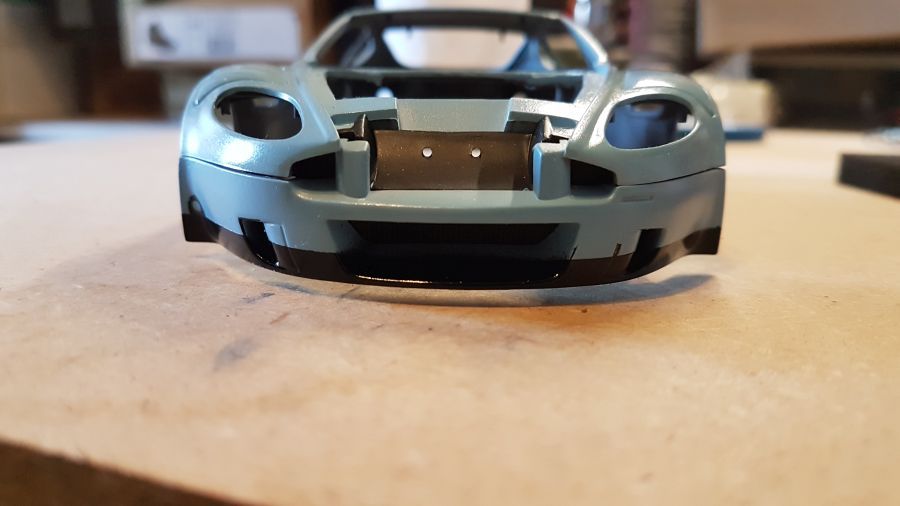 Redelijk gelukt.
Succeeded reasonably.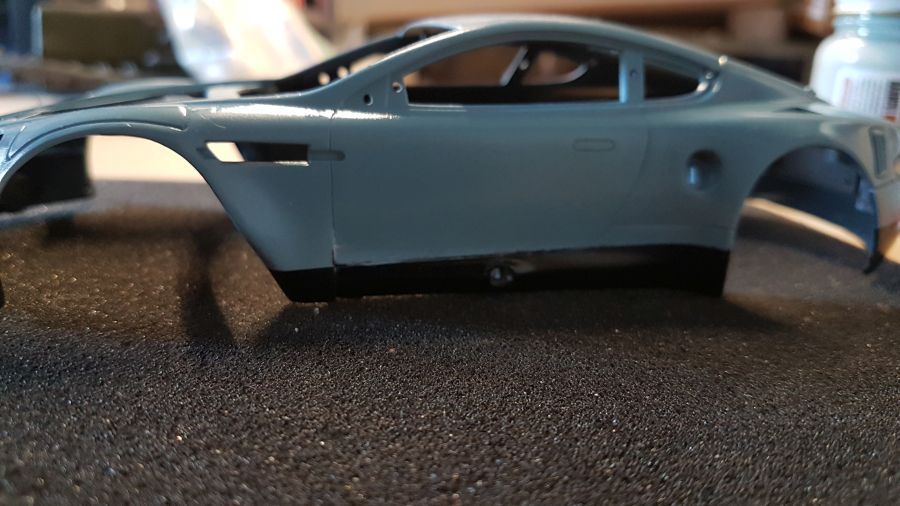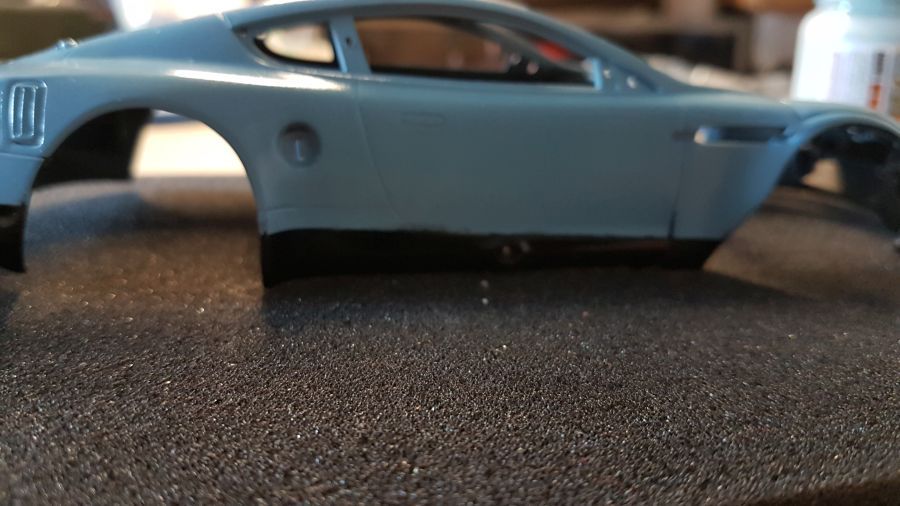 De velgen zijn gespoten.
The rims received paint.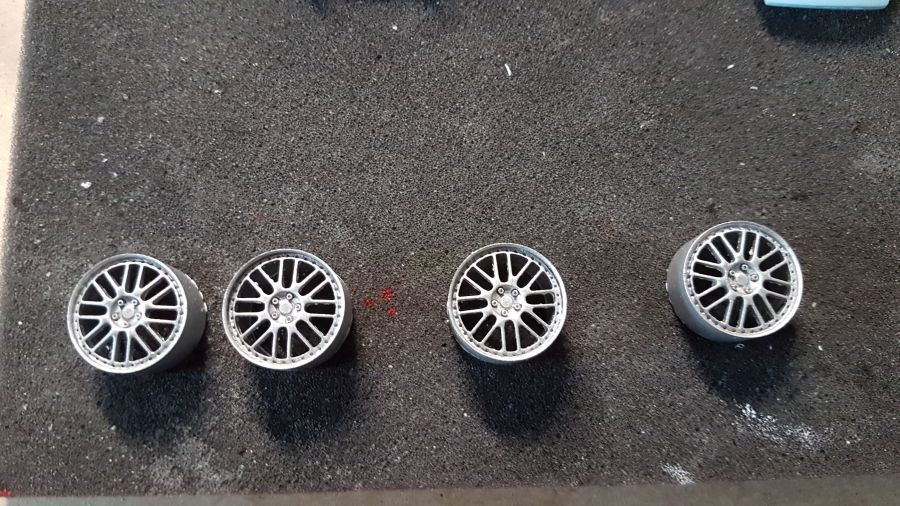 Dan de eerste decals. Die op de neus is misschien wel de meest moeilijke.
Then the first decals. The one on the nose might be the most difficult one.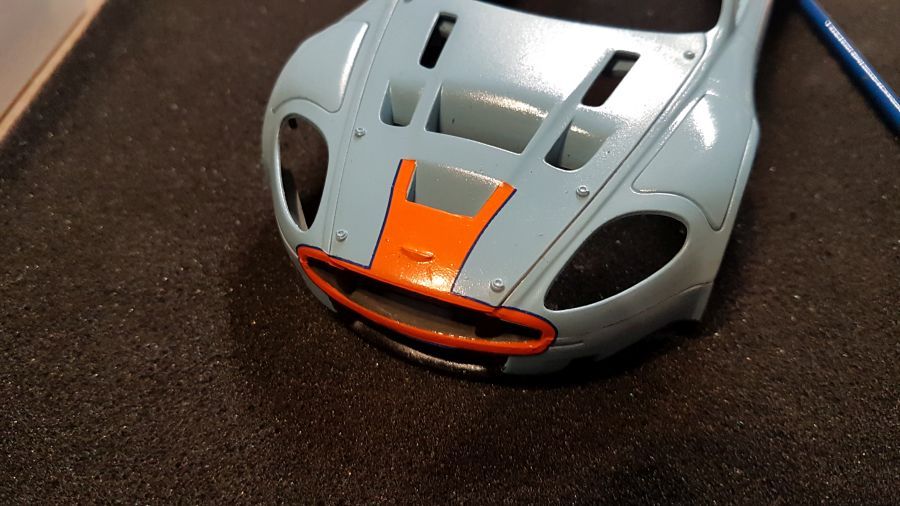 De decals passen niet 100% op de Carrera body, dus voorzichtigheid geboden.
The decals don't fit 100% to the Carrera body, so being cautious.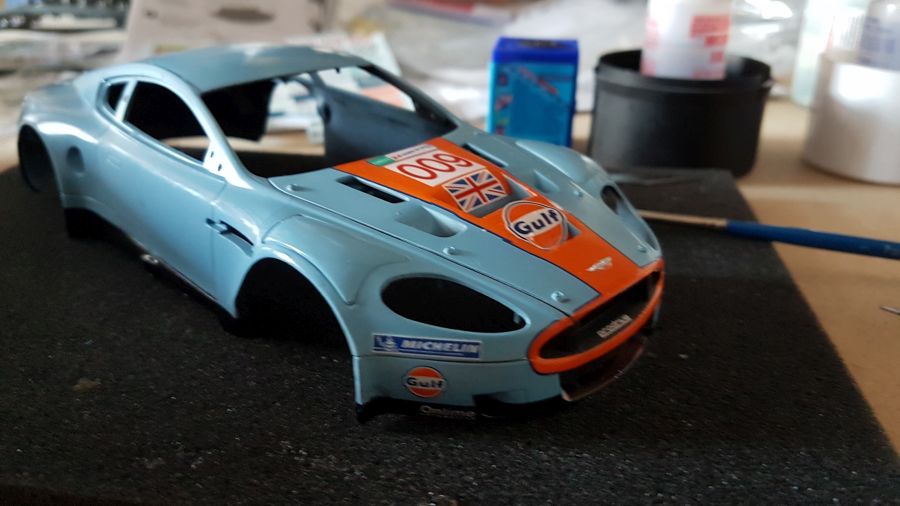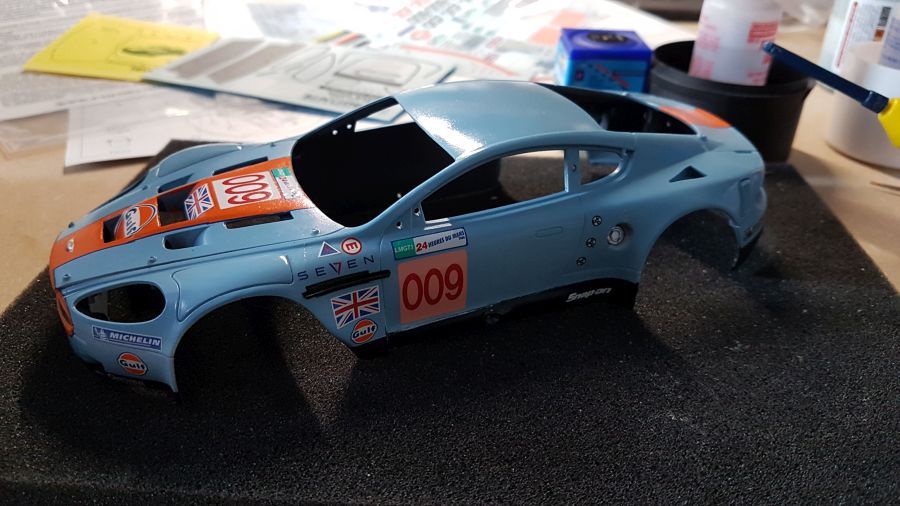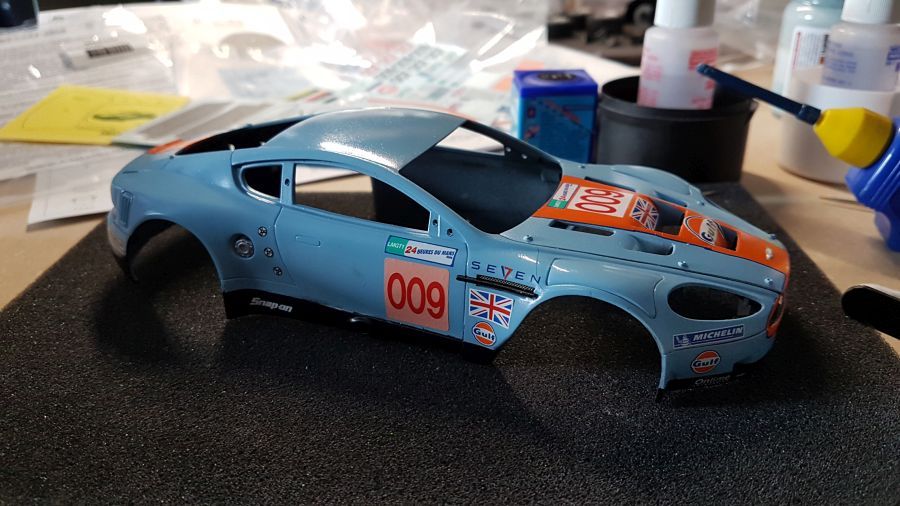 Ik wacht nog even met de decals bij de dakrand, omdat ik het model nog wat moet oppakken voor het plaatsen van het glas. De steunen van de vleugel zijn massief. Dat moet gewijzigd.
I am waiting with adding the decals to the roof edge, because i will need to pick up the body some more times to add the glass. The support of the wing are massive. That needs to be changed.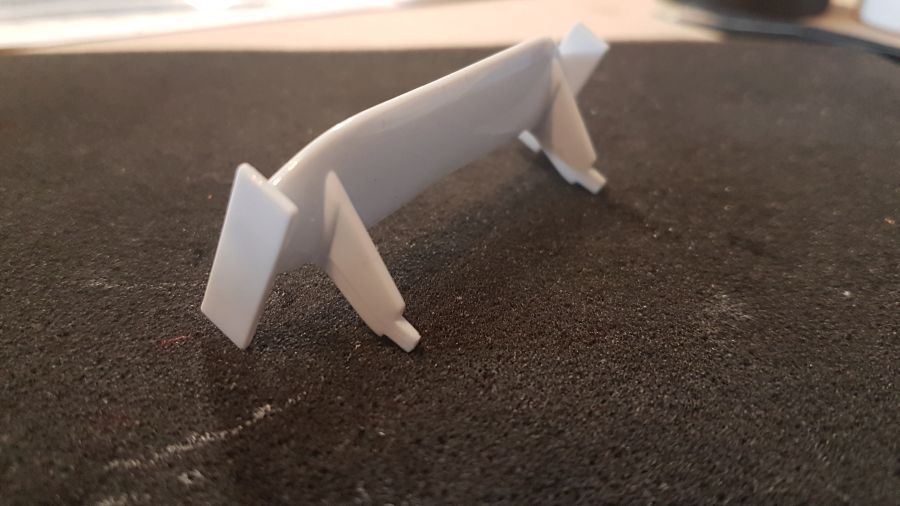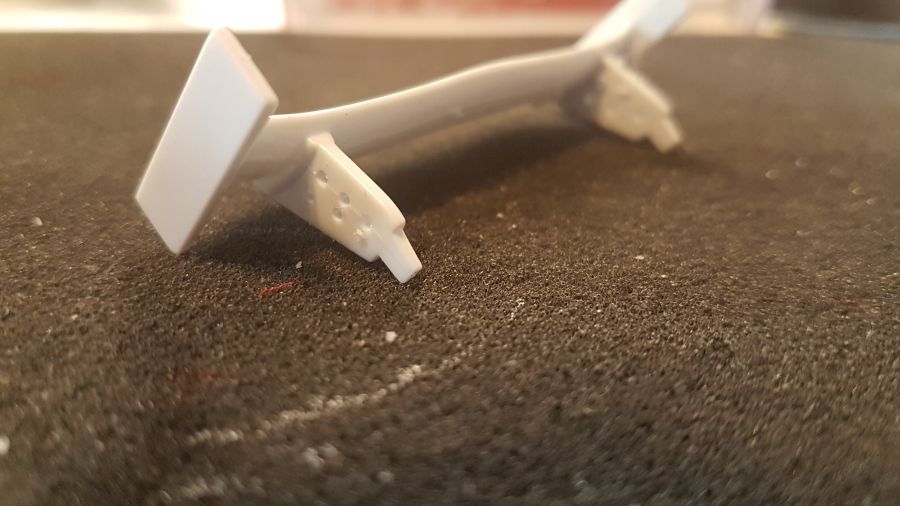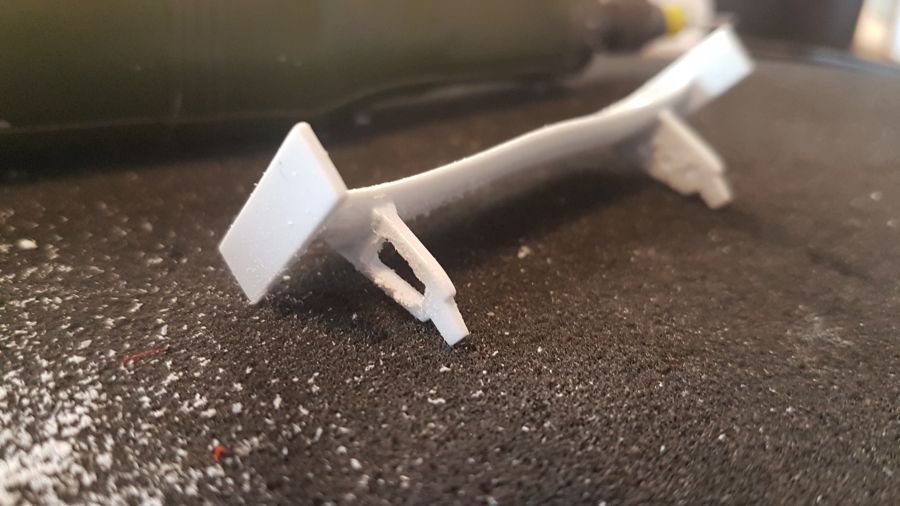 Voor de ramen moet ik kiezen... Of decals...  Of maskeren. Voor de grote ramen kies ik voor maskeren, omdat de decals niet passen. De zijramen doe ik met decals, omdat maskeren niet past. Ook de decals passen niet, maar dat kan ik waarschijnlijk wel oplossen.
I need to make a choice on the windows... Either decals... Or masking. For the big windshields i will use masking, because the decals don't fit. For the side windows i will use decals, because masking doesn't fit. The decals don't fit either, but i think i can solve this.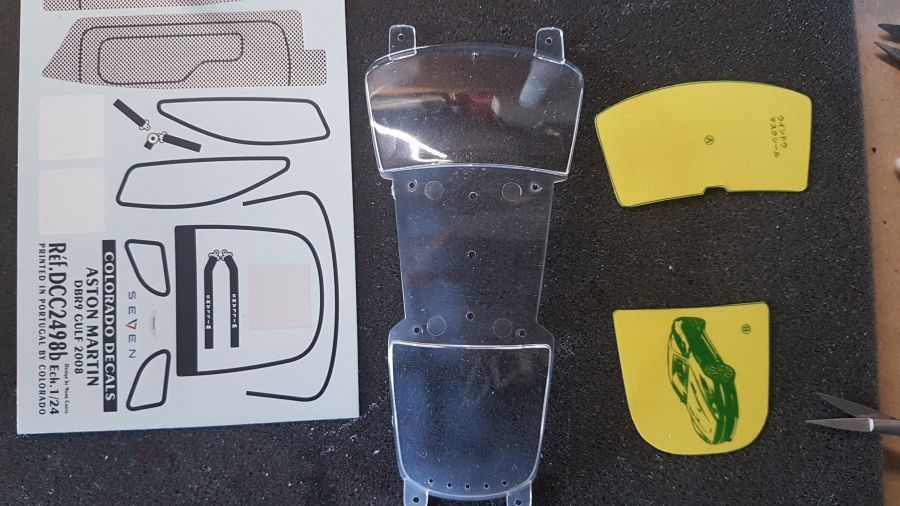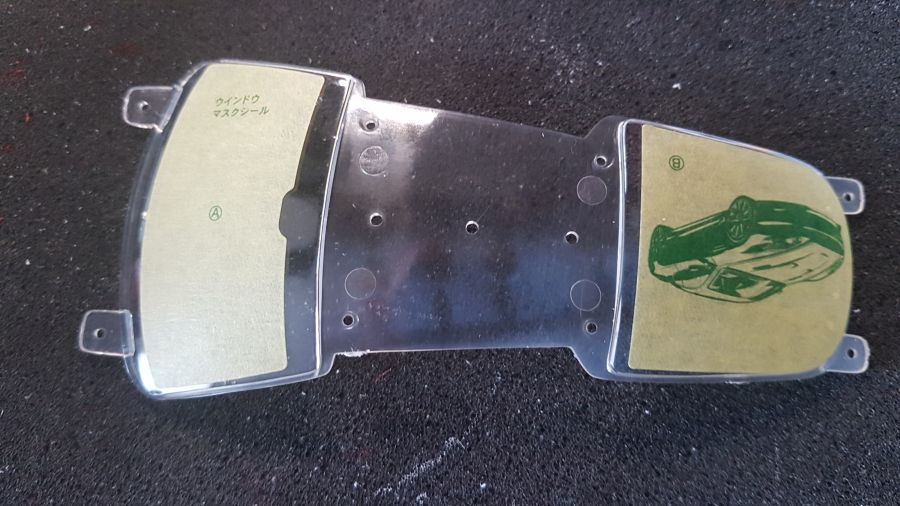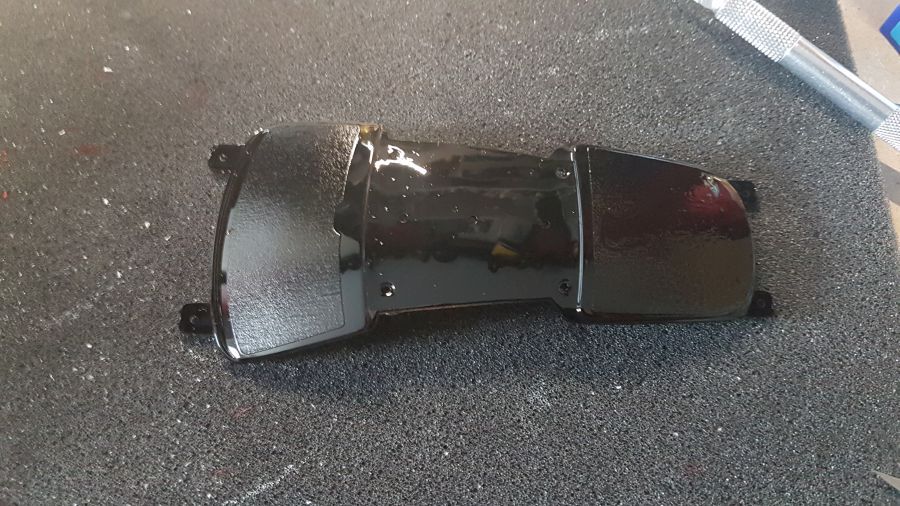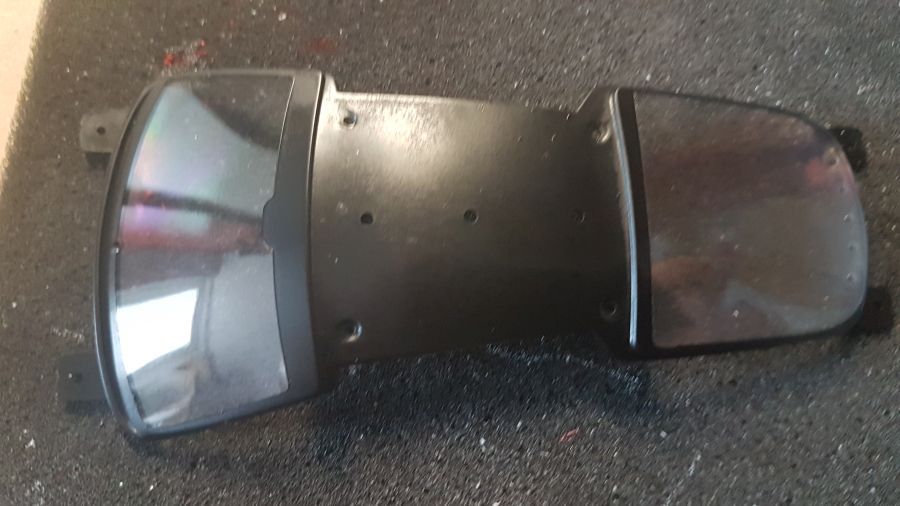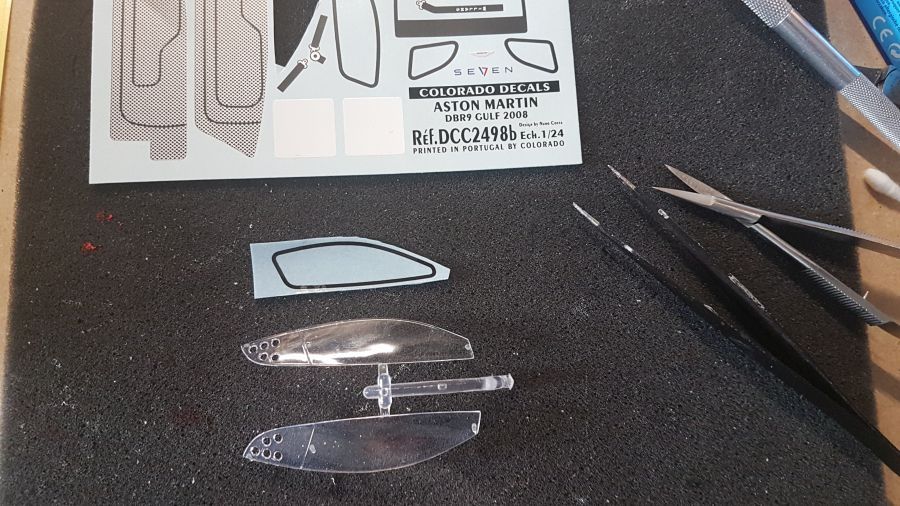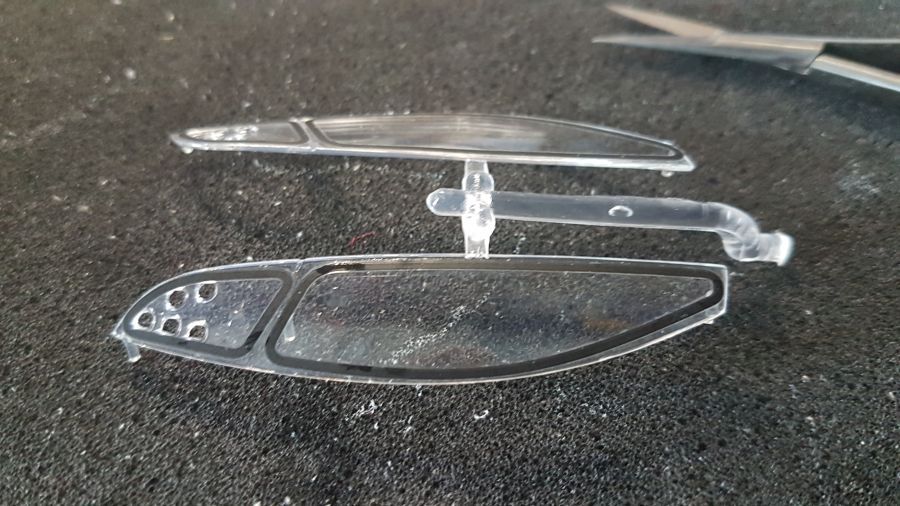 Alvast een deel zwart gemaakt voor het plaatsen van de zijramen.
A part has been painted black before adding the side windows.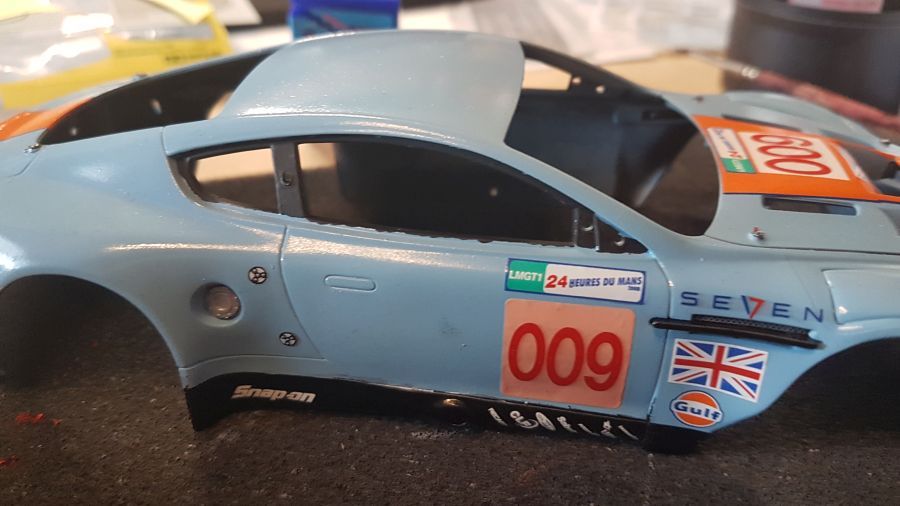 Terwijl dat droogt, maak ik de vleugel klaar en ga alvast met de achterlichten aan de gang.
While the paint dries, i will finish the wing and move on to the rear lights.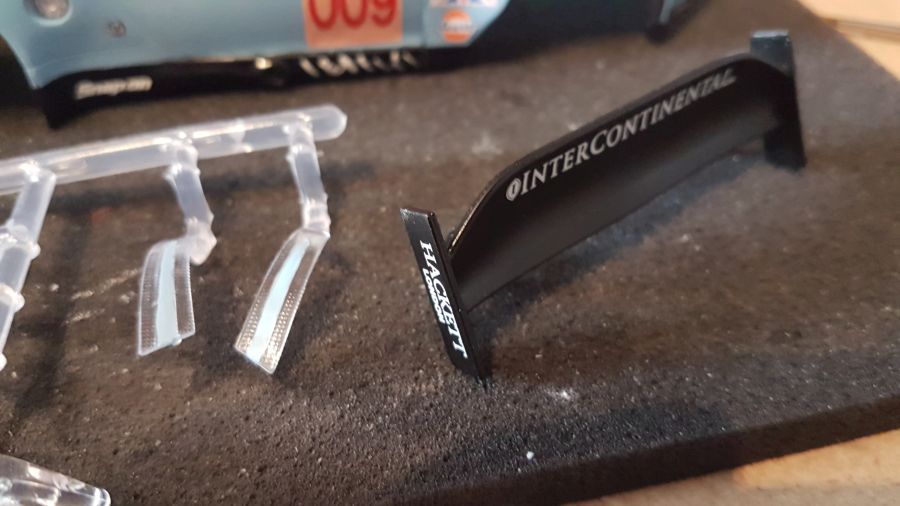 Dan gaat het glas erin.
Then the windows are being added.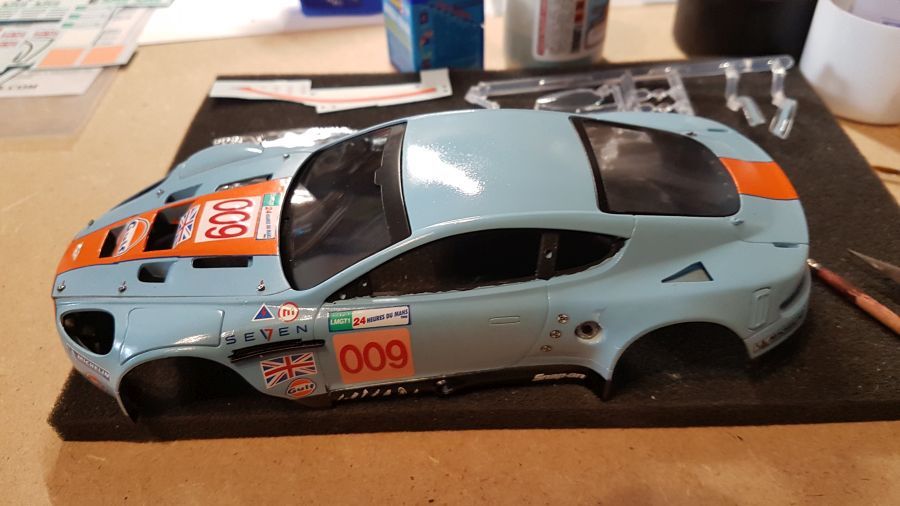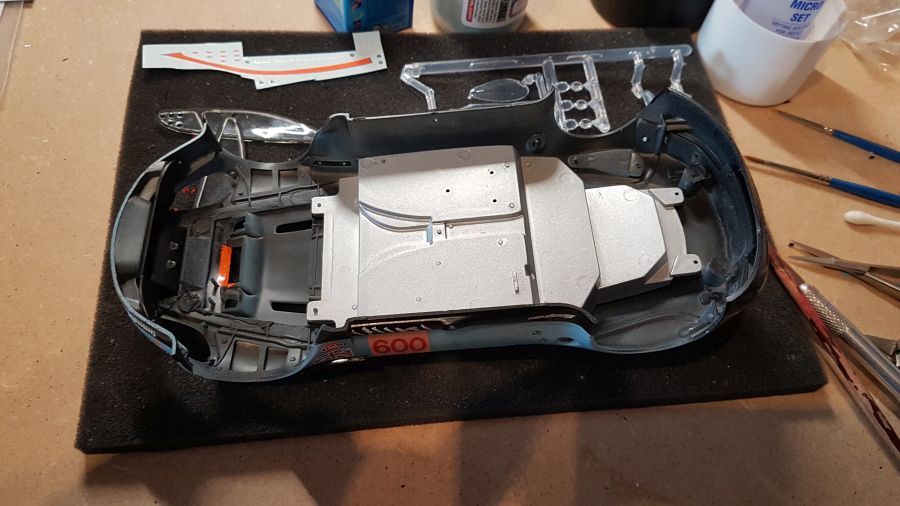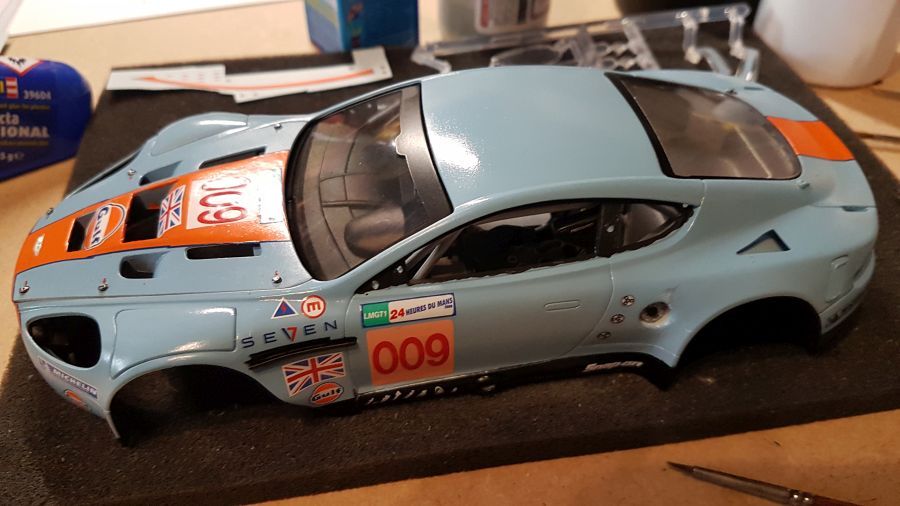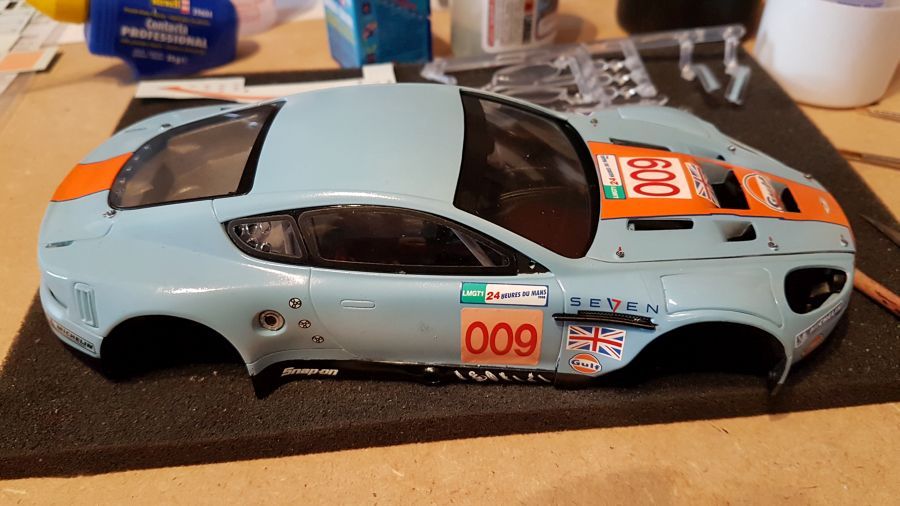 Werk aan de openingen op de motorkap.
Working on the openings on the hood.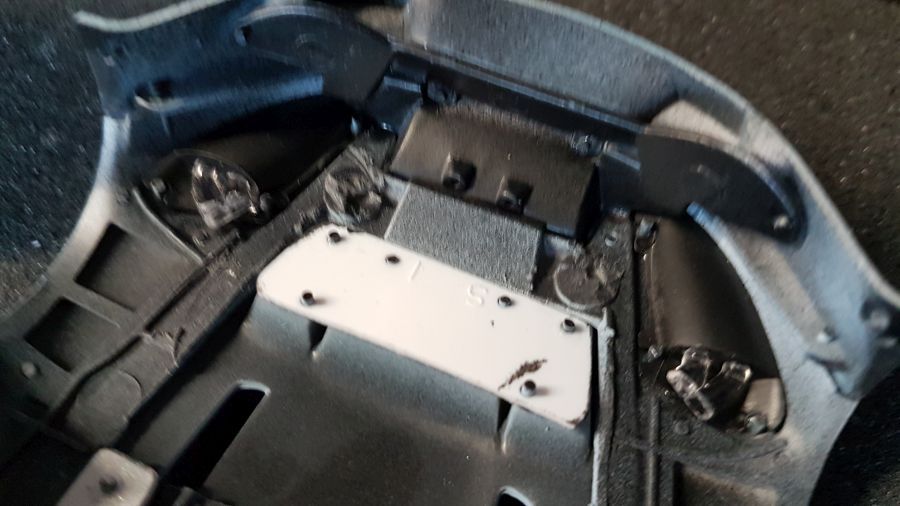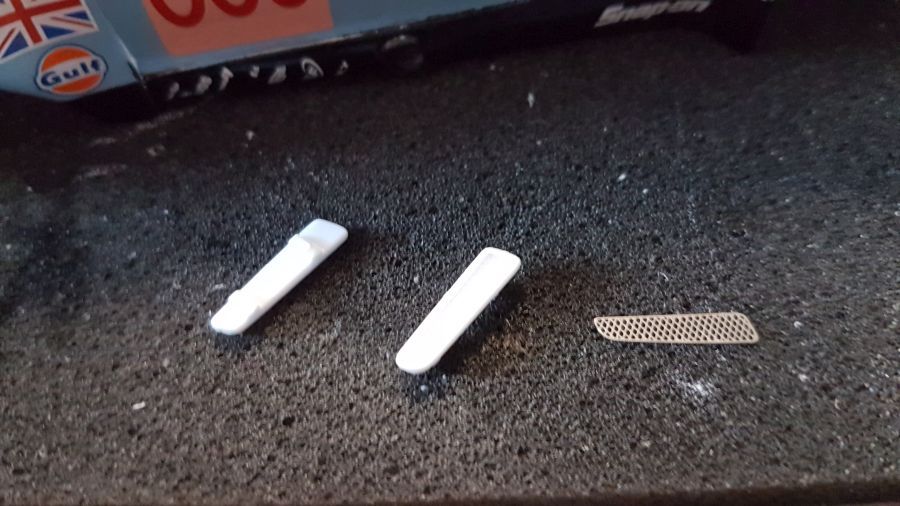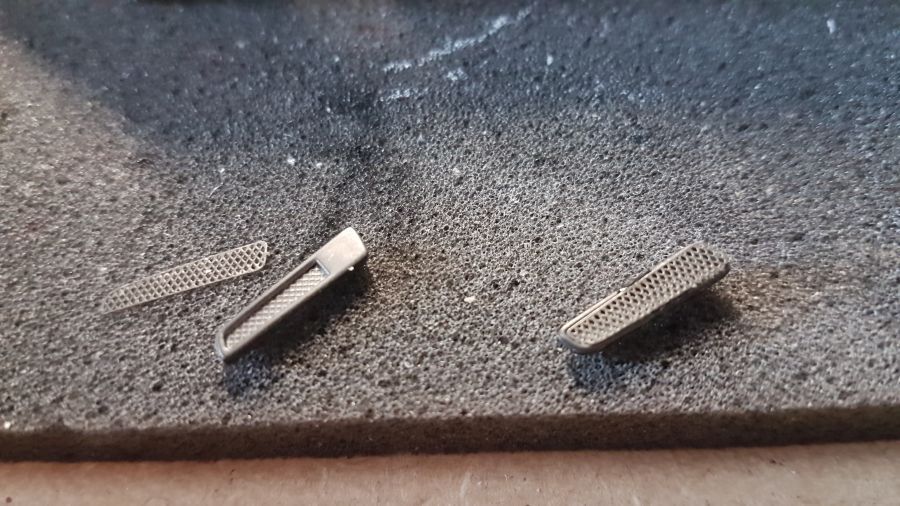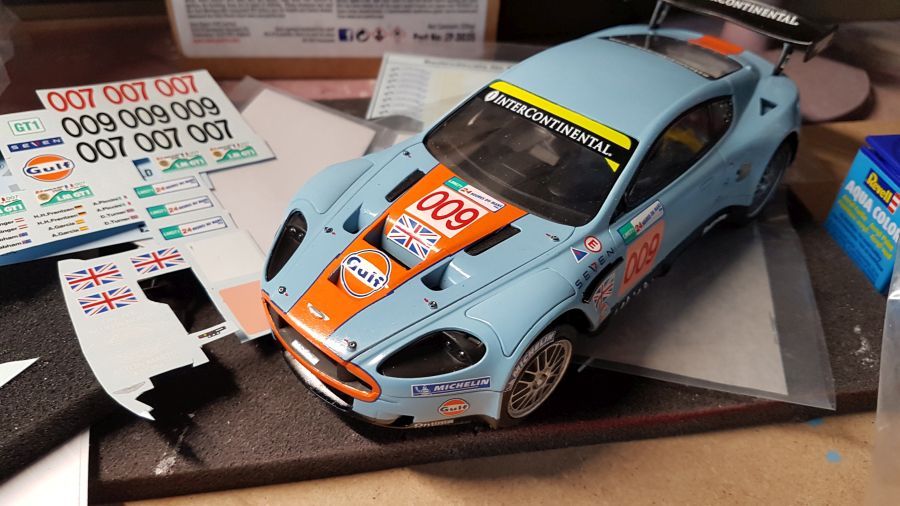 Dan de wielen klaarmaken.
Next is finishing the wheels.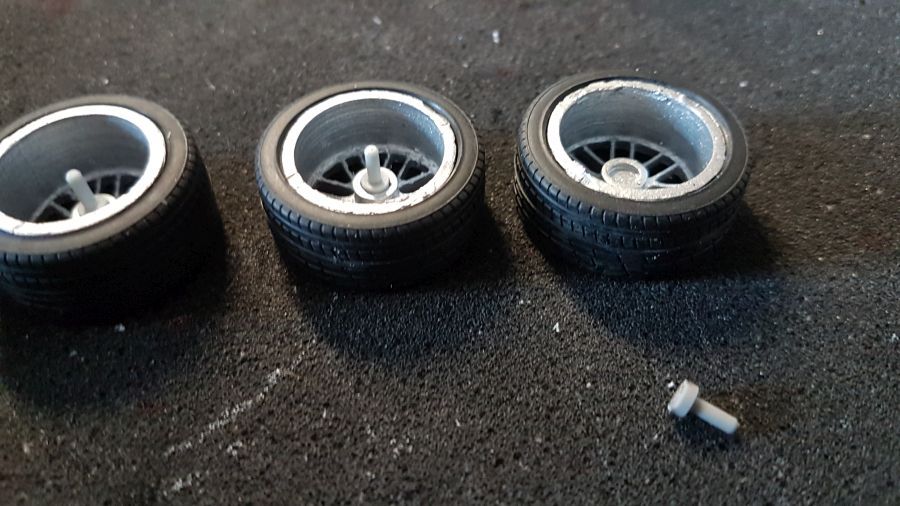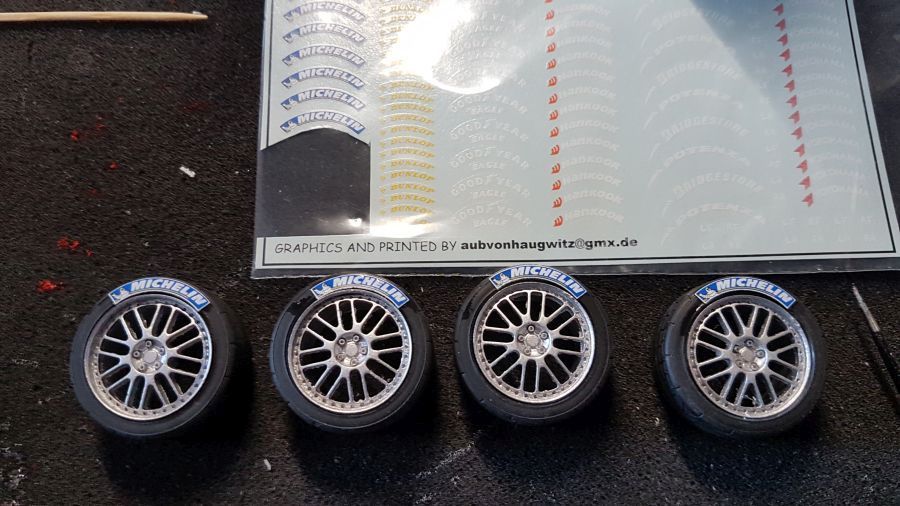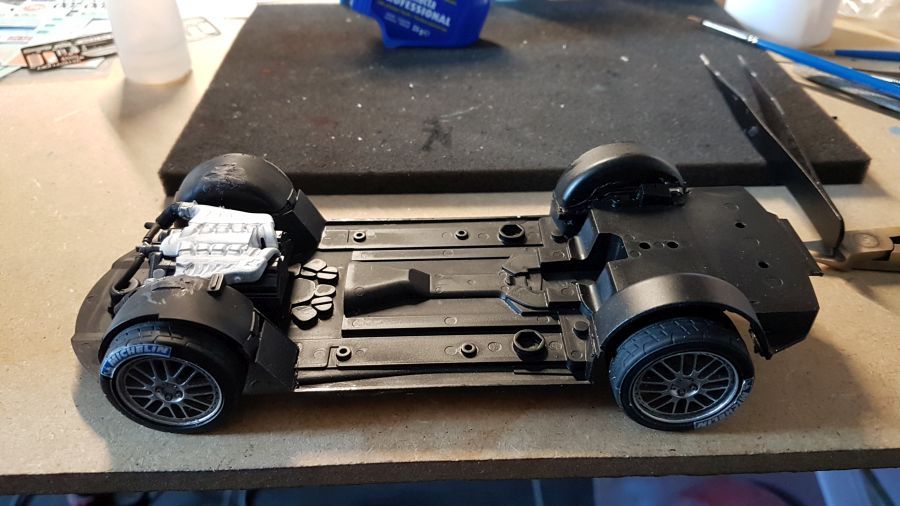 Hij staat wat hoog op de achterkant.
He's a little bit high on the rear.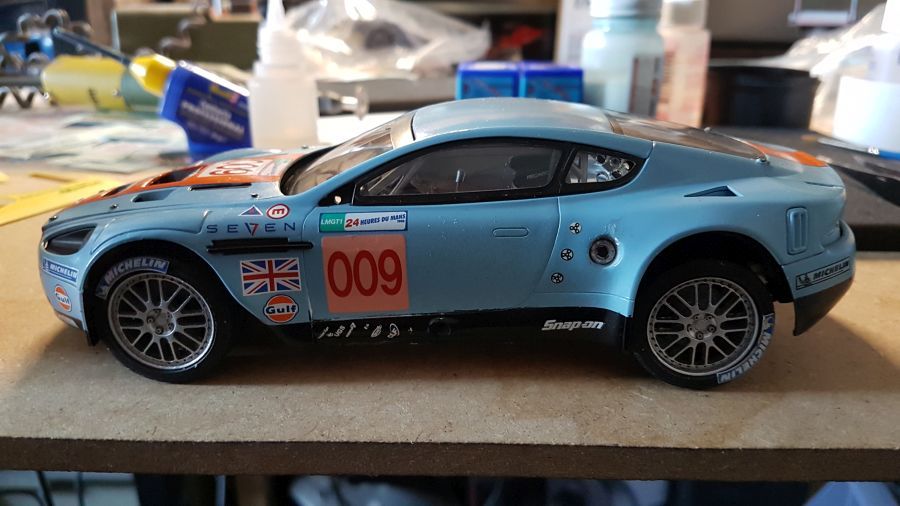 De probleemzones...
The problem zones...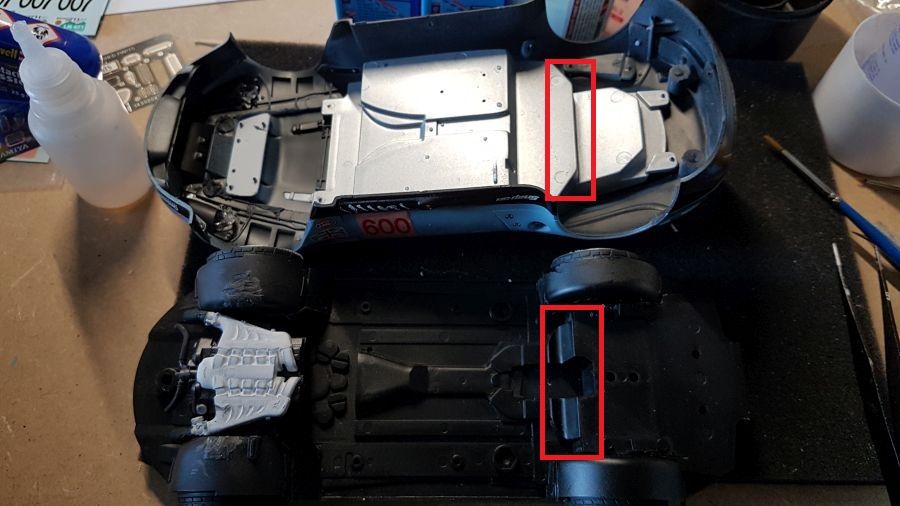 Beter... ik kijk nog even bij de definitieve monatage van de vloer.
Better... i will look at it again while mounting the floor permanently.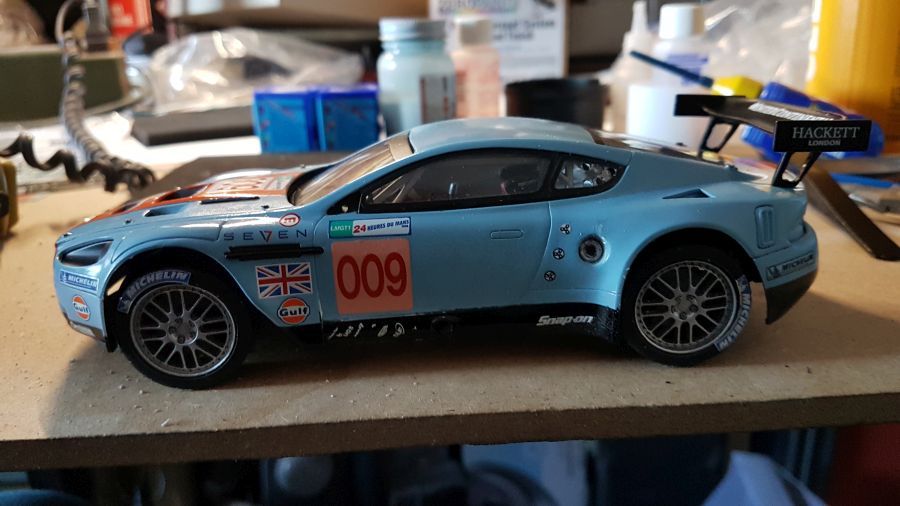 Dan maak ik de voorspoiler en de venturi met behulp van een mal. Evergreen plaat en strip zijn weer de materialen.
Then i create a front spoiler and a venturi with the use of a template. Evergreen sheet and strip are the materials.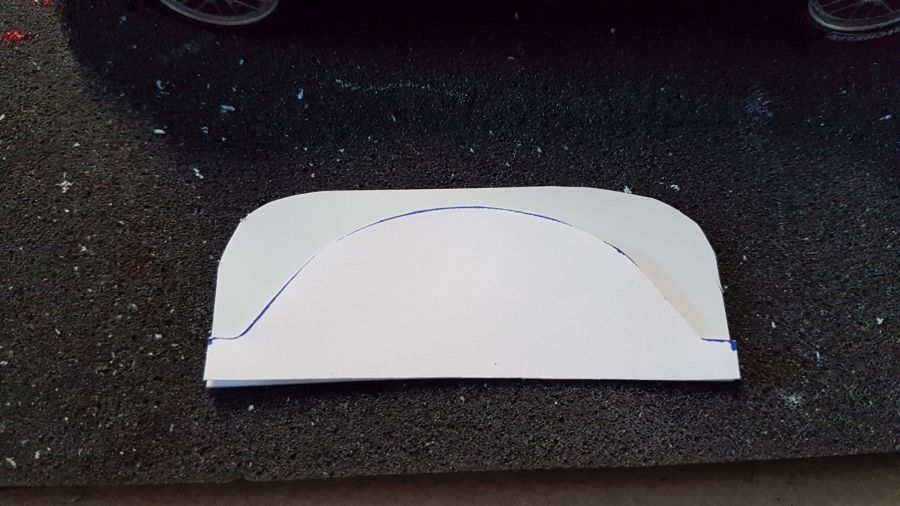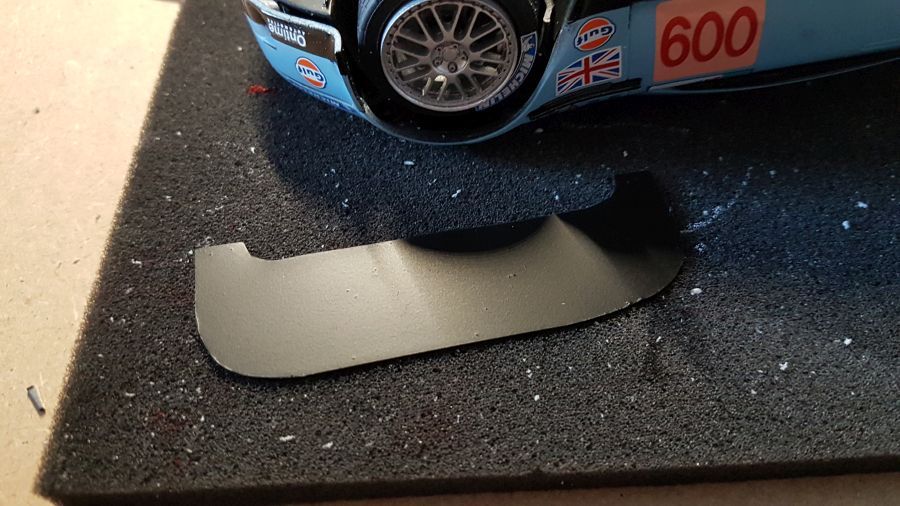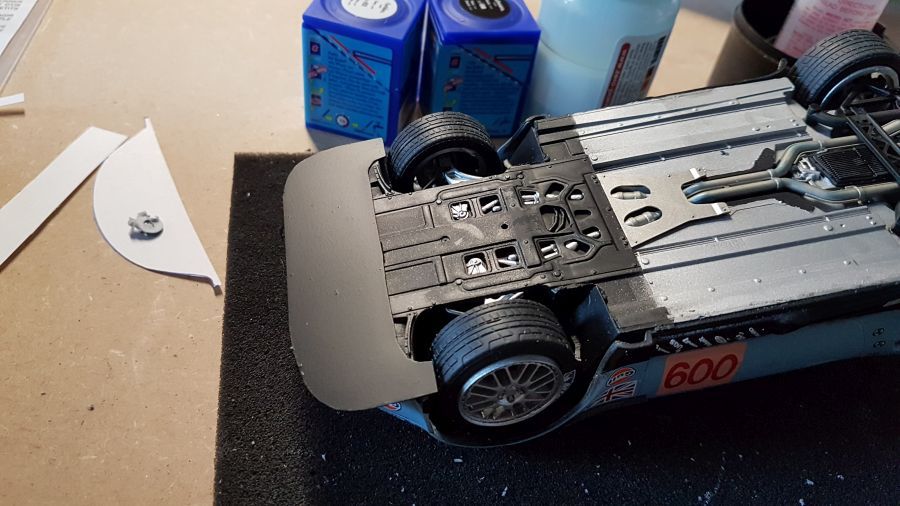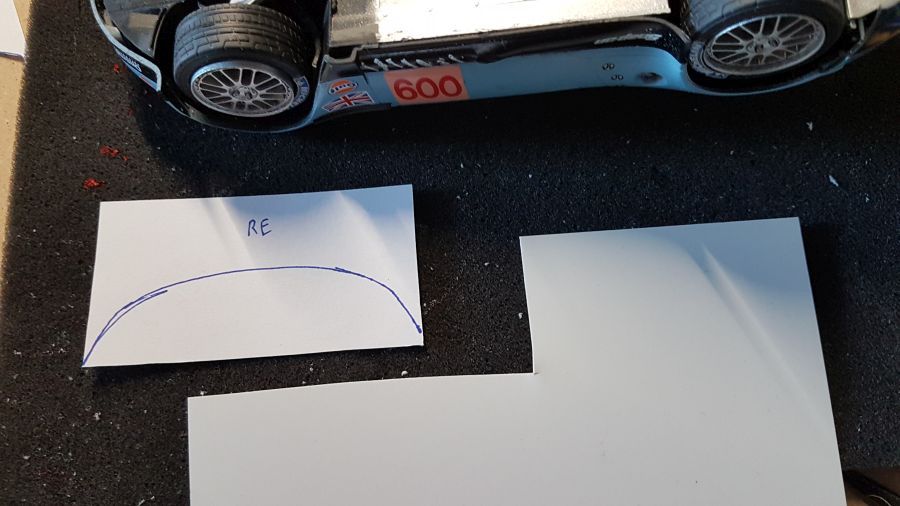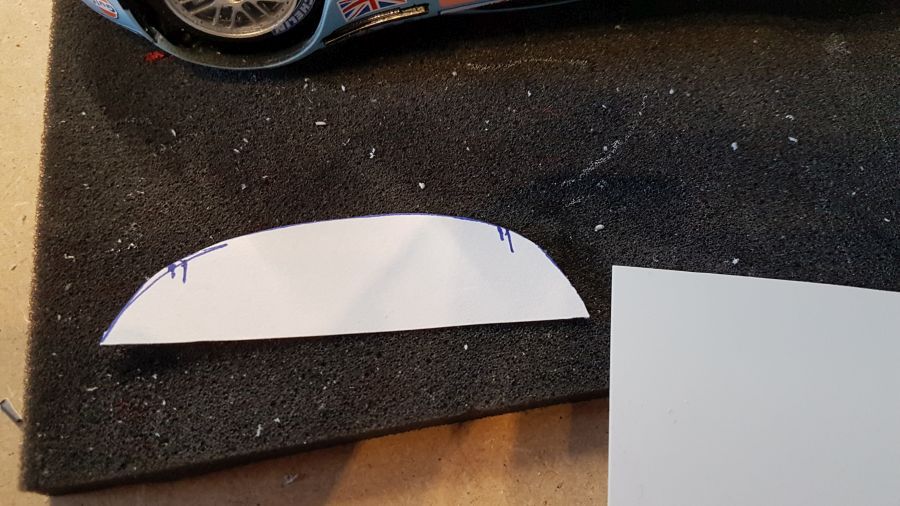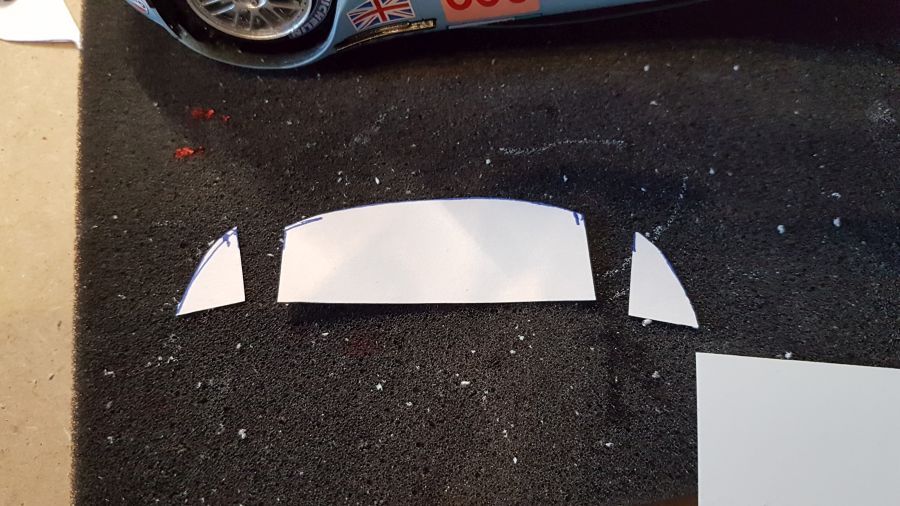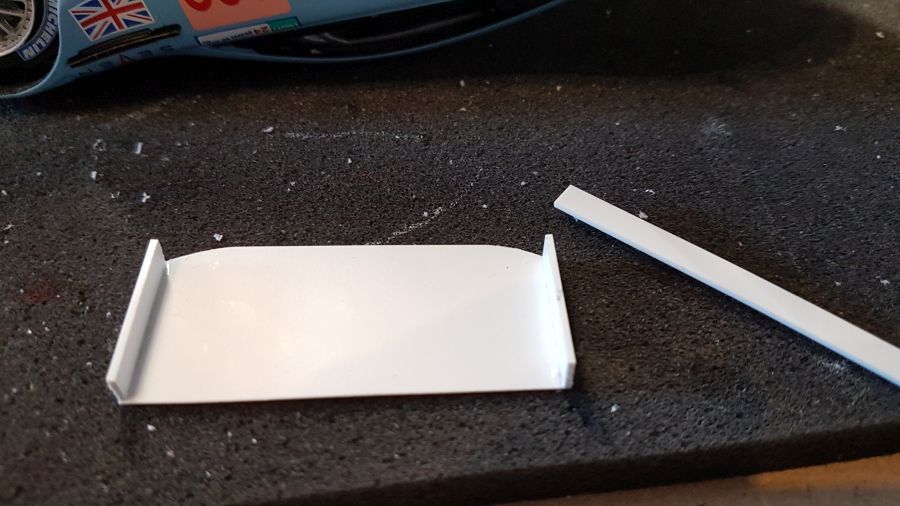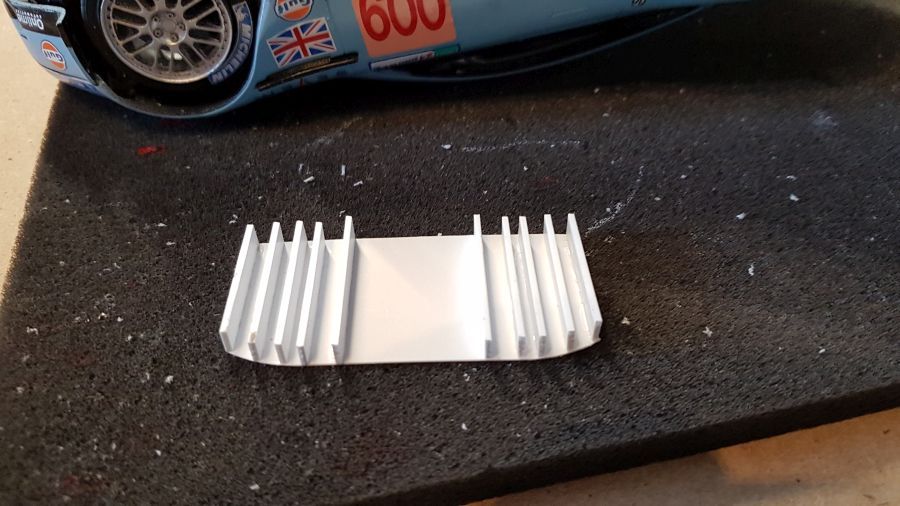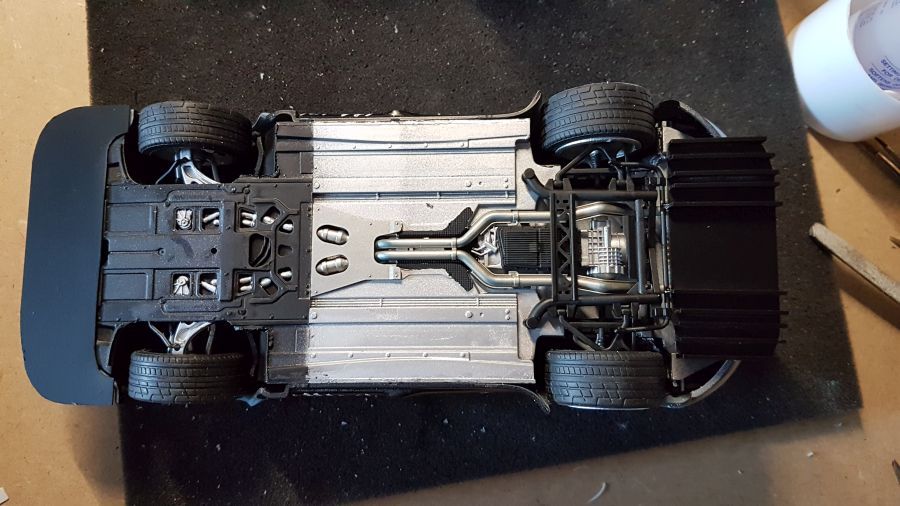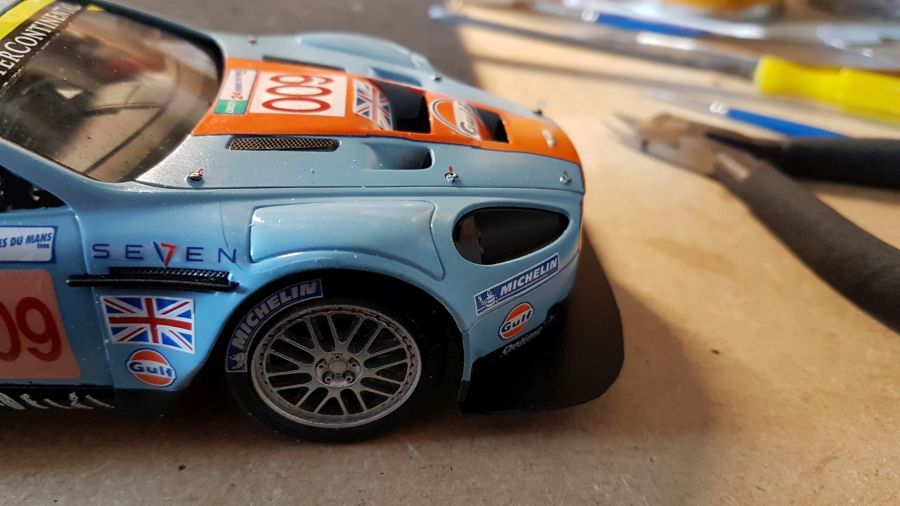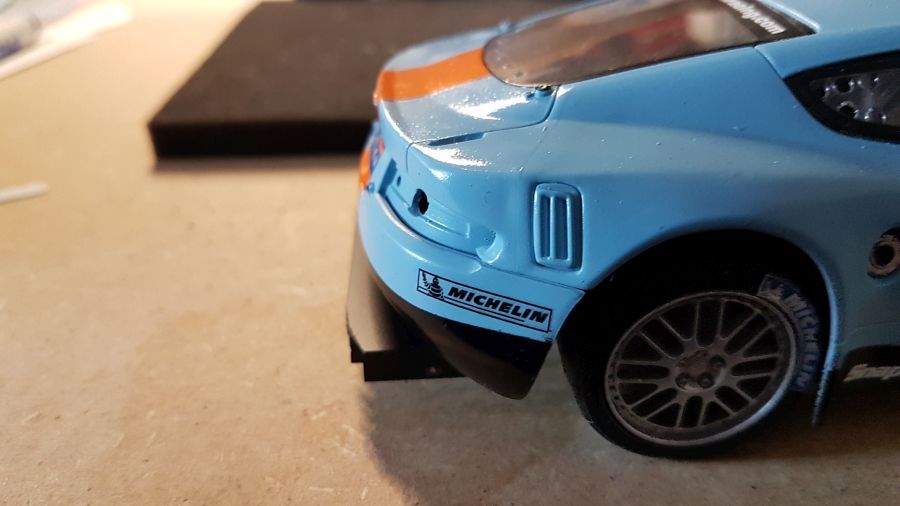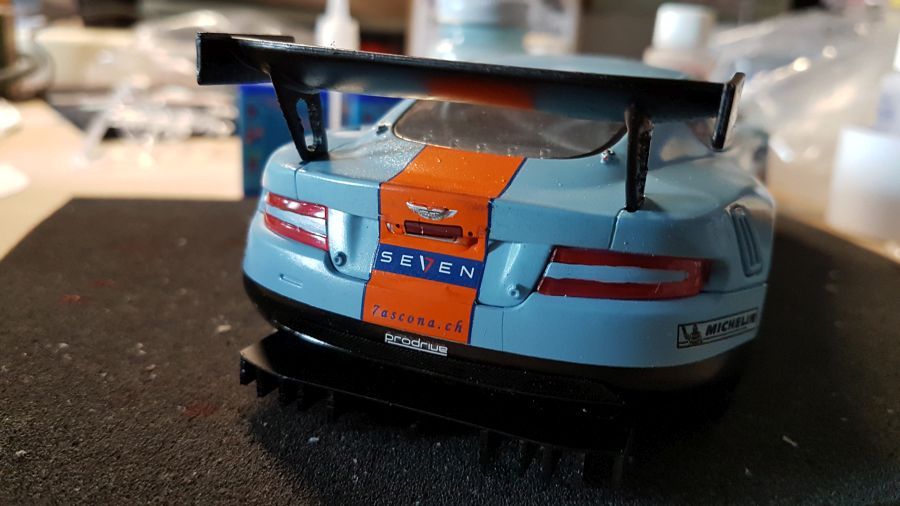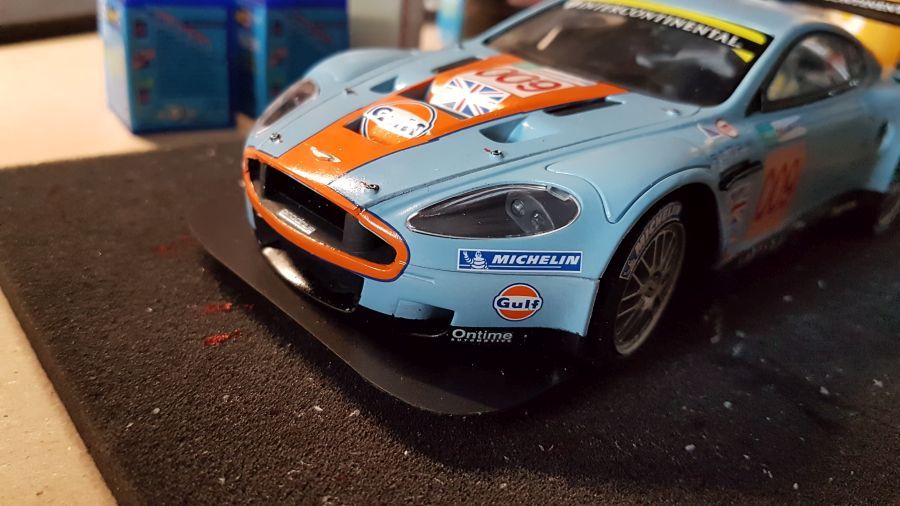 Meer decals en onderdelen... het einde komt nabij.
More decals and parts... the end is near.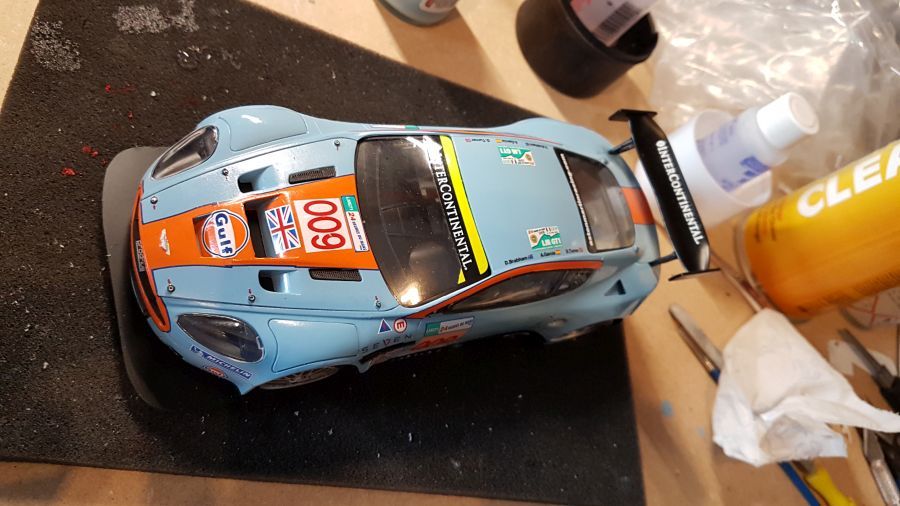 Nog wat etched geplaatst...
Some etched parts added...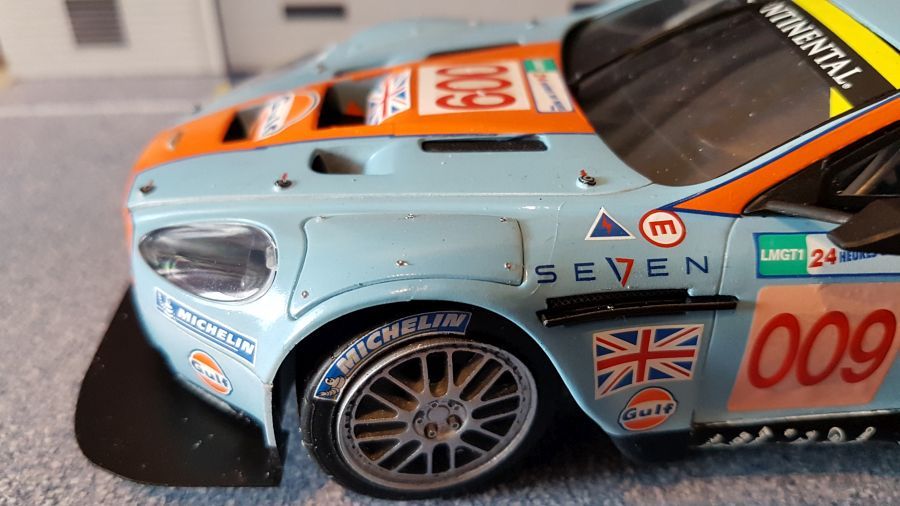 Ik beschouw deze als klaar.
I consider this one as done.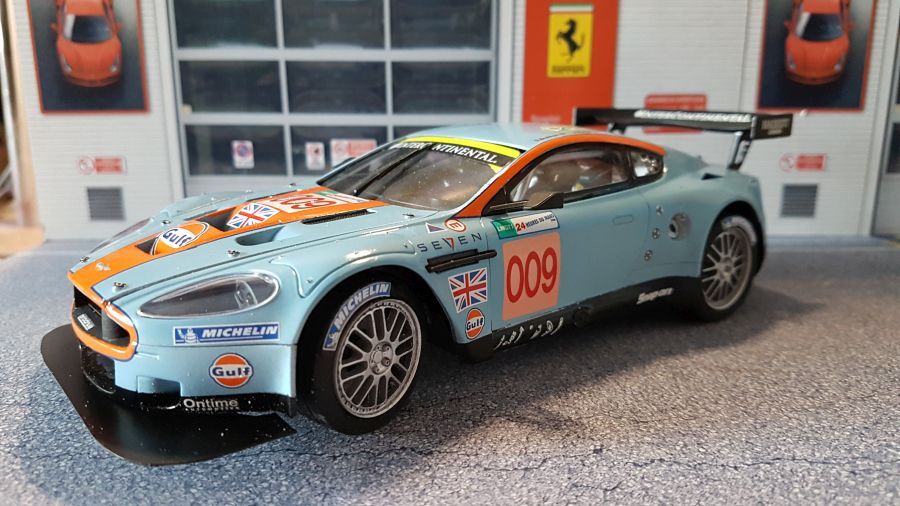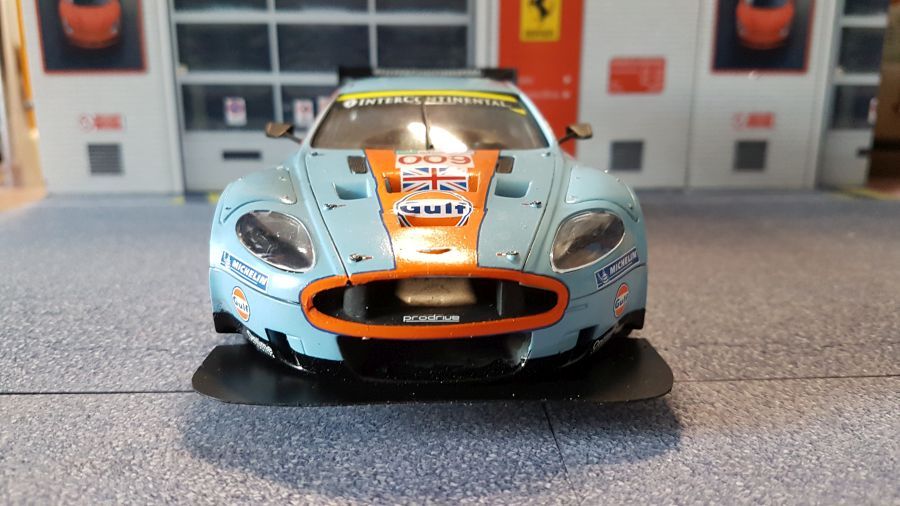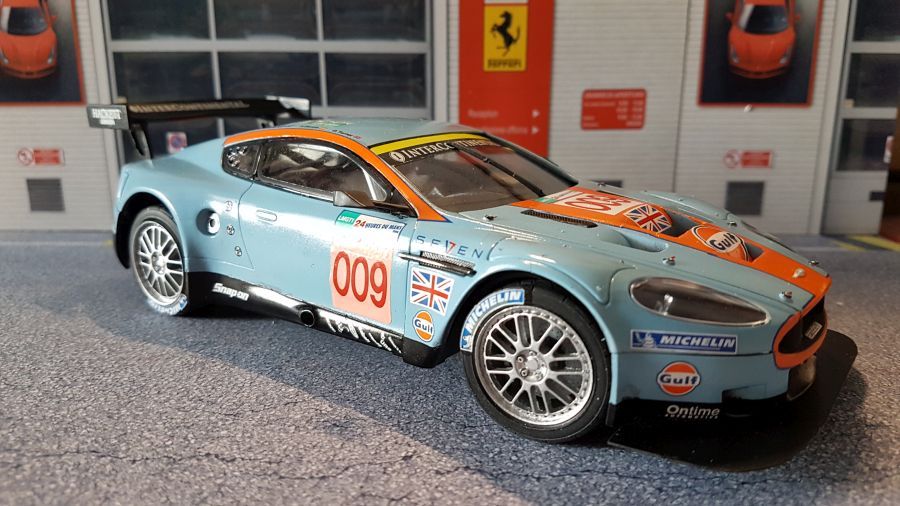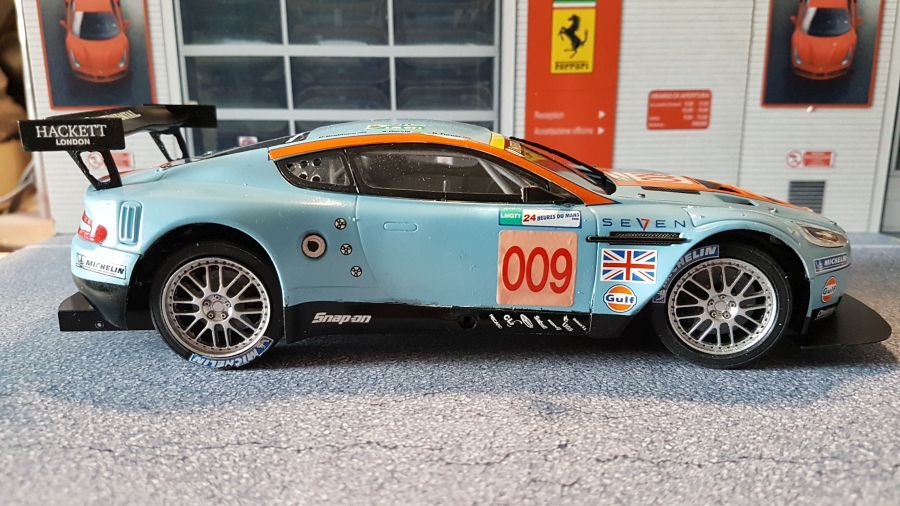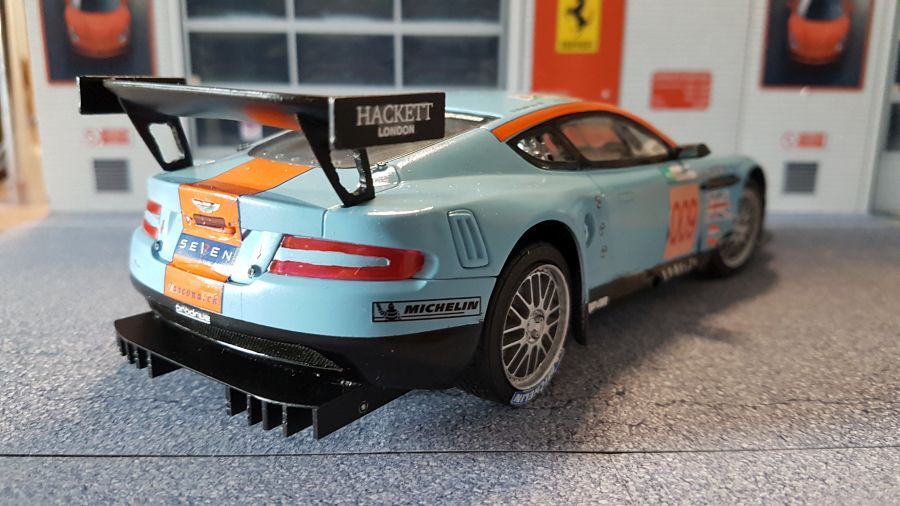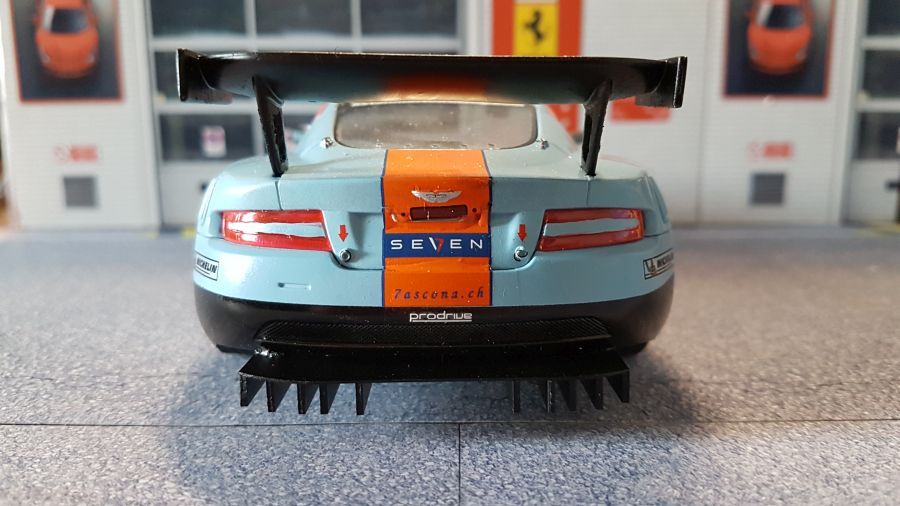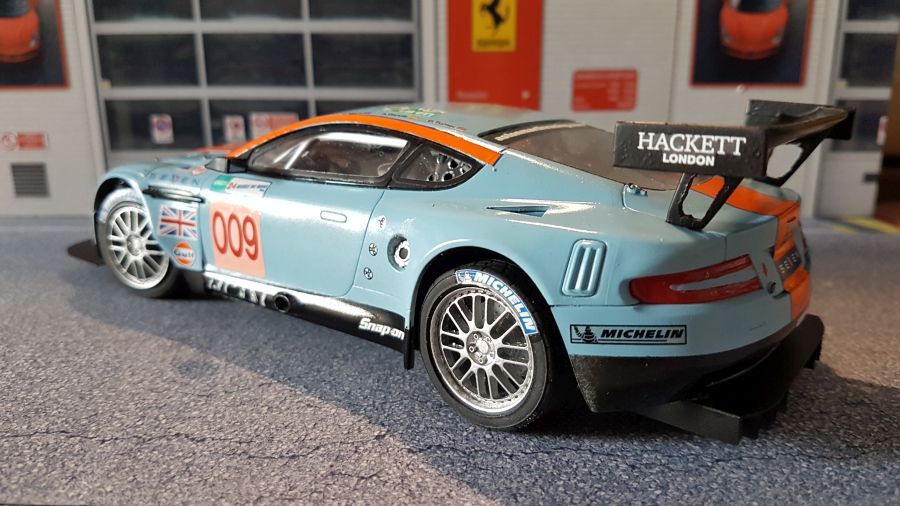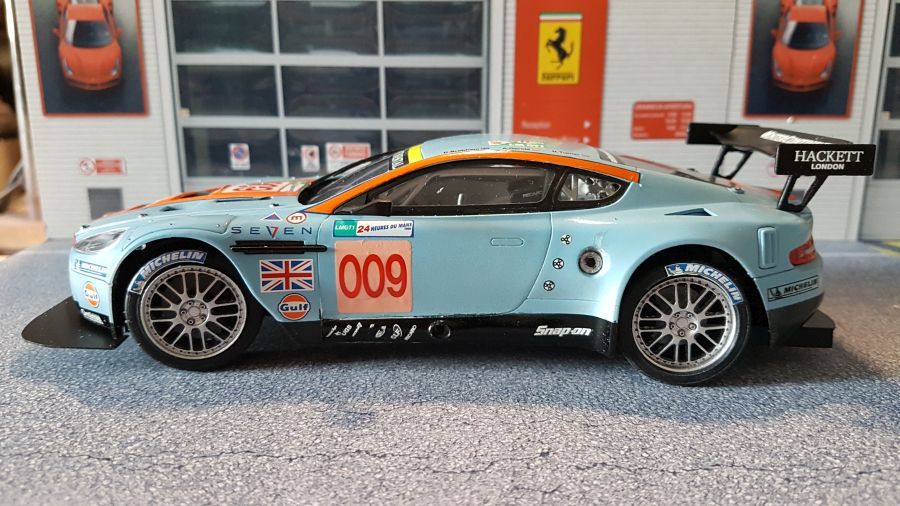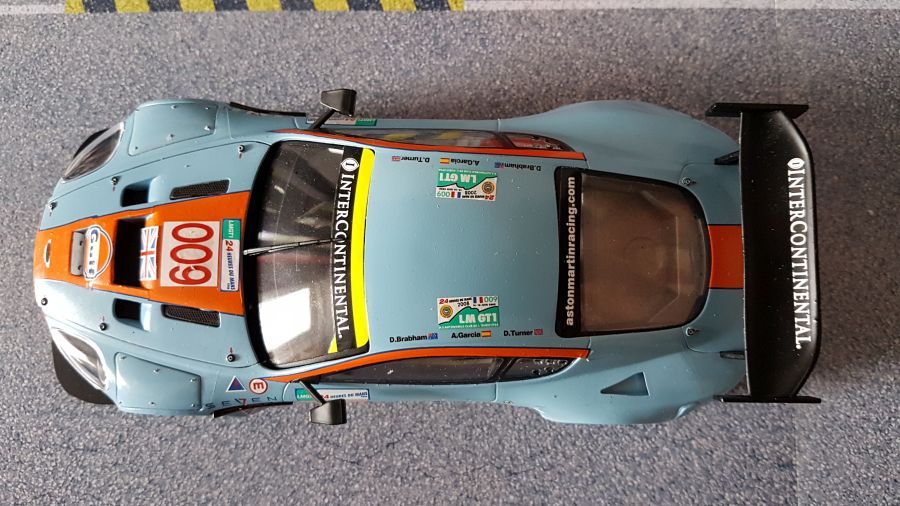 Natuurlijk was dit vragen om moeilijkheden. Een Tamiya kit voorzien van een Carrera Digital body. Nota bene een body die bedoeld is voor een slot car. Okay, niet perfect, maar alles goed bekeken, ben ik er toch blij mee.
Of course this was asking for trouble. A Tamiya kit added with a Carrera Digital body. A body that was meant for slot cars. Okay. not perfect, but overall i am happy with it.