De volgende op mijn lijst is de 2010 Ferrari F10 Turkije versie. De versie zoals ik hem ga maken werd bestuurd door Fernando Alonso. Het is een kit van MFH (Kit nr. K-275). Het was de 800e Grand Prix van het Ferrari team. Een jubileum model dus. Deze zal wel wat tijd gaan nemen. Eerst weer de openingsfoto's. De inhoud van de kit.
The next one on my list is the 2010 Ferrari F10 Turkey version. The version i will make was driven by Fernando Alonso. It's a MFH kit (Kit no. K-275). It was the 800th Grand Prix from the Ferrari team. So a jubilee. This one will take time. First the opening photo's. The kit's content.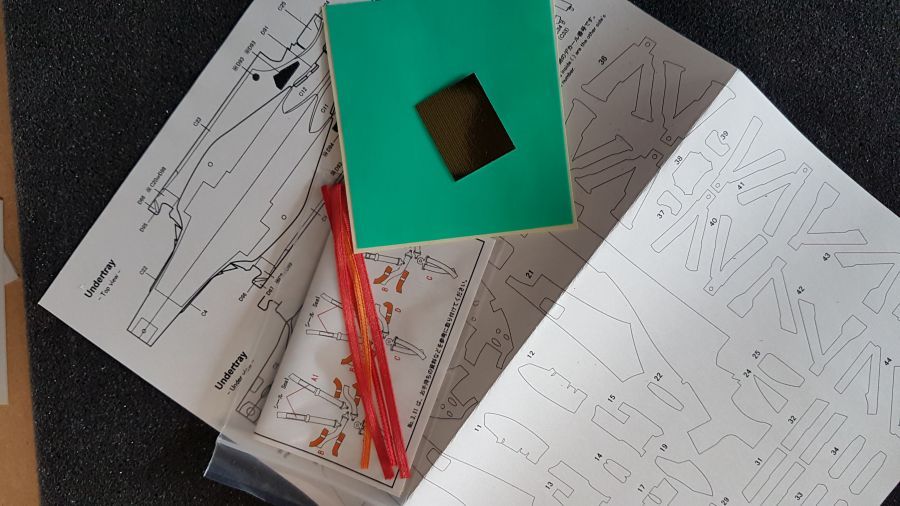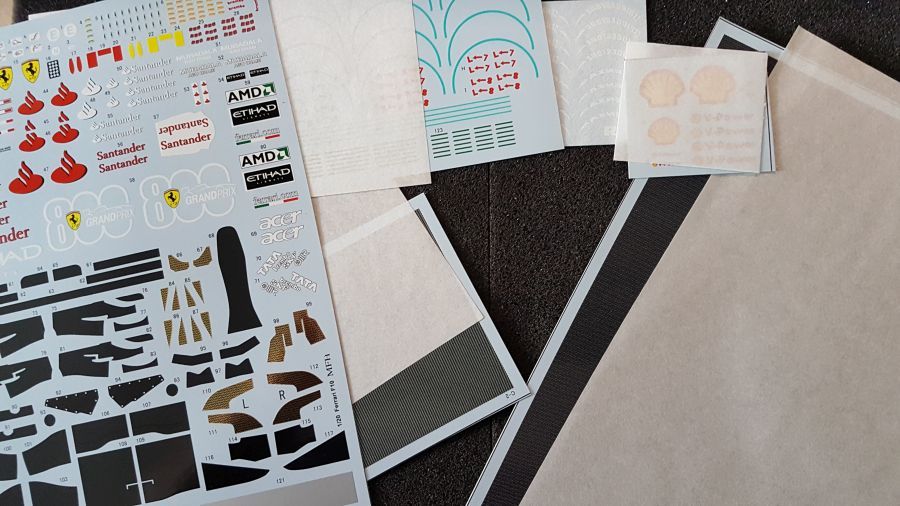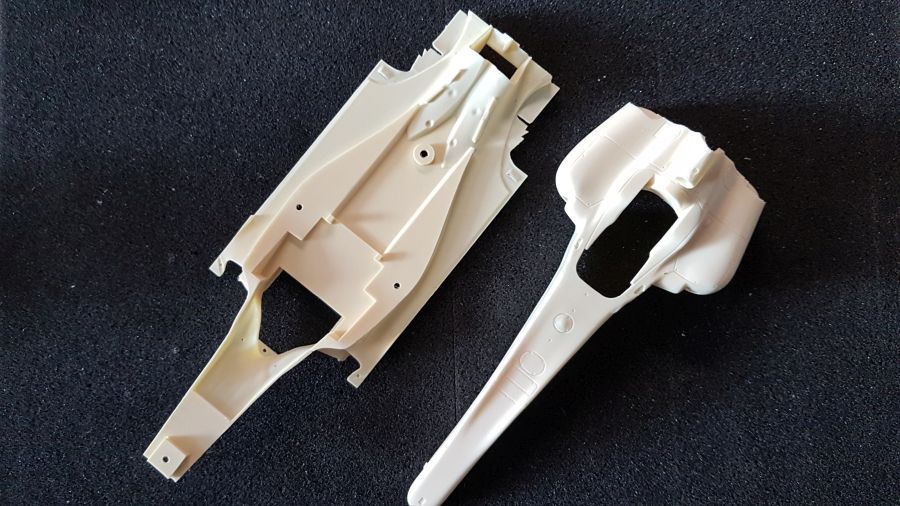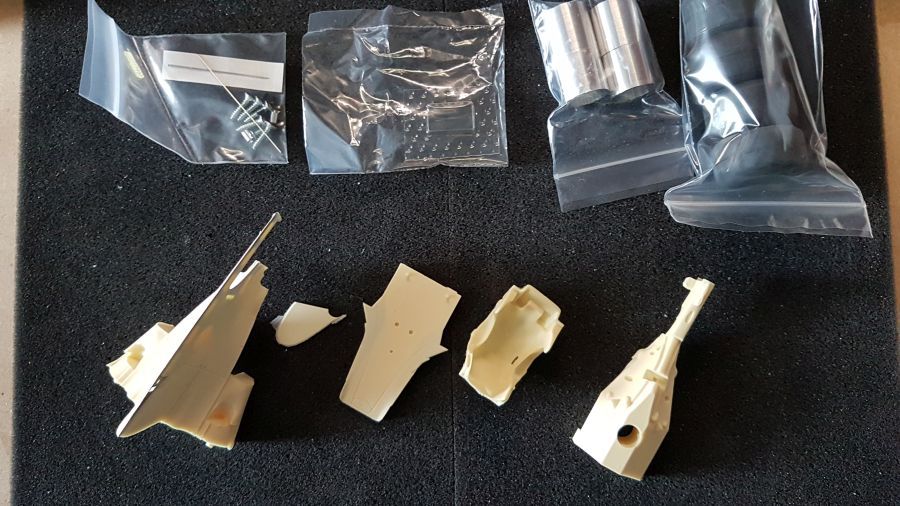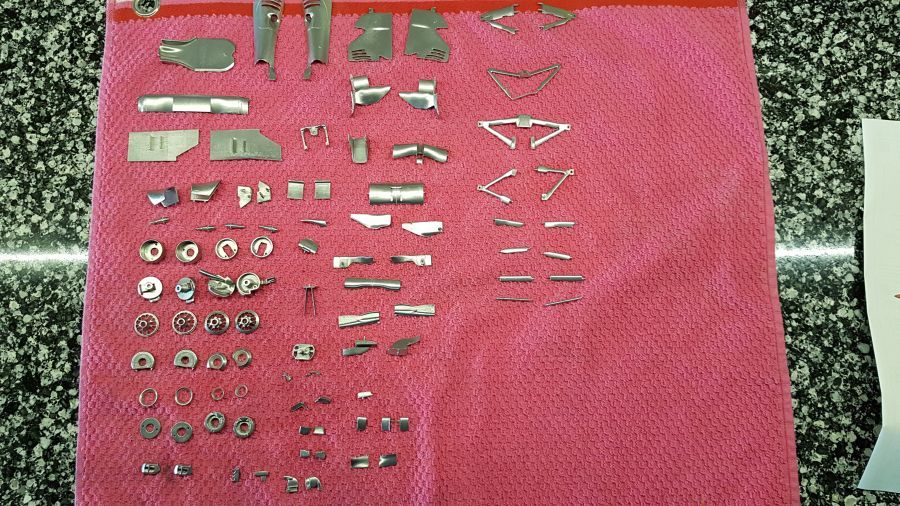 Eerst alles even grouperen volgens de instructies. Zo te zien geen missende onderdelen. Ook alvast maar even een kopie gemaakt van het carbon fiber sjabloon.
First of all group everything according to the instructions. It appears to be complete. I made a copy of the carbon fiber template too.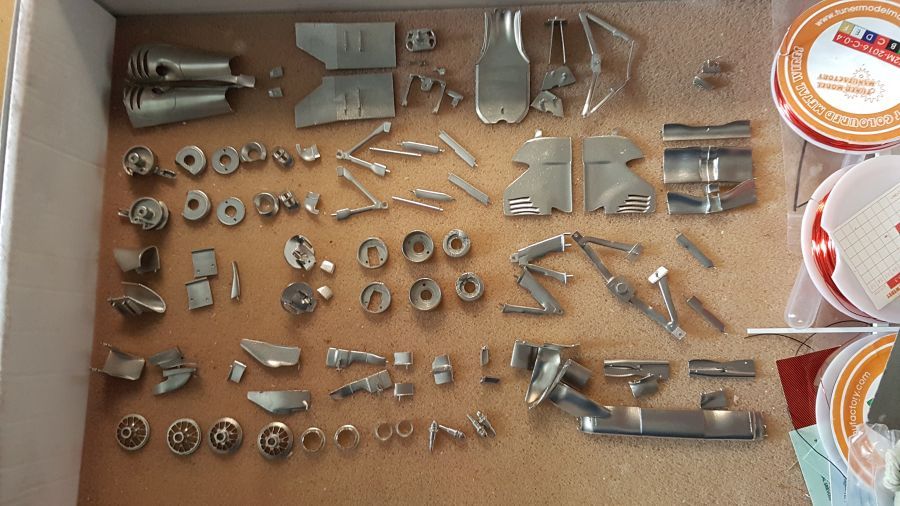 Daar gaat ie. De eerste stappen.
There we go. The first steps.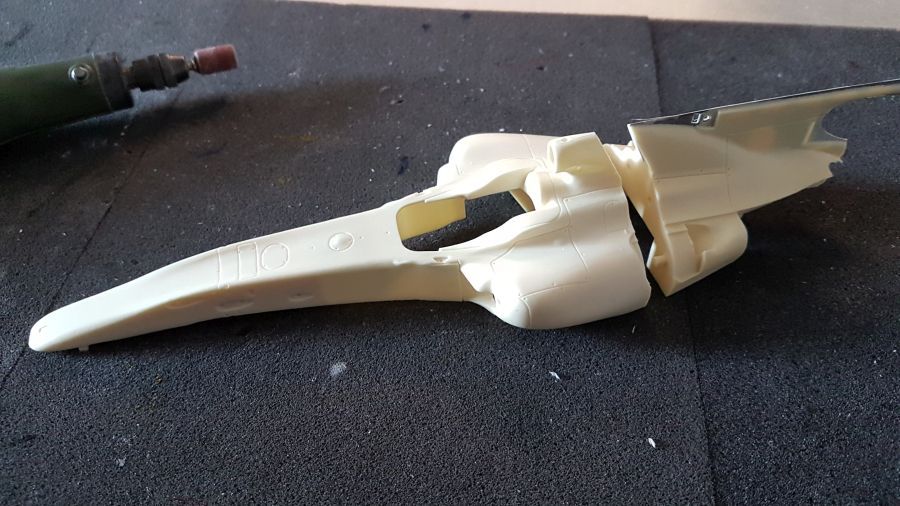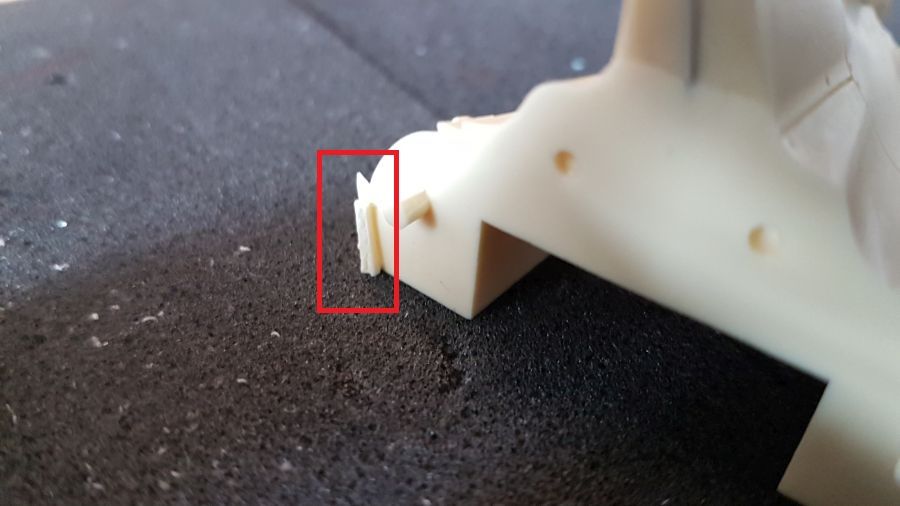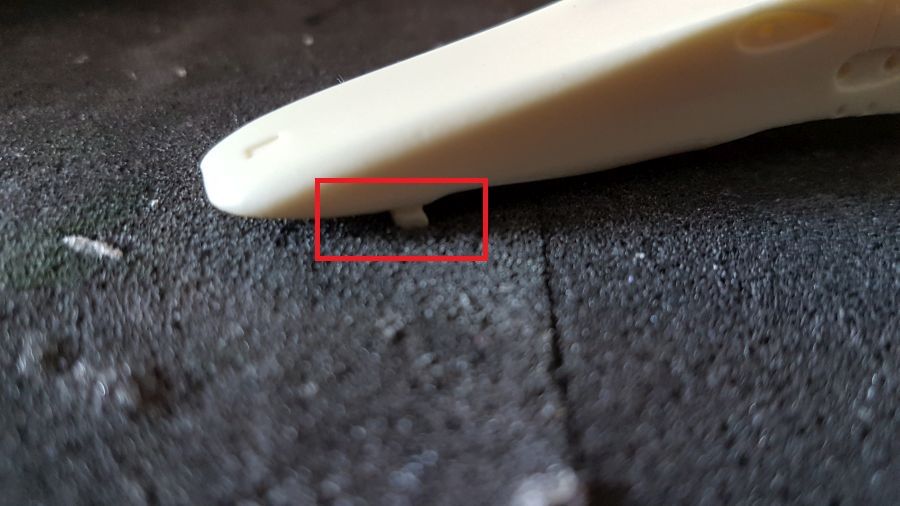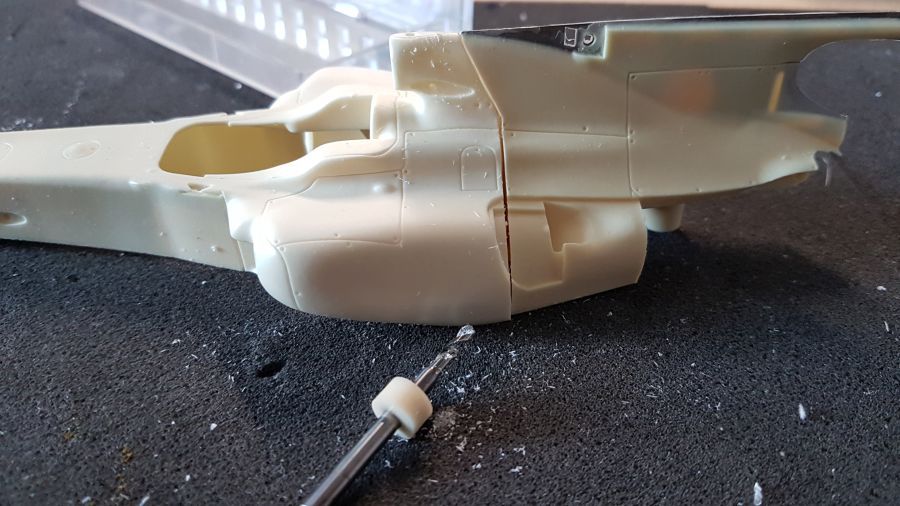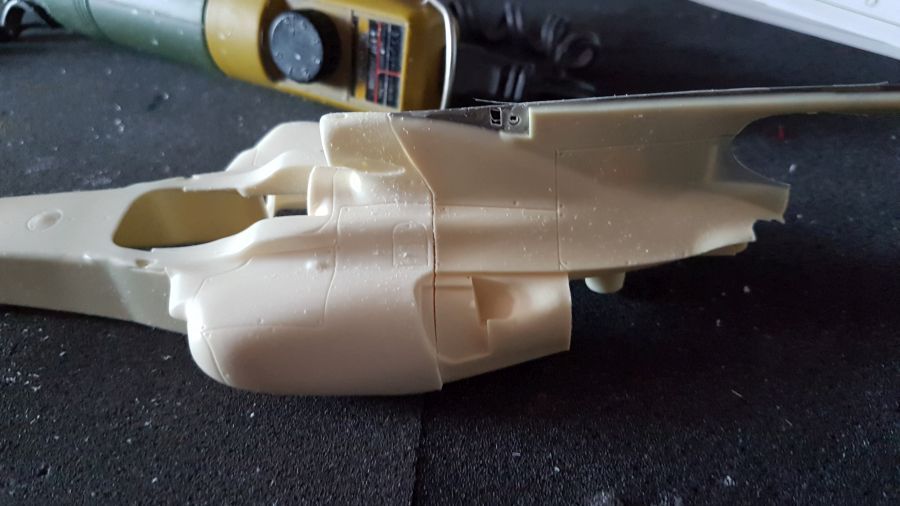 Passen...
Test fit...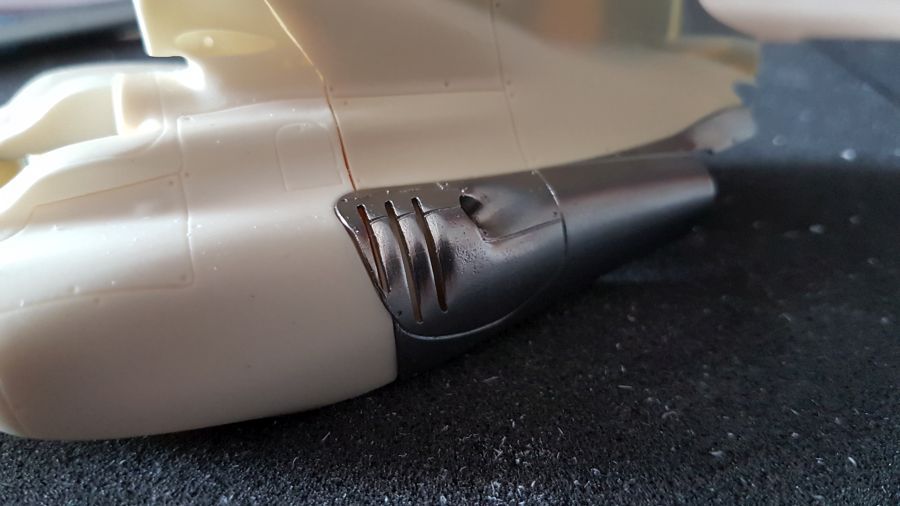 Eerst wordt de luchtinlaat van de F-duct geplaatst. 
First the intake for the F-duct was added.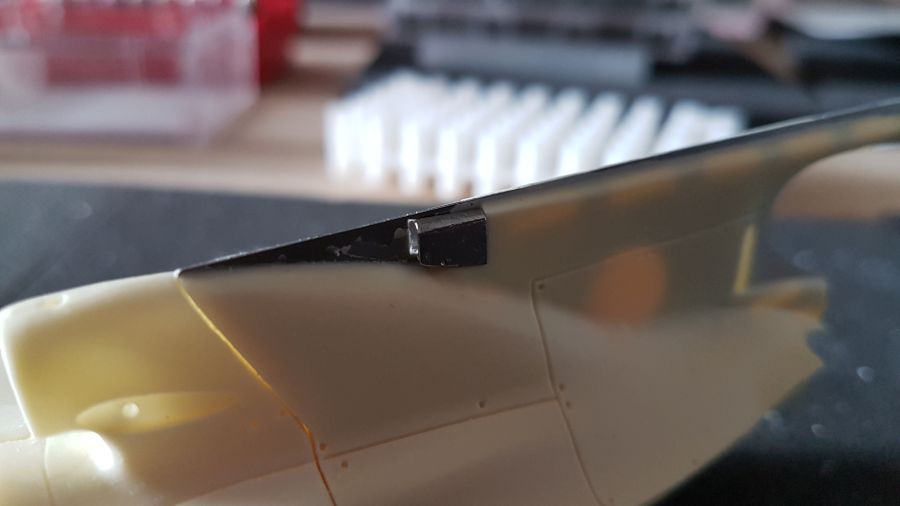 Ik zag bij het aanbrengen van primer een kleine beschadiging. Even repareren met wat putty. Daarna opnieuw primer.
While adding the primer i noticed some small damage. I will repair it with some putty. After that primer again.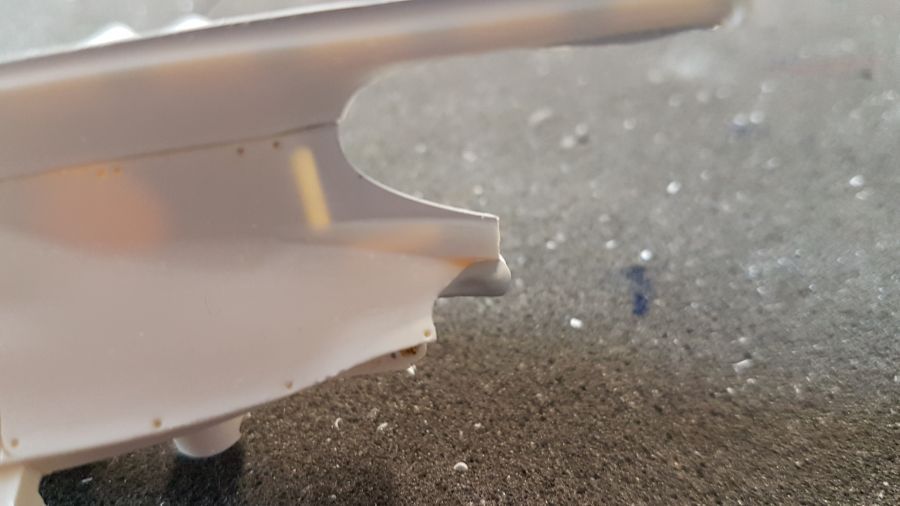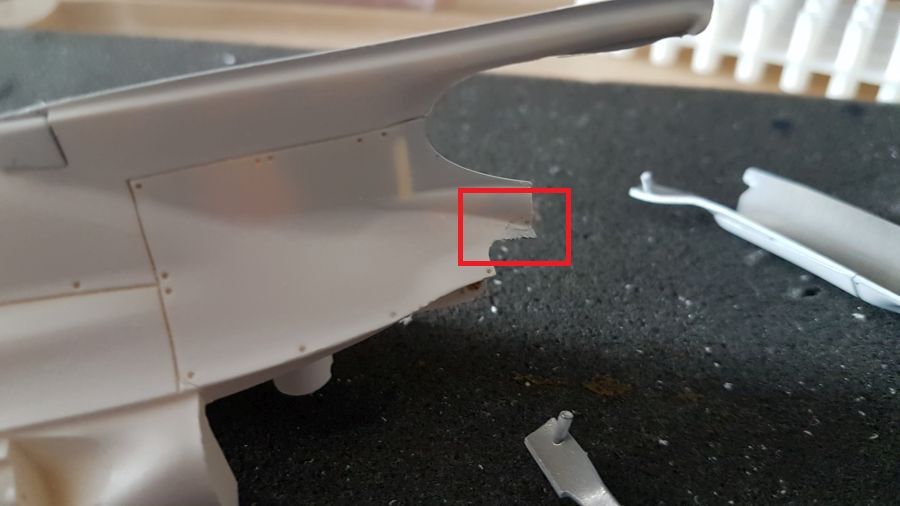 Intussen alvast verf op de vloer. Zo kan ik het werk wat verspreiden.
In the meantime some paint to the floor. This way i can spread the jobs.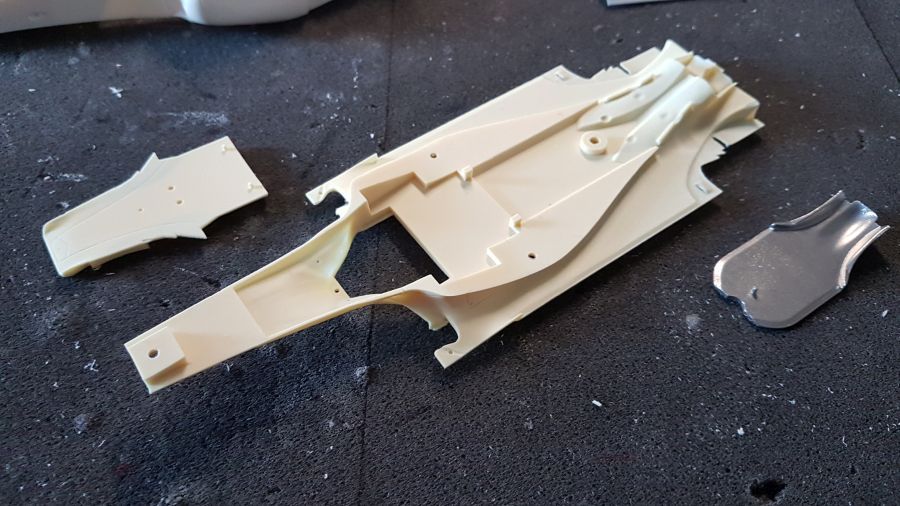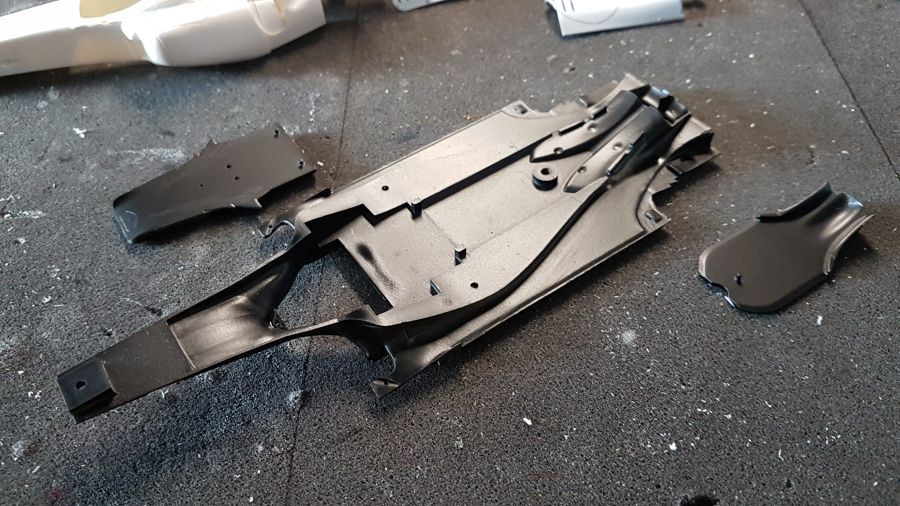 De body is gespoten.
The body has been painted.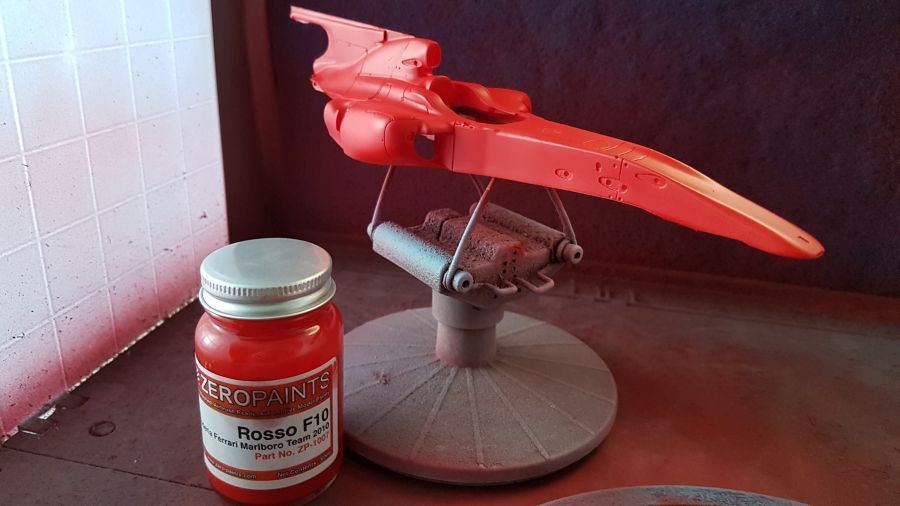 Daarna de 2K glanslak. Dit moet wel even drogen.
Then the 2K clear. This needs some dry time.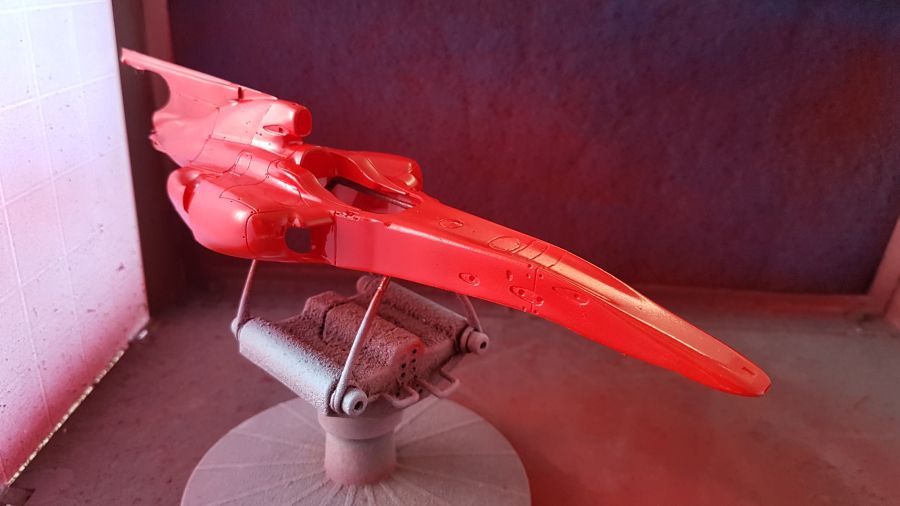 Tijd om even heel licht te schuren.
Time for some very light sanding.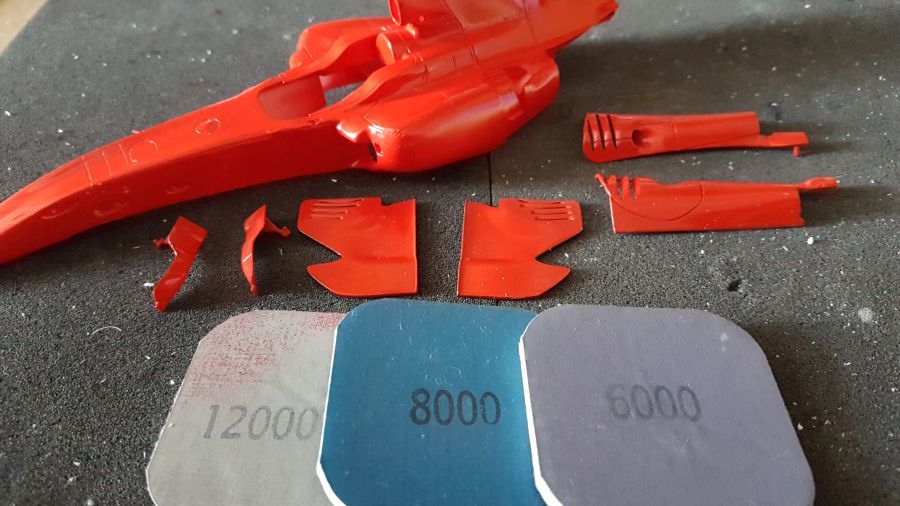 Dan verder met de zijkanten.
To continue with the sides.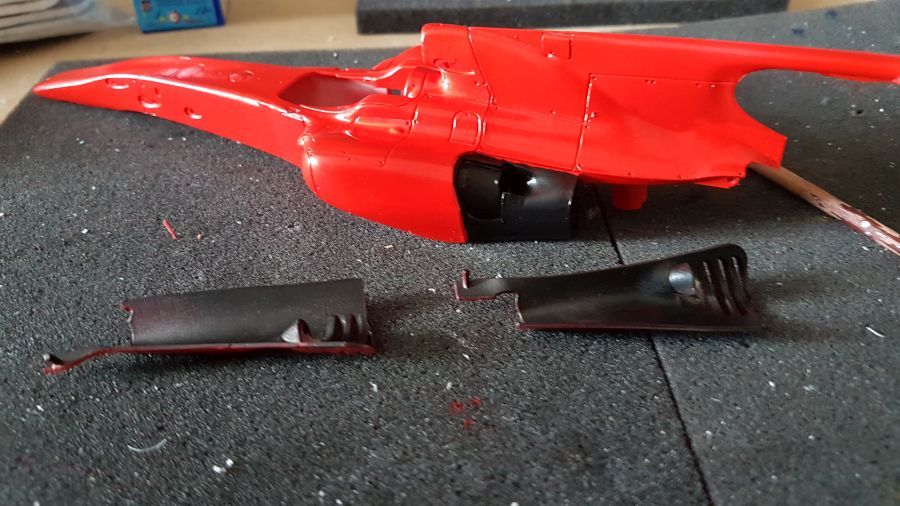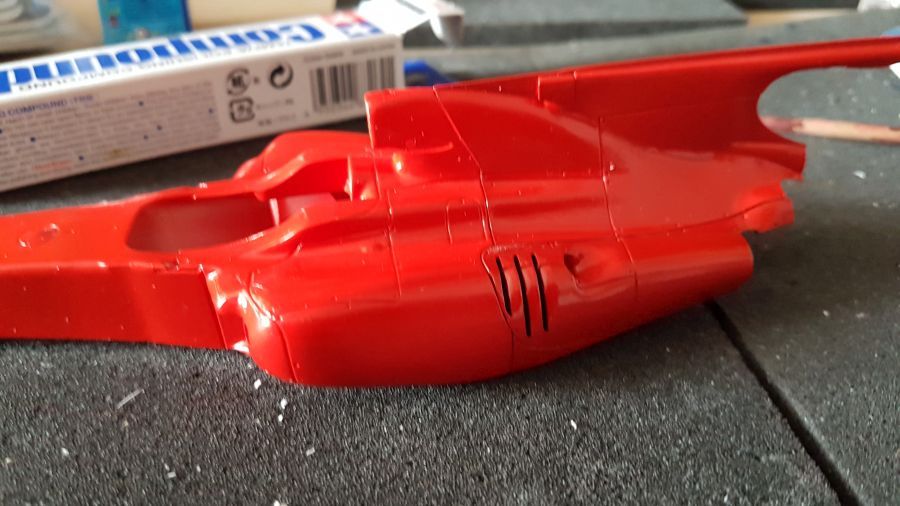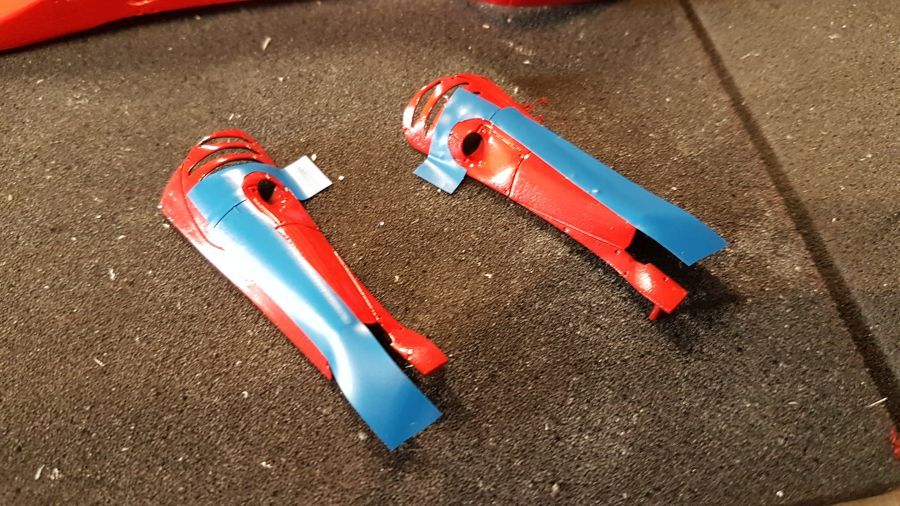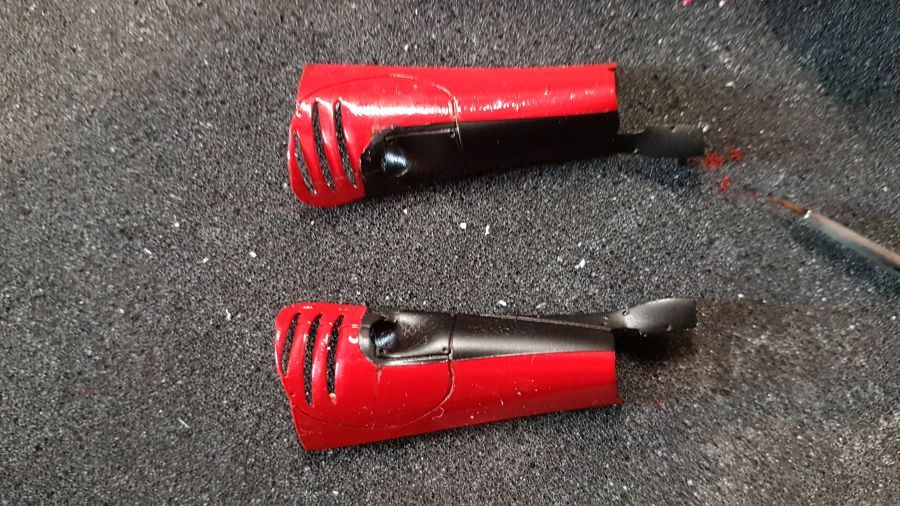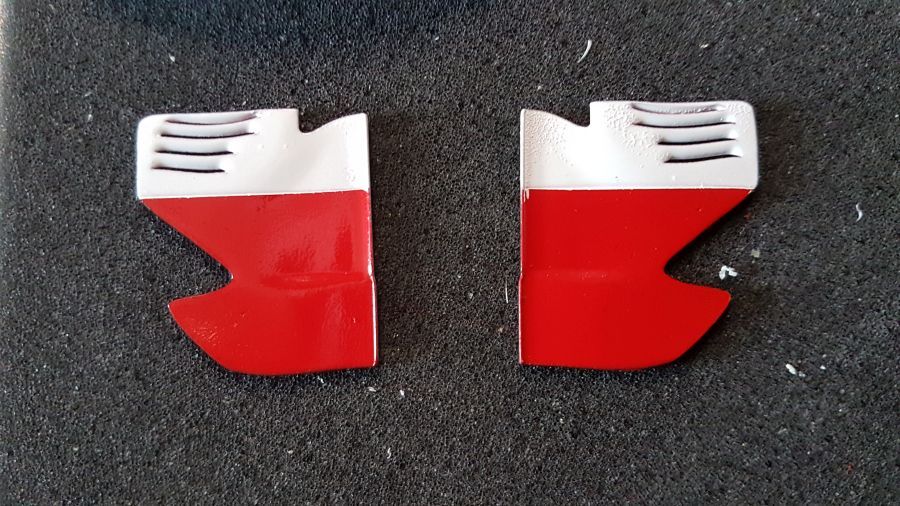 De eerste decals worden geplaatst. Nu goed laten drogen voordat er nog een laag lak overheen kan.
The first decals were added. Now let it dry before another layer of clear can be applied.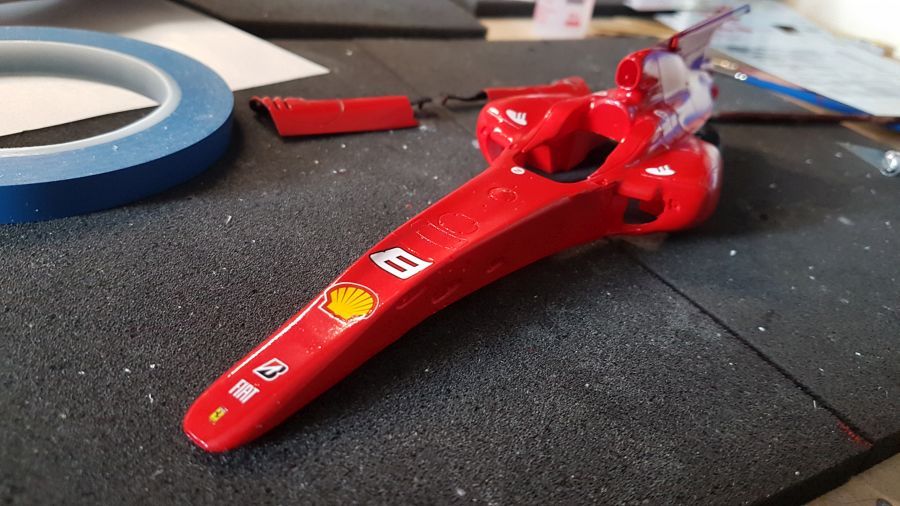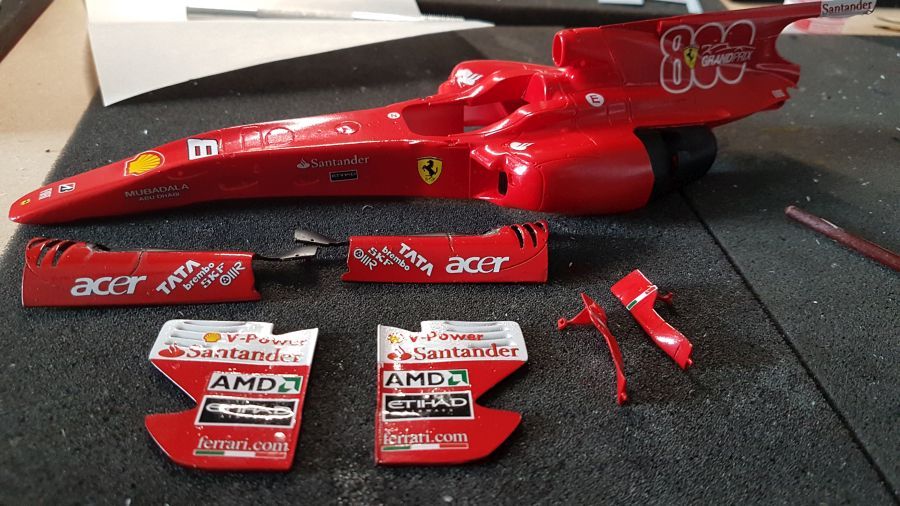 Meer onderdelen worden gespoten.
More parts are being painted.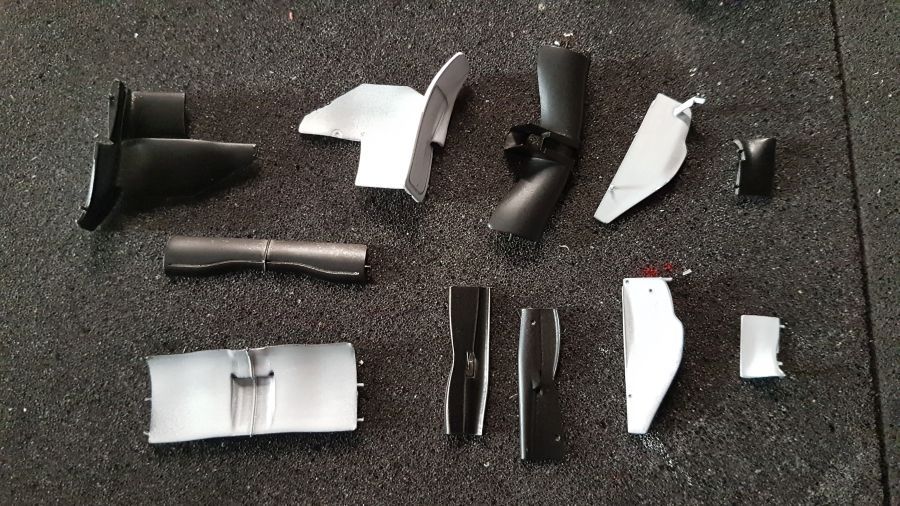 Dan verder met de stoel.
On to the seat.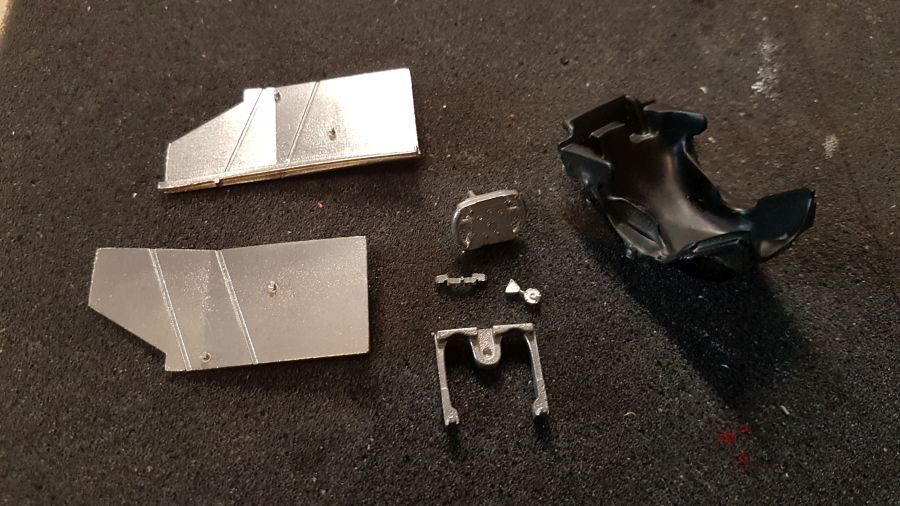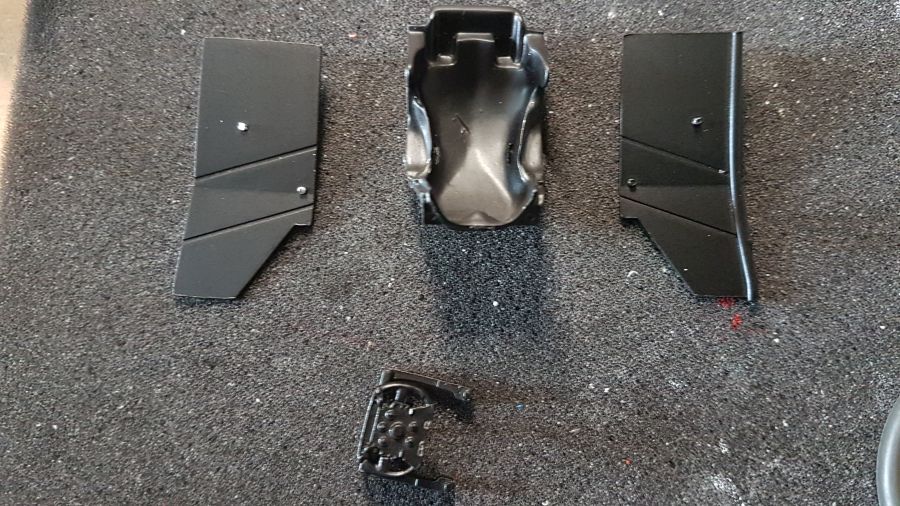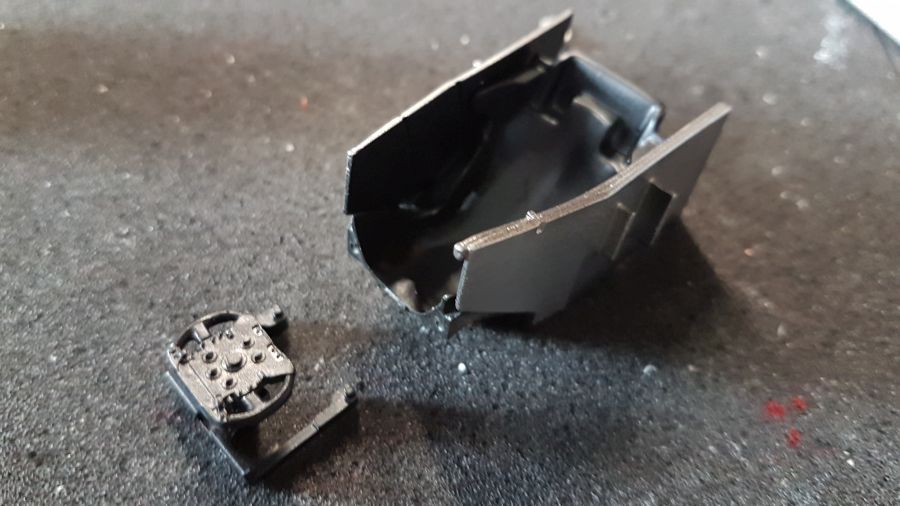 Passen.
Test fit.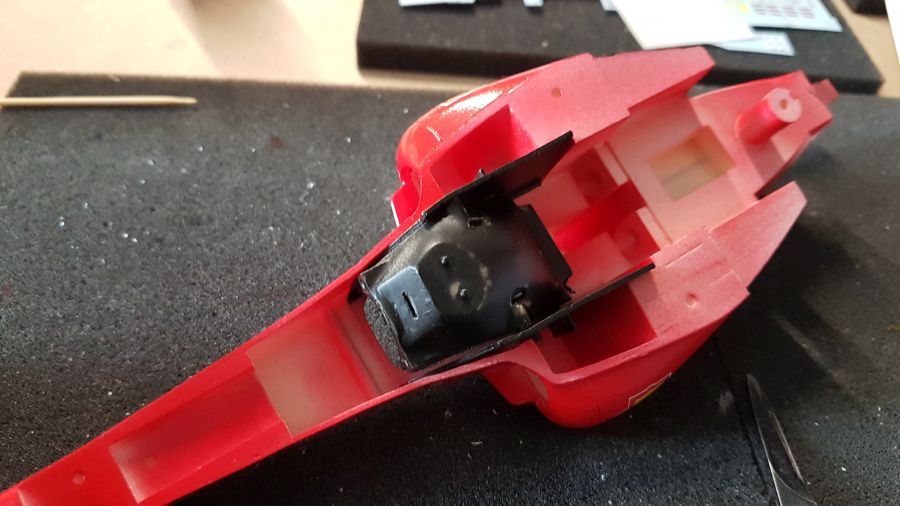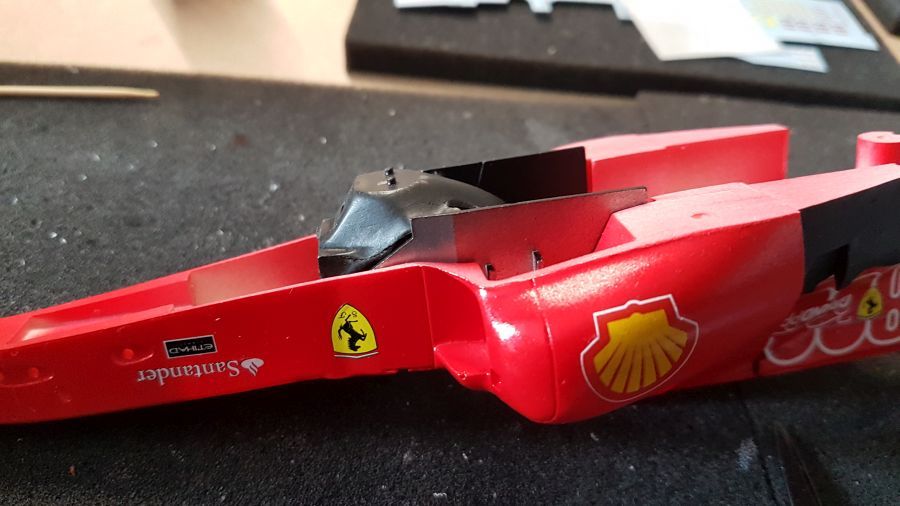 Over naar de gordels.
Over to the belts.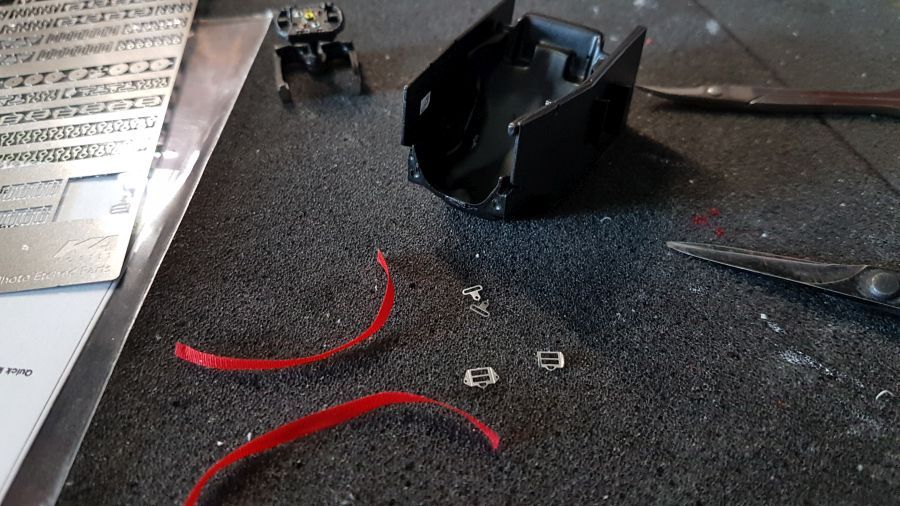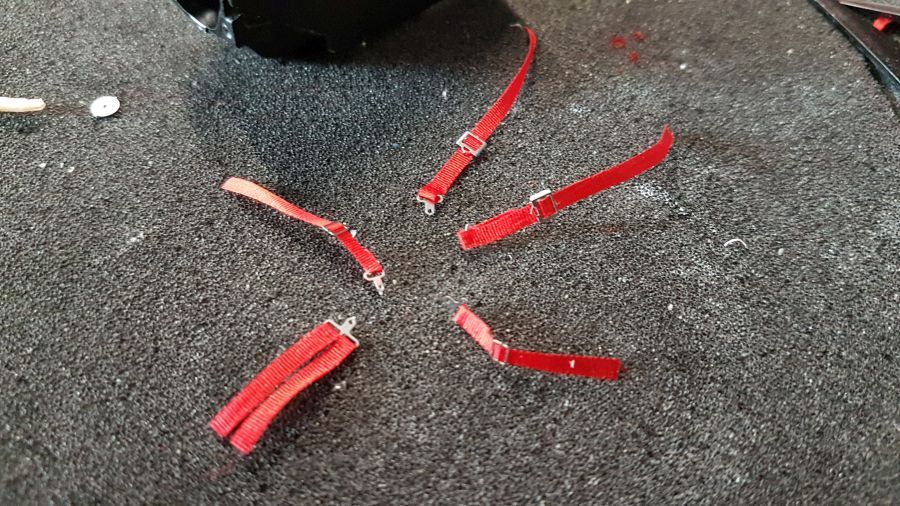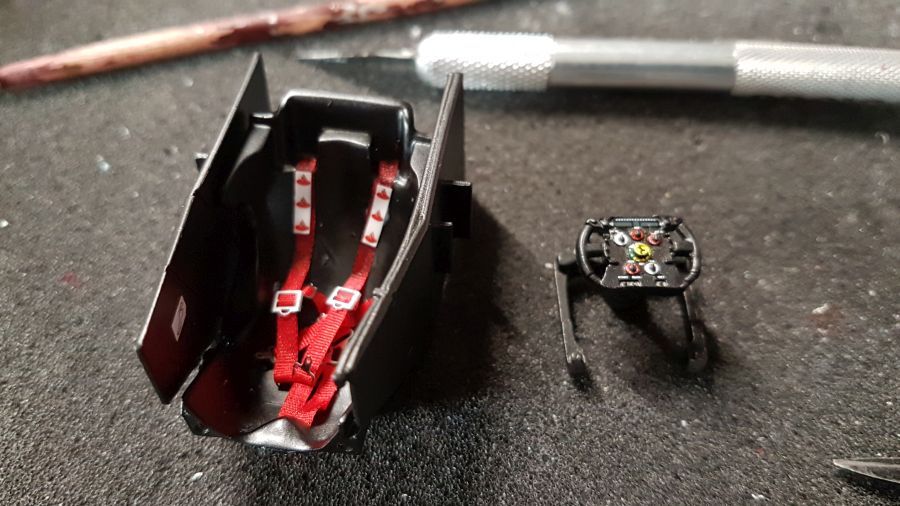 Spannend vandaag. De body krijgt weer een laag heldere 2K lak. Hopen dat het goed gaat en dat de decals het overleven. Voor dit lakwerk gebruik ik mijn Ultra 0,4 mm (anders altijd mijn Evolution 0,6 mm / Evolution CR 0,4 mm). Ik heb de Ultra een upgrade gegeven met een naaldstandbegrenzer.
Exciting day. The body recieves another layer of 2K clear. I hope it works well and that the decals will survive. For this work i will use my Ultra 0,4 mm (normally my Evolution 0,6 mm / Evolution CR 0,4 mm). I gave the Ultra an upgrade with a needle controller.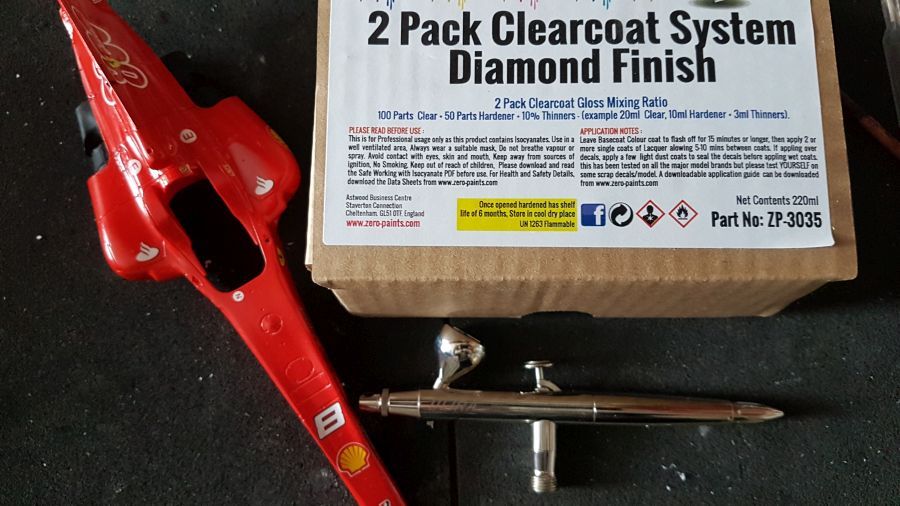 Het lijkt erop dat het goed is gegaan.
It looks like it went well.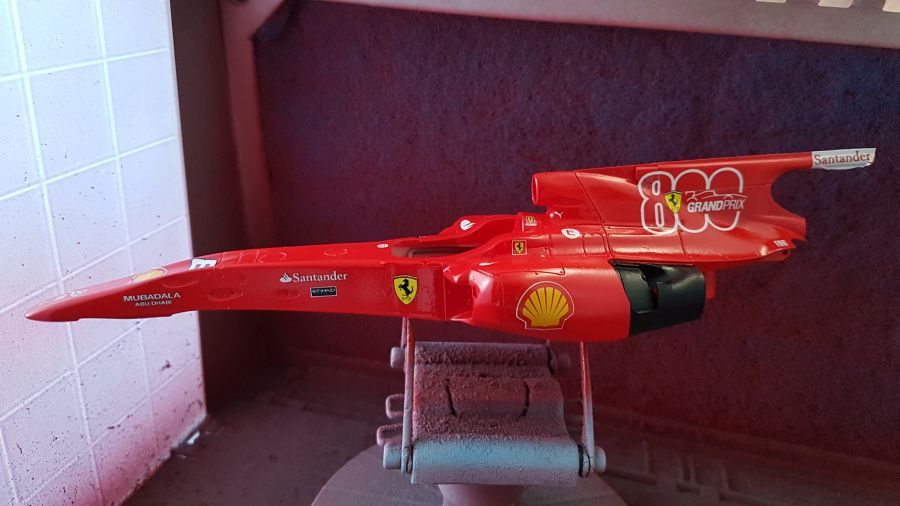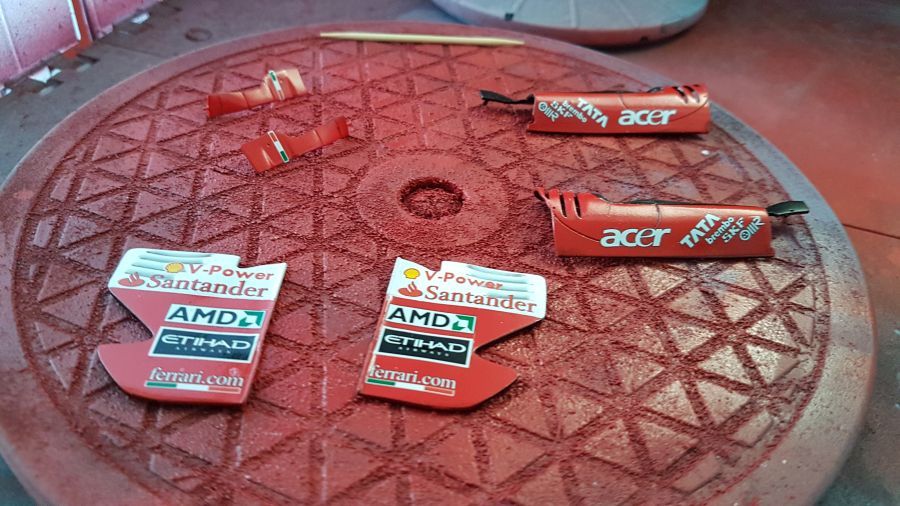 Daarna carbon fiber decals... dit neemt wel wat tijd.
Then carbon fibre decals... this will take some time.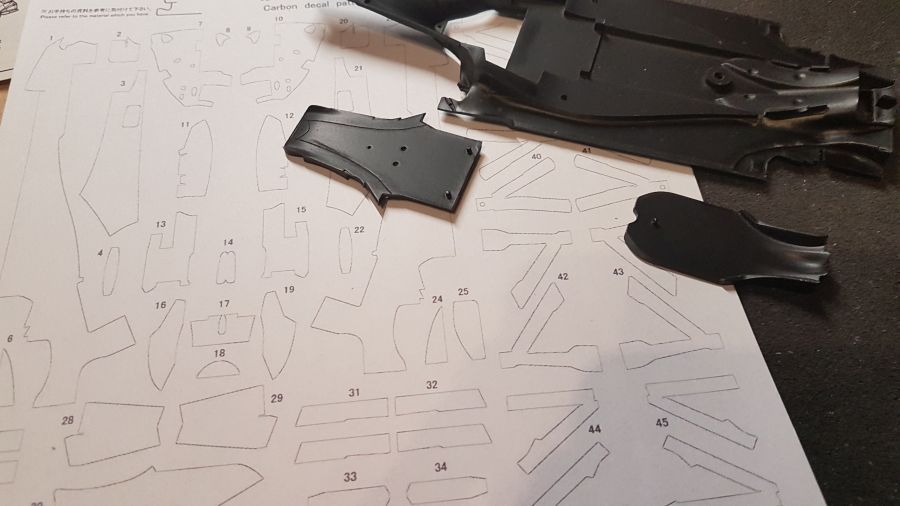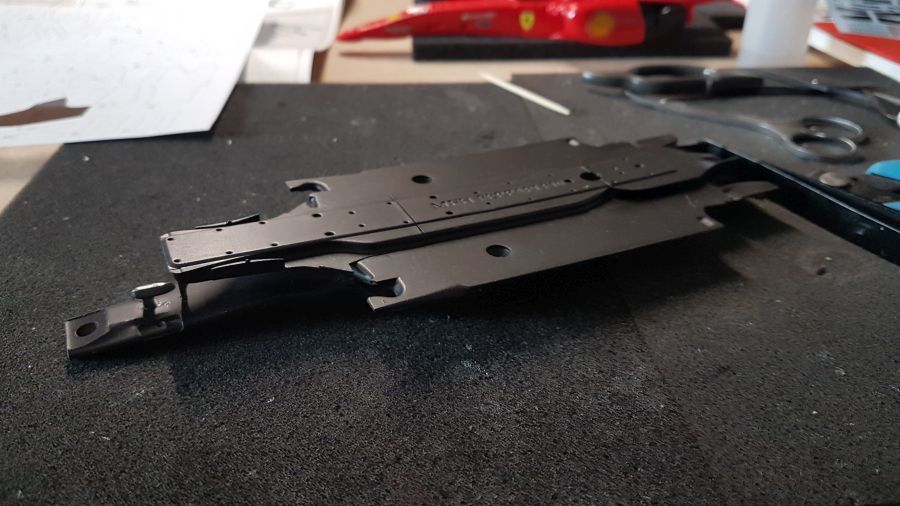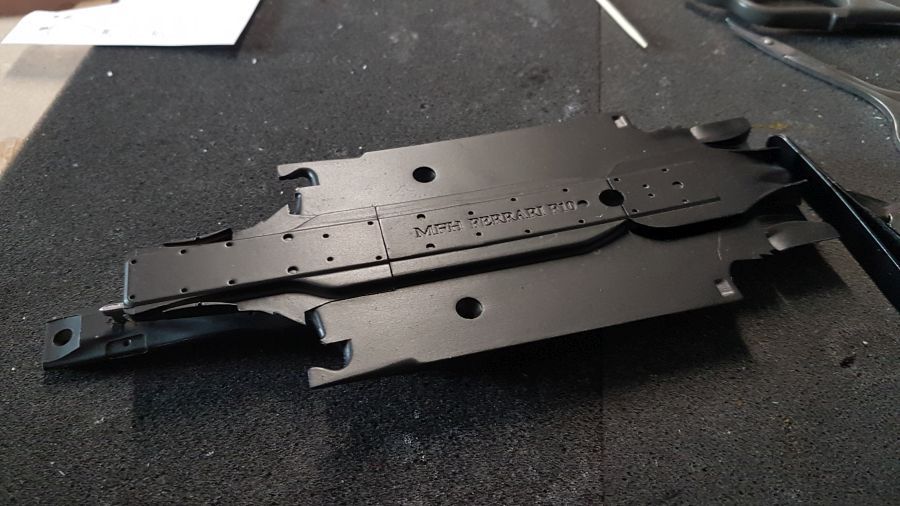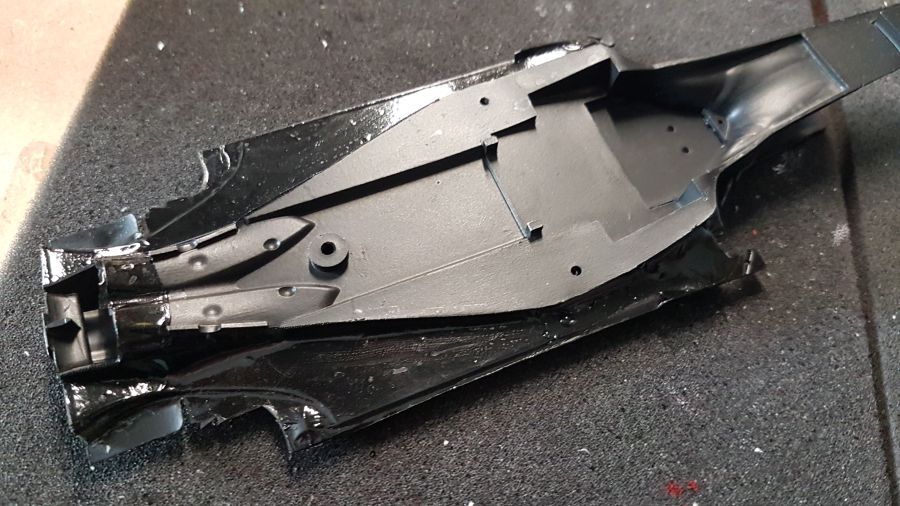 Dit laten drogen en door naar de motor en vloer...
Let this dry and on to the engine and floor...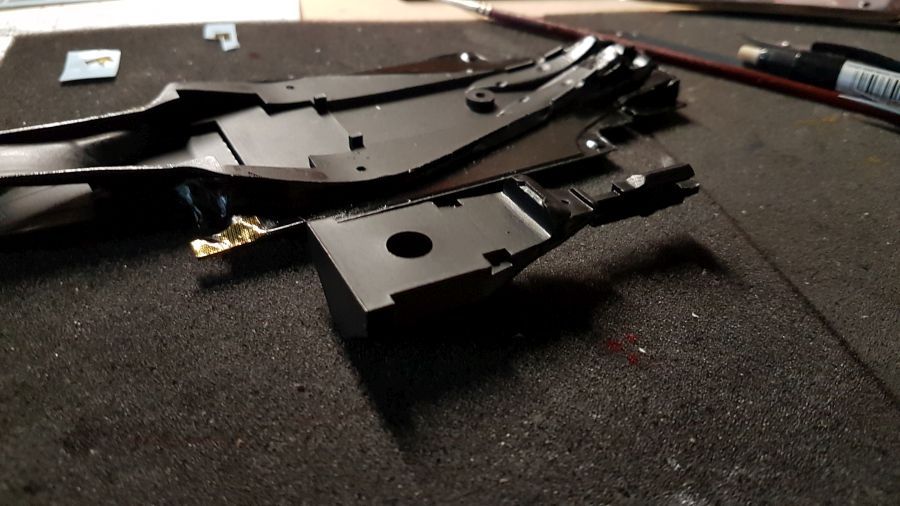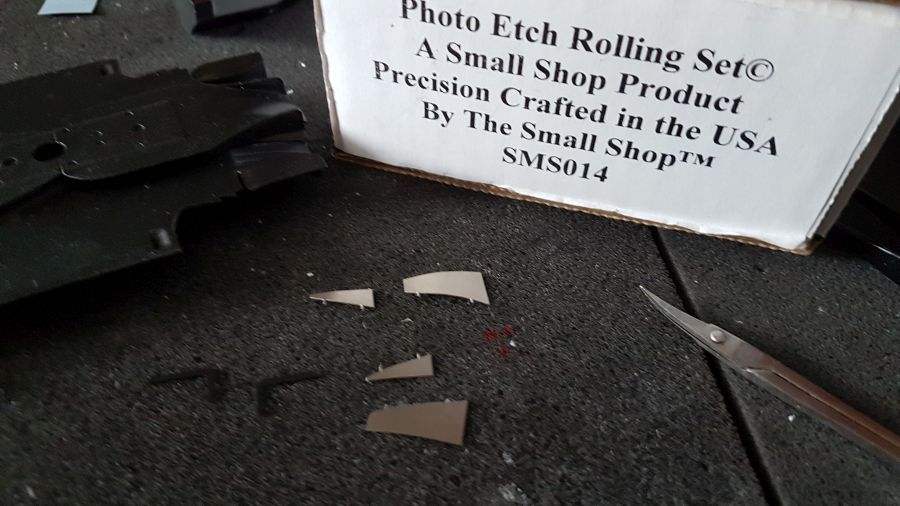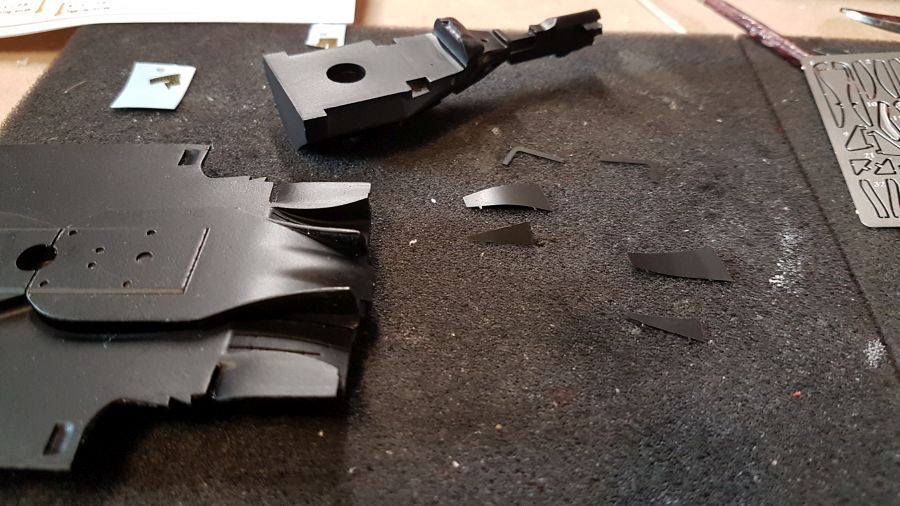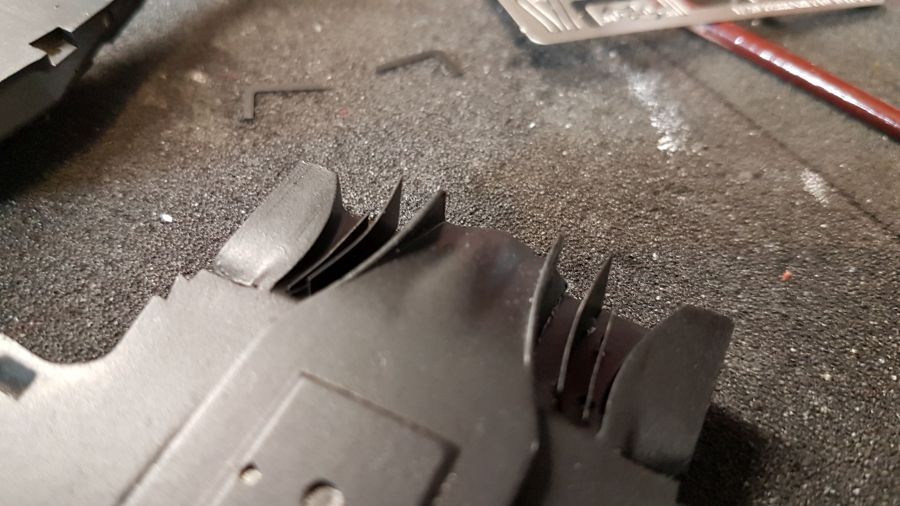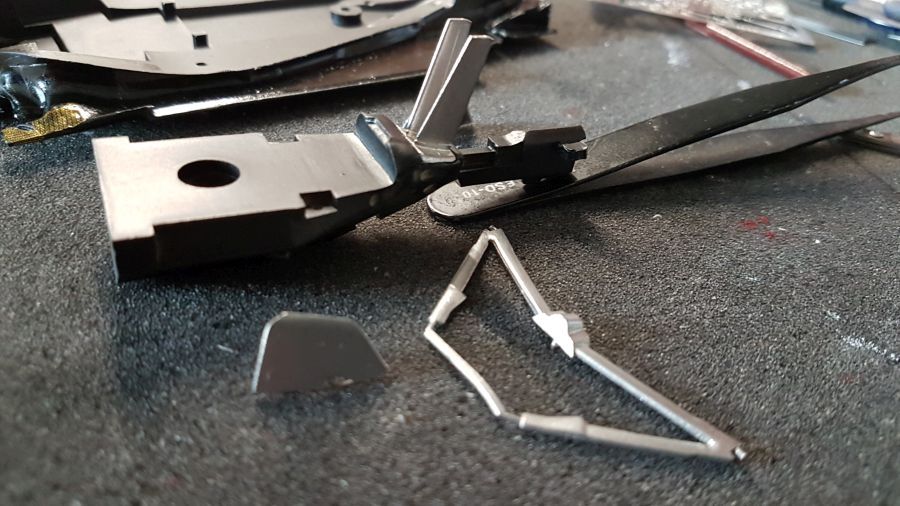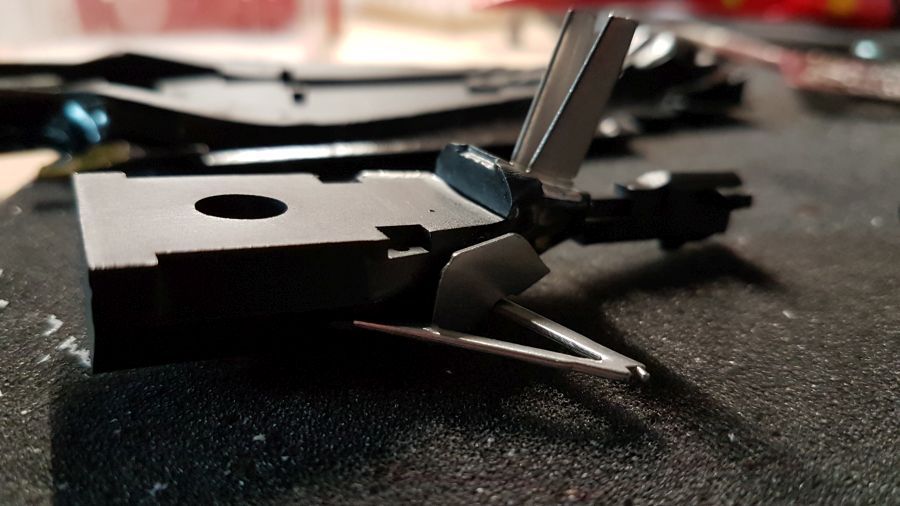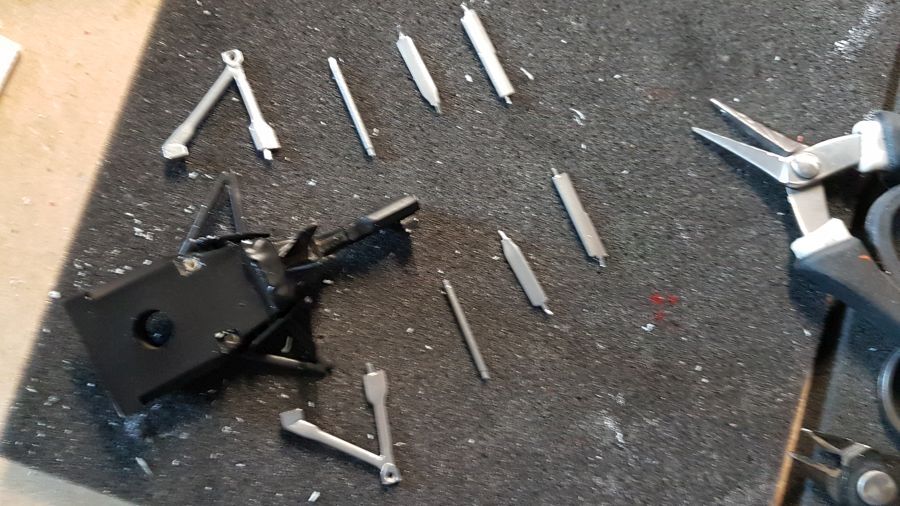 Eerst door naar de remmen.
First on to the brakes.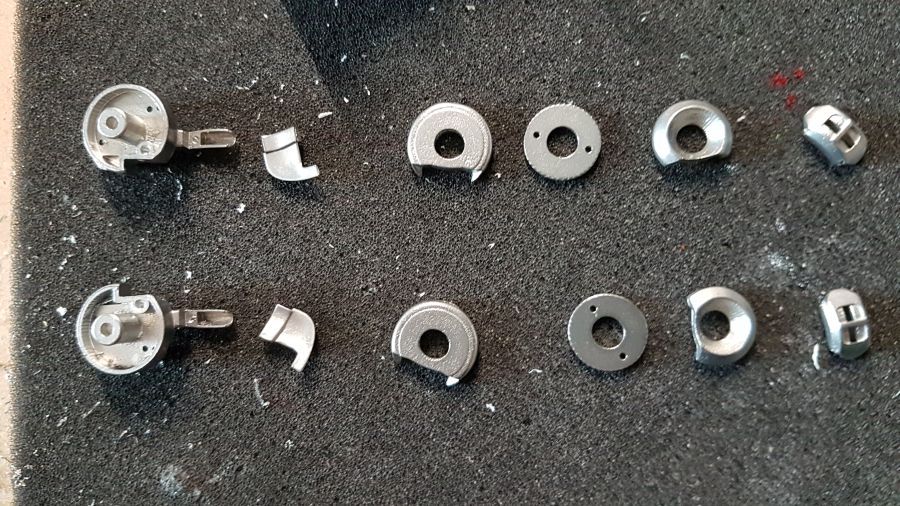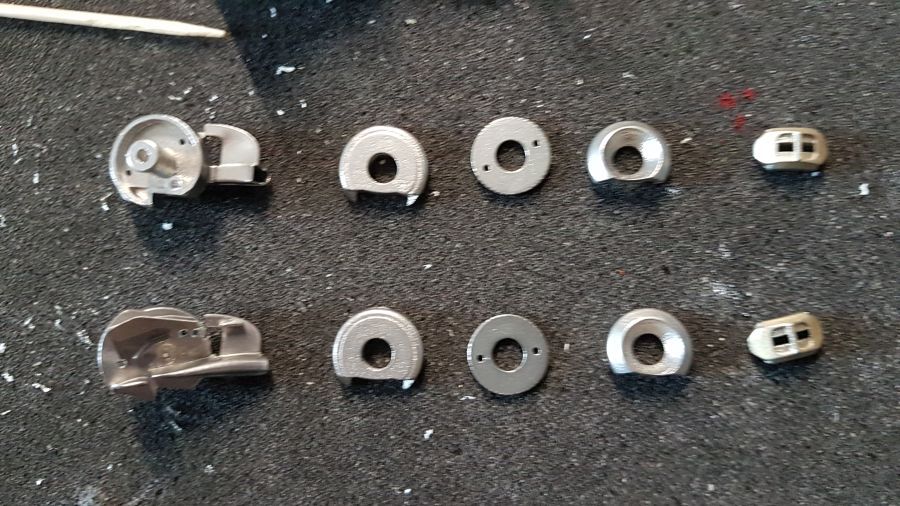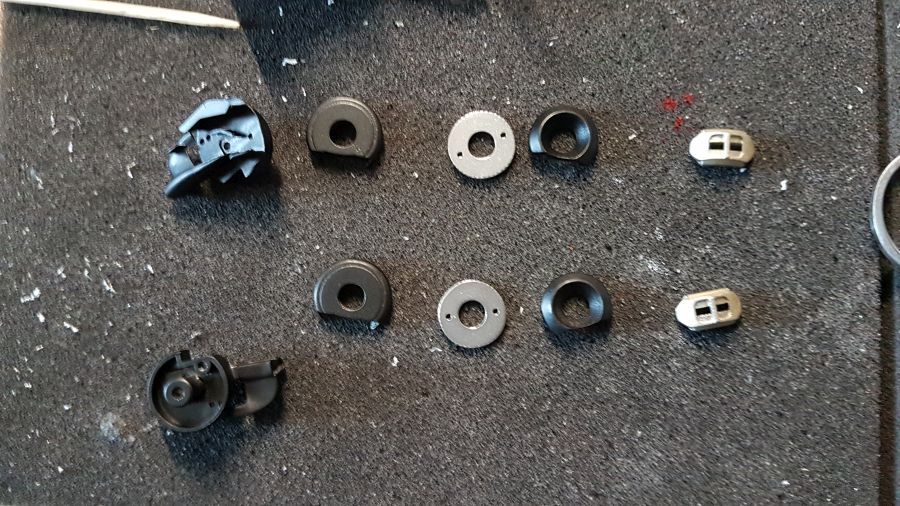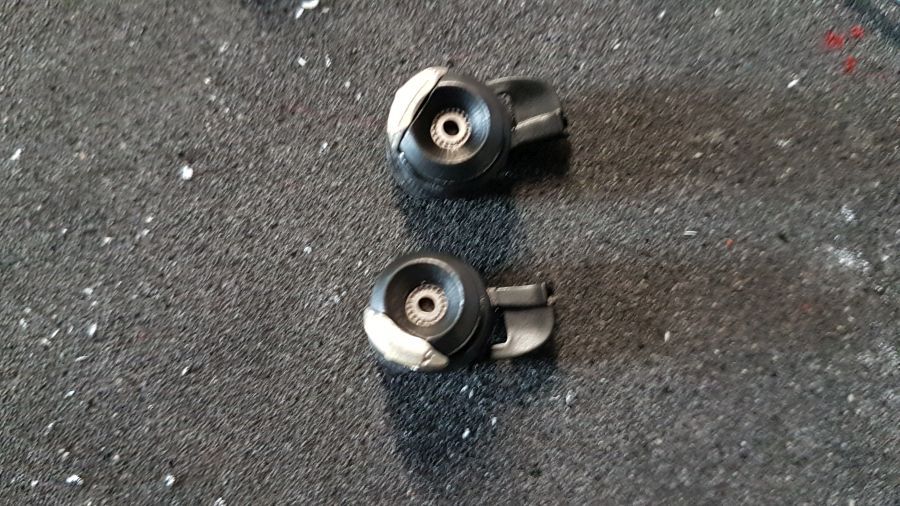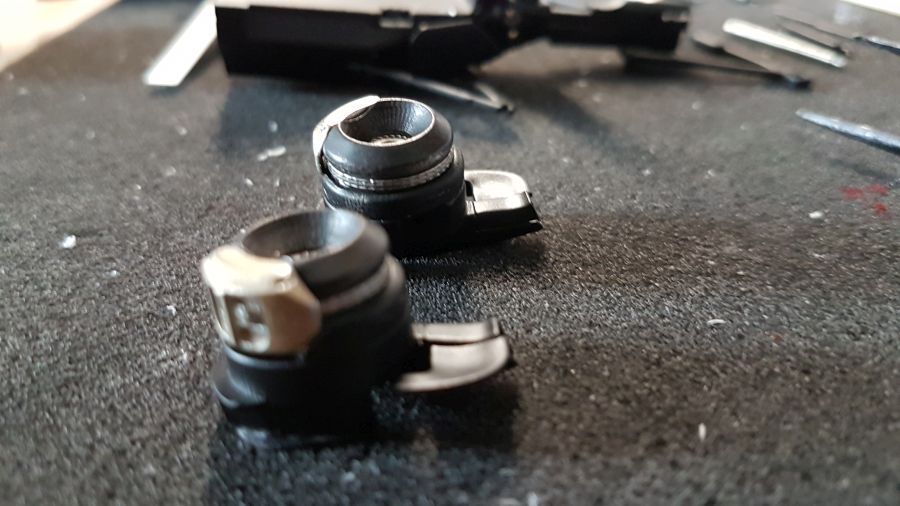 Dan de rotklus, altijd 2 handen tekort.
Then the nasty work, always 2 hands short.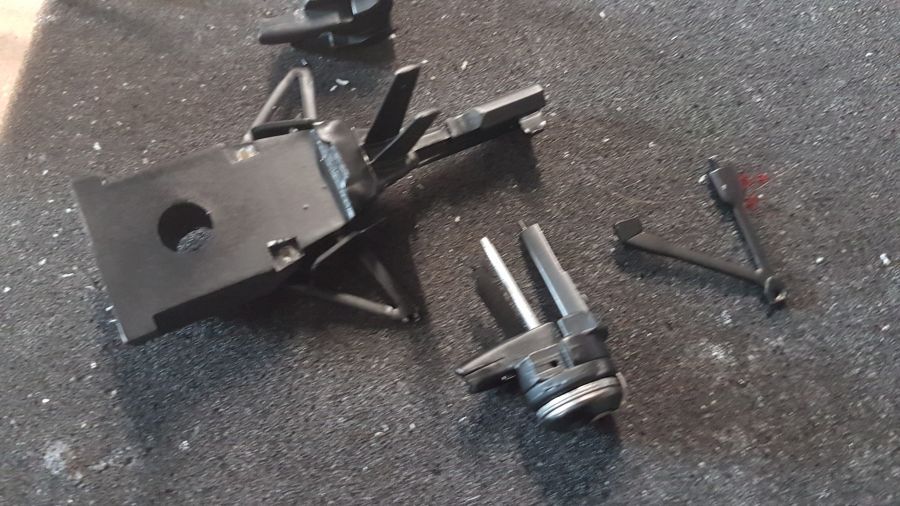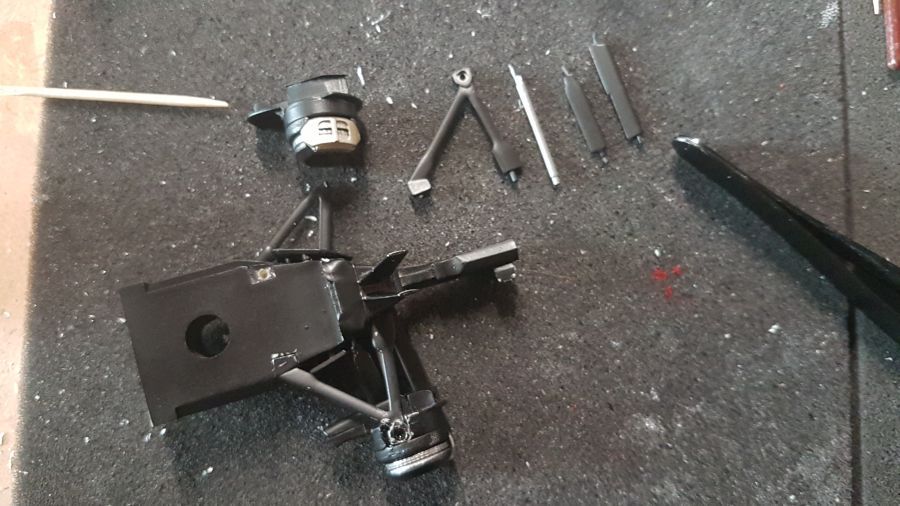 Testen.
Testing.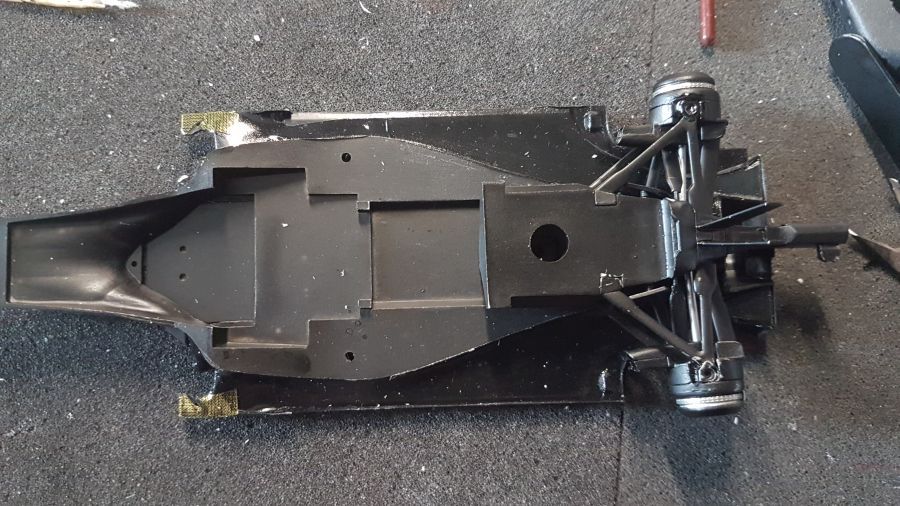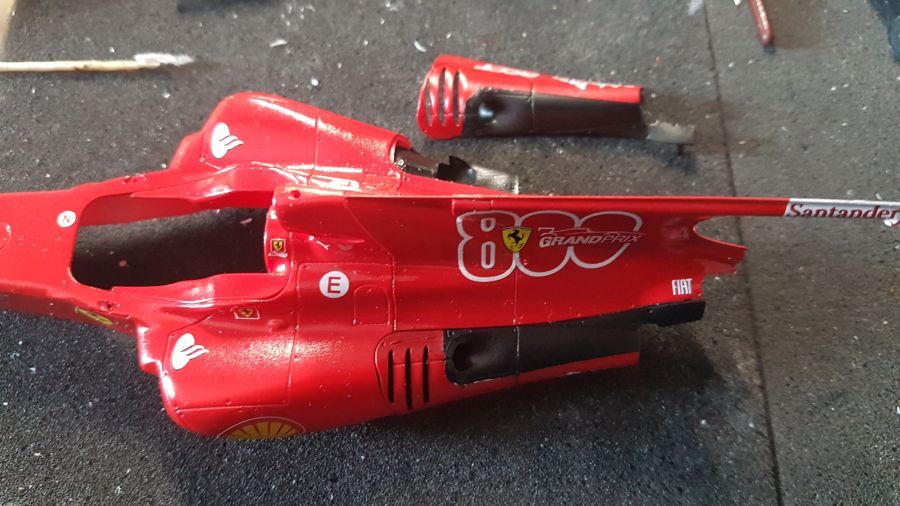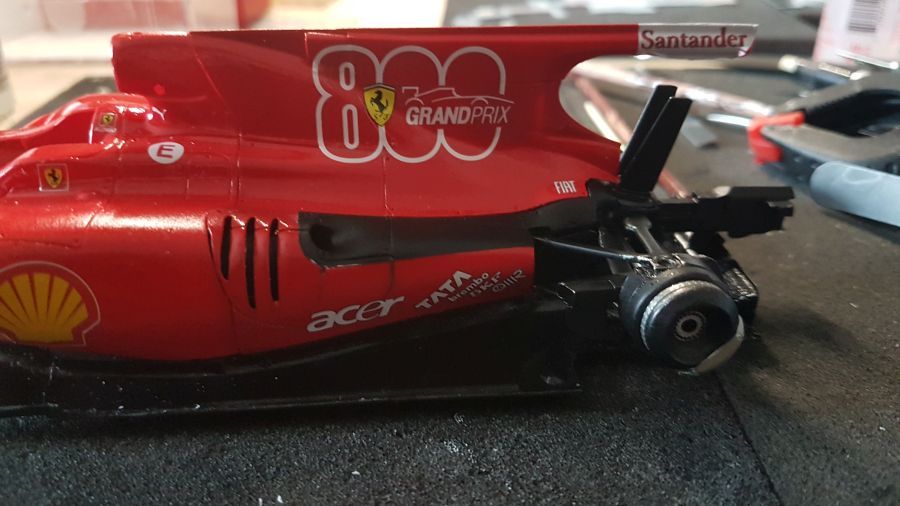 Even de stoel passen. Op deze wijze kan het dashbord worden geplaatst.
Test fit of the seat. This way the dashboard can be added.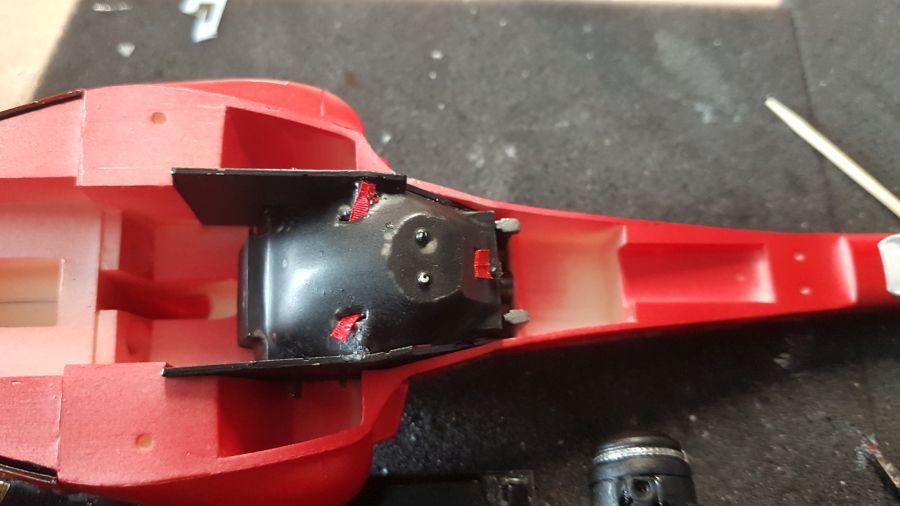 De inleg voor de sidepods worden in elkaar gezet en gespoten.
The inserts for the side pods are being mounted and painted.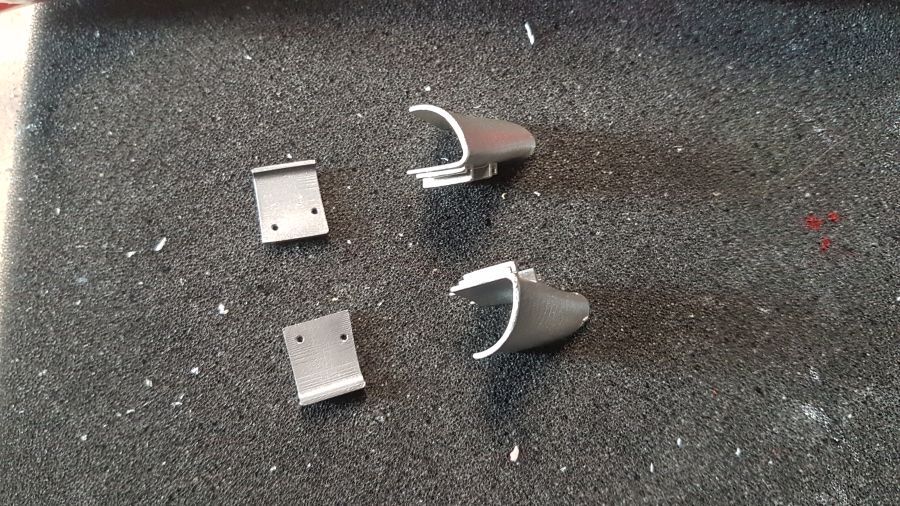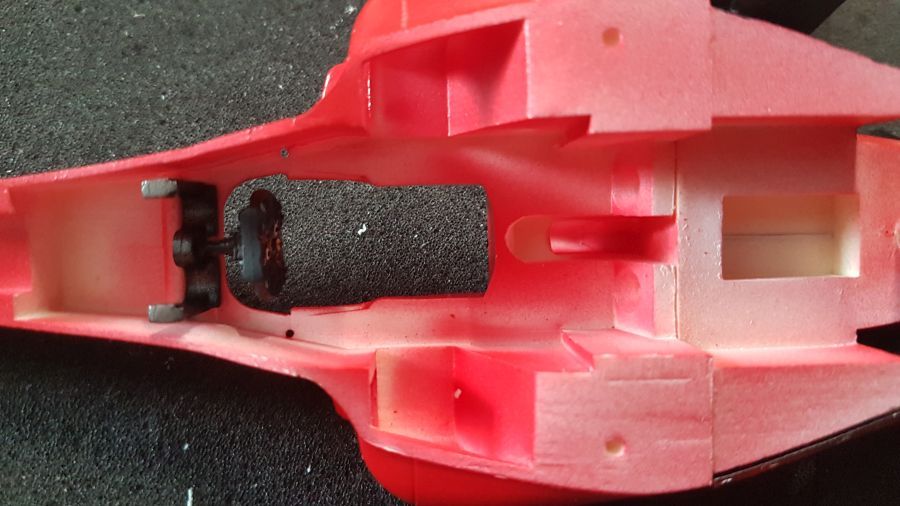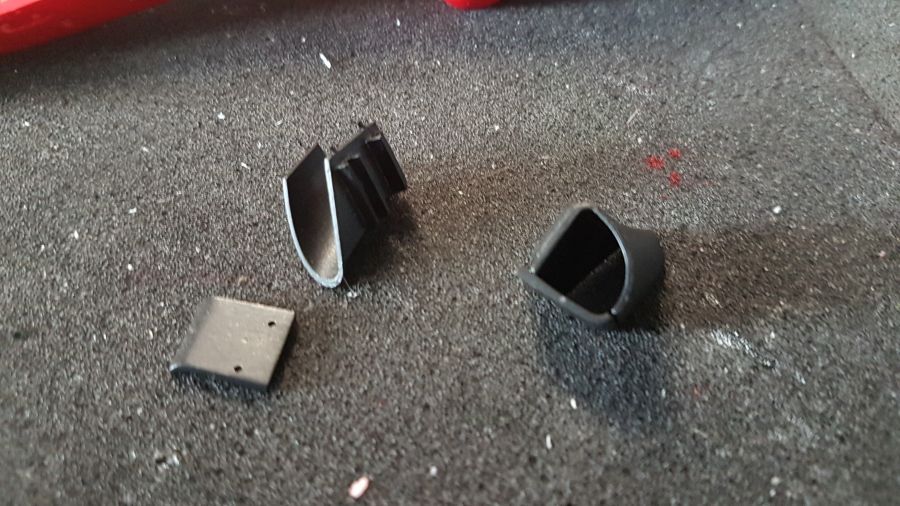 Weer passen.
Test fit again.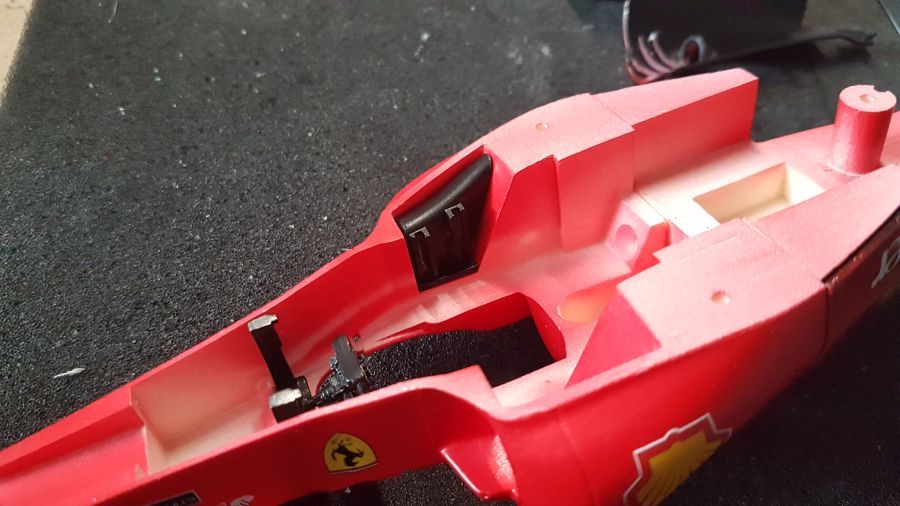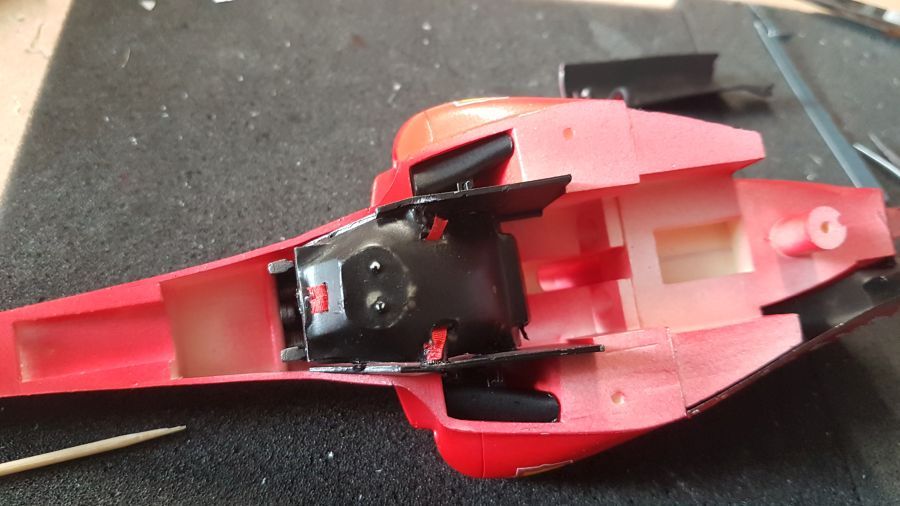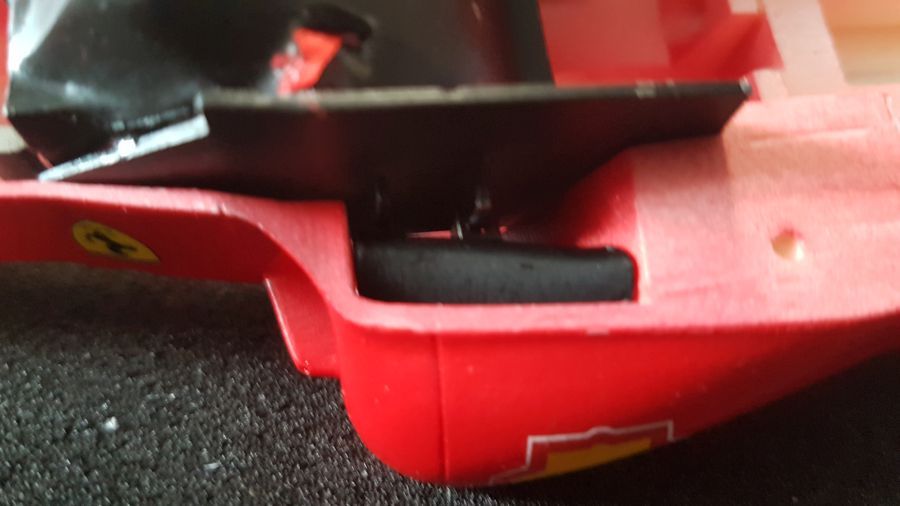 Niet vergeten de binnenkant te verven.
Don't forget to paint the inside.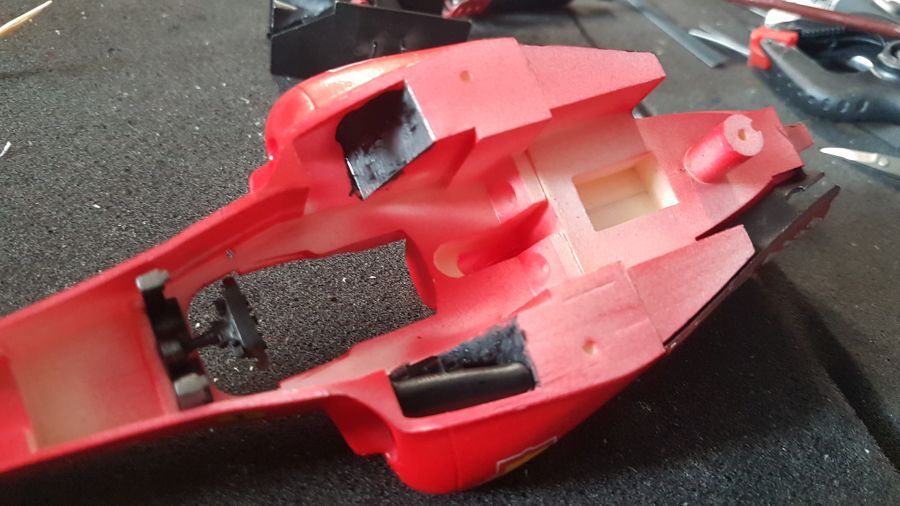 Daarna kan alles er weer op en wordt de vloer geplaatst.
After this everything gets mounted and the floor is being added.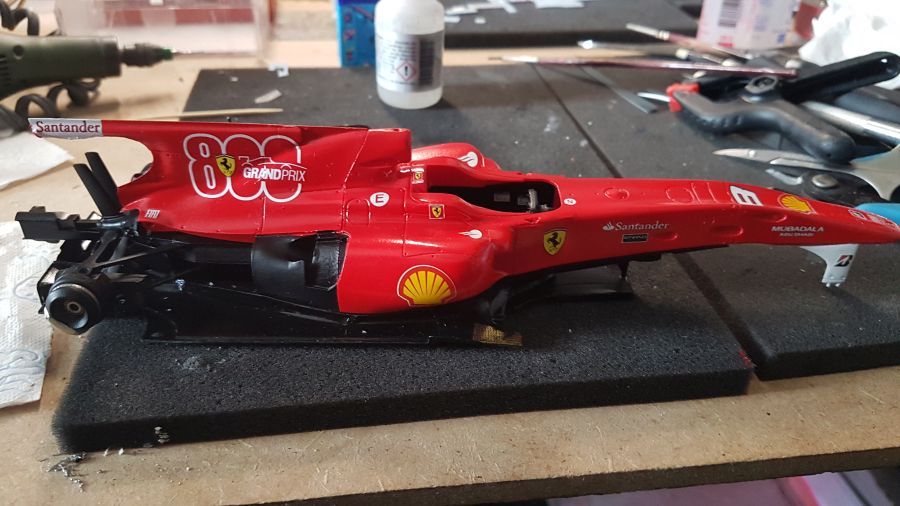 Dan de zijkanten plaatsen.
Then mounting the sides.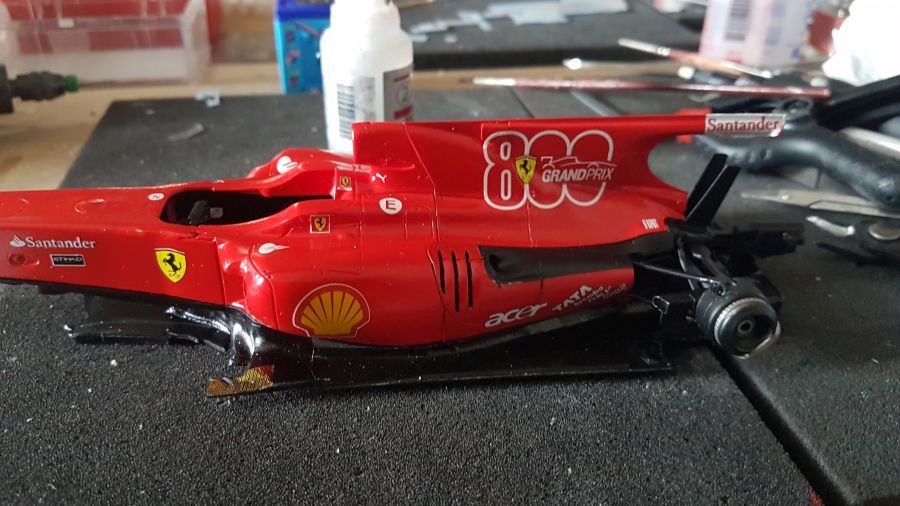 Nadat ik de achtervleugel in elkaar heb gezet, merk ik op dat ik een grote fout heb gemaakt. De binnenkanten van de zijkanten van de achtervleugel moeten wit i.p.v. zwart. Dat krijg ik nooit meer helemaal top. Wees dus gewaarschuwd.
After combining the rear wing, i notice i have made a huge mistake. The insides of the side walls of the rear wing should be white instead of black. I will not be able to straighten this on top level. So be warned.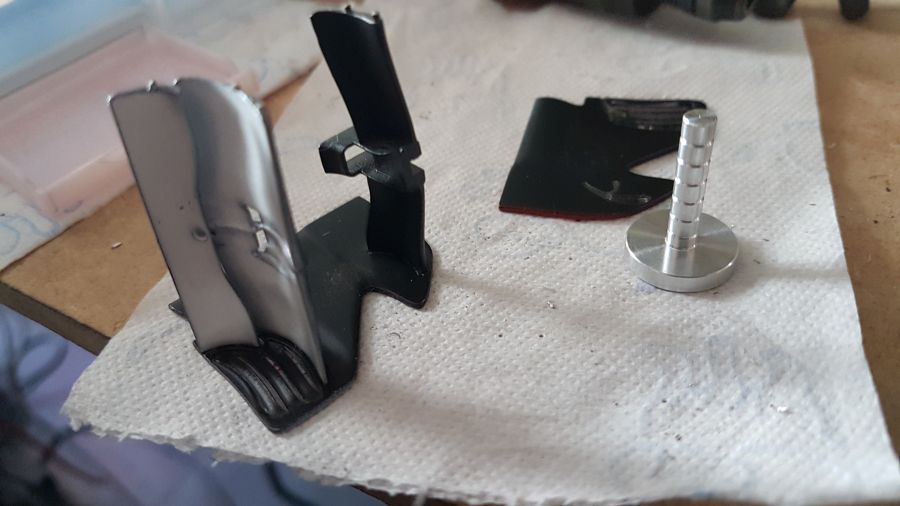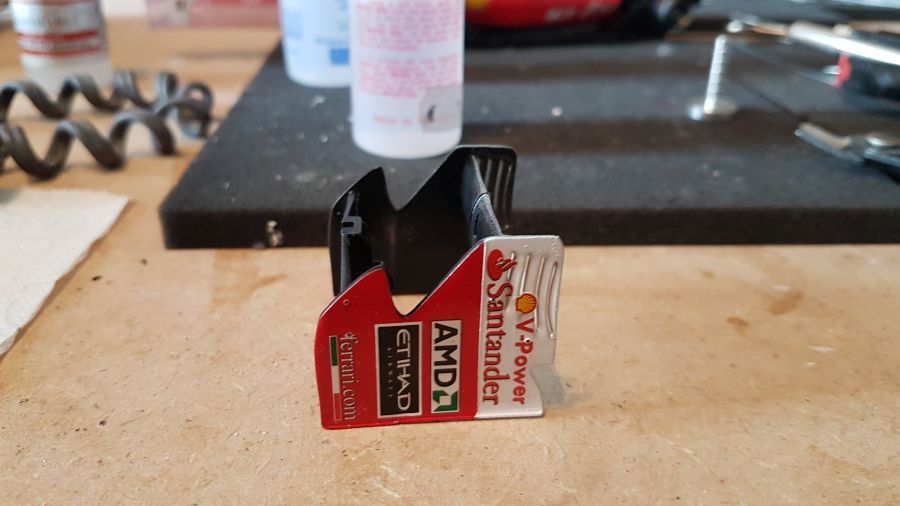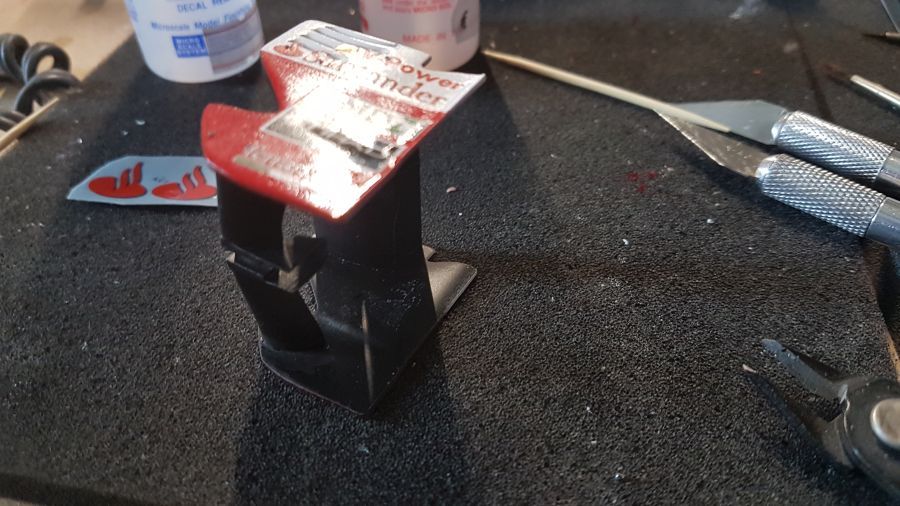 Gecorrigeerd.
Corrected.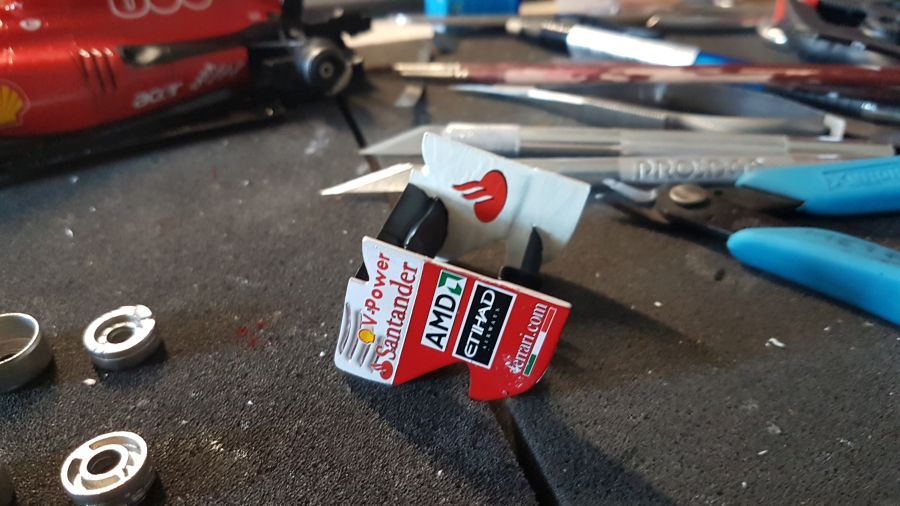 Door naar de voorkant...
On to the front side...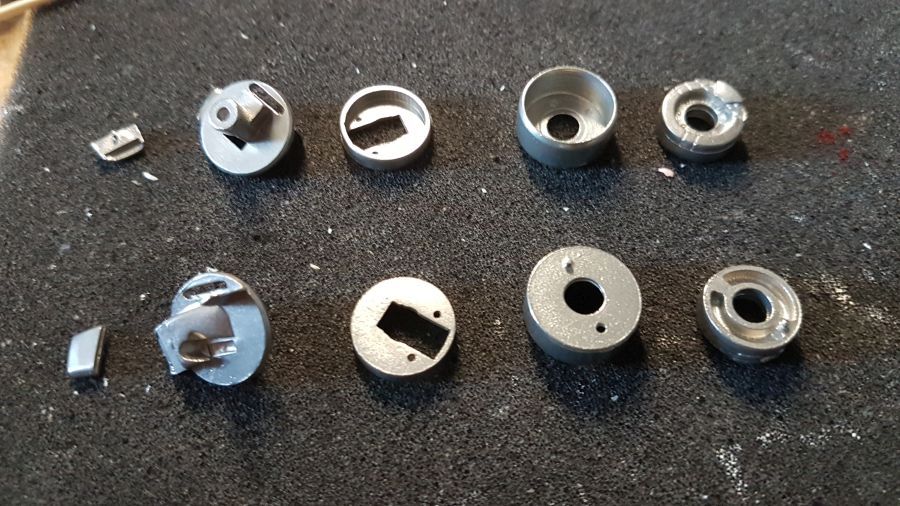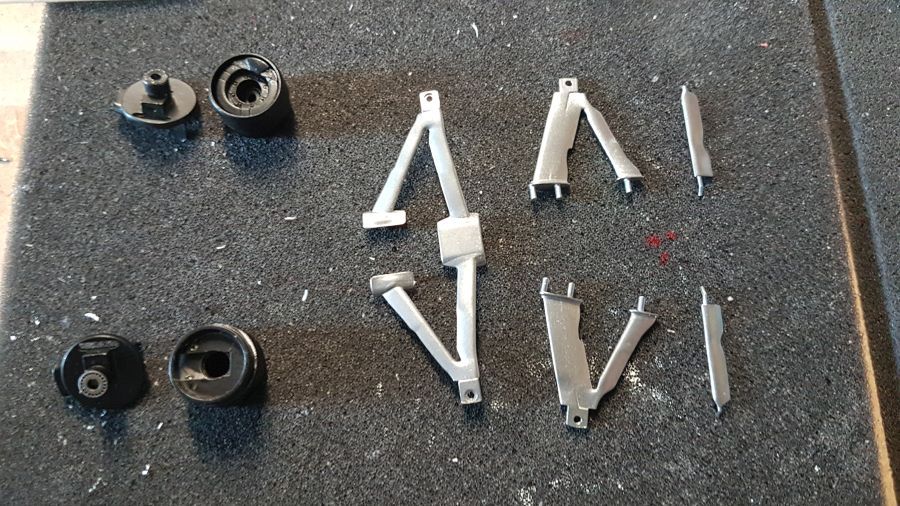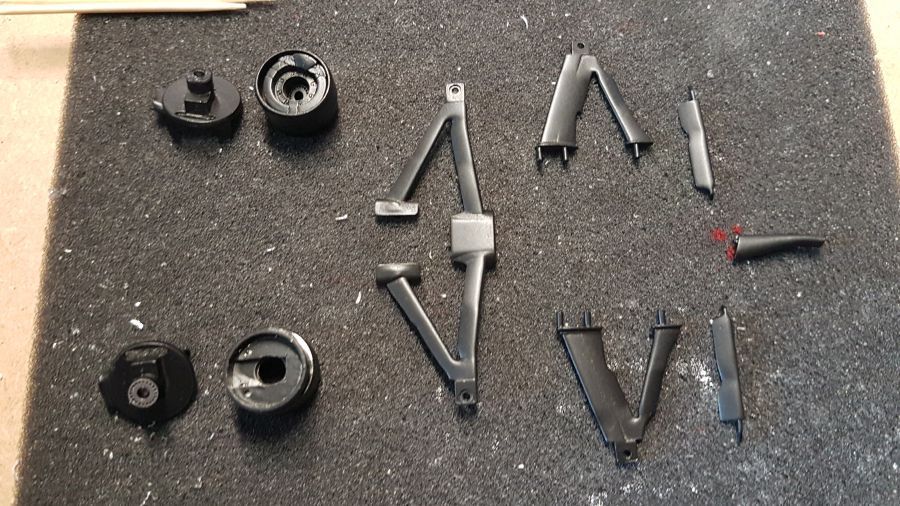 De volledige achtervleugel wordt geplaatst. Voorzichtig, want er is erg weinig ruimte om onder de F-duct. Gelukkig zonder schade gelukt.
The completed rear wing is being added. Take care, as there is very low space under the F-duct. I managed without damage.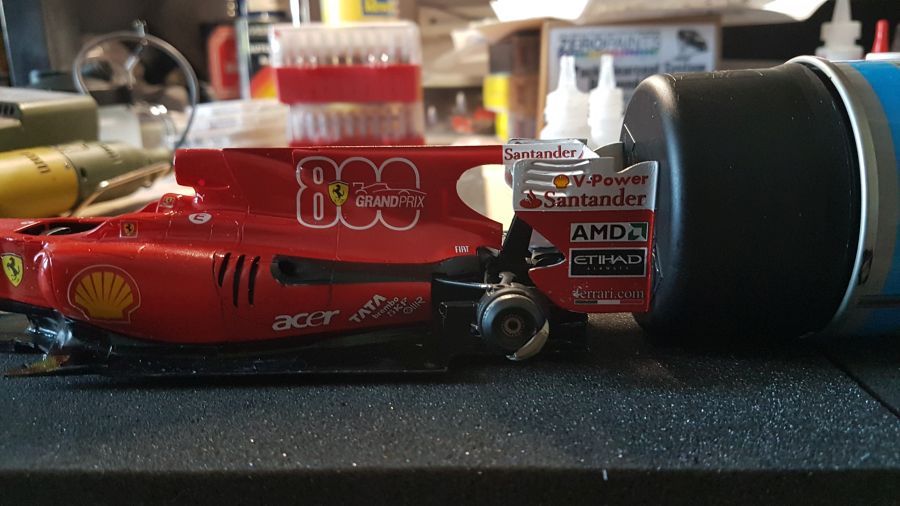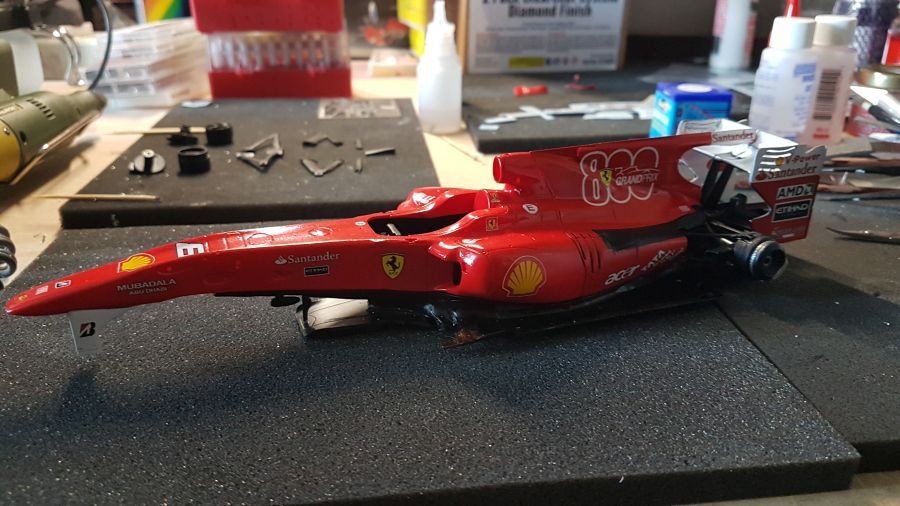 Door naar de voorwielophanging.
On to the front suspension.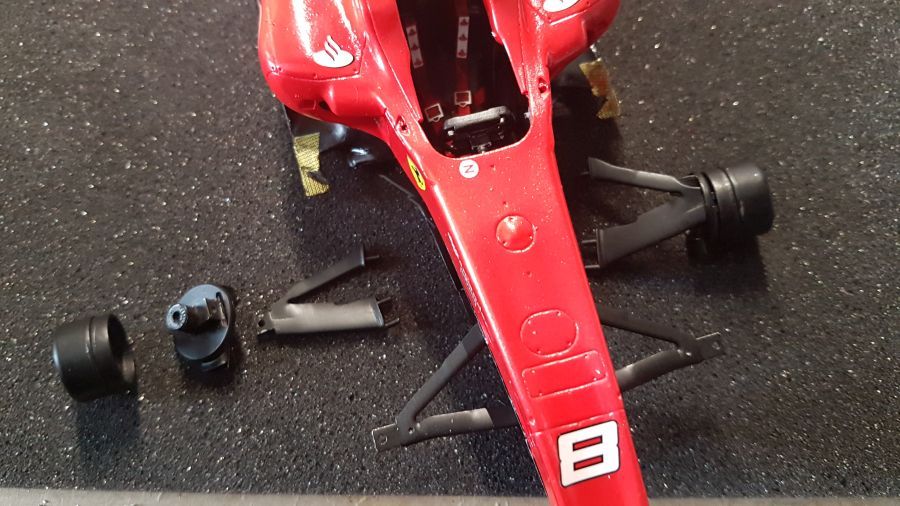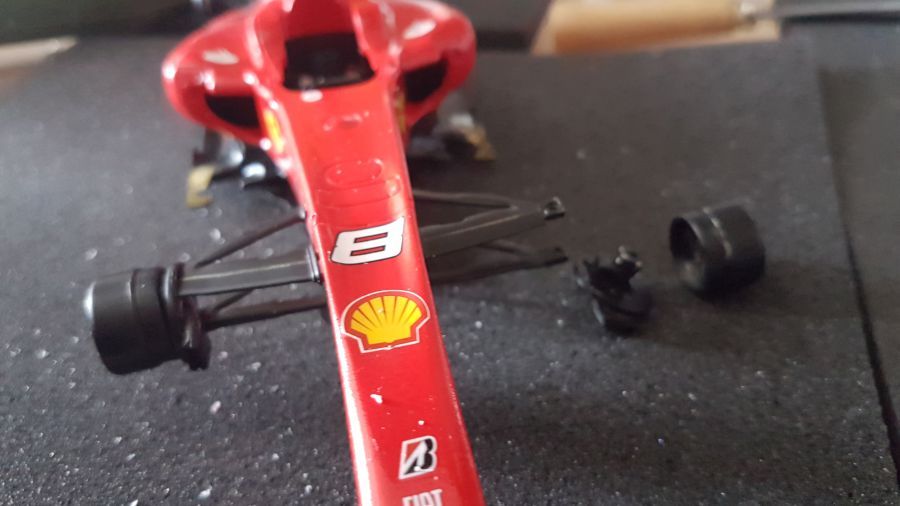 Meerdere onderdelen worden klaar gemaakt en geplaatst.
Multiple parts are being completed and added.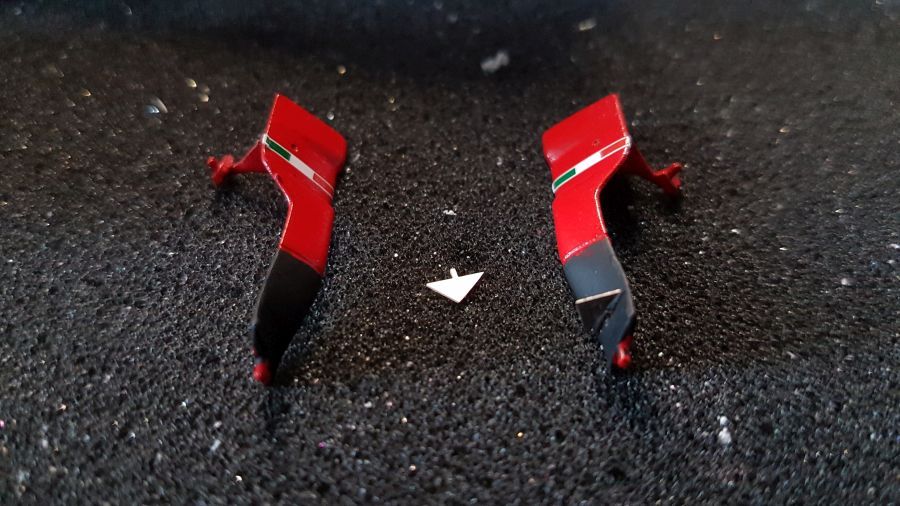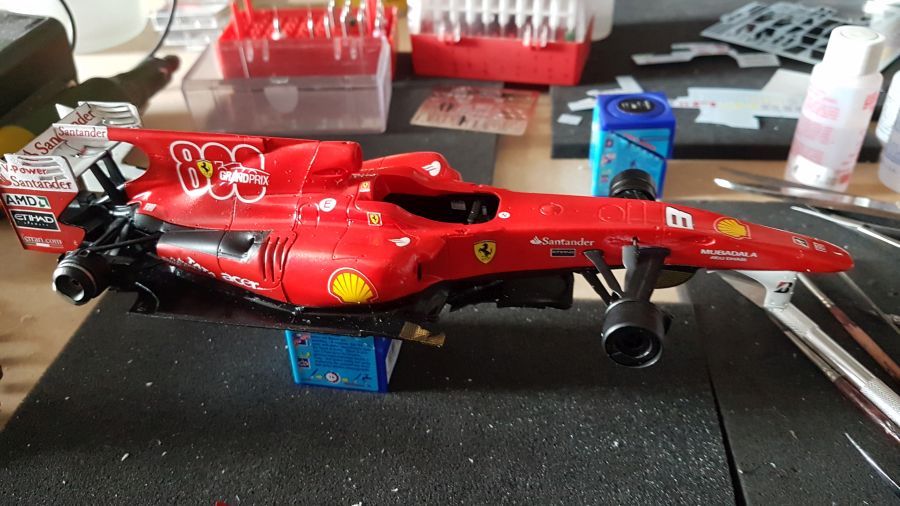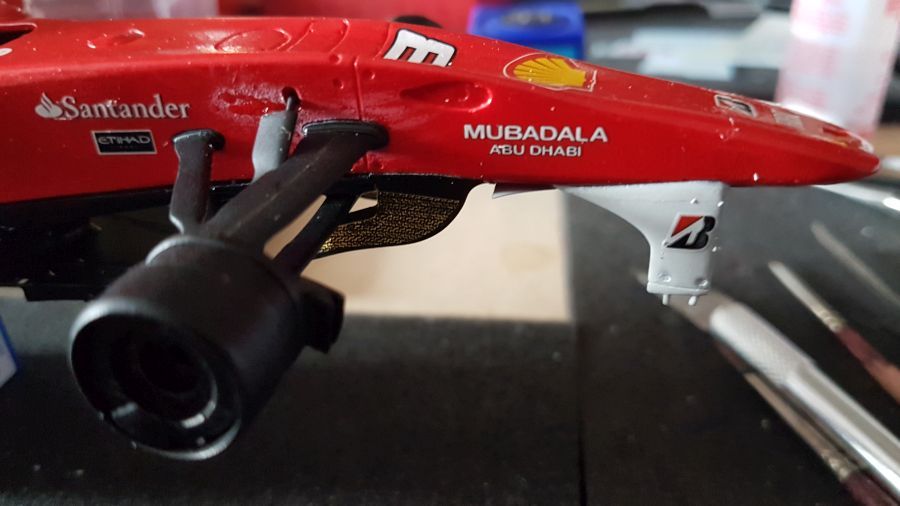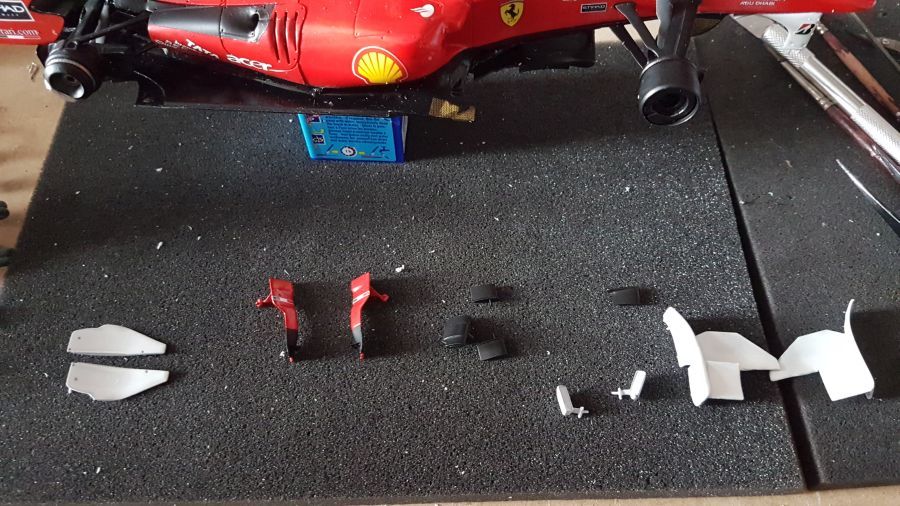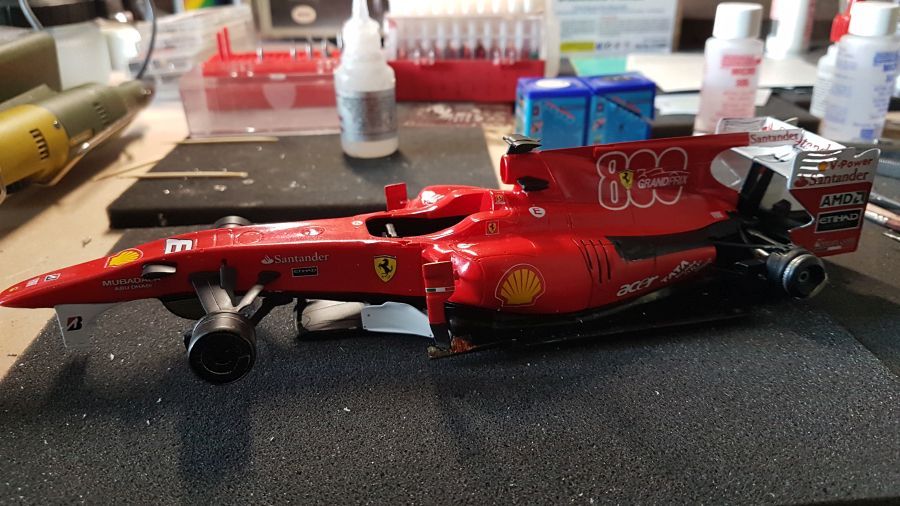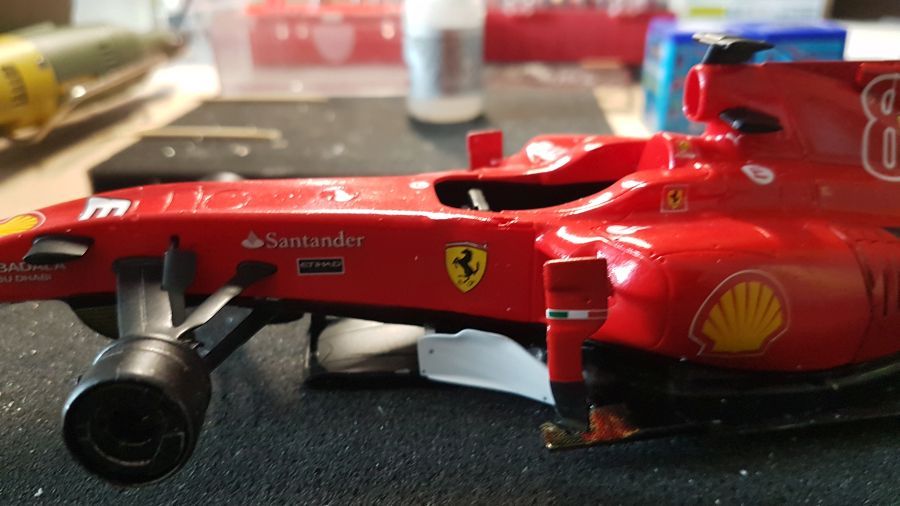 De voorvleugel..
The front wing..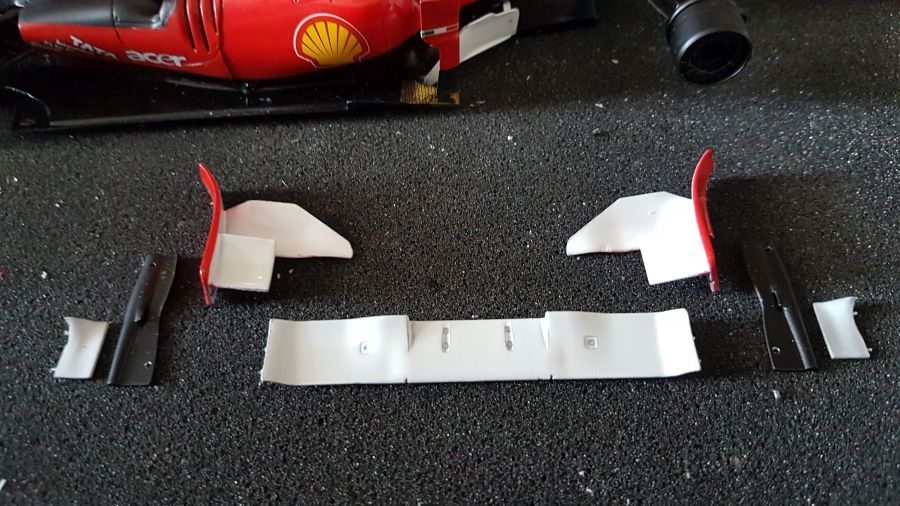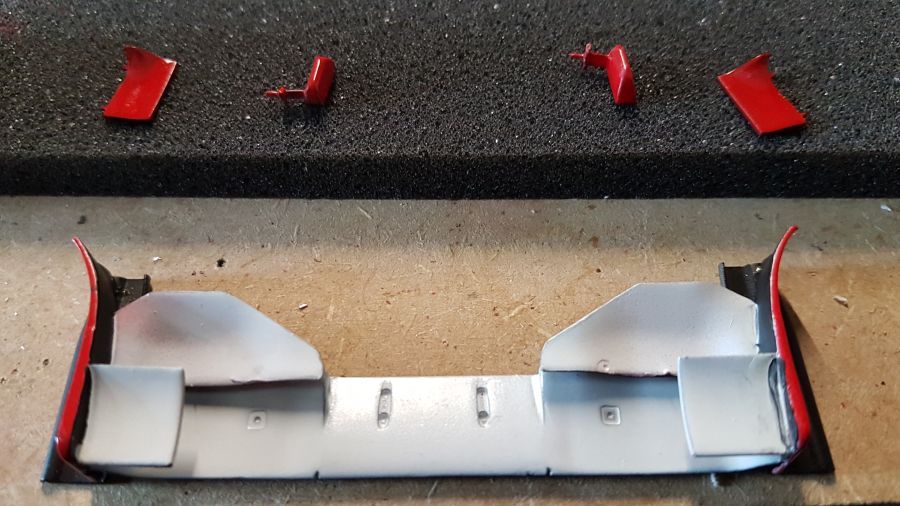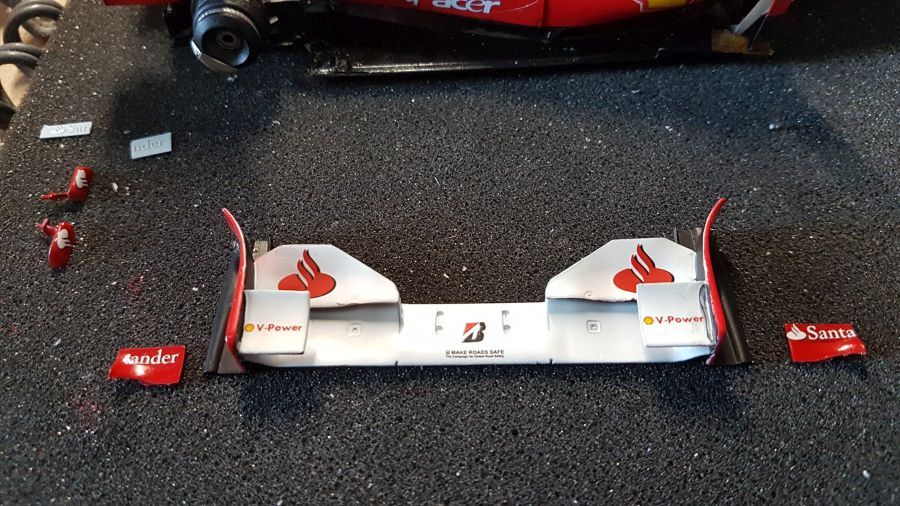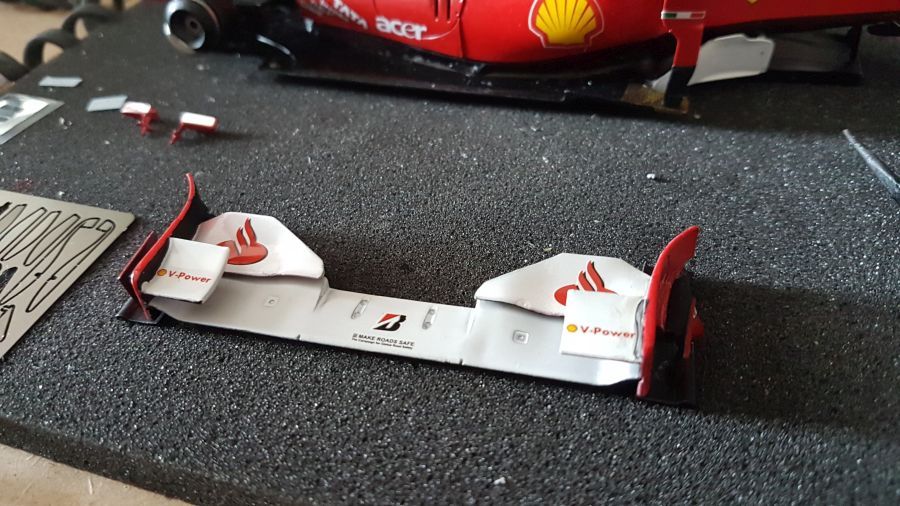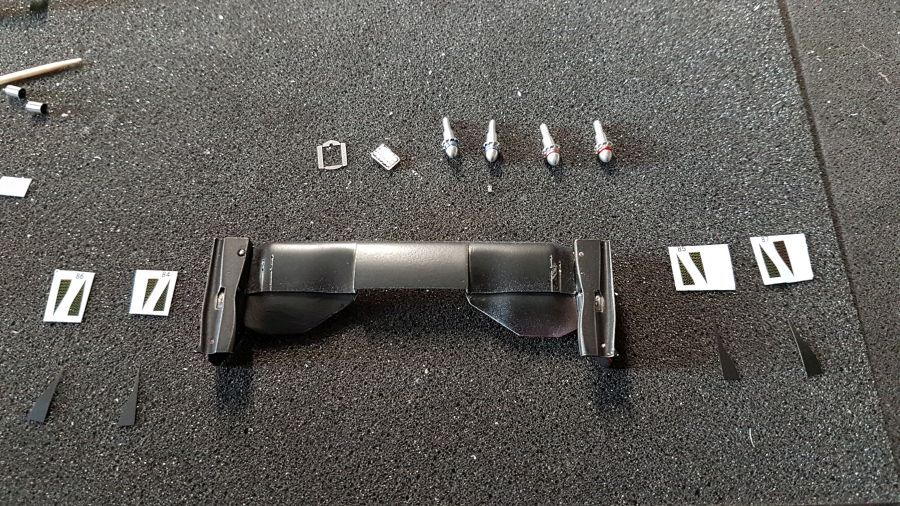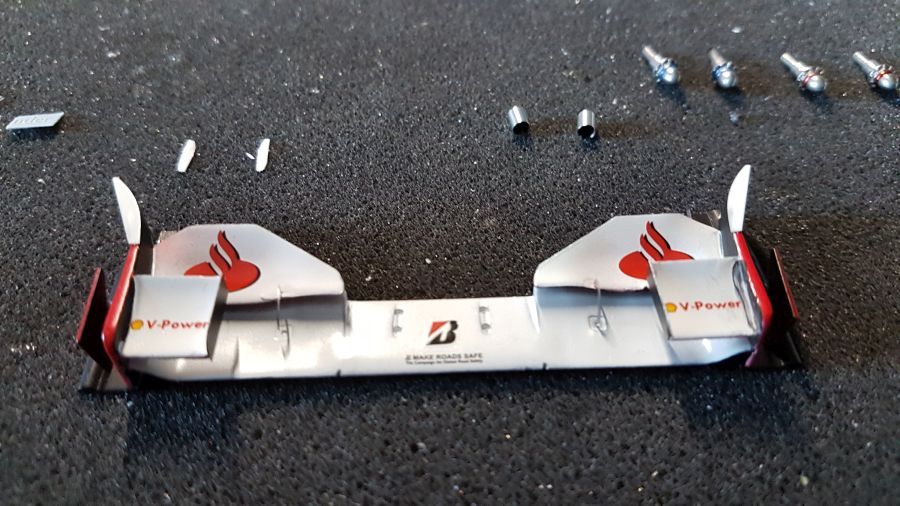 Het achterlicht en antennes...
The rear light and antennas...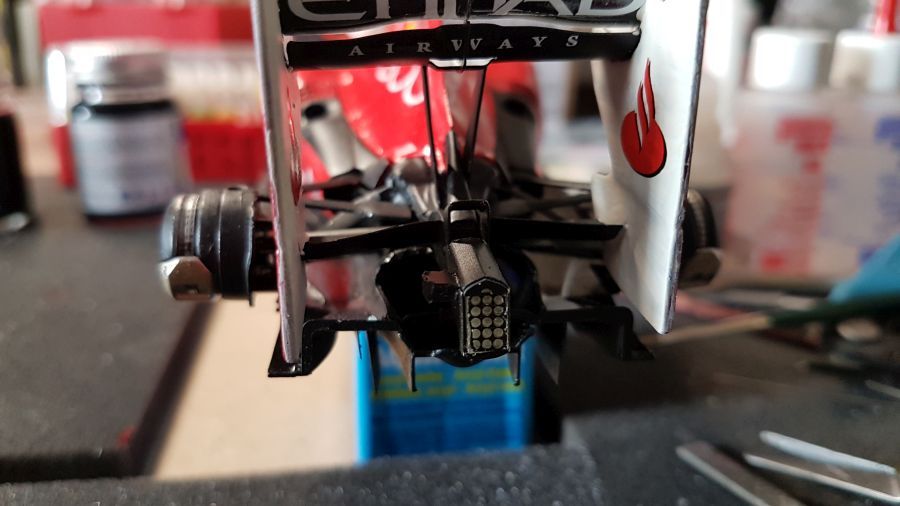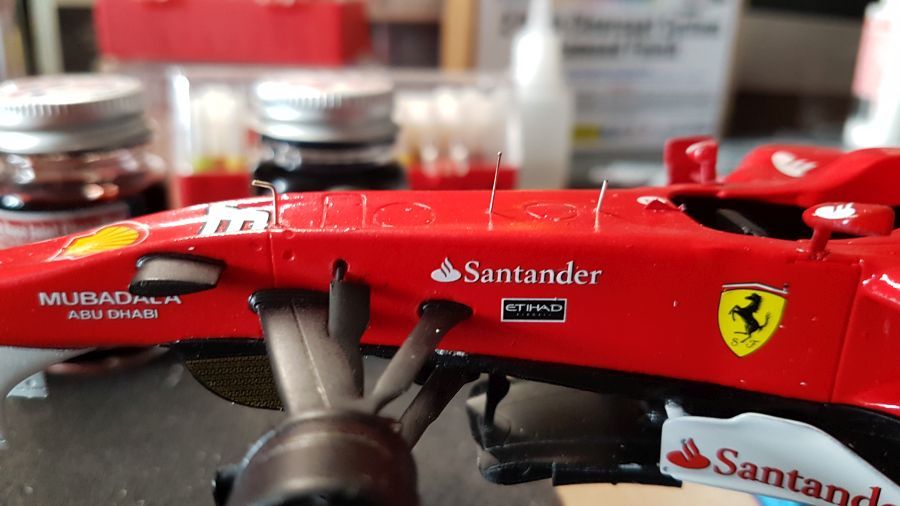 Verder met de velgen. Let erop dat er verschil zit tussen de spaakdelen van de voor- en de achtervelgen. Je kunt met het ringetje bepalen welke de juiste voor de voorwielen zijn. Bovendien is de inleg voor de achtervelg ietsjes dieper.
On to the rims. Be aware there is a difference between the inserts for the fronts and the rears. You can use the rings to decide which are the correct ones for the front. The inserts for the rears are a little more deep too.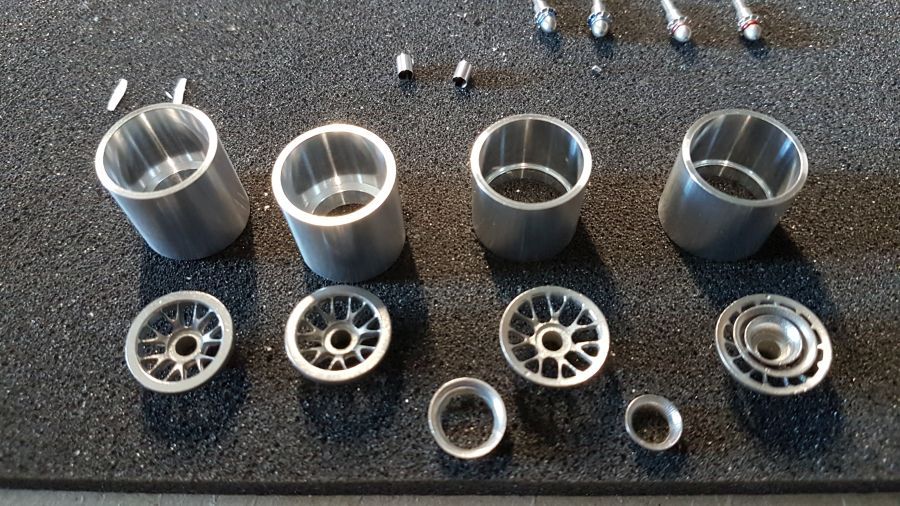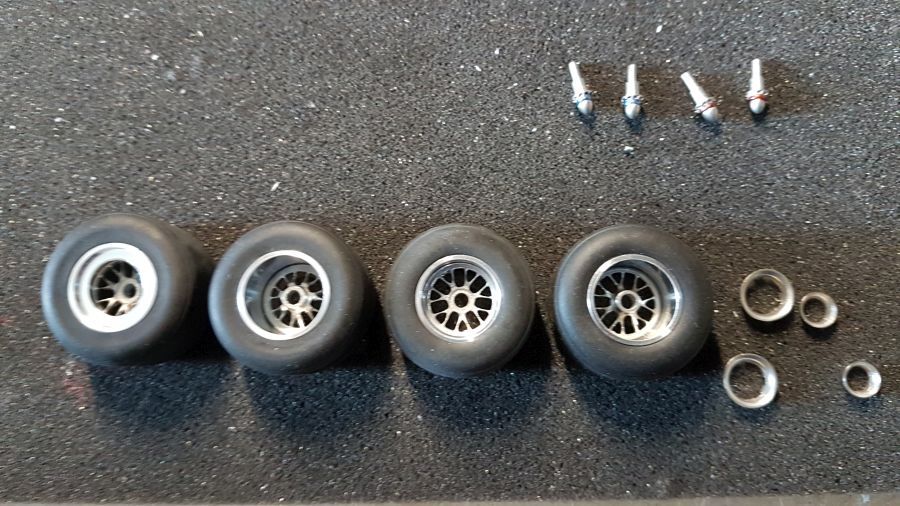 Mijn favoriete werk, de ringen....  niet heus.
My favorite job, the rings.... not.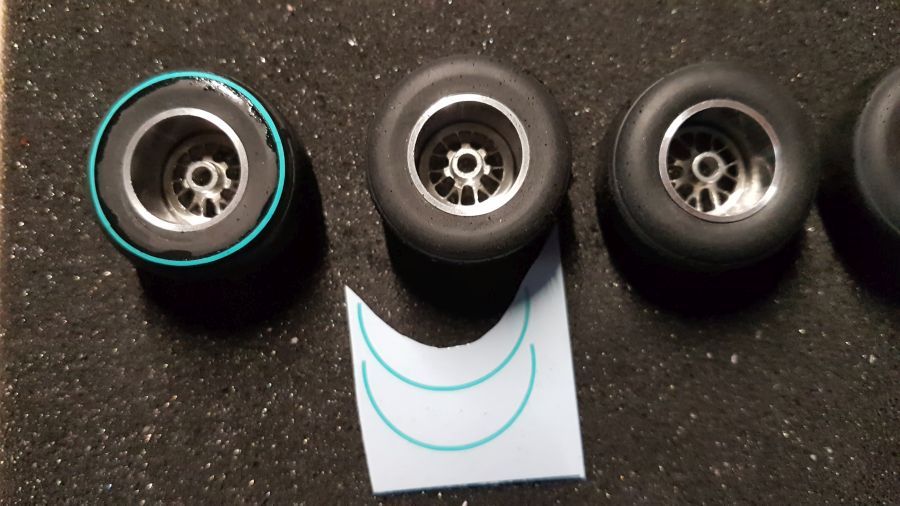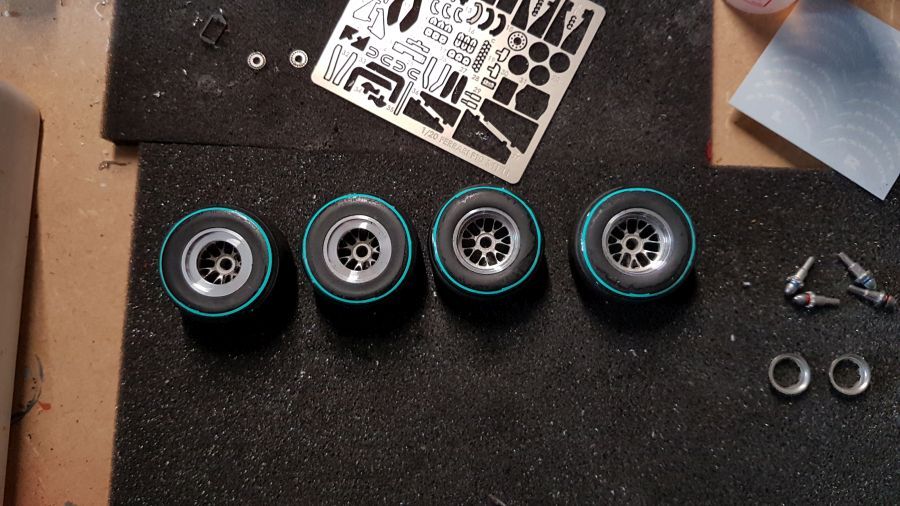 De instructies van MFH met betrekking tot de belettering zijn fout. Opletten dus.
The instructions from MFH regarding the letters are wrong. So be careful.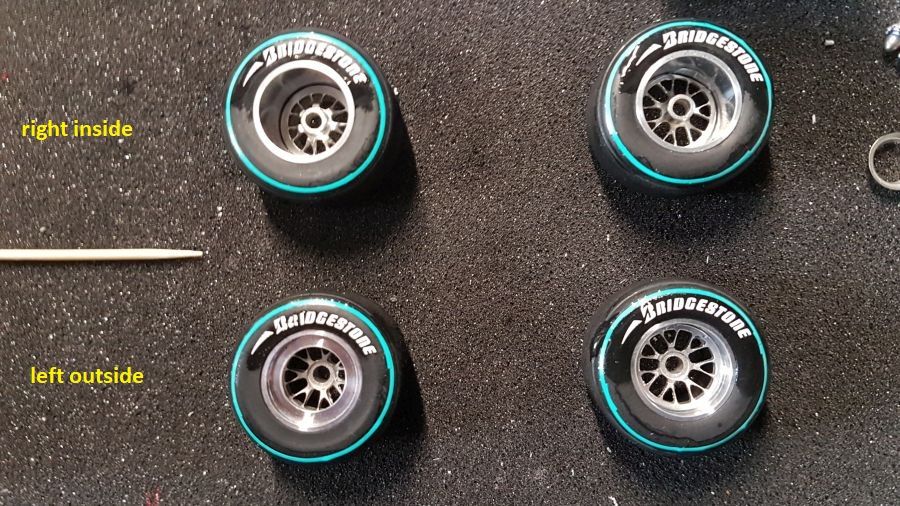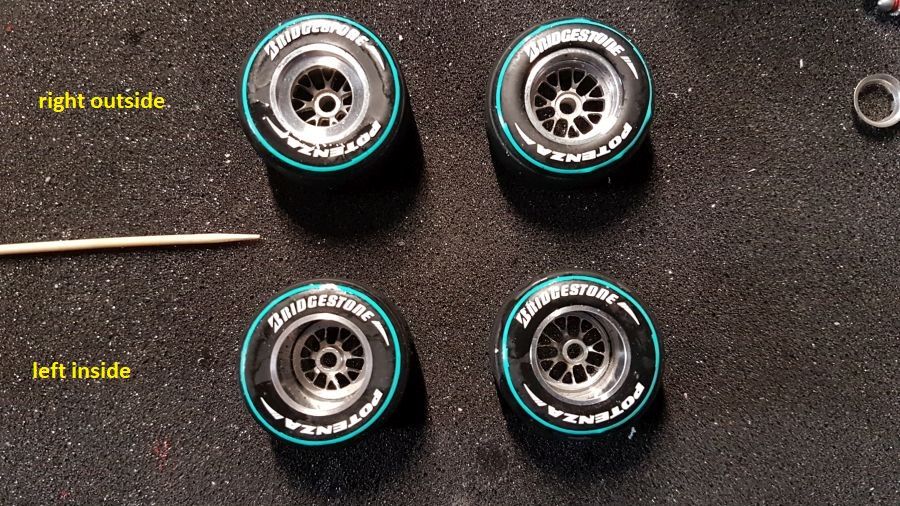 Dus niet simpel links en rechts zoals MFH aangeeft. Let op binnenkant en buitenkant. De pijlen moeten naar de draairichting wijzen.
So not left and right as MFH claims. Watch the inside and outside. The arrows should point to the direction of turning.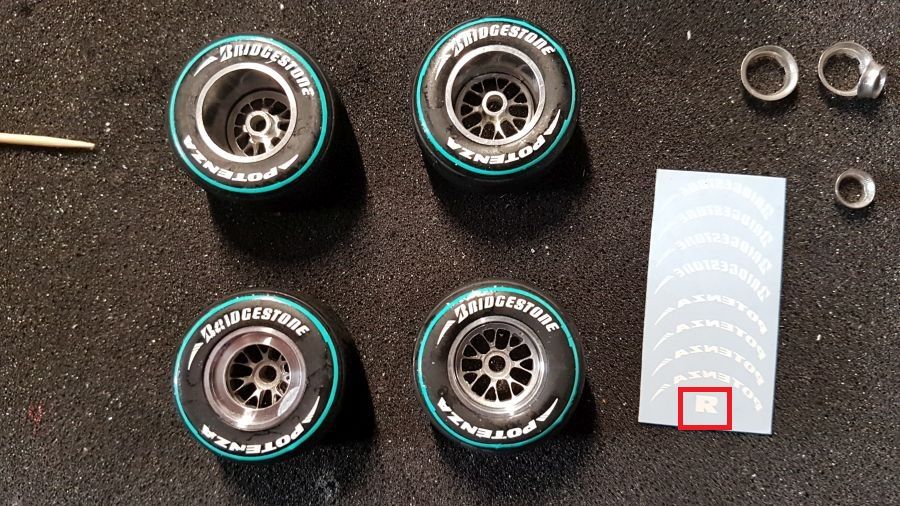 De wielen worden geplaatst en nog wat kleine zaken, zoals het raam en de snelsluiters.
The wheels are being added and some small parts like the wind shield and the fasteners.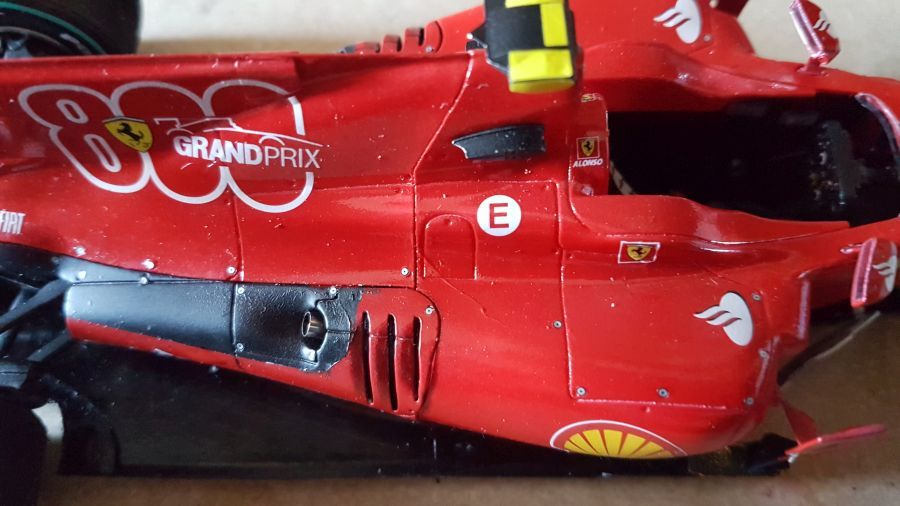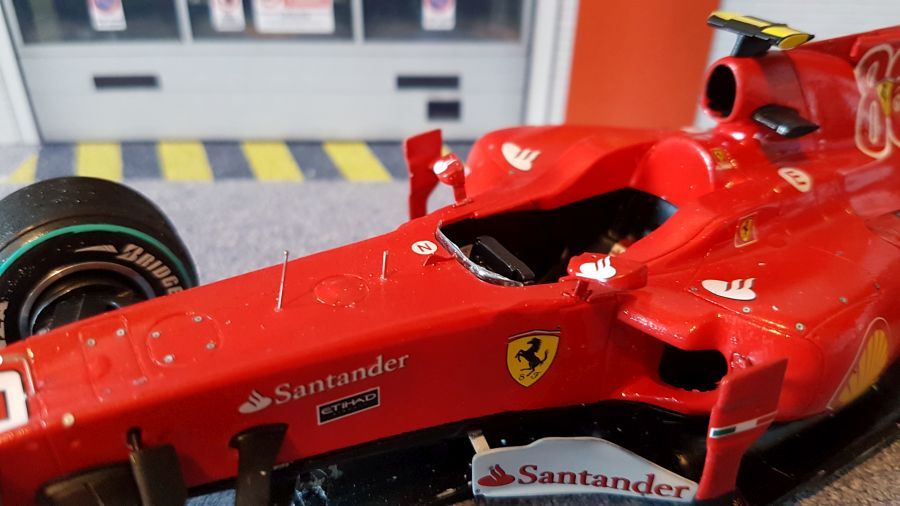 En ik beschouw deze weer als gedaan.
And i will call this one done.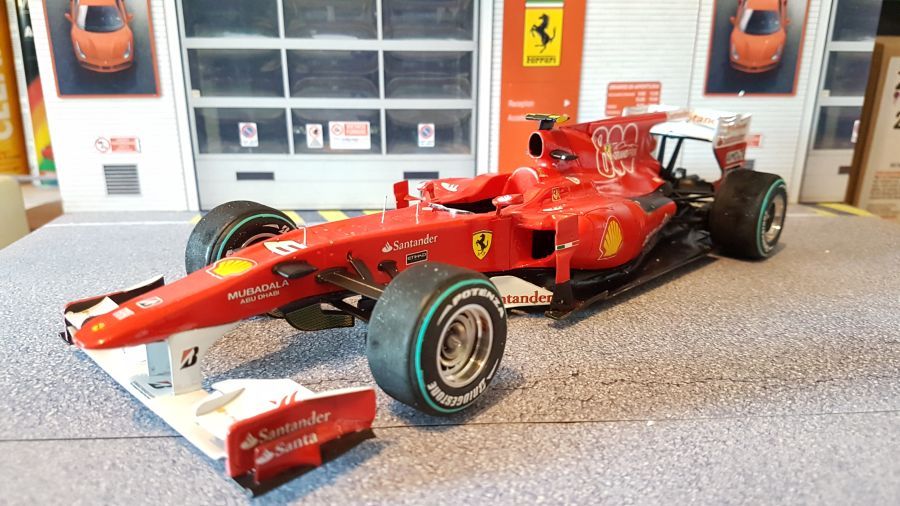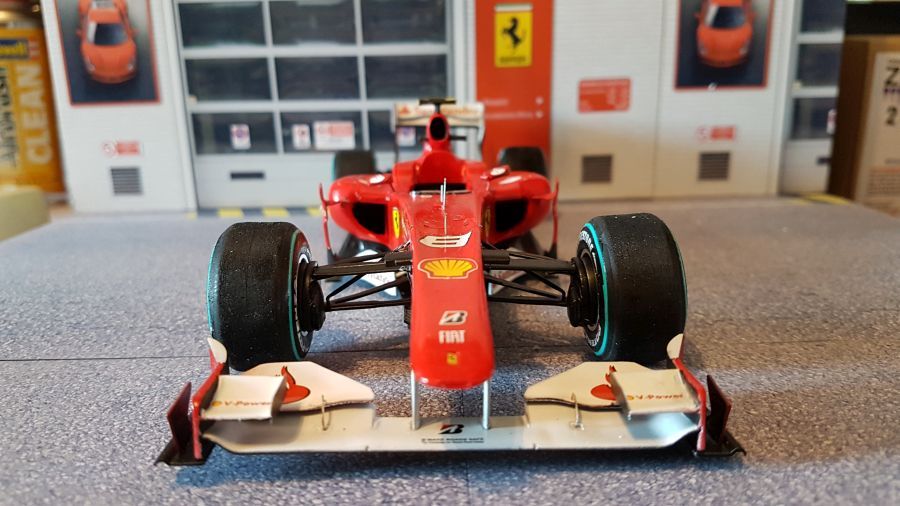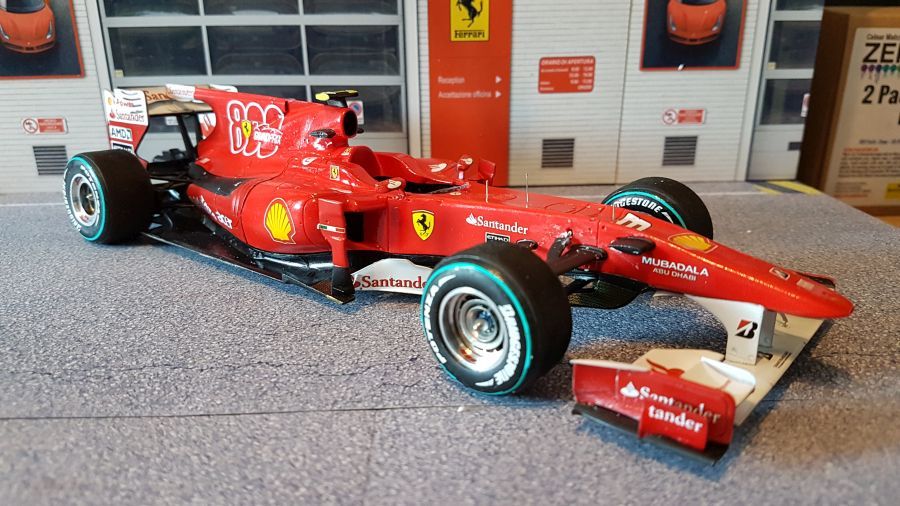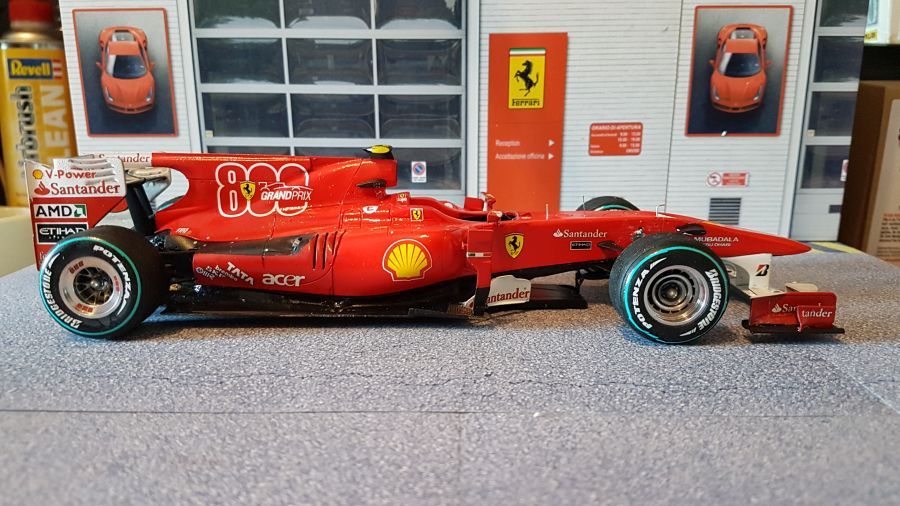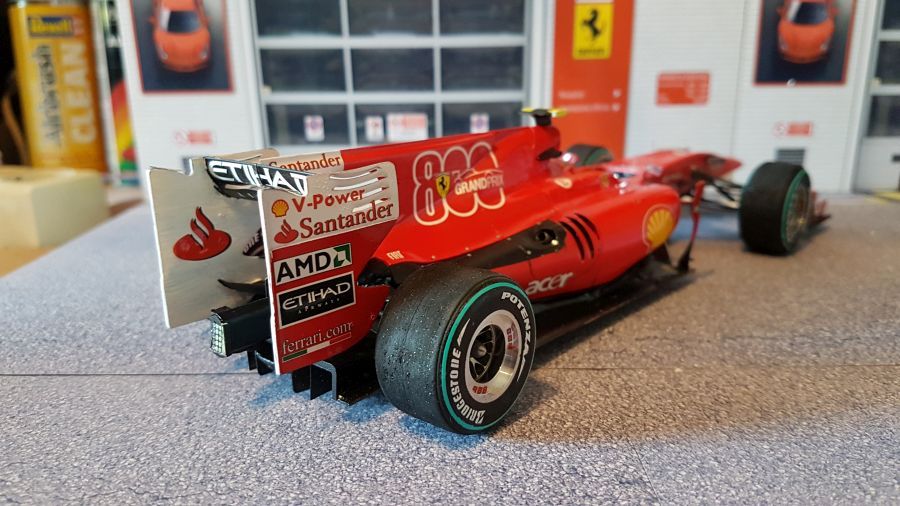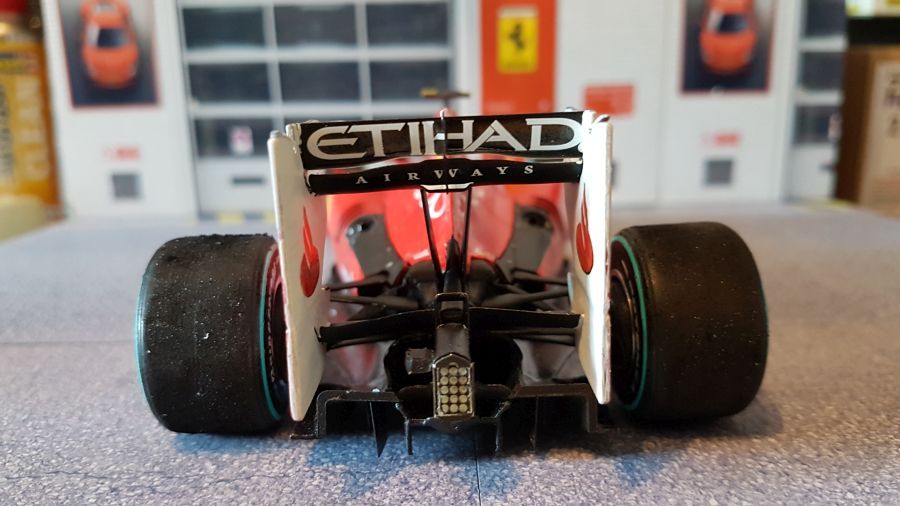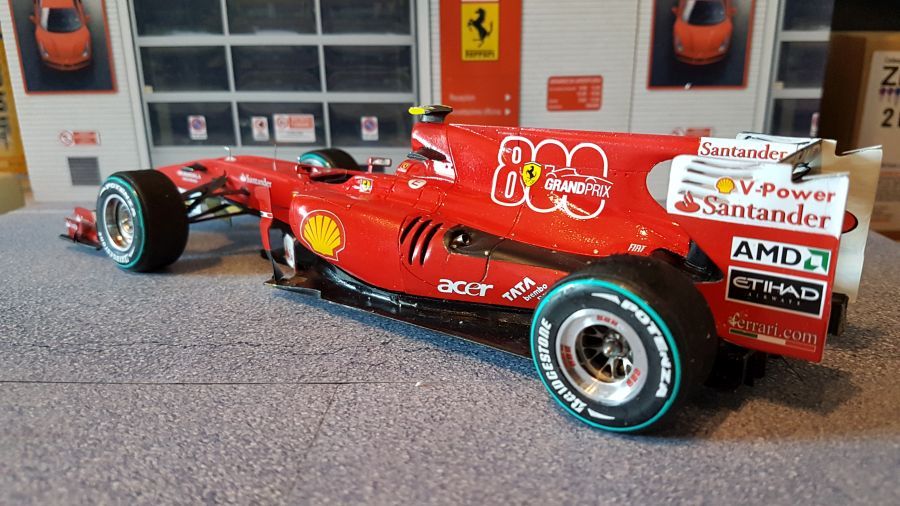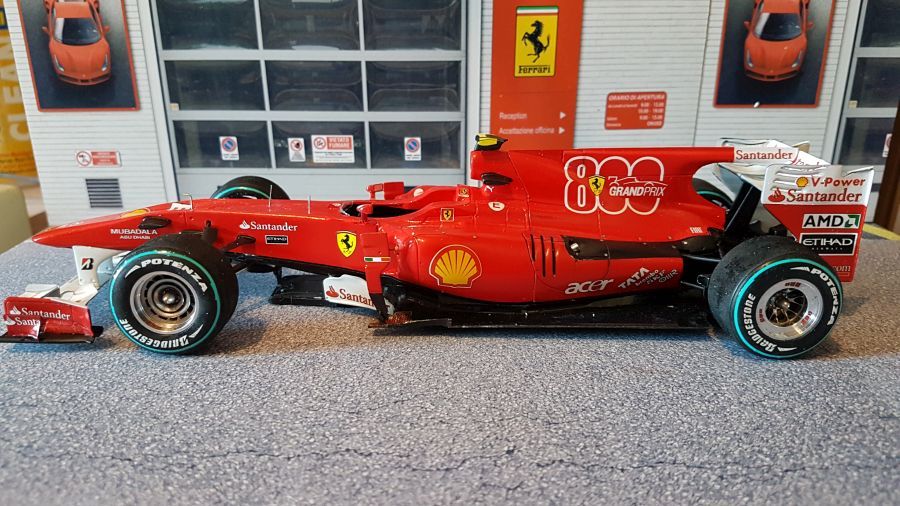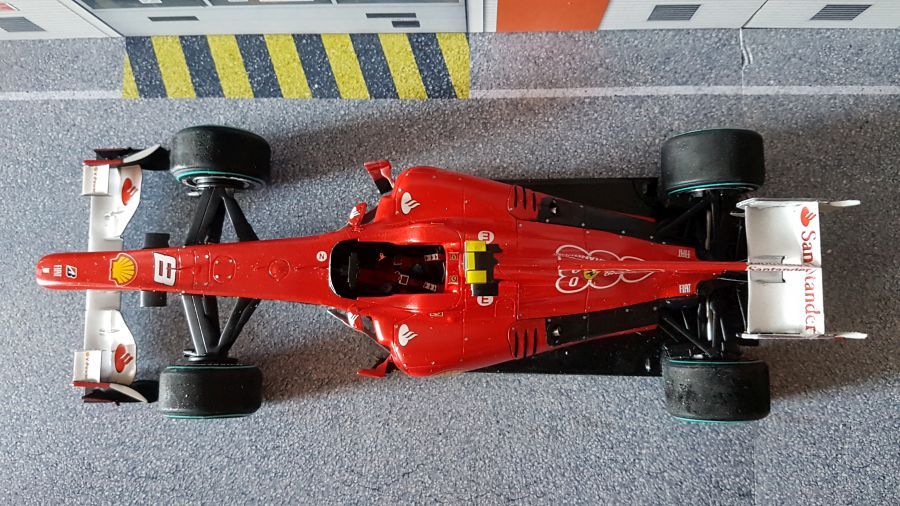 Eigenlijk niet veel bijzonders te melden over deze bouw. Alles past goed, hier en daar wat metaal buigen. De zijkanten niet van tevoren plaatsen en meespuiten. Dan wordt de binenkant bij de roosters rood. Oppassen met de wieldecals voor wat betreft de draairichting.
There's not much to warn you for on this build. Everything fits, some metal parts need some bending. The sides need to be added afterwards, otherwise the inside of the louvres get red. Mind the wheel decals regarding the arrows.