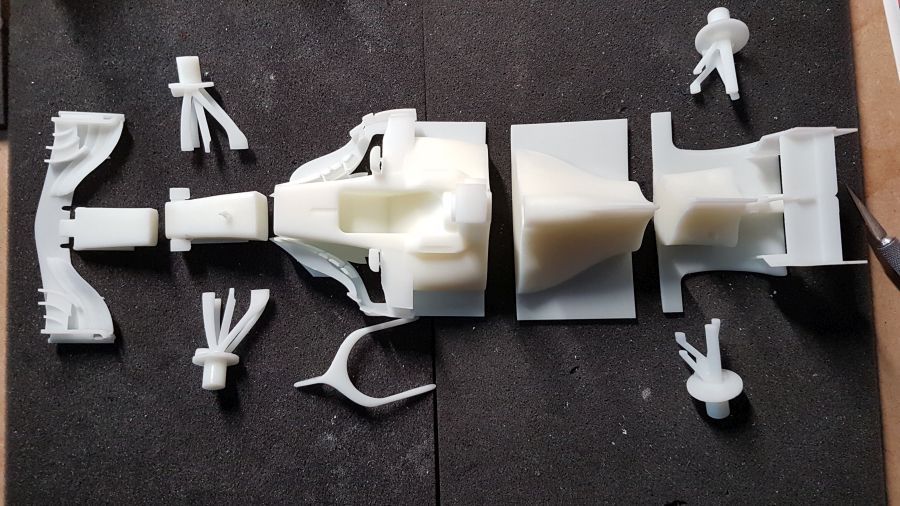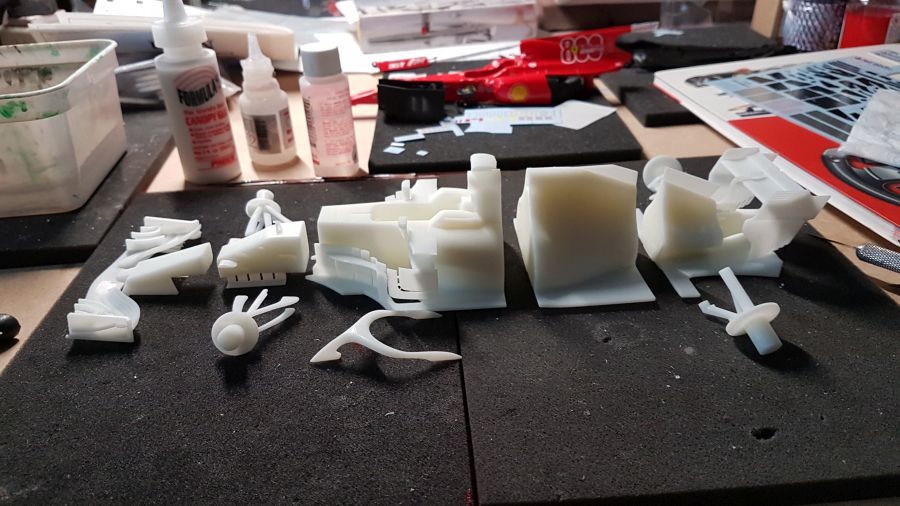 Ik wil graag een 2018 Red Bull RB14 van Max Verstappen. Helaas is er op dit moment geen fabrikant die dat maakt. Ik kan natuurlijk proberen een Ferrari SF70H of SF71H proberen te converteren, maar ik liep tegen een mogelijkheid van 3D printen aan. Dus de stoute schoenen aangetrokken. Het zal een drama worden om deze te spuiten. Het model is gelukkig redelijk glad. Daar heb ik ook andere ervaringen mee tijdens mijn bouw van de schaal 1/4 wagens. Maar de wagen is segmenten geprint (zo was de tekening), wat het verven lastig gaat maken. De details aan de veugels enz. zijn niet fout. De vloer mist detail. Misschien doe ik daar wat aan.
I wanted a 2018 Red Bull RB14 from Max Verstappen very bad. Unfortunately there is no company that produces this as a kit. Of course i can try to convert a Ferrari SF70H or a SF71H, but i came across the possibility of 3D printing. So i took a deep dive. It will be a pita to airbrush this one. The model is pretty smooth. I have had different experiences during the build of the 1/4 scale cars. But it was printed in segments (like the drawings), which will make the painting tough. The details to the wings etc. are pretty good. The floor misses detail. Maybe i will do something about it.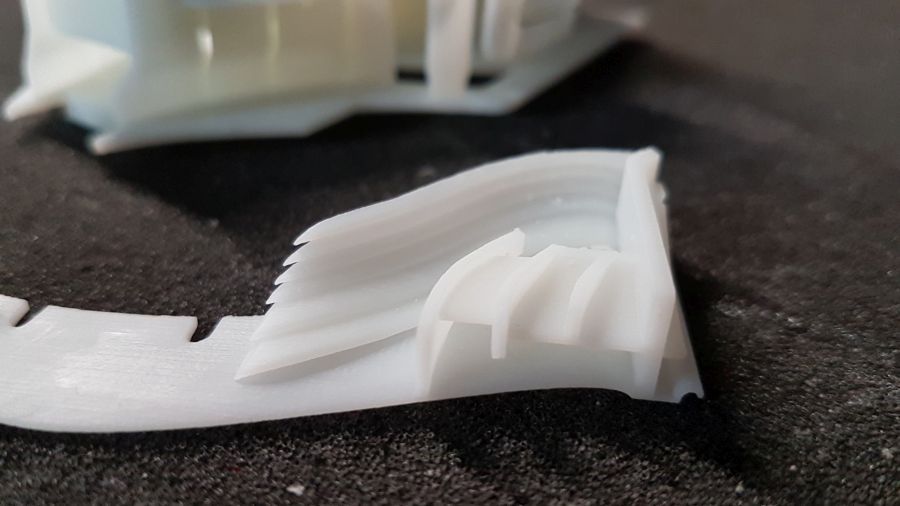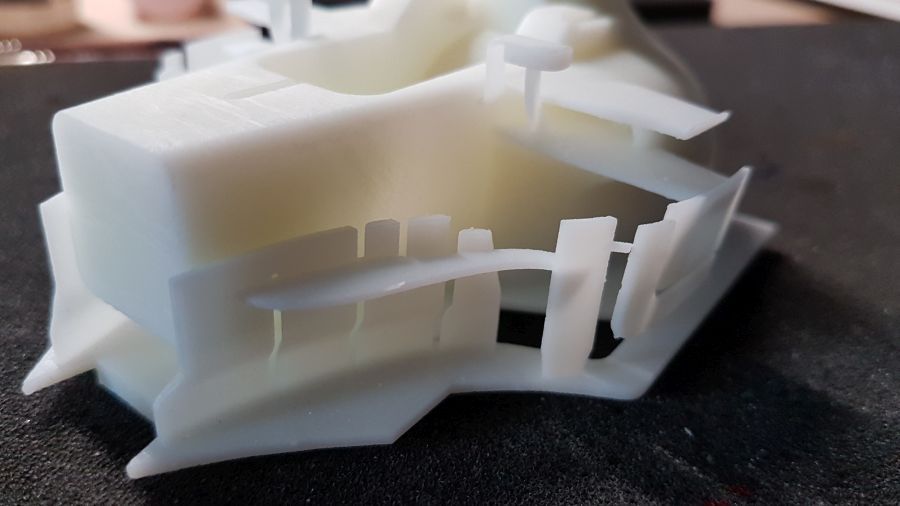 Eerst de vloer wat vlak maken. Dat is wat krom getrokken tijdens transport. Dit is eenvoudig te doen met een warme föhn.
First make the floor a bit flat. This has been bent during transport. It's easy to do with a warm hair dryer.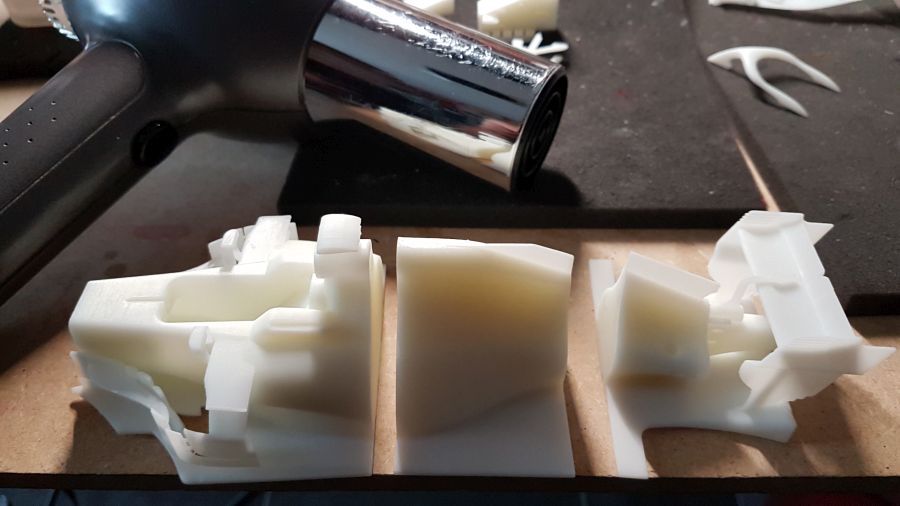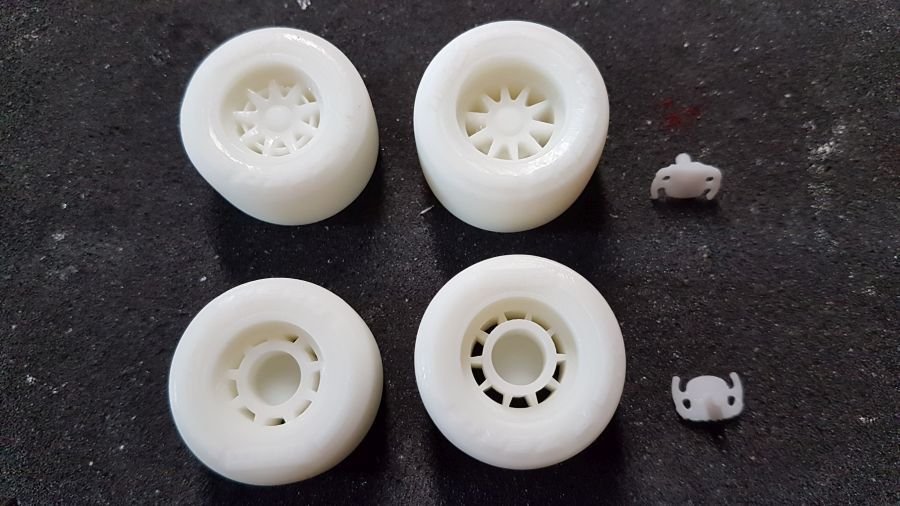 Dus dit is nu het totaalplaatje. 
So this is the total picture now.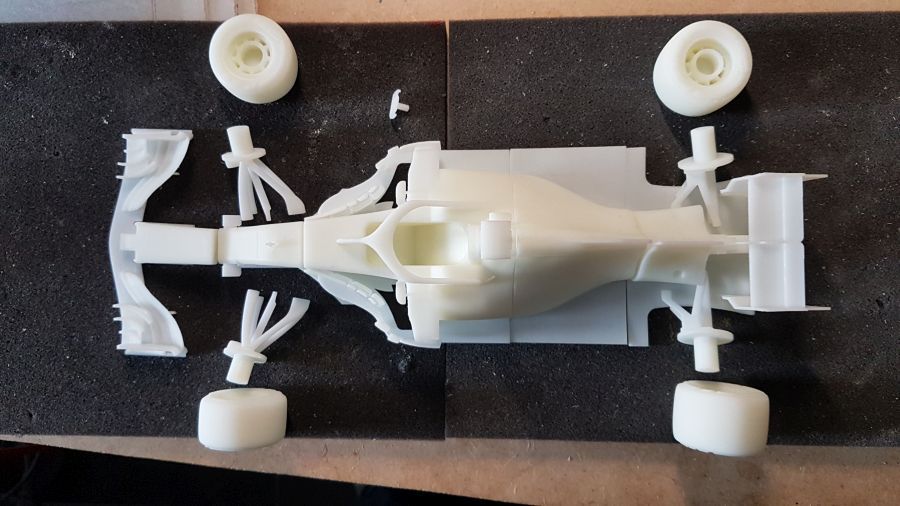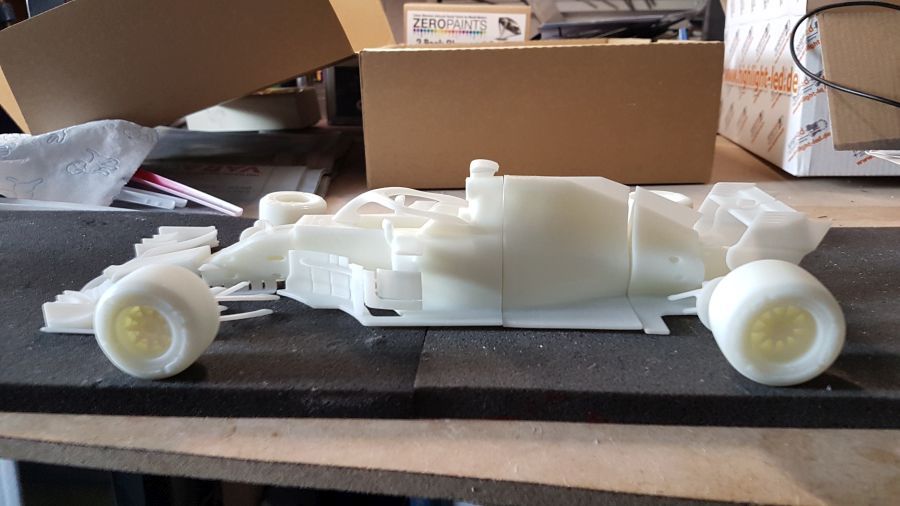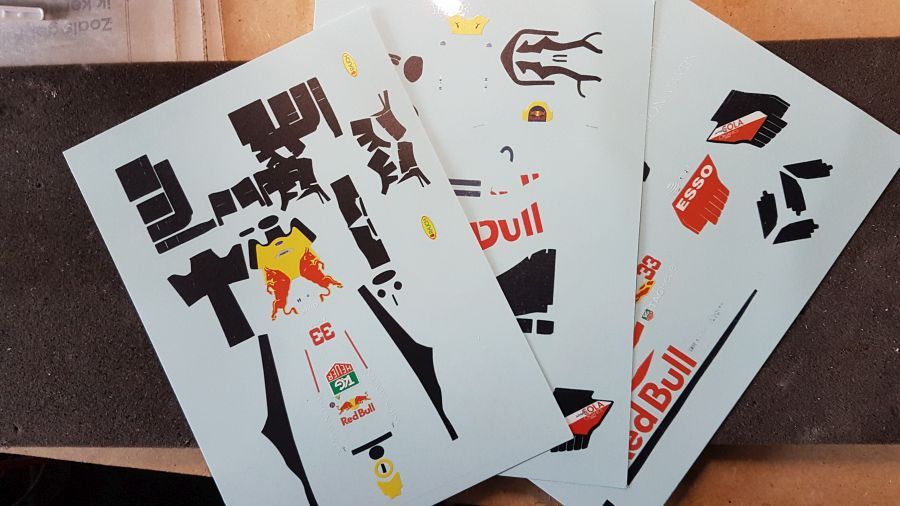 Terug van vakantie. Daar gaat ie dan. Eerst de delen van de body aan elkaar lijmen.
Back from holidays. There we go. First of all glue the body parts together.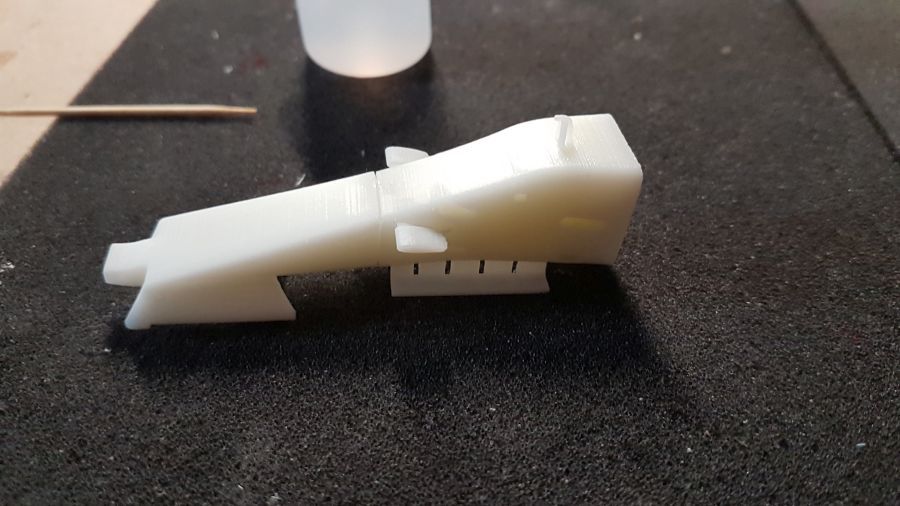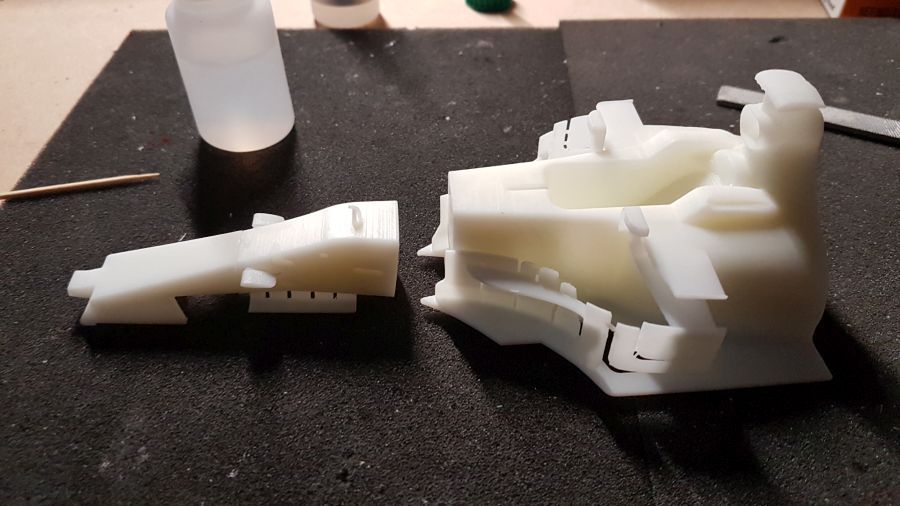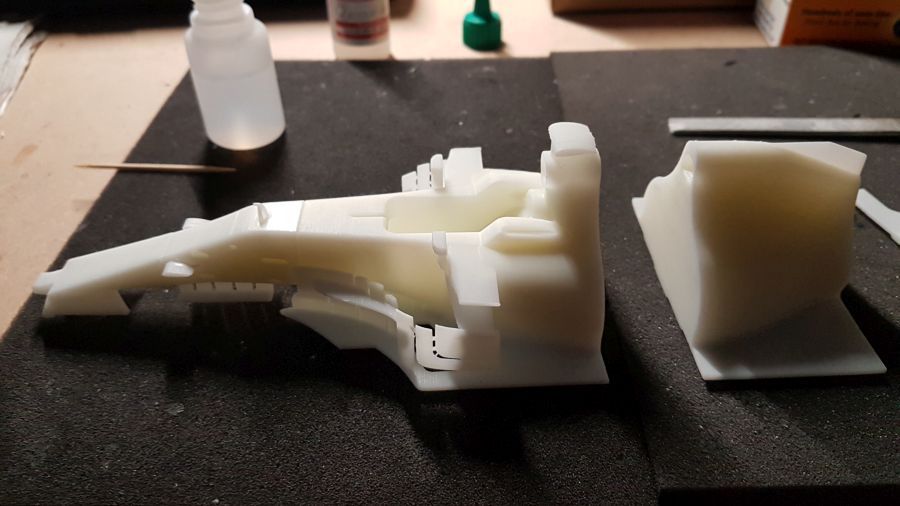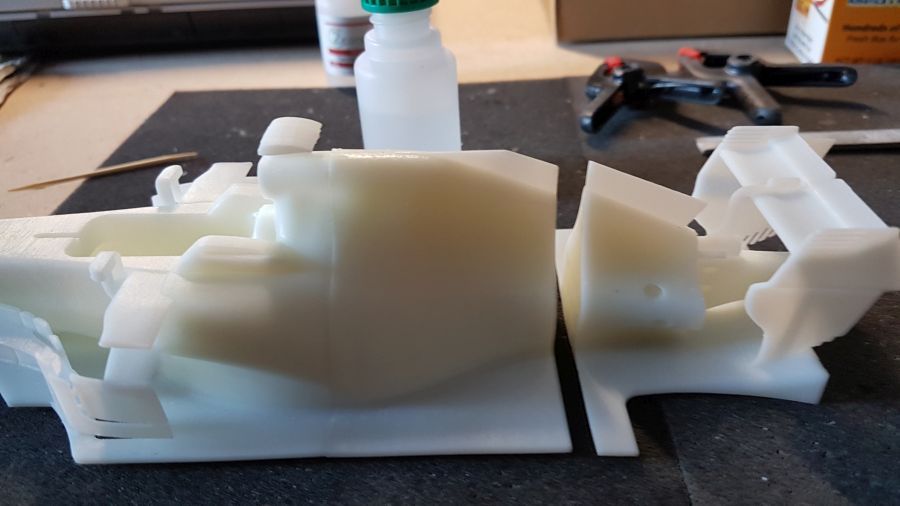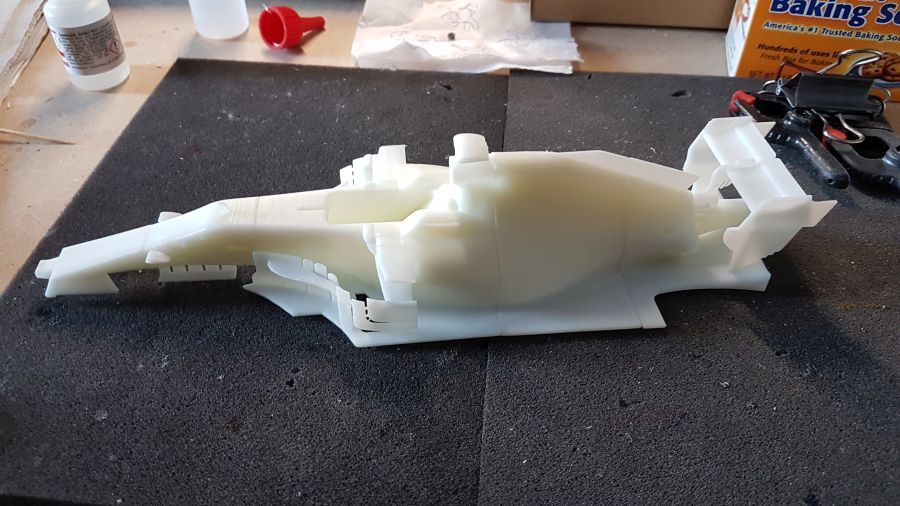 De naden vul ik met Zero Paints Putty.
I fill the seams with Zero Paints Putty.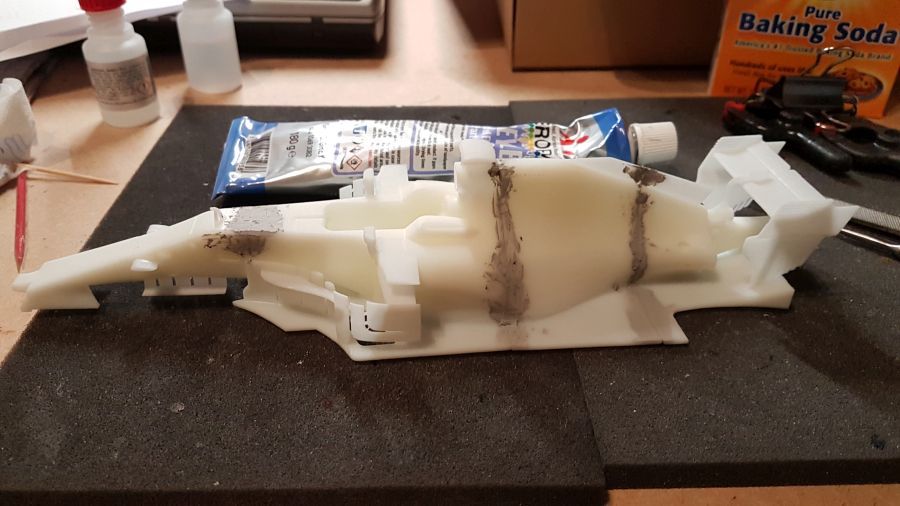 Omdat de putty teveel krimpt, is het aanbrengen van een 2e laag nodig.
Because the putty shrinks too much, it was needed to apply a 2nd layer.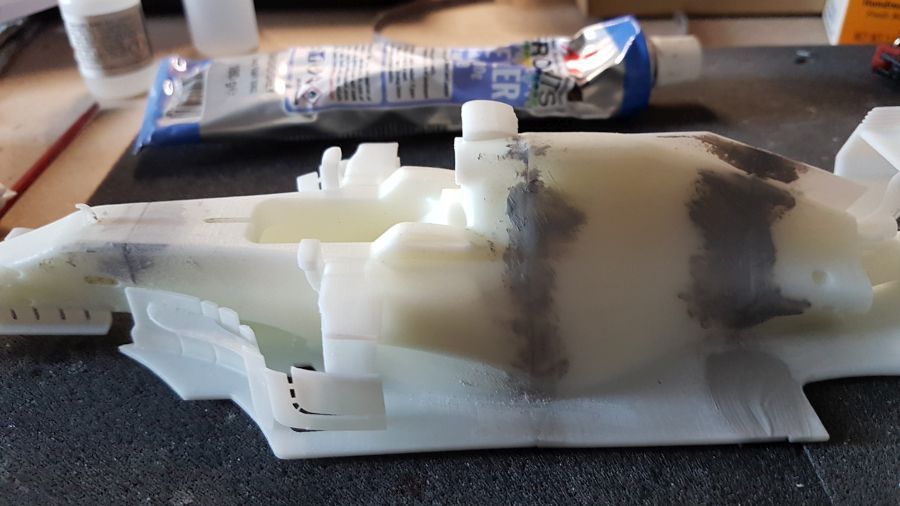 Na wat schuren, spuit ik de grijze primer. Zo kan ik beter zien waar meer gewerkt moet worden.
After sanding, i will spray grey primer. This way it's easier to see where to do more work.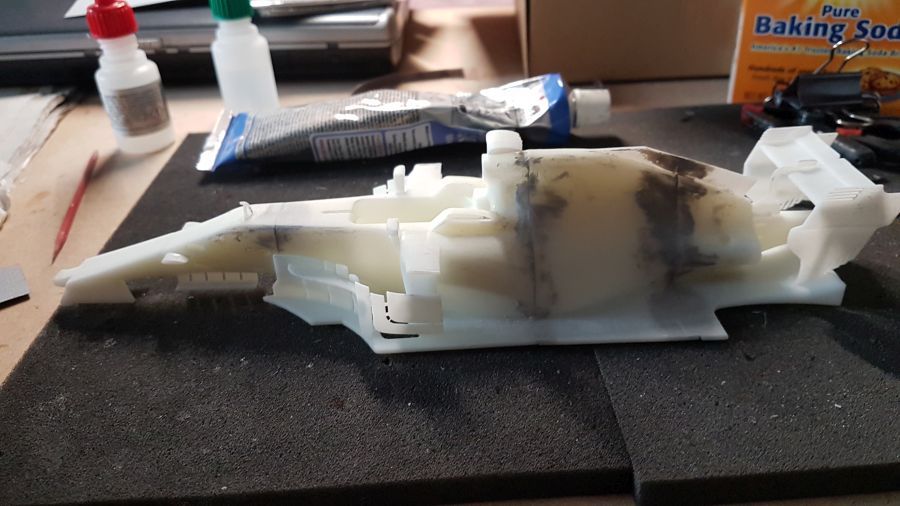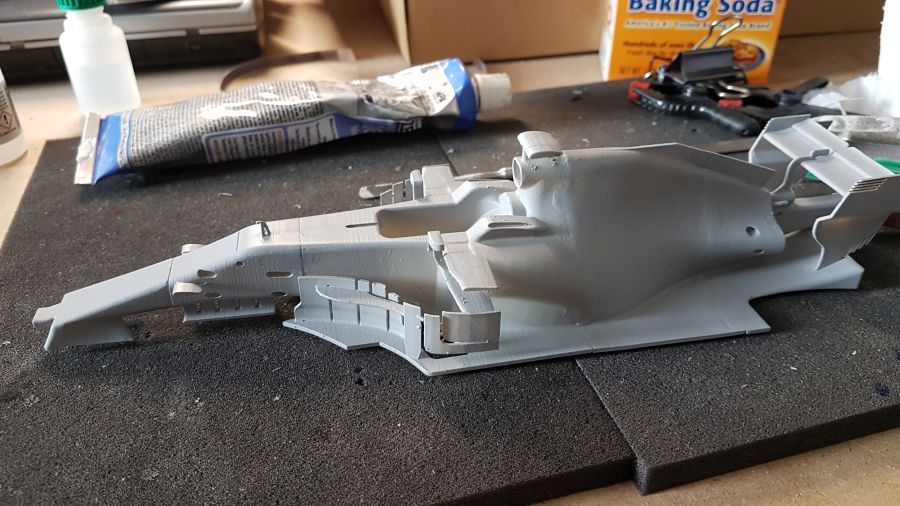 Bij gebruik van een home printer, zou dit vele malen erger zijn. Zelfs bij professionele printers zoals die van Shapeways.  Ik weet het uit ervaring. In werkelijkheid voelt dit best glad aan.
When using a home printer, this would be much worse. Even with use of professional printers like Shapeways. Believe me, i know this from experience. In real life this feels pretty smooth.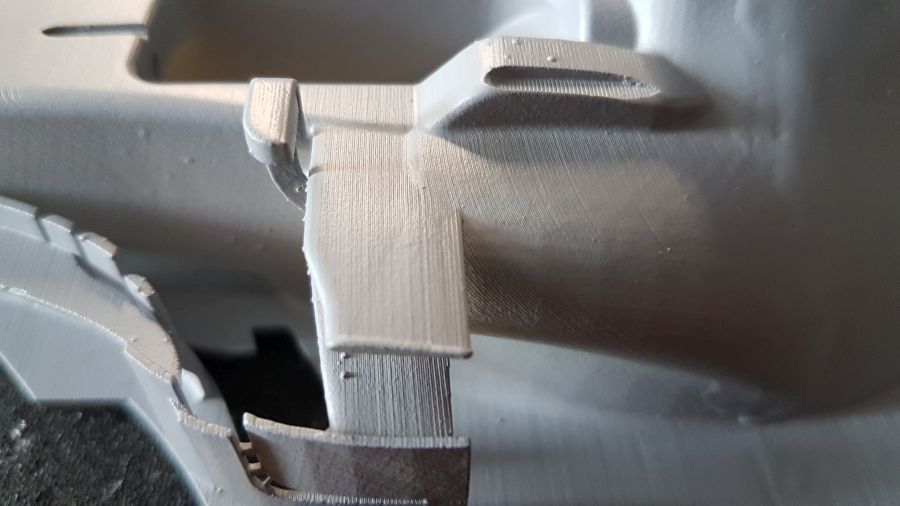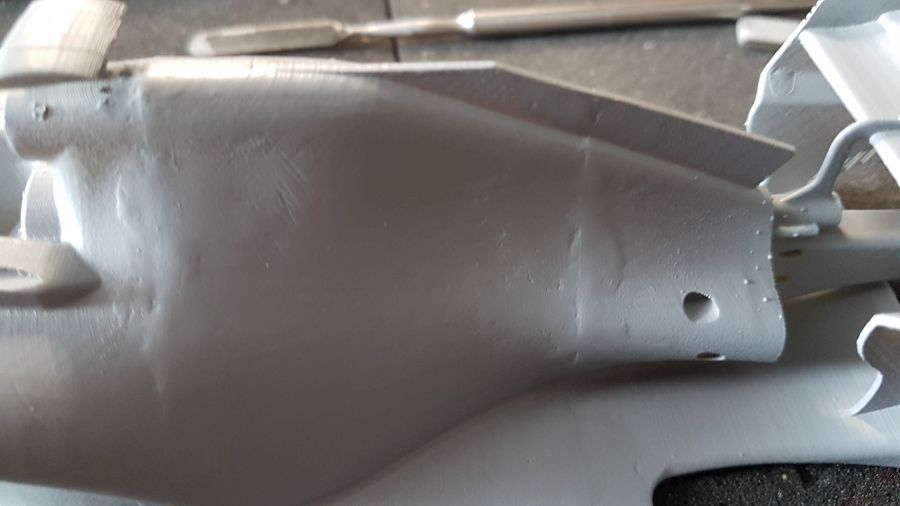 We komen er wel.
We will get there.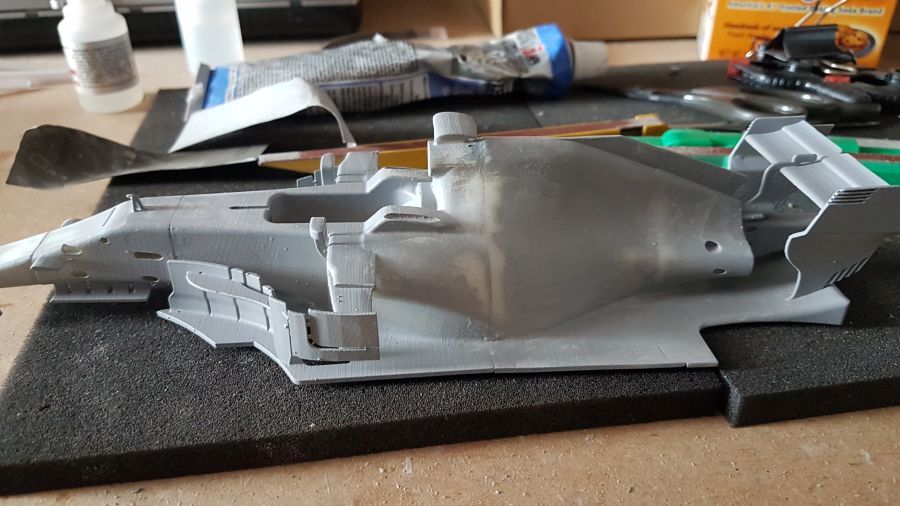 Schuren, schuren, schuren. Langzamerhand komen we er wel.
Sanding, sanding, sanding. Slowly we will get there.
Voor de vloer maak ik templates om de CF-decals op maat te maken.
I am creating templates of the floor to add CF-decals.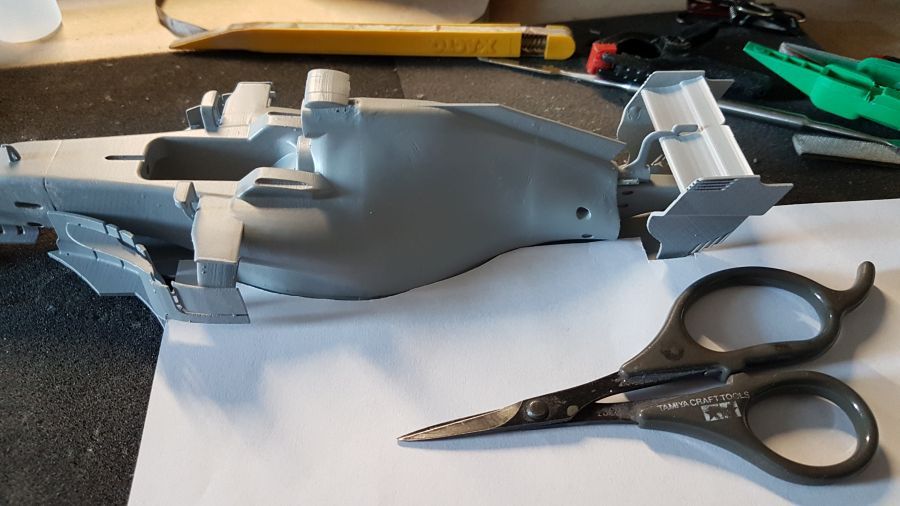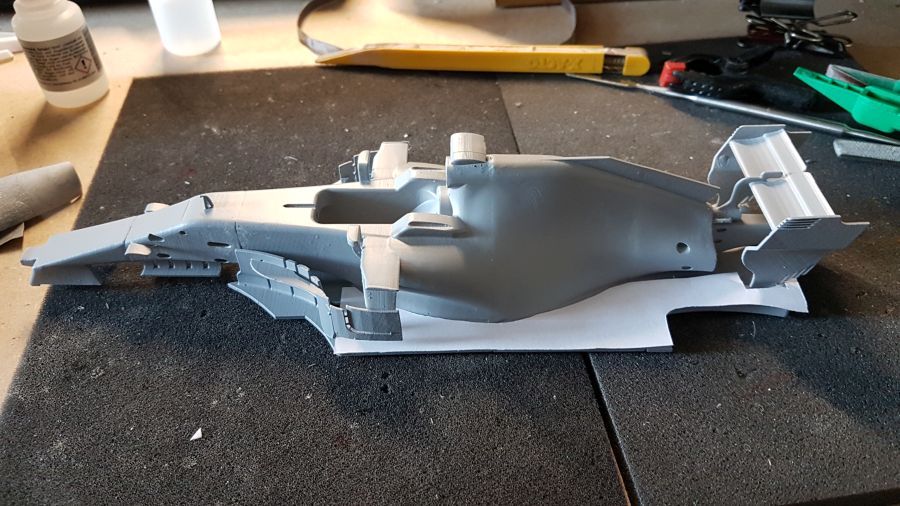 Ik probeer hier een opwaartse buiging in de vloer te krijgen. De haarföhn erop en iets eronder. De buiging is niet zo sterk als ik wil, maar ik moet oppassen omdat het precies op de naad van 2 stukken zit. Ik laat het er zo bij.
I am trying to create an upwards bend in the floor. The hair dryer on it and something under it. The bend is not as strong as i would like to, but i need to be careful. There is a seam of 2 separate pieces under it. I will leave it like this.
Meer detail aan de vloer.
More detail to the floor.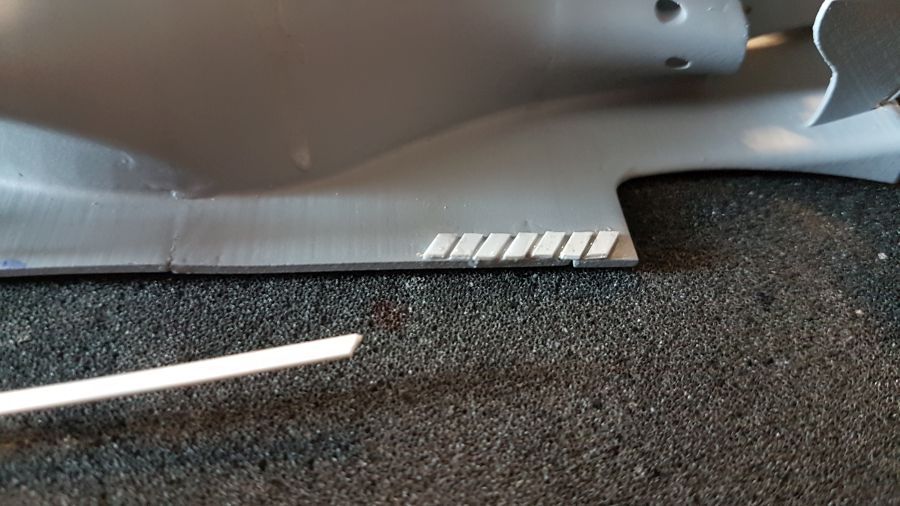 Kleine werk aan de voorvleugel.
Small works to the front wing.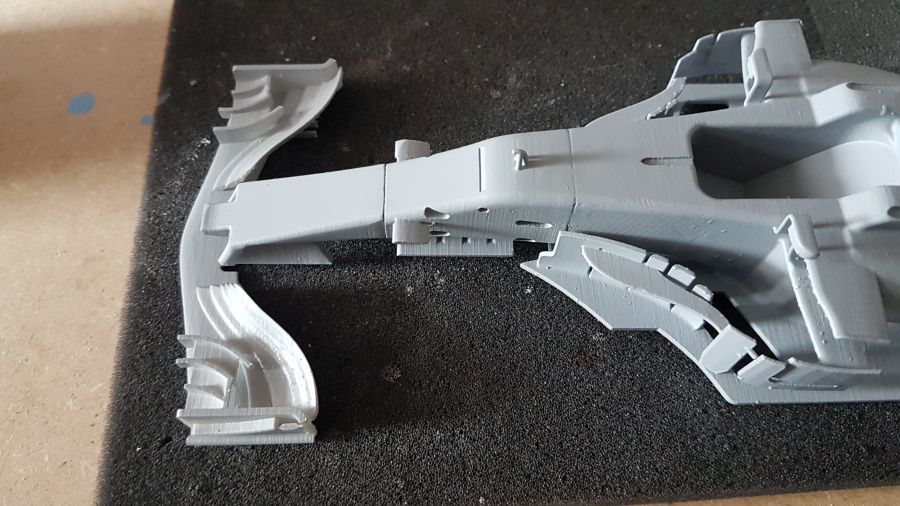 De eerste lagen Zero Paints zijdeglans zwart
The first layers of Zero Paints Semi Gloss Black.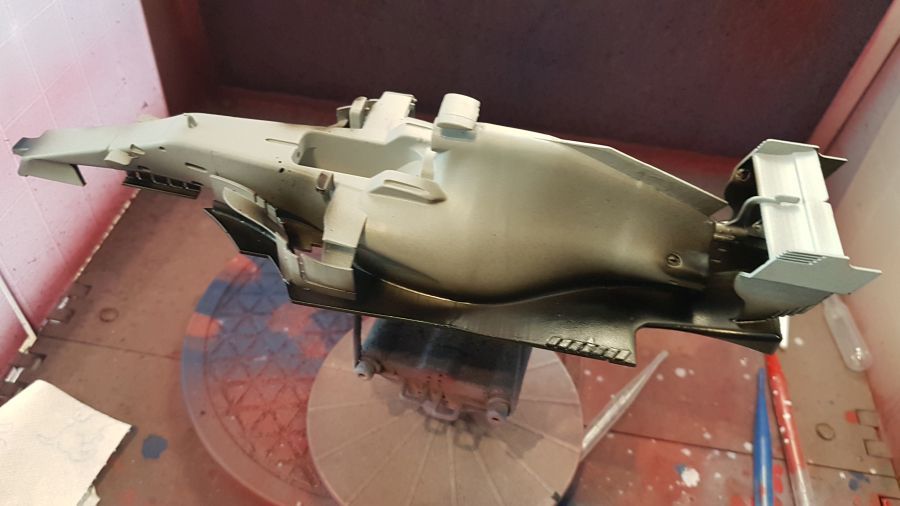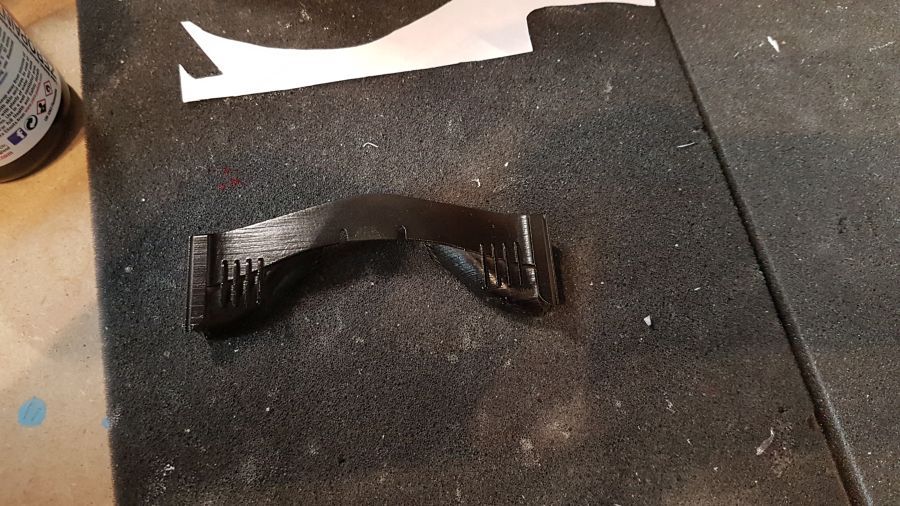 Vervolgens meerder lagen Zero Paints ZP-1033 RAL5004 Black Blue. Ik weet niet hoe dit uitpakt. Afwachten dus.
Next is multiple layers of Zero Paints ZP-1033 RAL5004 Black Blue. I don't know what to expect. Let's see.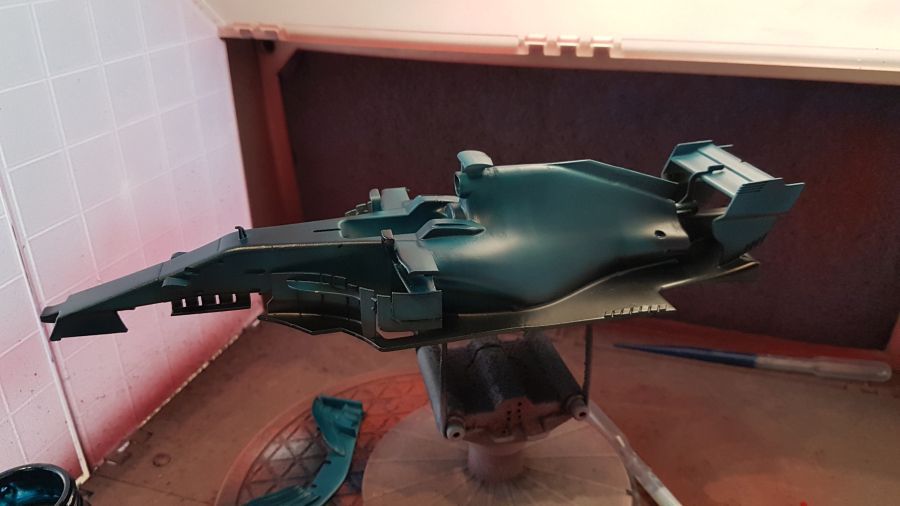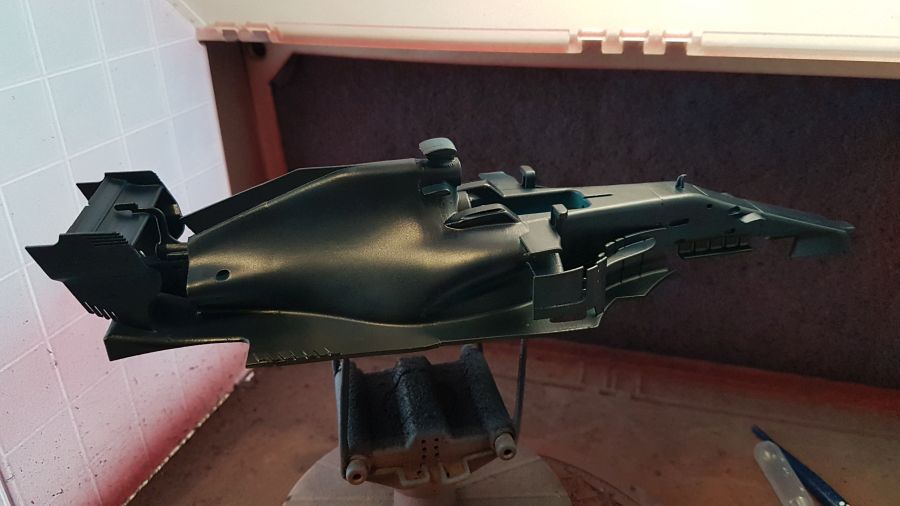 Het eindresultaat...
The end result...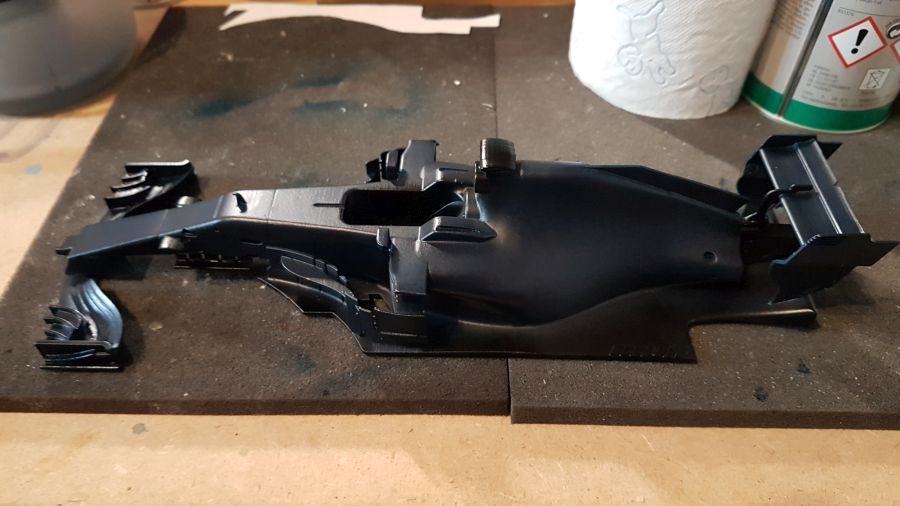 Daglicht...
Daylight...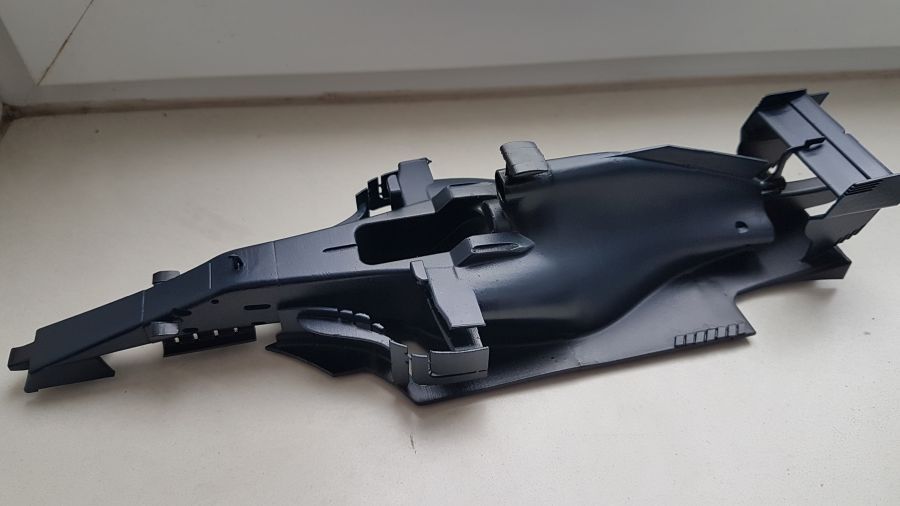 Uit ervaring weet ik dat de decals van Pattos niet van lak van Zero Paints of Tamiya houden. Die zijn te heet. De kans op bobbelen is erg hoog. Daarom heb ik een paar lepels gespoten, beplak deze met een Pattos decal en kan dan een laktest doen. De glans van de drager moet weggewerkt worden.
From experience i know the decals from Pattos do not like lacquer from Zero Paints or Tamiya. Those are too hot. There is a chance of bubbling. That's why i painted some spoons, add a decal from Pattos and will do lacquer tests. The shine of the carrier needs to be dealt with.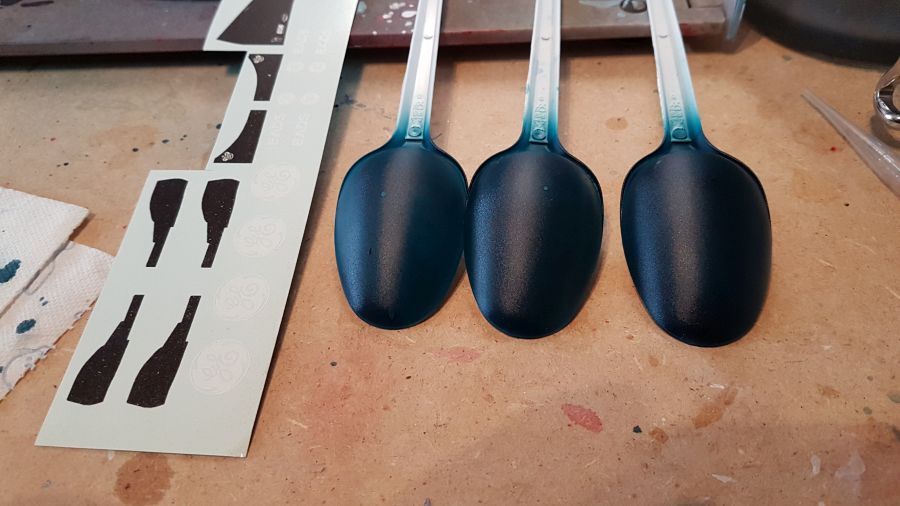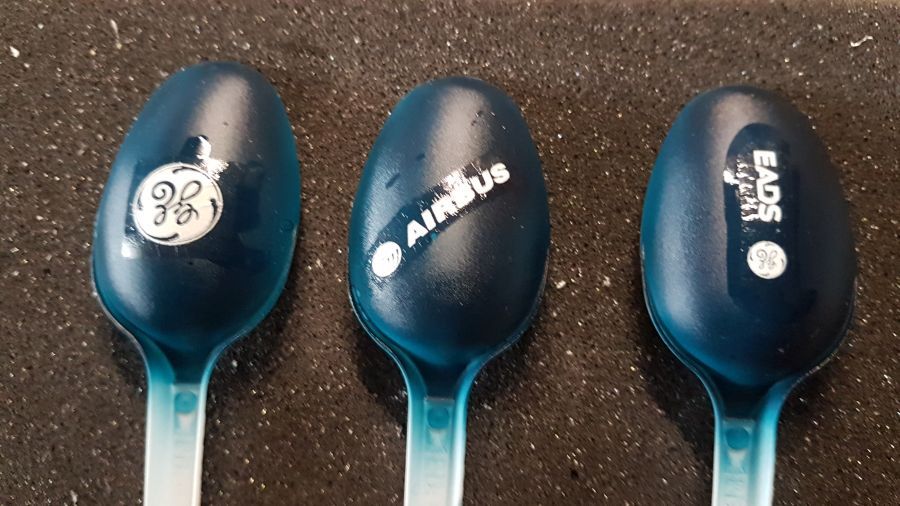 Van links naar rechts: Revell Aqua / Tamiya Matt / Zero Paints Matt. Revell valt in ieder geval af voor mij.
From left to right: Revell Aqua/ Tamiya Matt / Zero Paints Matt. Revell will not be it for me.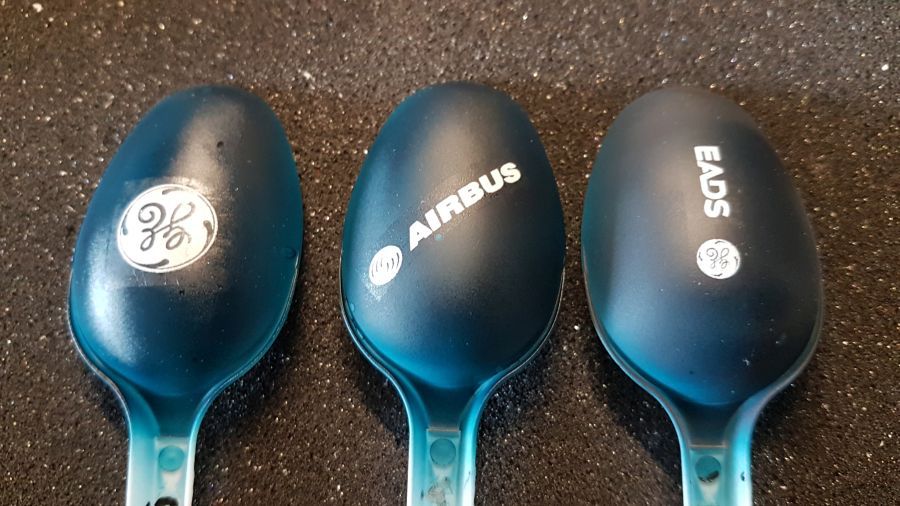 De banden hebben dikke opgelegde bandenmarkeringen. Deze verwijder ik.
The tires have huge tire markings. I will remove these.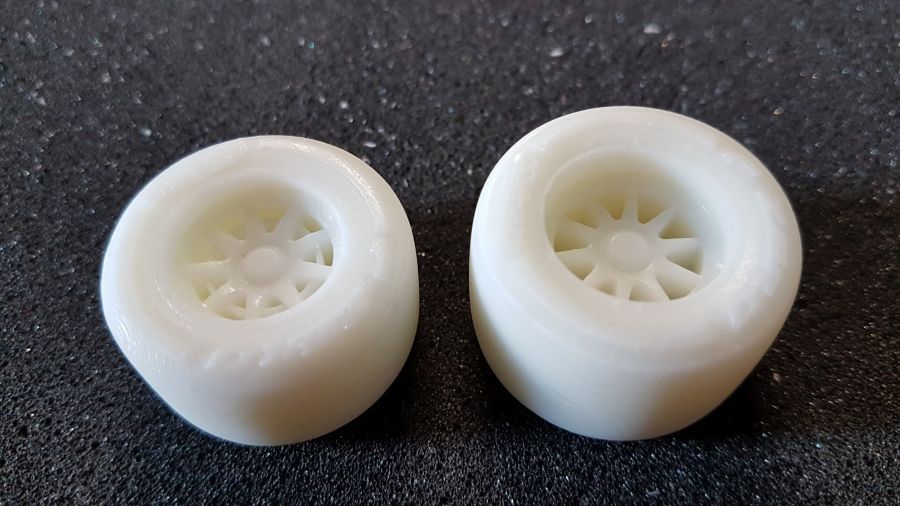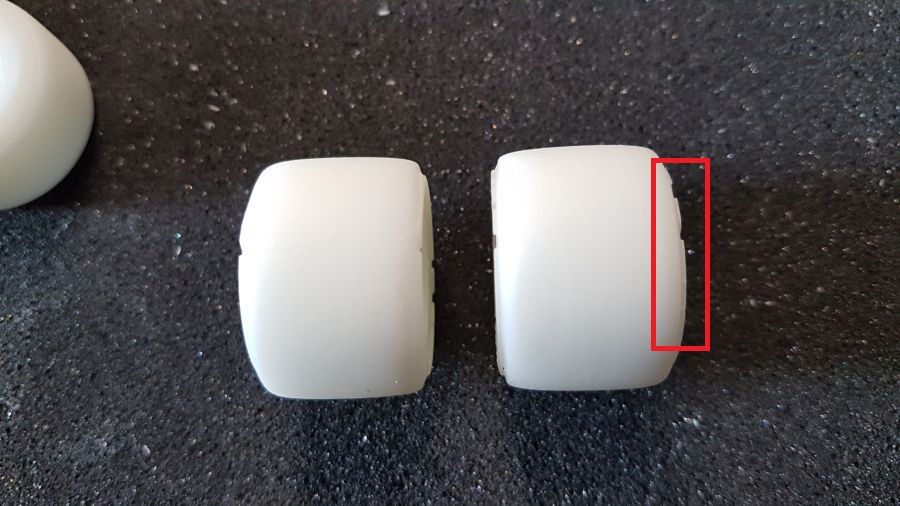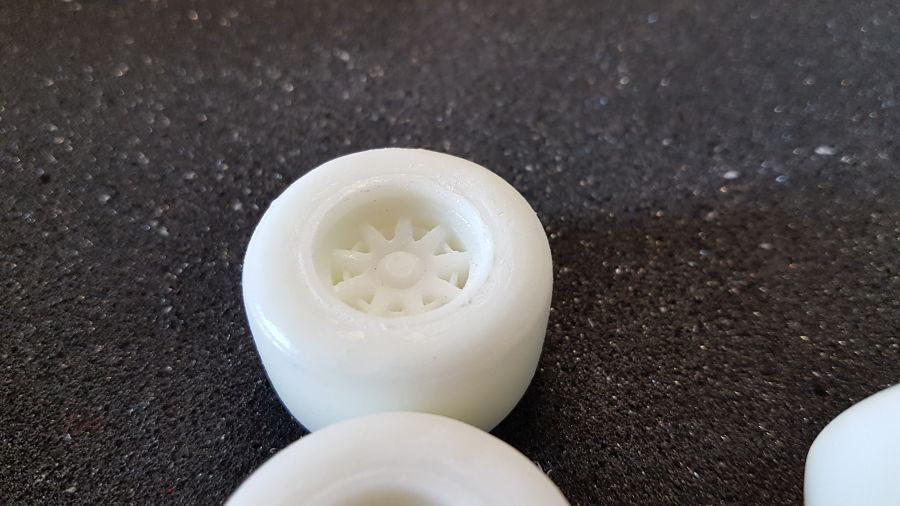 De decals gaan erop. Ik probeer geen of in ieder geval zo weinig mogelijk Micro Set/Sol te gebruiken. De decals worden wat rekbaar daarvan. De kans op rimpels wordt juist groter. Het plaatsen wordt lastig, want de decals zijn niet op maat gemaakt voor dit model. Nee ik verkoop de decals niet, ik ben slechts modelbouwer!
The decals will be added. I am trying to use no or as less as possible Micro Set/Sol. The decals get somewhat 'stretchy' from it. There is more chance to wrinkles. Adding the decals will be tricky, as the decals were not made to size for this kit. No i don't sell the decals, i am just a modeler.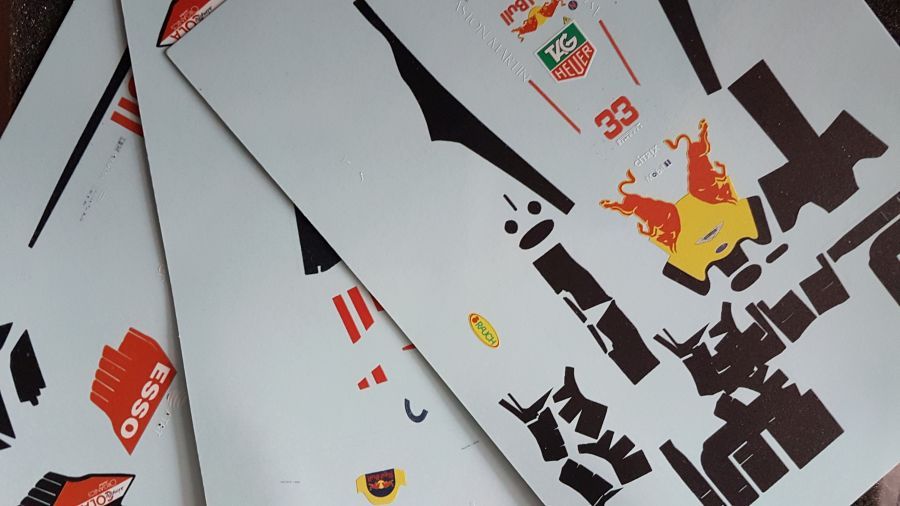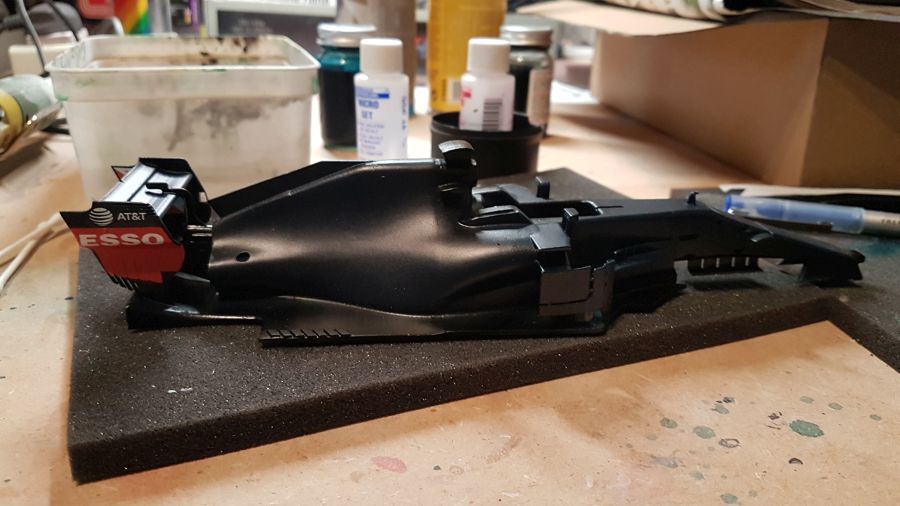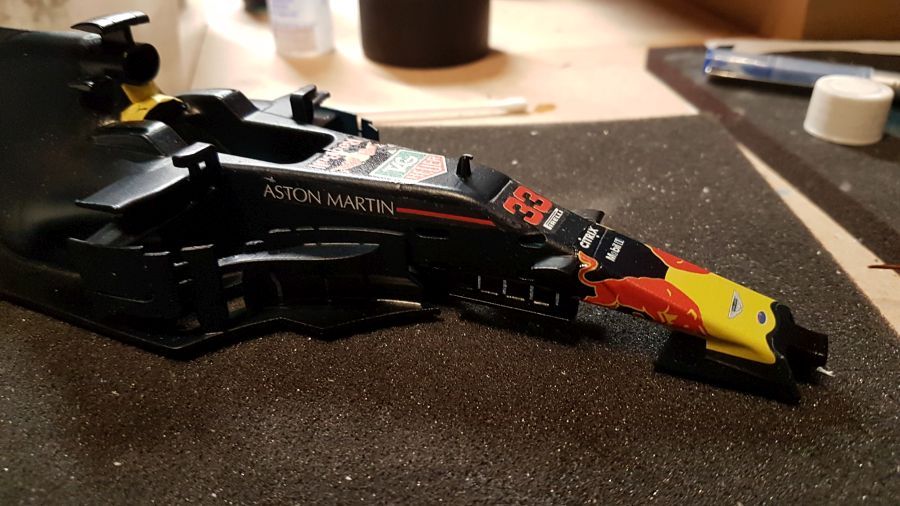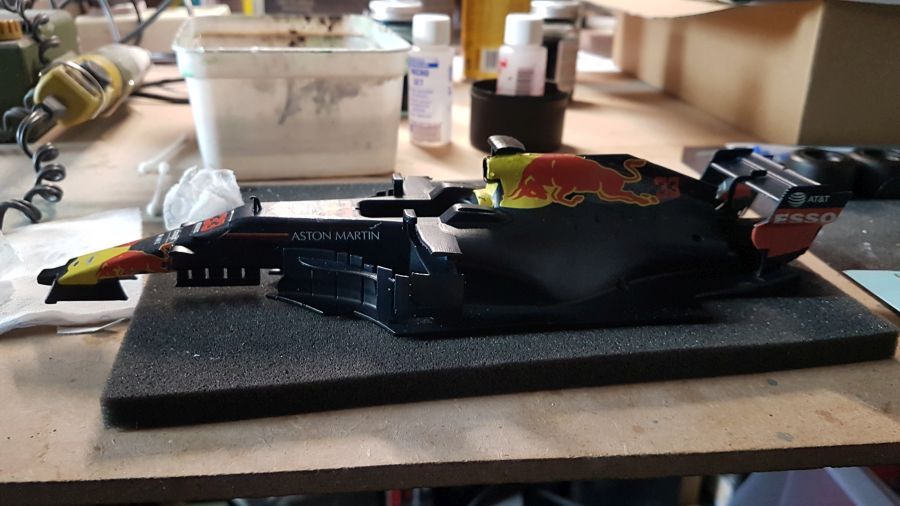 Klein foutje in de decals.
Small mistake on the decals.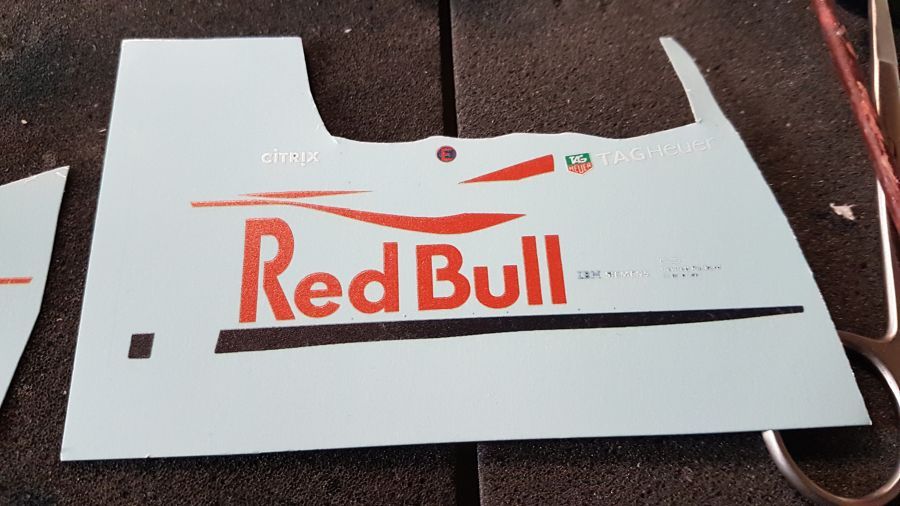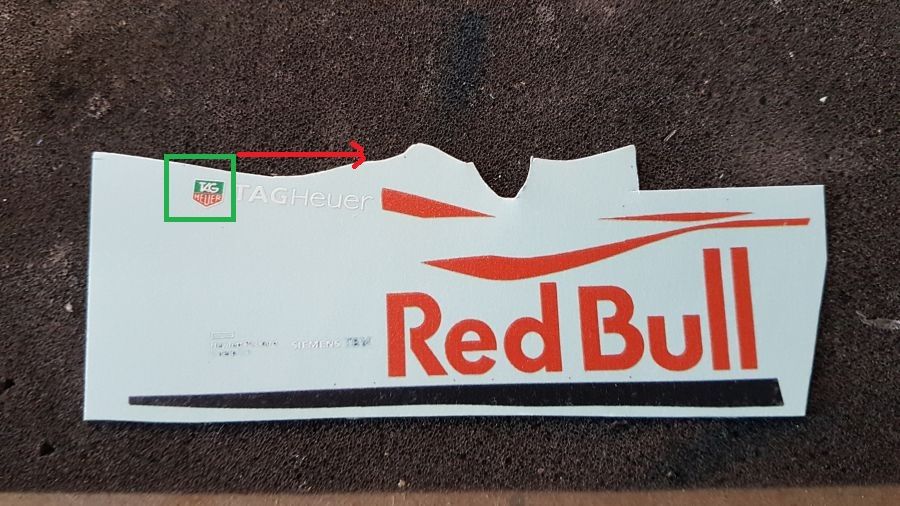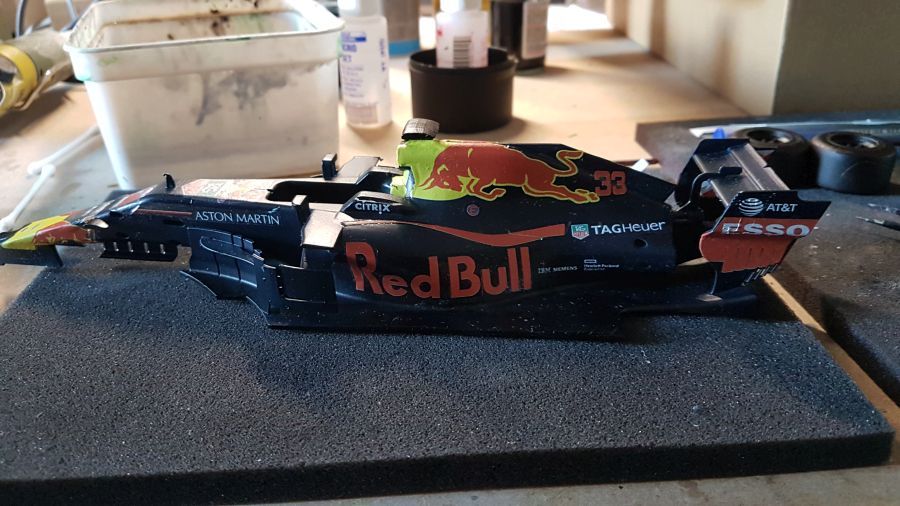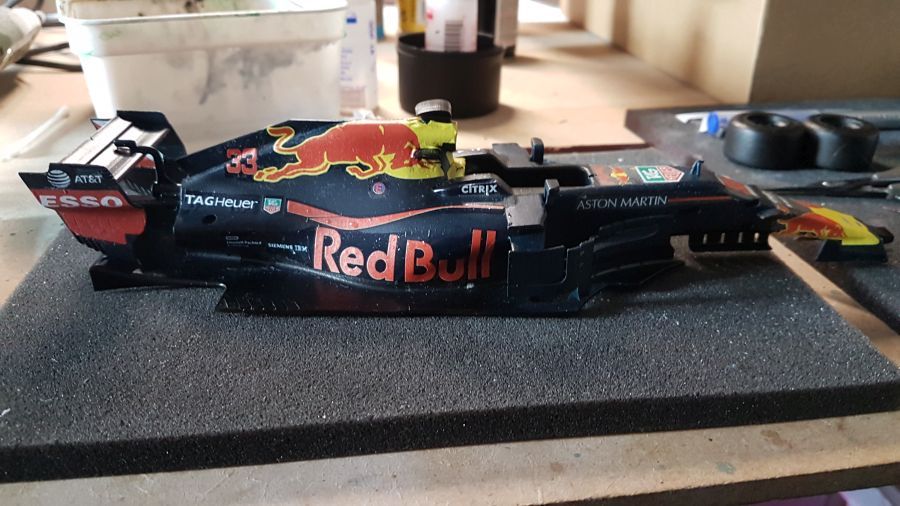 Ik heb met Revell verf de airbox wat bijgewerkt met geel.
Used some Revell paint to touch up the air box with yellow.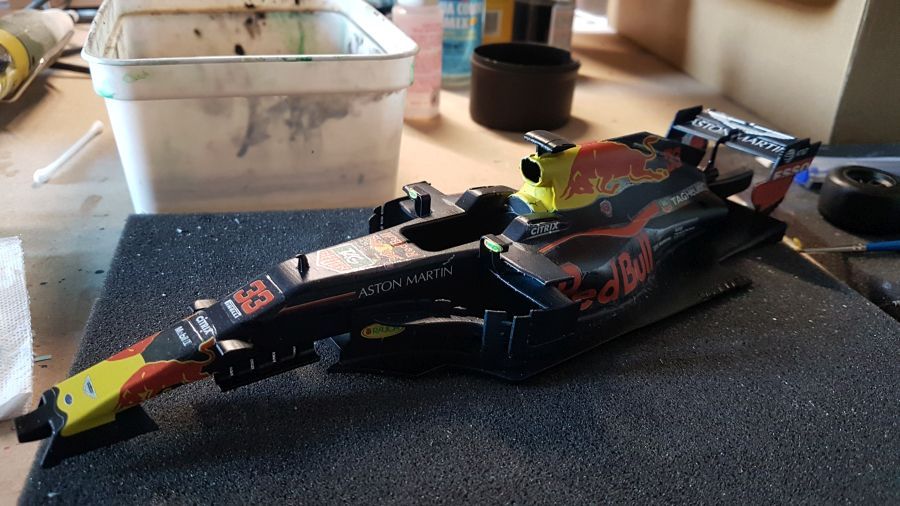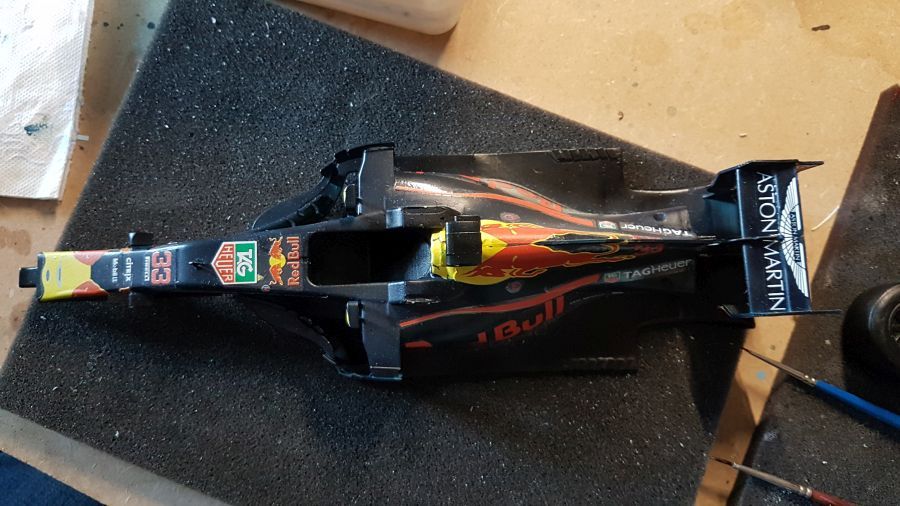 Verder met de vleugel. Alles moet op maat worden gemaakt.
To continue with the front wing. Everything needs to be cut to size.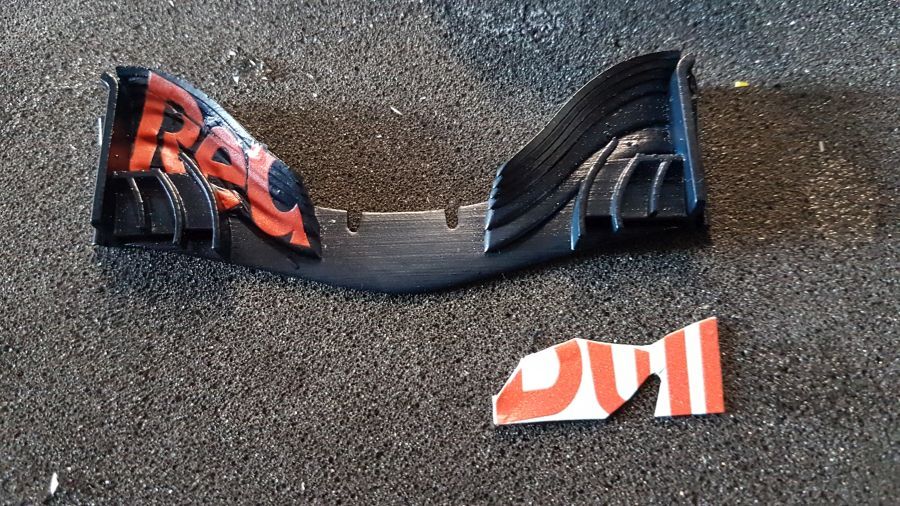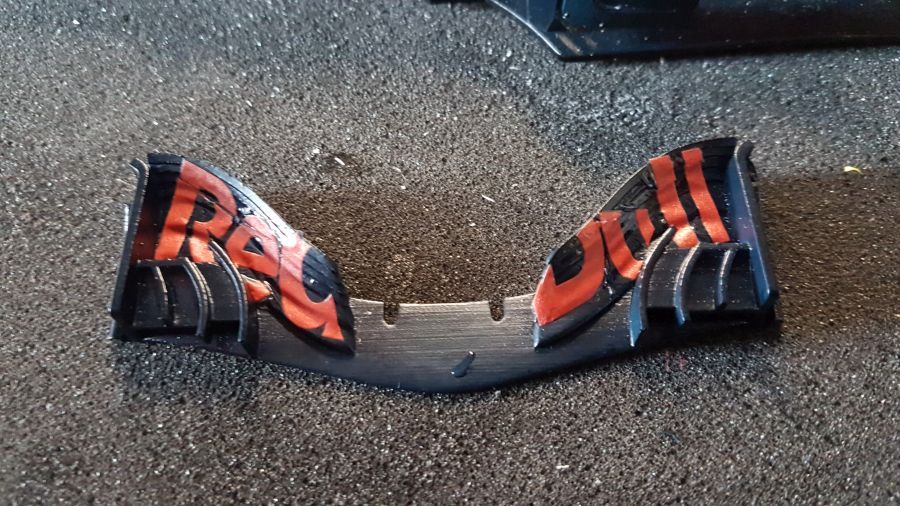 De wielophanging voor voor en achter spuit ik vast zwart.
The suspension for the front and the rear get painted black.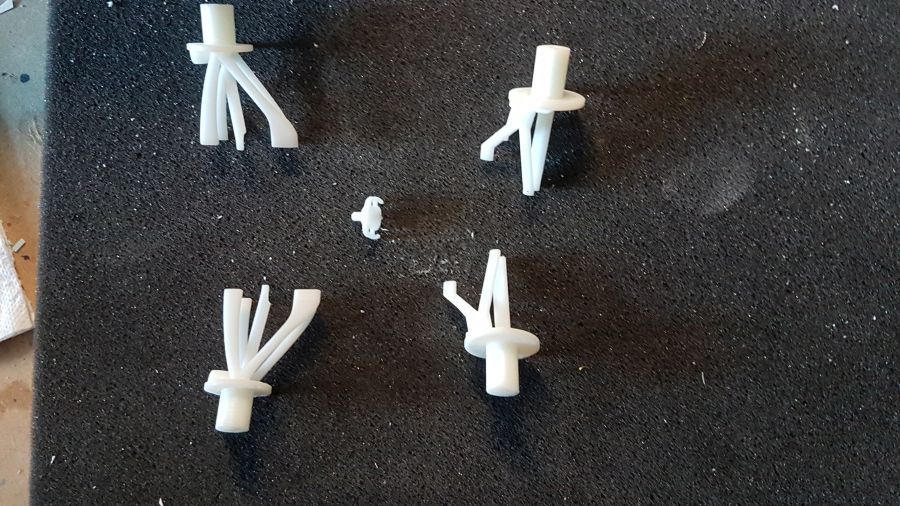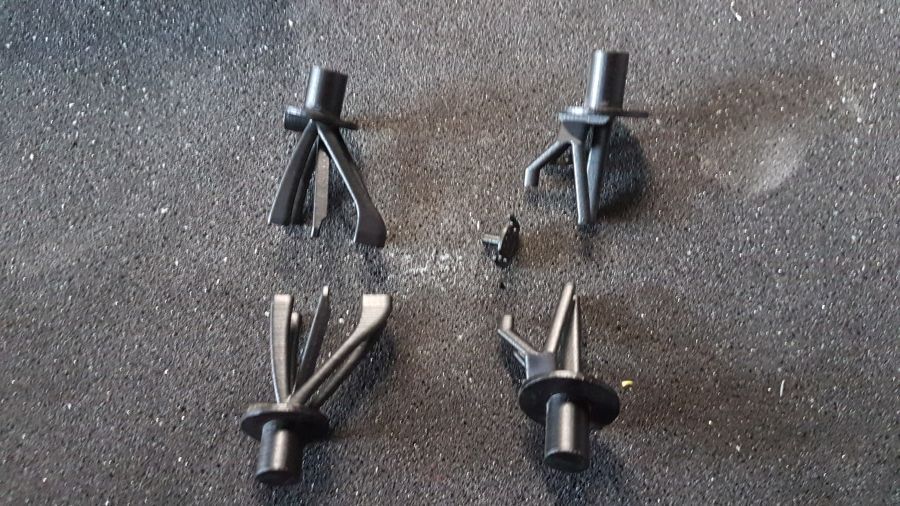 Terwijl dit droogt doe ik hetzelfde met de velgen.
While this dries i do the same to the rims.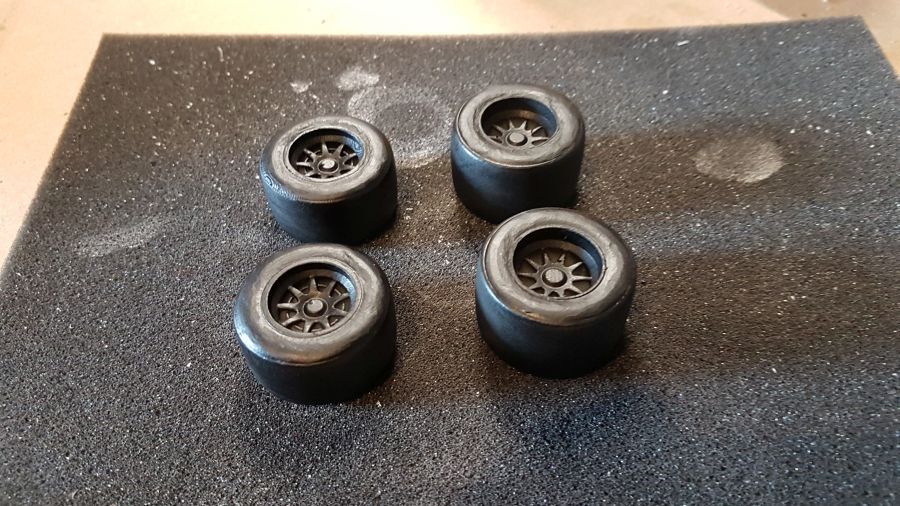 Daarna afplakken voor het zilver...
Then mask it for the silver...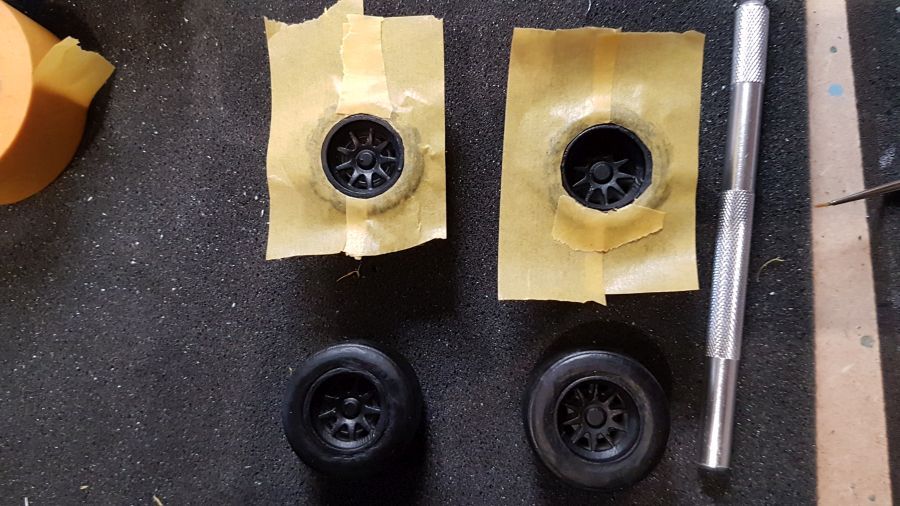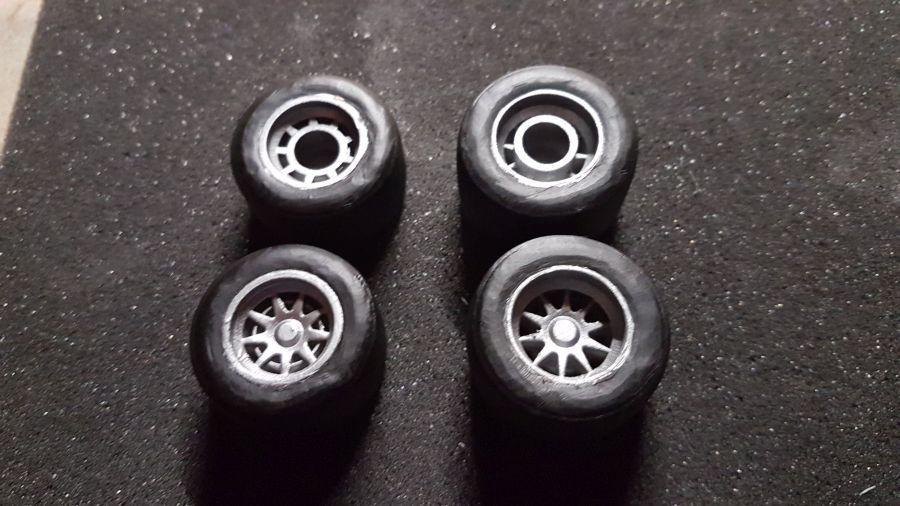 Even bepalen welke kleur erop gaat. Ik heb niet de 2018 markings, dus geen rose of paars. De meeste van mijn Ferrari F1 kits hebben groene, rode of witte markings. Ik wil daarom geel bewaren. Nu gewoon weer rood. 
Now determine which color will be used. I don't have 2018 markings, so no pink or purple. Most of my Ferrari F1 kits have green, red or white markings. That's why i want to save yellow. So red again on this one.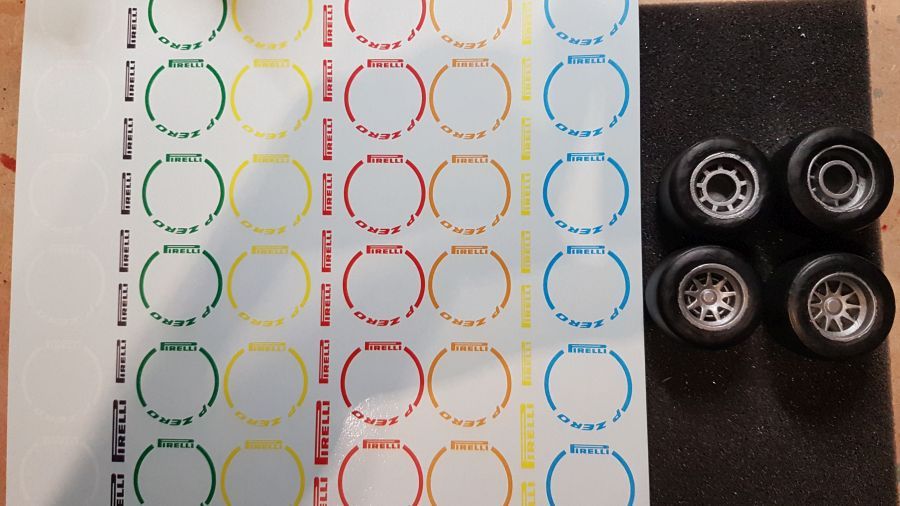 Een rotklus, want de decals vallen uitelkaar.
A pita job, as the decals are falling apart.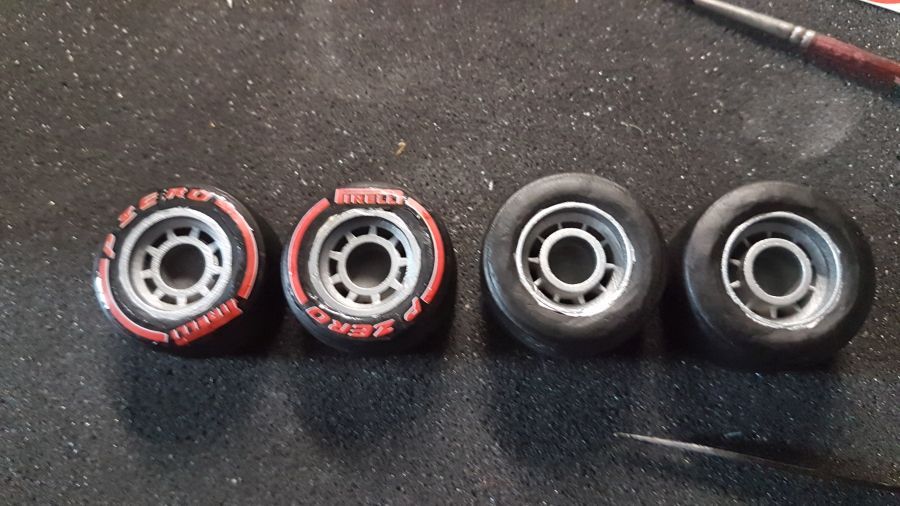 Een paar lagen mat lak gespoten.
A few coats of mat lacquer were applied.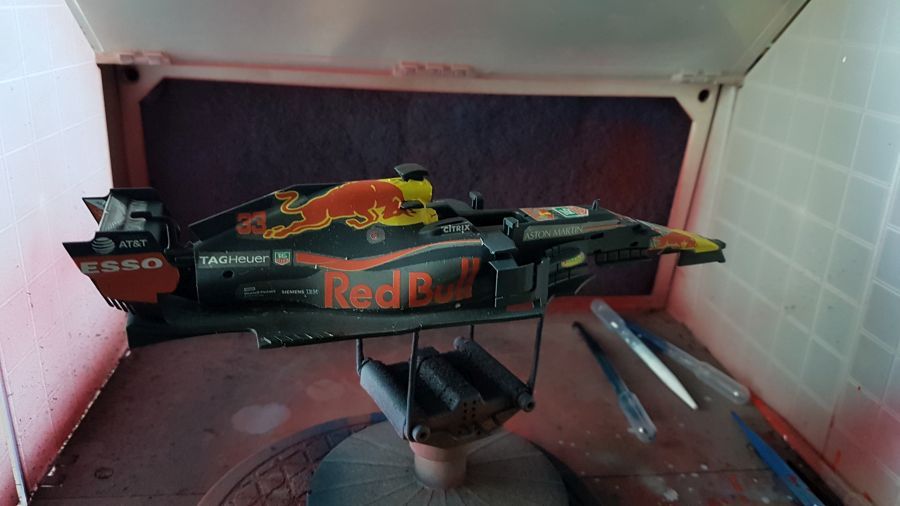 Met een mal ga ik de CF-decals knippen en vervolgens plaatsen.
By using a template i will cut the CF-decals and then add them.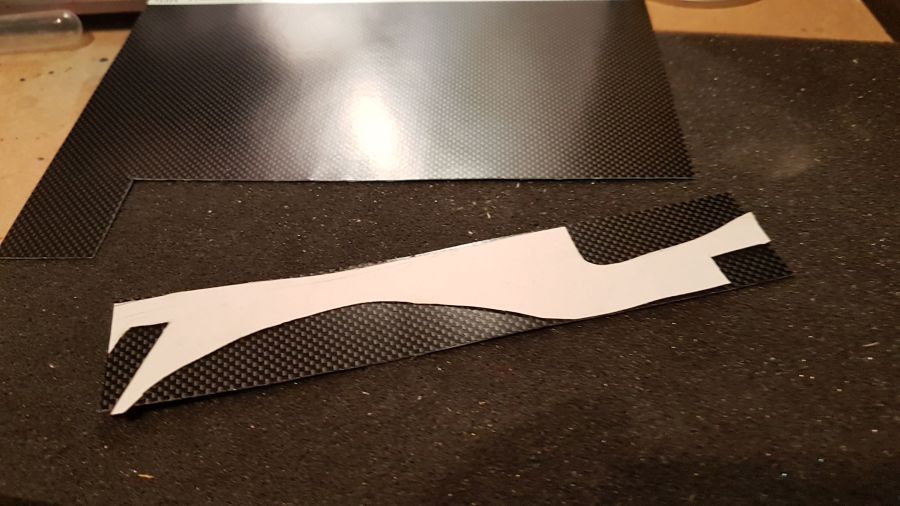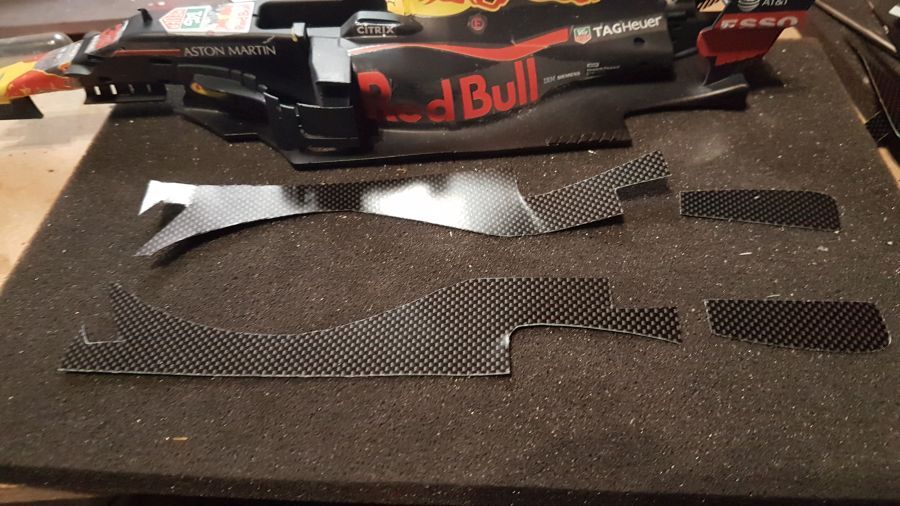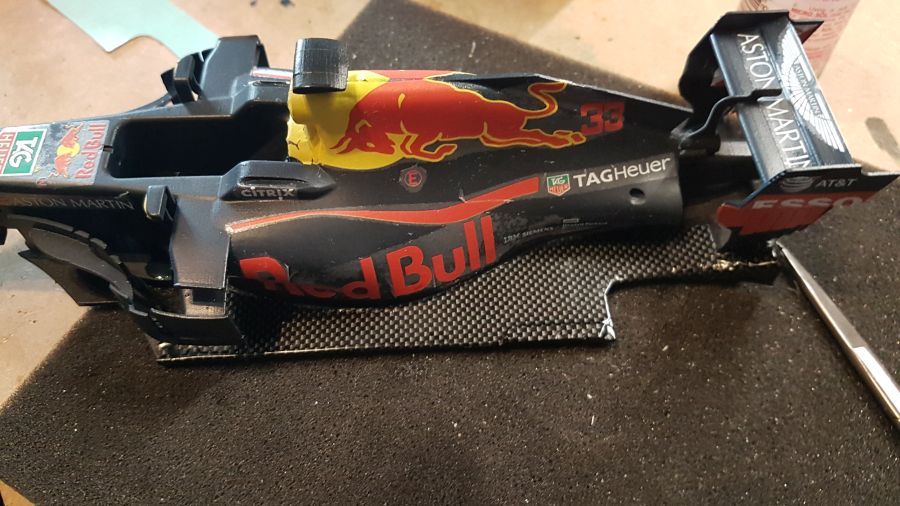 De ophanging gaat erop.
The suspension was mounted.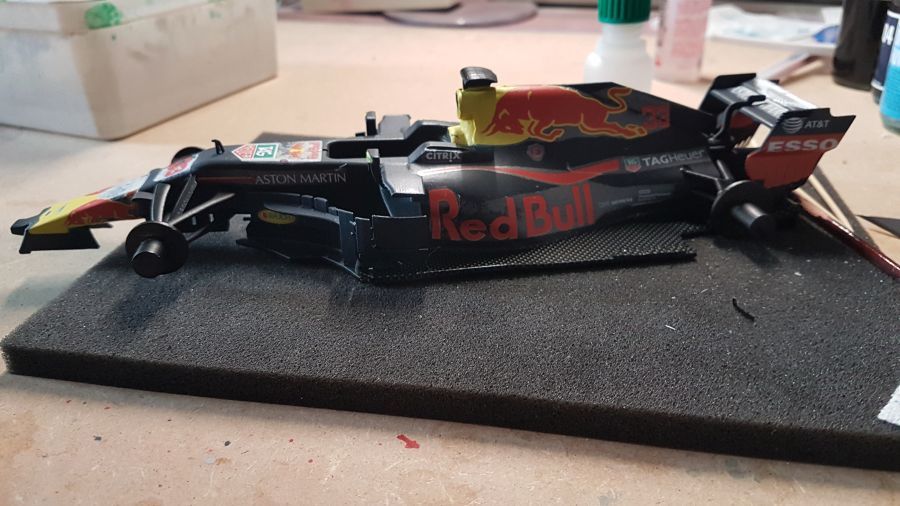 Dan de voorvleugel.
Then the front wing.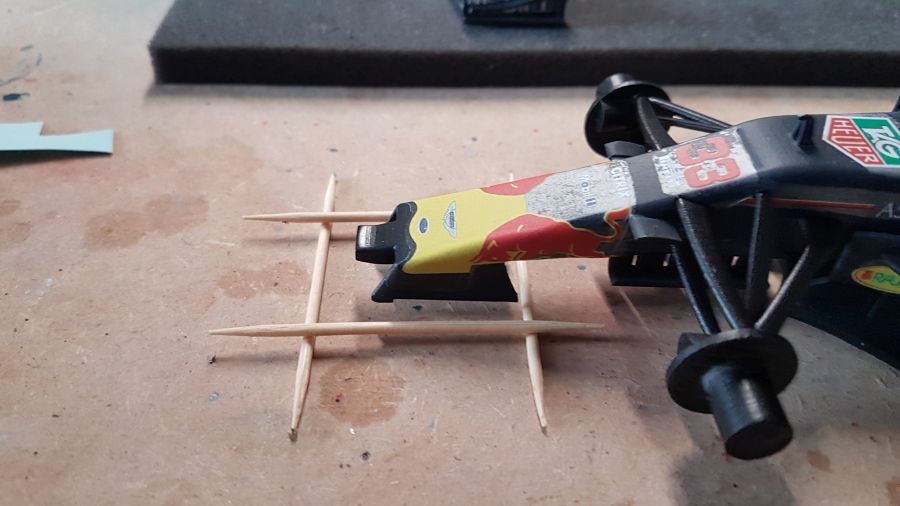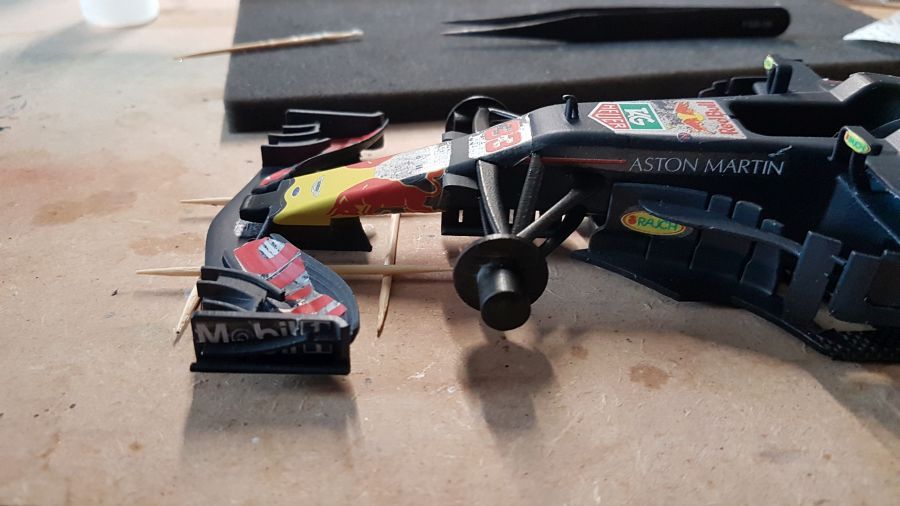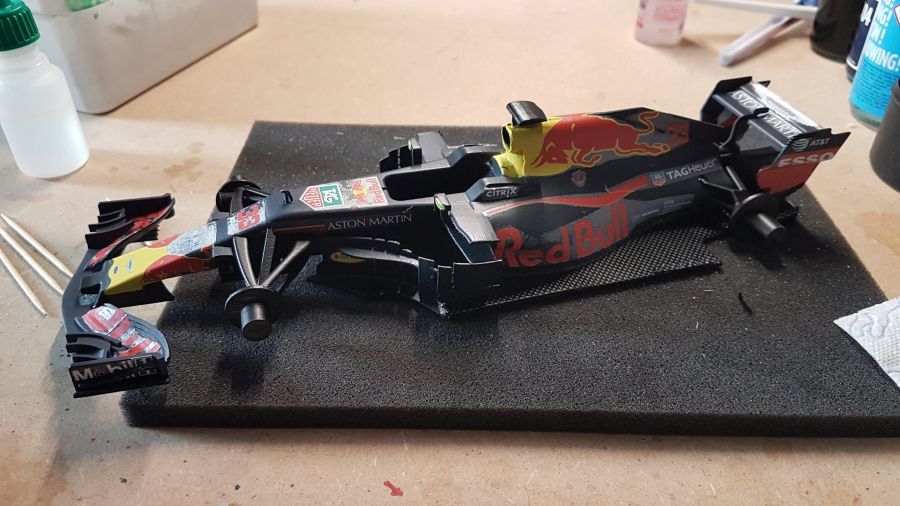 We naderen het einde.
The end is coming close.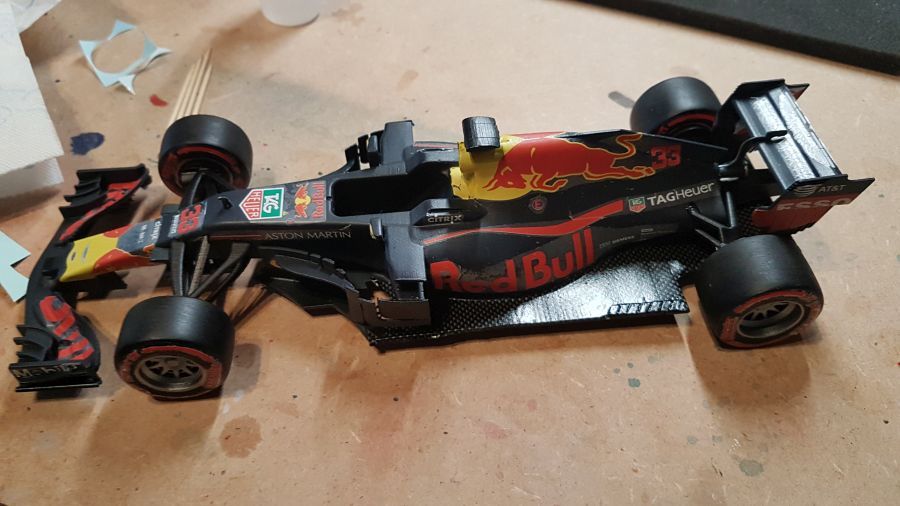 Dan de gordels erin.
Then the seat belts are combined and added.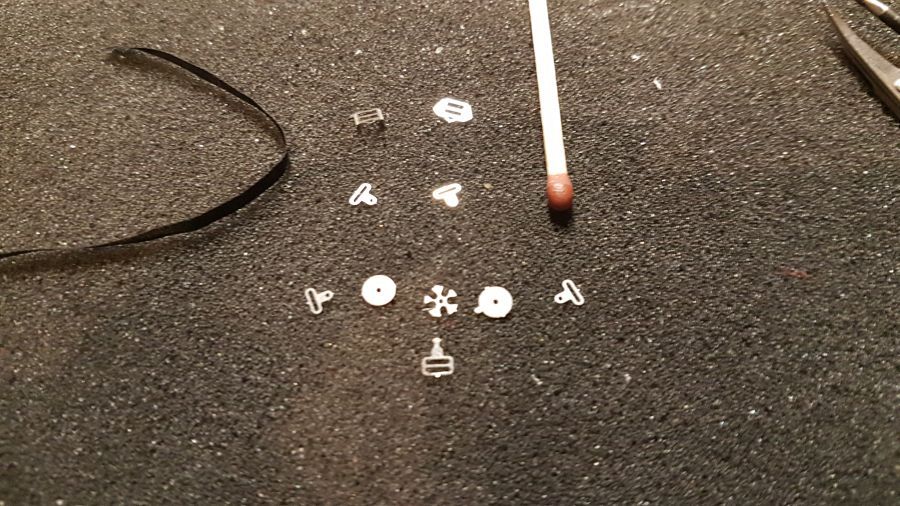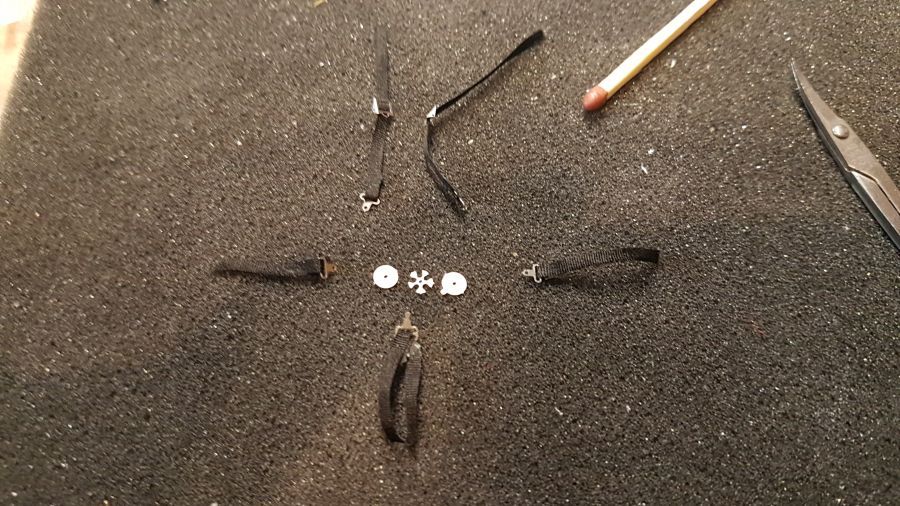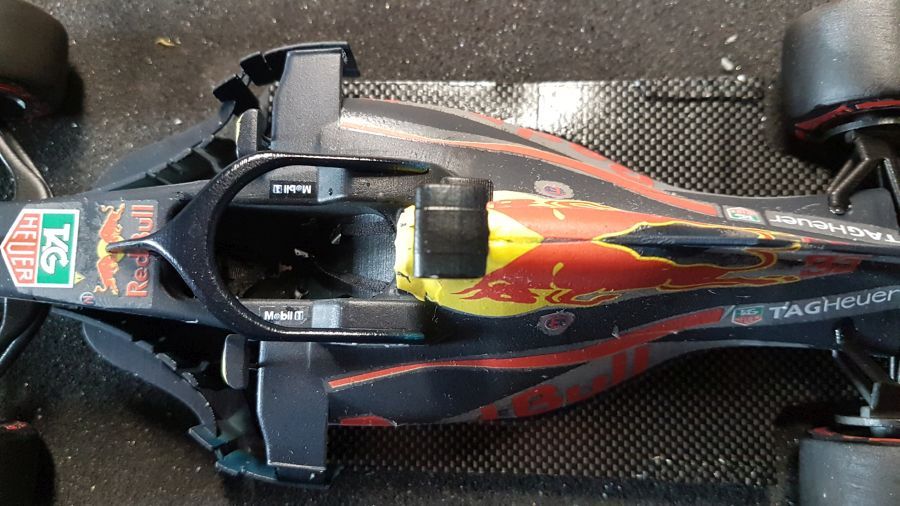 Ik beschouw hem als klaar.
I consider it done.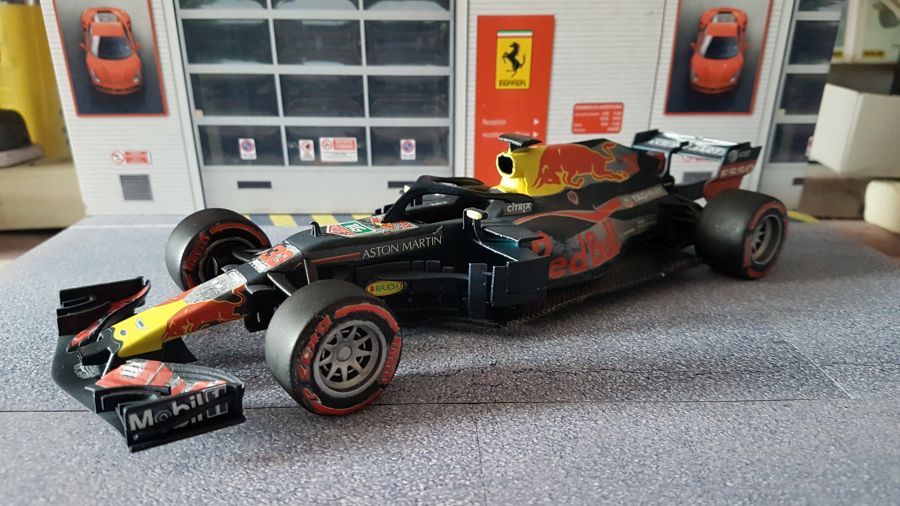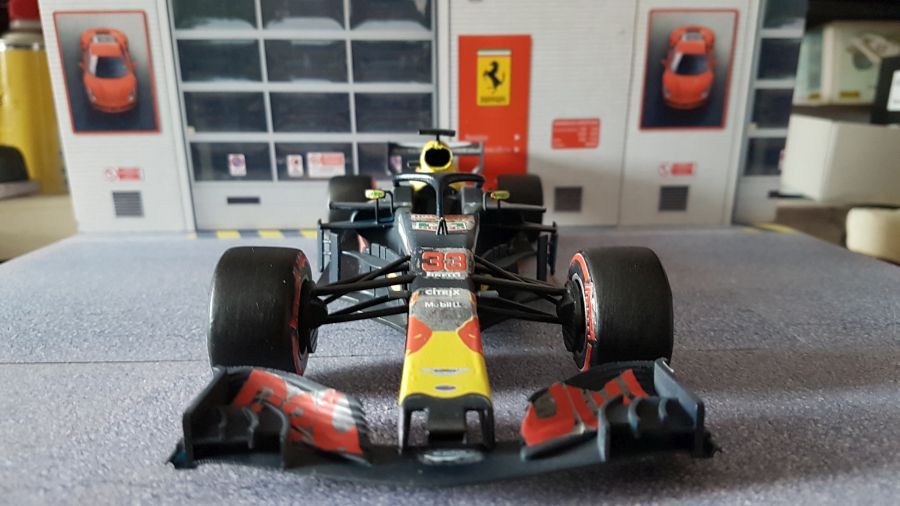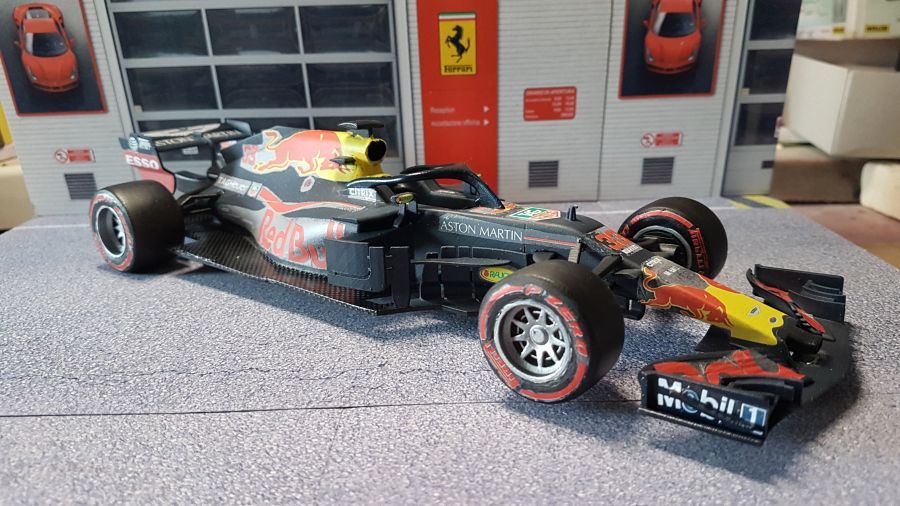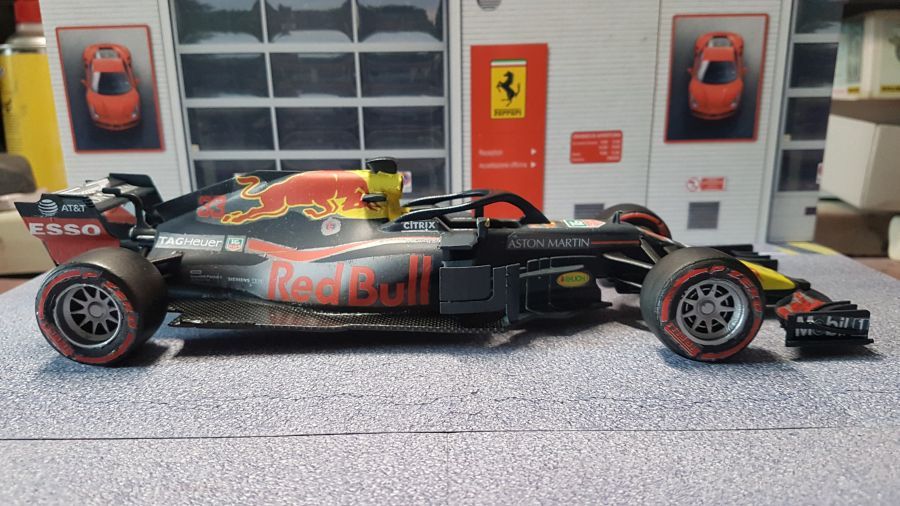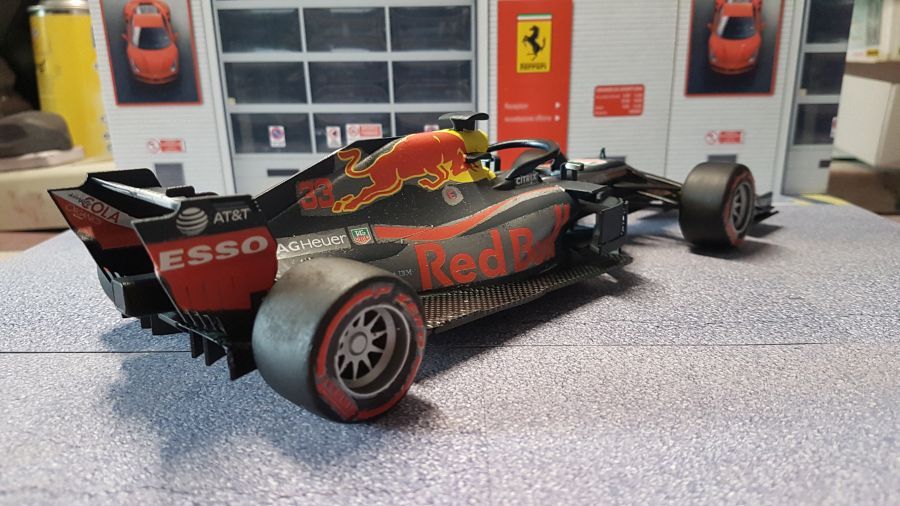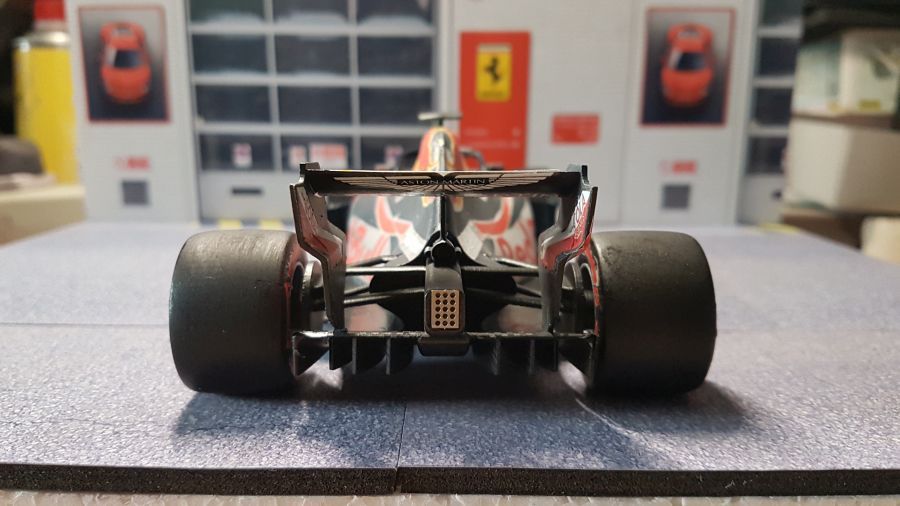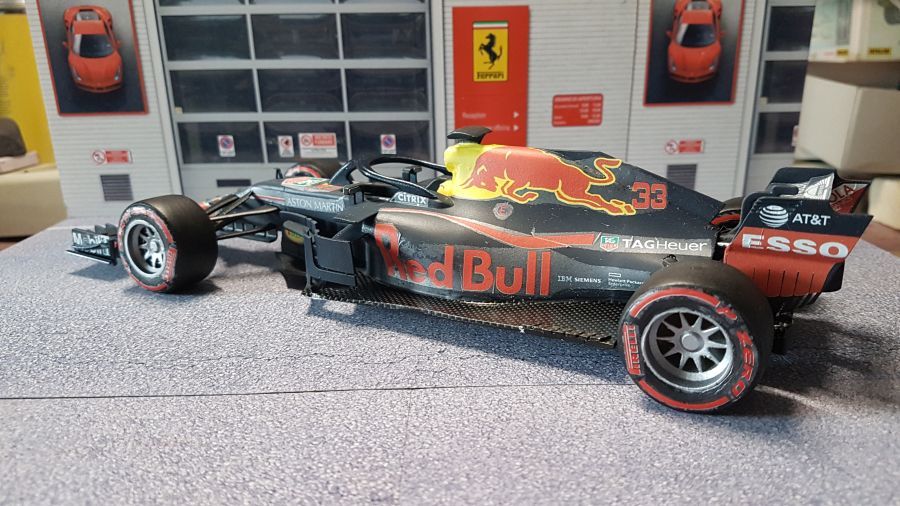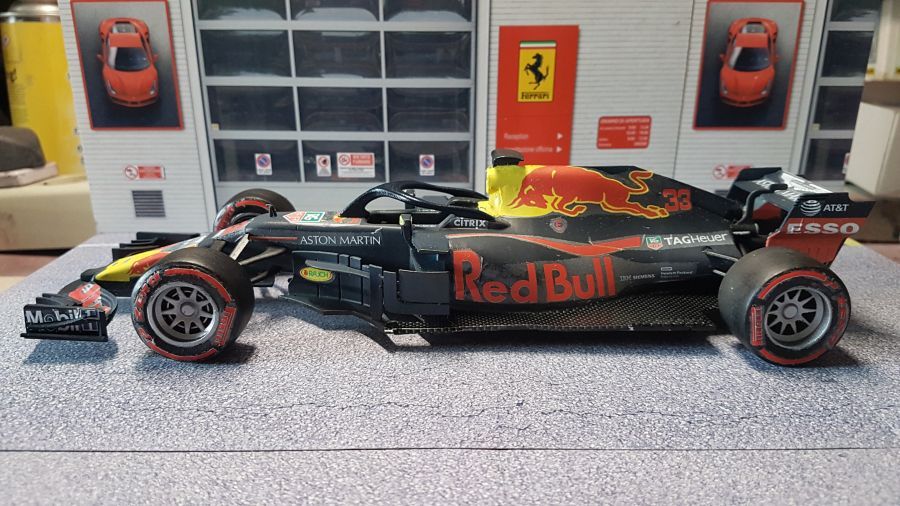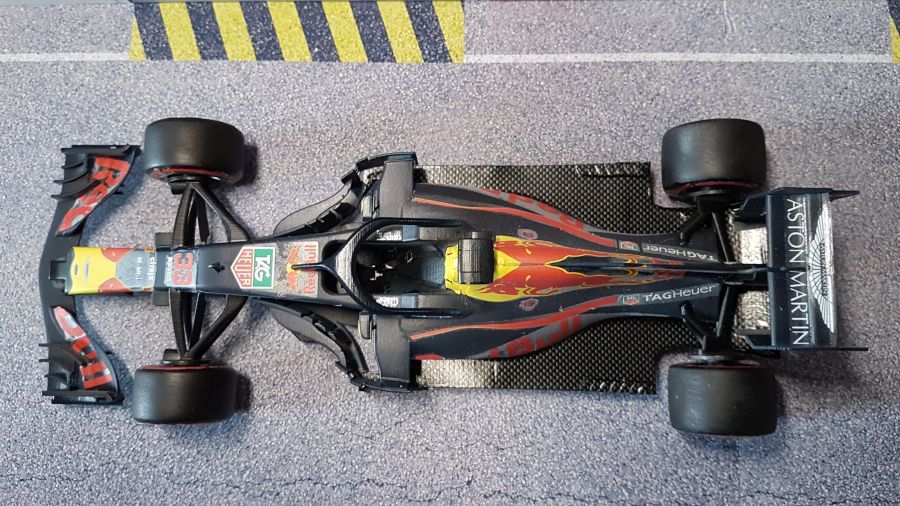 Ik heb het advies gekregen dit middel te gebruiken tegen silvering. Werkt top!
I received an advice to use this against the silvering. Works like a charm!