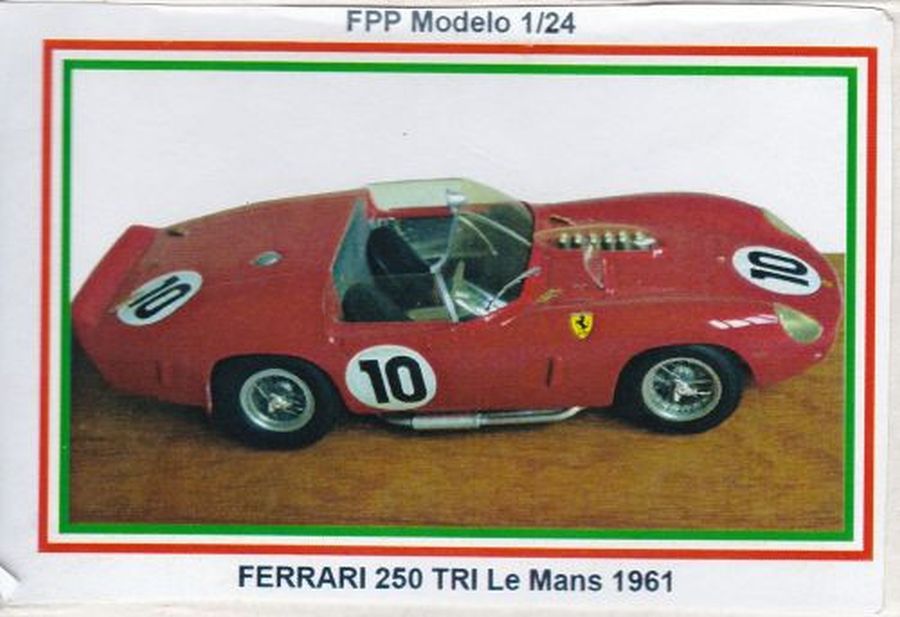 Al een tijdje zie ik een 1962 variant van de Ferrari 250 TRI. Omdat ik iets anders dan rood wil in mijn Ferrari Racing Car verzameling, heb ik besloten die te bouwen. Daarmee de 1962 NART versie van de Ferrari 250 TRI Low Tail zoals deze werd gereden door Peter Ryan en John 'Buck' Fulp op Le Mans. De decals heb ik op Ebay kunnen vinden. Als basis gebruik ik de 1961 versie kit van FPPM.
For a while i am seeing the 1962 car of the Ferrari 250 TRI. Because i want something different than red within my Ferrari Racing Car collection, i have decided to build this one. So the 1962 NART version of the Ferrari 250 TRI Low Tail as driven by Peter Ryan and John 'Buck' Fulp at Le Mans. I managed to find the decals on Ebay. As a base i will use the 1961 version kit from FPPM.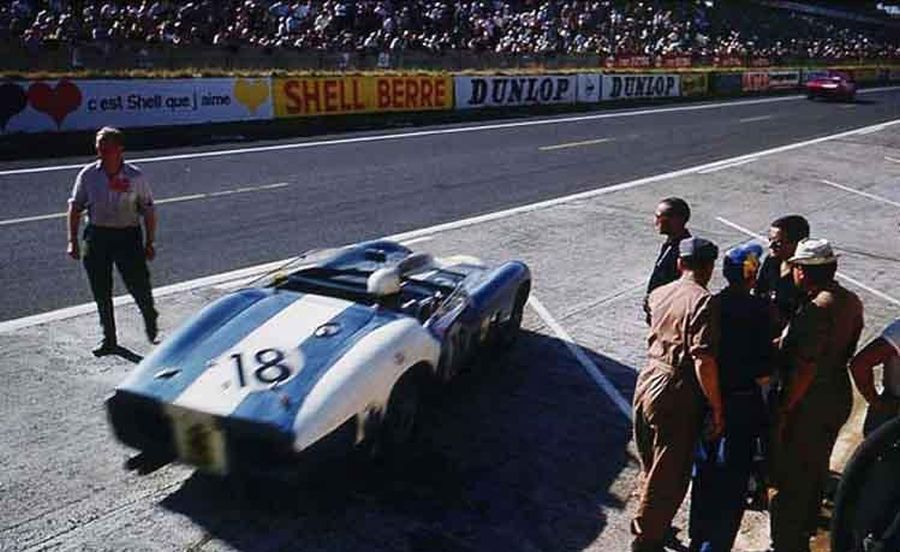 Hieronder de foto's van de onderdelen.
Below the kit's parts.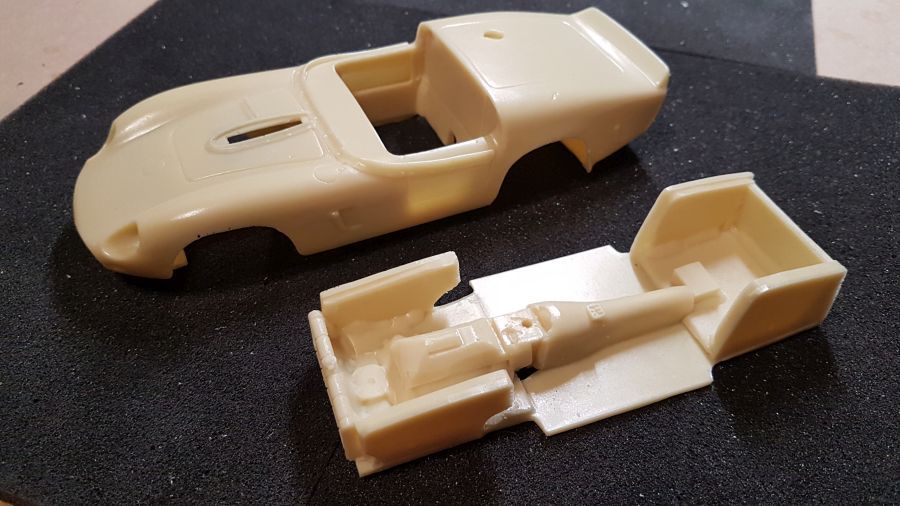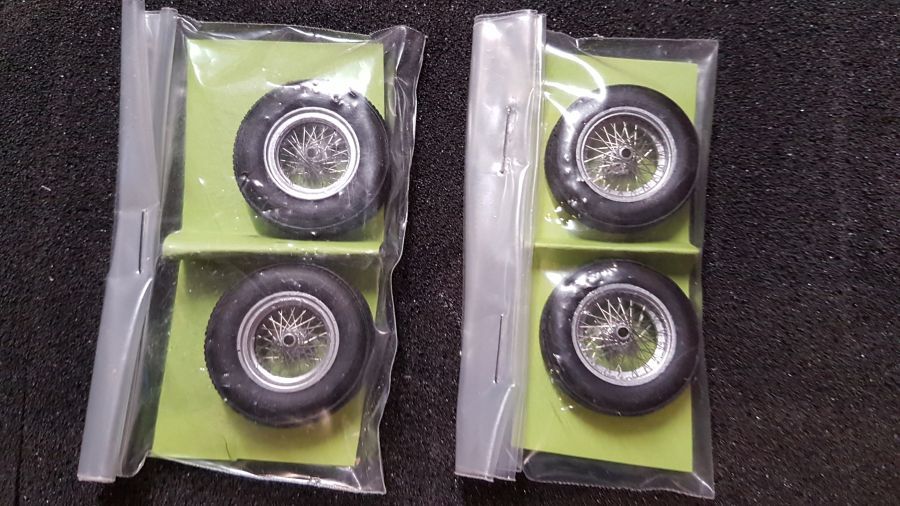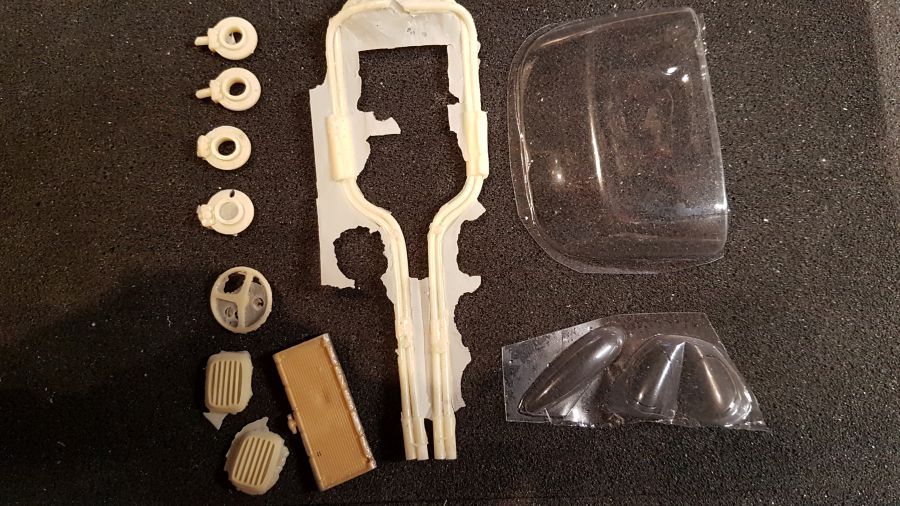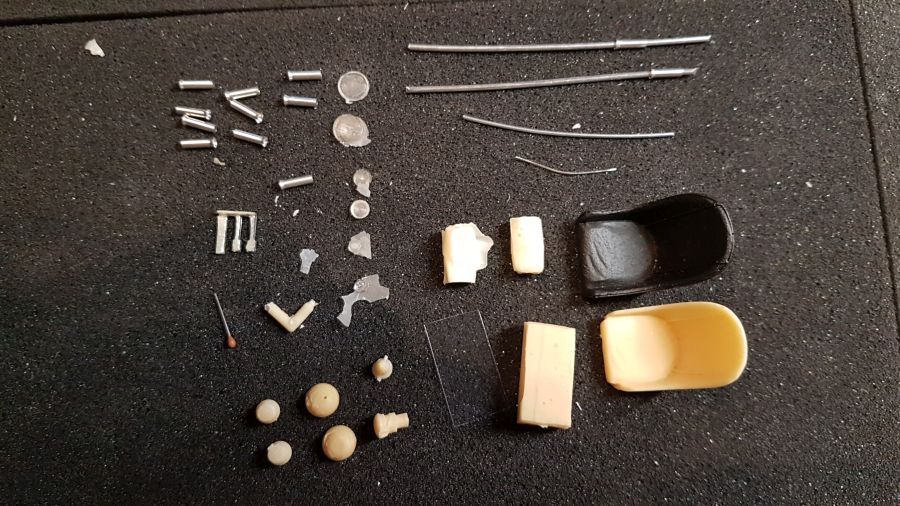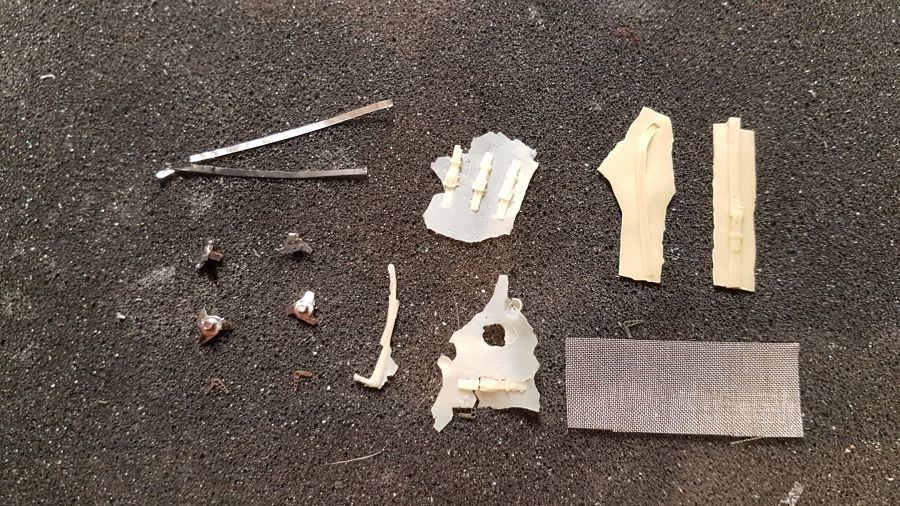 Nieuwe decals van LeMansDecals.
New decals from LeMansDecals.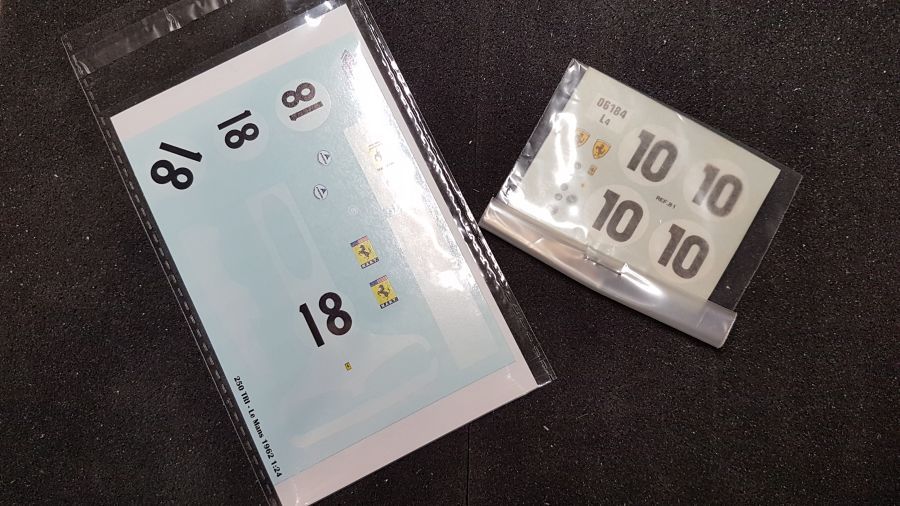 En kleur van Zero Paints.
And color from Zero Paints.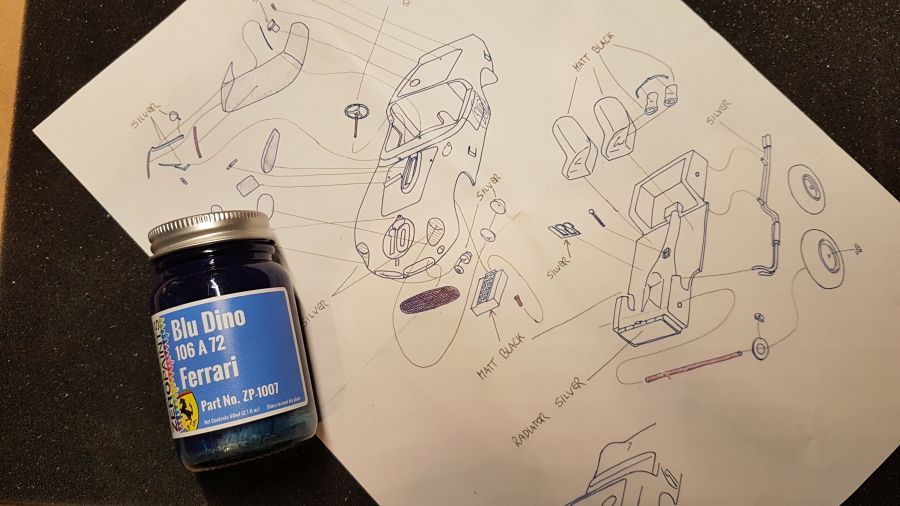 Na het spuiten met grondverf en het laten drogen, is het tijd voor de kleur. Mooie kleur, maar helaas komen er wat 'visogen' naar voren. Werk aan de winkel dus.
After spraying primer and letting it dry, it is time for the color. Nice, but some 'fish eyes' show up. More work to do.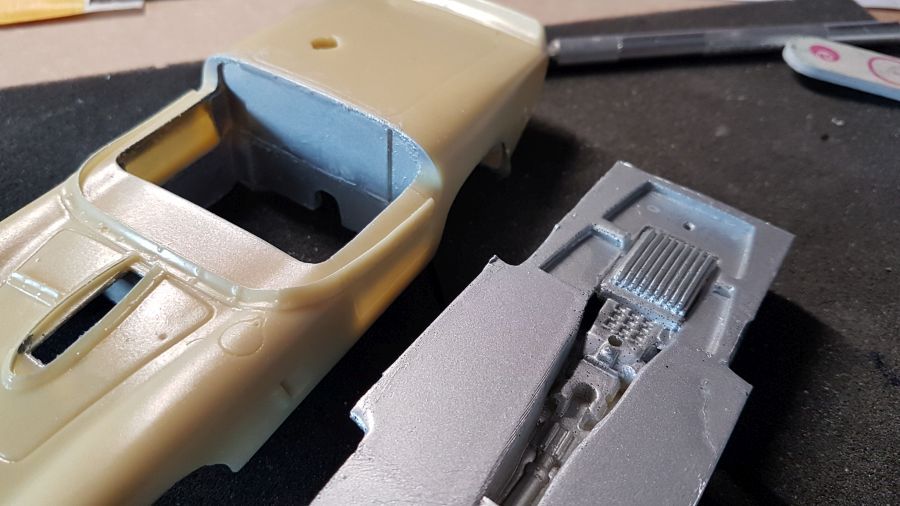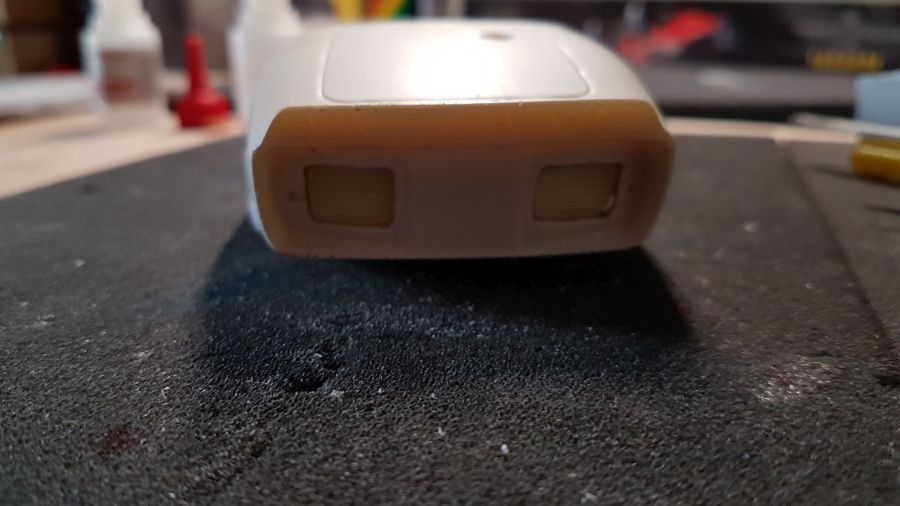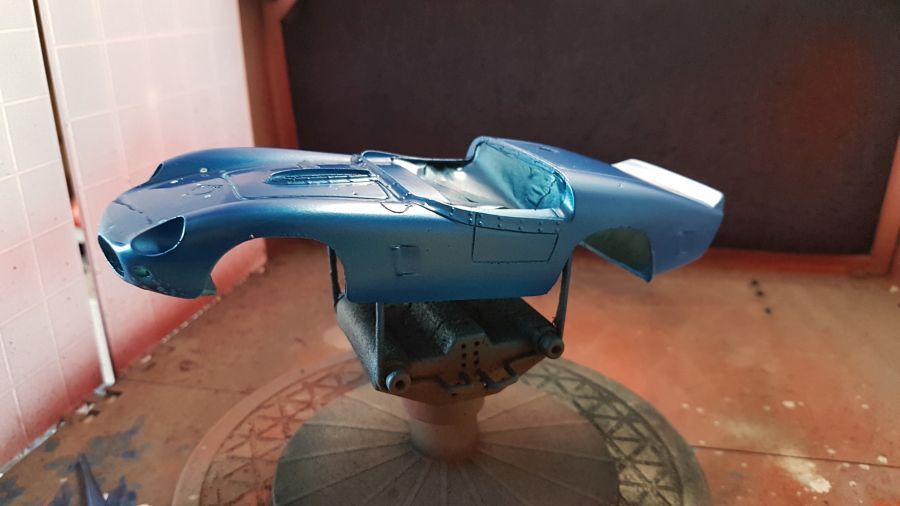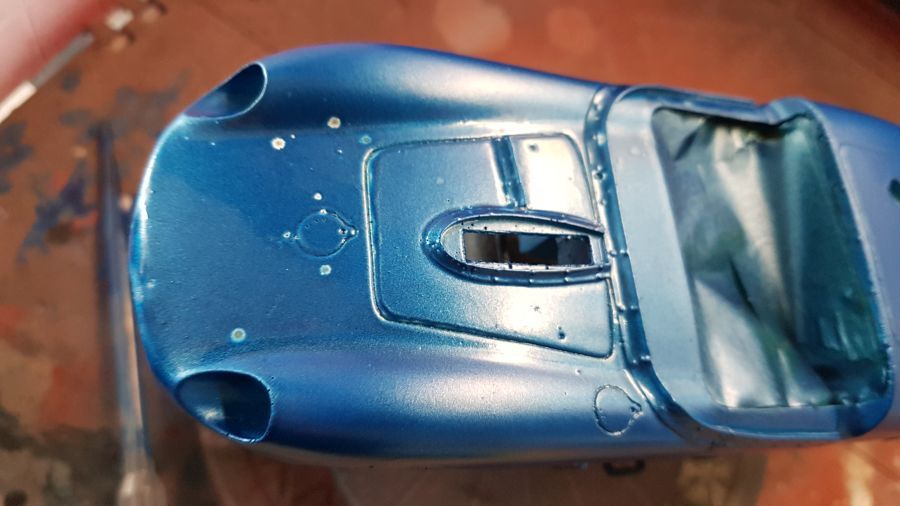 Reparatie...
Repairs...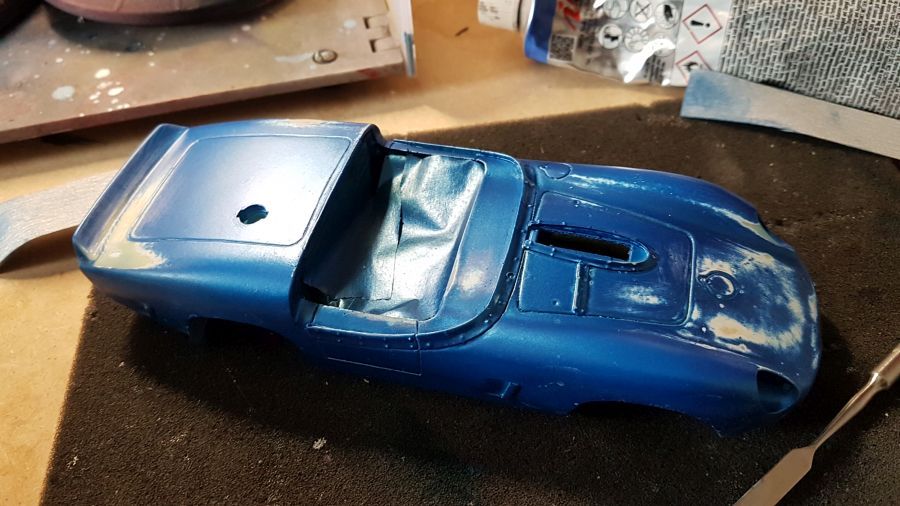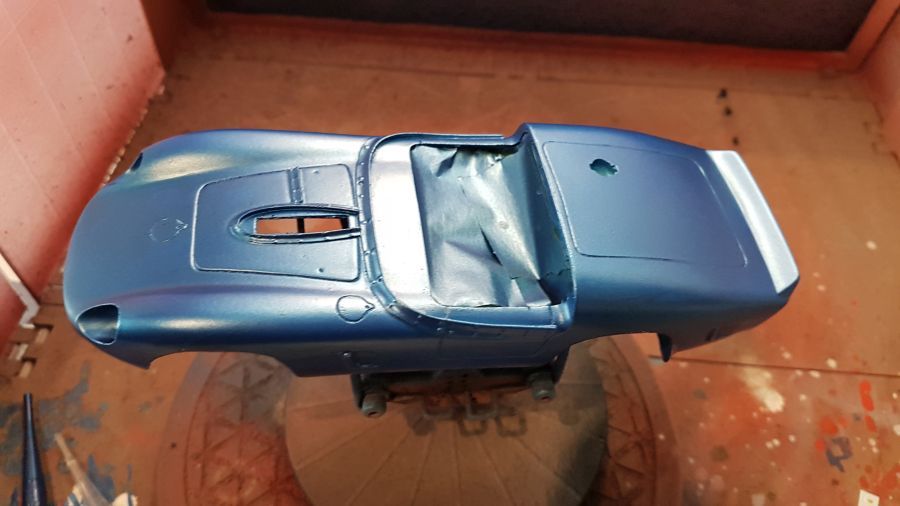 Glanslak aangebracht.
Clear coat added.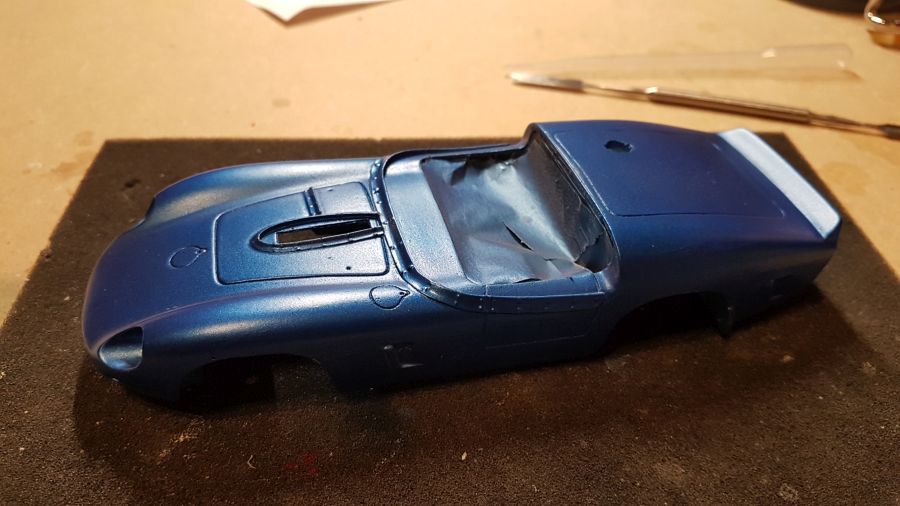 Wat details aan de motor en bak. Een beetje shading en olie.
Some details to the engine and gear box. Some shading and oil.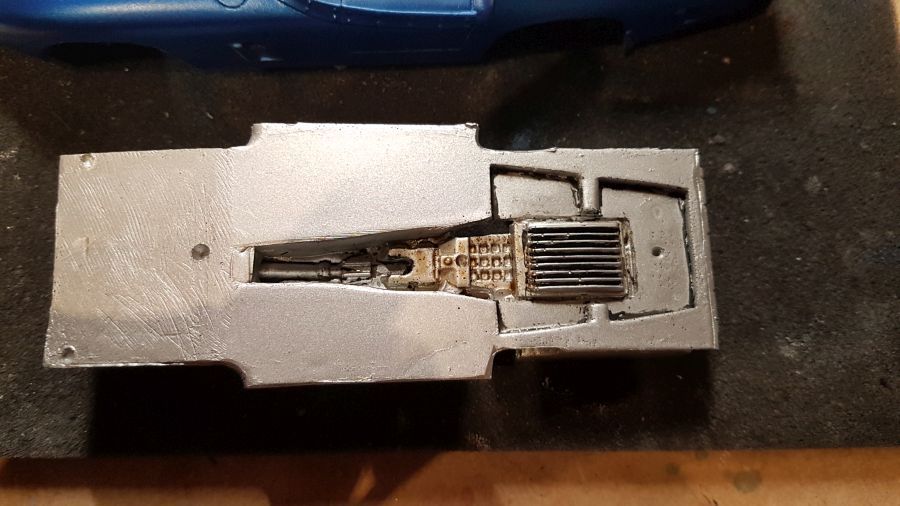 Intussen maar even werken aan de stoelen. Om een of andere reden 2 verschillende.
In the meantime working on the seats. For some reason 2 different ones.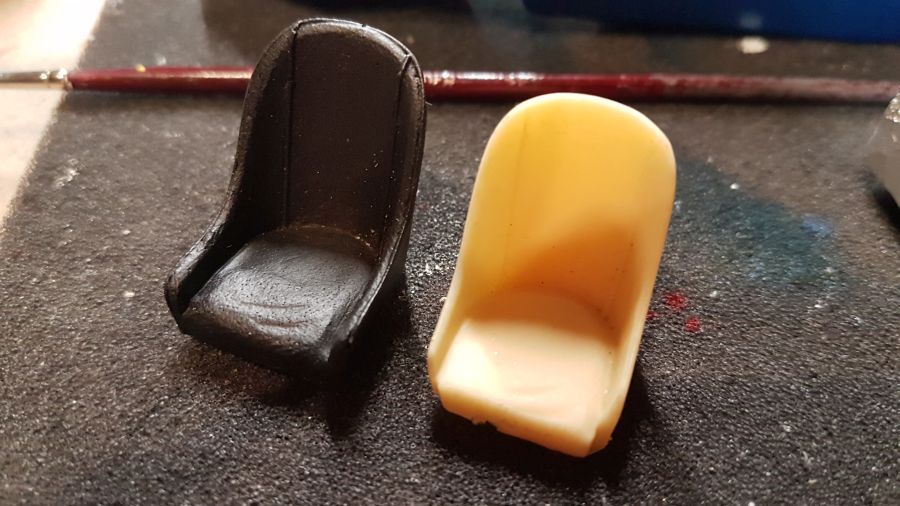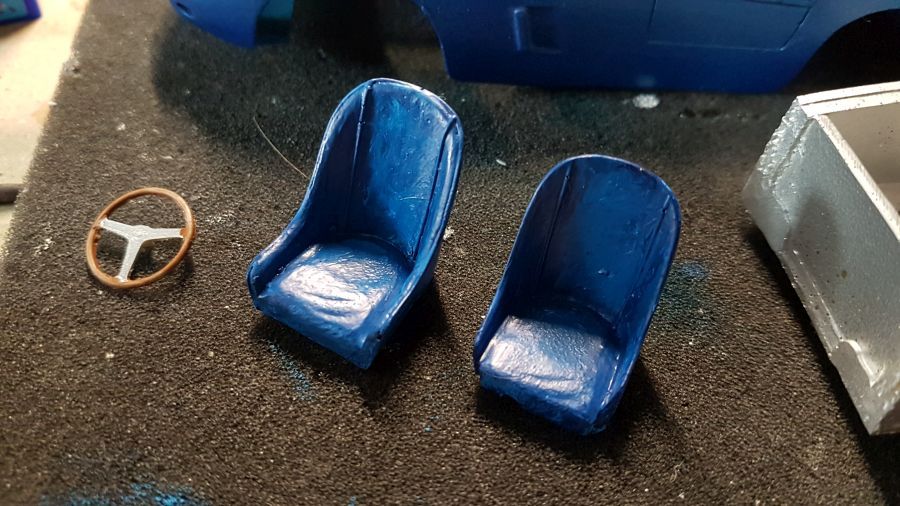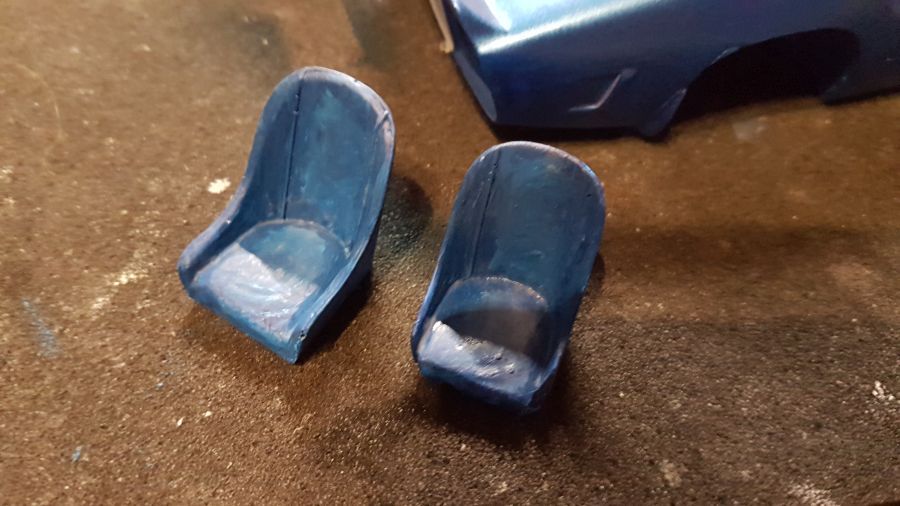 Het rooster voor de voorkant wordt op maat geknipt. Ik doe dit nu om kans op beschadiging zoveel mogelijk te voorkomen.
The mesh for the front is being cut to size. I do it now to prevent any damage as much as i can.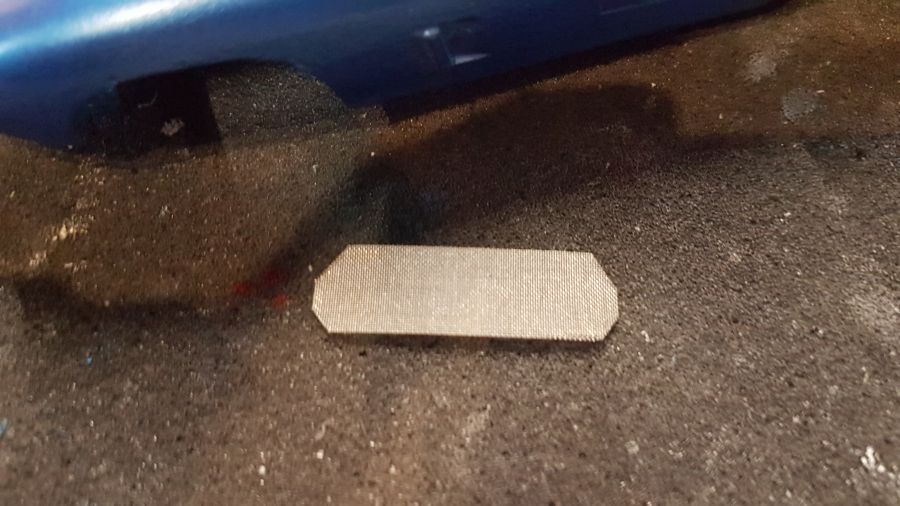 De eerste decals worden geplaatst. Helaas zijn ze wat te klein. Ik heb een 2e set besteld om aanpassingen te kunnen uitvoeren.
The first decals are being added. Unfortunately they are too small. I ordered a 2nd set to do some adjustments.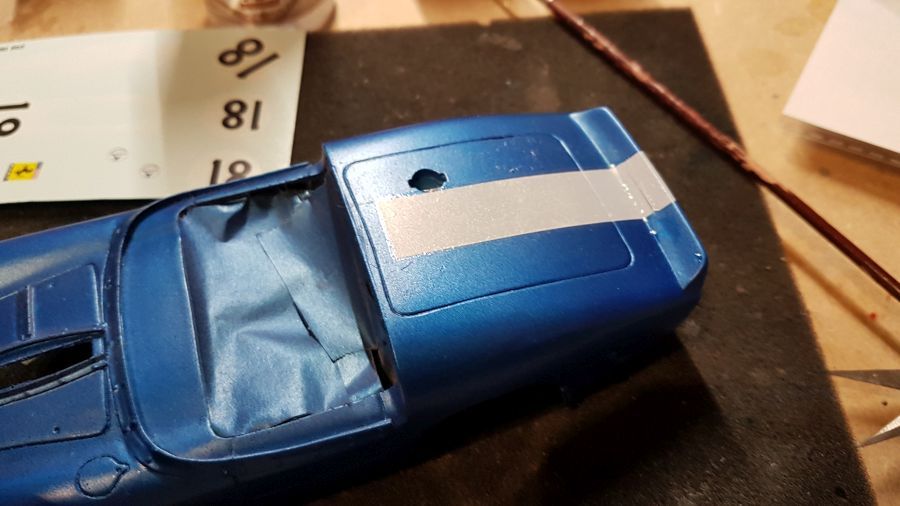 Meer decals...
More decals...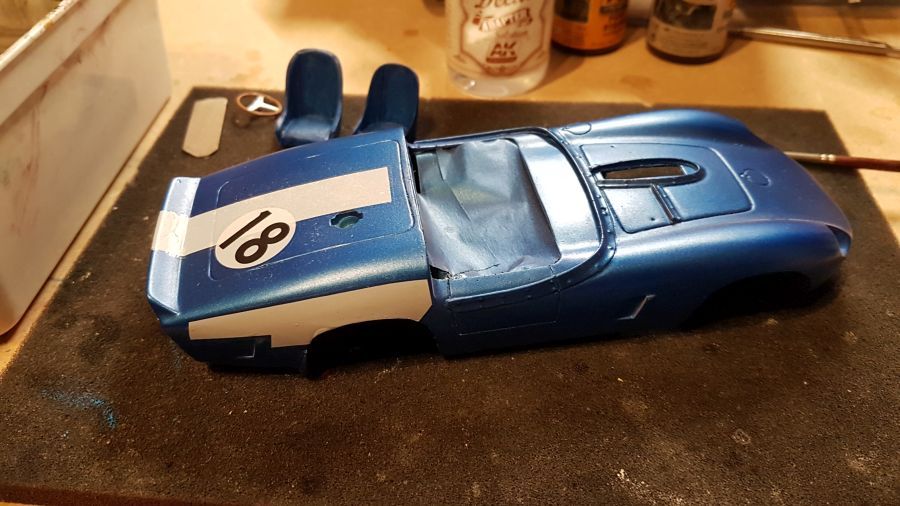 Ik heb besloten om het wat anders aan te pakken. De decals schijnen wat door en dat vind ik niet mooi. De decals worden weer verwijderd en ik ga het wit spuiten.
I have decided to change things. The decals are translucent and i don't like that. The decals were removed and the white was painted.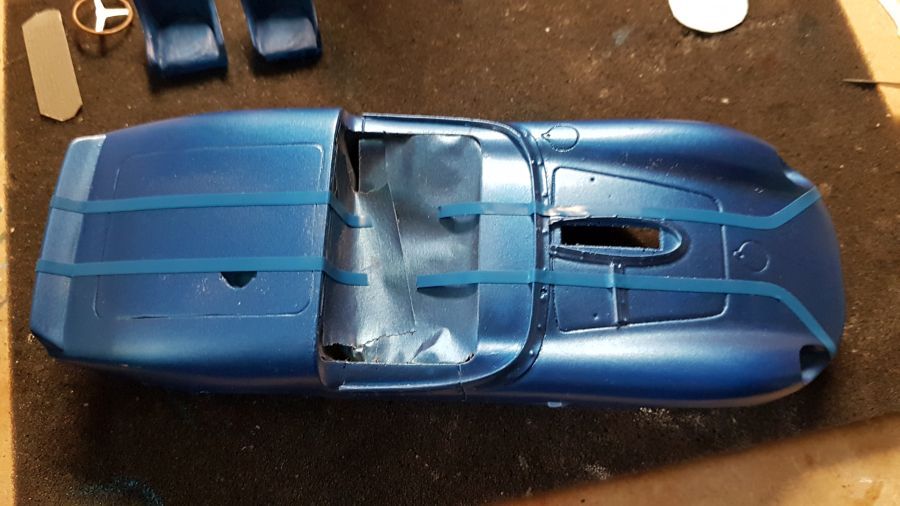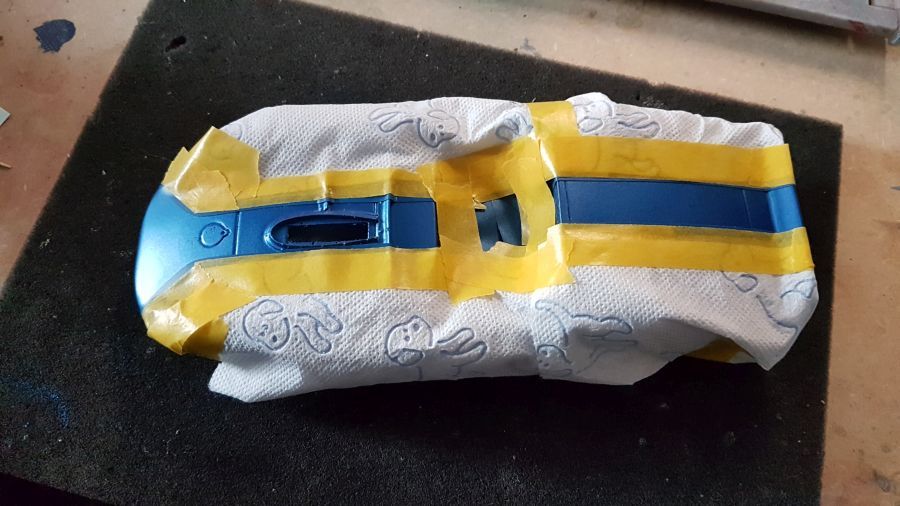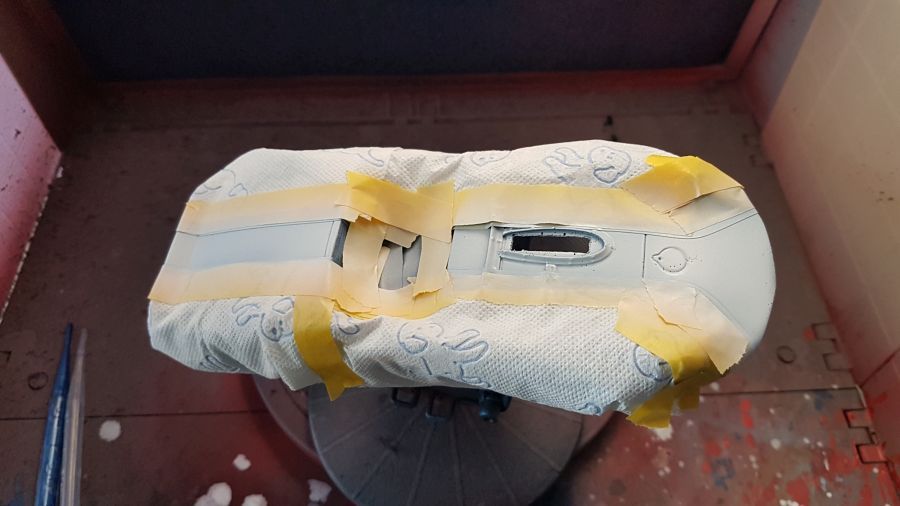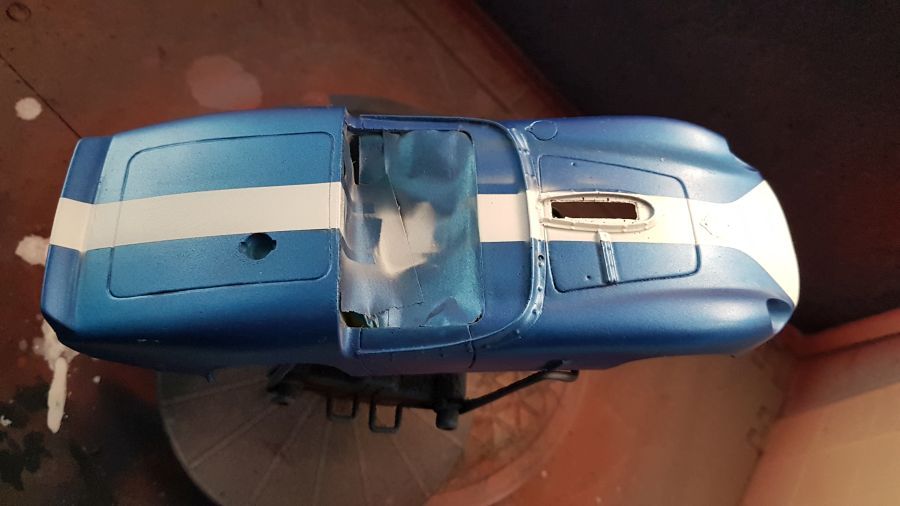 Sessie 2.
Session 2.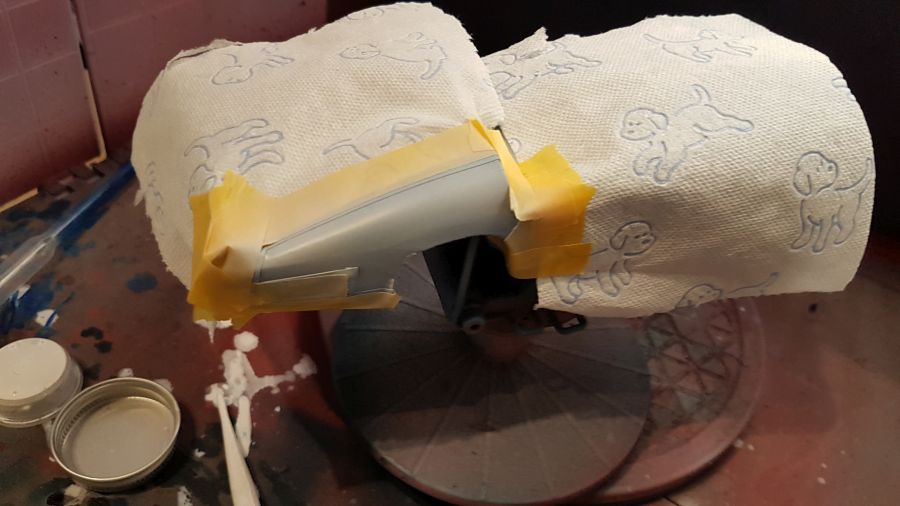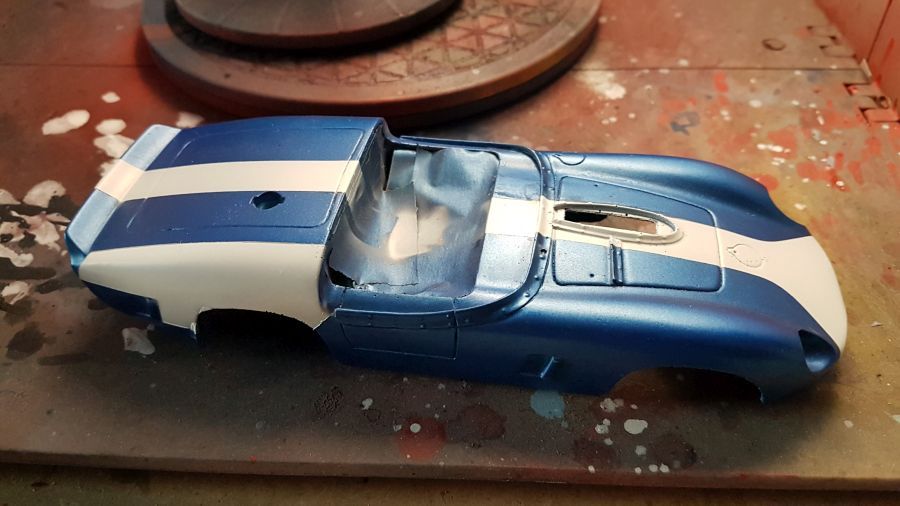 Omdat de decals wat doorzichtig zijn, ga ik een extra rondje eronder plaatsen. De decal wordt dan wat dikker, maar ziet er mooier uit denk ik. Een keuze uit 2 kwaden.
As the decals are somewhat translucent, i will ad an extra circle under it. The decal will be more thick, but the looks will be better i think. A choice out of 2 bads.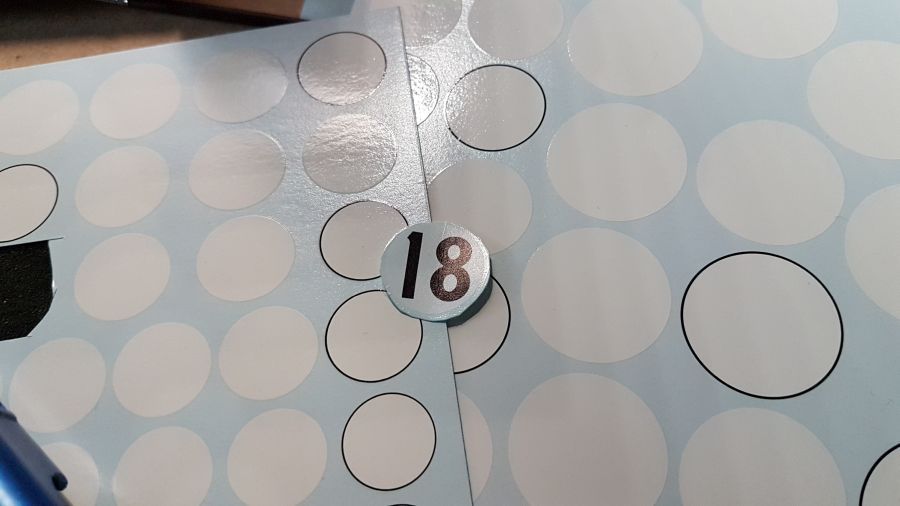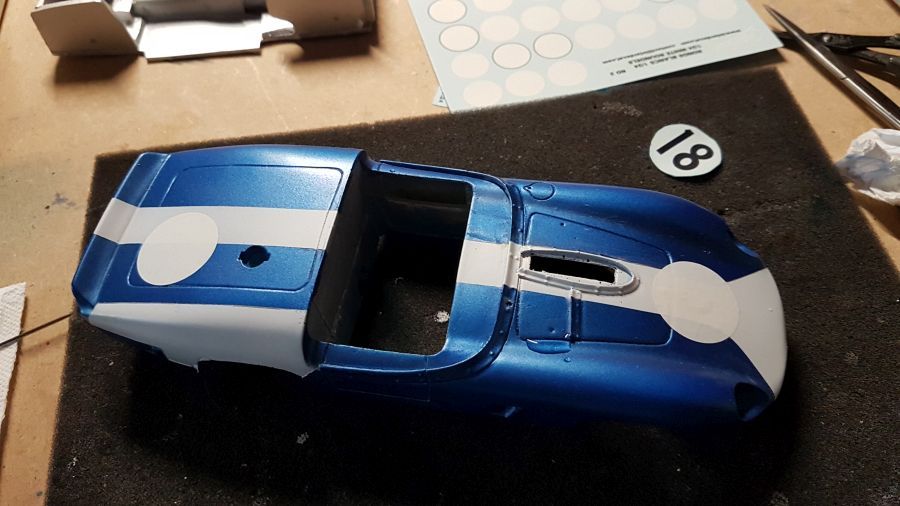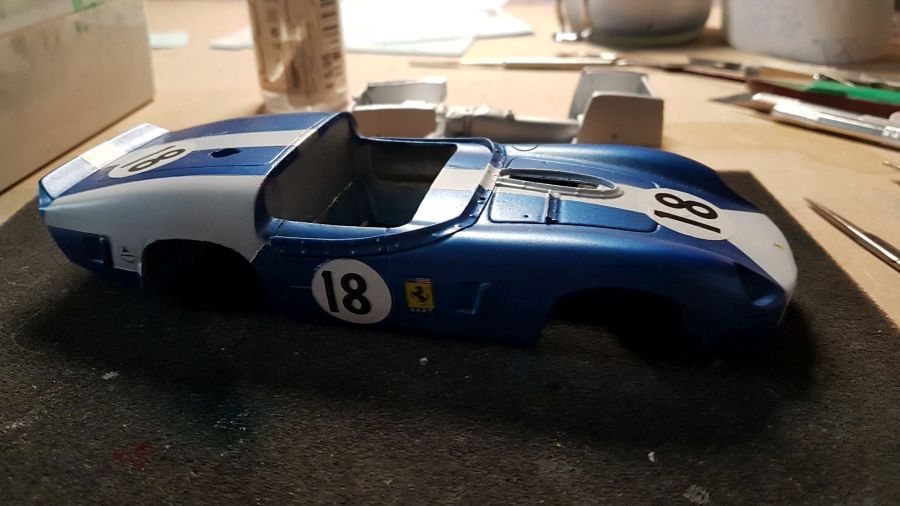 Dan door naar de vloer. De gaten zijn geboord op de aangegeven plaatsen. De uitlijning daarvan behoeft aandacht. De assen zitten behoorlijk scheef. 
Next is the floor. The holes have been drilled at the designated places. The line up needs attention. The axles are pretty much out of line.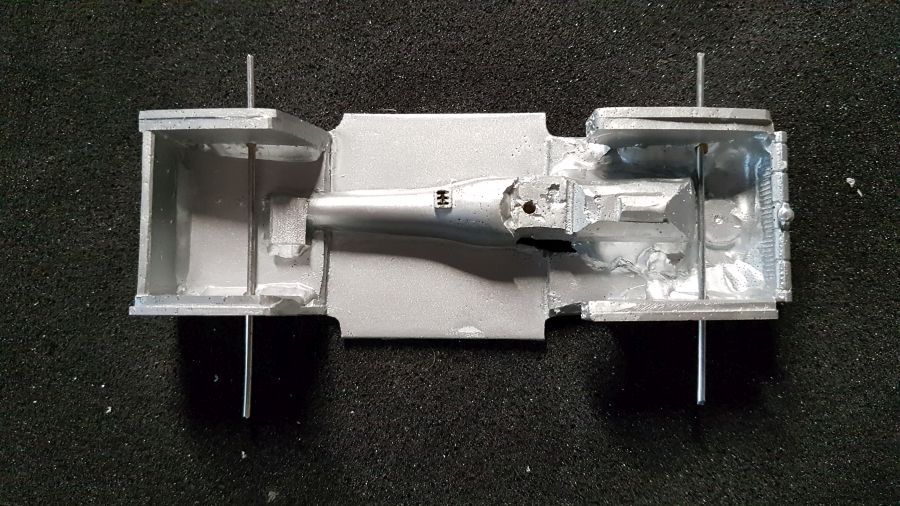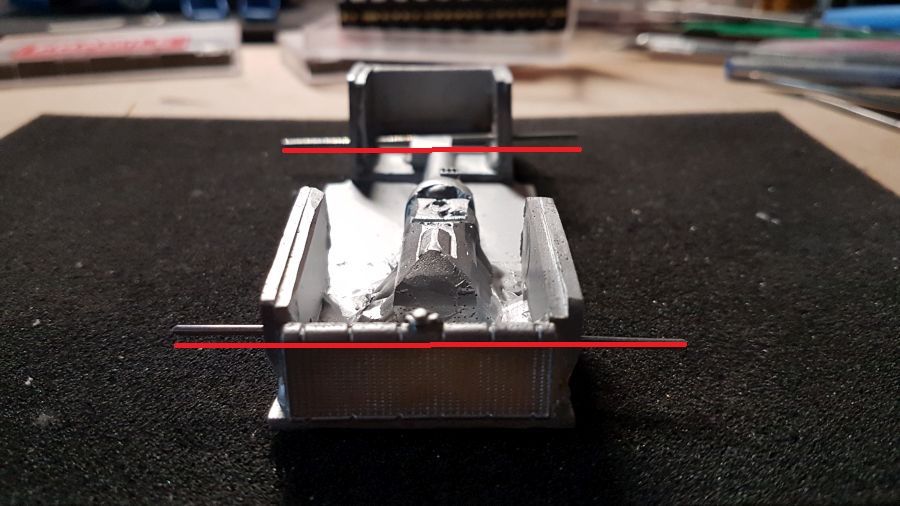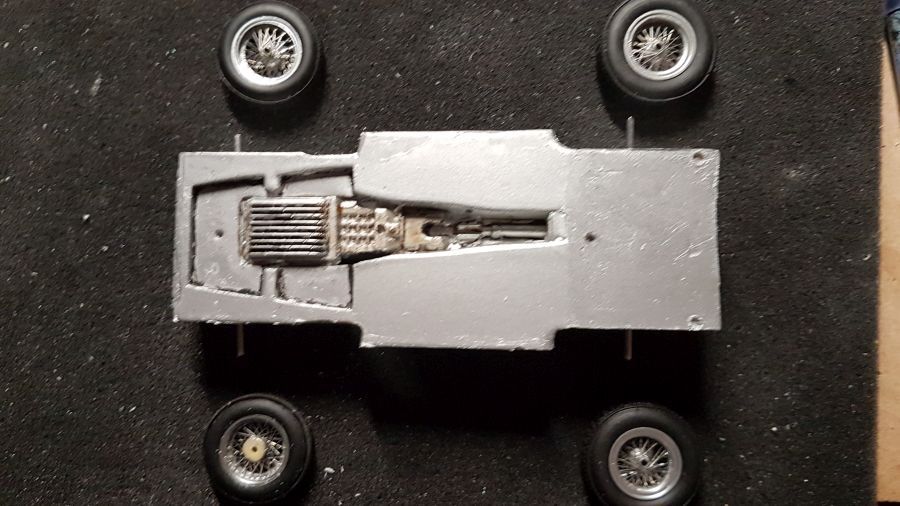 De wielen worden in een volgorde gemonteerd om de juiste lengte van de assen te checken.
The wheels are combined in a correct way to check the correct length of the axles.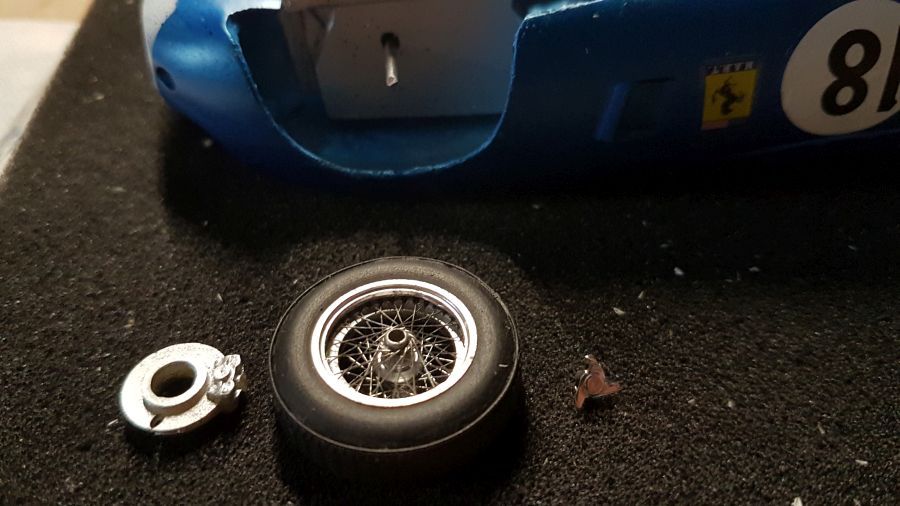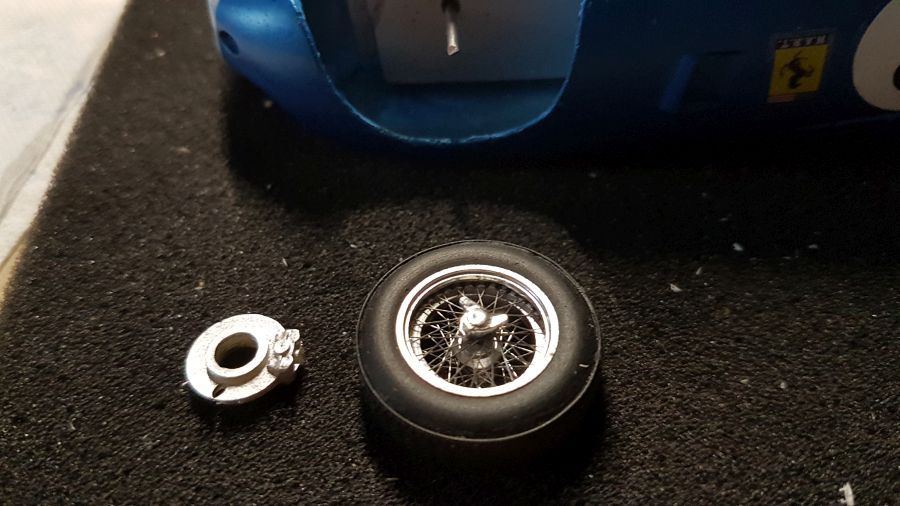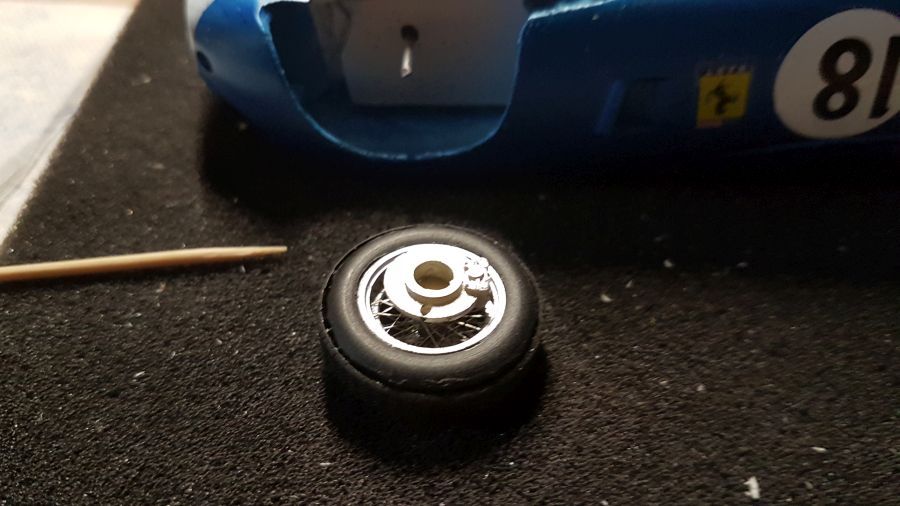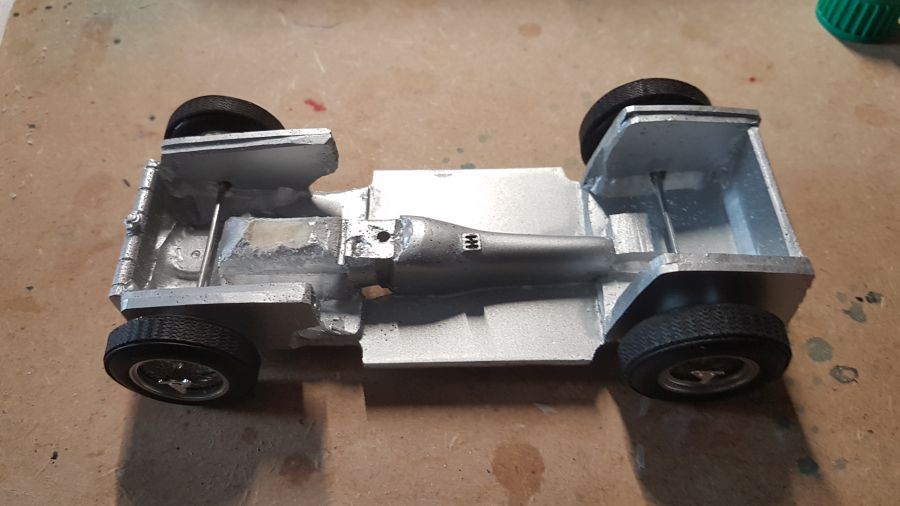 Door naar de luchtinlaten. Het blok moet kleiner gemaakt worden om te passen.
Next are the intakes. The resin block needs to be cut to fit.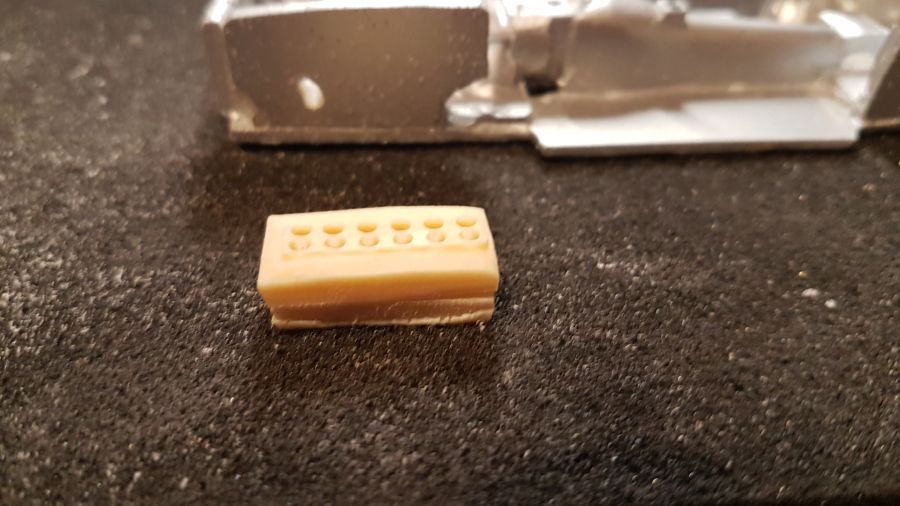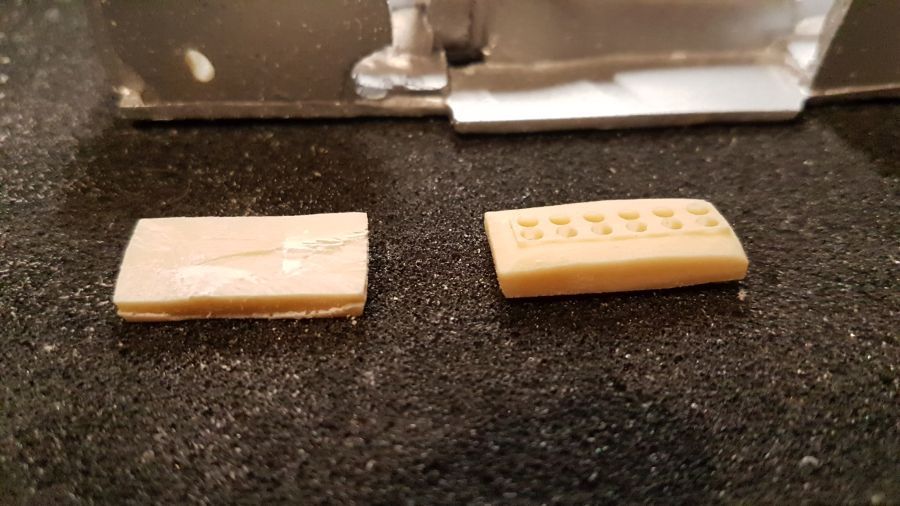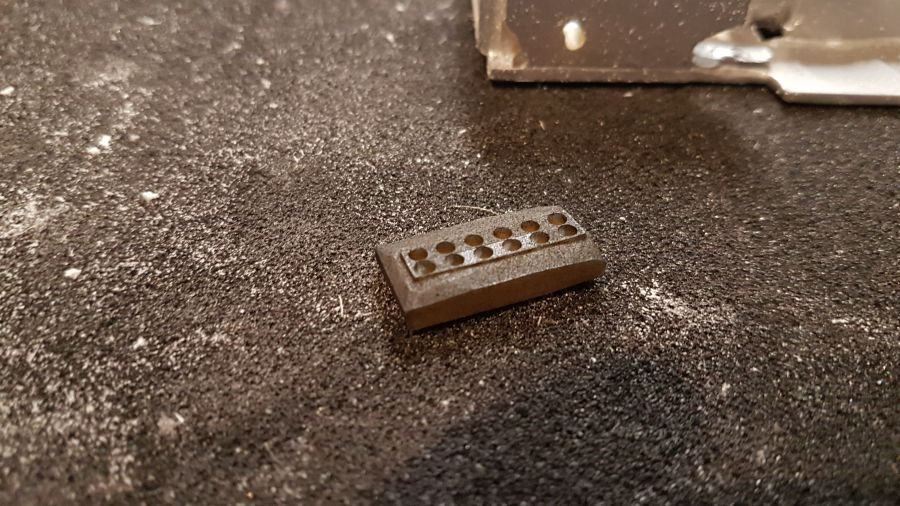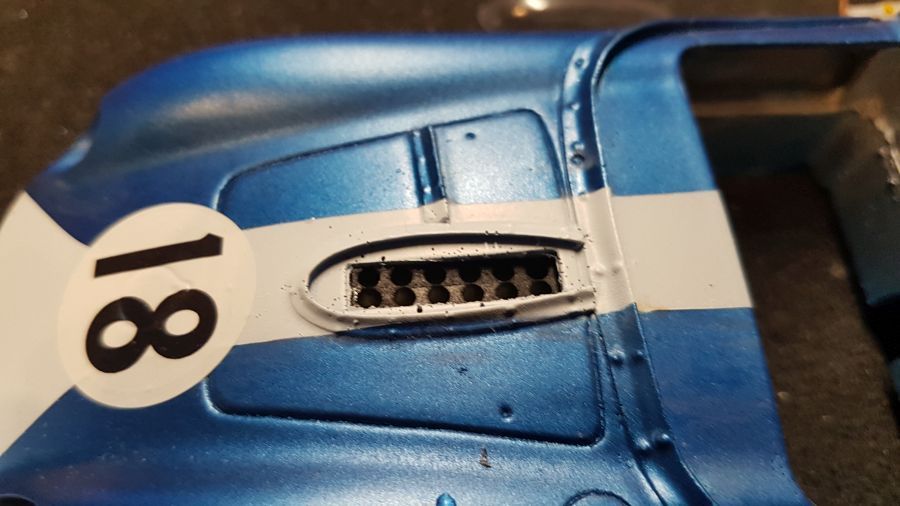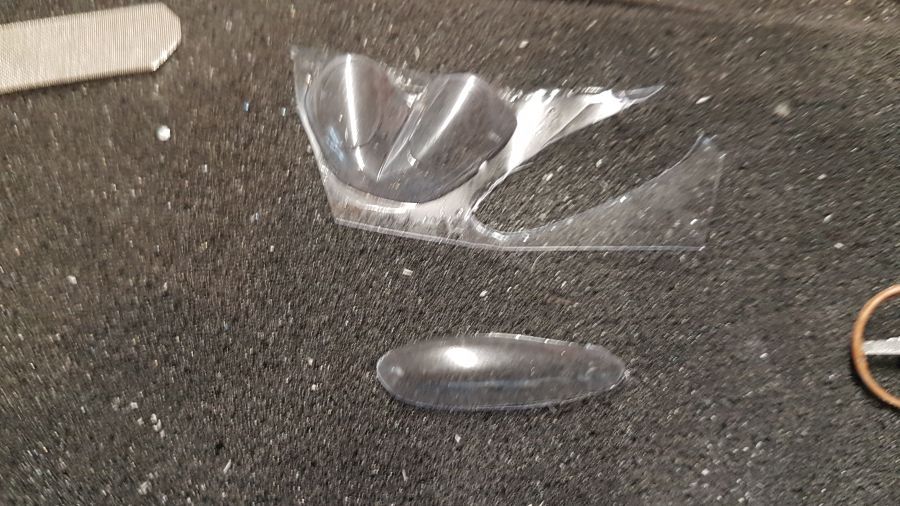 De lampen zijn wit van binnen.
The head lights are white on the inside.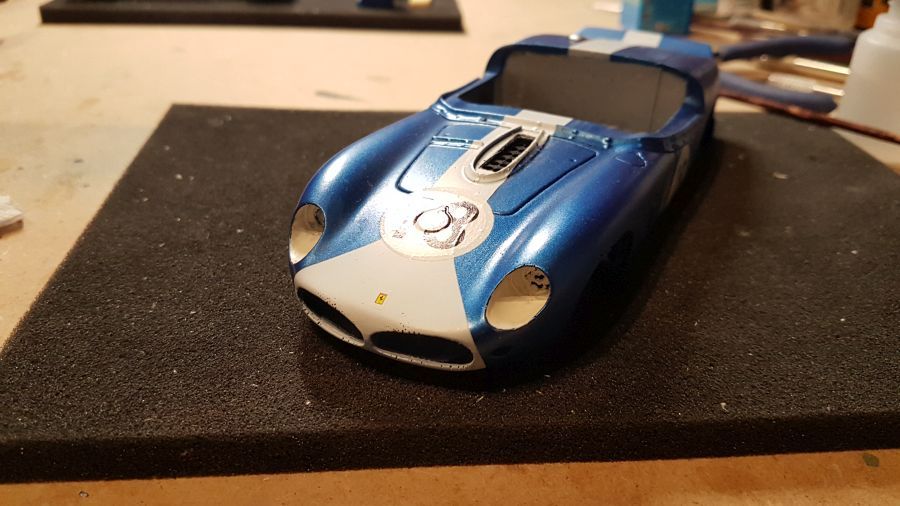 Weer terug naar de vloer.
Back to the floor then.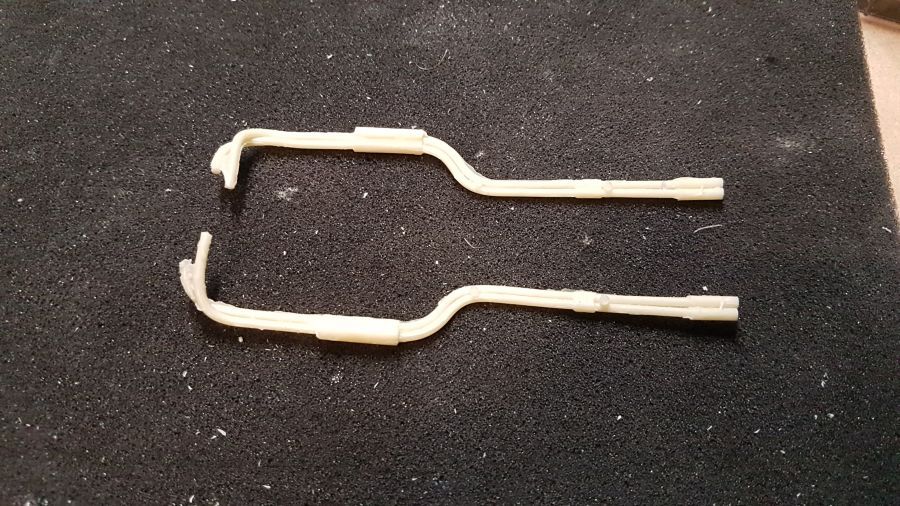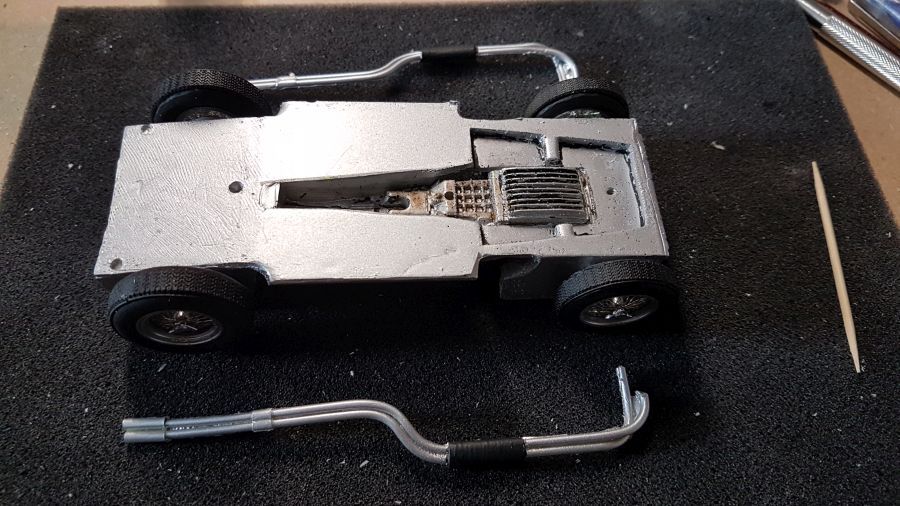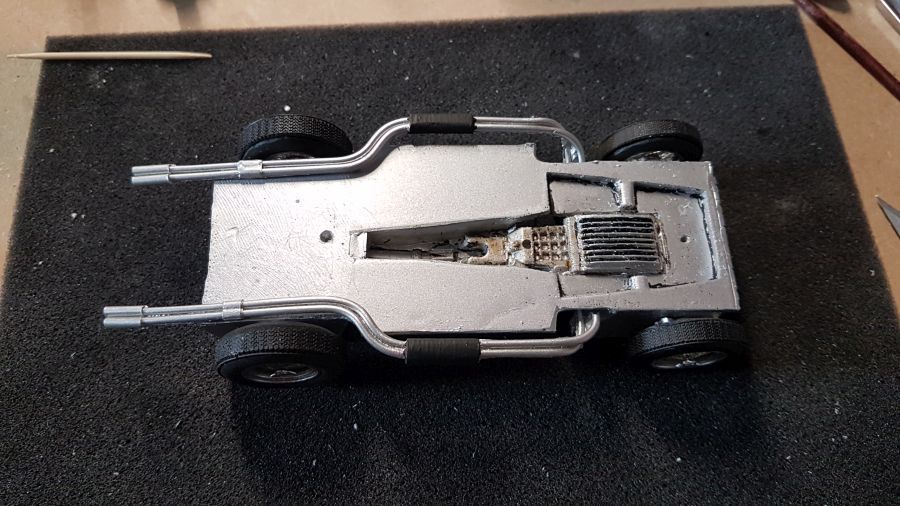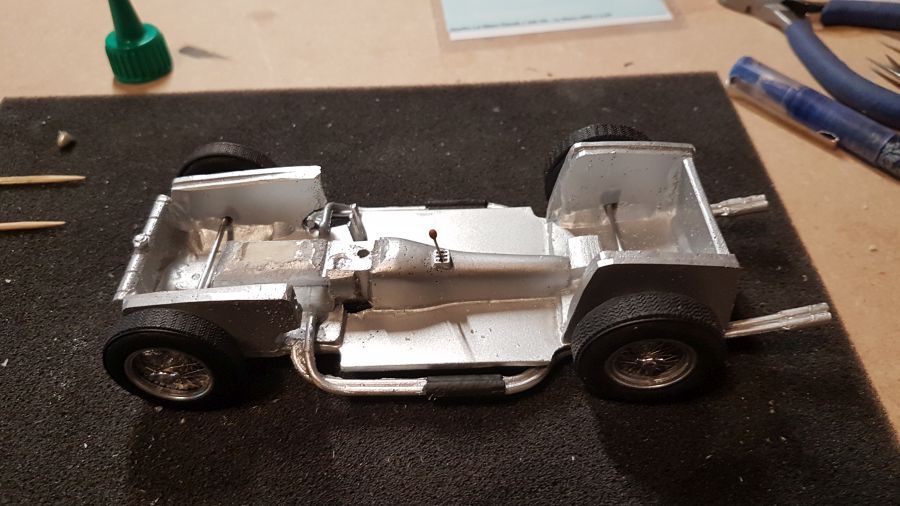 De body gaat erop.
The body gets mounted.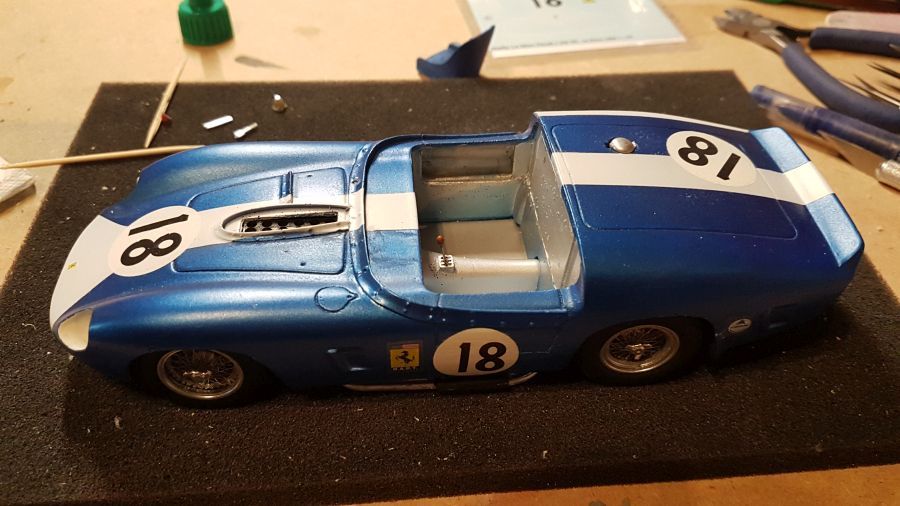 En dan wat onderdelen.
And then some parts.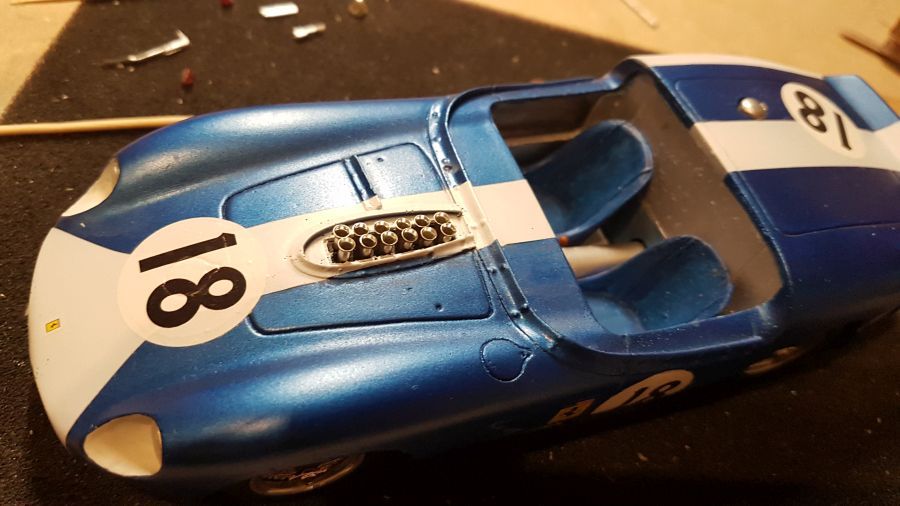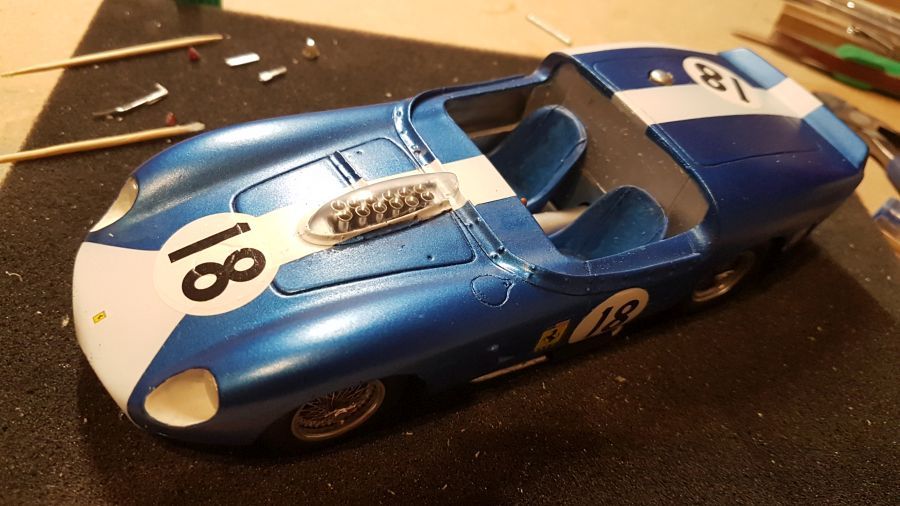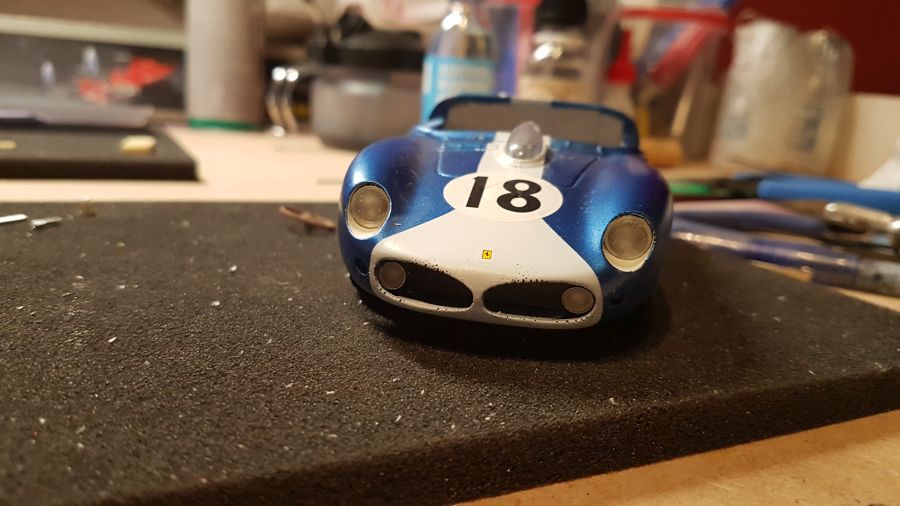 Met een stuk soldeertin maak ik een rollbar.
I am creating a roll bar out of a piece of solder wire.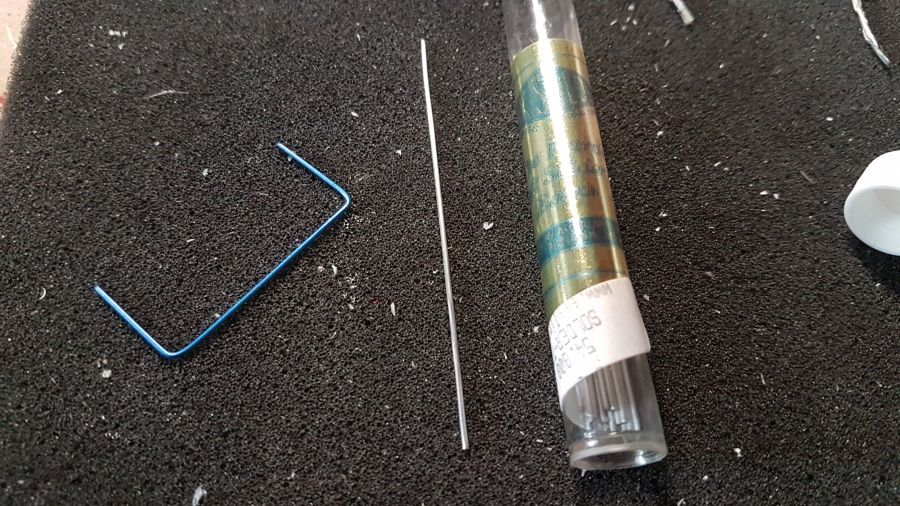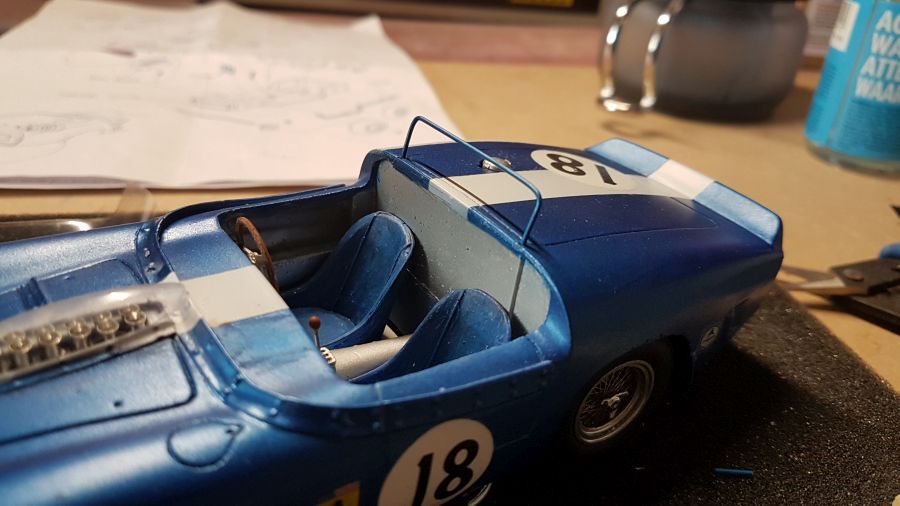 Dan het raam op maat knippen.
Next is cutting the window.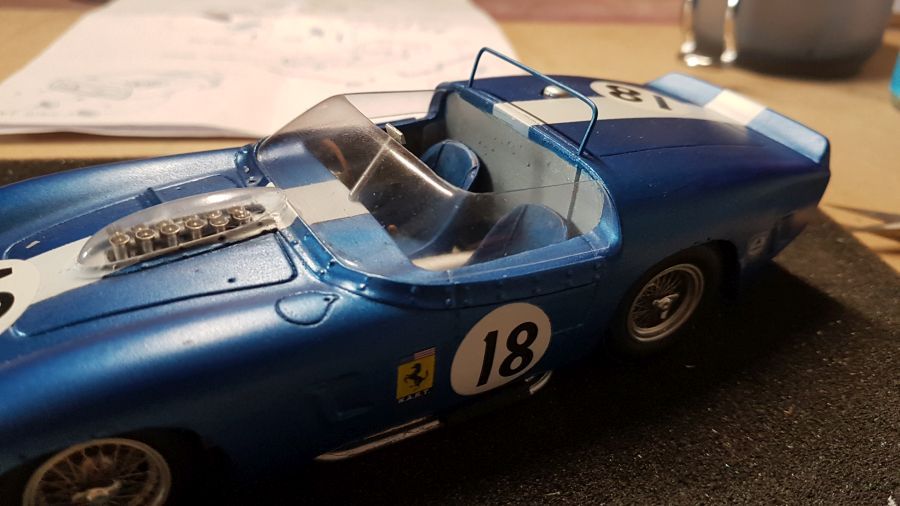 En de koplampen...
And the head lights...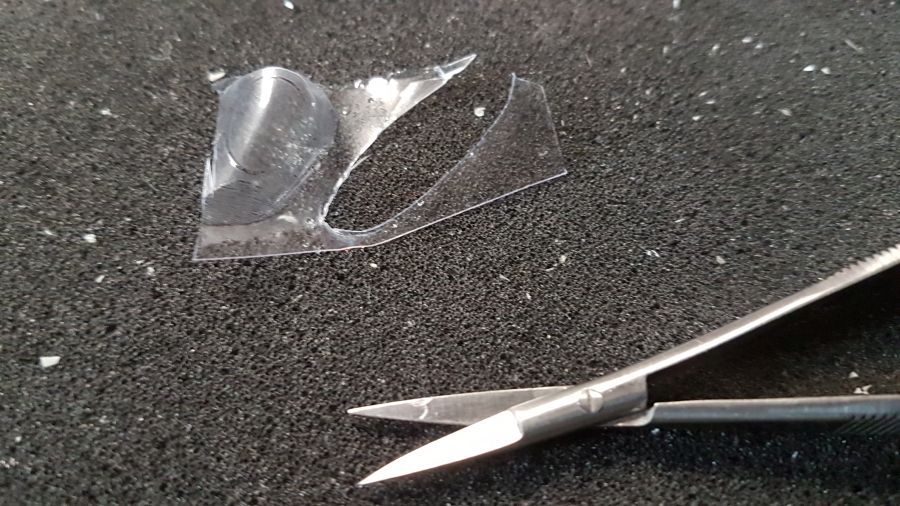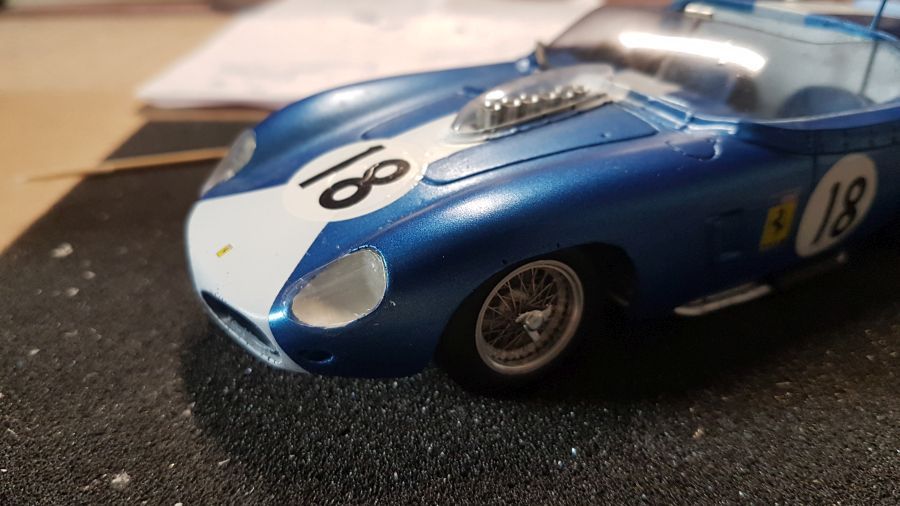 De klepsluitingen...
The cover locks...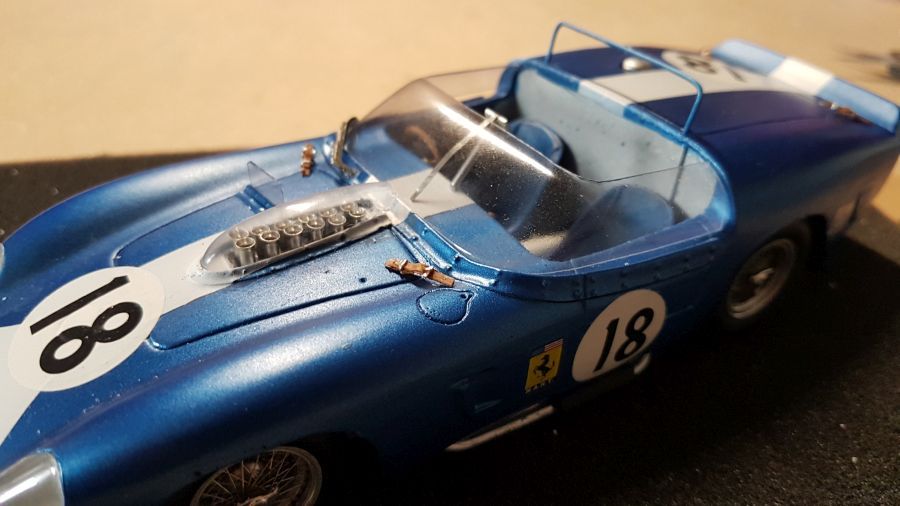 En de inlaat voor maak ik van Evergreen strip.
I am creating the intake on the front out of Evergreen strip.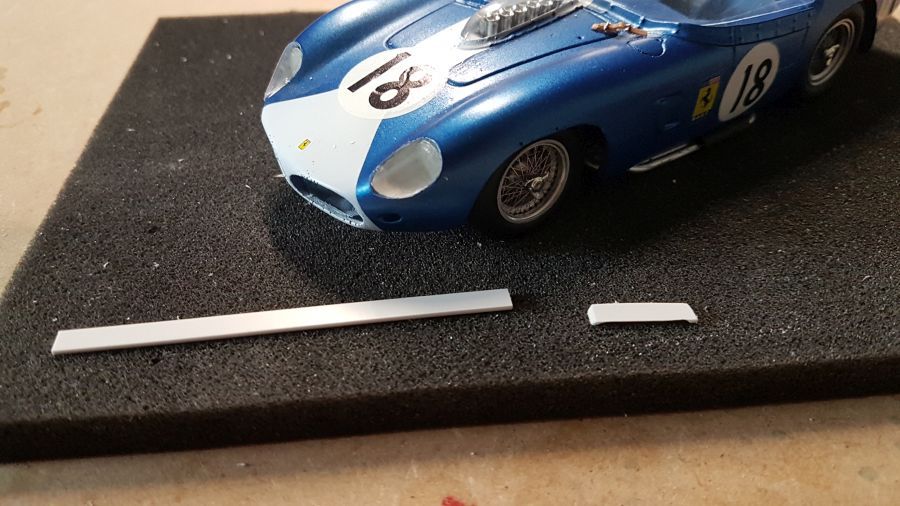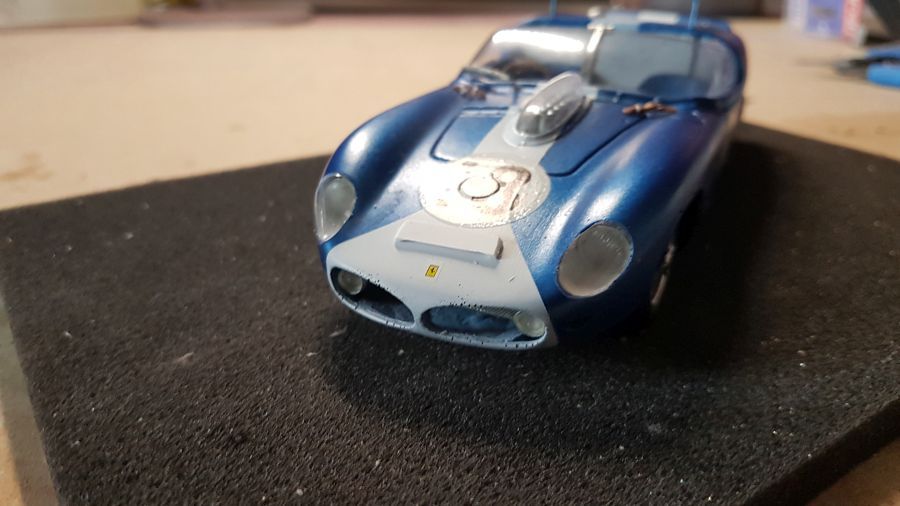 Ik beschouw hem als klaar. Misschien ga ik nog proberen wat vuil aan te brengen met mijn nieuwe AK-8090 Race set.
I consider it done. Maybe i will add some dirt by using my new AK-8090 Race set.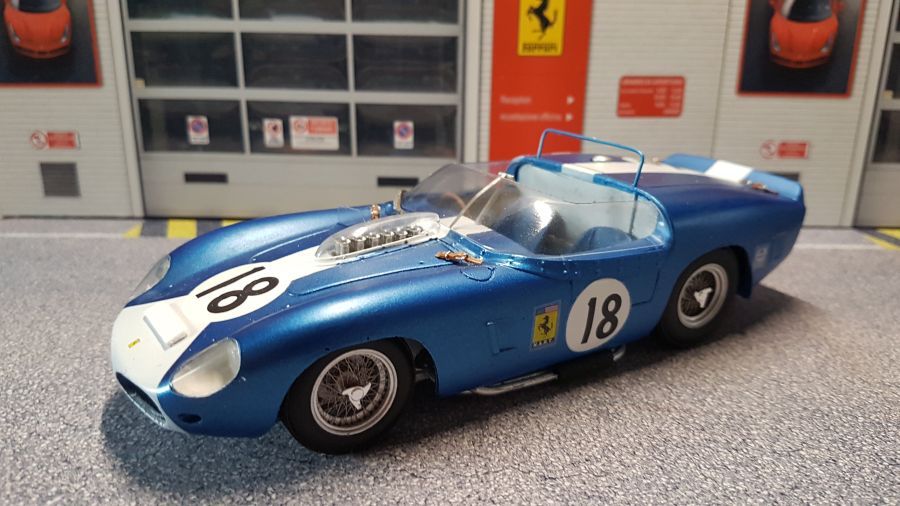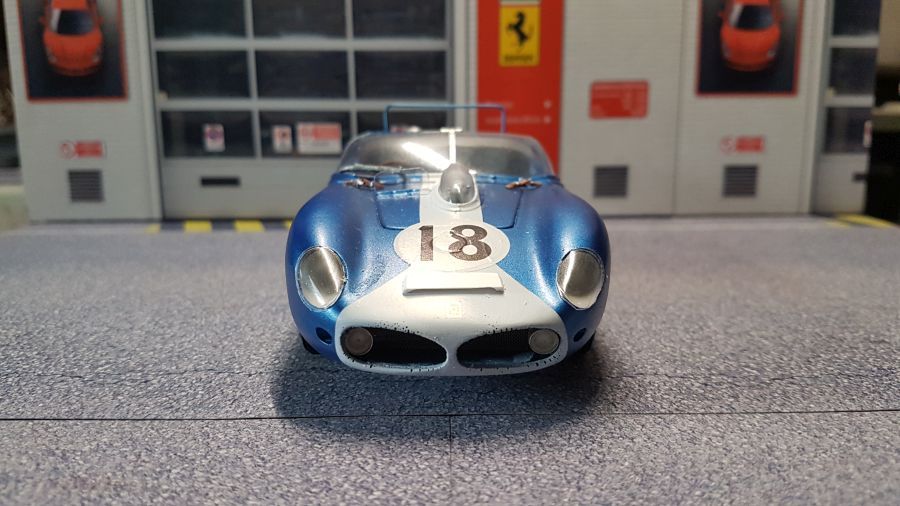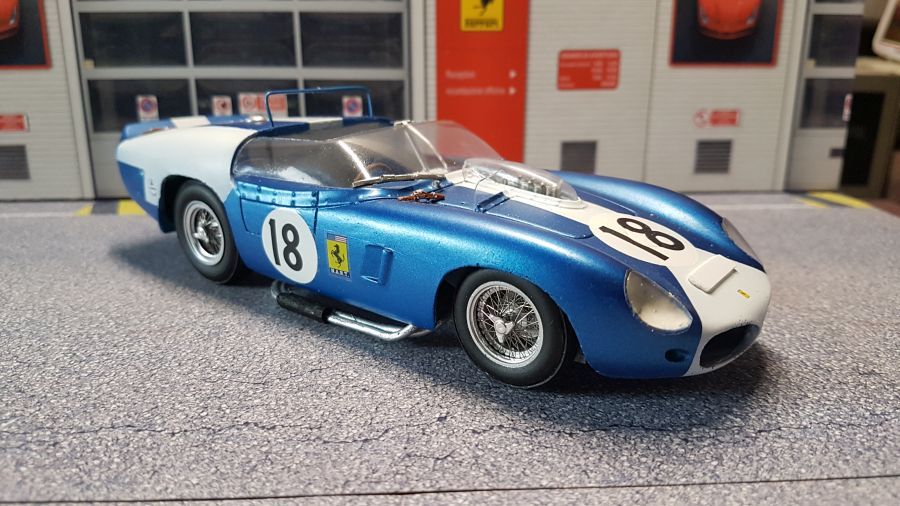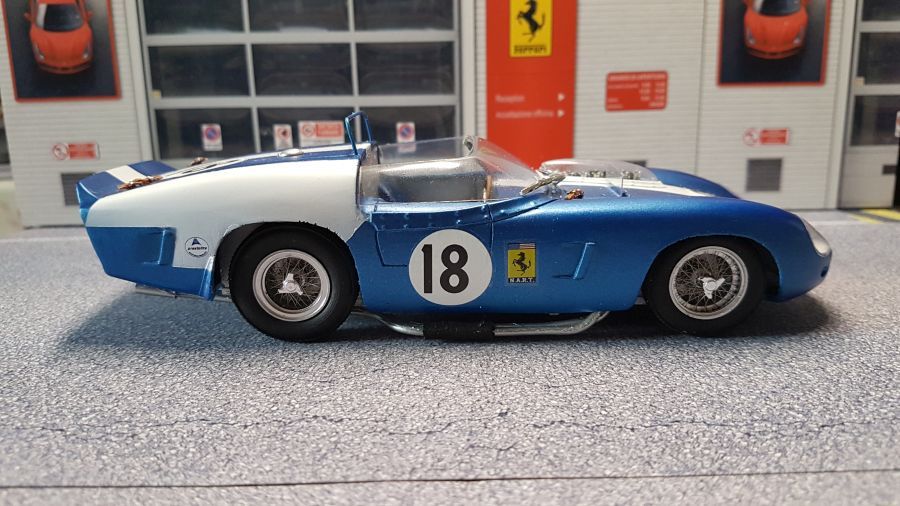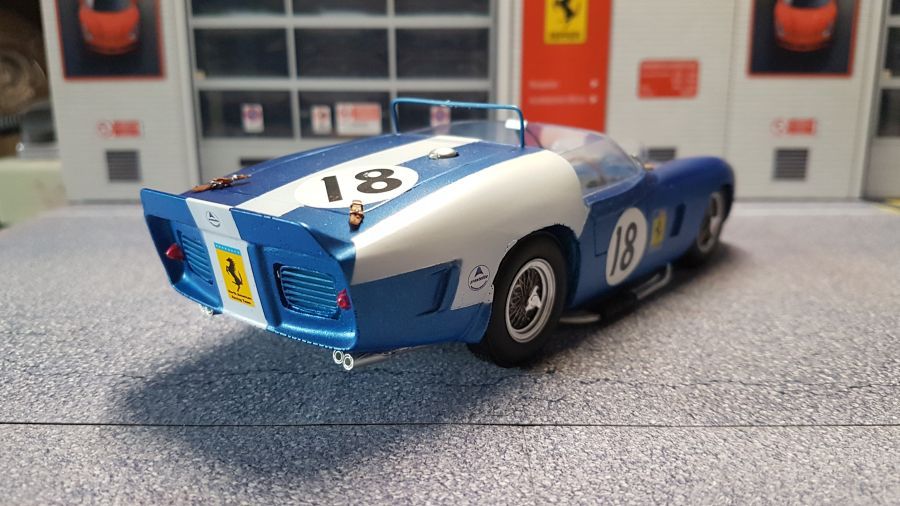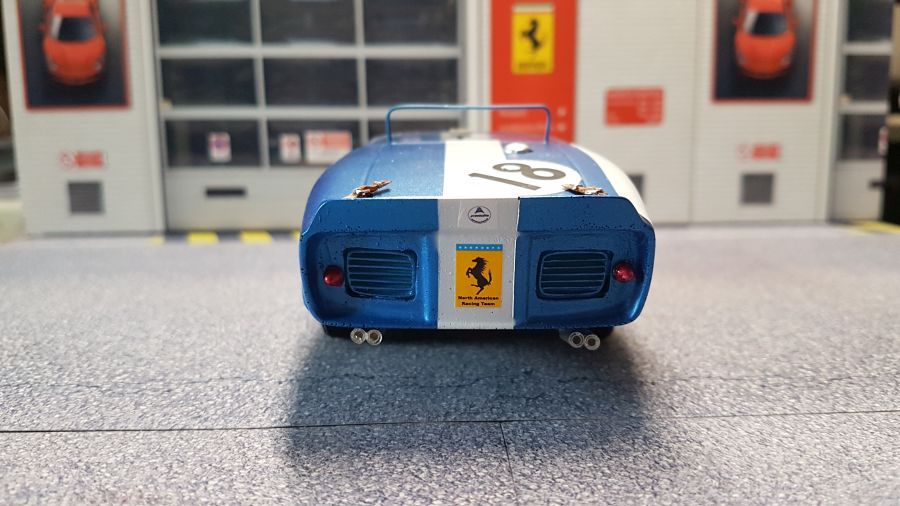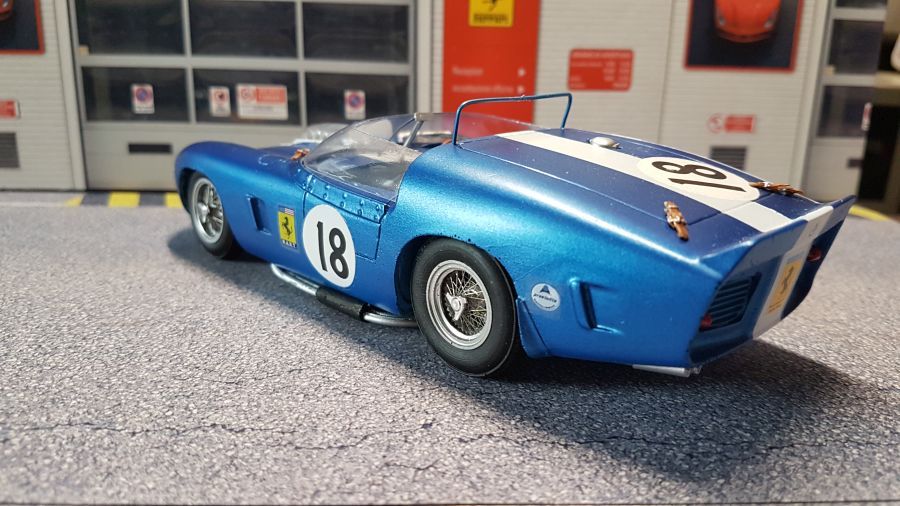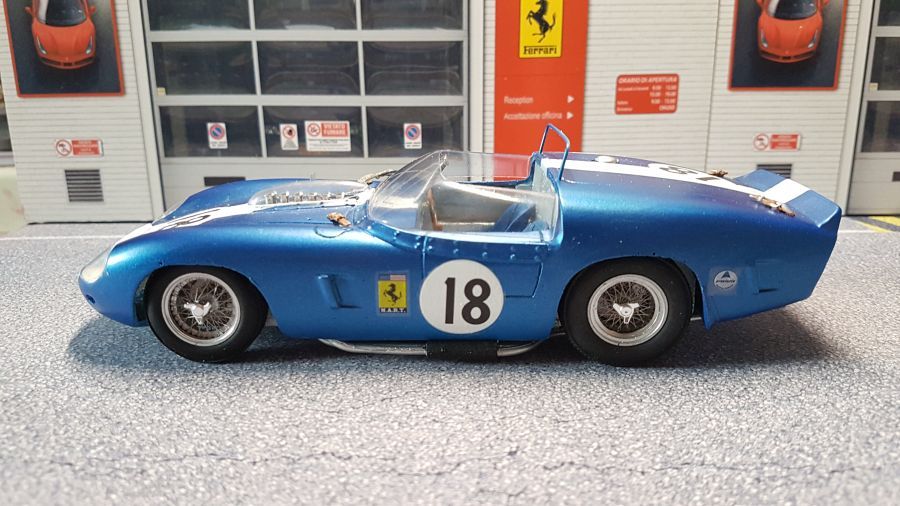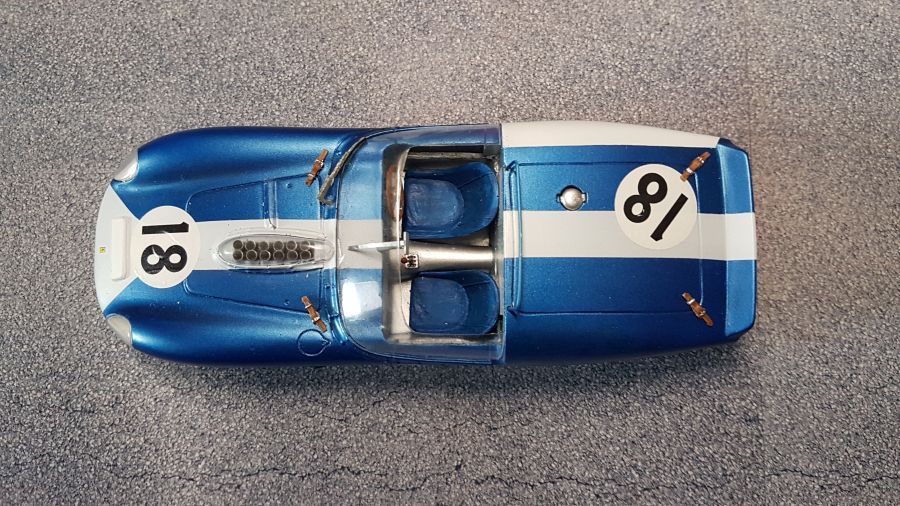 Met het bouwen van deze auto heb ik een fout gemaakt. Het zou een Low Tail versie moeten zijn in plaats van een High Tail. Ik ga dit later corrigeren.
With the build of this car i made a mistake. It should have been a Low Tail version instead of a High Tail. I will correct this later.