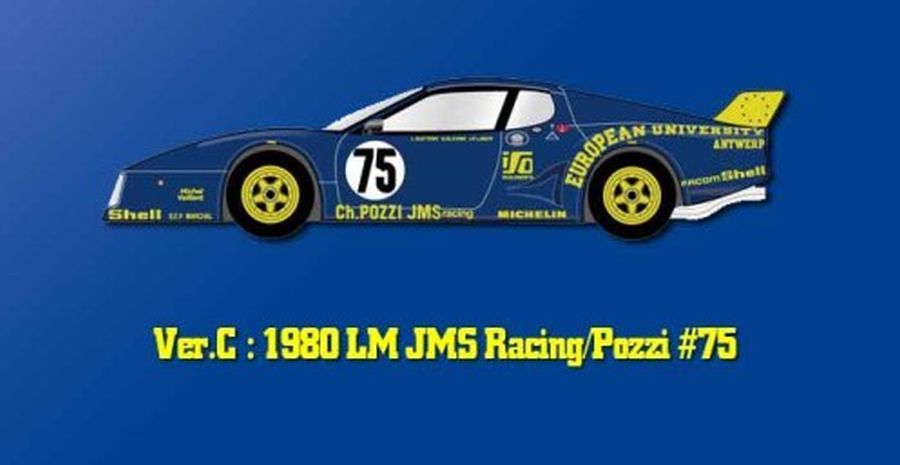 Dit moet hem worden. Mijn eerste 1/12 sinds lange tijd. Ik vind de 512BB LM prachtig om te zien. Ik maak dus de 1980 Le Mans versie van de Ferrari 512BB LM zoals bestuurd door Lucien Guitteny / Gerard Bléynie / Jean-Paul Libert. It's the kit from MFH (kit nr. K533). Eerst nog wat meer foto's verzamelen van de motor en interieur. Hier zijn de foto's van de inhoud van de kit. The magnetische polijstmachine zal wat overwerk doen.
This should be the one. My first 1/12 build since a long time. I think the 512BB LM is a beauty. I will make the 1980 Le Mans version of the Ferrari 512BB LM as driven by Lucien Guitteny / Gerard Bléynie / Jean-Paul Libert. It's a kit from MFH (kit no. K533). First gaining some more photos of the engine and interior. Here are the pictures of the kit content. The magnetic polisher will be doing some overtime.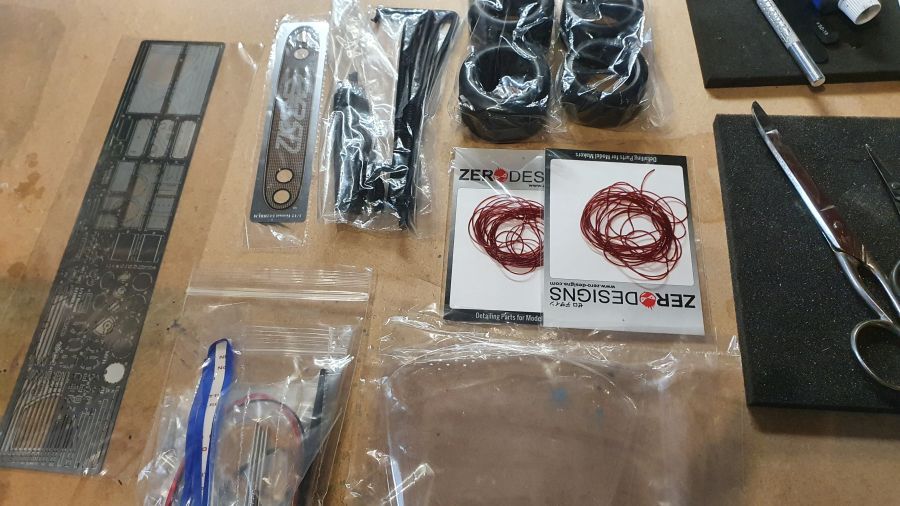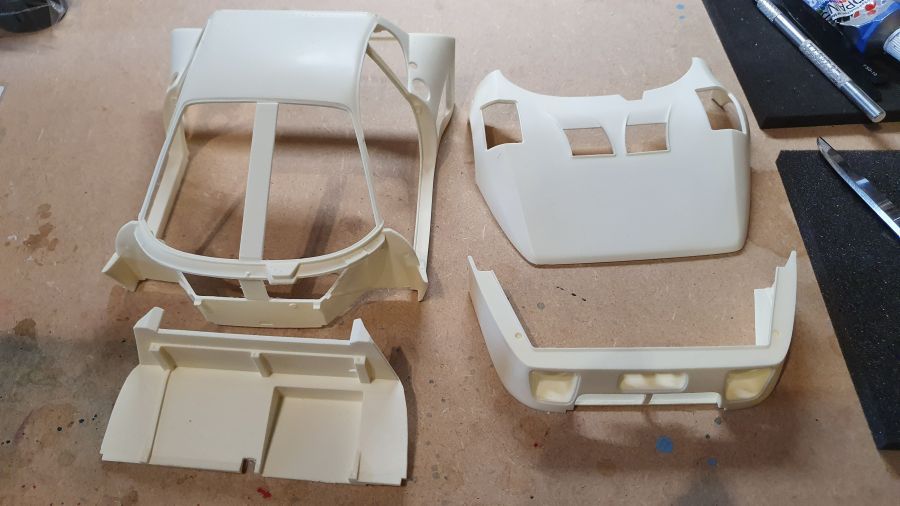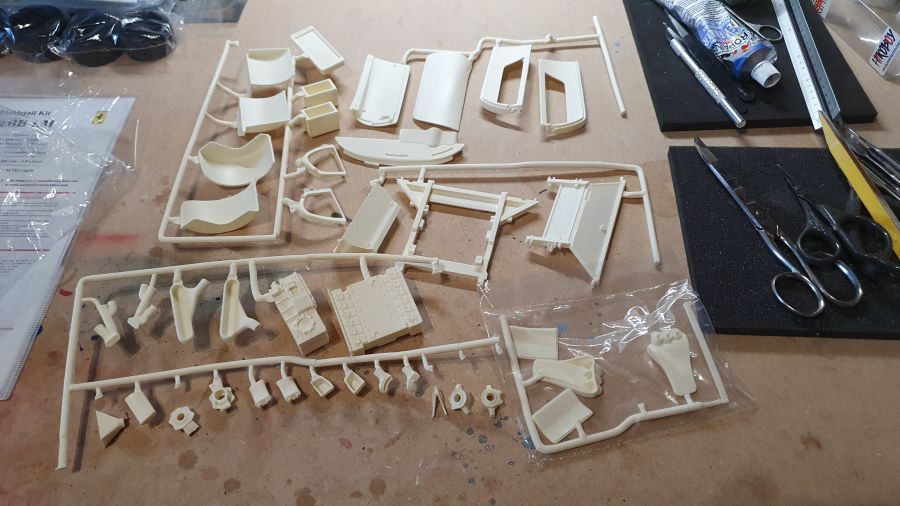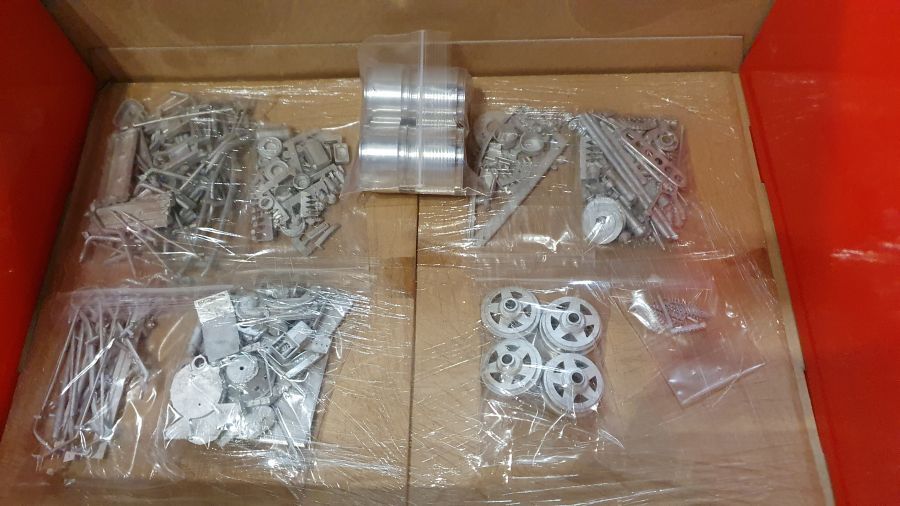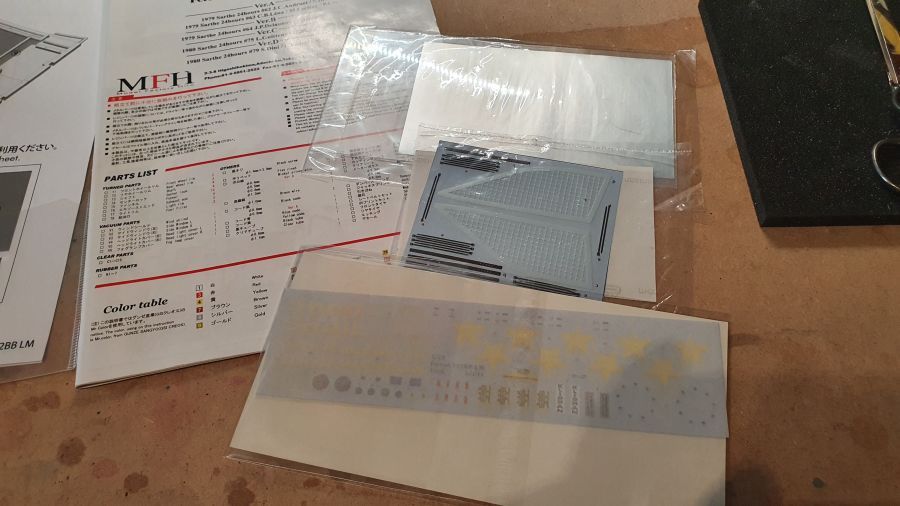 De stapel metalen onderdelen.
The pile of metal parts.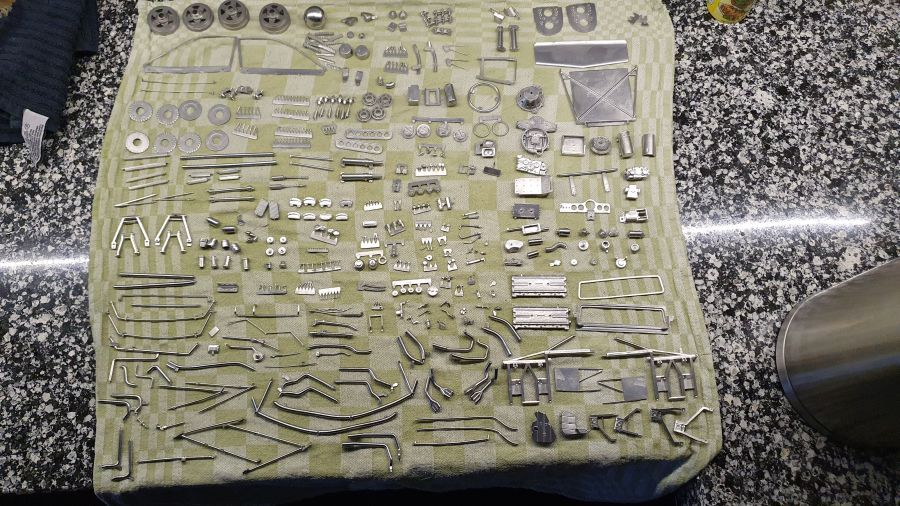 De meeste verf is binnen.
Most of the paints are in.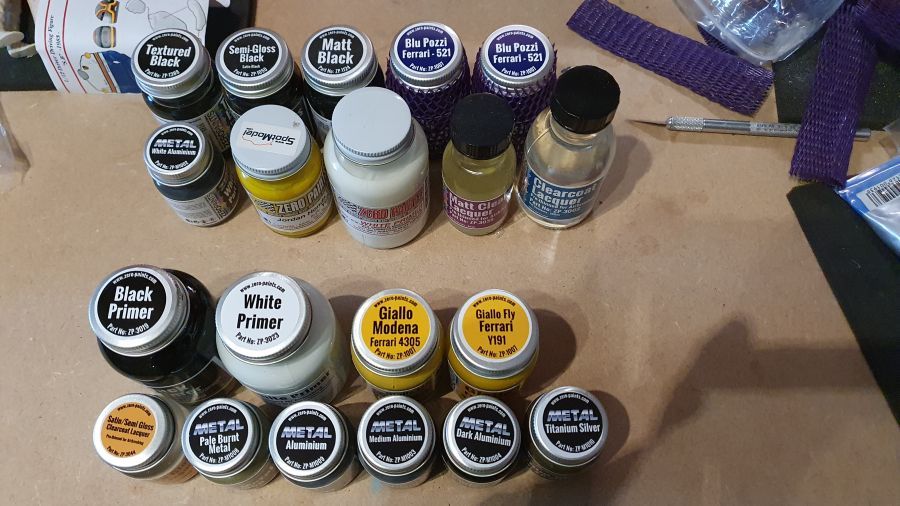 Besluiten welke kleur geel het beste bij de decals past. Ik ga voor de Zero Paints ZP-1086 Jordan Honda 198 Yellow.
Deciding which yellow fits the decals best. I will go for the Zero Paints ZP-1086 Jordan Honda 198 Yellow.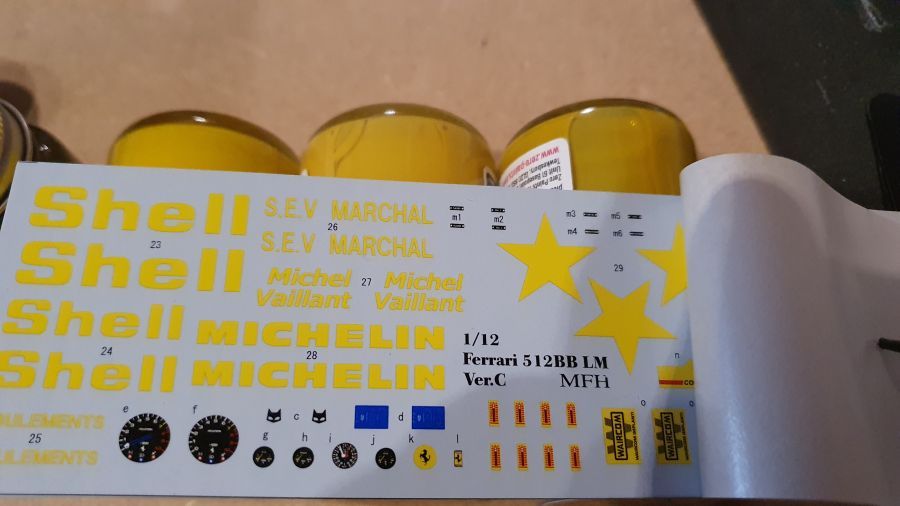 Eerst zijn de onderdelen gesorteerd op volgorde overeenkomstig de tekening.
First the parts have been sorted according to the instructions.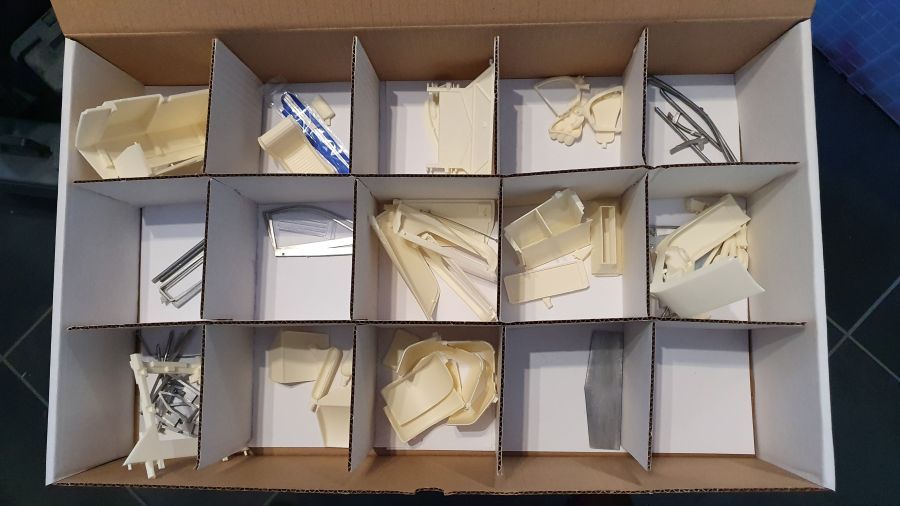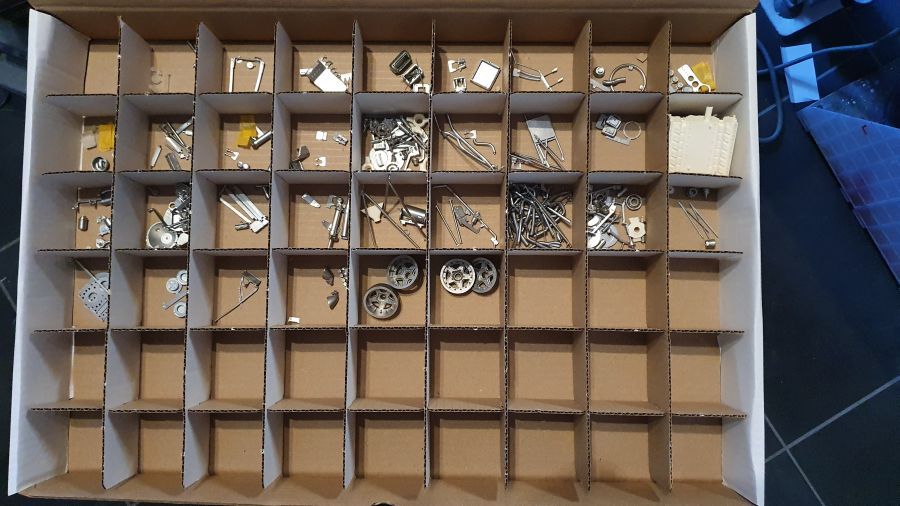 Kleurtest. Twee verschillende ondergronden.
Colortest. Two different primers.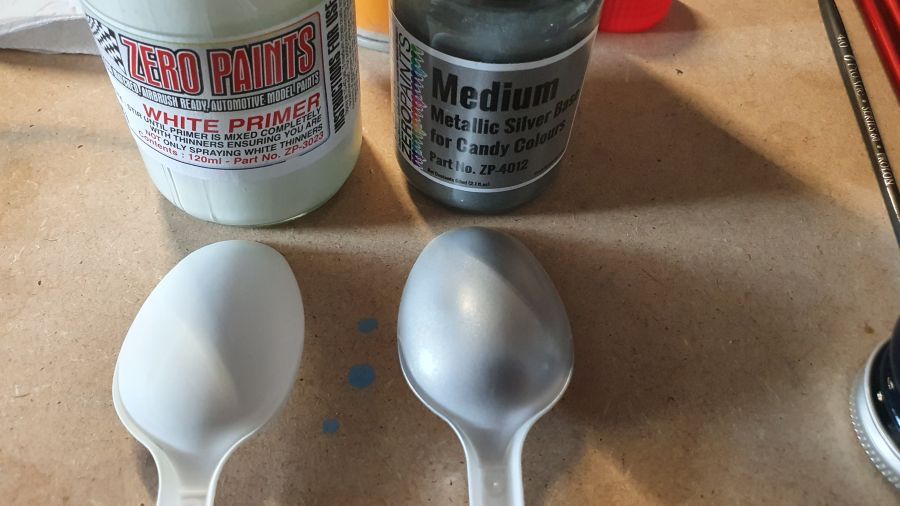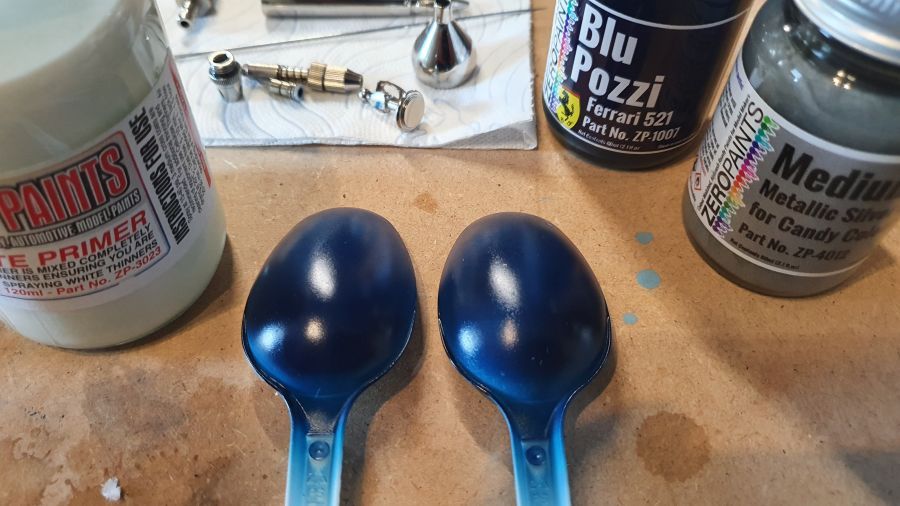 Het lijkt erop dat de verf op de rechter lepel te heet is. Ik ga nog een nieuwe test doen.
It looks like the paint on the right spoon is too hot. I will do another test.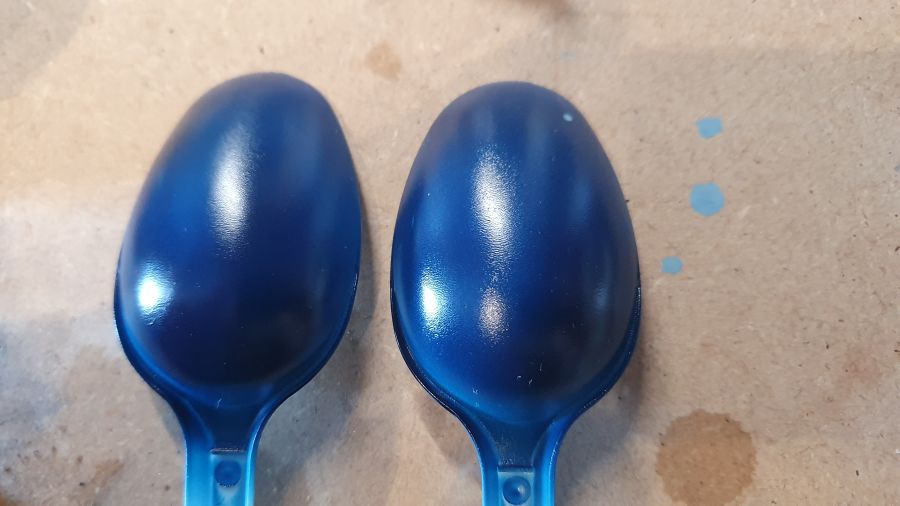 Tweede test. Eerst primer op beide lepels, daarna één lepel met het zilver en vervolgens beide lepels met Pozzi blauw.
Second test. First primer on both spoons, then one spoon with silver and then both spoons with Pozzi blue.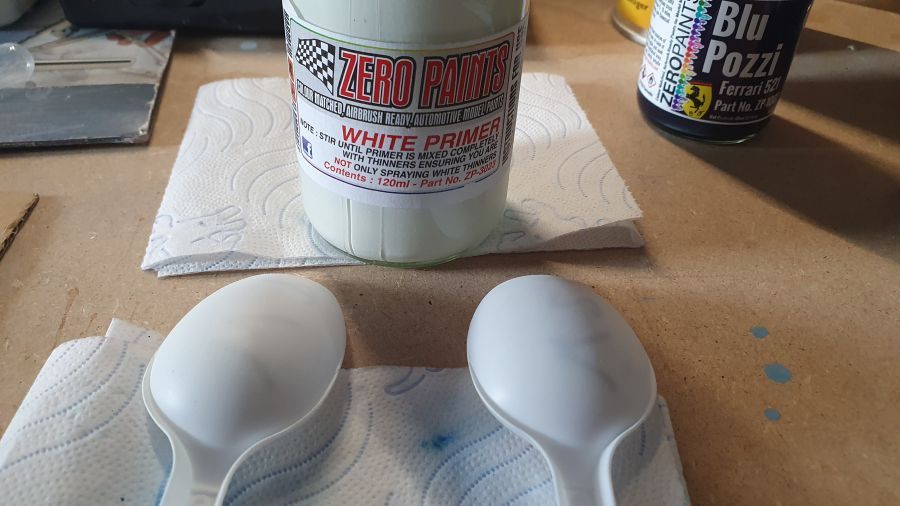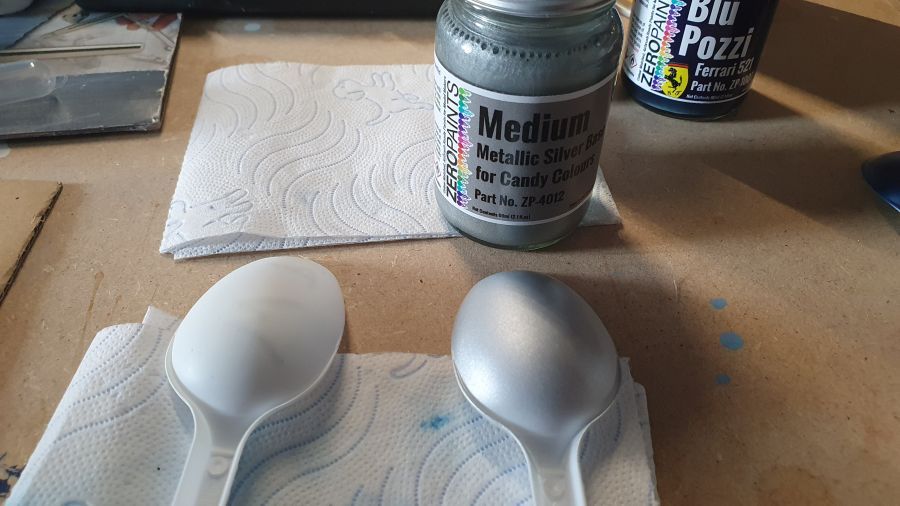 Eén laag.
One layer.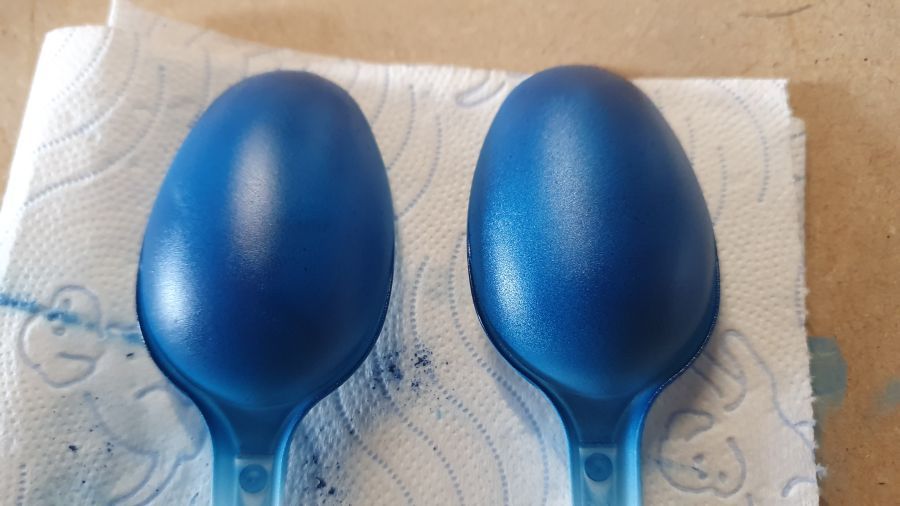 Tweede laag.
Second layer.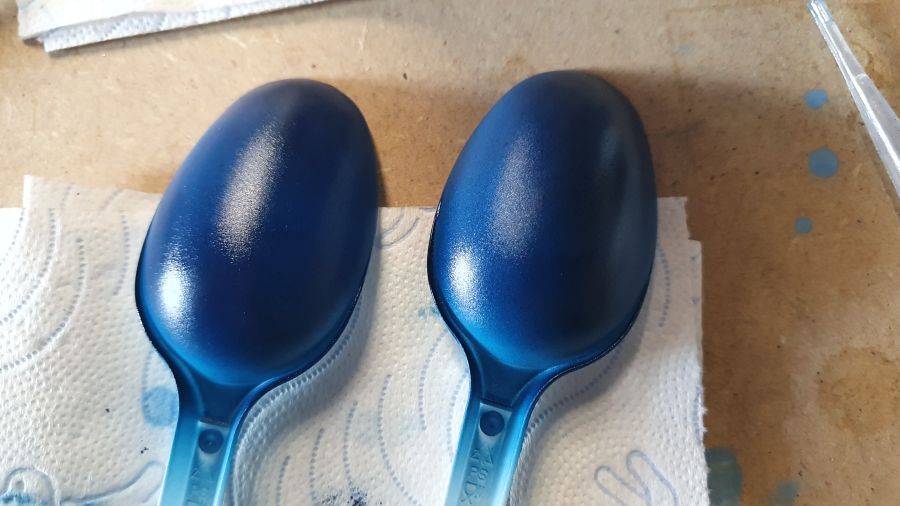 Eerst worden wat onderdelen behandeld met een ontvetter. Daarna goed laten drogen.
First some parts are being treated with a de-greaser. Then let it dry thoroughly.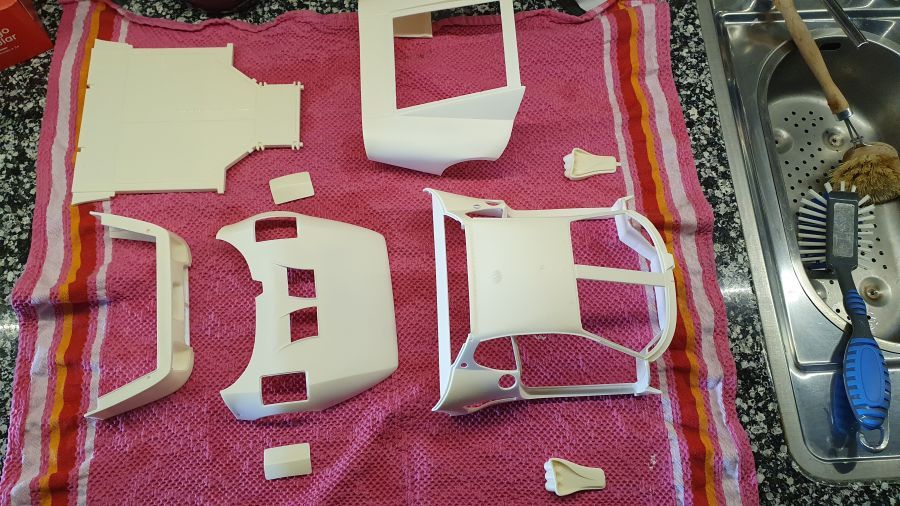 De voorkant krijgt alvast de vulstukken geplaatst. De kap moet glad worden, zonder dat deze luiken te zien zijn. MFH heeft hiervoor gekozen om meerdere verschillende versie te produceren uit dezelfde mal.
The front wil get it's filling pieces. The hood should be smooth, without showing these pieces. MFH chose to do it like this, so they can do multiple versions out of the same mold.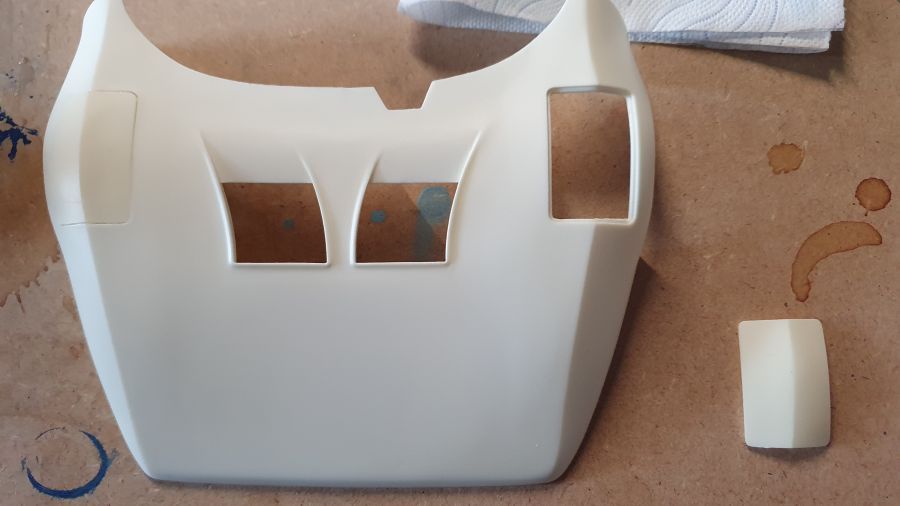 Daar gaat ie. De stappen gaan natuurlijk wat door elkaar, omdat ik soms verder ga met het ene, terwijl het andere moet drogen. Eerst zwarte primer op de cabinevloer.
There we go. The steps will be mixed, because i will work on one thing, while the other is set to dry. First black primer to the cabin floor.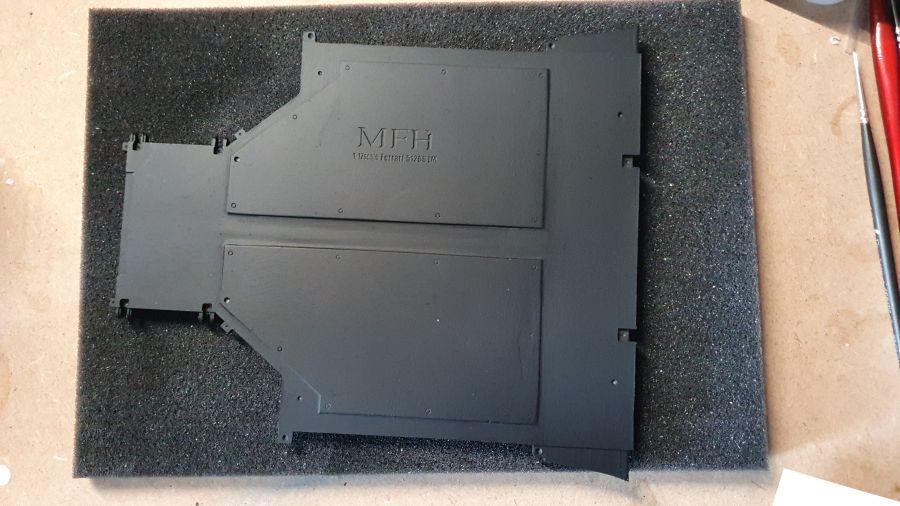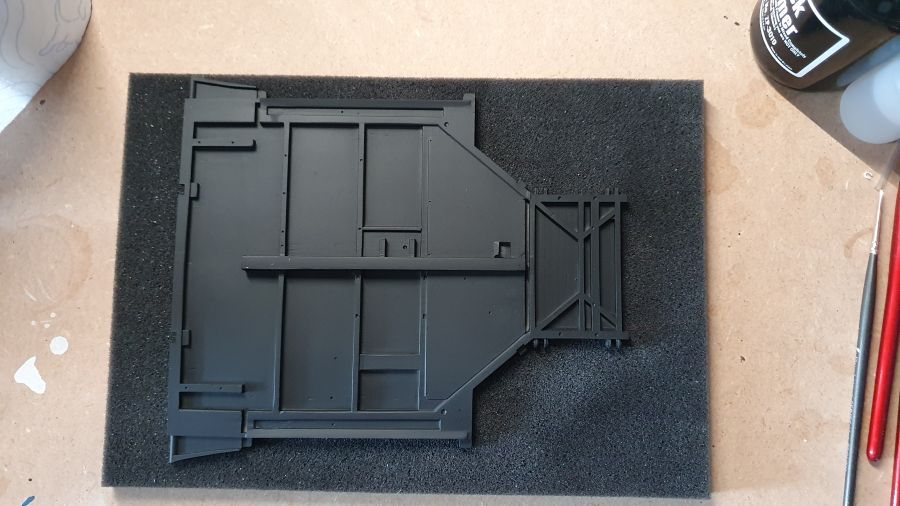 De kit bevat een template om het aluminium velletje (bare metal foil) te knippen. 
The kit contains a template to cut the aluminium sheet (bare metal foil).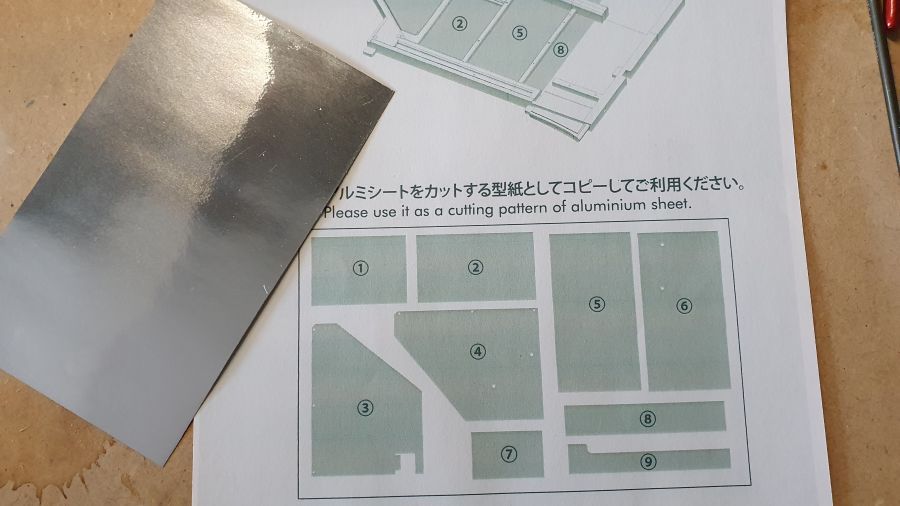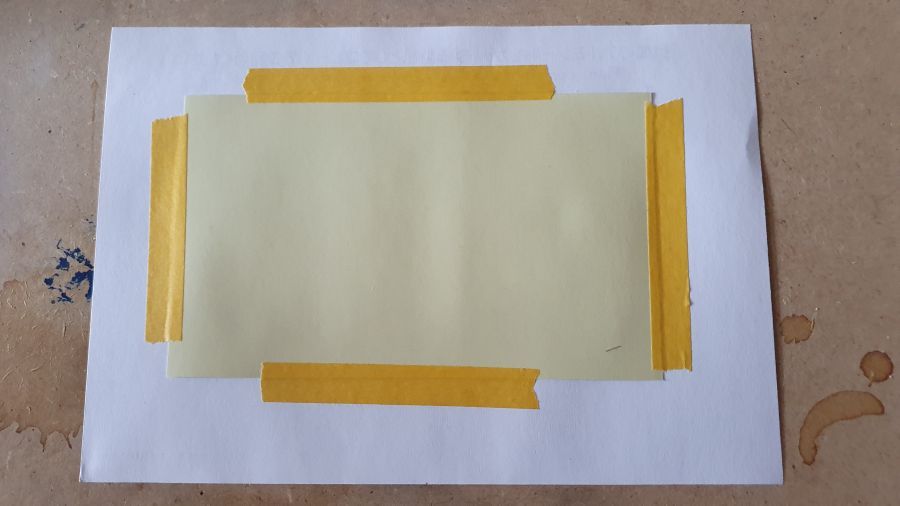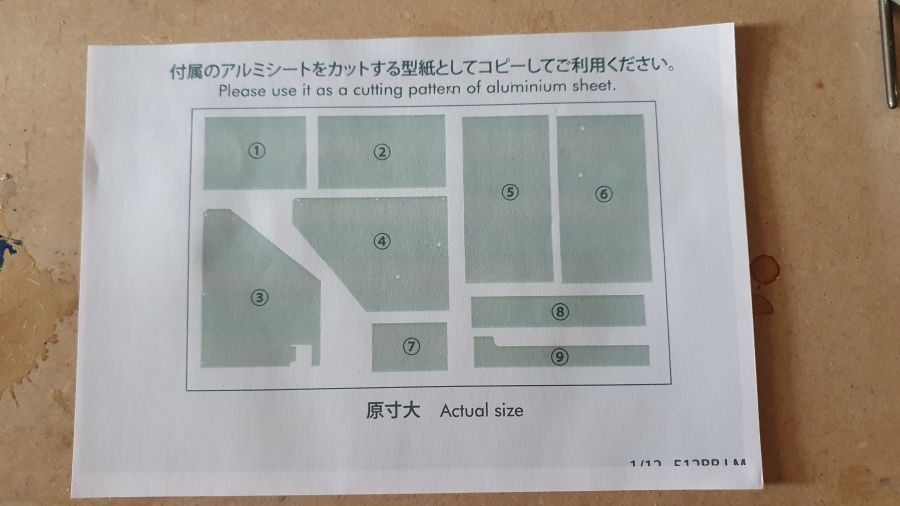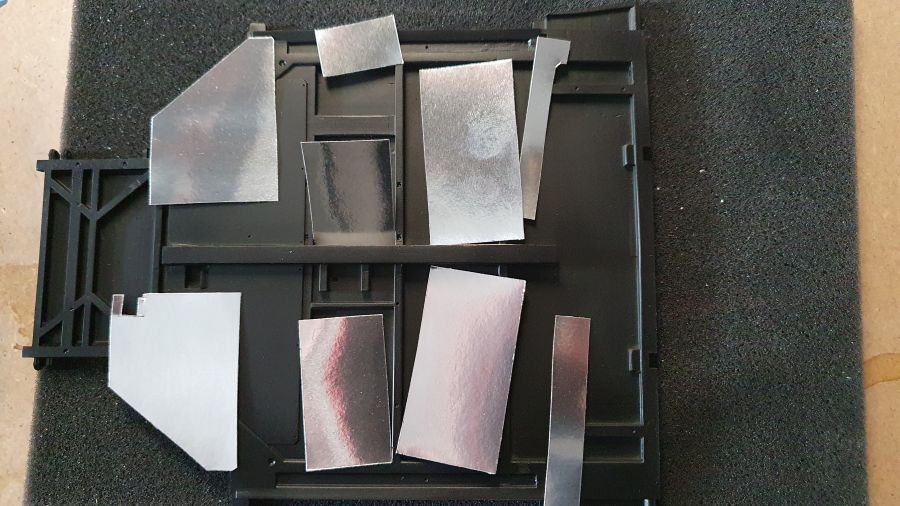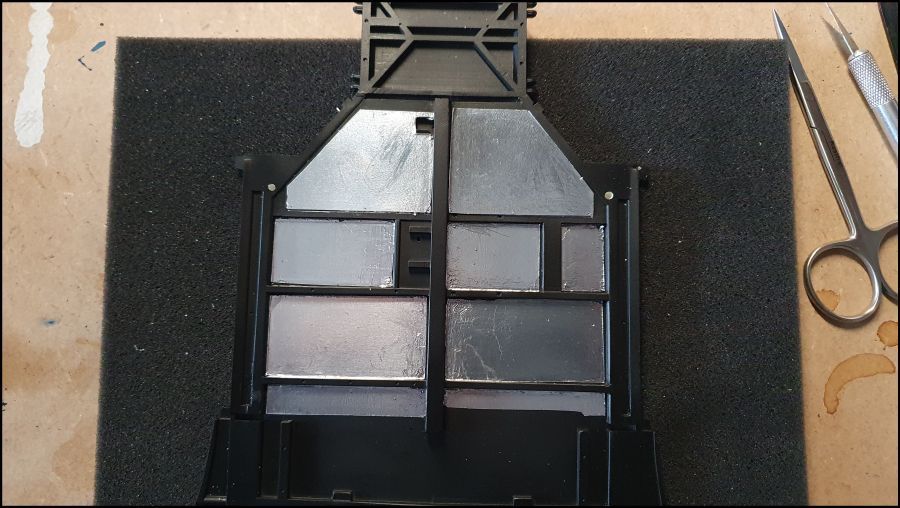 Het brandschot (benzinetank?) wordt gespoten met zwarte primer en daarna mat zwart. Het deel dat in de cabine komt spuit ik nog eens met structuur zwart .
The fire wall (fuel tank?) was airbrushed with black primer and then matt black. The parts that goes inside the cabin has then been sprayed with textured black.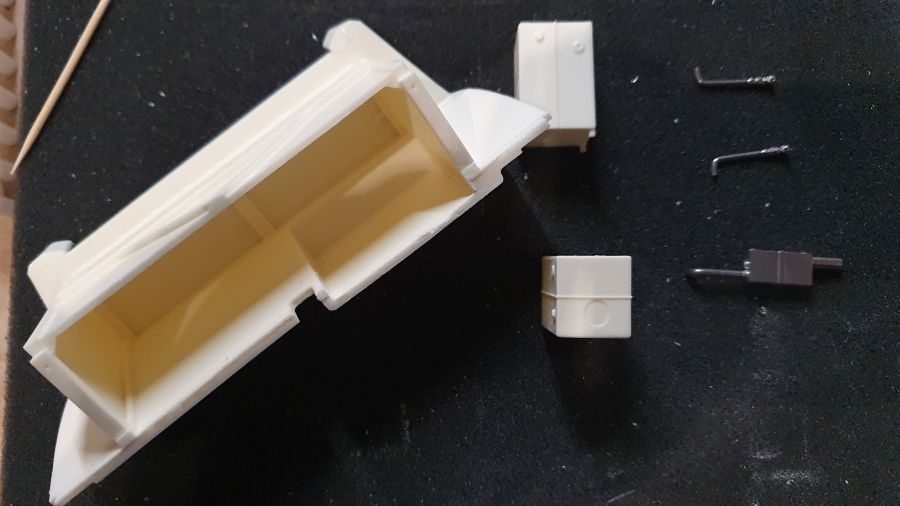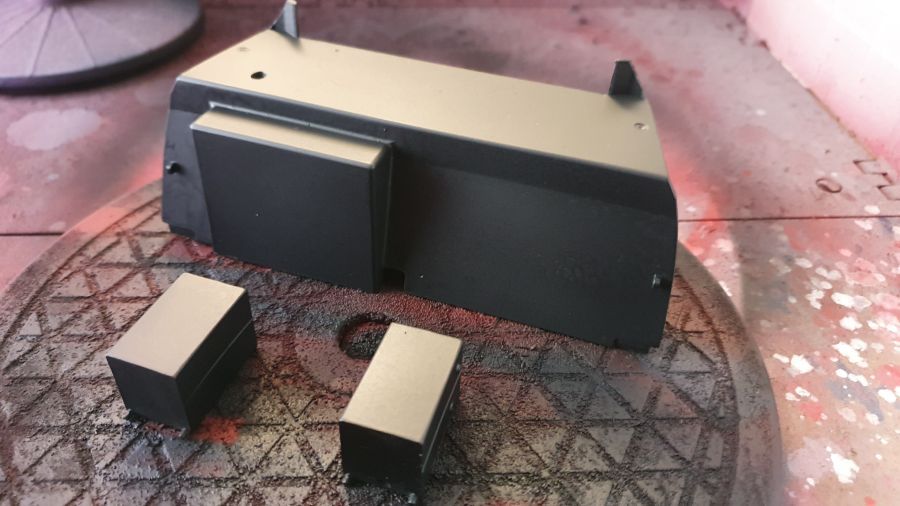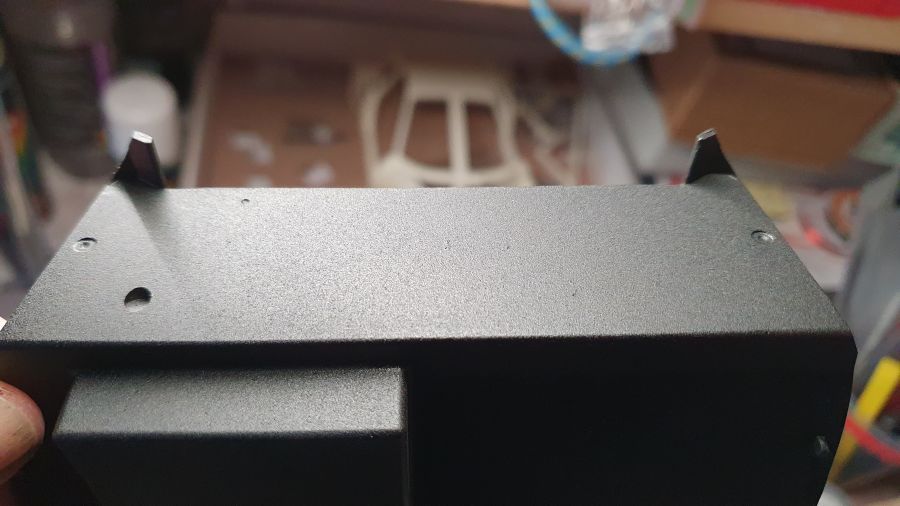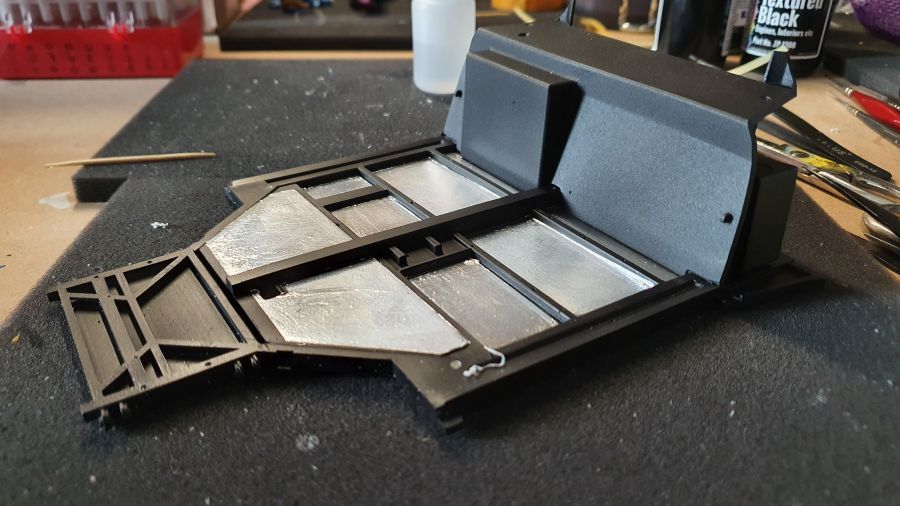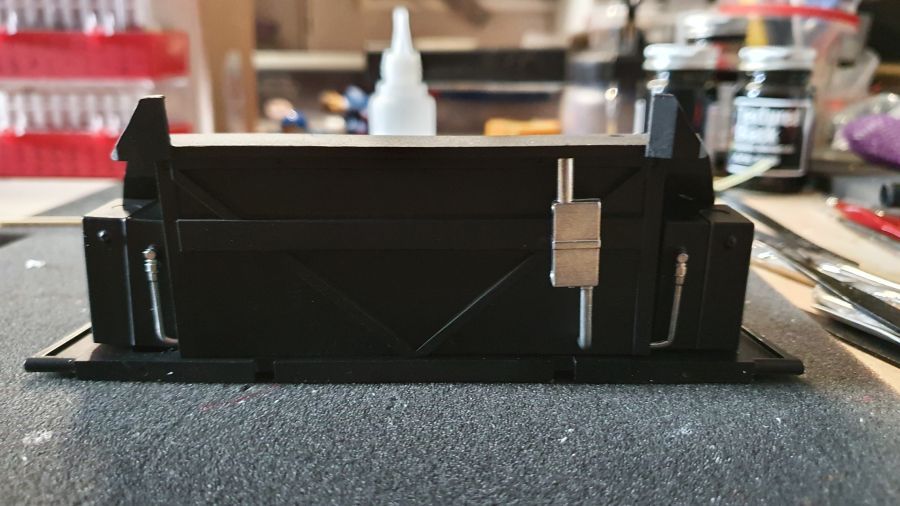 Assemblage van het benzinefilter.
Assembly of the fuel filter.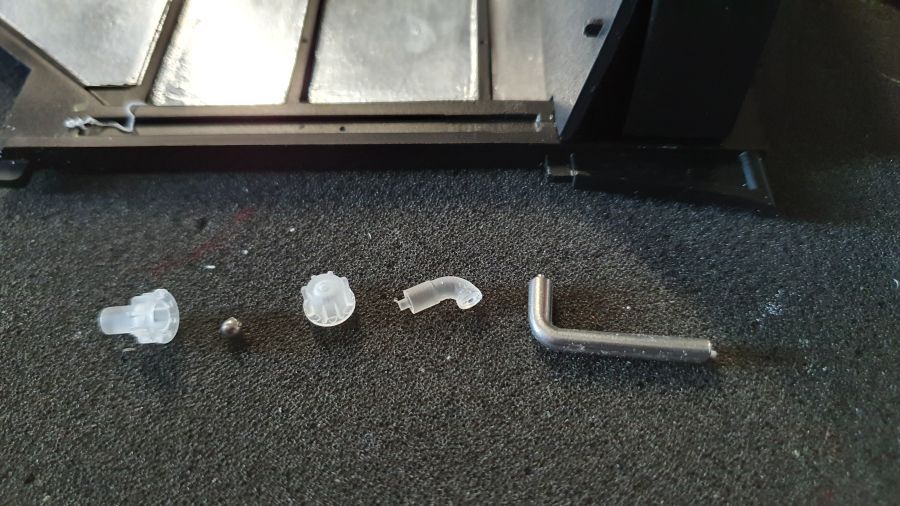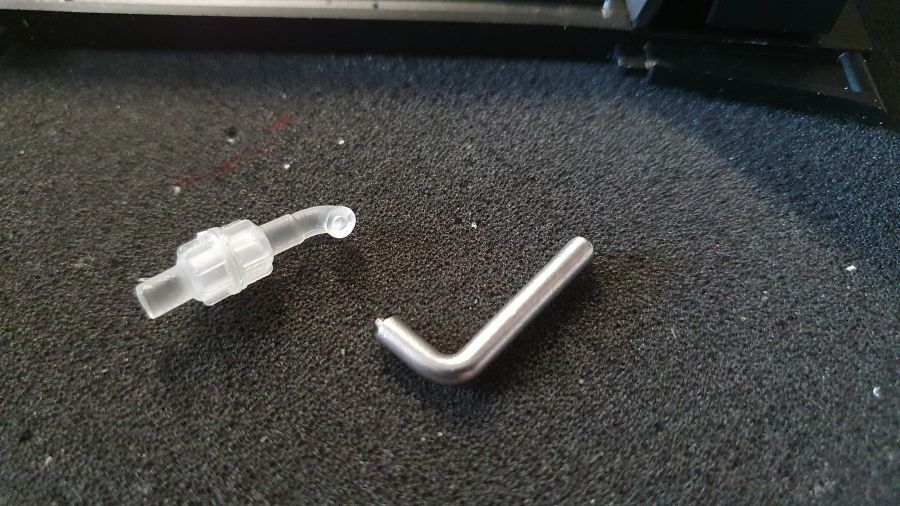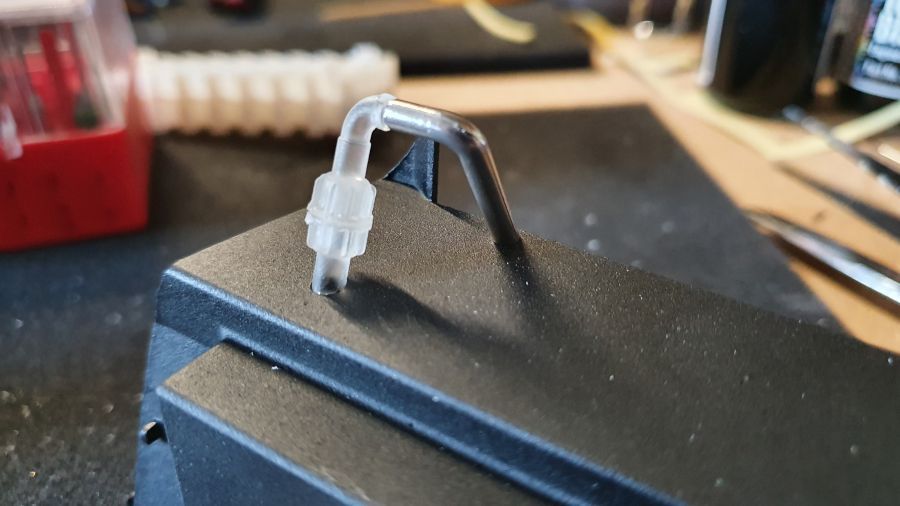 De stoel krijgt ook de textuur verf.
The seat receives the textured paint too.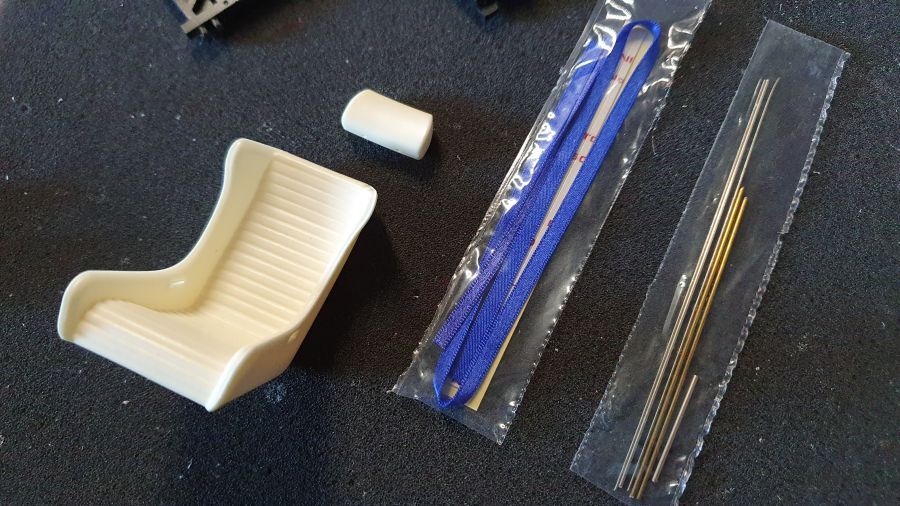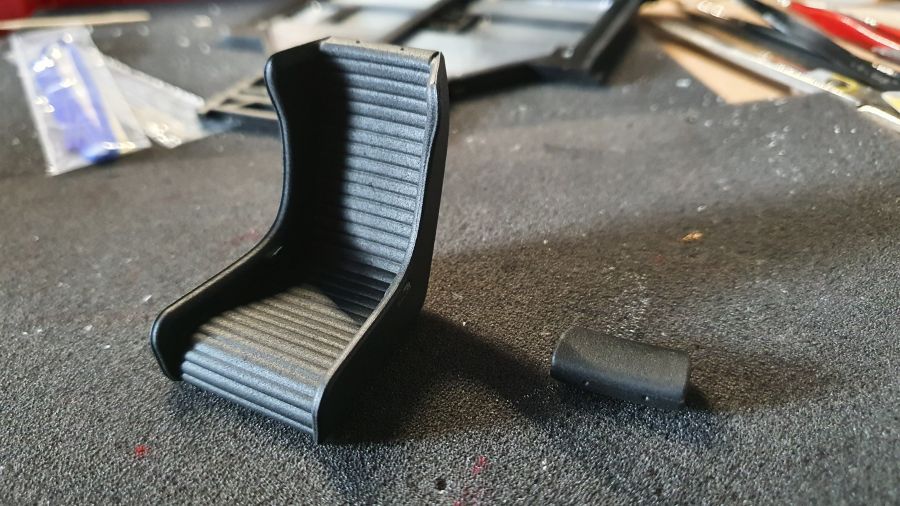 Dan moet de hoofdsteun bevestigd met de bekende stangen. MFH wil stangen van 4.3 cm? Dat lijkt me niet. Bovendien is er geen nikkel zilver draad van 1.0 mm doorsnee. Improviseren dus.
Then the head rest needs to be added with the supports. MFH wants support of 4.3 cm length? That's a bit too much. And above all there is no nickle silver wire with 1.0 mm cross cut included. So improvising.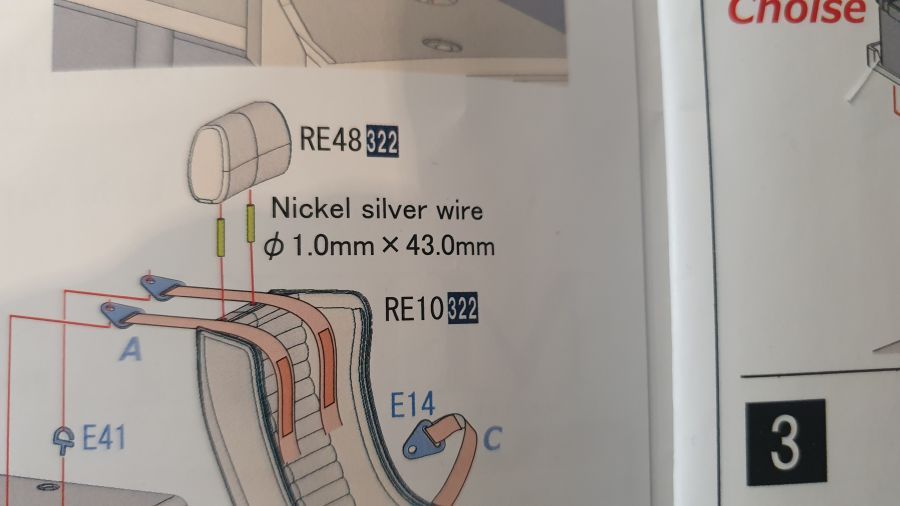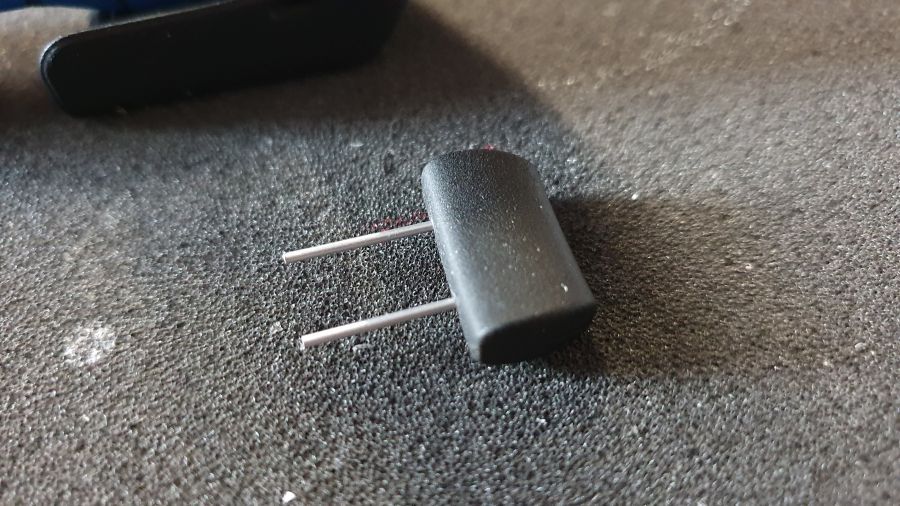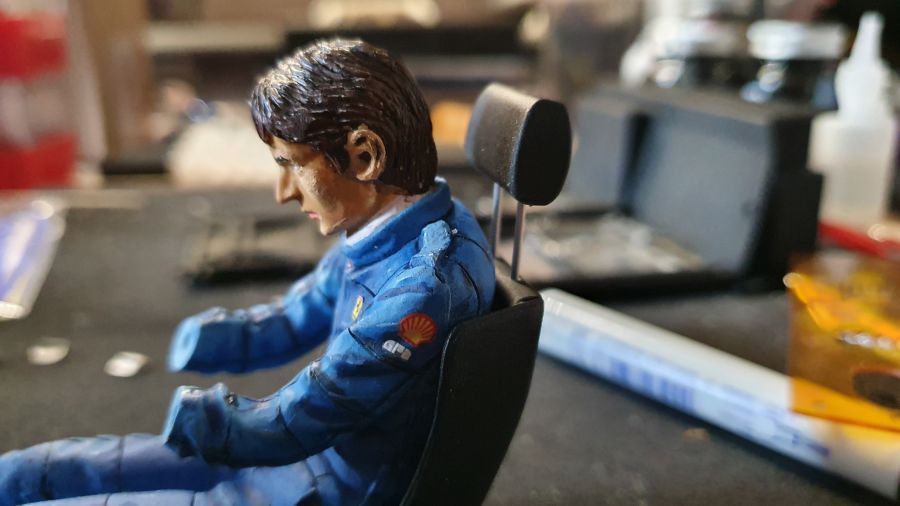 Dit is een beetje het idee dat ik had. Ik moet nog even zien of dat allemaal past met een dashboard en stuur.
This is about the idea i had. I need to see if this fits with a dash board and steering wheel.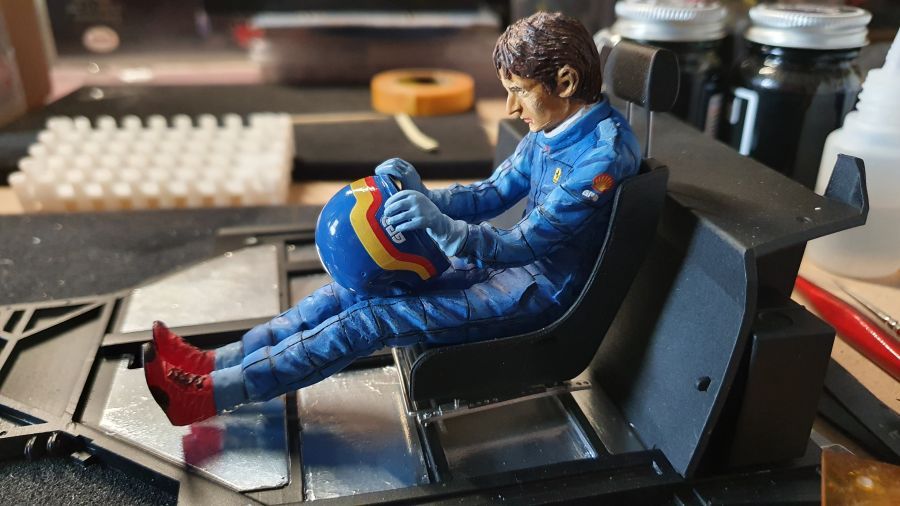 De stoel krijgt zijn bevestiging.
The seat gets it's mounting.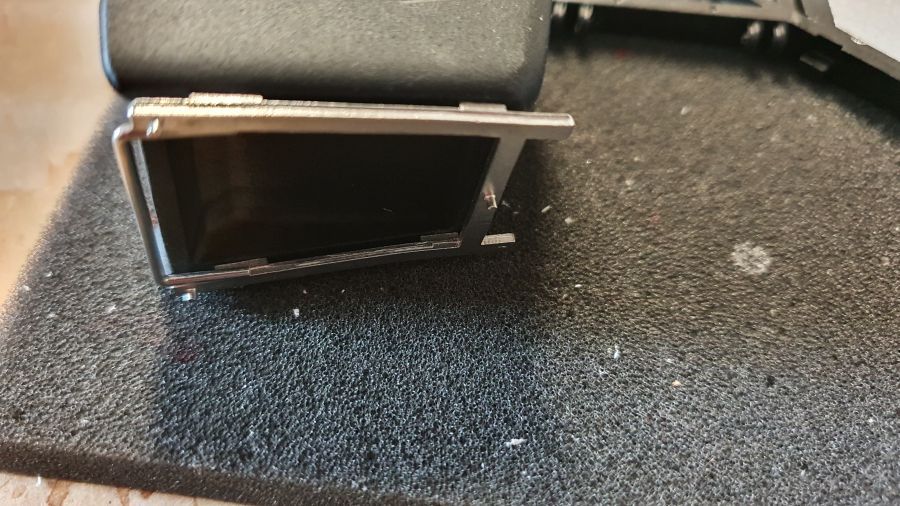 En testen. Het hoofd raakt net het plafond.
And testing. The head touches the ceiling.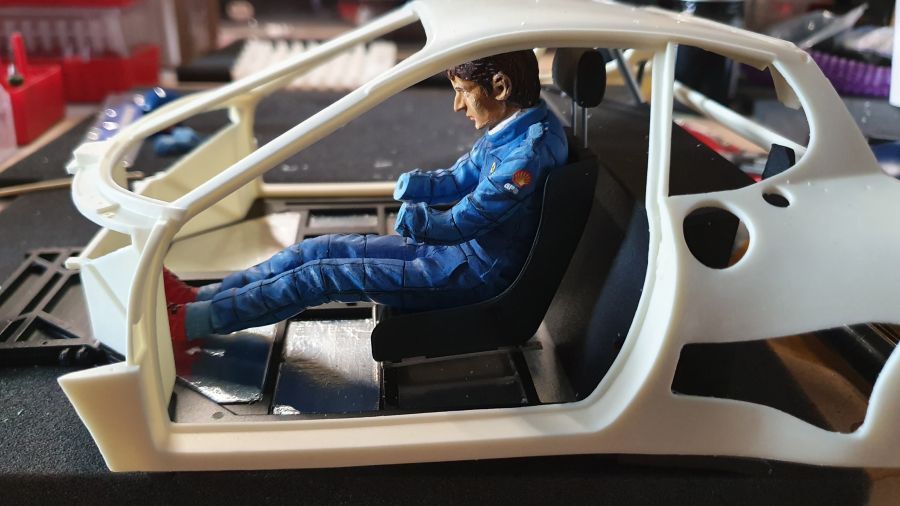 Dus maar even zijn kont bijwerken...
So adjusting his butt...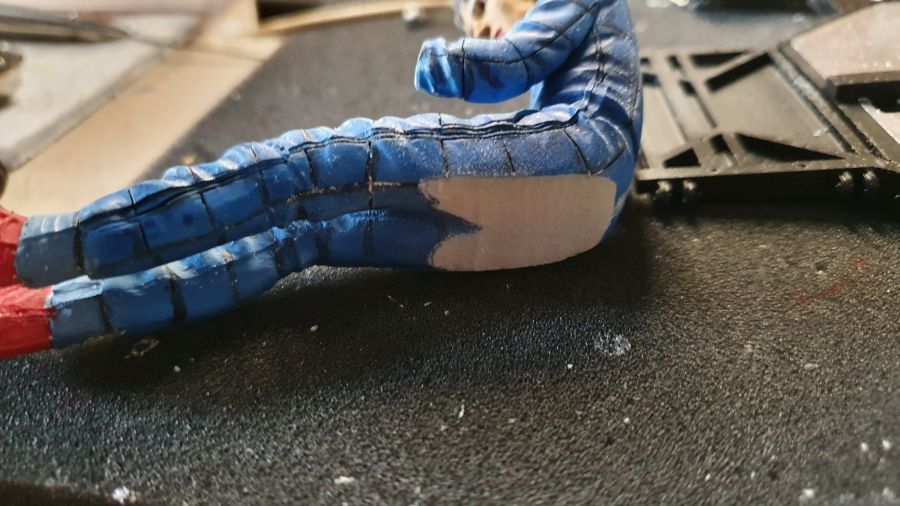 Veder met de gordels...
On to the belts...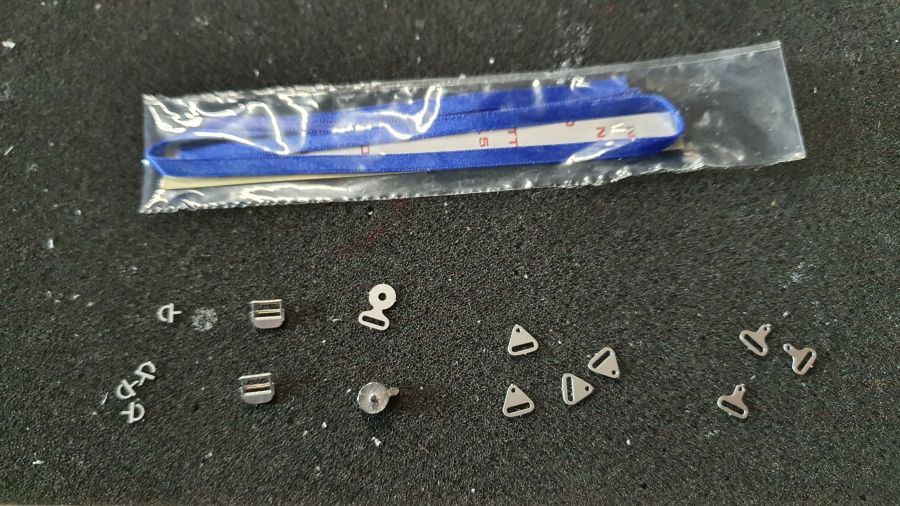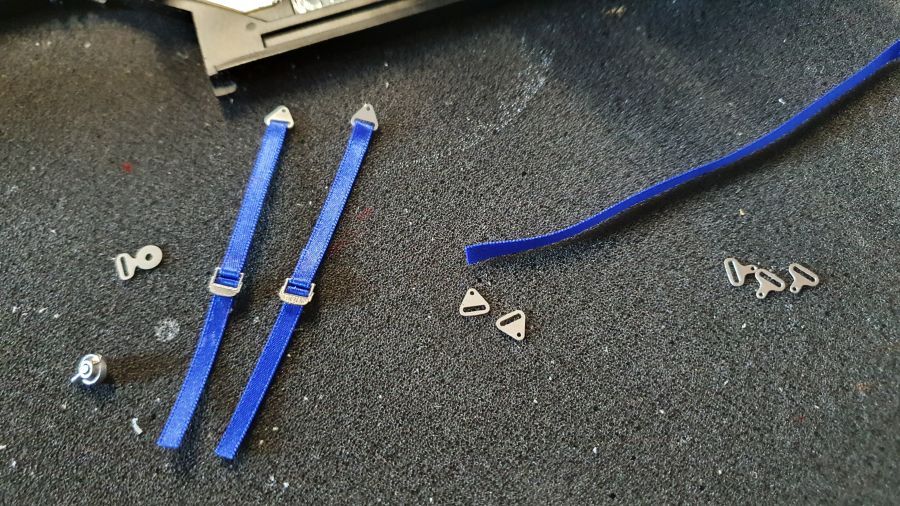 Even de lengte bepalen.
Determine the length.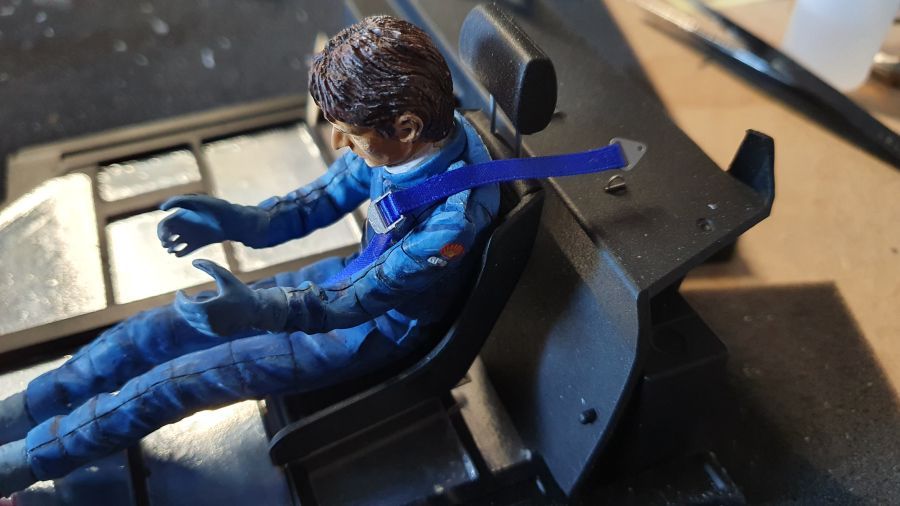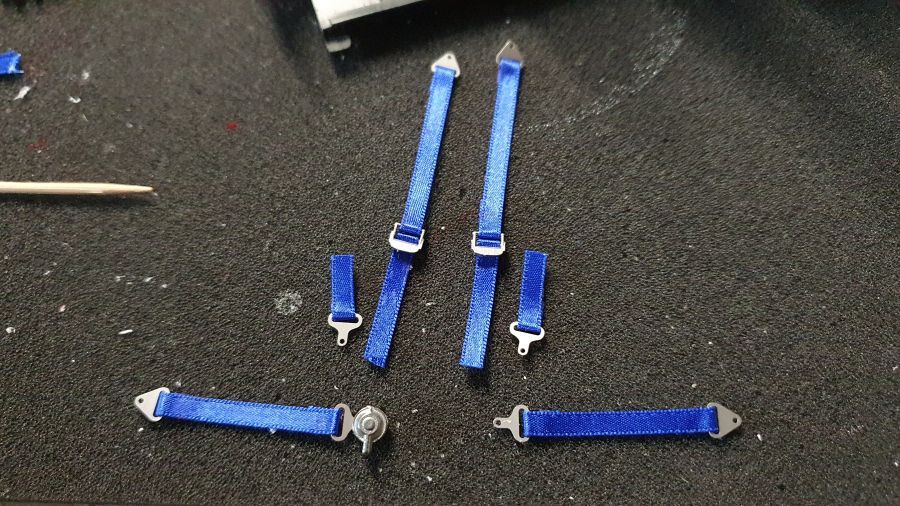 Dan door naar het schakelpaneel. De bovenkant (etched) wordt geverfd met een mix van bruin en rood.
On to the control panel. The top side (etched) is being painted with a mix of brown and red.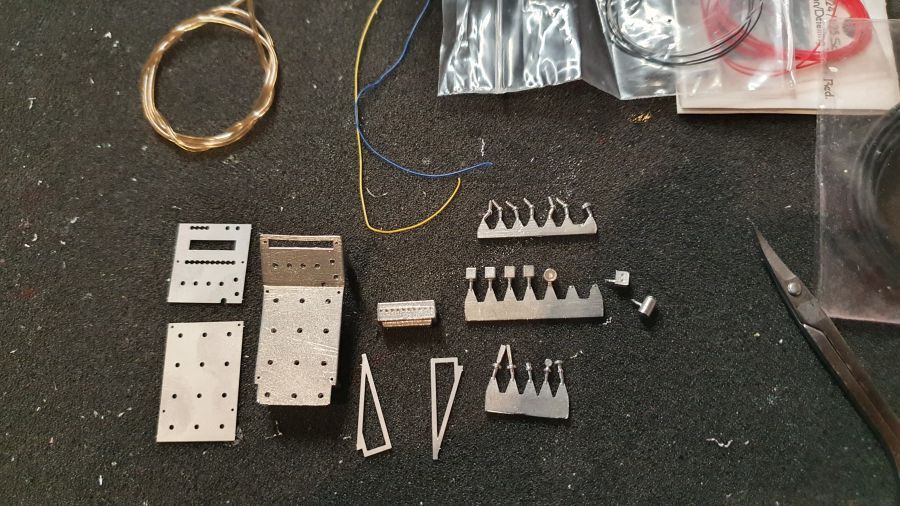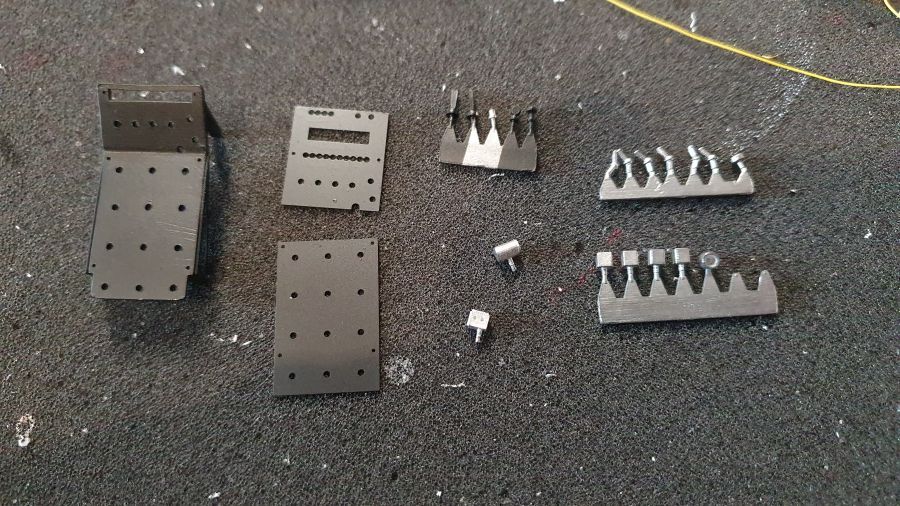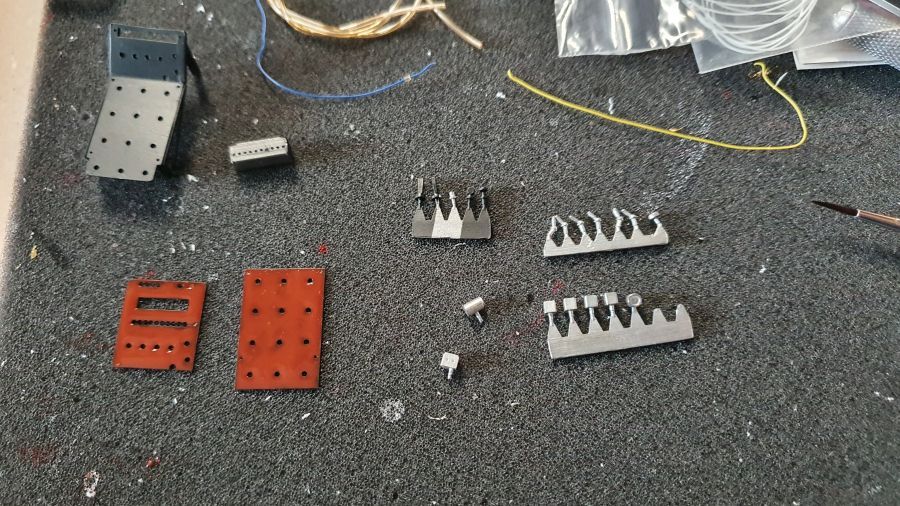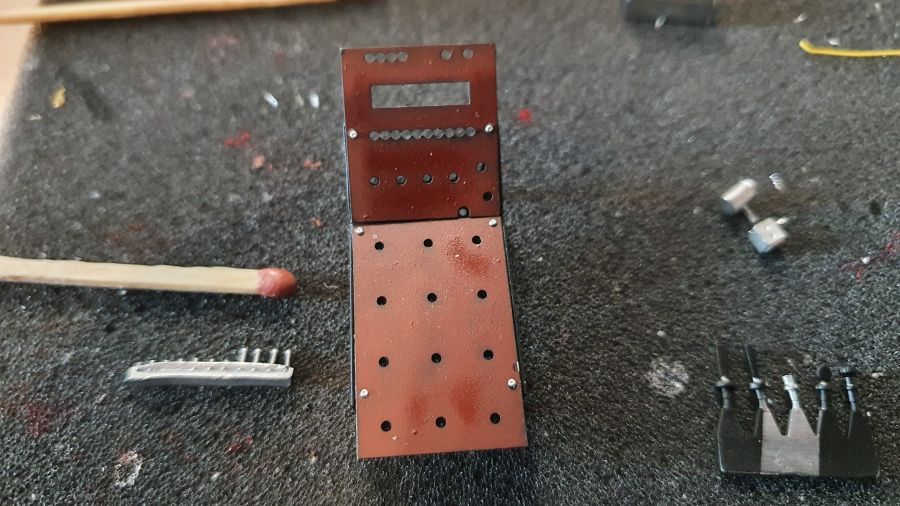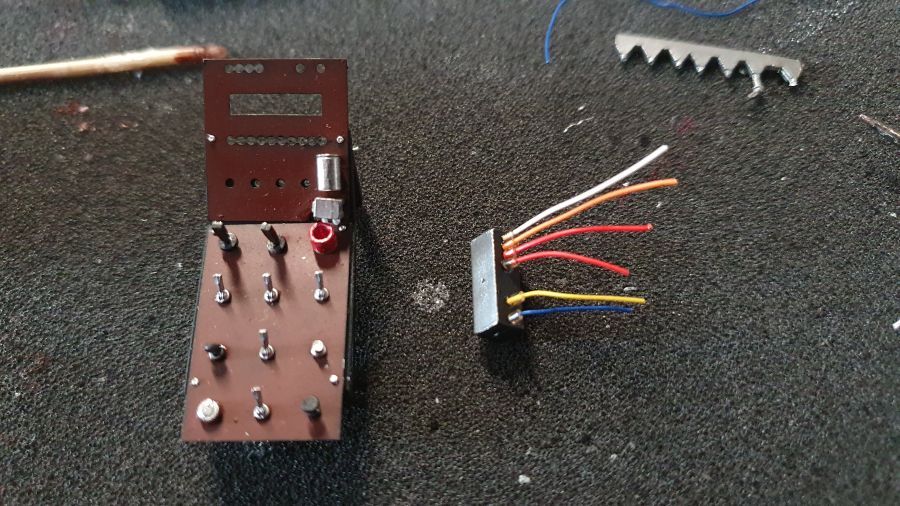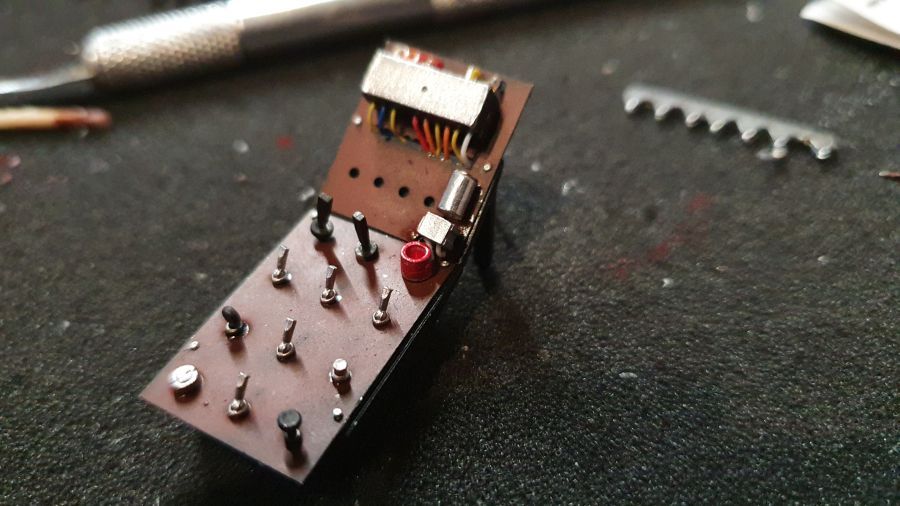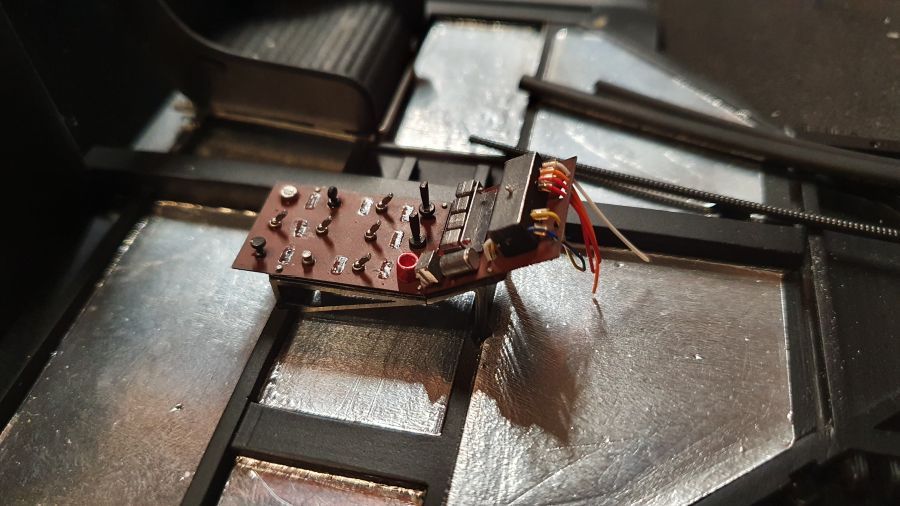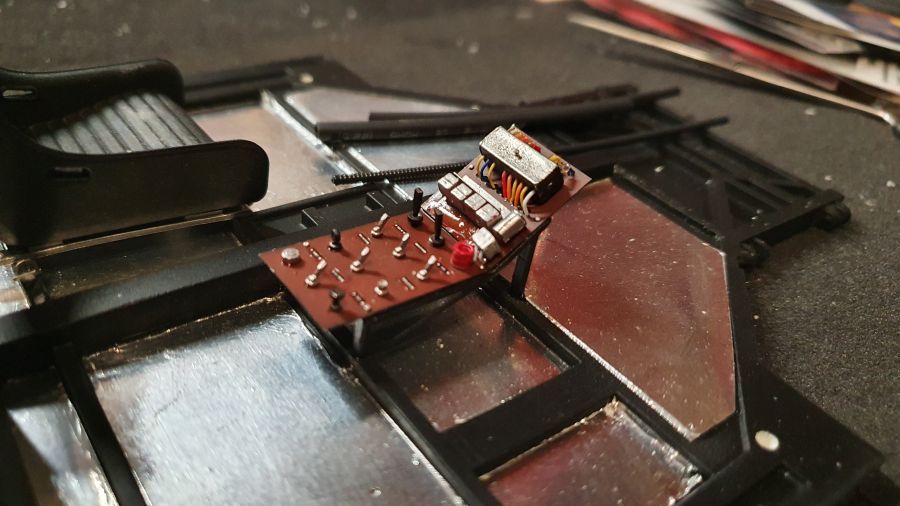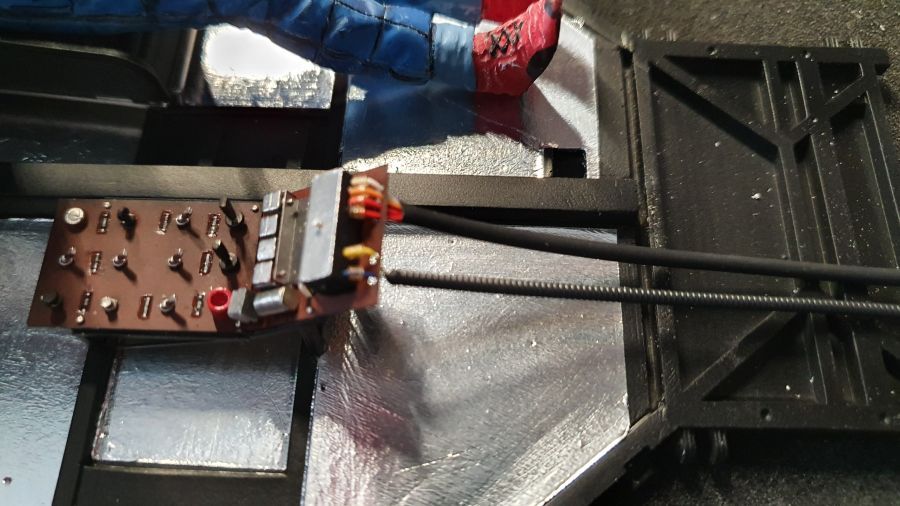 Meer onderdelen voor de binnenkant worden vast klaargemaakt. zoals de brandblusser en de accu.
More parts for the inside are being prepared, like the fire extinguisher and the battery.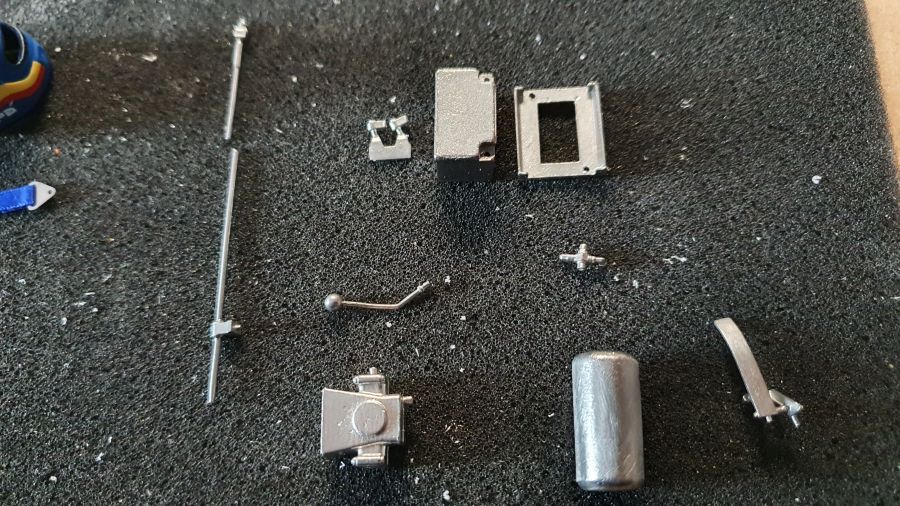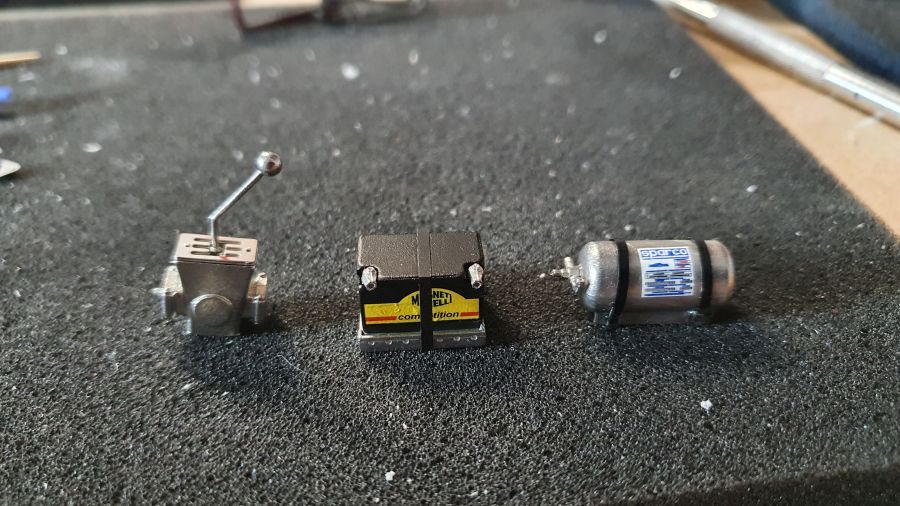 De stang voor de versnelling is kapot. Het bestaat uit 2 stukken die niet eens bij elkaar horen. Ik maak het op maat en verbind de stukken met een stukje krimpkous.
The rod of the shifter is broken. It has 2 pieces that even don't match each other. I will cut it to size and connect them with shrinking tube.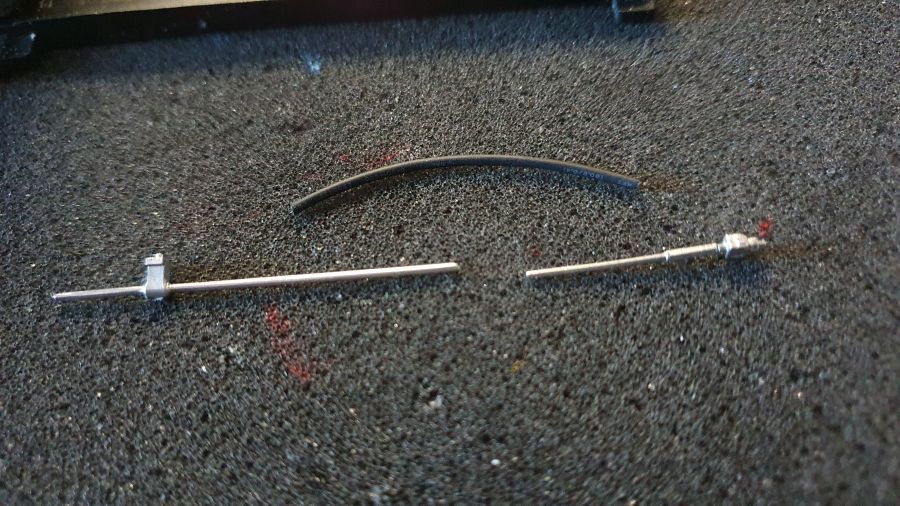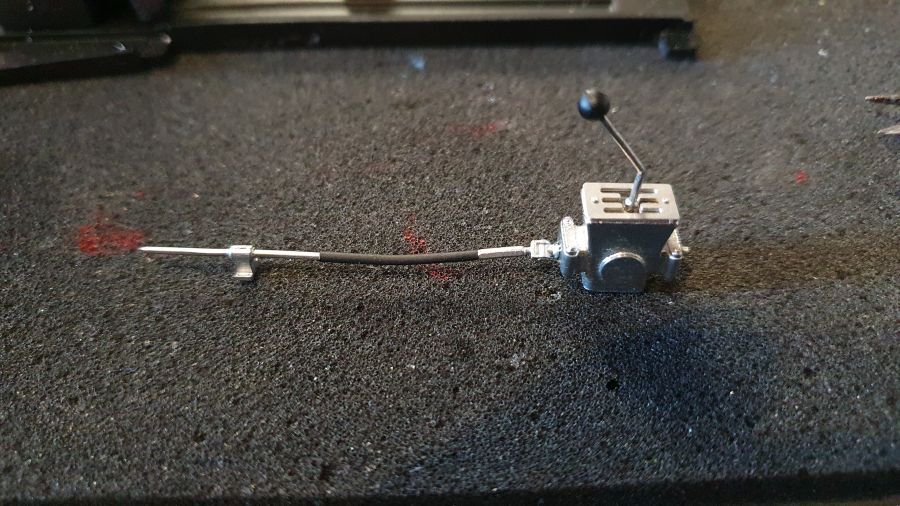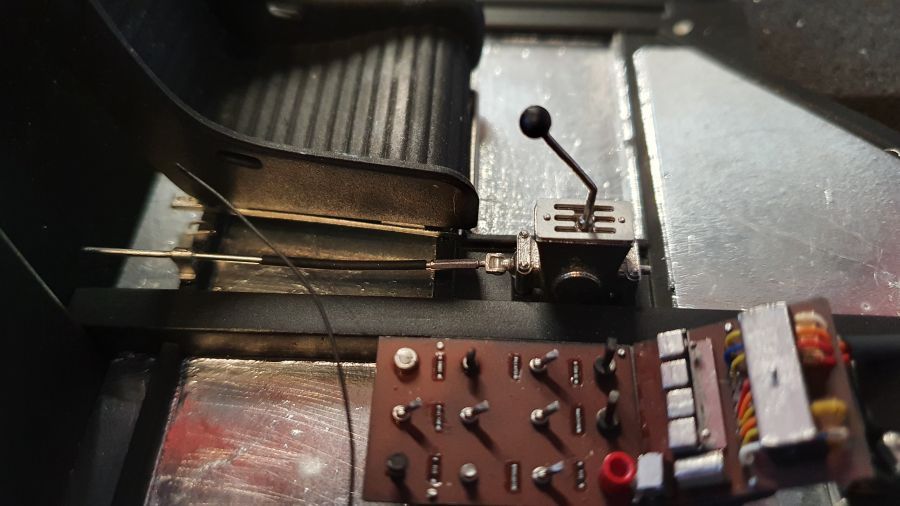 De accu en de brandblusser worden ook geplaatst, nadat bedrading is aangebracht.
The battery and the fire extinguisher were added, after connecting to wires.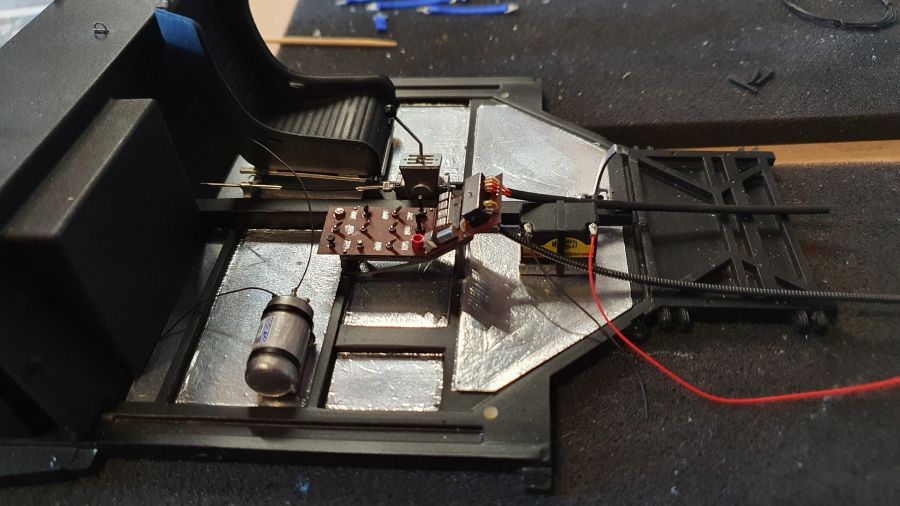 De naden vullen...
Filling the seams...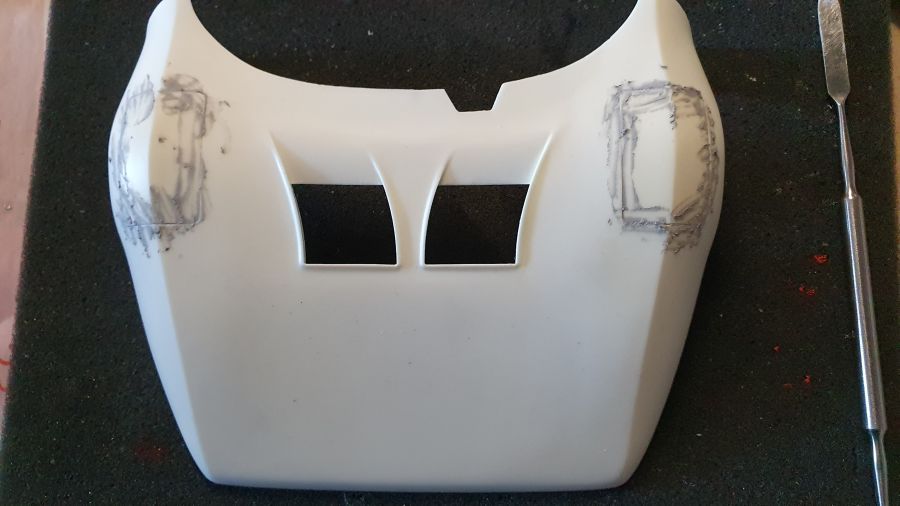 De steunen worden verwijderd...
Removing the supports...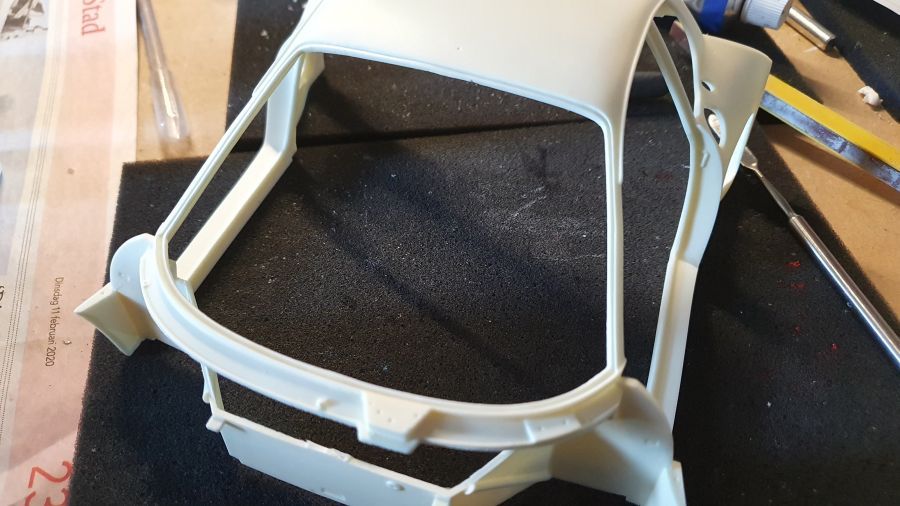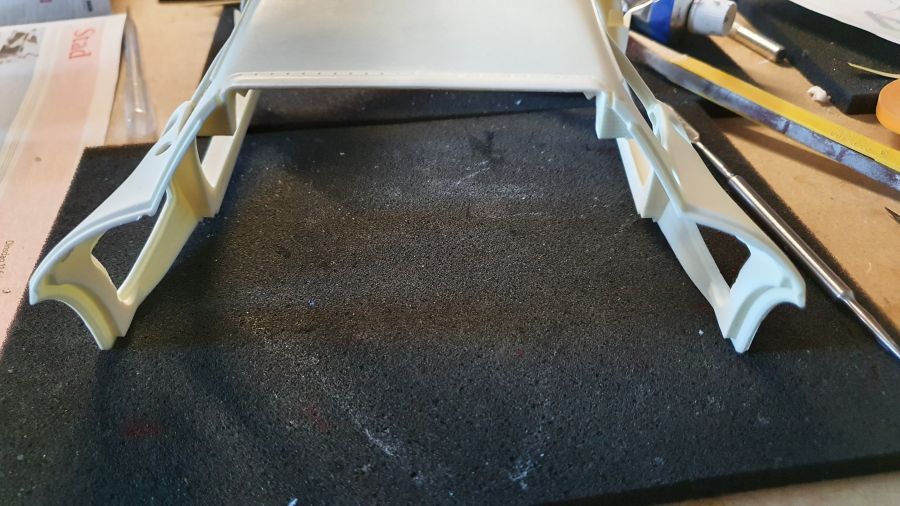 Dan schuren...
Now sanding...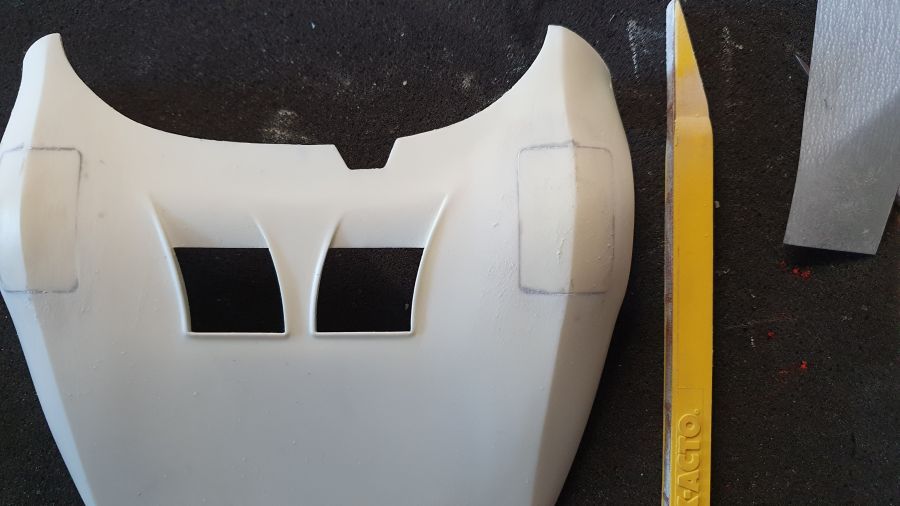 Hetzelfde voor de zijkanten.
The same goes for the sides.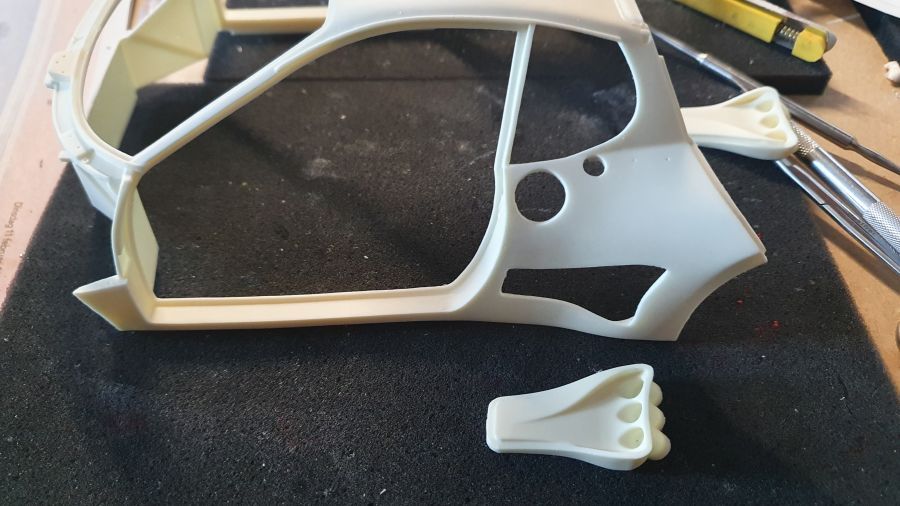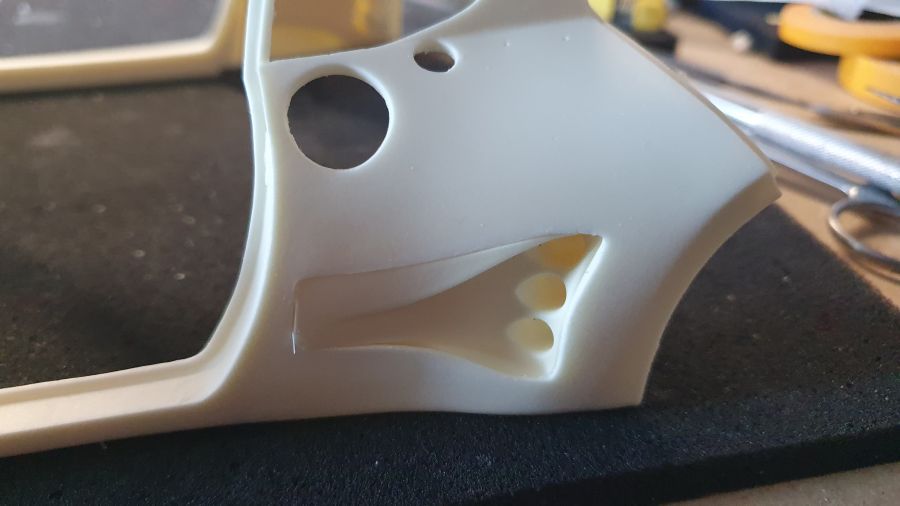 Test... Het beest.
Test... The beast.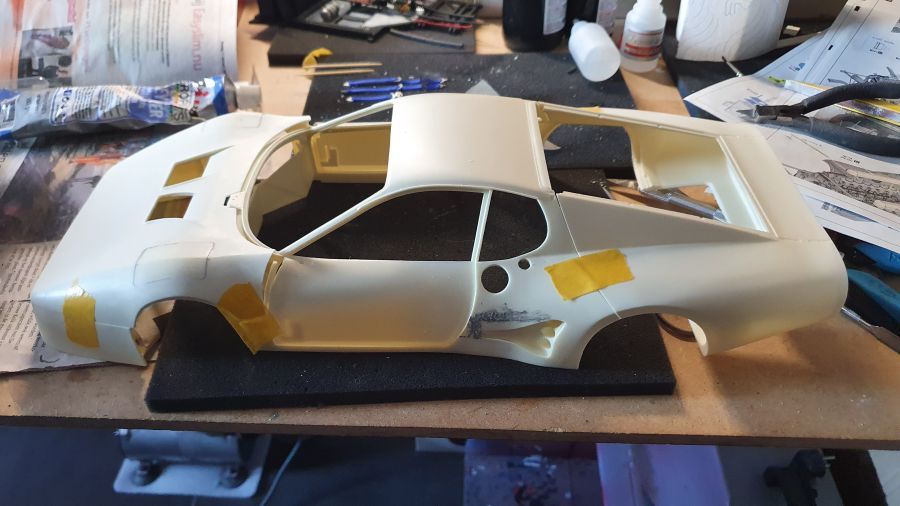 Alle onderdelen van de body zitten in de primer.
All body parts received the primer.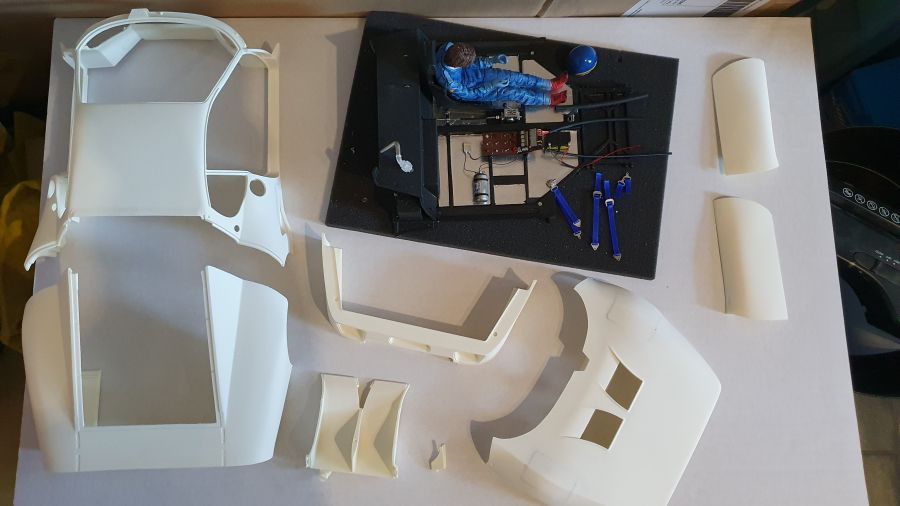 Ik heb besloten deze raamdelen van tevoren te plaatsen.
I decided to add these window parts up front.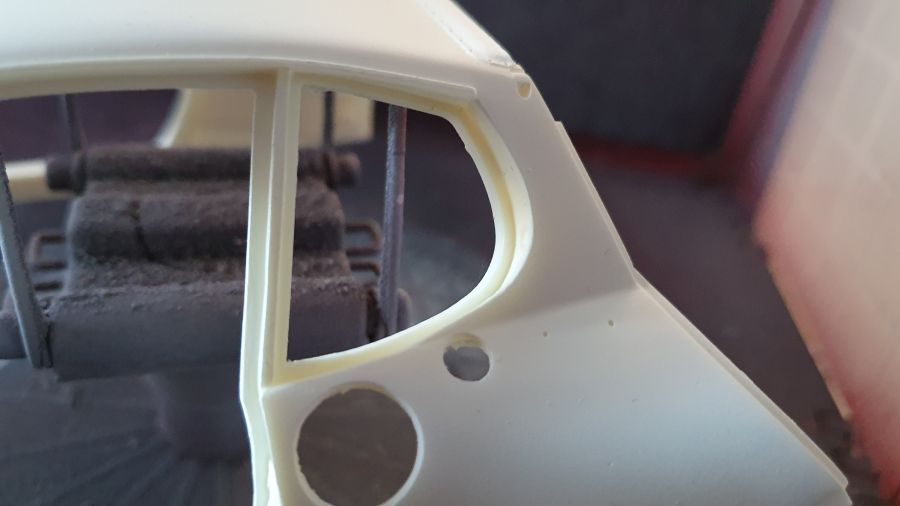 De laatste imperfecties...
The last imperfections...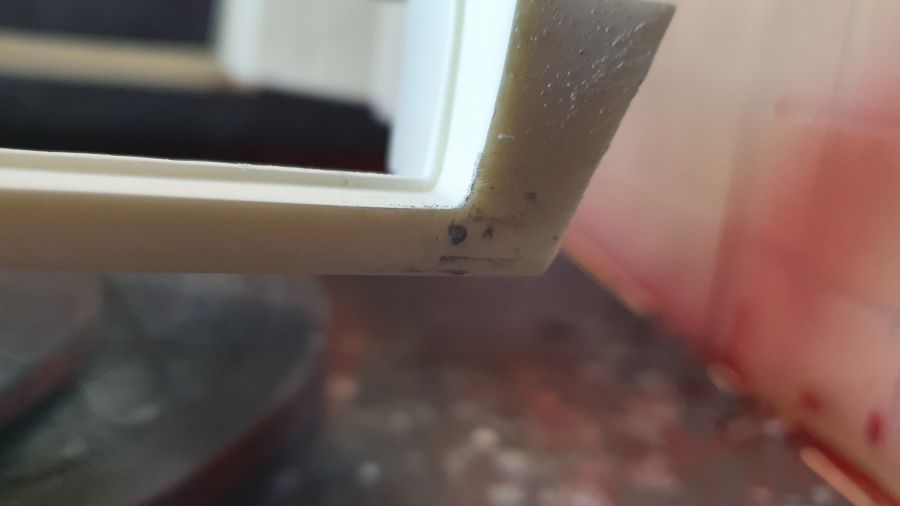 Dan het spuitwerk met Pozzi blauw...
Then the pain job with Pozzi blue...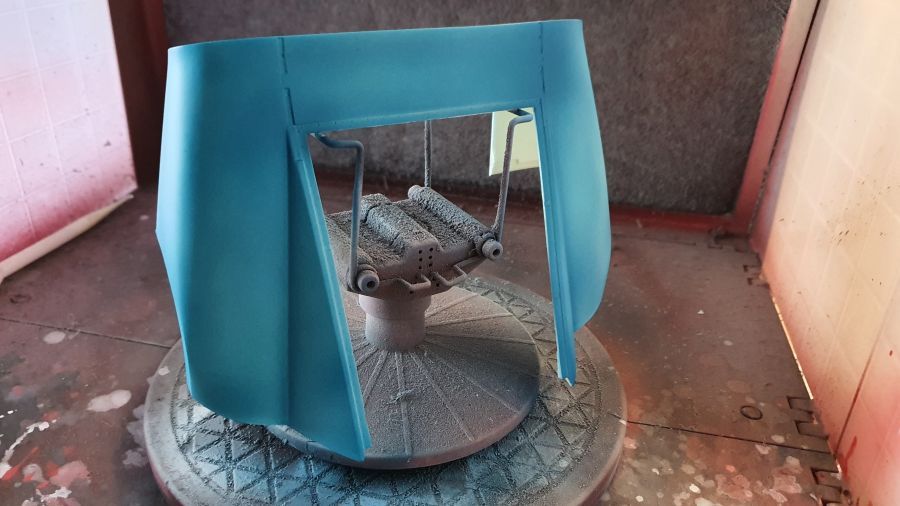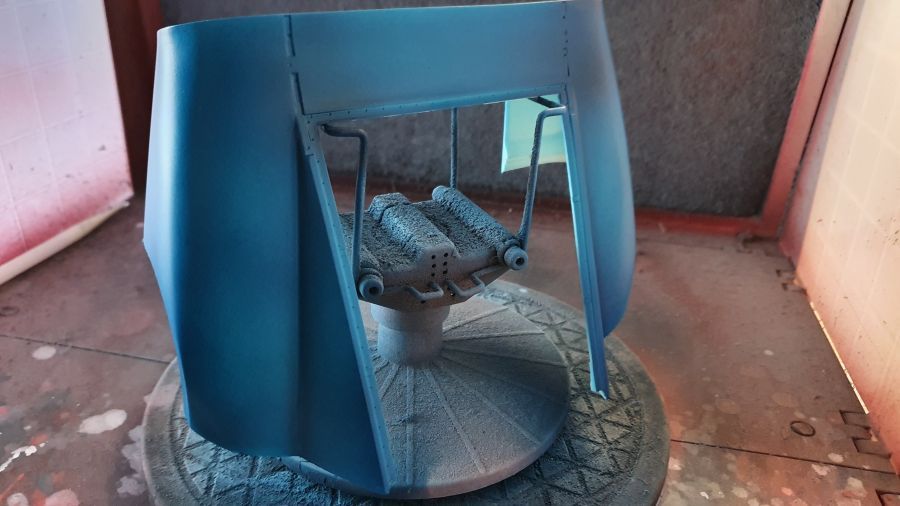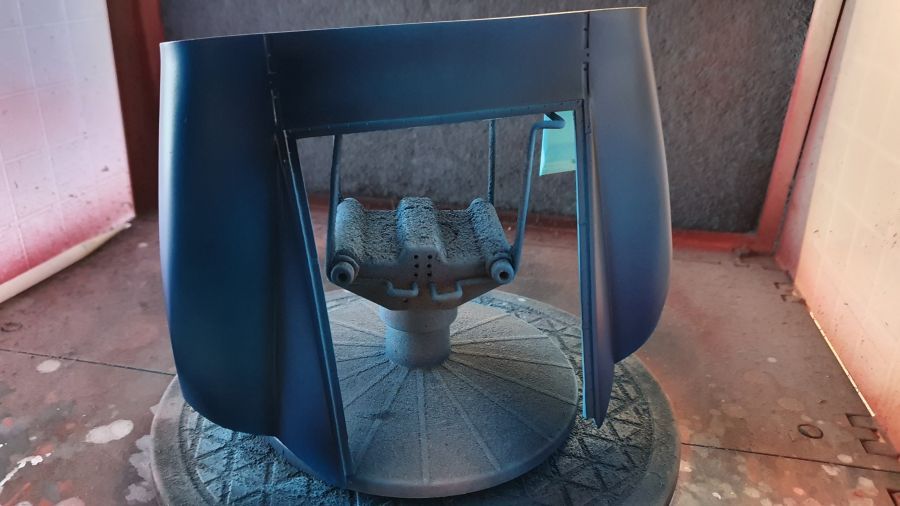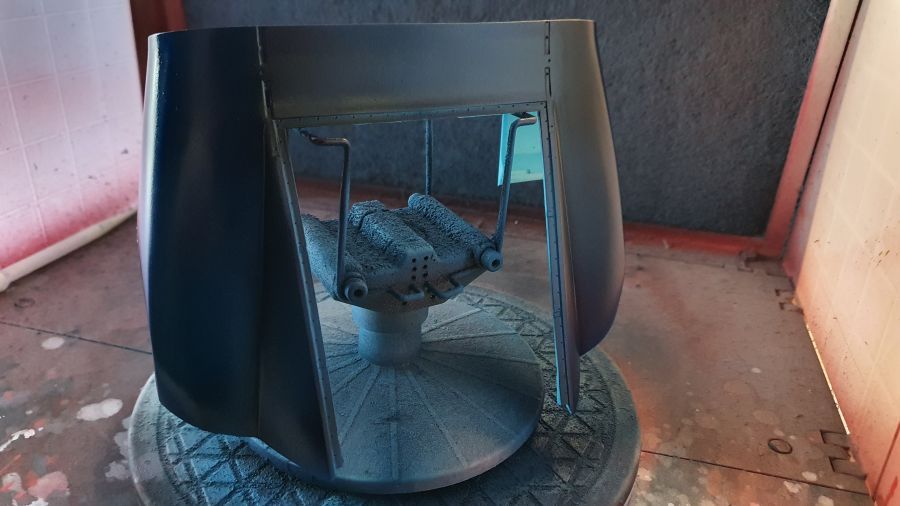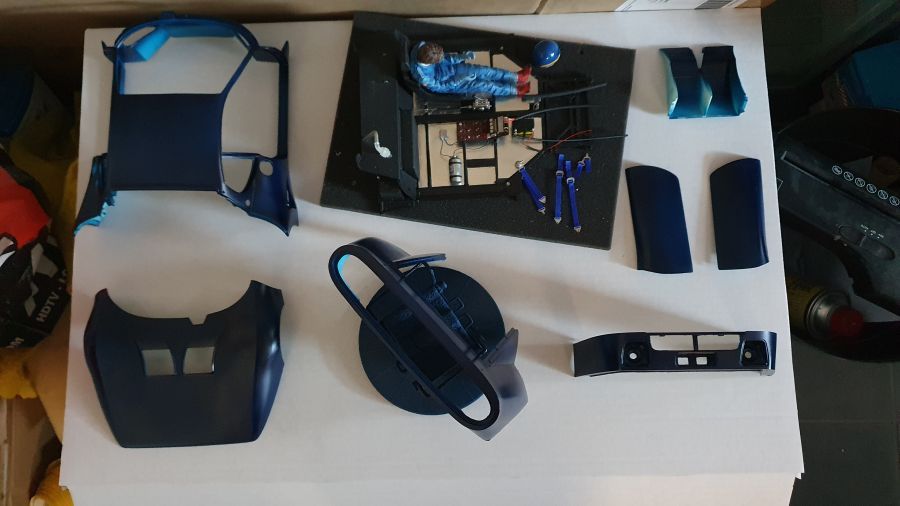 Dan Zero paints 2K clear... Nu een paar dagen laten rusten.
Next is Zero Paints 2K clear...  Now leave it alone for a couple of days.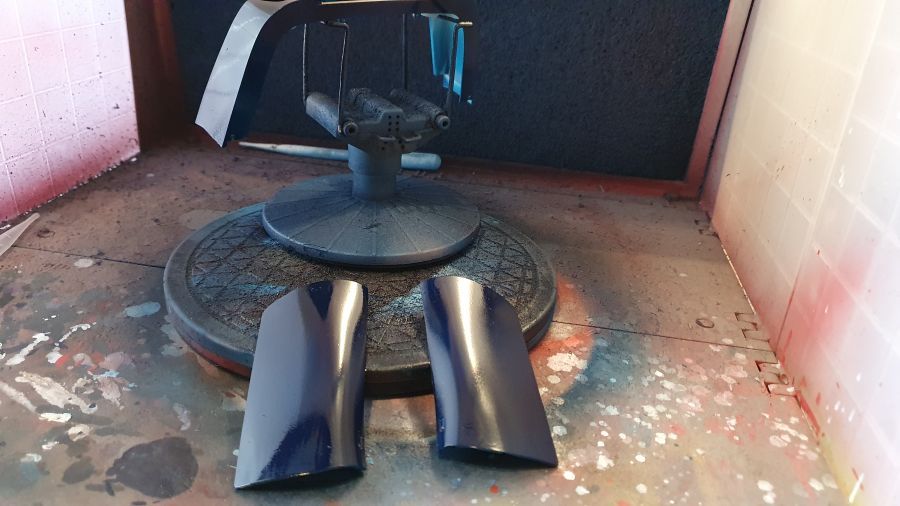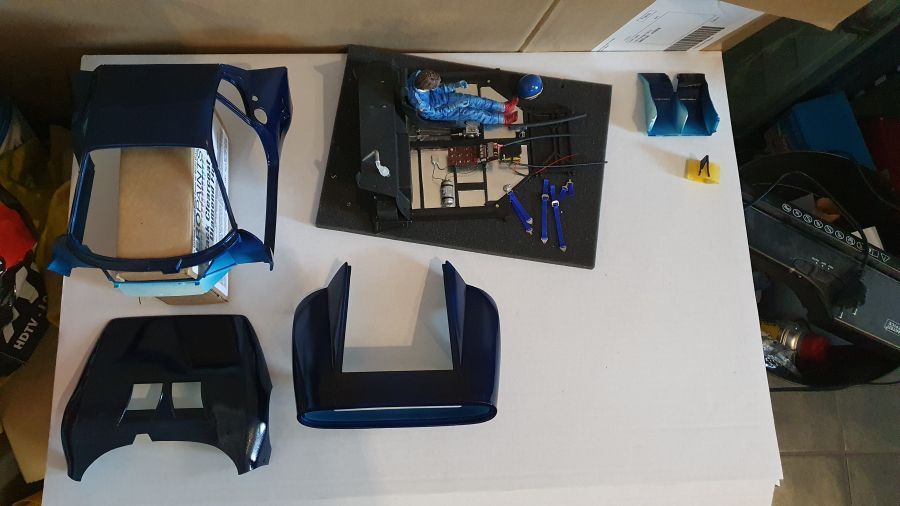 Licht schuren met korrel 8000.
Light sanding with grit 8000.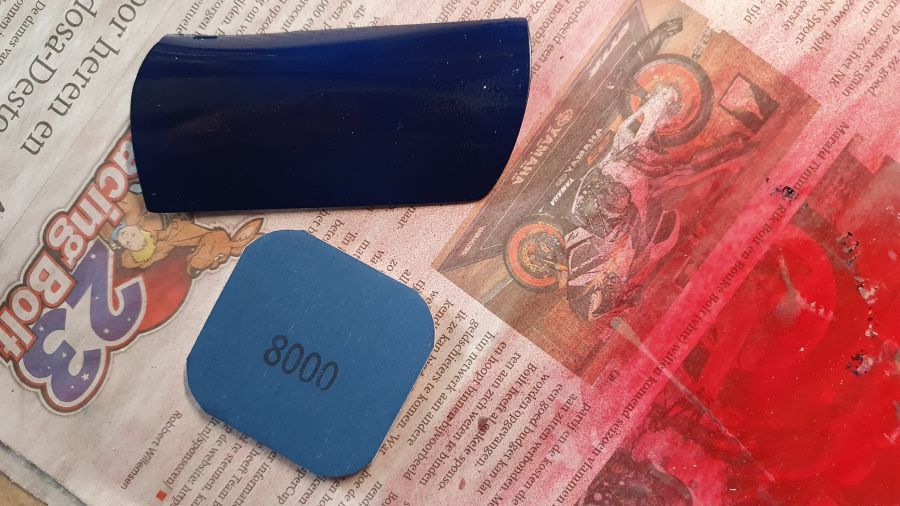 Dan weer terug naar de gordels.
Then back to the belts.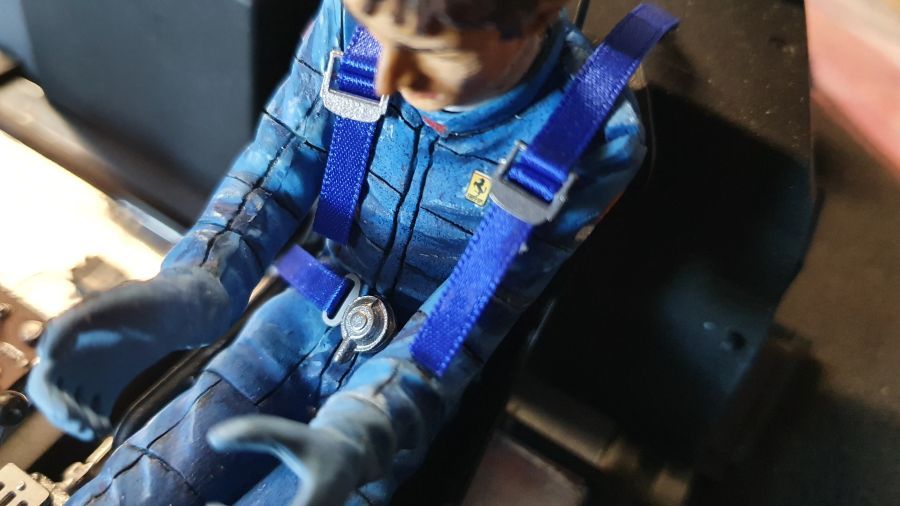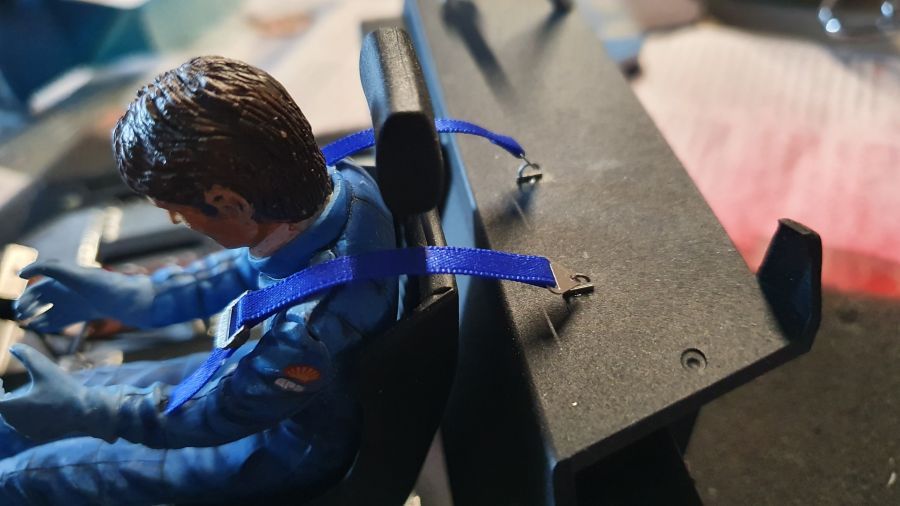 Alles op maat maken...
Making everything to size...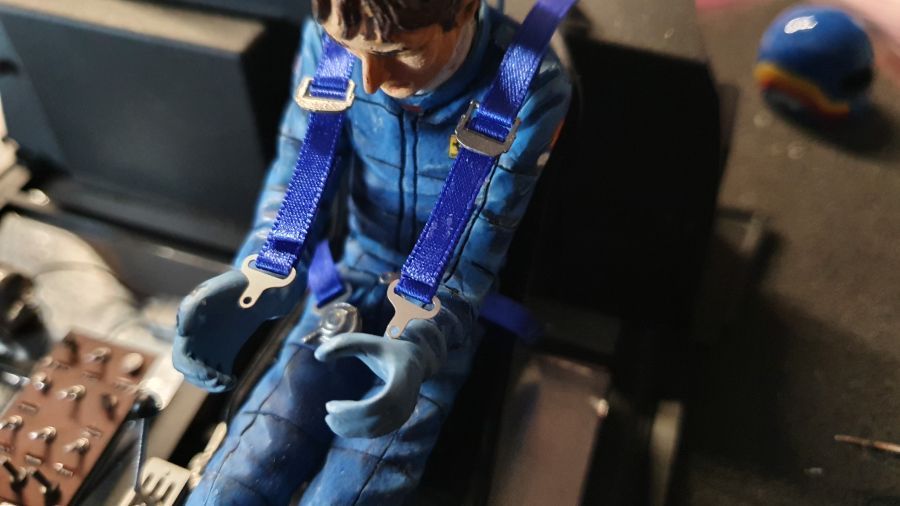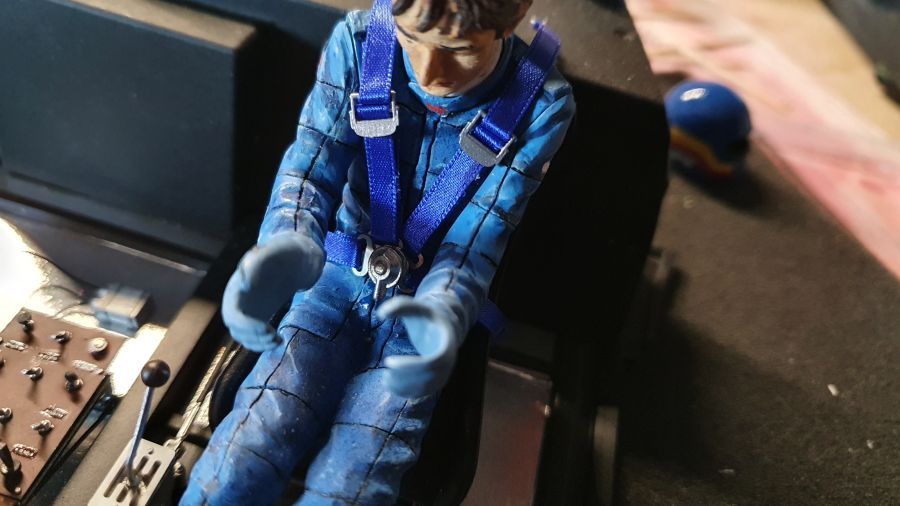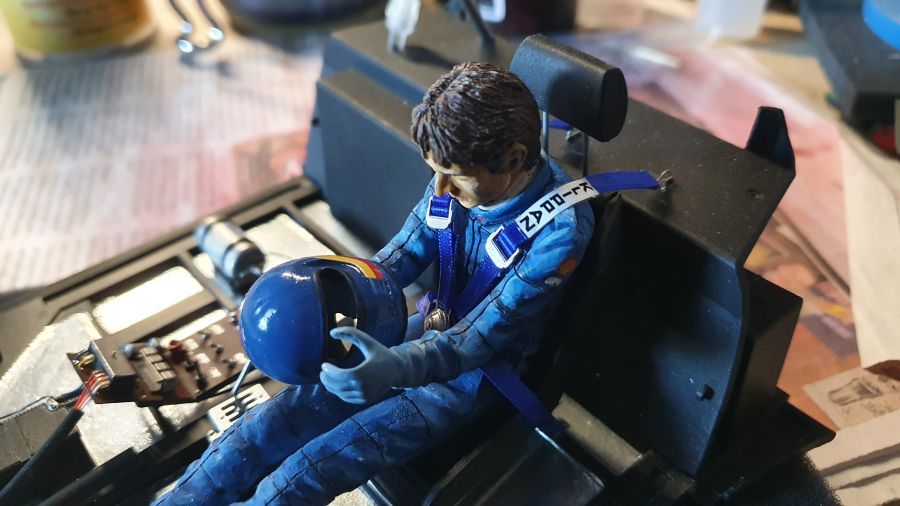 Testen of er ruimte genoeg over is voor het stuur.
Testing to see if there is still space for the steering wheel.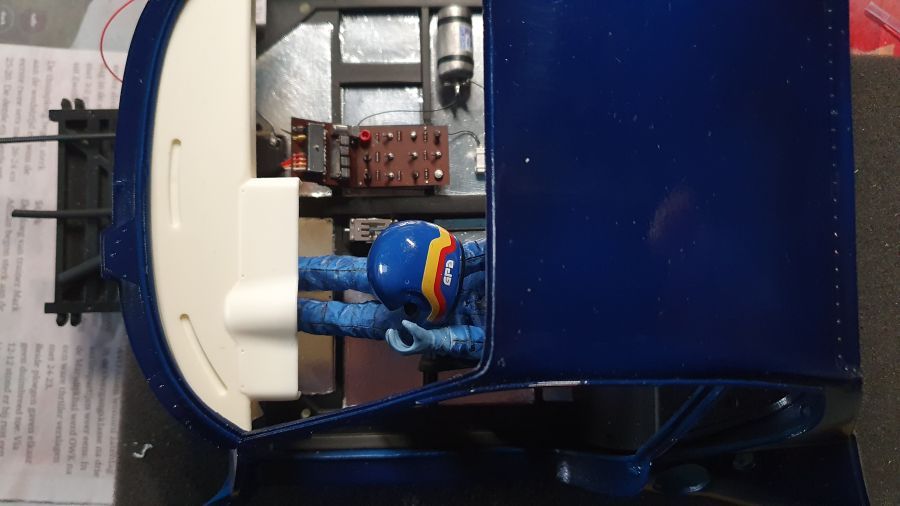 De binnenkant wordt zwart gespoten.
The inside is being painted black.