Ik wil in mijn Ferrari 512BB Le Mans Charles Pozzi een zittende coureur zetten. Ik kan nergens een foto vinden van de coureur en zijn outfit in die tijd. Het wordt dus een fantasie figuur. Eerst de onderdelen van deze MFH figuur (kit nr. P-1081).
I want a sitting driver in my Ferrari 512BB Le Mans Charles Pozzi. I cannot find any pictures of the real driver and his outfit. So it will be a fantasy driver. First all parts of this MFH figure (kit no. P-1081).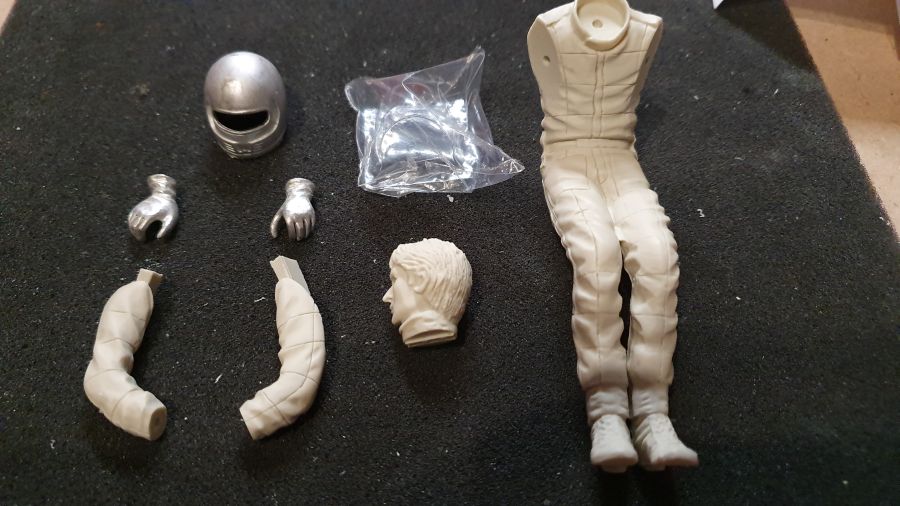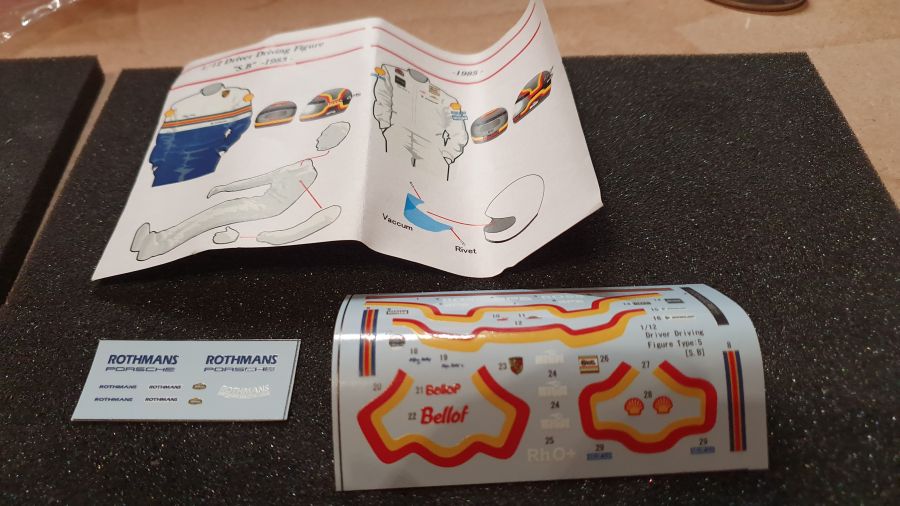 De body behoeft wat werk ter hoogte van de benen.
The body needs some work on the legs.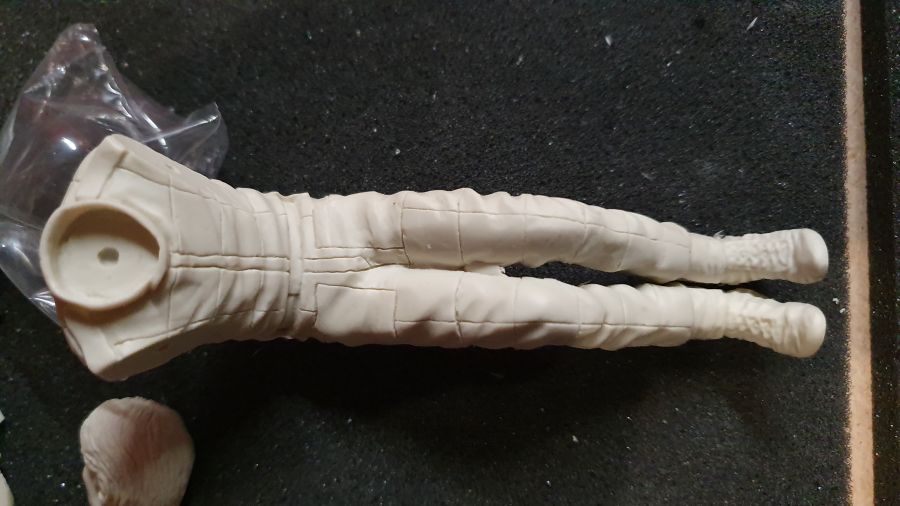 Ook even de stoel passen. Dat is ook niet optimaal.
Also a test fit to the seat. Not ideal.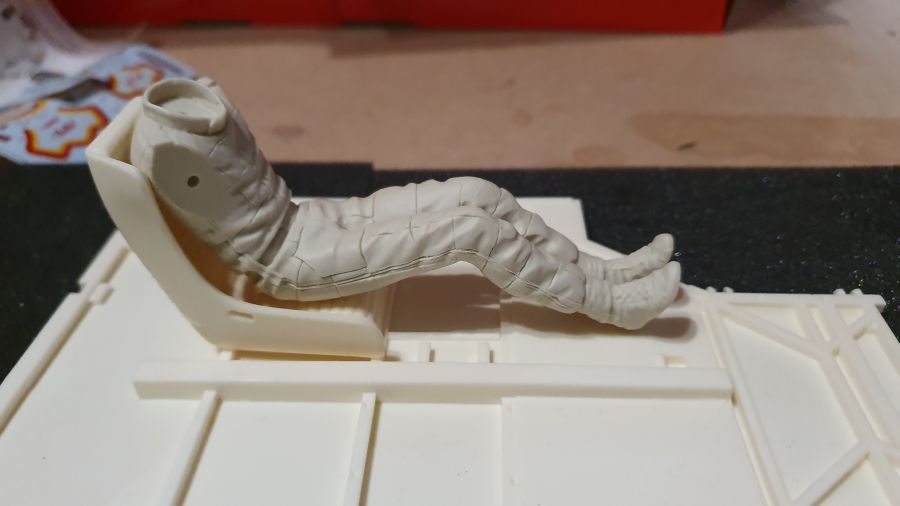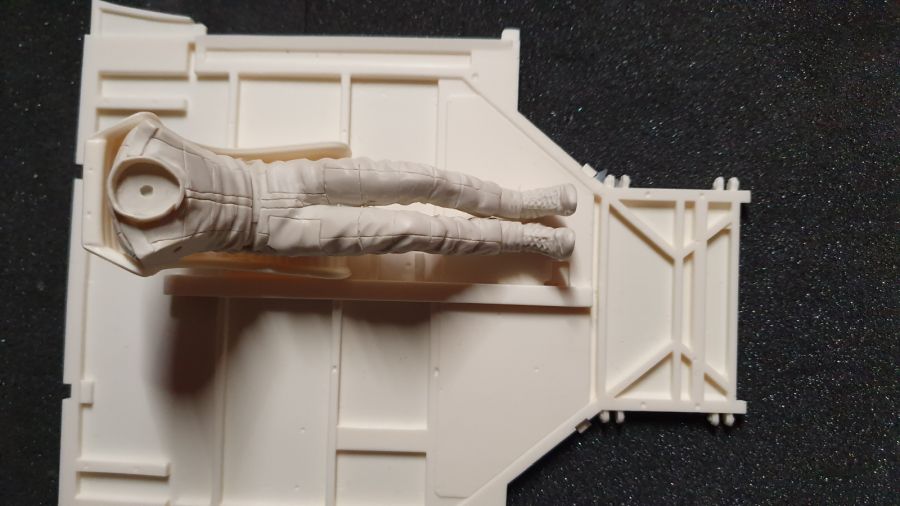 Het kan wel goed volgens mij, maar de benen moeten beter gepositioneerd worden. Dat was te verwachten, want het is een F1 figuur. Ik kon gewoon niets beters vinden.
I think it can be much better, but the legs need a good position. That was to expected as it's an F1 figure. I couldn't find anything better.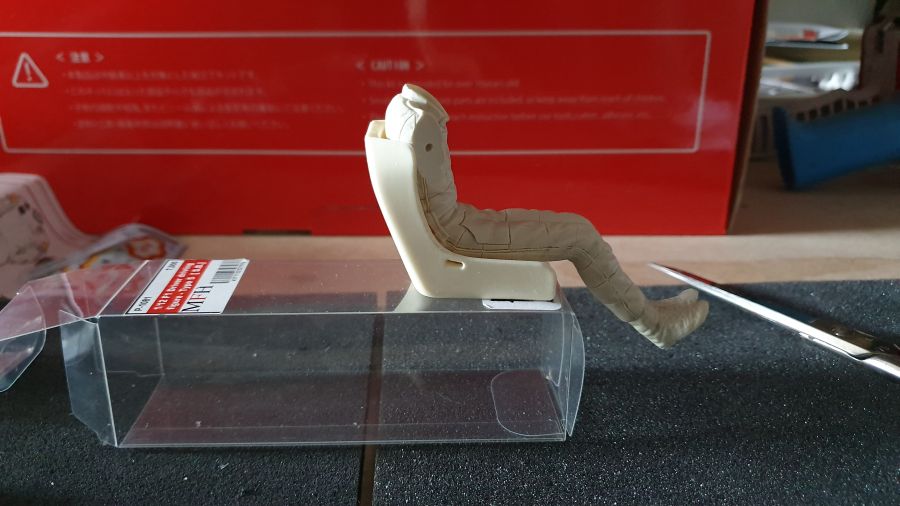 Het teveel aan kunsthars is verwijderd en gaten zijn geboord.
The excess resin has been removed and holes have been drilled.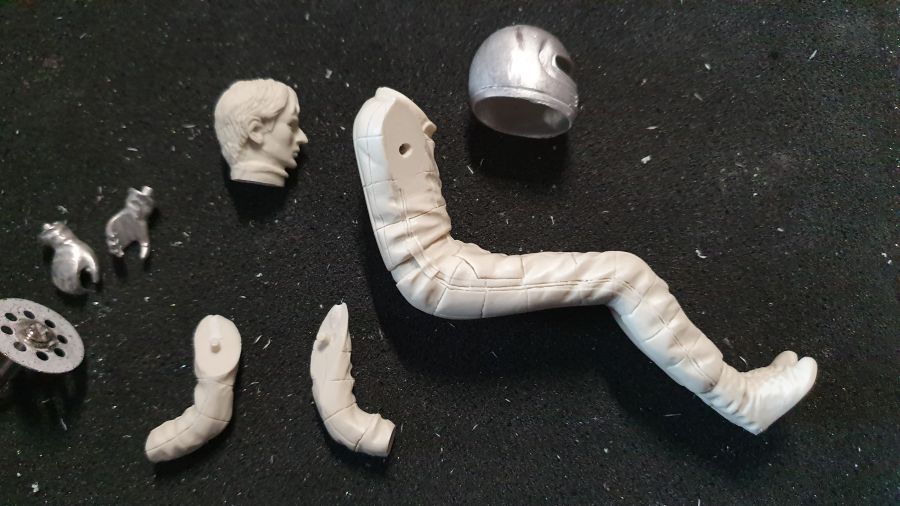 De insnijdingen worden gemaakt om de benen wat meer te strekken. 
The cuts are being made to be able to stretch the legs.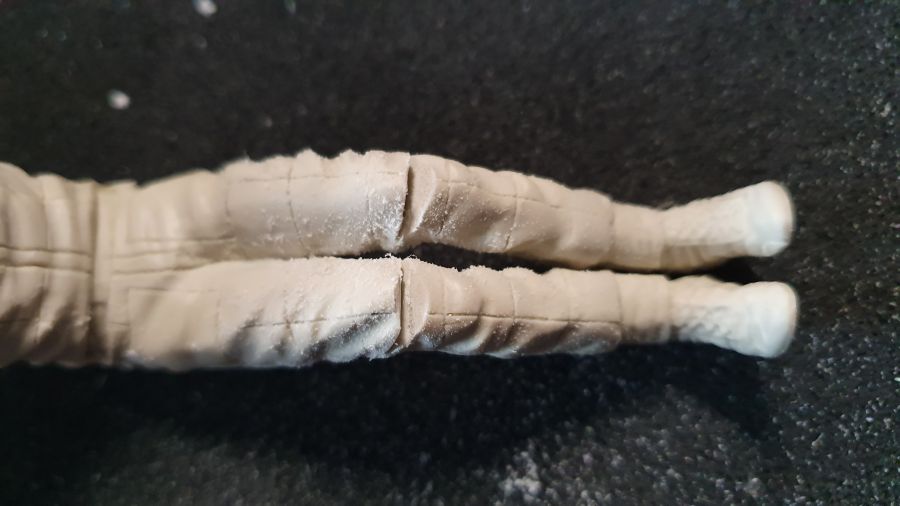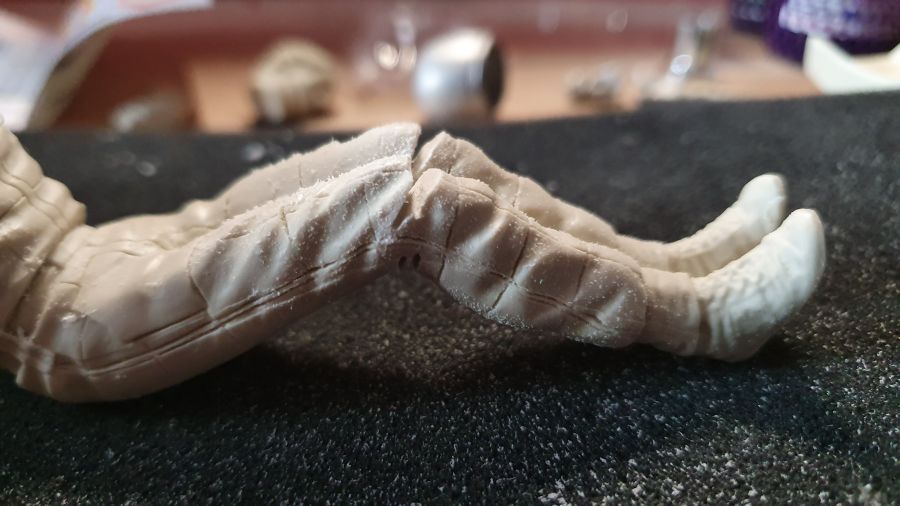 Helaas was het water niet daarna net heet genoeg. Of de sneden waren niet diep genoeg. De benen braken in ieder geval af. Geen ramp op zich... De houding is in ieder geval beter.
Unfortunately after this the water wasn't hot enough. Or the cuts were not deep enough. The legs broke off. No disaster... At least the position is better.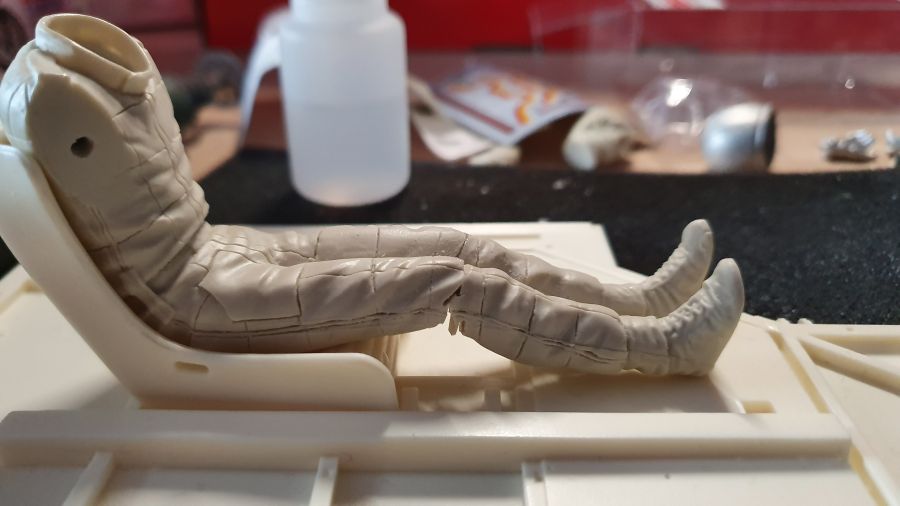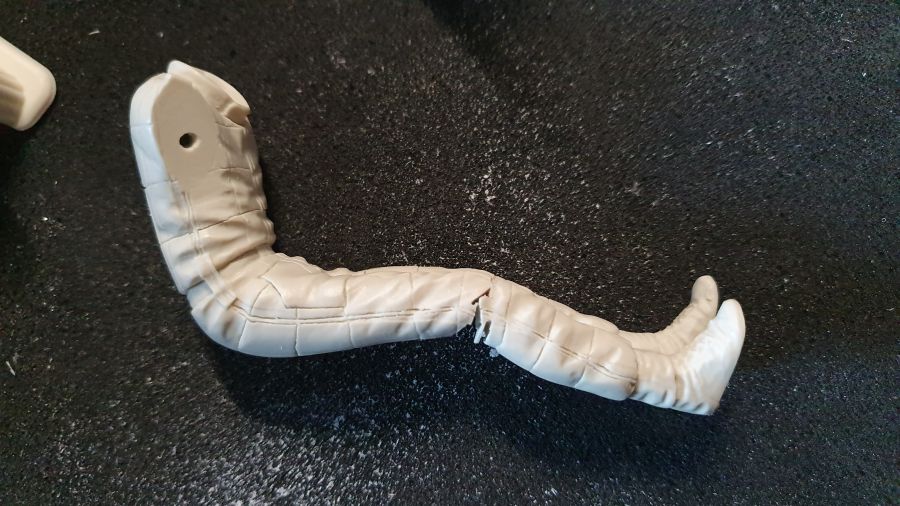 Het tandartsgereedschap komt erbij om te vullen.
The dentist tools are used for filling.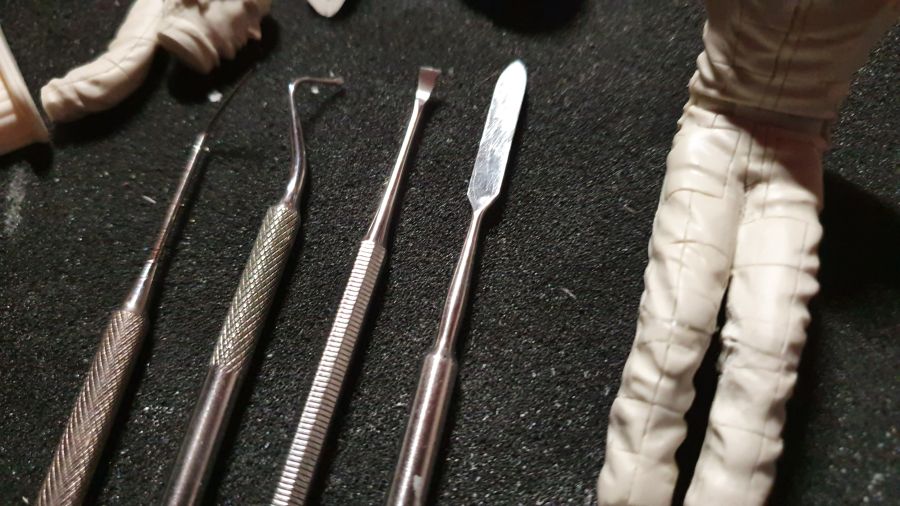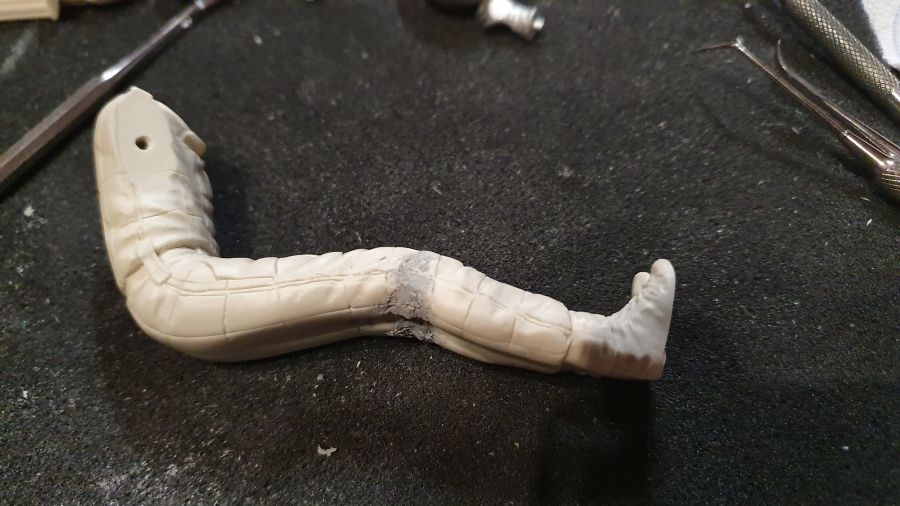 Dan modelleren met de nagelbewerkingslijpset.
Then modelling it with the nail polishing set.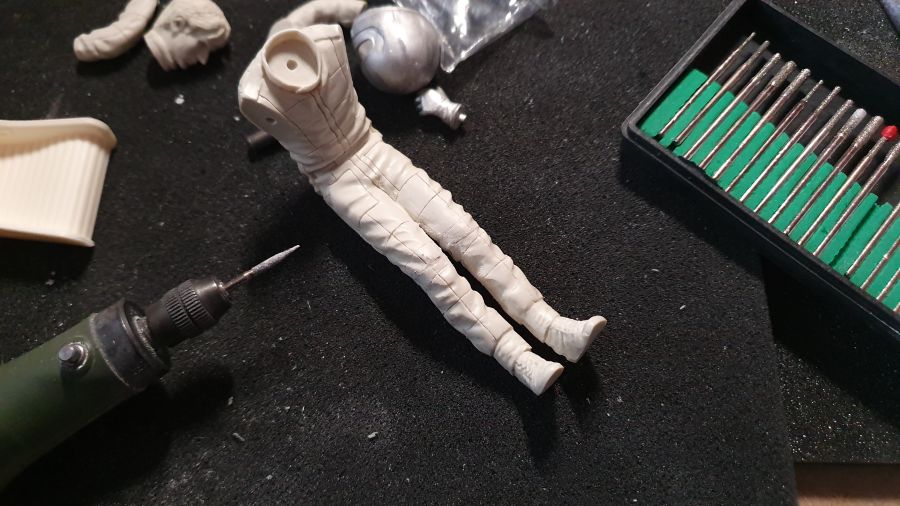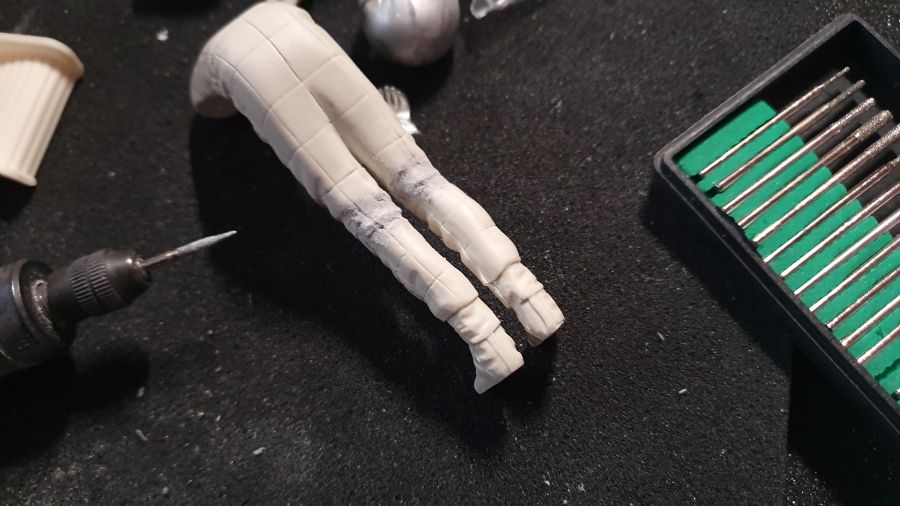 Beter! Nog wat ruimte over omdat de stoel nog op steunen komt te staan.
Better! Still some space because the seat will be higher on some supports.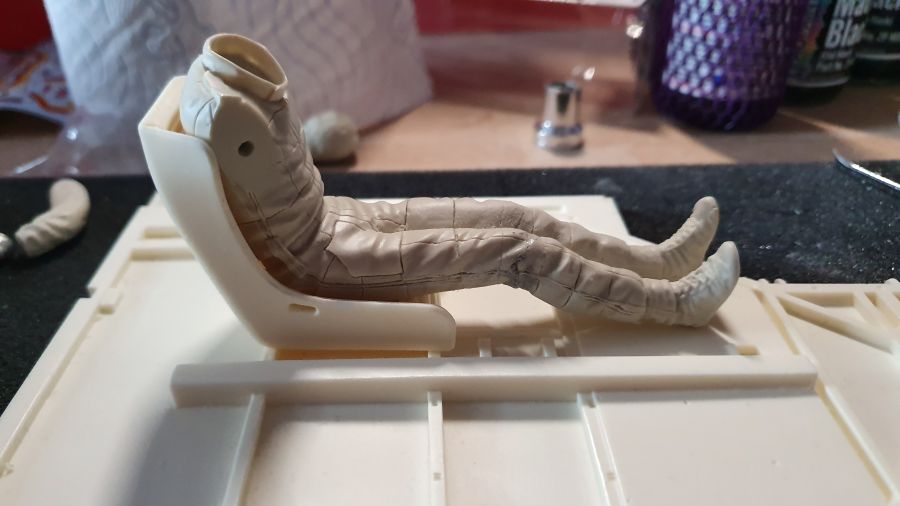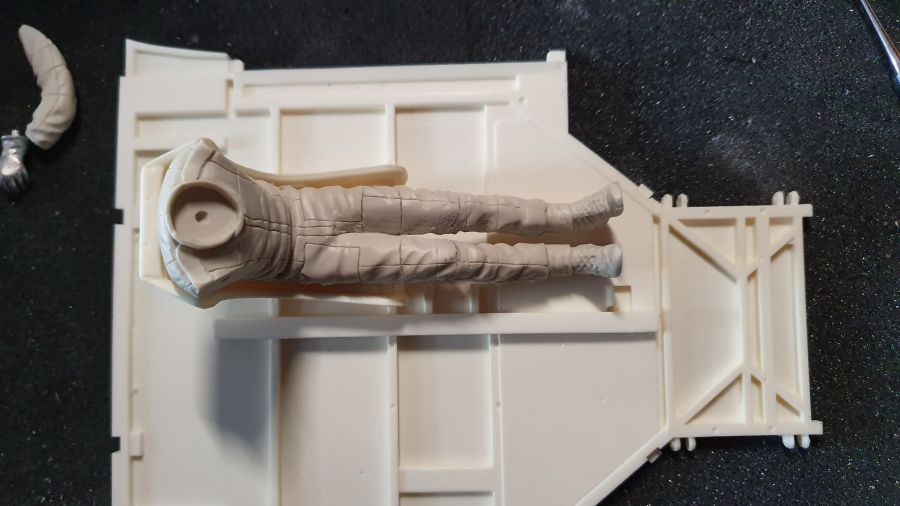 Nu bedenken of ik ga handverven of airbrushen...  Dit werk heb ik not nooit met airbrush gedaan.
Now thinking, or hand painting or airbrushing... I have never done this before with an airbrush.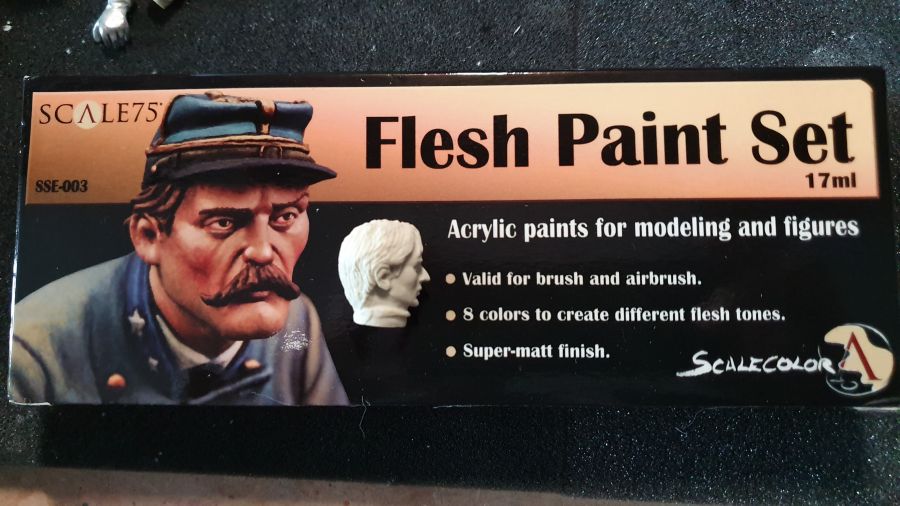 Een kurk en een cocktailprikker bewijzen weer hun dienst...
A cork and a toothpick show their service....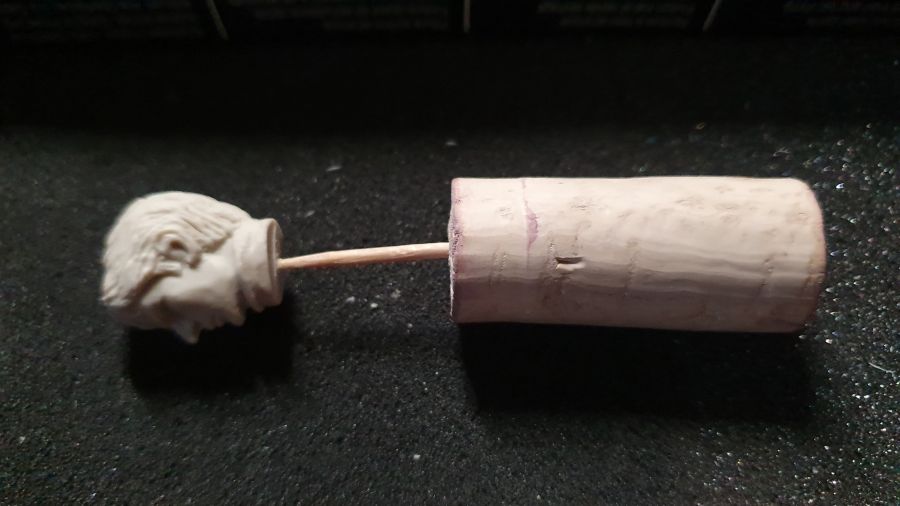 Oeps, net op tijd zie ik dat het glas erg beschadigd is. Allemaal scheuren. Maar goed dat ik niet loop te schudden met het metalen kogeltje erin. Het zou een bende kunnen worden.
Oops, just in time i noticed al kinds of cracks in the glass. Happy i am not shaking this with the metal ball inside. Could be a mess.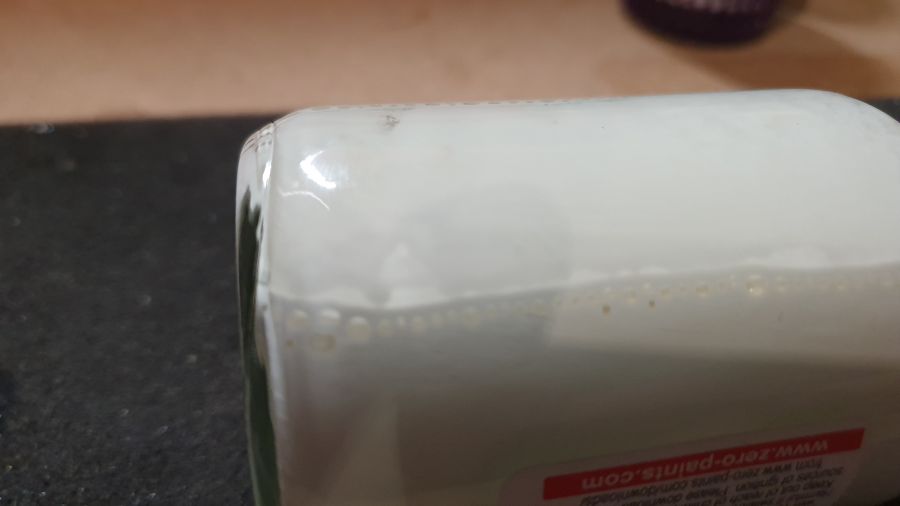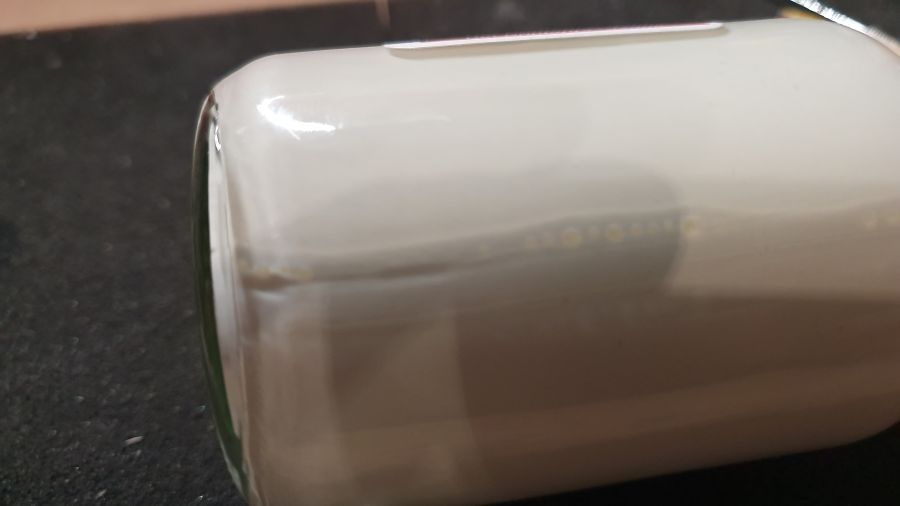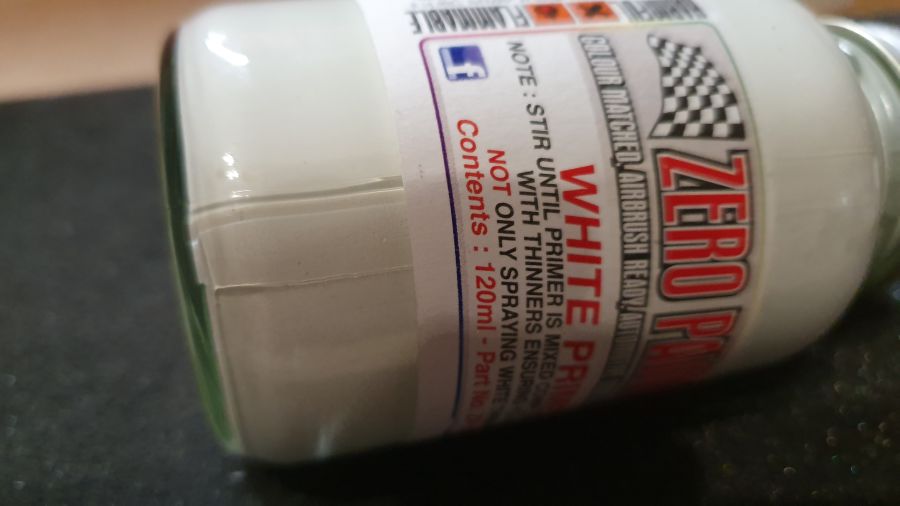 Alles zit nu in de primer.
Everything received a coat of primer.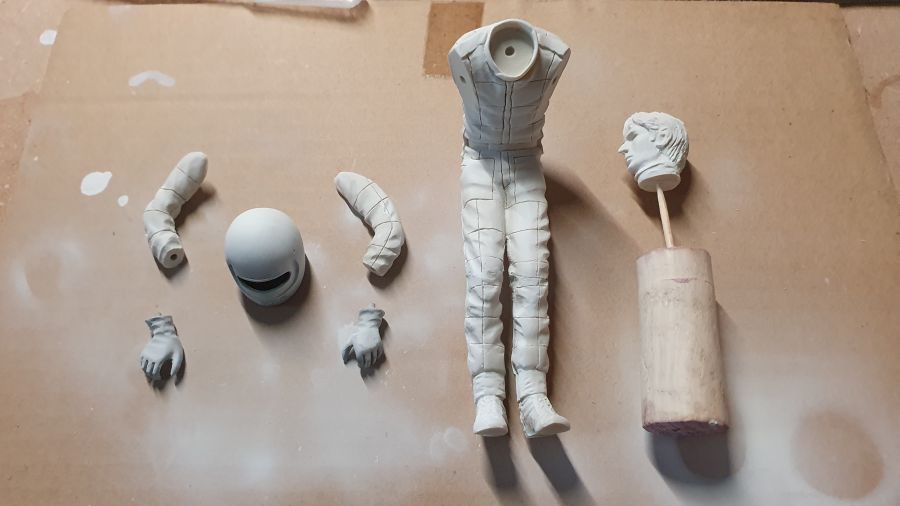 De naden van het pak worden zwart ingekleur.
The seems of the suit get a black paint.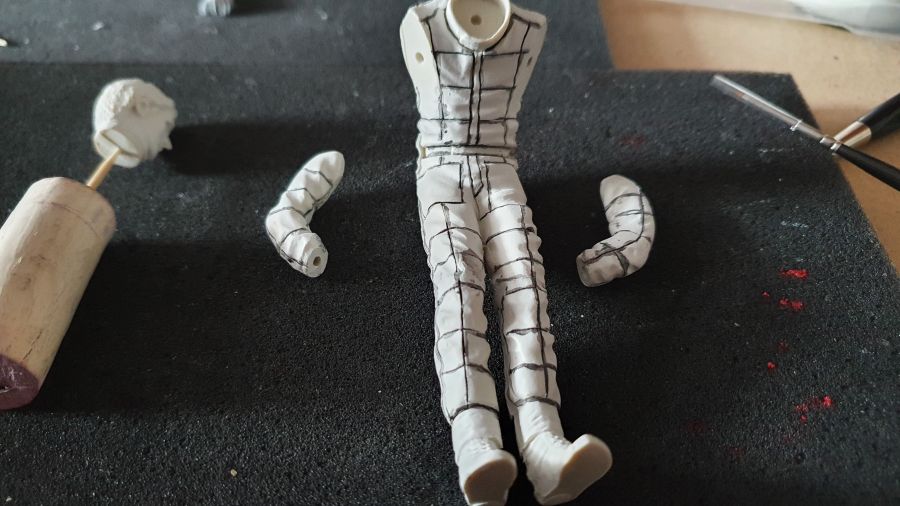 En het hoofd.
And the head.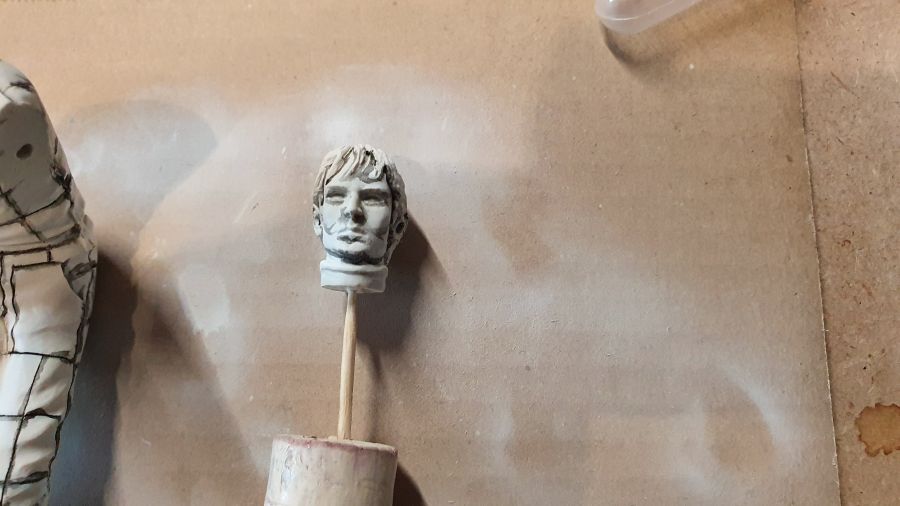 Gespoten met Valejo 889 Dark Prussian Blue.
Painted with Valejo 889 Dark Prussian Blue.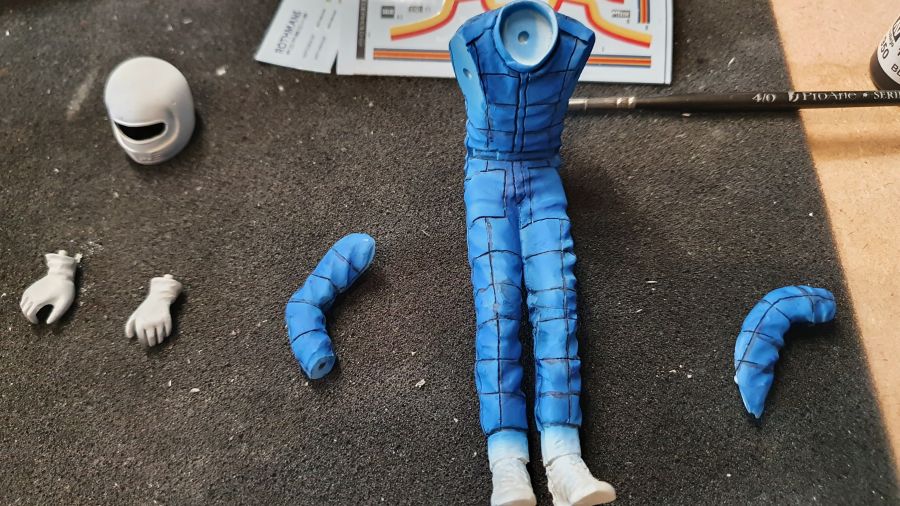 Nog een 2e laag en het hoofd voorbereiden.
A 2nd layer and preparing the head.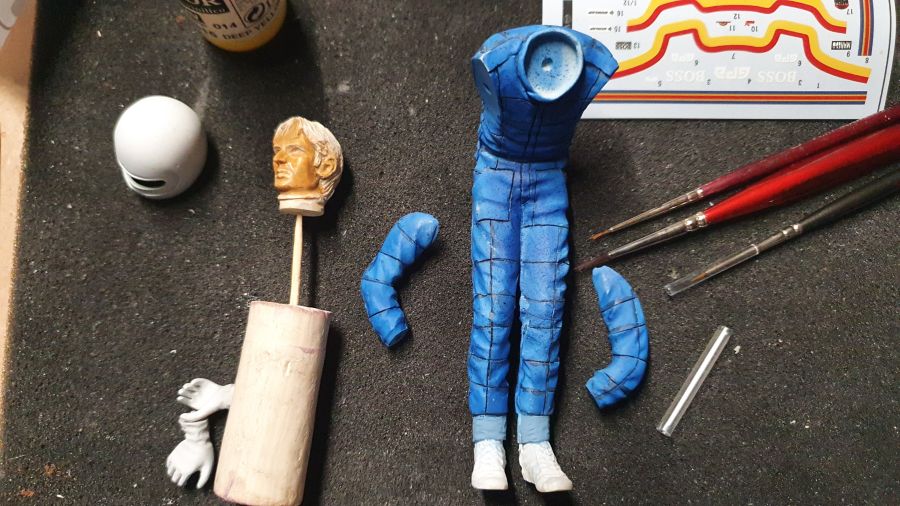 Het pak en de armen krijgen een wat donkerdere tint in de lager gelegen delen.
The suit and the arms get a darker blue colour in the lower areas.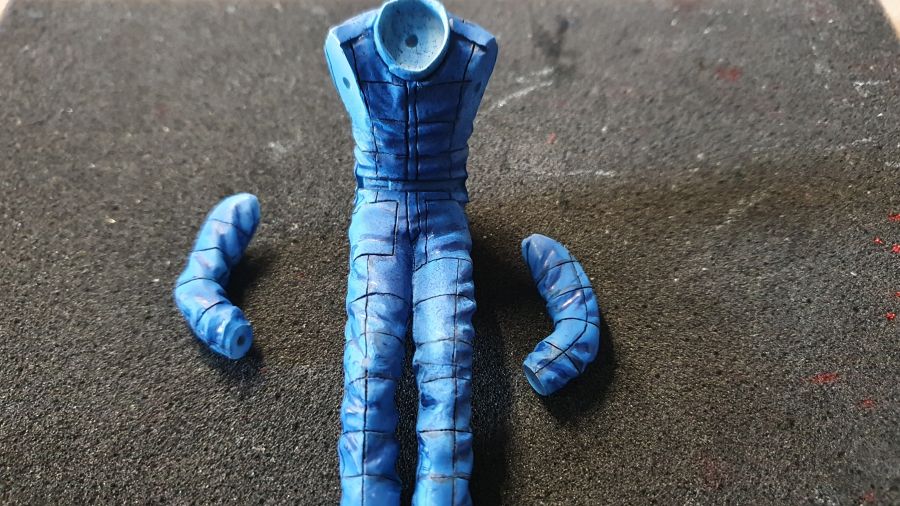 Het gezicht krijgt een lichtere vleeskleur op de bovenkant van de neus, jukbeenderen enz.
The face gets a lighter colour of flesh on the top side of the nose, cheek bones etc.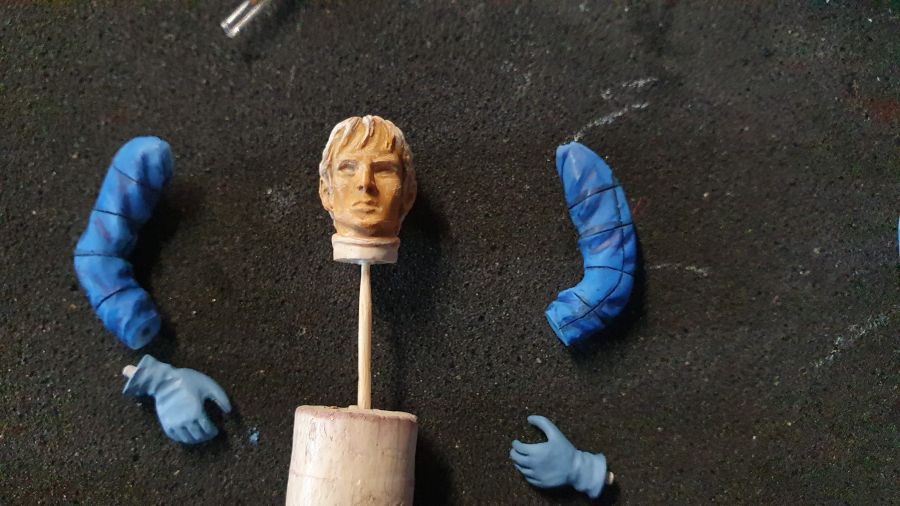 Dan de lichte plekken op het pak...
Next are the bright spots on the suit...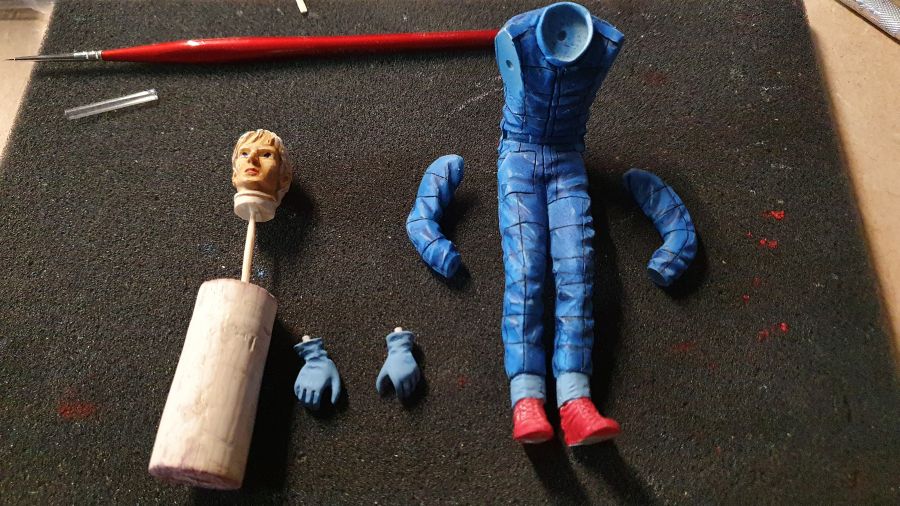 En de eerste stappen aan het haar...
And the first steps to the hair...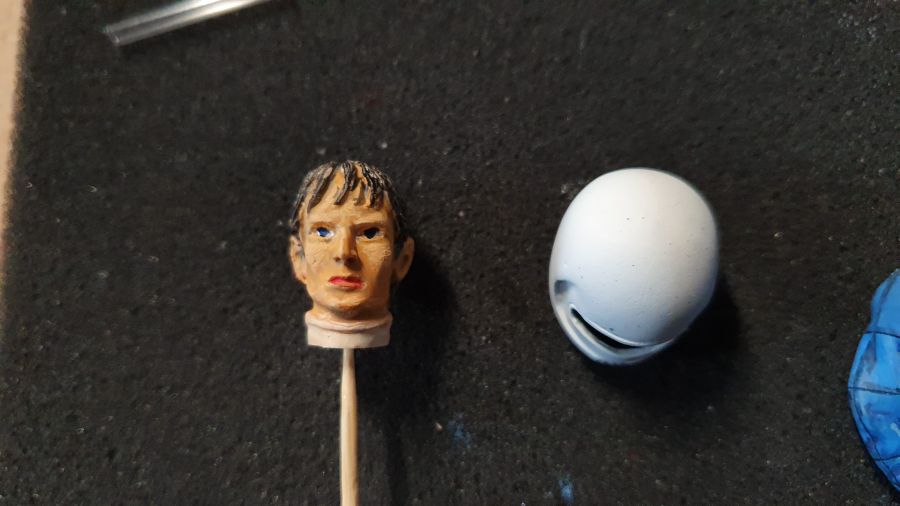 Na het zwart, 3 verschillende kleuren bruin en nog eens weer wat zwart.
After the black, 3 different shades of brown and then some more black.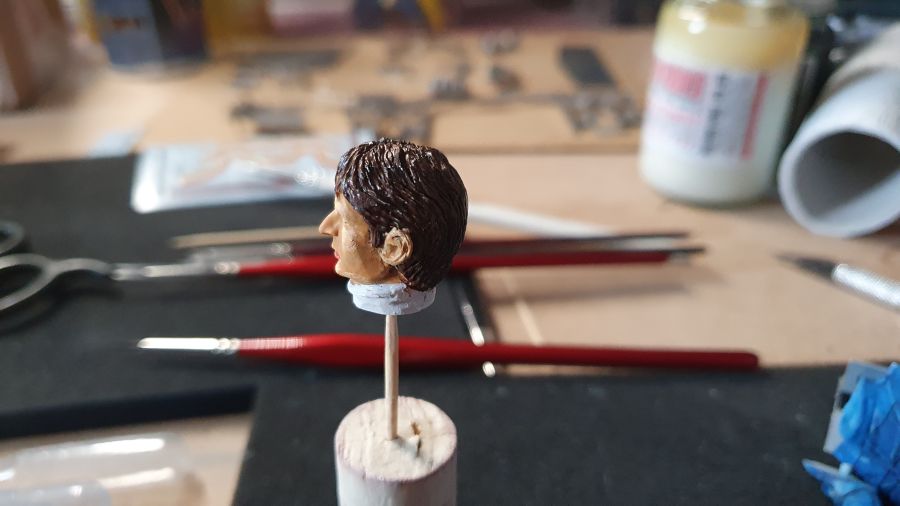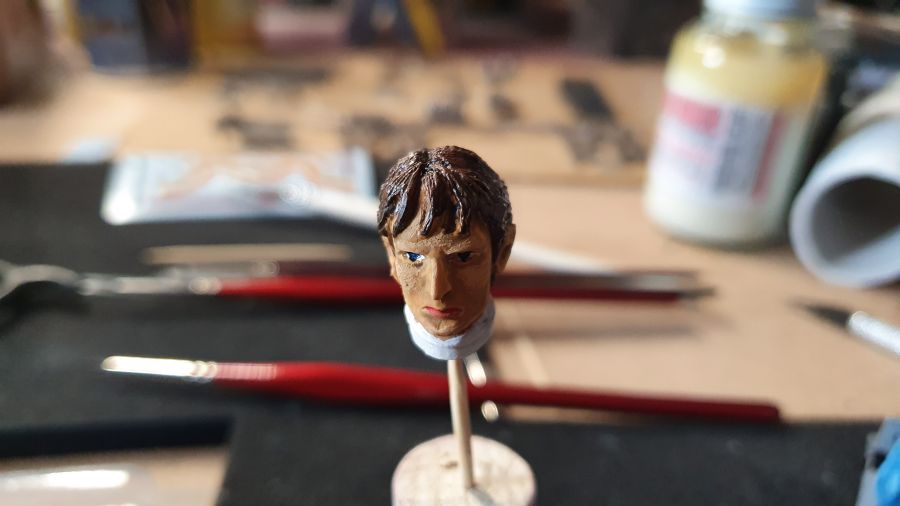 De positie van de handen komt later. Eerst moet de helm goed drogen.
The position of the hands will come later. First the helmet needs drying time.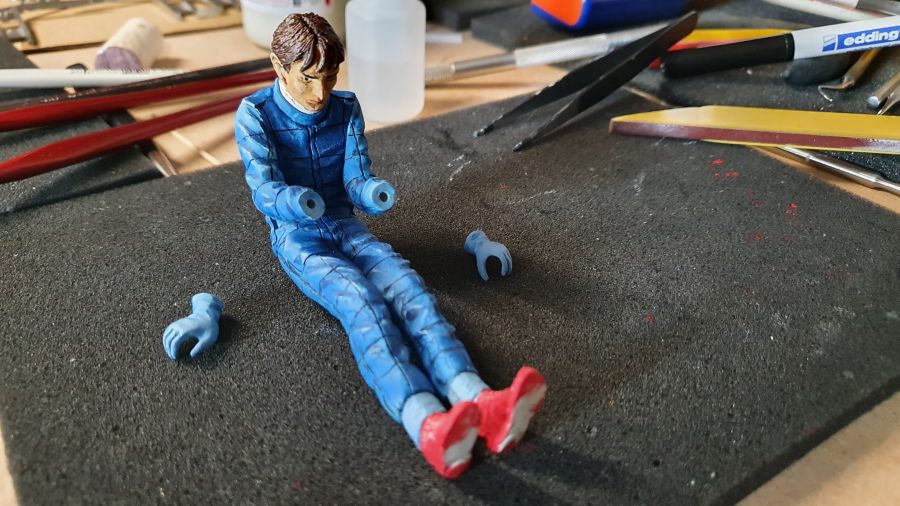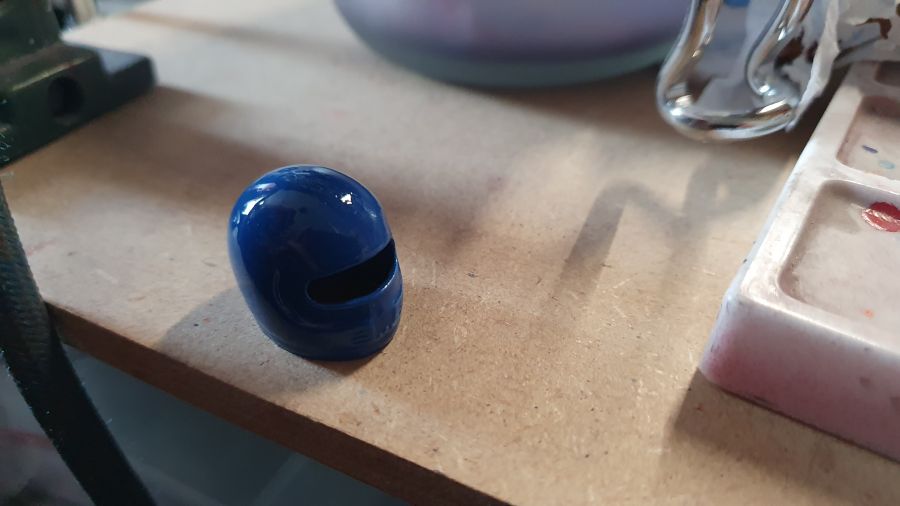 Ik maak een mal voor het knippen van het vizier.
I am making a template for cutting the visor.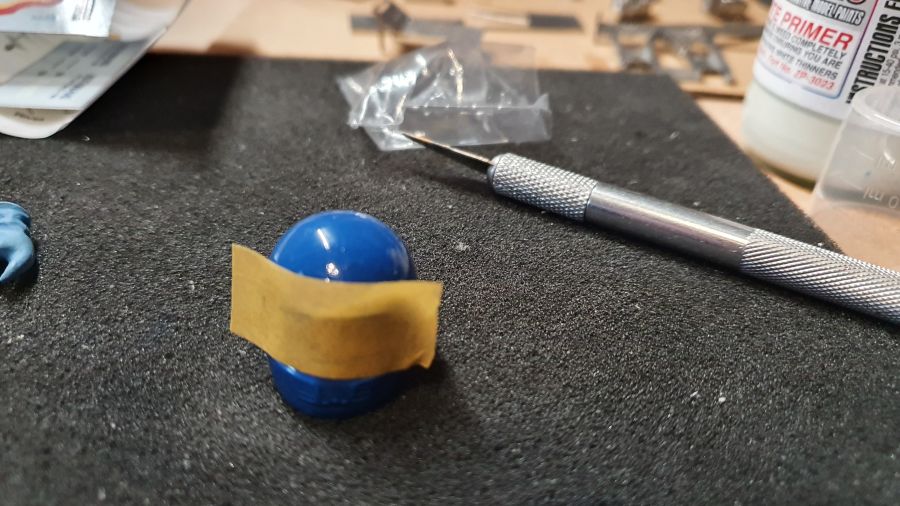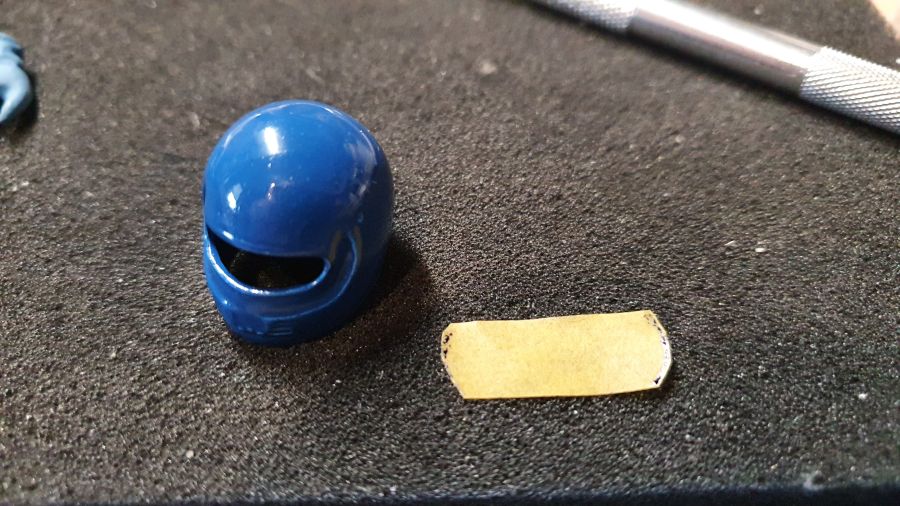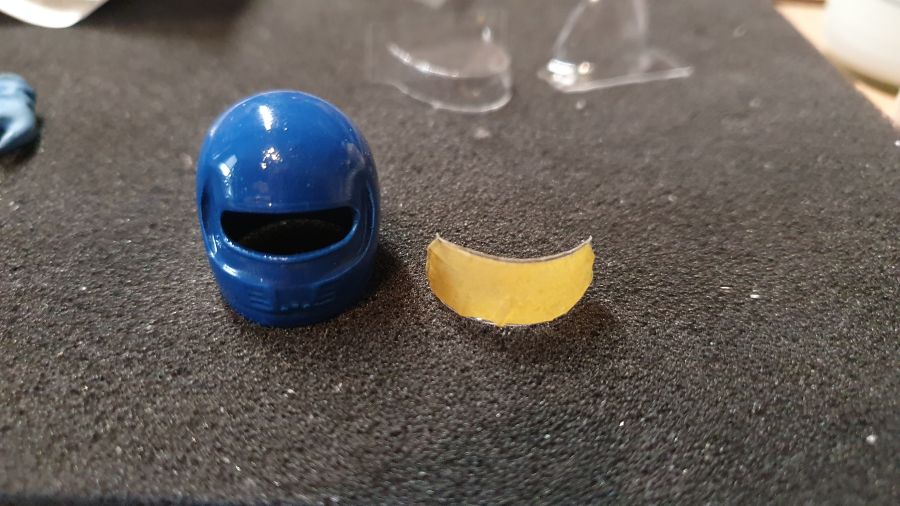 Dan plak ik wat decals naar eigen inzicht, omdat ik geen voorbeeld heb van de coureur uit die tijd. Ik weet niet zeker of ik het vizier moet plaatsen. Ik zie op foto's ook coureurs die geen vizier op de helm hebben.
Then i am adding some decals to my own view, as i don't have an example of the driver at that time. I am not sure if i will mount the visor. I see pictures of drivers that have no visor on their helmet.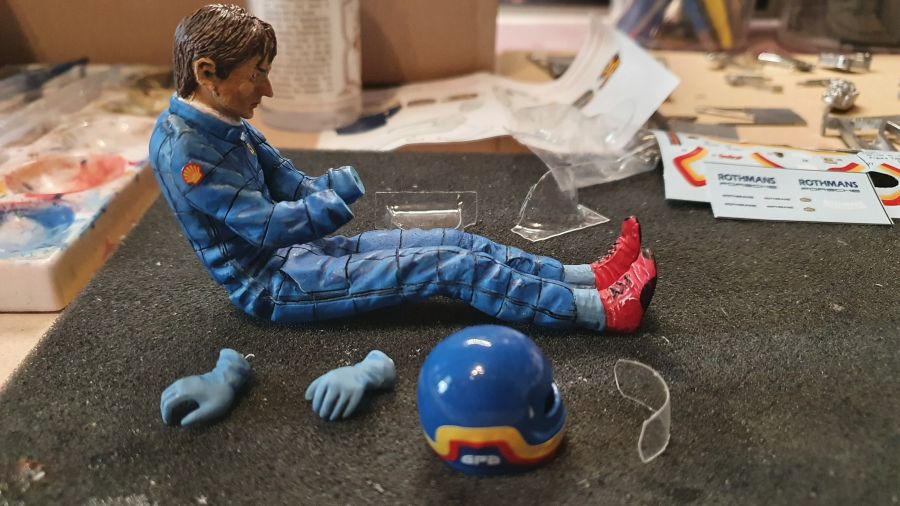 Ik heb contact gehad met een vriend. Deze geeft aan dat inderdaad zonder vizier werd gereden in de sportscars. Deze kan ik dus weglaten. Dit is een beetje het idee dat ik had.
I had contact with a friend. He acknowledges that in the sports cars the drivers had no visor. So i can leave it. This is the idea i had.