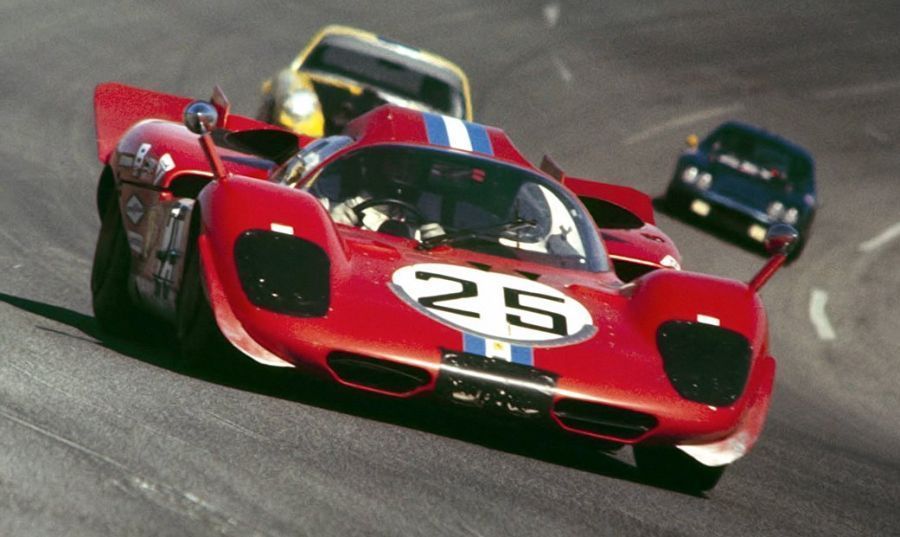 Voor mij zijn de wagens in de 512-serie misschien wel de meest mooie Ferrari's. Op een speurtocht op het web kwam ik deze versie tegen met een hoog dak. Geen fabrikant heeft deze gemaakt. Ik ga proberen deze na te bouwen met een conversie van een kit van DDP Models. Decals van Studio27 maken het compleet. Dus hier gaan we van start met het werk aan de 1970 Ferrari 512S Daytona versie zoals deze werd bestuurd door Dan Gurney en Chuck Parsons.
To me the cars of the 512-series are maybe the most beautiful Ferrari's. On a search on the web i came across this version with high roof. No company made this one. I will try to build this one by converting a kit of DDP Models. Decals from Studio27 make it complete. So here we go working on the 1970 Ferrari 512S Daytona version as driven by Dan Gurney and Chuck Parsons.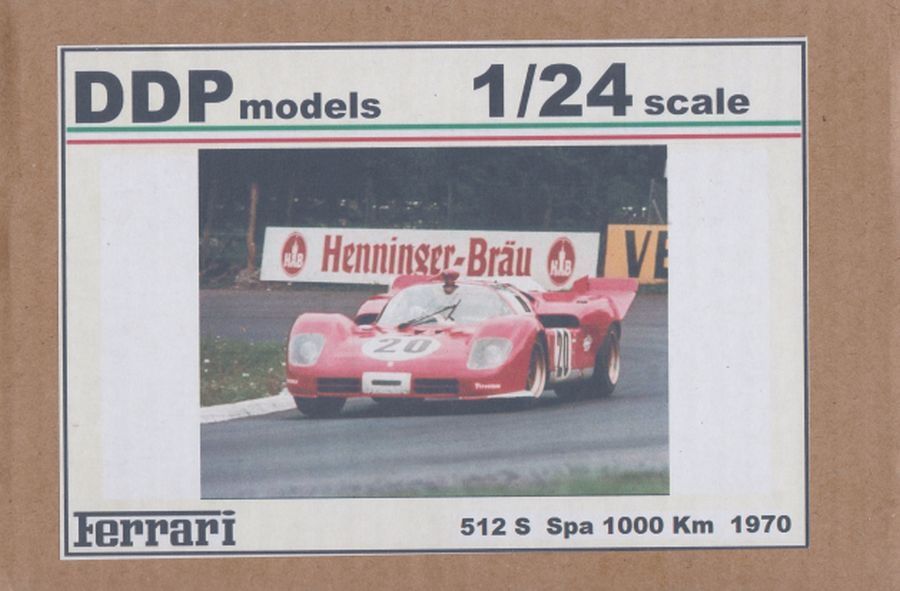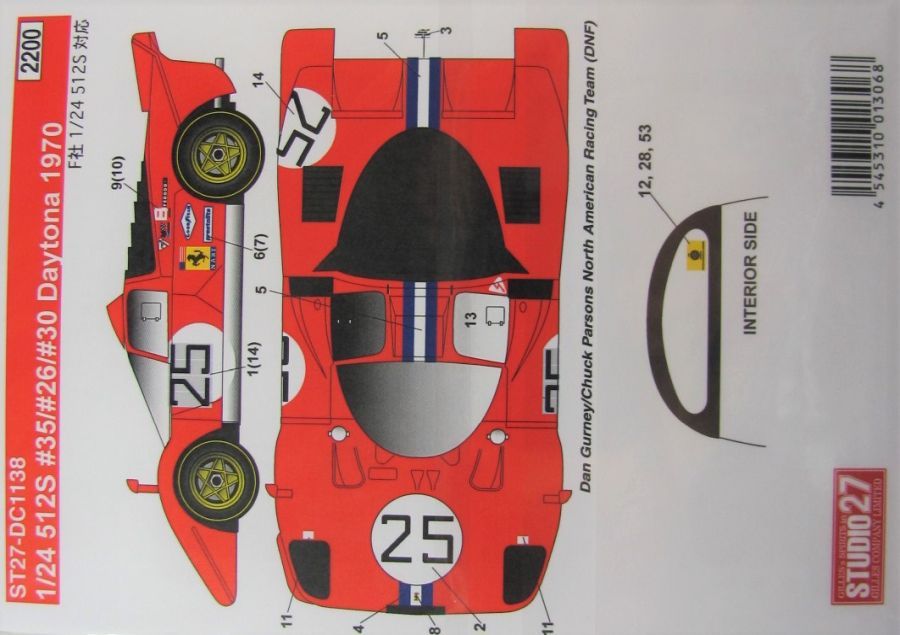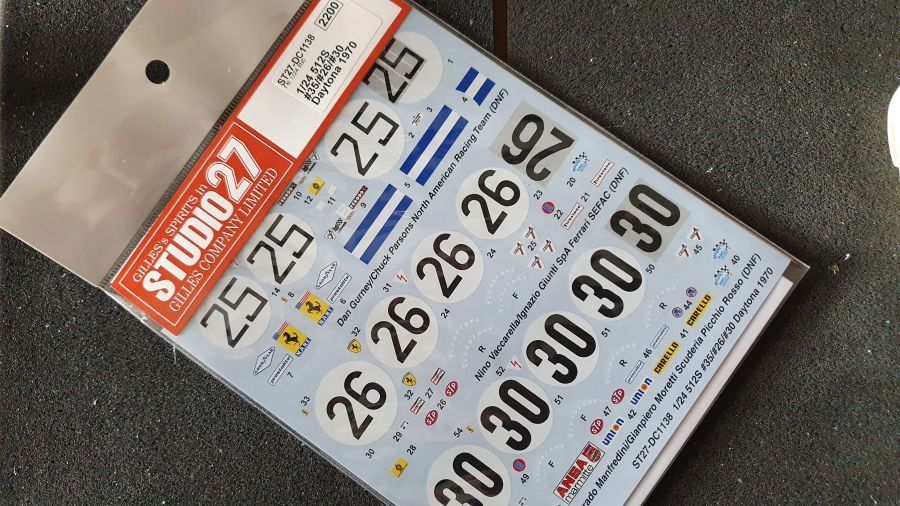 De inhoud van de 512S kit van DDP Models met daarbij een conversie set #28. Dit om de juiste neus te monteren. Het verhoogde dak moet ik op een of andere manier zelf zien te maken.
The content of the 512S kit from DDP Models together with a conversion set #28. This to add the correct nose. The high roof needs to be made by myself somehow.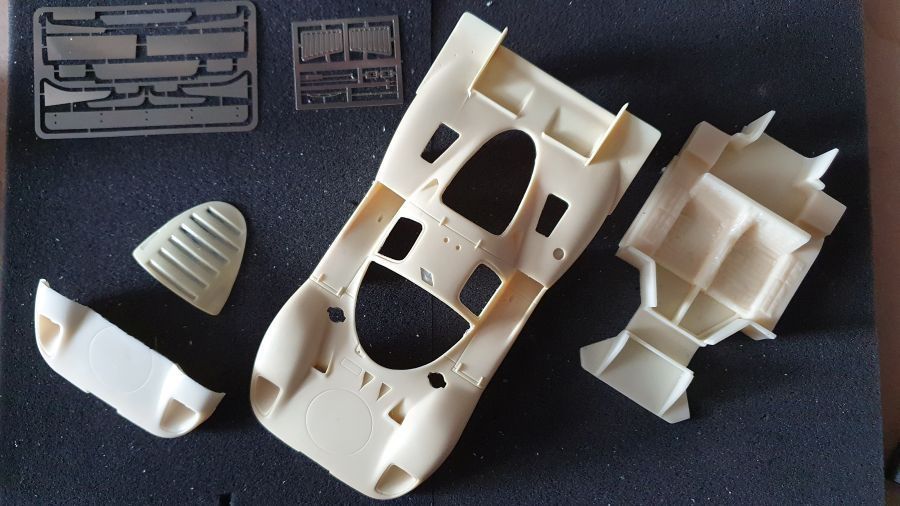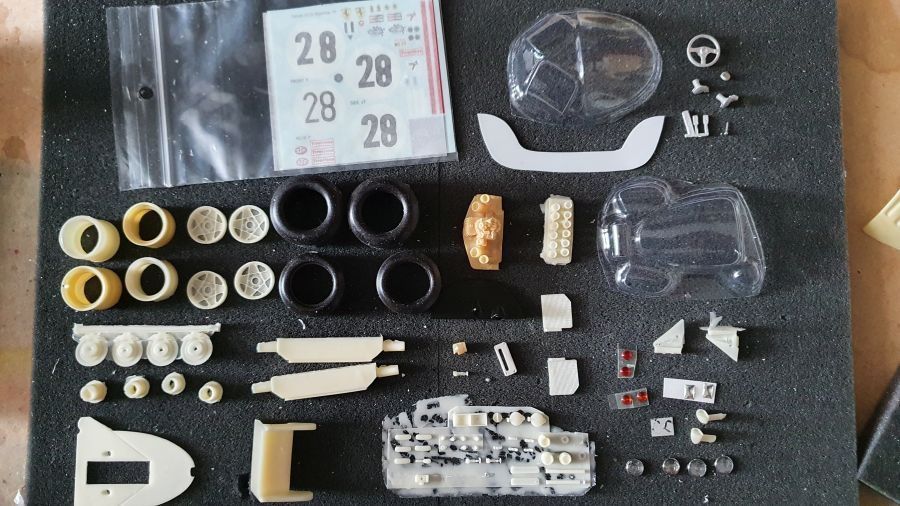 Het verschil...
The difference...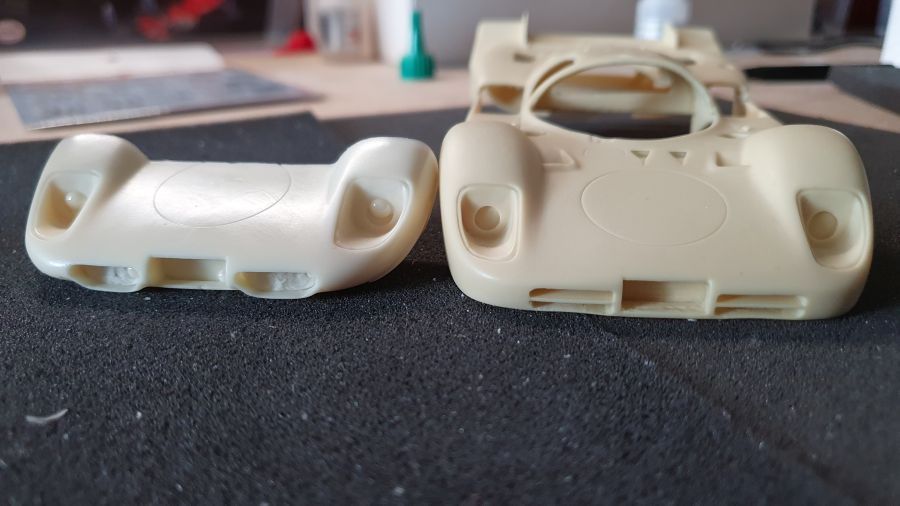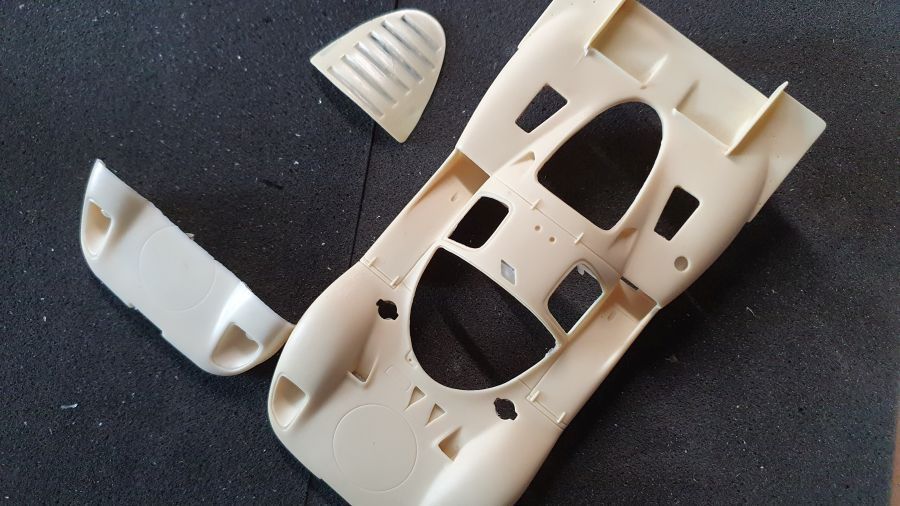 Beslissingen m.b.t. het zagen...  Altijd een risico om de zaag in een kit van 150,- euro te zetten.
Decisions on cutting... It's always a risk to cut up a 150,- euro kit.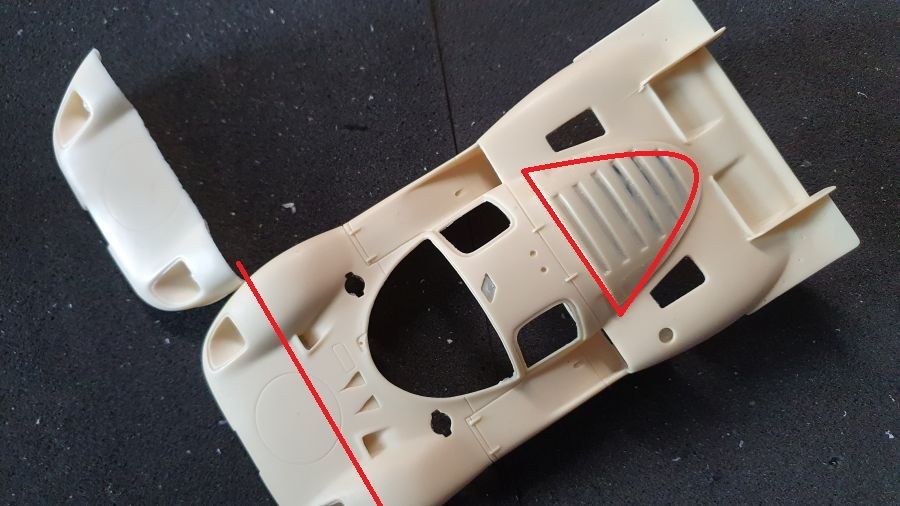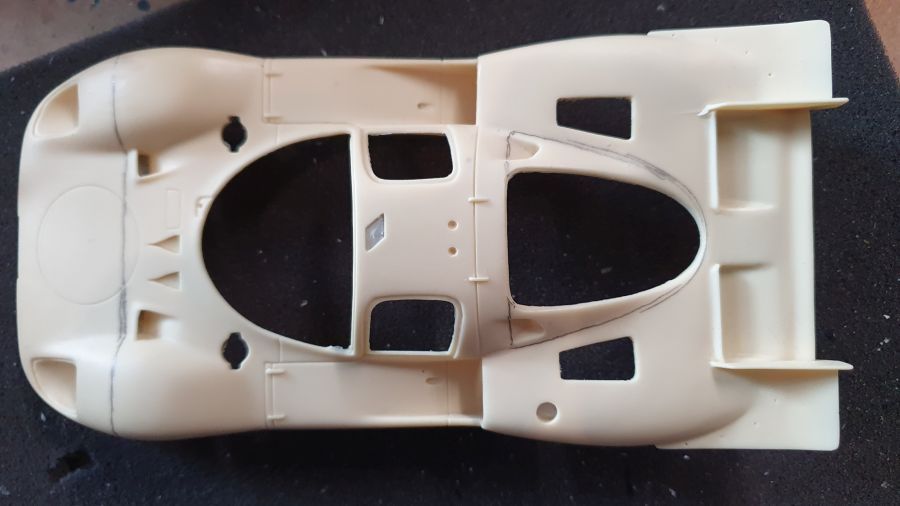 Daar gaan we...
There we go...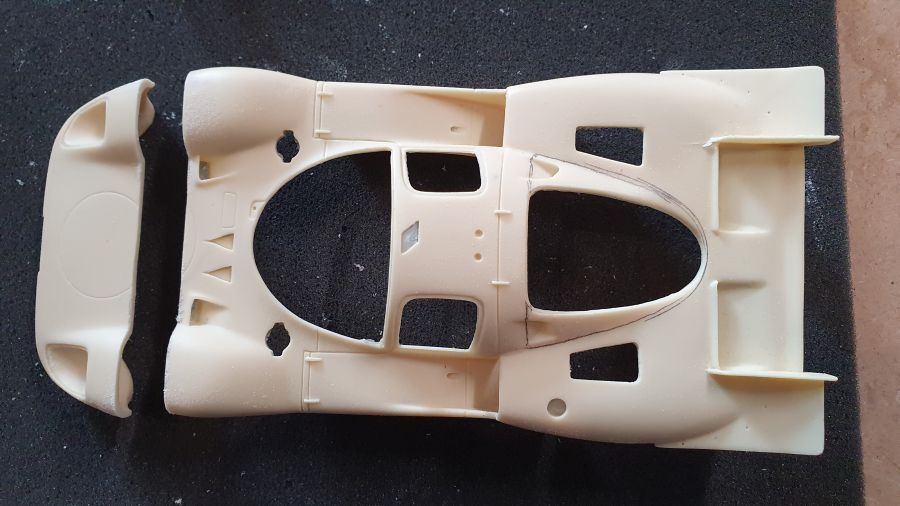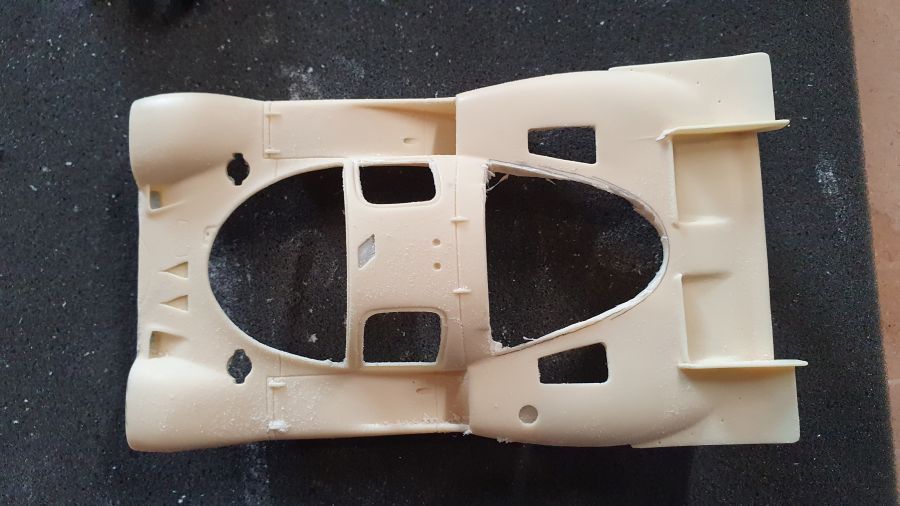 Dit zou het een beetje moeten zijn...
This is how it should be i guess...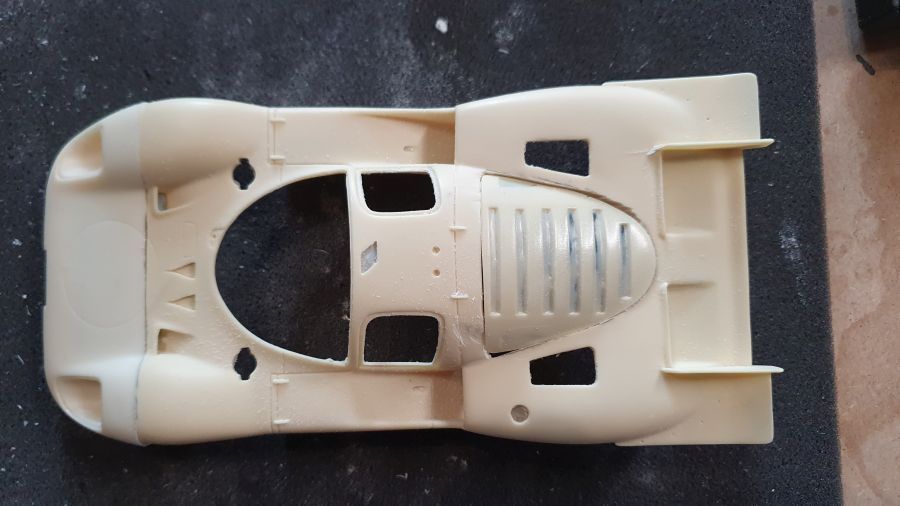 De louvres zijn opengewerkt... En wat putty op een paar plekken. 
The louvers are opened... And some putty at a few spots.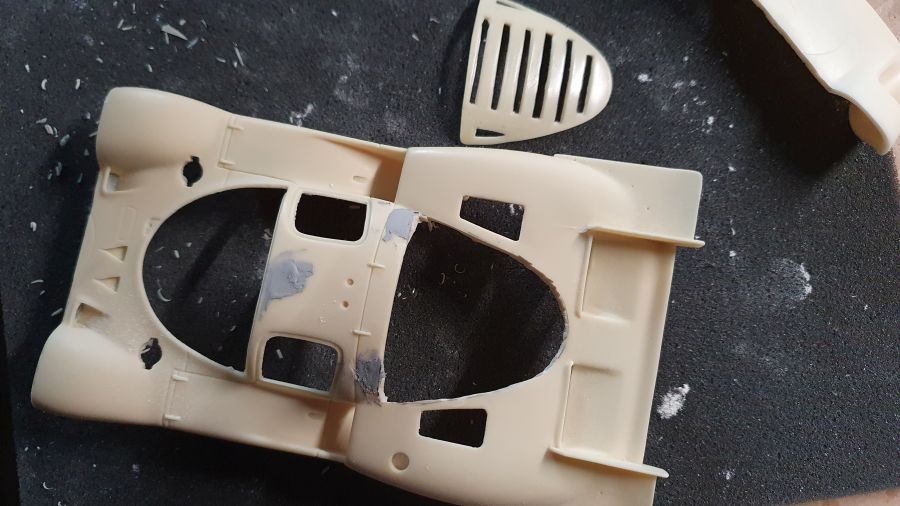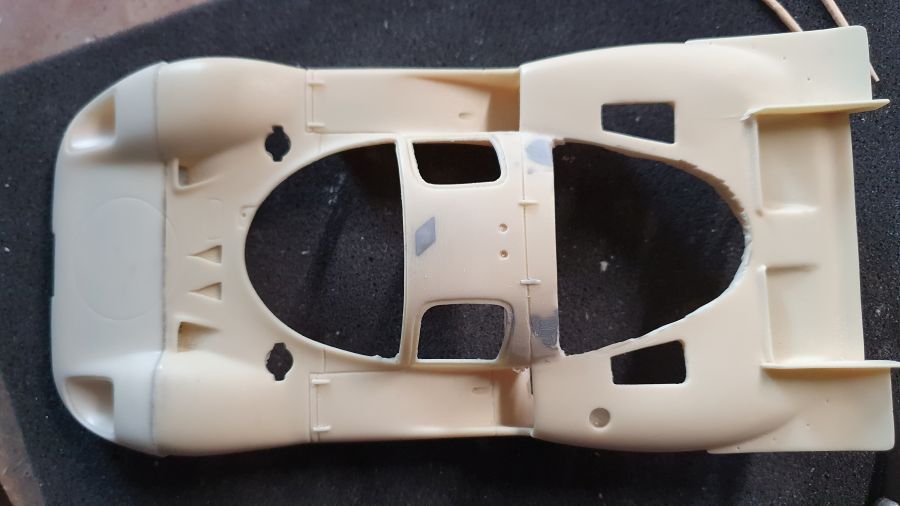 Ik moet een klein randje maken, waarin de louvres vallen. Dit moet een beetje gelijke hoogte met de body krijgen. Het deksel moet dus niet op de body liggen, maar een beetje erin. Normaal zou ik de rand van strip maken, maar ik kan dat niet goed bevestigen.
I need to make some kind of ledge to house the louvers. This should be about the same height as the body work. So the cover should be somewhat in the body and not on it. Normally i would make it from Evergreen strip, but i cannot attach this.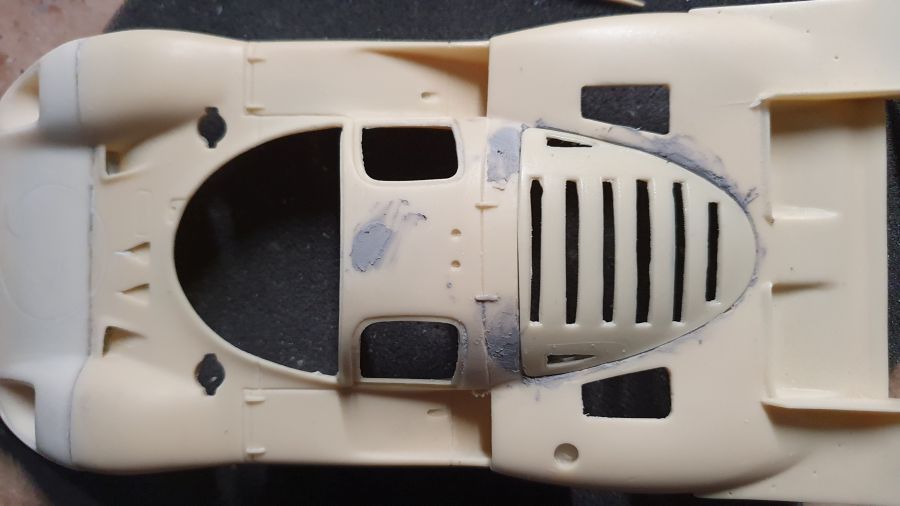 Meer putty, nu eerst goed laten drogen voordat het geschuurd wordt.
More putty, now let it dry well before sanding.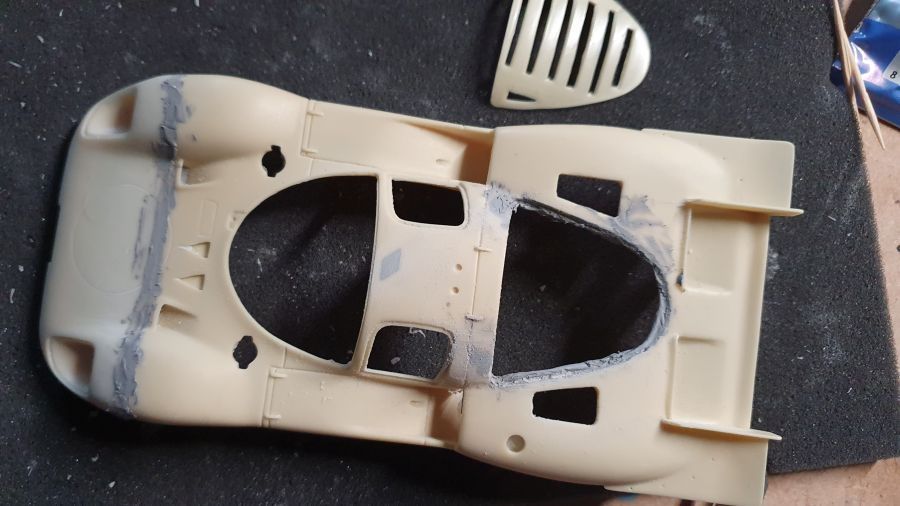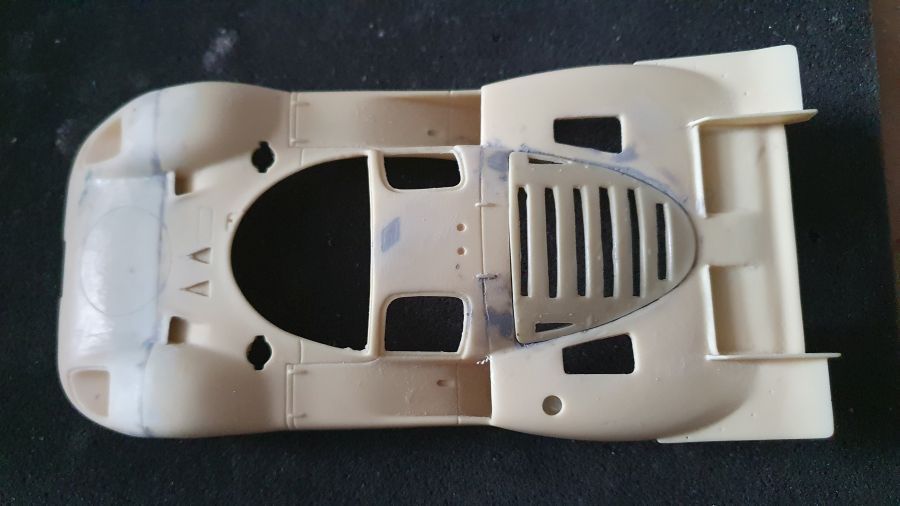 Allemaal even passen...
All kinds of test fits...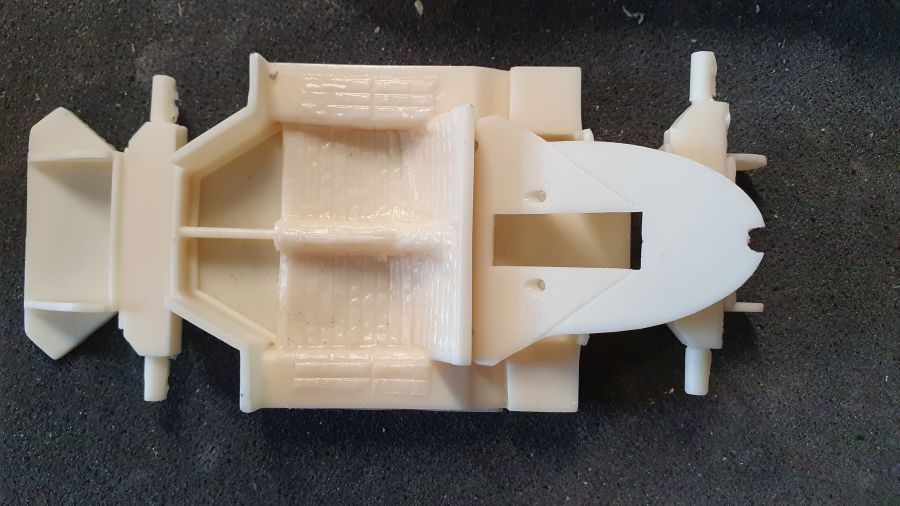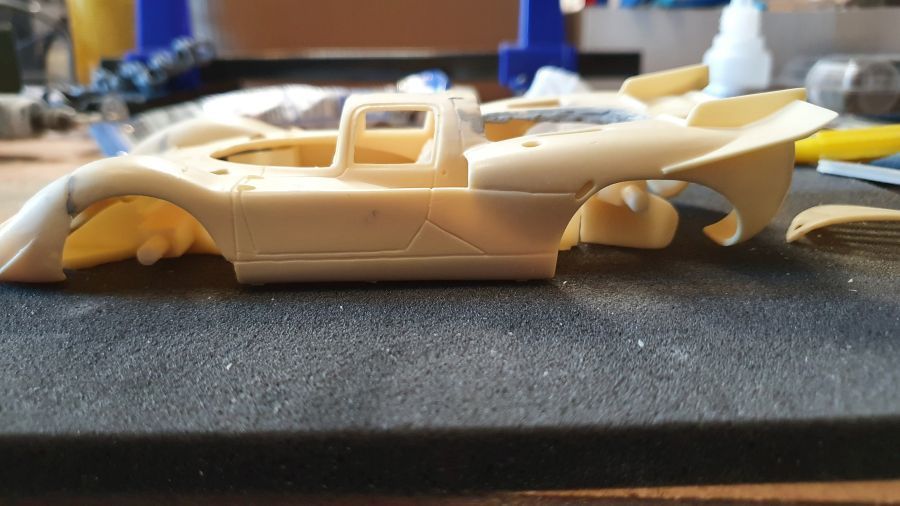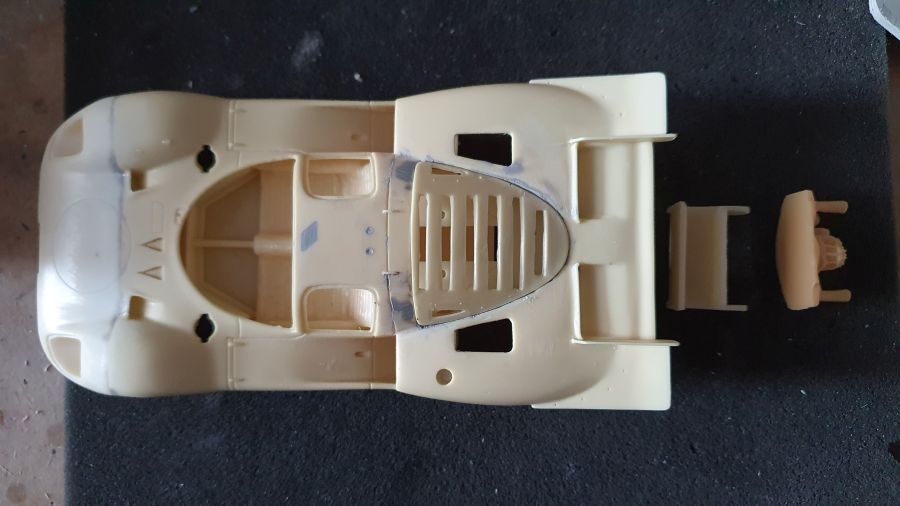 Dak bestuderen... Het lijkt erop dat het af en toe ook nog wat gewijzigd is. Som lijken de zijkanten bol ( te staan en soms lijken ze hol ) te staan.
Roof studies... It looks like it has been changed now and then. Sometimes the sides appear to be round ( shaped and sometimes hollow ) shaped.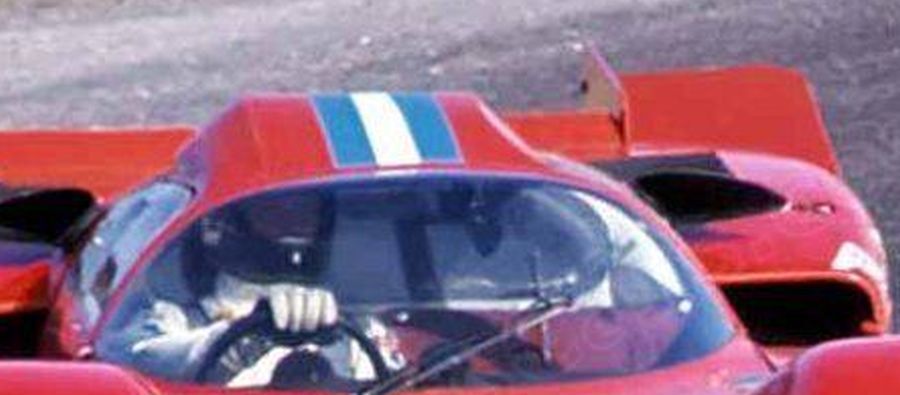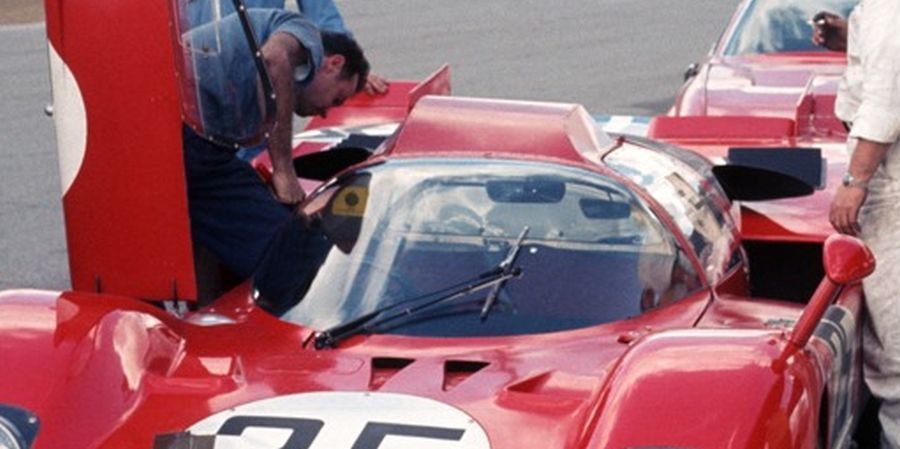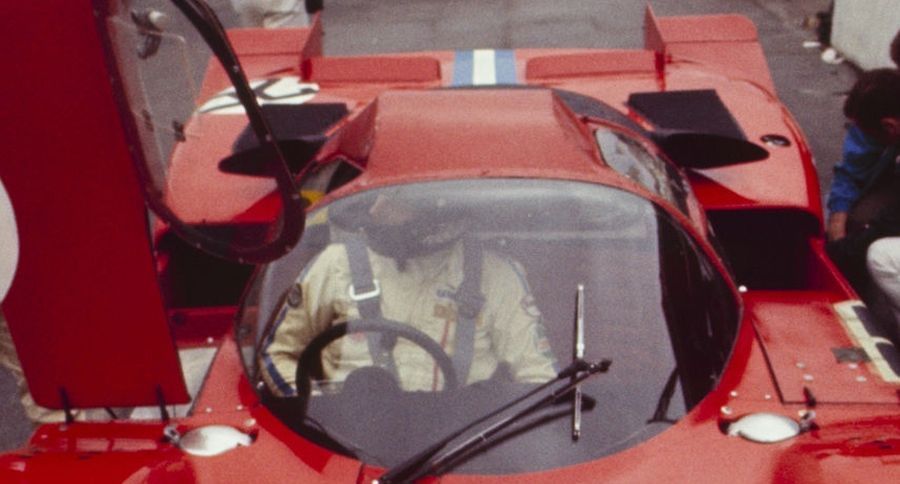 Ik heb besloten het dak op te bouwen met laagjes Evergreen plaat. Dit kan altijd nog eenvoudig gevormd worden met een vijl. Putty zal uiteindelijk de definitieve vorm geven. De eerste plaat druk ik stevig op het dak en lijm daar de tweede plaat op. Zo krijg ik de ronding van het dak overgebracht op de plaat. Meerdere laagjes plaat op elkaar geven stevigheid voor de putty.
I have decided to build up the roof out of layers Evergreen sheet. This can be shaped easily with a file. Putty will make the definitive shape. The first sheet is being pressed firmly to the roof and the second sheet was glued on it. This way the round shape of the roof goes to the sheet. Multiple layers of sheet give some body to the putty.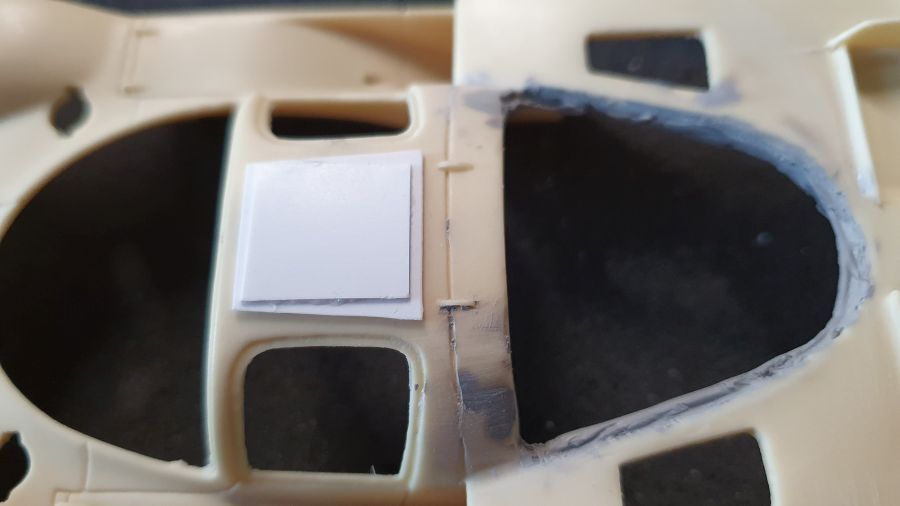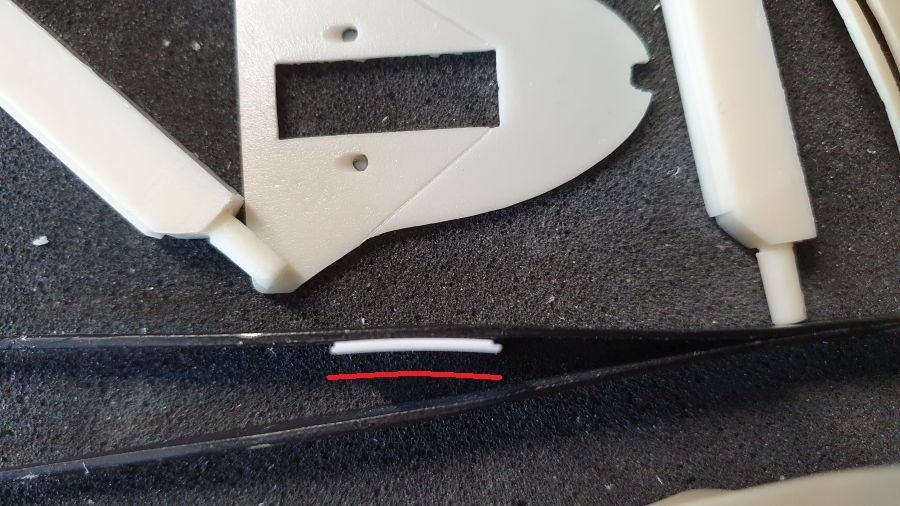 De eerste vormen...
The first shapes...