Na de moderne F1 nu maar weer een oudje. Deze keer de Ferrari 312B2 uit 1972 tijdens de GP van Zuid Afrika. Deze werd toen bestuurd door Jacky Ickx, Clay Regazzoni en Mario Andretti. Ik maak nu de Ickx versie. Prachtige kit van Modelfactory Hiro (kit nr. K-318) die in 2 verschillende uitvoeringen gebouwd kan worden. De wagen had bij de GP van Zuid Afrika de 'hamerneus'. Zoals gebruikelijk de foto's van de inhoud van de kit maar weer eerst. Wat werk voor de polijstmachine.
Afte the modern F1 time for an oldie. This time the Ferrari 312B2 from 1972 during the GP of South Africa. This one was driven by Jacky Ickx, Clay Regazzoni and Mario Andretti. I am making the Ickx version. A Beautiful kit from Modelfactory Hiro (kit no. K-318),  which can be built in 2 different versions. During the GP of South Africa the car had the 'hammer nose'. As usual first of all the picture of the kit's content. Some work for the polisher.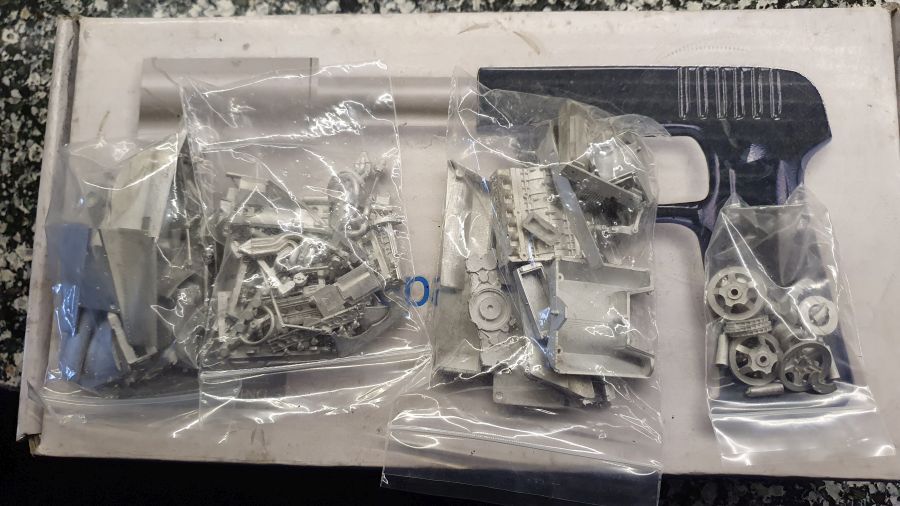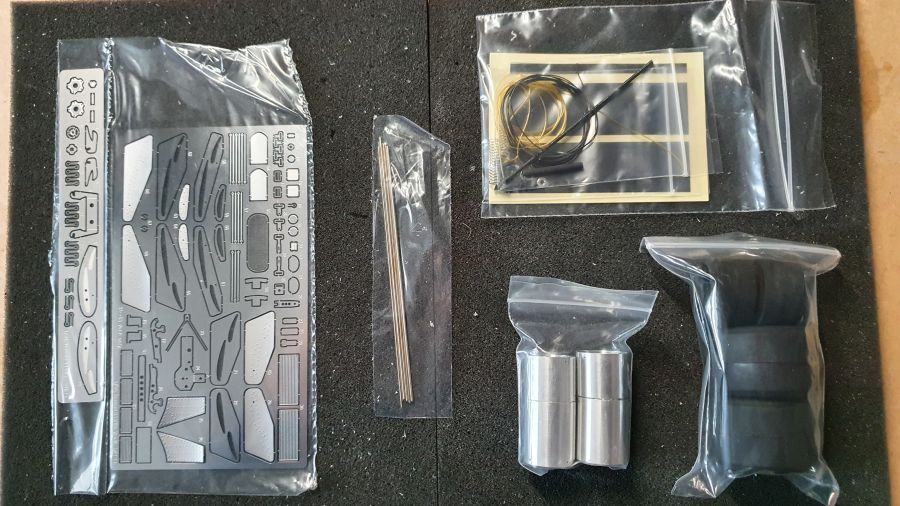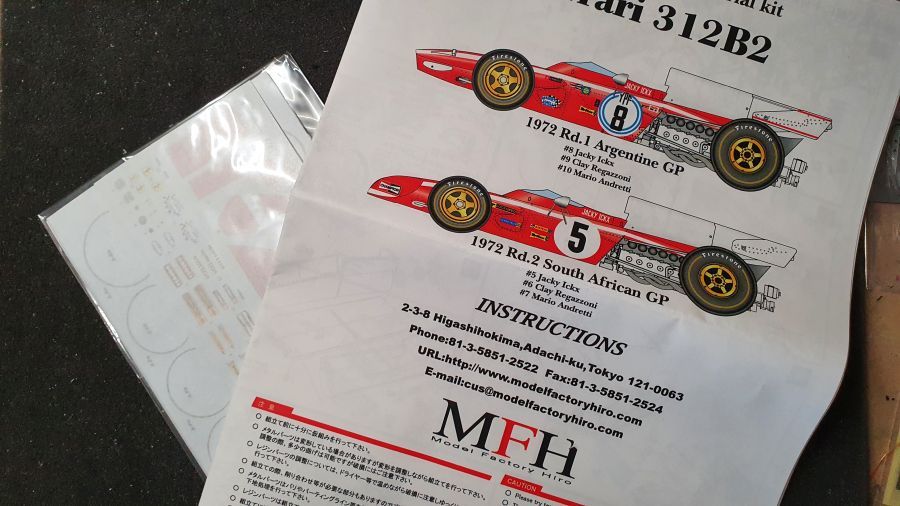 Een paar onbegrepen stukjes in het groene vak. Niet gebruikte stukken in de rode vakken. Deze zijn uitsluitend voor de Argentijnse versie.
A few unidentified pieces in the green square. Not used pieces in the red squares. These pieces are just for the Argentine version.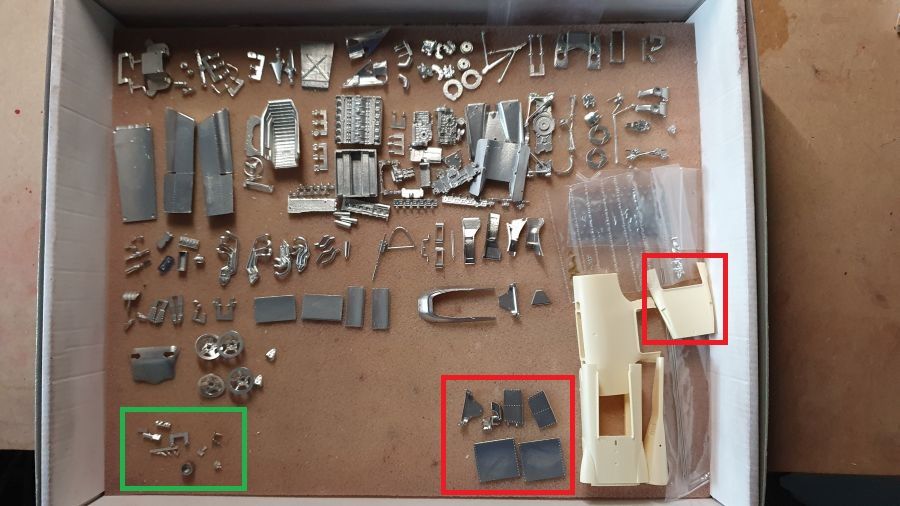 Deze moeten 12.3 mm worden.
These should be 12.3 mm.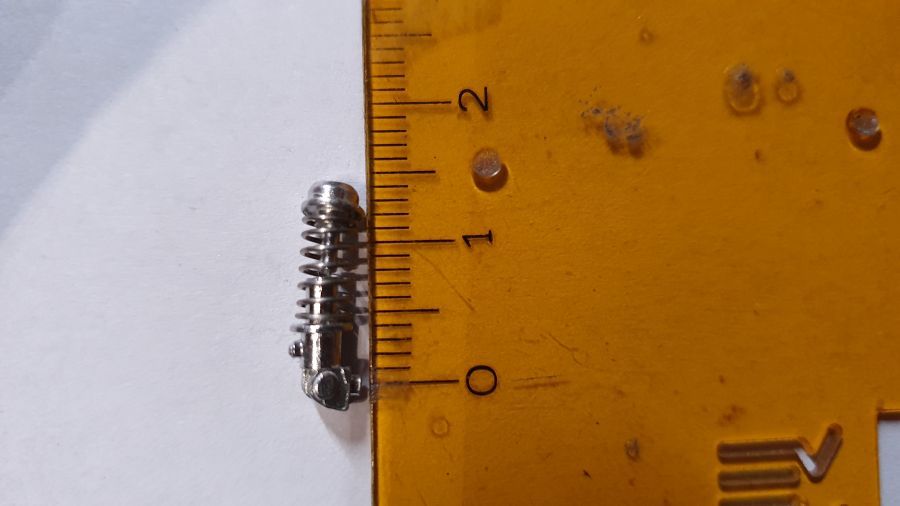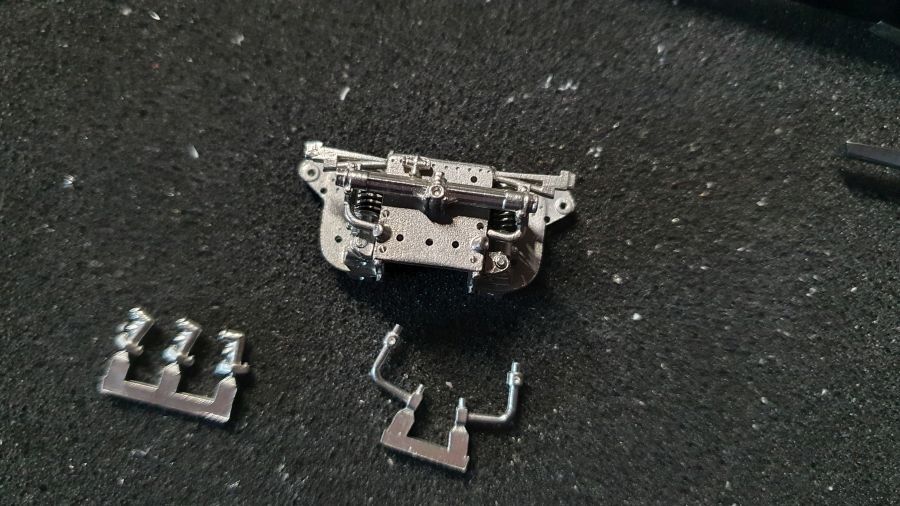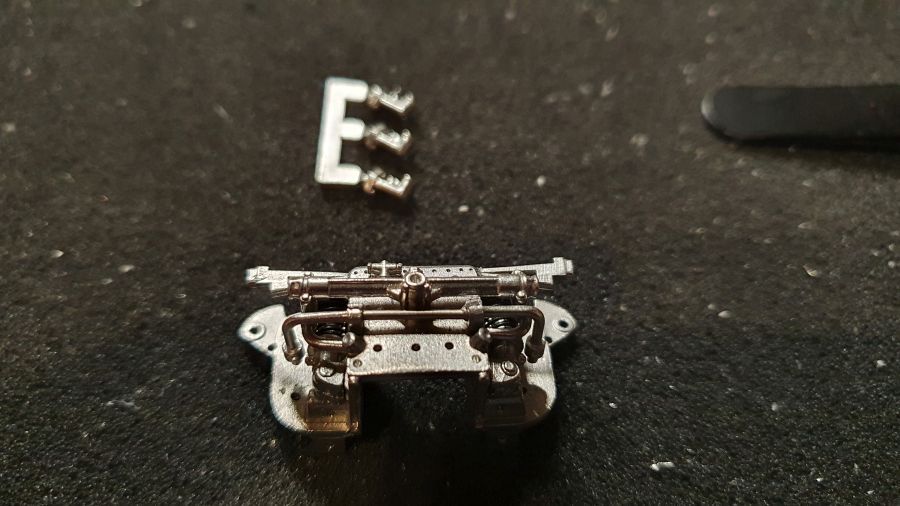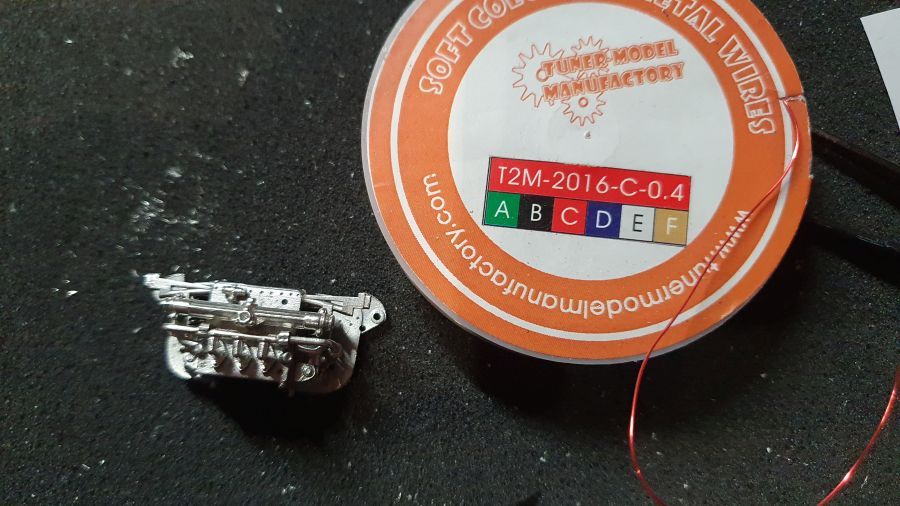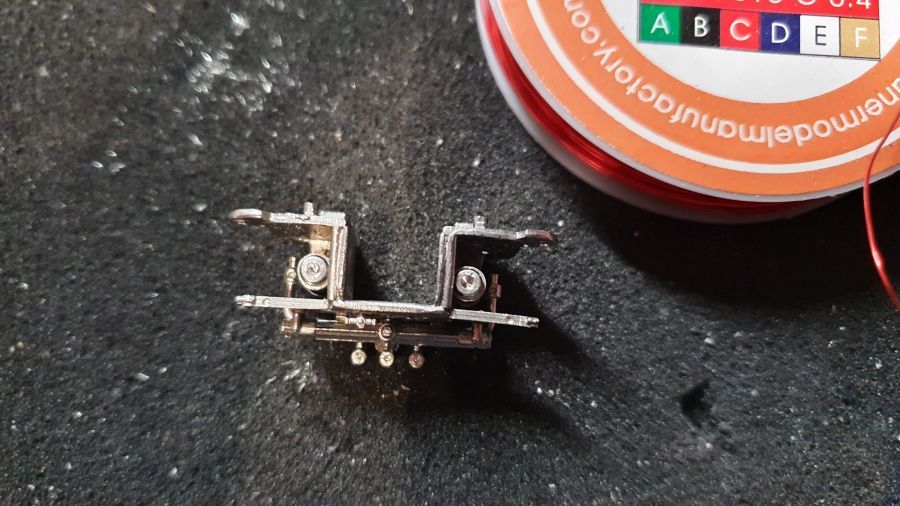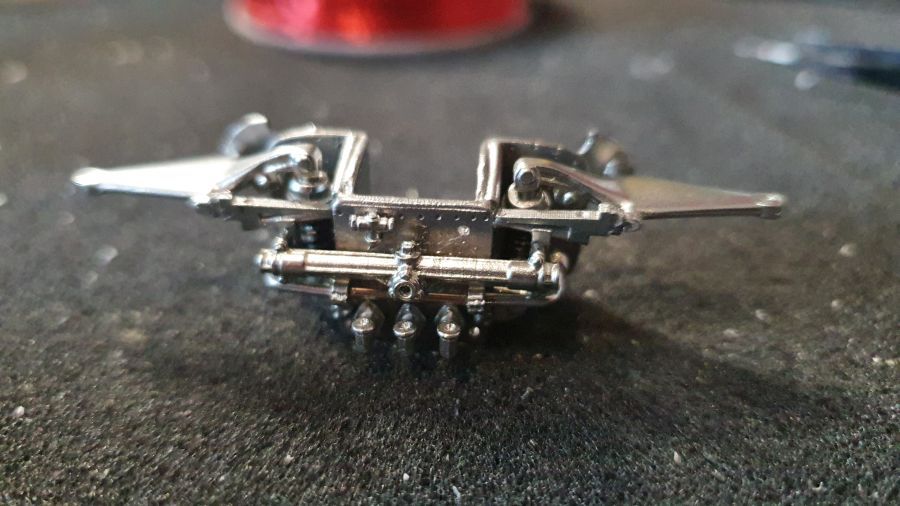 Dit deel krijgt een zwarte wash.
This part receives a black wash.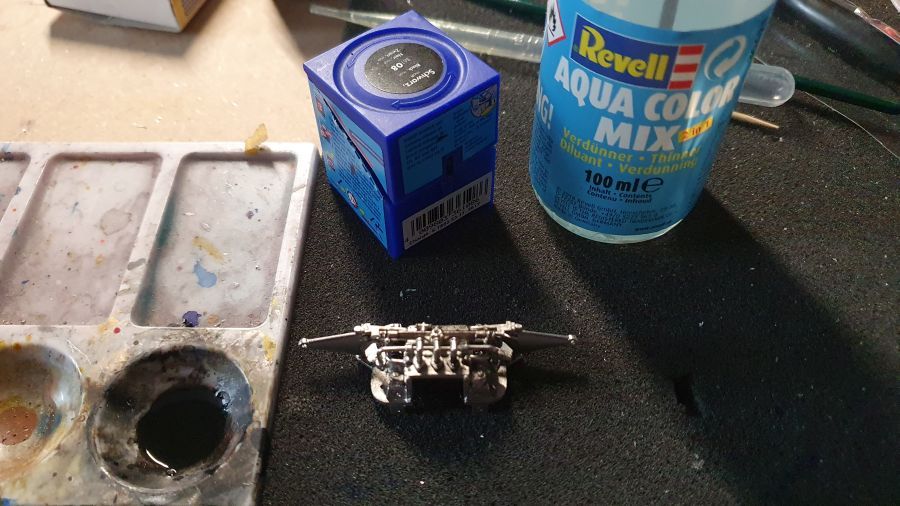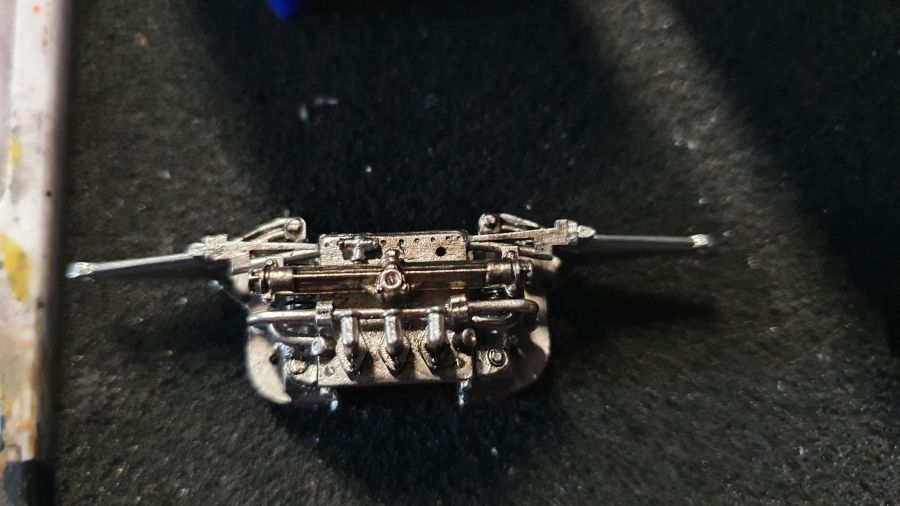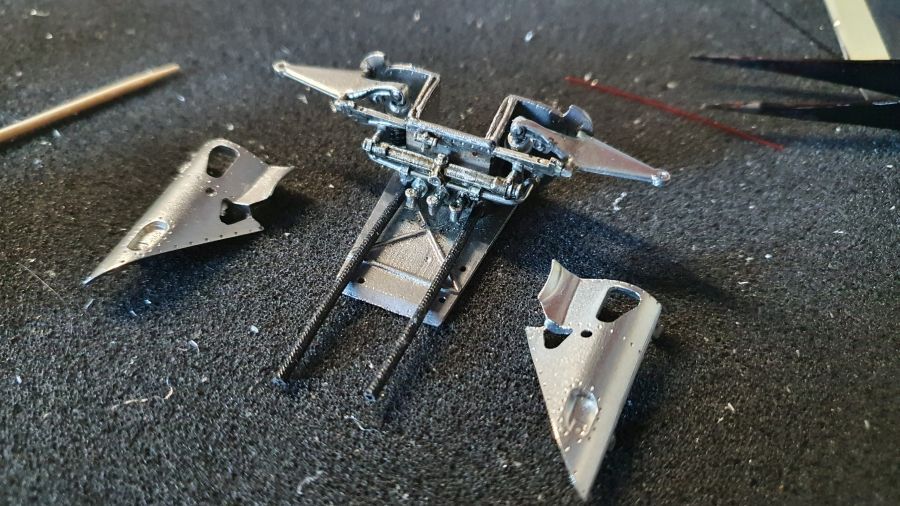 Alle onderdelen die rood moeten worden gemaakt.
All parts that need to be colored red.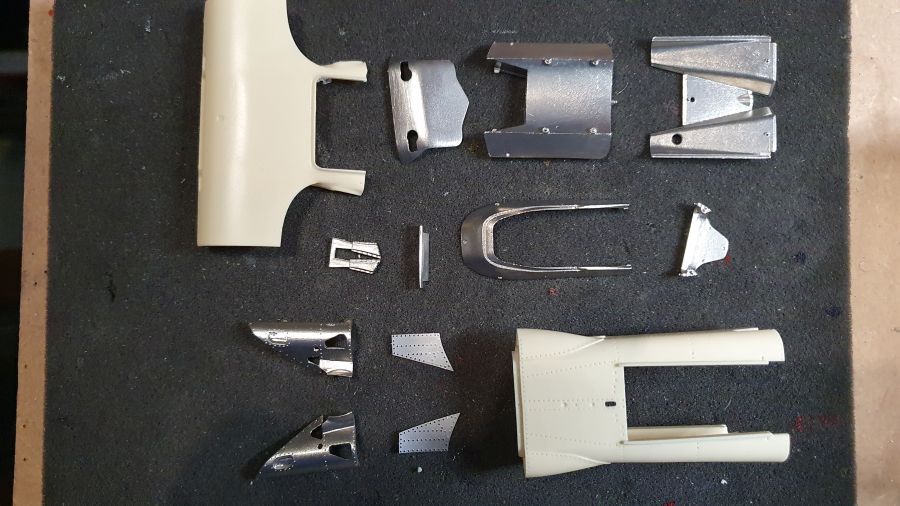 Deze keer ga ik de soldeerballetjes proberen. Ik moet de 0.45 mm balletjes in de gaatjes lijmen. Dat zal wel even duren. Ik weet ook niet of het lekker werkt. Ik heb ook nog de 0.3 mm geprobeerd, maar daar zie je niets van. Niet de moeite waard van het werk.
This time i will be trying the solder balls. I need to glue these 0.45 mm balls into the holes. That will take some time. I don't know if it will work. I also tried the 0.3 mm, but you will not see it. Hardly worth the effort.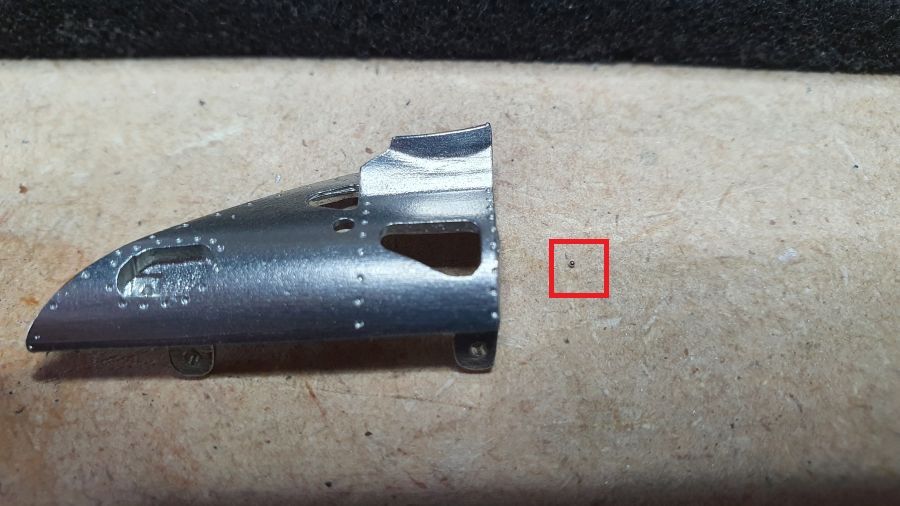 Deze keer ben ik dit echt nodig...
This time i really need this...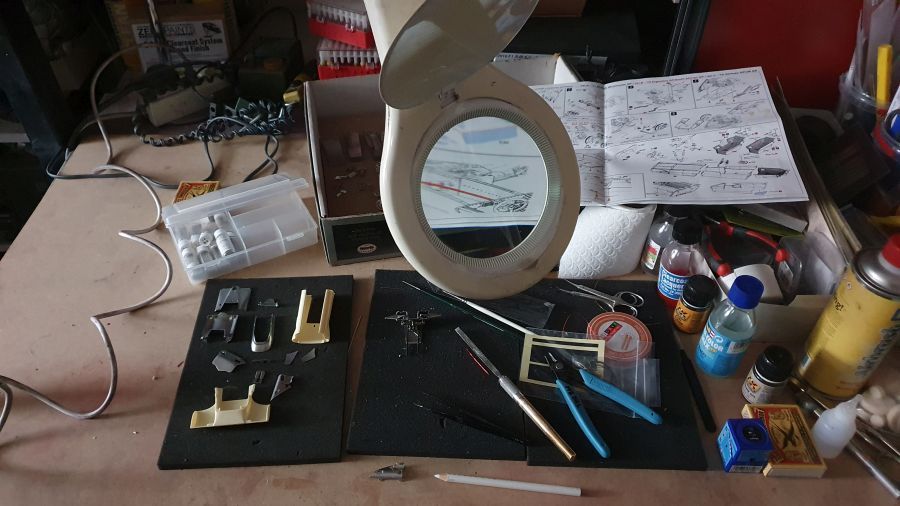 Nadat ik zeker weet dat dit allemaal past, heb ik de gaatjes geboord. Dat ging niet gemakkelijk. Heeft me zeker 4 carbide boortjes gekost.
After i was certain this all fits, i drilled the holes. Not easy, cost me 4 carbide drills for sure.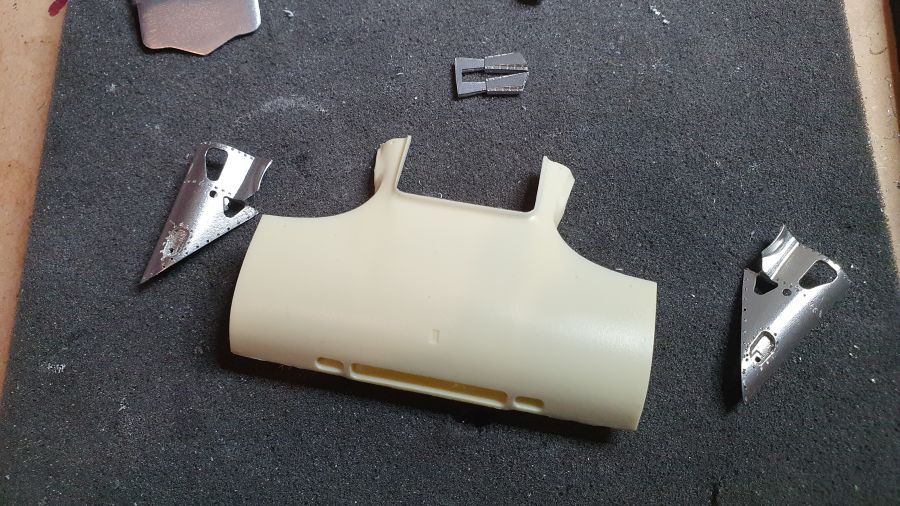 Daar gaat ie. Alle gaatjes geboord met een 0.5 mm boortje en nu de eerste balletjes van 0.5 mm geplaatst... Dit gaat even duren...
There we go. All holes have been drilled with a 0.5 mm drill and now the first balls of 0.5 mm have been added... This will take a while...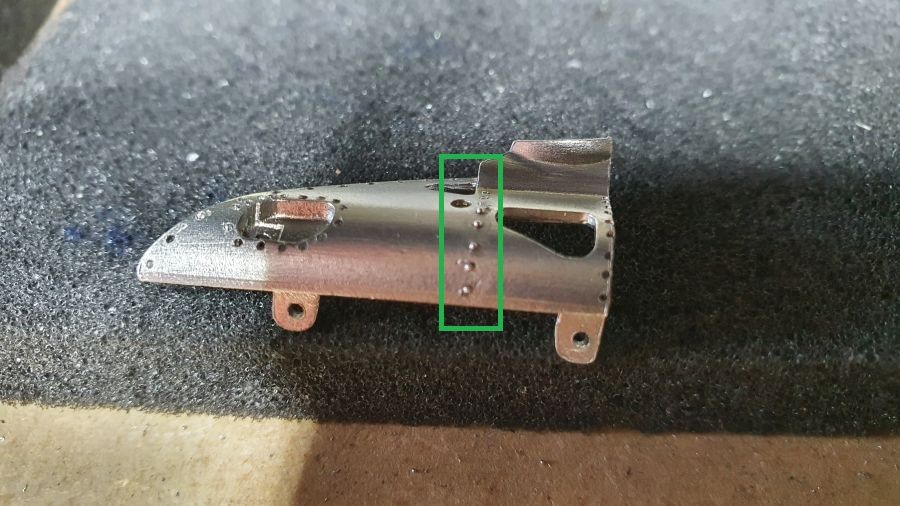 Goed dat er 25000 in een flesje zitten... ze vliegen alle kanten op...
Good to have 25000 in a bottle... they are flying everywhere...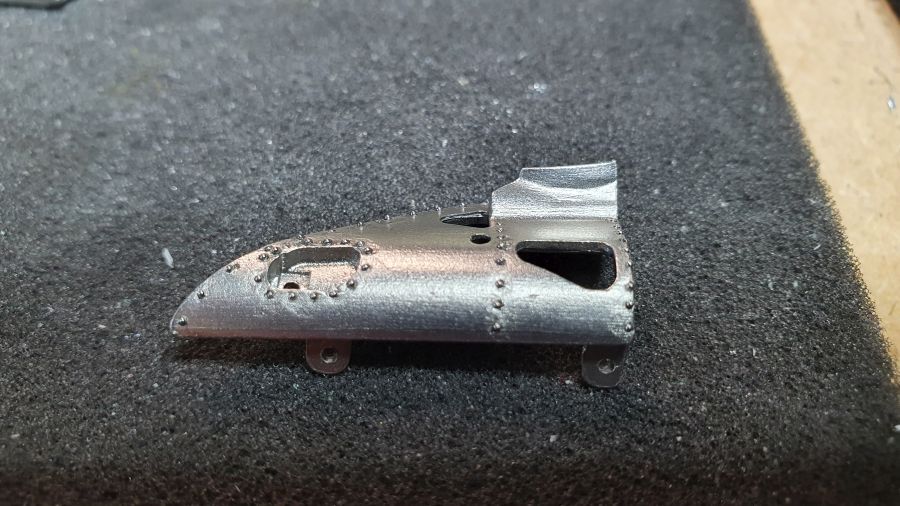 De eerste 2 delen zijn gedaan... nu de resterende nog. 
The first 2 parts have been done... now the rest of them.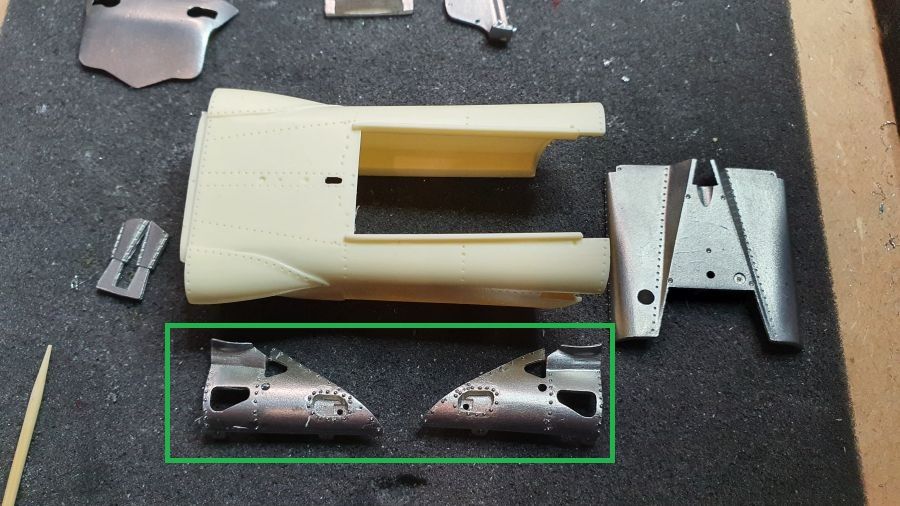 Het metaal is geboord met een 0.5 mm boortje, het resin boor ik met 0.4 mm. Dit omdat dat materiaal zachter is. Het balletje verdwijn teveel in het gaatje.
The metal has been drilled with a 0.5 mm drill, the resin i will drill with a 0.4 mm drill. This because the material is more soft. The ball will fall in the hole too deep.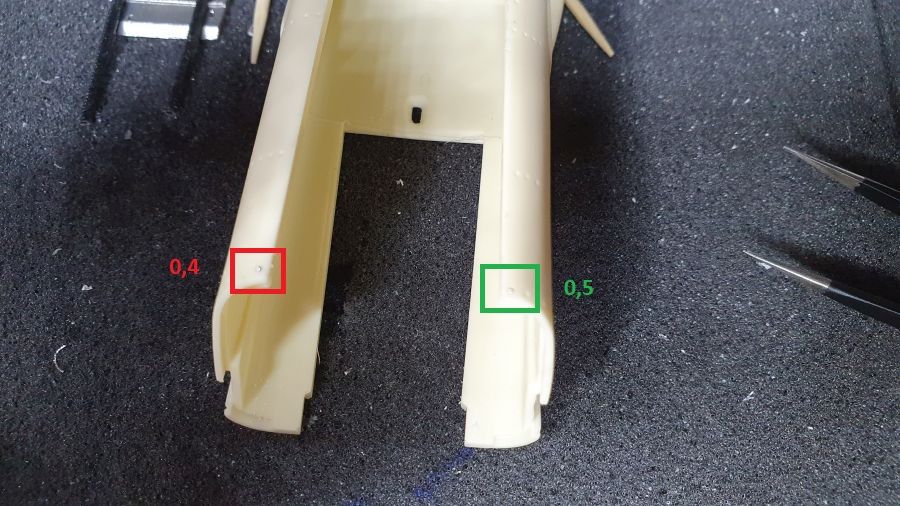 Klaar. Nu de balletjes plaatsen. Die balletjes die zilverkleurig moeten worden laat ik nog even achterwege.
Done. Now add the balls. Those balls that will be silver are being left out for now.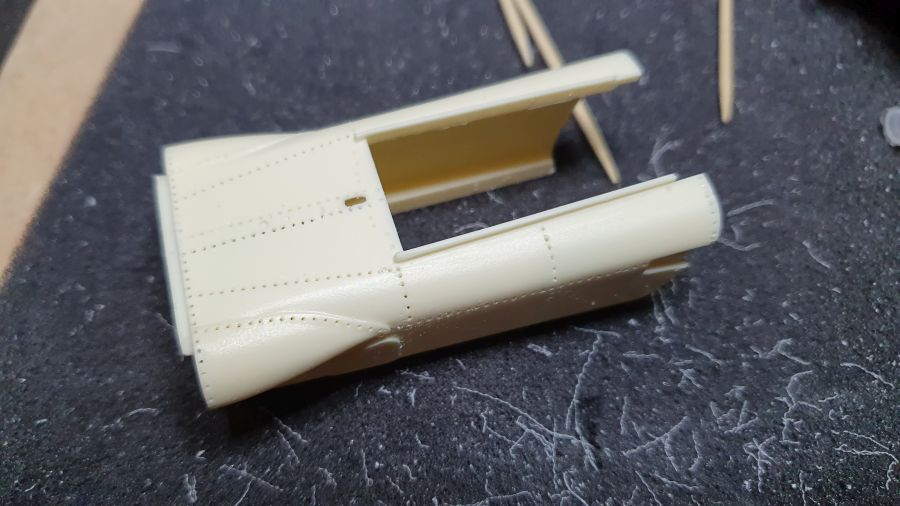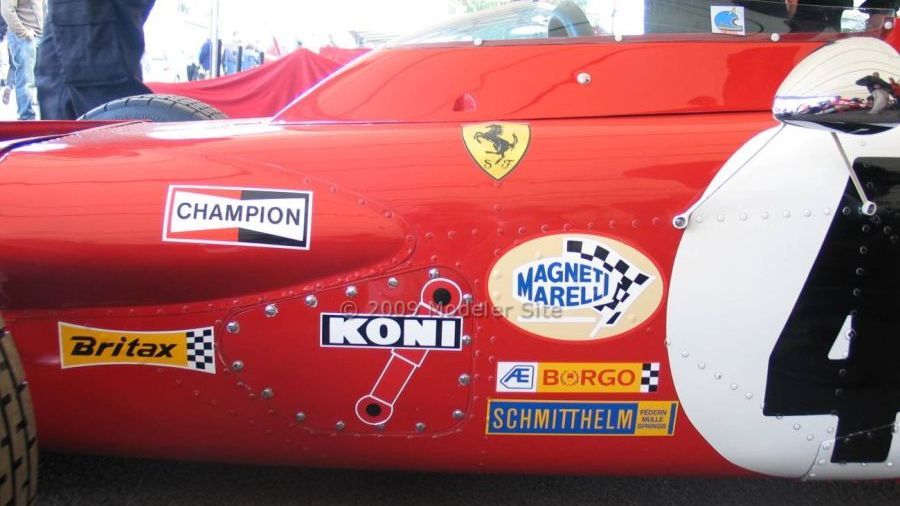 Op deze versie moeten de zijplaten worden geplaatst aan de body. Ik gebruik weer mijn rolling tool. Een van de betere aankopen.
On this version the side plates need to be added to the body. I am using my rolling tool again. One of the better bought tools.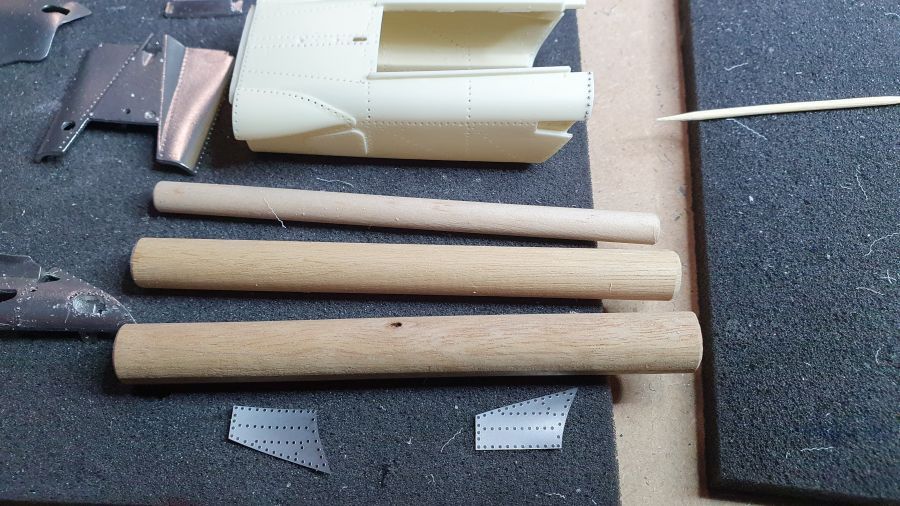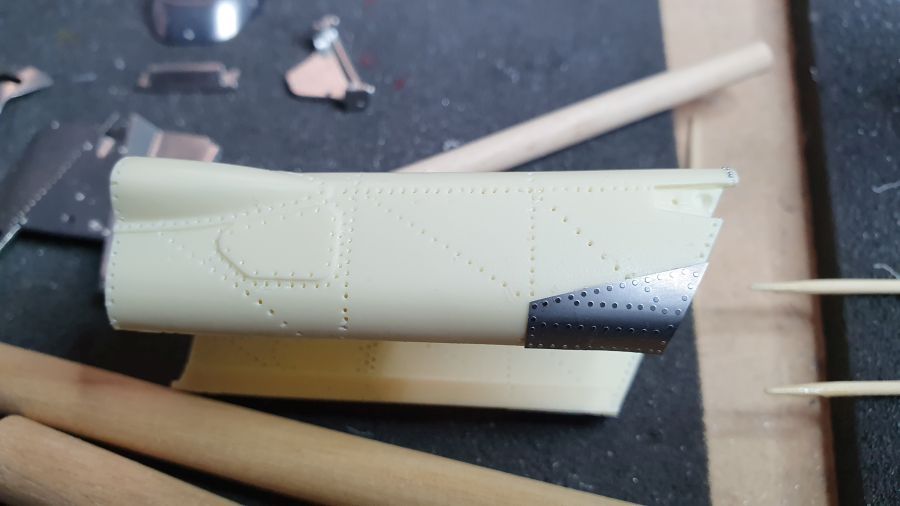 Langzaam.....
Slowly.....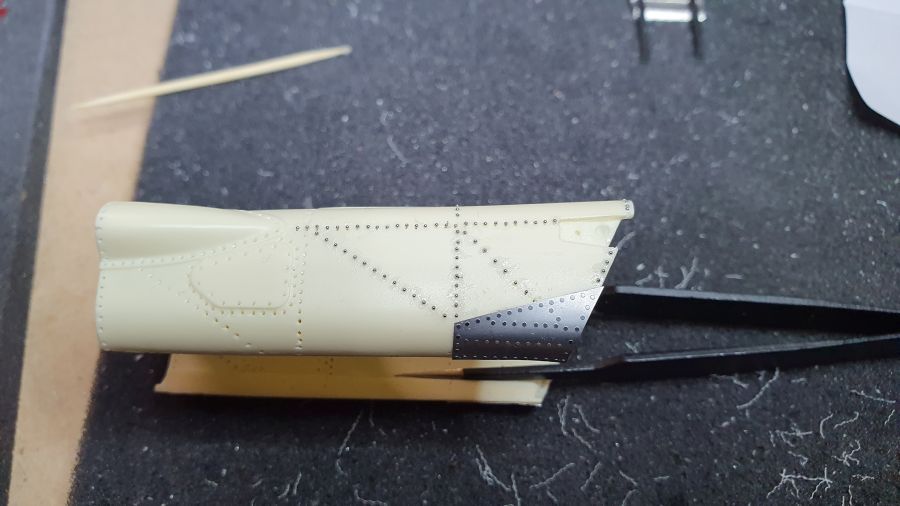 Bijna halverwege. Ik doe dit in meerdere sessies.
Nearly half way. I do this in multiple sessions.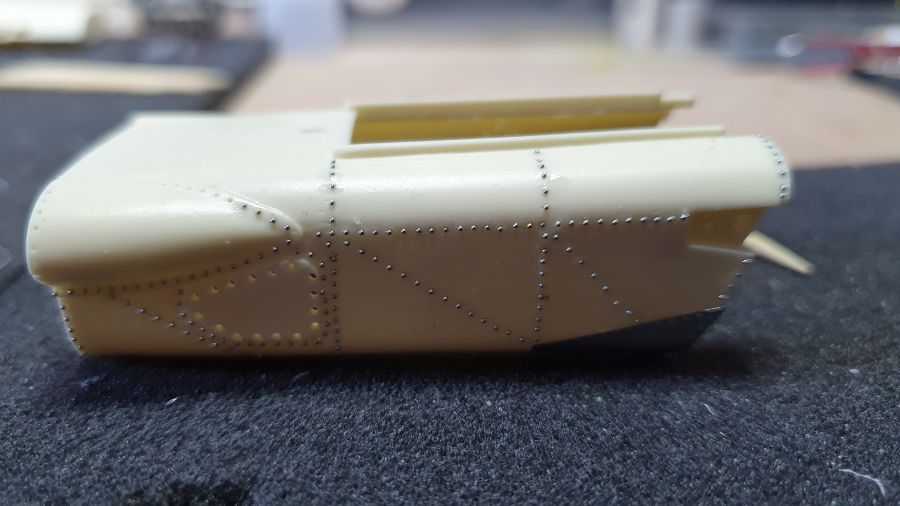 De body is klaar...
The body work has been done...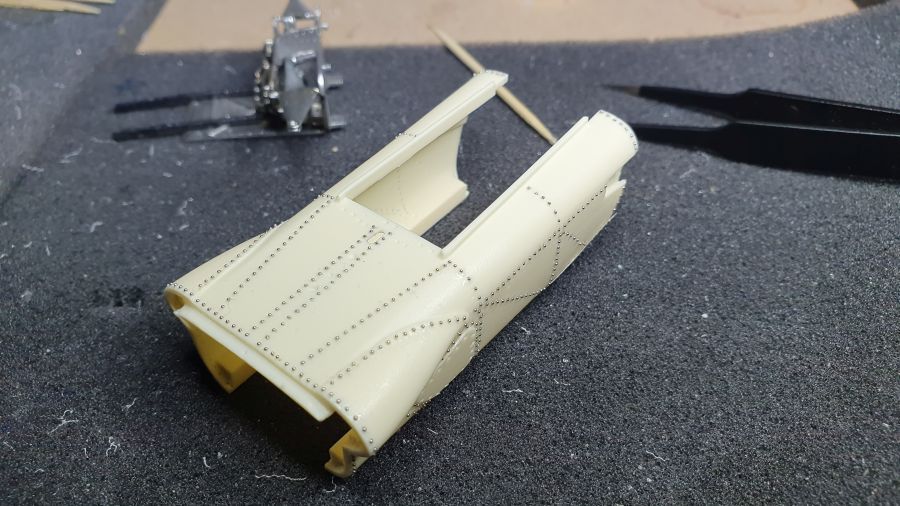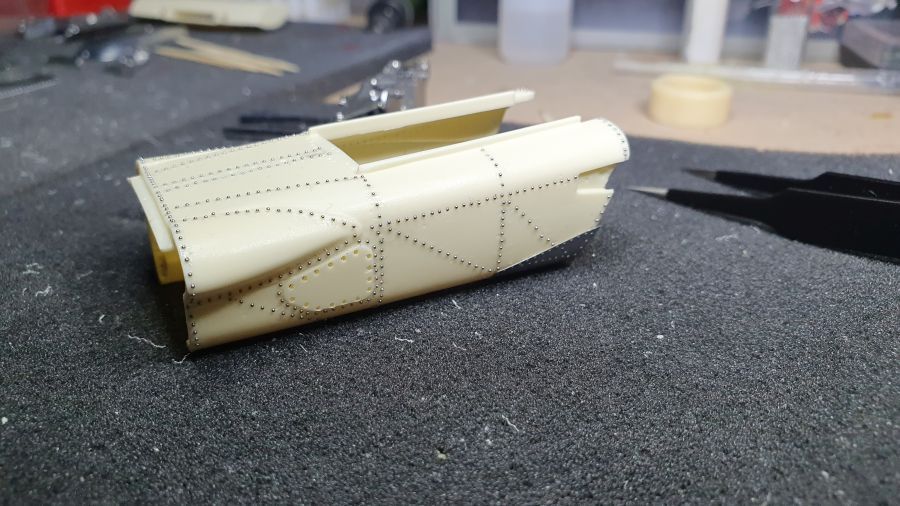 Dan nog de motorafdekking...
Then the engine cover...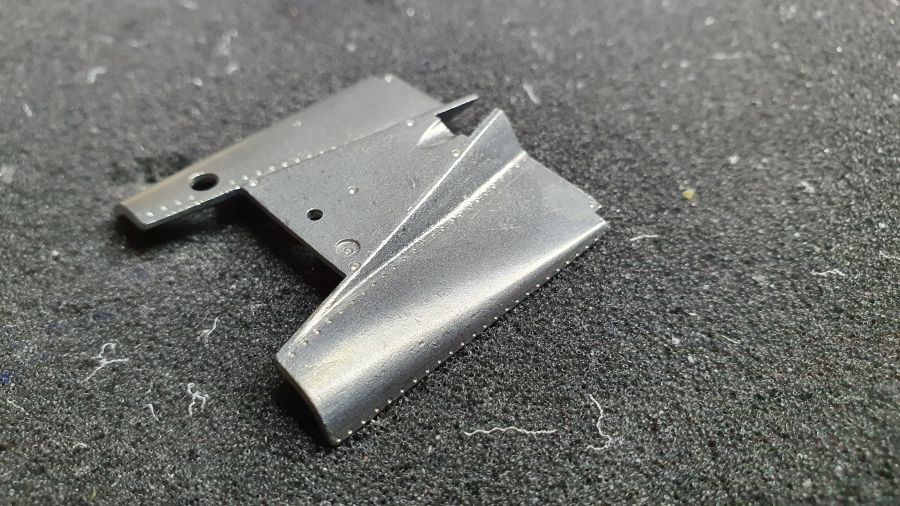 Geboord...
Drilled...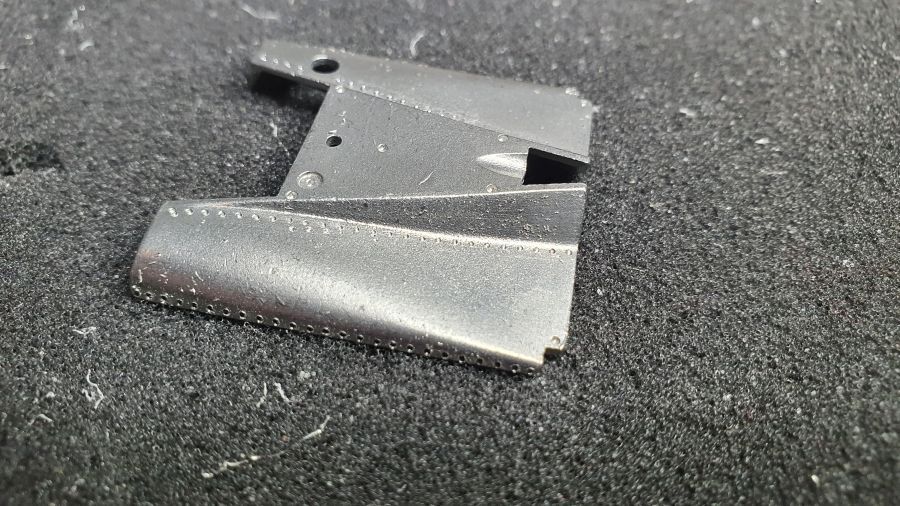 De eerste balletjes...
The first balls...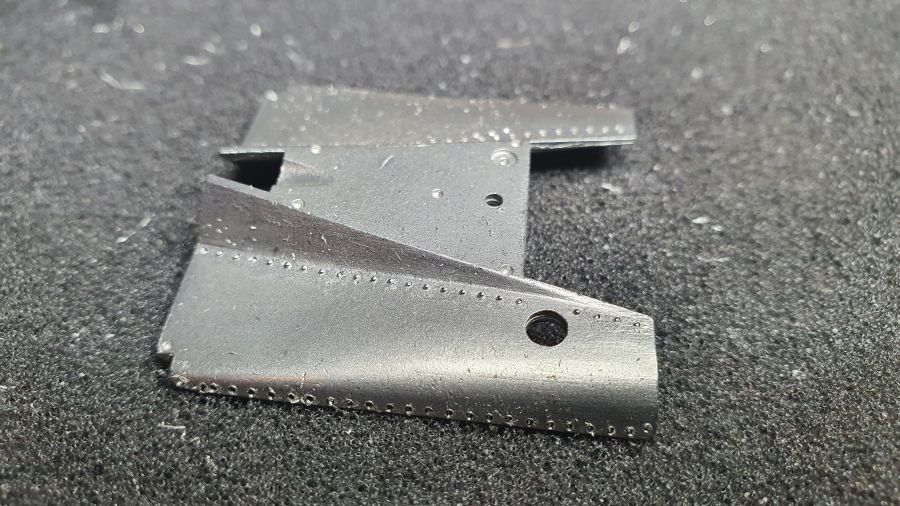 Klaar...
Done...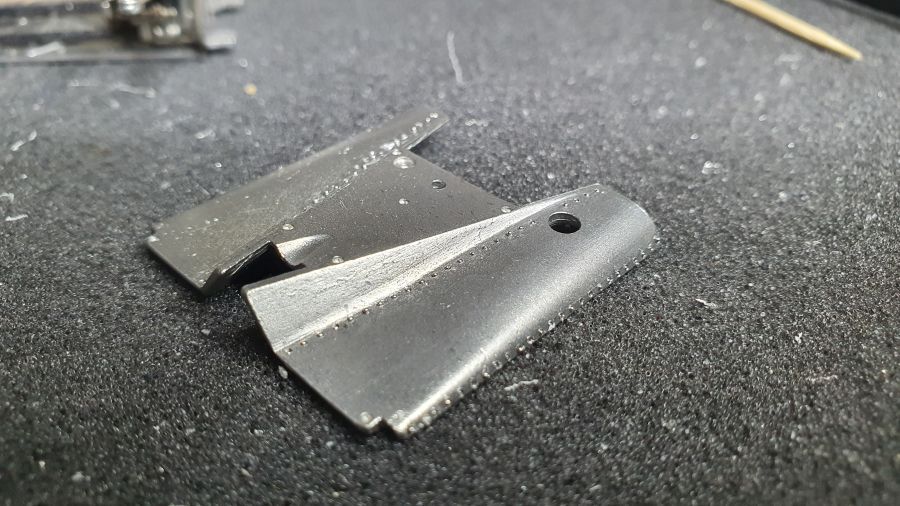 Na de primer gaat de kleur erop...  Weer Zero Paints ZP-1007 1970-1980's Rosso Formula 1 Ferrari.
After the primer de color is on... Again Zero Paints ZP-1007 1970-1980's Rosso Formula 1 Ferrari.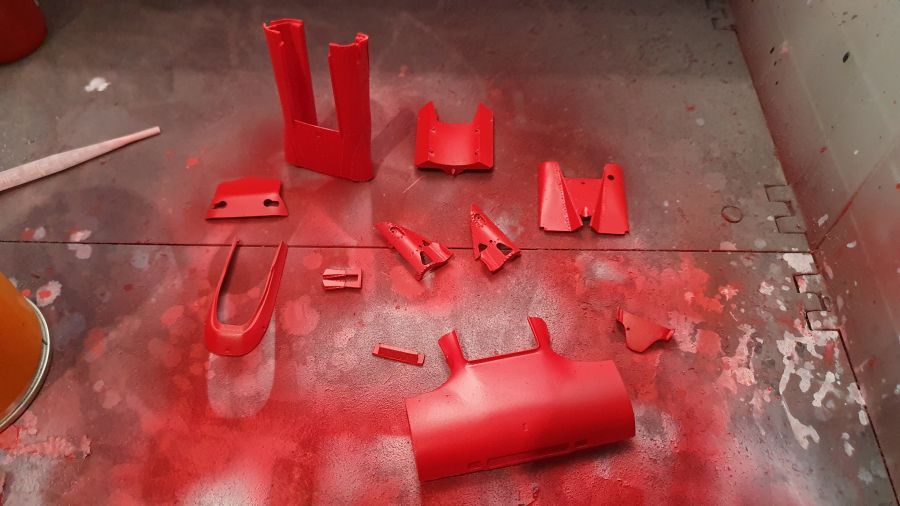 En de glanslak zit erop... nu verder met de decals.
And the clear gloss... now to continue with the decals.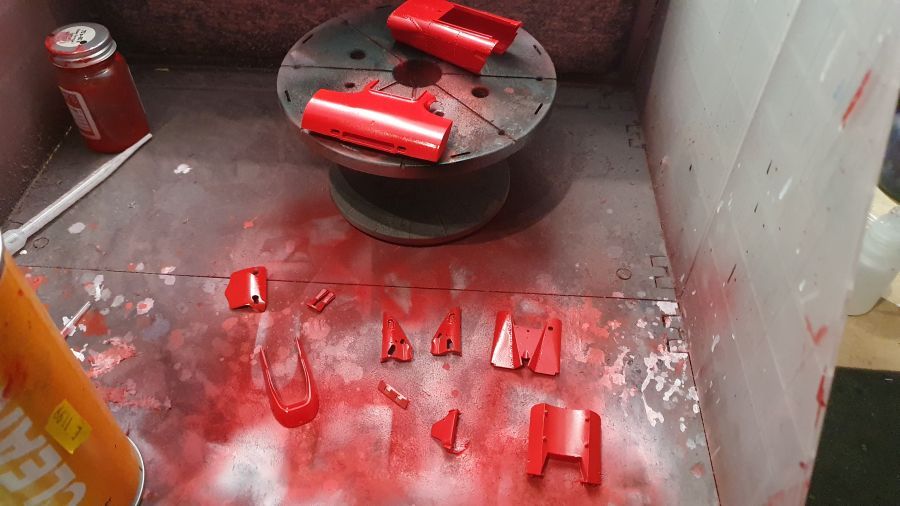 De volgende keer moet ik toch iets anders bedenken. Het drogen van de lak maakt dat sommige balletjes dieper in het gat worden getrokken.
Next time i need to think something else. The drying process of the lacquer makes some balls been sucked deeper into the hole.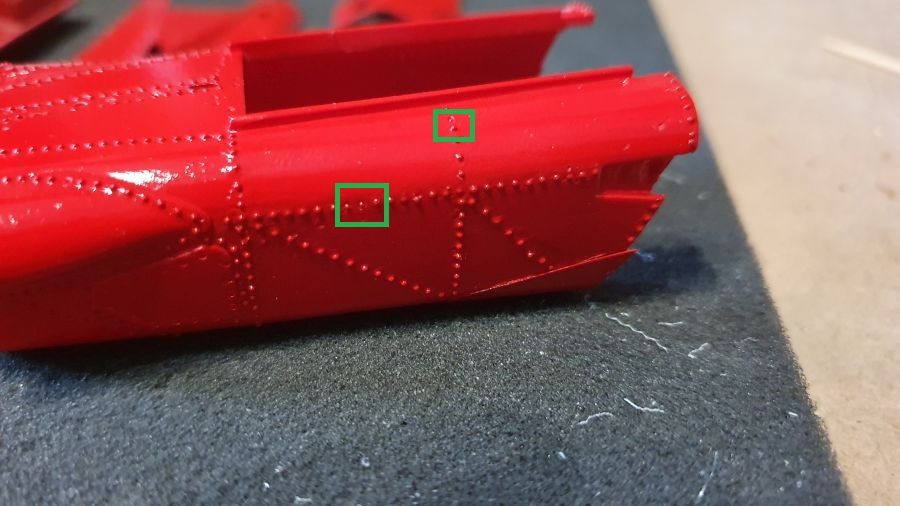 De zijwanden kunnen aan het voorste deel worden geplaatst.
The side walls can be attached to the front part.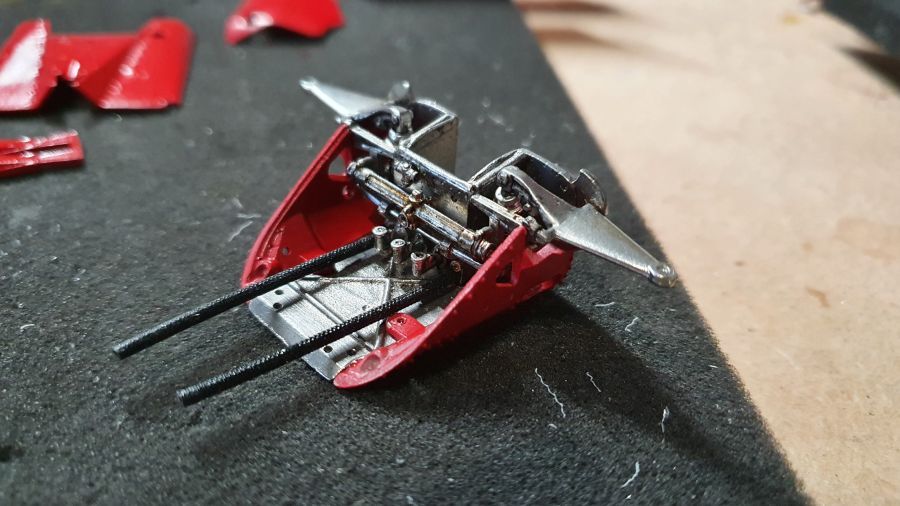 Even bestuderen voor het plaatsen van de witte lijnen.
Study before adding the white lines.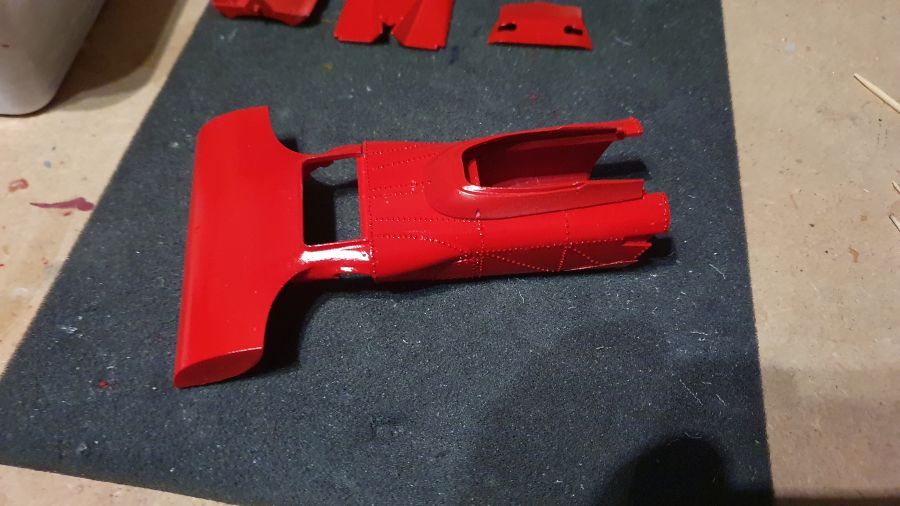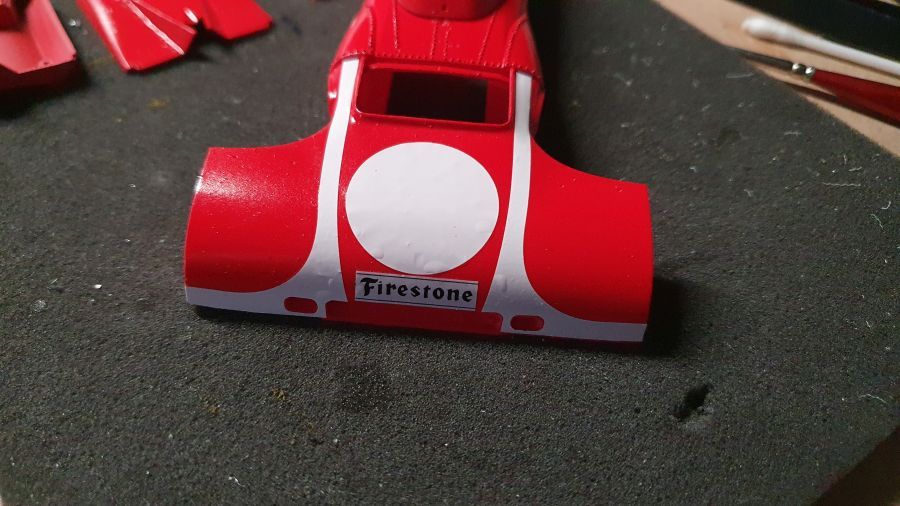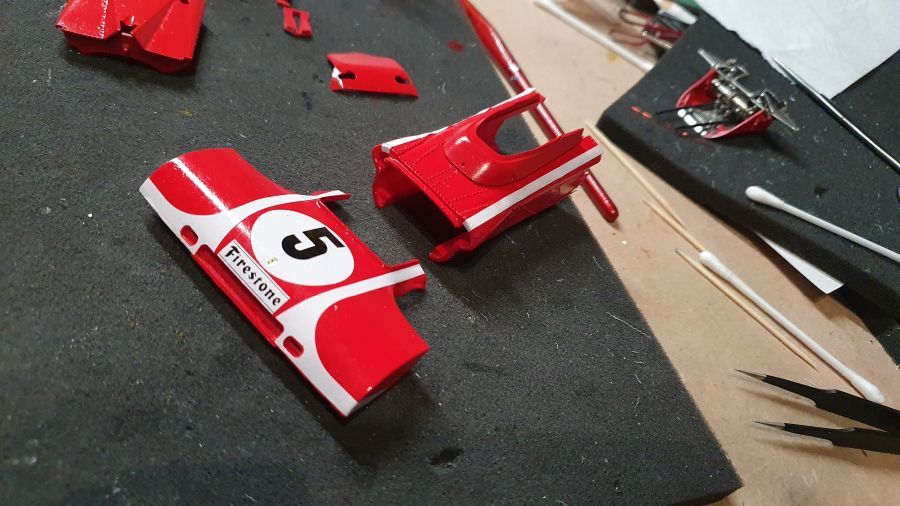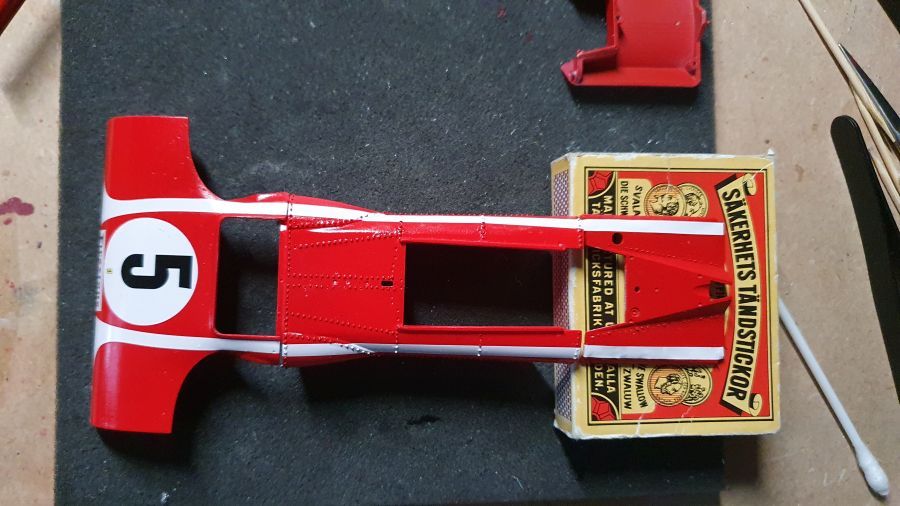 De decals zijn nogal stijf... veel Micro Sol nodig.
The decals are quite stiff... much Micro Sol needed.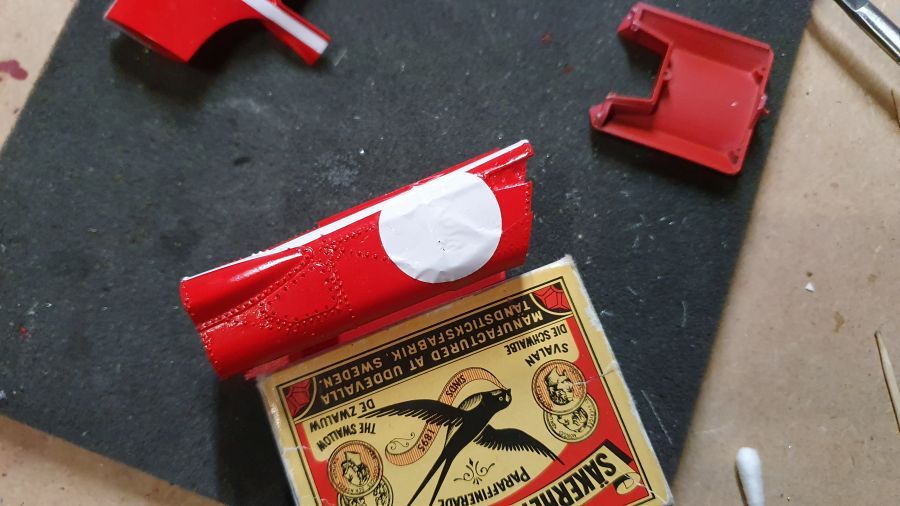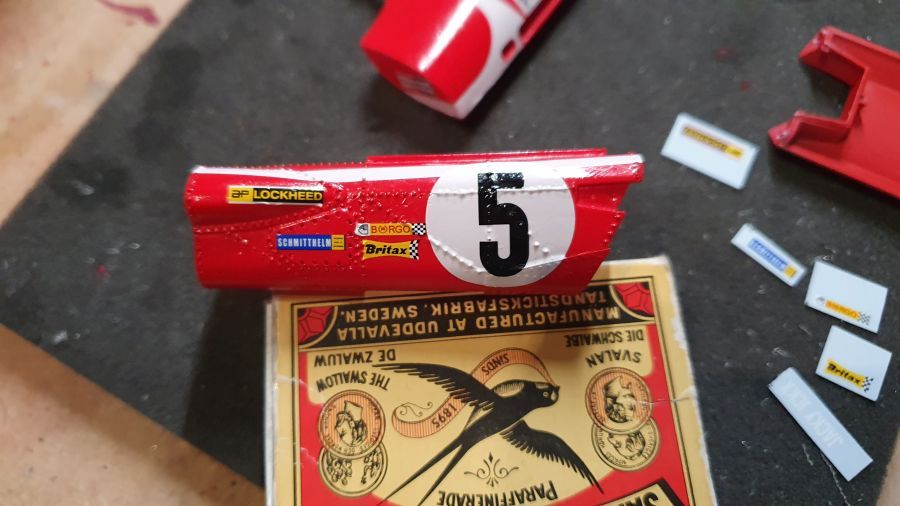 Nu laten drogen voordat er weer wat lak overheen gaat.
Now let this dry before applying more lacquer.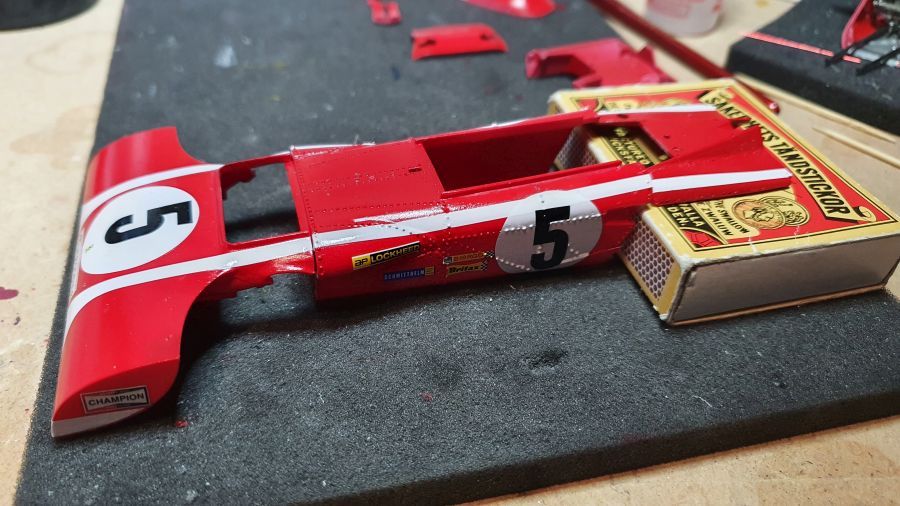 Passen...
Test fit...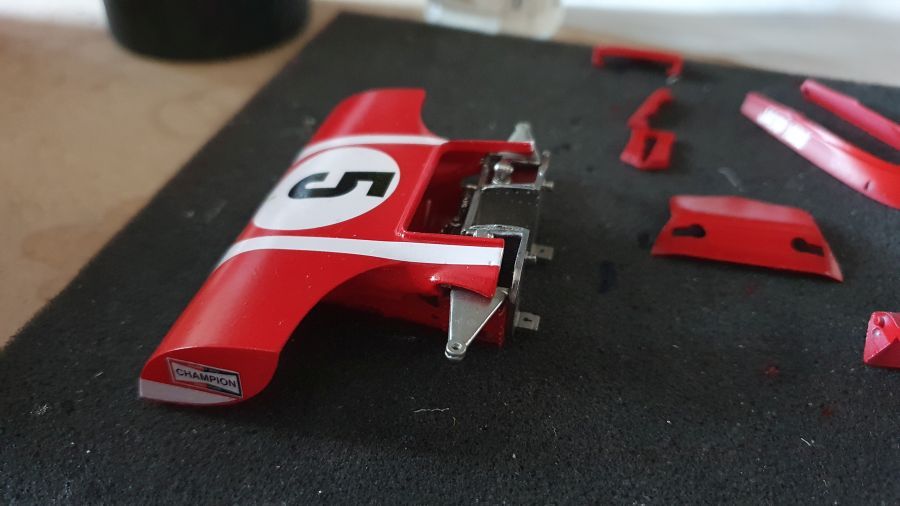 Wat extra leidingen geplaatst...
Added some extra piping...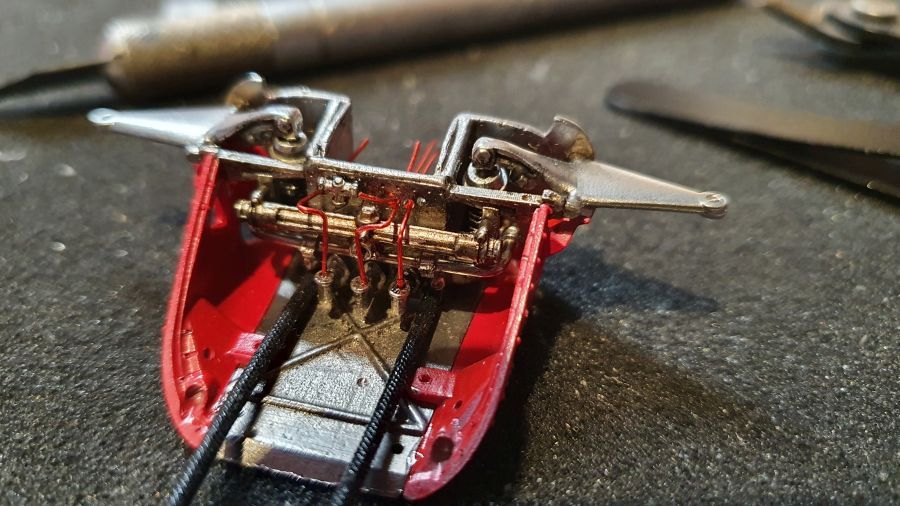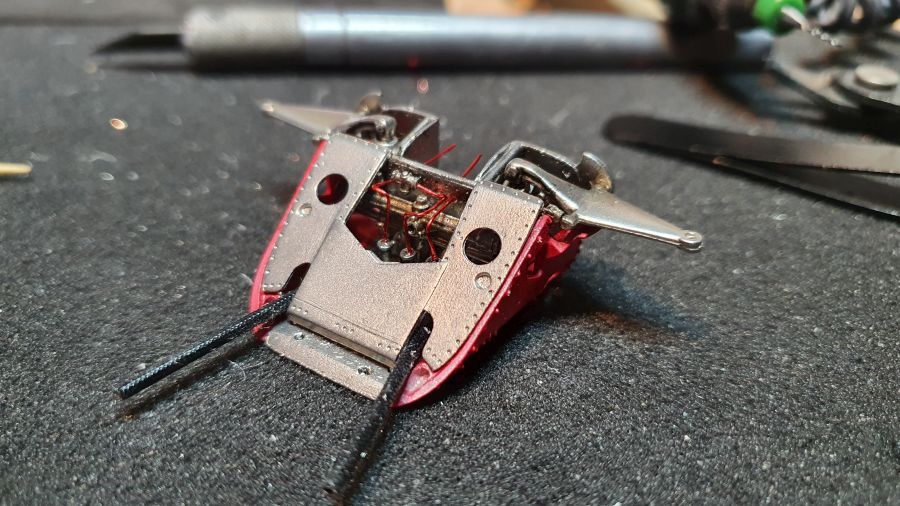 Door naar de voorwielophanging...
On to the front wheel suspension...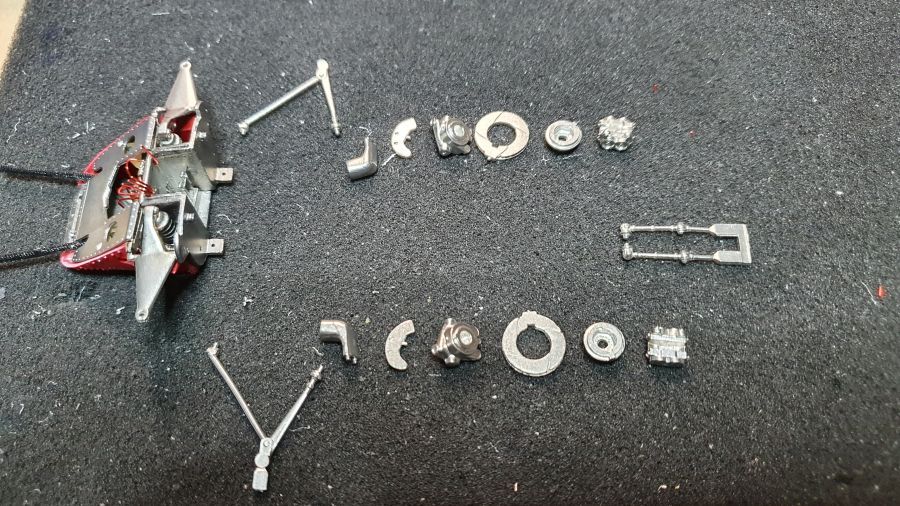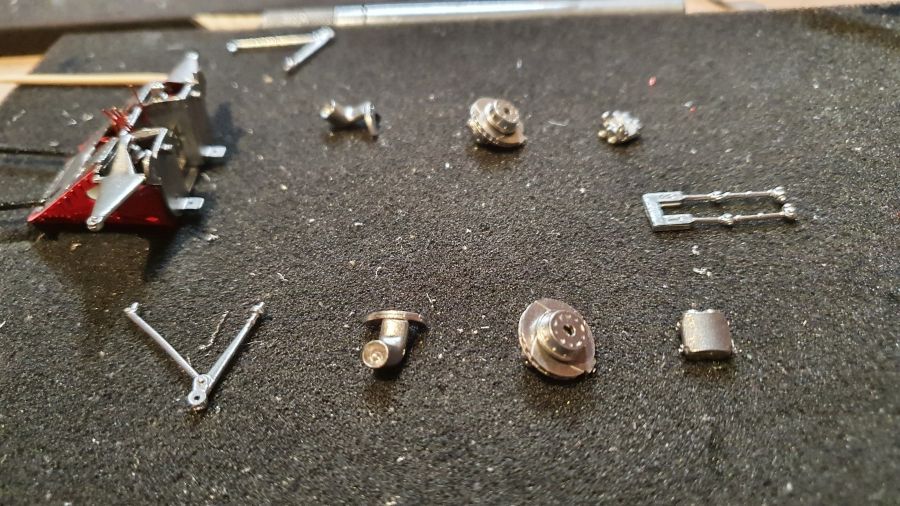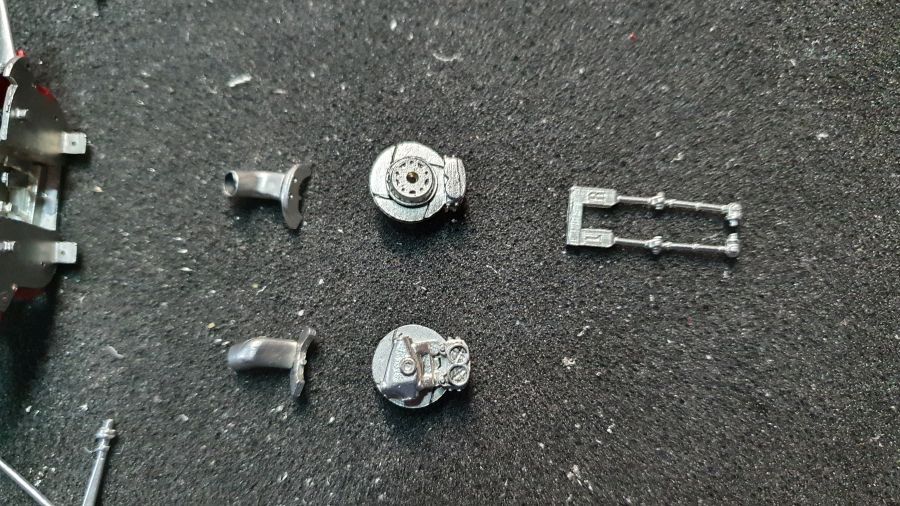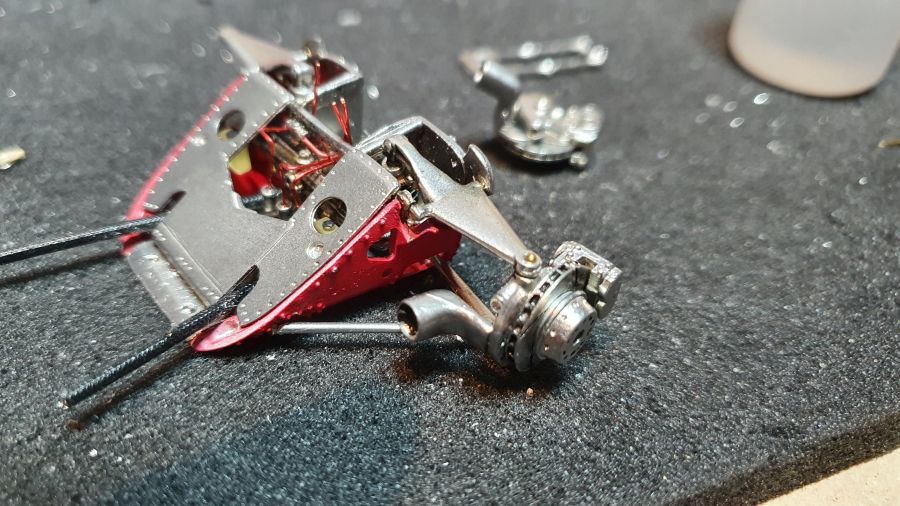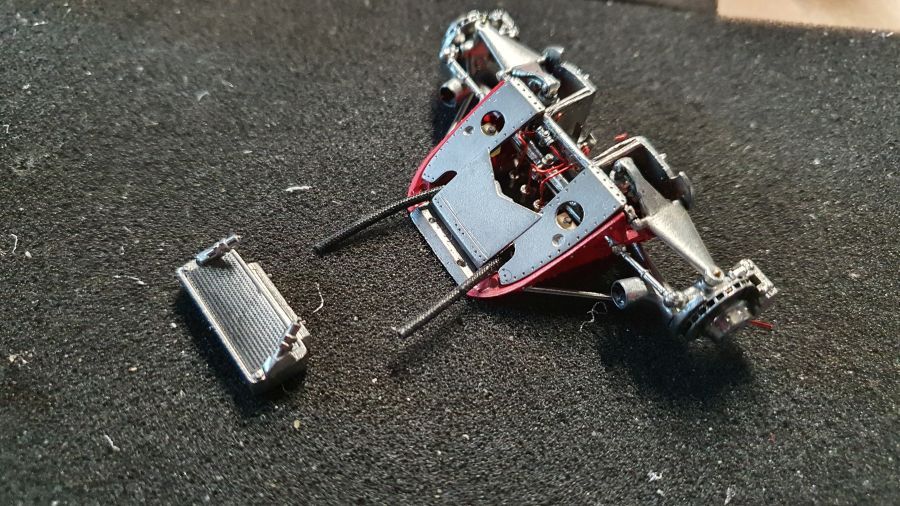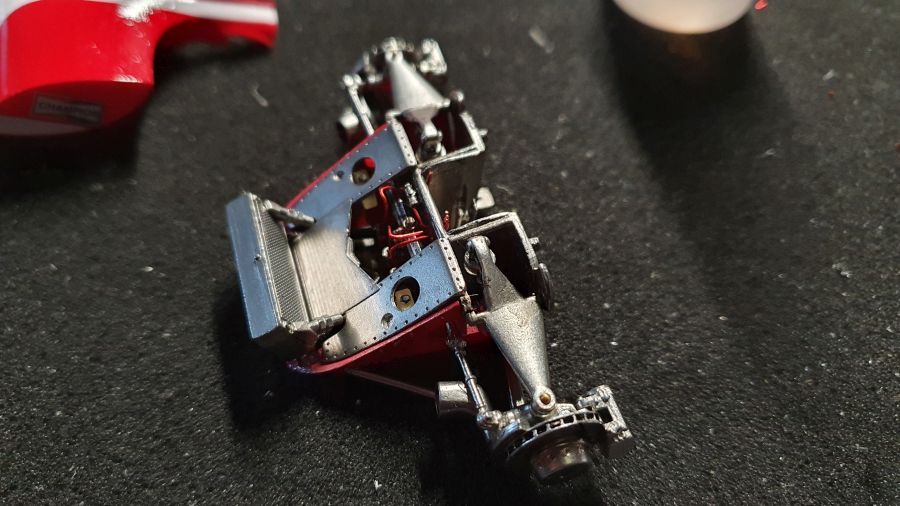 Weer testen...
Test fit again...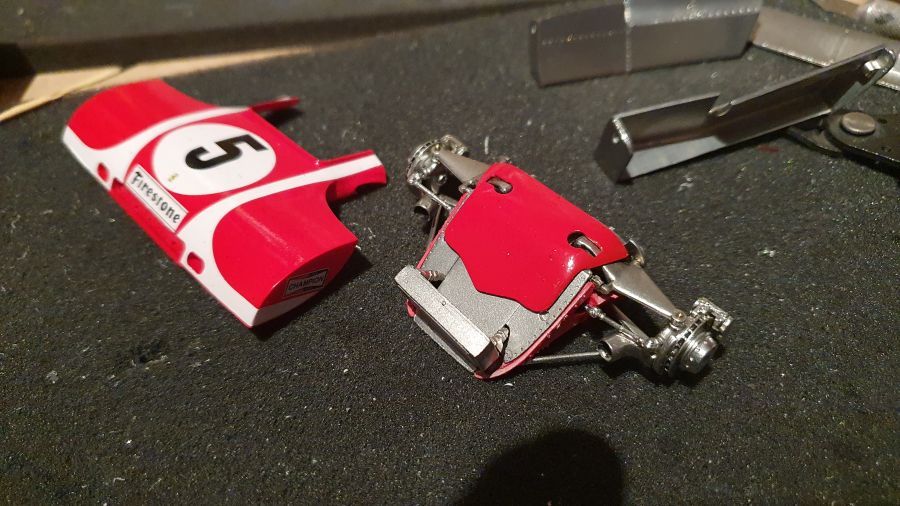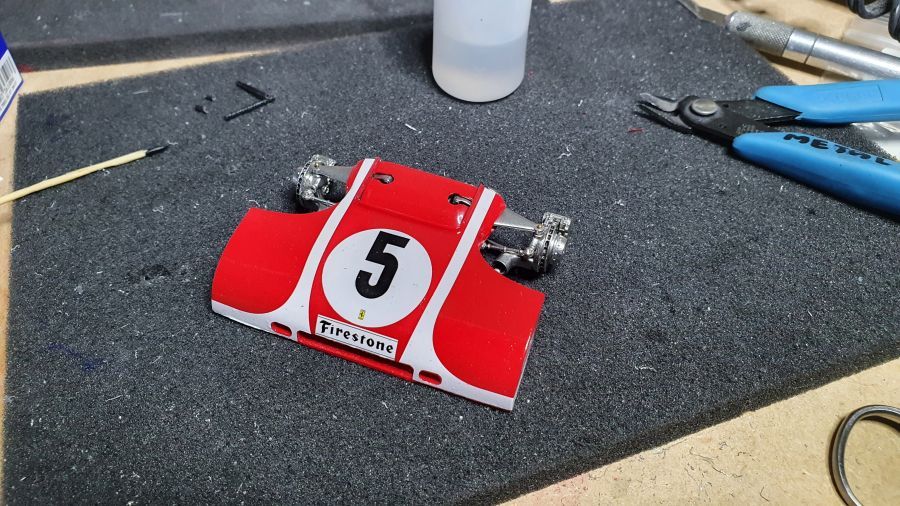 Door naar de 'kuip'...
On to the 'tub'...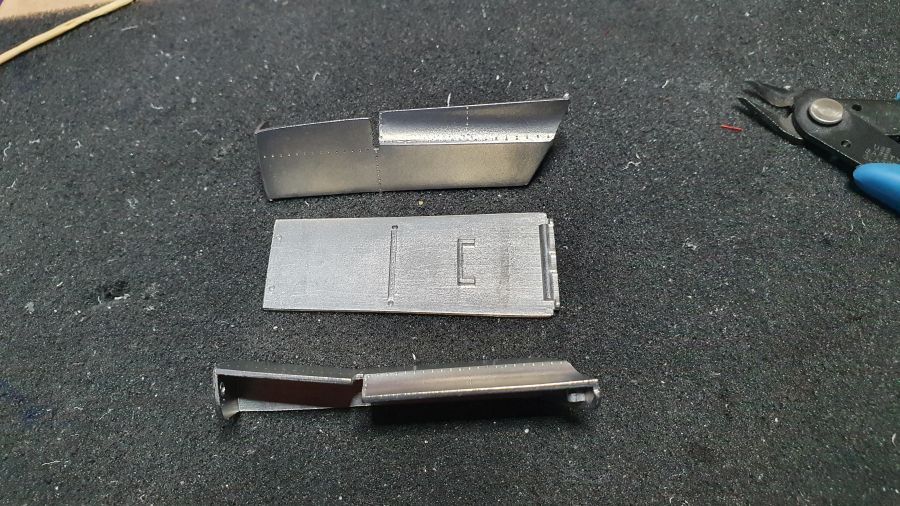 Het uitlijnen van de zijwanden.
Lining up the side walls.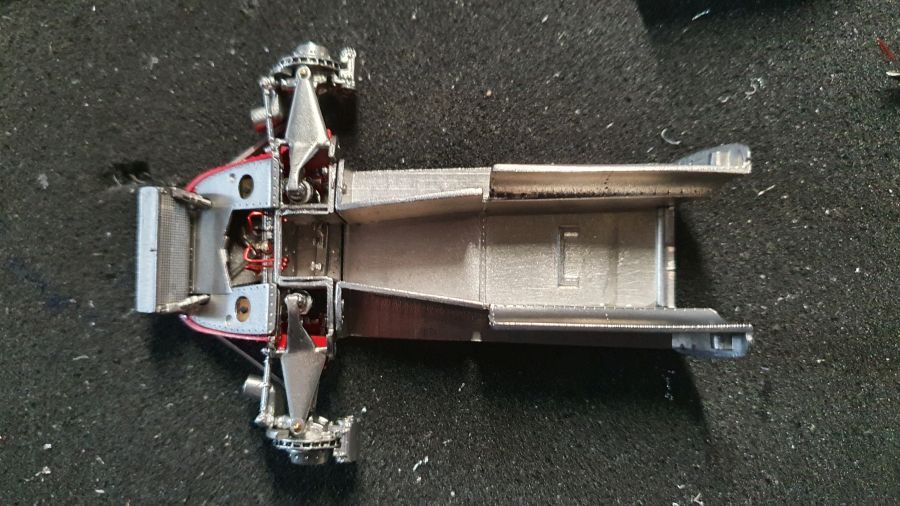 De stoel krijgt de primer en dan een mix van rood en zwart (10:1). Het resultaat is iets donkerder dan op de foto.
The seat gets primed and the a mix of red and black (10:1). The result is somewhat more dark than on the photo.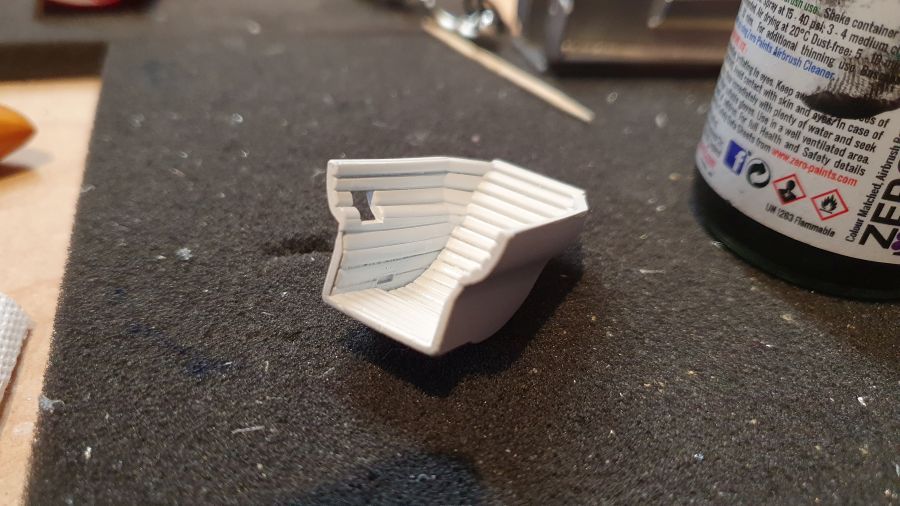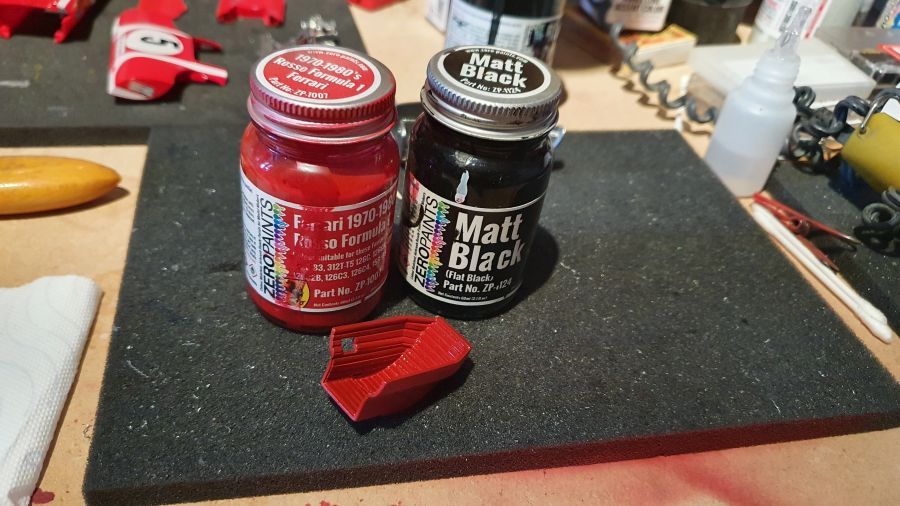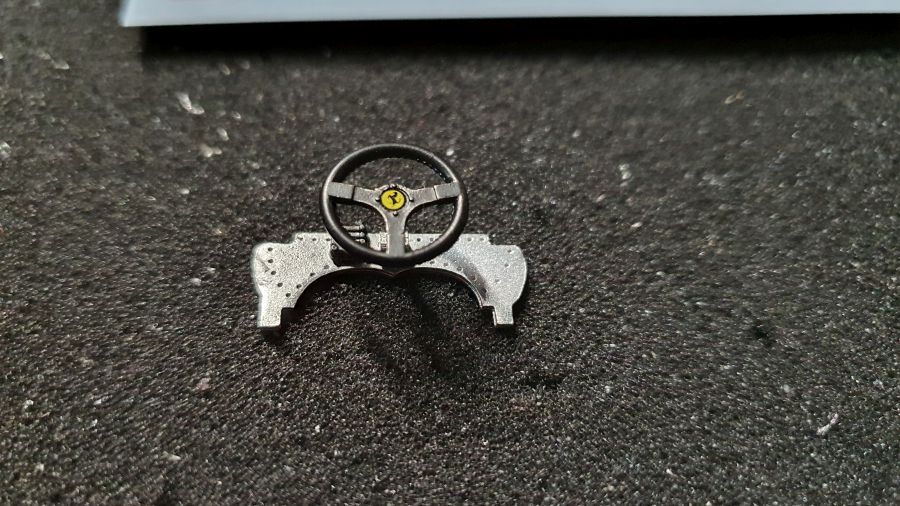 Dan is het tijd om de stoel te 'bekleden'.
Then it's time to 'upholster' the seat.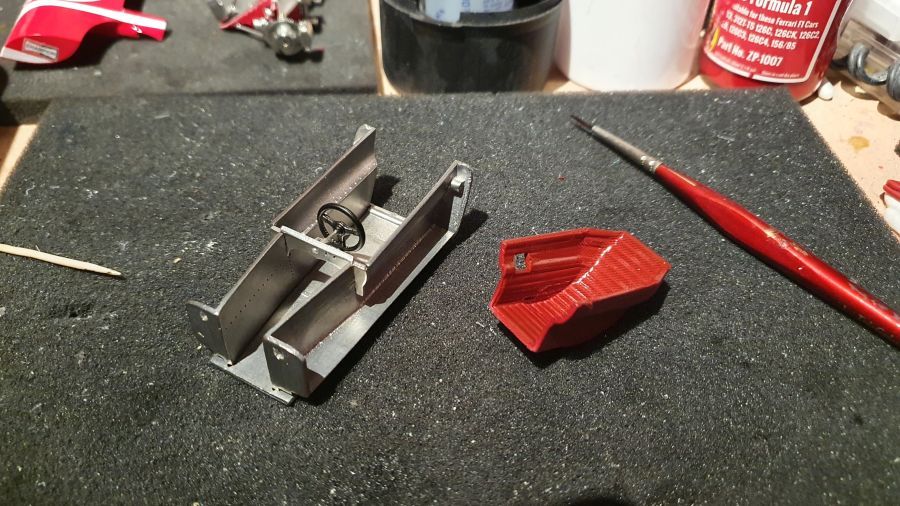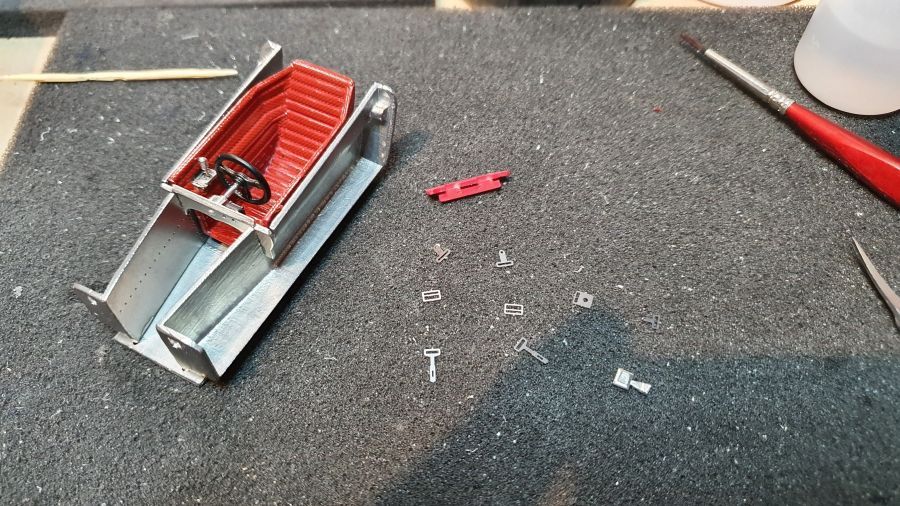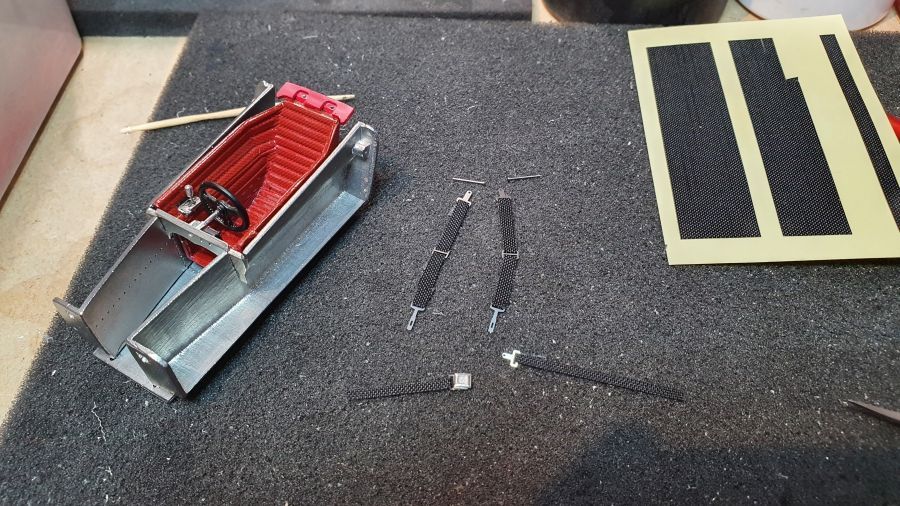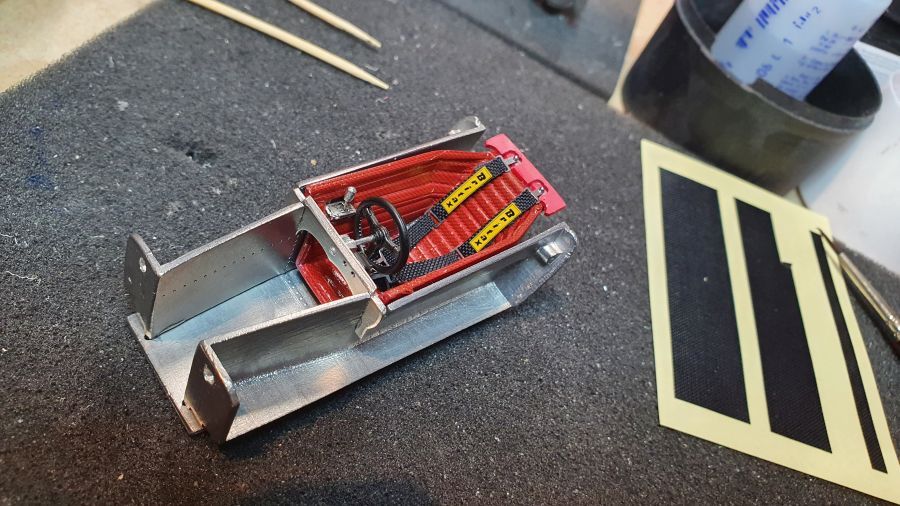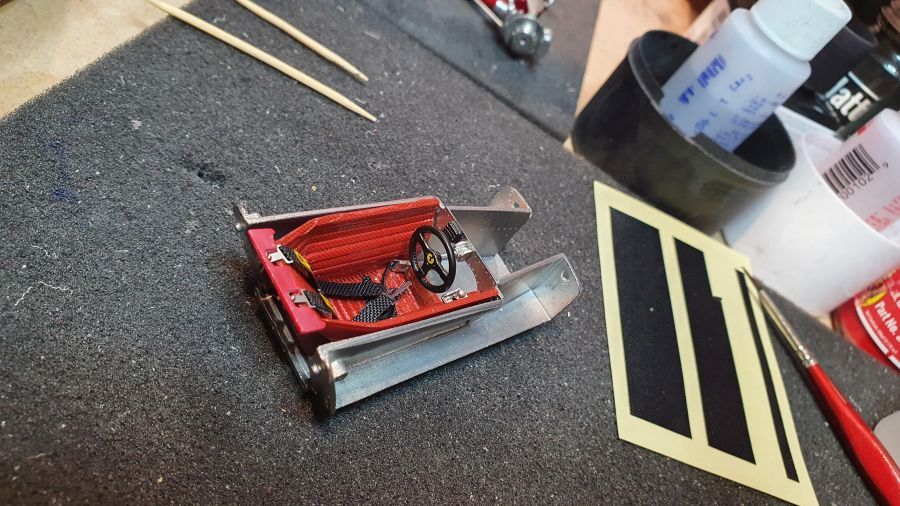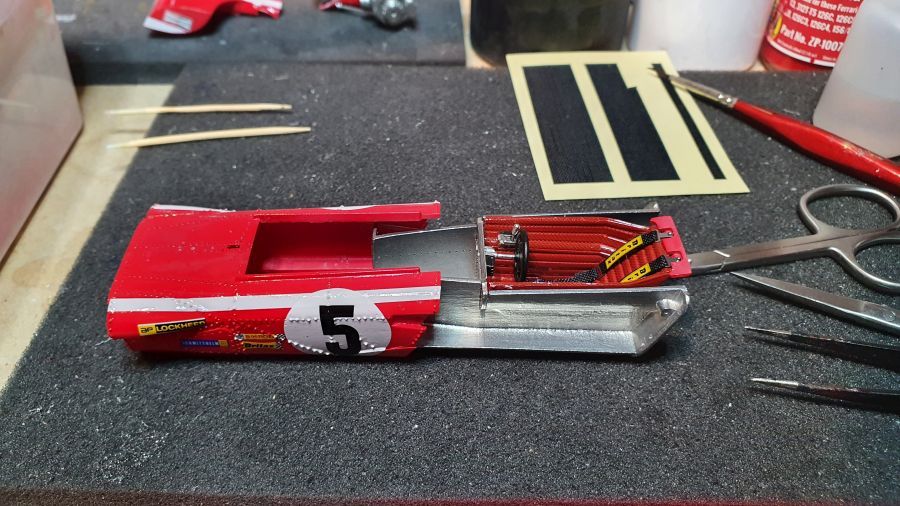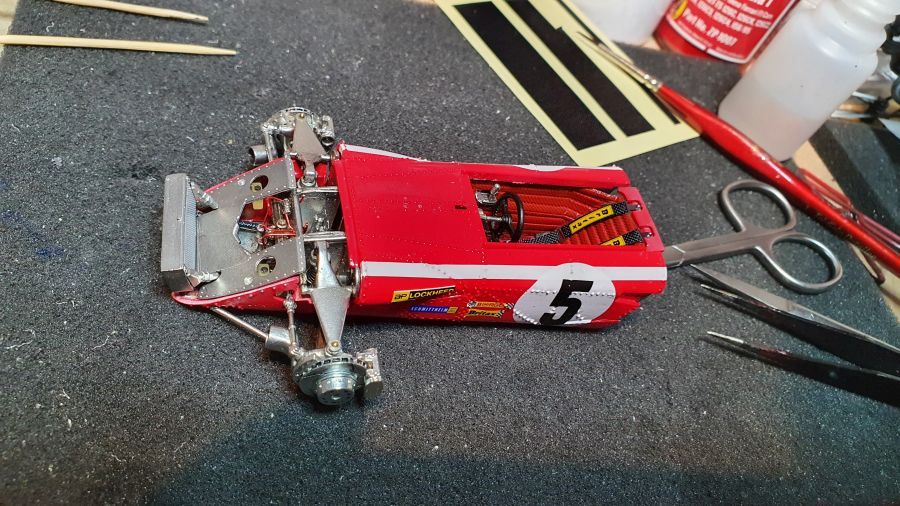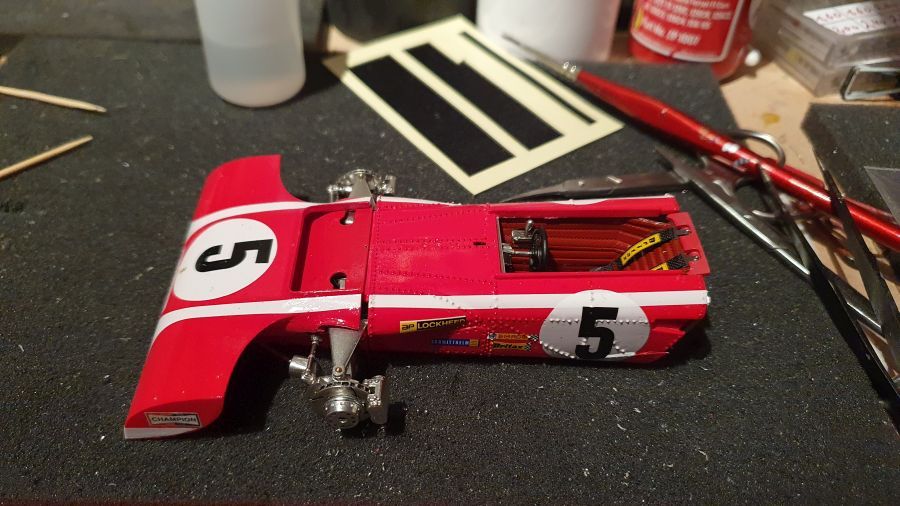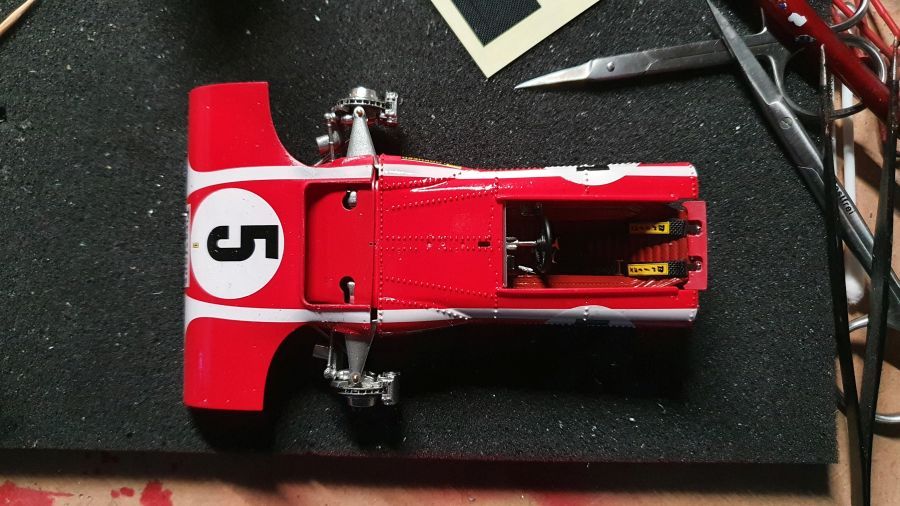 De neus past niet helemaal goed... Maar na wat klein slijpwerk...
The nose didn't fit very well... But after some grinding...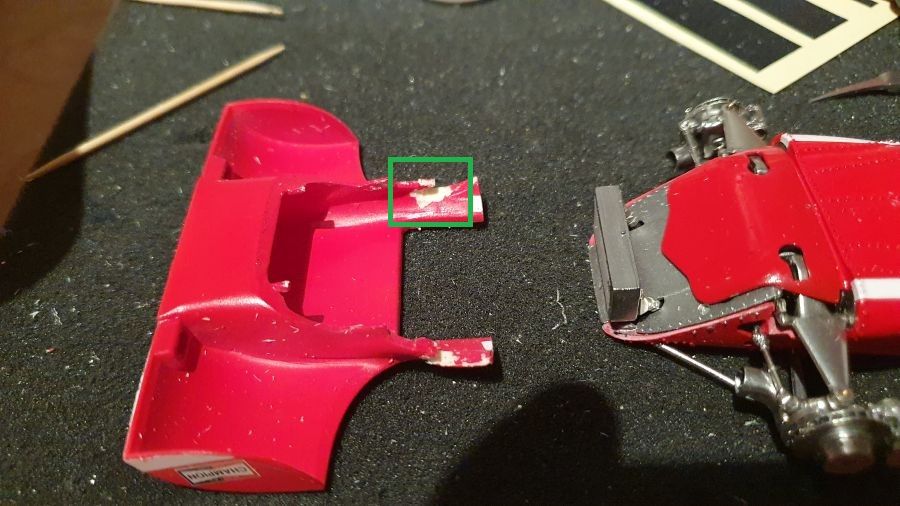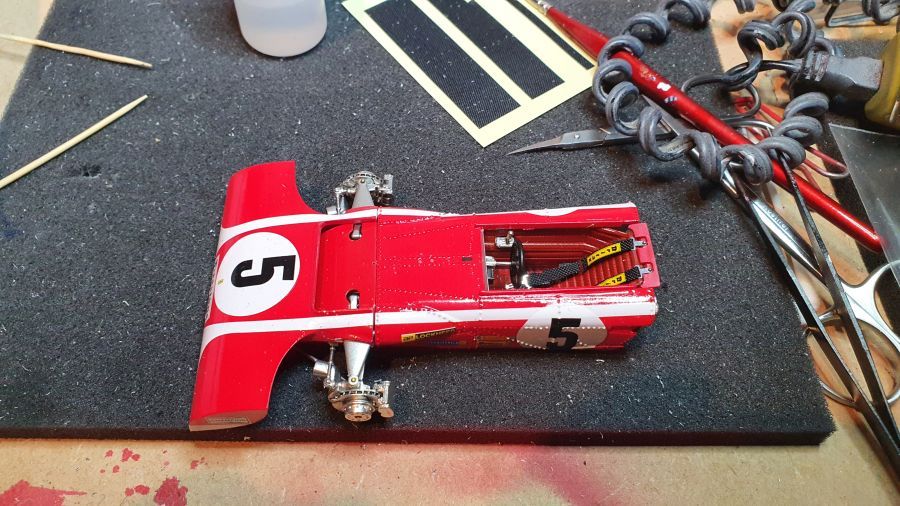 De klokken en de bedrading...
The gauges and the wires...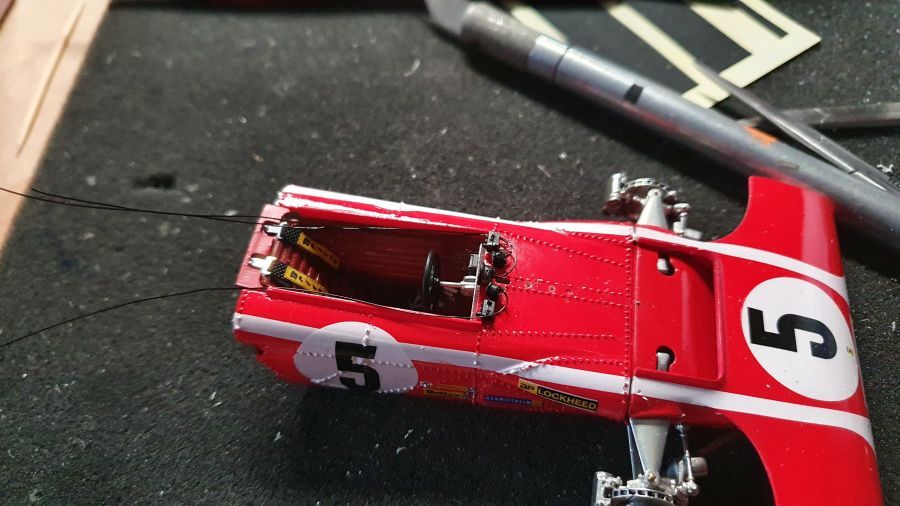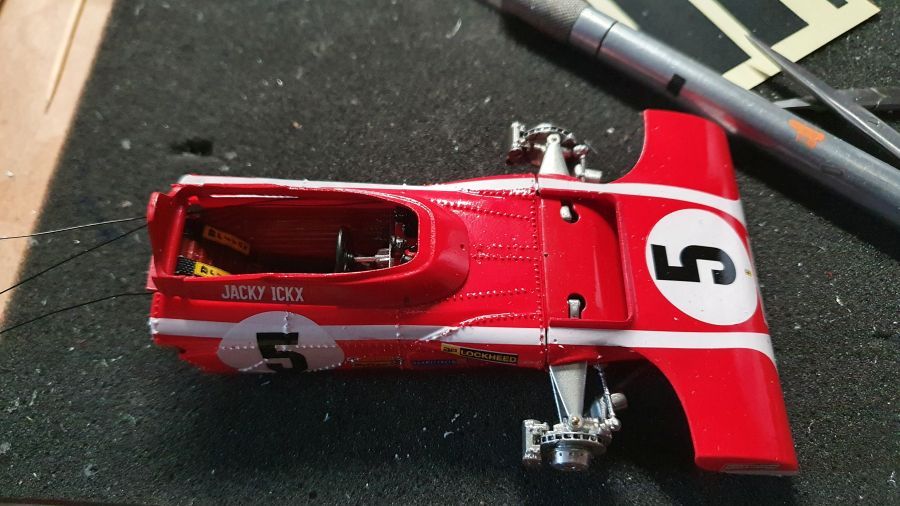 Door naar de motor...
On to the engine...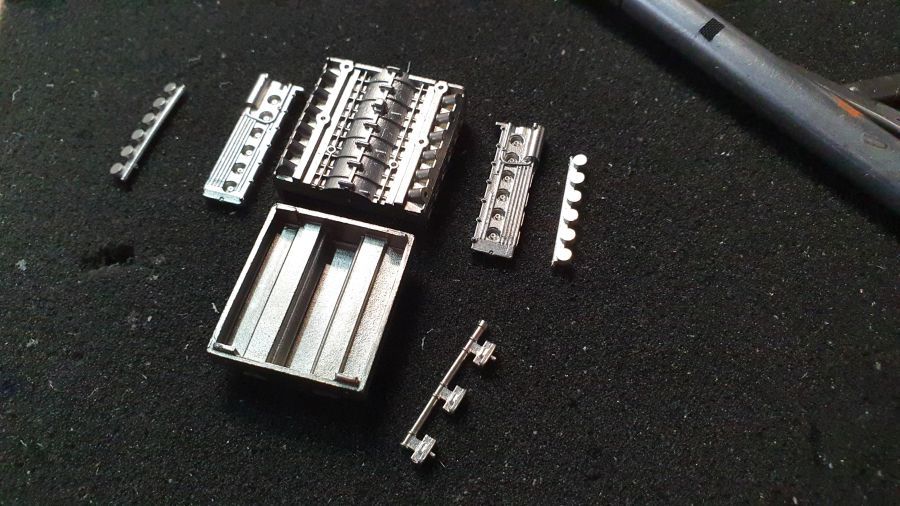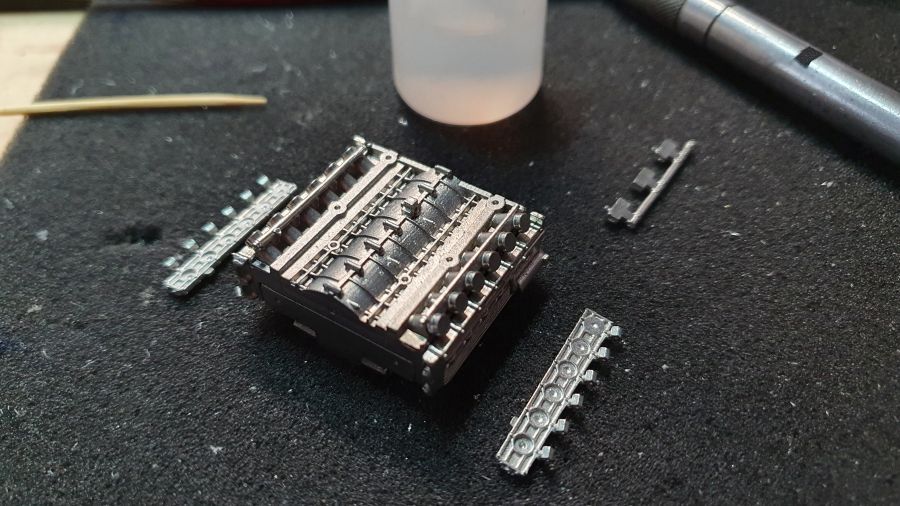 Het motorblok is gespoten met metaalprimer en titaniumzilver.
The engine block has been sprayed with metal primer and titanium silver.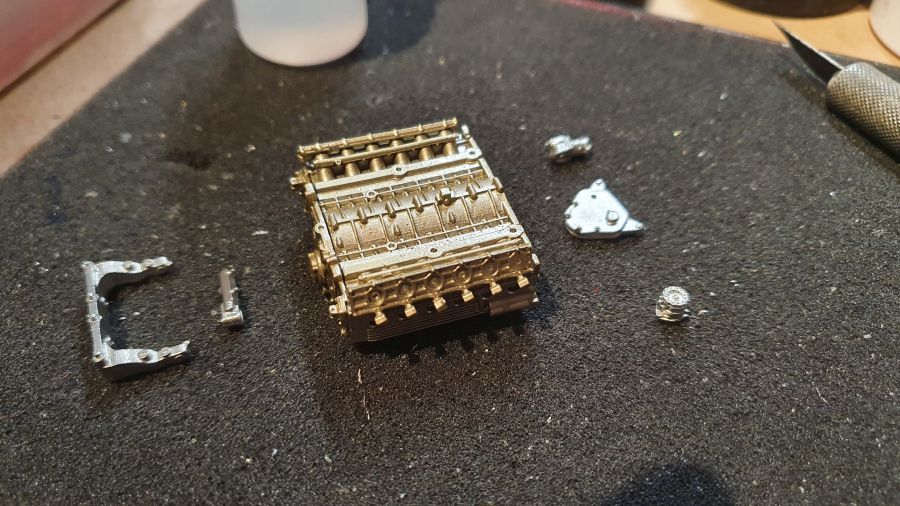 Tijd voor ontstekingsbedrading en benzineleidingen.
Time for ignition wires and fuel lines.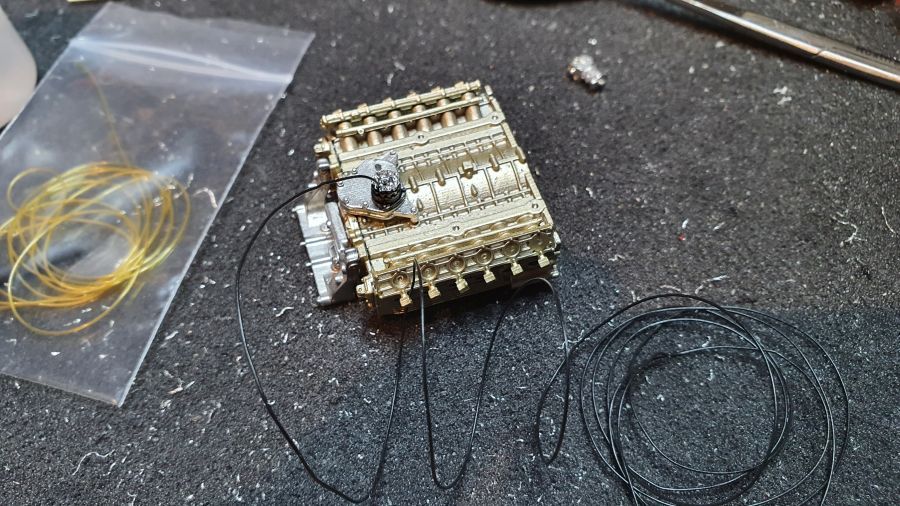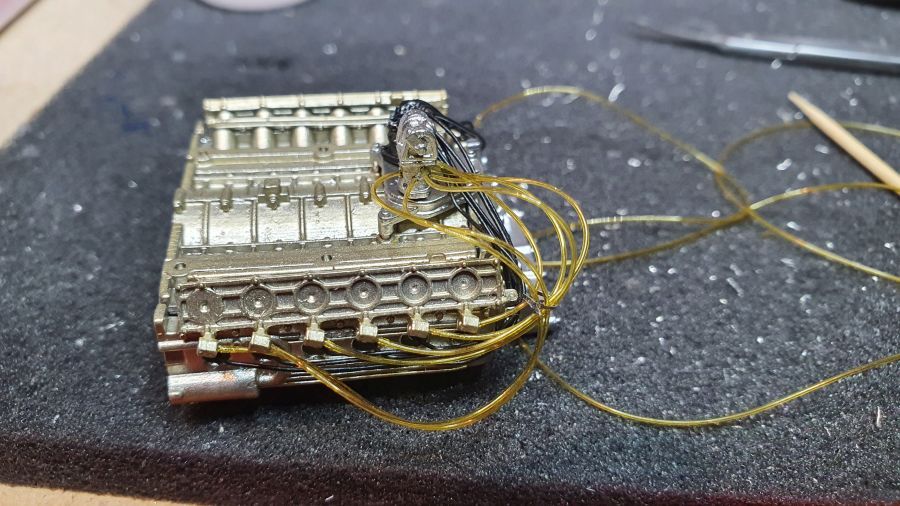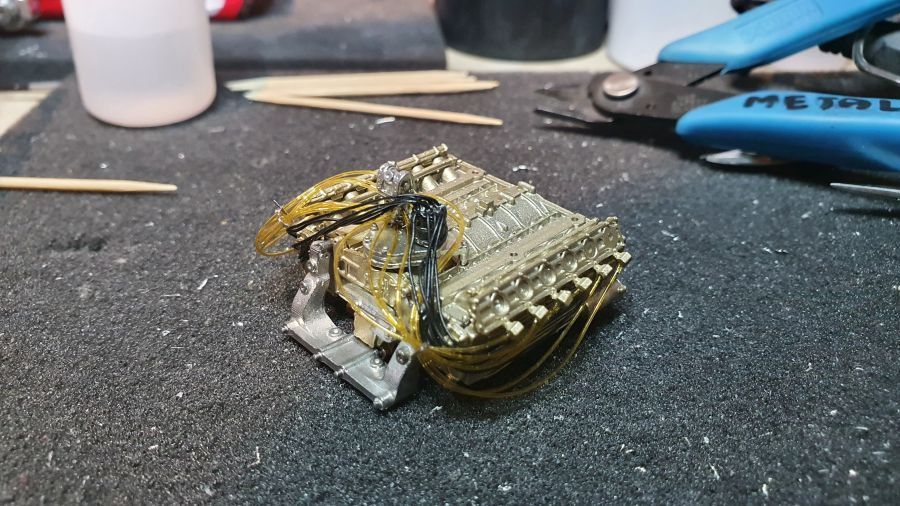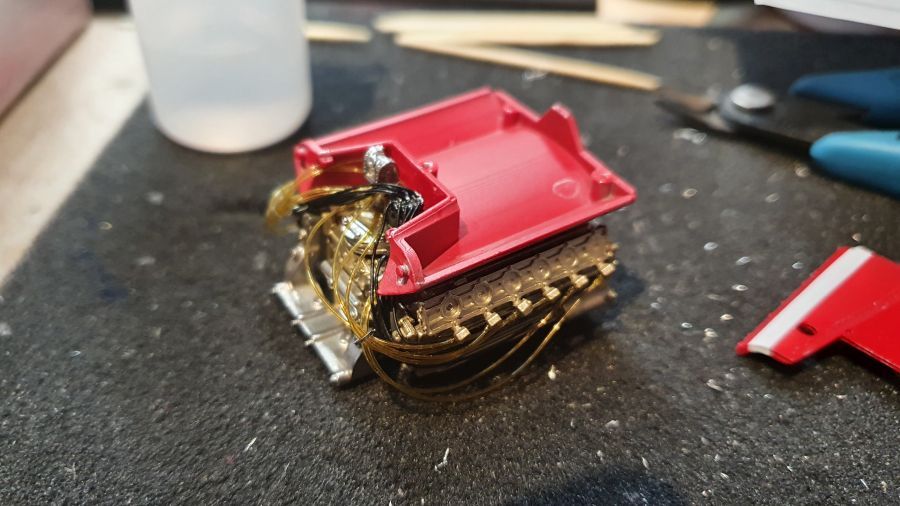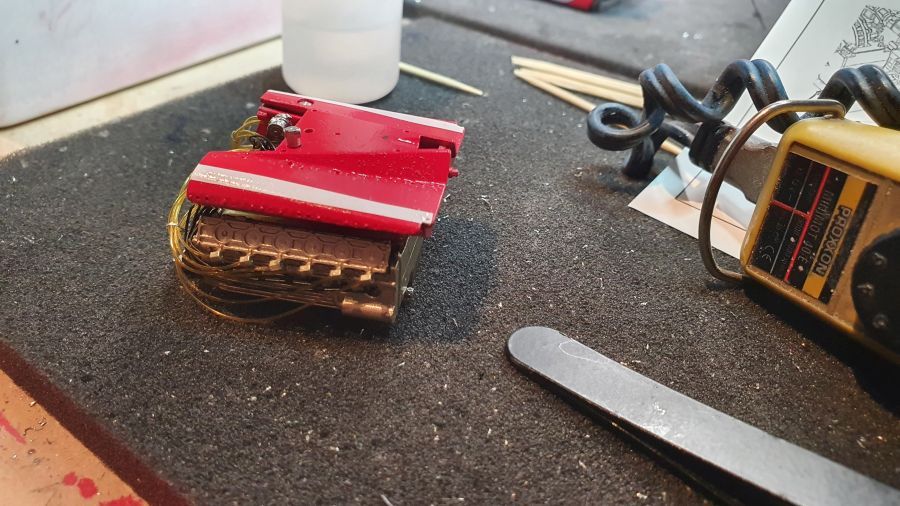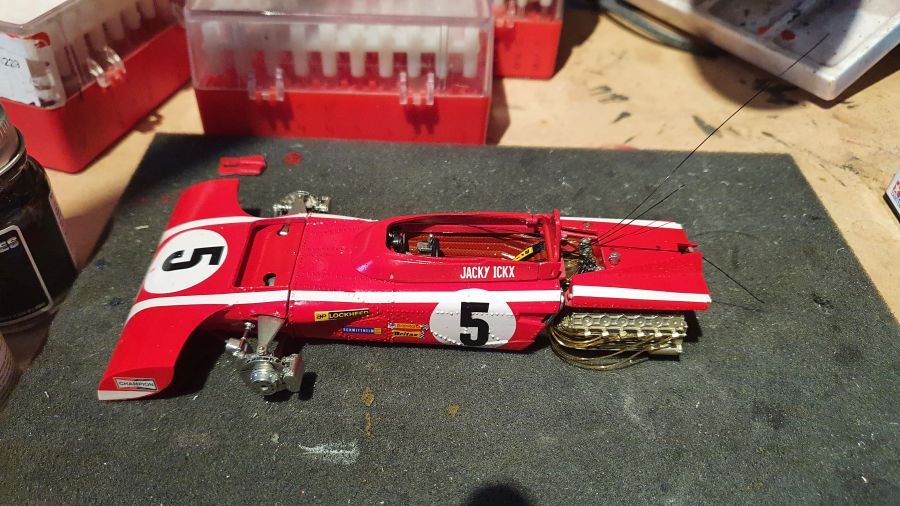 Dan is de versnellingsbak aan de beurt.
Next is the gear box.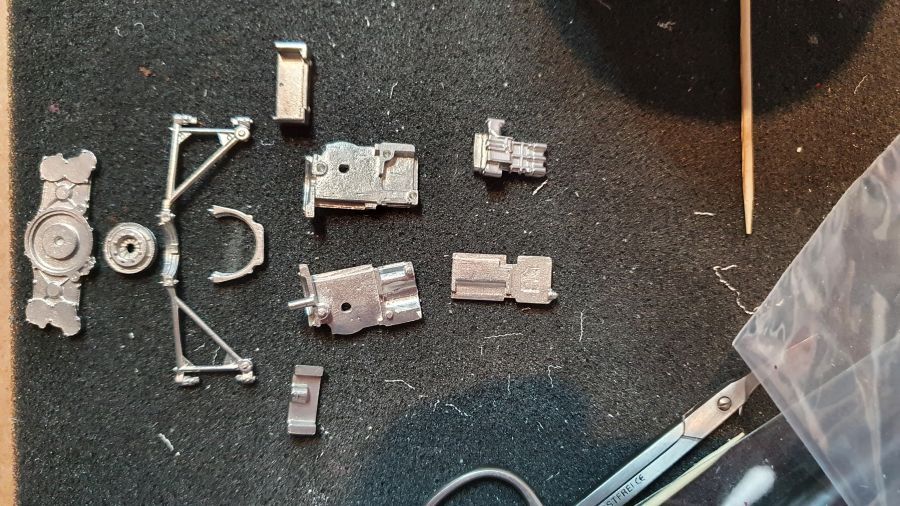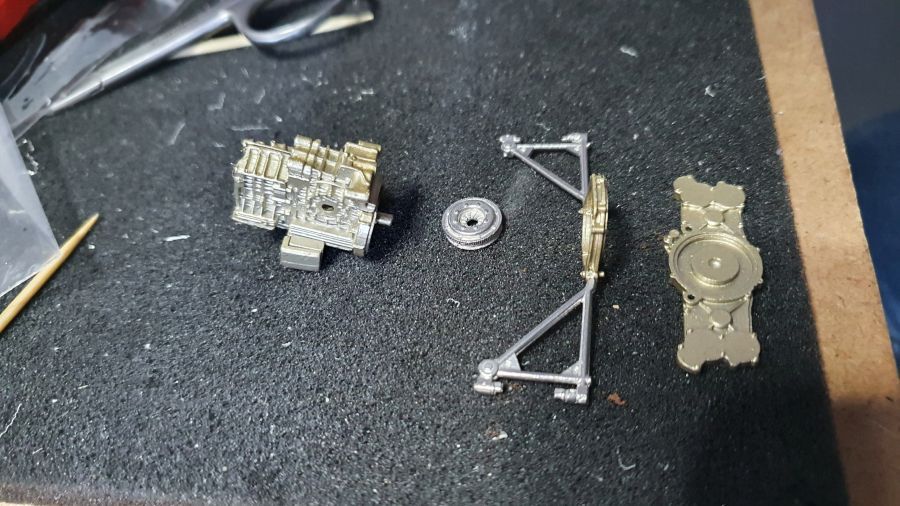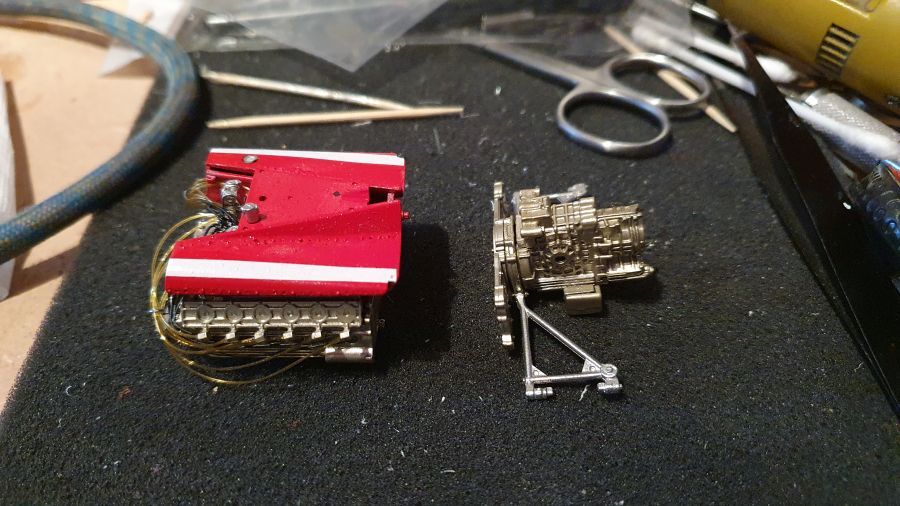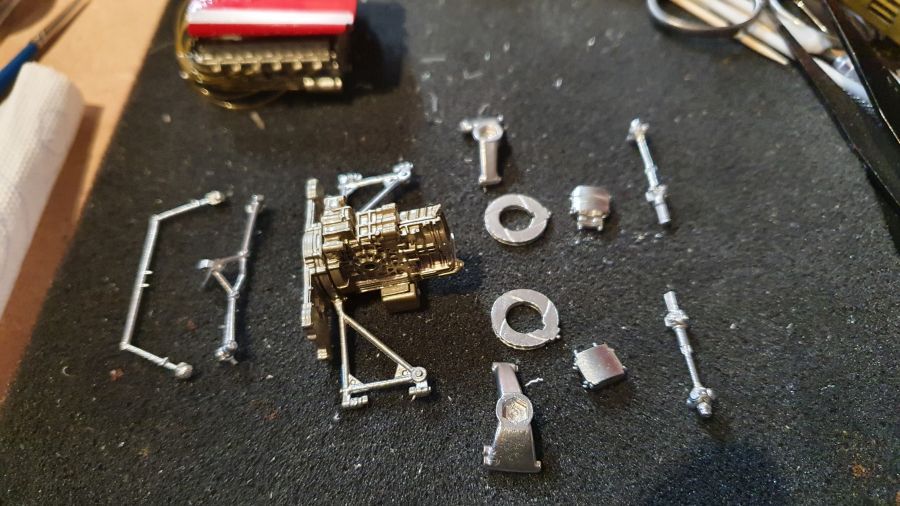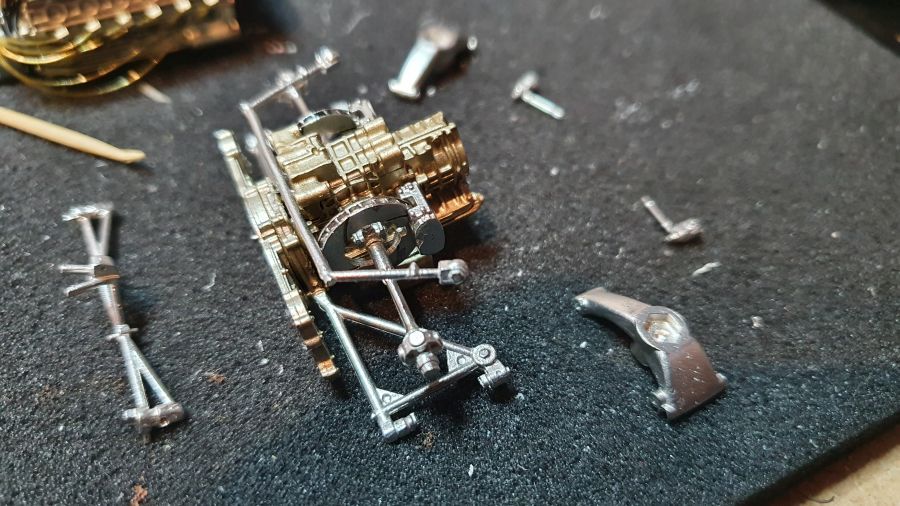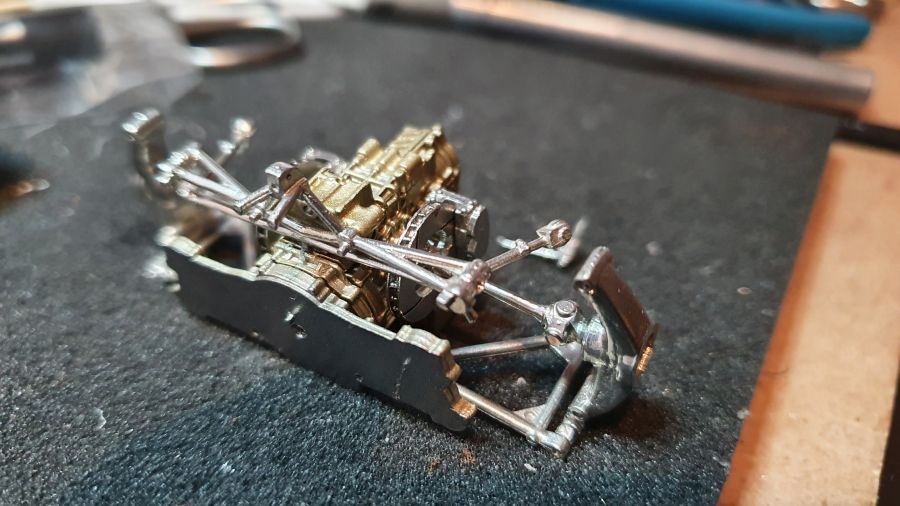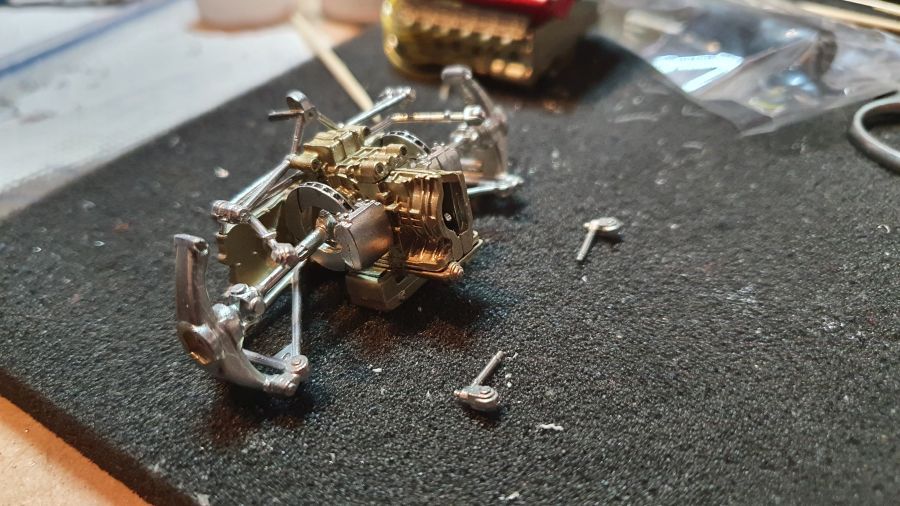 Nu eerst wat verf aanbrengen om het wat gebruikt te laten lijken. Ik gebruik nu voor het eerst Tamiya Panel Line Accent Color.
Now first add some paint to let it look like used a bit. I will use Tamiya Panel Line Accent Color for the first time.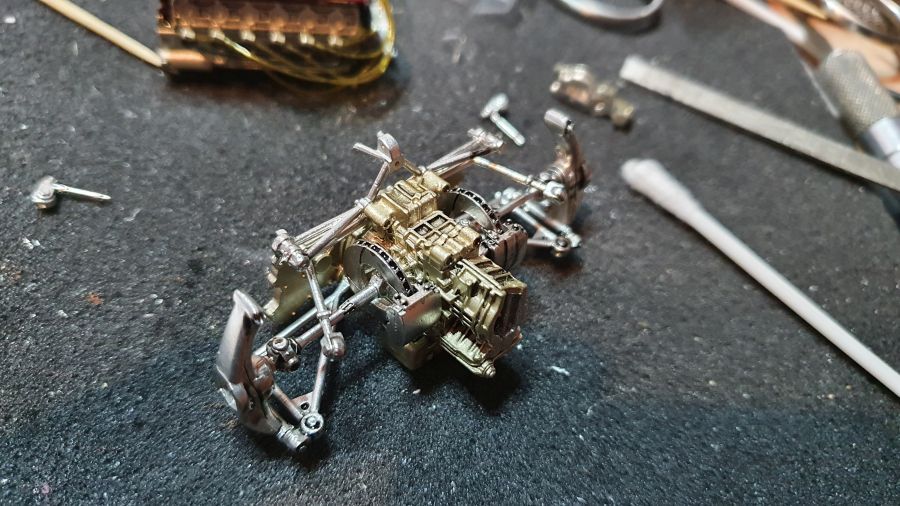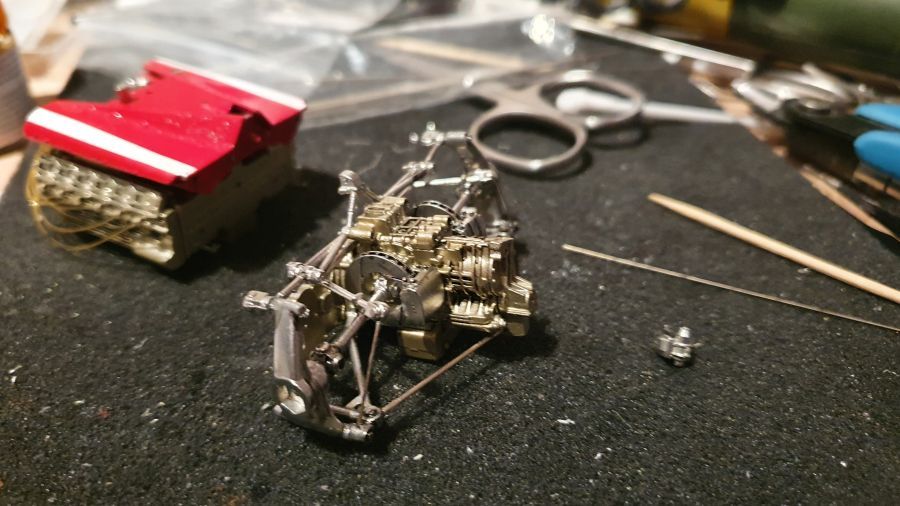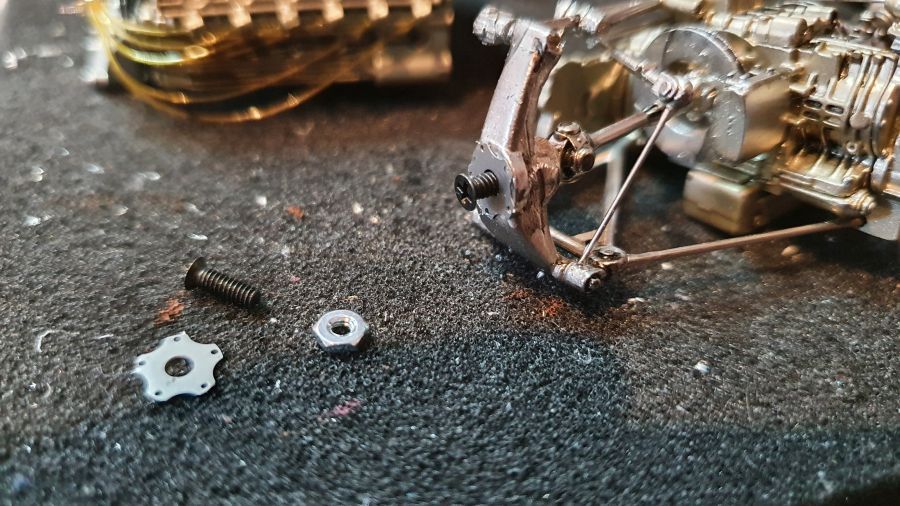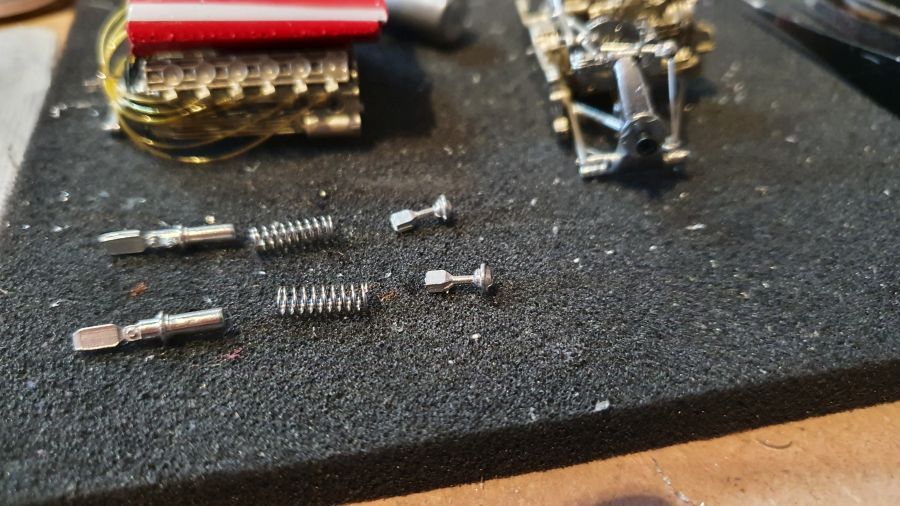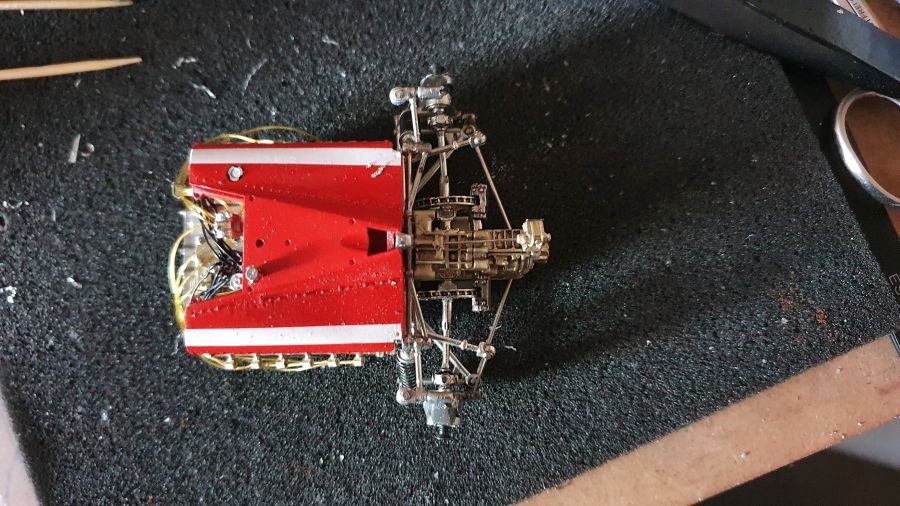 Oranje en geel mixen.
Mix the orrange and yellow.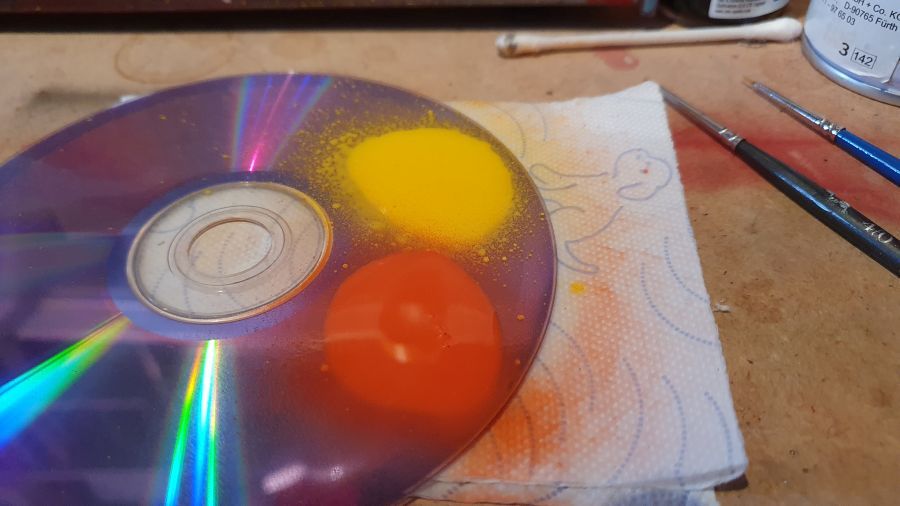 Tijd om de uitlaten te spuiten.
Time to paint the exhausts.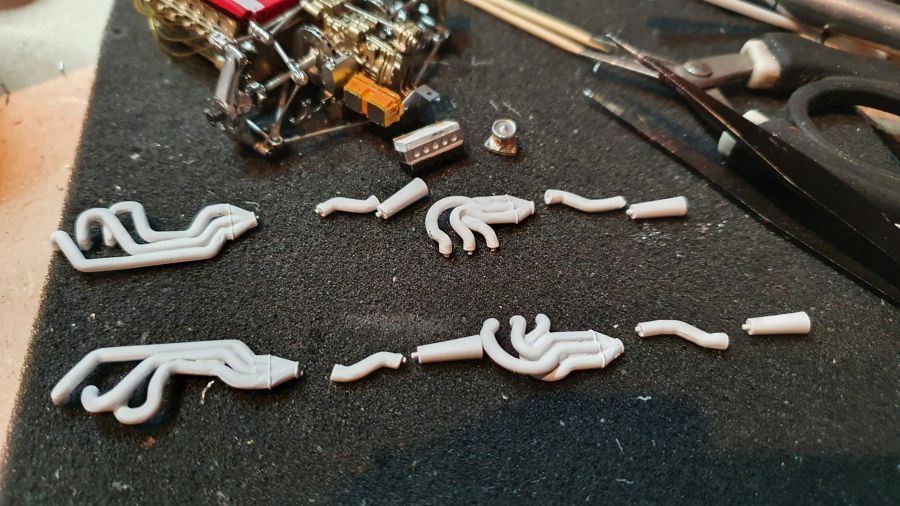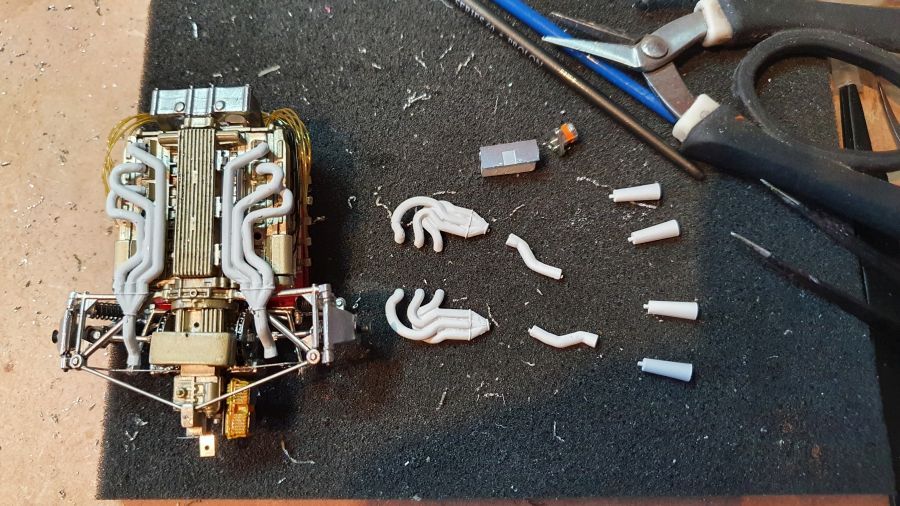 Passen... Nog ver te gaan...
Test fit... A long way to go...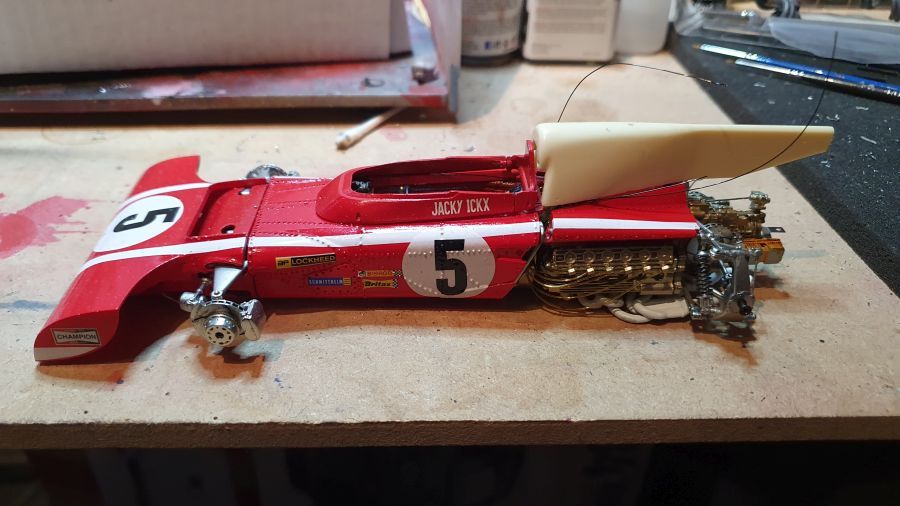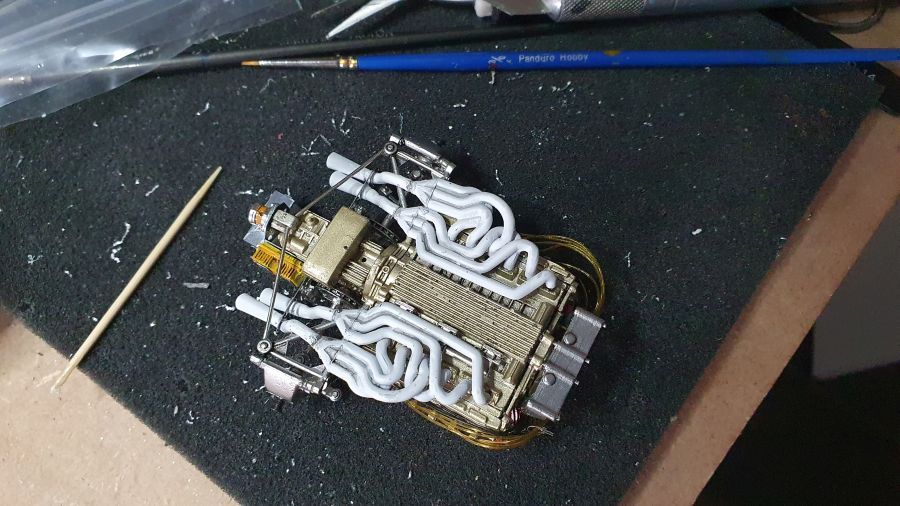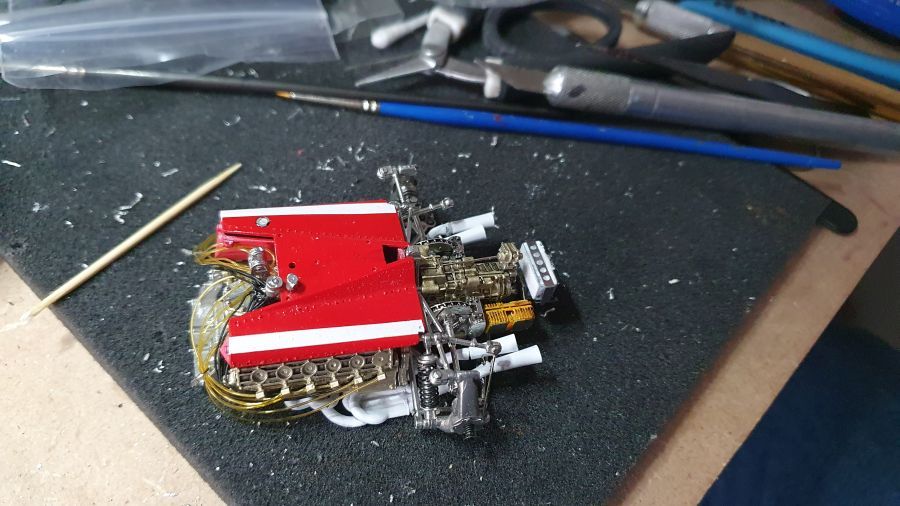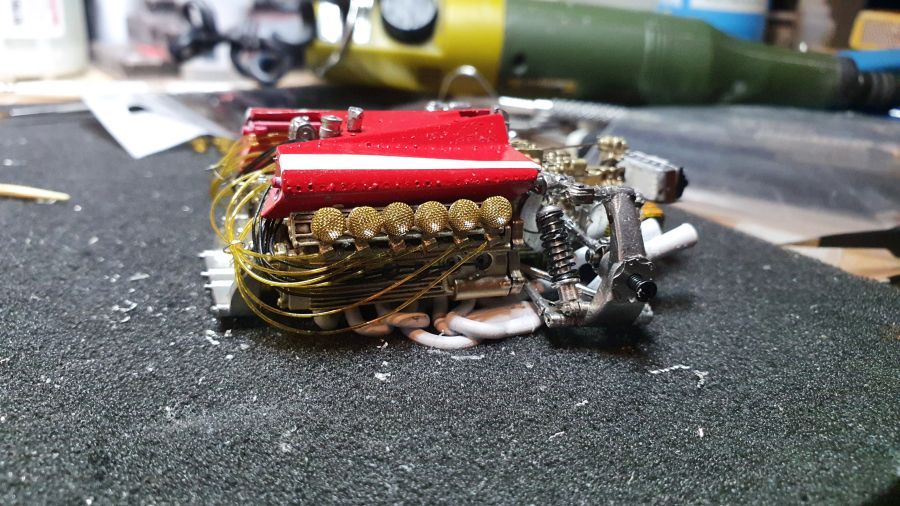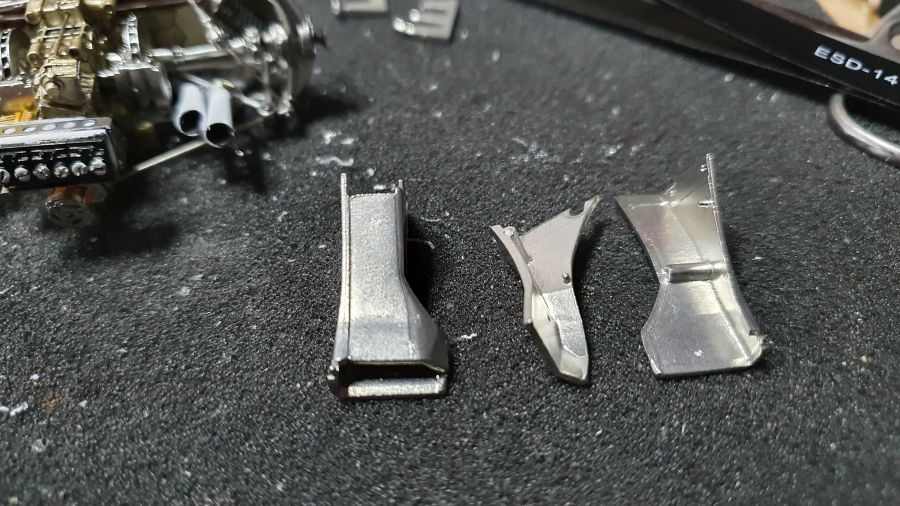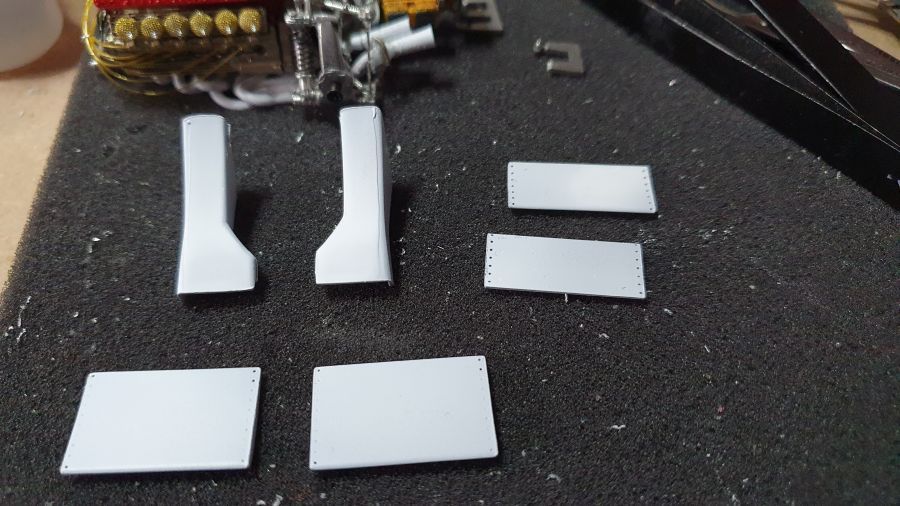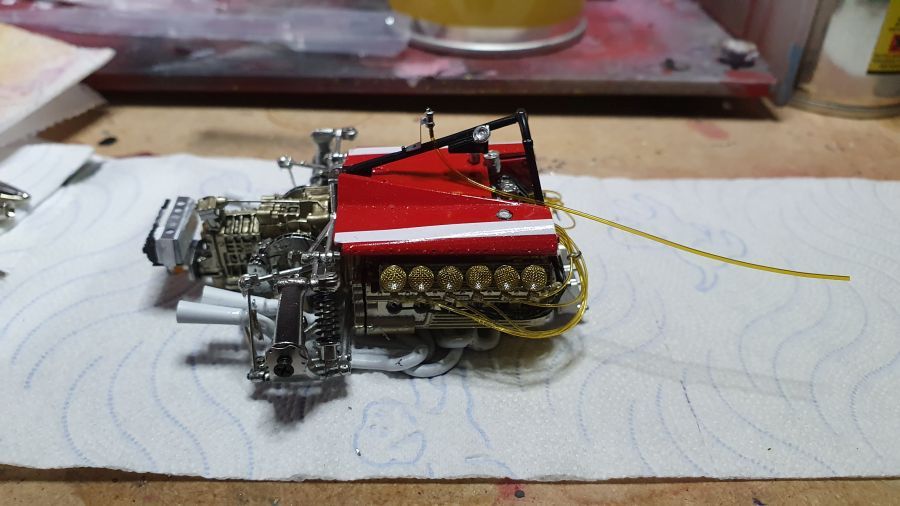 Verder met de witte delen van de achterkant.
On to the white parts of the rear.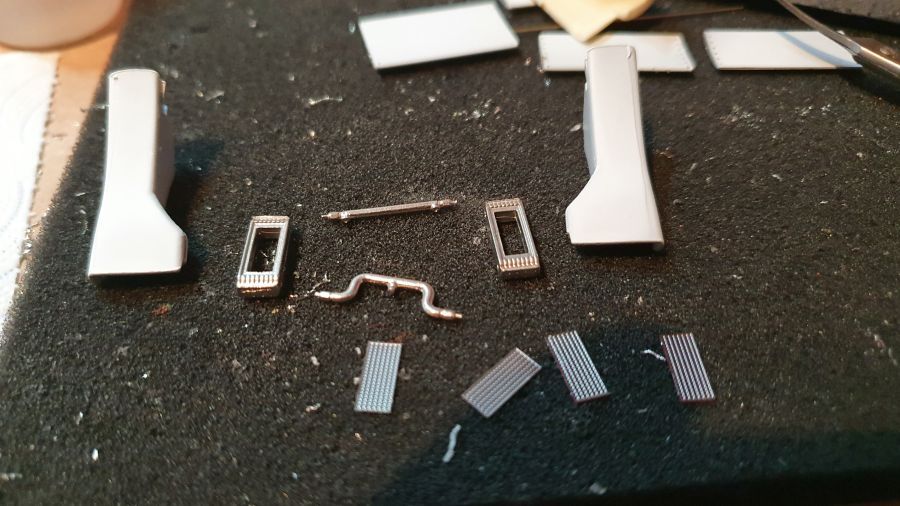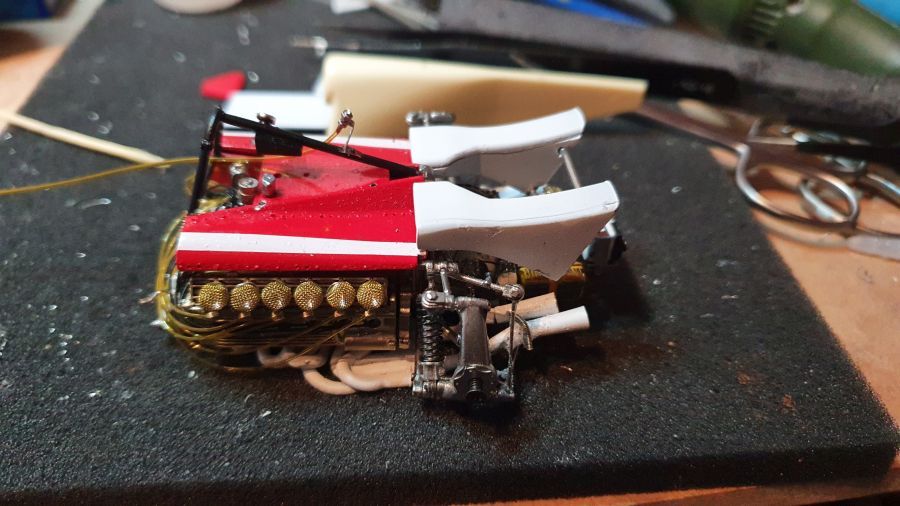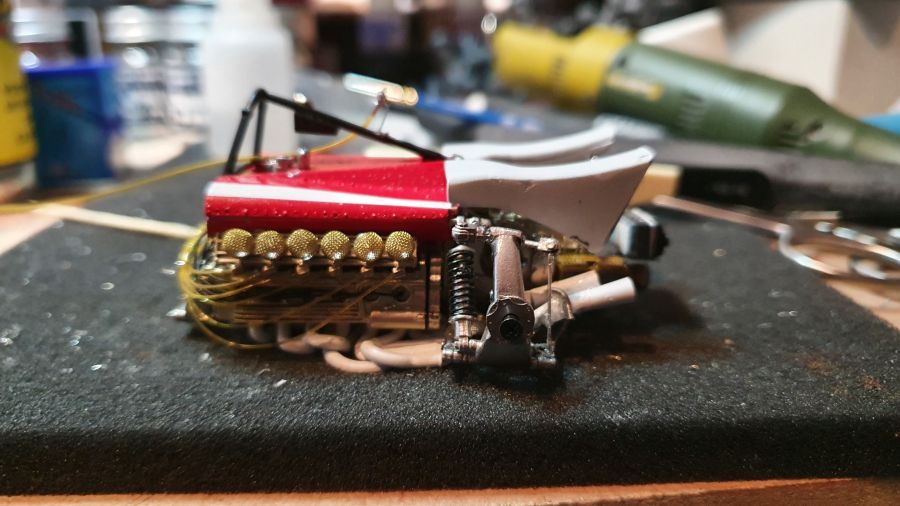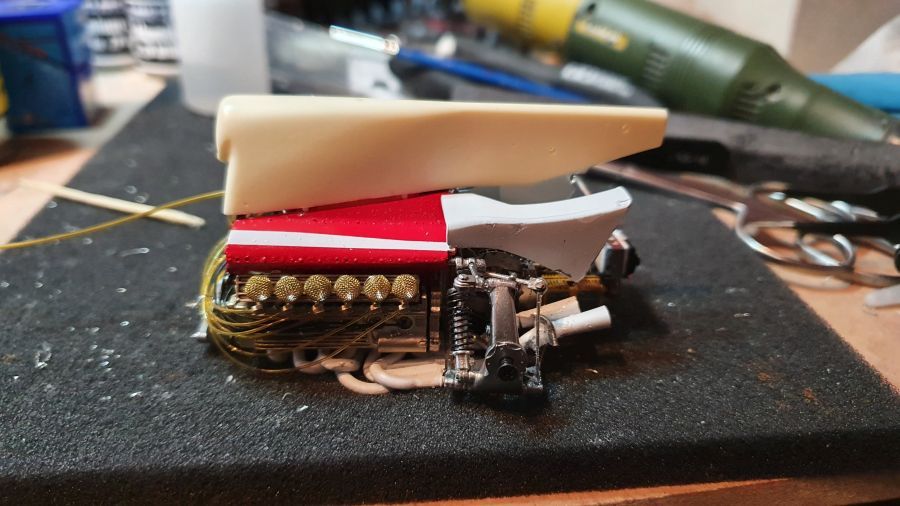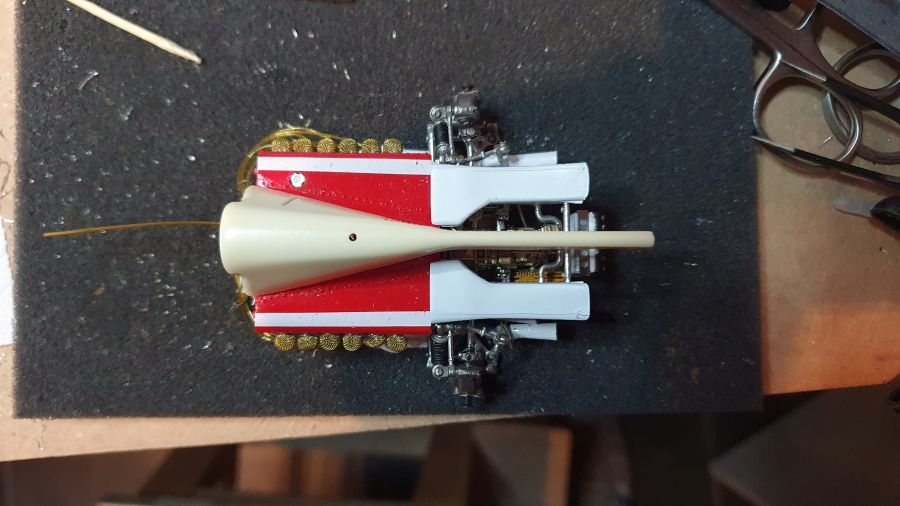 Het huwelijk...
The marriage...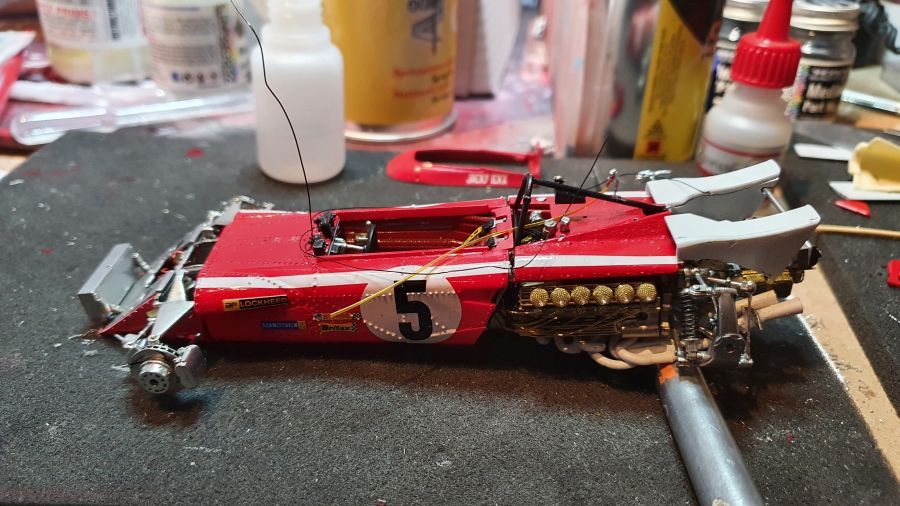 De eesrte steunen...
The first supports...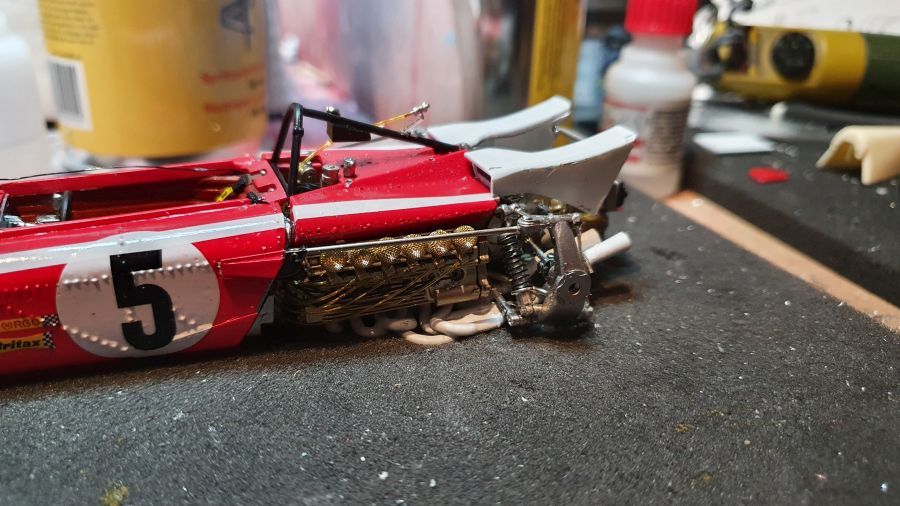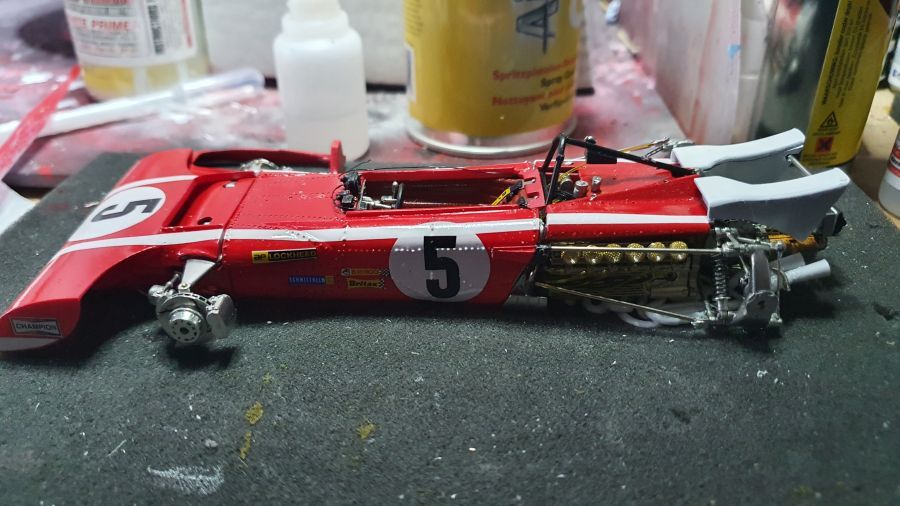 Dit wordt lastig...
This will be a 'pita'...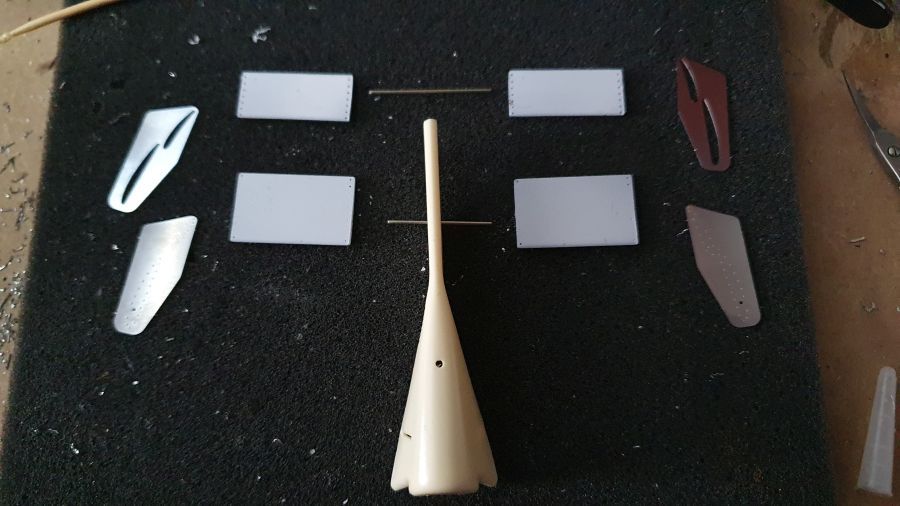 Gaten geboord en de steunen geplaatst. Dan de verdere opbouw...
Holes were drilled and were supports added. Then the full build up.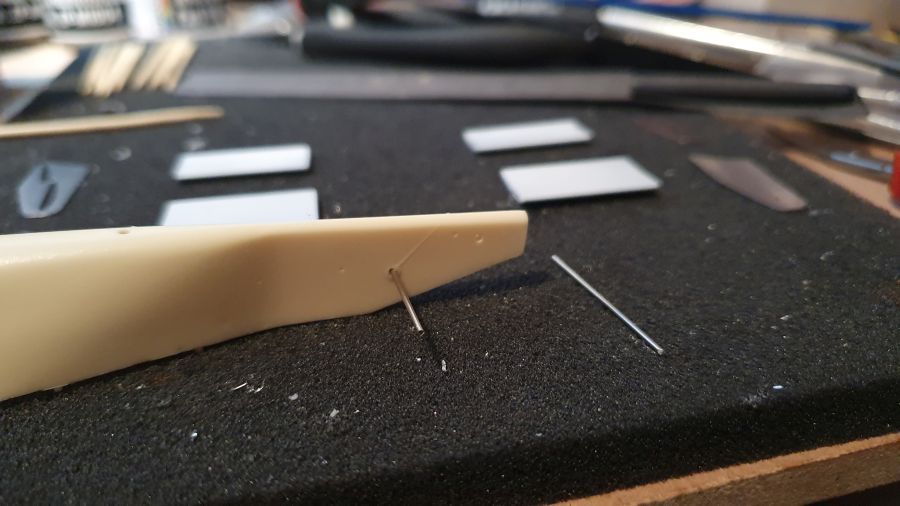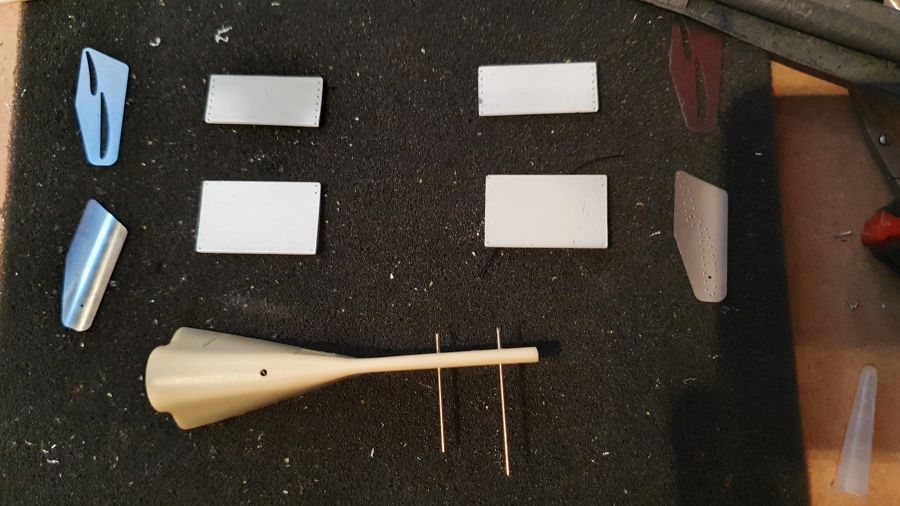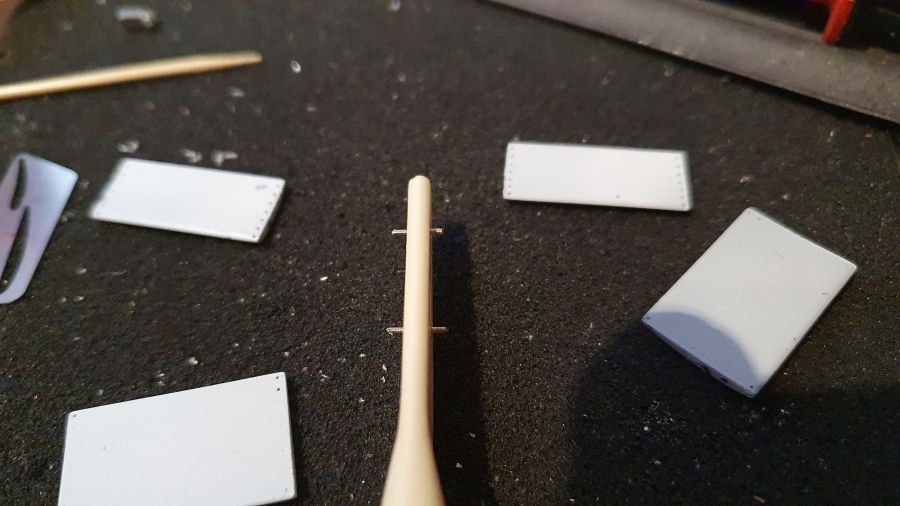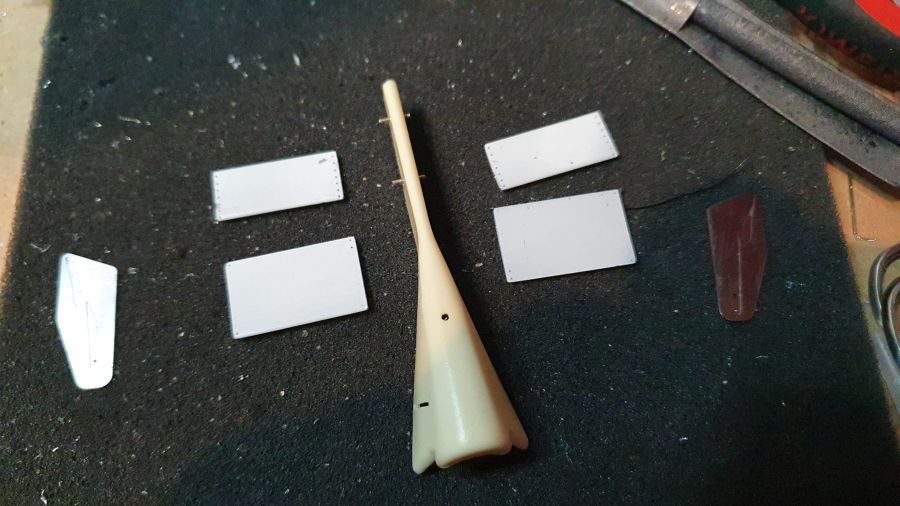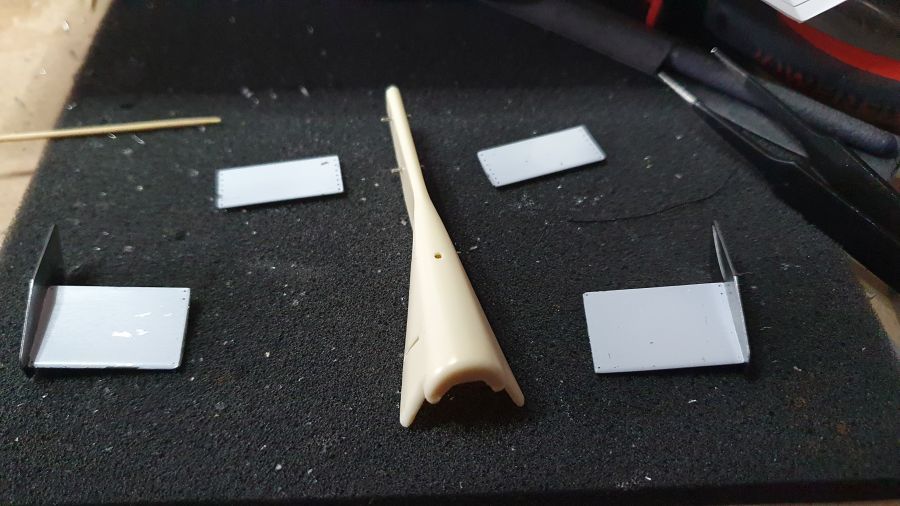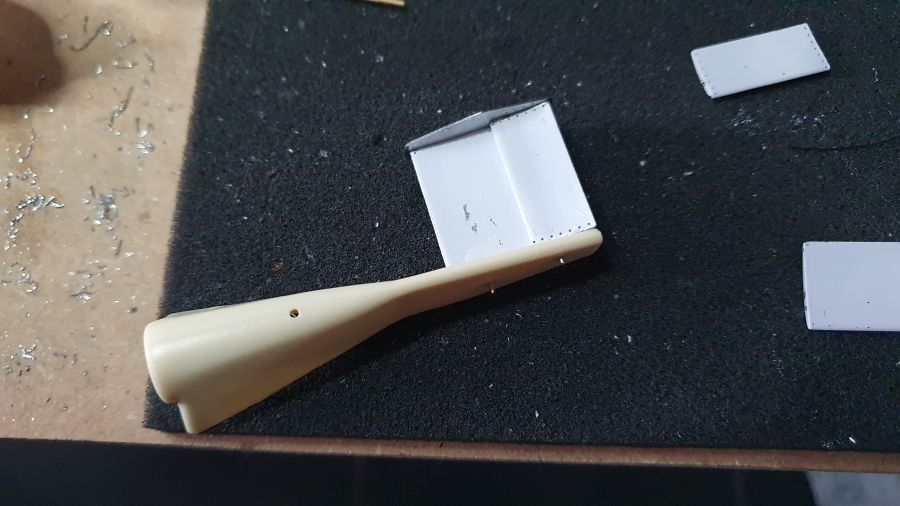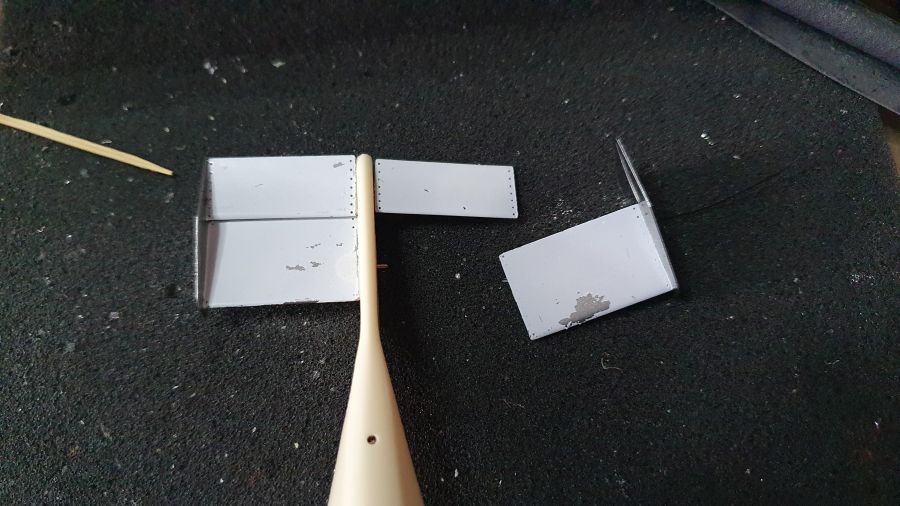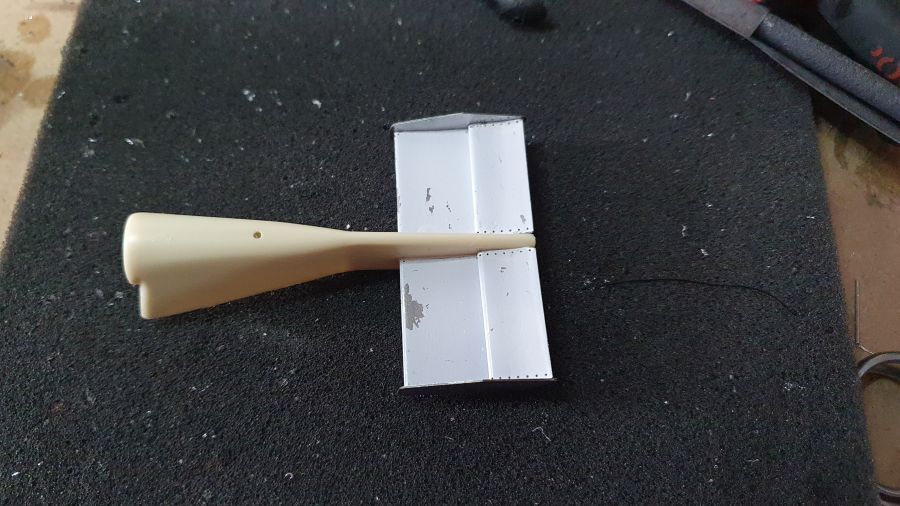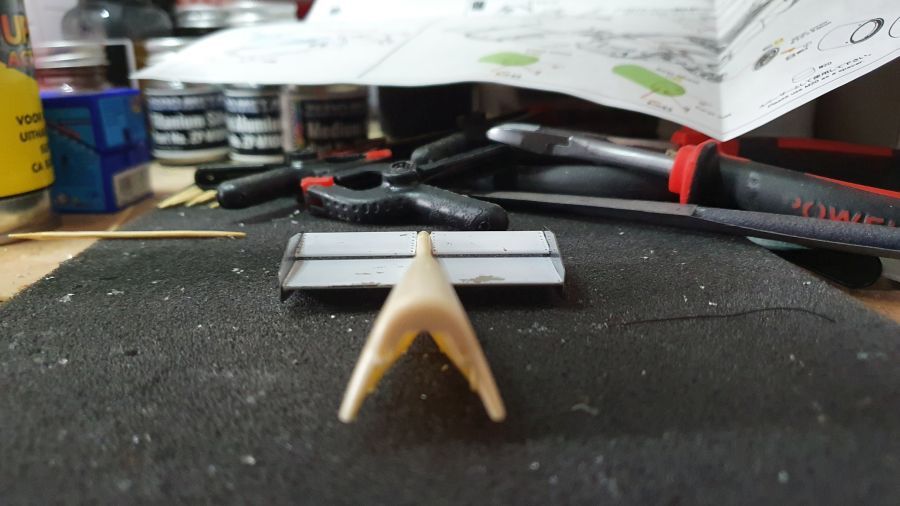 De achterkant is behoorlijk zwaar. Bij het afbouwen moet ik dit deel verlijmen. Ik zie geen andere mogelijkheid.
The back side is very heavy. When completing i will need to glue this part. There's no other option.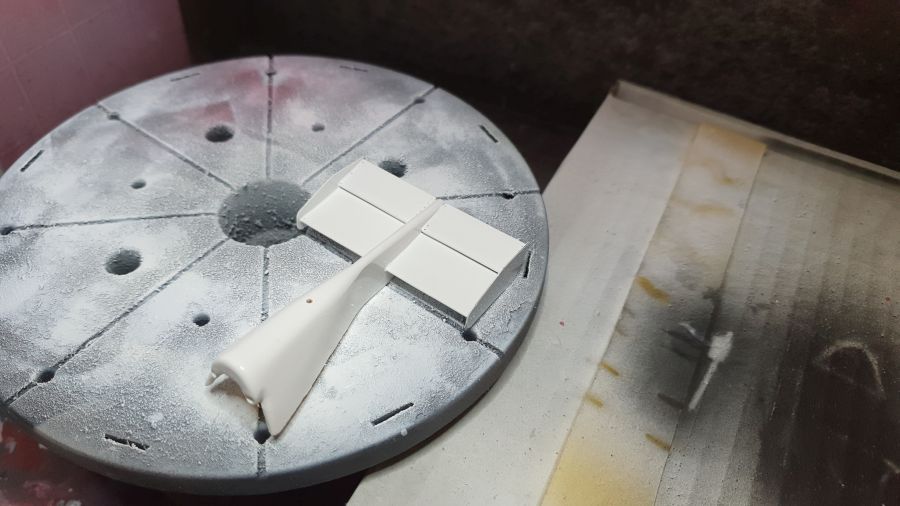 Het testen van het goud voor de velgen... Goud op zwart / wit en Titanium Gpud op zwart / wit.
Testing the gold for the rims...   Gold to black / white and Titanium Gold to black / white.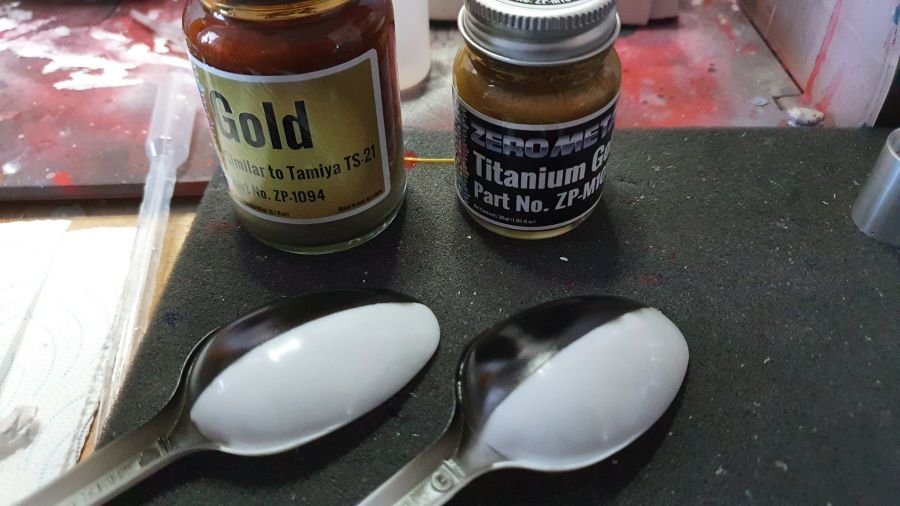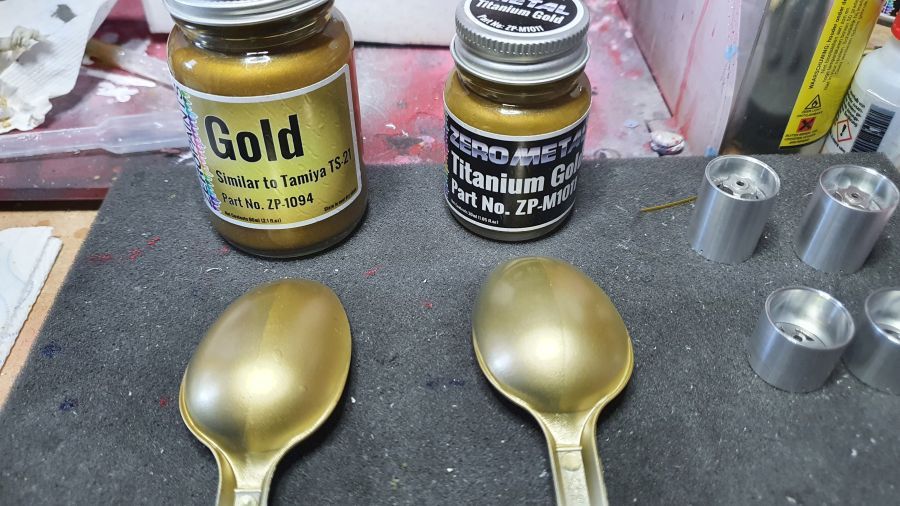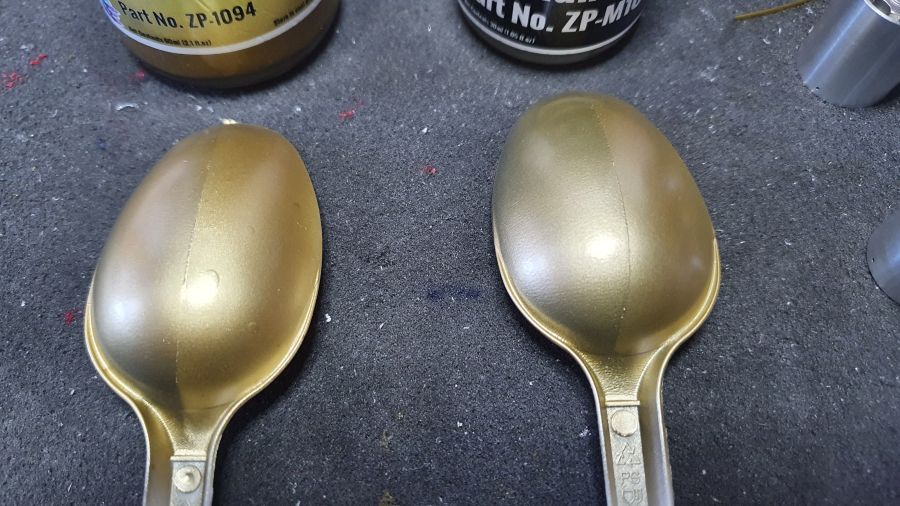 Ik heb voor Goud op wit gekozen...
I Chose Gold on white...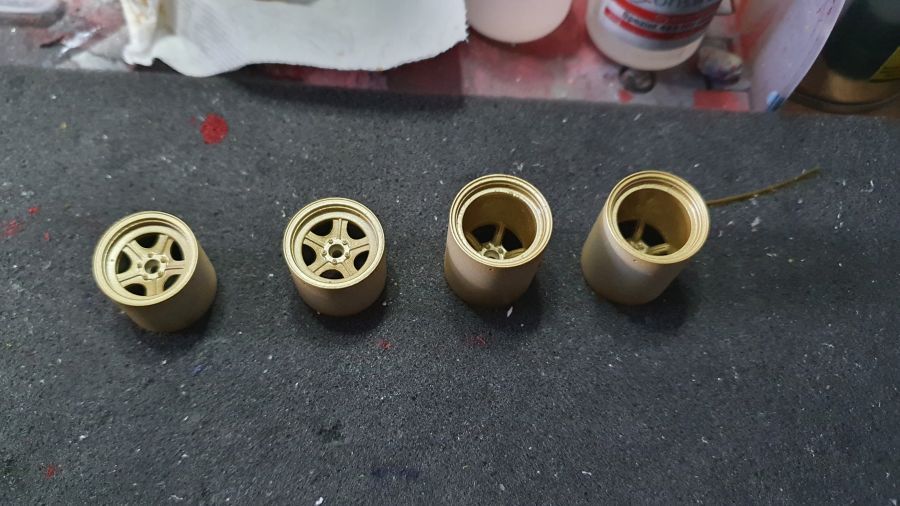 De naad weer wegwerken...
Removing the seem again...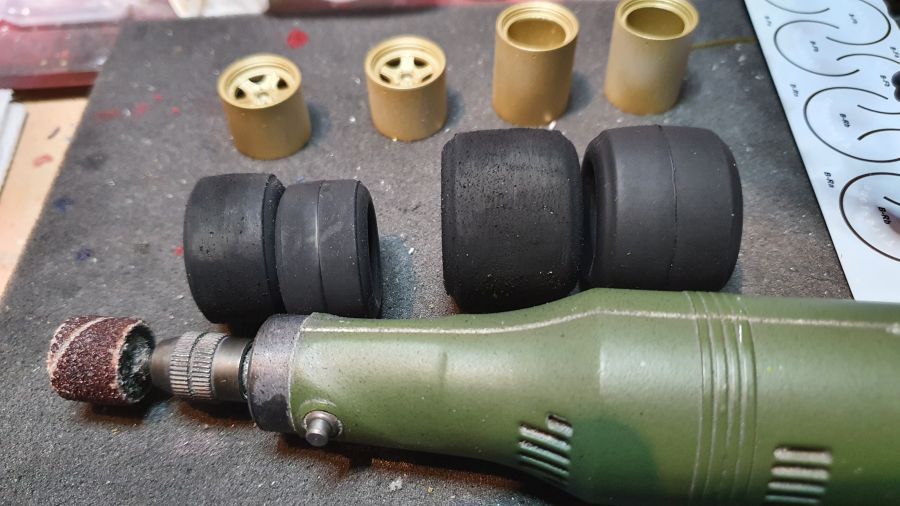 Dit werk haat ik altijd. De cirkels blijven nooit echt op de banden plakken.
I always hate doing this. The circles never keep sticking to the tires.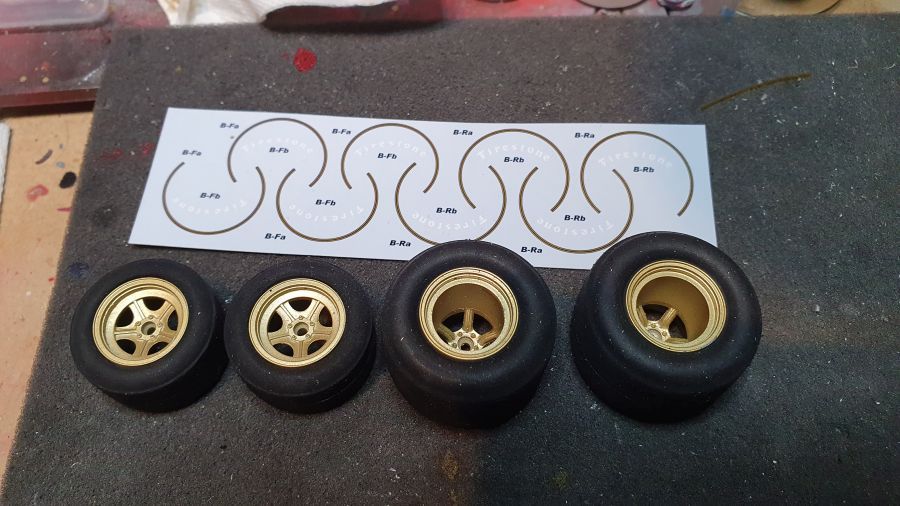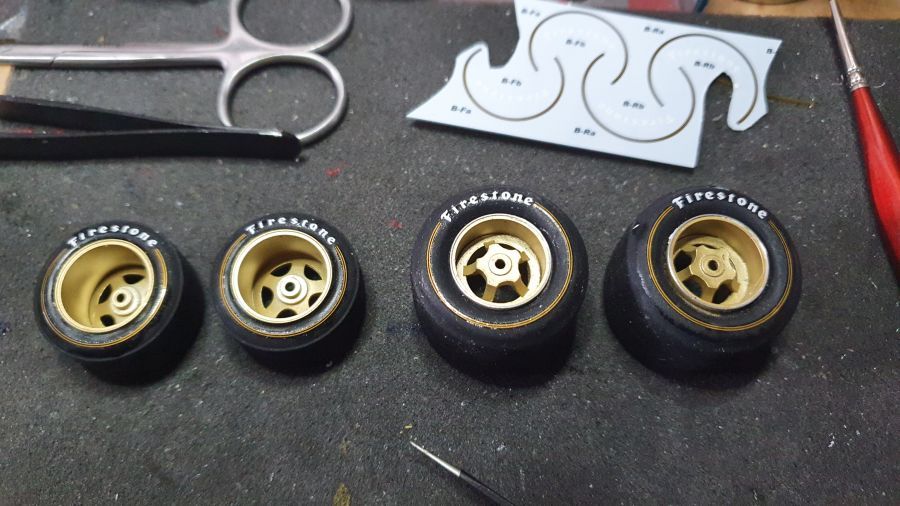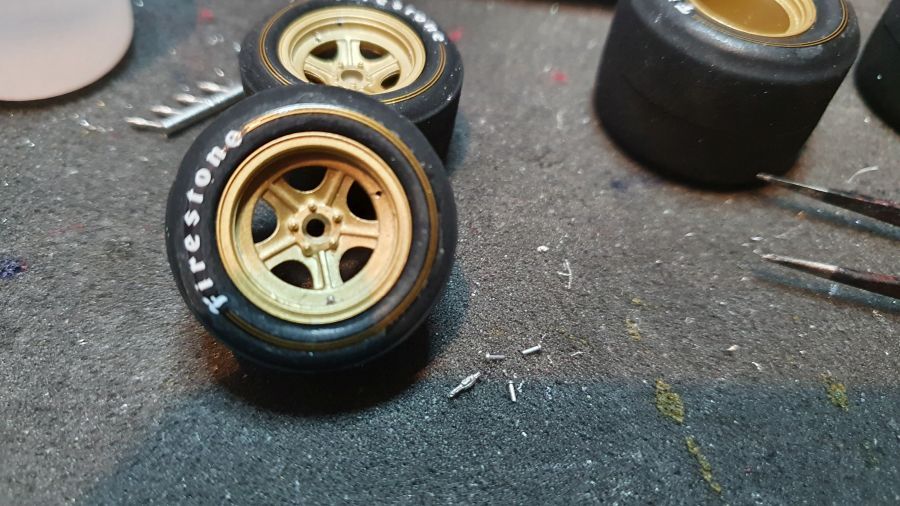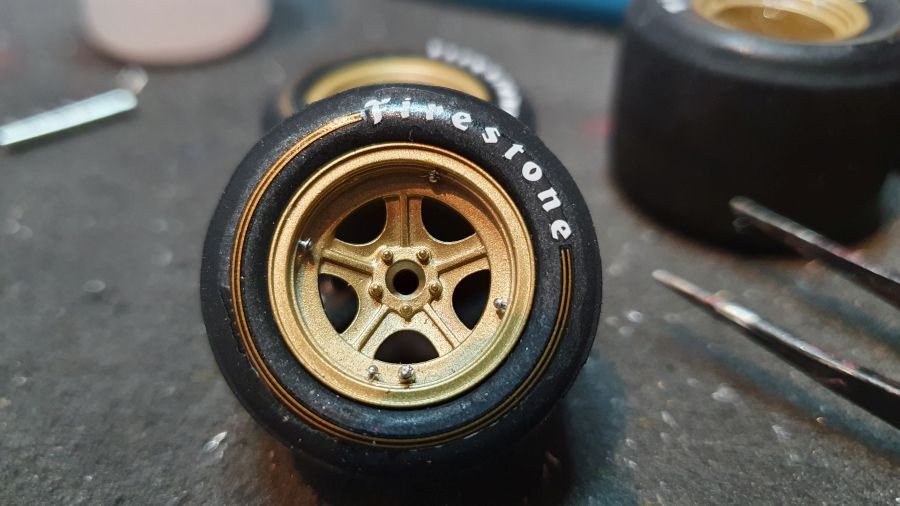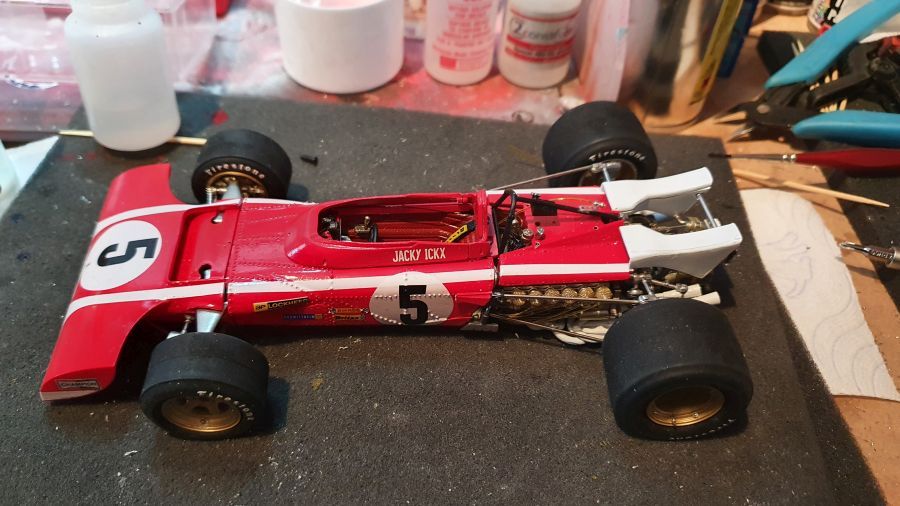 Dan eerst nog een paar zilverkleurige popnagels plaatsen.
Then adding some silver rivets.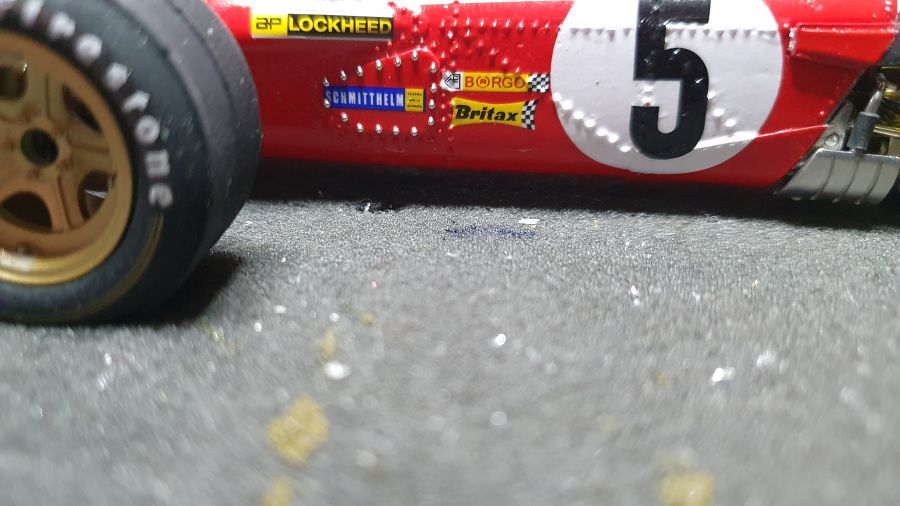 Door naar de spiegels.
On to the mirrors.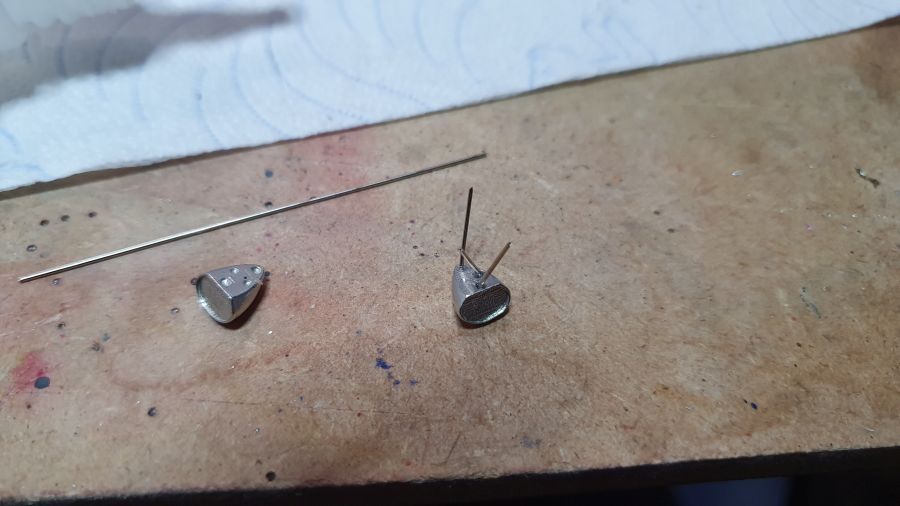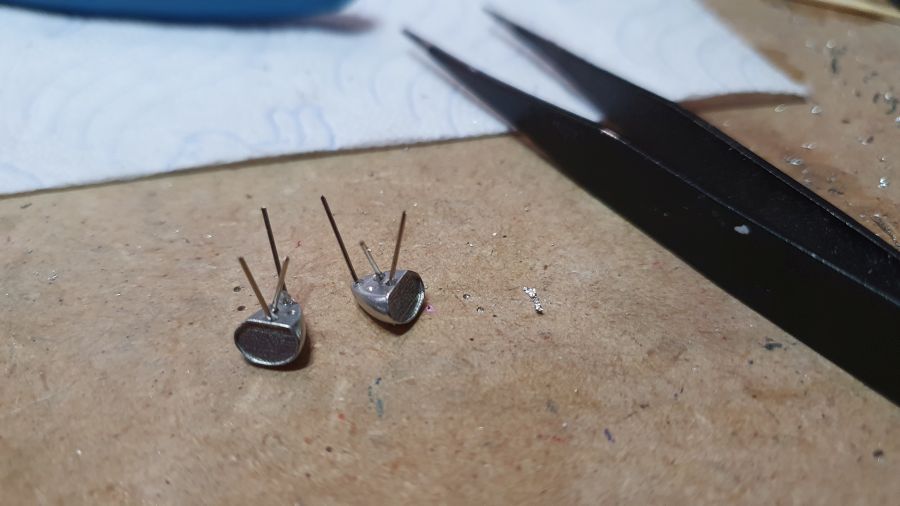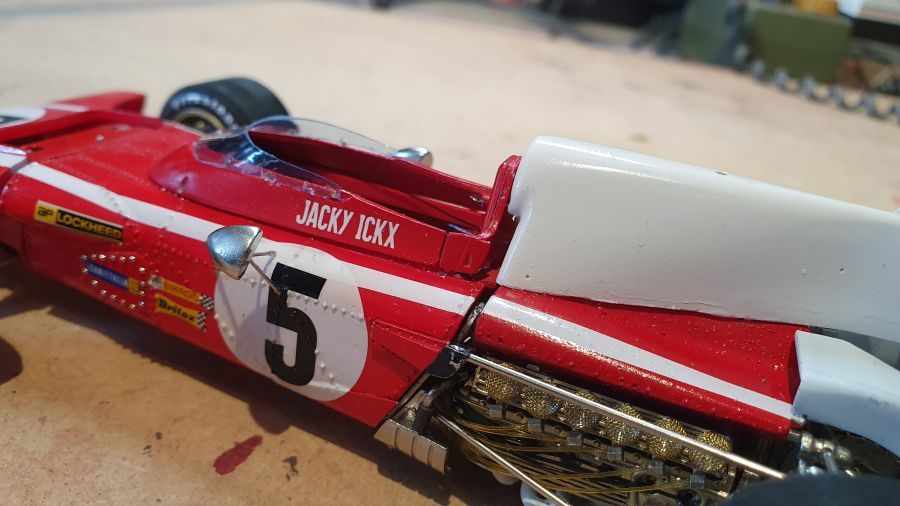 En ik denk dat deze weer klaar is.
And i think this one is done.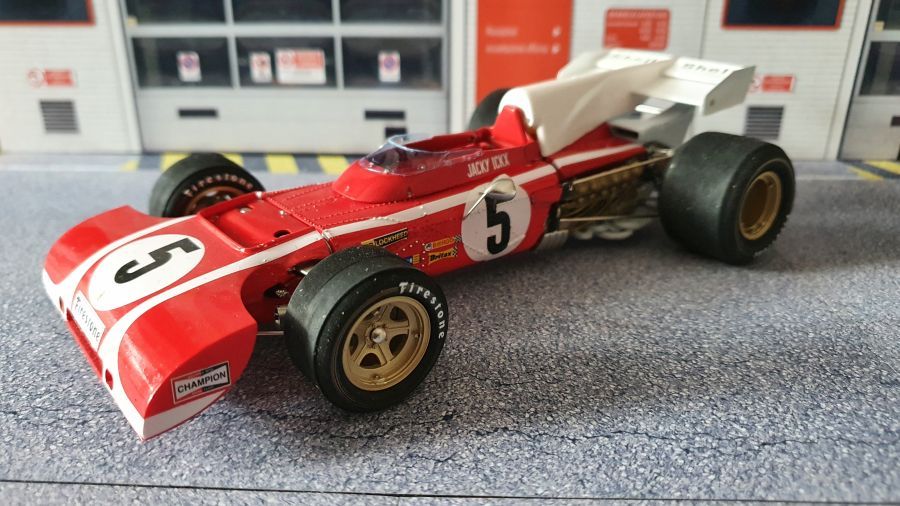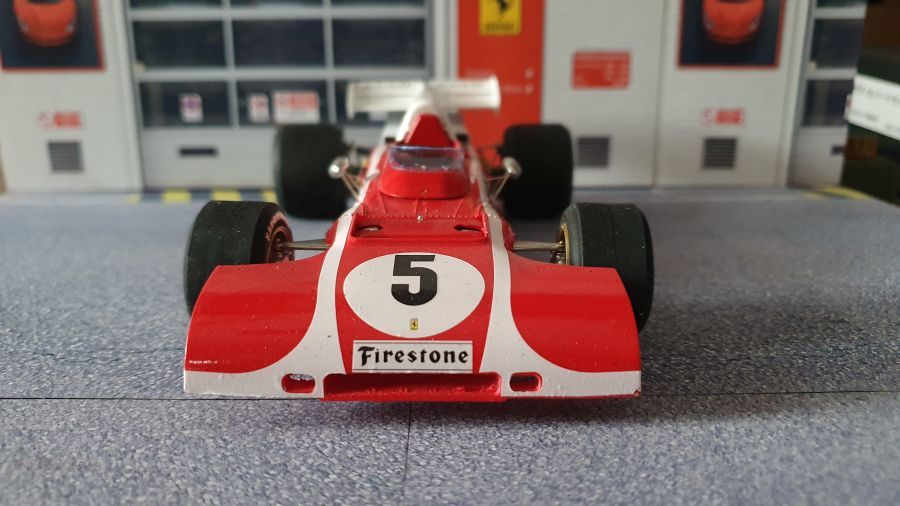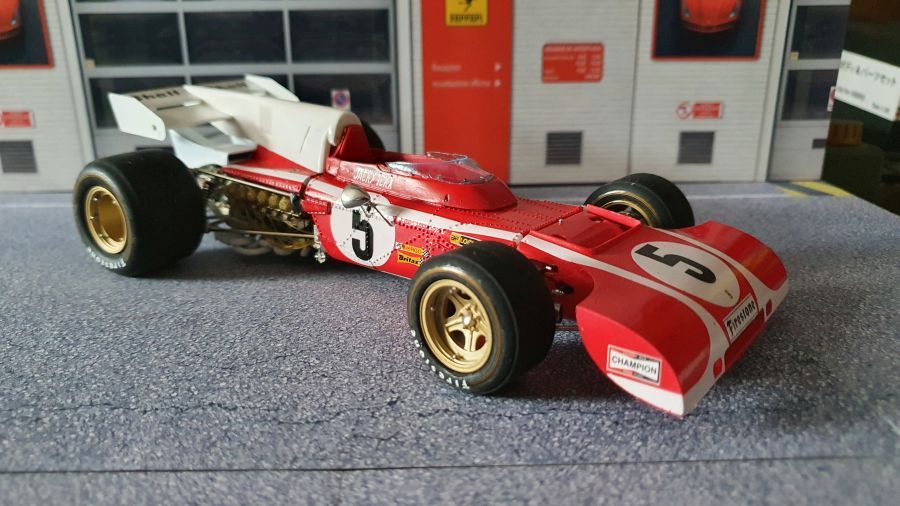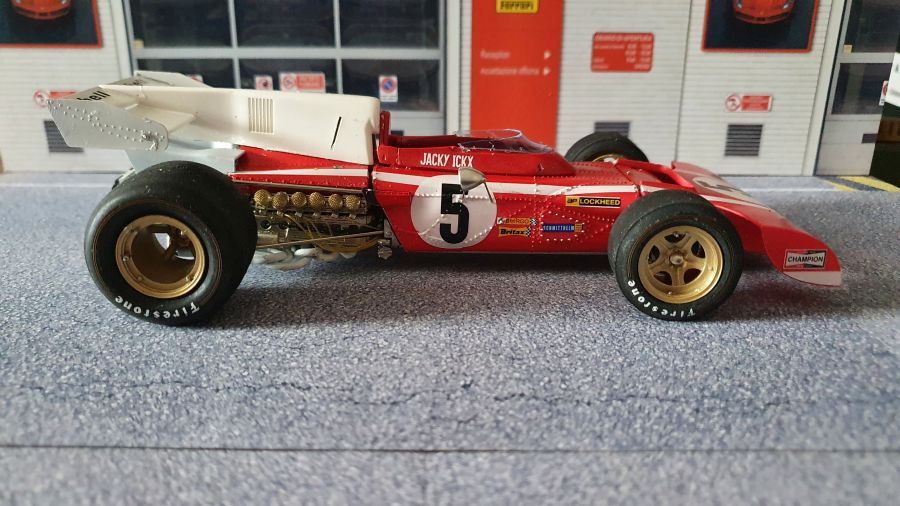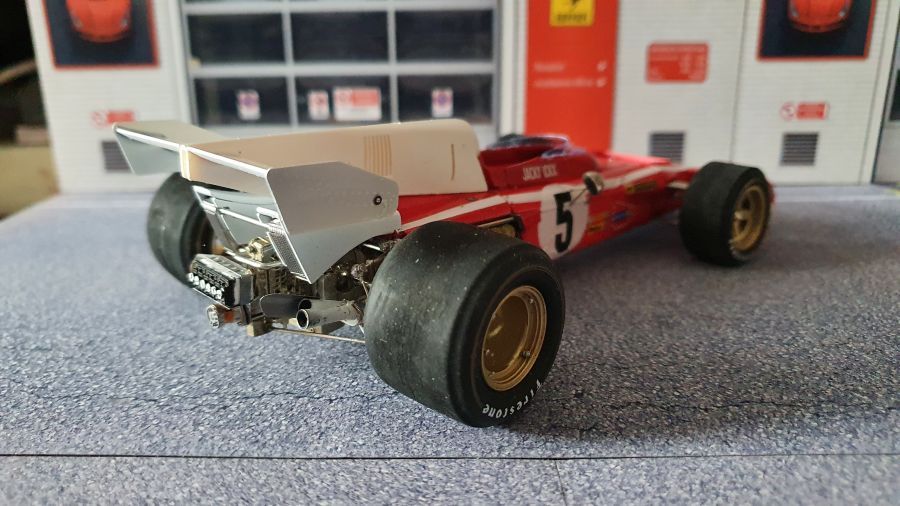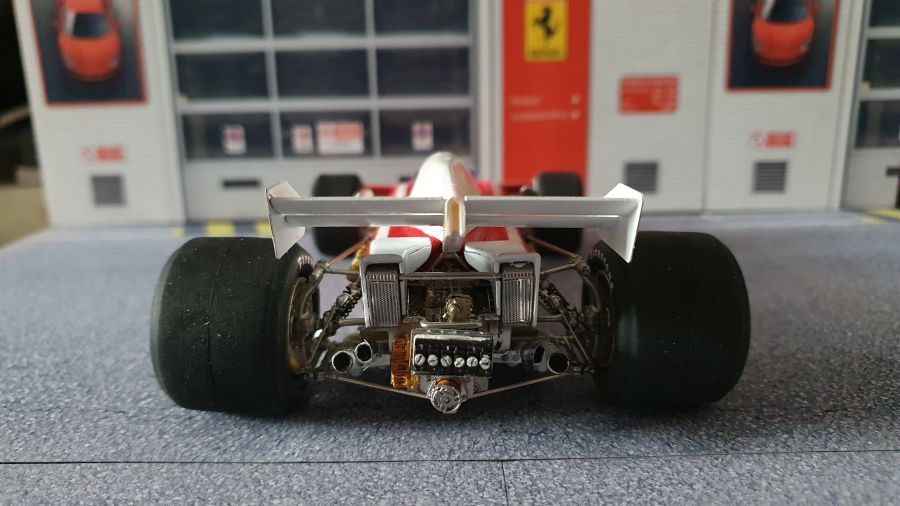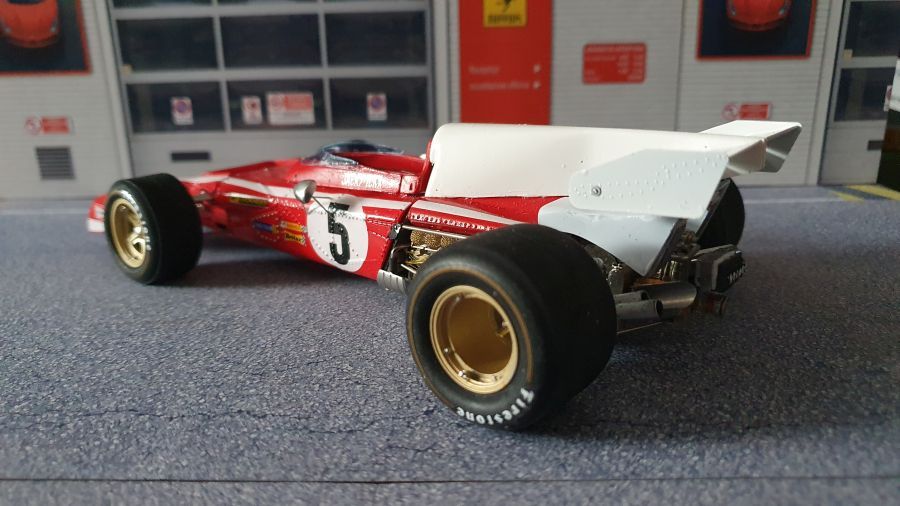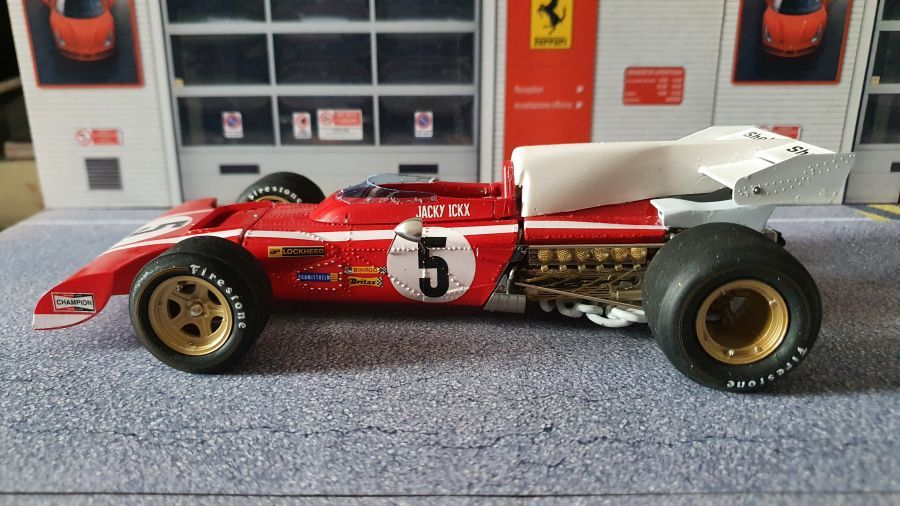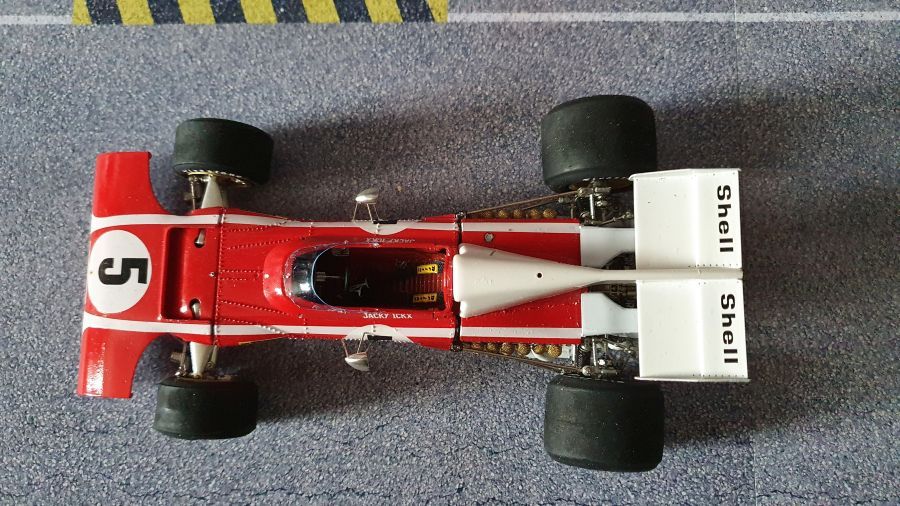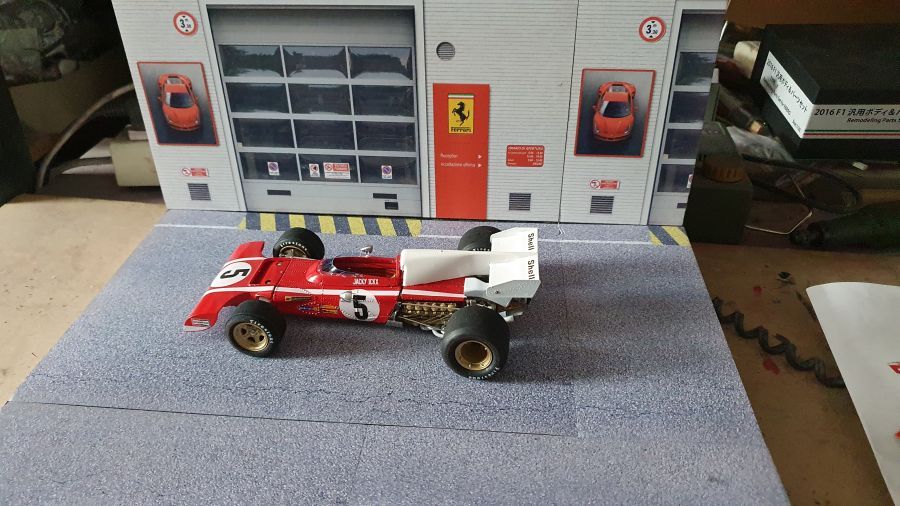 Een paar zaken waar je op moet letten bij het bouwen. De witte kap is topzwaar. Deze moet waarschijnlijk gelijmd worden. Bij mij wel in ieder geval. De achterwand achter de stoel moet goed passen. Het motordeel wordt daaraan bevestigd. Wanneer dit niet helemaal goed past, krijg je net als ik een kleine naad. Daarnaast past de neus niet helemaal goed over de delen van de voorwielophanging. Dat lijkt structureel, want ik had het ook bij andere versies van de jaren '70 wagens.
A few things to care care of when building. The white 'hood' is top heavy. This probably needs to be glued. I had to do it anyway. The bulkhead behind the seat needs to fit very well. The engine part will be attached to it. If it doesn't fit well. you will have to deal with a small seam. Like me. And the nose cone will not fit well over the front wheel suspension. It appears to be structural, as i had this with other versions too of the '70's cars.