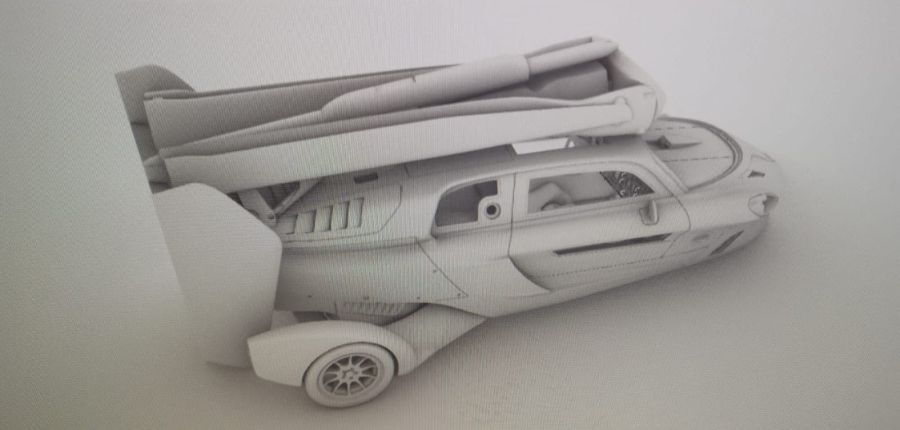 Voor een opdrachtgever ga ik 2 van deze bouwen. De PAL-V Liberty vliegende auto. Deze is in schaal 1/16. 
For a customer i will build 2 of these. The PAL-V Liberty flying car. This one is in scale 1/16.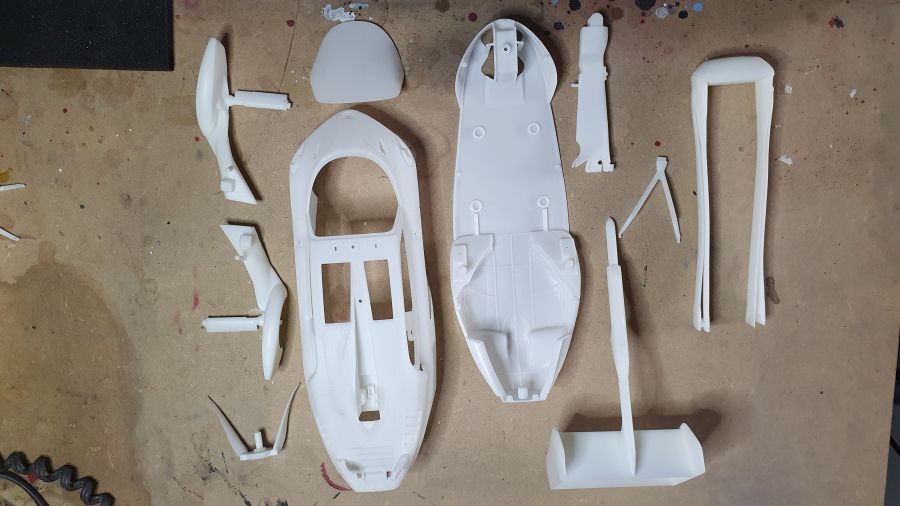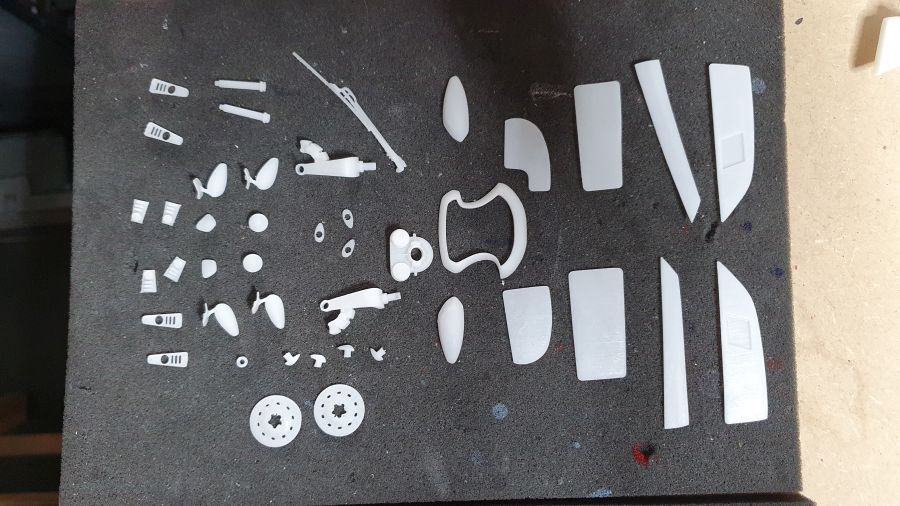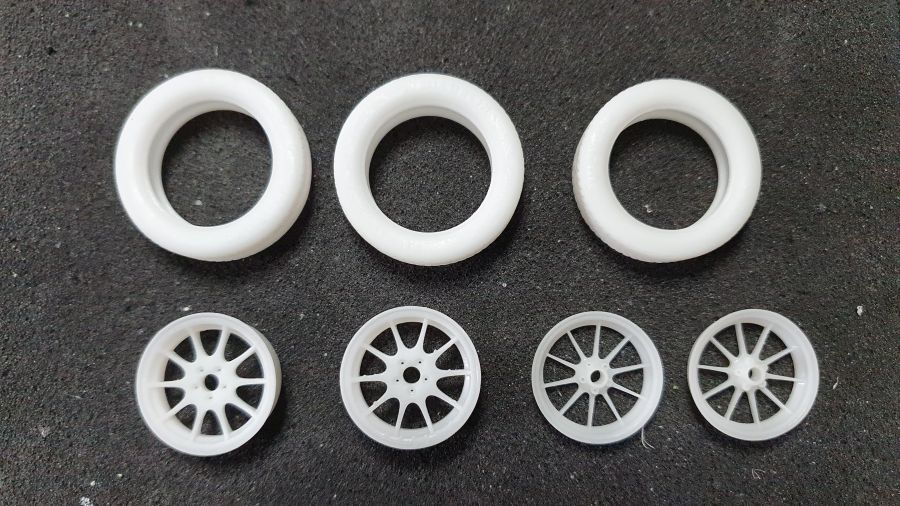 Even wat passen.
Some test fit.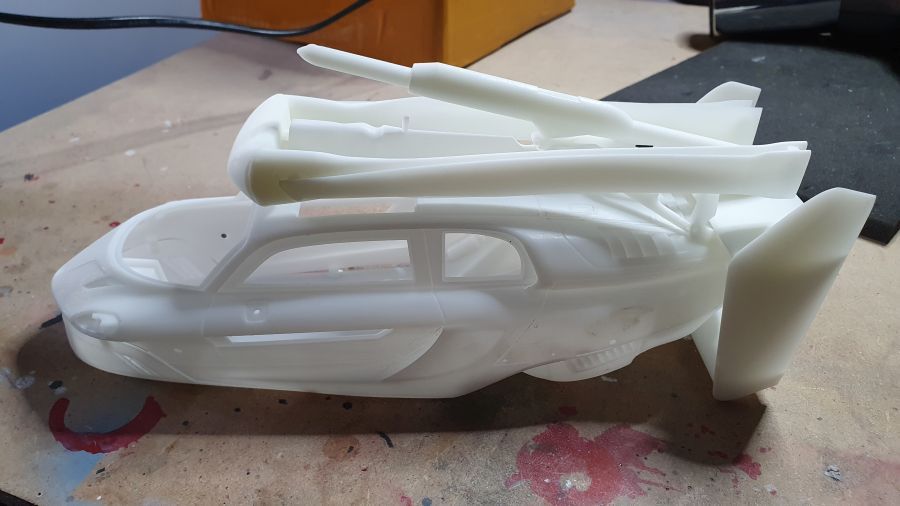 De gaten worden doorboord met een 1,85 mm boor.
The holes are being drilled with a 1.85 mm drill.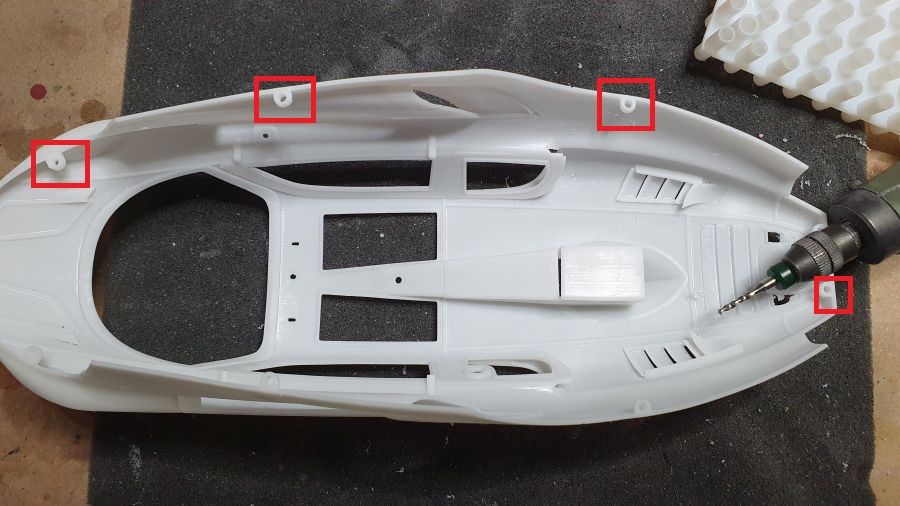 Hier en daar wordt met een nagelvijl wat kunststof weggevijld. Veel passen nodig.
With the use of an emery board some filament will be removed. Much test fitting needed.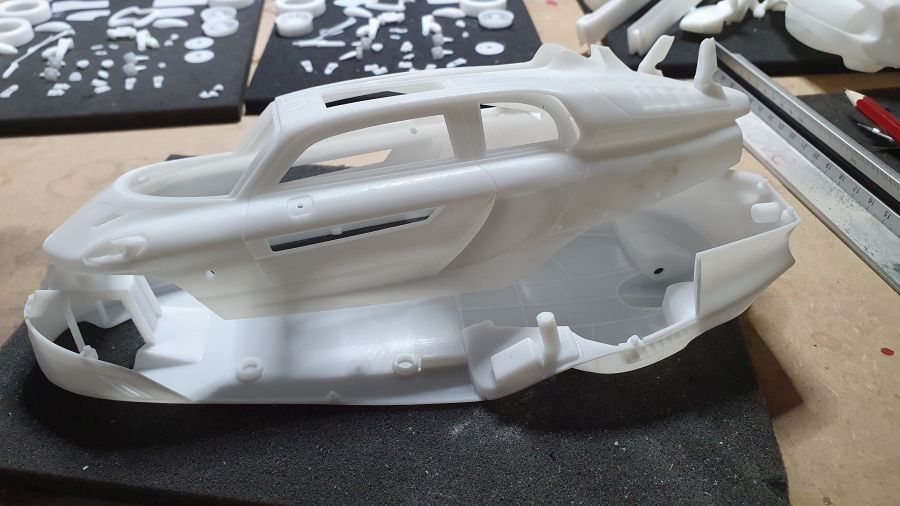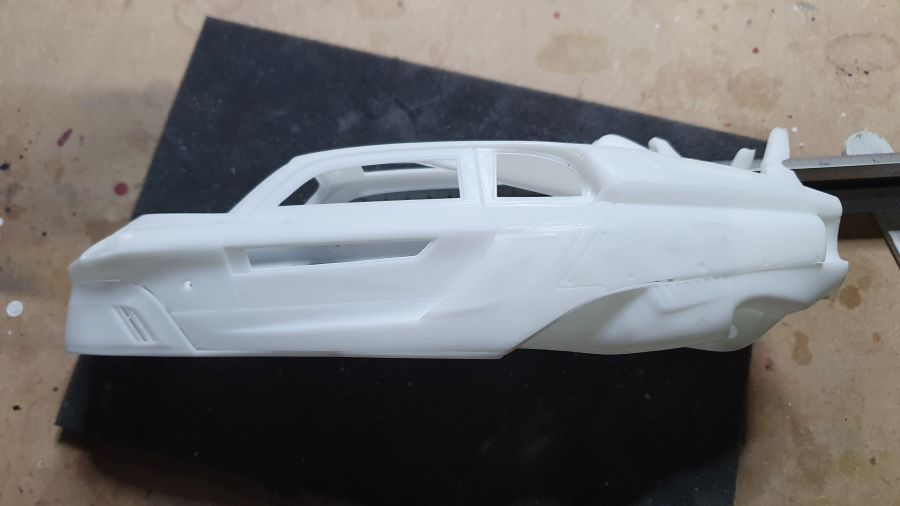 Wat gaten openen, opdat de vloer er beter op past.
Opening some holes, so the floor gets a better fit.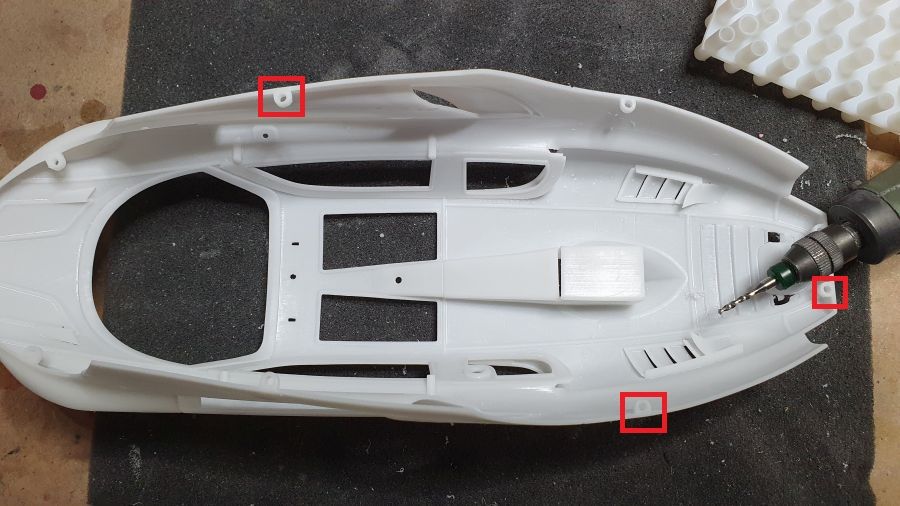 Hetzelfde voor de gaten van het landingsgestel. Deze doe ik met een 2,40 mm frees.
The same for the holeas of the landing gear. These i will be doing with a 2.40 mm mill.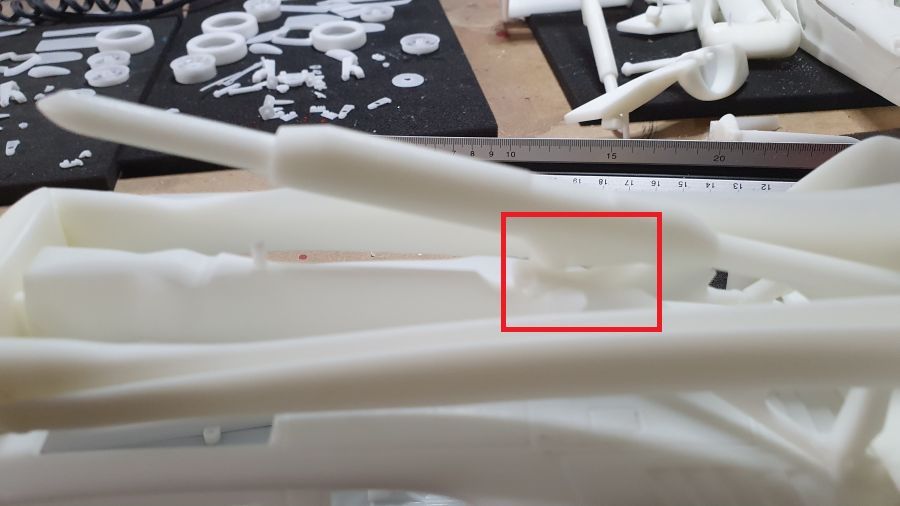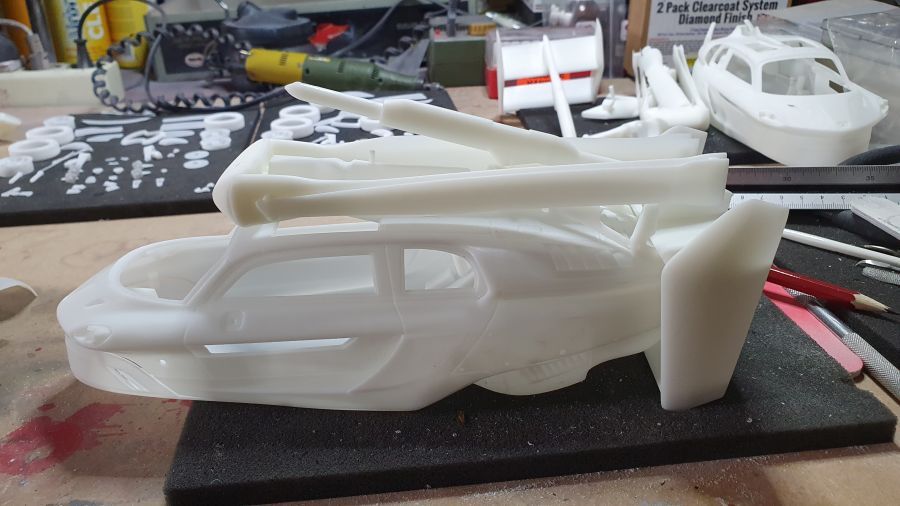 Bij het opnieuw passen zie ik dat 1 deel niet goed past en te hoog blijft staan. Er mist een inkeping. Dat ga ik dan zelf regelen met de zaag op de Proxxon.
When doing a new test fit i notice 1 part doesn't fit well and stays too high. There is missing a notch. I will do it myself by using a saw on my Proxxon.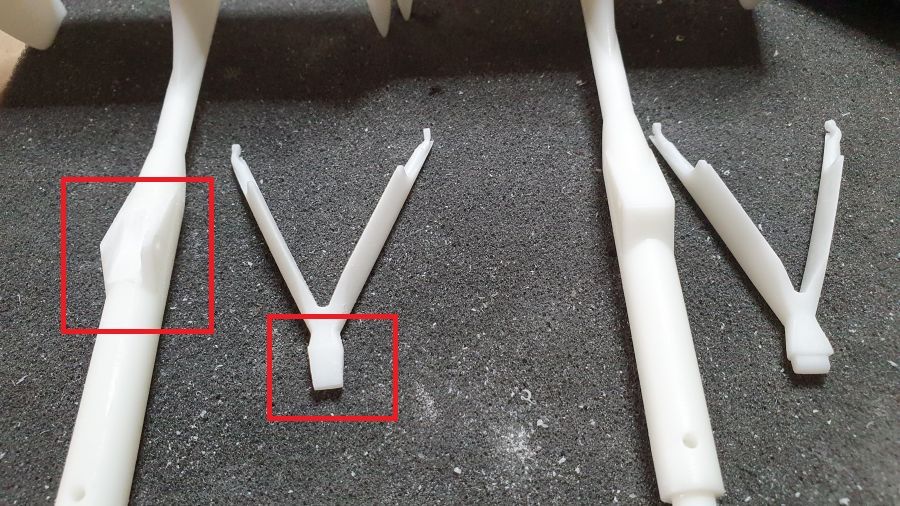 Intussen ook alvast een verfproef...
In the meantime a paint test...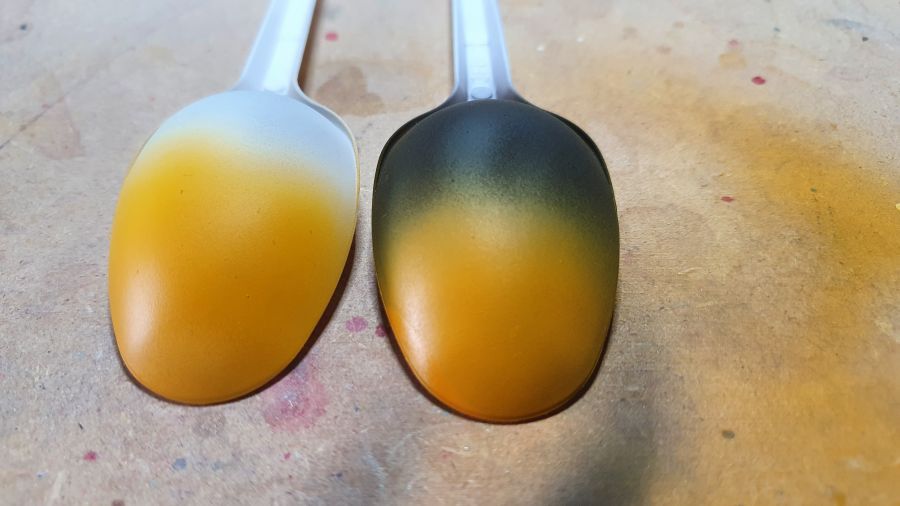 De body krijgt eerst witte en een aantal rotor onderdelen zwarte grondverf. 
The body gets primed white and some rotor parts black.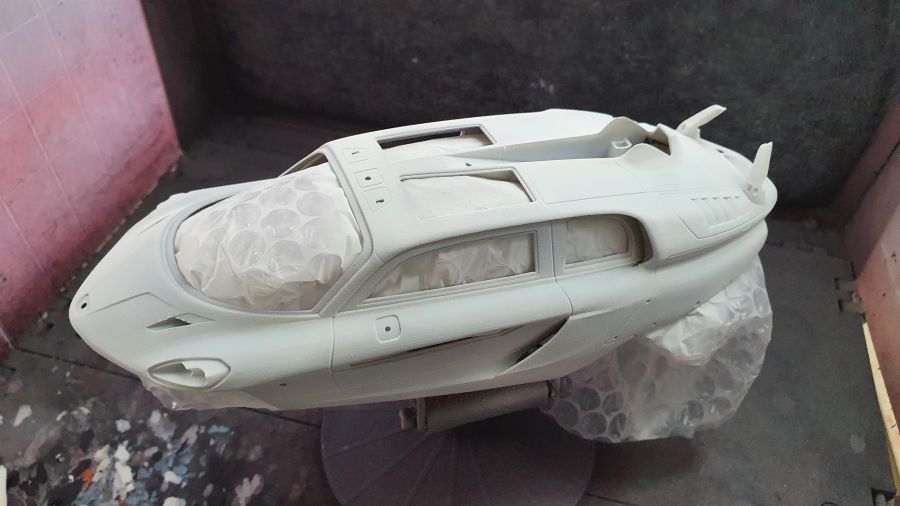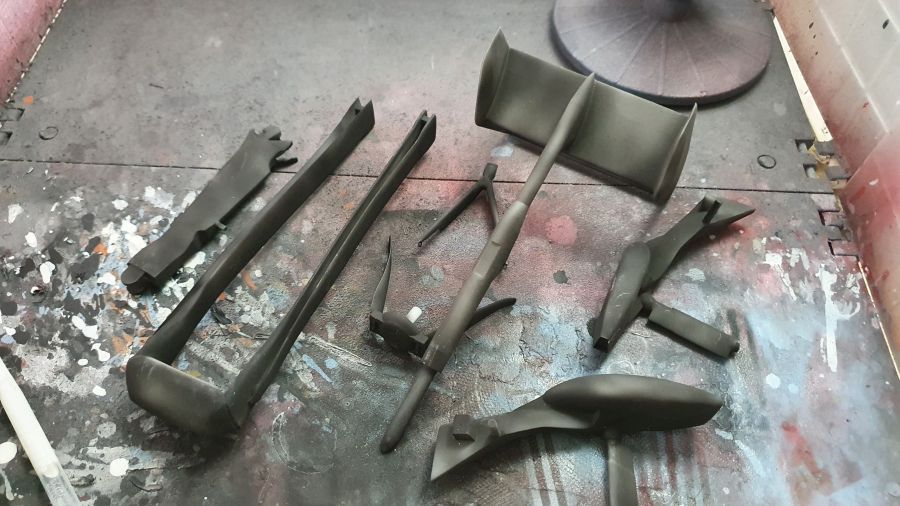 De kleur gaat erop... Voor het eerst werken met Gravity Paints. Dit is Ford Grabber Orange GC-1273.
The color is on... The first time working with Gravity Paints. This is Ford Grabber GC-1273.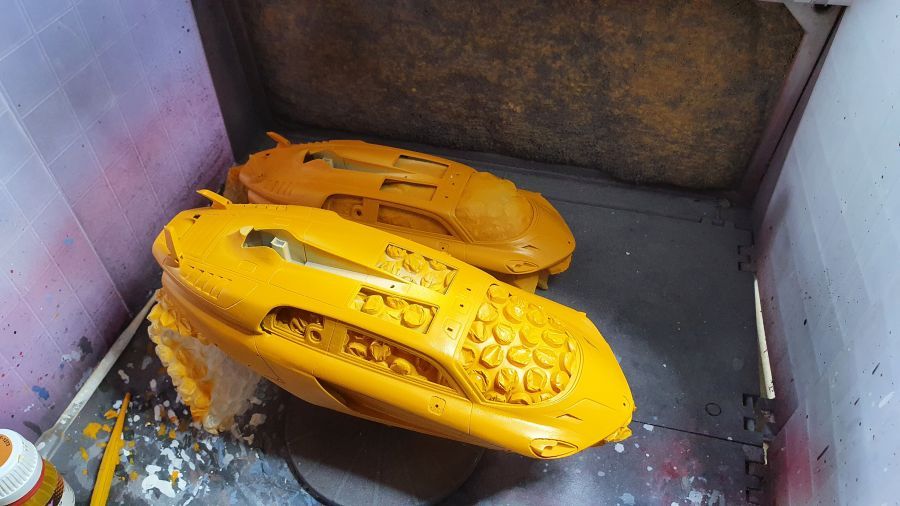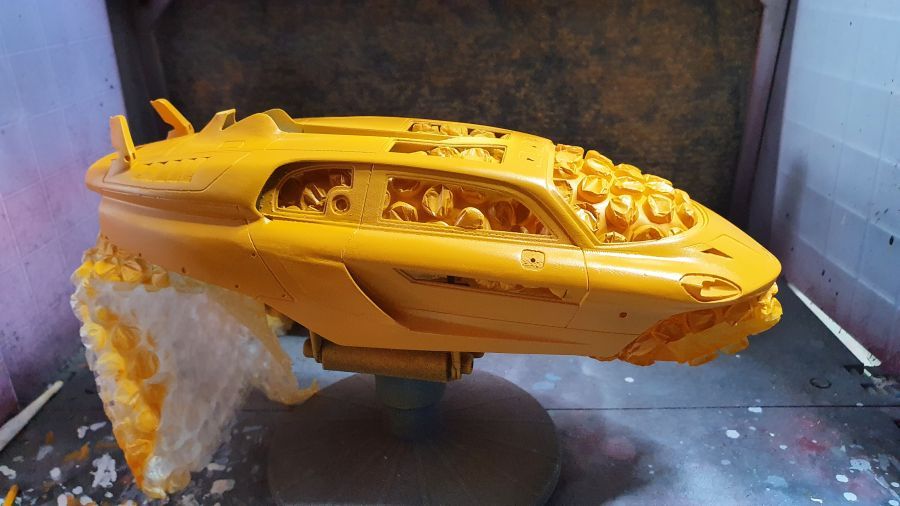 Dan het eerste metallic. Mercedes Crystal Palladium van Gravity Paints GC-209.
Then the first metallic. Mercedes Crystal Palladium from Gravity Paints GC-209.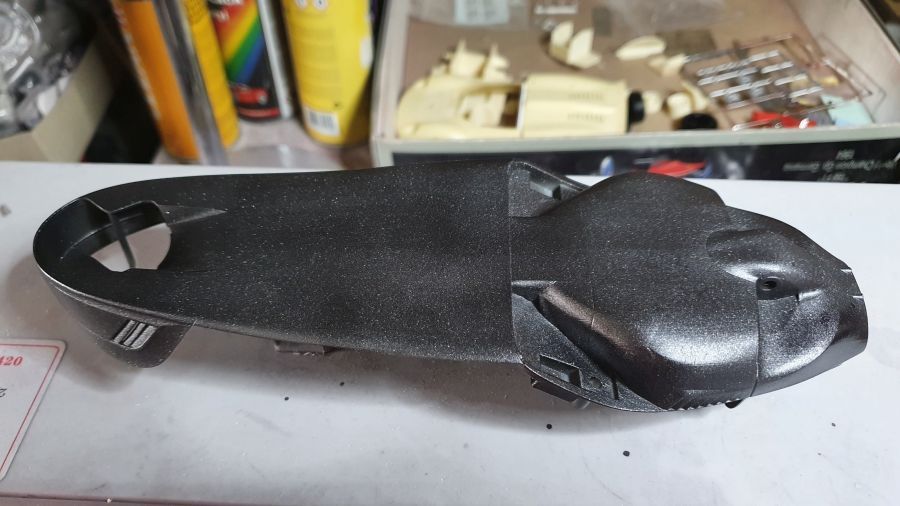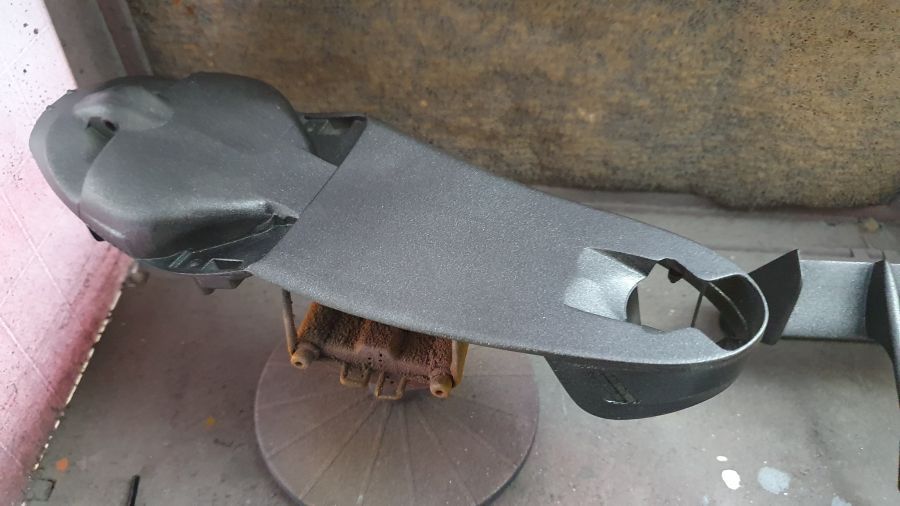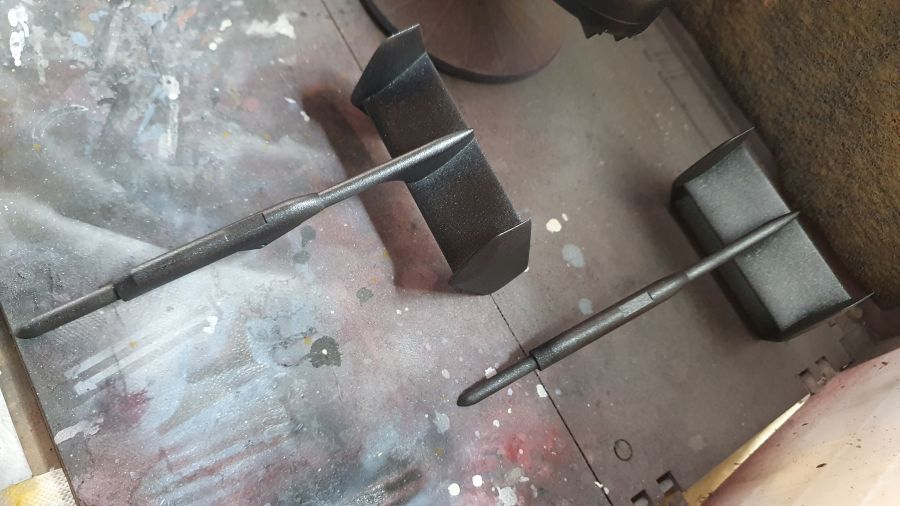 Dus ik gebruikte voor het eerst Gravity Colors, alles ging goed. Om de verflaag te beschermen tegen het verwijderen van afplaktape, heb ik Zero Paints 2K Clear eroverheen gespoten. Alles ging wederom goed. Maar daarna Gravity Colors over de lak spuiten was geen goed idee. De lak reageert direct. Ik heb 1 model helemaal schoongemaakt en ga weer opnieuw beginnen. De 2e ga ik nog even proberen met het spuiten van zeer dunne laagjes. Anders moet ook deze helemaal schoon.
So i used Gravity Colors, all well. To prevent damage from removing masking tape to the paint layer, i used Zero Paints 2k Clear over Gravity Colors. Again all went well. But using Gravity Colors over Zero Paints does not work. The clear reacted immediately. So i cleaned 1 kit and start over again. The 2nd one i will try with airbrushing very thin coats. Otherwise i will need to clean that one too.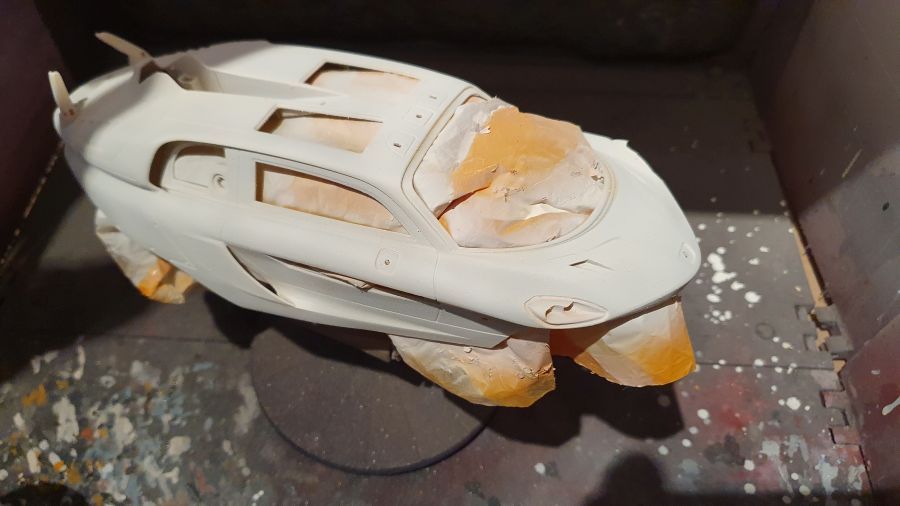 Nieuwe verf...
New paint...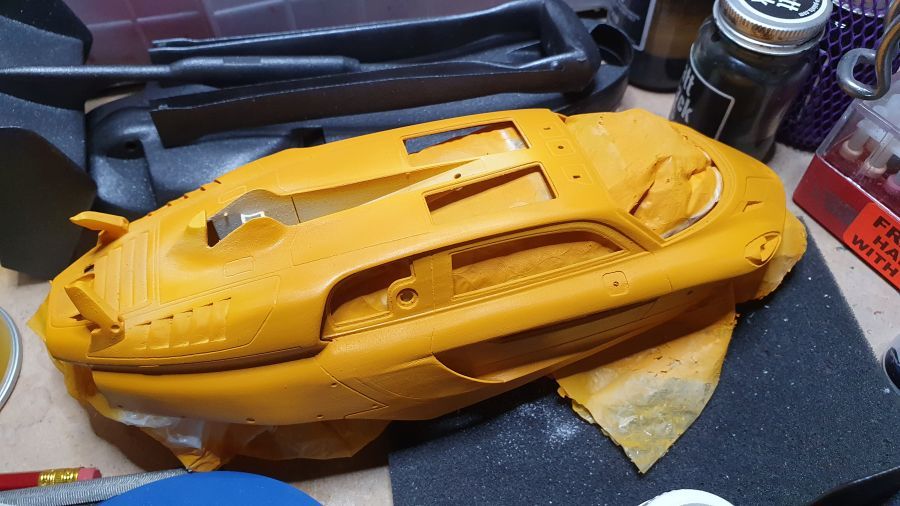 Voor het 2e model heb ik besloten het nog eens te proberen, maar dan met hele dunne laagjes.... in totaal 9 lagen..
For the 2nd model i have decided to try it again, but with very thin layers.... a total of 9..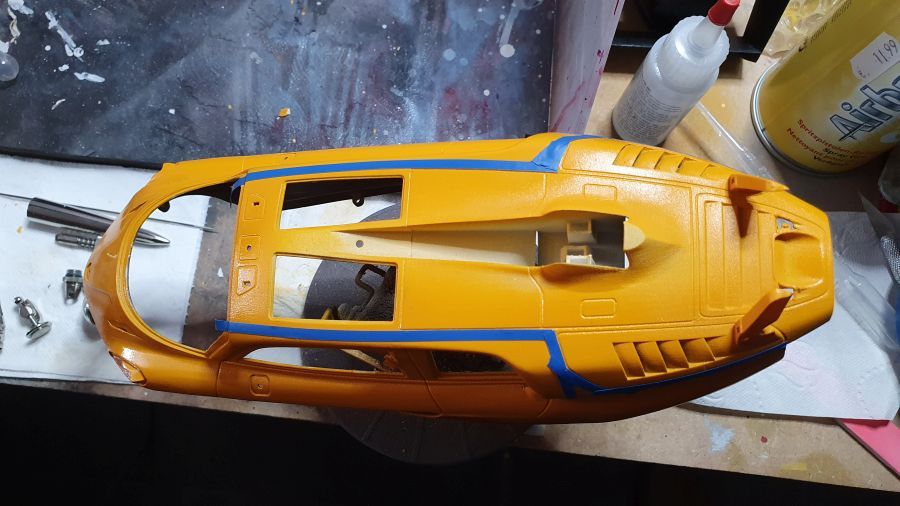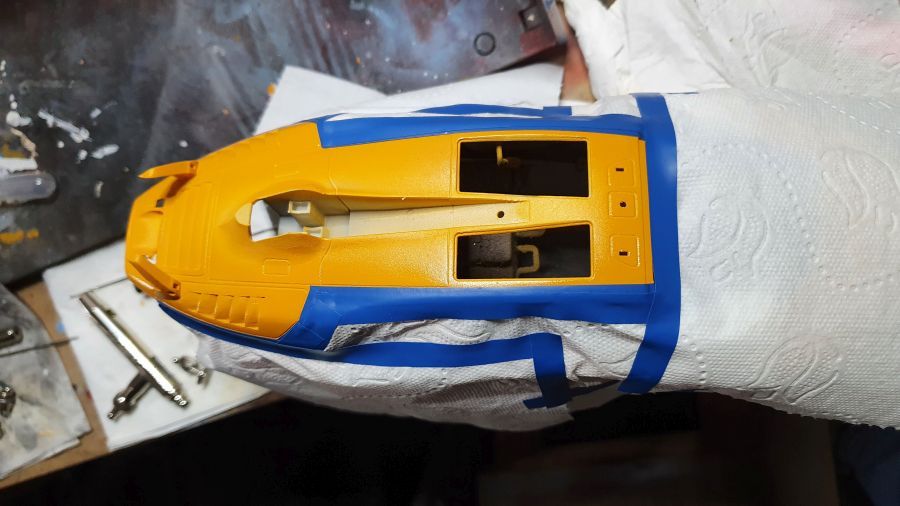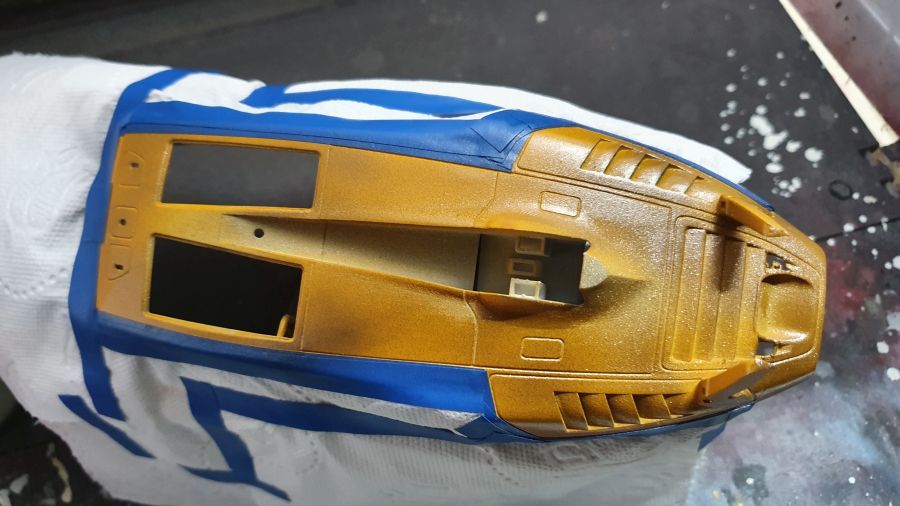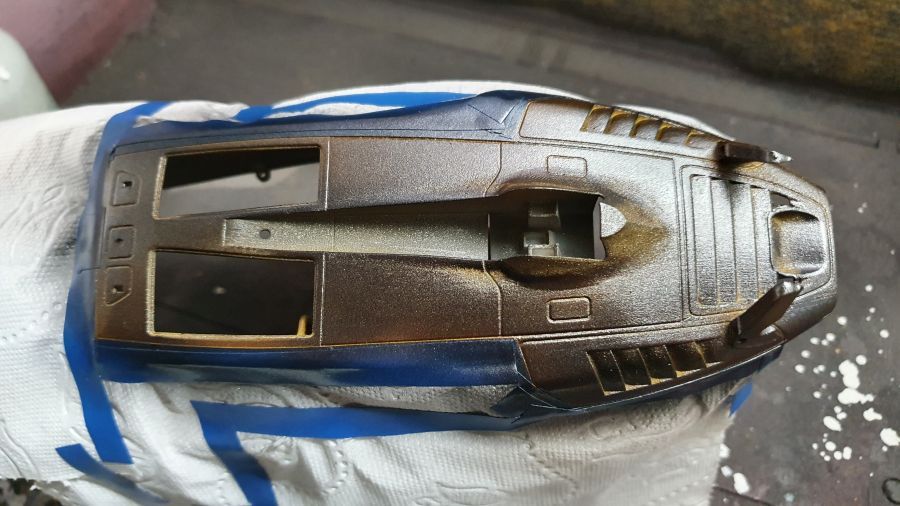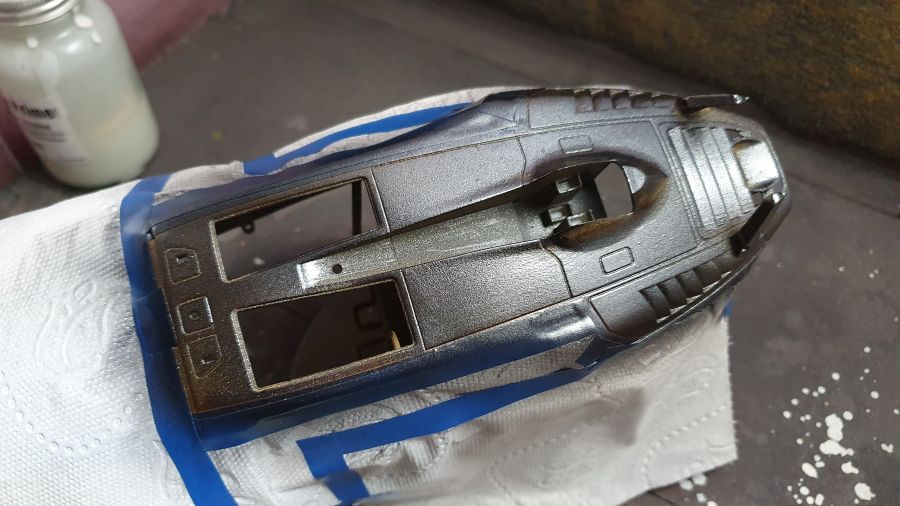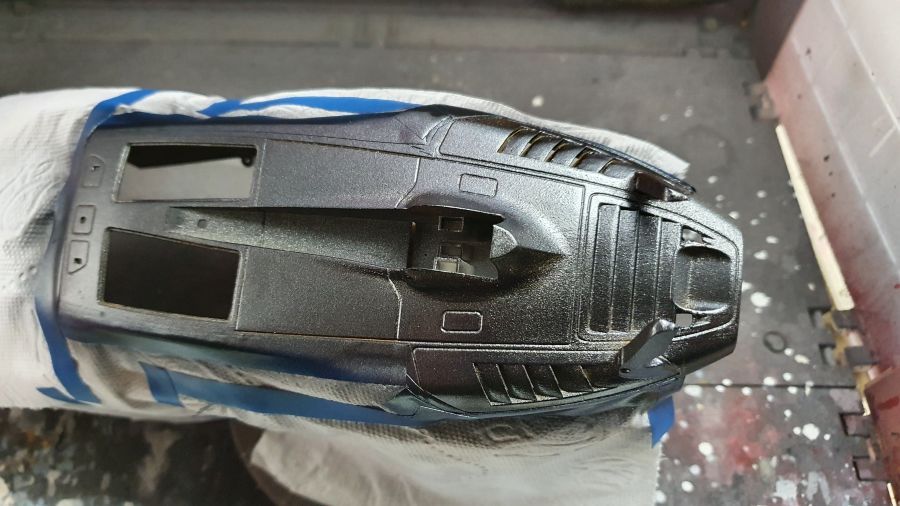 De kleine onderdelen krijgen primer en daarna zwart of zilver.
The small parts get primer and then black or silver.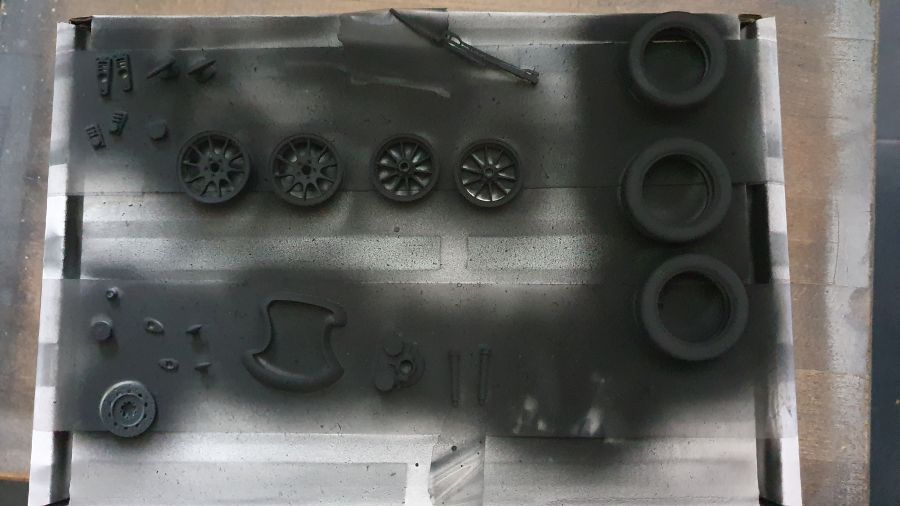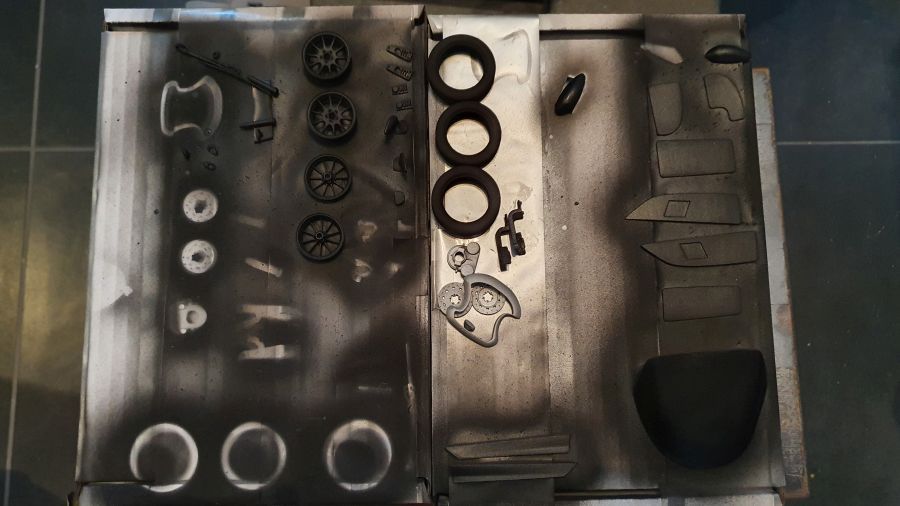 Opeens moet het allemaal sneller klaar, een nieuwe deadline, 3 weken eerder. Daar ben ik niet blij mee. Nog maar 4 werkdagen te gaan. Nauwelijks tijd voor de verf en lak om te drogen. En dus gebeurt het ook. De verf blijft aan de tape plakken, nadat ik de raamlijsten heb gedaan
Suddenly it needs to go faster, a new deadline, 3 weeks earlier. I am not happy. Only 4 working days to go. Hardly time for the paint and lacquer to dry. And so it happen. Paint sticks to the tape, after i did the window casings.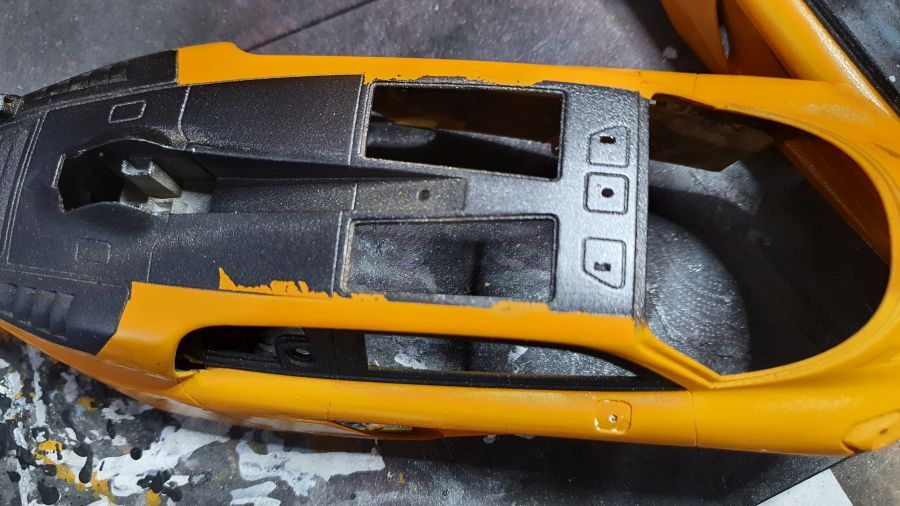 Gerepareerd, maar nam toch weer een paar uren.
Repaired, but it took some hours.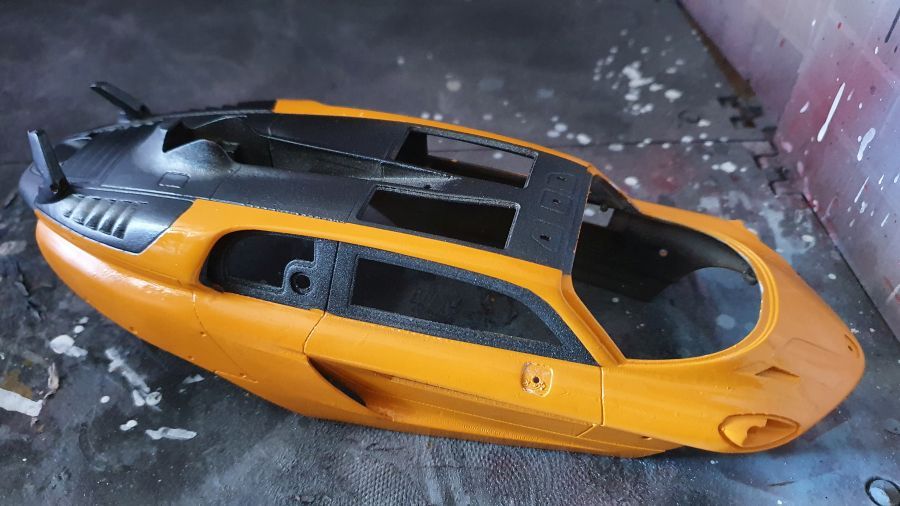 De ramen eerst zwart gemaakt. Nog veel werk...
The windows were painted black. Still more work...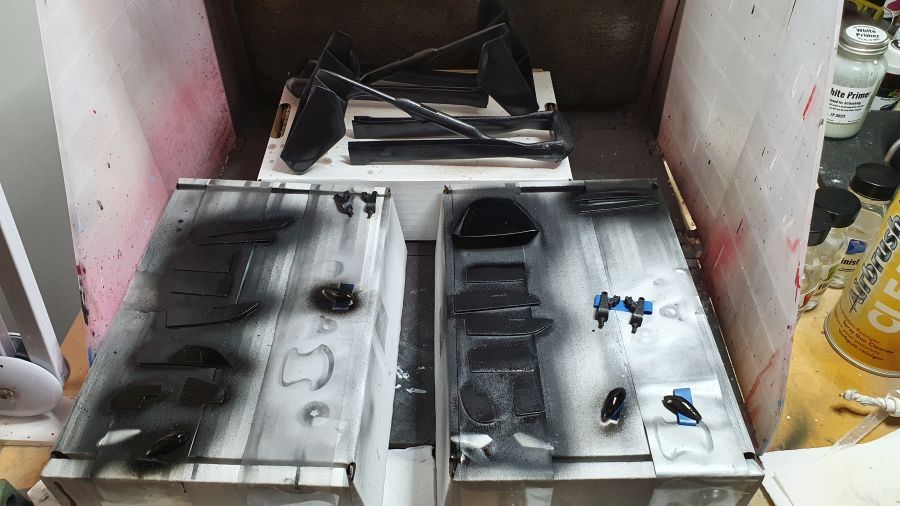 En weer meer 2K glanslak...
And more 2K clear...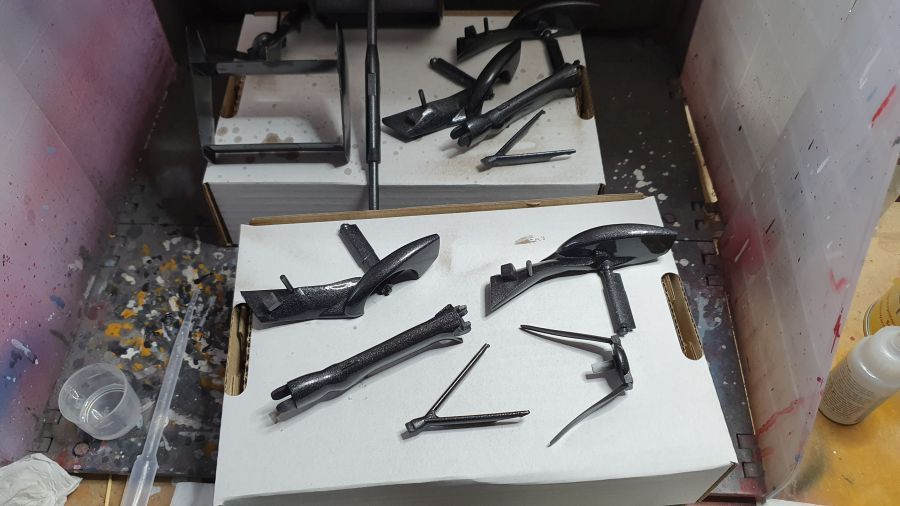 Het glas heb ik licht geschuurd na het verven en aanbrengen van 2K lak. Ik heb nu opnieuw 2K lak genomen en dit gemixt met een beetje zwarte verf. Dit heb ik nu op de ramen gespoten. Kijken hoe dit werkt.
I sanded the windows a bit after painting and 2K clear. Now i took more 2K clear and mixed it with some black. Then i sprayed this on the windows. See how it works.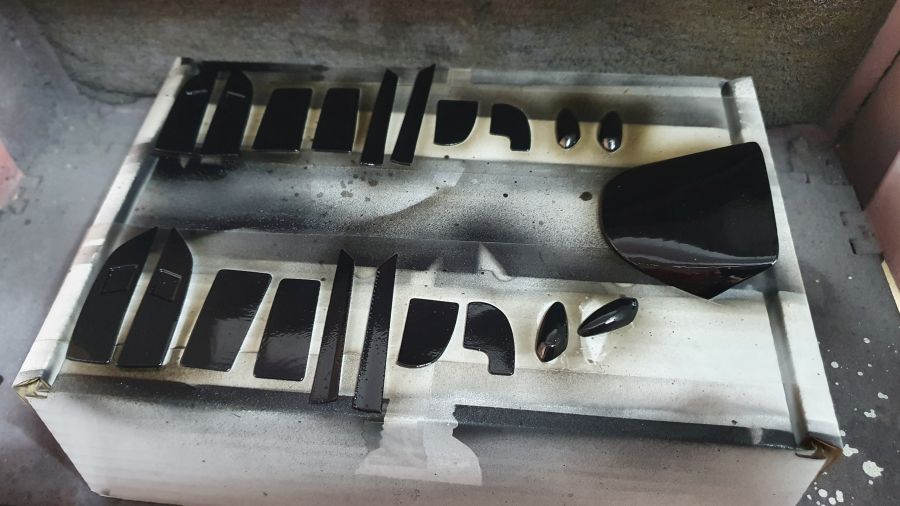 Het verven is gedaan. De opdrachtgever gaat hem nu zelf afbouwen.
The painting has been done. The client will put it together himself.