Het blijft 1 van mijn meest favoriete Ferrari's. Ik heb een paar kunnen kopen. Nu dan de 1979 Ferrari 512BB LM Le Mans EMKA Harksound bestuurd door Bernard de Dryver, Jean Blaton, Steve O´Rourke and Nick Faure. Ik bouw de Studio27 kit (kit nr. FK2414).
It's 1 of my most favorite Ferrari's. I managed to buy a couple. Now the 1979 Ferrari 512BB LM Le Mans EMKA Harksound as driven by Bernard de Dryver, Jean Blaton, Steve O´Rourke and Nick Faure. I will build the Studio27 kit (kit no. FK2414).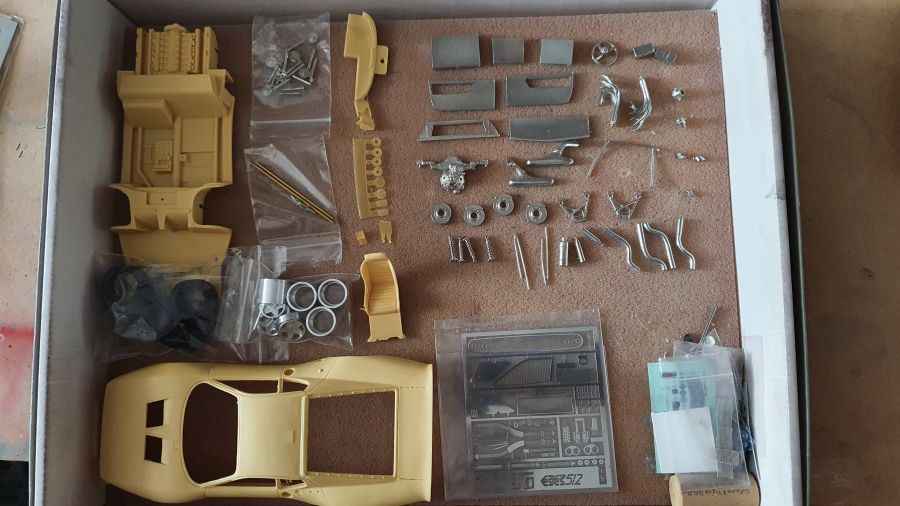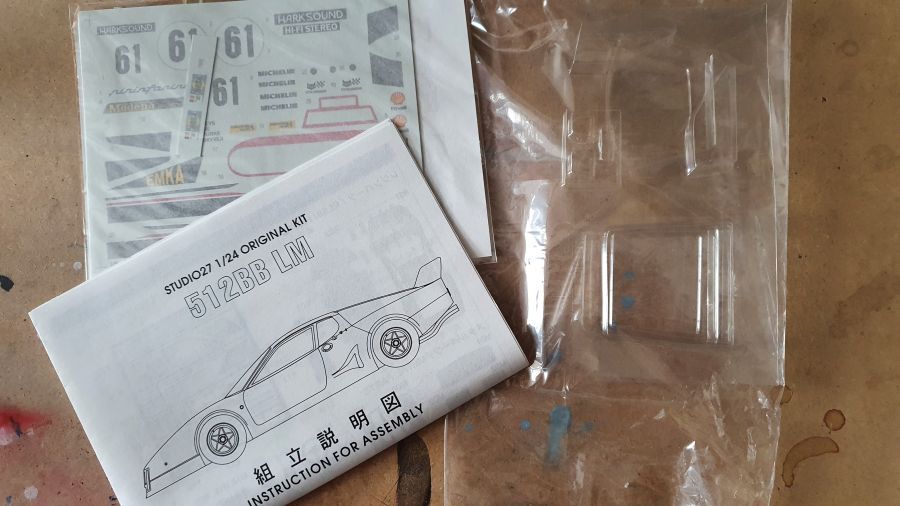 Veel overbodig hars moet verwijderd.
Much excessive resin needs to be removed.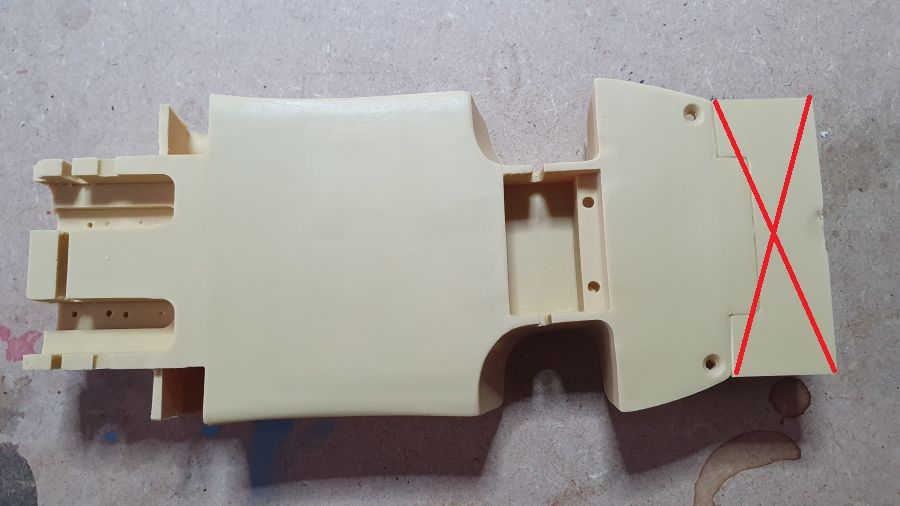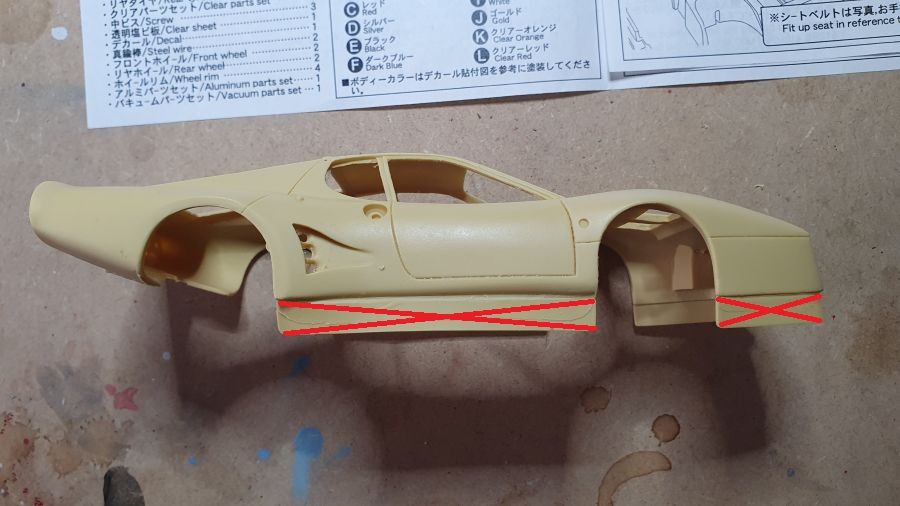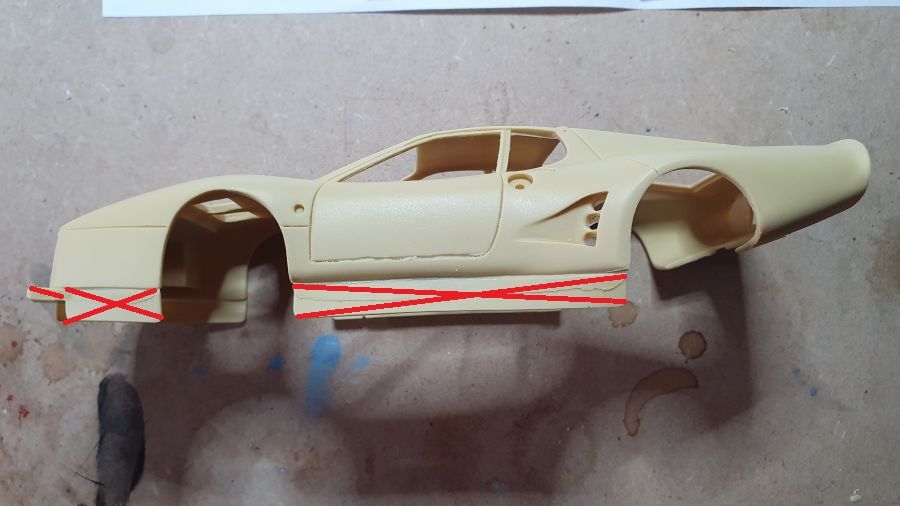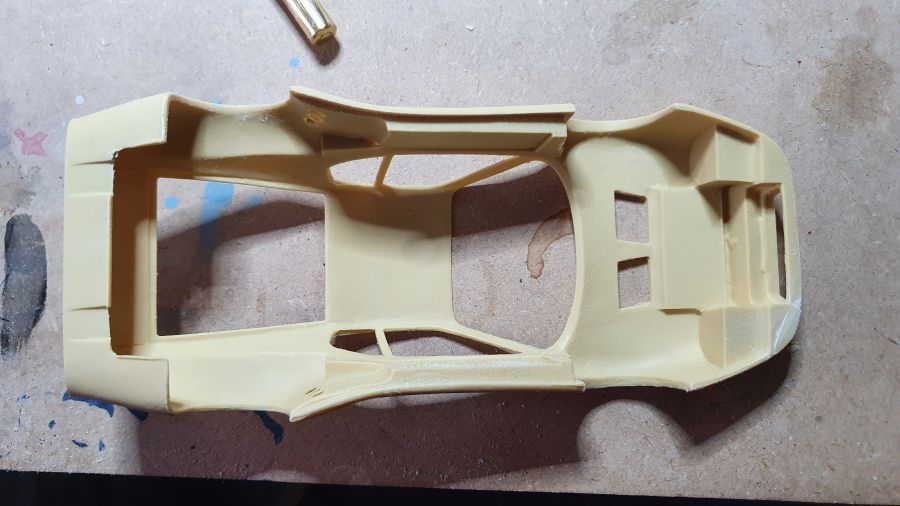 Een paar gaatjes moeten afgetekend en voorgeboord.
Some holes need to be marked and drilled.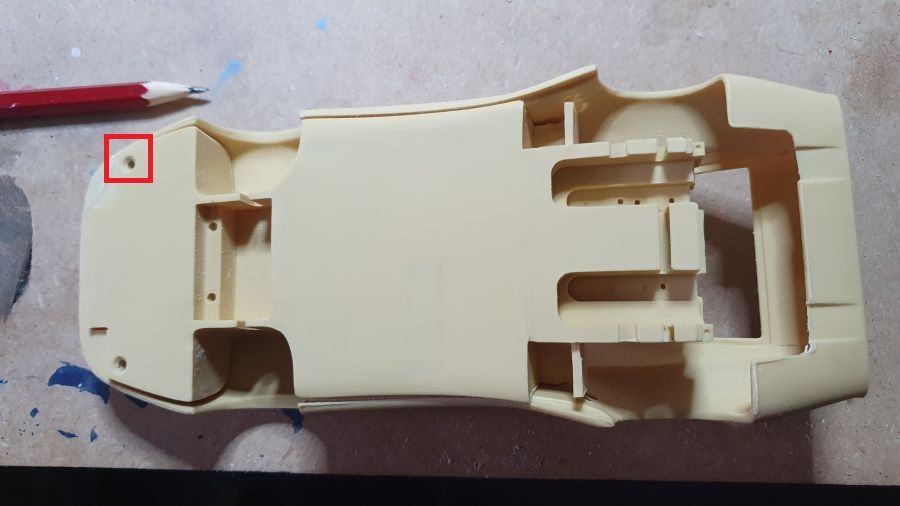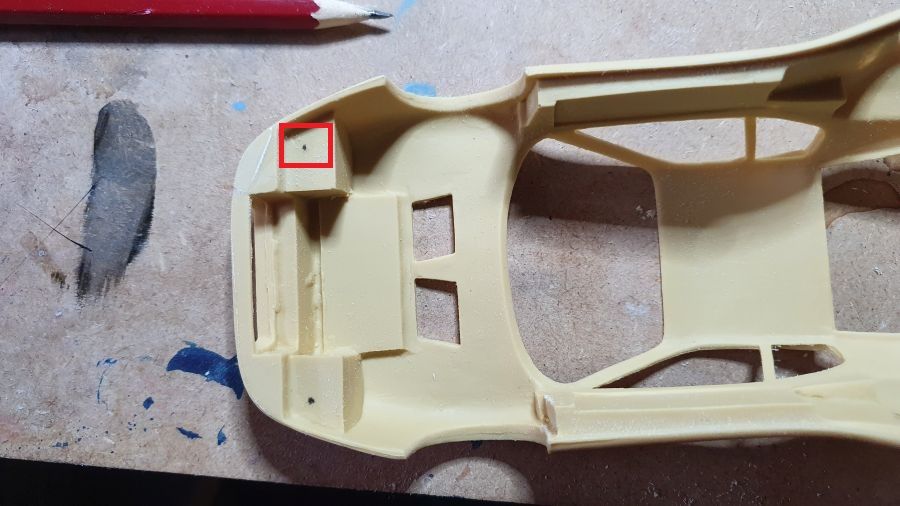 Meer te verwijderen.
More to remove.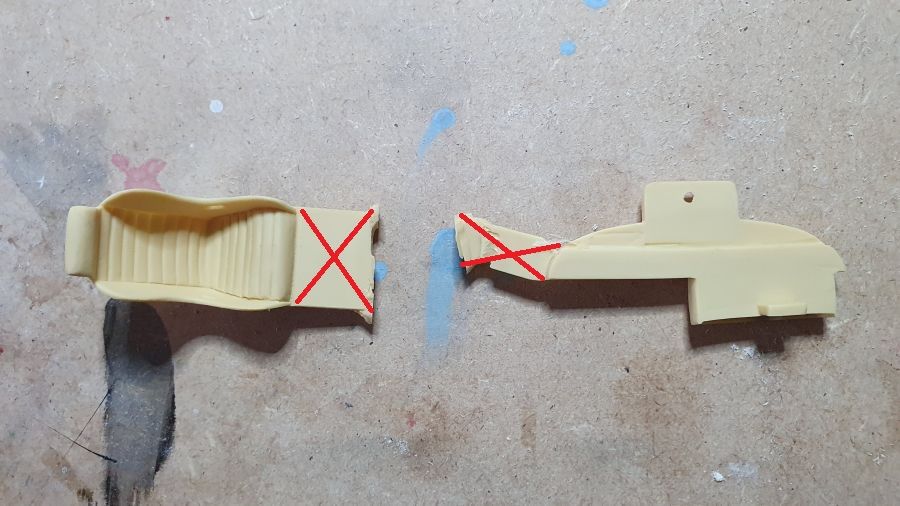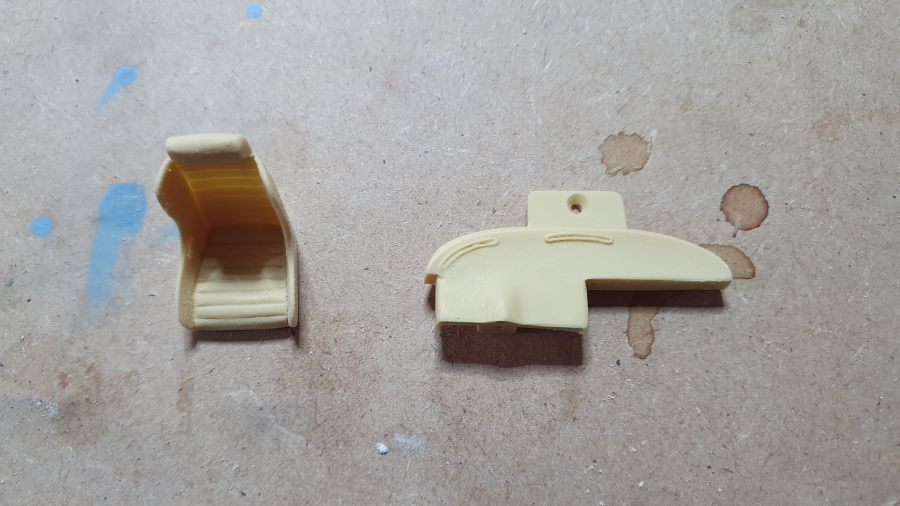 De vloer lijkt wat verbogen, maar dat gaat goed komen.
The floor appears to be bent, but it will be o.k.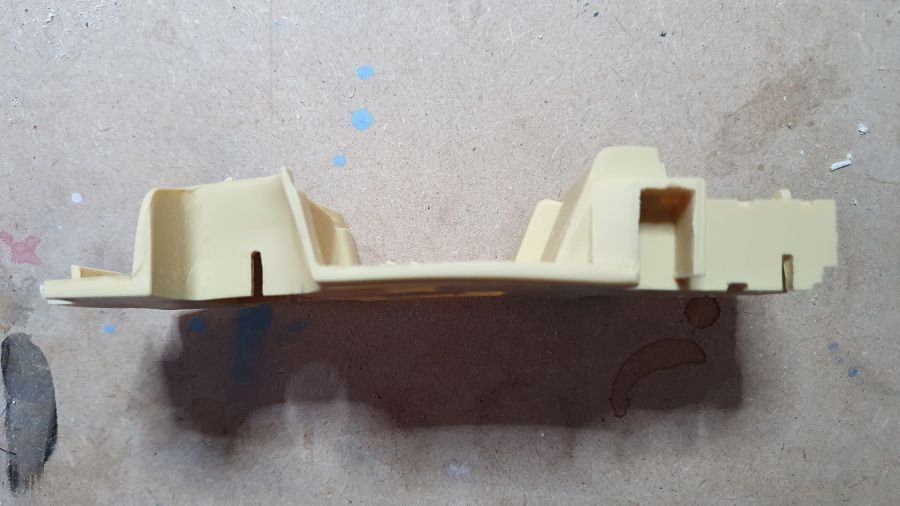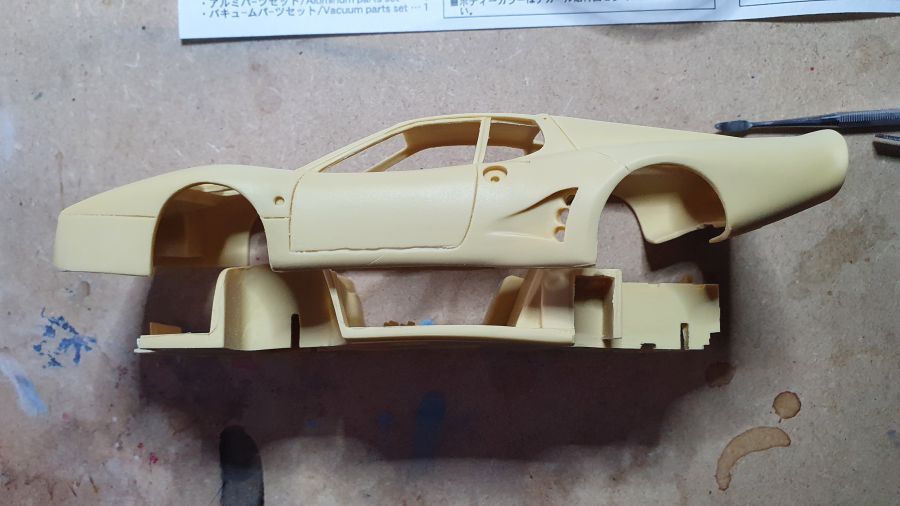 Even de eerste fouten signaleren. Volgens tekening moeten de intakes in de bodykleur gespoten worden. De decals en de foto laten wat anders zien.
Tackling the first mistakes. According to the instructions the intakes should be painted in body color. The decals and photo show otherwise.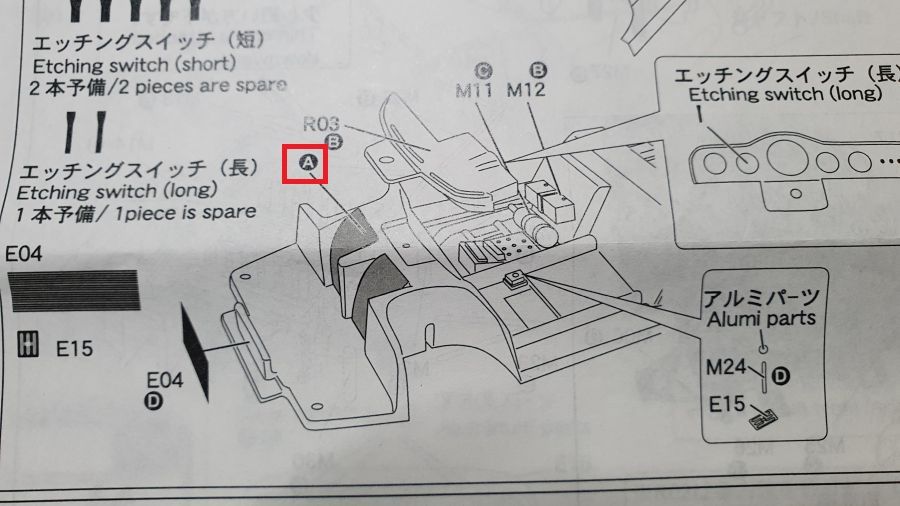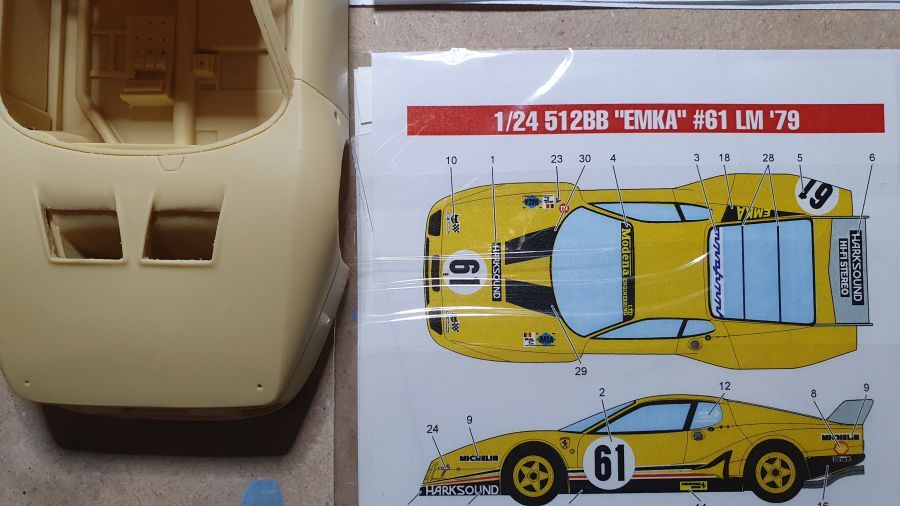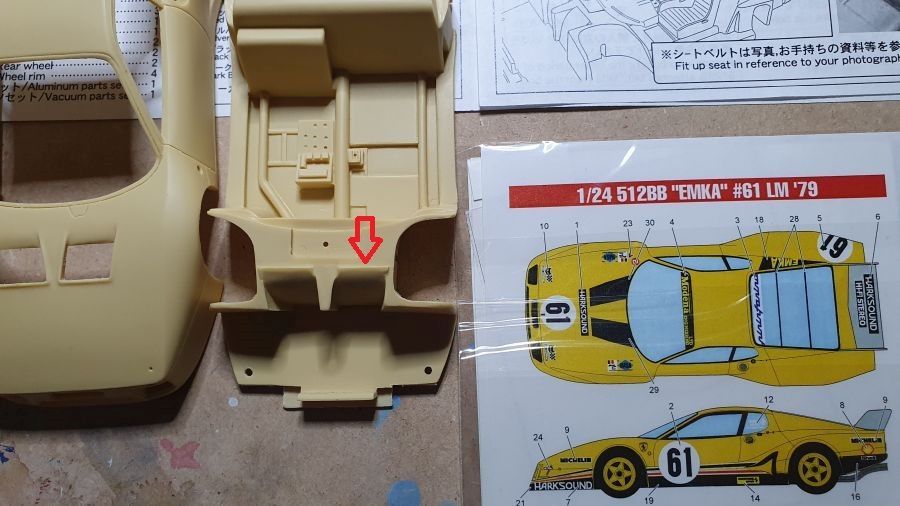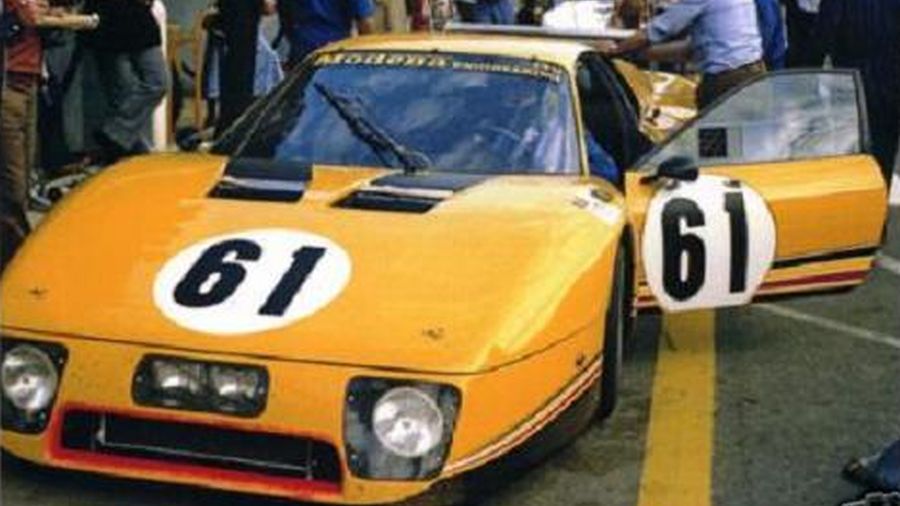 Het beschermvel blijft weer aan de decals plakken. Ik hoop dat dit goed gaat. Eén decal heeft een beschadiging. Gelukkig heb ik 2 vellen, maar beide hebben hetzelfde probleem met het beschermvel.
The protective sheet keeps stuck to the decals. I hope this will turn out o.k. One decal has damage. Luckily i have 2 sheets, but both have the problem with the protective sheet.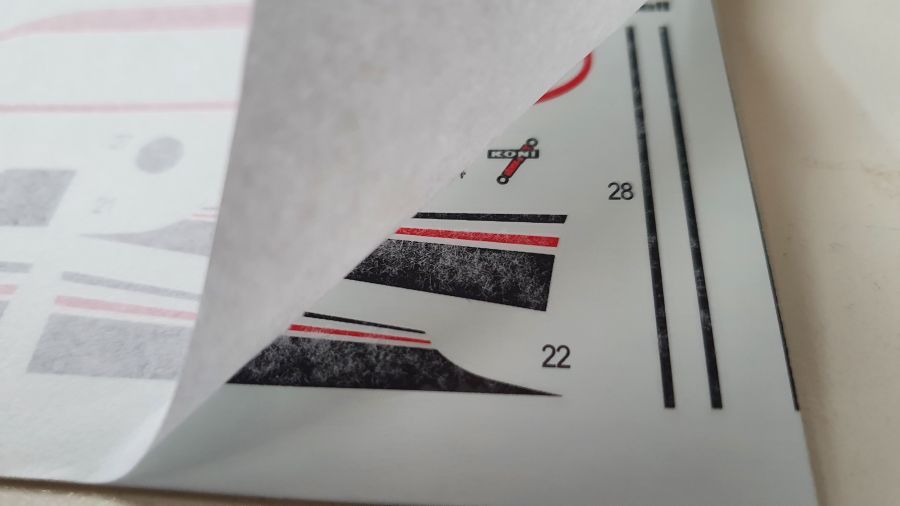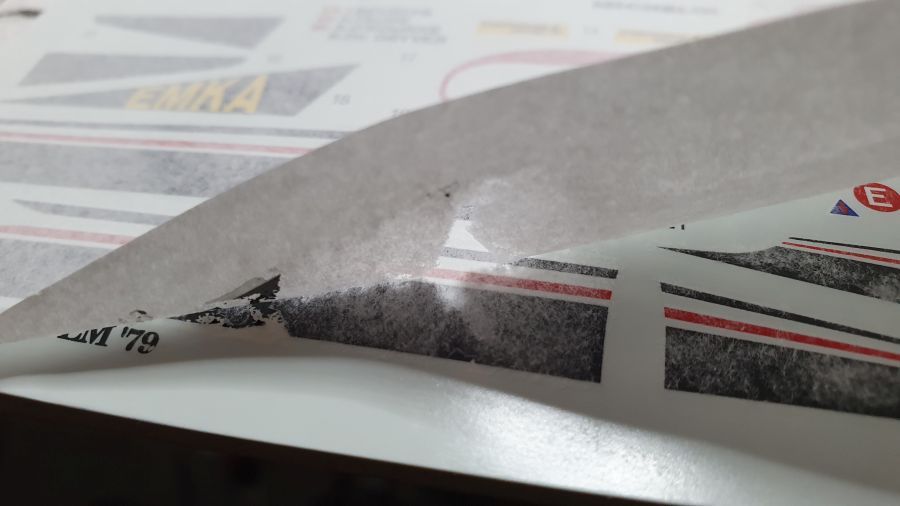 De vloer heeft zijn verf. Deze keer Zero Paints ZP-M1002 White Aluminium.
The floor got painted. This time Zero Paints ZP-M1002 White Aluminium.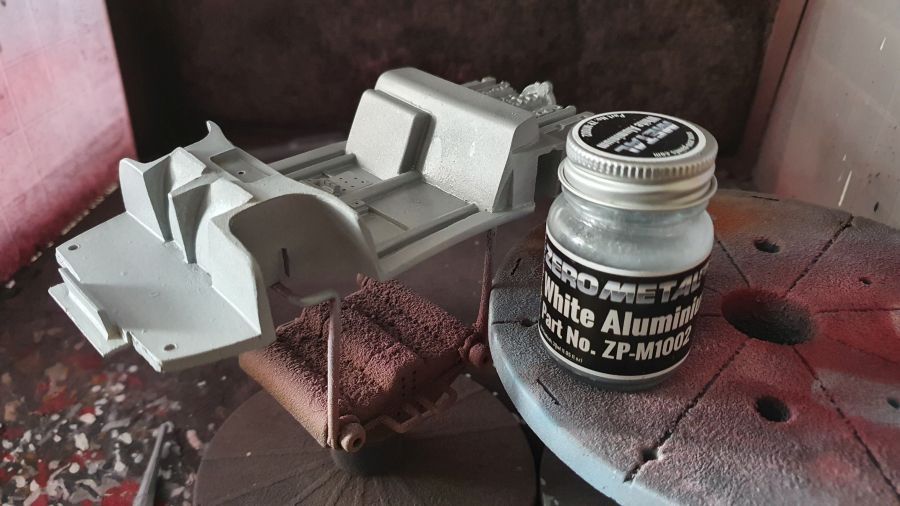 Afplakken en spuiten.
Mask and paint.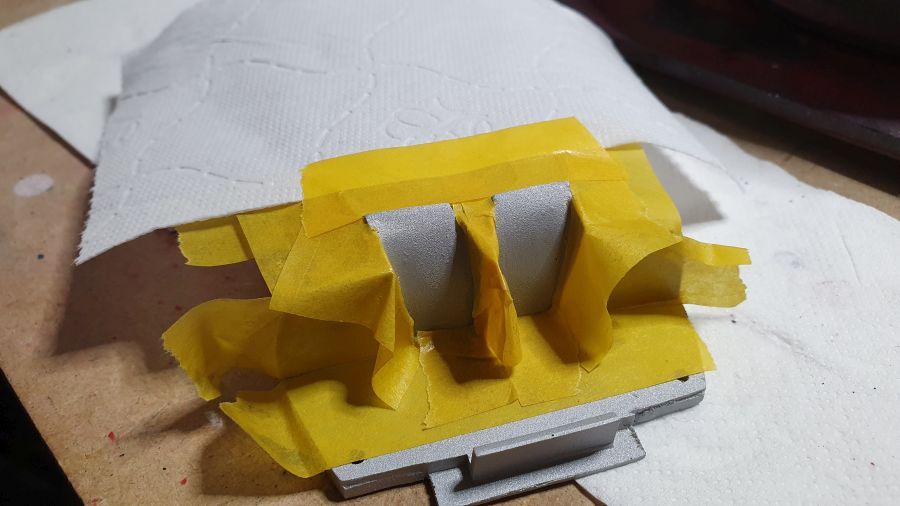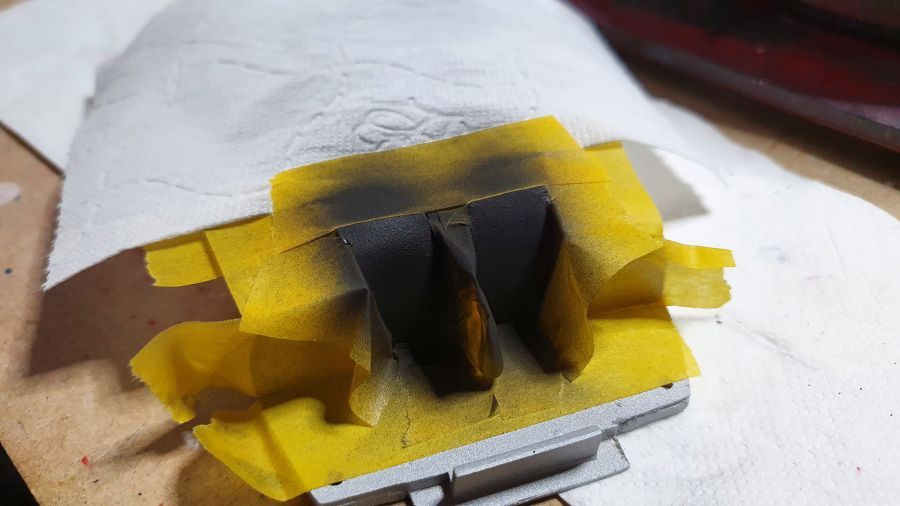 Interieuronderdelen.
Interior parts.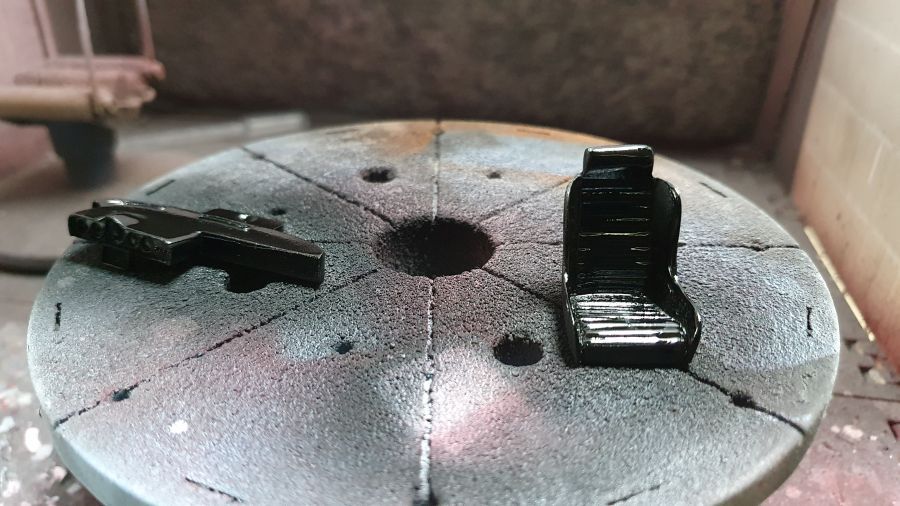 Test.
Testing.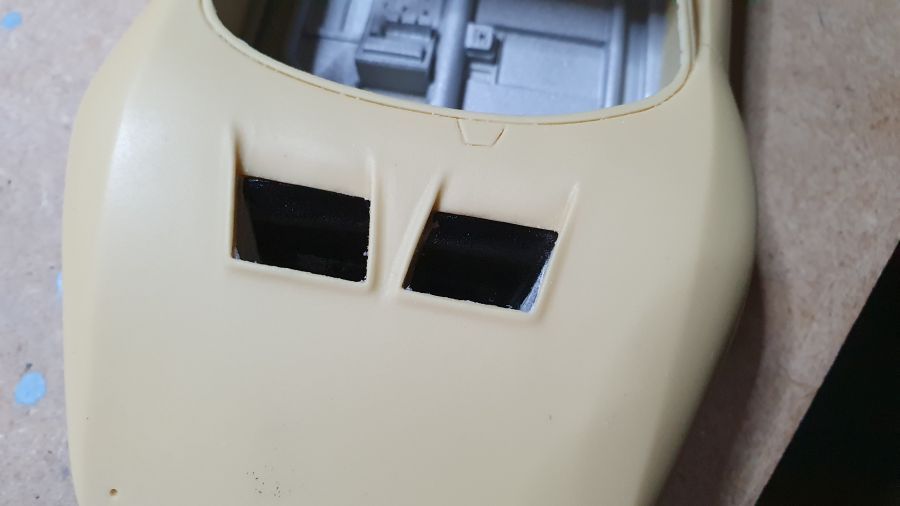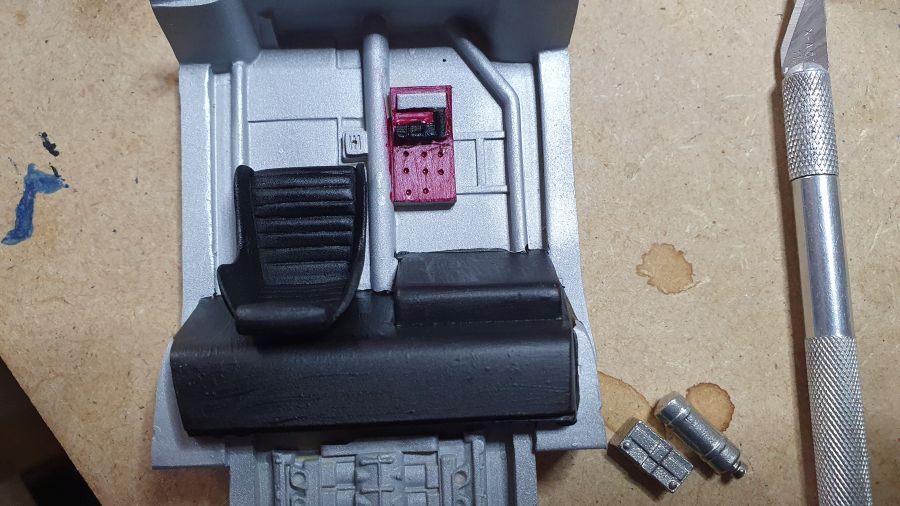 Een beetje spelen met panel line verf... groen gedaan, rood niet gedaan
Playing a bit with panel line paint... Green done, red not done.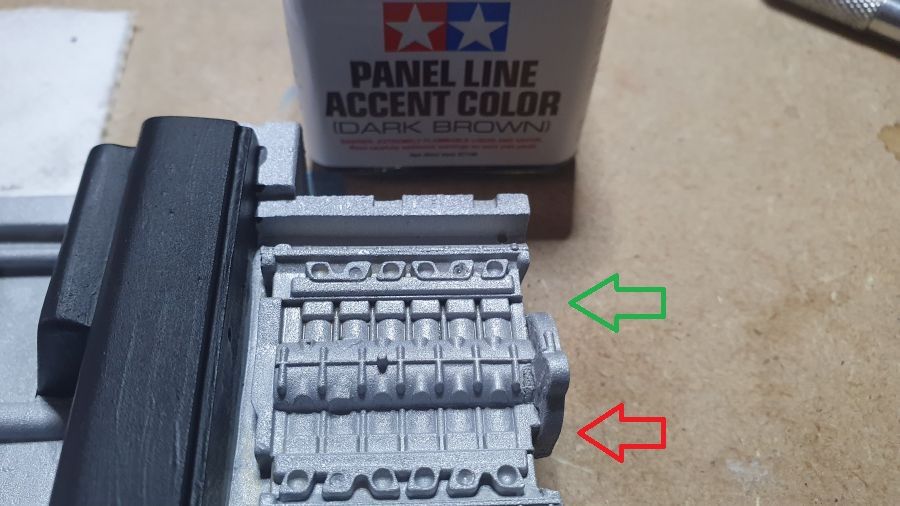 Terug weer naar de voorkant.
Back to the front again.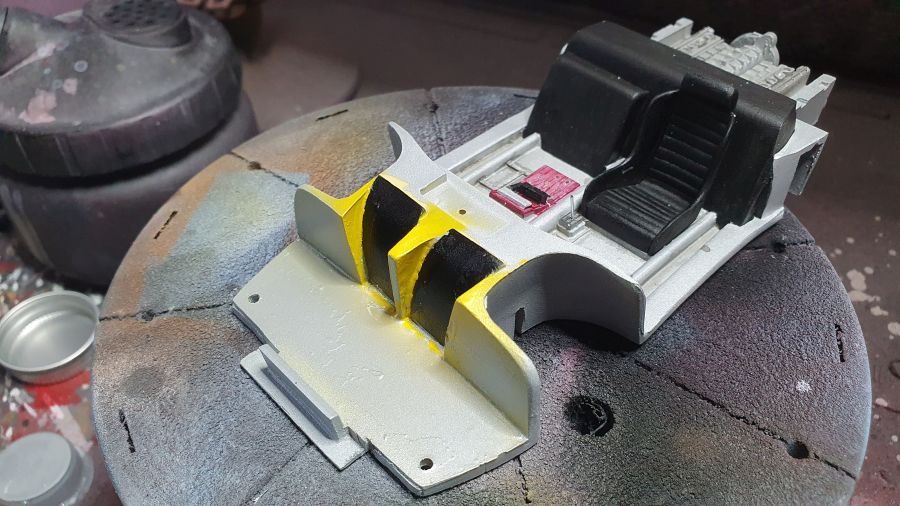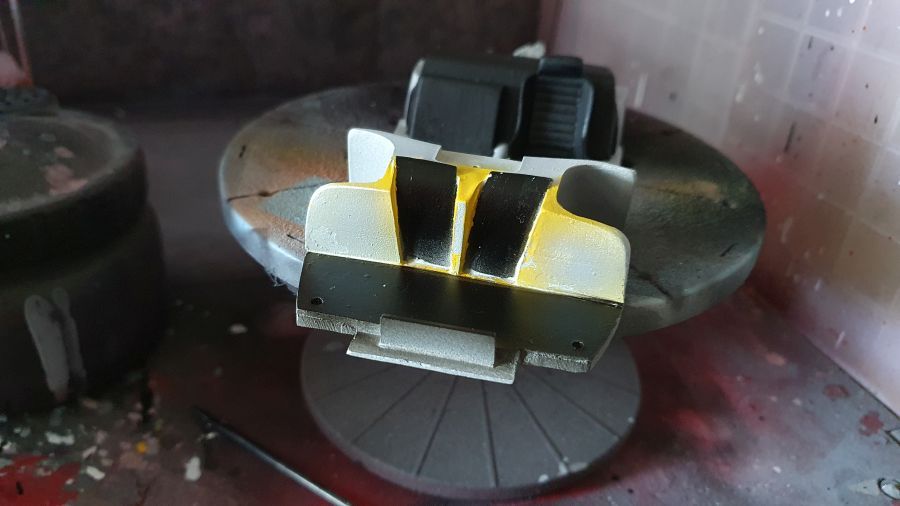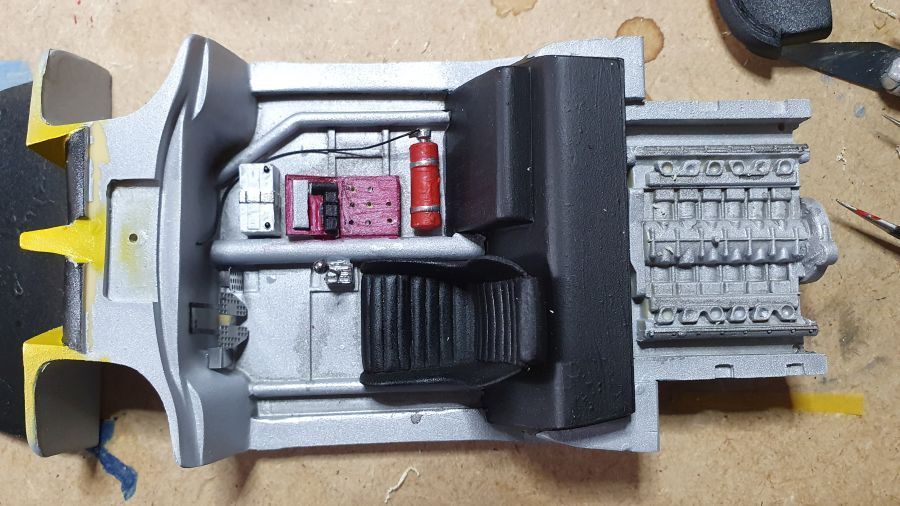 Zwart aan de binnenkant en deels buiten.
Black to the inside and partially to the outside.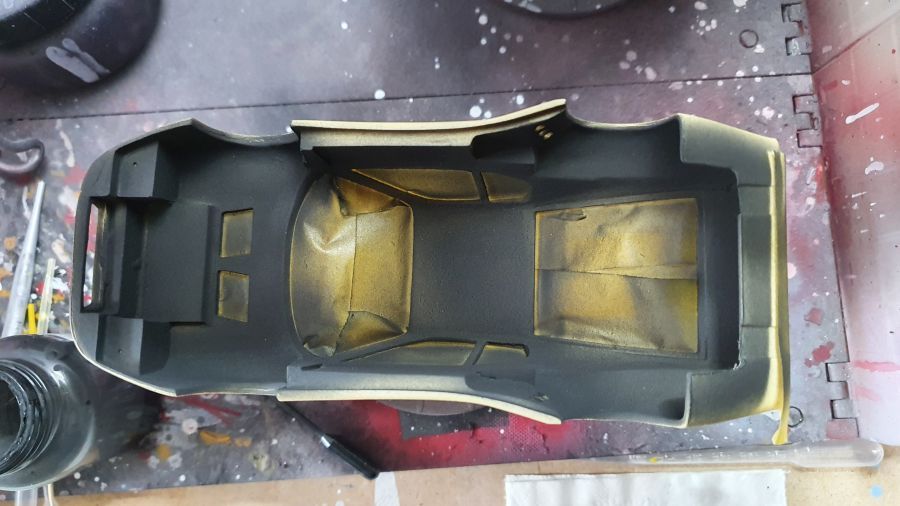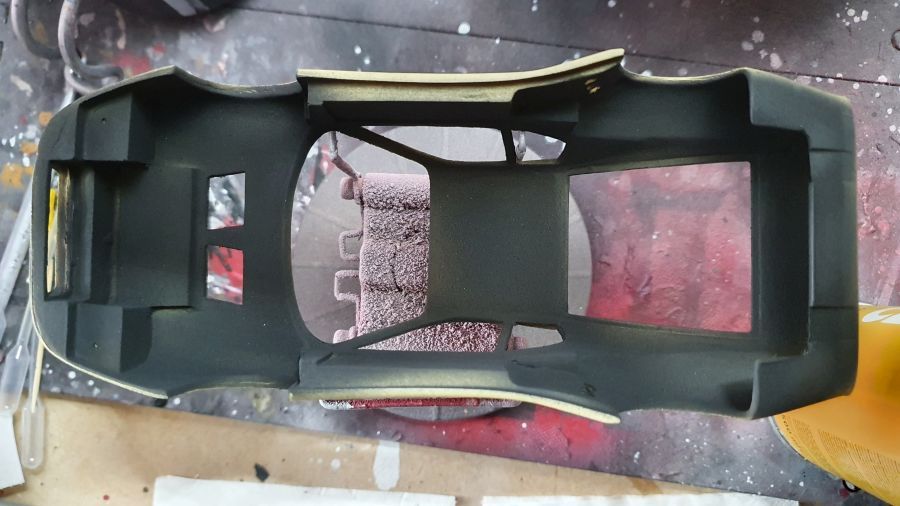 Ik moet alle zwart wat niet aan de buitenkant hoort goed weghalen. Geel is een verschrikkelijke kleur om te spuiten. De kleur blijft altijd wat doorzichtig, dus iedere fout ga je zien.
I need to remove all black on the outside that shouldn't be there. Yellow is a terrible color to paint. The color stays opaque, so you will be able to see every mistake.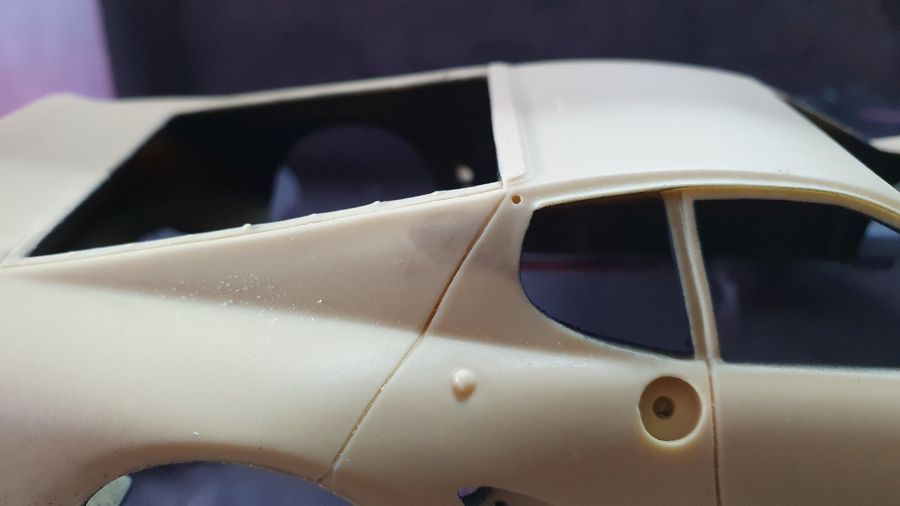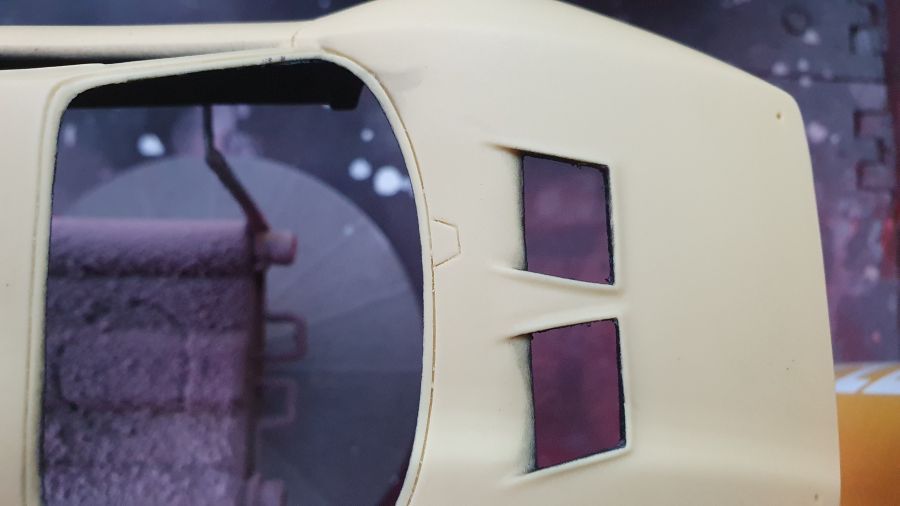 Dan de body spuiten.. Ik gebruik Zero Paints ZP-1007 Giallo Triplo Strato 2-parts.
Then painting the body. I am using Zero Paints ZP-1007 Giallo Triplo Strato 2-parts.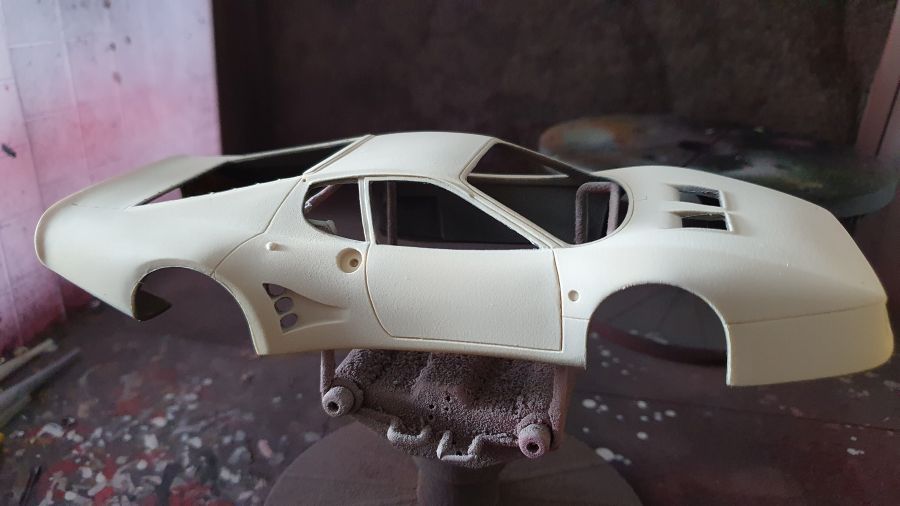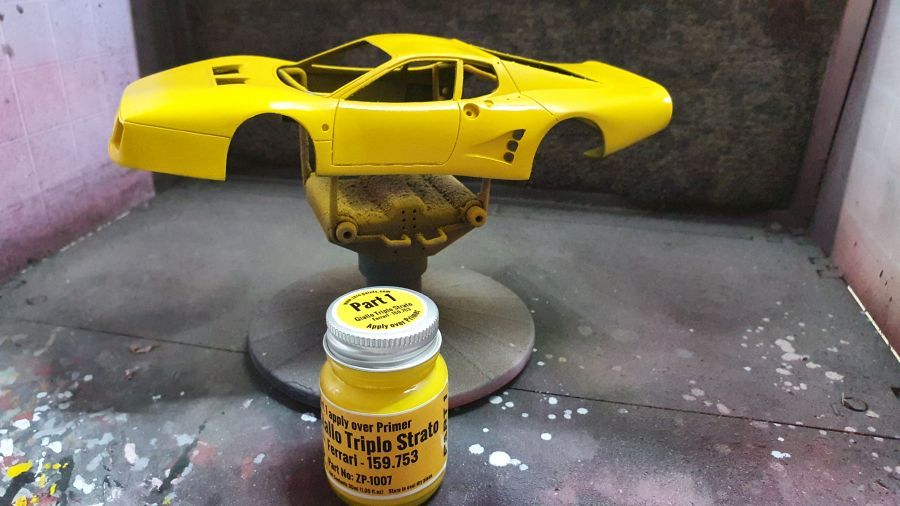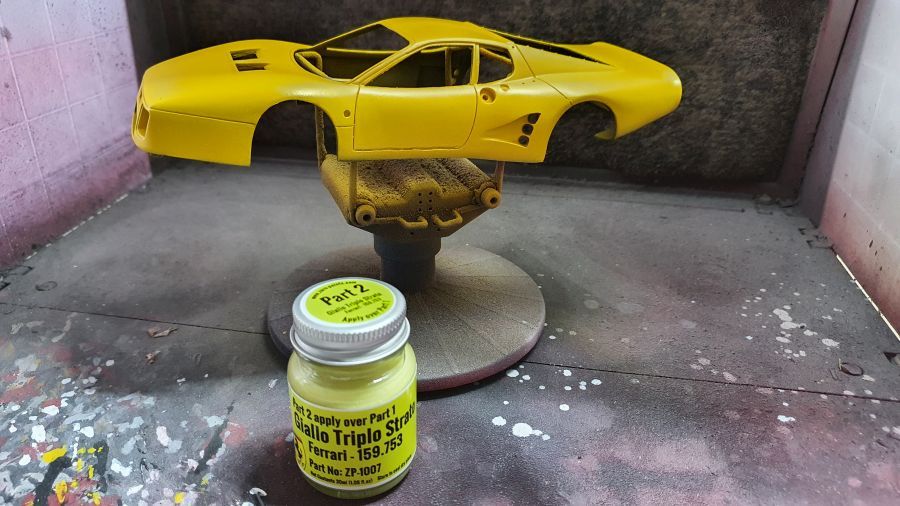 Part 2 geeft een soort metallic effect, iets wat ik niet wil op deze auto. Daarom spuit ik toch nog 1 laag met part 1.
Part 2 gives some kind of metallic effect, something i don't want on this car. So i will paint 1 more layer of part 1.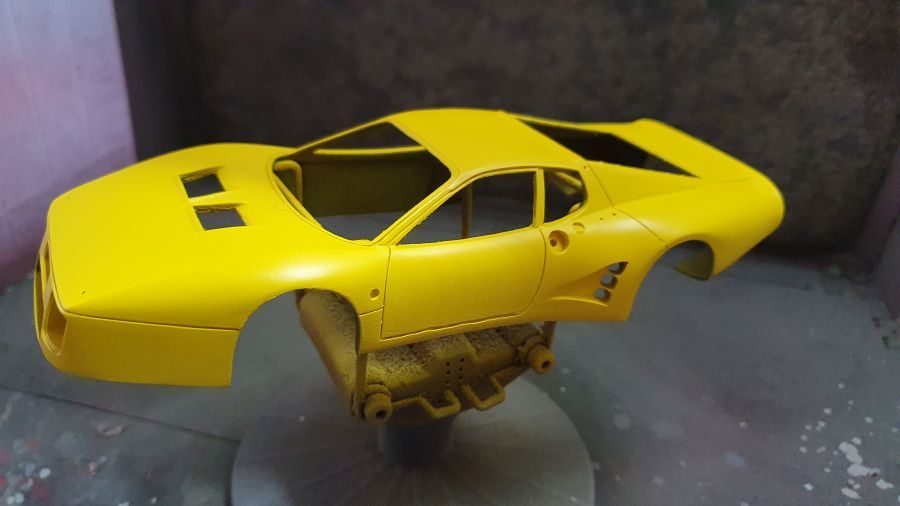 En de glanslak. Nu goed laten drogen. Ik zie 1 klein stipje op het dak waar ik wat mee moet. Maar eerst iets van 48 uur drogen, minstens.
And the gloss lacquer. I see 1 small spot on the roof that needs some work. But first let it dry for 48 hrs, minimum.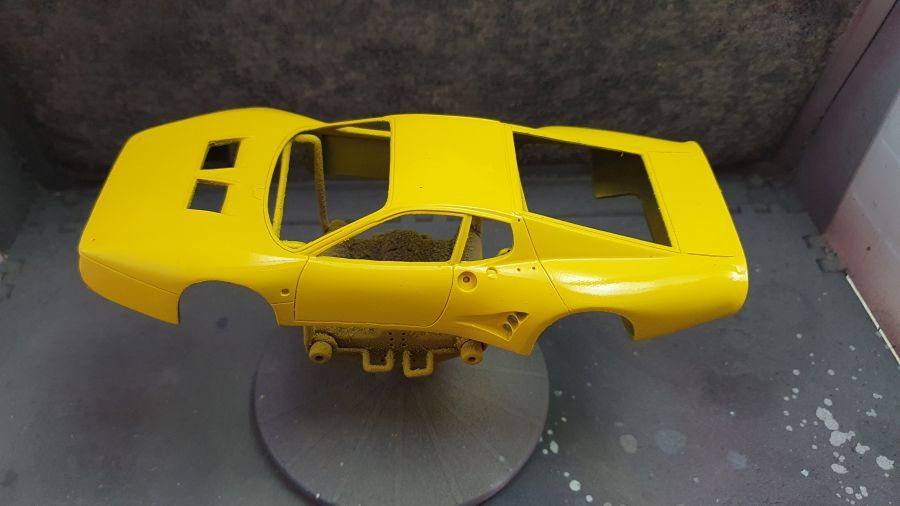 Van vrienden kreeg ik een advies m.b.t. het papier aan de decal. Zij gaven aan het te spuiten met heldere lak. Ik heb het geprobeerd, rechts met lak en links met decalspray. Ik ben er niet tevreden mee.
From friends i receive advice on the paper on the decal. They advised to spray clear coat. I tried it, to the right with clear cote and to the left with decal spray. I not happy with the result.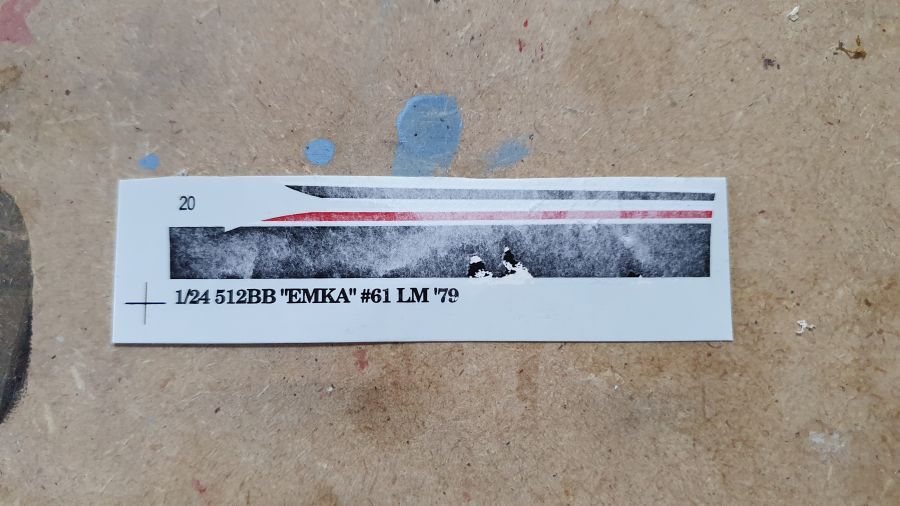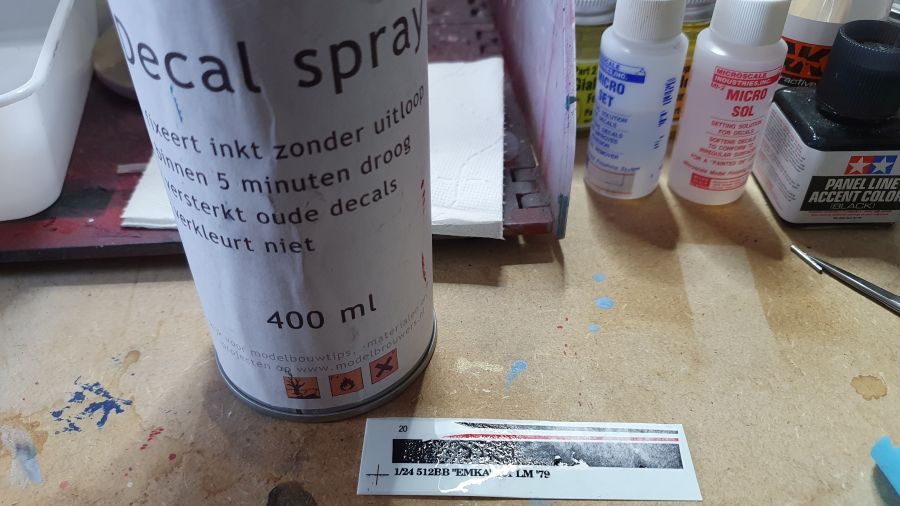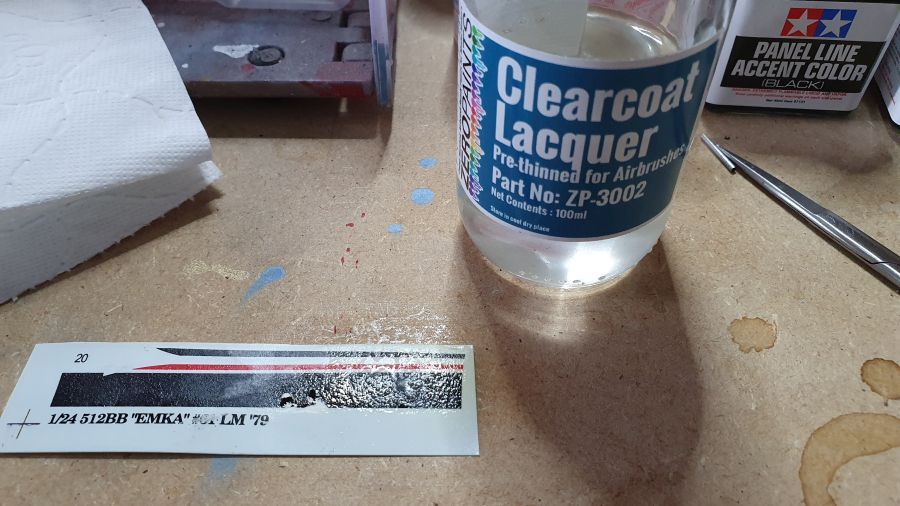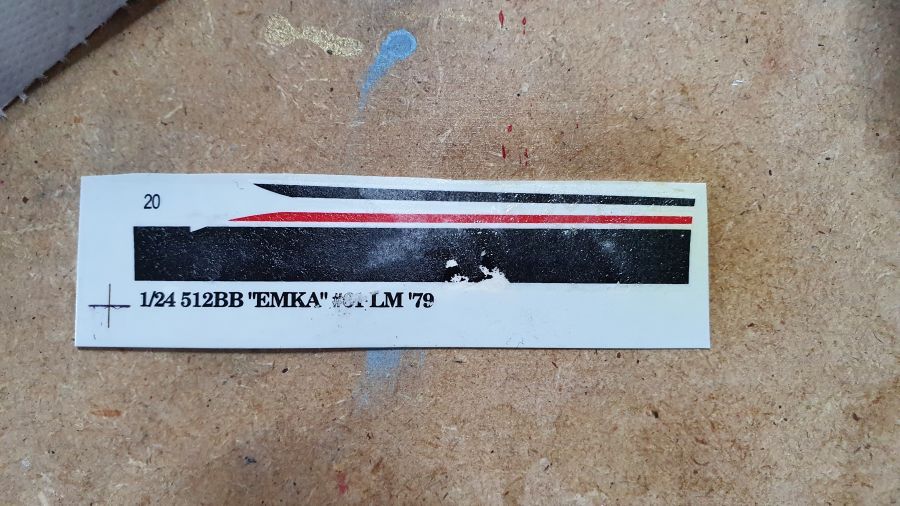 Ik probeer de decal in heet water te weken. Ik kan er dan wat papier vanaf schrapen, maar er blijft nog wat zitten. Mogelijk gaat dat weg met een paar lagen lak erover.
I am trying to soak the decal in hot water. I can scrape off some of the paper, but not all. Possibly that will be covered by a layer of clear lacquer.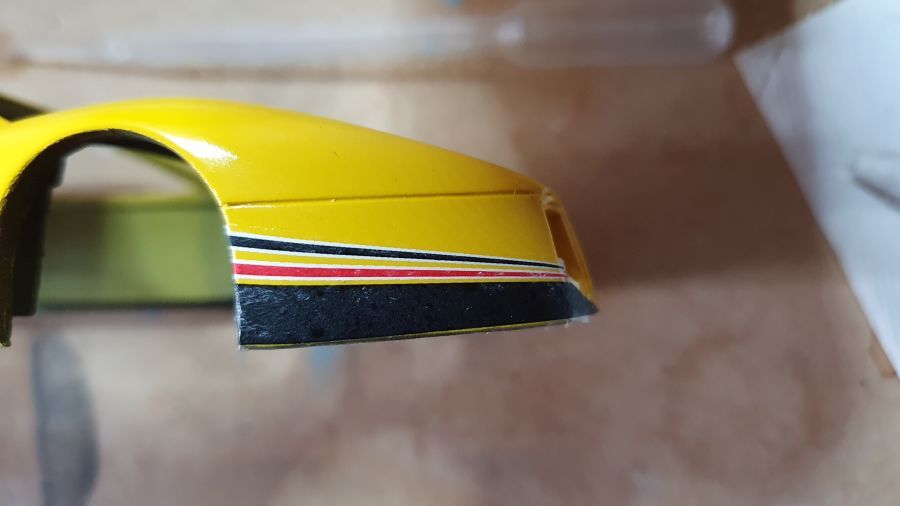 En ik krijg een brief van goede vriend Pierpaolo. Heeft nog een compleet nieuw vel liggen en stuurt die naar me. Dat redt mijn bouw. Nu eerst verder met de vloer.
And i am getting a message from good friend Pierpaolo. He has a complete new sheet for me and will send it. That saves my build. Now to continue with the floor.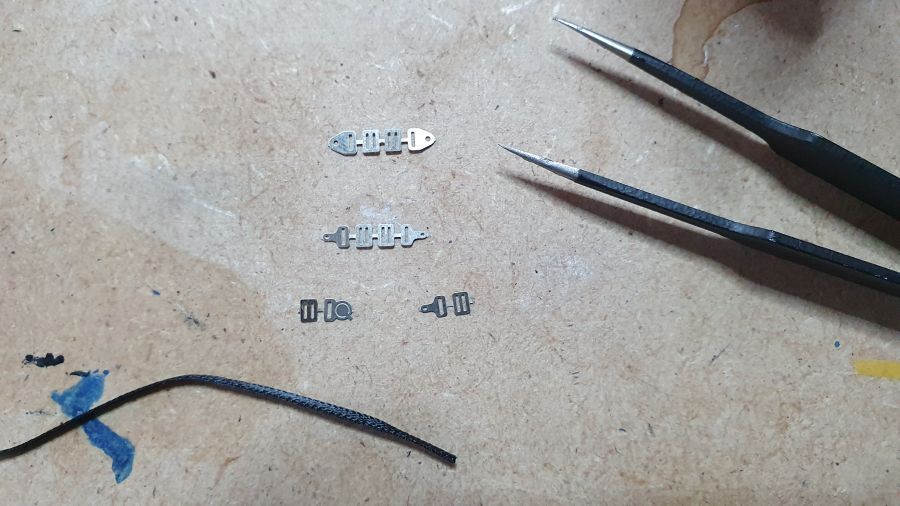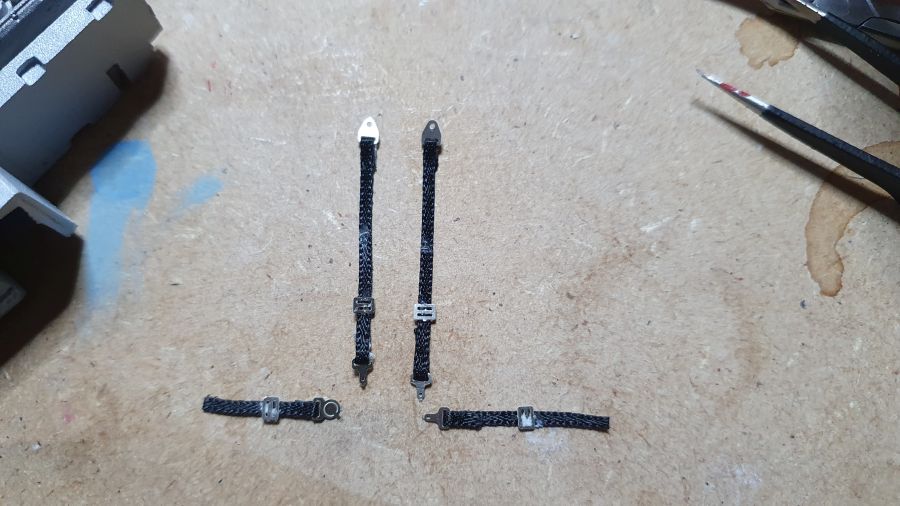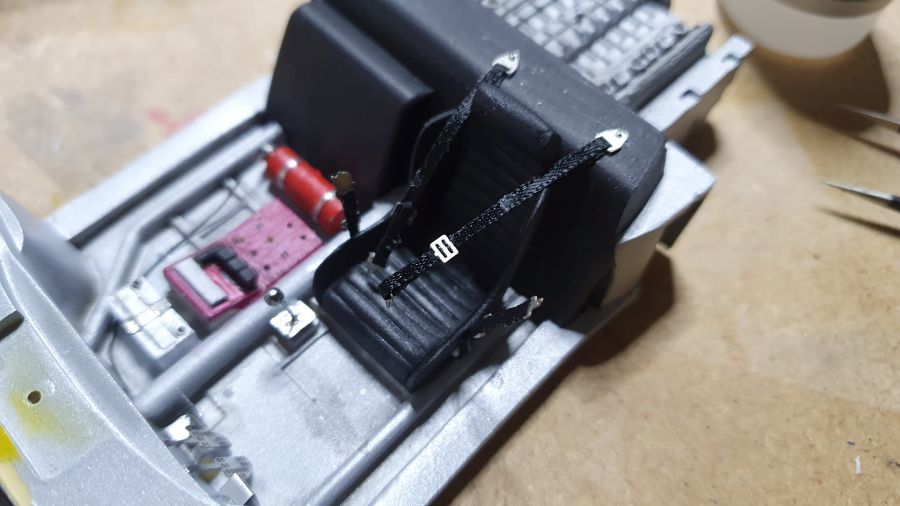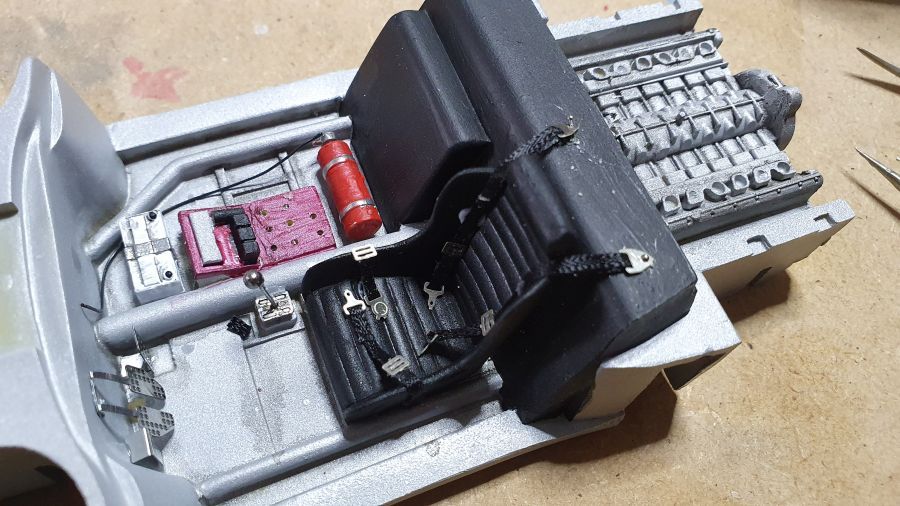 En de motor...
And the engine...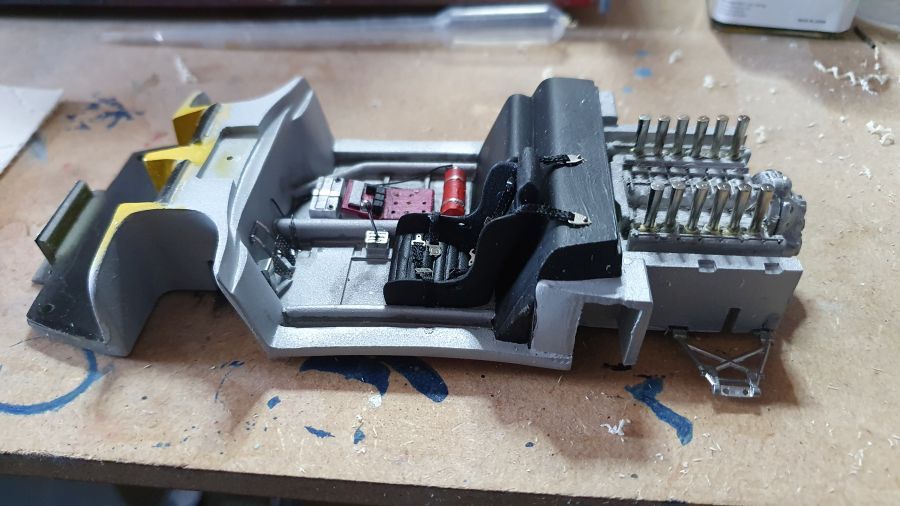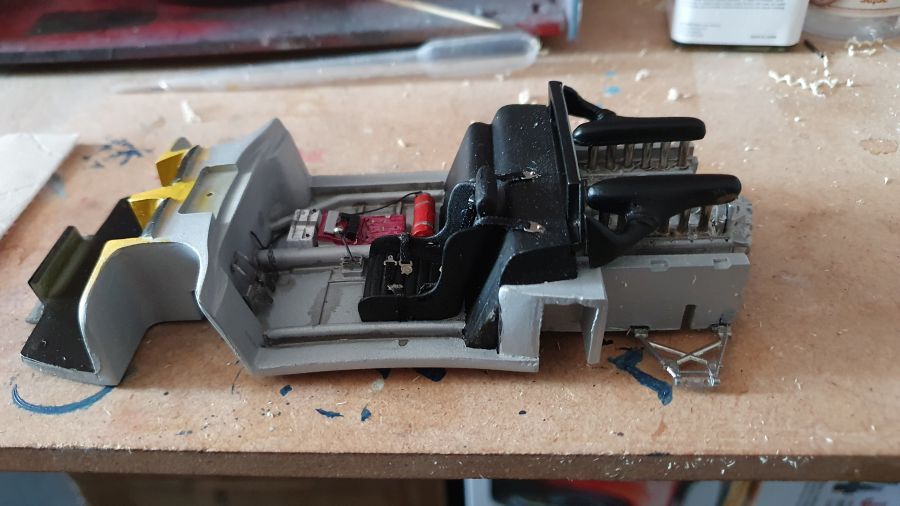 Passen.
Test fit.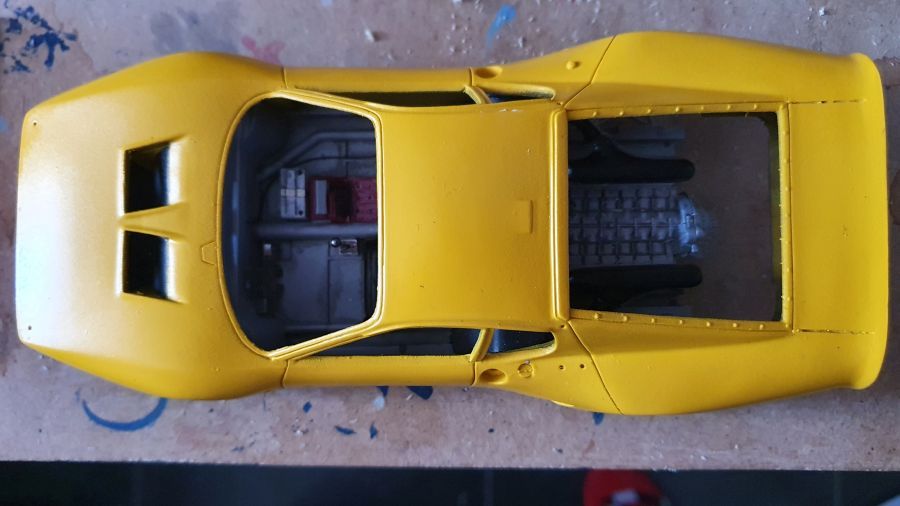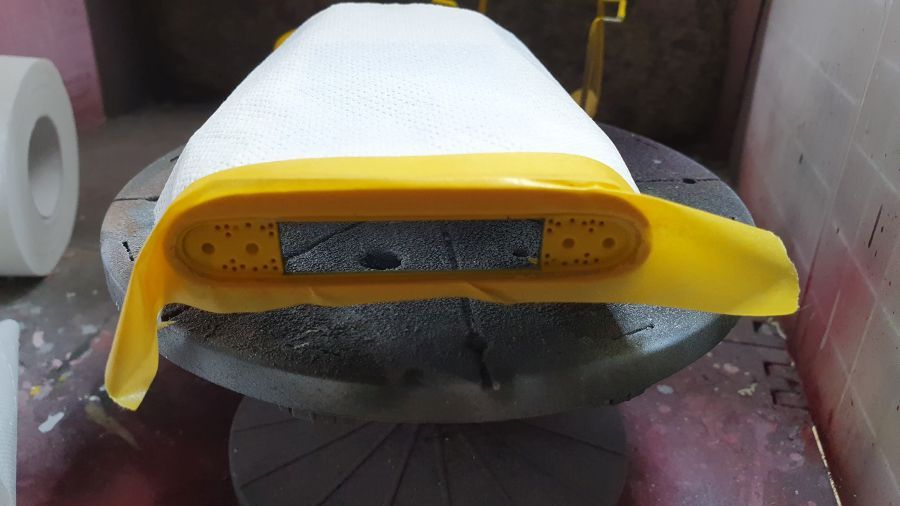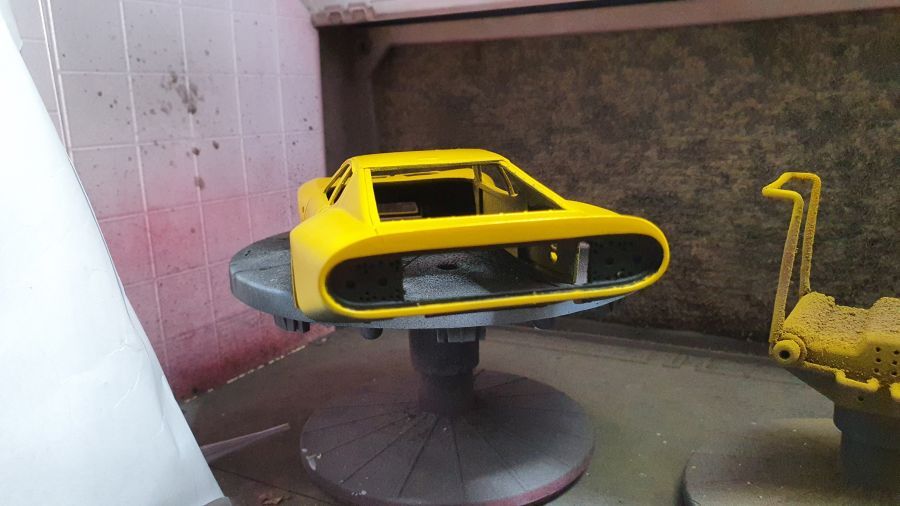 Terug naar de vloer. De motor heeft geen bedrading en slangen. Daar ga ik wat aan doen.
Back to the floor. The engine has no wiring and piping. I will see to that.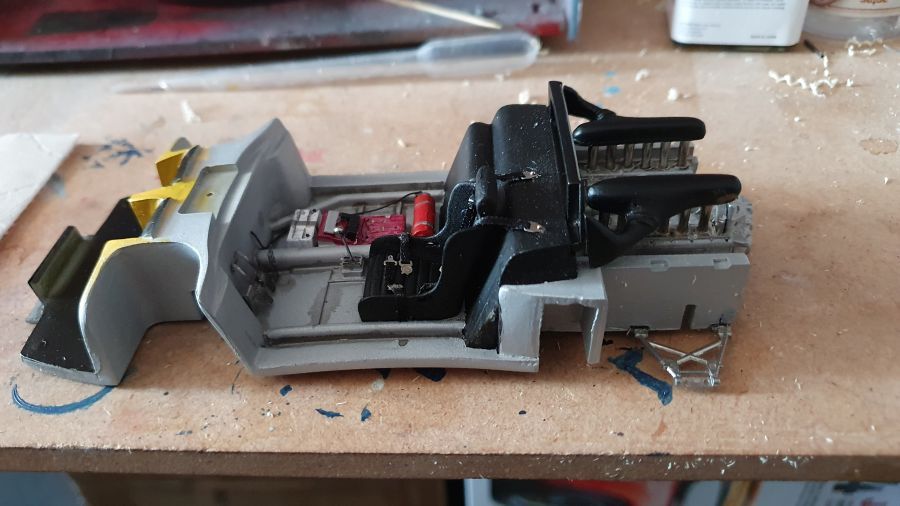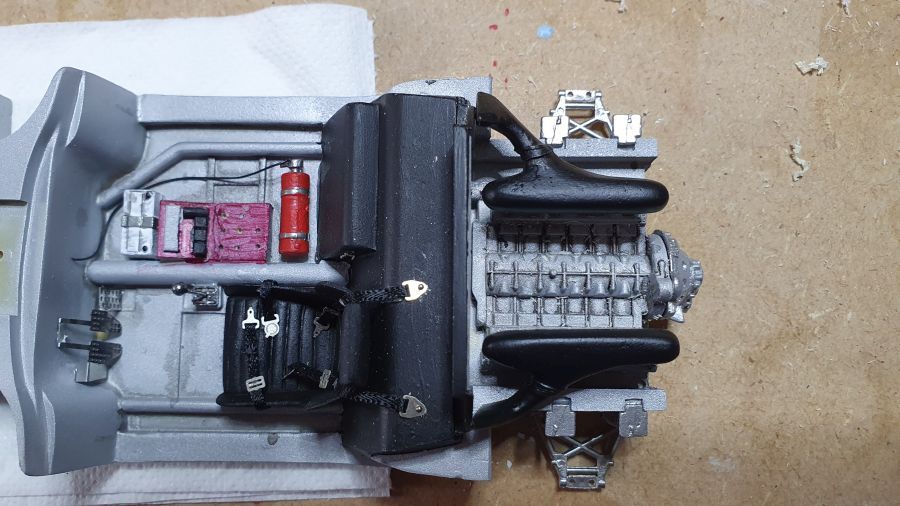 Het dashboard gaat erin en er zijn wat leidingen aangelegd.
The dashboard was added and some piping was done.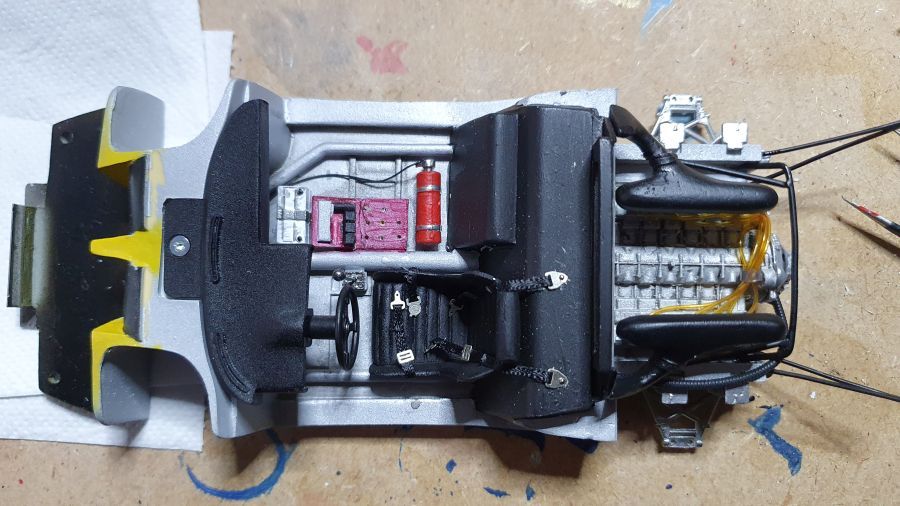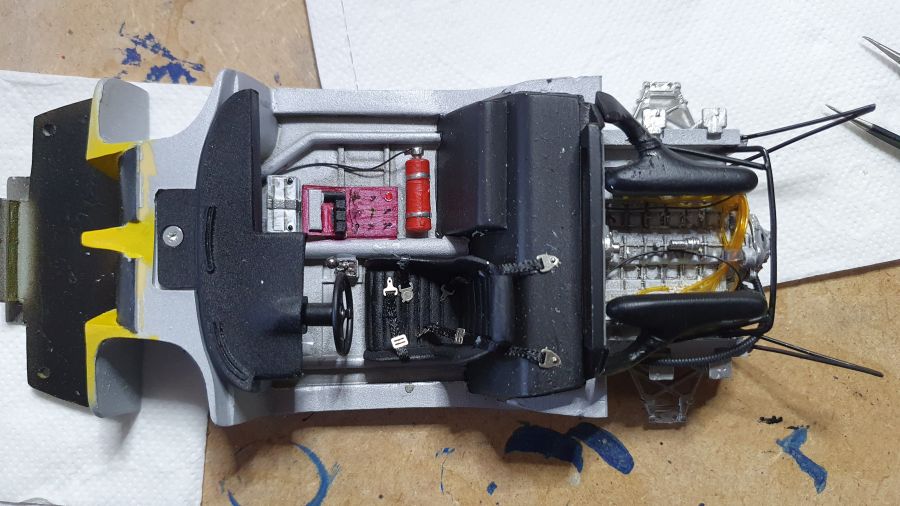 Tijd voor decals...  
Time for decals...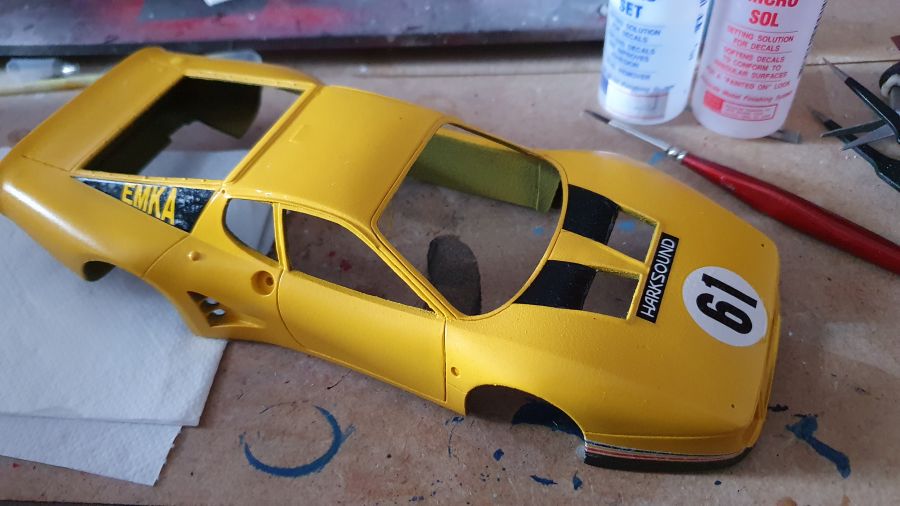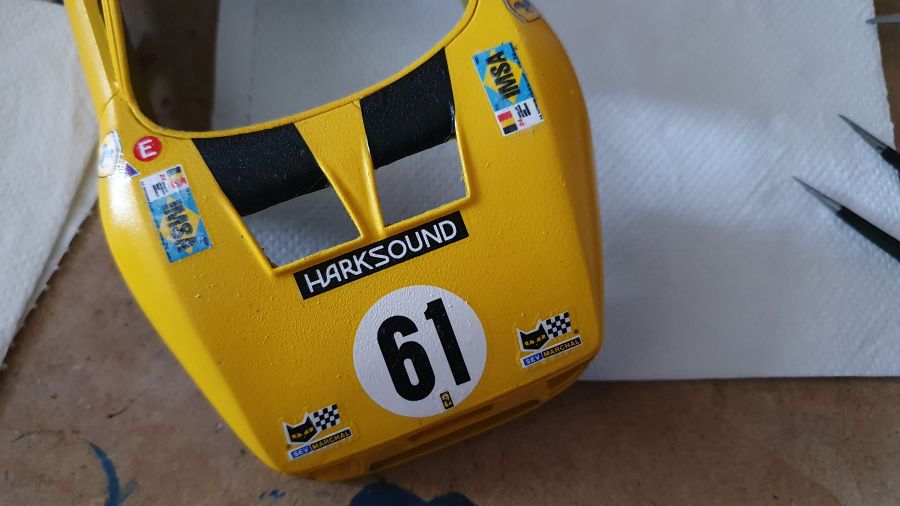 En wat verf...  Zelfs de nieuwe decals die ik gekregen heb zijn niet super. Kijk maar naar de Emka. Wellicht gaat dat met de heldere lak weg.
And some paint...  Even the new decals i received have issues. Look at the Emka. Maybe it will disappear with the clear coat.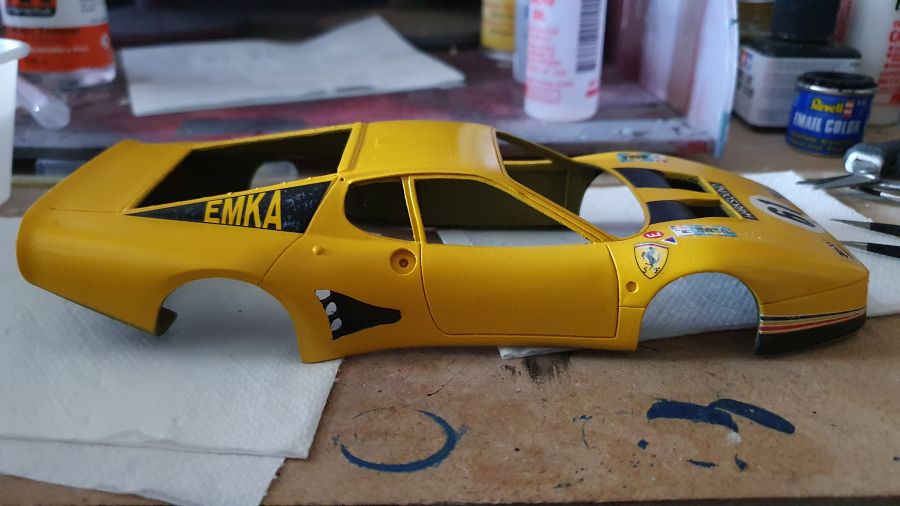 Met dit merk decal softener kan ik een beetje de papierfilm weghalen... Werkt hiervoor beter dan Micro Set/Sol. 
With this brand of decal softener i can remove the paper film a bit... Works better tha Micro Set/Sol for this.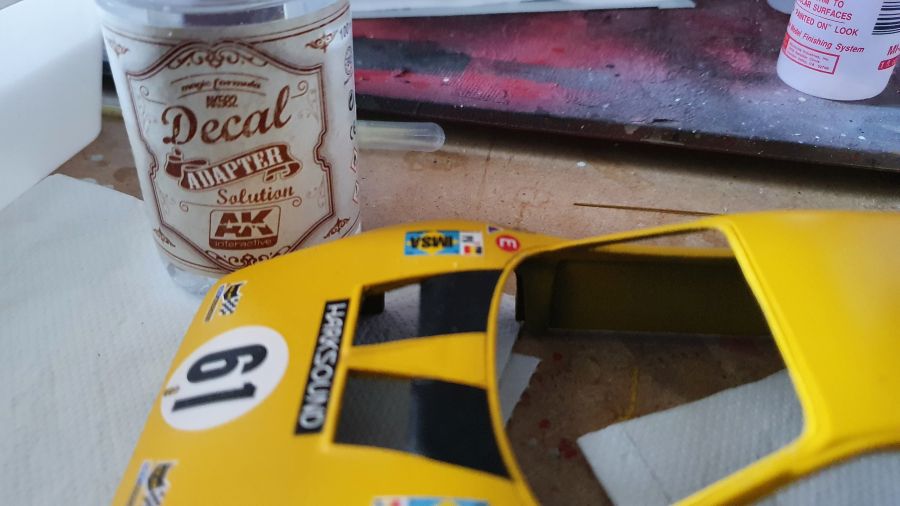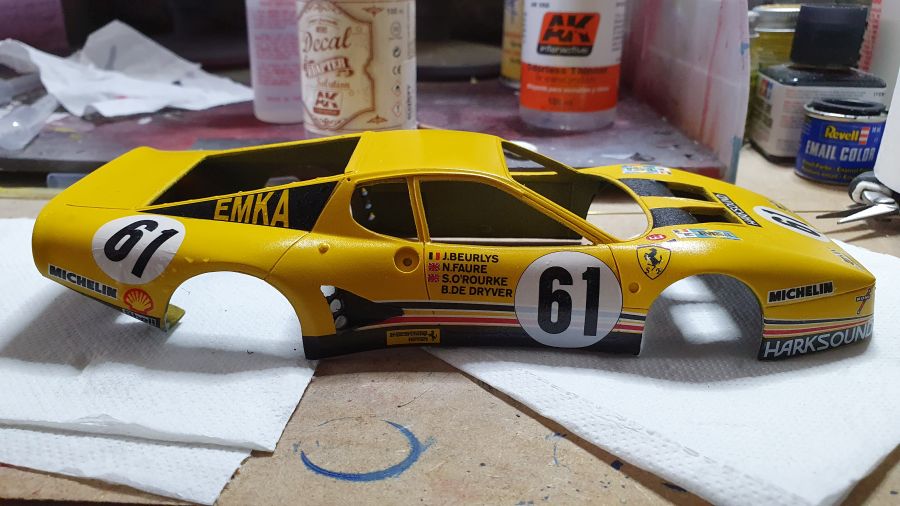 Nu een heel weekend laten drogen.
Now let it dry over the weekend.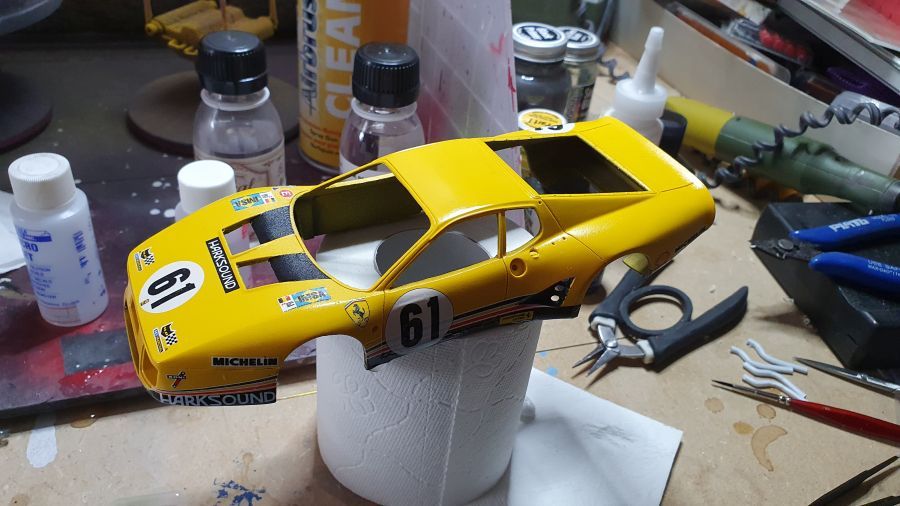 Door met de velgen en de vloer. De assen moeten op maat gemaakt.
On to the rims and the floor. The axles need to be cut to size.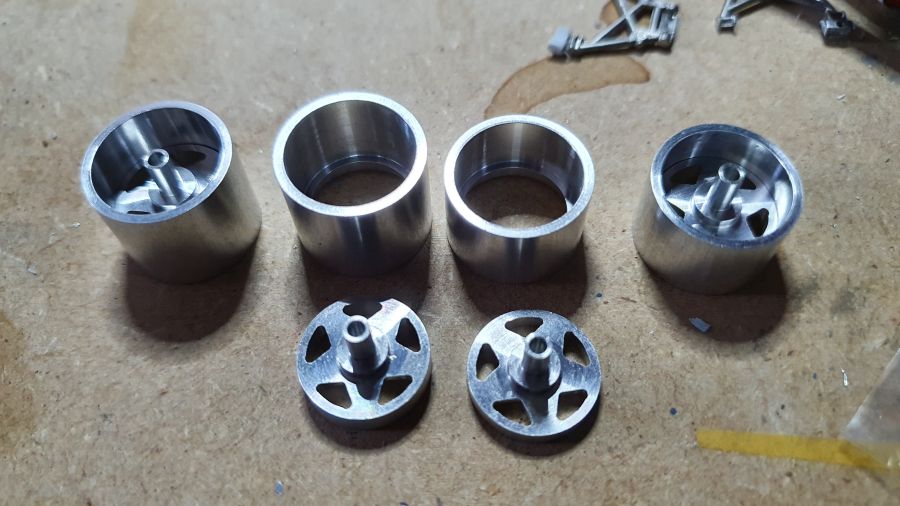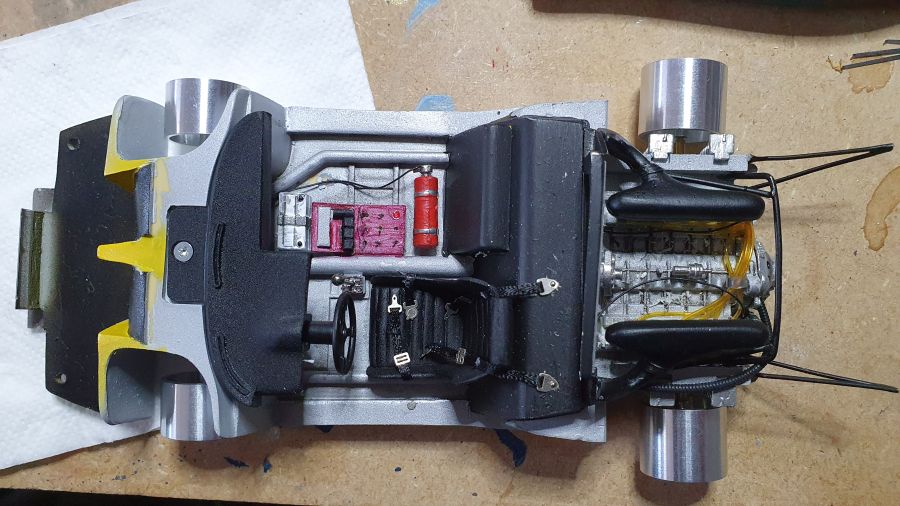 Er is nog veel werk om de vloer een beetje op hoogte brengen met de carrosserie.
There is still much work to do to line up the floor with the body work.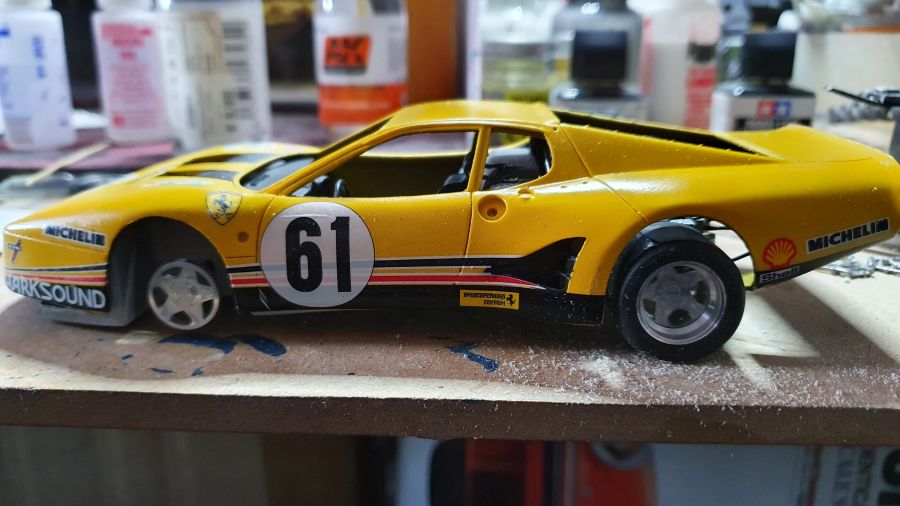 De bevestiging van de body aan de vloer blijft toch een probleem. Hij staat iets te hoog op de achterwielen, door de bolling van de vloer. Ik dacht dat het zou meevallen. Lijmen en vastschroeven is geen optie. Er komt dan teveel spanning op... ik ga proberen hier en daar wat resin weg te slijpen.
Adding the body to the floor is still a problem. It's a little too high on it's rears., because of a bent floor. I thought it wouldn't be a problem, but screws and glue is not an option. Too much tension to the floor. I will try to grind some resin away.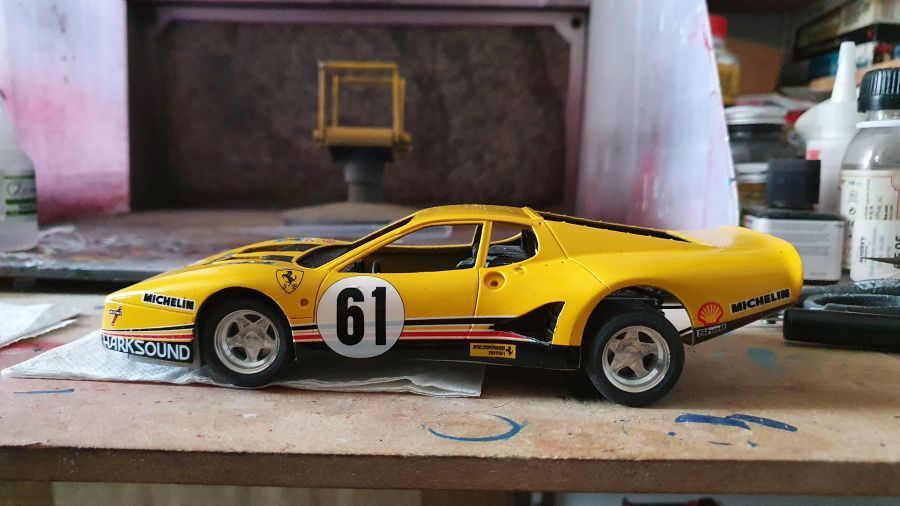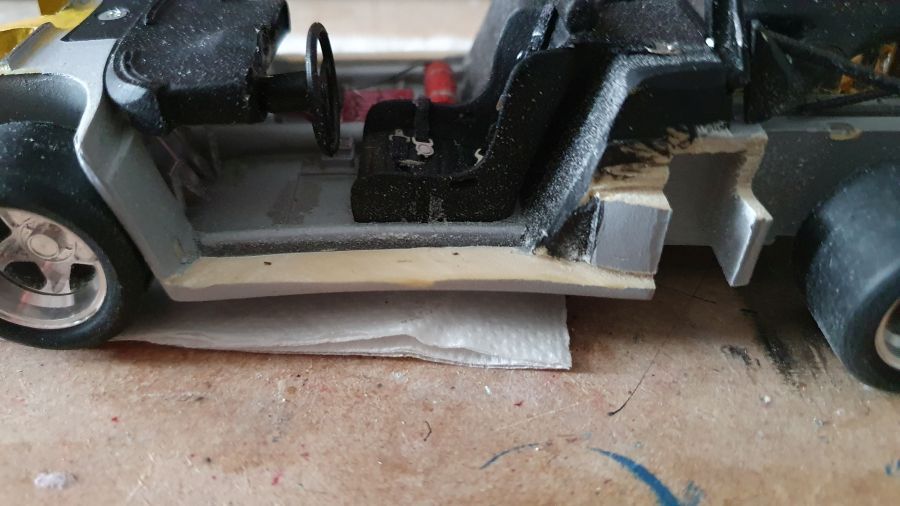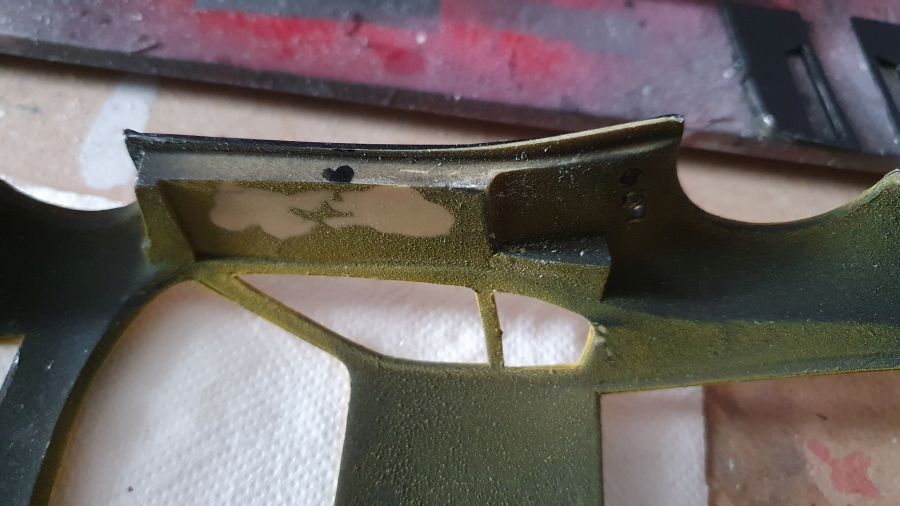 Langzaam aan kom ik er wel...
Slowly i'll get there...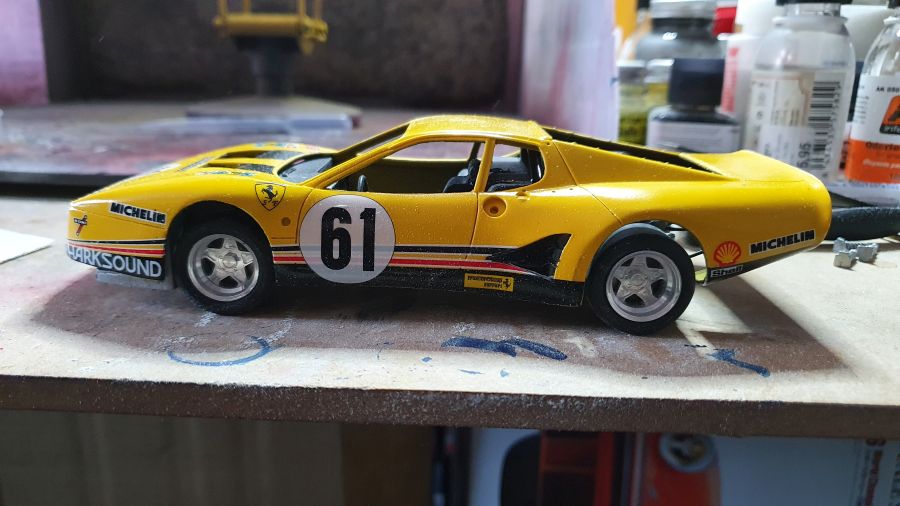 Zwarte raamlijsten en paneellijnen.
Black window rubbers and panel lines.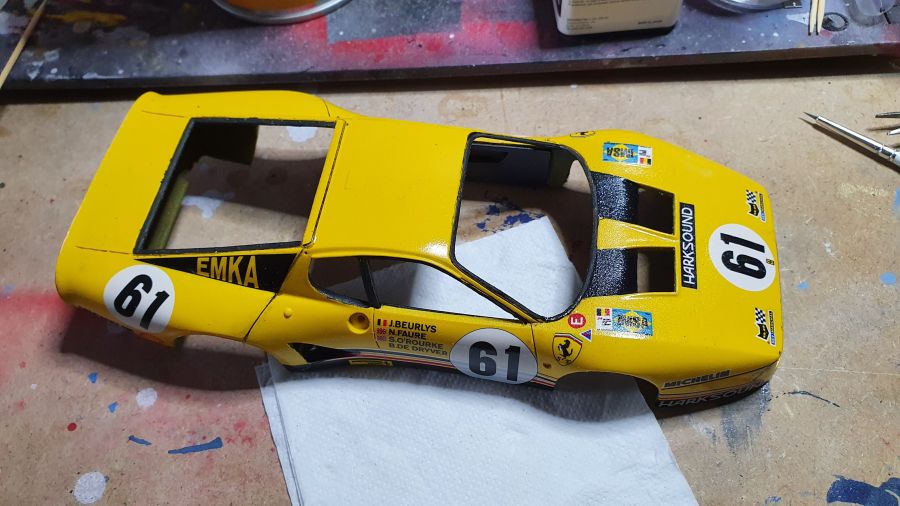 Ik heb al veel resin weggehaald. Op een of ander manier krijg ik het niet voor elkaar. De wagen staat of te hoog op de achterwielen, of te hoog op de voorwielen. Ik kan nog maar 2 aanpassingen bedenken en dat is de vloer te zagen, of proberen te buigen na verhitting.
I have cut away a lot of resin. Somehow the problem continues. The car is either too high on it's rears or too high on the fronts. I can only think of 2 more adjustment and that is to cut the floor, or trying to bend it after heating it.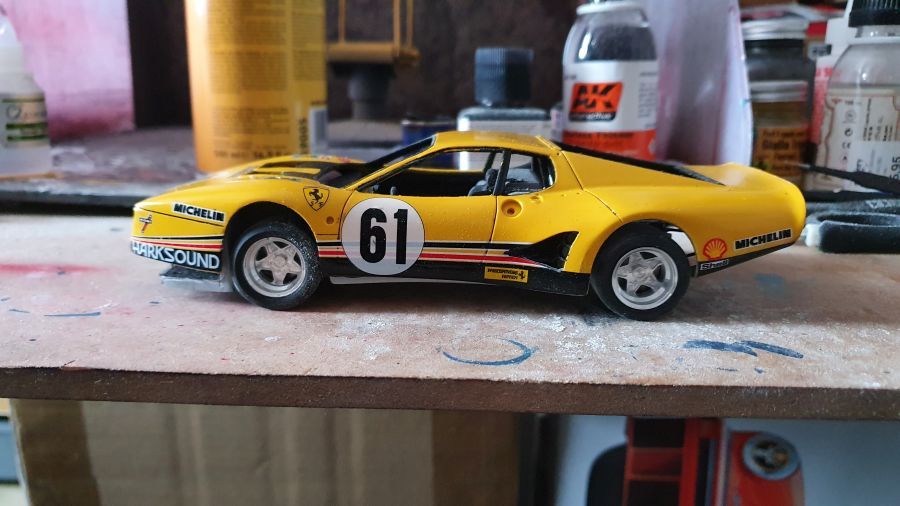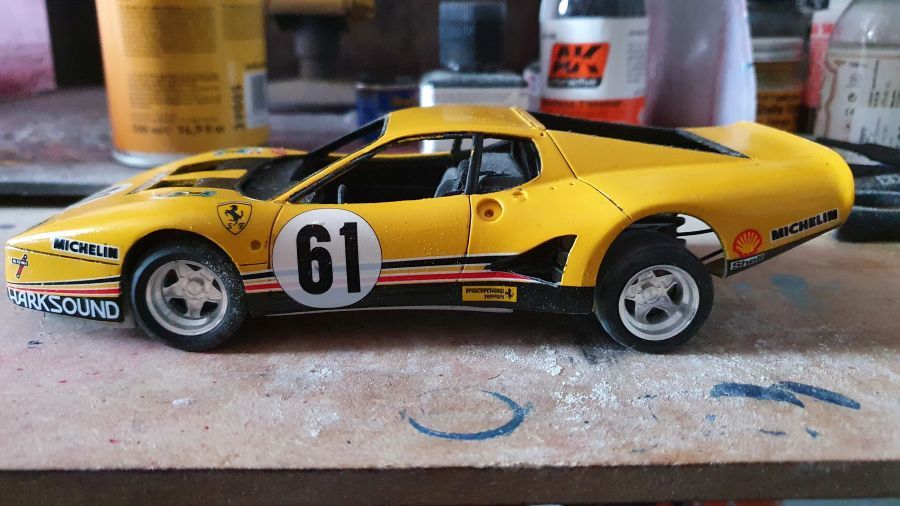 Ik heb toch nog maar wat gezaagd en dat lijkt nu effect te hebben. Niet perfect, maar ik doe het ermee.
Did some some cutting and it looks like it has some effect now. Not perfect, but i'll accept it.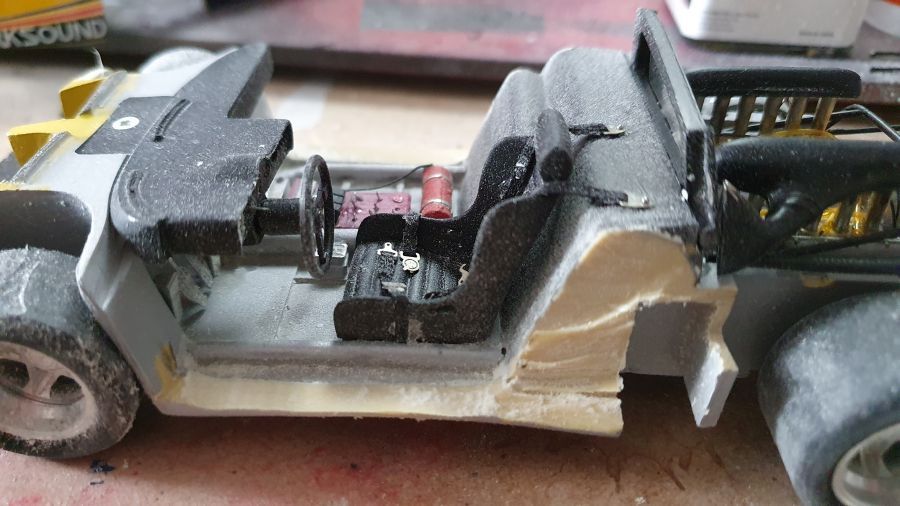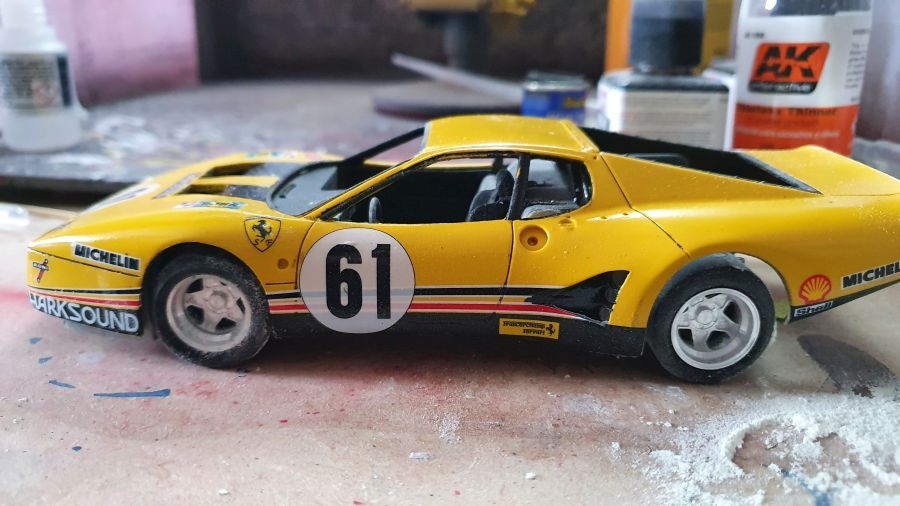 Door met het glas...
On to the glass...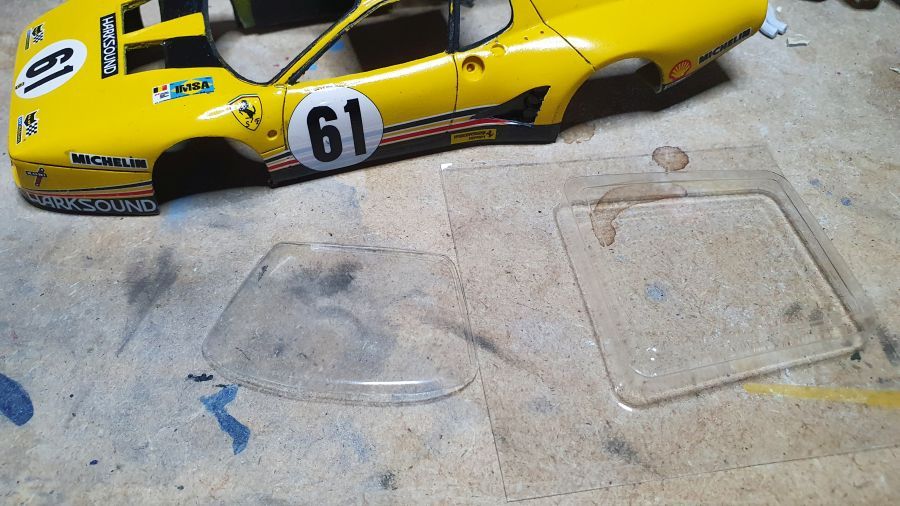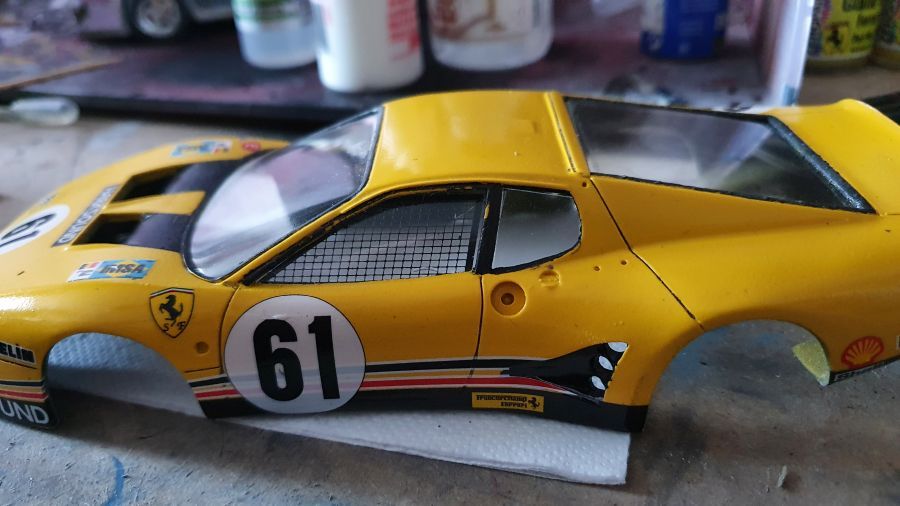 Eindelijk gelukt, deze lijkt nu beter op zijn wielen te staan. Nog niet perfect.
Finally made it, this one appears to be better on it's wheels now. Still not perfect.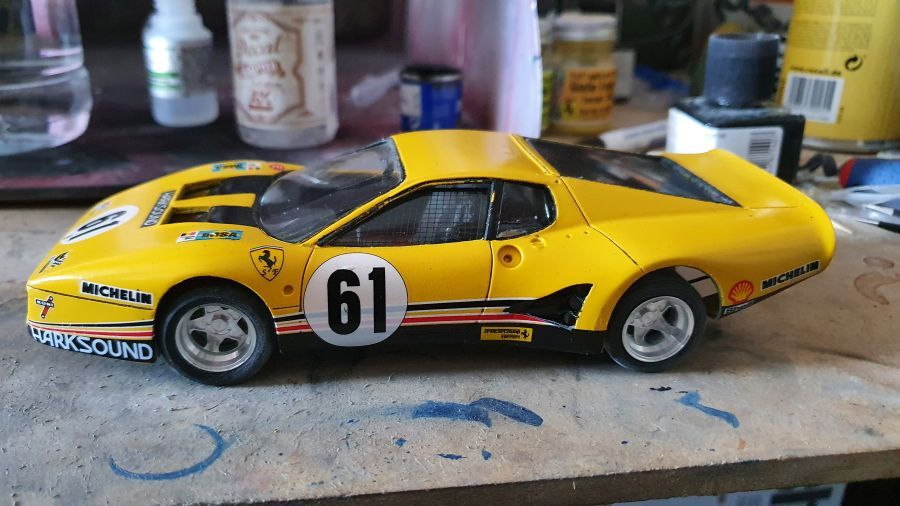 Allerlei kleine onderdelen missen, ik moet dus weer wat improviseren. Vuldop, achterlichten, allerlei zaken.
All kinds of small parts are missing, so i need to improvise again. Filling cap, rear lights, all kinds of stuff.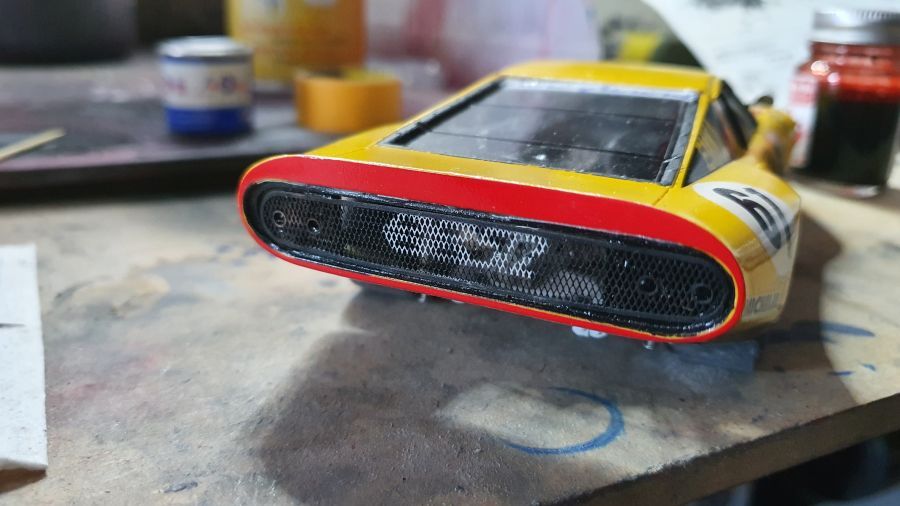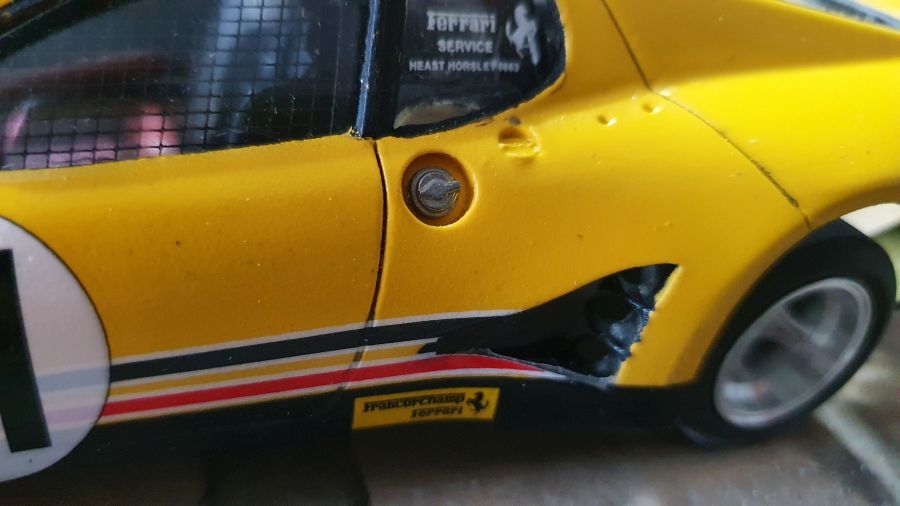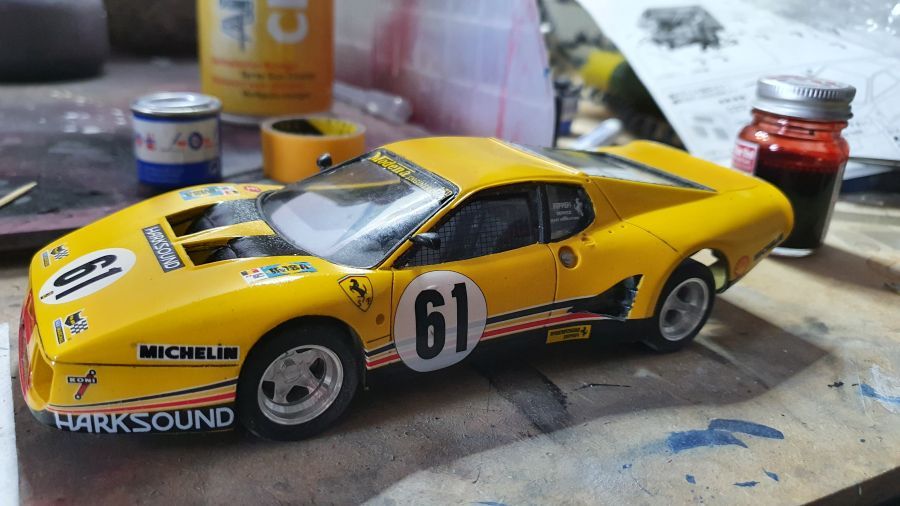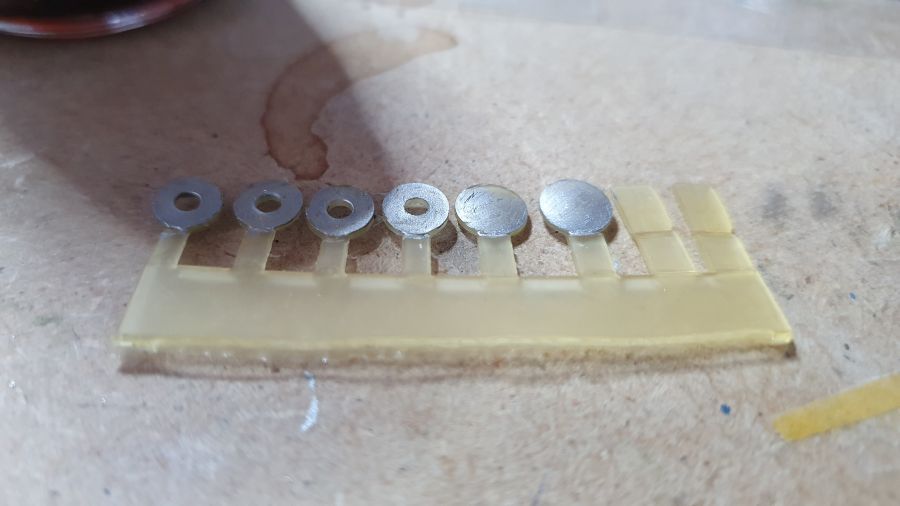 Het eind komt dichterbij...
Nearing the end...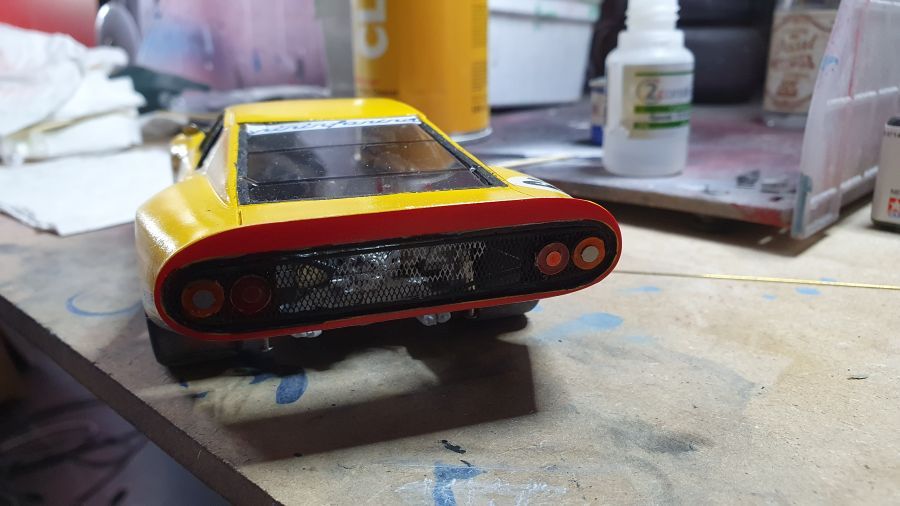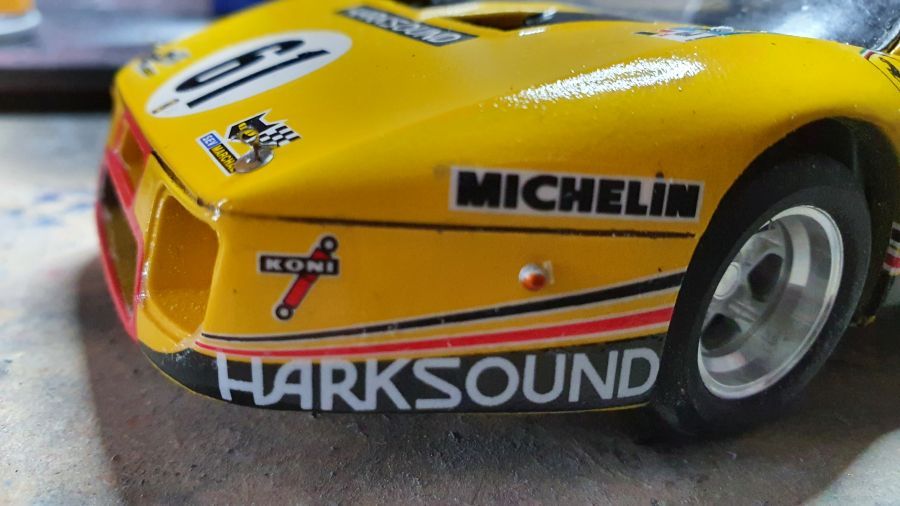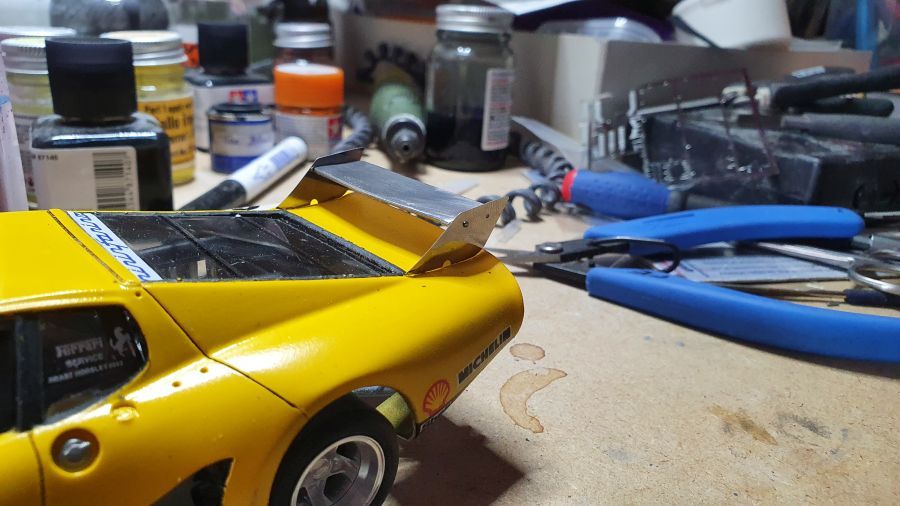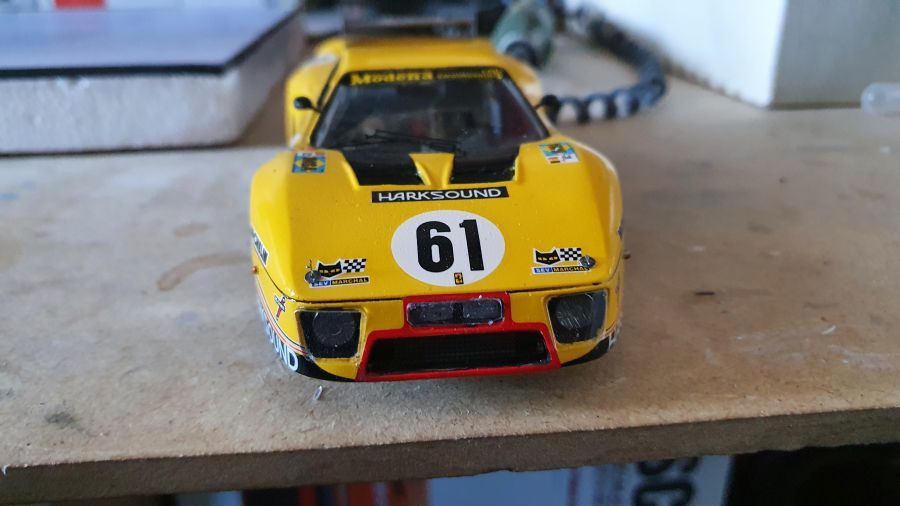 Ik denk dat deze weer klaar is. 
I think this one is done.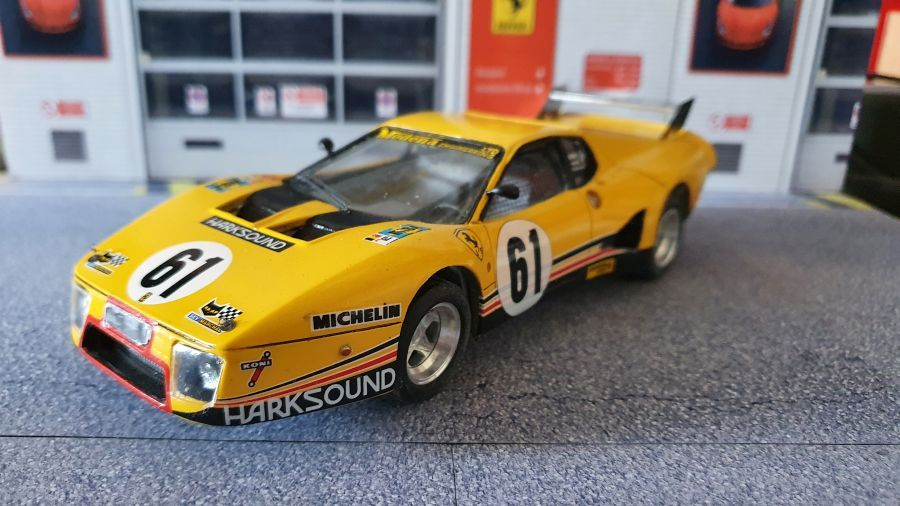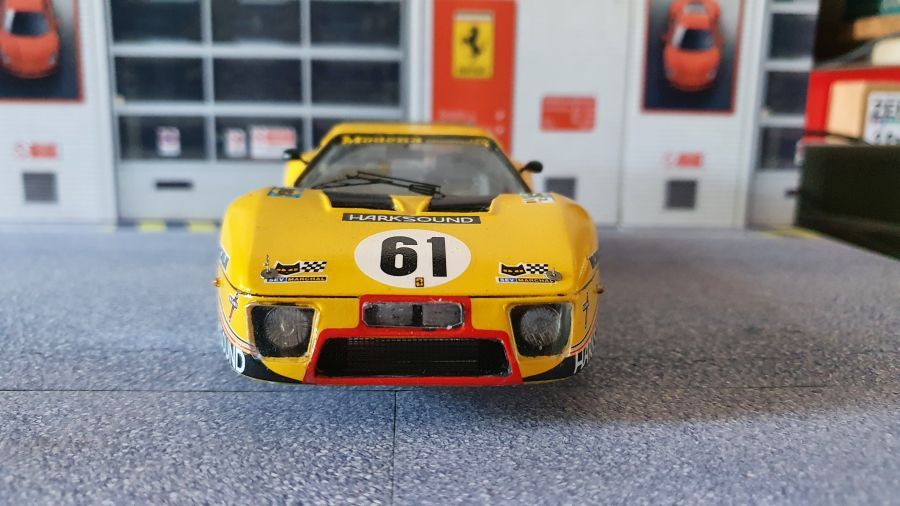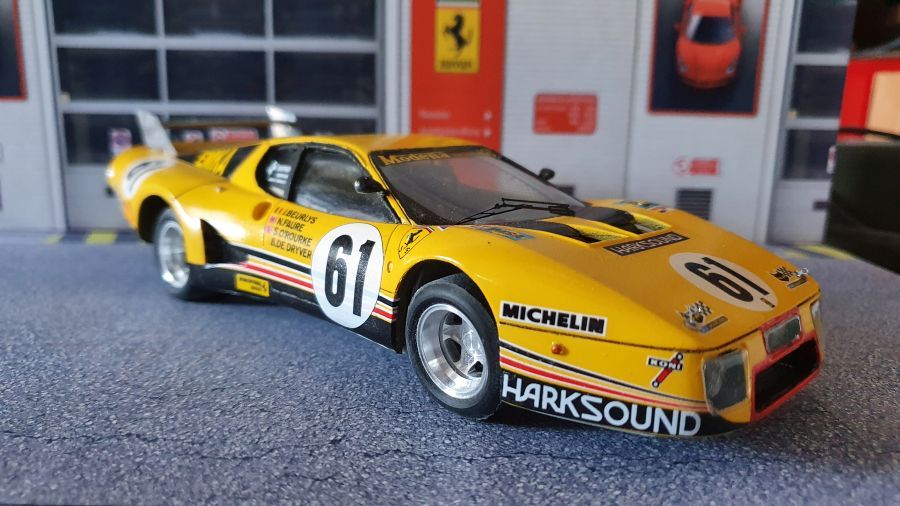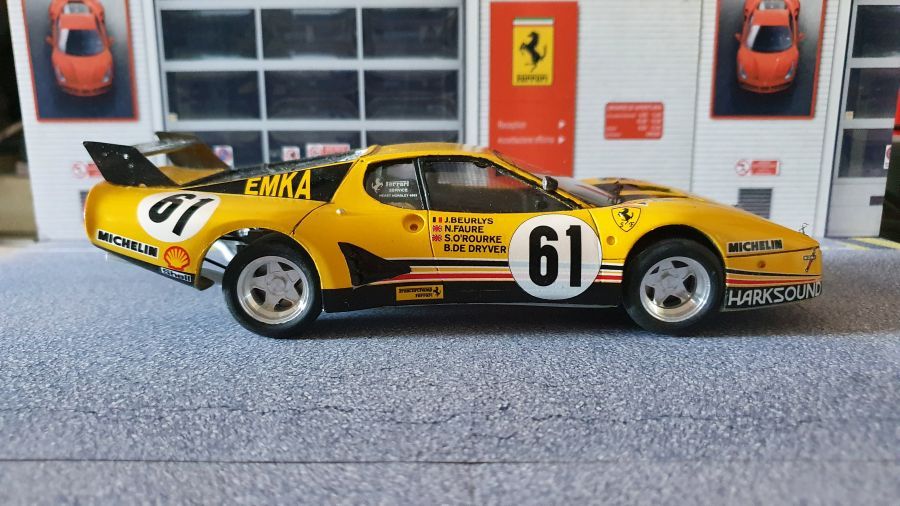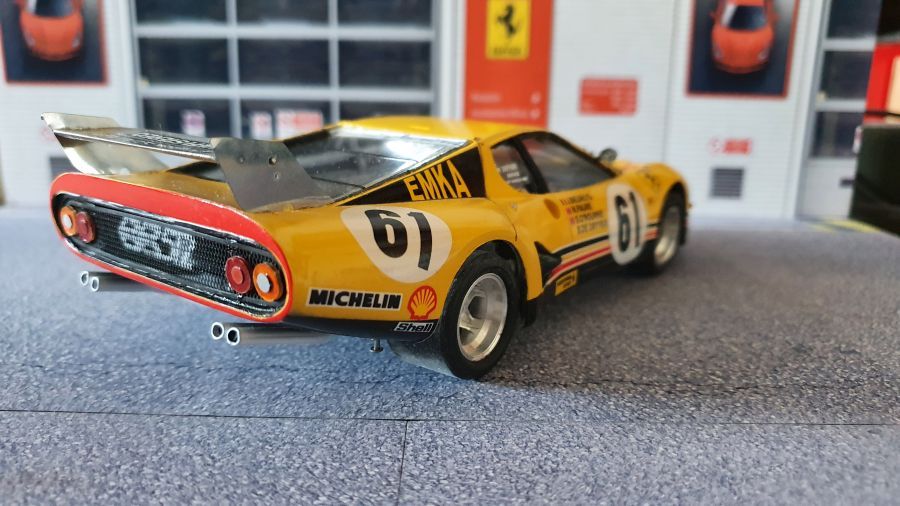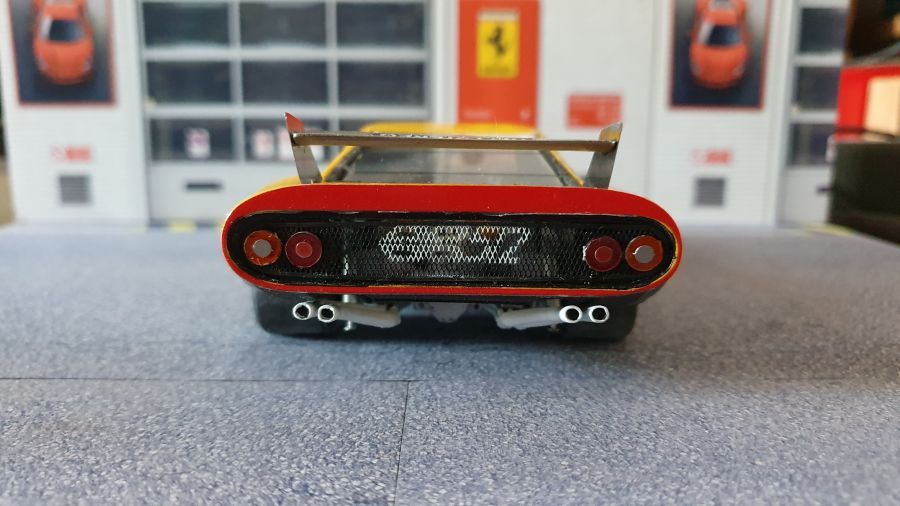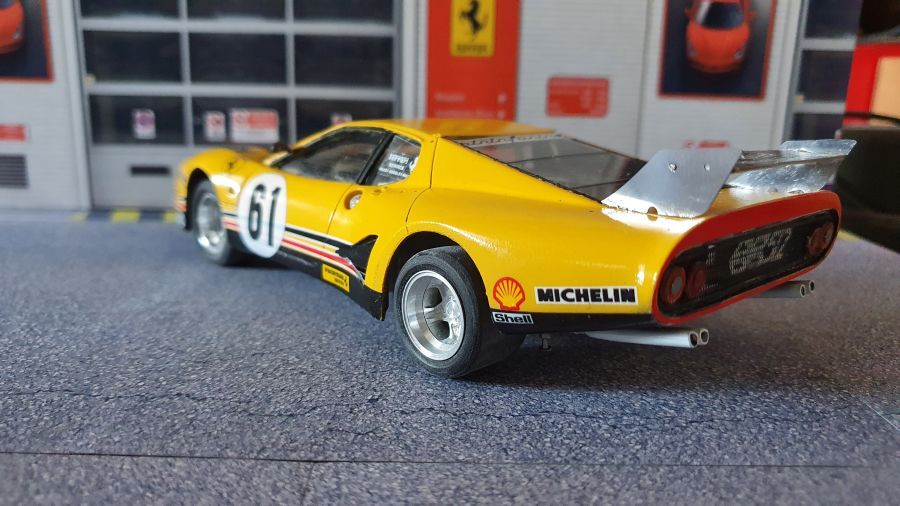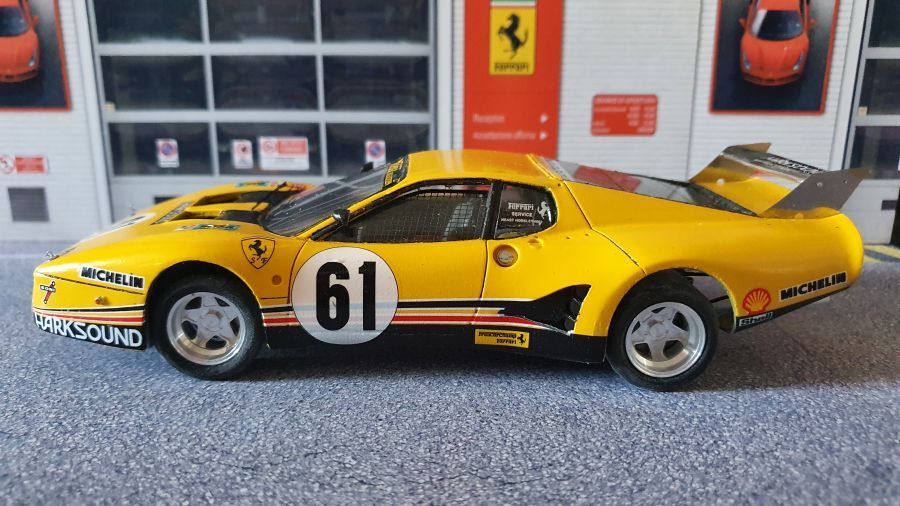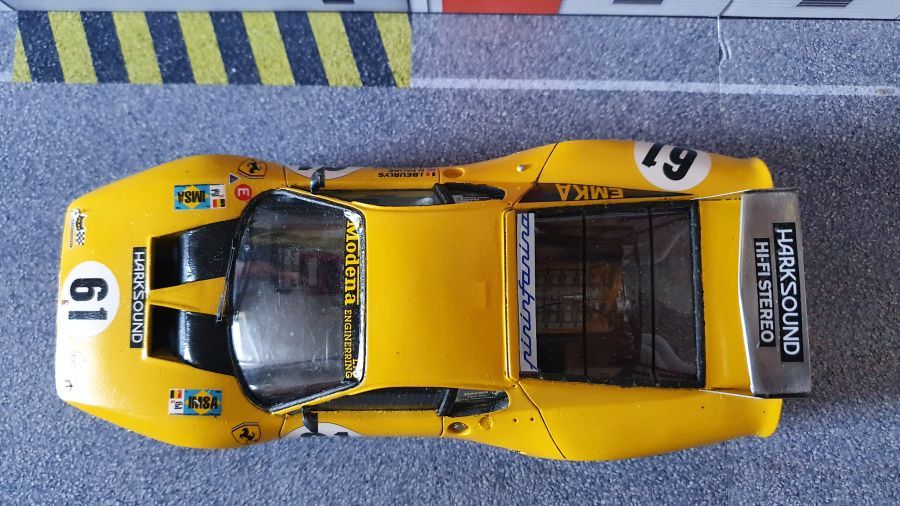 Ik ben stapel op deze auto. Voor mij een van de meest mooie Le Mans Ferrari's. Deze gaf me toch wel wat problemen. Met name met het passen van de vloer en daarmee de hoogte op de wielen. Zelfs nu nog niet perfect. Een bevriende bouwer gaf aan geen enkel probleem met de bouw te hebben gehad. Ben ik echt de enige? Ik heb nog 3 van deze liggen van Studio27. Een globale controle doet mij vermoeden dat het probleem daarbij hetzelfde zal zijn. De volgende krijgt op dit punt veel meer aandacht.
I am crazy about this car. To me one of the most beautiful Le Mans Ferraris. This one gave me some trouble. Mainly to the floor and then the high on wheels problem came with it. Even now still not perfect. A fellow builder claimed he had no problem whatever with the build of this car. Am i really the only one? I still have 3 of these from Studio27. A short check makes me think they will have the same problem. The next one will get a lot more of attention on this subject.