De bouw van de 1977 Ferrari 312T6 is voor het overgrote deel gelijk aan die van de 312T2 Monaco versie. Omdat de achterwielen kleiner zijn, moet de achteras als het ware worden verlaagd. Anders komen de wielen niet aan de grond. Hieronder het onderdeel dat gewijzigd moet worden. Als ik alleen de versnelling verlaag, krijg ik problemen met het bevestigen aan de motor. Daarnaast kom ik 'verkeerd uit' met de uitlaten. De motor valt weg onder de kap. De verlaging van de versnellingsbak wordt voor een groot deel niet zichtbaar achter de banden. Wanneer ik de gehele motor en versnellingsbak in een lagere positie zet, komt de motor raar te staan ten opzichte van de bodemplaat. Omdat er bijna geen foto's zijn, is het onduidelijk voor mij wat Ferrari daadwerkelijk heeft gedaan om deze auto te maken. Het gaat me er niet om om een 100% accuraat model te bouwen. Dit is zelfs onmogelijk denk ik, omdat er bijna geen foto's/tekeningen van deze auto te vinden zijn. Ik ga nu de motor, versnellingsbak en het chassisdeel in secties bouwen en dan zien hoe een en ander het beste kan worden gedaan.
The build of the 1977 Ferrari 312T6 is for the main part the same as that of the 312T2 Monaco version. Because the rear rims are smaller you could say the rear axle has to be lowered. Otherwise the tires will not hit the ground. Here the part that has to be changed someway. If i would only lower the gearbox, i will get a problem when mounting the box to the engine. I will also have a problem with the exhausts. The lowering of the gearbox will for a large part be hidden behind the tires. If i would mount the complete engine and gearbox at a lower position to the chassis, everything will be out of balance. As there are not many pictures, it is unclear to me what Ferrari did do to make this car. My goal is not to build a 100% accurate model. I even think it would be impossible as there are almost no pictures/drawings available on the web. I will now build the engine, the gearbox and the chassis part in sections and see what is best to do.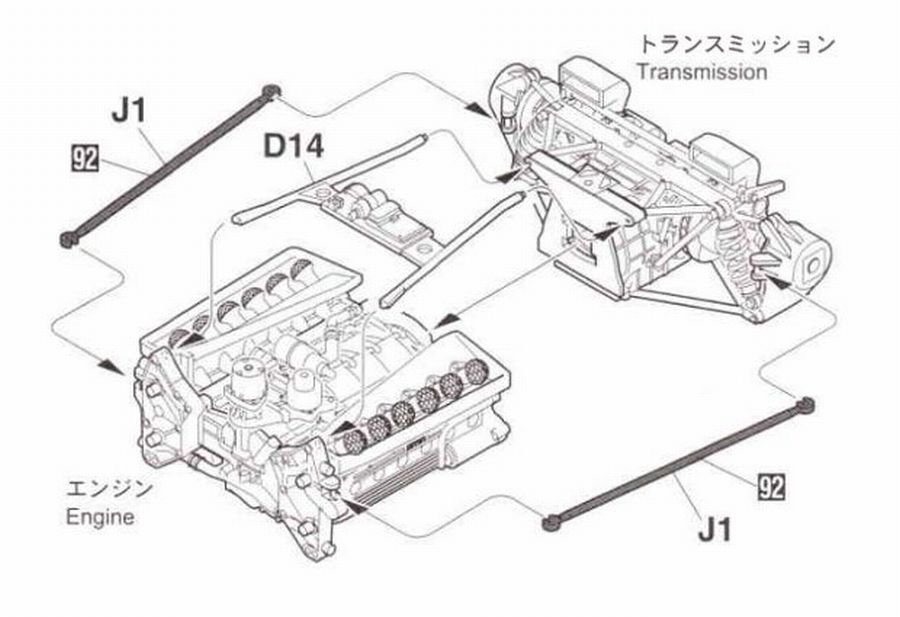 Wanneer ik naar onderstaande foto kijk, denk ik dat Ferrari dat ook heeft gedaan. De uitlaten lopen echter nog steeds tussen de ophanging door. De achtervleugel lijkt lager gepositioneerd dan op de gewone 312T2.
When i look to the photo below it looks to me like Ferrari did exactly the same thing. The exhaust pipes still run through the suspension though. The rear wing seems to be in a lower position than usual on the 312T2.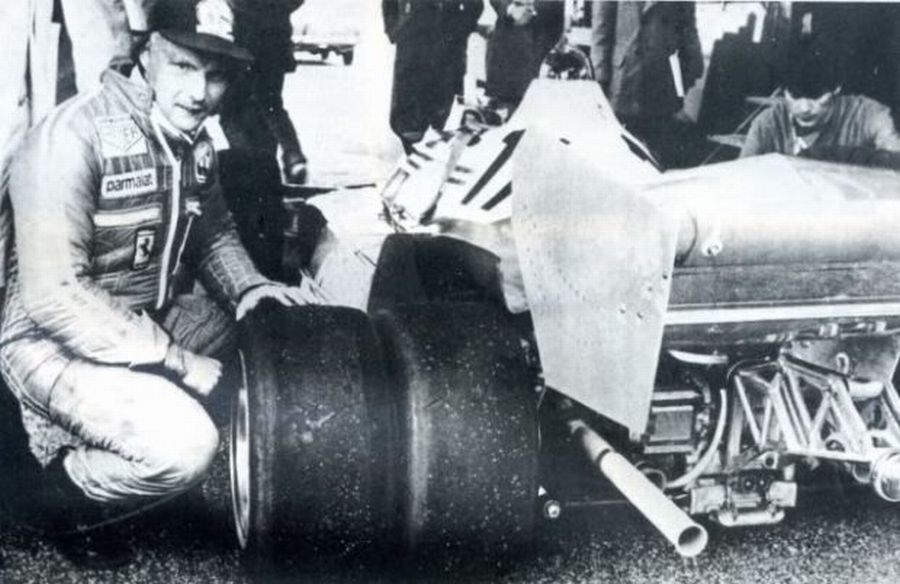 Dit zijn de probleemgebieden.
These are the problem areas.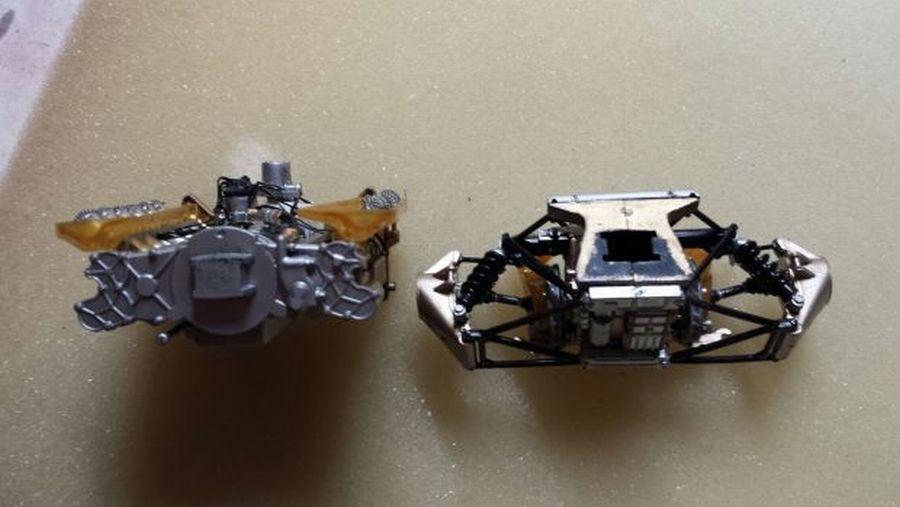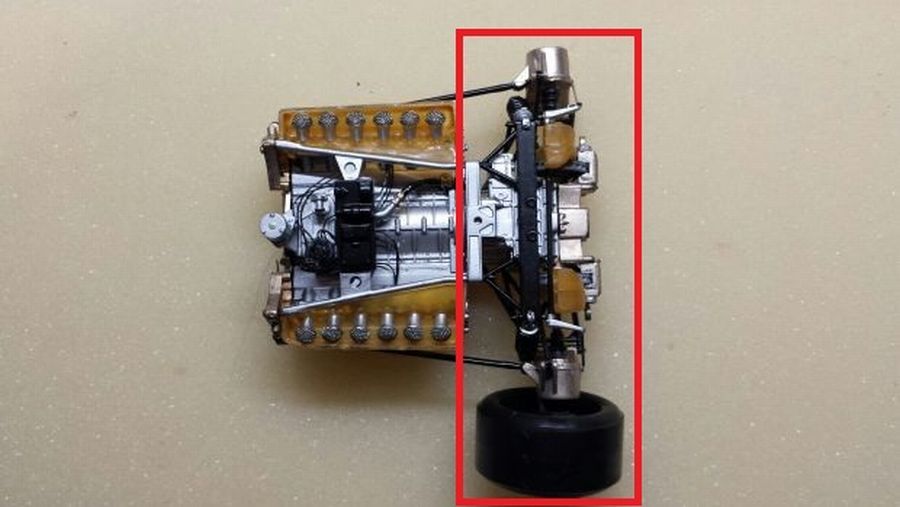 Normale positie van de motor ten opzichte van carosserie.
Normal position of the engine to the body.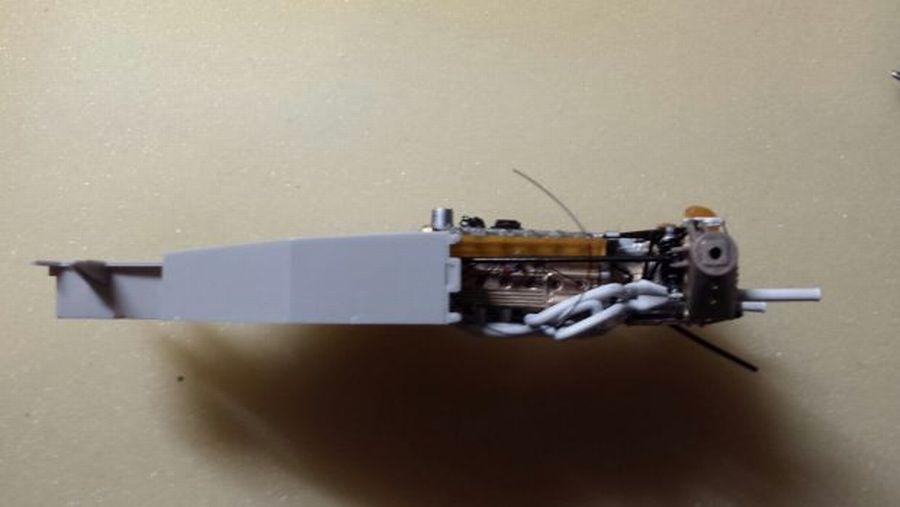 De verlaagde positie voor de gehele motor. (Geen optie).
The lowered position for the complete engine. (Not an option).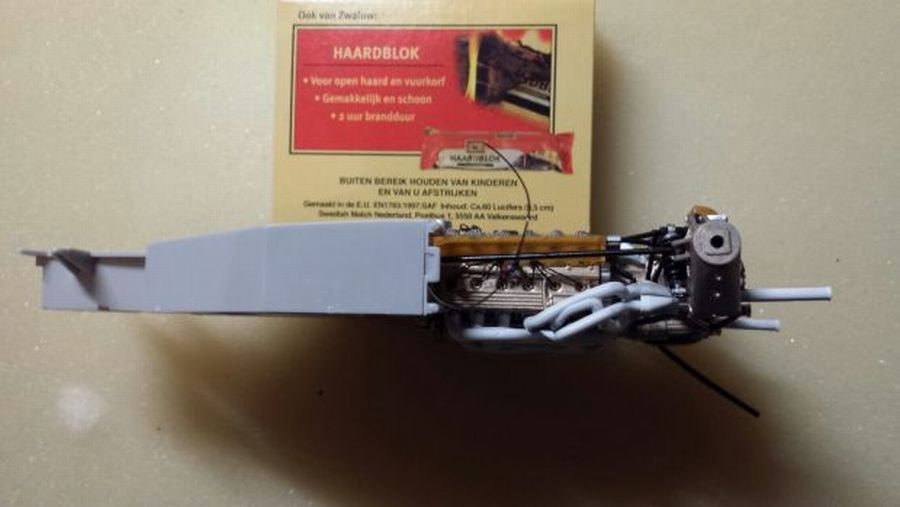 Dus ik moet iets anders bedenken. Het verschil in de diameter tussen de voor- en achterwielen is ongeveer 5 mm. De achteras moet dus 5 mm verlaagd worden. 
So i have to think of something else. The difference between the diameter of the front and rear wheels is about 5 mm. So the rear axle should be lowered about 5 mm.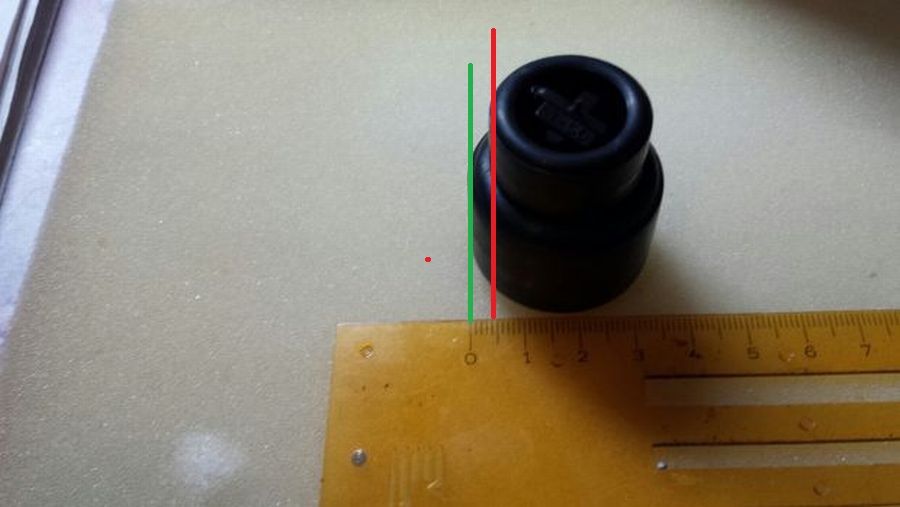 Ik heb inmiddels een paar delen met elkaar bevestigd en kom tot de conclusie dat ik een grote fout heb gemaakt. Ook met de verplaatsing van de versnellingsbak, komt de bodemplaat verkeerd te staan. Stom! Het verlaagd aanbrengen van de versnellingsbak gaat dus niet werken. Weer opnieuw beginnen.
I have attached a few parts together and found out that i have made a big mistake. With the lowered attachment of the transmission the bottom will also lift at the back end. Stupid! The lowering of the transmission will not work. I have to start all over again.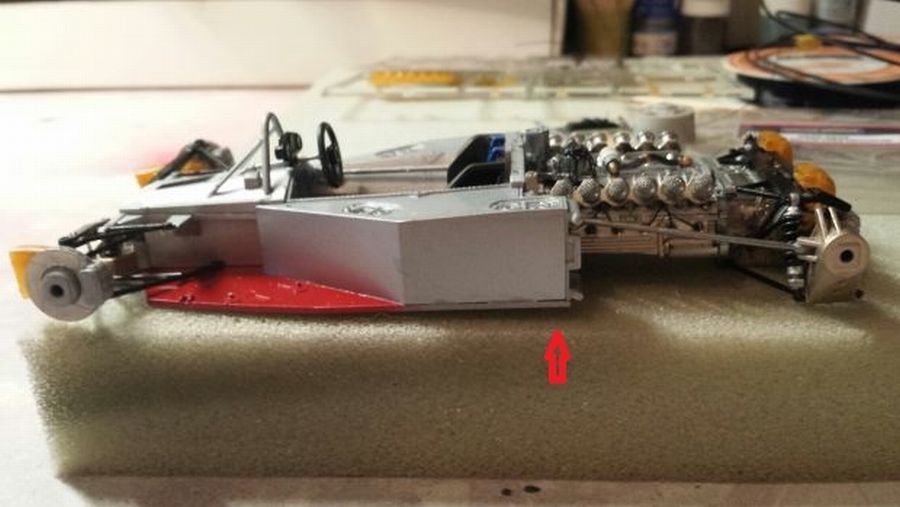 Dus nu heb ik nagedacht over optie 3. Volgens mij nu de enige juiste. De transmissie moet aangepast worden op het punt waar de as aan de remschijf wordt bevestigd. Deze as loopt schuin omhoog met een verloop van ongeveer 2 of 3 mm. Wanneer deze naar beneden wijst (omgekeerd bevestigen) wordt de hoogte dus ong. 5 mm verlaagd.
So now i thought about an option 3. I think the only correct one. The transmission has to be adapted to the point where the axle is attached to the break disc. This axle points upwards for about 2 or 3 mm. When this axle point down (glued reversed) the height will be adjusted for about 5 mm.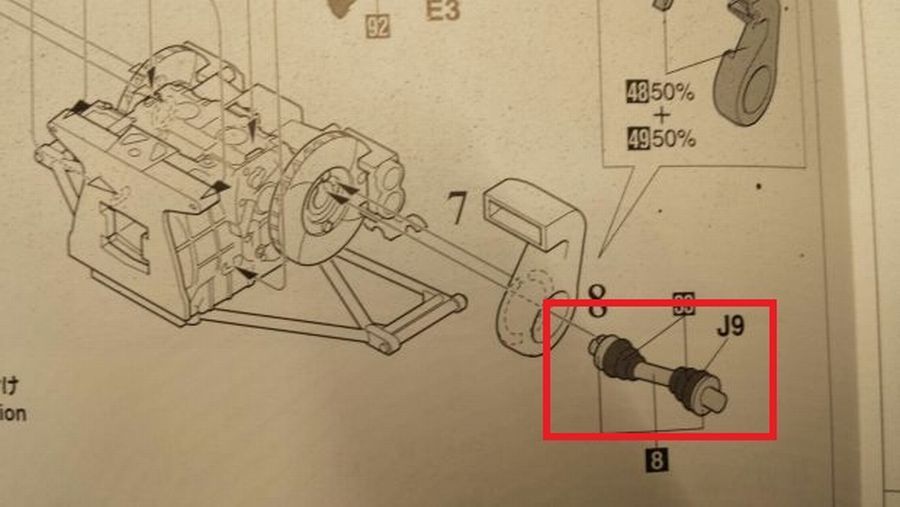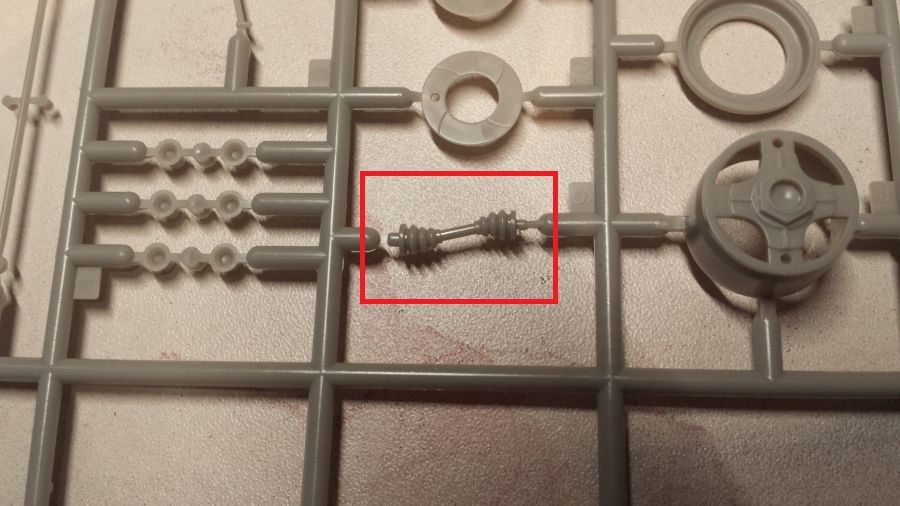 Dit heeft ook invloed op andere onderdelen. Deze moeten ook aangepast worden.
This also effects other parts. They have to be adjusted too.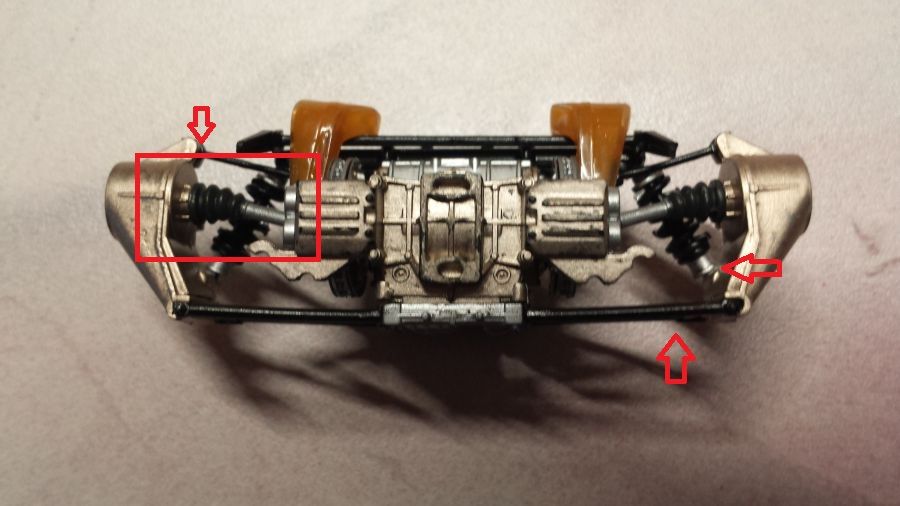 Over nu naar het bouwen. Om dit model te kunnen maken heb ik 3x de 1976 Ferrari 312T2 kit van Hasegawa gekocht. Dit omdat ik 3 sets voorwielen nodig ben. De overige onderdelen verdwijnen in de 'reserve doos'. Van de 1976 Ferrari 312T2 Japan kit gebruik ik de end wing plates van de achtervleugel. Bij de bouw van die wagen gebruik ik toch etched plates. Dat komt dus goed uit.
De 312T Brazilië en de 312T2 Monaco motoren heb ik gebouwd met de 'schalen' op de motoren. Daarom heb ik besloten de motor voor de 312T6 te bouwen volgens het alternatief van Hasegawa. Bij deze 2e optie hoef ik geen gaten te boren voor de doorvoer van de kabels.
Now on the actual build. To be able to build this model i have bought 3x the 1976 Ferrari 312T2 kit from Hasegawa. This, because i will need 3 sets of front tires. The other parts will go to my 'spare box'. From the 1976 Ferrari 312T2 Japan kit i will use the rear wing end plates. When i will build that car, i will use etched plates. So that will be no problem.
The 312T Brazil and the 312T2 Monaco were built with the engine trays on it. Therefor i have decided to build the 312T6 the alternative way, as Hasegawa offers. With this second option there  is no need for drilling holes for the cables.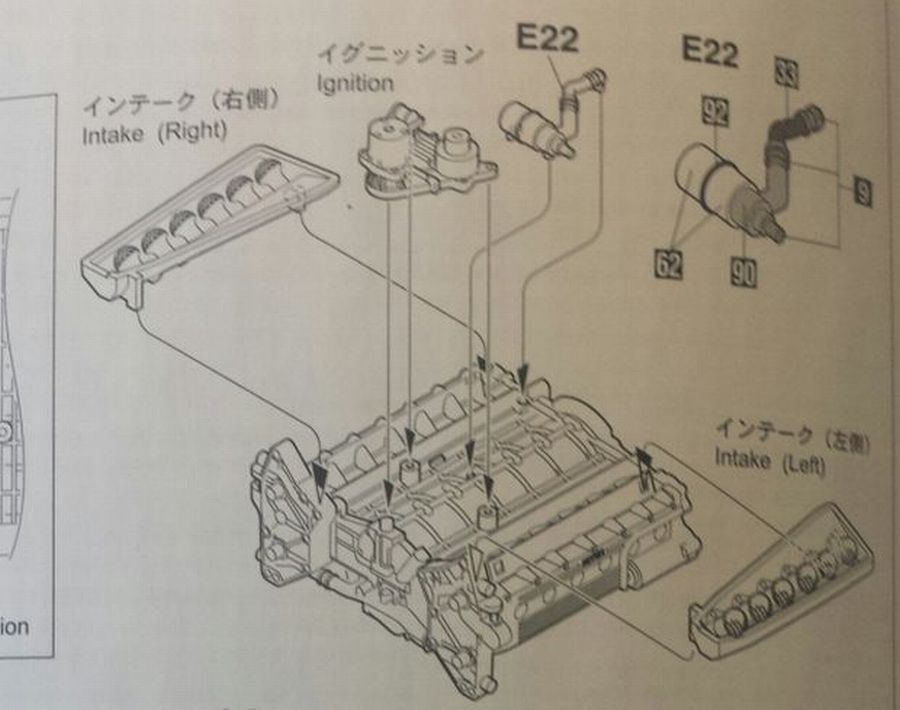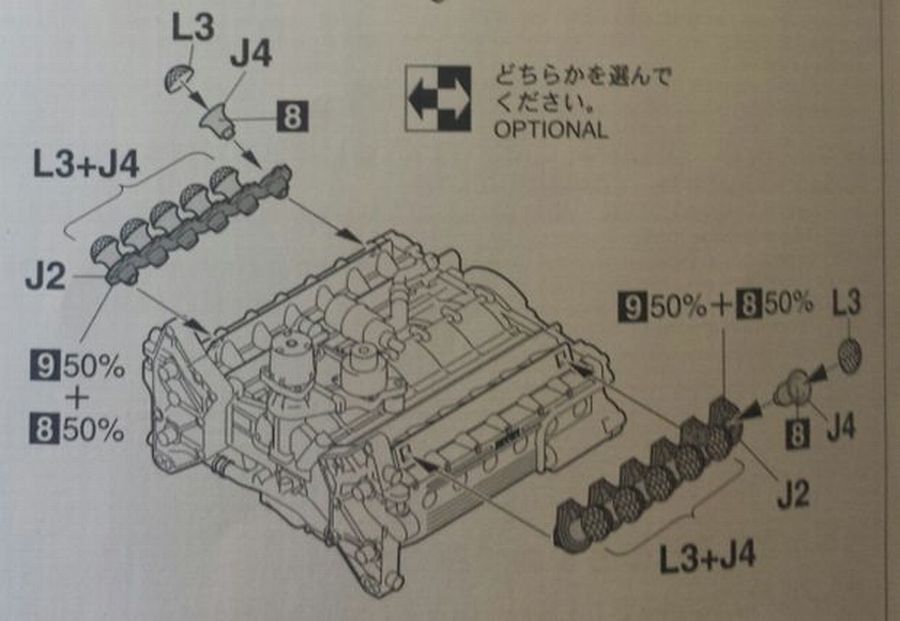 Weer gaatjes boren in de ontsteking voor de 12 kabels. En de bedrading aanbrengen.
Again drilling the holes in the ignition for the 12 cables. And wire it.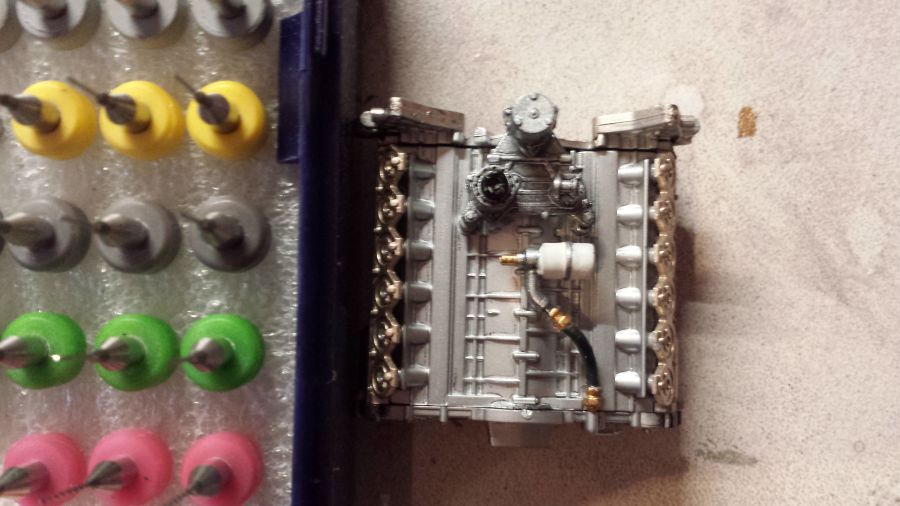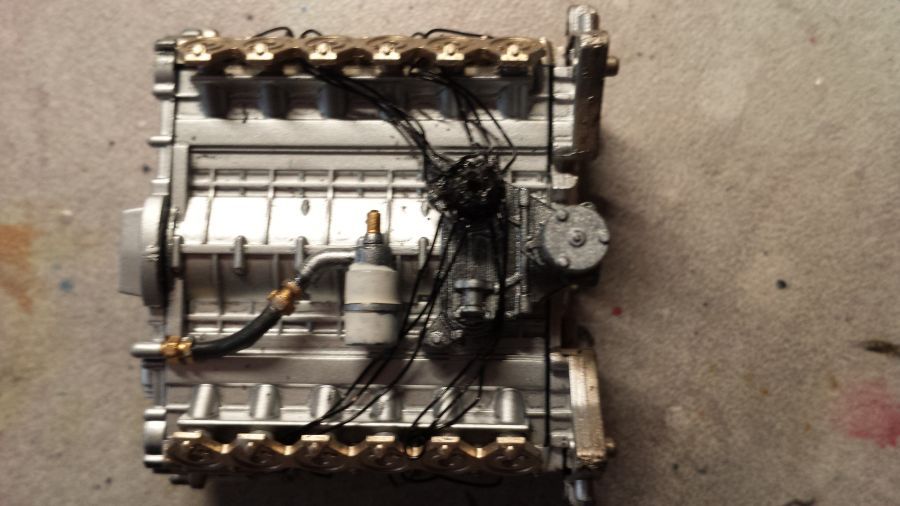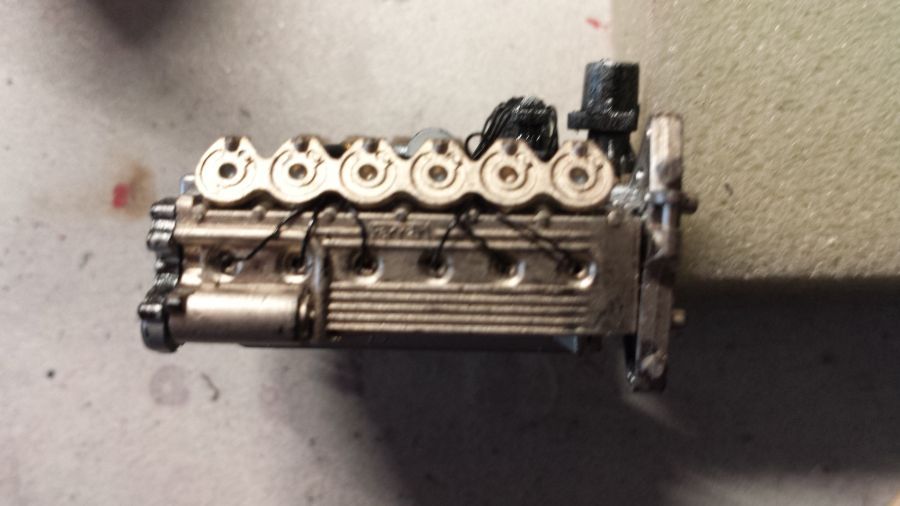 Mooie luchtinlaten met de Hasegawa uitbreidingsset.
Nice trumpets with help of the Hasegawa extension set.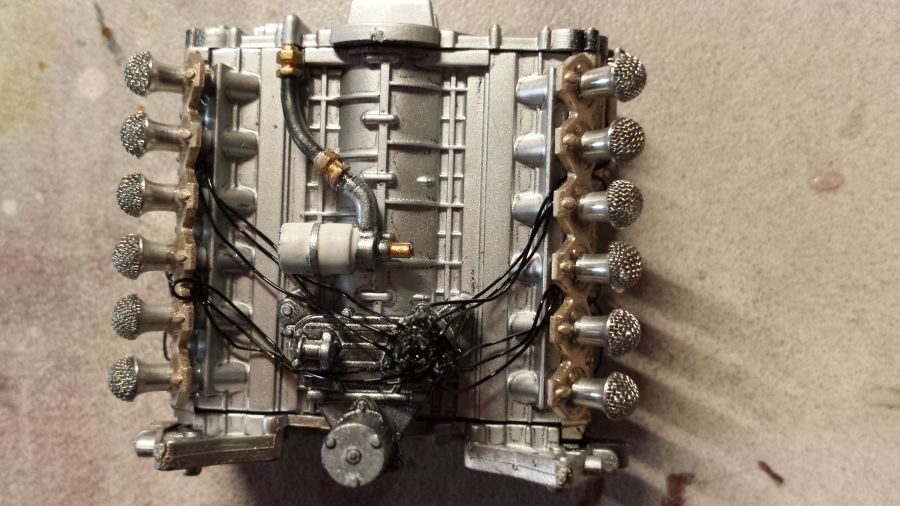 De motor is klaar. Nu de transmissie dus. Een deel is nu in elkaar gezet. Een paar armen zijn afgeknipt om later opnieuw te bevestigen (onder een andere hoek). En de assen worden omgekeerd gemonteerd, zodat een deel van de ophanging wordt verlaagd.
The engine is ready. Now on to the transmission. A part has been glued together. Two arms have been cut off to be attached again later (in a different angle). And the axles will be mounted in a reverse way, so a part of the suspension will be lowered.
Links de as in omgekeerde positie. Rechts de as in de normale positie. Het verschil is ongeveer 5 mm.
On the left the axle in reversed position. On the right the normal position. About 5 mm difference.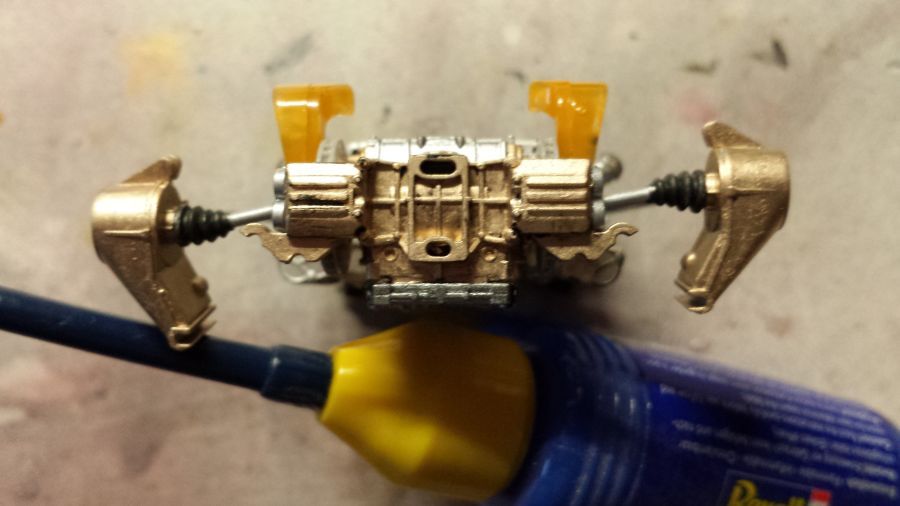 Na montage ziet de achterwielophanging er beter uit, niet af, maar dit gaat goedkomen.
After mounting the rear suspension looks much better, not finished, but this will be o.k..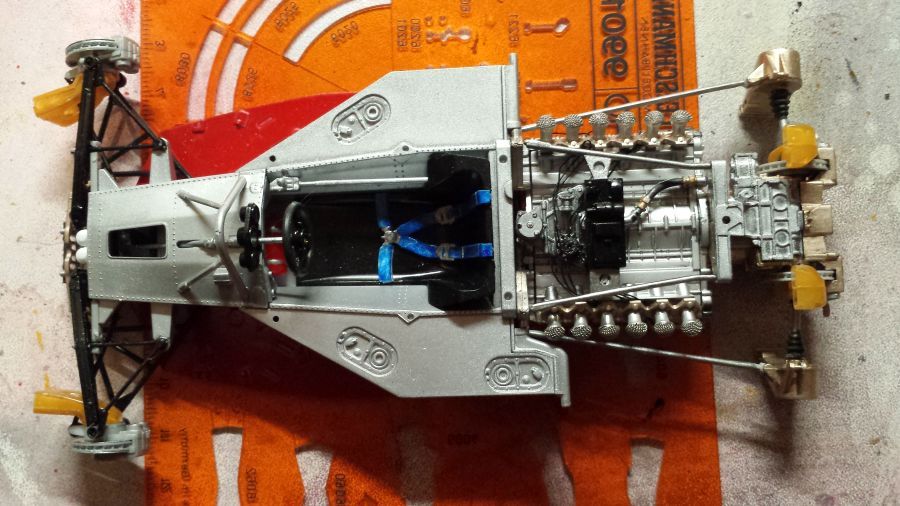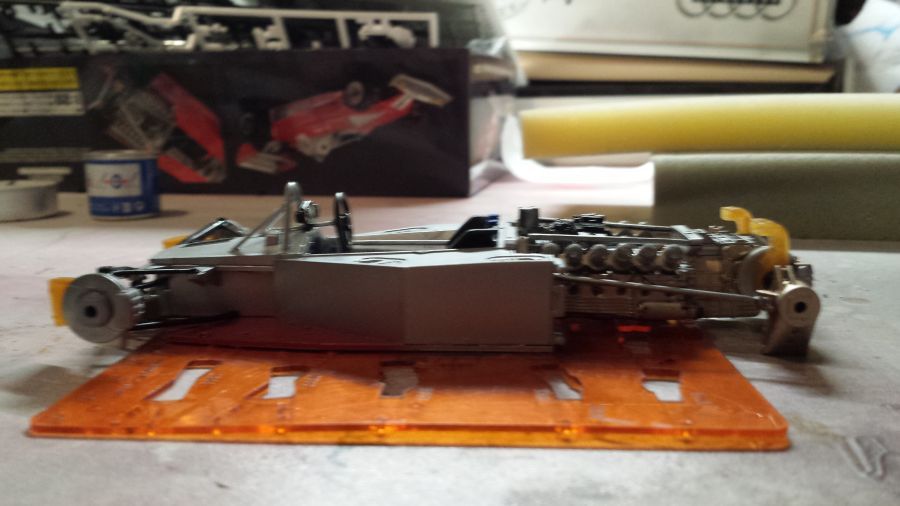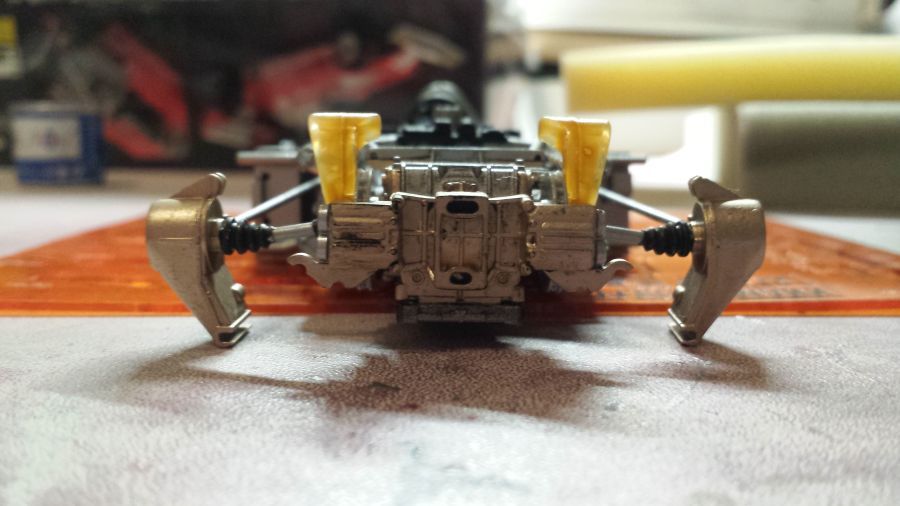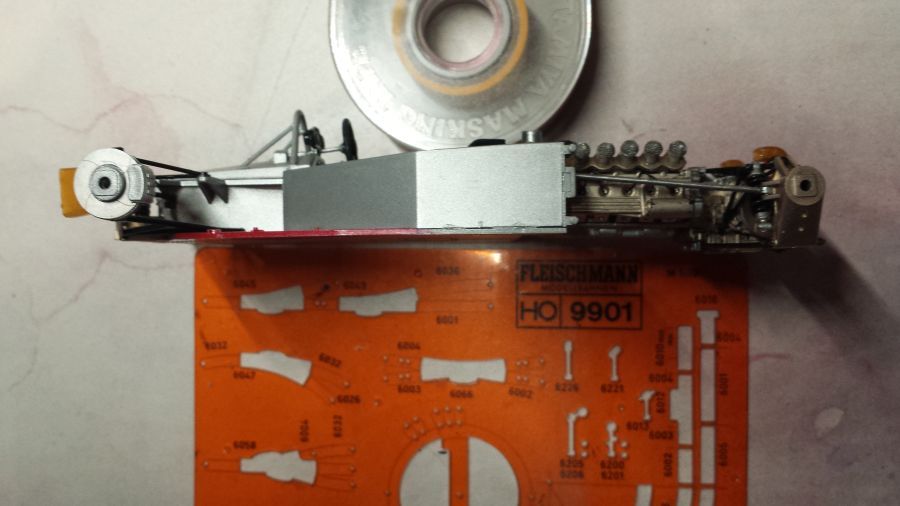 Weer wat kleine werkzaamheden aan de achterwielophanging. De armen aan de onderkant zijn opnieuw gelijmd en die aan de bovenkant ook (op iets andere punten dan normaal). Nu zien of de veren nog passen.
Some minor work at the rear suspension. The suspension arms at the bottom are now glued and those at the top also (at new points than normal). Now i'll have a look if the springs still fit.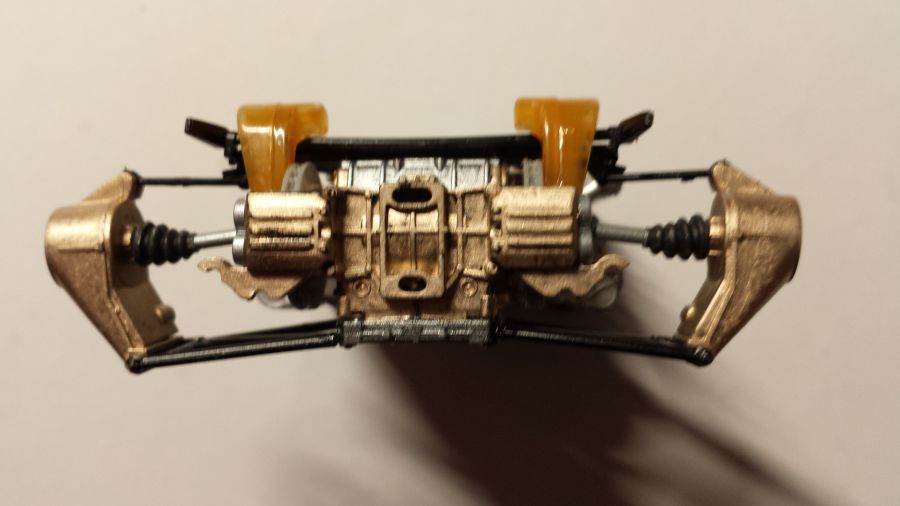 Met een kleine aanpassing passen de veren. Nu door naar de achterwielen.
The springs fit with some minor adjustments. Now on to the rear rims.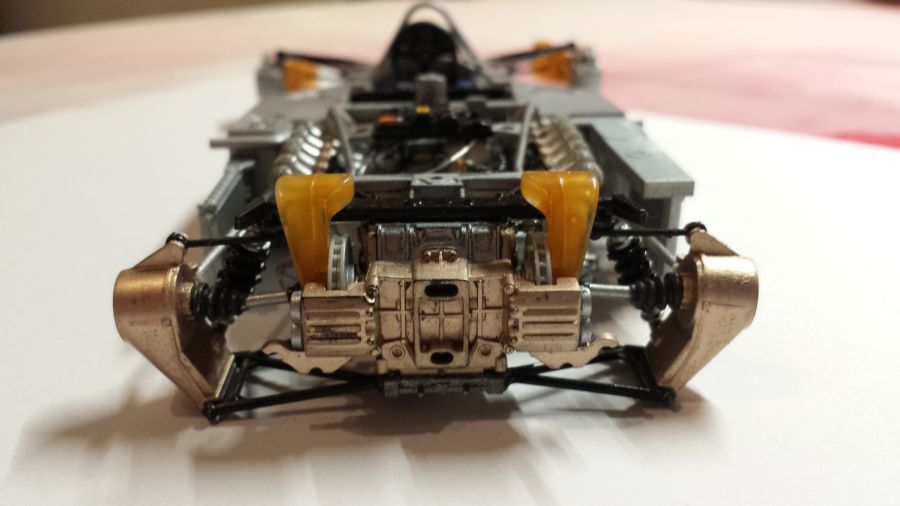 De velgen voor de voorwielen worden gewoon volgens tekening gemaakt.
The rims for the front wheels are made according to the instructions.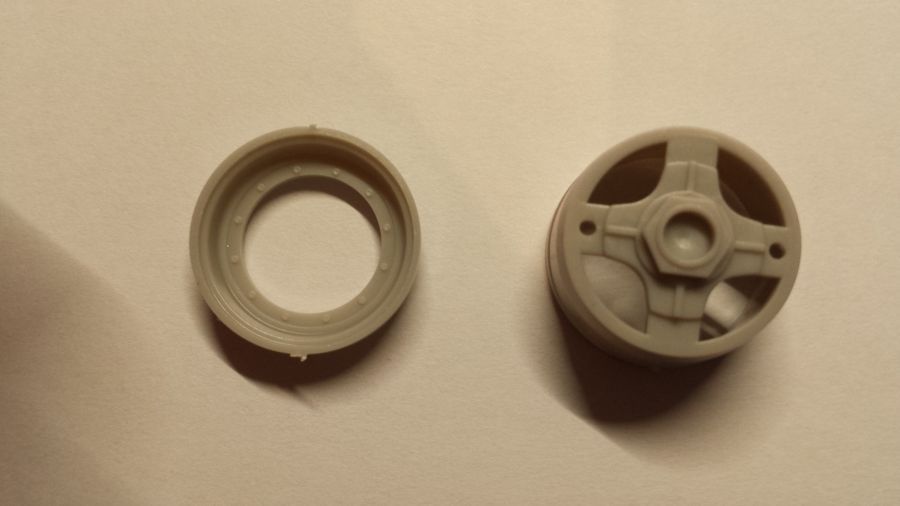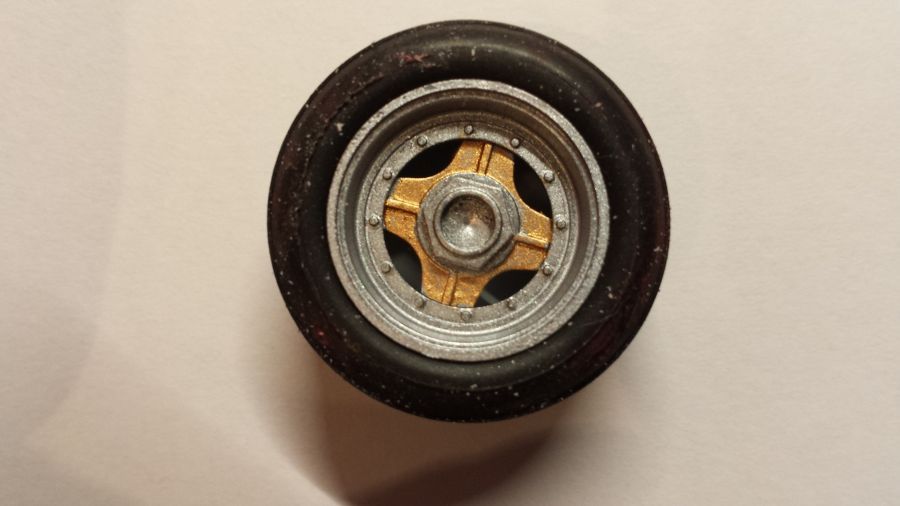 Voor het maken van 1 achtervelg gebruik ik 1 ring van een voorvelg (rood), 2 delen van een achtervelg (geel) en 1 deel van een achtervelg (groen).
To make 1 rear rim i will take 1 part of a front rim (red), 2 parts of a rear rim (yellow) and 1 part of a rear rim (green).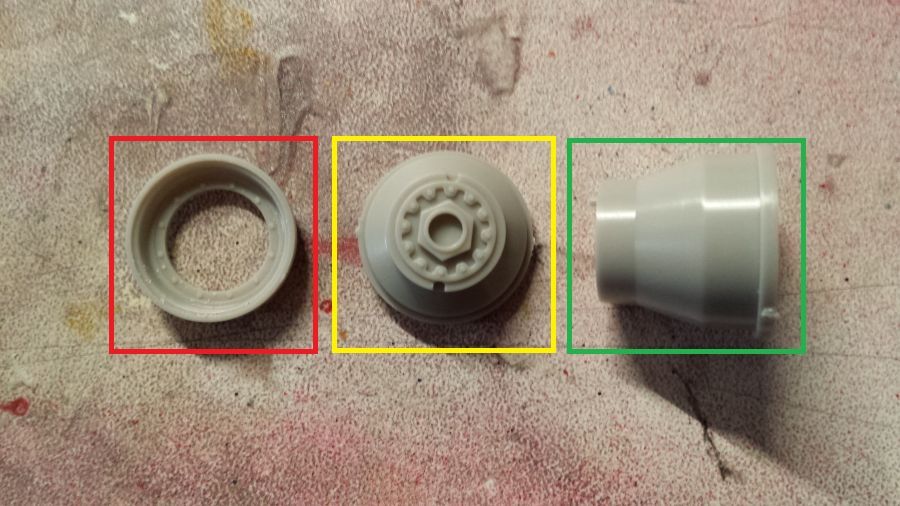 Het groene deel wordt in 3 stukken gezaagd. Het middelste deel kan weg. Het blauwe deel wordt op 1 geel deel gelijmd en bijgevijld, zodat het rode en het gele deel samen de buitenste velg vormen. De kleine nokjes op het rode deel worden verwijderd. 
The green part will be cut in three parts. The middle part is for the bin. The blue part is glued to 1 yellow part en cut to size, so the red and the yellow part will form the outer rim. The small notches on the red part are removed.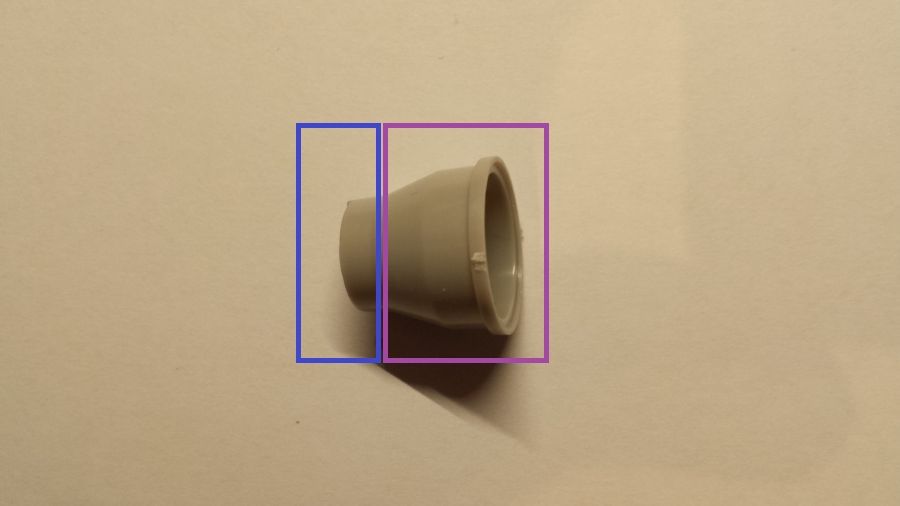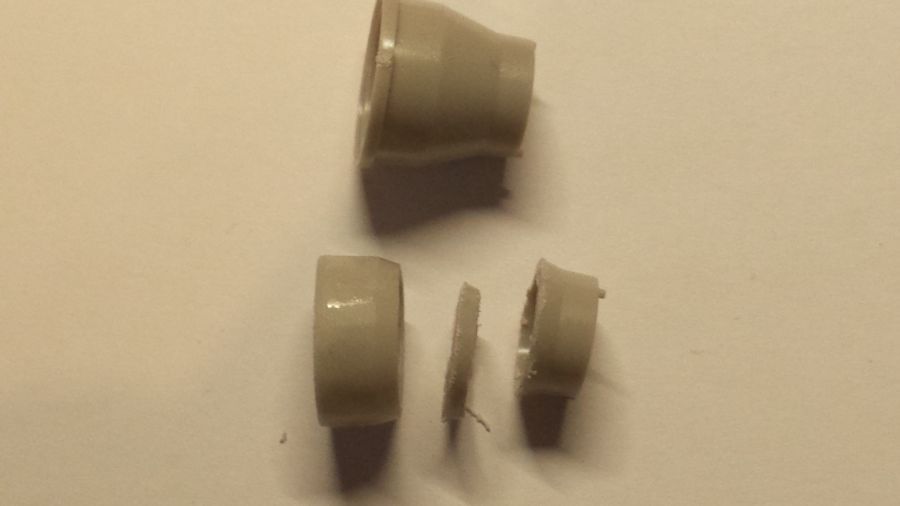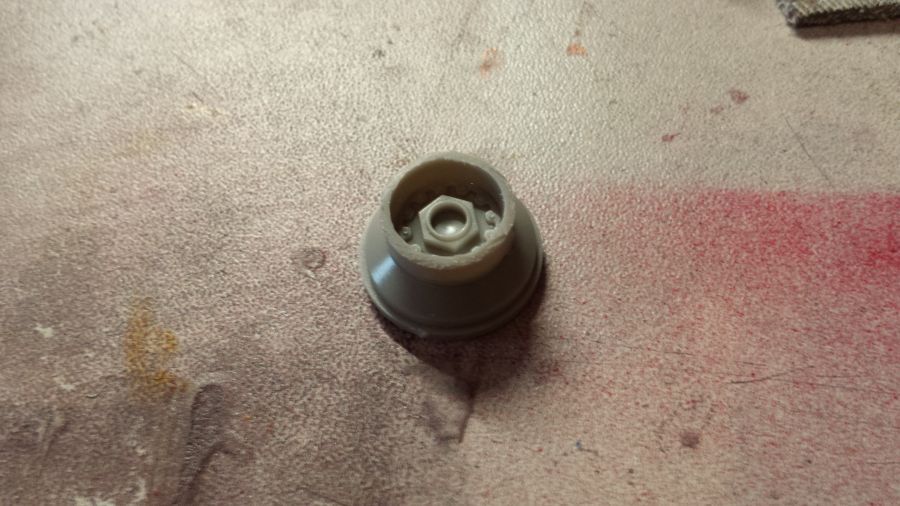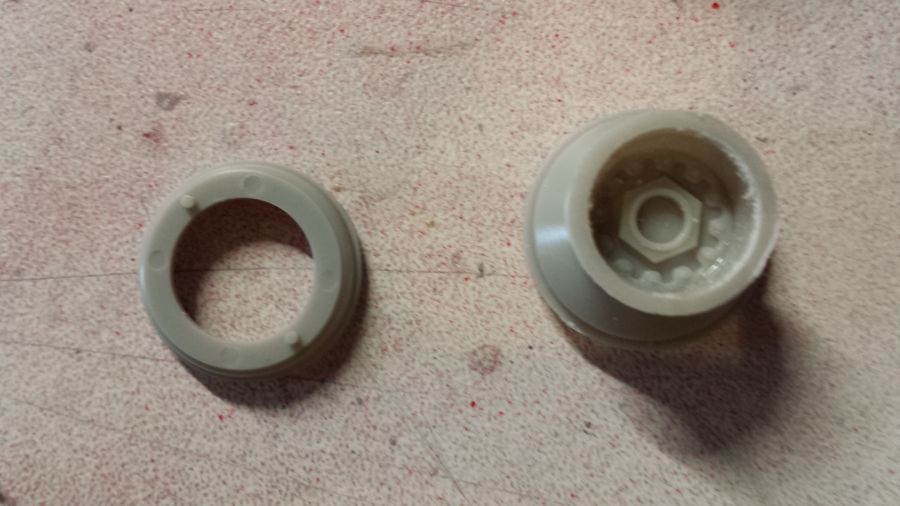 Het paarse deel wordt bijgevijld en uiteindelijk verlijmd met het andere gele deel en vormen zo het binnenste deel van de velg. Vergeet niet de dikke rand er af te vijlen.
The purple part is cut to size and eventually glued to the other yellow part to create the inner part of the rim. Do not forget to file off the big edge.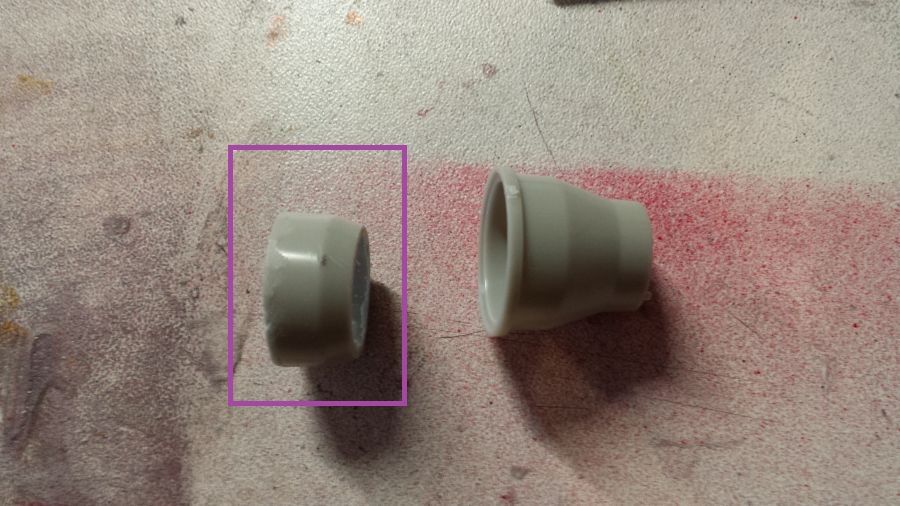 Nu hebben we dus, van links naar rechts, de volgende onderdelen om de volledige achtervelgen te maken.
So now we have all the parts, from left to right, to create the complete rear rims.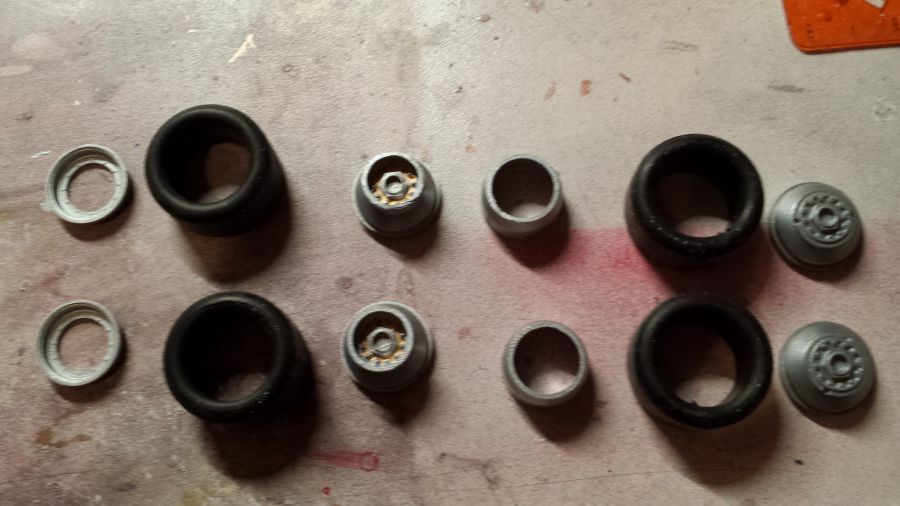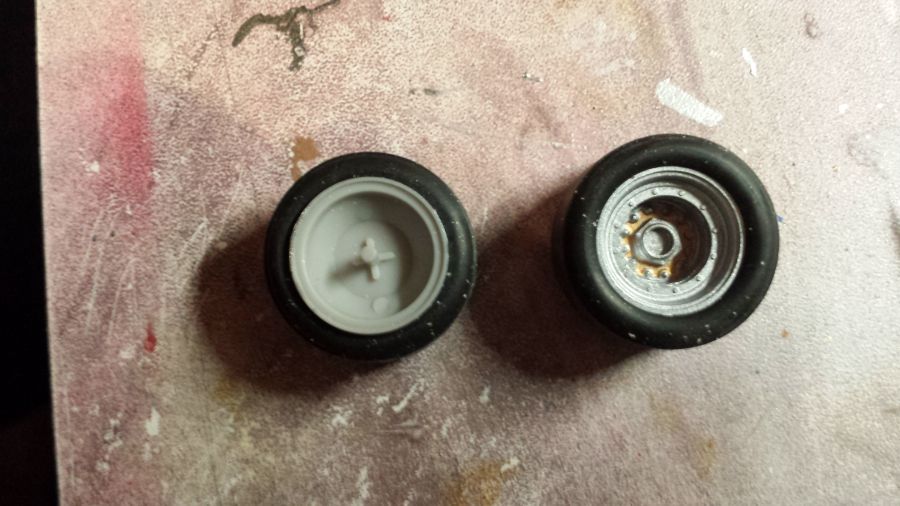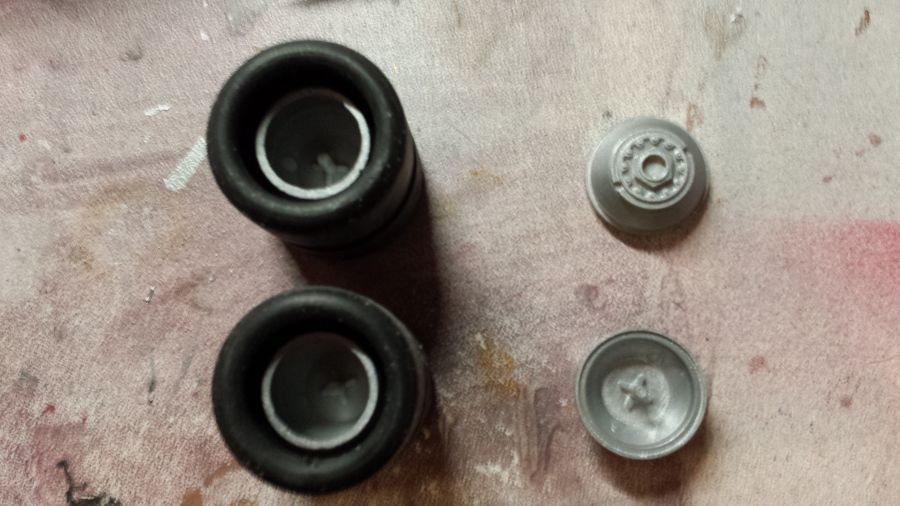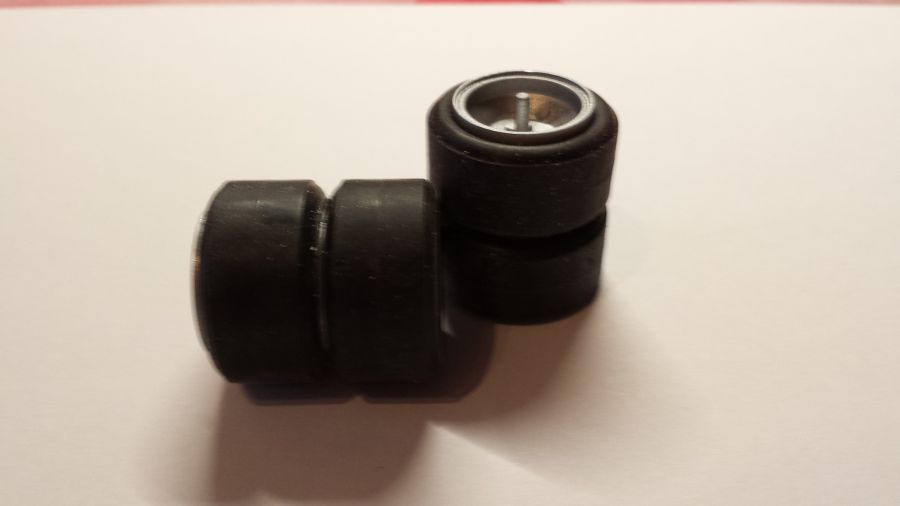 Een deel van de body is weer gespoten met grondverf, vervolgens met Tamiya TS26 Pure White en daarna afgeplakt en vervolgens gespoten met Tamiya TS8 Italian Red.
The body has been sprayed with primer, then with Tamiya TS26 Pure White and then after masking sprayed with Tamiya TS8 Italian Red.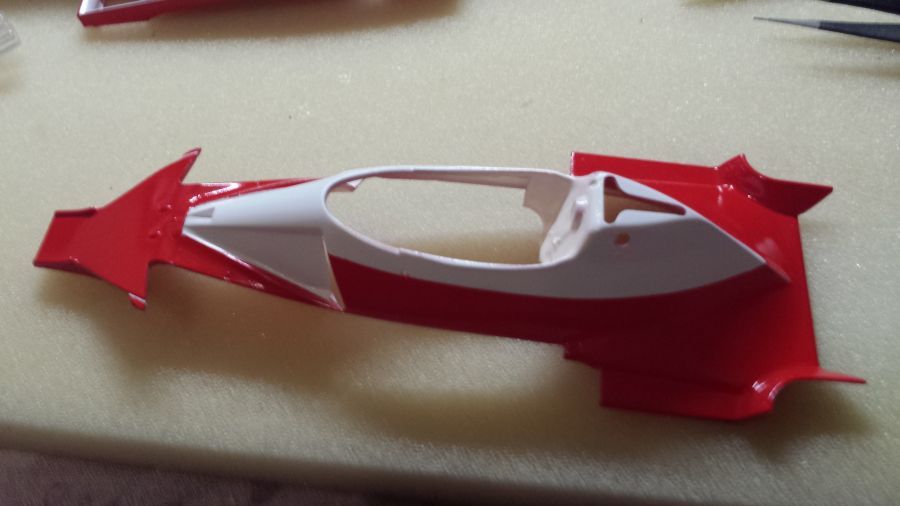 Dan is alles klaar voor het aanbrengen van de decals. Dit is voor een groot deel gelijk aan de 312T2 Monaco. Anders is het wagennummer, de plaats van het Ferrari decal, toevoeging van het FIAT decal en verplaatsing van het AGIP decal. Daarnaast komt er geen naam van de coureur op de auto.
Then everything is ready for the decals. This is for a large part identical to the 312T2 Monaco. The differences are the car number, the relocation of the Ferrari decal, addition of the FIAT decal and the relocation of the AGIP decal. Also there will be no driver's name on the car.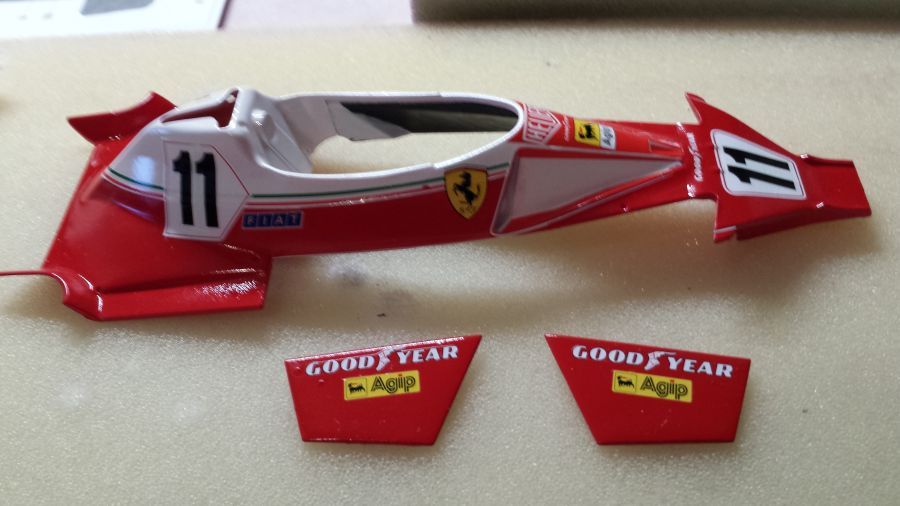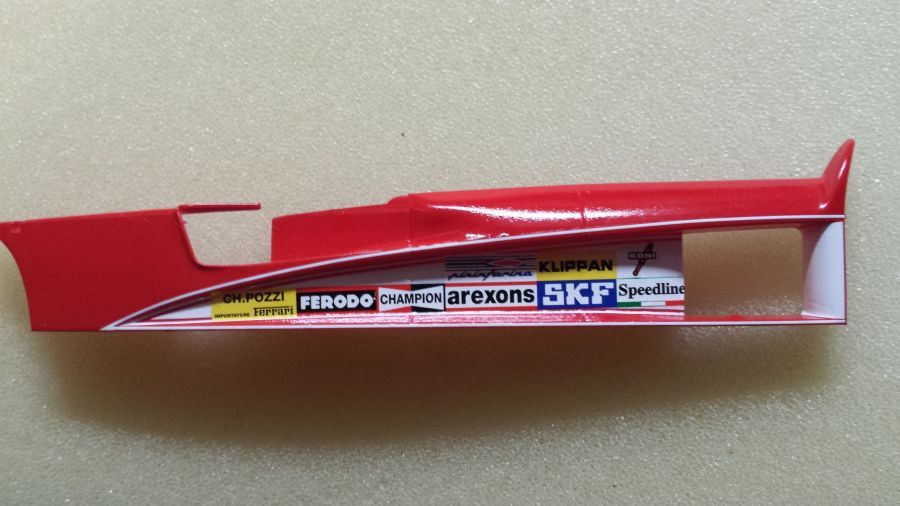 Een deel van de plastic achtervleugel wordt vervangen door een etched onderdeel. Hier het gebruik van het buiggereedschap en het vouwgereedschap.
A part of the rear wing will be replaced by an etched part. Here the use of the rolling tool and the folding tool.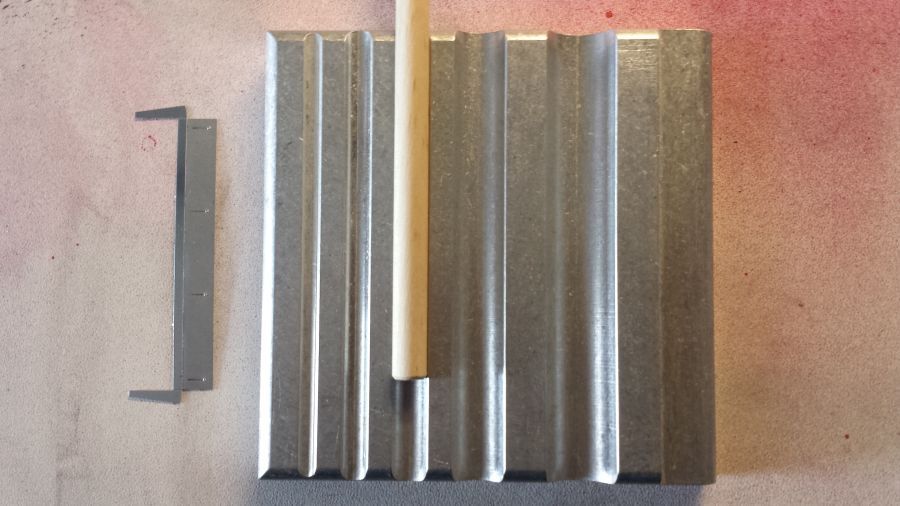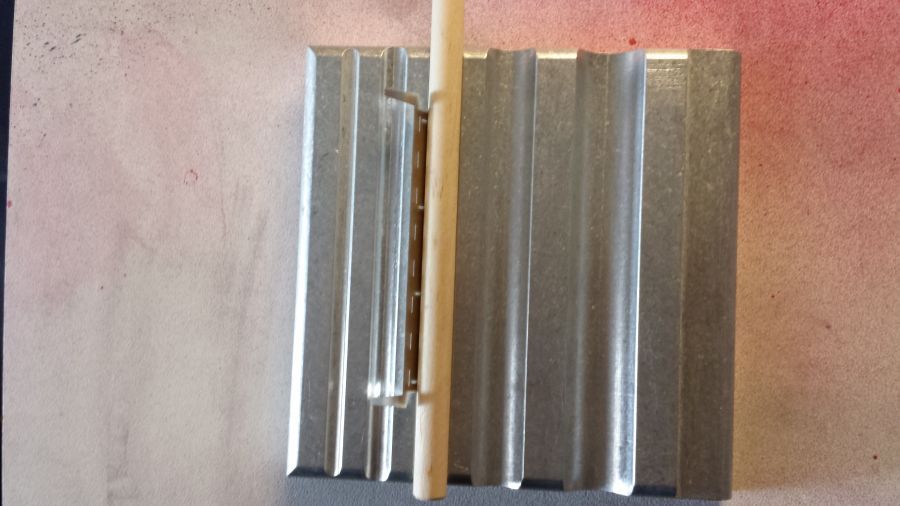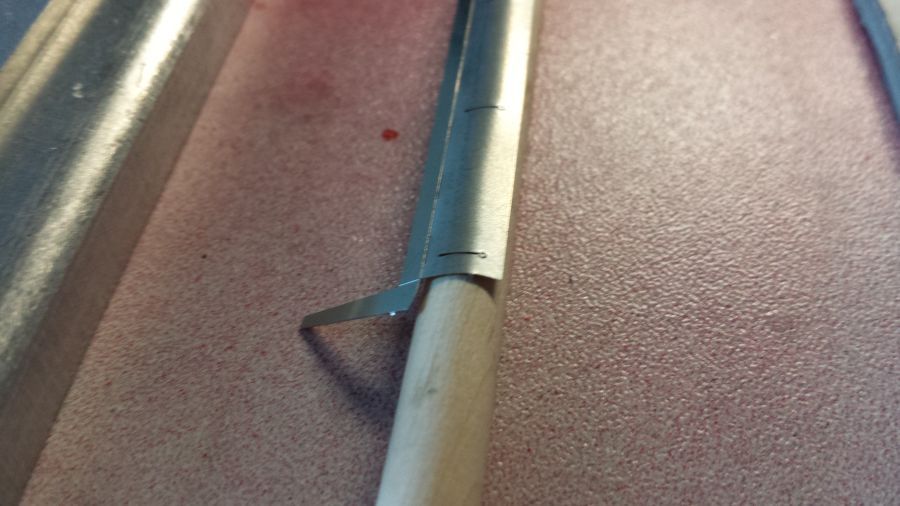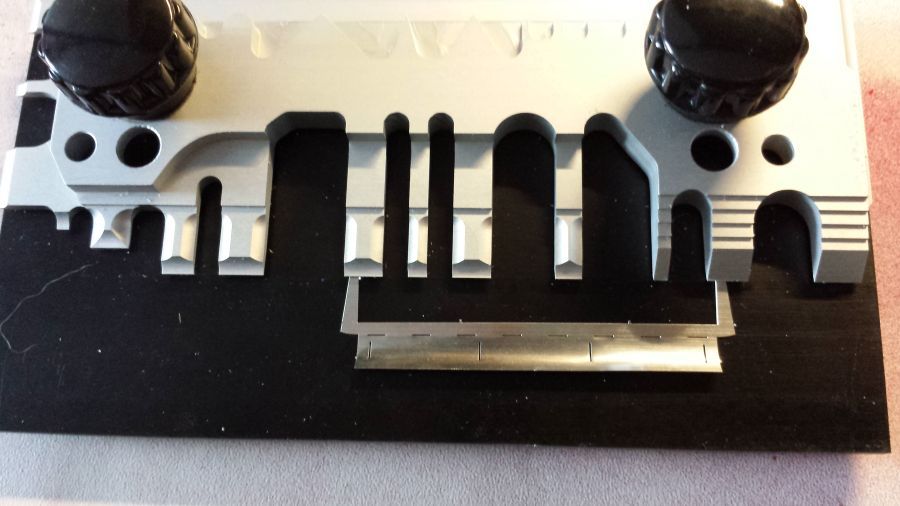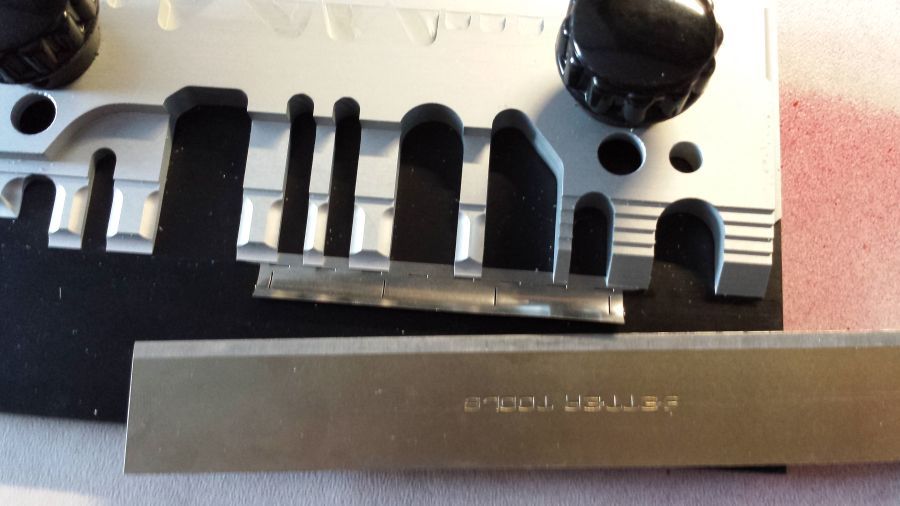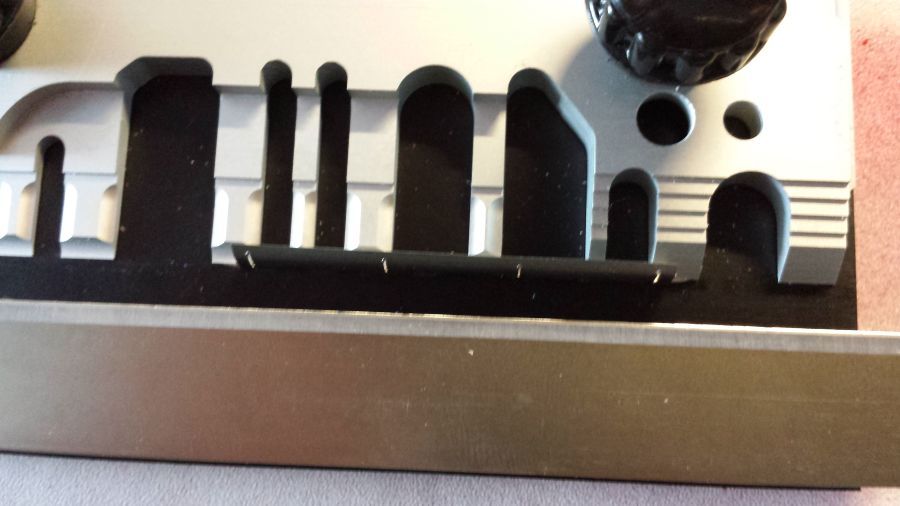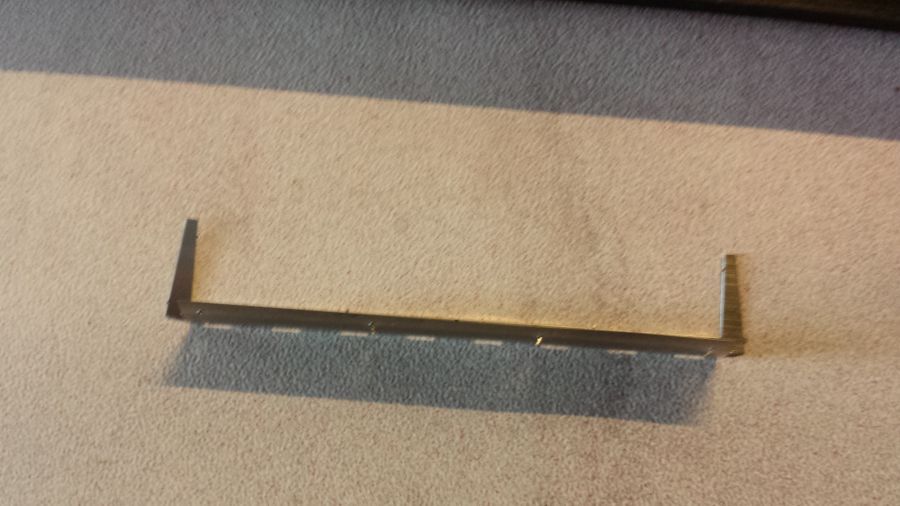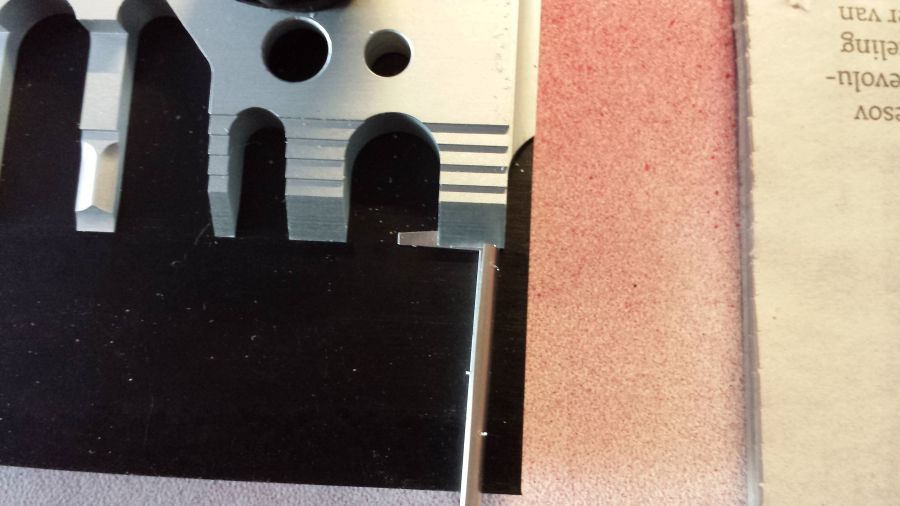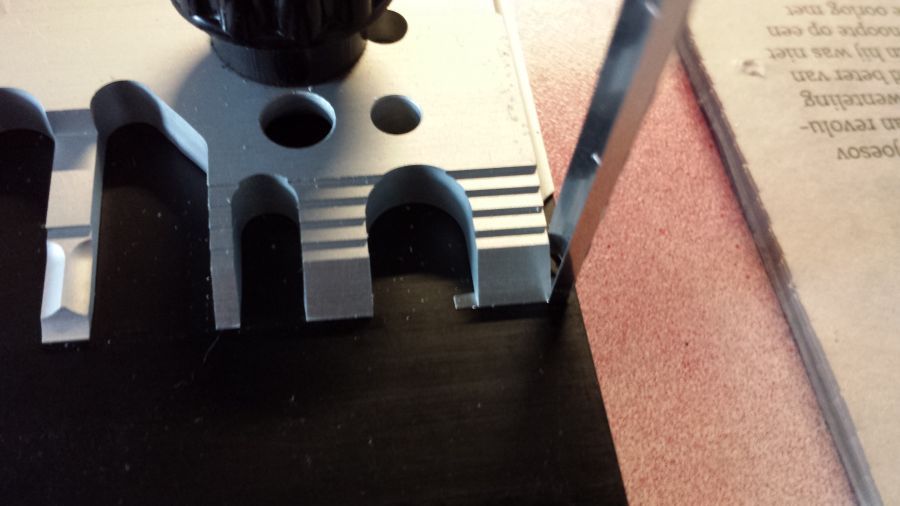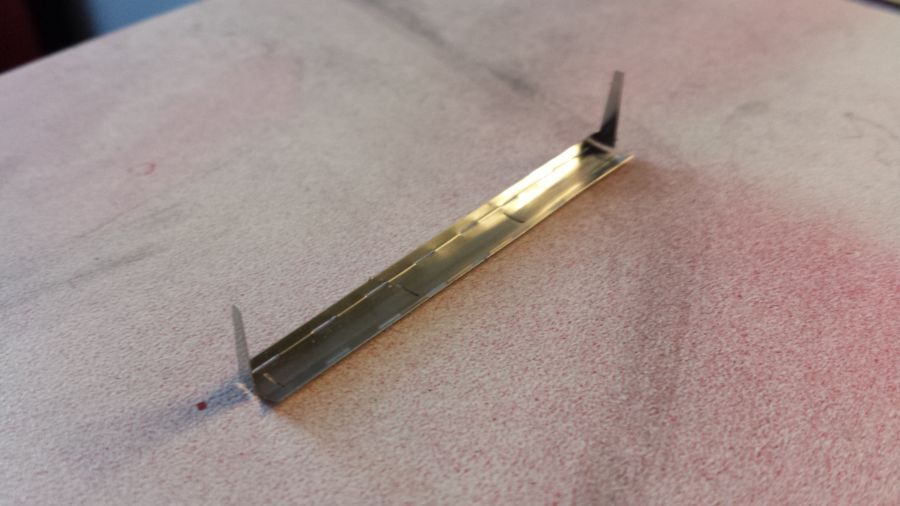 Daarna alle sub-onderdelen samenvoegen en klaar is de testversie van de Ferrari 312T6 uit 1977.
Combining all sub parts and ready is the test version of the Ferrari 312T6 from 1977.