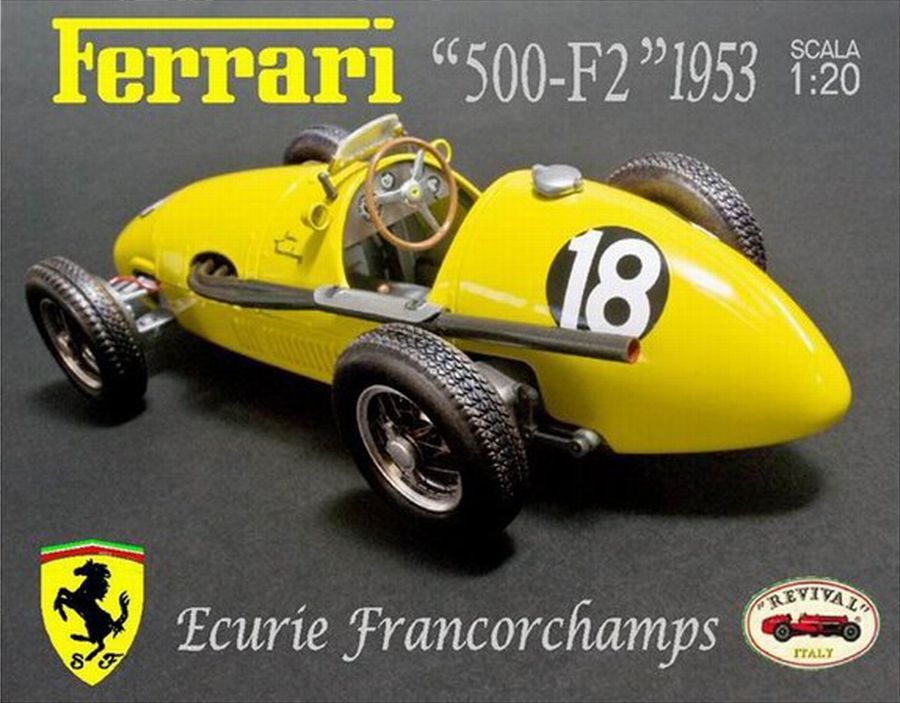 Omdat ik nog even moet wachten op de popnagels voor de 1969 312 F1 Monaco, ga ik tussendoor deze kit, de 1953 Ferrari 500 F2 Belgium, bouwen. Hieronder zijn de onderdelen zichtbaar.
Because i have to wait for the delivery of the rivets for the 1969 312 F1 Monaco, i will start building this kit, the 1953 Ferrari 500 F2 Belgium. Below all parts are visible.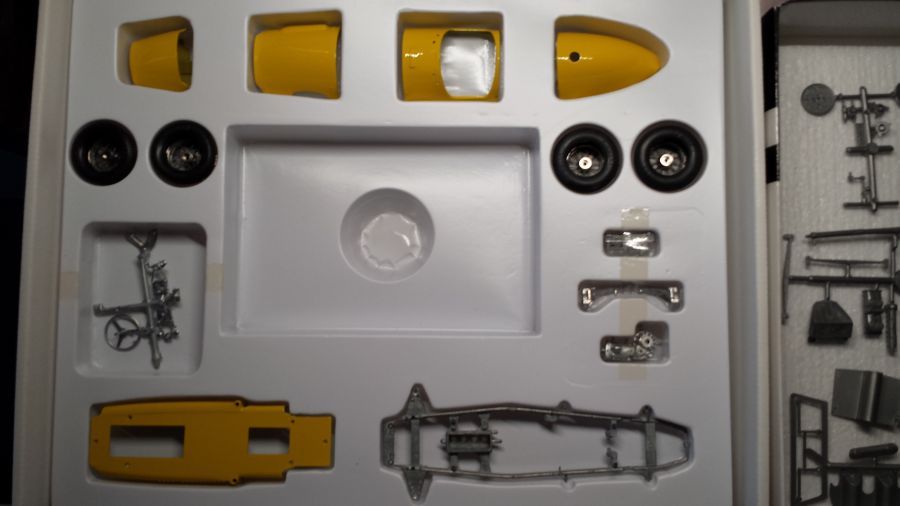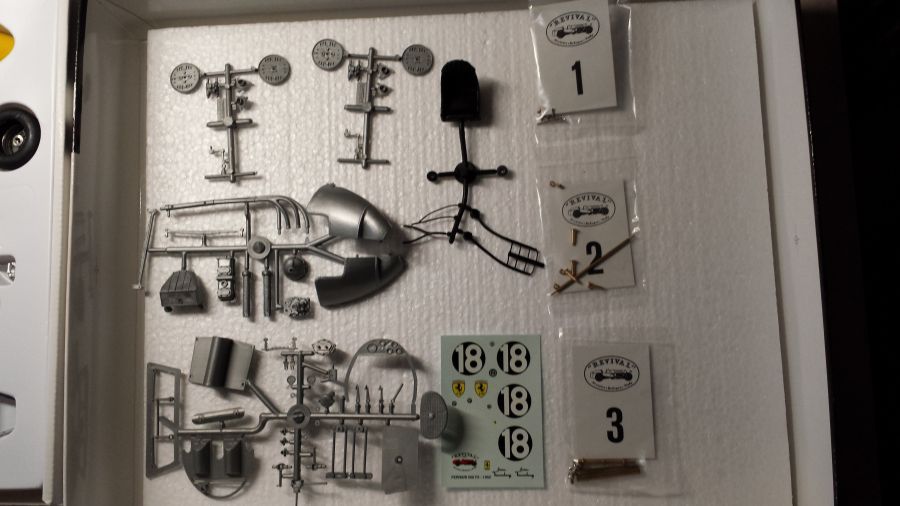 Eerst wordt de motor aan het chassis gemonteerd Daarna de versnellingsbak. Alle plastic onderdelen zijn gespoten met Tamiya TS76 Mica Silver. 
First the engine will be mounted to the chassis, then the transmission. All plastic parts have been sprayed with Tamiya TS76 Mica Silver.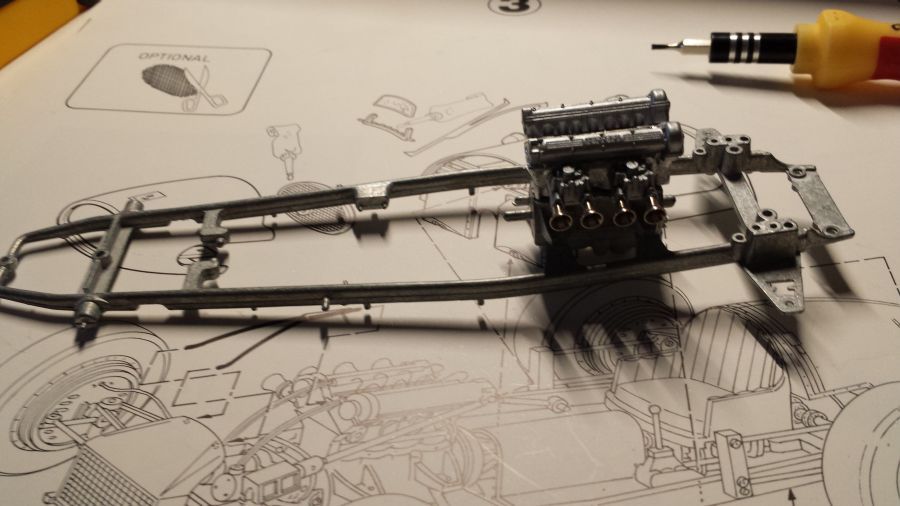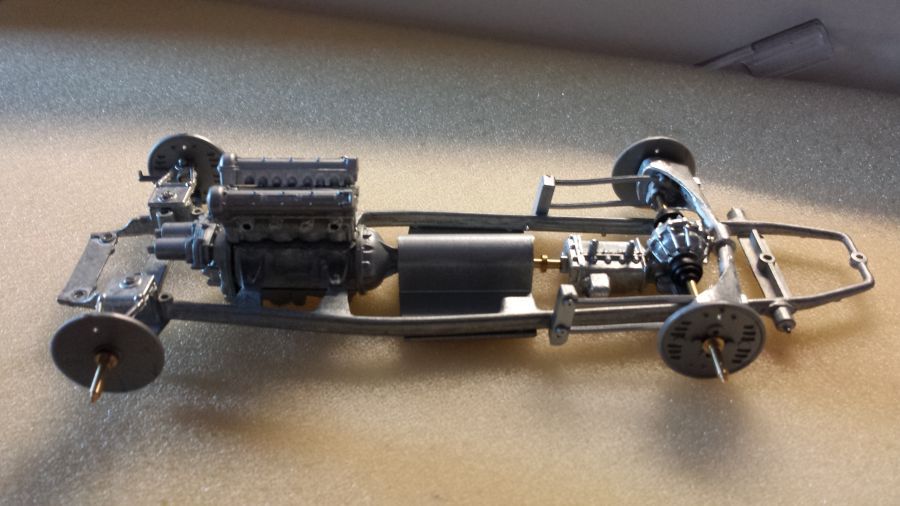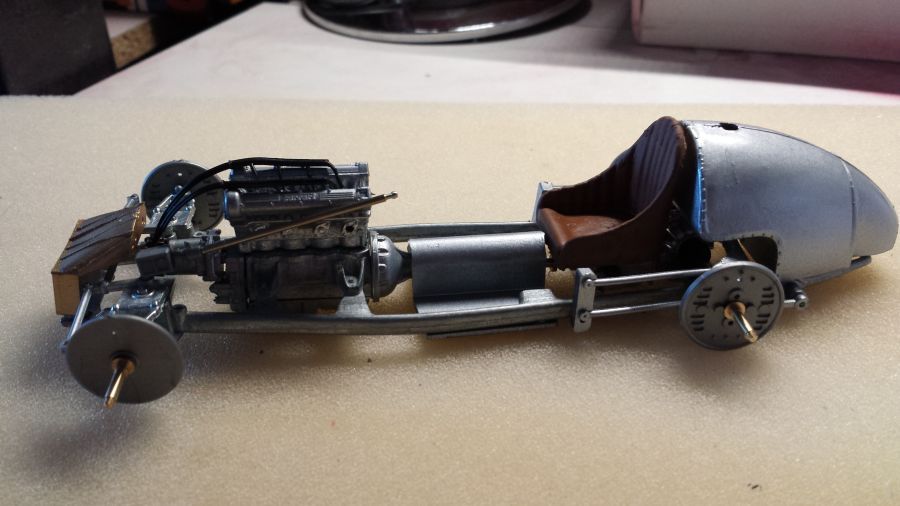 De banden zitten erop. Wel weer vreemd. De banden hebben een Pirelli opdruk. De decals zijn echter voor Englebert banden. Ook nog eens in het wit. Volgens mij hadden de banden in die tijd nog geen witte opdruk. Ik betrap Revival International vaker op zulke fouten. Vaak mankeert er wel wat aan. Dit kan overigens bij alle merken voorkomen.
The tires are on. Strange however. The tires have a Pirelli print. The decals however are to create Englebert tires. Even in white. To my knowledge the tires did not have any white print at that time. Revival International often makes these mistakes. There always seems to be something wrong. However, this can happen with all brands.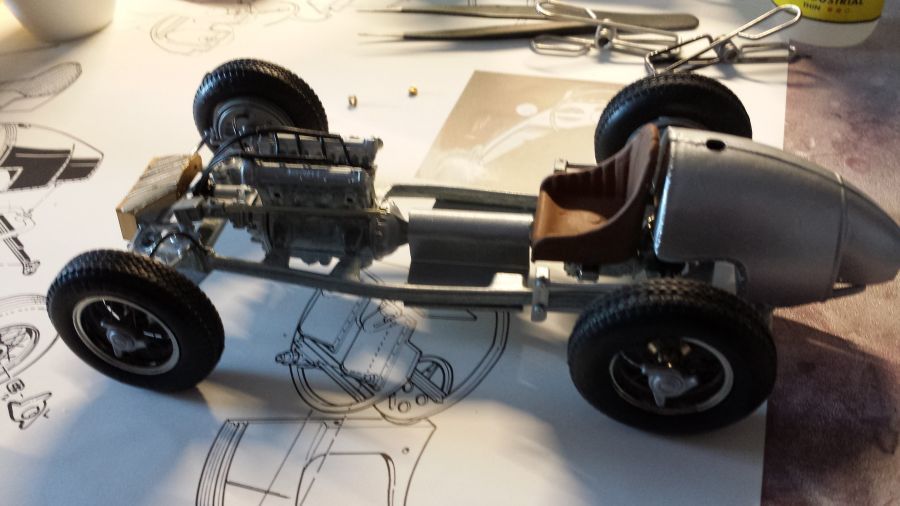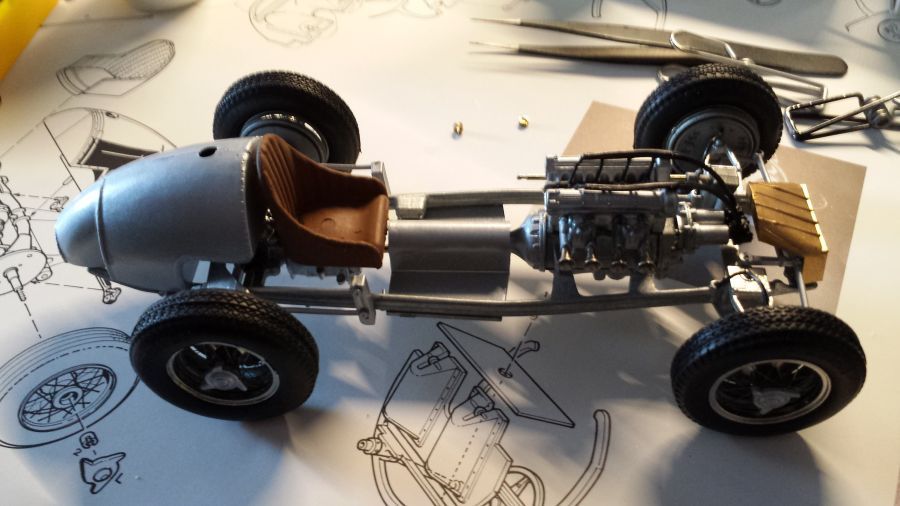 Nu de carosserie aan het chassis monteren.
Now mounting the body to the chassis.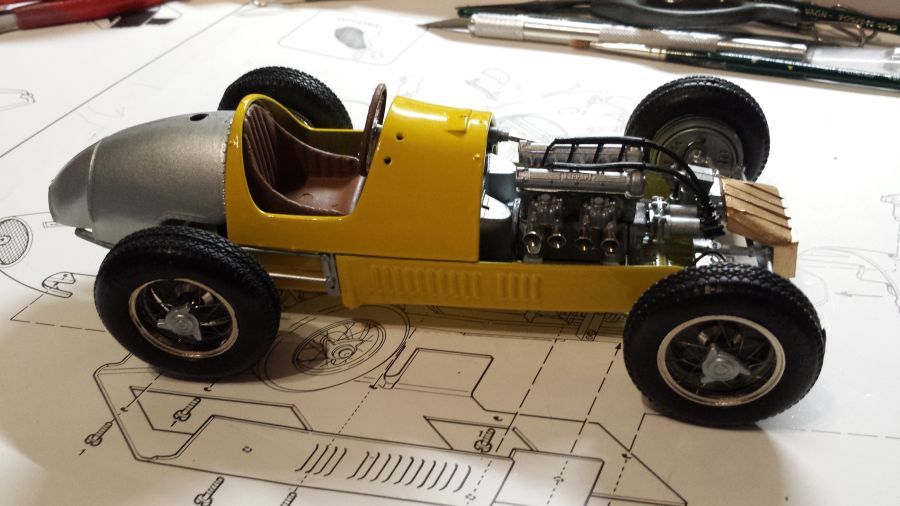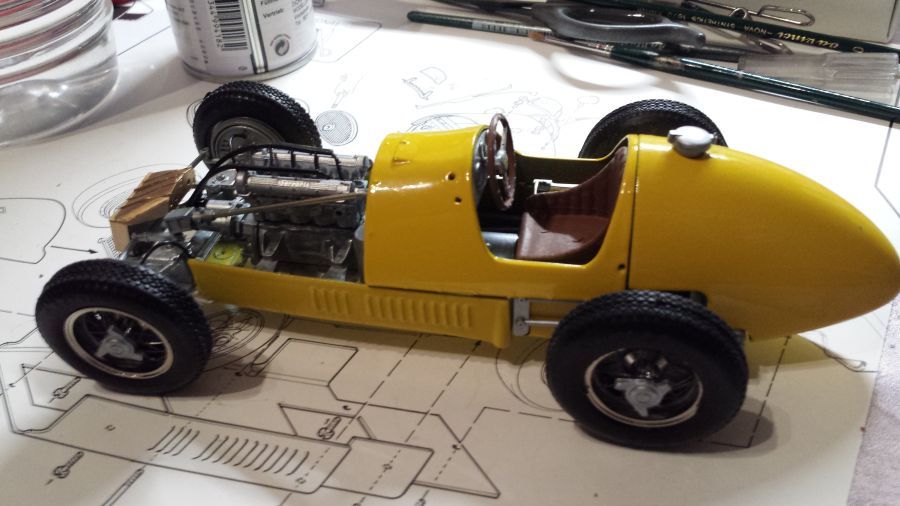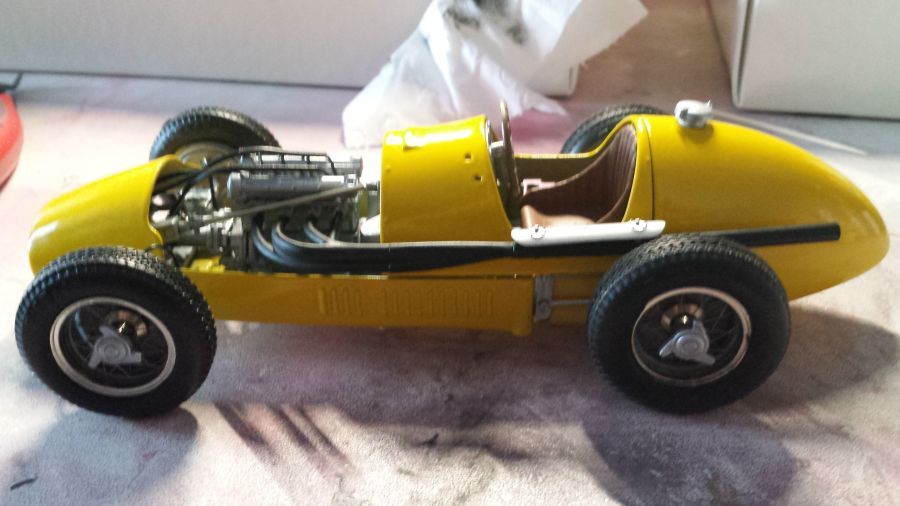 De carosserie is compleet. Nu nog de 'restjes'.
The body is complete. Now the rest.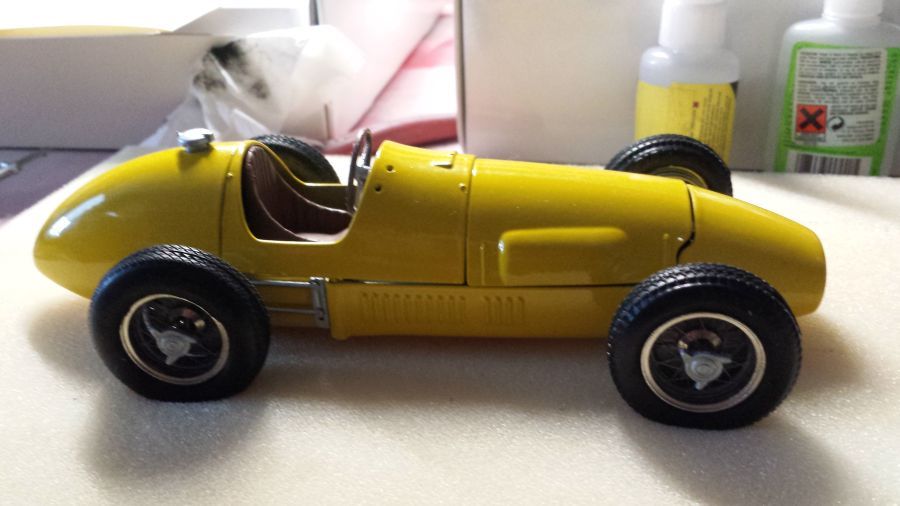 De spiegels, de voorruit en de decals zitten erop. Nog even zien of the Englebert decals ook op de banden moeten. Maak je niet al te druk om het slecht passen van de kit. Dit is normaal by Revival.
The mirrors, windshield and decals are mounted. Now i just have to see if the Englebert decals should be applied to the tires. Do not worry too much about the poor fit. This is normal for Revival.