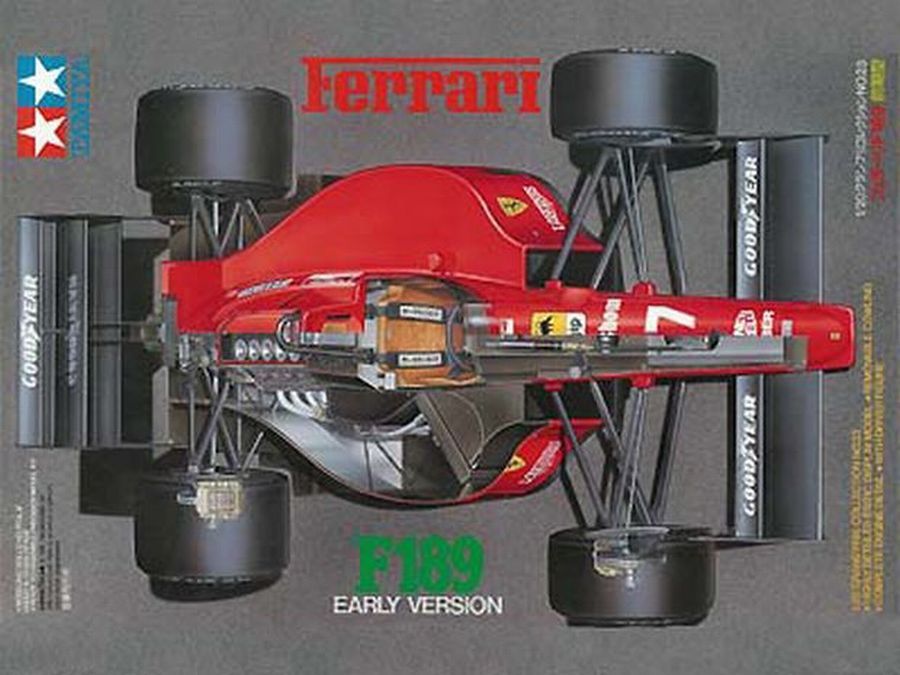 In 1988 maakte Ferrari studies van de later bekende Ferrari 640 / 641 / 642 en 643 serie. Het studiemodel was toen een Ferrari 639. Deze heeft nooit aan een race meegedaan. Nu ga ik de Ferrari 640 maken. Dat was lastig, want veel foto's zijn er niet van te vinden op internet. F1 Modeling Scale Auto Enthousiast Magazine no. 17 bevat veel foto's van dit model. Hier had ik veel aan. De 1e foto beneden laat de belangrijkste verschillen zien tussen een Ferrari 639 en een Ferrari 640.
In 1988 Ferrari made studies of the predecessor of the famous Ferrari 640 / 641 / 642 and 643 series. The study model was a Ferrari 639. This one never actually raced in a GP. Now i will make the Ferrari 640. This was not easy because there are not many pics of it on the internet. F1 Modeling Scale Auto Enthousiast Magazine no. 17 contains a lot of pics of this model. It was a great help. The 1st pic below shows the most important differences between the Ferrari 639 and the Ferrari 640.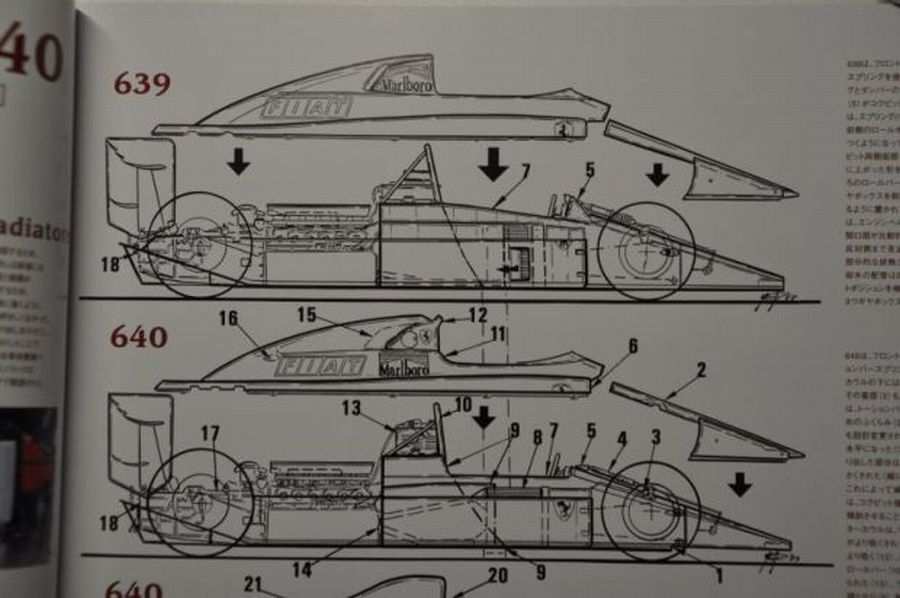 Ik vond in de F189 Early Version kit van Tamiya een goed uitgangspunt. Hieronder alle onderdelen van de kit. Omdat de decals al behoorlijk waren vergeeld, heb ik een nieuwe set van Tabu gekocht.
I decided the F189 Early Version kit from Tamiya was a good starting point. Below all the kit parts. Because the original decals were yellowed, I decided to buy a new set from Tabu.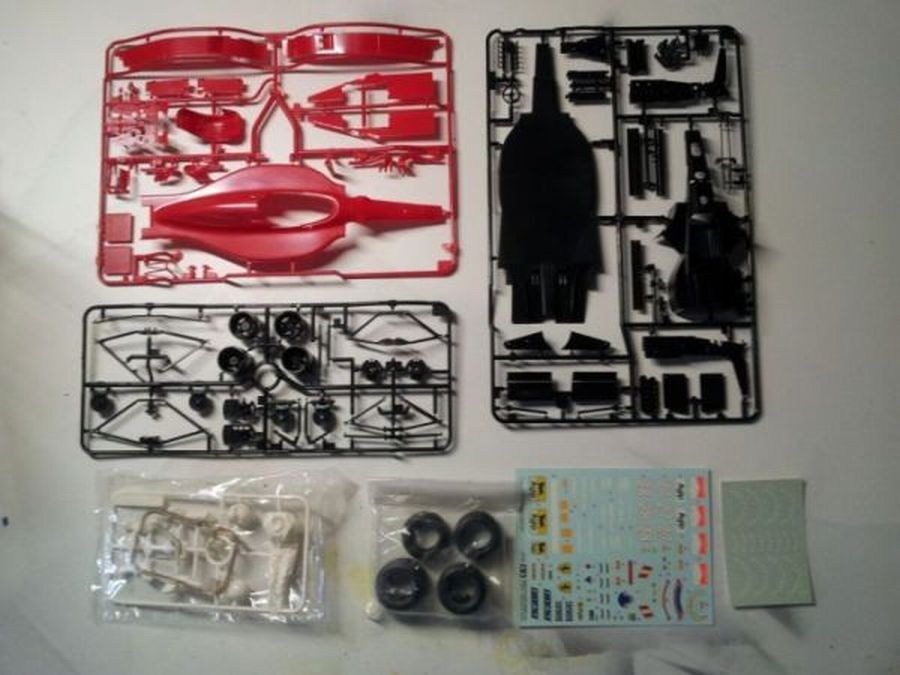 Hier zijn de grootste veranderingen aan de body te zien. De intake moet wat verder worden uitgezaagd. De cockpitrand loop verder door. Eigenlijk moeten de 2 'bulten' op het voorste deel ook platter worden gemaakt, maar er is dan geen ruimte genoeg voor de ophanging. Daarom heb ik dat maar met rust gelaten. Voor de 639 moeten ook de 2 kleine  'bultjes' aan de zijkant worden verwijderd en 2 nieuwe aangebracht op de body. De foto van de wit gespoten bodies laat dit duidelijk zien.
Here you can see the main changes to the body. De intake has to be cut a little longer. The edge of the cockpit is longer. Actually the 2 'bumps' on the front should also be flattened, but then there will be not enough space for the suspension. I therefore left this alone. For the 639 you also have to flatten the 2 small 'bumps' at the back of the body and 2 new ones have to be made. The photo of the sprayed body shows it clearly.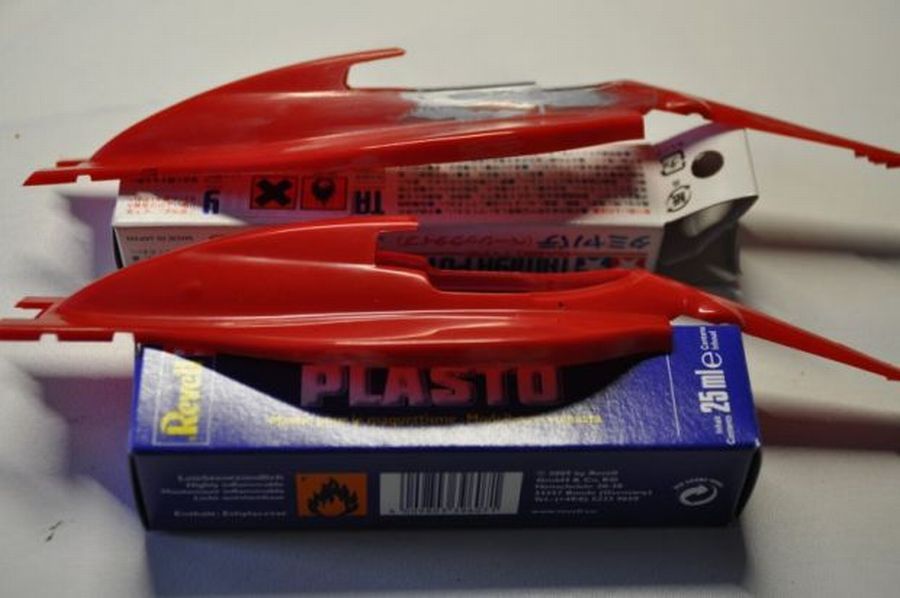 De voorkant is afgezaagd en de body zit in de primer.
The front has been cut off, and the body has been primed.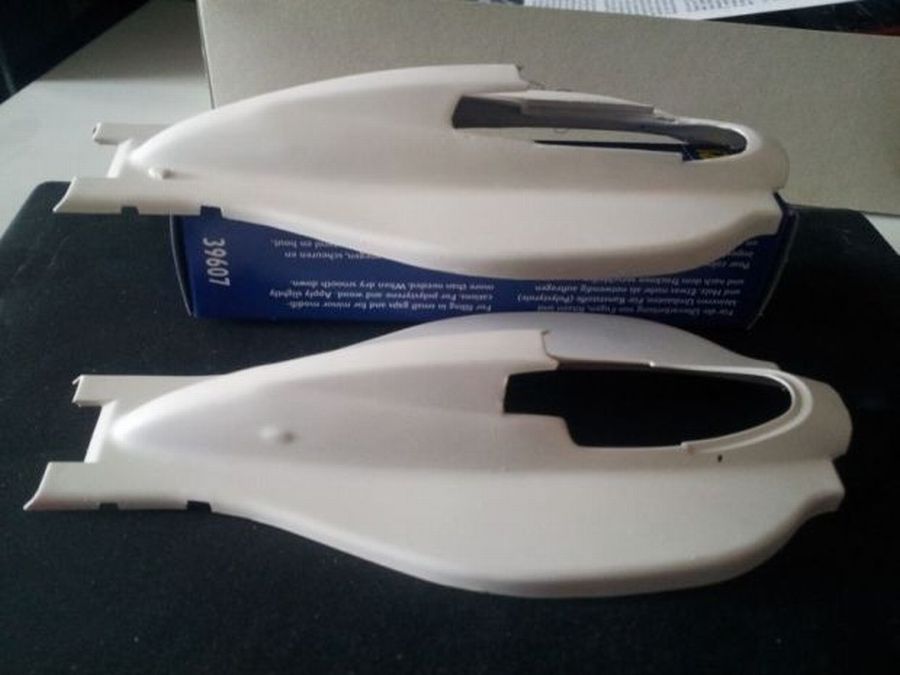 Omdat ik al een lange tijd niets heb gebouwd, heb ik besloten het nog maar even simpel te houden. Ik maak alleen een paar kleine slang koppelingen aan de achterkant van de auto. In de vitrine valt er toch niets van te zien.
Because I haven't built a car for a long time, I decided to keep it simple for now. I only use some hose connections on the back of the car. Once displayed, it won't be visible.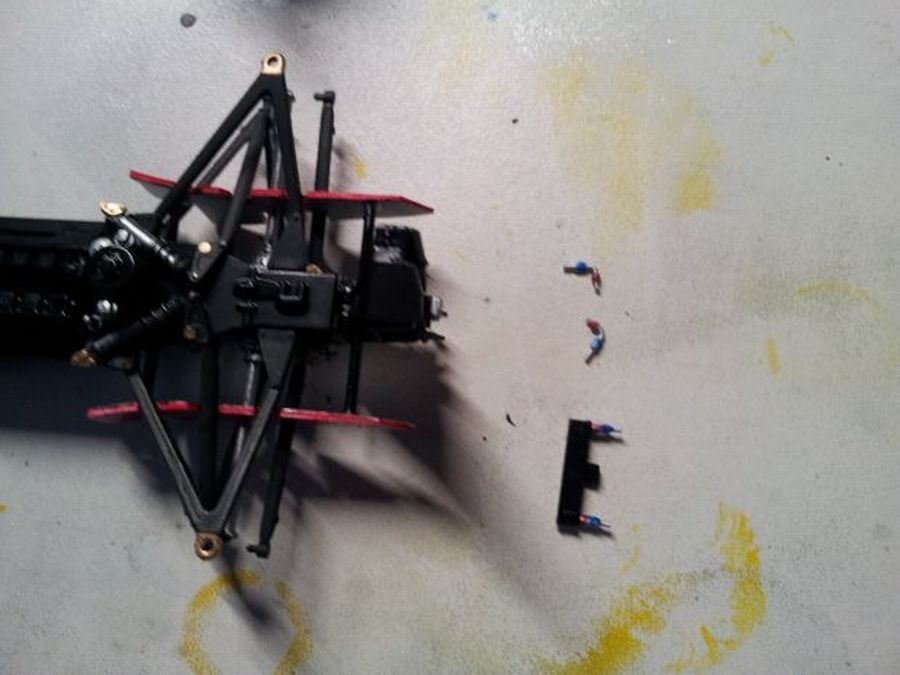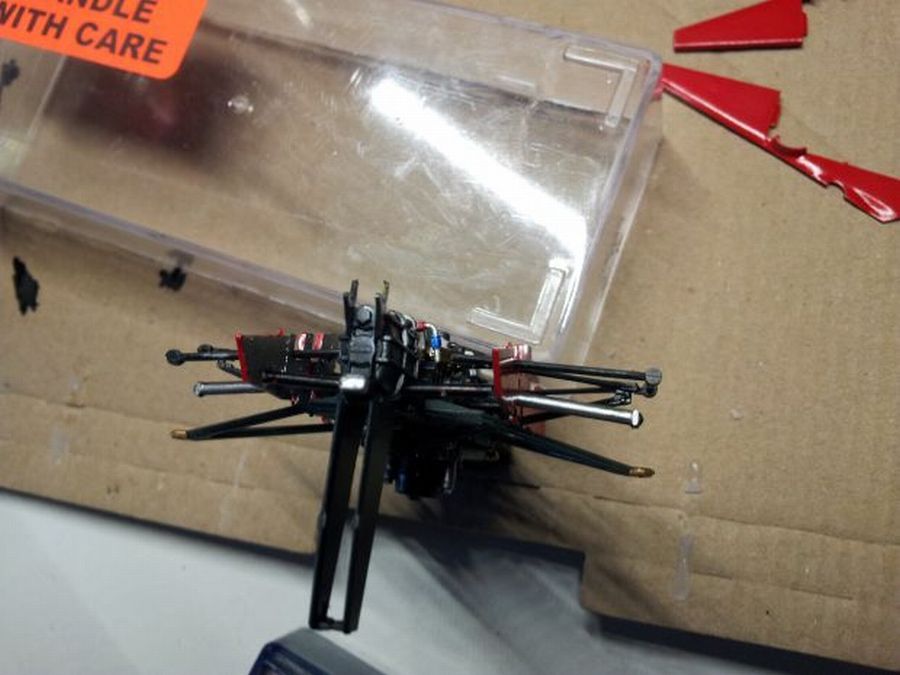 Hier de prefab onderdelen.
Here some prefab parts.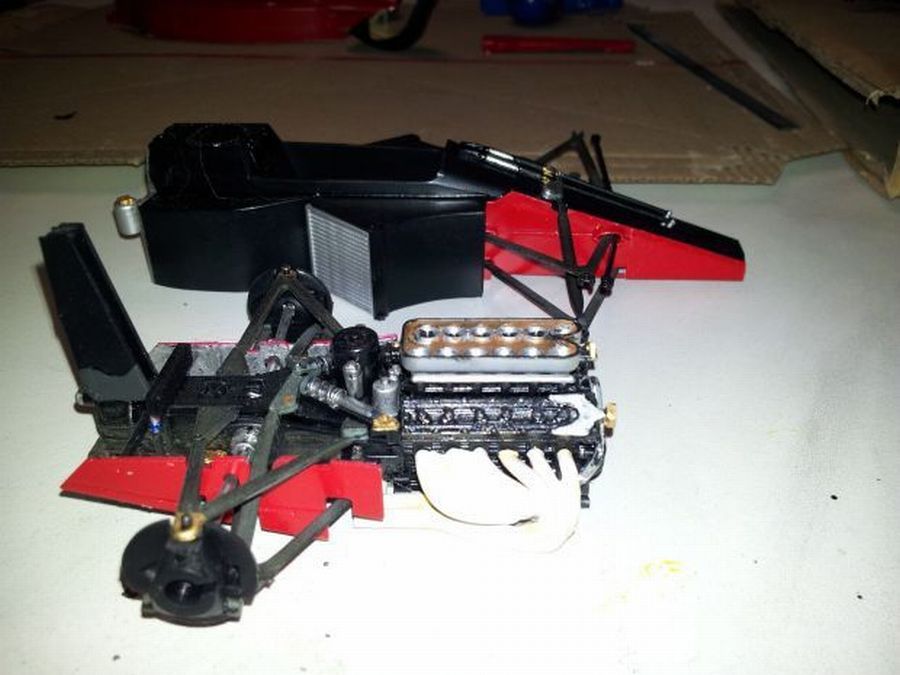 En de decals op de 640 EV.
And the decals on the 640 EV.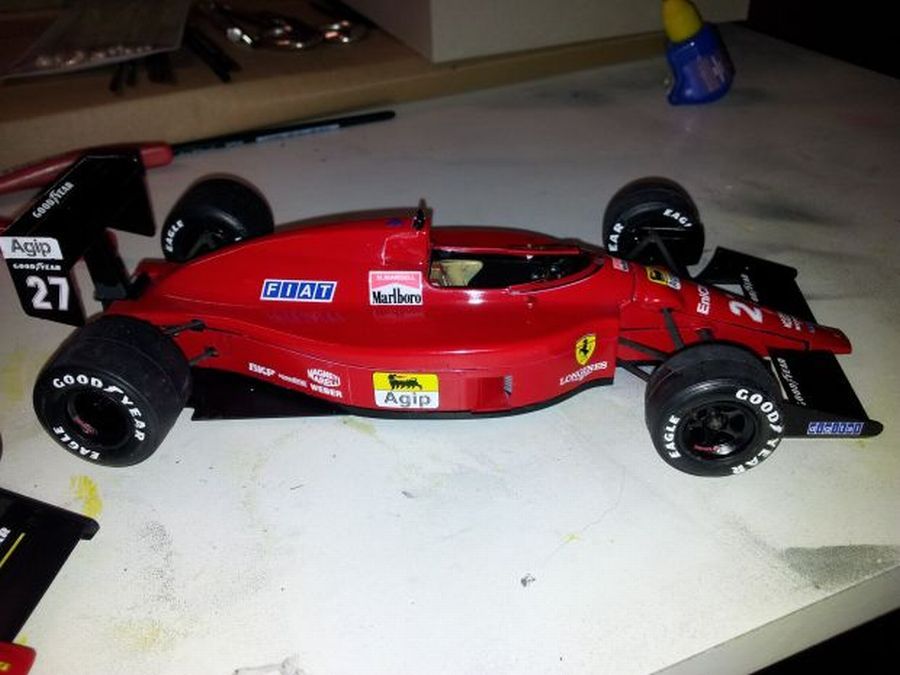 En klaar.
And done.