Voor dit project heb ik de kit gekocht van Hasegawa kit nr 20248. Daarnaast heb ik de etched kit QC36 gekocht van dezelfde fabrikant. En van Hobby Design gebruik ik de metalen wielen set HD07-0069. Al met al een hele klus denk ik. De kit bevat onderdelen voor zowel de Braziliaanse als de USA versie. De 1976 Ferrari 312 T is een van mijn meest favoriete met de hoge luchtinlaat.
For this project i bought the Hasegawa kit no 20248. Also i will use the etched kit QC36 from the same manufacturer. Besides that i will use the Hobby Design Metal Wheels set HD07-0069. A lot of work is coming to me I believe. This kit contains parts for building the Brazil version as well as the USA version. This 1976 Ferrari 312 T is one of my most favorite ones with the high air intake.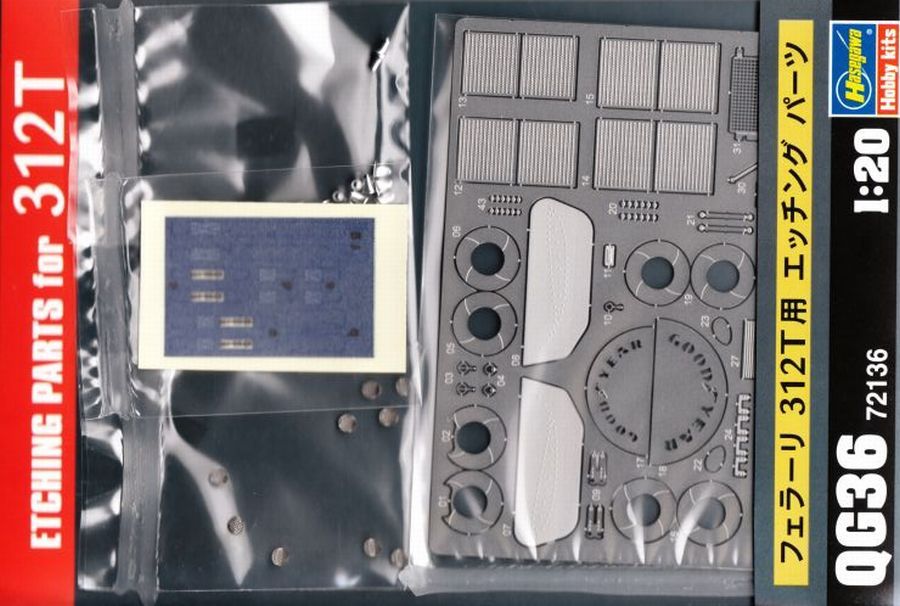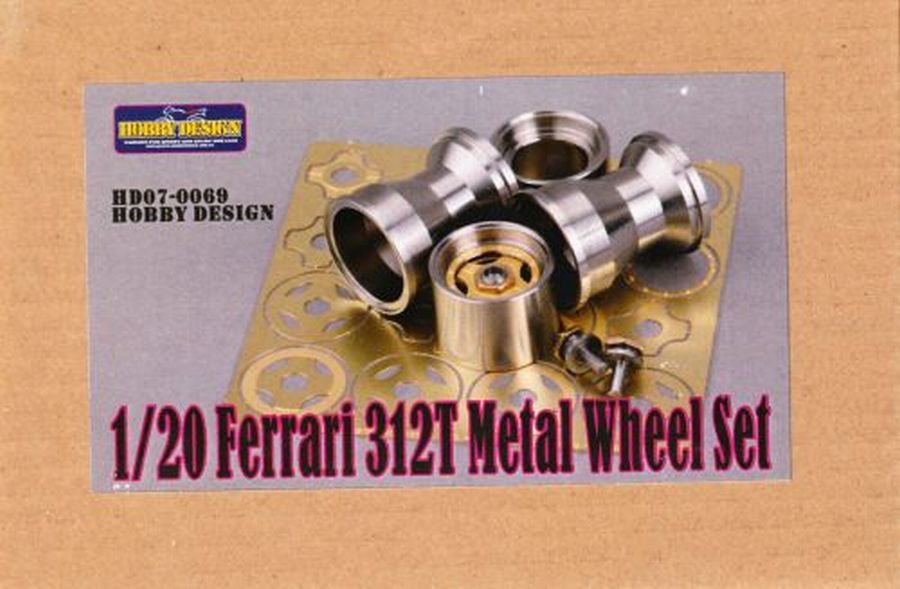 De eerste stappen van het maken van de motor. De trechters zijn aangebracht.
The first steps of making the engine. The funnels have been placed.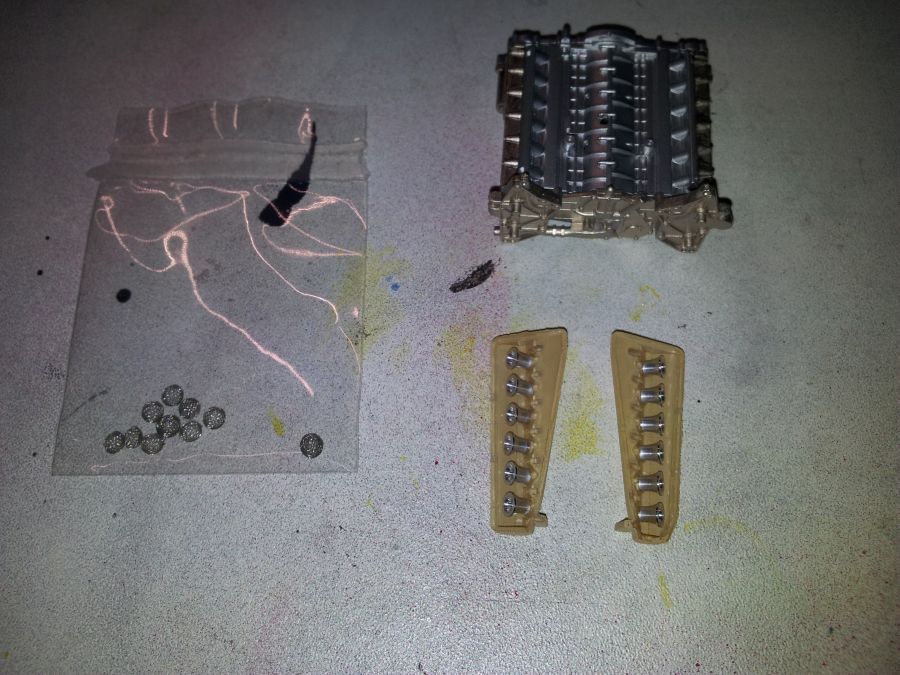 Hasegawa levert niet de bedrading voor de ontsteking, zoals Tamiya met bijv. de 312T3. De kleine gaatjes ga ik boren en dan de bedrading aanleggen. 
Hasagawa does not deliver the wiring for the innition, like Tamiya does. I will have to drill the holes myself and put on the wiring.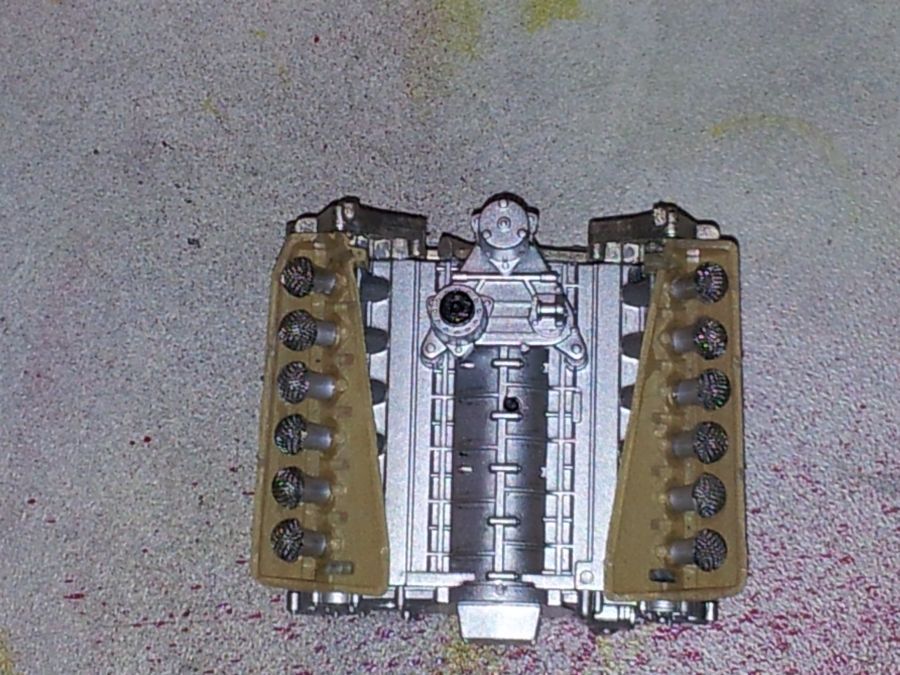 Gaatjes zijn geboord met een 0,3 mm boortje. Voor de bedrading gebruik ik zwart 0,3 mm metaaldraad.
Holes have been drilled with a 0,3 mm drill. For the wires is will us 0,3 mm metal wire.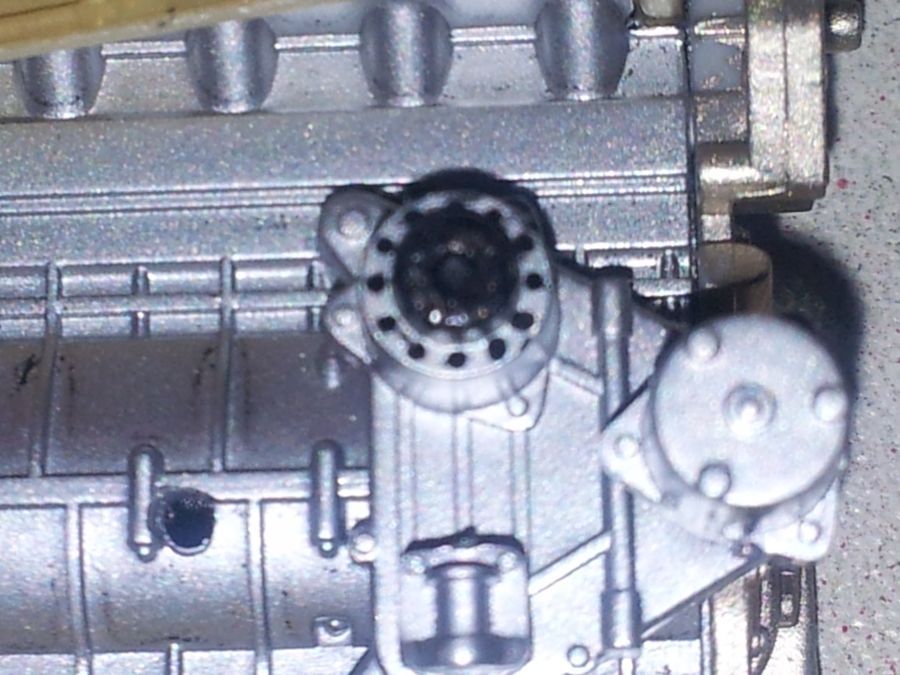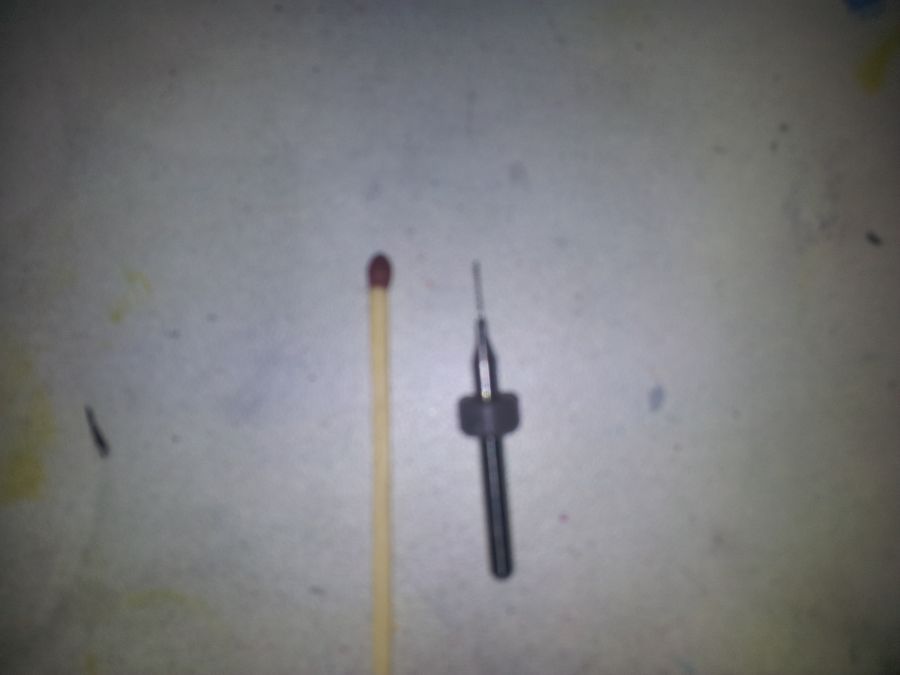 De motor en versnellingsbak zijn klaar en kunnen met elkaar worden verbonden.
The engine and gearbox are ready to be joined together.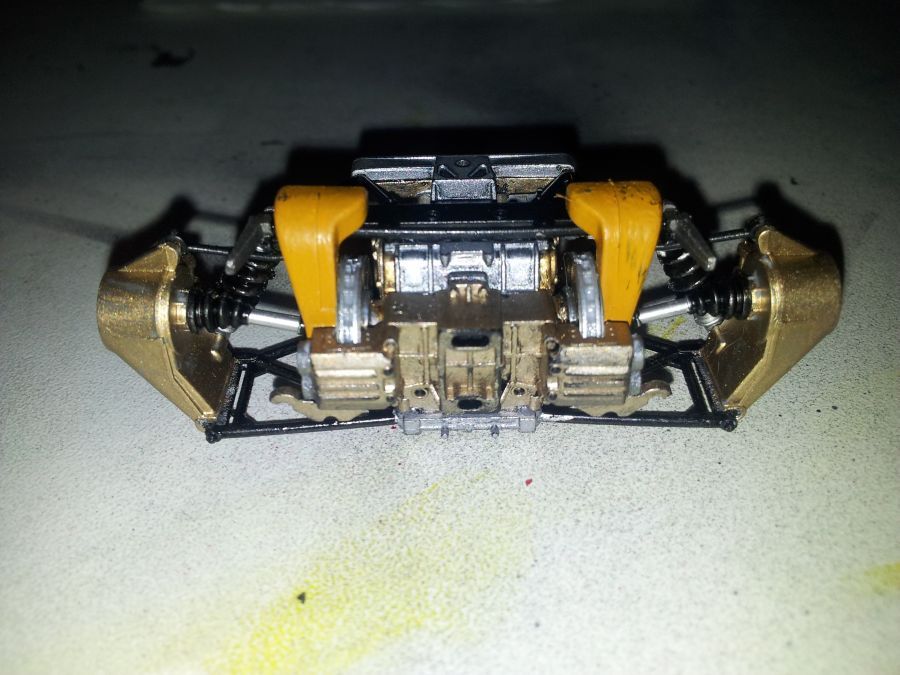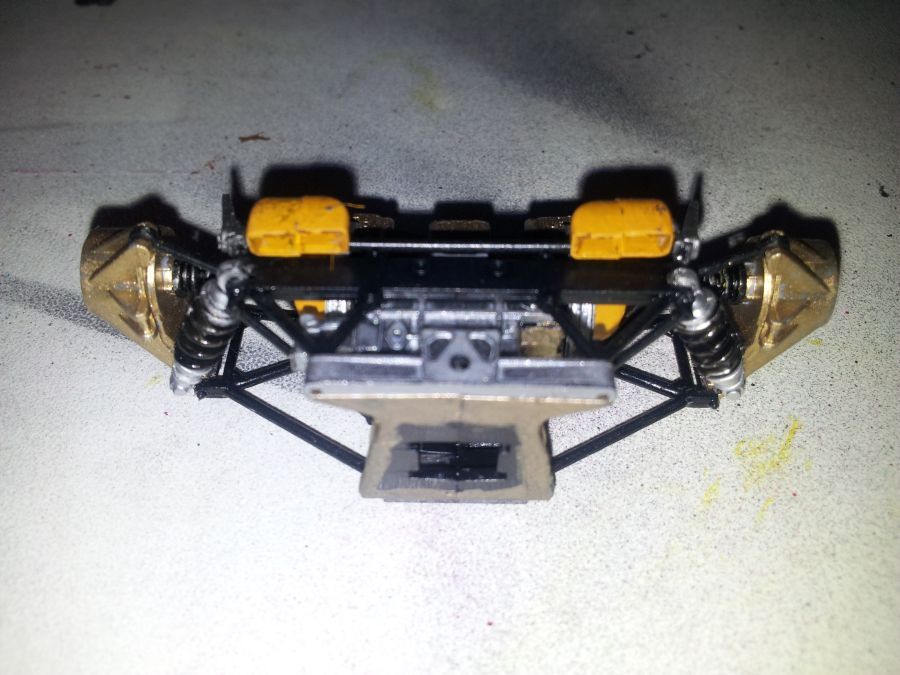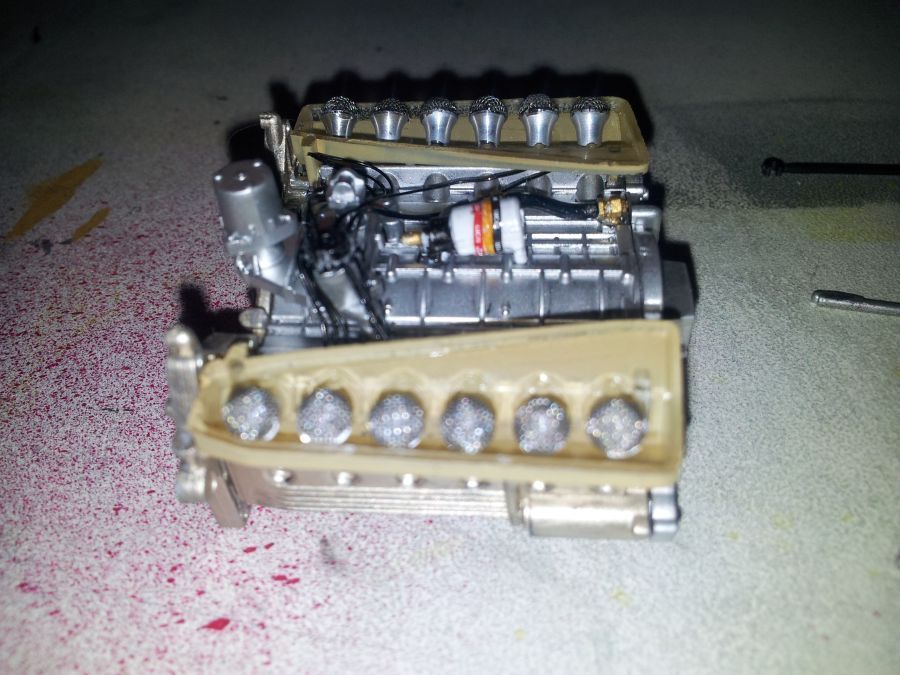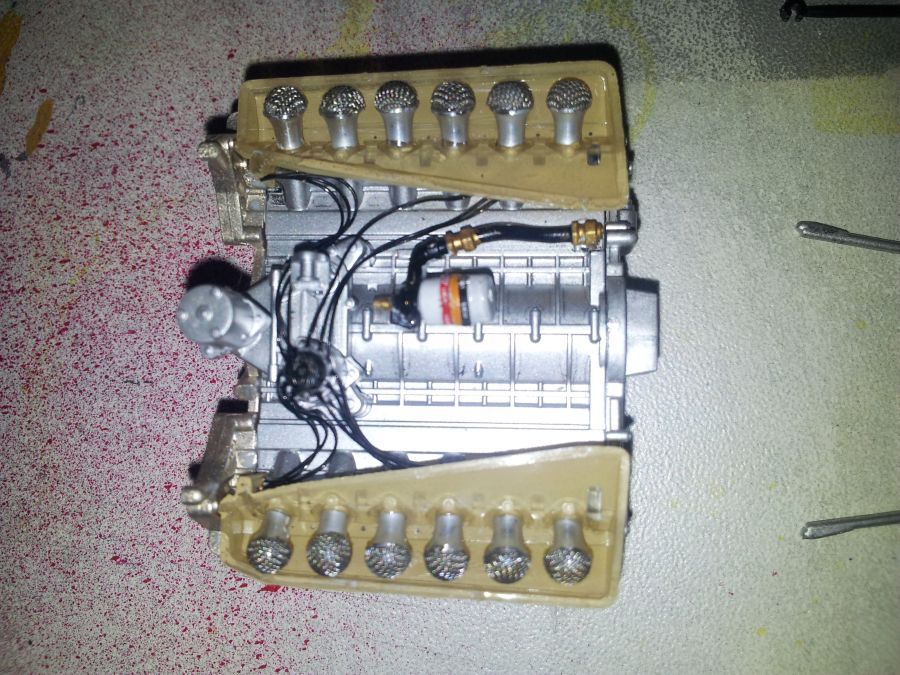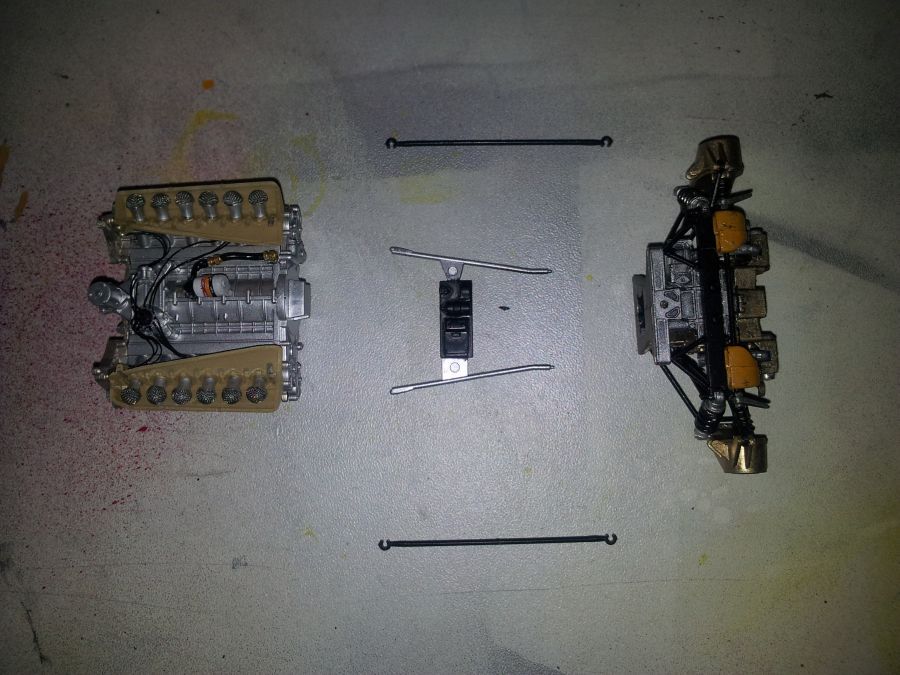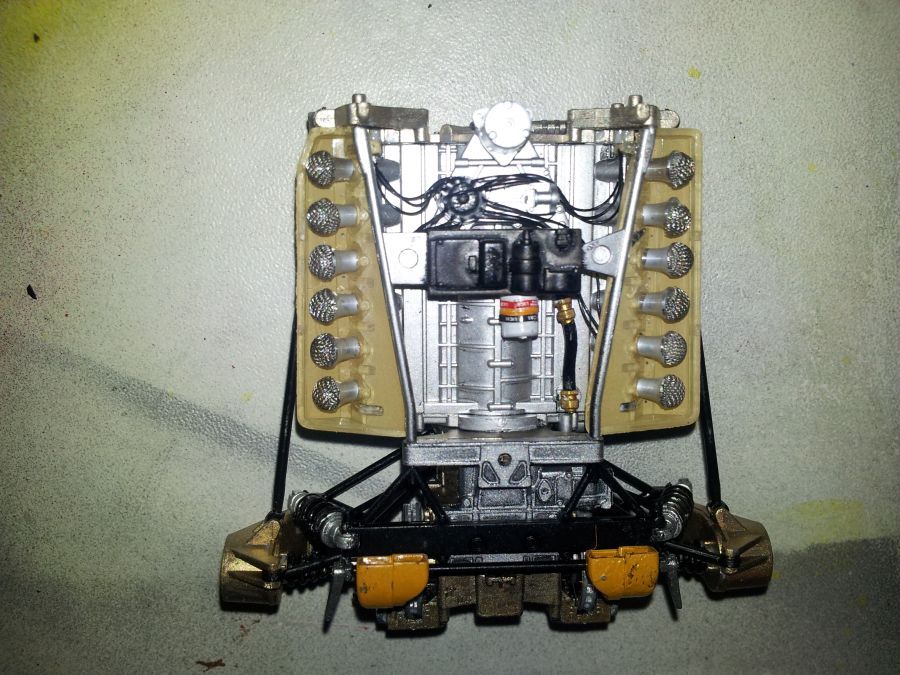 Hier zijn de uitlaten gemonteerd. De uitlaten zijn mat wit gespoten.
The exhaust pipes have been mounted. They have been spray painted mat white.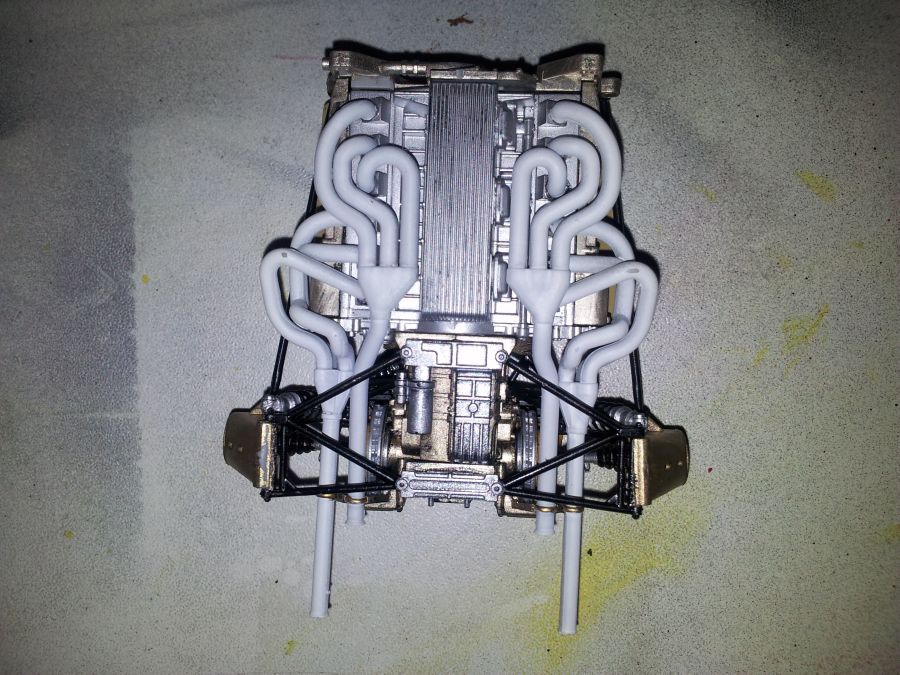 Een deel van het chassis is verlijmd. Nog even bekijken of er nog iets te upgraden valt.
A part of the chassis is ready. I will see if there can be done more upgrading.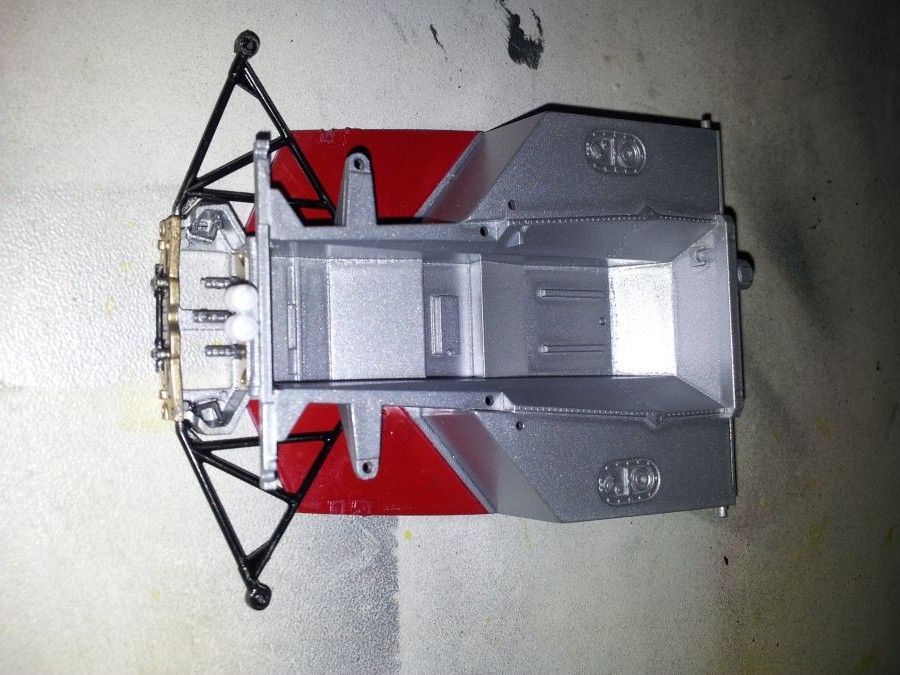 De onderdelen van de Hobby Design velgen.
The parts of the Hobby Design rims.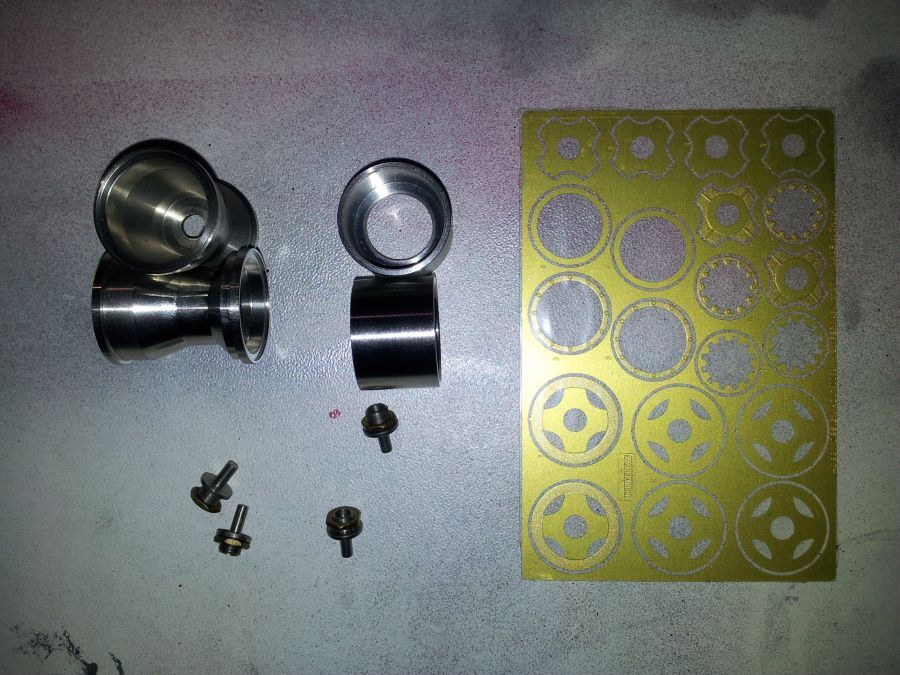 De velgen zijn redelijk eenvoudig te assembleren. Het meest belangrijke zijn de kleine ringetjes die in de achtervelgen moeten worden gemonteerd. Deze ringetjes bestaan uit 2 delen. Wanneer deze niet heel precies op elkaar worden verlijmd, moeten ze worden bijgevijld om in de velg te passen.
The rims are not very hard to assemble. Most important are the small rings that have to be mounted inside the rear rims. If they are not glued together exactly, you will have to file them so they will fit in.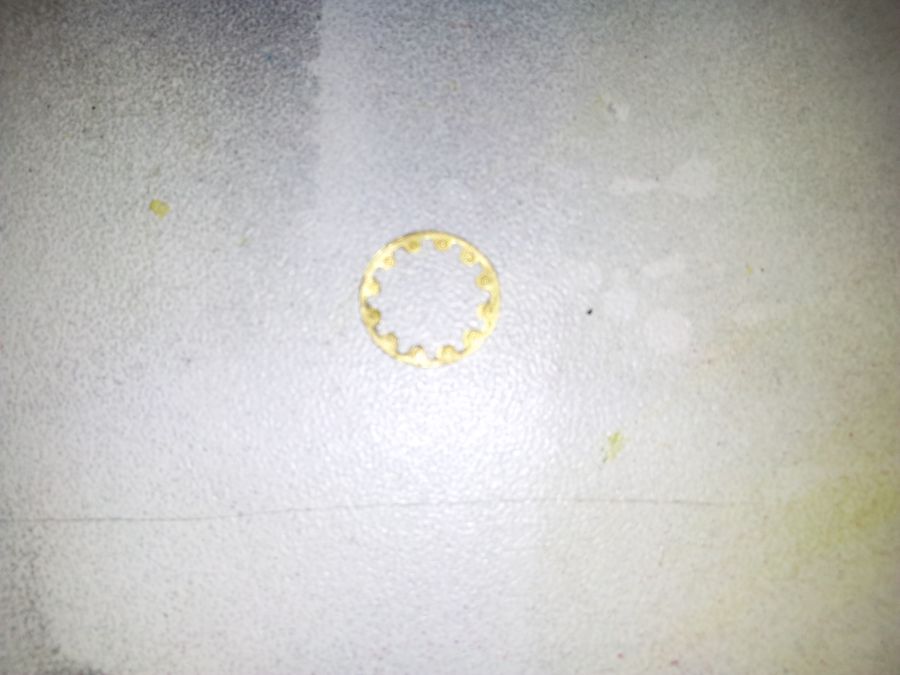 Hier de volledig gemonteerde velgen. Een erg mooi produkt.
Here the fully mounted rims. A very nice product.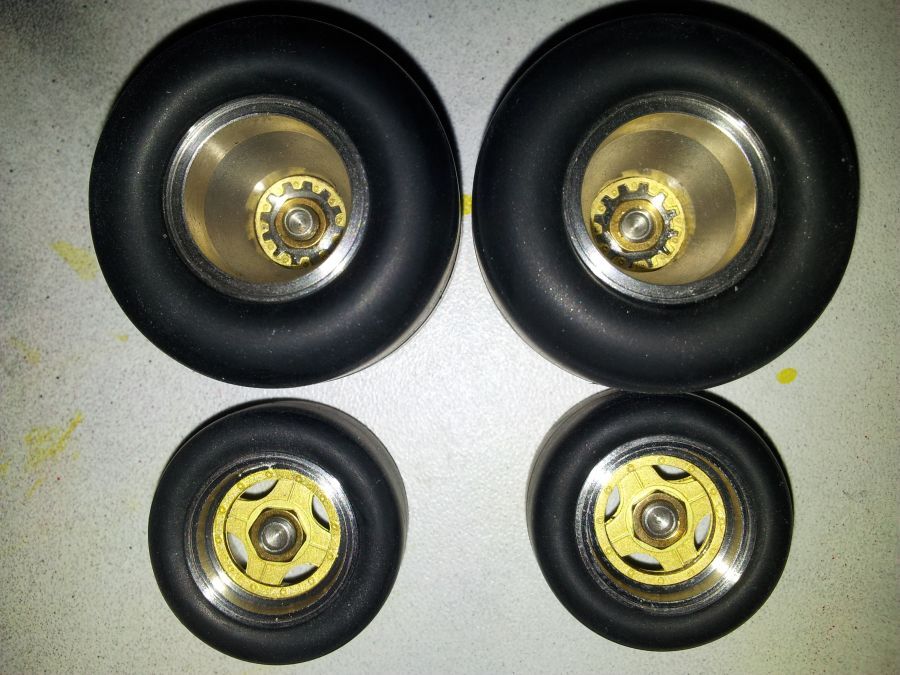 Een deel van de carosserie is gespoten met Tamiya TS8 en een laagje TS13.
A part of the body has been sprayed with Tamiya TS8 and a coat of TS13.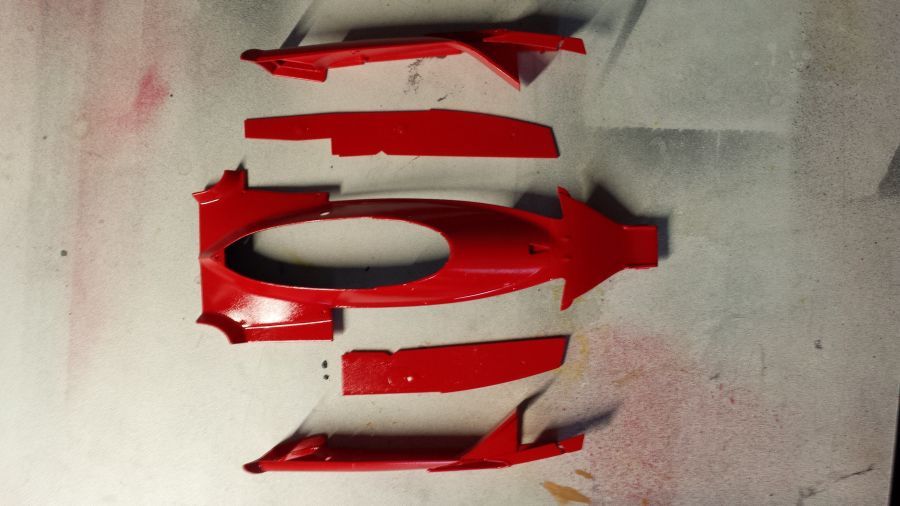 Na het spuiten van de luchthapper kan deze worden samengevoegd met een deel van de body. Ik vind de manier waarop Hasegawa dit heeft gedaan uitstekend. Met een draai van 90 graden wordt het witte deel op het rode deel geplaatst. Op deze manier ontstaat een zeer strakke scheiding tussen rood en wit.
After painting the airbox, it can be mounted on the part of the body. I like the way Hasegawa has managed to do so. By twisting the white part 90 degrees it fits to the red part very well. This way there is a very nice straight line between the white and the red.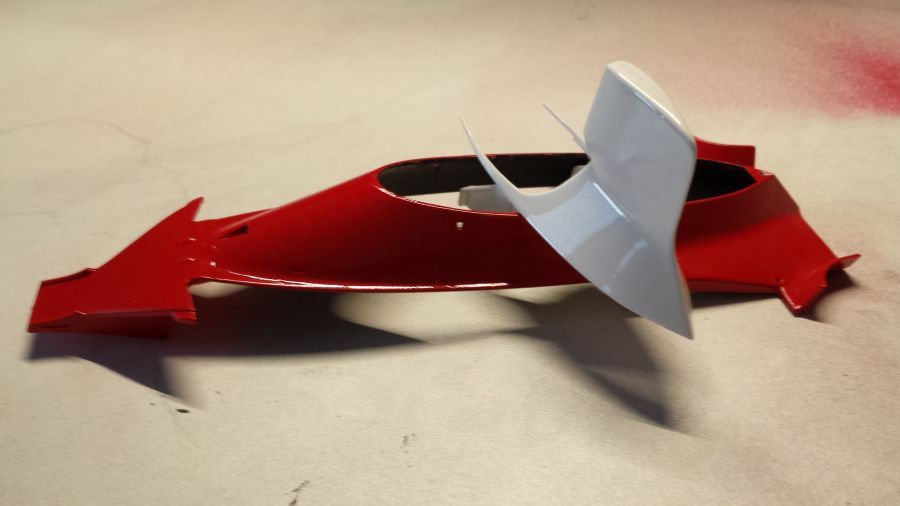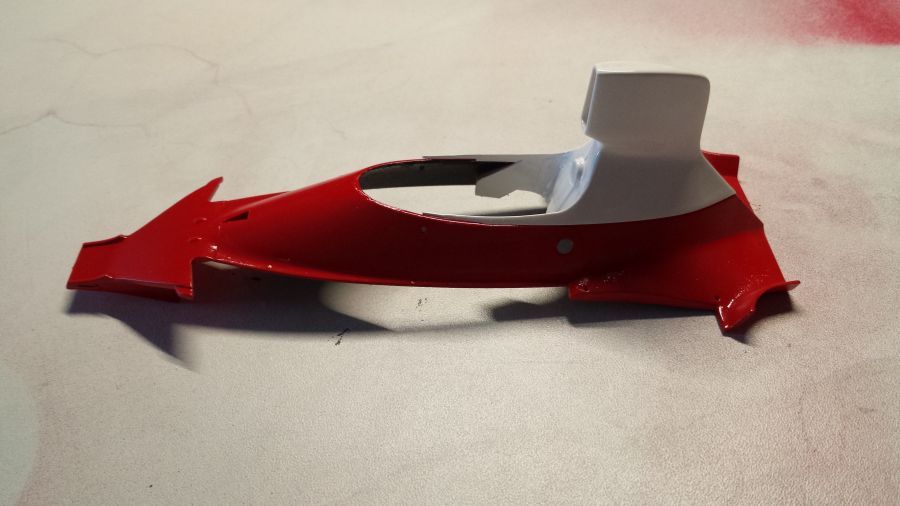 De accu is door gebruik van de etched delen voorzien van een accuhouder. Let erop dat e.e.a. juist wordt gemonteerd. Het gat waar de accu in de achtervleugel wordt gemonteerd is iets ruimer gemaakt.
The battery has been provided with the etched part of the battery rack. Watch out for mounting it properly. The hole for the battery in de rear wing has been opened up a little.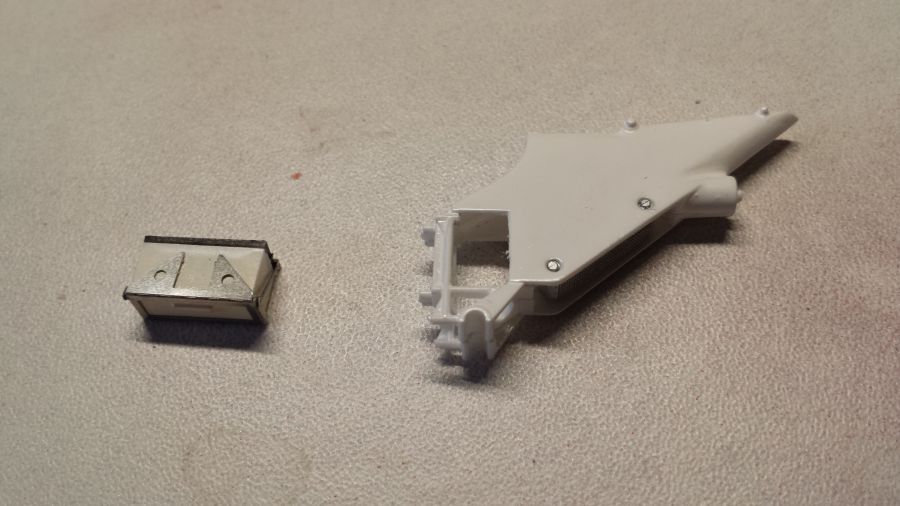 Klaar voor 'het huwelijk'.
Ready for 'marriage'.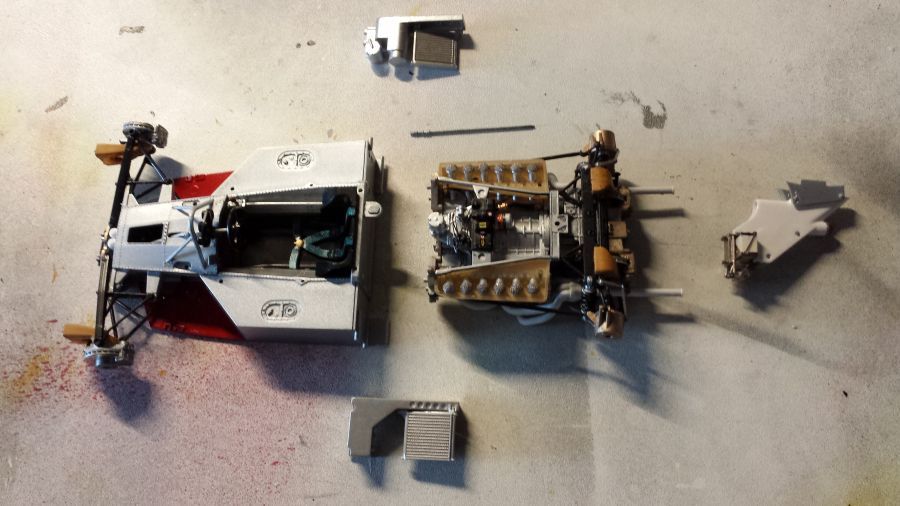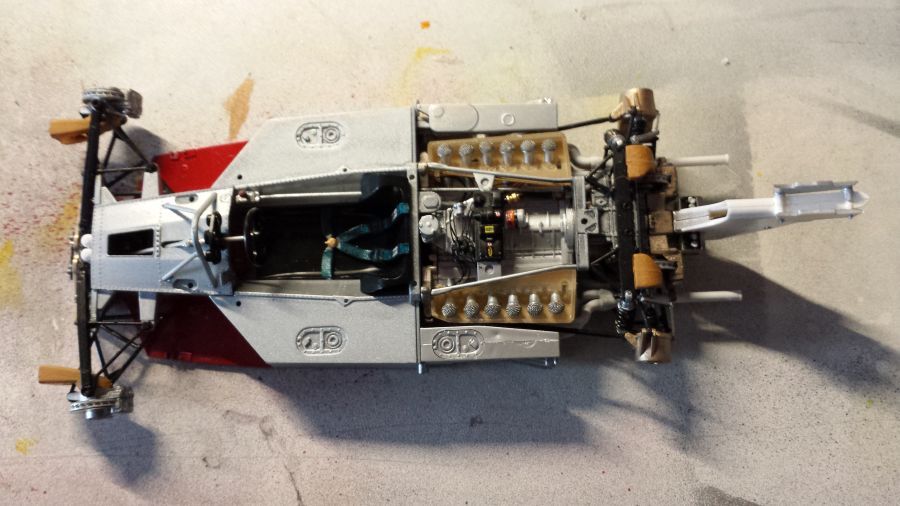 De onderdelen voor de vleugels zijn schoongemaakt met ovencleaner. Dat gaat erg simpel. Ik mocht willen dat ik dat eerder had ontdekt. Tot nu toe gebruikte ik Revell Airbrushcleaner.
The parts for the wings have been cleaned with oven cleaner. That's very easy. I wish i had discovered this before. Up untill now i had used Revell Airbrush Cleaner.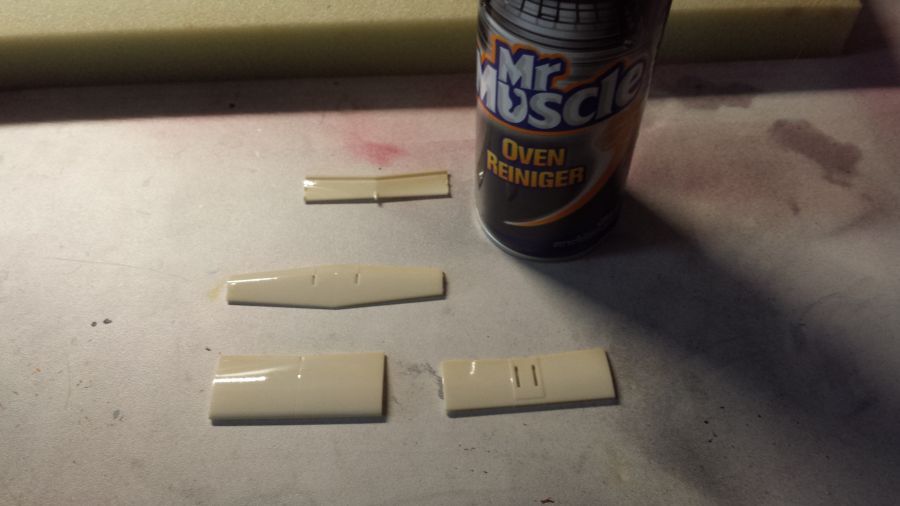 De vleugels zijn gemonteerd met gebruik van de etched wing end plates en gespoten met Tamiya TS-76.
The wings have been assembled with use of the etched wing end plates and sprayed with Tamiya TS-76.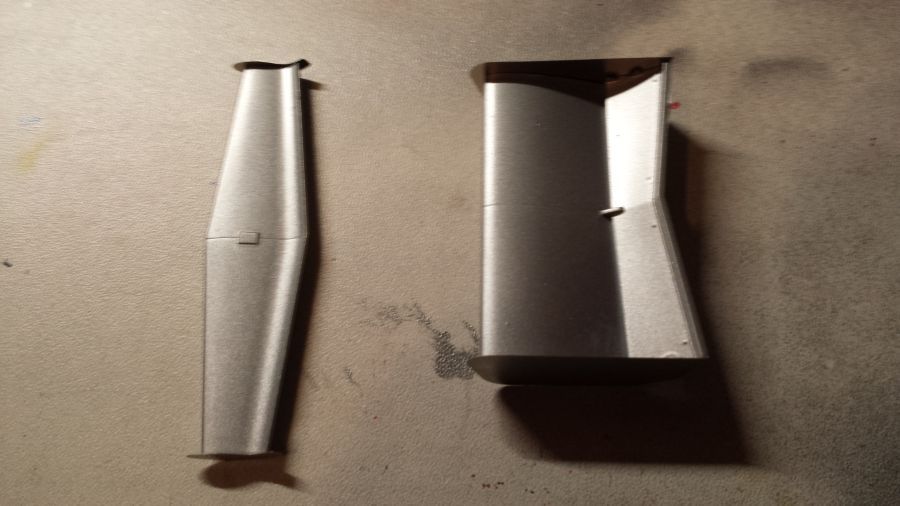 Klaar voor het aanbrengen van decals. Ik dacht dat de Tamiya 312T3 op sommige punten al tricky was, maar ik denk dat dit model wat meer van je vraagt.
Ready for decalling. I thought the Tamiya 312T3 was tricky on some decals, but i think this one is even more challenging.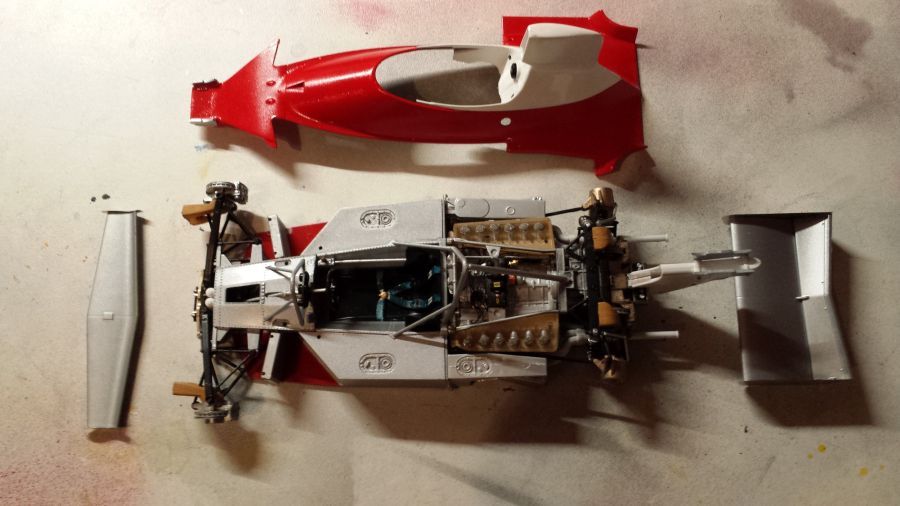 Net voordat ik de eerste decals wil aanbrengen, zie ik dat de wing end plates van de achtervleugel de verkeerde kleur hebben. Gelukkig kon ik ze nog demonteren en alsnog rood spuiten.
Just before putting on the first decals, i noticed the wing end plates have got the wrong color. Luckily I was able to disassemble them and spray them red after all.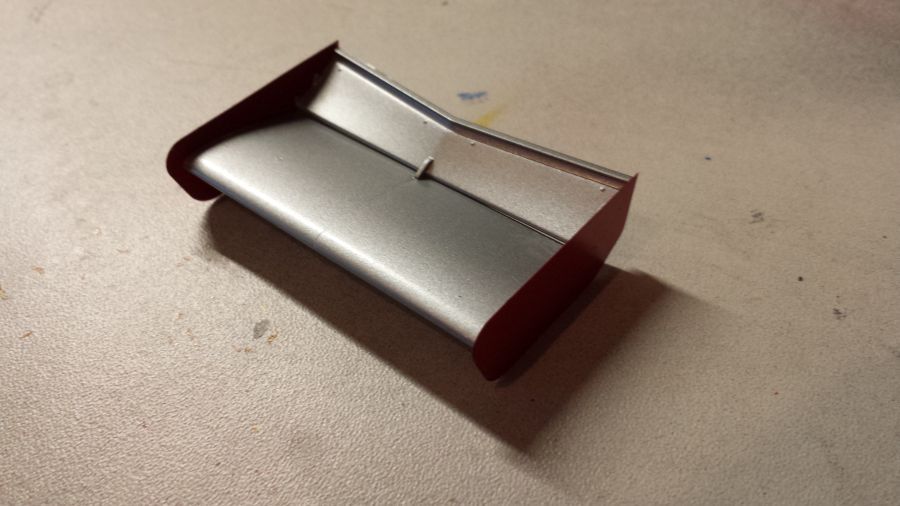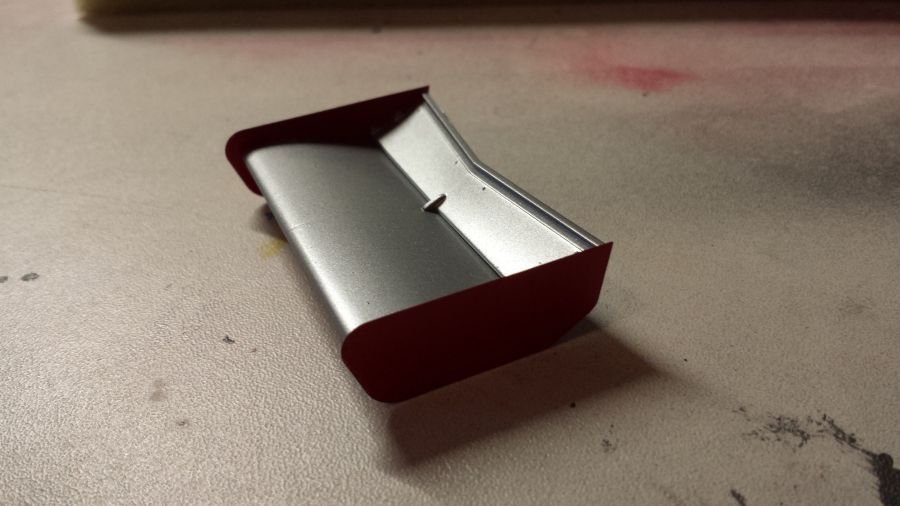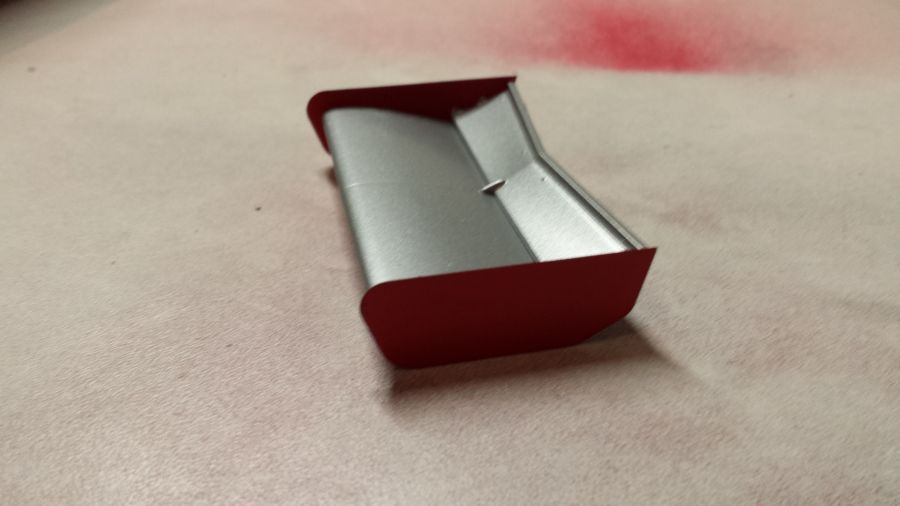 Na een dag hard werken met de decals is alles klaar voor dunne laag lak en assemblage.
After a day of hard work with decals, everything is now ready for spray of clear cote and final assembly.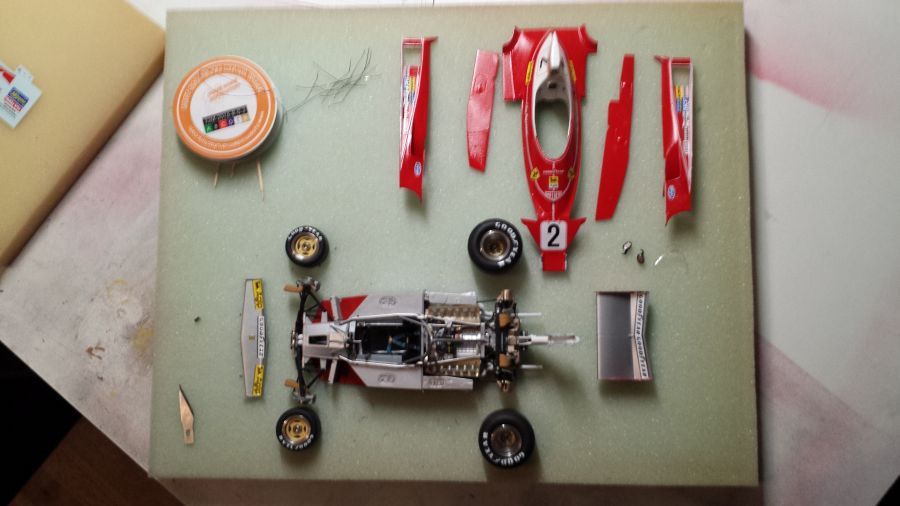 En weer 1 voor de verzameling.
And another one for the collection.