Hier volgt de beschrijving van de bouw van de Orange House kit nr. 2033. Het betreft de Ensign MN175 zoals deze in 1975 werd gereden door de Nederlandse coureur Roelof Wundering tijdens de GP van USA. De naam op de doos is niet correct,  het is de MN175 (Mo Nunn). Hieronder de onderdelen van de kit. Veel is slordig afgewerkt. Veel werk dus. En problemen.
Below the description of the built of the Orange House kit no. 2033. It is the Ensign MN175 as driven in 1975 by the Dutch driver Roelof Wunderink during the GP of the USA. The name on the box is not correct, it is the MN175 (Mo Nunn). Below the parts of the kit. The finish of many parts is sloppy. A big job, i guess. And problems ahead.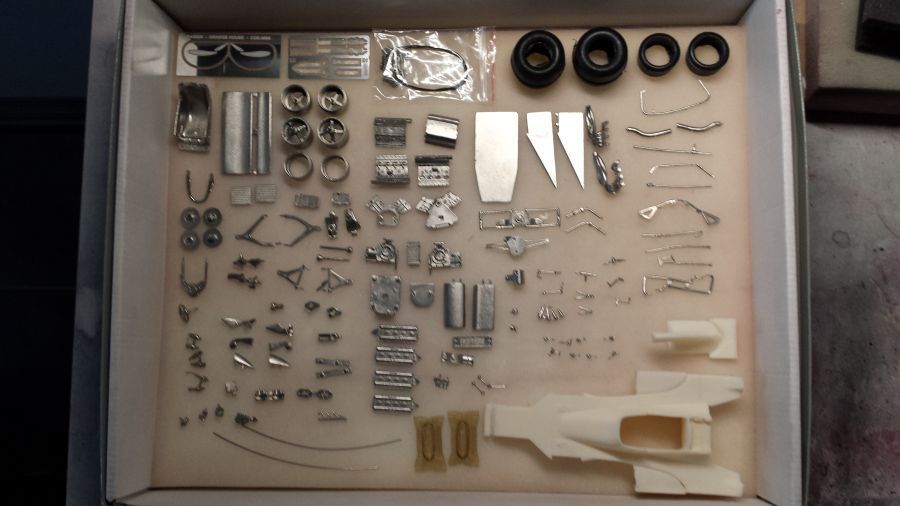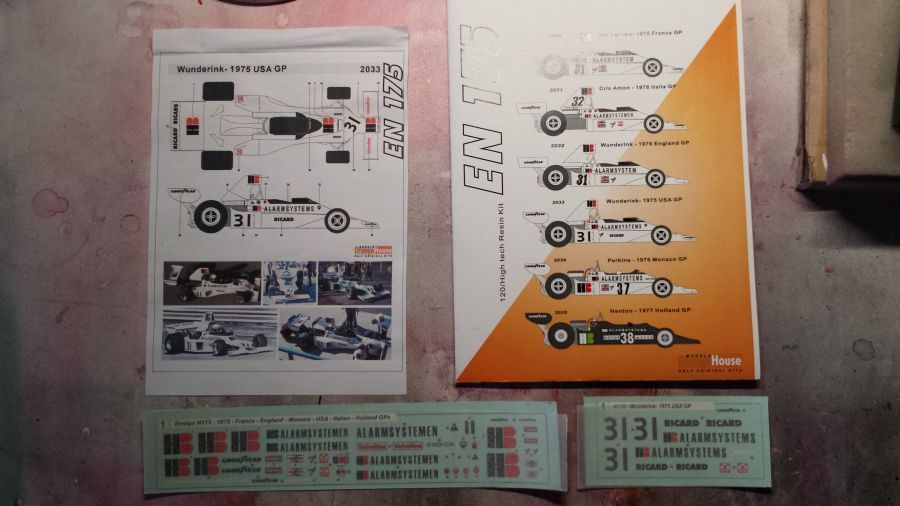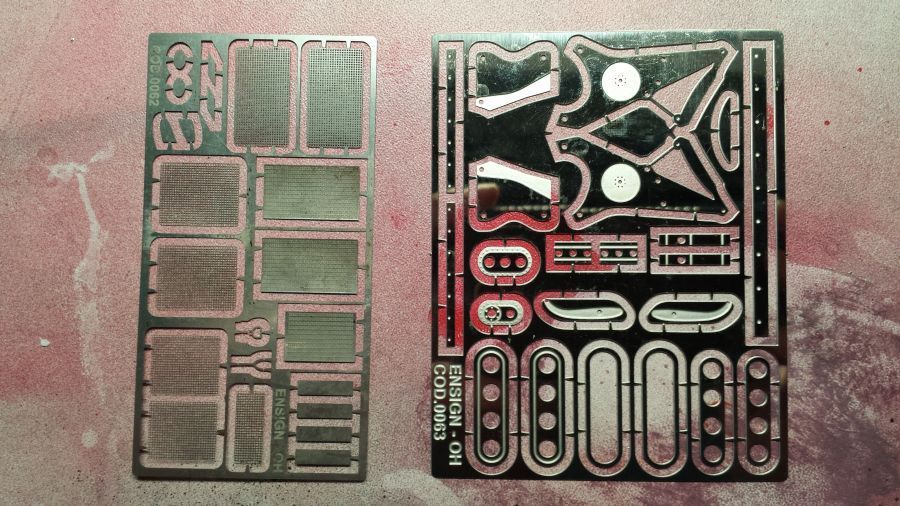 Hier kun je zien hoe sommige onderdelen zijn afgewerkt.
Here you are able to see how rough some parts are.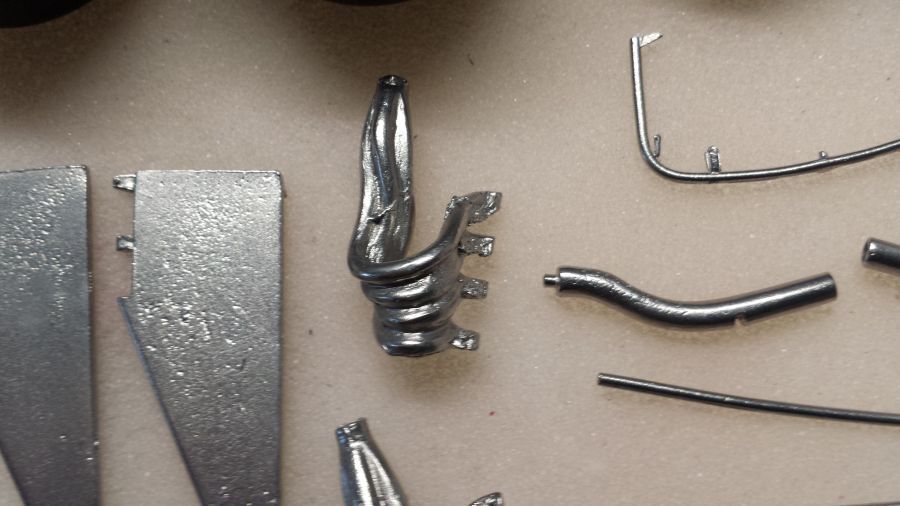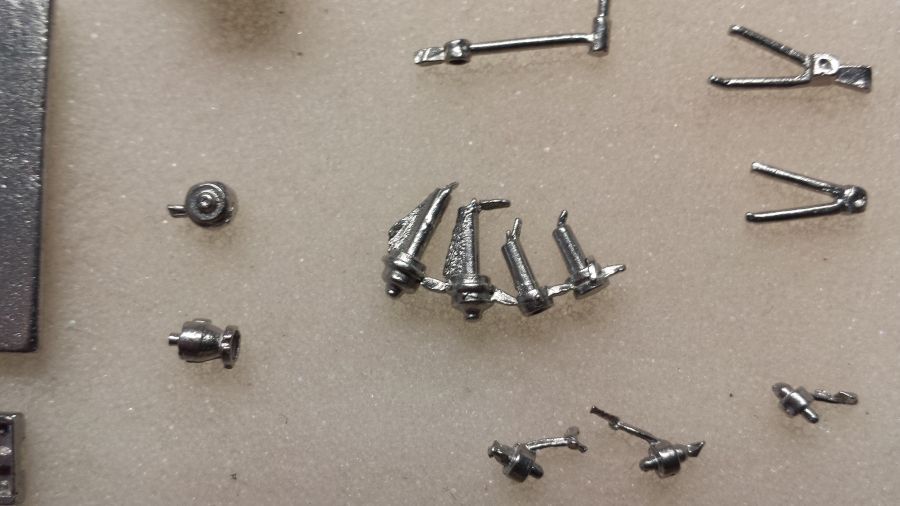 Het samenvoegen van deze 6 delen duurde al meer dan 1 uur. Het past allemaal slecht.
Connecting these 6 parts took more than an hour. Everything has a poor fit.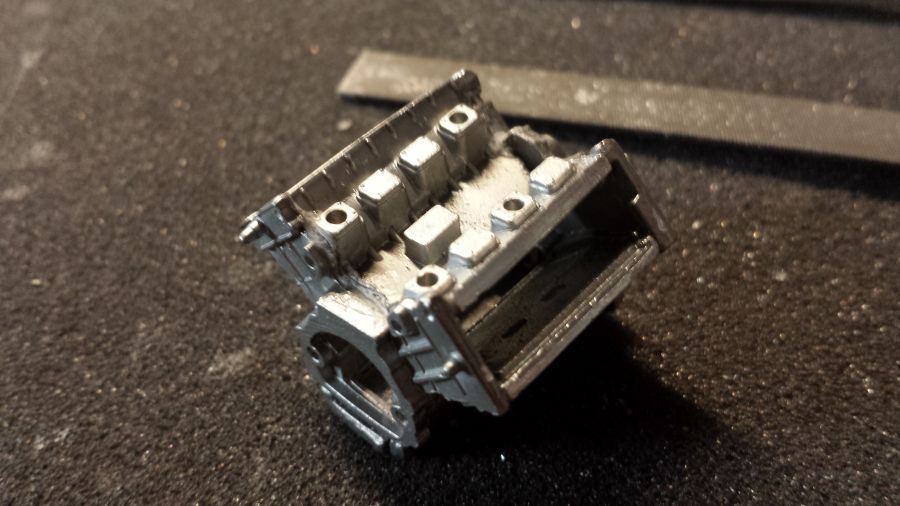 Na een paar uurtjes werk.
After a couple of hours working.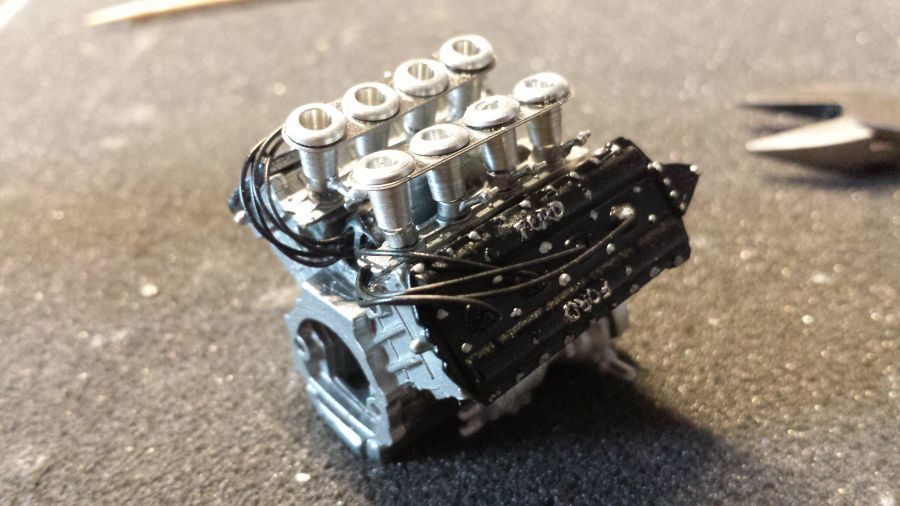 Een fout in de tekening of een fout in een onderdeel? De bodemplaat van de versnellingsbak past in ieder geval niet op de wielophanging op de manier zoals het getekend is. Ik ga dit deel andersom monteren, anders komen de veren voor de punten waar de aandrijfas moet worden gemonteerd.
A failure in the instructions or a failure in a metal part? The bottom of the gearbox does not fit in the wheel suspension the way it is drawn in the instructions. I will mount this piece the other way around, otherwise the springs will be right in front of the part where the axle has to be mounted.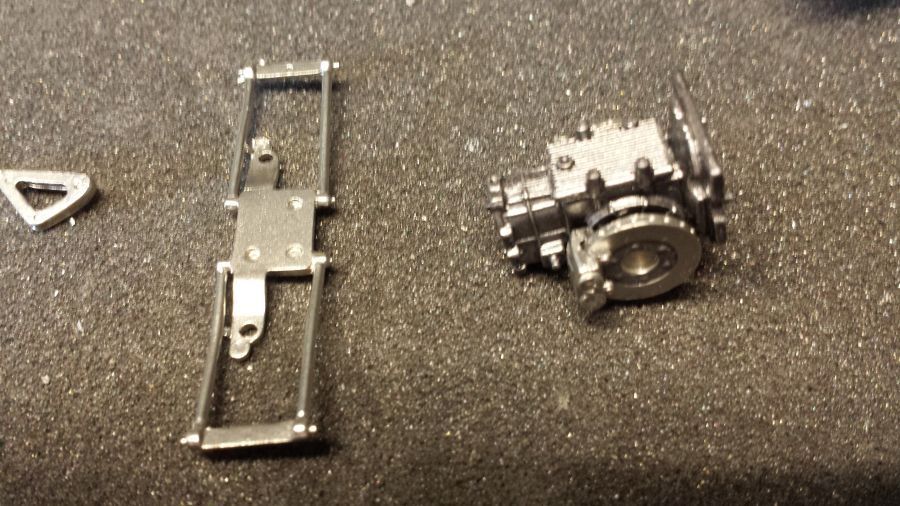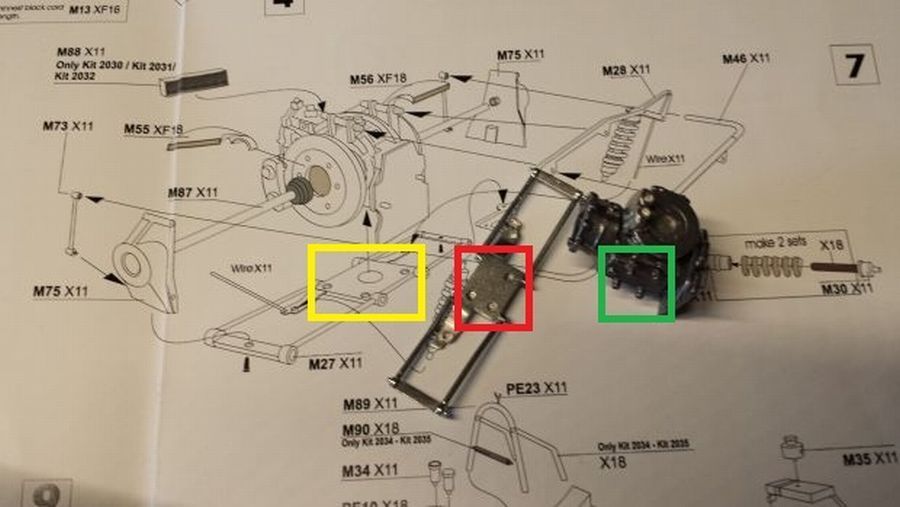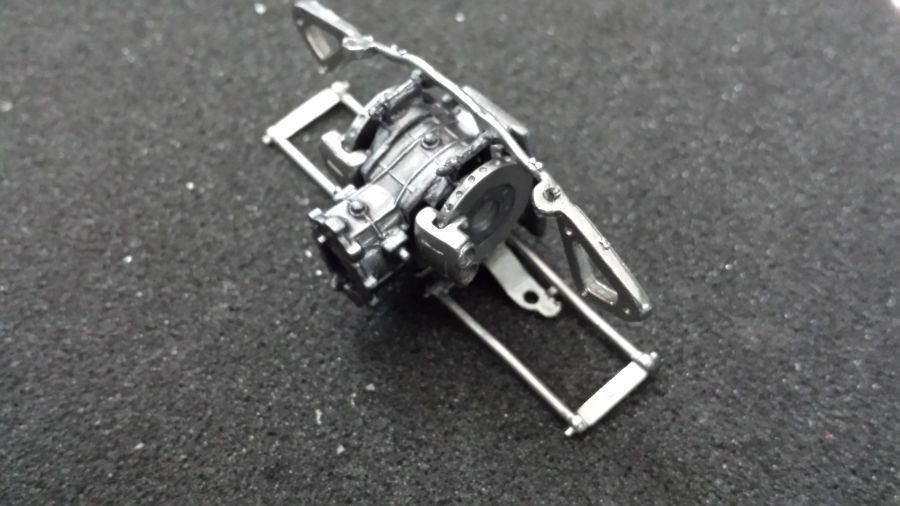 Het samenvoegen van de achterwielophanging. Wees voorzichtig met het boren van de gaatjes. Het wit metaal is zeer zacht. Voordat je het weet krult een stangetje zich helemaal om een boortje heen.
Combining the rear suspension. Be careful when drilling holes. The white metal is very soft. Before you know it, a small part is curling itself around a drill.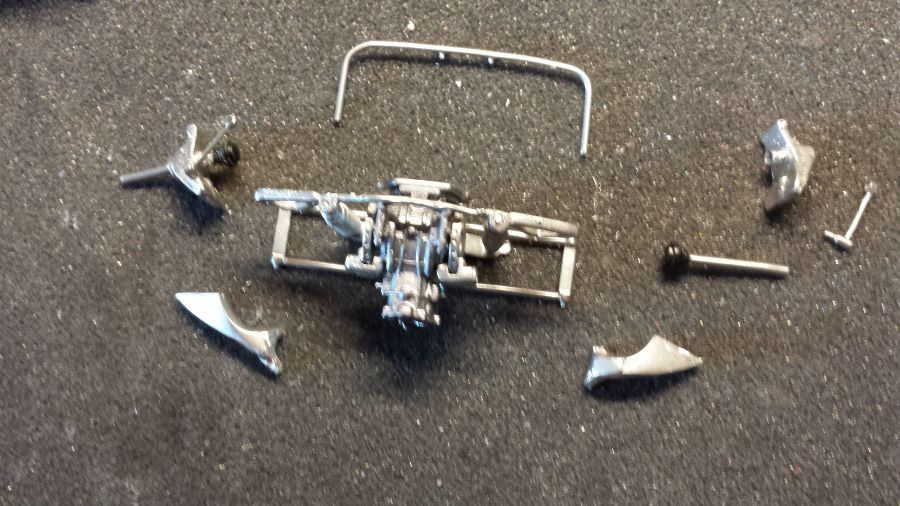 Volgende probleem. De steunen (rood) zijn veel te kort om op de gele plek te passen. Ik ga een stukje pijp op maat maken, de steunen halveren en de beide uiteinden van de steunen daarin bevestigen.
Next problem. The supports (red) are much too short to fit on the yellow points. I will cut a piece of pipe to length, cut the supports in half and attach these both to the pipe.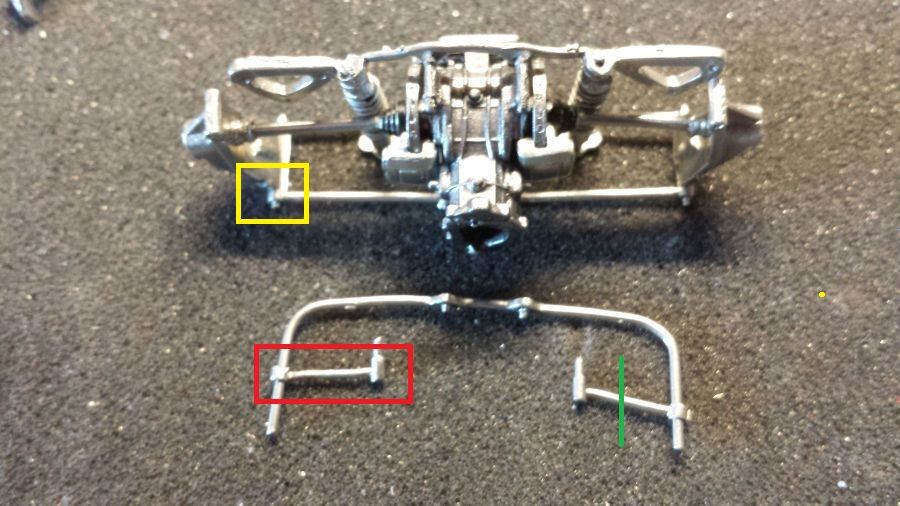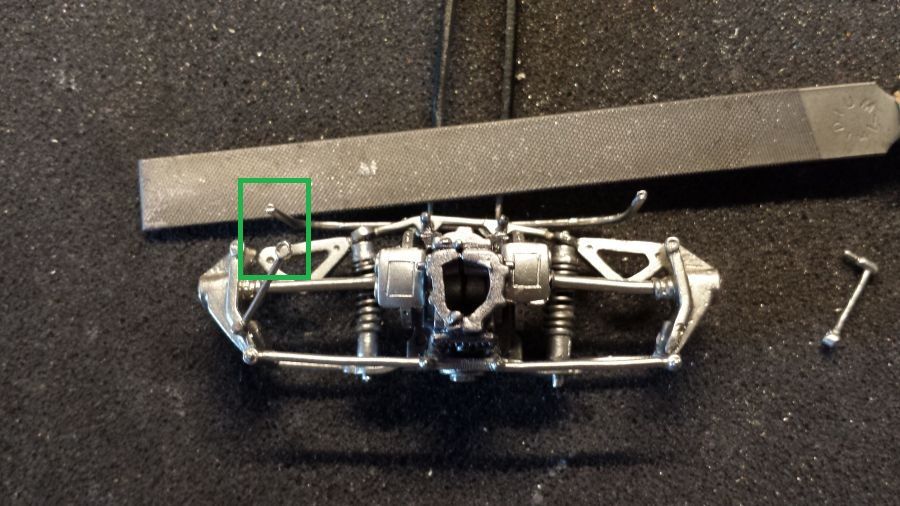 De nieuwe steunen. Ze zijn wat dikker, maar daar kan ik mee leven. Ze passen nu in elk geval.
The new supports. They are somewhat thicker, but i can live with that. Now they fit.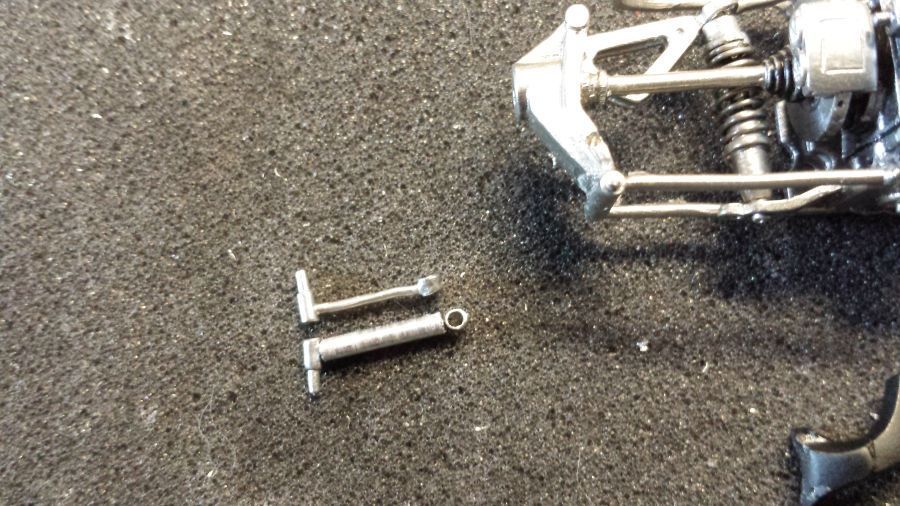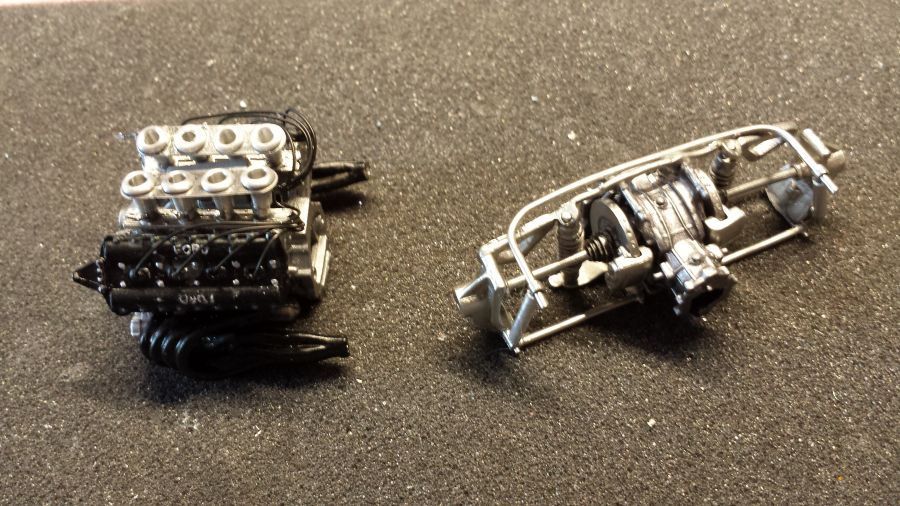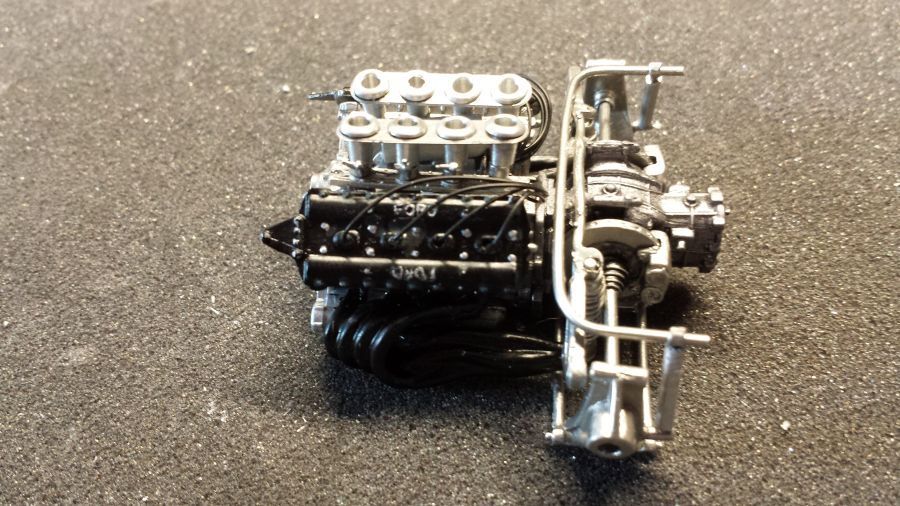 Even een test passen.
Doing a test fit.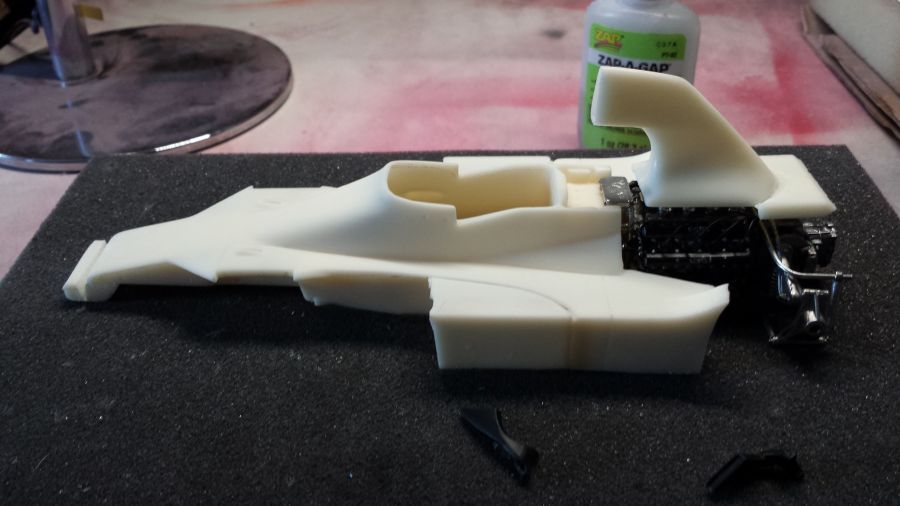 Nu wat stukken van de body verwijderen, plamuren, schuren etc. Vervolgens wit gespoten. Ik heb Tamiya Pure White TS26 gebruikt. Wanneer ik foto's zie met toeschouwers bij de wagen, komt het wit van de wagen overeen met het overhemd van toeschouwers. Dit lijkt me dan ook een betere keuze dan Tamiya Racing White TS-7 wat meer gebroken wit is.
Now some cutting on the bodywork, priming, sanding etc. And sprayed white. I used Tamiya Pure White TS26. When i see pictures with spectators around the car, the white of the car matches the shirts of the spectators. Therefor i think this is preferred above Tamiya Racing White TS-7 which is more of an off white color.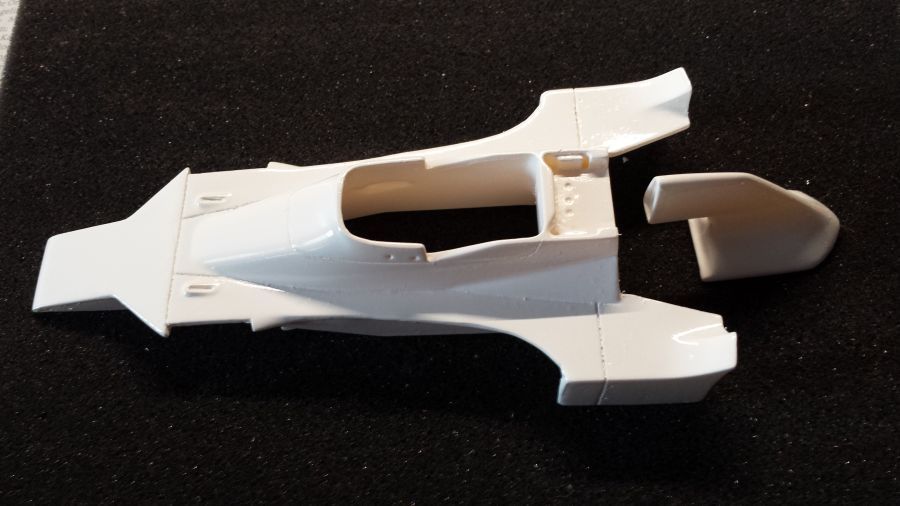 Het zwart is een beetje onder de afplaktape doorgelopen, dus nu het zwart afgeplakt en normaals wit spuiten.
Had some bleeding of the black under the masking tape, so now masked the black and spraying white again.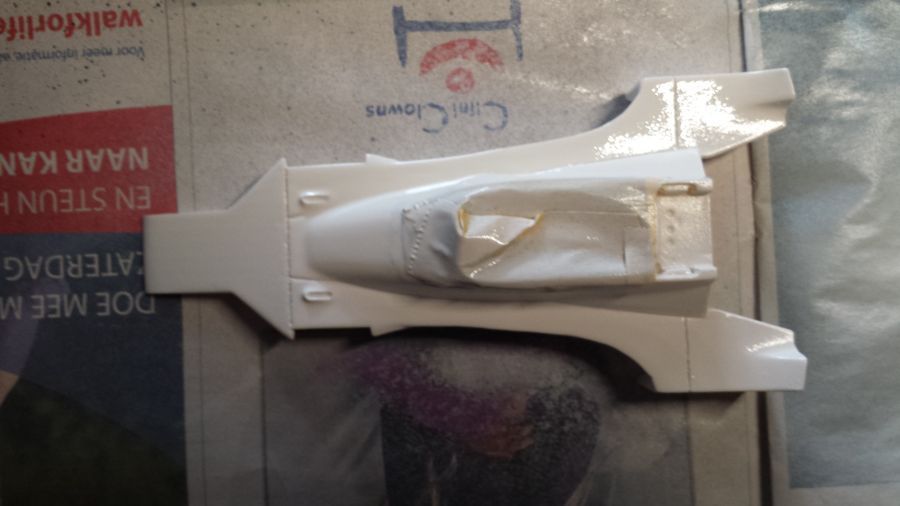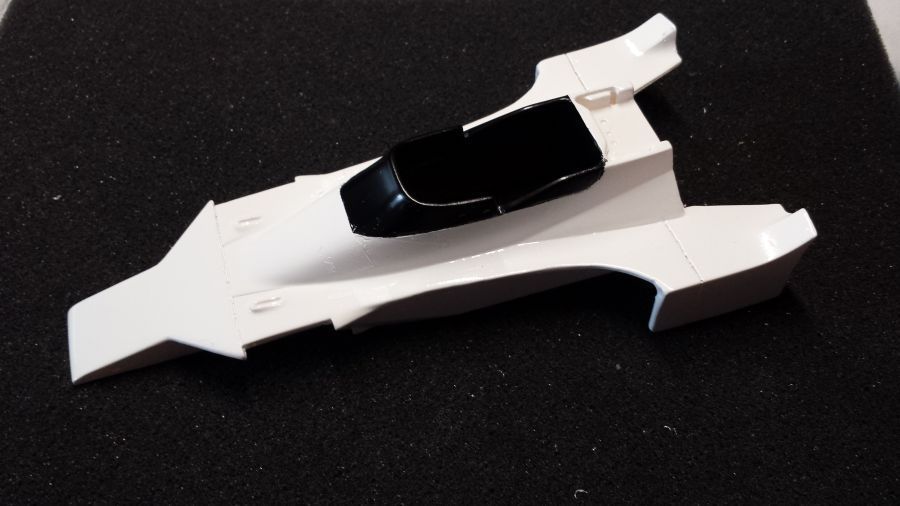 Voor het samenvoegen van de achtervleugel heb ik gaatjes in de zijkanten geboord. Met pinnetjes ga ik de  eindplaten vastzetten. Daarma in de primer en wit spuiten.
For combining the rear wing i have drilled some holes at the sides. With the useof  rivets i will attach the end plates. Then spray primer and white paint.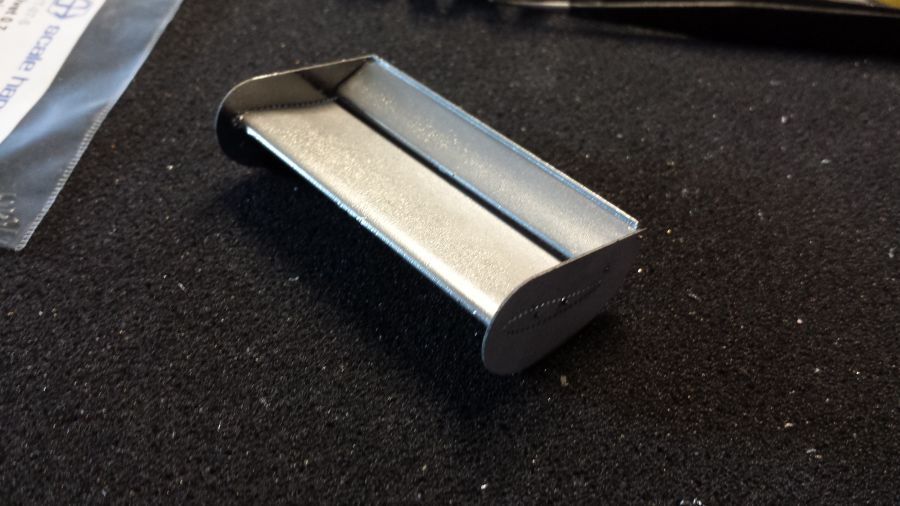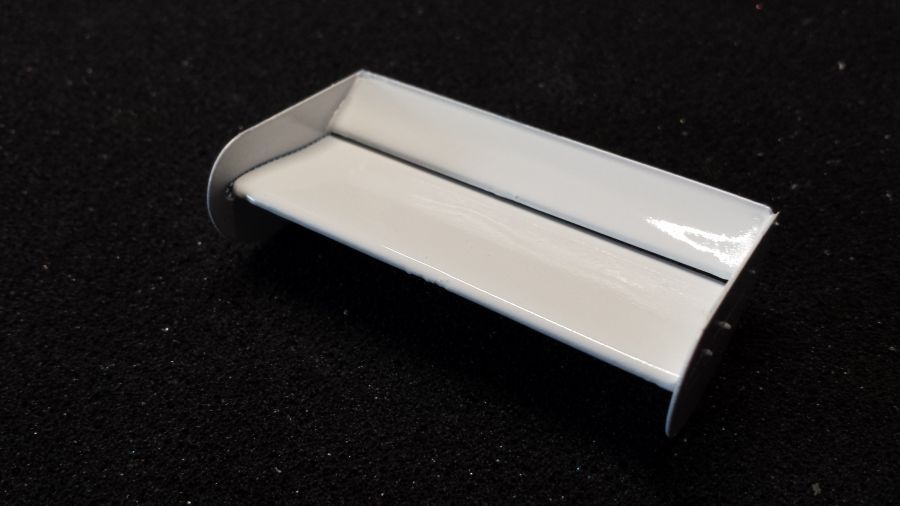 Nu door met de decals.
Now starting with the decals.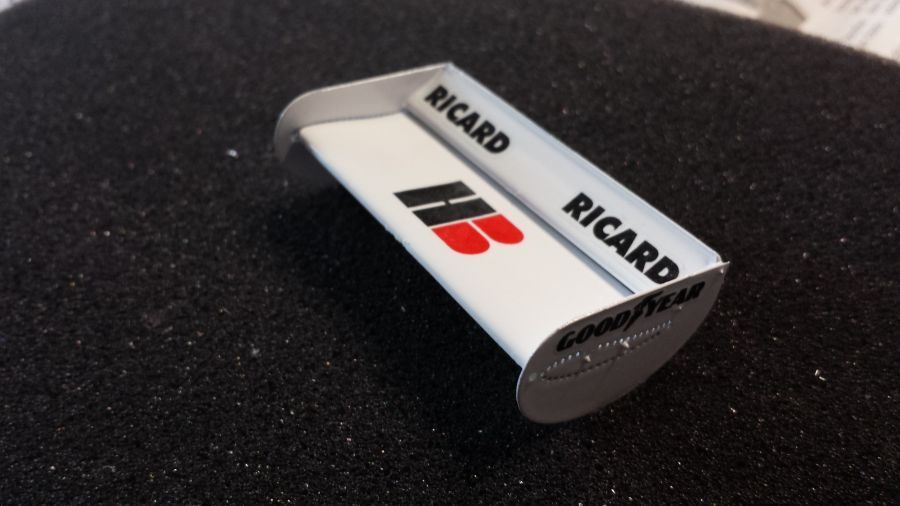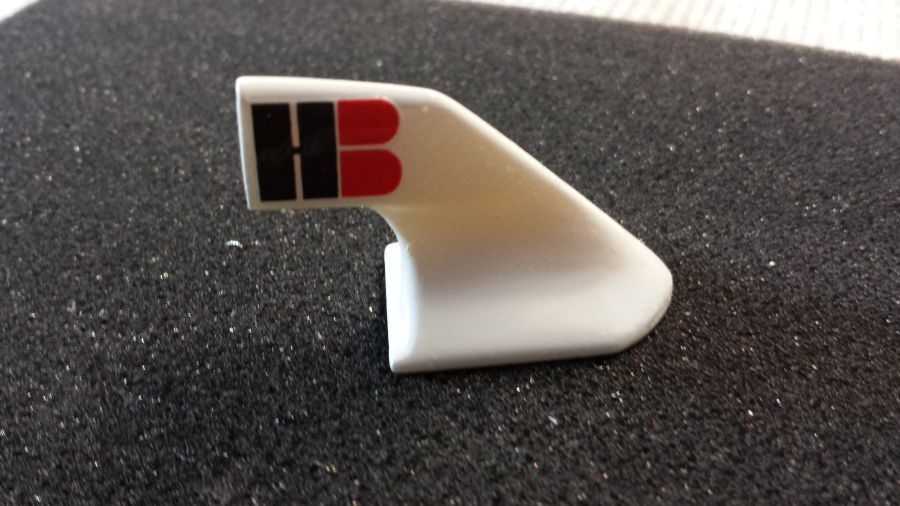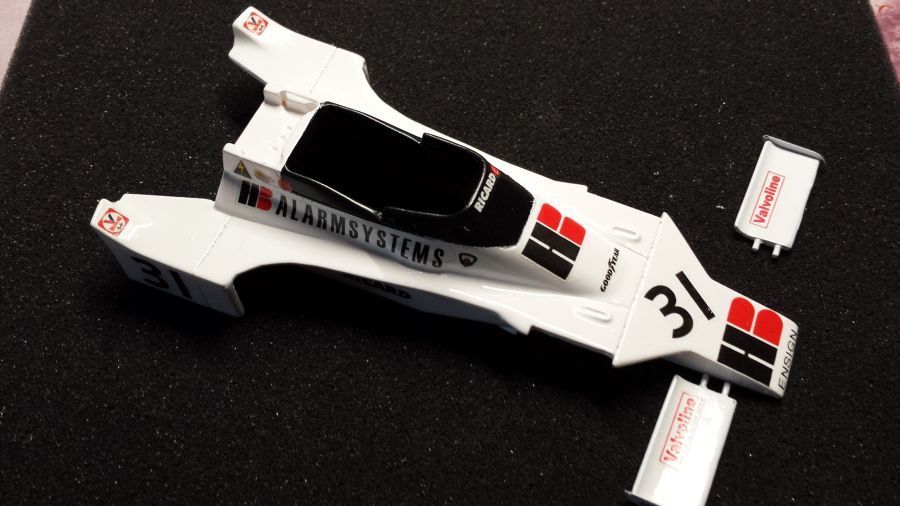 Na een paar lagen glanslak.
After a few layers of clear cote.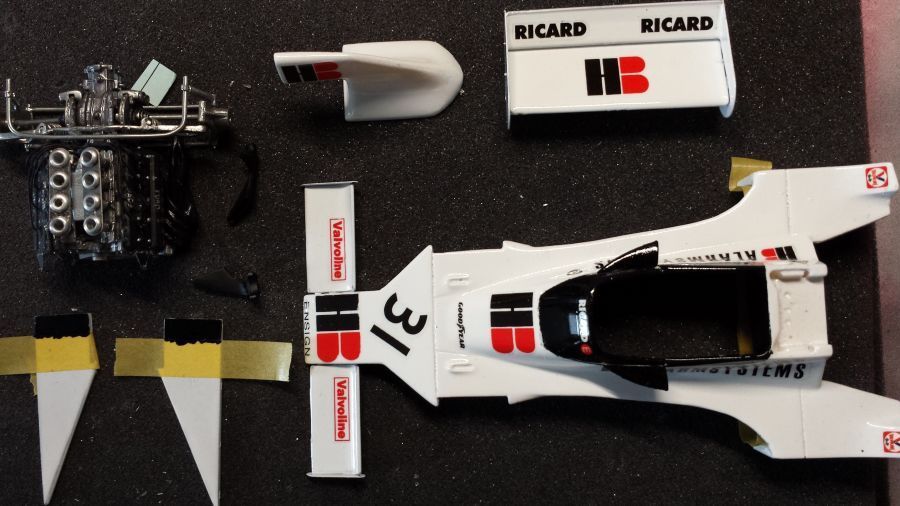 Een paar onderdelen toegevoegd zoals de roll bar, koeling etc.
Added a few parts like roll bar, cooling etc.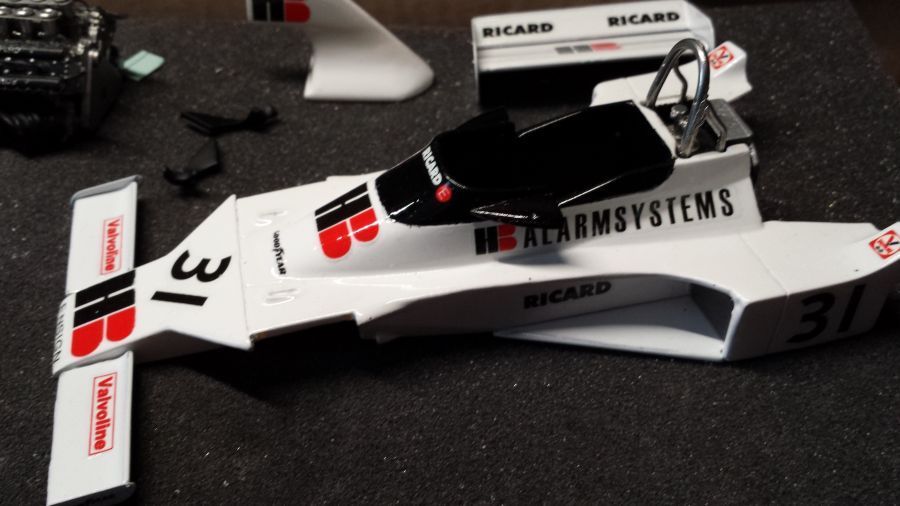 Nu verder met de stoel.
Now going on with the seat.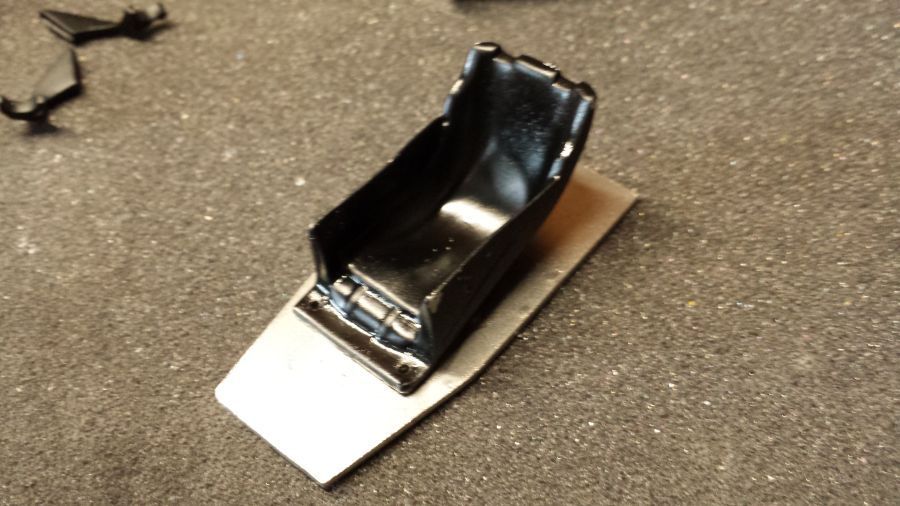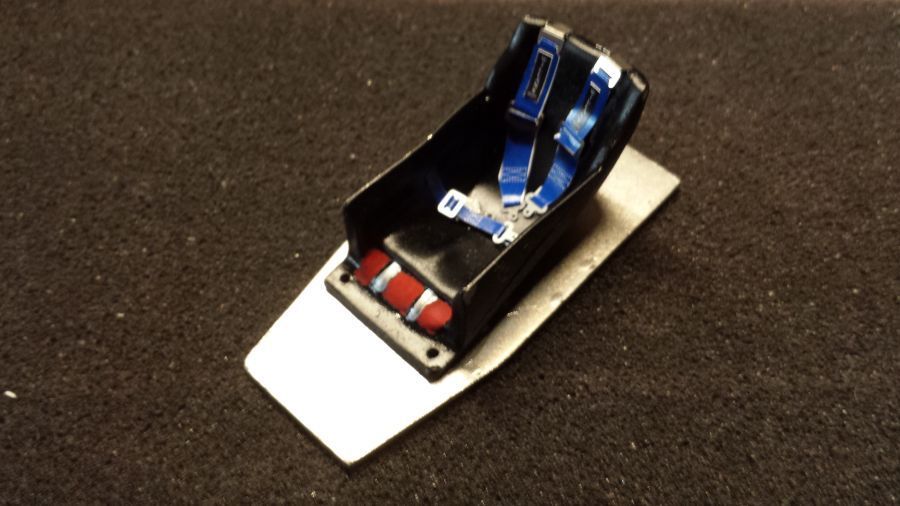 En de voorwielophanging.
And the front wheel suspension.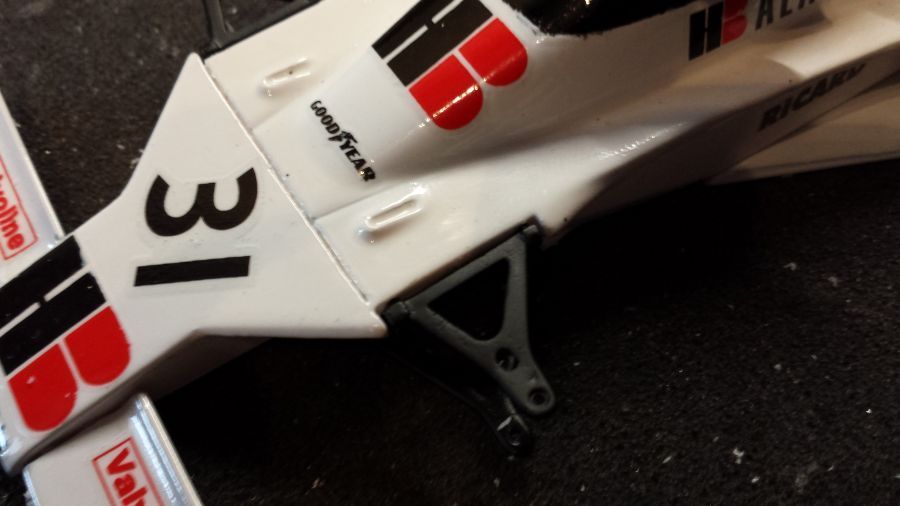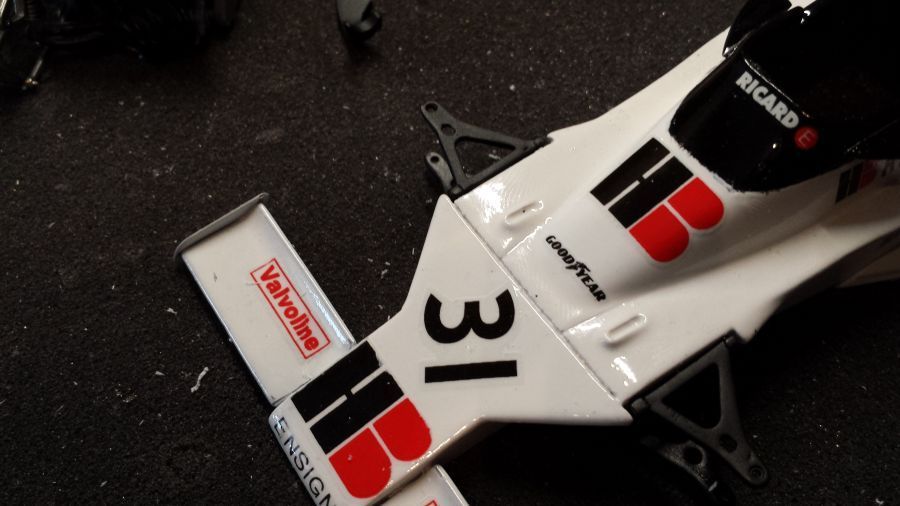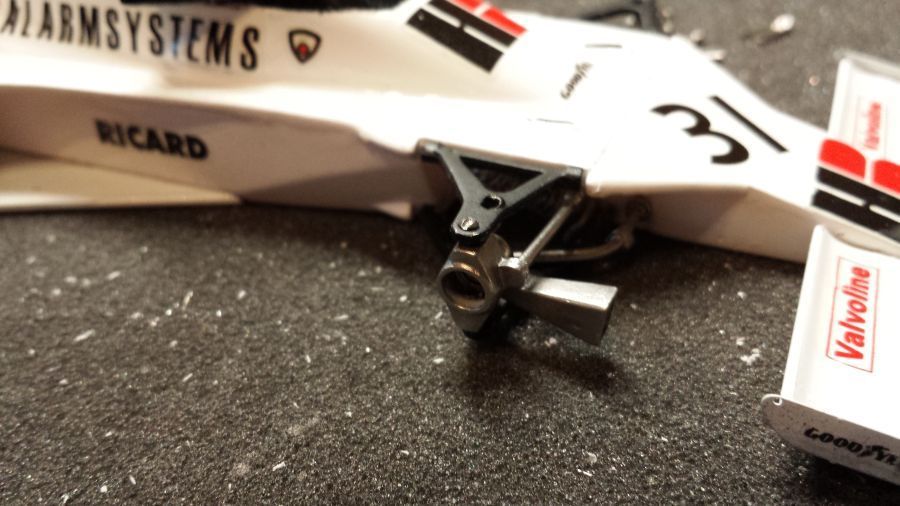 Het monteren van de steunen voor de achtervleugel.
The assembly of the rear wing supports.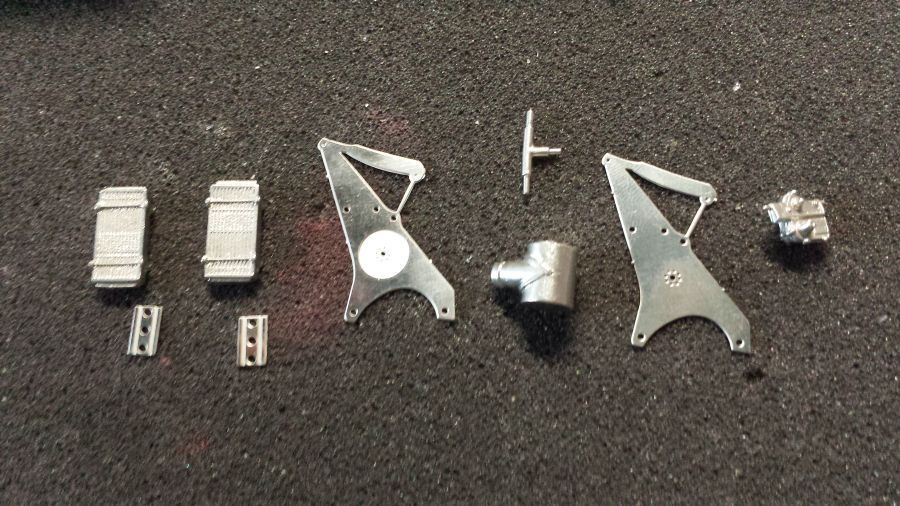 Weer een kwestie van slecht passen. De bevestigingspunten zitten dichter bij elkaar dan de gaatjes van het etched deel waar ze in moeten vallen.
Poor fit again. The points to attach the wing support are closer to each other than the holes of the etched part where they should fit in.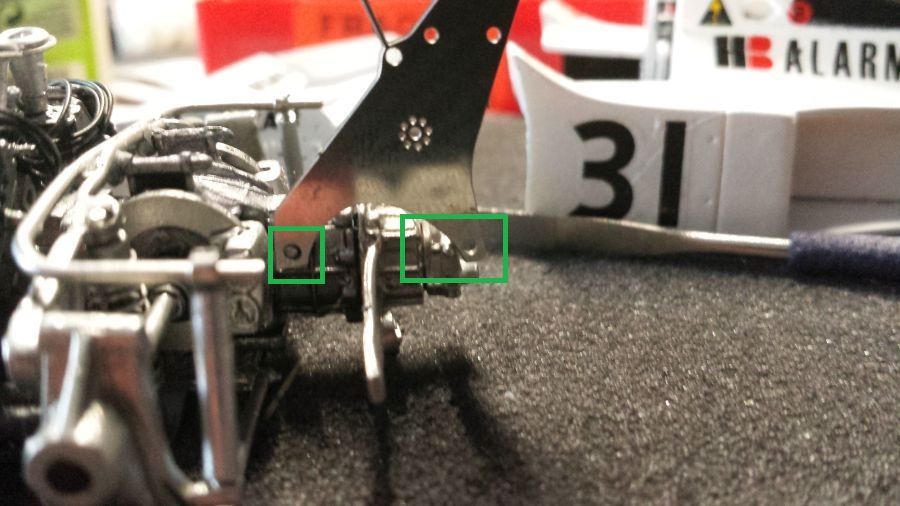 Ik ga daarom een plastic ringetje van ongeveer 2 mm tussen 2 onderdelen plaatsen, waardoor de steunen wat naar achteren gaan. Dit ringetje ga ik wat modeleren en verven.
I will glue this plastic ring of about 2 mm between 2 parts, so the supports will go backward a bit. I will shape this ring a bit and paint it.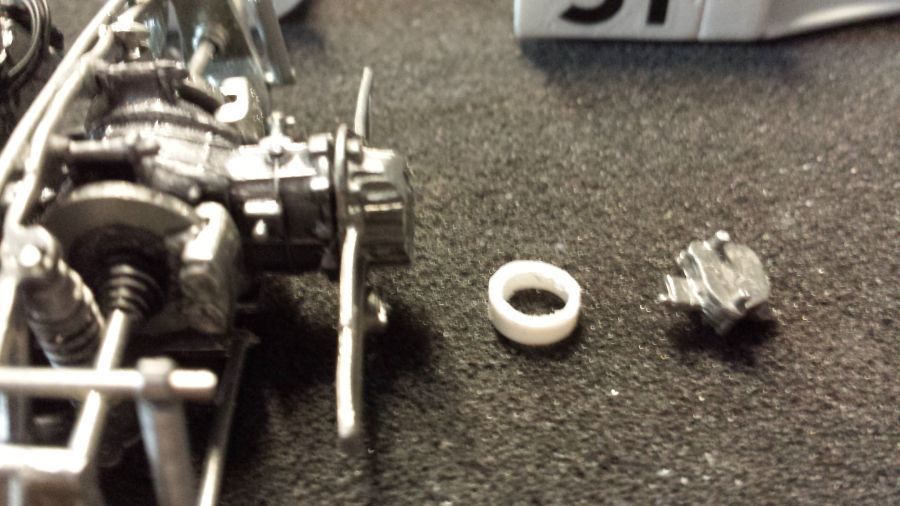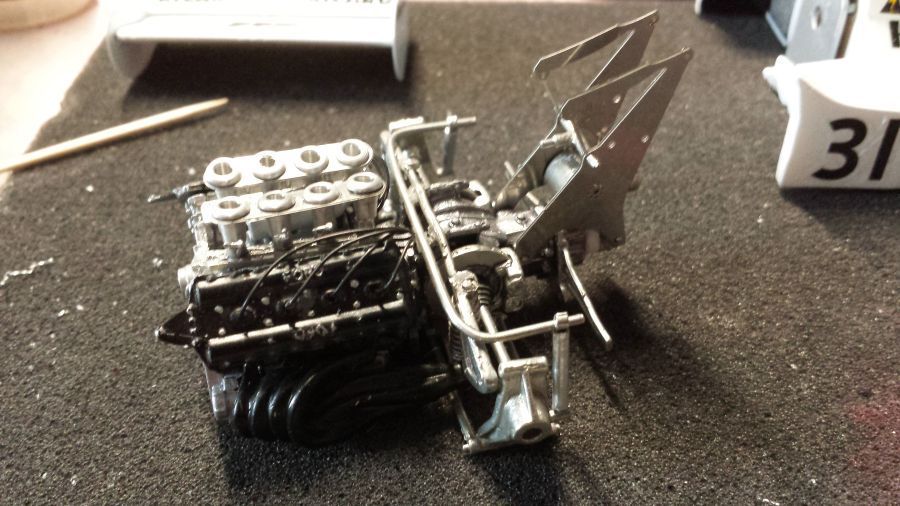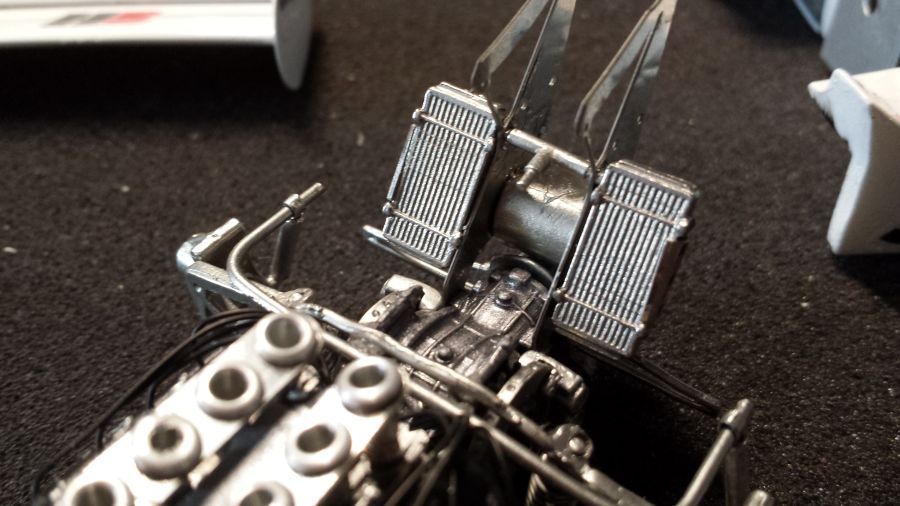 En weer wordt er een huwelijk gesloten.
And again there is a marriage.
De motor en de achtervleugel zijn gemonteerd, samen met wat snelsluitingen. Nu de wielen.
The engine and the rear wing have been mounted, as well as some fasteners. Now the wheels.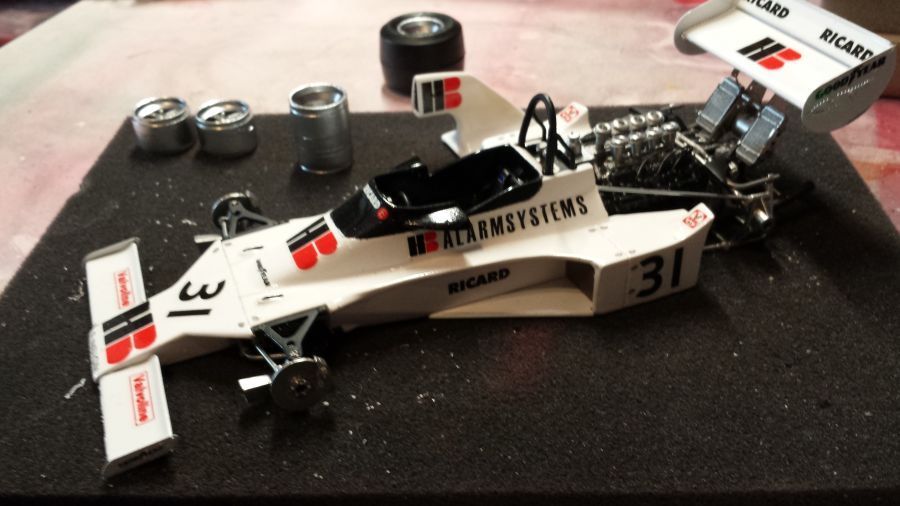 De banden moeten behandeld worden om de streep in het midden te verwijderen. Dit doe ik met een slijpsteen op de miniboor. De linkerband is behandeld, de rechterband moet nog.
The tires need to be dealt with to remove the line in the middle. I will do this with a grindstone on the mini drill. The left tire has been dealt with, the right tire still has to.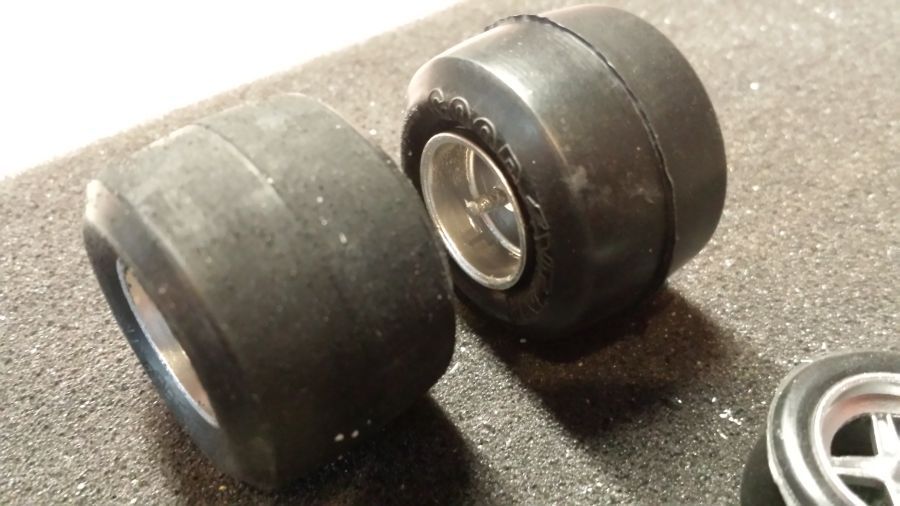 Hetzelfde geldt voor de voorbanden.
It's the same for the front tires.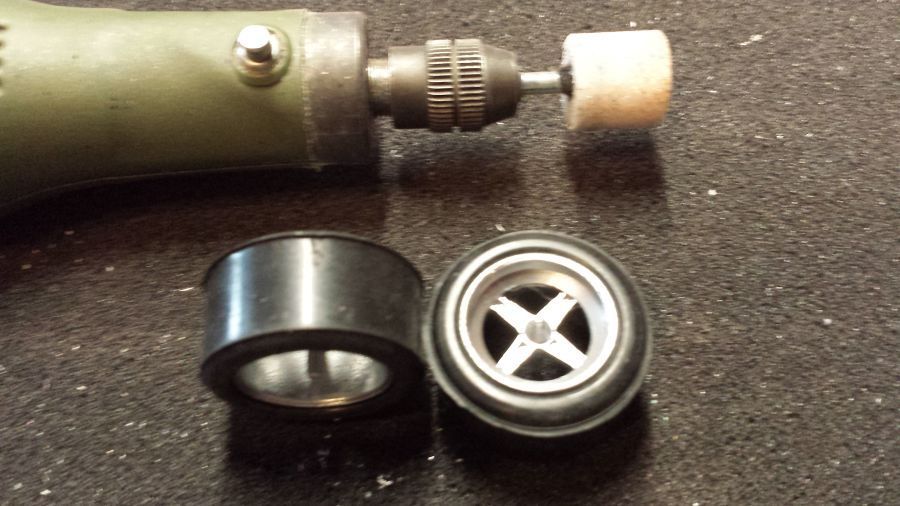 De banden zien er nu gebruikt uit. Ik wilde eerst de Goodyear logo schilderen, maar 1 achterband is een misdruk. Ik ga daarom maar decals aanbrengen. Een andere optie is de opdruk weg te slijpen en het logo te spuiten met een template. Dit is dichter bij de werkelijkheid in deze F1-jaren.
The tires look used now. I wanted to paint the Goodyear logo, but 1 rear tire has a misprint. Therefor i think i will use decals. Another option is to delete the logo and spray it with the use of a template. This is more accurate for this F1-era.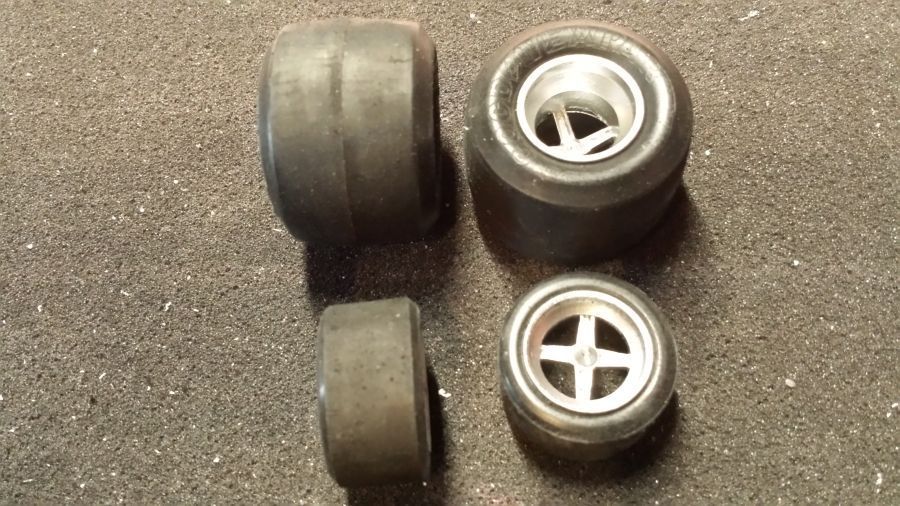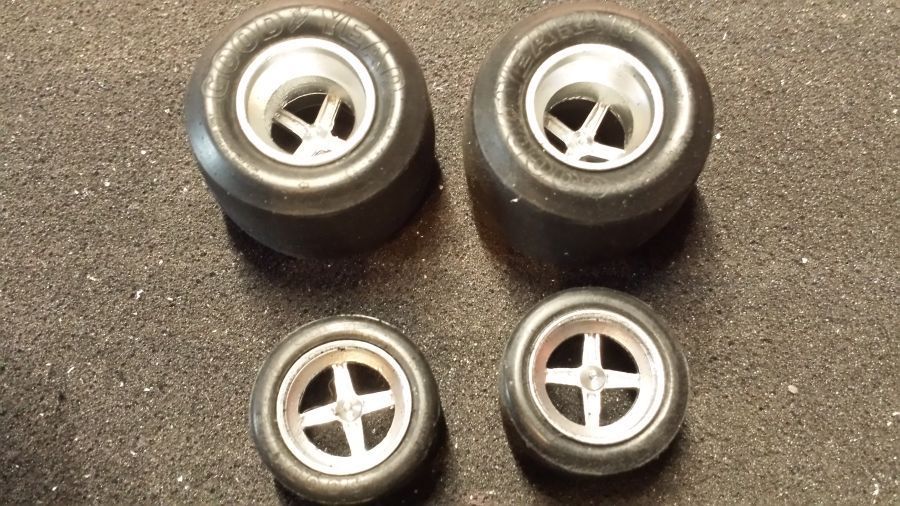 Nachtje geslapen en besloten het laatste te doen. Dus het logo eraf. Template erop, afplakken en airbrushen.
Slept over it and decided to do the last. So ditch the logo. Template on, masking and airbrush it.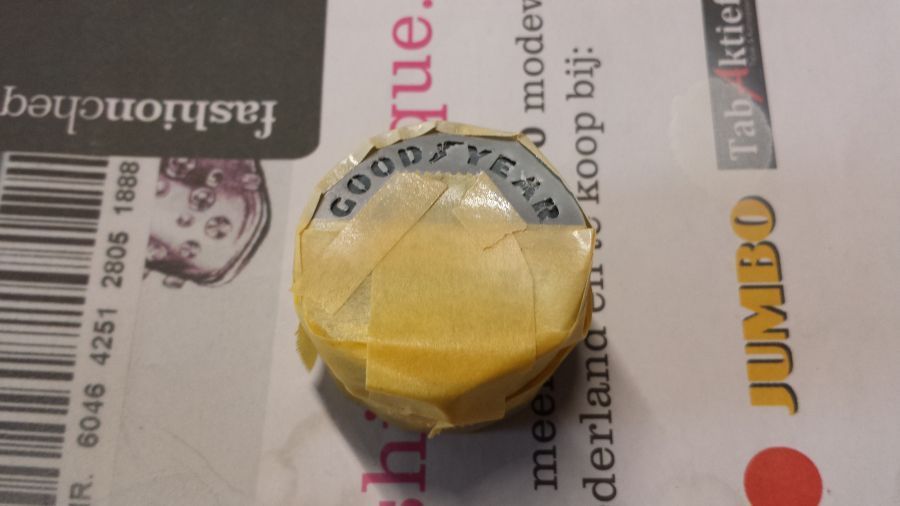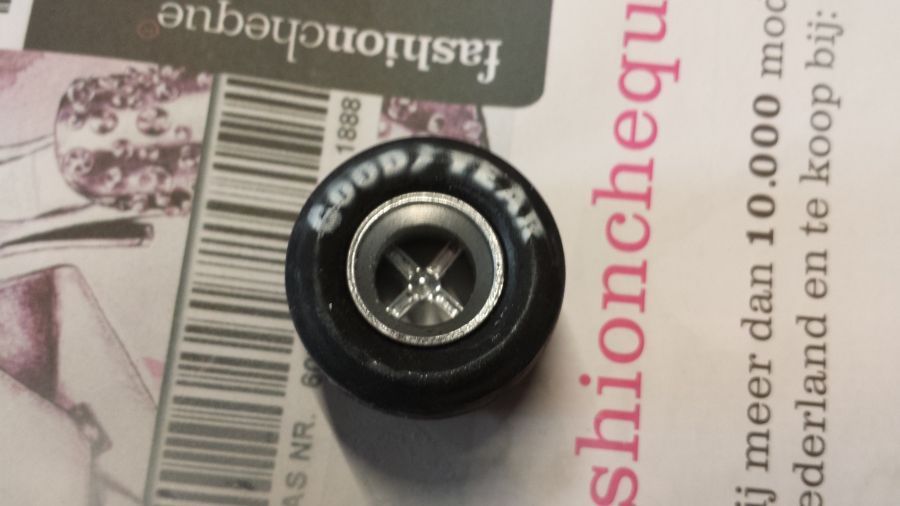 De verf had iets dikker mogen zijn, maar ik doe het ermee.
The paint should have been a bit thicker, but i'll do with it for now.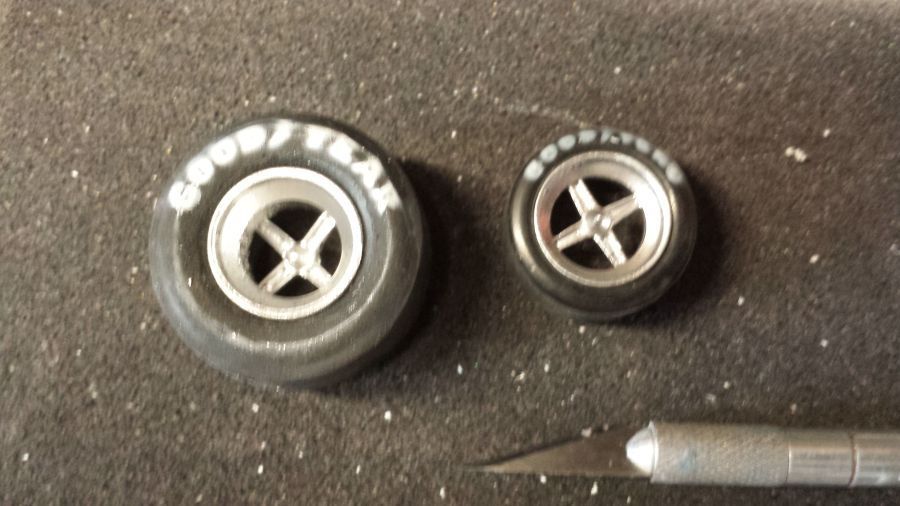 De velgen monteren en klaar.
Mounting the wheels and ready.