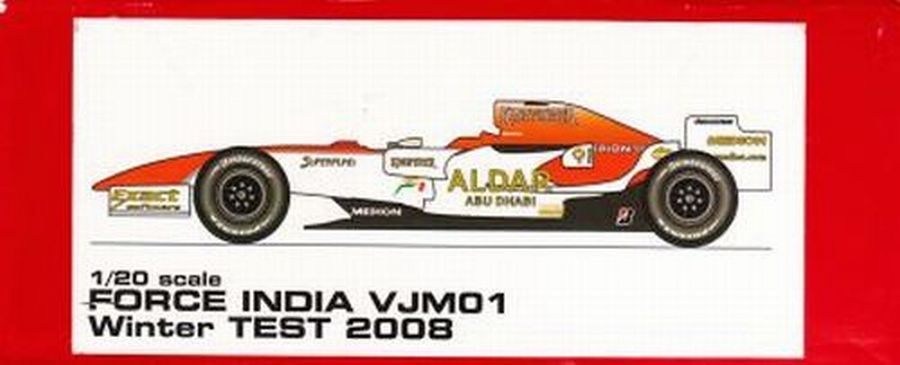 Ik ga een Force India VJM01 van Studio27 ombouwen naar een 2006 Spyker MF16. Het model zal niet 100% accuraat zijn, maar aangezien deze auto niet te koop is als kit, moet ik het er maar mee doen. Waarom de Force India? Niet mijn keuze, maar ik heb ooit conversie decals gekocht, waarbij men de VJM01 adviseerde als kit. Eerst even de bouwtekening bestuderen en kijken waar de aanpassingen moeten/kunnen plaatsvinden. En de kleurstelling van de onderdelen bepalen.
I will transform a Force India VJM01 from Studio27 into a 2006 Spyker MF16. The model will not be 100% accurate, but as it is not for sale as a kit, i will have to do with it. Why the Force India? Not my choice, but i have bought conversion decals and was advised to use the VJM01 as a kit. First i will have a look at the  instructions and see what changes have to be/can be made. And have a look at the color of the parts.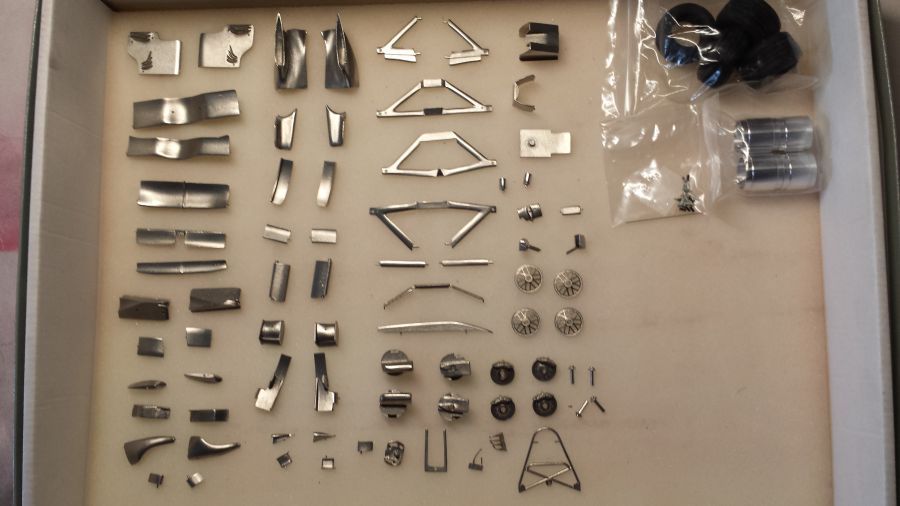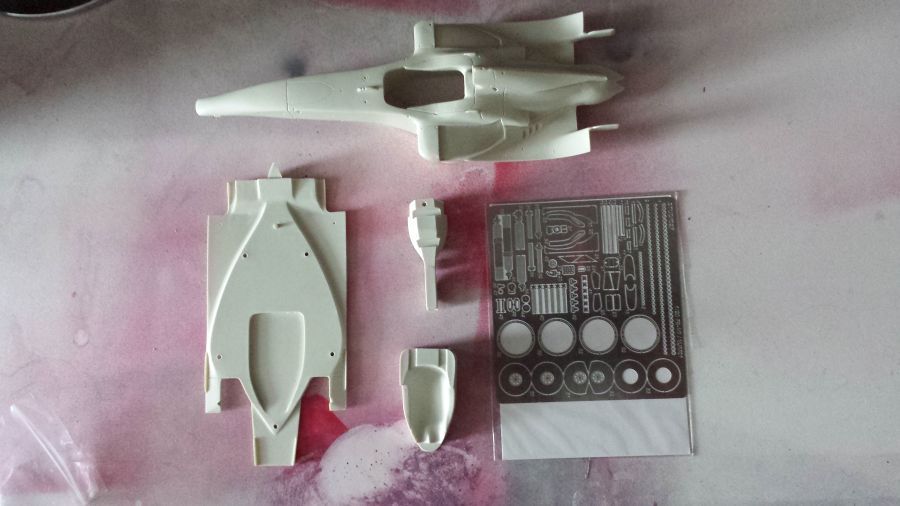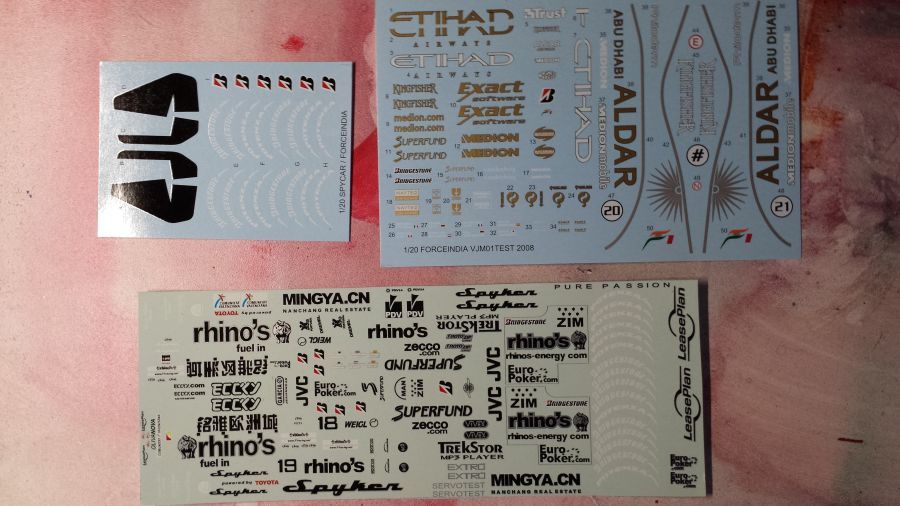 Van de end plates van de voorvleugel moet het rode deel worden verwijderd. Het groene deel ga ik ombuigen en vervolgens op maat maken.
From the end plates of the front wing the red part will be cut off. The green part will be bend and cut to size.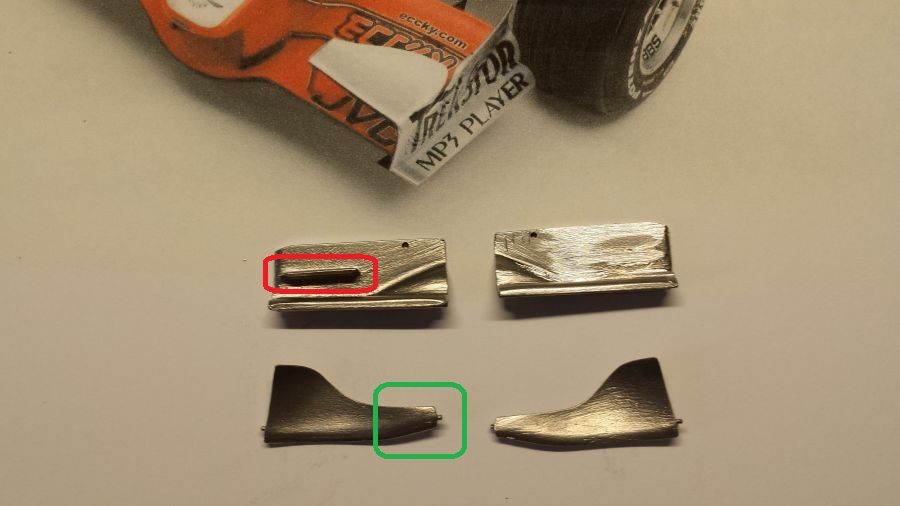 De voorvleugel van de Spyker bestaat uit 3 lagen. De kit van de Force India bevat er 2. Ik lijm een stuk strip van Evergreen op de bovenste laag om een 3e laag te simuleren.
The front wing of the Spyker has 3 layers. The kit of the Force India only provides 2. I will glue a  plastic strip from Evergreen on the top layer to simulate a 3rd layer.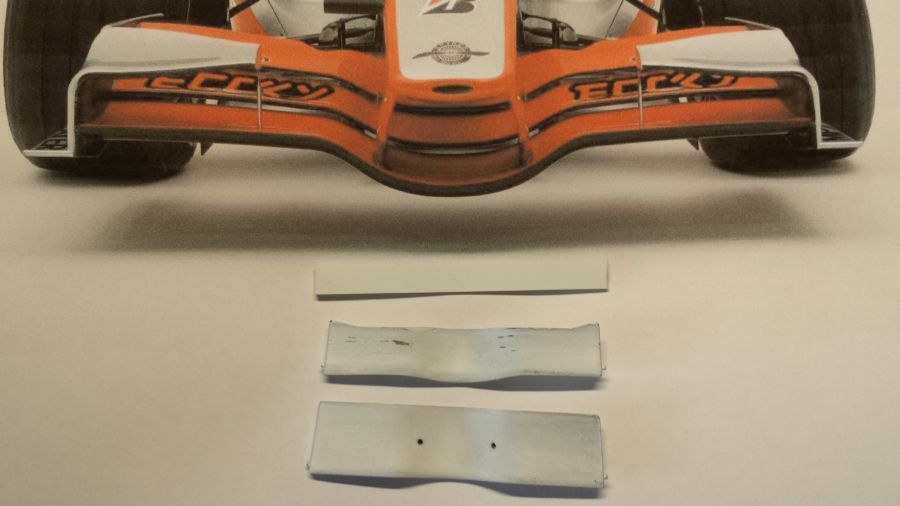 Onder het aangepaste bovenste deel van de voorvleugel (groen). Een nieuw gat boren in de eindplaat (paars). Een deel van een winglet wordt afgezaagd (rood) en neerwaarts omgebogen (blauw). Het resultaat ligt ernaast. Van het rode deel moet ook nog een stukje verwijderd, maar dat doe ik wanneer ik de vleugel in elkaar zet.
Below the adjusted upper part of the front wing (green). Drilling a new hole in the end plate (purple). A part of the winglet has been cut off (red) and bent downwards (blue). The result is next to it. From the red part also a part has to be cut off, but i will do this when i put the front wing together.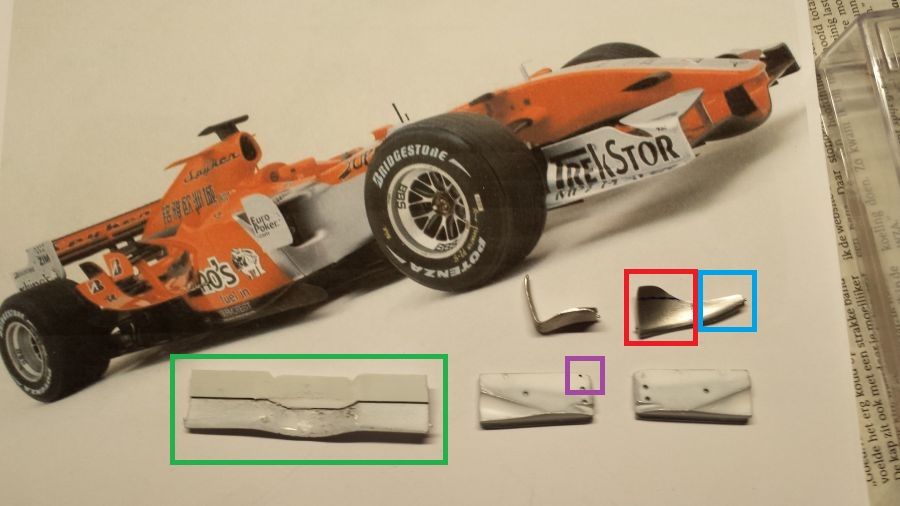 En een kleine insnijding in de end plate.
And a small incision in the end plate.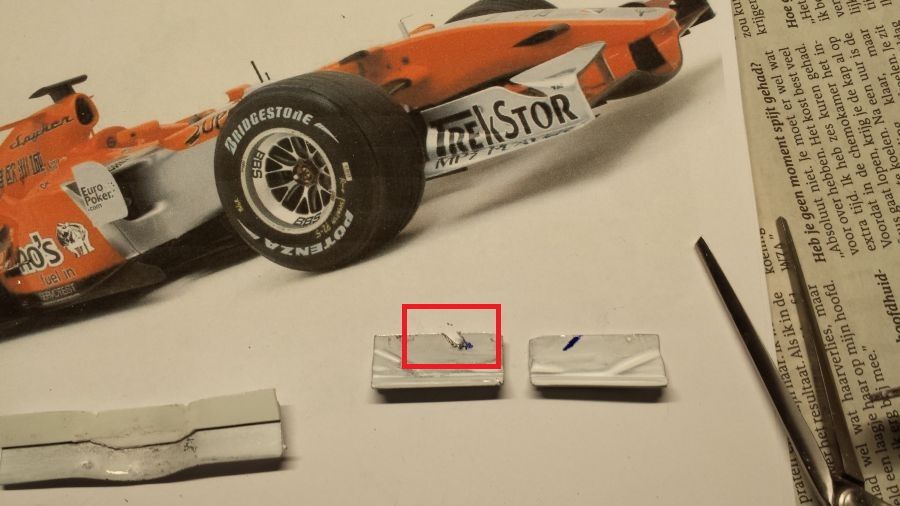 Ik wilde eerst voor het oranje en zilver de Spyker F8-VII verf van Zero-Paints gebruiken. Bij het proefspuiten blijkt dit een geheel verkeerde kleur voor deze wagen. Daarom gebruik ik Tamiya Orange TS-12 en Tamiya Bare Metal Silver AS-12. Omdat er geen oranje decals zijn (zoals bijv. bij een Arrows) hoef ik niet bang te zijn, dat een en ander niet met elkaar matcht. Onder de gespoten delen van de voor- en achtervleugel.
Originally i wanted to use Spyker F8-VII paint from Zero-Paints for painting the orange and silver. On testing i found out these colors are complete incorrect. Therefor i will use Tamiya Orange TS-12 and Tamiya Bare Metal Silver AS-12. As there are no orange decals (like e.g. on an Arrows) i don't  have to be affraid that colors will not match. Below the spray painted parts of the front and the rear wing.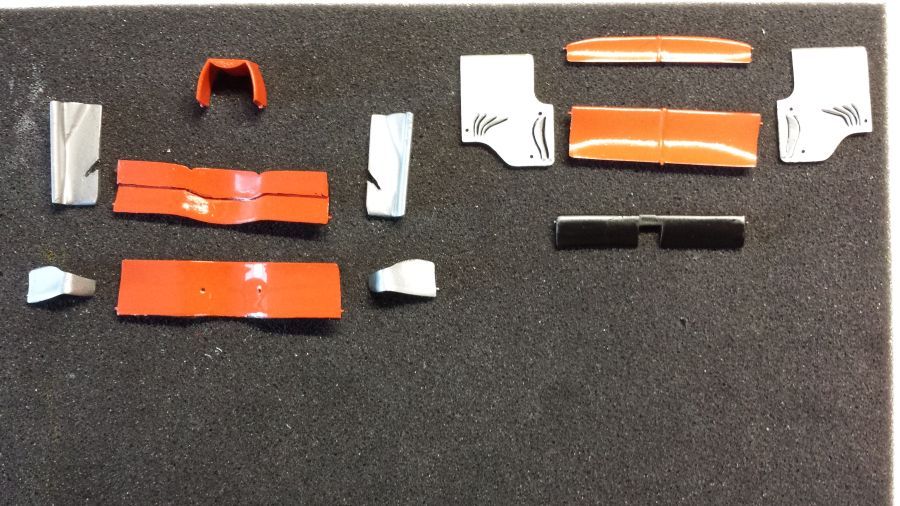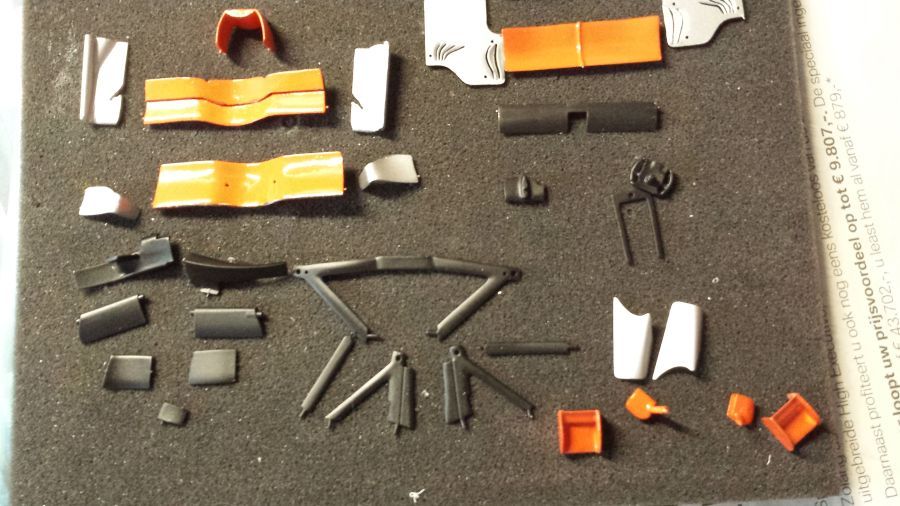 De onderdelen voor de achterwielophanging.
The parts for the rear suspension.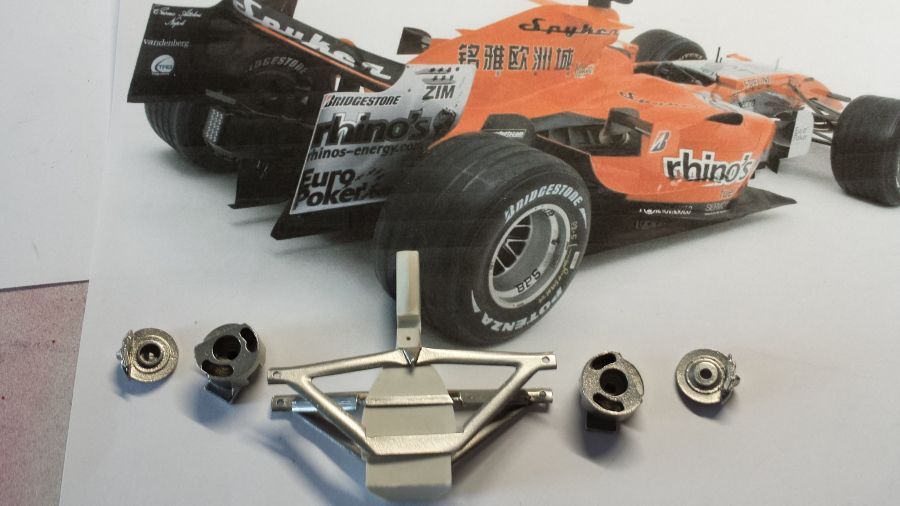 Geverfd met Tamiya Zijdeglans TS-29 en klaar. De remschijven zijn gespoten met Tamiya Light Gun Metal TS-42.
Painted with Tamiya Semi Gloss TS-29 and ready. The break discs have been sprayed with Tamiya Light Gun Metal TS-42.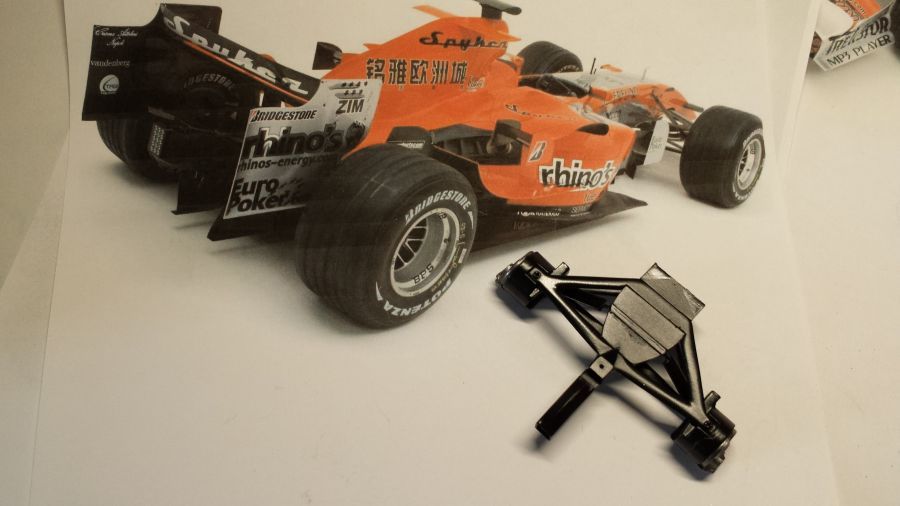 Een paar onderdelen zijn aan de bodem bevestigd, daarna gespoten met grondverf (Vallejo Black) en vervolgens met Tamiya Semi Gloss Black TS-29. De houten plank moet nog worden aangebracht.
A few parts have been mounted to the undertray, then sprayed with primer (Vallejo Black) and then with Tamiya Semi Gloss Black TS-29. The 'wooden' plank has still to be added.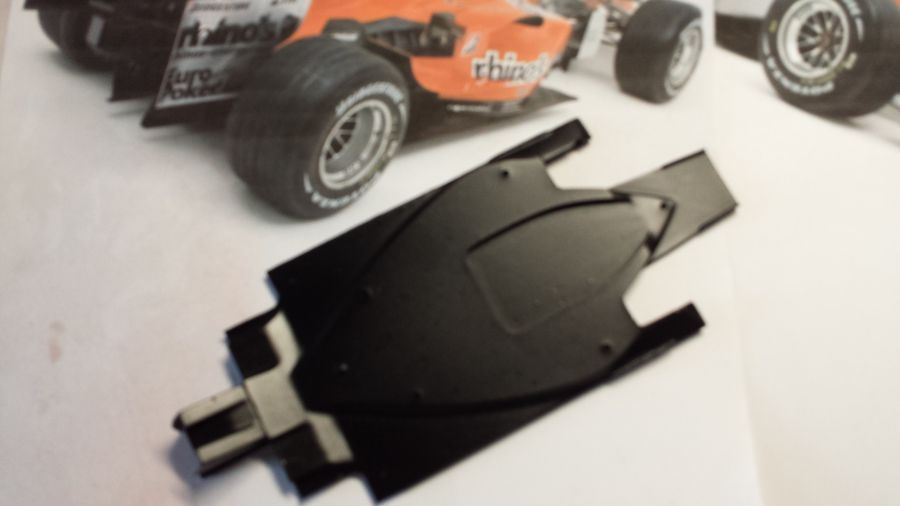 Enkele kleine onderdelen aan de body bevestigd, gegrond met witte autoprimer. Daarna gespoten met Tamiya Orange TS-12.
Some parts have been glued to the body work, spray painted with white car primer. Then sprayed with Tamiya Orange TS-12.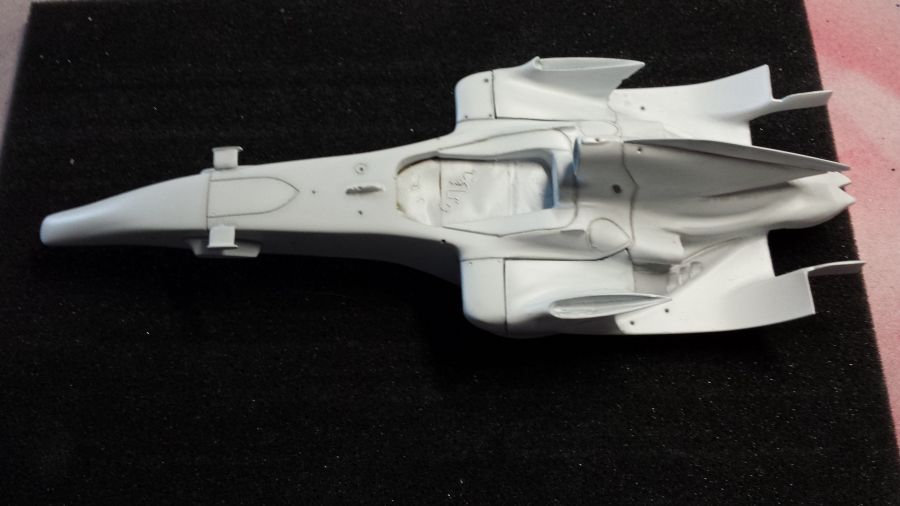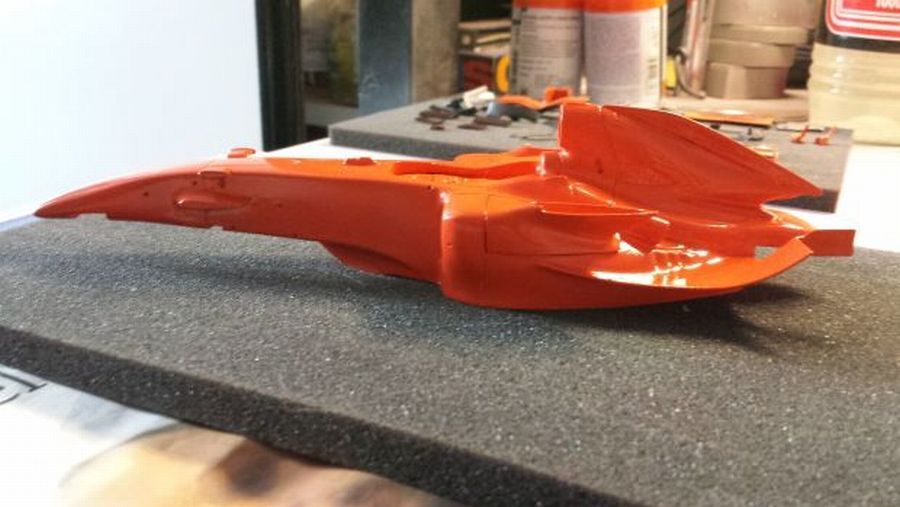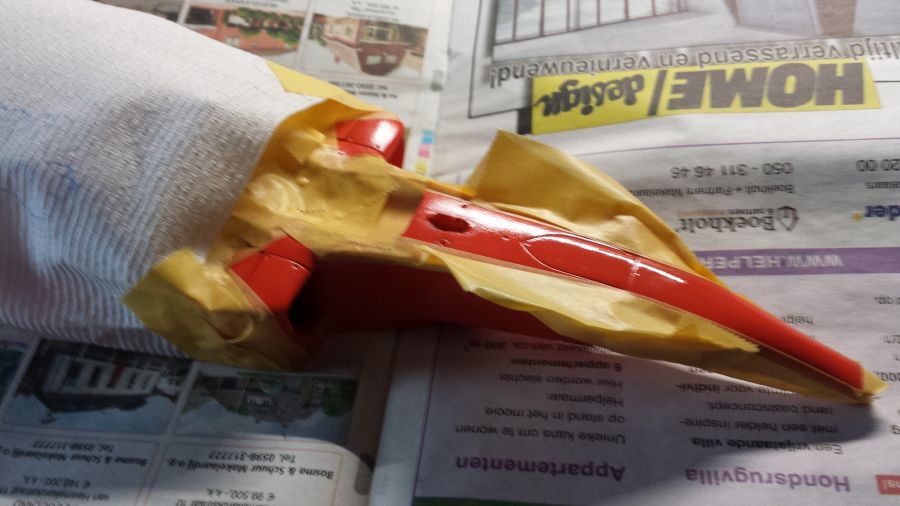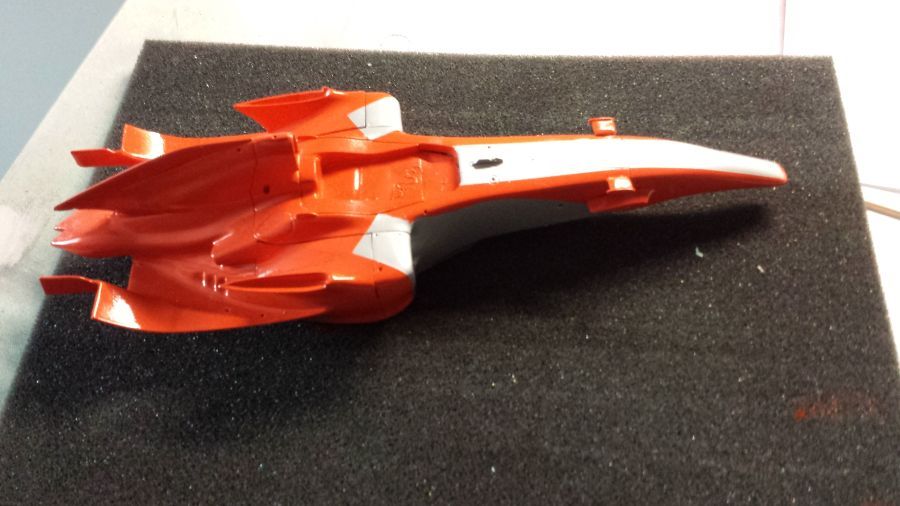 De verf is een klein beetje onder de tape doorgelopen. Ik vraag me af of ik er iets aan moet doen, of het verder met rust laten.
The paint has been bleeding a bit under the tape. I wonder if i should do something about it, or leave it alone.
Het laatste hoofdstuk. Het overgrote deel is afgeplakt voor het zwart spuiten van een deel van de onderkant en de stoel omhulling. Klaar om de decals aan te brengen en de onderdelen te bevestigen.
The final chapter. The main part has been taped to spray the bottom and the seat compartment black. Ready for decalling and attaching the parts.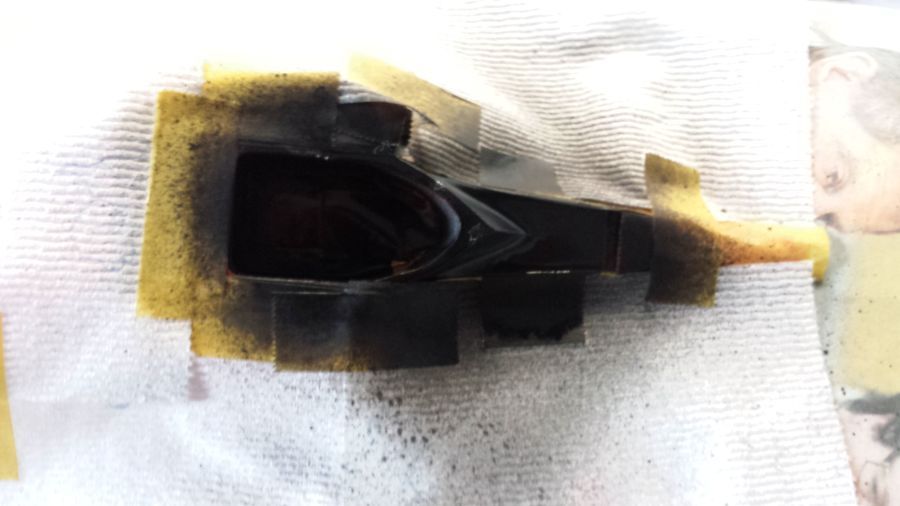 Passen.
Test fit.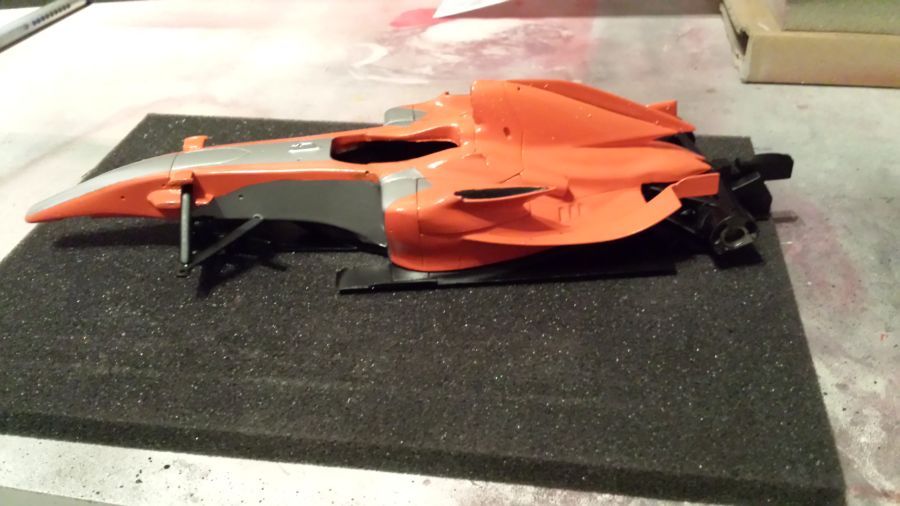 De voor- en achterwielophanging zijn klaar.
The front and rear wheel suspension are ready.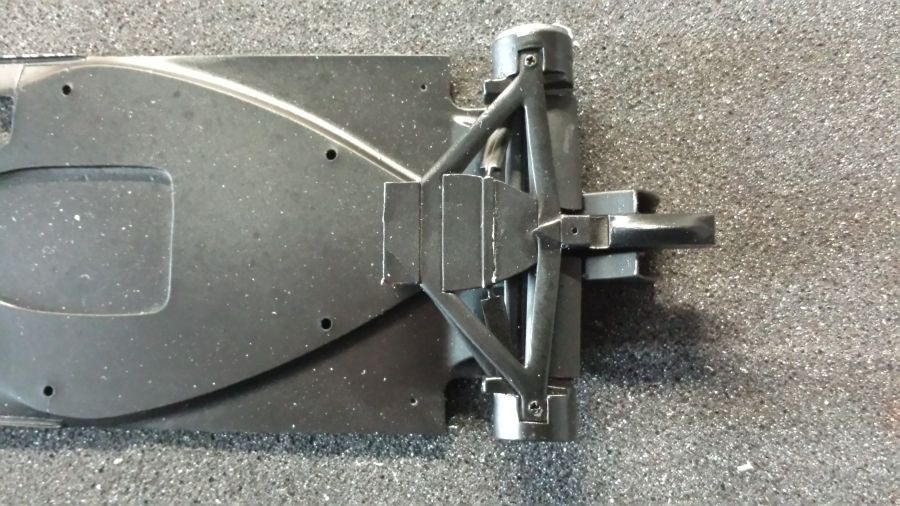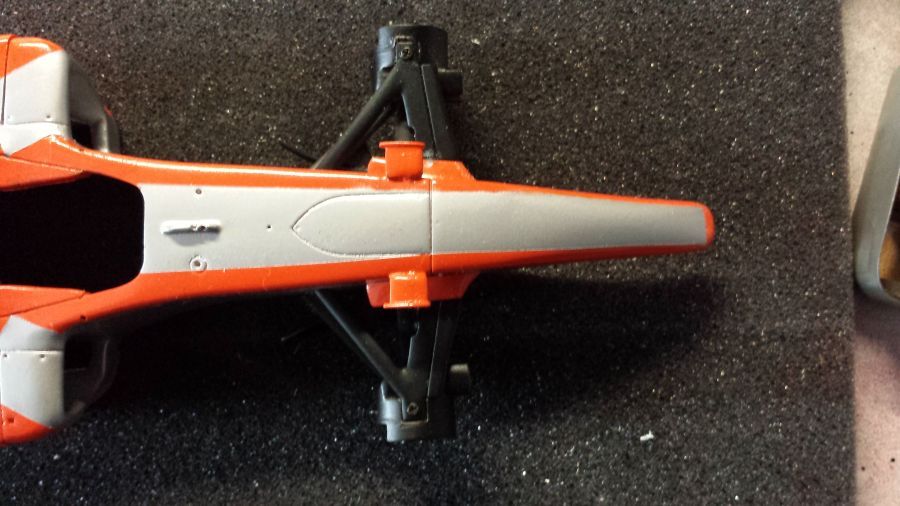 De achtervleugel in de klem.
The rear wing in the wing tool.
De voorvleugel zit in elkaar.
The front wing is ready.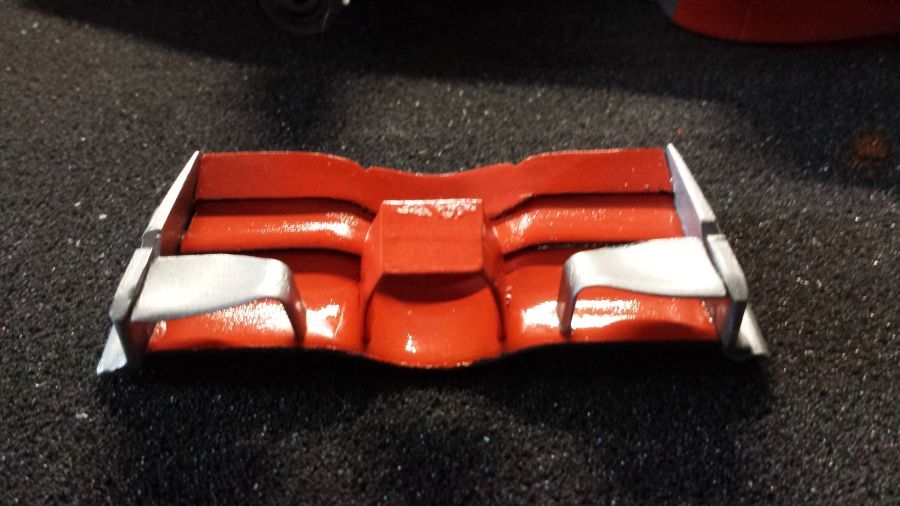 Het uitlijnen van de achtervleugel.
The alignment of the rear wing.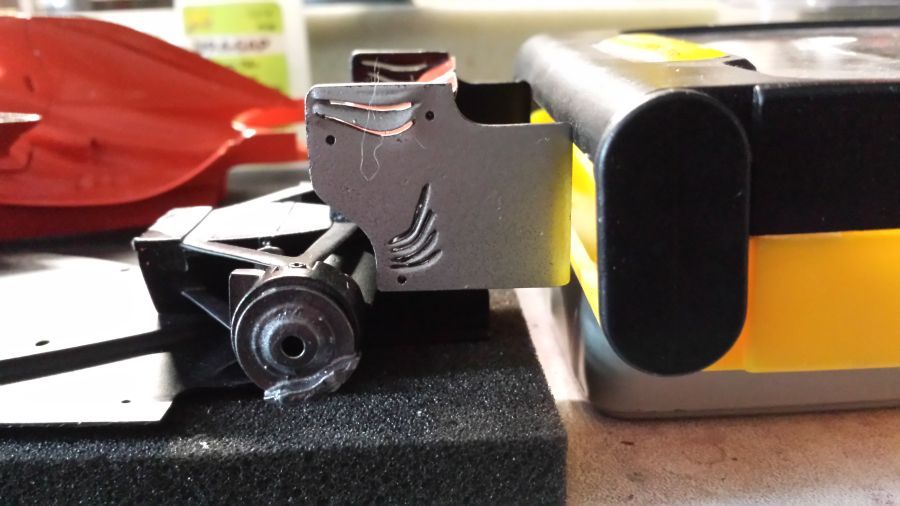 De stoel is op de bodemplaat geplaatst.
The seat has been attached to the undertray.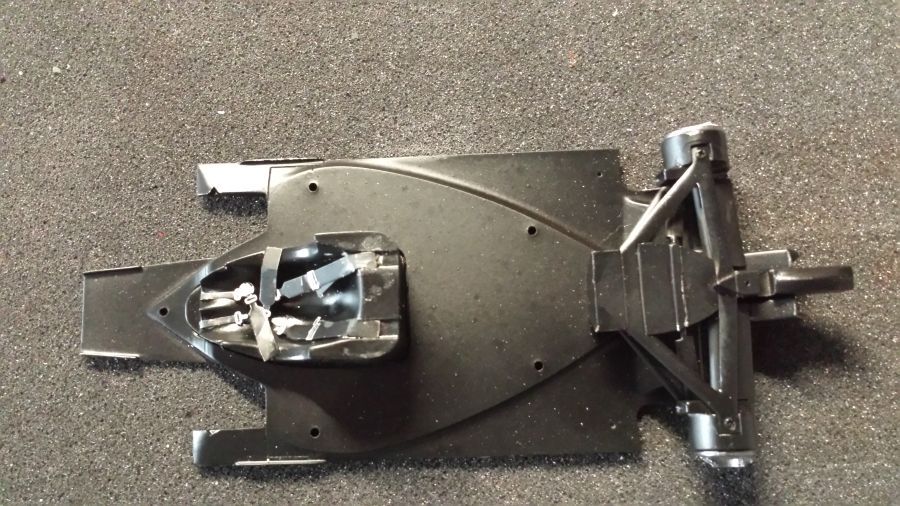 Daarna the body aan de bodemplaat.
Then the body to the undertray.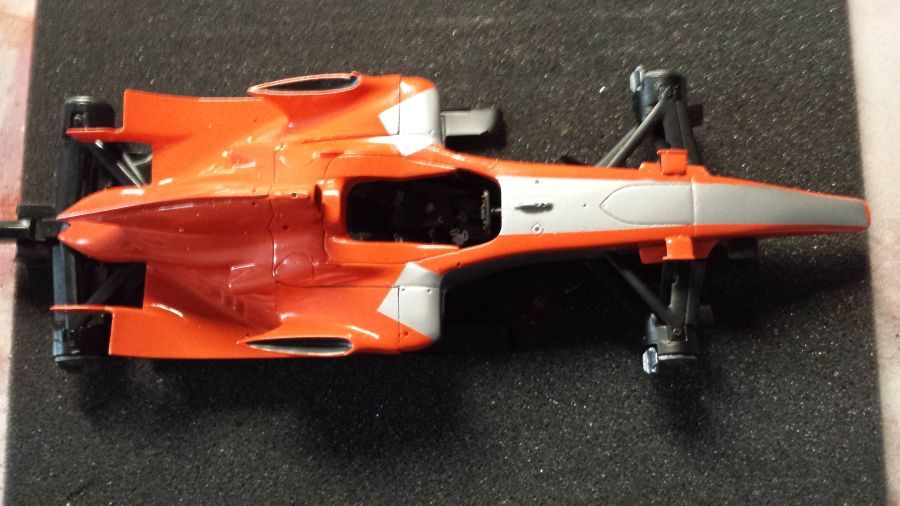 De decals zijn te groot voor de zijplaten van de achtervleugel. Sommige teksten zijn te groot/lang. Daar moet ik iets op verzinnen. Ik moet en/óf iets weglaten, en/óf tussenruimte verwijderen.
The decals are too big for the end plates of the rear wing. Some text is too large/long. I will have to make adjustments. I will either have to cut something or create space by decreasing the space of the decals.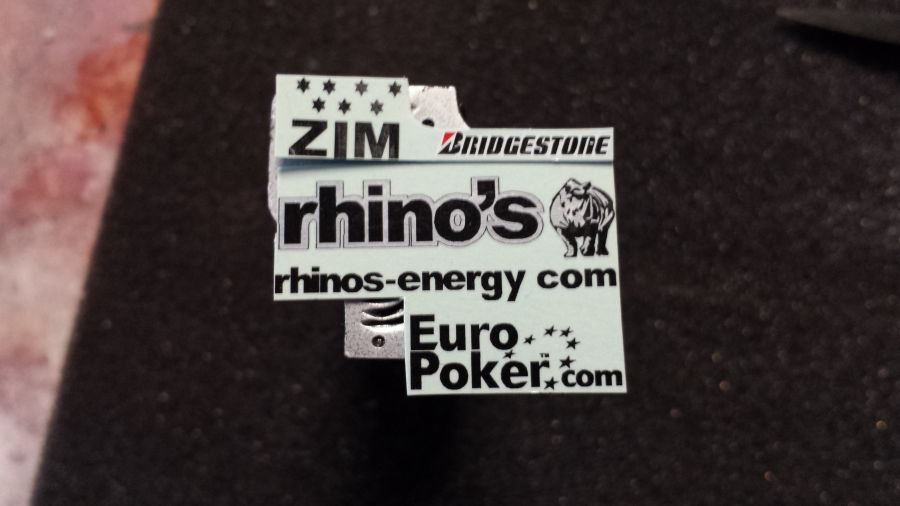 Hier is duidelijk te zien dat de tekst te lang is. In het echt moet de gehele tekst onder het woord Rhino's passen.
Here it is clear the text is too long. For real this text should be as long as the word Rhino's.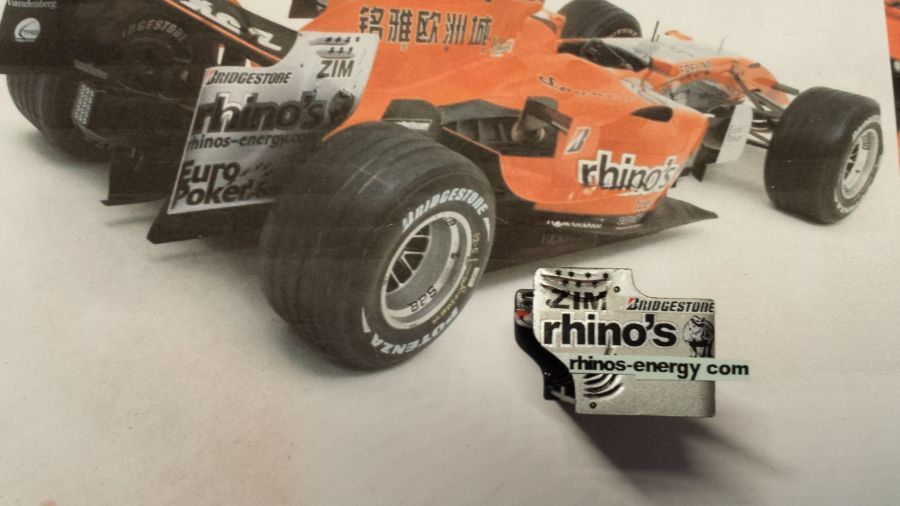 Het eindresultaat.
The final result.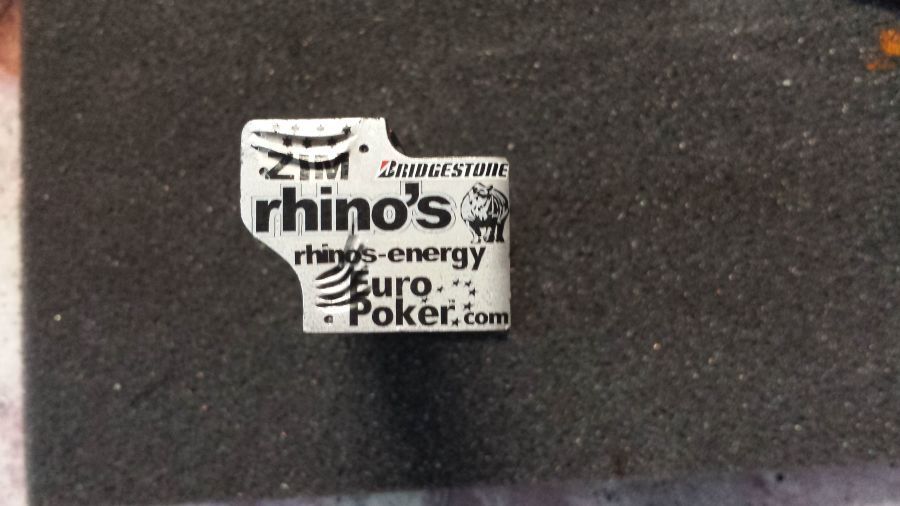 Op de achtervleugel moet op de zwarte achterkant het woord Spyker staan in het wit. Deze tekst mist op mijn vel decals. Gelukkig heb ik nog een reservevel voor een Spyker F8-VII. Daar zit de decal wel op. Ik zal deze dus gebruiken. Hij is iets te groot, maar ik doe het er mee.
On the rear wing on the black backside it should say Spyker in white. This text is missing on my sheet of decals. I am lucky to have a spare decal sheet for a Spyker F8-VII. This contains the correct decal. So i will use this. It's a little too large, but it will do.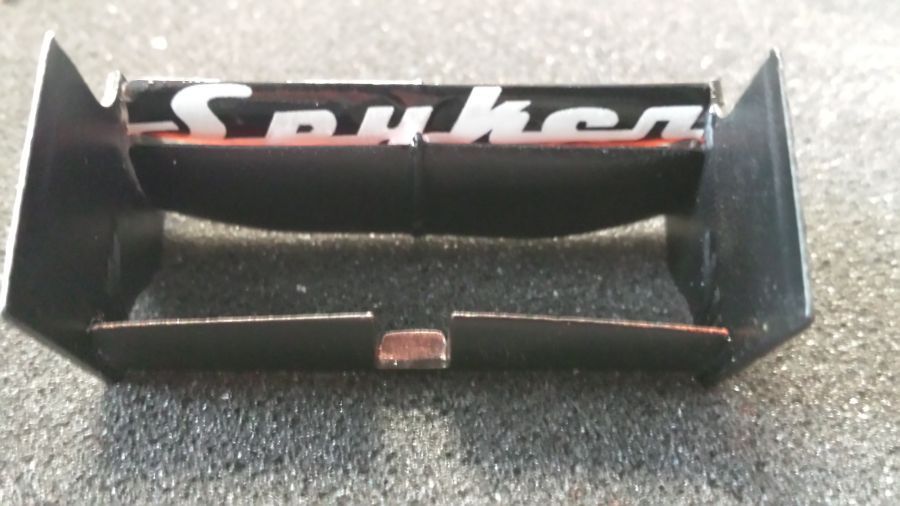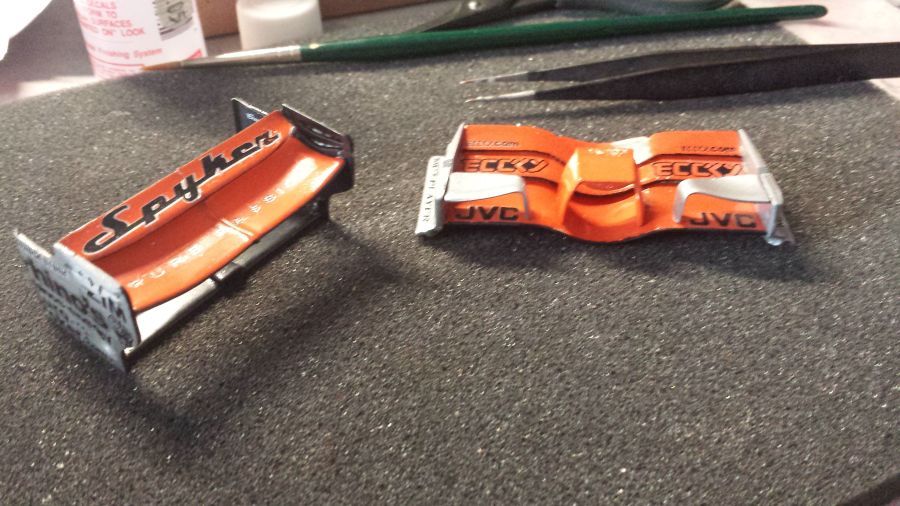 En na een hele dag decals plakken...
And after a whole day of decalling....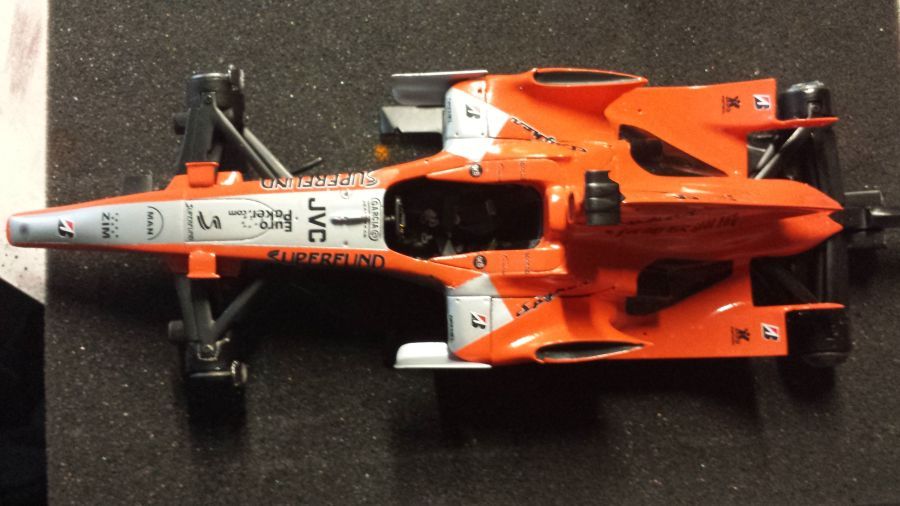 De banden zitten er op.
The tires are on.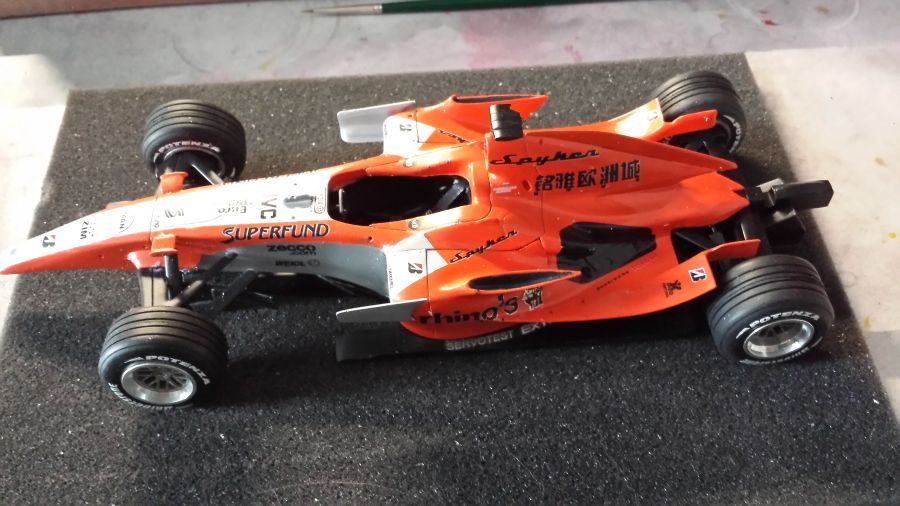 De voorvleugel.
The front wing.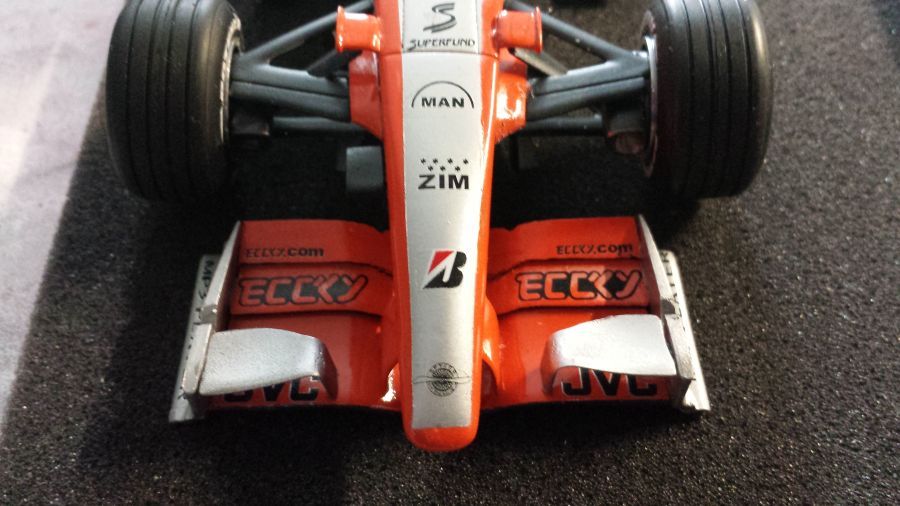 De uitlaten en extra vleugel.
The exhausts and extra wings.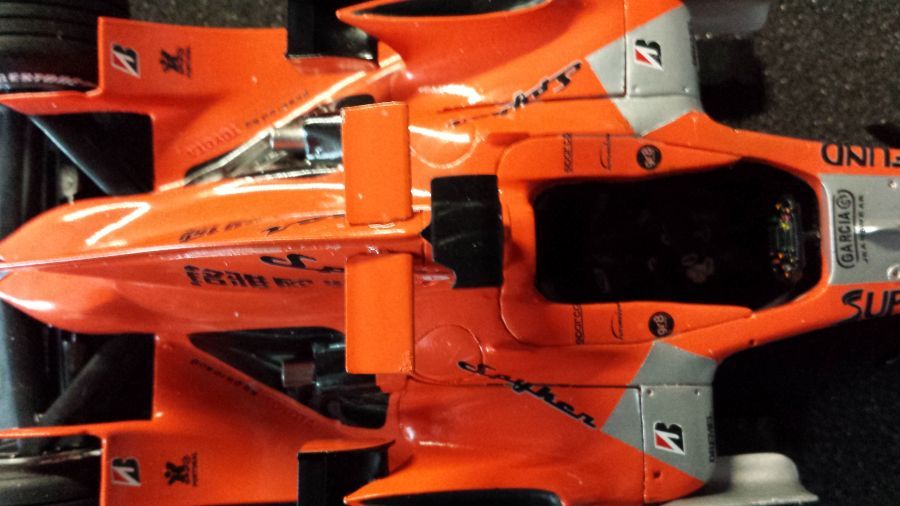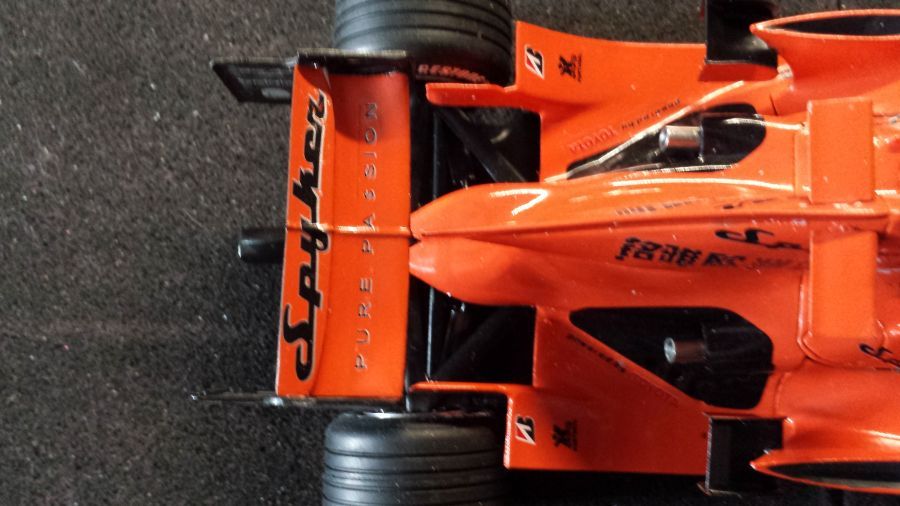 De spiegels.
The mirrors.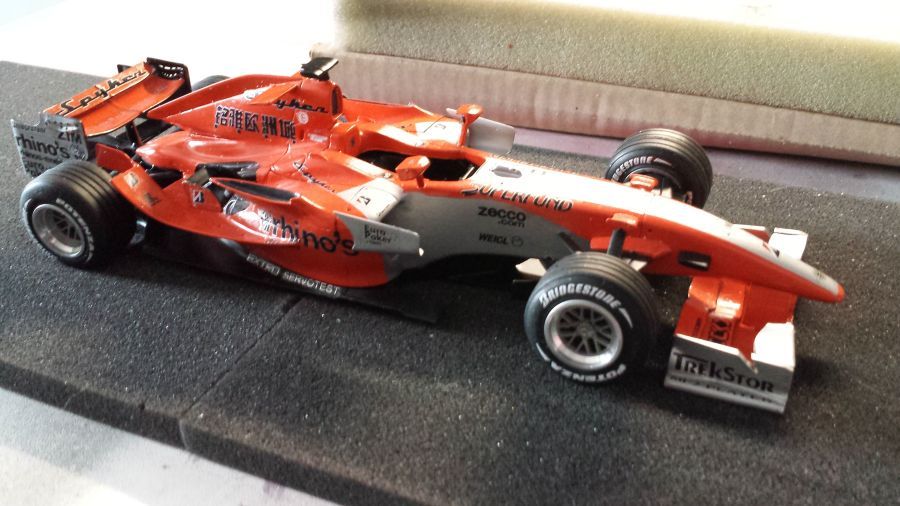 En klaar is ie.
And it's finished.