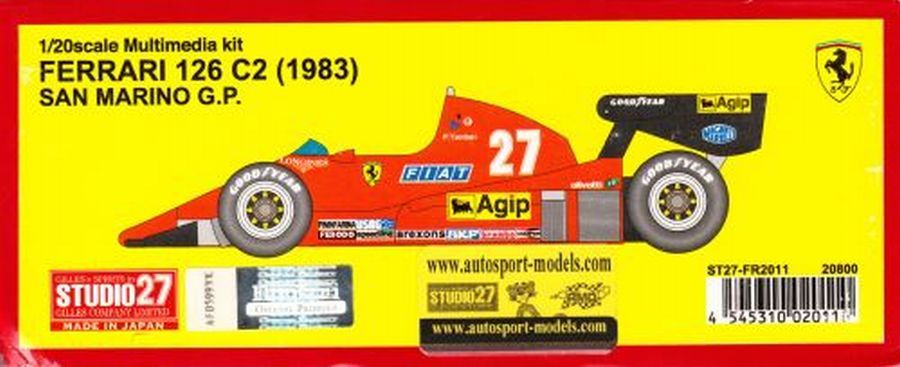 Beneden de beschrijving van de bouw van de 1983 Ferrari 126 C2B San Marino versie zoals gereden door René Arnoux. Het betreft een kit van Studio27 (ST27-FR2011) zonder extra's. Eerst weer de foto's van de inhoud van de kit.
Below the description of the build of the 1983 Ferrari 126C2B San Marino Version as driven by René Arnoux. It is a kit from Studio27 (ST27-FR2011) without extra's. Below first of all the pictures of the content of the kit.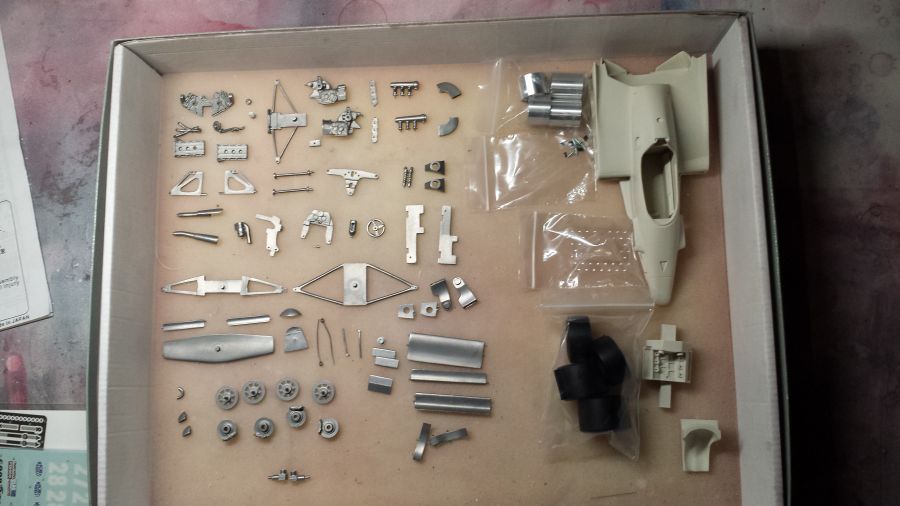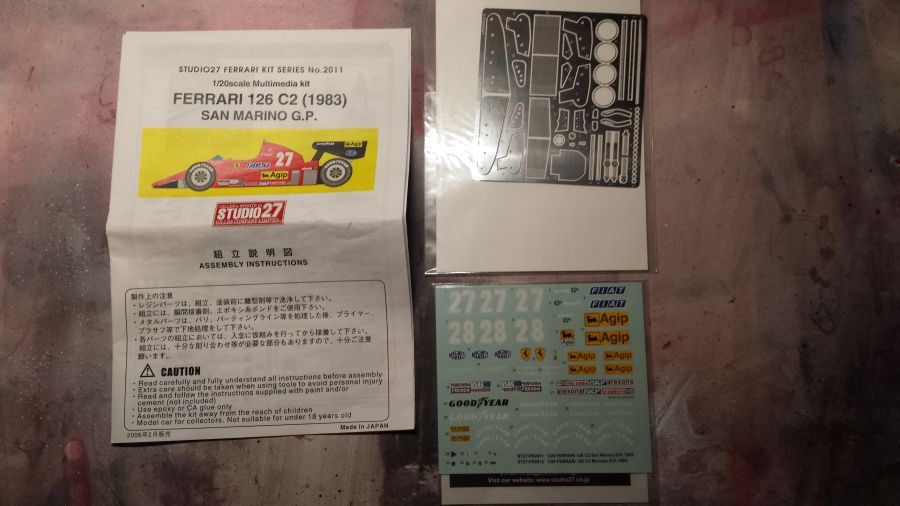 De eerste stappen zijn het werk aan de motor en de versnellingsbak.
The first steps are working on the engine and the gear box.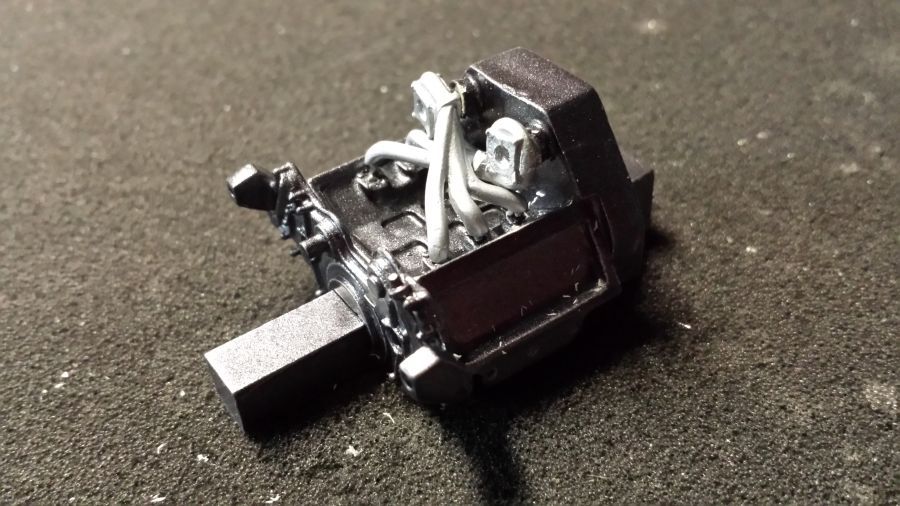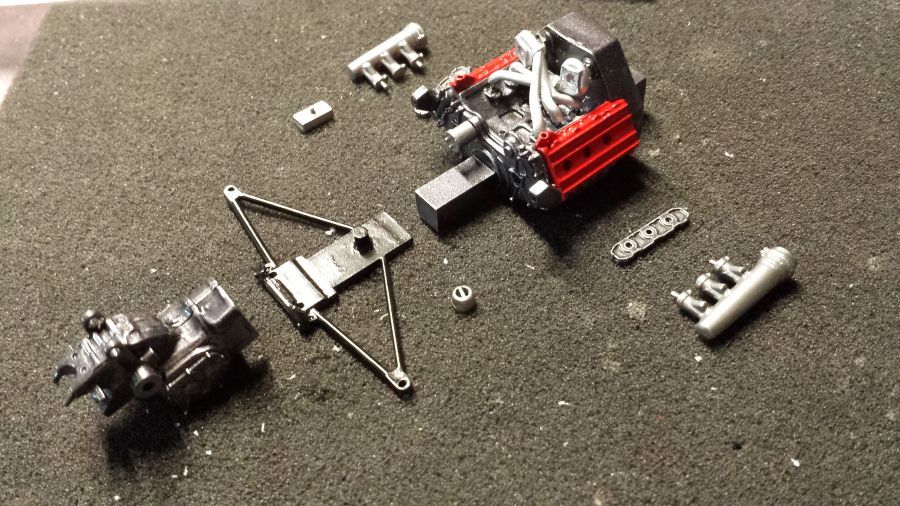 Een paar kabels en Ferrari labels van oude etched sets uit de rommelkist. En wat zilververf op de kleppendeksels.
Some wiring and Ferrari labels from old etched sets from the scrap box. And some silver paints on the valve covers.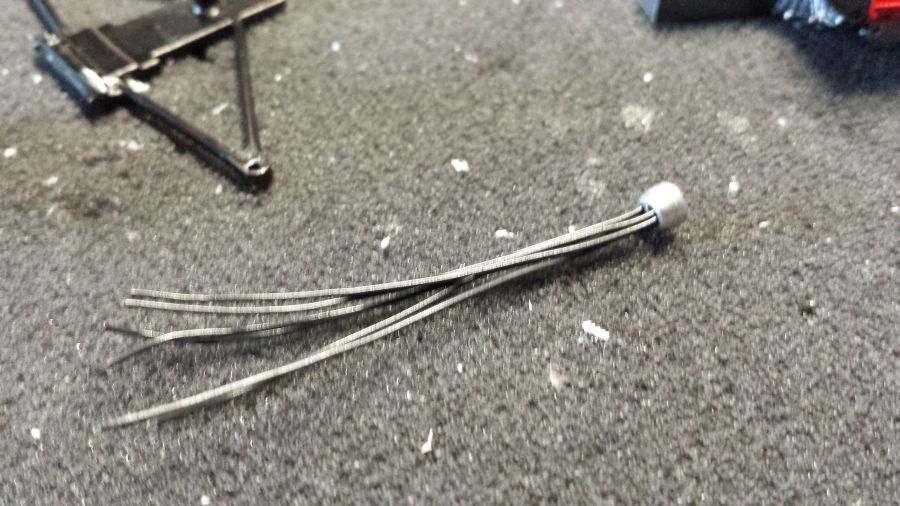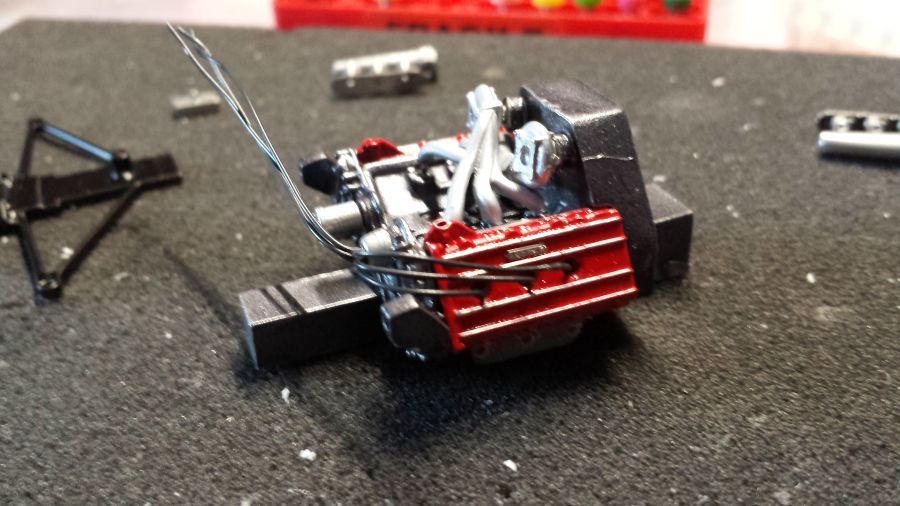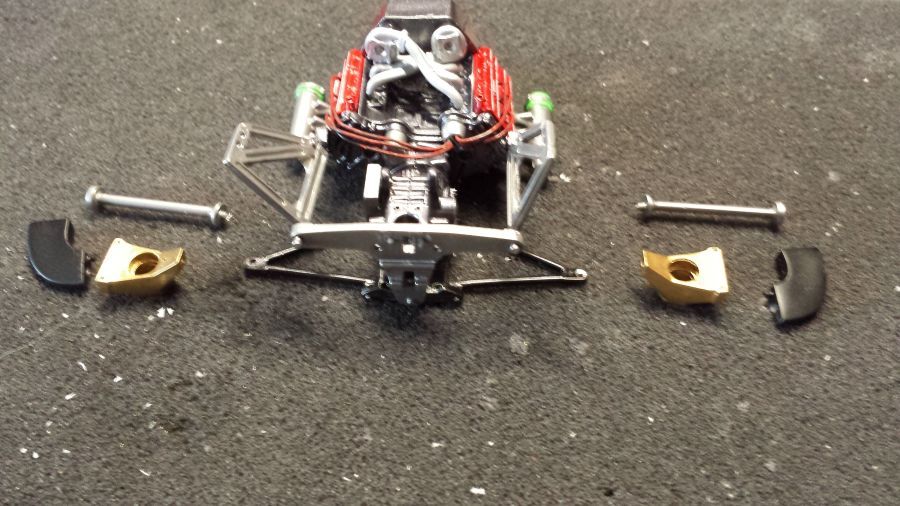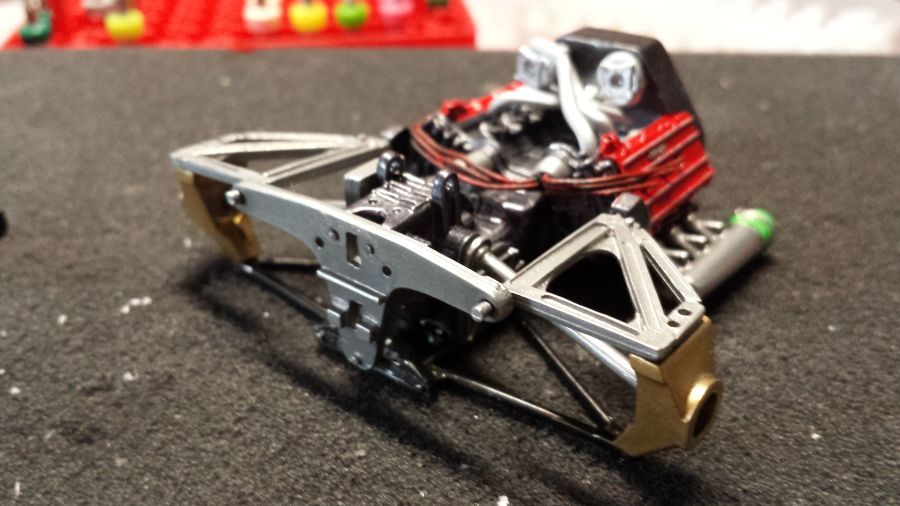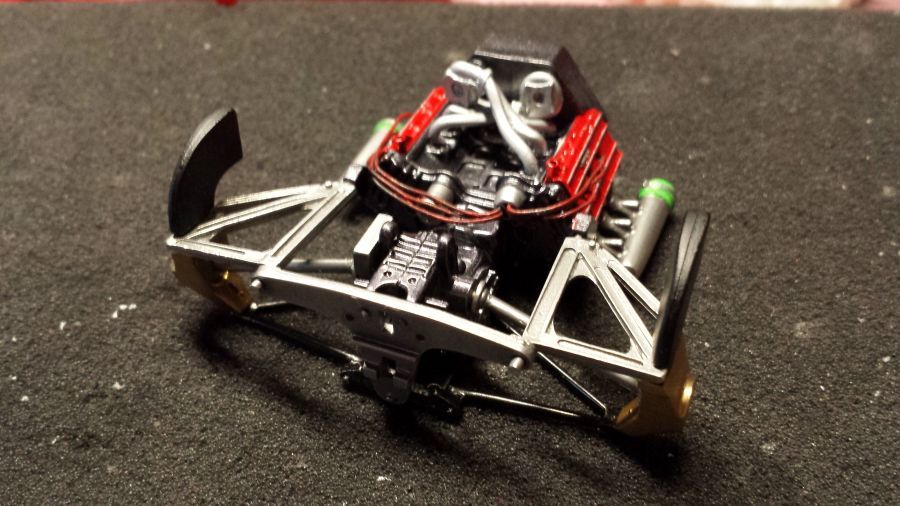 Wat gebruikssporen worden aangebracht op de uitlaten enz. met Tamiya Weathering Sets.
Some traces of use are applied to the exhausts etc. by use of Tamiya Weathering Sets.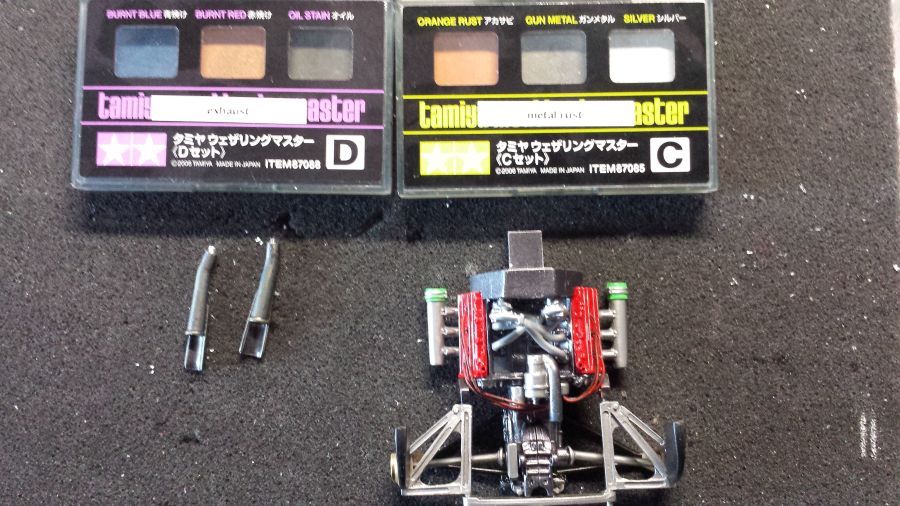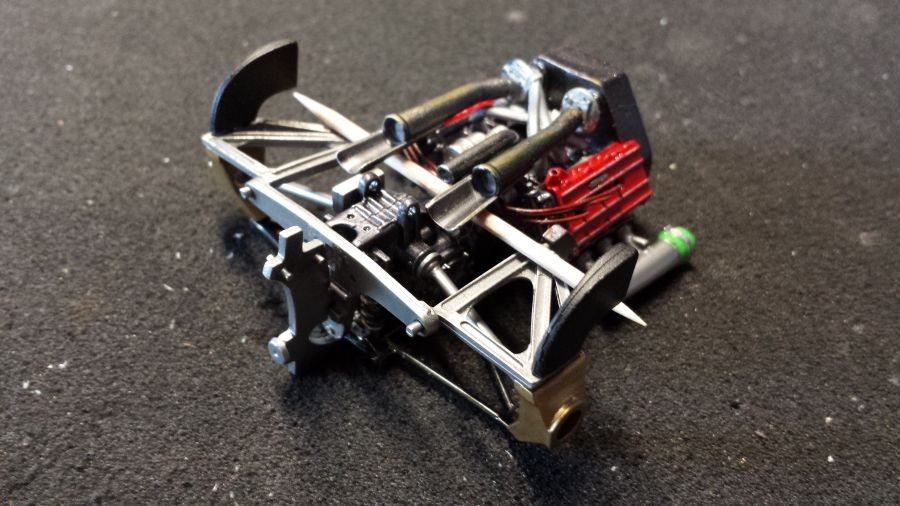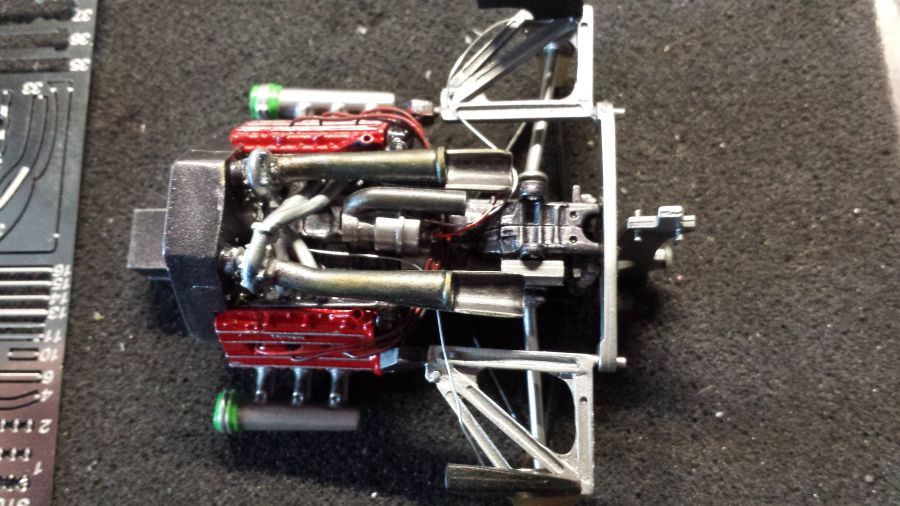 Voor het maken van de veiligheidsgordels duik ik in de rommeldoos. Ik hou niet van de etched gordels dus ga ik weer de gespen en zijdelint gebruiken om gordels te maken.
To make the safety belts i will use my scrap box. I don't like the etched belts so i will use the etched buckles and silk cloth to create belts.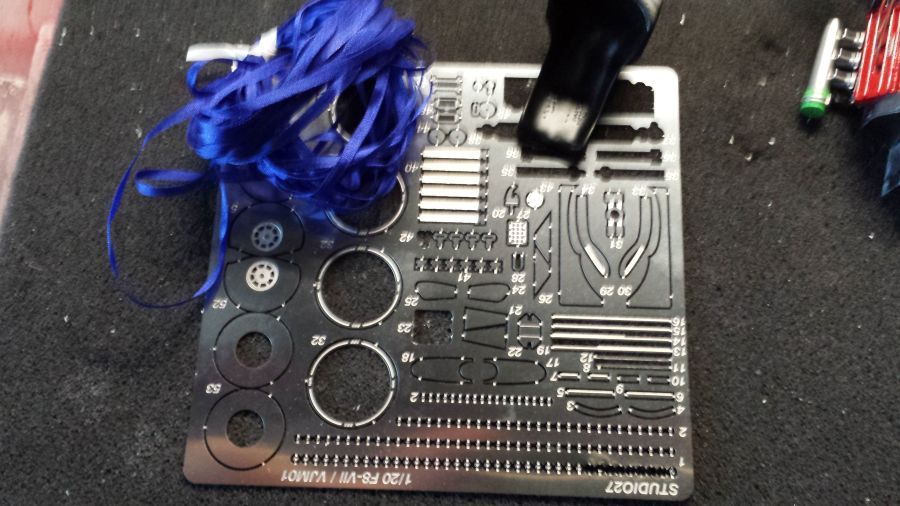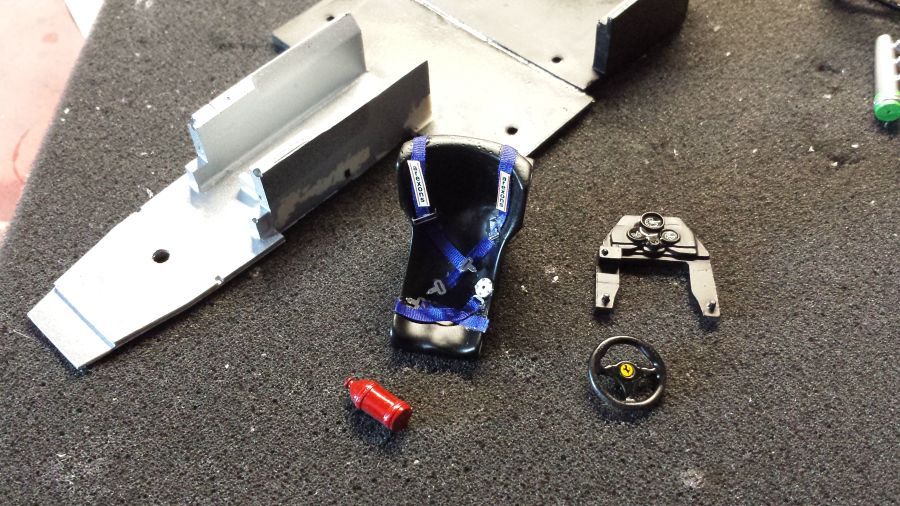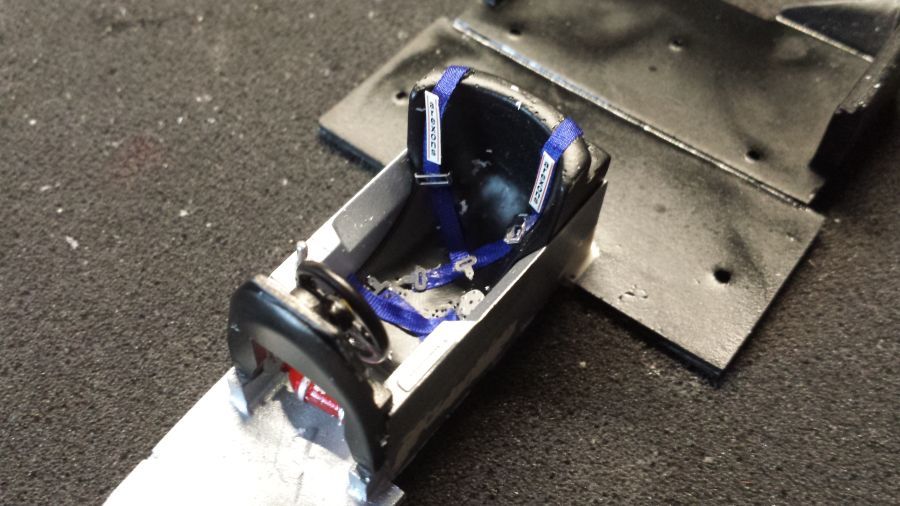 Het rood (Zero Paints ZP-1007 1970's-1980's Rosso Formula 1) en de glanslak zitten er op.
The red (Zero Paints ZP-1007 1970's-1980's Rosso Formula 1) and the clear coat are on.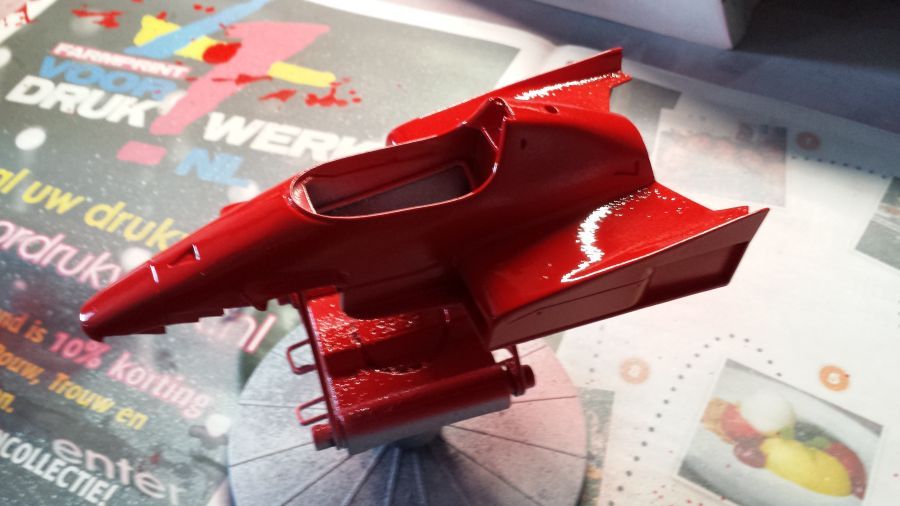 Na het drogen is het tijd voor de decals. Daarna weer een paar laagjes lak.
After drying it's time for the decals. Then some clear coat again.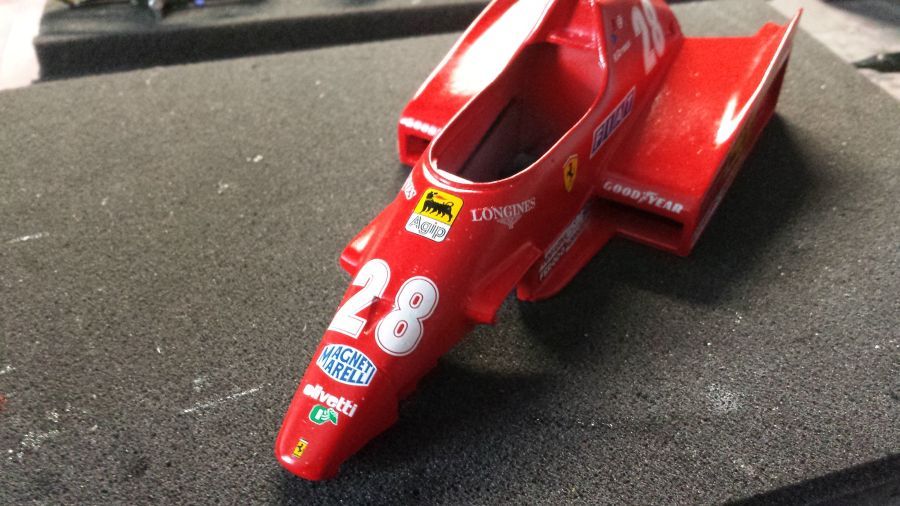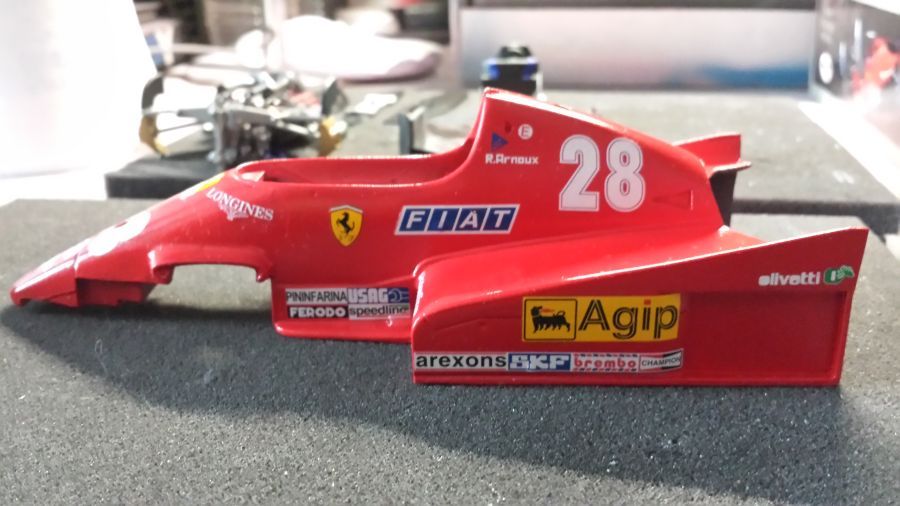 Een paar onderdelen zijn met zwarte grondverf gespoten. Daarna komt de zijdemat verf.
A few parts have been sprayed with black primer. After this the semi black will be sprayed.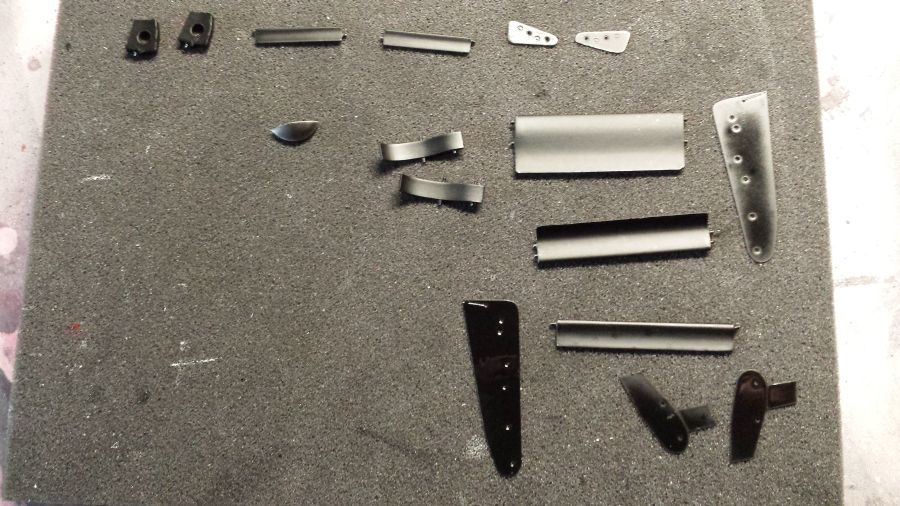 De decals zitten er op en de boel is gespoten met Tamiya TS-79 Semi Gloss Black.
The decals are on and everything has been sprayed with Tamiya TS-79 Semi Gloss Black.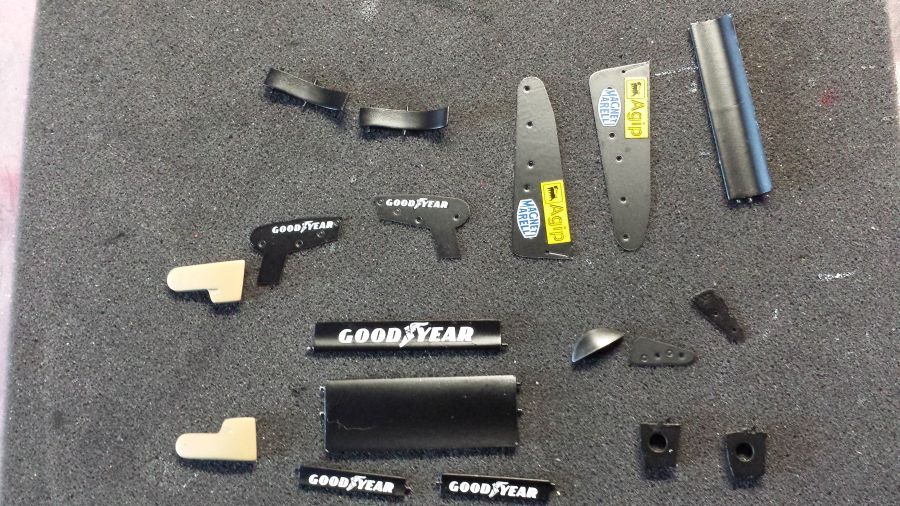 Eerst de koeling aan de buitenkant van de body. 
First the cooling at the outside of the body.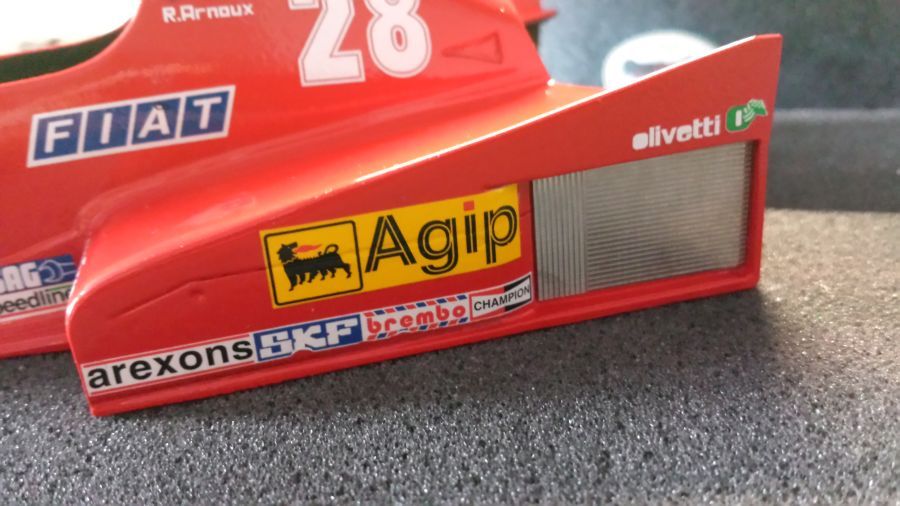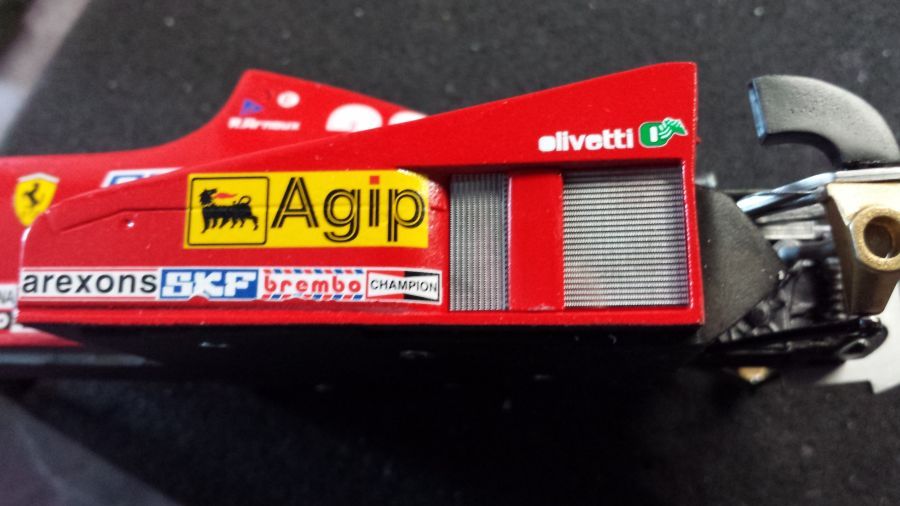 En de eerste werkzaamheden aan de voorwielophanging en bevestiging van een deel van de voorvleugel.
And some work to the front wheel suspension and attachment of a part from the front wing.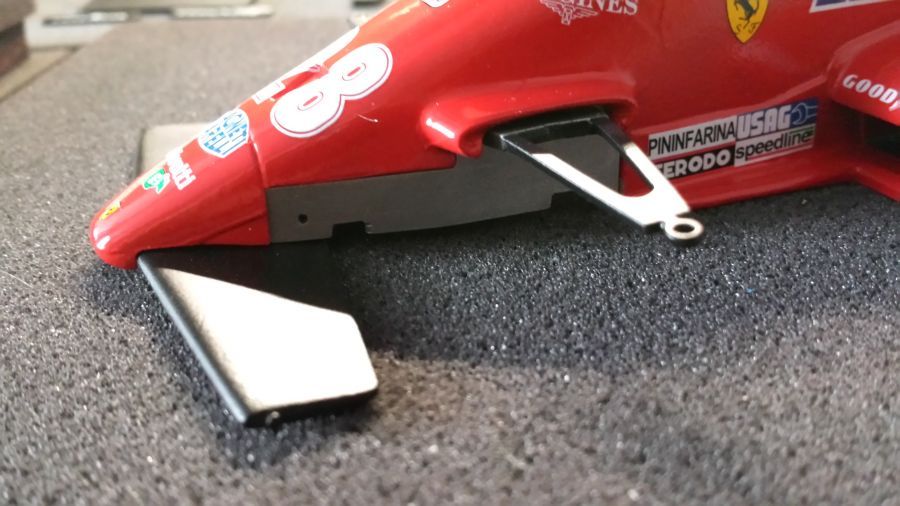 Volgens de bouwtekening wordt een deel van de ophanging met de bodemplaat verlijmd en daarna wordt dit alles aan de body geschroefd. Pas echter op dat het deel van de ophanging wel in de uitsparingen past. Dit kan gauw fout gaan.
According to the plans a part of the suspension should be glued to the floor and then everything should be attached to the floor by screws. Be sure the part of the suspension fits the cutouts. This can go wrong easily.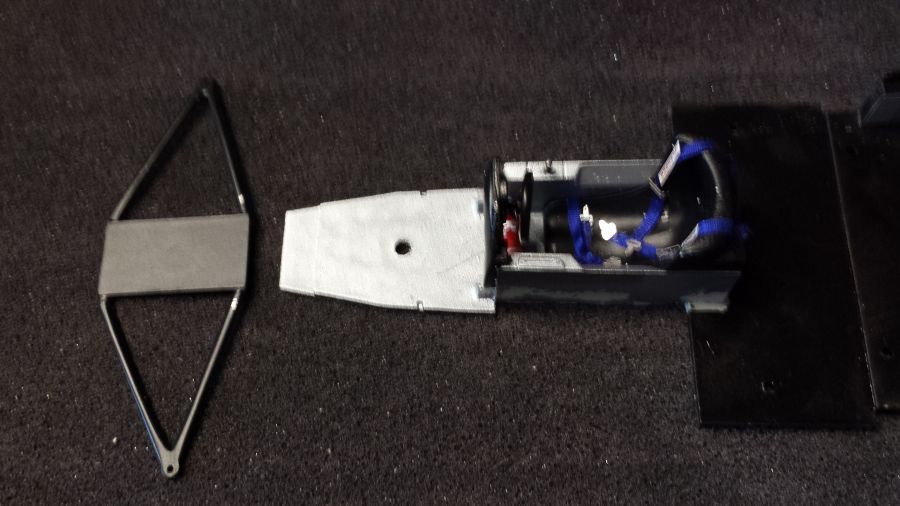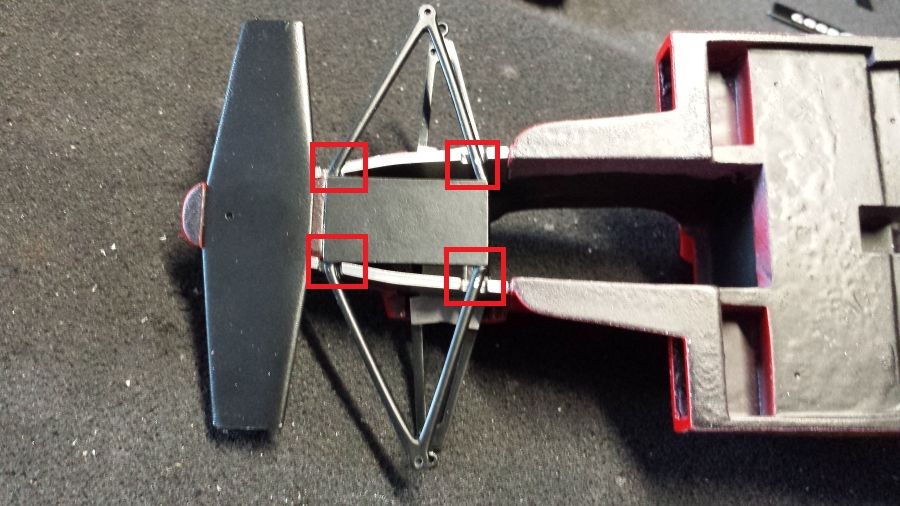 Daarom zorg ik eerst dat het bewuste onderdeel goed in de uitsparingen ligt en ga pas daarna de bodem bevestigen.
Therefor i will first be sure the suspension fits the cut outs and then attach the floor.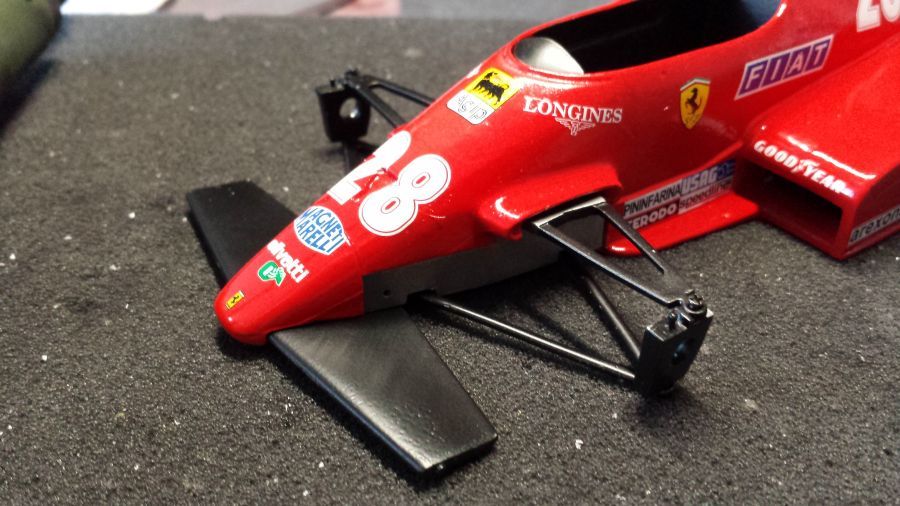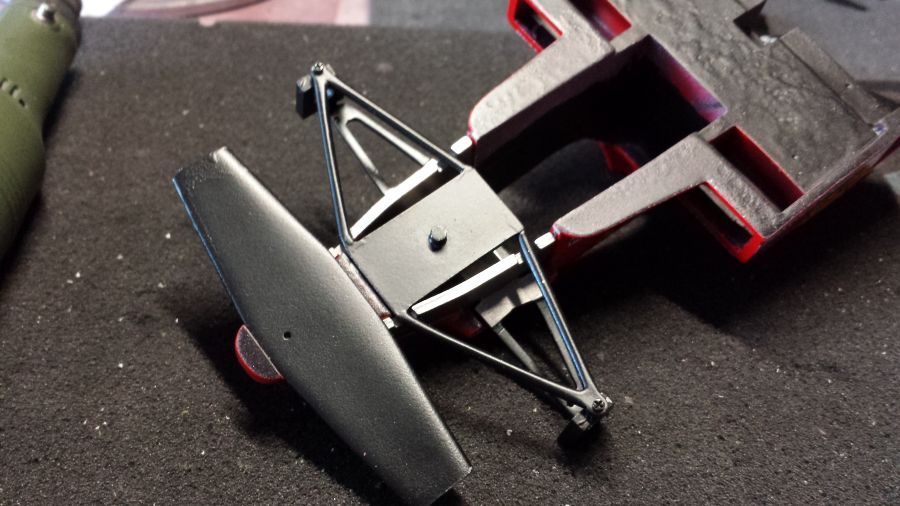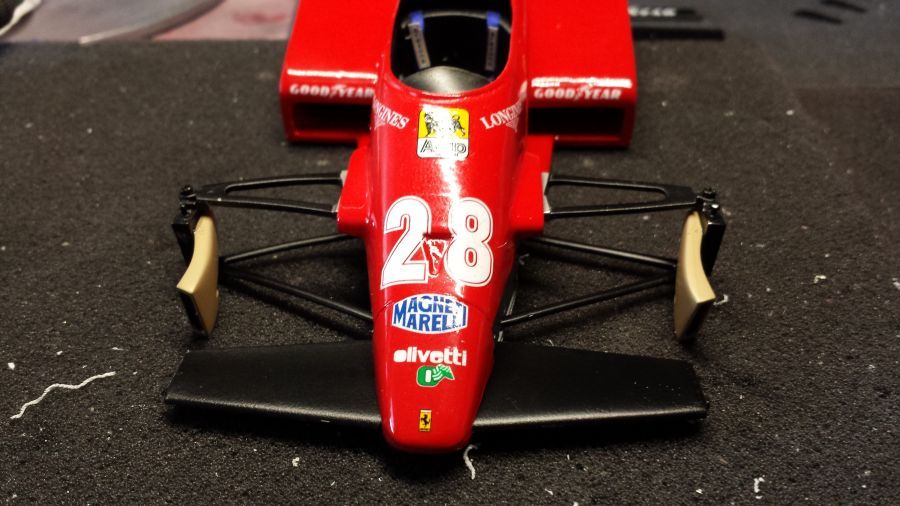 Weer een huwelijk gesloten.
And we have another marriage.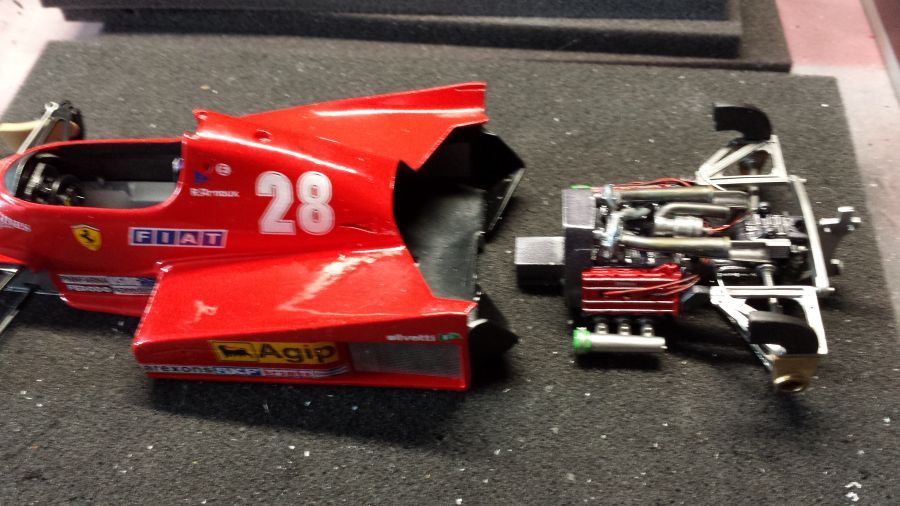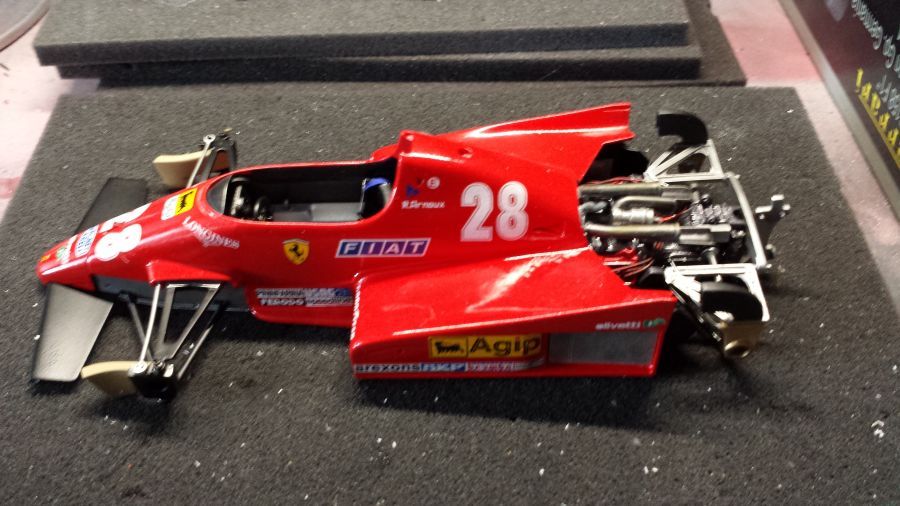 De volgende stappen is het verder klaarmaken van de voorvleugel.
Next steps are further completion of the front wing.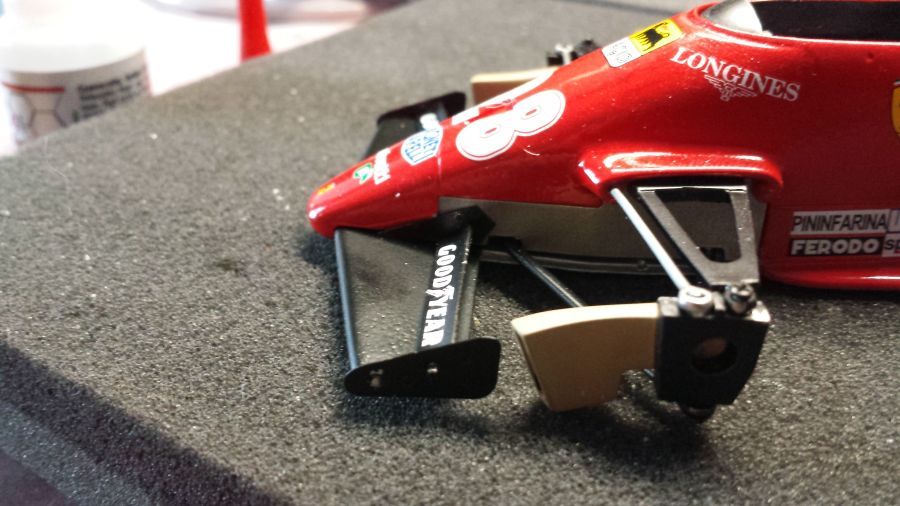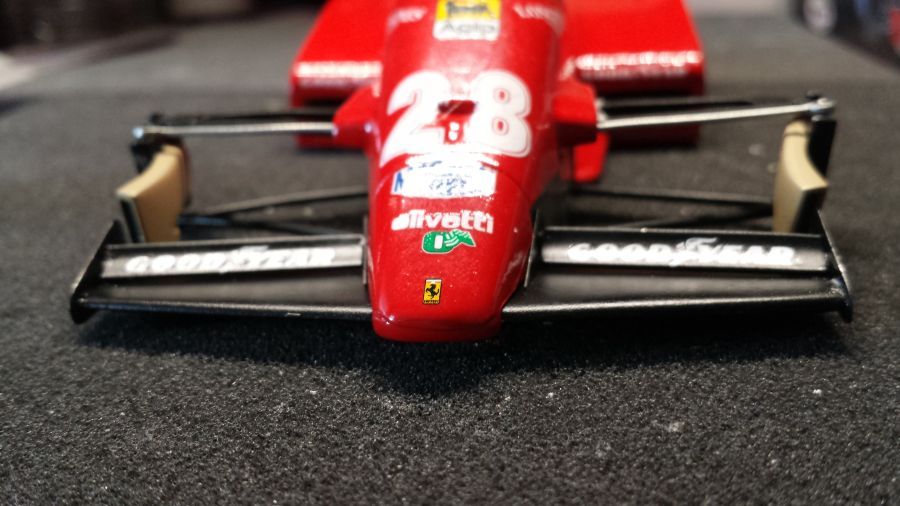 Dan de achtervleugel. Vanwege de grootte past deze niet in mijn wing tool.
Next is the rear wing. Because of the size it does not fit my wing tool.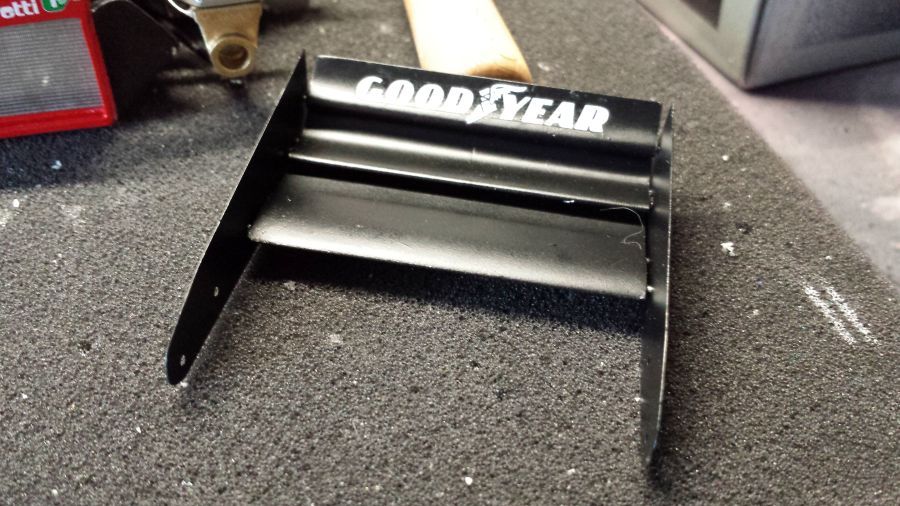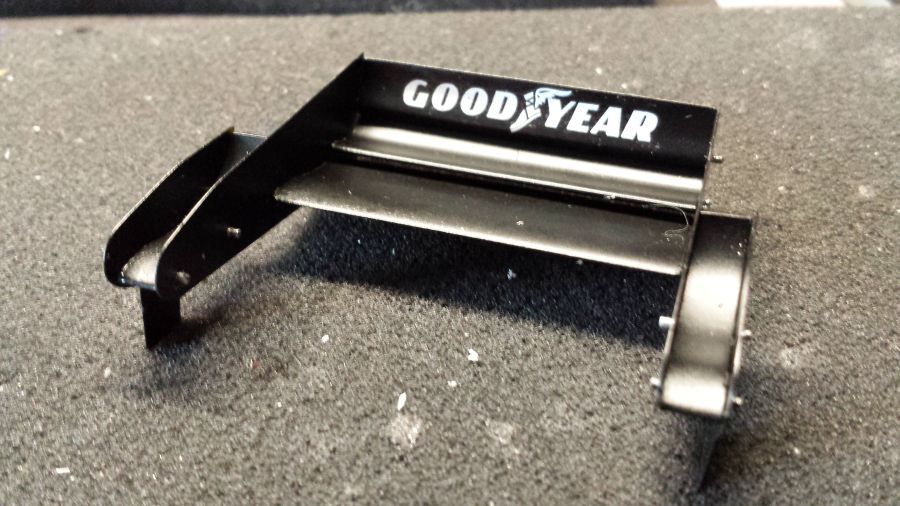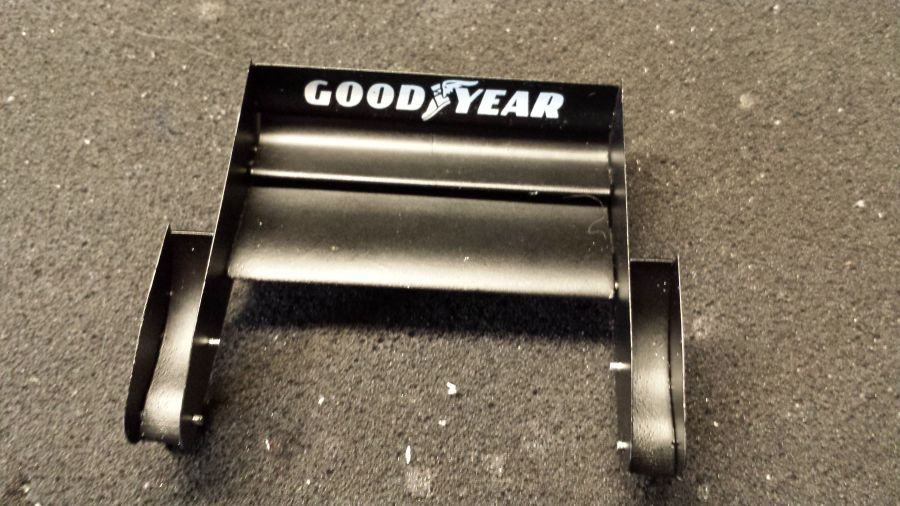 Eerst even de steun voor de achtervleugel bevestigen en even het passen testen.
First finish the support for the rear wing and do some test fit.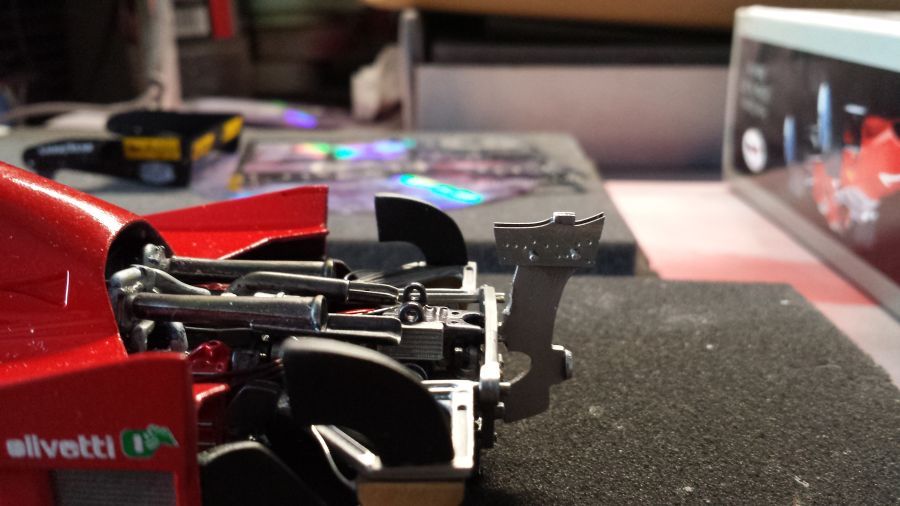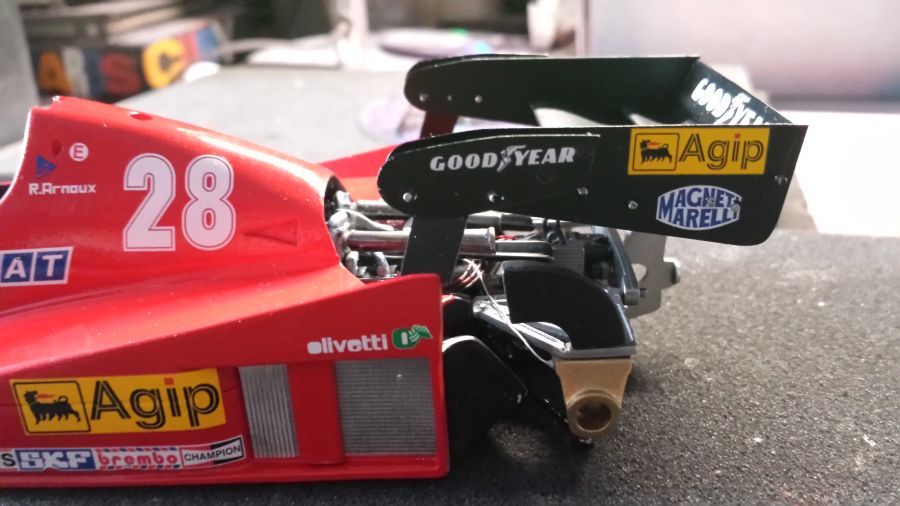 De remmen zijn gemonteerd.
The brake discs have been mounted.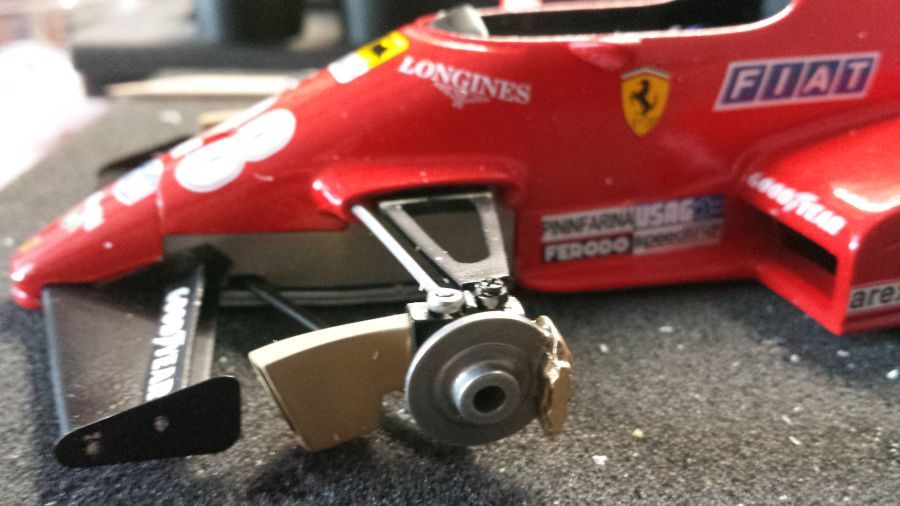 Daarna door met de velgen en banden.
Next are the rims and tires.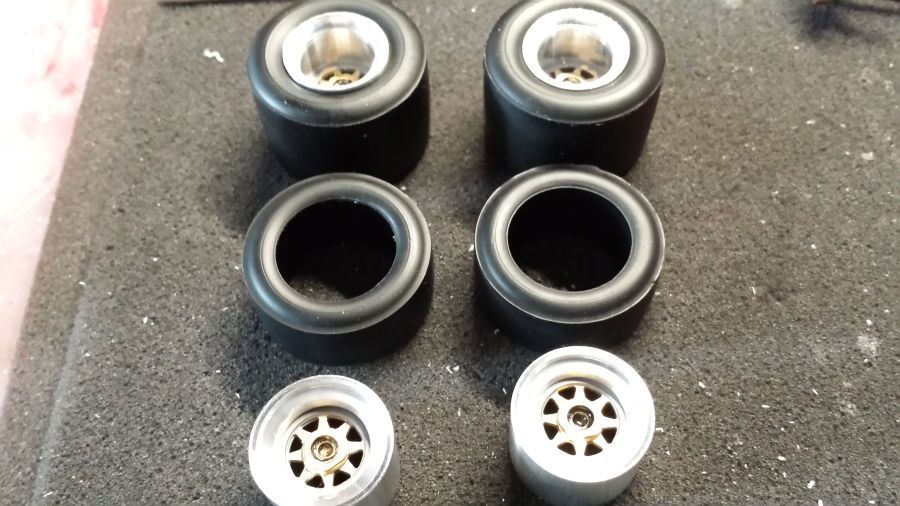 De banden worden ruw gemaakt om de glans ervan af te halen.
The tires will be made rough to get rid of the shine.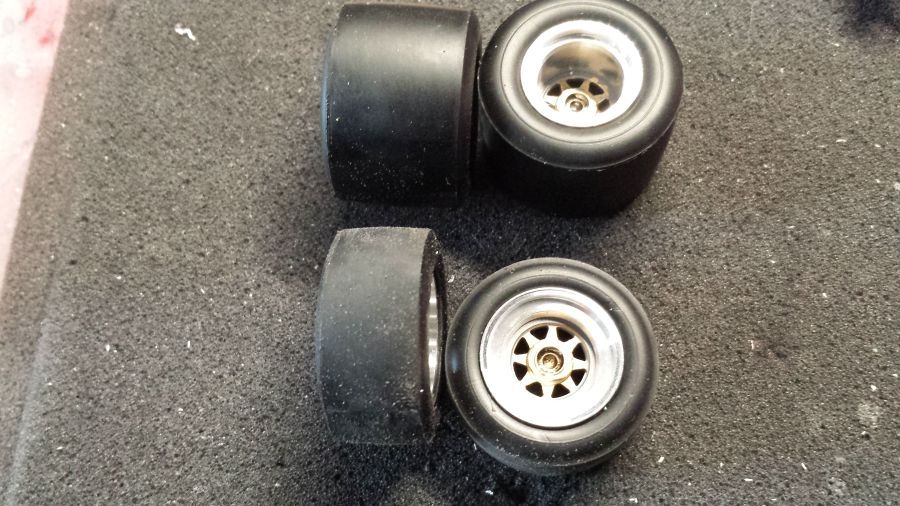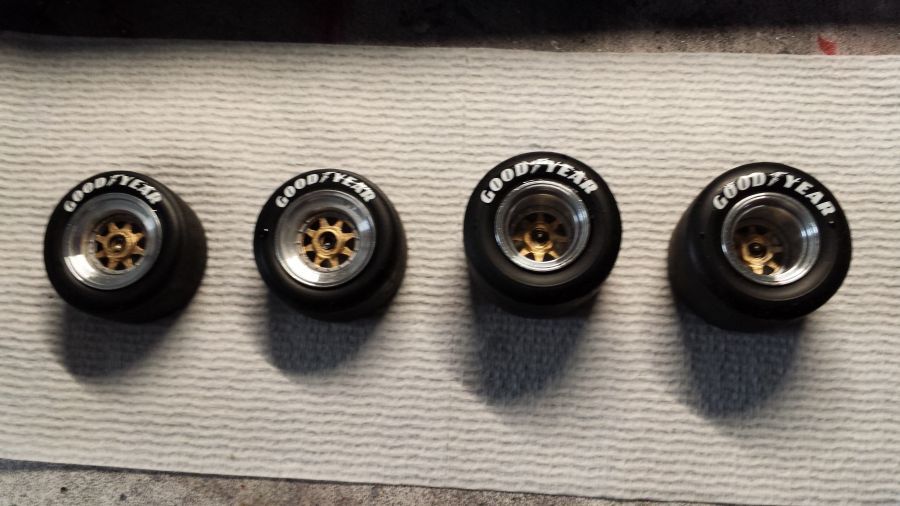 De wielen en de achtervleugel zijn gemonteerd.
The wheels and rear wing have been mounted.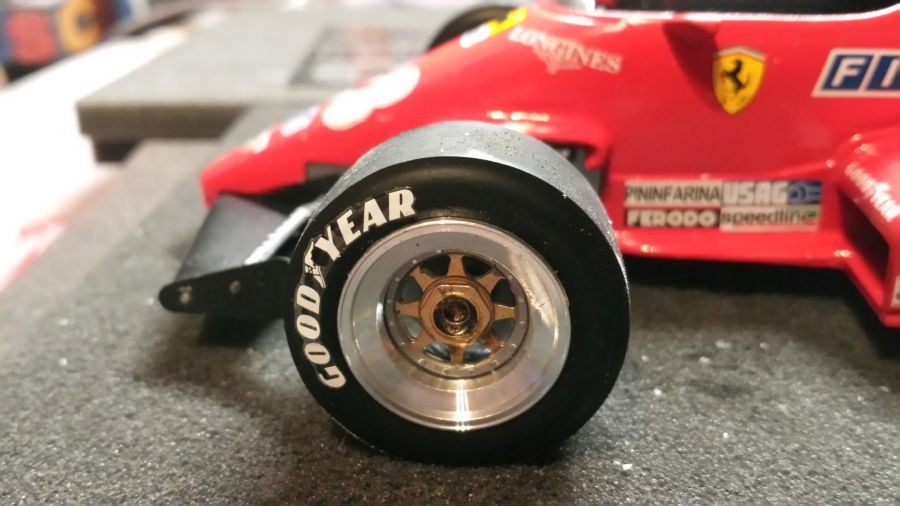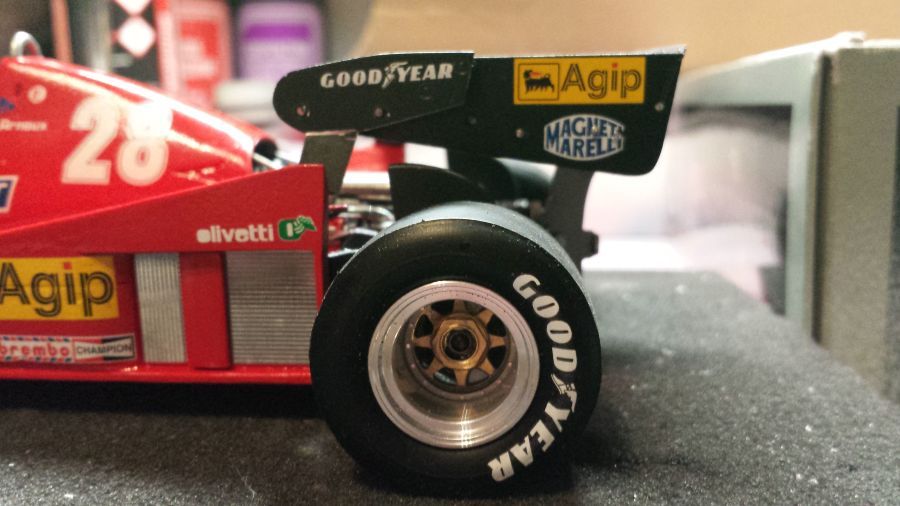 En na het plakken van het raam is er weer 1 klaar.
And after gluing the window another 1 is finished.