Hier volgt de beschrijving van de bouw van een Ferrari F2005 tijdens de Grand Prix van Bahrein in 2005 werd gereden door Michael Schumacher. Het is een kit van Studio27 (kit nr ST27-FR2009), maar dan de Japanse versie. Deze ga ik dus wijzigen in de Bahrein versie. Die wagen had een zwarte tip op de neus. Dit was ter nagedachtenis van Paus Johannes die in 2005 overleed. Beneden eerst weer de foto's van de inhoud van de kit. Als extra heb ik de cigaretten decals gekocht.
Below i will describe the build of a Ferrari F2005 Bahrein version as driven by Michael Schumacher in 2005. It is a kit from Studio27 (kit no ST27-FR2009), but a Japanese version. So i will convert it into the Bahrein version. That car had a black nose tip. This was in remembrance of Pope John who died in 2005. Below first the pictures of the content of the kit. As an extra i bought the cigarette decals.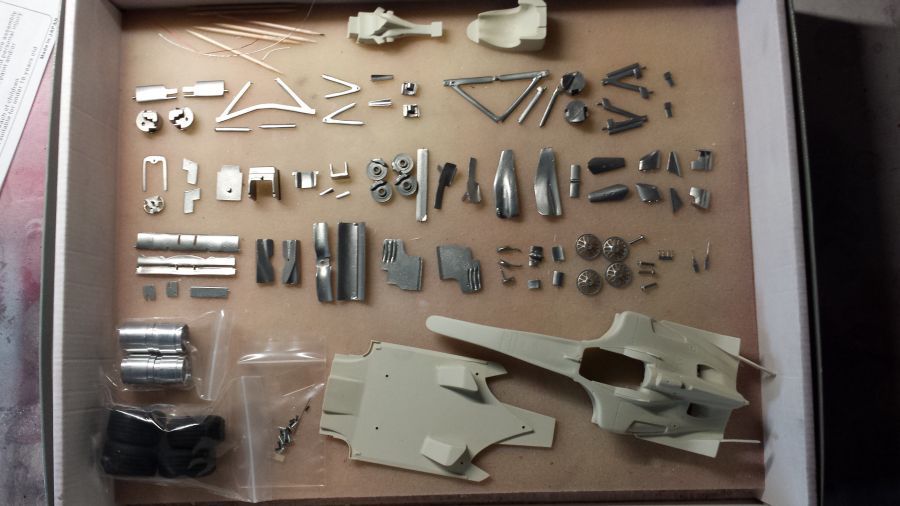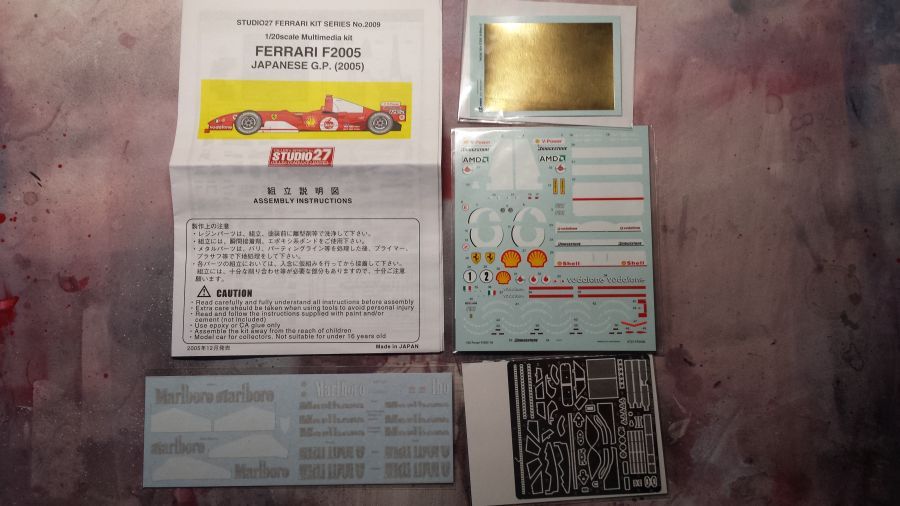 Eerst wat werkzaamheden aan het giethars. Wat naden bijwerken en gladschuren.
Starting with some clean up to the resin. Some sanding needed.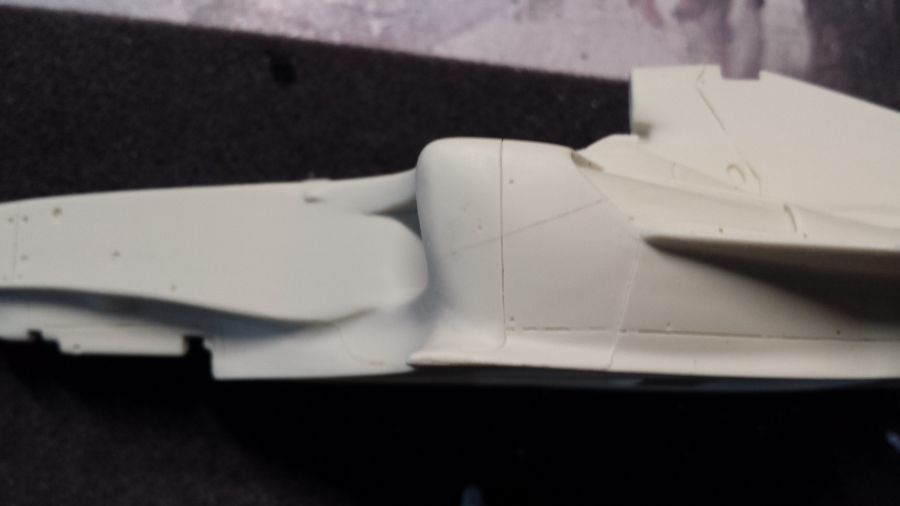 Daarna een paar delen in de grondverf en vervolgens spuiten met Zero Paints ZP-1007 Rosso Fluoresent F1.
First some parts are painted with primer and next airbrushed with Zero Paints ZP-1007 Rosso Fluoresent F1.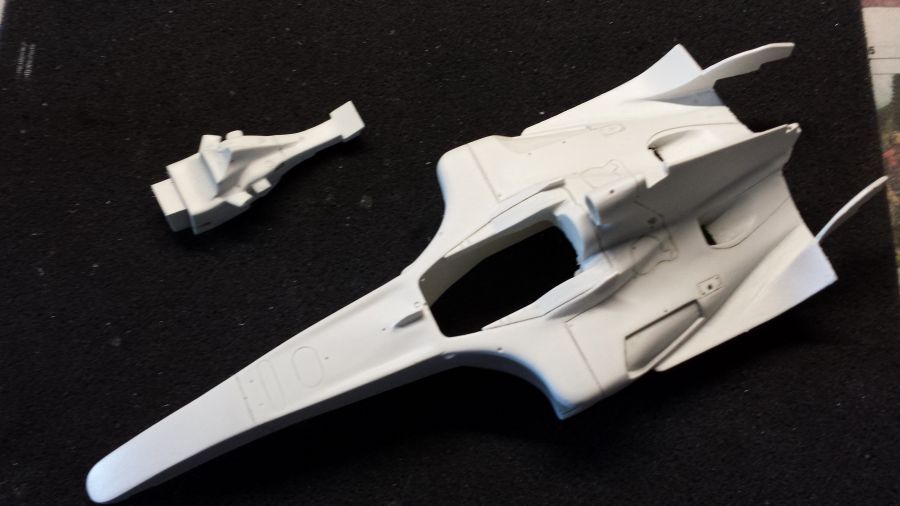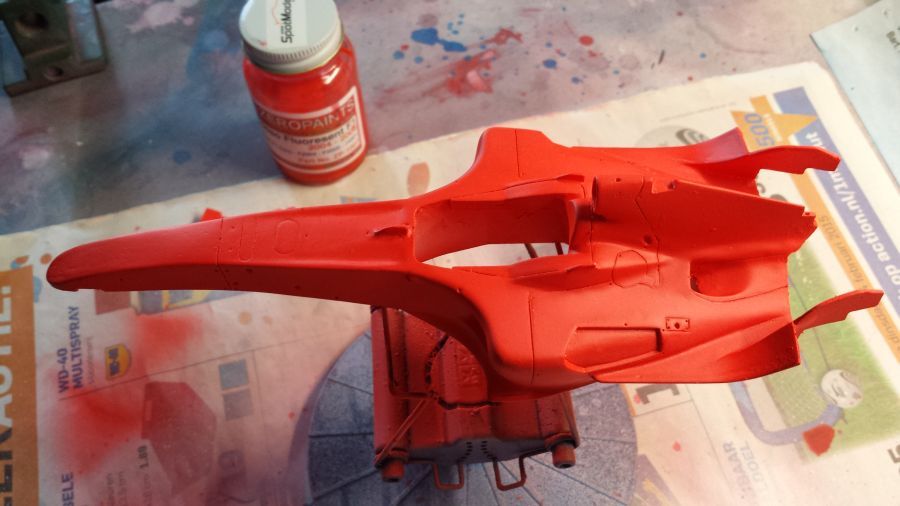 De heldere glanslak zit er op.
The clear coat has been applied.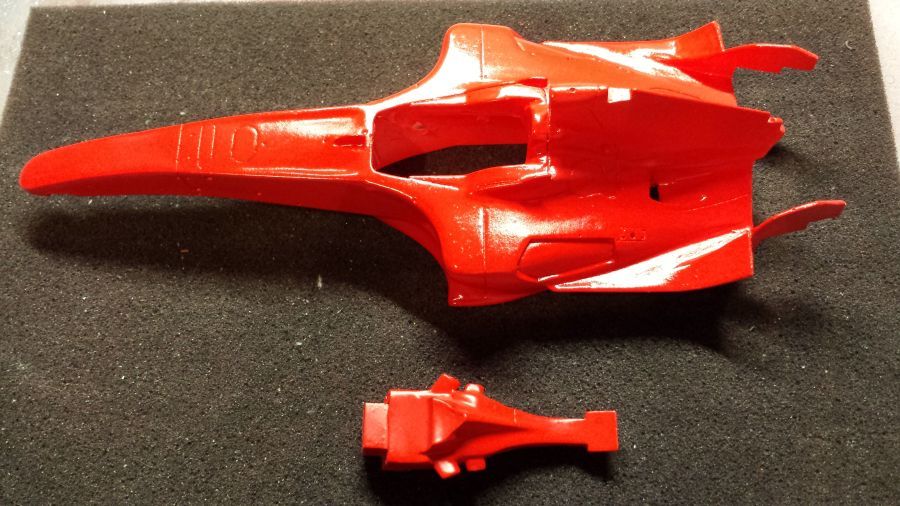 Om de delen van de ophanging te kunnen aanbrengen moet eerst een aantal gaten goed diep worden geboord.
To be able to attach parts of the suspension, some holes need to be drilled quite deep.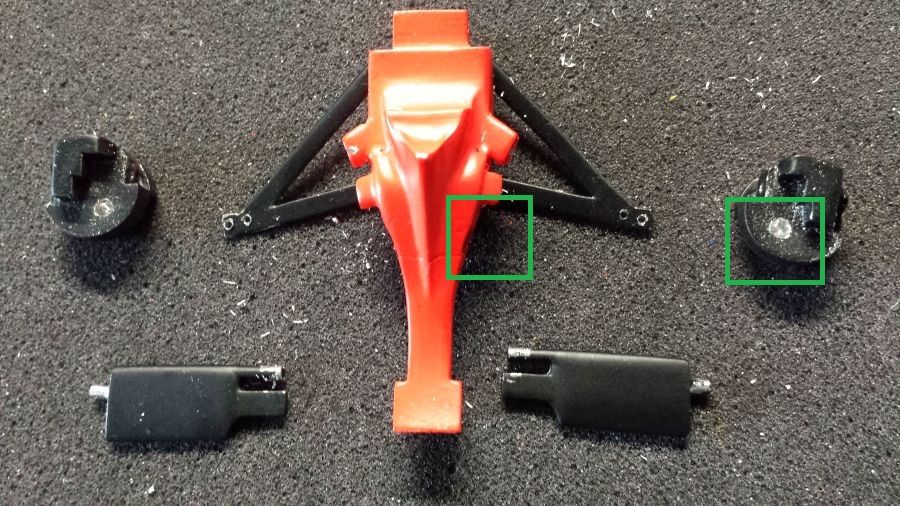 Ik kan geen goede foto's vinden van de achterwielophanging. Het is onduidelijk of de onderste draagarm helemaal horizontaal moet staan of iets naar beneden gericht. Bij 1 foto lijkt het erop dat het ietwat naar beneden gericht is.
I cannot find any good pictures of the rear wheel suspension. So it is unclear if the lower arm of the suspension should be horizontal or pointing a little down. On 1 picture it looks like it should point a little downwards.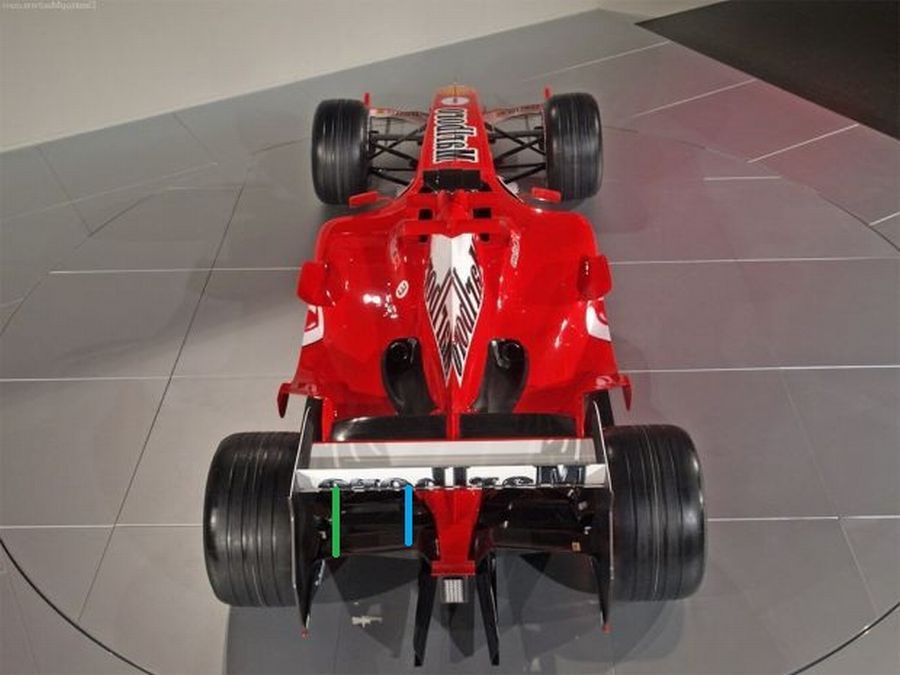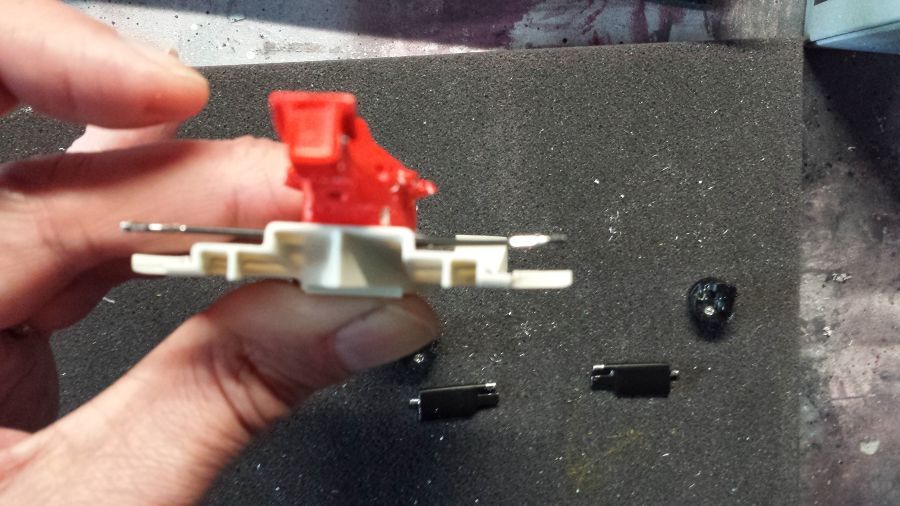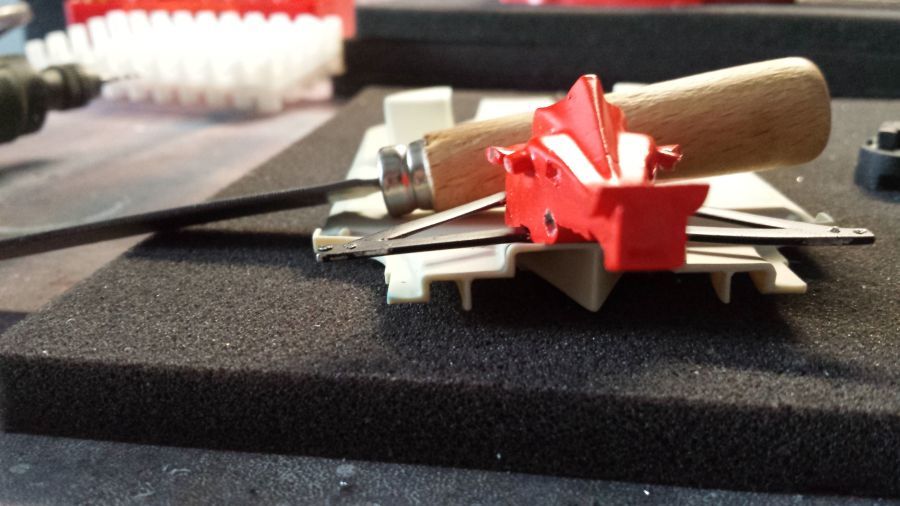 De opstaande steunen lijken een beetje te lang. Deze heb ik ingekort en een nieuwe steun aangebracht om aan de versnellingsbak te bevestigen.
The uprights seem to be a little too long. I have cut them and attached a new support to be able to attach it to the gear box.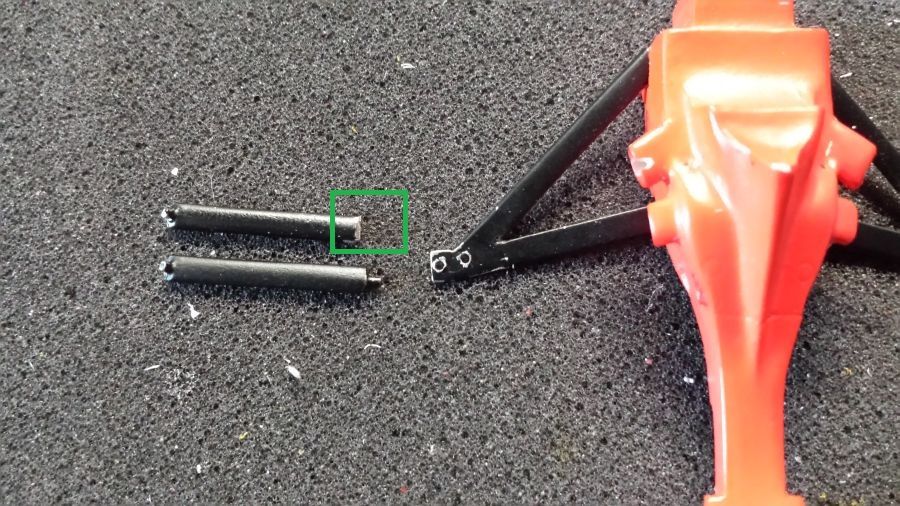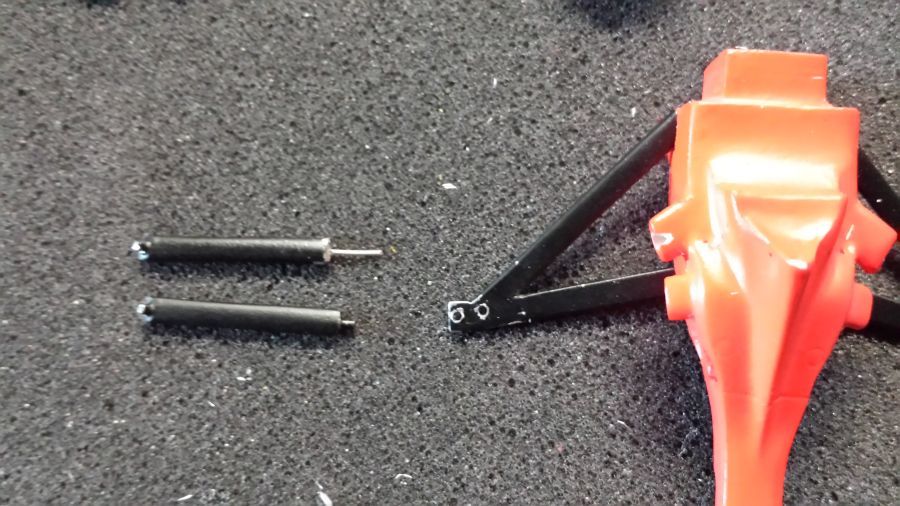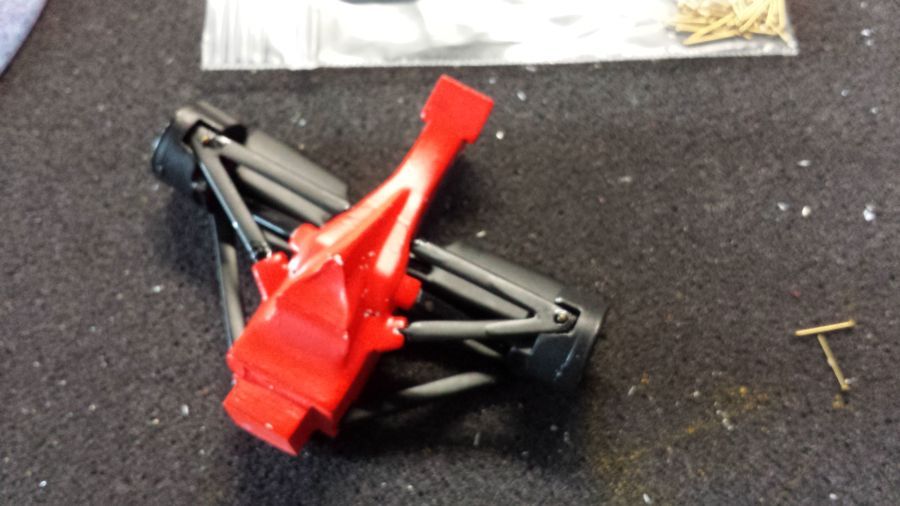 Voordat het aanbrengen van de decals kan beginnen, wordt eerst de neus gespoten.
Before the decal process starts, the nose cone is being painted.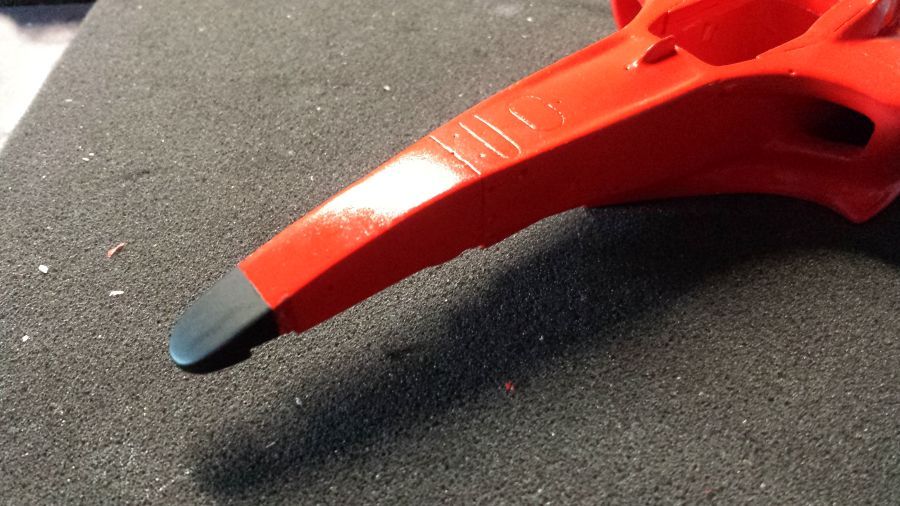 Een aantal decals zijn geplaatst. Nog niet alles. Voor de decals van Vodafone moeten eerst de schoorstenen worden geplaatst. 
Some decals have been applied. Noot all of them. Before applying the Vodafone decals the chimneys need to be put in place.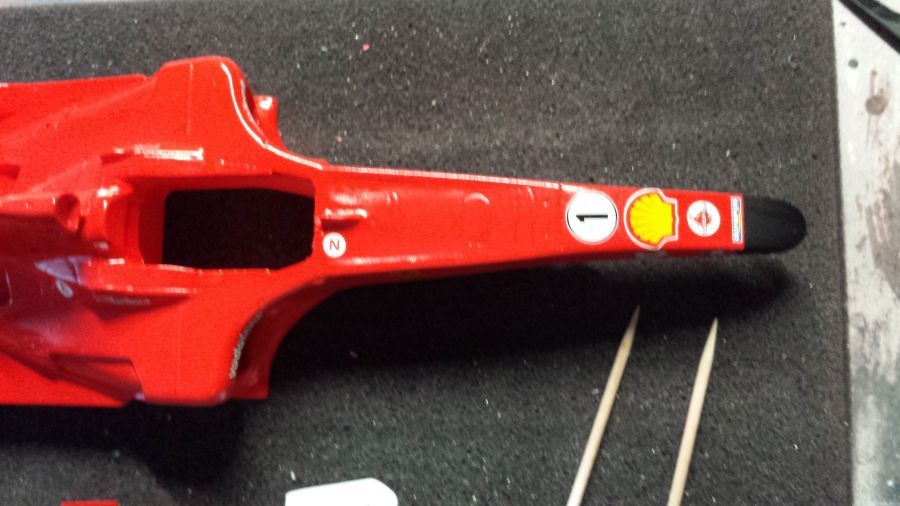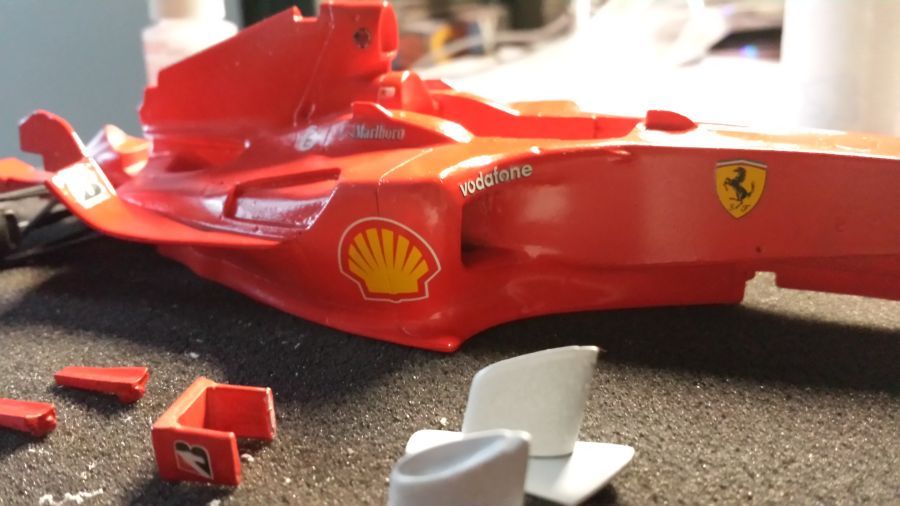 Verf en lak zijn gespoten. Nu goed drogen.
Paint and lacquer have been sprayed. Now let it dry.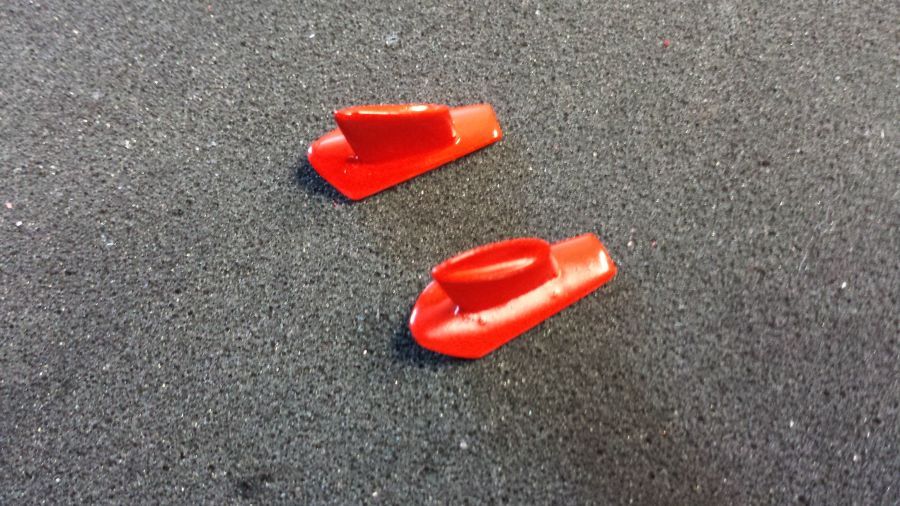 Tijd voor de witte vlakken. Ik moet kiezen uit de originele of die van de extra decals. De laatste zijn geschikt voor het plakken van de cigaret logo's. De groene is voor de Ferrari F2005 Bahrein.
Time for the whites. I have to choose from the original ones or those of the extra decals. Those are suitable to apply the cigarette decals. The green one fits the Ferrari F2005 Bahrein.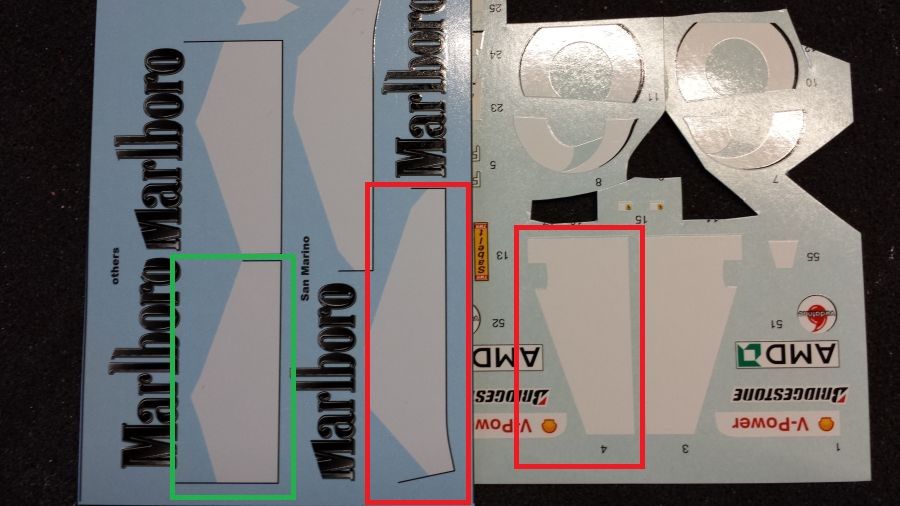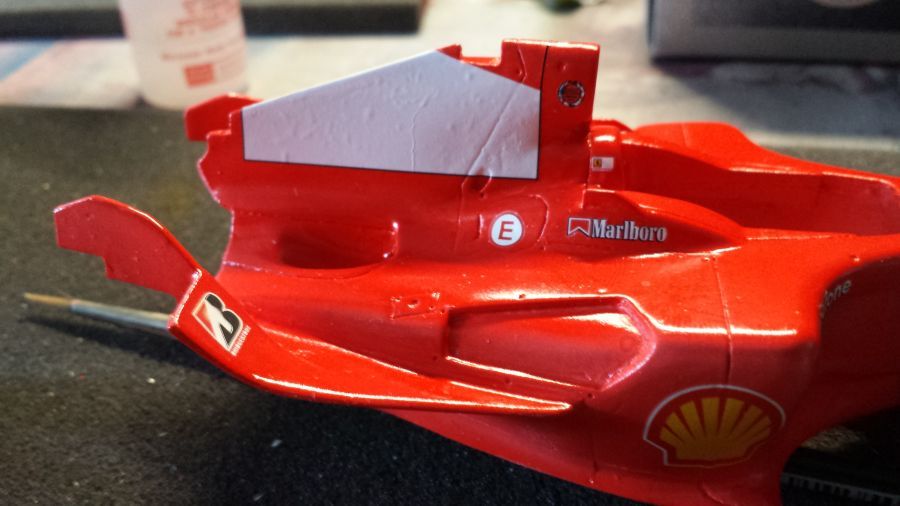 En de resterende decals, voorzover mogelijk. Eerst goed drogen en dan glanslak er overheen.
And the rest of the decals, as long as possible. First let it dry and then clear coat over it.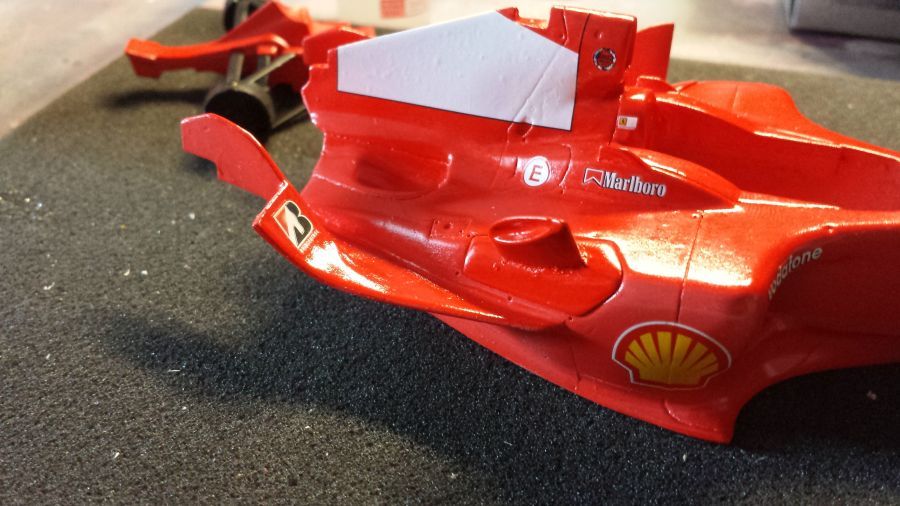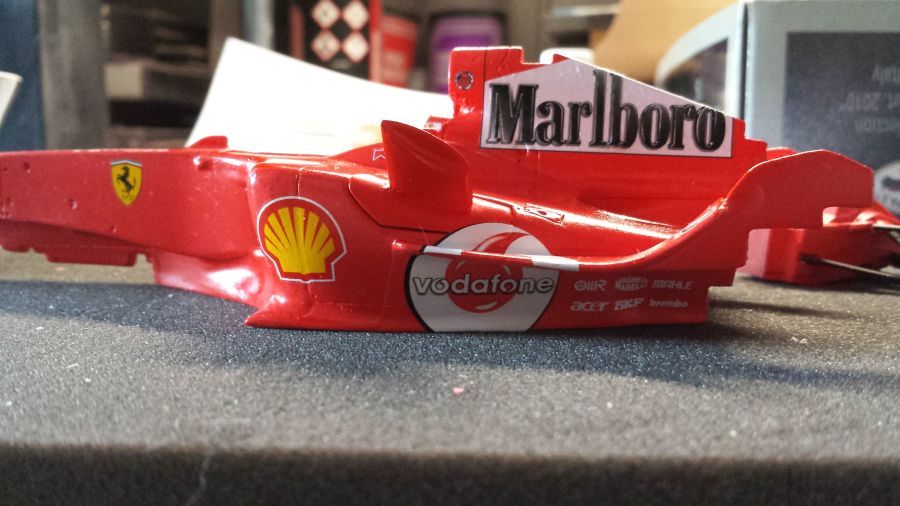 Nog een paar onderdelen zijn zwart gespoten.
Another few parts have been sprayed black.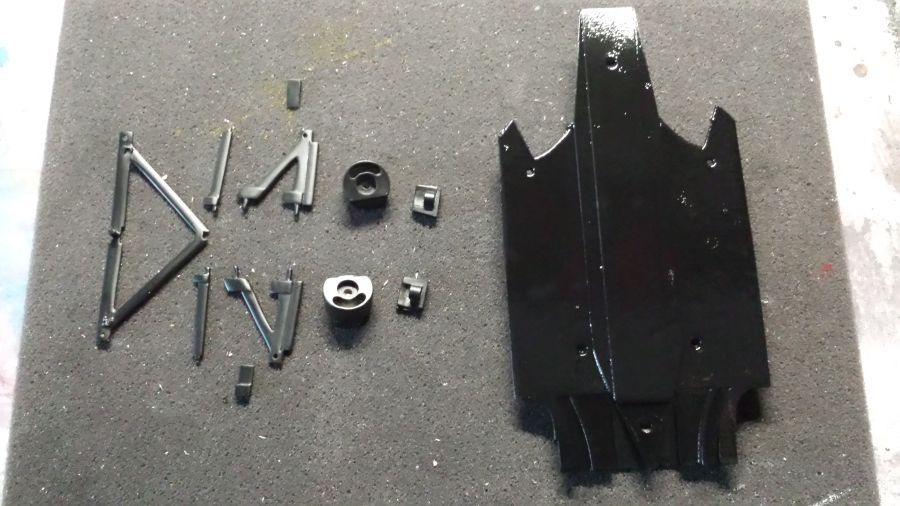 De heldere lak van Zero Paints zit er op. Nu een mooi tijdje laten drogen. * Plaats niet het witte Cigaret logo op de neus, deze hoort daar niet voor de Ferrari F2005 Bahrein. Ik deed het verkeerd en moest het oplossen.
The clear coat from Zero Paints has been sprayed. Now let it dry for a good time.  * Do not put the white cigarette logo on the nose, it's not correct for the Ferrari F2005 Bahrein. I did it wrong and had to come up with a solution.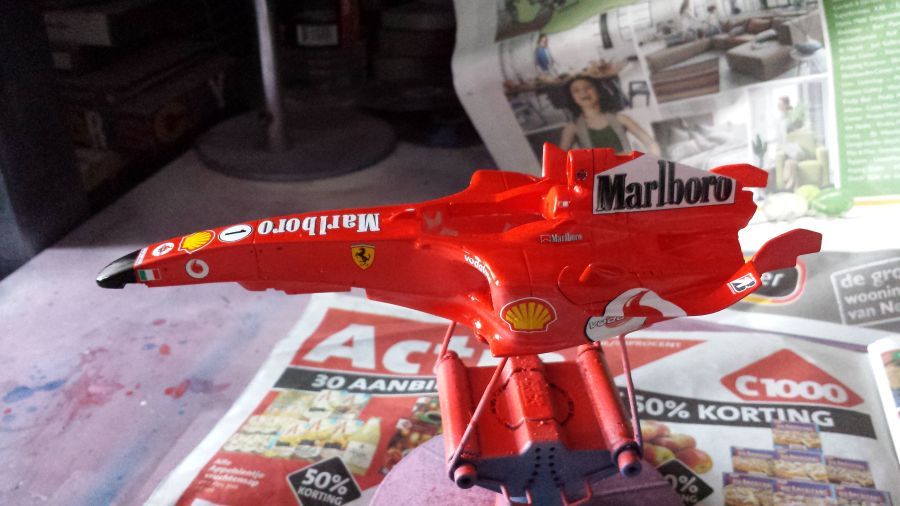 Hierna wordt het Ferrari logo op het zwarte deel geplakt. Na het drogen wordt dit deel gespoten met Tamiya TS-80 Flat Clear lak.
After this the Ferrari logo is put in place on the black nose. When dry, this part is being sprayed with Tamiya TS-80 Flat Clear lacquer.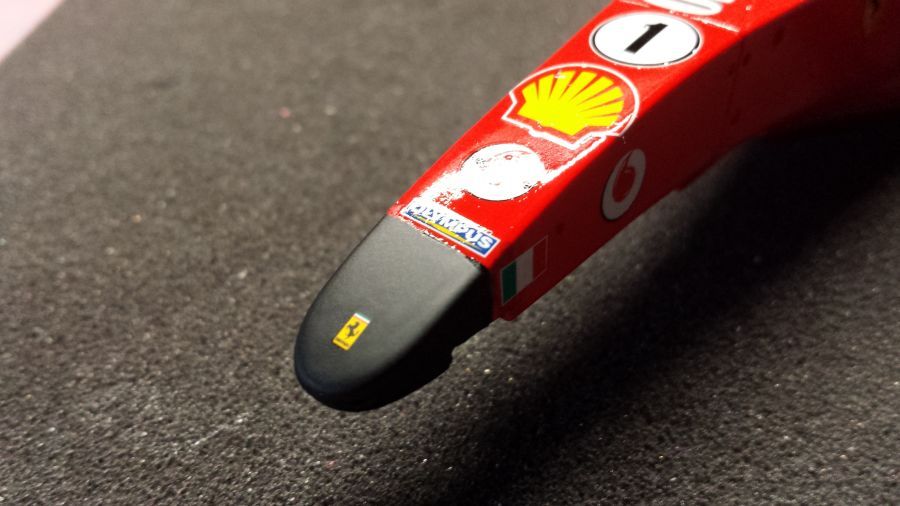 Door met het in elkaar zetten van de voorwielophanging.
Next is the assembly of the front wheel suspension.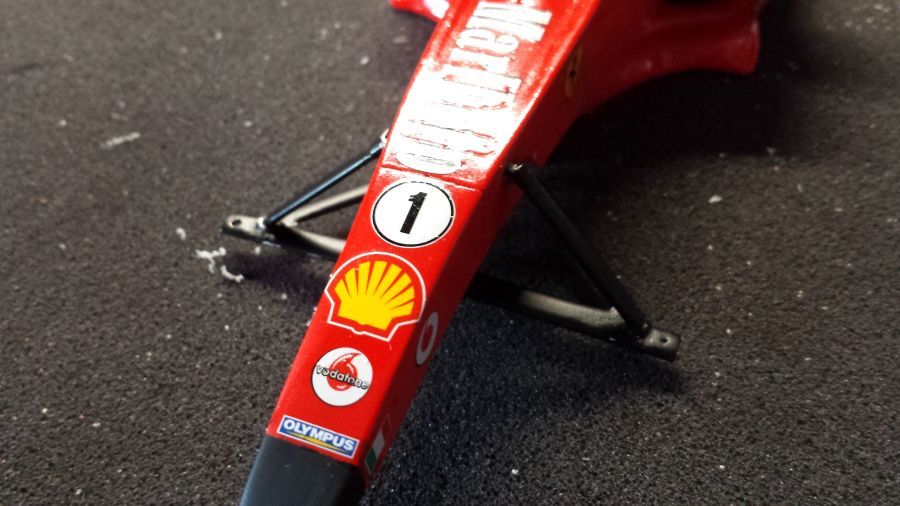 De gordels worden weer gemaakt van etched gespen en zijdelint. De etched is van KA Models
The belts are being created from etched buckles and silk ribbon. The etched is from KA Models.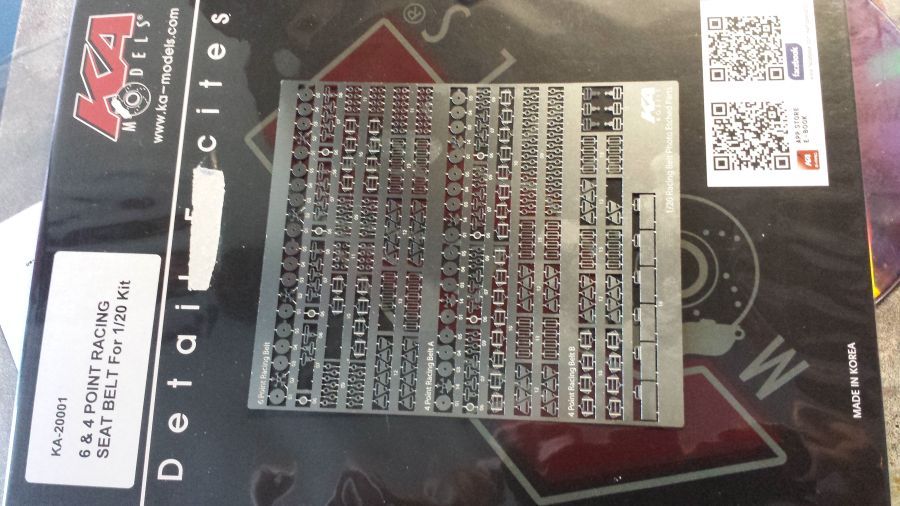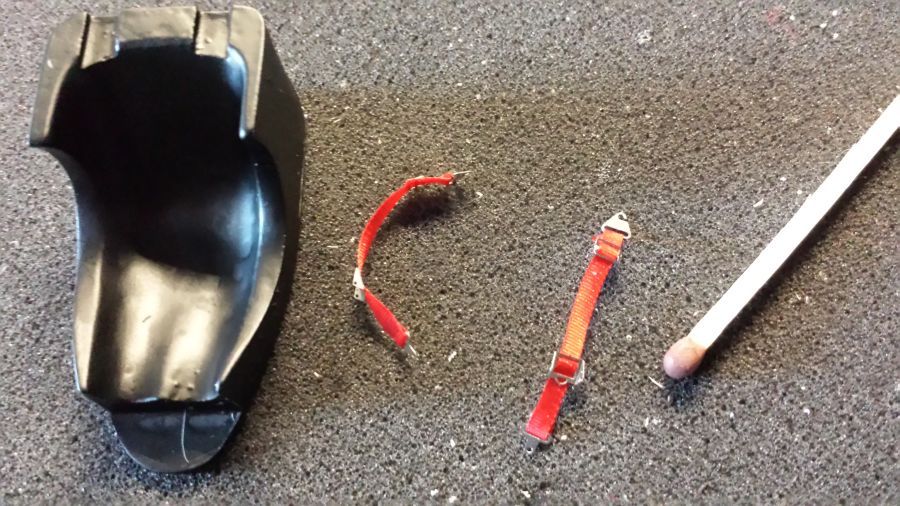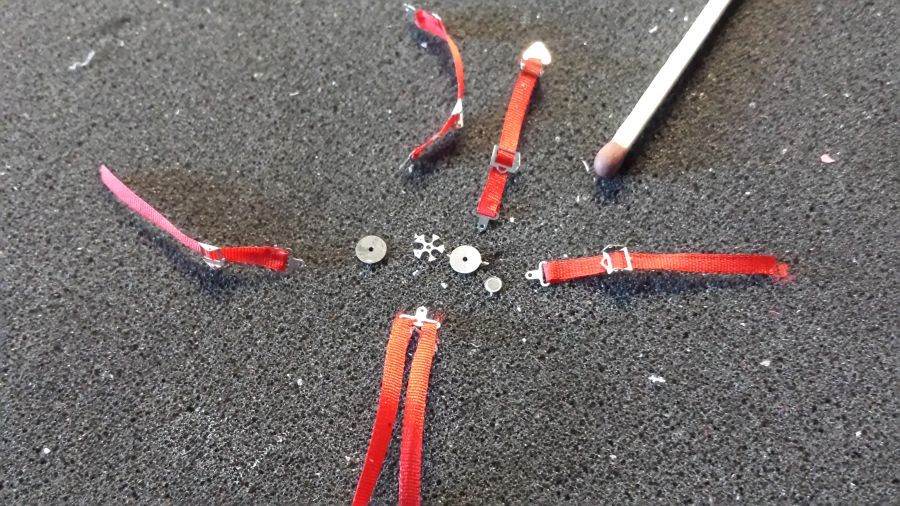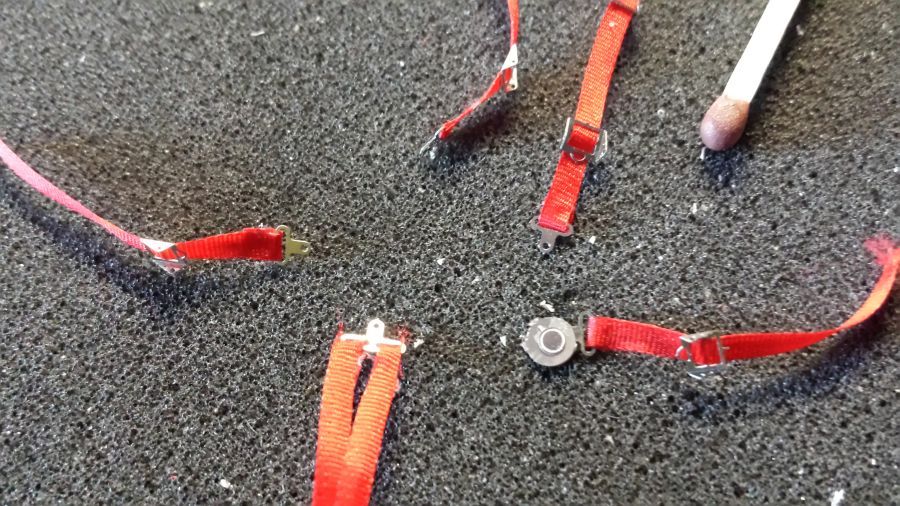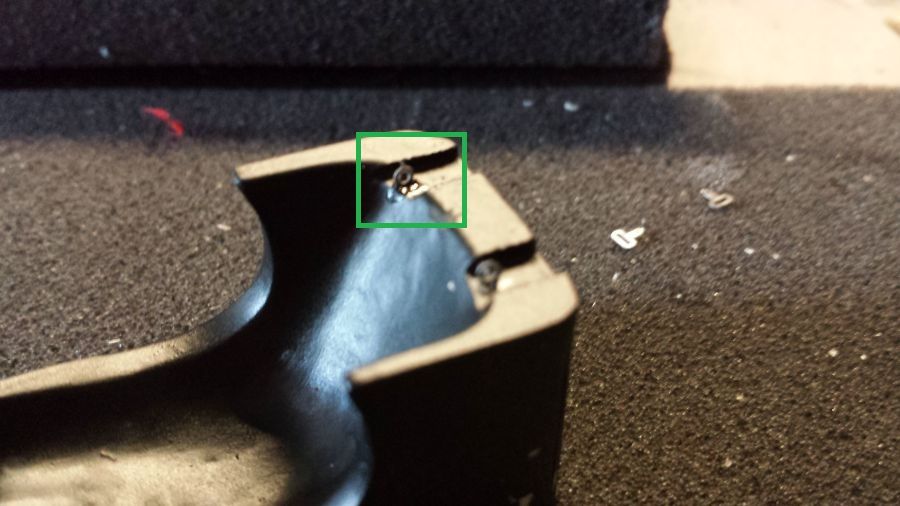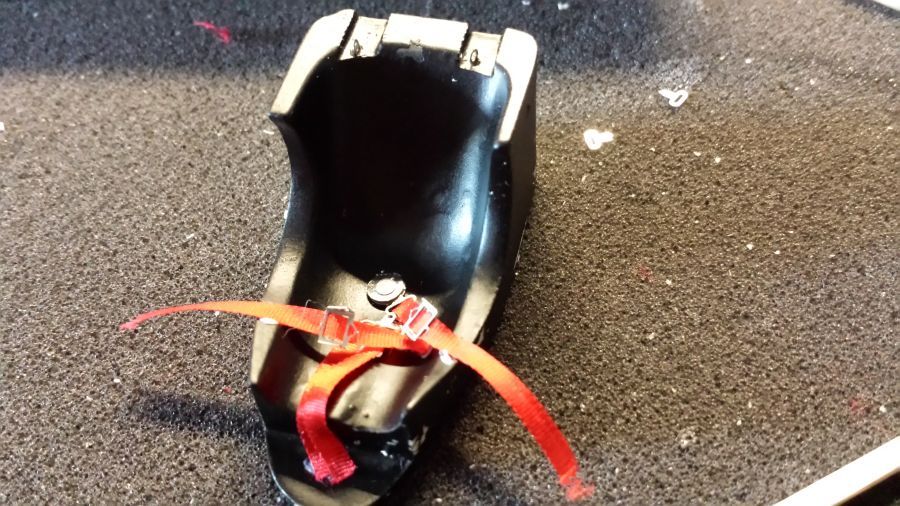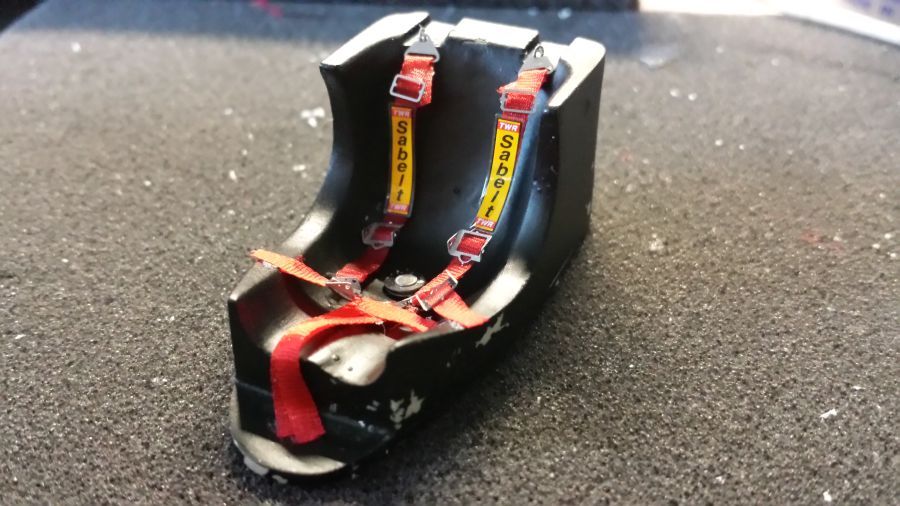 Het aanbrengen van 'de plank'.
Attaching 'the plank'.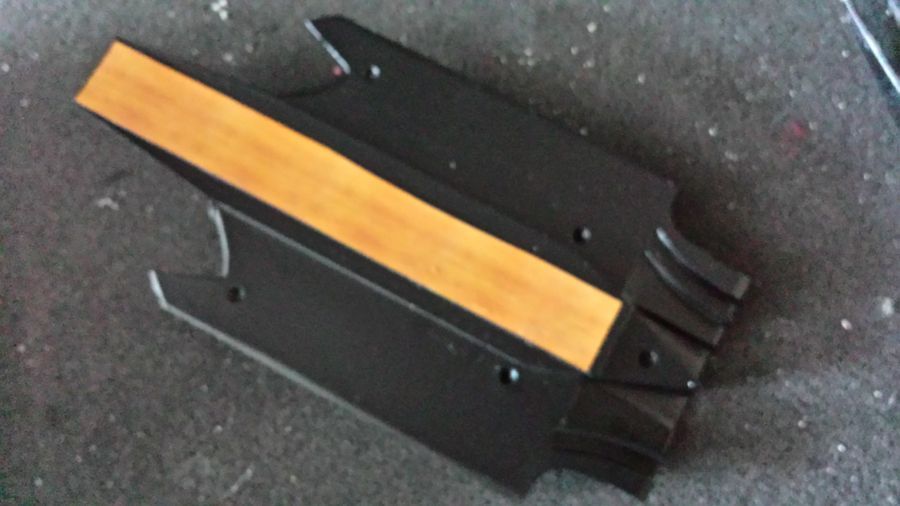 Het dashboard is klaar en kan worden geplaatst.
The dash is ready to be put in place.
Tijd om de achterkant erop te zetten, met de venturi en de bodemplaat.  * De schoorstenen zijn onjuist gemonteerd op deze foto. Verder naar beneden de correctie.
Time to attach the back side, the venturi and the floor. * The chimneys have been mounted wrong on this picture. The correction is a little downwards.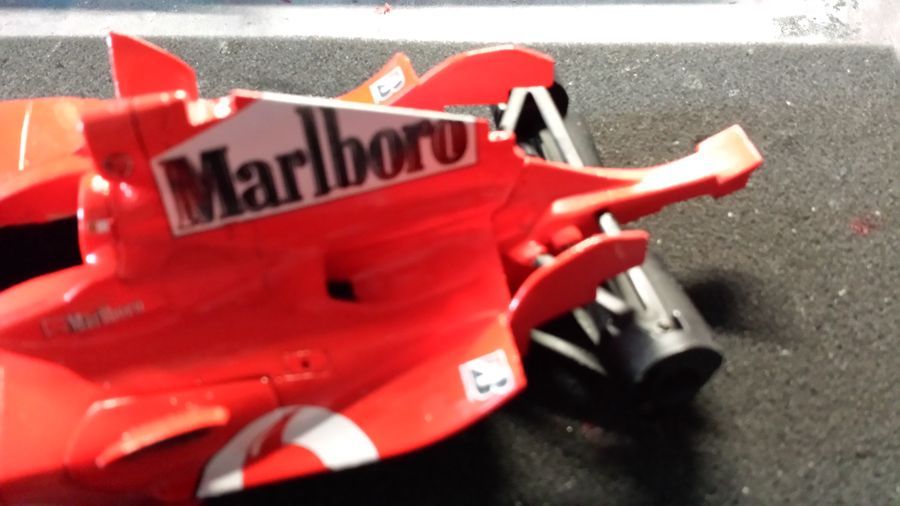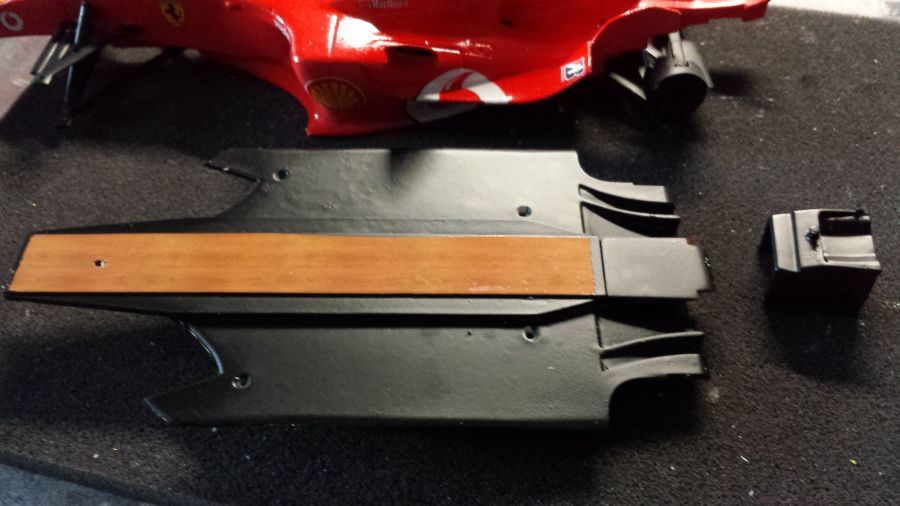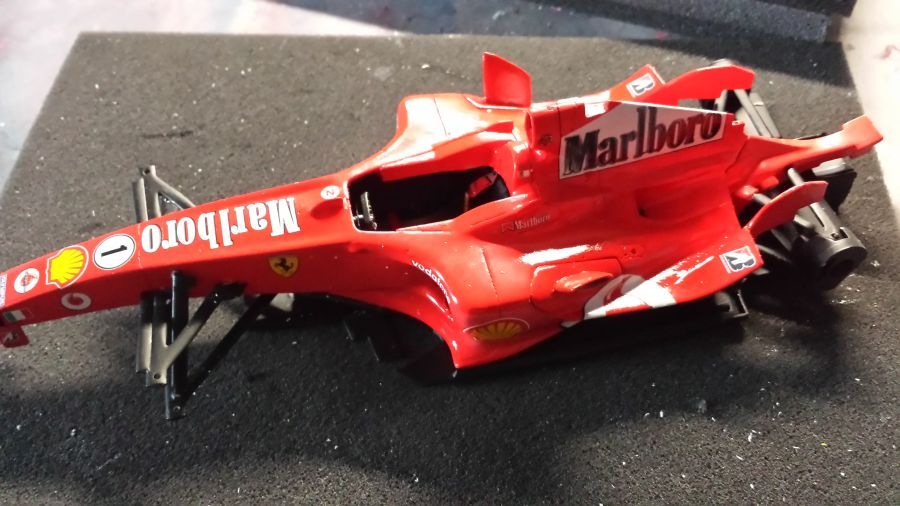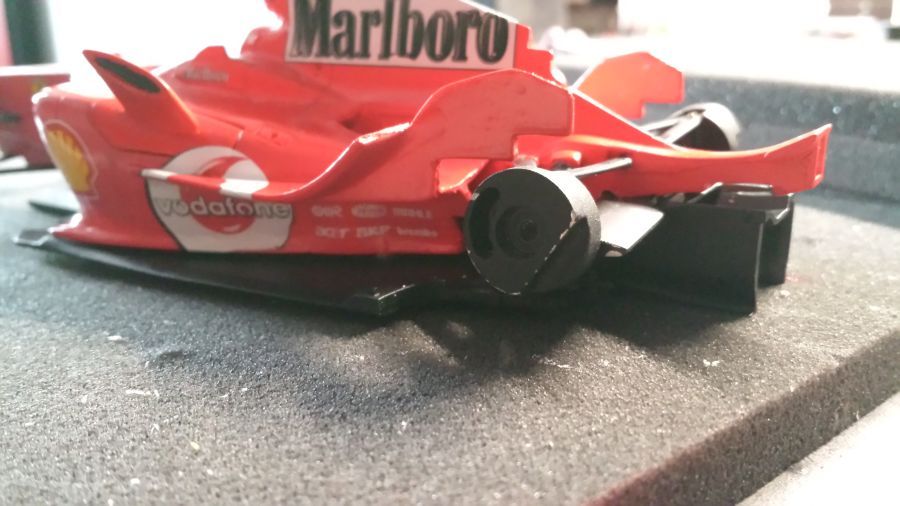 Vandaag heb ik mijn popnagels van Scale Hardware ontvangen. Deze gebruik ik om de remtrommels aan de ophanging te bevestigen. Ik heb dit liever dan de kleine zwart schroefjes.
Today i received my rivets from Scale Hardware. I use them to attach the wheel mounts to the suspension. I prefer this over using the black screws.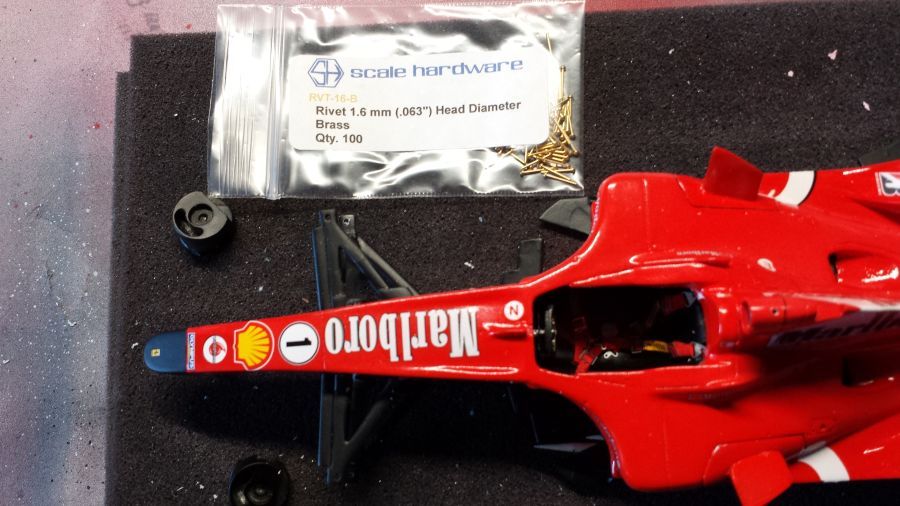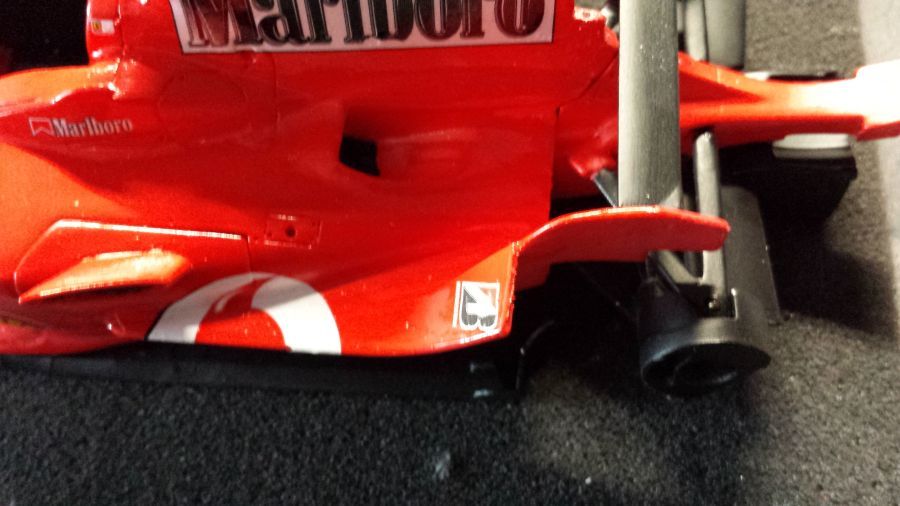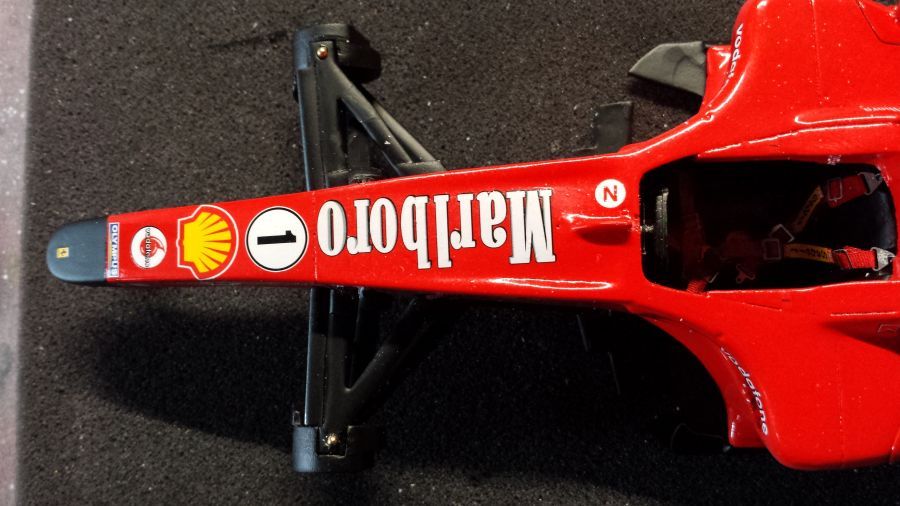 En de remmen.
And the brakes.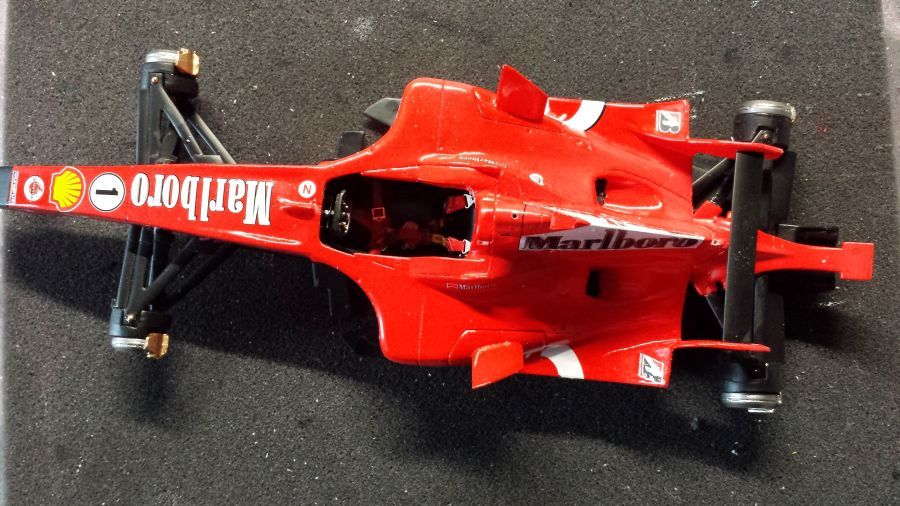 *Correctie van de montage van de schoorstenen.
*Correction of the mounting of the chimneys.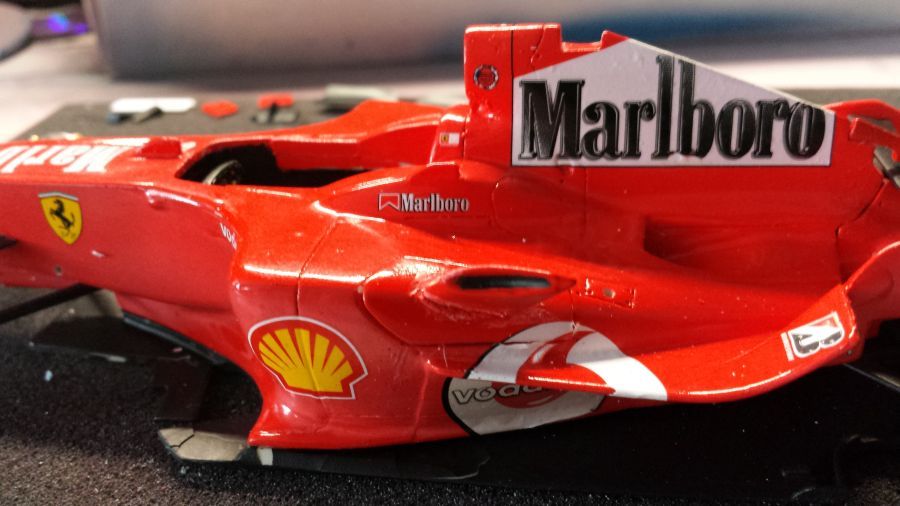 Een paar onderdelen zitten in de grondverf.
A few parts have been sprayed with primer.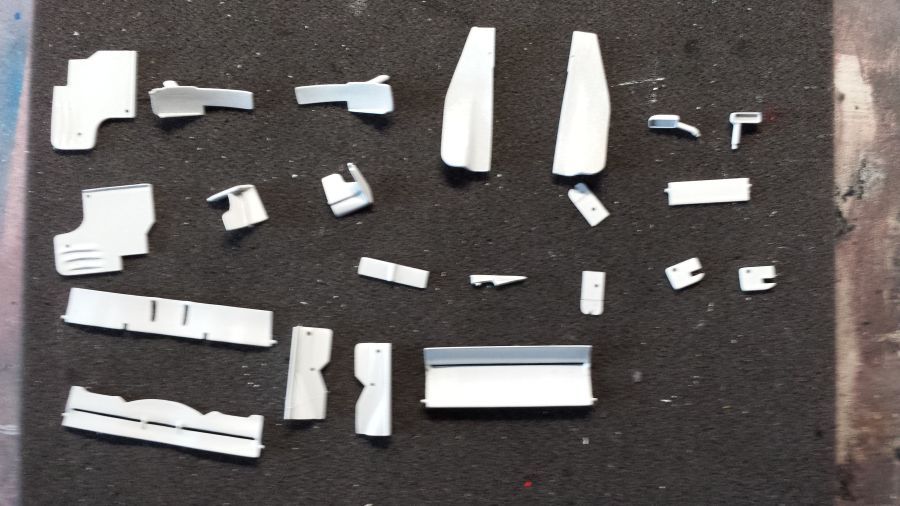 Dan het zwart, het wit, het rood en de glanslak.
Next the black, the white, the red and the gloss coat.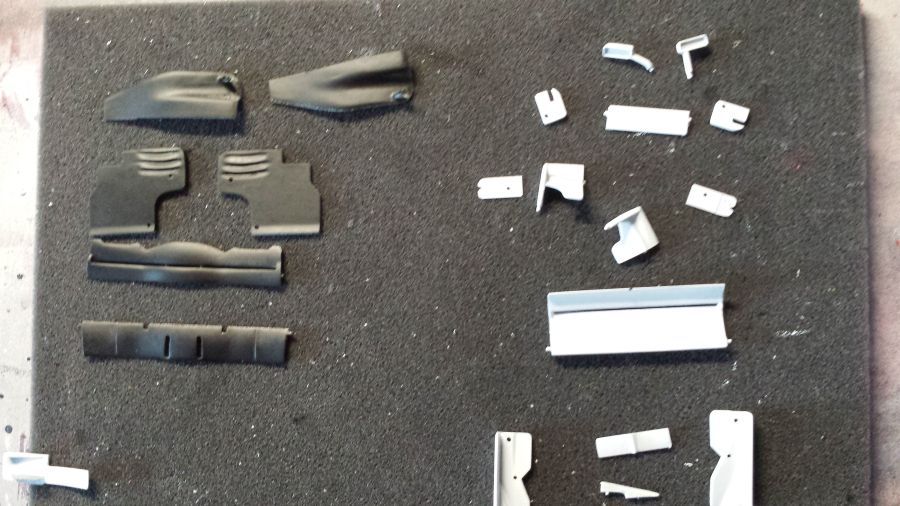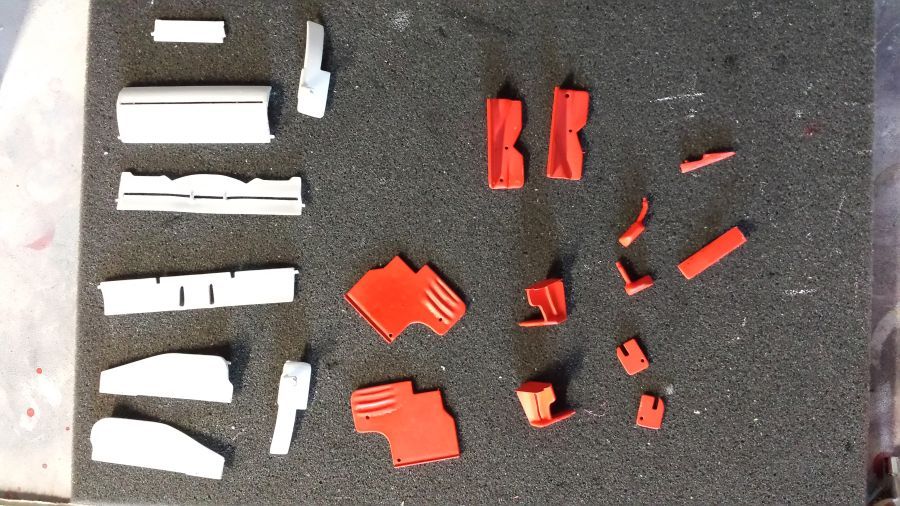 De decals zijn weer geplakt.
The decals have been applied.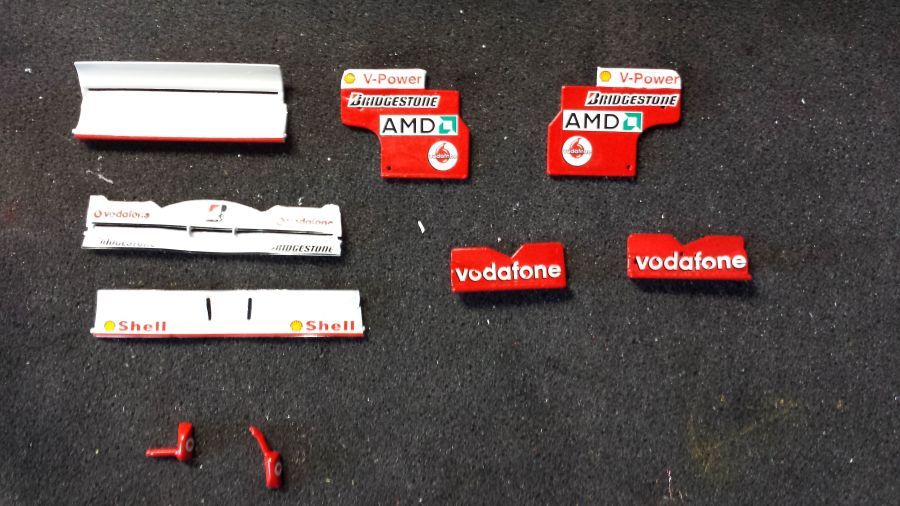 Daarna is het een kwestie van in elkaar zetten en wat vleugels aanbrengen.
After is this it's a question of putting it together and attaching some wings.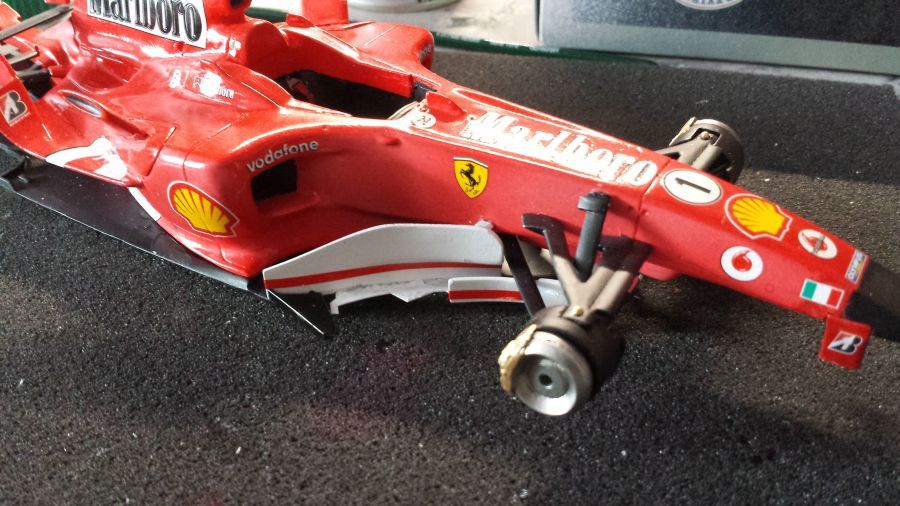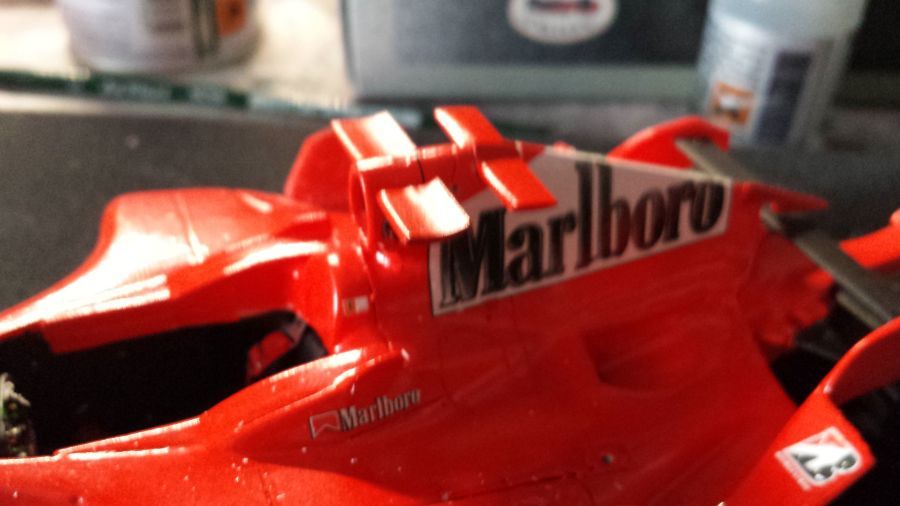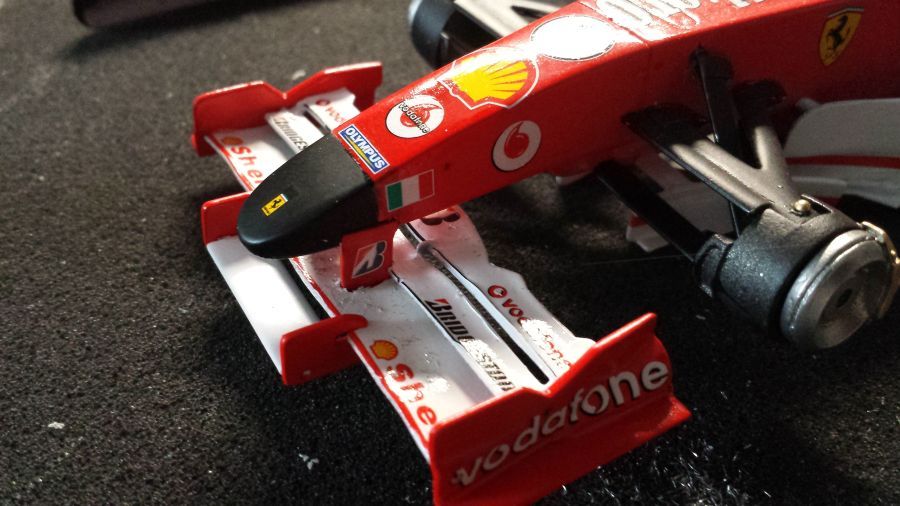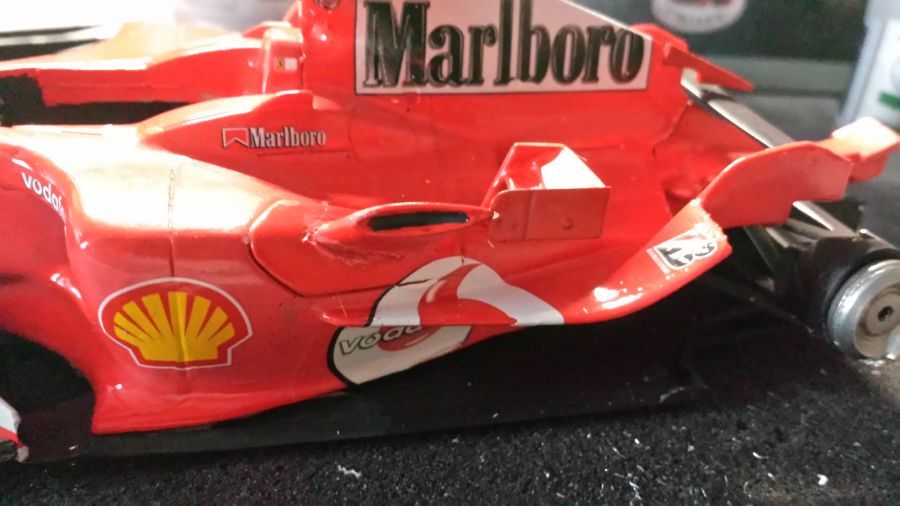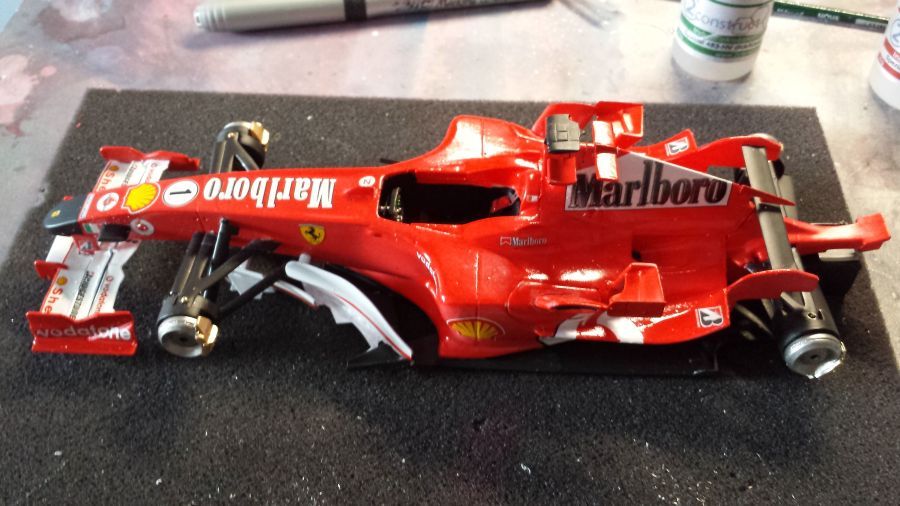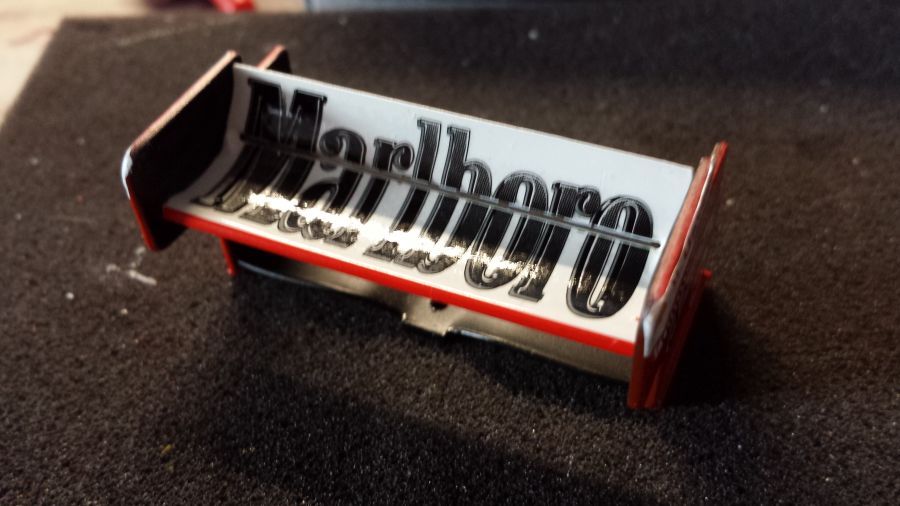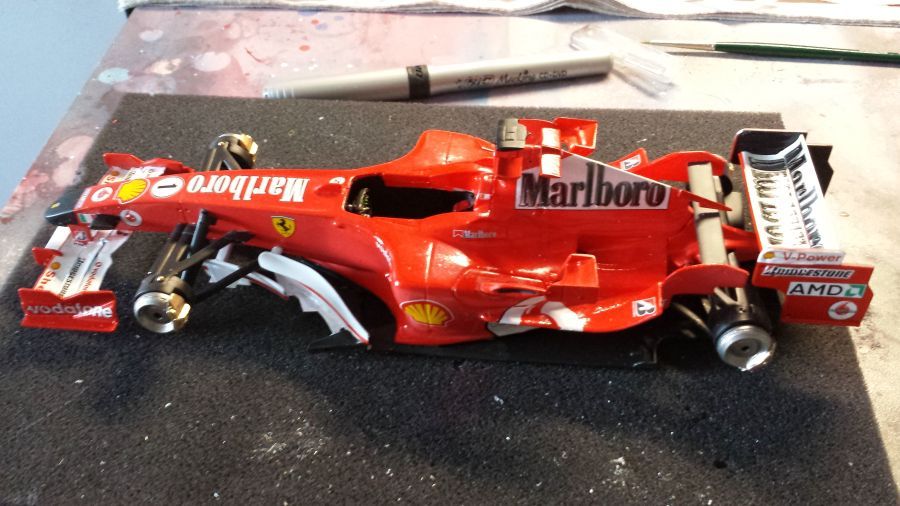 Dan de velgen. Denk erom dat de decals op de banden de juiste kant op wijzen.
Next are the rims. Mind the decals on the tires should point the correct way.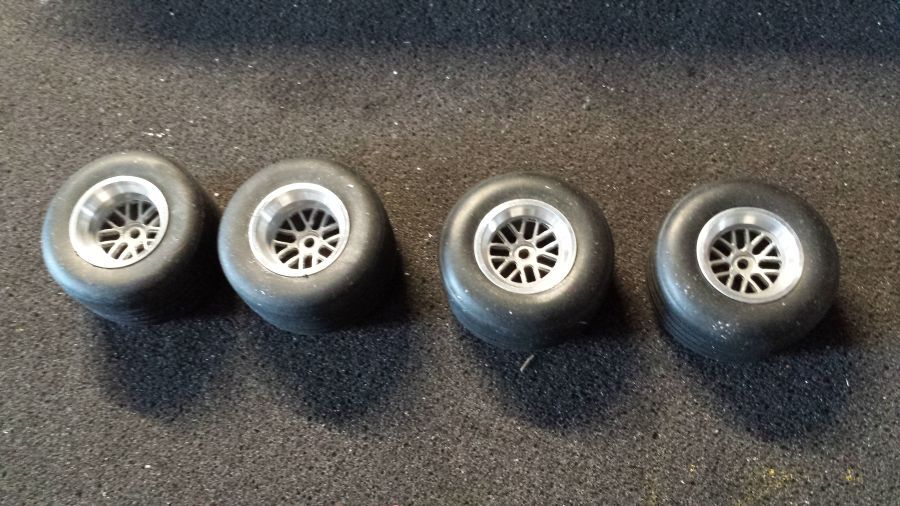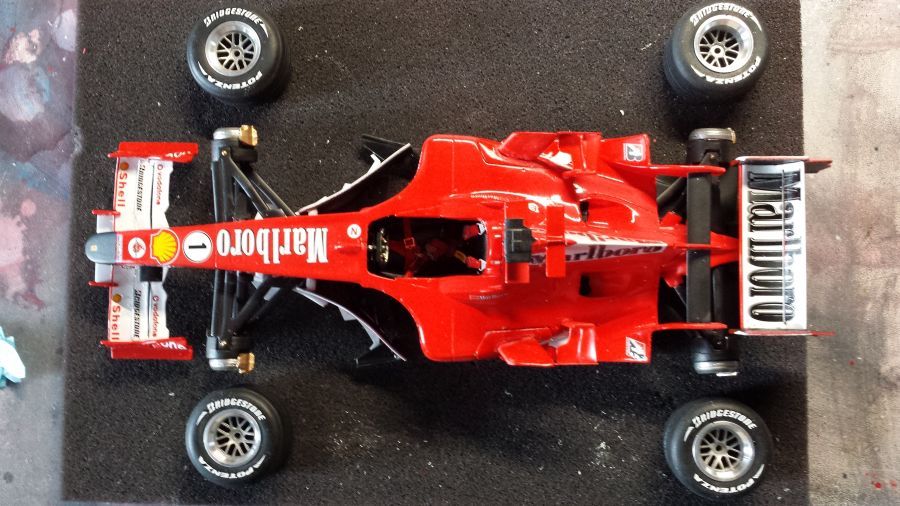 *Ik zie net dat op de Bahrein versie niet het witte cigaret logo op de neus hoort. Dit ga ik corrigeren door een stuk wit decal papier rood te spuiten en hierover heen te plakken. Ik moet het er maar mee doen.
* I just noticed the Bahrein version should not have the white cigarette logo on the nose. I will correct this by painting a piece of white decal paper red, and put this over it. It will have to do.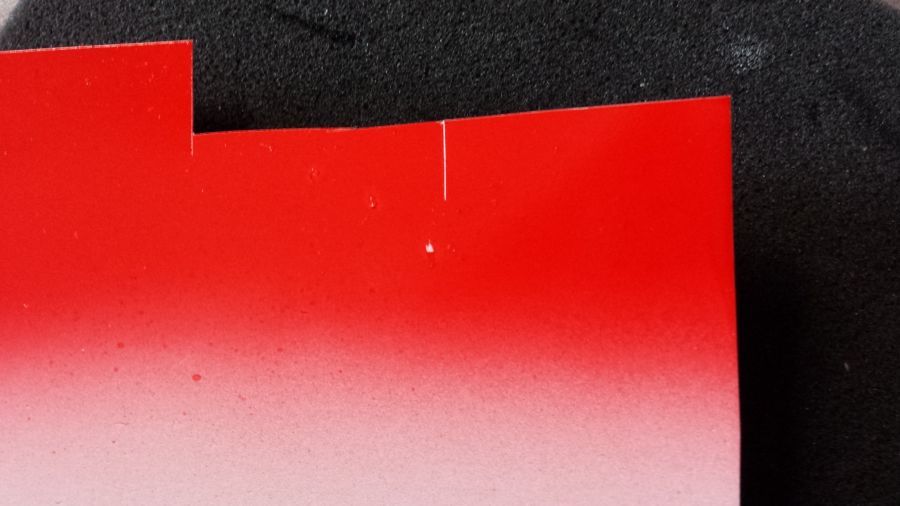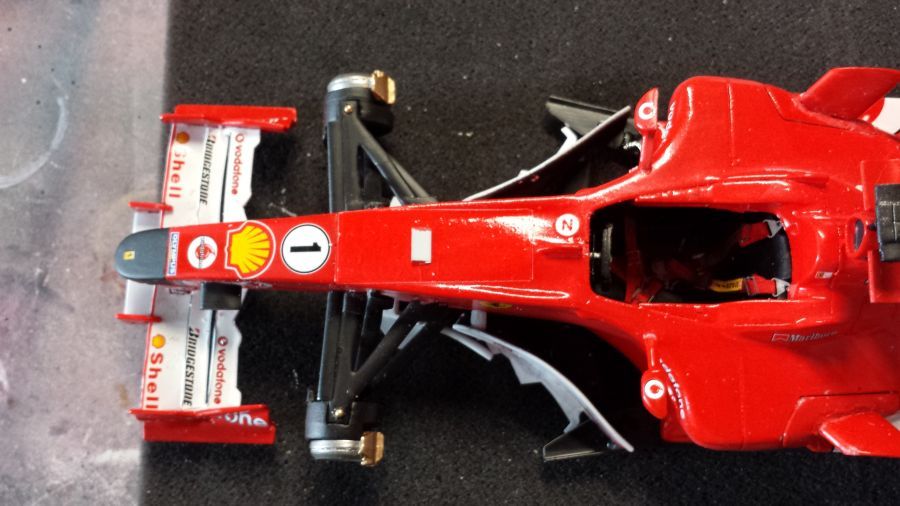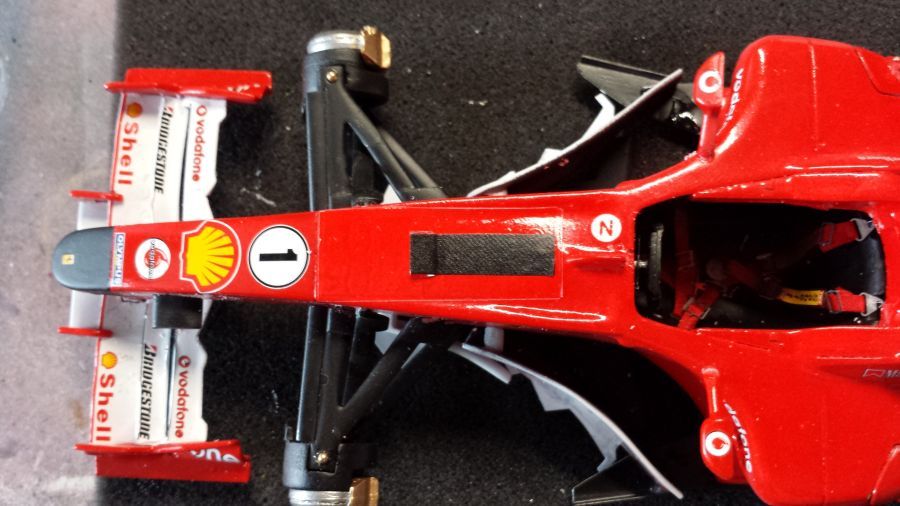 Antennes en het raam zijn geplaatst, nu nog de wielen erop...
Antennas and wind shield have been mounted, now the wheels...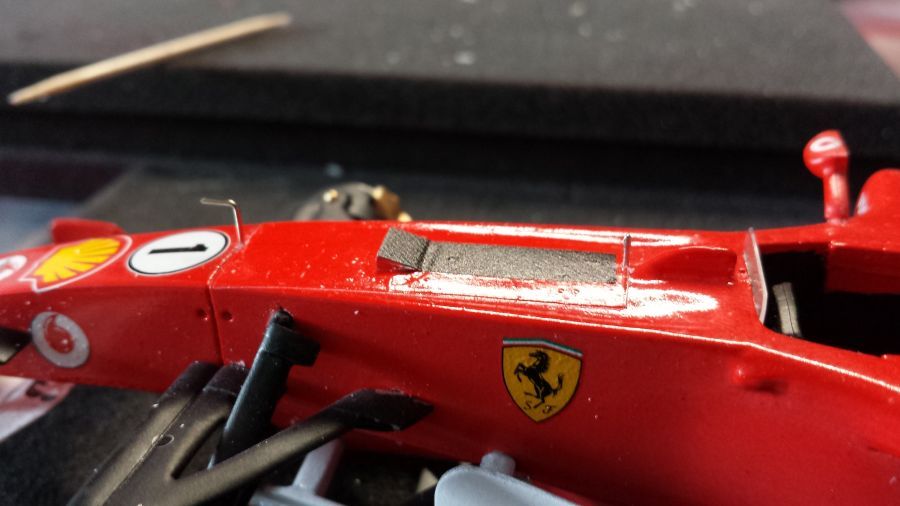 En klaar..
And done..