Hier volgt de beschrijving van de bouw van een 1976 Ferrari 312 T2 Monaco versie. Het is kit nr 23201 van Hasegawa. De bouw zal me helpen bij het bouwen van de Ferrari 312T6. Met deze bouw kan ik de nodige berekeningen maken voor het verlagen van de achteras van de Ferrari 312T6. Daarnaast heb ik een etched set van Hasegawa gekocht (metalen funnels en funnel covers) en van Acu-Stion een wielenset.
Here i will build the 1976 Ferrari 312 T2 Monaco version. It is kit no 23201 from Hasegawa. This build will help me with the build of the Ferrari 312T6 later. Now i will be able to see what adjustments have to be made on the rear axle of the Ferrari 312T6. I have also bought an etched set from Hasegawa (with metal funnels and funnel covers) and an Acu-Stion wheelset.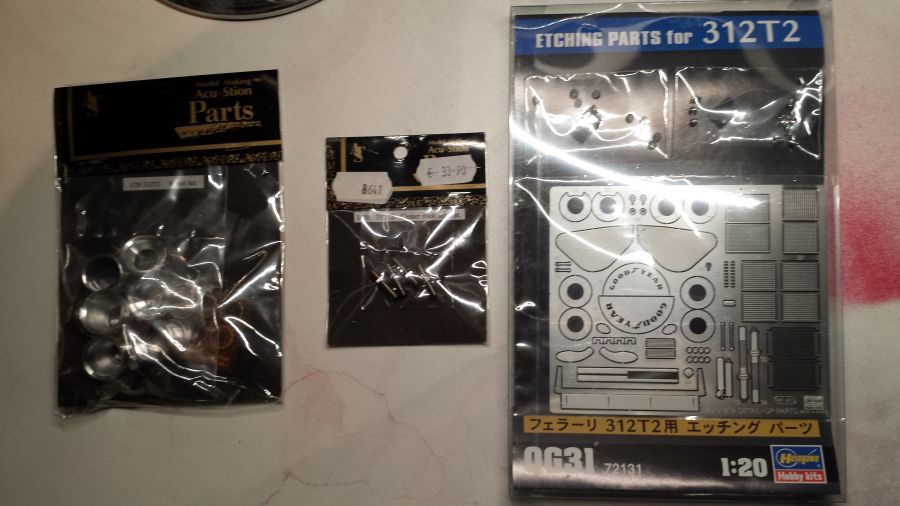 Hieronder de onderdelen van de originele bouwdoos. 
Below the parts of the original kit.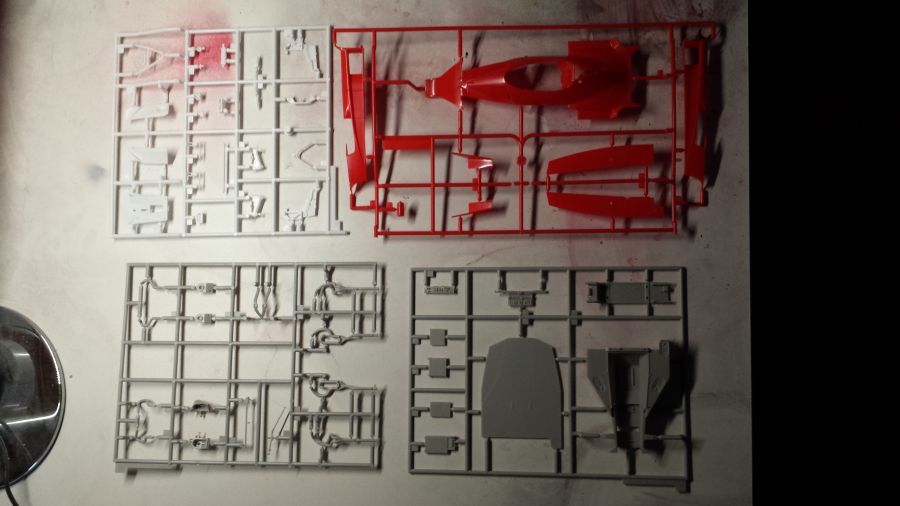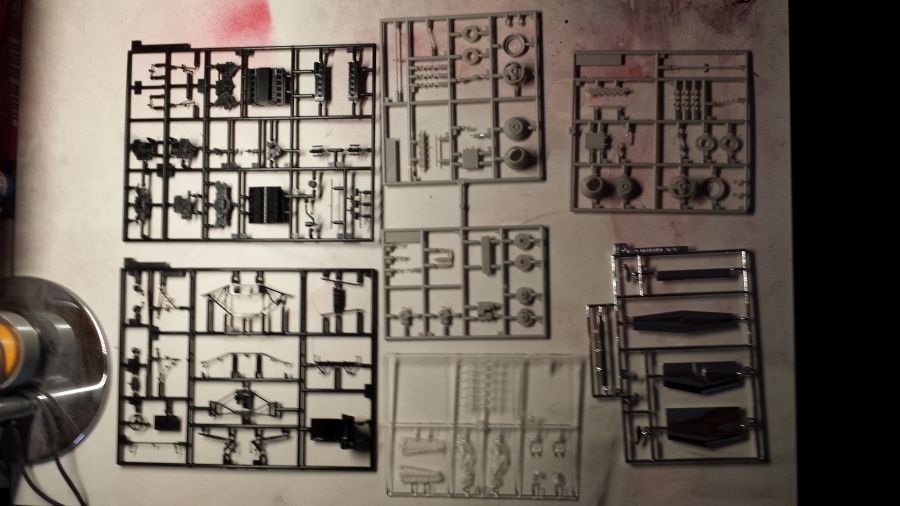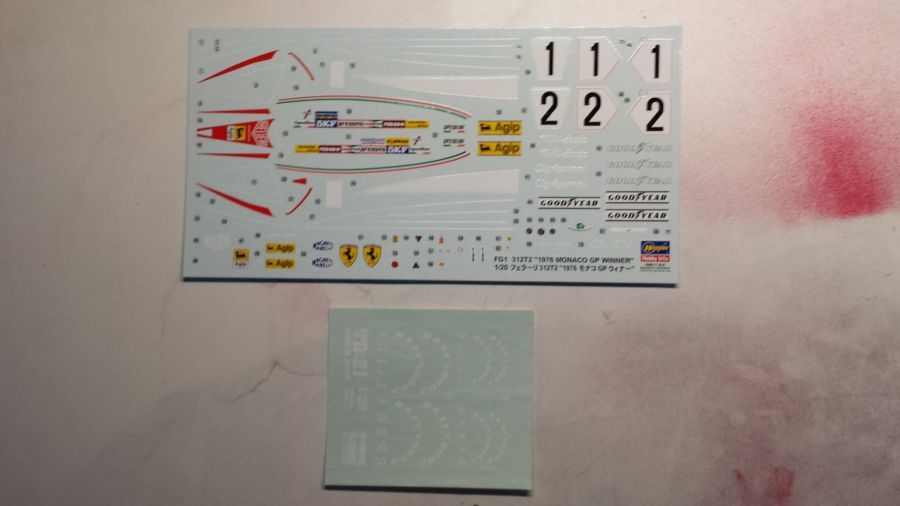 De doorzichtige onderdelen verf ik met Revell nr. 730 (Clear Orange)
The clear parts i will paint with Revell no. 730 (Clear Orange).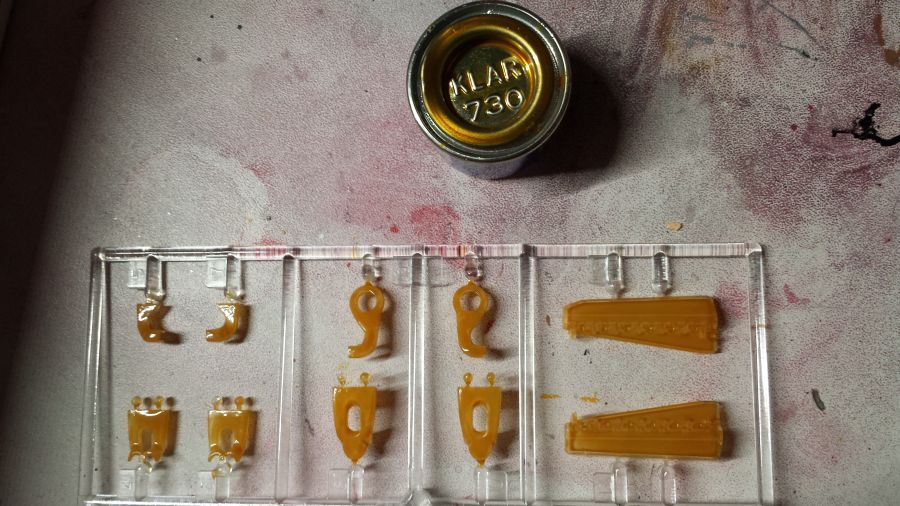 De inlaten worden verder in elkaar gezet. De funnels en funnel covers zijn onderdelen van het etched pakket
van Hasegawa. Deze worden gelijmd met superglue. Pas wel op dat de 'trompetten' goed uitgelijnd worden.
The intakes are assembled. The funnels and funnel covers are parts of the Hasegawa etched packet.
They are glued with superglue. Take care they are glued in a straight line.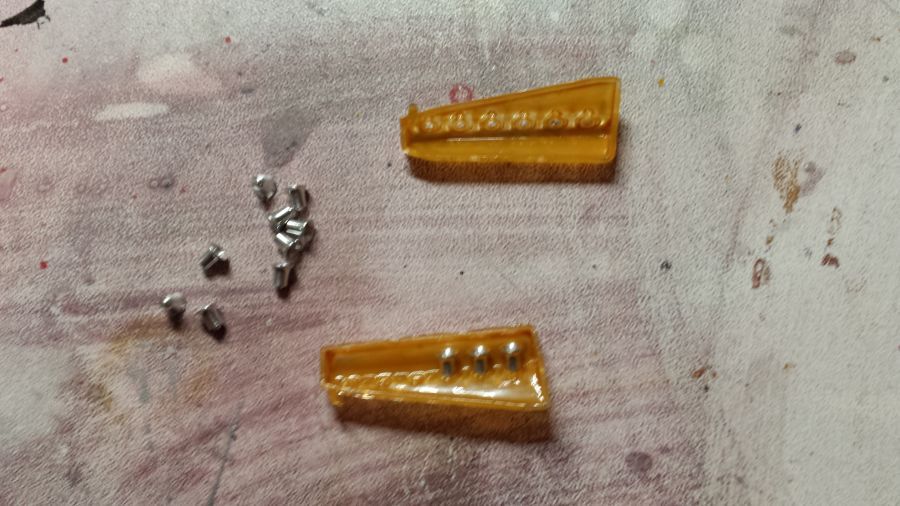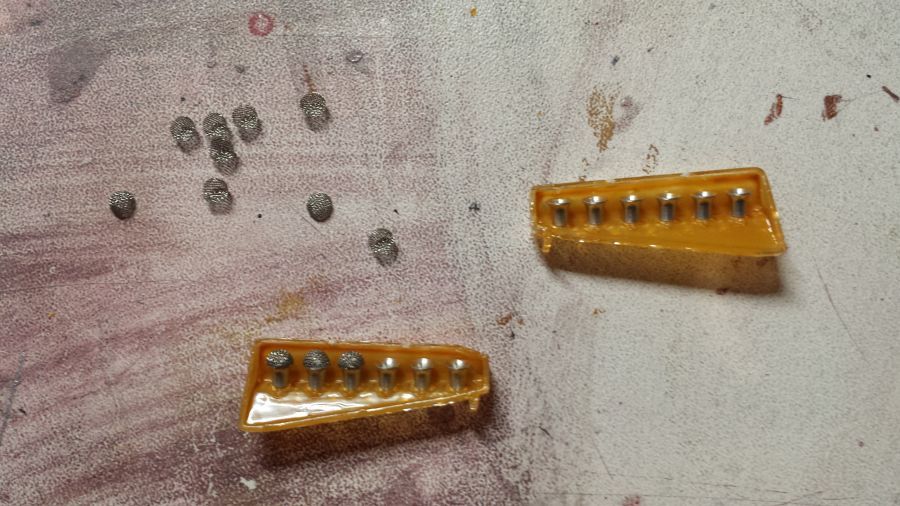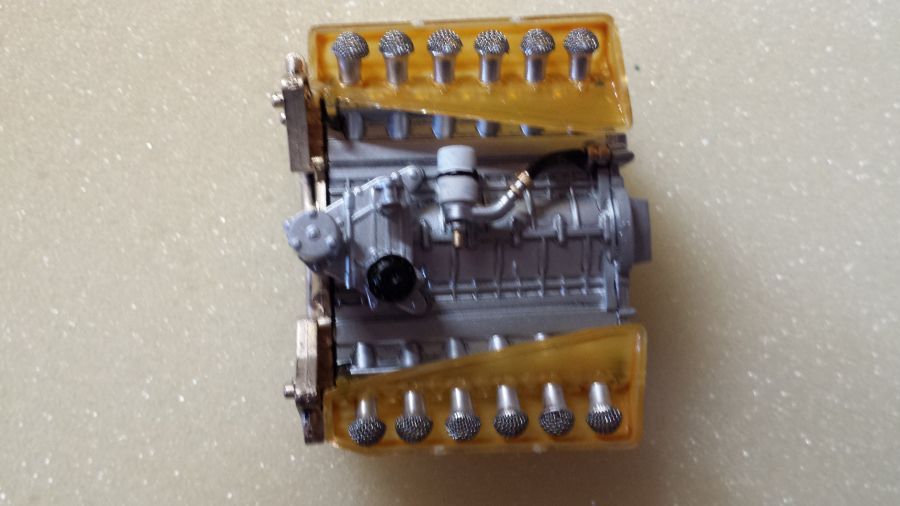 De remschijven worden voorzien van de etched plaatjes. Deze kunnen gewoon op de originele schijven worden gelijmd. Let op de groeven.
The etched brakedisks can be glued to the original disks. However mind the grooves.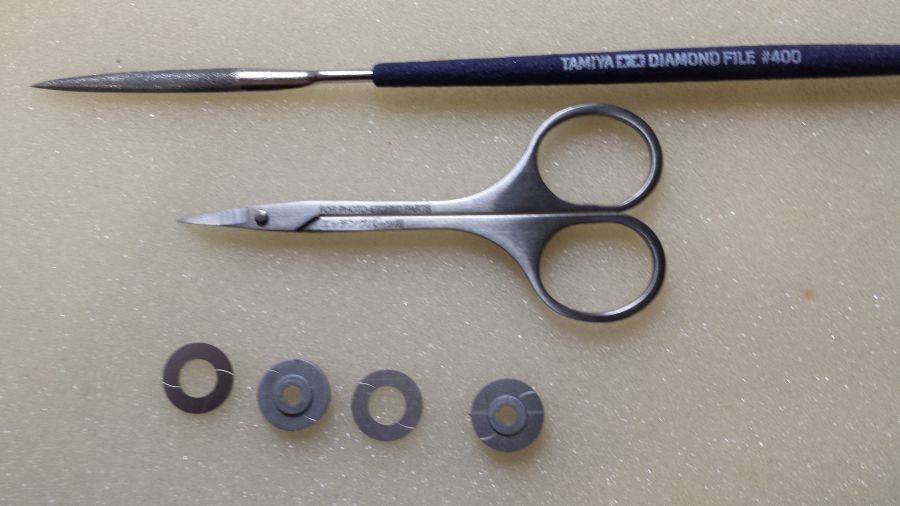 De eerste delen van de motor en de versnellingsbak zijn klaar. Nu kleine gaatjes boren om de draden te kunnen plaatsen naar de ontsteking. 12 mini gaatjes.
The first parts of the engine and gearbox are ready. Now i will drill small holes to do some wiring on the ignition. 12 mini holes.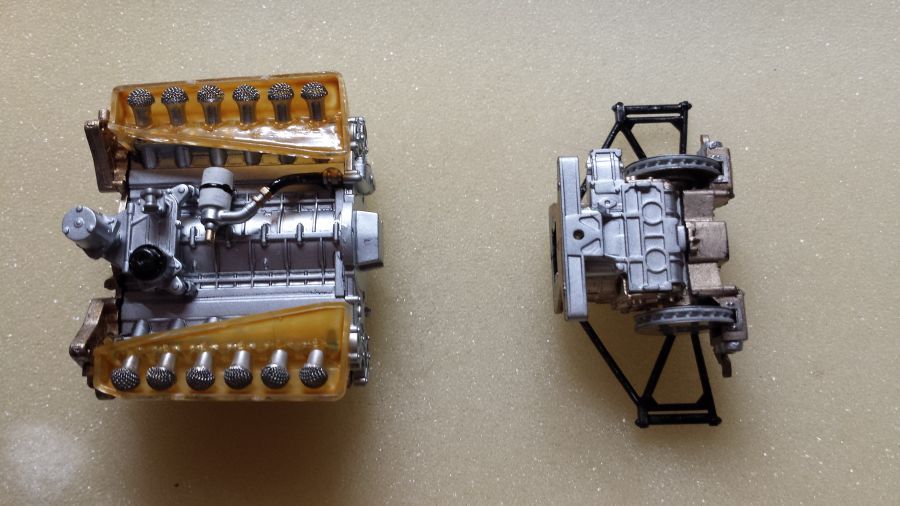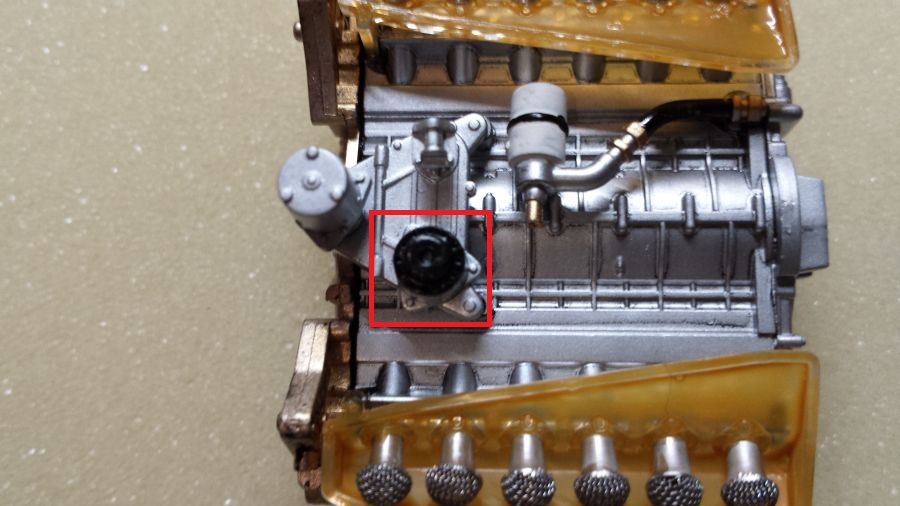 Alle gaatjes zijn geboord, en de bedrading voor een deel gelijmd met superglue. Ook de gaten op de met rood aangegeven punten zijn geboord voor draaddoorvoer.
All holes have been drilled, and the wires have partially been glued with superglue. Also the holes on the red marked spots are drilled, to put the wire through.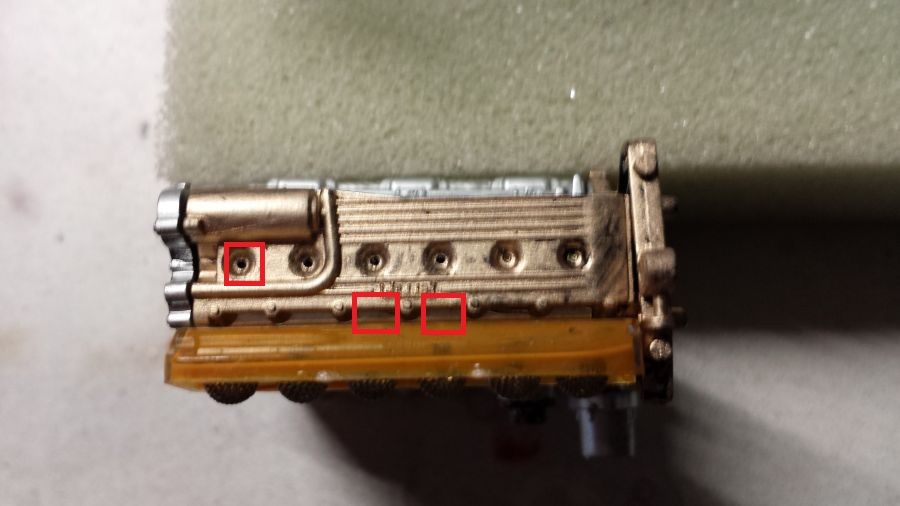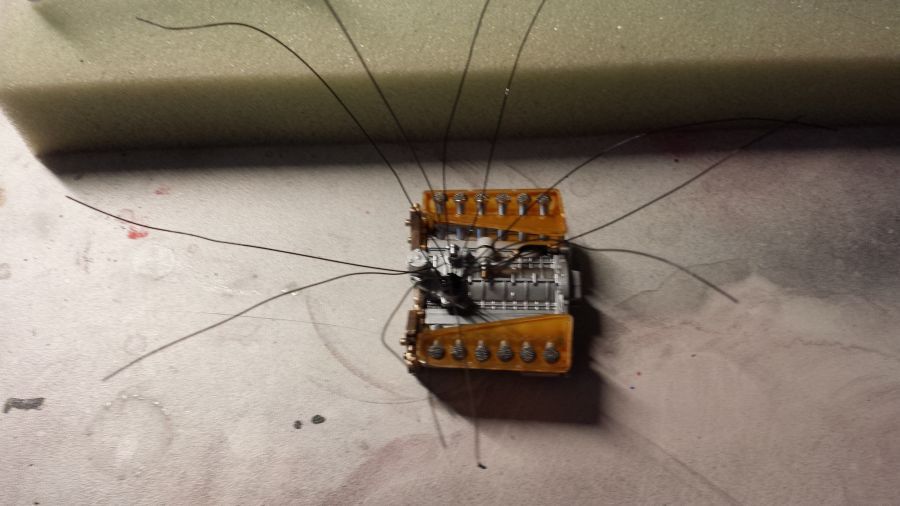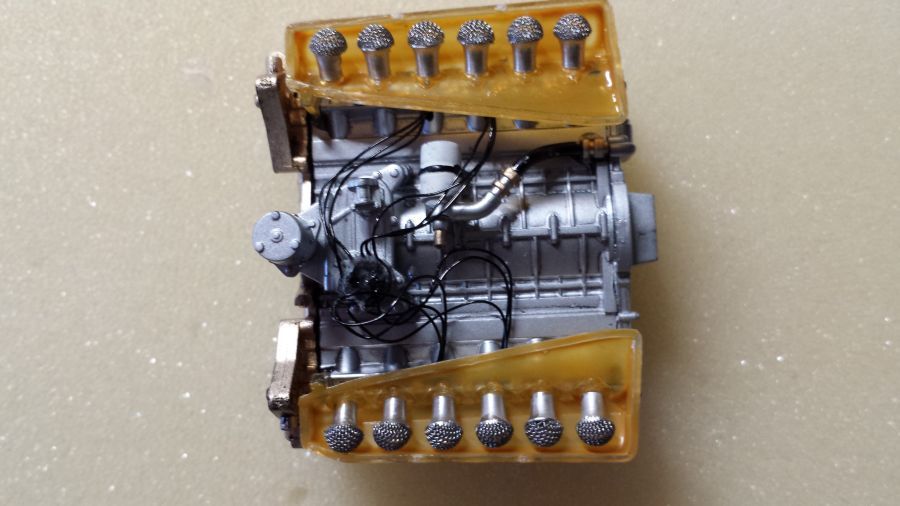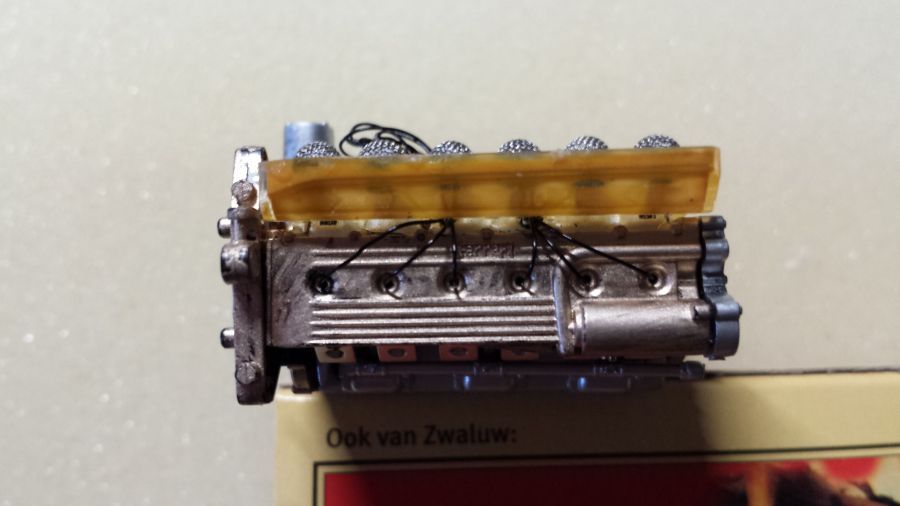 De motor en de versnellingsbak zijn klaar voor assemblage.
The engine and gearbox are ready to be assembled.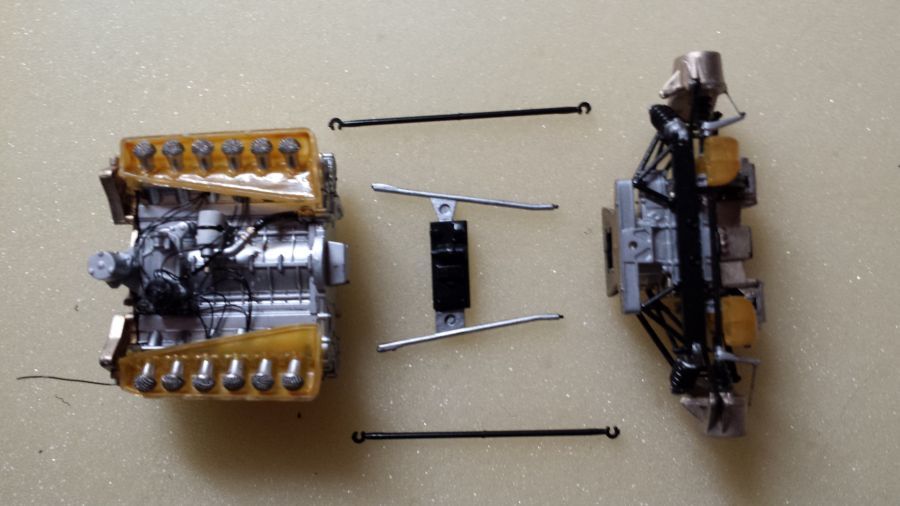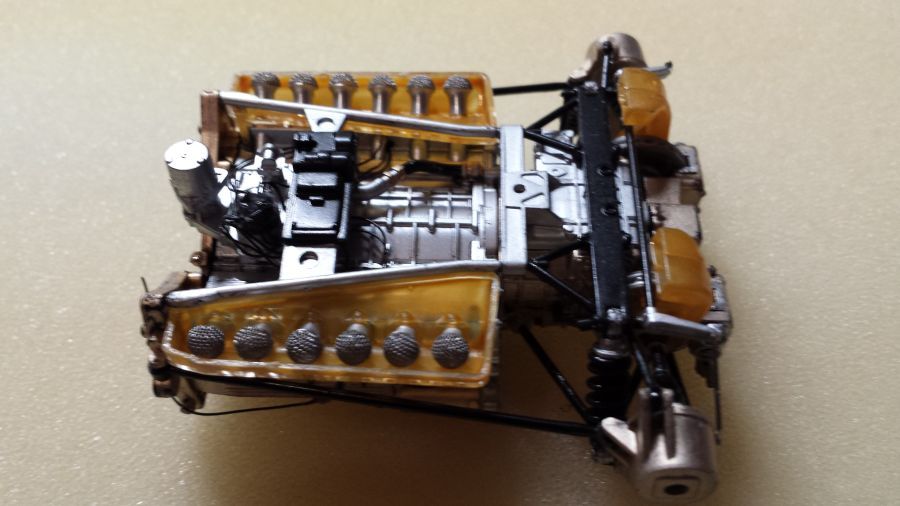 Hieronder zie je een paar uitbreidingen welke ik gedaan naar aanleiding van het bestuderen van foto's in o.a. Joe Honda Racing Pictorials nrs 7 en 9. Het betreft sensoren, bekabeling, slangen e.d.
Below you see some adjustments i made after studying pictures from Joe Honda Racing Pictorials no. 7 and 9. It concerns kinds of sensors, cables and hoses etc.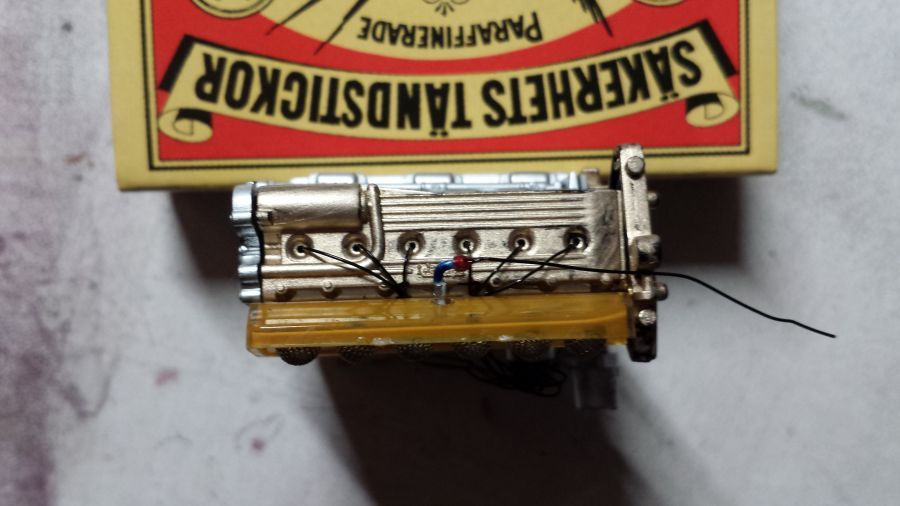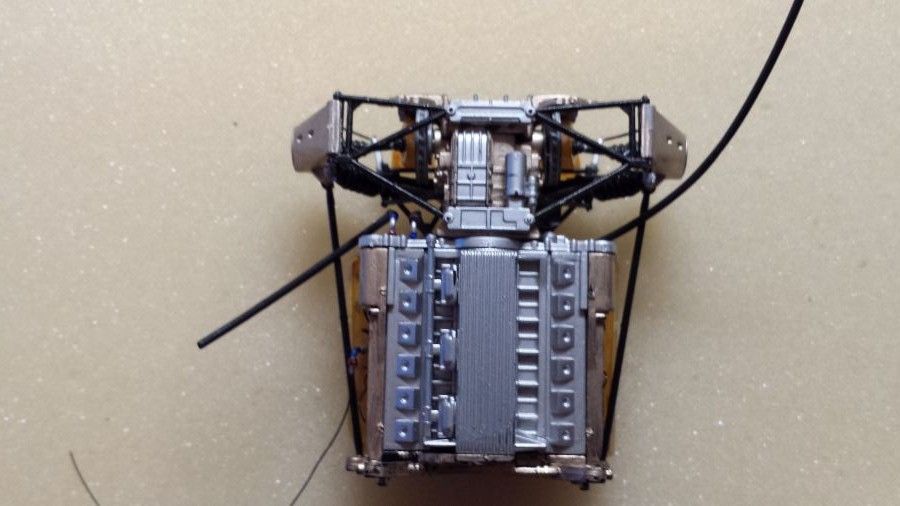 Het controlepaneel heeft de bedrading gekregen.
The control panel has been wired.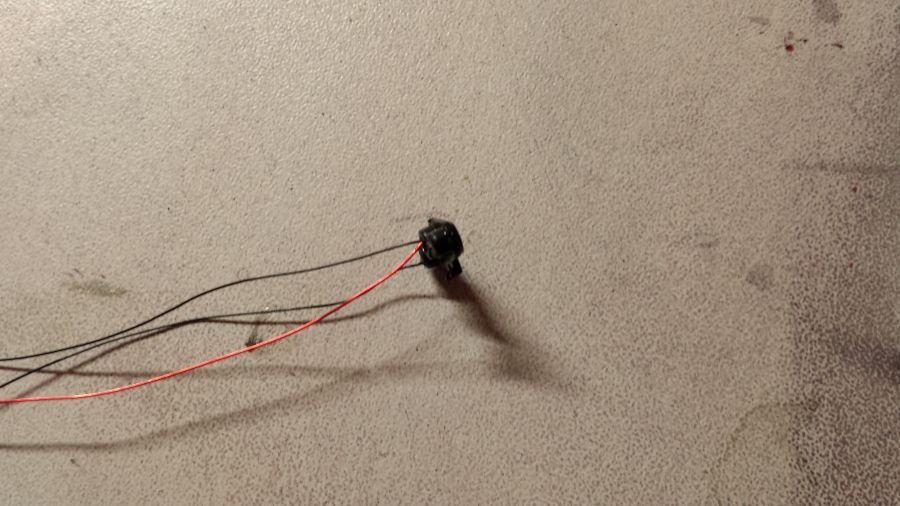 De body en bodemplaat zijn geverfd en daarmee kan de onderkant in elkaar worden gezet.
The body and ground plate have been painted so the under tray can be put together.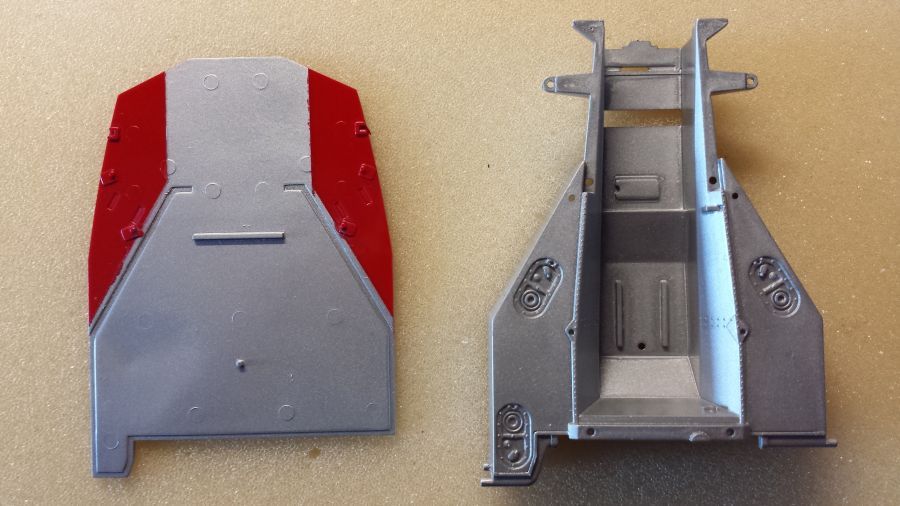 De voorwielophanging kan aan de body worden bevestigd. Een paar remleidingen zijn gemonteerd.
The front wheel suspension can be mounted. Made some brake hoses.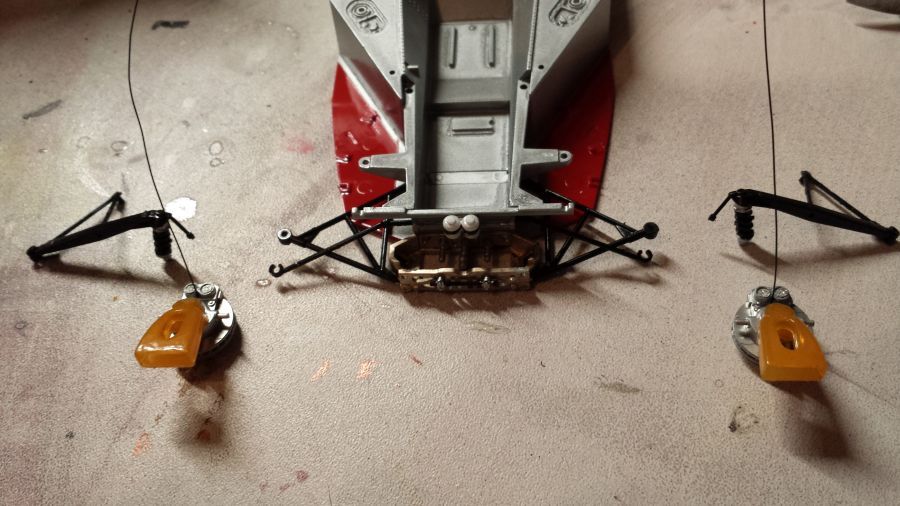 De remleidingen lopen door een klein stukje buis, zodat de stuurinrichting blijft werken. Het buisje lijm ik achter het eerste schot.
The break hoses go through a small piece of tube. I will glue the tube behind the first bulkhead.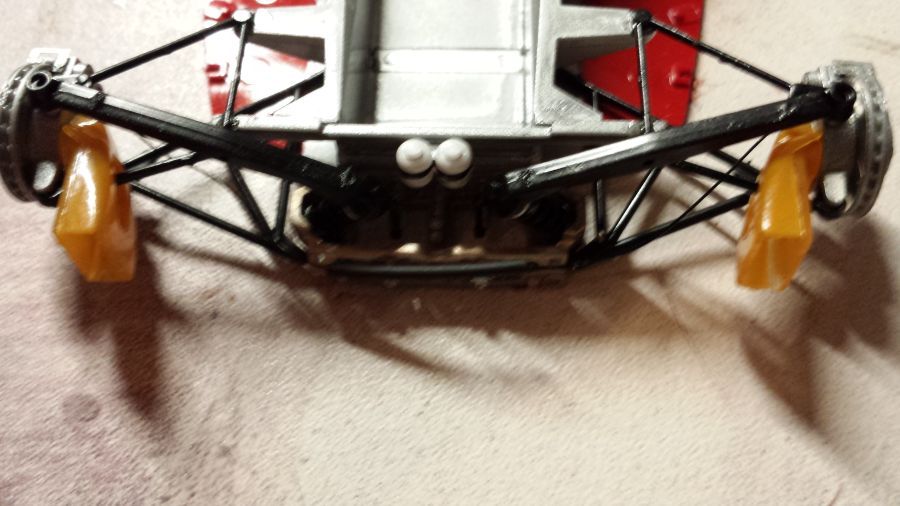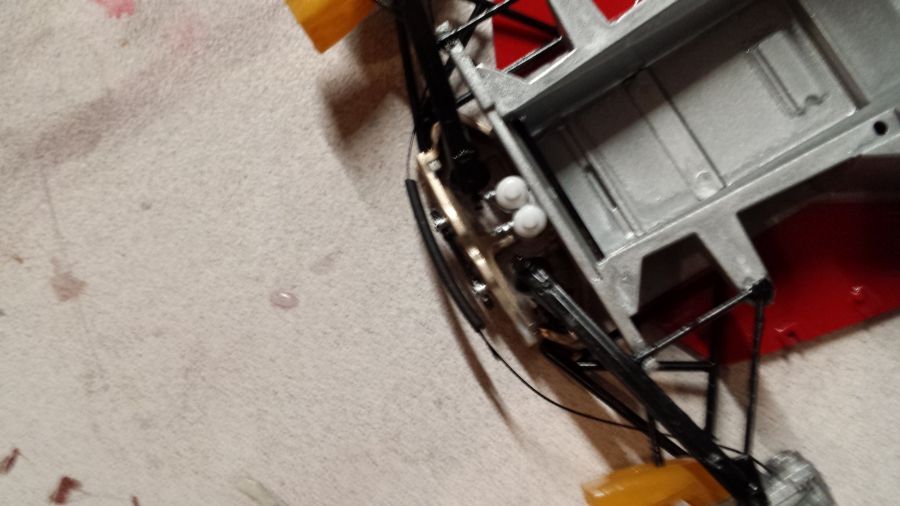 Normaal gesproken zou ik de bedrading vanaf het instrumentenpaneel onder de rode afdekplaten aanbrengen. Helaas is daar geen ruimte voor. Daarom heb ik besloten de bedrading deels door de zitplek te laten lopen. Daarvoor boor ik 2 kleine gaatjes in de rand op de aangegeven plekken.
Normally the wires from the dashboard would be under the red covers. Unfortunately there is not enough space to do so. Therefor i have decided to do the wiring through the space where the seat is. I will drill 2 holes on the designated spaces.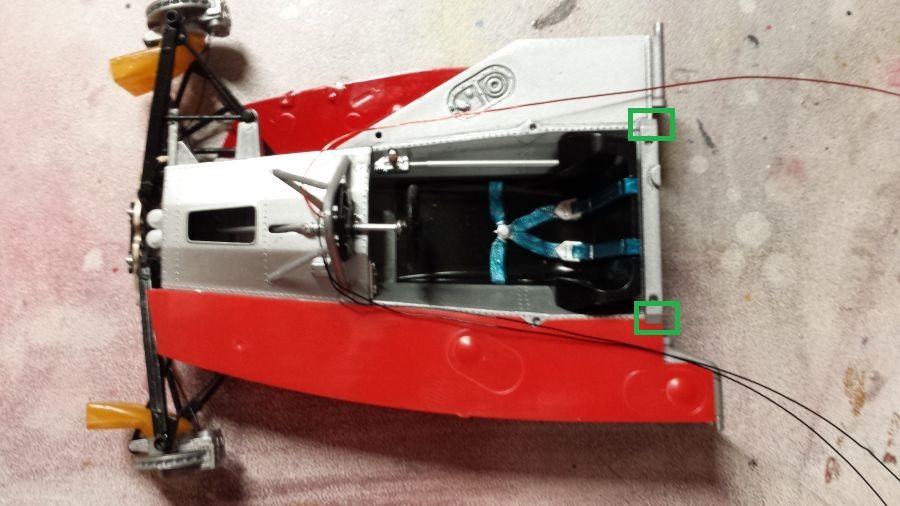 Alle bedrading e.d. is klaar.
All wiring and tubing has been done.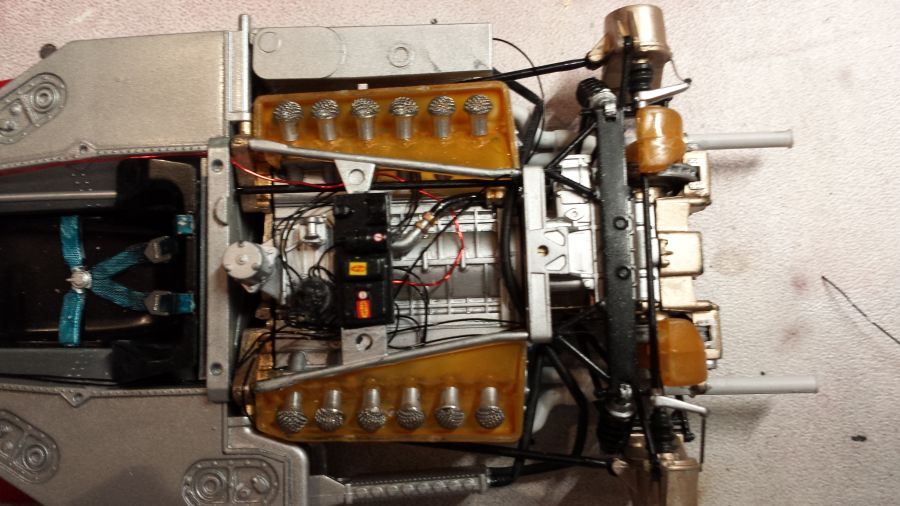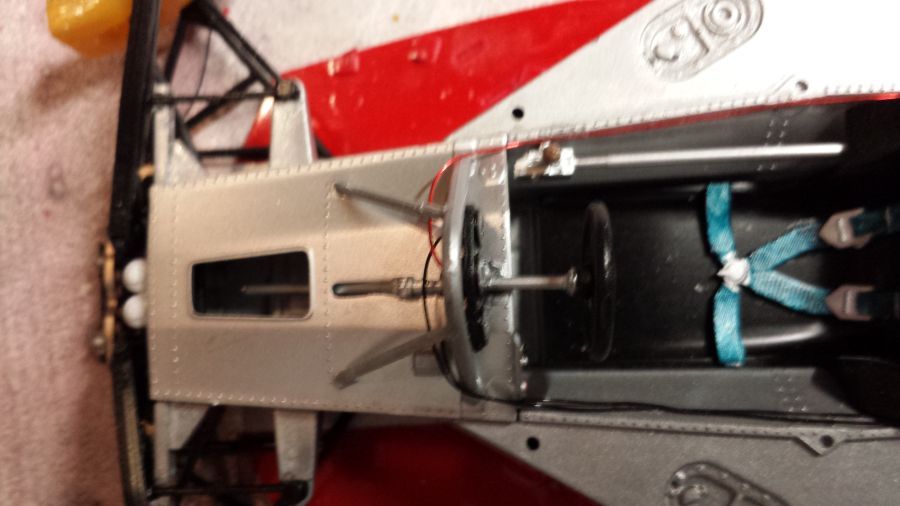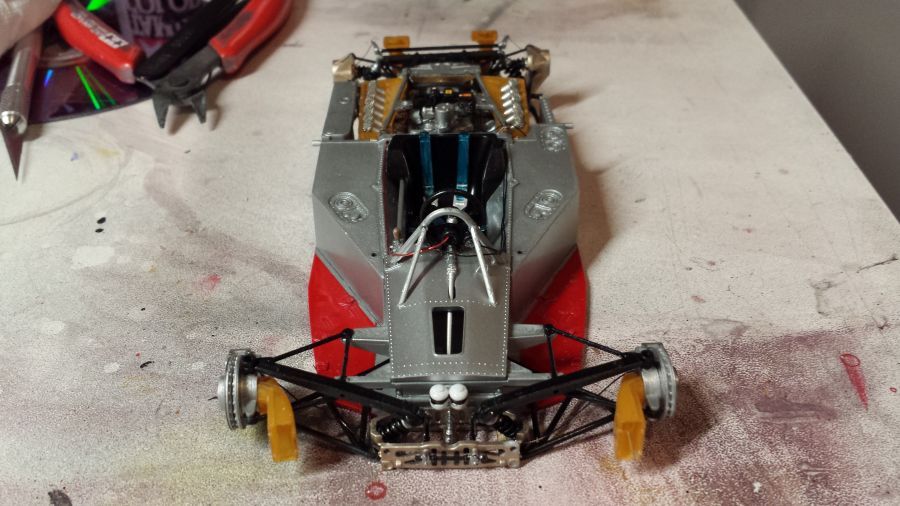 De motor is aan de monocoque bevestigd.
The engine has been mounted to the monocoque.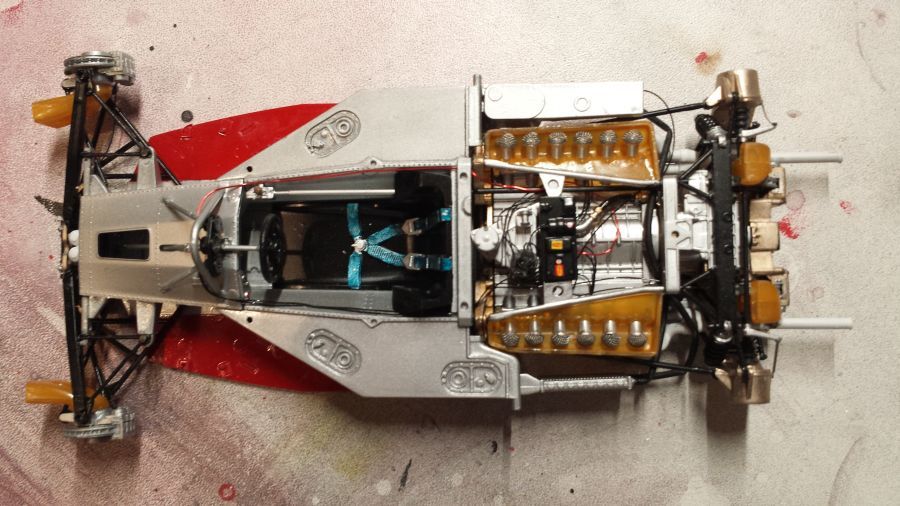 Het chassis en monocoque zijn klaar. Hierna op naar de wielen.
The chassis and monocoque are finished. On to the wheels now.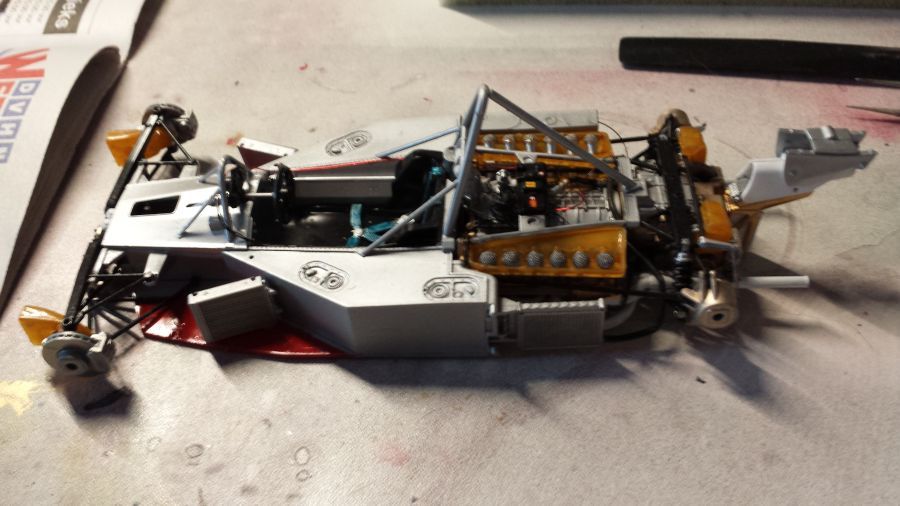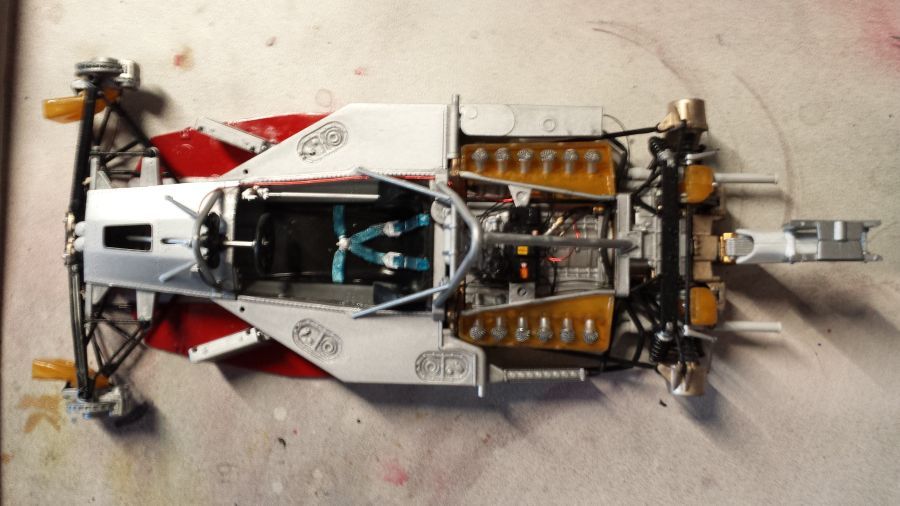 Hier alle onderdelen van de velgen van Accu-Stion. De beschrijving is summier.
Here all the parts of the Accu-Stion rims. The instructions are low.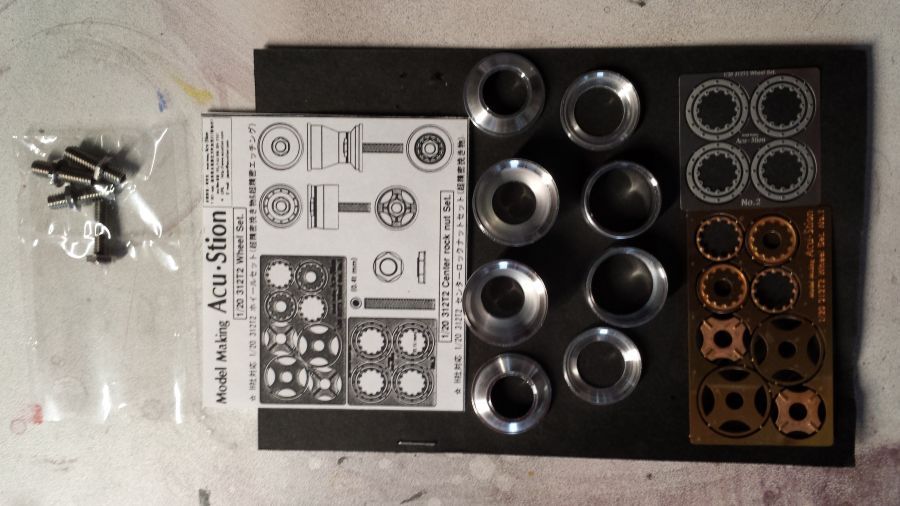 Hier de volgorde van de onderdelen (vanaf links, van beneden naar boven).
Here the sort order of the parts (from the left, from the bottom to the top).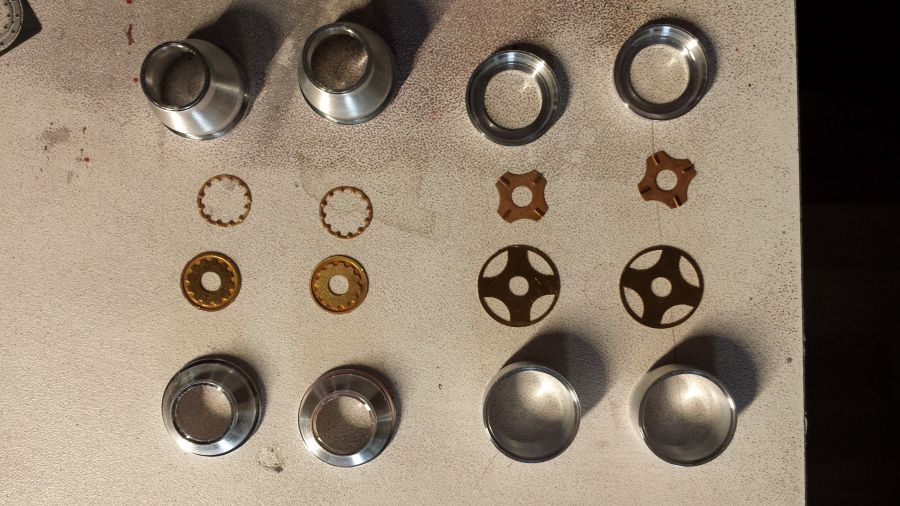 Het resultaat.
The results.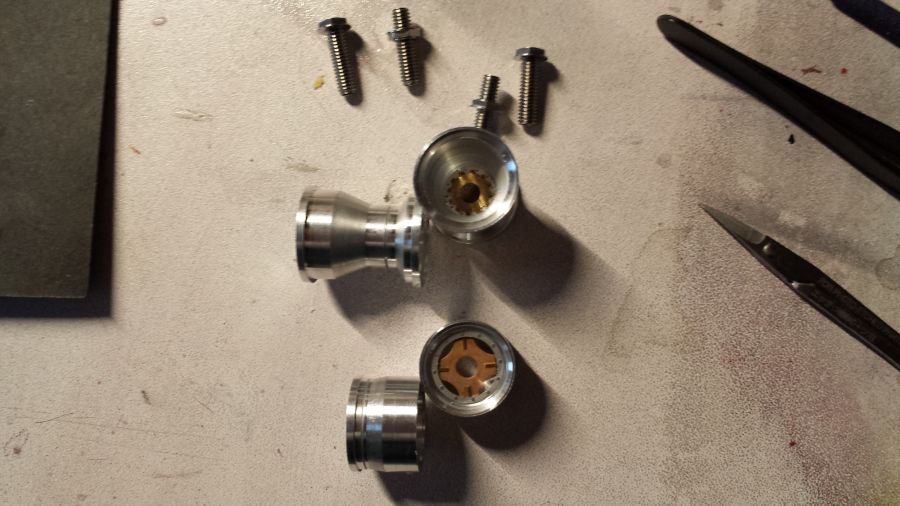 Ik vraag me alleen af hoe ik deze aan de remschijven krijg! Volgens mij is een pen/gat contructie beter. Dit lijkt niet voor een Hasegawa bouwdoos. Een grote fout van Accu-Stion. Improviseren dus.
I wonder how to mount these! In my opinion a pin/hole construction would be better. It looks like it is not for a Hasegawa kit. A big mistake from Accu-Stion. I will have to improvise.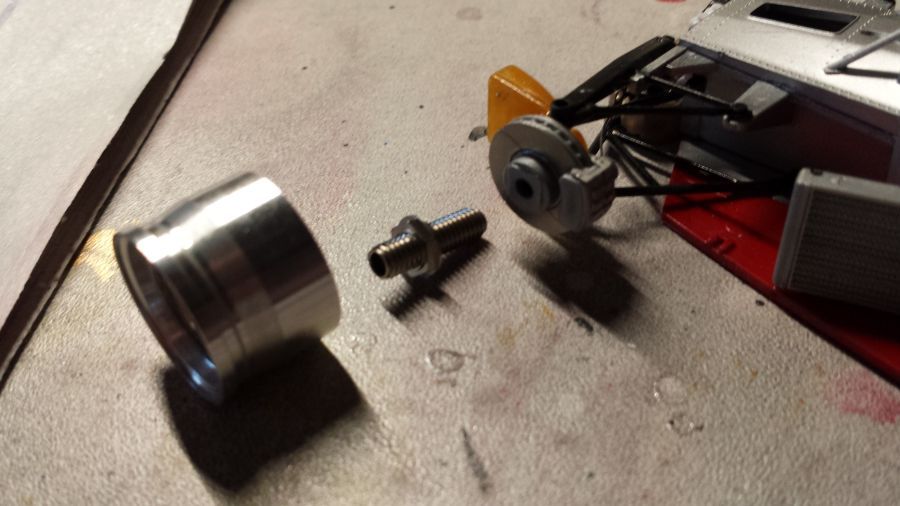 Om de velgen te kunnen bevestigen heb ik 4 stukjes Evergreen plaat gebruikt en daarop een stukje ronde stang gelijmd. Dit plaatje lijm ik achter op de naaf van de velg. Daarmee is een pin/gat verbinding gemaakt. Je zult hier niets van zien, want het zit binnen in de velg.
To be able to attach the rims i used 4 pieces of plasticard from Evergreen and glued a round rod on it. I will glue this at the back of the rim. Thus i created a pin/hole construction. You will not be able to see this, as it is mounted inside the rim.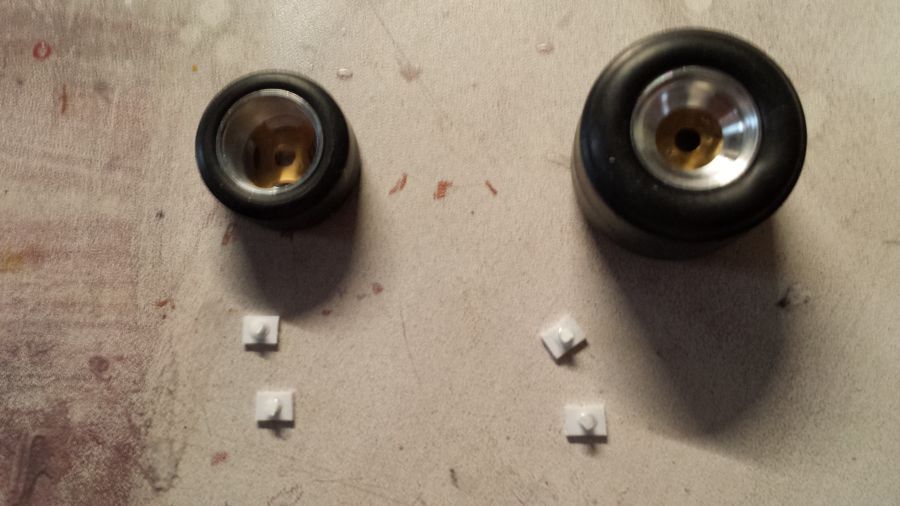 De body is in de primer gezet en afgeplakt voor het aanbrengen van de witte vlakken.
The body has been sprayed with primer and prepared for the white painting.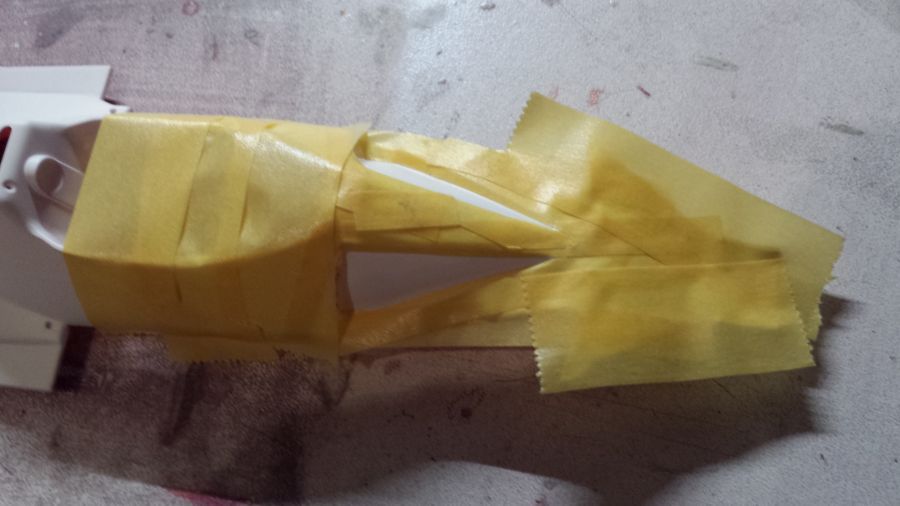 Het spuiten ging niet lekker. Ik ga de body schoonmaken en opnieuw afplakken/spuiten.
The painting was not good. I will clean the body and mask and paint it again.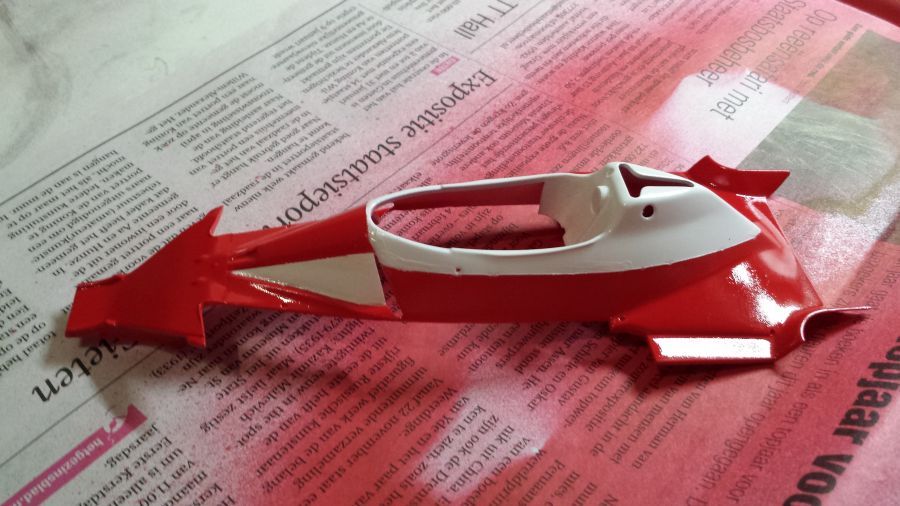 Schoon, nieuwe ronde, nieuwe kansen.
After cleaning, try to do better now.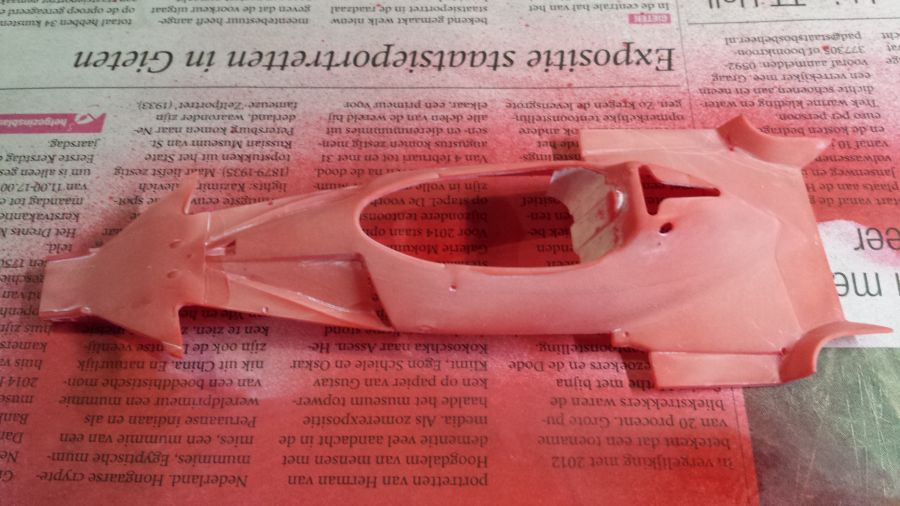 De body is opnieuw gespoten met primer en vervolgens geheel wit met Tamiya TS26. Nu dus klaar om te  maskeren voordat gespoten wordt met Tamiya TS8.
The body has been painted again withe primer and afterwards completely white with Tamiya TS26. Now i have to mask it, before painting with Tamiya TS8.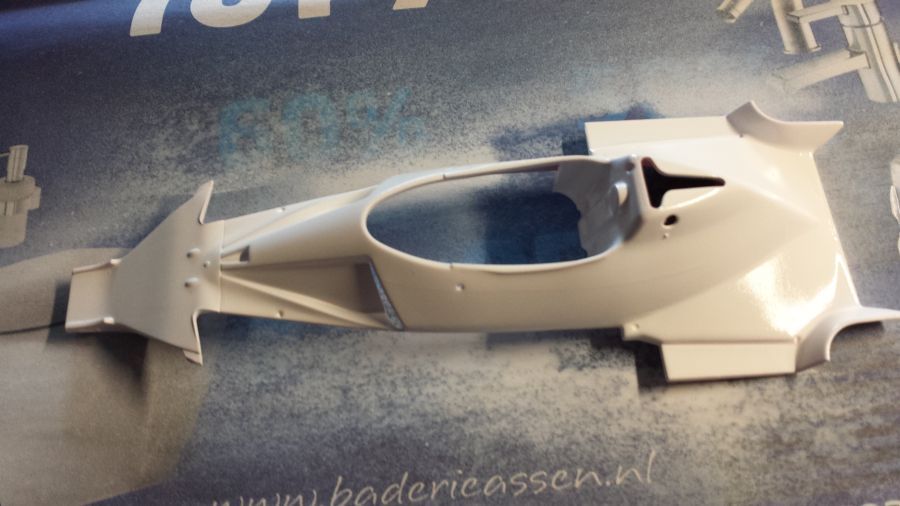 Na het afplakken. Nu dus rood spuiten. En het resultaat. Stukken beter.
After the masking job. Now spraying it red. And the result. Much better.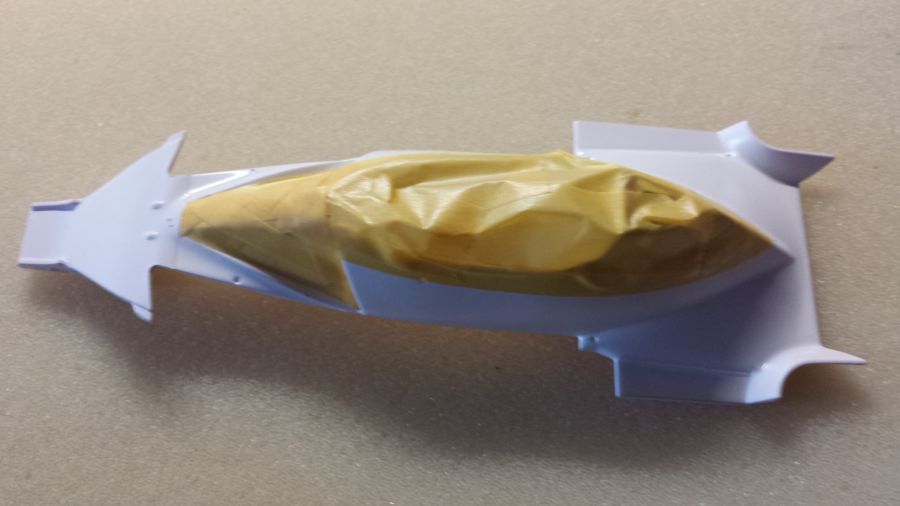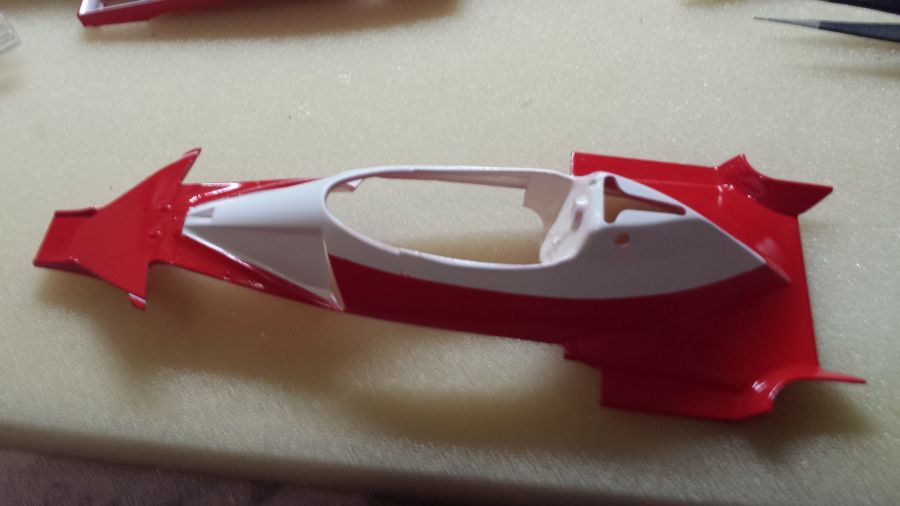 De kleine biesjes zijn moeilijk aan te brengen.
Those pin stripes are tough.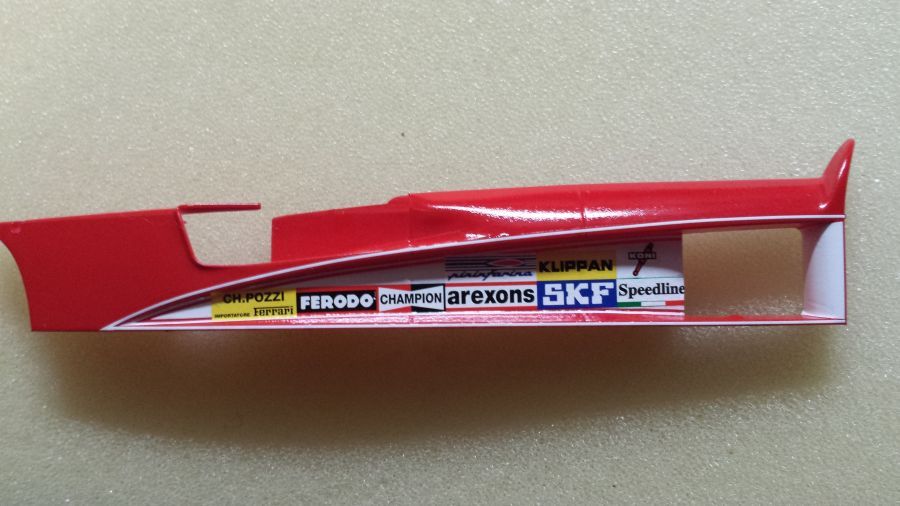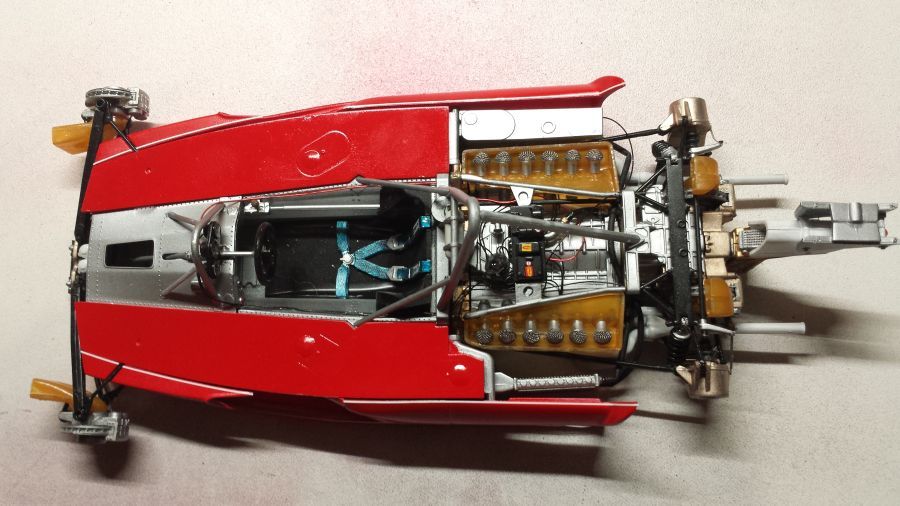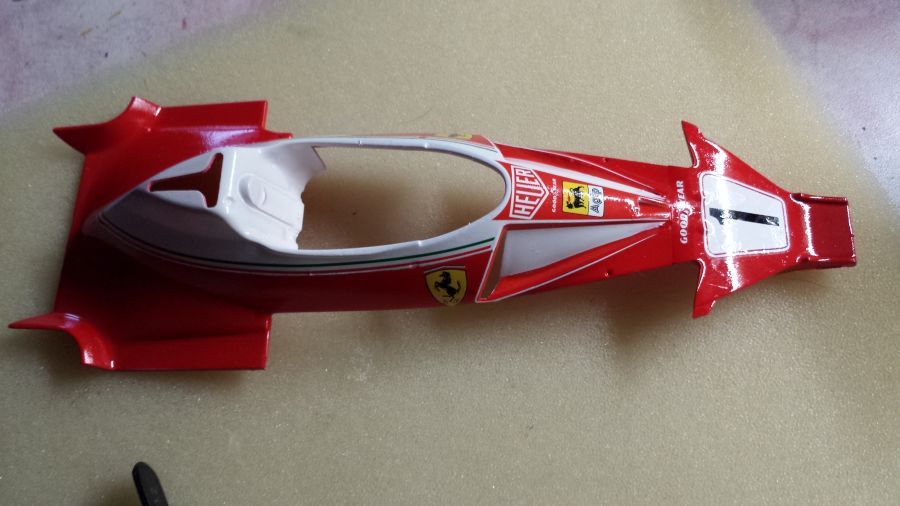 Alls is klaar voor de 1e laklaag. Eerst maar 2 of 3 keer dun sprayen om de decals niet te beschadigen. Daarna alles aan elkaar verbinden. En het bovenste deel van de achtervleugel vervangen door een etched deel.
Everything ready for the 1st layer of coat. First i will spray 2 of 3 times a very fine layer, so it will not damage the decals. After that assembling everything. And replace the upper part of the rear wing by an etched part.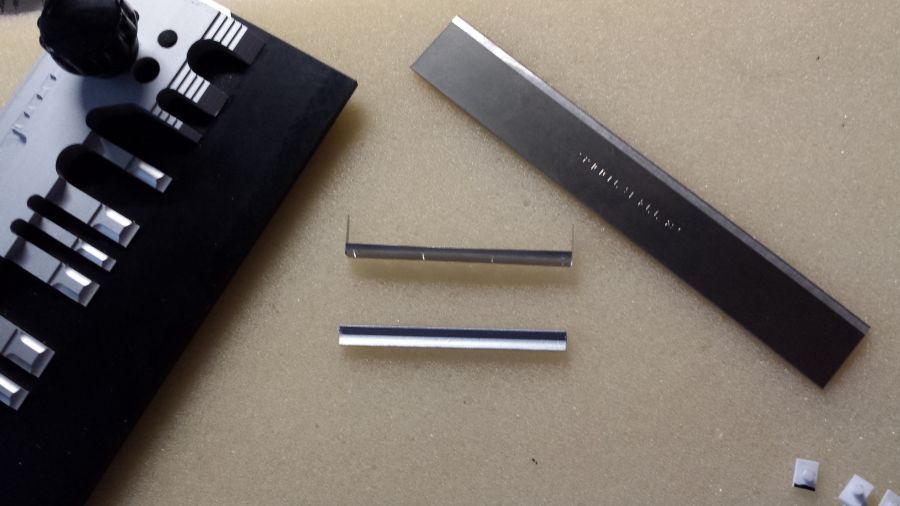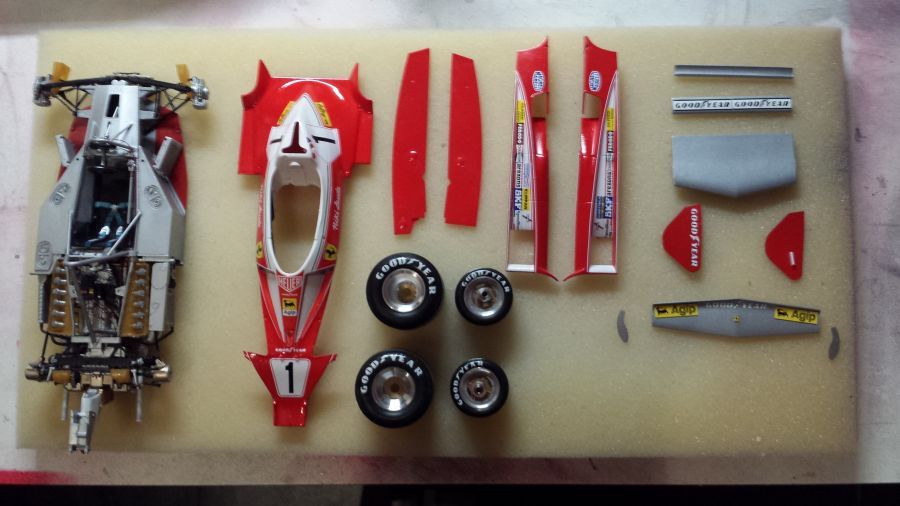 En klaar.
And done.