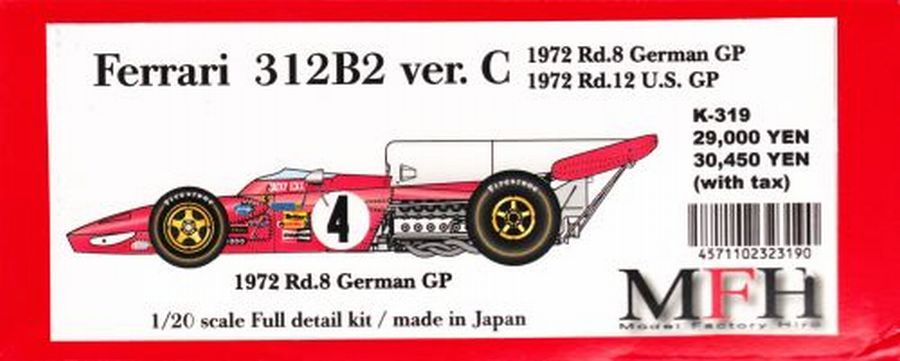 Hier beschrijf ik de bouw van de 1972 Ferrari 312 B2 USA versie. Het is een kit van Modelfactory Hiro (K-319). Ik kies voor de Mario Andretti wagen. Ook de Jacky Ickx of de Clay Reggazzoni wagen kun je bouwen met deze kit. Beneden de onderdelen van de kit. Deze heeft veel metalen onderdelen. Ik heb alles even bekeken en mis er 7. 
Here i will describe the build of the 1972 Ferrari 312 B2 USA version. It's a kit from Modelfactory Hiro (K-319). I choose to build the Mario Andretti car. You could also build the Jacky Ickx or the Clay Reggazzoni car with this kit. Below the parts of the kit. It contains a lot of metal parts. I was missing 7 when i checked.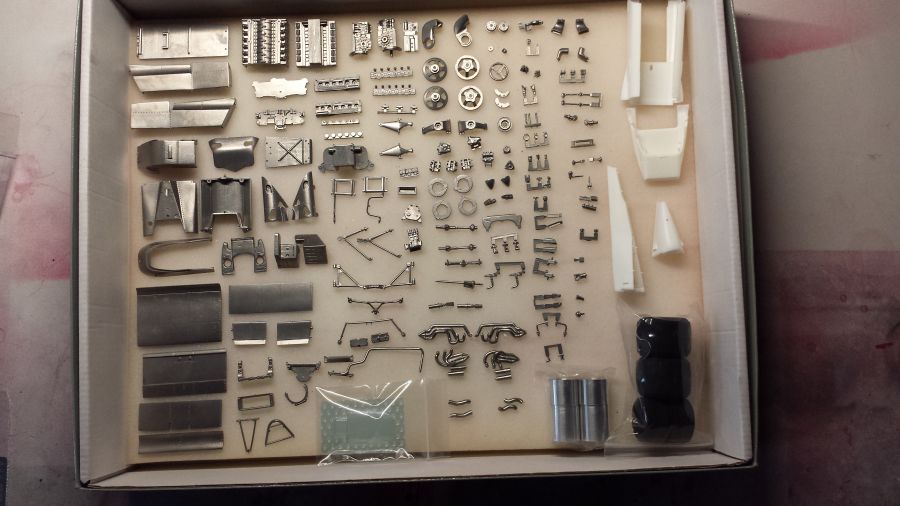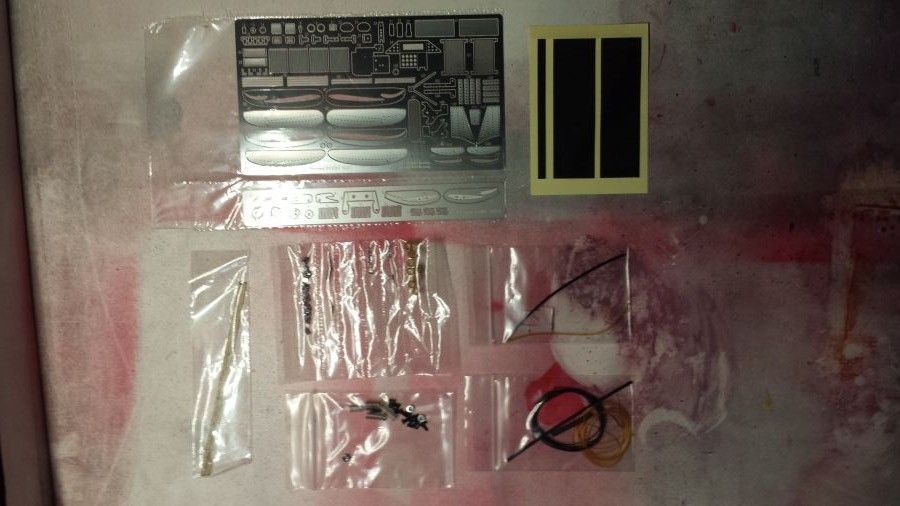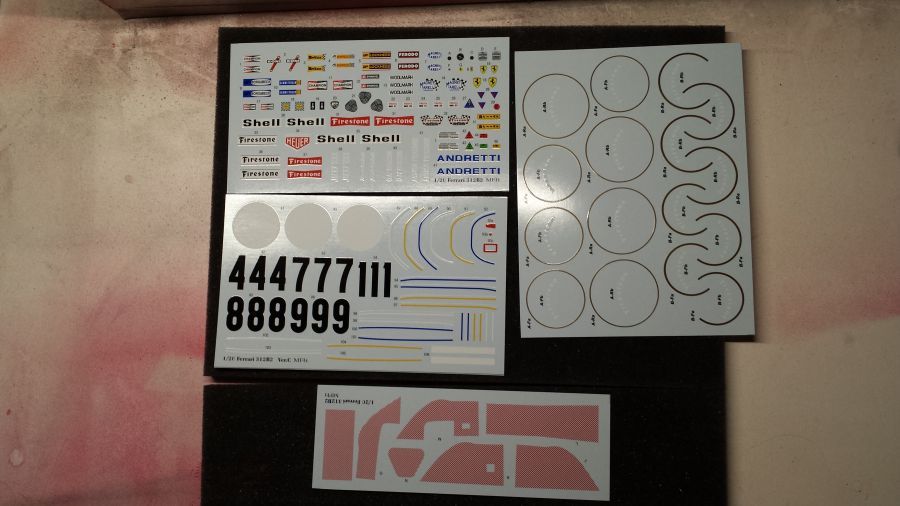 De eerste vorderingen.
First progress.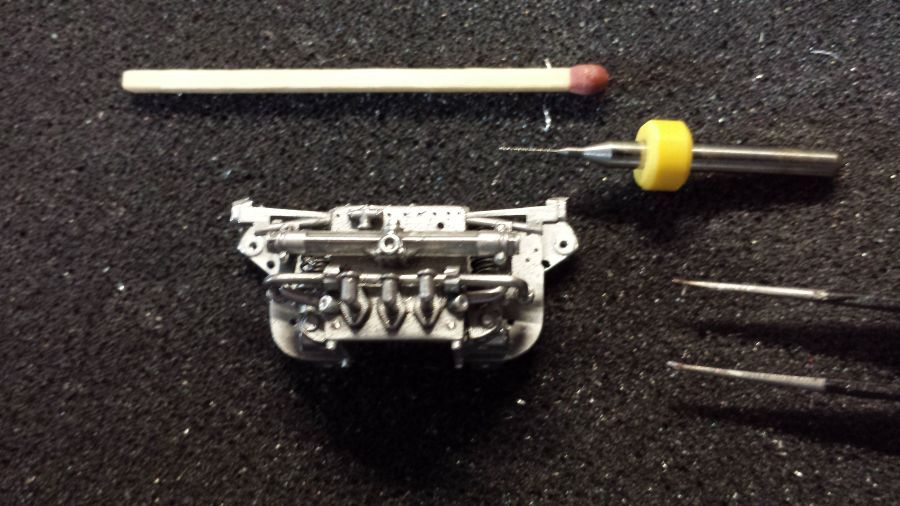 Deze 2 schroeven zijn iets te lang en moeten wat afgevijld worden. Anders past de ophanging niet.
These 2 screws are a bit too long. They need to be filed off or the suspension will not fit.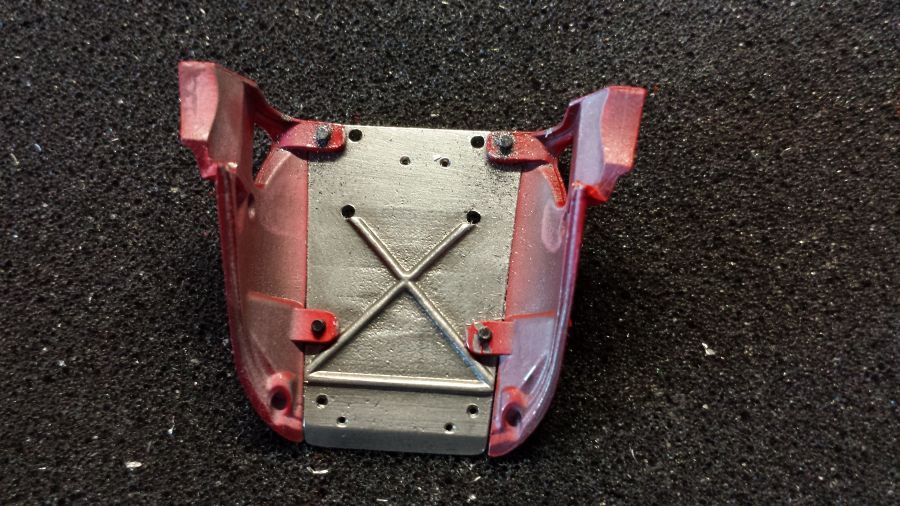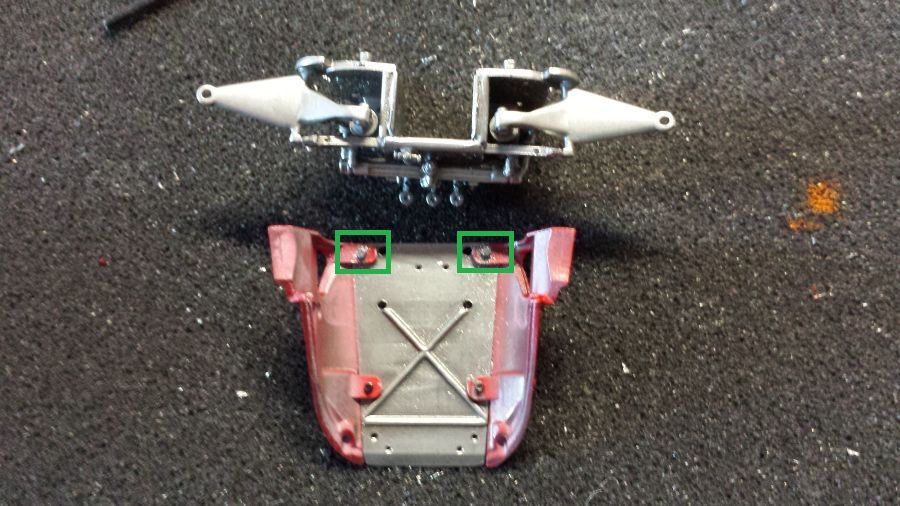 De voorwielophanging to nu toe.
The front suspension so far.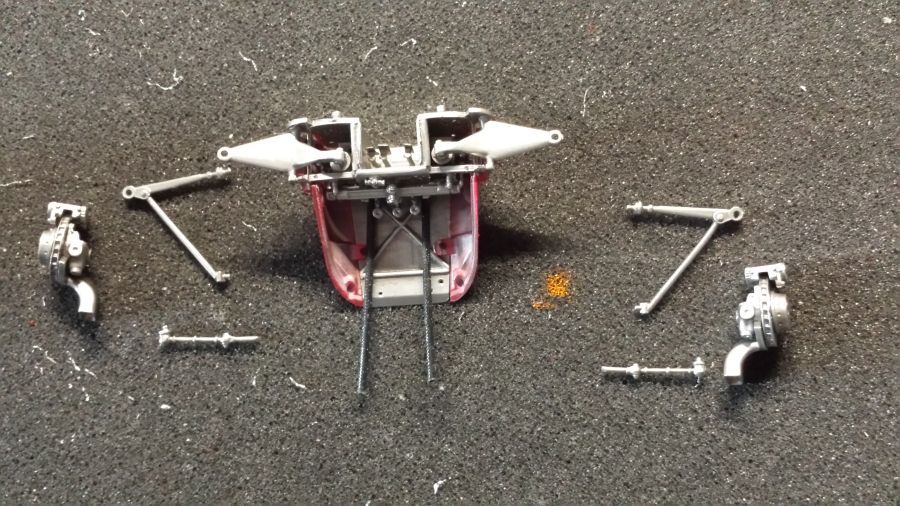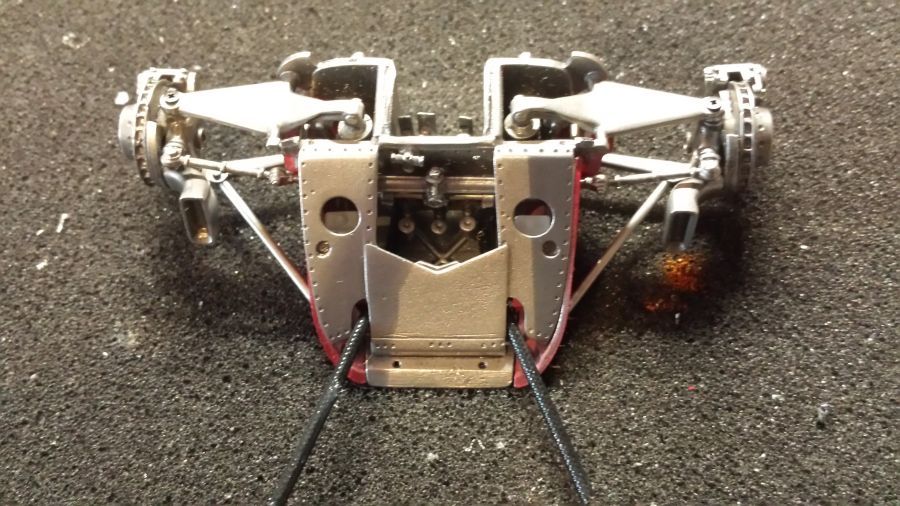 Dan wordt de radiateur met de slangen verbonden en vastgezet.
Then the radiator is attached and the hoses too.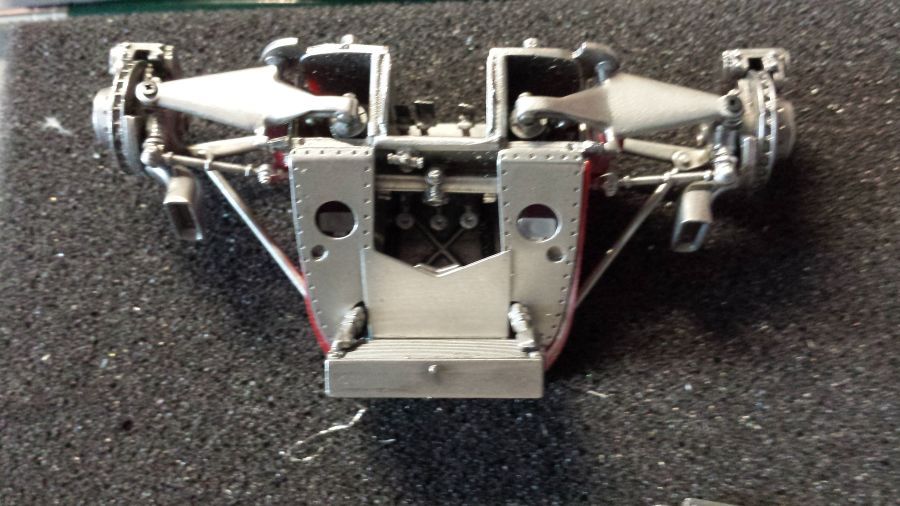 De stoel past tussen de zijwanden en de bodemplaat. Ik spuit de stoel met zwarte grondverf en daarna een keer met rood (heel licht), zodat het zwart er nog wat doorheen komt. Dan worden de decals aangebracht.
The chair fits between the side walls and the bottom. I will spray the chair black primer and then only once with red (light mist), so the black bleeds through the red. Then i will apply the decals.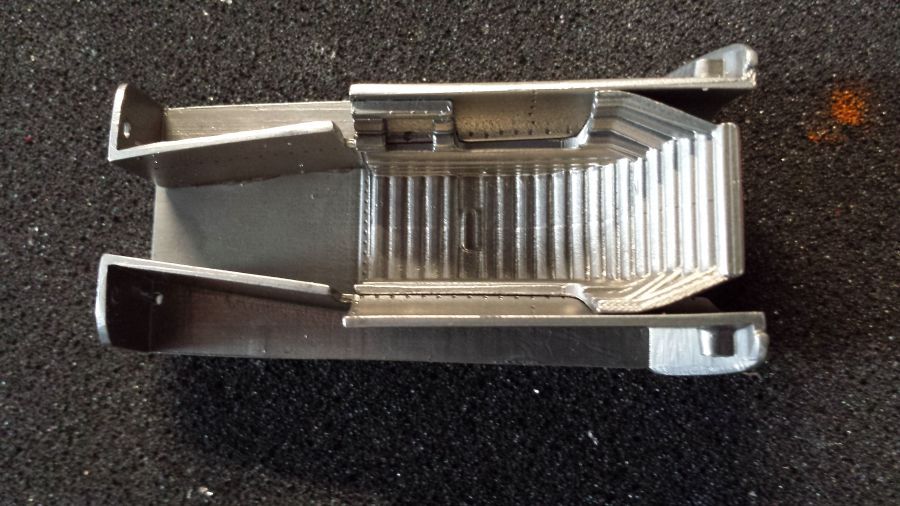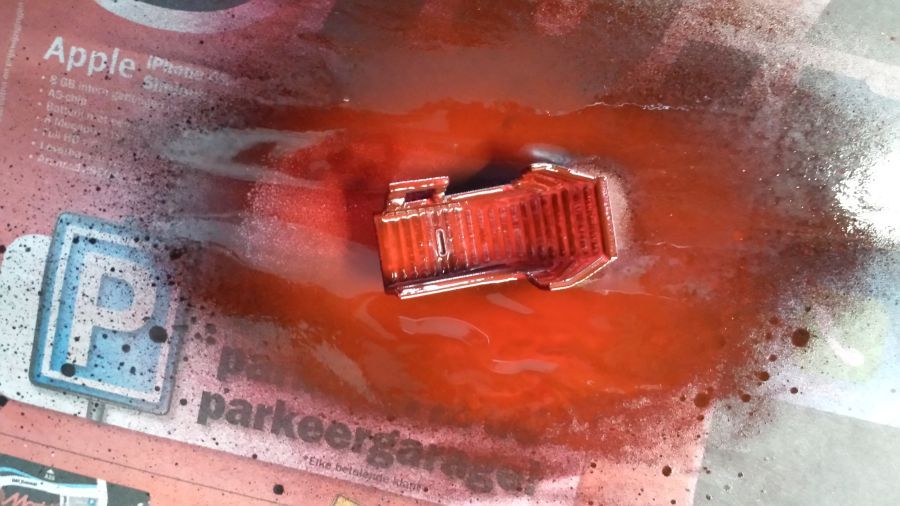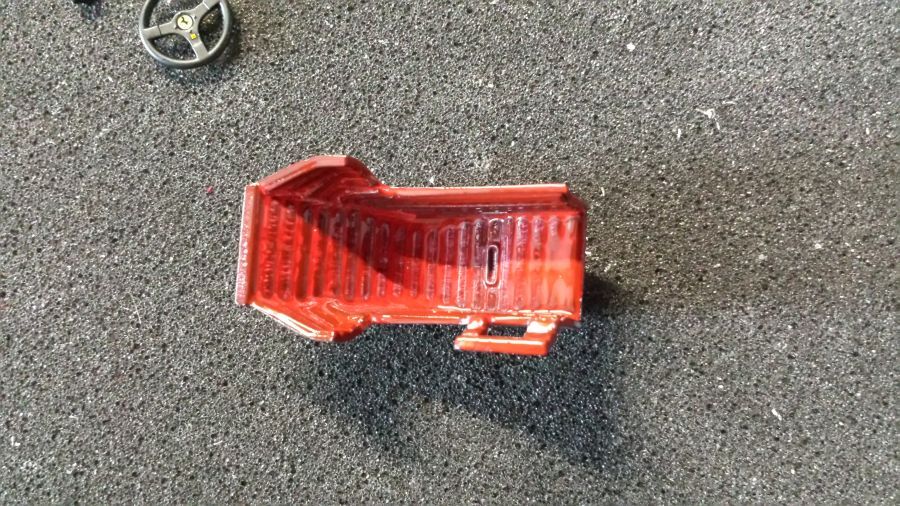 Even testen of het allemaal past. De gordels moeten er nog in.
A small test fit. The seat belts still have to be mounted.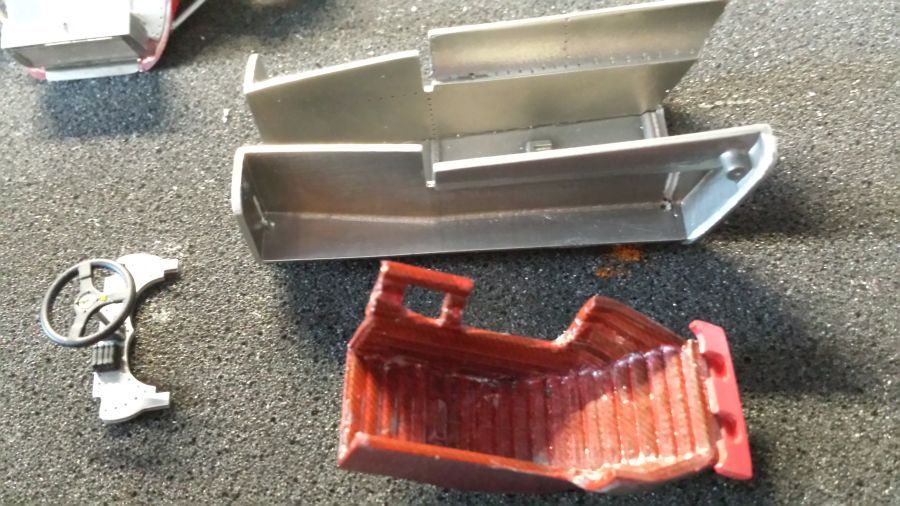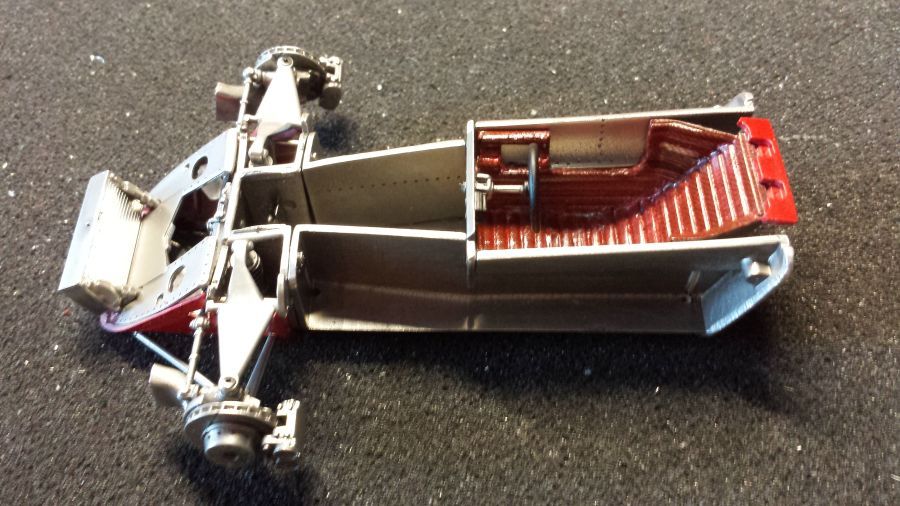 Het maken van de gordels. Ik hoop dat mijn ogen me niet in de steek laten.
The making of the seat belts. I hope my eyes will not leave me alone.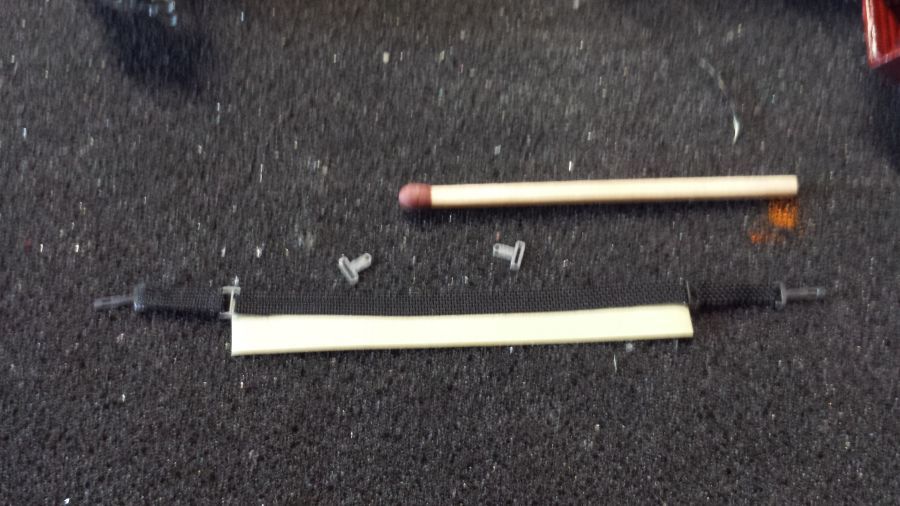 De gordels moeten met het rode deel aan de stoel (blauw) worden gezet met de pinnen (groen).
The seat belts have to be attached with the red part to the chair (blue) by the rivets (green).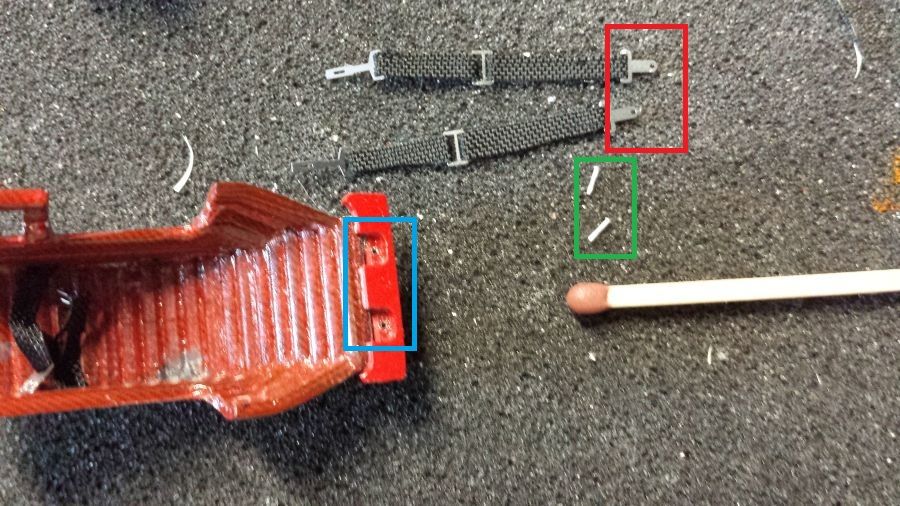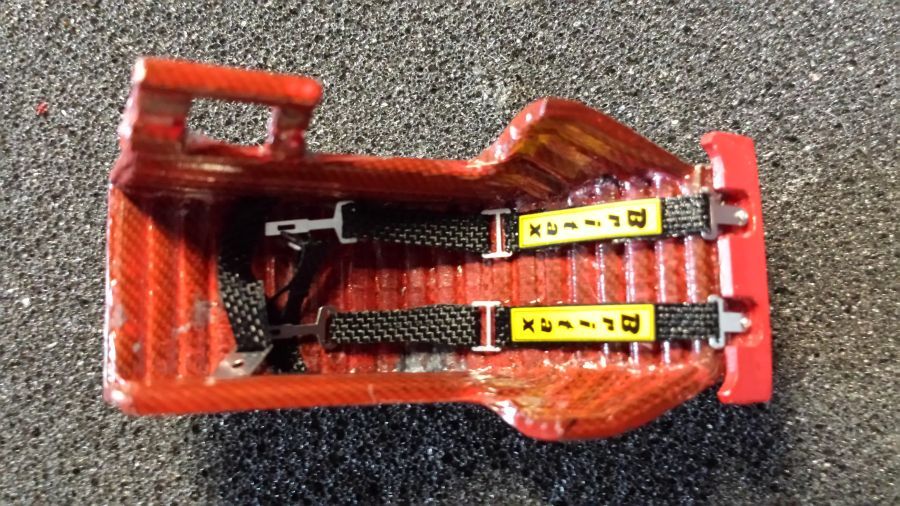 Een deel van de body is gespoten en decals zijn aangebracht. Ik laat dit de nacht drogen en morgen spuit ik de laklaag.
A part of the body has been painted and the decals are applied. I will let it dry overnight and  tomorrow i will spray the lacquer.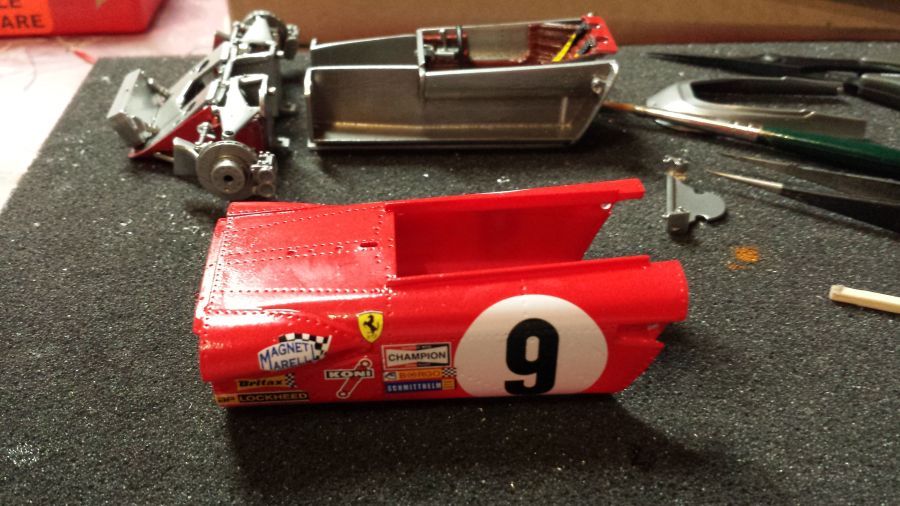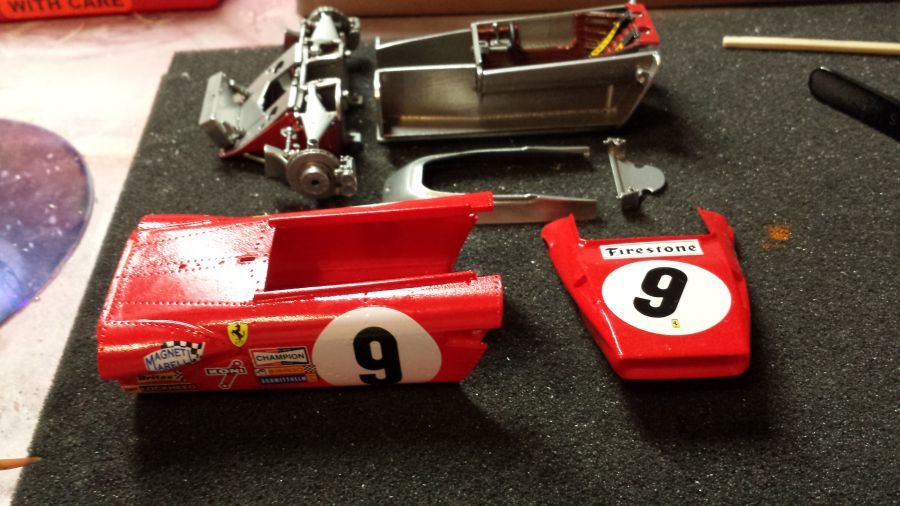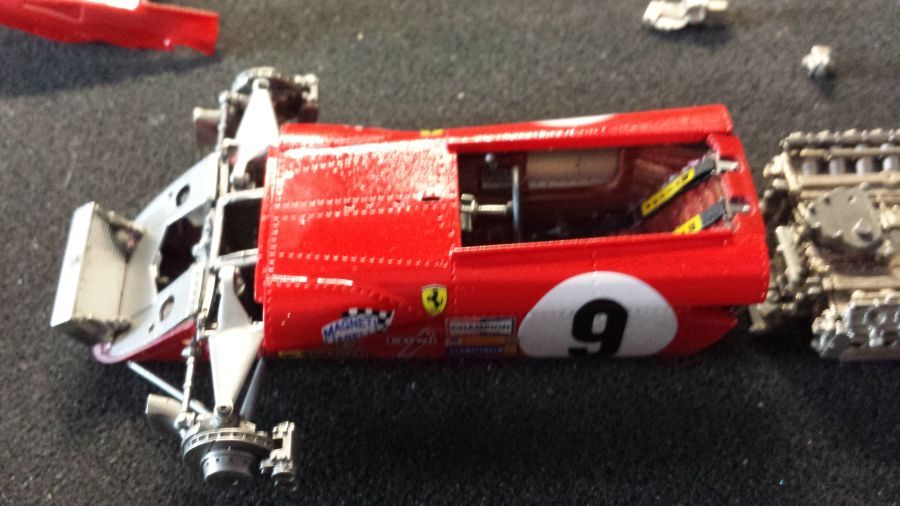 De motor voordat deze wordt gespoten met een mix van goud en zilver.
The engine before spraying it with a mix of gold and silver.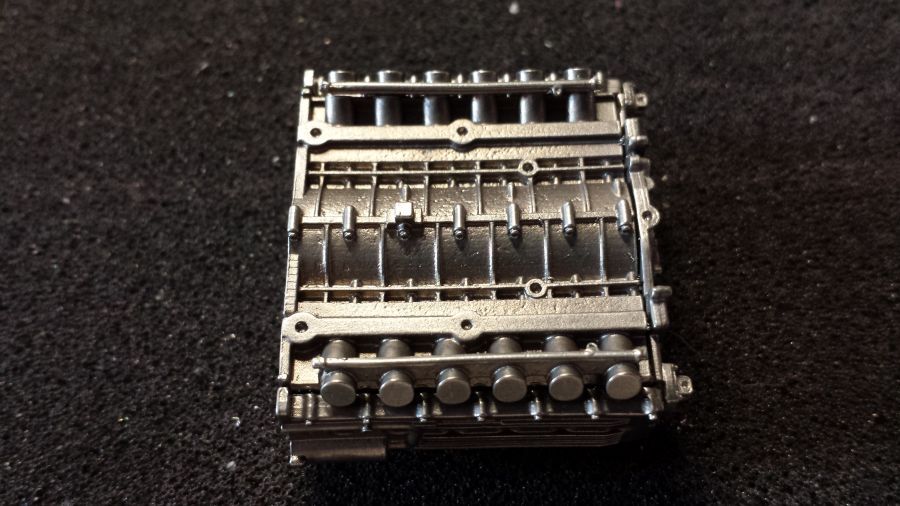 Motor en versnellingsbak zijn geverfd.
Engine and gearbox have been painted.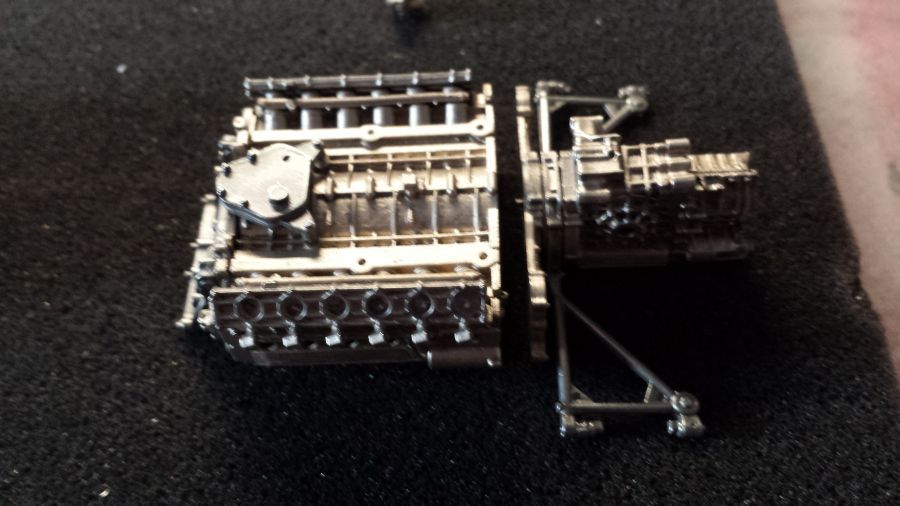 De voortgang van het bedraden van de motor.
Progress on the piping of the engine.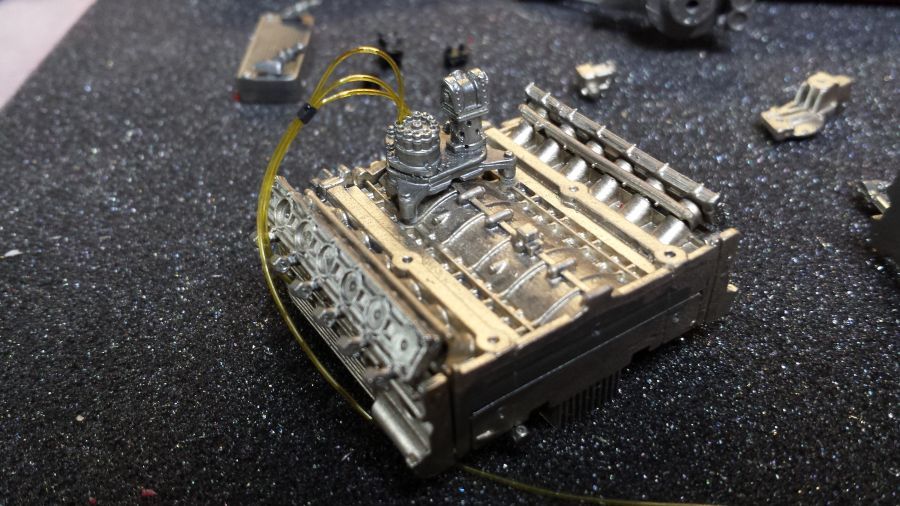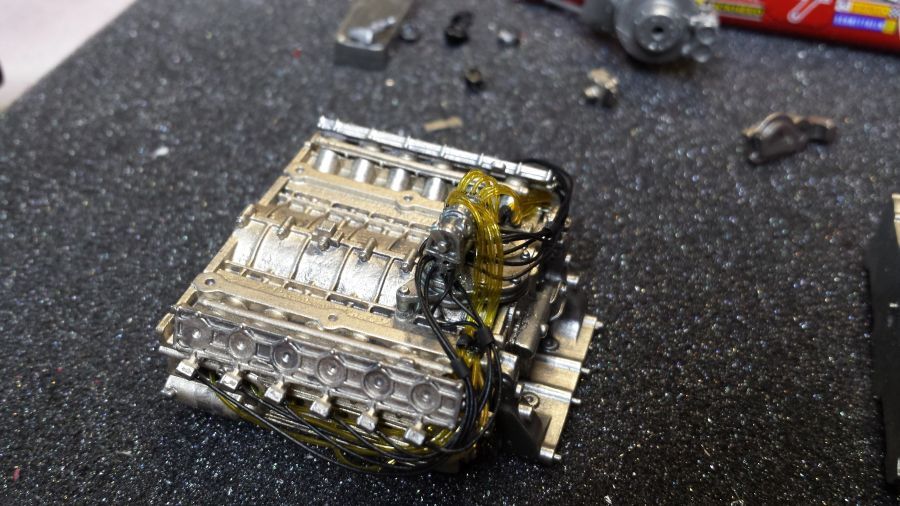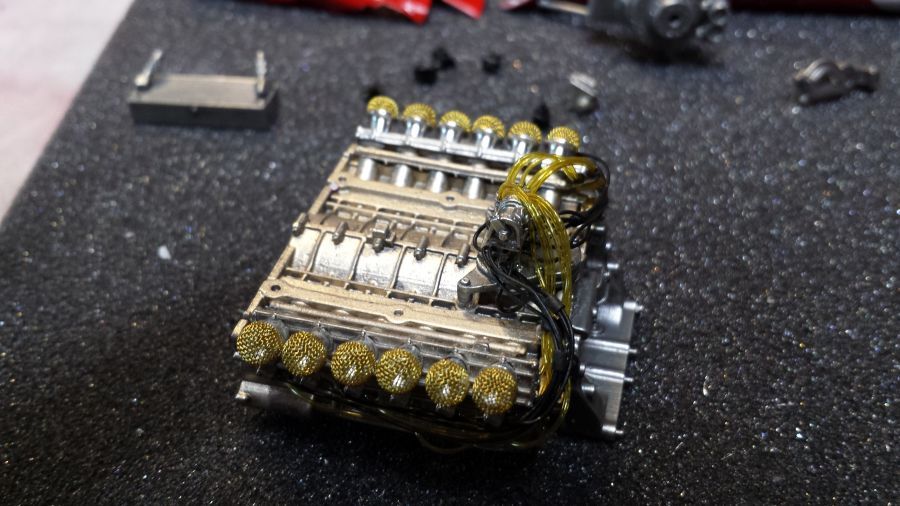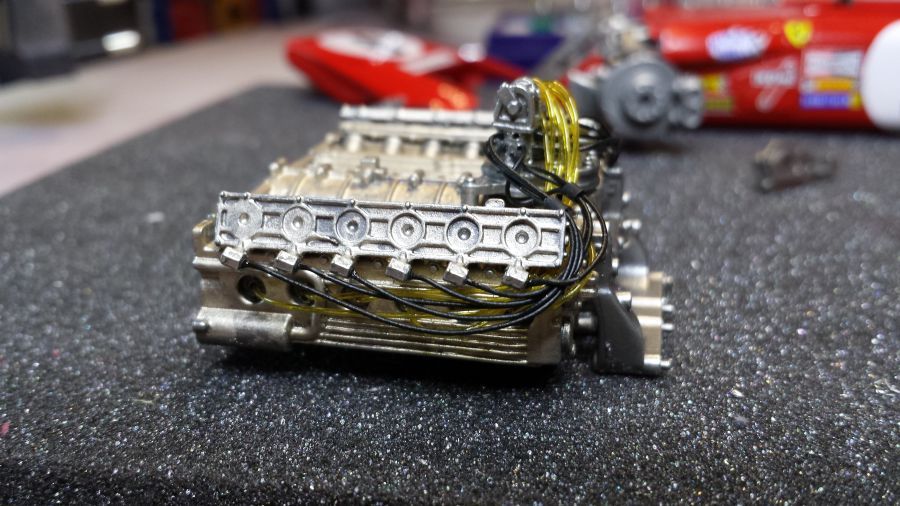 De luchtinlaten en afdekkingen zijn gemonteerd.
The funnels and funnel covers have been applied.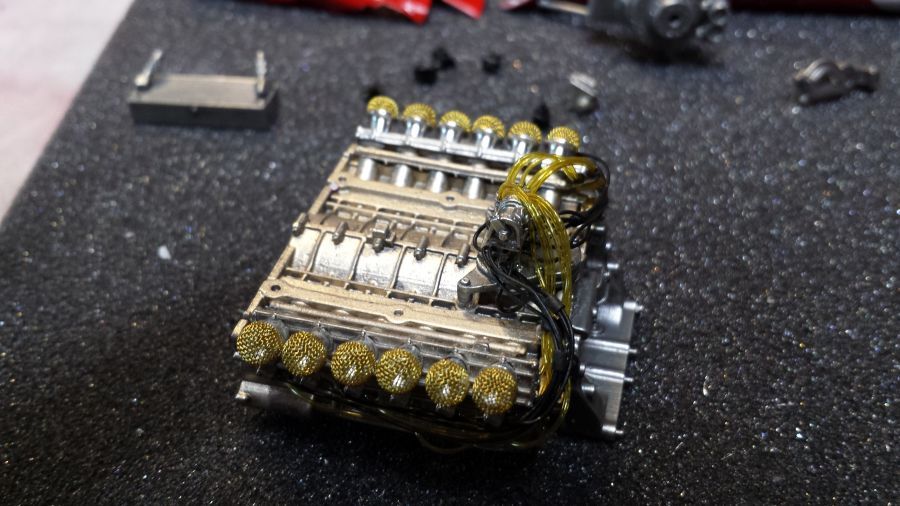 Een paar body onderdelen zijn gespoten met verf en lak.
A few body parts have been airbrushed with paint and lacquer.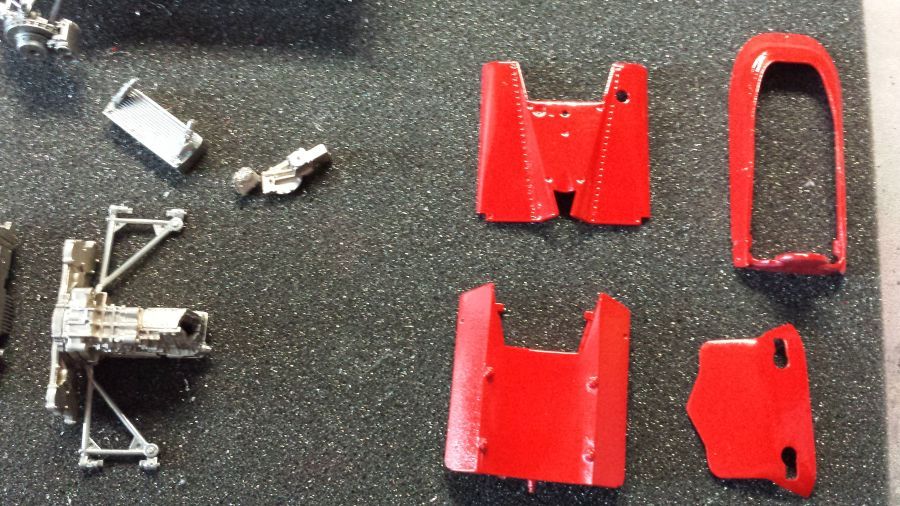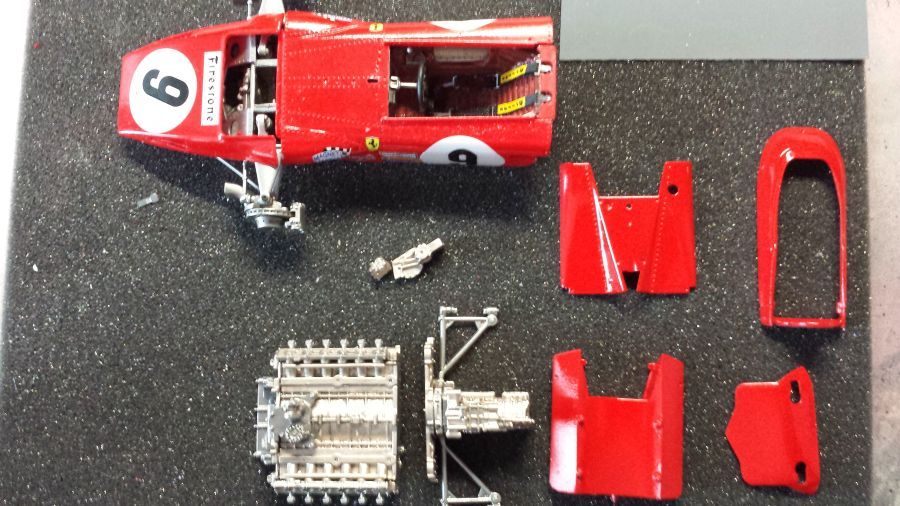 Het motordeksel waarop de achtervleugel wordt gemonteerd.
The engine cover on which the rear wing will be mounted.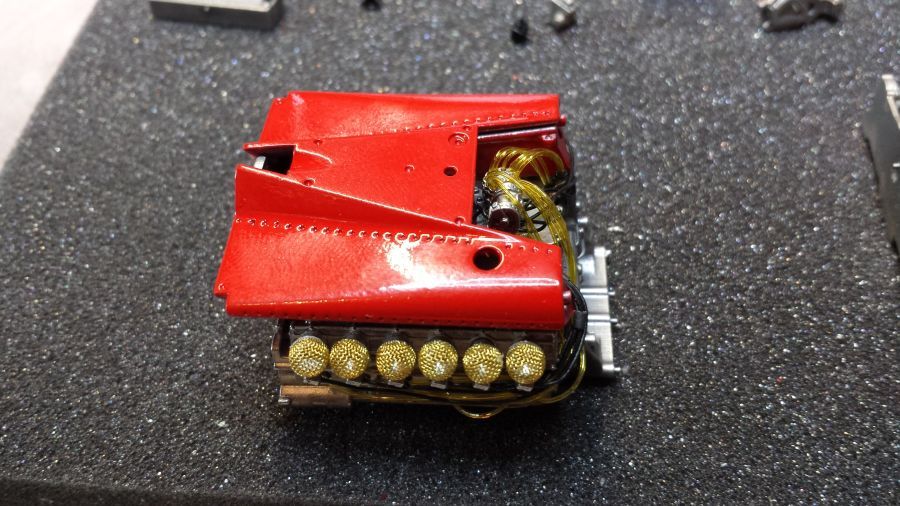 De voortgang van het werk aan de achterwielophanging. Op de een of andere manier is het deze keer lastiger dan het werk aan de 1967 Ferrari 312F1 en de 1969 Ferrari 312F1. Het lijkt alsof een hoop niet helemaal in lijn staat. Ik heb mijn best erop gedaan. Weer kom ik erachter dat een onderdeel mist. Gelukkig kan ik dit later monteren en staat het de bouw vooralsnog niet in de weg. 
Progress on the rear wheel suspension. Somehow is is more tricky than the work on the 1967 Ferrari 312F1 and the 1969 Ferrari 312F1. It looks like a lot is not quite in line. Did my best. Again i found out that another part is missing. I think i am lucky as i will be able to add this later. So it will not stop the build.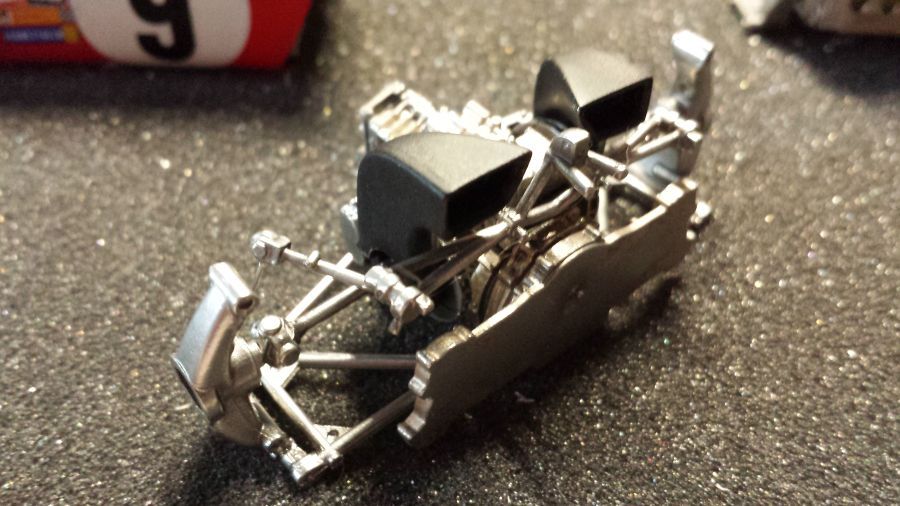 Ik heb besloten om al in een iets eerder stadium de motor en de versnelling met elkaar te verbinden. Gelukkig maar, want een en ander past niet helemaal goed in elkaar. Ik heb de motorafdekking eerst weer moeten  verwijderen om een en ander passend te maken. Nog niet helemaal zoals ik zou willen, maar ik moet het ermee doen. Het lijkt alsof er een deel een beetje is verbogen. Wees er zeker van dat de volgende keer iets van het onderste deel van de box moet worden afgevijld (groen).
I decided to combine the engine and the gear box in an early stage. I am lucky i did, because it did not fit very well. I had to dismount the engine cover to make it fit. It is not completely like i wanted it, but for now i will have to do with it. It looks like a part was bent a bit. Be sure the next time  something as to be filed off from the lower part of the box (green).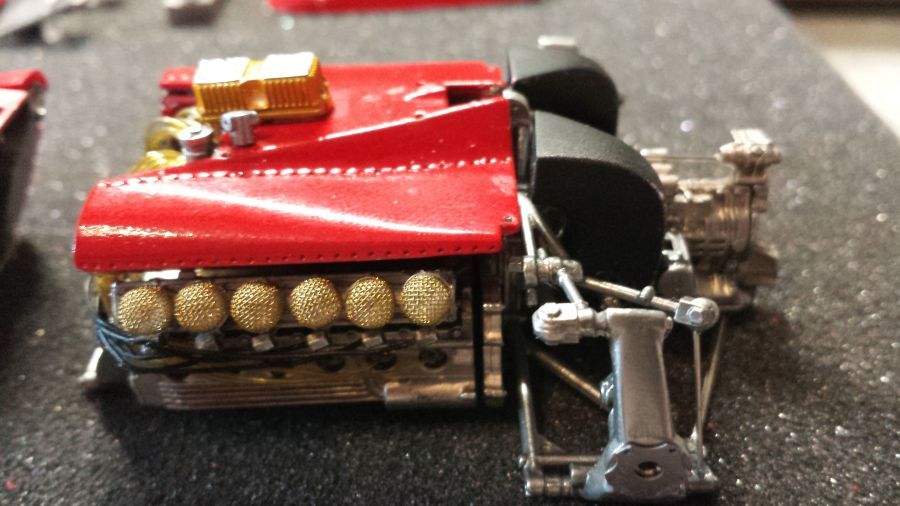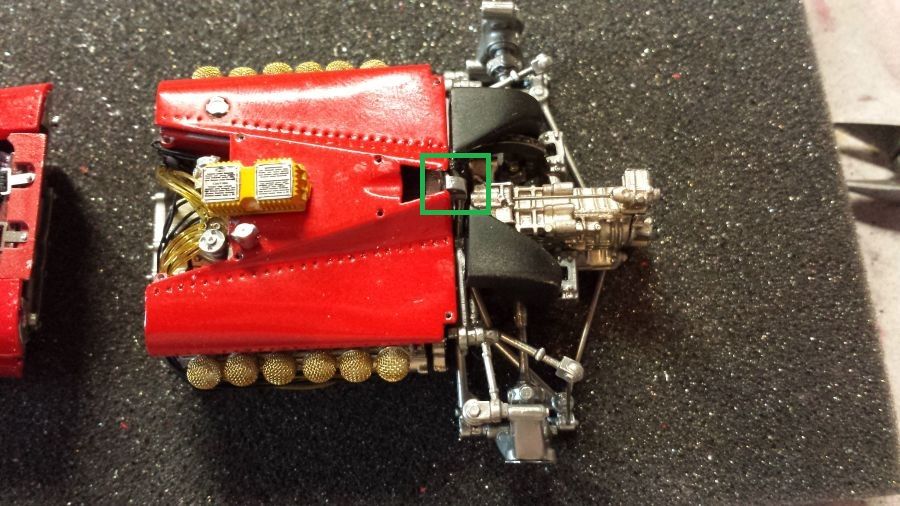 Werken aan het koelsysteem.
Working on the cooling system.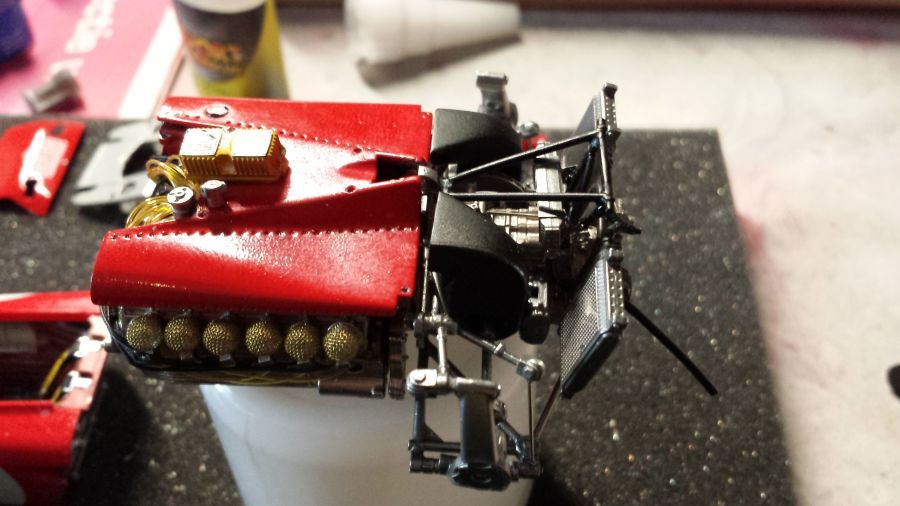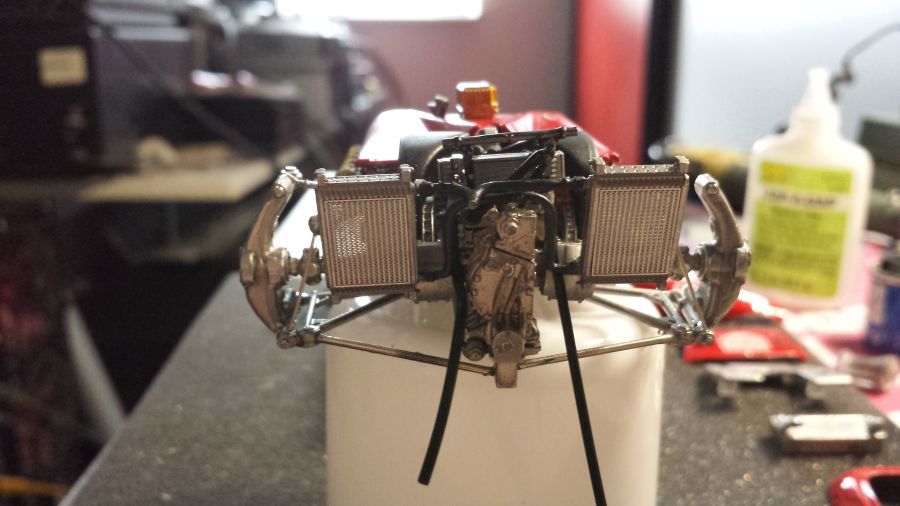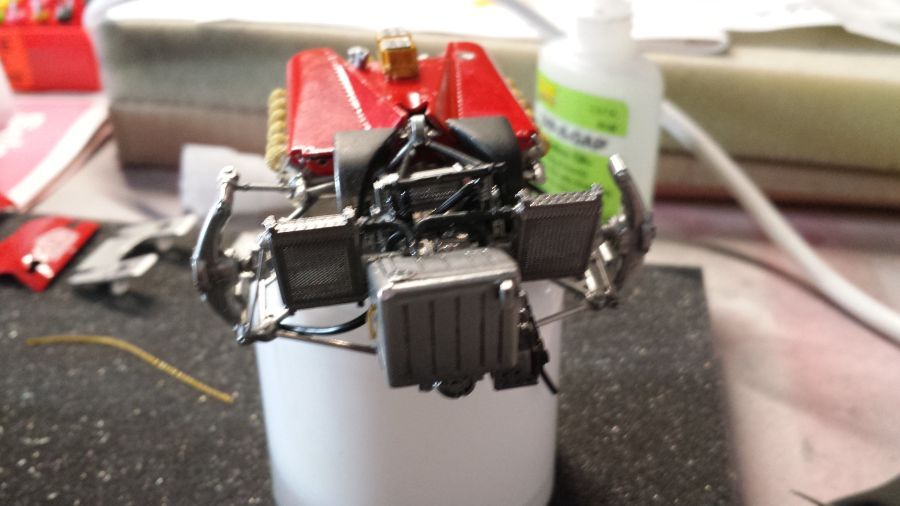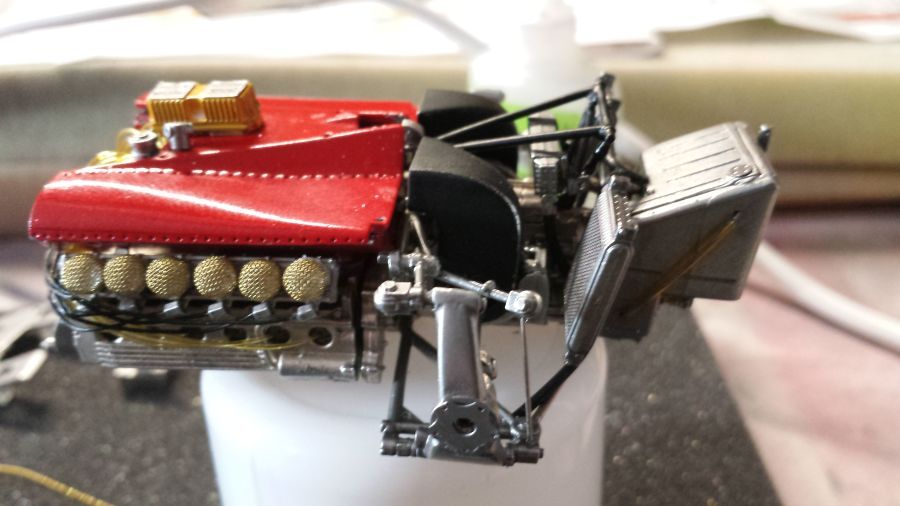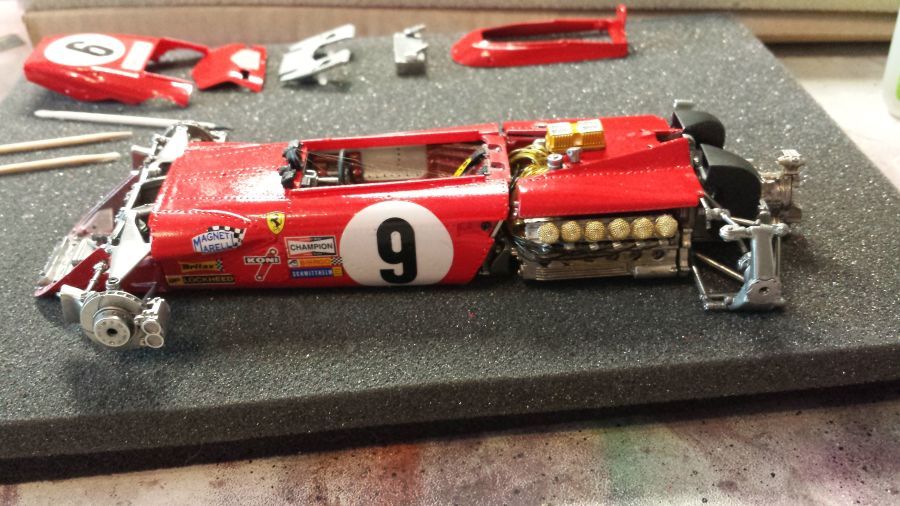 Het bedraden van de meters.
Wiring the gauges.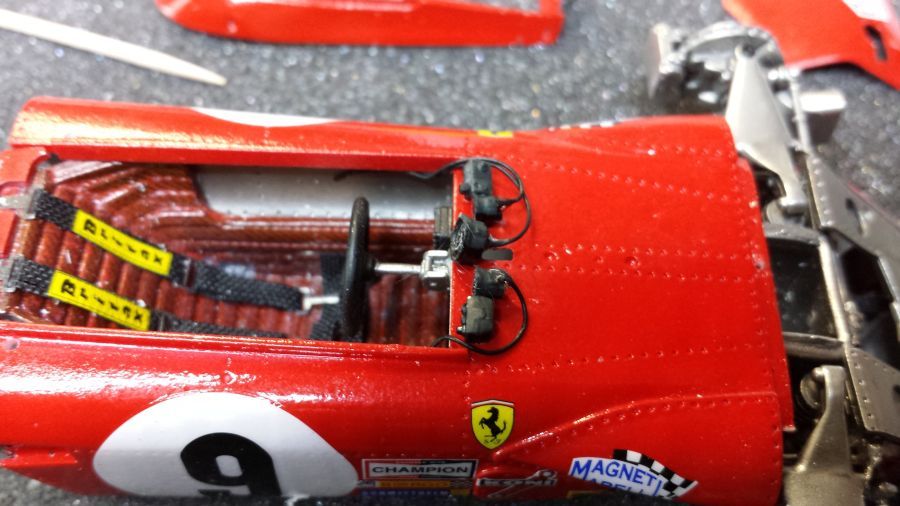 De uitlaatsteunen en veren moeten gemaakt en bevestigd. Misschien was het beter geweest om eerst deze steunen te monteren en dan pas de uitlaten. Je kunt deze dan beter uitlijnen.
The supports and springs for the muffler have to be made and attached. Maybe it would be better to mount these support before adding the muffler. It's easier to glue them in line.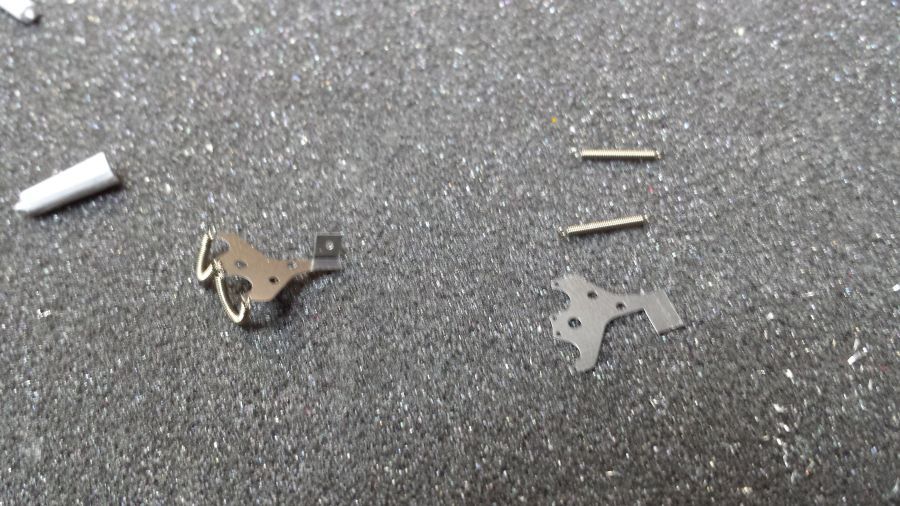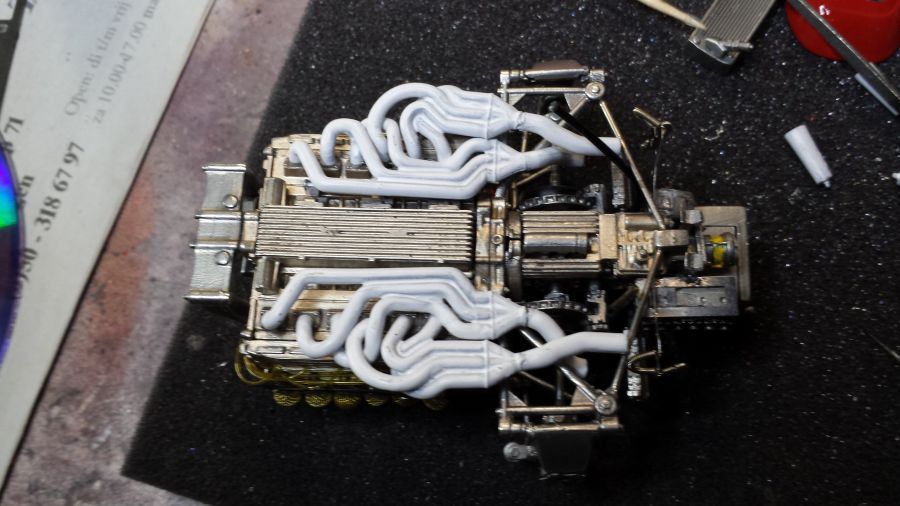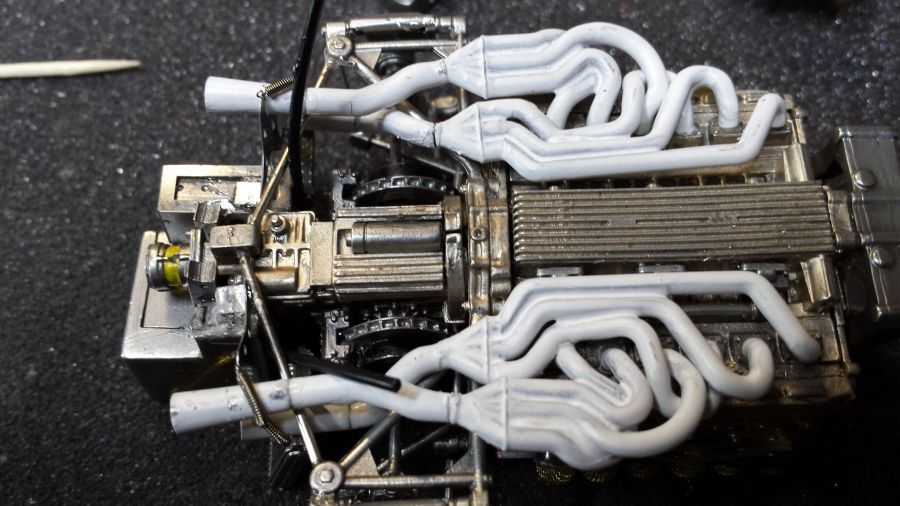 Kleine werkzaamheden aan de motorafdekking.
Small job on the engine cover.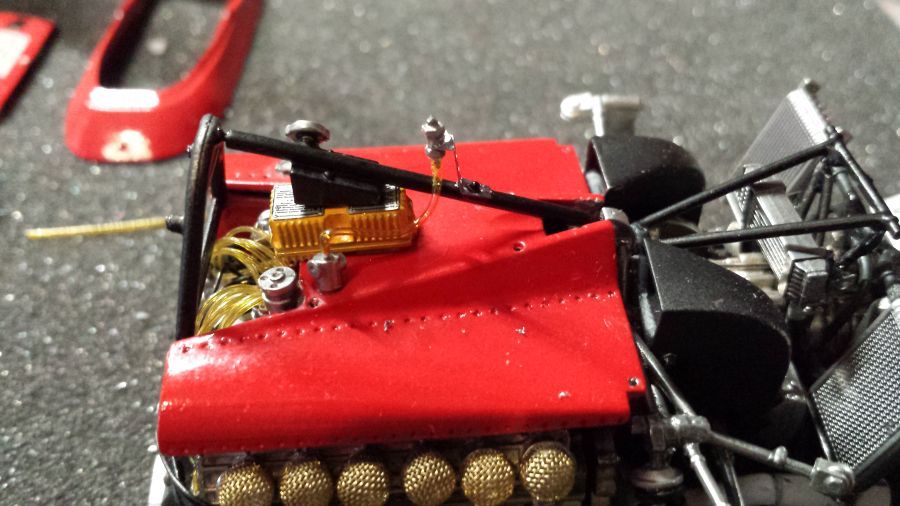 De velgen zijn weer goud gespoten.
The rims have been airbrushed gold again.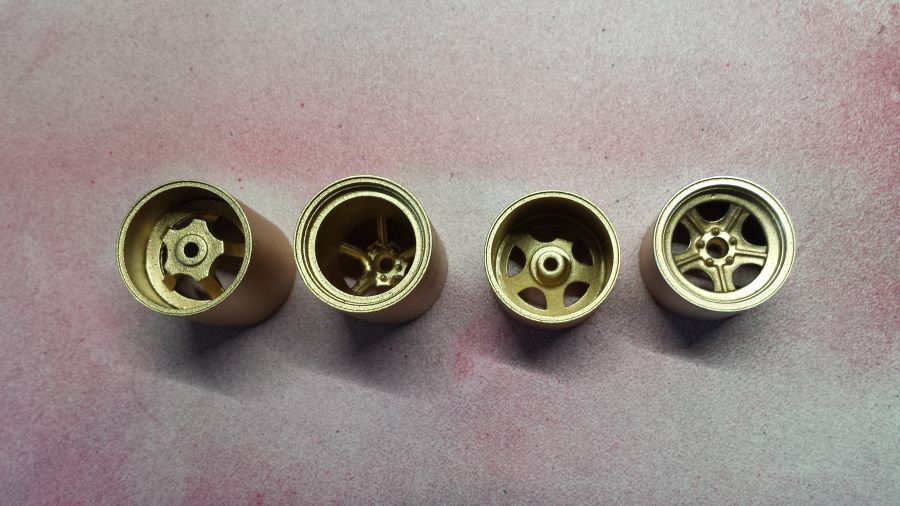 En alvast wat voorwerk aan de vleugels.
And some preparations on the wings.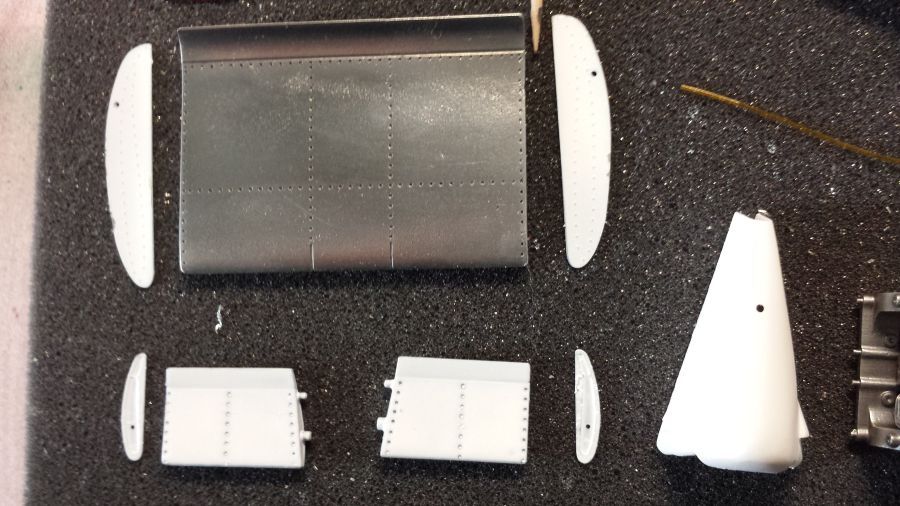 De steunen voor de achtervleugel zijn geplaatst.
The supports for the rear wing have been mounted.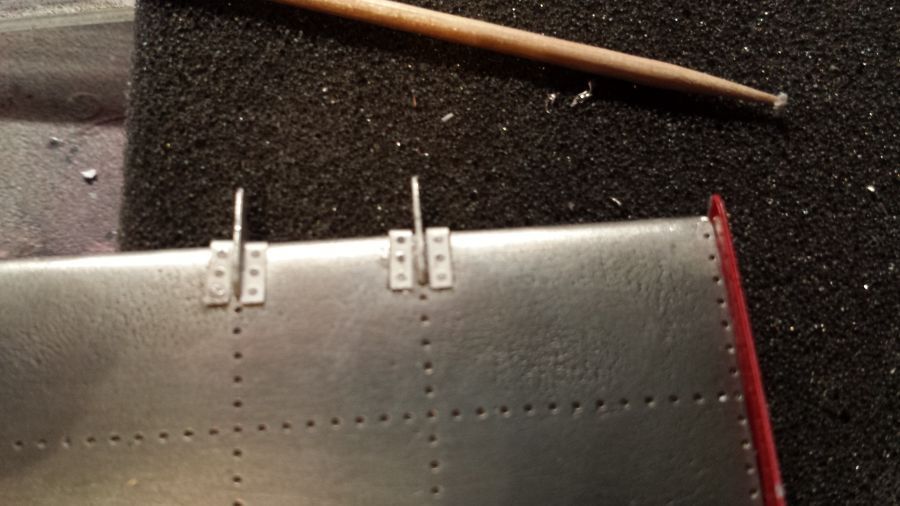 ´Het huwelijk.´
´The mariage.´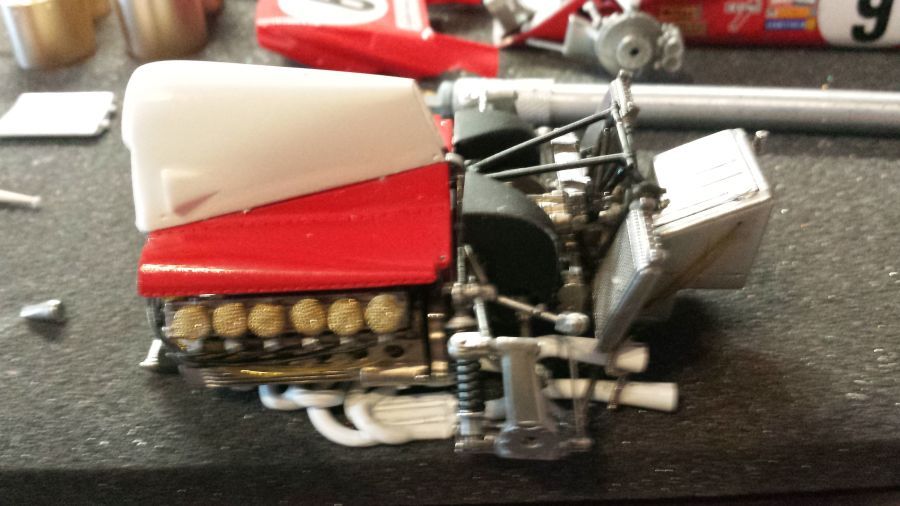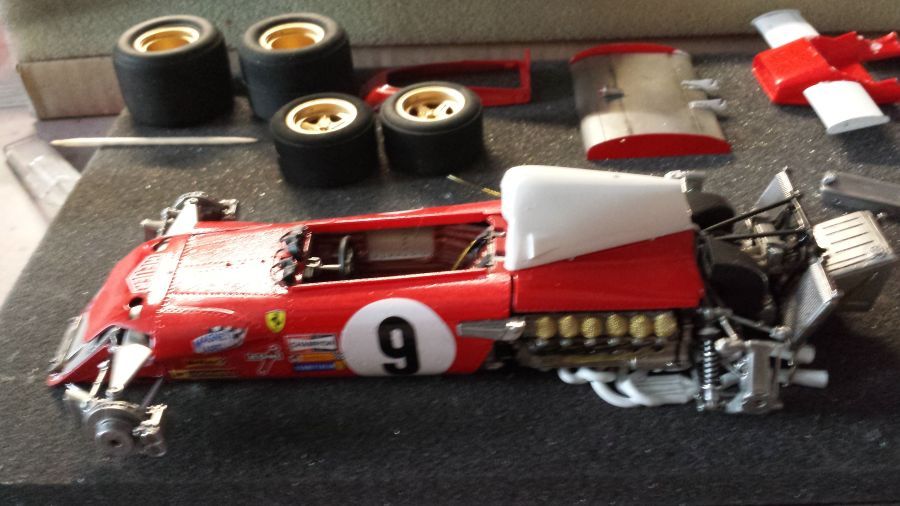 Nog wat meer decals aanbrengen aan de body, cockpit en banden.
Some more decal work on the body, cowl and tires.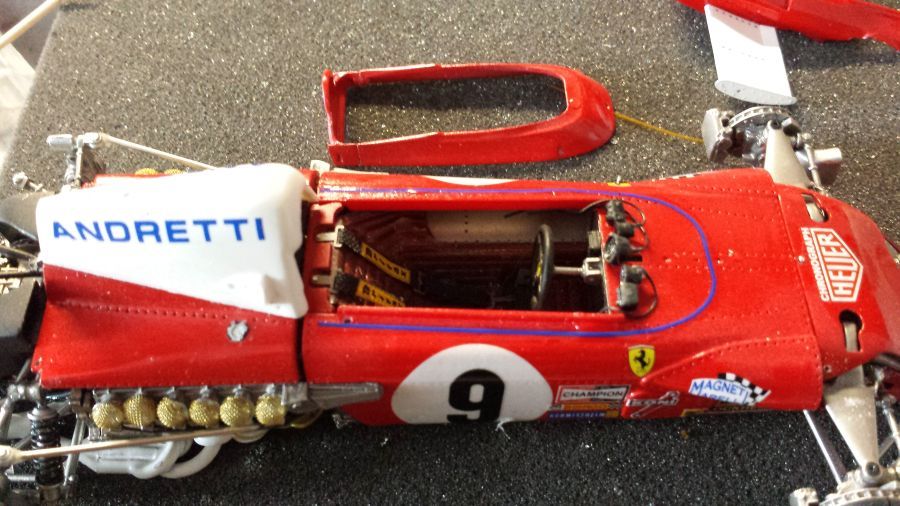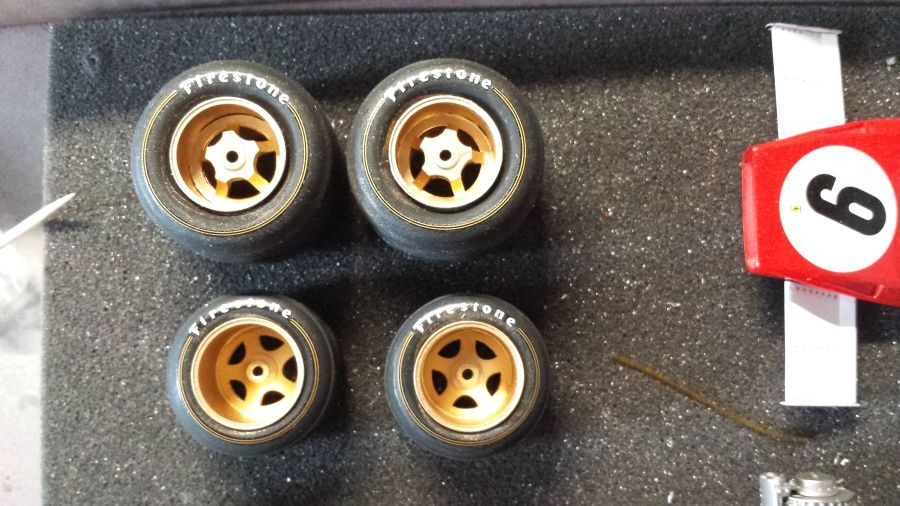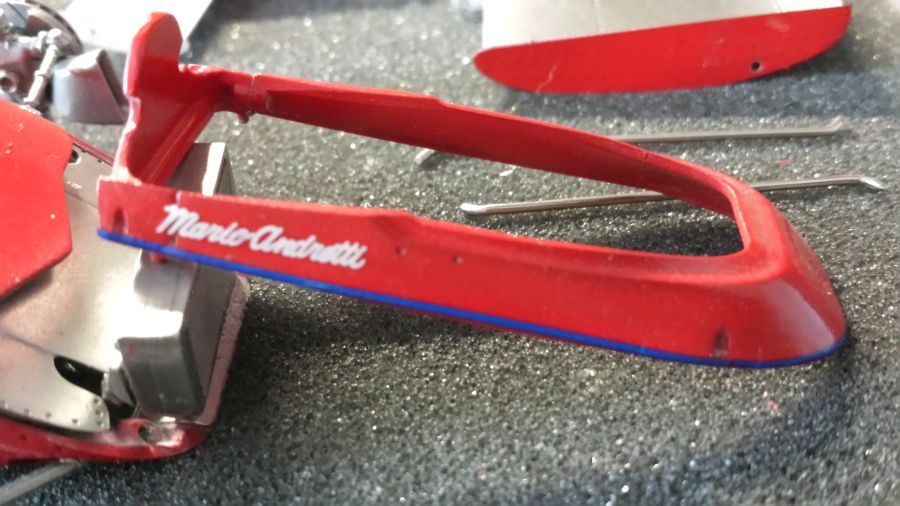 De wielen zitten erop.
Wheels are on.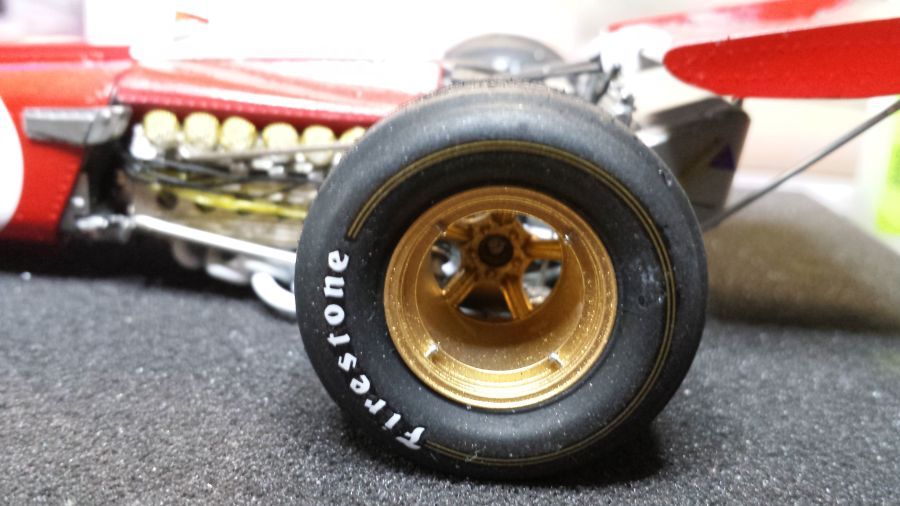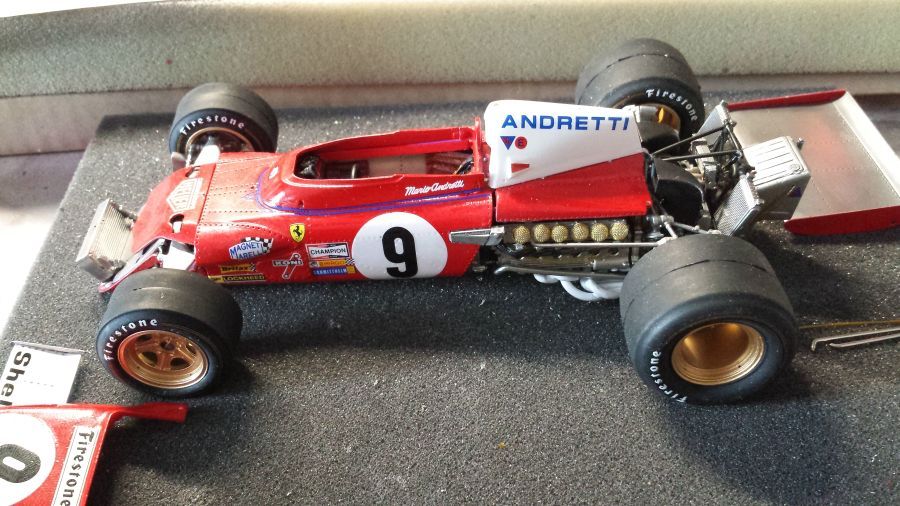 De achtervleugel was wat lastig. De maten van de steunen, zoals beschreven door MFH waren veel te kort. Daarom heb ik van buis en draad nieuwe steunen gemaakt. 
The rear wing was difficult. De sizes of the support, as described by MFH were too short. Therefore i have made new support from tube and wire.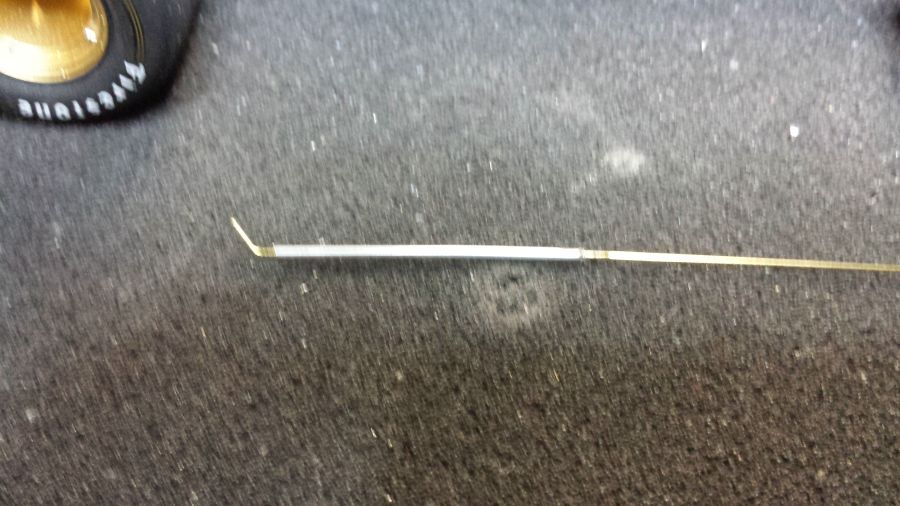 Hier het afgebouwde model.
Here the finished model.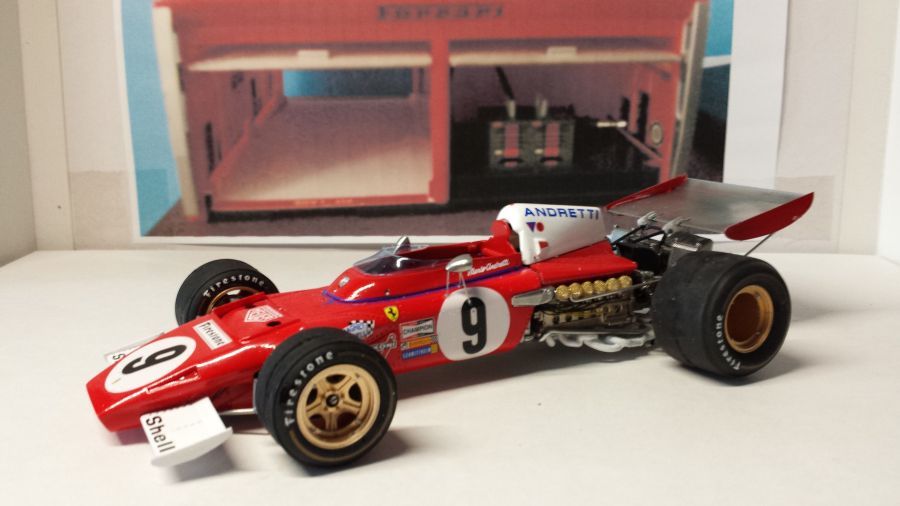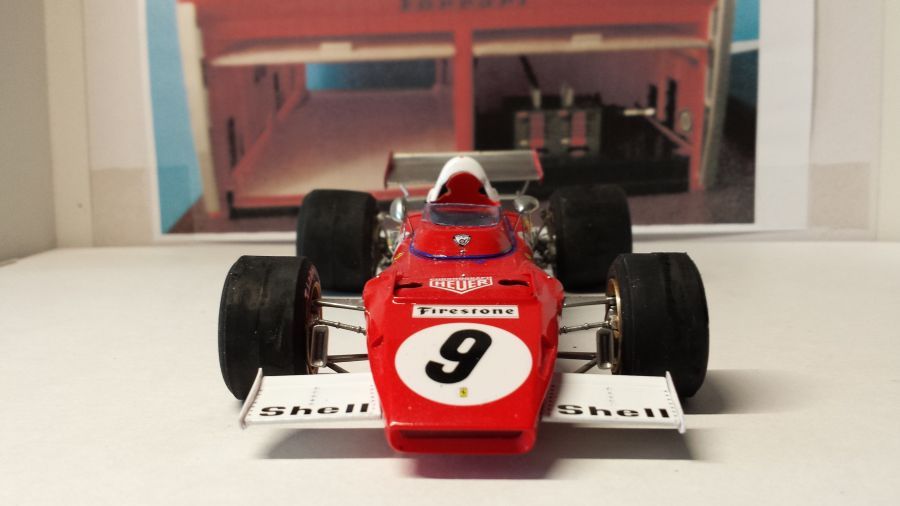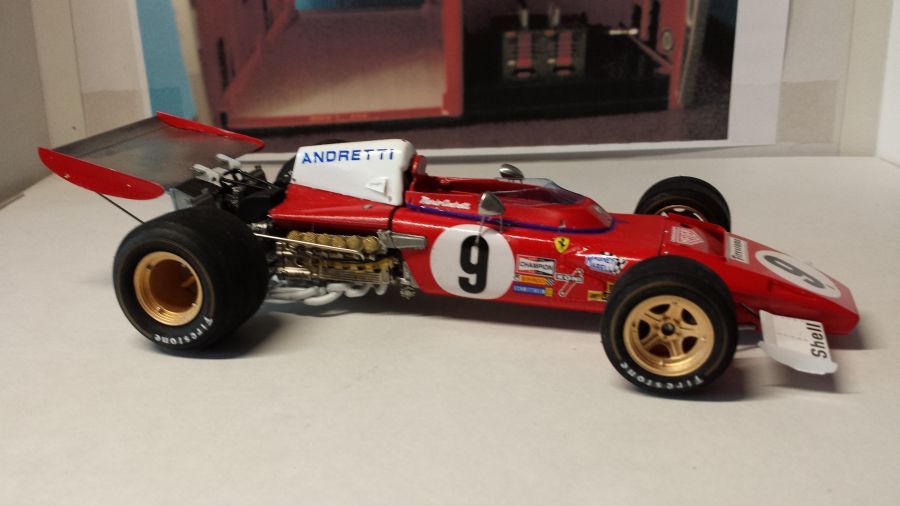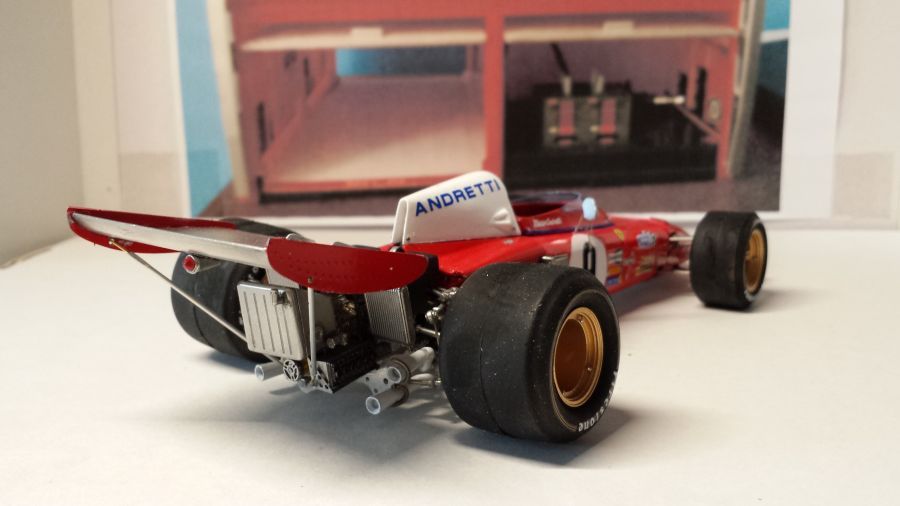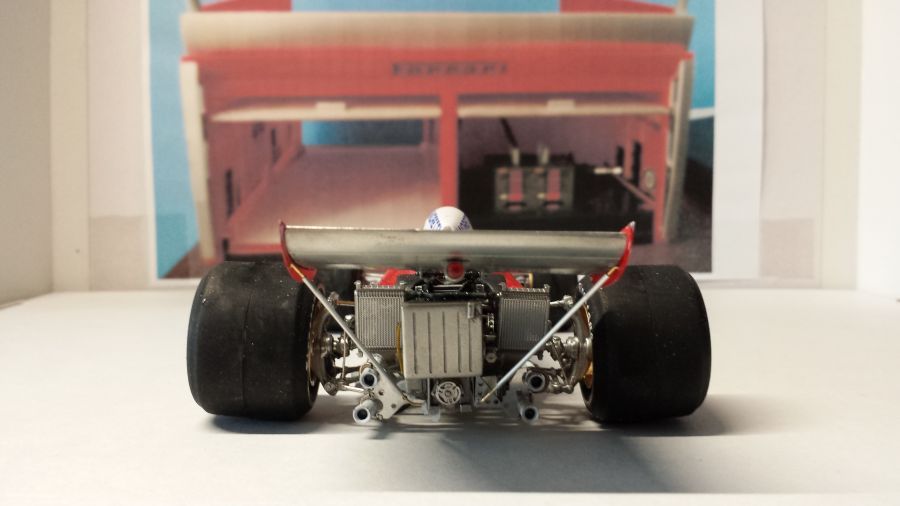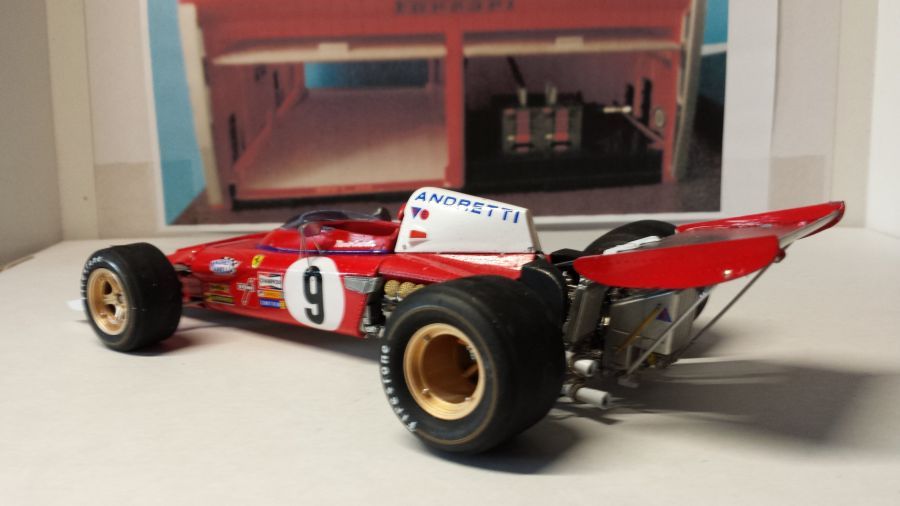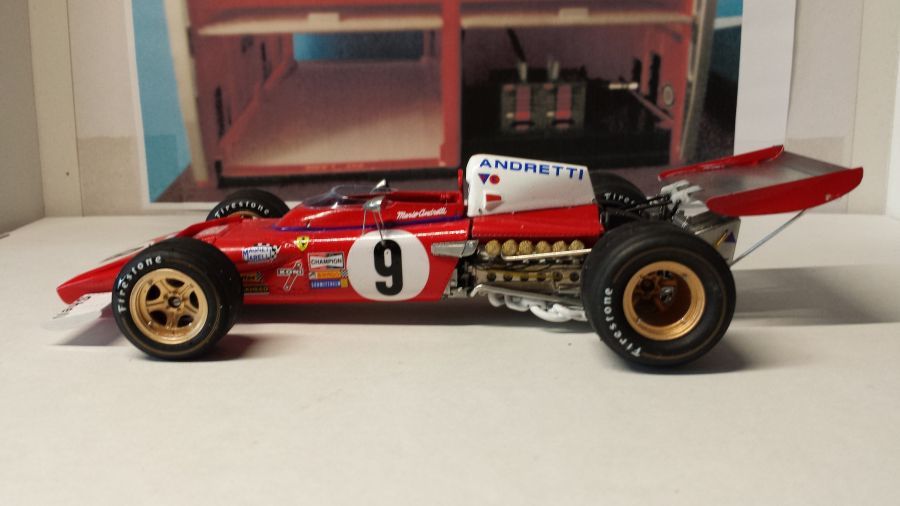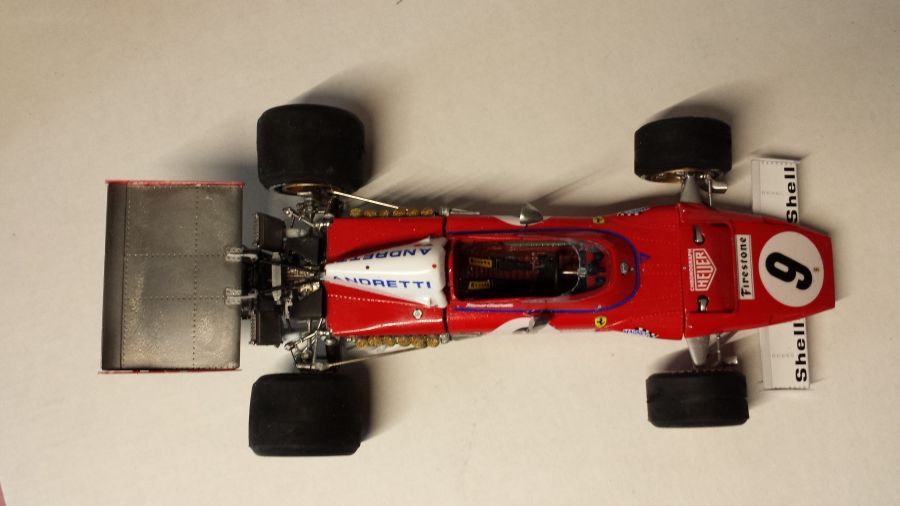 Deze MFH kit was een van de moeilijkste tot nu toe. Veel onderdelen waren niet helemaal passend en maten
klopten hier en daar niet.
This MFH kit was one of the toughest. Many parts did not quit fit and sizes were sometimes incorrect