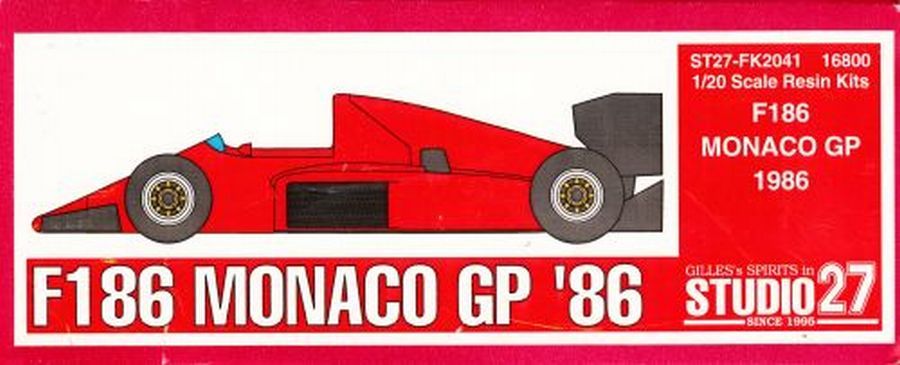 Hieronder beschrijf ik de bouw van de Studio27 kit (kit nr ST27-FK2041) van een Ferrari F1-86 uit 1986. Allereerst weer een foto van alle onderdelen.
Here the WIP of the build of a studio27 kit (kit no ST27-FK2041) of a Ferrari F1-86 from 1986. First again a picture of all parts.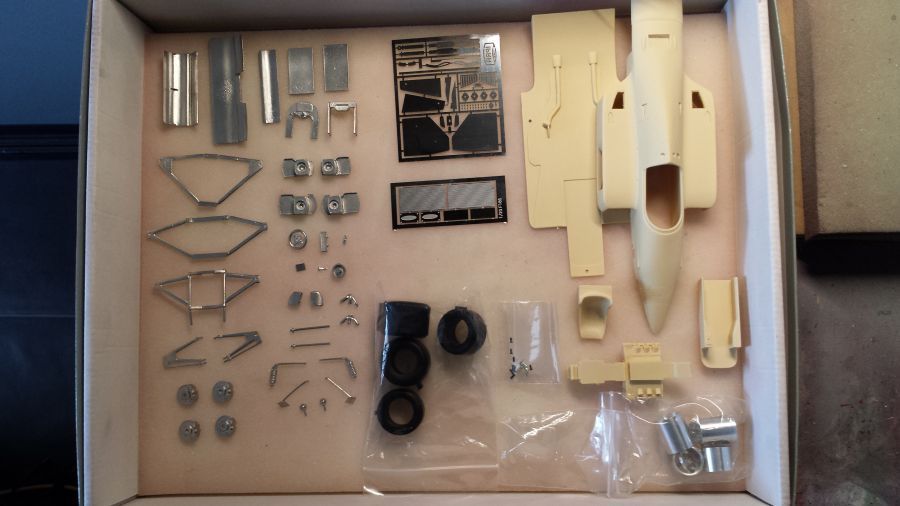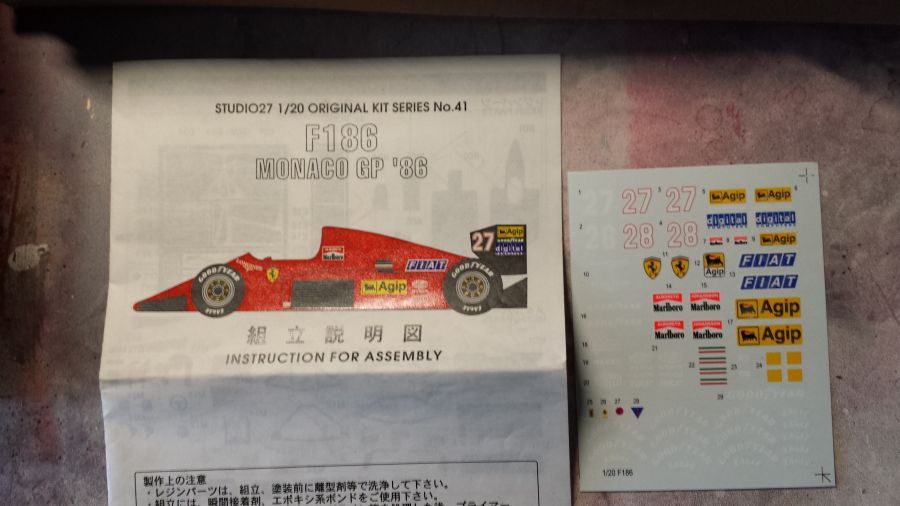 Weer zijn er kleine problemen met de decals. Ook nu plakt de beschermfolie vast aan de decals. Bij het verwijderen van de folie blijft een soort papierlaag achter. Ik hoop dat ook dit keer de laag verdwijnt bij het weken van de decals in water of met Microscale Liquid Decals en/of glans lak.
Again there are small problems with the decals. Again the protective foil sticks to the decals. When removing this foil a kind of paper layer is left behind. I hope this layer will disappear when soaking the decals in water or with Microscale Liquid Decals and/or clear cote.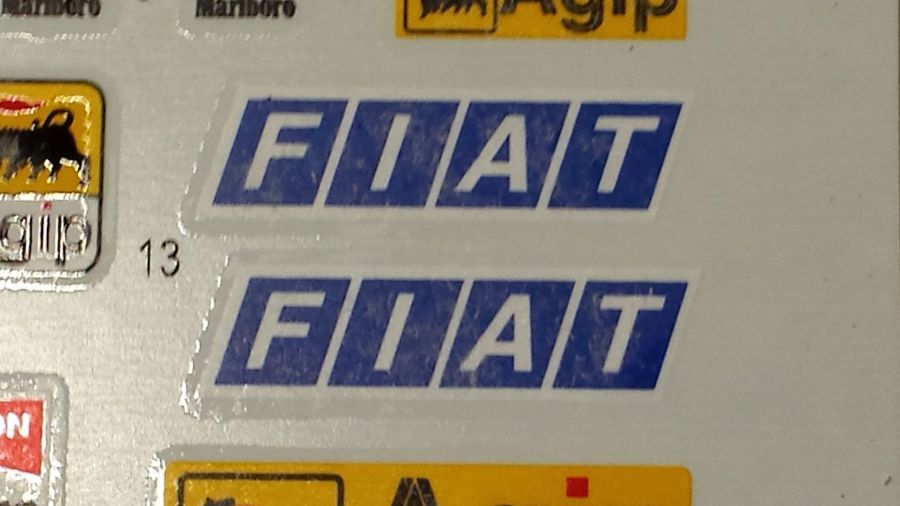 Eerst het werk aan the voorvleugel. Ik wil de zijkanten aanbrengen met nagels. Daarom ga ik de nokjes van de vleugel verwijderen en daarvoor in de plaats gaatjes boren. De juiste plaatsen zijn alvast gemarkeerd (groen). Het boren van de rode punten zal niet lukken, omdat de vleugel op die plekken te dun is om nagels aan te brengen.
First working on the front wing. I will attach the sides by using rivets. Therefor i will cut the tabs on the side of the wing and then drill holes in it. The correct locations have been marked (green). Drilling the red points will not work, as the wing is too small at those points to add rivets.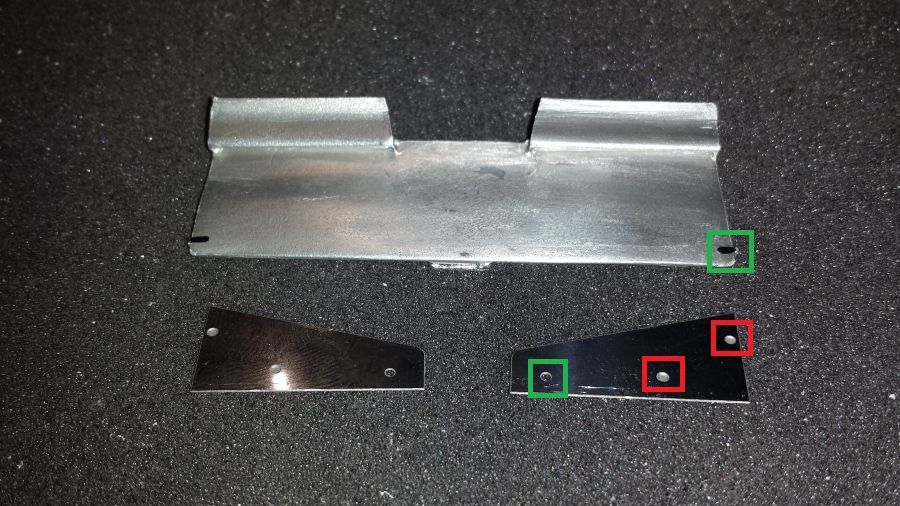 In elkaar gezet en met zwarte primer gespoten (Vallejo). Daarna Tamiya TS-14 glans zwart eroverheen, zodat de decals kunnen worden aangebracht. Na goed drogen de Tamiya TS-79 zijdeglans lak er overheen.
Glued it together and sprayed with black primer (Vallejo). Then sprayed with Tamiya TS-14 black gloss, so the decals will stick. After a good drying time Tamiya TS-79 semi gloss coat was added.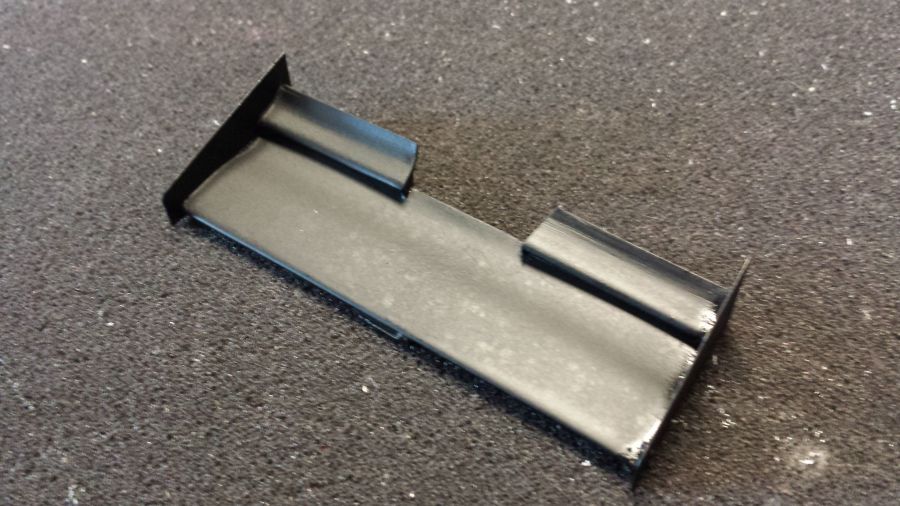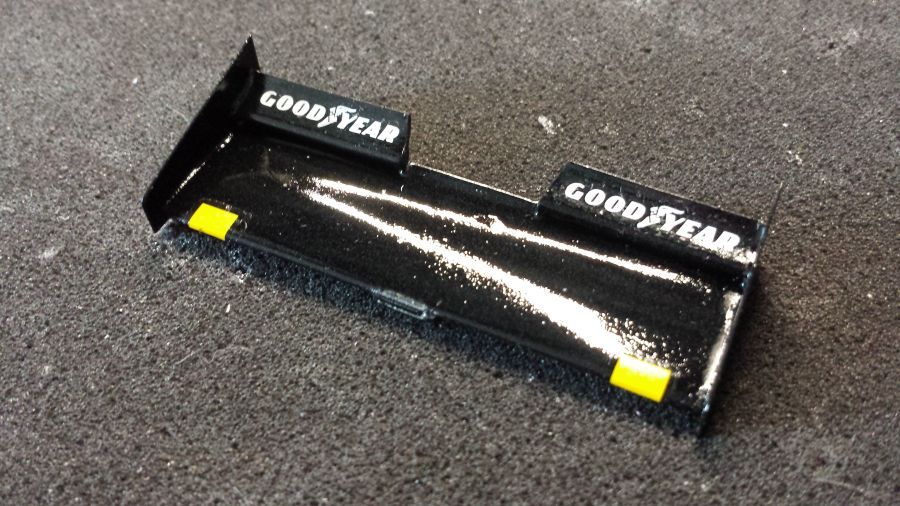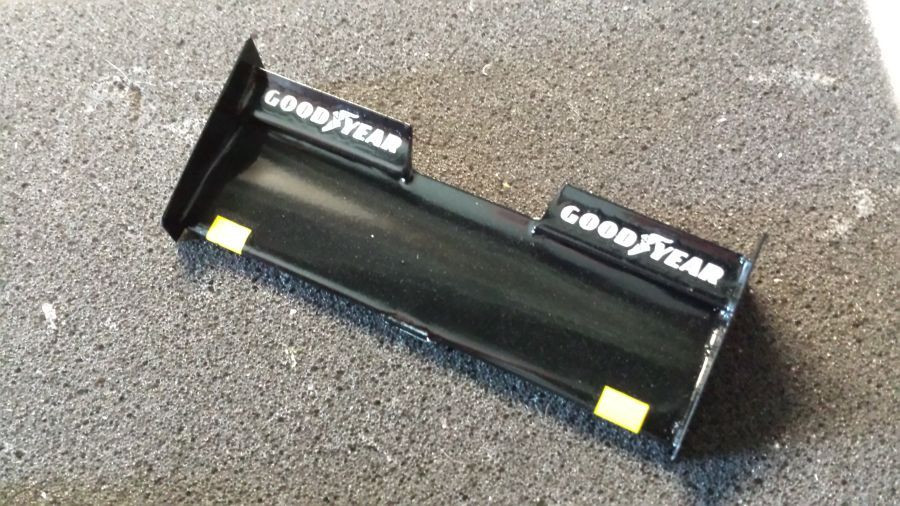 De onderdelen voor de voorwielophanging worden voorbereid. 
The parts for the front wheel suspension are prepaired.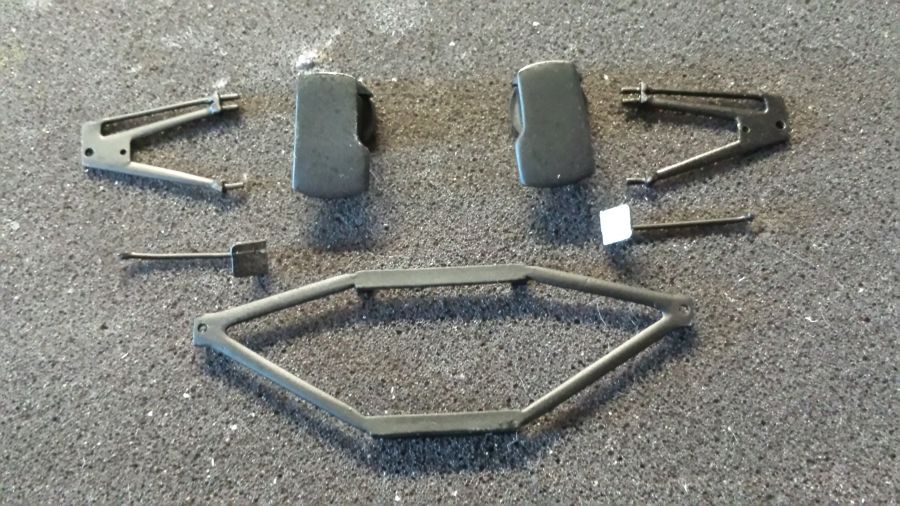 De carrosserie van de wagen is bijgewerkt en geschuurd. Overtollige delen zijn verwijderd. Daarna witte grondverf erop. Vervolgens de rode lak (Zero-Paints ZP-1007 1970's-1980's Rosso Formula 1), dan de decals en daarna weer de glanslak.
The body has been prepaired and sanded. Obsolete parts have been cut off. Then white primer has been sprayed. After this the red paint (Zero-Paints ZP-1007 1970's-1980's Rosso Formula 1), then the decals and after this the clear coat.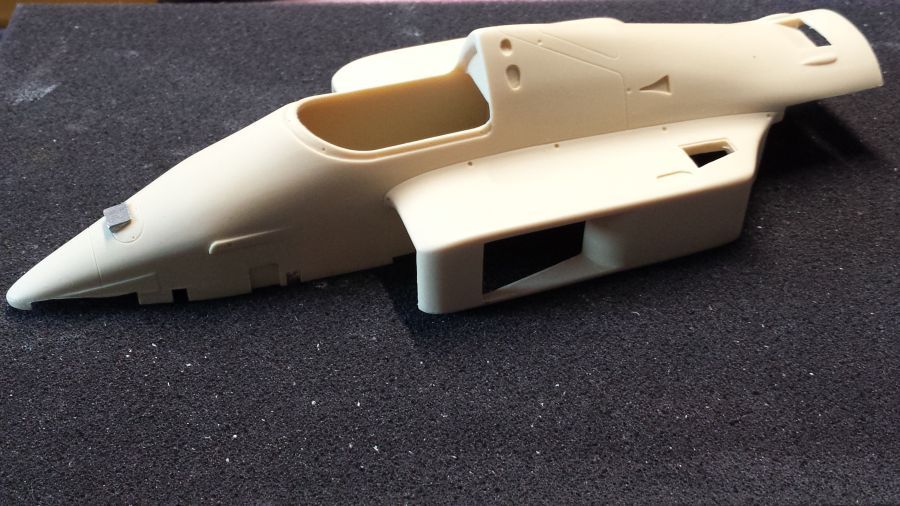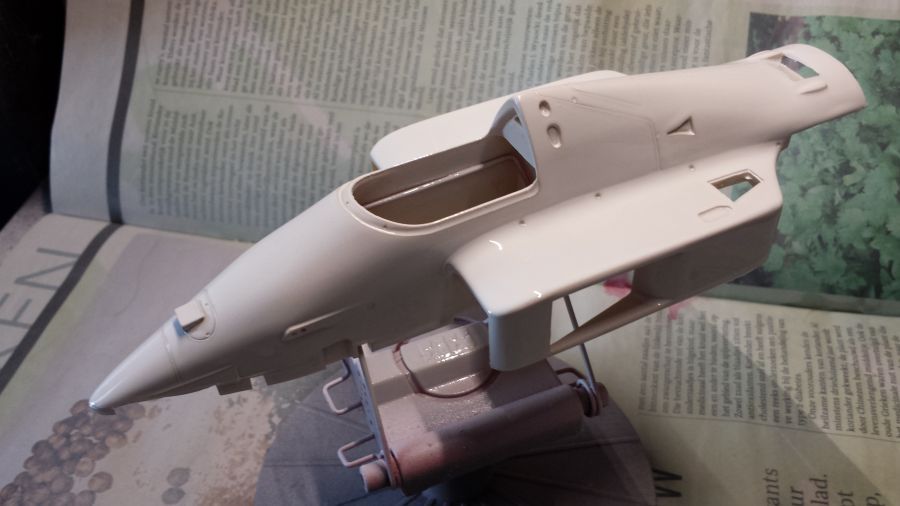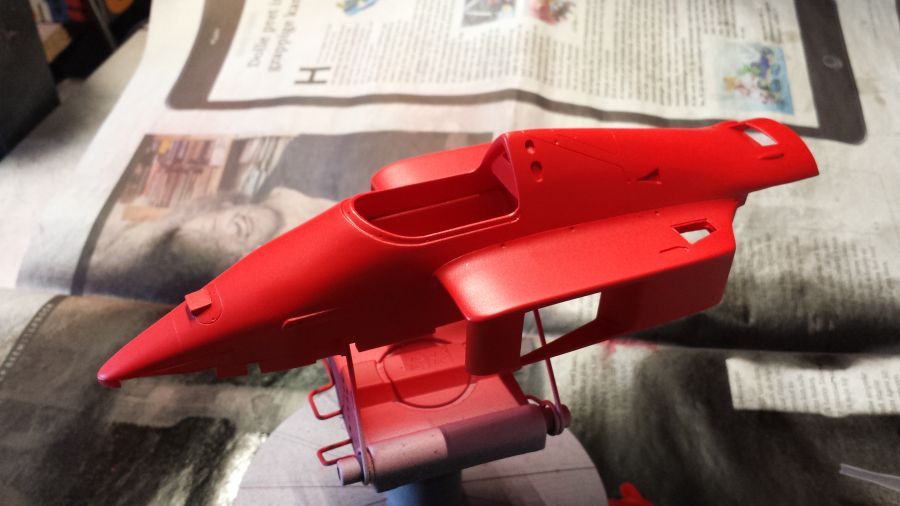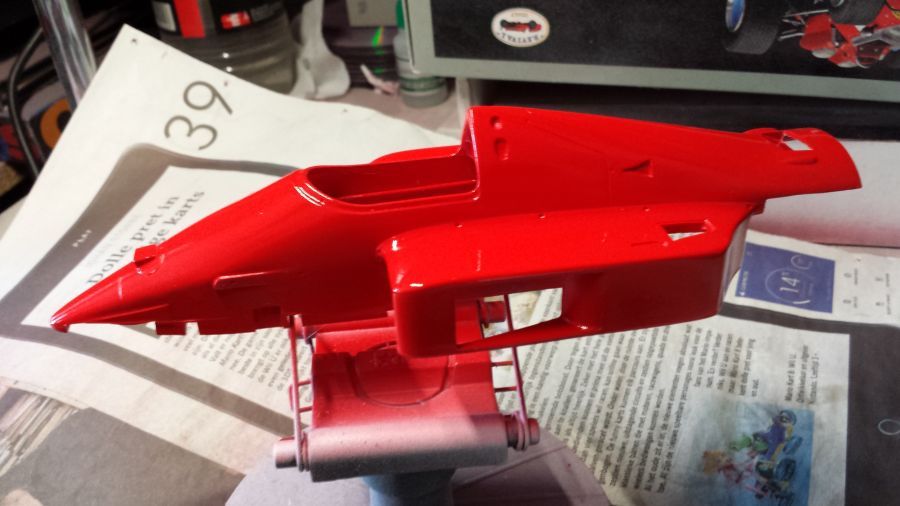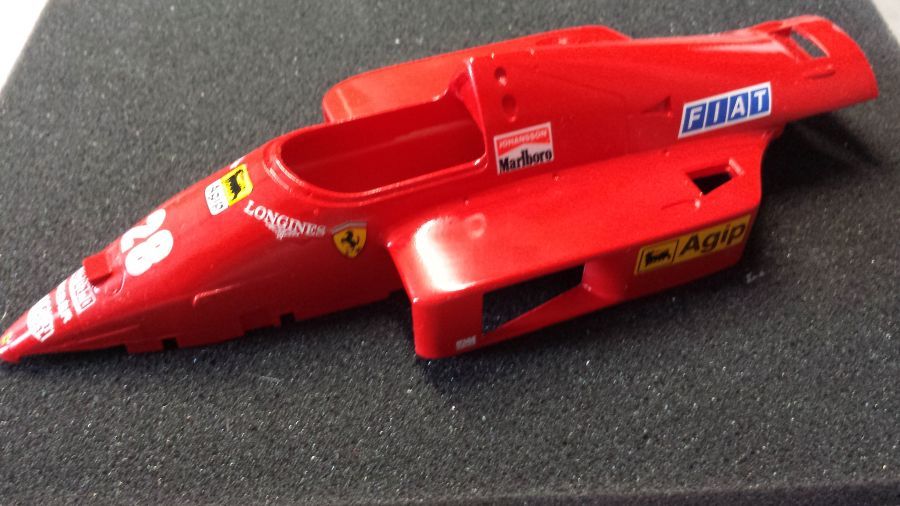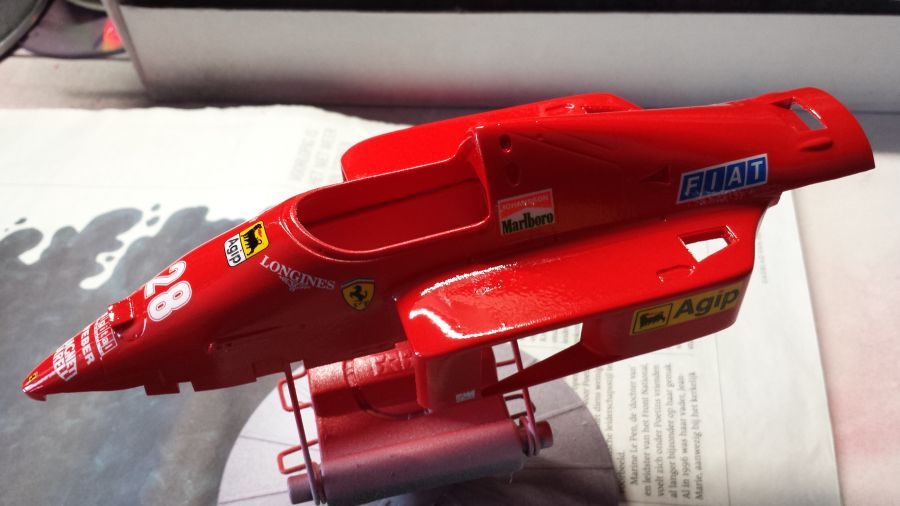 De gaatjes worden geboord voor de voorwielophanging.
Drilling the holes for the front wheel suspension.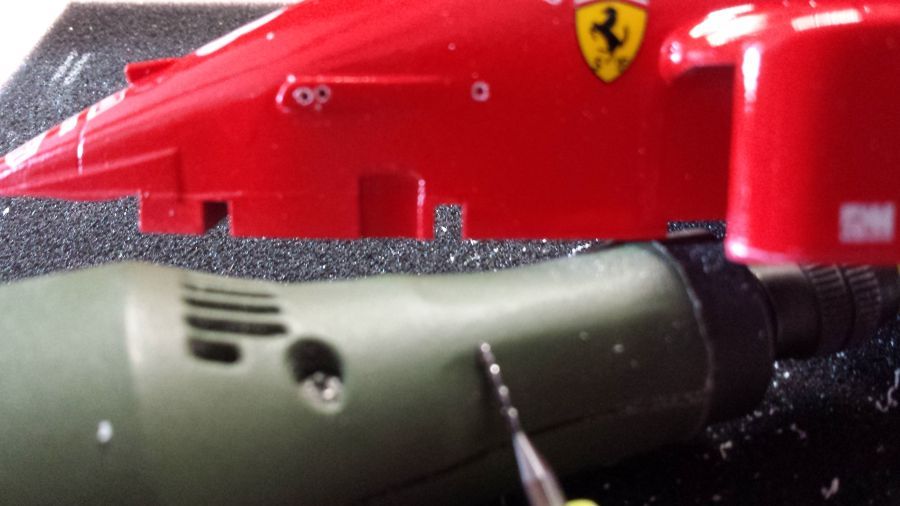 Het onderste etched deeltje gaat natuurlijk nooit passen. Daarom maar een stukje afgeknipt. Daarna het onderdeel met de vouwbank of tang op de juiste manier vormen. Dan in de goudverf. Maar eerst worden de pull rods aangebracht.
The lower etched part will never fit. Therefor i will cutt a piece off. After this i will form it to the correct size with the folding tool or pliers. After this i will paint it gold. But first the pull rods will be glued.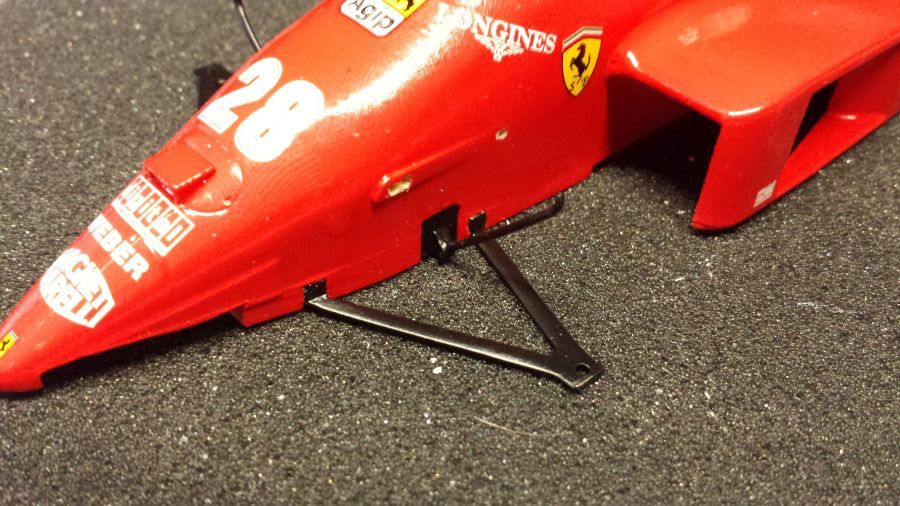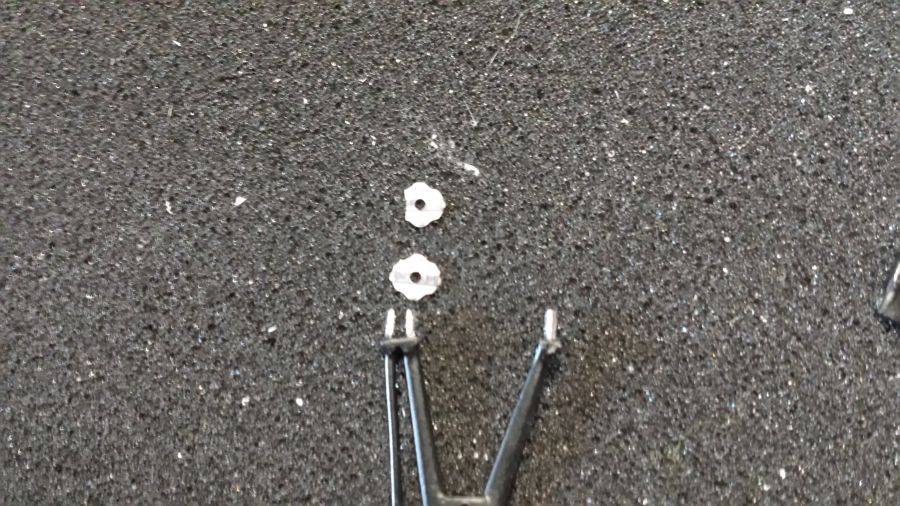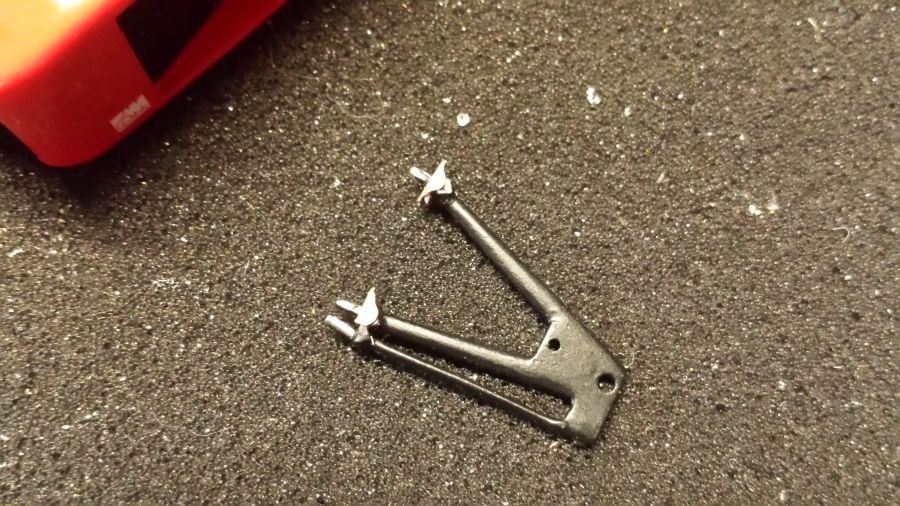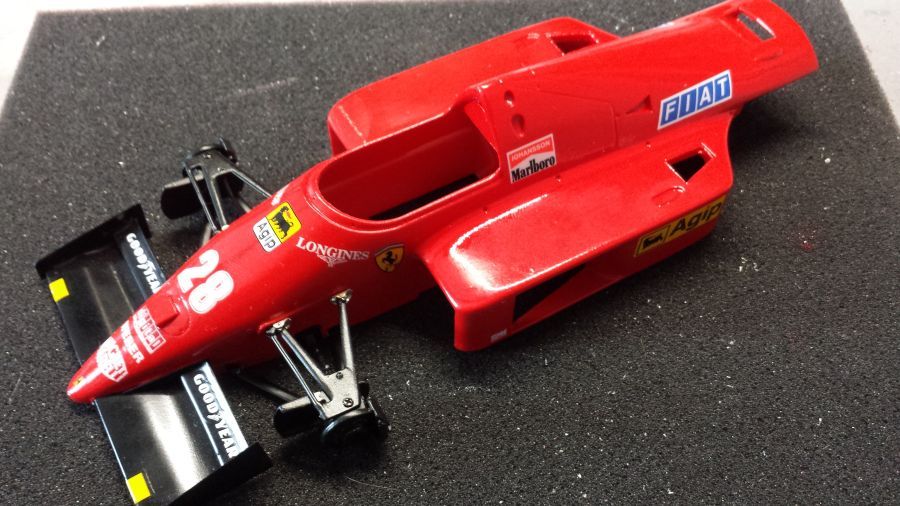 Weer een fout van Studio27 bij het ontwerp van de Ferrari F1-86 Monaco. De bodemplaat gaat zo echt niet passen. Dus of de bodemplaat wijzigen of de voorwielophanging wijzigen. Ik denk dat ik het best de bodemplaat intact kan houden.
Another mistake by Studio27 when designing the Ferrari F1-86 Monaco. The undertray will not fit. So either the tray has to be changed or the front wheel suspension. I think it will be best to keep the undertray as one part.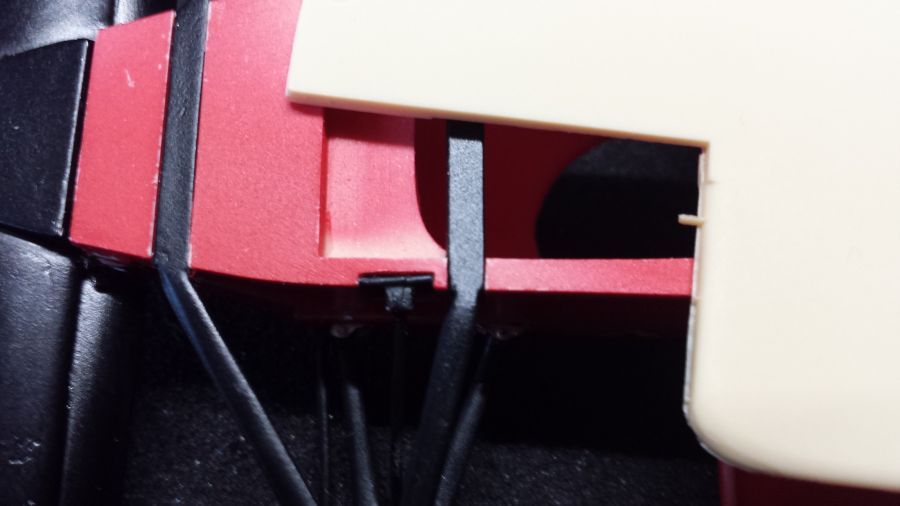 De bodemplaat in de grondverf en Tamiya TS29 Semi Gloss Black.
The under tray has been grounded and then Tamiya TS29 Semi Gloss Black.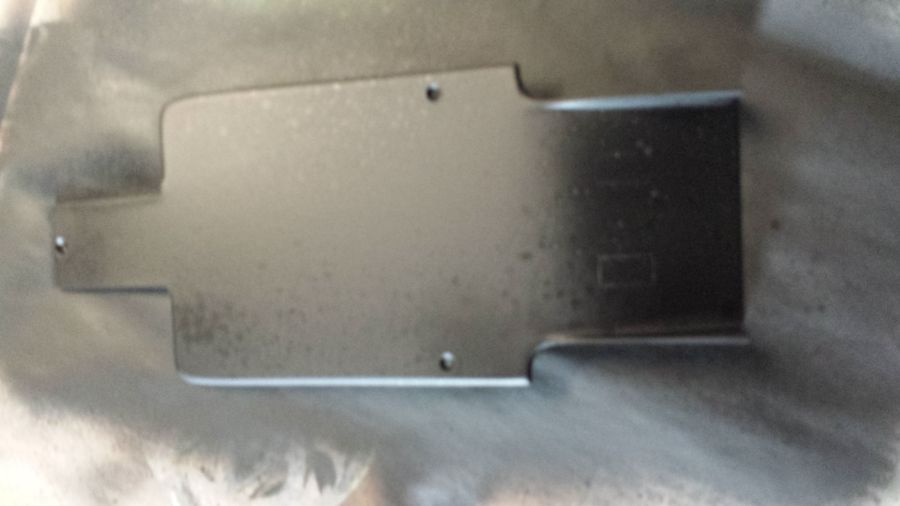 Dezelfde procedure voor de stoel en dash. Een deel van de stoel wordt bekleed met bruine vlokken of stof.
Same procedure for the seat and dash. A part of the seat will be covered with brown flocking or cloth.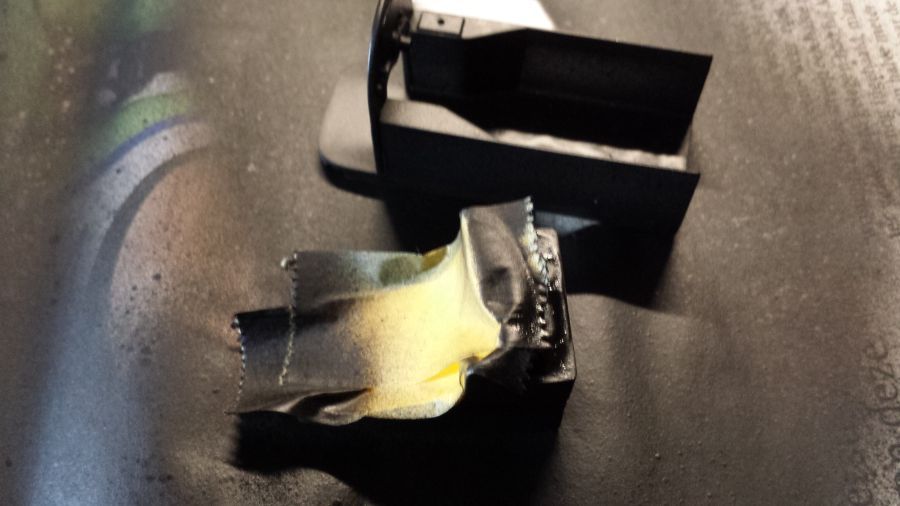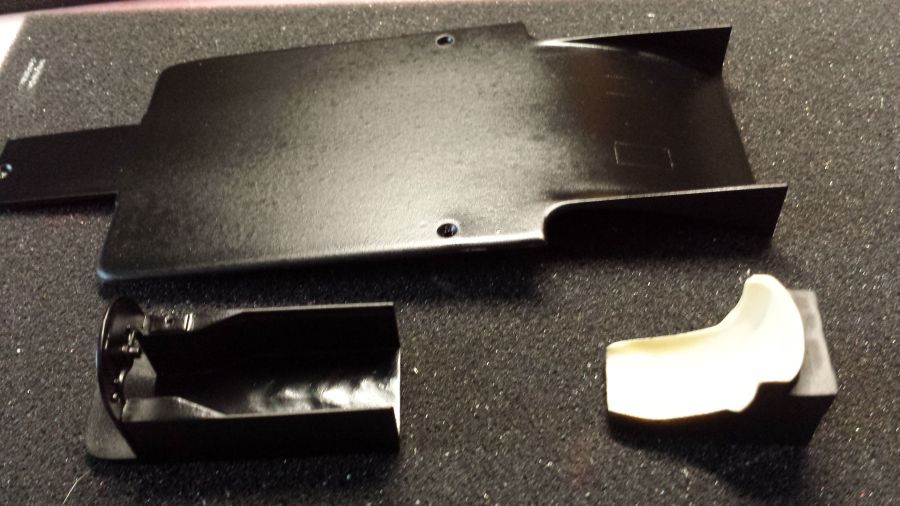 Het maken van de mal voor de stof. Daarna door met de gordels. Ik gebruik een set van Tamiya, maar dan met blauw lint. Dus alleen de gespen enz.
Making the template for the cloth. After this the making of the seat belts. I use a Tamiya set but with blue fabric. So only the buckles etc.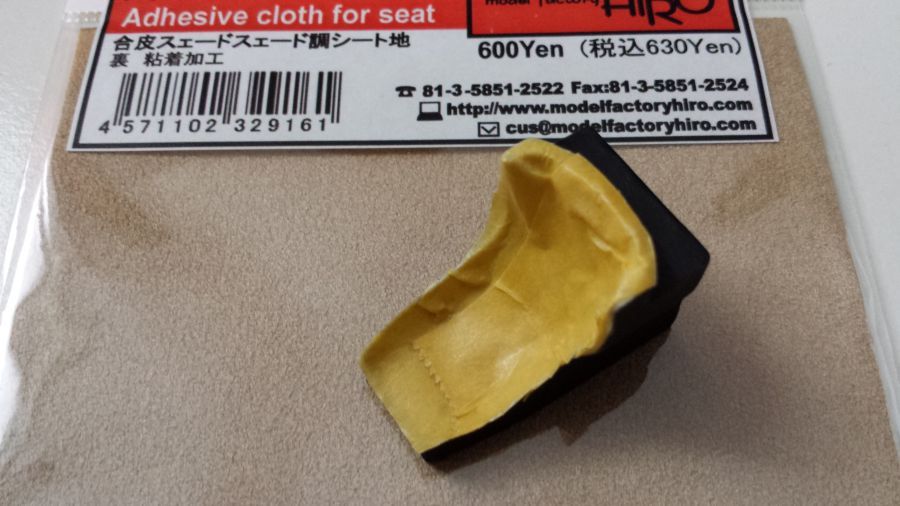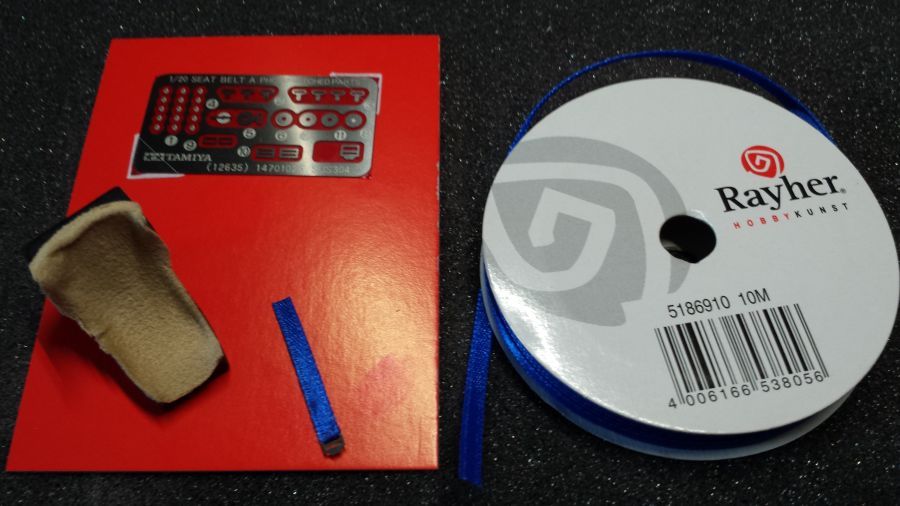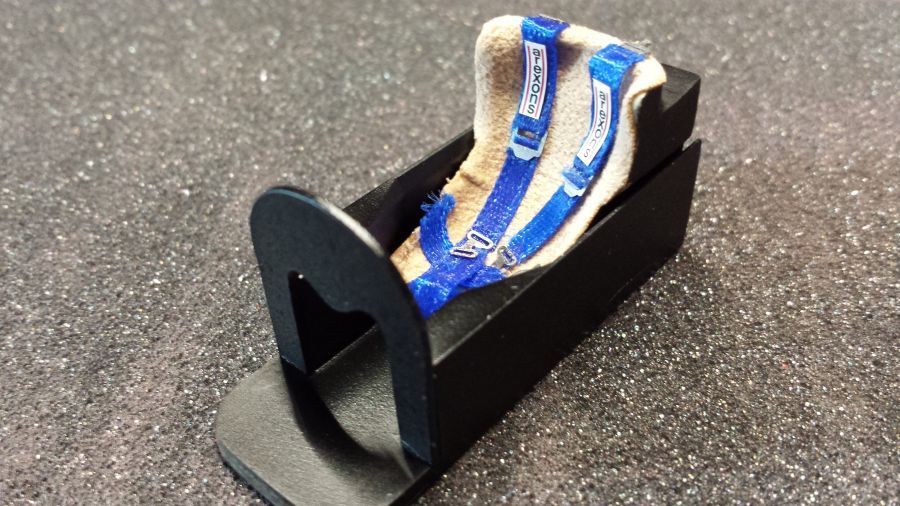 Een paar onderdelen toegevoegd aan de bodemplaat.
Added some parts to the under tray.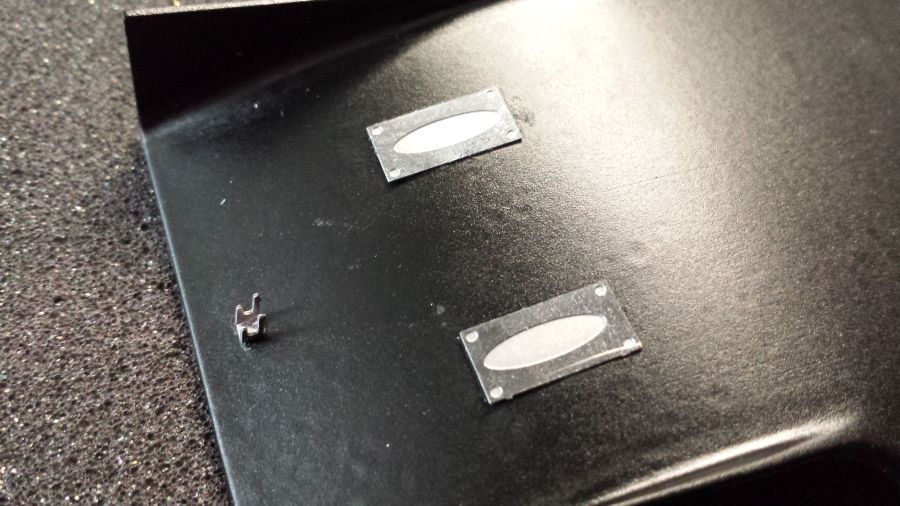 Daarna de motor. Eenvoudig ding. Ik zal zien of ik nog wat kan verbeteren. 
Then the engine. Simple part. I will see if there is something to improve.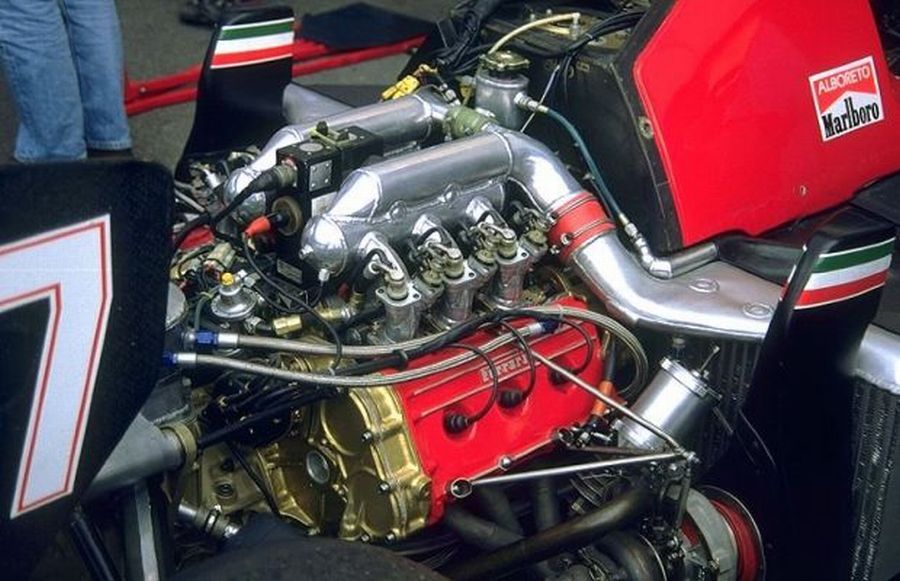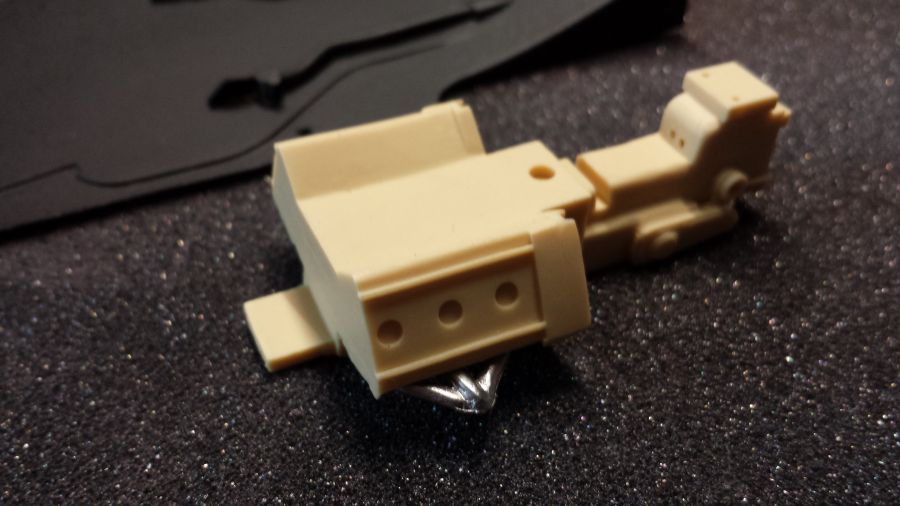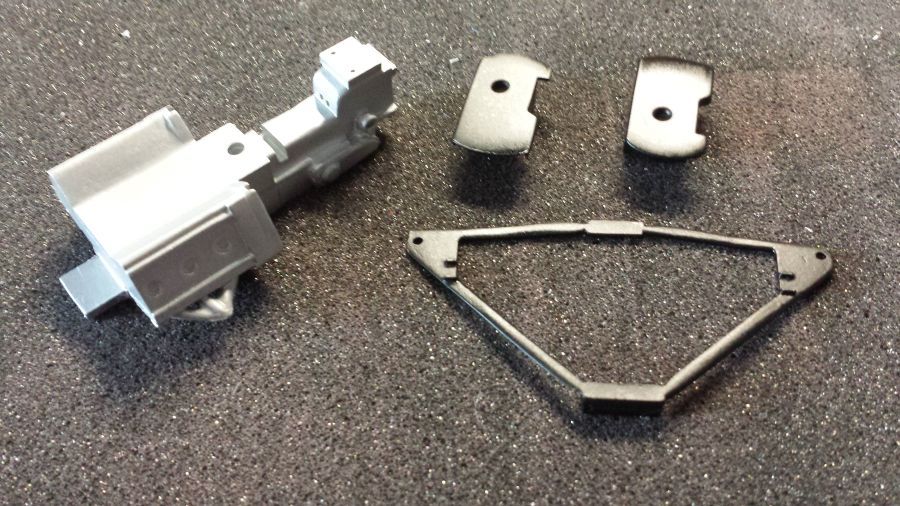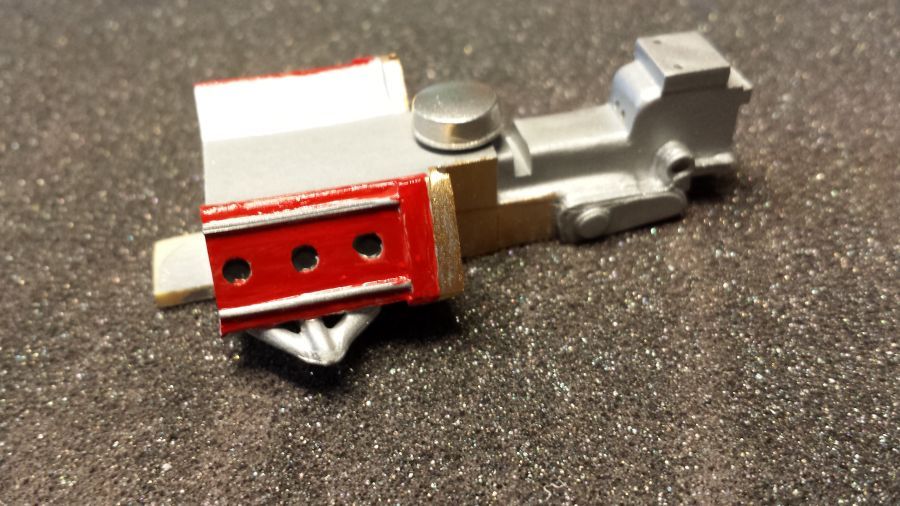 Ik probeer wat details aan te brengen met onderdelen van een 312T2 kit. Ik doe er niet veel moeite voor, want je zult er weinig tot niets van zien als de kit klaar is.
I will try to add some details by using parts from a 312T2 kit. I will not spend much time, as you will hardly be able to see it after the kit is complete.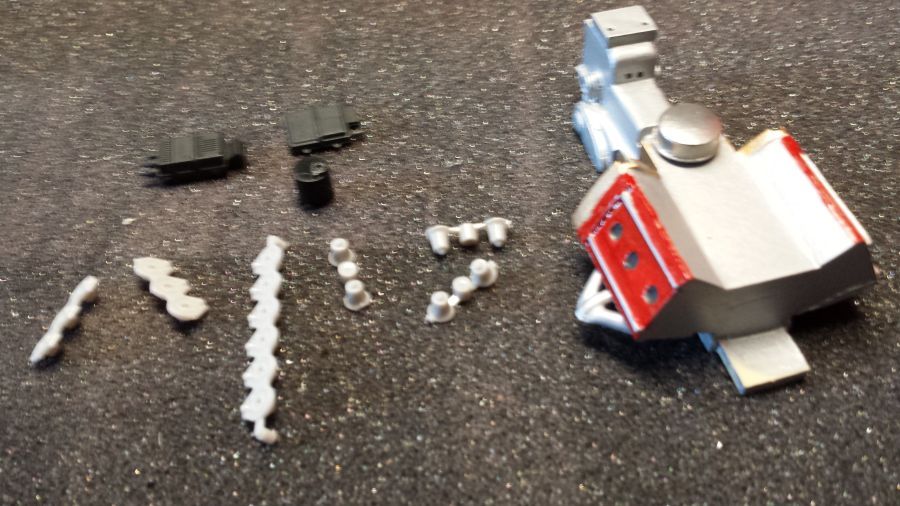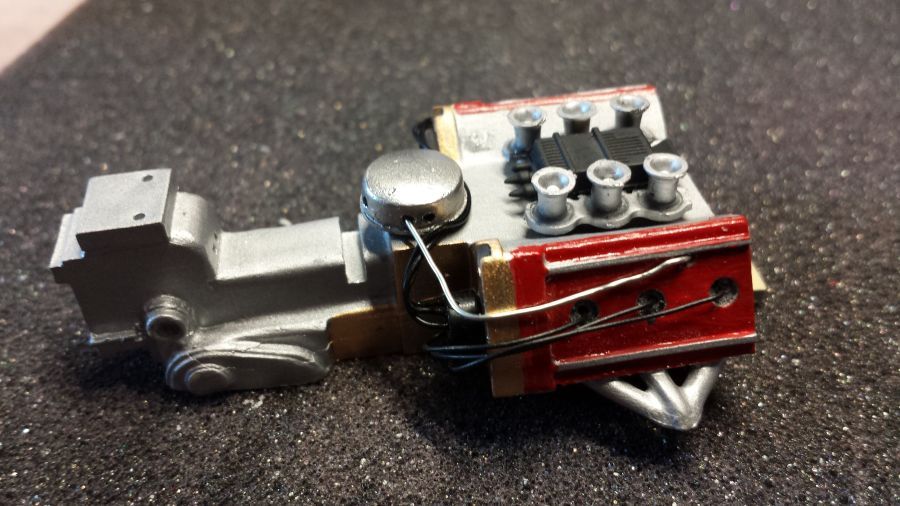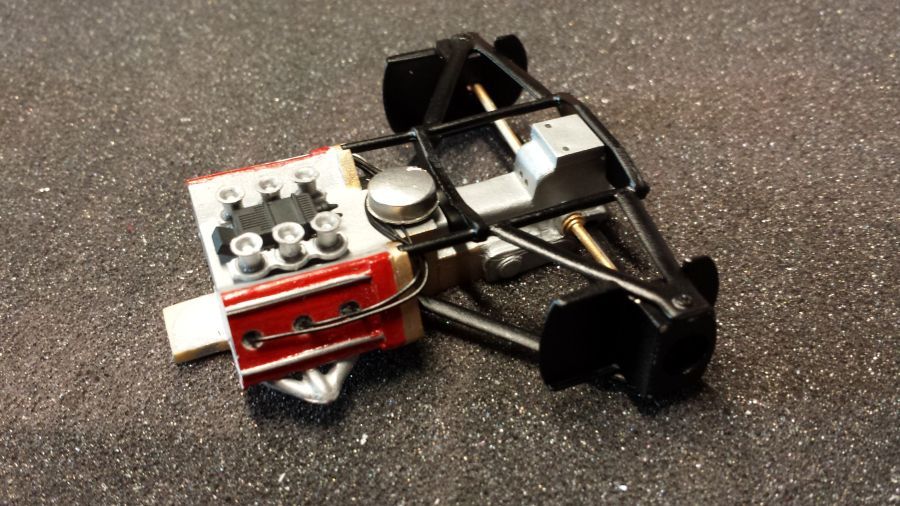 Klaar voor het 'huwelijk'. Hier een test fit voor het uitlijnen van de stoel en de motor. Ik monteer eerst de motor aan de body, dit opdat alles goed past.  
Ready for the 'marriage'. Here a test fit to be sure everything is lined up correctly. I will first mount the engine to the body so everything fits well.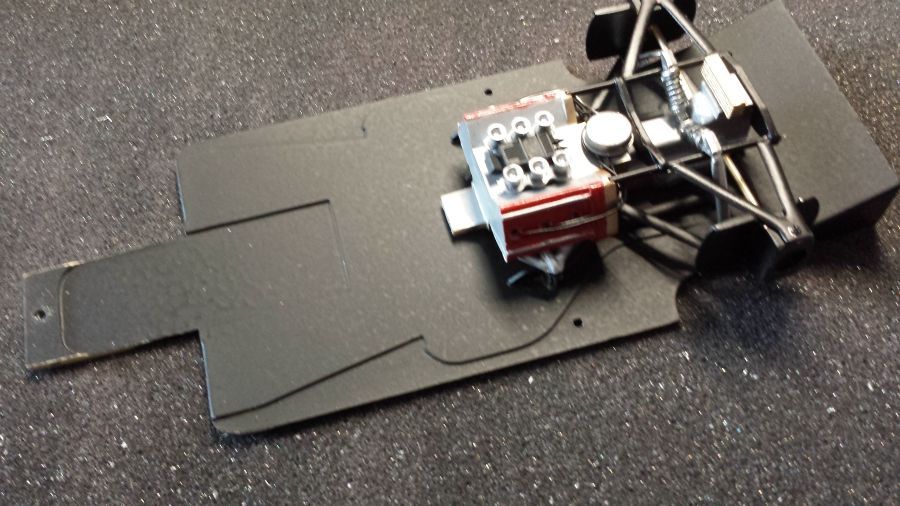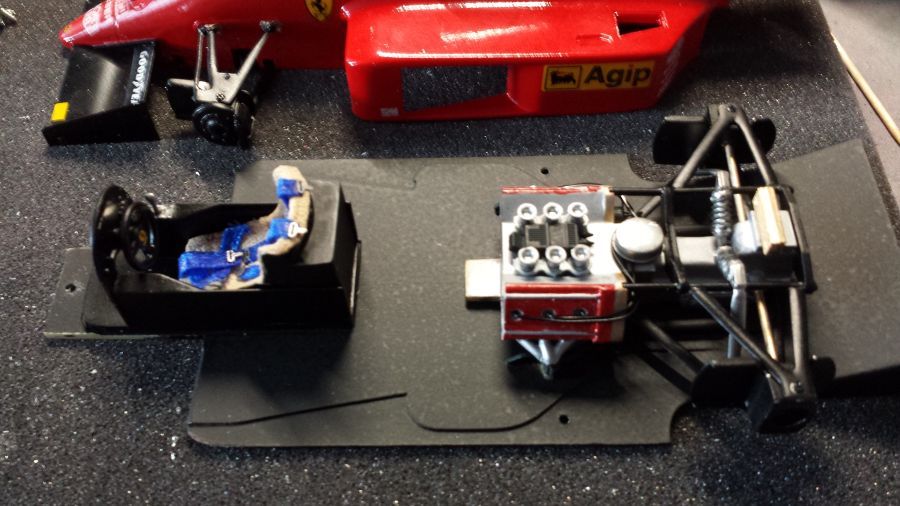 Eerst nog de radiatoren maken. De tekst wordt met behulp van een sjabloon gespoten. Het logo wordt gespoten met Tamiya TS-55 Donker Blauw. Daarna met Tamiya TS-79 Zijdemat lak. Maar eerst breng ik Tamiya Metal Primer aan. Een rotklus natuurlijk, letters spuiten op een geribbeld oppervlak.
First the radiators have to be made. The text will be painted with the use of a template. The logo will be sprayed with Tamiya TS-55 Dark Blue. Then followed by Tamiya TS-79 Semi Gloss Clear. But first i will spray a cote of Tamiya Metal Primer. A nasty job, spraying letters on a ribbed surface.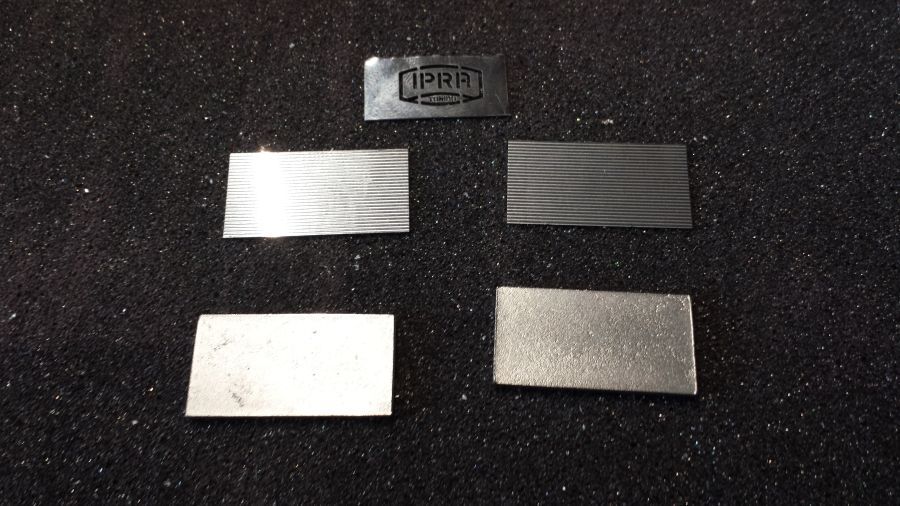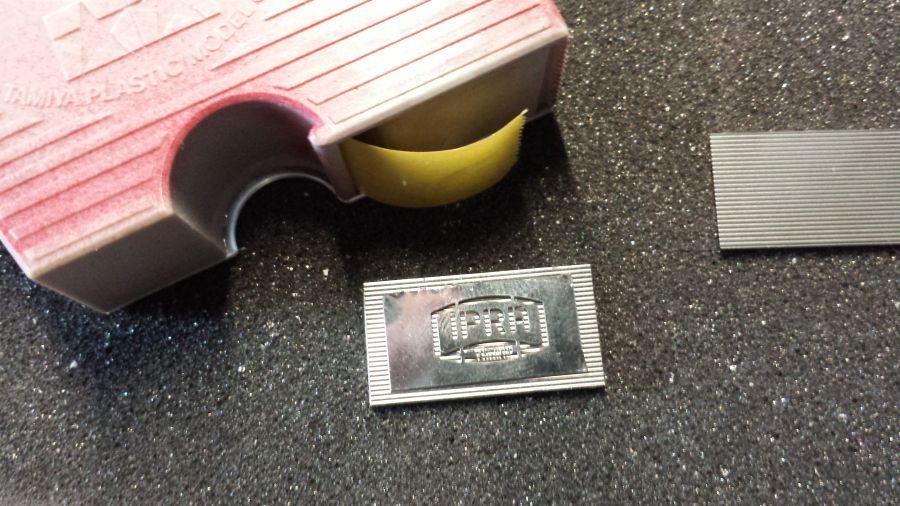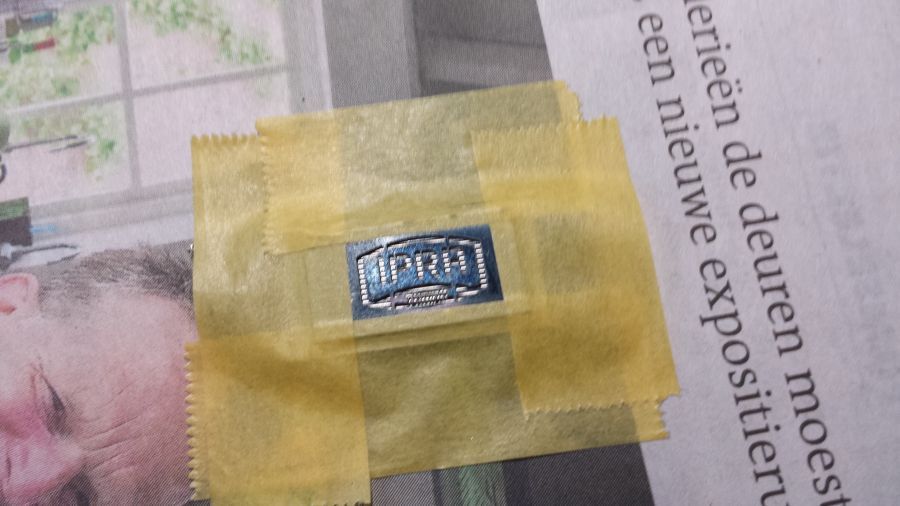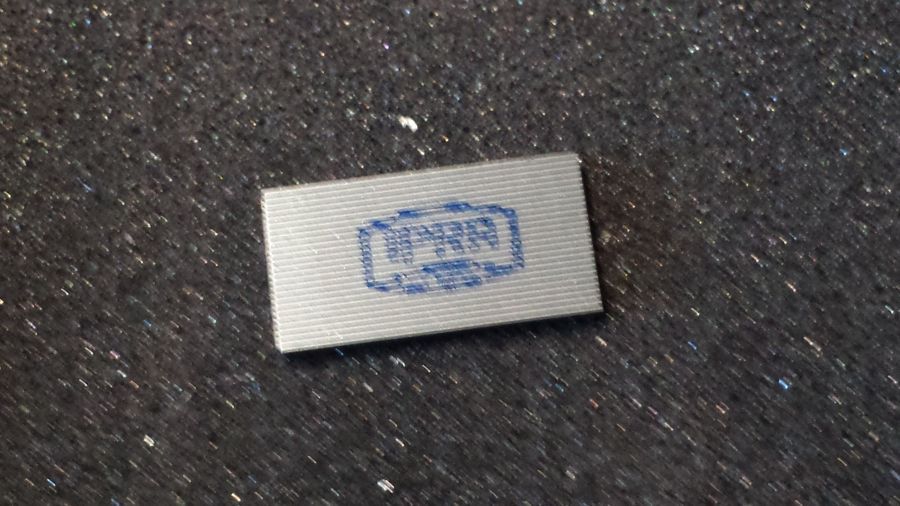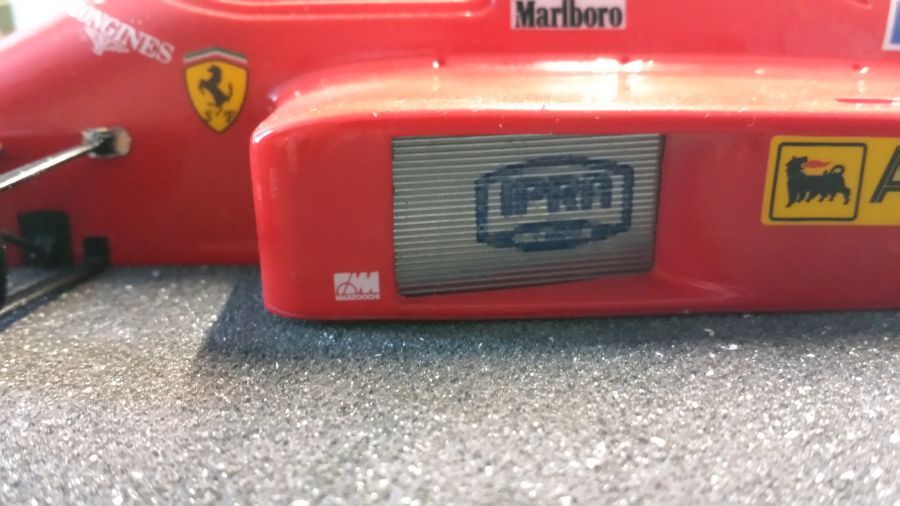 Dan de body met motor aan de bodemplaat monteren.
Then mounting the body with engine to the under tray.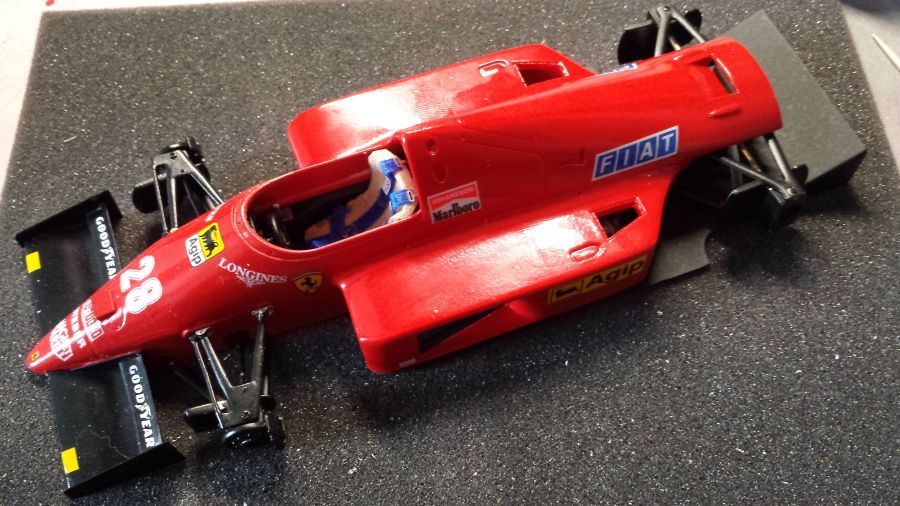 De achtervleugel wordt met rivets in elkaar gezet. Ik markeer de plekken waar de pennetjes moeten komen (groen) voor het boren. De rood gemarkeerde punten moeten op alle hoeken worden afgevijld.
The rear wing will be put together with rivets. I have marked the places where the pins should go (green) for the drilling. The red spot marks the points on all corners that need to be filed off.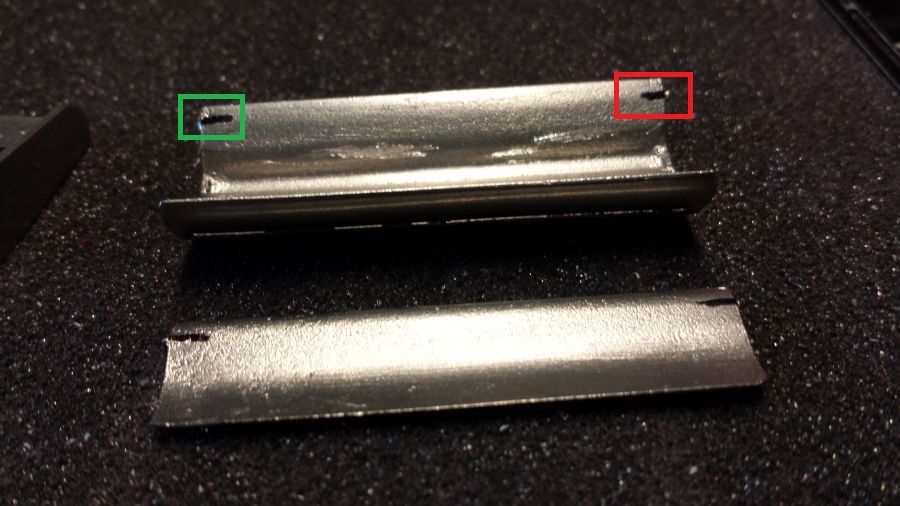 Daarna een kwestie van in elkaar zetten en vastlijmen met superglue. Dan in de grondverf, dekverf, glans lak, decals en zijdeglans lak.
After this, just put it together and glue it with superglue. Then primer, paint, clear cote, decals and semi gloss cote.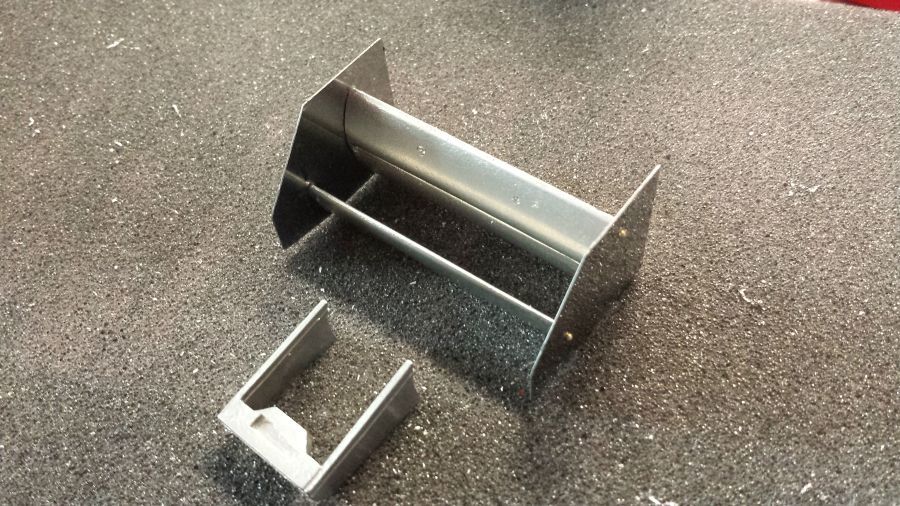 Chips! Foutje gemaakt met het in elkaar zetten van de achtervleugel. Opnieuw dus. Onder de foute vleugel. Wees voorzichtig, de eerste combinatie leek goed, totdat de decals erop moeten. Dan heb je opeens te weinig ruimte.
Chips! Made a mistake assembling the rear wing. Will have to do some changes. Below the wrong one. Be careful, the first assembly looked ok, until you put on the decals. There is not enough space.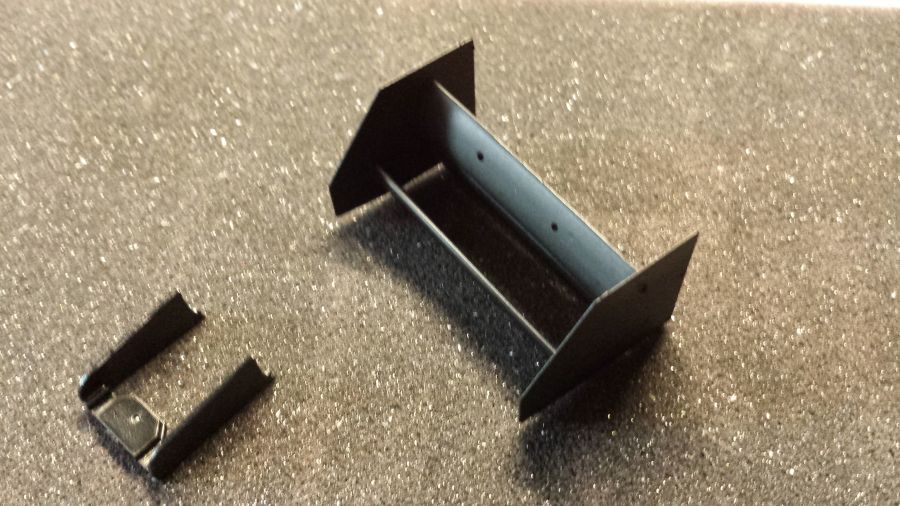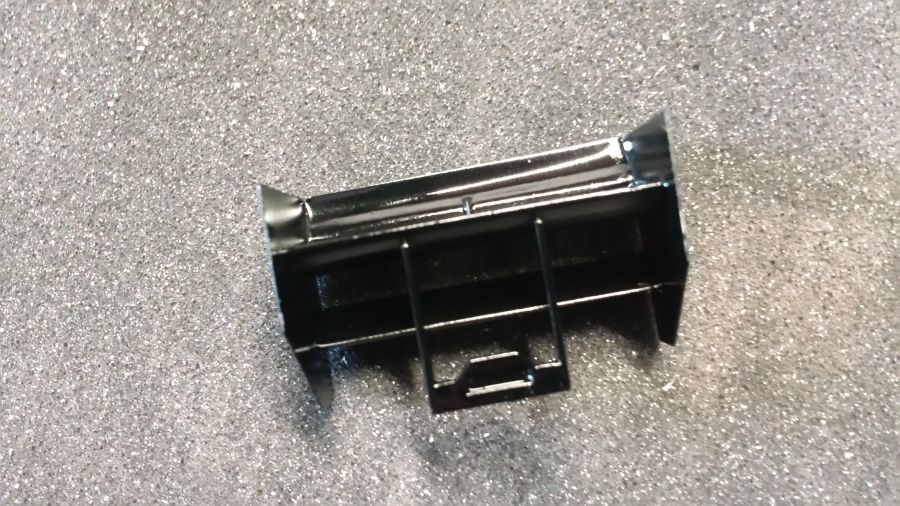 Hier de goede. Let op de positie van de zijkanten. 
Here the correct one. Mind the position of the side wings.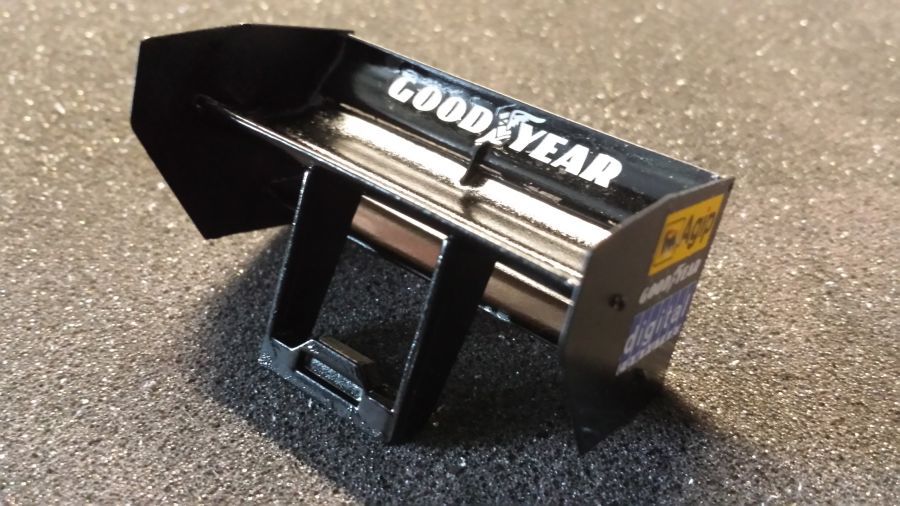 Door met de velgen.
Going on with the rims.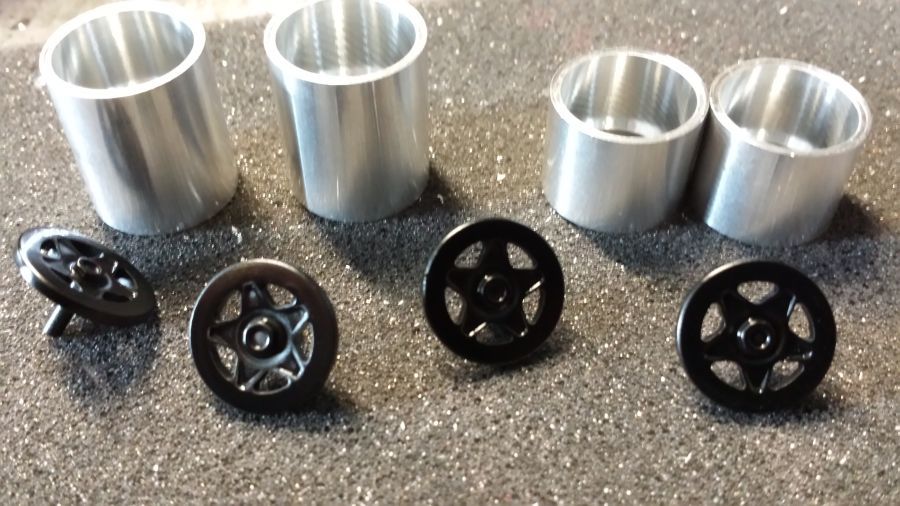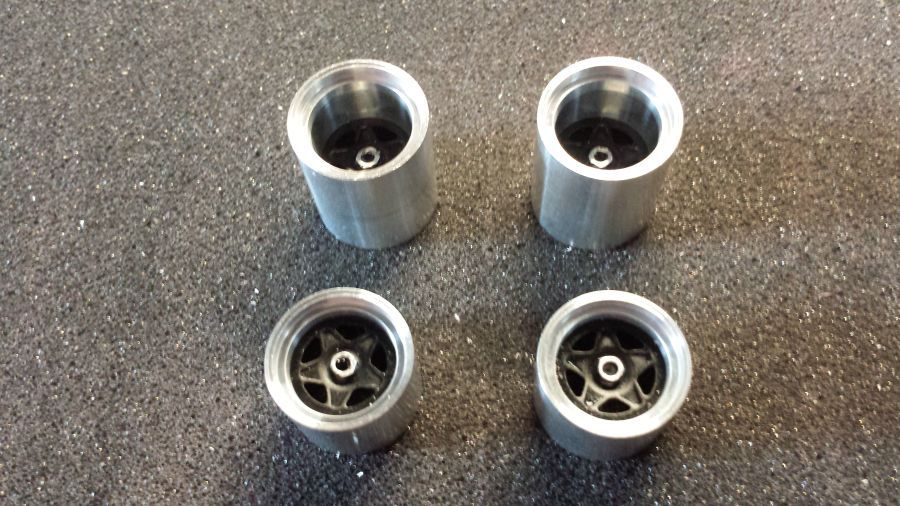 Het overtollige rubber is van de banden verwijderd, daarna heb ik ze opgeruwd.
The expendable rubber has been cut off, then i have rubbed them.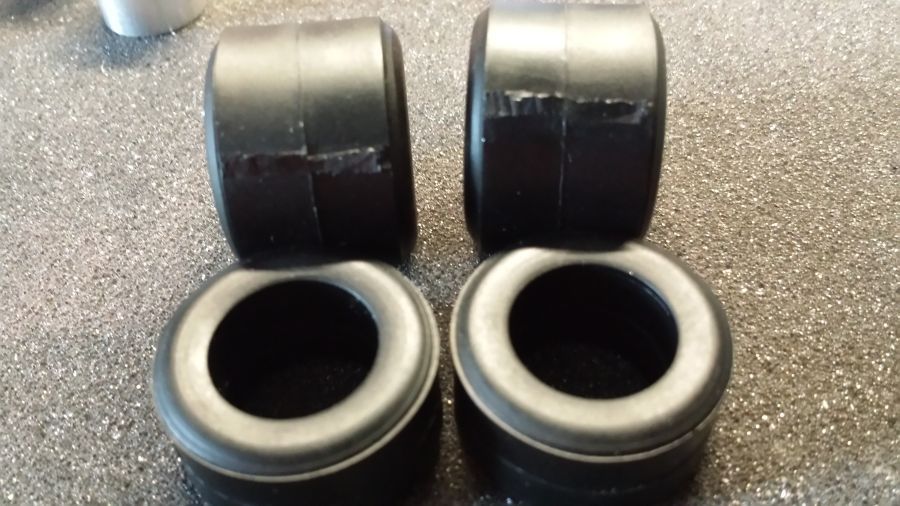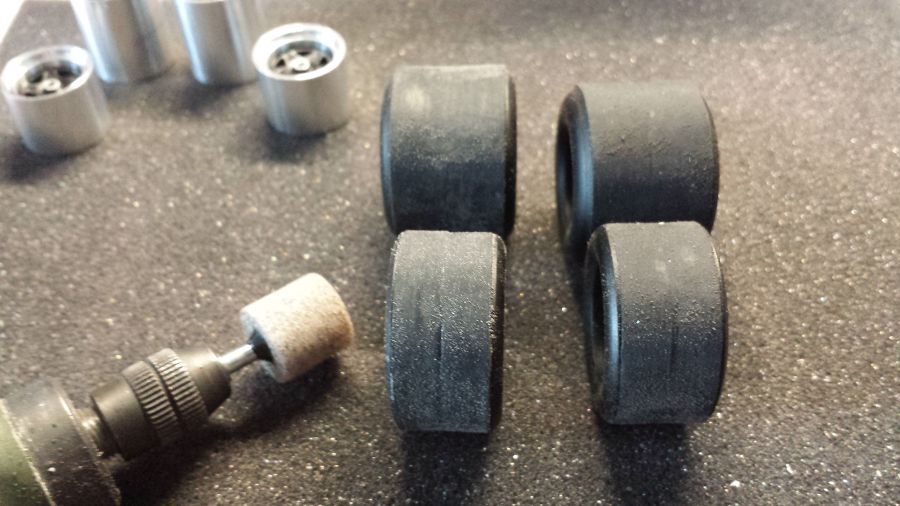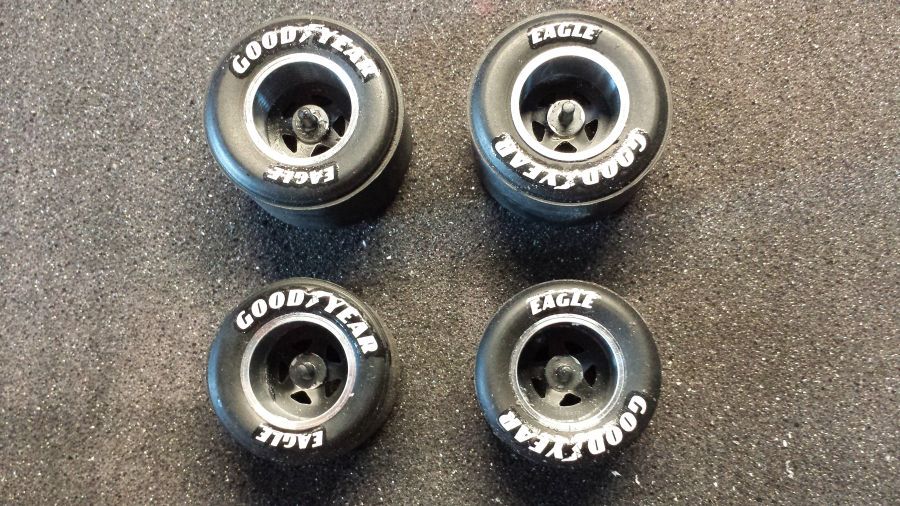 Alle onderdelen kunnen nu met elkaar bevestigd worden. Banden erop, achtervleugel, spiegels, voorruit en luchtinlaten.
All parts can be glued together now. Tires, rear wing, mirrors, wind screen and air intakes.