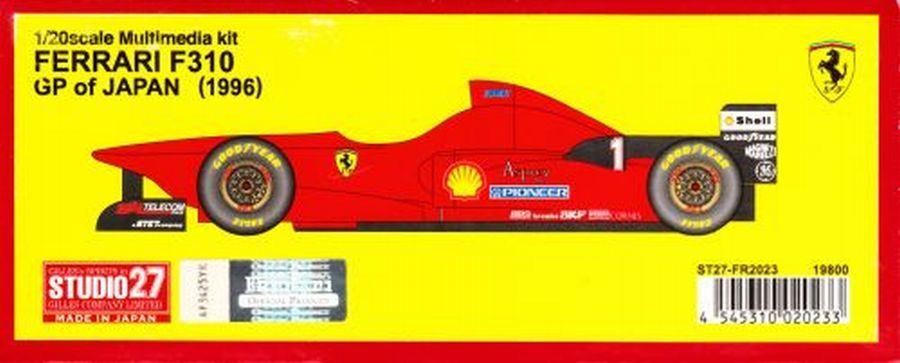 Hieronder de bouwbeschrijving de Studio27 kit (kit nr ST27-FR2023) van de Ferrari F310 Japan High Nose versie uit 1996 zoals gereden door Eddie Irvine. Eerst gaan alle metalen onderdelen weer in de magnetische polijstmachine. Eerst weer de foto's van alle onderdelen. De giethars onderdelen.
Below the description of the build of the Studio27 kit (kit no ST27-FR2023) of the Ferrari F310 Japan High Nose version from 1996 as driven by Eddie Irvine. First all metal parts will be cleaned by the use of the magnetic tumbler. First again the photos of all parts. The resin parts.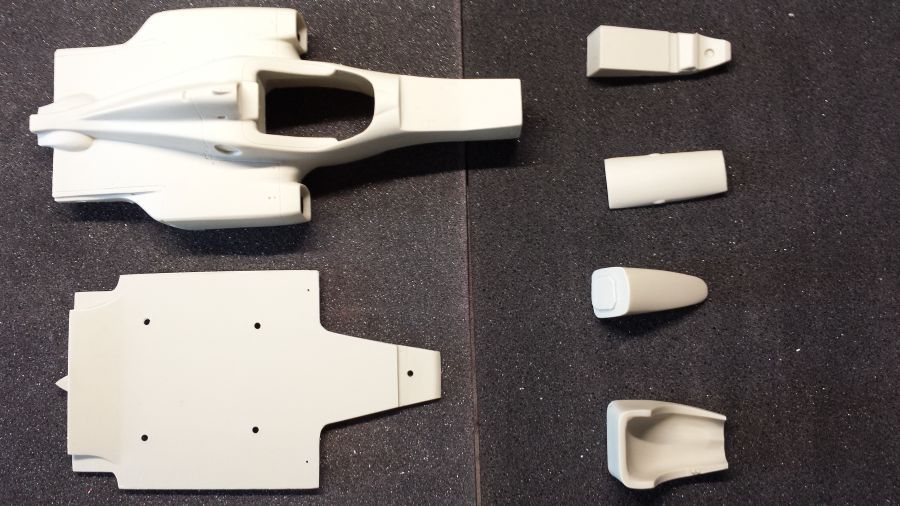 De banden, velgen, schroeven en de 'etched' onderdelen.
The tires, rims, screws and the etched parts.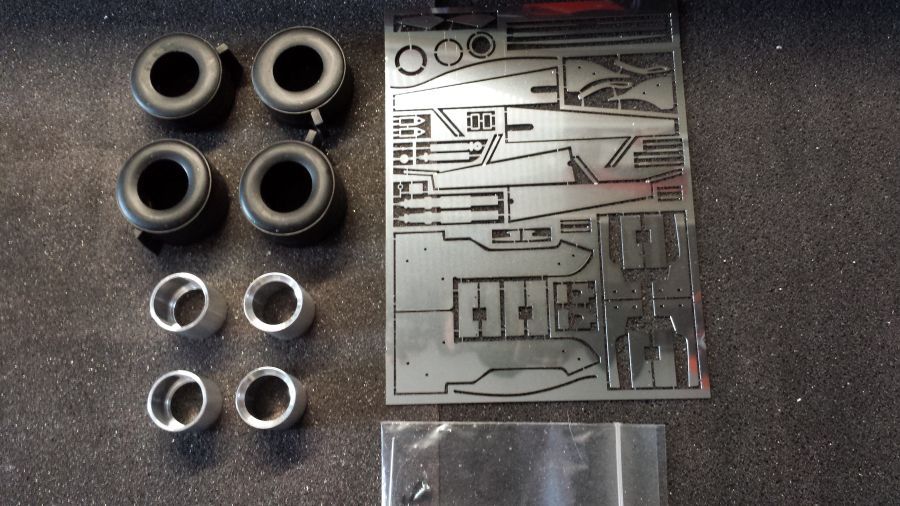 En de metalen onderdelen.
And the metal parts.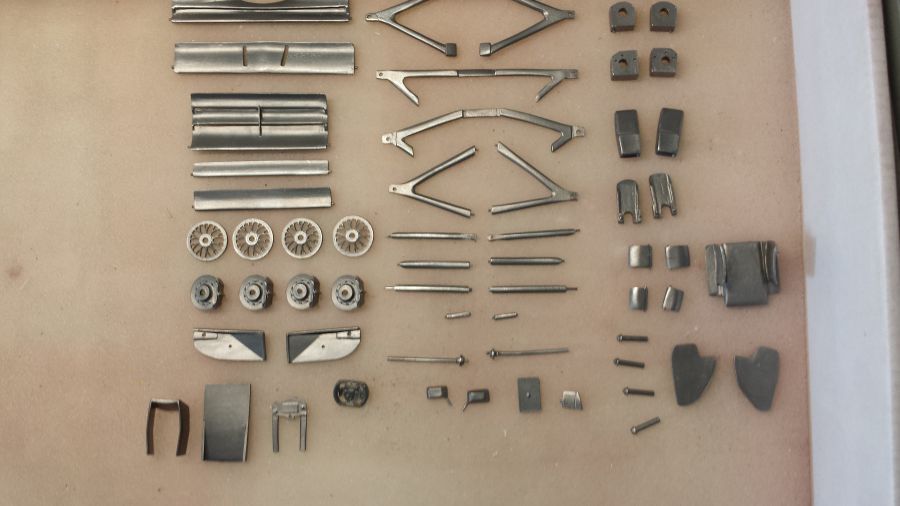 Eerst wat werk om dit passend te mken.
First some work to make this fit.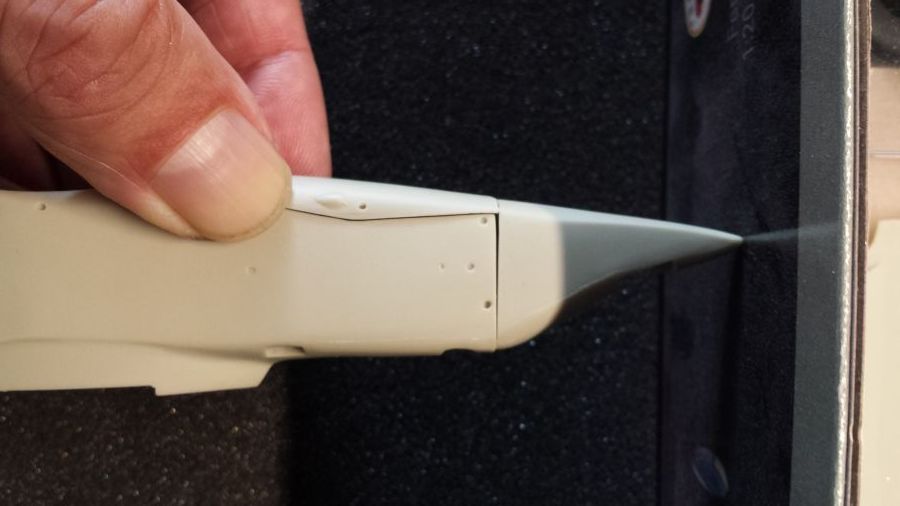 Daarna schuren en klaarmaken voor grondverf.
Then some sanding and get it ready for primer.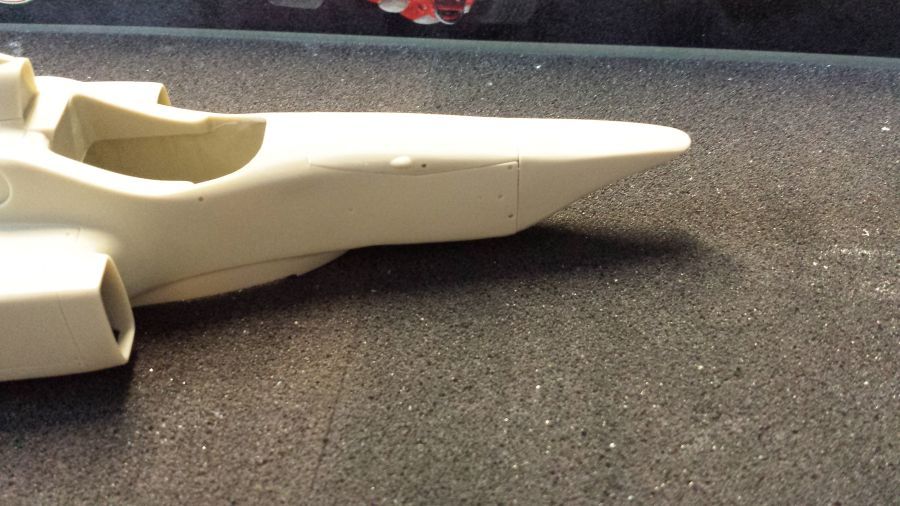 De diffuser is ongelijk. Deze maak ik dus recht.
The diffuser is not straight. I will correct this.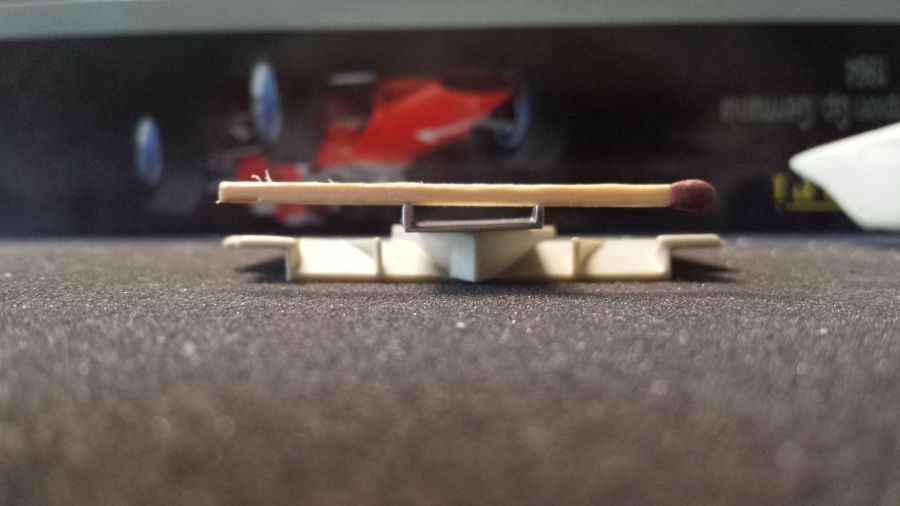 Bij de steun van de voorvleugel hetzelfde probleem.
The same problem occurs with the support of the front wing.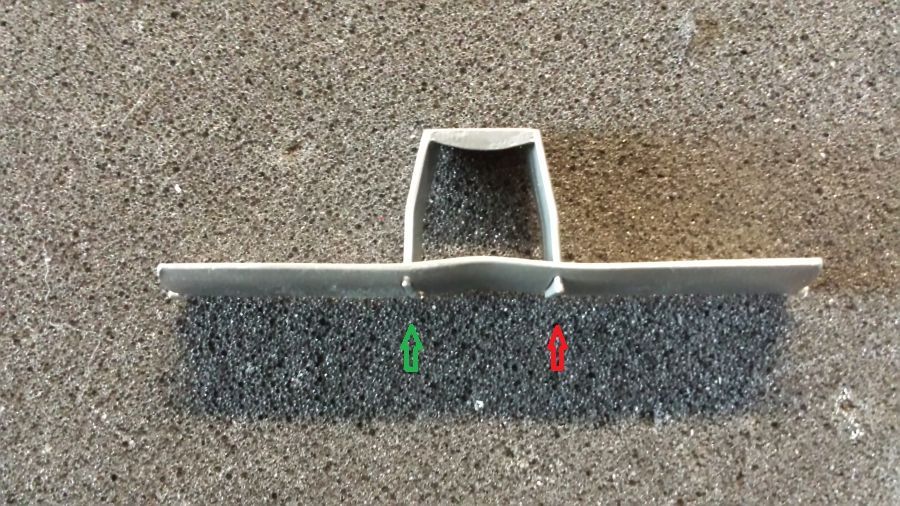 De voorvleugel is klaar. De grondverf zit erop en daarna Tamiya TS-29 Semi Gloss Black
The front wing is ready. The primer is on and then Tamiya TS-29 Semi Gloss Black.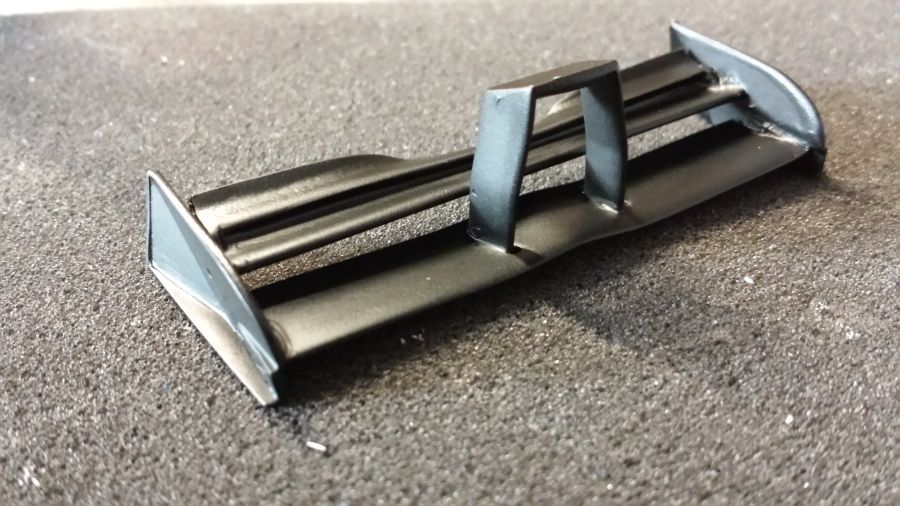 Veel onderdelen van de voor- en achterwielophanging zijn voorbereid. Alles is geverfd met grijze of zwarte grondverf.
Many parts from the front and rear wheel suspension have been prepared. Everything has been painted
with grey or black primer.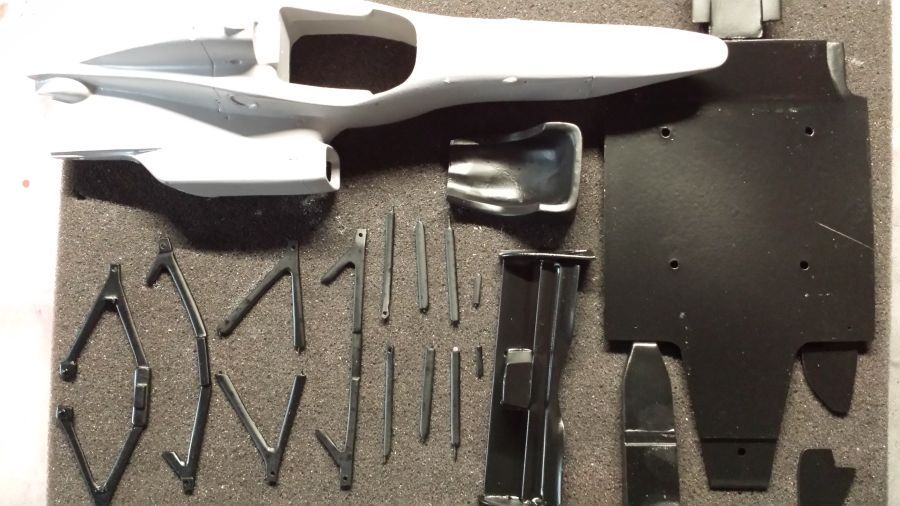 Het voorbereiden van de deflectors. Deze moeten gebogen worden volgens de vorm van een mal (rood). Ik zal hierbij de rolling tool nodig zijn.
The preparation of the deflectors. They have to be bent according to a template (red). I will need the rolling tool for this.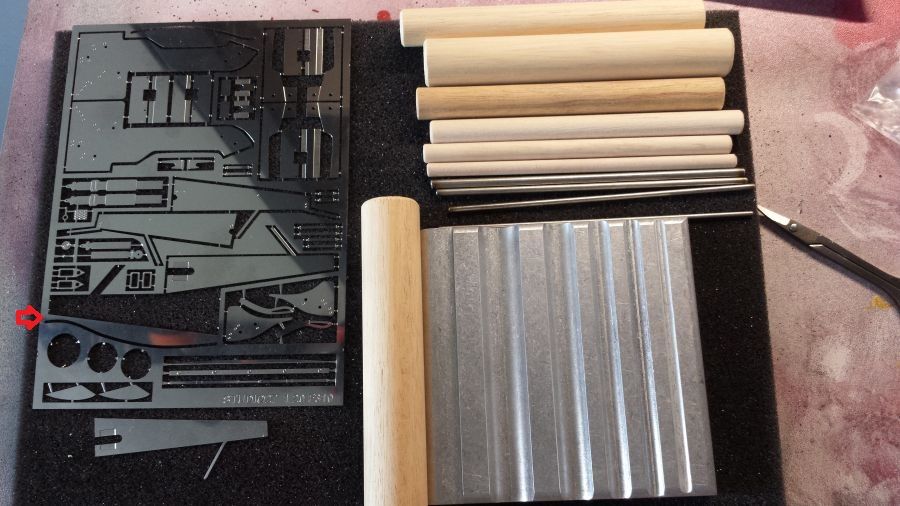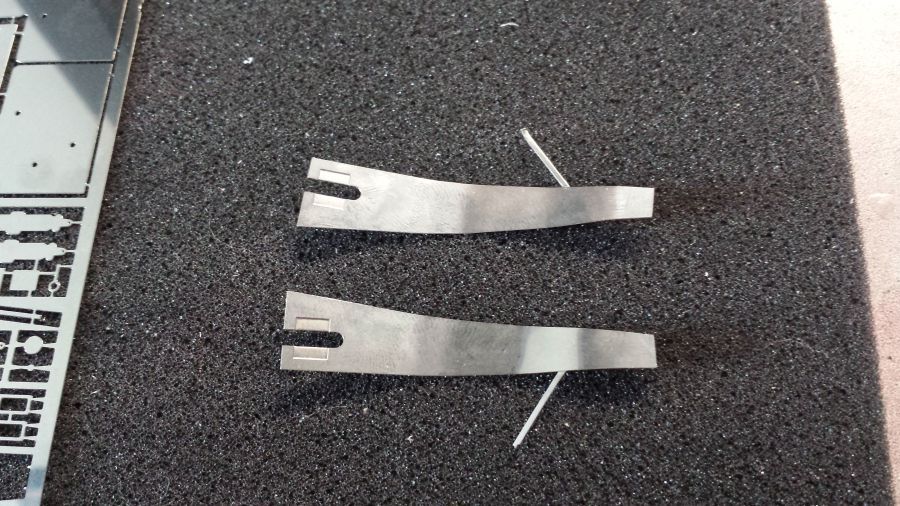 Hetzelfde voor de deflectors voor aan de voorwielophanging. Deze worden zo gebogen dat ze de ronde lijn van het plaatje volgen. Daarna de grijze grondverf aanbrengen.
The same for some deflectors added to the front wheel suspension. These are bend so they fit the round side of the small plate. Then a coat of grey primer.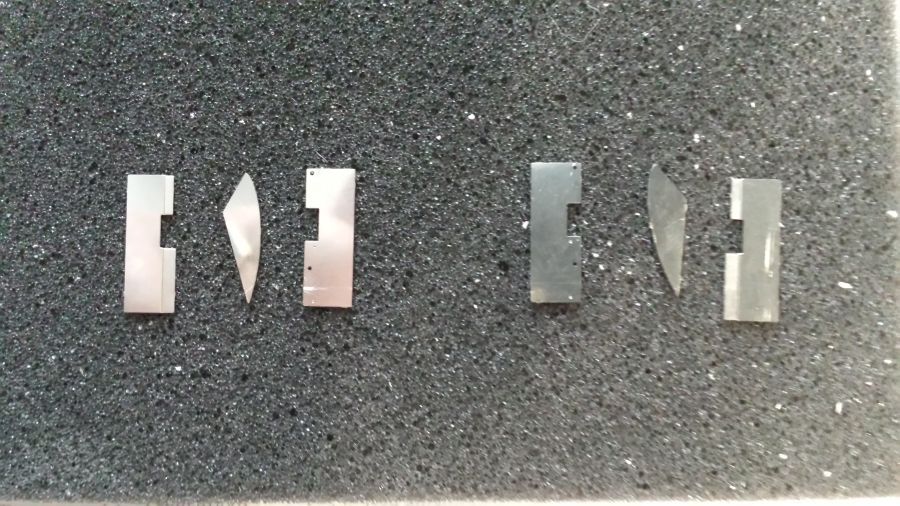 De primer van Vallejo en de Zero Paints ZP-1007 Pre-2004 Rosso Formula 1 zit erop.
The primer from Vallejo and the Zero Paints ZP-1007 Pre-2004 Rosso Formula 1 is on.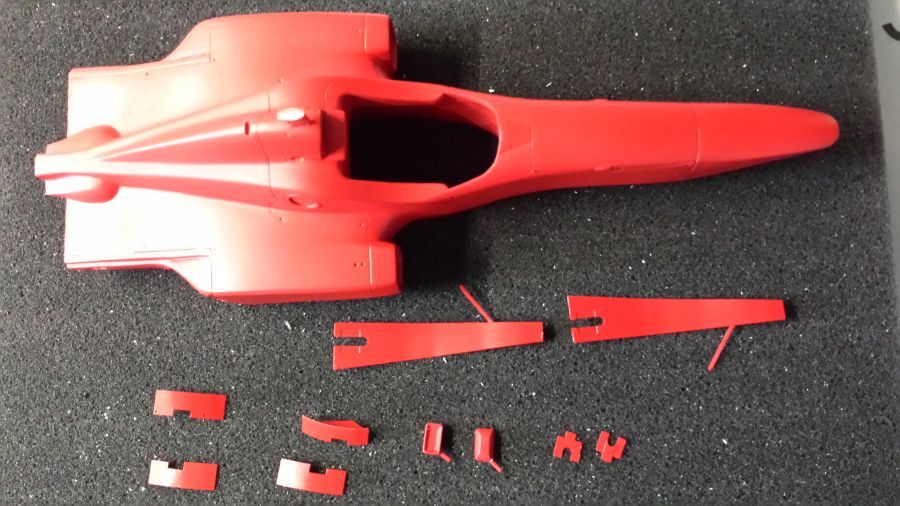 Daarna een laag glanzende lak.
Then a layer of clear coat.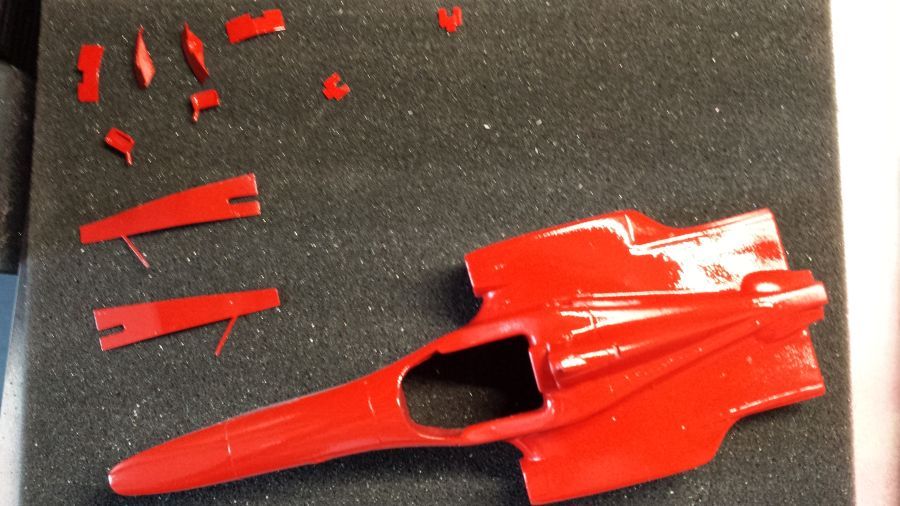 Voor het maken van de veiligheidsgordels maak ik gebruik van een Tamiya set. Ik gebruik alleen de gespen. Niet de papieren gordels. Daarvoor heb ik zijdelint van 2mm breed gekocht bij een winkel voor poppenhuizen. Ik zet de gordels vast met rivets.
To create the safety belts is will use a Tamiya set. I will only use the buckles. Not the paper belts. For this i bought 2mm wide silk ribbon at a store for doll houses. I will mount the belts with rivets.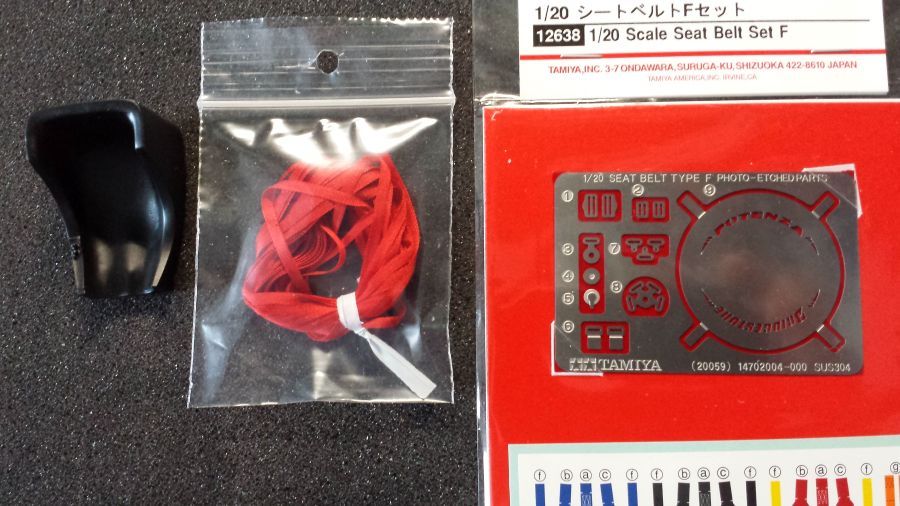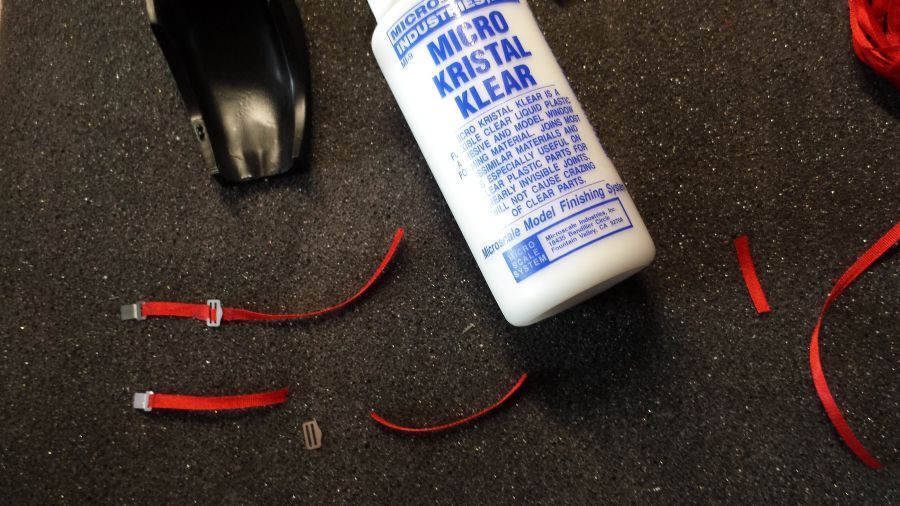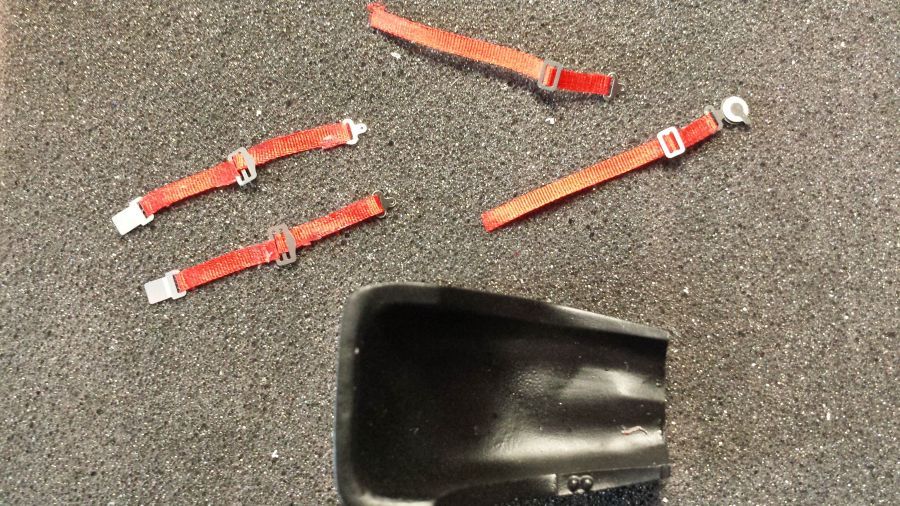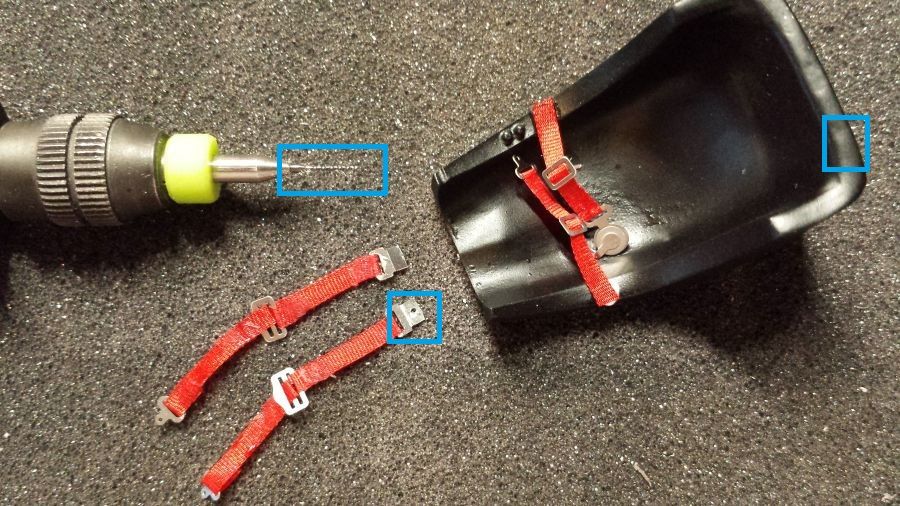 De binnenkant van de cockpit en sidepods zijn geverfd.
The inside of the cockpit and side pods have been painted.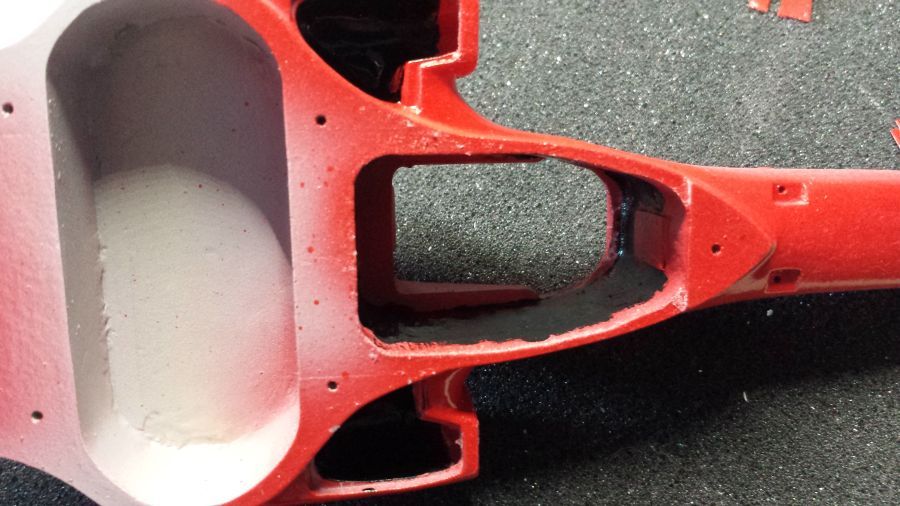 Het stuur is geverfd en onderdelen van de achterwielophanging zijn in voorbereiding.
The steering wheel has been painted and parts of the rear wheel suspension are in preparation.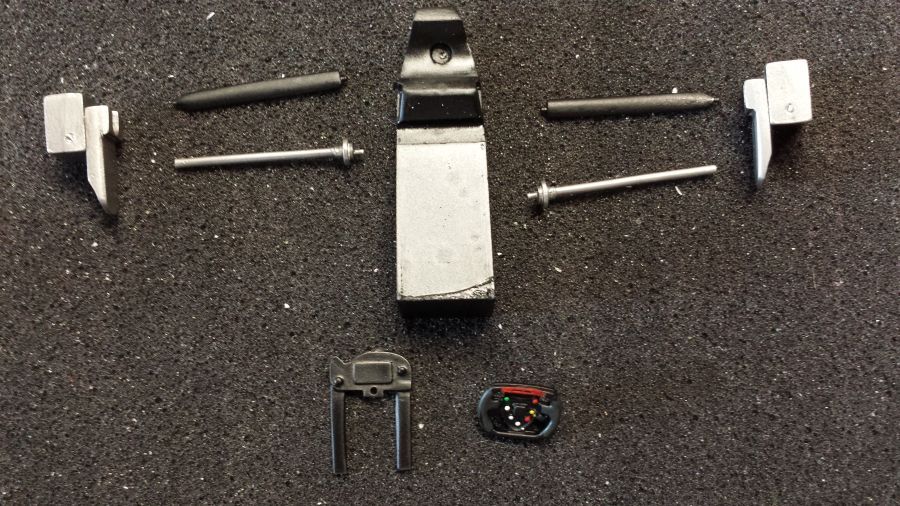 Het samenstellen van de achterwielophanging. Het laatste deel kan pas worden gemonteerd wanneer de motor met de body is verbonden. 
The rear wheel suspension will be put together. The last part can only be mounted after the engine has been connected with the body.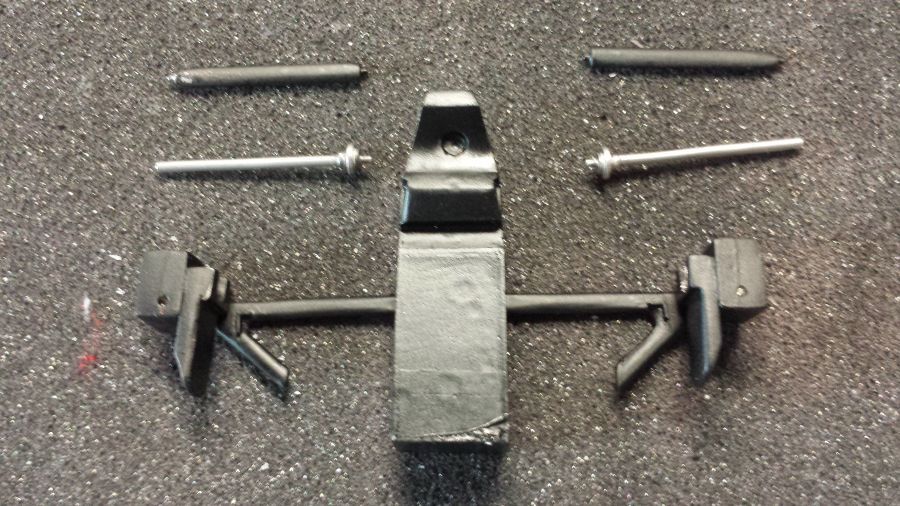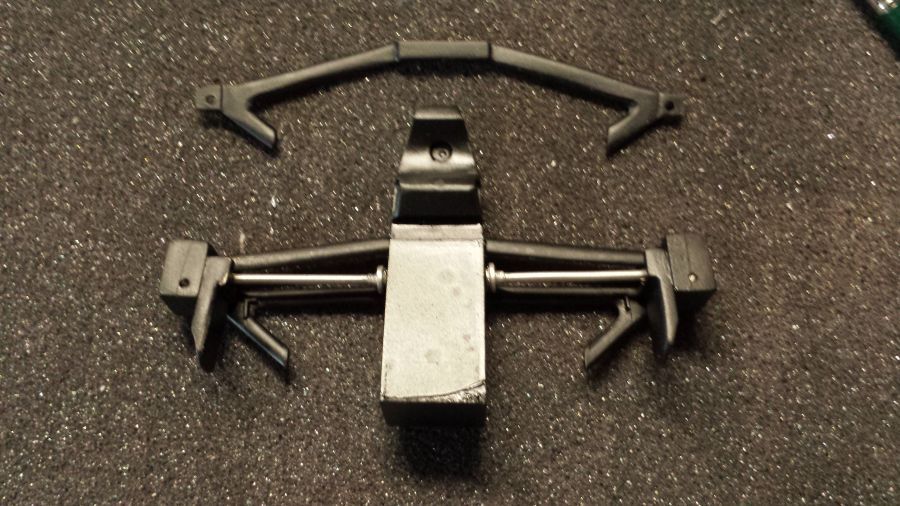 Een deel van de achtervleugel is gemaskeerd, omdat dit deel wit wordt gespoten.
A part of the rear wing has been masked, because this part needs to be painted white.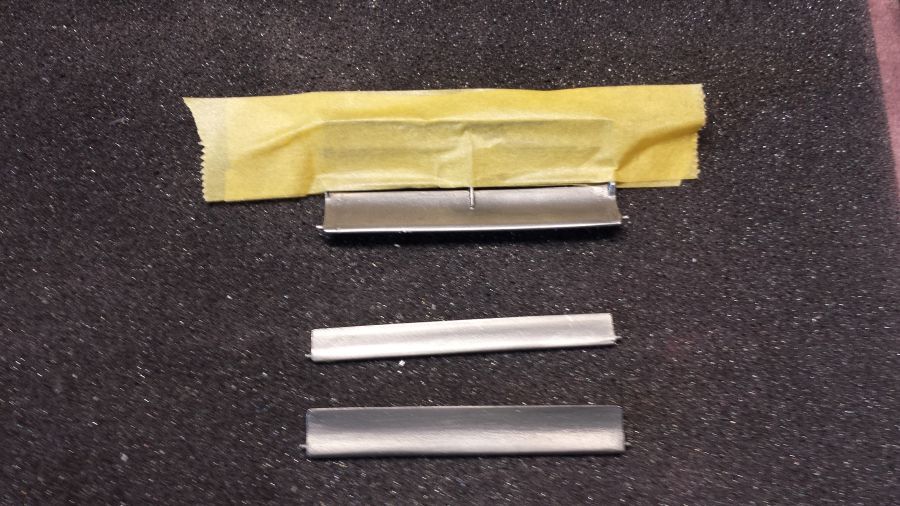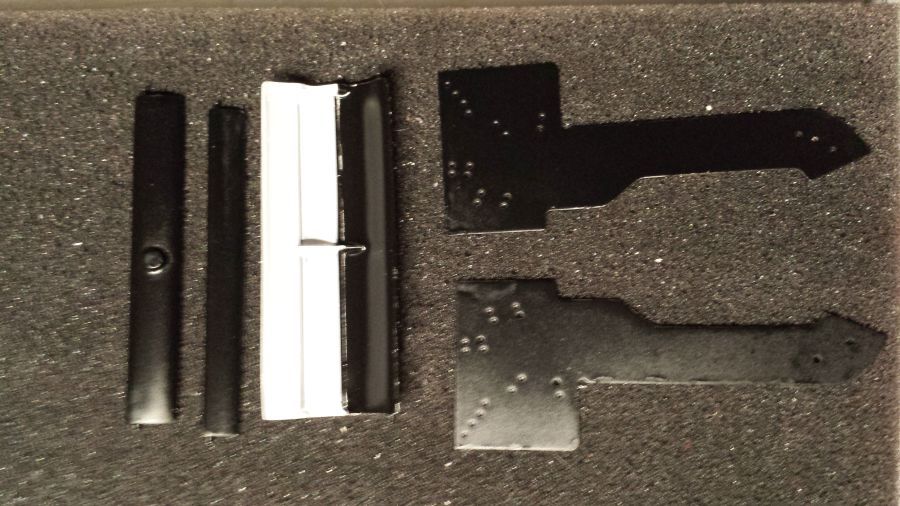 De onderste vleugel heb ik nog niet verlijmd. Dit is de hoofdsteun voor de achtervleugel. Deze lijm ik pas bij de montage van de vleugel aan de body om alles goed te kunnen stellen.
The bottom wing has not been glued yet. This is the main support for the wing. I will glue this when mounting the wing to the body to everything can be adjusted correctly.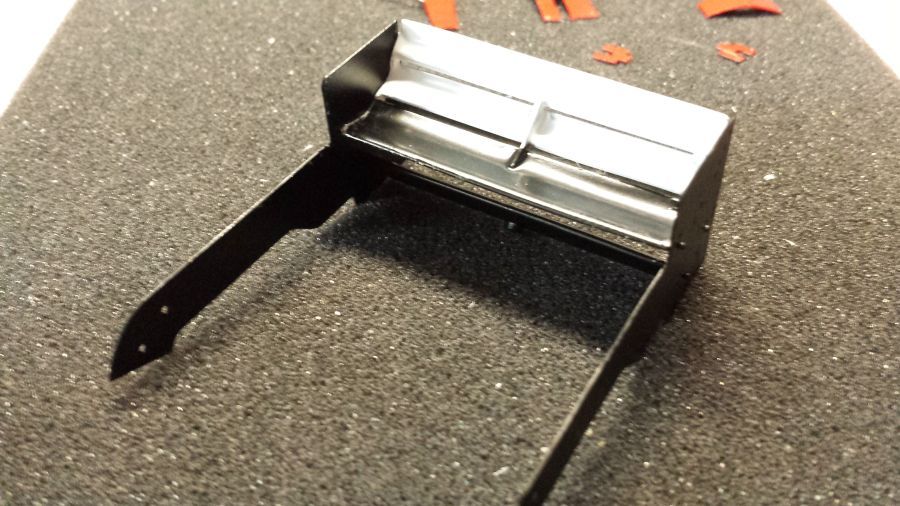 Hierna de eerste decals aanbrengen. Voor een deel van de cigarettendecals duik ik de reservelade in. De decals op de extra zijvleugels zijn te groot. Gelukkig heb ik ook hiervoor kleinere in de rommeldoos.
After this i start with the decals. For some cigarette decals i take a dive in the spare drawer.  The decals as delivered in the kit for the extra side wings are too large. Luckily i have smaller ones in the scrap box.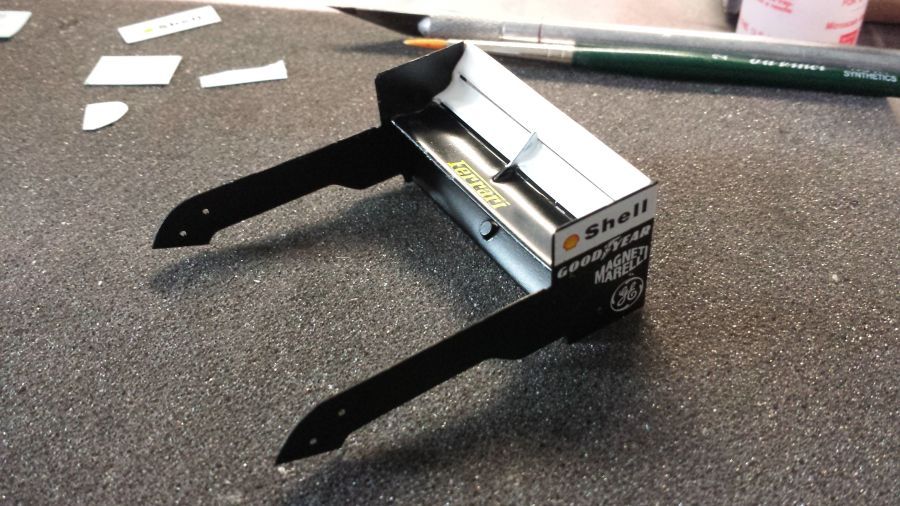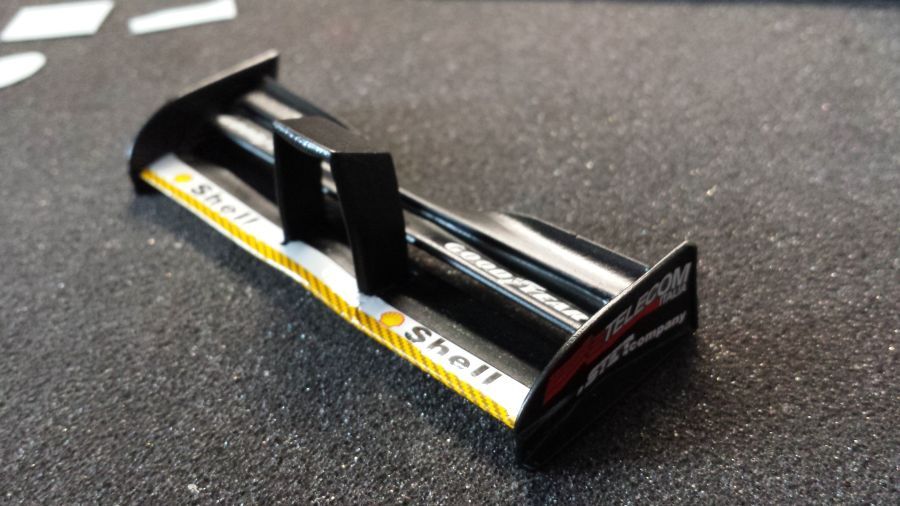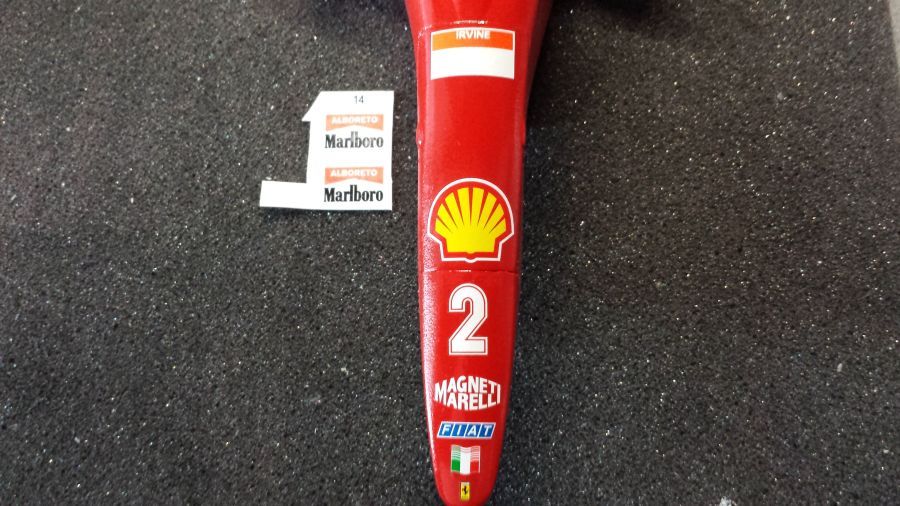 De decals zijn aangebracht. De body is gespoten met glanzende lak, De voor- en achtervleugel met zijdemat.
The decals have been applied. The body has been airbrushed with gloss coat. The front and rear wing with semi gloss coat.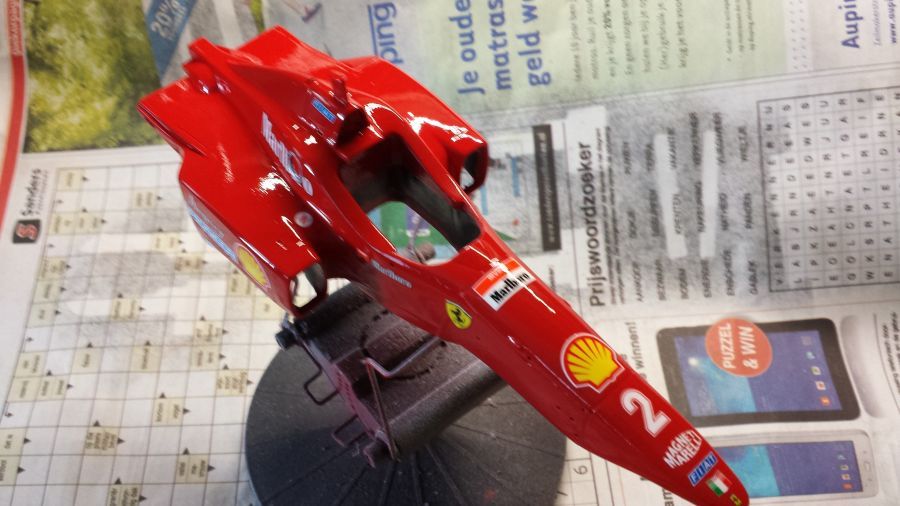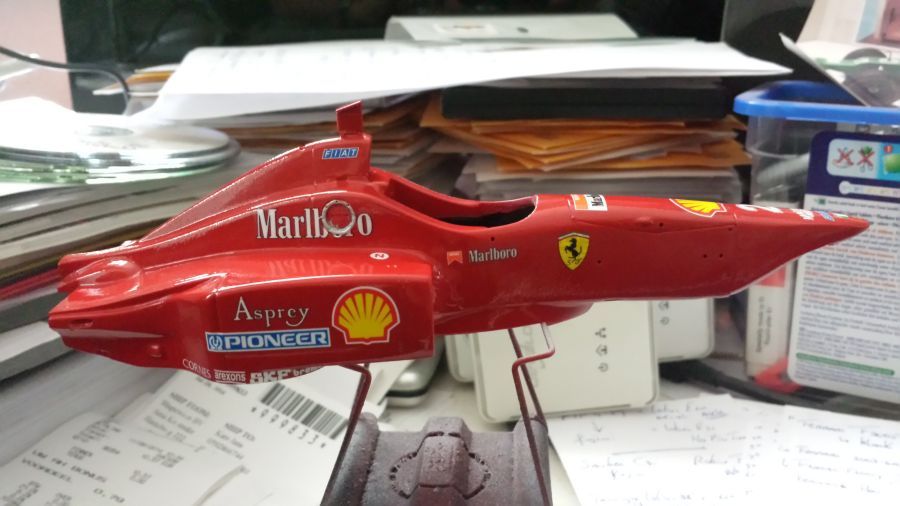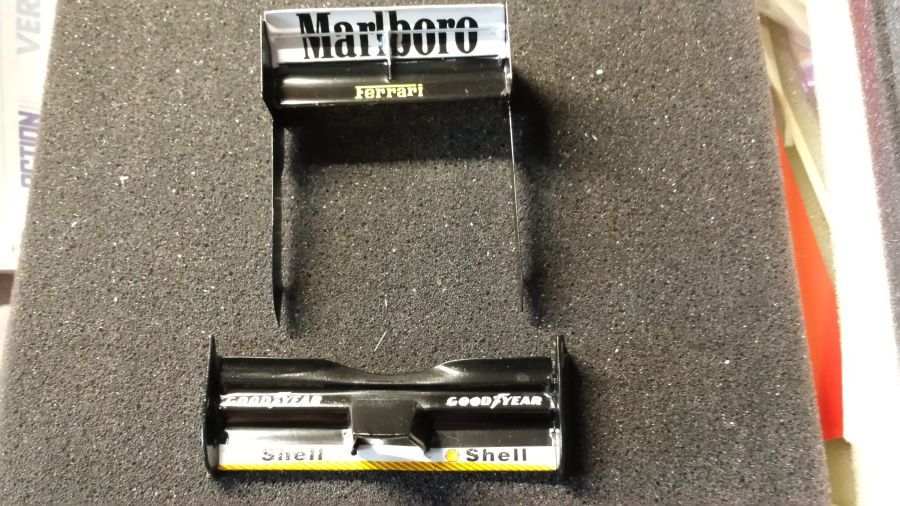 Terwijl de lak droogt, maak ik de velgen klaar.
I will make the rims while the clear coat dries.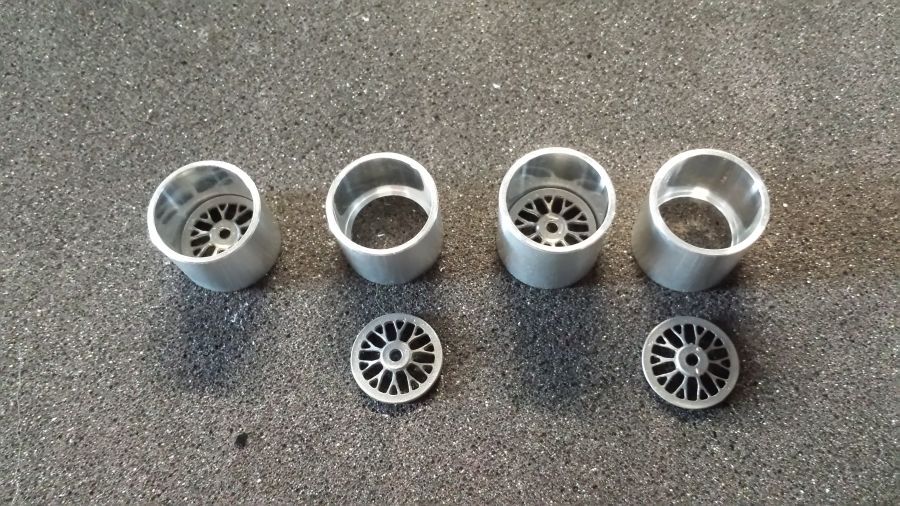 Na het airbrushen met goud.
After airbrushing with gold.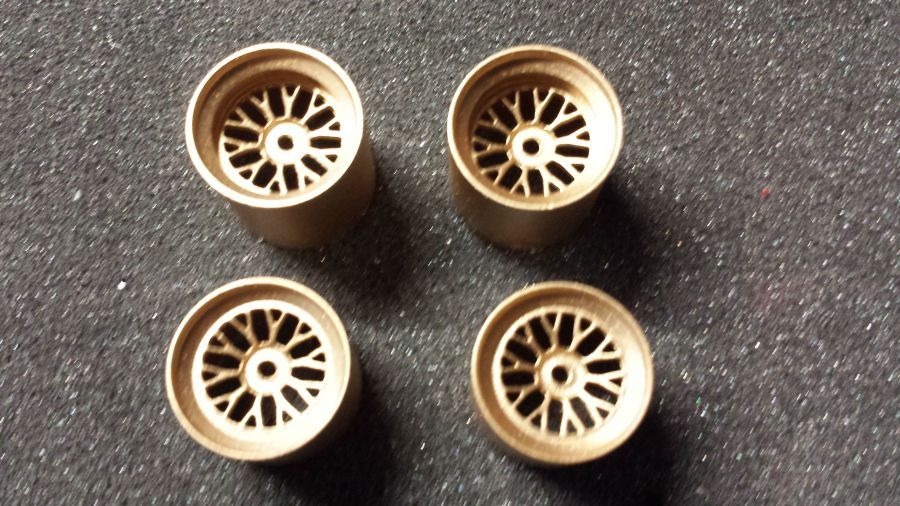 Het overtollige rubber wordt verwijderd en de banden worden opgeruwd.
The excess rubber will be cut off and the tires will be roughened.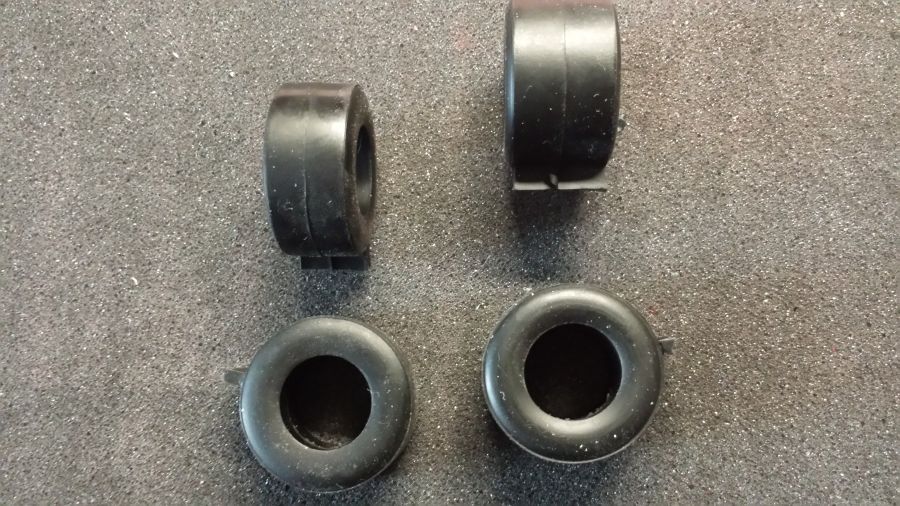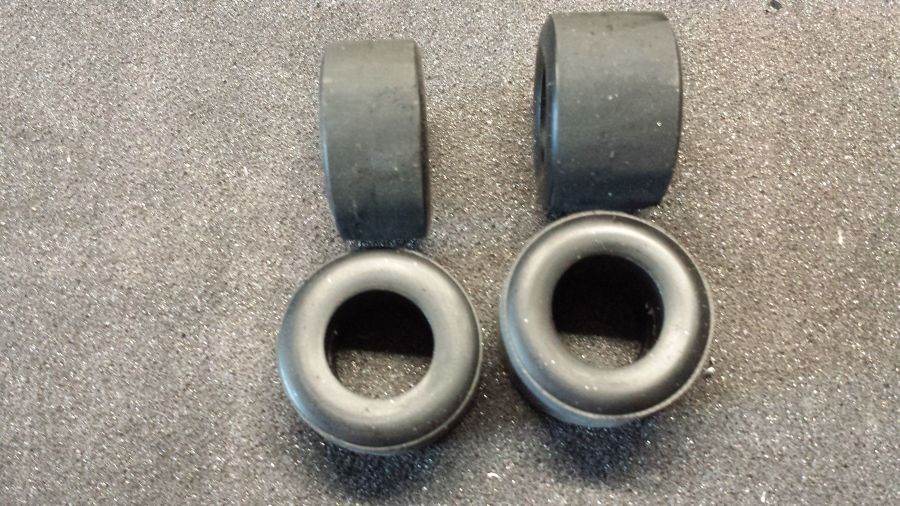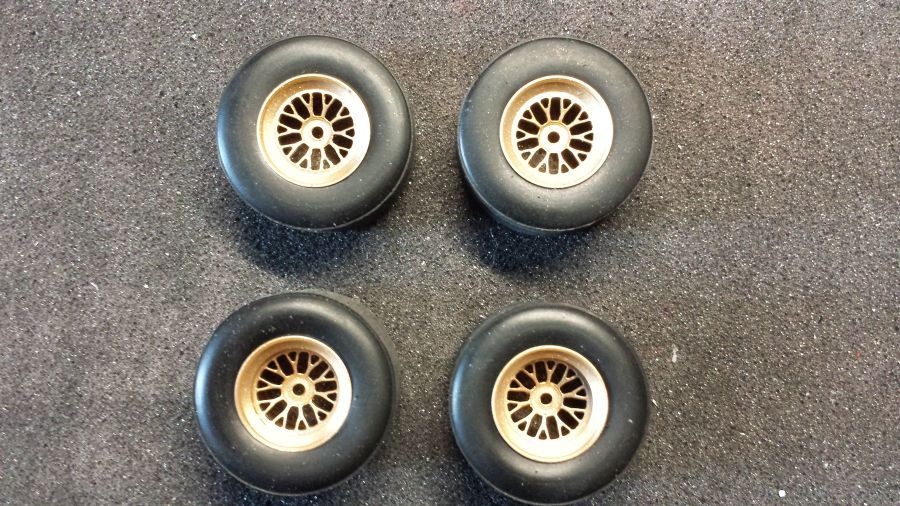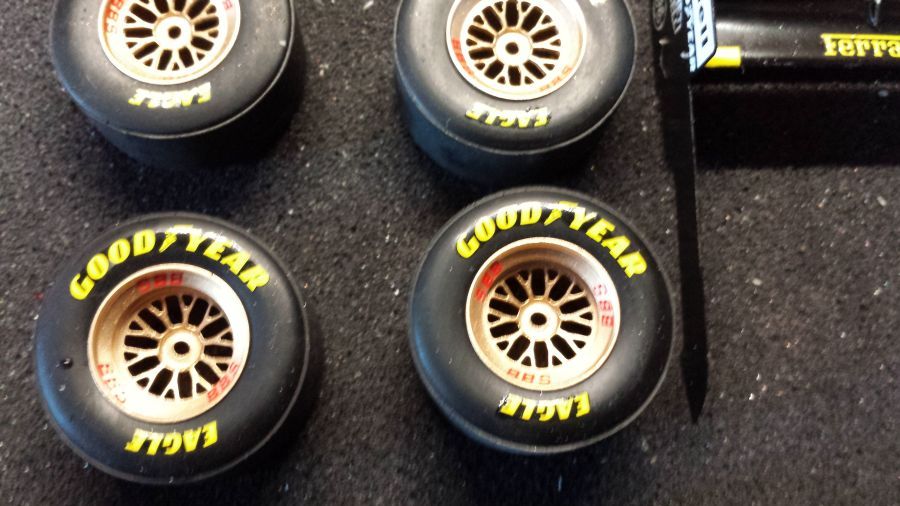 De achterwielophanging, stuur, stoel en bodemplaat worden gemonteerd.
The rear wheel suspension, steering wheel, seat and undertray are mounted.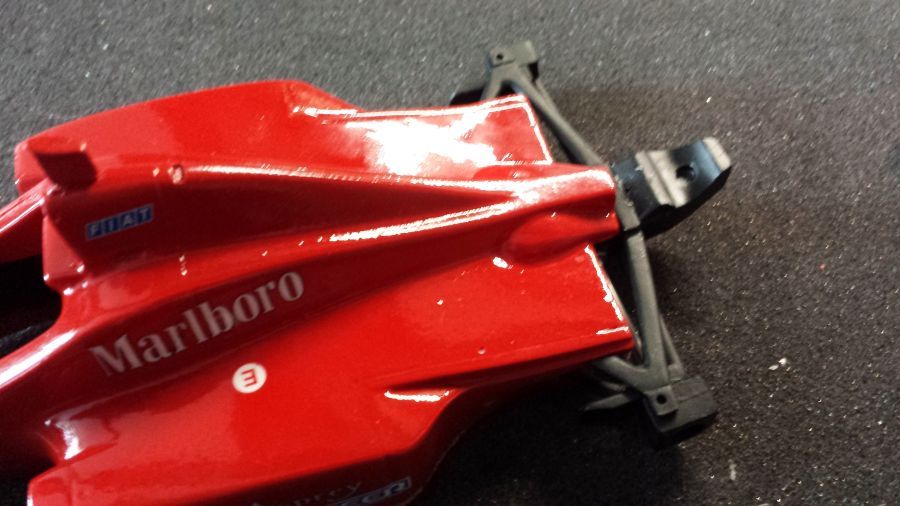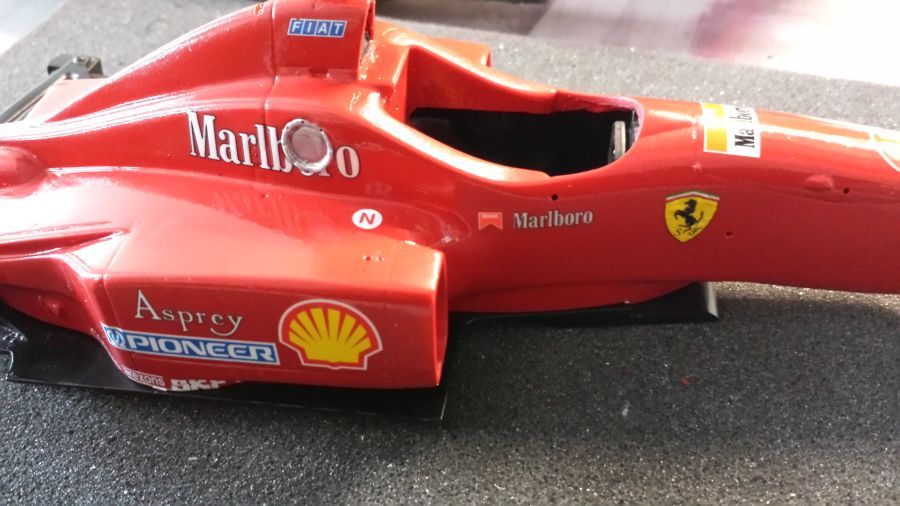 De voorwielophanging in de maak.
The front wheel suspension under construction.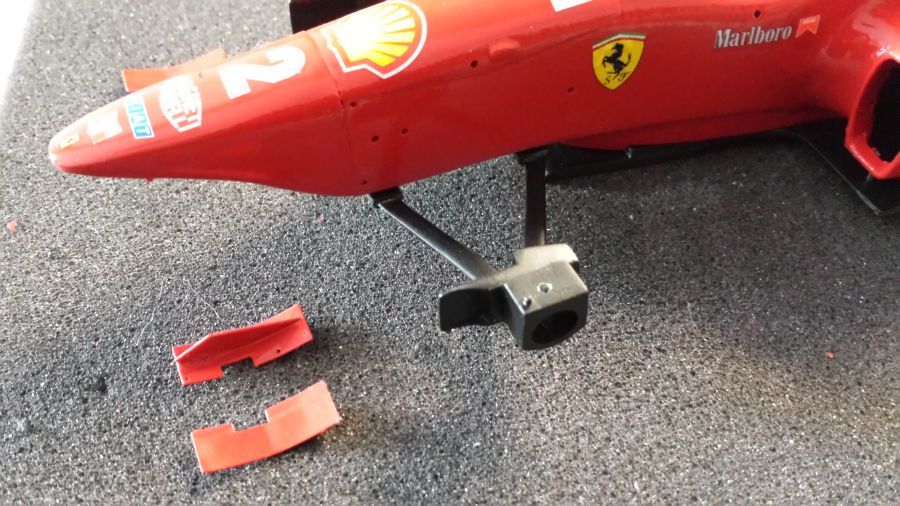 De steunen zijn gebogen. Veel passen voordat ze kunnen worden gemonteerd. Moeilijke klus.
The supports have been bent. Much test fitting before they can be mounted. Tough job.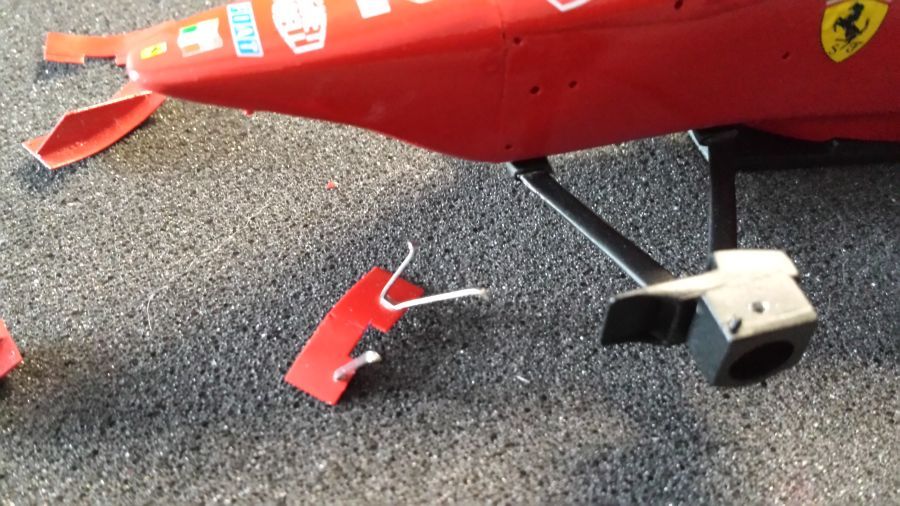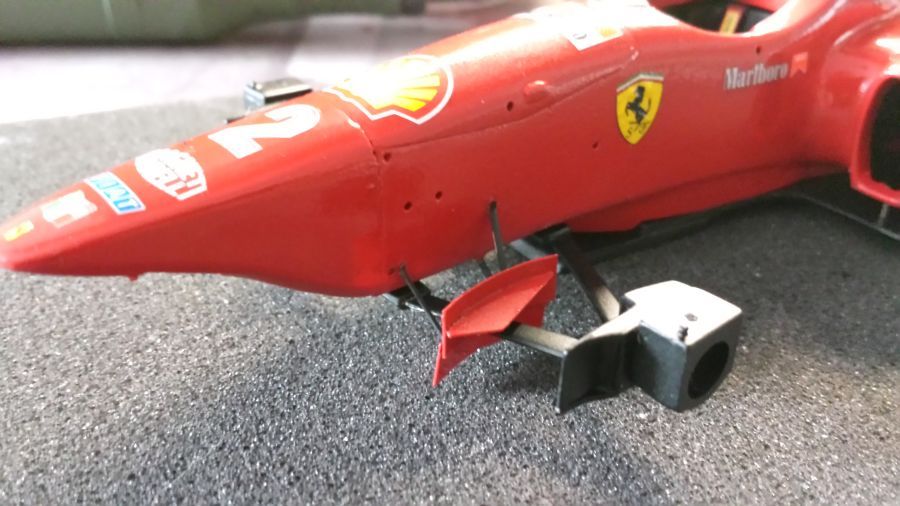 Deel 2. Misschien niet perfect, maar het moet maar zo.
Part 2. Maybe not perfect, but it will have to do.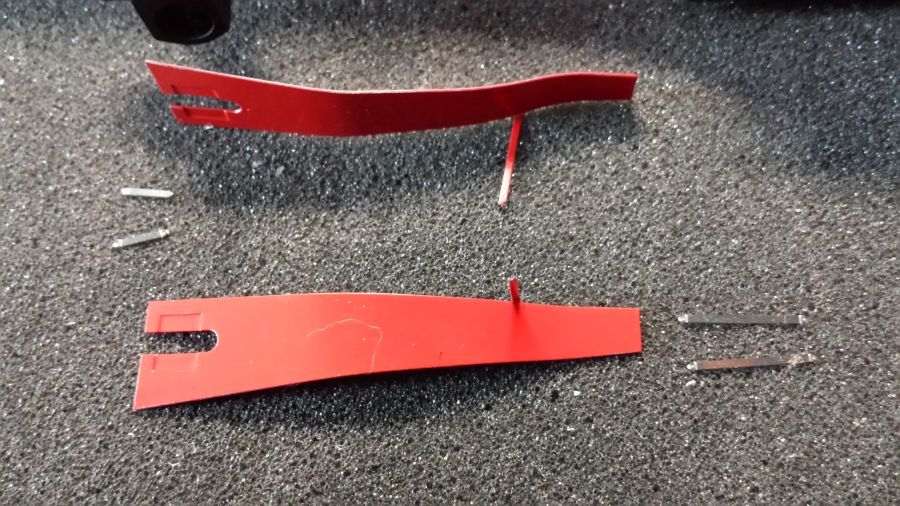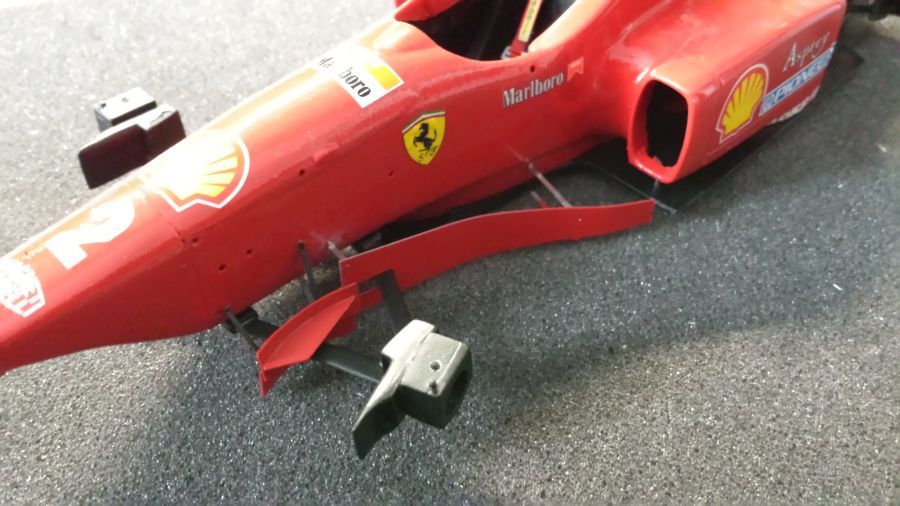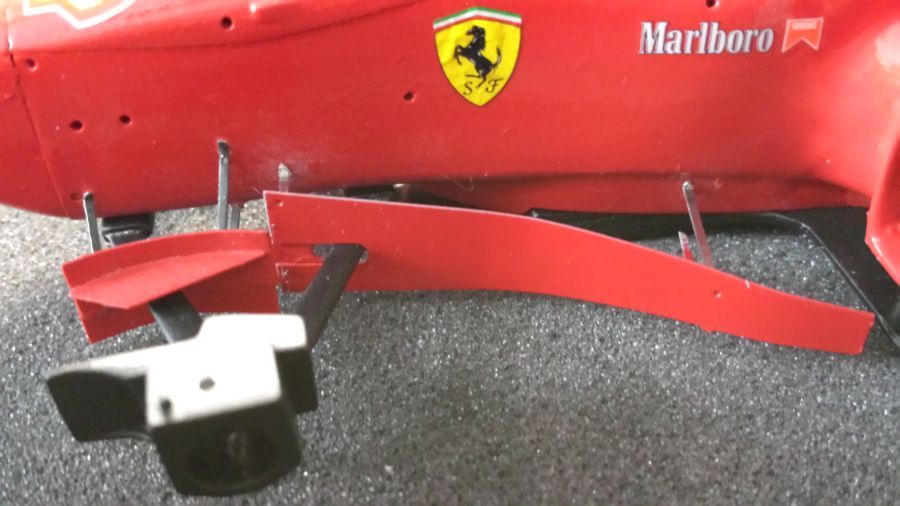 De volledige voorwielophanging is gemonteerd.
The full front wheel suspension has been mounted.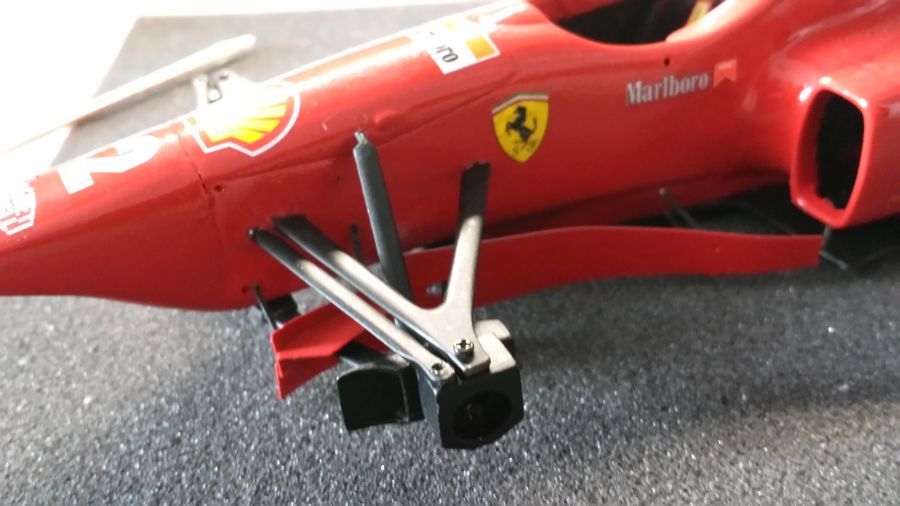 De remschijven en vervolgens de wielen monteren.
Mounting the brakes and then the wheels.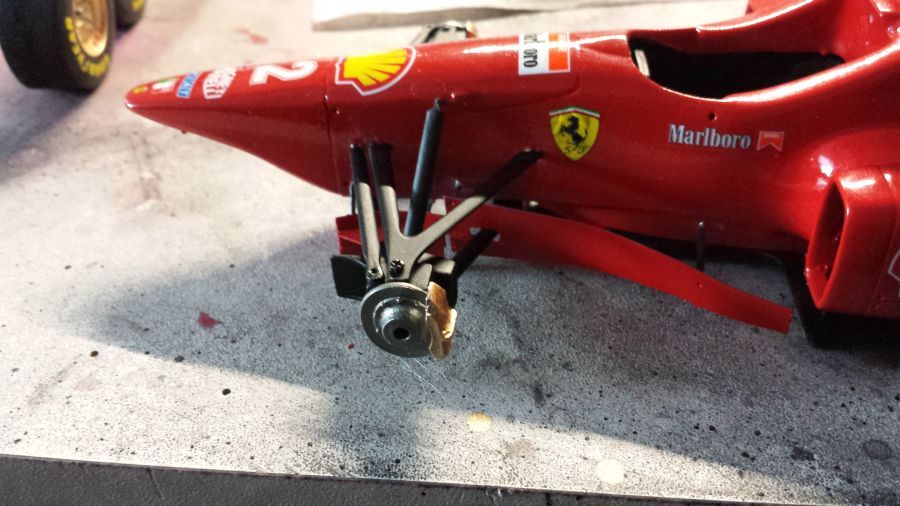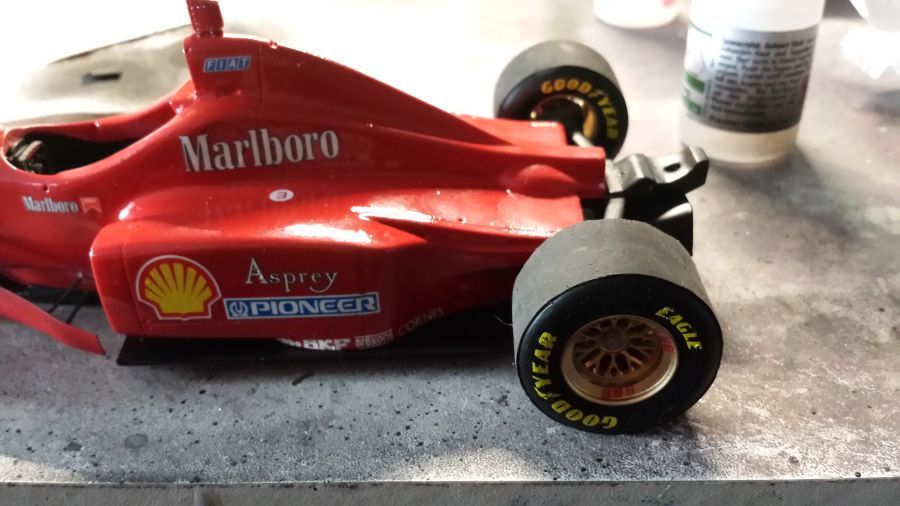 Bijna weer 1 Ferrari af. Nog even de voorvleugel, de spiegels en de snelsluiters.
Almost done with another Ferrari. Only the front wing, the mirrors and the fasteners.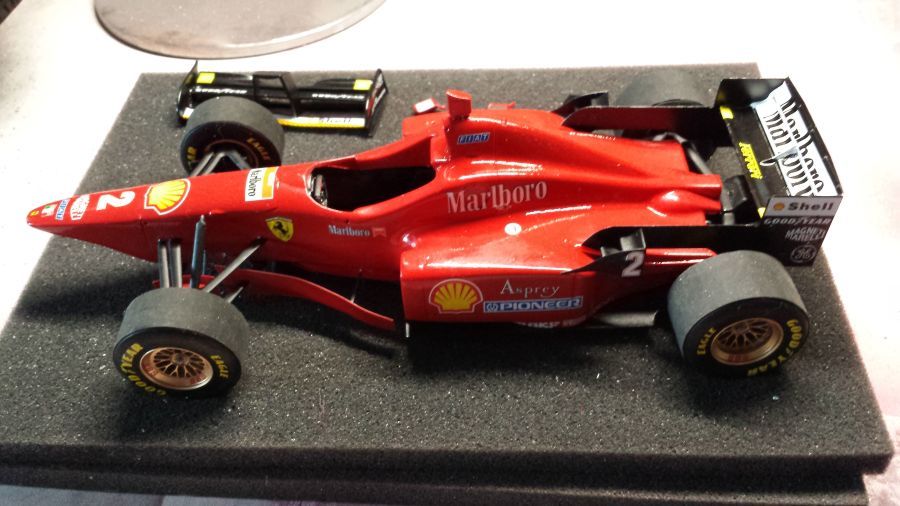 Klaar.
Done.