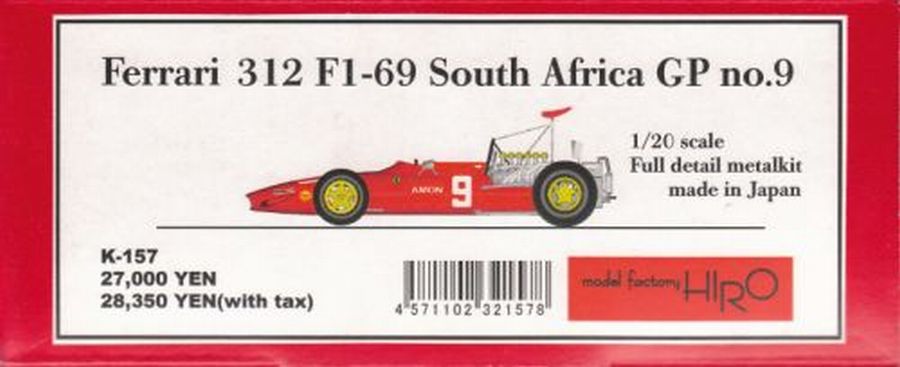 Omdat ik op een later moment een Ferrari met een dubbele hoge vleugel ga bouwen, wil ik eerst deze Ferrari 312F1 uit 1969 in elkaar zetten. Dan kan ik vast een en ander uitmeten in verband met de hoge vleugels. Dit is de versie zoals deze door Chris Amon is gereden tijdens de GP van Zuid Afrika. Ik ben echt een groot fan van deze auto's uit de jaren '60. Allereerst weer de foto's van de inhoud van de kit. Het is er een van Modelfactory Hiro (kit nr. K-157) in schaal 1/20. Mijn favoriete schaal. Natuurlijk vind ik 1/12 geweldig, maar daar heb ik gewoon geen plaats voor.
Because i will build a Ferrari with a double high wing at a later moment, i am going to make the Ferrari 312F1 from 1969 first. This way i have the opportunity to take sizes because of the high wings. This version is the Chris Amon car as driven durin the GP of South Africa. I am a great fan of these cars from the 60's. Again first the pictures of the content of the kit. It's a kit from Modelfactory Hiro (kit no. K-157) in scale 1/20. My favorite scale size. Of course scale 1/12 would be top, but i have simply no space for these.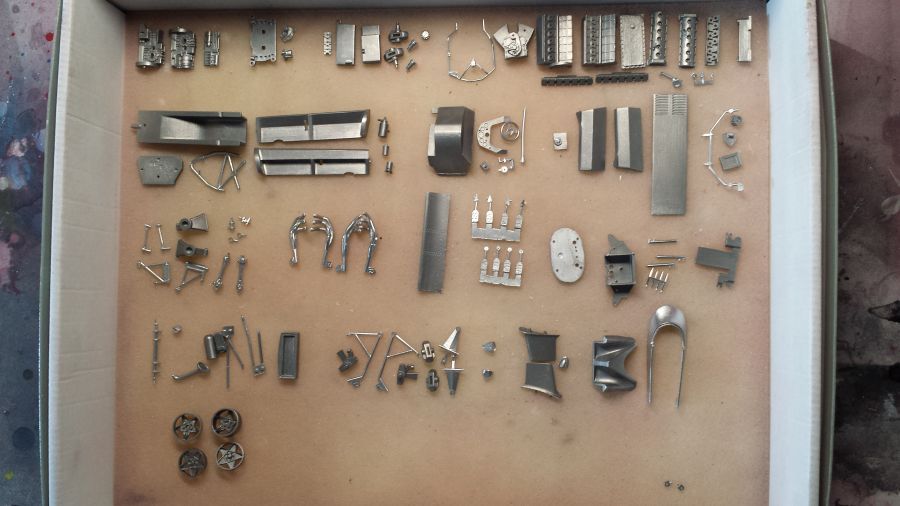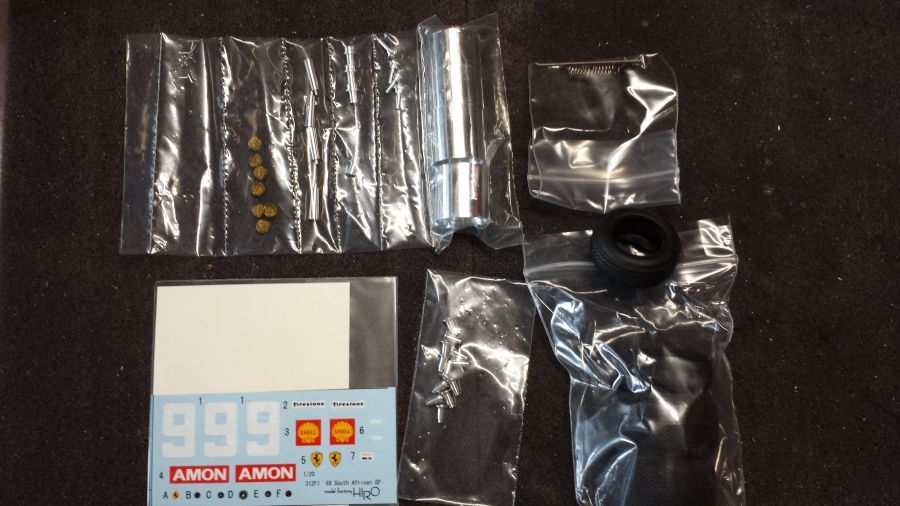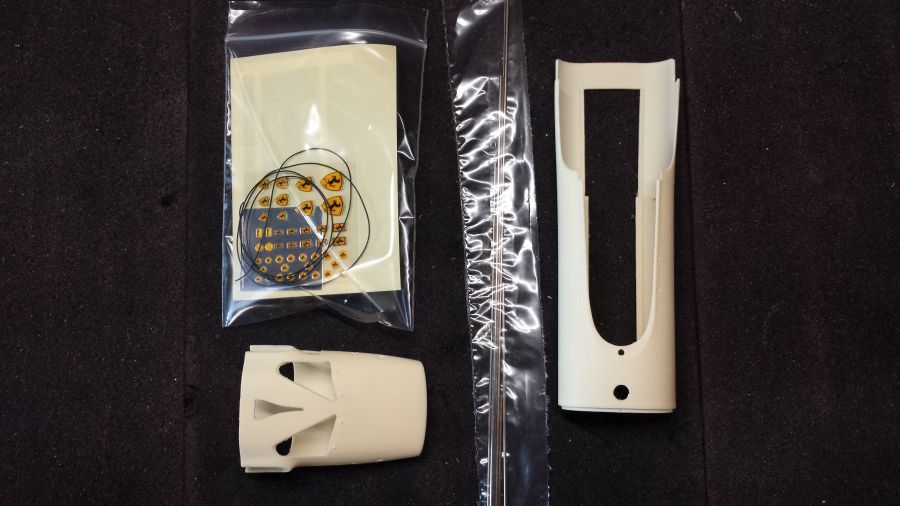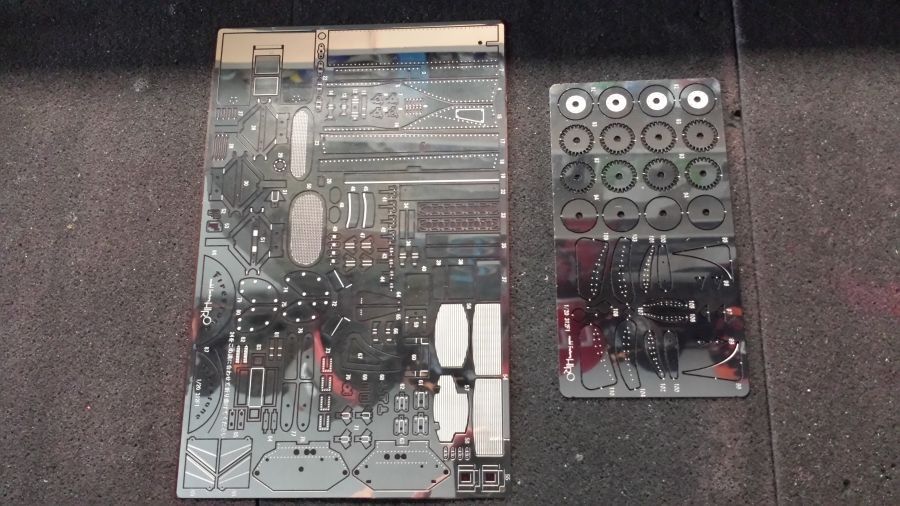 Modelfactory Hiro heeft een groot deel van de etched onderdelen op een folie gelijmd. Ik vind dit een zeer goede oplossing. Geen gedoe met het los knippen of snijden van onderdelen en bijvijlen met de diamantvijl van Tamiya. Gewoon van de folie afhalen.
Modelfactory Hiro has put a lot of etched parts to a sticking foil. I think it's a very nice solution. No hustle with cutting the parts and using the diamond file of Tamiya. Just remove it from the foil.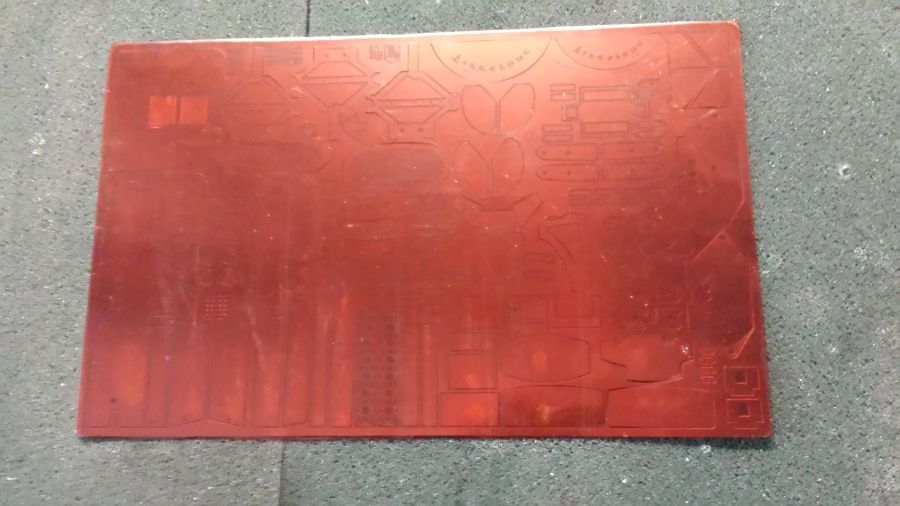 De eerste stappen aan de versnellingsbak. Wat onderdelen van wit metaal en drie etched onderdeel dat gevouwen moet worden. Maak niet de fout deze etched delen eerst met elkaar te verlijmen en daarna de boel als 1 onderdeel te vouwen. Mijn ervaring is dat dat niet goed werkt. Dus alle drie apart vouwen.
The first steps to the gear box. Some parts of white metal and 3 etched part which needs some folding. Do not make the mistake to first glue the 3 etched parts together and then fold it as one part. In my experience this does not work well. So fold them separately.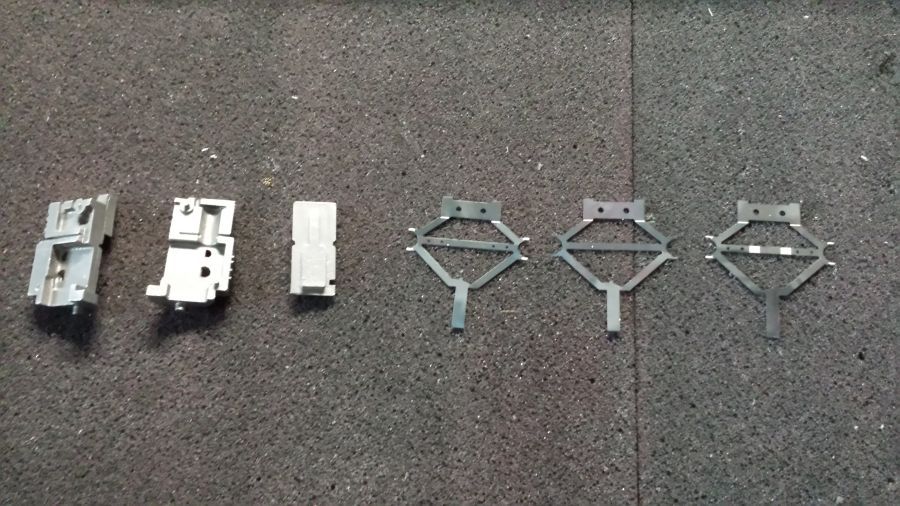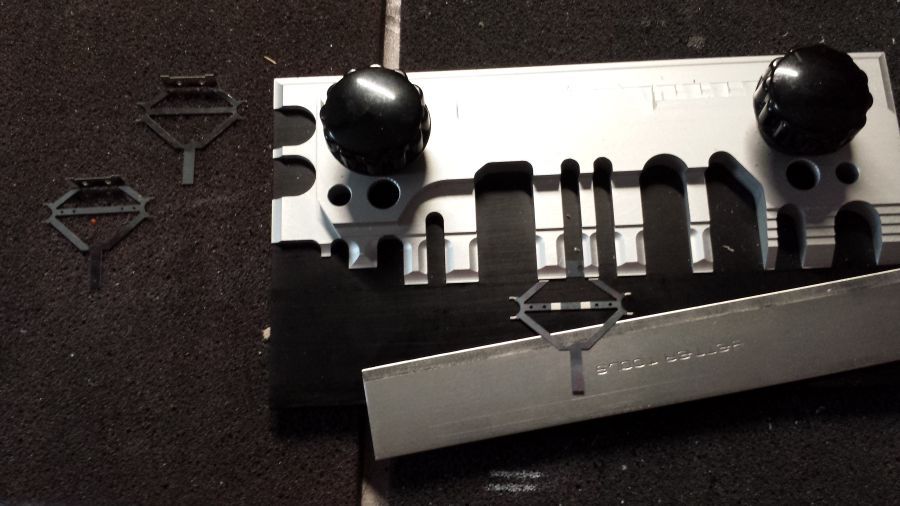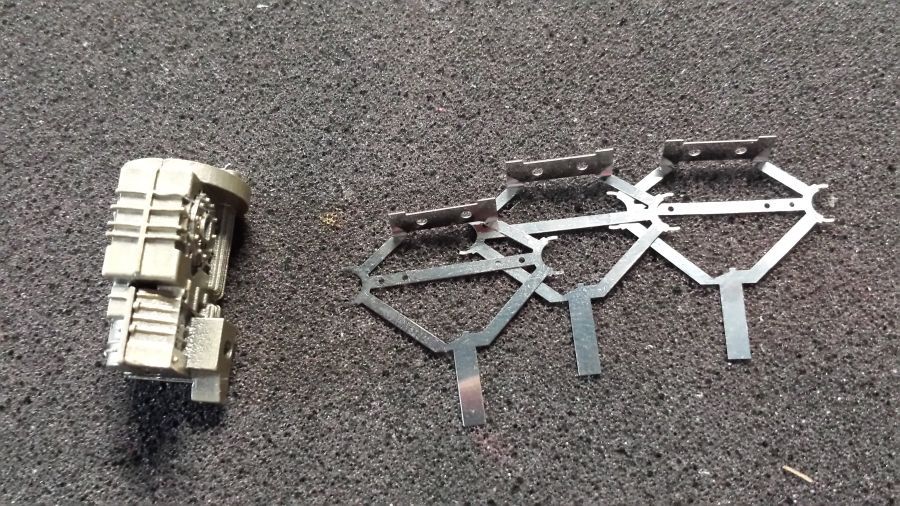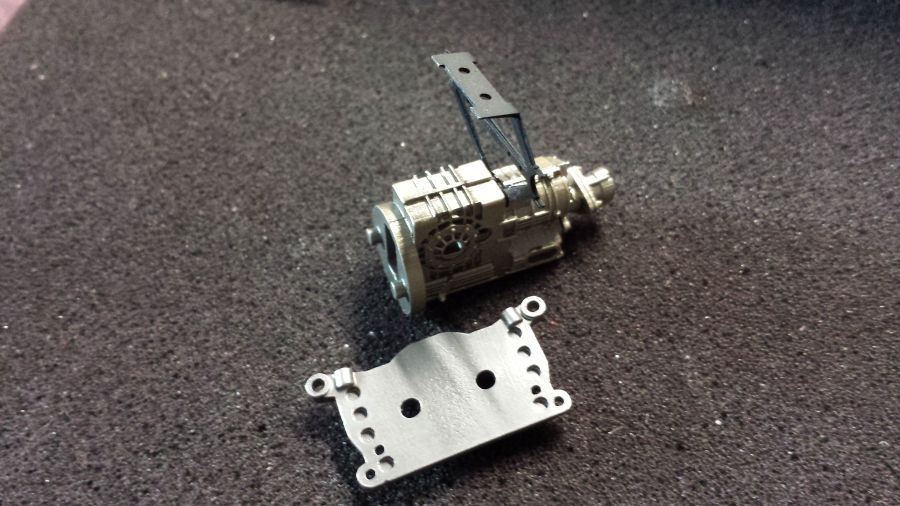 Volgens de bouwtekeningen van MFH moeten nu de remklauwen aan de versnellingsbak worden gemonteerd. Daarna komen de remschijven aan de beurt. Mijn ervaring in het verleden heeft geleerd dat dat nu niet het juiste moment is. Je krijft de schijven er bijna niet meer tussen. Doe dit pas wanneer de remschijven ook klaar zijn voor montage. Je kunt alles dan in 1 keer monteren.  
According to the instructions from MFH it is now time to mount the brake calipers. Next should be the brake discs. My experiences in the past learned that now is not a good time. It will be very hard to get the discs in place. So do this when the brake discs are ready to be mounted too. You will be able the put everything in place all at once.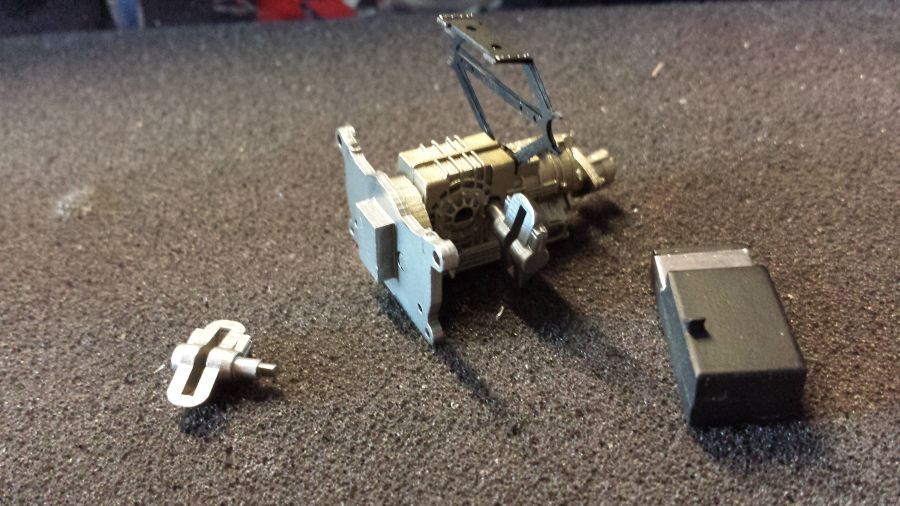 Alvast een paar onderdelen klaar gemaakt. Nog even wachten met monteren.
Did some sub-assembly on some parts. The mounting will have to wait a while.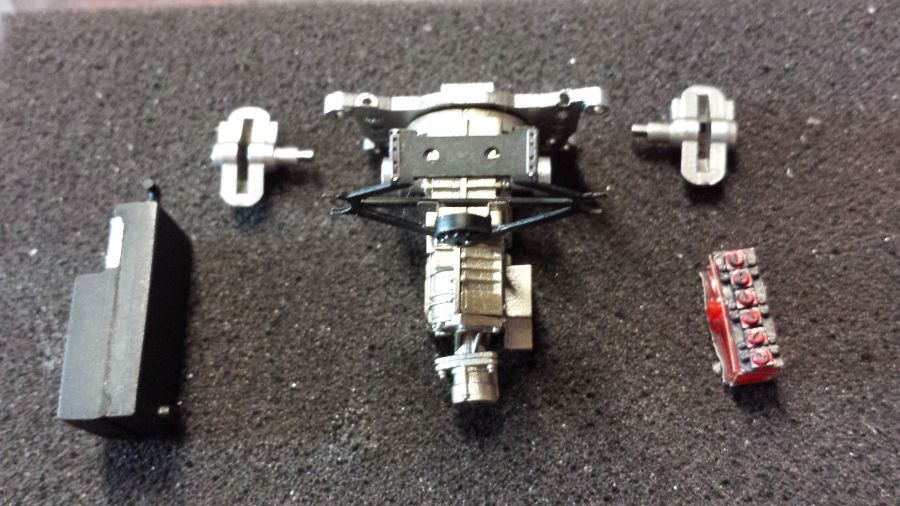 Nu eerst 4 remschijven maken. Zorg ervoor dat de middelste 2 goed op elkaar liggen. Na het in elkaar zetten spuit ik ze met Tamiya TS-42 Light Gun Metal.
Now first making 4 break discs. Be sure to connect the 2 in the middle the correct way. After putting them together i will spray them with Tamiya TS-42 Light Gun Metal.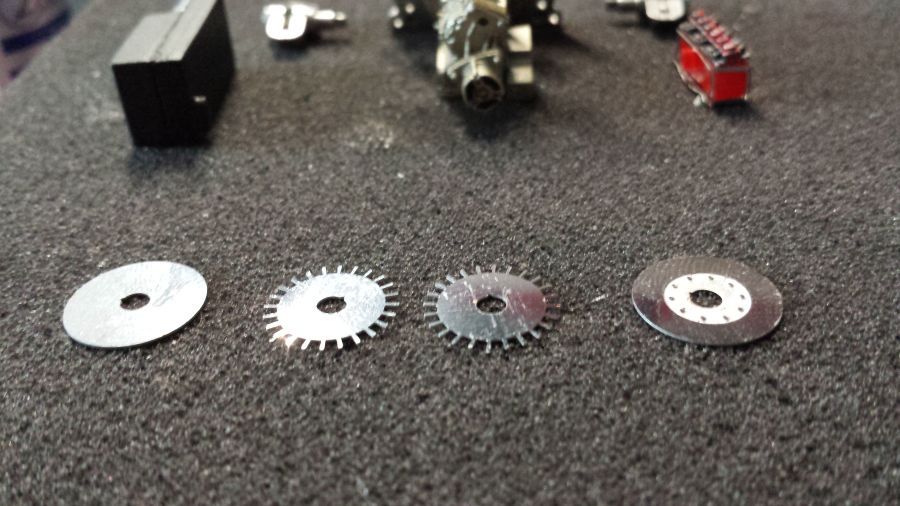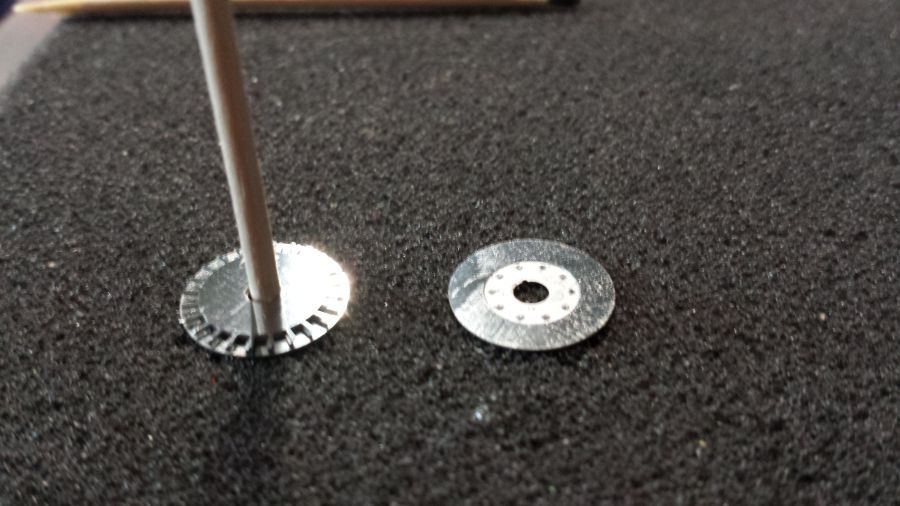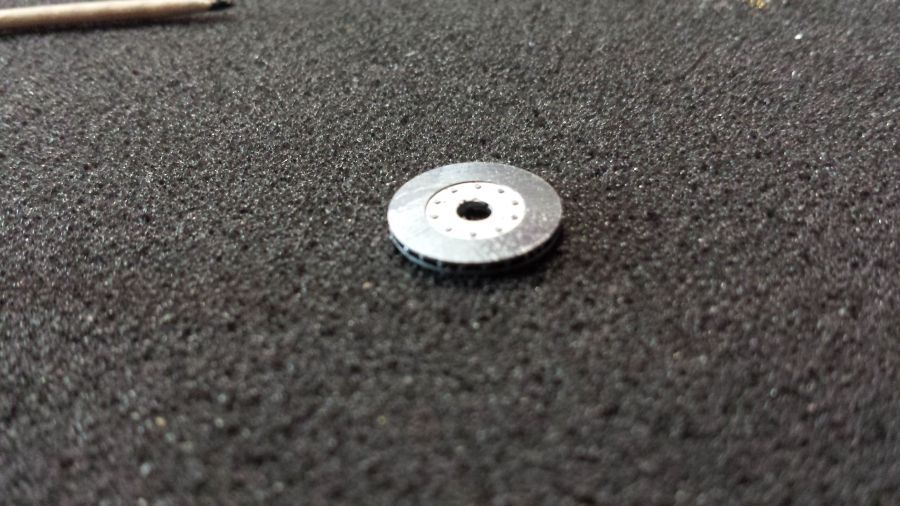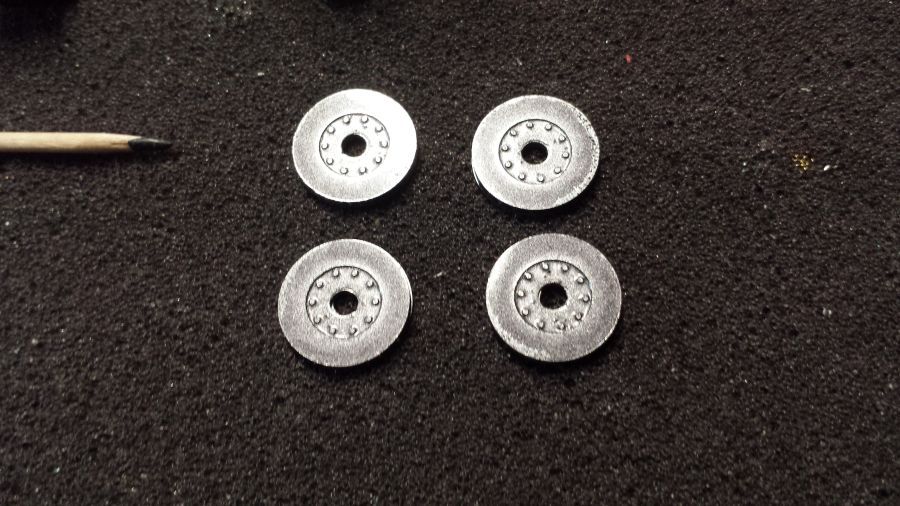 Daarna alles monteren. Let wel, de remschijven zitten dus nog los in de remklauwen.
Then mount everything. Note, the brake discs are still lose in the calipers.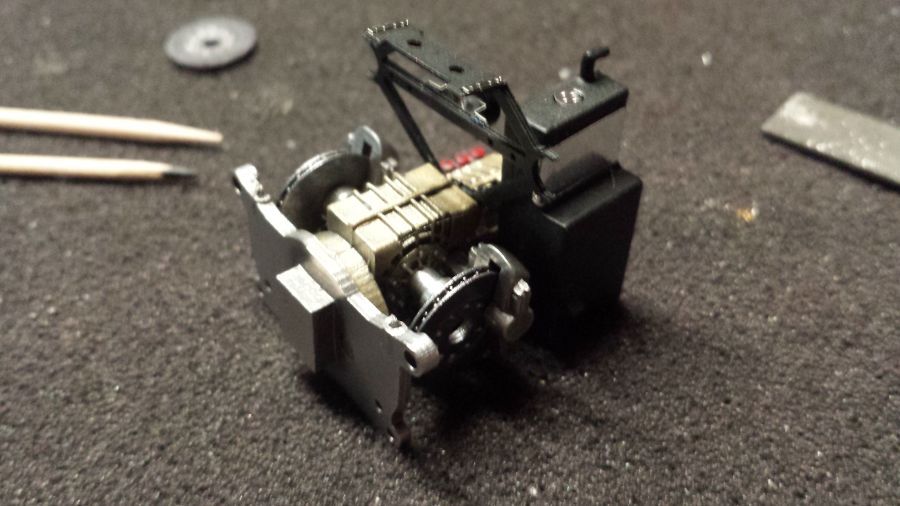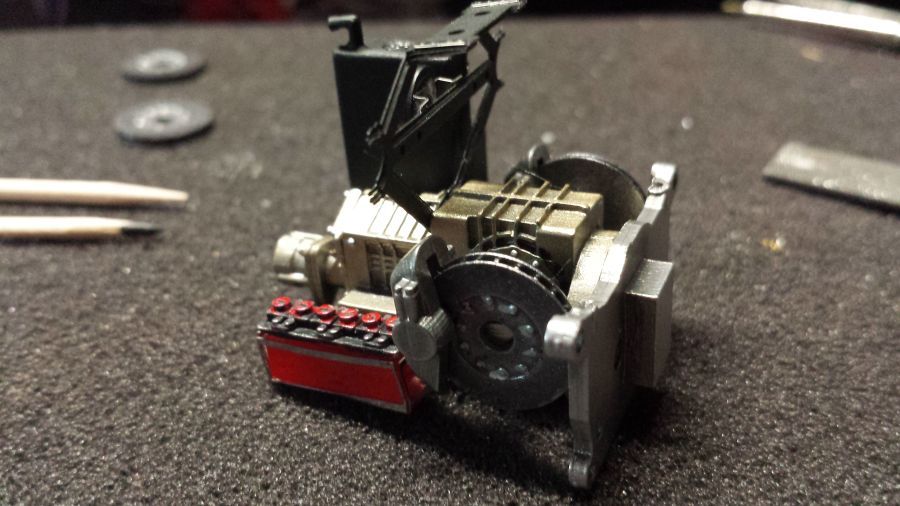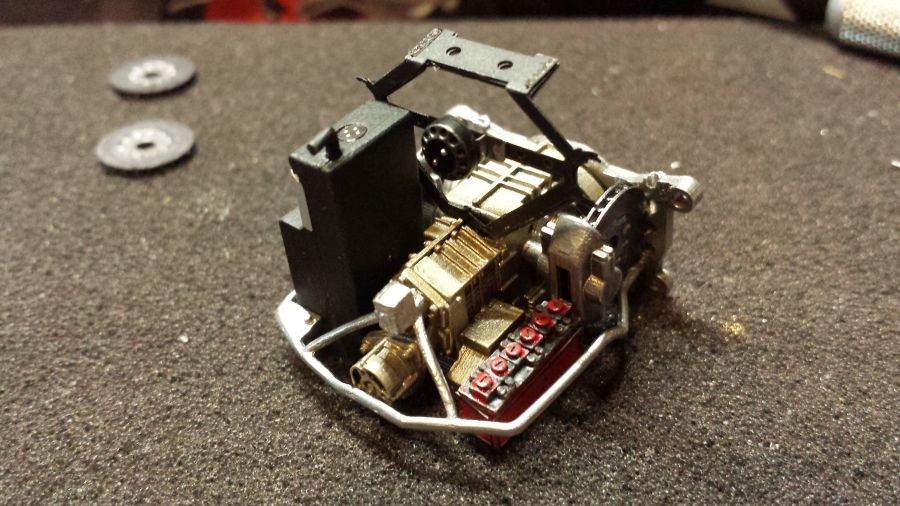 Wat meer details aan de versnellingsbak en de eerste stappen aan de motor.
Some more detail to the gear box and the first steps to the engine.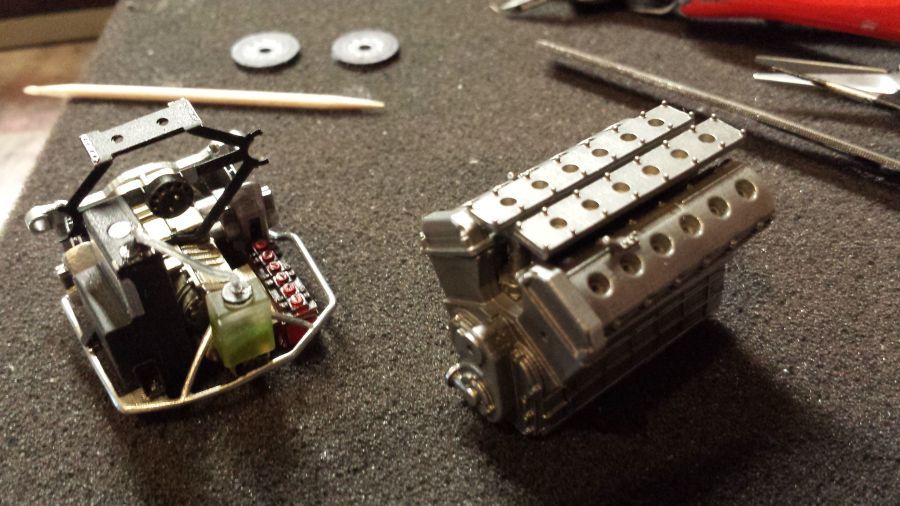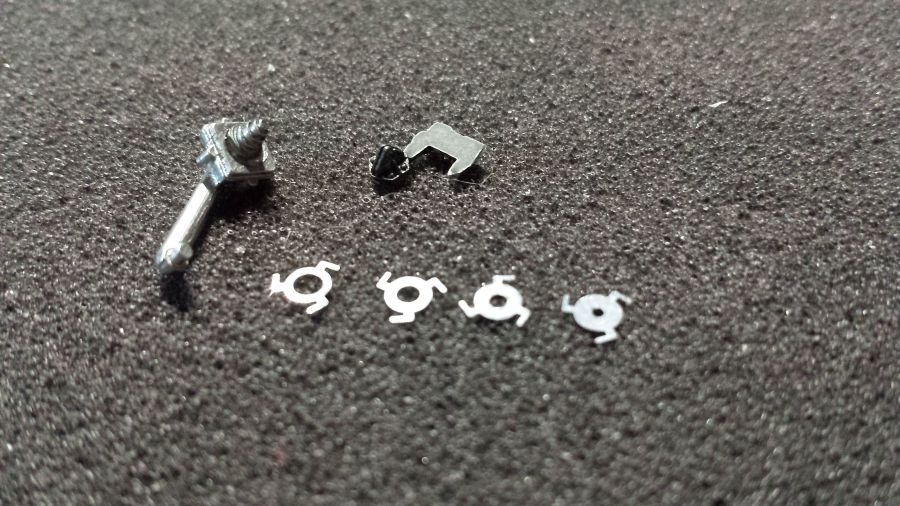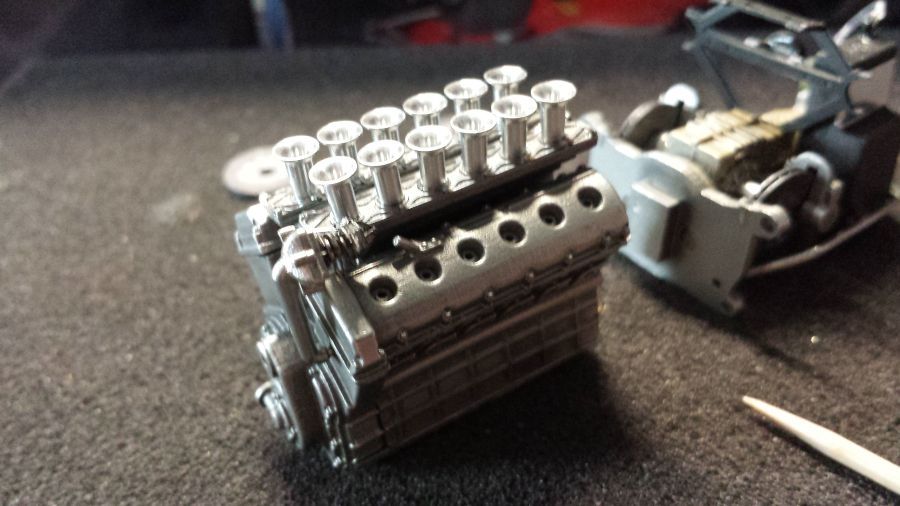 Ik laat de motor nu even rusten. De inlaatcovers breng ik later aan. Nu eerst verder met de kuip.
I will leave the engine alone for now. The funnel covers will be applied later. Now i will make preparations for the tub.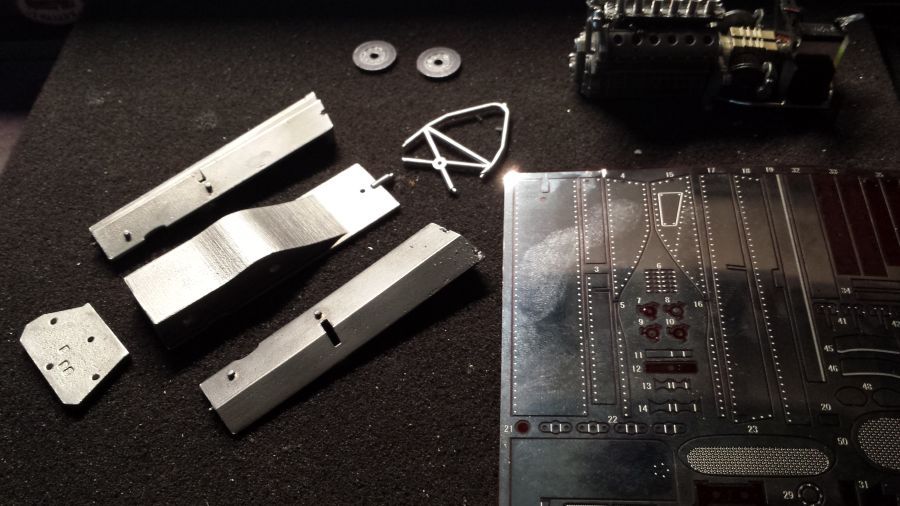 Het etched deel even passen, voordat wordt gelijmd.
Test fit of the etched parts before gluing.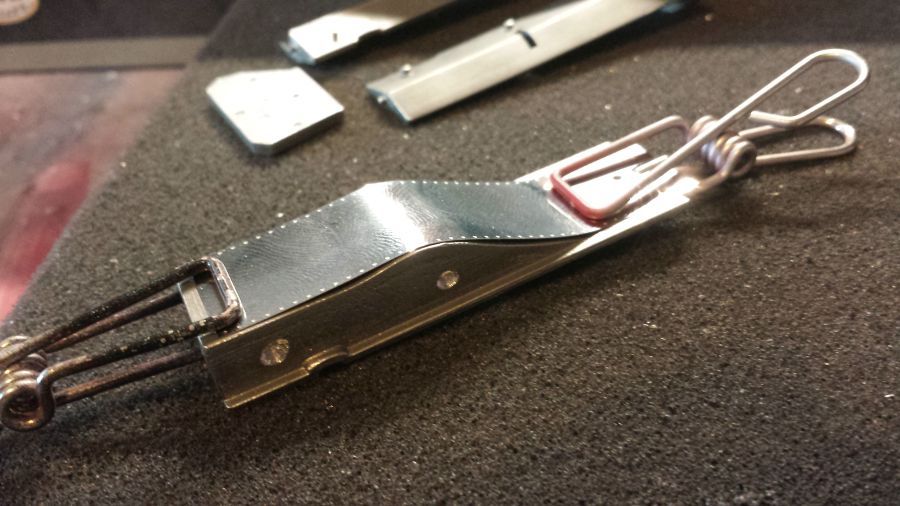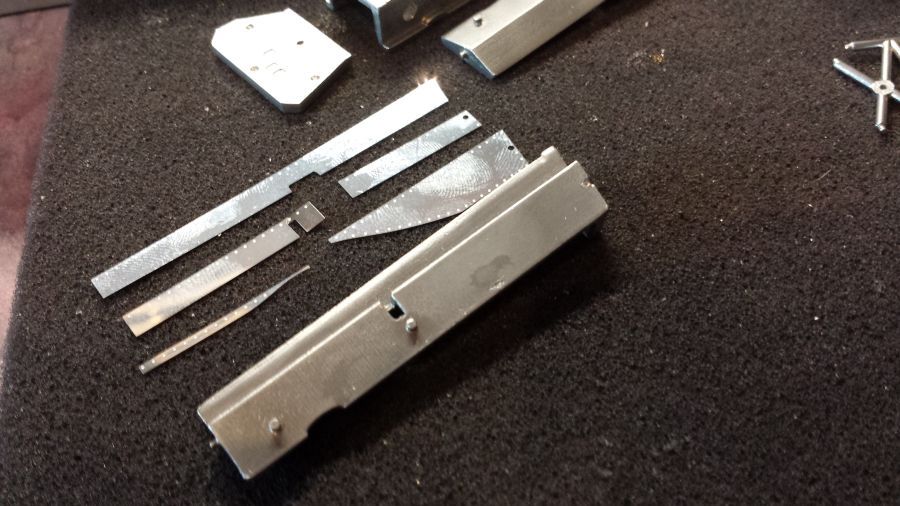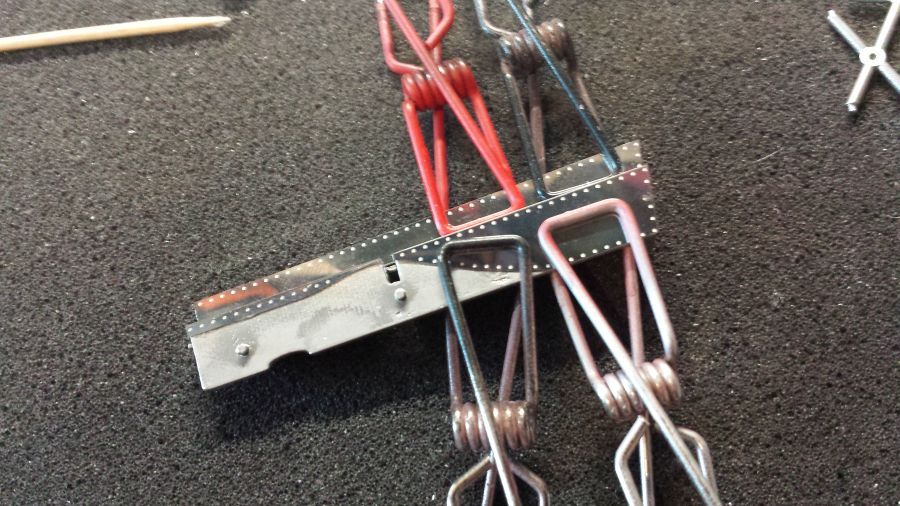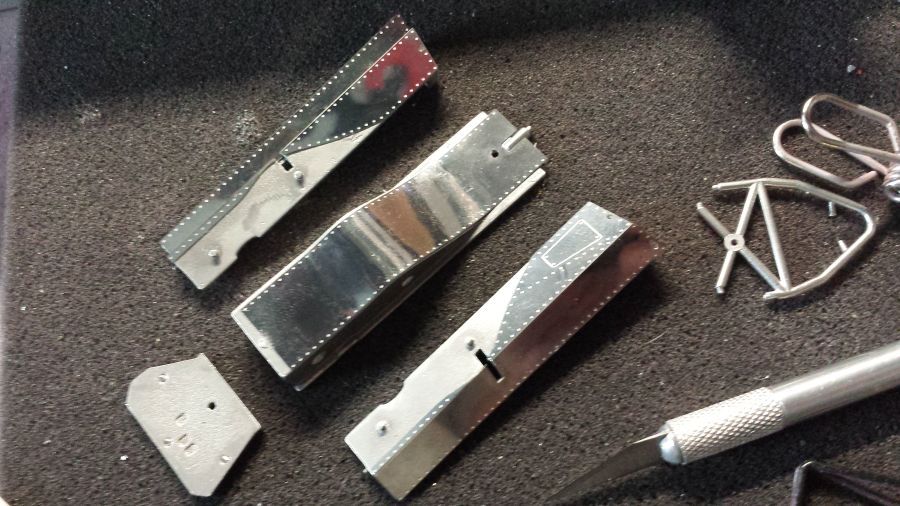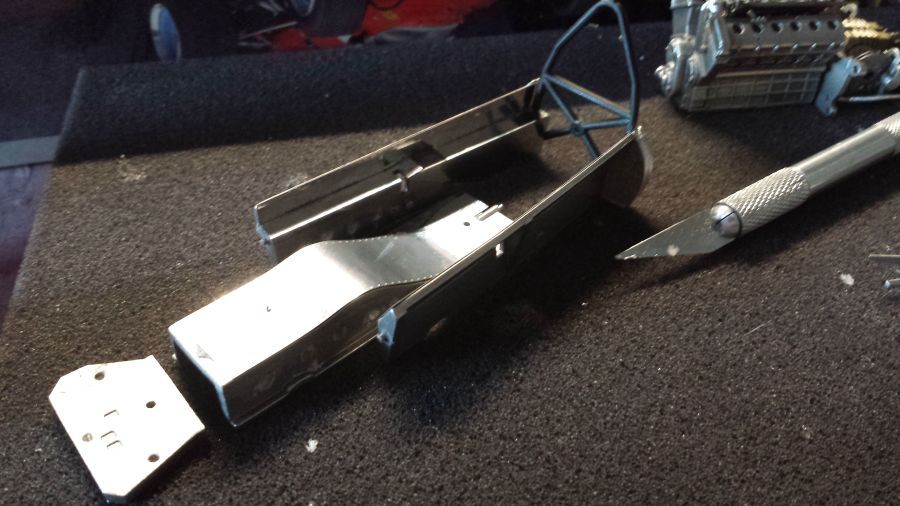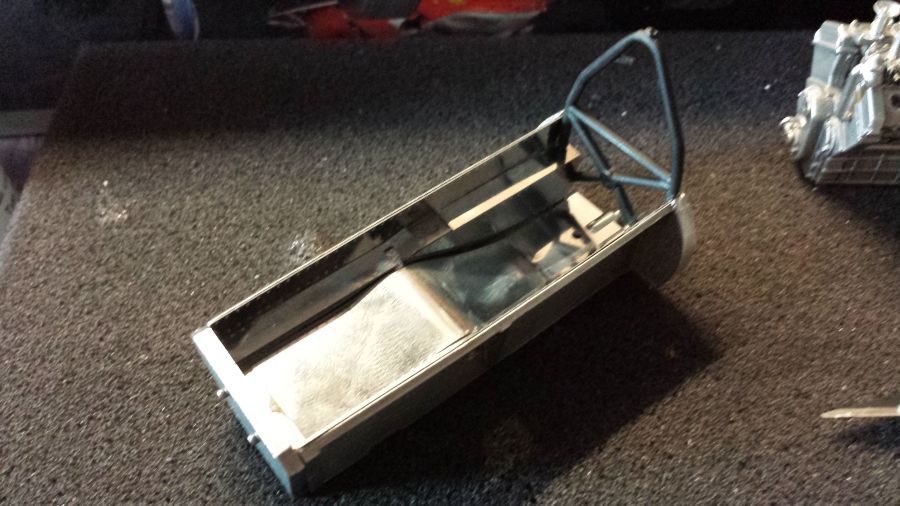 En we hebben weer een 'huwelijk'.... 
And we have a 'marriage' again....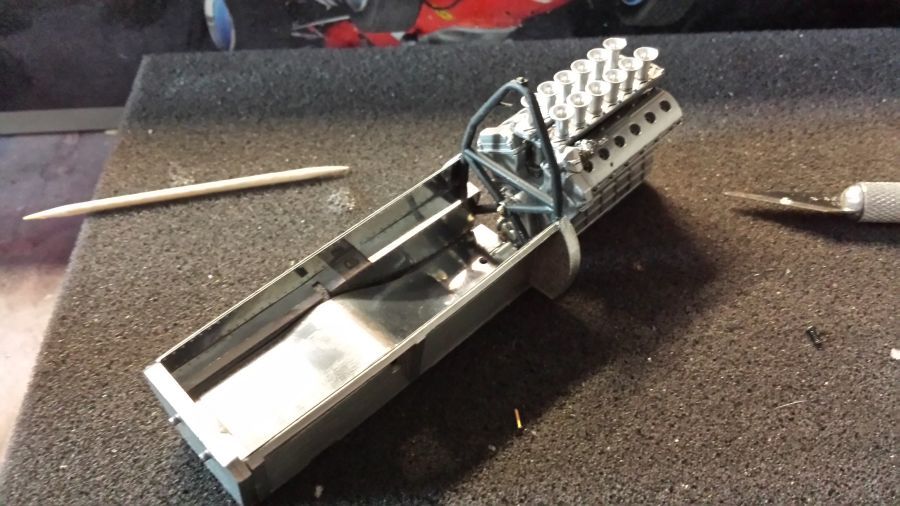 De brandblusser, pedalen, versnellingspook en een paar reservoirs zijn geplaatst.
The fire extinguisher, the pedals, the shifter and a few reservoirs are attached.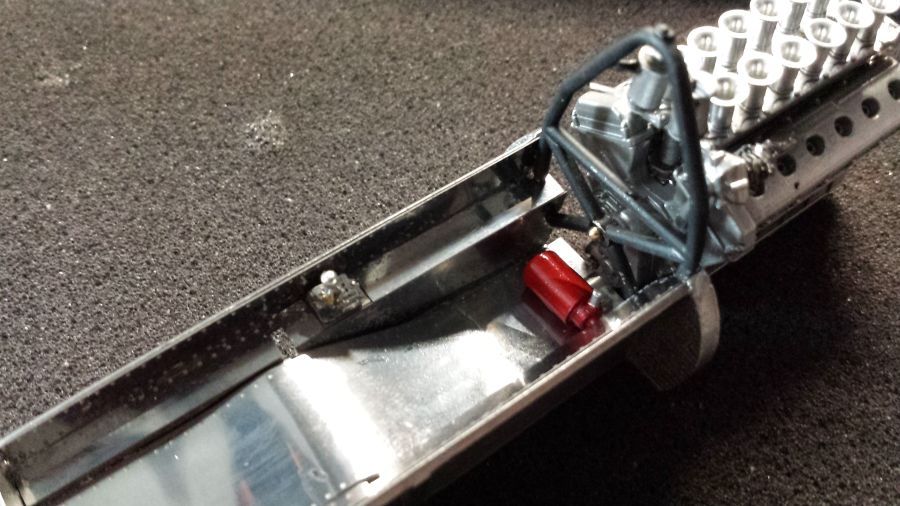 Voor het bekleden van de stoel met de decal, maak ik eerst een paar mallen. Dat maakt het werken met de decal veel eenvoudiger.
Before putting the decal to the chair, i will first create some templates. This will make working with the decal much easier.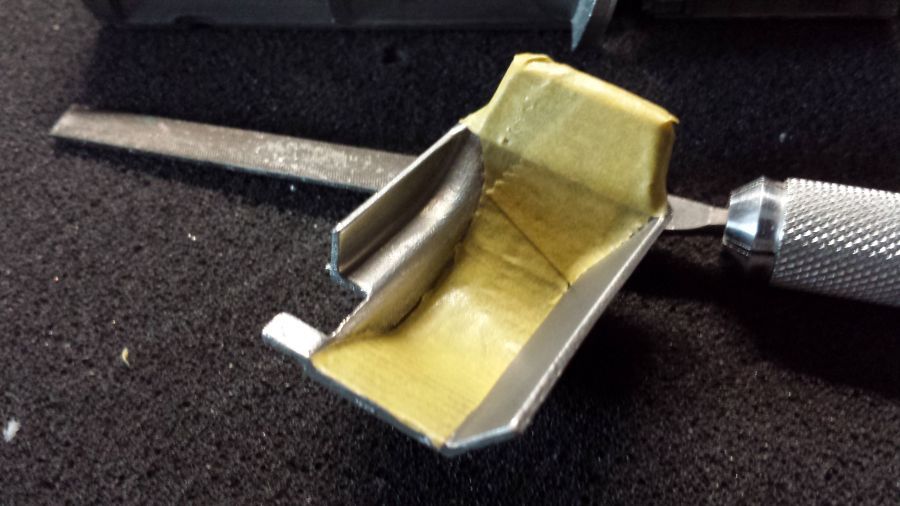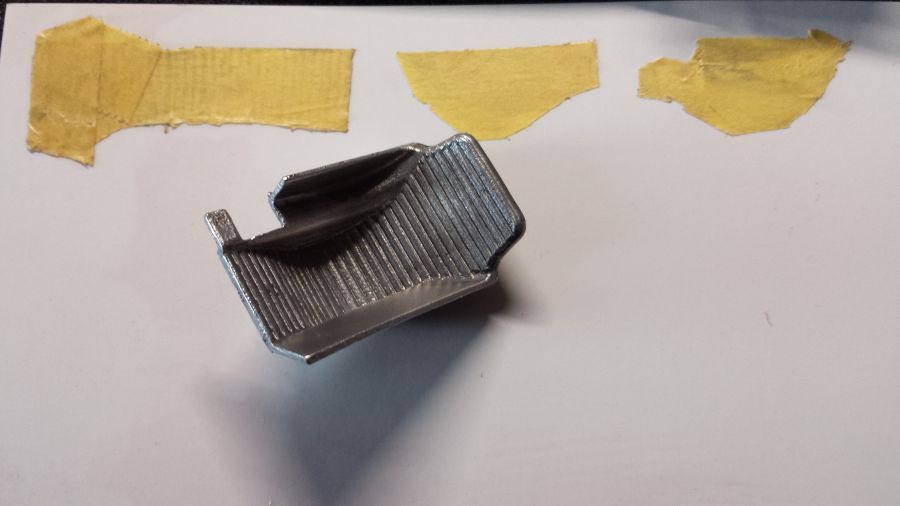 Ik heb de stoel rood gespoten voor de ondergrond van de decal. Op foto's zie ik dat de zijkanten van de stoel zwart zijn, alleen het middendeel (zitting) is rood. Aanpassen dus.
I painted the seat red as some kind of primer for the decal. On pictures i see the sides of the seat were black, only the middle part (the part you sit on) is red. So i will adjust it.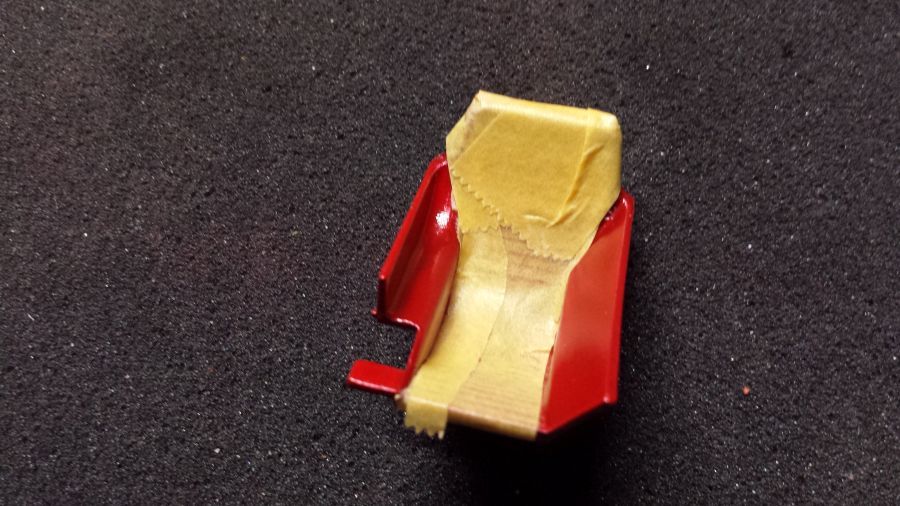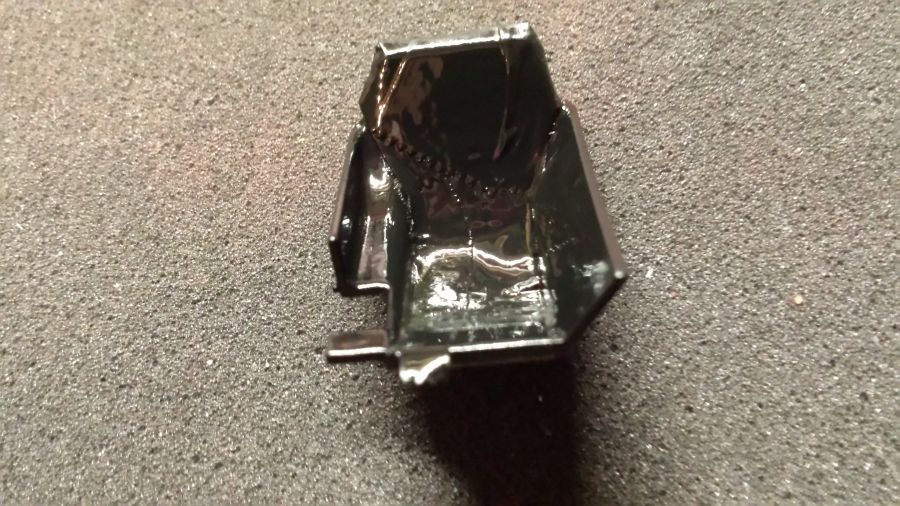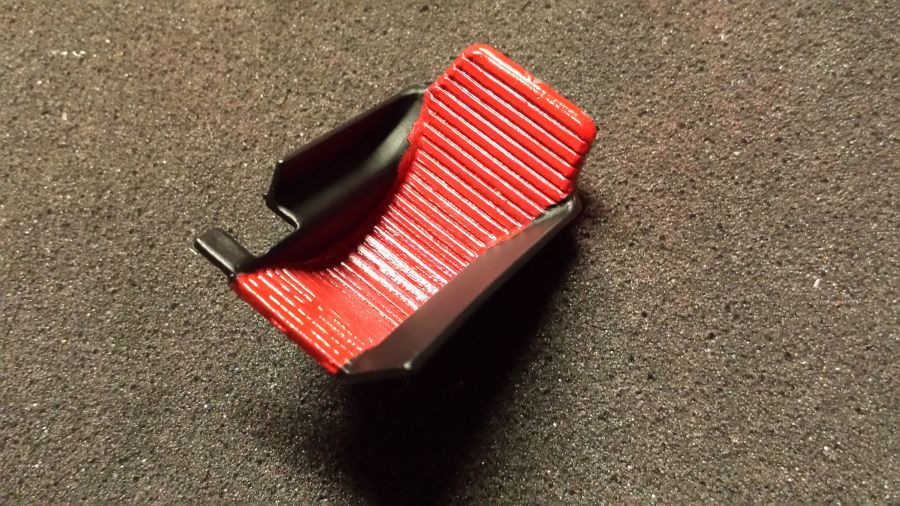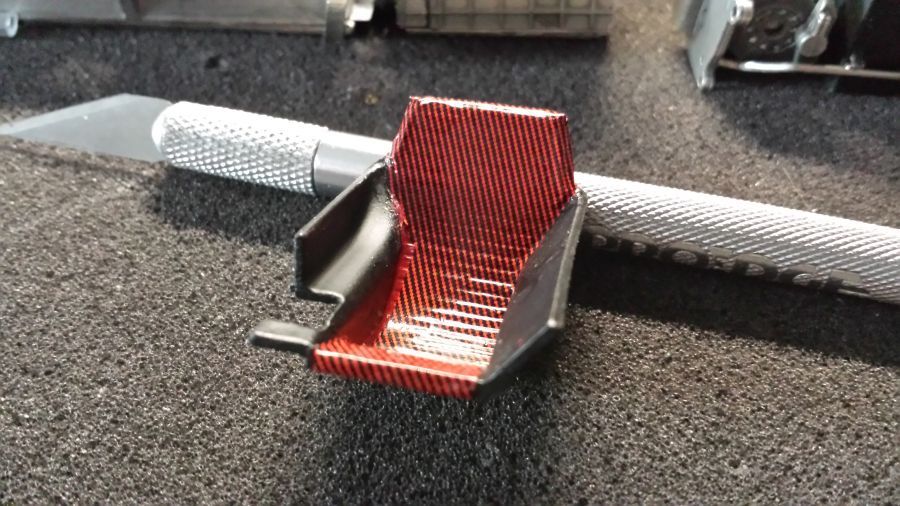 Daarna verder met het dashbord. Eerst is alles zwart gespoten, daarna de decals erop en afgewerkt met Micro Kristal Clear. Wanneer dit opdroogt, lijkt het alsof er een glaasje over de meters zit.
Next is the dashboard. First everything is painted black, next the decals are on and then Micro Kristal Clear has been applied. When dry, it will look like there is glass over the gauges.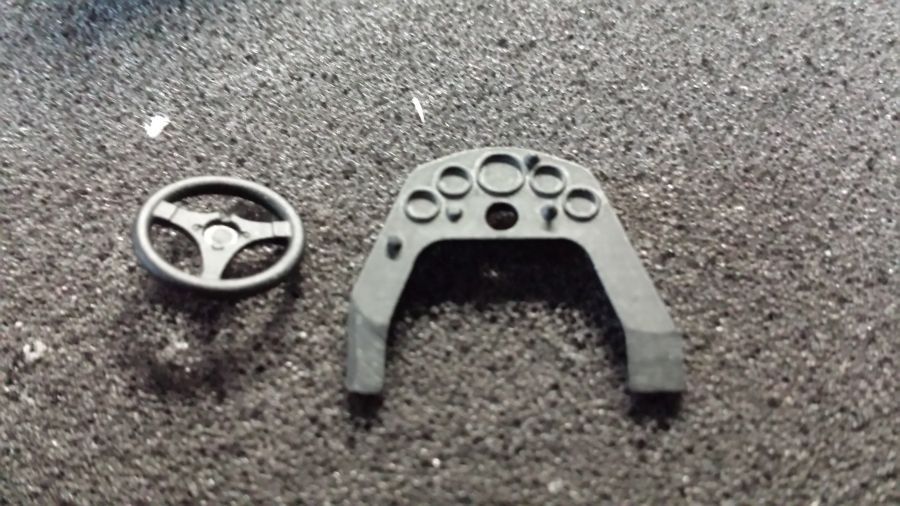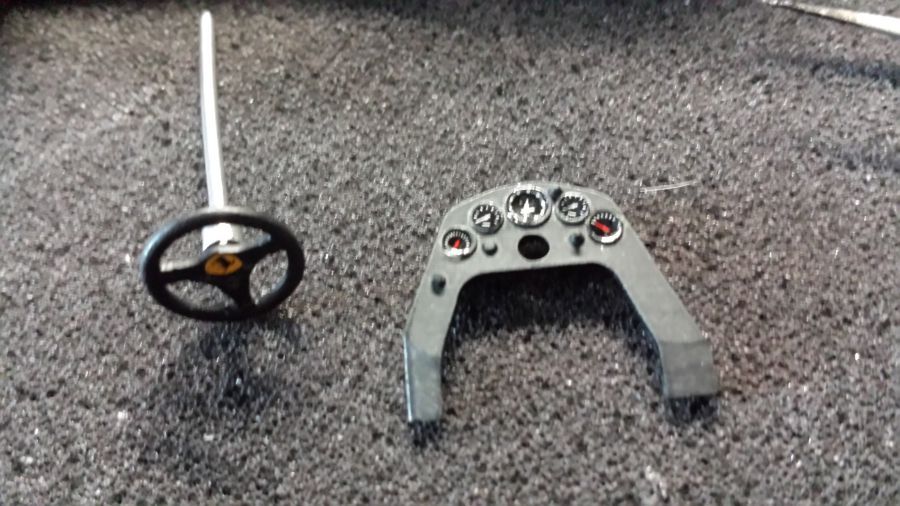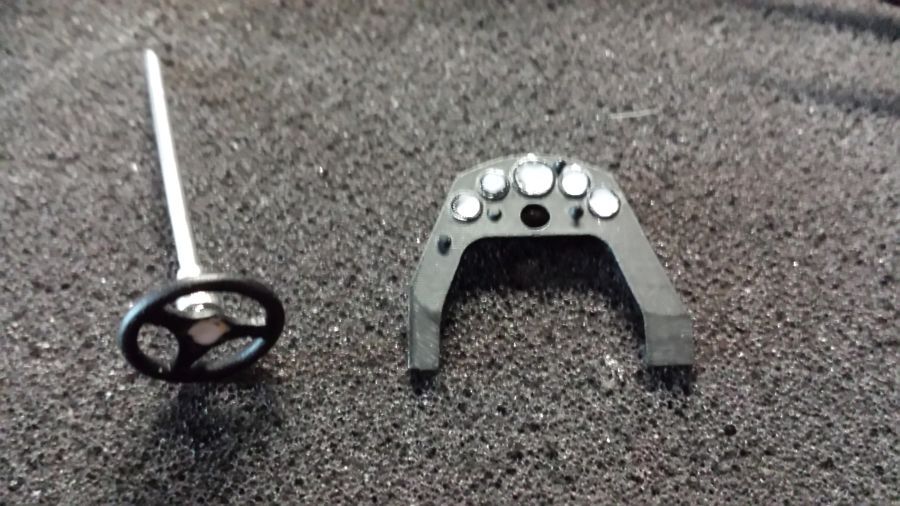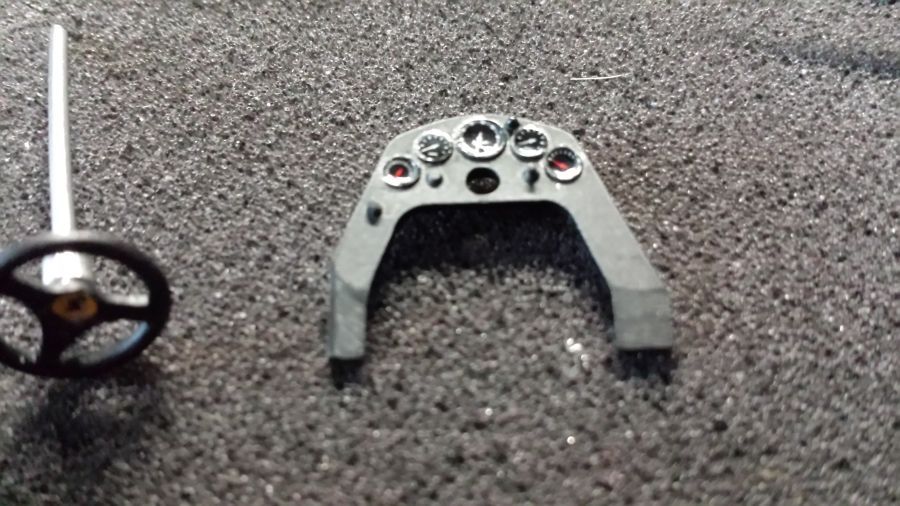 Nu verder met de stoel, de decal is droog. Dit keer gebruik ik de bijgeleverde dubbelzijdige tape van stof. Ik denk dat ik de volgende keer toch maar weer zijdelint ga gebruiken. Het lijkt erop dat dat iets natuurlijker lijkt, vind ik.
Now continuing with the seat, the decal has dried. This time is will use the double sided tape of cloth. I think i will use the silk ribbon again next time. It seems to look a little bit more natural, at least to me.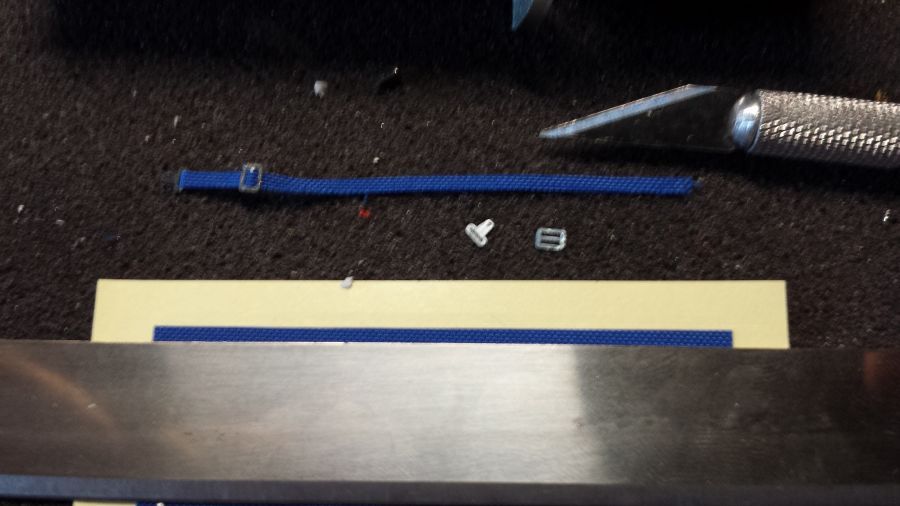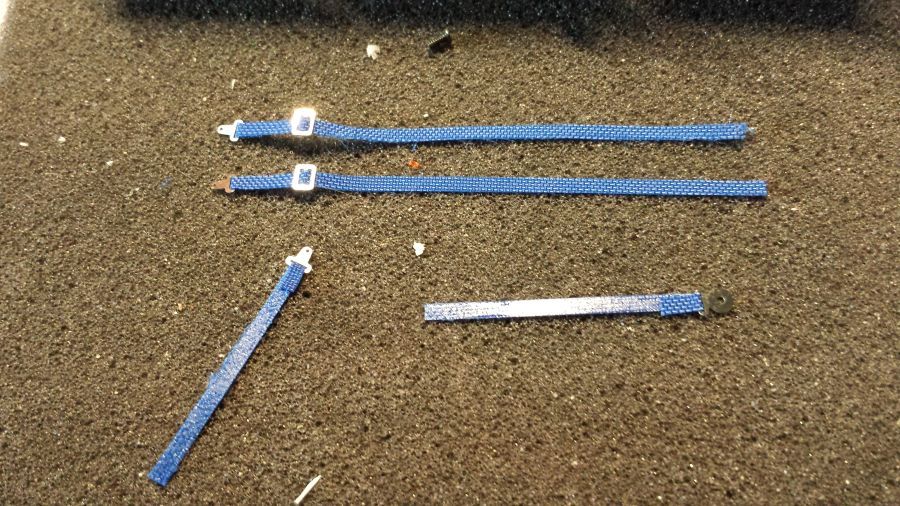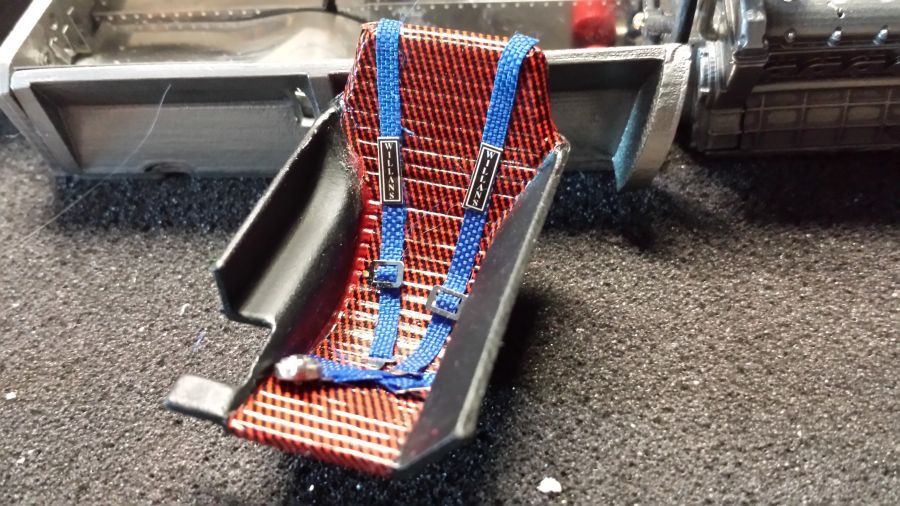 Dan weer verder met het dashbord. Ik boor gaatjes van 0,5 mm om de bekabeling voor de meters erin te kunnen lijmen.
Then the dashboard again. I drill 0,5 mm holes to be able to glue the wire for the gauges.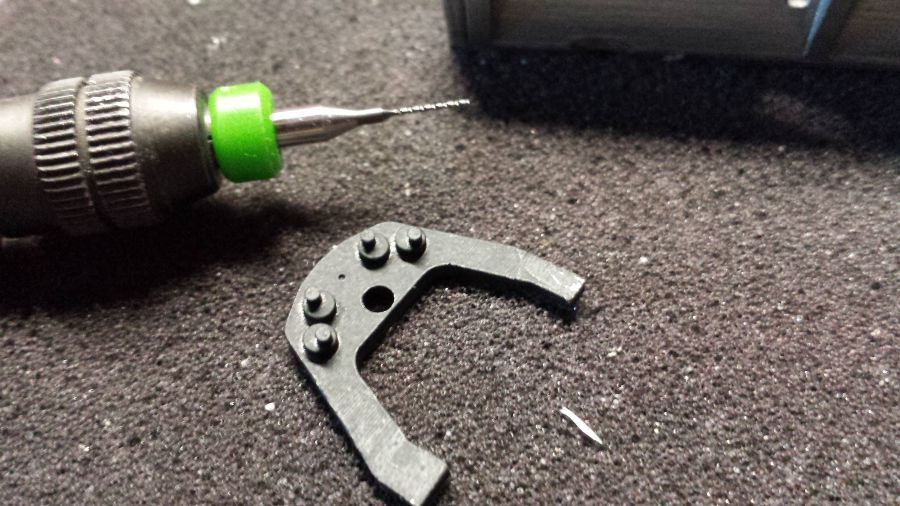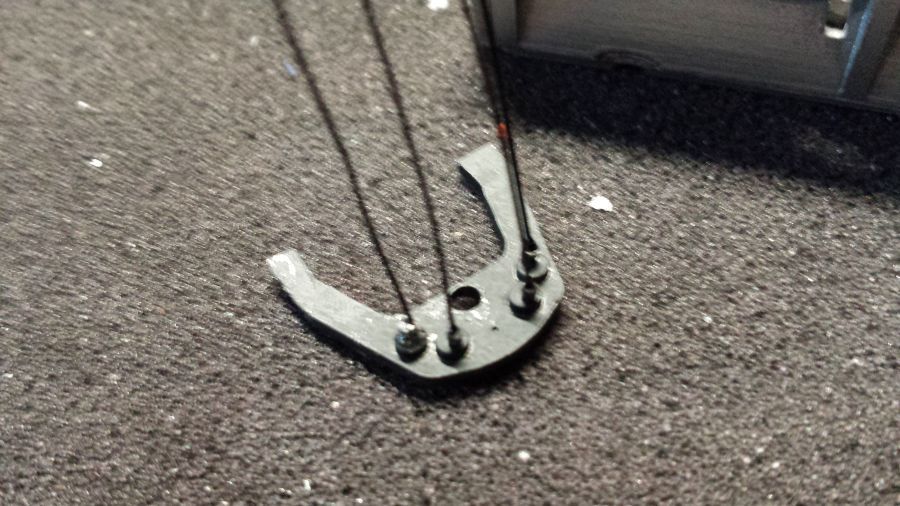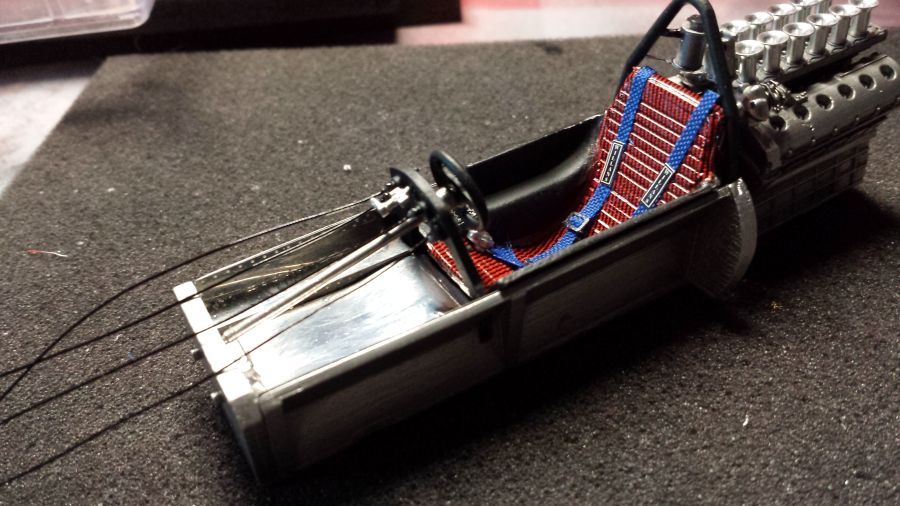 Ook voor deze kit geldt dat er deukjes zitten in plaats van bultjes op de plekken van de popnagels. Daarom smeer ik de gaatjes dicht met putty. Ook een paar gaatjes op de neus worden gevuld. Deze worden gebruikt voor de vleugels op de auto tijdens een andere GP. Na het drogen wordt alles geschuurd.
Also this kit has dents instead of bumps where the rivets are. That is why i fill these with putty. Also some holes on the nose need to be filled. These holes are for the wings of the car in a different GP. When dry, everything will be sanded.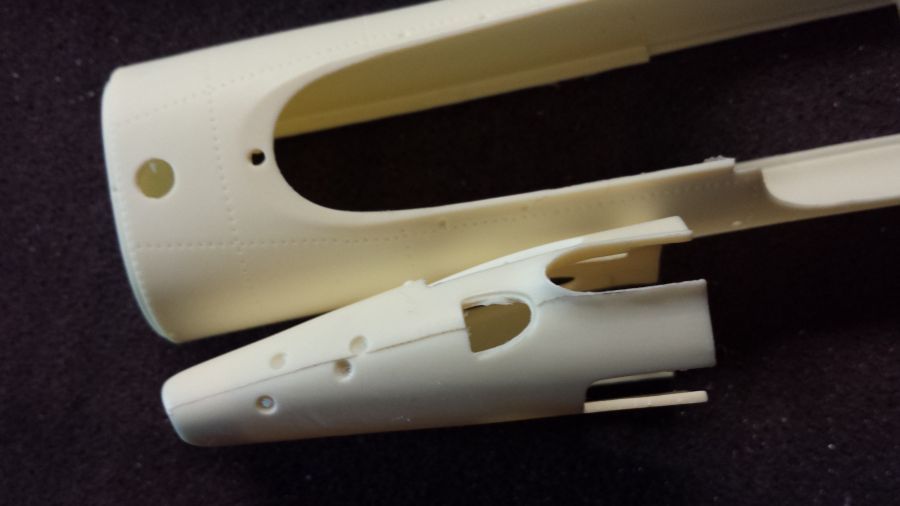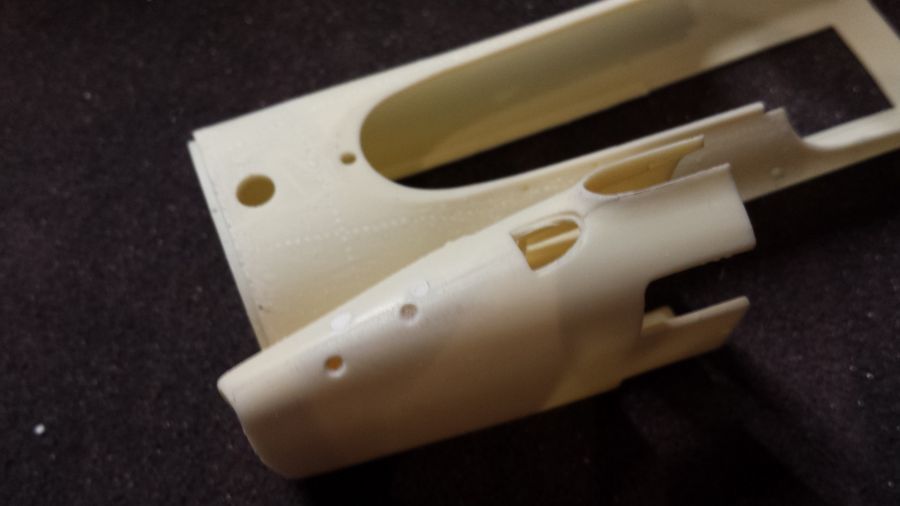 Vervolgens begint het aanbrengen van de popnagels. Ook dit keer gebruik ik de Archer Transfers. Na de popnagels spuit ik alle onderdelen met primer.
Next is applying the rivets. Again this time i will use the Archer Transfers. After the rivets i will spray all body parts with primer.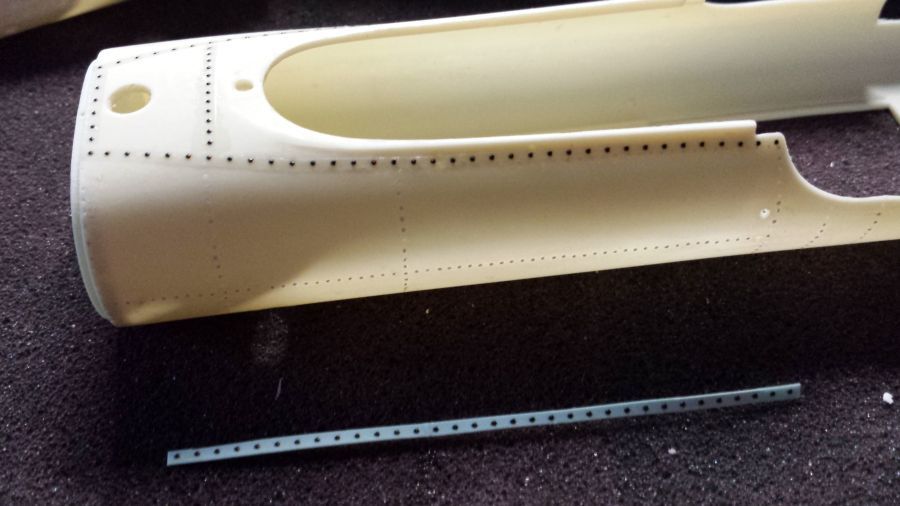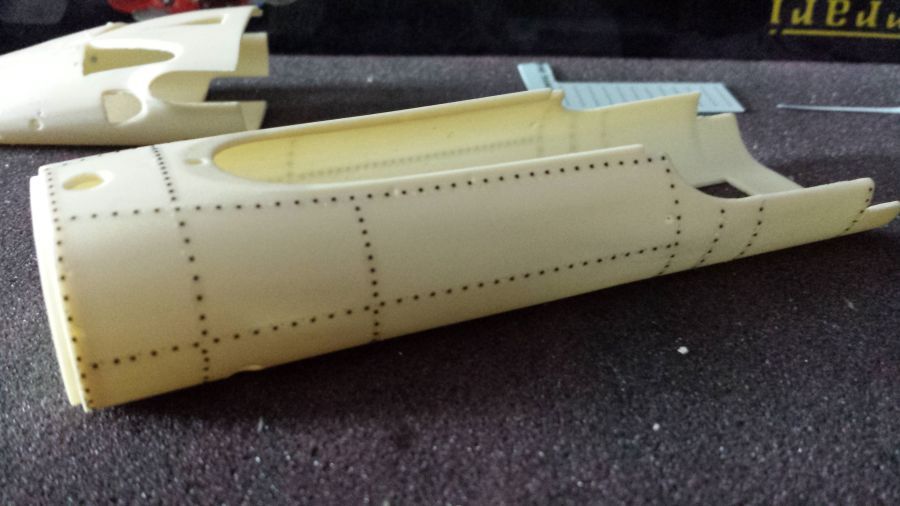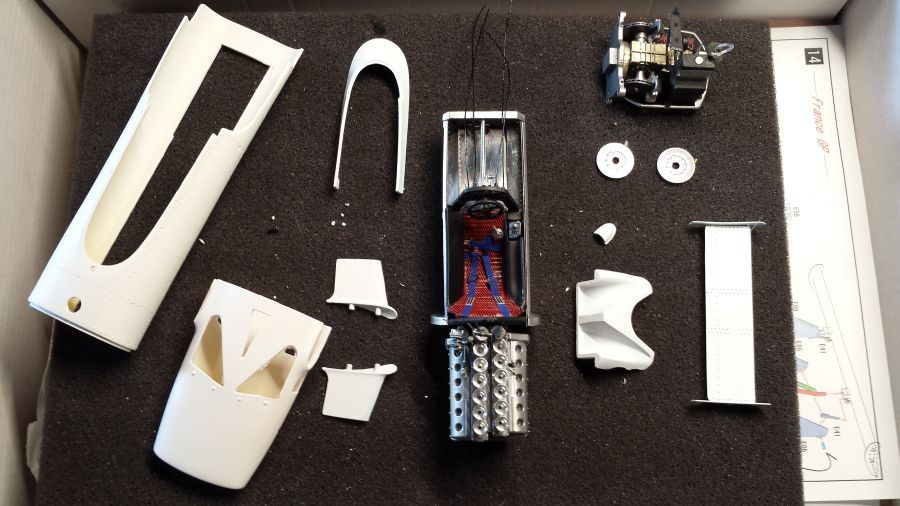 Het rood zit er op. Voor deze wagen heb ik Zero Paints ZP-1007 1970's-1980's Rosso Formula 1 gebruikt. Nu goed laten drogen en daarna de heldere glanslak erop. Daarna decals en weer lak.
The red is on. For this car i used Zero Paints ZP-1007 1970's-1980's Rosso Formula 1. Now let it dry and after that i will apply gloss clear coat. Then decals and clear coat again.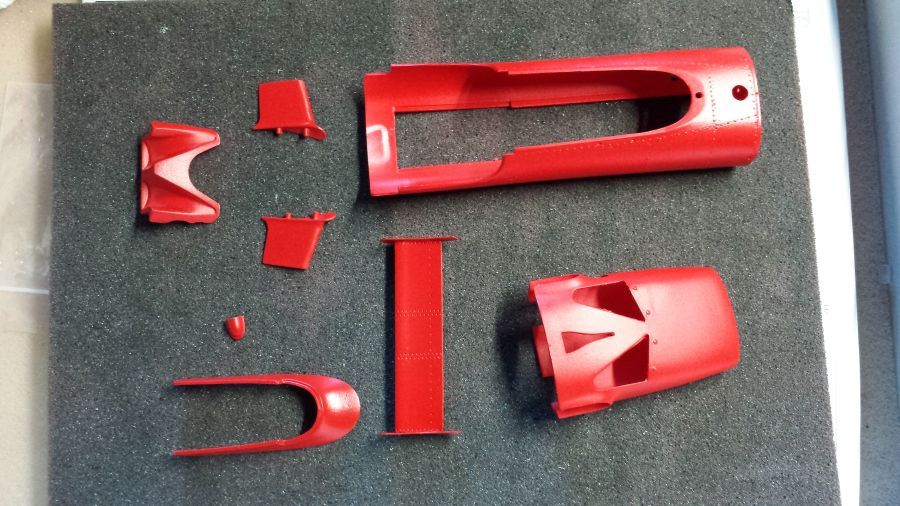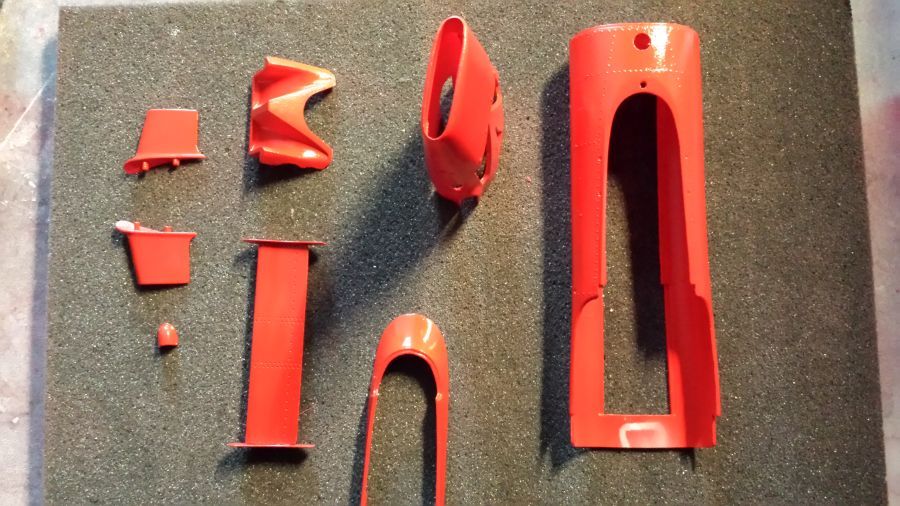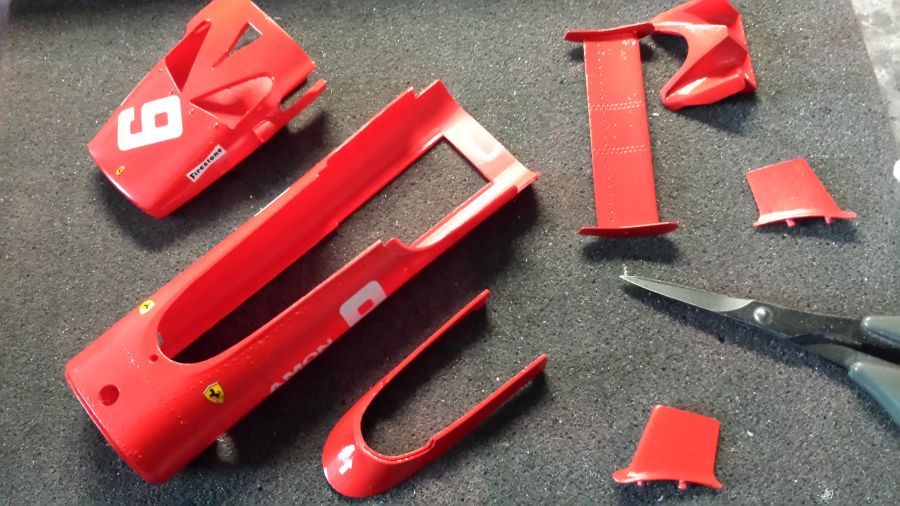 Dit deel zaag ik nu alvast eraf en werk de rand bij zodat dit mooi wordt meegespoten tijdens het sealen van de decals met glanslak.
I will cut off this part now and will work on the edge, so this gets a clear coat while sealing the decals.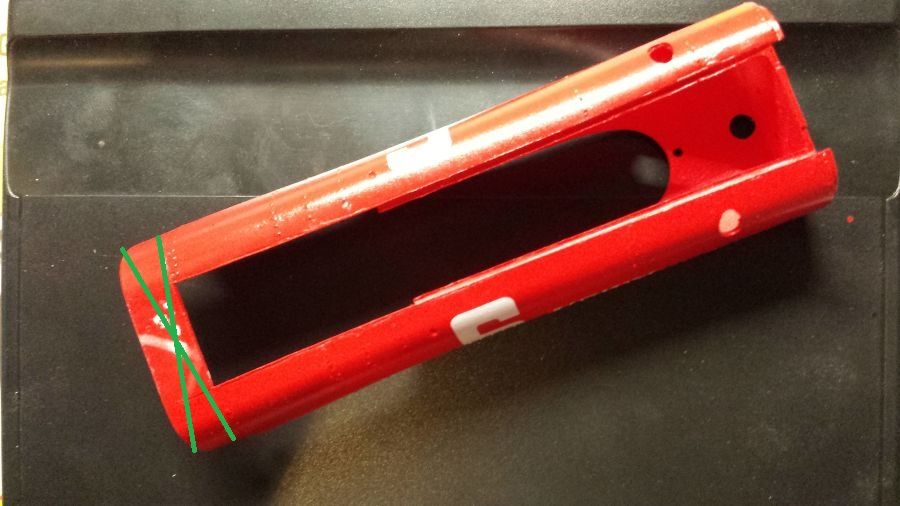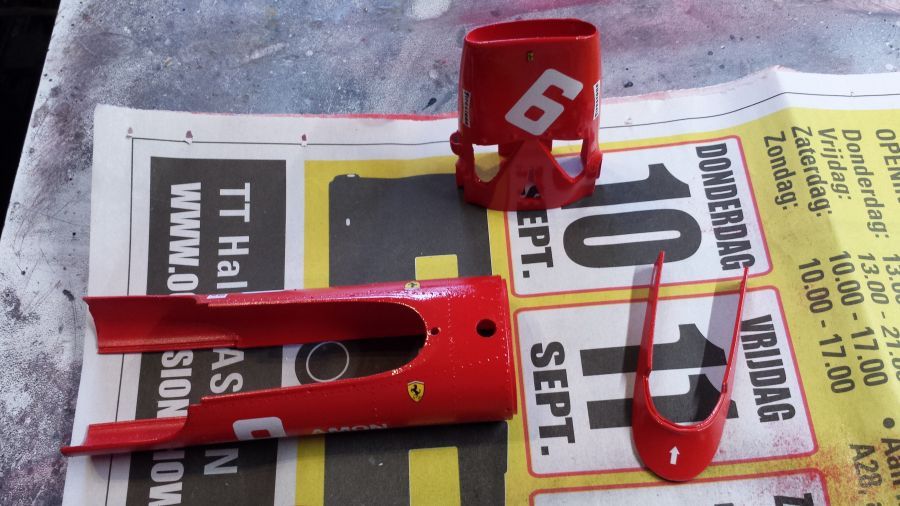 Het plaatwerk wordt aan de kuip bevestigd en de resterende onderdelen worden bevestigd.
The bodywork is being attached to the tub and the other parts are mounted.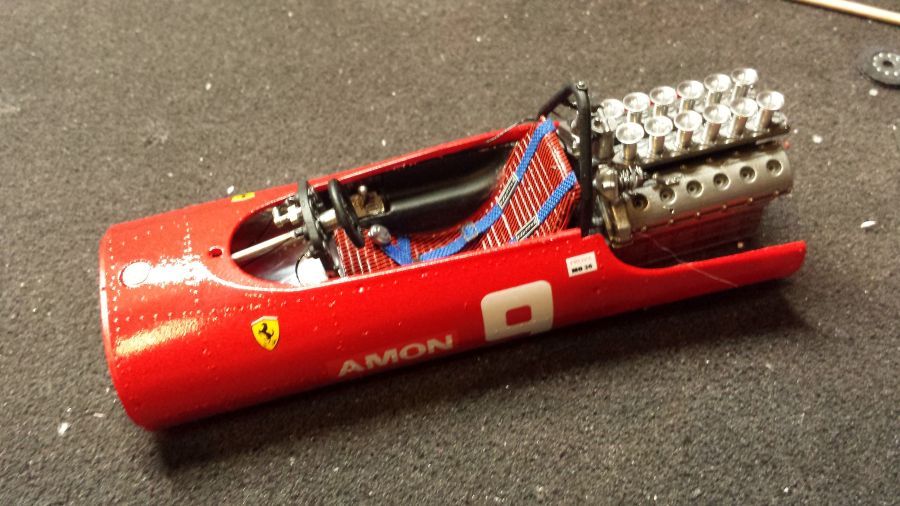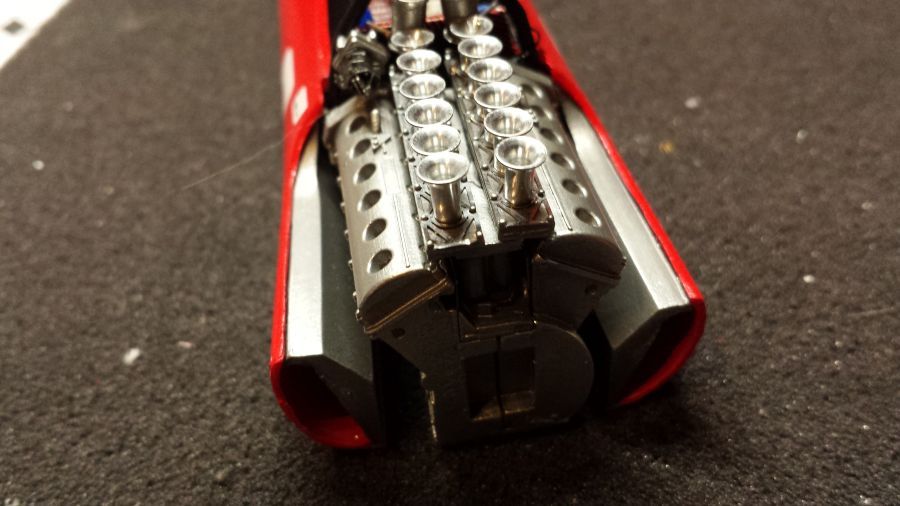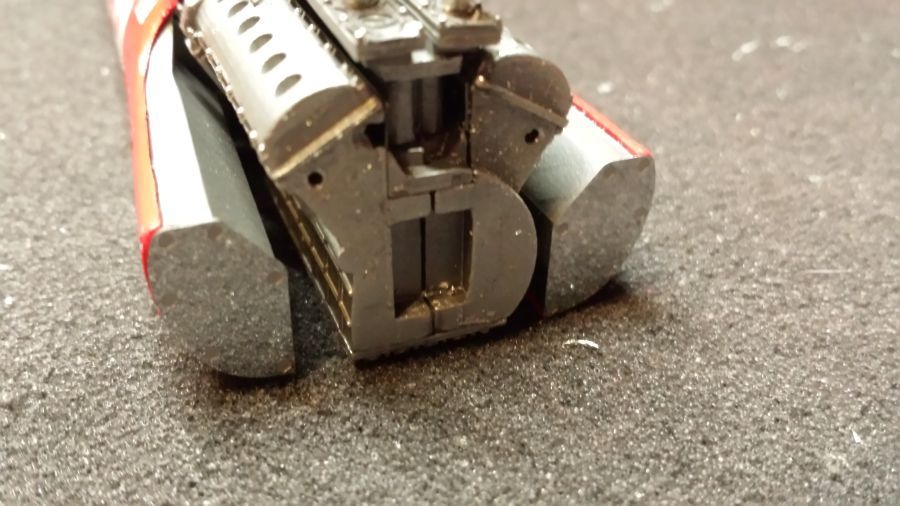 Daarna wat bedrading en leiding aanbrengen.
Next will be some wiring and tubing.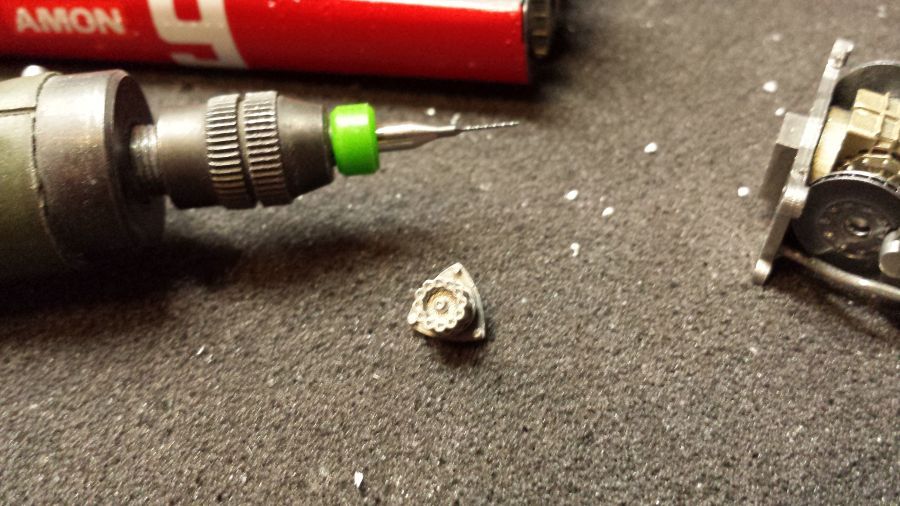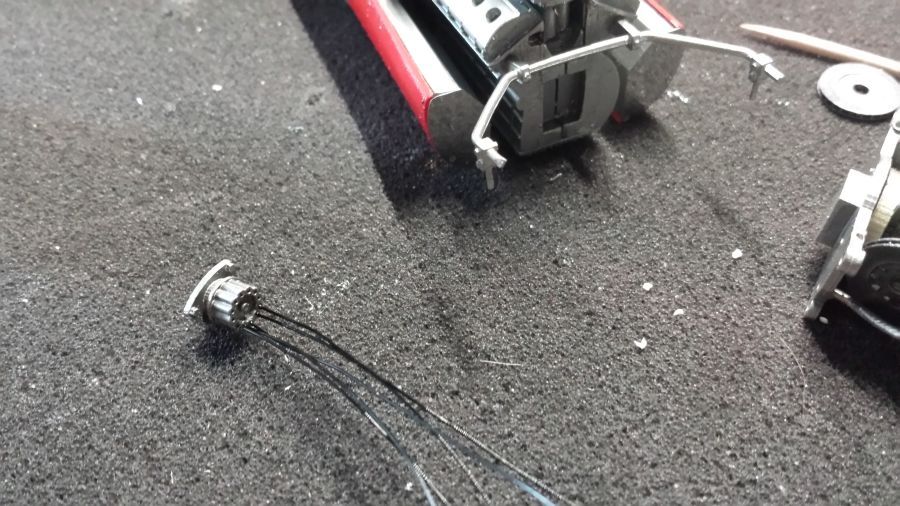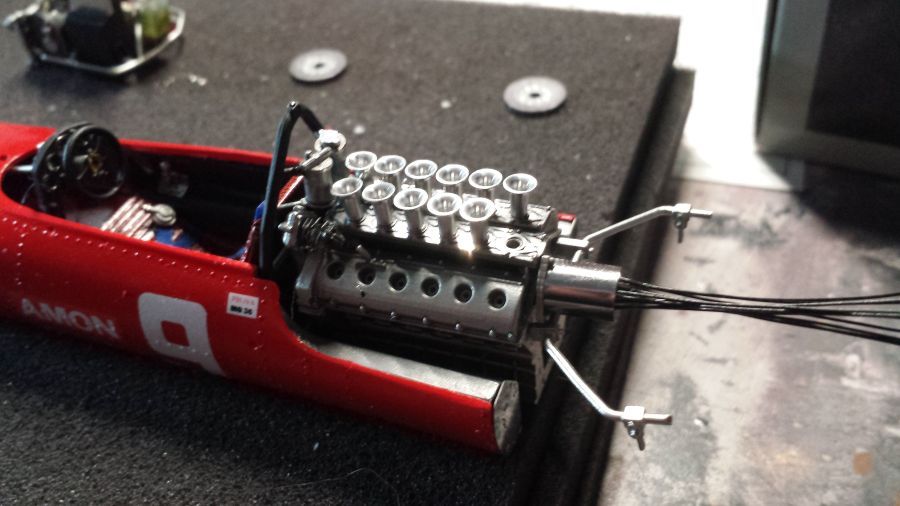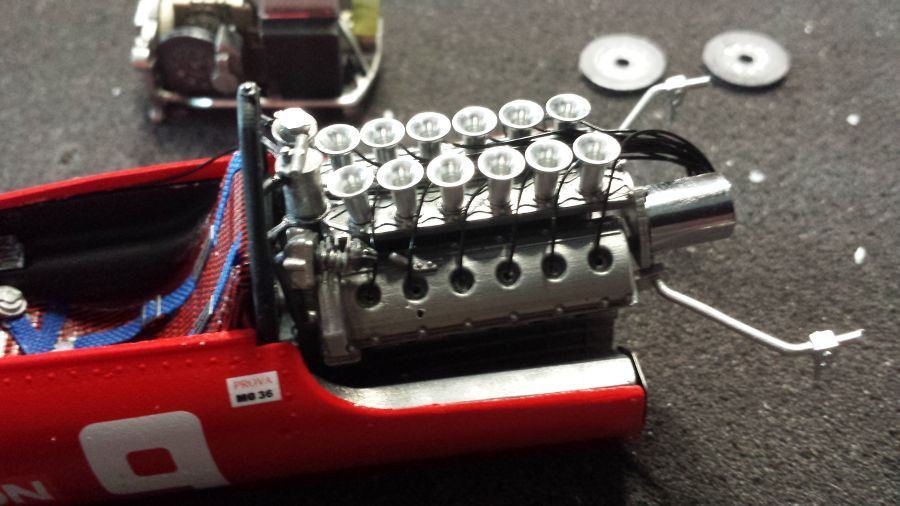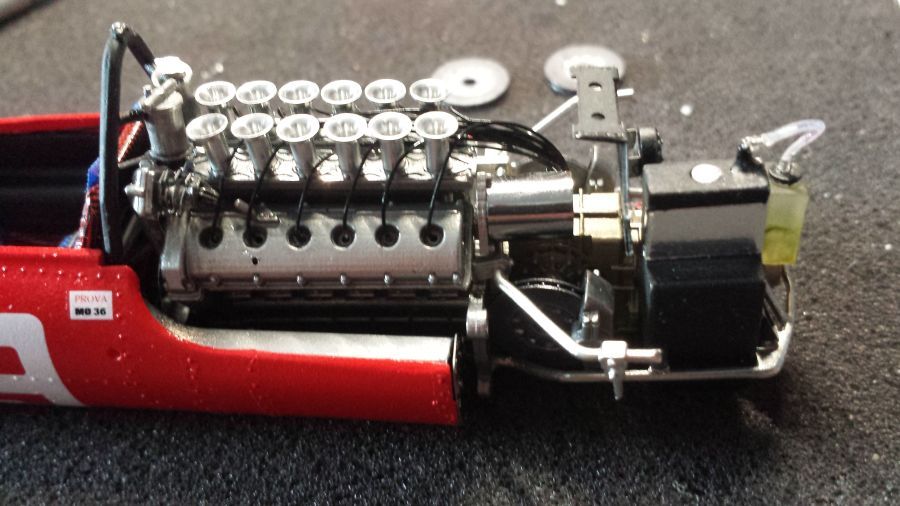 De koeling.....
The cooler.....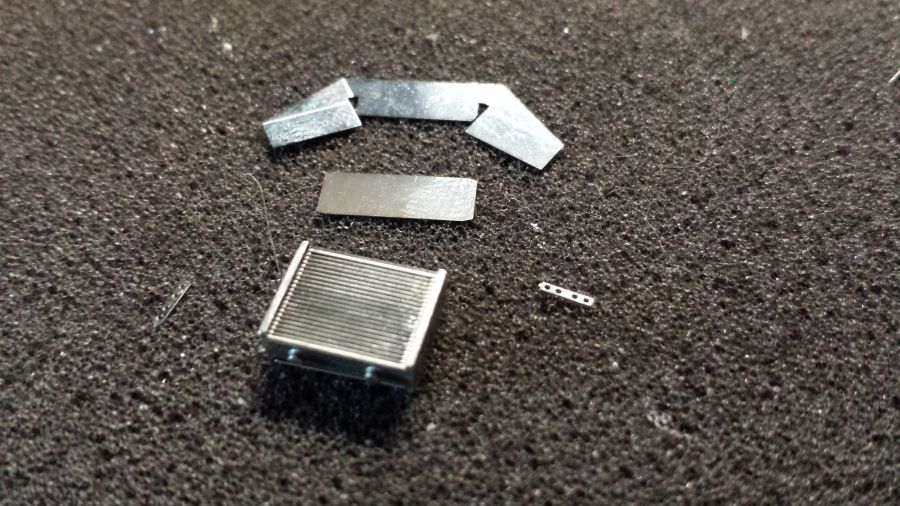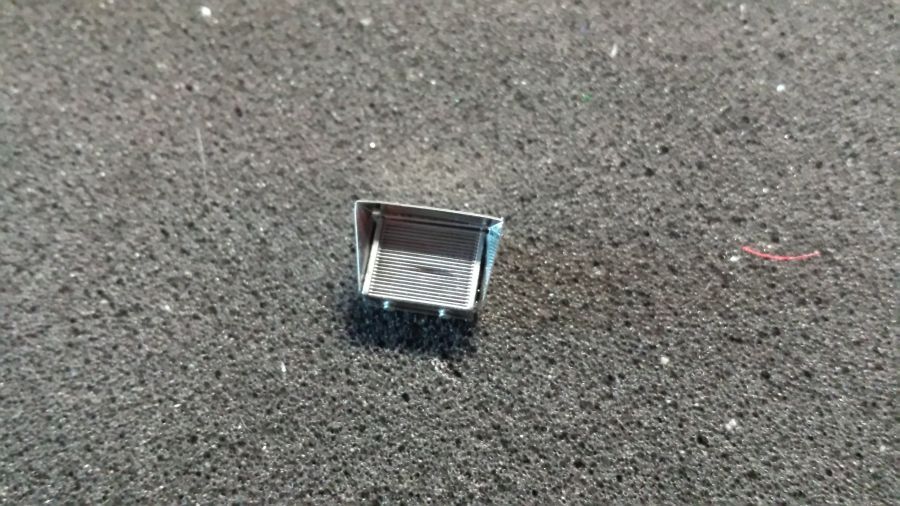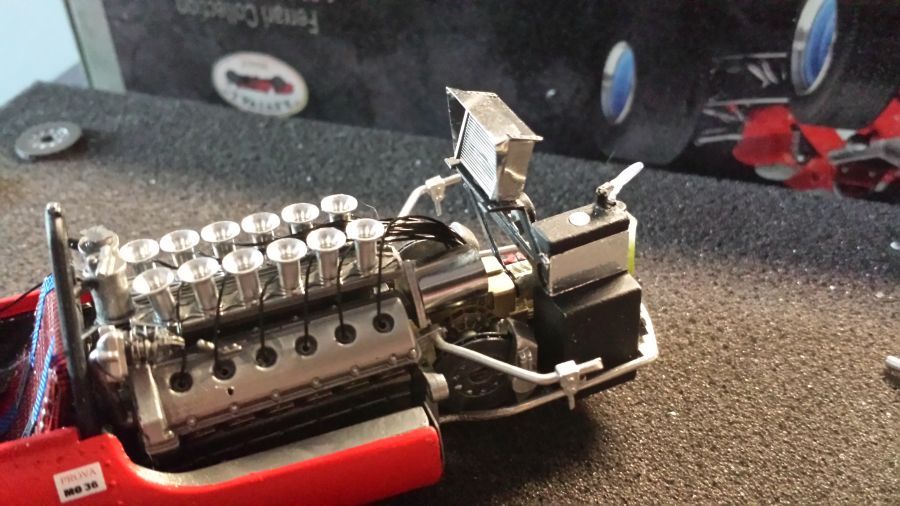 Daarna verder met de vering en achterwielophanging.
Then i continue with the springs and the rear wheel suspension.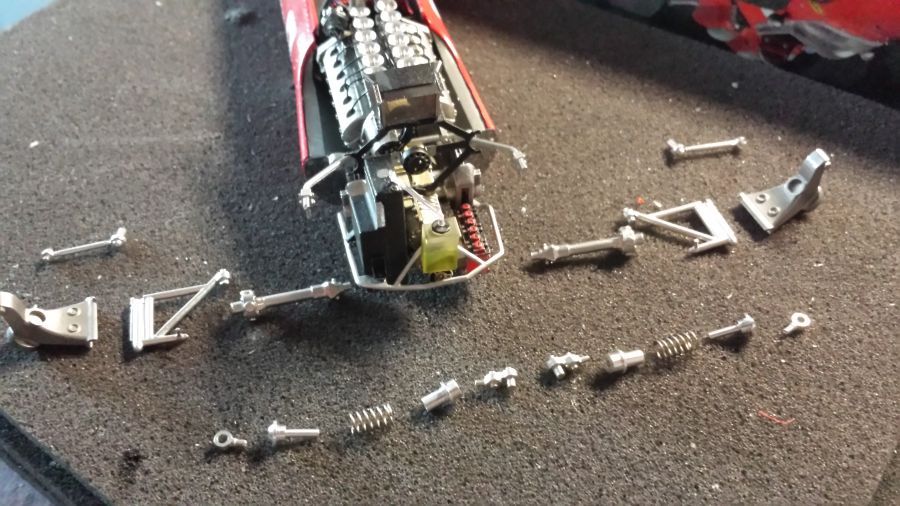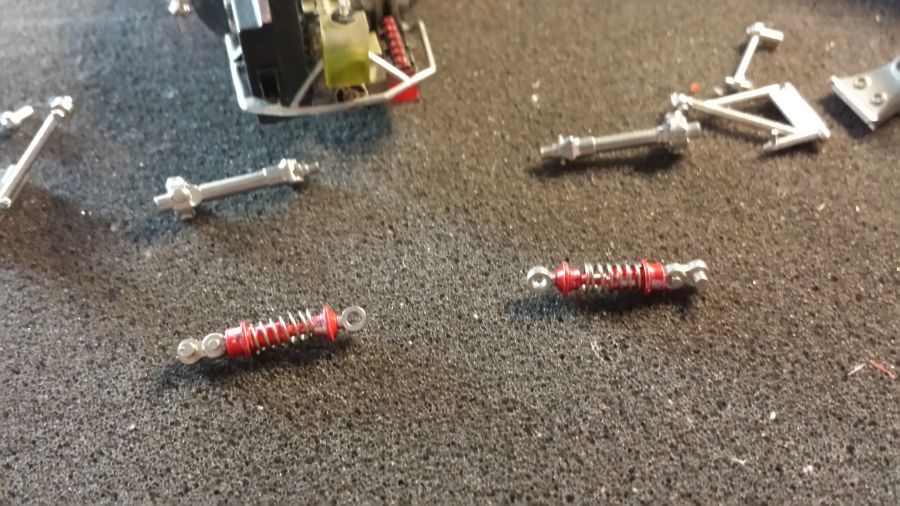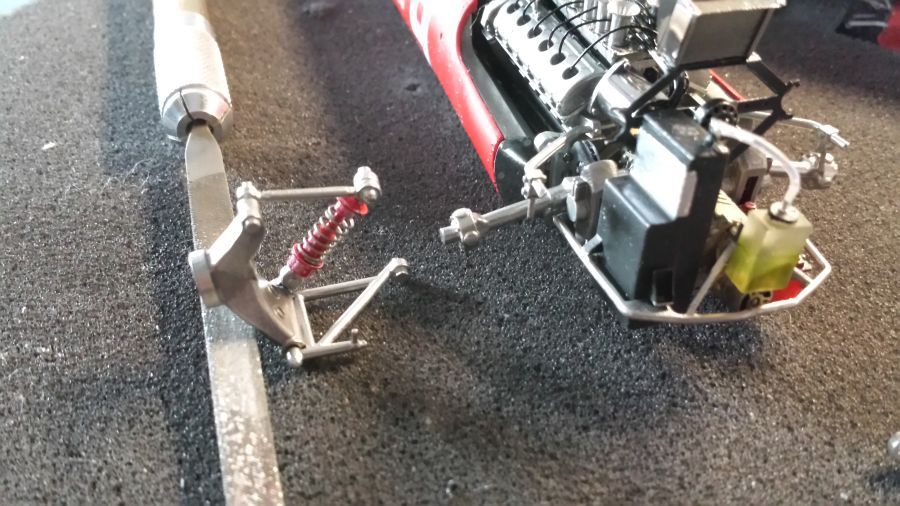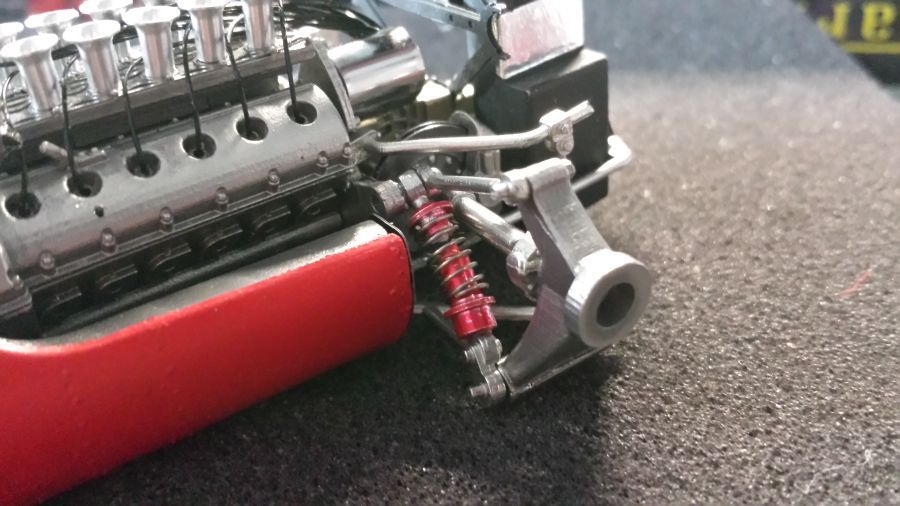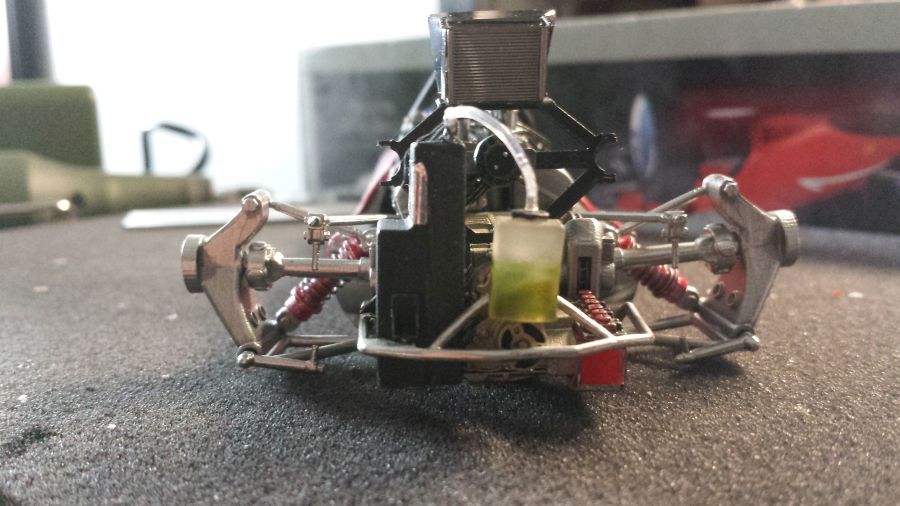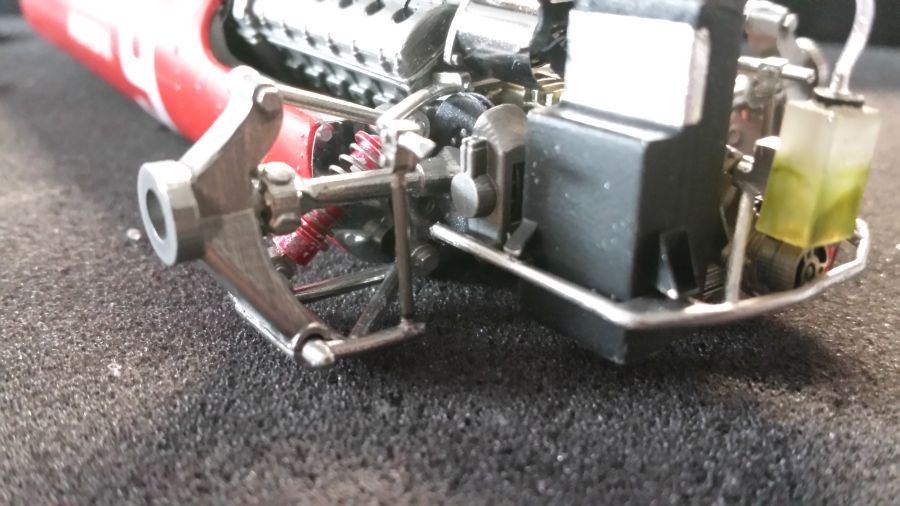 Dan verder met het werk aan de uitlaten...
Next is the work on the exhausts...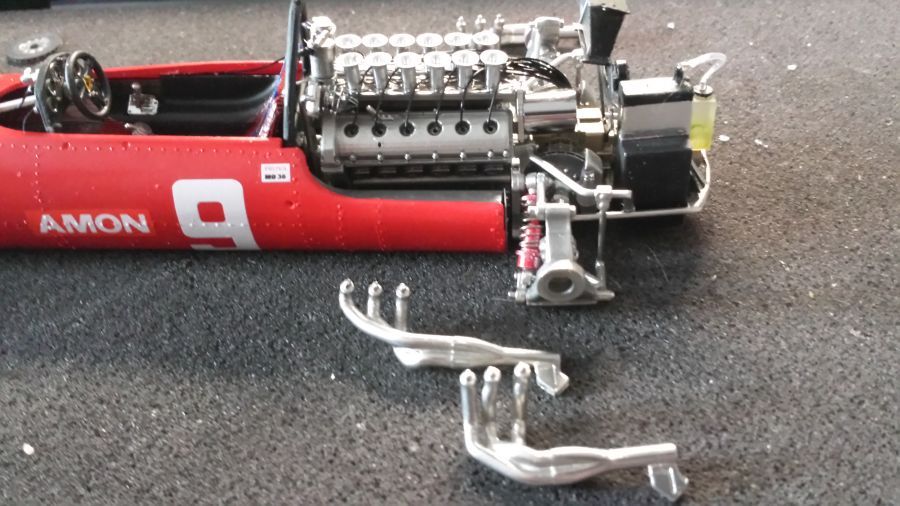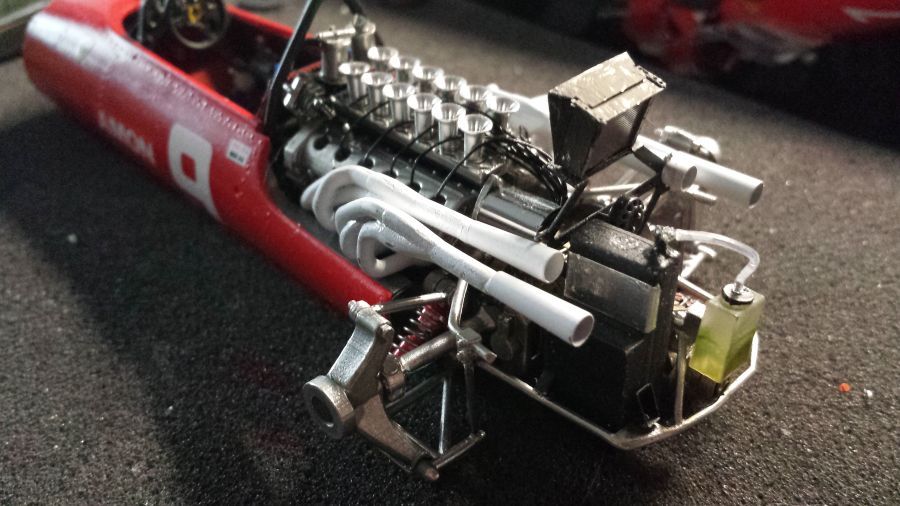 Volgens de bouwtekening moet ik nu de hoge vleugel maken. Ik doe dit pas later en ga eerst met de voorkant aan de gang. He lijkt me dat de hoge vleugel alleen maar in de weg zit zolang de voorkant en de beide wielophangingen niet klaar zijn.
According to the instructions i should create the high wing now. I will do this at a later time and will proceed with the front of the car. I believe the high wing would be an obstacle as long as the front and both suspensions are not ready.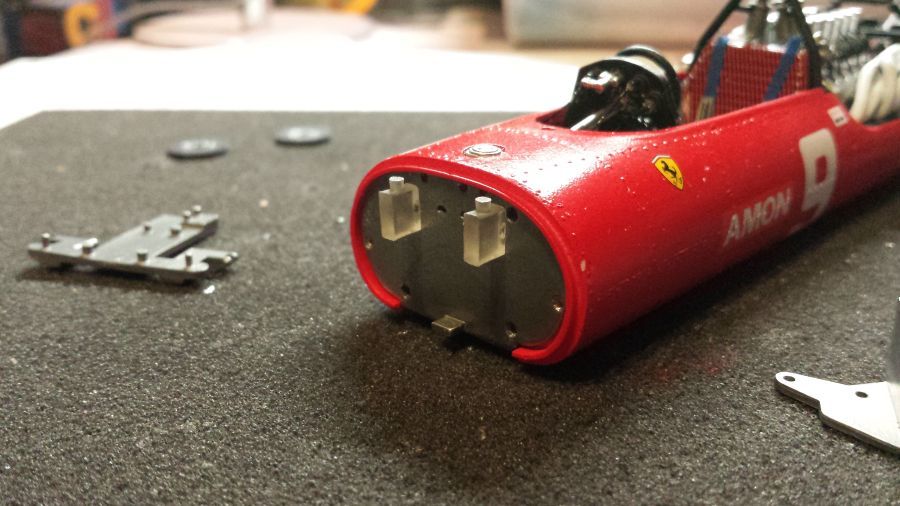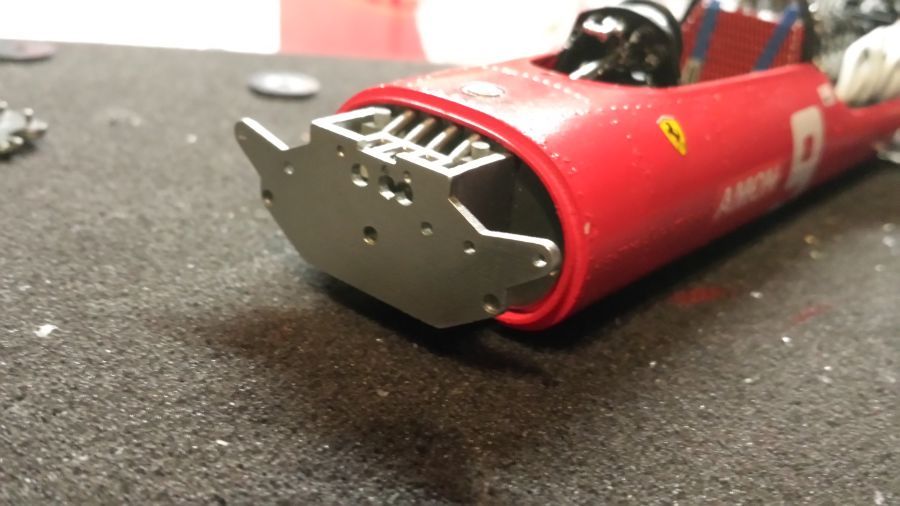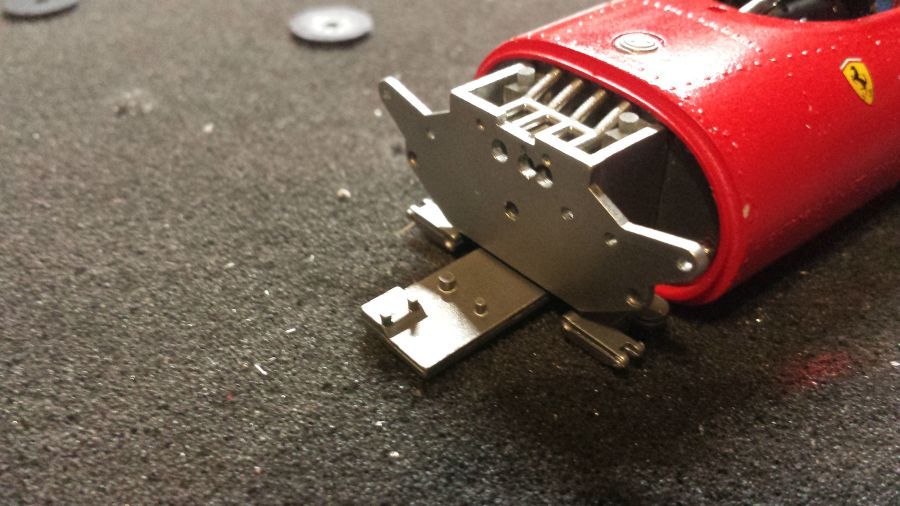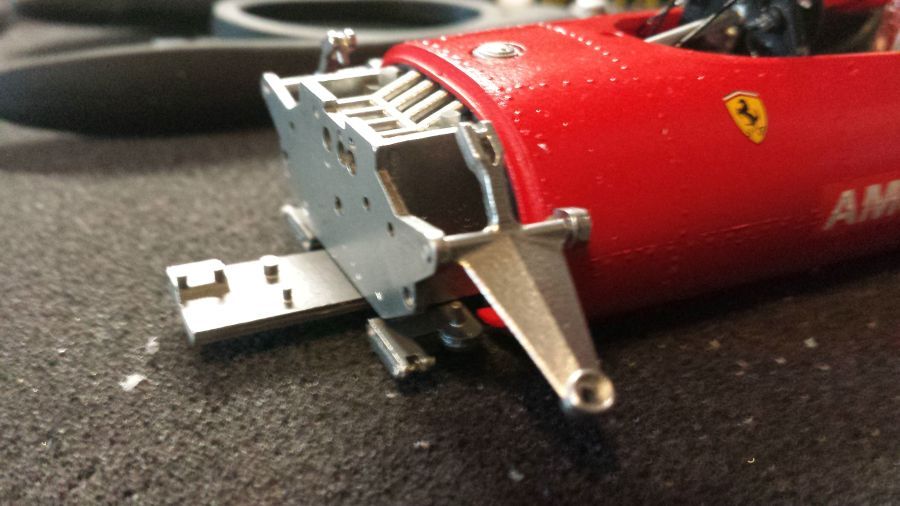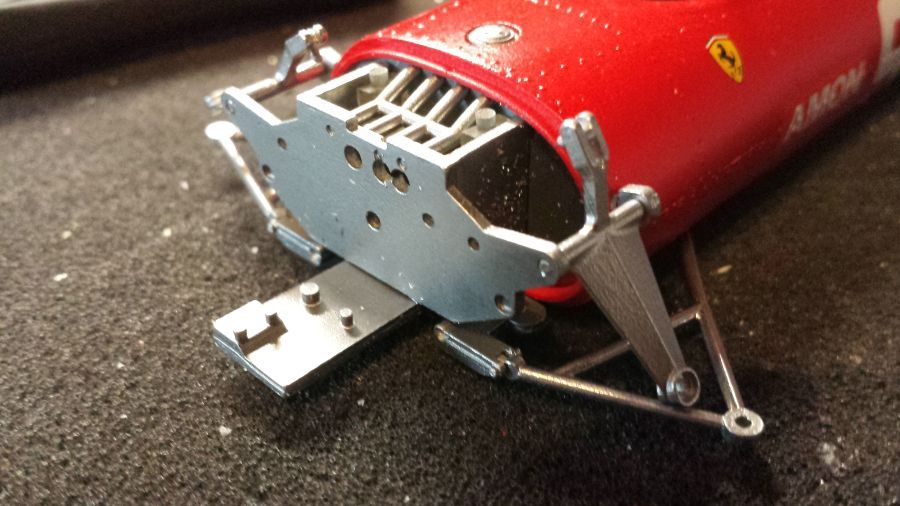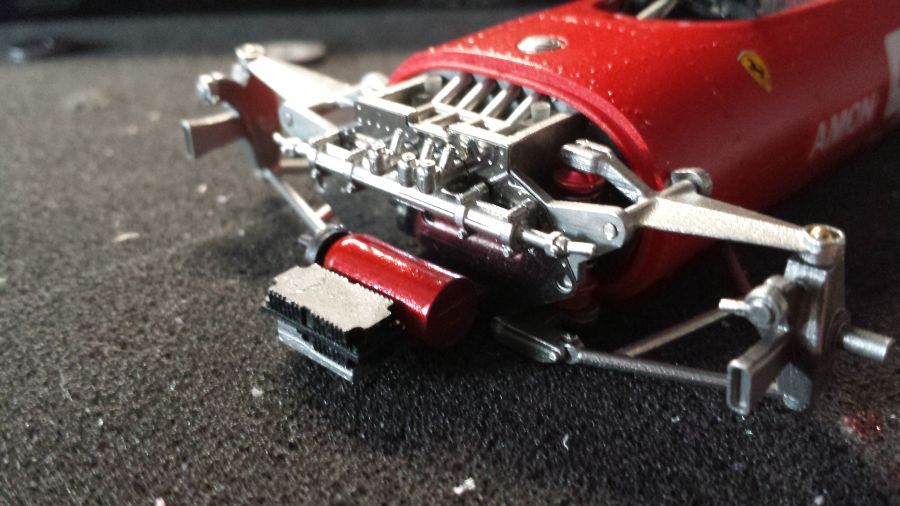 De koelingsonderdelen...
The cooler parts.....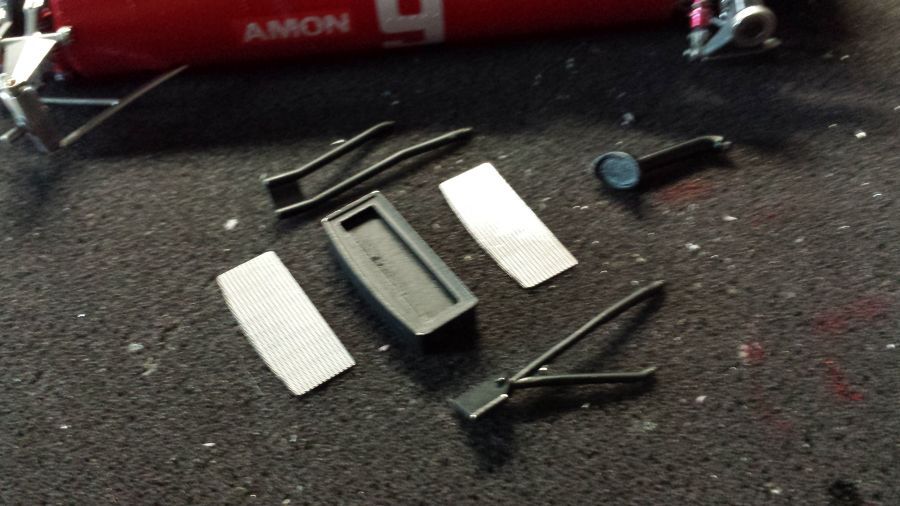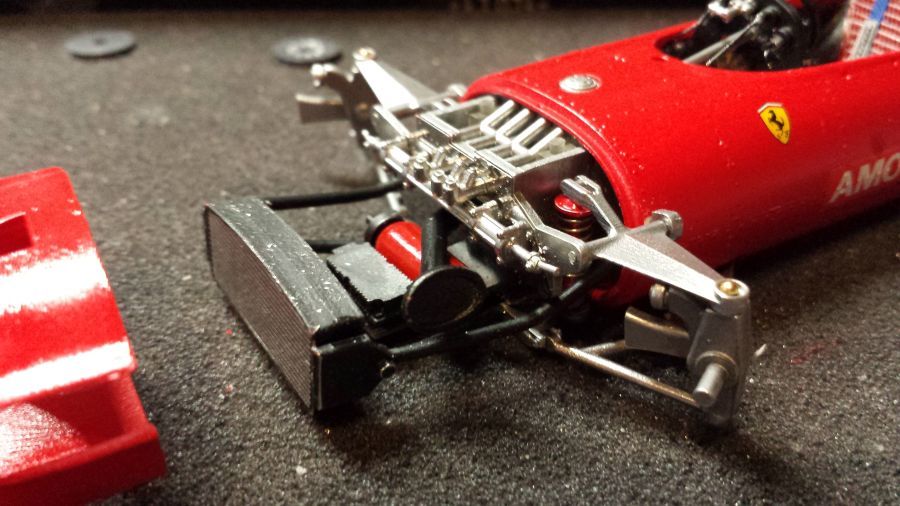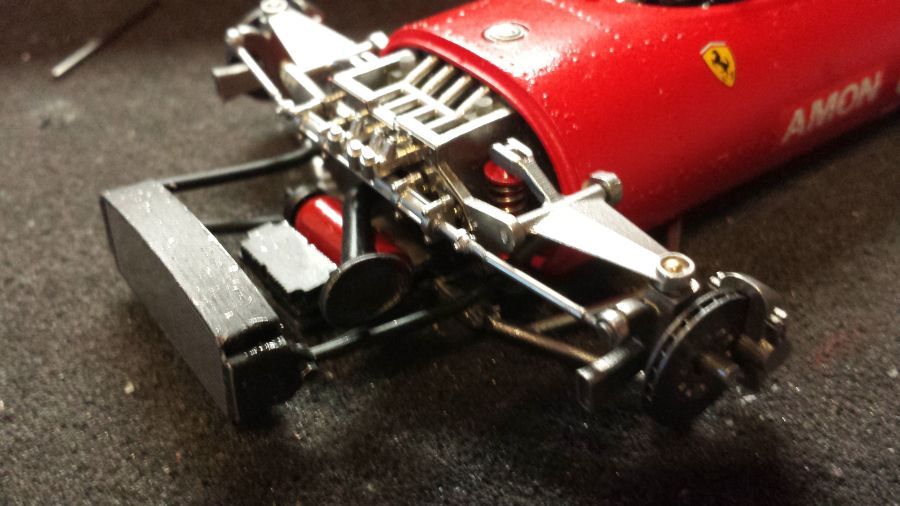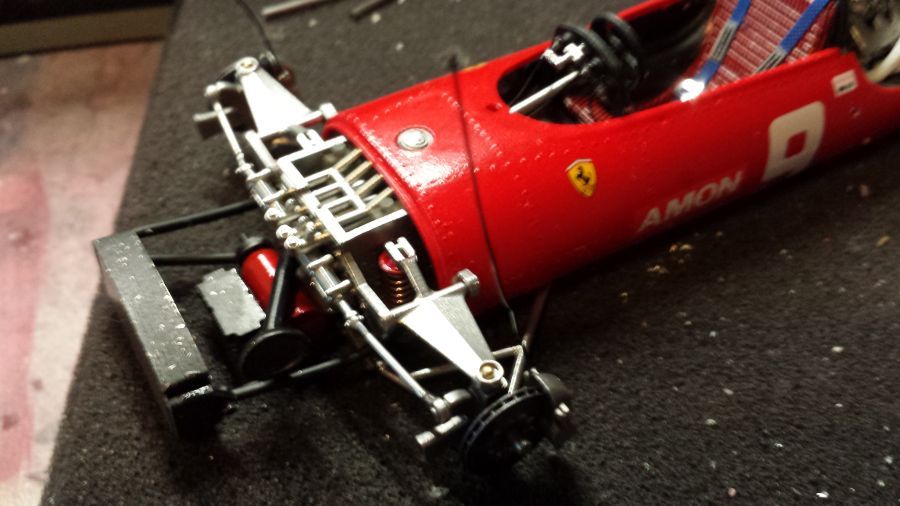 Nu de steunen voor de achterwielophanging...
Next are the supports for the uprights....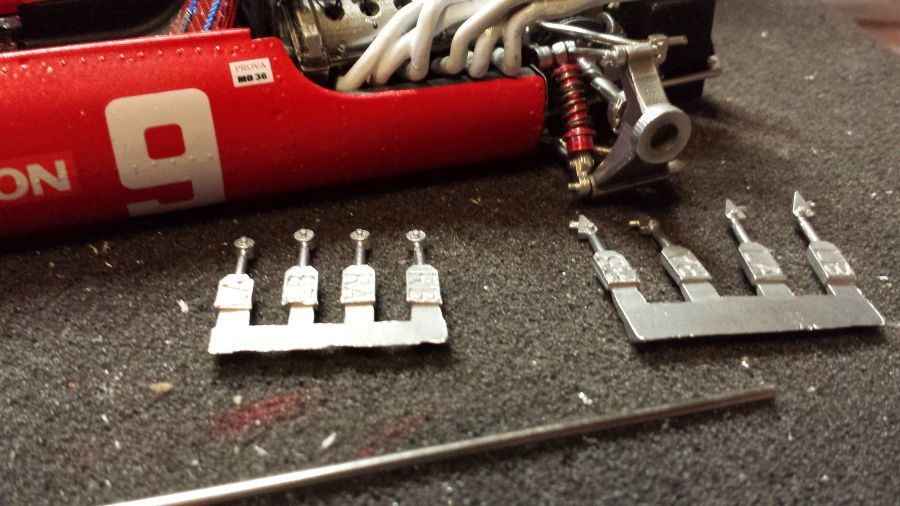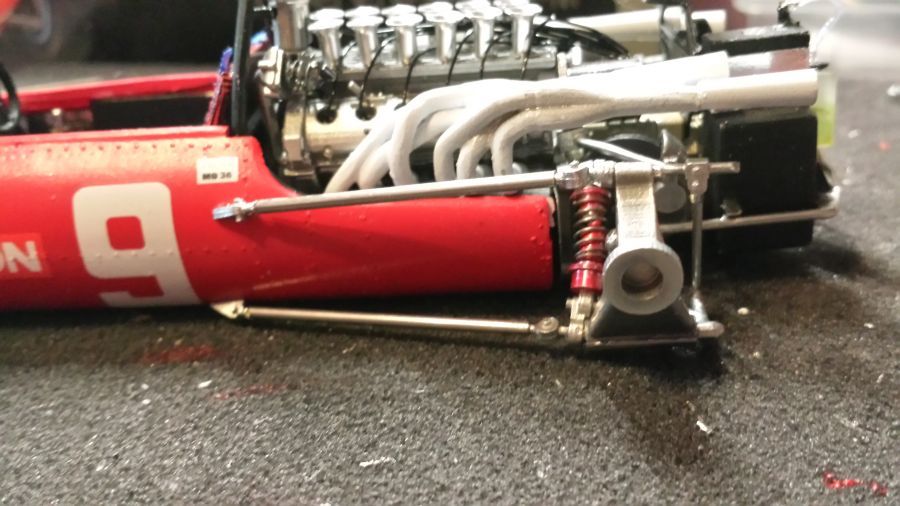 De voorvleugels worden gemonteerd, daarna wordt de hele neus klaargemaakt en de remleidingen afgewerkt..
The front wings have been mounted, then the nose is completed and the tubes for the brakes.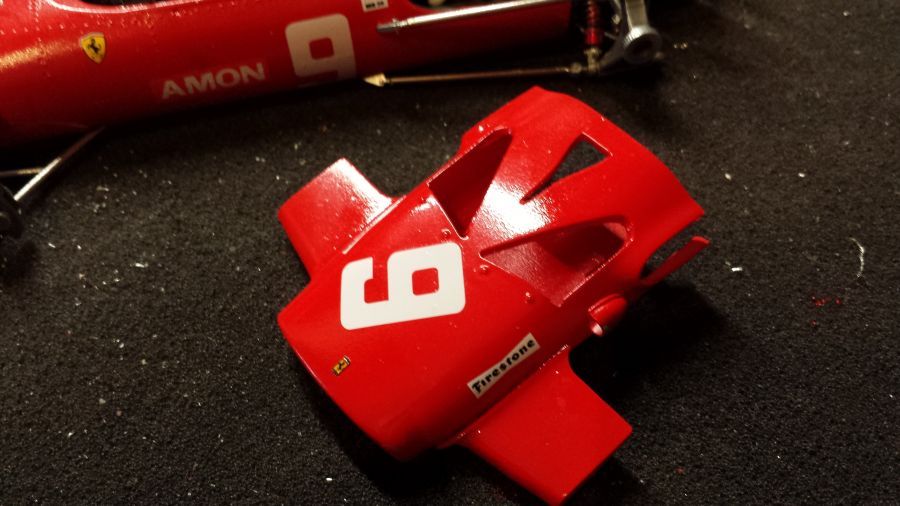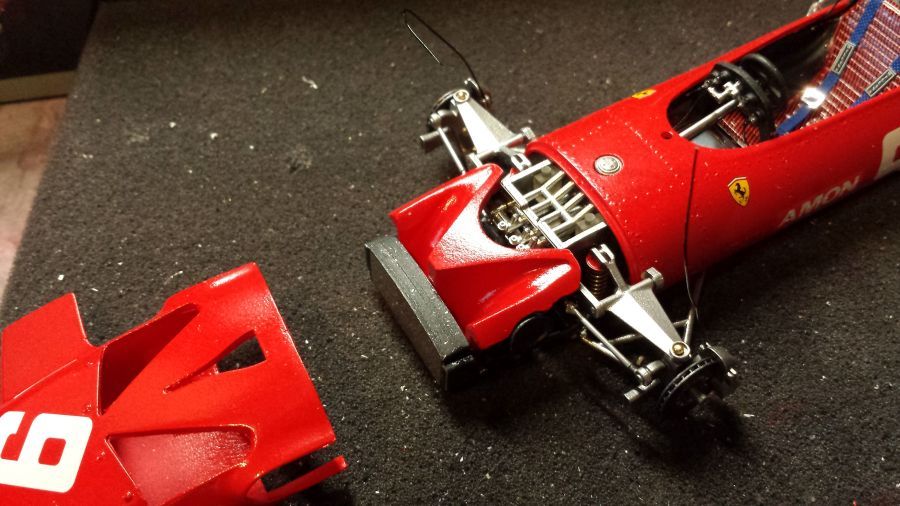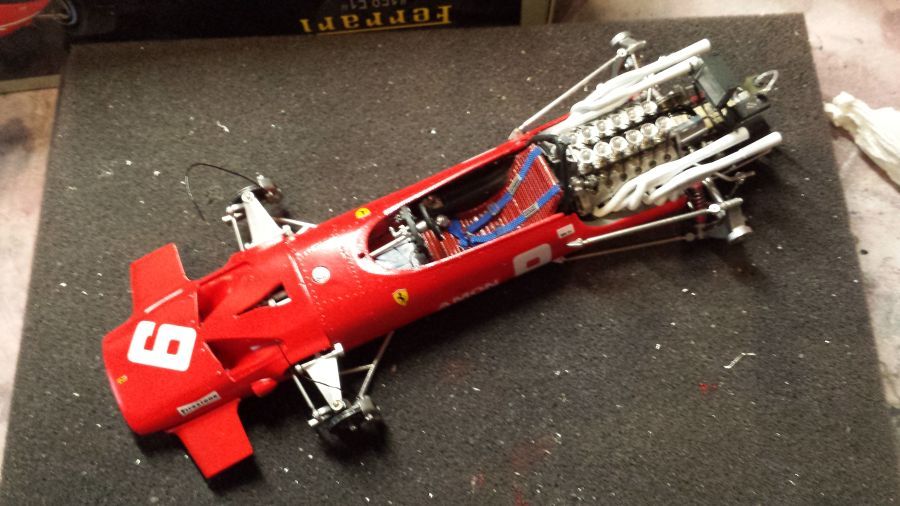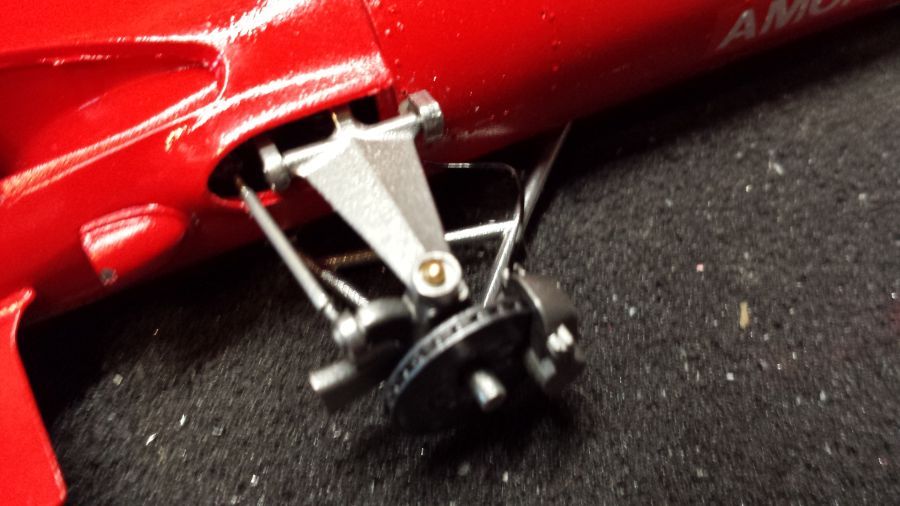 Dan de velgen en banden...
Next are the rims and the tires...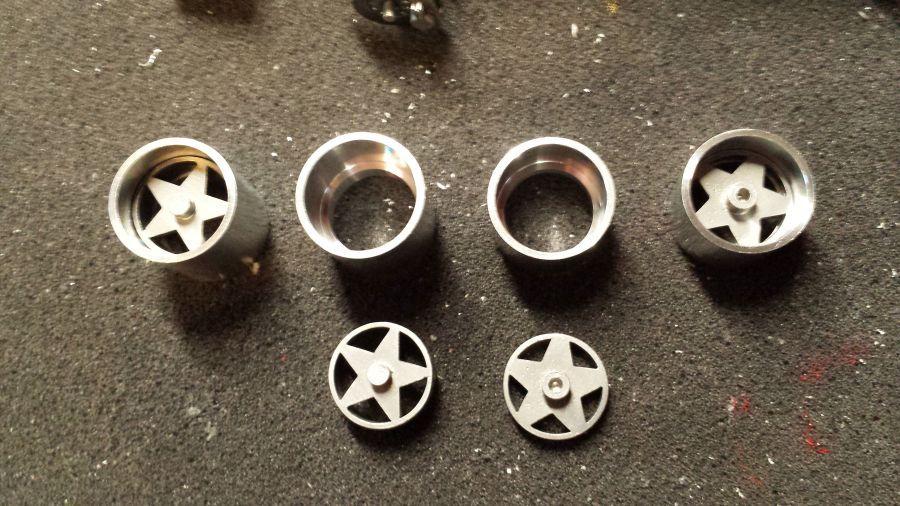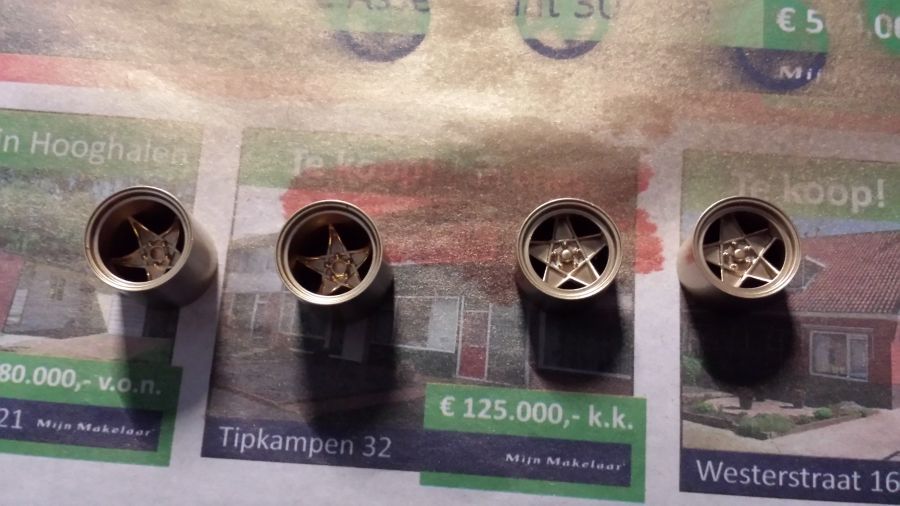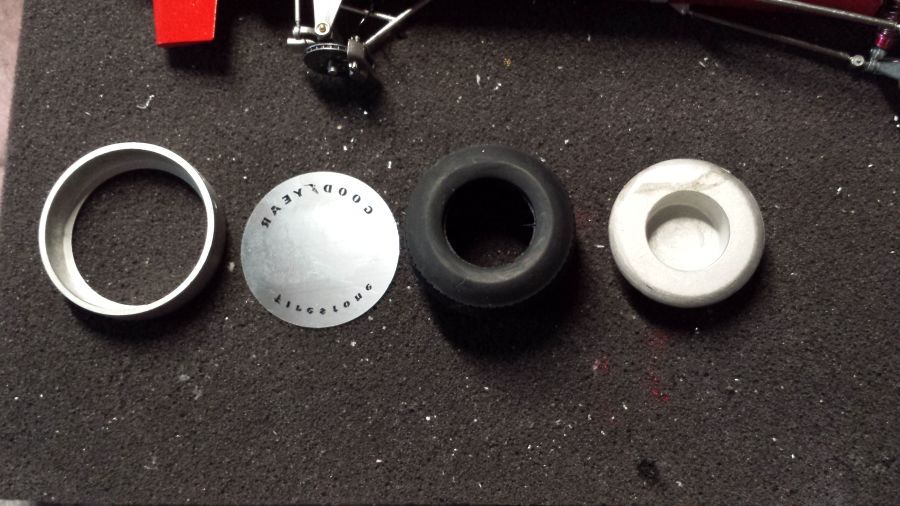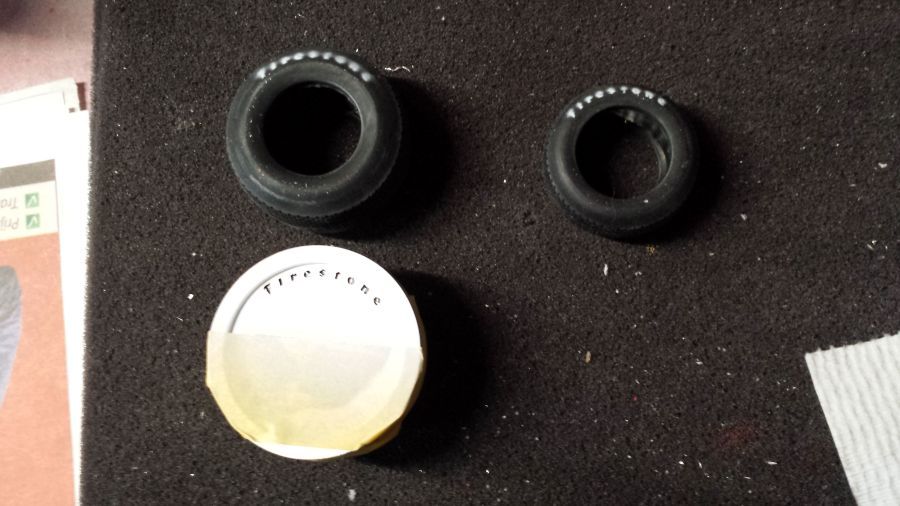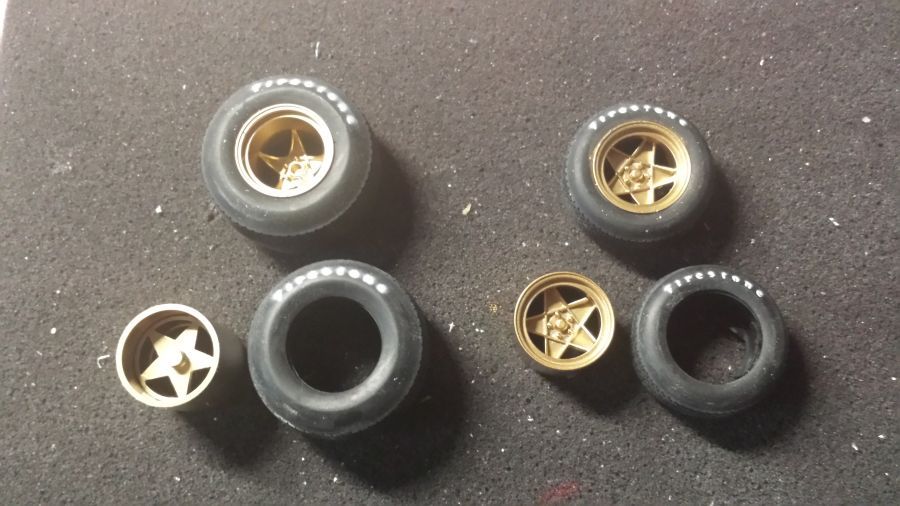 Nu eerst weer verder met de grote achtervleugel. Geen gemakkelijk werk.
Now continuing with the big rear wing. Not an easy job.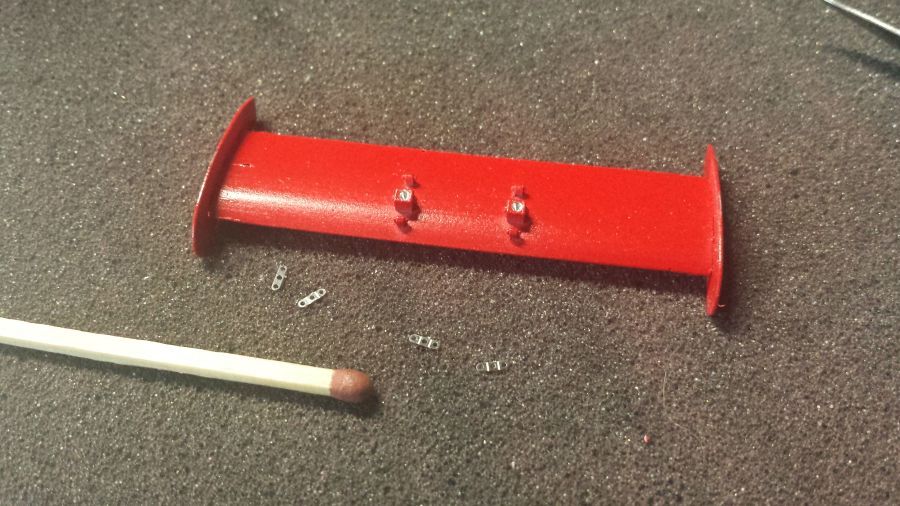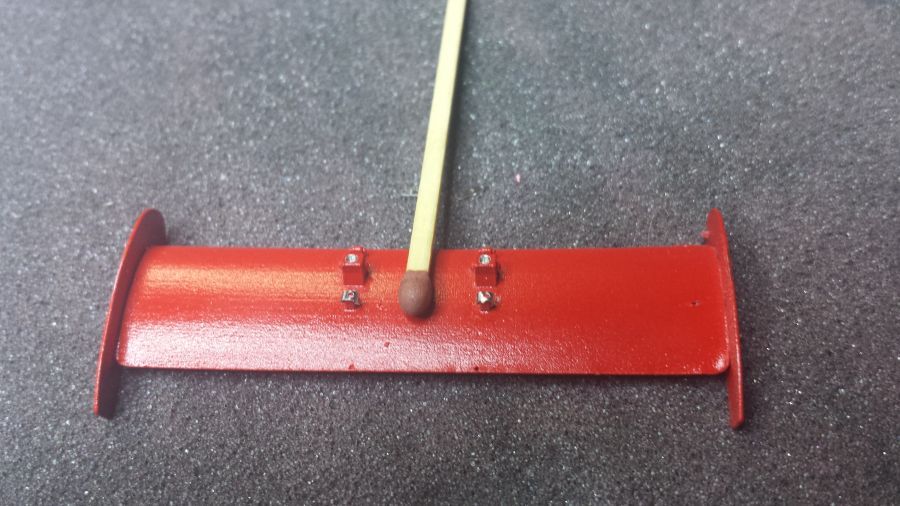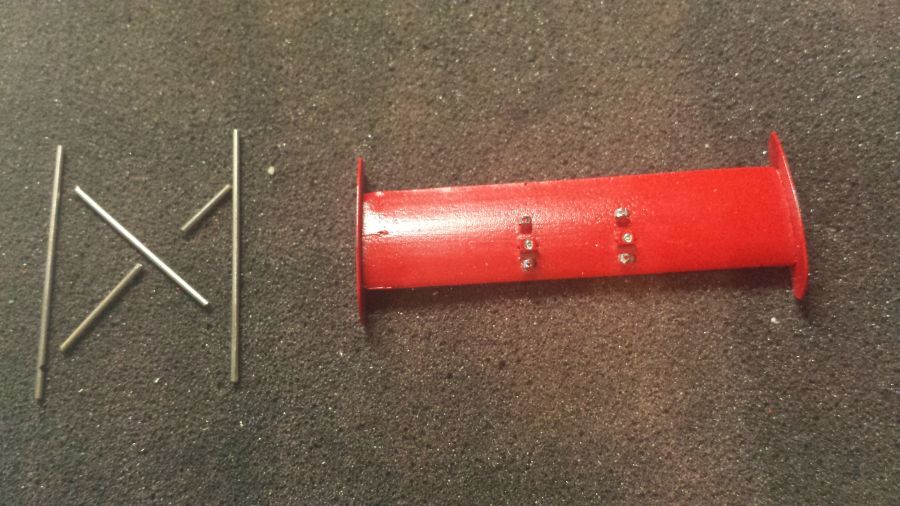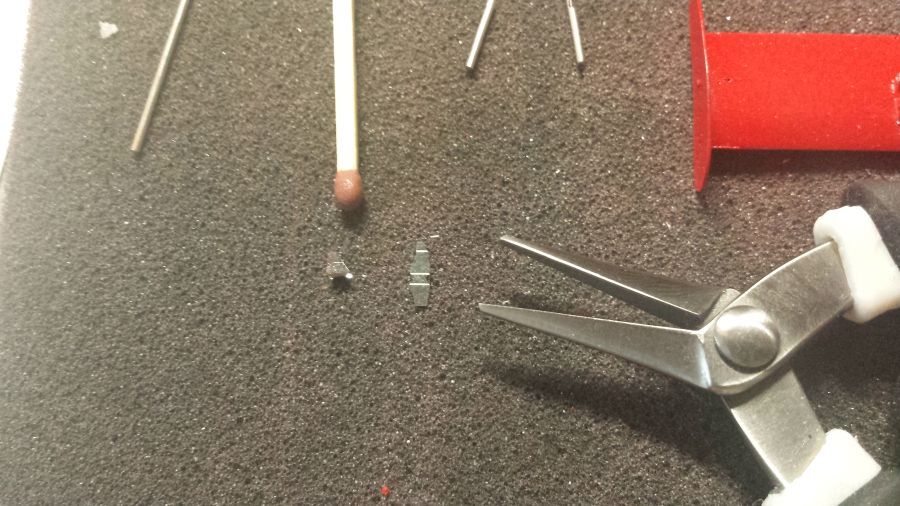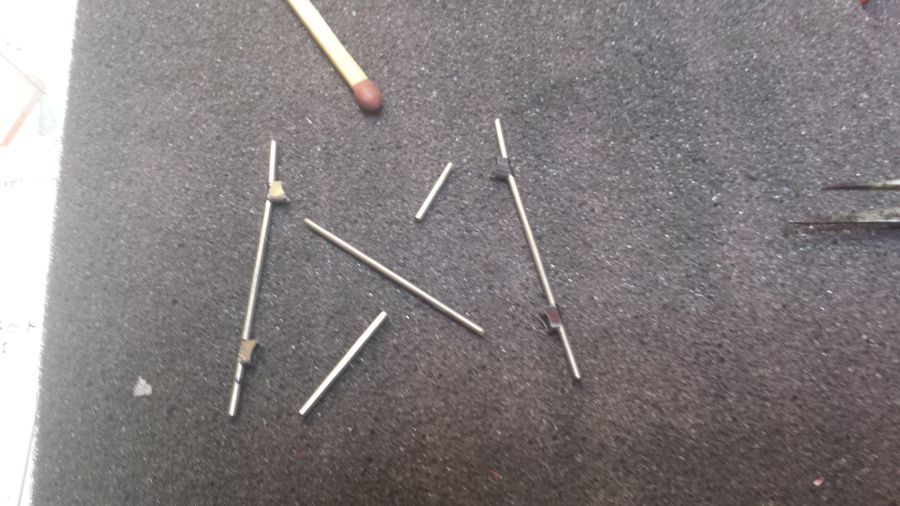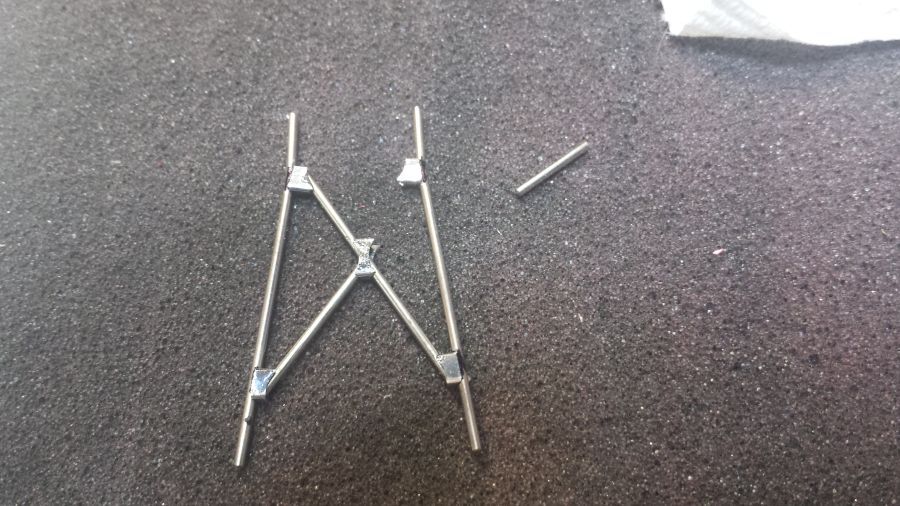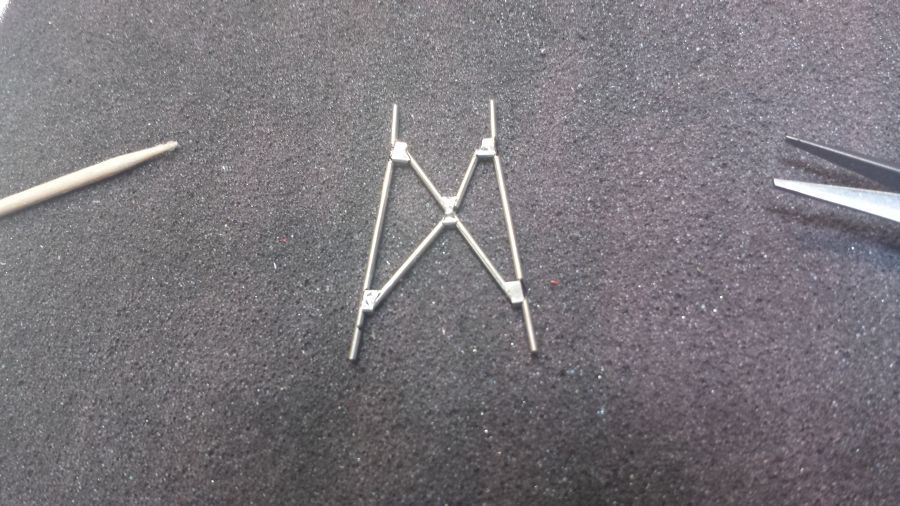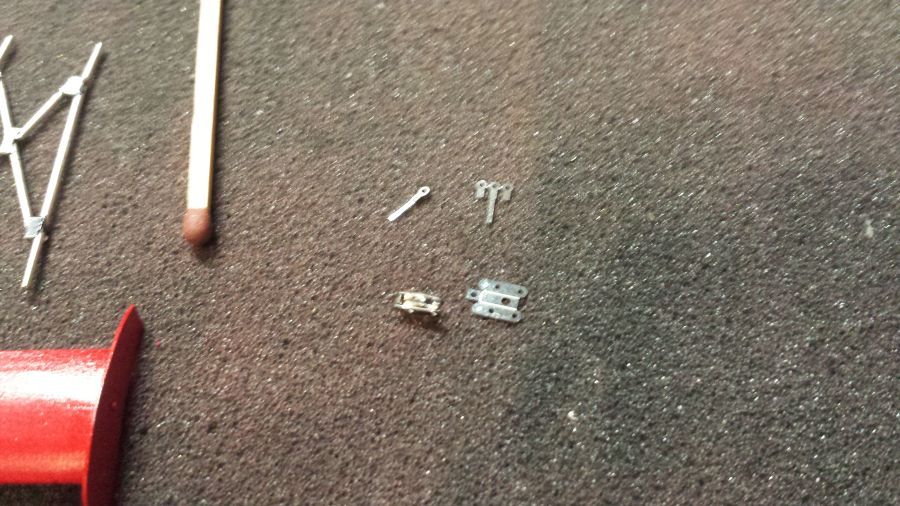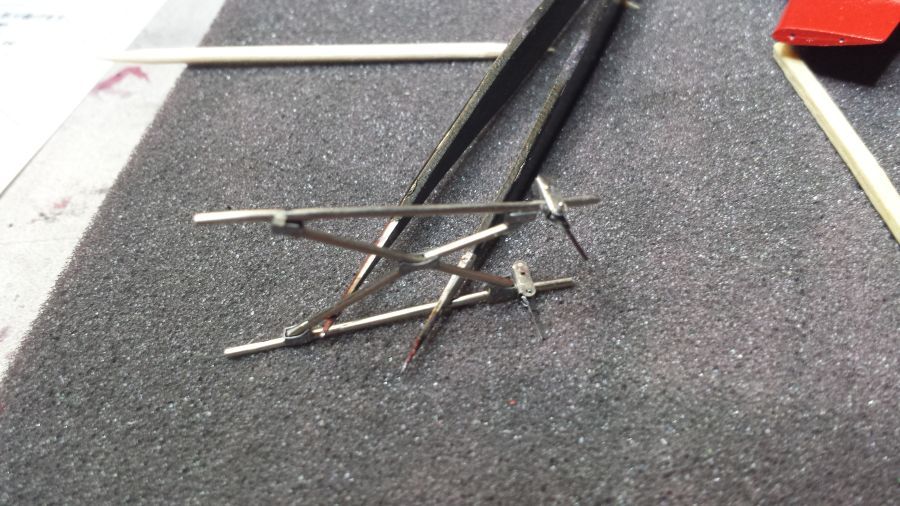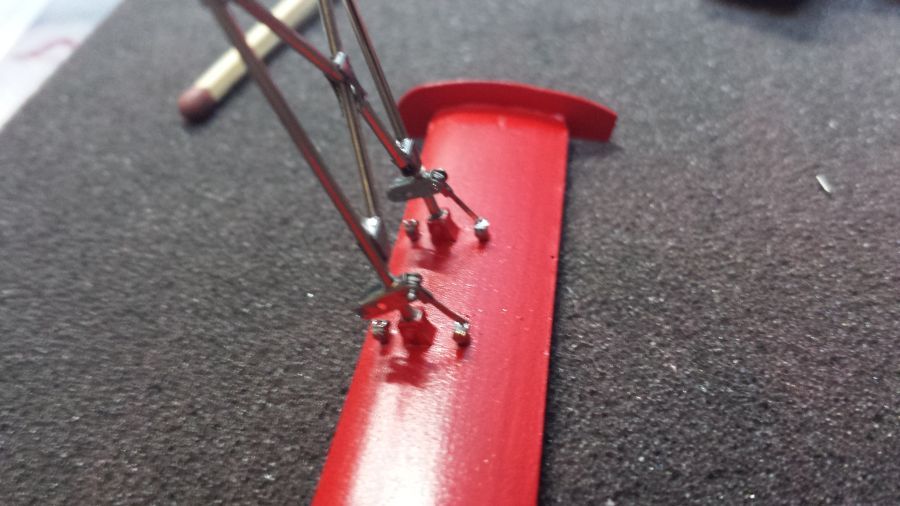 Even tussentijds passen....
Test fit....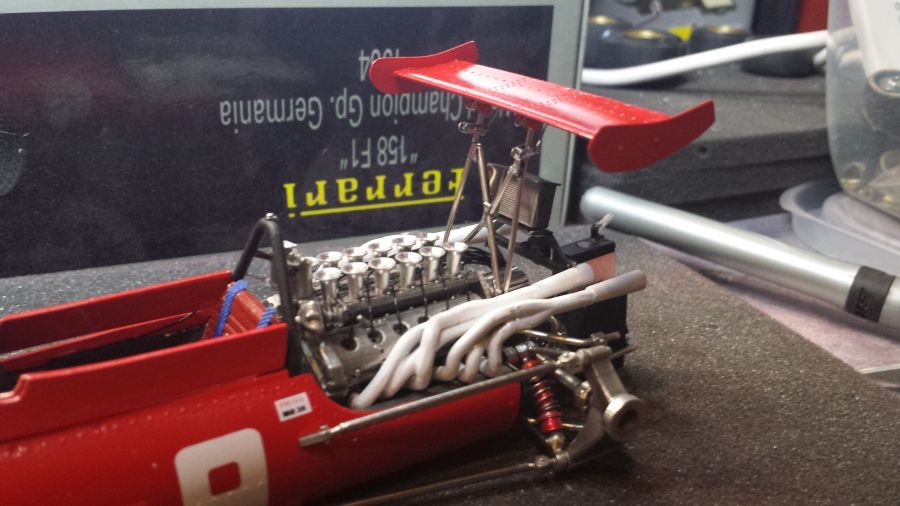 Even een melding over een mogelijke fout in de instructies. Op de 1e tekening zien we dat bij de beide kleppendeksels op hetzelfde punt een gaatje moet worden geboord voor de steunen van de achtervleugel. De kleppendeksels zitten echter niet recht tegenover elkaar. Het linkerdeksel zit iets verder naar achteren ten opzichte van het rechter deksel. Dit kun je zien op de foto. Vervolgens heeft MFH in de tekening aan dat de beide steunen (geel en rood) een verschillende maat hebben. Dat zou dus kunnen kloppen, immers de kleppendeksels staan niet recht tegenover elkaar. Maar vervolgens geeft MFH in de laatste tekening aan dat de langste steun (rood) aan de linker kant moet worden gemonteerd. Dat is onlogisch, immers dat deksel staat juist iets dichter naar de achtervleugel. Ik kan geen foto's vinden waarbij de montage van de achtervleugel duidelijk te zien is. Ik ga gewoon de twee steunen verwisselen, dus de langste naar rechts en de kortste naar links.
A small remark concerning a possible mistake in the instructions. On the 1st drawing we see dat bothy head covers need a small hole drilled each at the same point, to be able to attacht the supports for the rear wing. However the head covers are not mounted in a straight line. The left cover is a little backwards when looking at the right cover. You can see this on the picture. Next MFH shows in the instructions that both supports (yellow and red) have a different size. This could be correct, as both head covers are not mounted in a straight line. However MFH claims in the last drawing the longest support (red) should be mounted to the left side. This is not logical, as the left cover is mounted more to the rear towards the wing. I am unable to find pictures of the mounting of the wing. I will change both supports, so the longest to the right and the shortest to the left.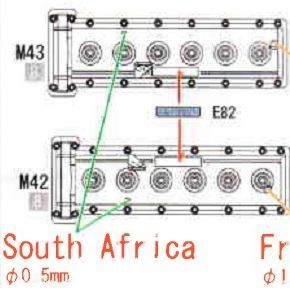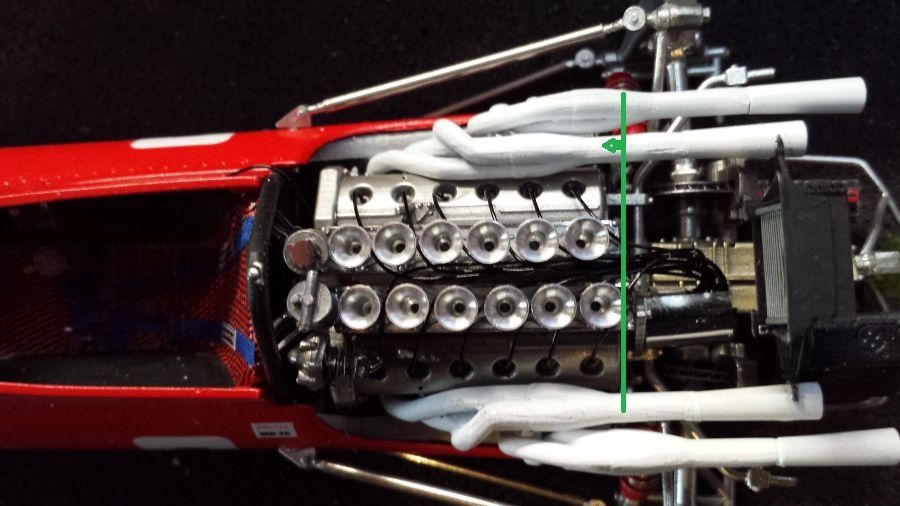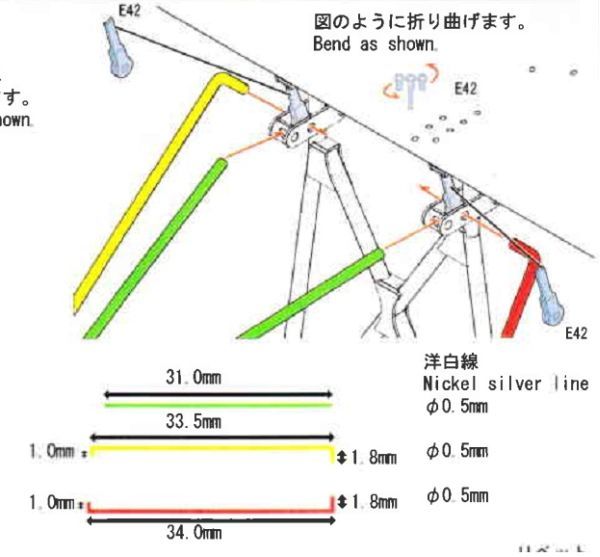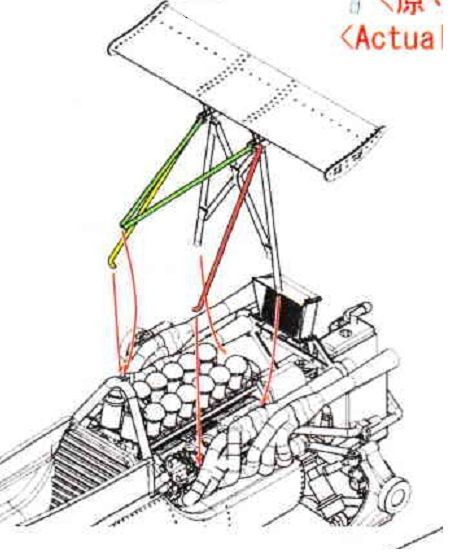 De steunen worden geplaatst.
The upports are being put into place.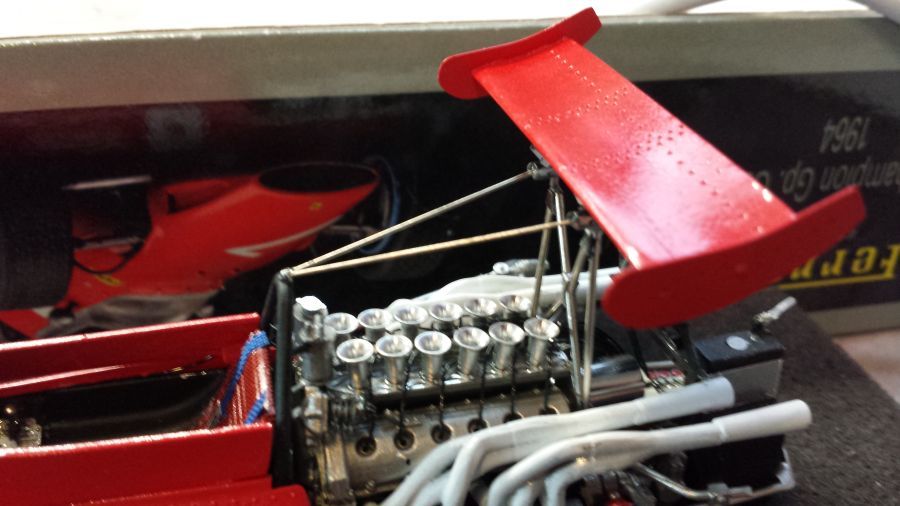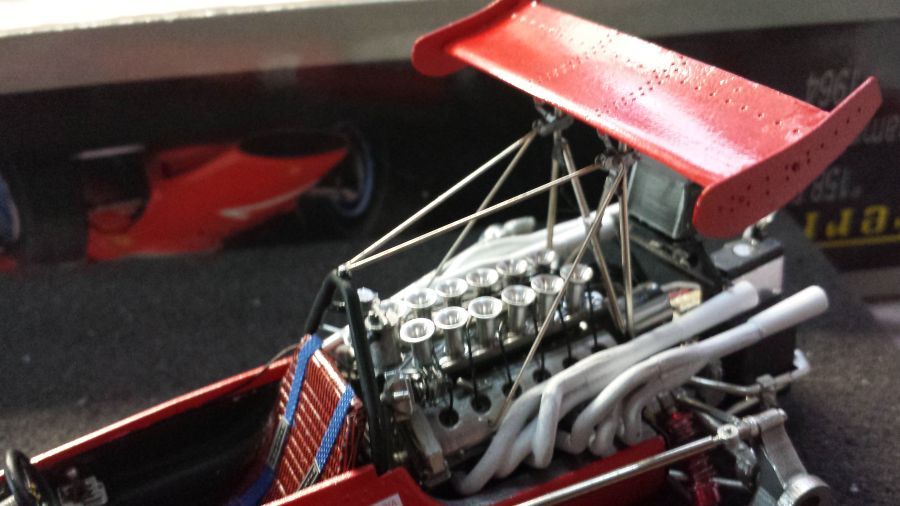 De wielen worden erop gezet. Daarna de cockpitrand met het raampje.
The wheels are mounted. Then the edge of the cockpit with the window.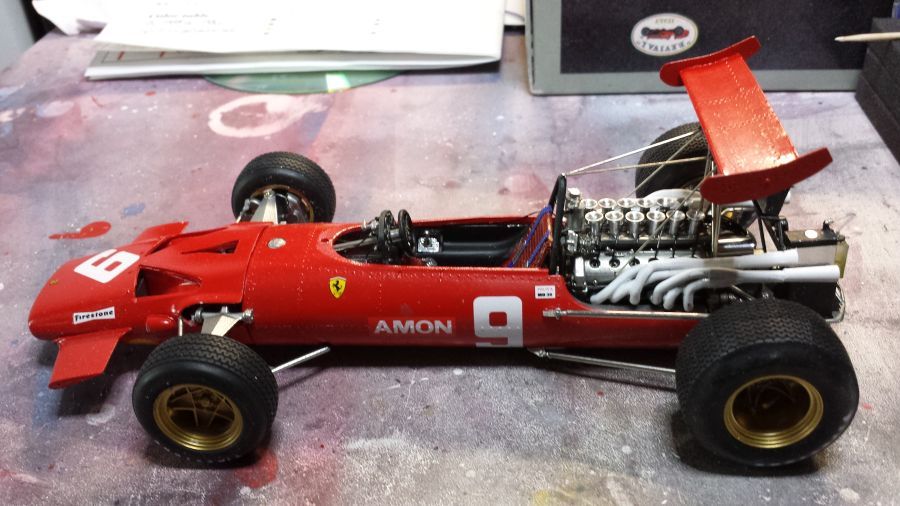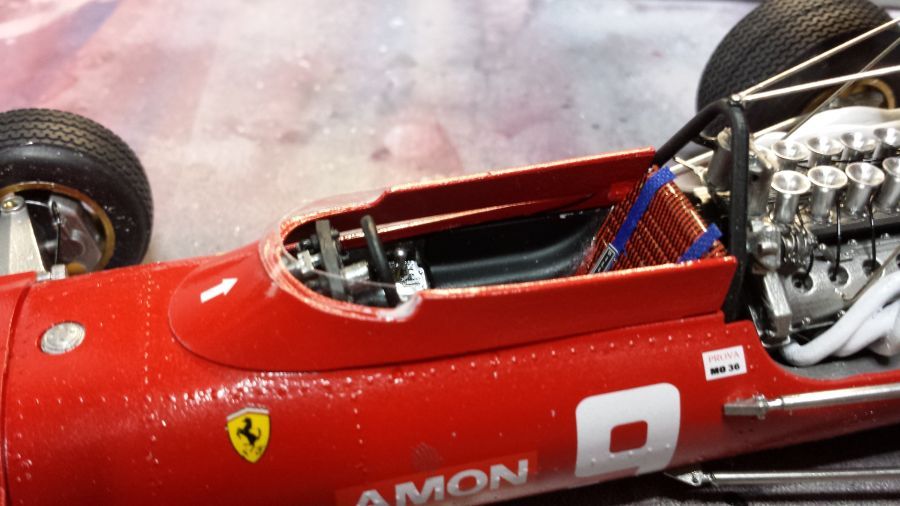 De trompetcovers worden geplaatst.
The funnel covers are applied.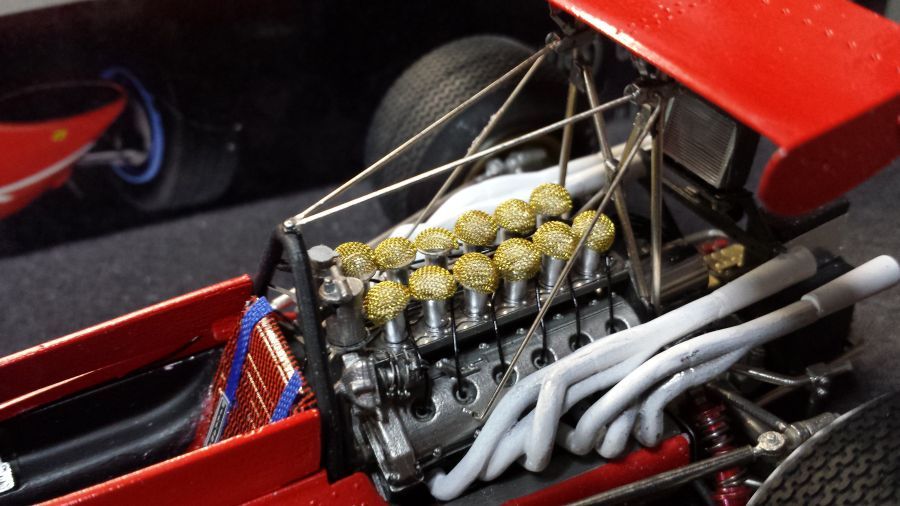 Dan nog even de spiegels.
Next are the mirrors.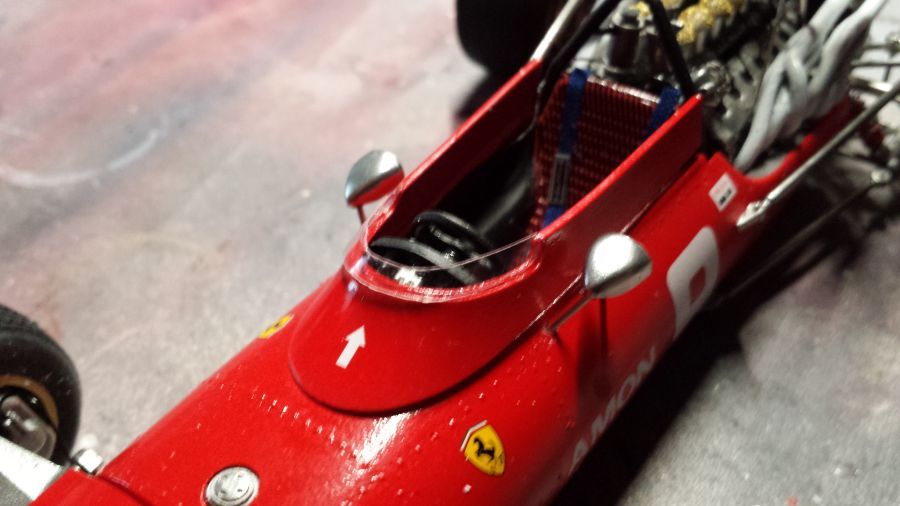 En er kan weer een in de kast aan de verzameling worden toegevoegd....
And another one can be placed on the shelf and added to the collection...