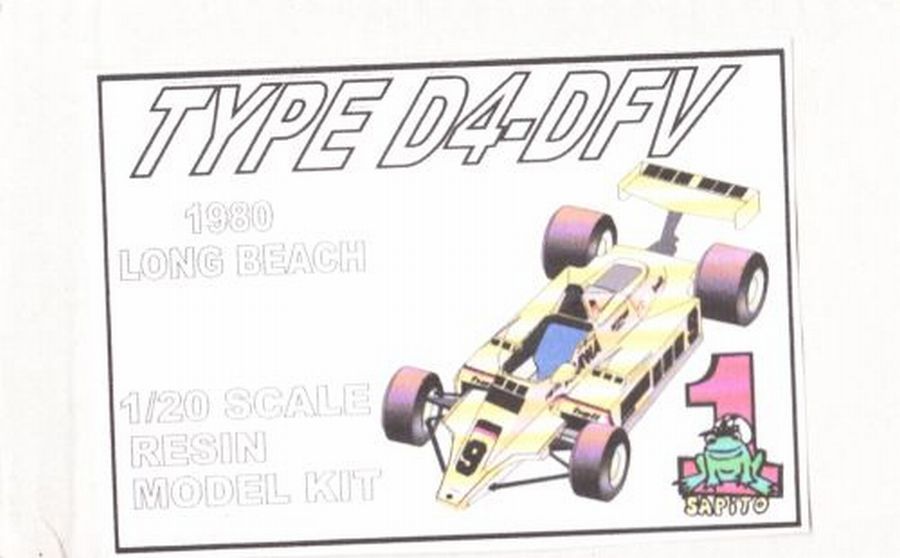 Jaren geleden is het mij gelukt deze ATS D4 uit 1980 van de spaanse maker 1Sapito te kopen. Ik ga deze bouwen in de Long Beach versie zoals deze werd gereden door Jan Lammers. Hier en daar zijn wat aanpassingen nodig om deze versie te bouwen. Gelukkig heb ik veel hulp van mijn modelbouwvrienden Alex Nahooy en JamesB. Zij hebben mij de benodigde foto's kunnen aanleveren. Daarnaast krijg ik veel input om de juiste aanpassingen te kunnen doen. Dank beiden! Eerst weer de foto's waarop de inhoud van de kit te zien is. Standaard in de kit zitten resin banden en velgen. Ik ben nooit zo'n fan van resin banden. Ik weet dat het zijn voordelen heeft, maar zo denk ik er nu eenmaal over. Voor het vervangen van de achterwielen heb ik via Ebay een set achtervelgen van een Tamiya Williams FW07 kunnen kopen. Helaas kon ik geen voorwielen kopen. Voor het vervangen van de voorwielen gebruik de voorwielen van een Tamiya Wolf kit.
Years ago i managed to buy this ATS D4 from 1980. It's a kit from the Spanish 1Sapito. I will build this as the Long Beach version as driven by Jan Lammers. Some small adjustments need to be made to build this version. Luckily i had some help from my modelling friends Alex Nahooy and JamesB. They were able to deliver me the necessary pictures. And i received a lot of input to be able to make the correct adjustments. Thank you both! First the pictures with the content of the kit. The kits provides resin rims and tires. I have never been a fan of resin tires. I know it has advantages, but that's how i feel. To replace the rear rims i was able to buy a new set of a Tamiya Williams FW07. I couldn't buy the fronts. Therefore i will use the fronts of a Tamiya Wolf kit.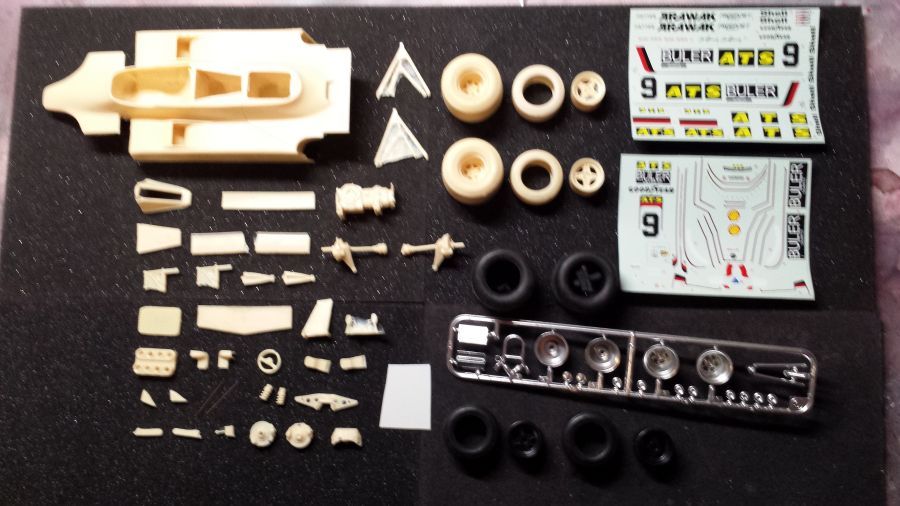 Eerst worden alle onderdelen bij gewerkt. Dus alles wordt gevijld, uitgesneden etc. voorzover nodig. Daarna worden alle kuntshars onderdelen schoongemaakt in een sopje.
First all parts are worked on. So everything needs some filing work, cutting work etc. Then all resin parts are cleaned with soap.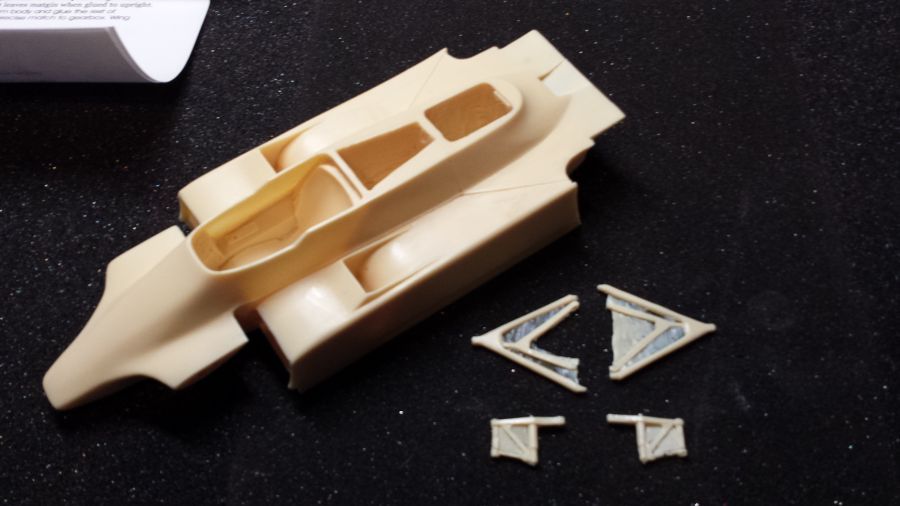 Terwijl alles droogt ga ik aan de gang met de velgen. De voorvelgen zijn van de Tamiya Wolf, de achtervelgen van een Tamiya Williams FW07. Ik spuit ze zijdeglans zwart. Daarna verwijder ik de Goodyear logo's en die nare middenstreep op het loopvlak.
While everything is drying i continue with the rims. The front rims are from a Tamiya Wolf kit and the rear ones from a Tamiya Williams FW07. I paint them semi gloss black. Then i delete the Goodyear logos and the stripes.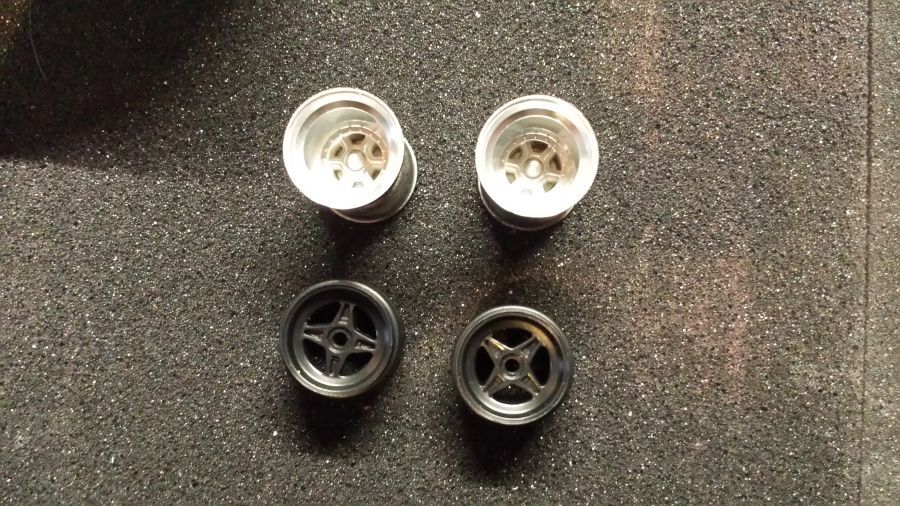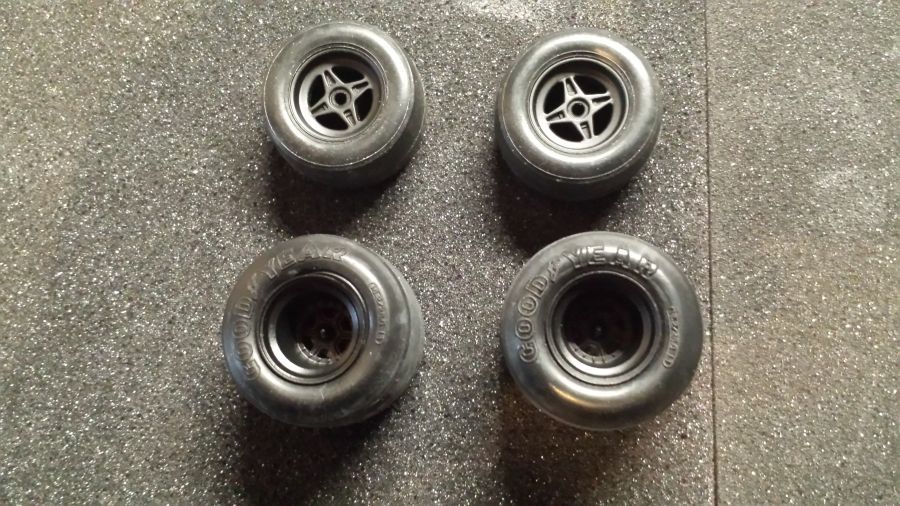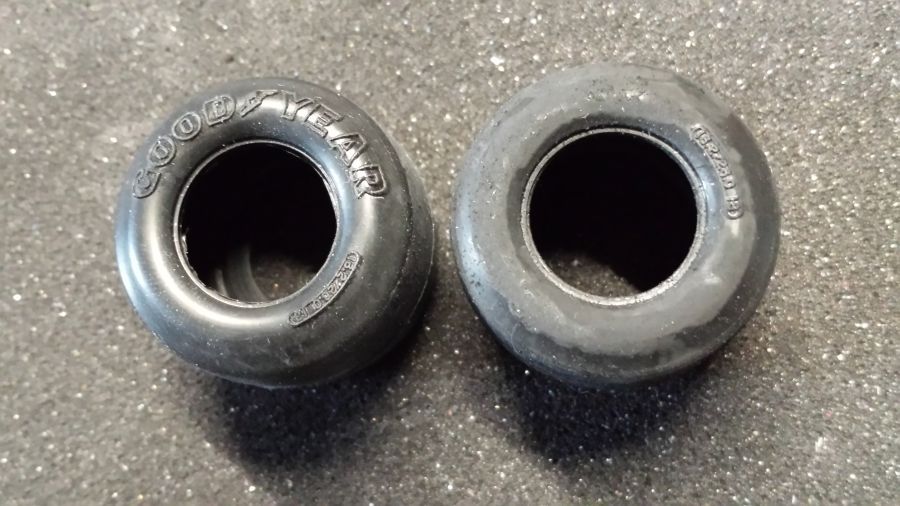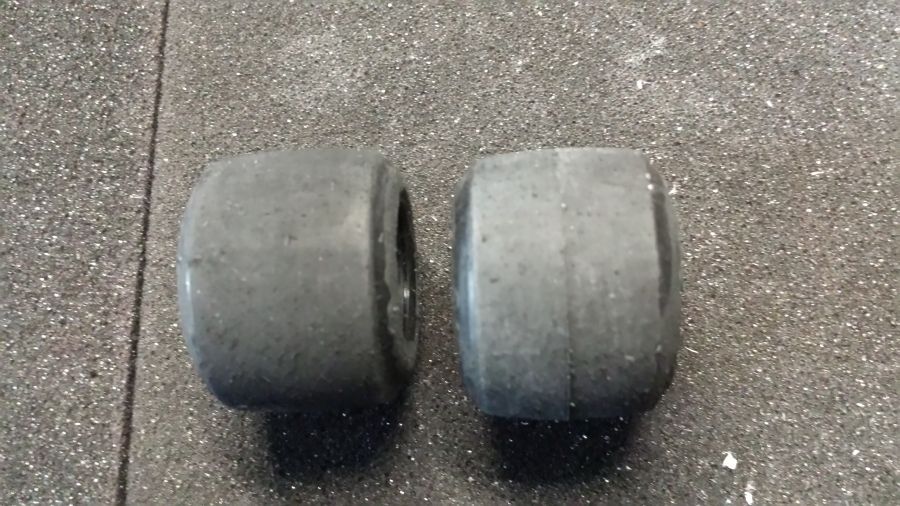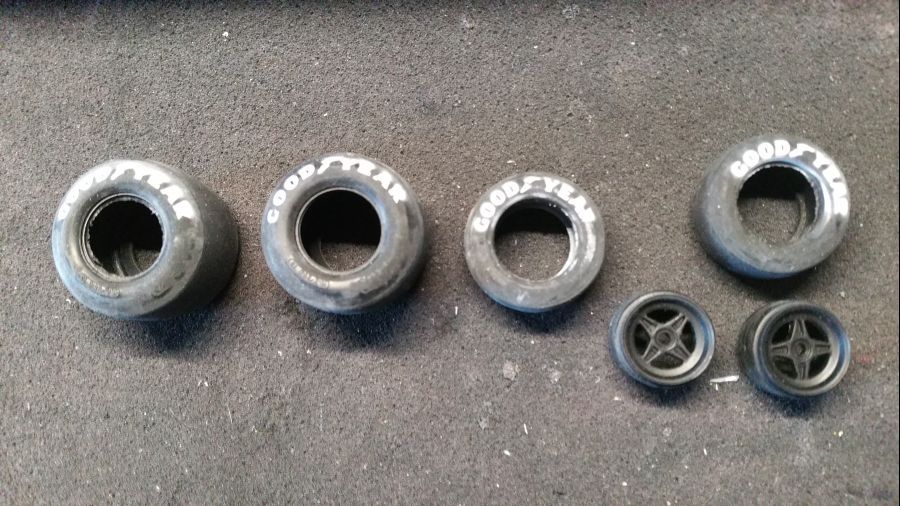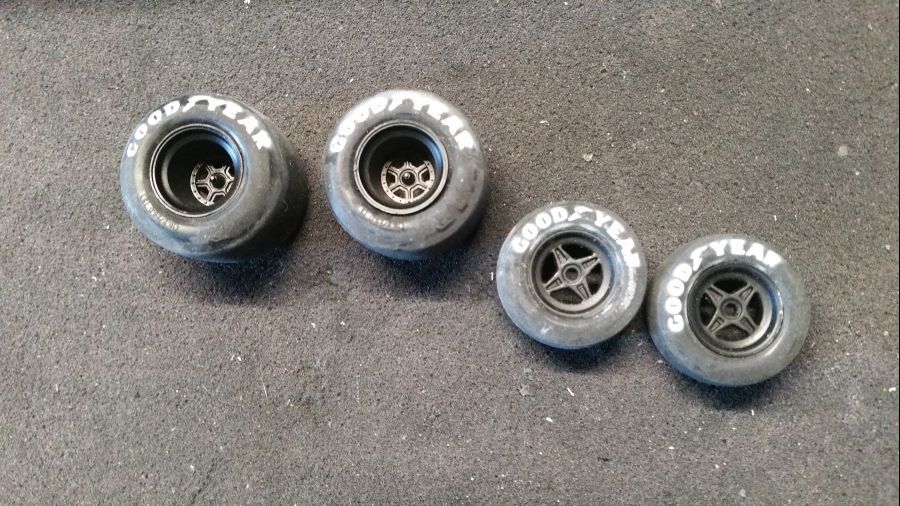 Omdat Jan Lammers wat klein was had de auto een paar inkepingen in de zijwanden van de cockpit. 1Sapito heeft de benodigde mallen bijgevoegd om deze te maken.
Because Jan Lammers was a short guy, the car had some cuts in the side walls of the cockpit. 1Sapito added some templates to create them.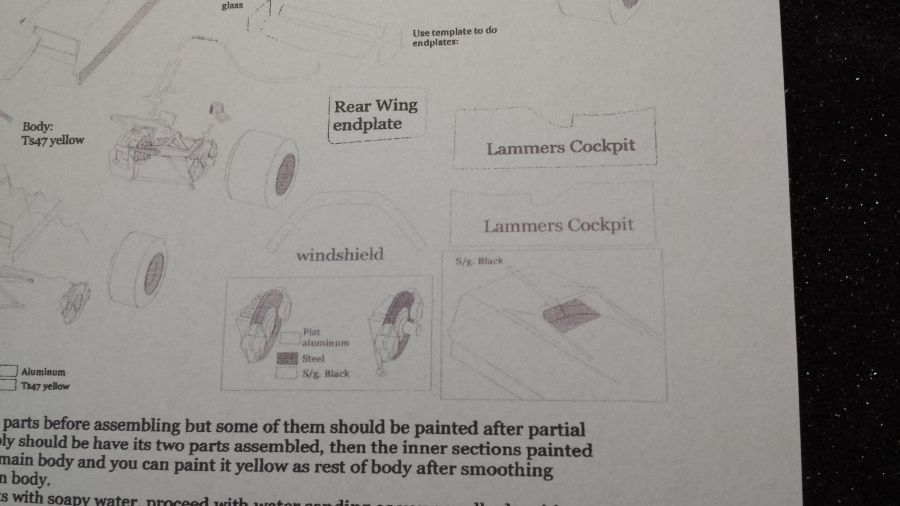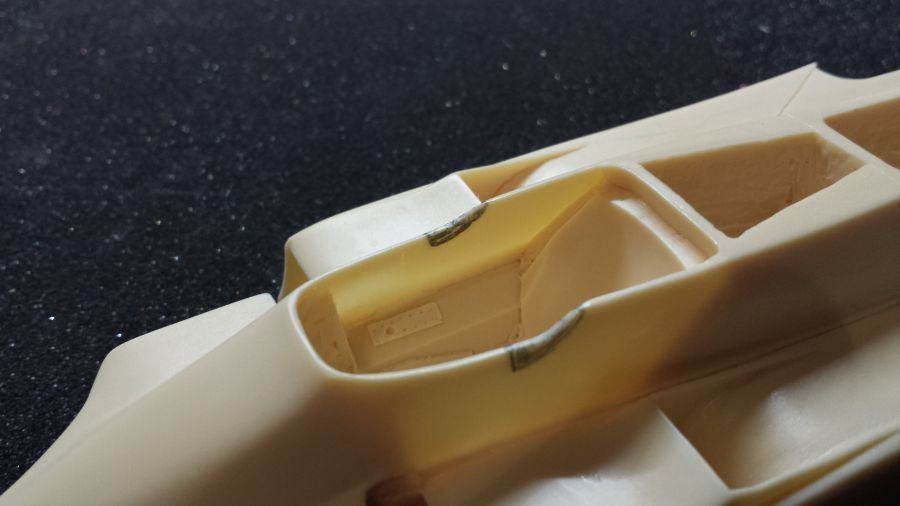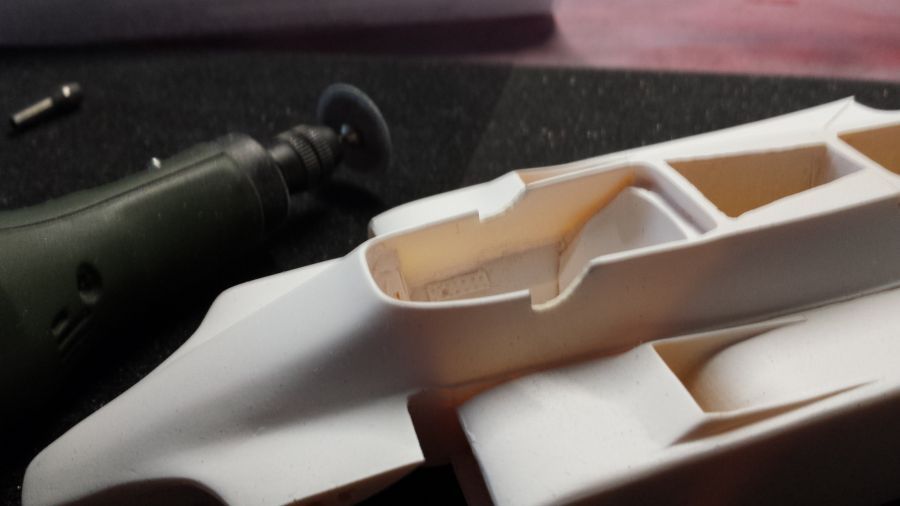 Ik heb de auto geel gespoten, maar ik ben niet tevreden. De kleur matched niet helemaal met het geel van de logo's. Volgens 1Sapito moet Tamiya TS-47 worden gebruikt. Deze heb ik nu besteld en ga opnieuw spuiten.
I painted the car yellow, but i am not happy with it. The colour doesn't match the decals. According to 1Sapito Tamiya TS-47 should be used. I have ordered thsi and will spray the car again.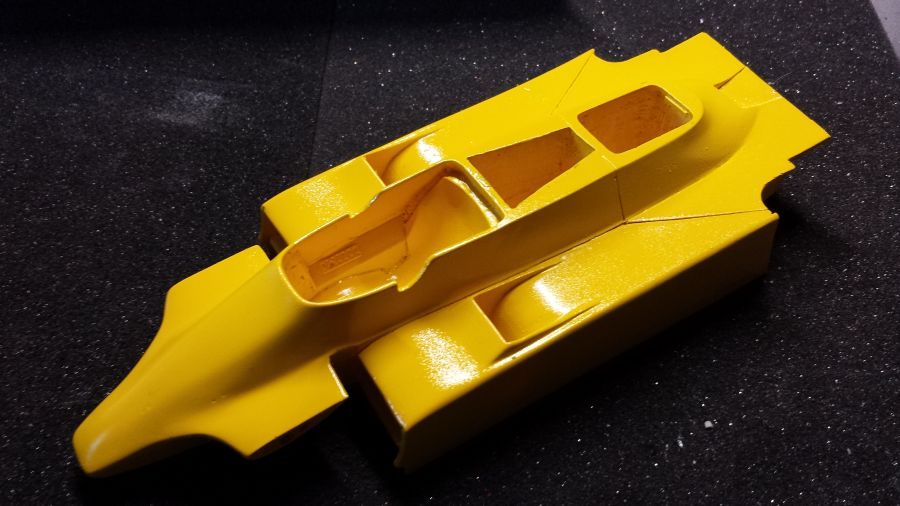 De wagen is weer helemaal schoongemaakt en daarna opnieuw in de primer gezet.
The car has been completely cleaned and a new coat of primer was added.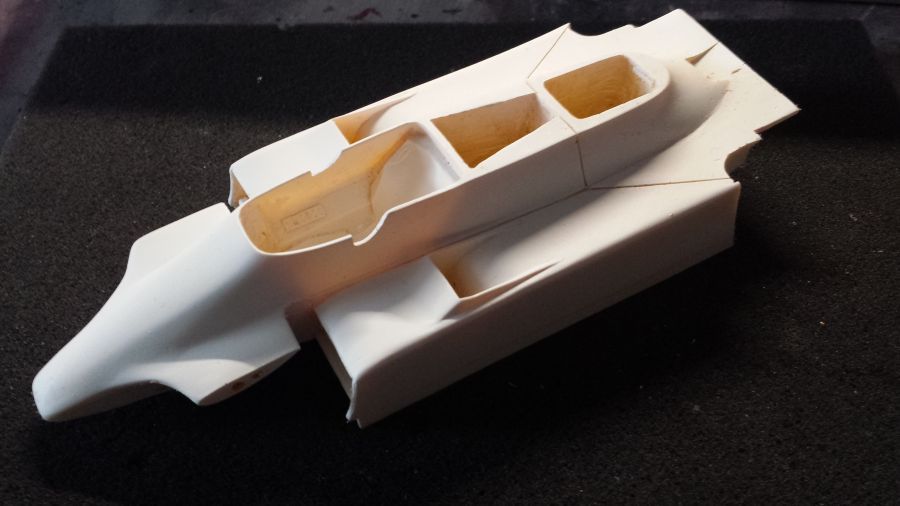 Terwijl ik op de verf wacht, ga ik vast met de achterkant aan de gang. In de doos zitten 2 assen met remschijven en steunen. Ik heb 2 rechter steunen in plaats van een linker en een rechter. Dat los ik op door de delen af te slijpen die in de nokjes van de versnellingsbak moeten vallen. Dan even passen.
While i am waiting for the paint, i will continue with the rear of the car. In the box are 2 axles with break discs and uprights. I received 2 right ones instead of a left and right one. I will solve this by cutting off some pieces that would fit a hole in the gear box. Then do a test fit.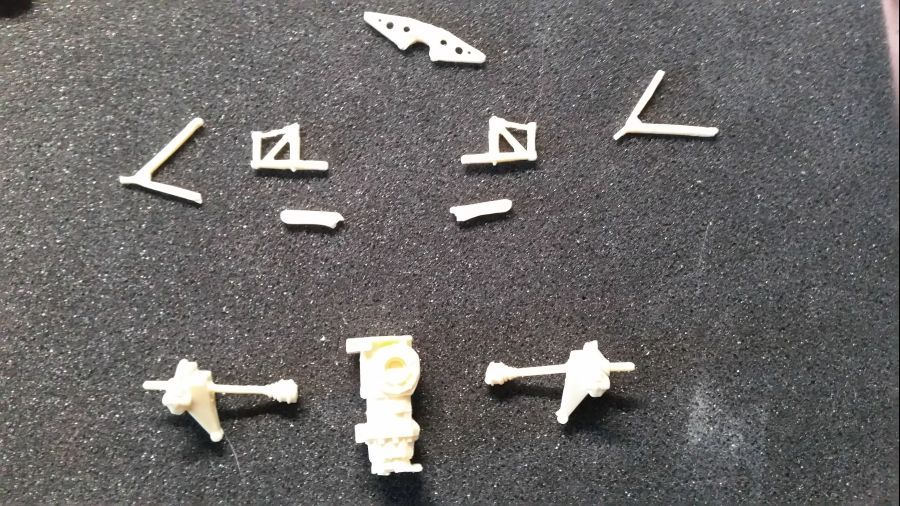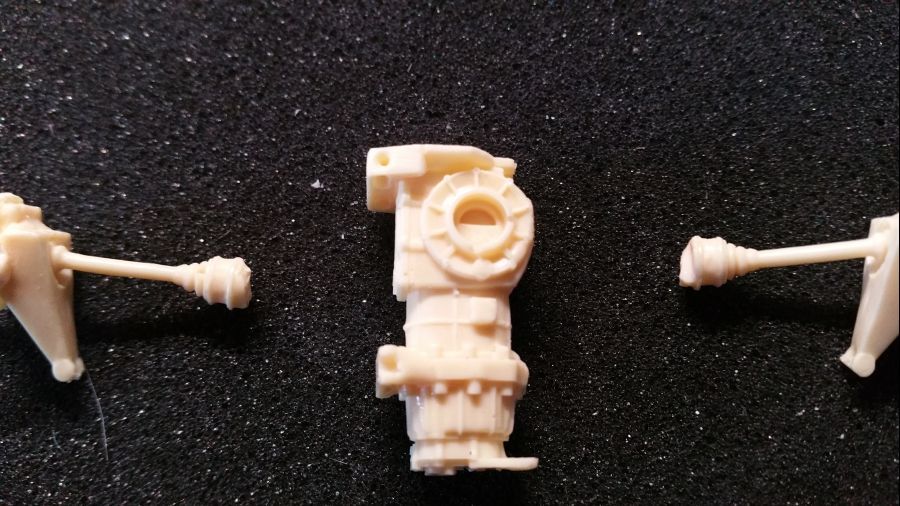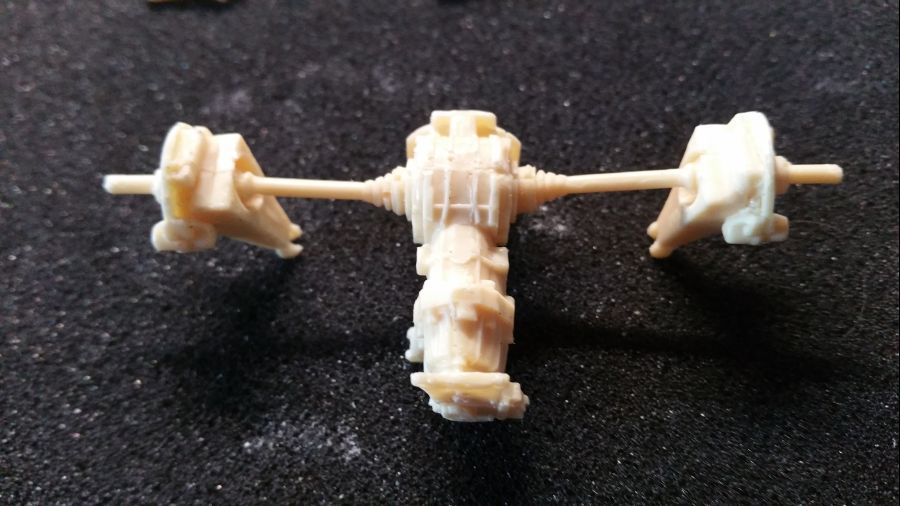 De onderdelen worden geverfd.
The parts are being painted.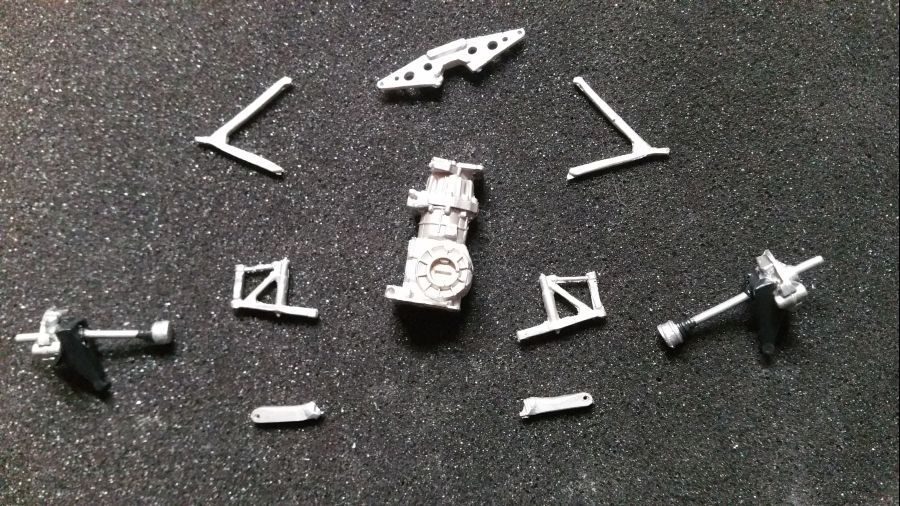 Volgens de gebruiksaanwijzing moet voor het monteren van de versnellingsbak en de wielen de romp op een vlak oppervlak staan. De wielen moeten dan zo worden gemonteerd, dat de wagen op de skirts rust. Ik ben eigenwijs. Ik wil de auto iets hoger hebben zodat deze vrij is van de grond. Ik plaats daarom de romp op een heel dun plastic plaatje van evergreen. Daarmee komt er iets ruimte tussen de skirts en het oppervlaak waarop de auto staat.
According to the instructions the car should rest on his skirts on a flat surface to mount the gear box and the wheels. I am a bit pigheaded. I want to create some small space between the skirts and the surface. Therefore i will put the body on small piece of plastic card to lift it a bit. Thus i am creating a small space between the skirts and the surface on which the car stands.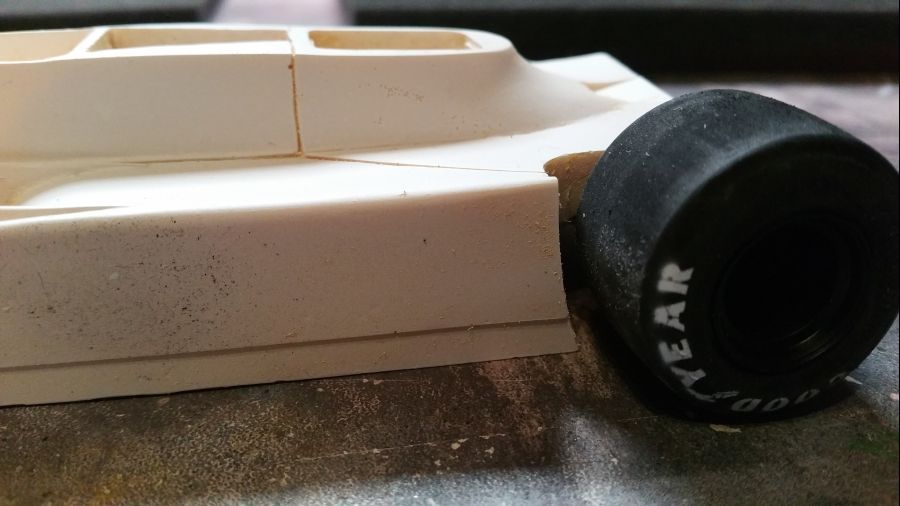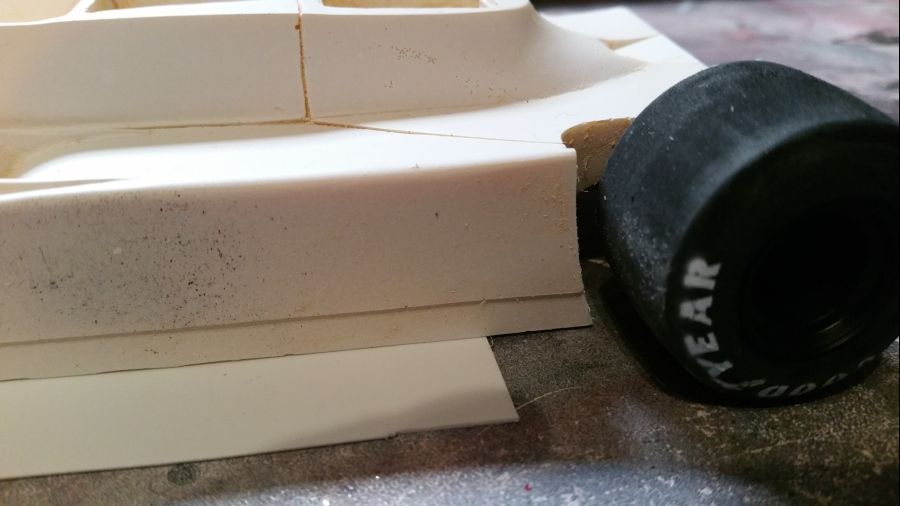 Het assembleren van de complete achterwielophanging.
The assembly of the complete rear wheel suspension.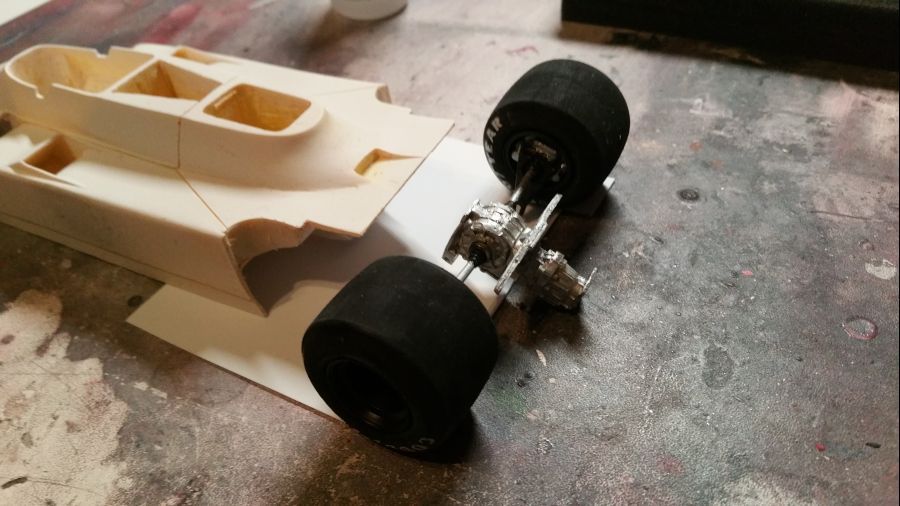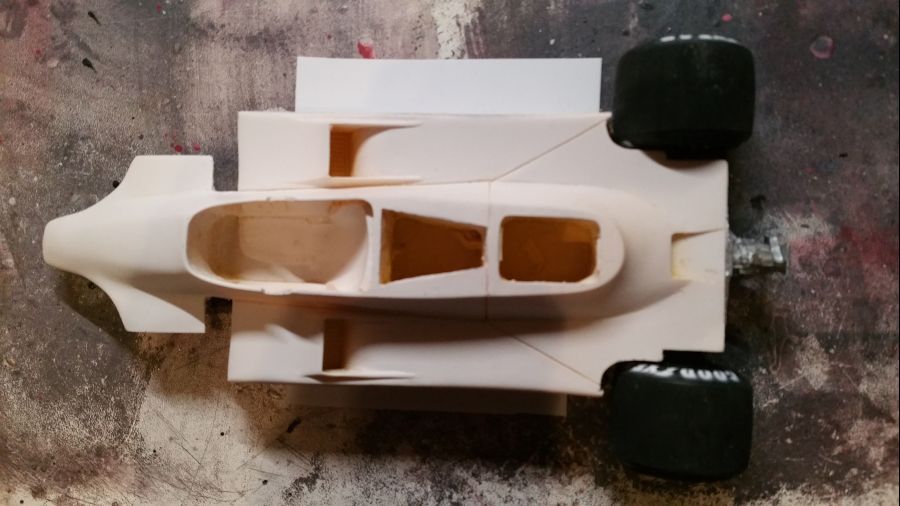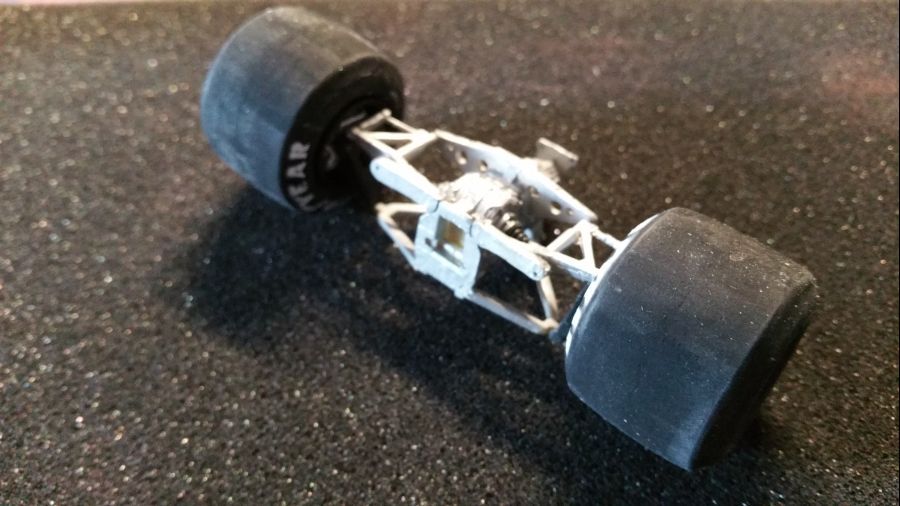 Na het plaatsen van de koeling voor de remmen blijkt dat het achterstuk niet meer goed op de body past. Daarom slijp ik een klein randje van de body af.
After attaching the air ducts for the brakes it looks like the rear doesn't fit the body anymore. So i will cut a small piece of the body.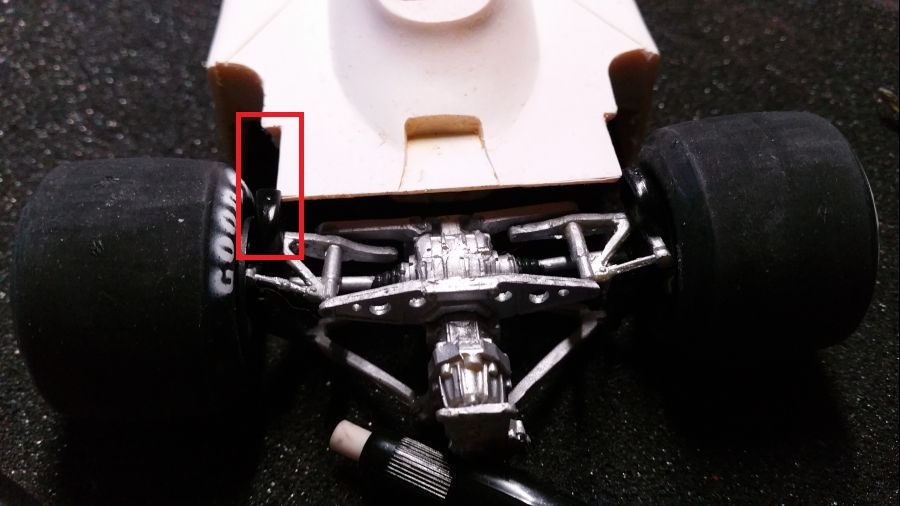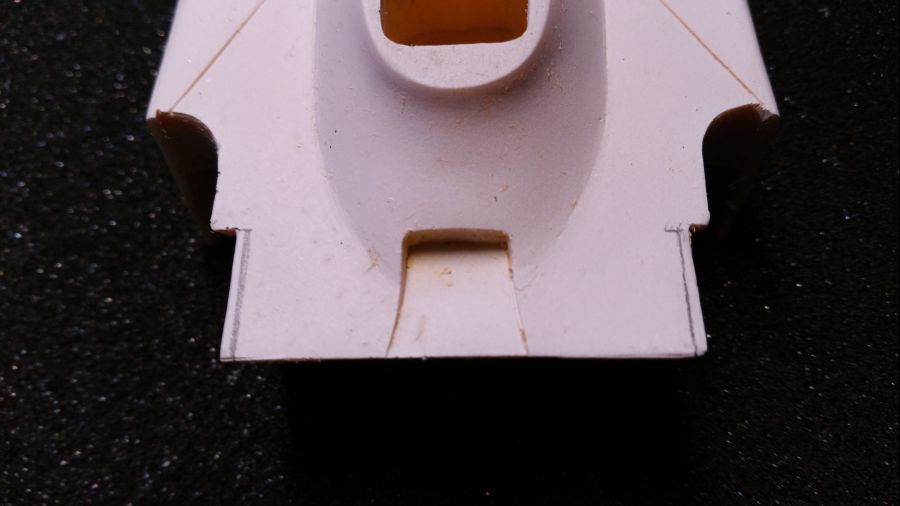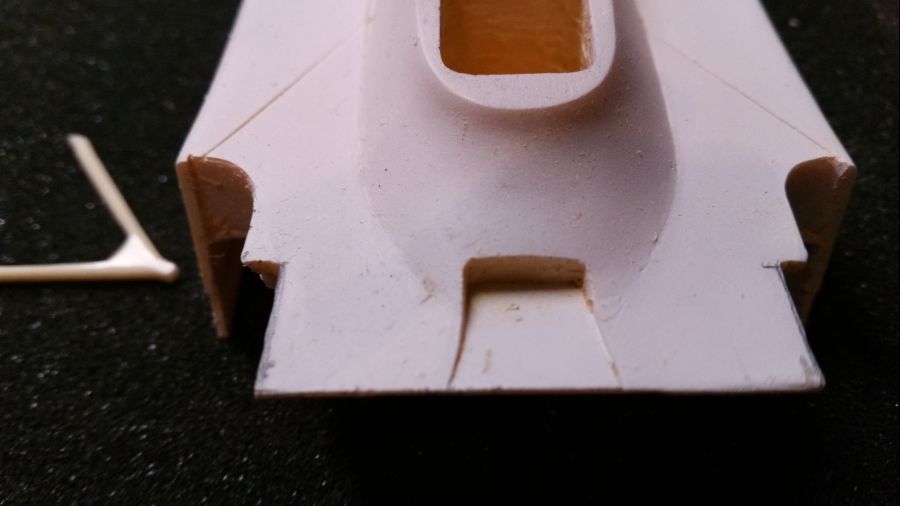 De voorwielen bevestig ik met de pinnen aan de remschijven. Deze pinnen zijn iets te lang, dus ik moet ze inkorten.
I will attach the front wheels to the break discs with rivets. These are too long, so i have to cut them.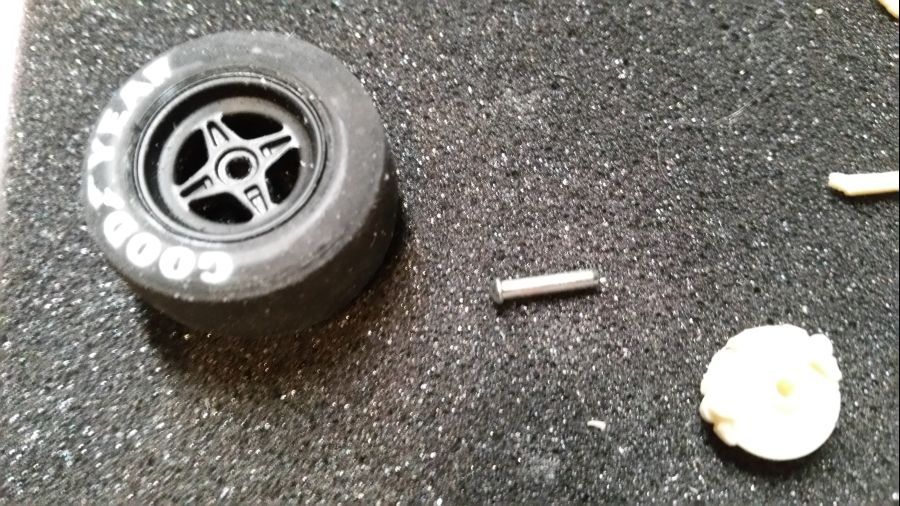 Ik ga de body weer spuiten. Dit keer met Zero Paints ZP-1147 Chrome Yellow. Het moet gelijk zijn aan Tamiya TS-47.  Ik heb eerst een proefstuk gespoten. Het is oppassen geblazen. De verf is een beetje doorzichtig. Wanneer meerdere lagen worden gespoten gaat het lichtgeel er een beetje af. Het wordt dan oranjeachtig. Dan passen de decals weer niet voor wat betreft de kleur. Het is dus zaak om hooguit 1 of 2 lagen aan te brengen. Wees er zeker van dat deze verf allen werkt op een witte ondergrond.
I am going to paint the body again. This time with Zero Paints ZP-1147 Chrome Yellow. It should be equal to Tamiya TS-47. I did a test. I need to be careful. The paint is a bit translucent. Spraying multiple layers make the light go off the yellow again. It's like a bit orange then. Then the decals will not match again. So i will have to spray only 1 or 2 layers. This paint only works on a white surface.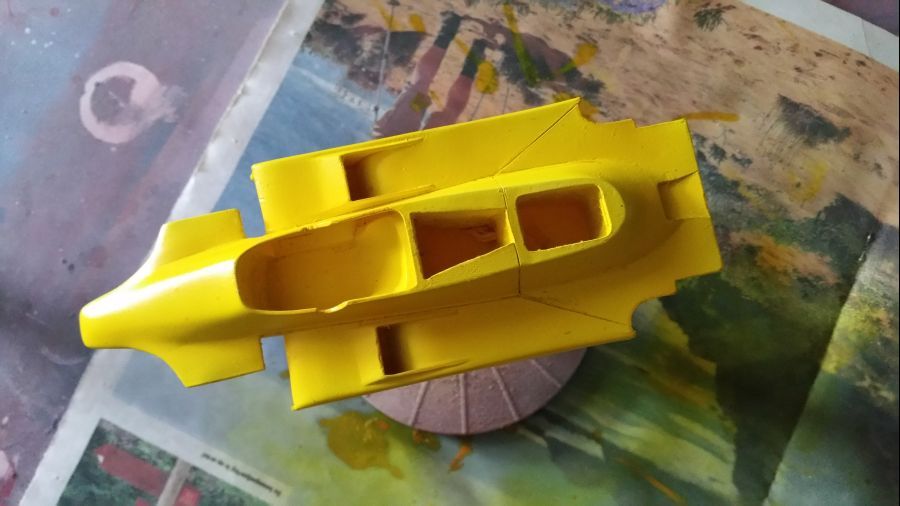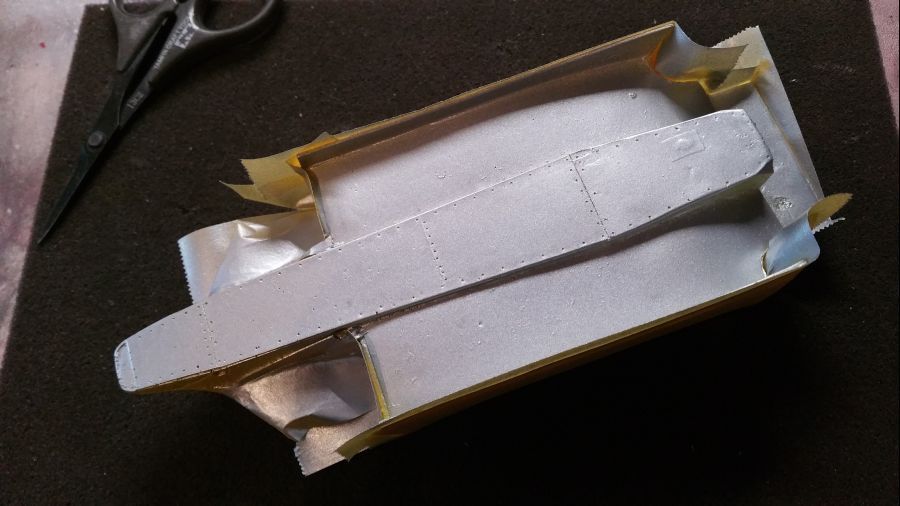 Nog wat andere onderdelen zijn in de juiste kleuren gespoten.
Some more parts did get their actual colour.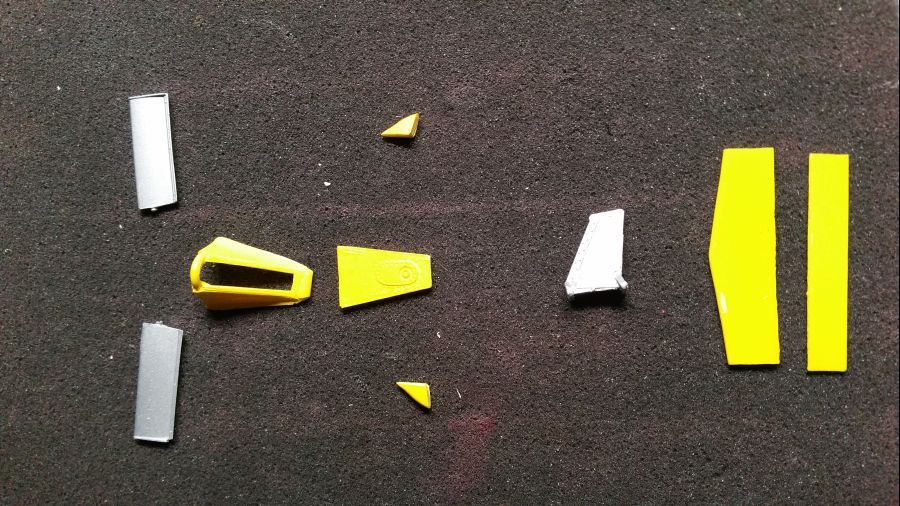 De zijplaten van de achtervleugel worden met behulp van een mal uit een plastic plaatje geknipt.
The end plates of the rear wing are being cut from some plastic card using a template.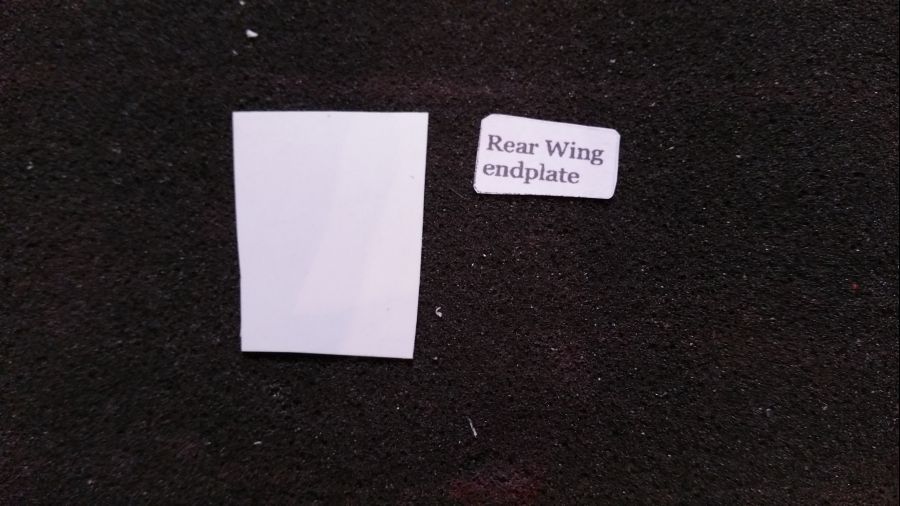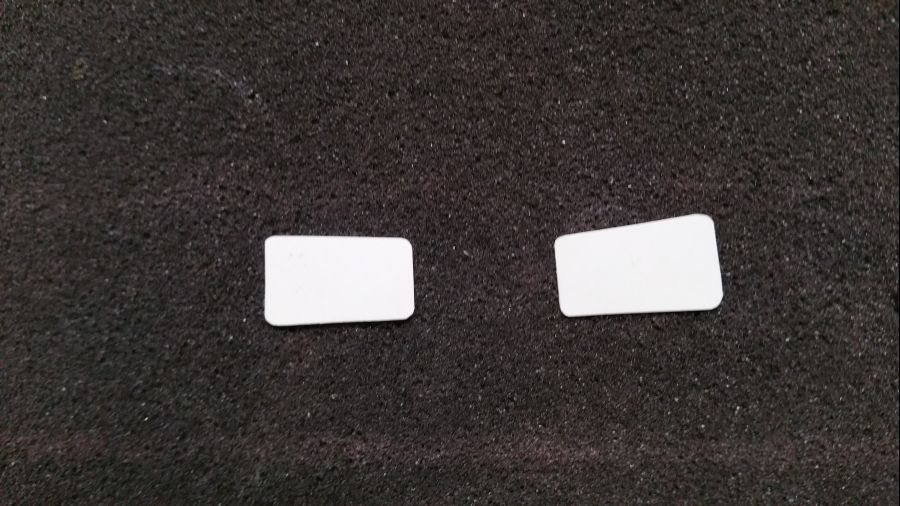 Wat geel moet is geel, zilver is zilver, nu decal tijd.
What should be yellow is yellow, silver is silver, now decal time.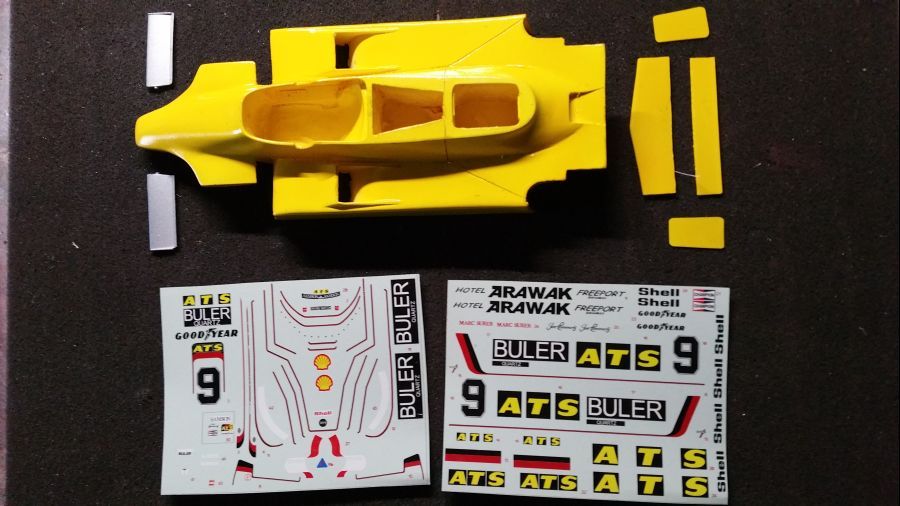 Het werken met de decals met de dunne lijntjes is niet gemakkelijk. Ik moet in diverse sessies werken om iedere keer het verschuiven van de lijnen te voorkomen.
Working with the decals with the small lines is not easy. I have to work in multiple sessions to prevent the lines from shifting.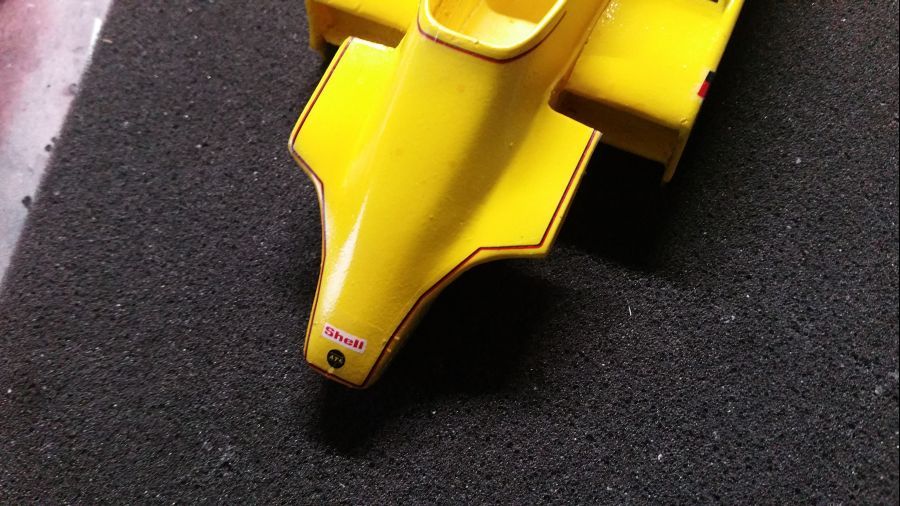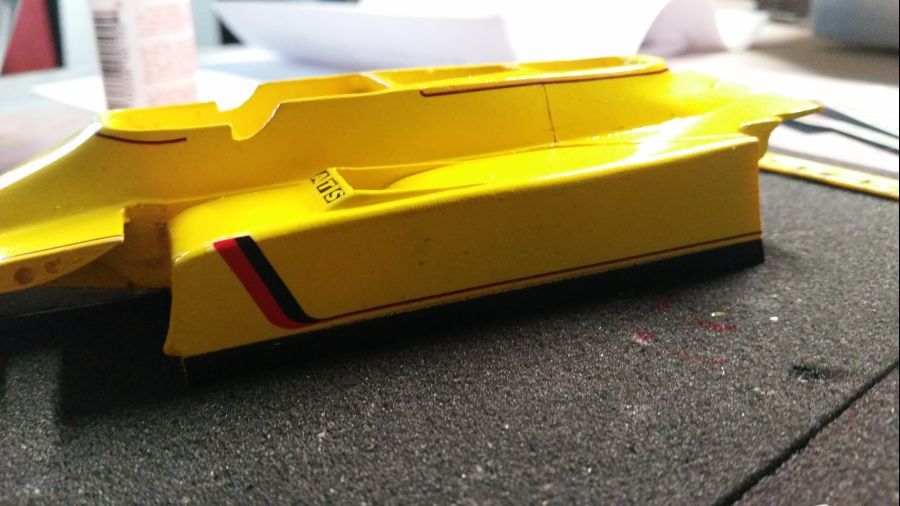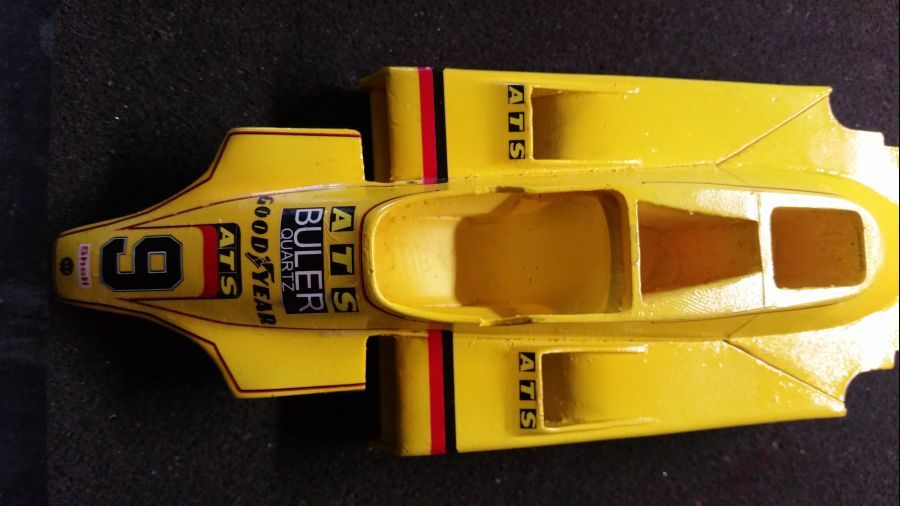 Nu eerst goed laten drogen en daarna weer een paar dunne laagjes lak eroverheen.
Now let it dry thoroughly and then some mist coats of lacquer over it.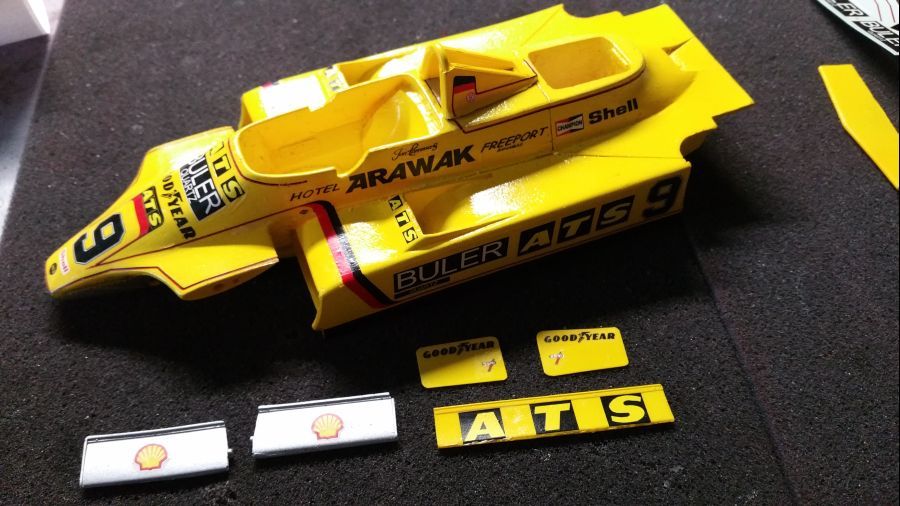 De heldere lak zit er weer op. Daarna ben ik begonnen met het spuiten van het dashbord en het stuur. Deze zijn geplaatst en de stoel is geverfd. De gordels komen later.
The gloss coat is on. Then i started to paint the dash and the steering wheel. These have been put into place and the seat has been painted. The seat belts will come later.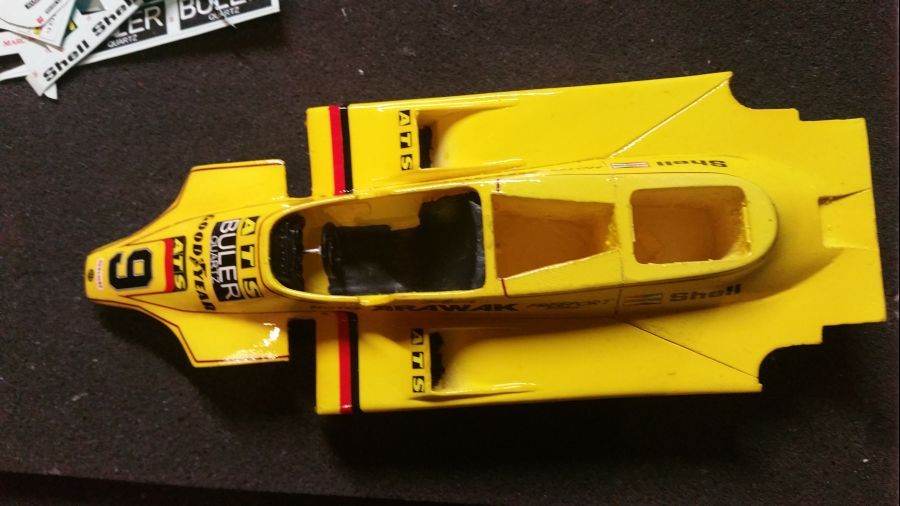 De voorremmen zijn geverfd en worden met de metalen pin in de velg gelijmd. Zo wordt het gemakkelijker de voorwielophanging te bevestigen.
The front brakes have been painted and are glued within the rim with the metal rivet. This should make it easier to attach the front wheel suspension.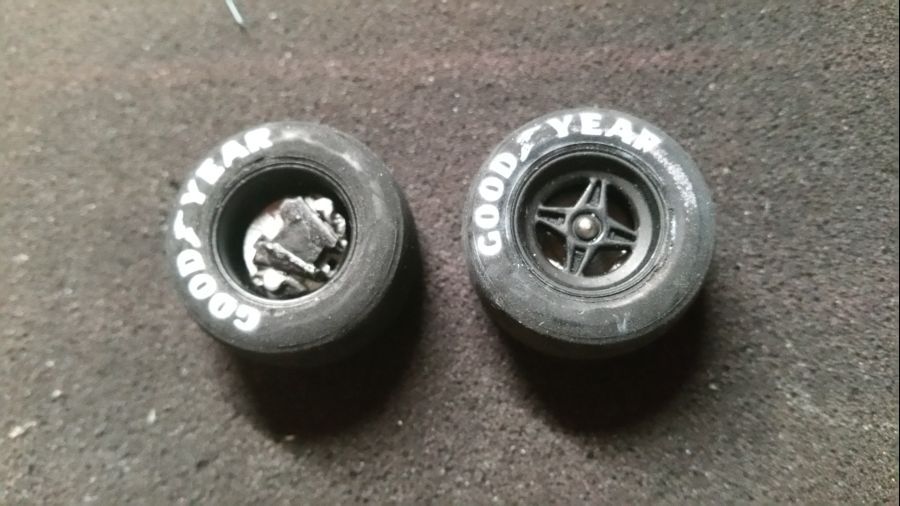 Testen van de bevestiging van de voorwielophanging.
Test fit of the front wheel suspension.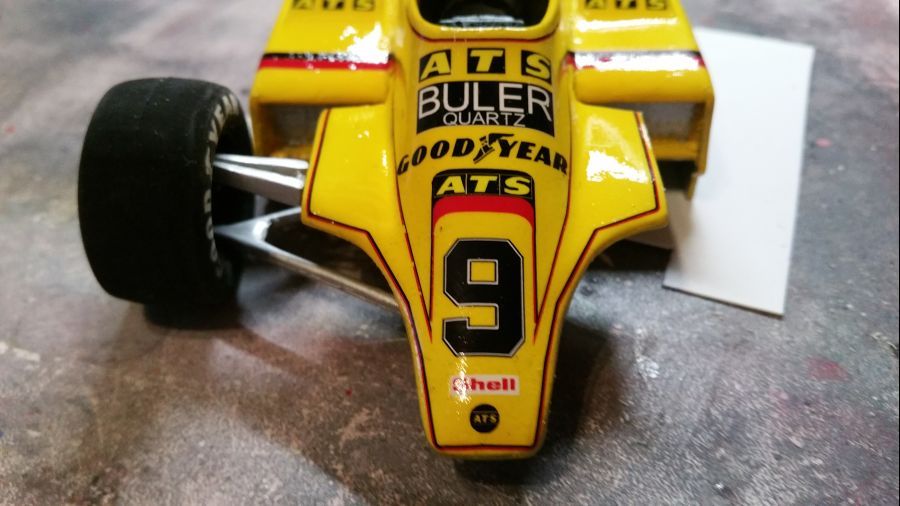 De wielen zitten er op.
The wheels are mounted.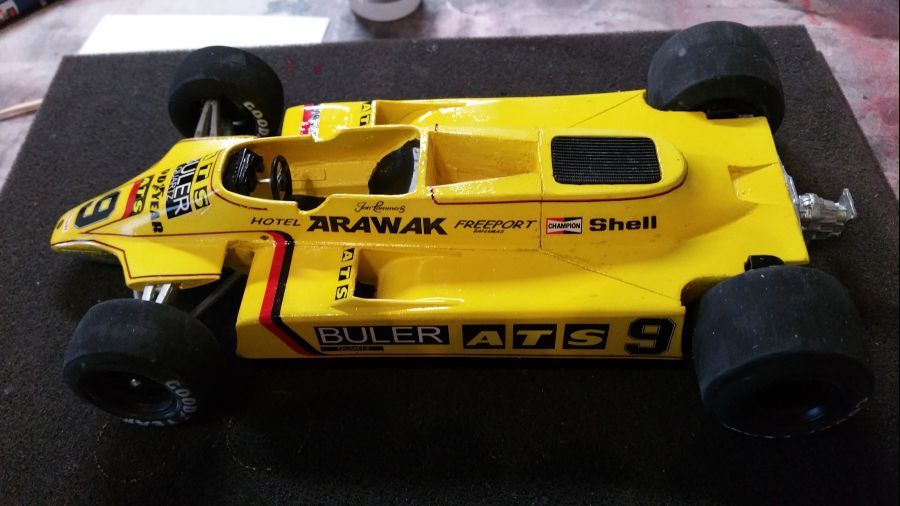 De voorvleugels worden bevestigd.
The front wings are being attached.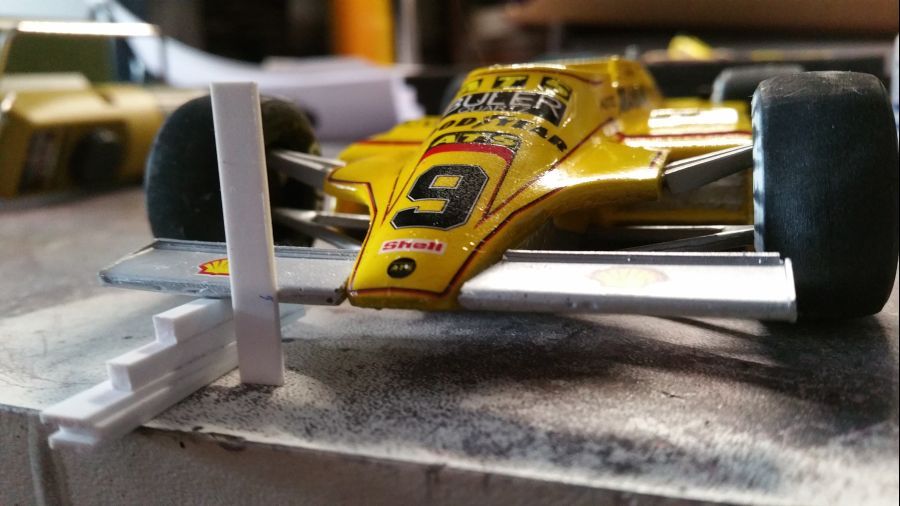 Dan verder met de achtervleugel en de spiegels.
Next is the rear wing and the mirrors.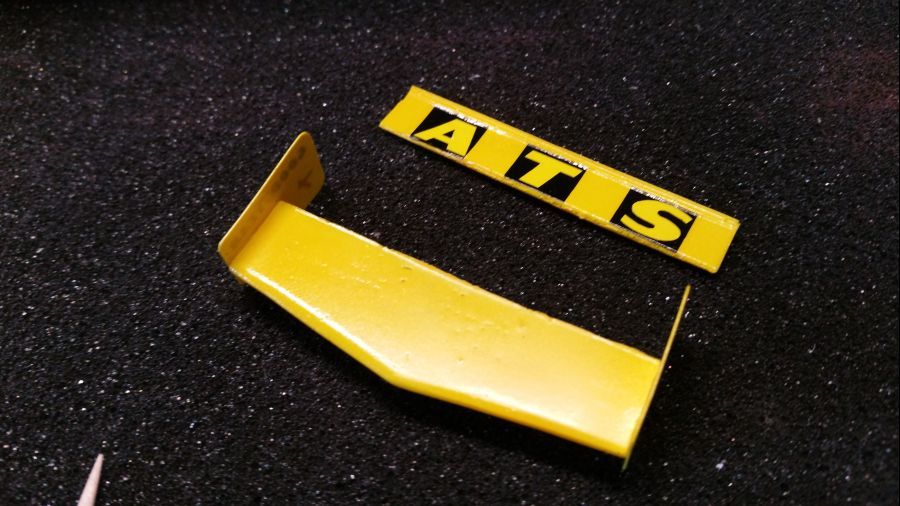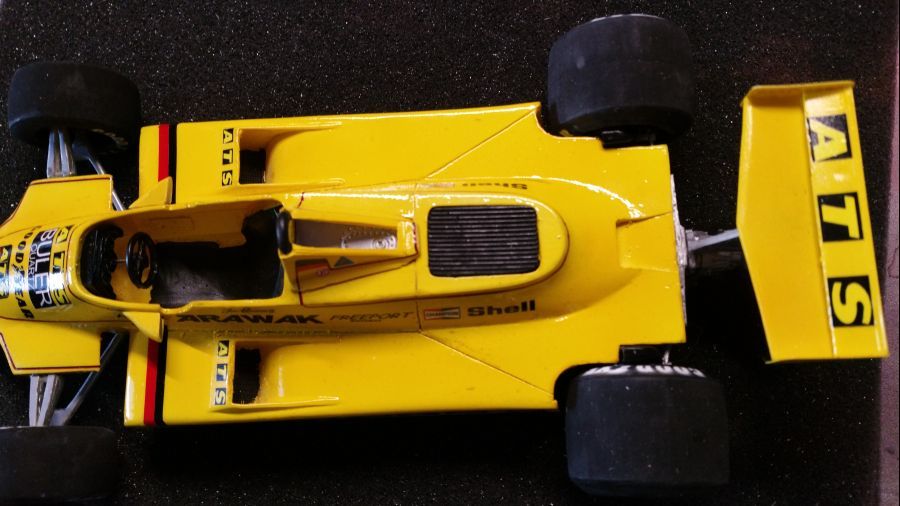 Nu nog het raampje, de gordels en nog wat verfwerk aan de cockpit.
Next are the window the belts and some painting to the cockpit.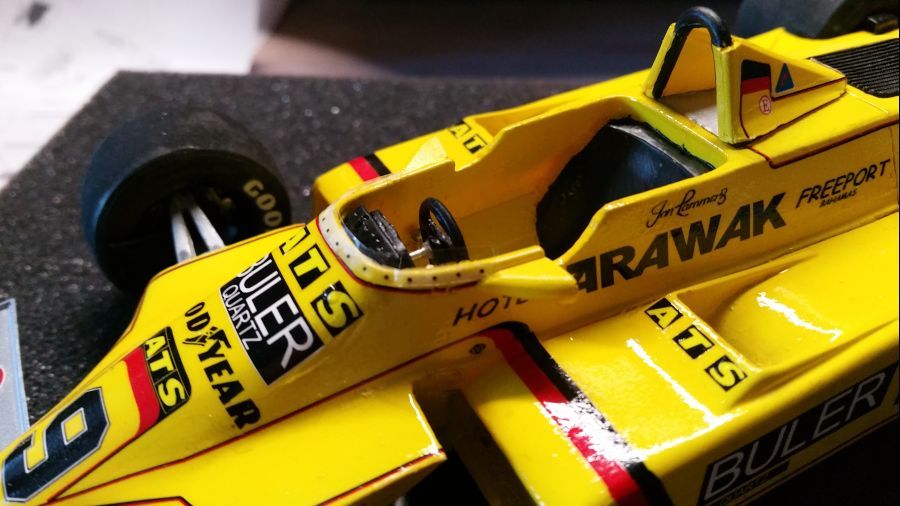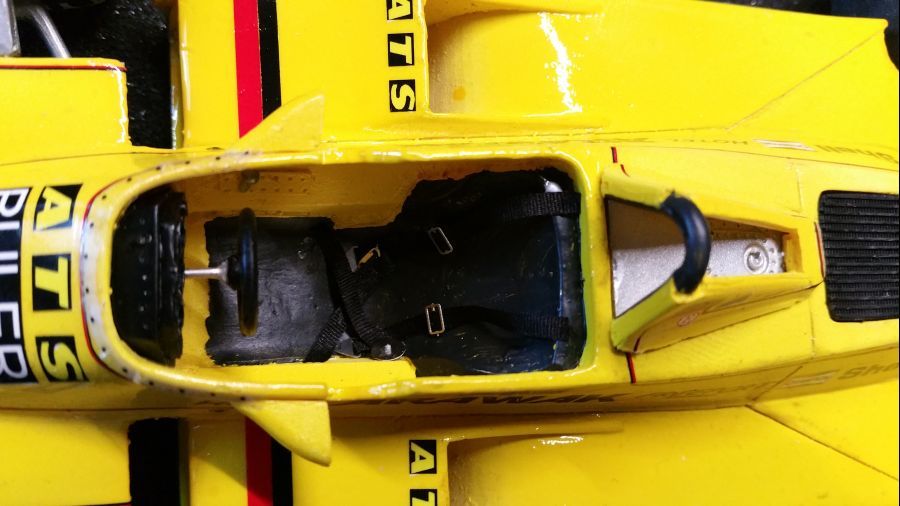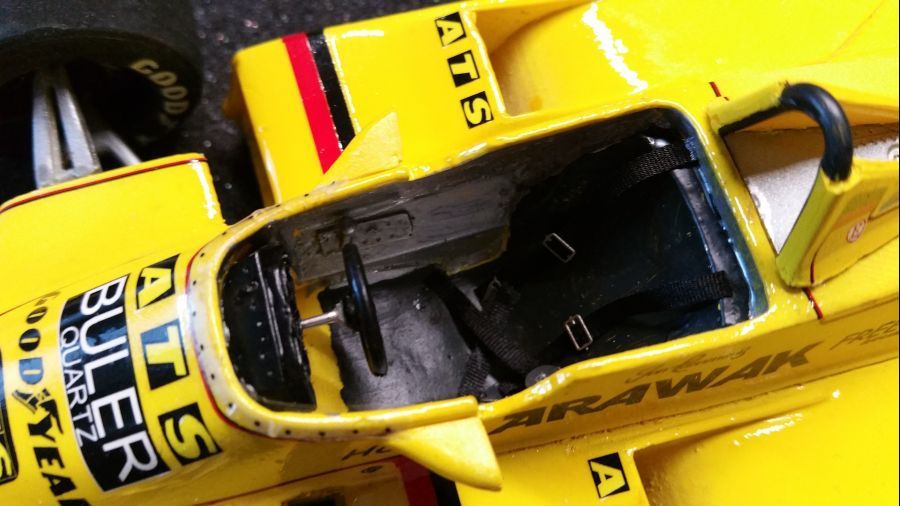 En klaar, deze mooie ATS D4 van Jan Lammers.  
And done, this beautiful ATS D4 from Jan Lammers.