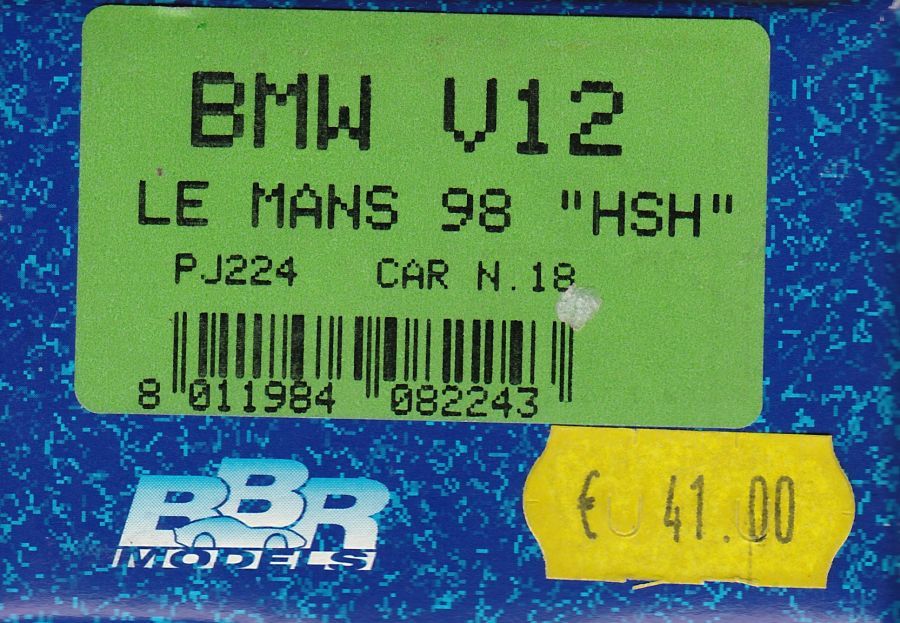 Mijn eerste project in schaal 1/43. Nog nooit eerder heb ik iets gebouwd in deze kleine schaal. Eens kijken of het wat wordt. Ik heb een aantal kits voor een laag prijsje op Ebay kunnen kopen om het te proberen. Deze heeft een body van kunsthars.Eerst zoals gewoonlijk de inyhoud van deze kit.
My first project in scale 1/43. Never before have i built anything in this small scale. Let's see where it ends. I bought a couple of kits on Ebay for a very fair price to try. This one has a resin body. First like usual the content of the kit.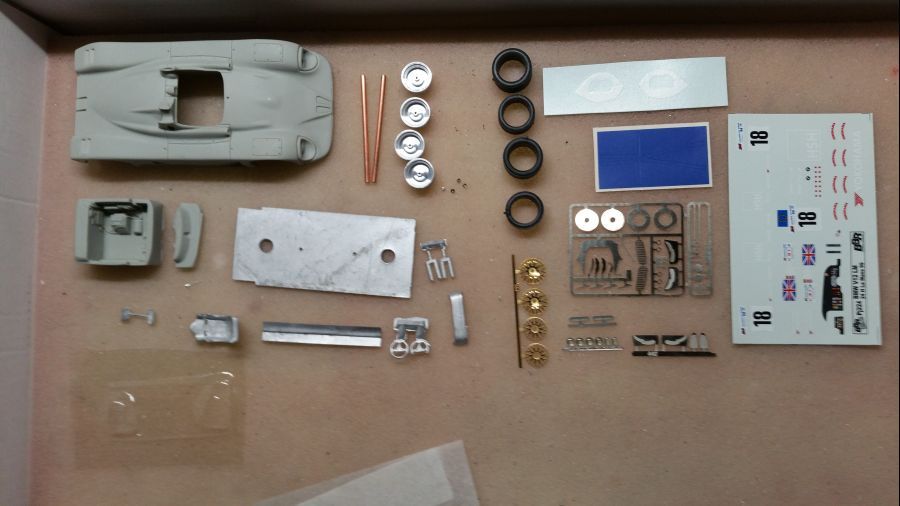 Allereerst spuit ik de body met zwarte grondverf. 
First i will paint the body with black primer.
Daarna glanzend zwart. De decals zullen dan beter plakken. Wanneer deze dan droog zijn, komt er een laag zijdemat lak overheen. Of misschien zelfs mat. Ik moet nog wat foto's bestuderen.
Then gloss black. The decals will stick much better. Then, after drying, i will spray a layer of semi gloss clear. Or maybe even matt. I need to study some pictures.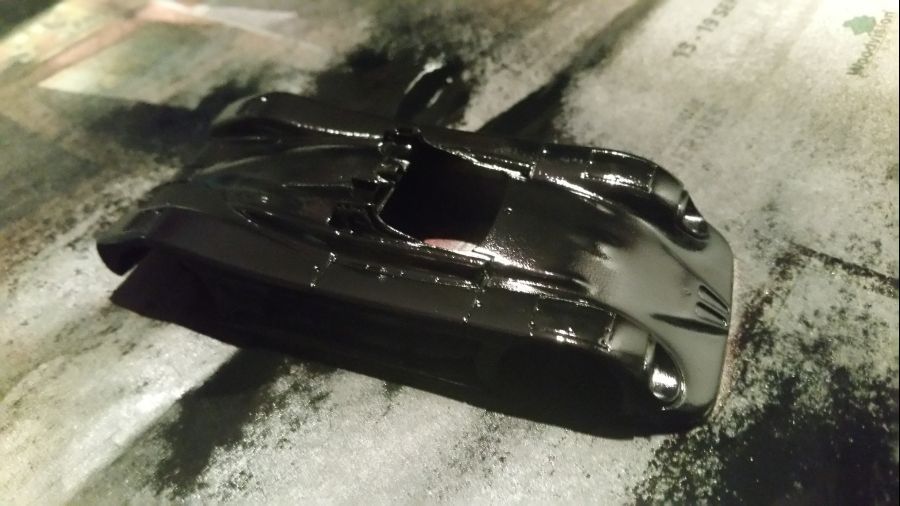 Nog een paar onderdelen. Het interieur is mat zwart gespoten, de stoel zijdemat zwart. Hierna wordt het allemaal wat gedetailleerd.
Some more parts. The interior is painted mat black, the seat semi gloss. After this some more detailing will be done.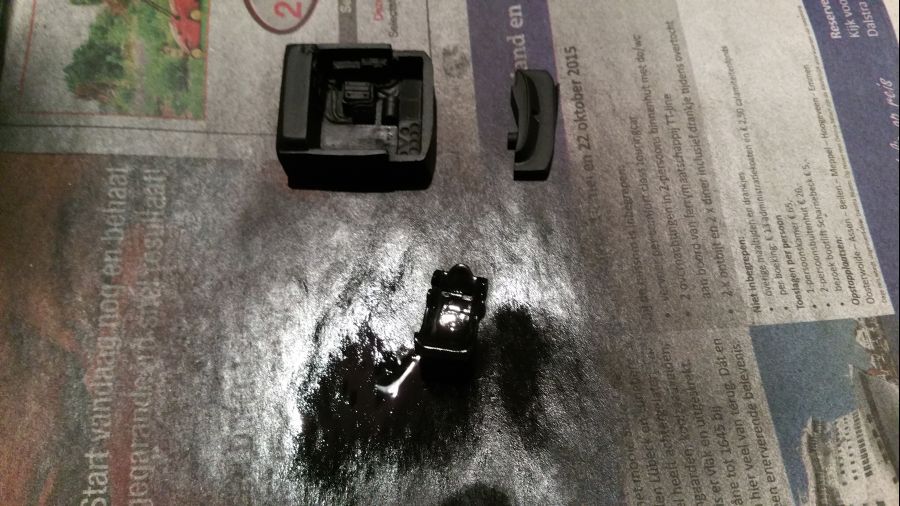 Nog wat onderdelen zijn gespoten. De onderplaat is mat zwart, de spiegel en topspoiler glanzend zwart, de inleg van de velgen gun metal.
Some more parts are painted. The floor is matt black, the mirror and top spoiler gloss black, the inside of the rims are gun metal.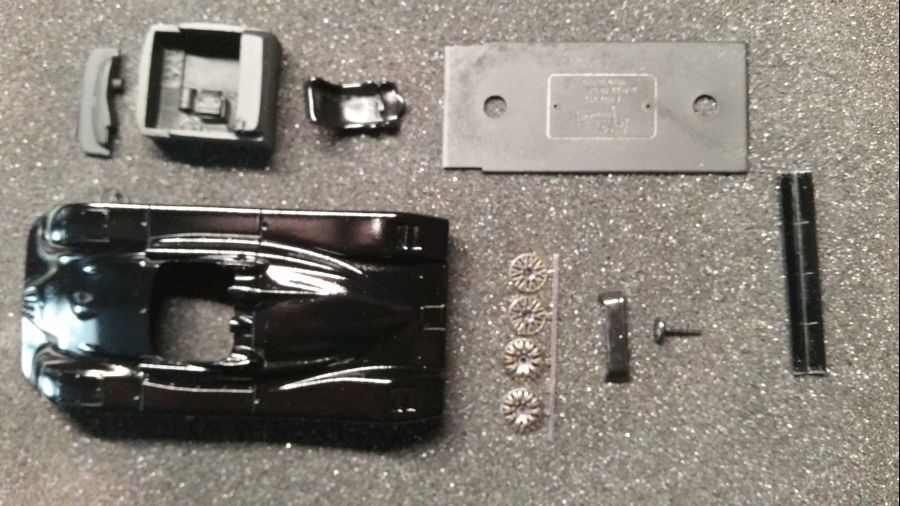 Ik ben niet al te blij met de decals. In ieder geval mist 1x de engelse vlag.
Not too happy with the decals. At least 1x the British flag is missing.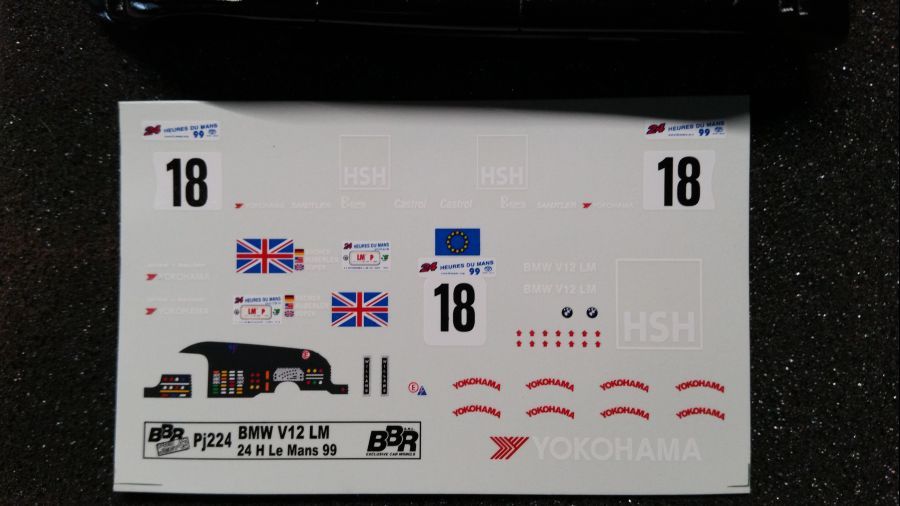 Het uitknippen van de koplampglazen. Altijd lastig.
Cutting the covers of the head lights. Always tricky.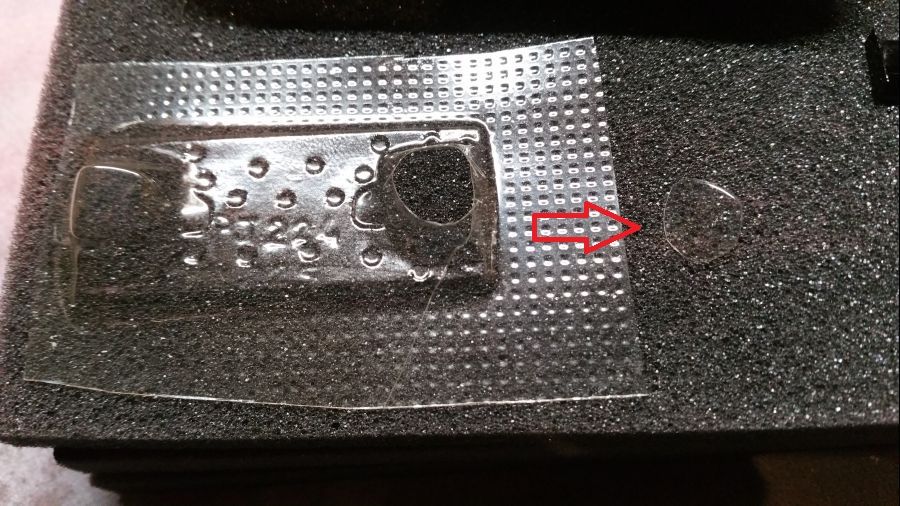 Daarna verder met het interieur, de pedalen, de gordels en het dashbord.
Then continuïng with the interior, the pedals, the belts and the dashboard.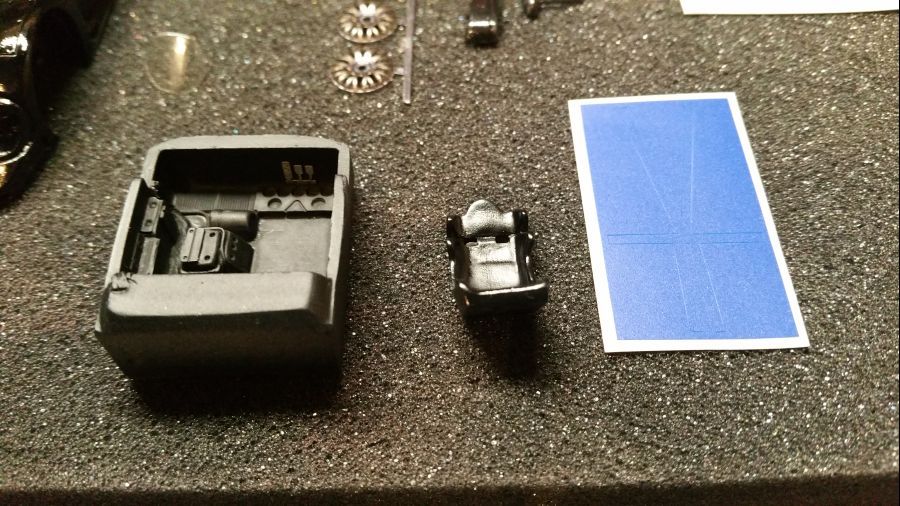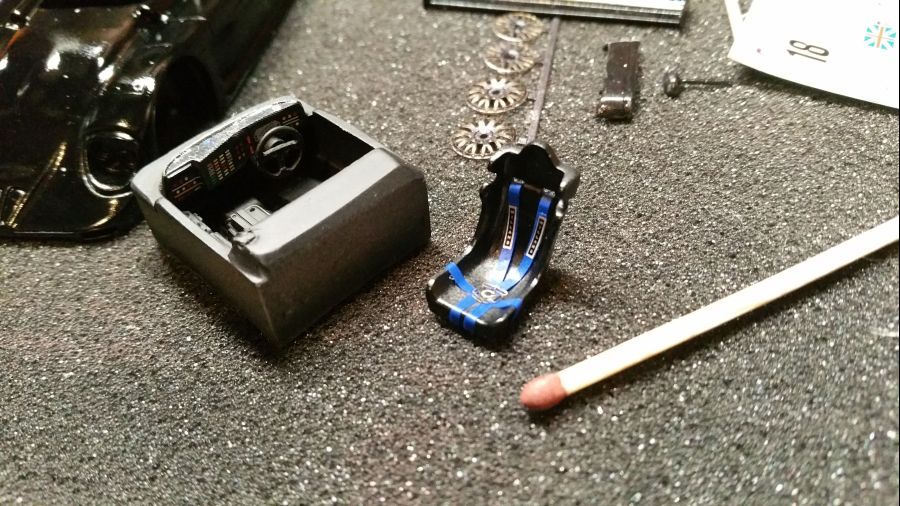 Ik ga alvast de steun voor de achtervleugel vouwen. Daarna kunnen de gaatjes worden geboord (na het passen) en de steun kan worden gespoten.
I am folding the rear wing support. Then the holes can be drilled (after a test fit) and the support can be painted.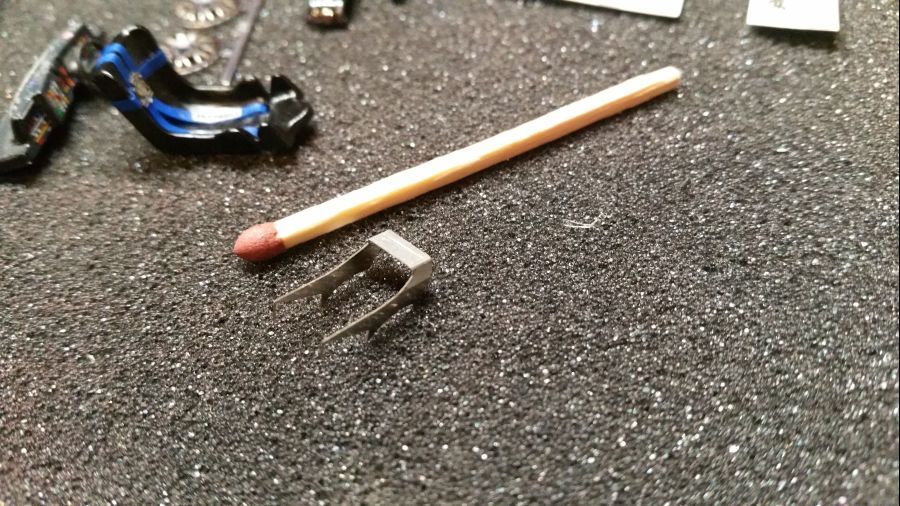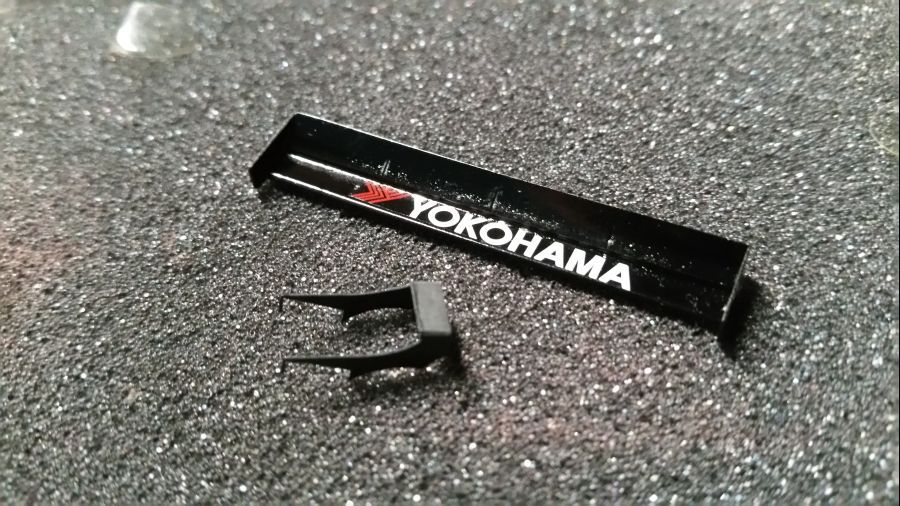 De cockpit wordt in elkaar gezet, nadat de brandblusser is geverfd.
The parts of the cockpit are combined, after the fire extinguisher has been painted.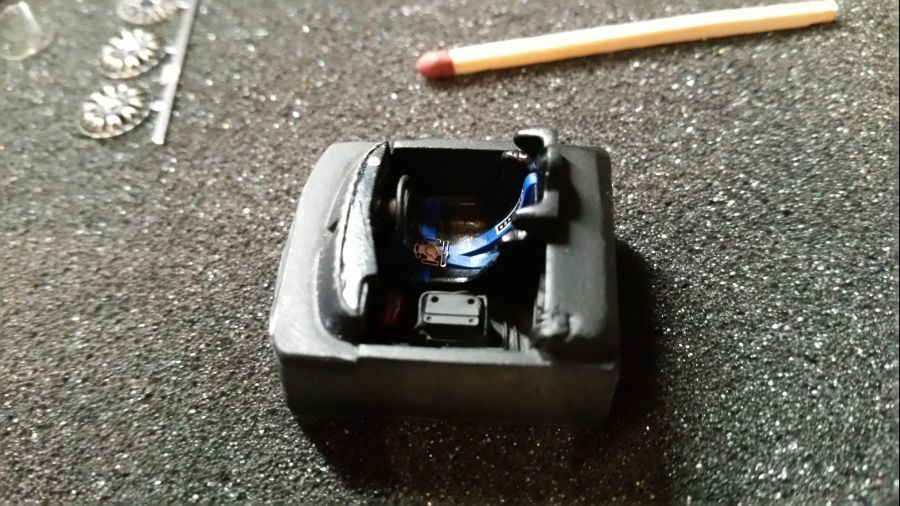 De decals worden op de body geplakt. Daarna moet alles goed drogen, voordat de lak kan worden gespoten.
The decals have been applied to the body. Everything has to dry, before lacquer can be sprayed.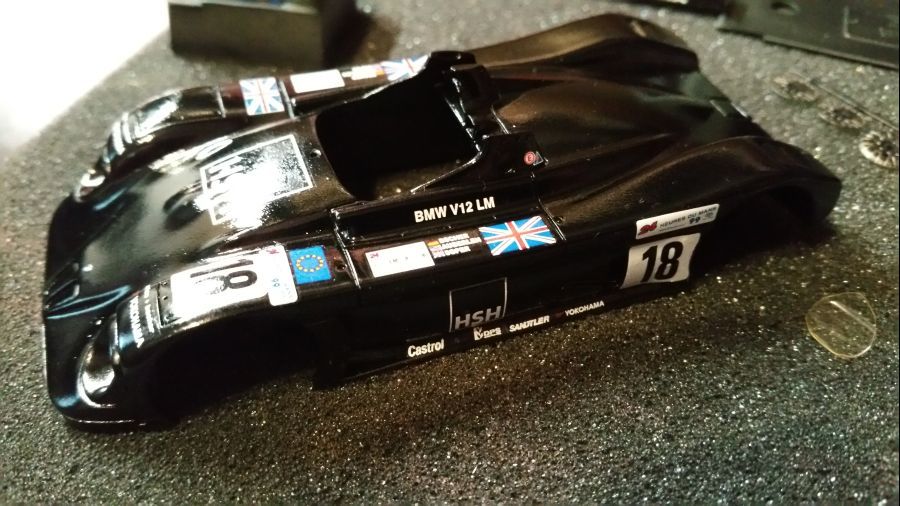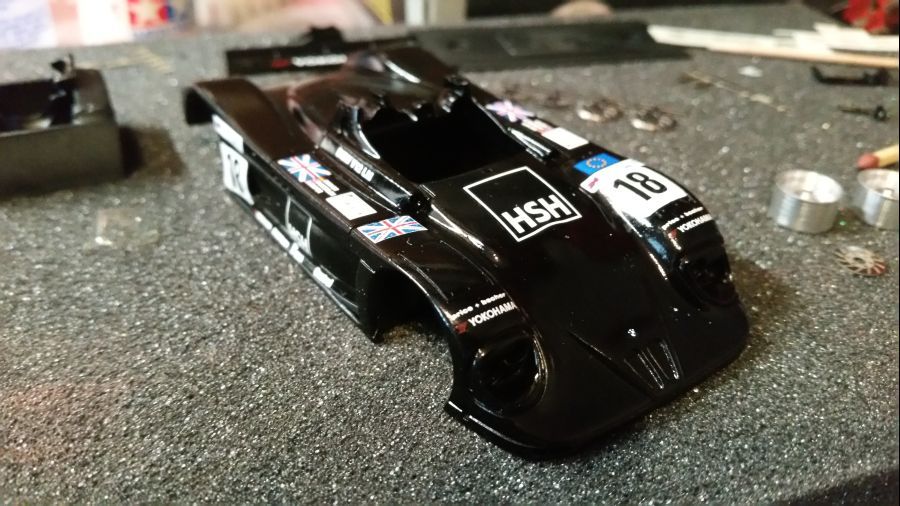 Weer een fout. Er zit geen verschil tussen de remschijven voor linker- en rechterkant. Ik kan dit niet oplossen. Ik heb geen andere schijven, maar ik denk dat het niet opvalt wanneer de 'wielcovers' er op zitten.
Another mistake. There is no difference between the brake discs for the left and right side. I am unable to solve this. I have no other discs, but i don't think it will show when the rim inserts are applied.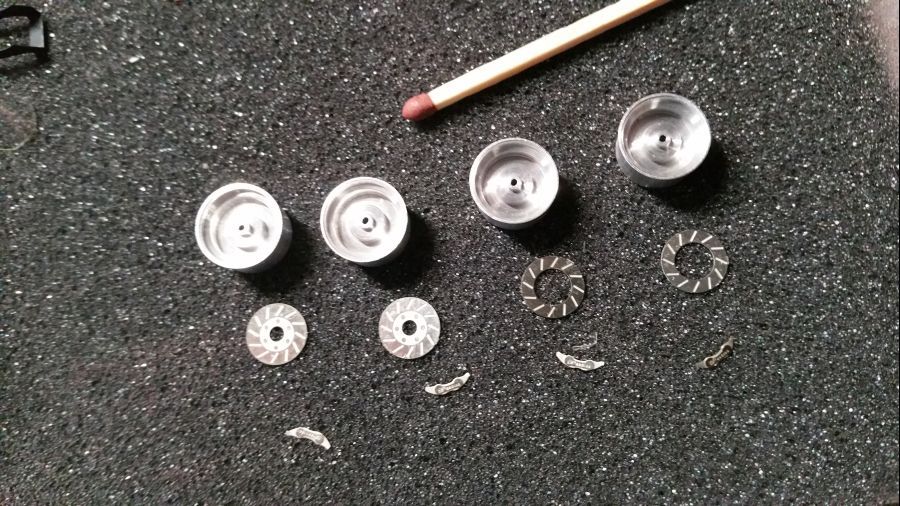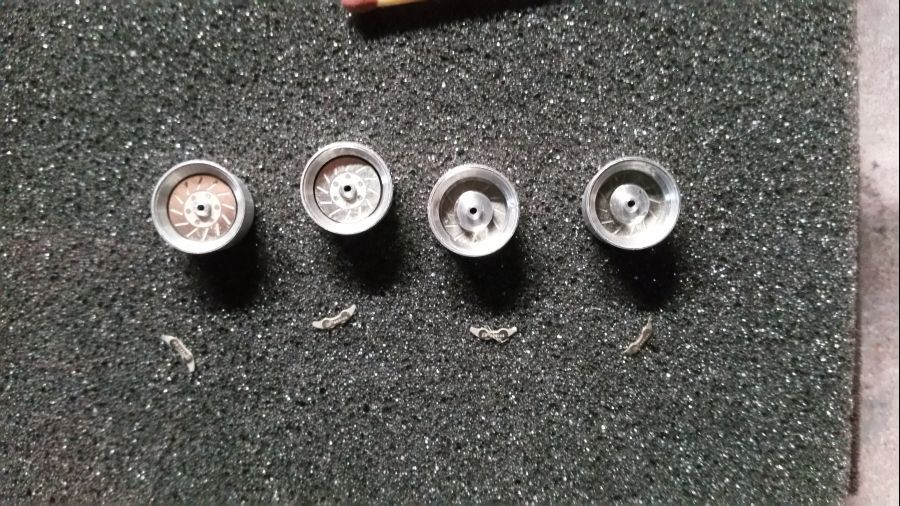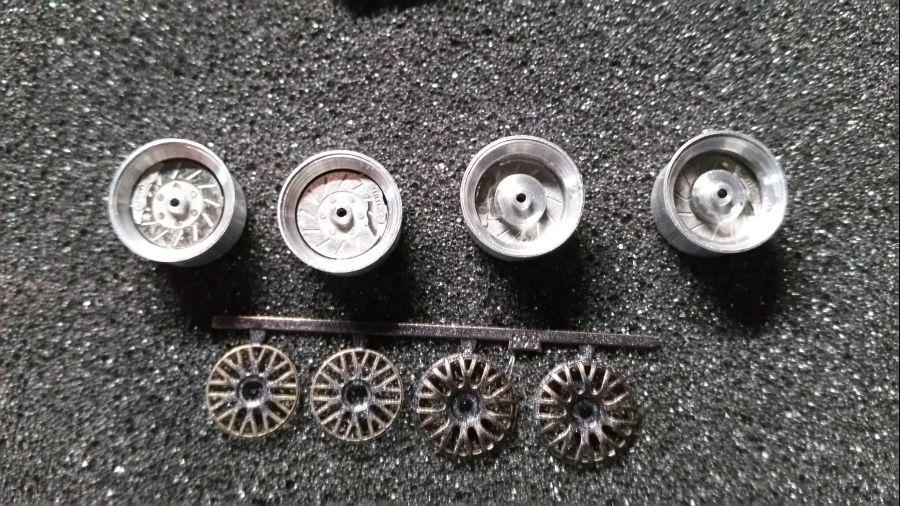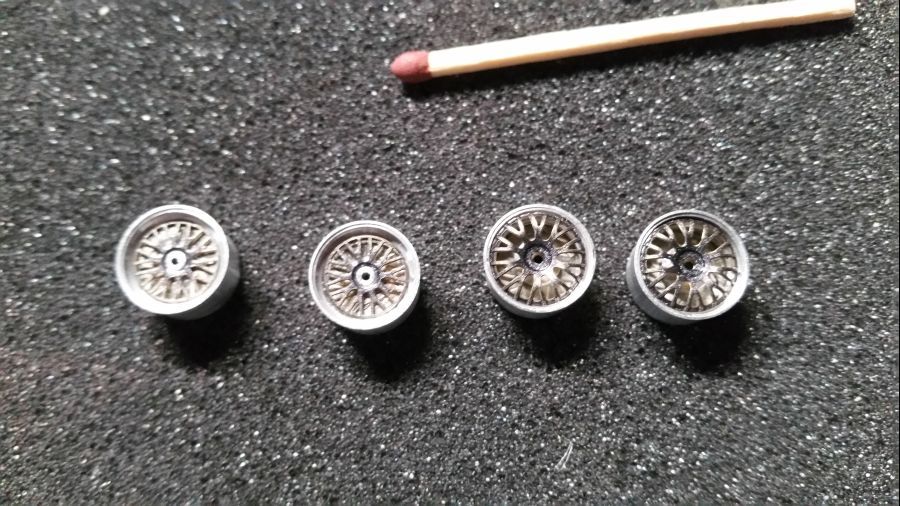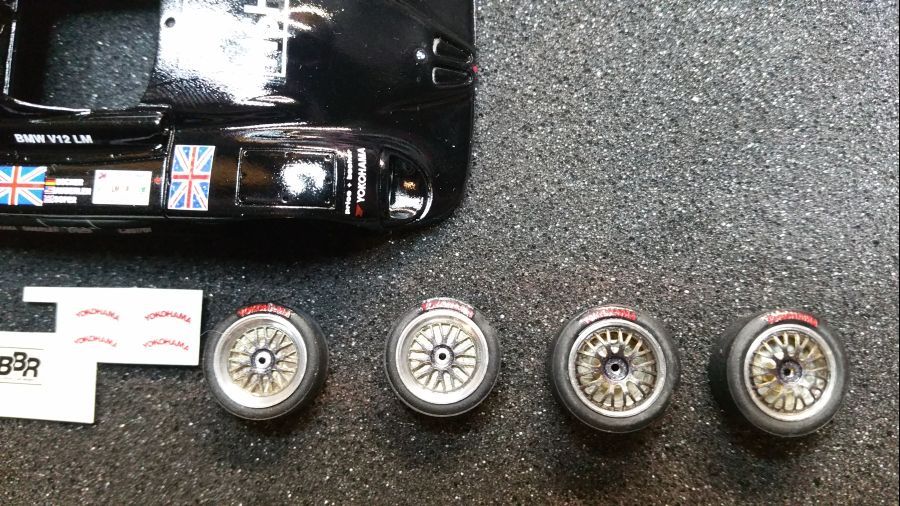 Nog wat kleine decals zijn geplaatst.
Some more small decals were applied.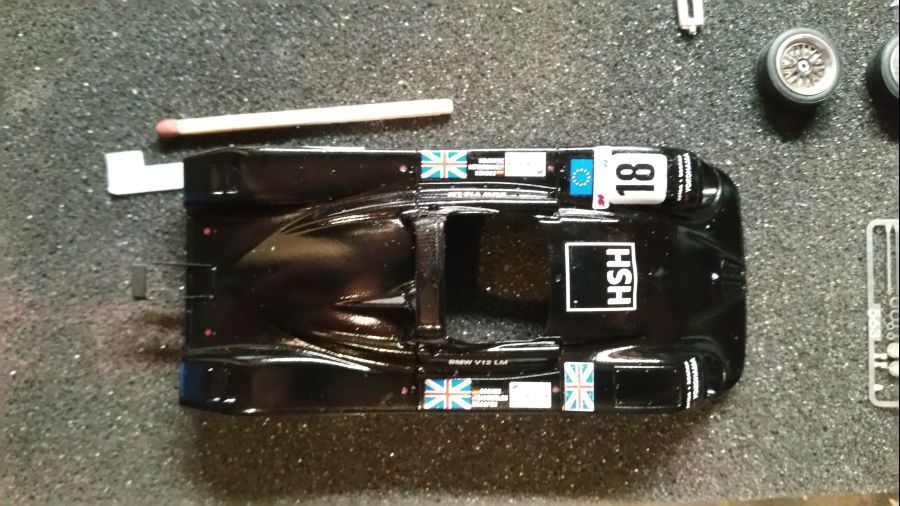 De achtervleugel wordt verder klaargemaakt.
The rear wing gets finished.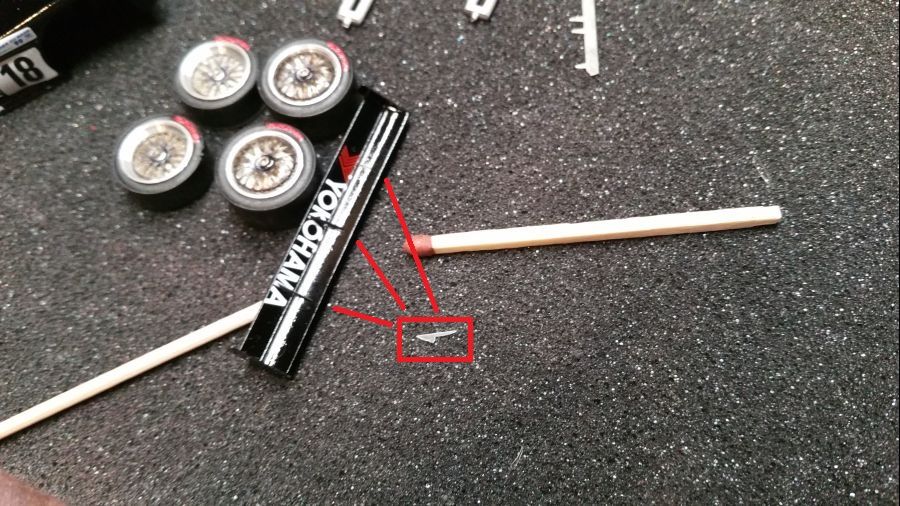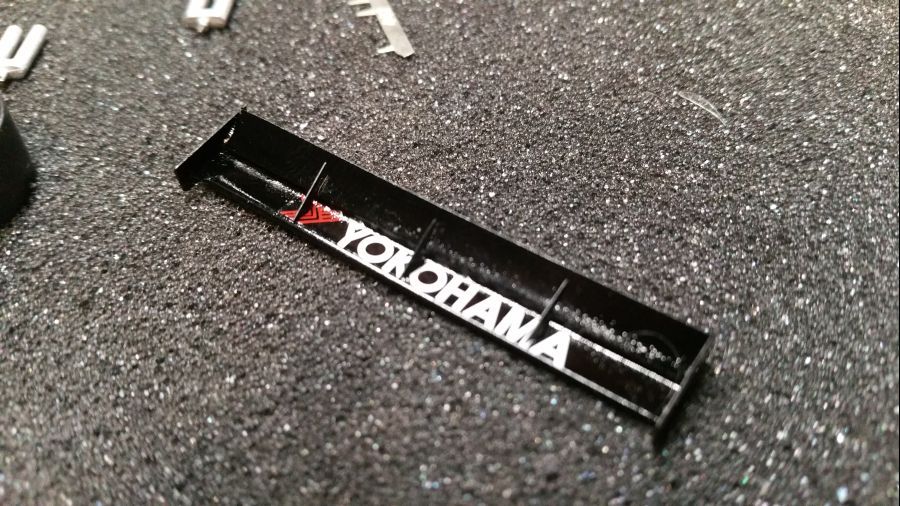 Alles wordt na het drogen van de decals gespoten met glanslak.
After drying the decals everything gets some coats of gloss lacquer.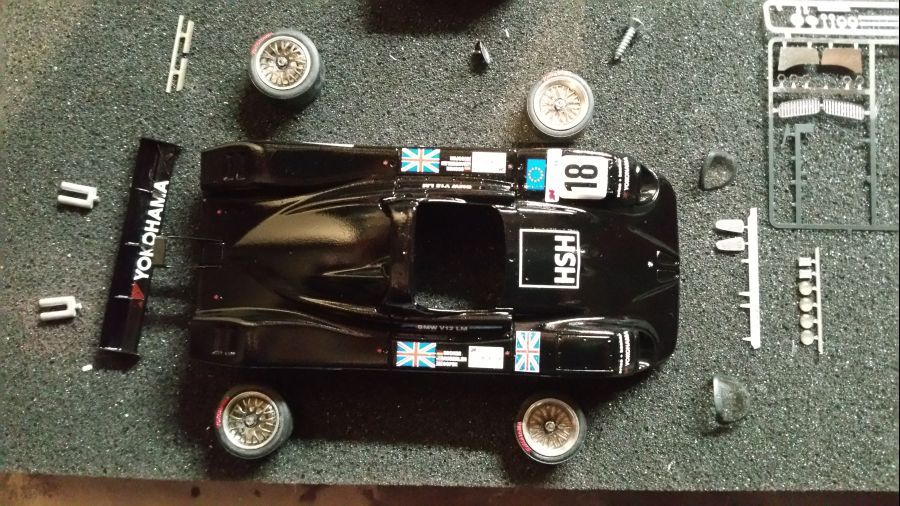 De voorkant en de achterkant worden verder klaargemaakt.
The front and the back are being finished.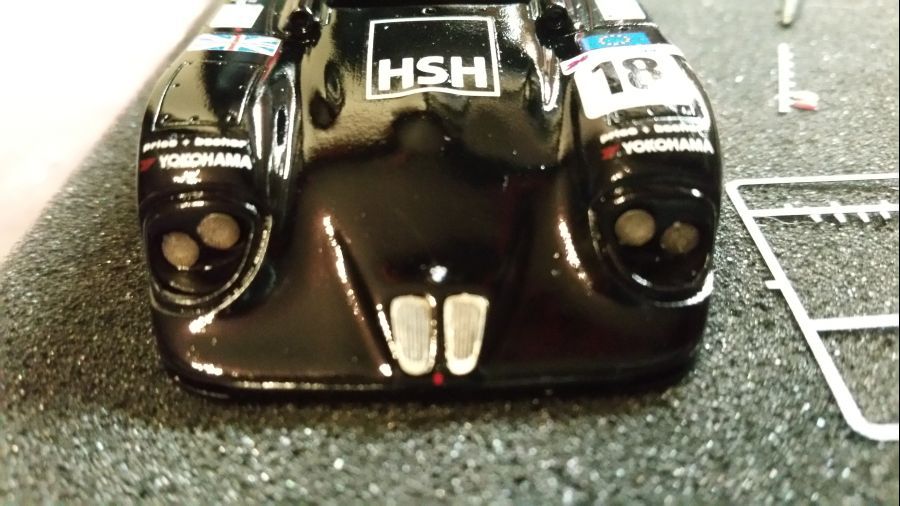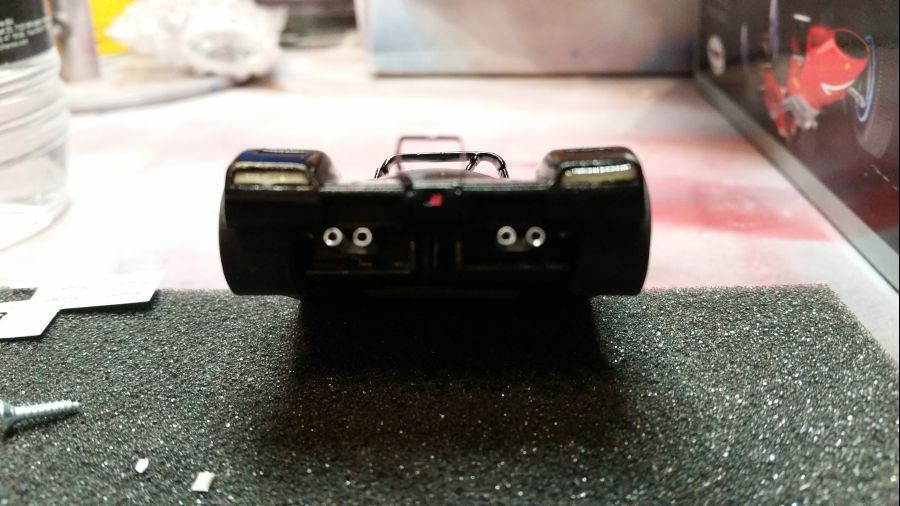 Dan volgen de assen en de wielen.
Next are the axles and the wheels.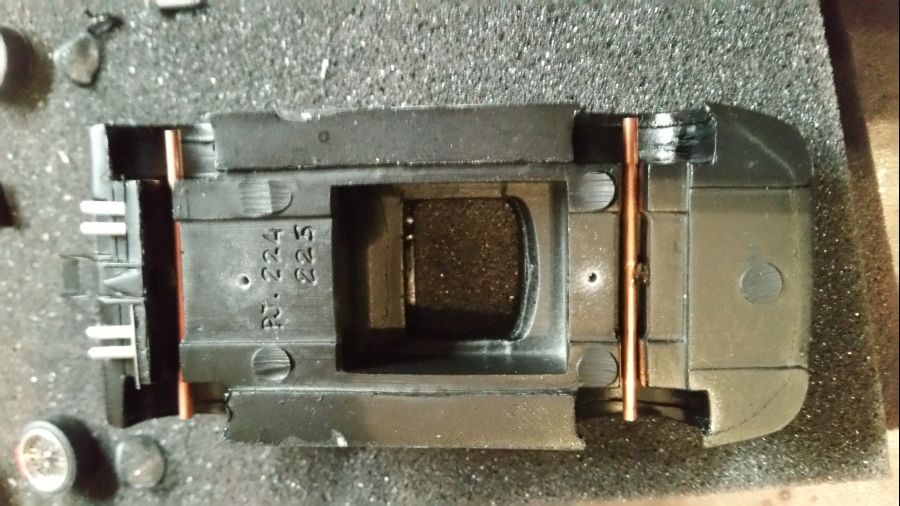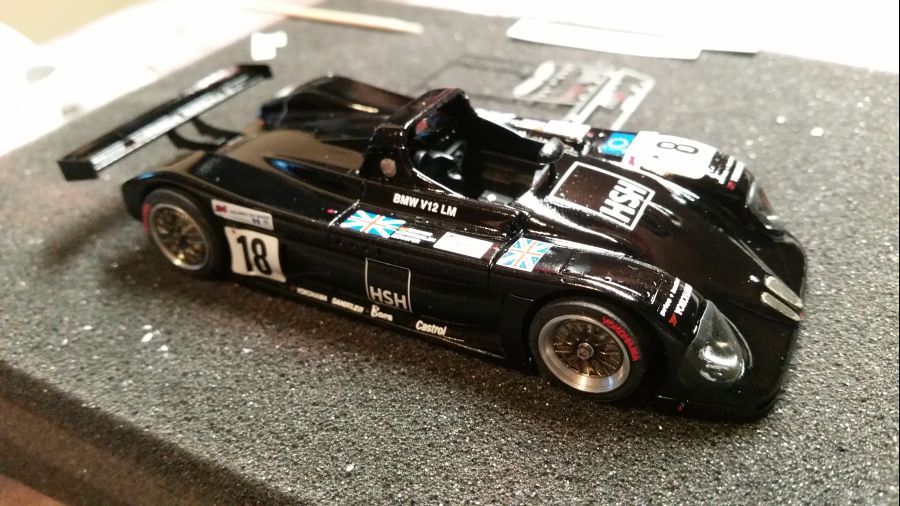 En klaar....  Deze gaat in een 1/43 doos.
And done.... This one will be put into a 1/43 box.