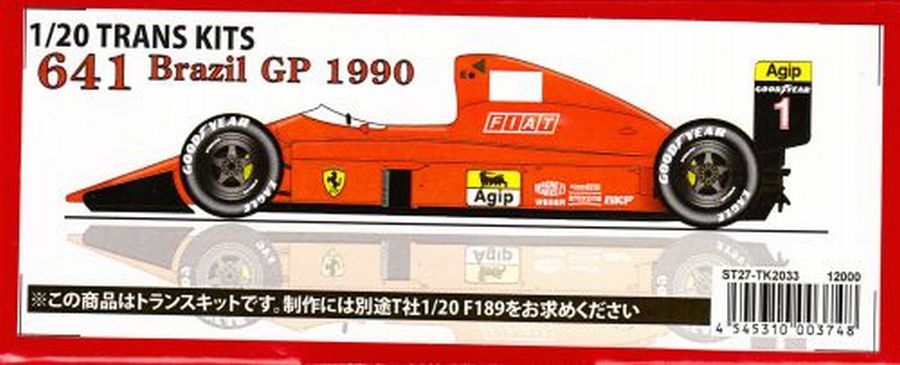 Weer een kit waarvan ik de bouw al een tijdje uitstel. Deze keer de Ferrari 641 Braziliaanse versie zoals deze in 1990 werd bestuurd door Alain Prost. Deze bouw heb ik al een tijdje uitgesteld omdat ik de bouw niet zo interessant vind. Natuurlijk, hij past perfect in mijn verzameling, maar ik heb al een 1988 en 2x een 1989 versie gebouwd. Voor mij niet echt vernieuwend dus. Of het moet al zijn omdat de basiskit van Tamiya de F189 Portugese GP (artikelnummer 20024) aangevuld wordt met onderdelen van de Studio27 conversie kit (artikelnummer ST27-TK2033). Een soort multimedia dus. Oh ja, verwar deze wagen niet met de Ferrari 641/2. Voor de verandering eerst maar weer de foto's van de inhoud van beide kits. De eerste 2 foto's betreft de inhoud van de Studio27 doos, de volgende 2 de inhoud van Tamiya.
Another kit of which the build was postponed for a while. This time the Ferrari 641 Brazil version as driven by Alain Prost in 1990. I postponed this one because the build does not seem appealing to me. Of course, it fits my collection perfectly, but i have already done a 1988 and 2x a 1989 version. So this one is not super inspiring. Or is should be because the base kit is a Tamiya F189 Portugese version (item number 20024), where parts of the Studio27 conversion kit (item number ST27-TK2033) are added. So a kind of multi media kit. Do not mix up this car with the Ferrari 641/2. First the pictures of the content of both kits. That's a change, right? The first 2 pictures show the content of the Studio27 box, the next 2 the content of Tamiya.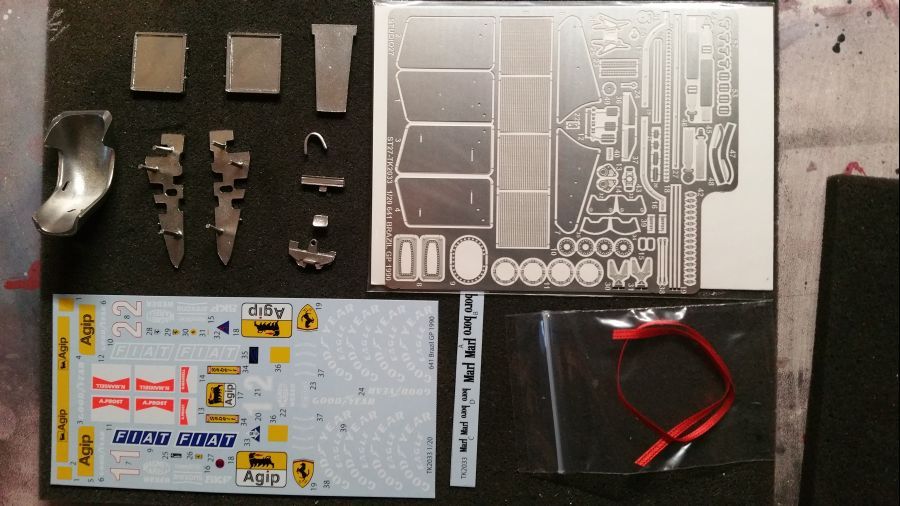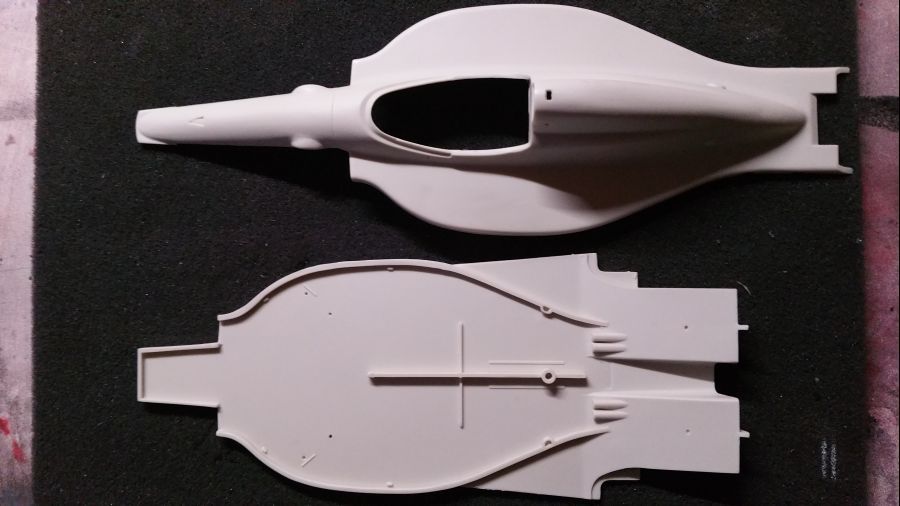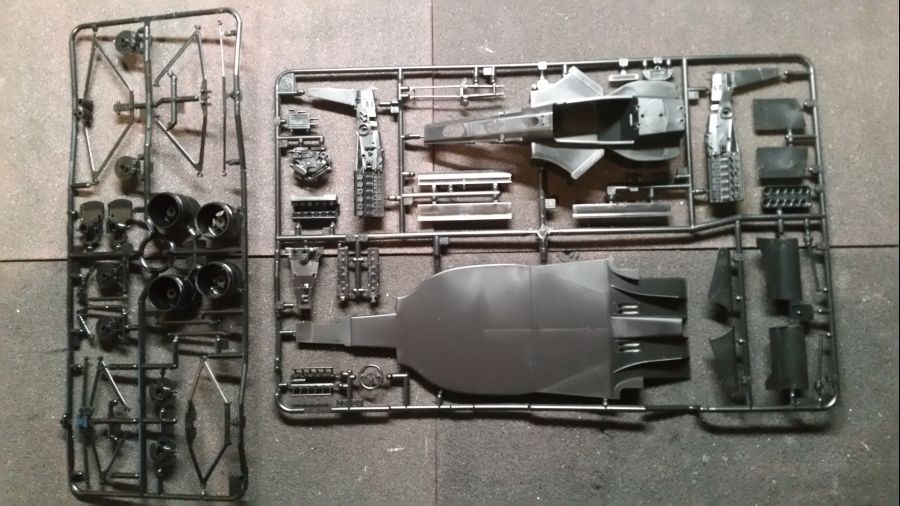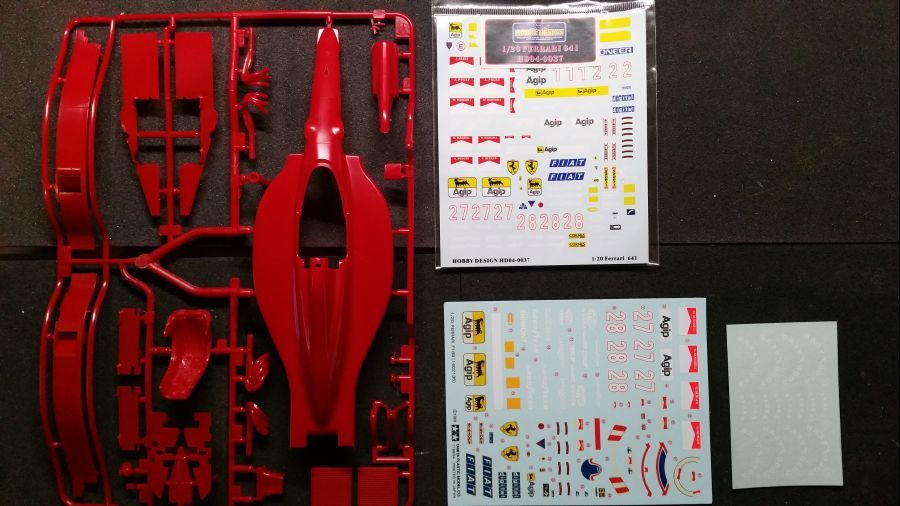 Hieronder is duidelijk het verschil te zien tussen de onderdelen van Tamiya en die van Studio27. Toch nog wel wat uiterlijke verschillen dus tussen een Ferrari 640 en een Ferrari 641. Edit: pas ook op de binnenkant van de romp. Deze behoeft aanpassingen (zie verderop in de beschrijving).
Below you can see the difference between the parts from Tamiya and those from Studio27. Clearly some visual differences between a Ferrari 640 and a Ferrari 641. Edit: mind the inside of the body too. It needs alterations (see further down this article).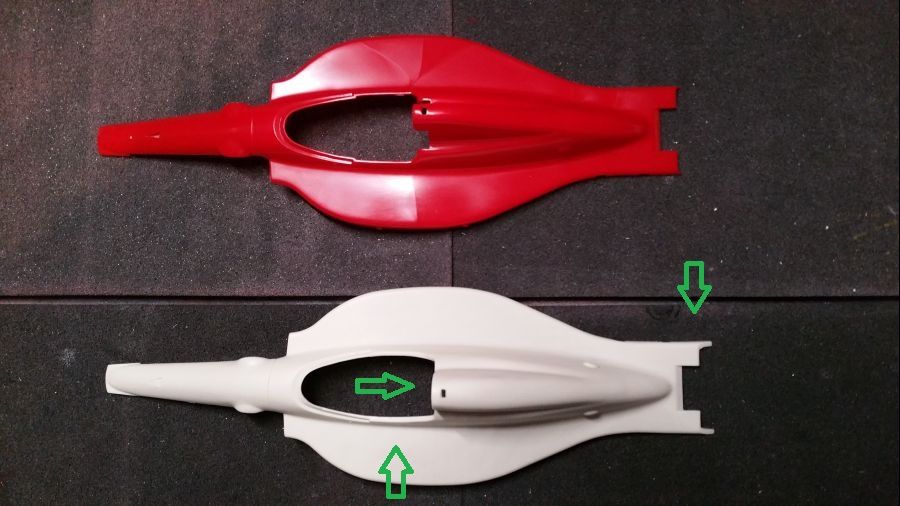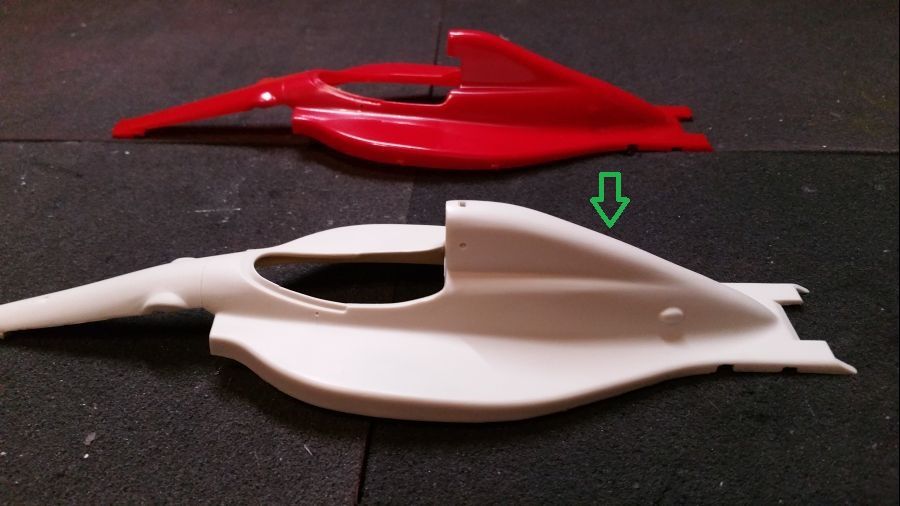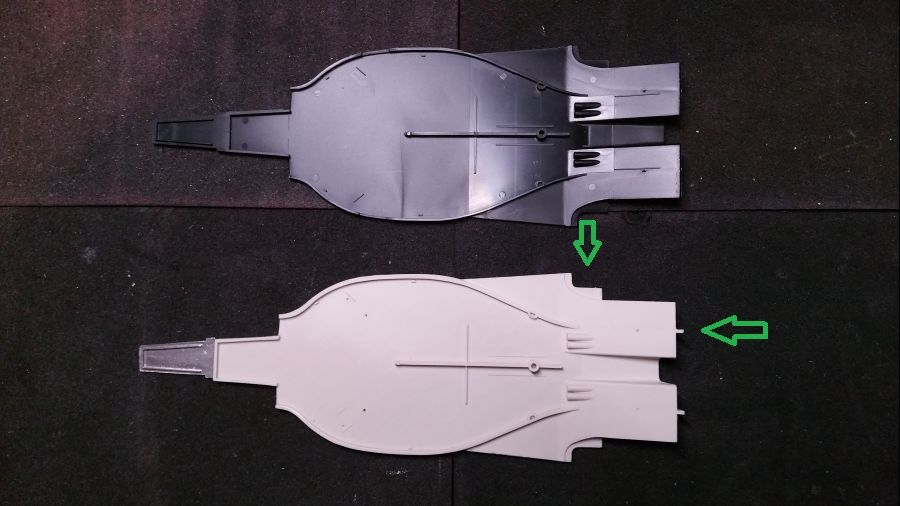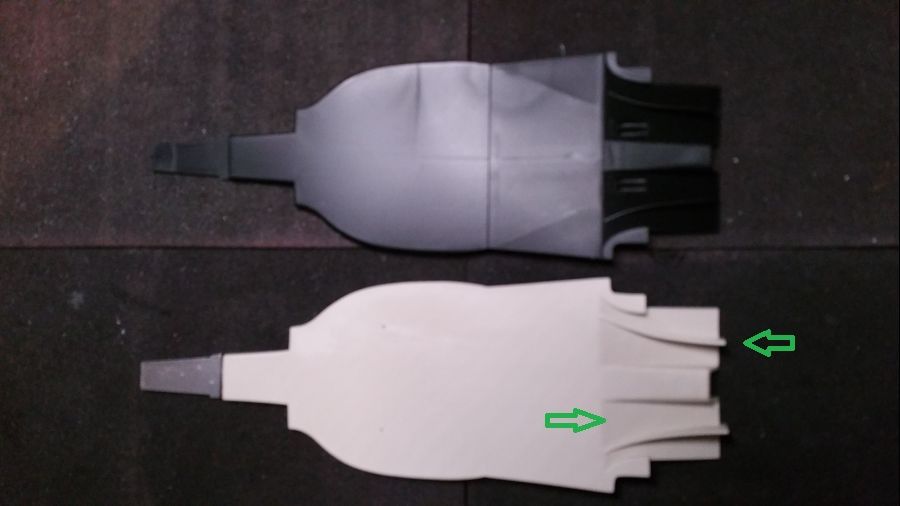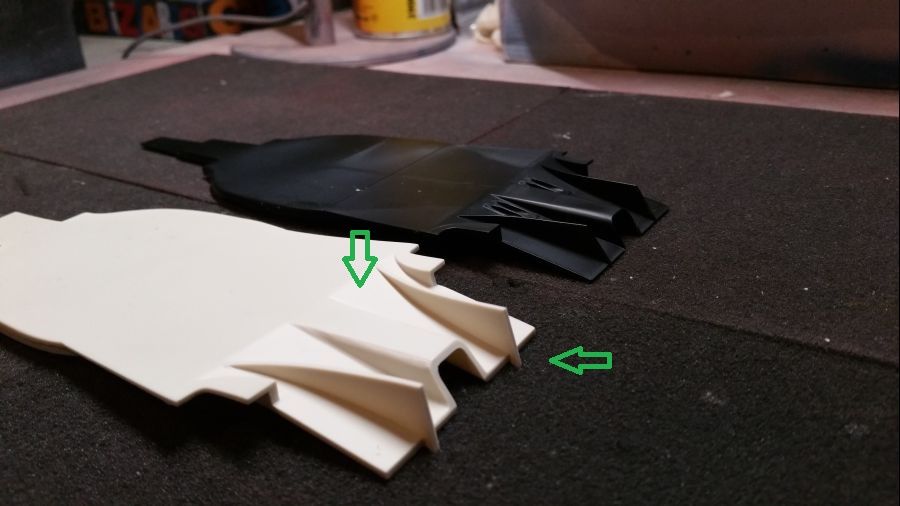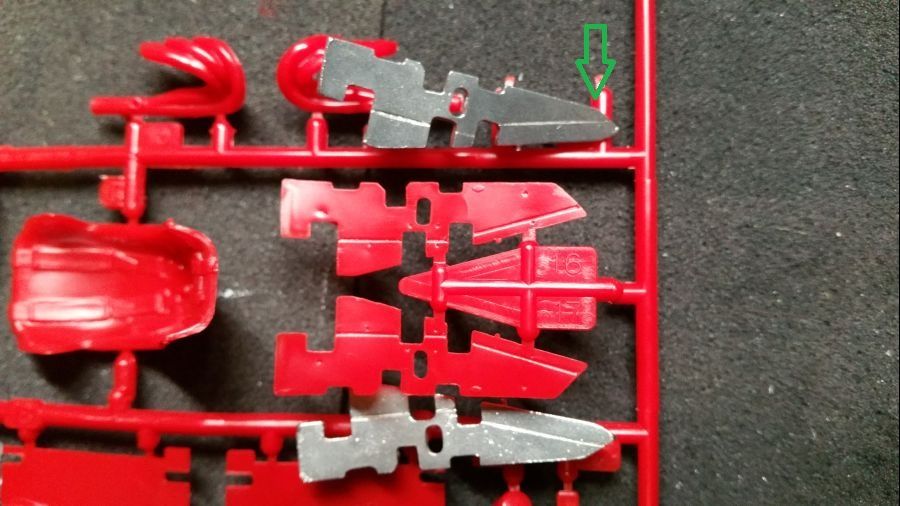 De eerste stappen aan de motor....
The first steps to the engine....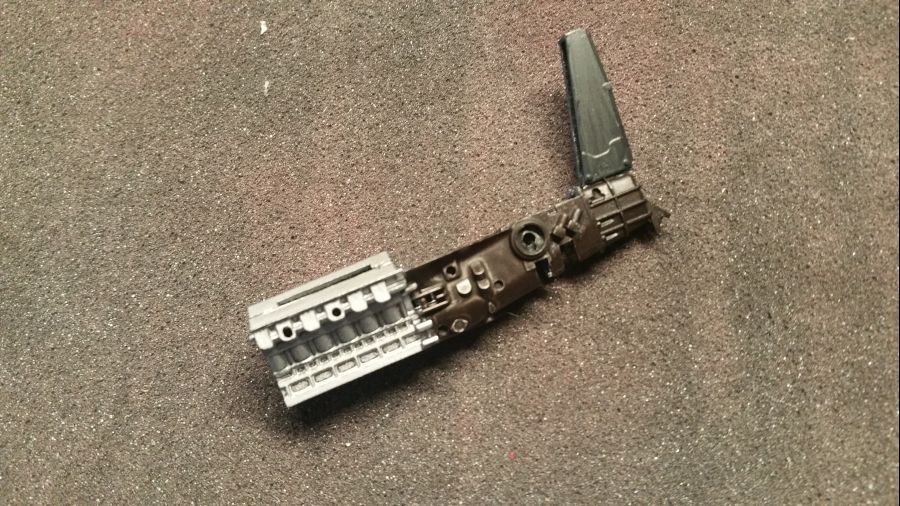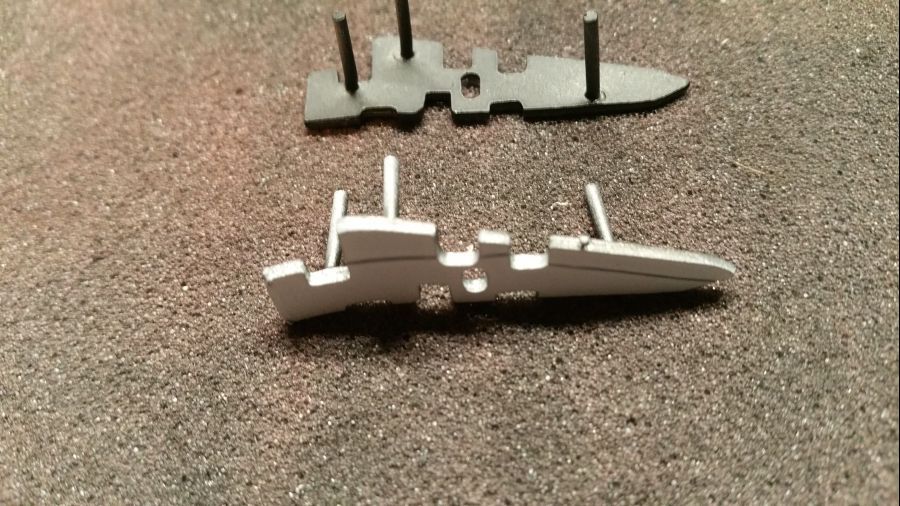 Ik ga alvast alle onderdelen voor bereiden welke rood moeten worden gespoten. Daarom nu eerst verder met de zijkanten. Deze kunnen niet zondermeer aan de bodem worden bevestigd. Er moet een rand worden verwijderd.
First i will prepare all parts that need to be painted red. Therefore i am continuing with the side walls. These do not fit the floor without alterations. First they need some cutting.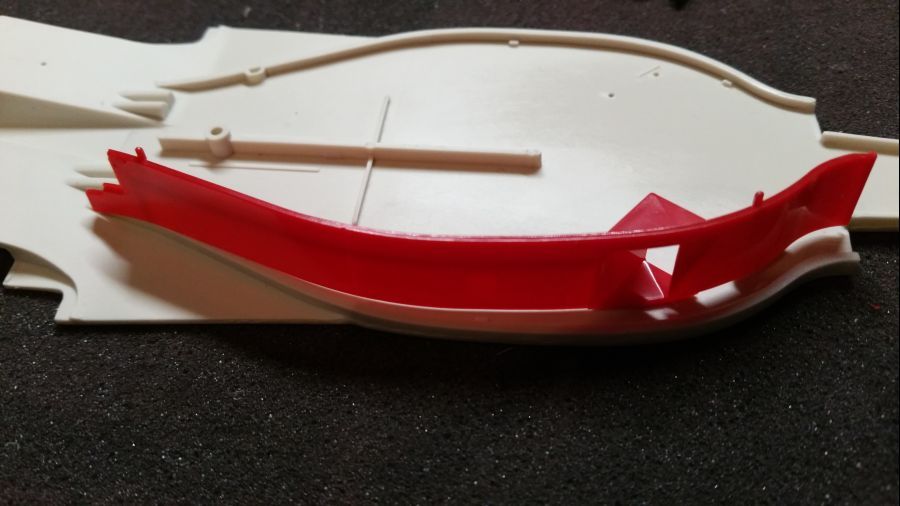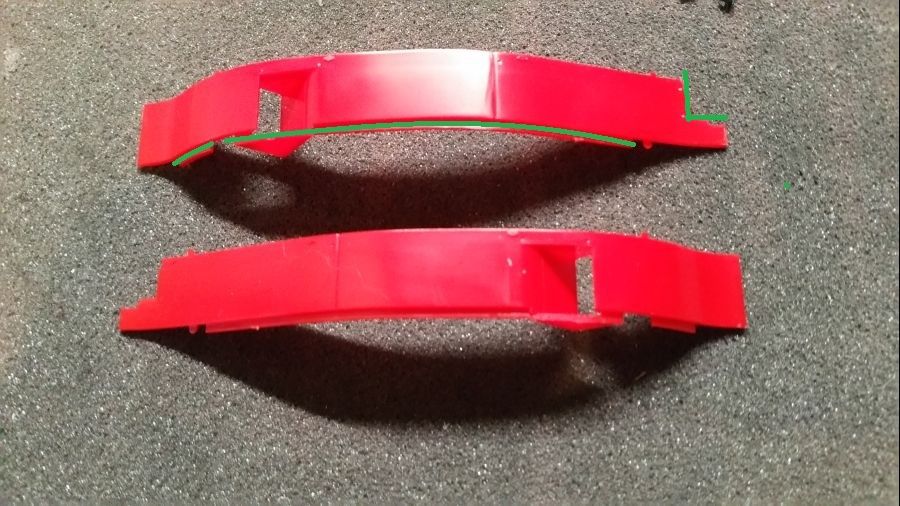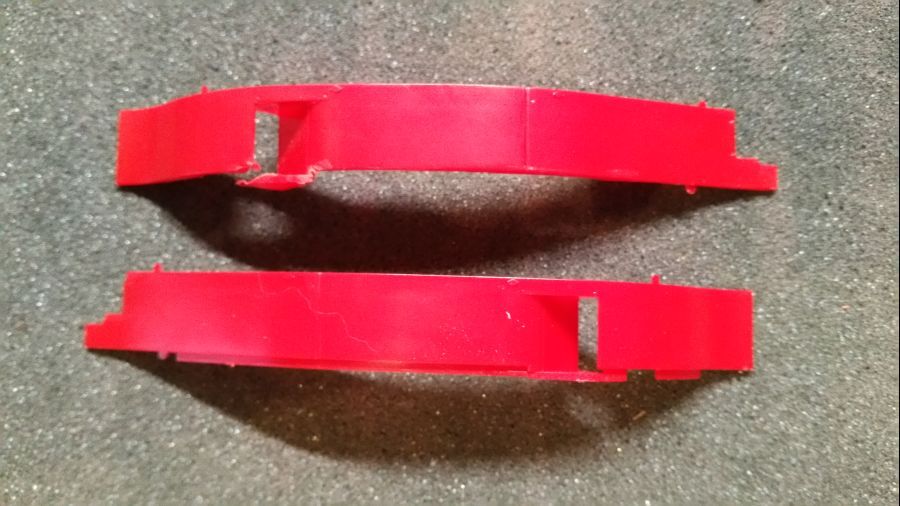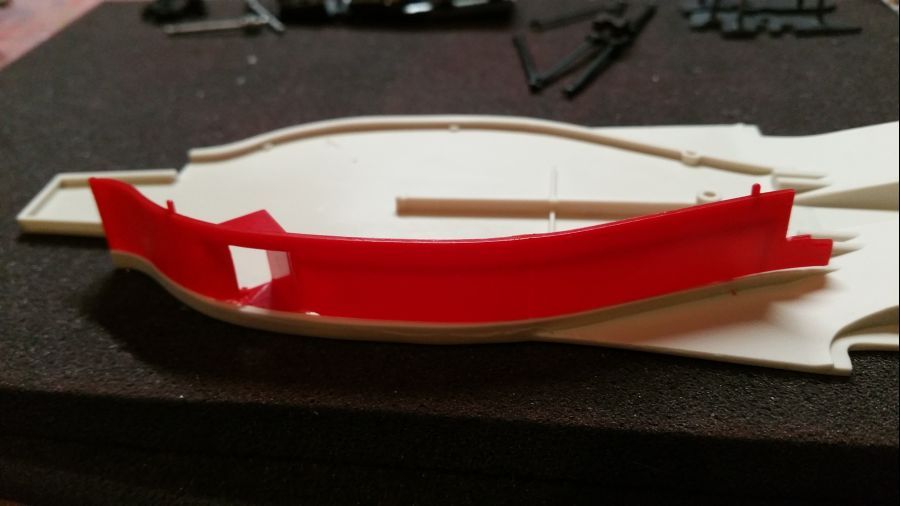 Eén deel heeft een kleine beschadiging opgelopen bij het snijden. Dit ga ik eerst repareren door een kleine stukje plaat erachter te plakken en het op te vullen met putty.
One part got a little damaged during the cutting process. I will repair this by gluing a small piece of sheet at the back and then fill it with putty.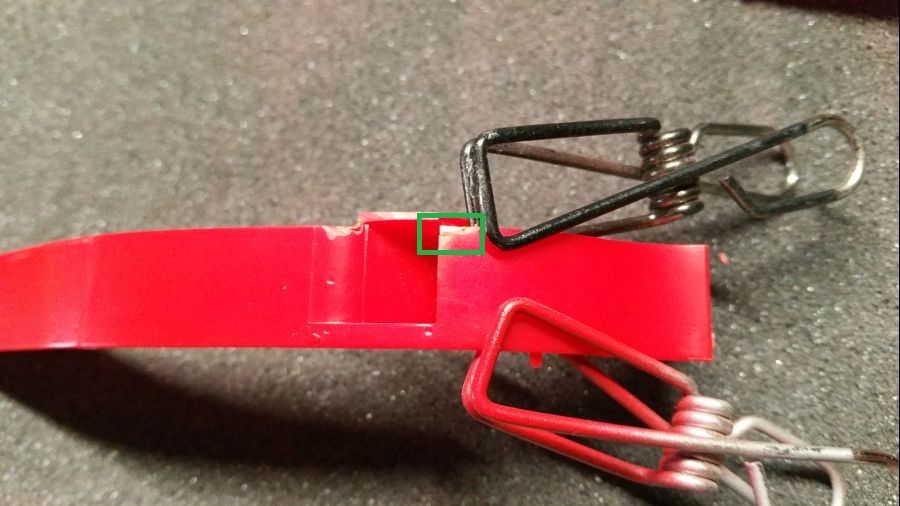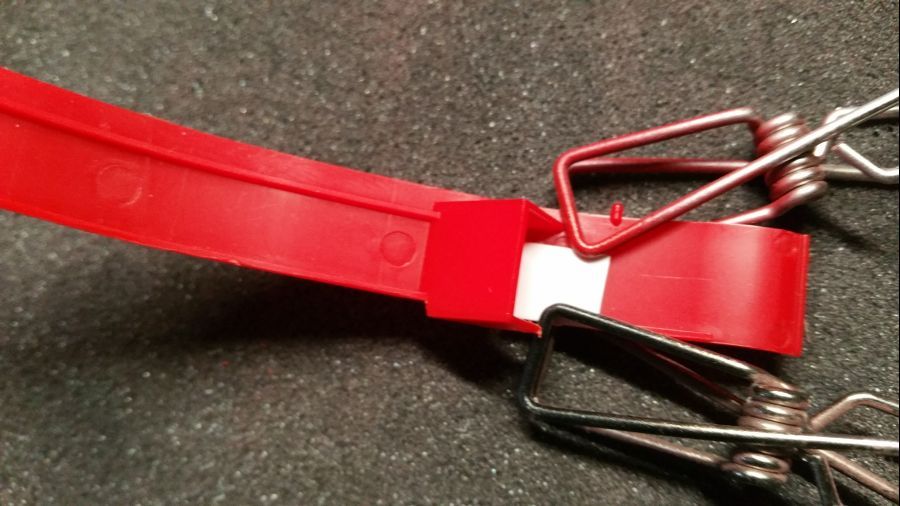 Na de grondverf zit nu het rood erop. Ook deze keer weer Zero Paints ZP-1007 Pre-2004 Rosso Formula 1. Nu eerst laten drogen en dan de glanslak eroverheen.
After the primer the red has been airbrushed. This time again Zero Paints ZP-1007 Pre-2004 Rosso Formula 1. Now let it dry and then apply gloss clear coat.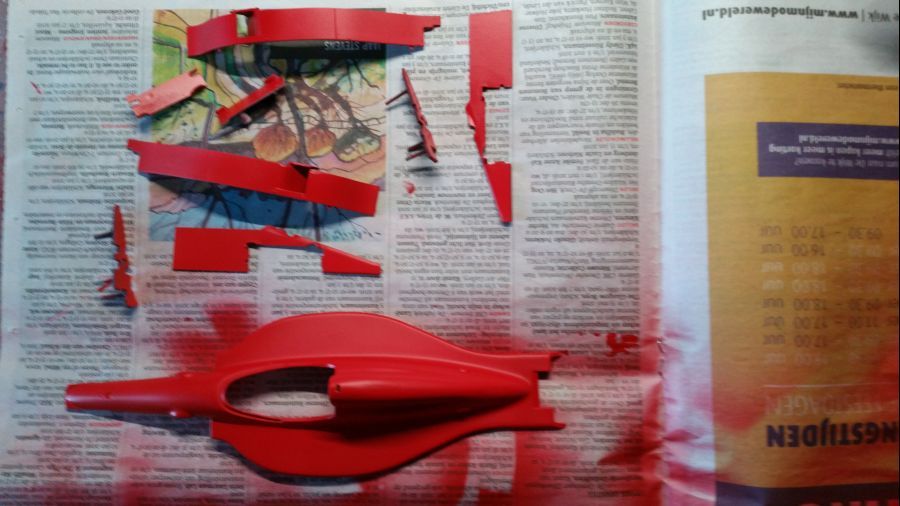 Na de glanslak is het tijd voor de eerste decals.
After the clear coat it's time for the first decals.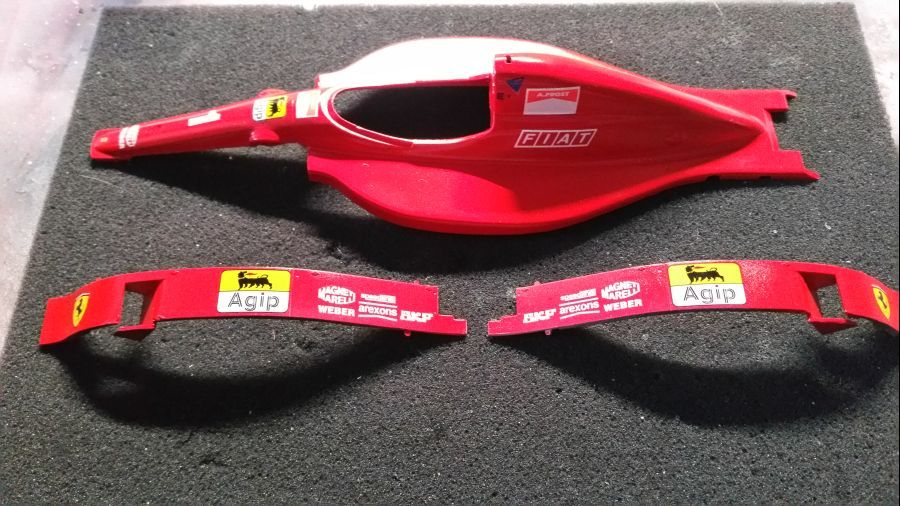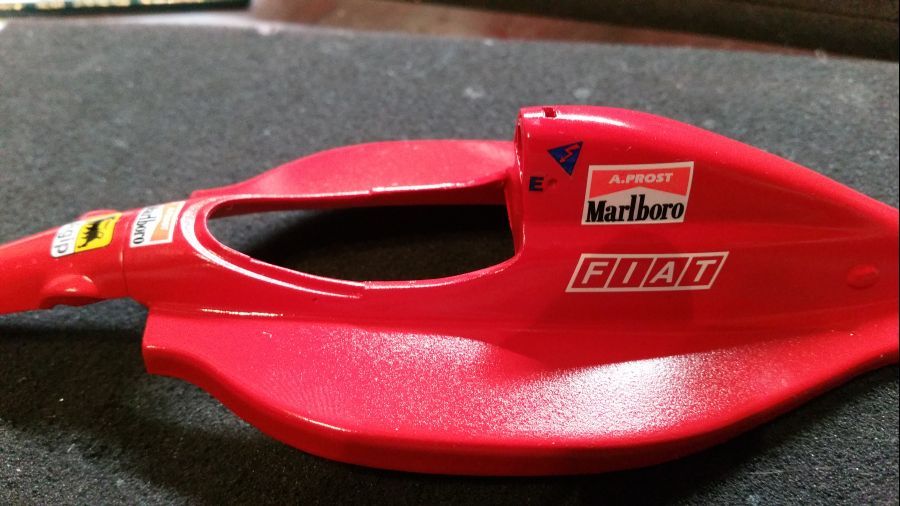 Dan weer verder met de motor/achterwielophanging.
Then continuing with the engine/rear wheel suspension.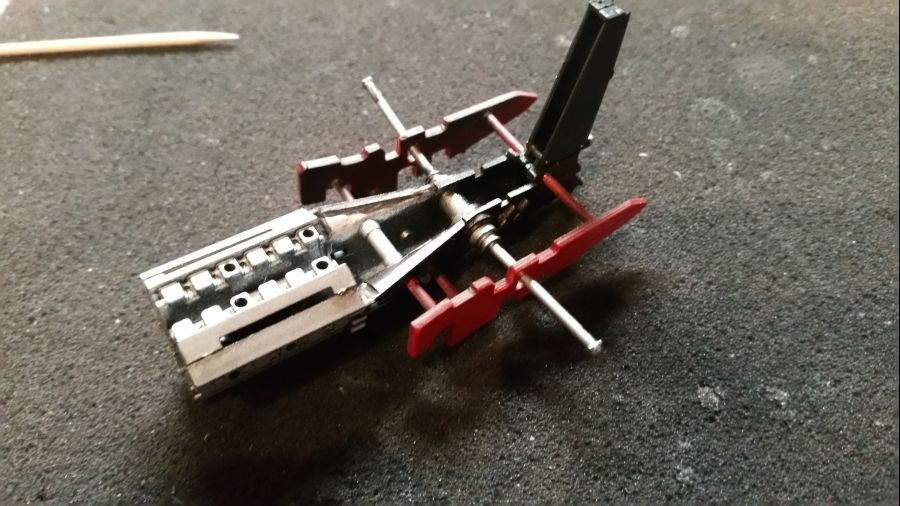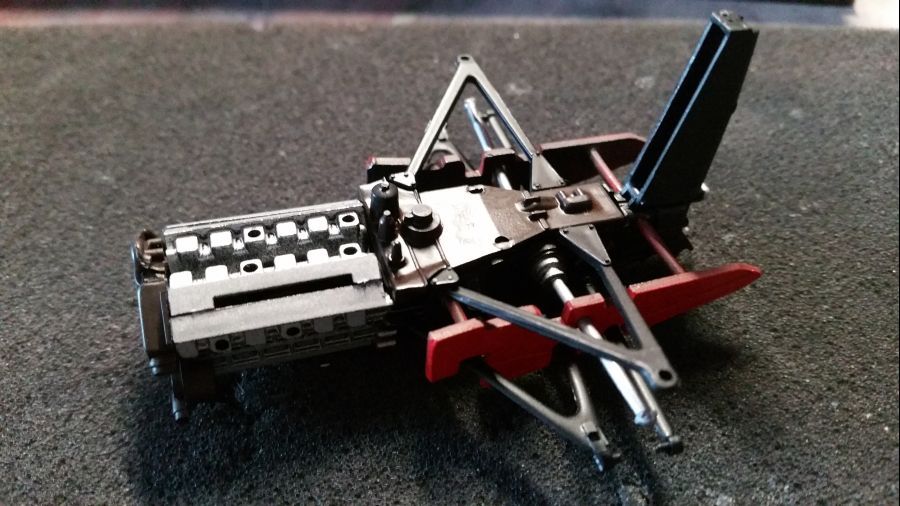 De vloer is zwart gespoten. Nu eerst even een test of de motor goed past.
The floor was painted black. First a test fit of the engine.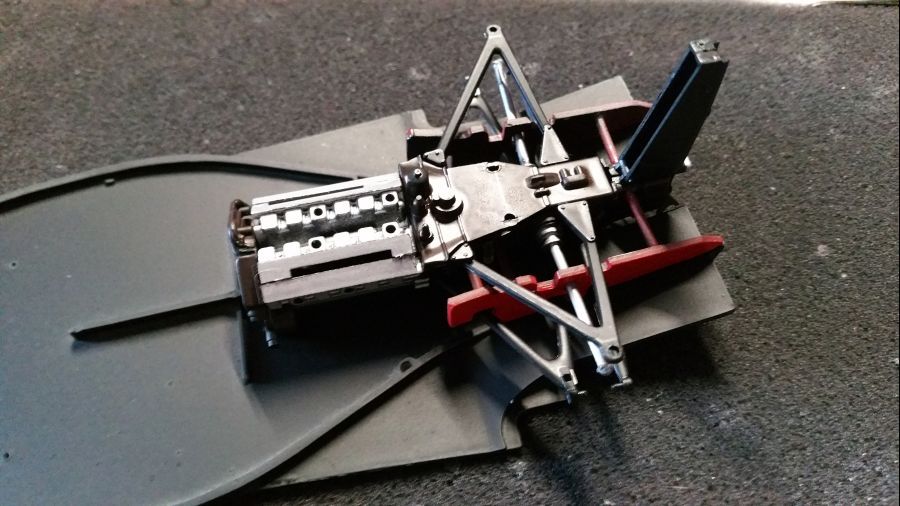 Intussen heeft de body weer een paar lagen heldere glanslak gekregen.
In the meantime the body received a couple of layers of clear gloss.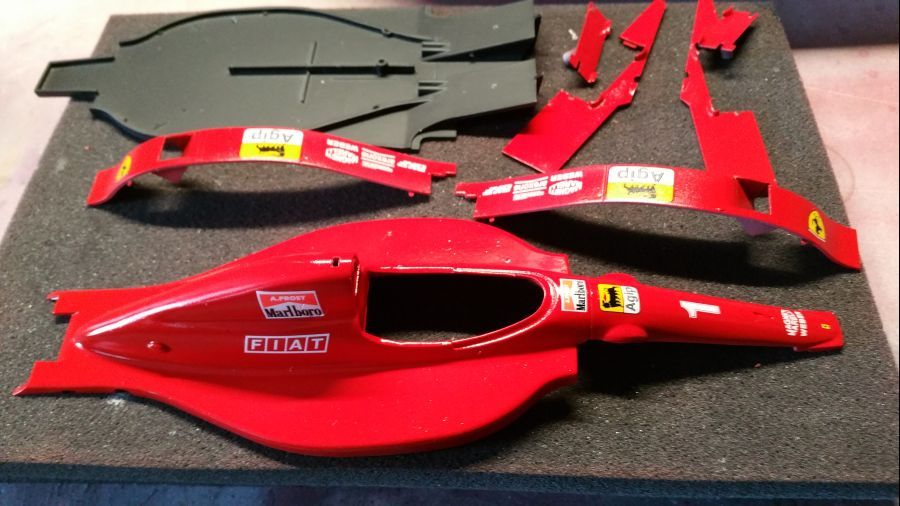 Terwijl dat droogt ga ik weer verder met de motor/ophanging. De uitlaten zijn zilver gespoten en worden nu verder bewerkt.
While this dries i will continue with the engine/suspension. The exhausts were sprayed silver en need some more work now.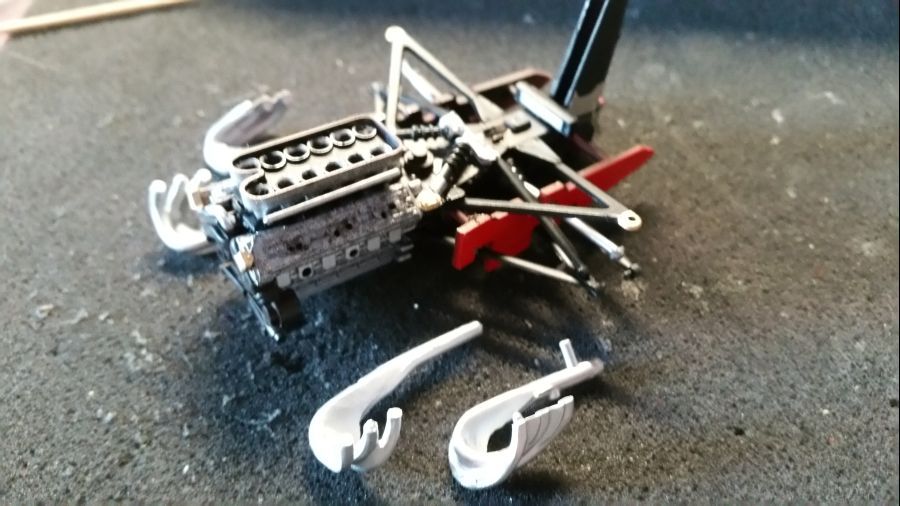 Eerst weer achtereenvolgens the kleuren helder geel, helder oranje, helder rood en helder blauw aangebracht. Helaas ziet het er op de foto niet zo mooi uit als wanneer je het gewoon ziet.
First the colors clear yellow, clear orange, clear red and clear blue are applied. Unfortunately it doesn't look as good on the picture as it looks for real.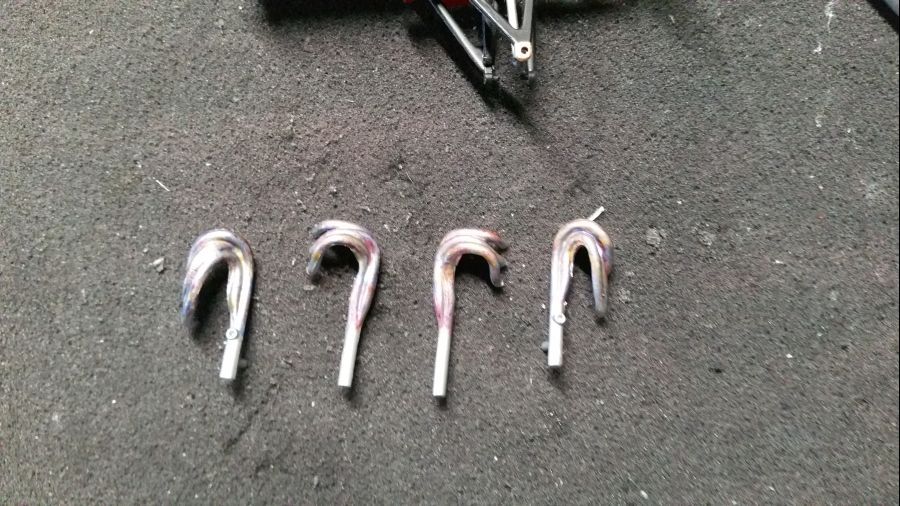 De motor krijgt eerst wat extra bedrading.
The engine will get some wiring added.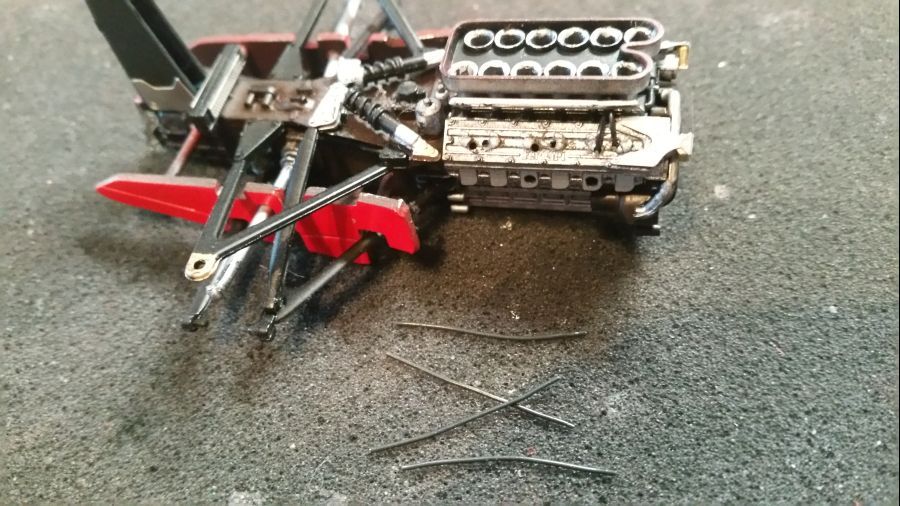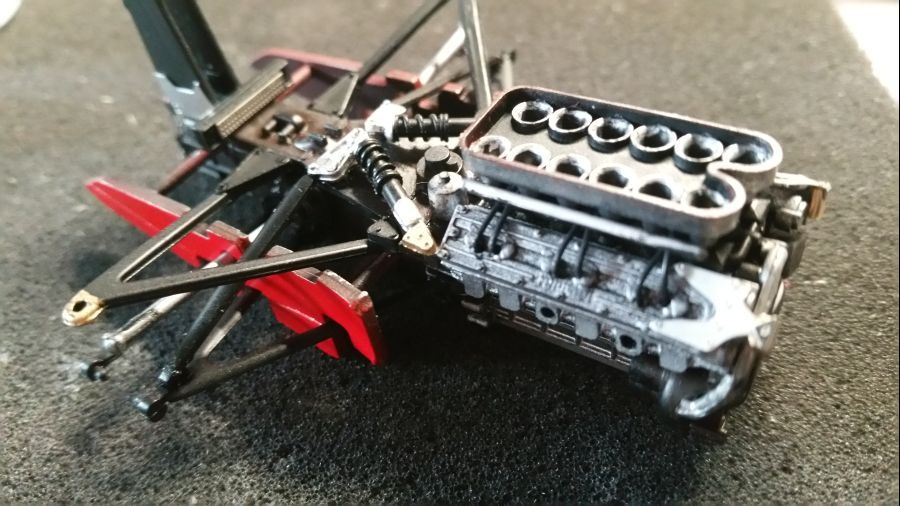 De montagepunten voor de wielen worden geplaatst.
The wheel mounts are put in place.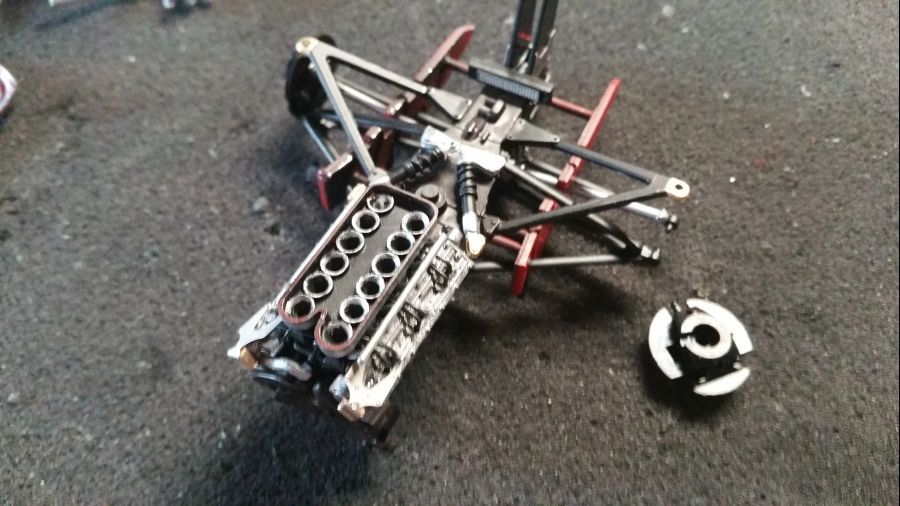 Dan is het tijd voor de uitlaten.
Now it's time for the exhausts.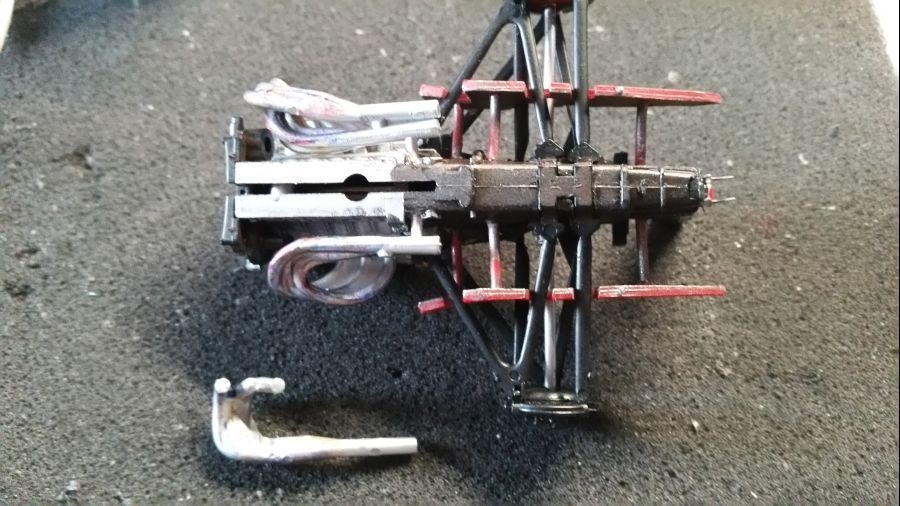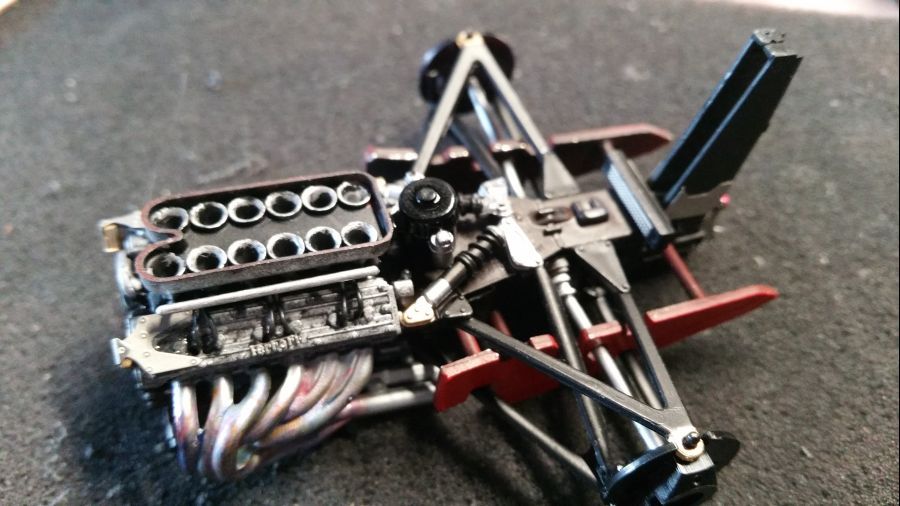 De houders voor de koeling moeten worden verwijderd.
The mountings for the coolers need to be cut off.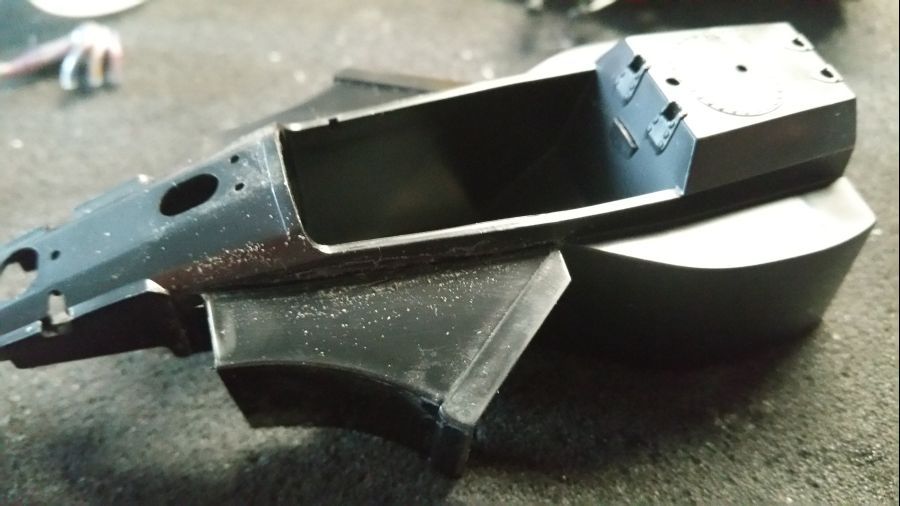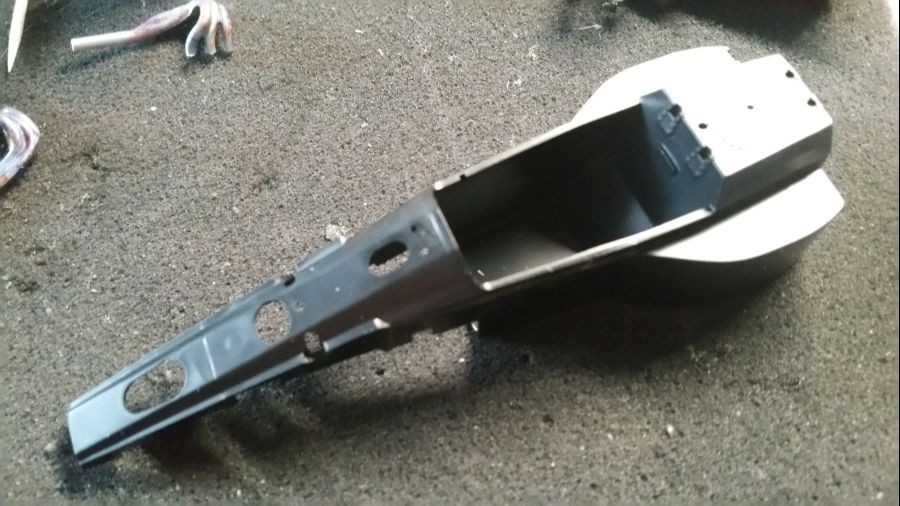 De kleine popnagels worden verwijderd om plaats te maken voor het etched onderdeel.
The small rivets are being cut off to create space for the etched part.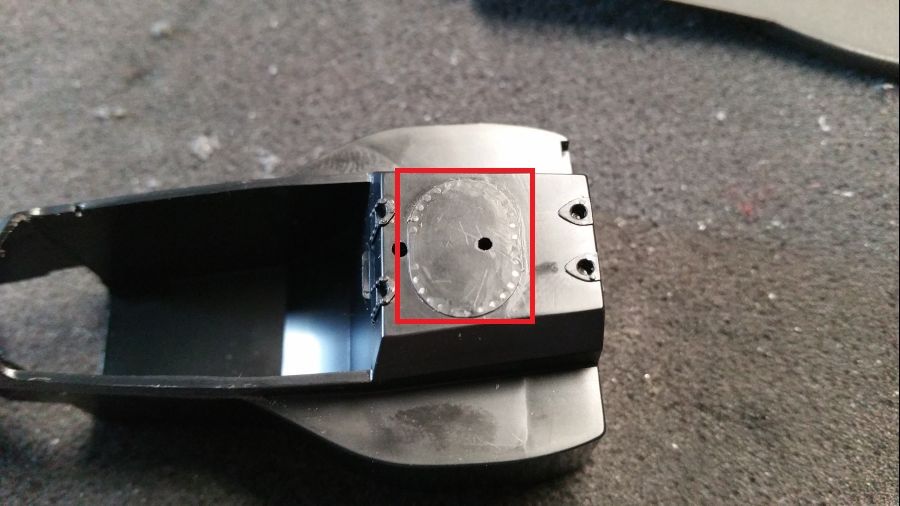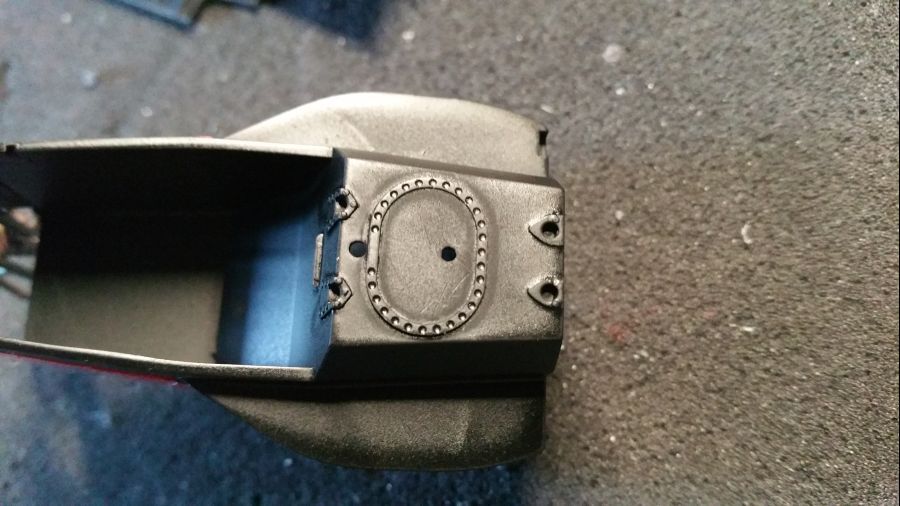 Dan wat werk aan de neus.
Next is some work to the nose.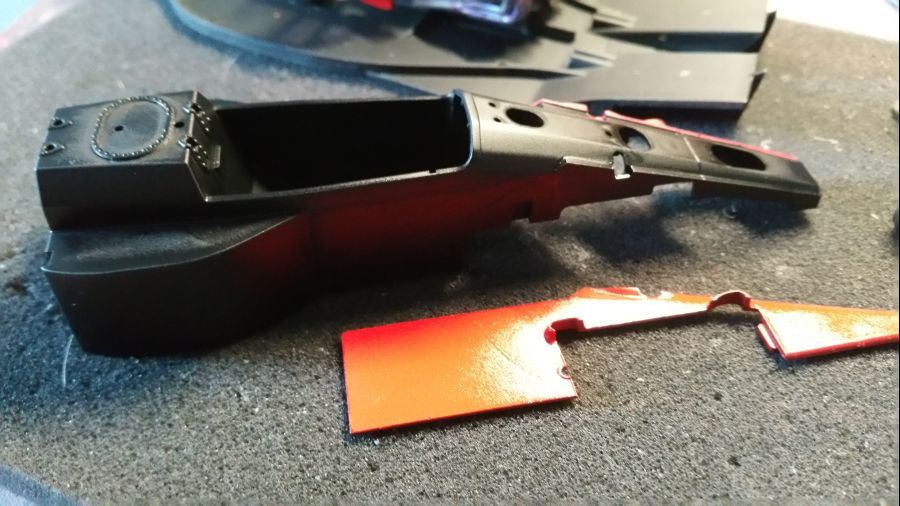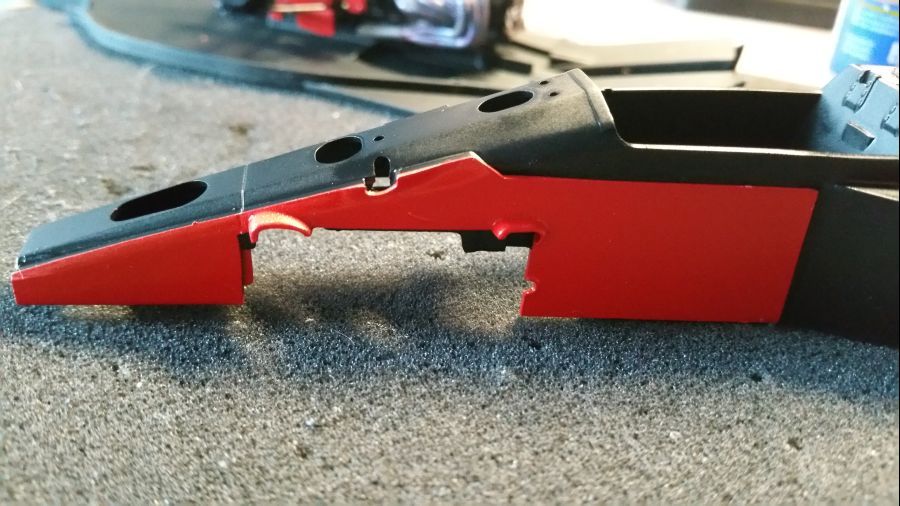 En aan de bodemplaat.
And to the floor.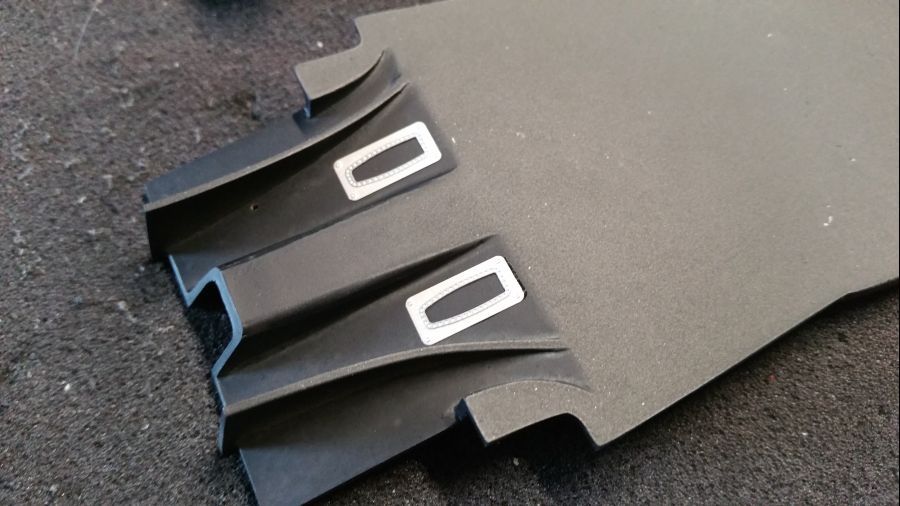 Daarna is het de beurt aan de voorwielophanging.
Next is the front wheel suspension.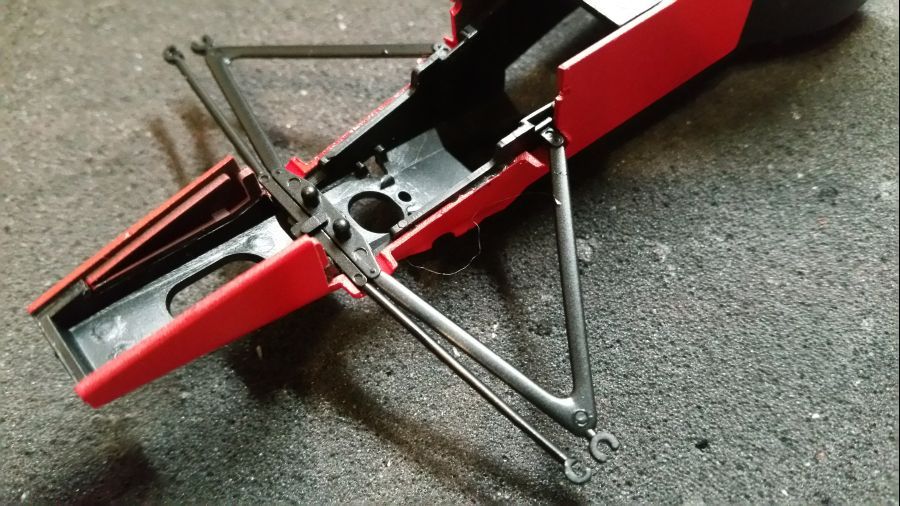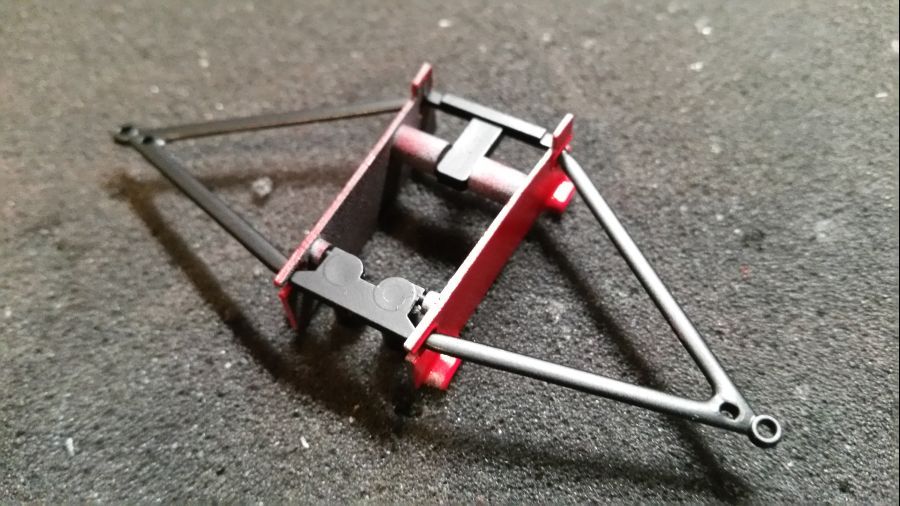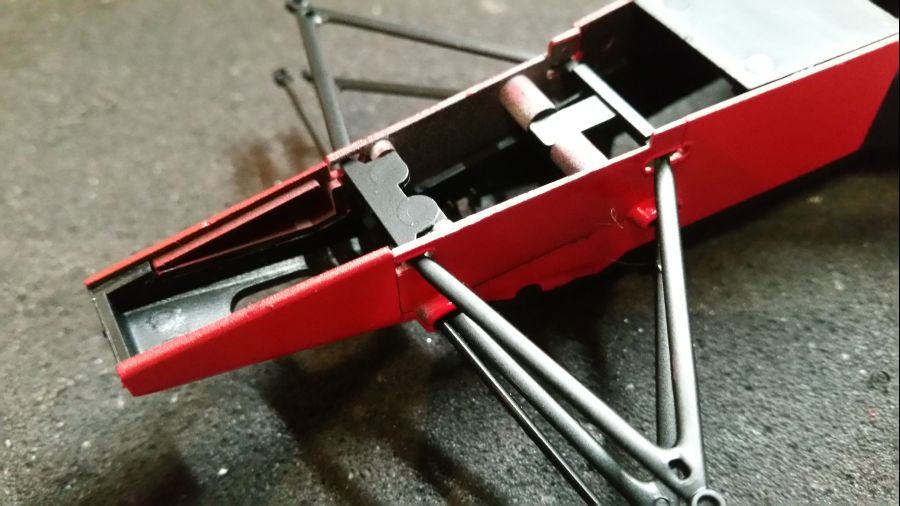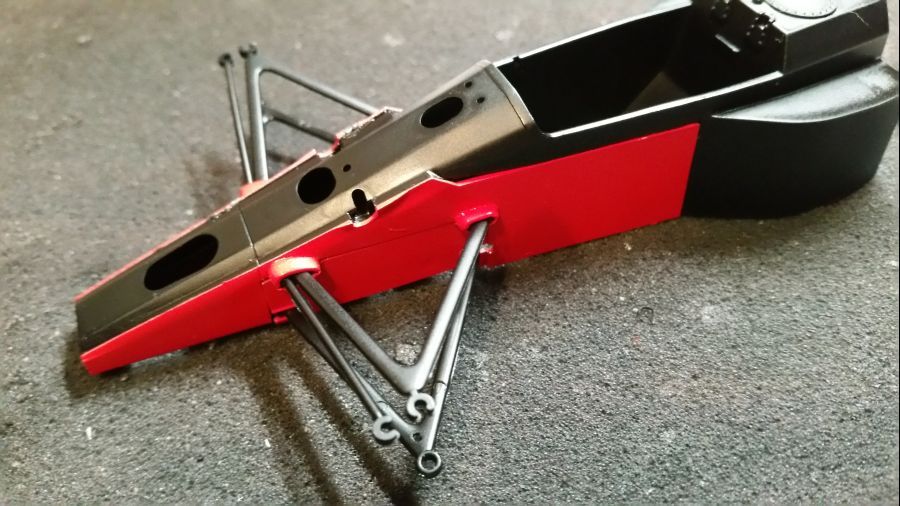 Wat meer werk aan de voorkant...
Some more work to the front...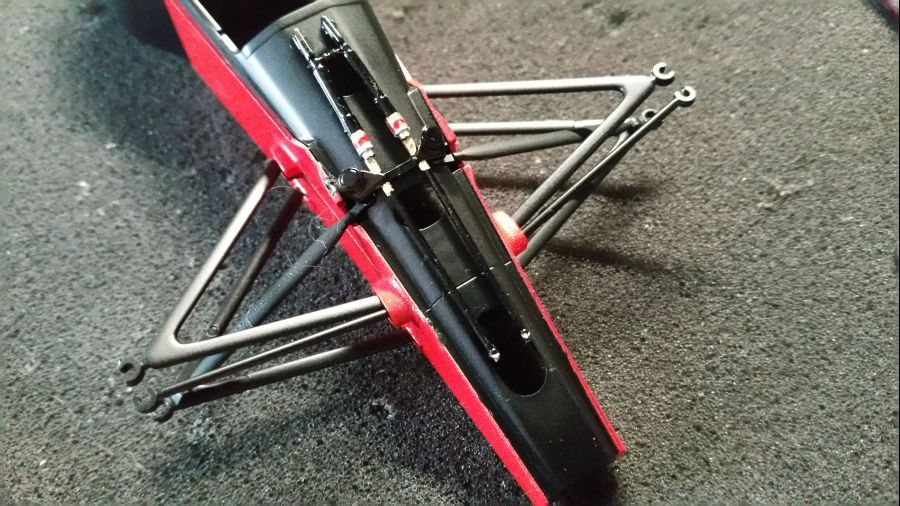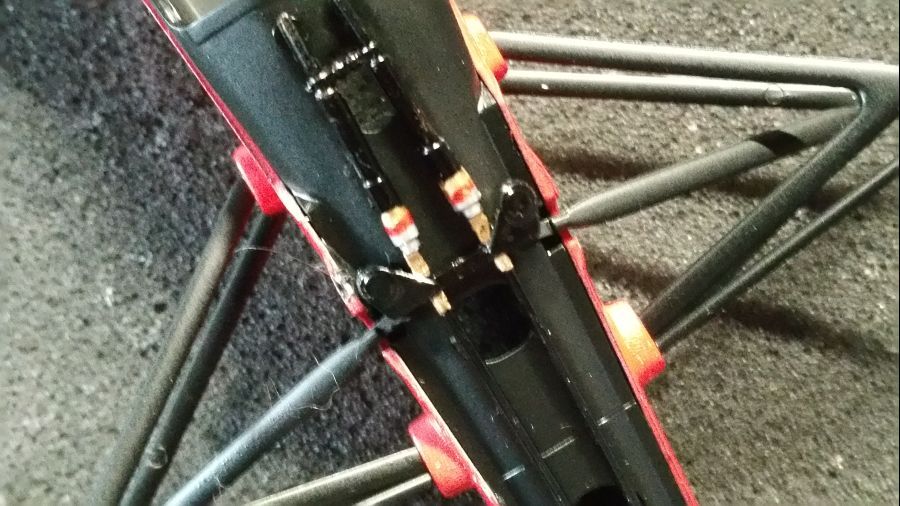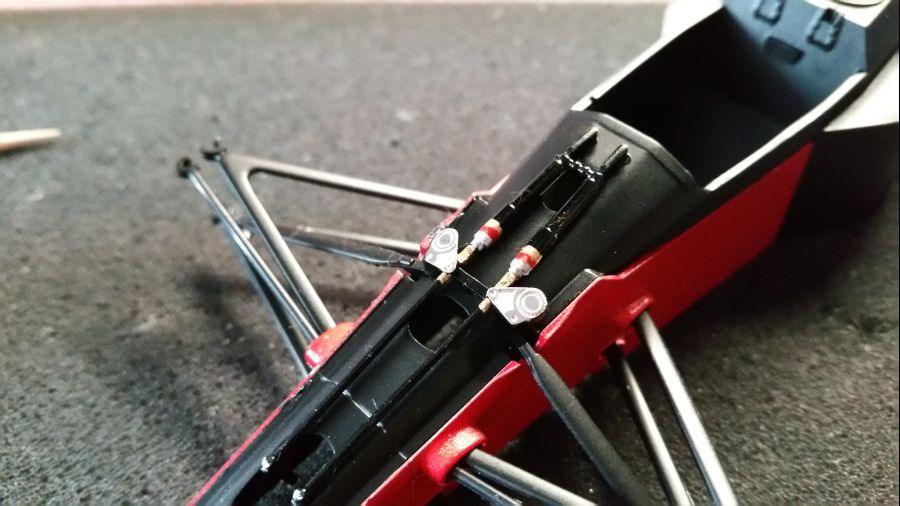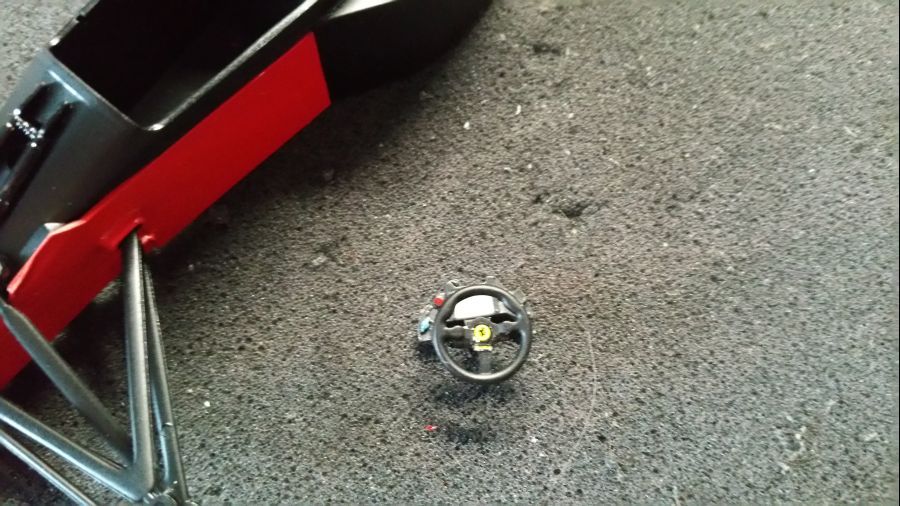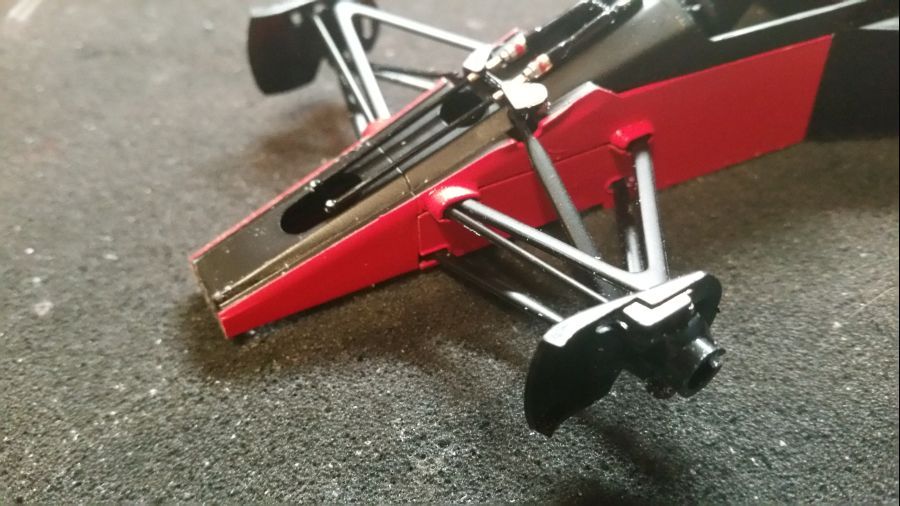 De binnenkant wordt een beetje uitgeslepen in verband met pasproblemen.
The inside needs some cutting because of some fit problems.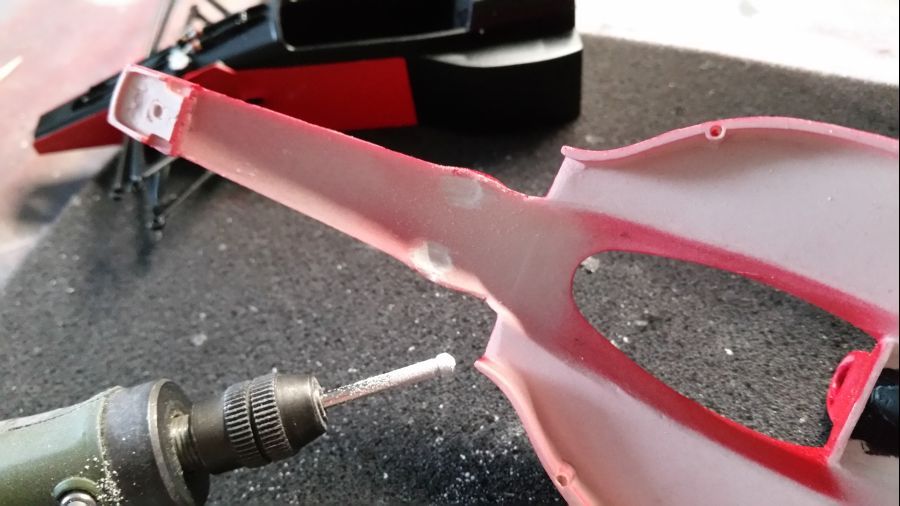 Even de zijkanten passen op de vloer en de bovenkant...
A test fit of the sides to the floor and the top...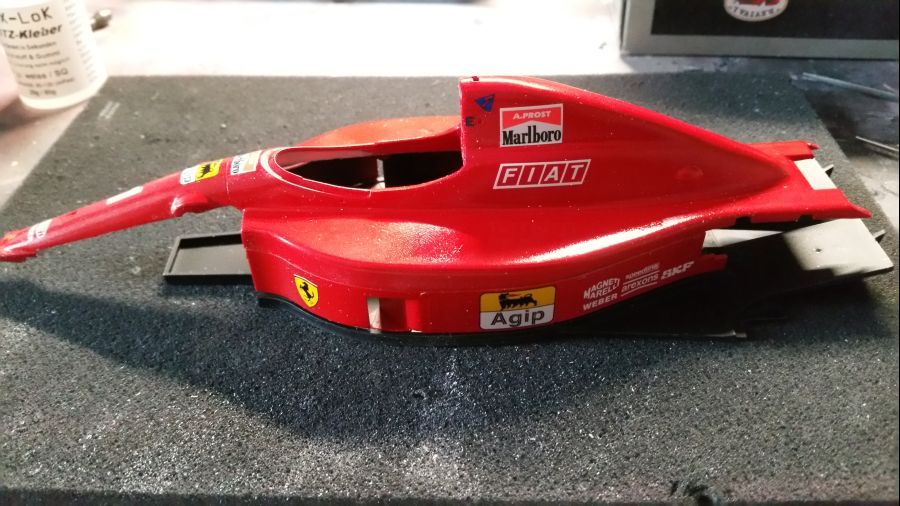 De zijwanden worden nu definitief gemonteerd.
The sides are mounted now.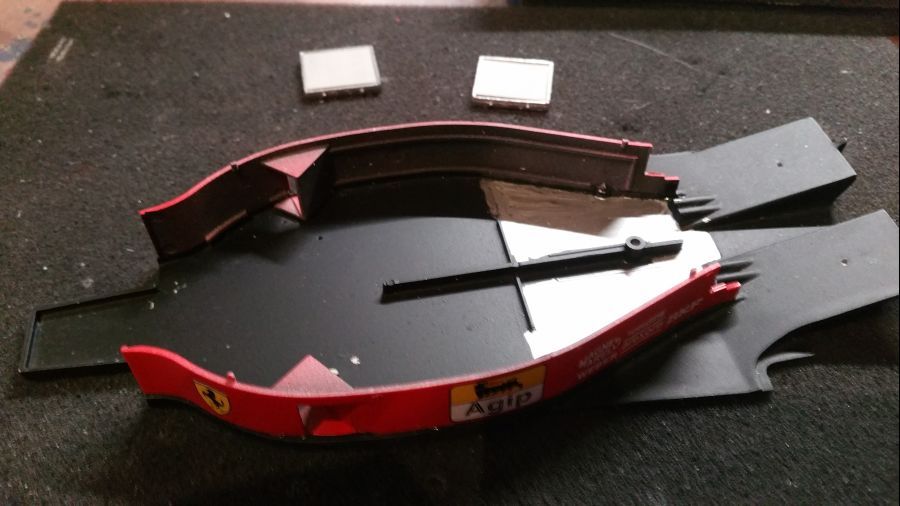 De koeling wordt in elkaar gezet en geplaatst.
The coolers are being combined and put into place.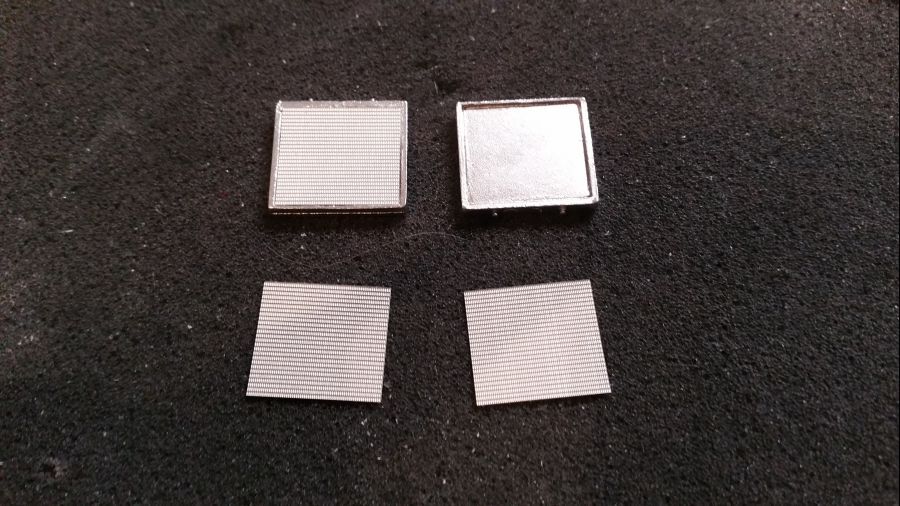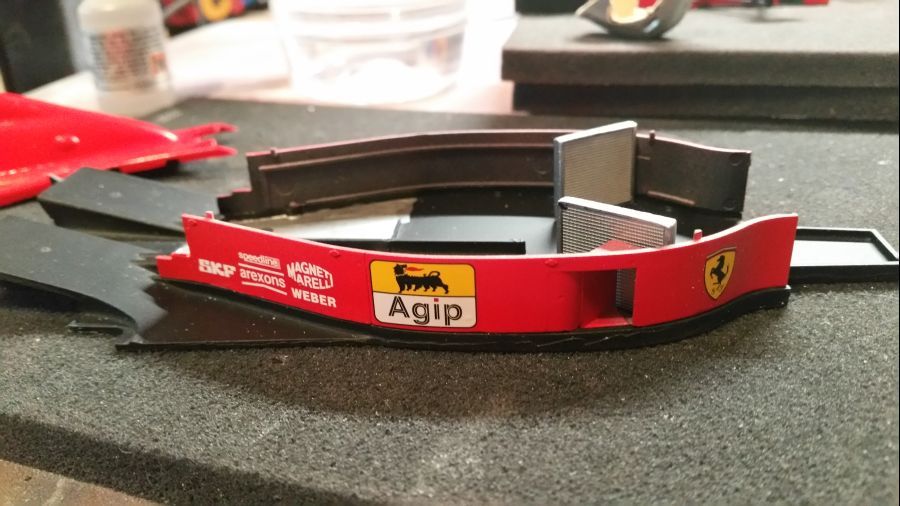 Nu eerst maar verder met de stoel. Ik maak weer gebruik van de zelfklevende seat cloth van Modelfactory Hiro en knip het op maat.
Now to continue with the seat. Again i use the adhesive seat cloth from Modelfactory Hiro and cut it to size.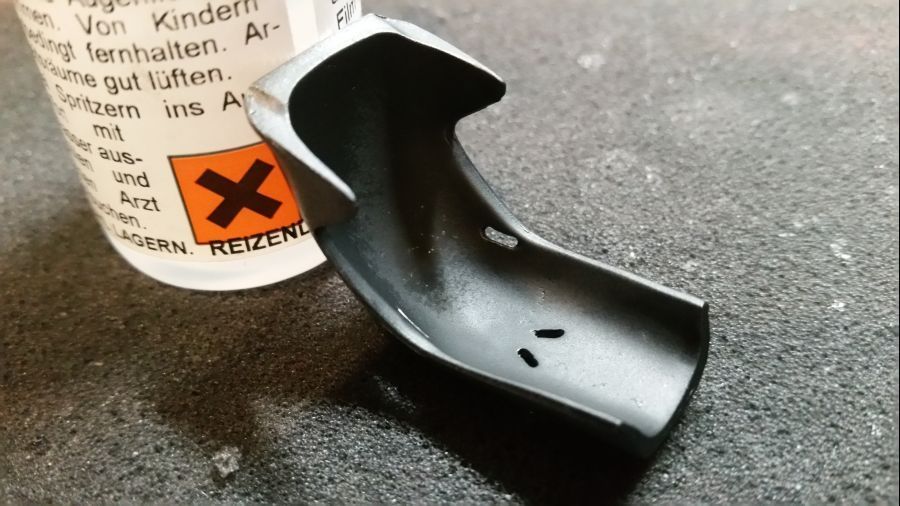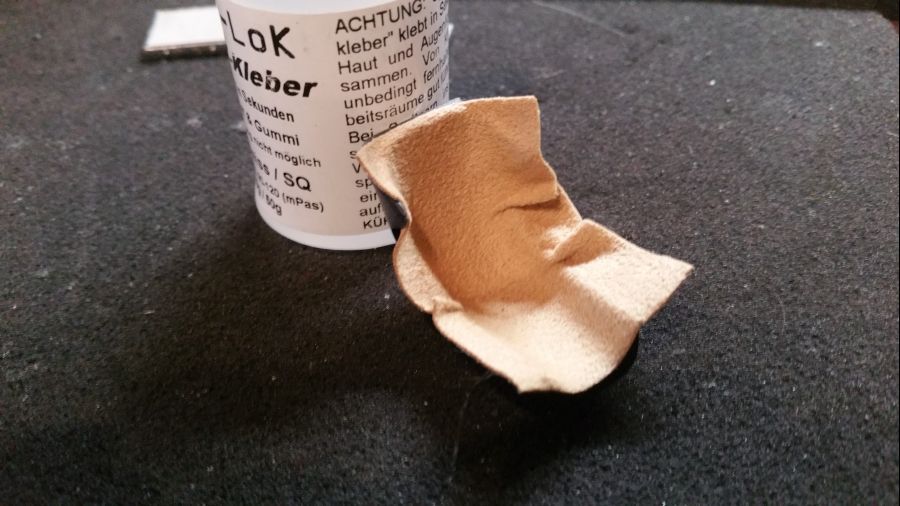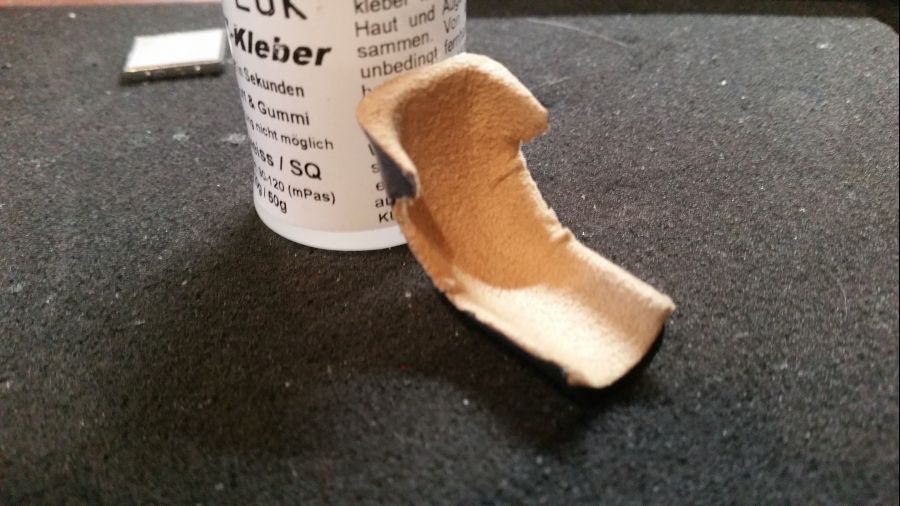 De hoofdsteun is met hetzelfde spul bekleed. Daarna heb ik een template van de airbox gemaakt om de benodigde kevlar decal op maat te maken.
The headrest got the same stuff. After this i made a template from the airbox to cut the kevlar decal to size.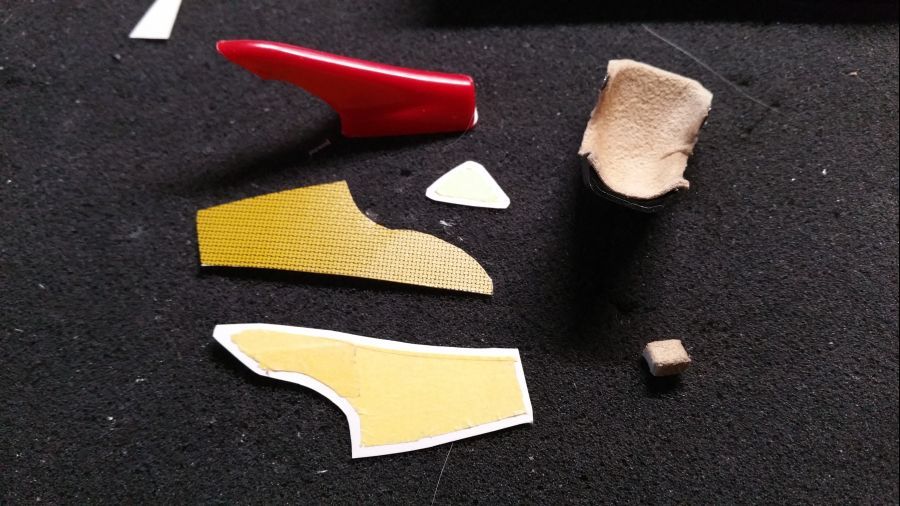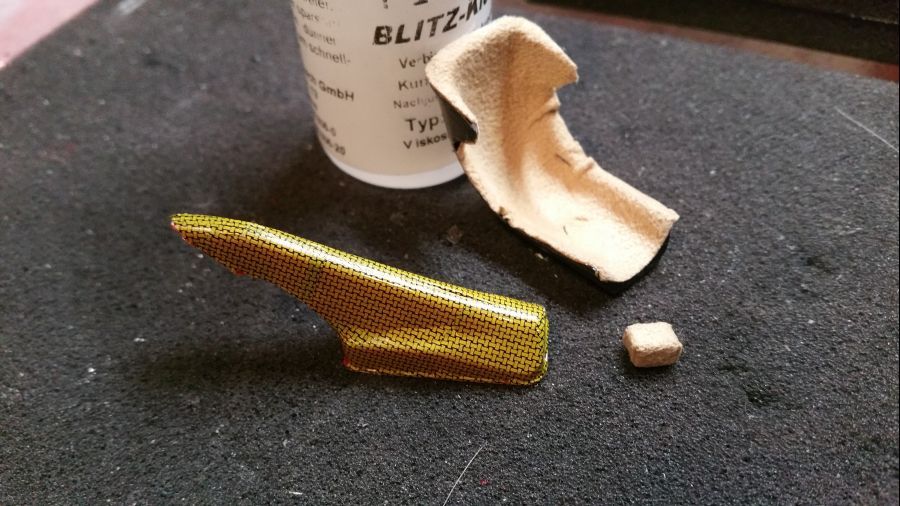 Dan weer de gordels. Zoals bijna altijd gebruik ik weer het zijdelint en de etched gespen enz. Dit keer werk ik voor de onderste gordels van buitenaf. Er zijn sneetjes in de stoelbekleding gemaakt en de gespen worden van buitenaf er doorheen geleid.
Next are the belts again. As nearly always i use silk ribbon and etched buckles etc. This time i work from the outside. Cuts have been made in the cloth and the buckles are put through these from the outside.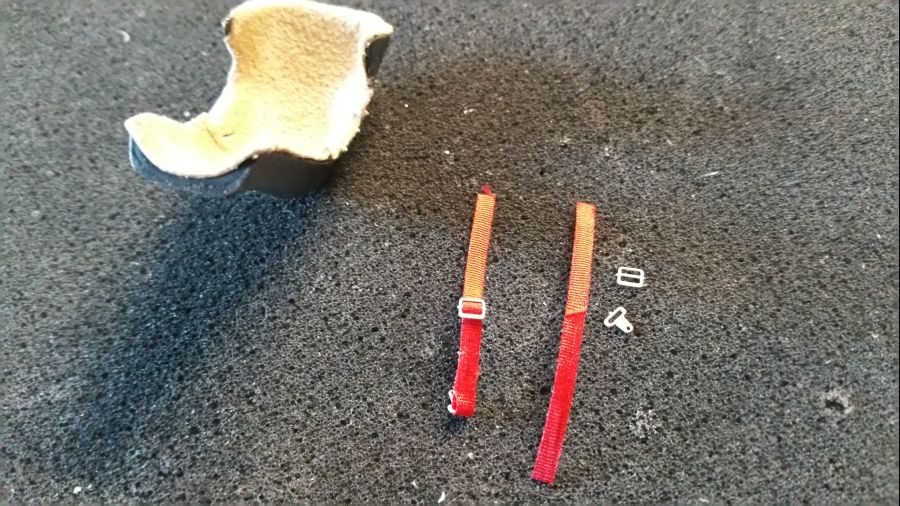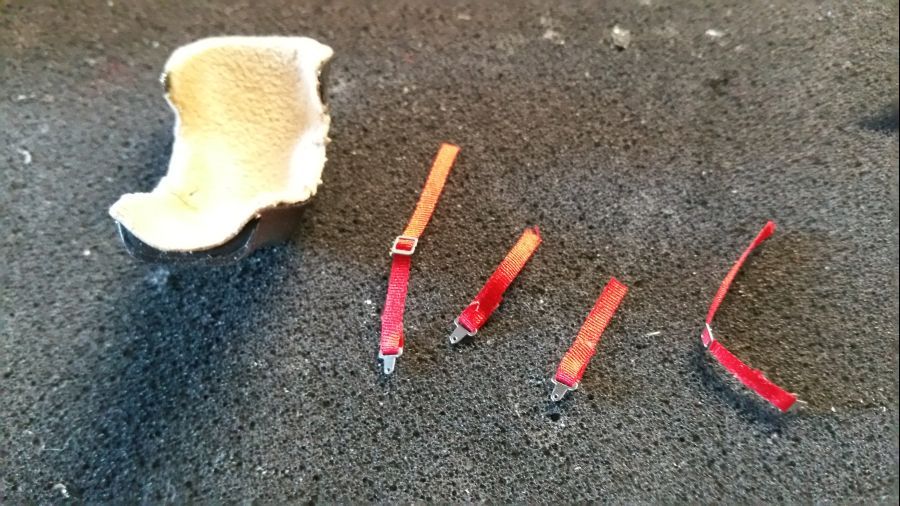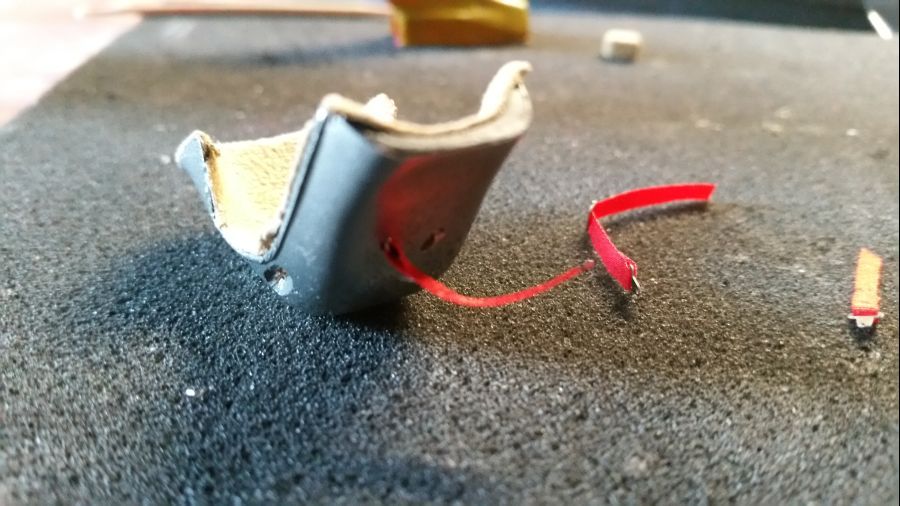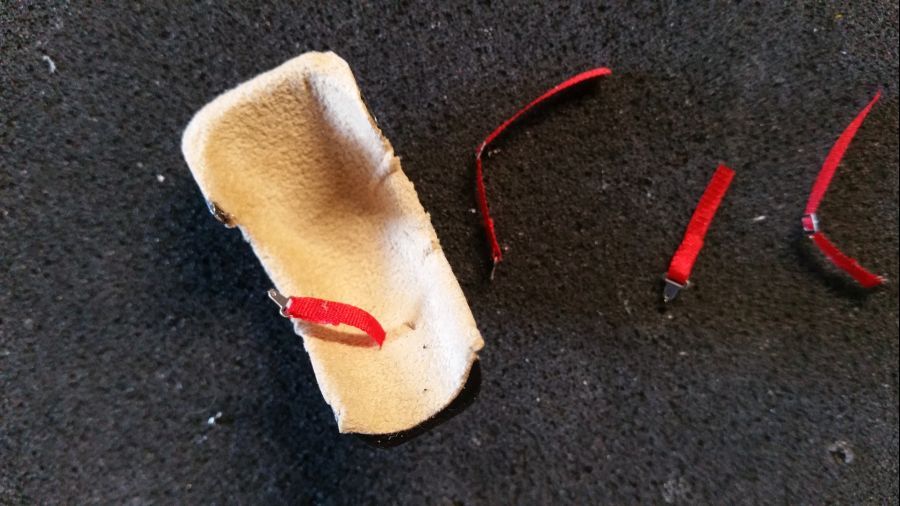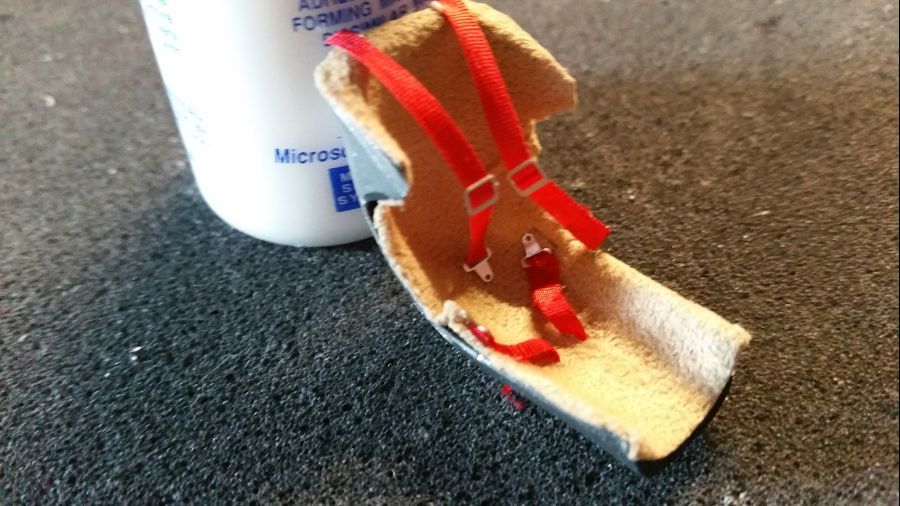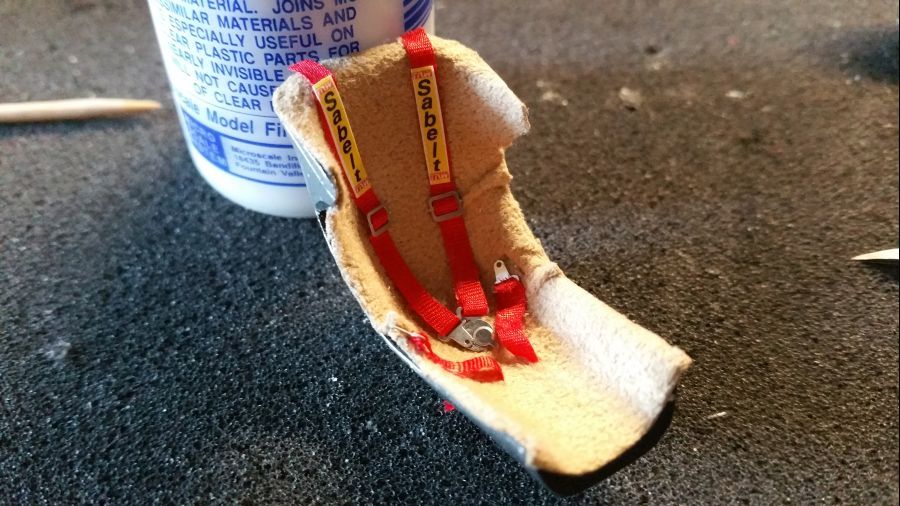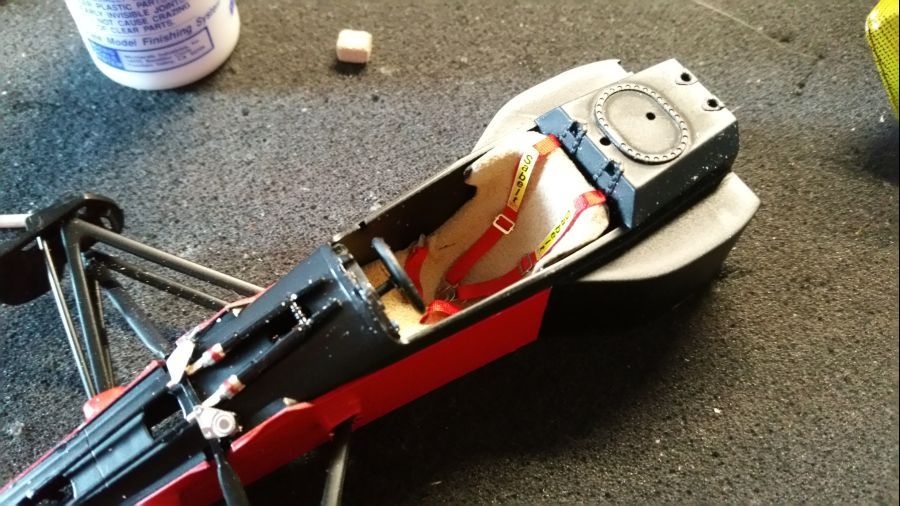 De motor wordt aan de bodemplaat bevestigd.
The engine gets attached to the floor.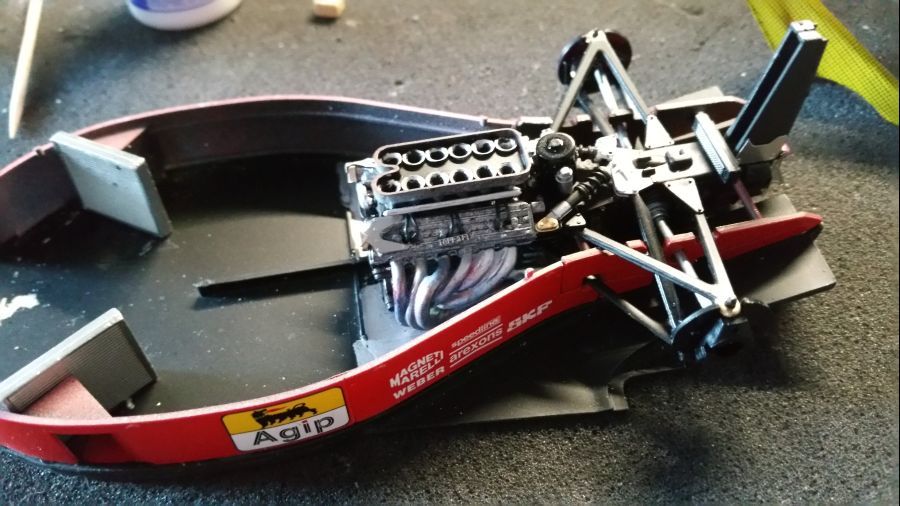 Ik wilde nu de bovenkant passen. Het blijkt dat dat niet gaat lukken, omdat de binnenkant helemaal niet hol is op de plek waar de motor zit. Waarom heb ik dat niet eerder gezien? Grote fout ook van Studio27 naar mijn mening. Ik kan er nu voor kiezen om de motor voor een deel te verwijderen en er dus een curbside model van te maken , of ik kan proberen de binnenkant van het bovenste paneel aan te passen.
I wanted to do a test fit now of the upper side. That's not going to work, because the inside of the top body panel is not hollow. Why didn't i notice this before? Also a big mistake from Studio27 in my opinion. I can now either cut a major part of the engine and make a curbside model of it, or try to work on the inside of the top panel.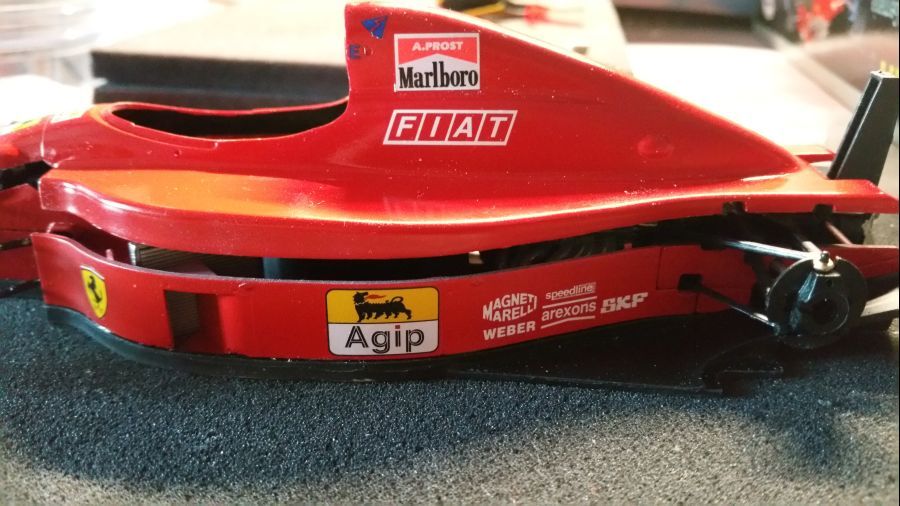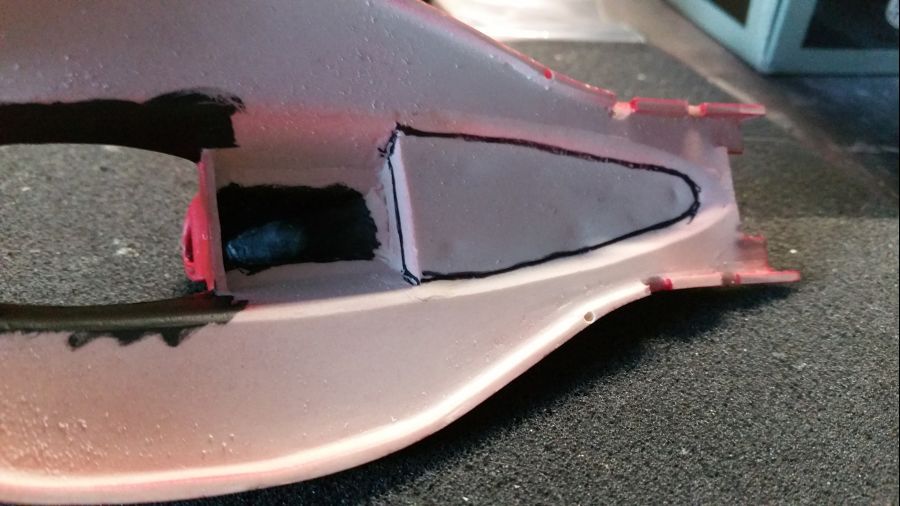 Ik ben op weg...
Coming closer...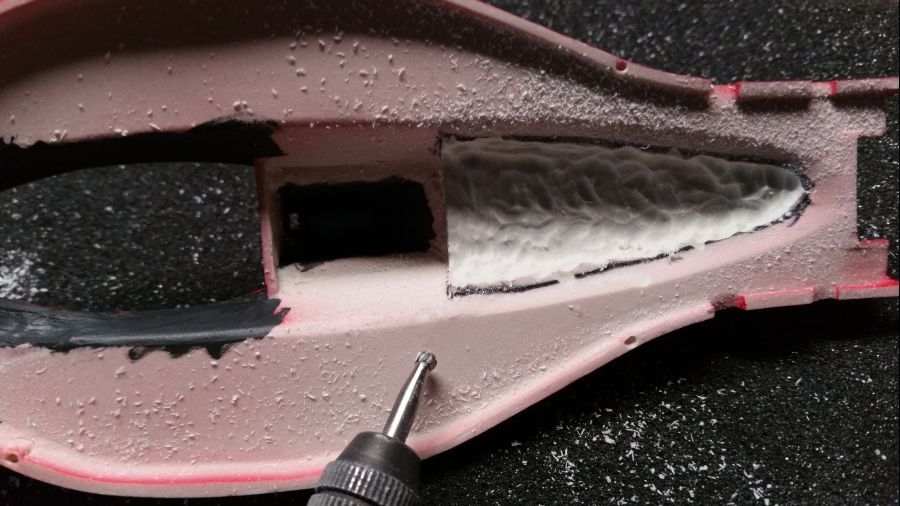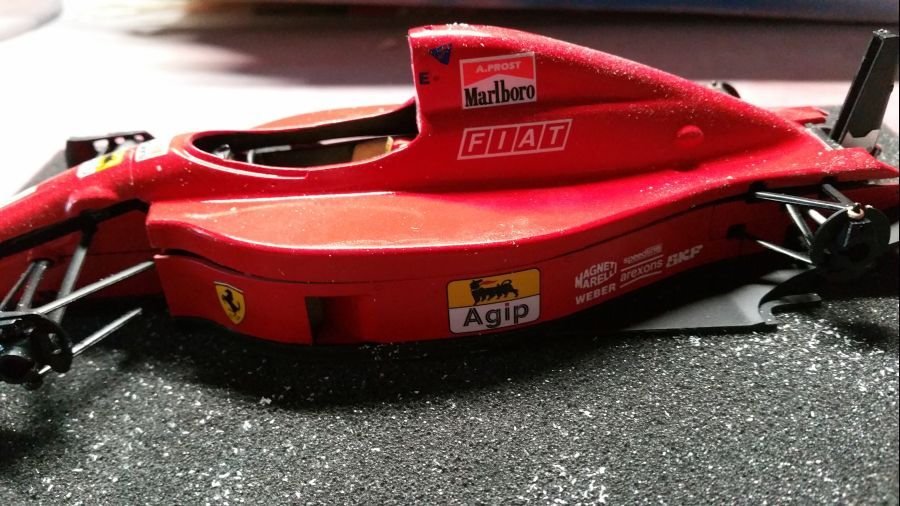 Ook na het nog meer wegslijpen van resin blijft het tobben met het goed passen. Uiteindelijk heb ik ervoor gekozen om de bovenkant vast te lijmen. De enige optie. Het lijkt wel of er in het geheel geen plaats genoeg is voor de motor en vering, zowel voor als achter. Meer resin wegslijpen kan niet meer, De kans op beschadiging is veel te groot.
Even after cutting more resin the fit stays a big problem. Finally i decided to glue the top to the rest. The only option. It looks like there is not enough space to cover the engine and the shocks on the front as well as on the back. Cutting more resin is not an option. The risk to damage everything is much too high.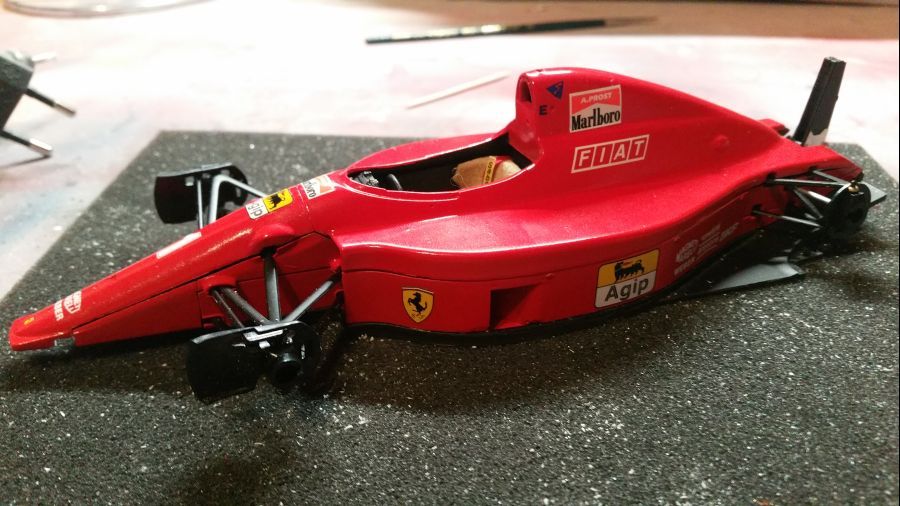 Nu verder met de remschijven. Eerst gespoten met Tamiya TS-42 Light Gun Metal, dan gaatjes geboord aan de zijkanten, deze zijkanten worden behandeld met Tamiya roestpoeder en alles wordt geseald met mat lak.
Next are the brake discs. First i have sprayed them with Tamiya TS-42 Light gun metal, then holes are driller on the sides, these sides get some Tamiya rust powder and everything gets sealed with matt lacqer.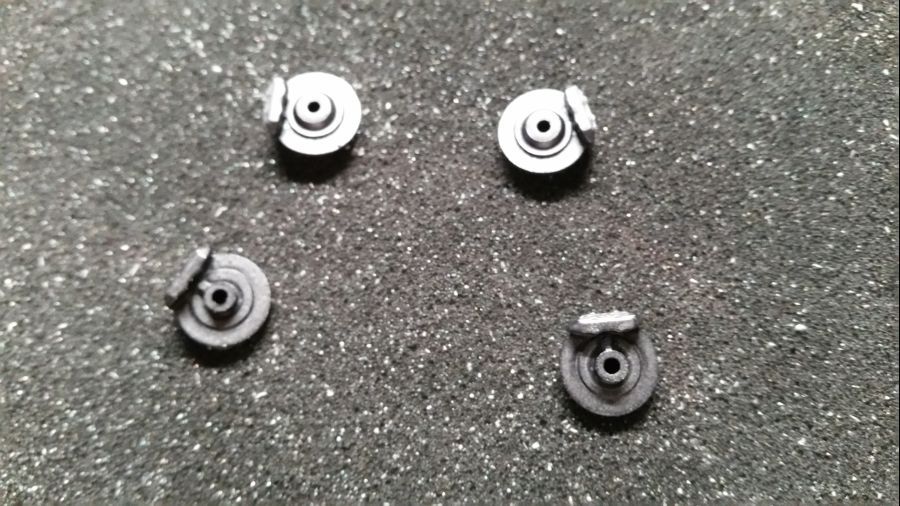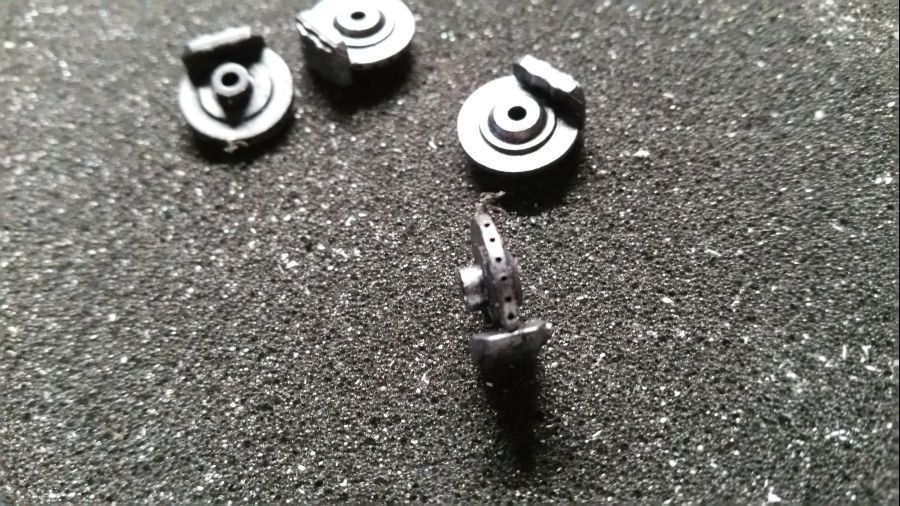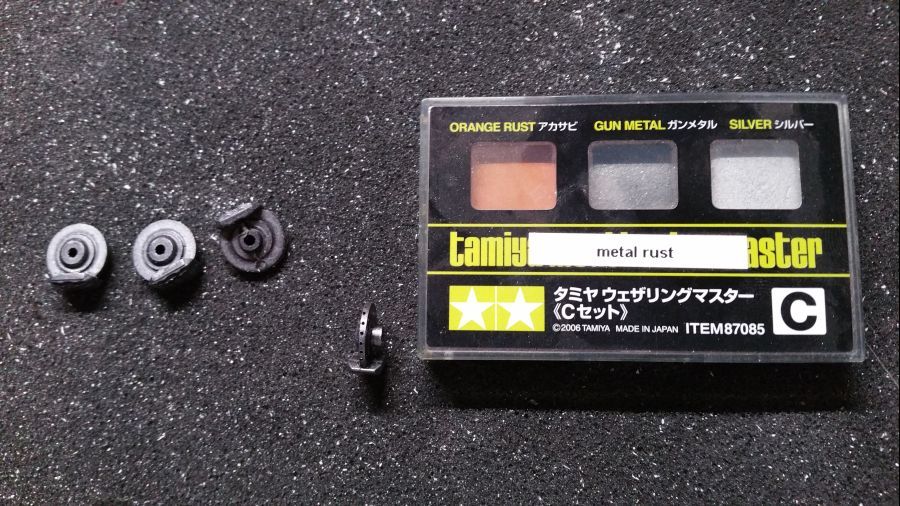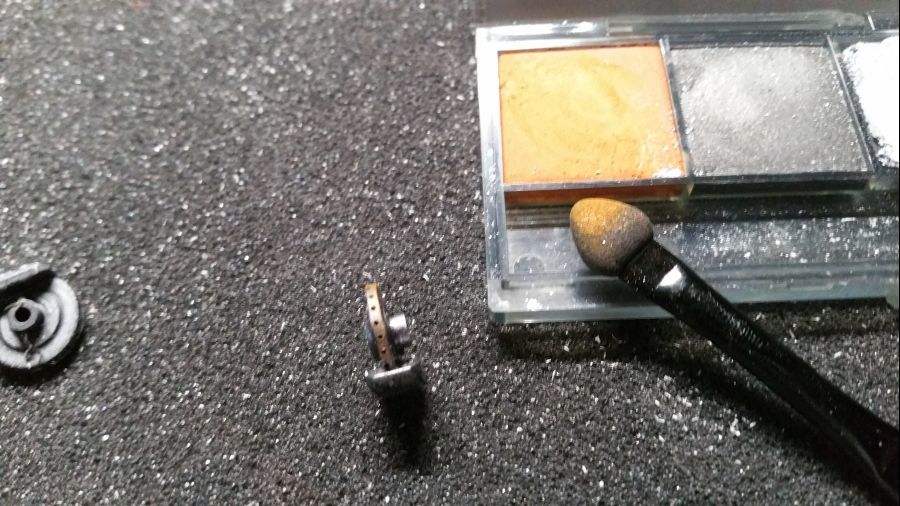 De remklauwen worden geverfd met Tamiya TS-87 Titanium Gold. Daarna worden nog wat etched onderdelen aangebracht.
The brake callipers get painted with Tamiya TS-87 Titanium Gold. Then some etched parts are applied.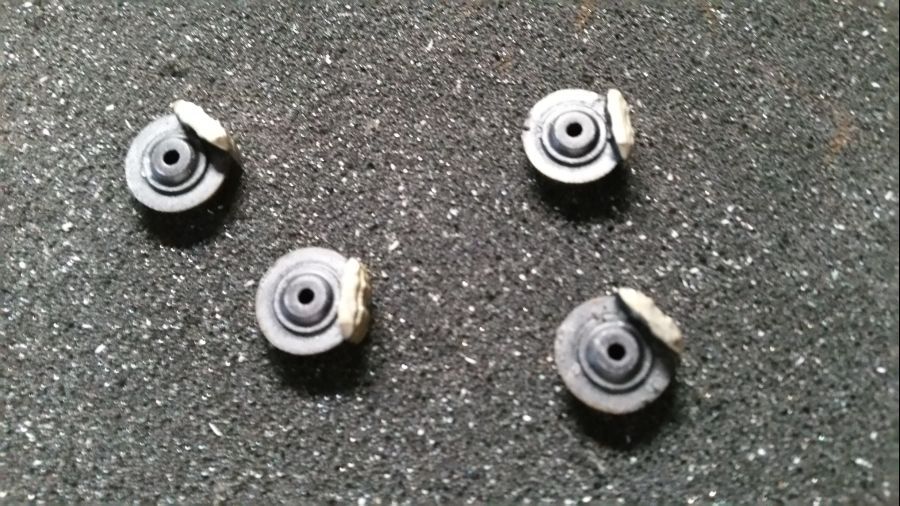 Een klein beetje superlijm in het midden, het kleine plaatje erop en uitrichten met een tandenstoker, zodat het goed in het midden zit.
Apply a small bit of superglue in the middls, the small plate on it, and correct it with a toothpick so it's right in the middle.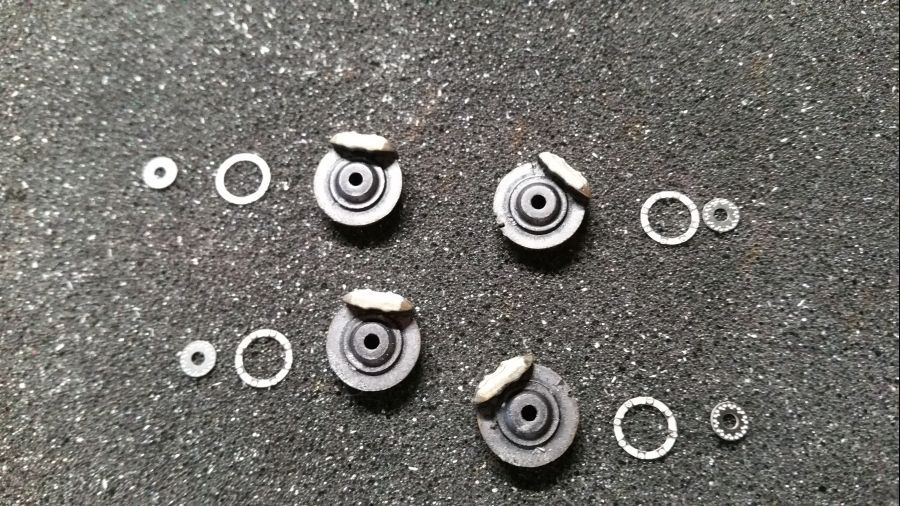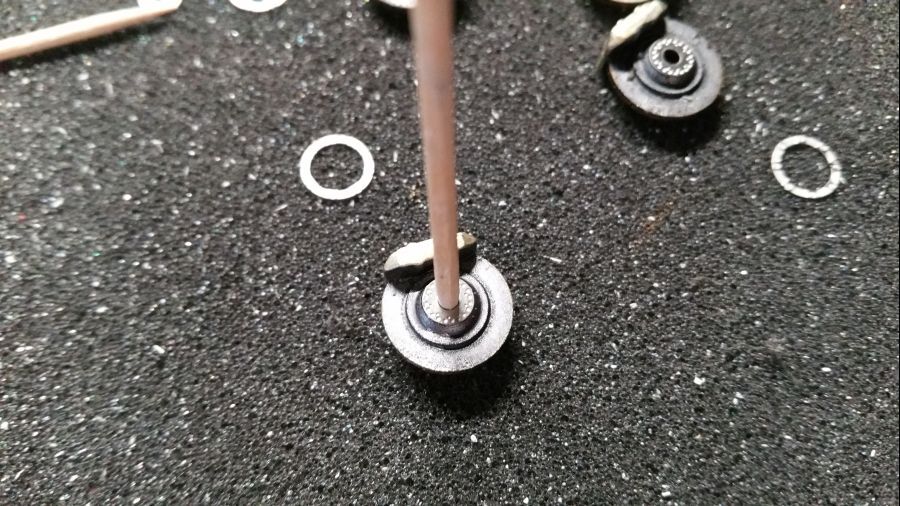 De buitenste ring is ook geen probleem, deze past precies. Daarna kunnen ze worden gemonteerd.
The outer ring is no problem, it fits perfect. After this they can be mounted.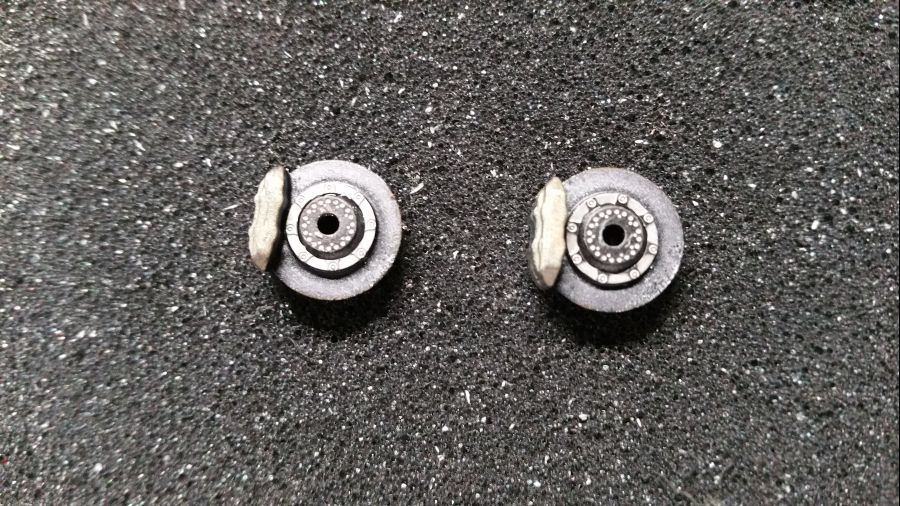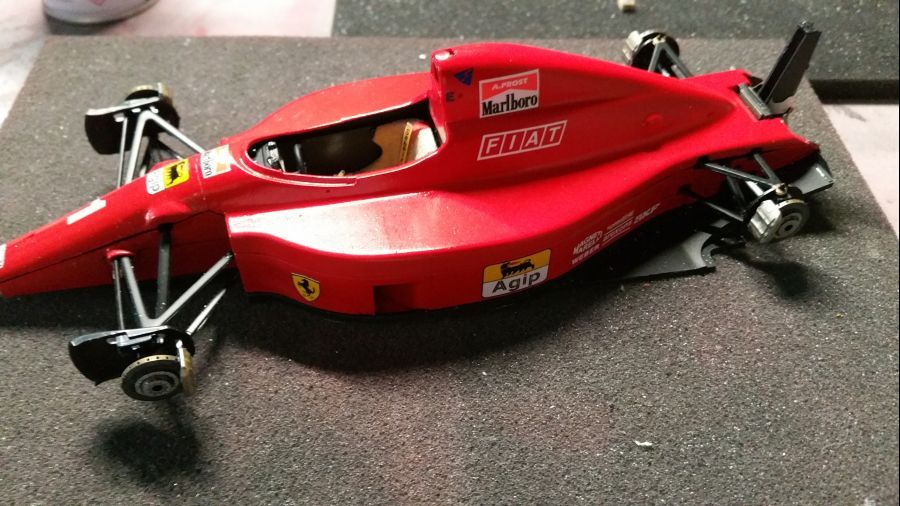 Daarna ga ik de remleidingen maken. Het was wel even zoeken hoe het zit bij deze wagen. Ik gebruik zwart zacht metaaldraad van 0,4 mm. Eerst een paar gaatjes in de remklauwen boren en daarna de leiding trekken.
Then i will create the oil lines on the brakes. It took a while to find out where they are on this car. I will use black soft metal wire of 0,4 mm. First drill some holes in the calipers and then apply the wire.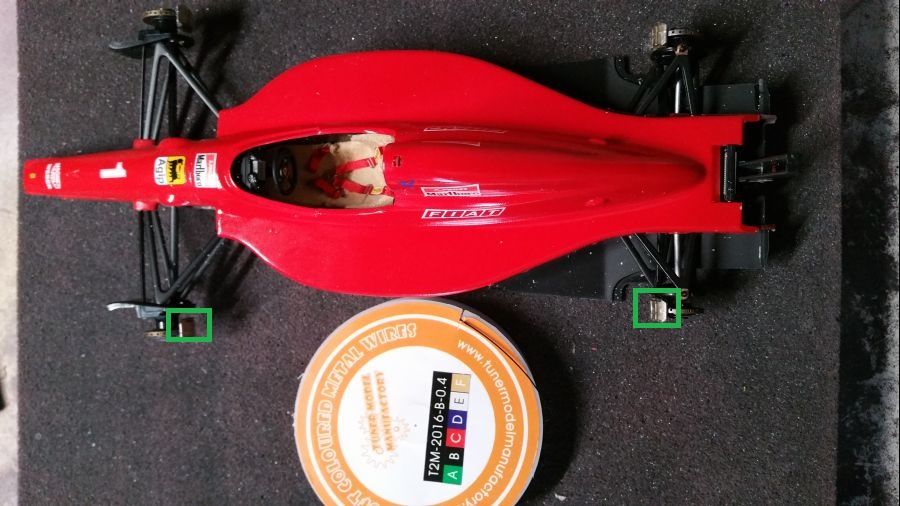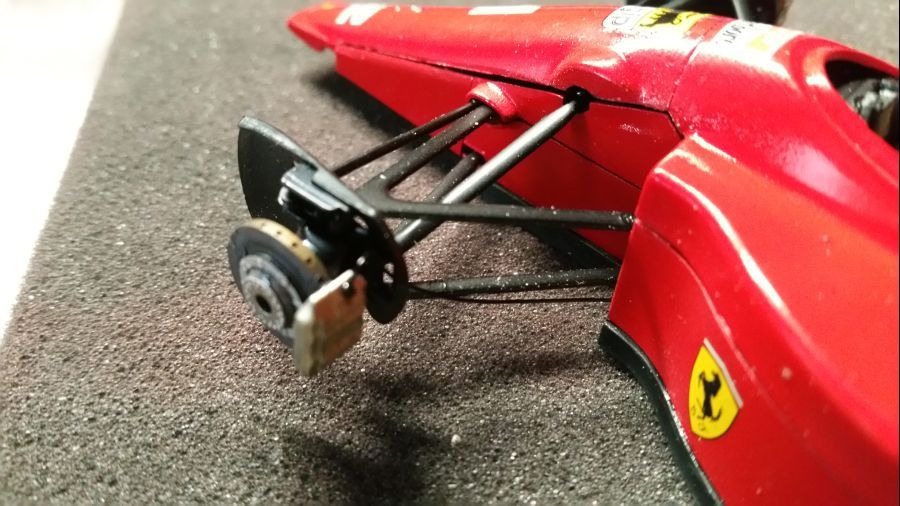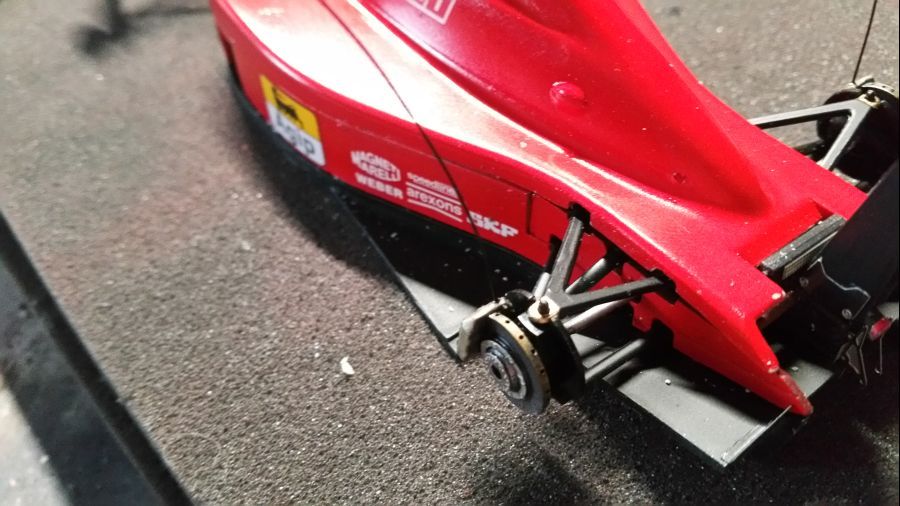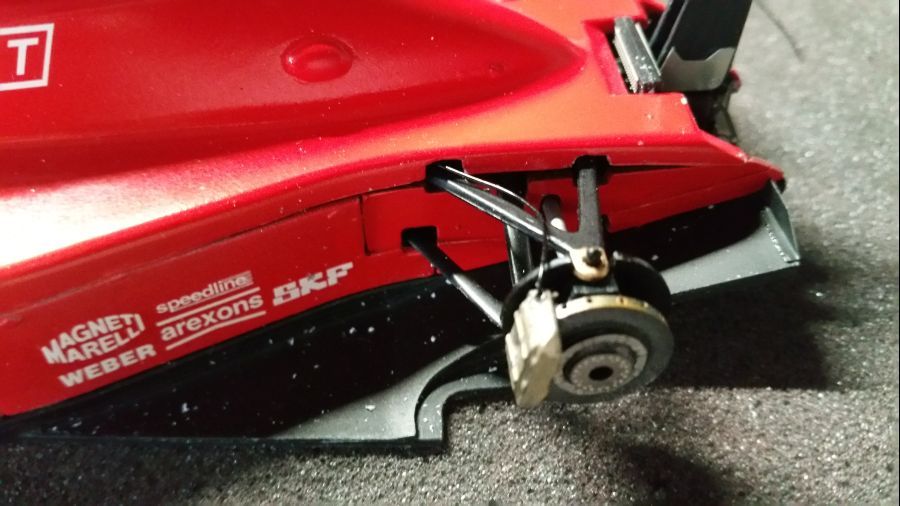 Ik ga voor deze wagen weer de carbon fiber decals gebruiken. Eerst moet ik nog uitzoeken of voor de Braziliaanse versie de onderkant van de voorste wing end plates ook moeten worden gebogen. De instructies geven niet aan dat dit nodig is. Op mijn foto's is het niet duidelijk te zien, maar het lijkt erop dat ze recht zijn. Ik ga nog wat dvd filmpjes bekijken om zeker te zijn.
For this car i will use the carbon fiber decals again. First i need to find out if the downside of the front wing end plates need to be bent for this Brazil version. The instructions do not show it's necessary. It's not clear on my pictures, but it looks like they are straight. I will have a look at some footage on my dvd to be sure.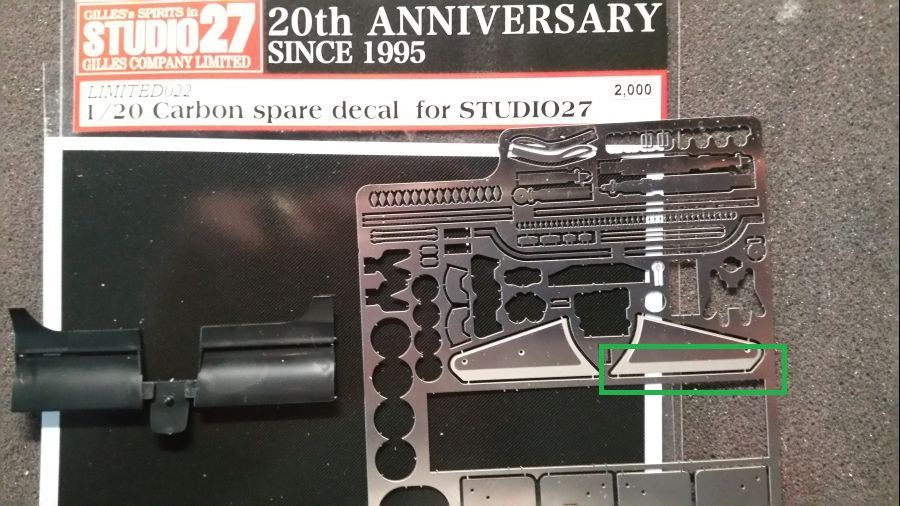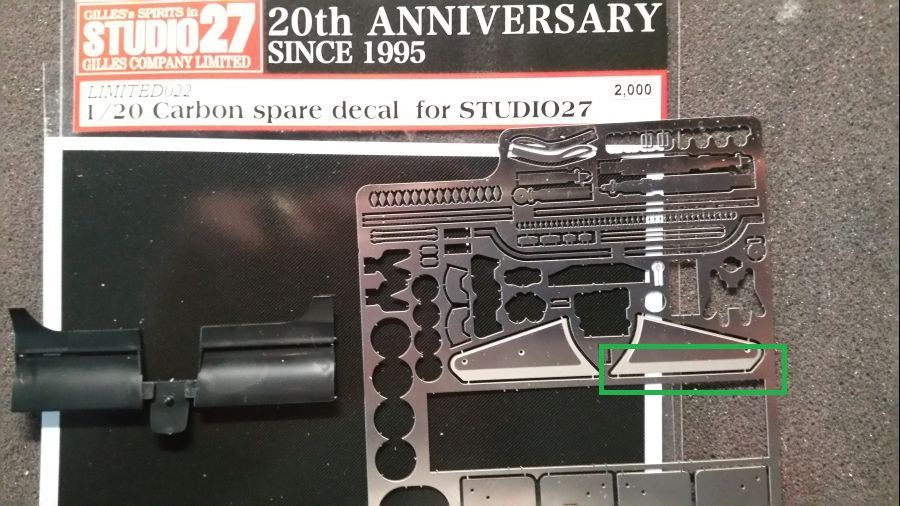 Met behulp van Tamiya tape maak ik templates voor de carbon fiber. Deze tape plak ik op het model, snij het op maat, haal het eraf, plak het op de achterkant van de decal en knip deze vervolgens uit. Ik heb er redelijk zeker van dat de wing end plates voor de Braziliaanse versie van de Ferrari 641 gewoon recht waren. Het was echter lastig te zien. De kwaliteit van de beelden uit 1990 zijn natuurlijk niet opperbest. Dus nu ook templates maken voor de wing end plates.
With the use of Tamiya tape i create templates for the carbon fiber. I stick the tape to the model, cut it to size, get it off, stick it to the back of the decal and cut it with scissors. I am reasonably convinced the wing end plates of the Ferrari 641 Brzail version were straight. It was very hard to see though, as the footage from 1990 was of poor quality. So now i will make templates for the wing end plates too.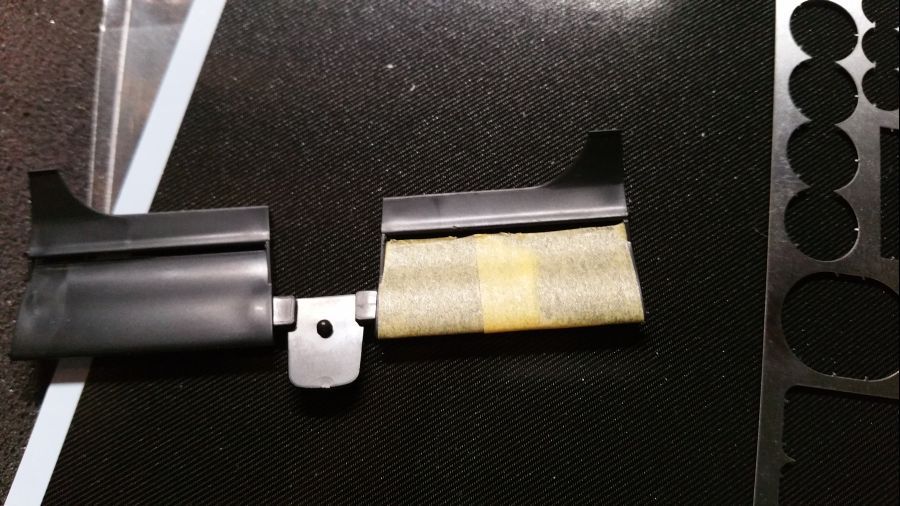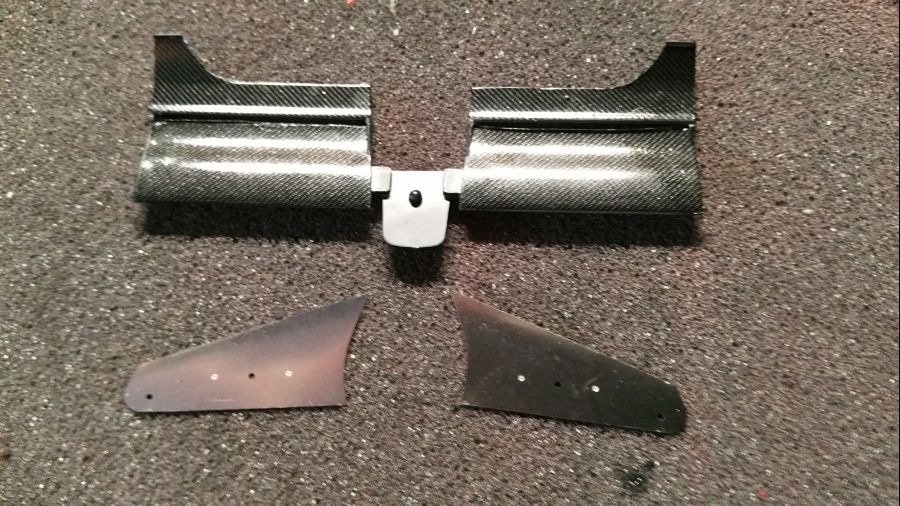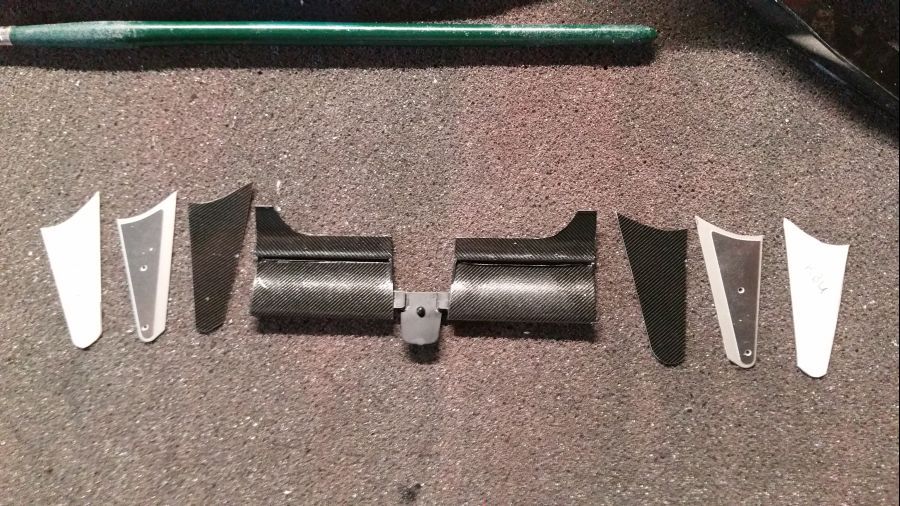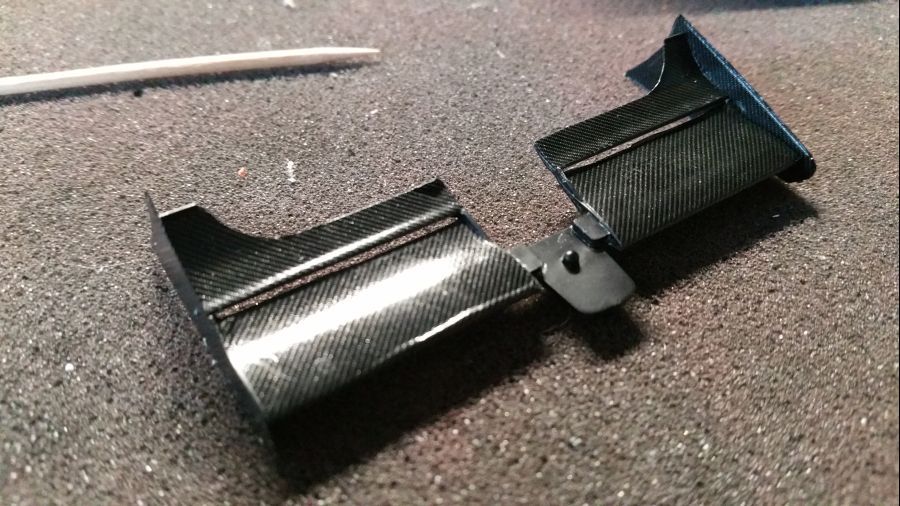 De wing end plates voor de achtervleugel ondergaan hetzelfde proces. Eerst moeten de binnenkant en buitenkant met elkaar worden bevestigd.
The wing end plates of the rear wing get the same procedure. First the inside and the outside get connected with each other.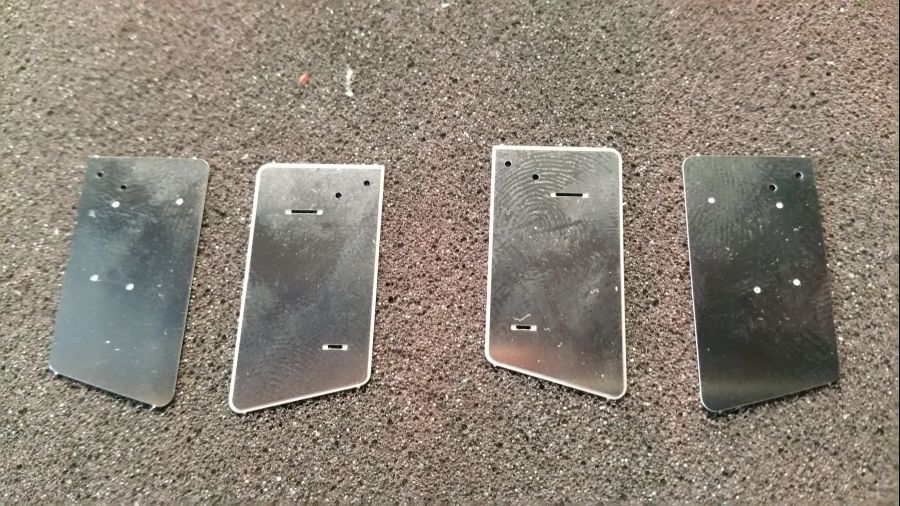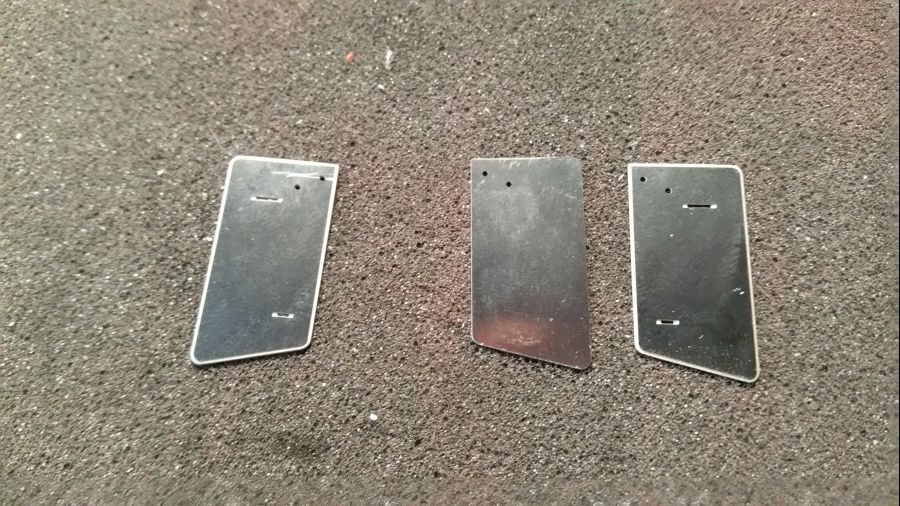 De carbon fiber decals zijn op maat geknipt.
The carbon fiber decals have been cut to size.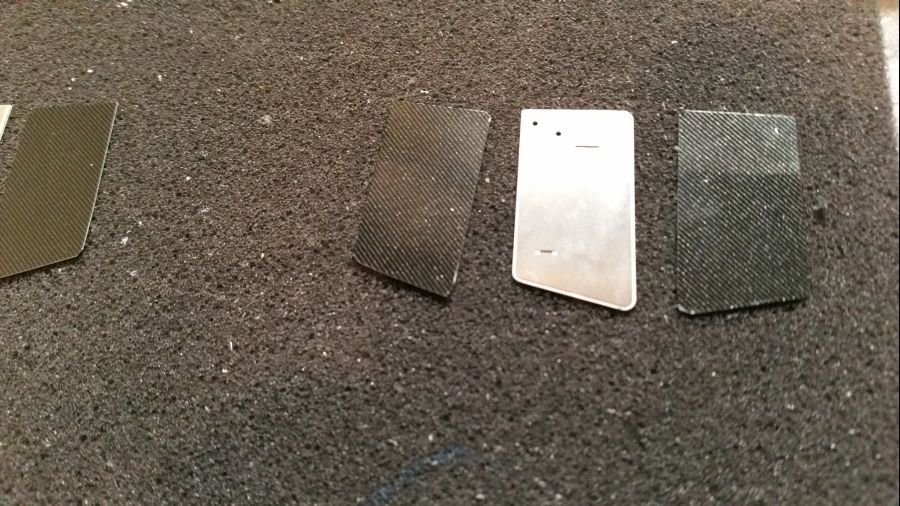 De etched platen zijn zwart gespoten aan beide kanten.
The etched plates have been painted black on both sides.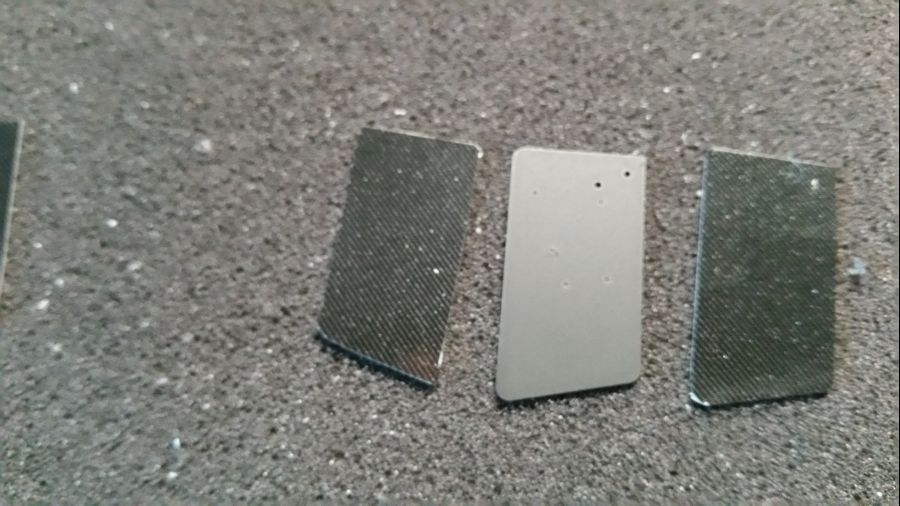 De andere onderdelen van de achtervleugel ondergaan dezelfde procedure.
It's the same procedure for the remaining parts of the rear wing.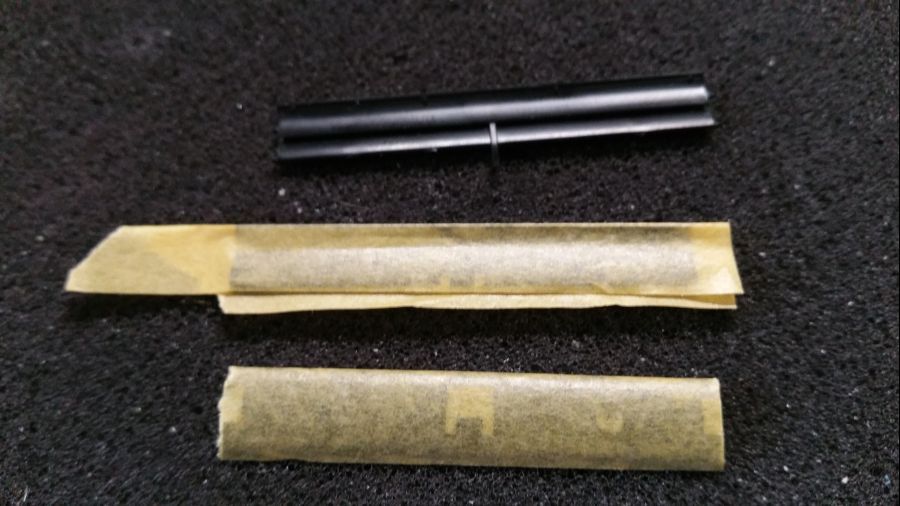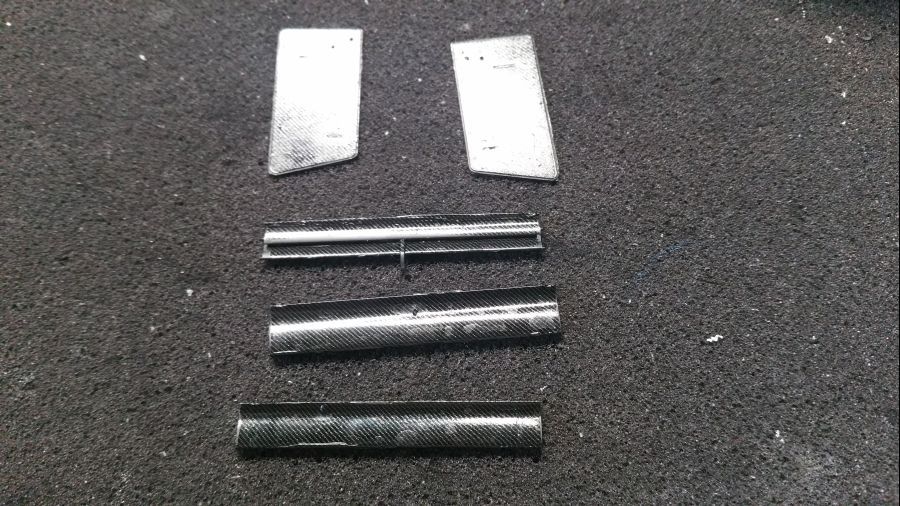 Voor de ondersteuning van de vleugels zijn er kleine steuntjes. Helaas zijn deze alle kanten opgeschoten tussen mijn pincet. Ik maar daarom nieuwe van een styreen latje.
For the support of the wings there are small etched parts. Unfortunately the carpet monster ate them. I will create new ones from styrene.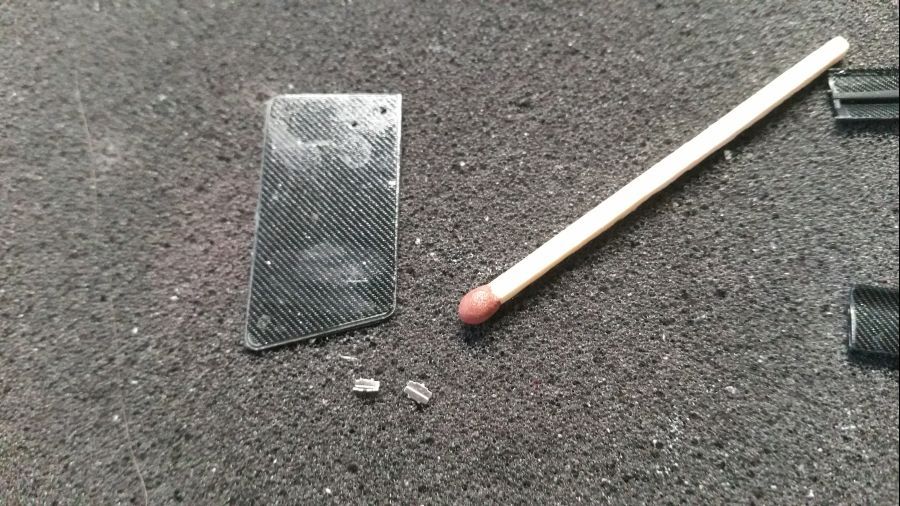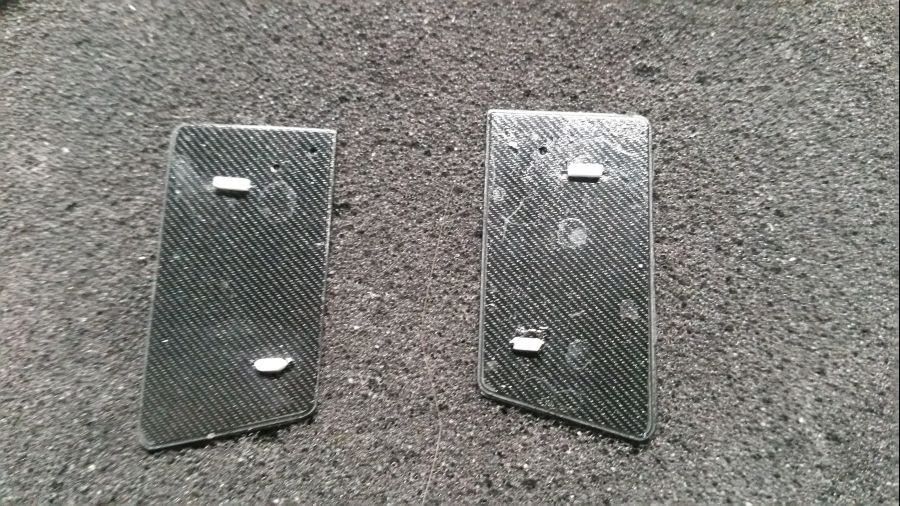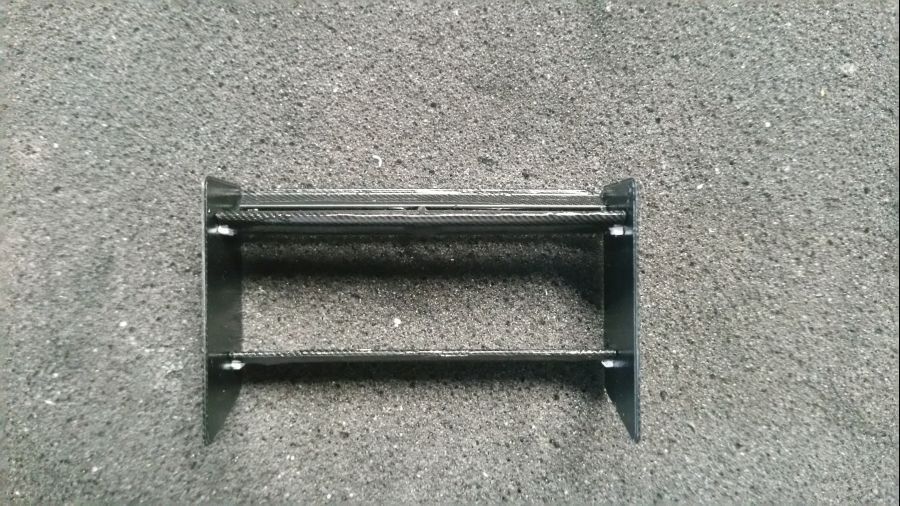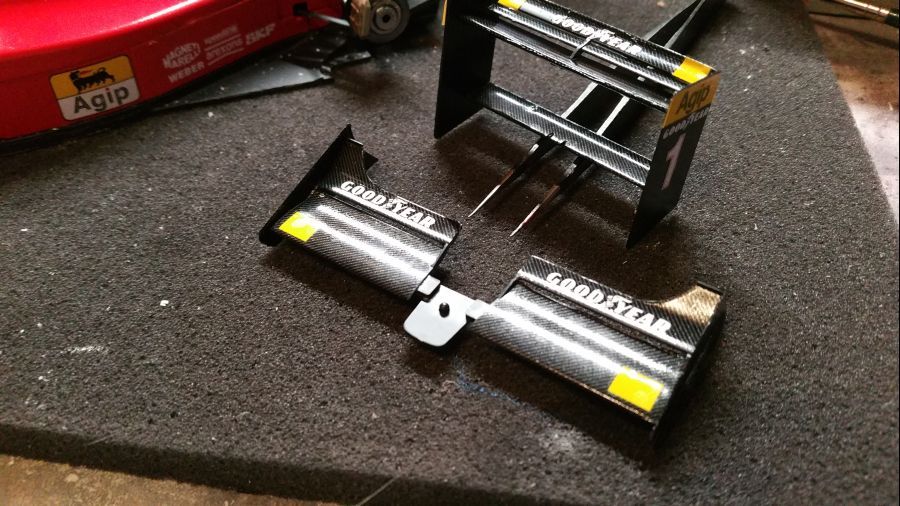 Dan volgen de banden. De velgen zijn gespoten met Tamiya TS-29 Semi Gloss Black. De decals worden daarna op de velgen geplakt. Dan de banden om de velgen en vervolgens de decals op de banden.
Next are the tires. The rims are painted with Tamiya TS29 Semi Gloss Black. The decals are applied to the rims. Then the tires are mounted to the rims and the decals are applied to the tires.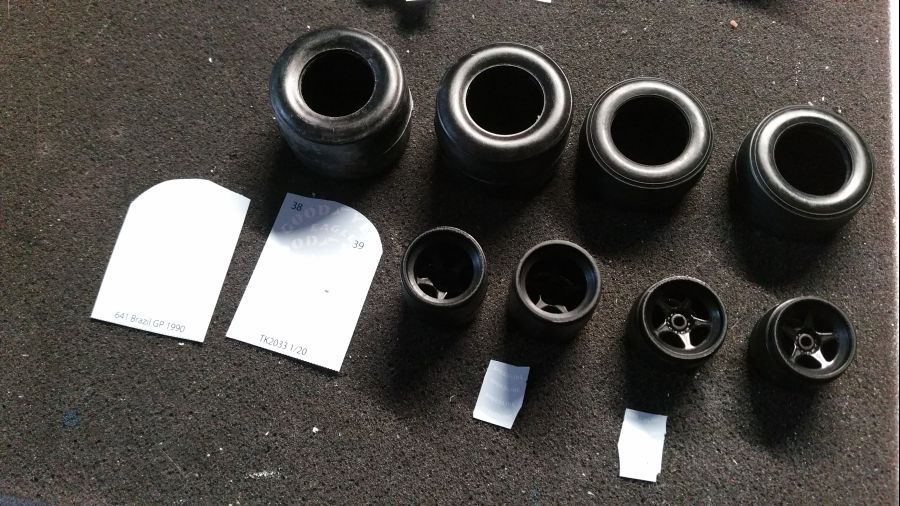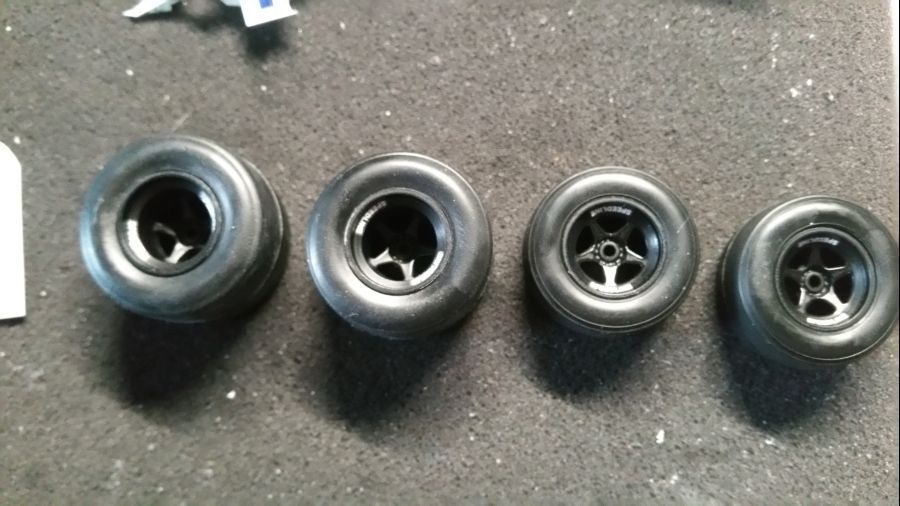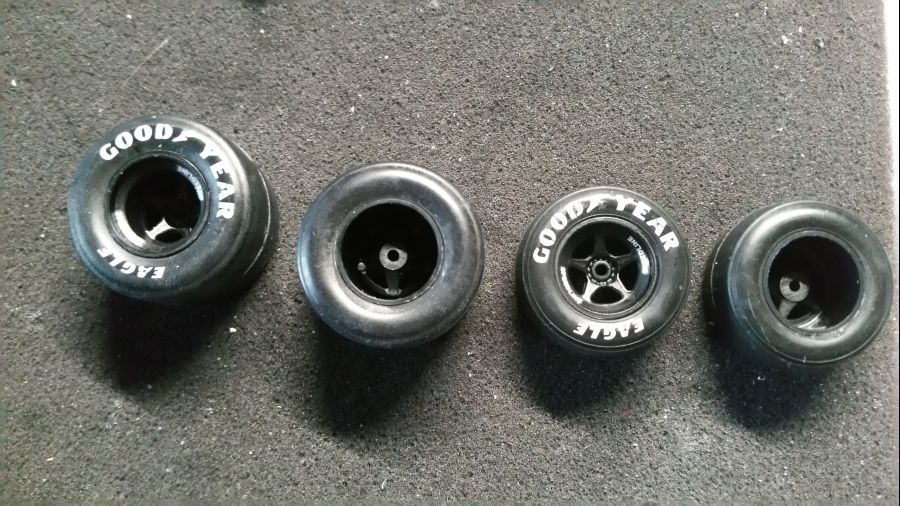 Sommige karweitjes veranderen niet. Het ruw maken van de banden en die vervelende naad wegwerken.
Some jobs never change. Rubbing the tires and getting rid of the seam.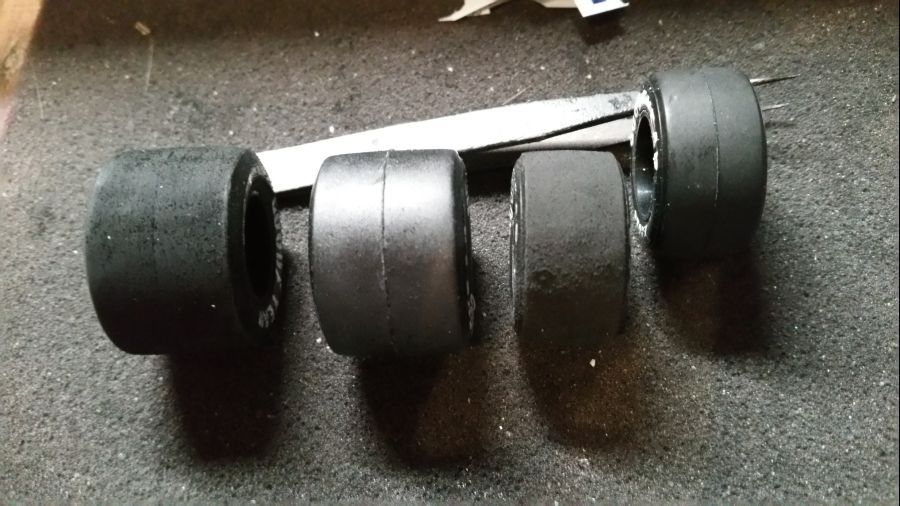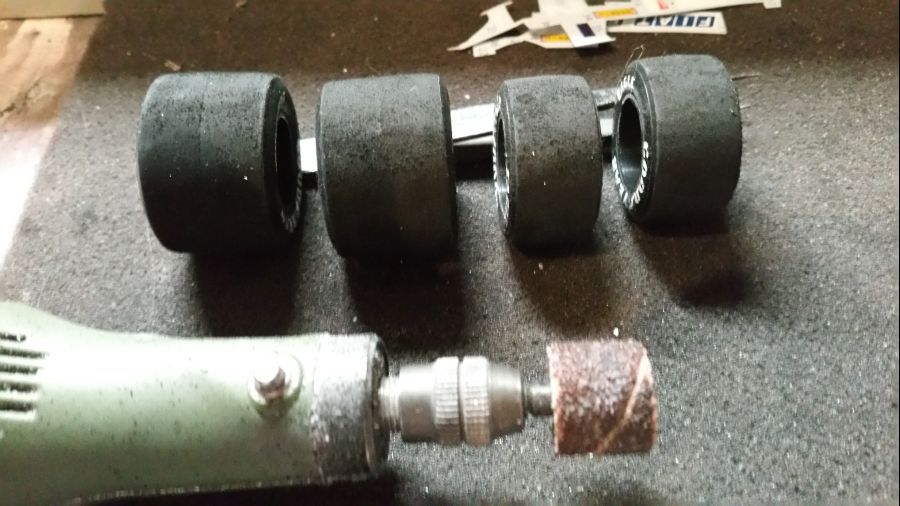 Daarna worden ze met het gereedschap vastgezet.
After this they are attached with use of the tool.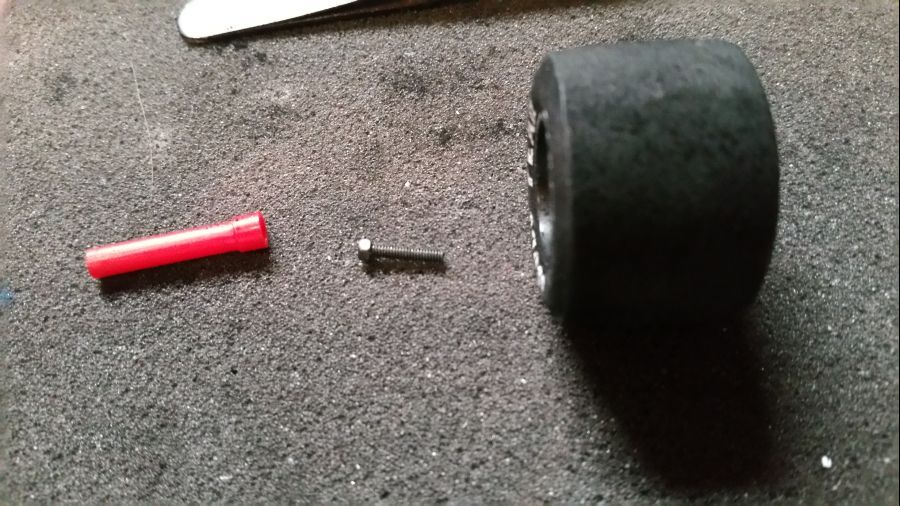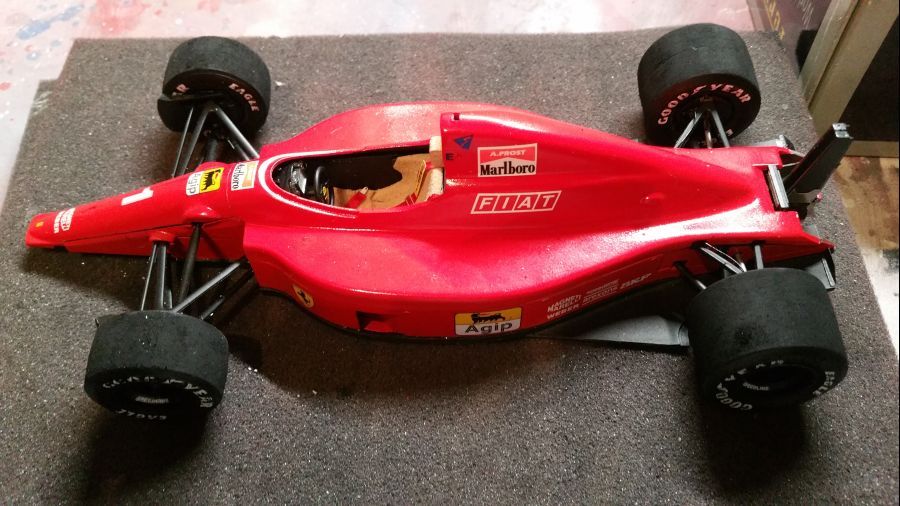 Dan kunnen de vleugels worden bevestigd.
Then the wings can be attached.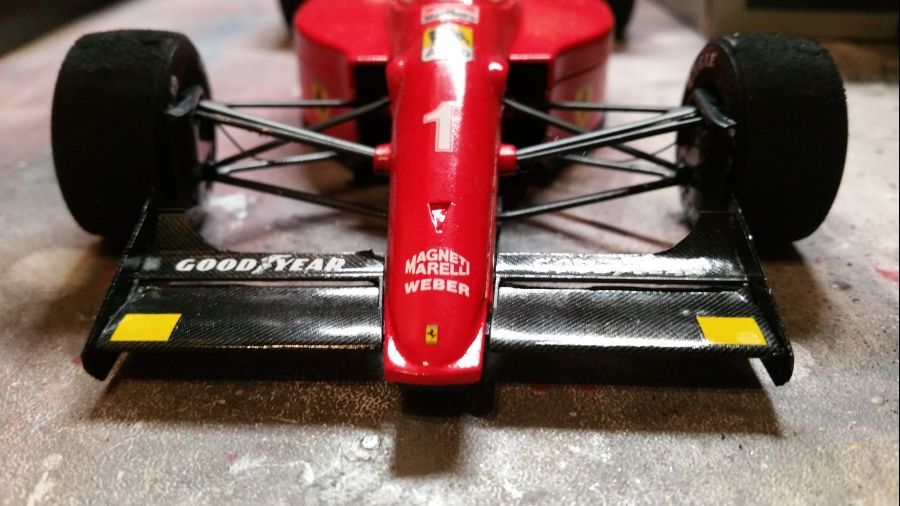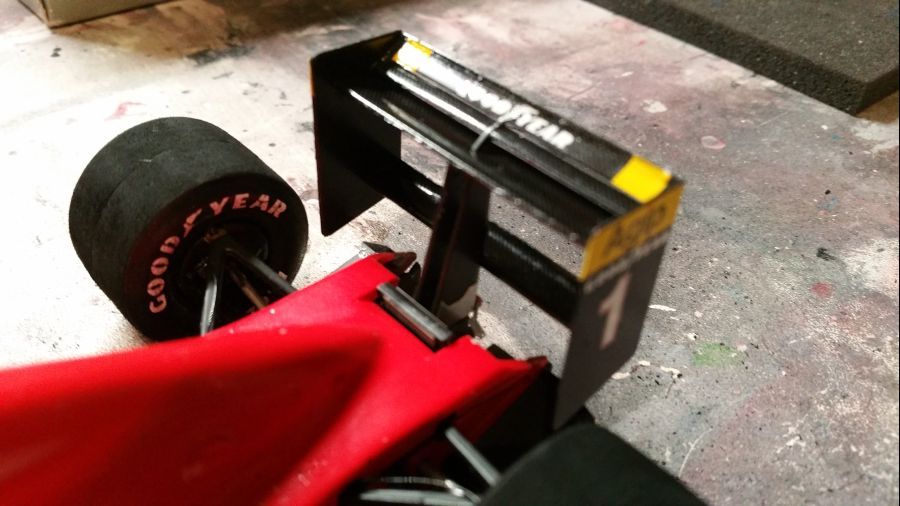 Dan kunnen de spiegels worden klaargemaakt en bevestigd. En nog wat kleine onderdelen zoals de snelsluiters.
Then the mirrors can be finished and attached. And some small parts like the fasteners.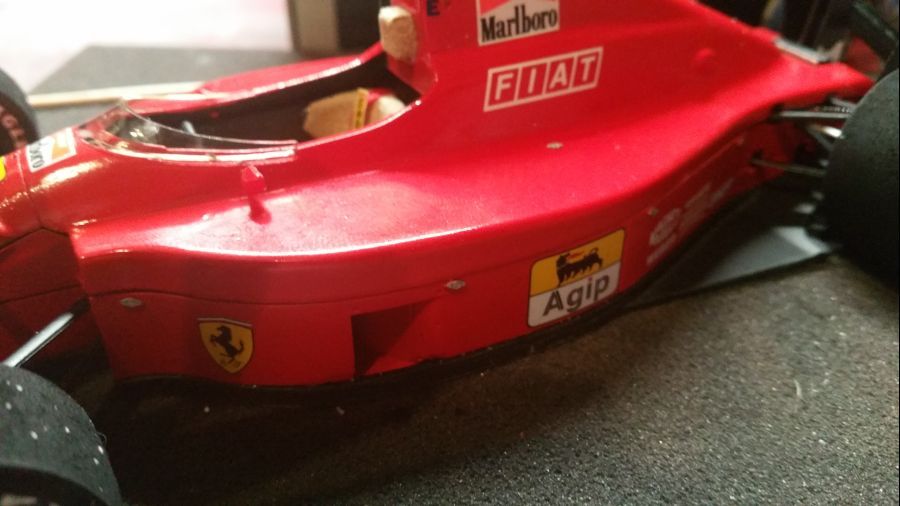 En er kan weer 1 op de plank bij de verzameling. De mooie Ferrari 641 Braziliaanse versie uit 1990.
And we have another one for the shelf. The beautiful Ferrari 641 Brazil version from 1990.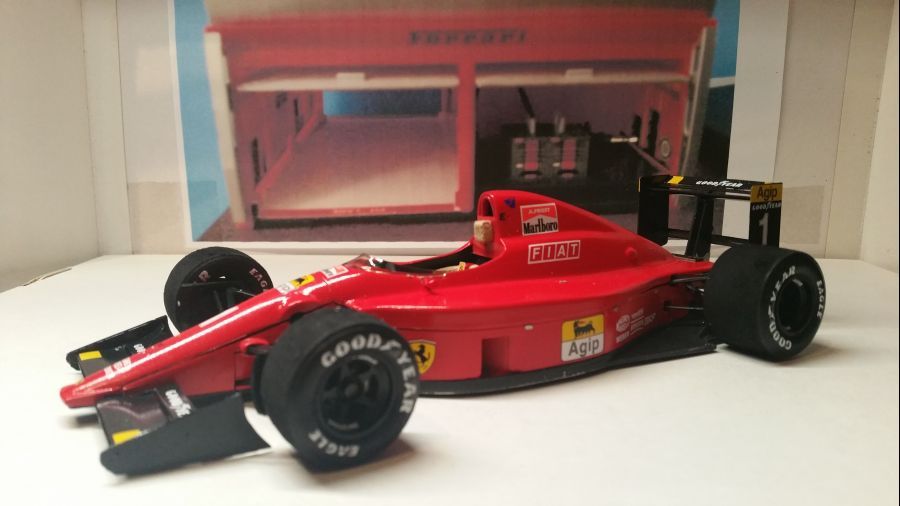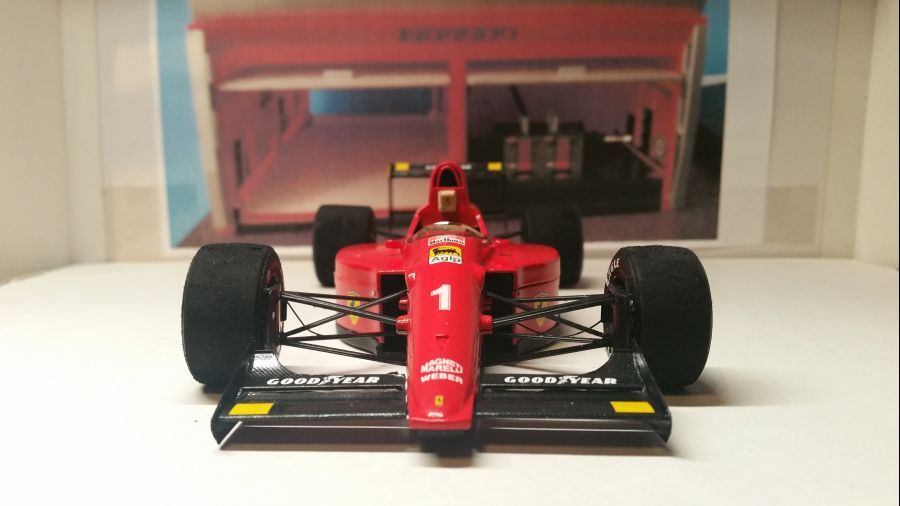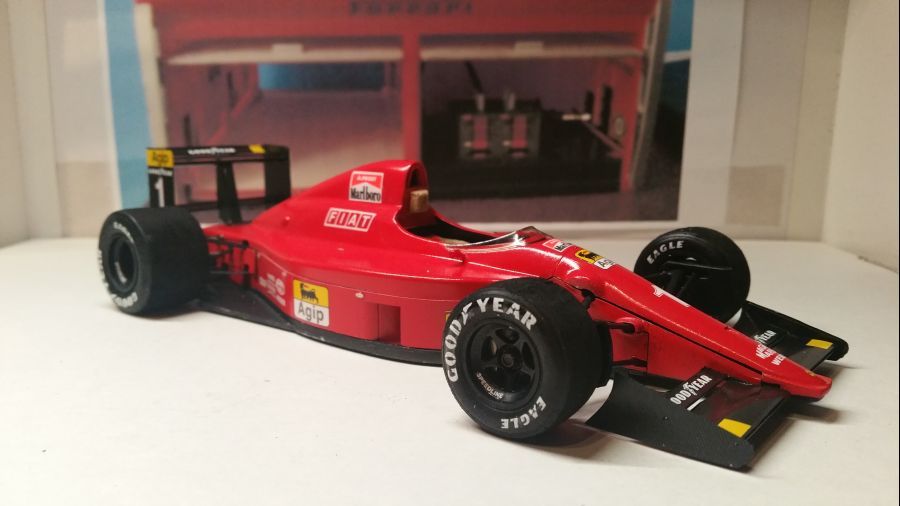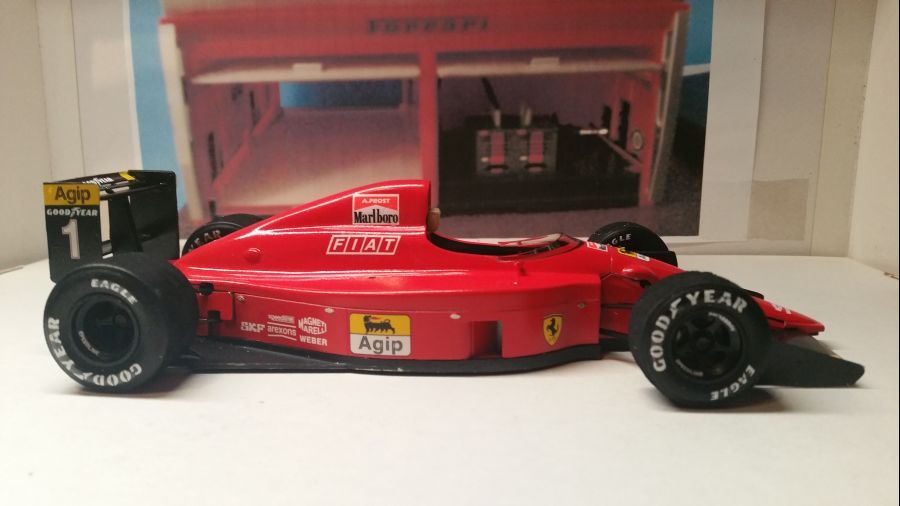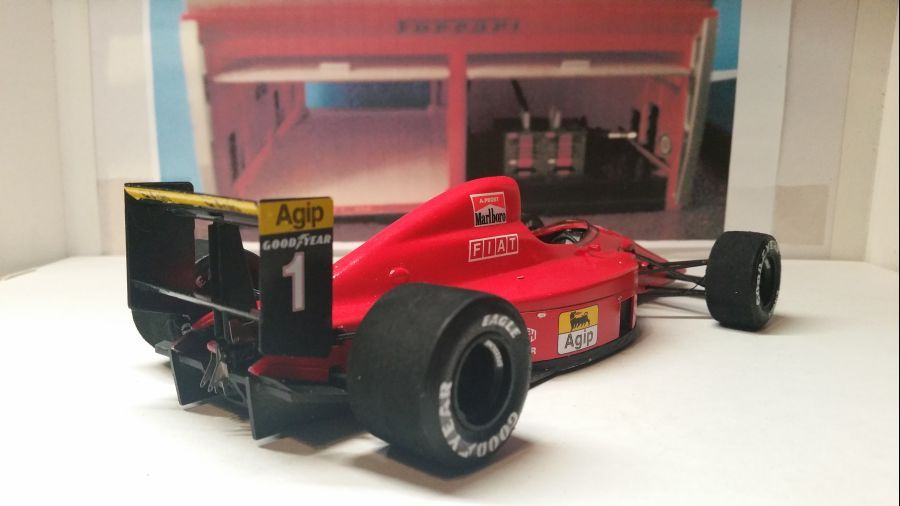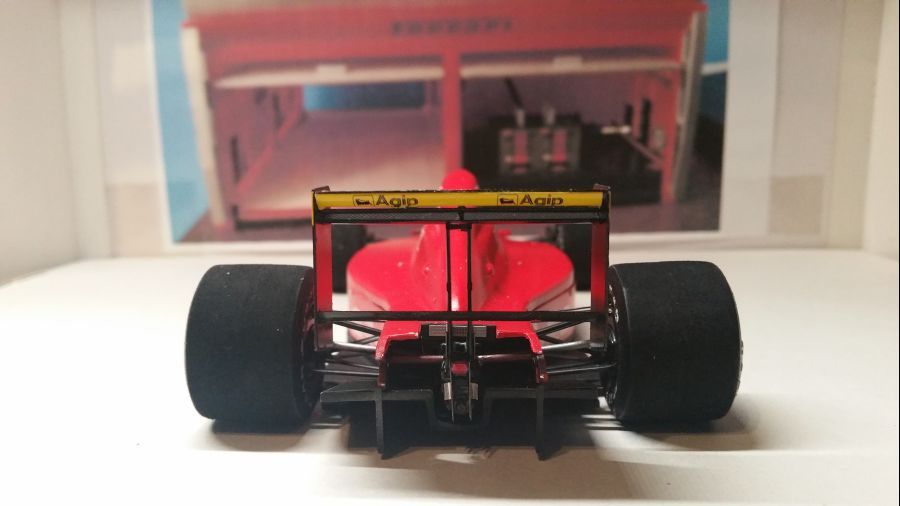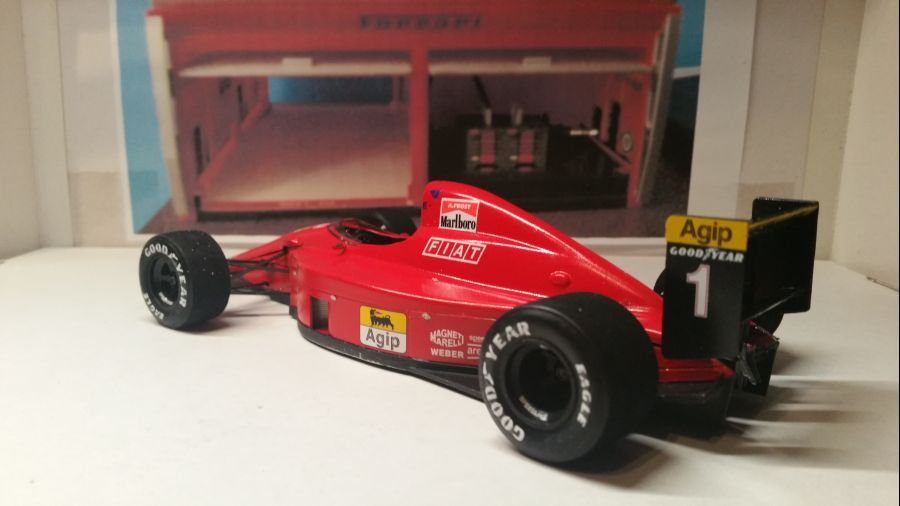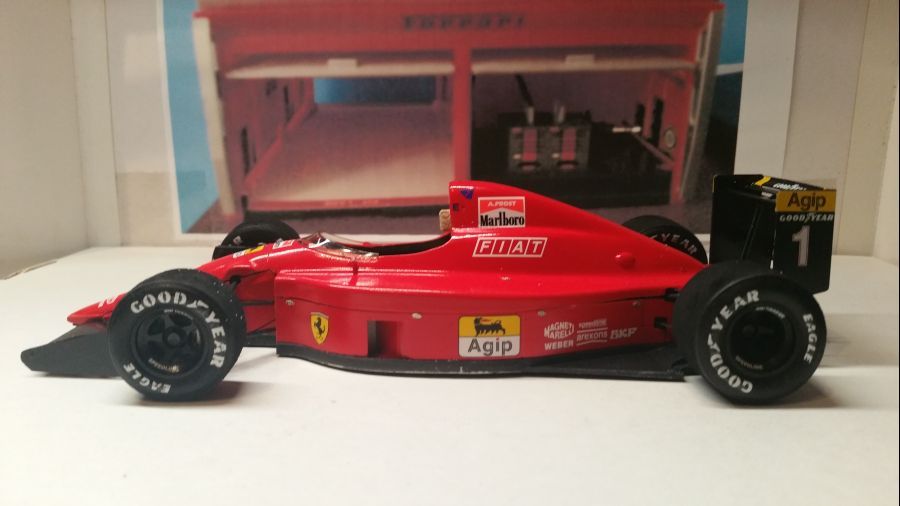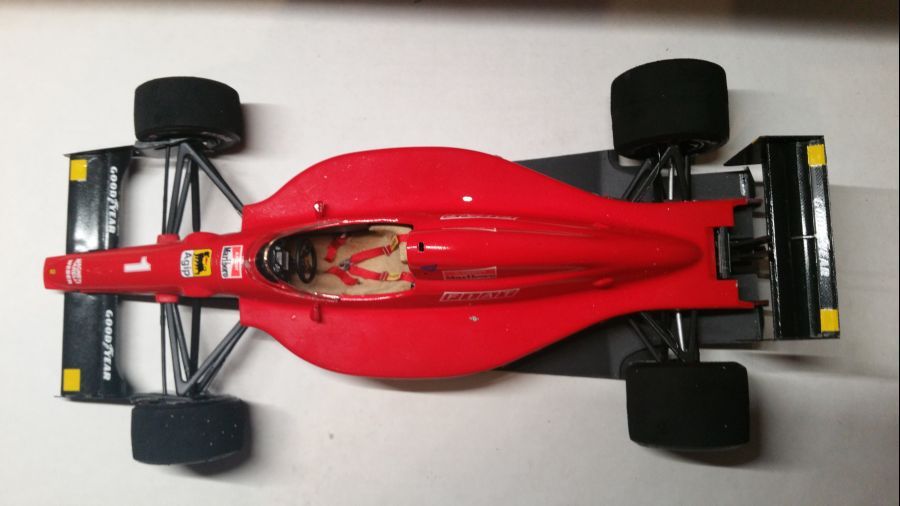 In het kort even de probleem zones van deze kit. De rode delen: zorg dat je de boel aan de binnenkant bewerkt meet een frees om ruimte te maken voor de motor en de vering (voor en achter). Het groene deel: de achterkant kan pasproblemen geven. Het blauw: Het kan zijn de de hoek waarop de neus naar beneden wijst problemen geeft. Ik heb de hele bovenkant moeten vastlijmen, maar mogelijk is het afzagen van de voorkant van de top paneel een oplossing. Voor mij was het te laat.
In short the possible problem zones of this kit. The red parts: Be sure to work on the inside of the top panel to create space for the engine and the suspension (front and back). The green part: The rear could give fitting problems. The blue: It could be the nose of the top panel does not have a correct angle downwards. I had to glue the top panel to the body, but possibly cutting off the nose section is a solution. It was too late for me to do this.