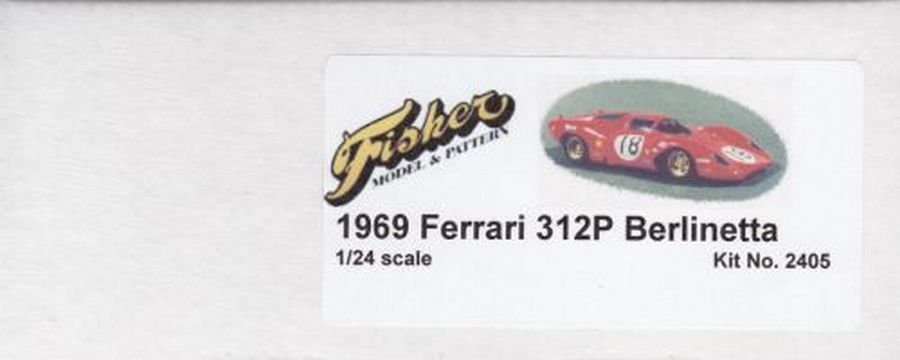 Wat mij betreft een van de meest mooie racewagens welke ooit heeft gereden. Hier de schaal 1/24 kit van Fisher (Kit nr. 2405) van de 1969 Ferrari 312P Berlinetta, zoals deze heeft meegedaan met de 24 Uur van Le Mans. De wagen werd bestuurd door Pedro Rodriguez en David Piper. Het lijkt op het eerste oog een vrij eenvoudige kit met niet veel onderdelen. Het gietwerk is niet slecht. Ik maak er een curbside model van. Omdat de kit wat moeilijk is te krijgen, heb ik geen zin om de deuren enz. eruit te snijden. Wanneer het mis gaat, heb je geen enkele optie om het te herstellen. Daarnaast is de giethars van de deuren zo dik, dat dit een bijna onmogelijke klus lijkt. Eerst maar weer de foto's van de inhoud van de kit. De bouwbeschrijving is een beetje simpel, maar daar komen we vast wel uit.
In my opinion one of the most beautiful racing cars that ever raced. This is the 1/24 scal kit from Fisher (Kit no. 2405) of the 1969 Ferrari 312P Berlinetta, as it raced during the 24 Hours of Le Mans. The car was driven by Pedro Rodriguez and David Piper. At first sight it looks like a quite simpel kit with not many parts. The casting is not bad. I will make a curbside model. Because it's a bit hard to get, i don't want to cut the doors. When it would go wrong there is hardly an option to repair. Also the resin is very thick at the doors, it looks almost impossible to make the cuts a descent way. First of all the pictures with the content of the kit. The instrctions are a bit simple, but we'll manage.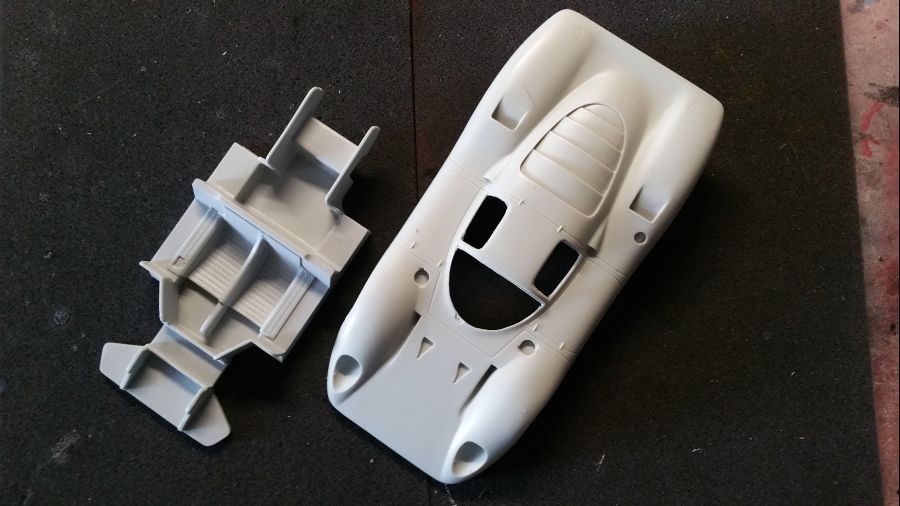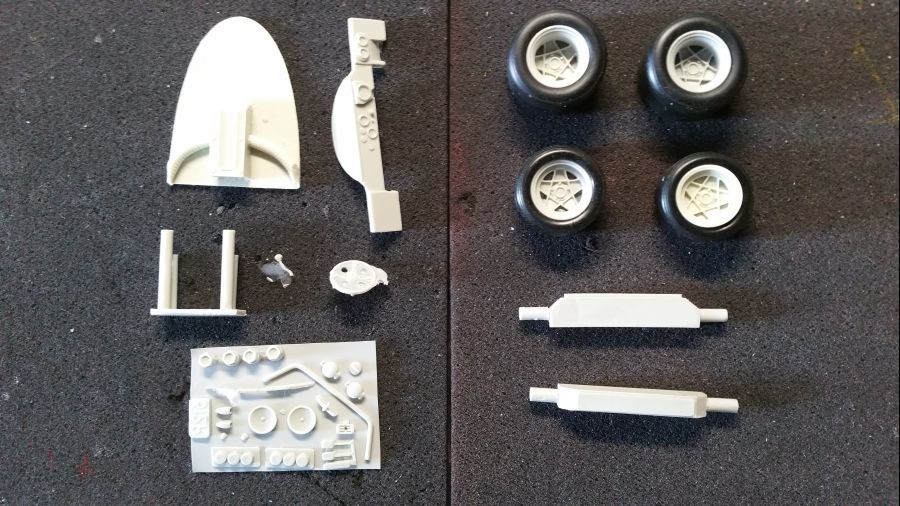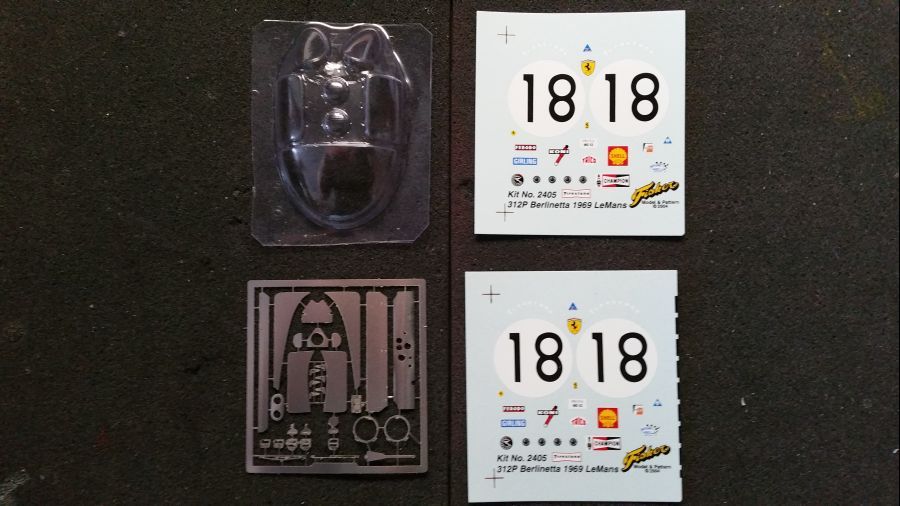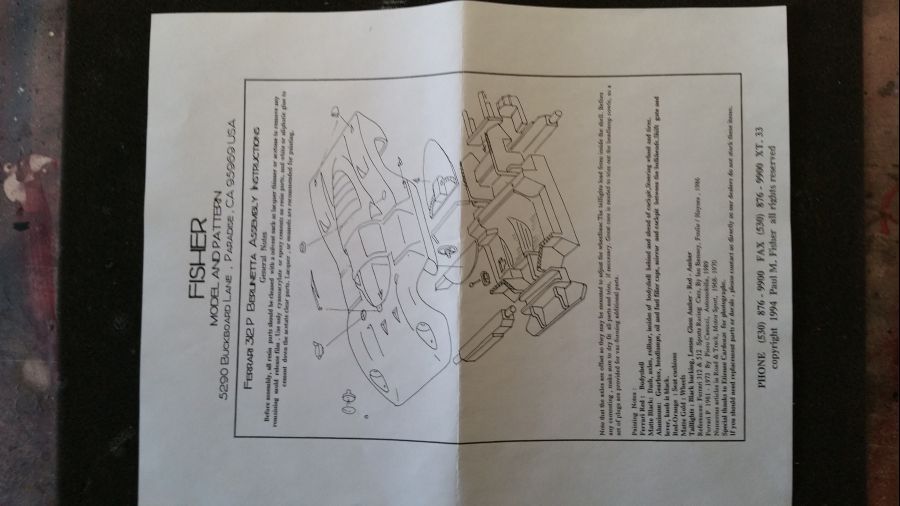 De bovenkant van de body lijkt zeer netjes, de onderkant moet aan gewerkt worden. Eerst wat vijlen en glad maken, daarna nog wat vullen met putty.
The topside of the body looks very neat, the downside needs some work. First i will file and smoothen it, after this some filling with putty.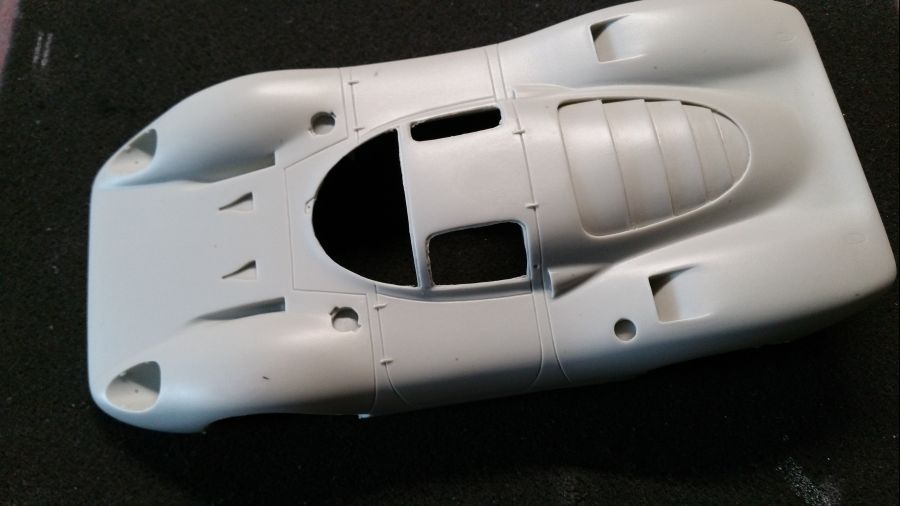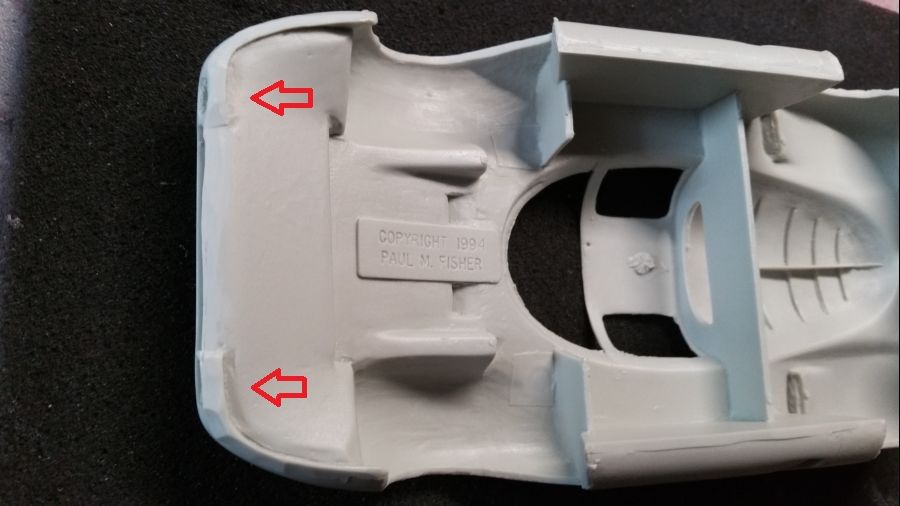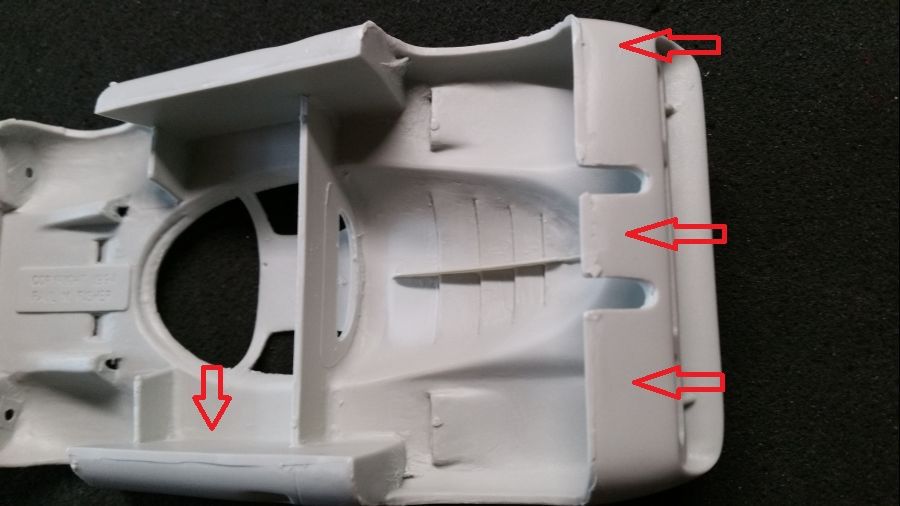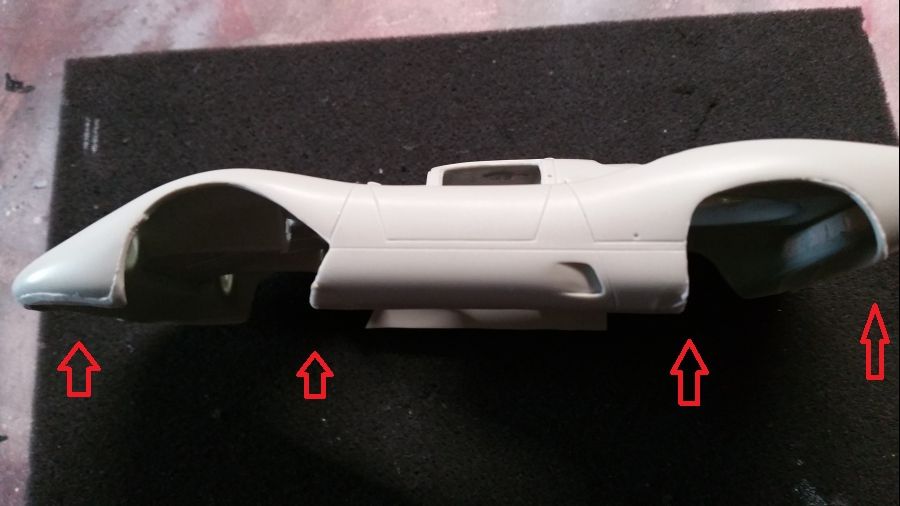 Daarna begint het eerste spuitwerk. Eerst maak ik de afdekking van de achterkant zwart. Eerst afplakken en langs de rand snijden.
Then the first paint work starts. First i will paint the rear cover. Mask it and cut along the line.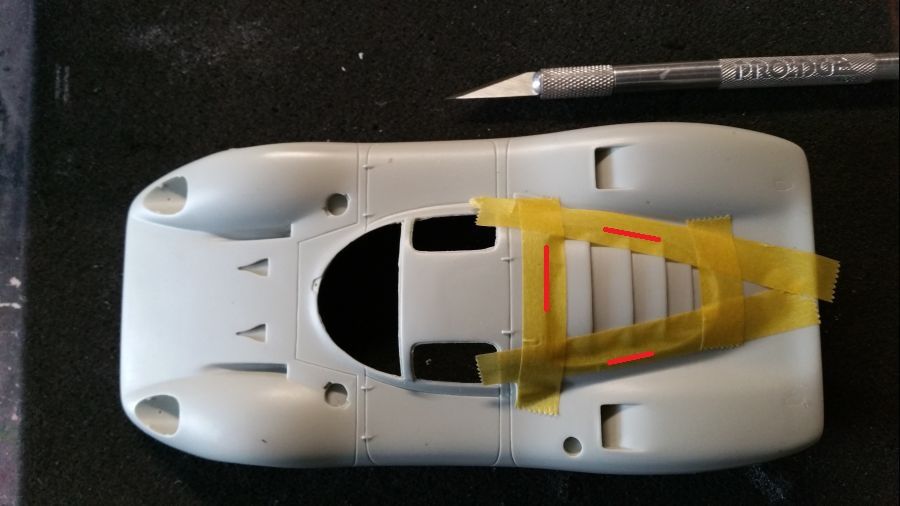 Dan de body beschermen tegen de verf.
Then cover the body to protect it against the paint.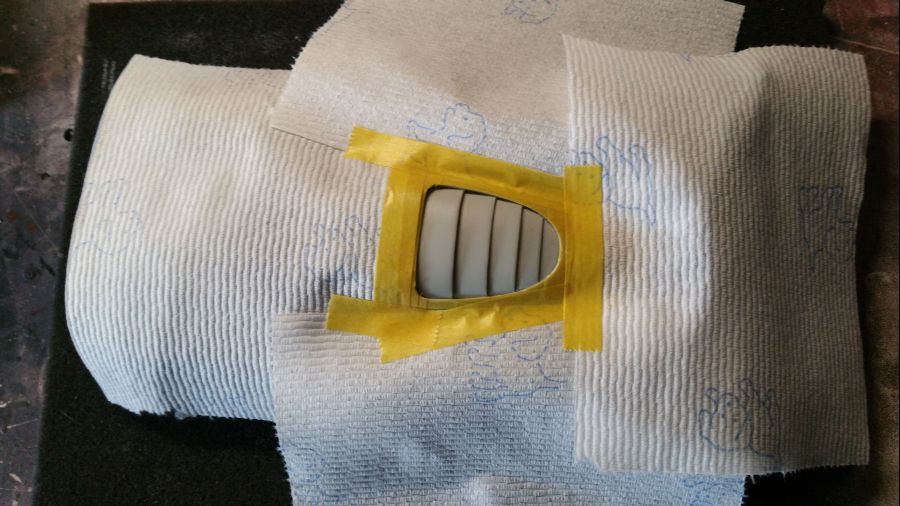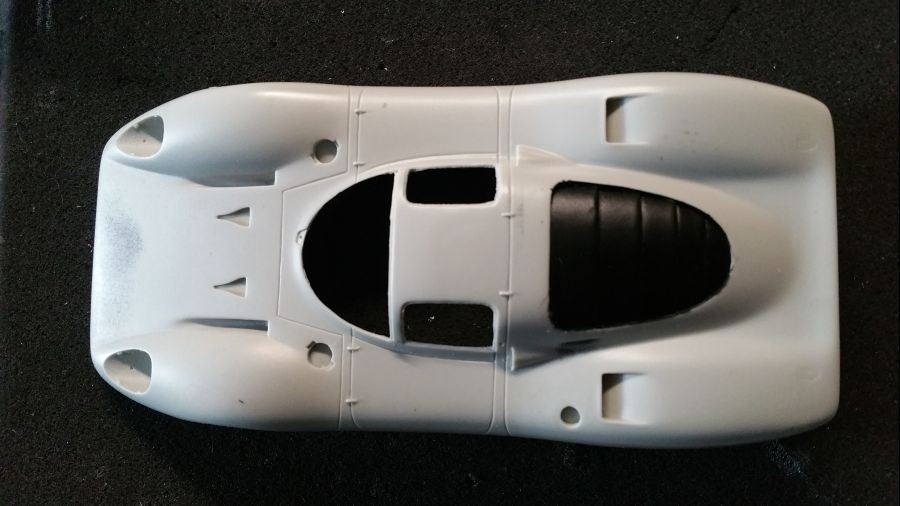 De punten worden uitgezet voor het boren van gaatjes ten behoeve van de popnagels. Ik weet het, de Archer decals zijn eenvoudiger, maar die ik op voorraad heb zijn te groot. Wanneer ik kleinere bestel, moet ik maar afwachten of ze voldoen. De maat van mijn rivets van Scale Hardware vind ik perfect (0.4 mm kop)
Setting the points to drill to apply the rivets. I know, the Archer decals would be more easy to apply, but those i have in stock are too big. When i order smaller ones, i still have to see if they are the correct size. The size of my rivets from Scale Hardware are perfect in my opinion (0.4 mm head).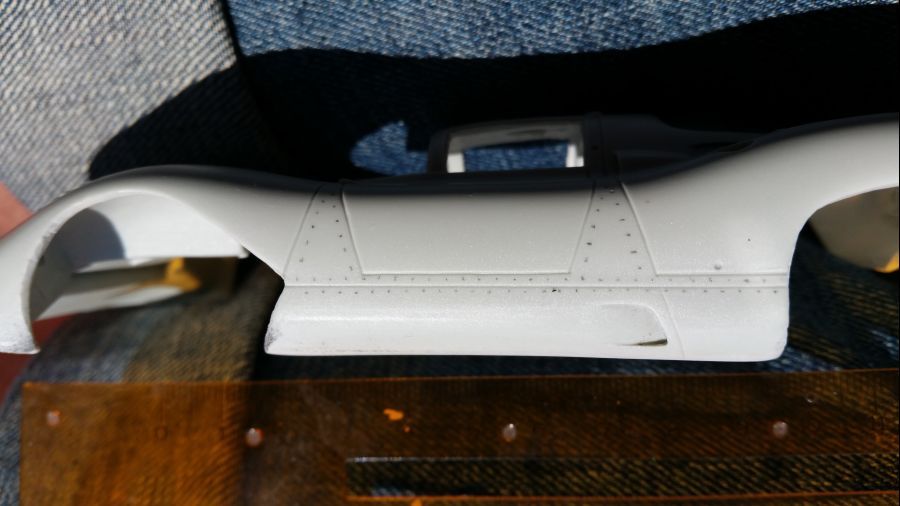 Het aanbrengen van de popnagels gaat beginnen. Meer dan 250 gaatjes moeten geboord en de nagel erin... Het is mooi weer, ik wil ook wat in de zon zitten, dus het zal wel een tijdje in beslag nemen.
The rivitting starts. More than 250 holes need to be drilled and a rivet has to be applied... It's nice weather, i want to sit in the sun, so i guess it will take a while.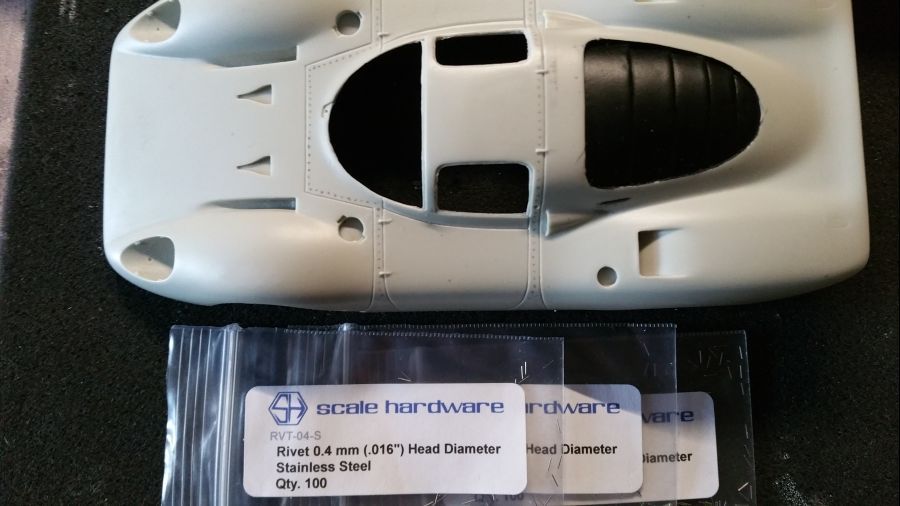 De 2 eerste rijen zijn geplaatst.....
The first 2 rows have been applied.....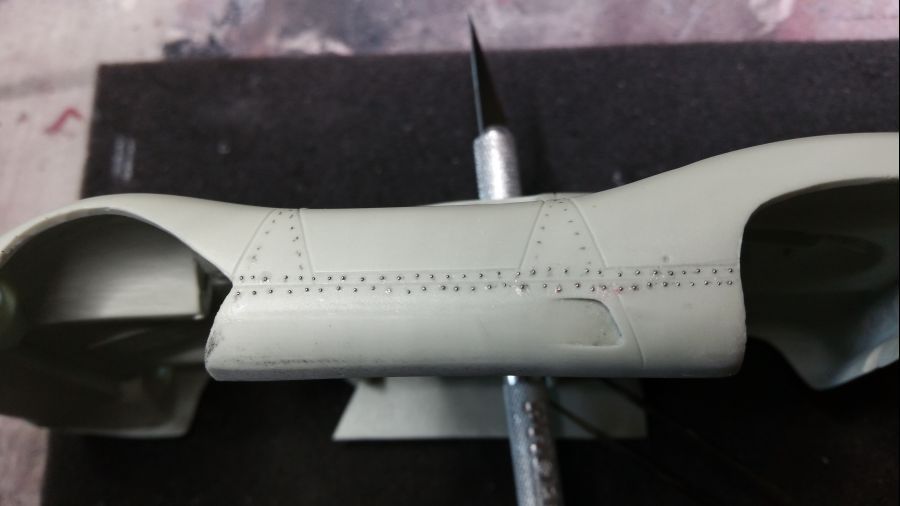 Ik kom popnagels tekort, ongeveer 200 zijn inmiddels geplaatst. De nieuwe zijn onderweg. Daarom ga ik nu eerst met het interieur aan de gang. Eerst spuit ik het deel van de stoel (hele interieur) met witte primer.
I am short of rivets, about 200 have been applied. New ones have been sent. That's why i will start with the interior. First of all i paint the seat part (full interior) with white primer.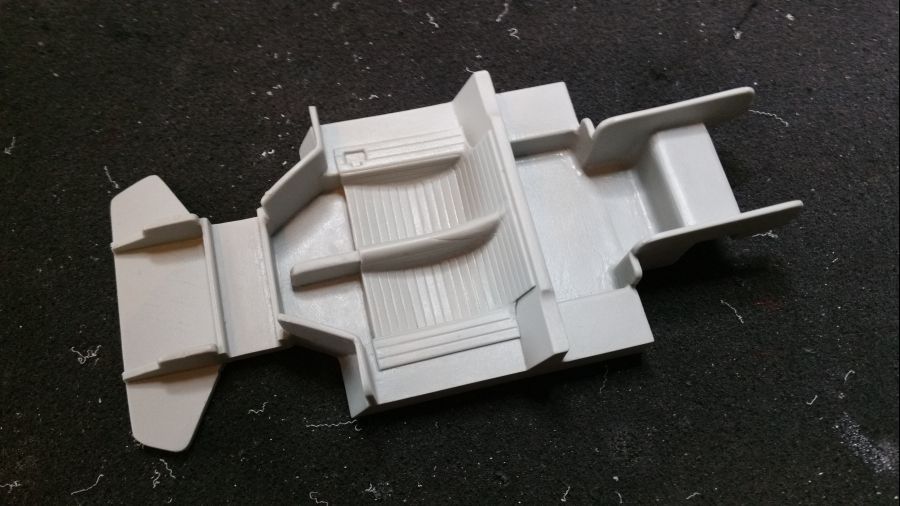 Dan plak ik de boel af en spuit het hele interieur met Tamiya Bare Metal Silver.
Then i mask everything and spray the full interior with Tamiya Bare Metal Silver.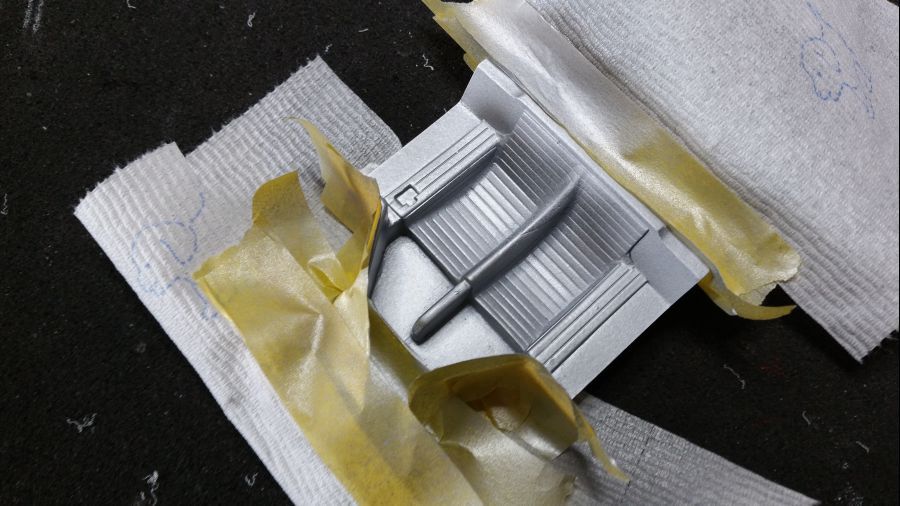 Dan maskeer ik het hele interieur, behalve de stoelen , en spuit Tamiya Bright Red TS-49.
Then i mask the full interior, except the seats, and spray Tamiya Bright Red TS-49.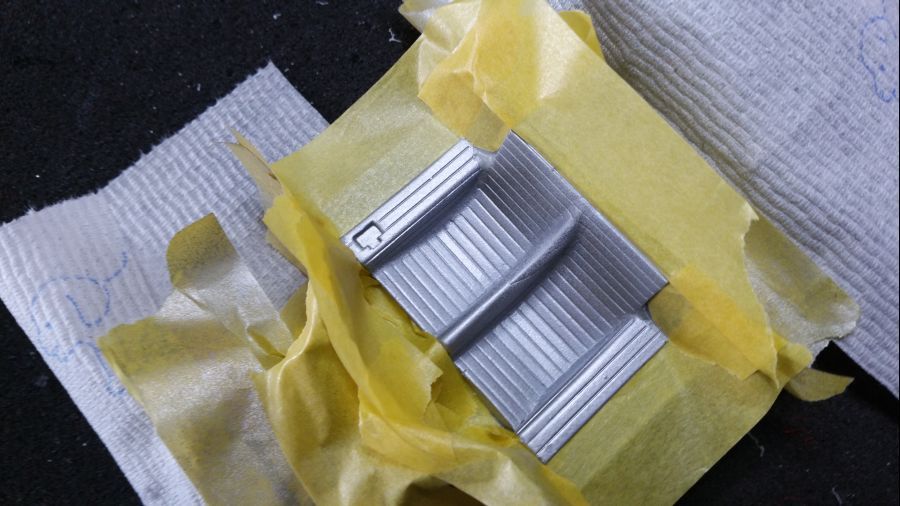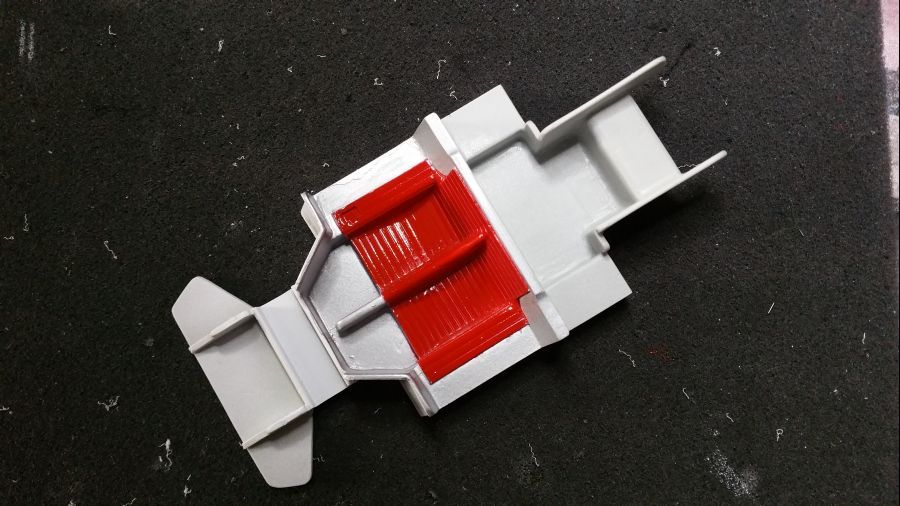 Dan is het tijd voor de voor en de achterkant...
Then it's time for the front and the rear section...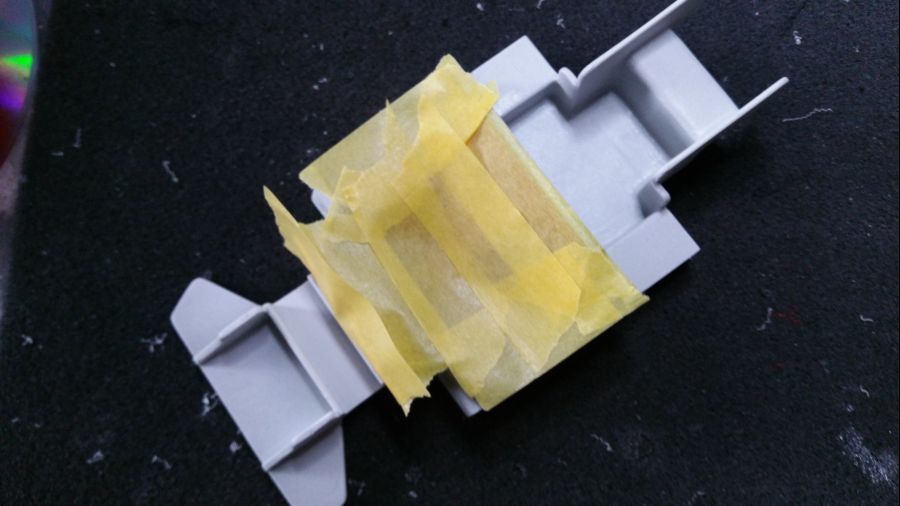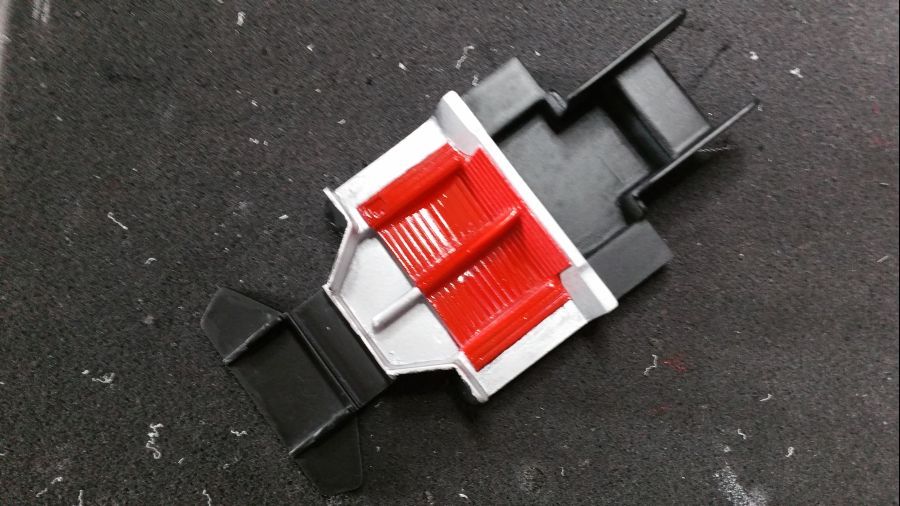 Dan het dashboard... Nadat de decals zijn geplaatst en deze zijn gedroogd, breng ik weer een dun laagje Micro Crystal Clear aan. Daarmee lijkt het net of er een glaasje over de meters zit.
Then the dashboard...  After the decals have been applied and dried, i will apply a layer of Micro Crystal Clear. This will make it look like there is glass over the gauges.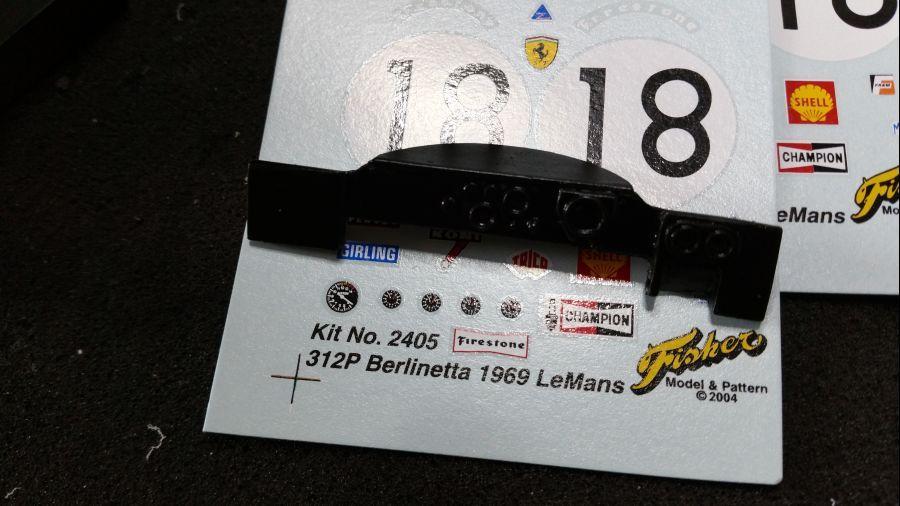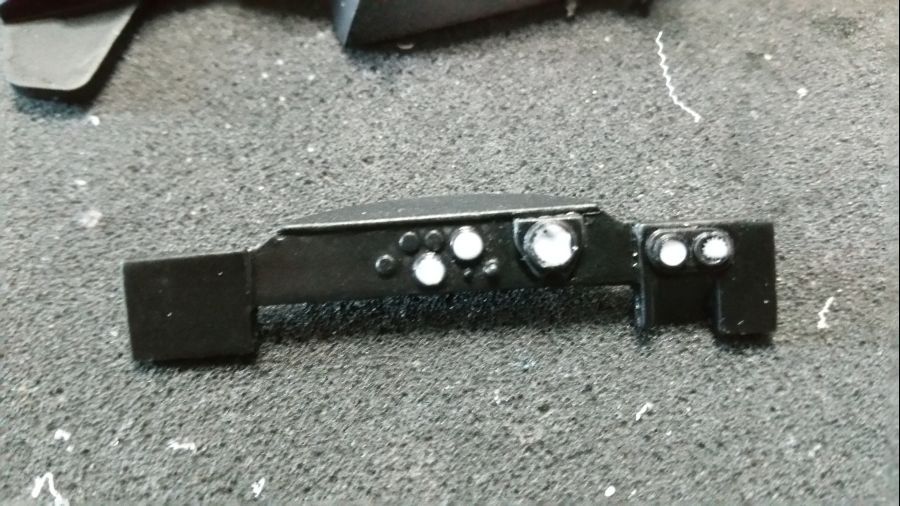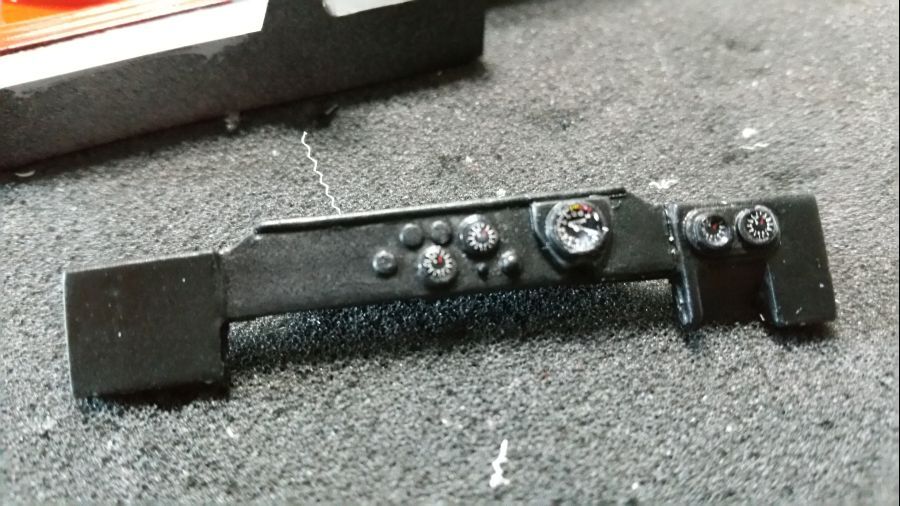 Ik doe niet al te veel moeite voor het interieur. Het wordt een curbside model en er zitten maar heel kleine raampjes in. Je zult er niet heel veel van zien. Dus alleen een paar basis dingetjes.
I will not do to much mocking up the interior. It's a curbside kit and it has only small windows. You will not be able to see very much of it. So, just some basic things.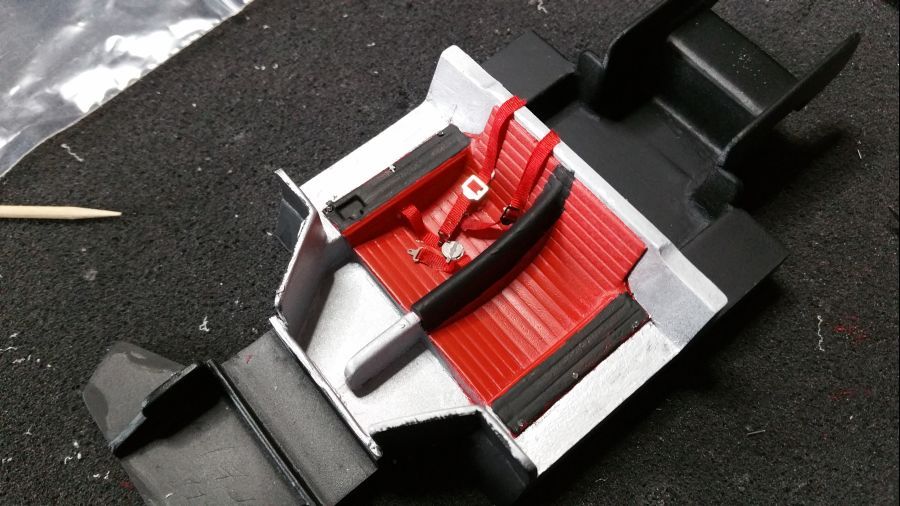 Wat electronica wordt roegevoegd...
Some electronics is being added...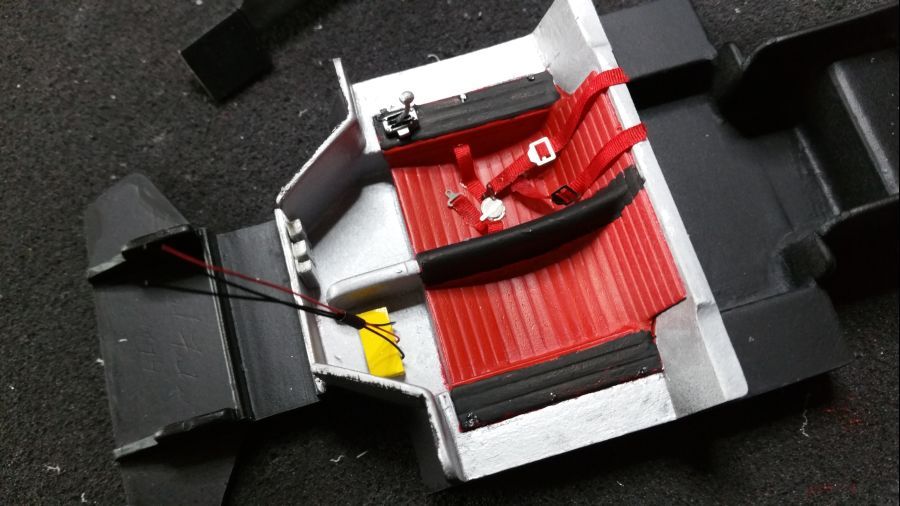 Tijd voor de velgen...
Time for the rims...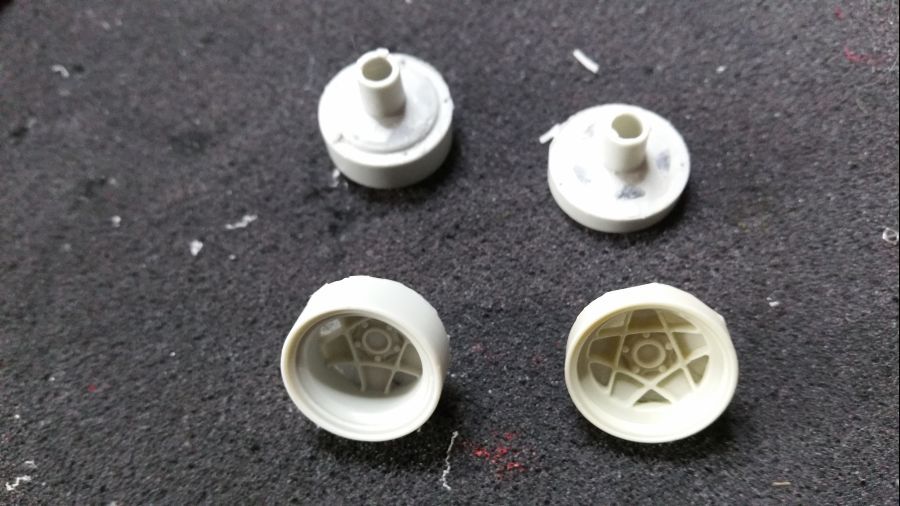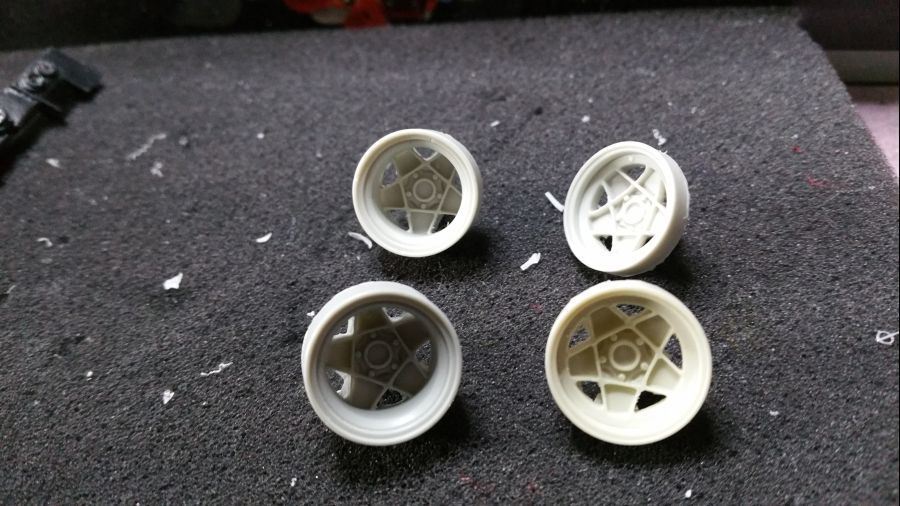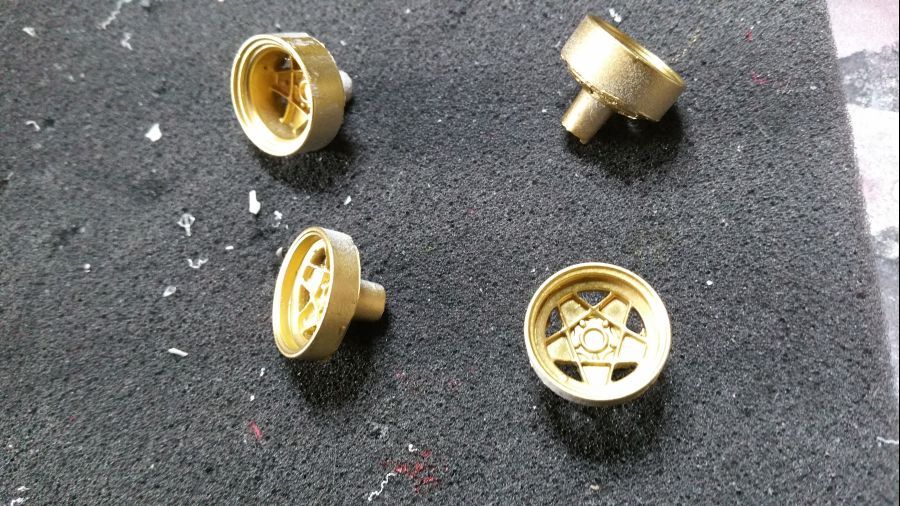 De banden worden van een gouden rand voorzien.... De binnenkant van de banden is minder mooi afgewerkt dan de buitenkant, veel ruiger....
The tires get their golden circle... The inside of the tires isn't as beautiful as the outside, more rough....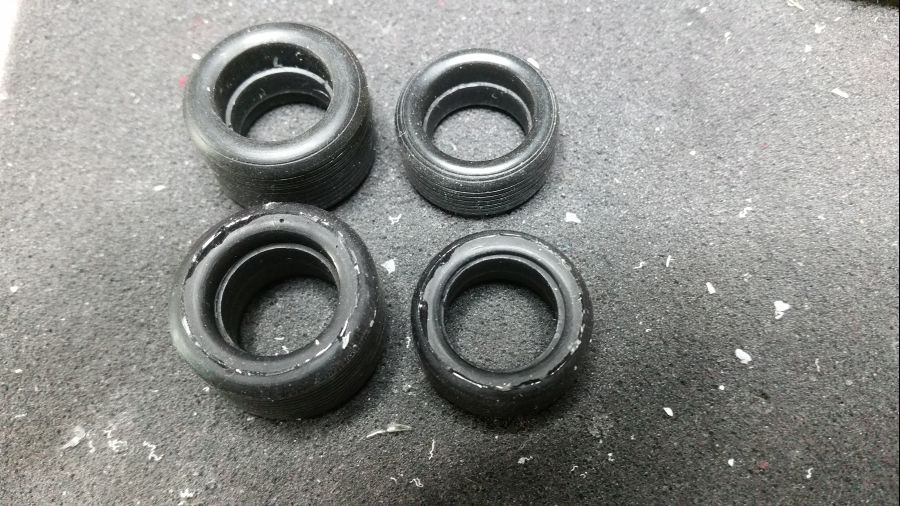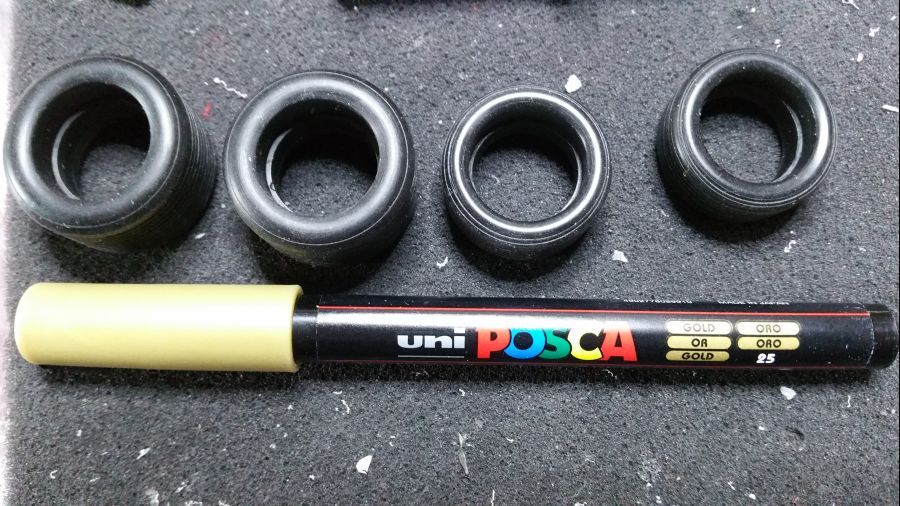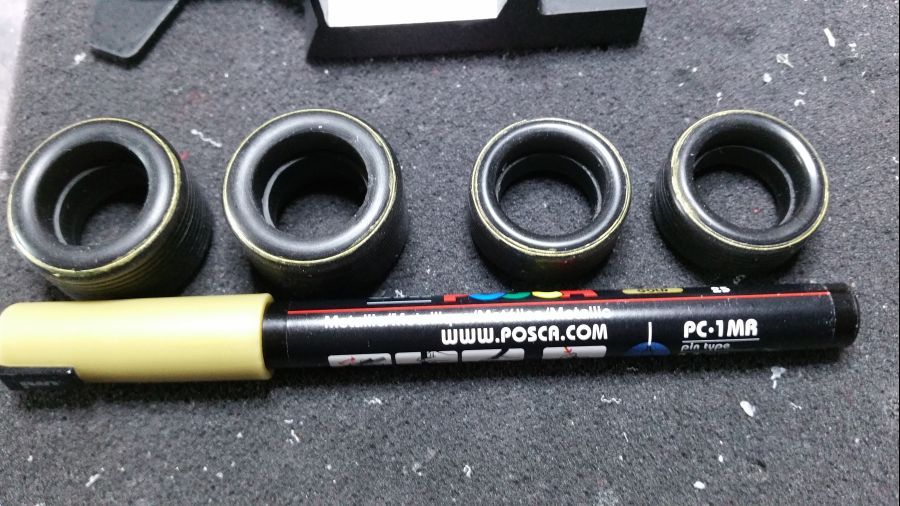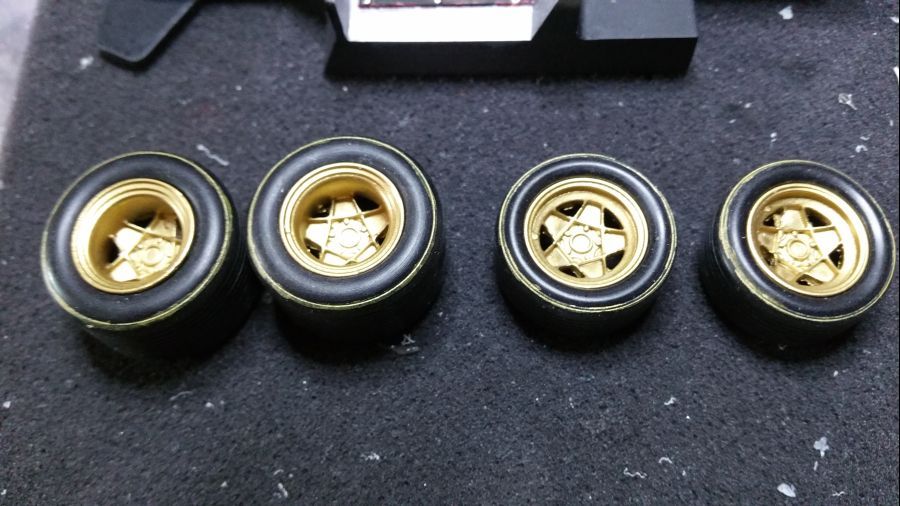 Ik ga verder met het aanbrengen van popnagels. De bestelde nagels liggen nog steeds bij de douane... Dat duurt me te lang, daarom ga ik verder met Archer transfers. Ik denk dat het nauwelijks te zien zal zijn wanneer de grondverf en de dekverf is aangebracht. Mocht het verschil duidelijk fout gaan na de grondverf, dan kan ik de transfers altijd nog verwijderen. 
I am going to continue with the rivets. The rivets i ordered are still in customs... It takes too long, so i will continue with the Archer transfers. I think it can hardly be seen when the primer and final layers of paint have been applied. If it doesn't look good after the primer, i will be able to get the transfers off.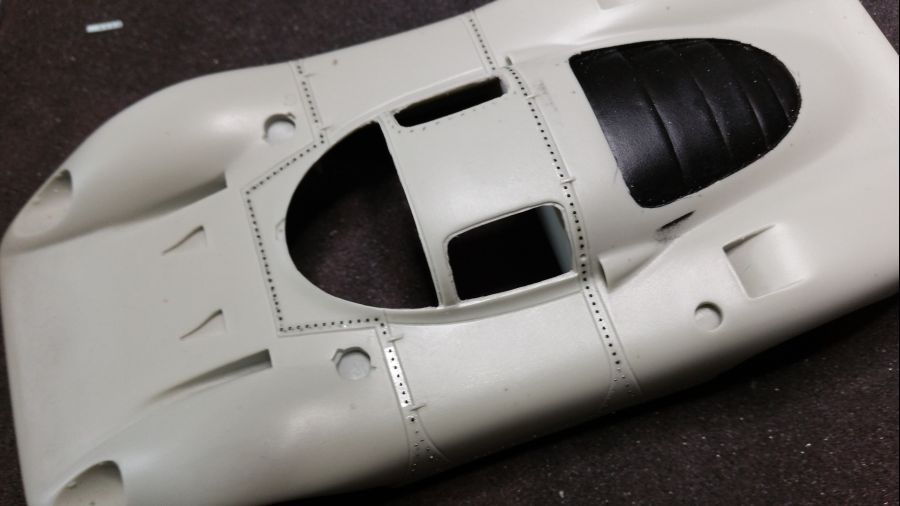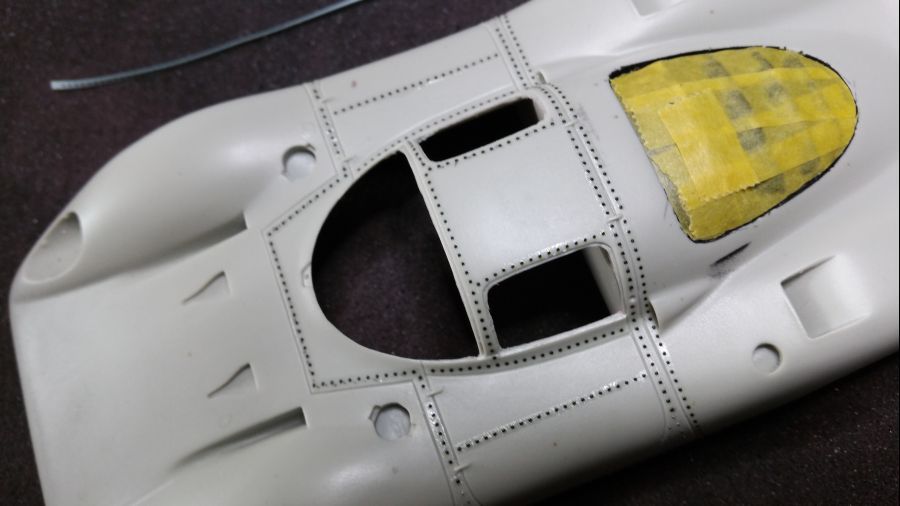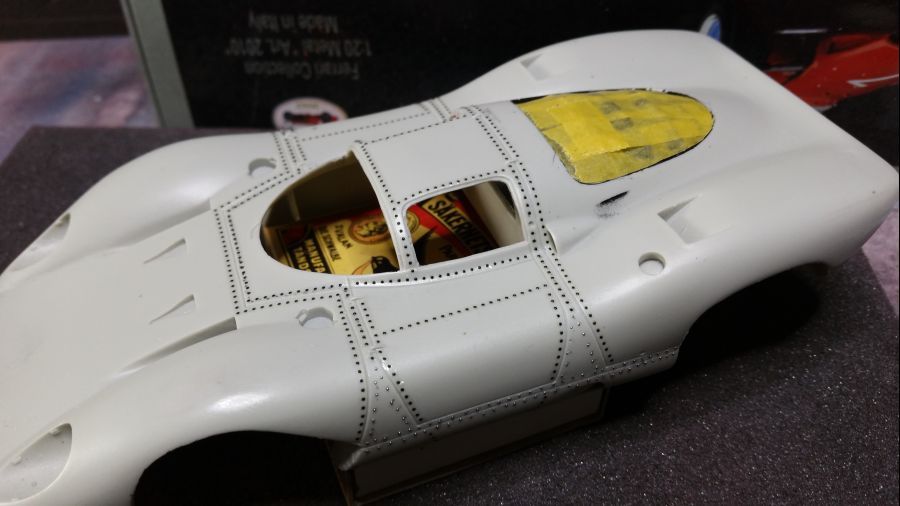 De grondverf zit er op...
The primer has been applied...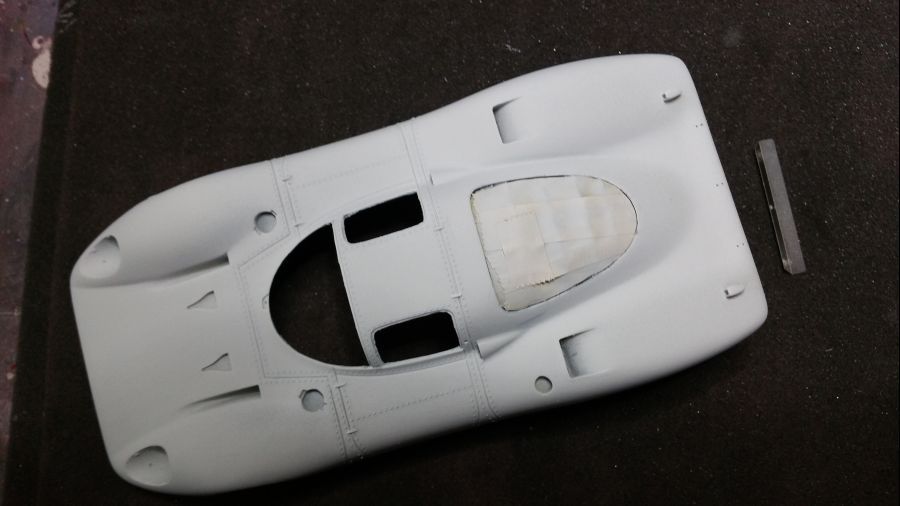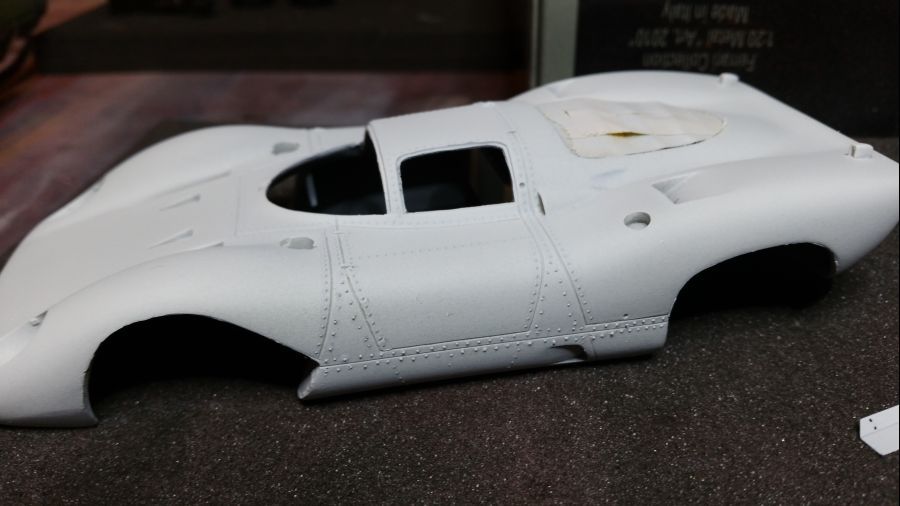 Daarna gaat het rood erop. Deze keer gebruik ik Zero Paints ZP-1007 1960's Rosso Formula 1. De Ferrari 312 F1 versies van 1966 t/m 1969 werden met deze kleur gespoten. Het lijkt me daarom een goede kleur voor deze wagen. Vervolgens een paar lagen Zero Paints heldere glanzende lak erop.
Then it's time for the red. This time i will use Zero Paints ZP-1007 1960's Rosso Formula 1. The Ferrari 312 F1 versions of 1966 until 1969 were painted with this colour. That's why it looks to me a good colour for this car. Next is a couple of layers of Zero Paints gloss clear.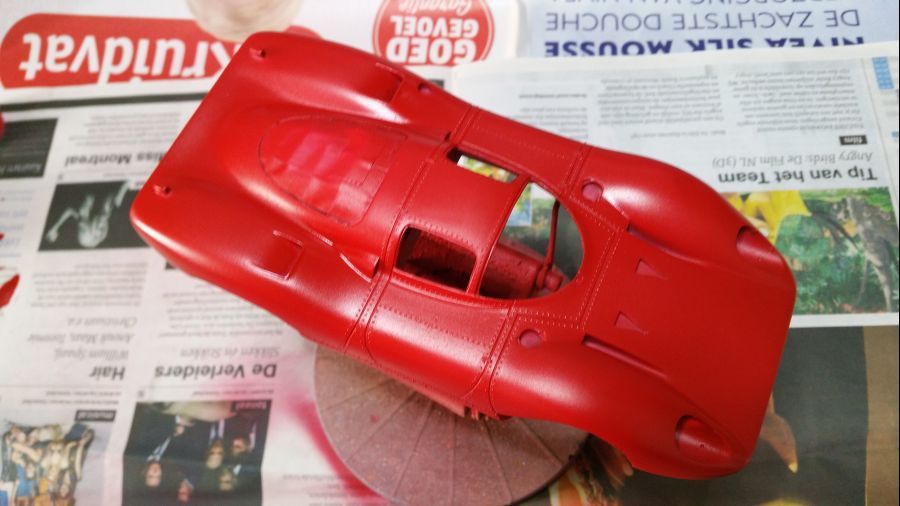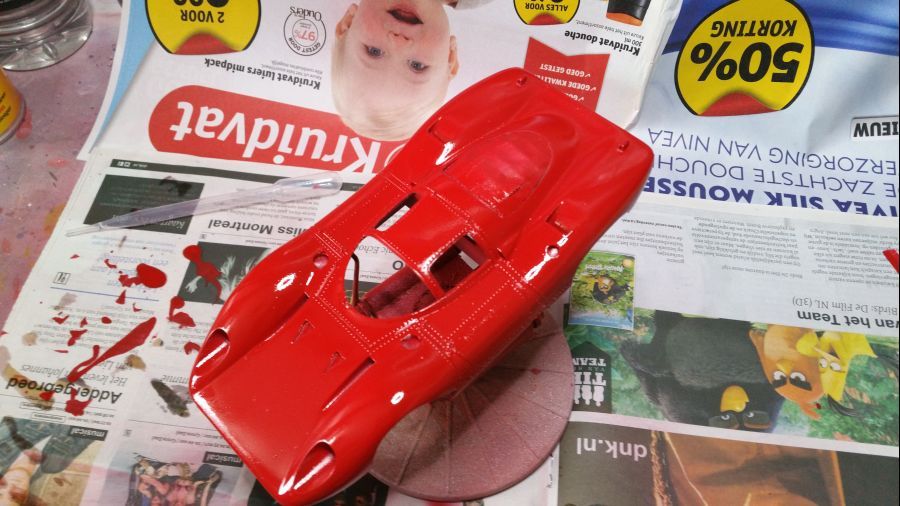 Een paar onderdelen moeten chrome worden gespoten. Chrome vind ik altijd een van de meest moeilijke kleuren. Het meeste wat doorgaat voor chrome lijkt meer zilver. Voor de eerste keer gebruik ik nu Alclad II Chrome. De onderdelen moeten eerst gespoten worden met glanzend zwart. Ik gebruik Tamiya TS-14 Black. Daarna wordt het chrome gespoten met de airbrush in hele dunne laagjes. Zet zo mogelijk de verftoevoer op minimaal. Meer een mist van verf dus. Ik moet zeggen, fantastisch resultaat....daar moet ik meer soorten van kopen...
A few parts need to be painted chrome. I think one of the most difficult colours. Most of the time chrome looks more like silver. For the very first time i will use Alclad II Chrome. The parts need to be painted gloss black first. I use Tamiya TS-14 Black. Then the chrome is being painted in very small layers. If you can, put the paint supply to a minimum. You need to paint mist coats. I have to admit....fantastic result....i really need to buy more of them...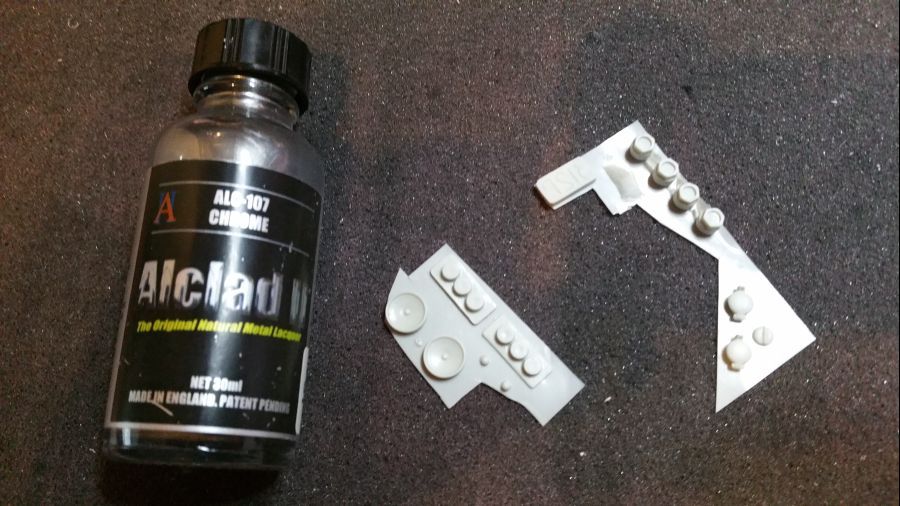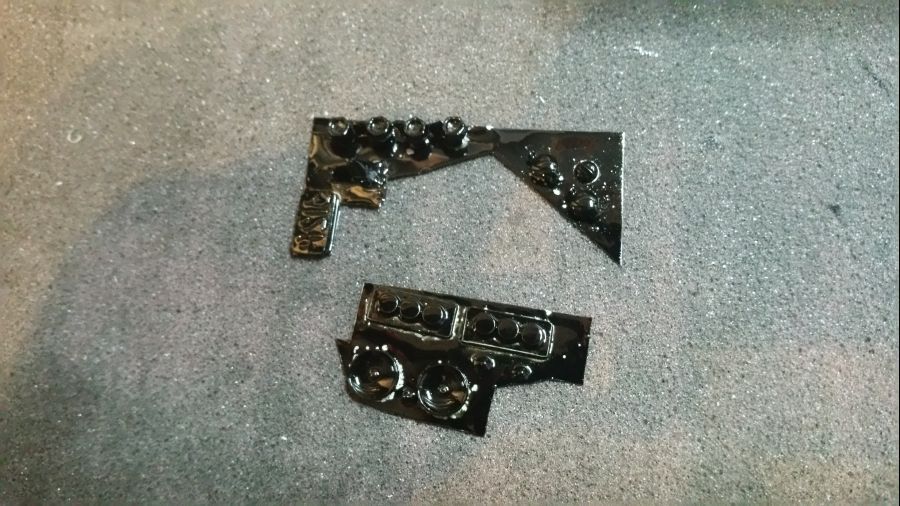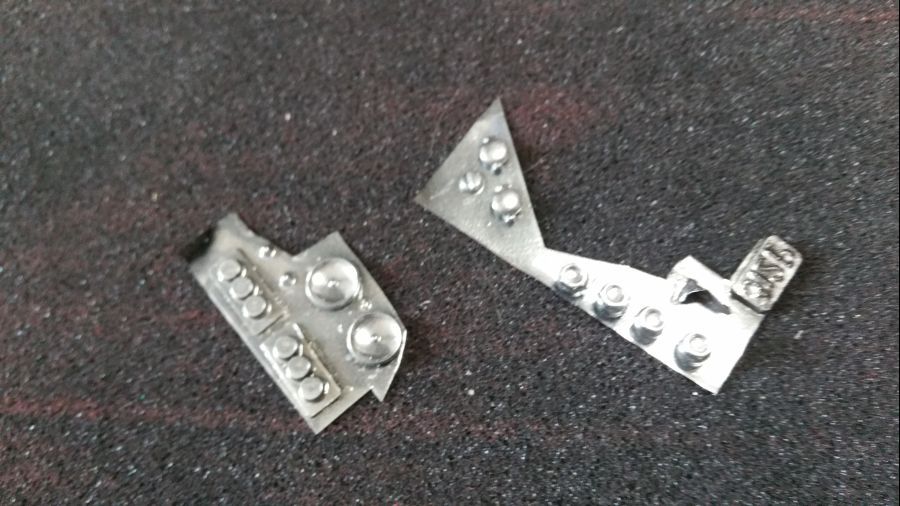 De body moet nog geschuurd en gepolijst worden. Daartoe moet de lak goed droog zijn. Nu ga ik eerst verder met de banden. De logo's worden geplakt.
The body needs to be sanded and polished. For this the lacquer needs to be dry. So i will continue with the tires. The logos are applied.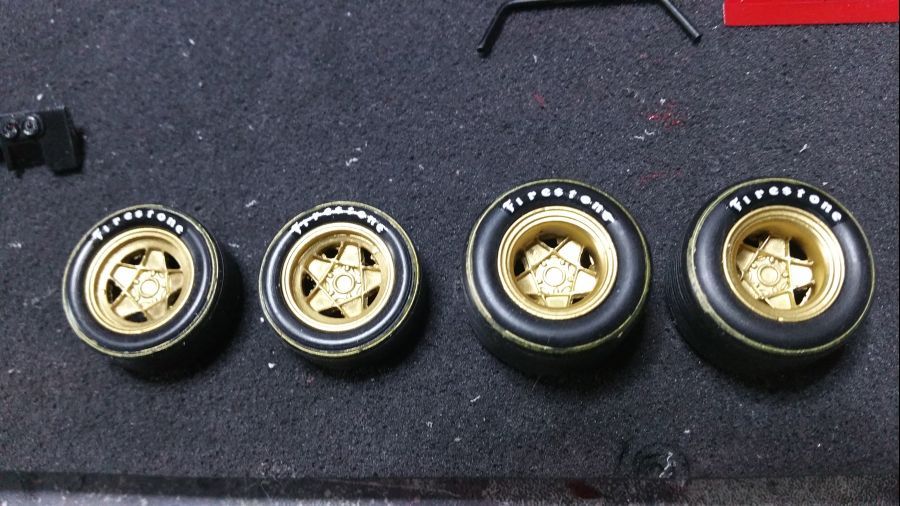 Daarna het begint het decalwerk aan de body..... 
Next is applying the decals to the body.....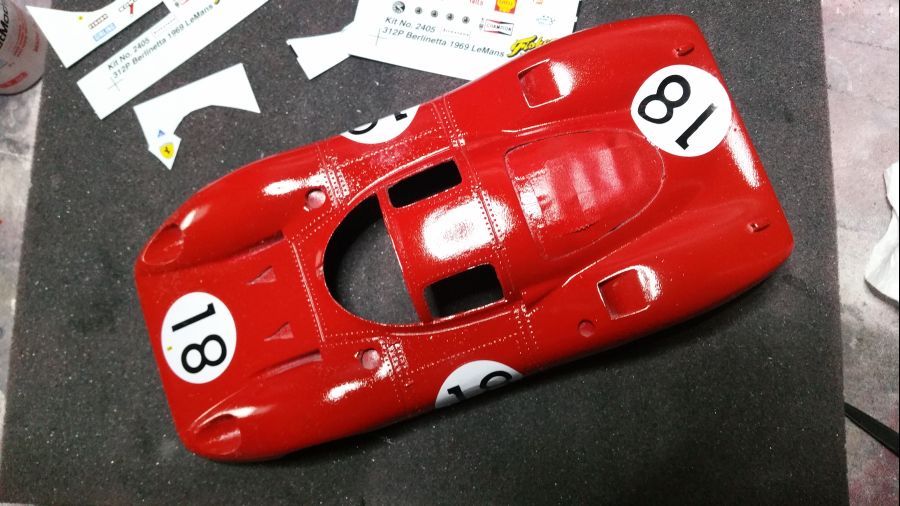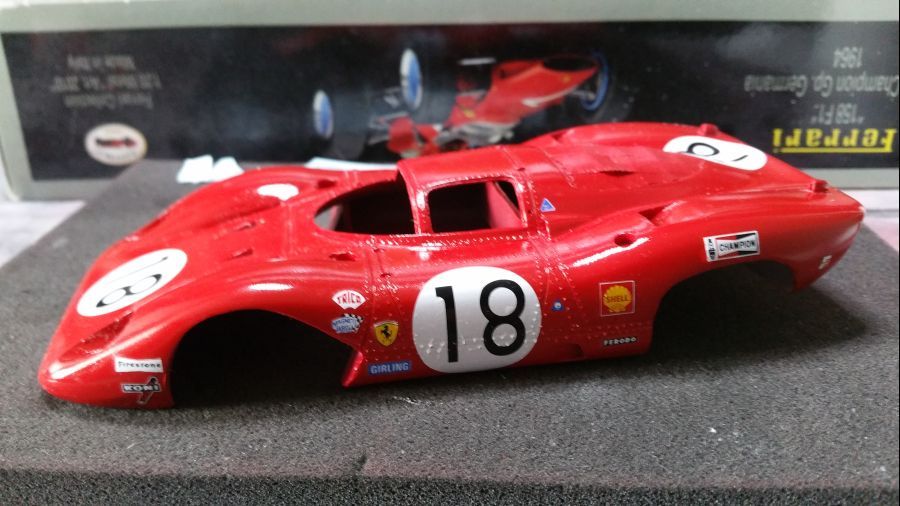 Na het drogen van de decals gaan er weer een paar laagjes lak overheen....
After the decals have dried some more coats of gloss clear have been applied....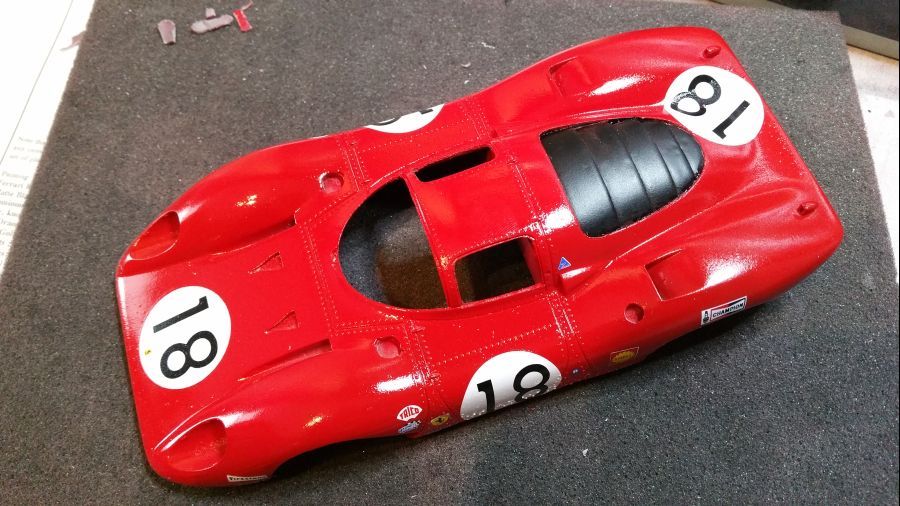 Dan door met het maken van achterlichten..
Then it's time for the tail lights..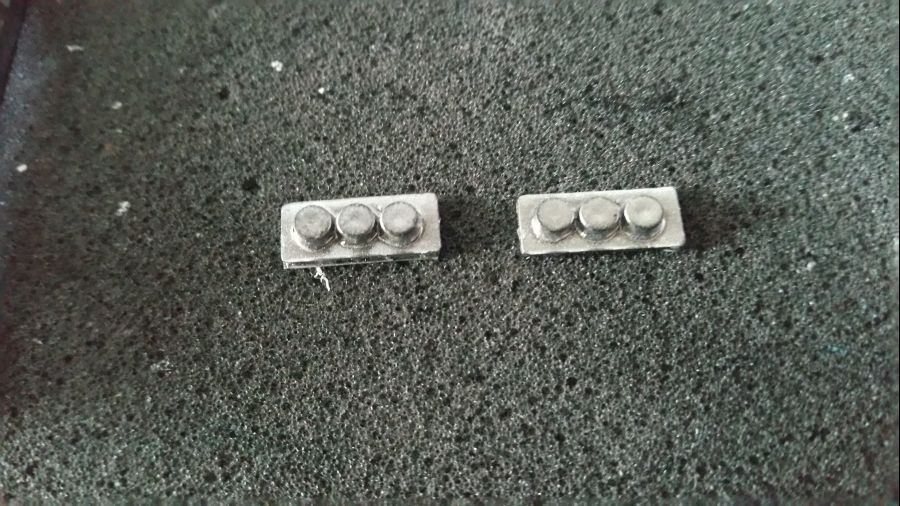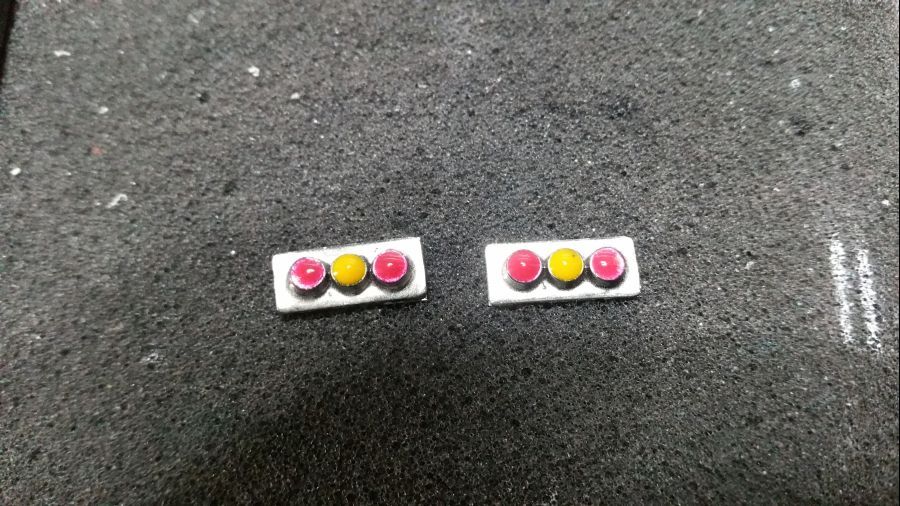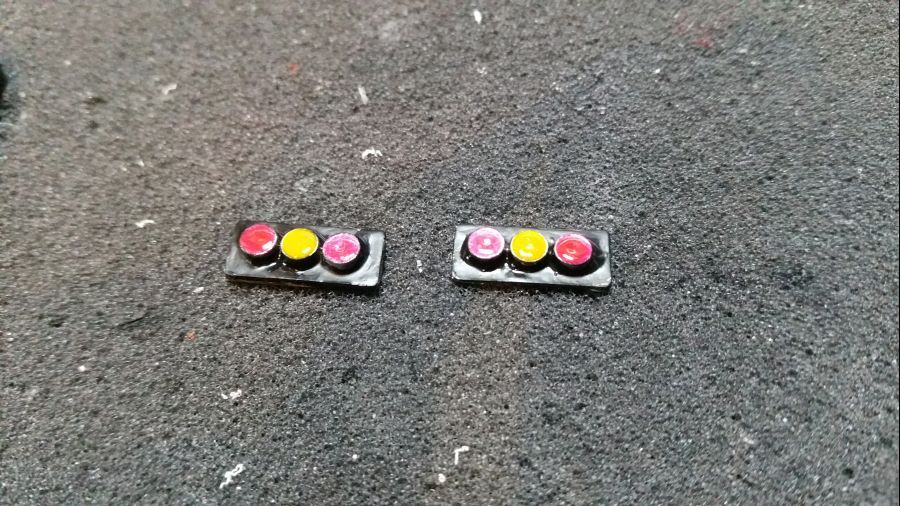 En nog een paar onderdelen zijn schoongemaakt en gespoten. Het verhaal van mijn leven, er mist weer een onderdeel. Ik heb een stuk van een versnellingsbak van een oude F1 kit gehaald...
A few more parts have been cleaned and painted. The story of y life, another part is missing. I have cut a piece off of a F1 gear box from an old kit...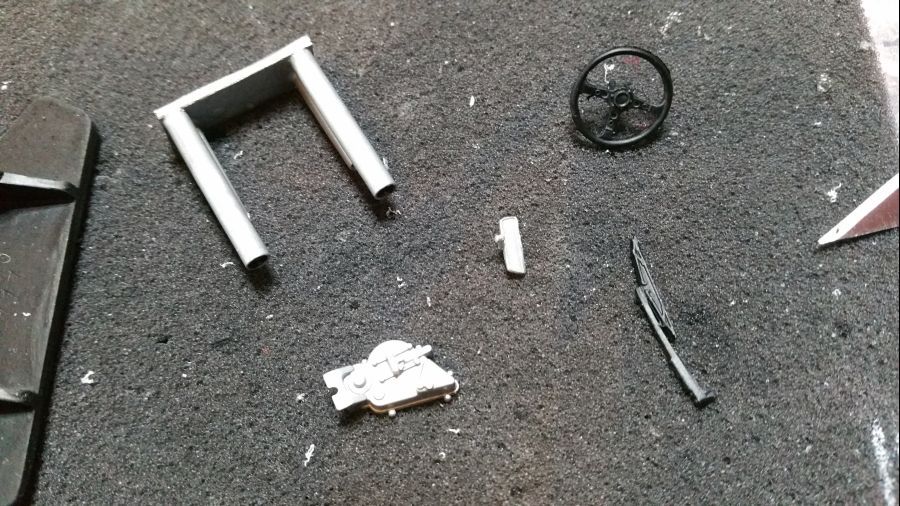 De assen worden afgemaakt en de boel wordt aan het chassis gemonteerd.
The axles are being finished and everything gets mounted to the chassis.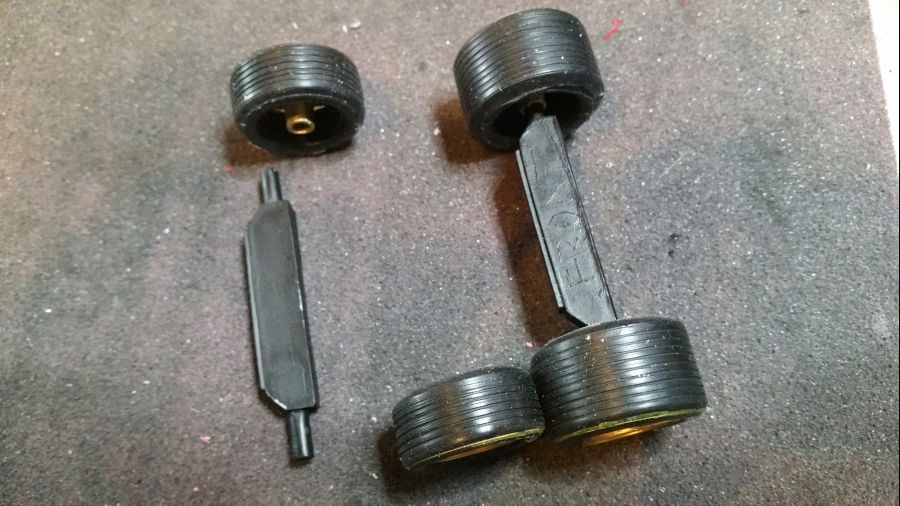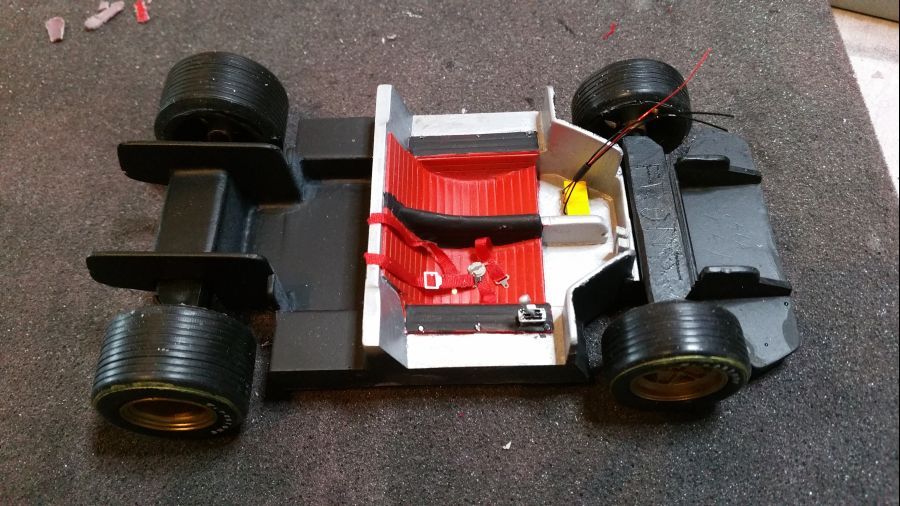 Tijd om de binnenkant klaar te maken, eerst wat verfwerk ter hoogte van de spatborden en bij de deuren..
Time to prepare the inside, first some painting near the wheel covers and the doors...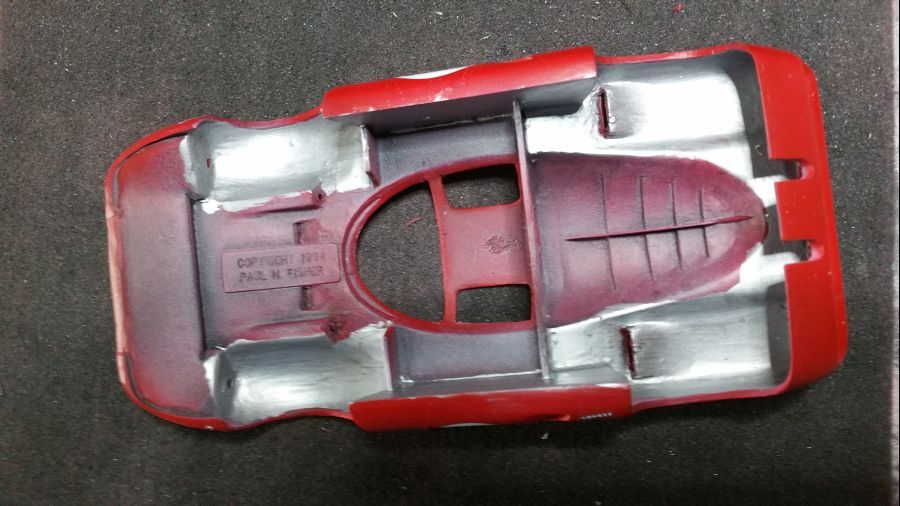 Wanneer het motordeel is geplaatst is het de beurt aan het glaswerk...
After the engine part has been attached it's time for the windows...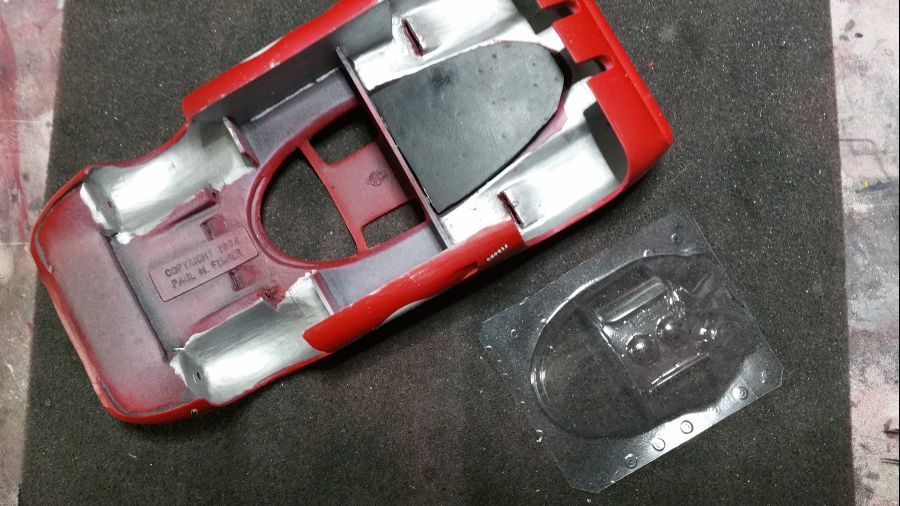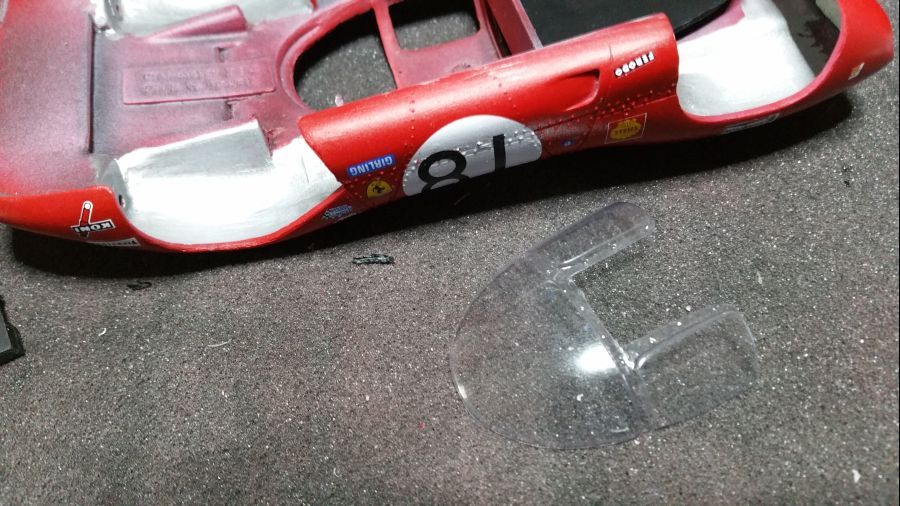 Wanneer de ramen erin zitten is het tijd voor het dashbord.
When the windows are in it's time for the dash.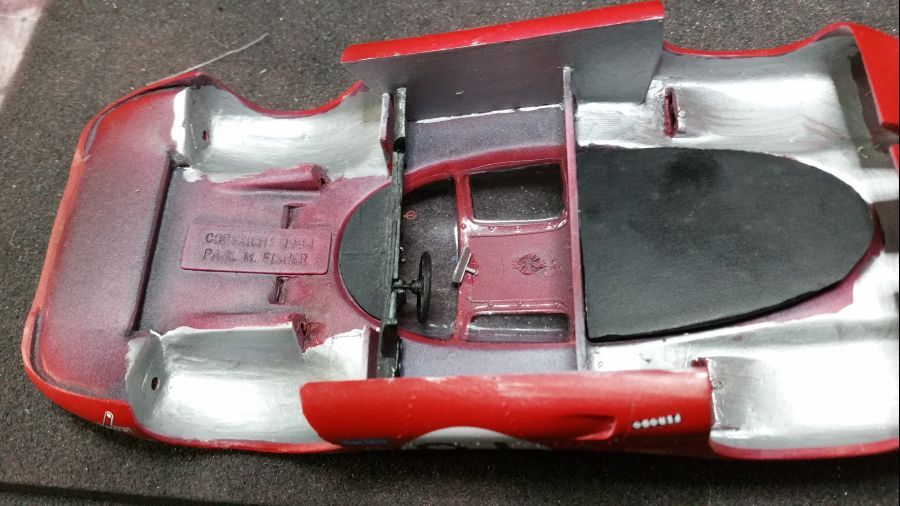 Vervolgens worden de vulopeningen geplaatst...
Then the filling caps get attached...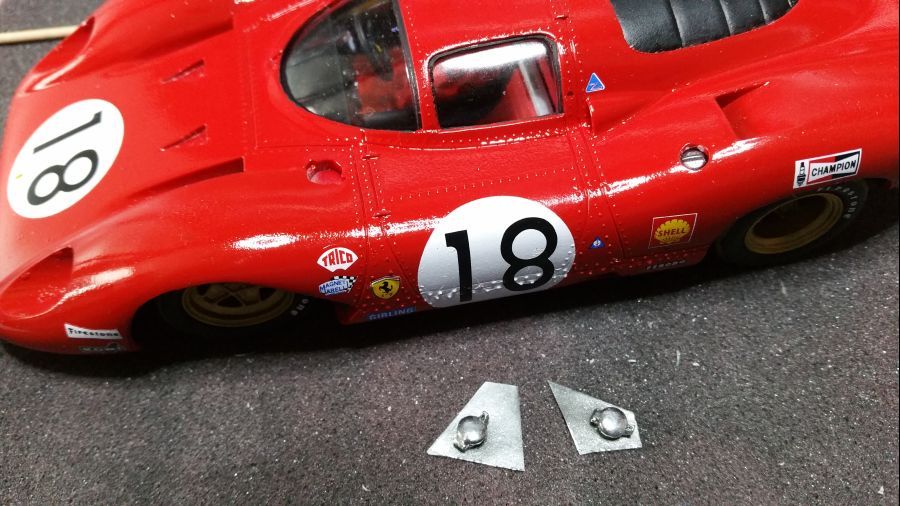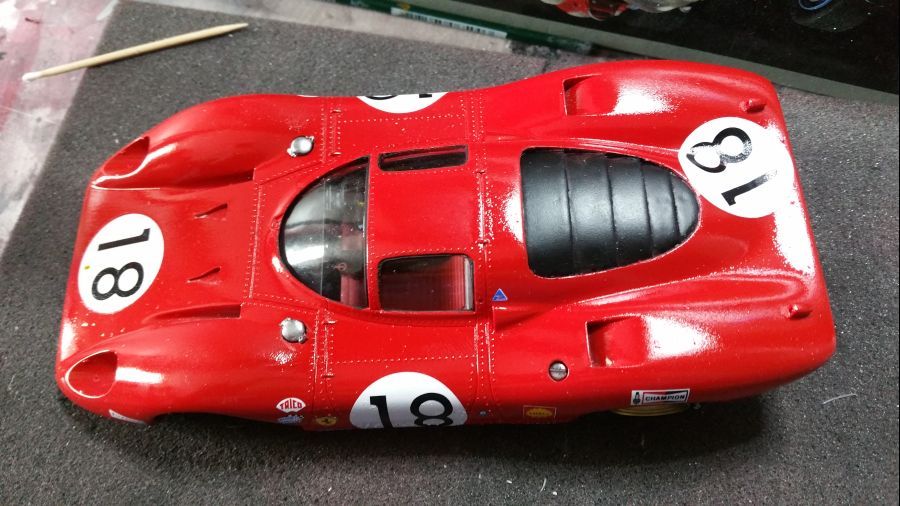 De uitlaten en het onderdeel om de versnellingsbak te simuleren..
The exhausts and the part to simulate the gear box..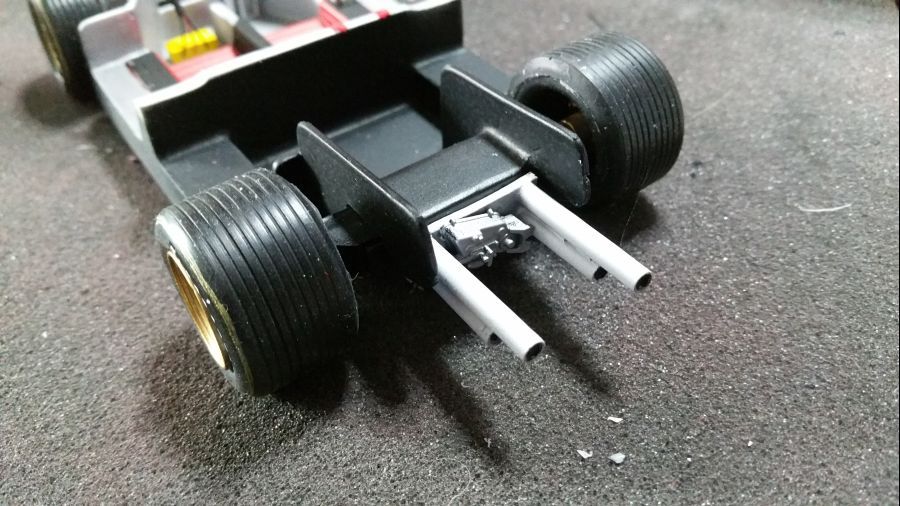 De ruitenwisser...
The whiper...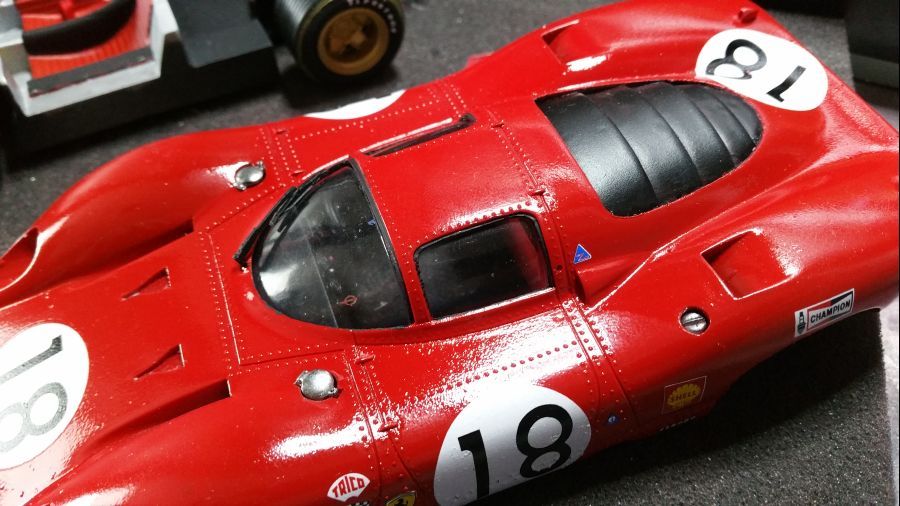 De koplampen...
The head lights...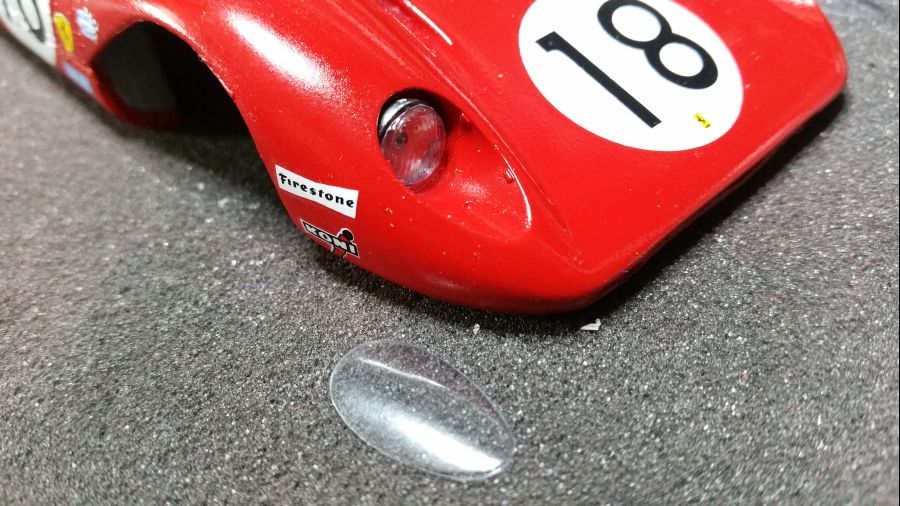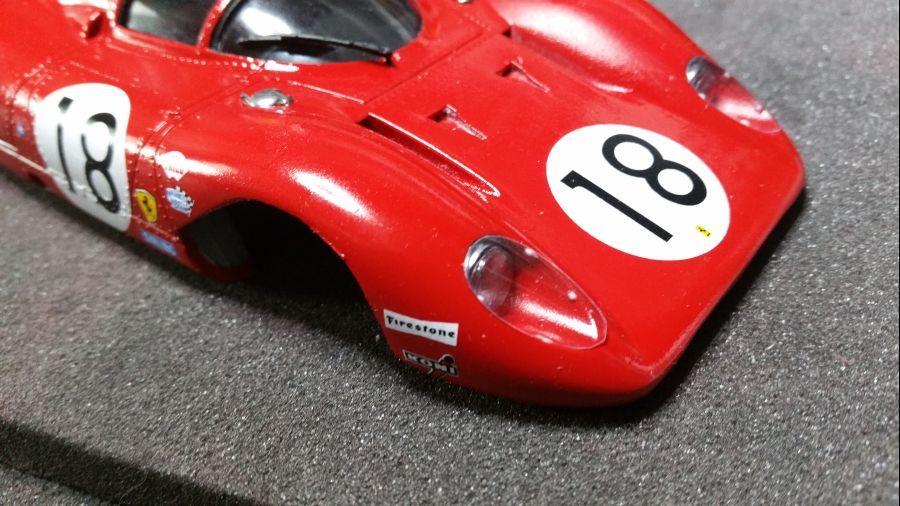 De achterlichten..
The tail lights..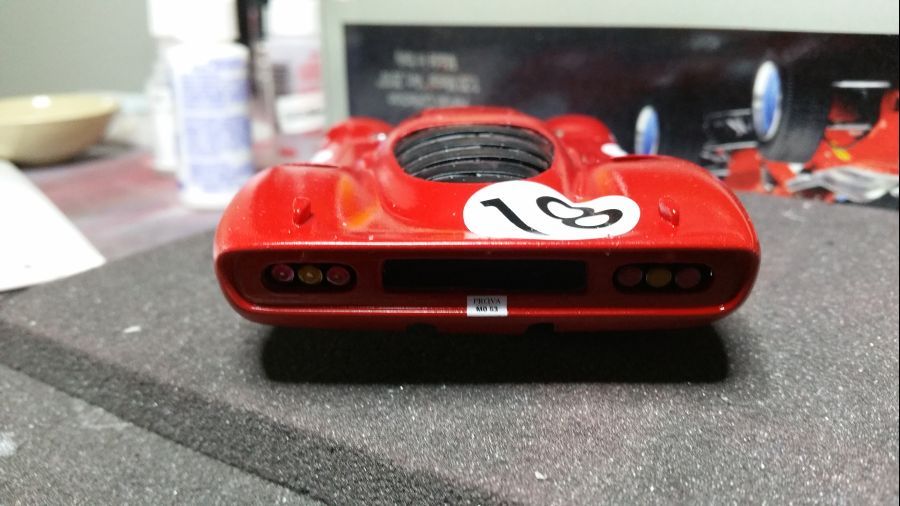 De achterspoiler..
The rear spoiler...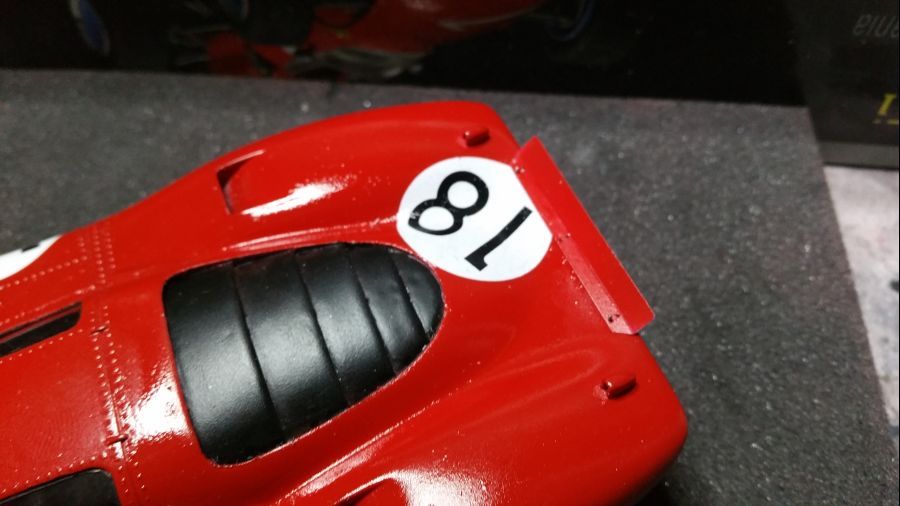 En weer een voor de kast...
And another one for the shelves...