Omdat ik moet wachten op een paar onderdelen voor de Ferrari 246 F1 Argentijnse versie ga ik vast beginnen met deze ATS D3. Deze wagen werd in 1980 bestuurd door Jan Lammers tijdens de GP van Argentinië. Het is een schaal 1/20 kit van Wolf Kits (kit nr GP 20105). De kit is de USA versie. Er moet aardig wat aan het bodywerk worden gesleuteld om er een Argentijnse versie van te maken. Op de foto hieronder is een beetje te zien wat er moet worden gewijzigd.
Because i need to wait for some parts for the Ferrari 246 F1 Argentine version i will start this ATS D3. This car was driven by Jan Lammers in 1980 during the GP of Argentina. It's a scale 1/20 kit from Wolf Kits (kit no GP 20105). This kit contains the USA version. It needs adjustments to the body to turn it into an Argentine version. On the picture below you can see what needs to be adjusted.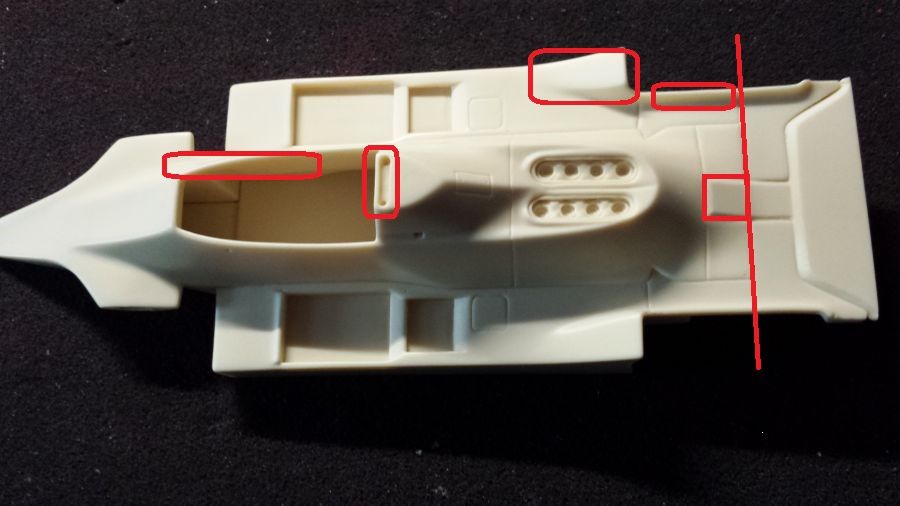 Eerst maar weer de foto's van de inhoud van de kit. Mijn modelbouwvriend Alex heeft me een paar onderdelen kunnen leveren van een Williams FW07. Hierdoor kan ik een andere vleugel monteren. En van mijn modelbouwvriend James heb ik aangepaste decals kunnen kopen. Dank allebei!
First the pictures with the content of the kit. My modelling friend Alex has provided me with parts of a Williams FW07. With this i can create a new wing. And from my modelling friend James i was able to buy adjusted decals. Thank you both!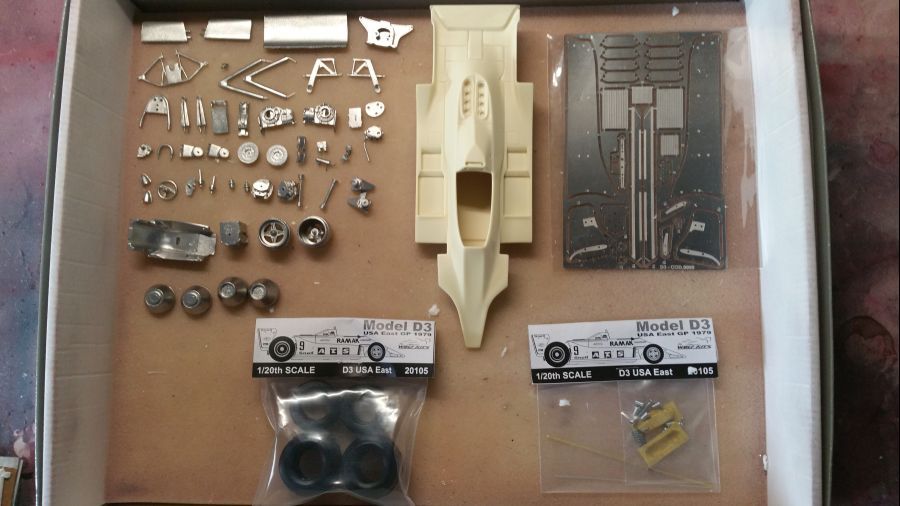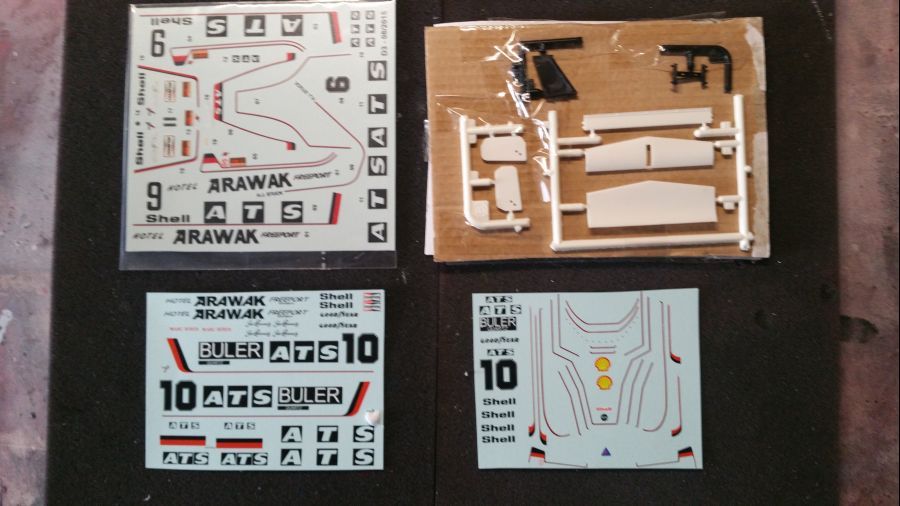 Het eerste zaagwerk is gedaan....
The first job of sawing has been done....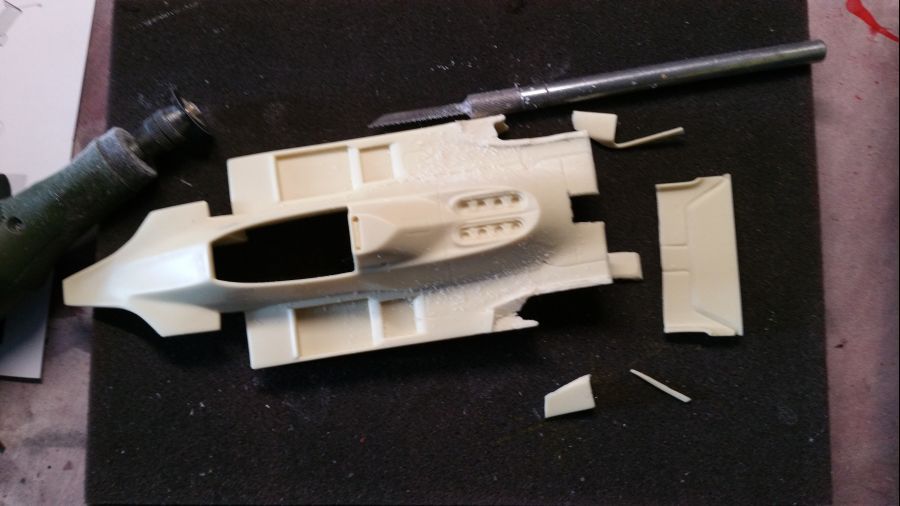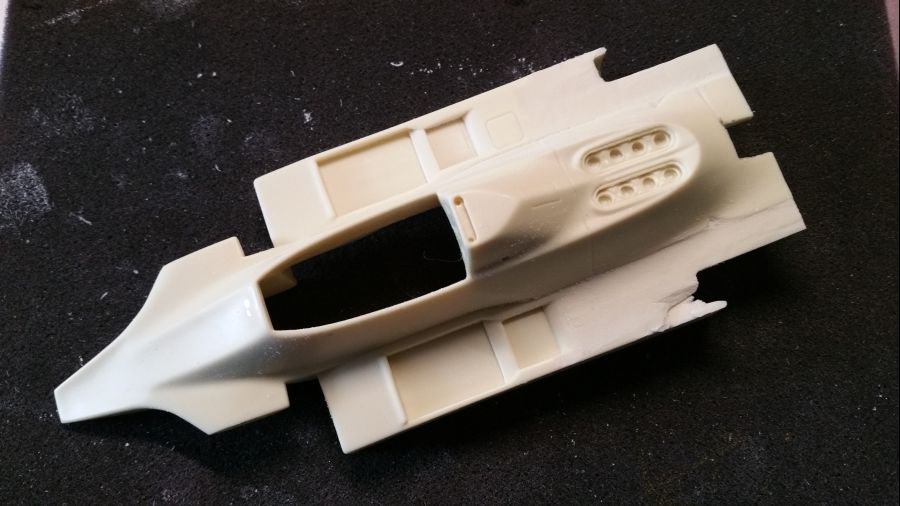 De roll bar moet ook gewijzigd, dus...
The roll bar needs changes too, so...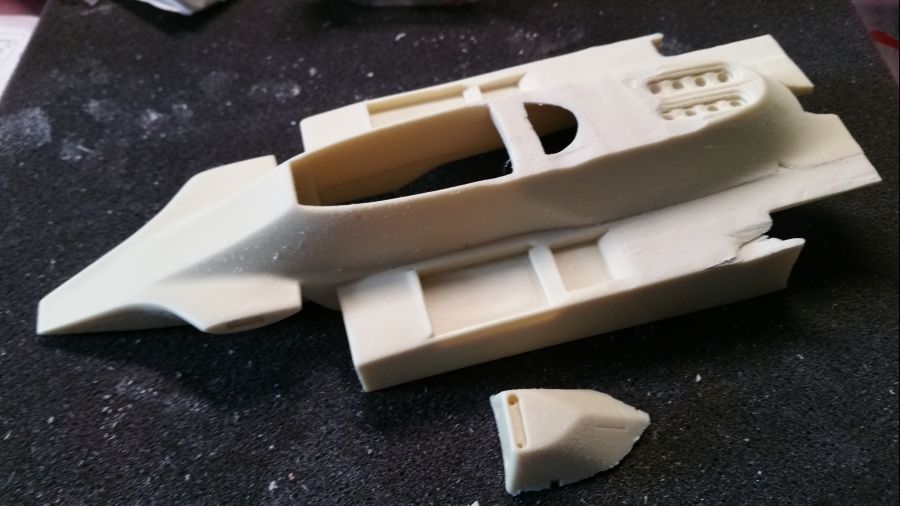 Aanpassing aan de rand van de cockpit..
Adjustment to the edge of the cockpit..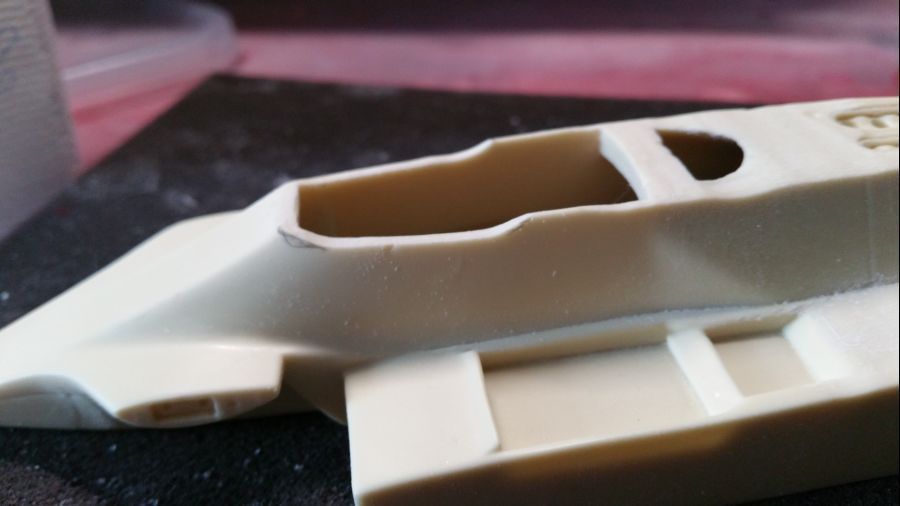 Even een paar gaten voorbereiden om te vullen met putty..
Preparing some gaps to be filled with putty..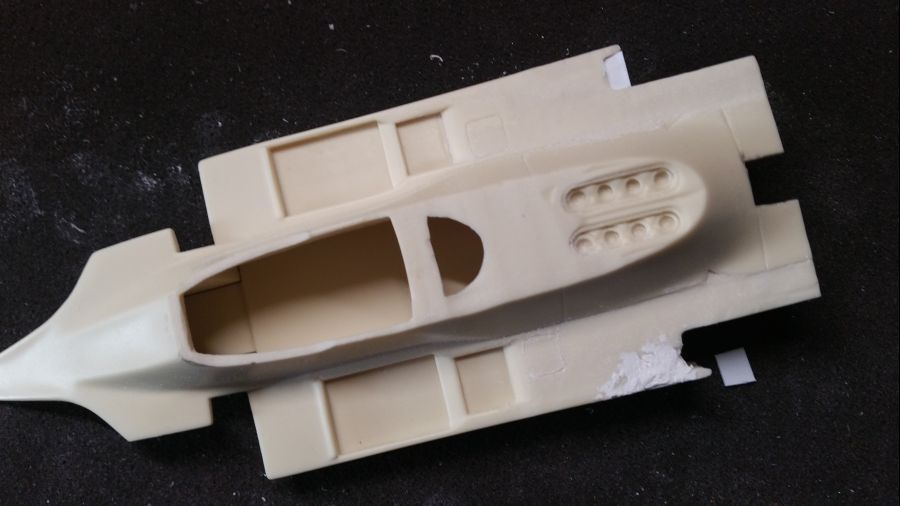 De afgezaagde delen worden opgevuld met putty.... Nu een tijdje laten drogen, mogelijk moeten meerdere lagen worden aangebracht. Daarna moet alles geschuurd...
The parts where the cuts were made are filled with putty.... Now let it dry for some time, multiple layers might be necessary. After this it needs sanding...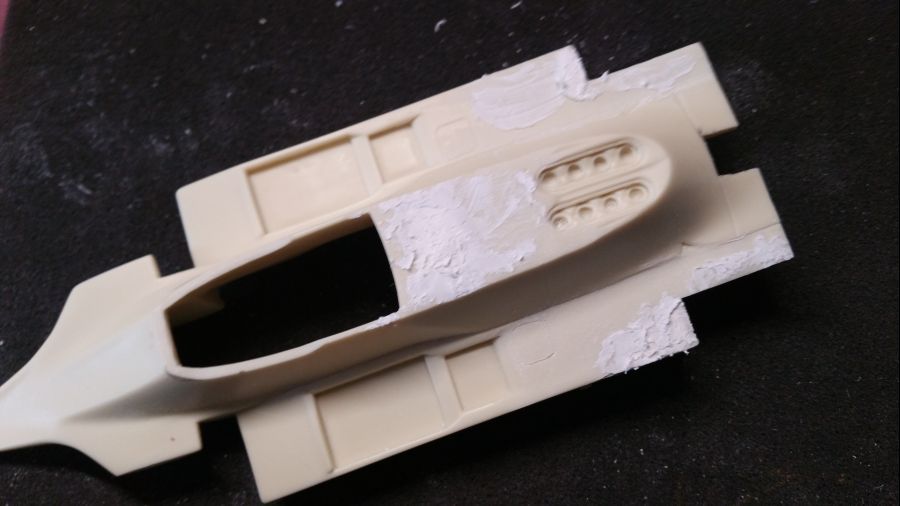 Ik hoop dat alles glad genoeg is....dat zien we zodra de primer erop zit...
I hope everything is smooth enough....we will see when the primer is on...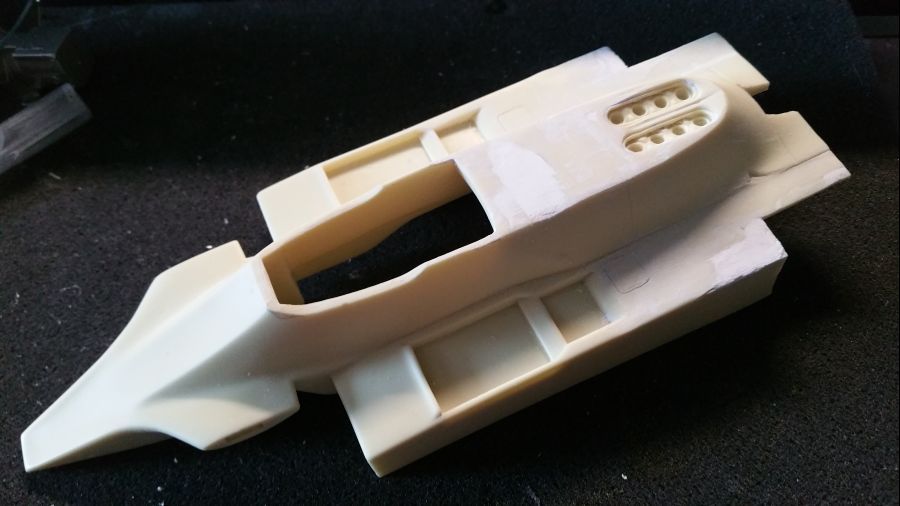 Intussen begin ik met de motor en ga even passen of alles goed lijkt.
Meanwhile i will start with the engine and do a test fit.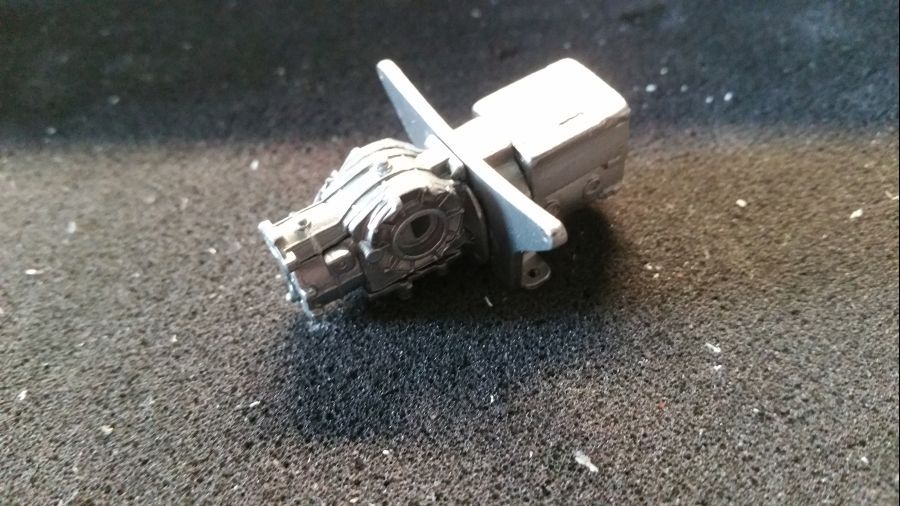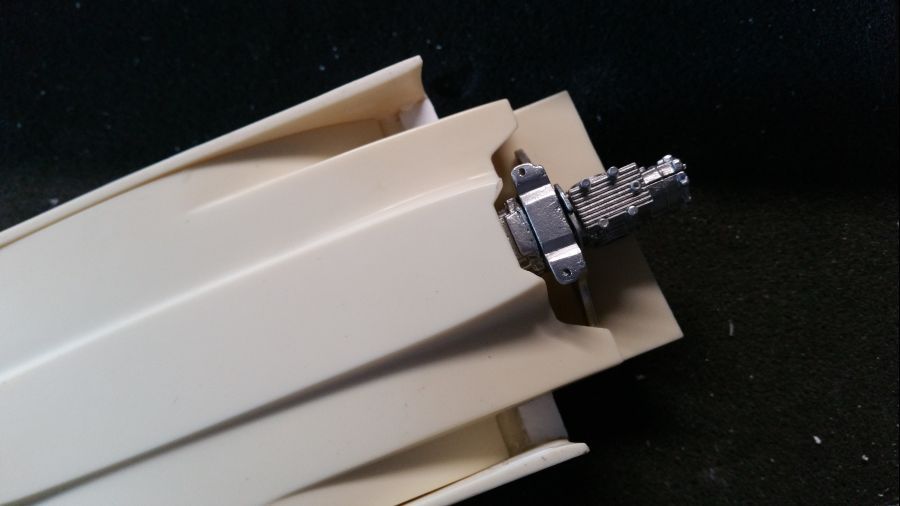 Ik zag nog net op tijd dat 1 deel verkeerd was gemonteerd....gelukkig nog op tijd om het te corrigeren.
I noticed just in time a part was mounted the wrong way....time to correct it.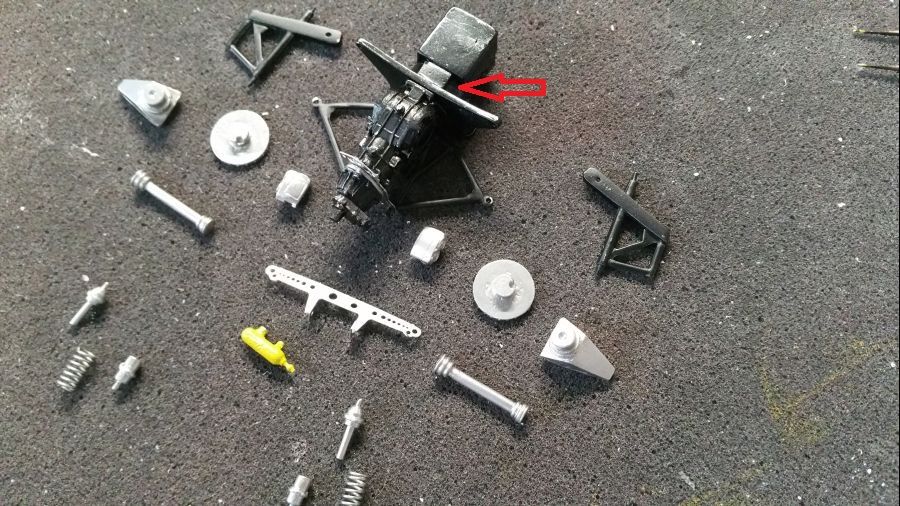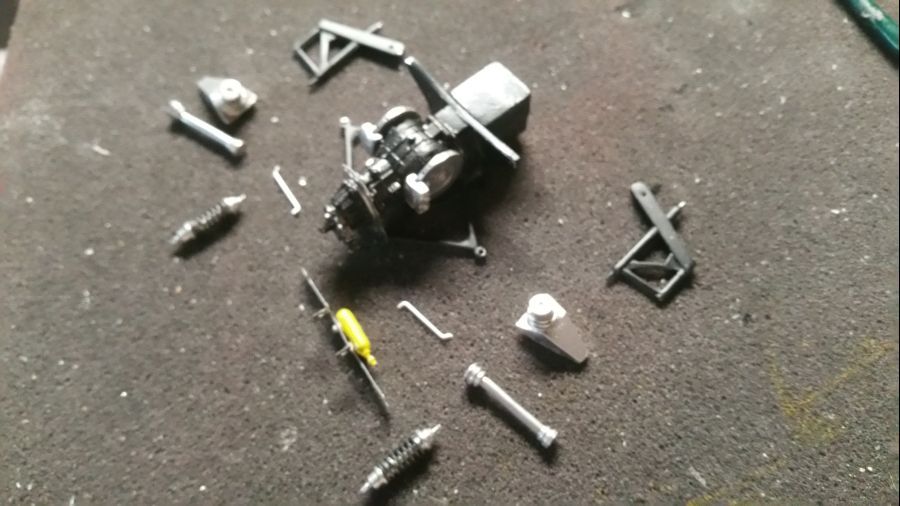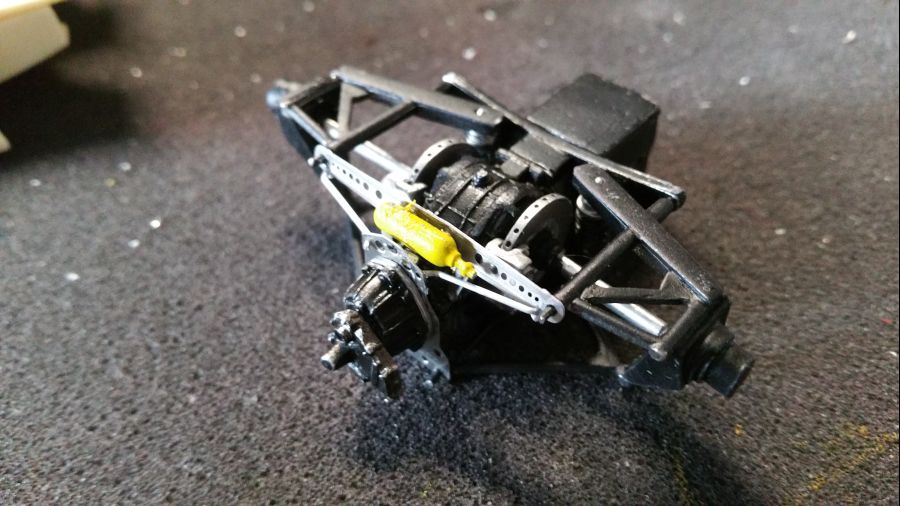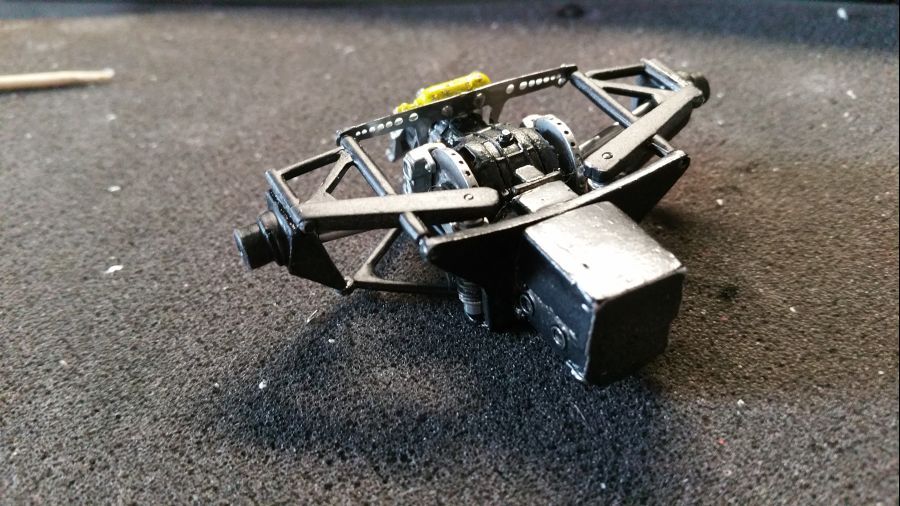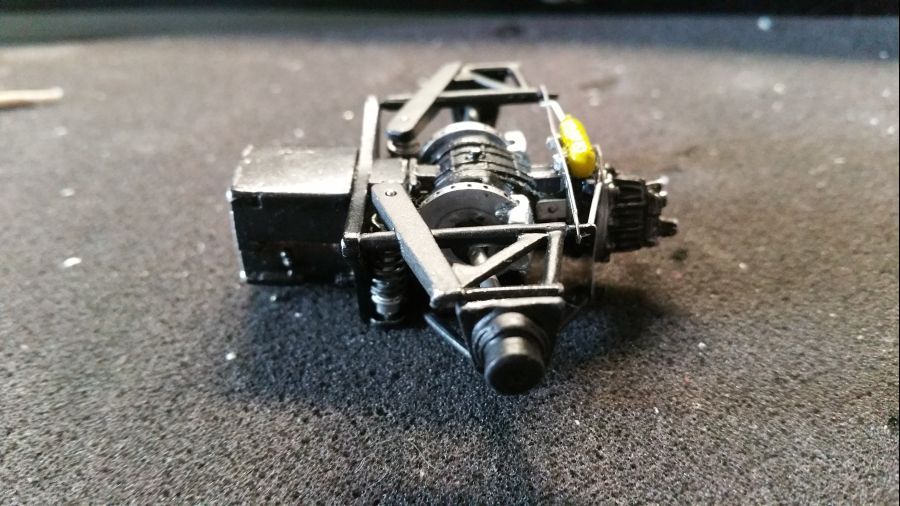 En weer even passen...
And again a test fit...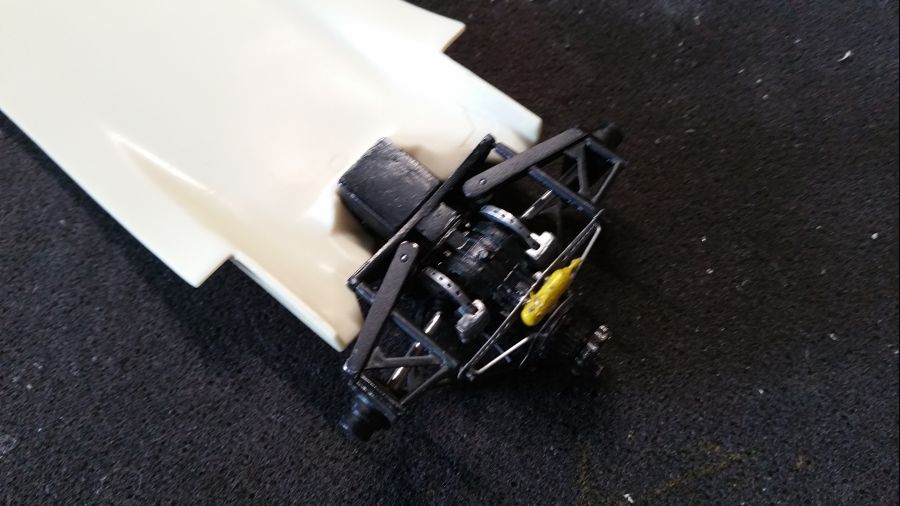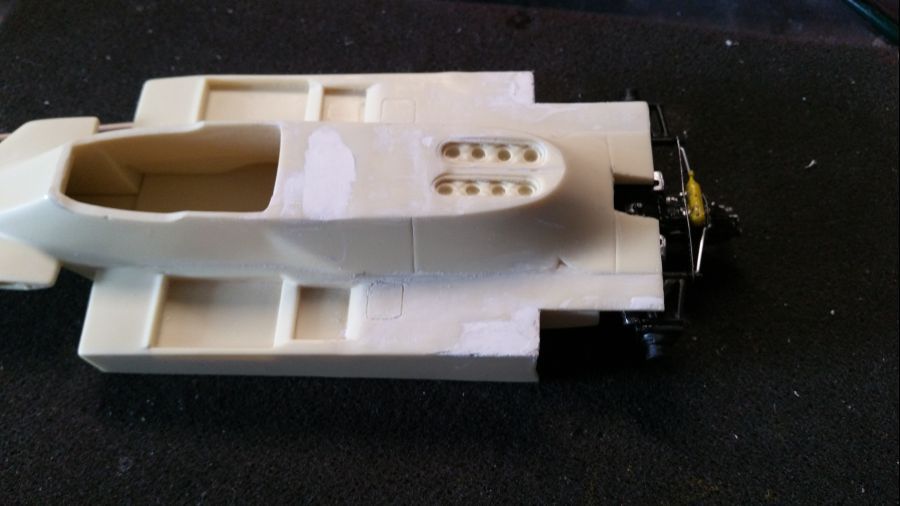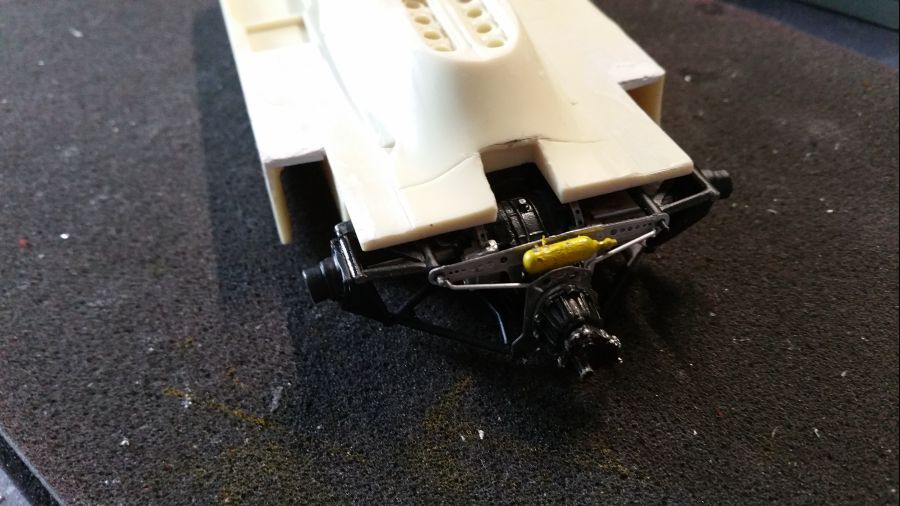 De originele roll bar en het afgezaagde deel (rood) worden vervangen door een geprepareerde roll bar (groen) uit de rommel kist.
The original roll bar and the cut off part (red) are being replaced by a prepared roll bar (green) from the scrap box.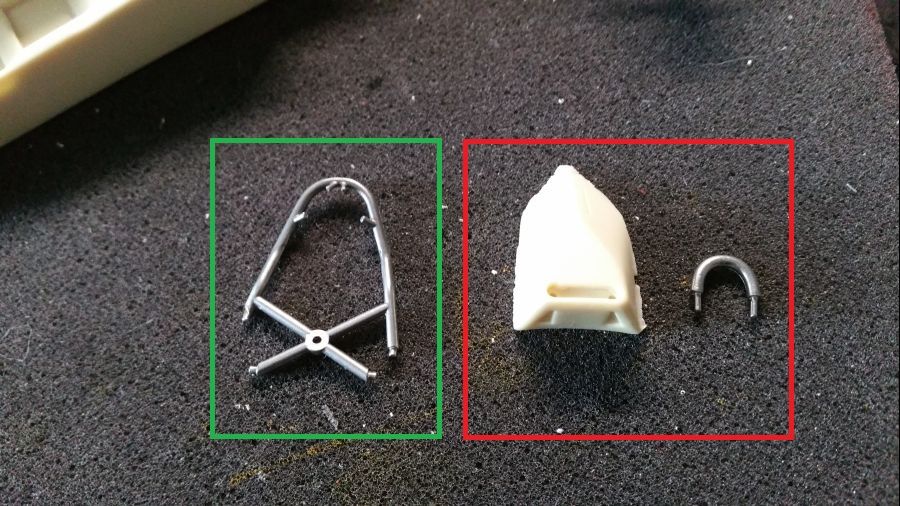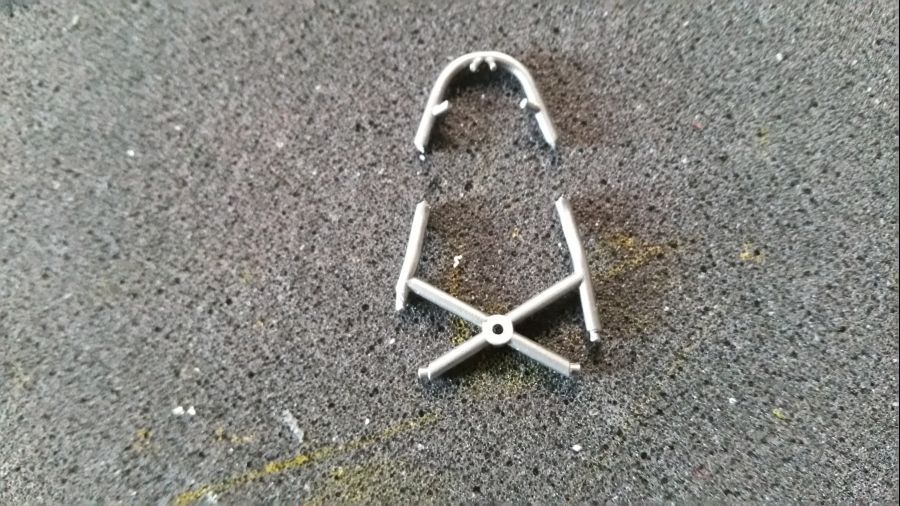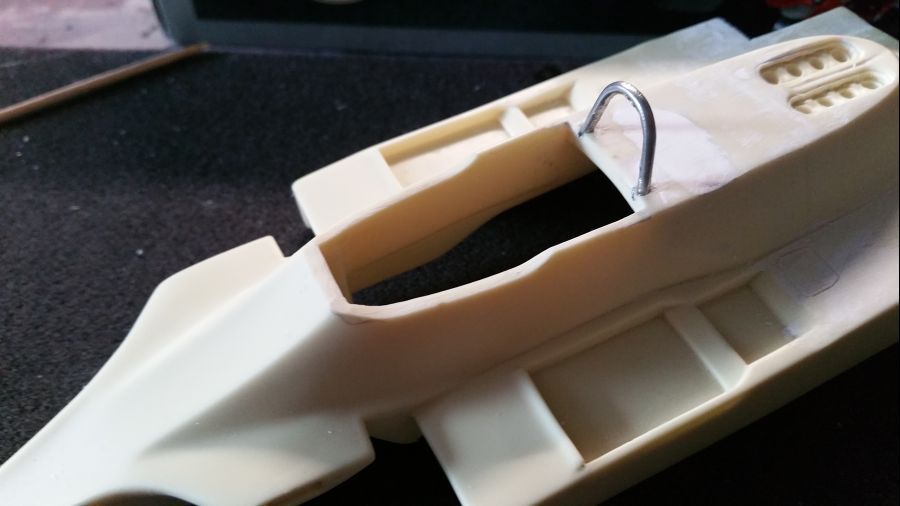 Voor het plaatsen van de distributeur heb ik een set van E-Jan gekocht. De trompetten zal ik niet gebruiken, want daar zal niets van te zien zijn na het plaatsen van de gaasafdekking.
For adding the distributor i bought a set from E-jan. The funnels will nor be used, as this will not be seen after adding the mesh covers.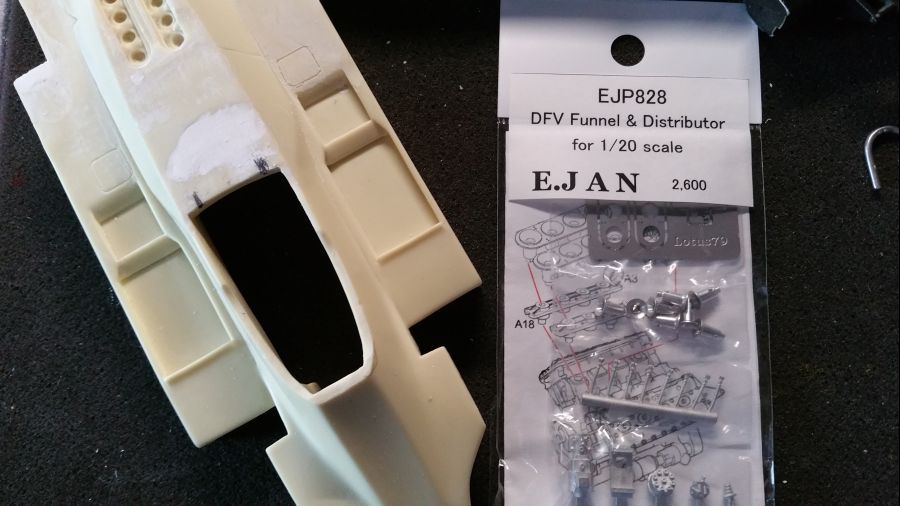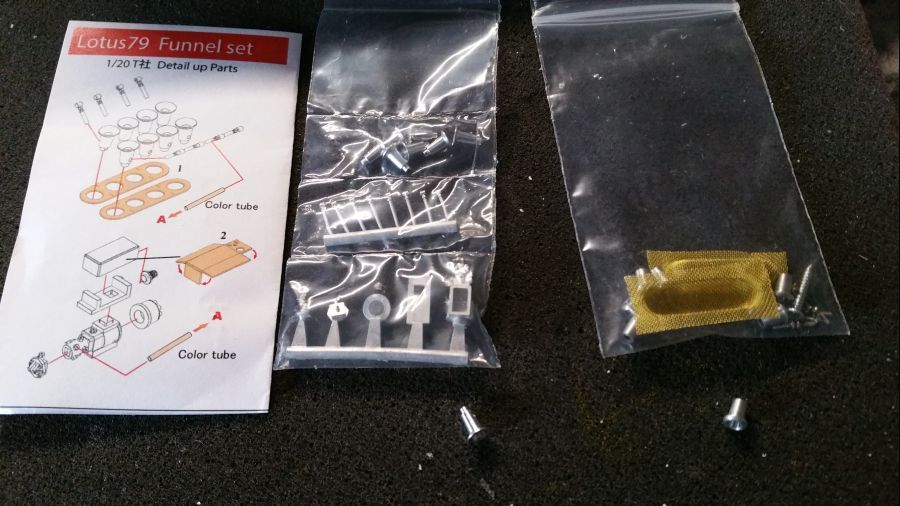 Van plastic card van Evergreen maak ik de zijkanten voor de roll bar.
I use plastic card from Evergreen to create the sides for the roll bar.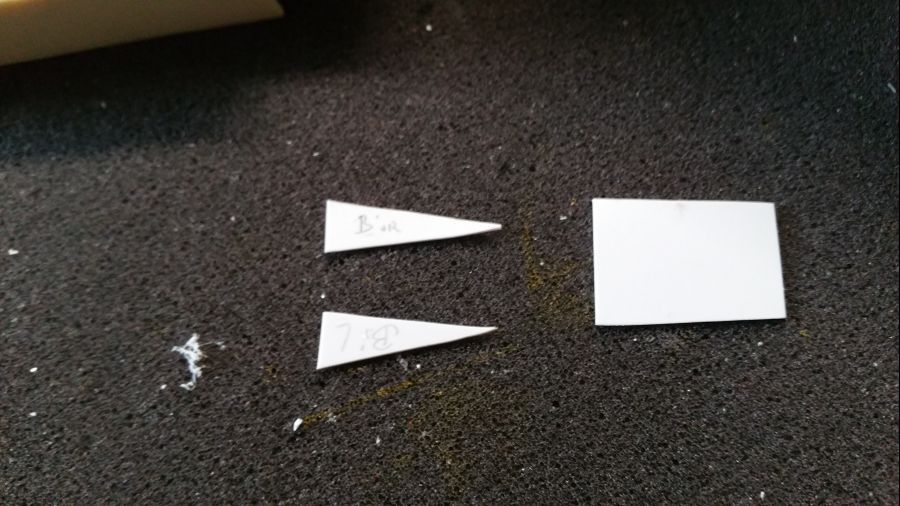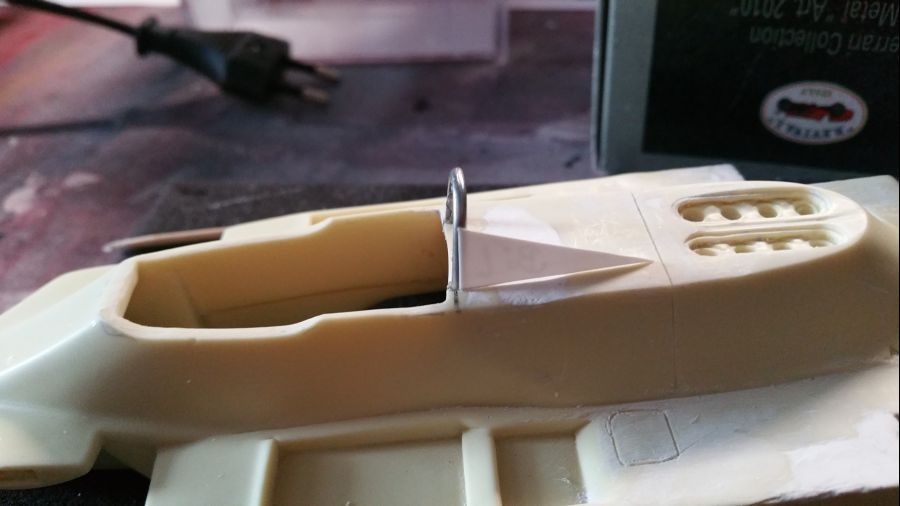 Voor de koeling van de remmen duik ik weer in de rommelkist. Daar zitten nog een paar luchthappers in van een Lotus 98T van Tamiya. Die komen van pas.
For creating the cooling for the breaks i take a dive in my scrap box again. I found some intakes of a Lotus 98T from Tamiya. I will use these.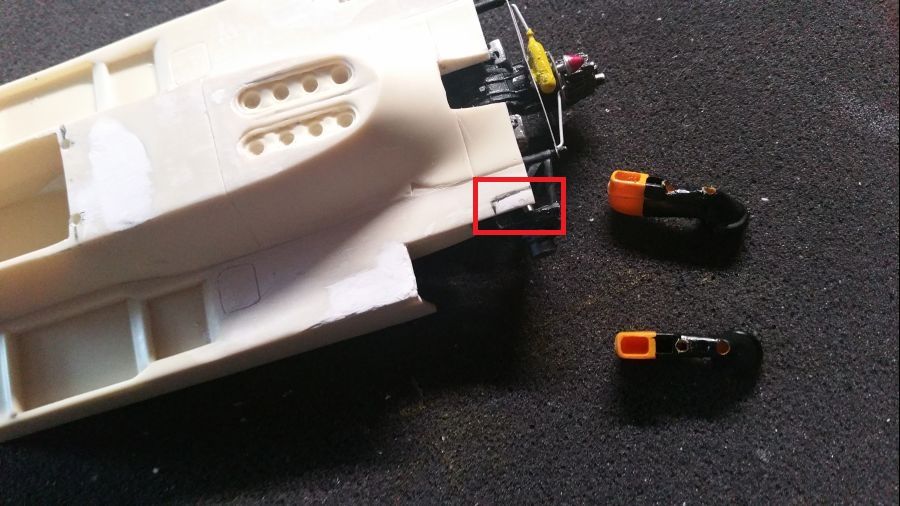 Dan is het tijd voor het eerste spuitwerk.
Then it's time for the first paint jobs.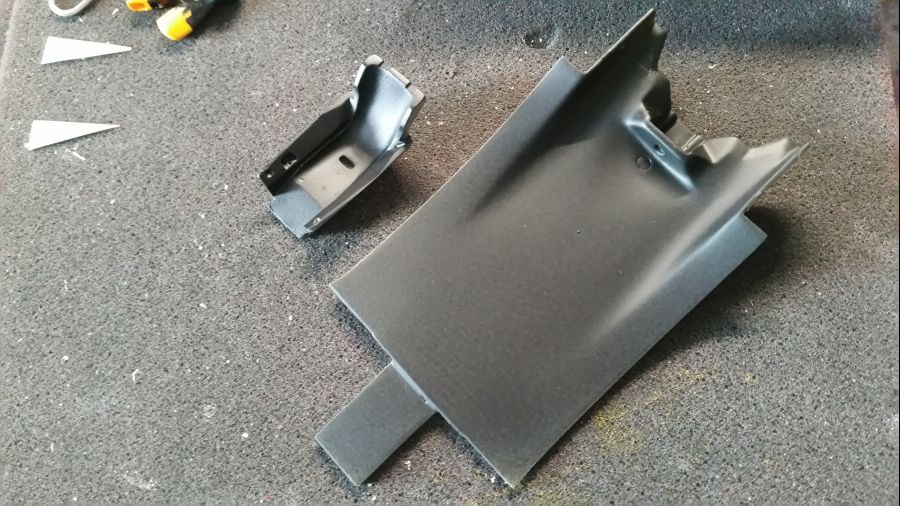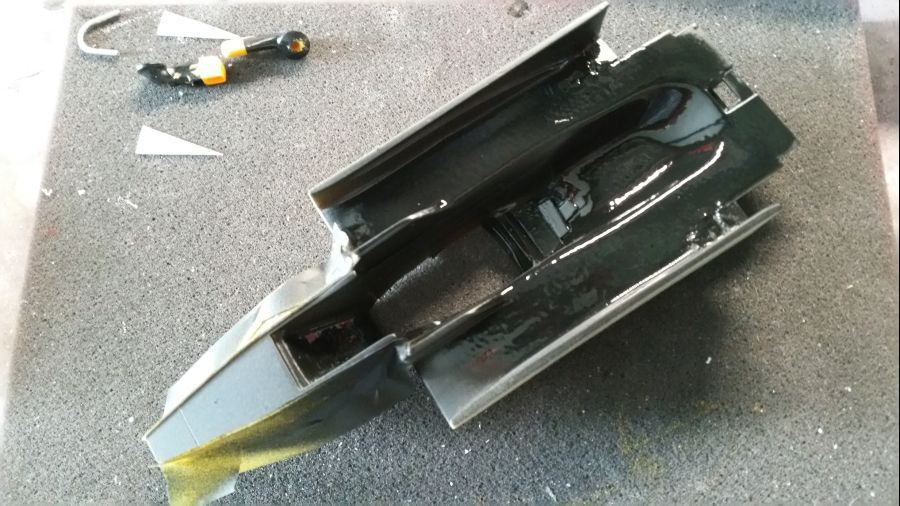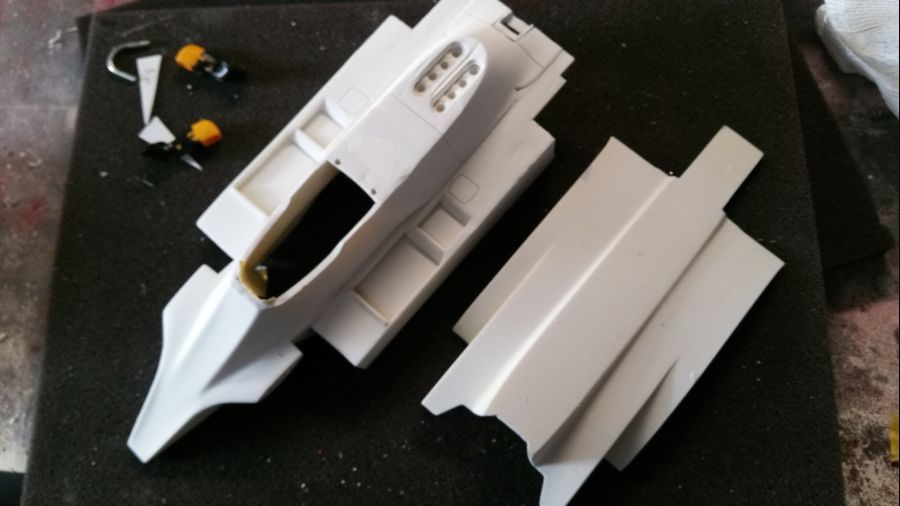 Terwijl de primer droogt ga ik vast de voorvleugels voorbereiden. De end-plates worden met popnagels vastgezet en de boel wordt in de zwarte primer gezet. Daarna volgt glimmend zwart en dan ga ik de Alclad II Chrome gebruiken. Ik weet niet of dat er goed uit gaat zien, maar ik gok het erop.
While the primer sets i will prepare the front wings. The end-plates are attached with rivets and everything gets a black primer. Then gloss black will be sprayed and after that Alclad II Chrome. I don't know if it will look good, but i will take my chances.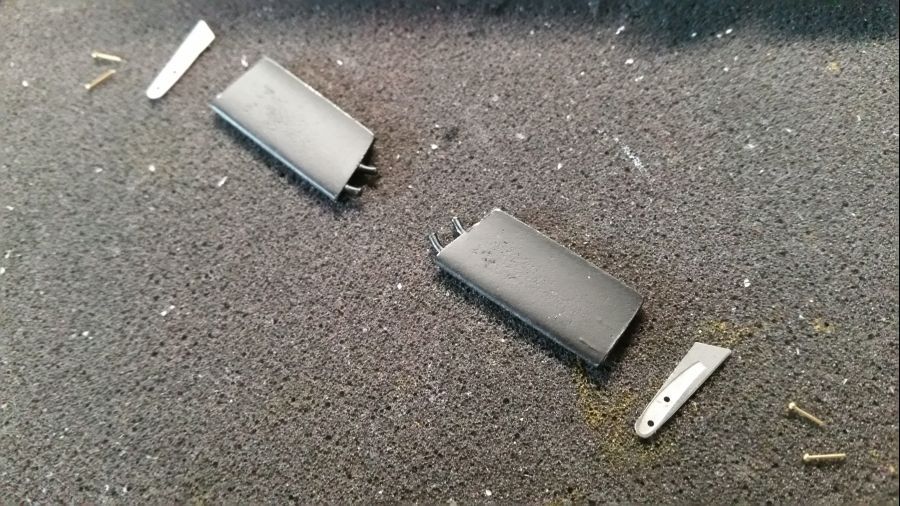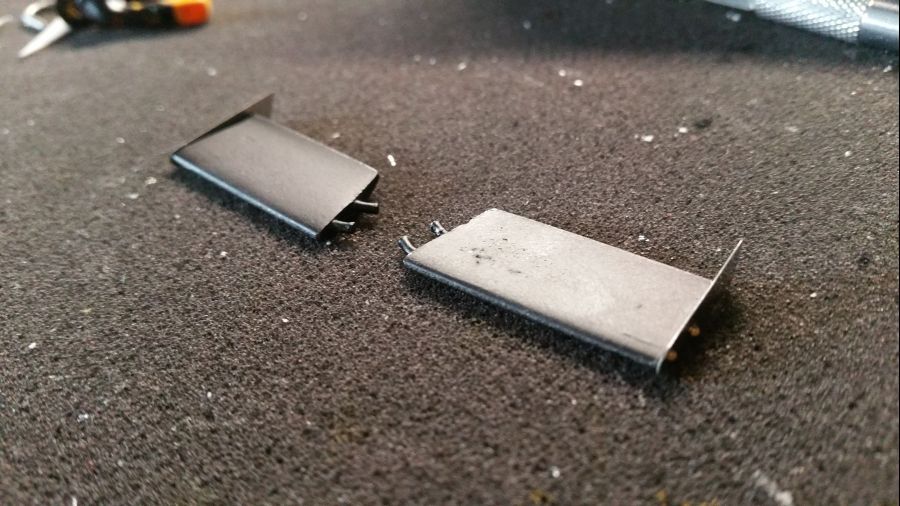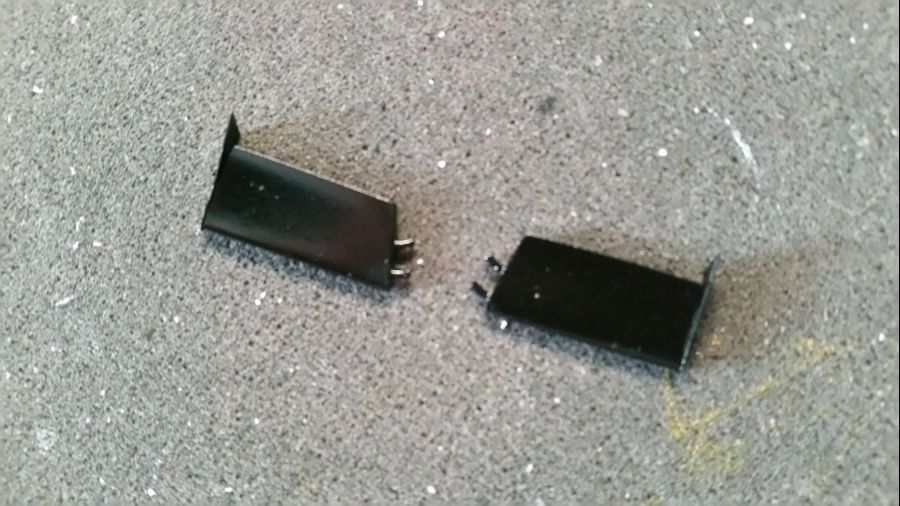 De afdekking van de koeling is nu aan de beurt. De etched onderdelen worden gevouwen, in de grondverf gezet en gespoten in de bodykleur. Ze zijn keurig genummerd, dus daar kan niet veel fout aan gaan.
The covers of the coolers are now on. The etched parts need folding, primer and the body colour. Each one has a number, so mistakes are not possible.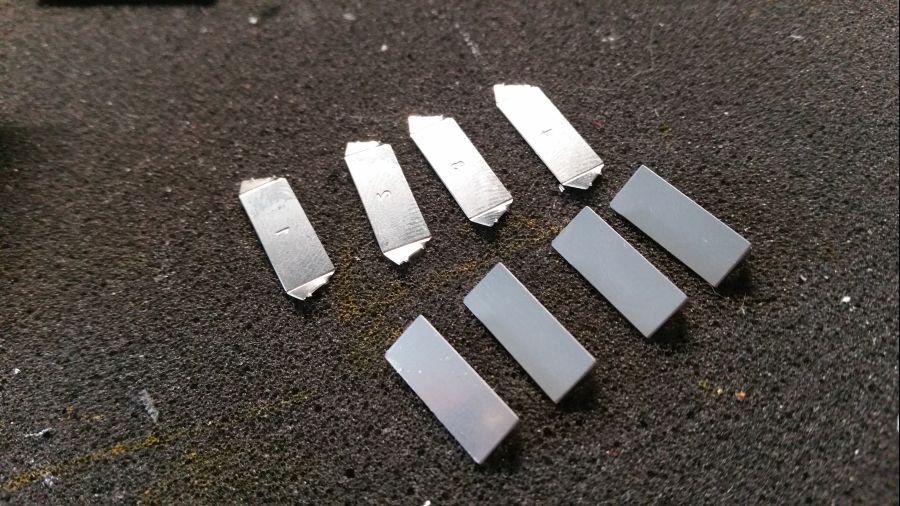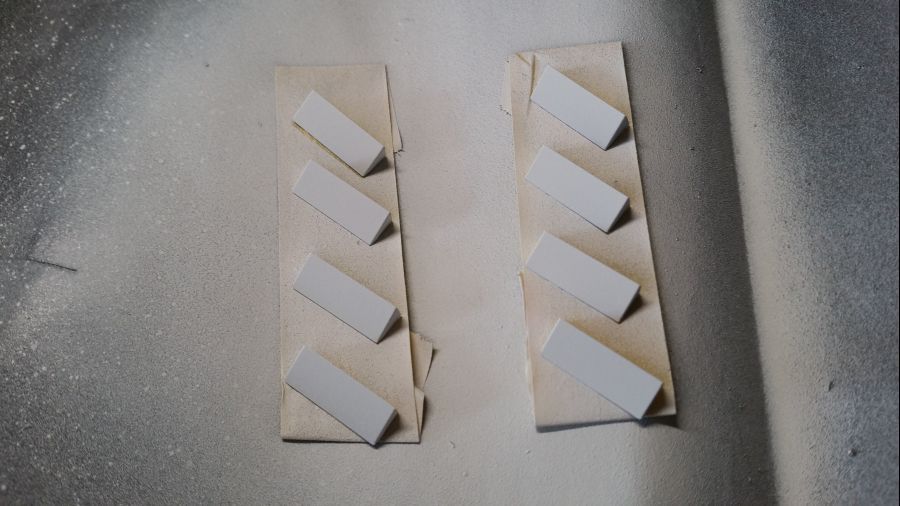 Het geel (Zero Paints ZP-1147 Chrome Yellow) en de glanslak zitten er op.
The yellow (Zero Paints ZP-1147 Chrome Yellow) and the clear gloss have been applied.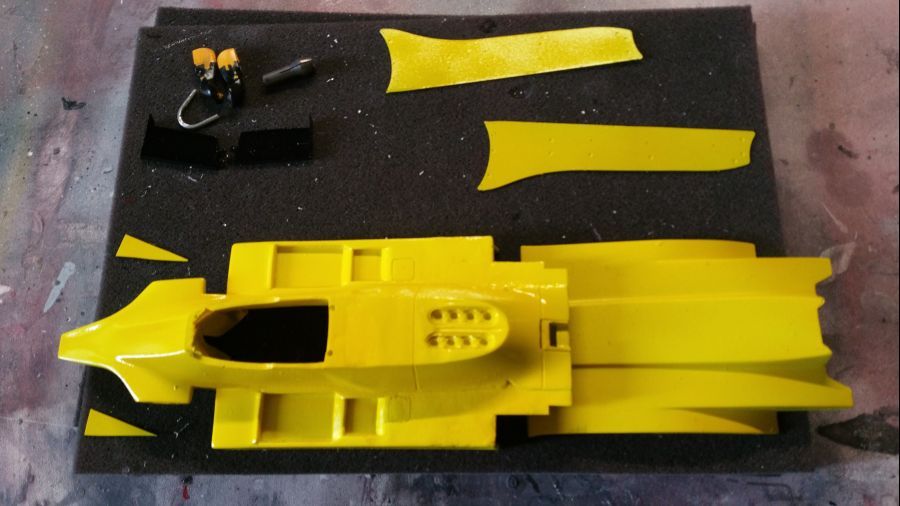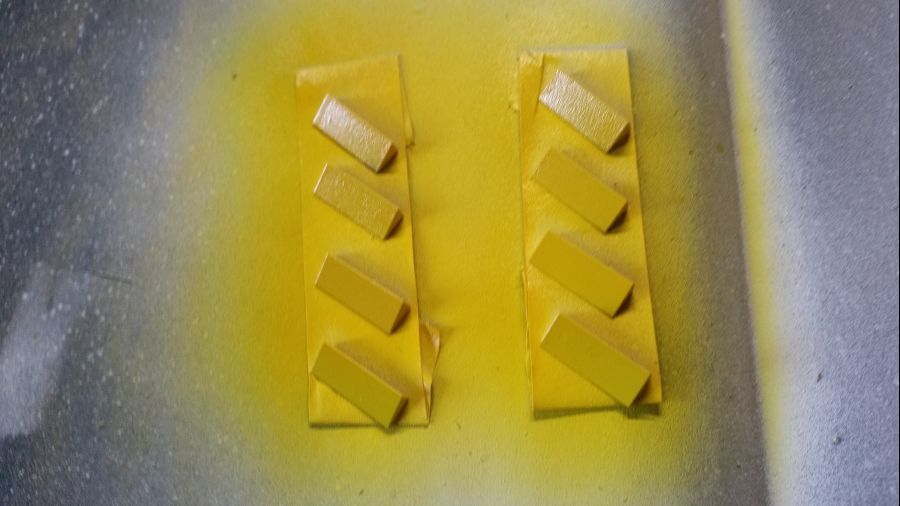 En het chroom... (Alclad II)
And the chrome... (Alclad II)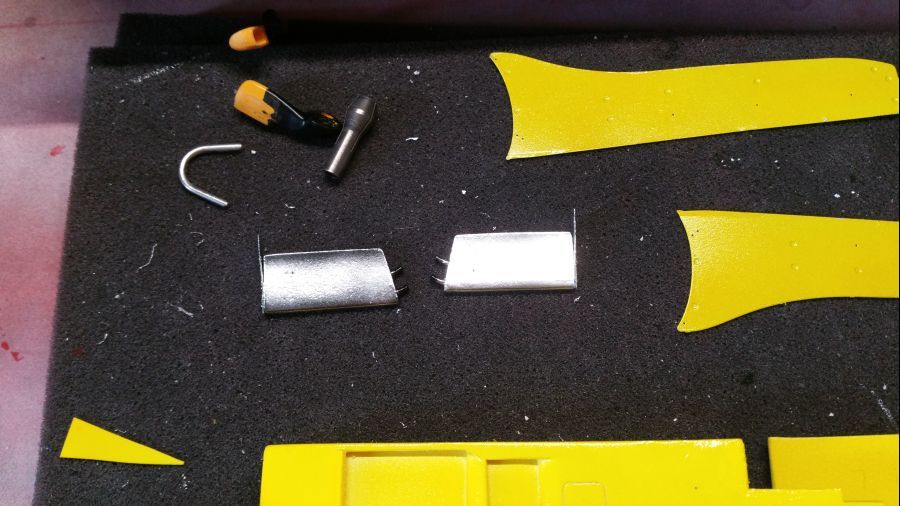 De koeling wordt geplaatst...wel wat werk voordat het past...
The coolers are attached...they need work before they fit...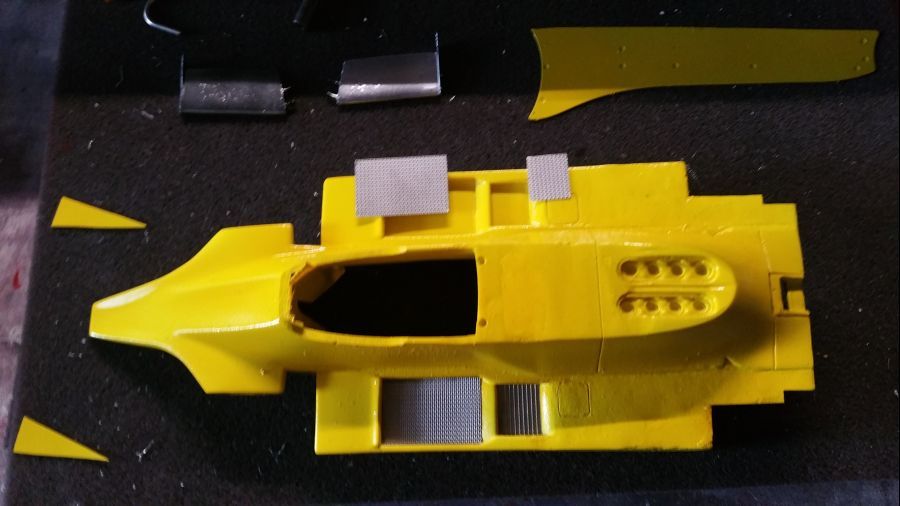 De eerste decals zitten er op..
The first decals have been applied..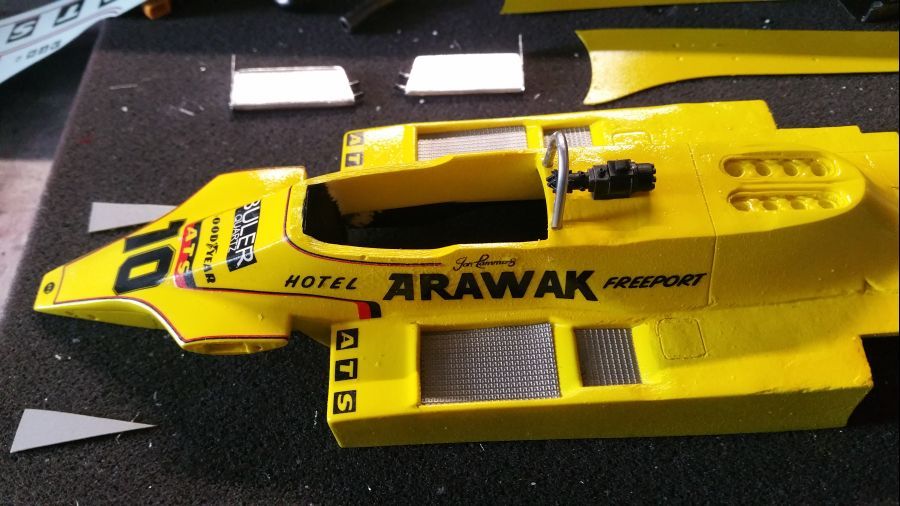 De zijplaten met de skirts worden klaargemaakt en geplaatst..
The side plates with the skirts are being prepared and attached..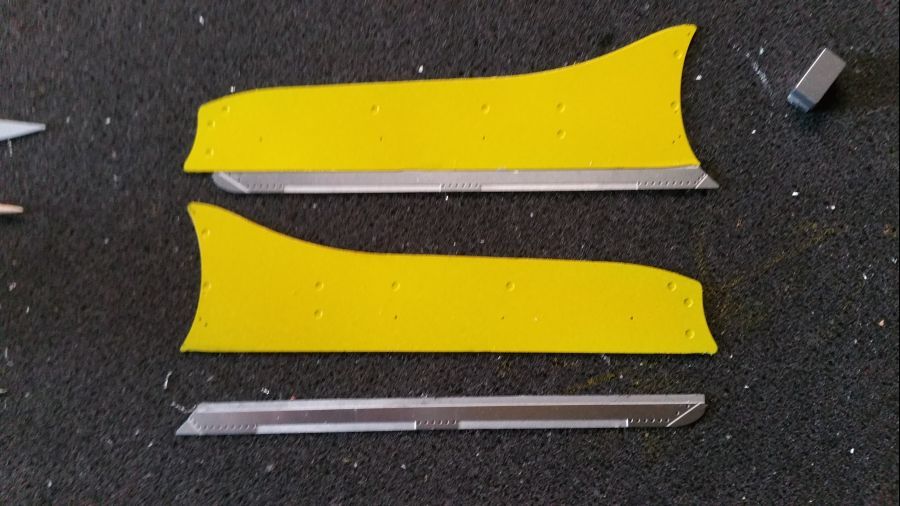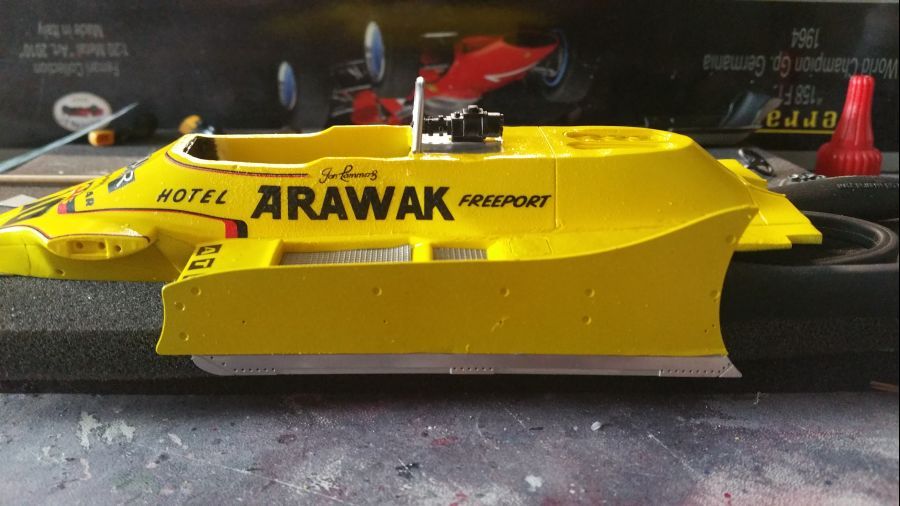 Meer decals....
More decals....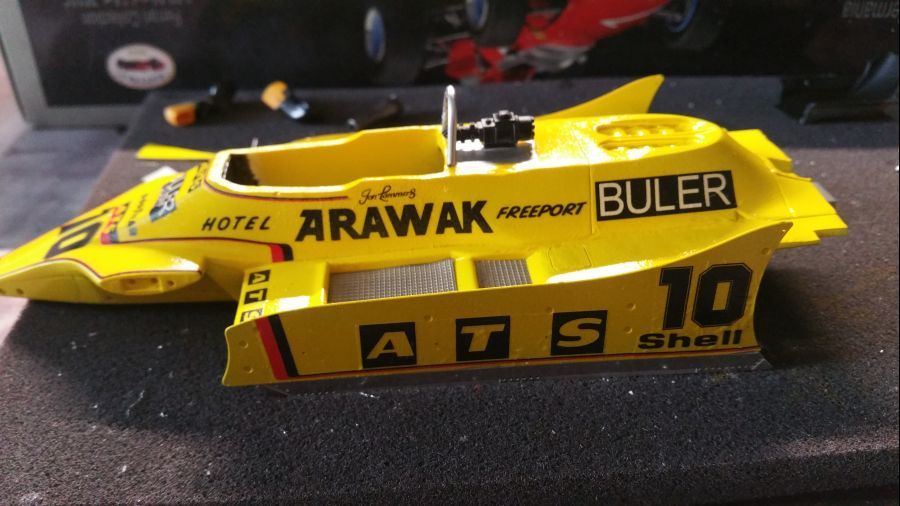 En de zijplaten bij de rolbeugel...
And the side plates of the roll bar...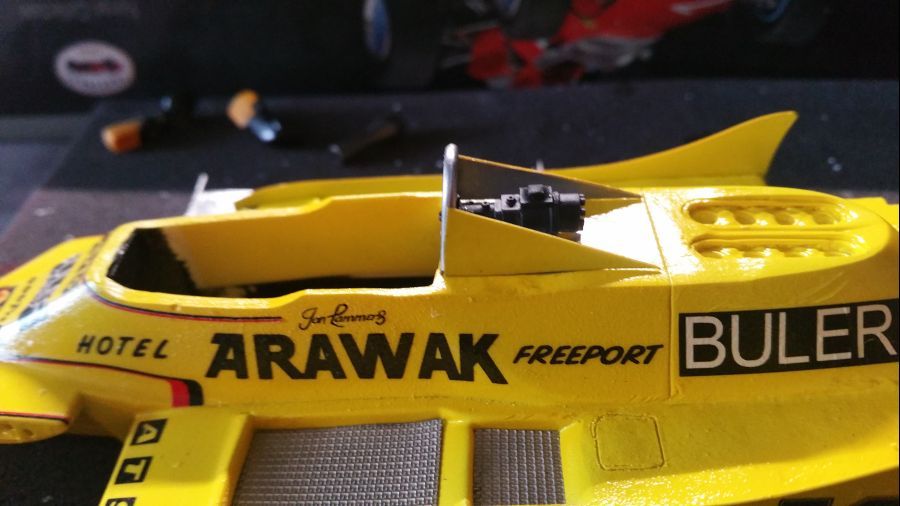 De voorvleugels worden geplaatst (testen)..
The front wings are attached (test fit)..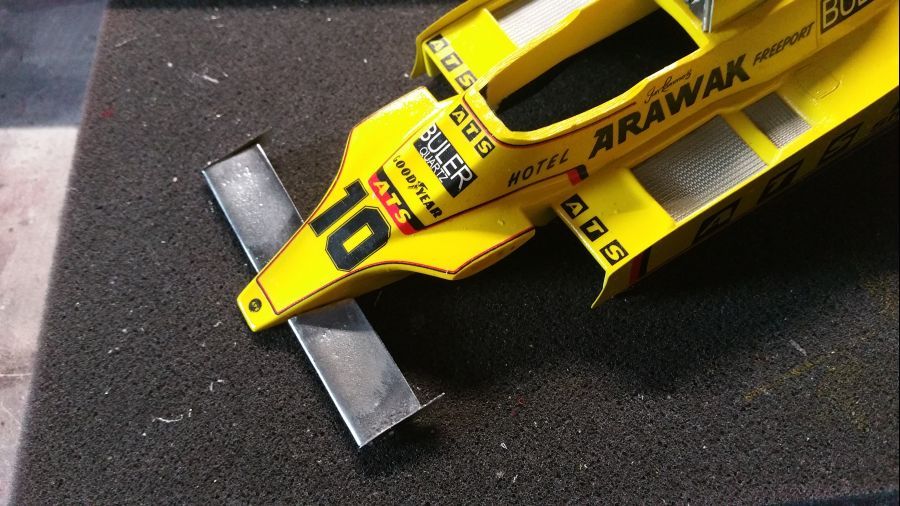 Het dashbord wordt gemaakt..
The dash is being created..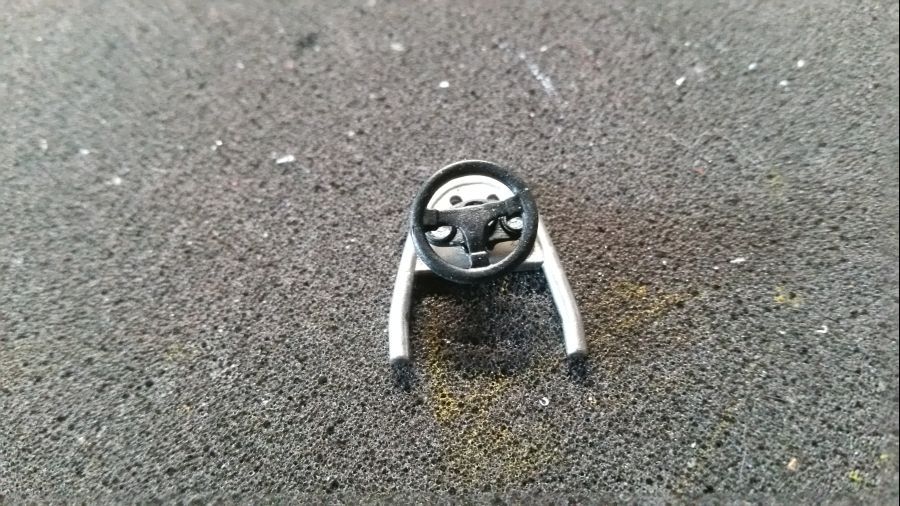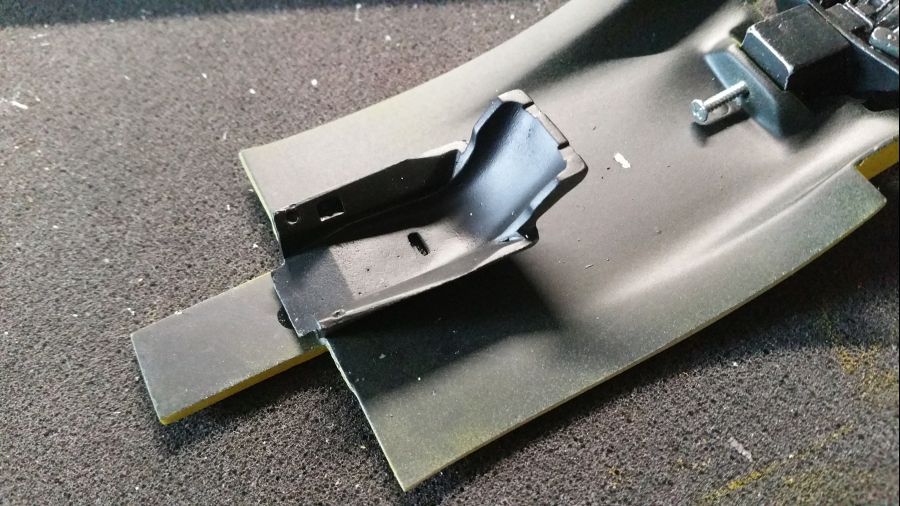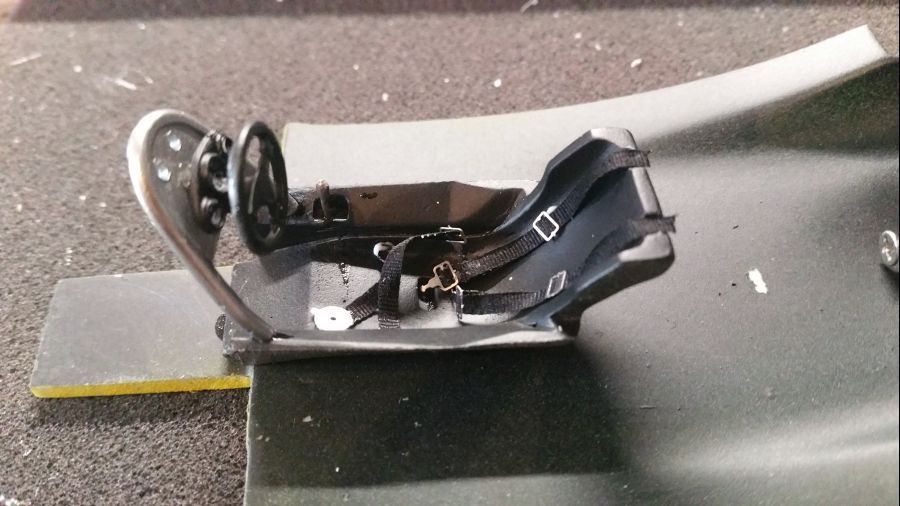 De trompetten zijn geplaatst. De vloer het de body worden met elkaar verbonden...
The funnels are attached. The floor and the body get connected to each other...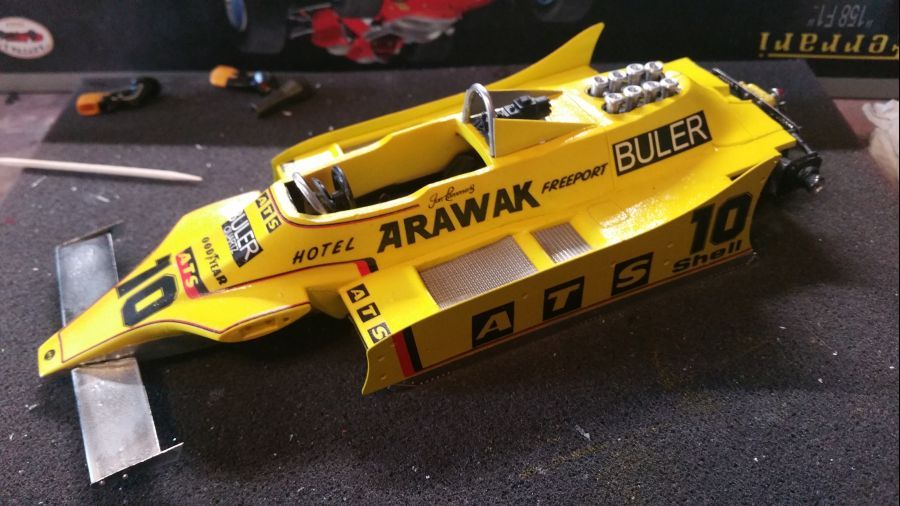 Meer onderdelen zijn zwart gespoten.
More parts are painted black.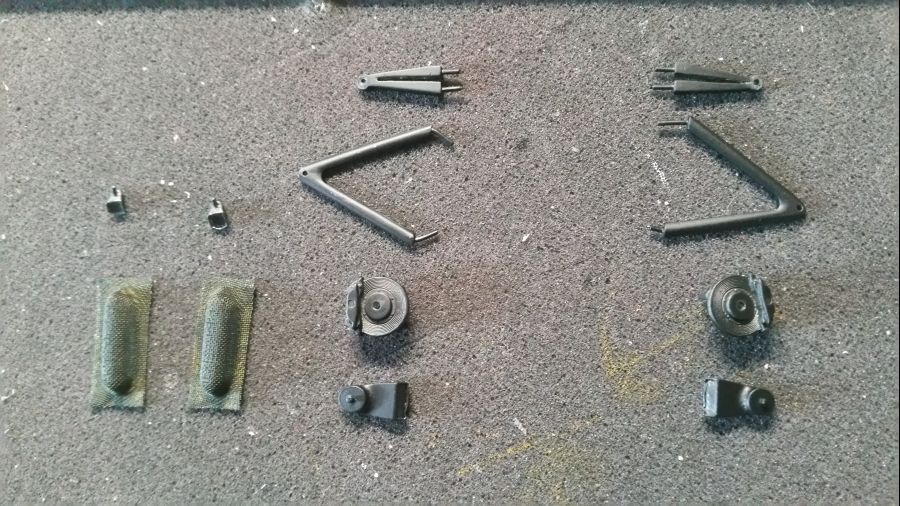 De trompetafdekking wordt geplaatst.
The funnel covers are attached.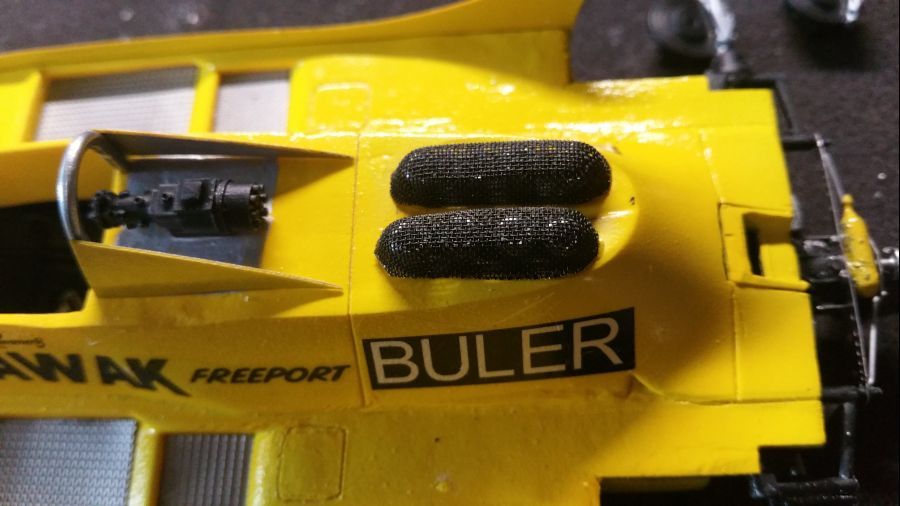 Dan verder met de voorwielophanging..
Next is the front wheel suspension..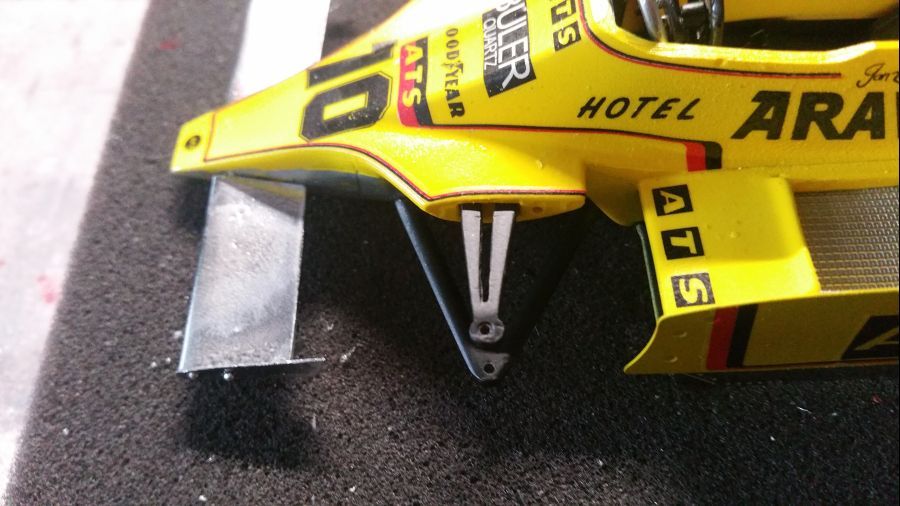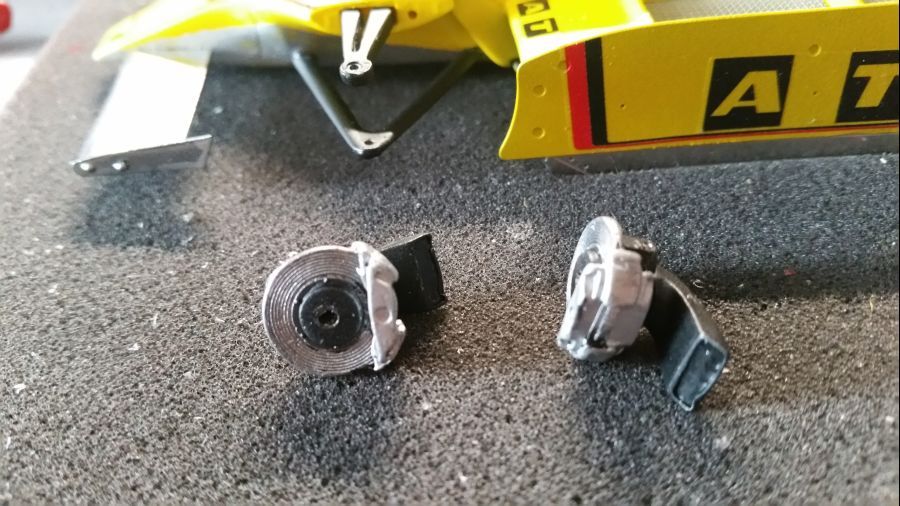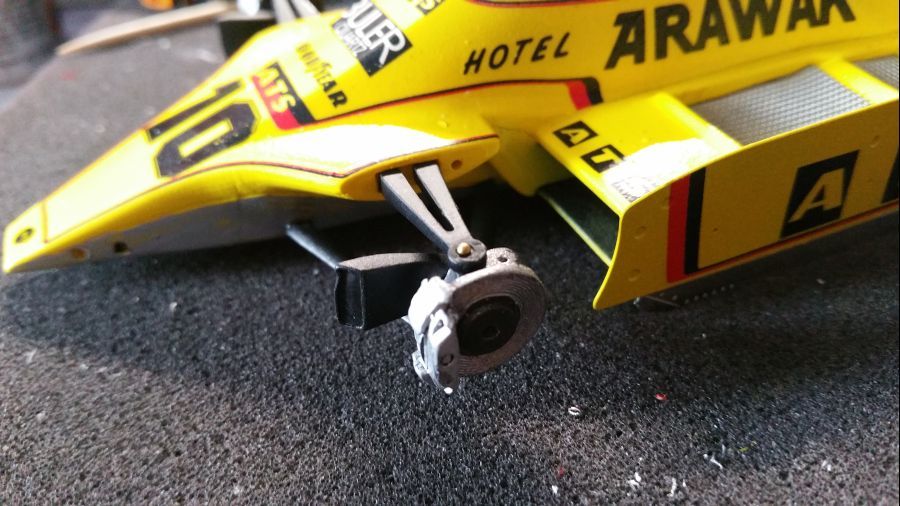 Tijd voor de velgen...
Time for the rims...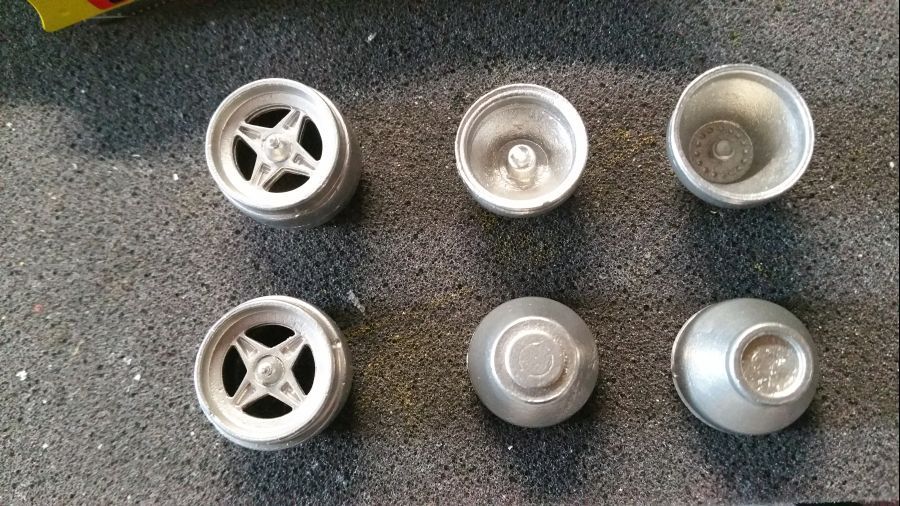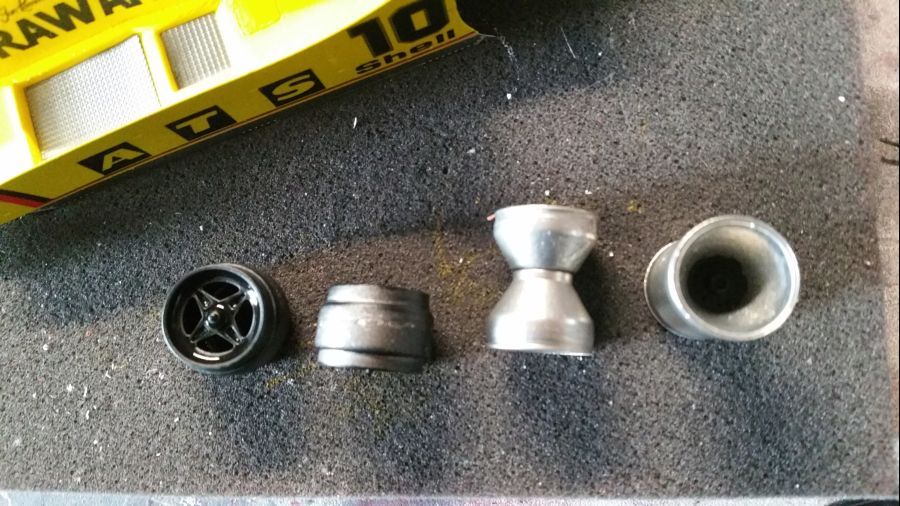 En de banden...
And the tires...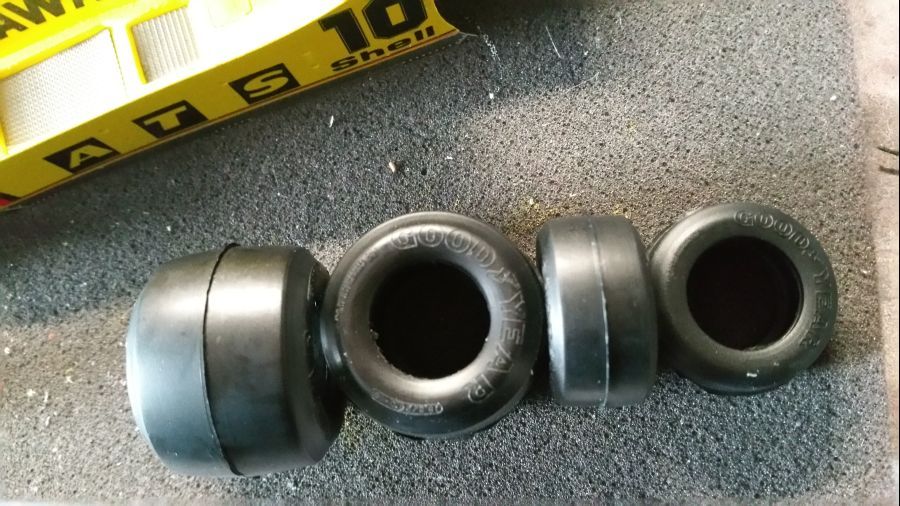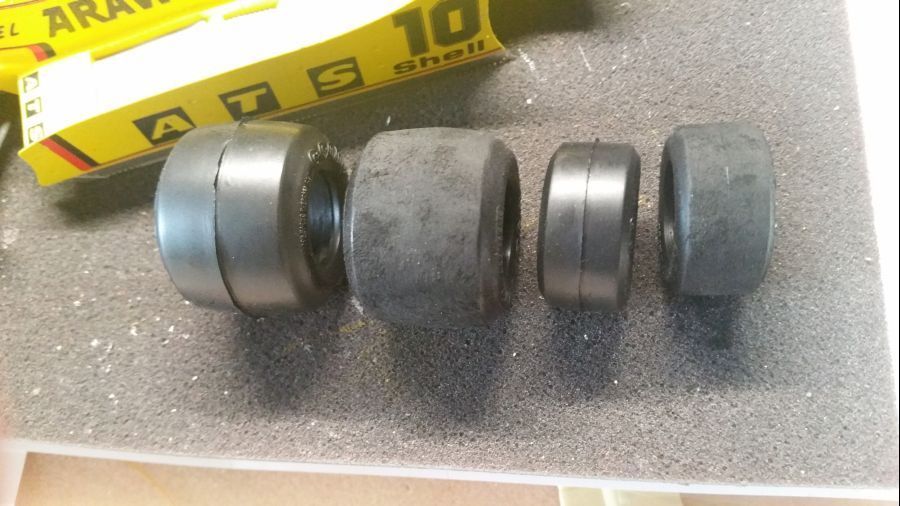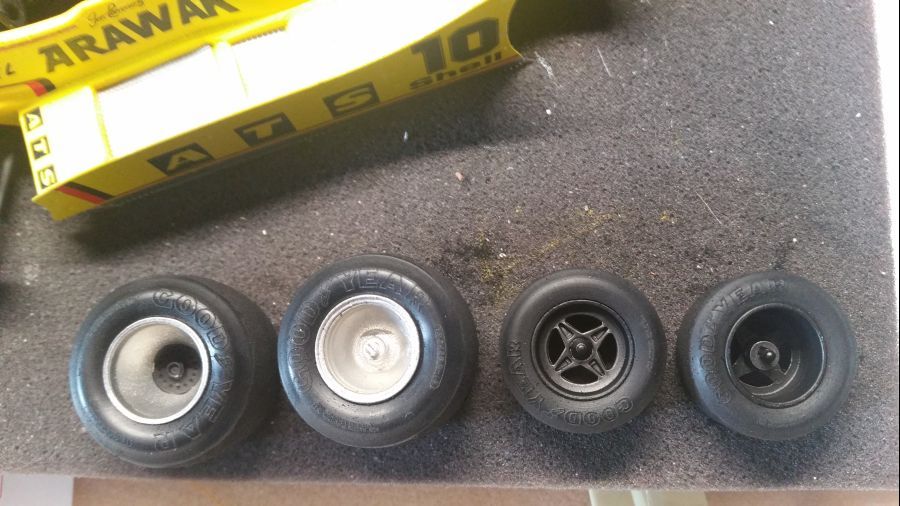 De letters worden met een naald geverfd.
The letters are painted by using a needle.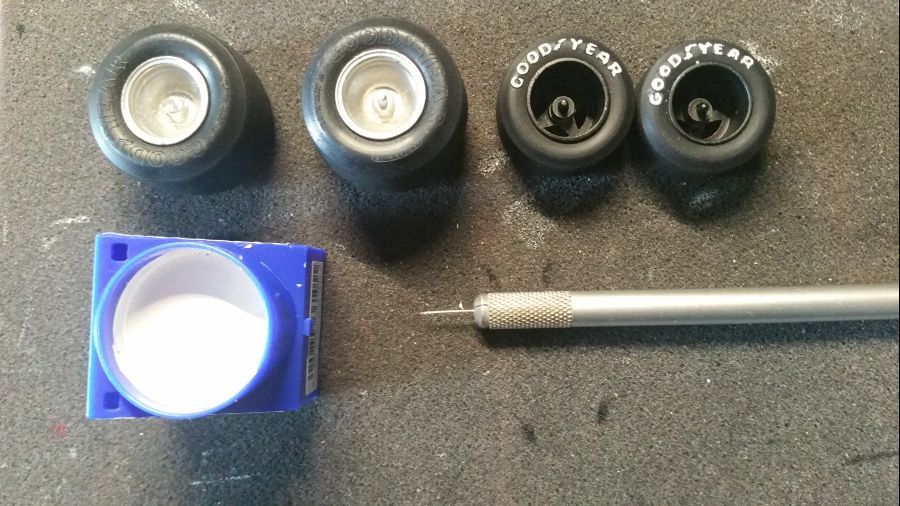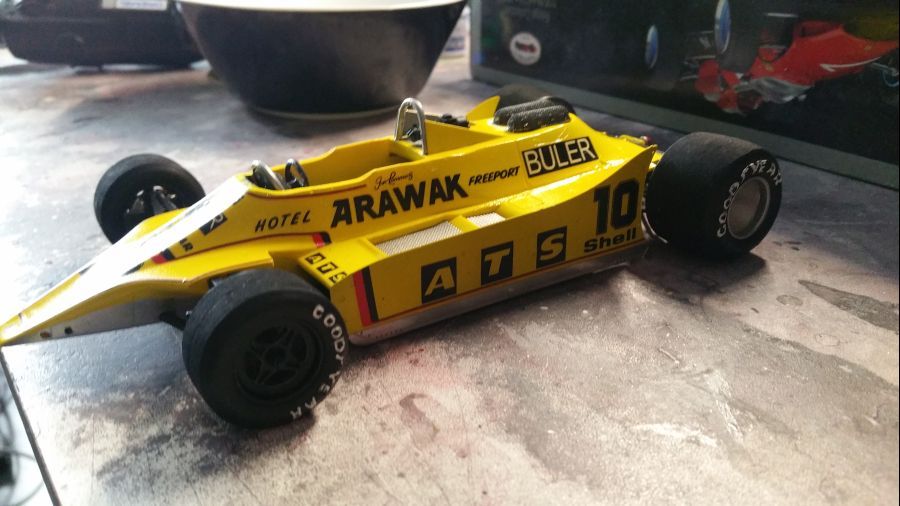 De achtervleugel van een Tamiya Wolf FW07 is in elkaar gezet en klaar om te worden gespoten.
The rear wing of a Tamiya Wolf FW07 has been assembled and ready for paint.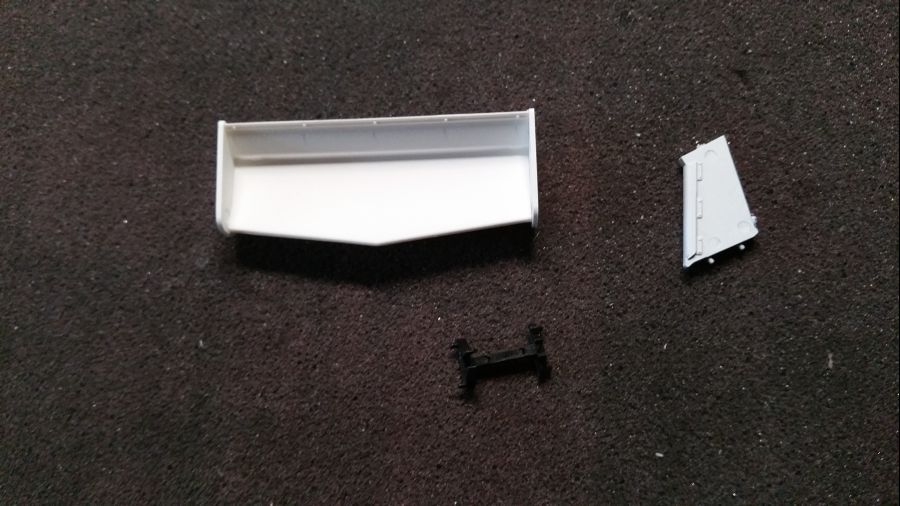 Alle onderdelen voor de vleugels zijn gespoten. De luchthappers voor de achterremmen worden gezaagd en gespoten.
All parts of the wings have been painted. The intakes for the rear brakes are being cut and painted.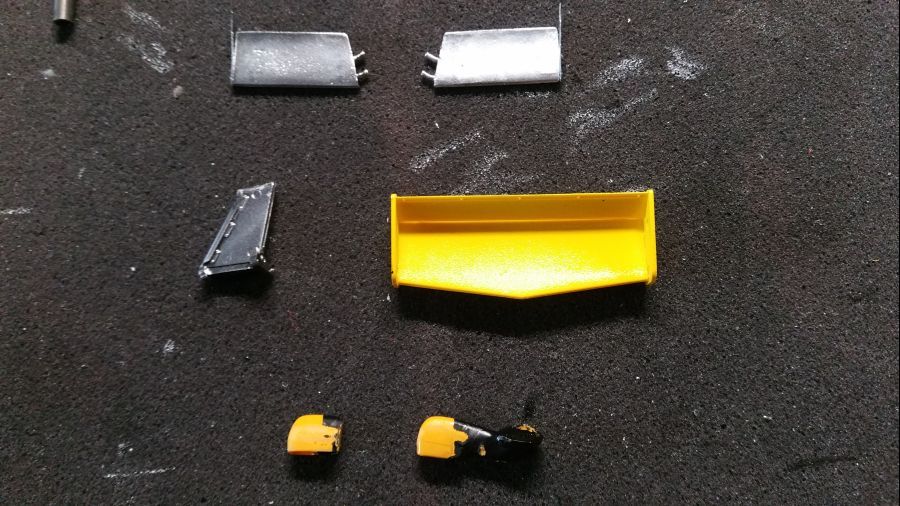 De voorvleugels worden definitie geplaatst..
The front wings get their final position..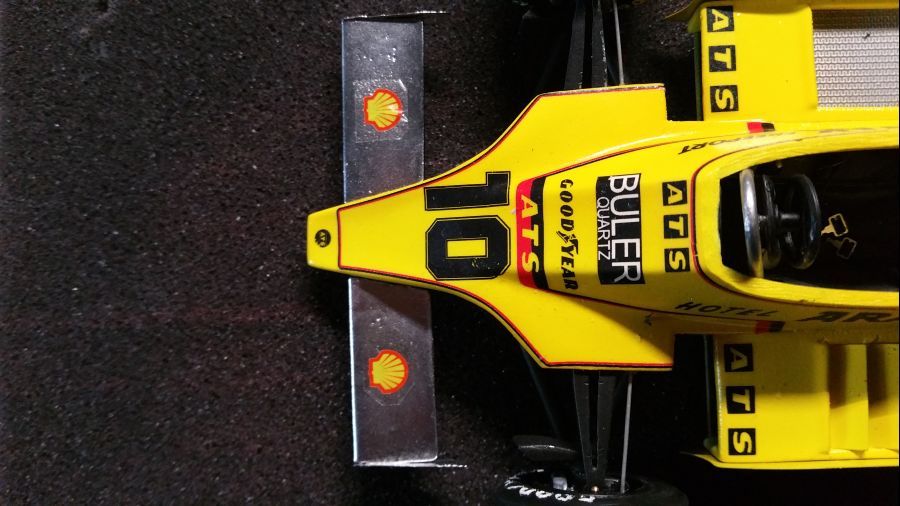 Dan de afdekking van de koeling...
Next are the covers for the cooling...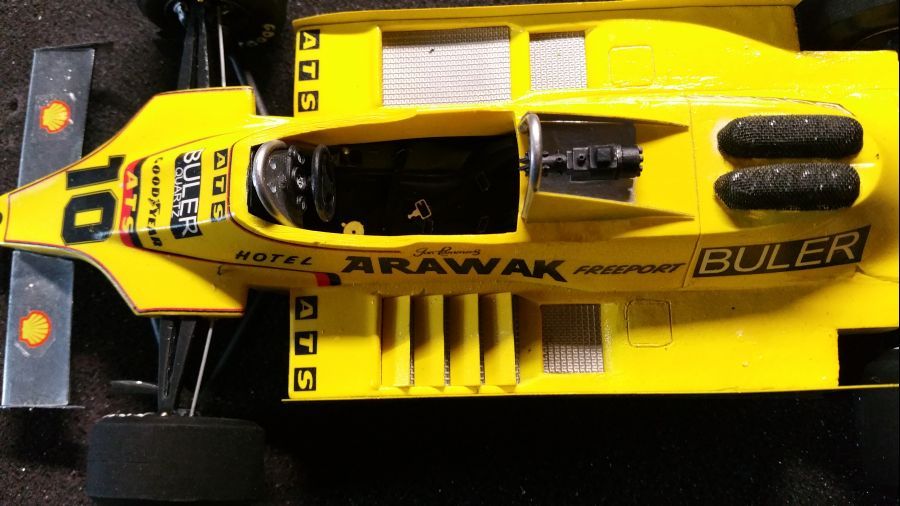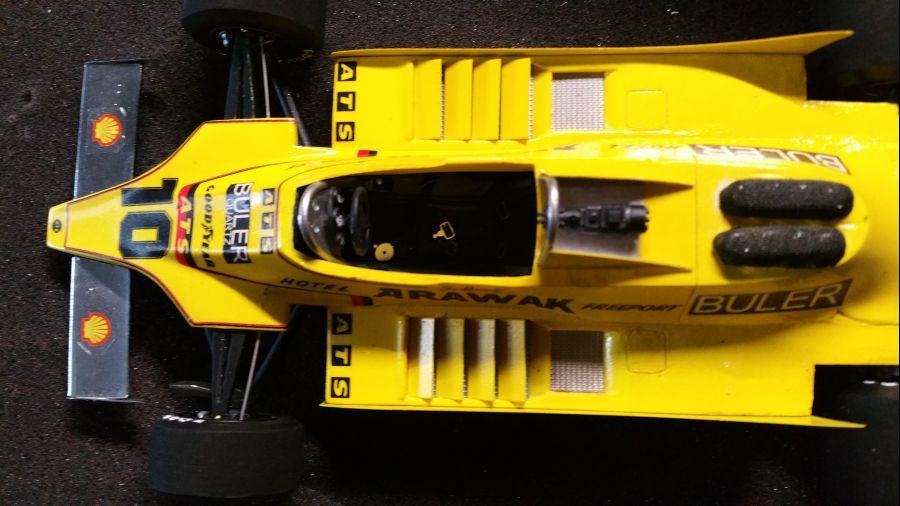 De luchthappers voor de remmen en de uitlaten...
The intakes for the brakes and the exhausts...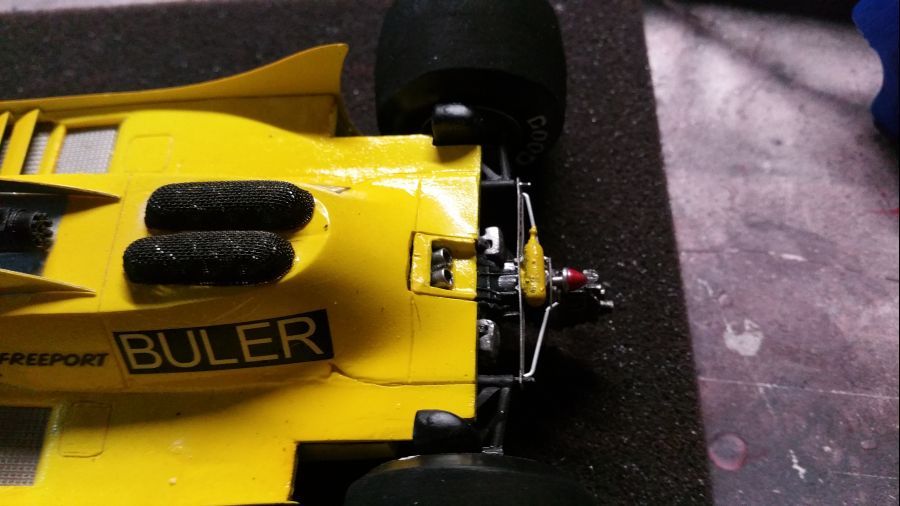 Dan komen de achtervleugel en de spiegels aan de beurt..
Next are the rear wing and the mirrors..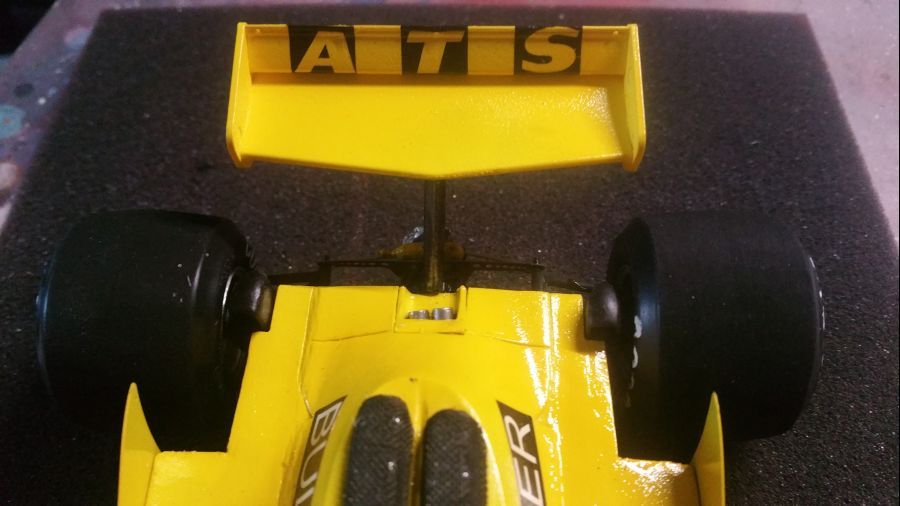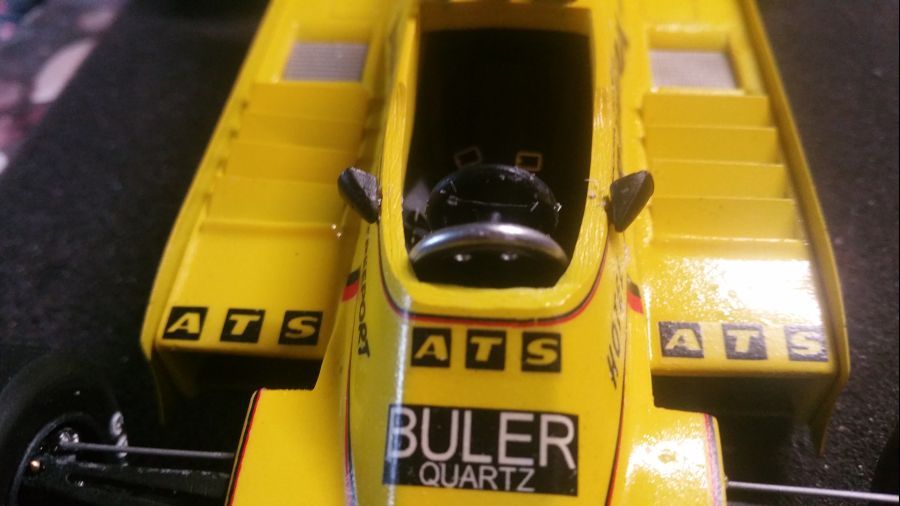 En ook deze is weer klaar.
And this one is finished too.