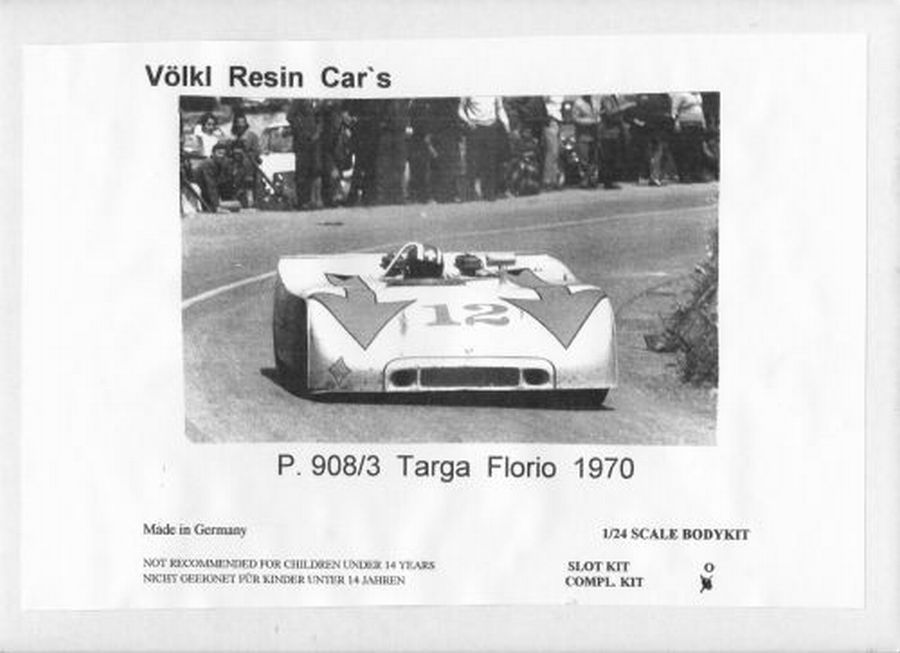 Dit is mijn eerste kit van het Duitse merk Völkl. Het is de Porsche 908/3 zoals deze in 1970 meedeed tijdens de beroemde Targa Florio. De wagen werd bestuurd door Jo Siffert en Brian Redman. Het is een simpel uitgevoerde kit. Dat zegt natuurlijk niets over hoe gemakkelijk het in elkaar te zetten is. Het bestaat uit slechts een paar resin en metalen onderdelen. Geen bouwtekening. De kwaliteit is niet van het beste. De decals zitten er niet bij, maar ook geen velgen en geen venster. Gelukkig heb ik via Google decals kunnen vinden en velgen voor een 1/24 Porsche 908L. Ik hoop dat deze passen. Mij valt op dat de decals niet helemaal compleet zijn. Ik mis in ieder geval het Porsche logo. Ik heb eerst een fout setje besteld waar deze wel op staan. Gelukje. Alleerst maar bweer de foto's van alle onderdelen en de extra's.
This is my first kit of the German brand Völkl. It is a Porsche 908/3 as it participated during the 1970 Targa Florio. The car was driven by Jo Siffert and Brian Redman. It is a simple kit. Of corse it doesn't mean it's simple to build. It only contains a few resin and metal parts. No instructions. The quality is not the best. Decals are not included. Neither are the rims and a window. Luckily i was able to find some decals and rims for a 1/24 scale Porsche 908L. I hope they will fit. I noticed they lack the Porsche logo. I first ordered a wrong set, but this one contains the logo. Lucky me. First of all the pictures of the content of the kit and the extra's.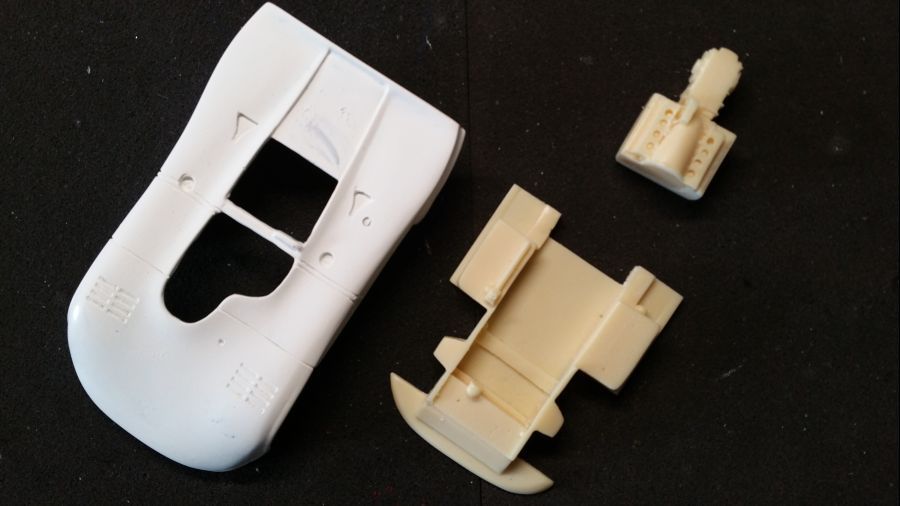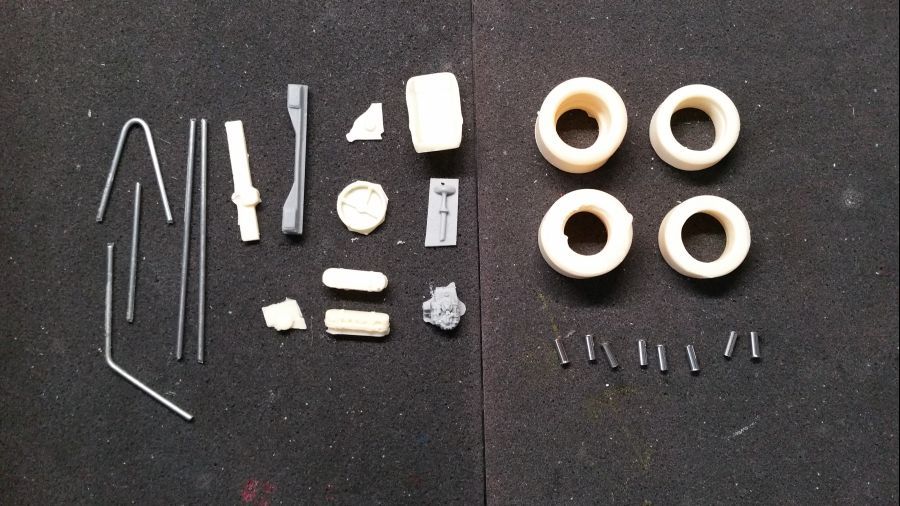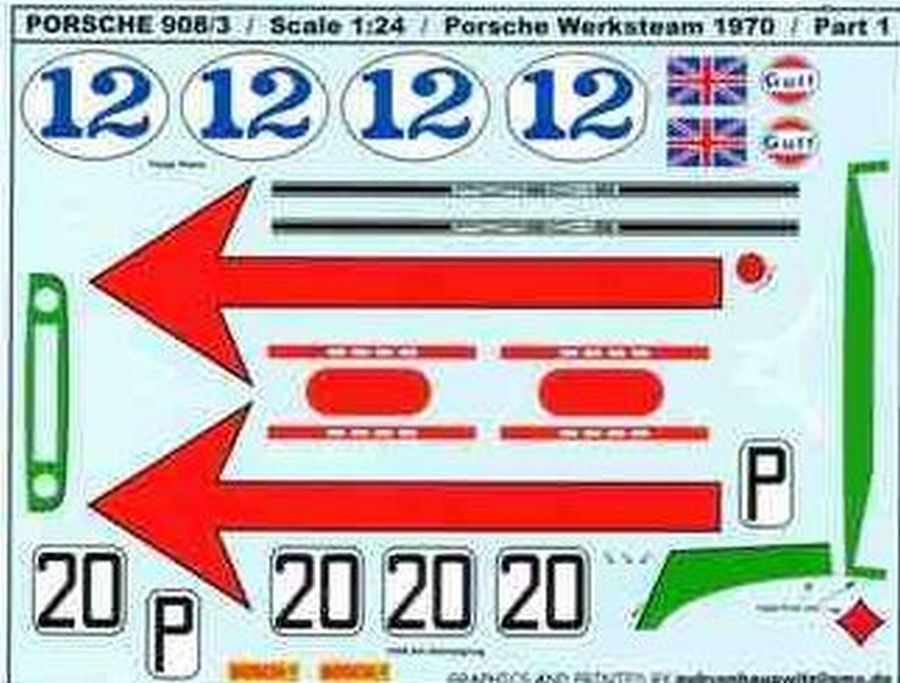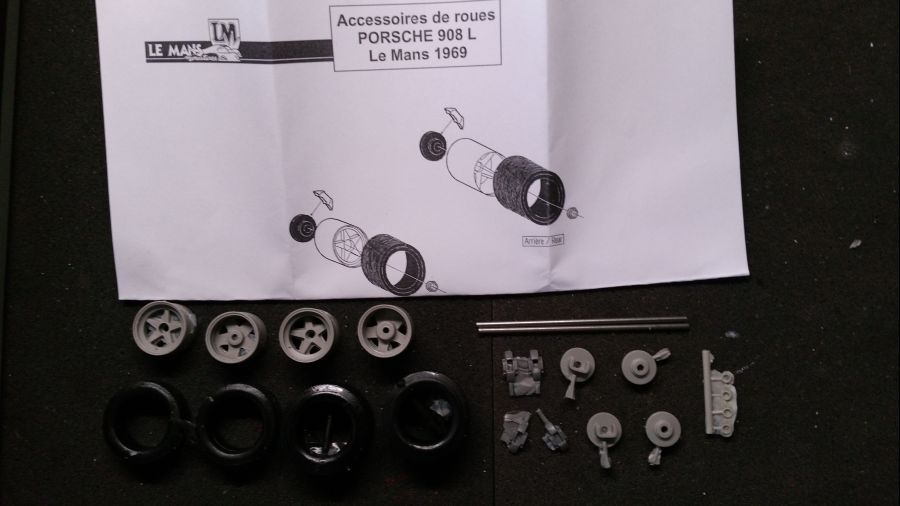 Eerst wordt het bodwerk glad geschuurd.
First the body was sanded.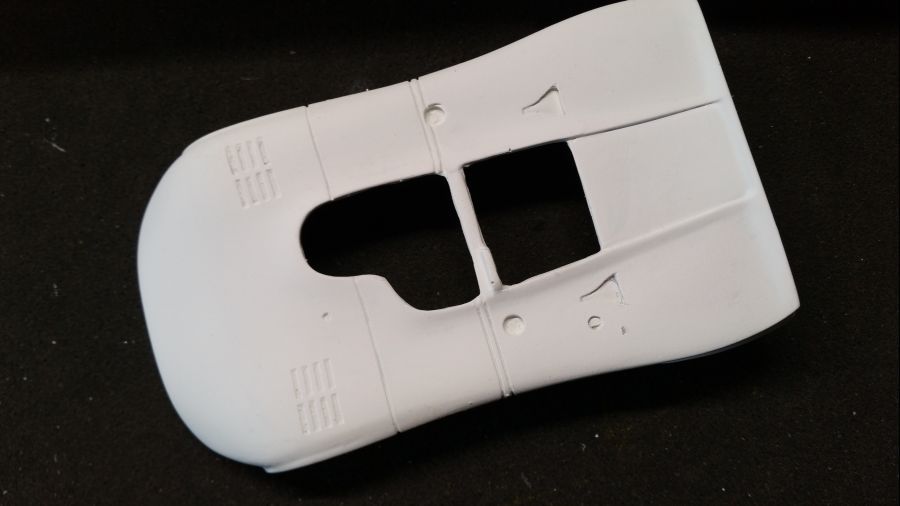 De gaten voor de assen worden geboord.
The holes for the axles are being drilled.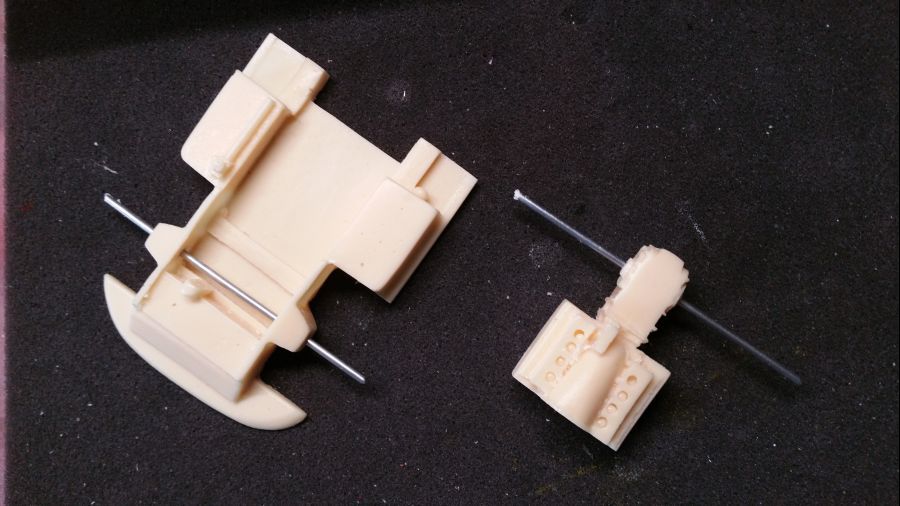 Wat plamuurwerk en daarna de grondverf..
Some putty and then the primer..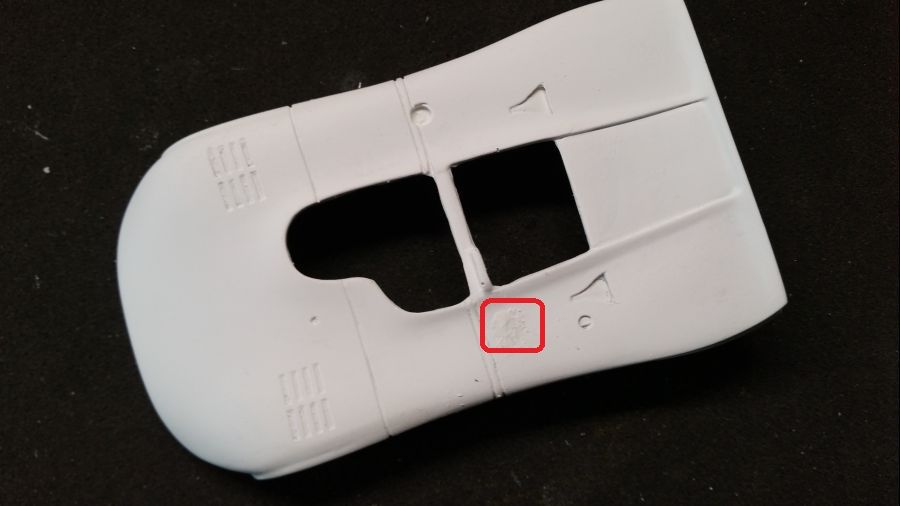 Een paar kleine onderdelen worden voorbereid. Overtollig resin wordt verwijderd.
A few small parts are being prepared. Excess resin will be removed.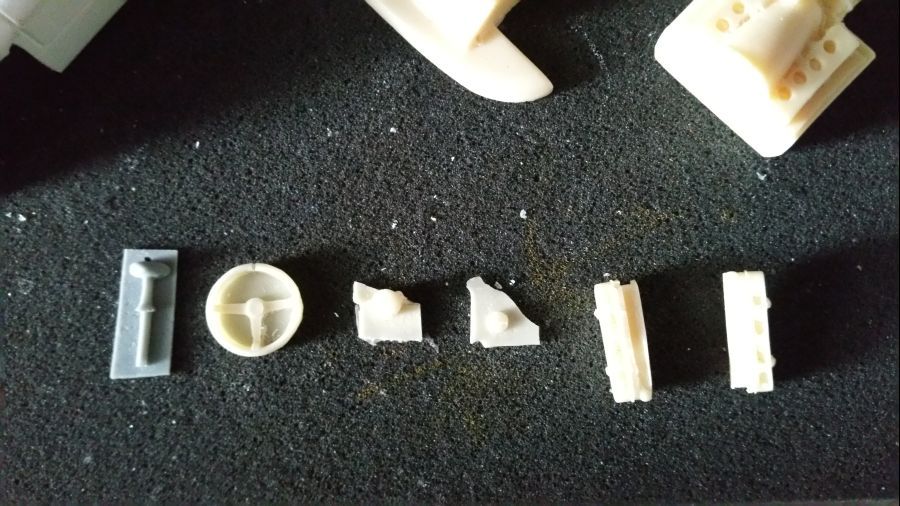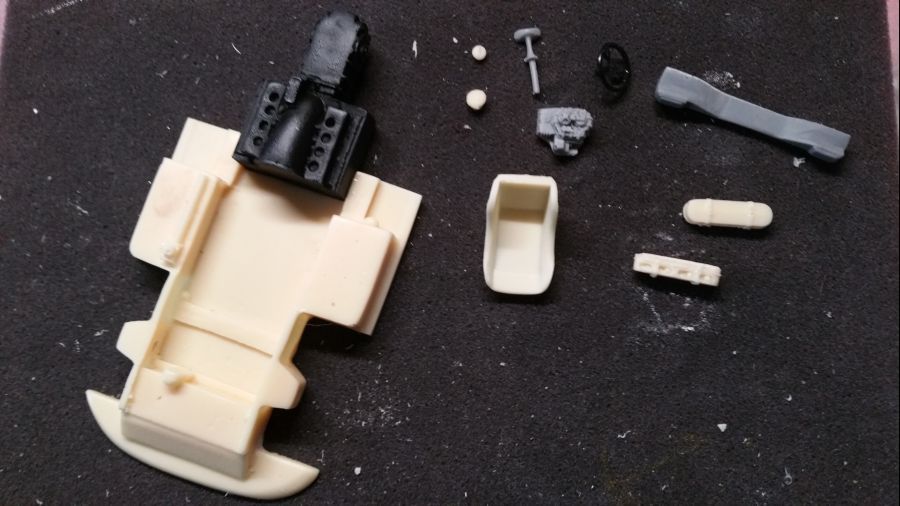 Ik ga nu eerst een brandschot en wat framewerk maken. Dit omdat je aan de achterkant er wat van zult zien en bij het motordeel. Ik gebruik aluminium buis en messing draad van Albion Alloys. Voor referentie gebruik ik foto's van http://www.ultimatecarpage.com/.
I will now start a bulkhead and some framework. This because you will be able to see it at the backside and the engine compartment. I use aluminium tube and brass wire from Albion Alloys. As reference i will use pictures from the link above.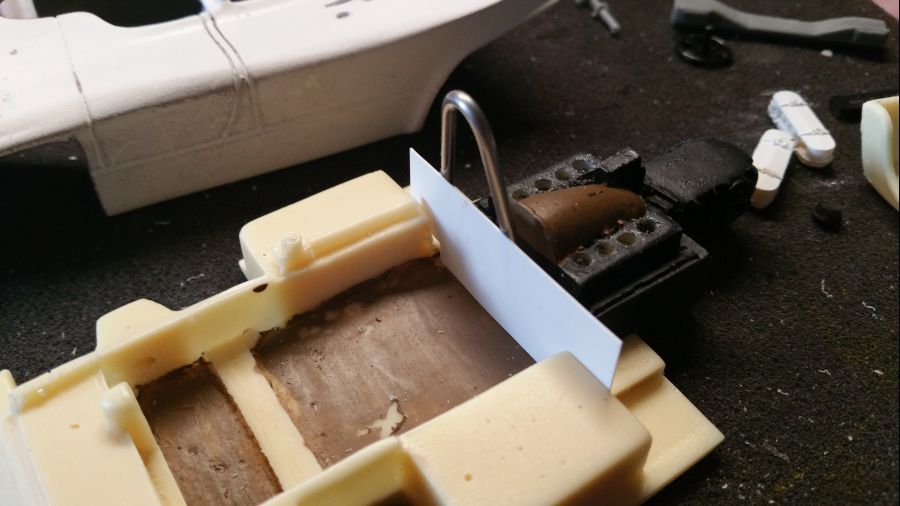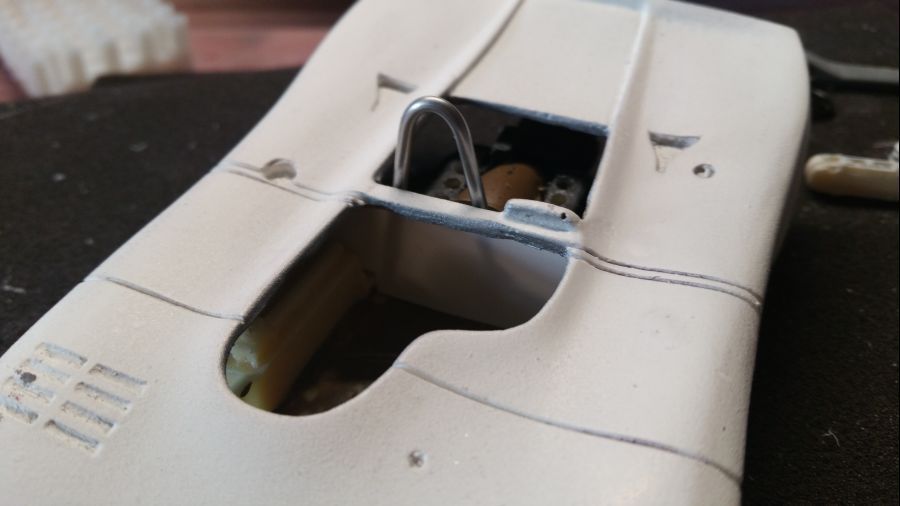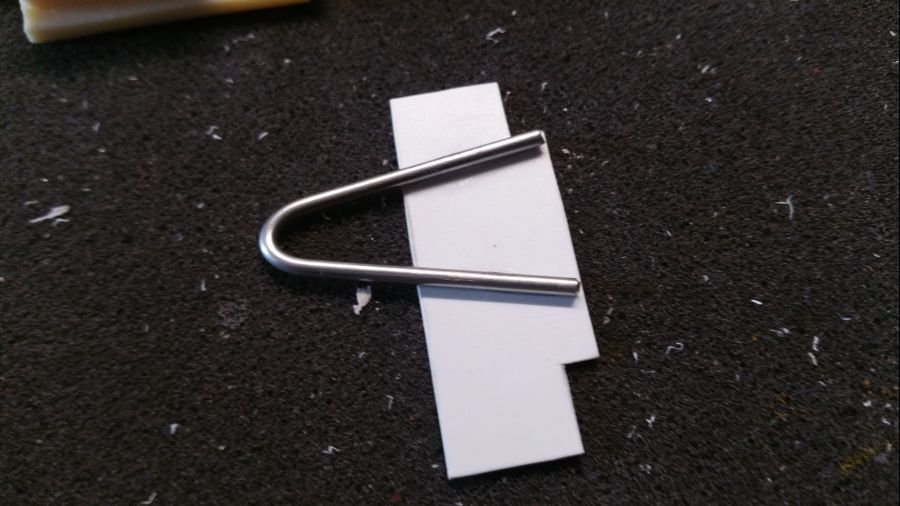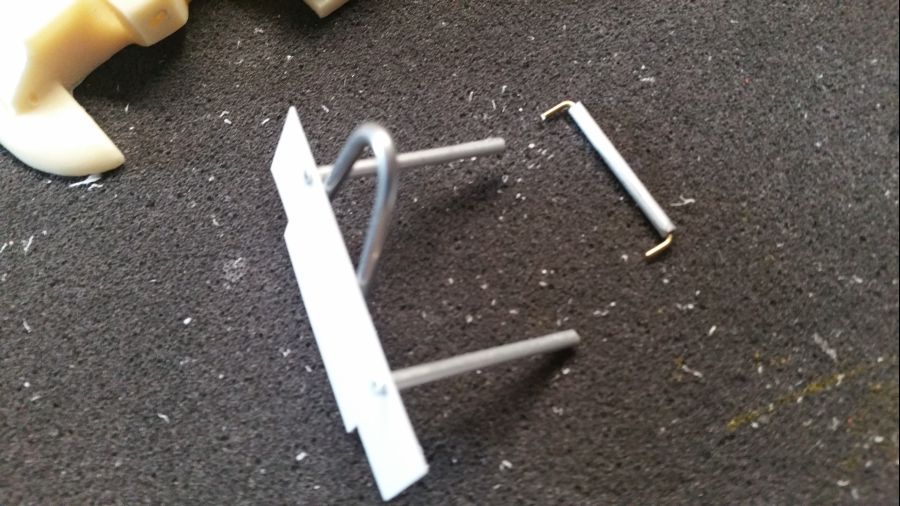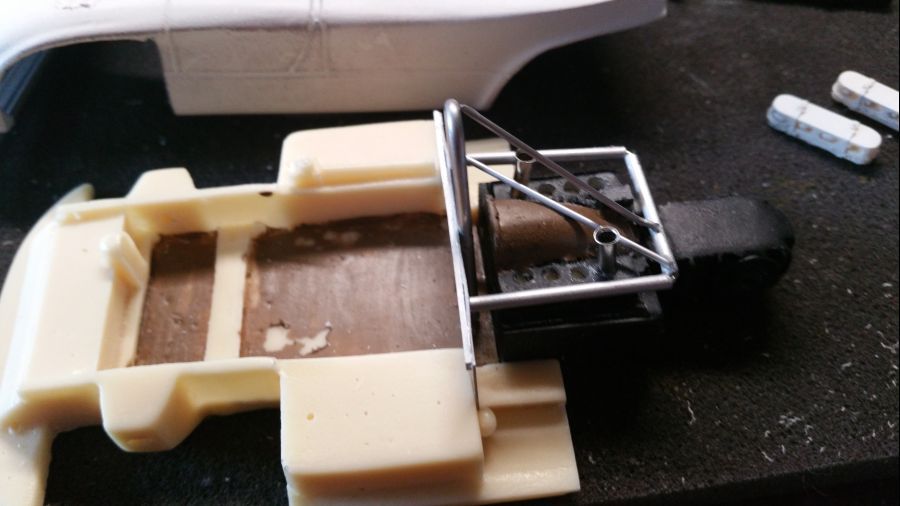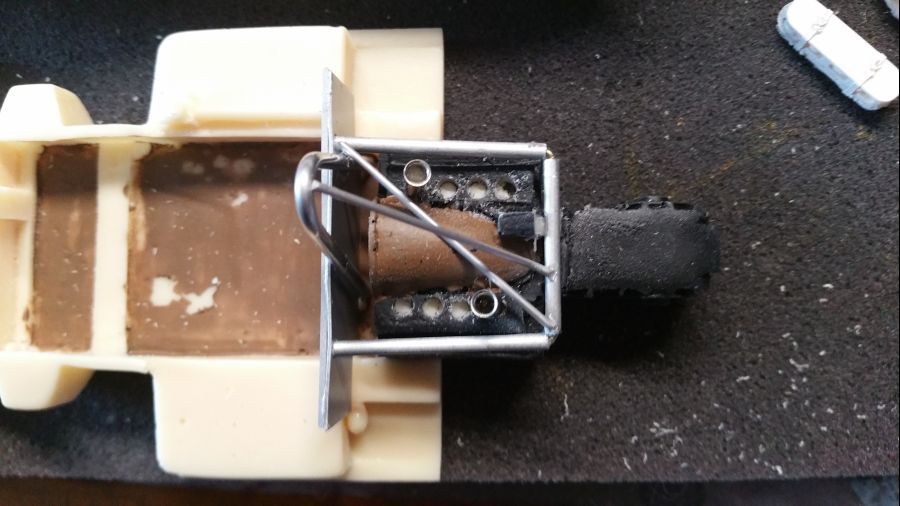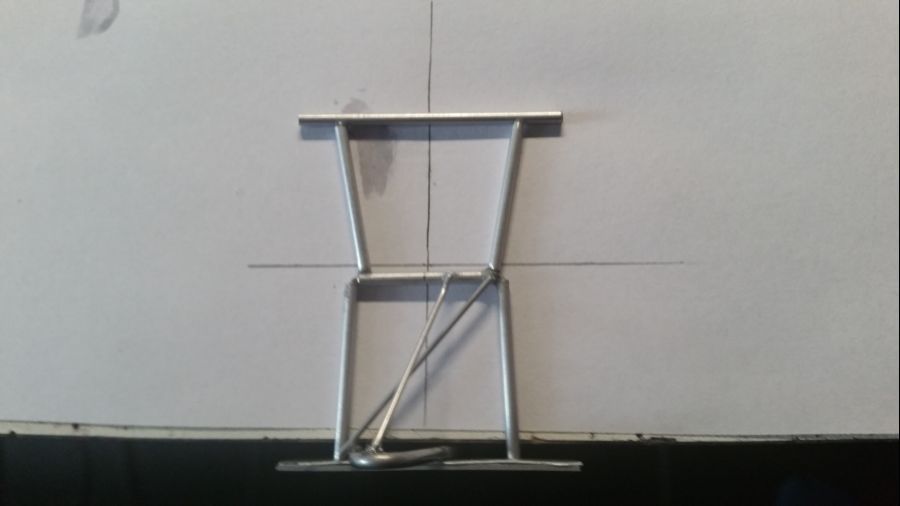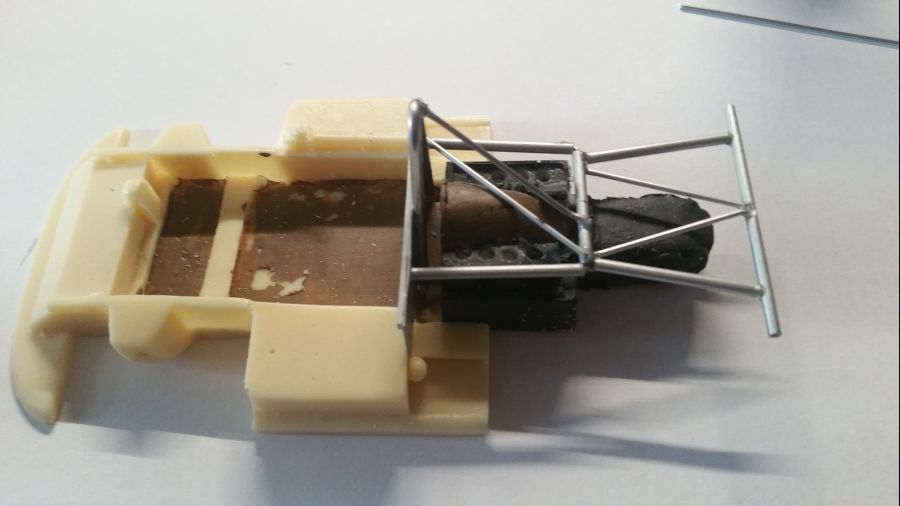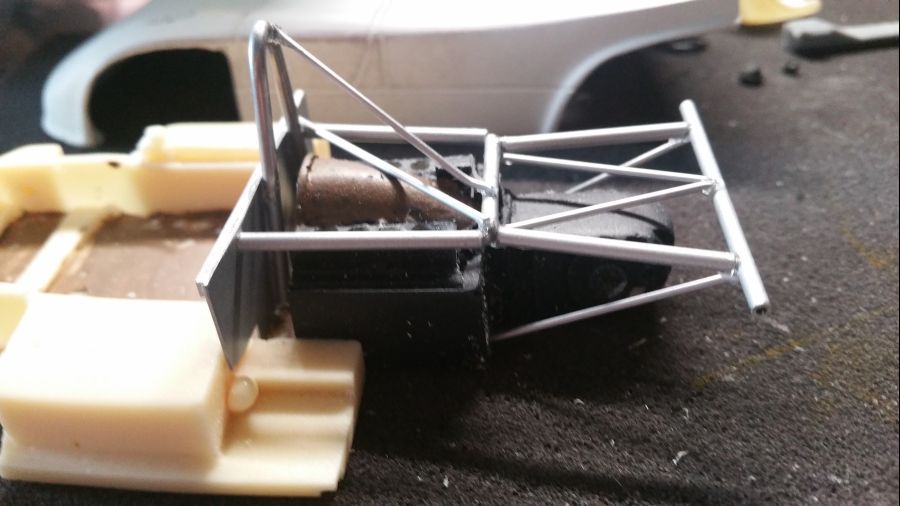 De bevestiging voor de uitlaten maak ik van een stukje Evergreen Styrene Sheet met etched moeren.
The mounting for the exhausts is made out of Evergreen Styrene Sheet with etched nutters.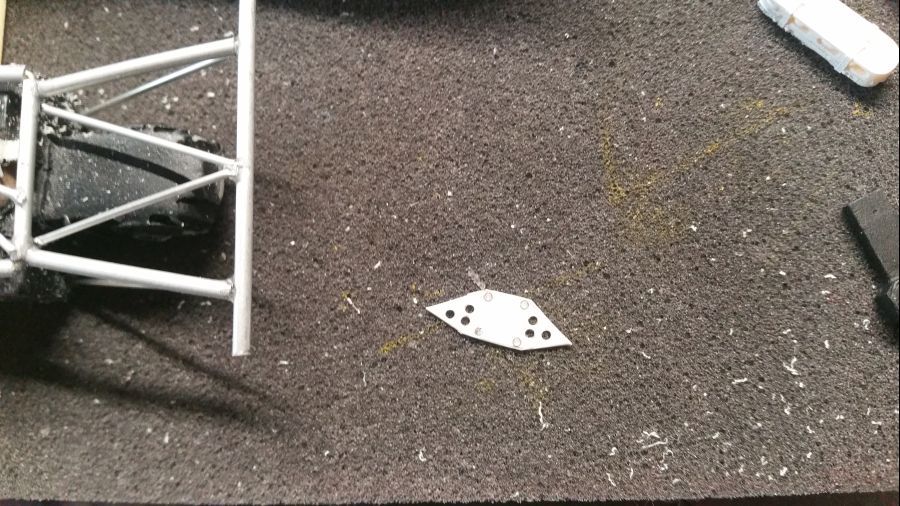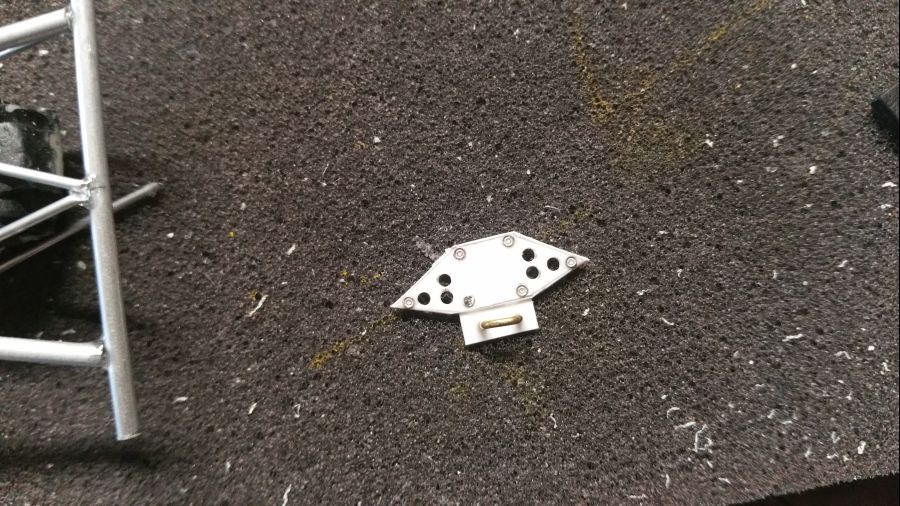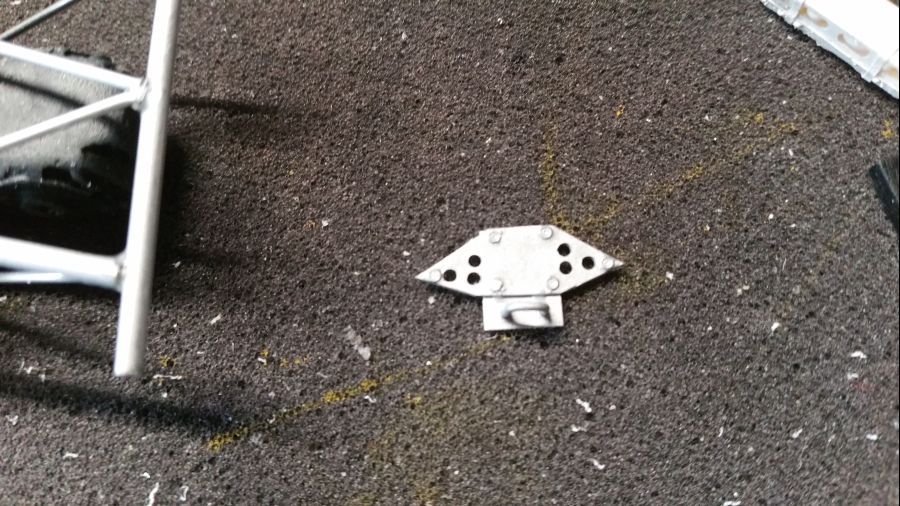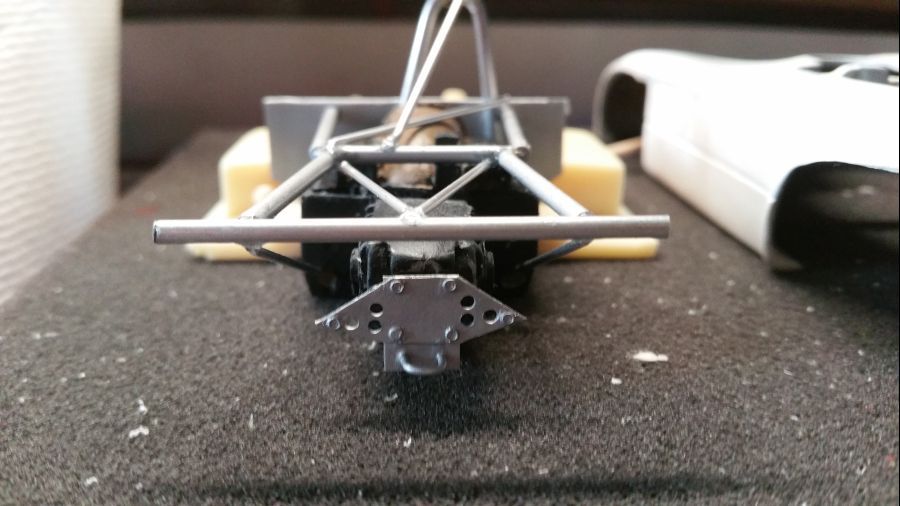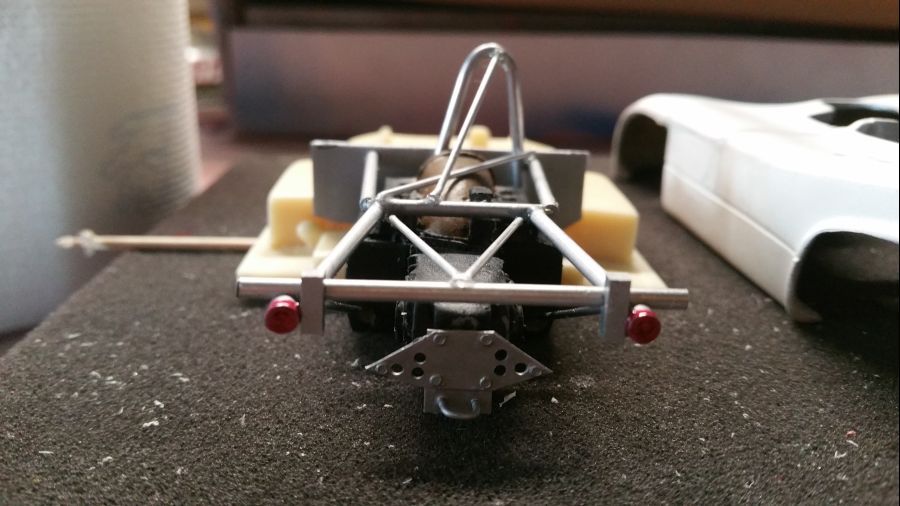 De velgen worden semi gloss zwart gespoten.
The rims get a coat of semi gloss black.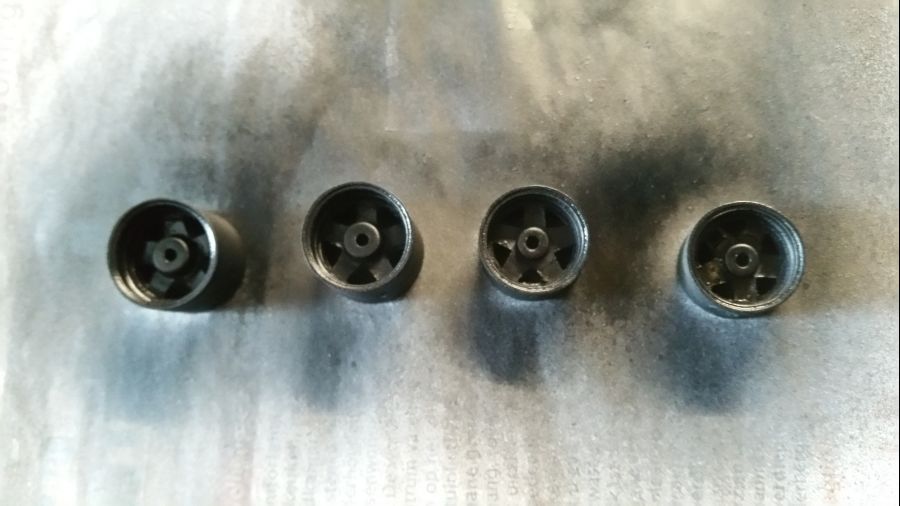 De body kijgt de bekende blauwe kleur (Zero Paints ZP-1103 Gulf Blue)...
The body gets the famous blue colour (Zero Paints ZP-1103 Gulf Blue)...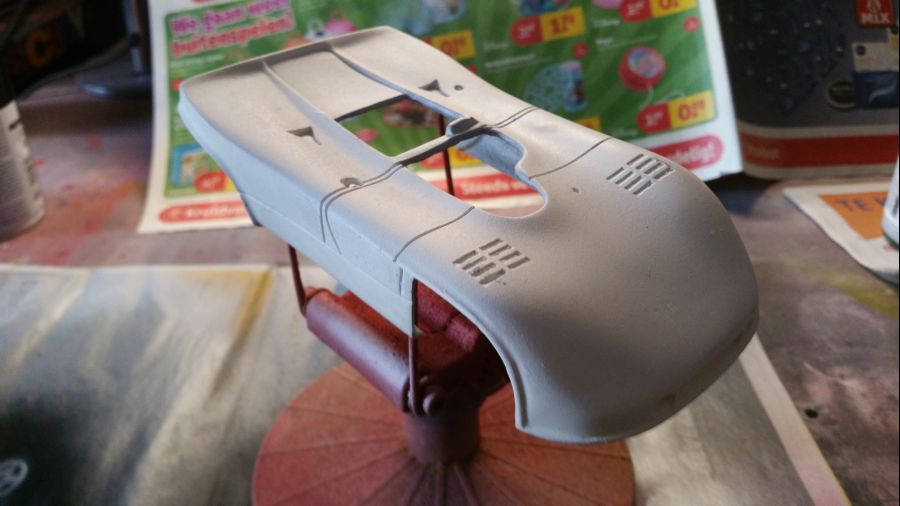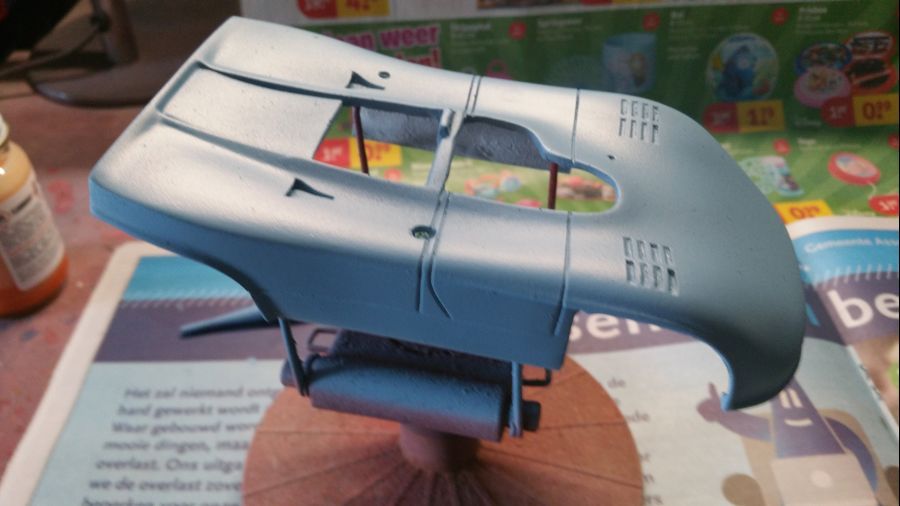 ..en de trompetafdekking het bekende oranje (Zero Paints ZP-1259 Gulf Orange).
..and the funnel covers the famous orange (Zero Paints ZP-1259 Gulf Orange).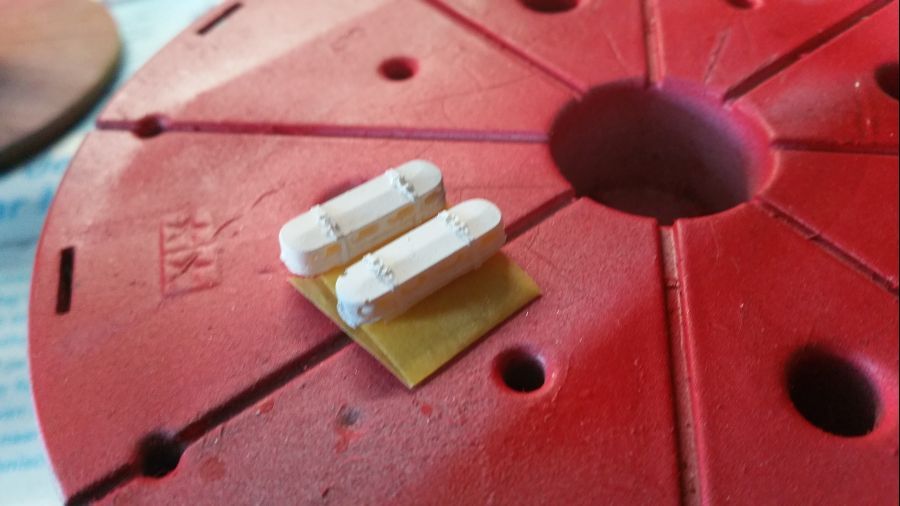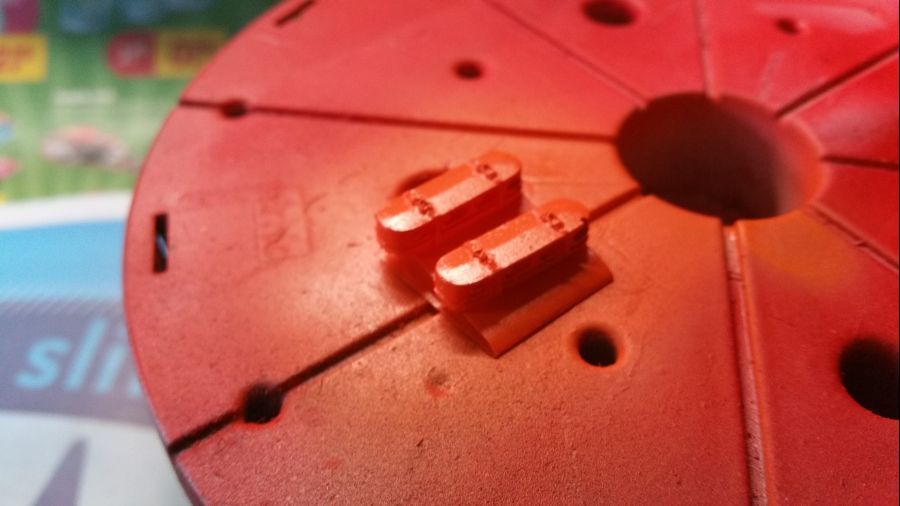 En dan de heldere glanzende lak...en nu goed laten drogen.
Next is the clear gloss lacquer...and let it dry thoroughly.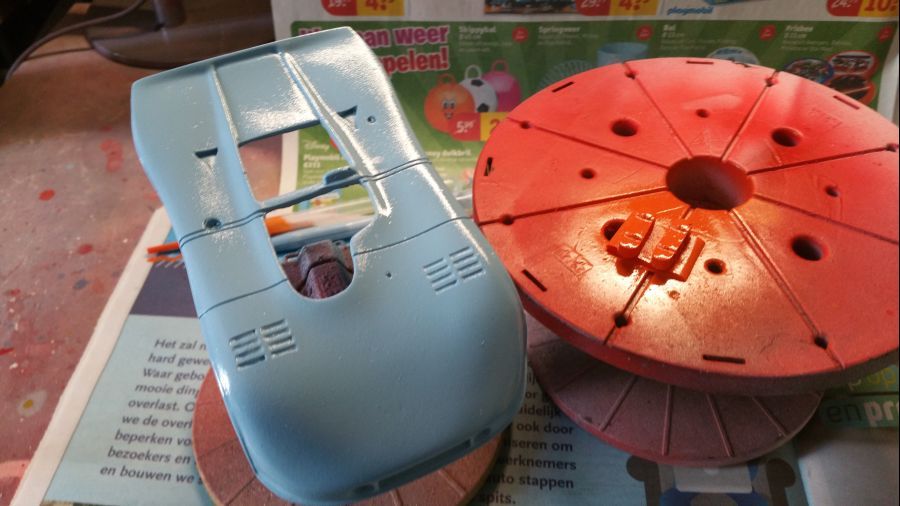 De wielmoeren en de tankdoppen krijgen een chroom laagje (Alclad II).
The wheel nutters and the tank caps get a chrome finish (Alclad II)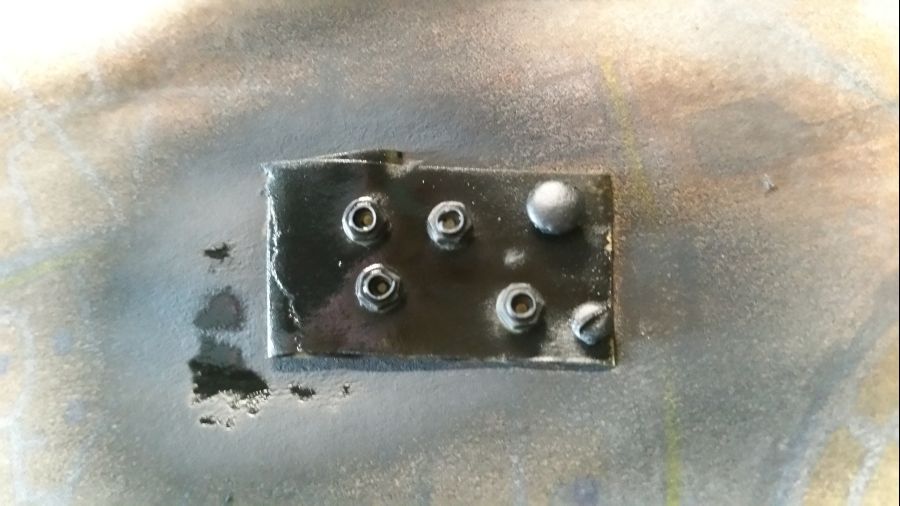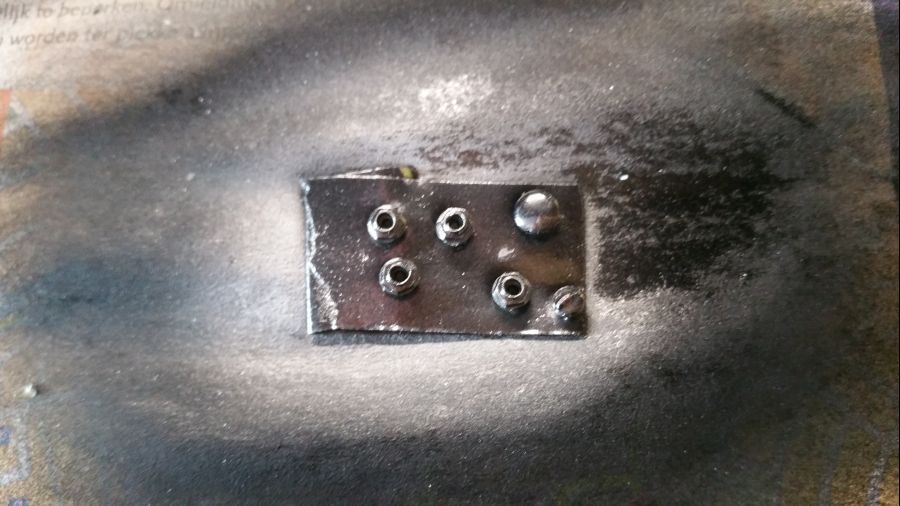 De uitlaten worden gemaakt met behulp van stukken Erergreen Styrene Pijp.
The exhausts are being made out of pieces of Evergreen Styrene Pipe.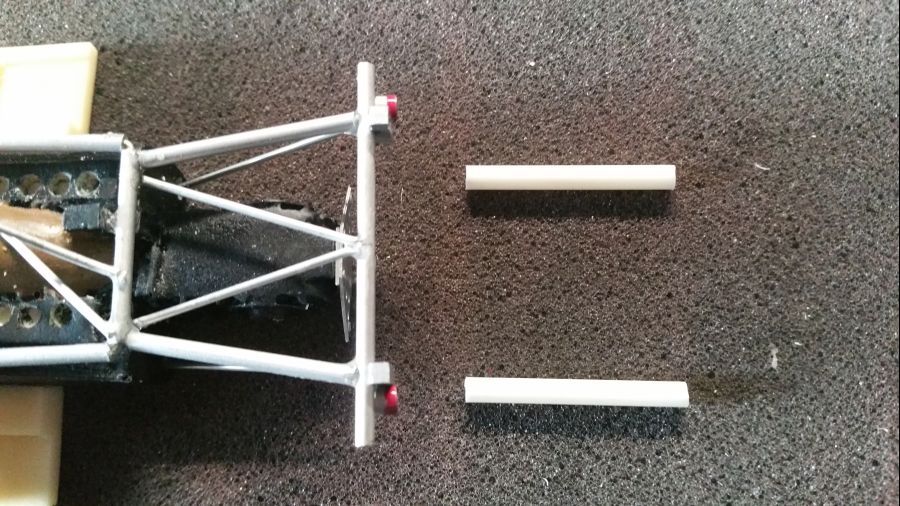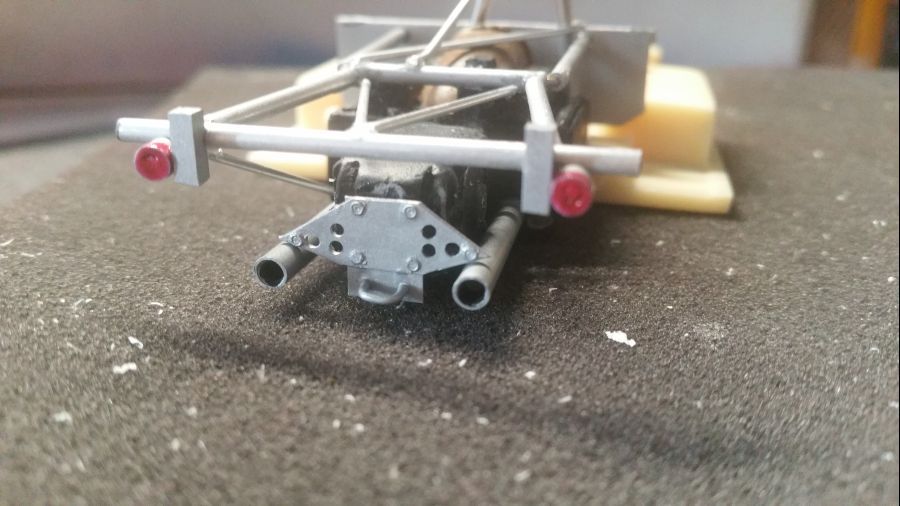 De velgen, banden en remschijven zijn van Le Mans Miniatures voor een Porsche 908L. De voorbanden zijn iets te ruim op de voorvelgen. Verder past het perfect op deze Porsche 908/3.
The rims, tires and break discs are from Le Mans Miniatures for a Porsche 908L. The front tires are a bit too large to fit the front rims. But for the rest they fit this Porsche 908/3 perfectly.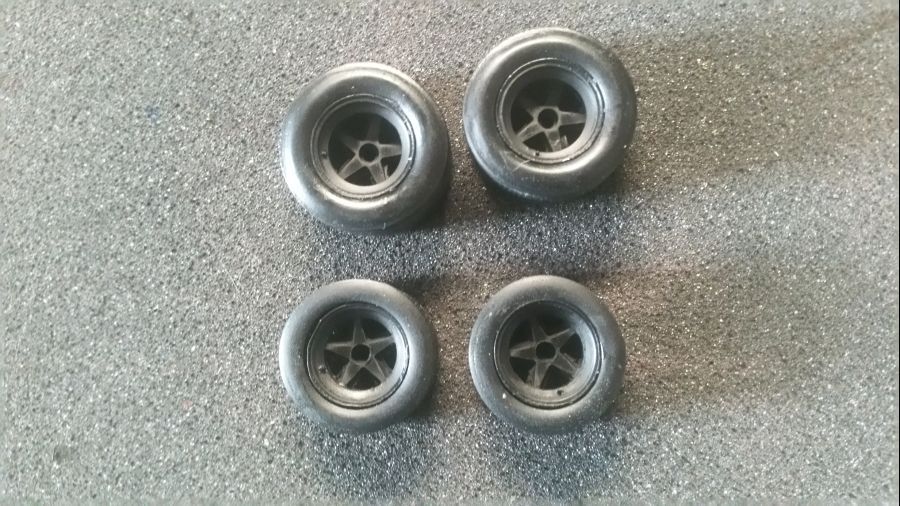 Gaatjes boren in de remschijven...
Drilling holes in the break discs...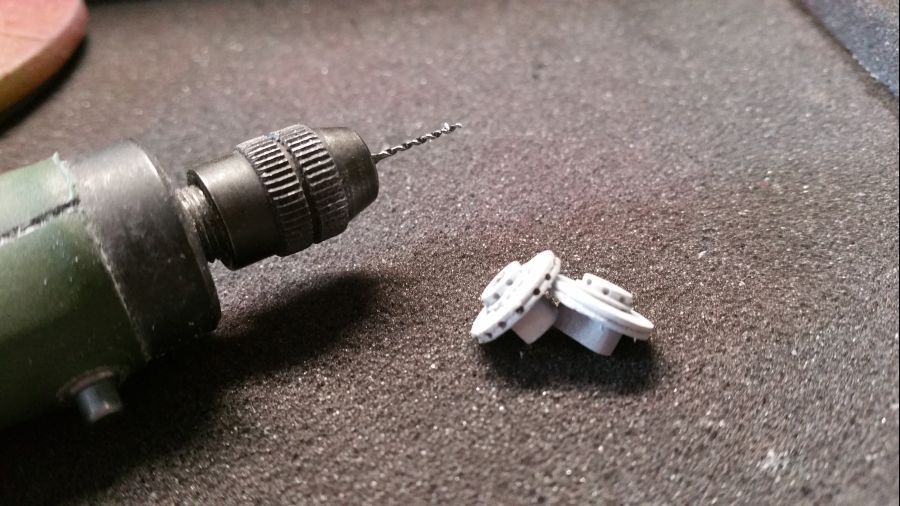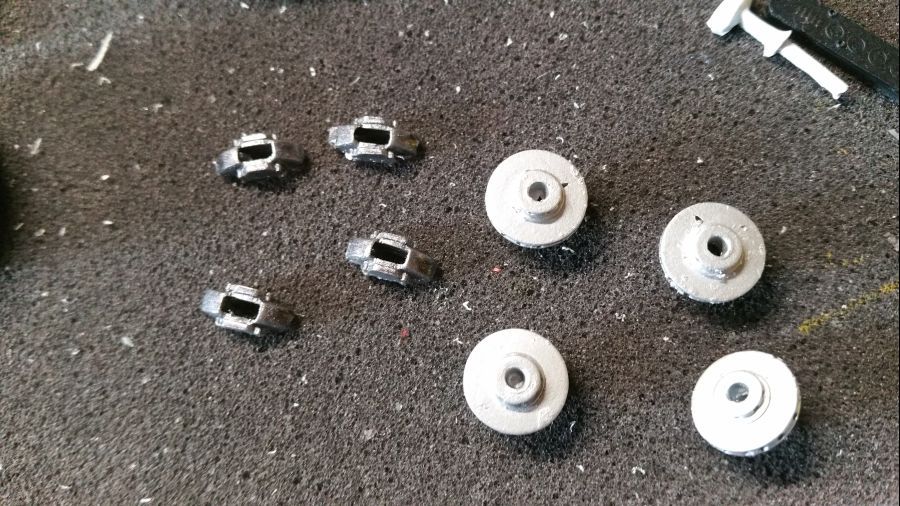 De openingen simuleer ik door met een naald te verven.
I am simulating the openings by painting with a needle.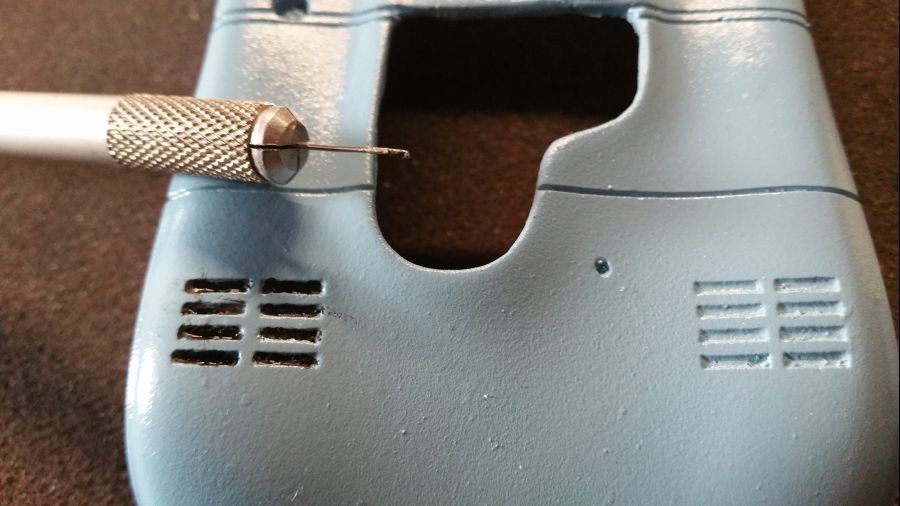 De pijlen zijn te groot... bijwerken dus.
The Arrows are too big... need cutting.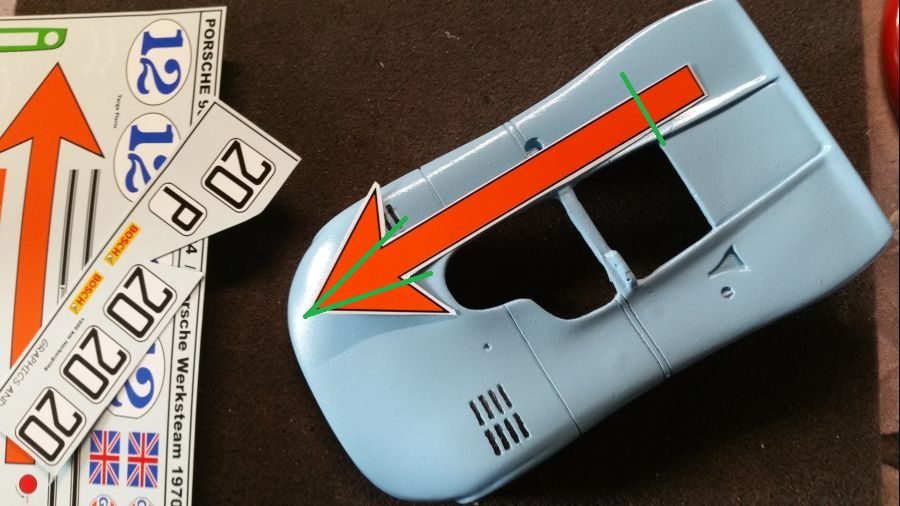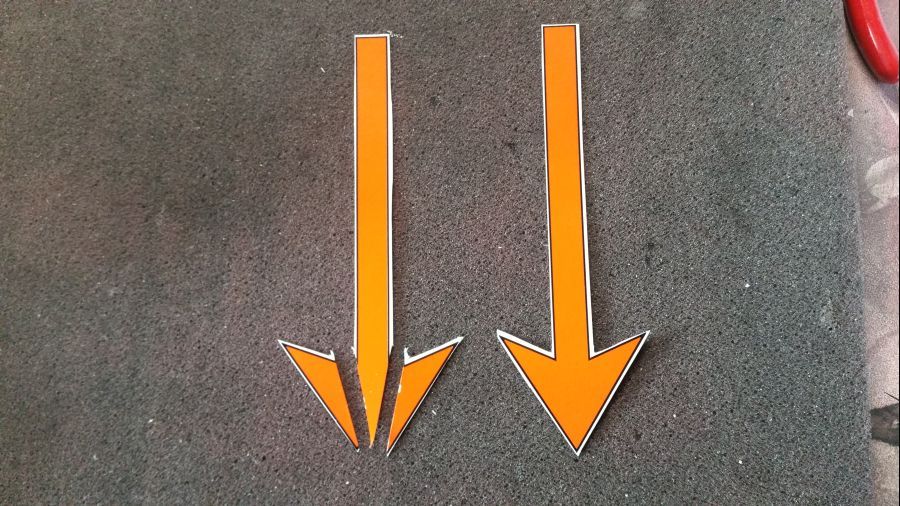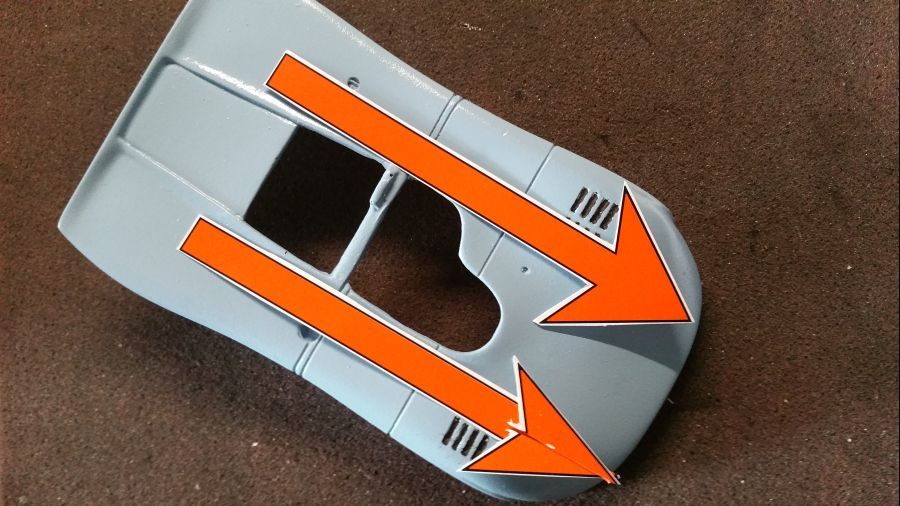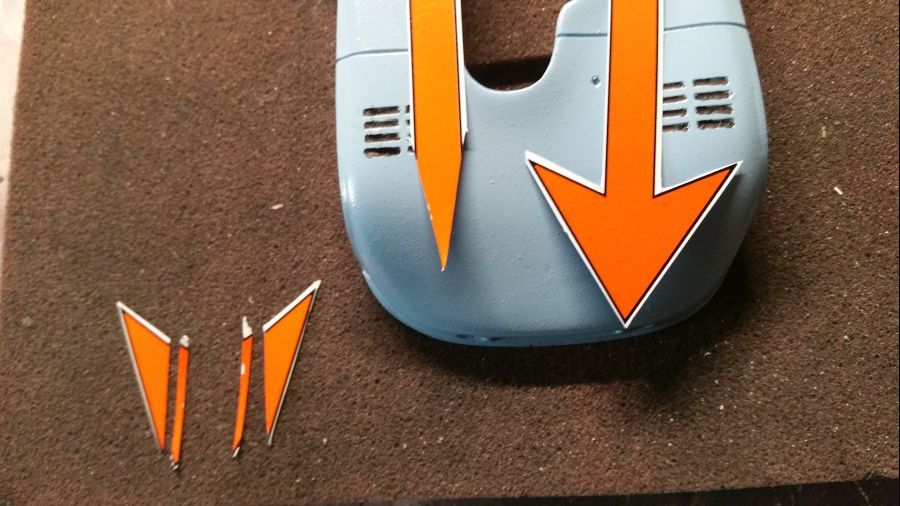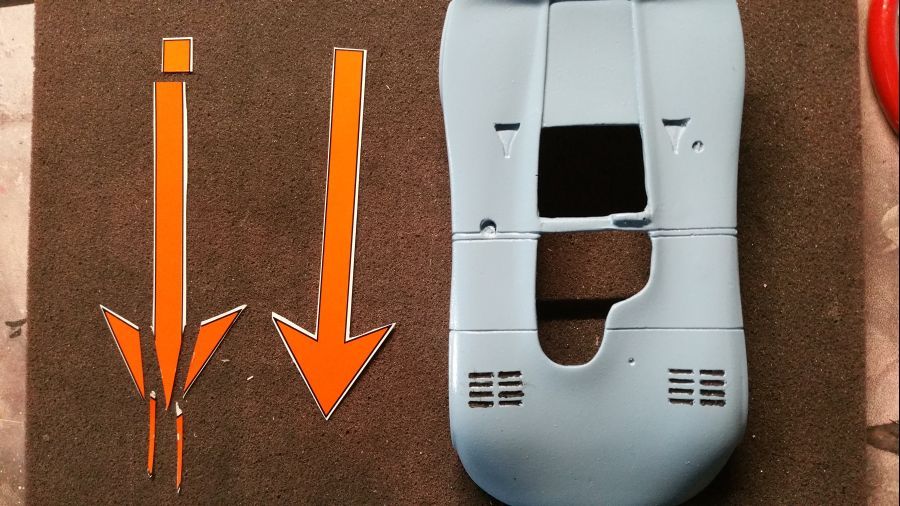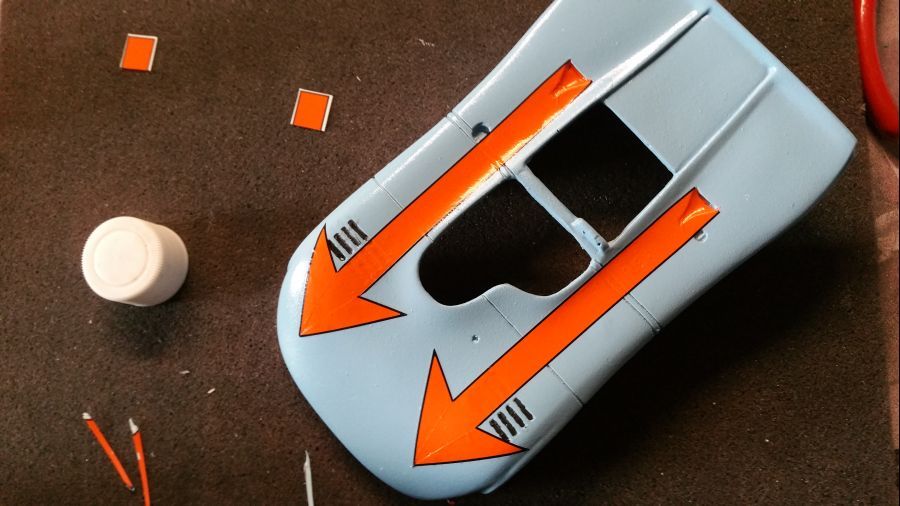 Alle decals zijn geplaatst...
All decals have been applied...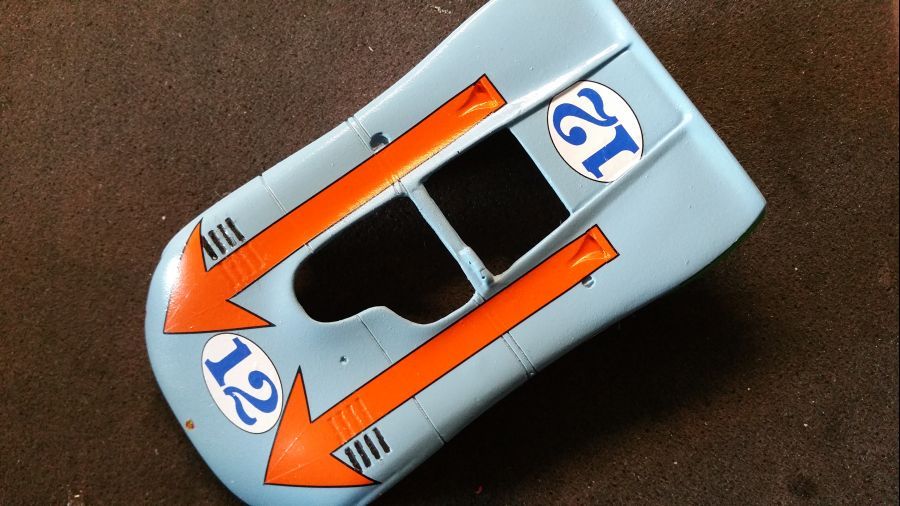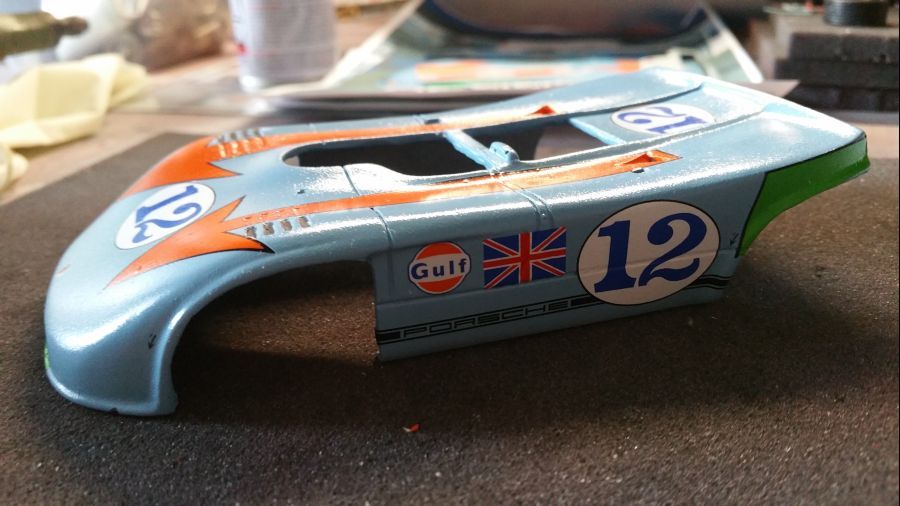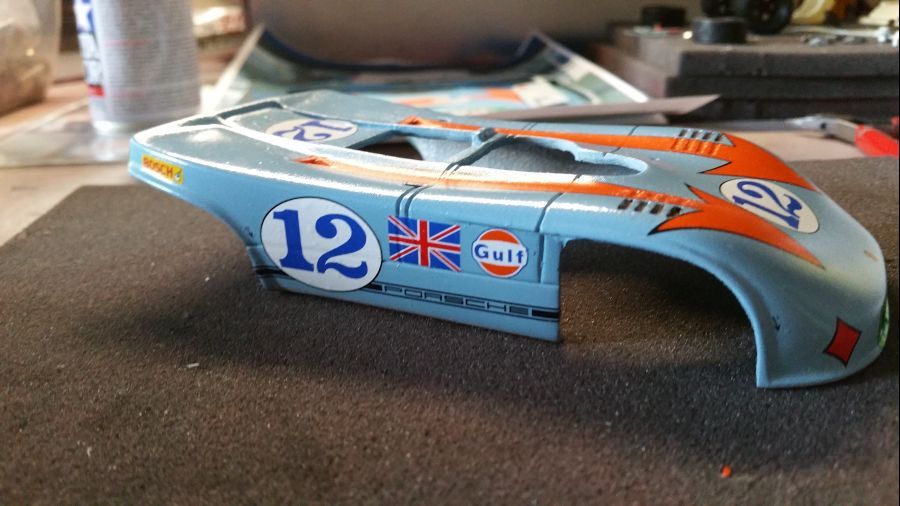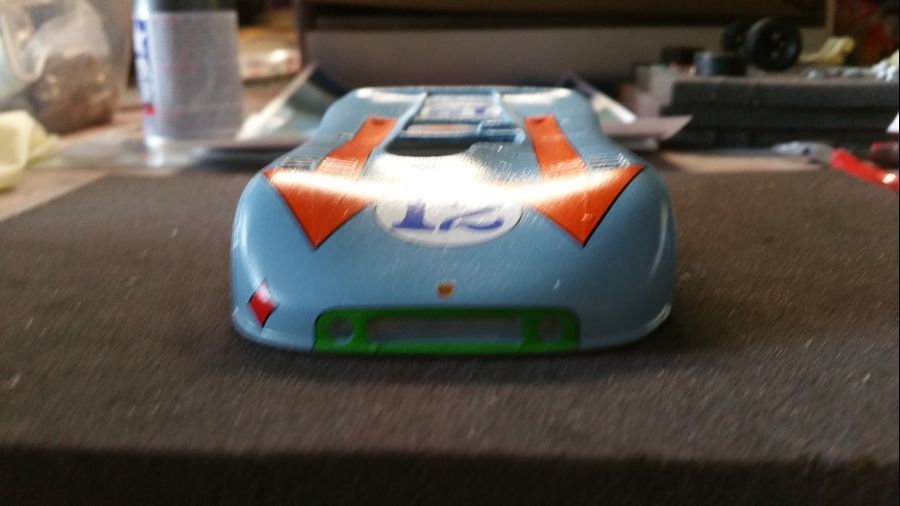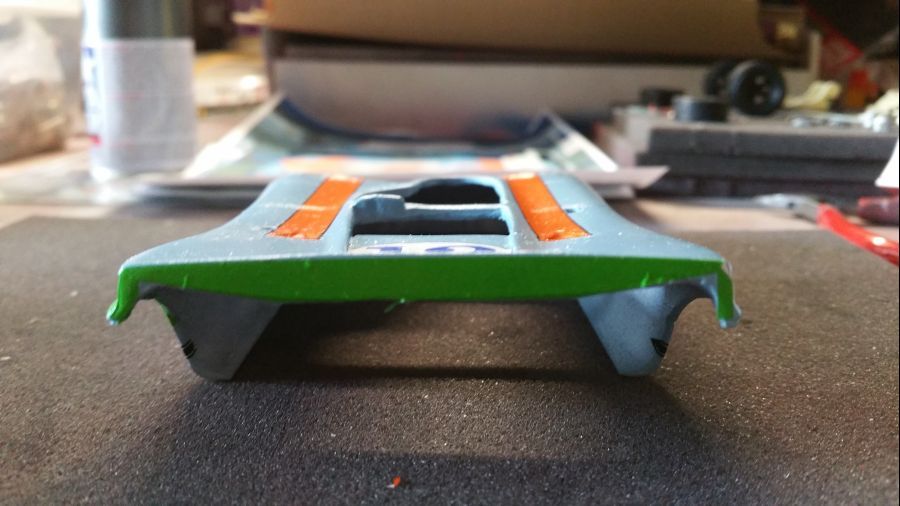 Ik maak een paar merkpunten op de assen. Zo kan ik zien dat ze aan beide kanten evenveel uitsteken.
I am making to markings on the axles. Now i will be able to see they stick outside the floor evenly.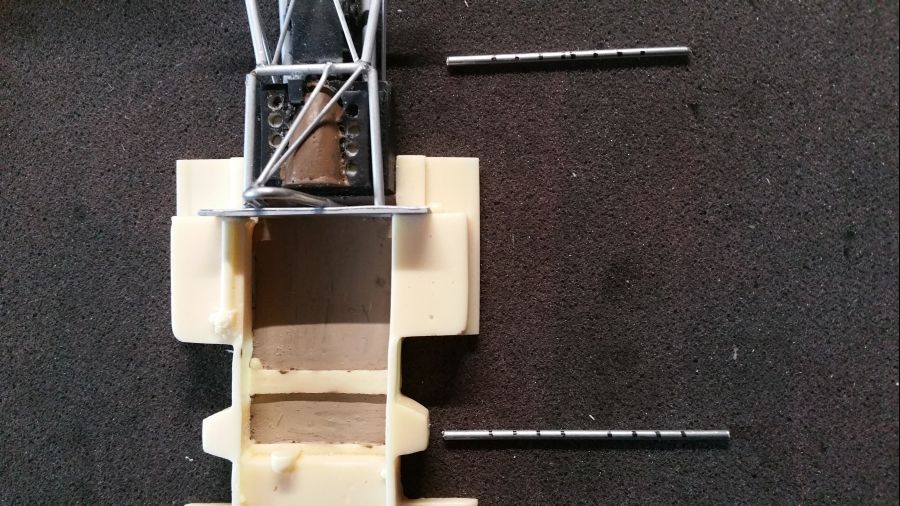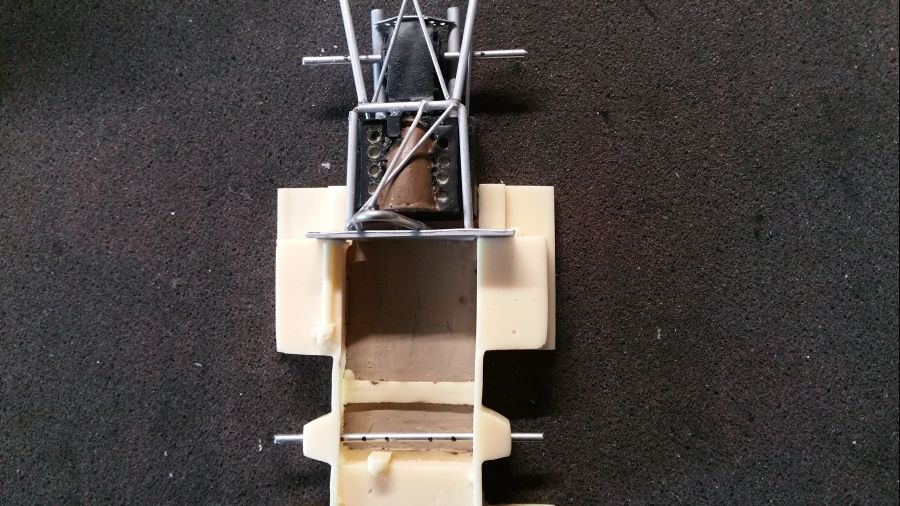 De afdekking voor de inlaten worden klaargemaakt en geplaatst voor het testen.
The funnel covers are being finished and put into place for a test fit.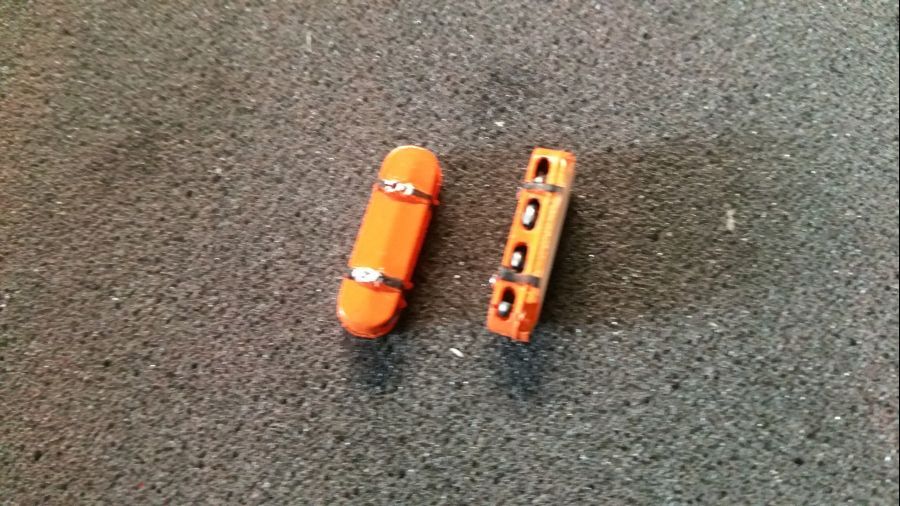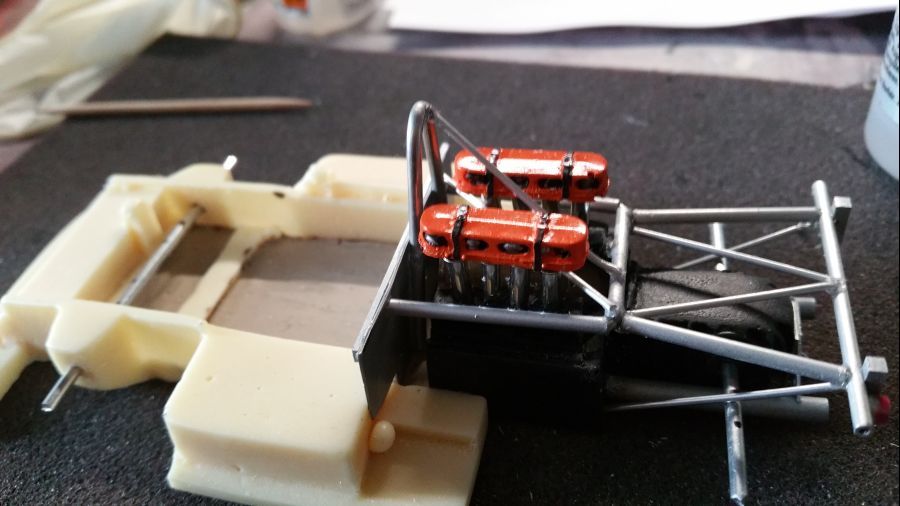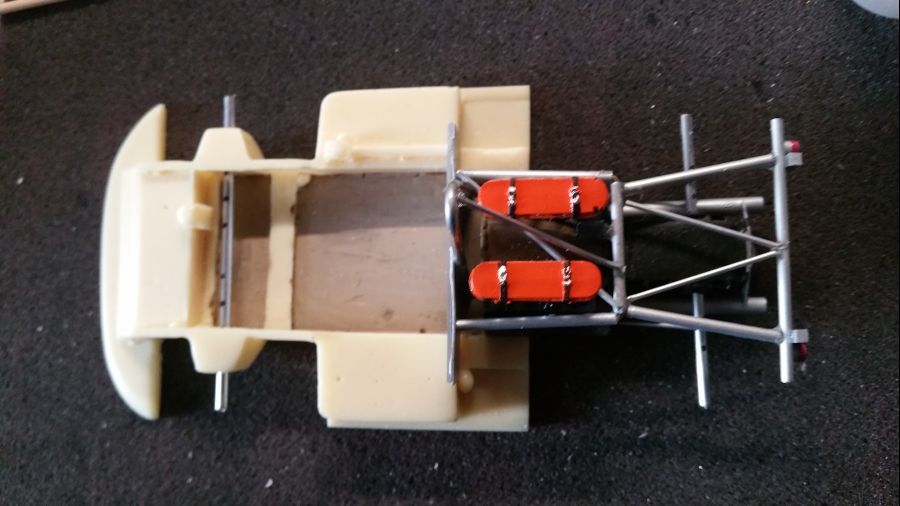 Tijd voor het dashboard. De decals voor de meters vond ik in mijn rommelkist.
Time for the dashboard.  found the decals of the gauges in my scrap box.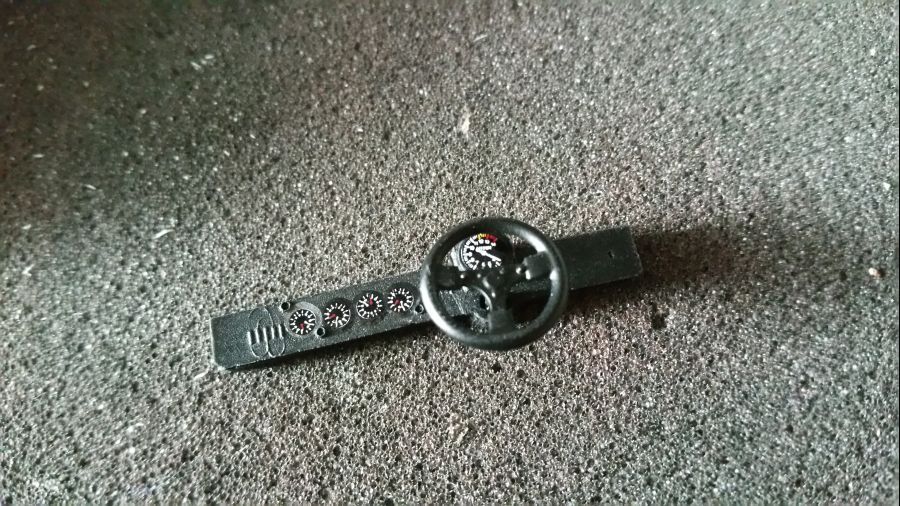 Door met de remmen en het monteren van de wielen.
Then it's time for the brakes and the wheels.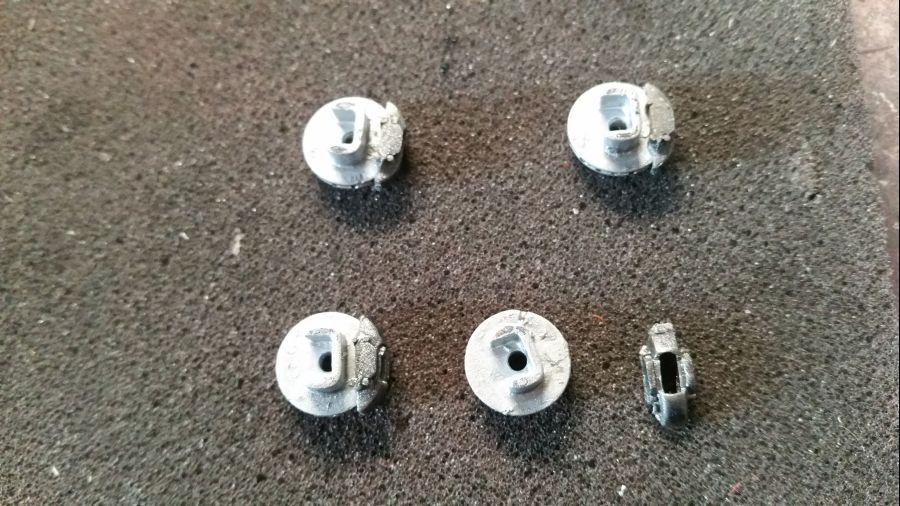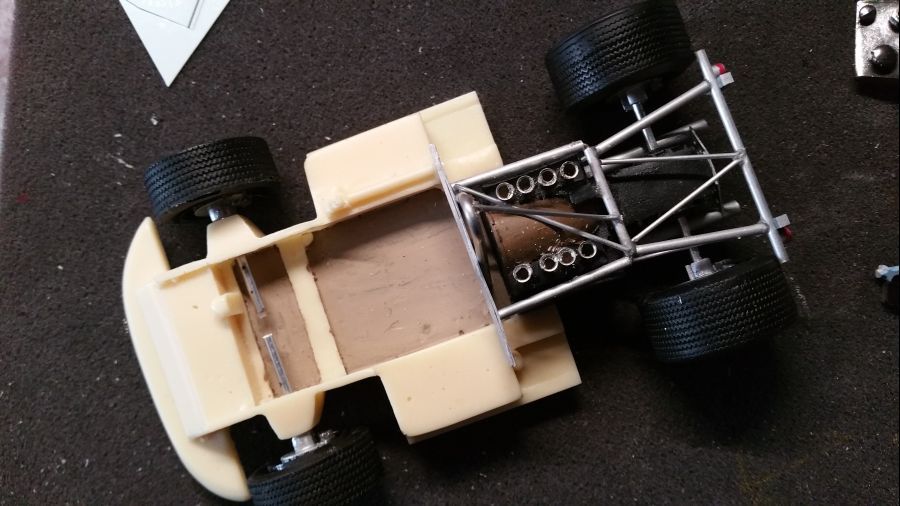 De body wordt op de vloer gemonteerd en extra onderdelen worden geplaatst.
The body gets mounted to the floor and more parts are added.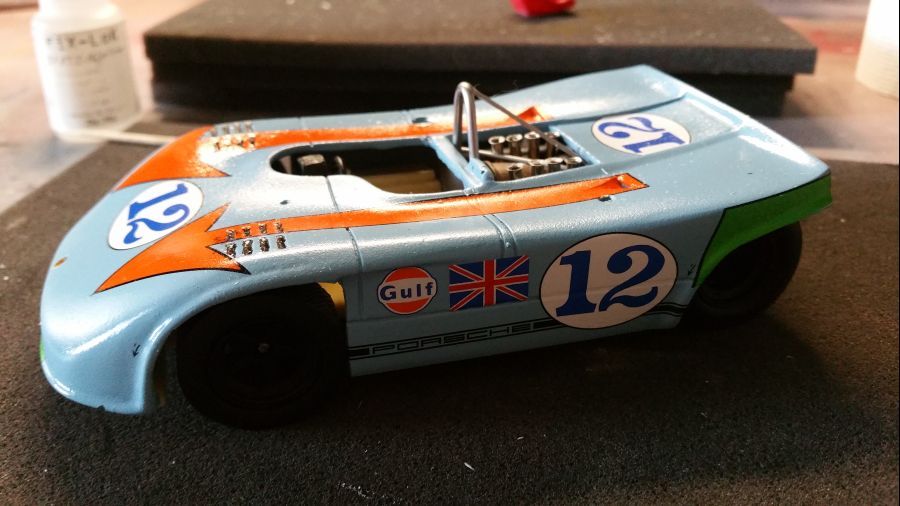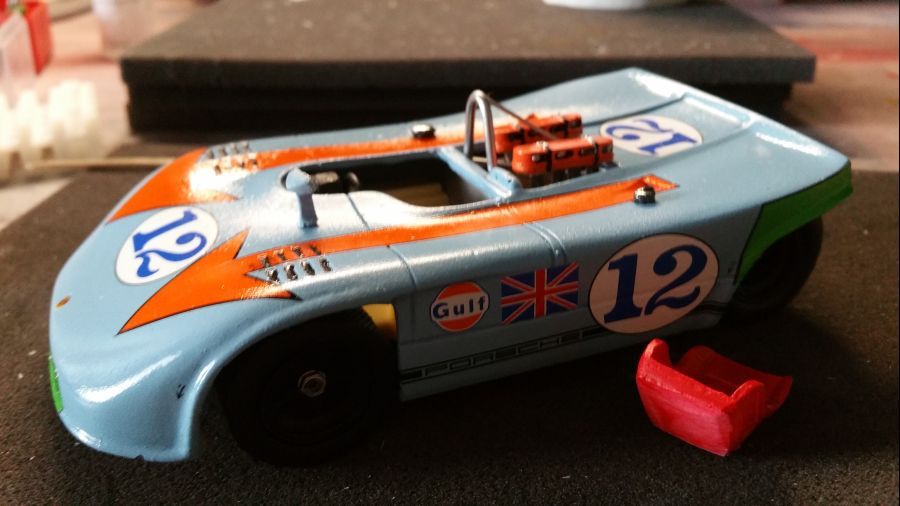 Gordels worden gemaakt...
Belts are being made...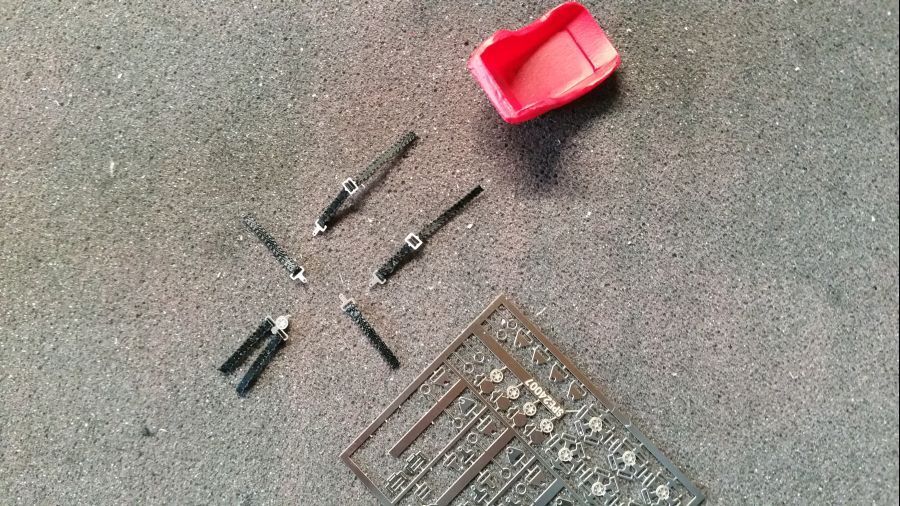 En wanneer de stoel is geplaatst, kan er weer 1 in de kast... 
And when the seat is added, another 1 can be put in the cabinet...