Nu weer iets anders op de bank. Een kit van Italeri (kit nr 657) in schaal 1/24. Ik ga deze verbouwen naar een 1992 Ferrari F40 Cavallino Scrimante. Deze wagen deed in 1992 mee aan de Dutch Ferrari Challenge en werd (volgens mijn info) bestuurd door Frits Kroymans, de bekende Ferrari importeur uit Hilversum. Ik heb een passende decal gekocht op Ebay. Ook heb ik min of meer gelijkende velgen kunnen vinden van het merk USCP (Ukrainian Scale Car Productions). Hieronder weer de foto's van de inhoud van de kit en de gekochte extra's.
Something new again. It is a kit from Italeri (kit no 657) in scale 1/24. I will rebuild this to a 1992 Ferrari F40 Cavallino Scrimante. This car raced in 1992 in the Dutch Ferrari Challenge and (to my knowledge) was driven by Frits Kroymans, The well known Dutch Ferrari import from Hilversum. I managed to buy a correct decal on Ebay. Also i bought some rims that come quite close from the brand USCP (Ukranian Scale Car Productions). Below the pictures of the kit content and the extras i bought.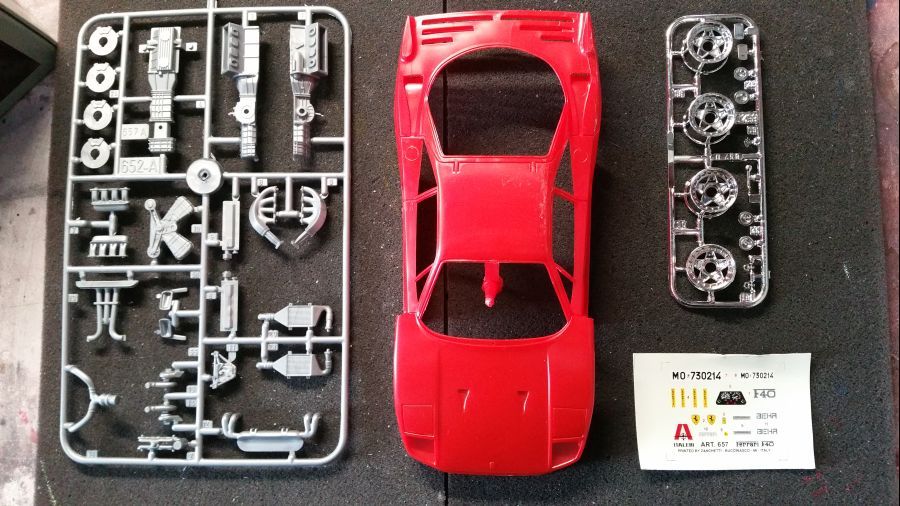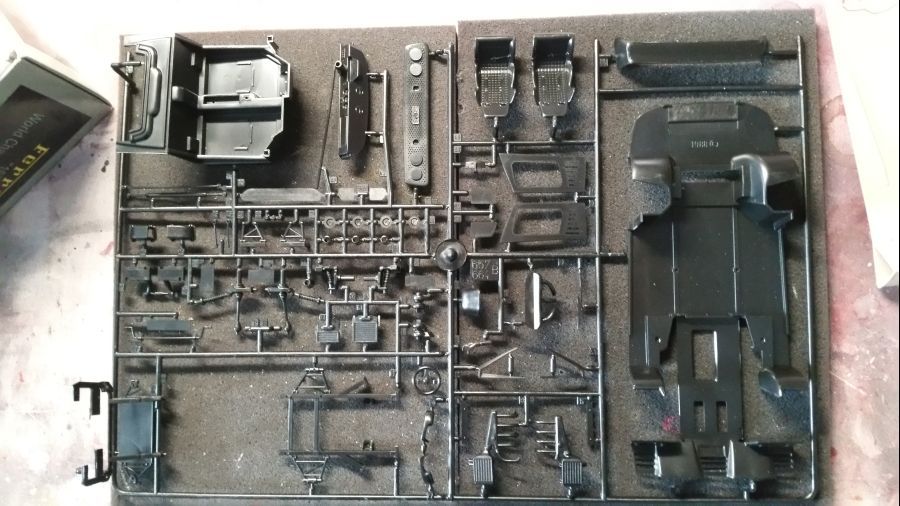 Rechts de velgen en banden van USCP.
To the right the rims and tires from USCP.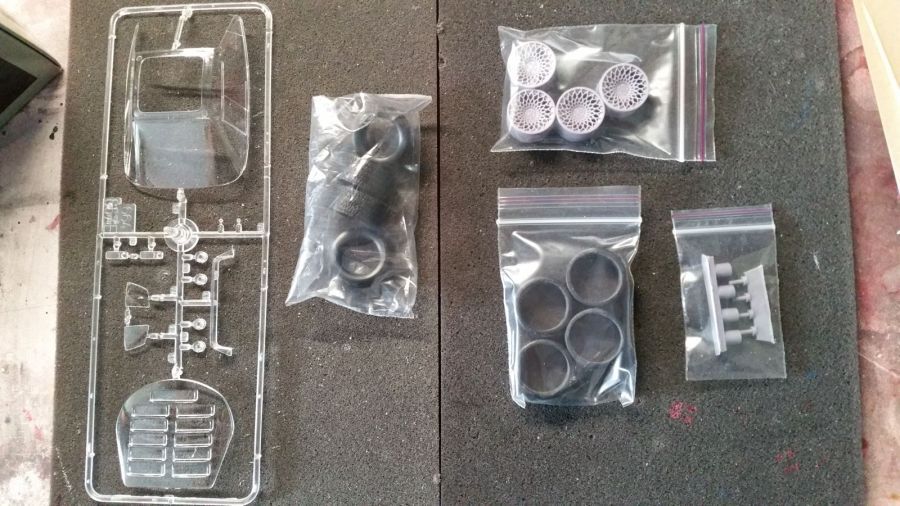 De extra decals.
The extra decals.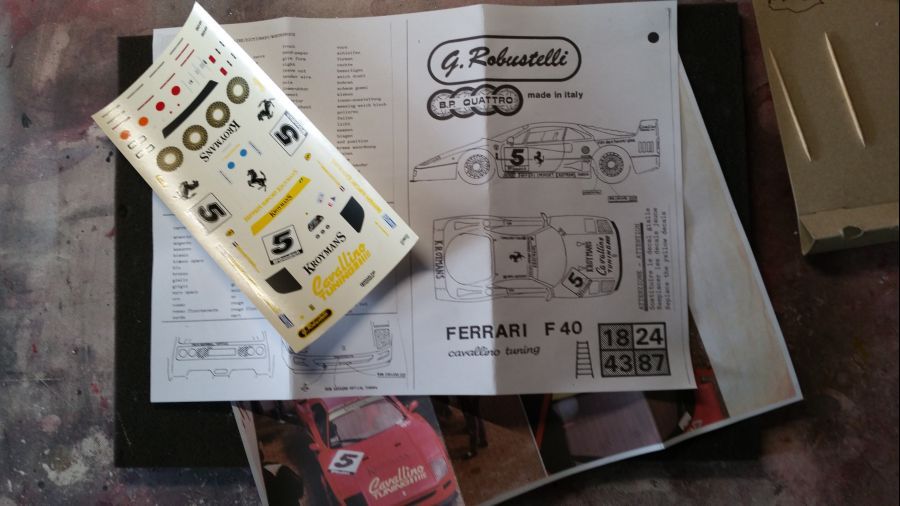 De achterklep is zo geconstrueerd dat deze gemakkelijk kan worden losgesneden en worden geopend. Ik maak daar geen gebruik van. De motor heeft niet heel veel detail en bovendien bevat de achterklep al een enorm stuk 'glas'. Daarnaast denk ik dat de boel niet meer mooi sluit.
The rear cover is made so it can be easily cut and opened. I will not use this feature. The engine doesn't have a lot of detail and the cover exists of a large piece of 'glass'. Also i think it will not close neatly anymore.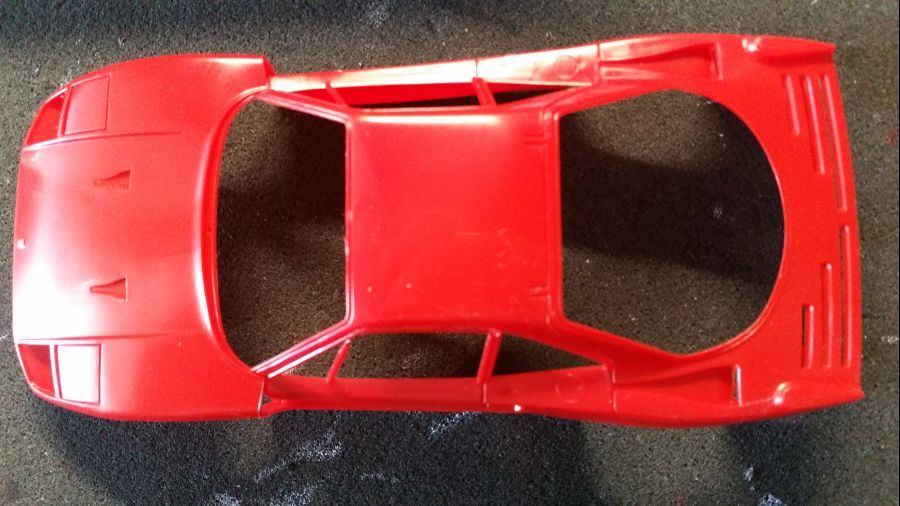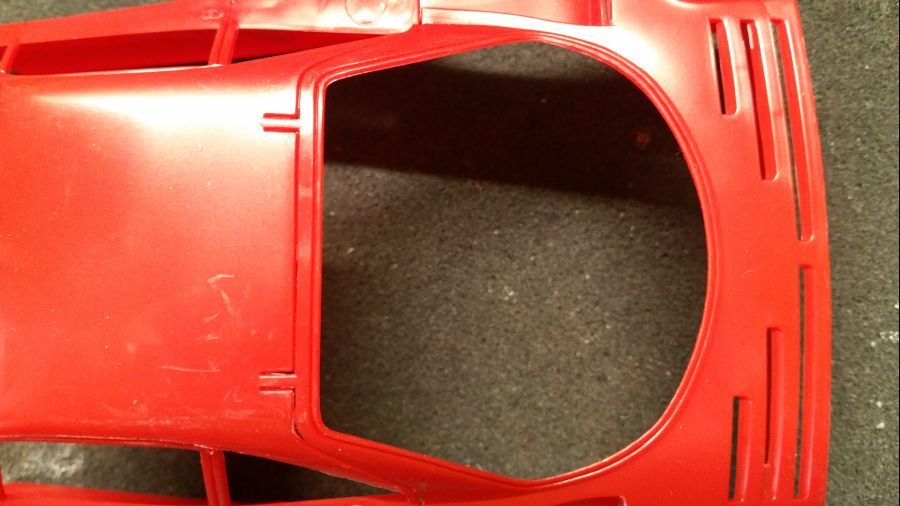 Een klein deel van de motor is in elkaar gezet en gespoten met Tamiya TS-14 Black. Daarna gaat er Alclad II Iron gespoten. De kleppendeksels zijn wit gespoten en krijgen een rode kleur van Zero Paints.
A small part of the engine has been assembled and painted with Tamiya TS-14 Black. Then it will be airbrushed with Alclad II Iron. The valve covers are painted white and will get a red colour from Zero Paints.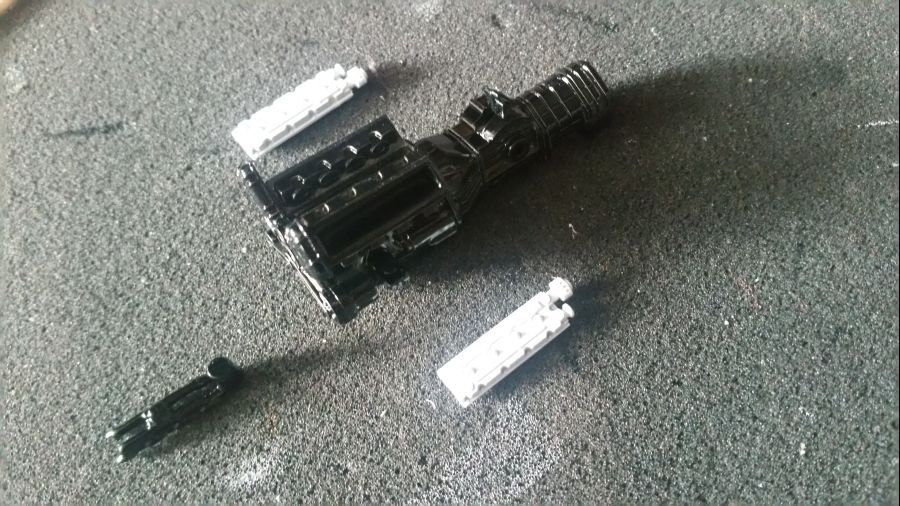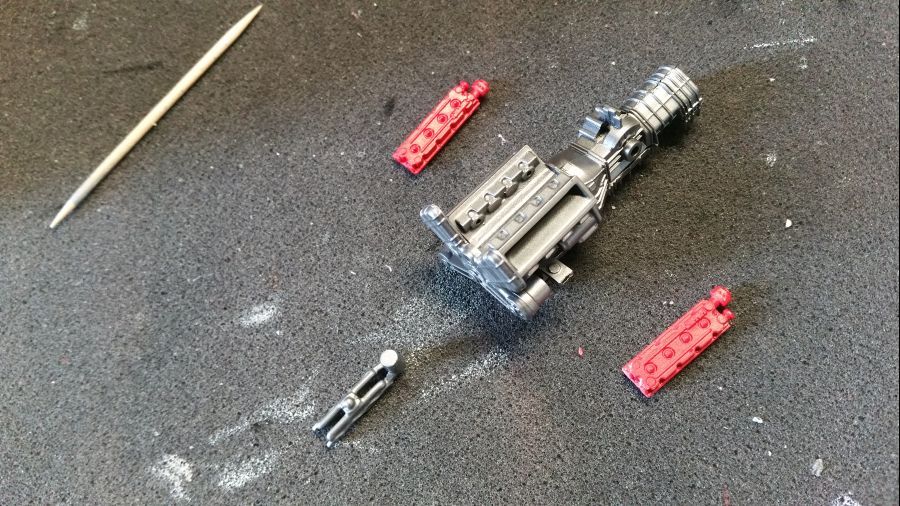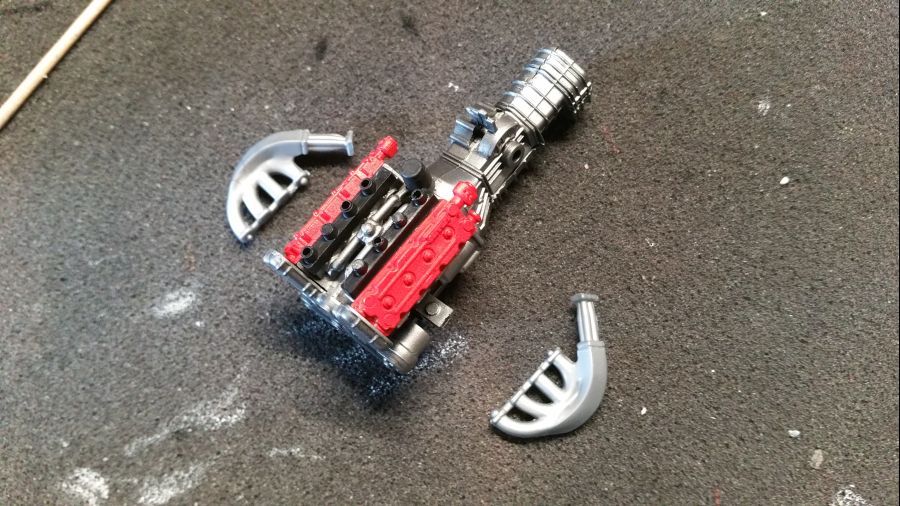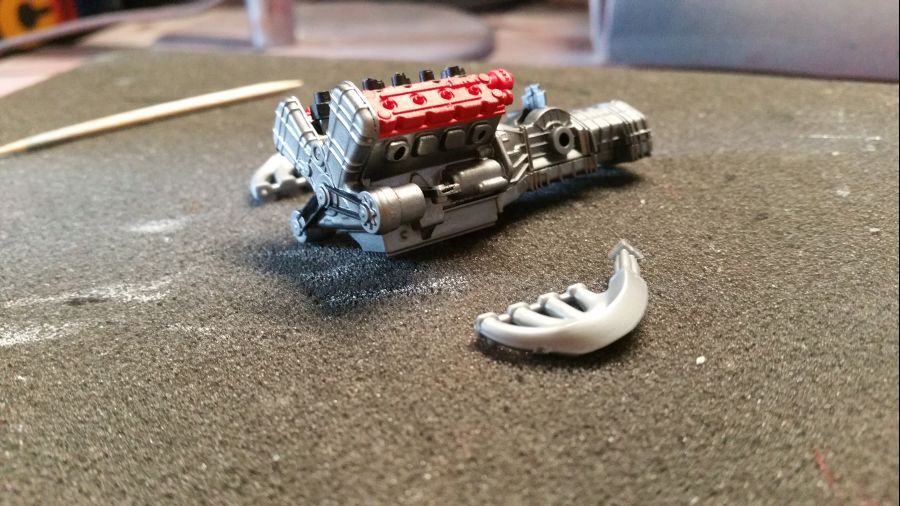 De uitlaatspruitstukken zijn zwart gespoten en daarna Alclad II Aluminium. Daarna behandel ik ze met Tamiya roest poeder. De kleppendeksels krijgen gaatjes voor de bedrading.
The exhausts manifolds have been painted black an then Alclad II Aluminium. Then i will use Tamiya rust powder on them. The valve covers get holes drilled for the wiring.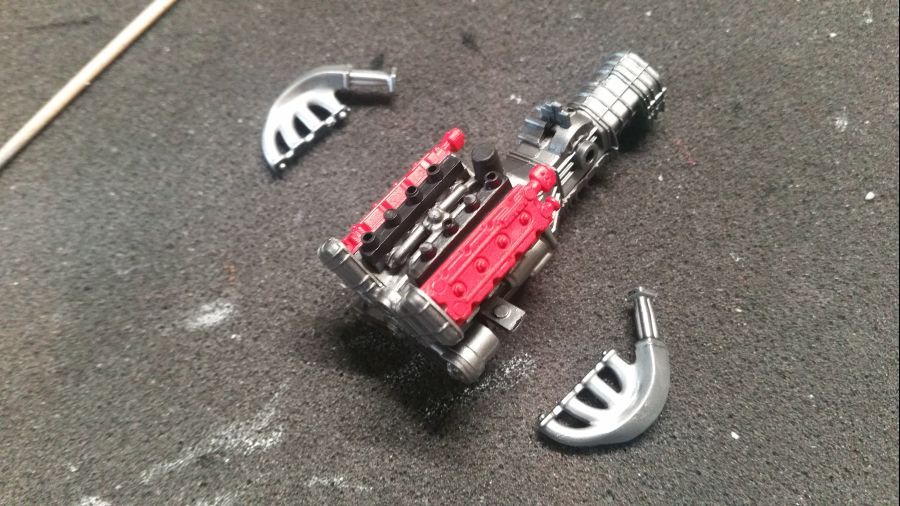 Veel onderdelen worden eerst zwart gespoten voordat de diverse kleuren Alclad II erop komen.
Many parts have been painted black before they get their various colours of Alclad II.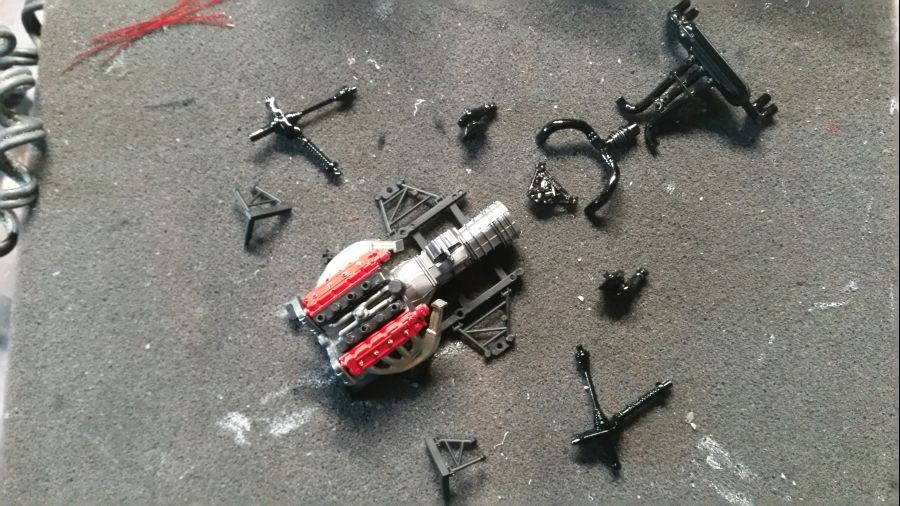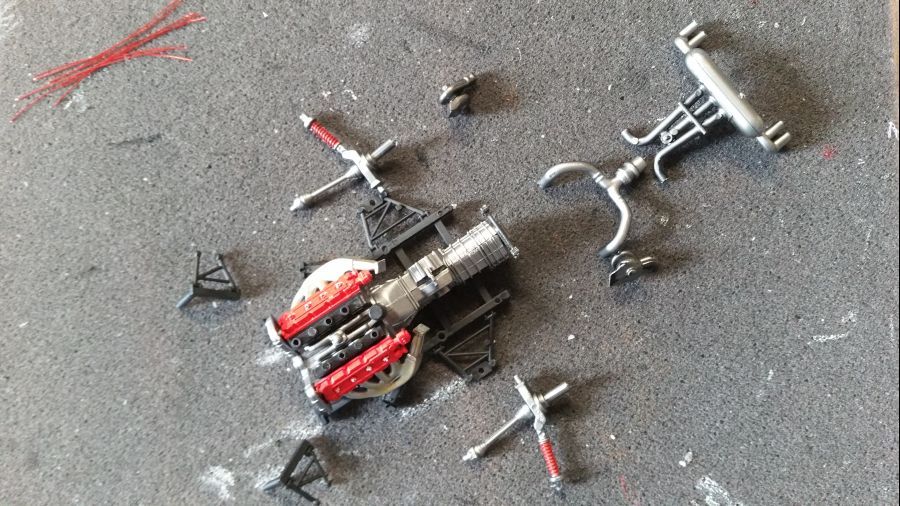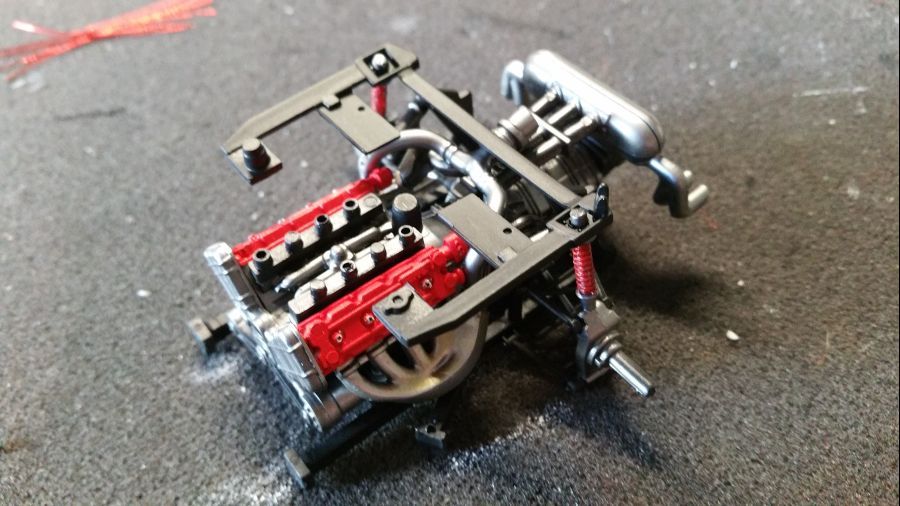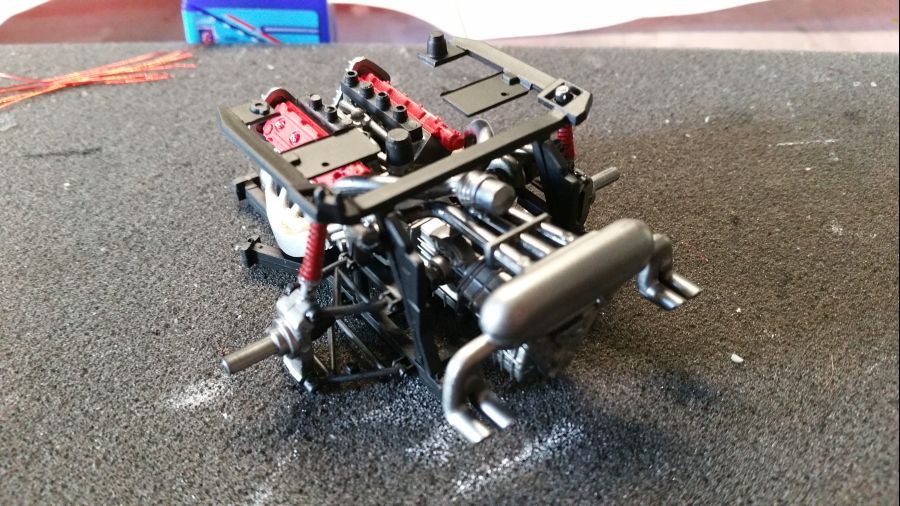 Ooops, ik heb de verkeerde uitlaat geïnstalleerd. Gelukkig kan ik dat nog corrigeren.
Ooops, I installed the wrong exhausts. Luckily i am still able to make corrections.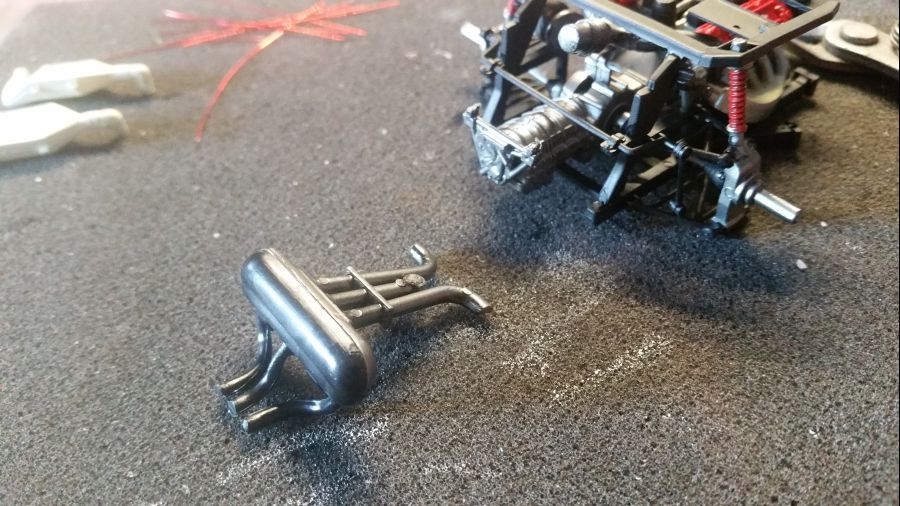 Dat is beter...
That's better...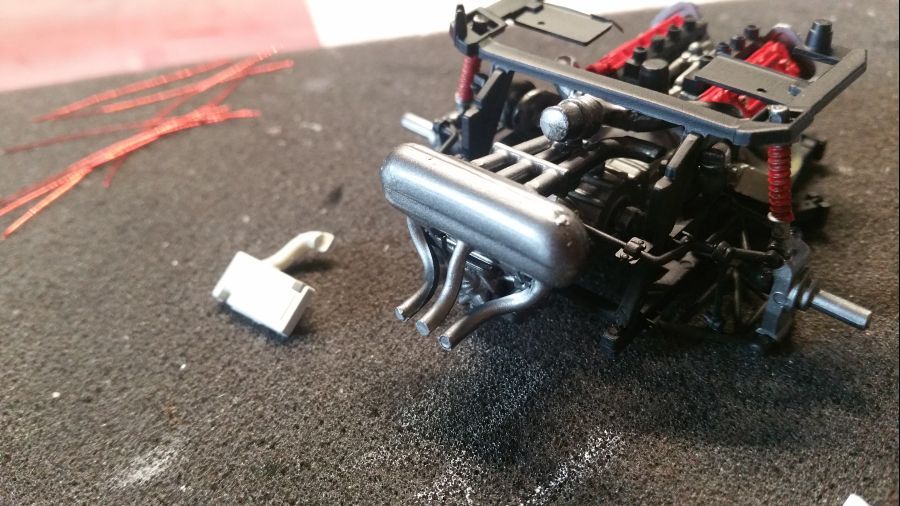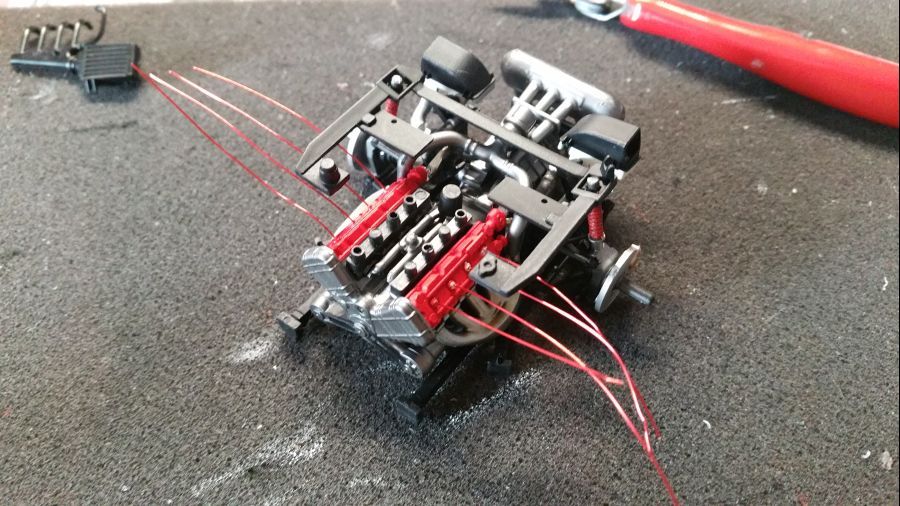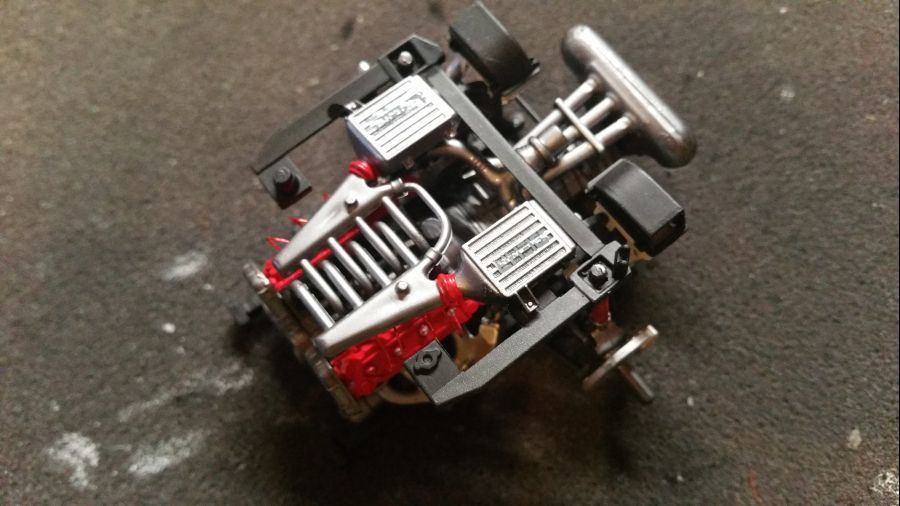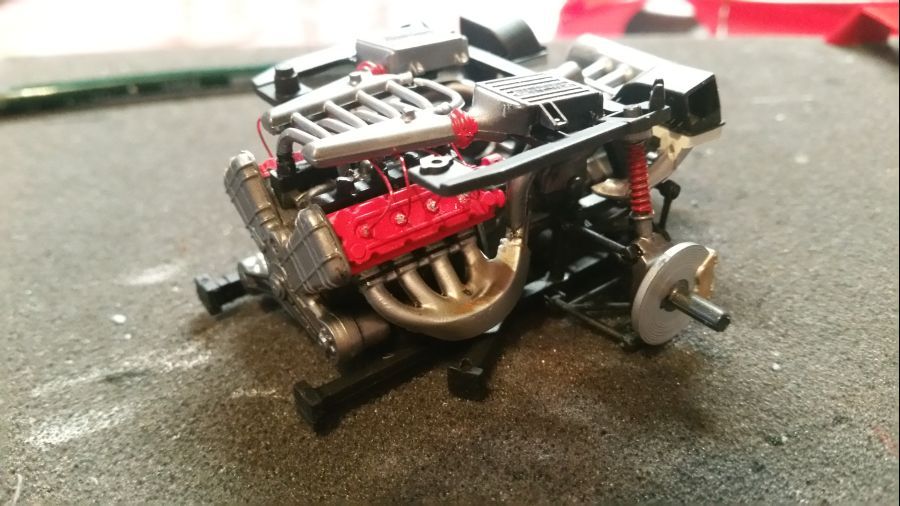 De vloer is zwart gespoten...
The floor has been painted black...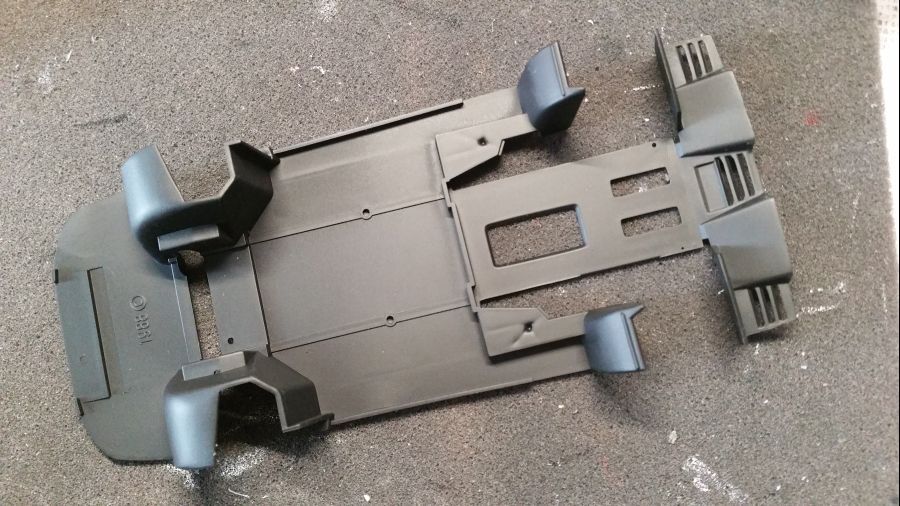 De body wordt zwart van binnen en de buitenkant eerst grondverf en daarna Tamiya TS-8 Italian Red.
The body gets black on the inside and the outside gets primer and then Tamiya TS-8 Italian Red.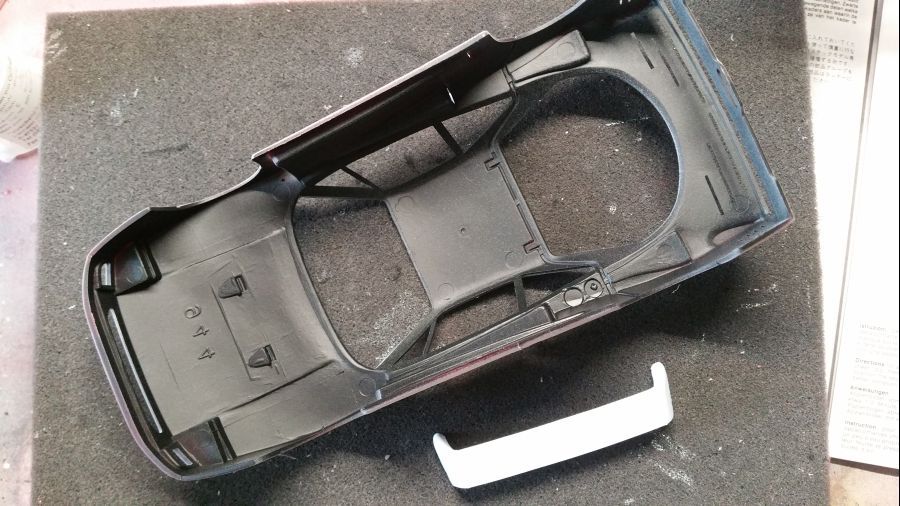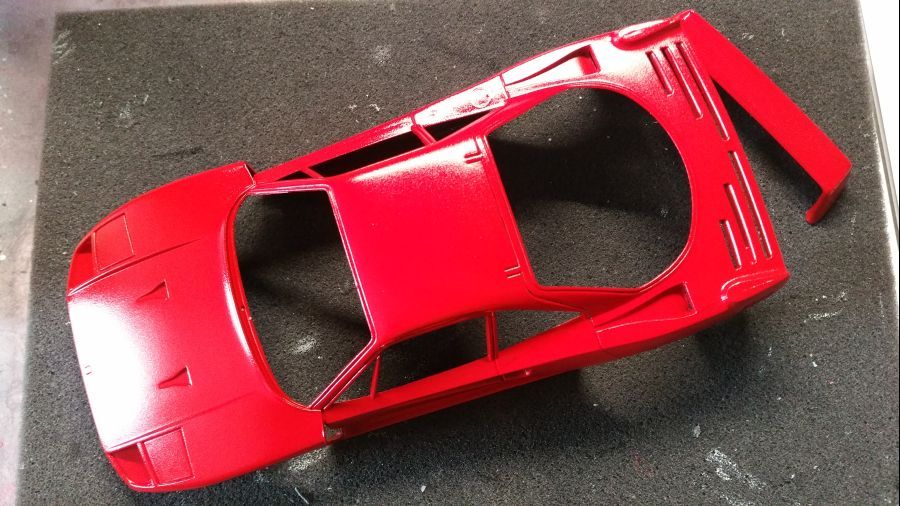 De voorwielophanging wordt aan de vloer bevestigd. Geen moeilijk karwei.
The front wheel suspension was attached to the floor. Not a difficult job.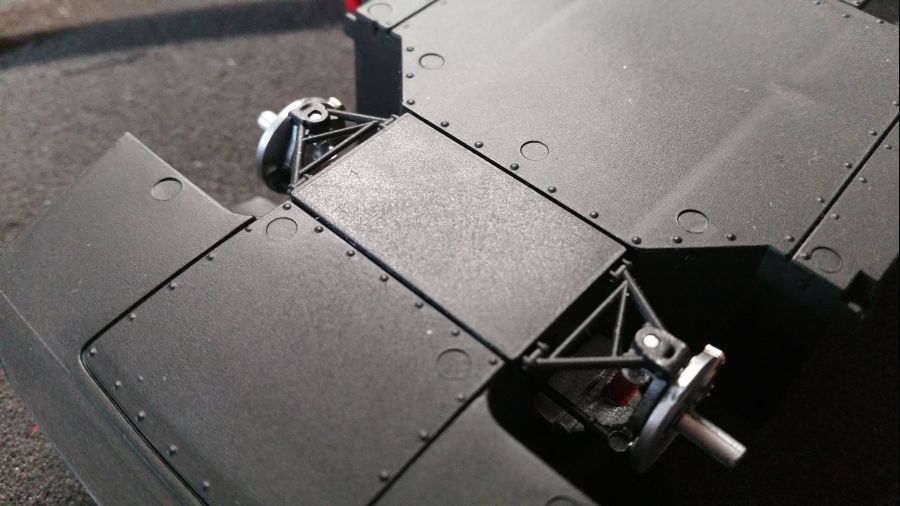 Dan de velgen van USCP. Ze komen niet helemaal overeen, maar dit was de beste optie. Het rode deel moet worden verwijderd. Het groene deel moet dan op die plek worden geplaatst. Natuurlijk precies in het midden. Het blauwe deel moet met de dikkere kant aan het paarse deel worden gelijmd. Uiteraard ook precies in het midden. De blauwe delen moeten ietwat worden ingekort aan de smallere kant. De dikkere kant past precies in de opening van het groene deel. Daarna worden de velgen geverfd met Tamiya TS-87 Titanium Gold.
Next are the rims from USCP. They do not match 100%, but is was the best option. The red part needs to be cut. The green part needs to be attached at that place. Of course exactly in the middle. The blue part needs to be glued to the purple part with the wider side. Of course also in the middle. The blue parts need to be cut a bit on the smaller side. The wider side fits exactly in the opening of the green part. Then the rims are painted with Tamiya TS-87 Titanium Gold.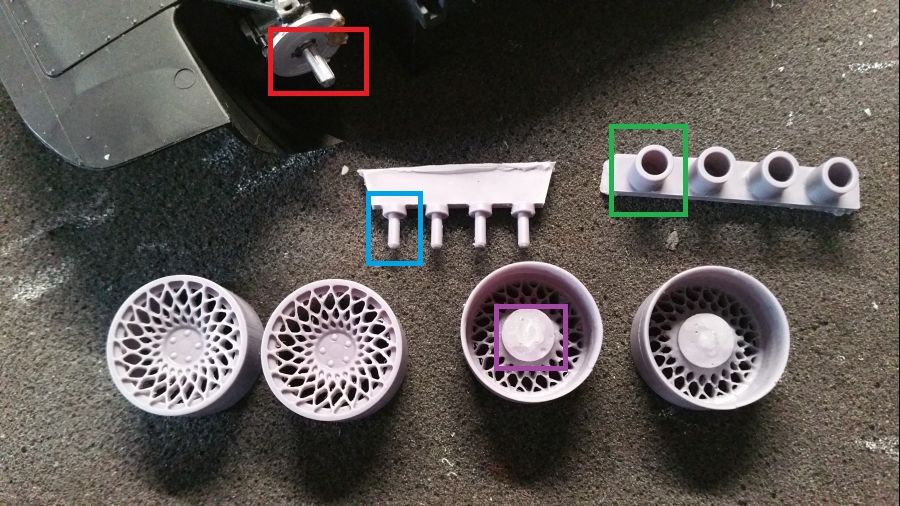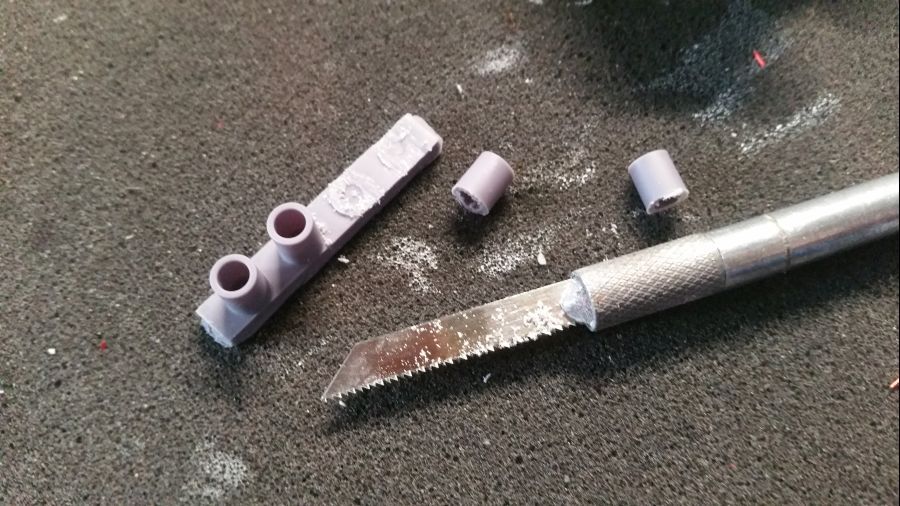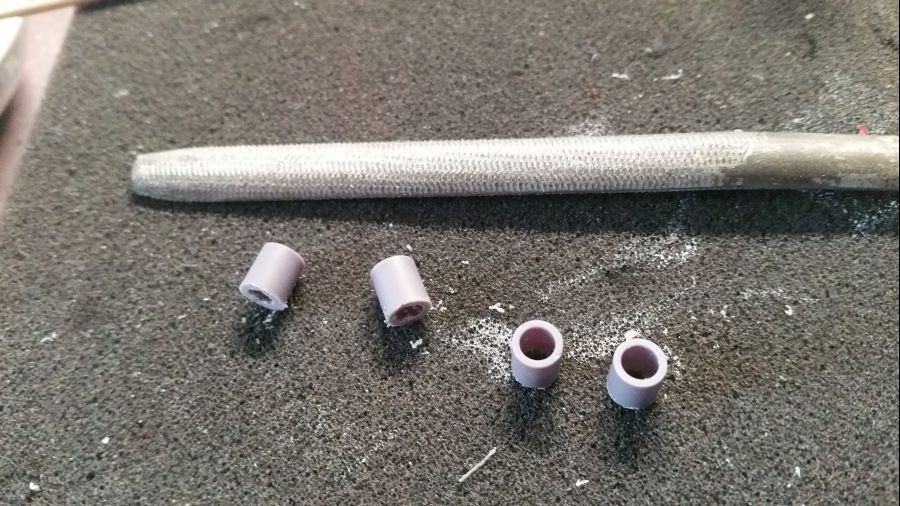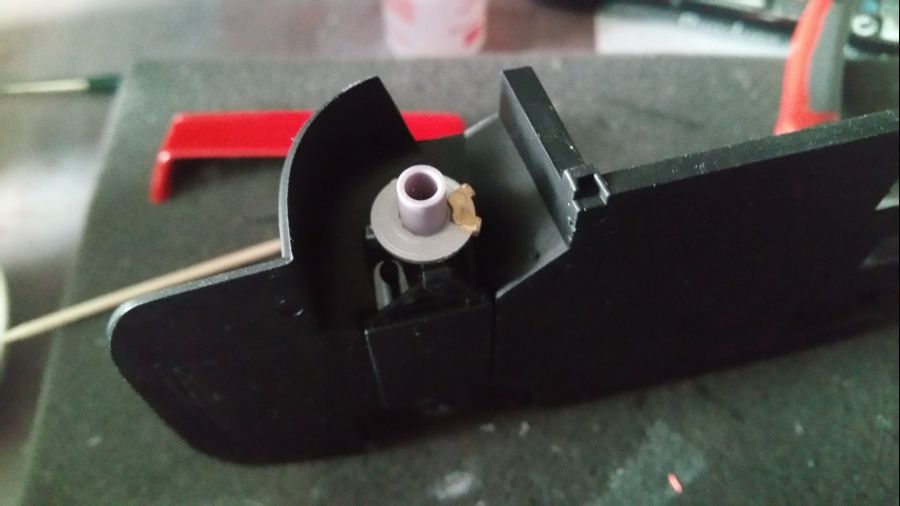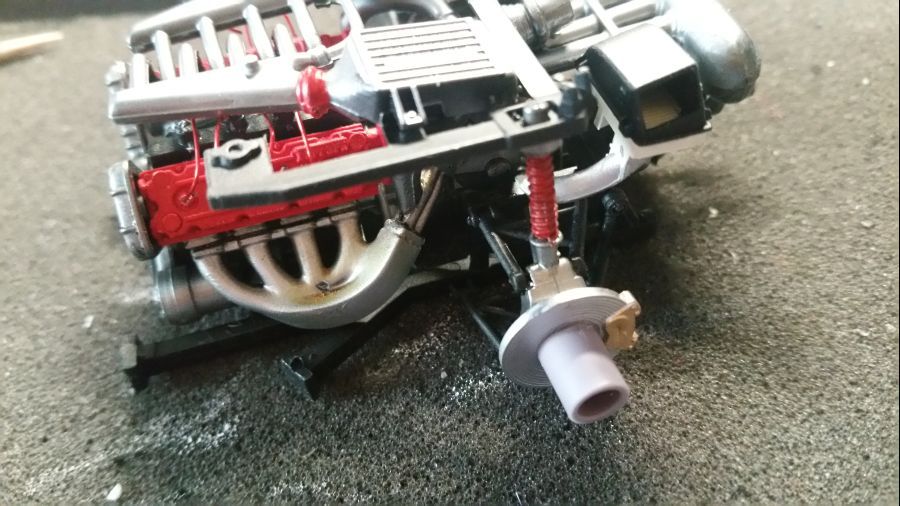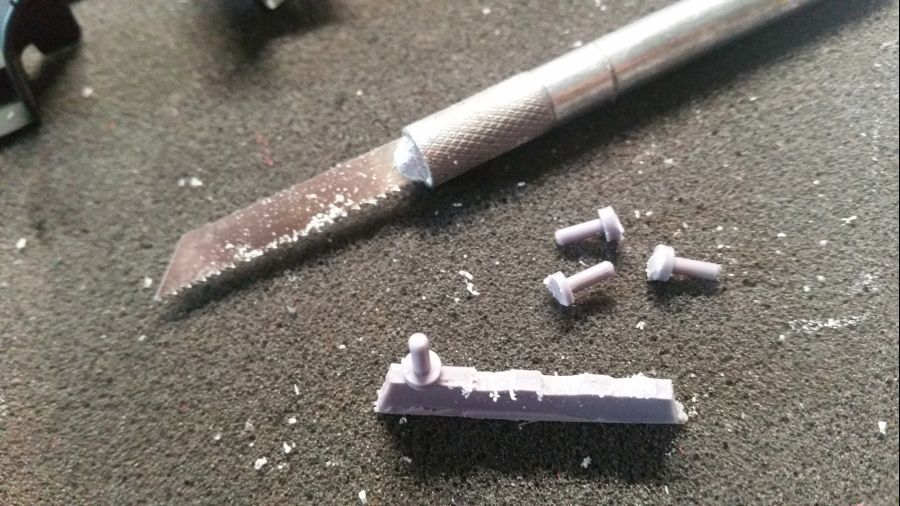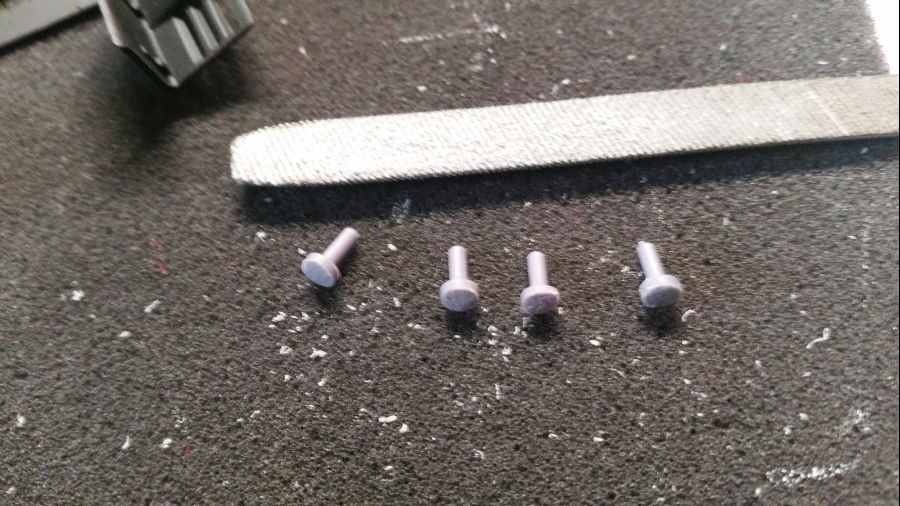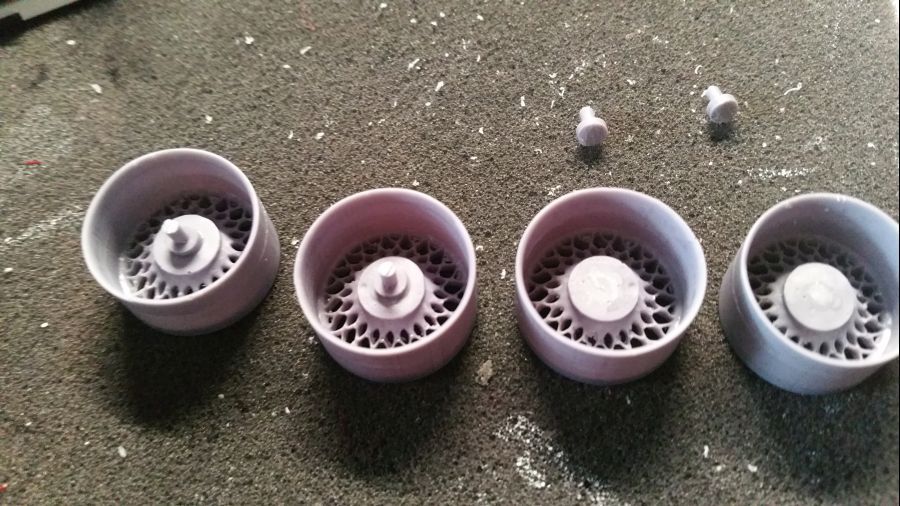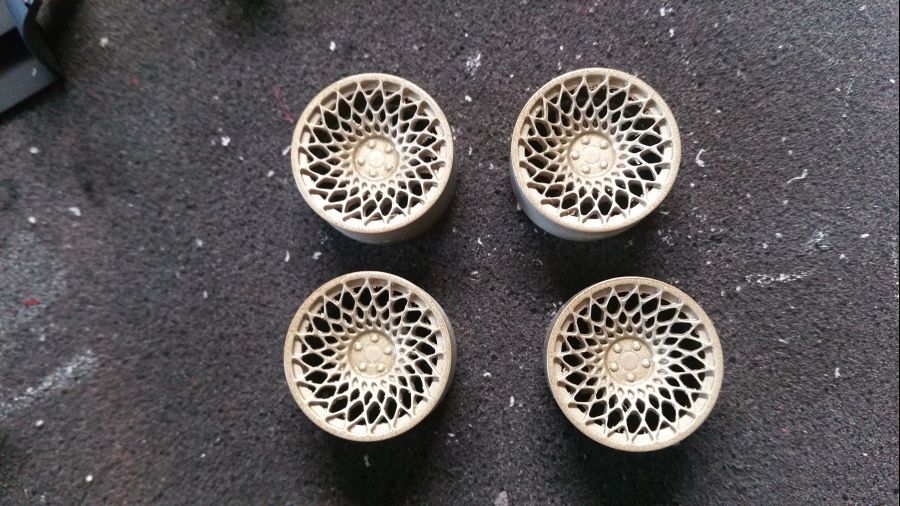 Terwijl dit droogt, maak ik een begin met de rubberranden van de ramen. Ik doe dit met een verfpen...
While this dries, i will start the rubber of the windows. I will do this with a paint pen...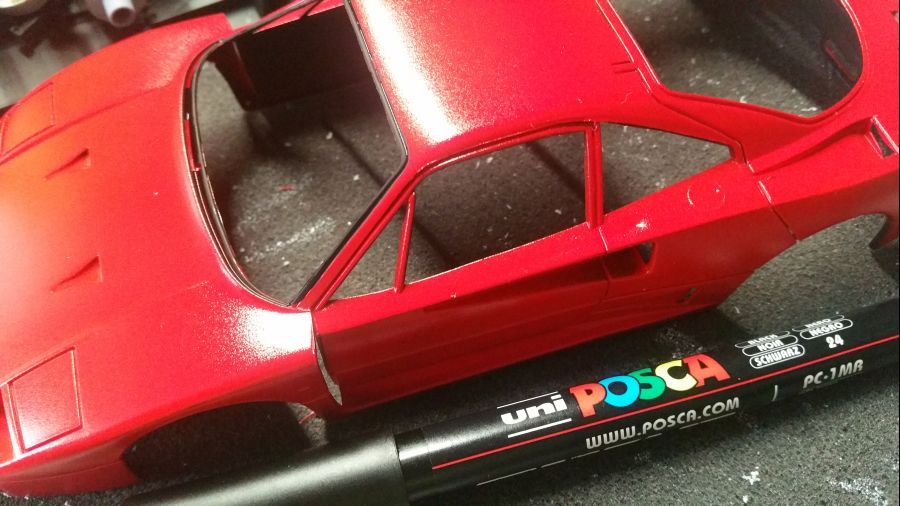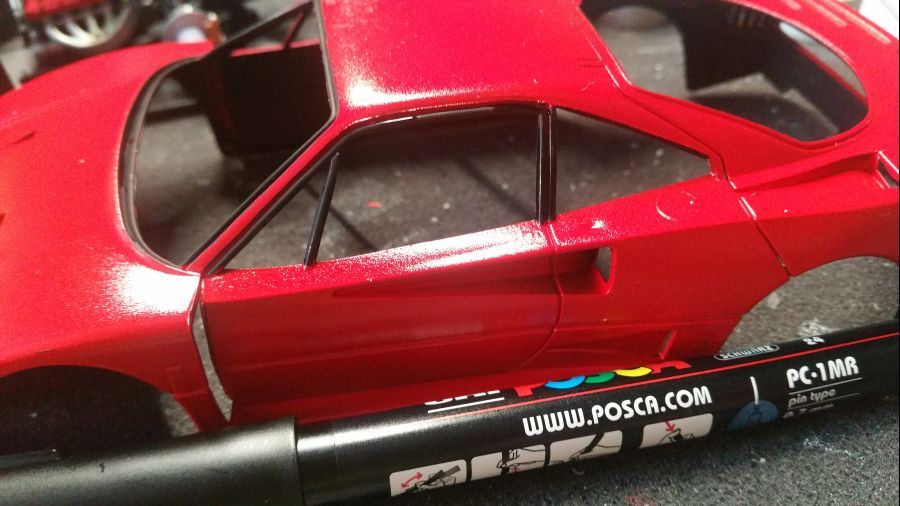 Dan de banden op de velgen en even passen....  Ik vind het er mooi uitzien.
Then the tires to the rims and a test fit....  I think it looks good.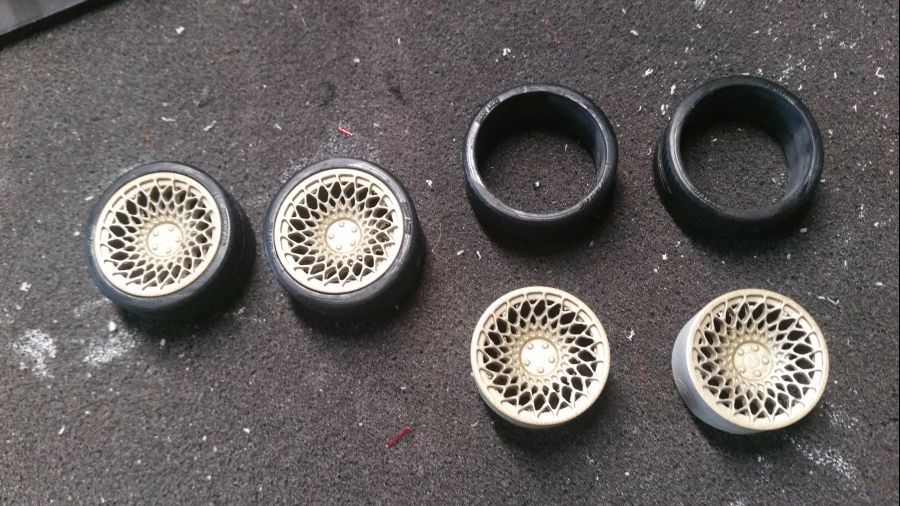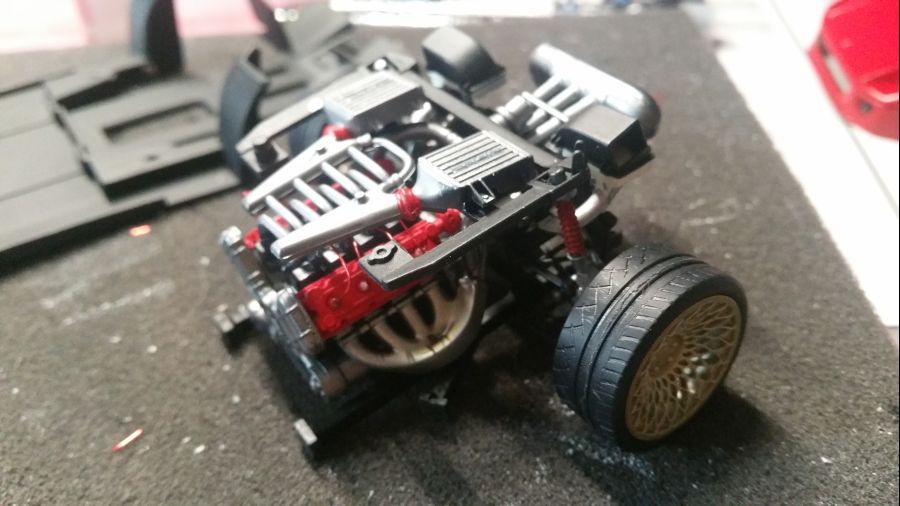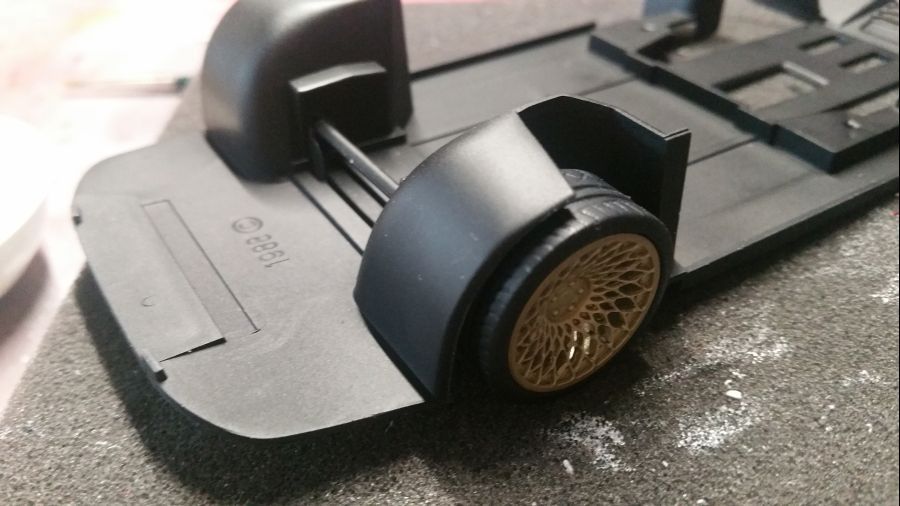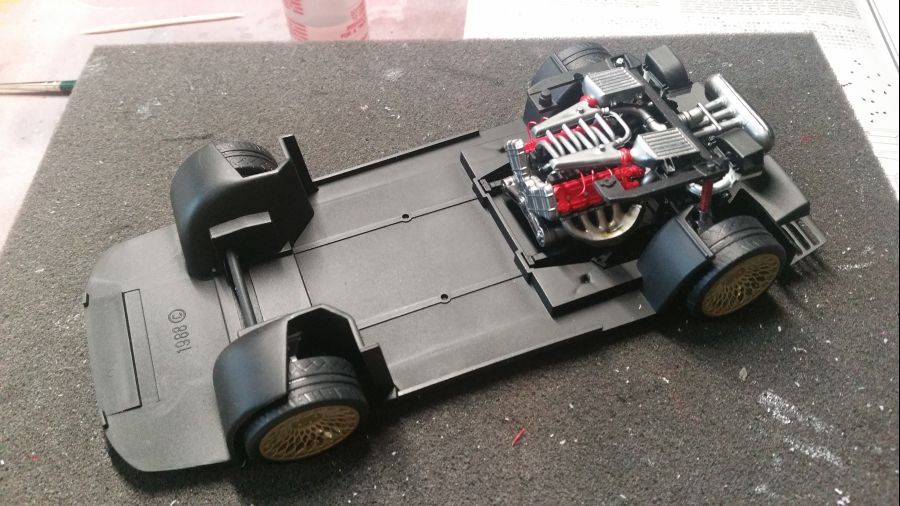 Verder met het interieur. Er worden wat details aangebracht. De brandblusser vond ik in mijn rommelkist.
Now to continue with the interior. Some details are being applied. The fire extinguisher came out of the scrap box.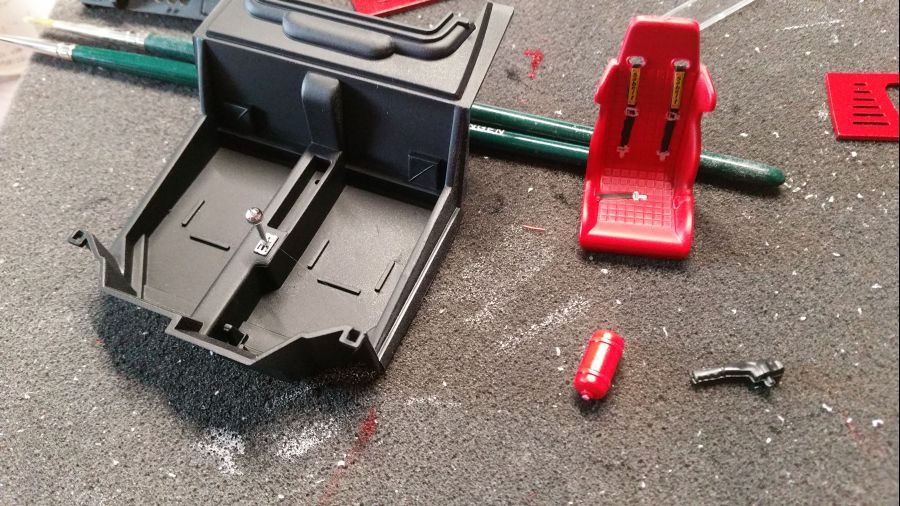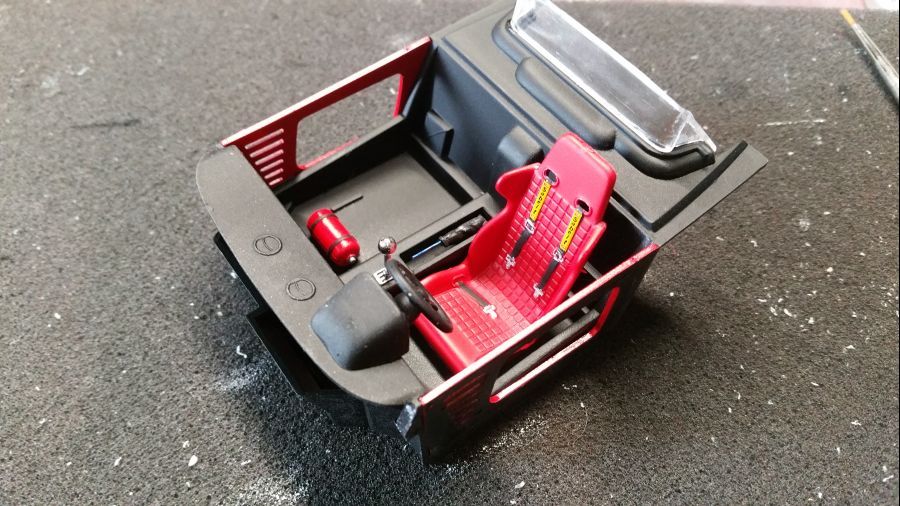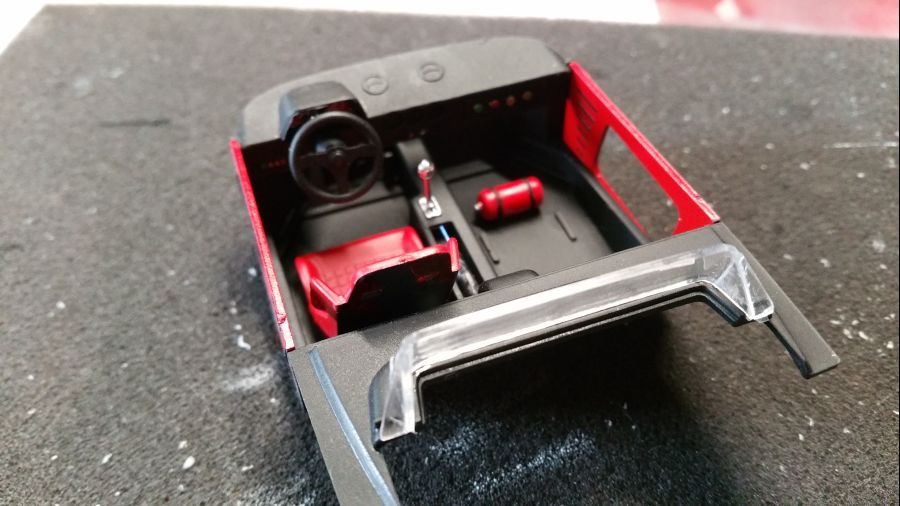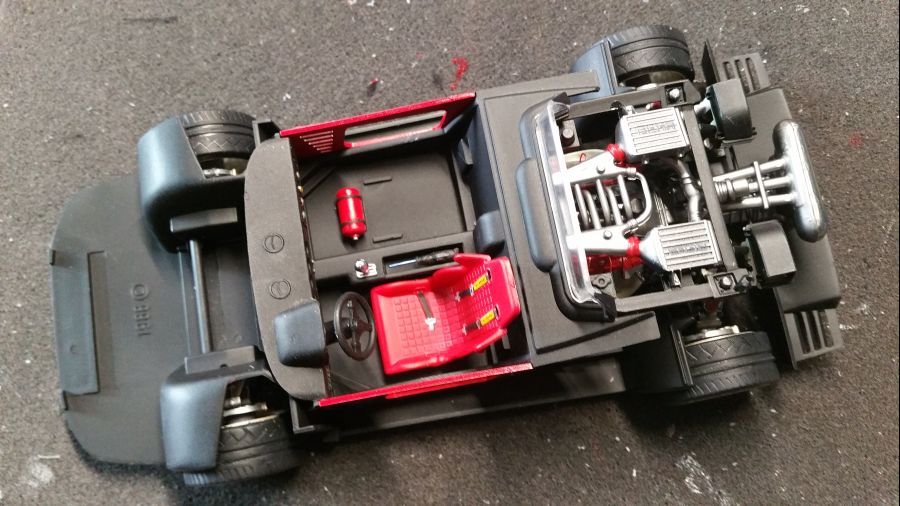 Foutje gemaakt. Ik heb het glas alvast geplaatst. Dat had niet gemoeten in verband met het spuiten van een laag glanslak. Dat kan nu niet meer. Misschien echter maar goed ook. De decals waren erg dun. Zij zouden wellicht een laag TS-13 niet overleven, maar smelten.
I mad a mistake. I attached the windows. It should not have been done because of spraying a layer of clear gloss. Now it's not possible anymore. Maybe it's good though. The decals were very thin. Maybe they wouldn't survive a layer of TS-13 and melt.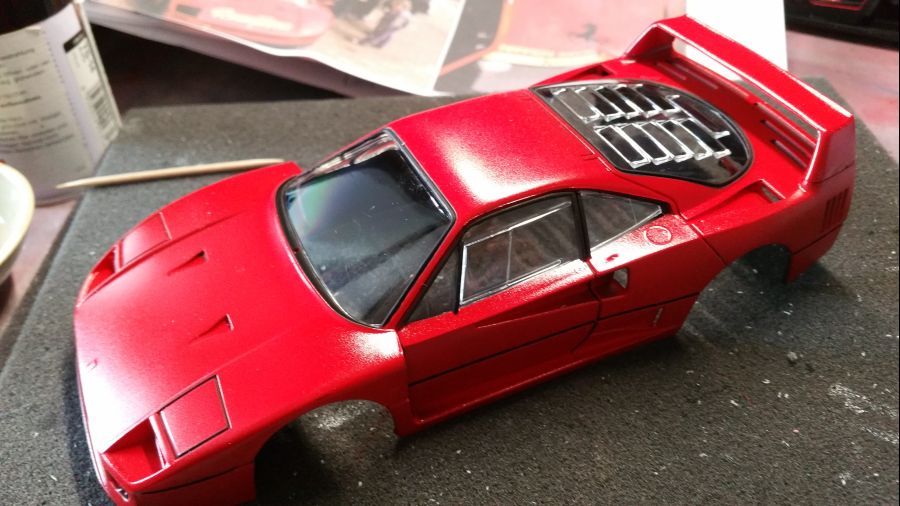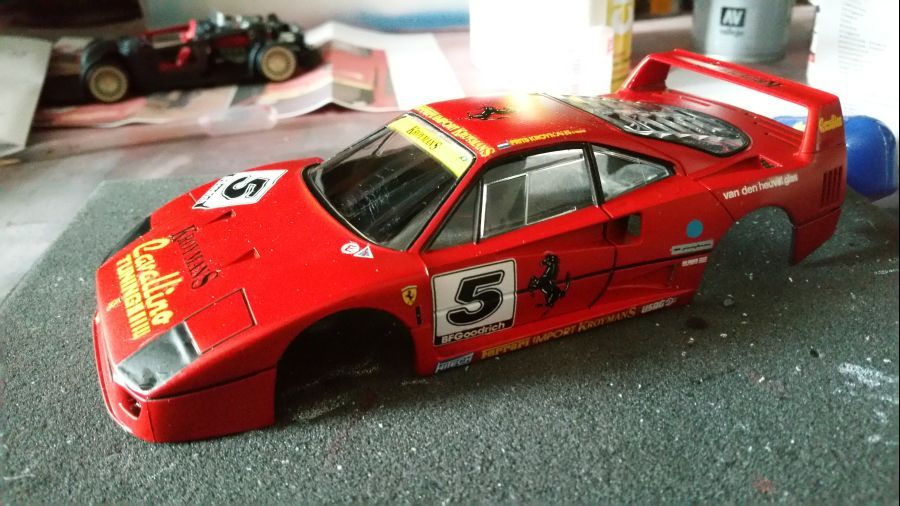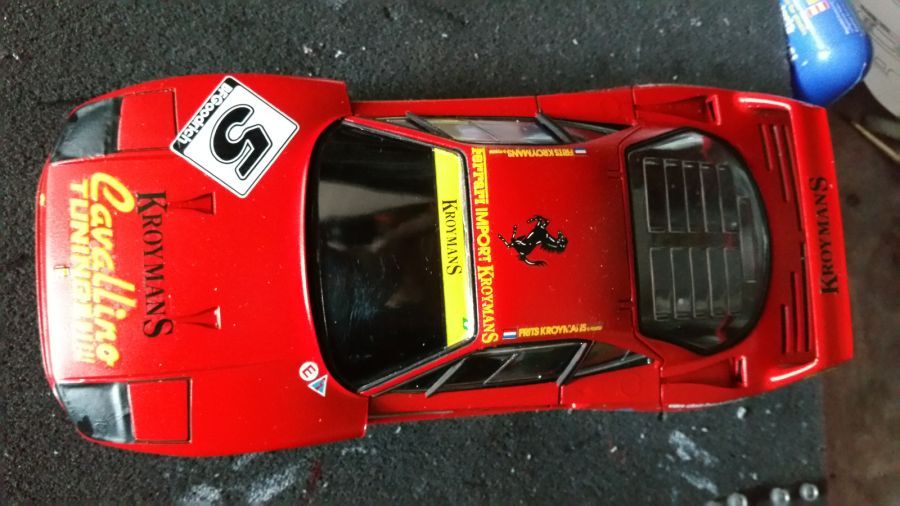 Het chassis is helemaal klaar. De bovenkant kan er op.
The chassis is finished. The top side can be attached.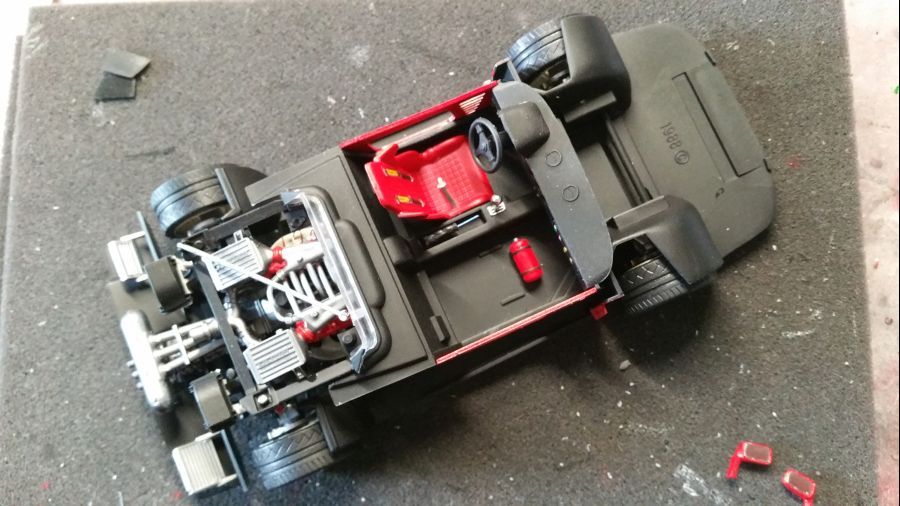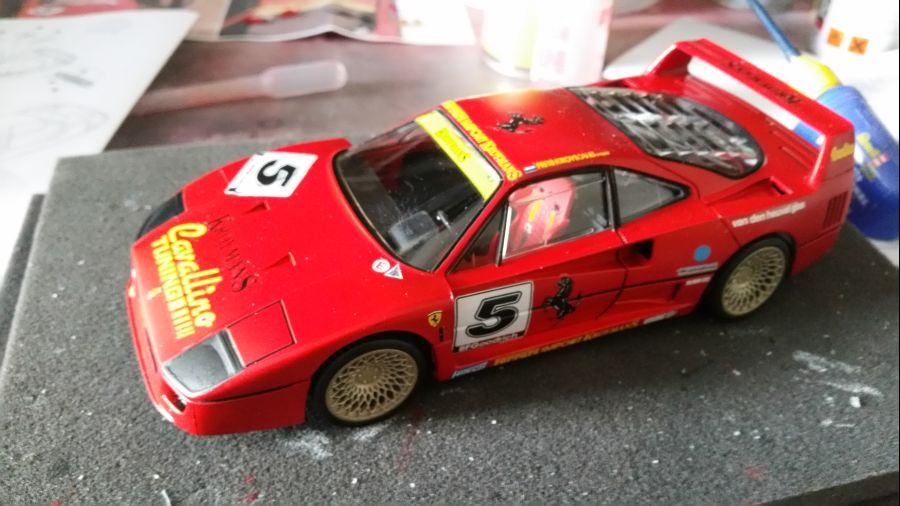 De achterkant krijft de uitlaten en de achterlichten.
The back gets it's exhausts and the back lights.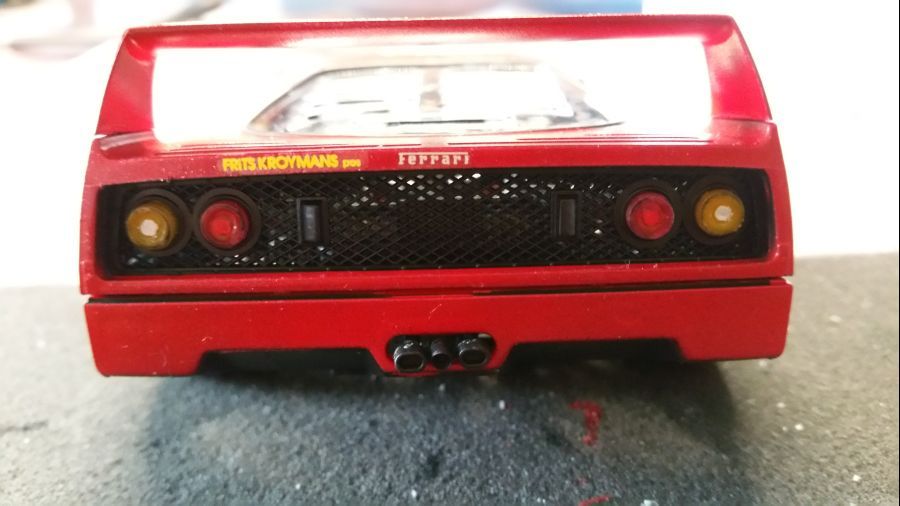 Na het plaatsen van de spiegels kan er weer 1 in de garage...
After attaching the mirrors, another one can be put in the garage...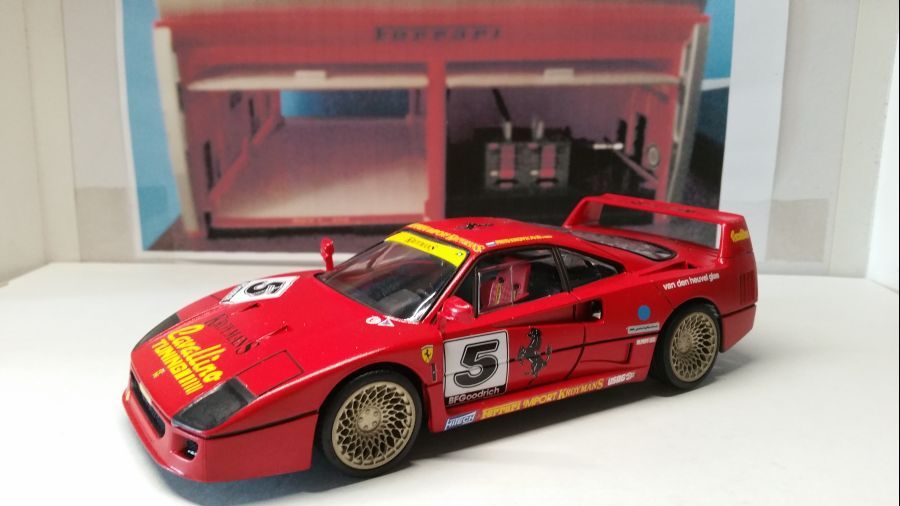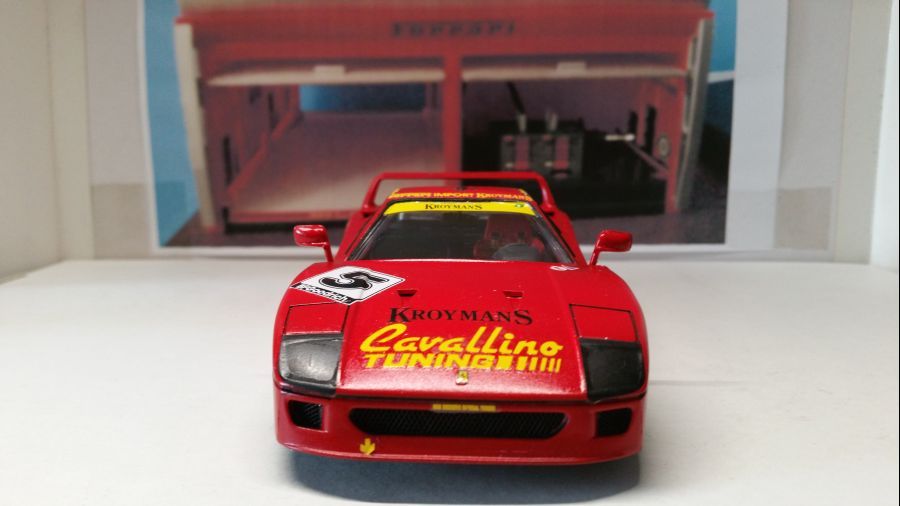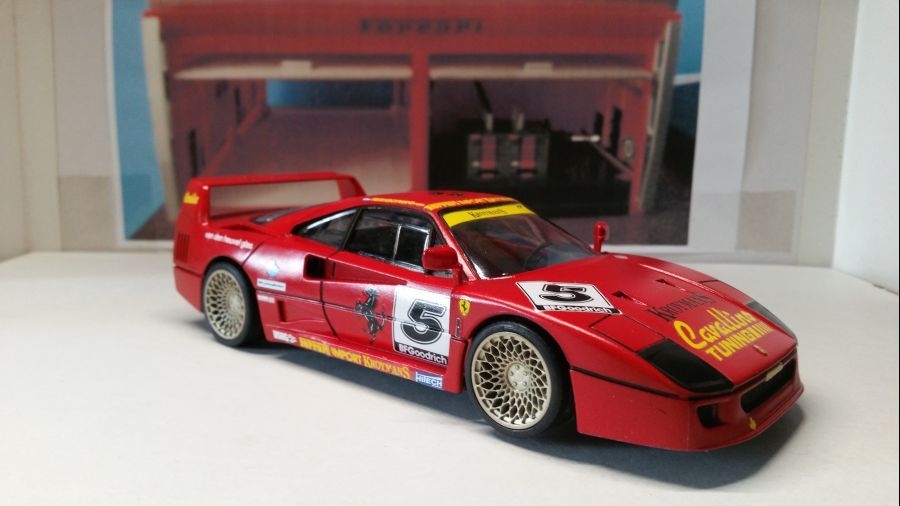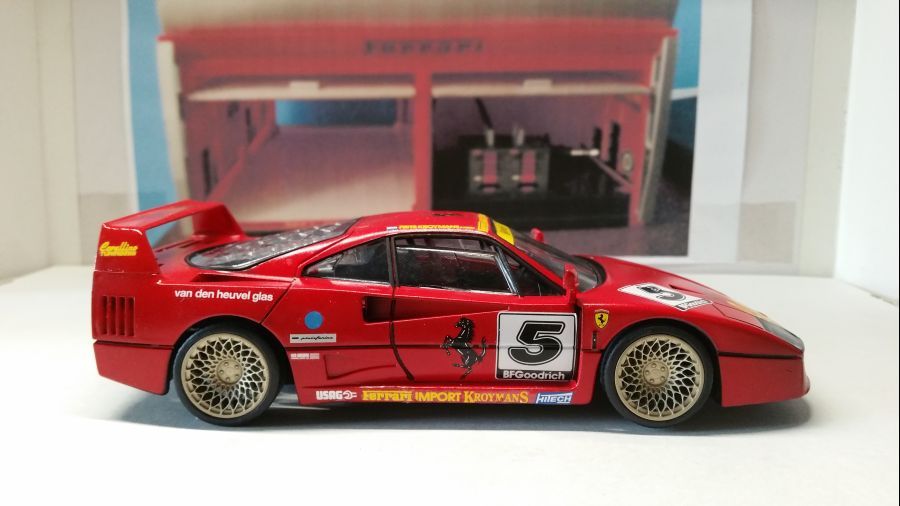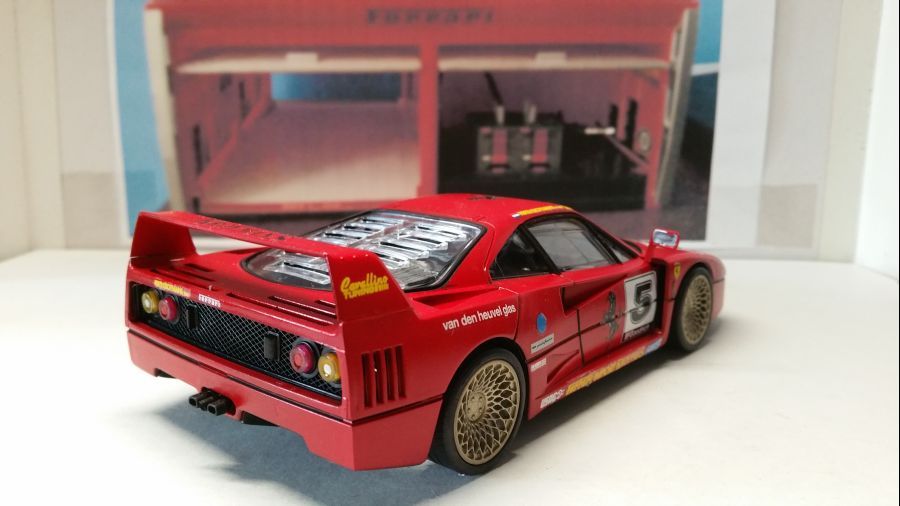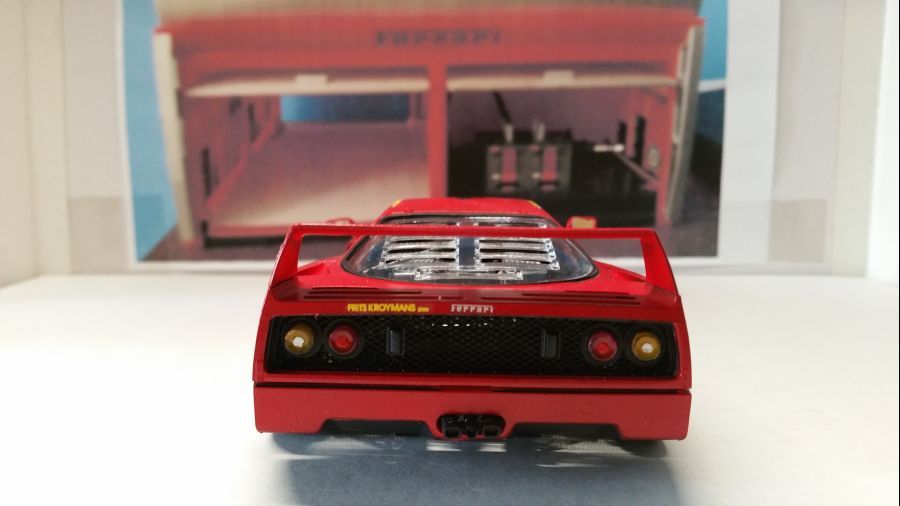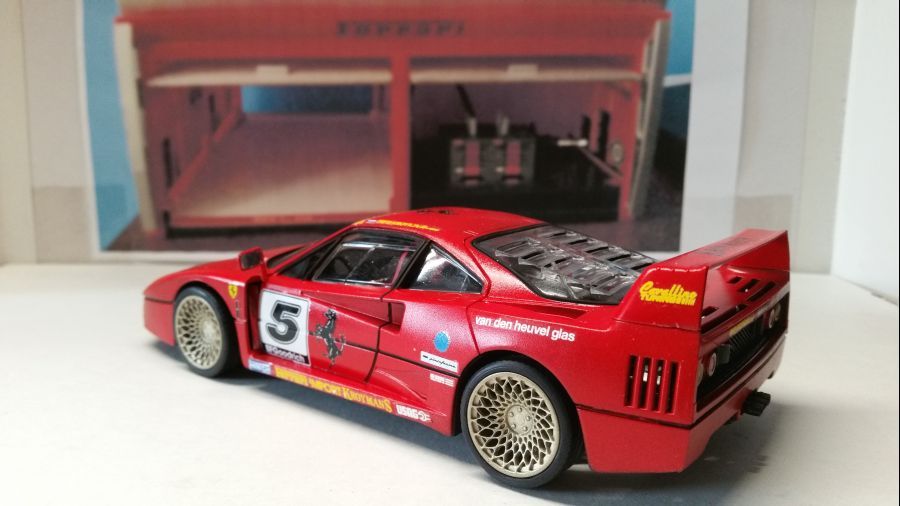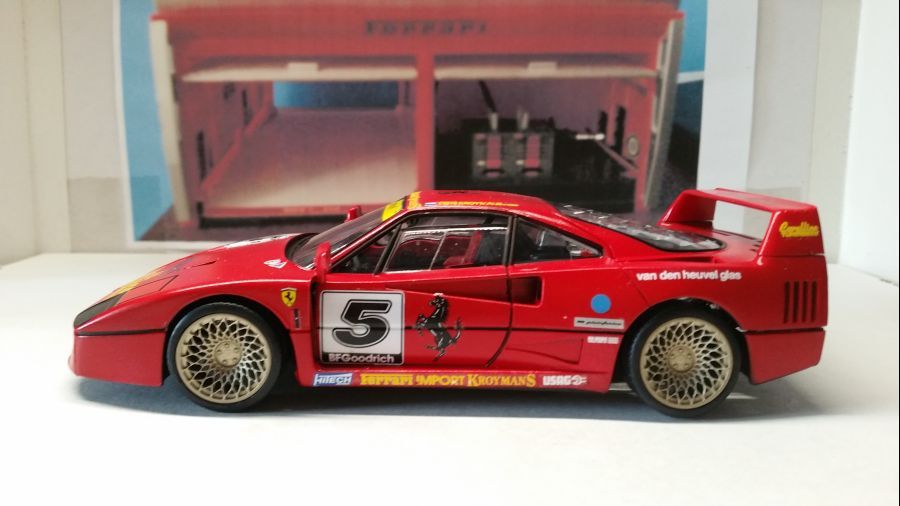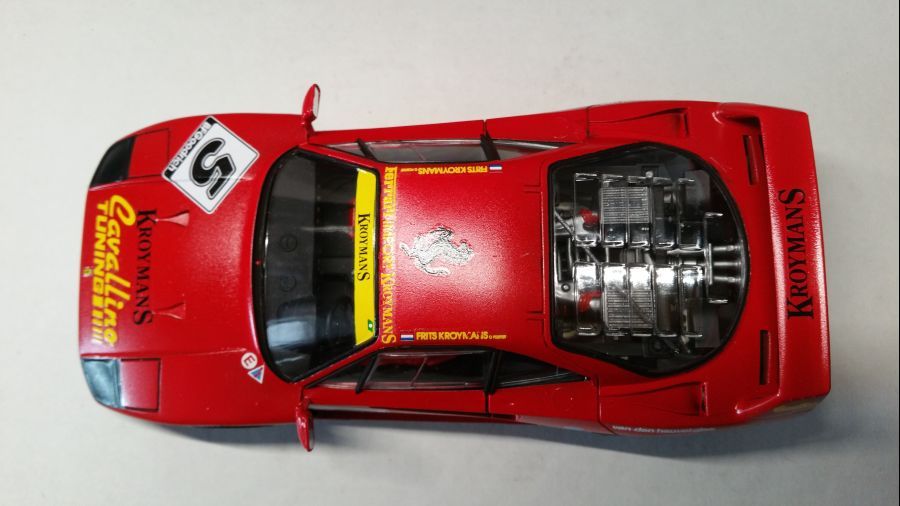 Evaluatie: Geen echte problemen met deze kit. Alleen is het oppassen met het plaatsen van de turbo's. Dat is een behoorlijk lastig karwei...
Evaluation: No real problems with this kit. Just be careful when attaching the turbo's. That's quite tricky...