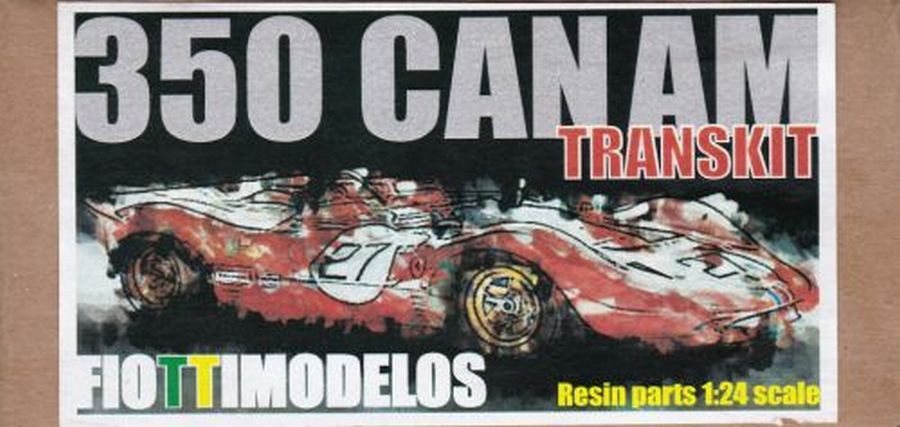 Het volgende project. Nu een Ferrari 350 Can-Am uit 1967. De wagen is geboren uit een Ferrari 412P naar een idee van Luigi Chinetti. Deze wagen deed mee aan de race op Riverside in 1967 en werd bestuurd door Jonathan Williams (#27). De #23 auto werd bestuurd door Chris Amon. De kit is van Fiotti Modelos. Het is een conversie kit met een Ferrari 330P4 van Fujimi (kit nr 125756) als donor. De kit is erg goed gegoten. Dat ben ik wel eens veel slechter tegen gekomen. Er zit geen tekening bij. Ik denk echter dat het bouwen niet veel problemen geeft. Eerst maar weer de bekende fotosessie. De laatste van deze foto's toont de conversiekit.
The next project. Now a Ferrari 350 Can-Am from 1967. The car was born out of a Ferrari 412P to the idea of Luigi Chinetti. This car drove at the race on Riverside in 1967 and was driven by Jonathan Williams (#27). The #23 car was driven by Chris Amon. The kit is from Fiotti Modelos. It's a conversion kit with a Ferrari 330P4 from Fujimi (kit no 125756) as a donor. The casting is very good. I have seen this much worse. There is no instruction on the build. But i think it will not give many problems. First of all the well known photo session. The last picture of these shows the conversion kit.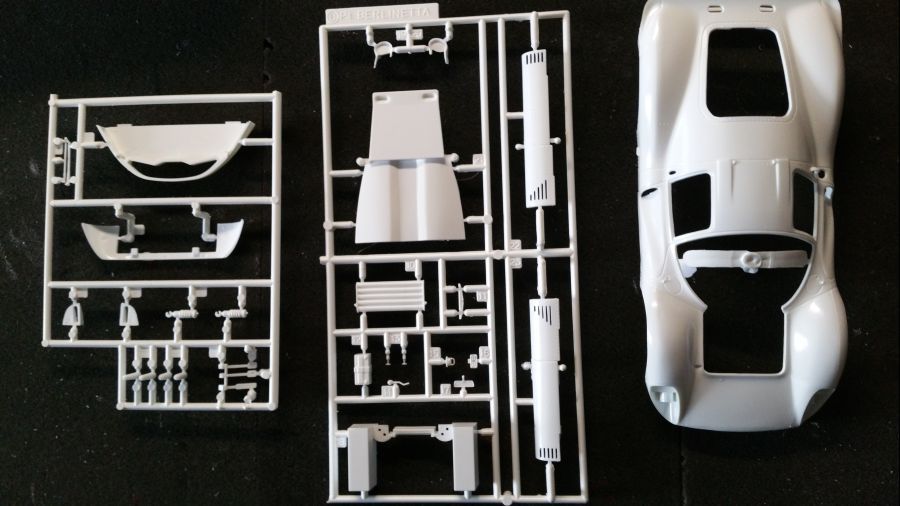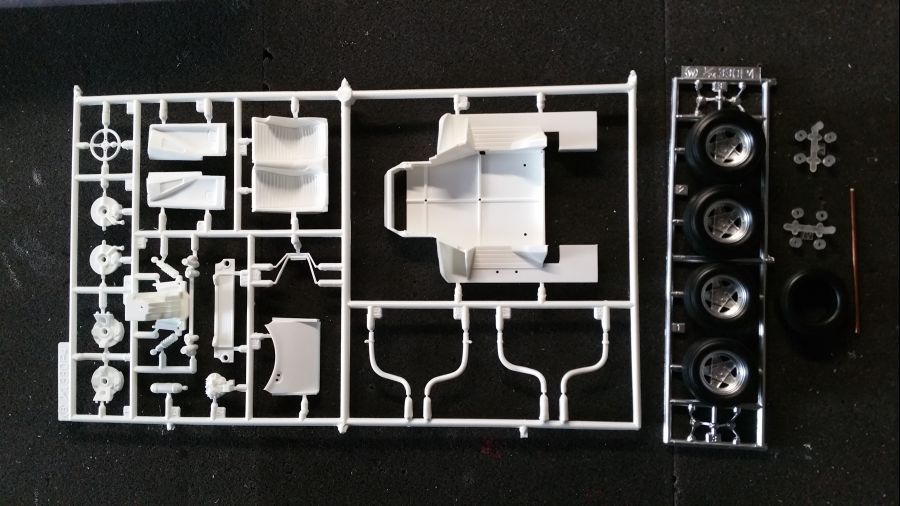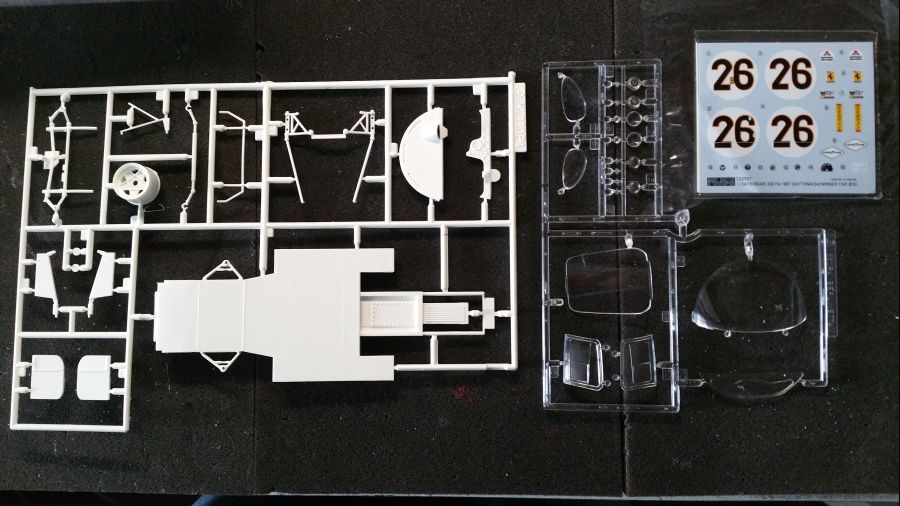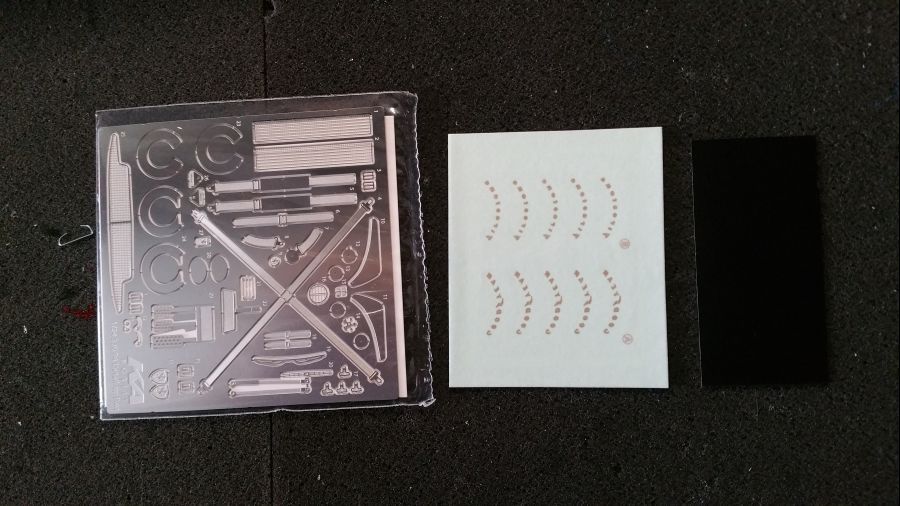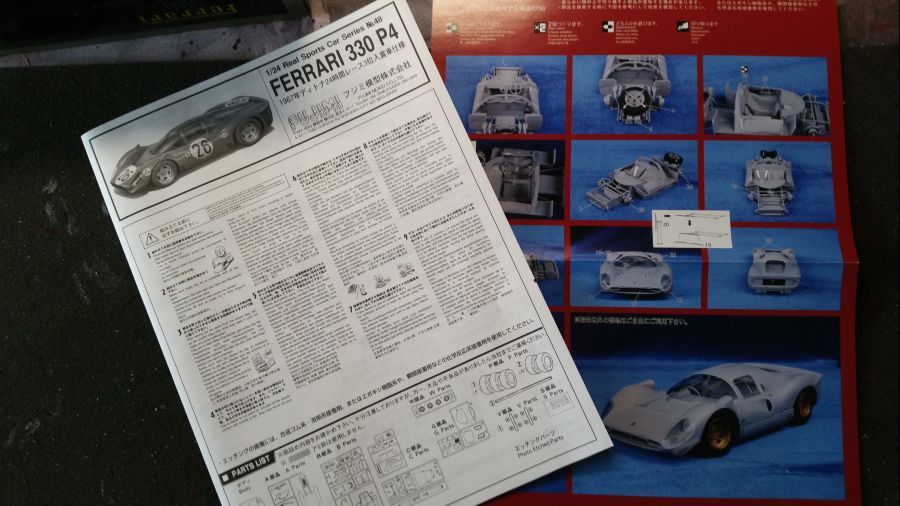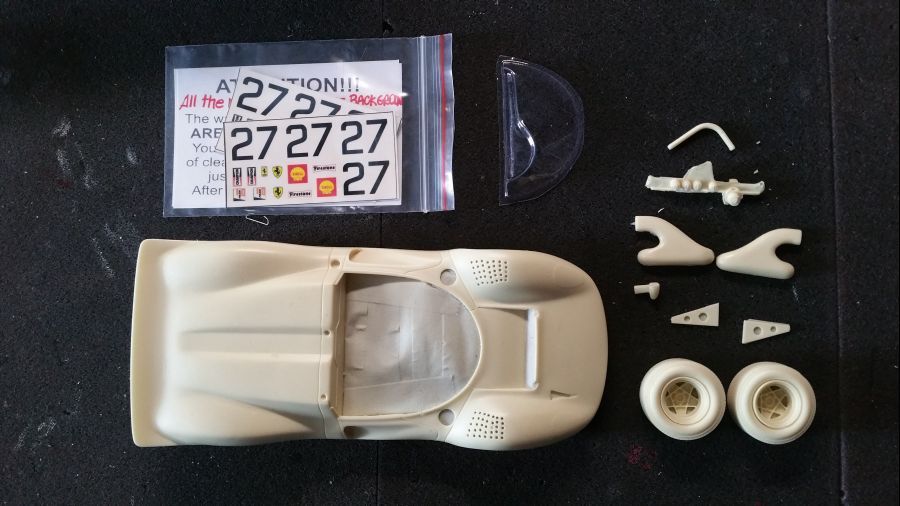 Eerst maar even het resin bodywerk ontdoen van het teveel aan resin... Het bodywerk is persoonlijk getekend door de maker.
First i will clean up the resin body work of excess resin... The body work has been autographed by the creator.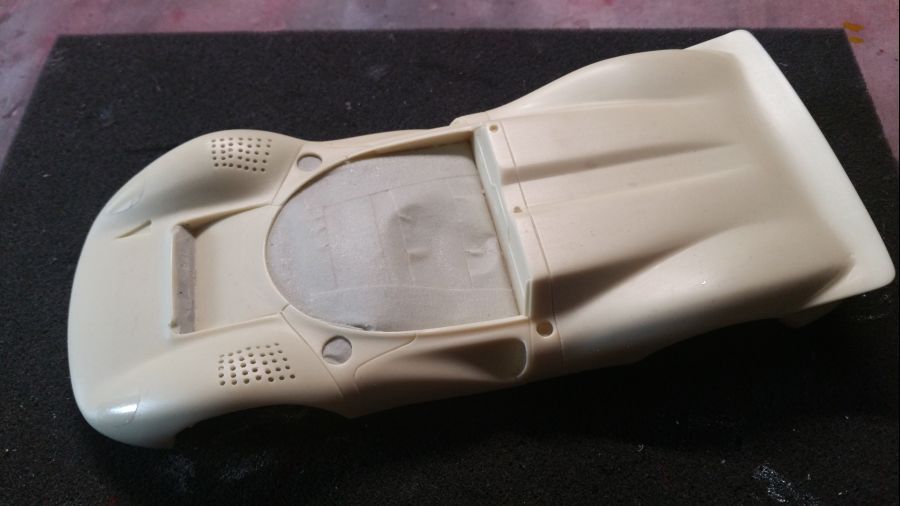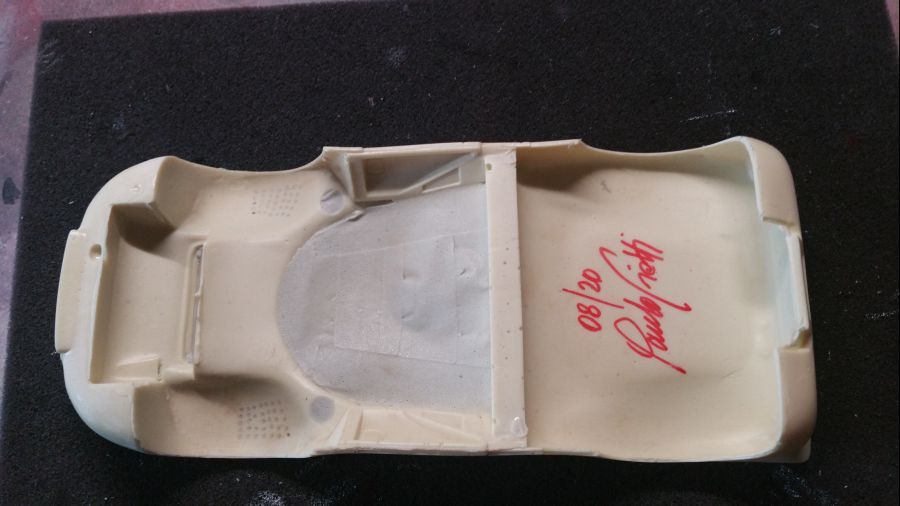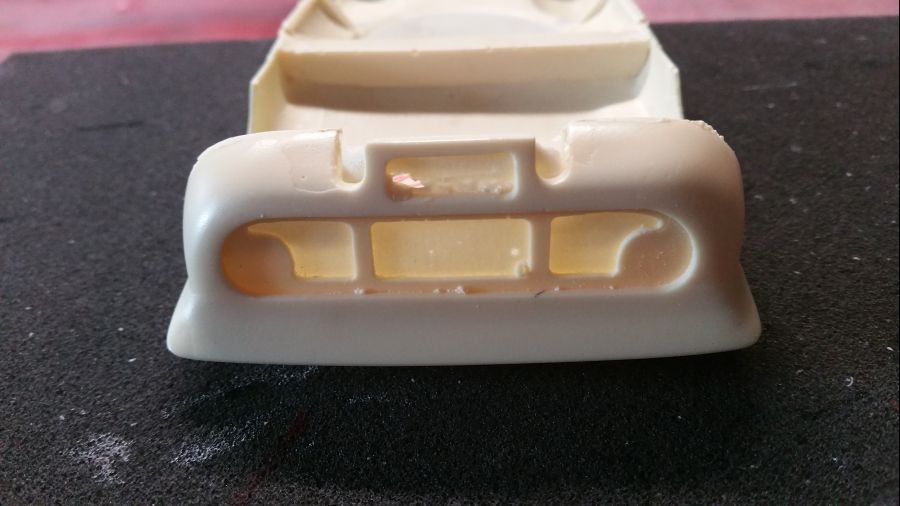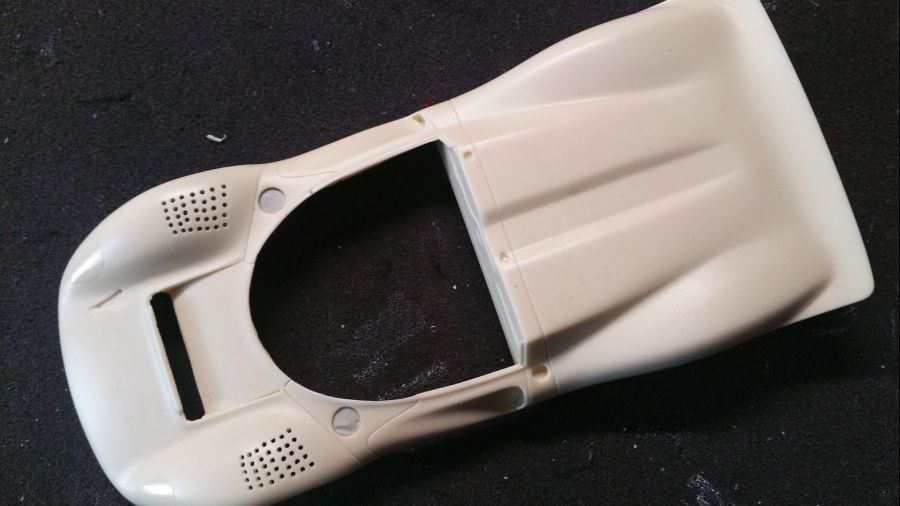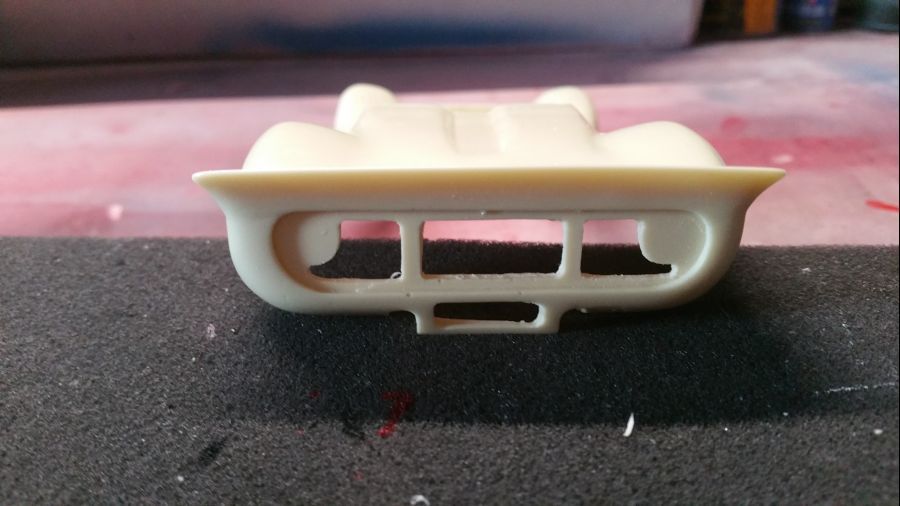 Daarna eerst verder met de velgen. Ik volg maar een beetje de instructies van Fujimi. De velgen krijgen de goudkleur van Tamiya TS-21. De banden krijgen Revell Matt 6 Tire Black.
Then working on the rims. I will follow the Fujimi instructions. The rims get gold from Tamiya TS-21. The tires get Revell Matt 6 Tire Black.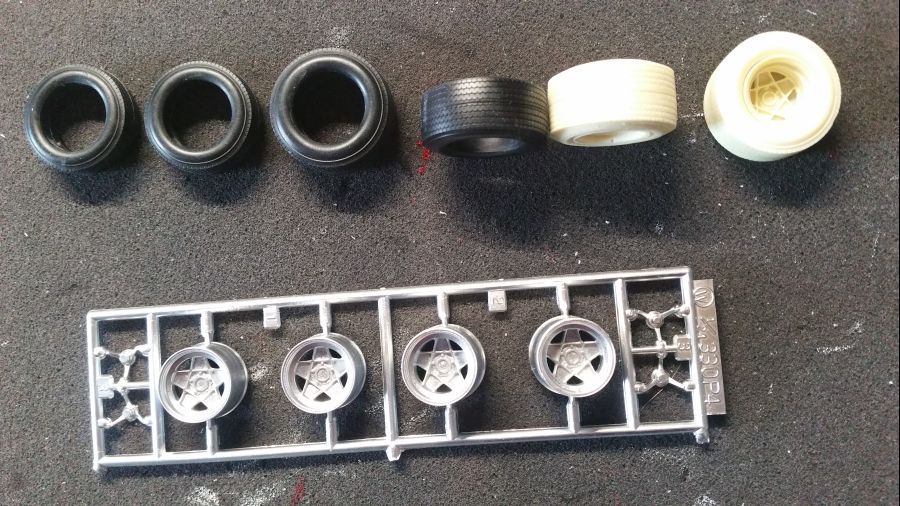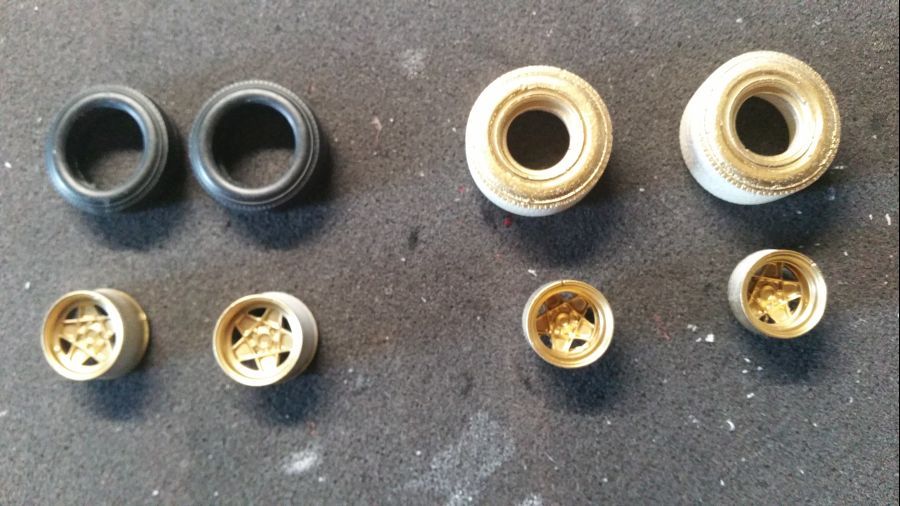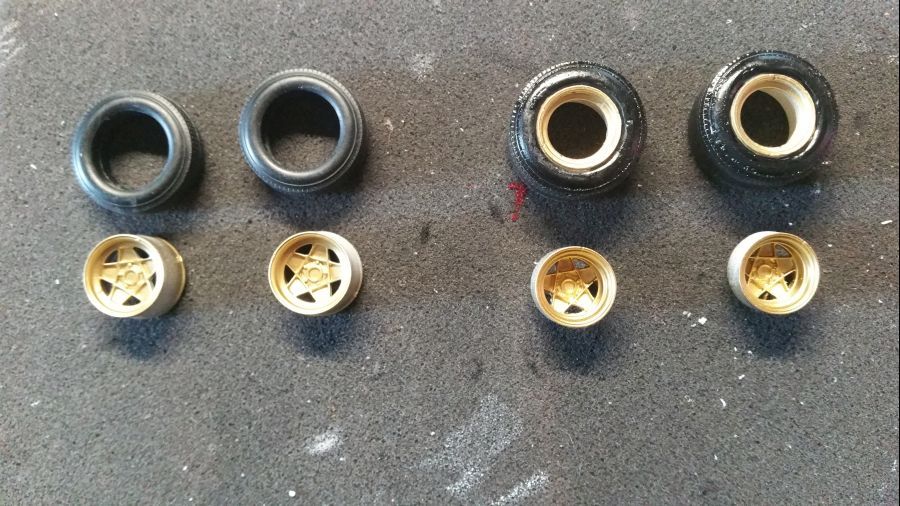 Daarna worden de 2 resin achterbanden met Tamiya TS-80 Flat Clear bespoten. Na het drogen zien deze banden er net zo uit als de voorbanden die van rubber zijn.
Then the 2 resin rear tires are sprayed with Tamiya TS-80 Flat Clear. After drying they look the same as the rubber front tires.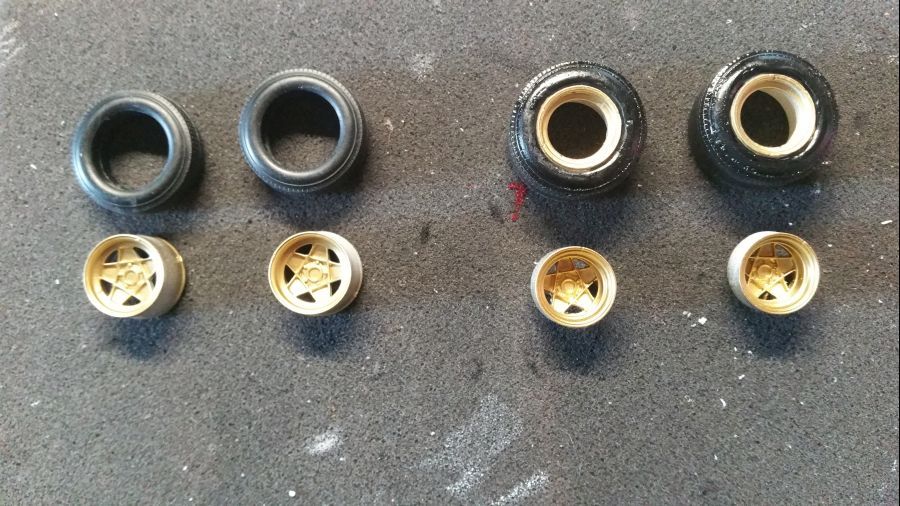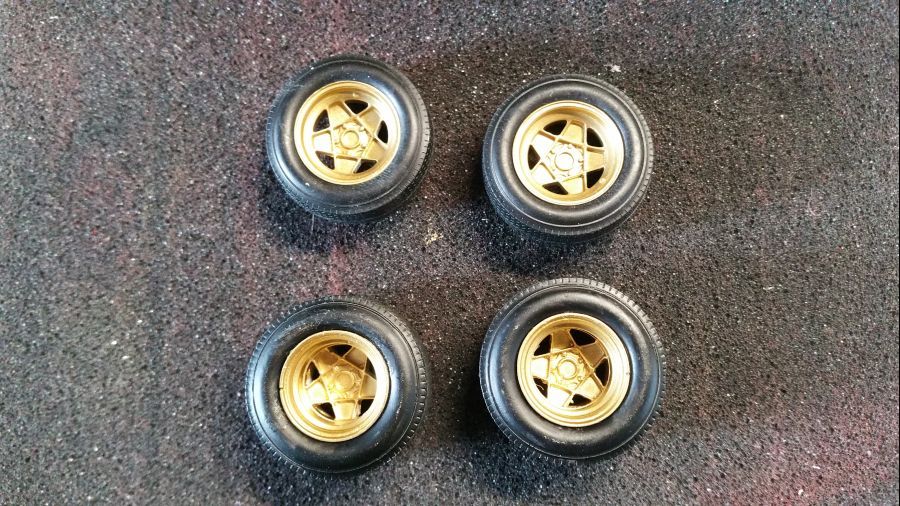 Eerst verder met de kuip nu. Het rood gemarkeerde deel wordt niet gebruikt.
Now continuing with the tub. The red marked part will not be used.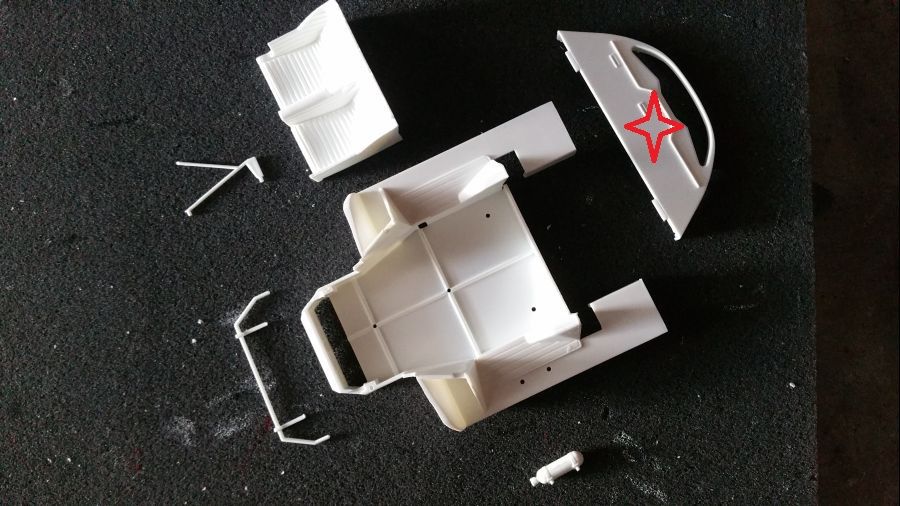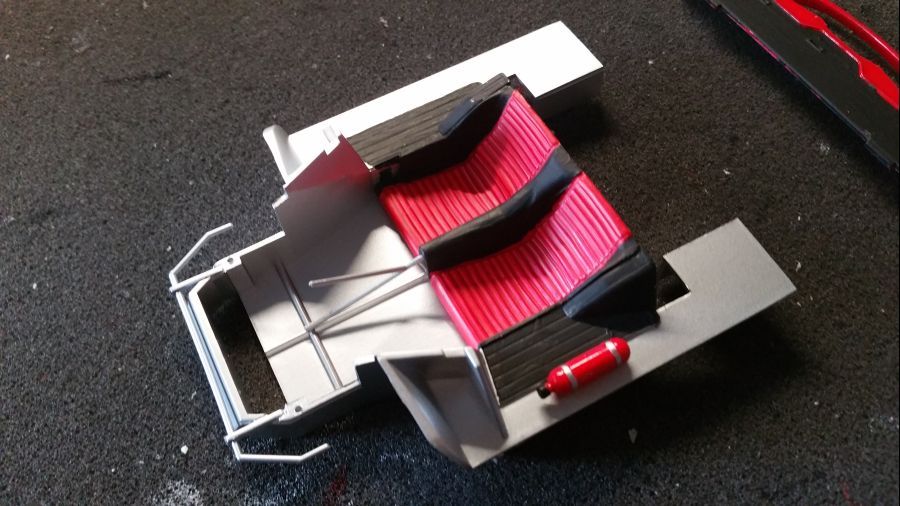 Voor het dashbord wordt een resin onderdeel bijgeleverd ter vervanging. Hier heb ik een fout gemaakt. Het is voor mij te laat om het op te lossen. Het originele dashbord wordt niet gebruikt. Alleen het resin deel dus.
There is a new resin part for the dashboard to replace the original part. Now here i made a mistake. Too late for me to solve it. The original dashboard should not be used. Just the resin part.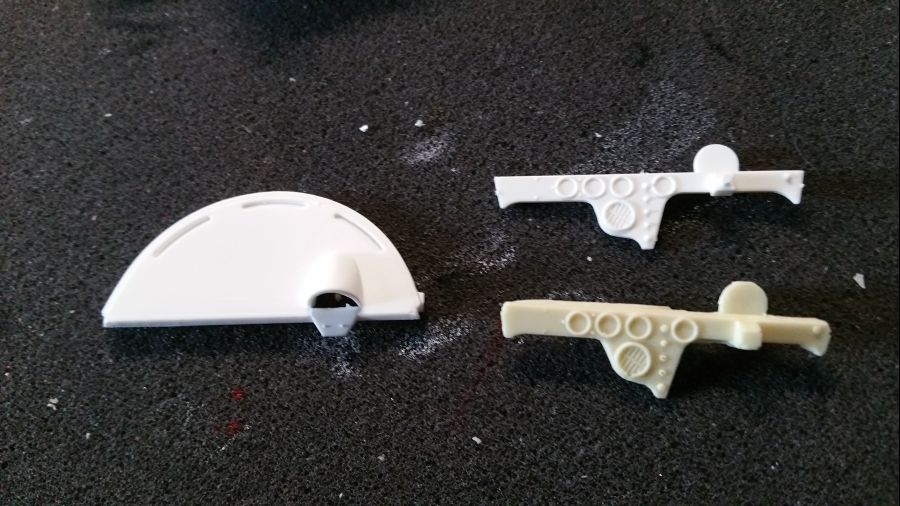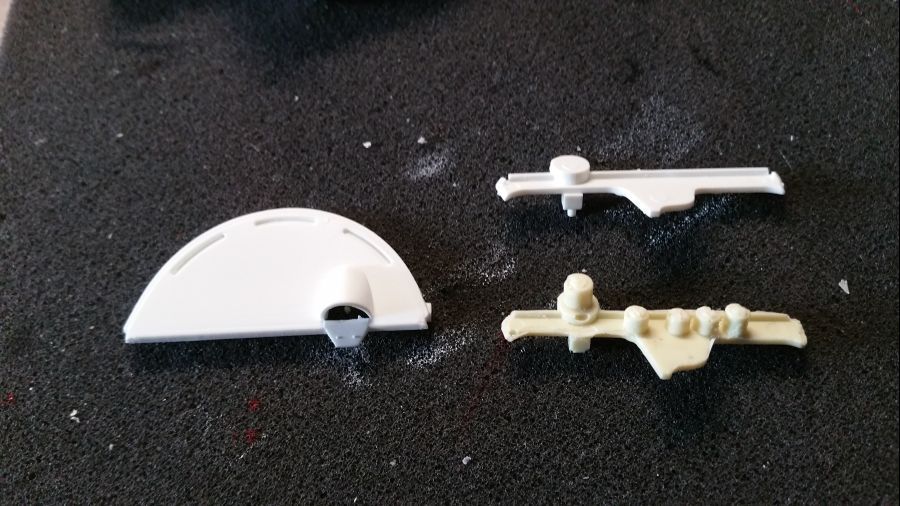 Verder met het dashbord. Er is witte lijm op de meters aangebracht. Wanneer dit droog is lijkt het alsof er glas voor zit. En even een tussentijds passen.
Continuing with the adshboard. There has been applied white glue on the gauges. When dry it will look like glass. And time for a test fit.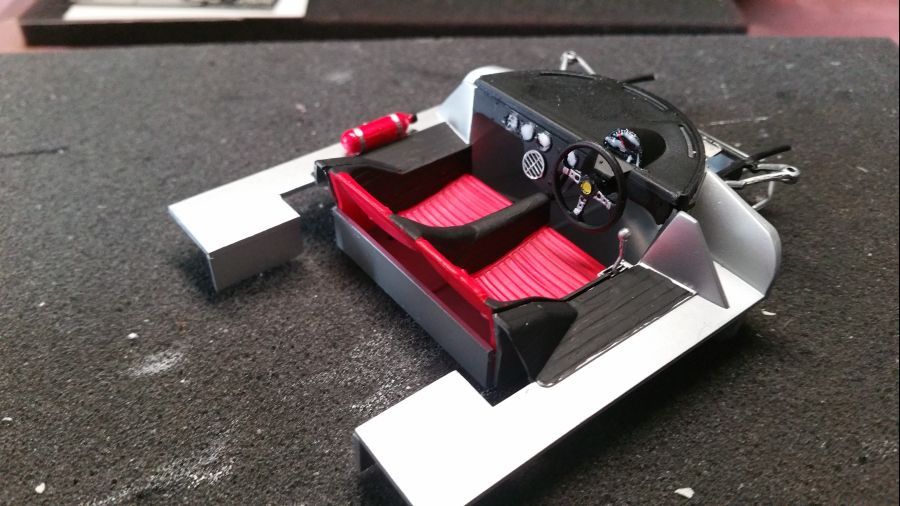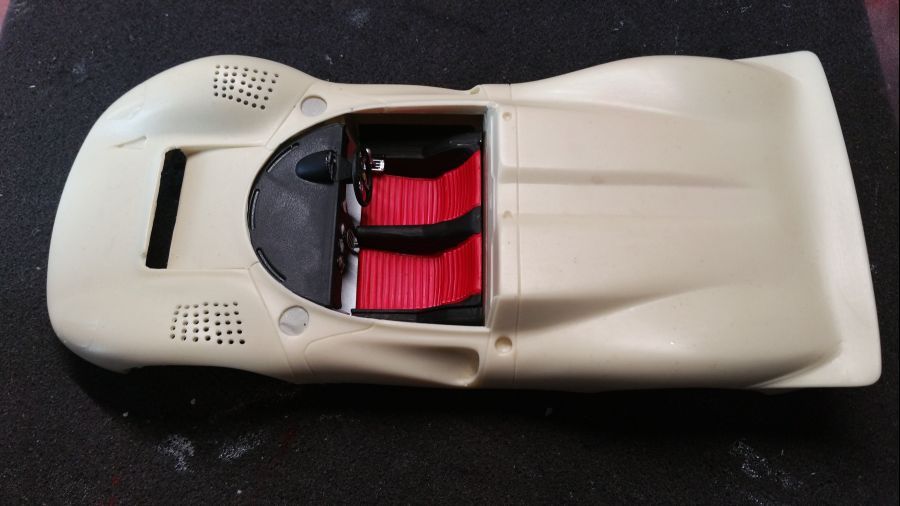 De kuip wordt op de vloer geplaatst en de koeling wordt aangebracht....
The tub is being attached to the floor and the coolers get applied....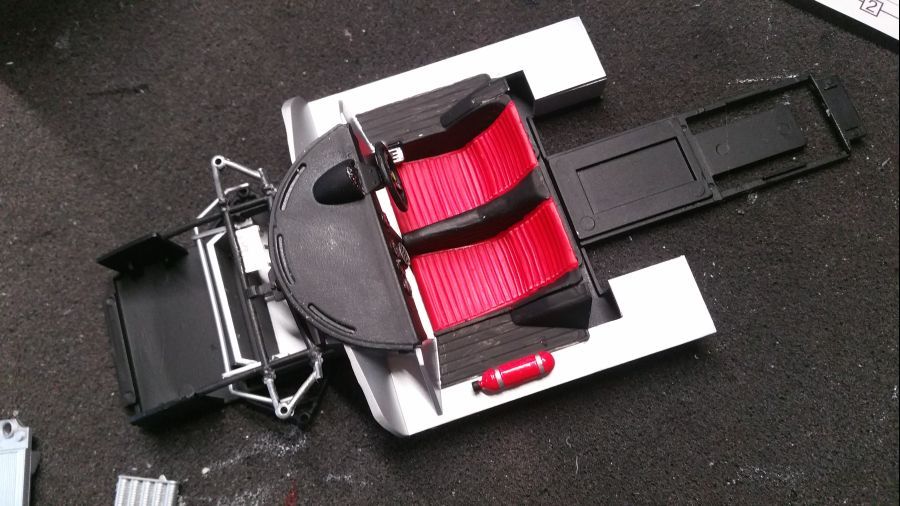 Normaal gesproken krijgt de neus een onderspoiler waarna de bodemplaat in een uitsparing valt. De zijkanten van de zilverkleurige kuip komen ook binnen de randen van de body.... 
Normally the nose section gets a spoiler after which the floor fits into this section. The sides of the silver coloured tub fit inside the body....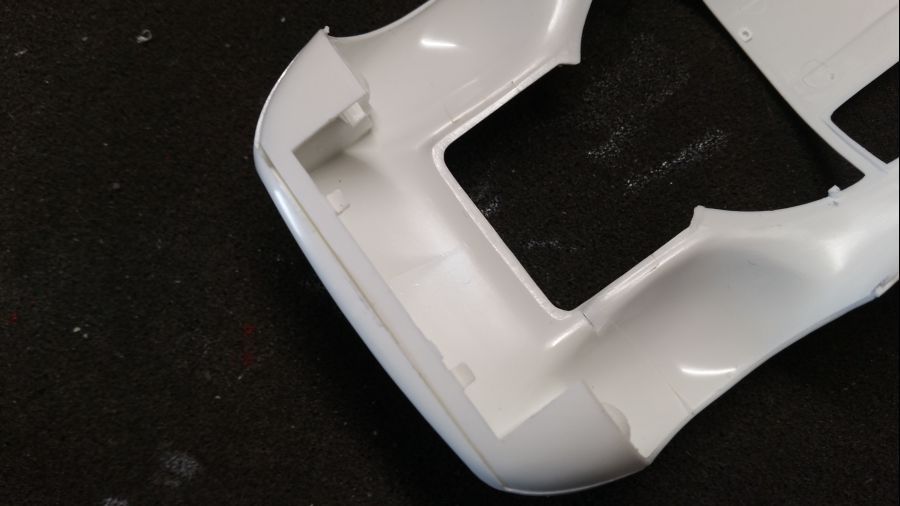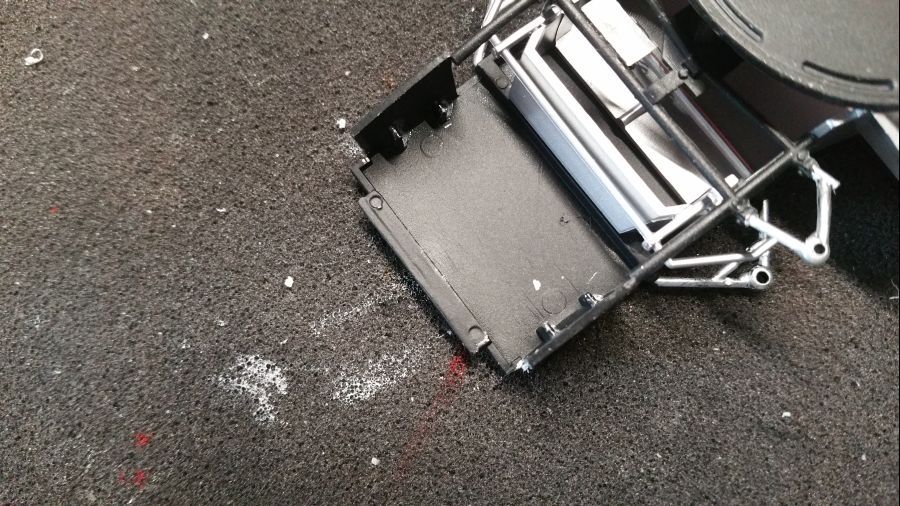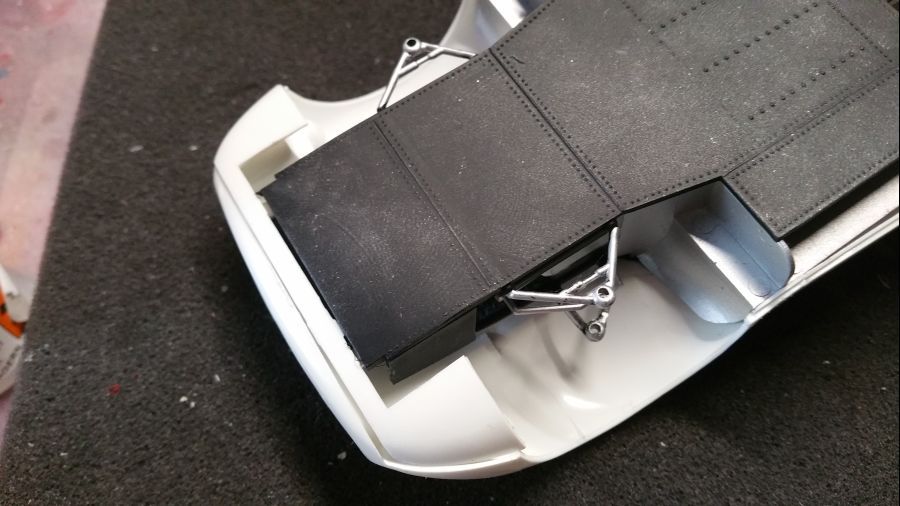 Bij de resin body gaat dat niet werken. Ook blijkt de zilverkleurige kuip te breed... Dus er moet wat gezaagd worden...
This will not work on the resin body. Also the silver coloured tub is too wide... So some cutting is required...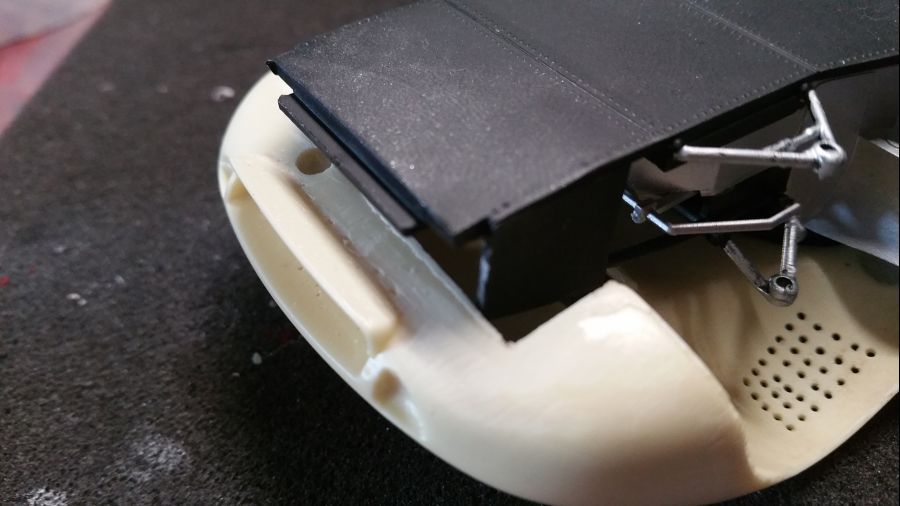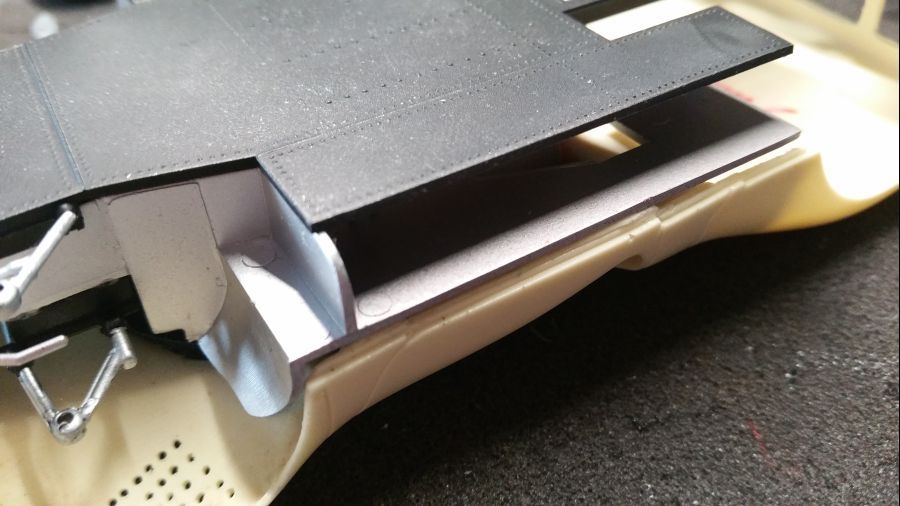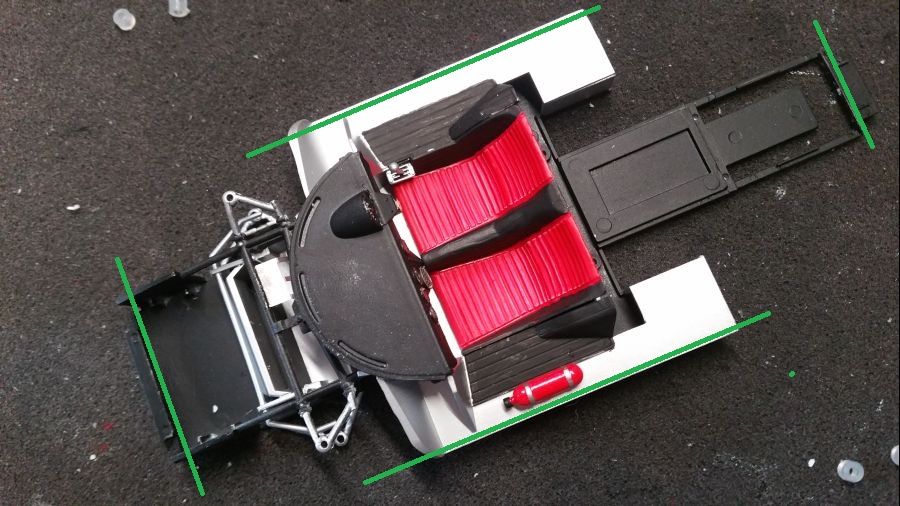 Daar gaat ie.... Bij nader inzien laat ik het achterste stukje ongemoeid...
There we go.... After a 2nd opinion i will leave cutting the rear part...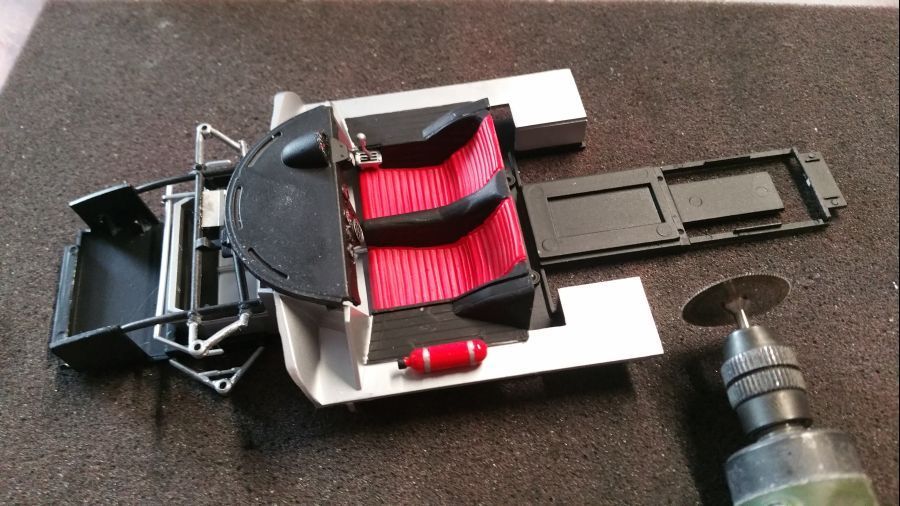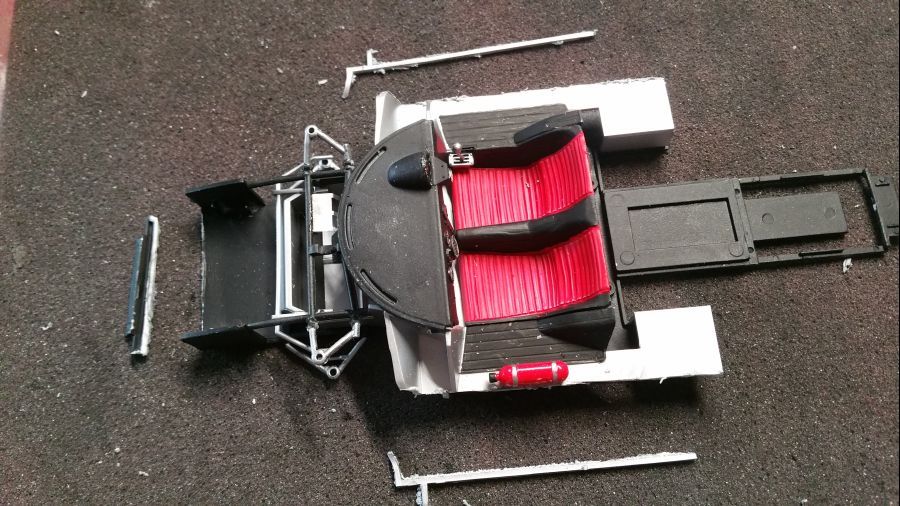 Na wat passen blijkt dat er nog op andere punten wat moet worden gezaagd.. Ook de brandblusser zit nu in de weg...  Veel beter nu...
After some test fit it appears there is some more cutting required.. Also the fire extinguisher has to move..  Much better now...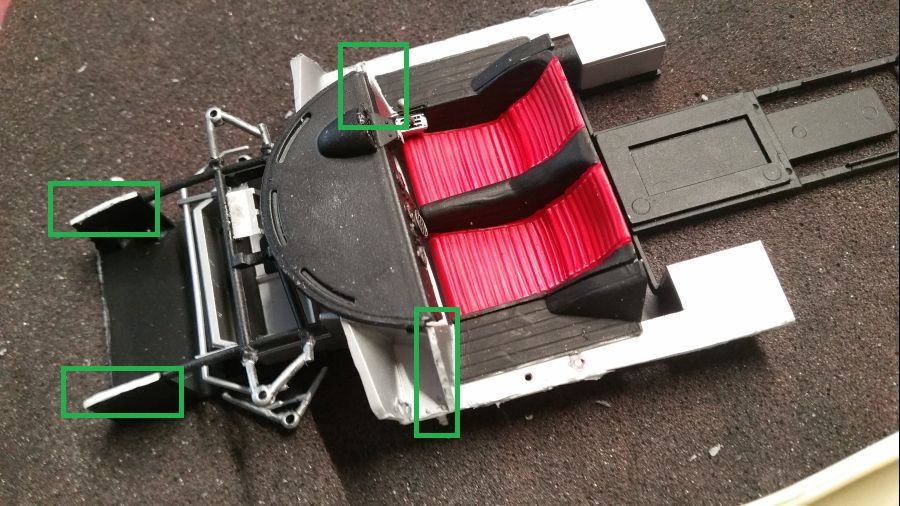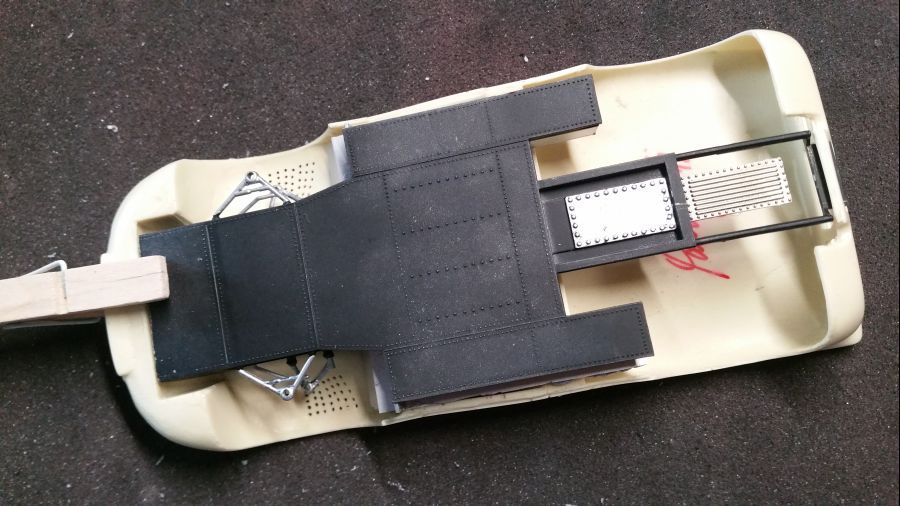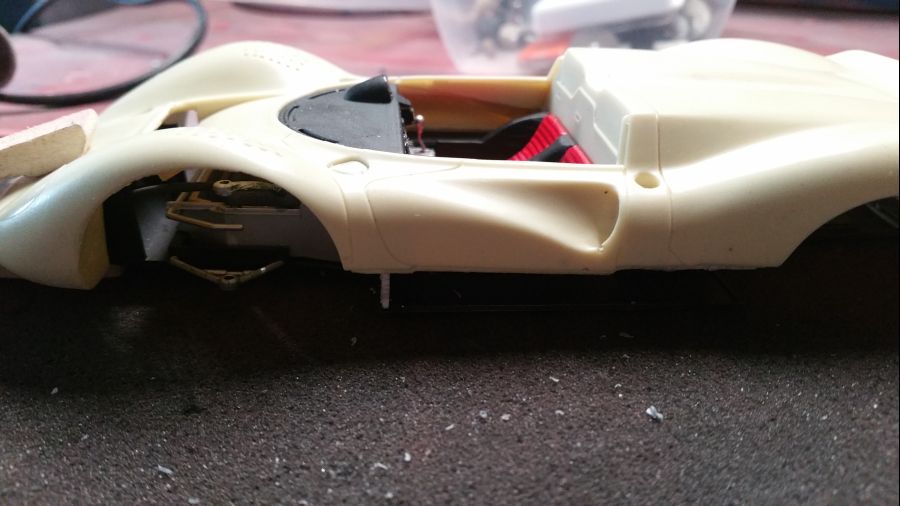 De onderste delen van de zijkant passen perfect...  Heel misschien nog een kein beetje werk aan de onderste rand van de resin body.
The lower parts of the sides fit perfectly... Maybe just a small bit of work to the lower edge of the resin body.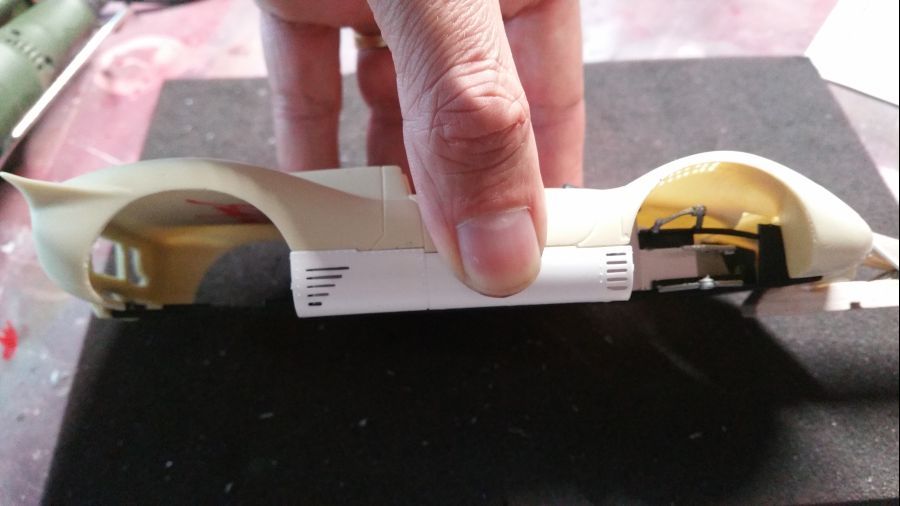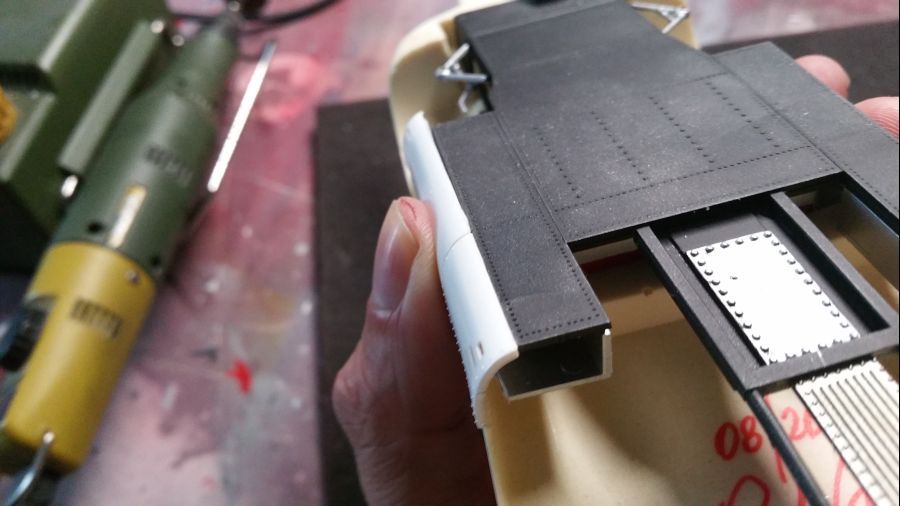 De koeling is voorin geplaatst en de brandblusser is wat opgeschoven..
The cooler has been attached in front and the extinguisher moved up a bit..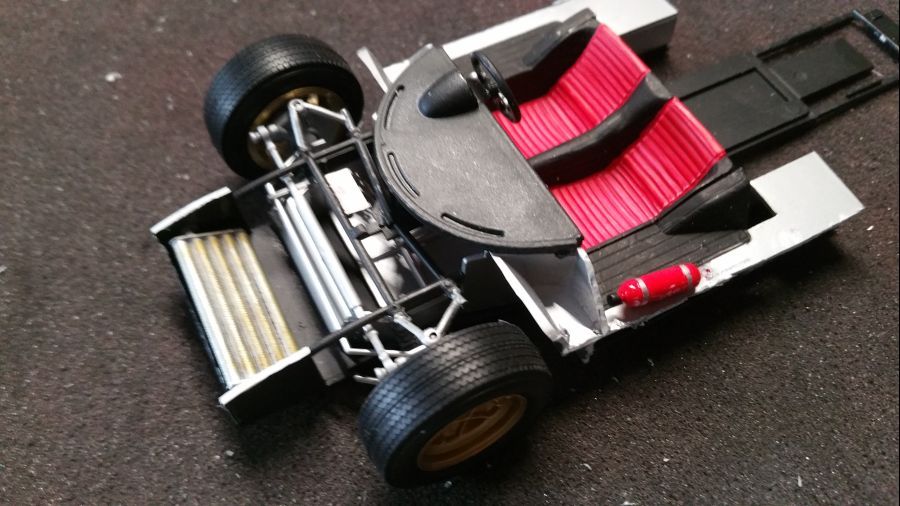 De versnellingsbak is gespoten en kan achterin worden geplaatst.
The gear box has been painted and can be attached at the back.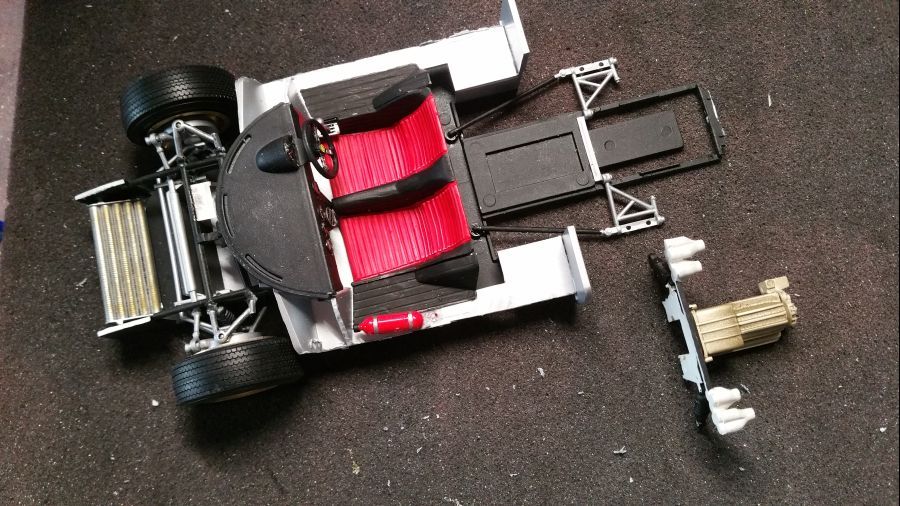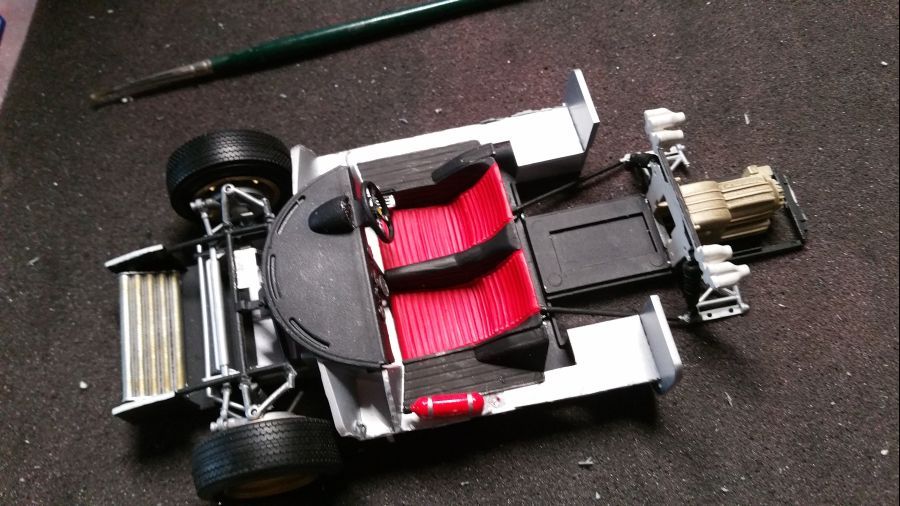 Weer even passen, deze keer met de achteras. Dit allemaal om zeker te zijn dat alles binnen de resin body past. Er is nu eenmaal geen tekening met wat wel of wat niet geplaatst moet worden.
Again a test fit, with the rear axle this time. All this to be sure everything fits within the resin body. There is no instruction on what or what not to attach. So test fit is needed a lot.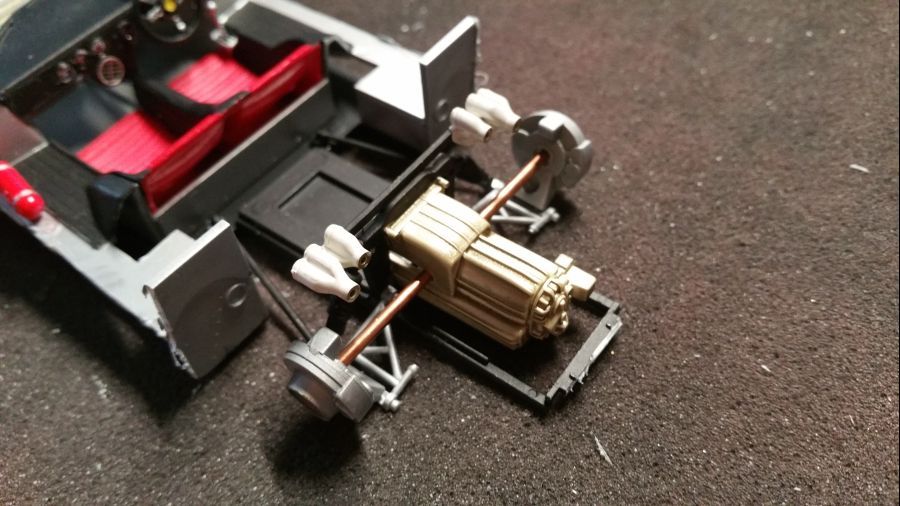 De achterwielen gaan erop..
The rear tires are mounted..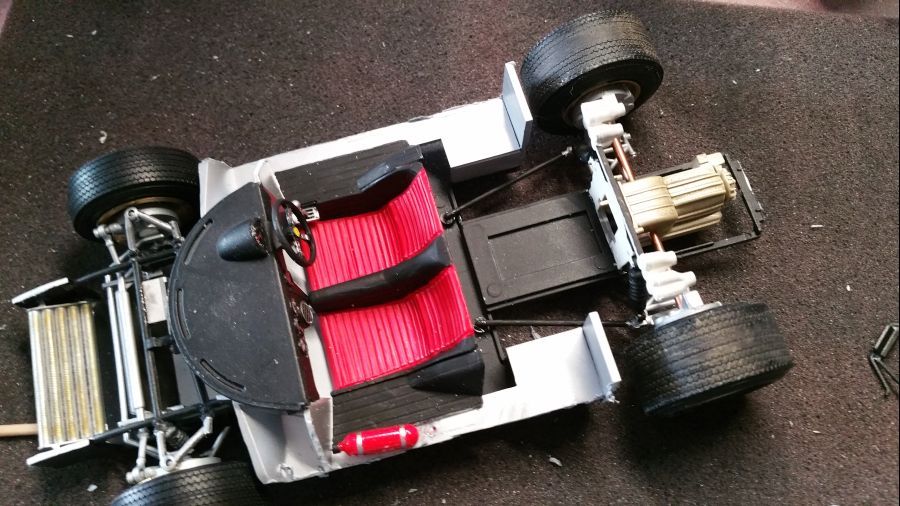 De body en aanverwante onderdelen krijgen grondverf en Tamiya TS-8 Italian Red.
The body and it's parts get primer and Tamiya TS-8 Italian Red.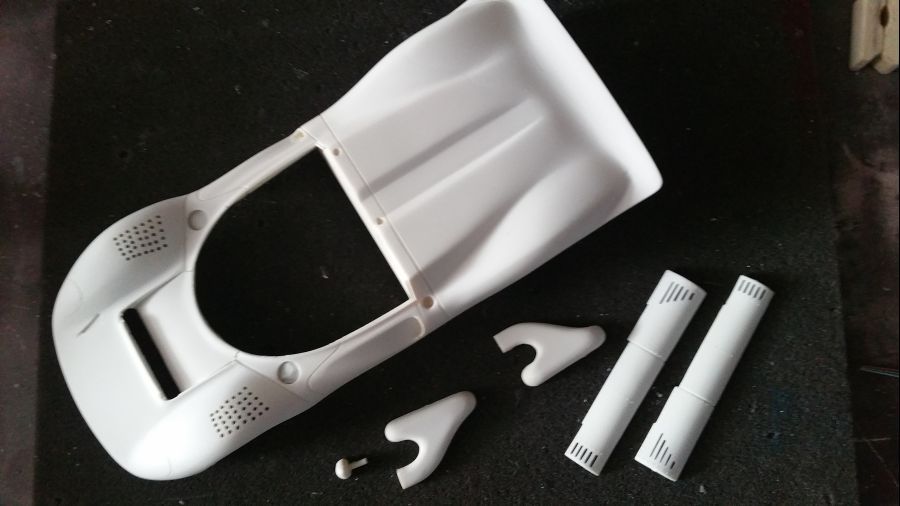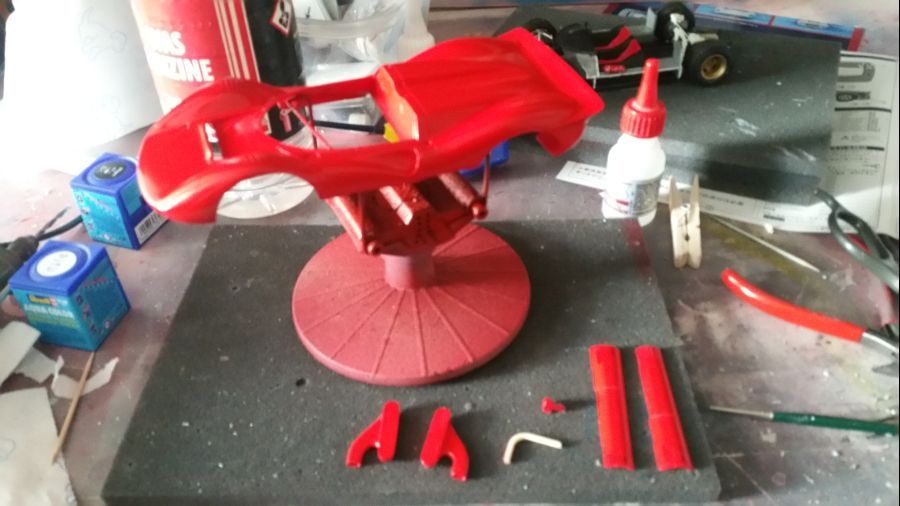 Twee strepen helder decalpapier worden wit en blauw gespoten. Dit wordt gebruikt voor het aanbrengen van de biezen.
Two pieces of clear decal paper were painted white and blue. These will be used to simulate the stripes.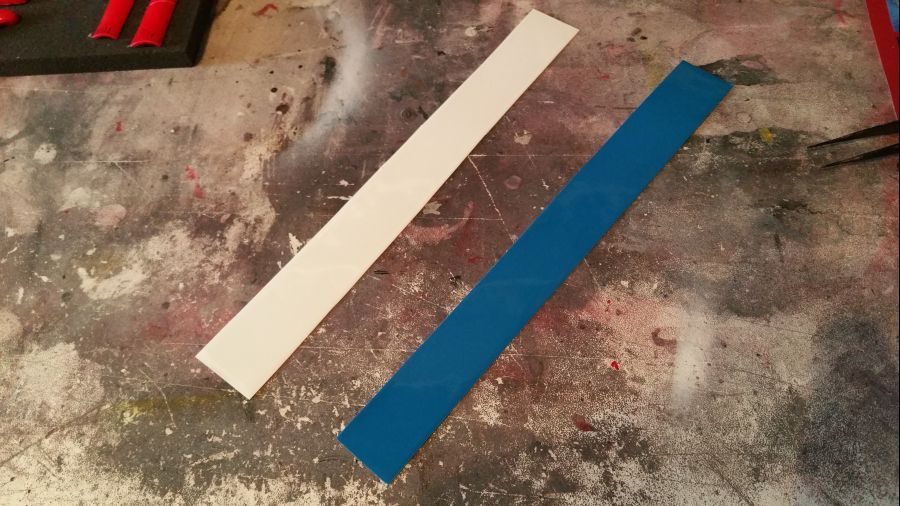 Om een goede keus te kunnen maken heb ik strepen van 2 mm en 1,5 mm gesneden. Ik ga voor de laatste maat.
To be able to make a good choice i cut stripes of 2 mm and 1,5 mm. I will go for the last size.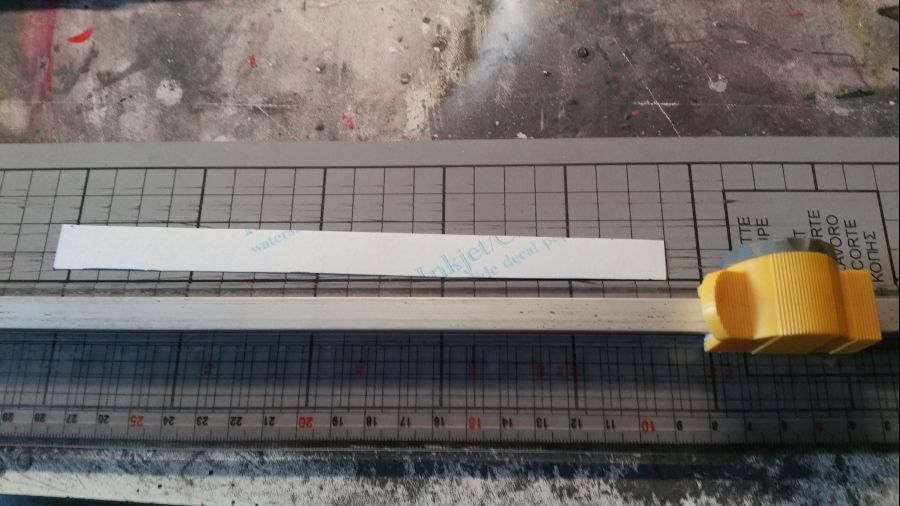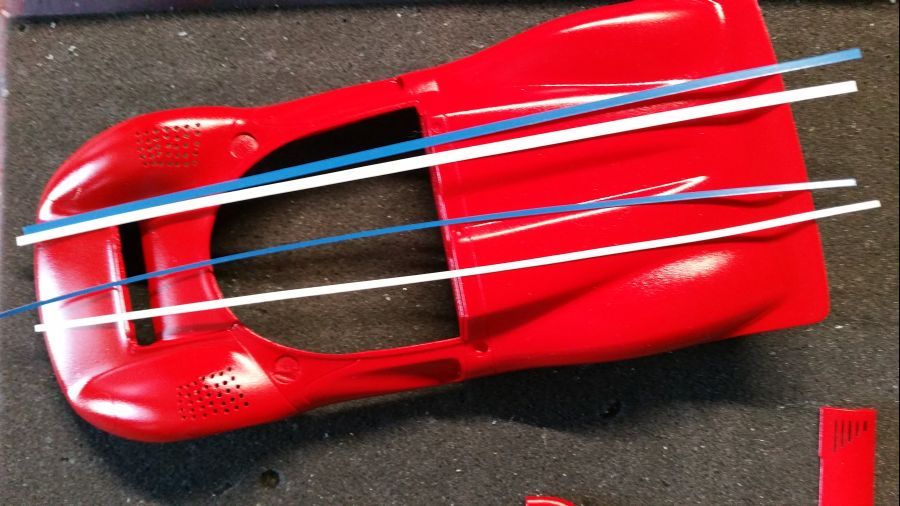 De decals van de transkit zijn gedrukt op doorzichtig decalpapier. Er moet daarom eerst een witte ondergrond worden gemaakt. Daarvoor is een stuk wit decal papier bijgevoegd. Voor de cirkels onder de nummers ben ik daar niet zo'n voorstander van. Zie dat maar eens mooi rond te knippen. Dus een duik in de overgebleven decals. En ik heb geluk. Deze ga ik gebruiken.
The decals of the trans kit are printed on clear decal paper. So a white underground must be made. A piece of white decal paper has been included. I don't like this for the circles for the numbers. It will be very tough to cut them beautifully round. So take a dive in my left over decals. And i am lucky this time. I will use these.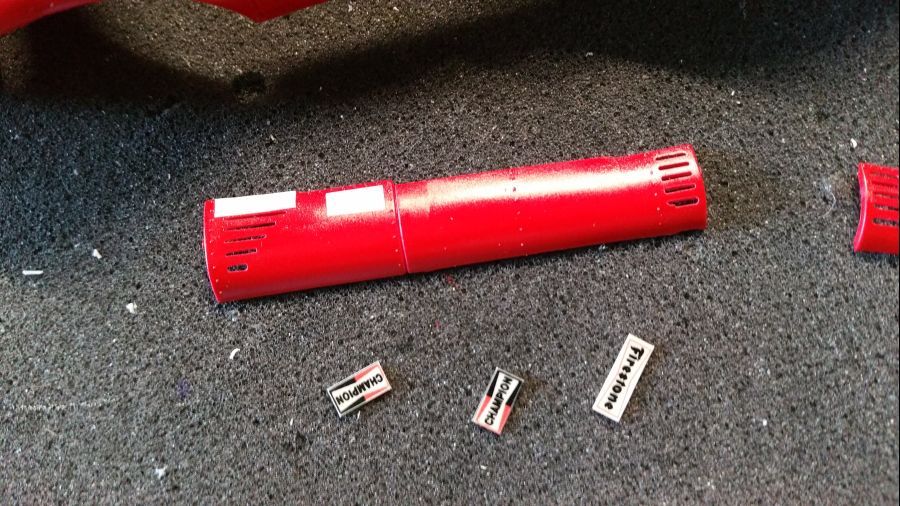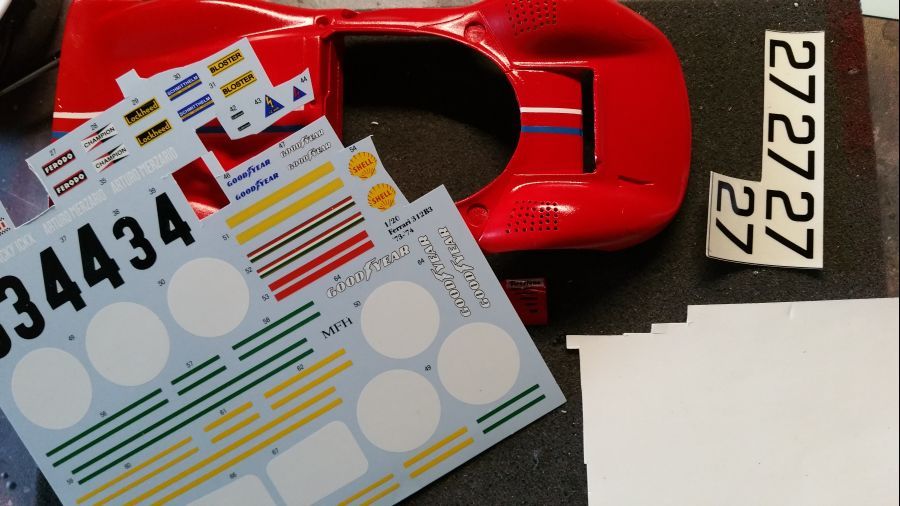 De strepen zitten er nu op. Daar waar de cirkel komt heb ik de strepen weggelaten om het 'bloeden' te voorkomen.
The stripes have been applied. At the point where the circle should go, i left the stripes to prevent bleeding.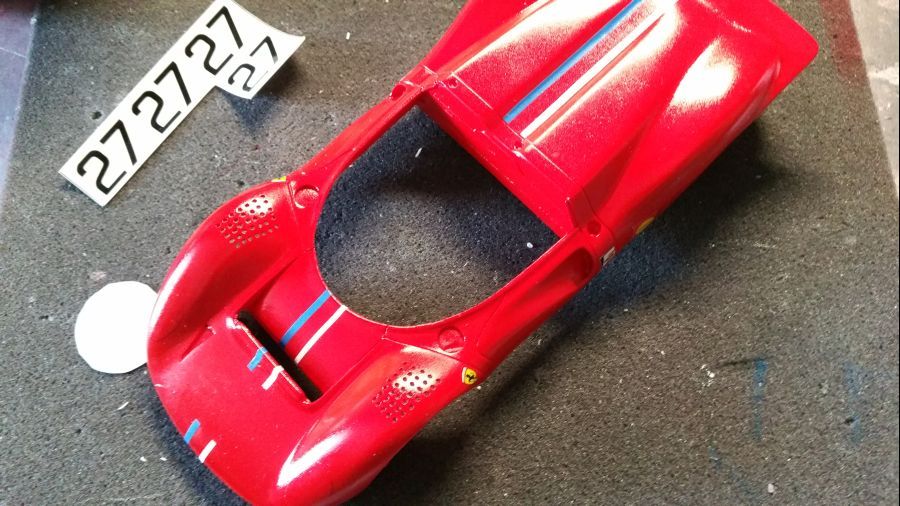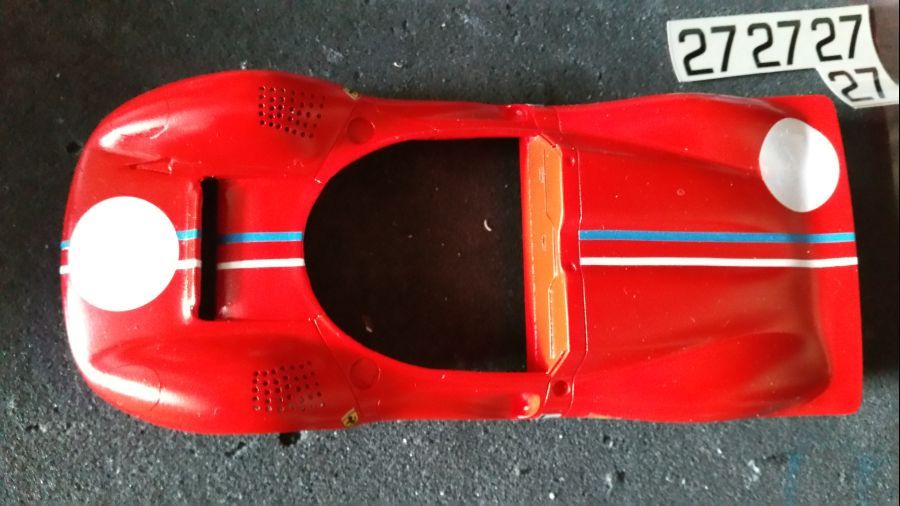 De resin body is op het chassis geplaatst...
The resin body has been mounted to the chassis...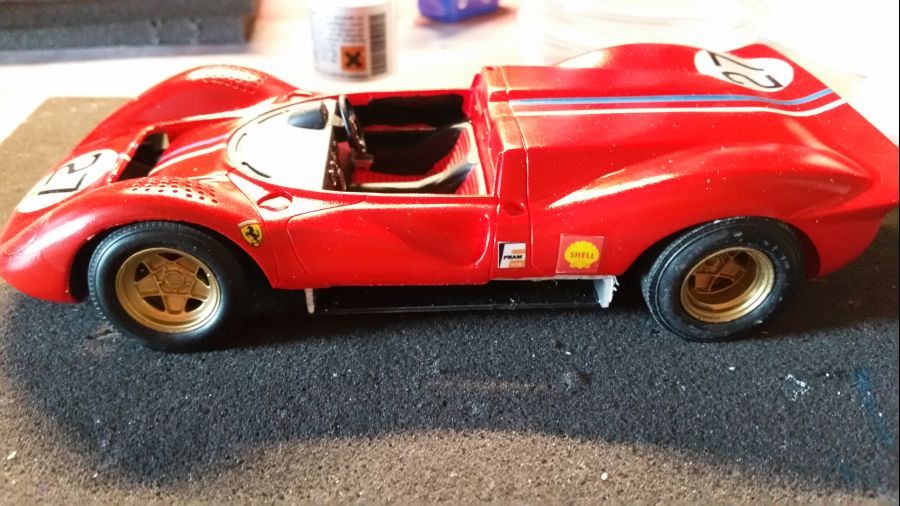 De onderkanten uit de kit van Fujimi...
The parts from the kit from Fujimi...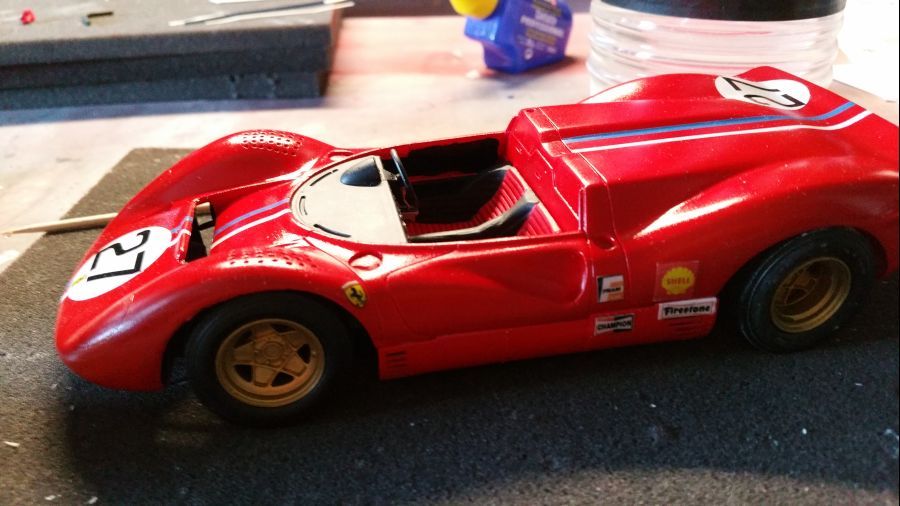 Alle decals zitten er nu op. De micro sol moet nog even drogen..
All decals are applied. The micro sol has to dry..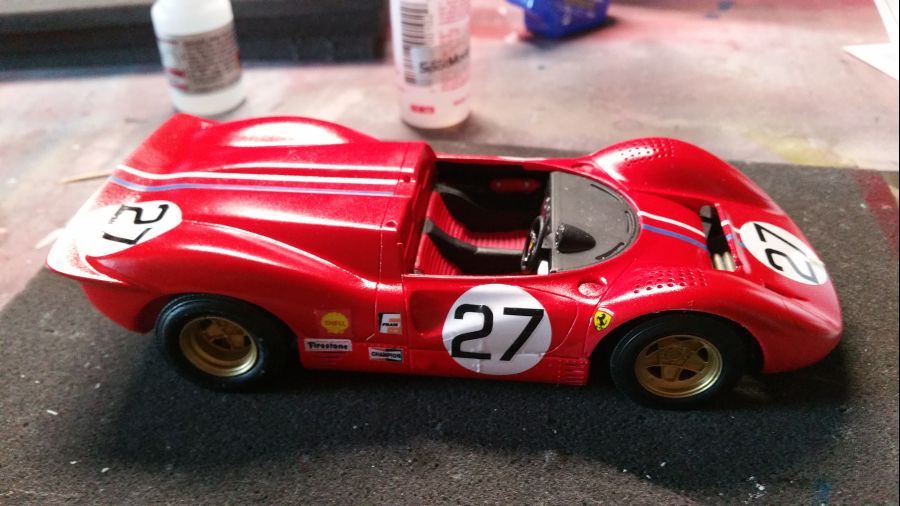 Tijd voor de gordels...
Time for the belts...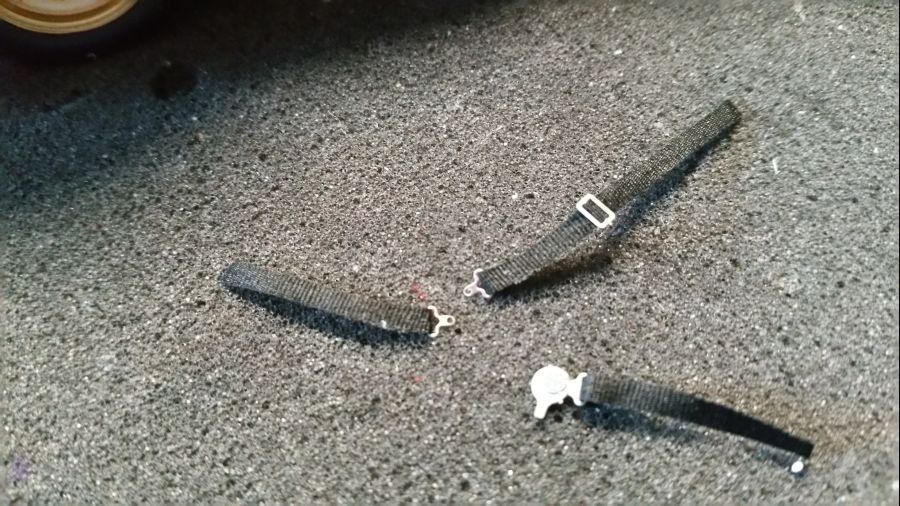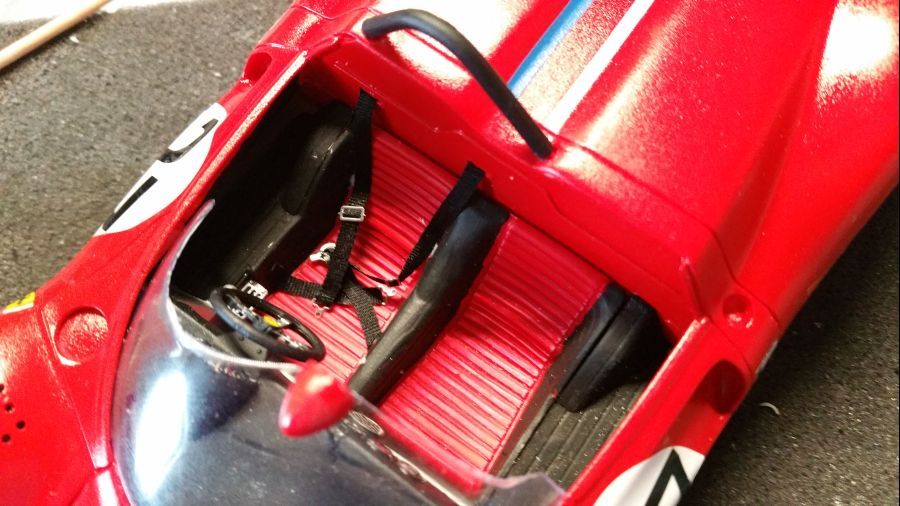 De luchtinlaten, spiegel enz...
The intakes, mirror etc...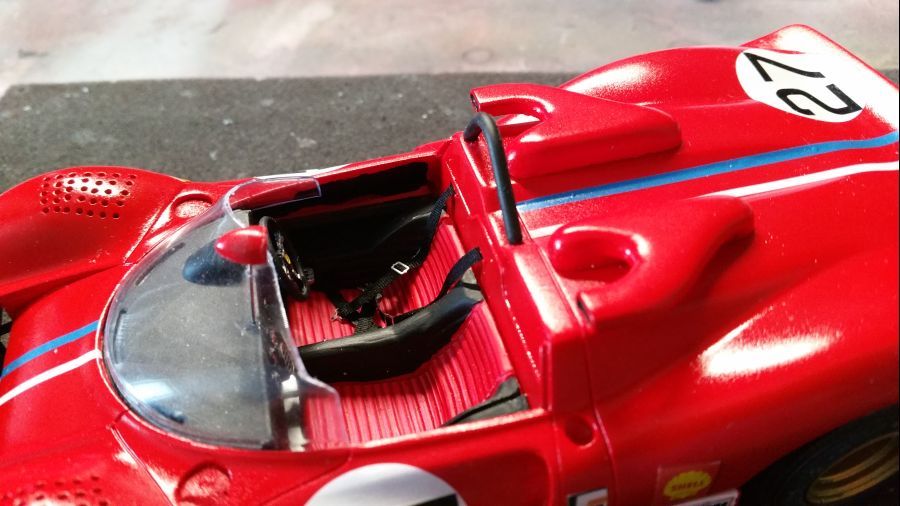 Na het aanbrengen van decals op de banden, uitlaten, wielmoeren enz. is er weer 1 klaar...
After adding decals to the tires, exhausts, nitters on the wheels etc. another 1 is finished...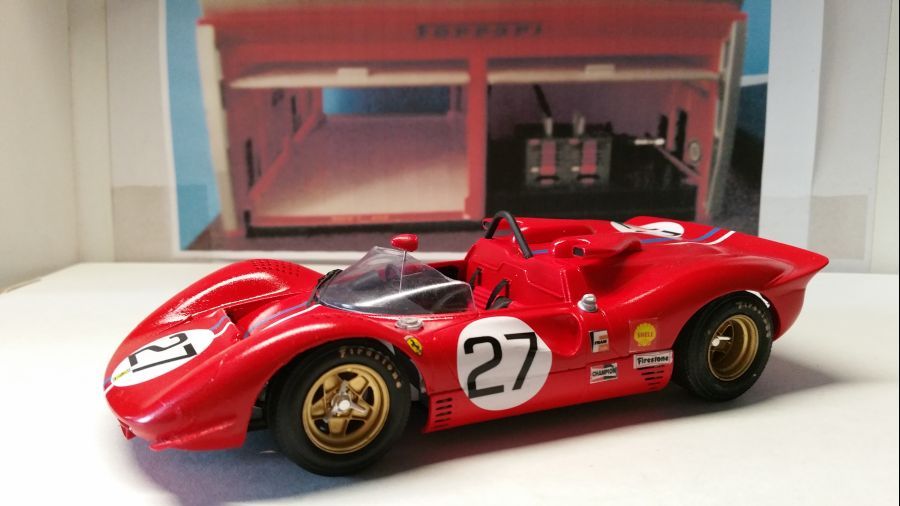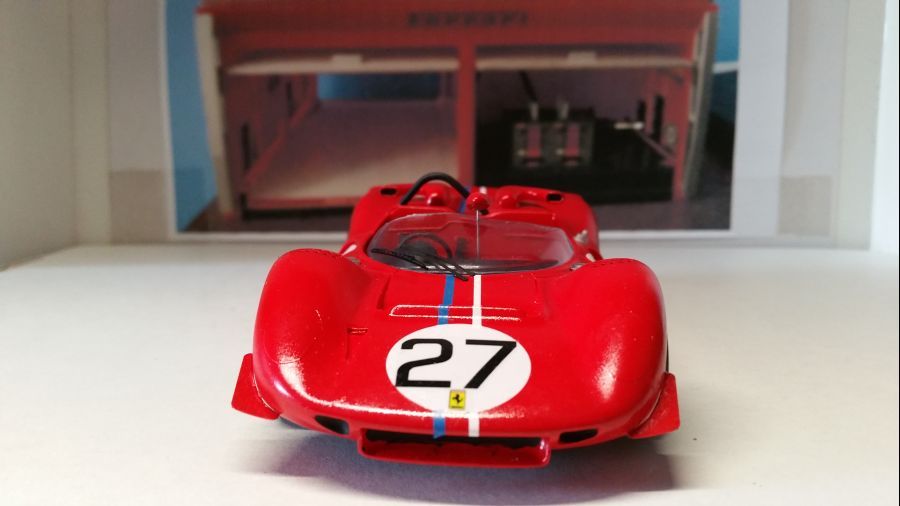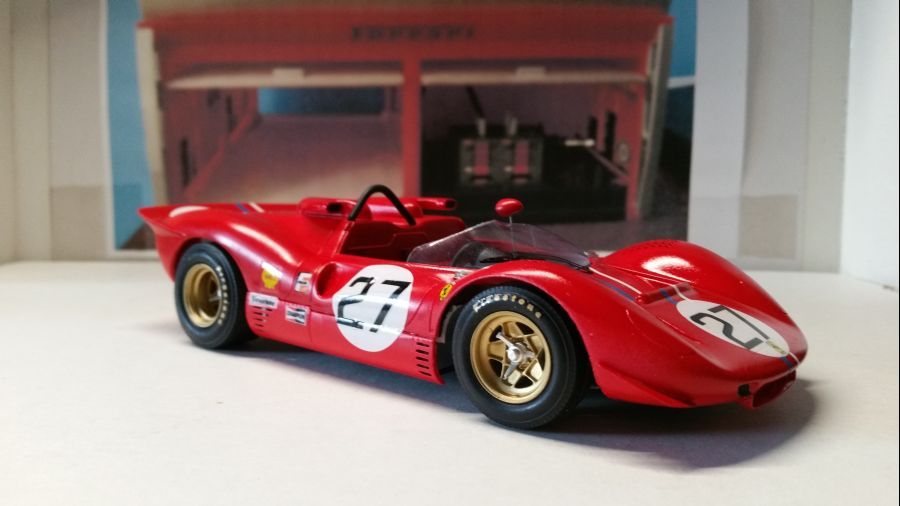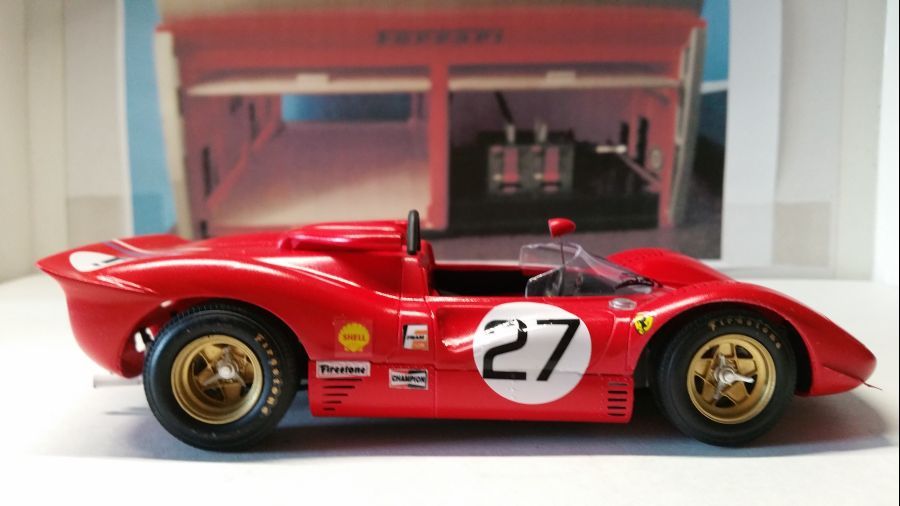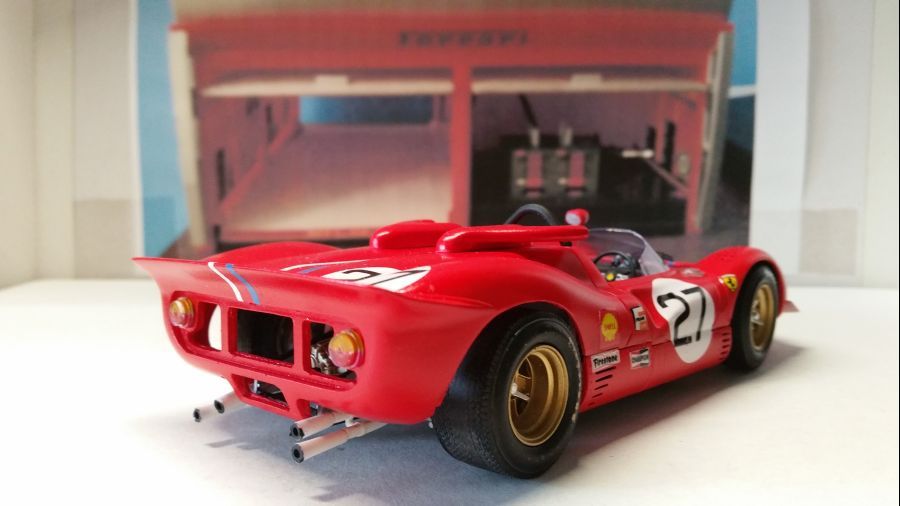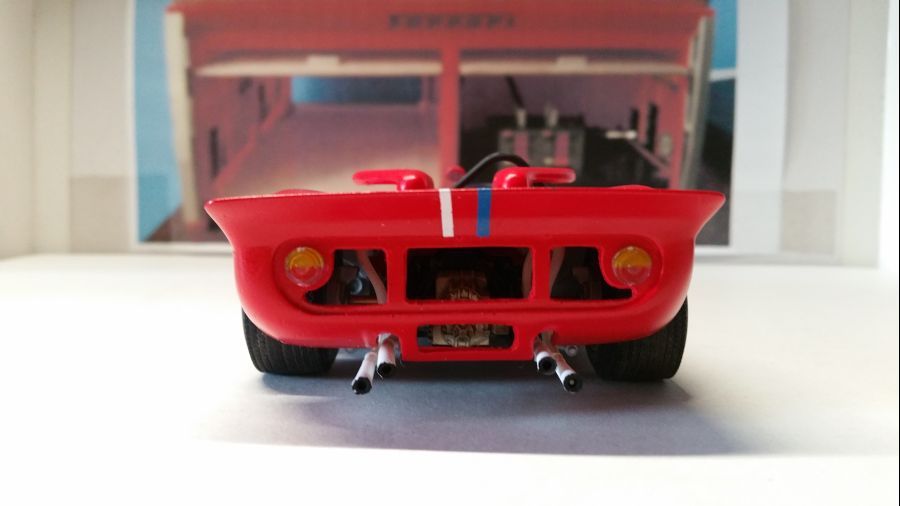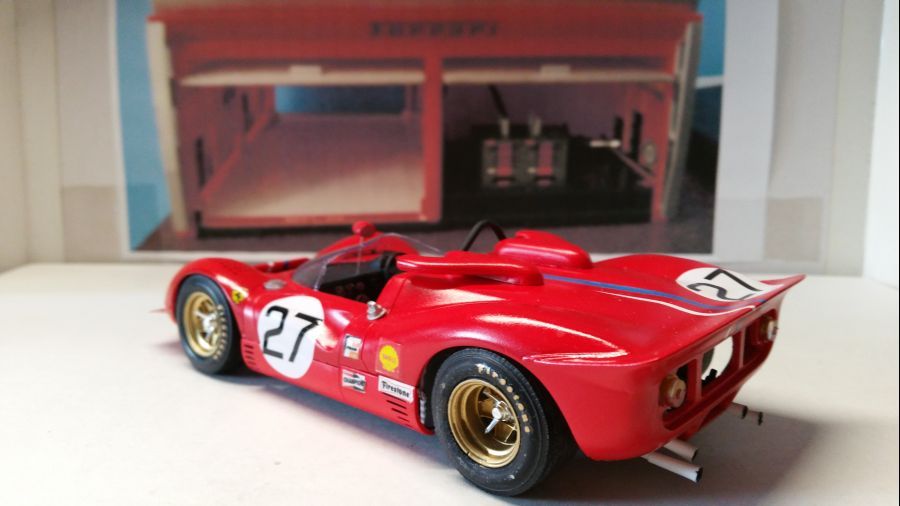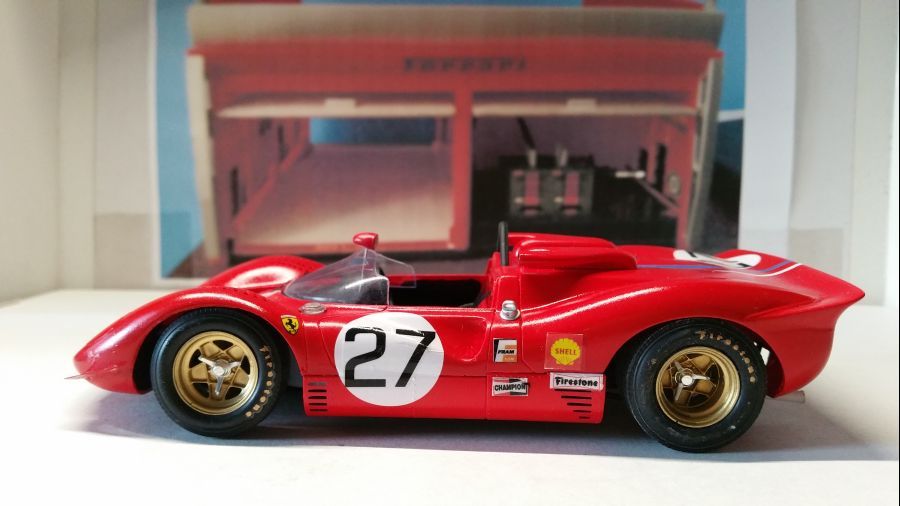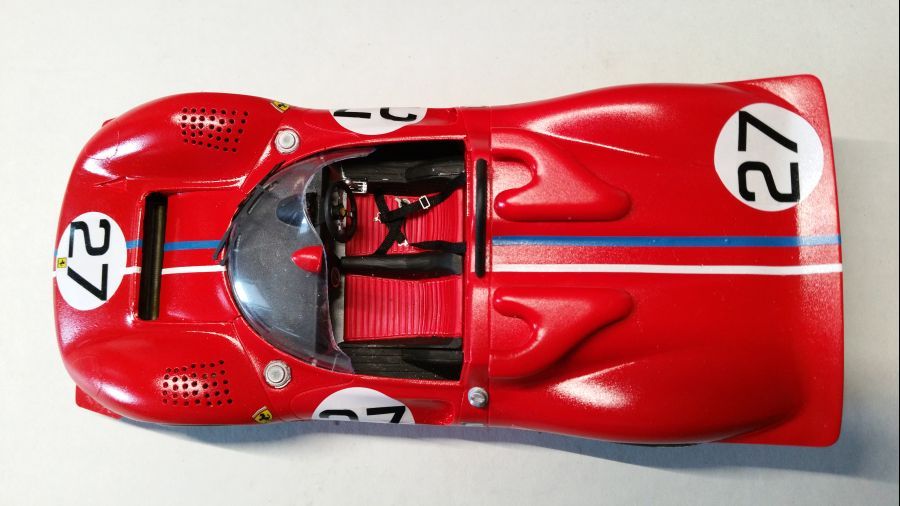 Weinig problemen met deze transkit. Ik heb dus per ongeluk het dashbord gebruikt. Niet doen. Daarnaast moet er hier en daar aan de vloer wat gezaagd worden. Veel passen dus.
Not much trouble with the trans kit. By accident i used the dashboard. My mistake. It needs some cutting on the floor. So a lot of test fit.