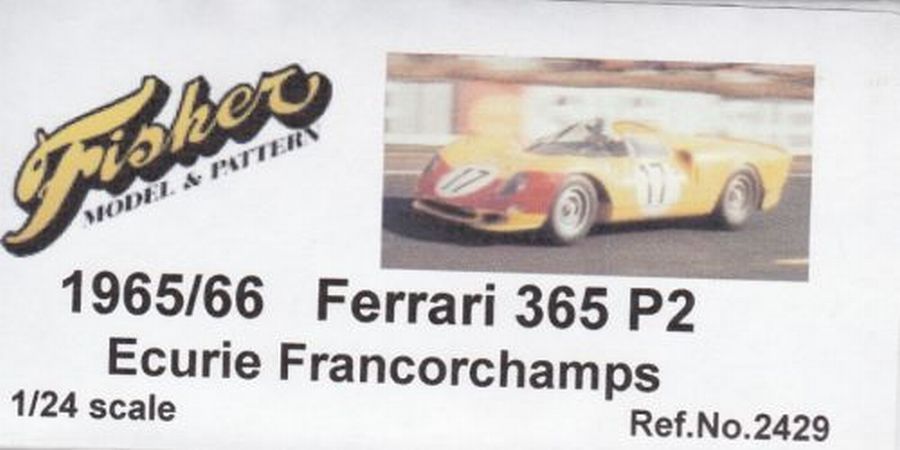 Weer  even wat anders. Deze keer een Ferrari 365 P2 van Ecurie Francorchamps zoals deze reed tijdens de 1966 24 Uur van Le Mans. De wagen werd bestuurd door het duo Jean Beurlys en Pierre Dumay. Het is een kit in schaal 1/24 van Fisher (kit nr. 2429). De kit bestaat niet uit gigantisch veel onderdelen, maar ik kon deze niet weerstaan. Ik vind het een prachtige auto. Ik hoop dat het eindresultaat net zo mooi wordt. Eerst, zoals altijd, de foto's van de inhoud van de kit.
Now something else. This time the Ferrari 365 P2 from Ecurie Francorchamps as driven in 1966 during the 24 Hours of Le Mans. The car was driven by the duo Jean Beurlys and Pierre Dumay. It's a 1/24 scale kit from Fisher (kit no. 2429). The kit doesn't have that many parts, but i couldn't resist this one. To me it's a great looking car. I hope the end result will be as good. First again, as always, the pictures of the content of the kit.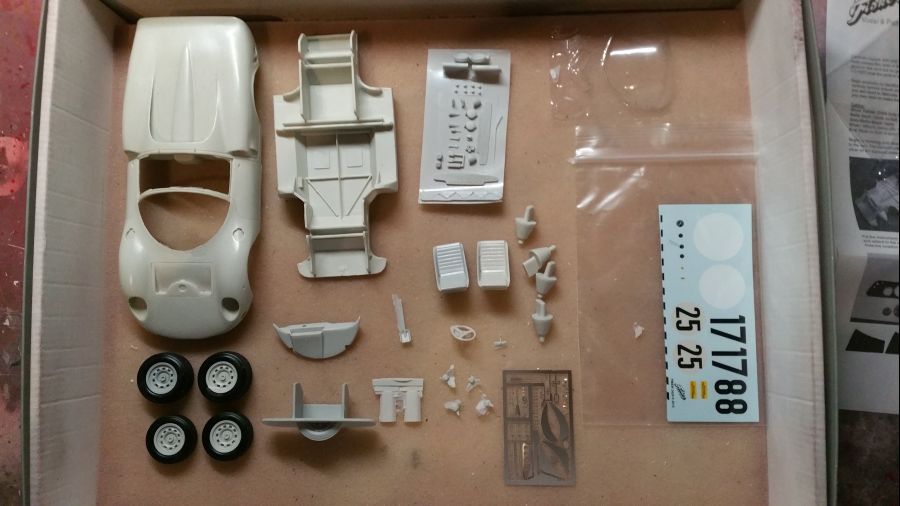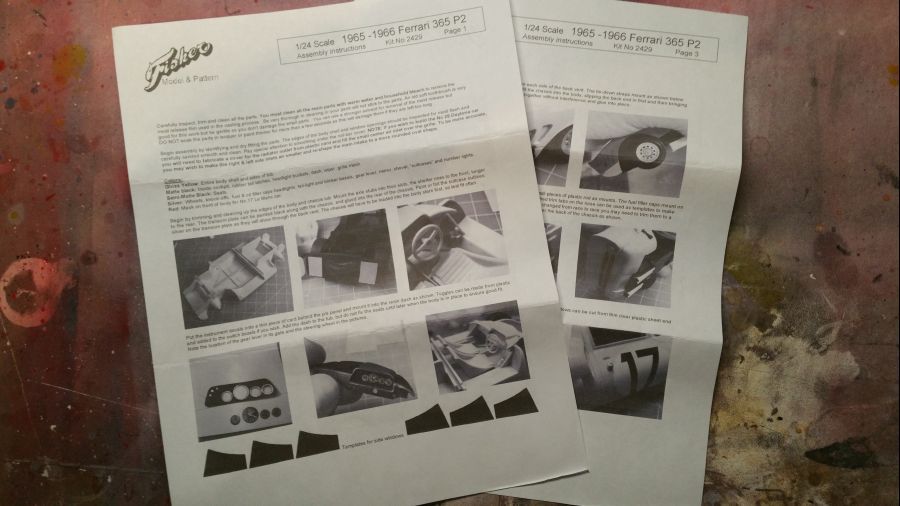 Eerst wordt het bodywerk bekeken op onregelmatigheden. Deze worden weggewerkt en de nodige openingen worden gemaakt.
First the body gets checked. These are filed off and the openings are being made.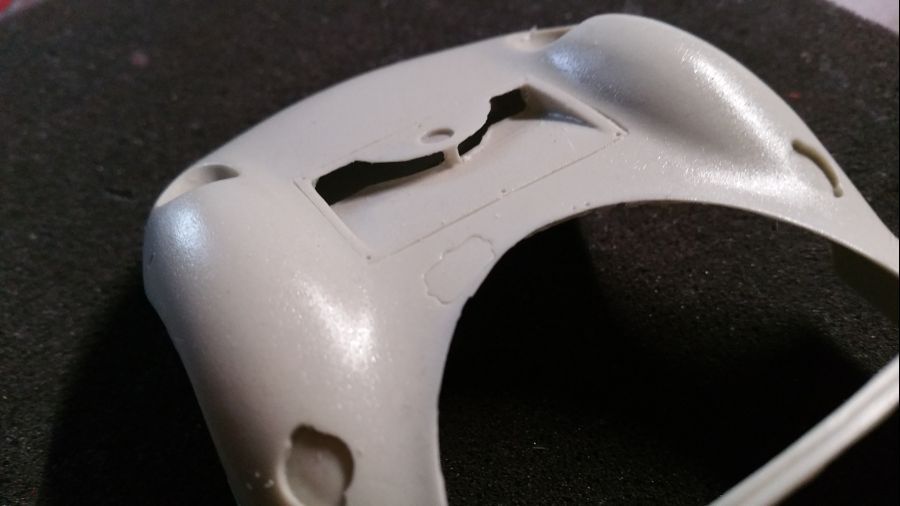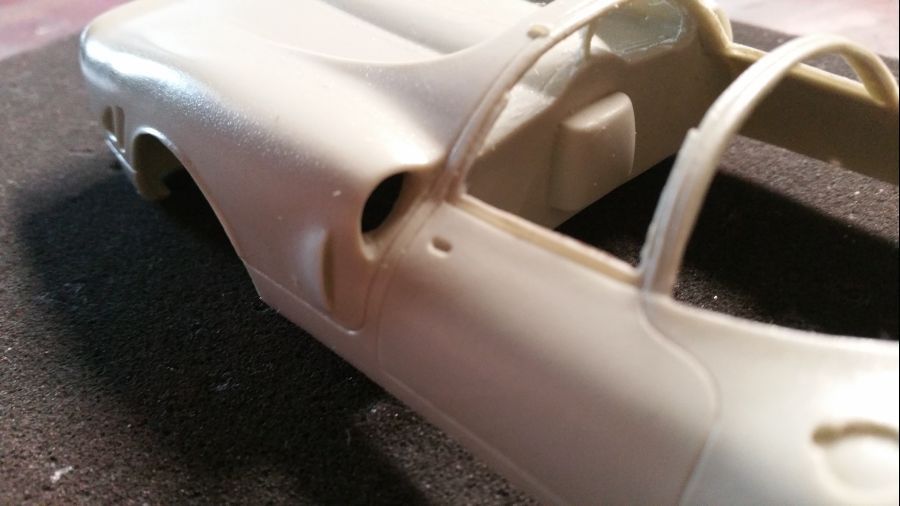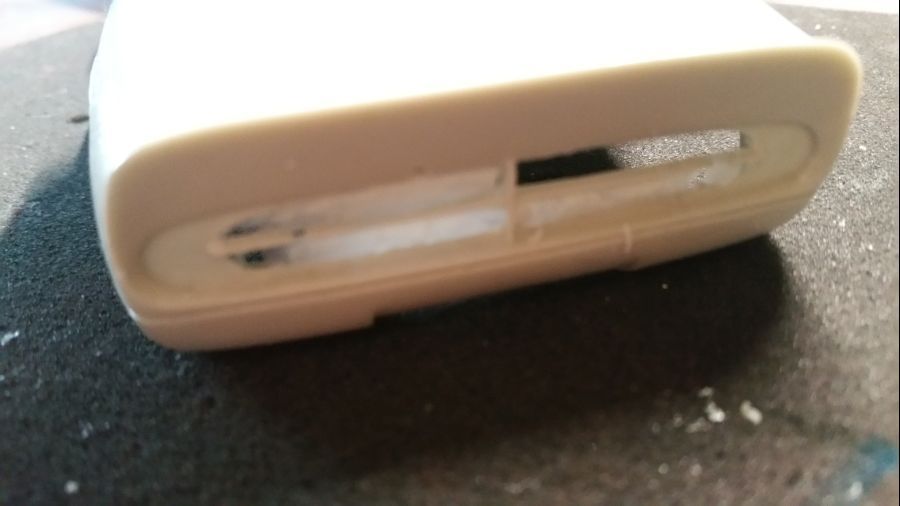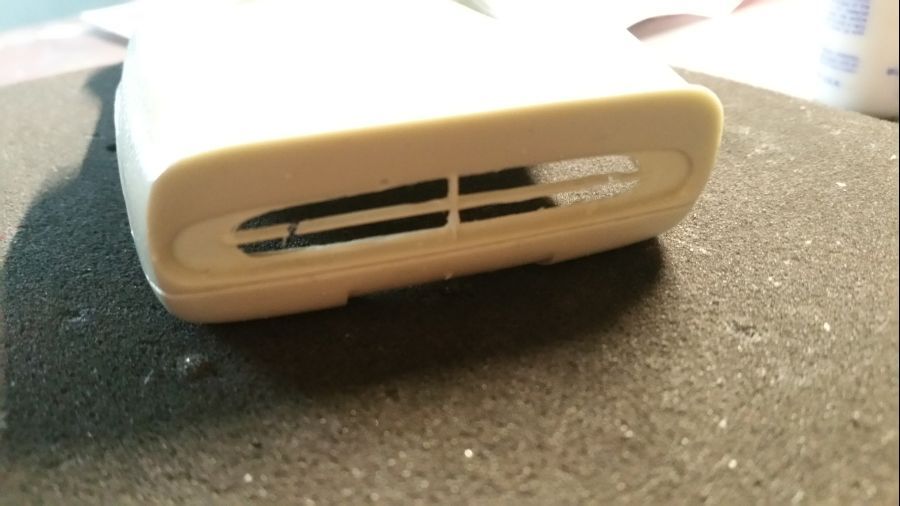 De achterkant heeft een paar beschadigingen in de kunsthars. Deze ga ik repareren. Een drupje witte lijm doet wonderen.
The back has some small problem areas in the resin. I will repair these. A drop of white glue does it.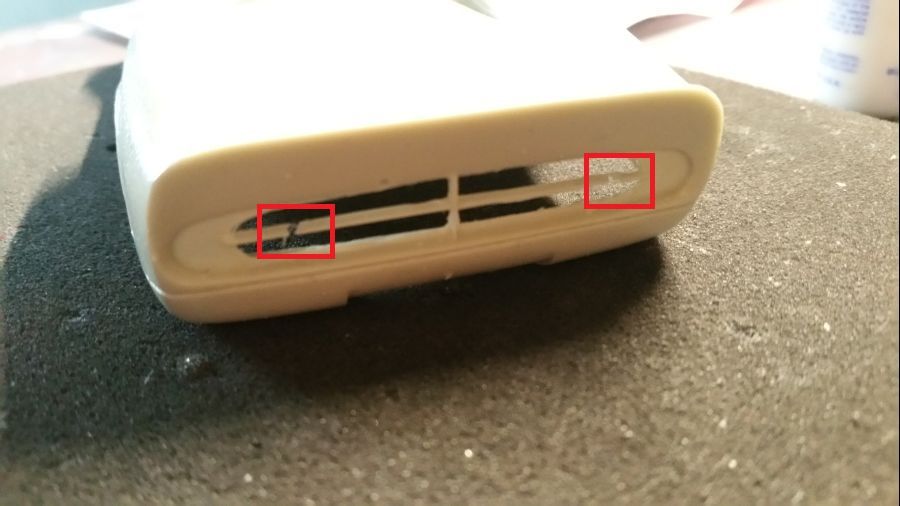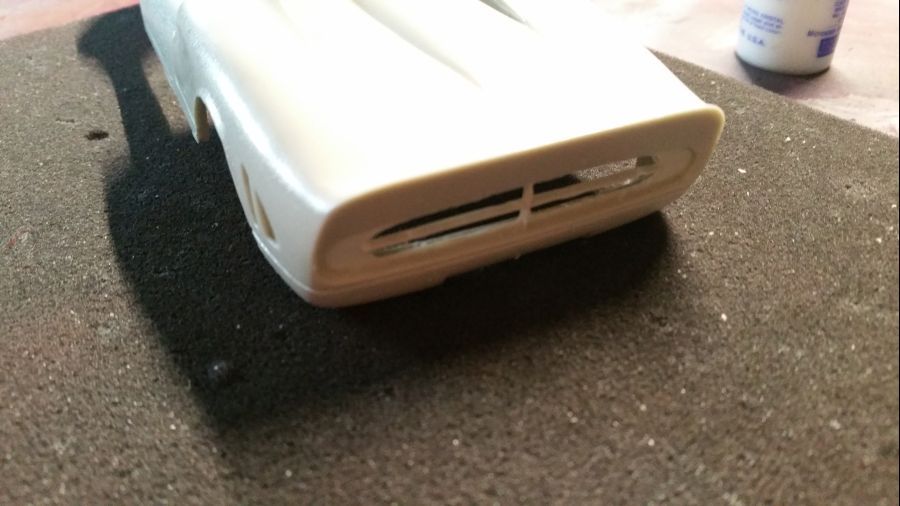 Hetzelfde met de vloer.
The same to the floor.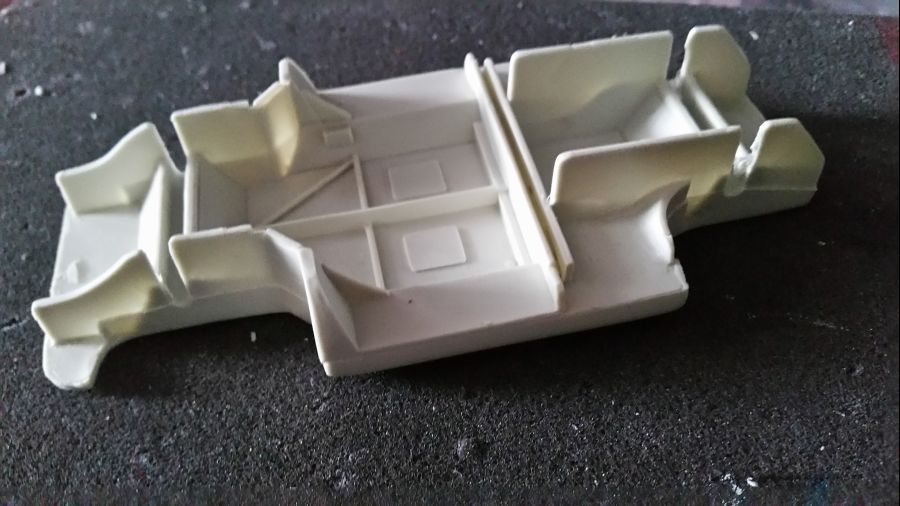 De body en een deel van de vloer krijgen witte grondverf.
The body and a part of the floor get white primer.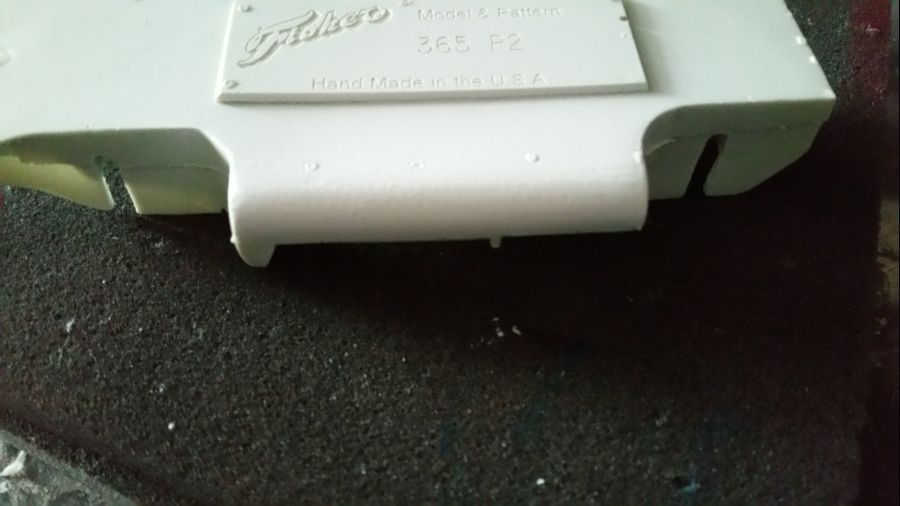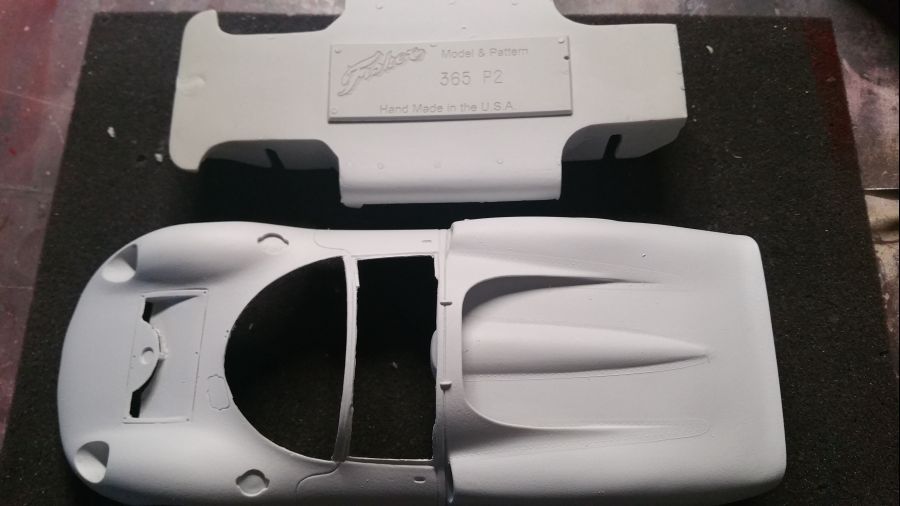 Daarna glad schuren en de gele verf. Ik gebruik Motip 01679 hoogglans koolzaadgeel.
Then some sanding and the yellow paint. i use Motip high gloss rape yellow.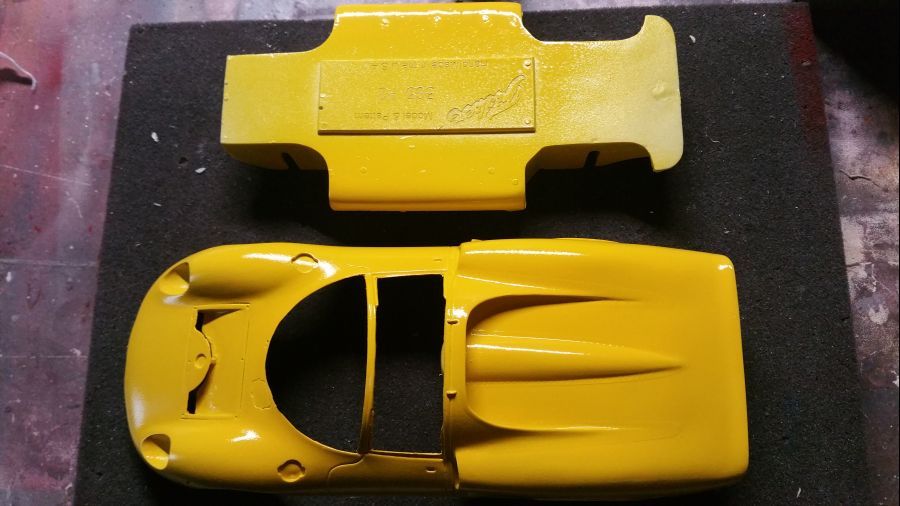 Alles maskeren voordat het rood erop gaat. Deze keer Colorworks nr. 918506 RAL 3002 Hoogglans Karmijn Rood. Helaas een beetje bloeden van het rood. Dit werk ik een beetje bij.
Masking everything before it gets the red. This time Colorworks no. 918506 RAL 3002 High Gloss Carmine Red. Unfortunately a bit of red bleeding. I will try to correct it.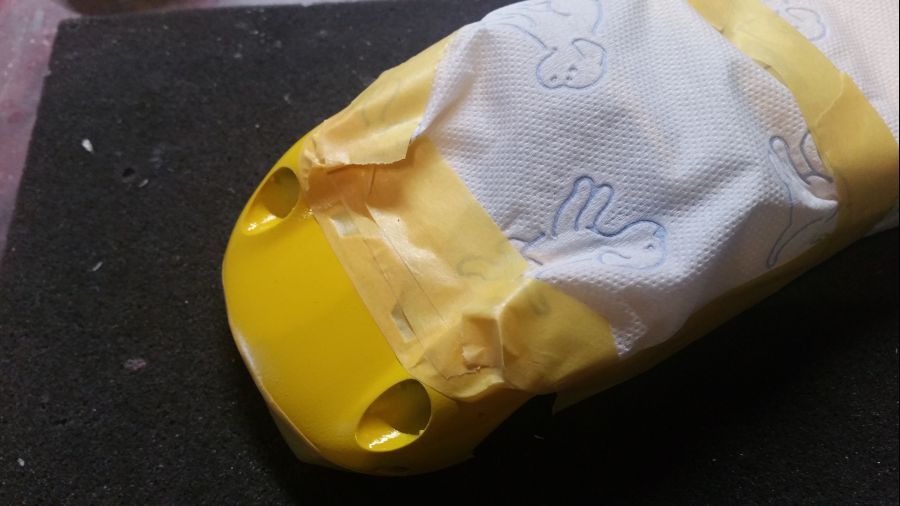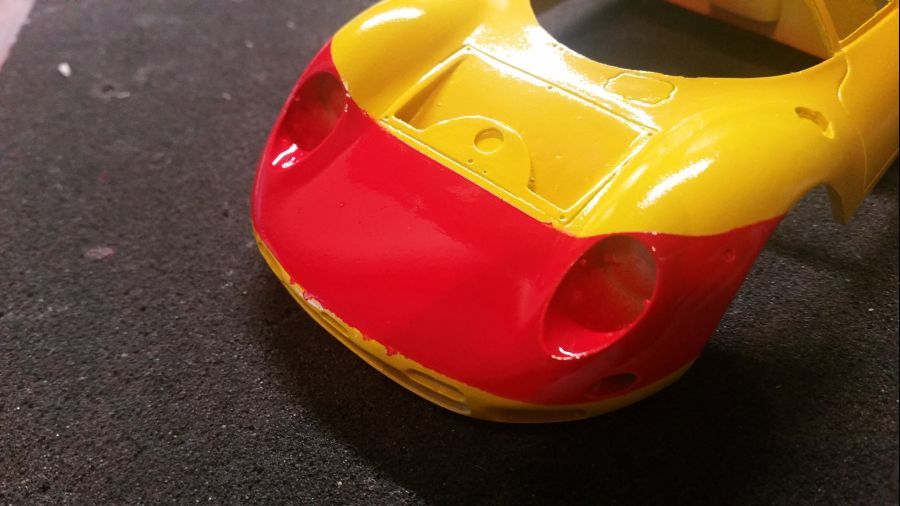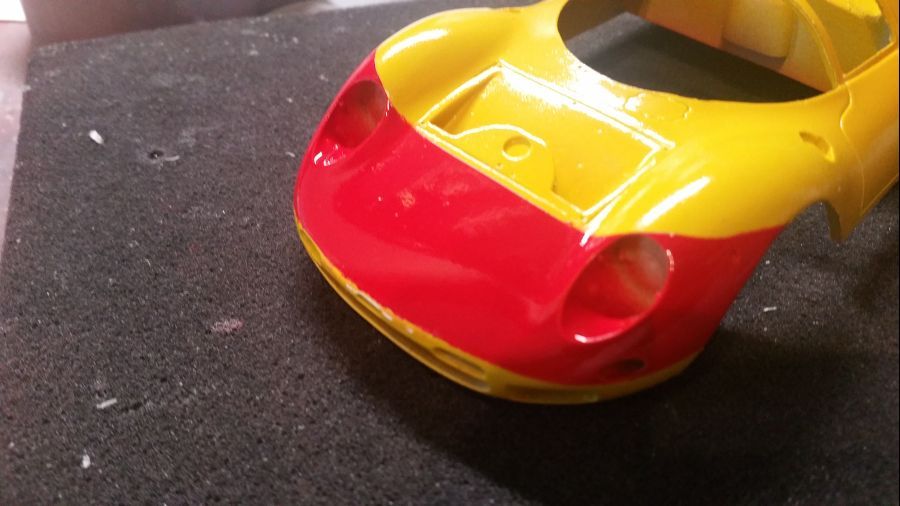 De volgende onderdelen krijgen een laag zwarte grondverf.
The next parts get a layer of black primer.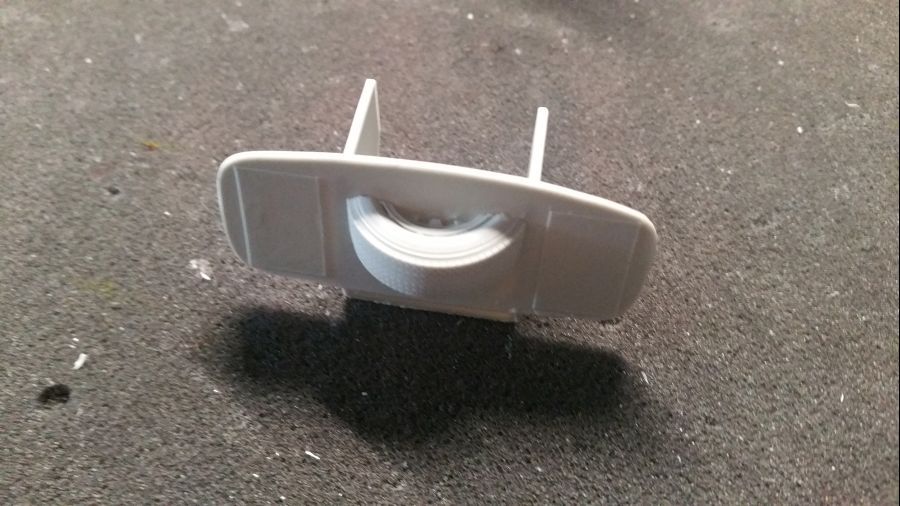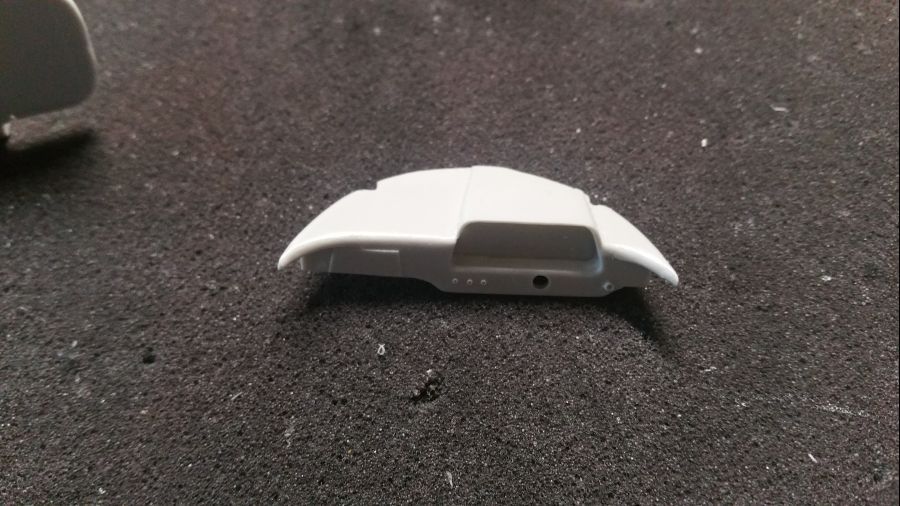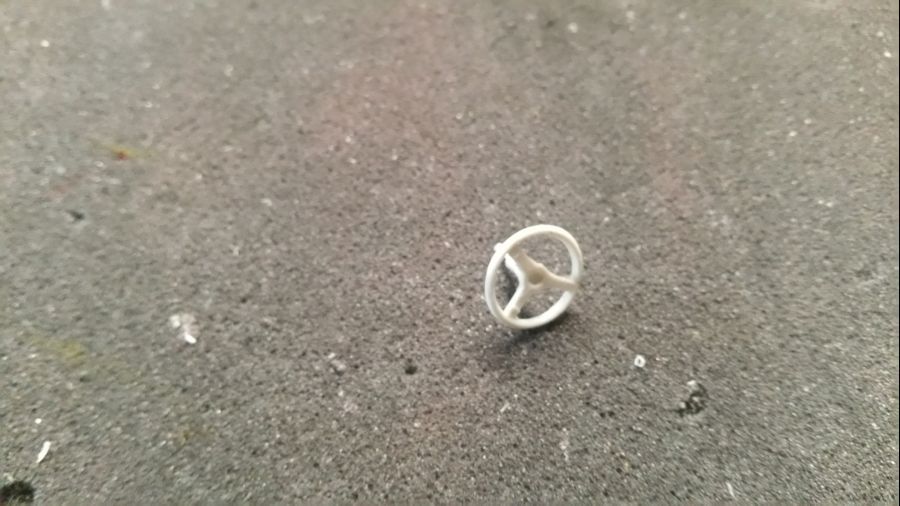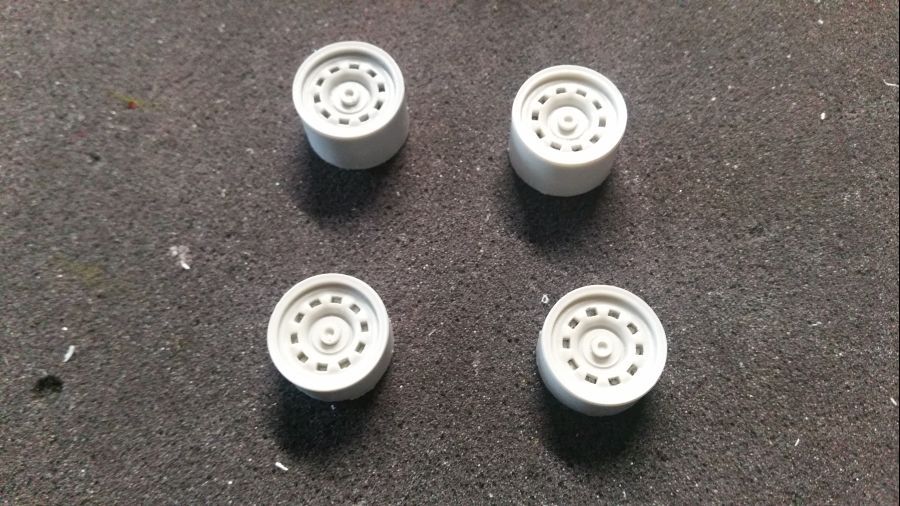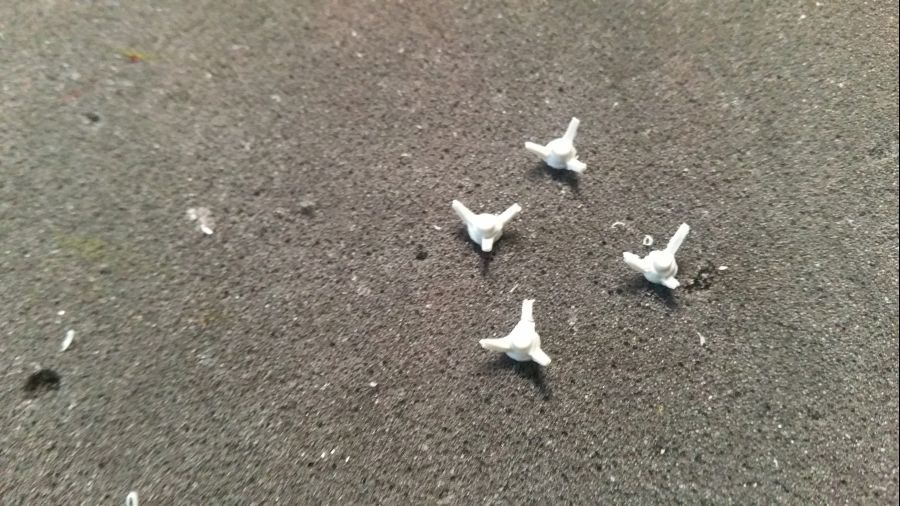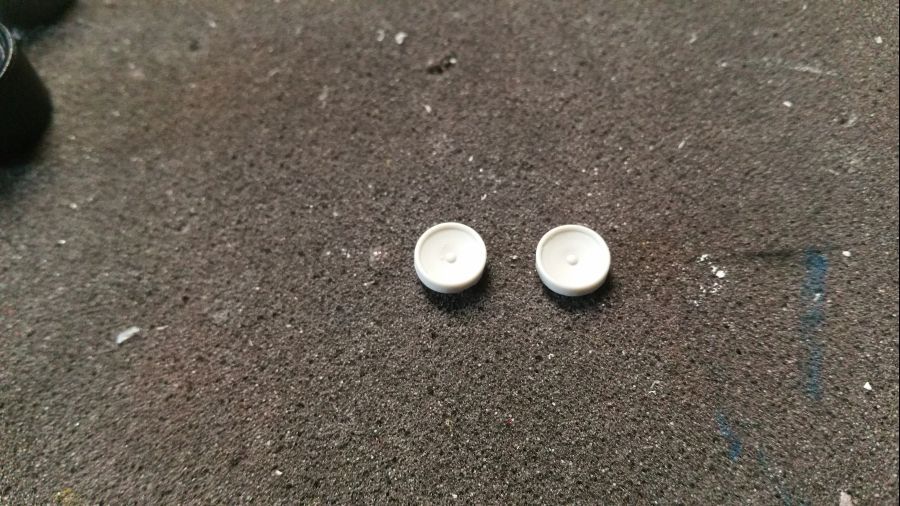 Daarna krijgen sommige delen een laagje Tamiya TS-14 Zwart. Dit ter voorbereiding van het spuiten van chroom.
Then some parts get a layer of Tamiya TS-14 Black. This to prepare them for the chrome.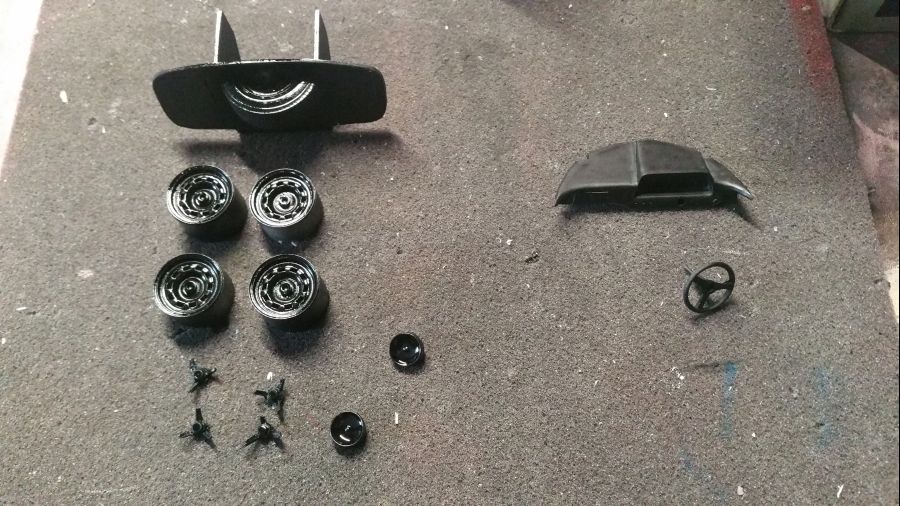 Terwijl dit droogt ga ik verder met de bodem. De vloer wordt voor een deel afgeplakt om het geel te behouden.
While the paint sets i will continue with the floor. The floor gets partially taped to preserve the yellow.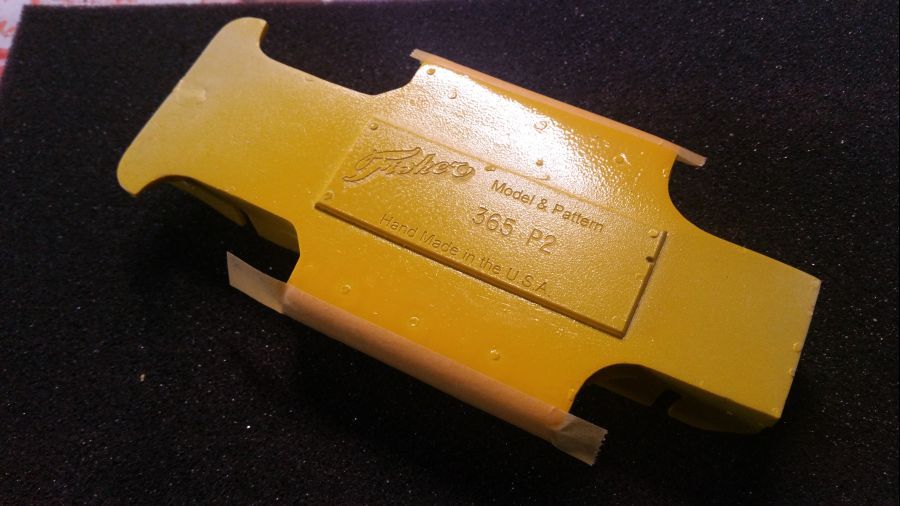 De gele verf van Motip houdt er niet van om in contact te komen met de verf van Tamiya. Goed om te weten voor de volgende keer. Ik maak me er nu niet zo druk om, omdat je het waarschijnlijk niets van ziet wanneer de body erop zit en de stoelen geplaatst zijn.
The yellow paint from Motip doesn't like to get in contact with Tamiya paint. Good to know for the next time. I am not worried now, as you will probably hardly see it when the body and the seats are in place.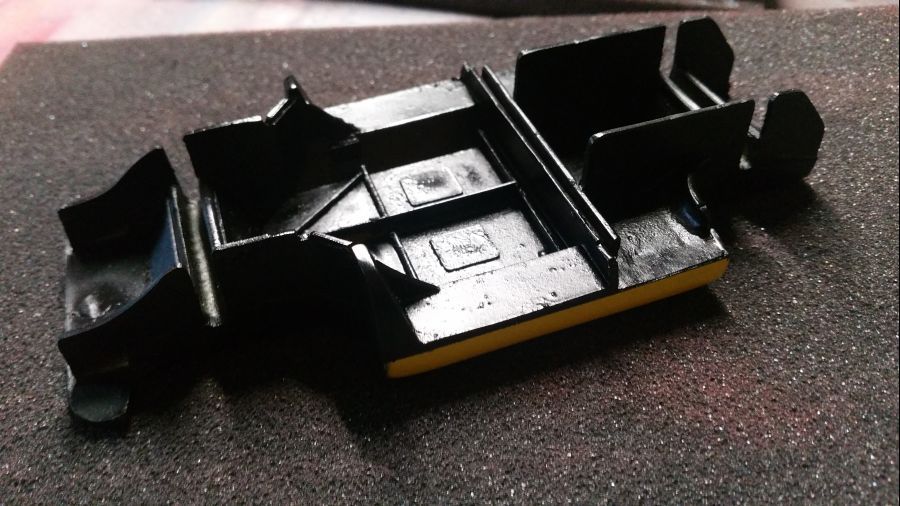 De montagepunten voor de wielen worden zwart gespoten en geplaatst. De korte aan de voorkant, De lange aan de achterkant.
The mountings for the wheels are painted black and attached. The short ones to the front. The large ones to the back.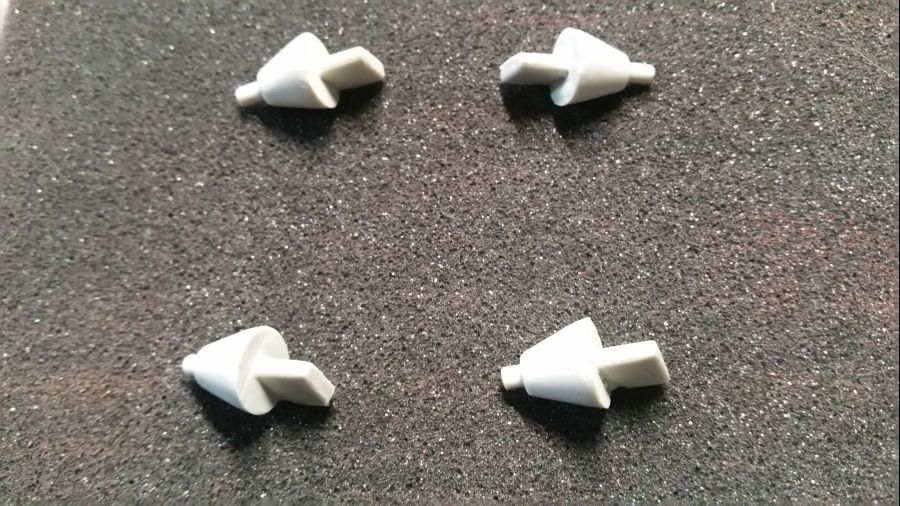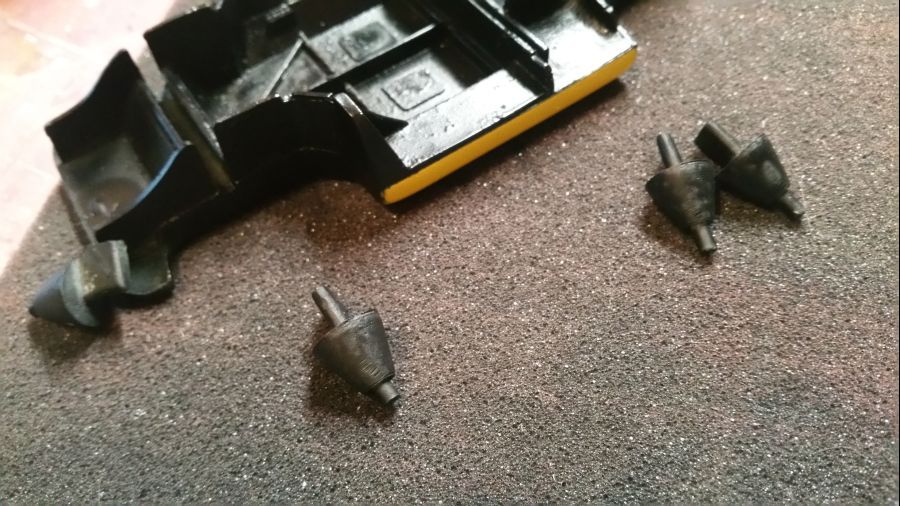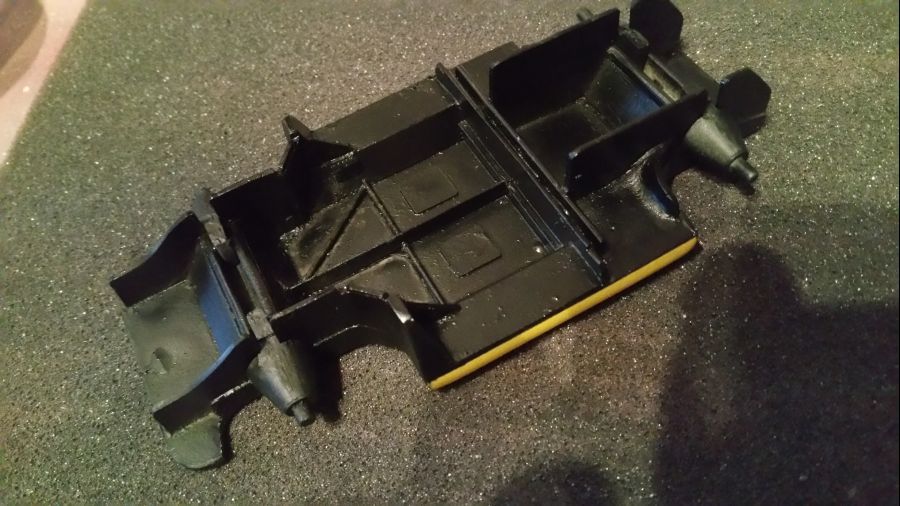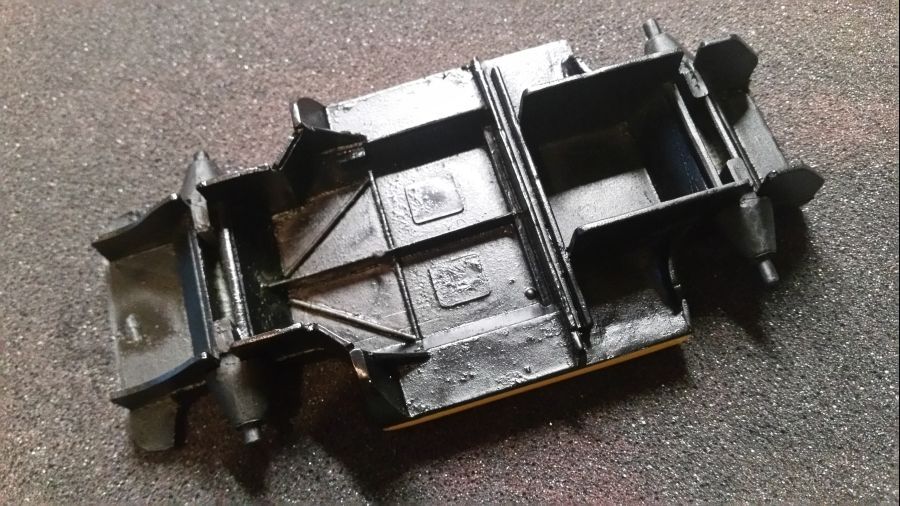 Dan het chroom.
Then the chrome.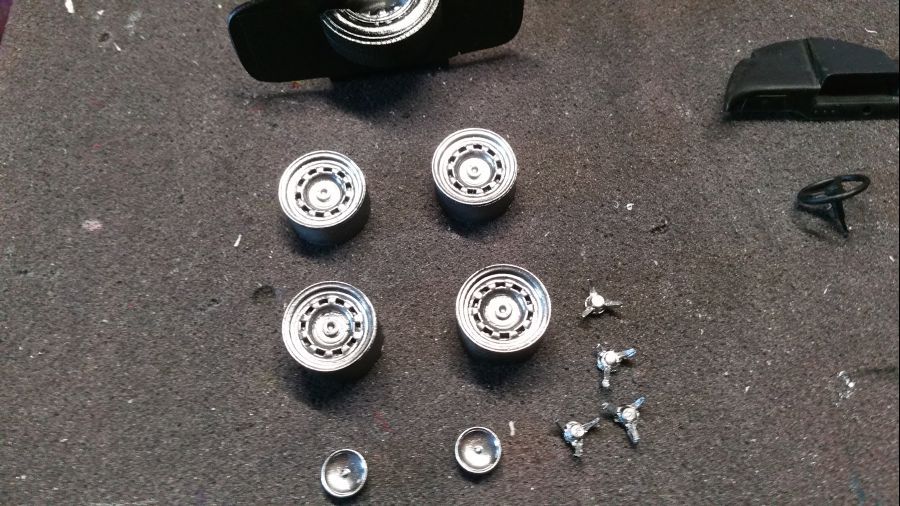 Dan weer werken aan het reservewiel om de overspray van het chroom weg te werken.
Then the work to the spare wheel to get rid of the chrome overspray.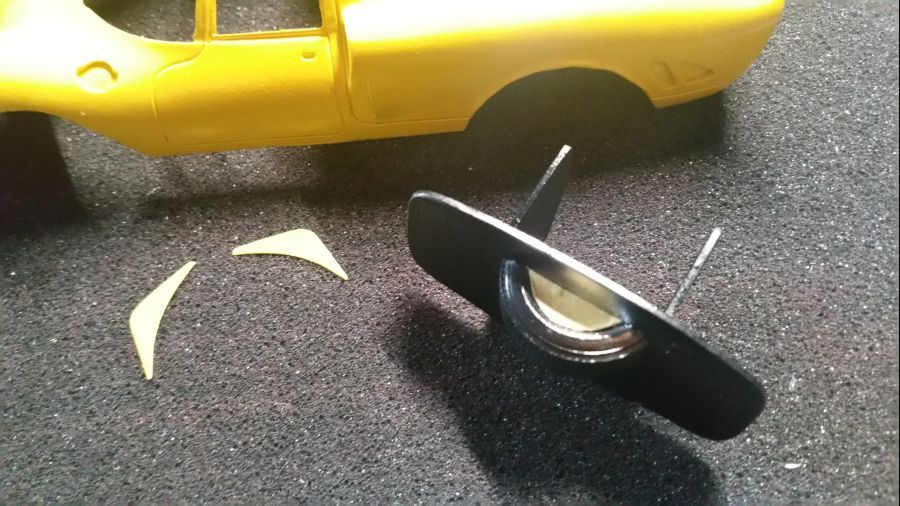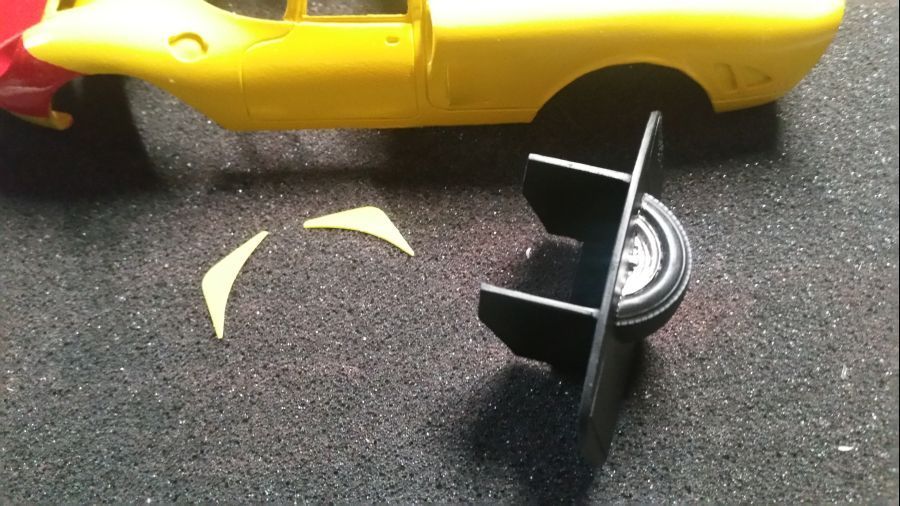 De stoelen worden bewerkt.
Working on the seats.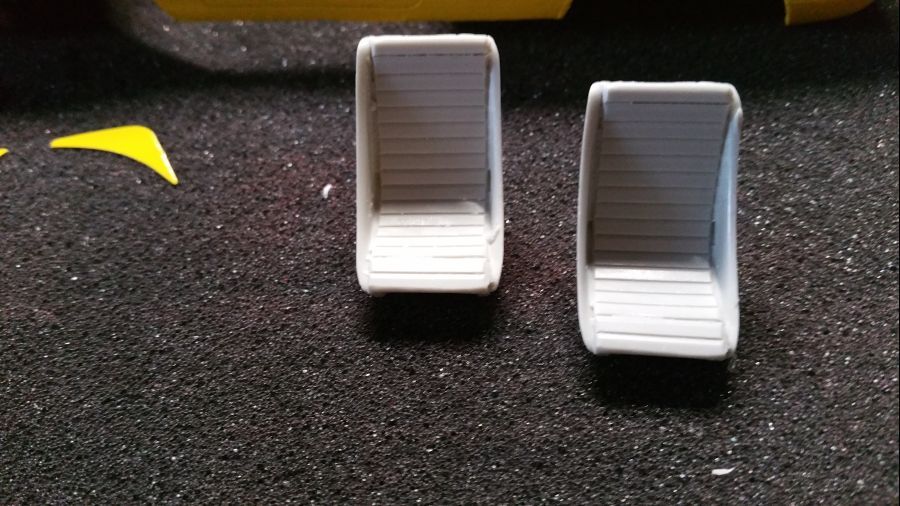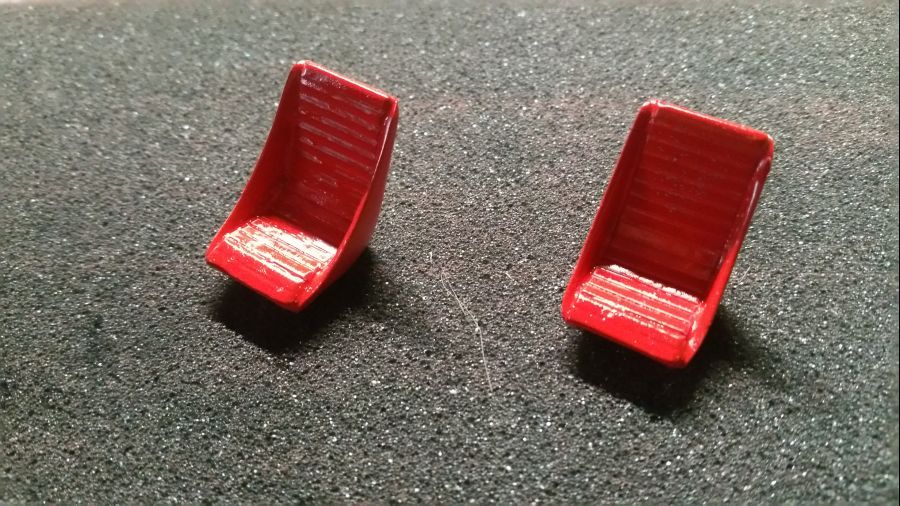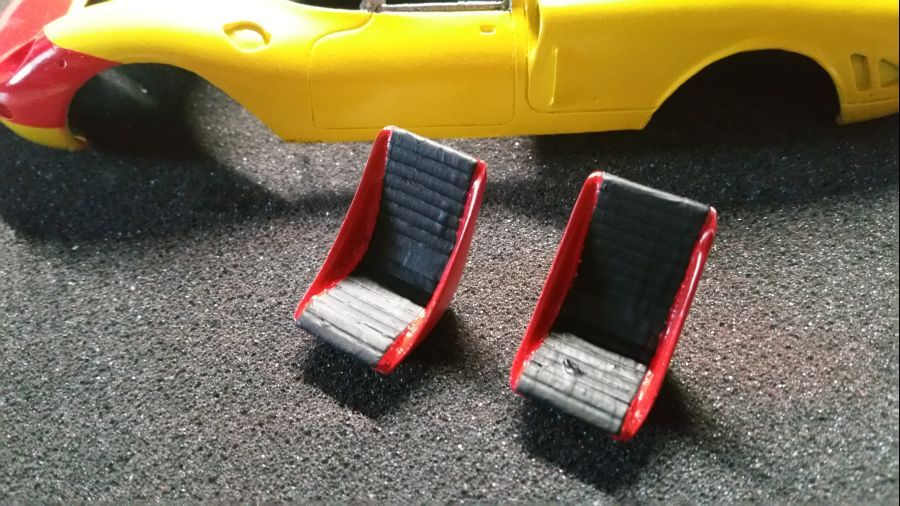 De binnenkant krijgt een verfje.
The inside gets some black.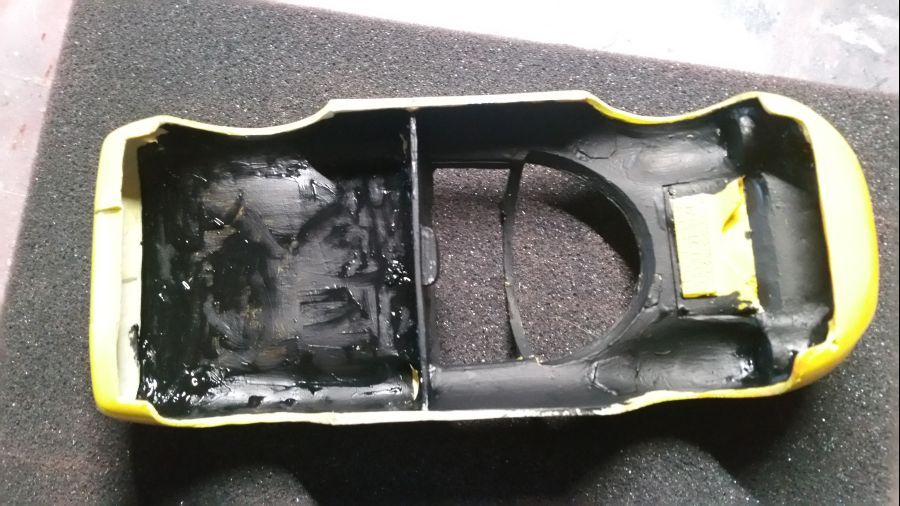 Dan is het dashbord aan de beurt.
Then there's the dash.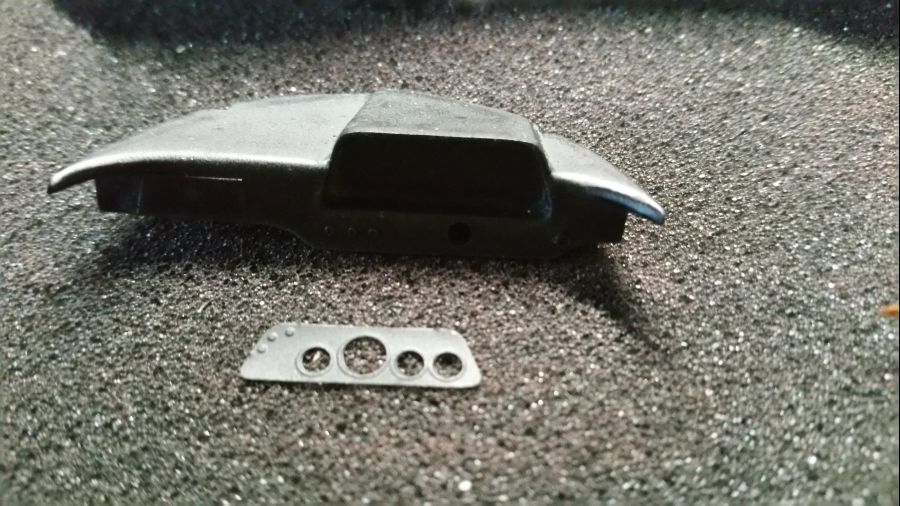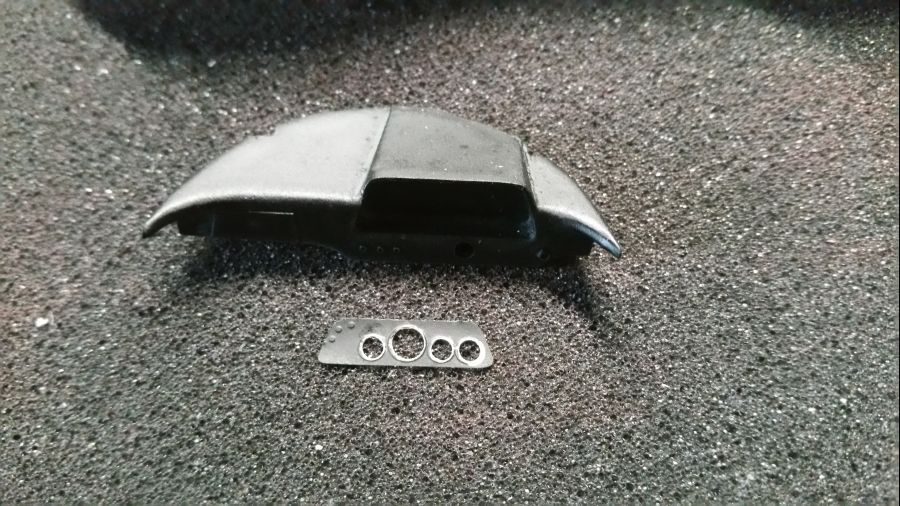 Ik wil er zeker van zijn de de meters goed achter de openingen komen. Ik knip daarom een stukje plastic op maat, zet een stipje in het midden van de openingen en plak daarop de decals. Aan de achterkant kun je zien dat ze goed geplaatst zijn.
I want to be sure the gauges are visible. I cut a piece of plastic to size, put a dot in the middle of the openings and apply the decals. At the back you can verify they are correctly applied.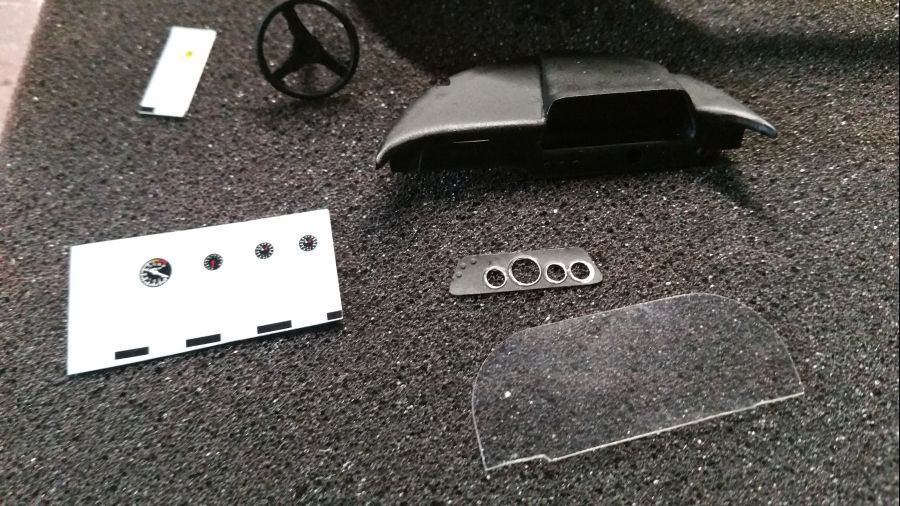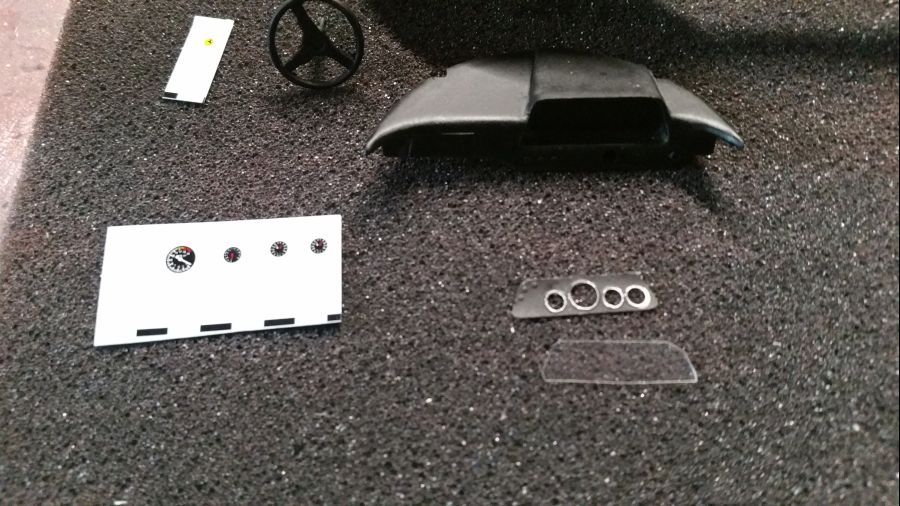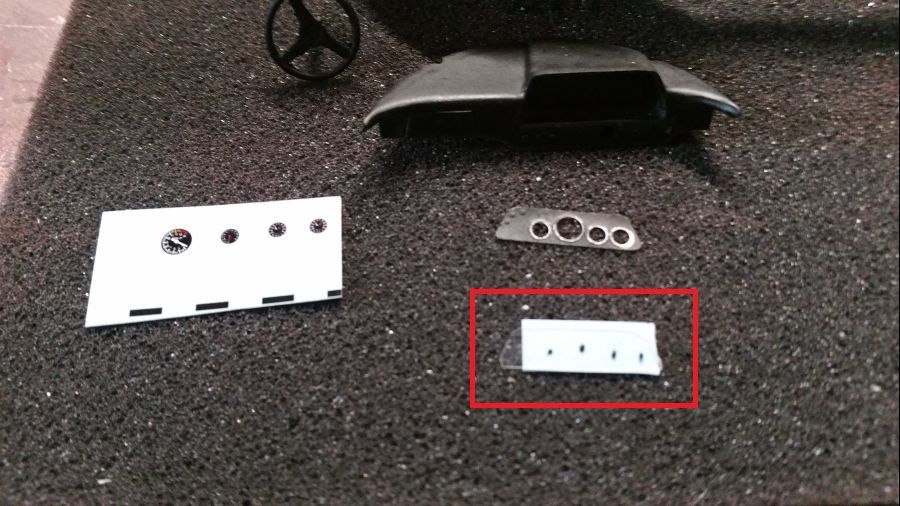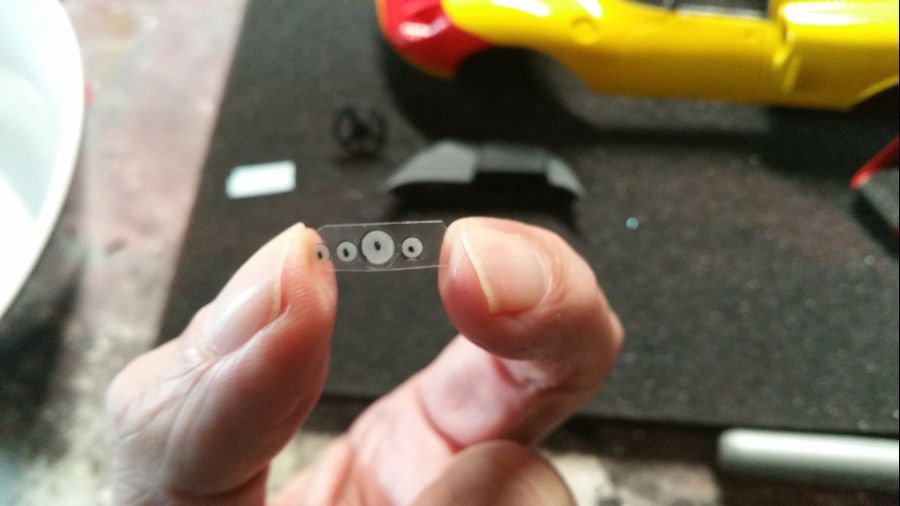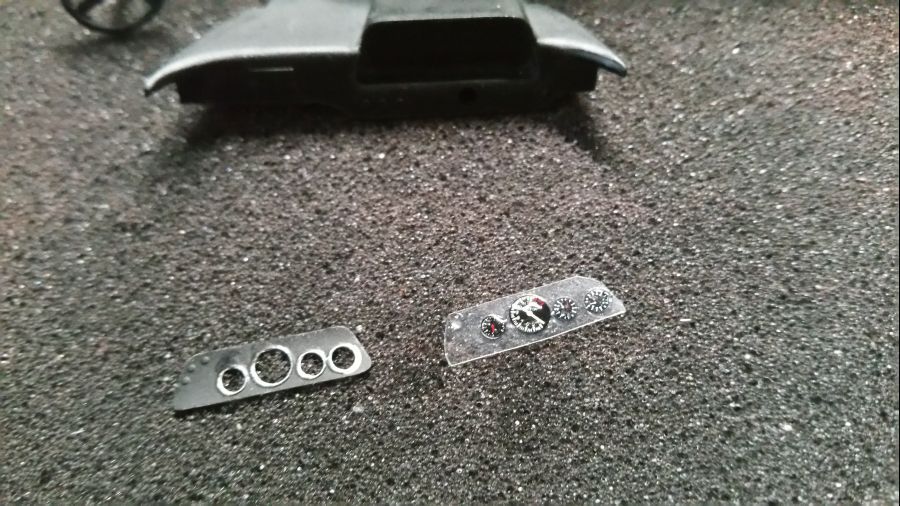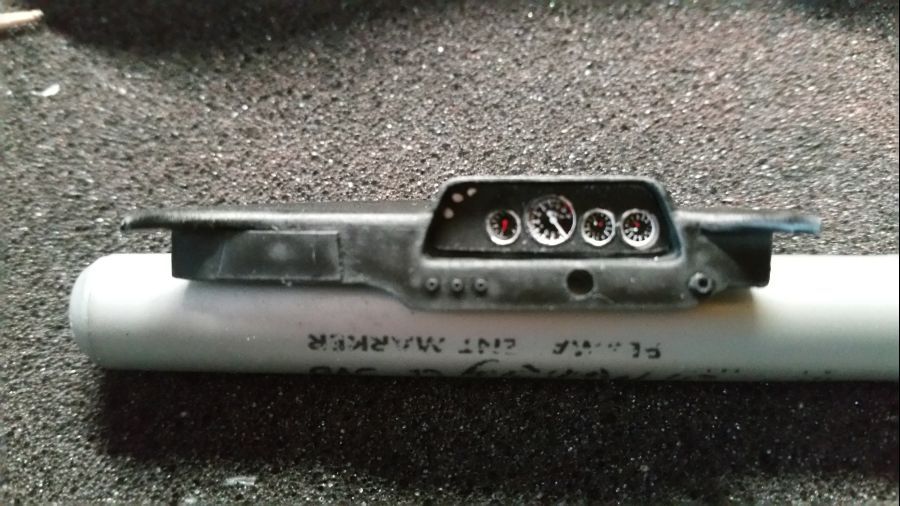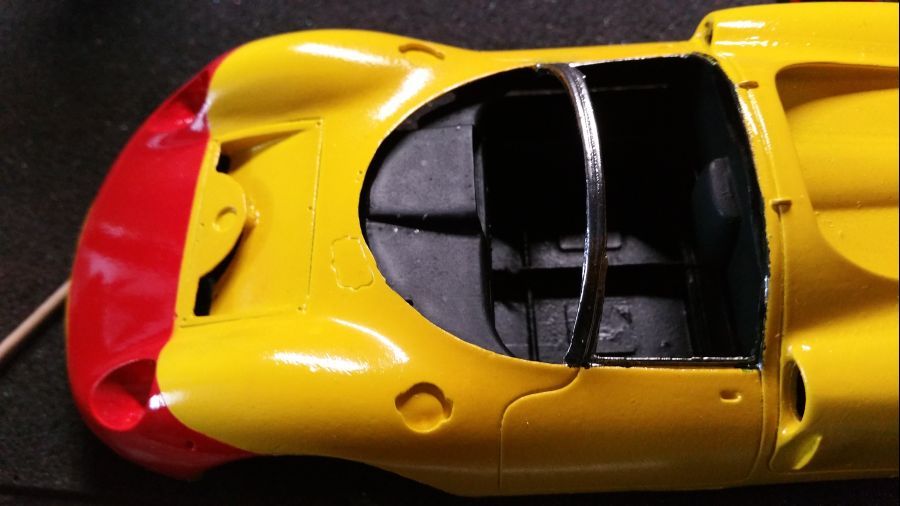 Ik kan geen foto's van het interieur van de wagen vinden. Wel zie ik dat de coureurs nog geen gordels over de schouder hadden. Ik vermoed dat ze nog een gewoon heupgordeltje hadden. Die ga ik daarom plaatsen.
I am unable to find pictures of the interior of the car. I see though that the drivers dit not have belts over their shoulders. I assume they had just a belt on their hips. That's why i will apply these.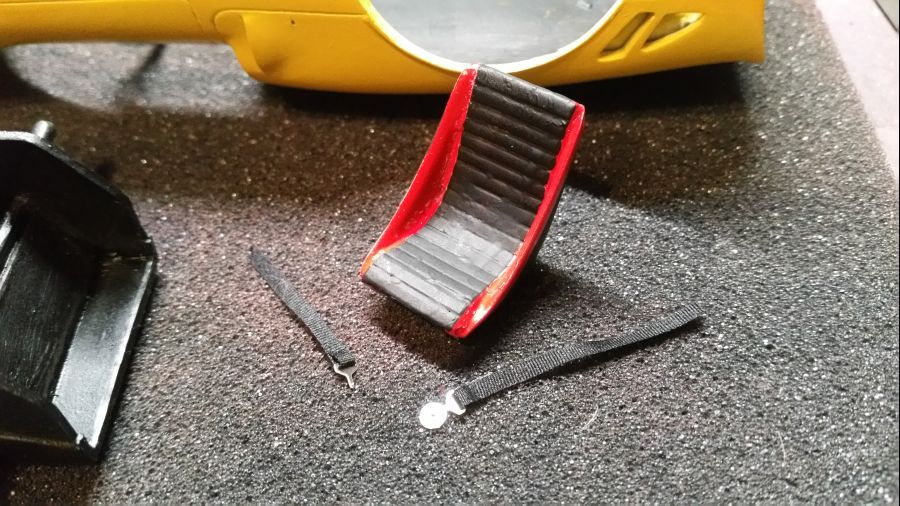 Bij het plaatsen van de stoelen is het even opletten. De achterwand van de body valt in een sleuf in de vloerdeel. De achterwand heeft echter een beetje een vooruitstekend deel (rood). Hou daar rekening mee met het plaatsen van de stoelen. Ze moeten wat verder naar voren geplaatst.
When attaching the chair this needs some attention. The rear wall of the body fits a groove in the floor part. This wall has a bit of a bump (red). Keep it in mind when attaching the seats. They need to be attached a bit more forward.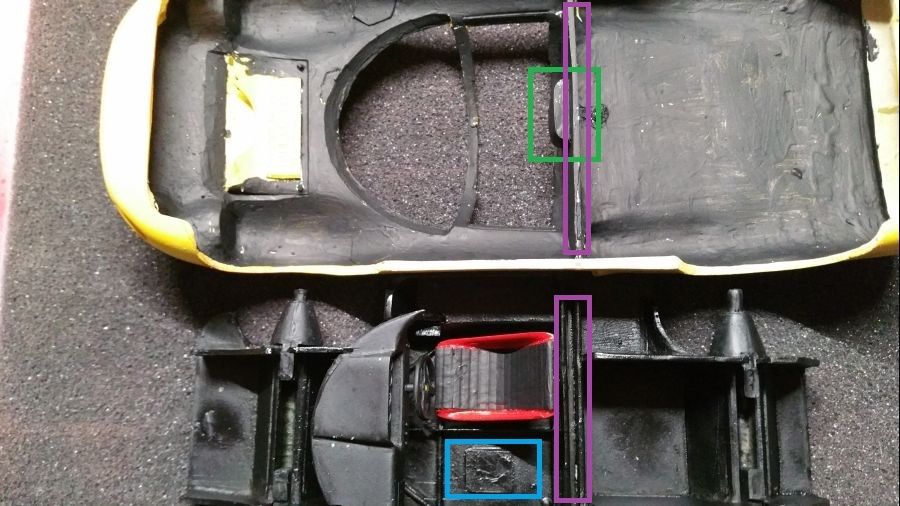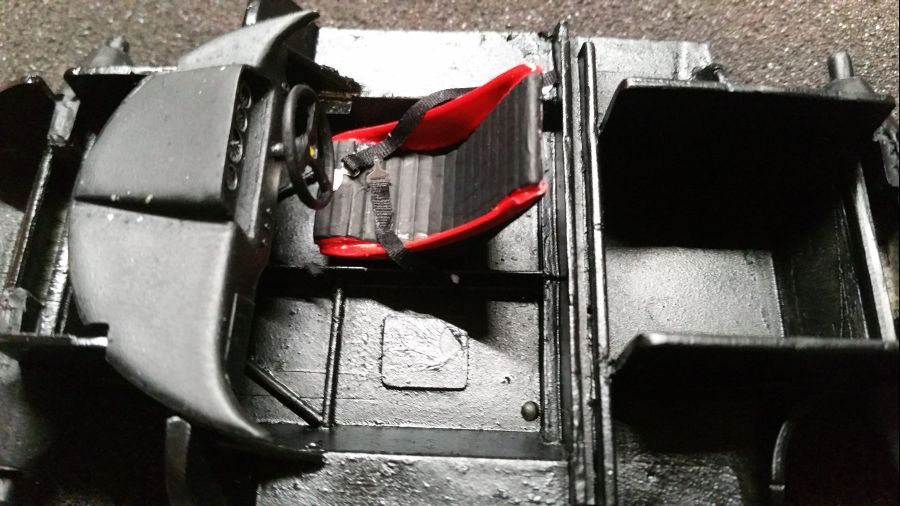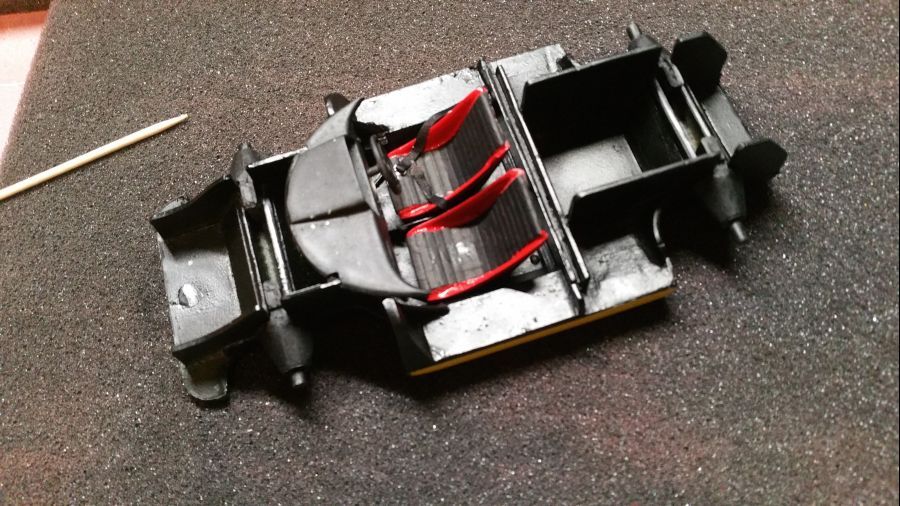 Dan kan het segment met het reservewiel worden geplaatst.
Then the part with the spare wheel can be attached.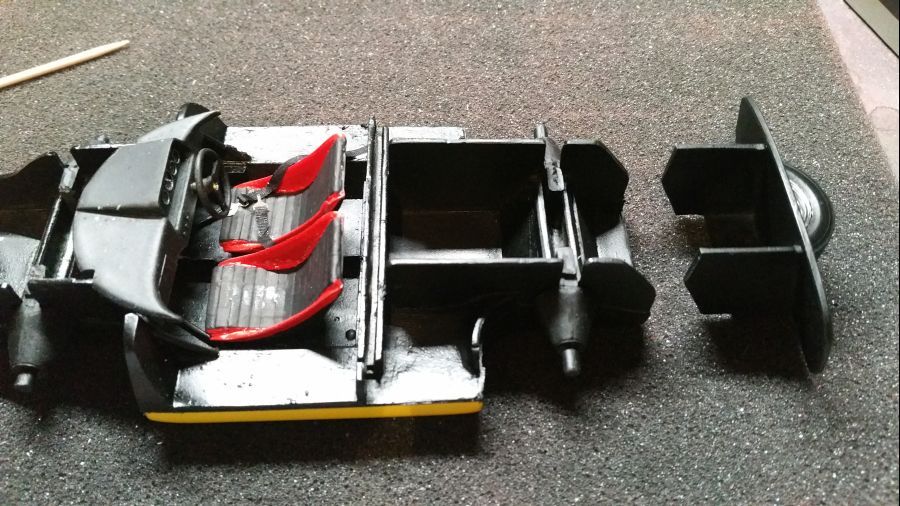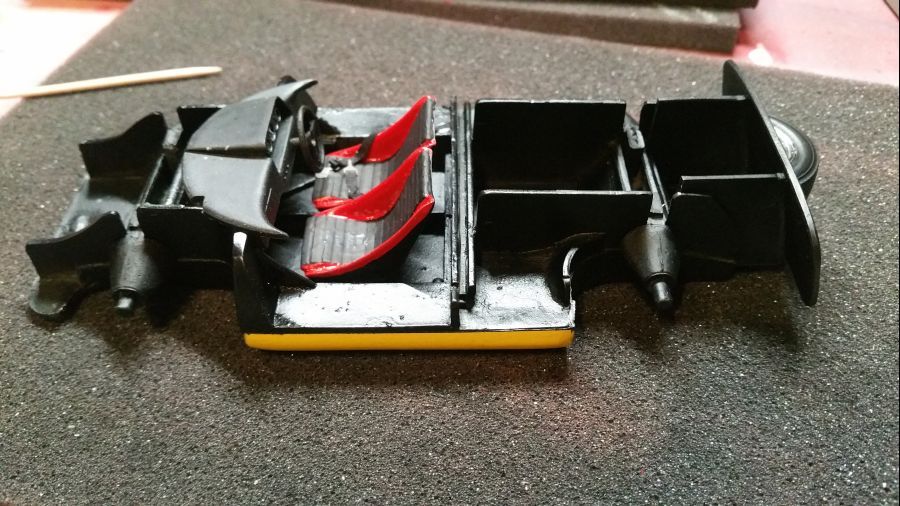 De wielen gaan erop.
The wheels get mounted.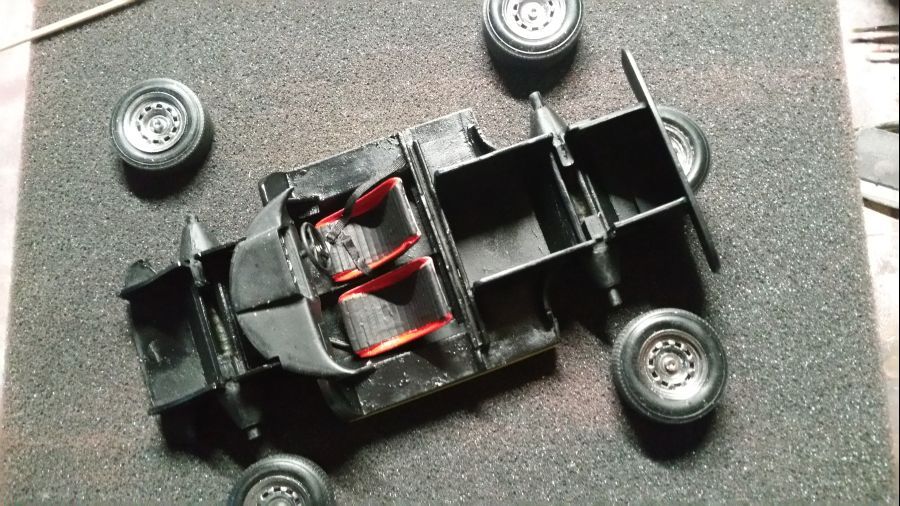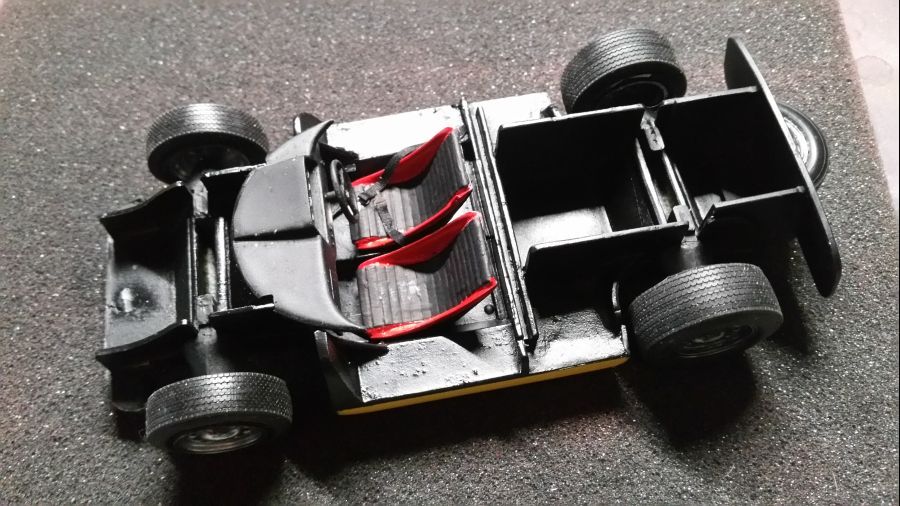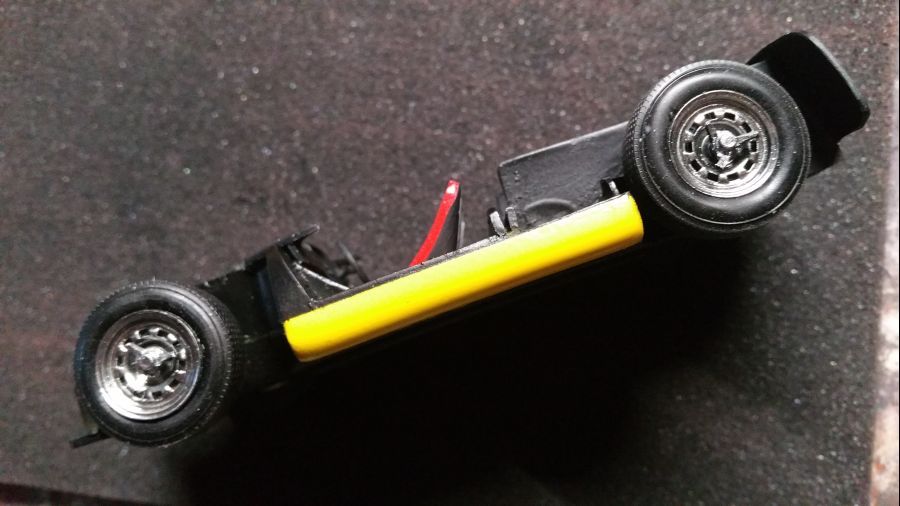 De binnenkant van de koplampen wordt geverfd.
The inside of the head lights get some paint.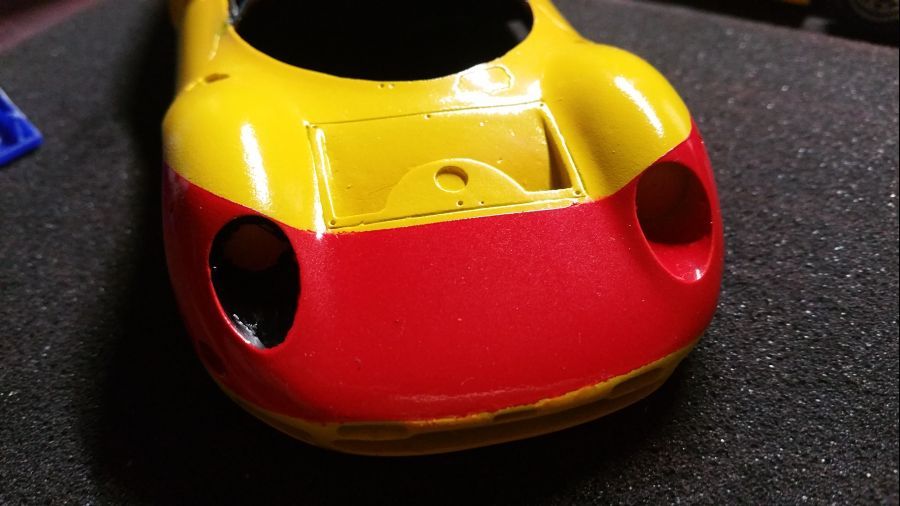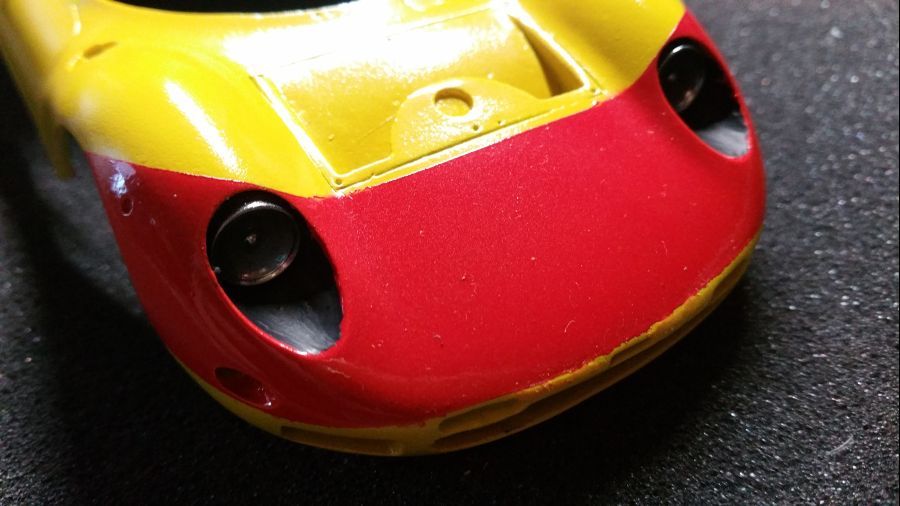 De voorruit is uitgeknipt en wordt geplaatst. De witte lijm droogt onzichtbaar op.
The front shield has been cut and added. The white glue will dry invisible.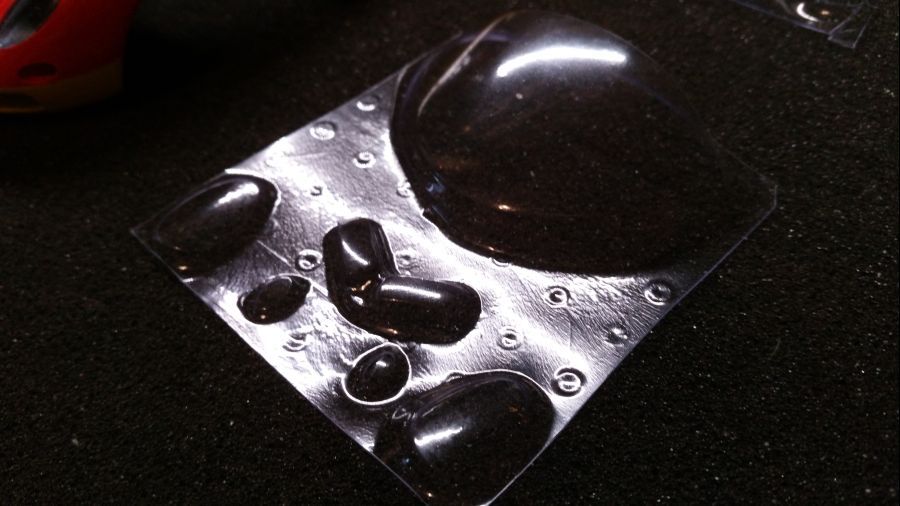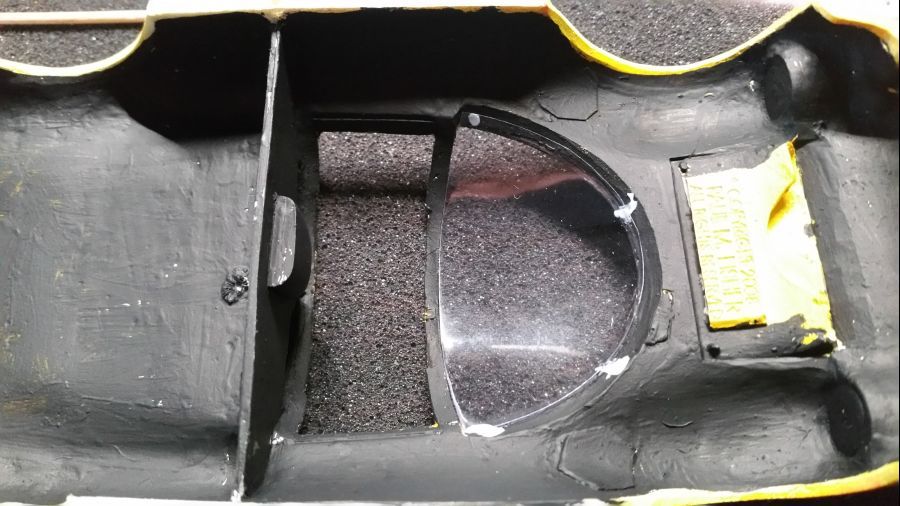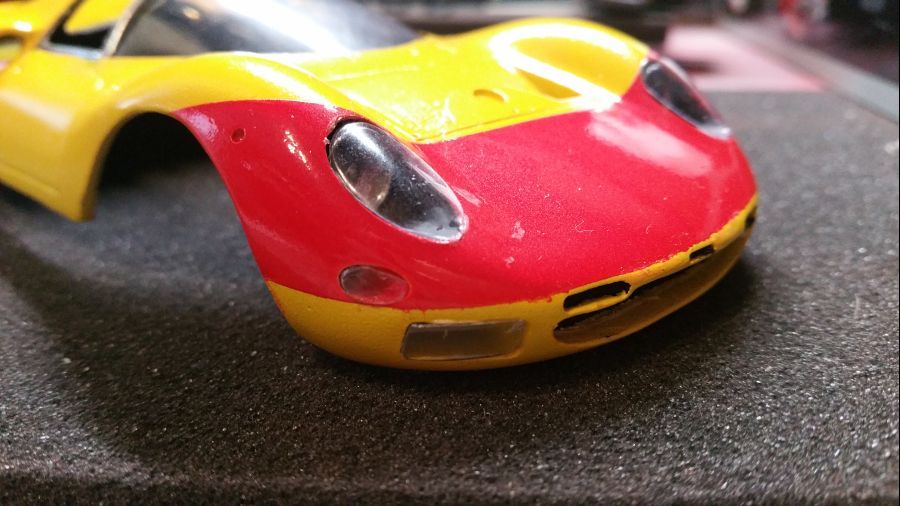 Volgens de instructies: knip the achterlichten uit.....maar die zijn er niet.... dus een duik in de rommelkist.
According to the instructions: cut out the rear lights....but there are none.... so another dive in the scrap box.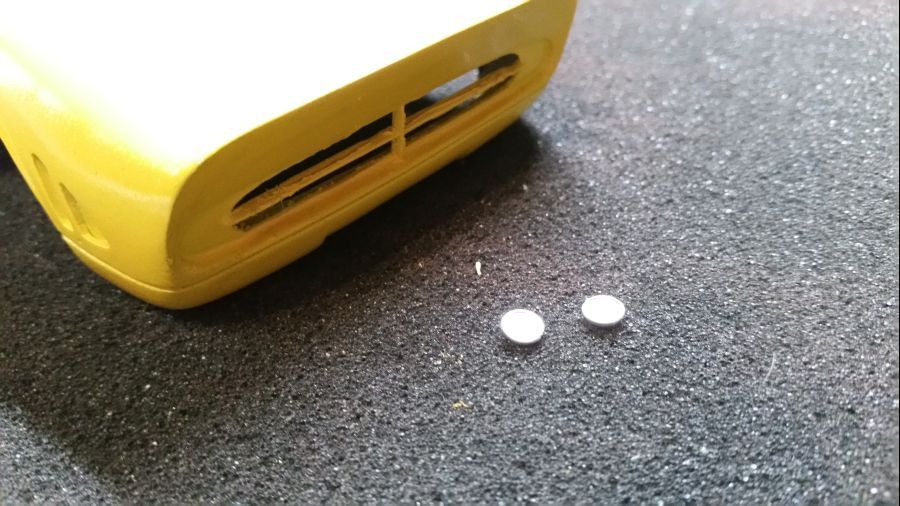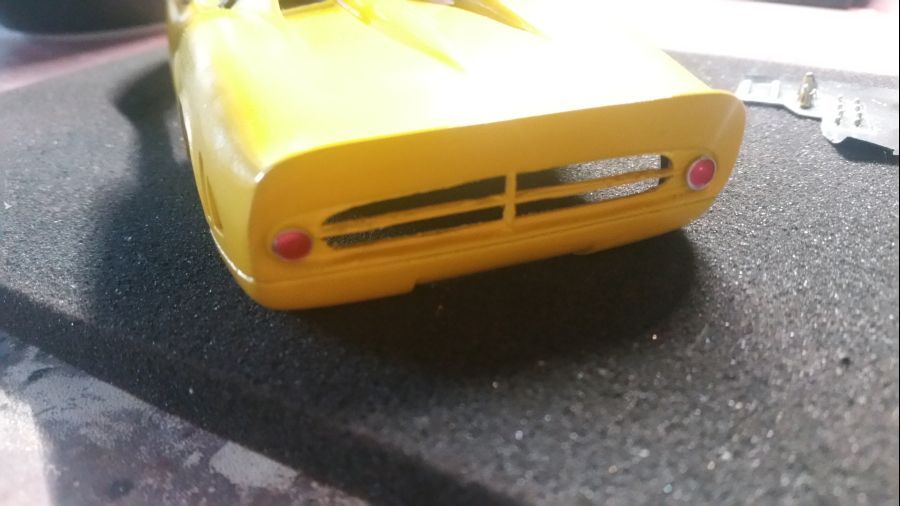 Wat chrome onderdelen worden geplaatst.
Some chrome parts get applied.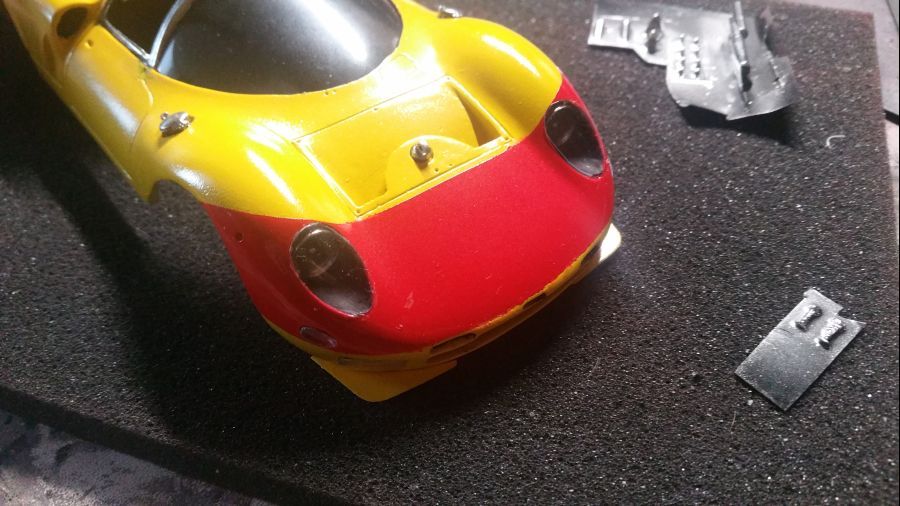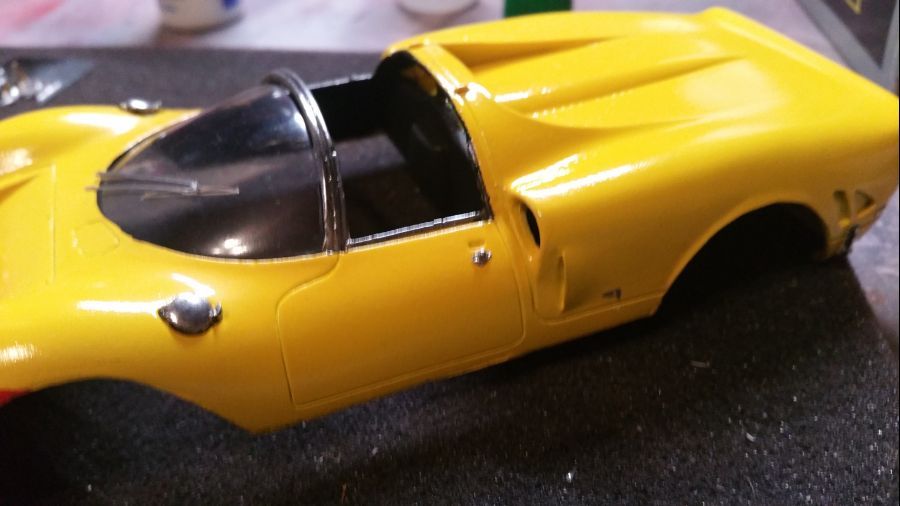 Voor de decals is het even oppassen. Deze moeten verdeeld worden over het vloerdeel en het bodydeel. Deze moeten dus geknipt worden. Dan moet de Mirco Sol goed drogen voordat ik verder kan.
The decals need attention. They need to be applied on the floor part and the body part. So they need to be cut. Then let the Micro Sol dry before continuing.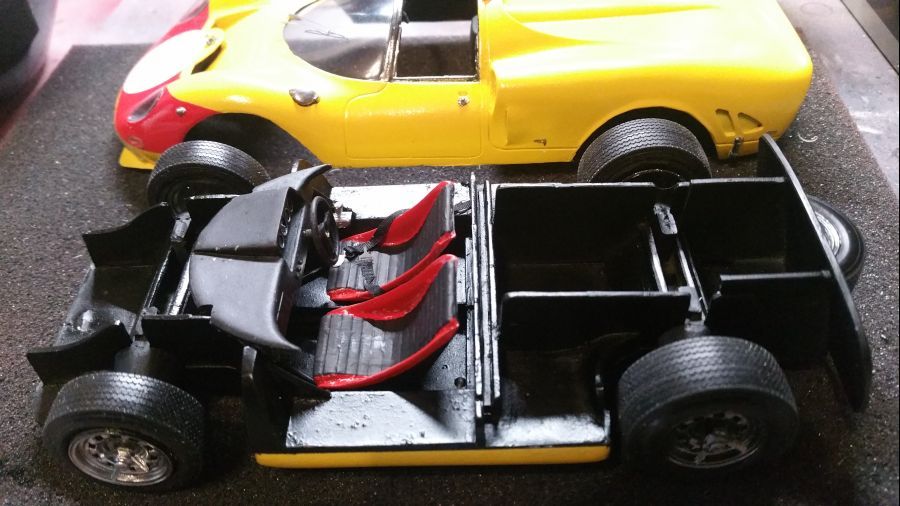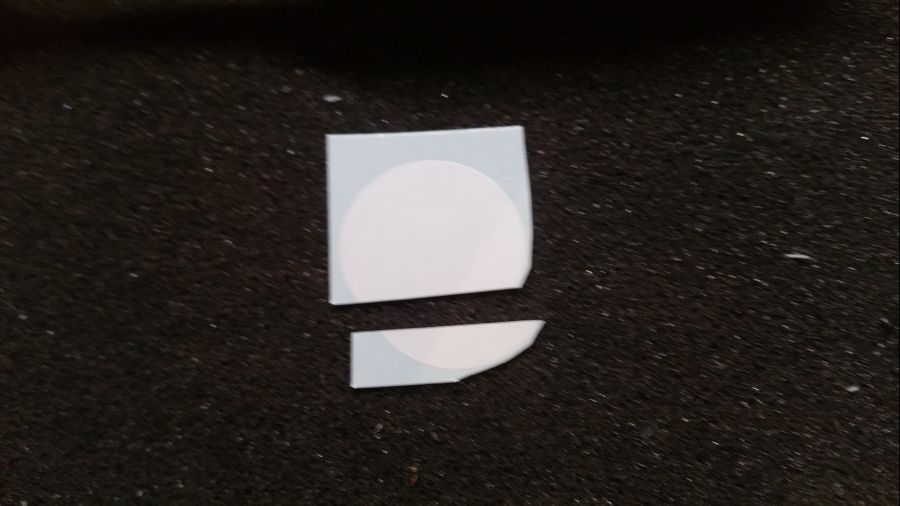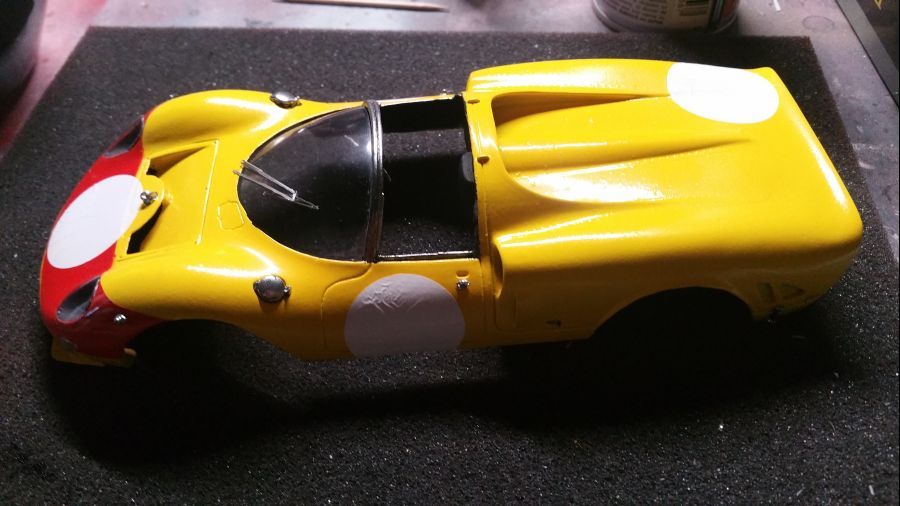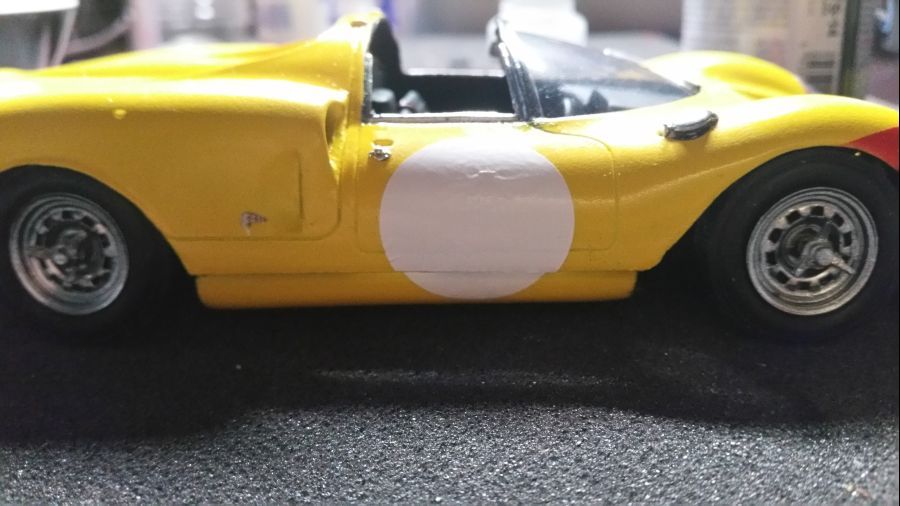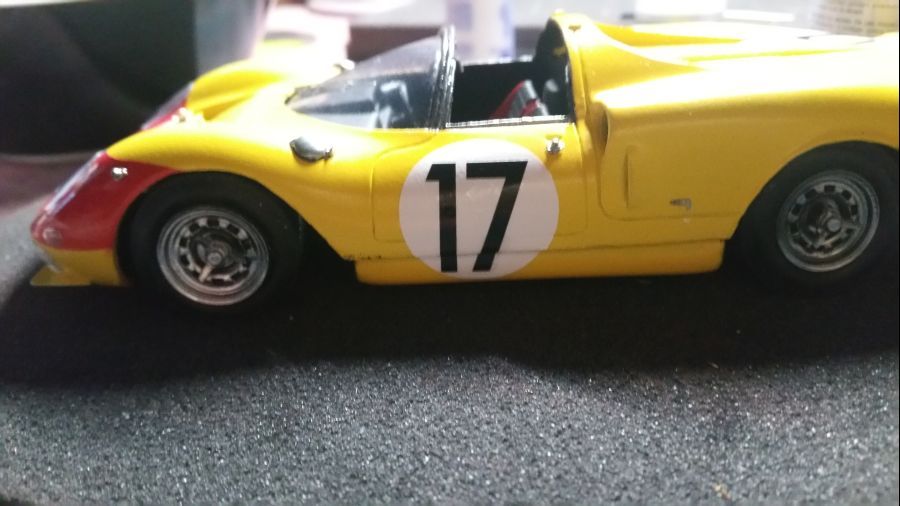 Dan nog de zijramen...
Then the side windows...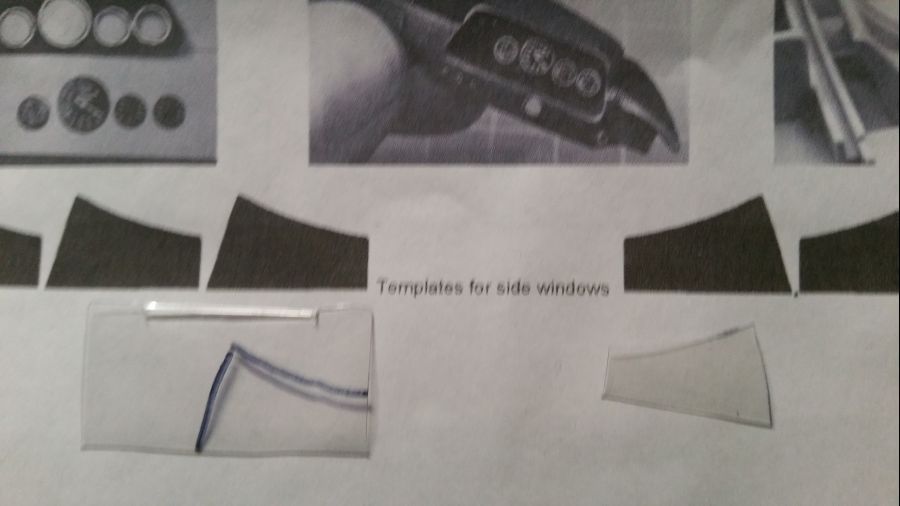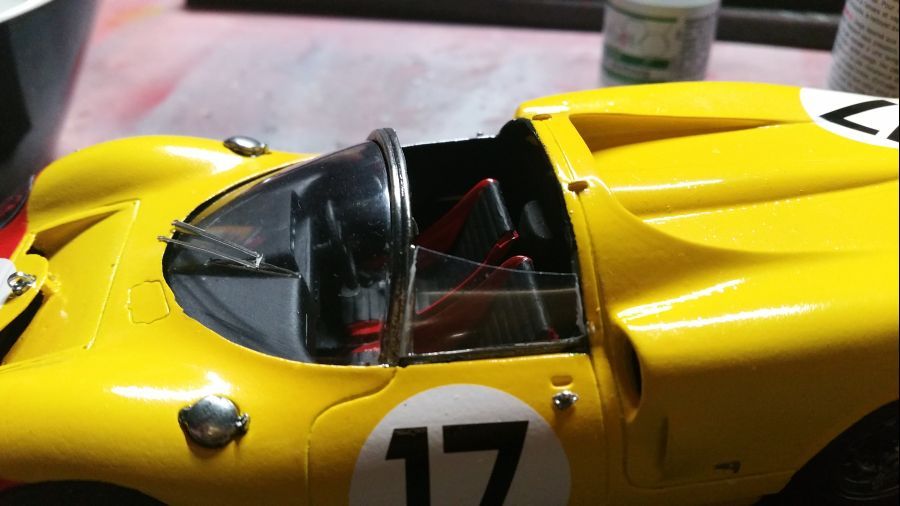 De uitlaten worden klaargemaakt en geplaatst.
The exhausts are prepared and added.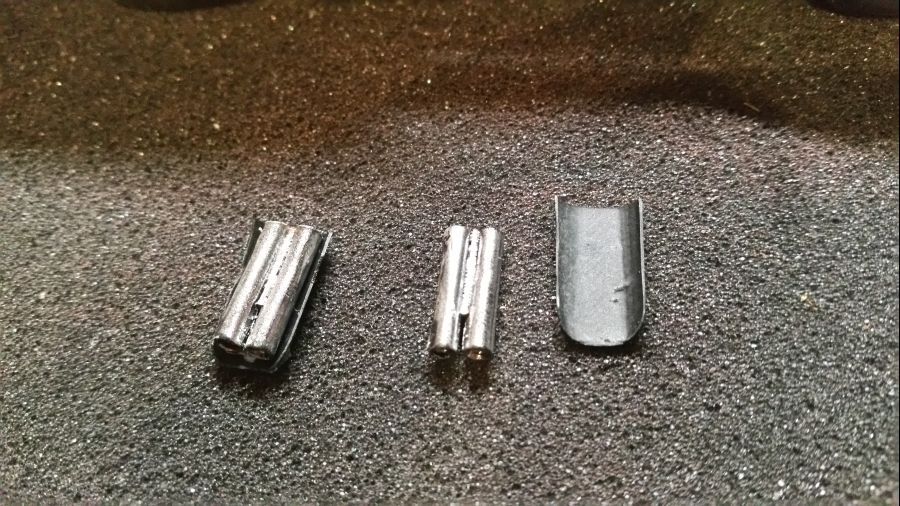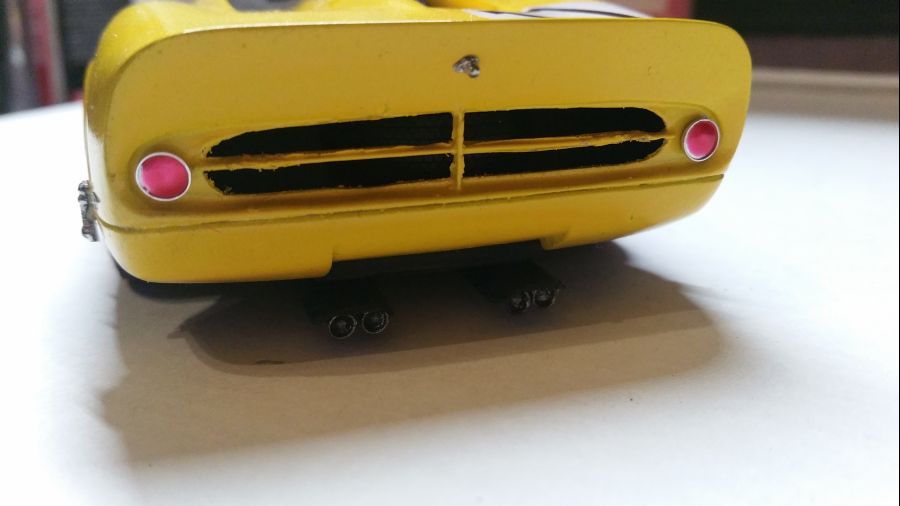 Er missen een paar decals in de kit, dus duik ik nog even in de rommeldoos. Deze zijn eigenlijk iets te groot, maar liever iets dan niets.
Some decals are missing in the kit, so i take a dive in the scrap box. These are a bit too large, but better something than nothing.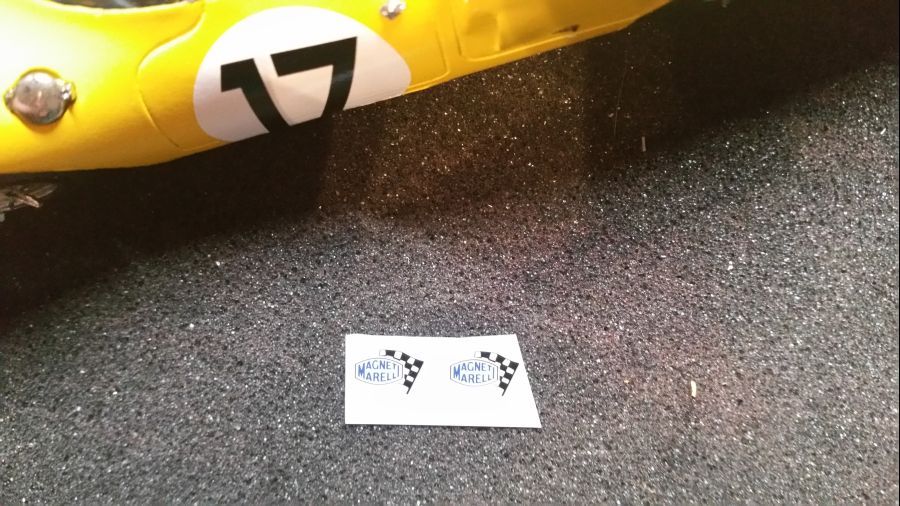 En ook deze kan weer op de plank...
And this one is ready for the shelf too...