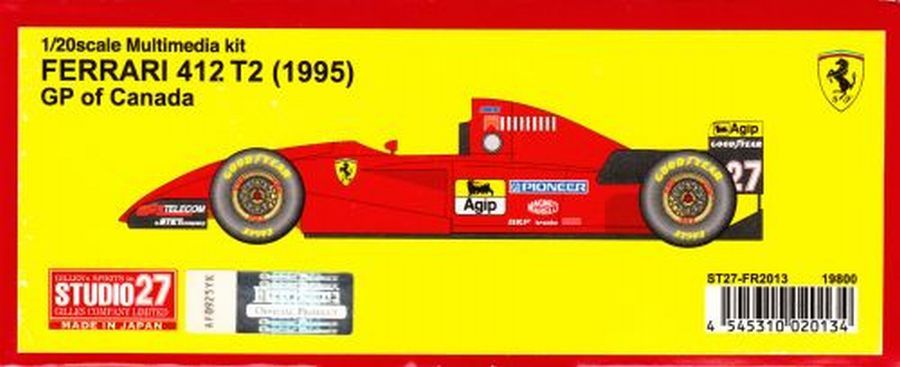 Deze keer de bouw van een Ferrari 412 T2 uit 1995. Het is de versie zoals deze werd gereden door Jean Alesi tijdens de GP van Canada. Dit is een kit van Studio27 (kit nr ST27-FR2013) in schaal 1/20. Ik heb meerdere versies van deze 412 T2. Allemaal met een andere achtervleugel. Eerst weer de foto's van de inhoud van de kit en de extra's. Ik heb de bekende cigaretten decals gekocht van F'Artefice (nr. FM-0037) en carbon fiber decals van Crazy Modeler. Ik heb geen ervaring met dit merk, dus het is afwachten hoe het gaat.
This time the build of a Ferrari 412 T2 from 1995. It's the version as raced by Jean Alesi during the GP of Cnada, This is a Studio27 kit (kit no. ST27-FR2013) in scale 1/20. I have multiple version of the 412 T2. All have differnt rear wings. First the photos of the content of the kit and the extras. I have bought the cigarette decals from F'Artefice (no. FM-0037) and carbon fiber decals from Crazy Modeler. I have no experience with this brand, so let's see how it works.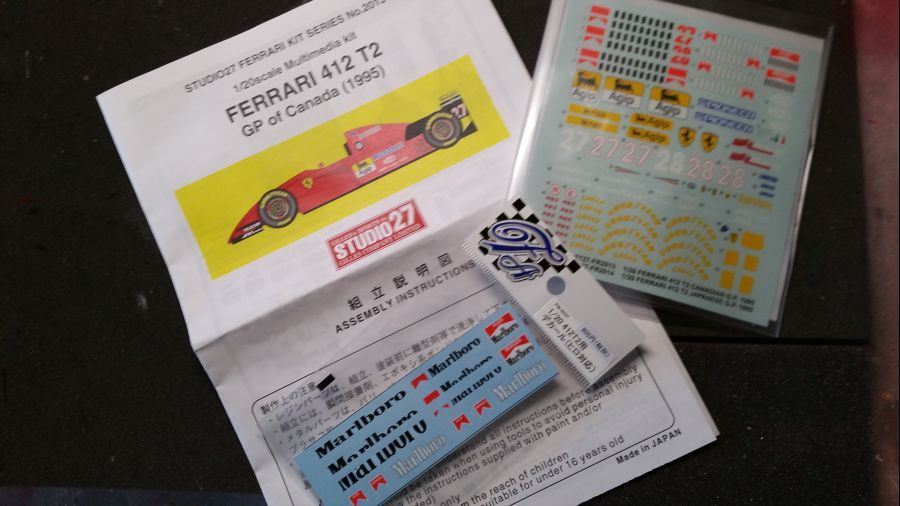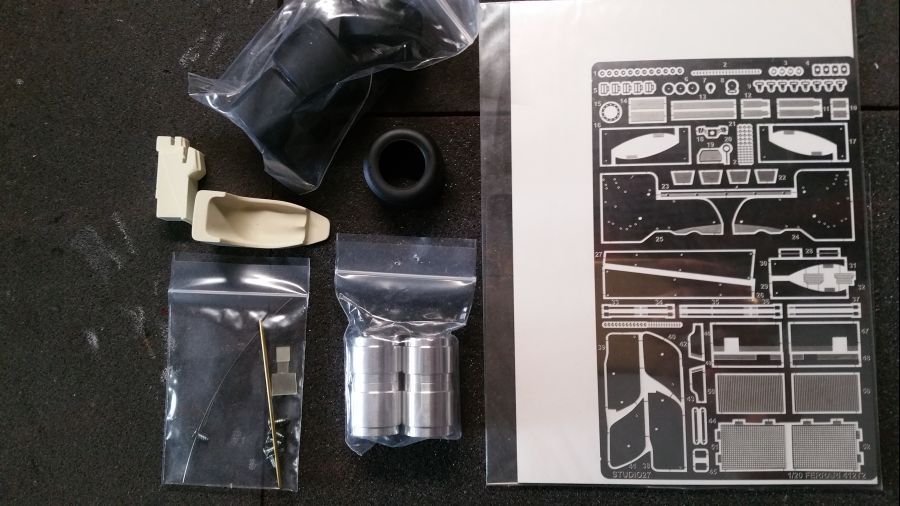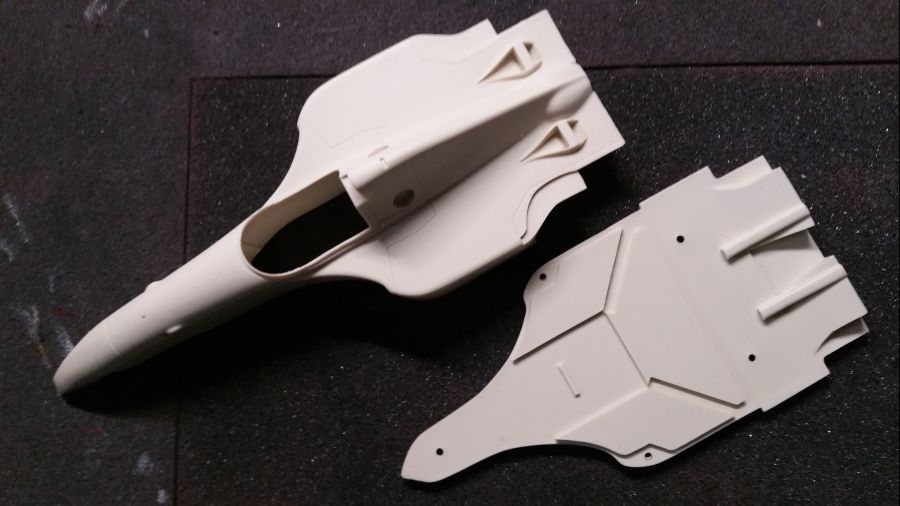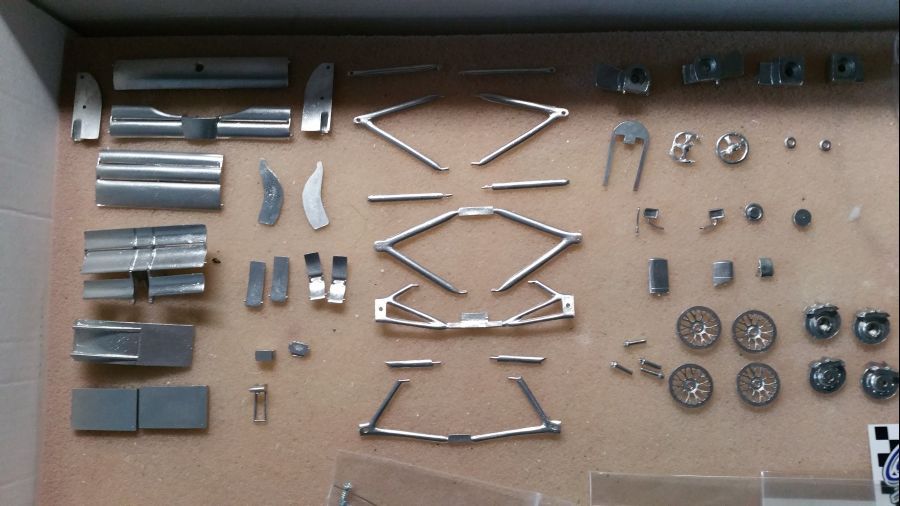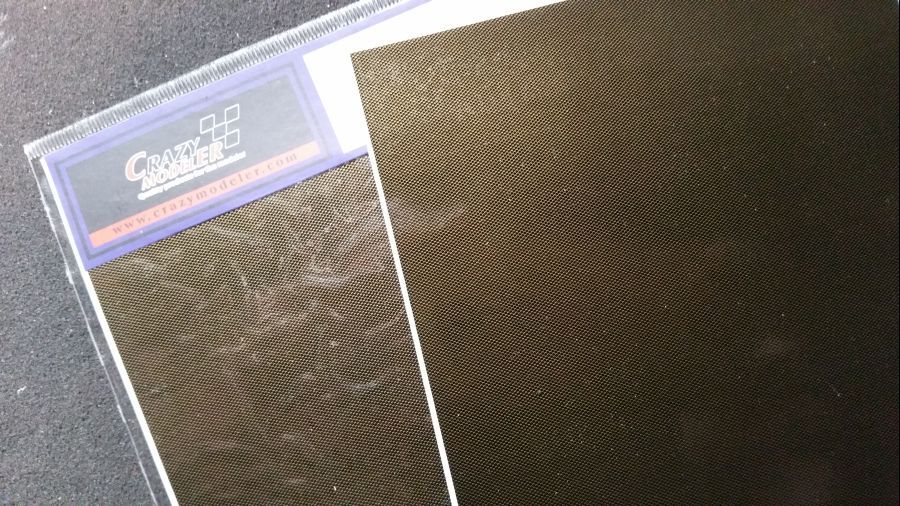 Eerst ga ik bepalen welke delen van de vloer beplakt moeten worden met de carbon fiber decals.
First i will decide which parts of the floor need the carbon fiber decals.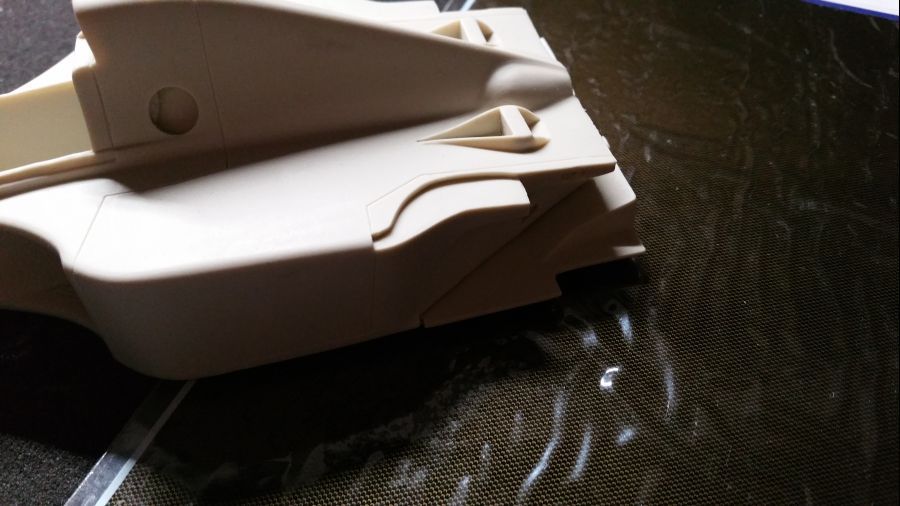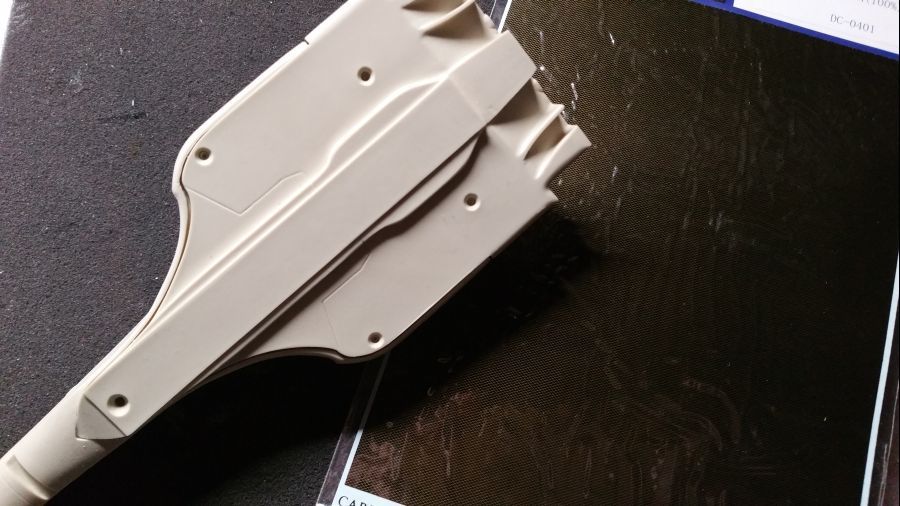 Beginnen met de carbon fiber decals voor de vloer.
Starting with the carbon fiber decals for the floor.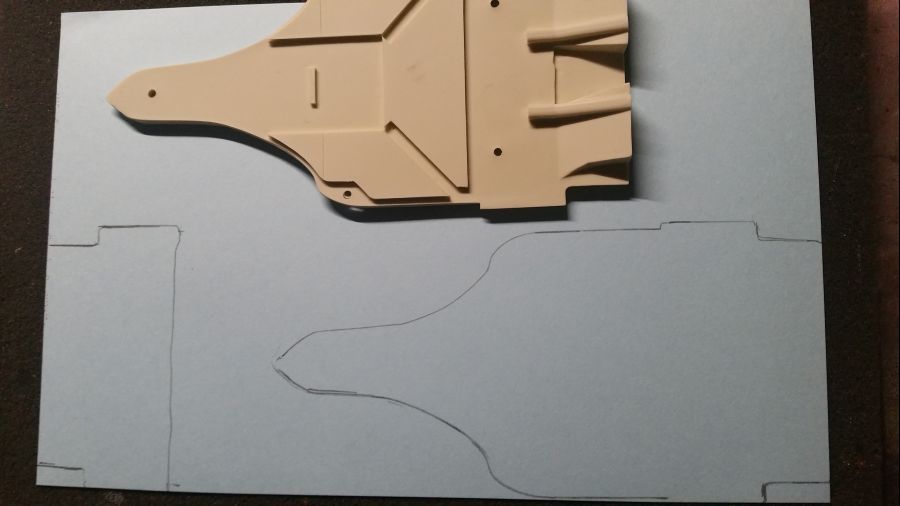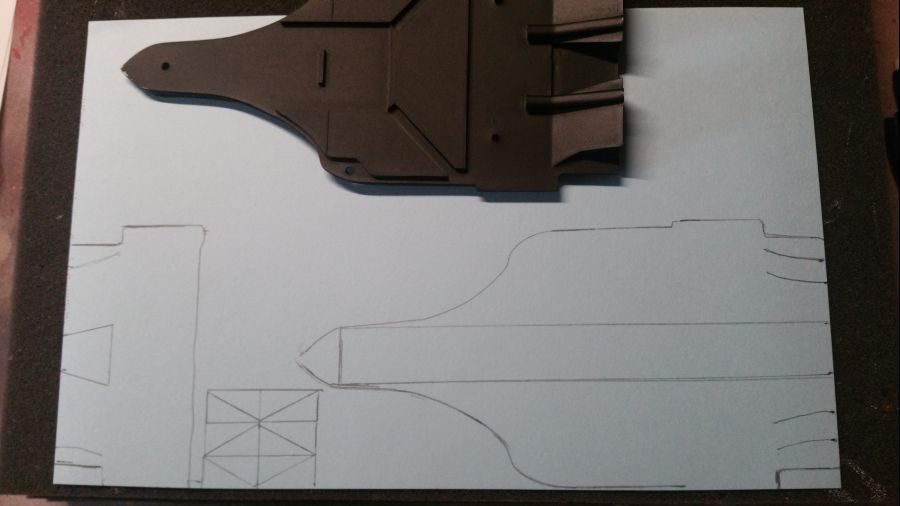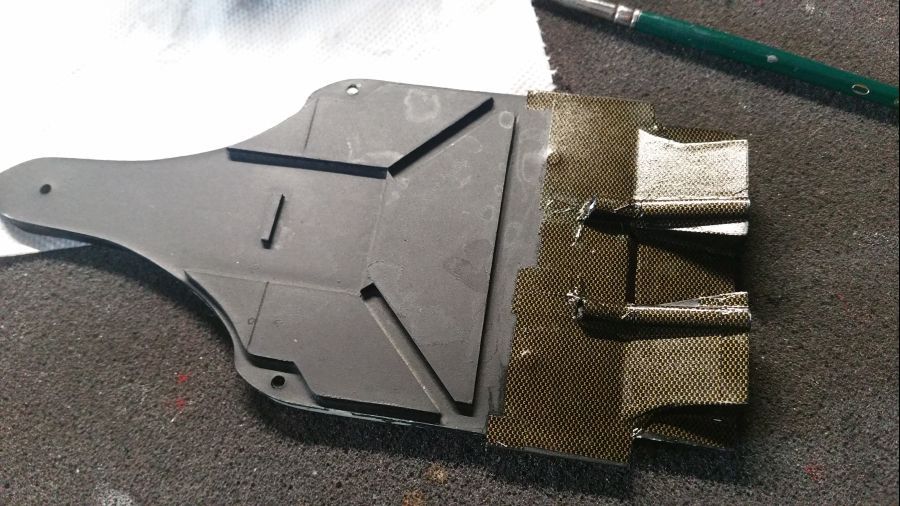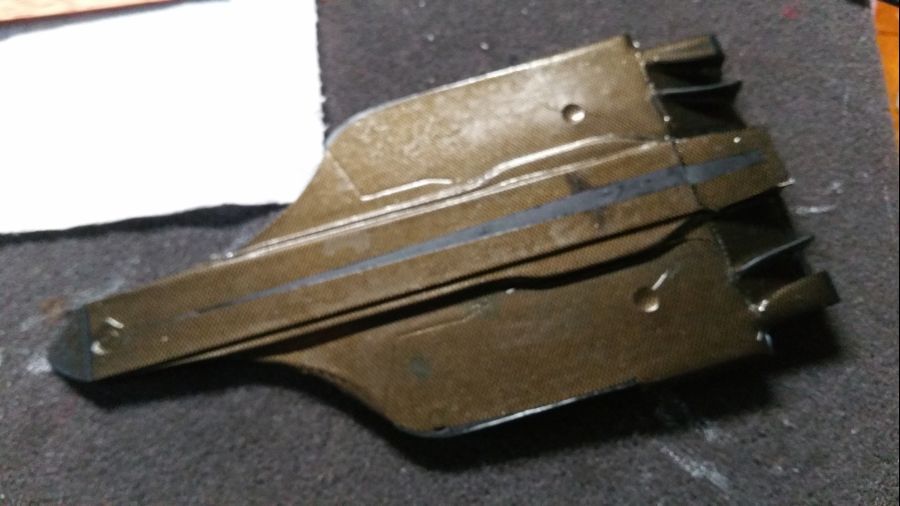 Om de plank te maken, gebruik ik een stuk cederhout uit een sigarendoos. Dit is een dun plaatje dat normaal gesproken wordt gebruikt om een cigaar aan te steken. Ik ga de plank nu vast meten en op maat maken, omdat dat gemakkelijker is. Het definitief plaatsen doe ik wat later om te voorkomen dat de boel beschadigd.
To recreate the plank, i will use a piece of cedar wood from a box of cigars. This thin piece is normally used to light up the cigar. I will take measurements now and cut it to size, as it's easier to do it now. I will add it later to avoid the possibility of damage.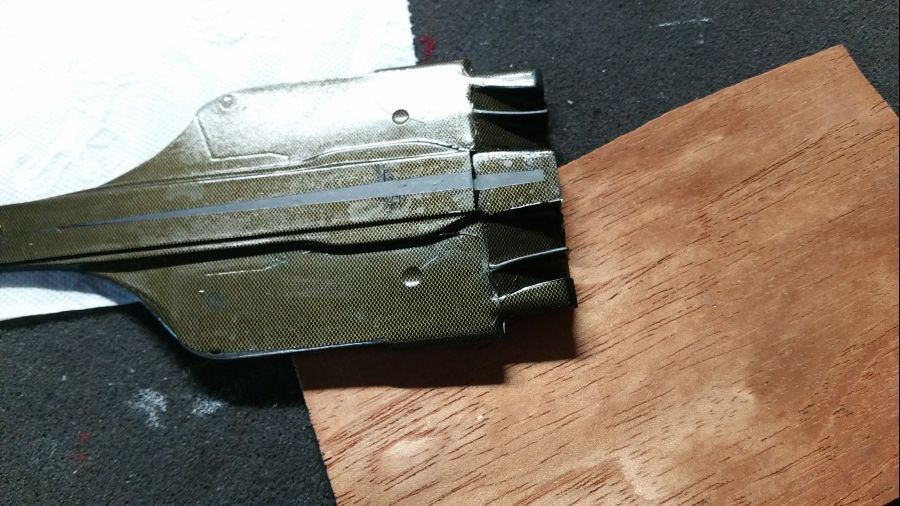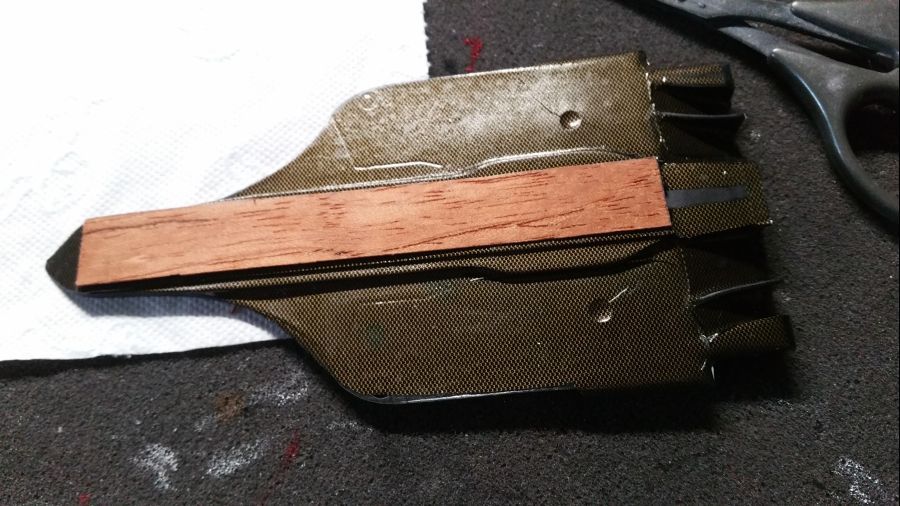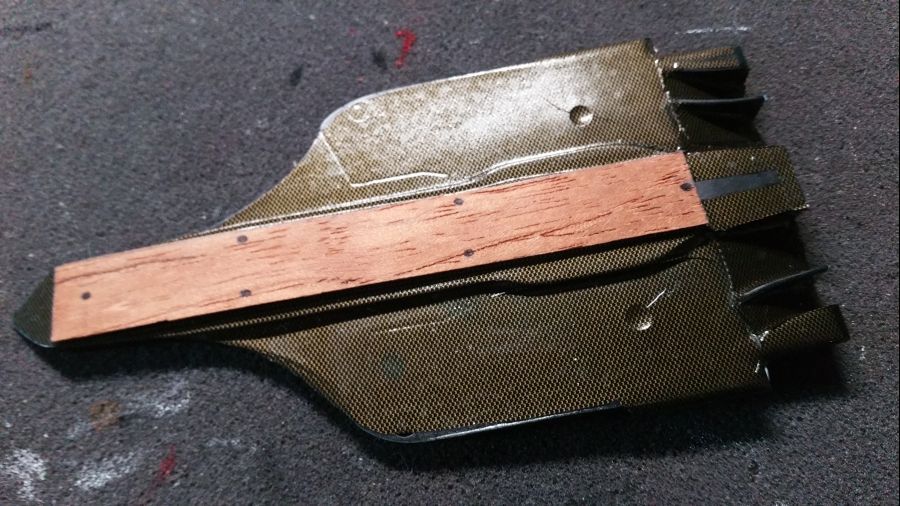 De stoel wordt bekleed met een soort suede, zelfplakkende stof van MFH. Eerst wordt een mal gemaakt met behulp van Tamiya tape. Daarna opplakken op de stof en uitknippen. Dan even passen met de body.
The seat gets an overlay of some kind of suede, adhesive cloth from MFH. First a template is made by using Tamiya tape. Then glue it to the fabric and cut it. Then a test fit with the body.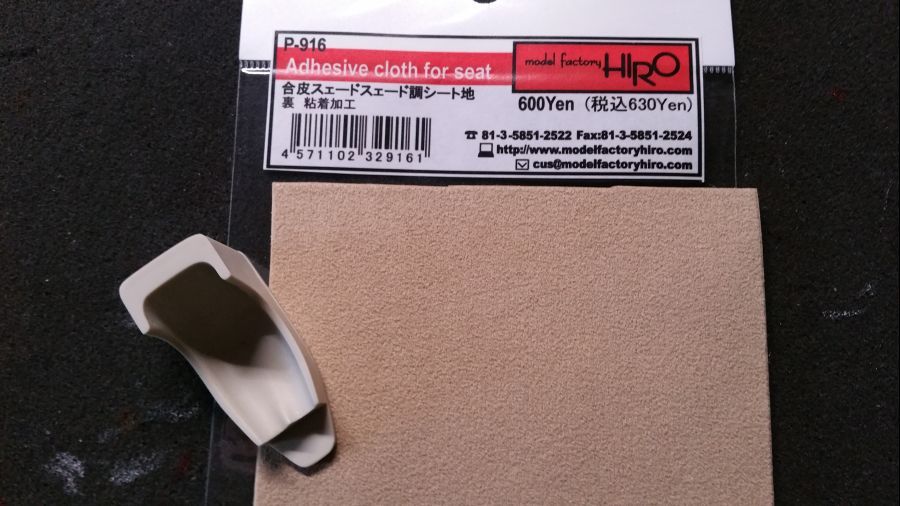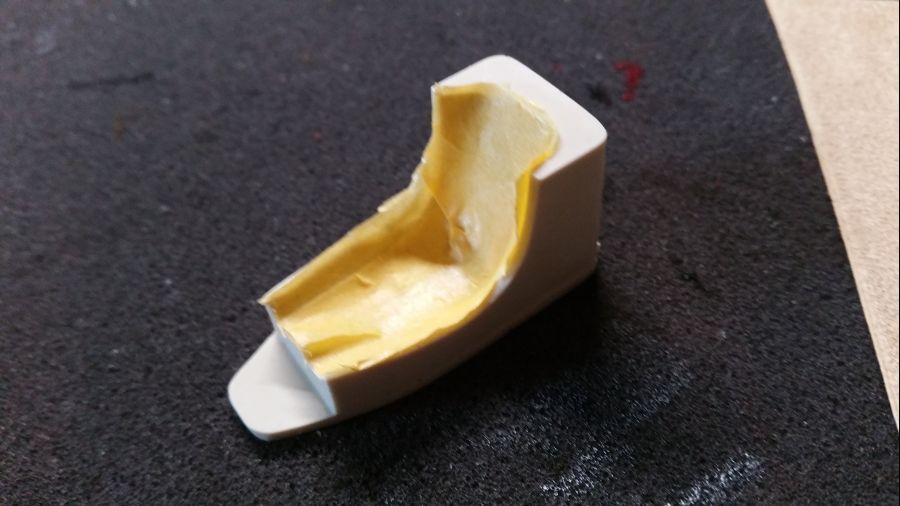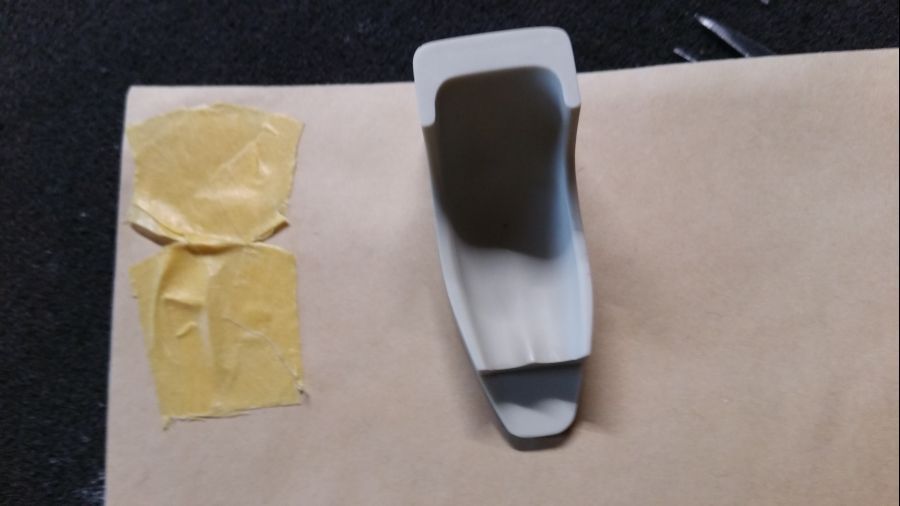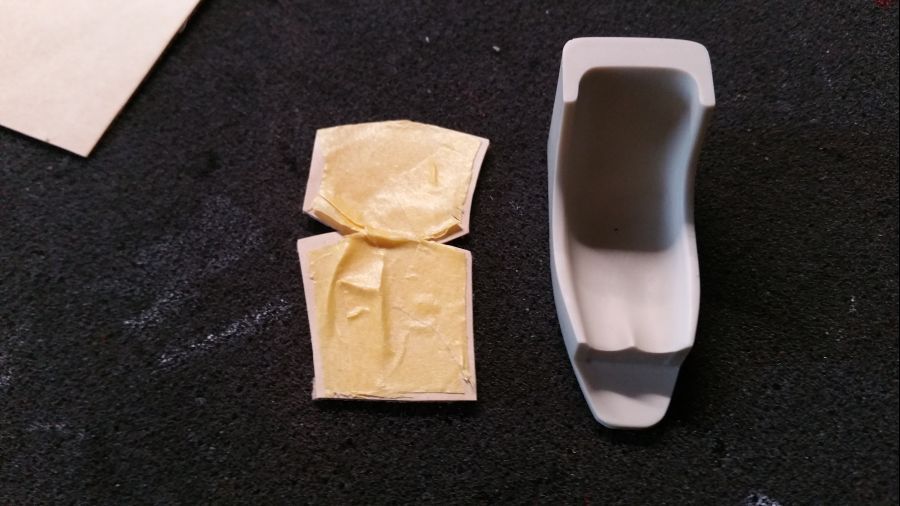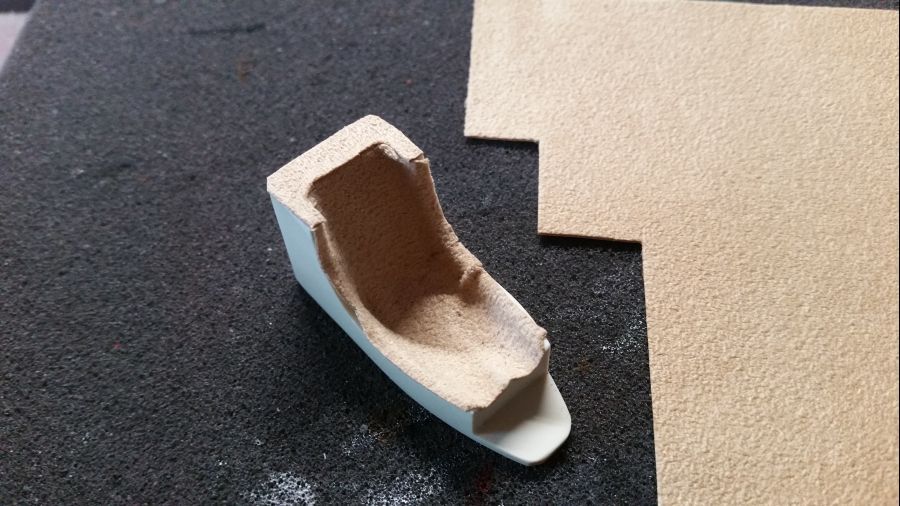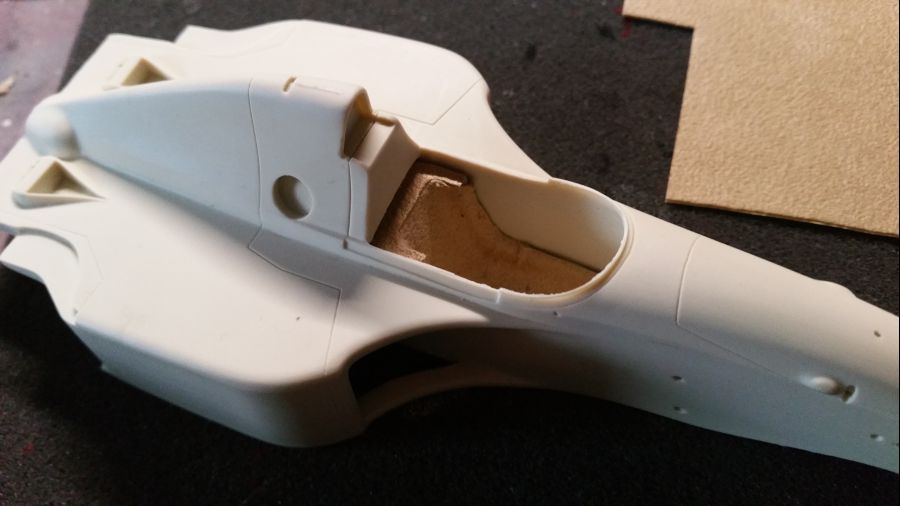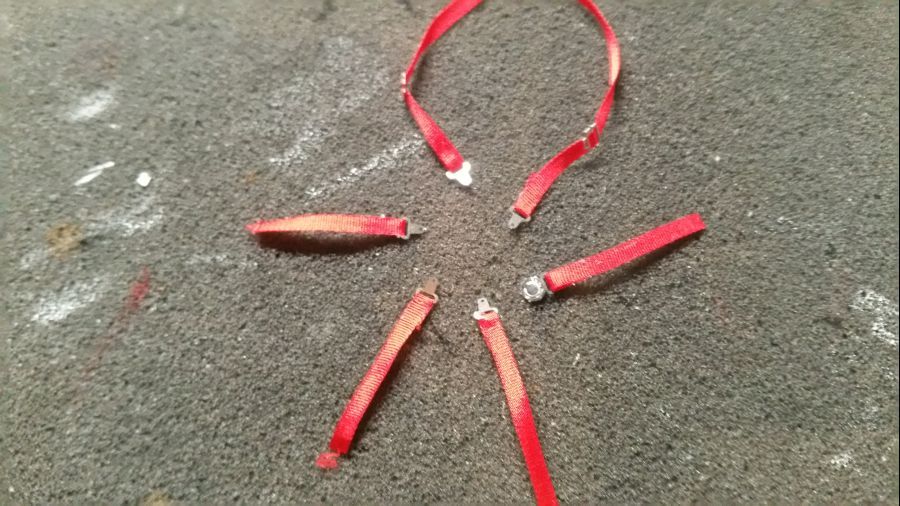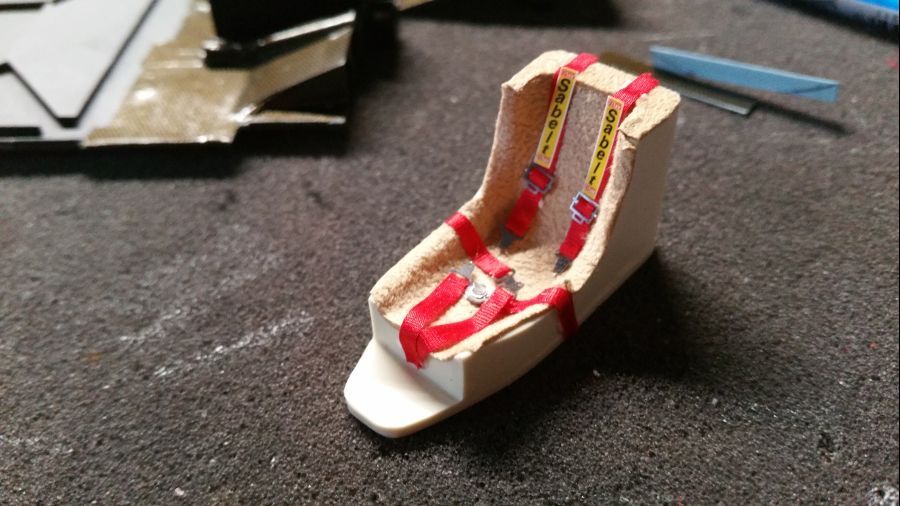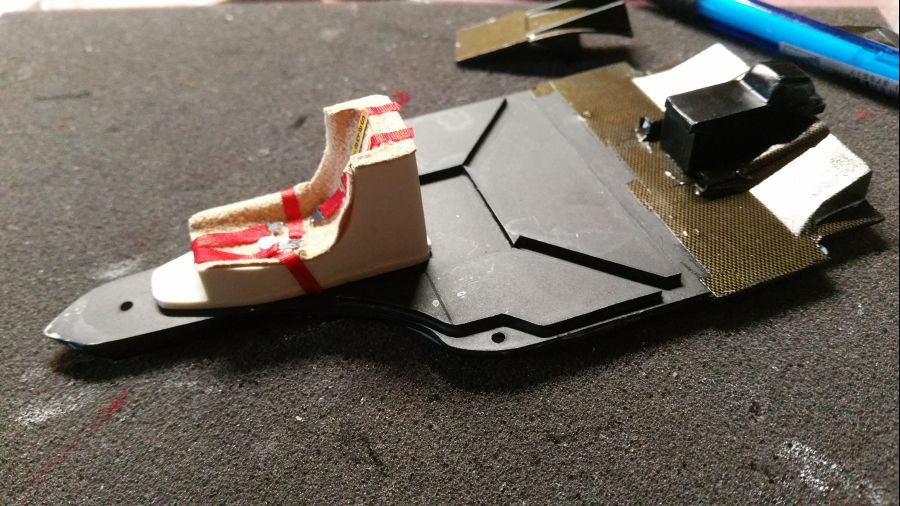 De venturi krijgt ook carbon fiber.
The venturi gets carbon fiber too.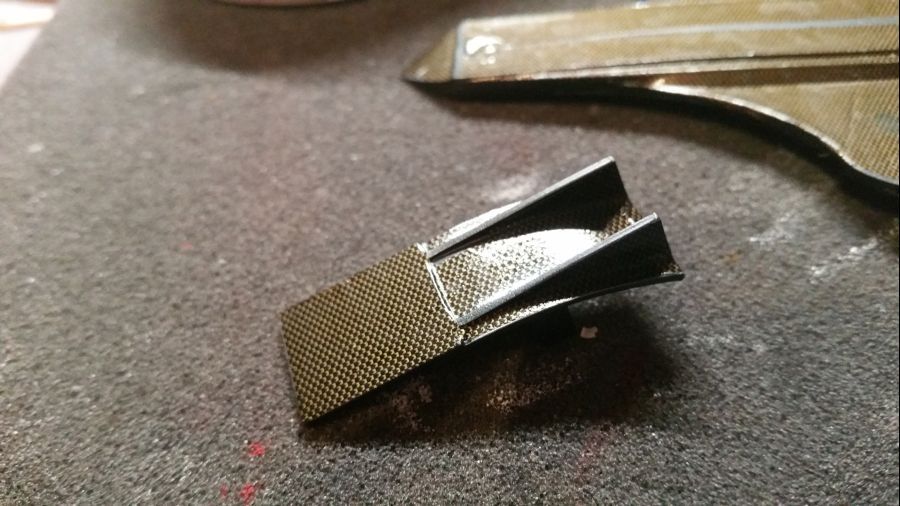 De achterwielophanging wordt aan de vloer gemonteerd.
The rear wheel suspension is being attached to the floor.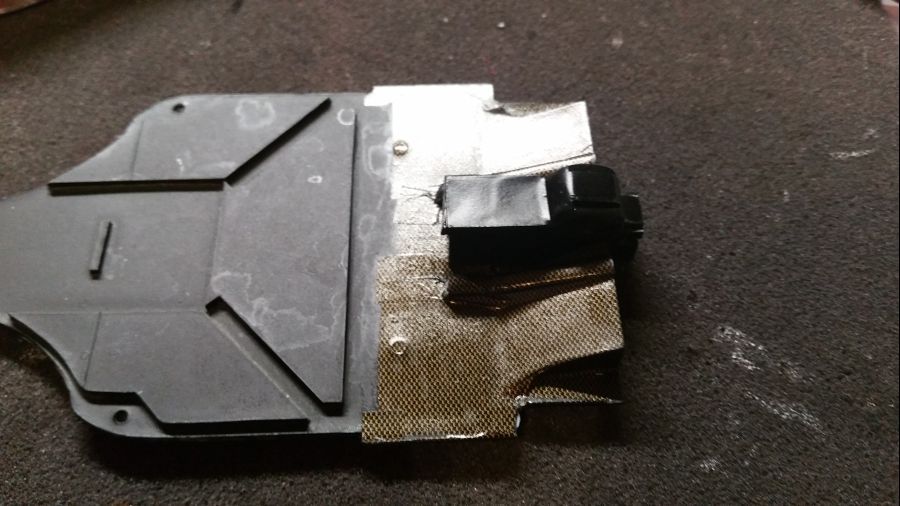 De body en een paar barge boards worden klaar gemaakt voor het rood. Ik gebruik Zero Paints ZP-1007 Pre 2004 Rosso Formula 1.
The body and some barge boards are being prepared for the red. I am using Zero Paints ZP-1007 Pre 2004 Rosso Formula 1.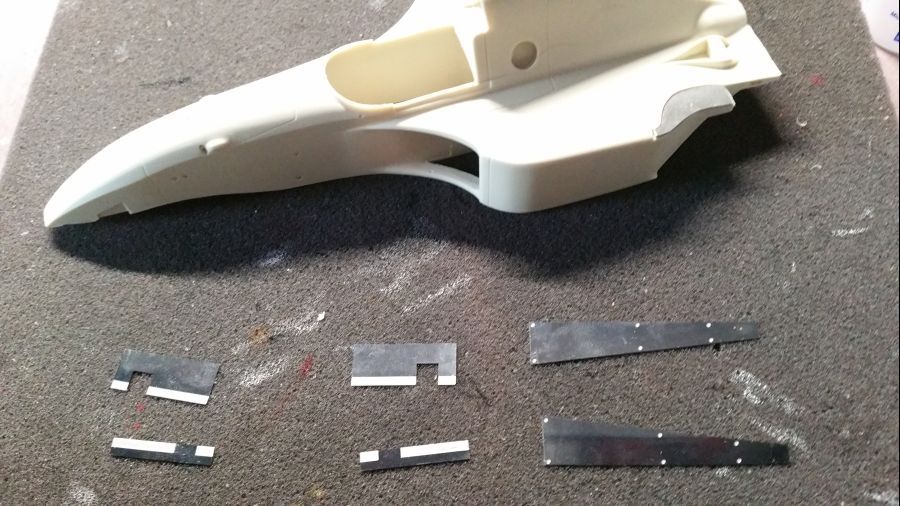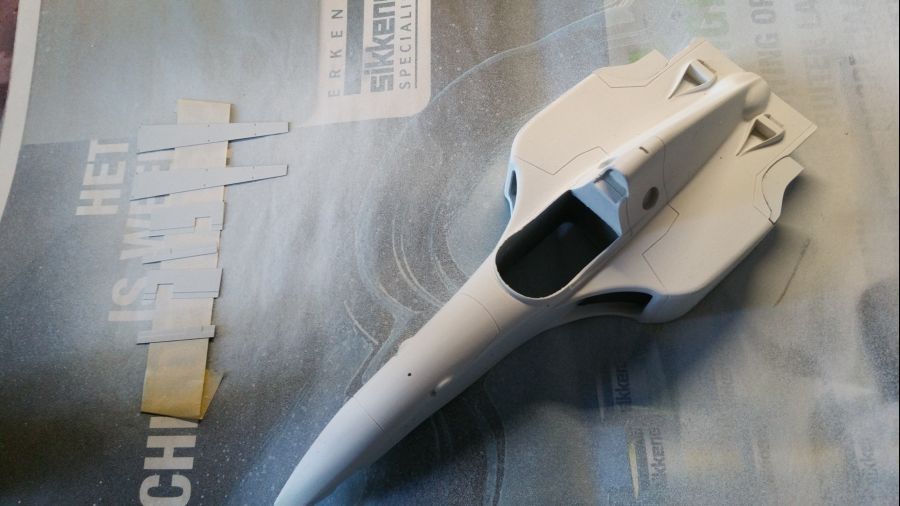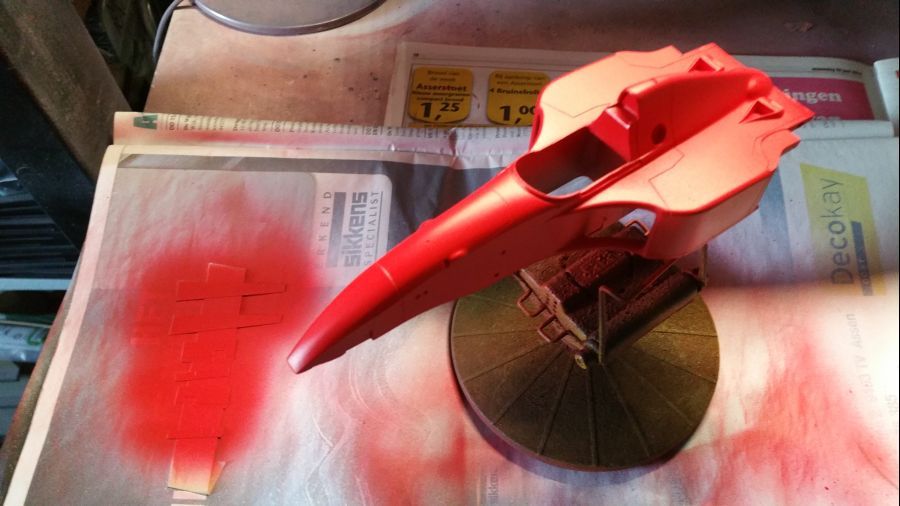 Tijd voor decals...
Decal time...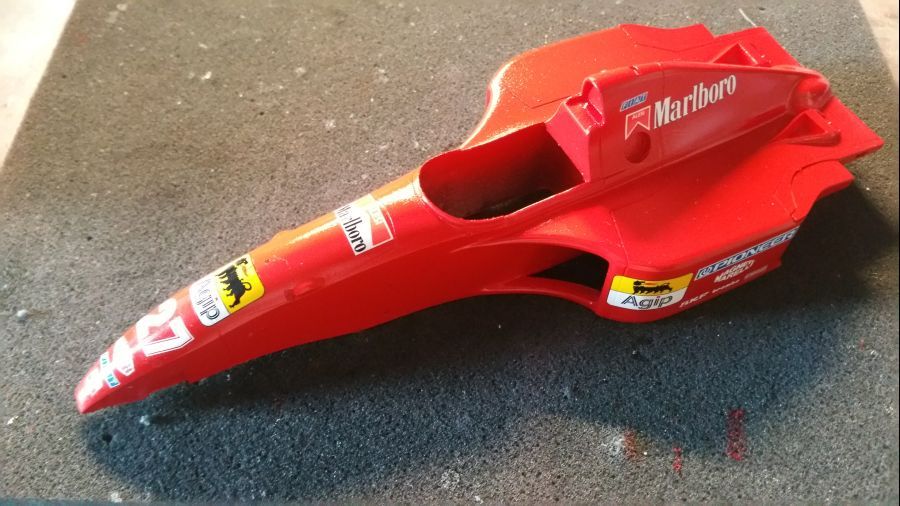 Werk aan de koeling..
Working on the coolers..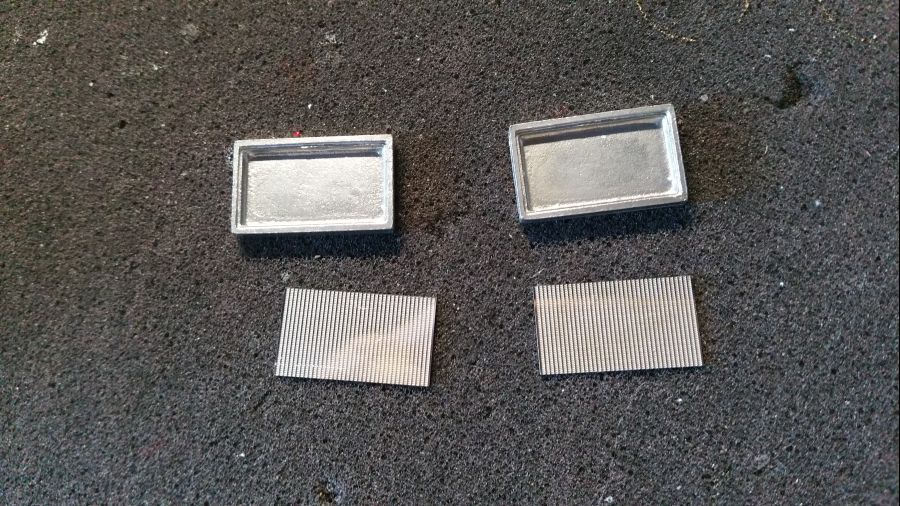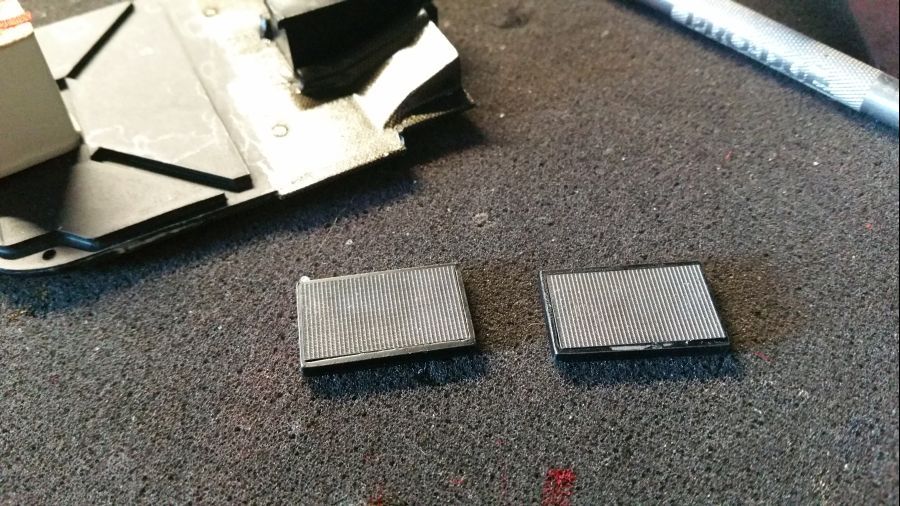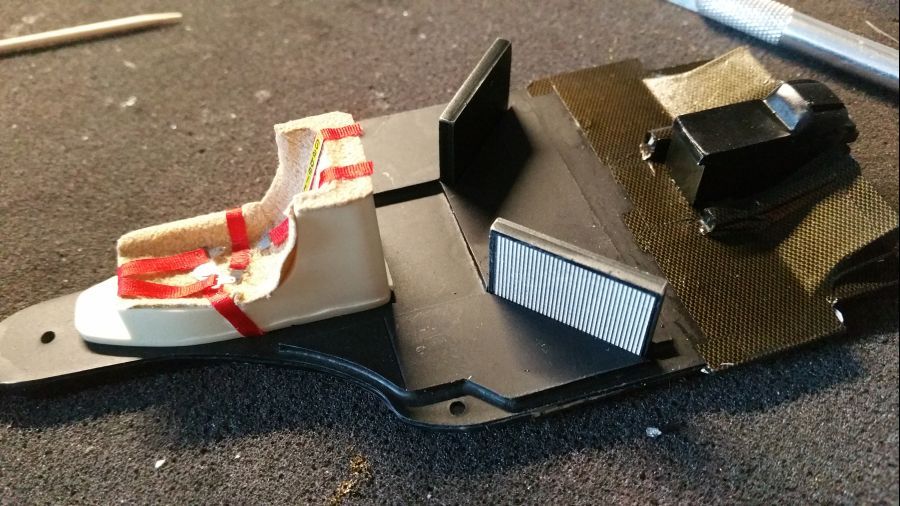 Dan het dashbord. Wagen nr. 27 krijgt het ronde stuur.
Next is the dash. Car no. 27 gets the round wheel.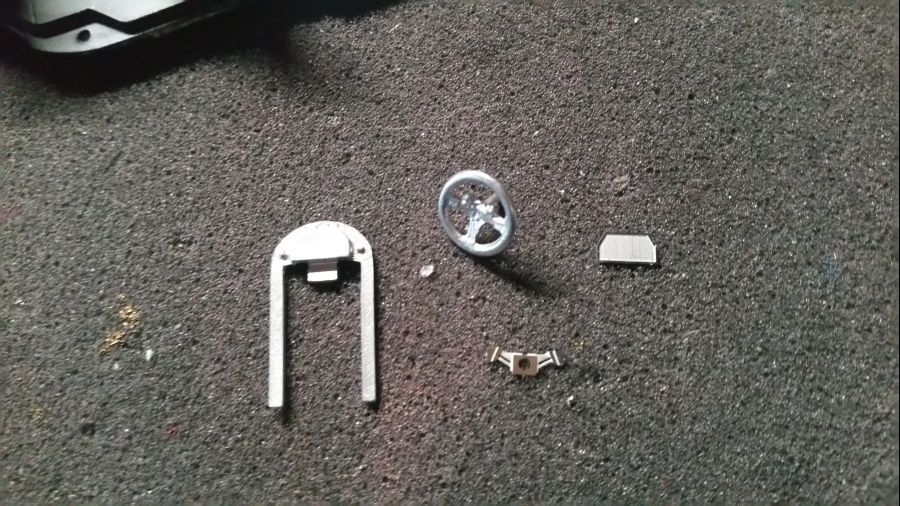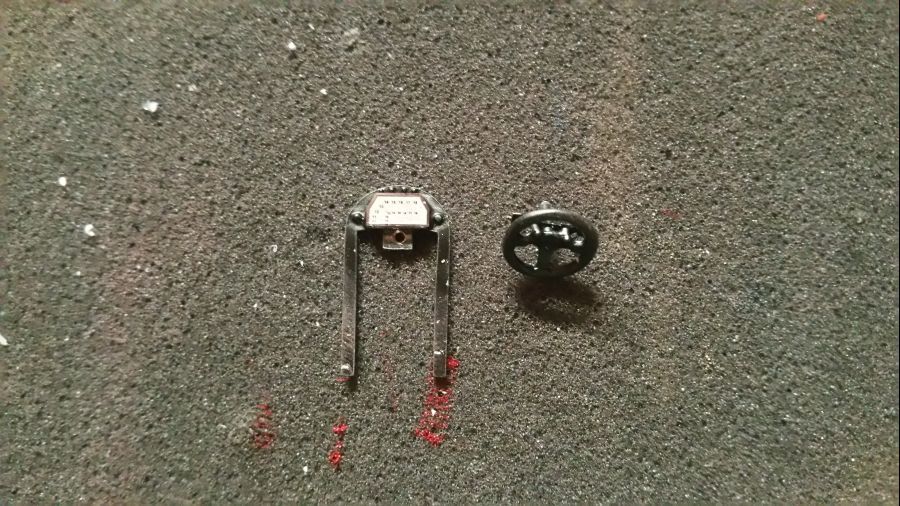 Alle onderdelen voor de achtervleugel zijn bij elkaar gezocht. Eerst worden weer de carbon fiber mallen gemaakt. Daarna worden de onderdelen zwart en wit gespoten met primer.
All parts of the rear wing are being selected. First i made the carbon fiber templates. Then everything gets a black and white primer.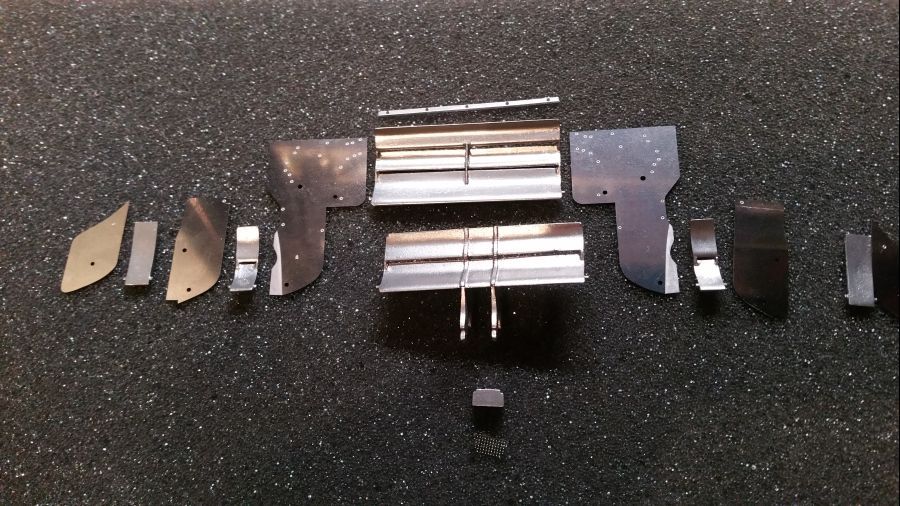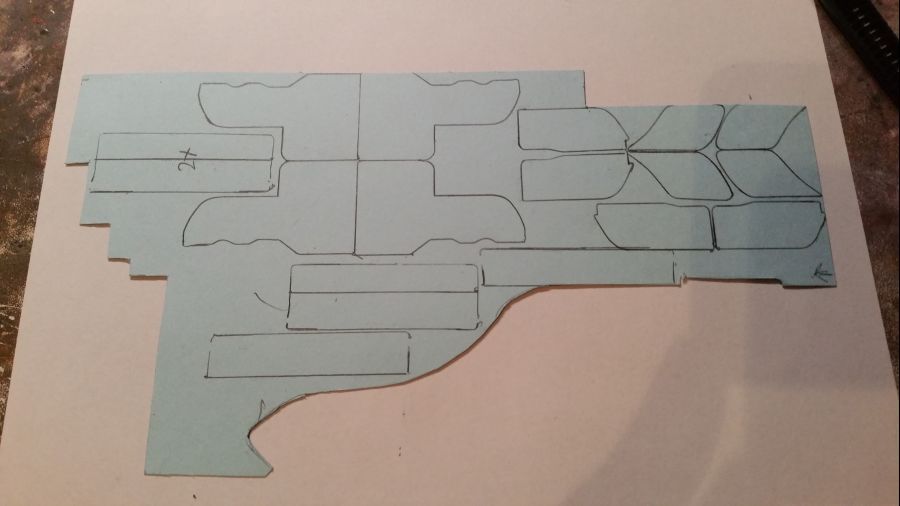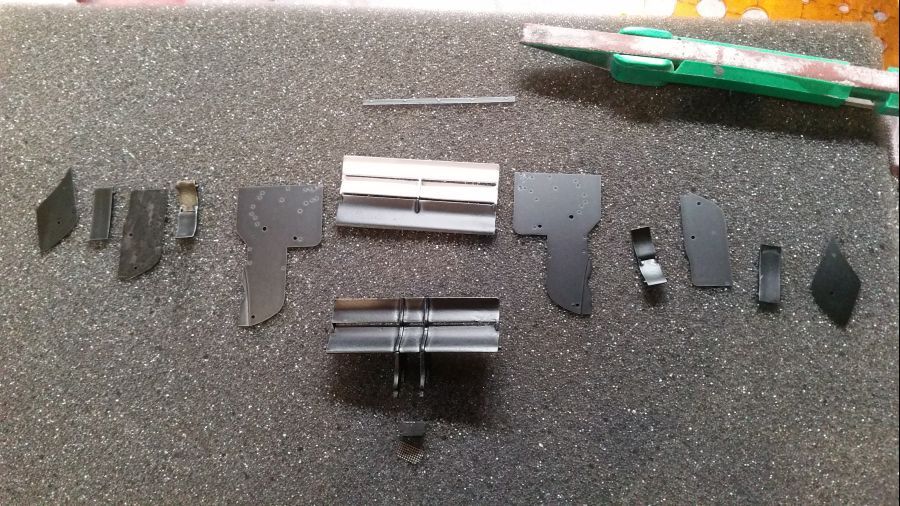 Alle mallen zijn op maat geknipt.
All templates have been cut to size.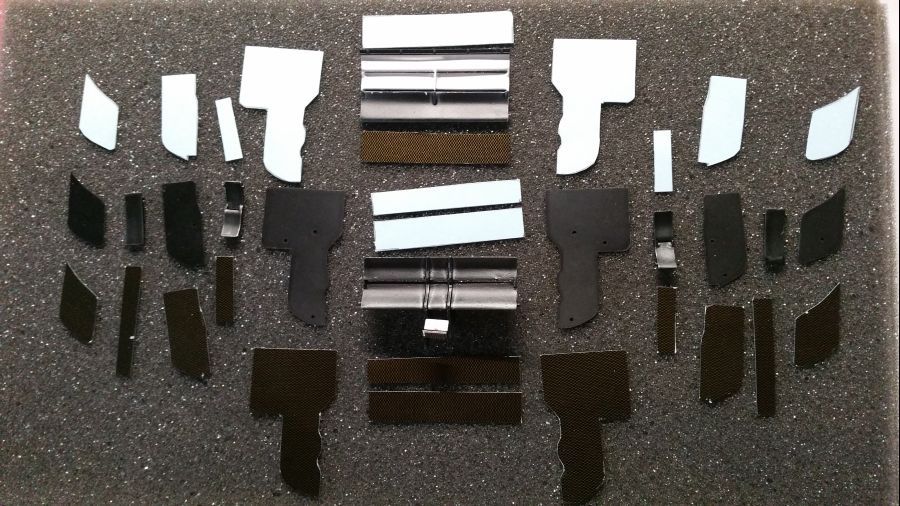 De eerste sessie...
The first session...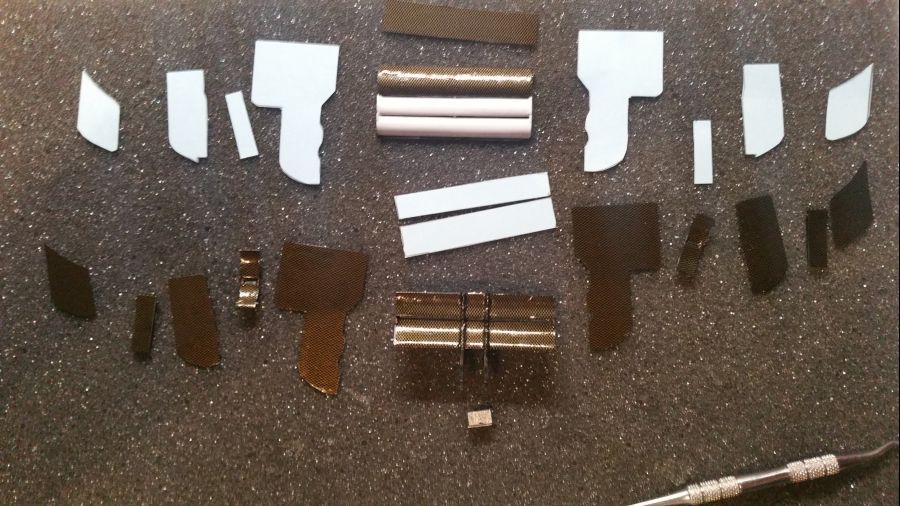 De andere kant...
The other side...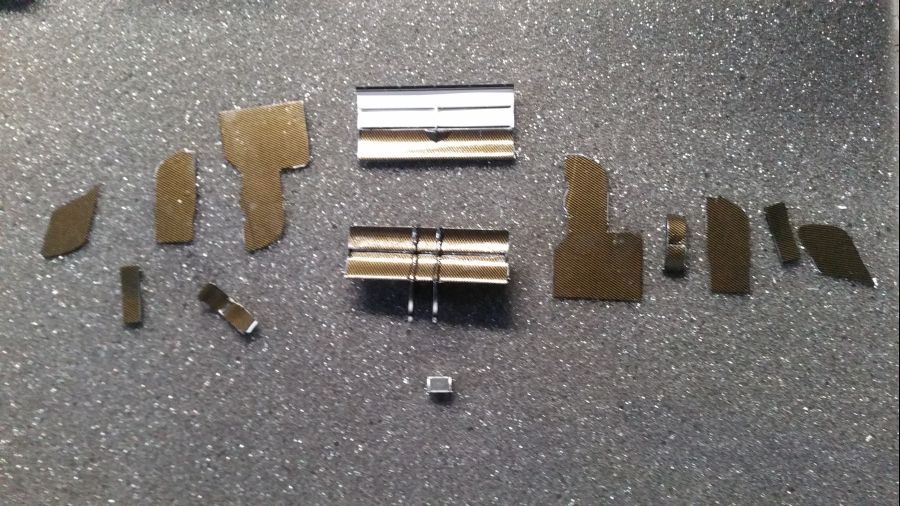 De body en de vloer worden aan elkaar bevestigd... nadat de binnenkant van de body is geverfd.
The body and the floor are being mounted... after the inside of the body was painted.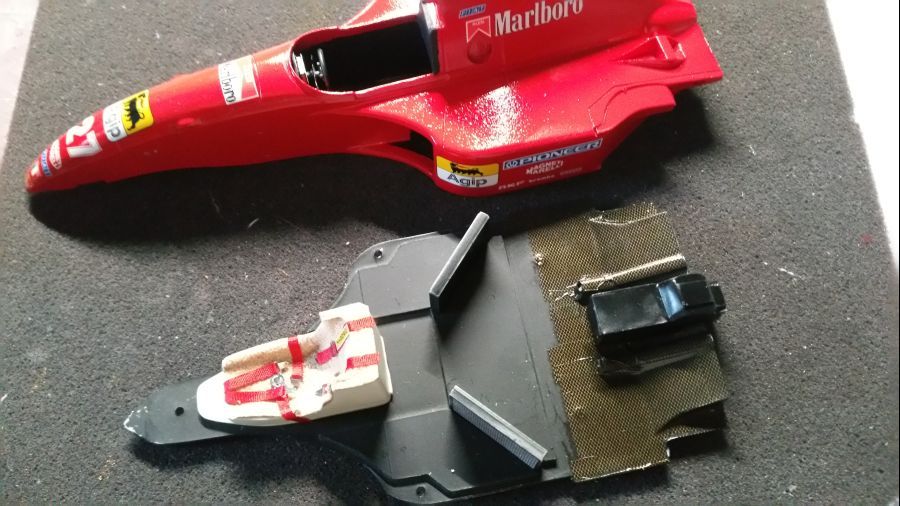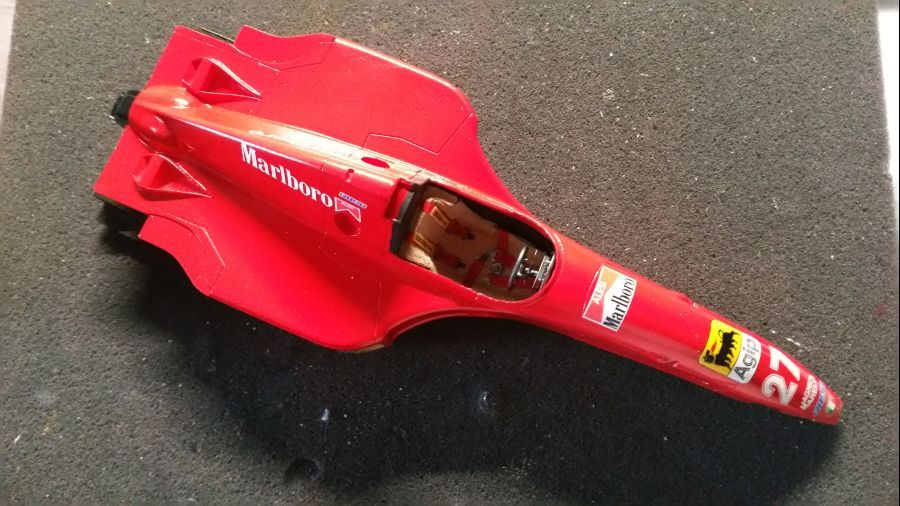 De achterwielophanging...
The rear wheel suspension...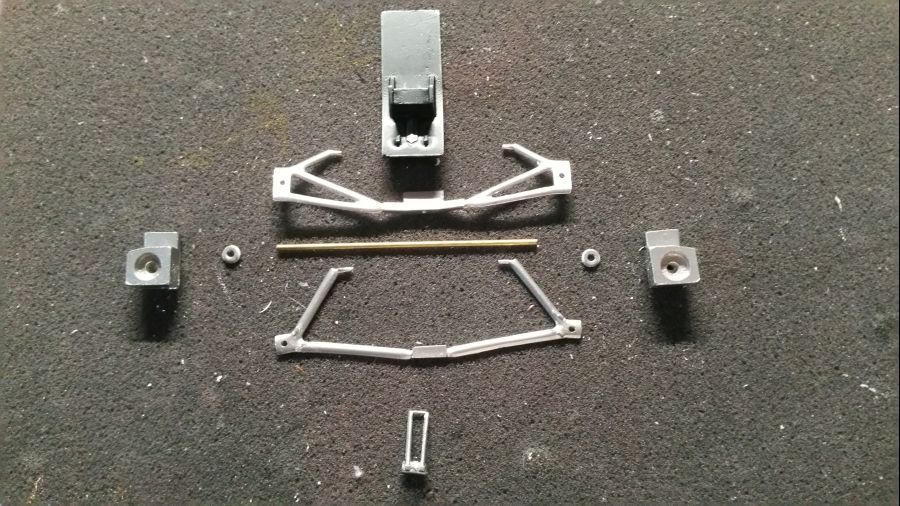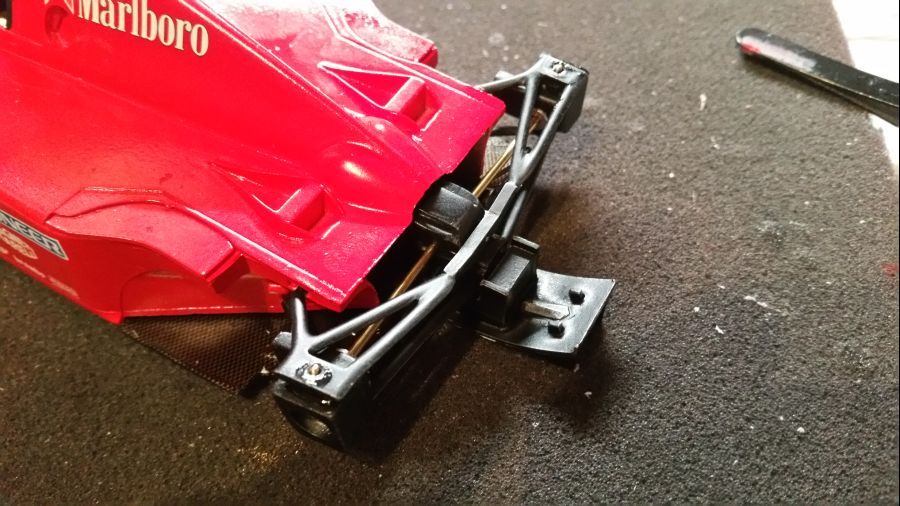 Wat kleine onderdelen worden geplaatst..
Some small parts were added..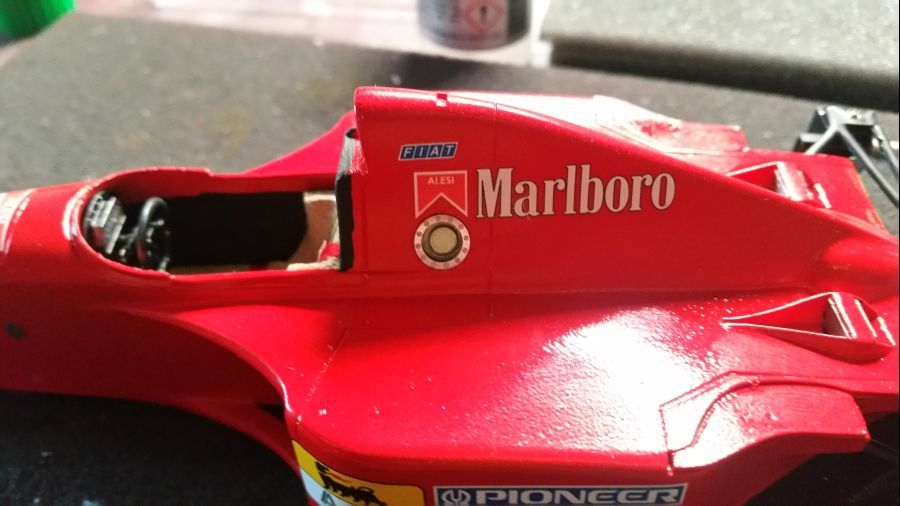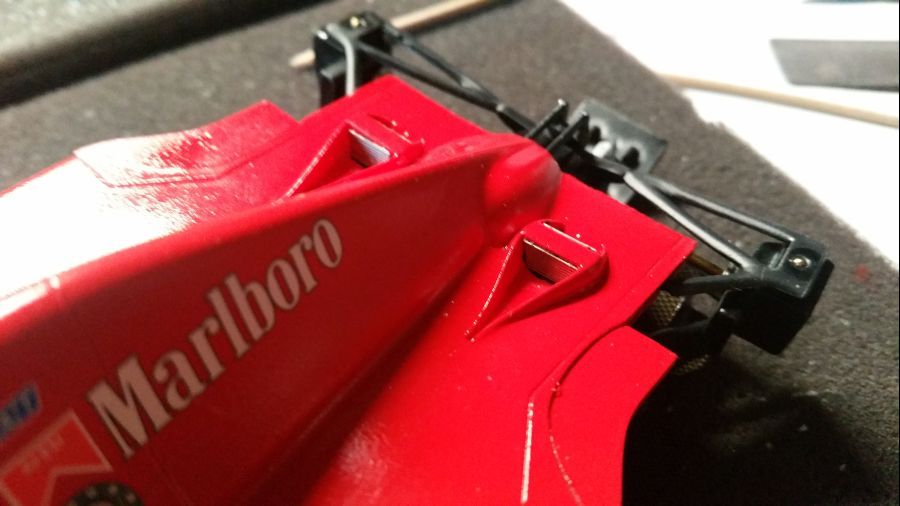 Om er zeker van te zijn dat de delen goed voor de gaatjes komen gebruik ik een cocktailprikker...
To be sure the parts are exactly above the holes i use a cocktail stick...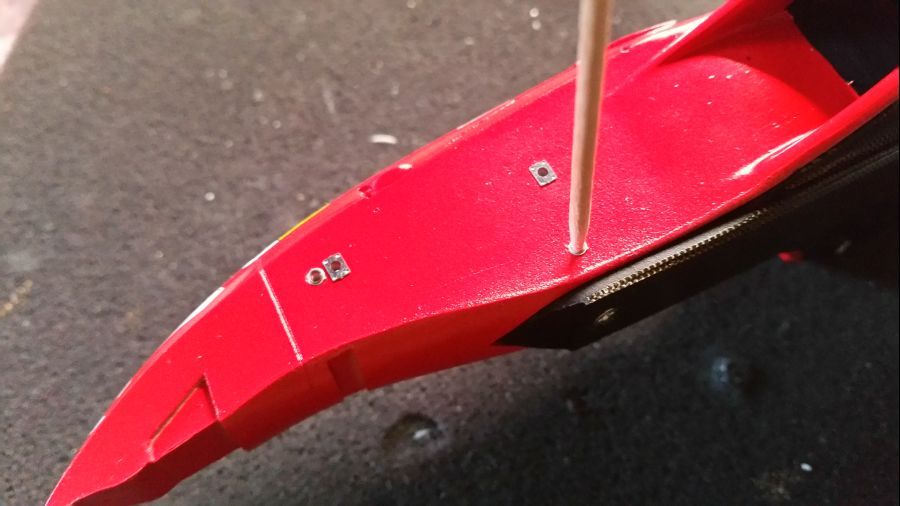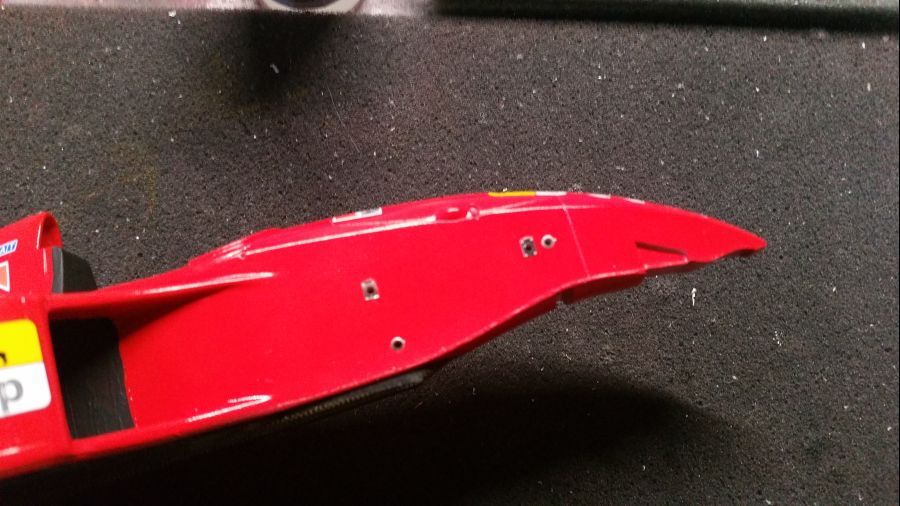 Meer decals...
More decals...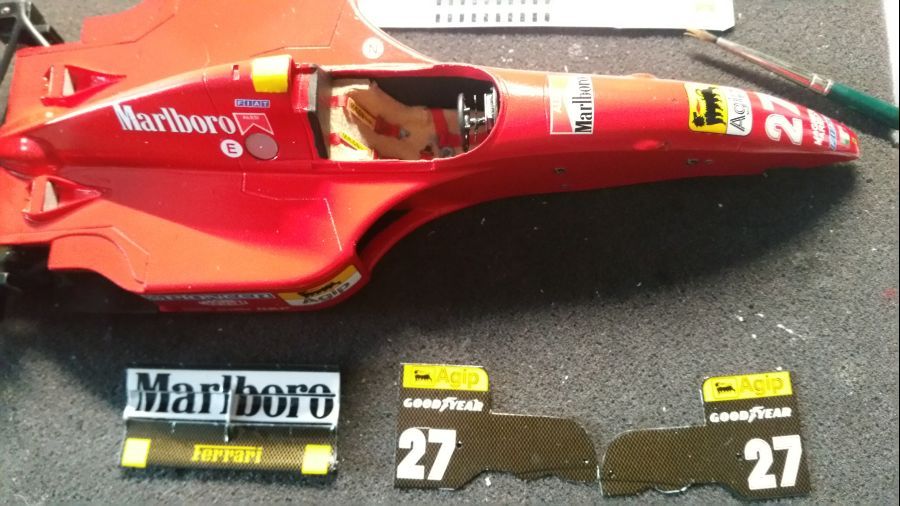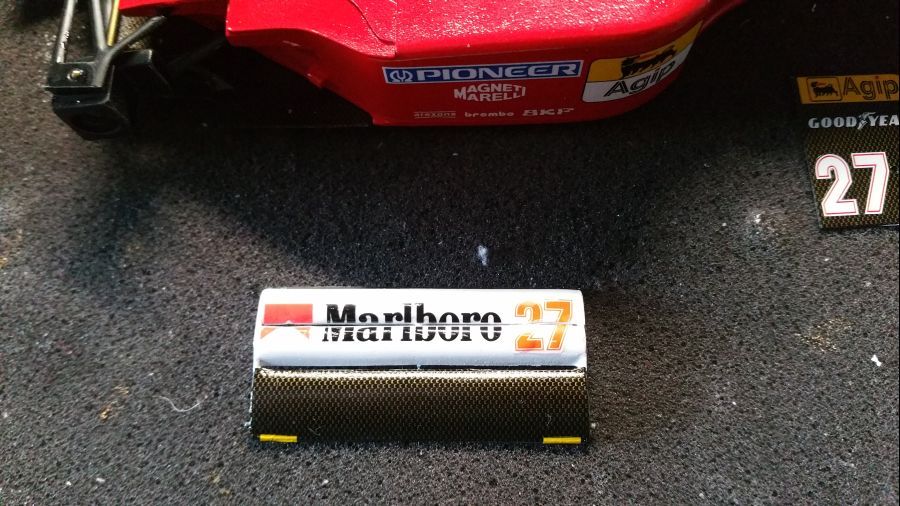 Verder met de voorwielophanging. De 'push-rods' krijgen de CF-decals.
To continue with the front wheel suspension. The push-rods get the CF-decals.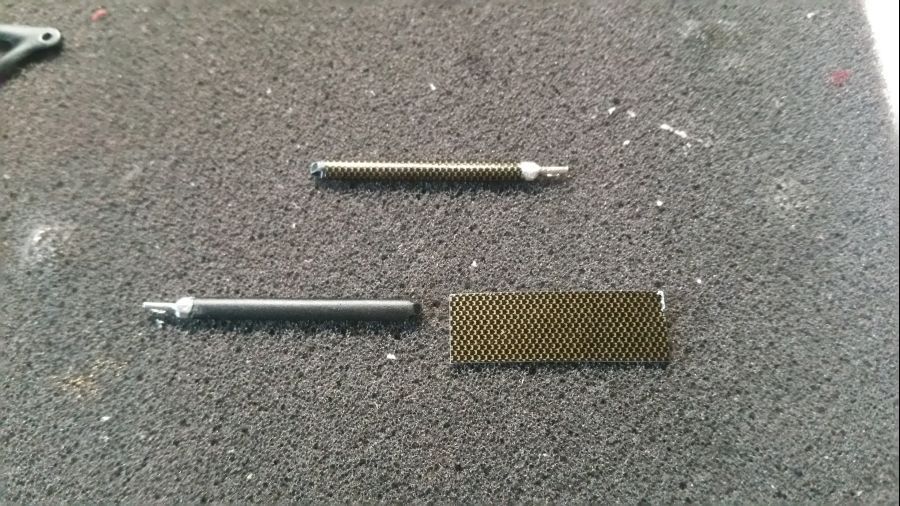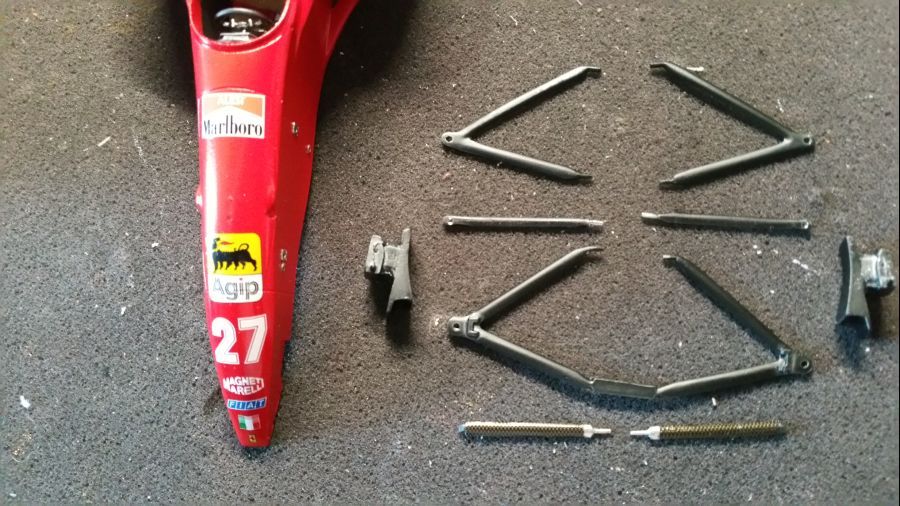 De 1995 wagens waren, volgens mij, de eerste waar dit type deflectors werden gemonteerd. 
The 1995 cars were, to my knowledge, the first which got this type of deflectors.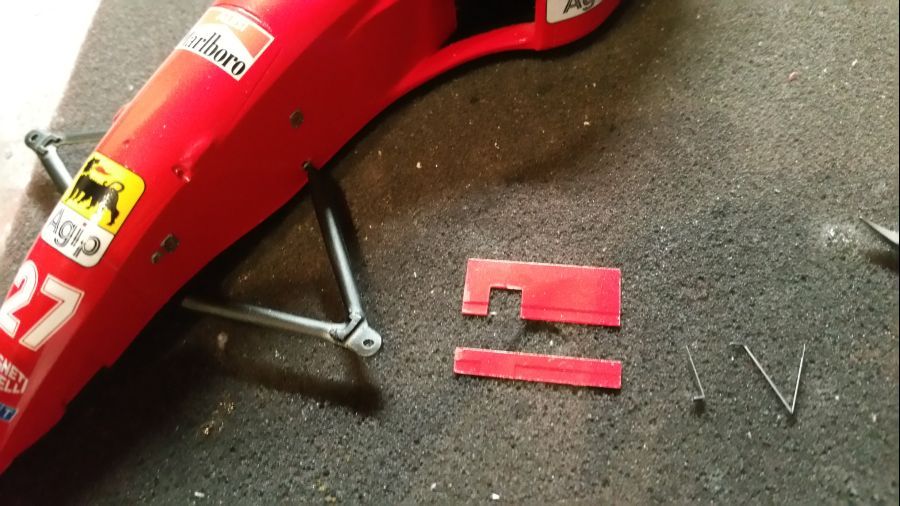 De boven- en de onderkant moeten wat worden gebogen. Daarvoor gebruik ik de rolling tool.
The top and the down side need some bending. I will use the rolling tool for this.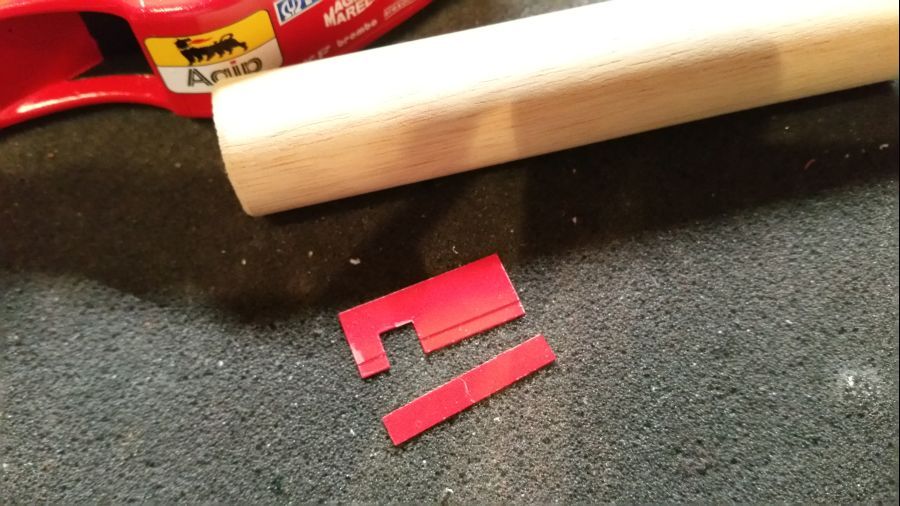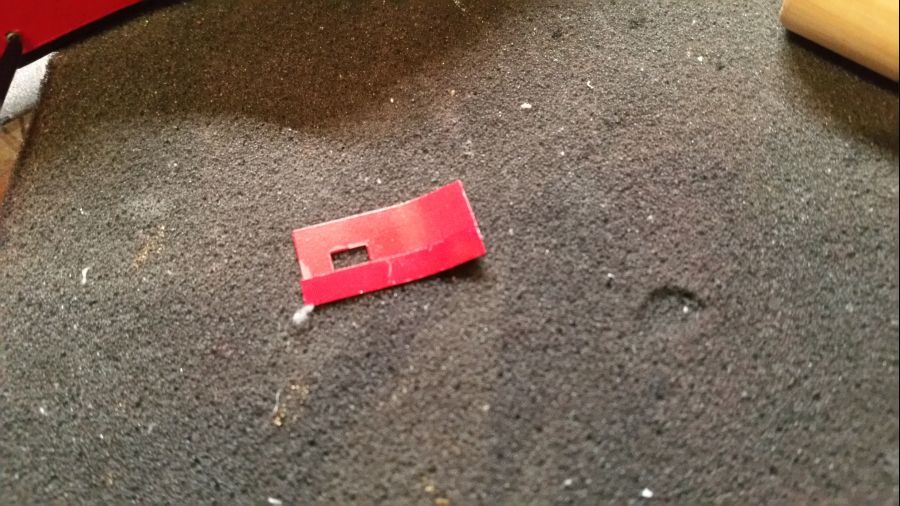 De steunen worden eerst geplaatst. Dan de deflectors boven- en onderkant eerst even losjes en daarna aan de steunen.
The supports are mounted first. Then a deflectors top en down side and then mounted to the supports.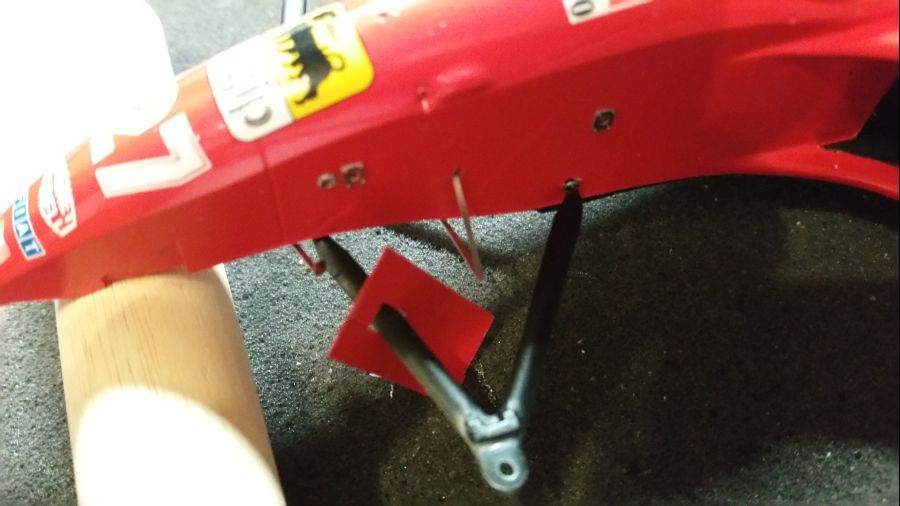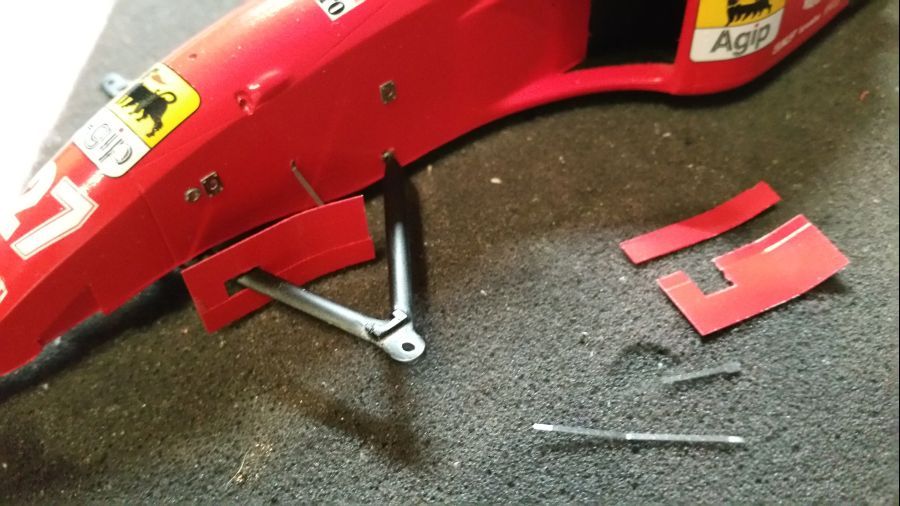 Beide zijn geplaatst samen met de push rods.
Both are attached as well as the push rods.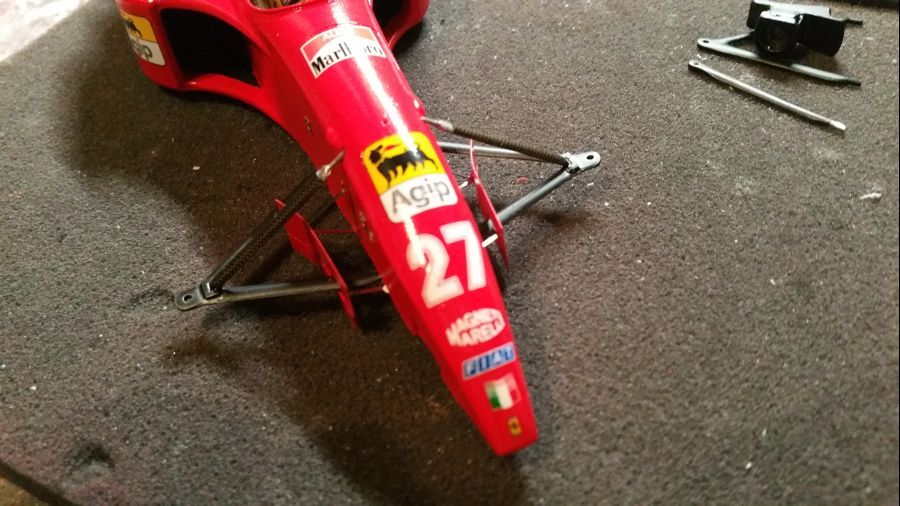 Dan de remmen, bovenste armen en de stuurstang.
Then the brakes, the upper arms and the steering rod.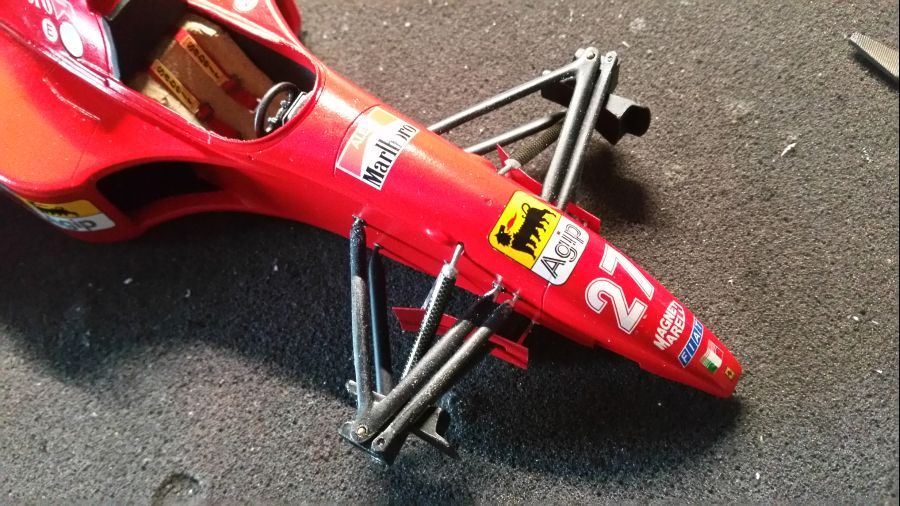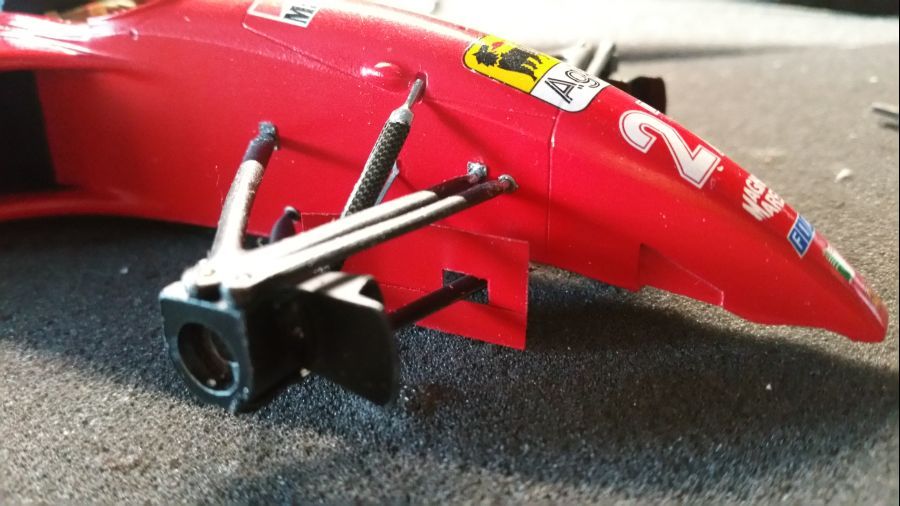 Dan de achtervleugel, een lastige klus.
Next is the rear wing, a tough job.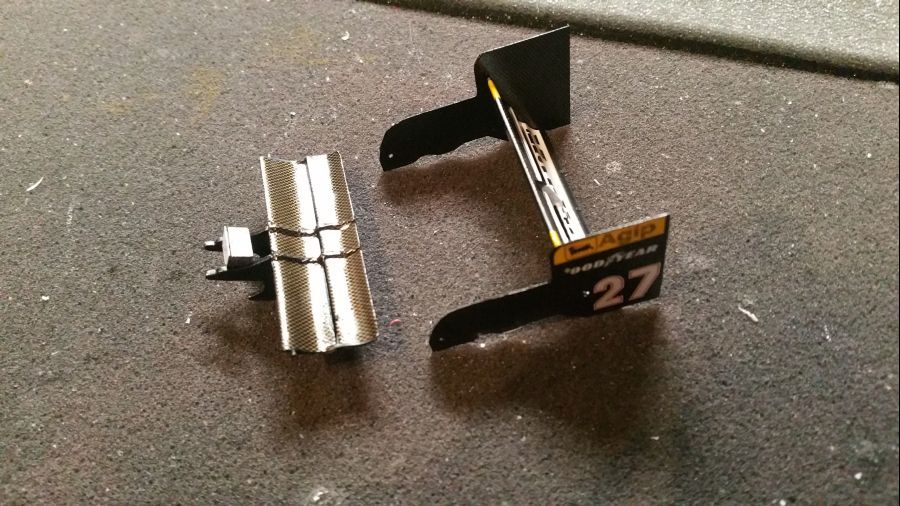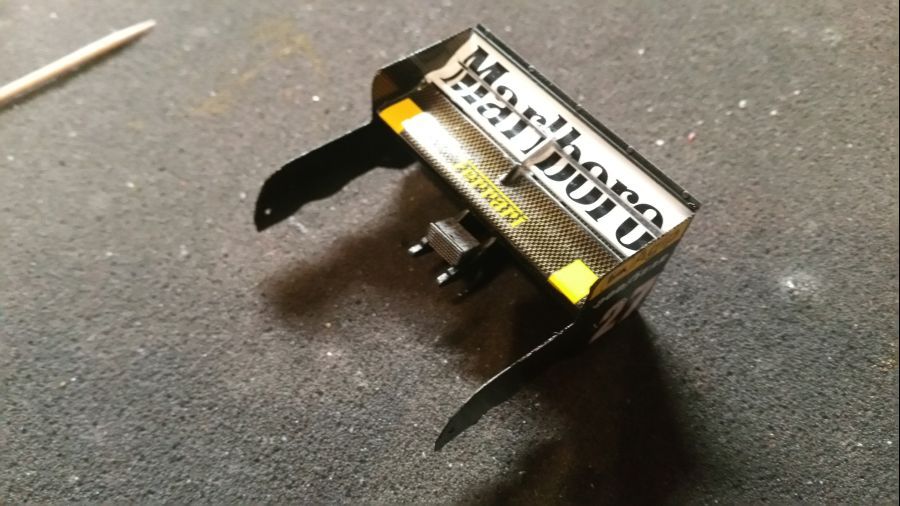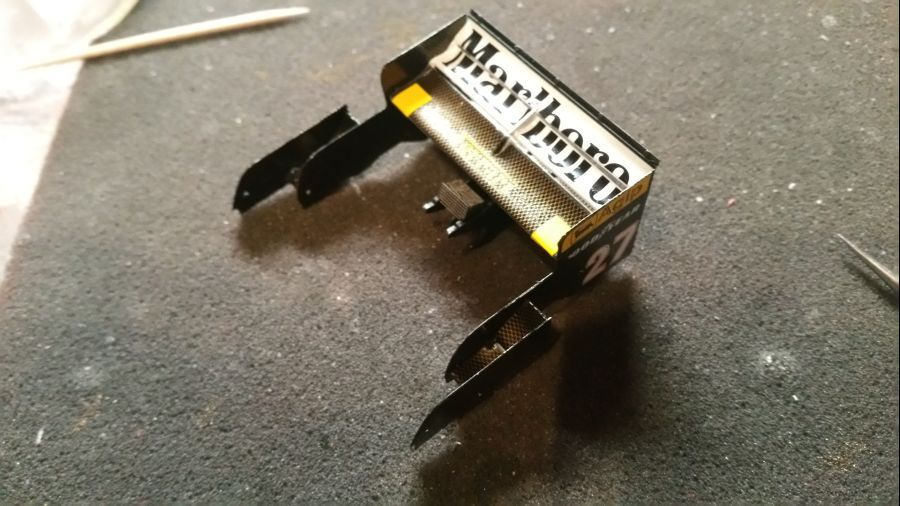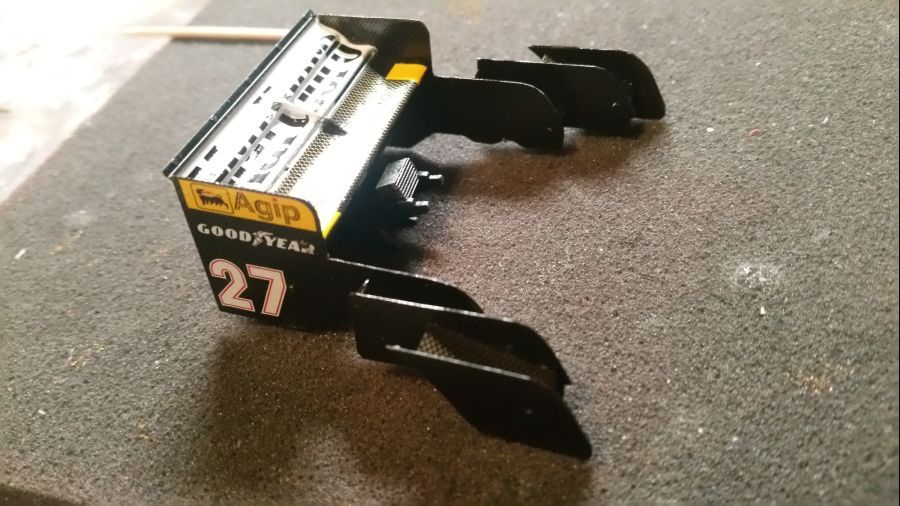 De steun en onderste vleugel zijn nog niet verlijmd. Dit om alles goed te kunnen uitlijnen bij een testplaatsing van de vleugel aan de body.
The support and lower wing have not been glued yet. This to be able to make adjustments when doing a test fit  of the wing to the body.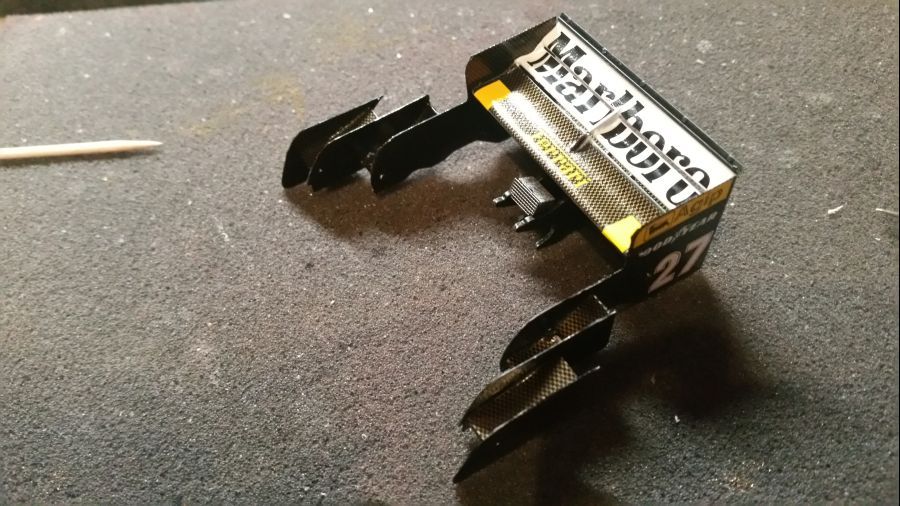 De testplaatsing en dus verlijming van de onderste vleugel.
The test fit, so the gluing of the lower wing.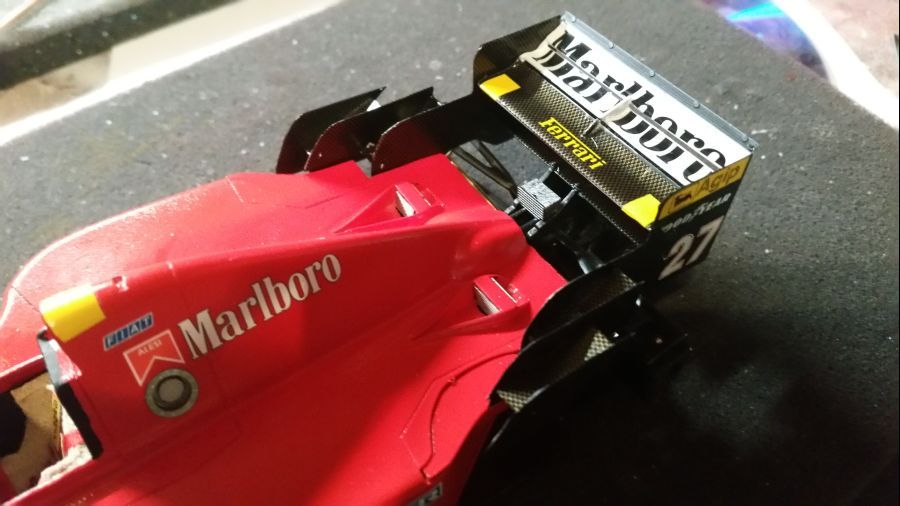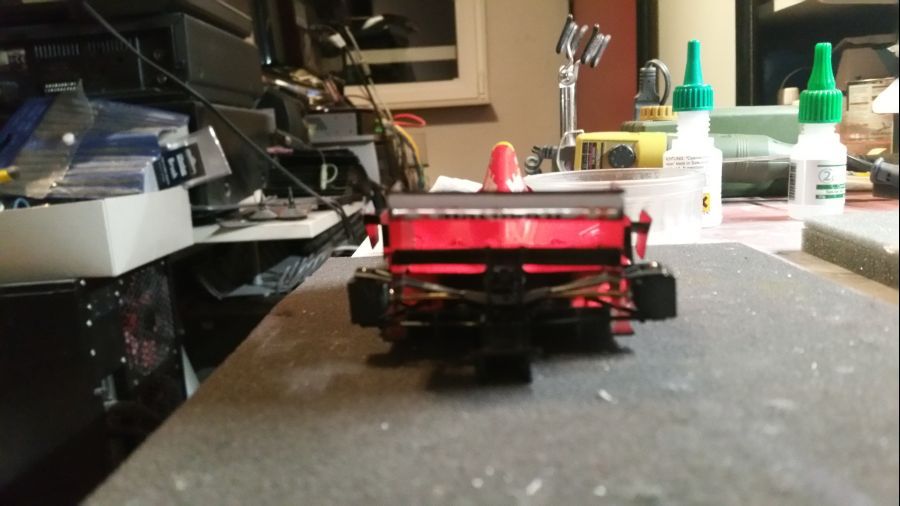 De velgen en de banden zijn aan de beurt. De banden worden bijgesneden en opgeruwd. De velgen worden in elkaar gezet, krijgen een laag Tamiya metaal primer en vervolgens een laag Tamiya Gold. 
Let's turn to the tires and rims. The tires are being cut and get a used look. The rims are assembled, get a layer of Tamiya metal primer and a layer of Tamiya Gold.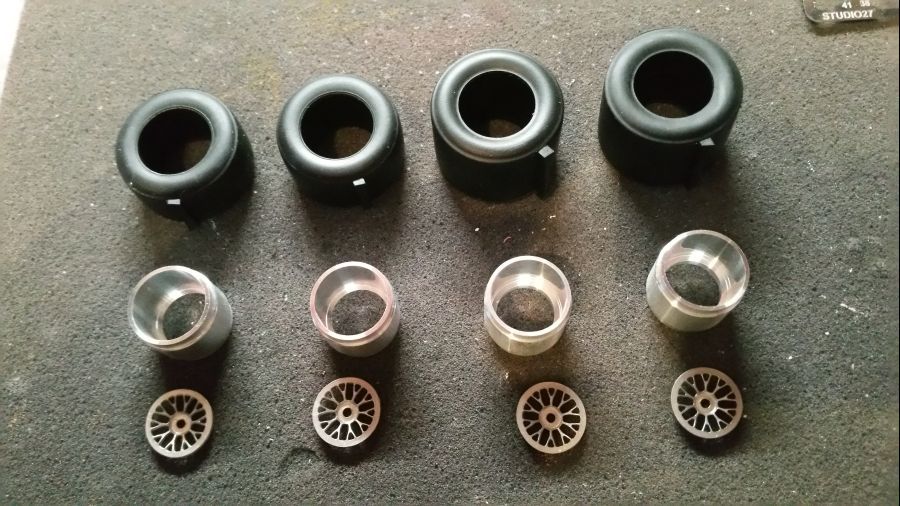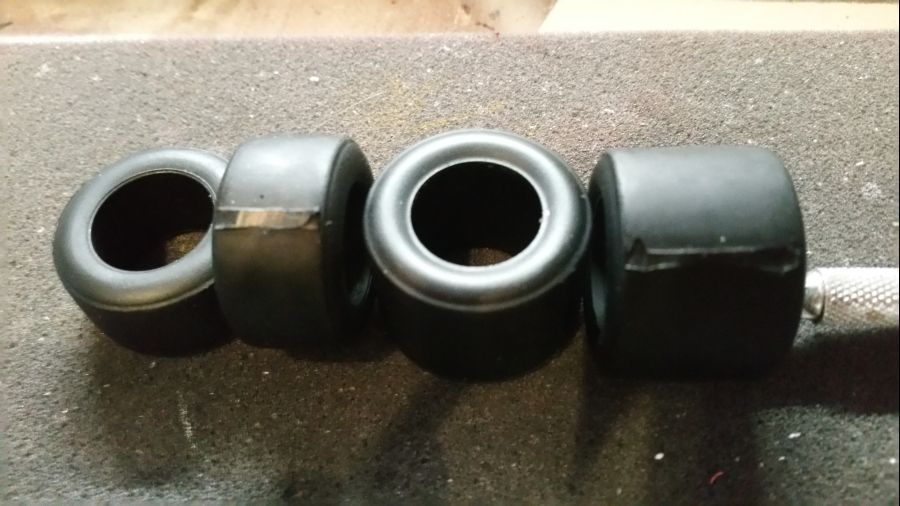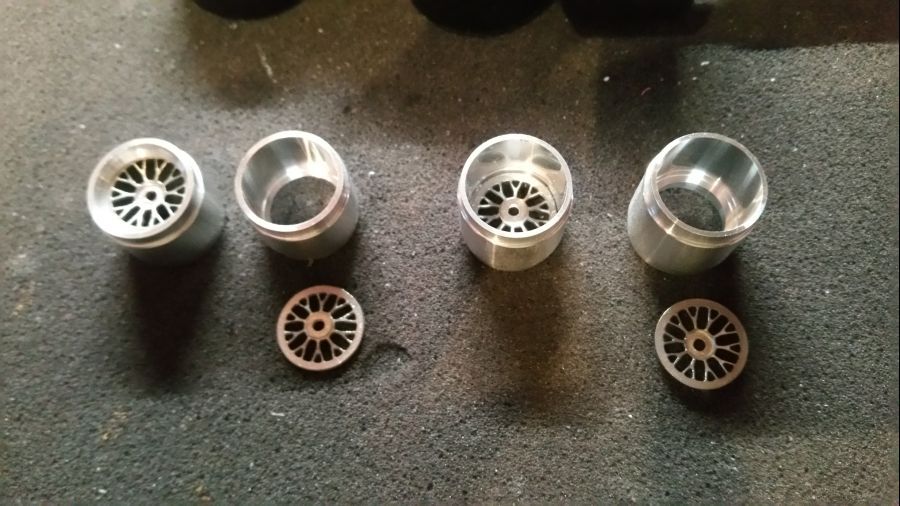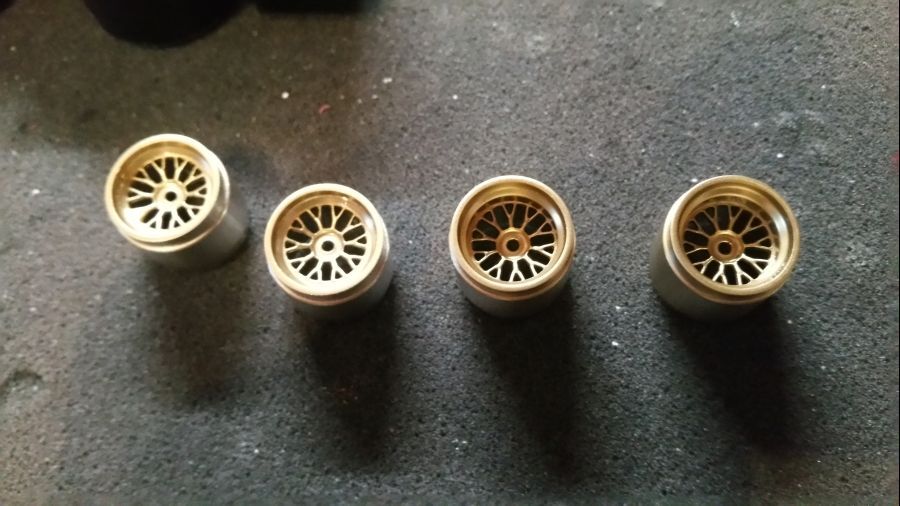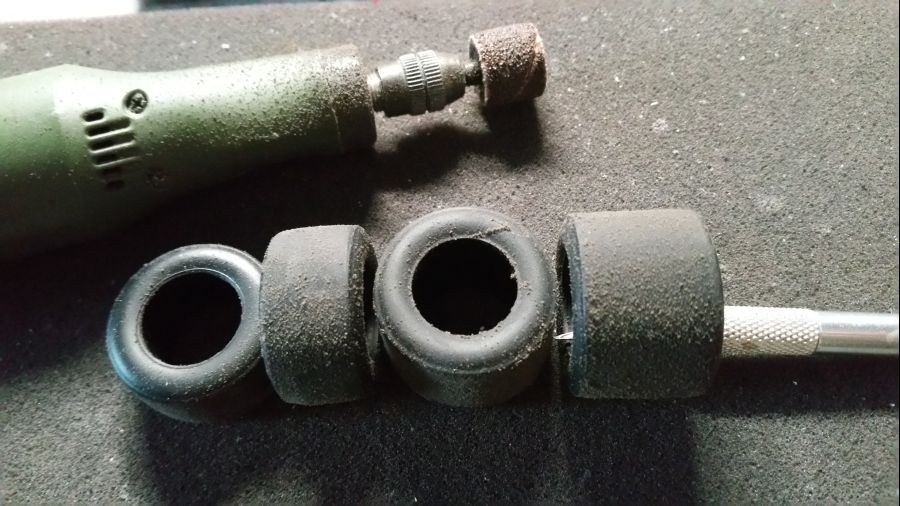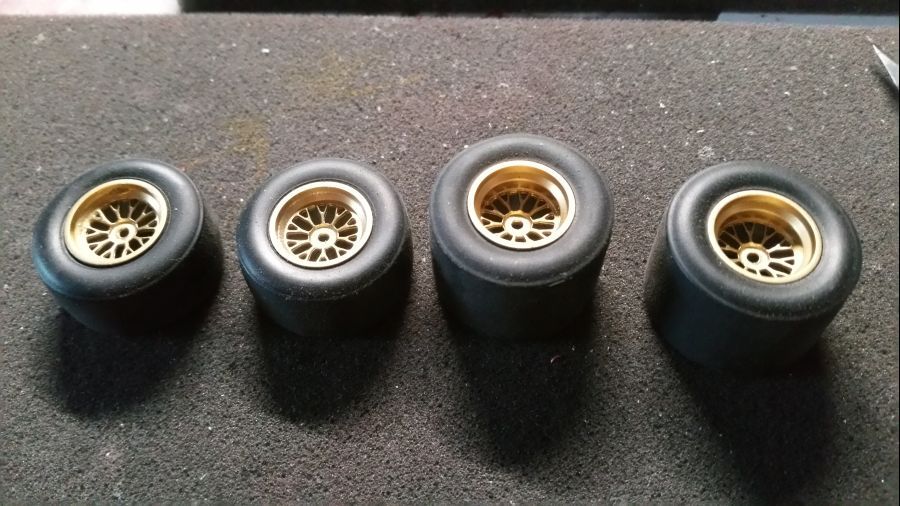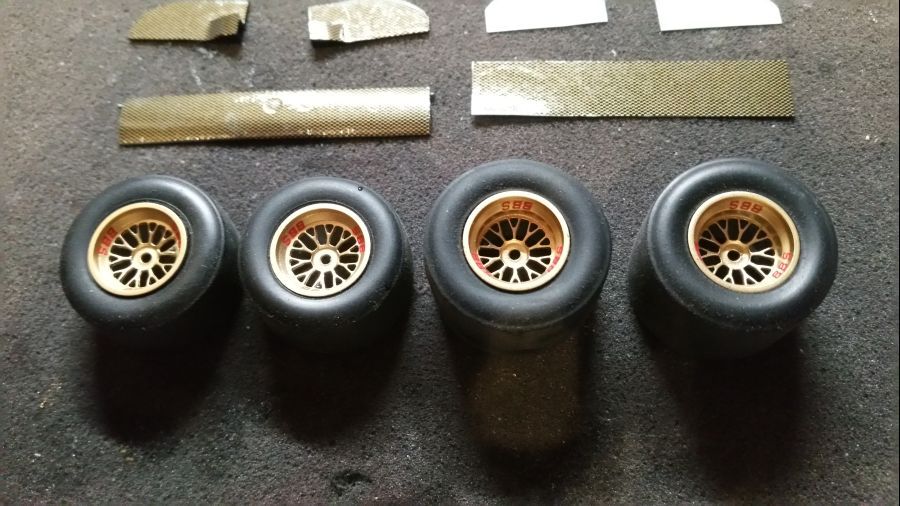 De voorvleugel krijgt dezelfde procedure als de achtervleugel. Dus verven, carbon fiber decals op maat knippen en aanbrengen.
The front wing gets the same procedure as the rear wing. So paint, cut carbon fiber decals to size and apply.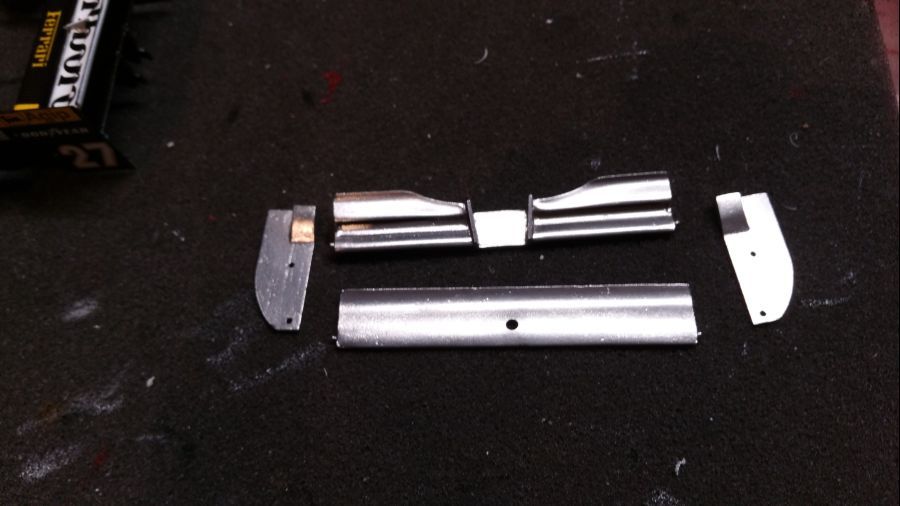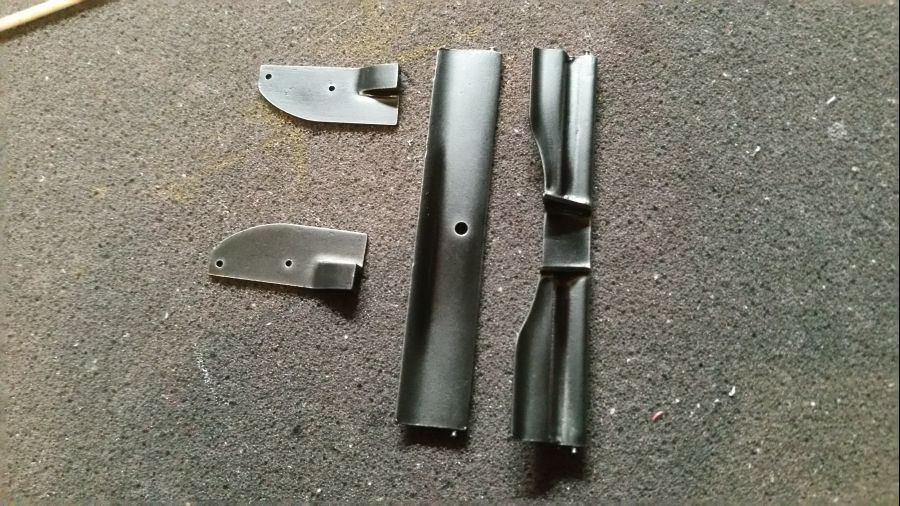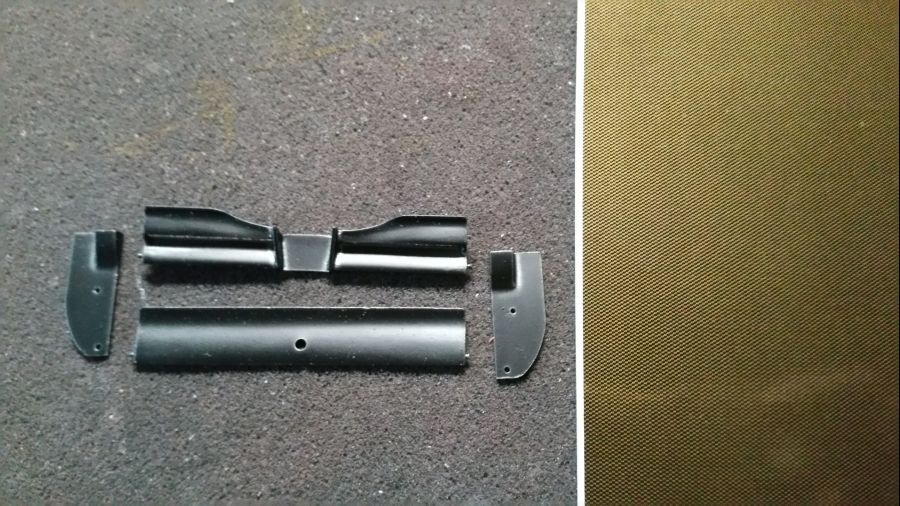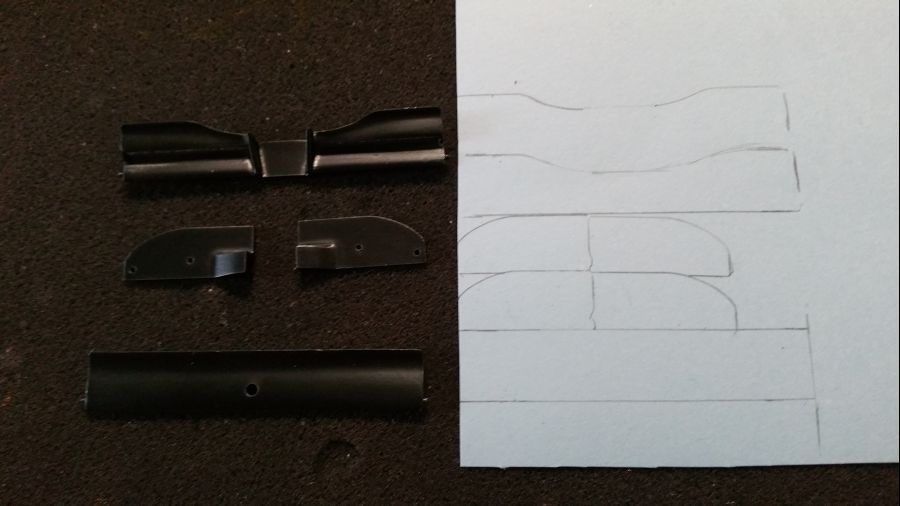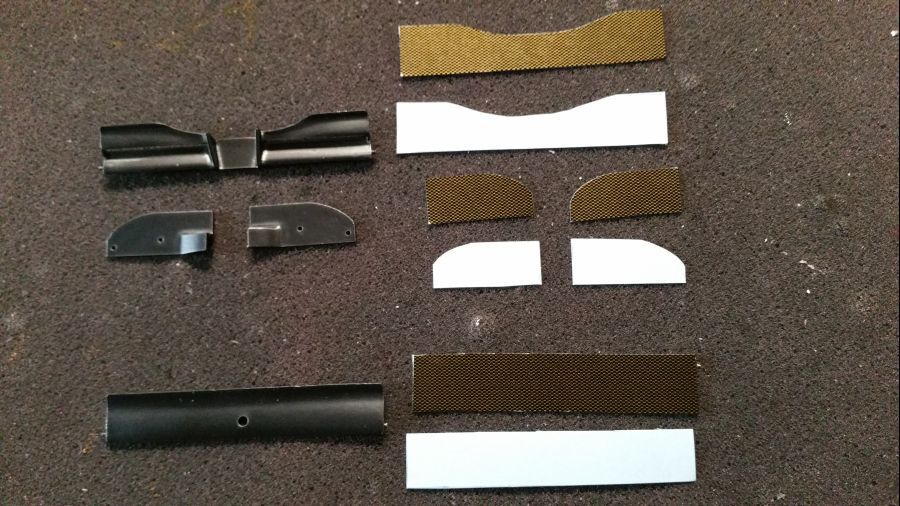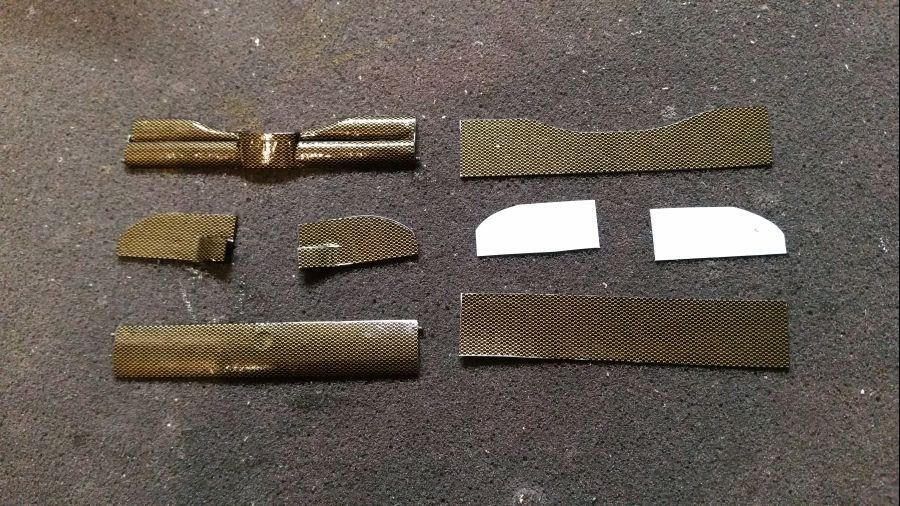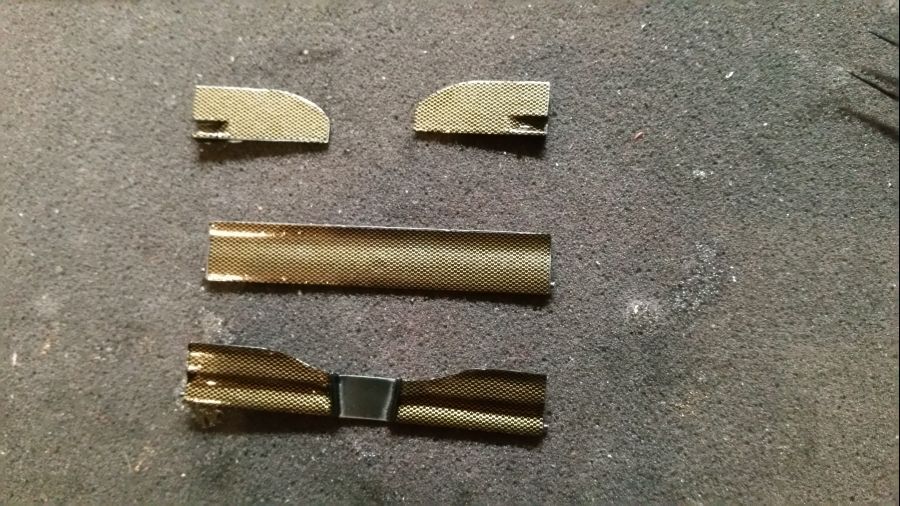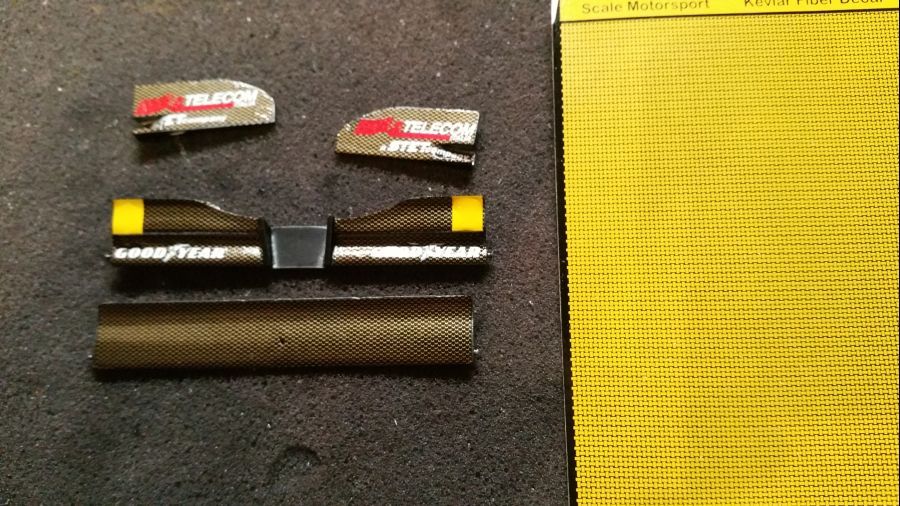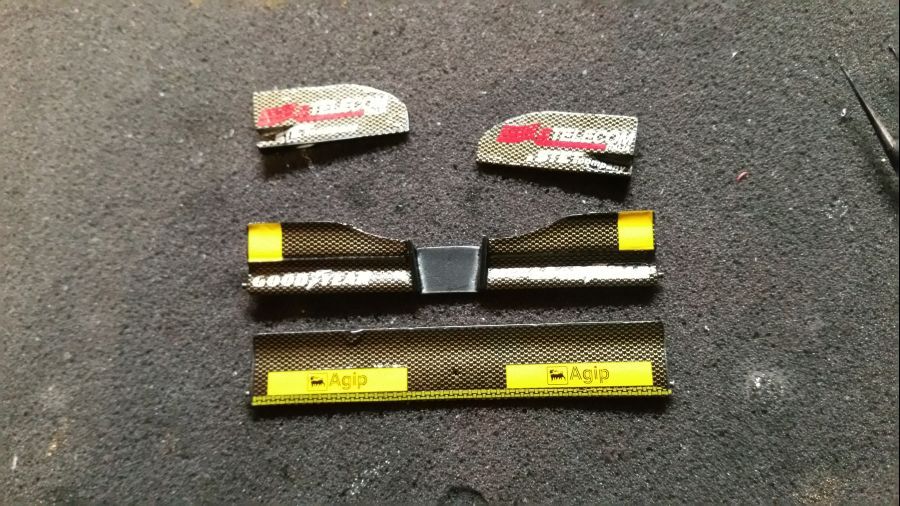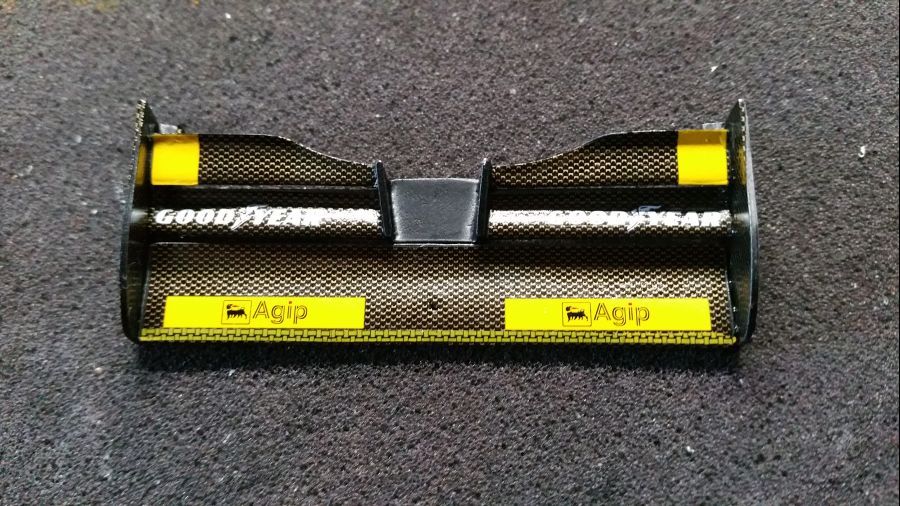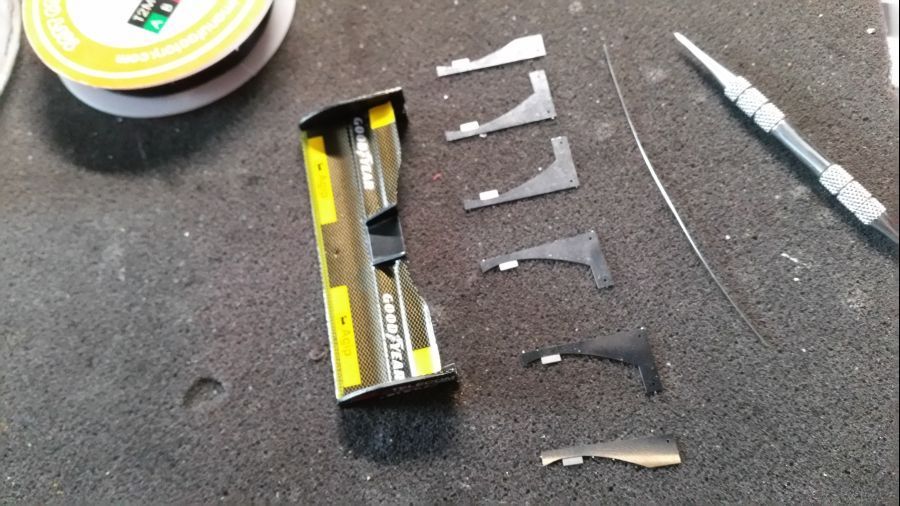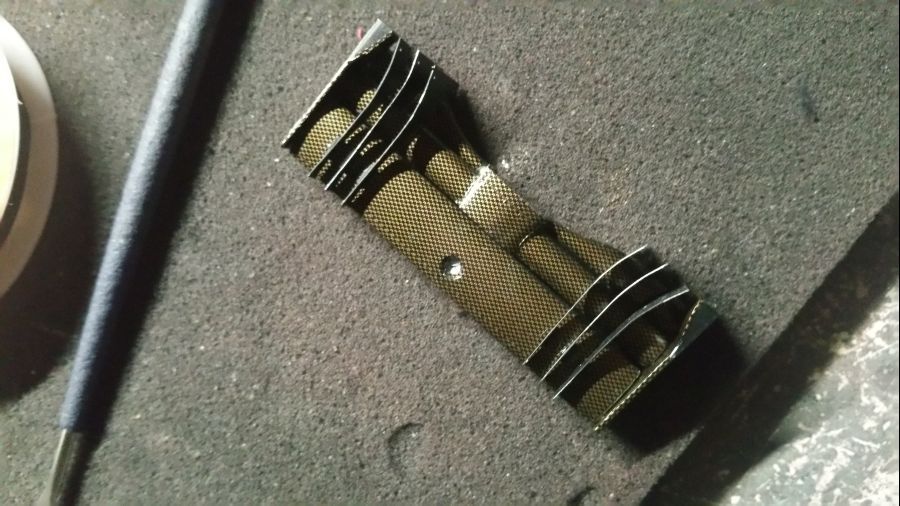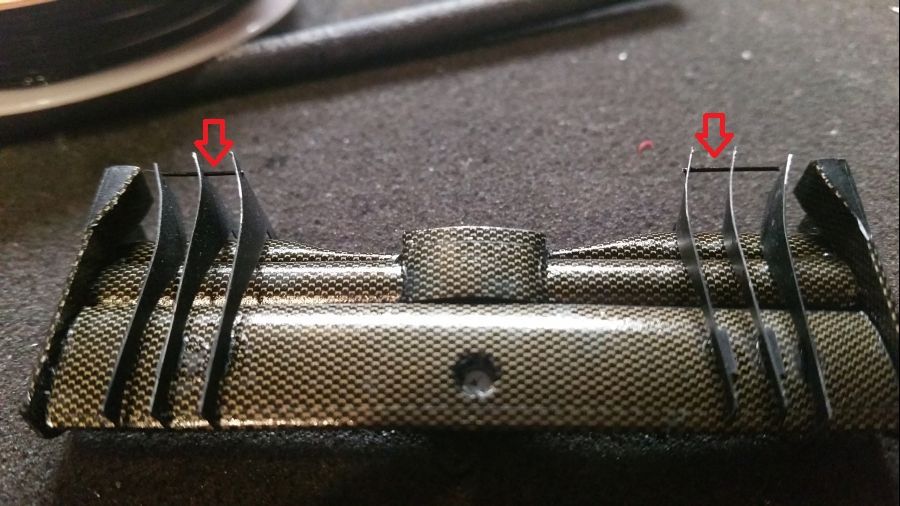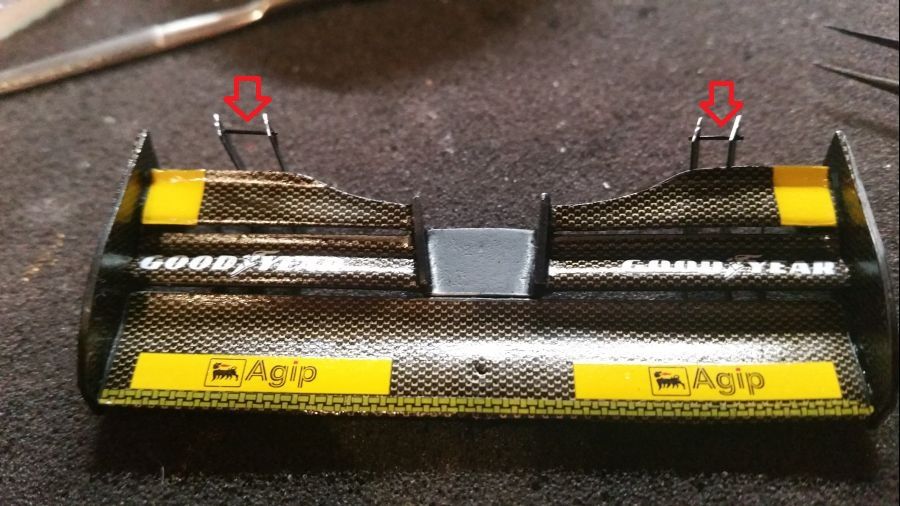 De wielen krijgen meer decals.
More decals added to the wheels.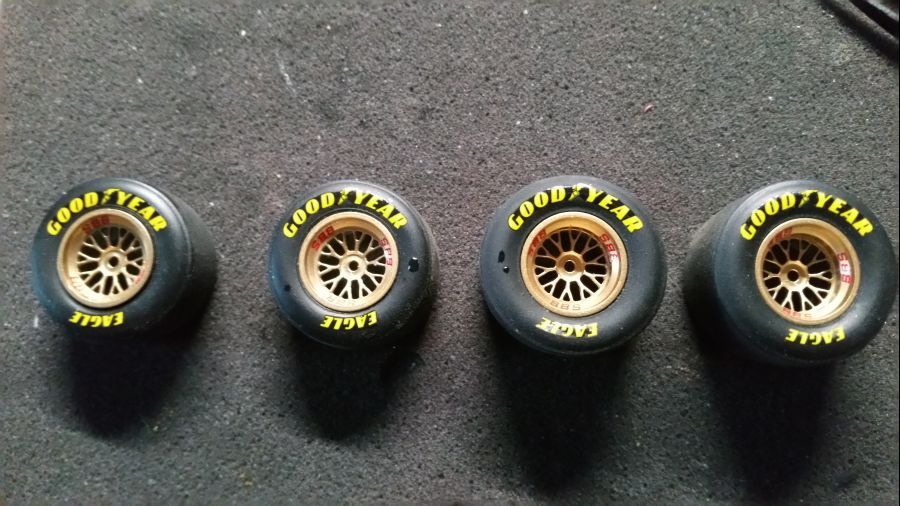 Verder met de remmen...
To continue with the breaks...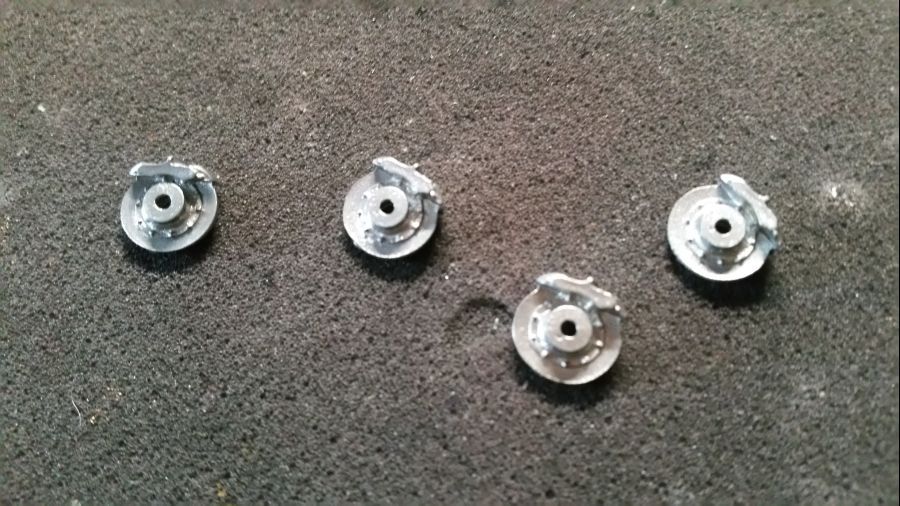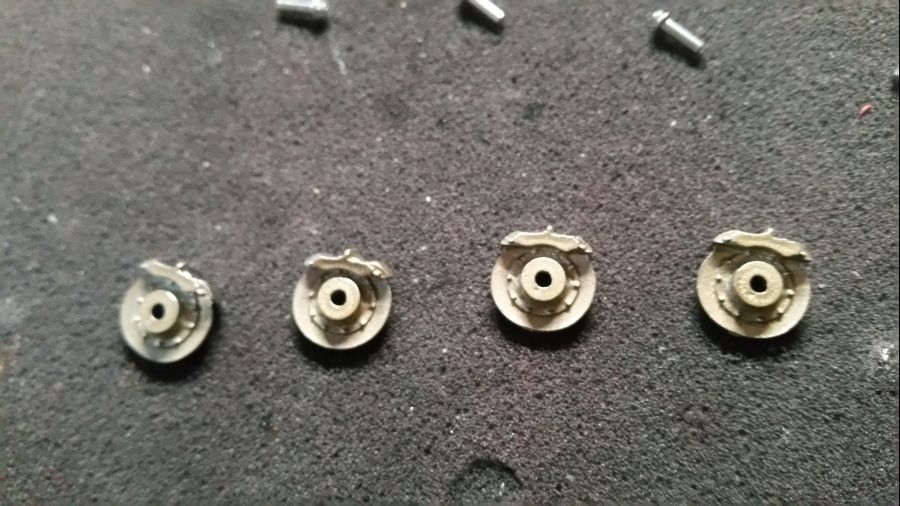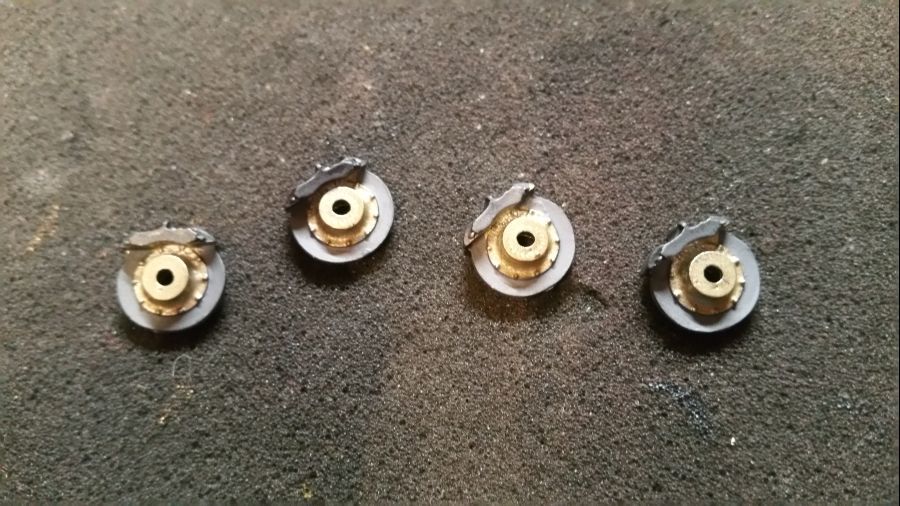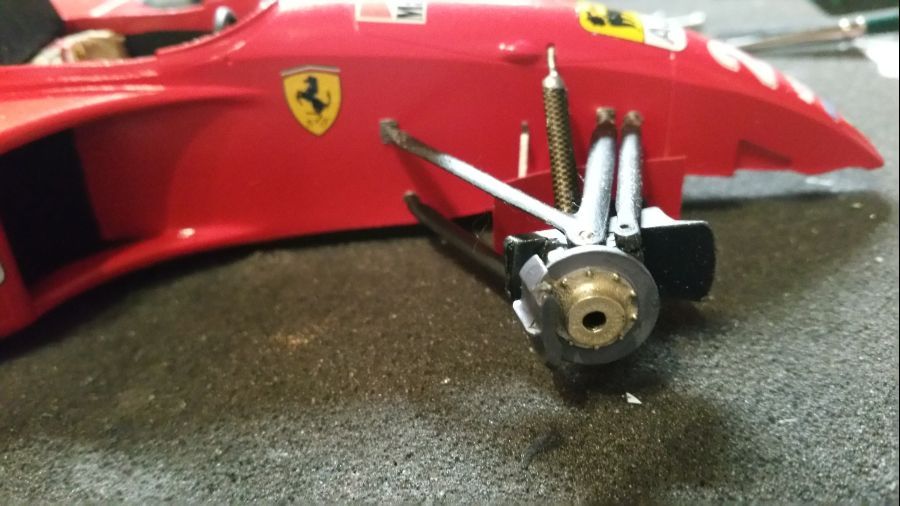 De wielen gaan erop...
The wheels are on...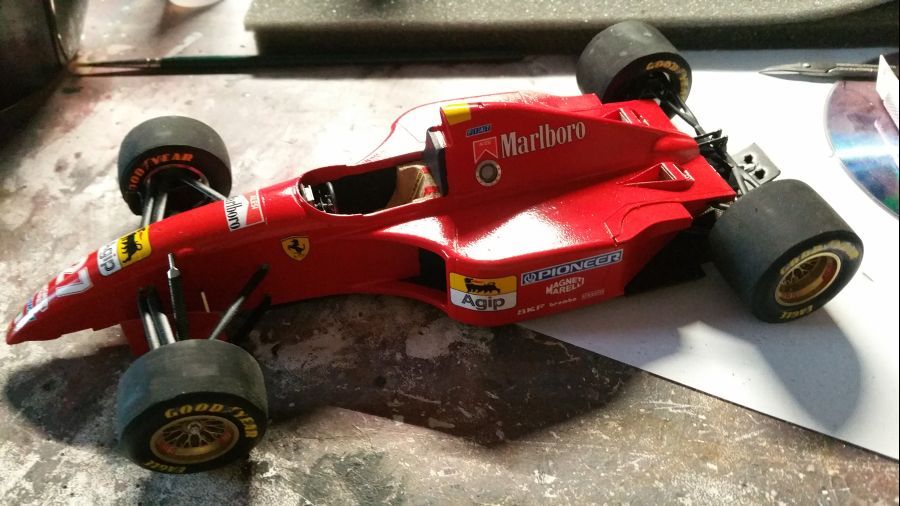 Tijd voor het werken aan de barge boards. De rolling tool komt weer van pas.
Time to work on the barge boards. The rolling tool comes in handy again.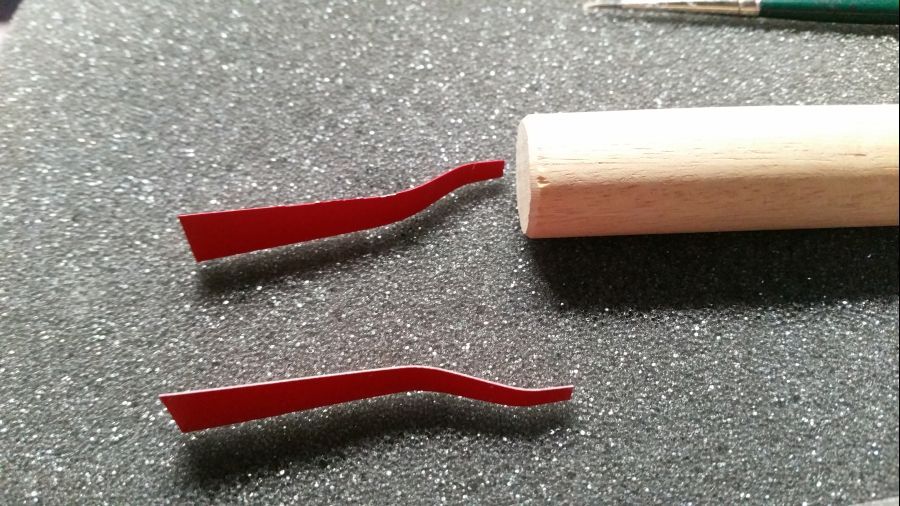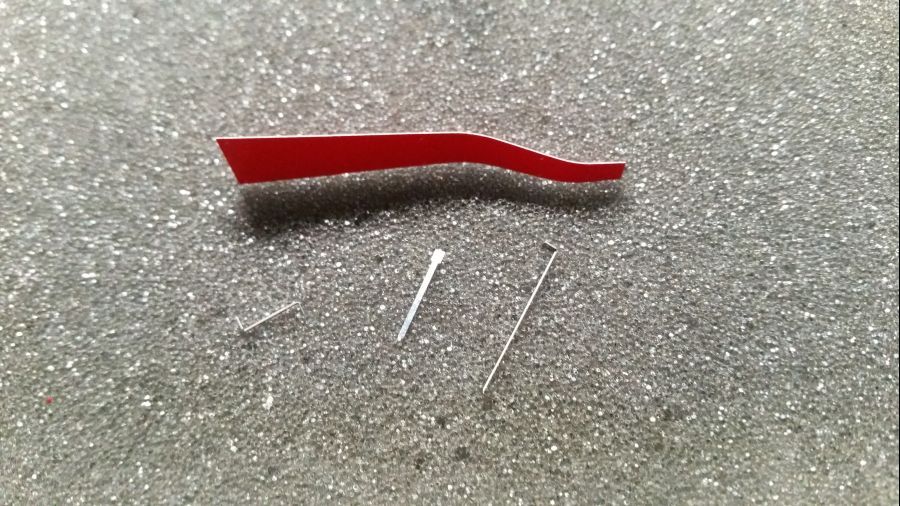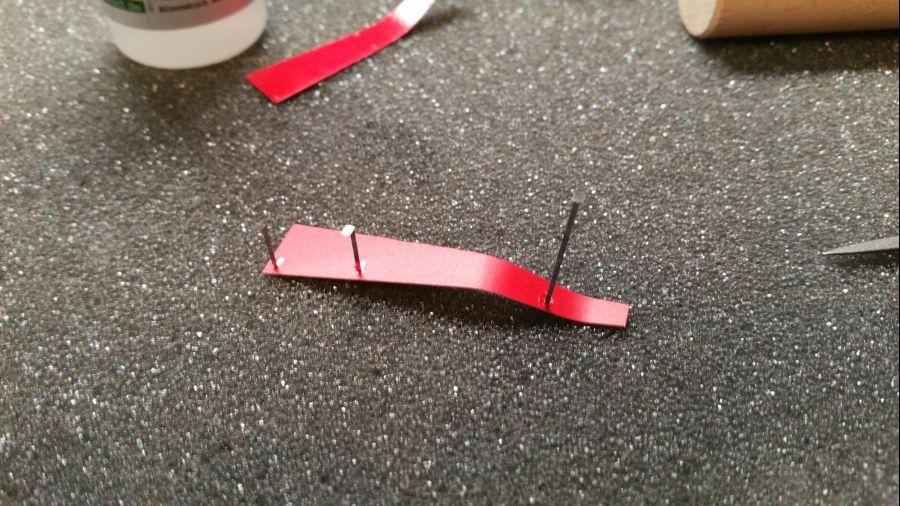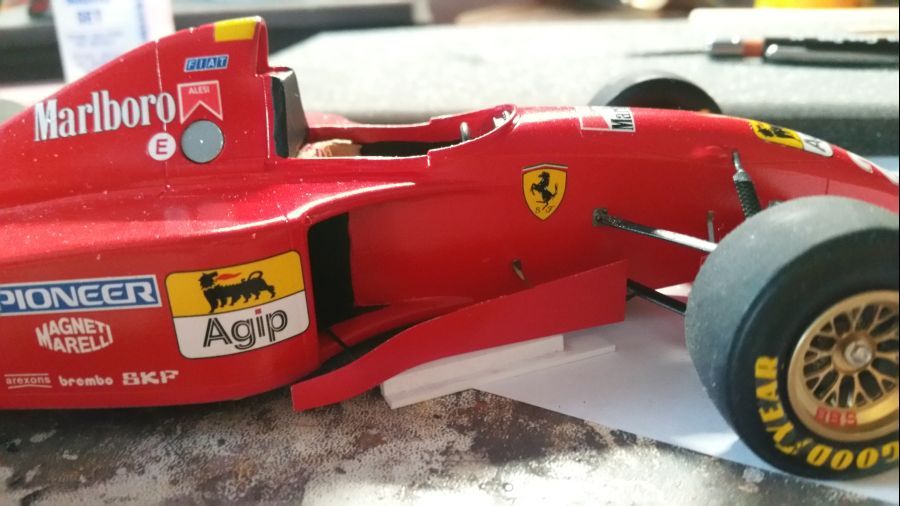 De vleugels kunnen gemonteerd.
The wings can be mounted.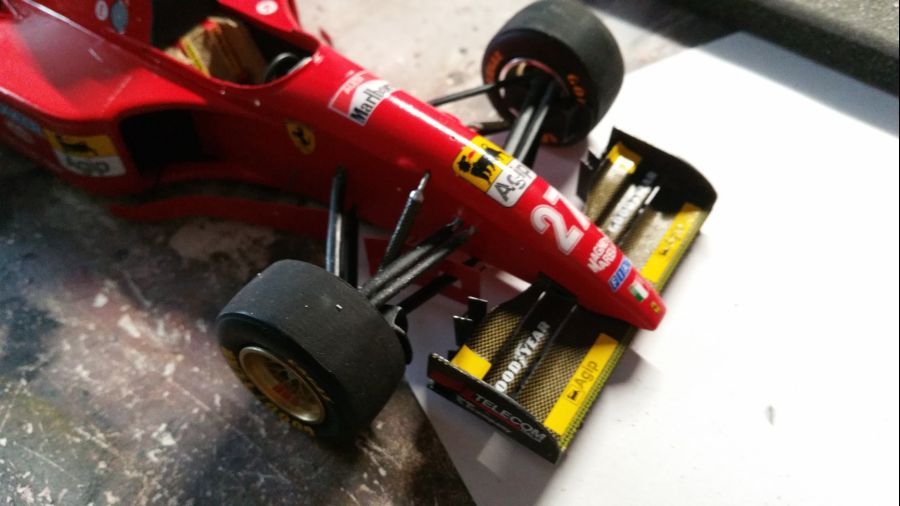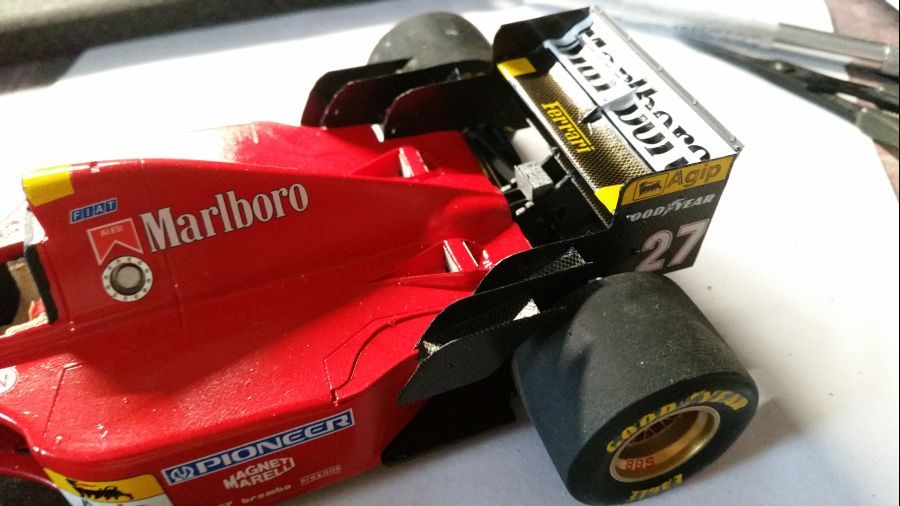 Wat kleine onderdelen zoals spiegels en antenne.
Some small parts like the mirrors and the antenna.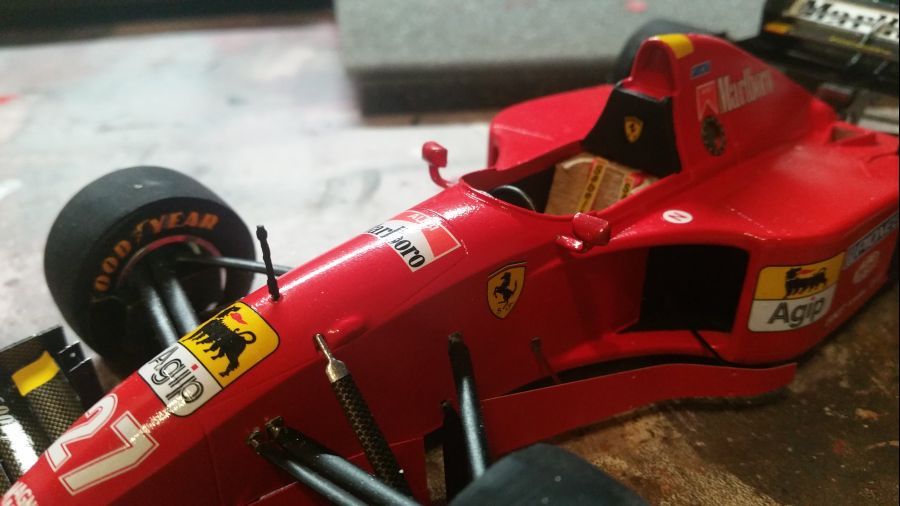 Snelsluiters worden geplaatst.
Fasteners are being applied.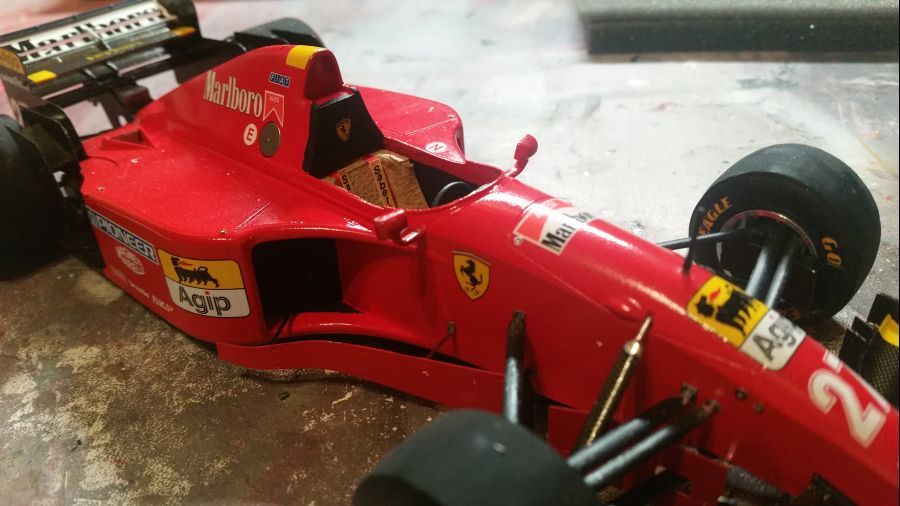 De plank kan eronder.
The plank can be added.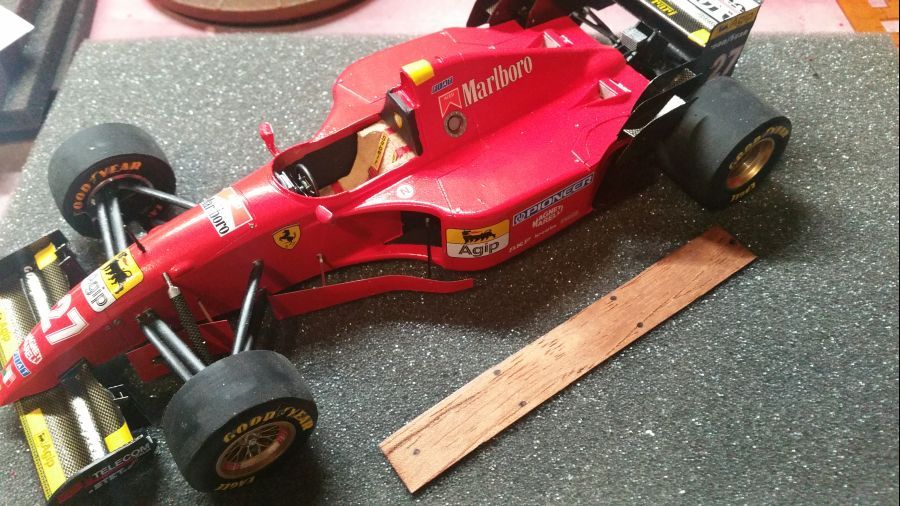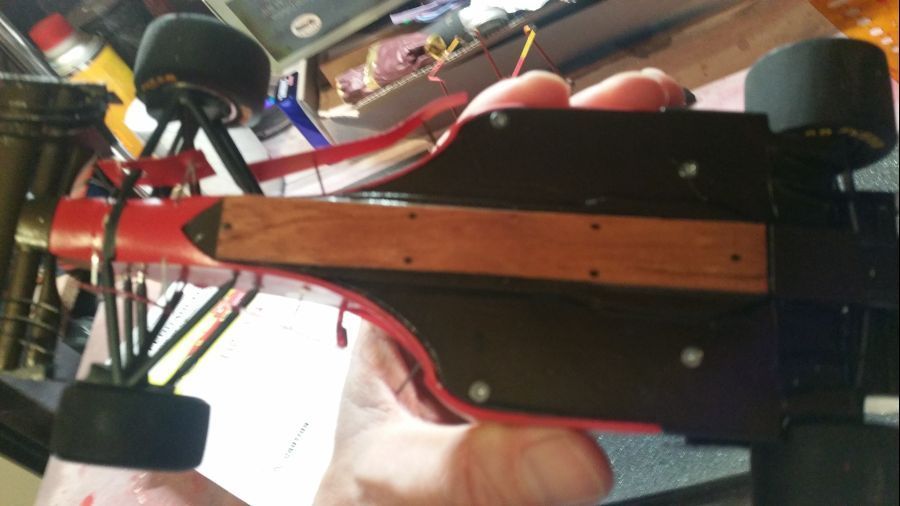 En weer 1 klaar...
And another one done...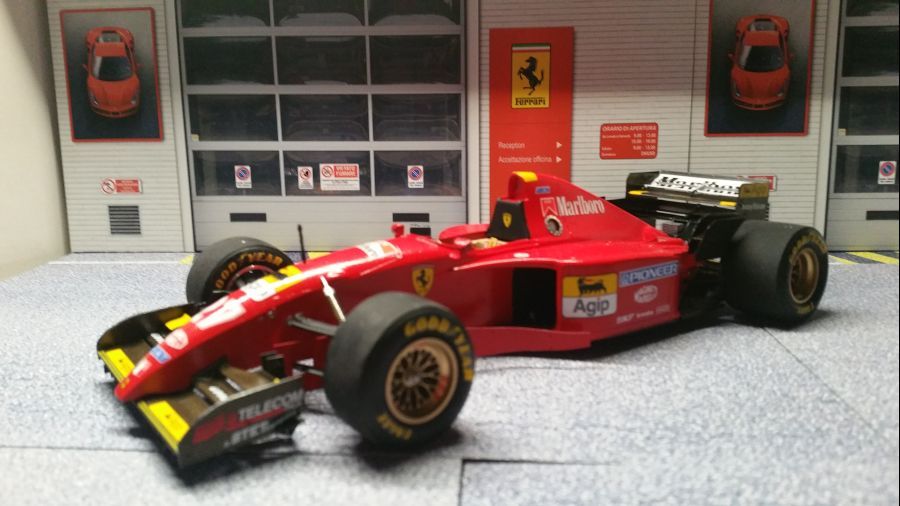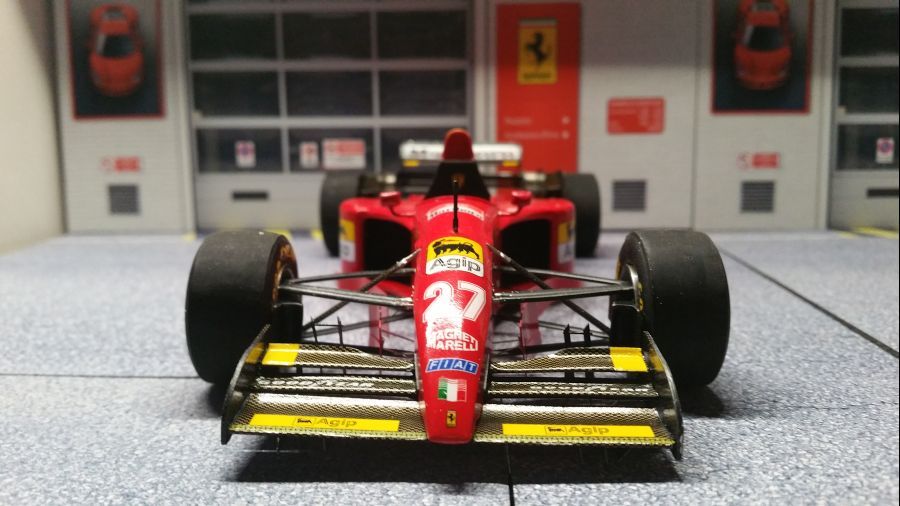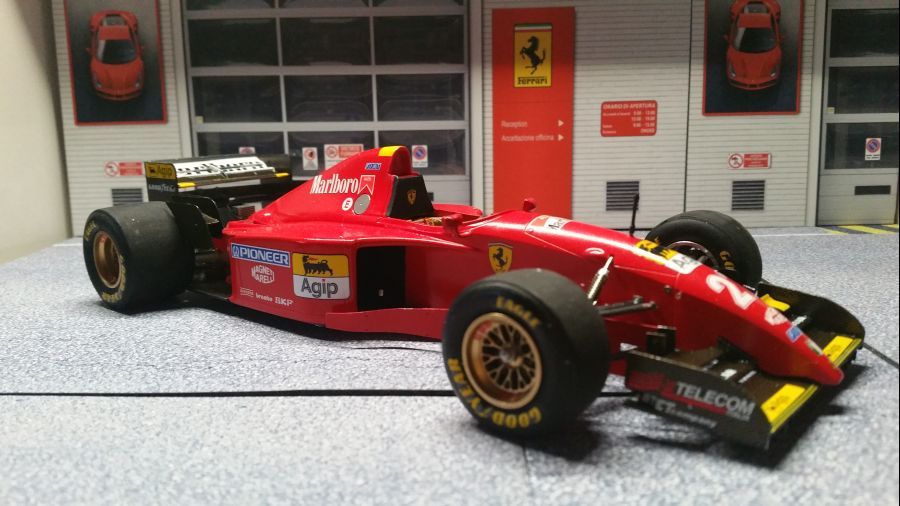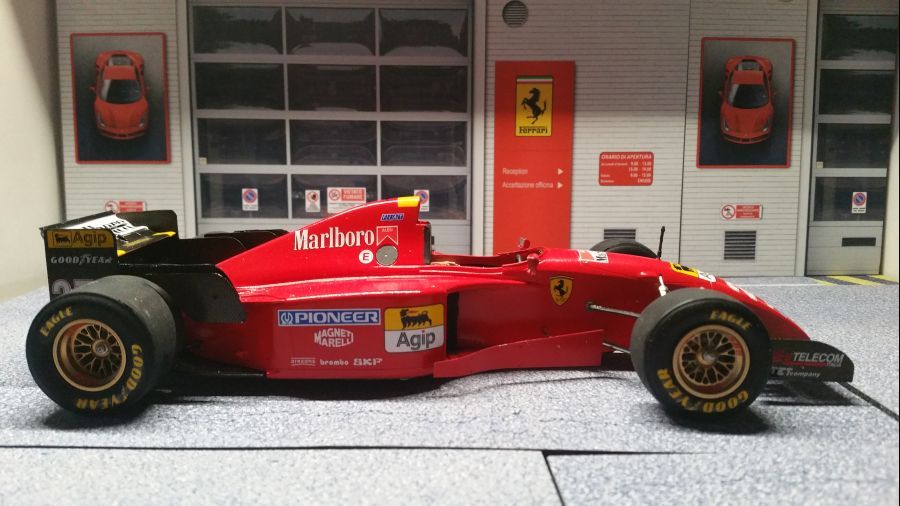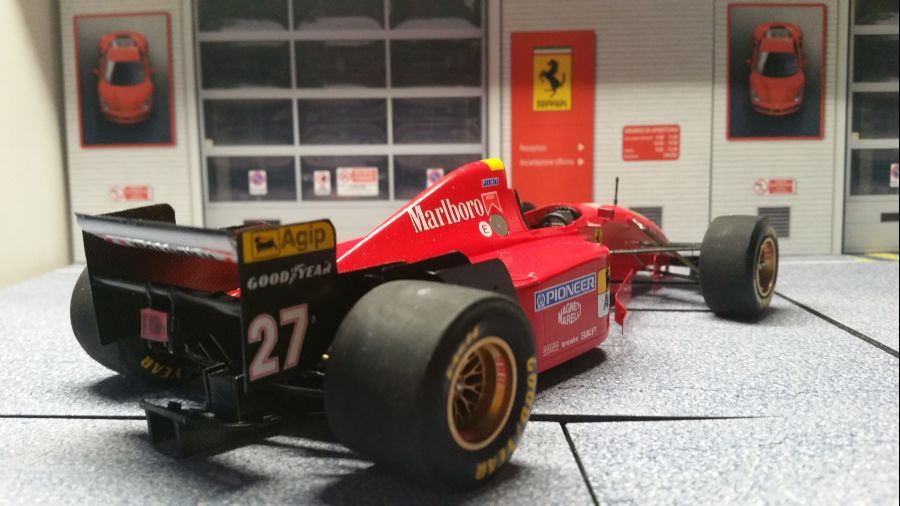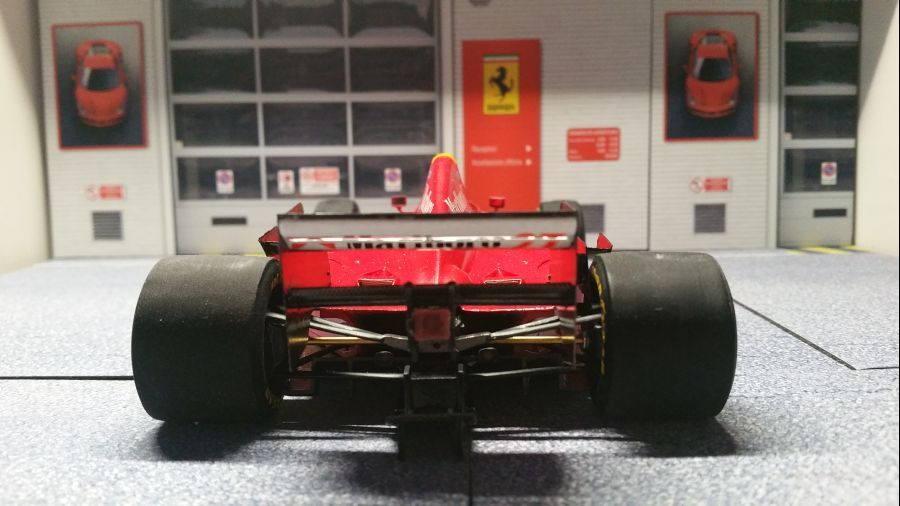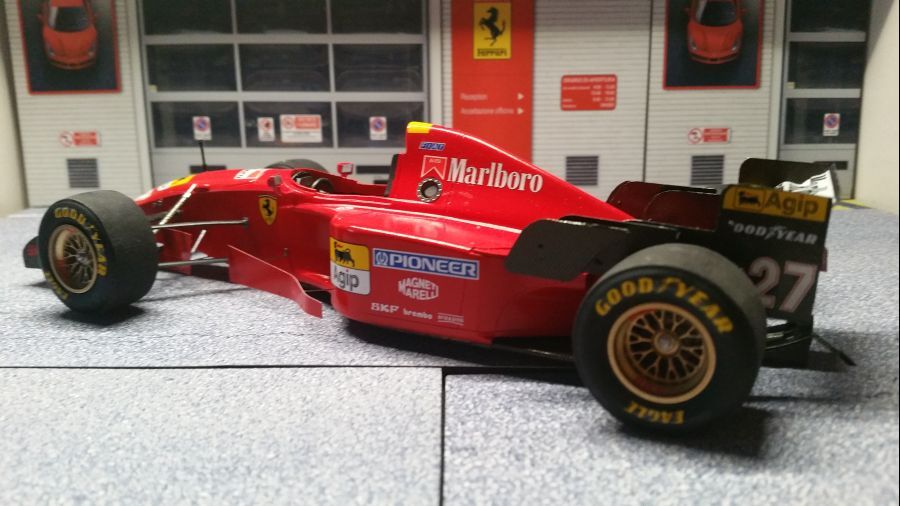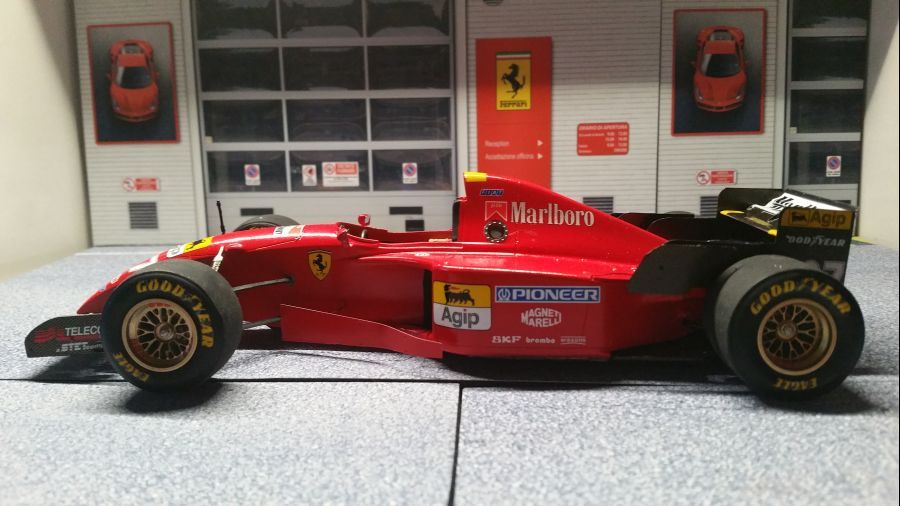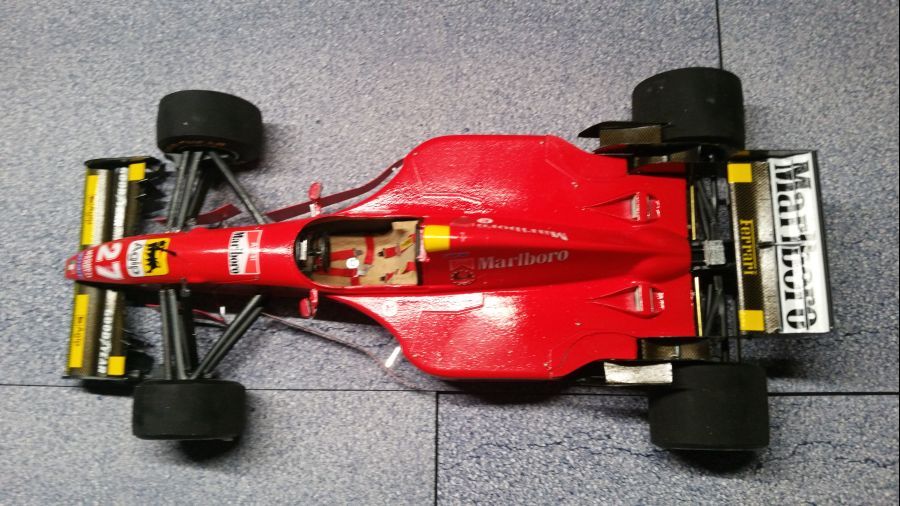 Geen grote problemen met deze bouwdoos. Alles past mooi. De achtervleugel vraagt natuurlijk wel de nodige inspanning.
Not many problems with this kit. Everything fits o.k. The rear wing needs some extra attention as you can see.