Als Nederlander wil ik natuurlijk mijn verzameling van Nederlandse coureurs een beetje bijhouden. Daarom ga ik van deze McLaren MP4-30 van Ebbro (kit nr. 013-4800) een Toro Rosso STR10 in 1/20 proberen te maken. Dit wordt dan de 2015 launch versie van Max Verstappen. Ik weet niet wat ik allemaal ga tegenkomen, maar dat zien we wel. Voor de decals heb ik contact gezocht met de website van Pattos. Deze heeft normaal geen schaal 1/20 decals, maar op verzoek wil hij ze wel printen op deze schaal. Altijd even spannend of het allemaal een beetje goed uitpakt. Natuurlijk zal de conversie niet 100% zijn, maar we gaan het beste ervan maken. Eerst maar weer de foto's.
Being Dutch i would like to keep up my collection of Dutch drivers. That's why i will start to try to convert this McLaren MP4-30from Ebbro (kit no. 013-4800) into a Toro Rosso STR10 in scale 1/20. It's going to be the 2015 launch version from Max Verstappen. I don't know what i will be facing, but let's see. For the decals i have contacted the website pf Pattos. Normally he doesn't have scale 1/20 decals, but on request he is willing to print them. Always an exciting moment to see if it will turn out well. Of course it will not be 100% but i'll do my best. First again the photos.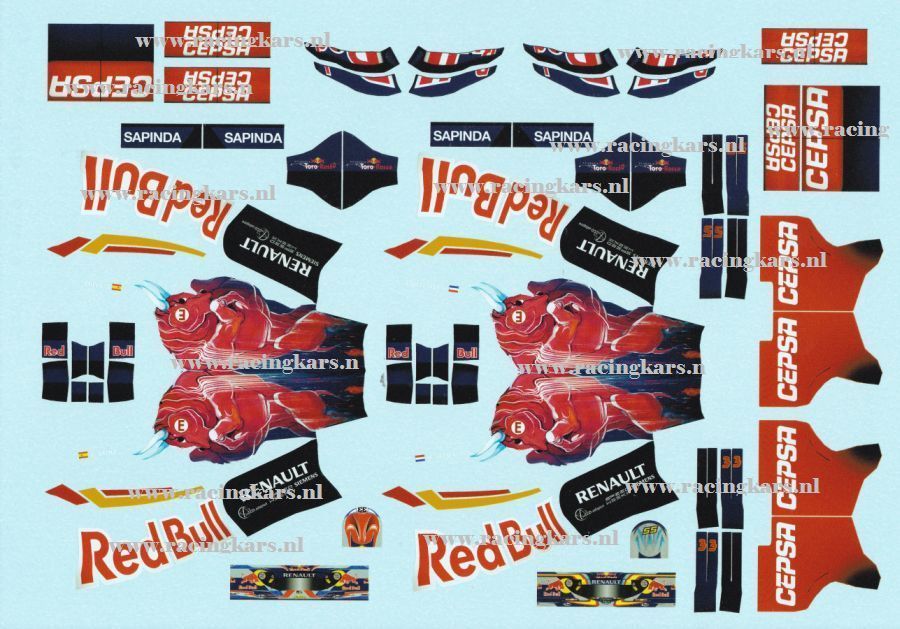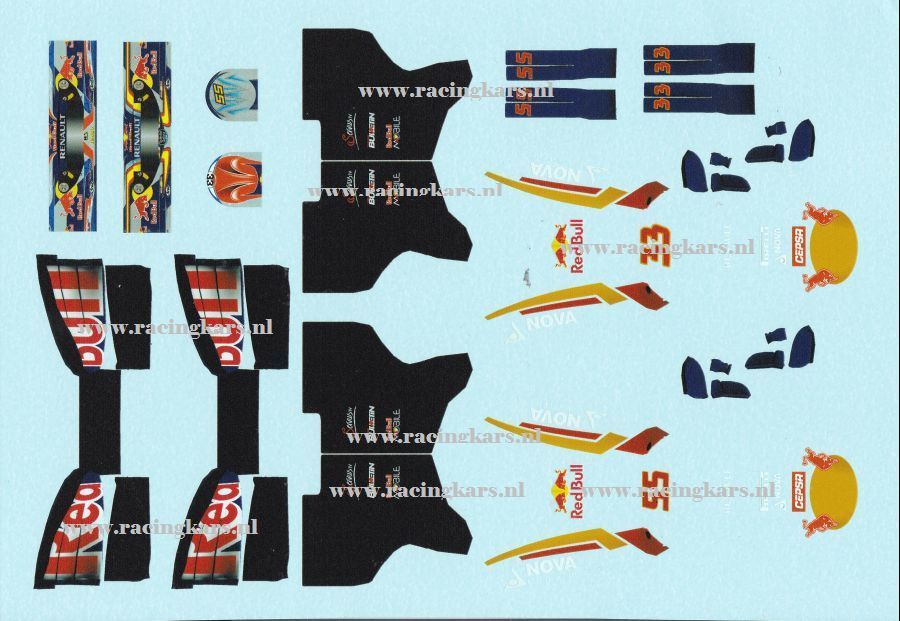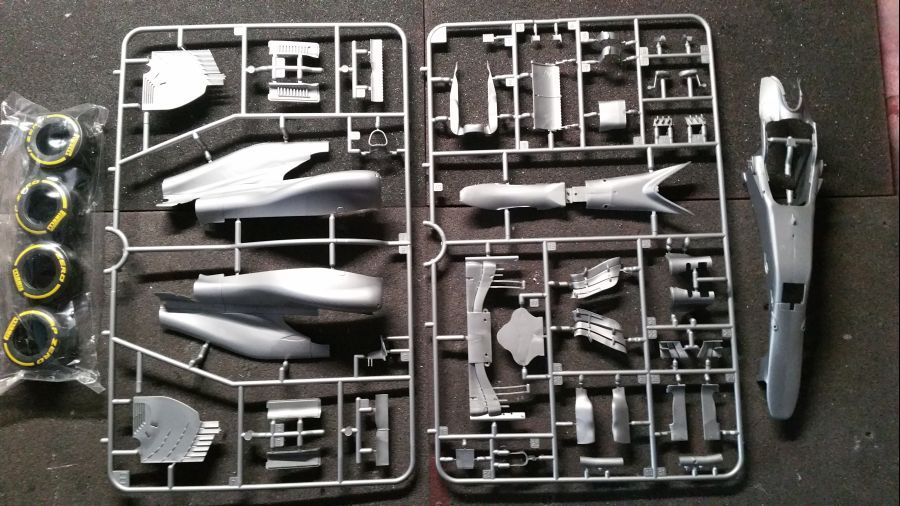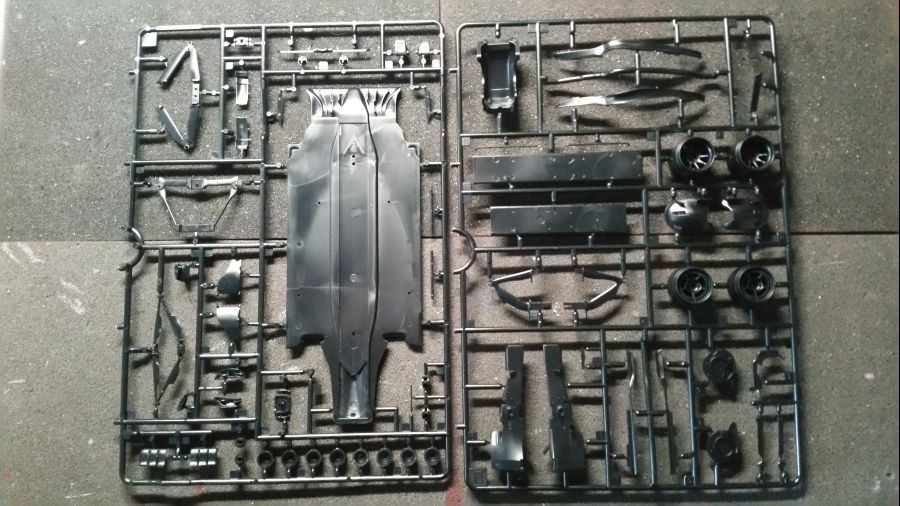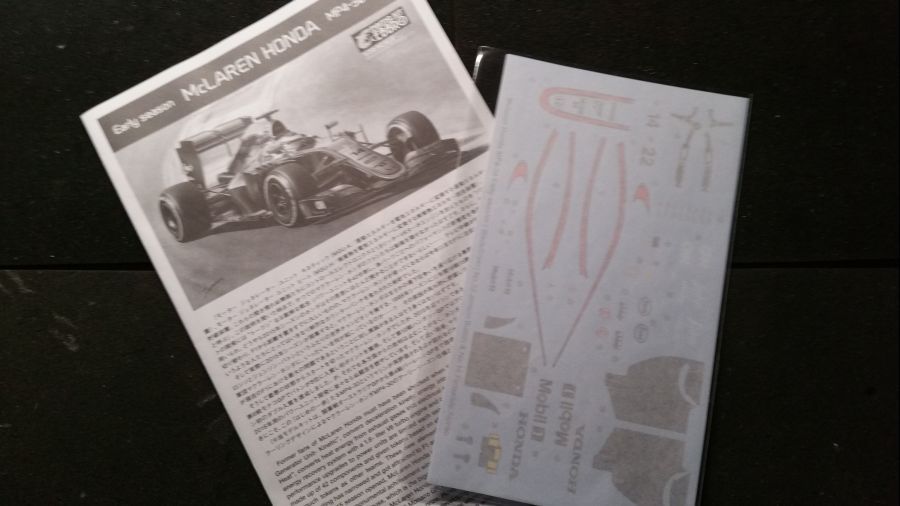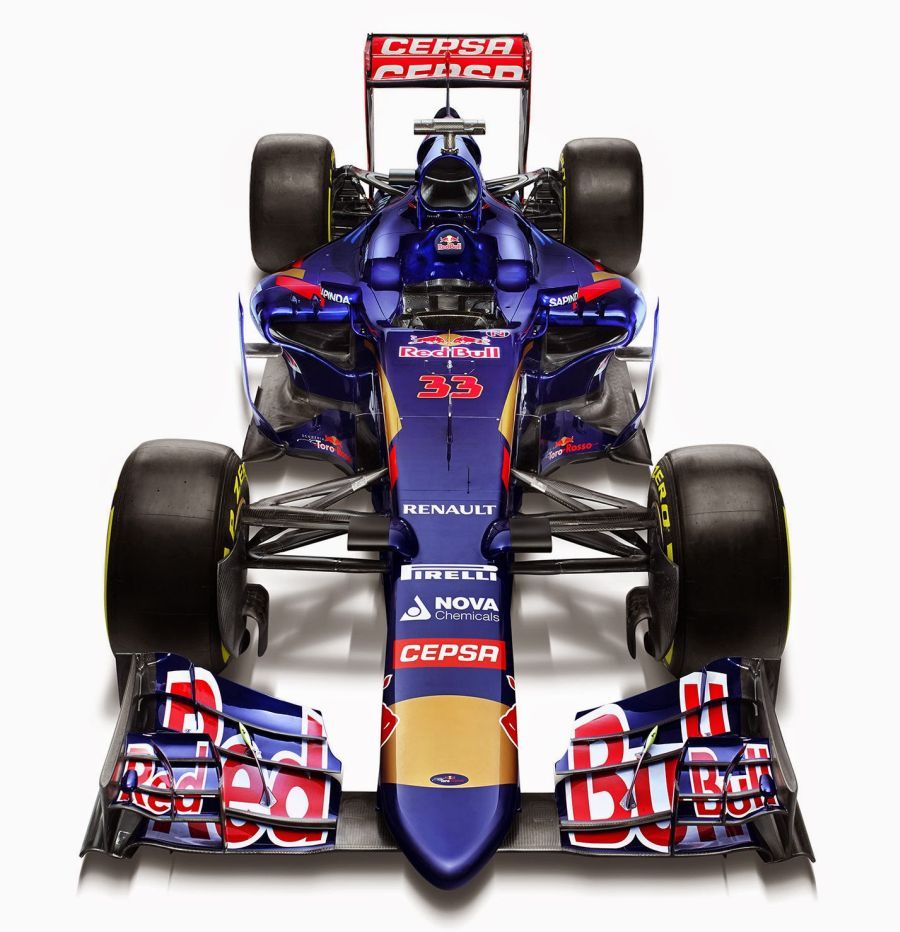 De neus moet in ieder geval wat worden aangepast... Wat meer puntig.
The nose needs some adjustment... Some more pointy.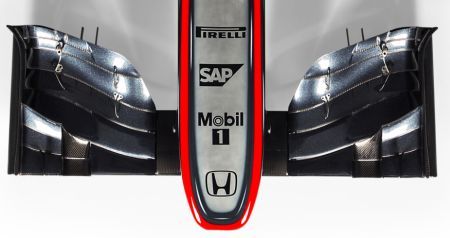 Ook moet de lijn van de body iets meer rond worden gemaakt.
Also the body needs to be rounded a bit.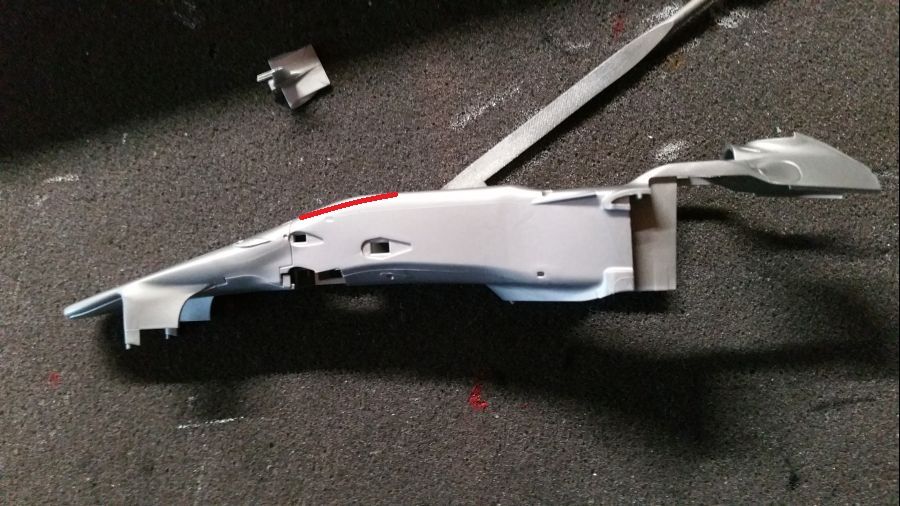 De MP4/30 heeft hier een opening. De Toro Rosso STR10 heeft dat niet. Dat moet dus opgevuld.
The MP4/30 as an opening. The Toro Rosso STR10 doesn't. So it has to be filled.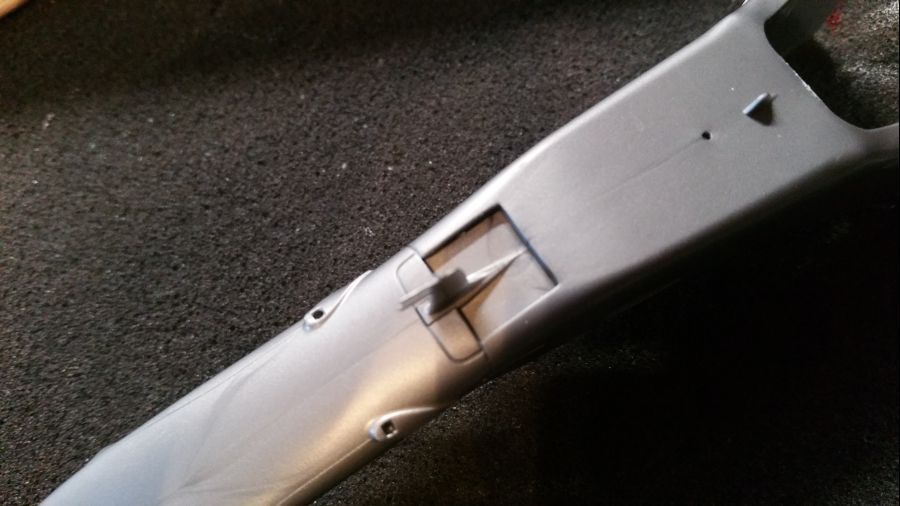 Daar gaat ie.... Eerst de verkeerde knik wegwerken. Dit doe ik door het overtollig plastic weg te vijlen.
There we go.... First getting rid of the wrong curve. I will do this by filing off the surplus plastic.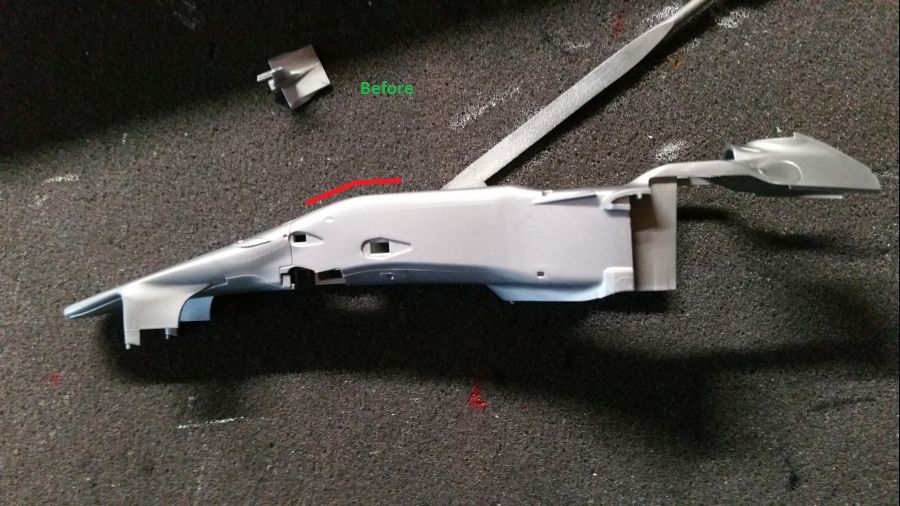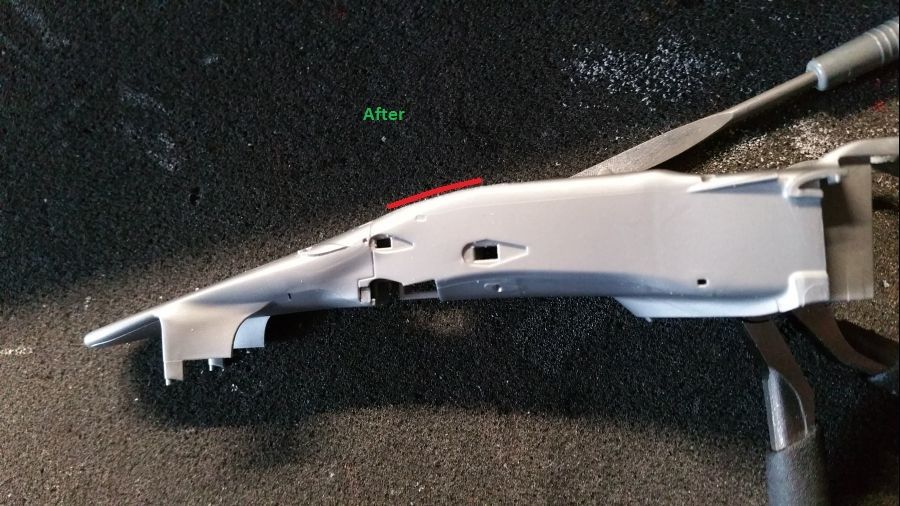 Hierna wordt alles geschuurd met 2400, 3200, 6000 en 8000 schuurpads.
Then everything was sanded with 2400, 3200, 6000 and 8000 sand pads.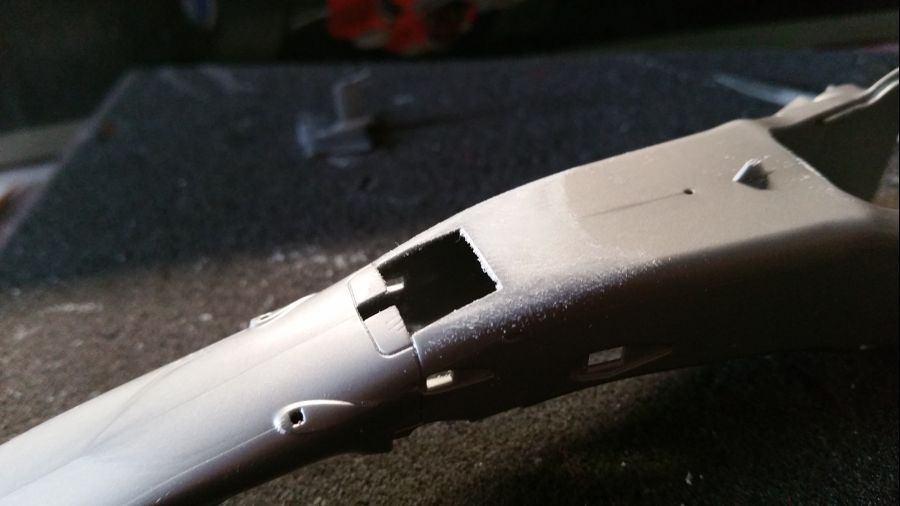 De antennes worden wat smaller gemaakt.
The antennas are being made somewhat smaller.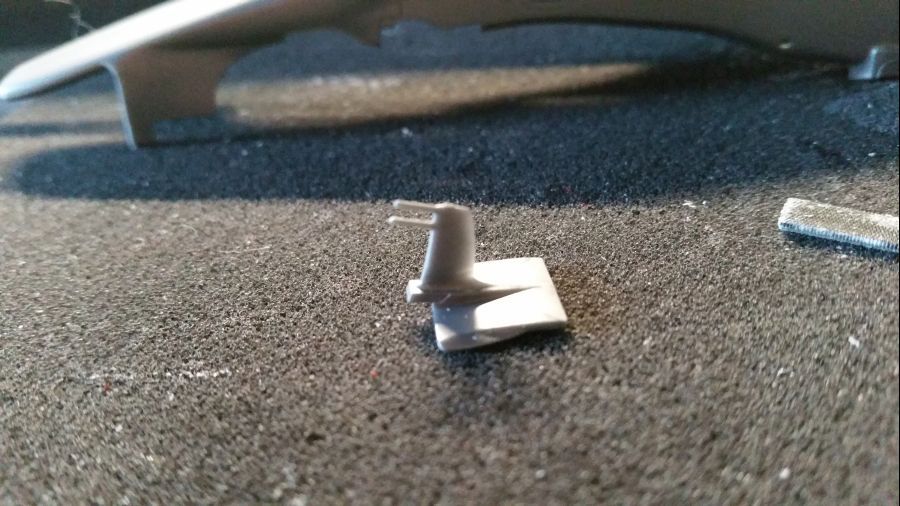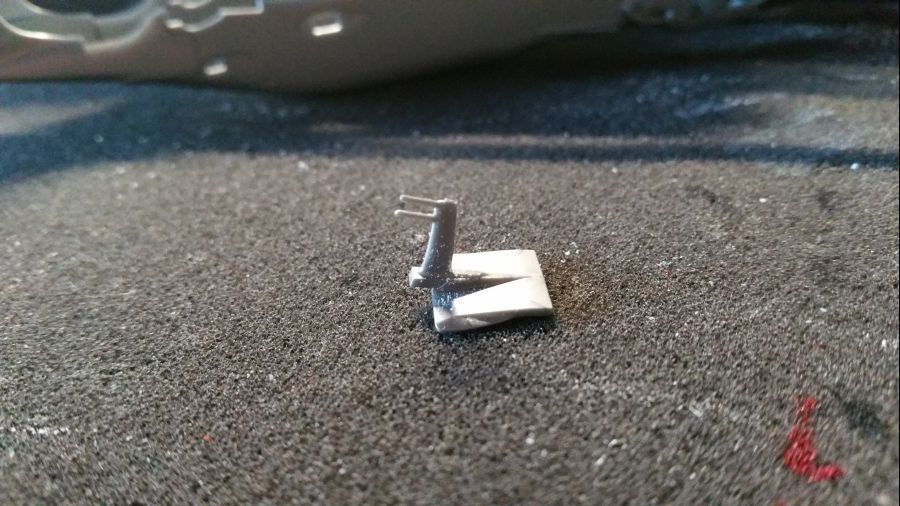 Dan wordt dit onderdeel gelijmd en wordt het gat eerst opgevuld met wat Evergreen strepen. Zodra dit goed droog is ga ik het weer vijlen en opvullen met putty.
This part gets glued and the hole is being filled with some Evergreen strip. As soon as this is dry i will file it again and fill it with some putty.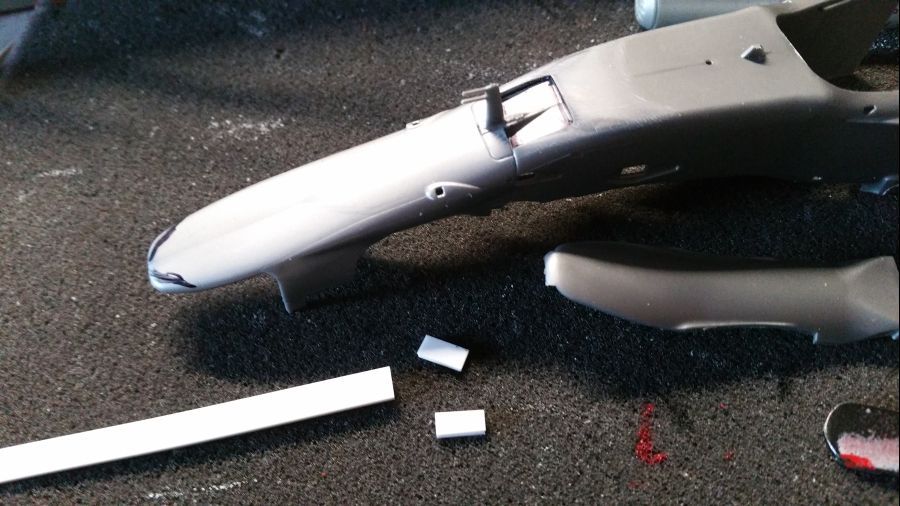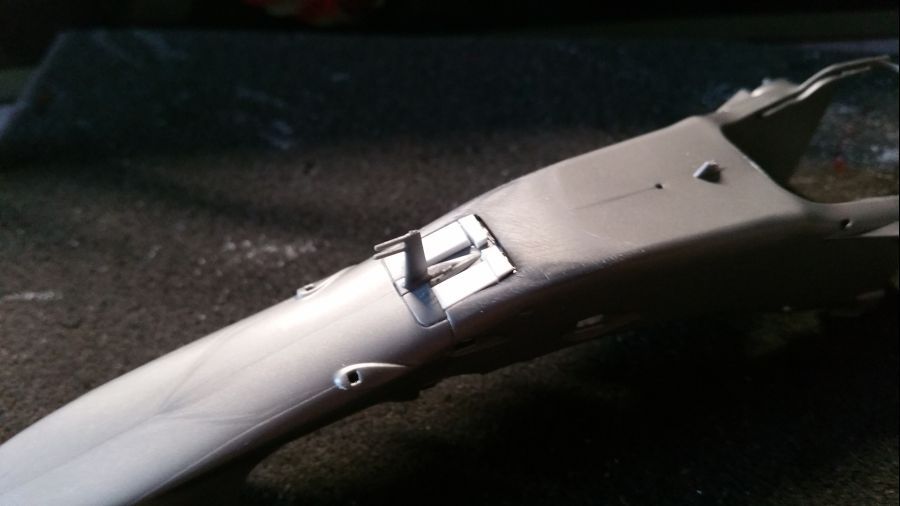 De onderkant wordt ook alvast geplaatst.
The downside gets attached too.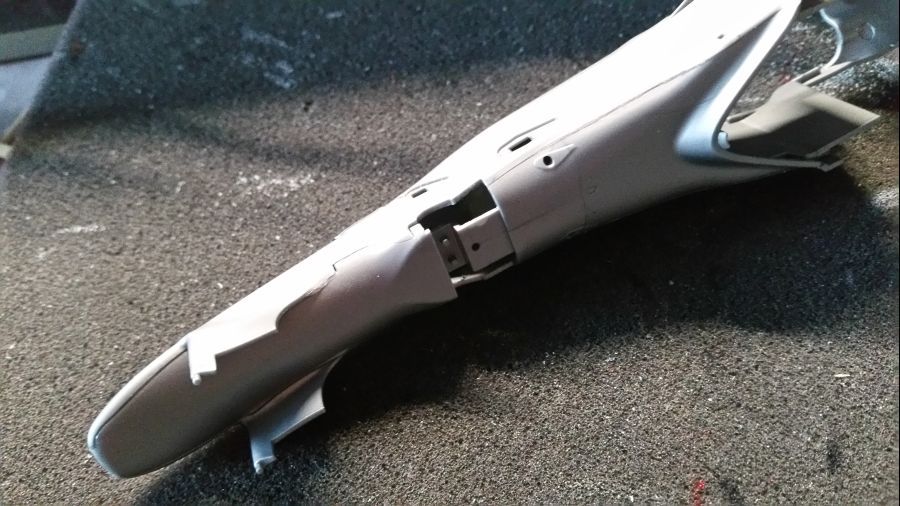 De vorm van de neus moet aangepast worden naar wat meer puntig.
The shape of the nose needs to be adjusted to a more pointy shape.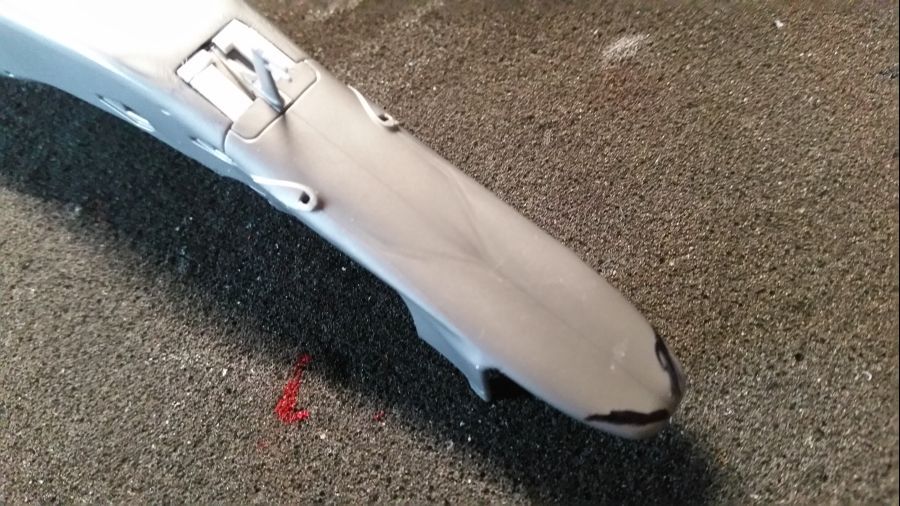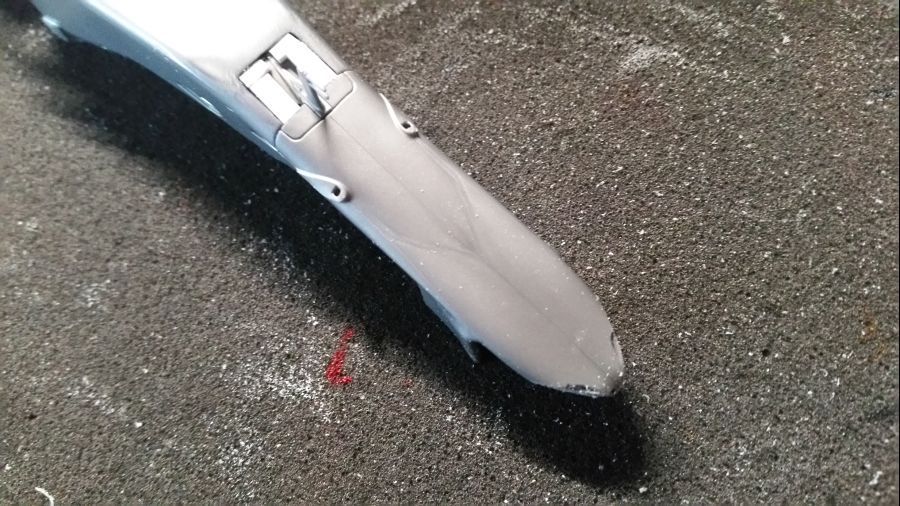 Dit moet dunner.
This needs to be thinned.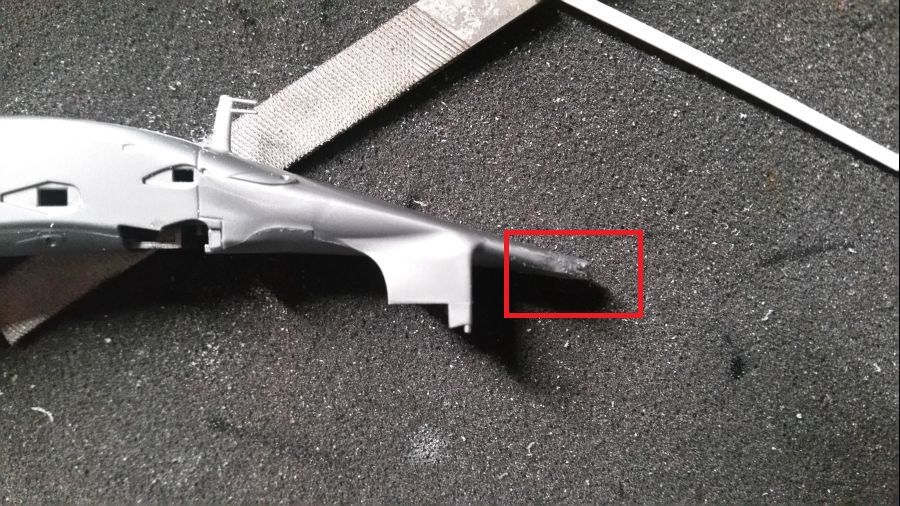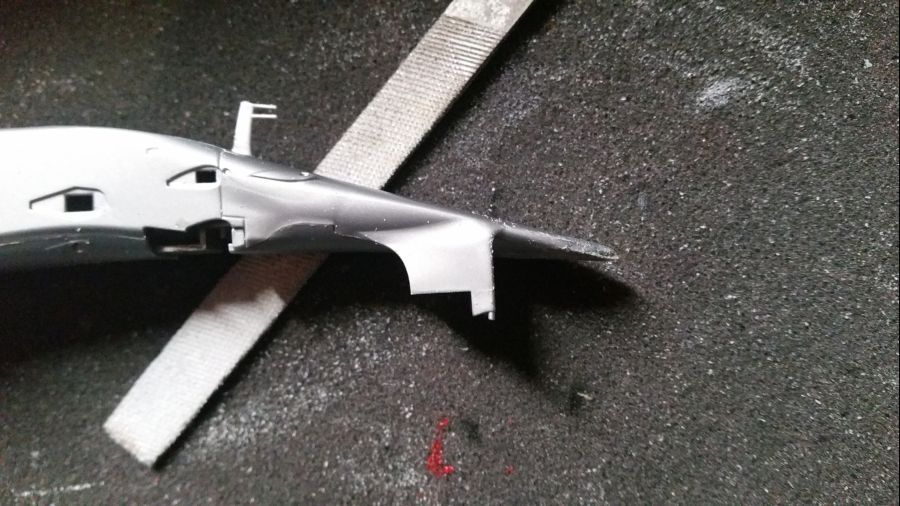 Het gat bij de antennes wordt opgevuld. Wanneer dit droog is, wordt er weer geschuurd.
The gap near the antennas gets filled. When dry, it gets sanded again.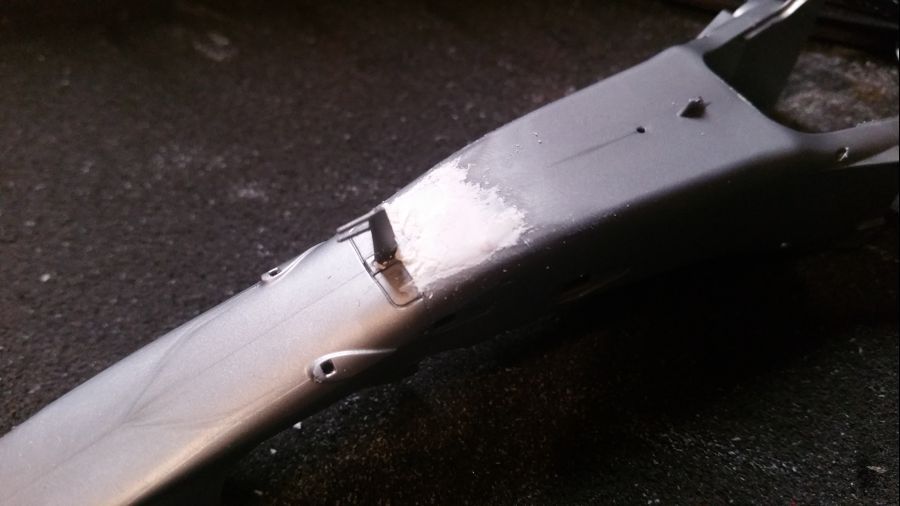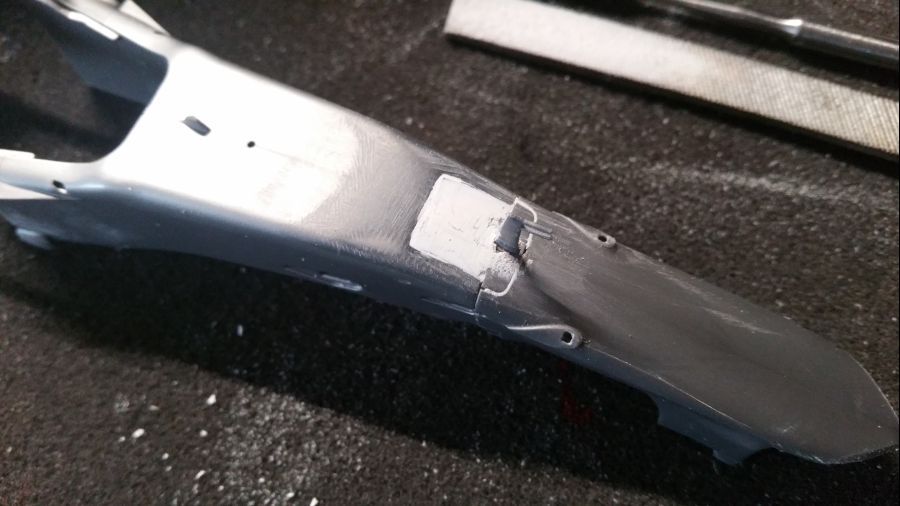 Dan ga ik alvast de motorbedekking in elkaar zetten. 
Then i will assembly the engine cover.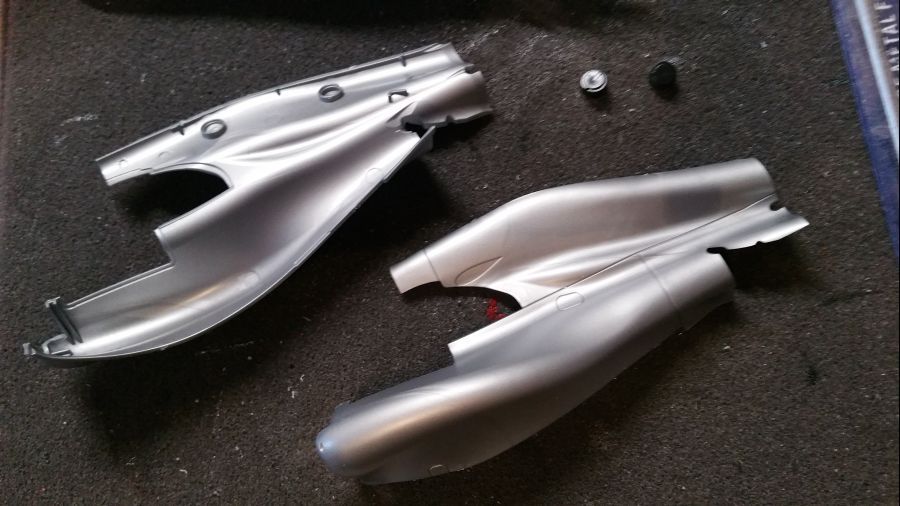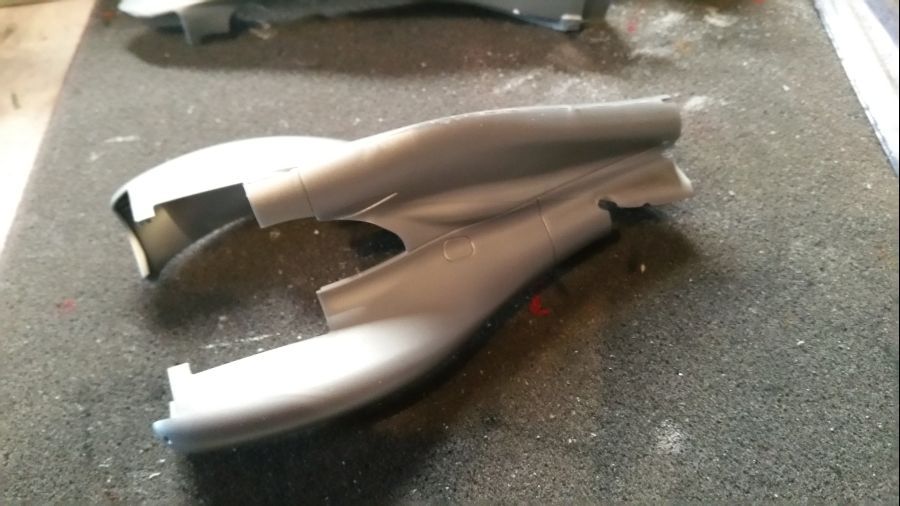 Even passen...
Doing a test fit...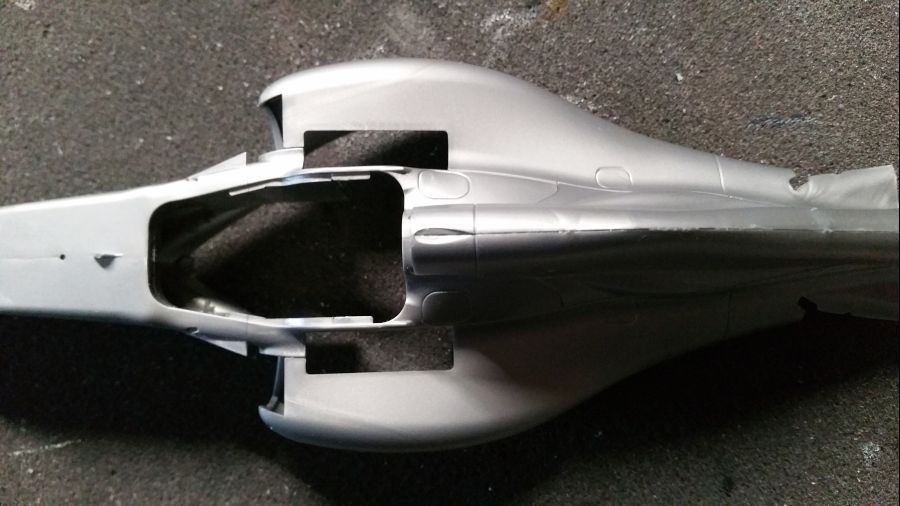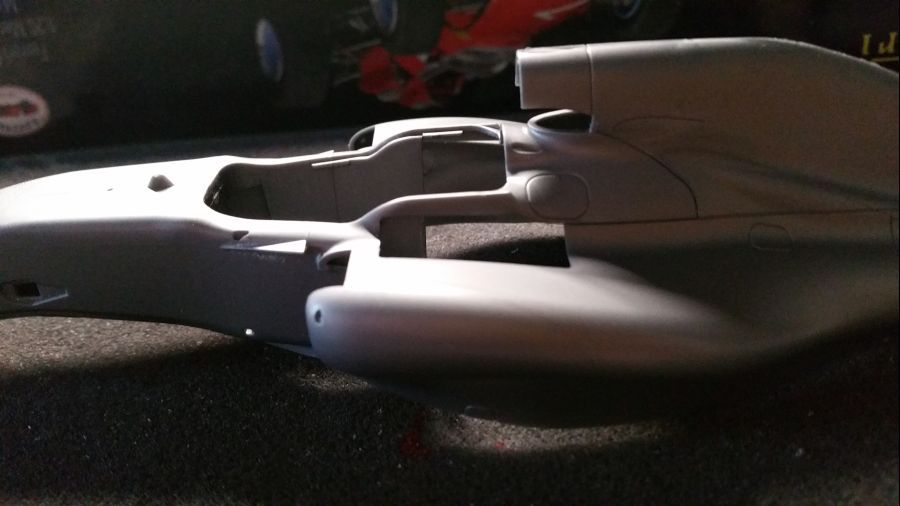 Terwijl de lijm droogt, terug naar de neus... Deze is aan de voorkant wat te plat.
While the glue sets, back to the nose... It's a bit too flat at the front.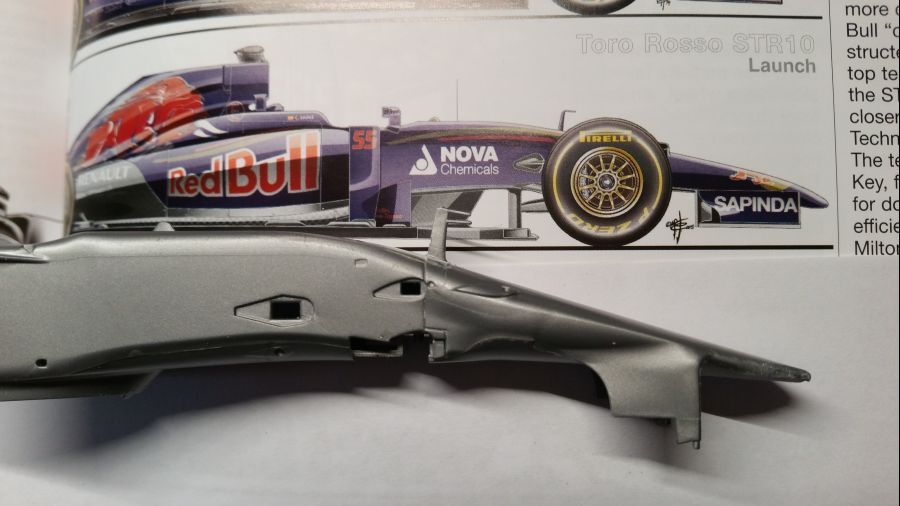 Hier is het nog eens te zien. Bij de gele pijl is alles nog vrij plat. Bij de groene pijl loopt alles wat ronder af.
Here it's more visible. Near the yellow arrow everything is quite flat. Near the green arrow everything is more rounded.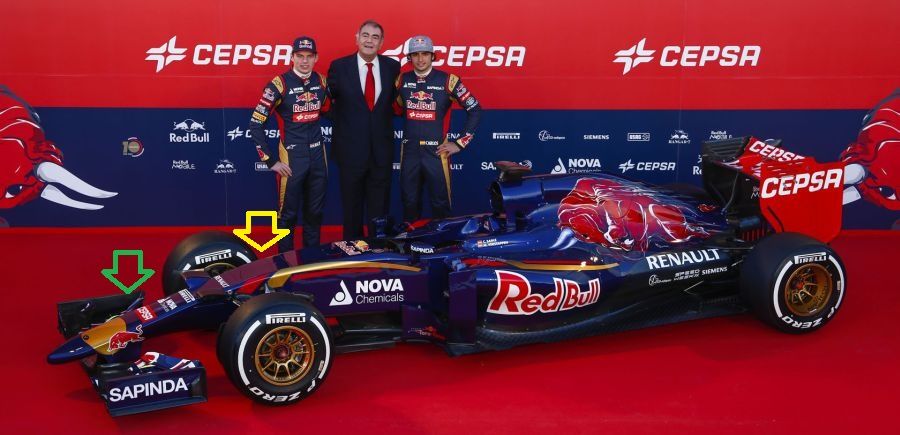 De neus is wat ruw gemaakt zodat putty wat beter blijft zitten. Voor meer steun worden Evergreen strips geplakt. Deze vervolgens alvast wat bewerkt met een vijl.
The nose has been made rough so the putty might stick. For support Evergreen strips have been attached. Already shaped it a bit with a file.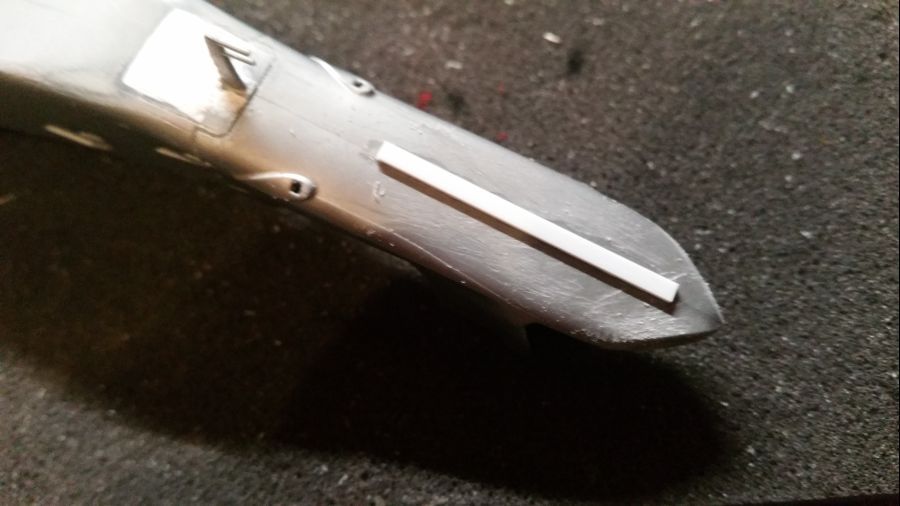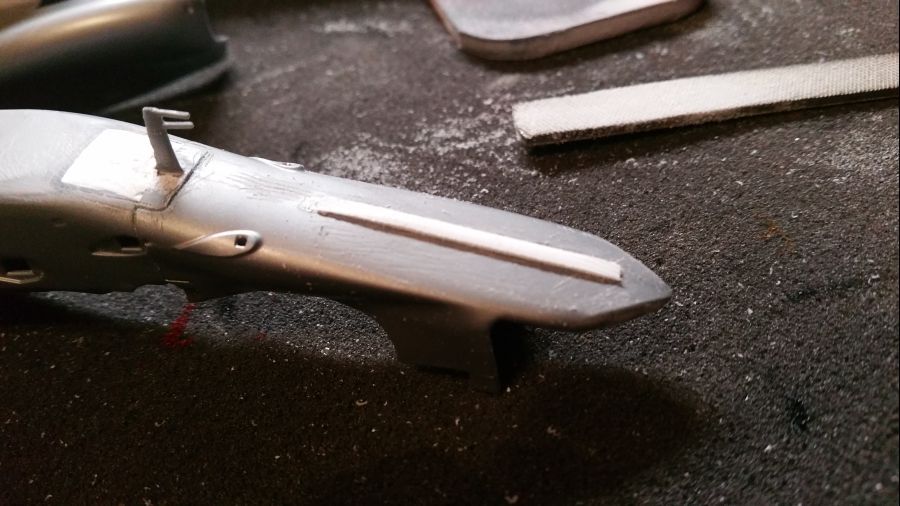 De putty erop en goed laten drogen...
Applied the putty, let it dry...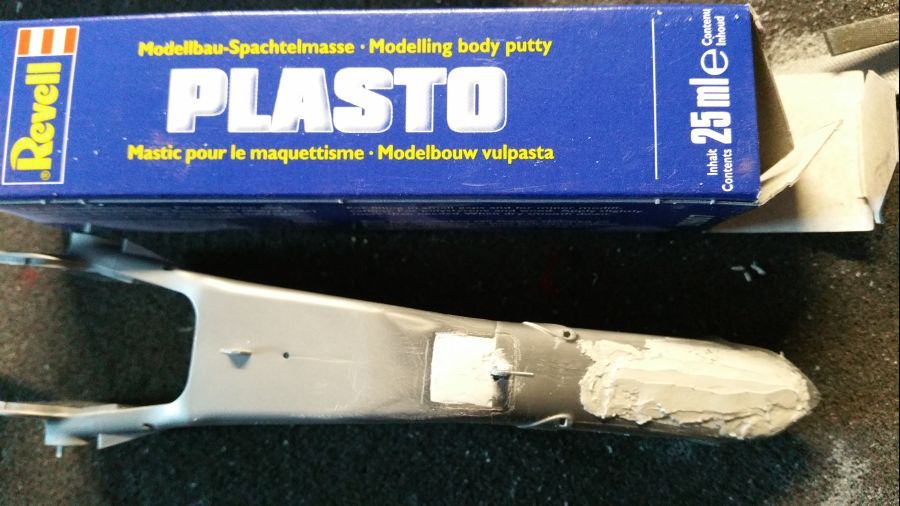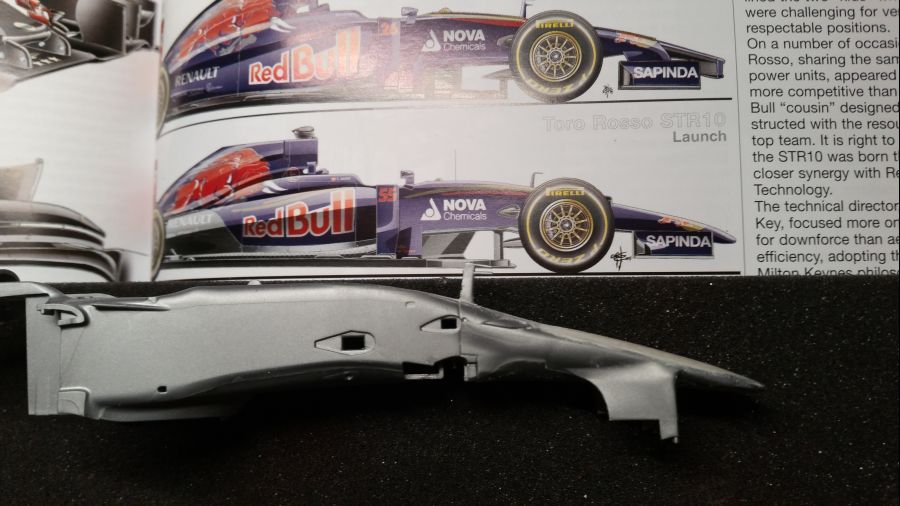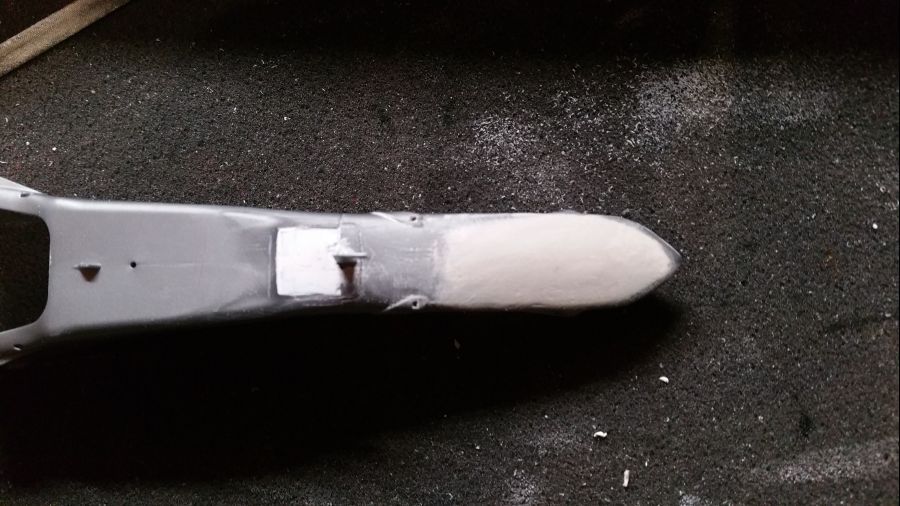 Nog wat meer putty en daarna wat schuren...
Some more putty and then some sanding...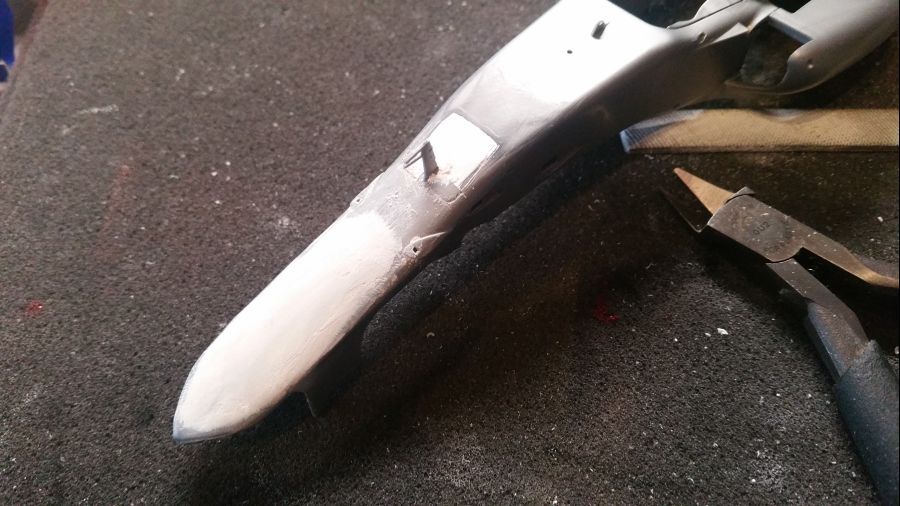 Nu verder kijken naar de motorafdekking... De lijn van de cockpitomlijsting moet gewijzigd.
Now have a look at the engine cover... The shape of the cockpit line needs to be changed.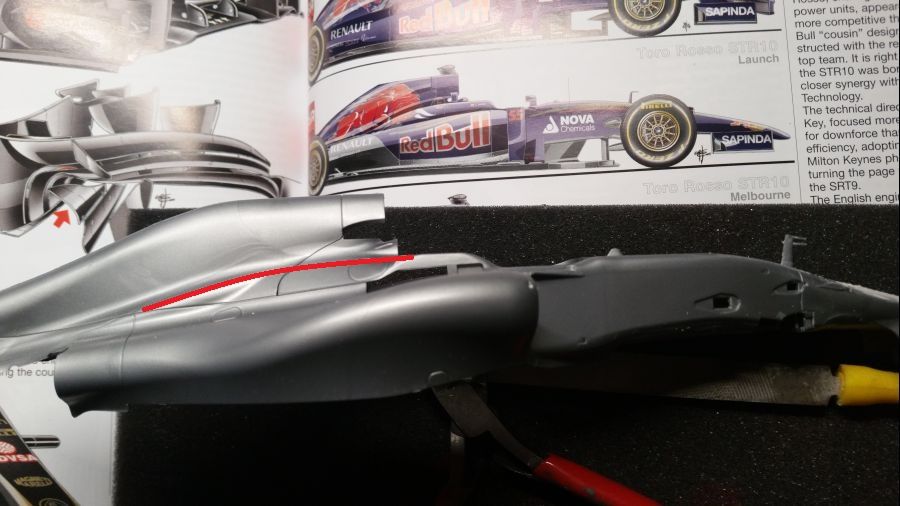 Ook zie je hier goed het verschil tussen de launch versie (boven) en de race versie (onder). Let op de andere vorm van de side pods. Ook de kleine intakes boven de hoofdsteun (achter de camera).
Also mind the difference between the launch version (top) and race version (bottom). Mind the different shape of the side pods. Also the small intakes above the head rest (behind the camera).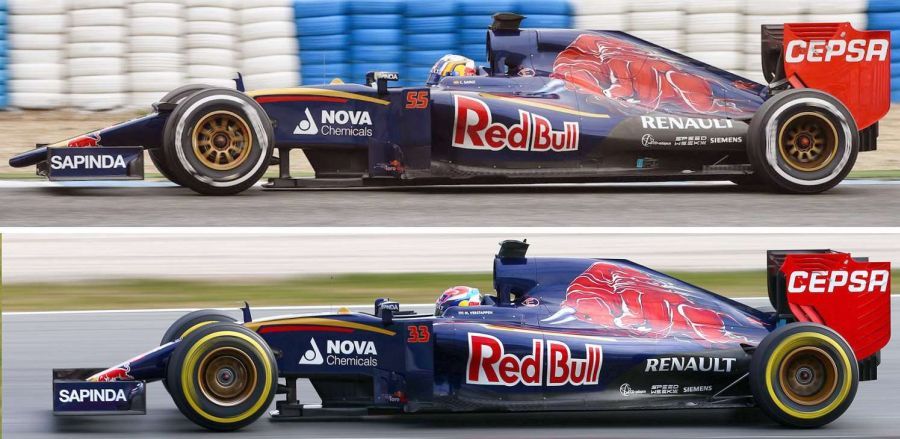 De neus en de body worden met elkaar verbonden, net als een paar andere onderdelen. Zo is het eenvoudiger om de lijnen te bekijken. Nog steeds volg ik hiermee de instructies van de kit.
The nose and the body are getting connected, just like some other parts. This way it's more easy to study the shapes. I am still following the instructions of the kit.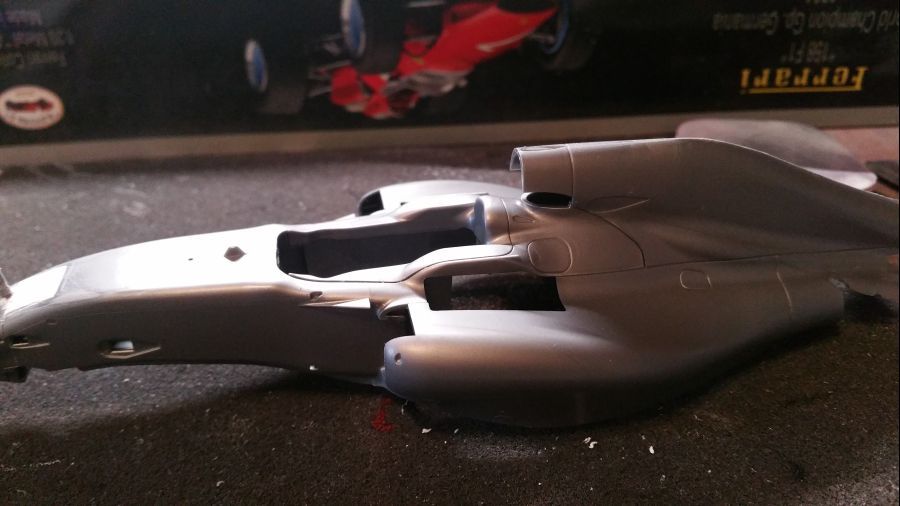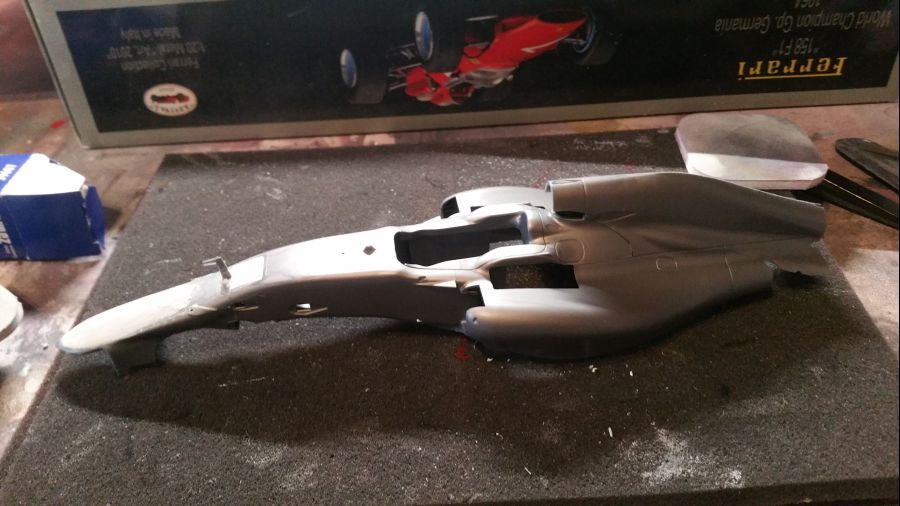 De luchthapper wordt aangepast. Ik gebruik een klein stukje Evergreen plaat.
The intake gets adjusted. I use a small piece of Evergreen sheet.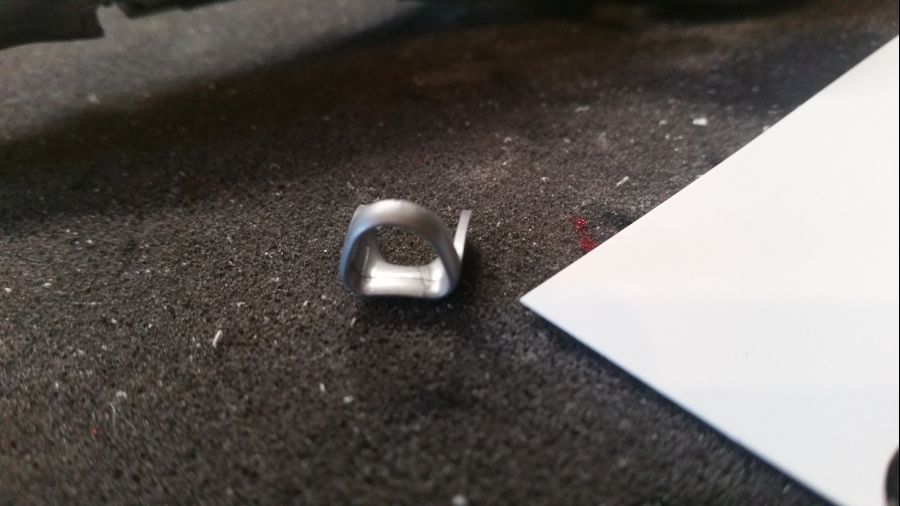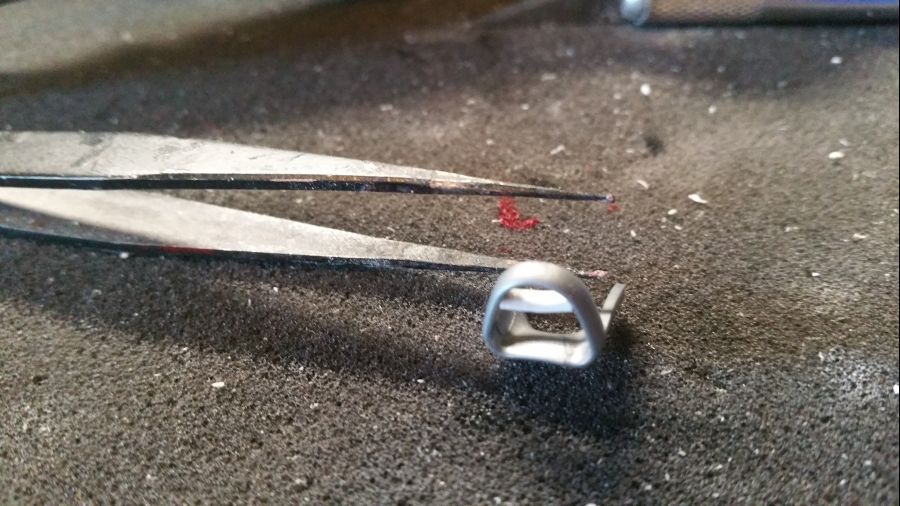 Dan de binnenkant van de side pods.
Then the inside of the side pods.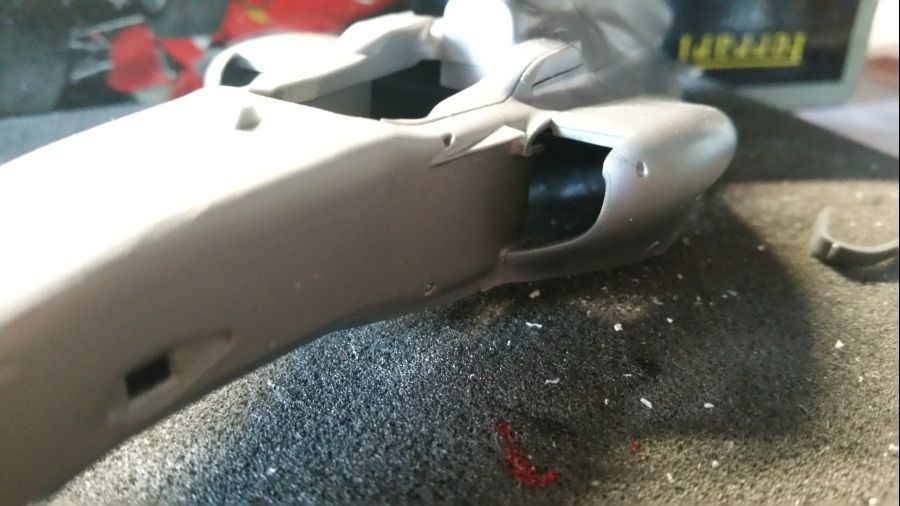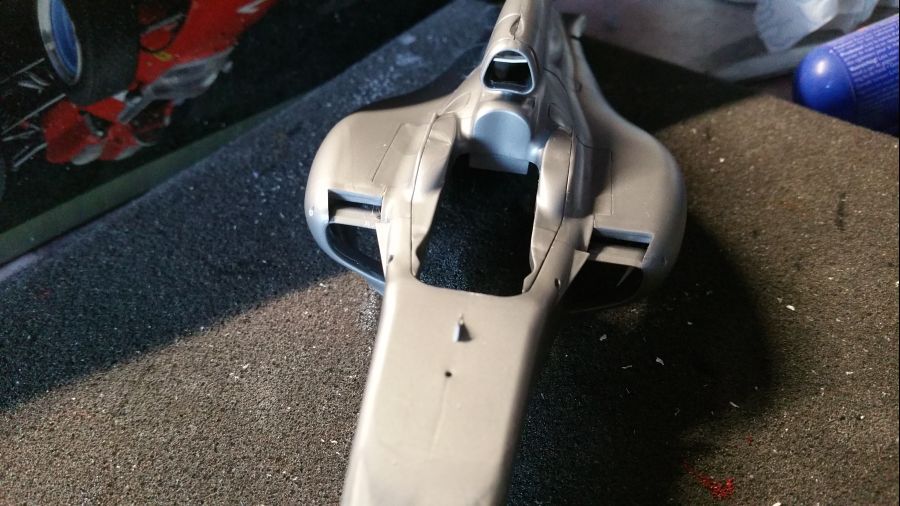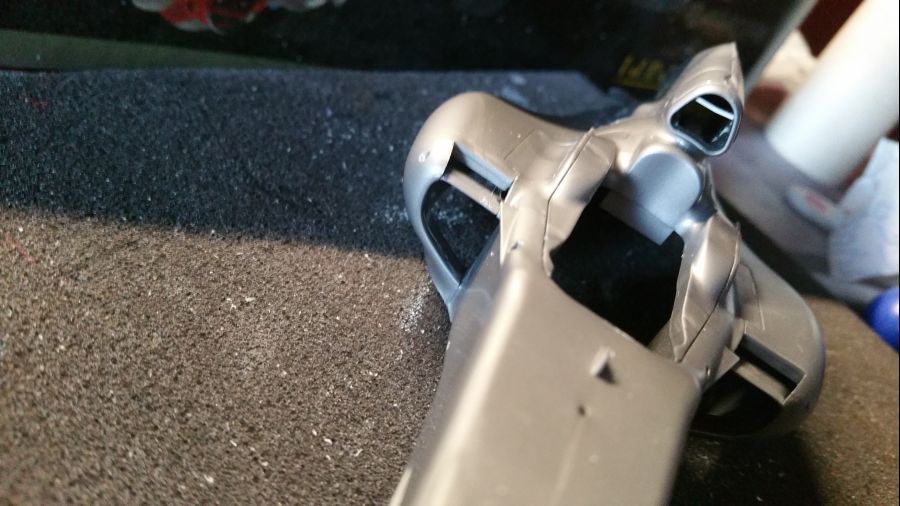 Nu eerst verder met de intakes boven de hoofdsteun. Hiervoor gebruik ik een stuk ronde buis dat ik in tweeën splits en met een vijl bewerk. Dan wat putty en laten drogen.
Now to continue with the intakes above the head rest. I will use a piece of tube on which i will cut into two pieces and adjust it by using a file. Then some putty and let it dry.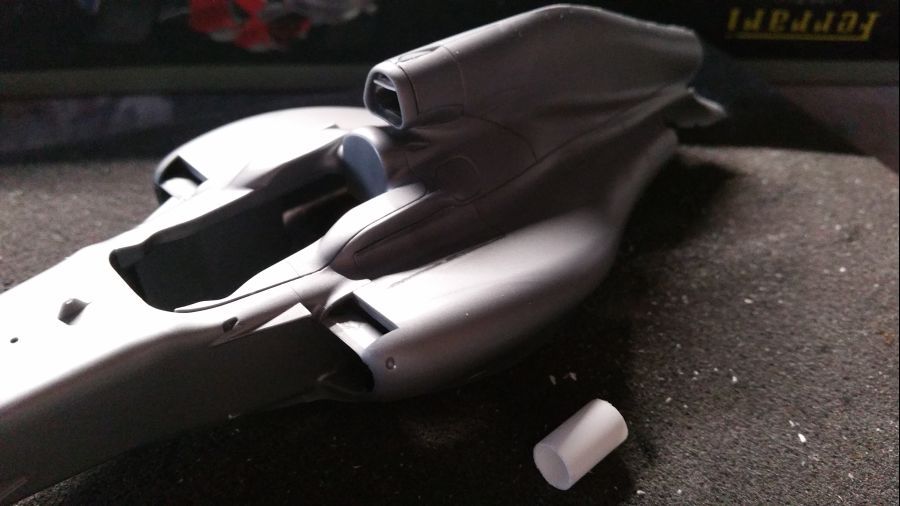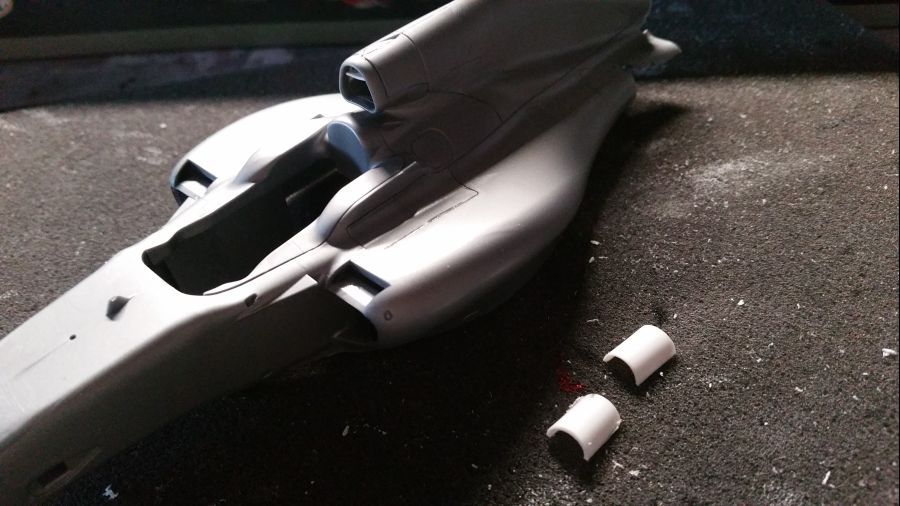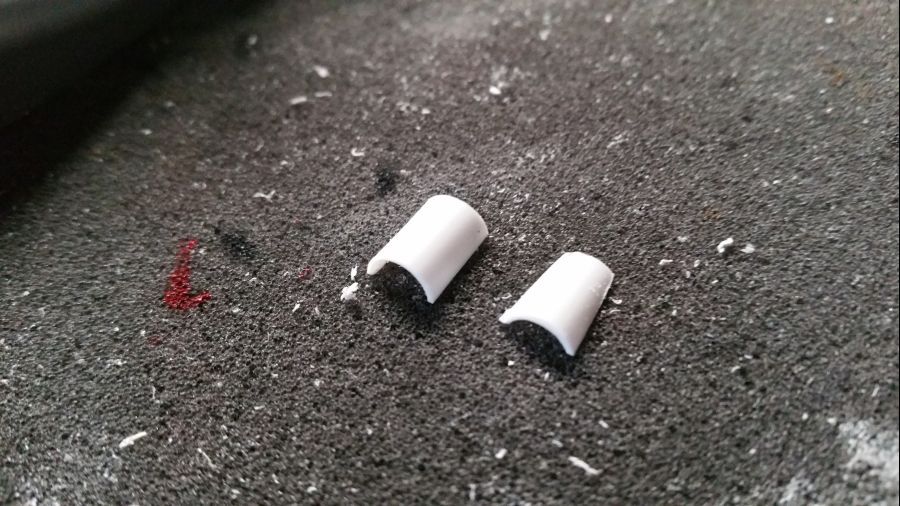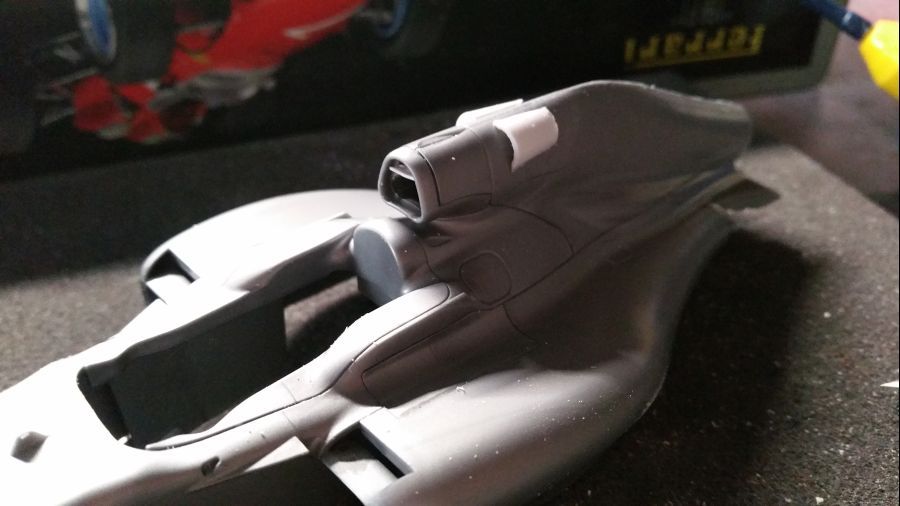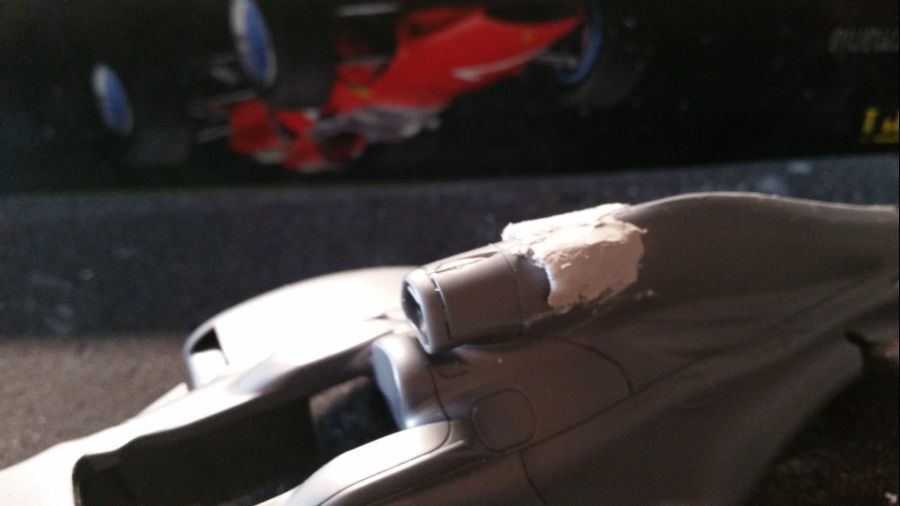 Intussen ga ik verder met de side pods. De openingen moeten aangepast. Eerst gebruik ik een vijl in de hoeken, daarna plak ik wat stukjes Evergreen om het model te veranderen. Dan ook weer vijlen en wat putty aanbrengen.
Meanwhile i continue with the side pods. They need to be adjusted. First i use a file in some corners, then i attach some Evergreen pieces to change the shape. Then again use the file and apply putty.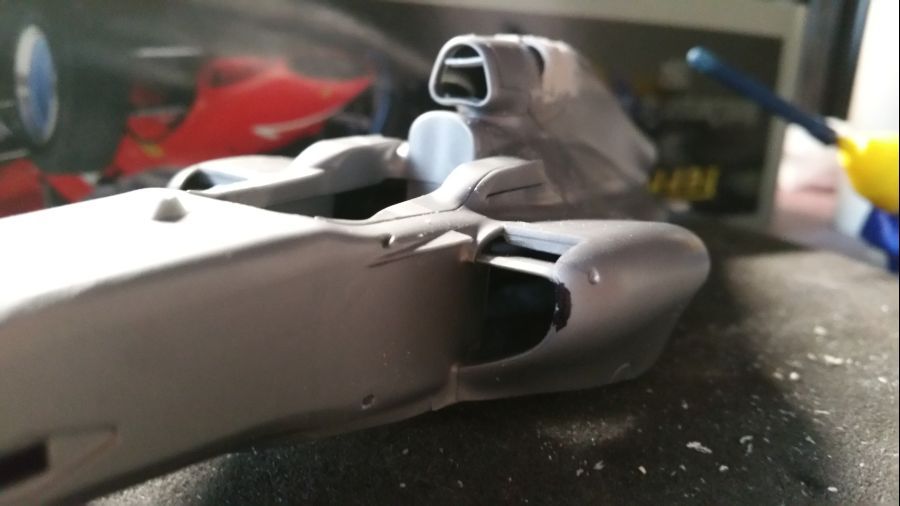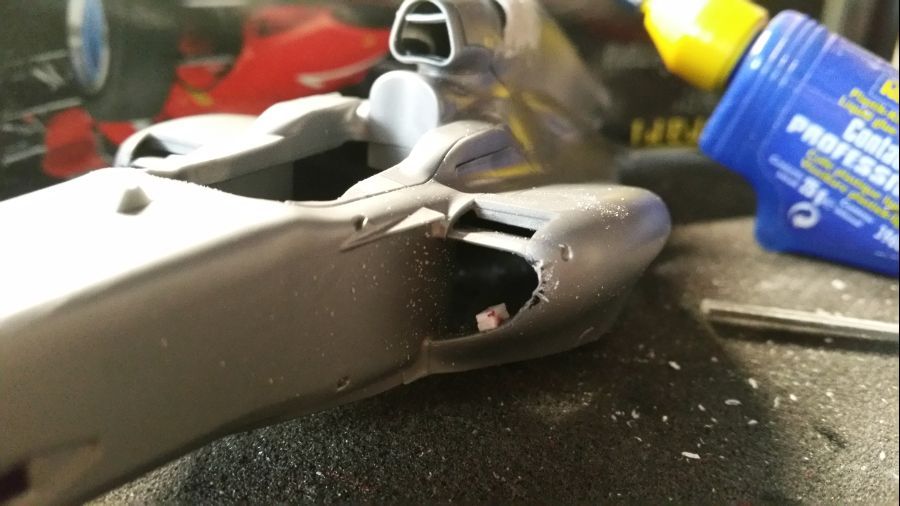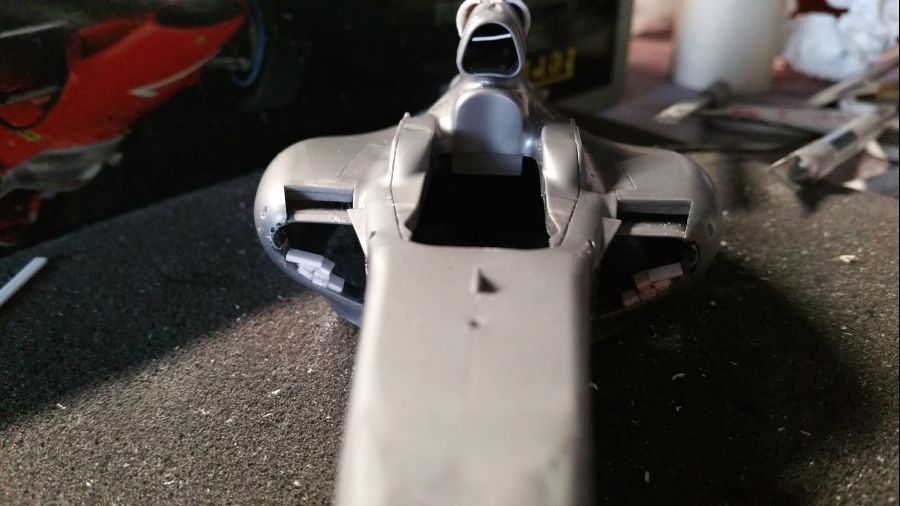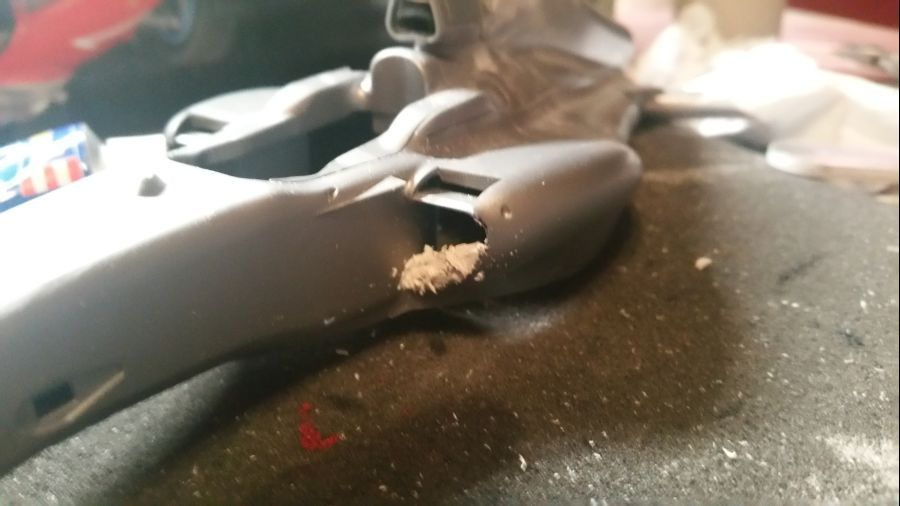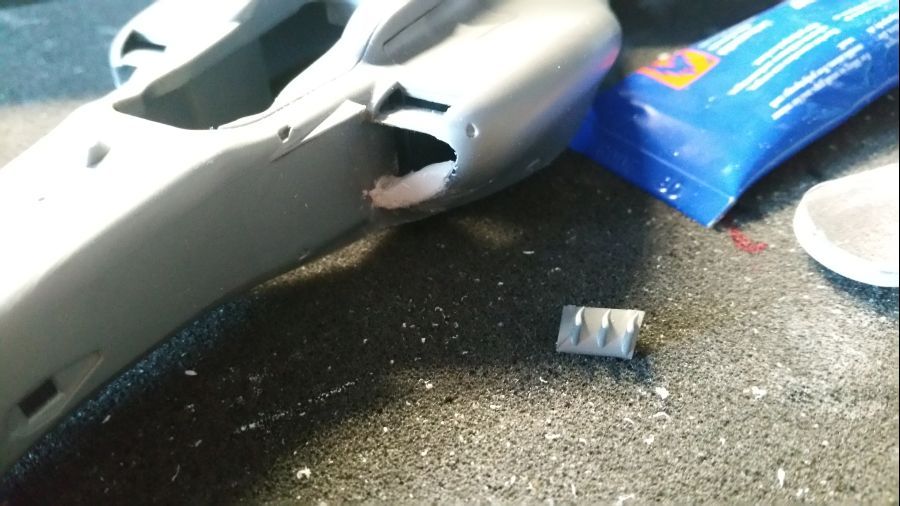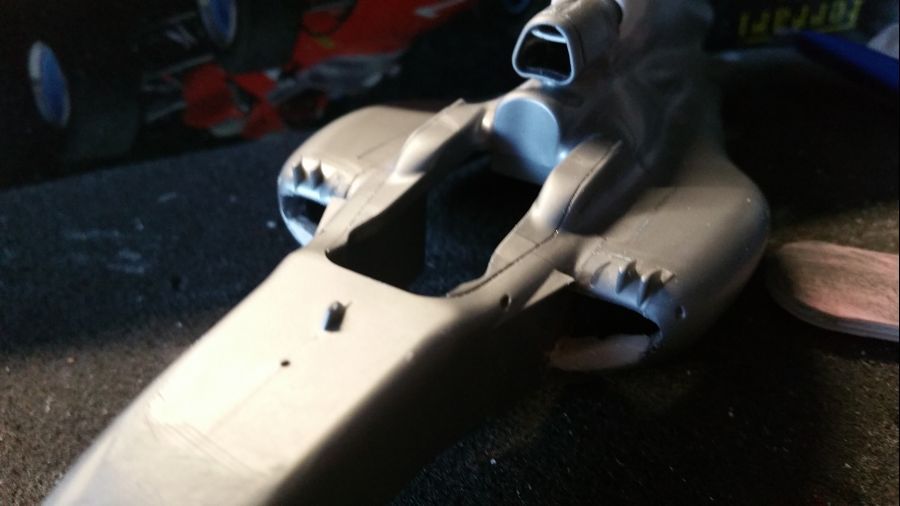 Meer werk aan de sidepods... Lastig karwei en het resultaat zal nooit 100% zijn. Met hele dunne strip ga ik de omlijsting maken
More work to the sidepods... Tricky job and the result will never be 100%. I am going to make a frame with very thin rod.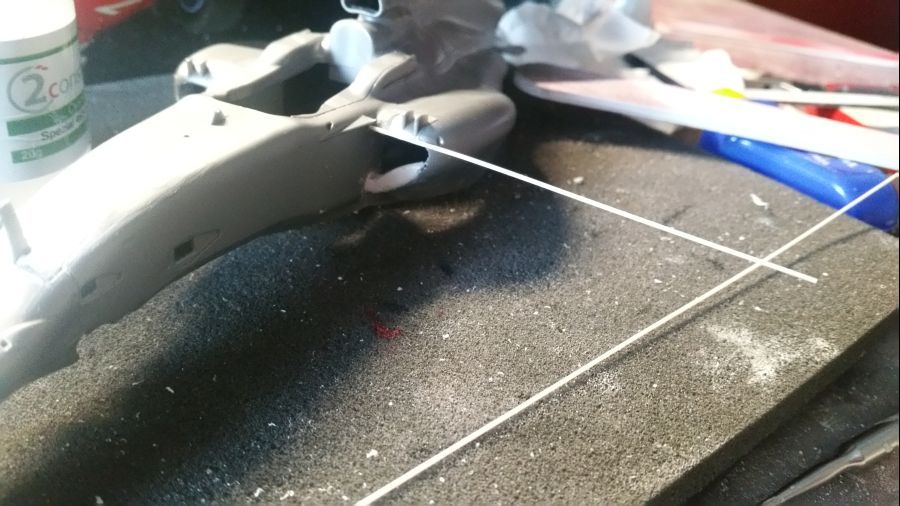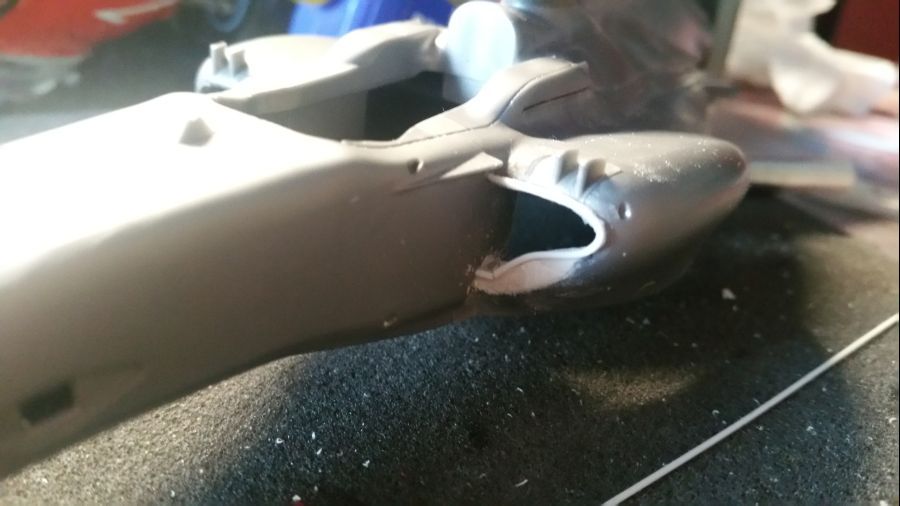 Het punt van de camera moet ook gevuld worden. De Toro Rosso heeft de camera aan de andere kant en dan meer naar voren geplaatst.
The area for the camera needs to be filled too. The Toro Rosso has the camera on the other side and more to the front.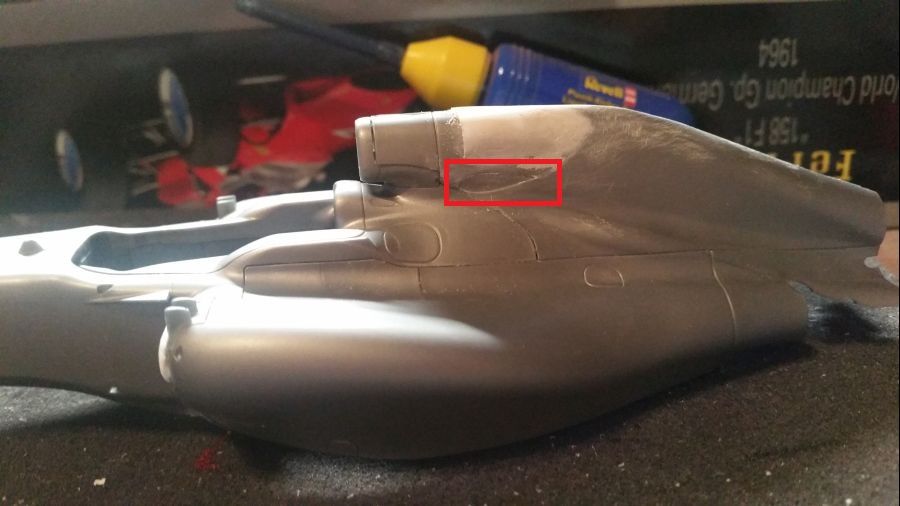 Nog wat werk aan de onderkant van de pods...
Some more work to the downside of the pods...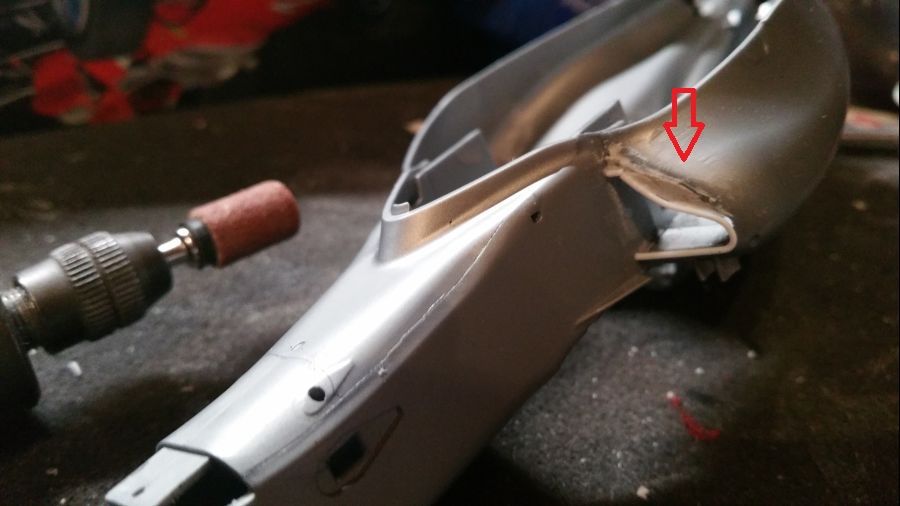 Het groene deel is gedaan, het rode moet nog. Zie je het verschil?
The green part has been done, the red part has to be done. Do you notice the difference?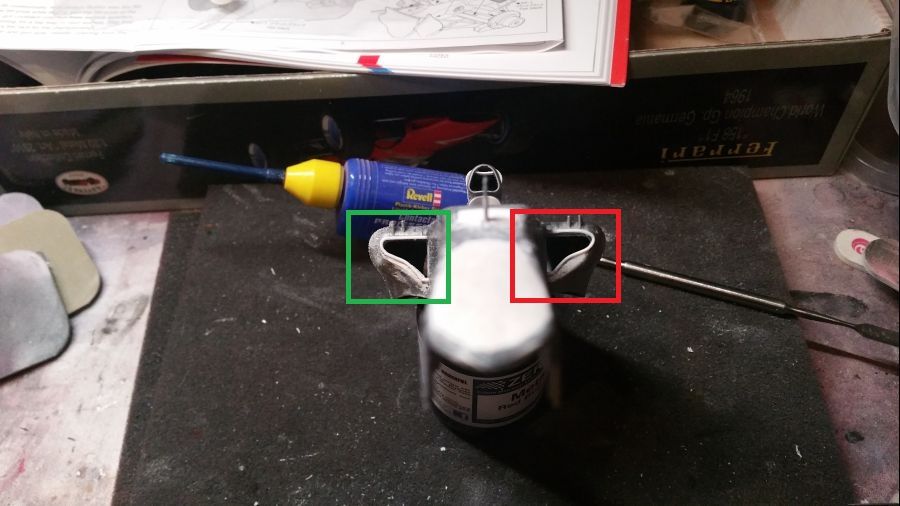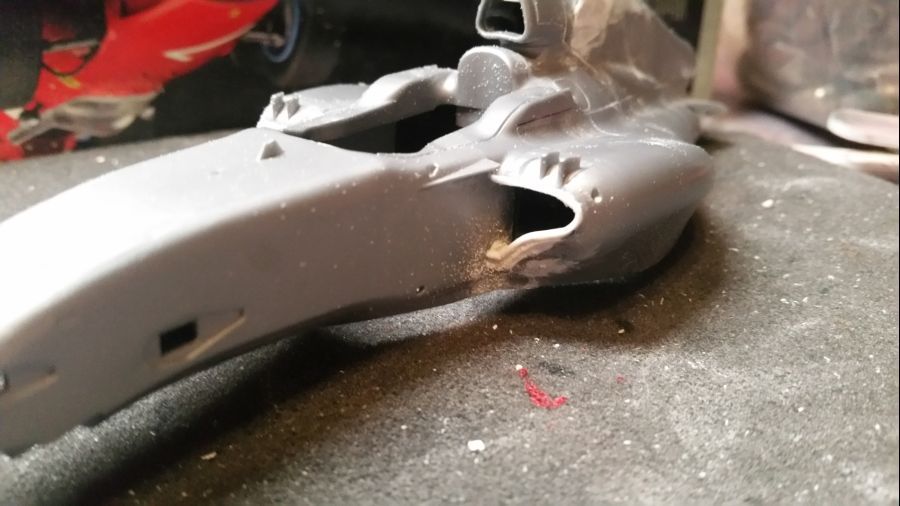 Nu de lijnen vanaf de cockpit over de zijkanten van de body bestuderen..
Now a study of the shape from the cockpit on the sides the body..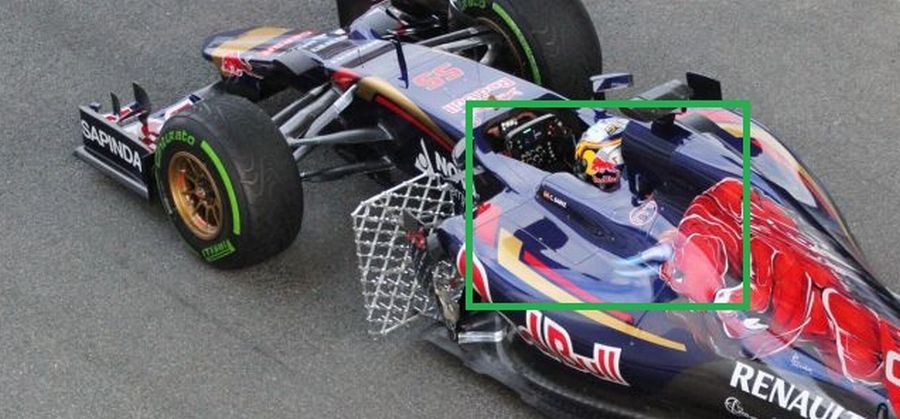 Daar gaat ie. Eerst de voorkant wat aanpassen. Bij de Toro Rosso gaat het steiler naar beneden.
There we go. First i will adjust the front. With the Toro Rosso it goes down more steep.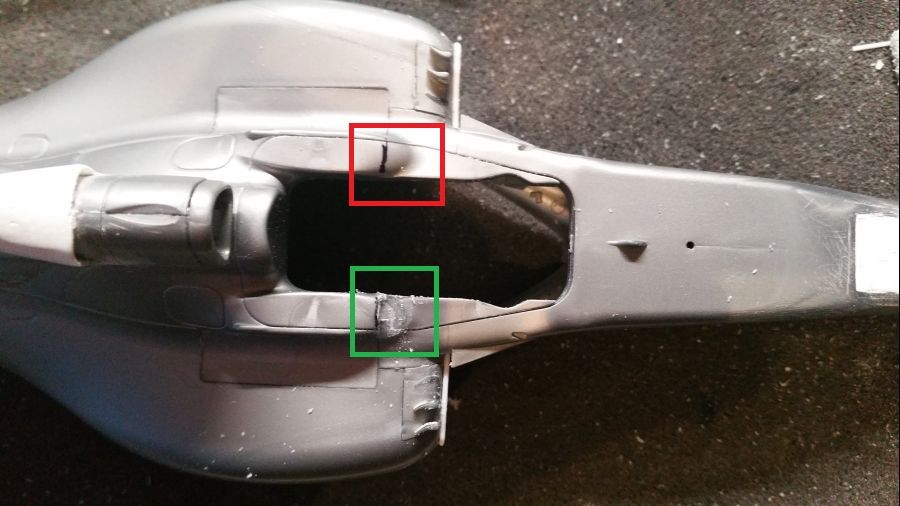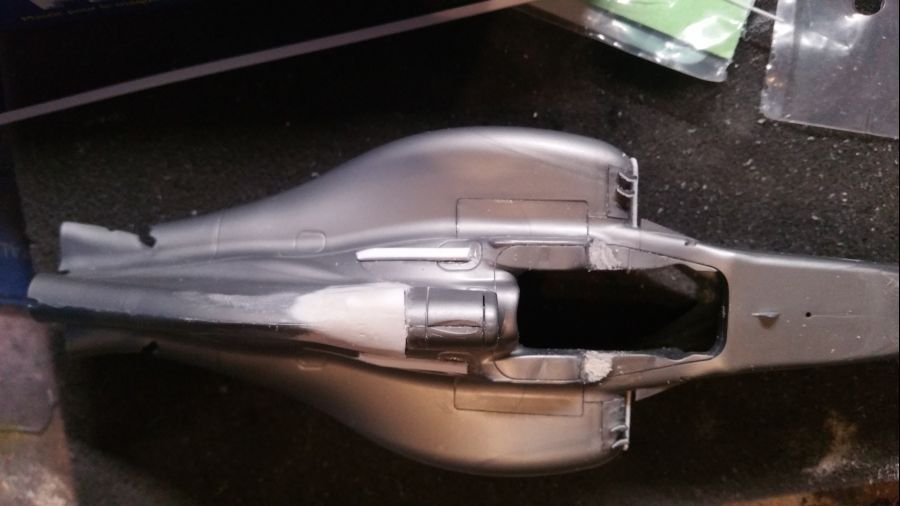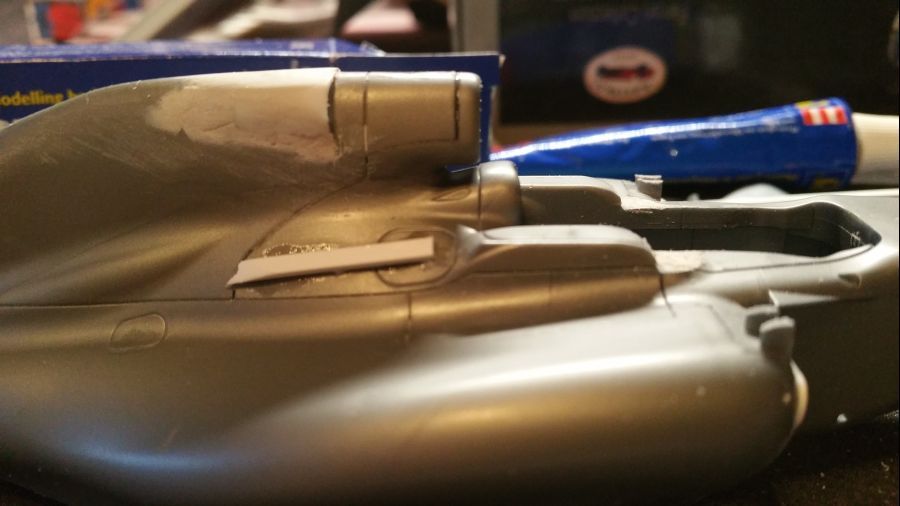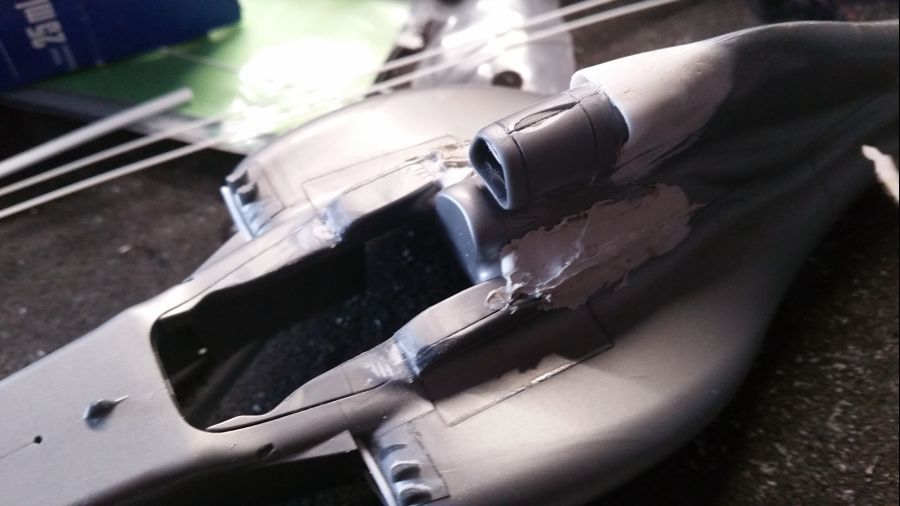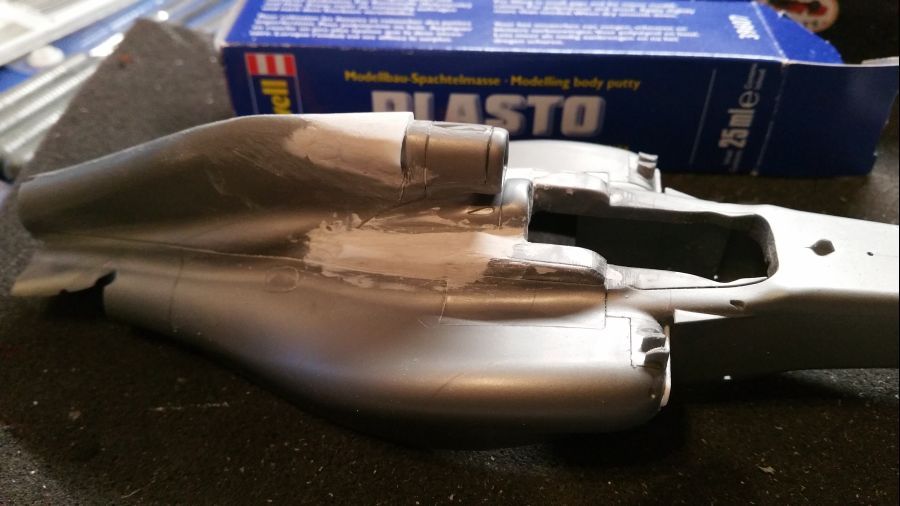 Deze vleugeltjes worden vervangen door een ander model.
These small wings will be replaced by different shaped ones.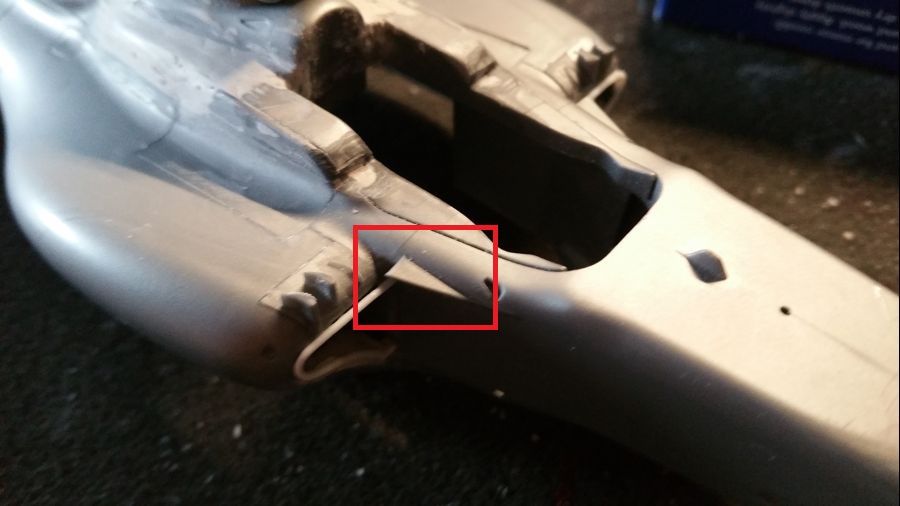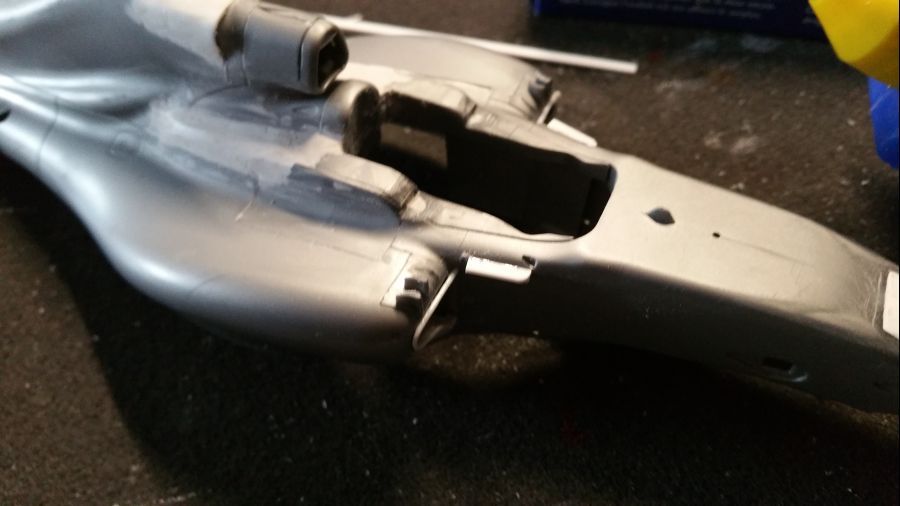 Nu nog even wat extra schuren, misschien hier en daar nog wat vullen met putty en dan maar eerst in de grondverf. Na het spuiten kun je precies zien wwaraan nog gewerkt moet worden. Helaas is mijn UMP primer nog niet binnen, dus nu nog maar even Vallejo primer. Ondanks dat ik een beetje het vermoeden heb dat ik een maandagproduct heb. --- Zie, het voelde zo glad aan en zag er zo glad uit....meer werk....
Now some more sanding, maybe some more filling with putty and then the primer. After the primer it's very clear to see what needs more work. Unfortunately my UMP primer is still not received, so for now it's Vallejo primer. This, despite i have a feeling it's a bad batch. --- See, it felt so smooth and it looked so smooth....more work....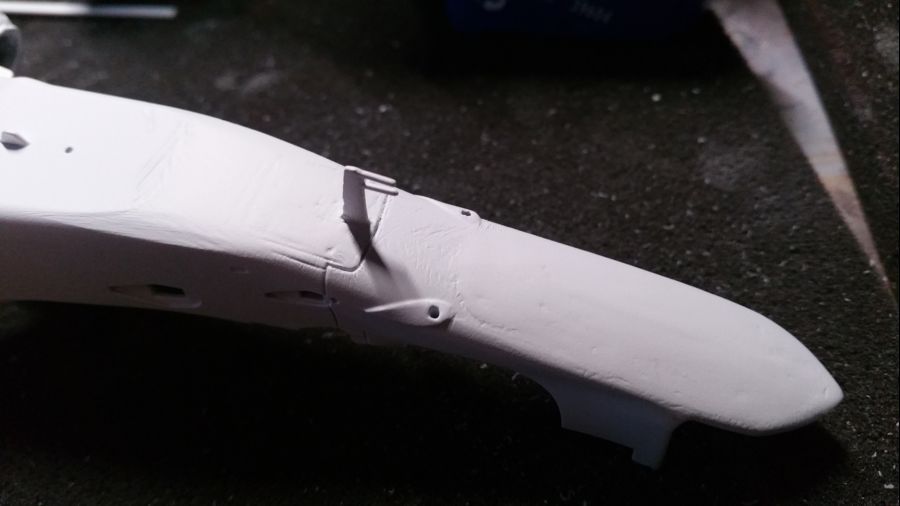 En de 'vin' moet erop... 
And the 'fin' needs to be attached...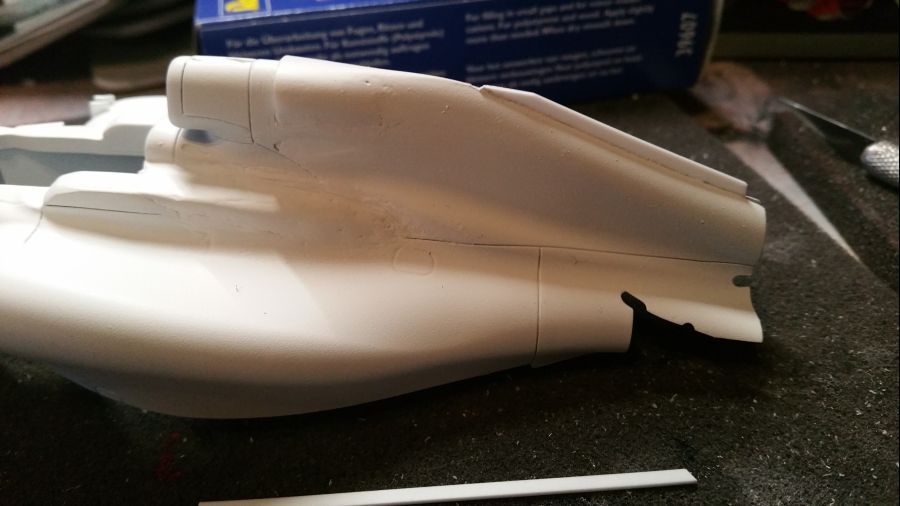 Na meer schuurwerk is het tijd voor het blauw. Ik gebruik Zero Paints ZP-1140 Metallic Blue Red Bull - Toro Rosso.
After more sanding it's time for the blue. I will use Zero Paints ZP-1140 Metallic Blue Red Bull - Toro Rosso.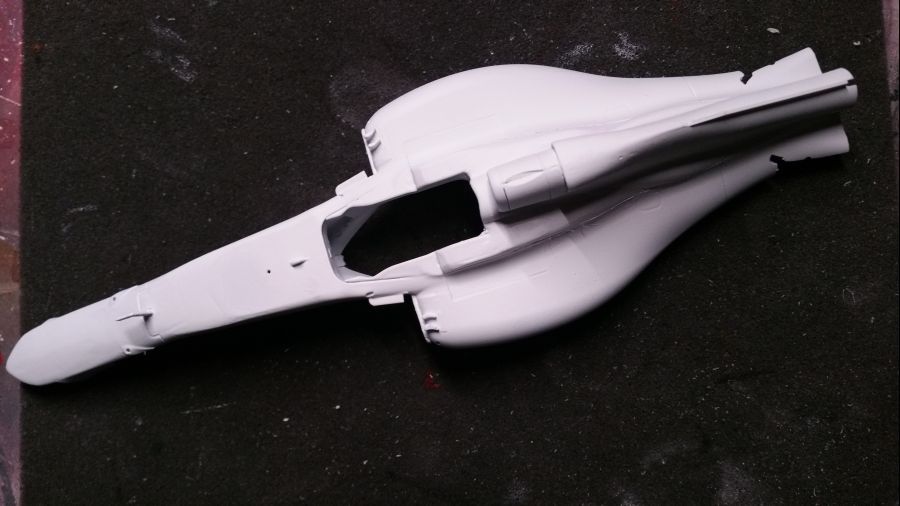 Het blauw zit erop... Misschien moet er nog een derde laag worden gespoten.
The blue has been applied... Maybe it needs a third coat.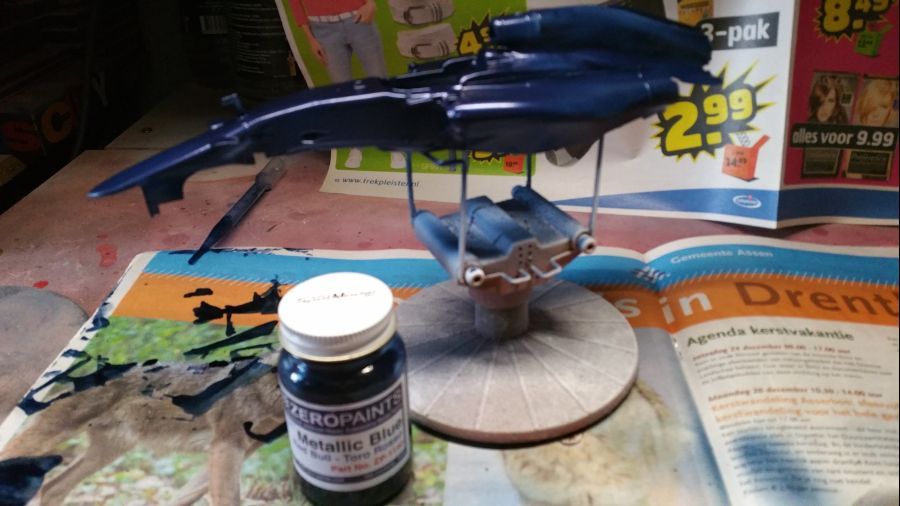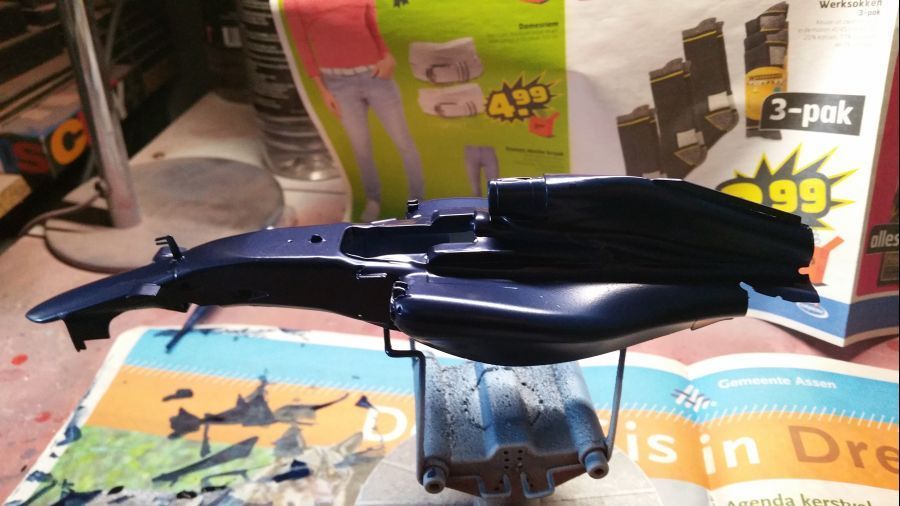 En de heldere glanslak...
And the gloss clear lacquer...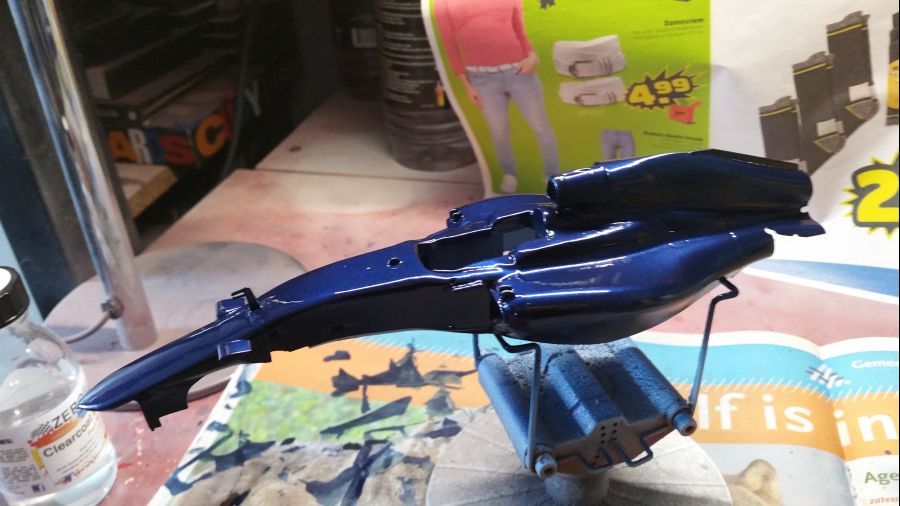 Terwijl de lak droogt, ga ik verder met de motor, wielophanging e.d..
While the lacquer dries, i will continue with the engine, suspension etc..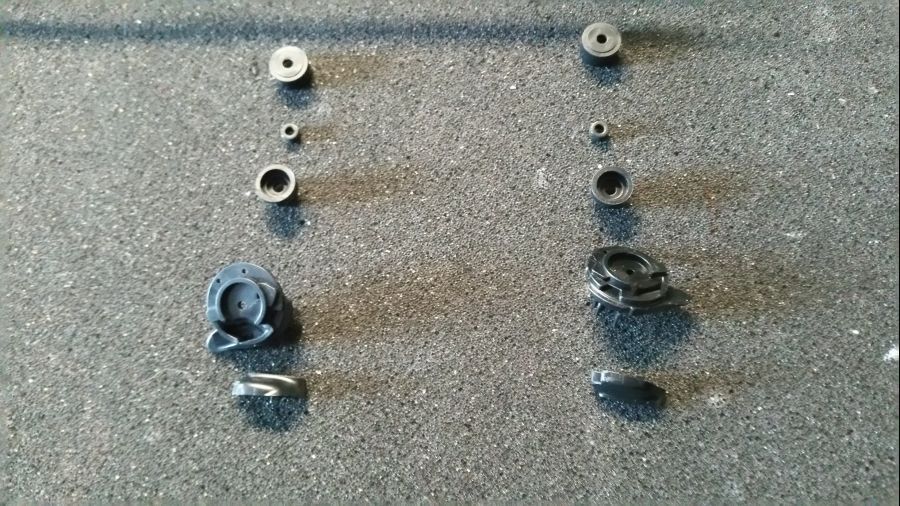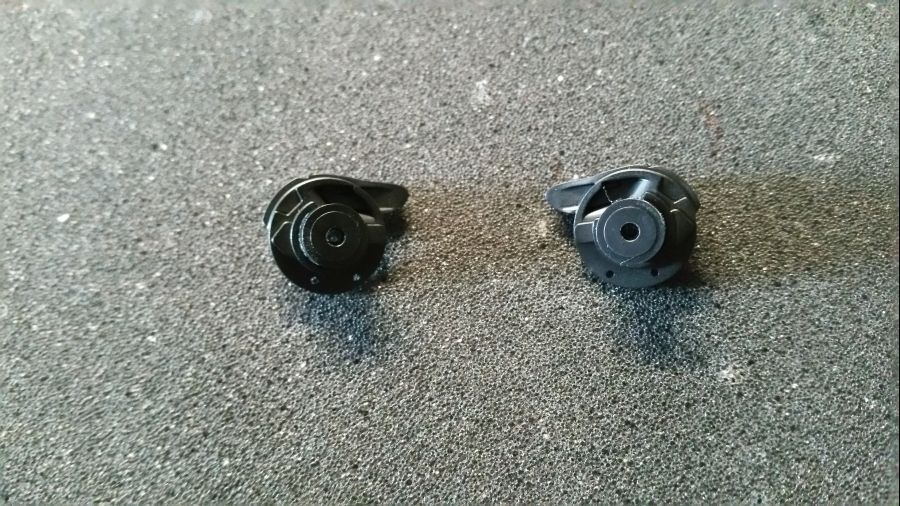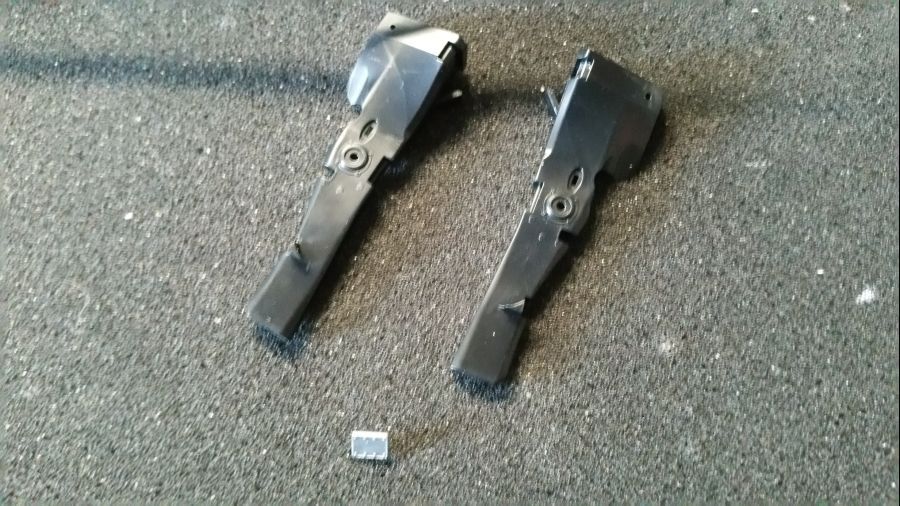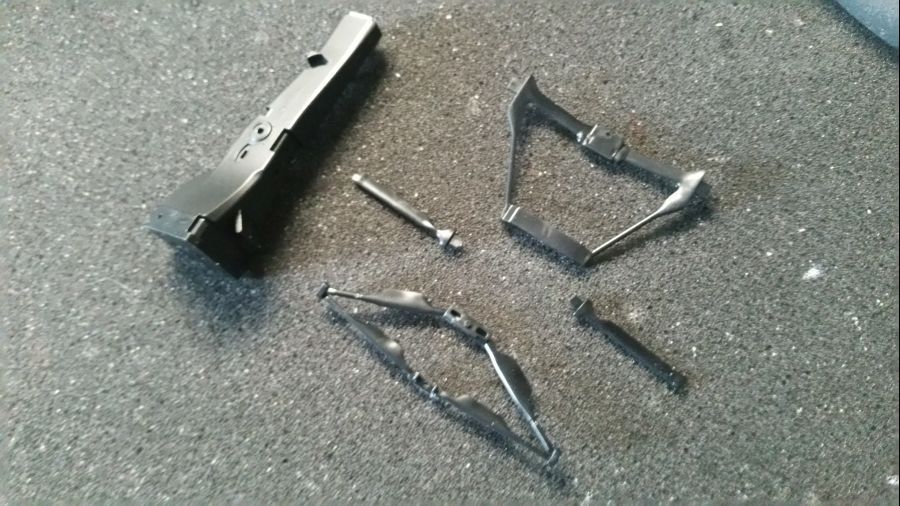 Voor deze kit is er ook een carbon fiber decal set beschikbaar. Dat kost inclusief verzending een bedrag tussen de 50 en 70 euro. Ik besluit dit nu niet te kopen. Ik spuit gewoon Tamiya zijdemat zwart.
For this kit there is also a carbon fiber decal set available. The costs vary from 50 to 70 euro shipment included. I decide not to buy it now. I will spray Tamiya silk black.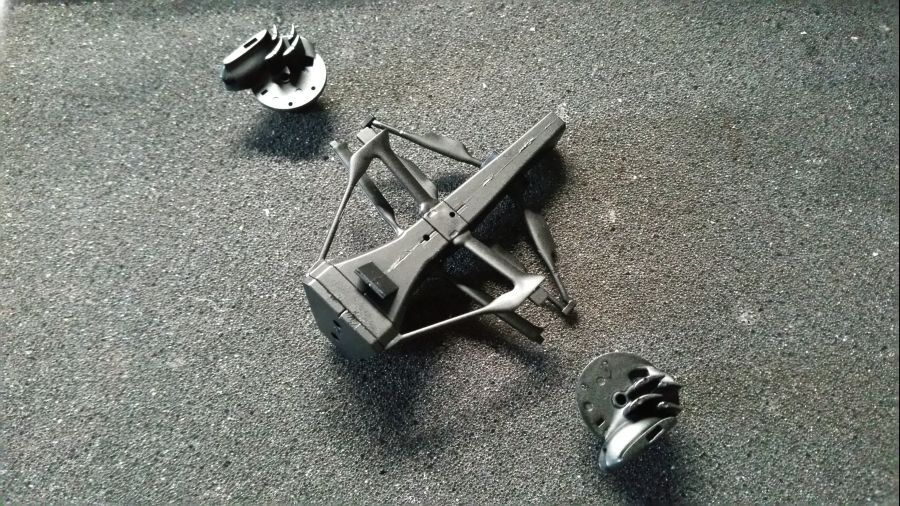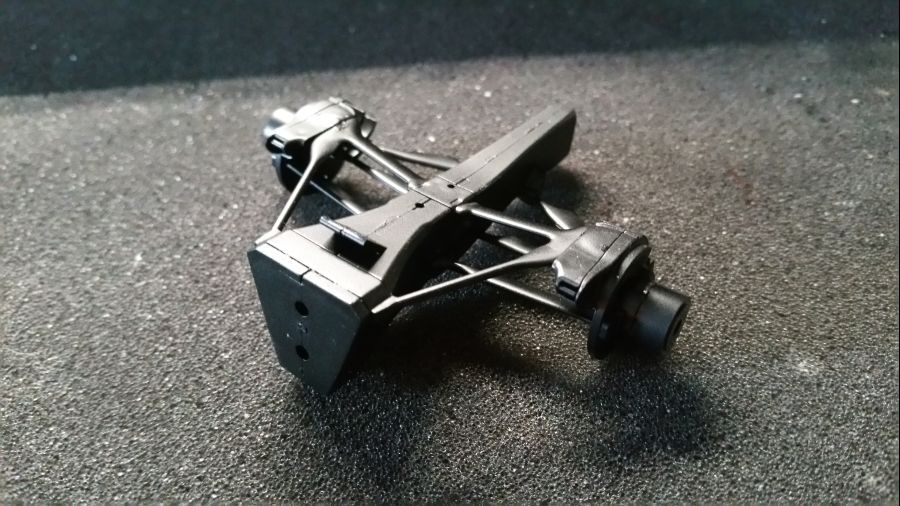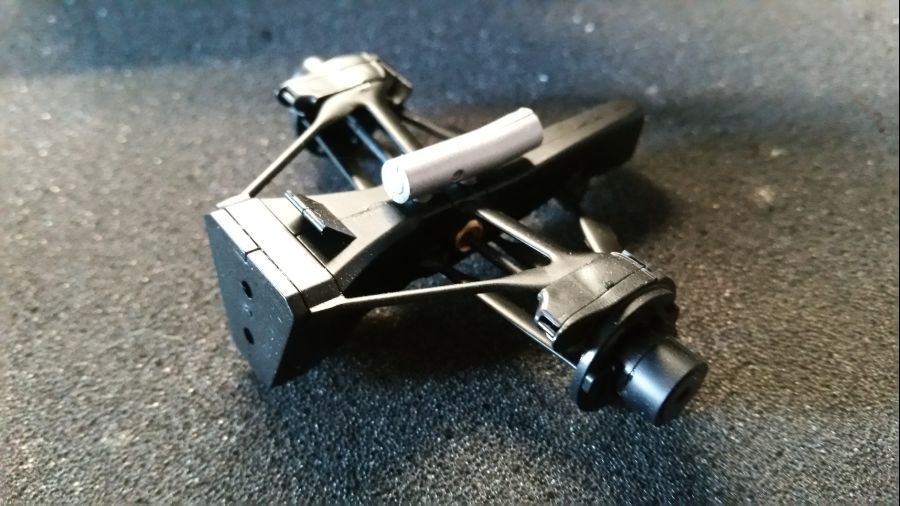 Carbon fiber decals aangebracht op deze delen.
Carbon fiber decals applied to these parts.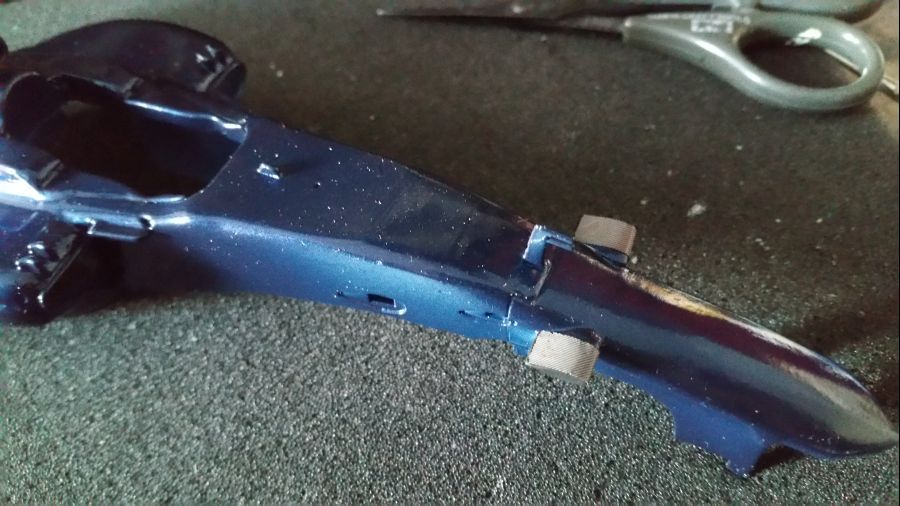 De eerste decals gaan erop...
The first decals are being applied...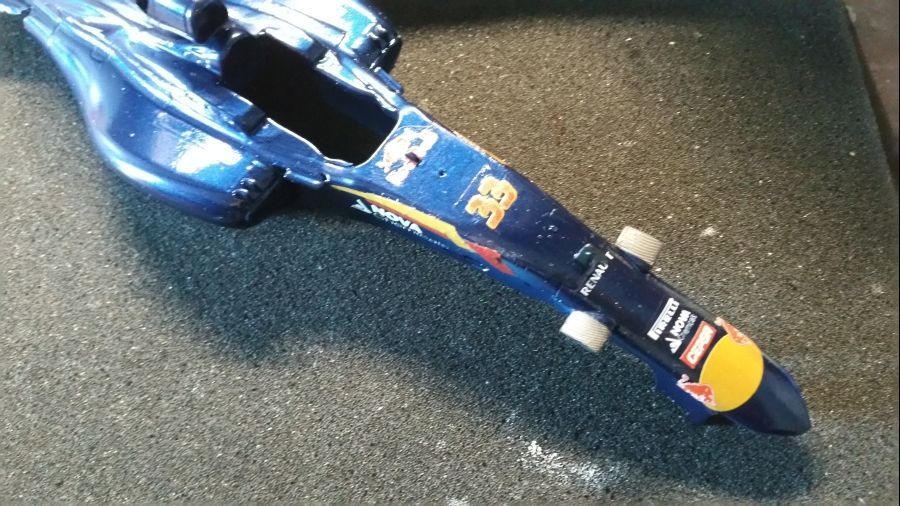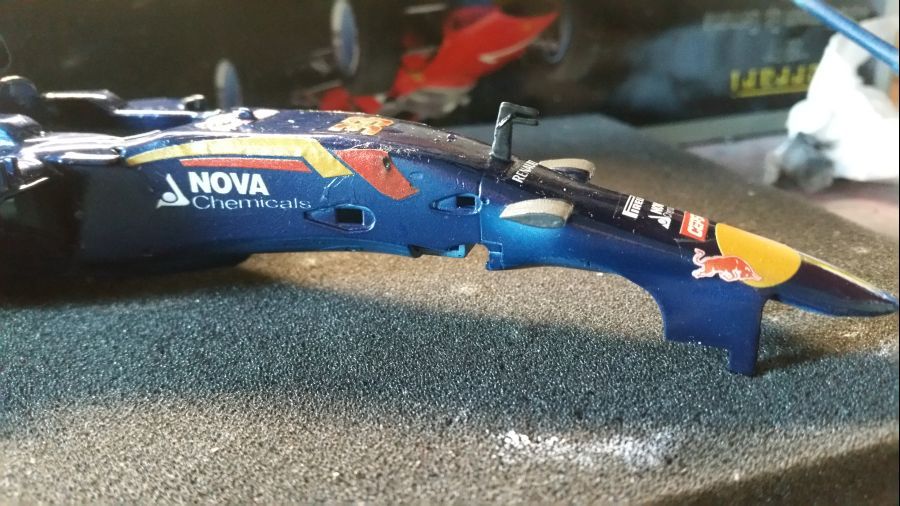 Erg lastig klusje. De Renault decals trekken al niet helemaal strak... Zelfs niet met Daco Strong... De Red Bull decals zijn wat aan de grote kant. Ik moet het er mee doen.
Very tough job. The Renault decals are not shrinking to size... Not even with Daco Strong... The Red Bull decals are a bit too large. Nothing i can do about it.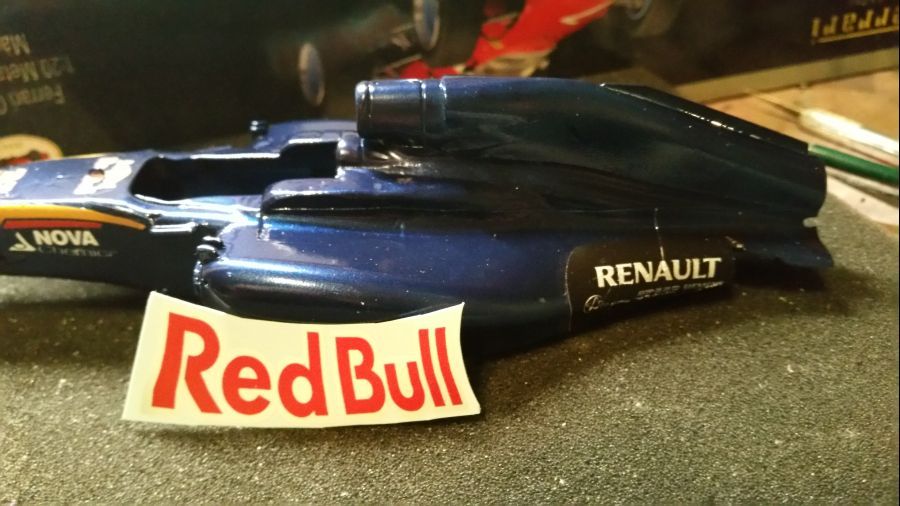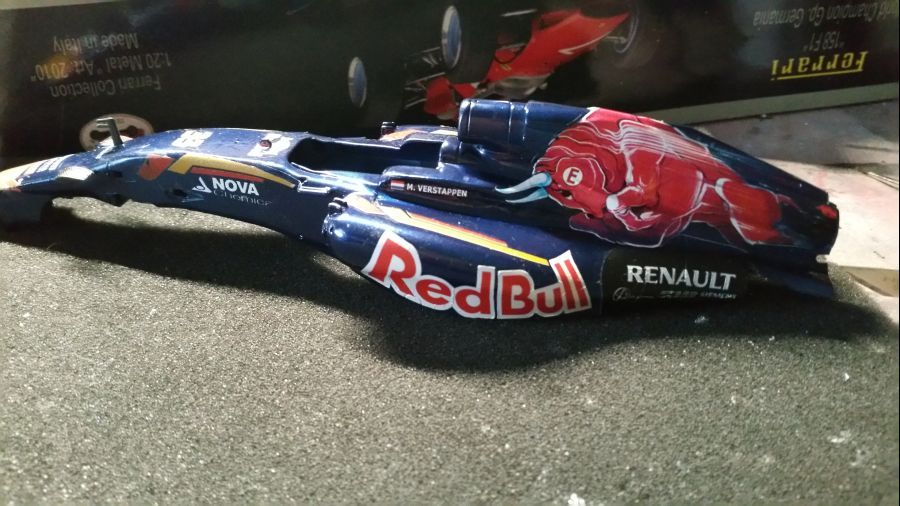 De motor / wielophanging wordt geplaatst. Daarna wat kleine onderdelen aan de wielophanging en het stuur.
The engine / wheel suspension are being mounted. Then some small parts to the suspension and the steering wheel.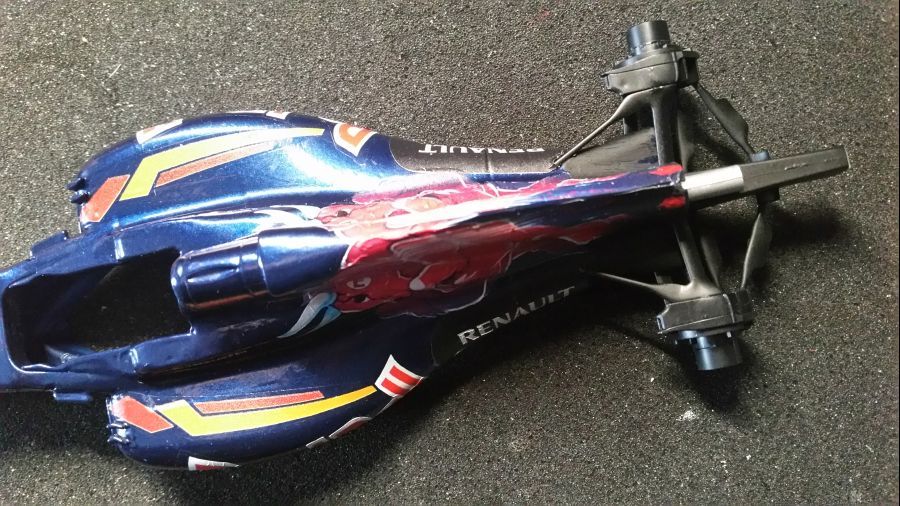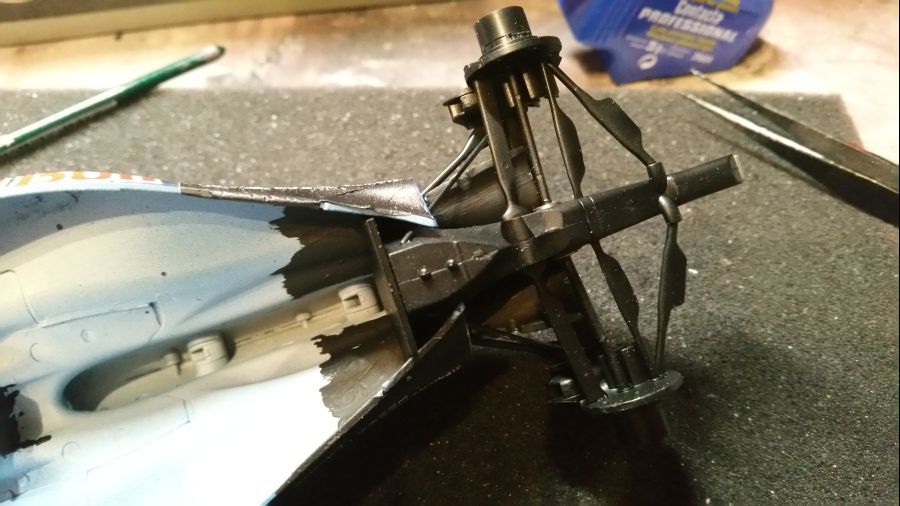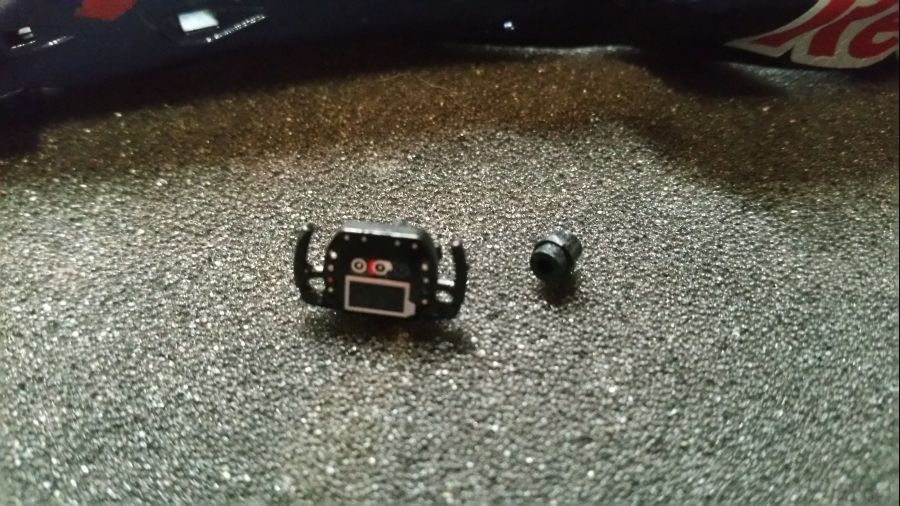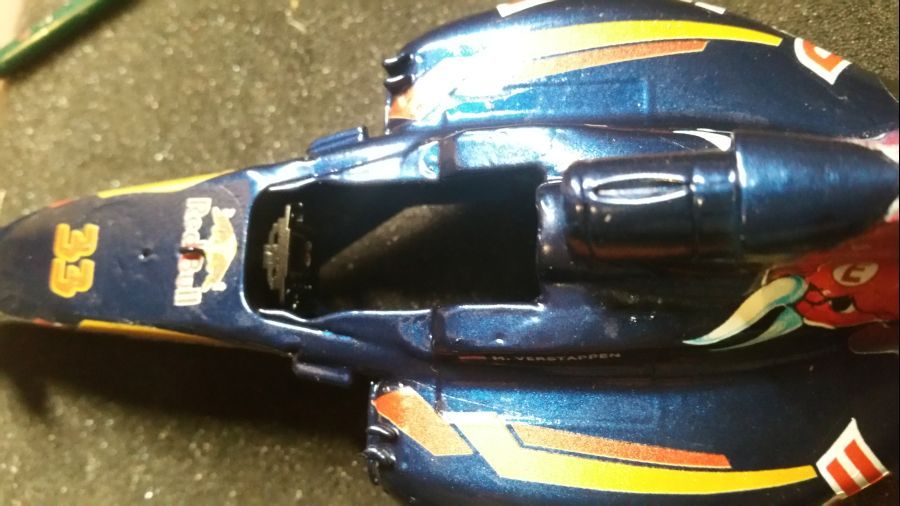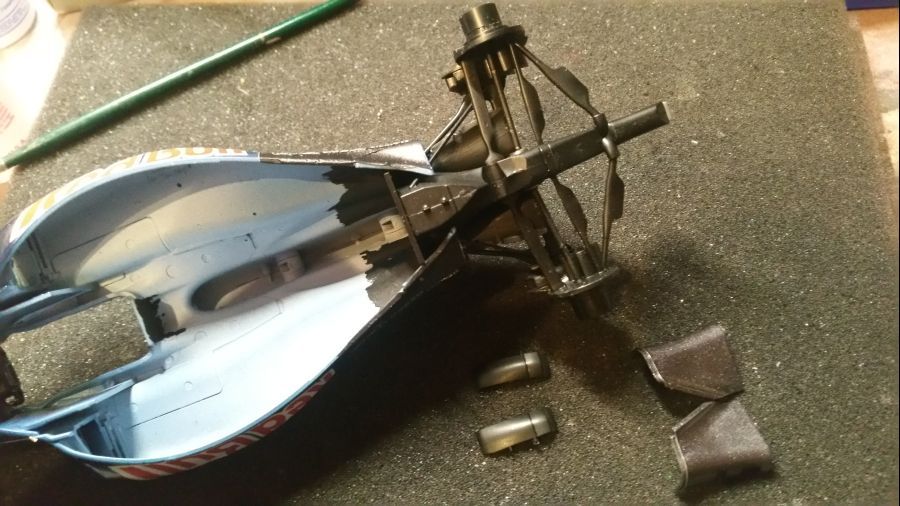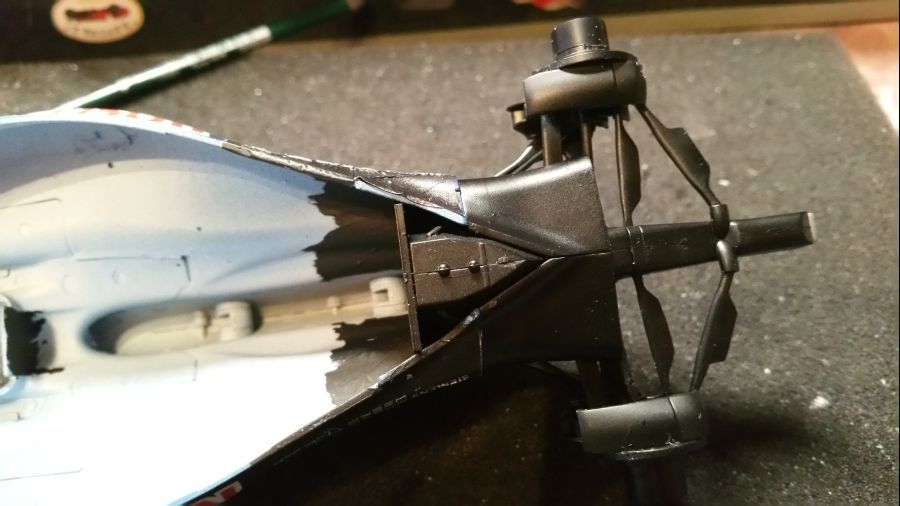 Dan door met de voorwielophanging...
Next is the front wheel suspension...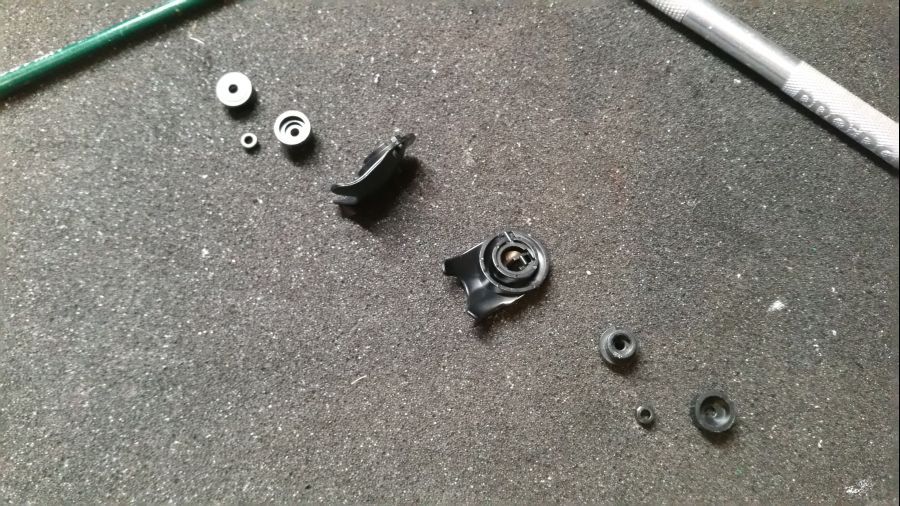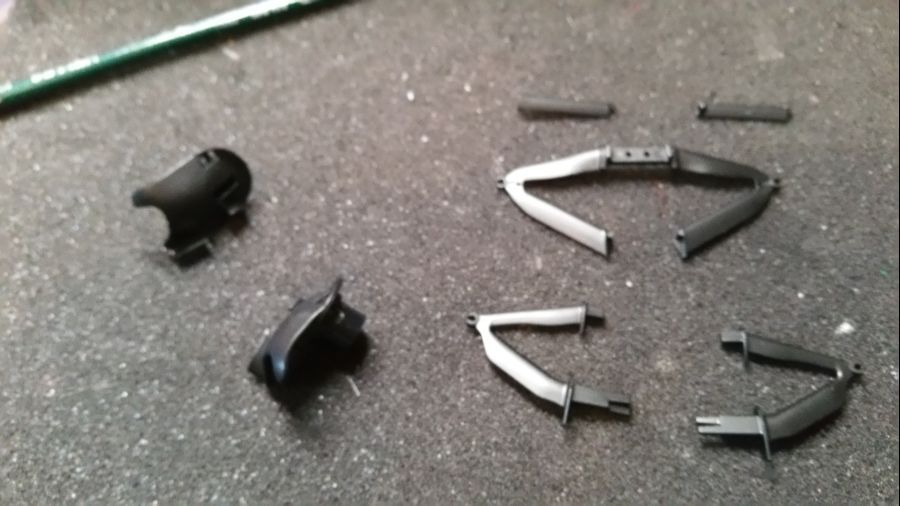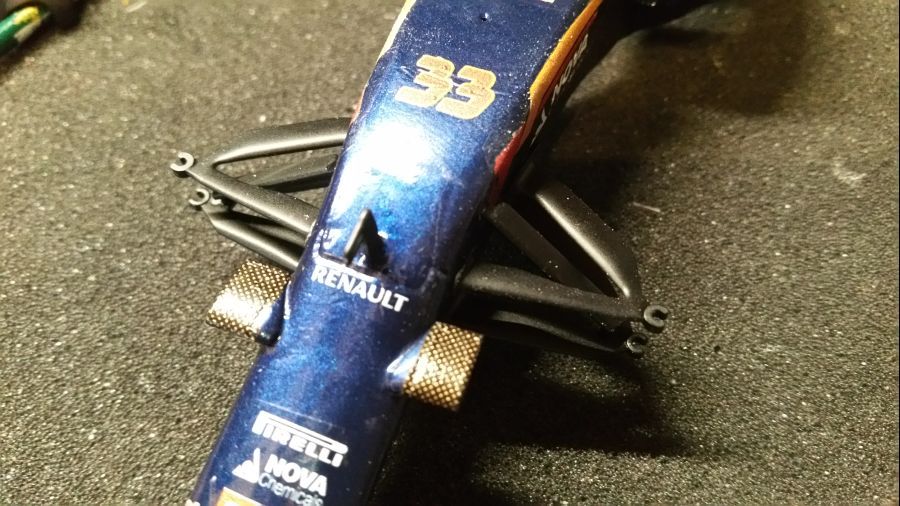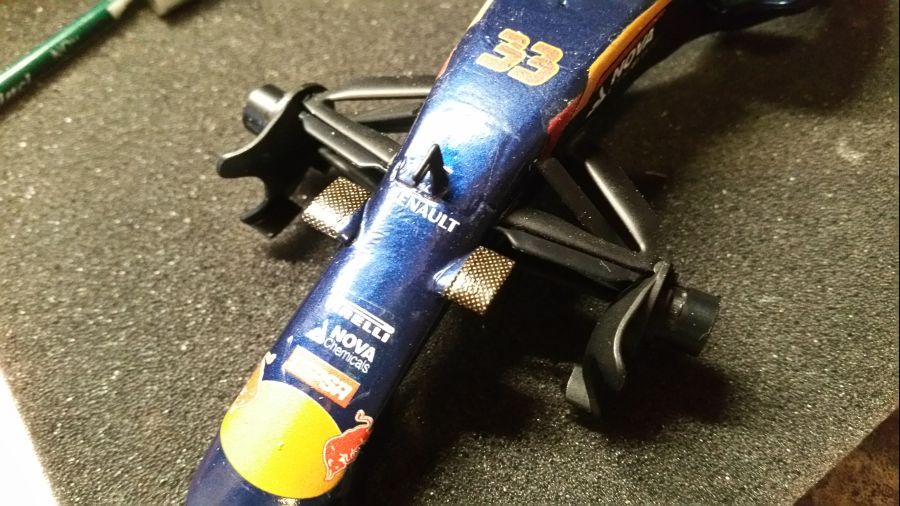 Dan een paar deflectors plaatsen..
Then attaching some deflectors..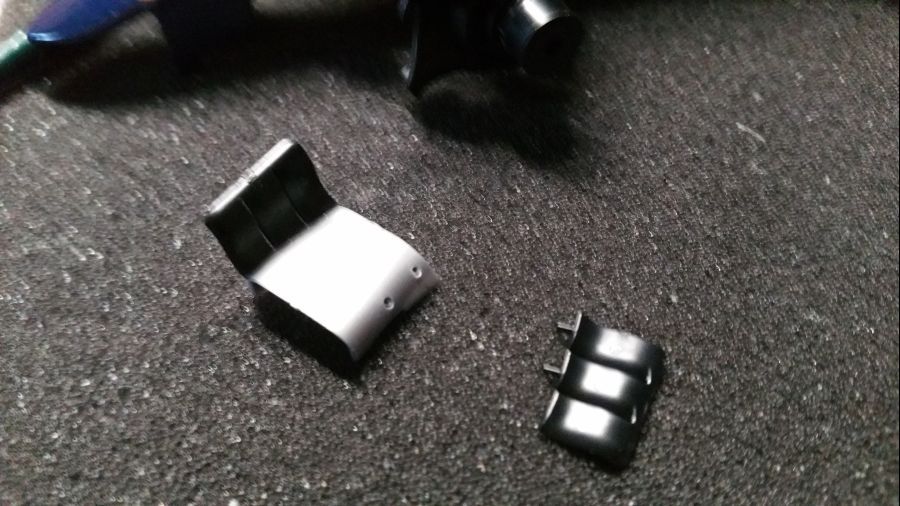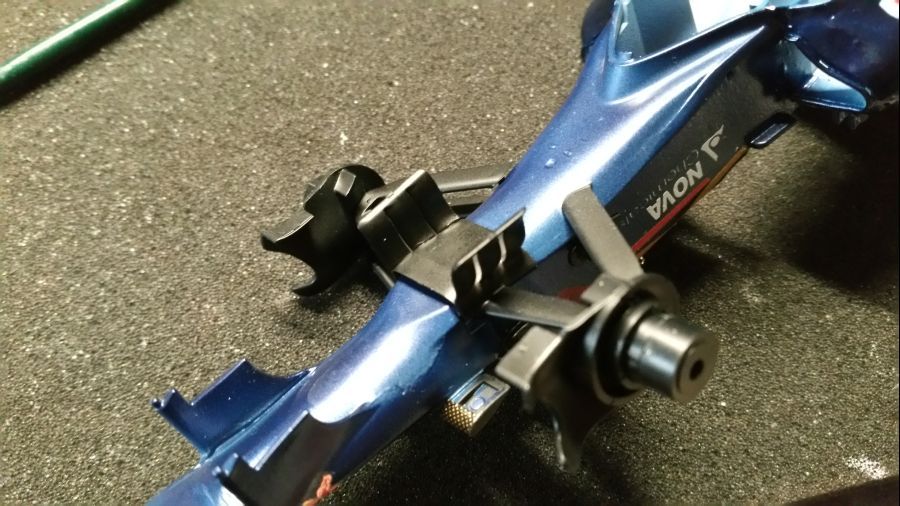 Verder met de vloerplaat...
Next is the undertray...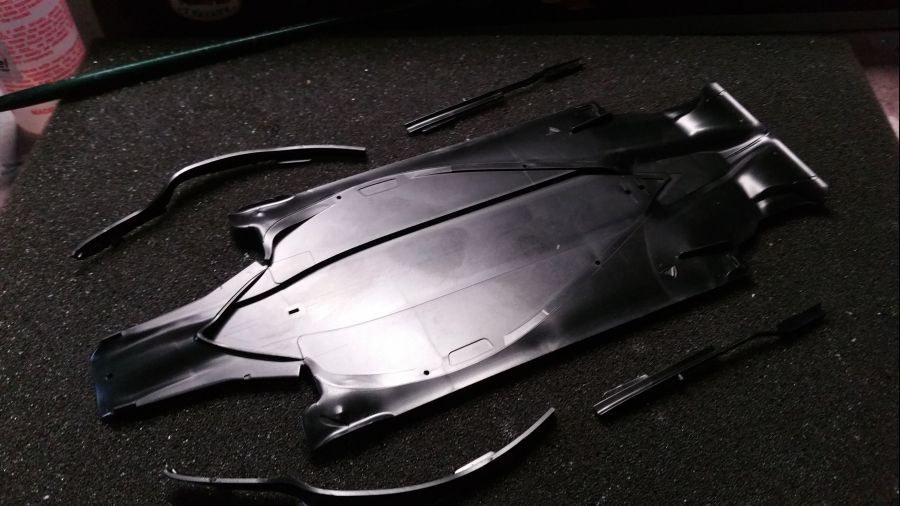 Na het spuiten met Tamiya Semi Gloss Black maak de houten plank met de skid blocks.
After painting with Tamiya Semi Gloss Black i create a wooden plank with the skid blocks.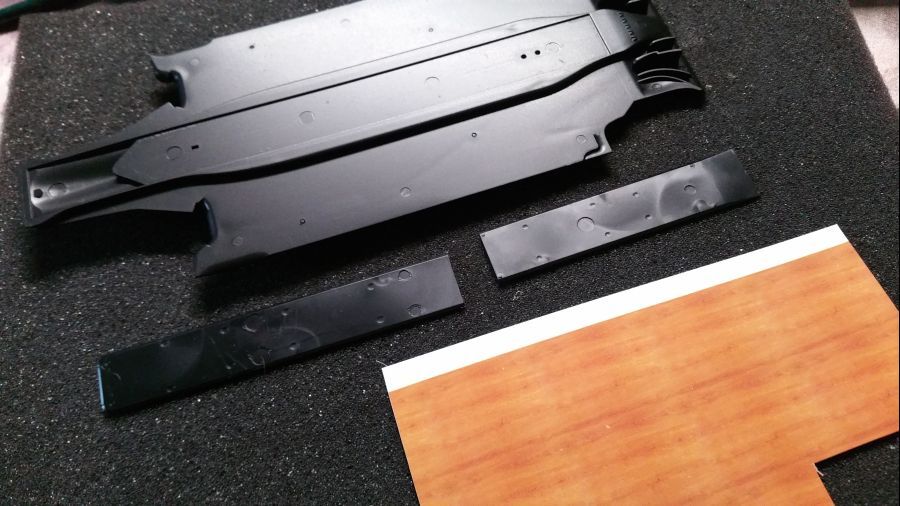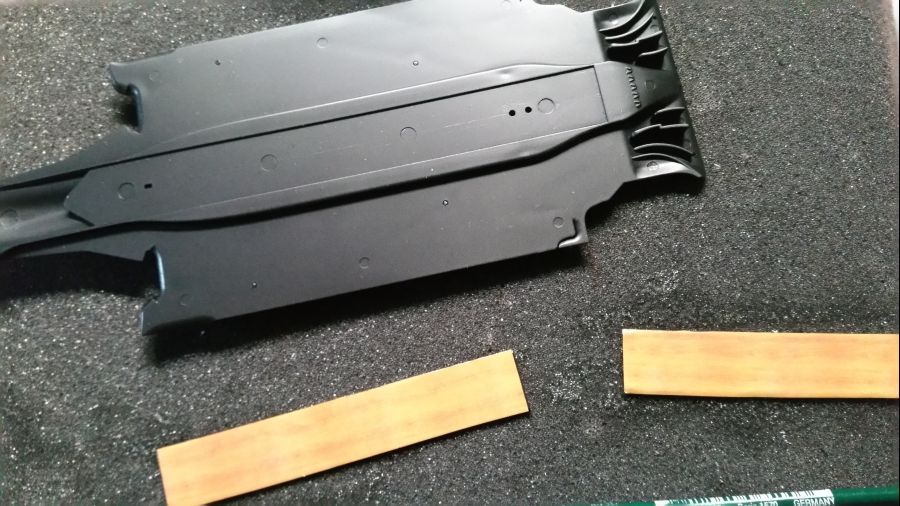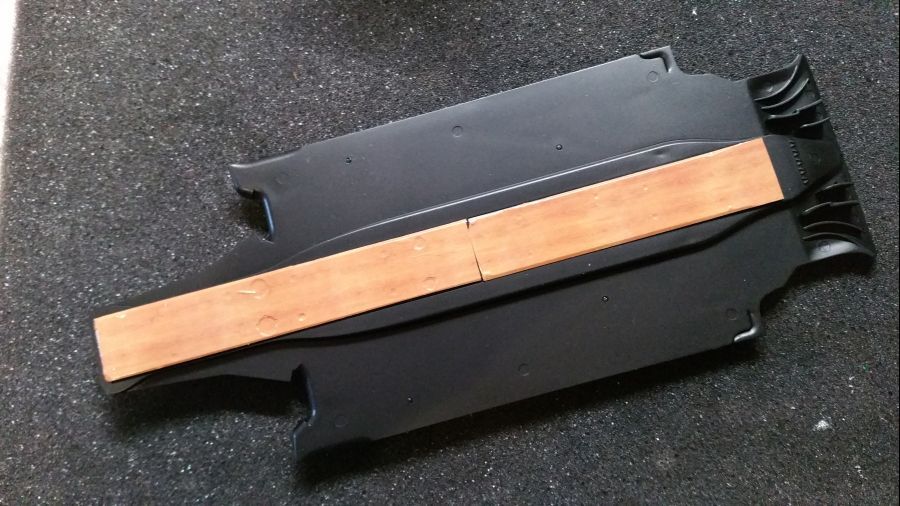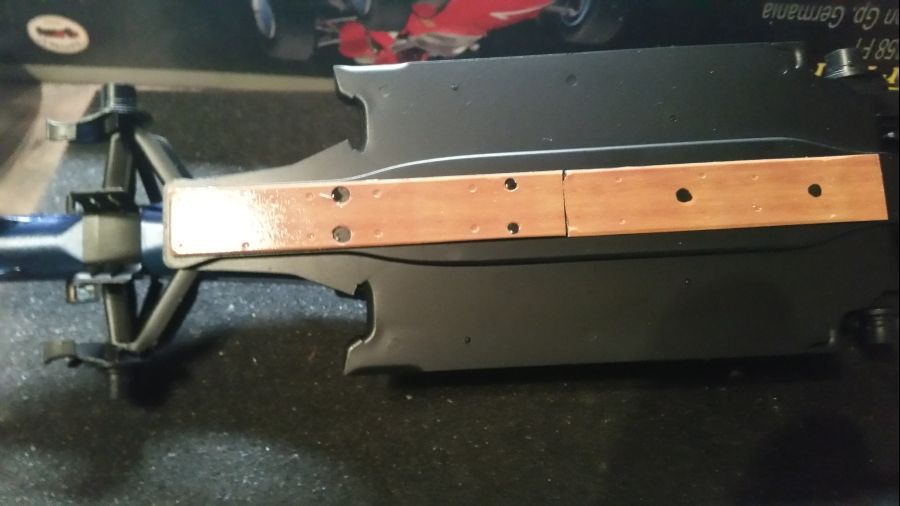 Dan de stoel klaarmaken en alles even passen. De body past goed op de vloer.
Next is the seat and do a test fit. The body fits the floor perfectly.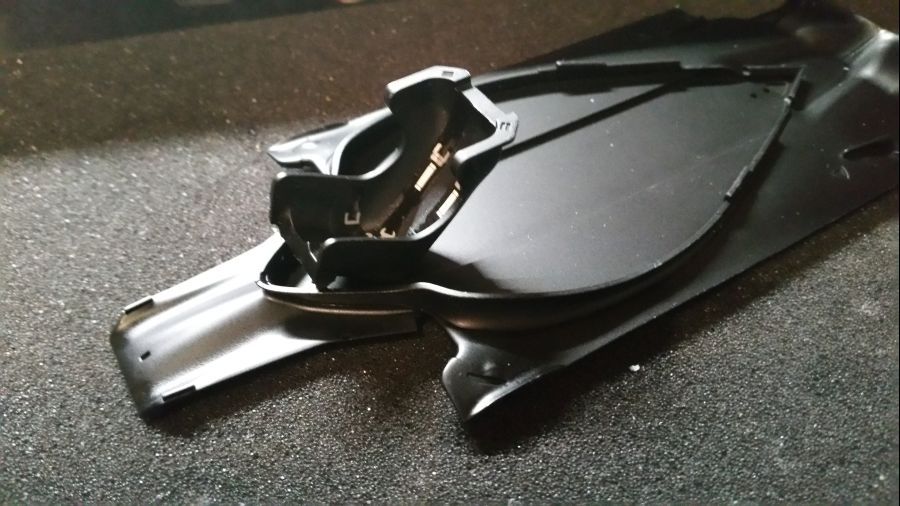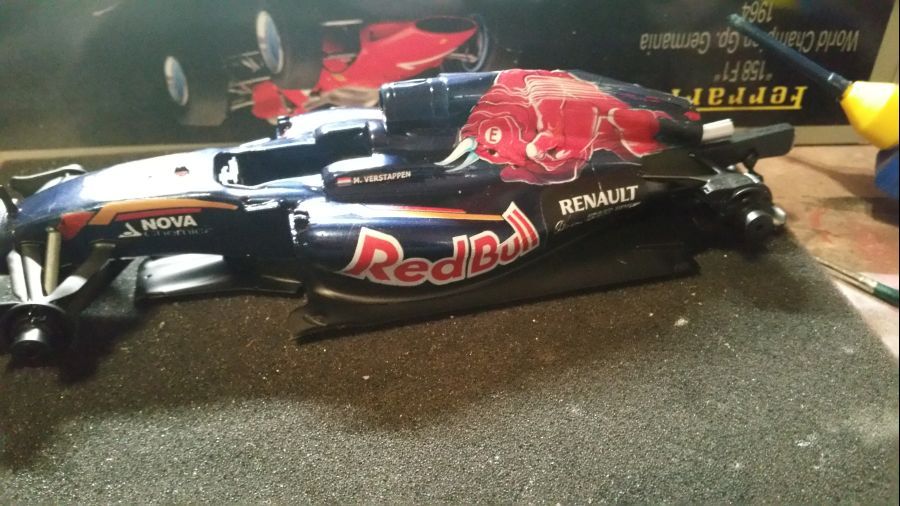 Nu doorgaan met de voorvleugel... Dat is een behoorlijk probleem. Het is duidelijk dat dit een heel ander model zou moeten worden. Laten we zien wat we kunnen doen.
Now to continue with the front wing. Now that's quite a problem. It's obvious it should be reshaped heavily. Let's see what could be done.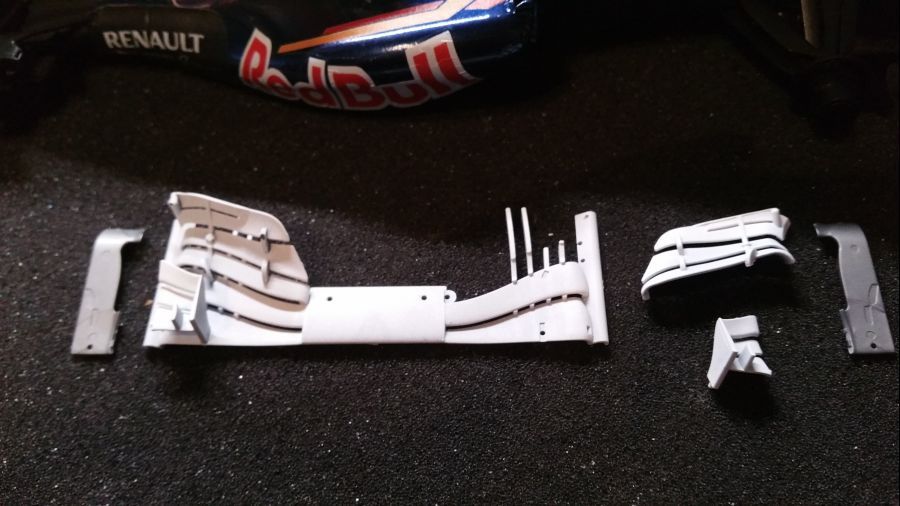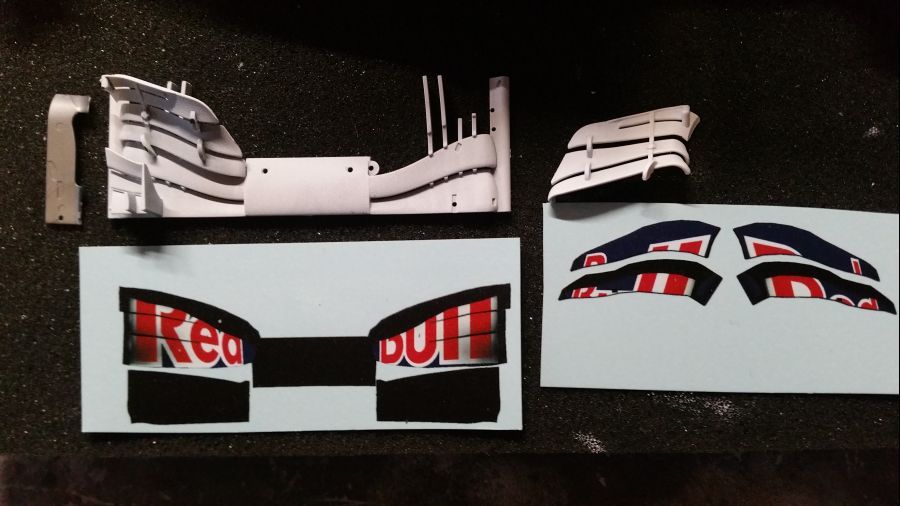 Het onderste deel van de vleugel lijkt niet zo'n groot probleem. Een beetje op maat maken van de decals denk ik.
The lower part of the wing looks pretty okay. More a kind of cutting decals to size i think.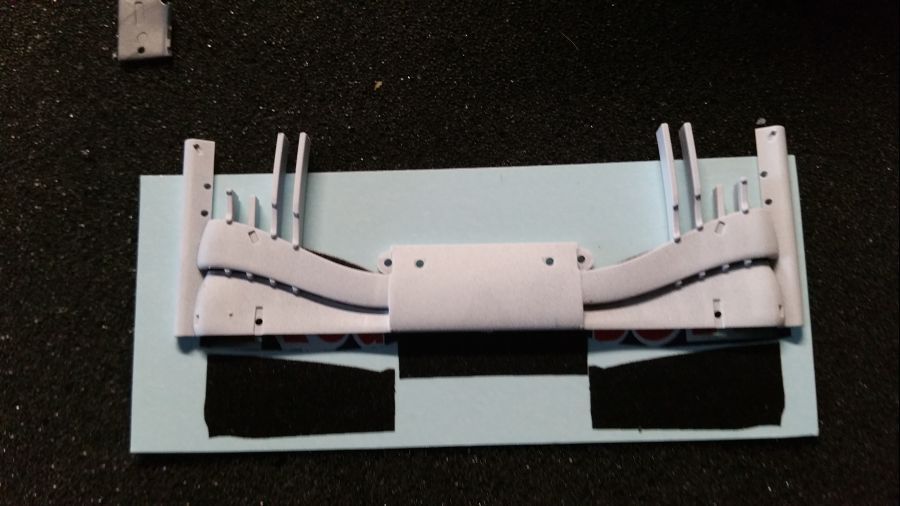 De beide zijkanten is meer het probleem. De Toro Rosso STR10 heeft maar 2 lagen, de McLaren MP4/30 heeft 3 lagen. De bovenste laag lijkt ook redelijk mee te werken. Ook hier moet de decal op maat worden gemaakt.
Both side wings are more of a problem. The Toro Rosso has only 2 layers, the McLaren MP4/30 has 3 layers. The top layer looks pretty okay to work with. Also at this point the decals needs to be cut to size.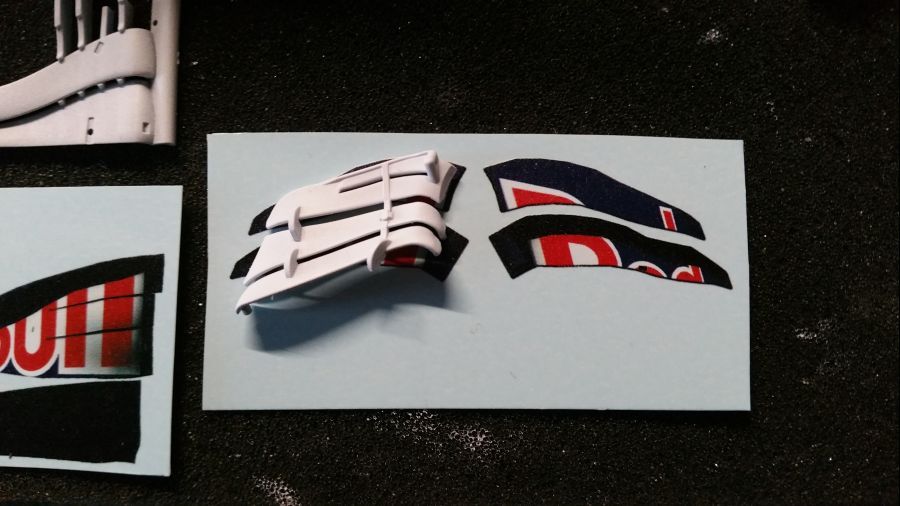 Bij de onderste vleugel is het probleem groter. Van 2 lagen moet 1 gemaakt worden en de boel moet meer op maat worden gemaakt.
The lower part is more of a problem. I have to make 1 layer out of 2 layers and it needs to be made to size.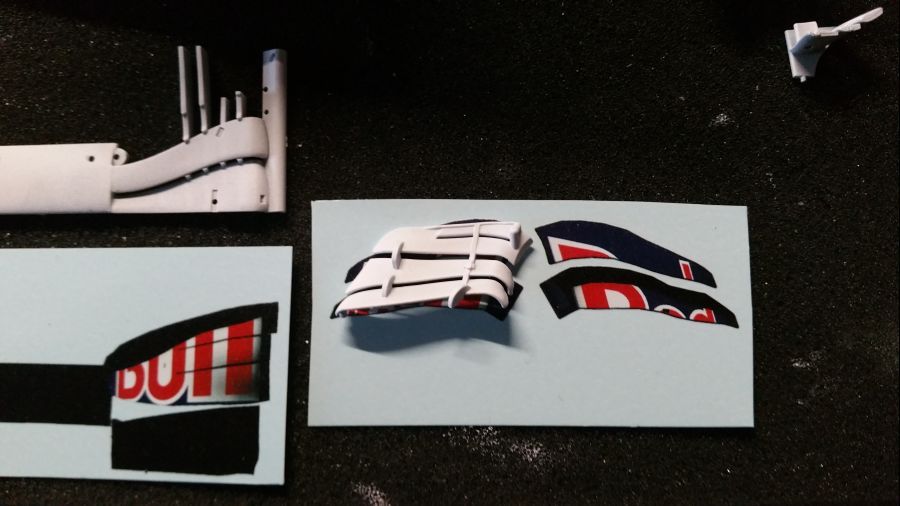 Dit is wat ik denk. Het bovenste deel wordt afgeknipt op de groene punten. Daarmee blijft dit deel intact om te gebruiken. Het onderste deel wordt opgevuld met putty bij het rood aangegeven deel. Aan de achterkant wordt een stukje strip geplakt om het verband te behouden. Daarna wordt het blauw gemarkeerde deel afgeknipt. Dan kan het bovenste deel weer bevestigd worden.
This is wat i have in mind. The upper parts gets cut off at the green marked points. So this part stays intact for use. The lower part gets filled with putty at the red marked point. At the back a strip of styrene gets attached to keep everything together. Then the blue part gets cut off. The upper part will then be attached again.
Daar gaat ie...
There we go...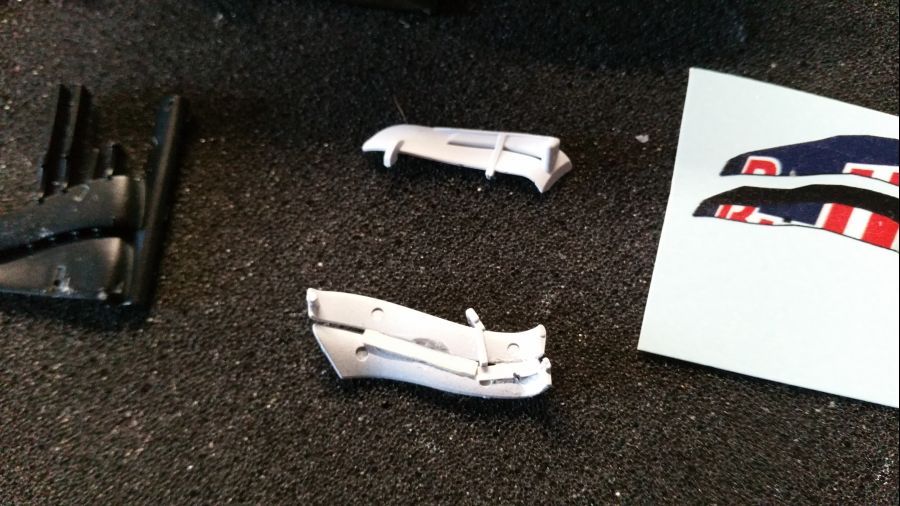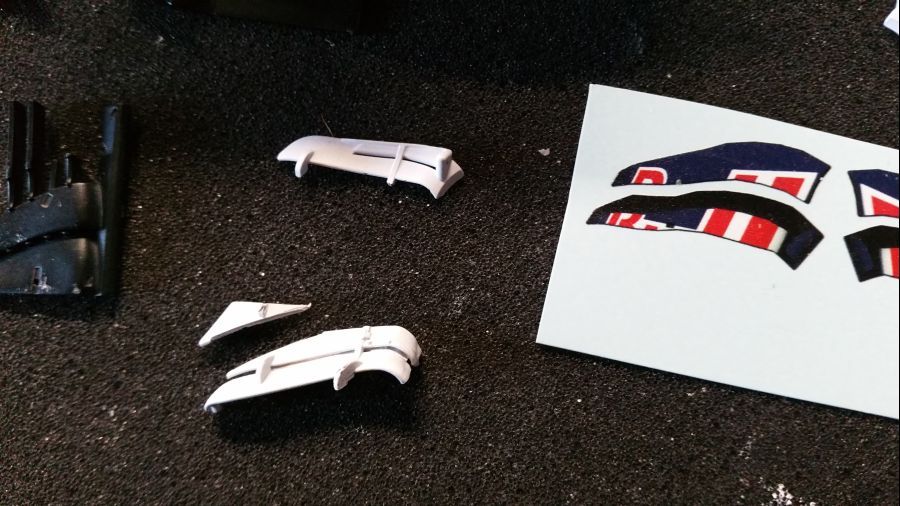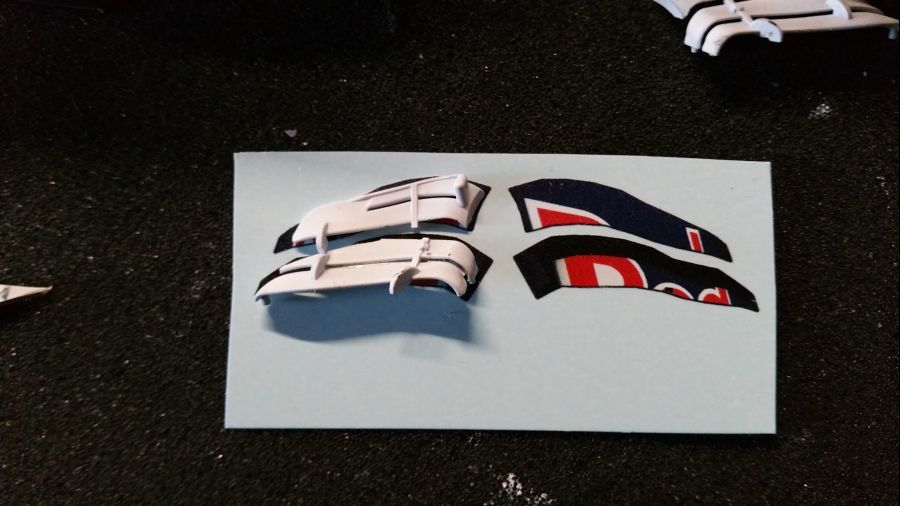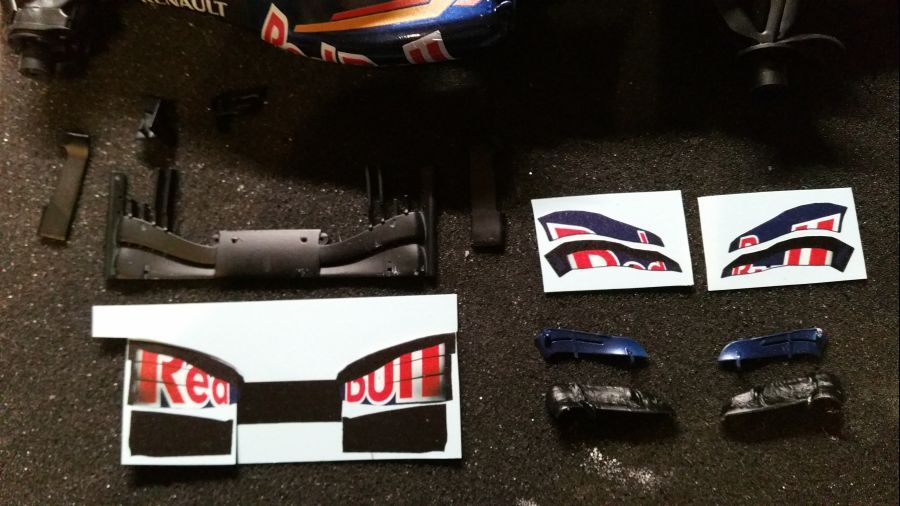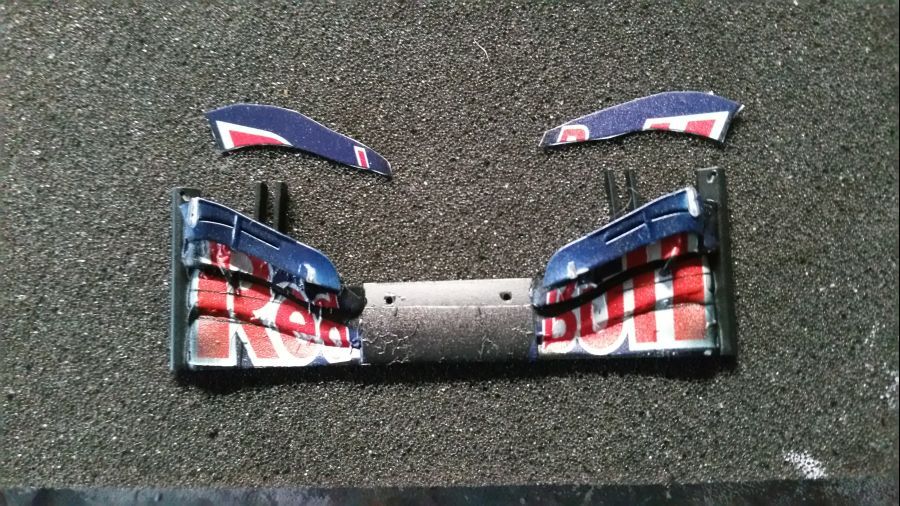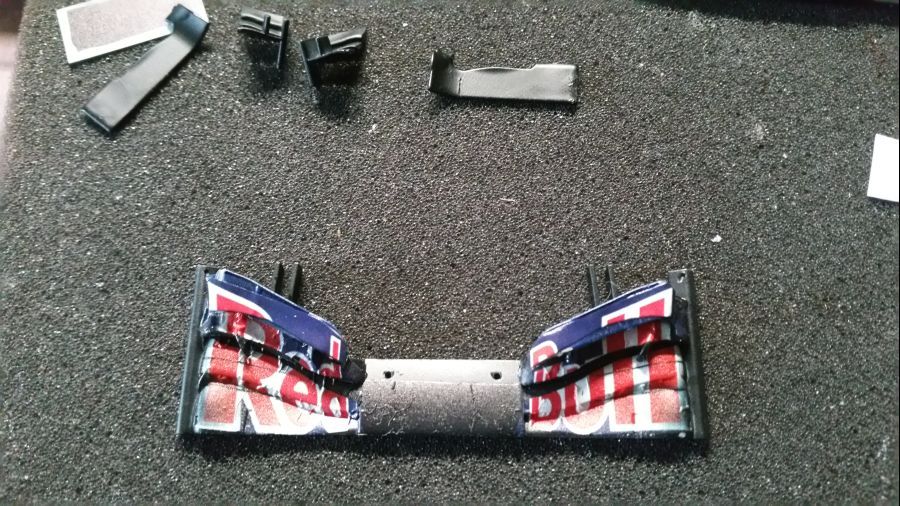 Terwijl de Micro Sol droogt monteer ik de vloer onder de body..
While the Micro Sol dries i will mount the floor to the body..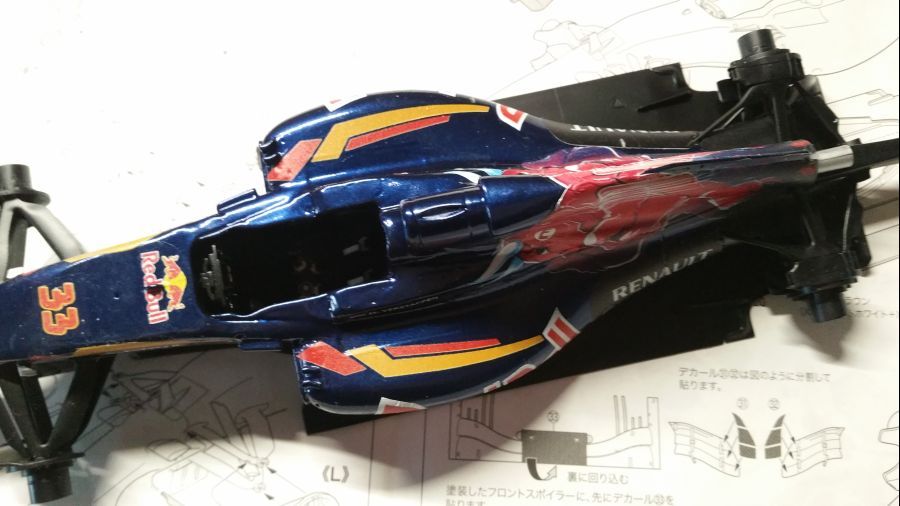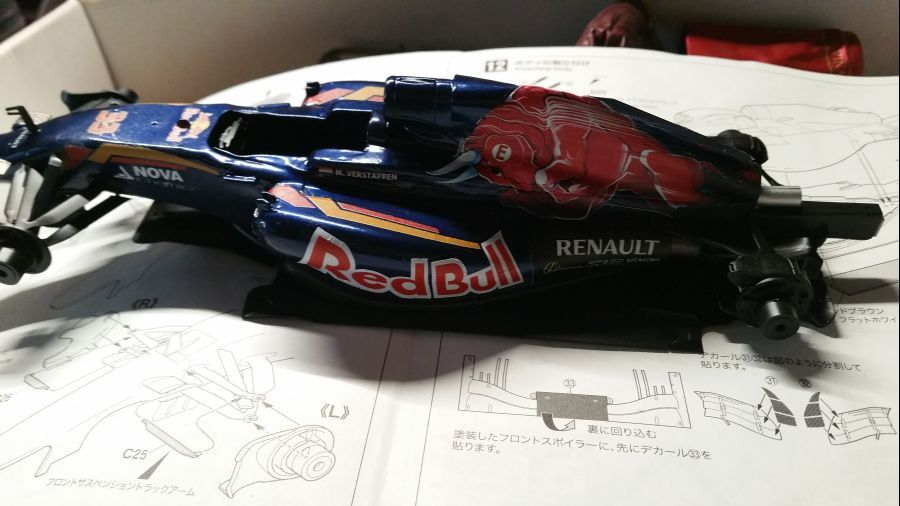 De Toro Rosso STR10 heeft andere zijkanten op de voorvleugel. Daarom maak ik nieuwe met Evergreen card. De logo's (groen) voor de andere delen van de vleugel zijn niet correct. De tekst over de hele vleugel verdeeld te worden. Ik kan dat helaas niet veranderen.
The Toro Rosso STR10 has different sides on the front wing. Therefor i will make new ones out of Evergreen card. The logos (green) for the other wing parts are not correct. The text should cover the complete wing. Unfortunately i cannot change it.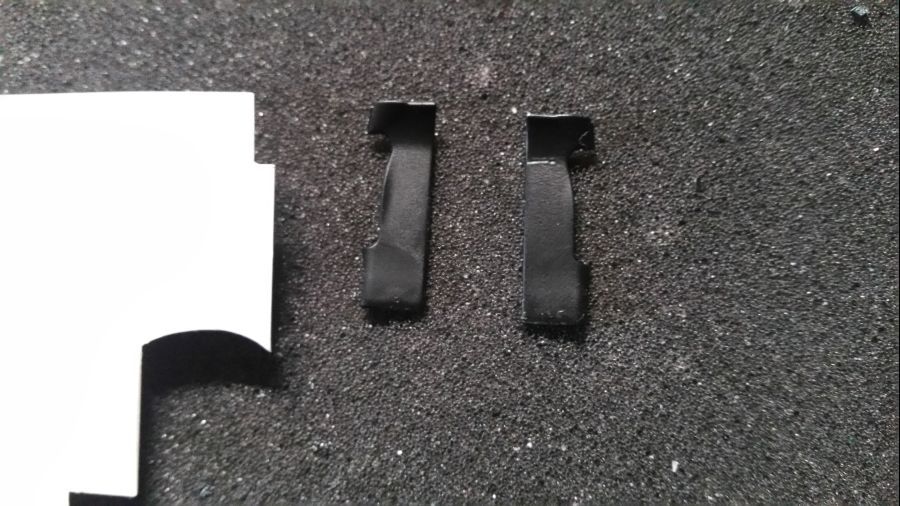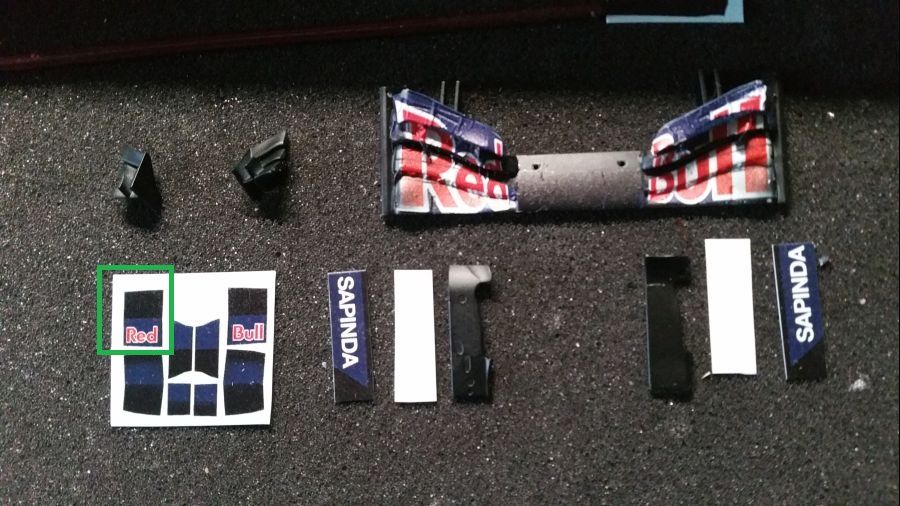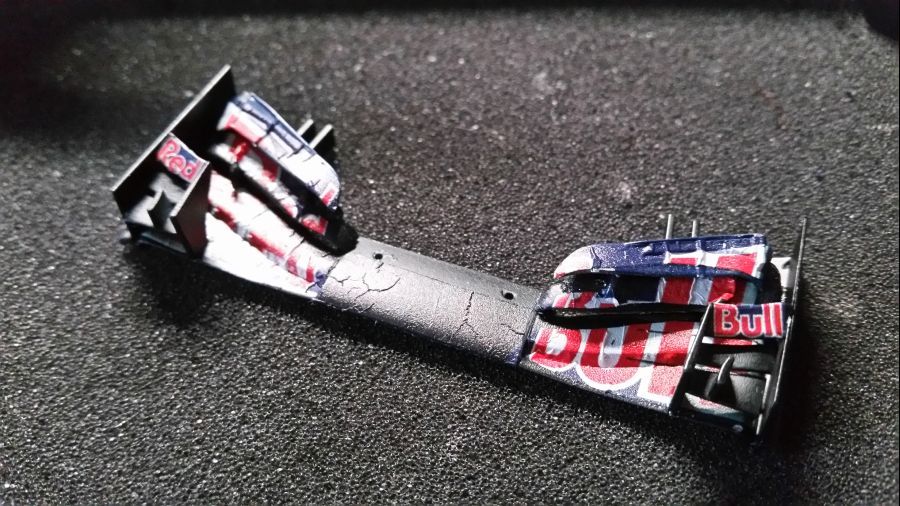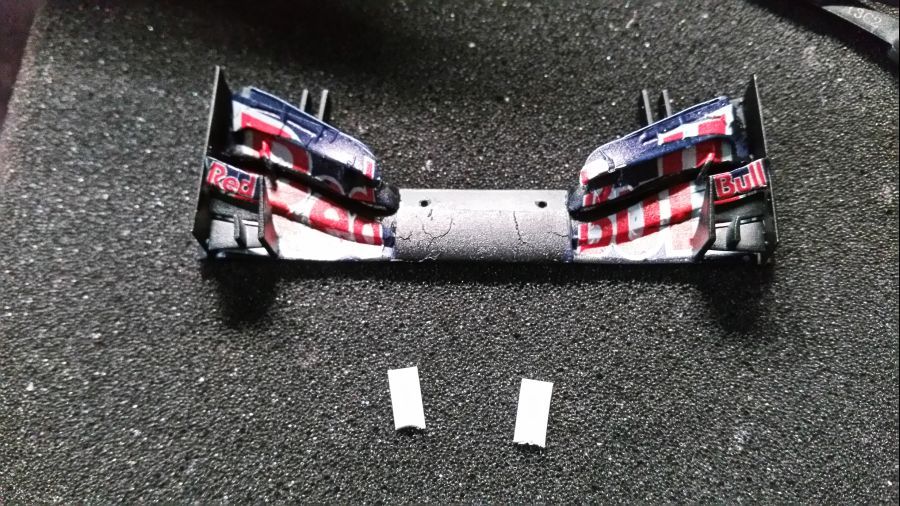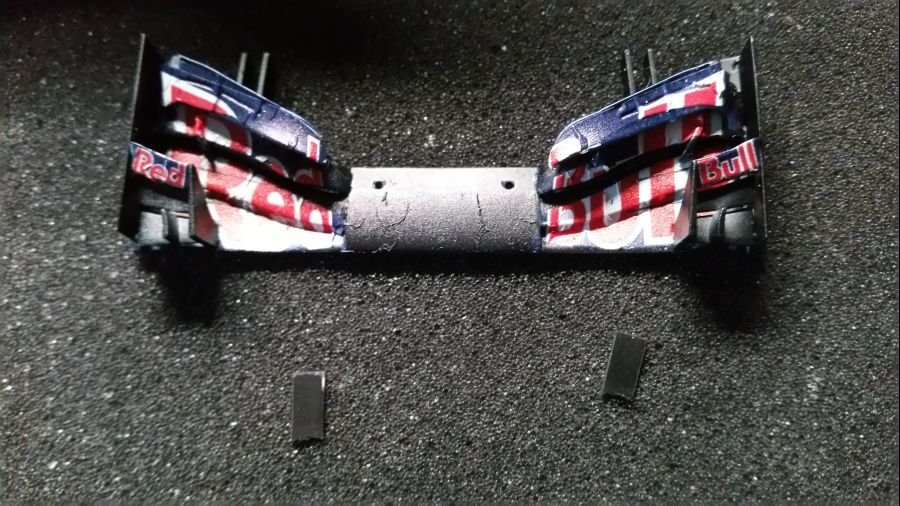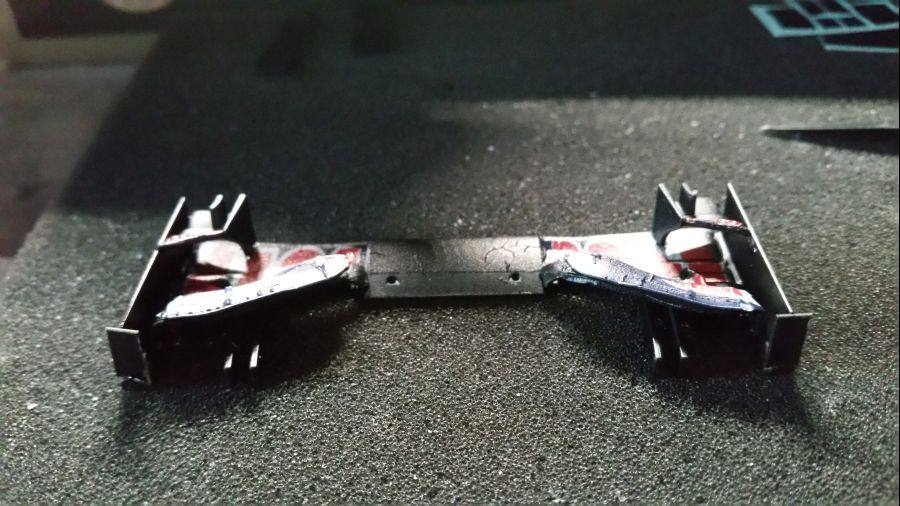 Ik wacht nog even met het monteren van de vleugel. Misschien moet ie wat hoger boven het wegdek worden geplaatst.
I will wait with mounting the front wing. Maybe it needs to be mounted a little bit higher from the pavement.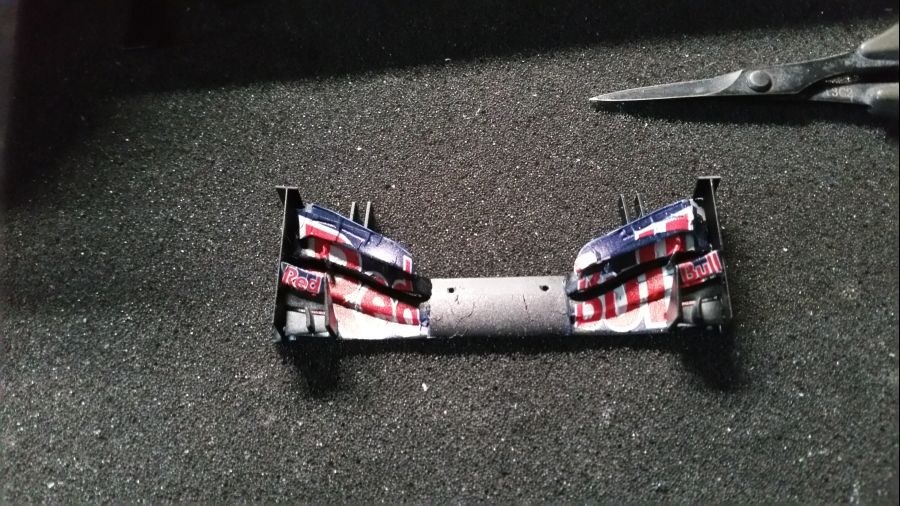 Wat doe ik hiermee? 
What to do with this?
Op Facebook geven vrienden aan dat het maken van nieuwe plates de beste oplossing is. Dat schept weer nieuwe problemen. De steun bij de groene pijl is zeer belangrijk om de hele vleugel te steunen, wanneer deze aan de body wordt bevestigd. Anders hangt de vleugel alleen aan de smalle middensteun. Deze kan dus echt niet verwijderd worden. Bovendien komt het steunpunt (blauw) van de nieuwe vleugel zo ver naar voren dat, of de middensteun niet gaat passen, of de wielophanging in de weg zit. Ik zie daarom maar 1 oplossing. De platen zodanig aanpassen dat het allemaal past. Niet 100% maar dat wisten we al.
On Facebook friends gave the advice to create new plates. However thsi would cause new problems. The support marked with the green arrow is crucial to support the wing when attached to the body. Otherwise the wing would only be supported by the fragile support in the middle. So this one cannot be removed for sure. Also the new support (blue) would be too far to the front, so either the small middle support will not fit at all, or the blue part will have a problem with the position of the wheel support. So i see only 1 option. Change the plates as much as possible so it will still fit. Not 100% but we knew it upfront.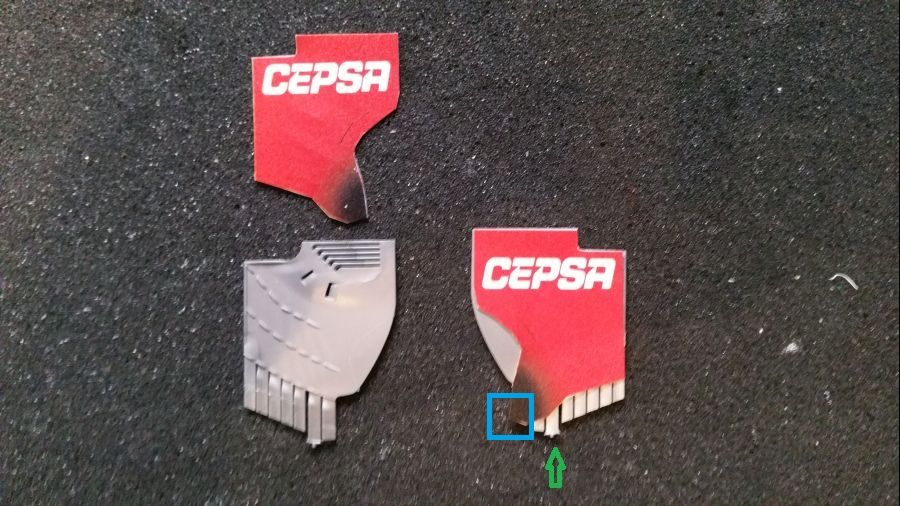 Daar gaat ie... Eerst op maat knippen... Dan de boel glad maken...
Here we go... First cut to size... Then smoothen it...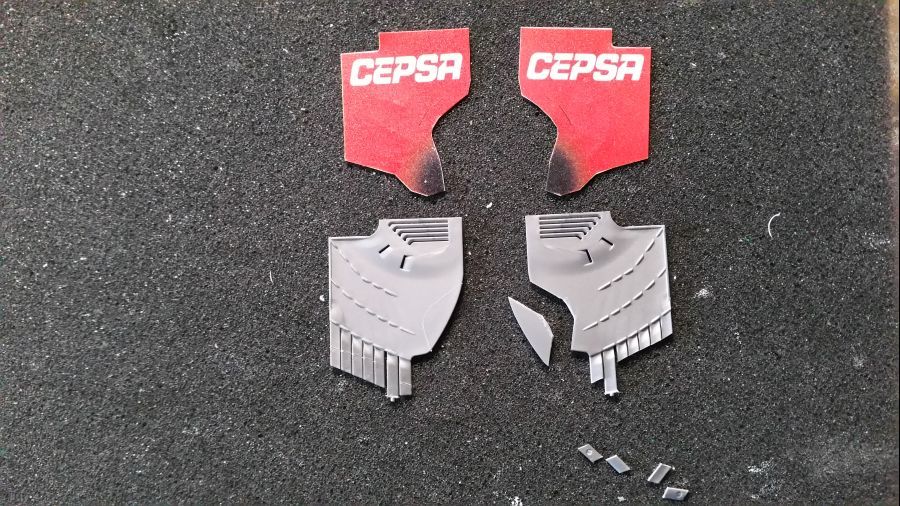 Door met de putty... De buitenkant en binnenkant.
To continue with the putty... The outside and inside.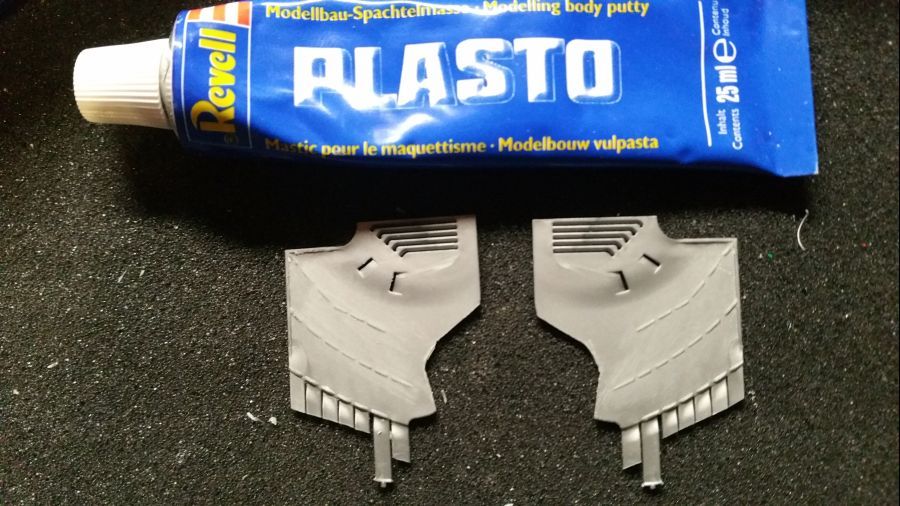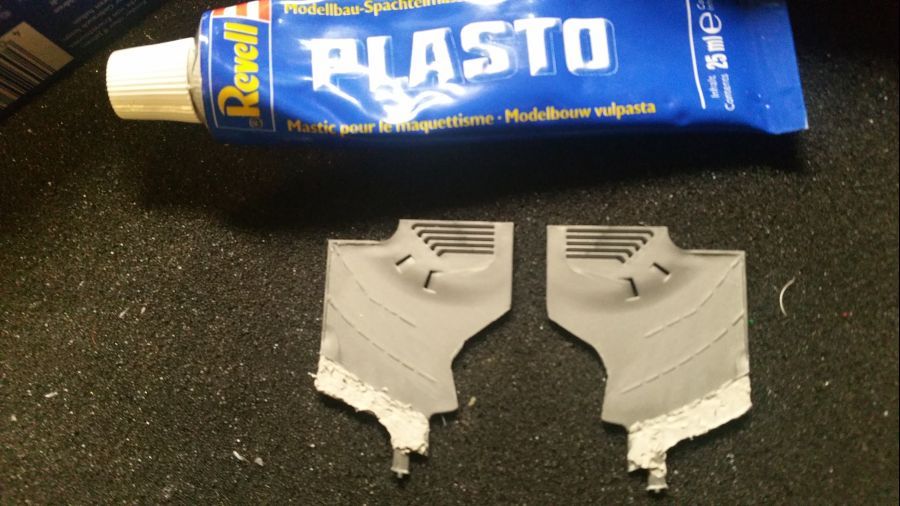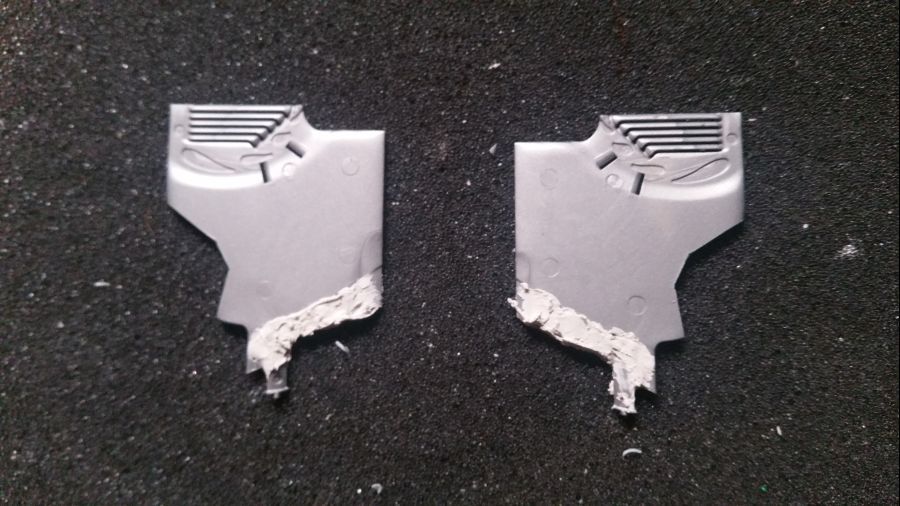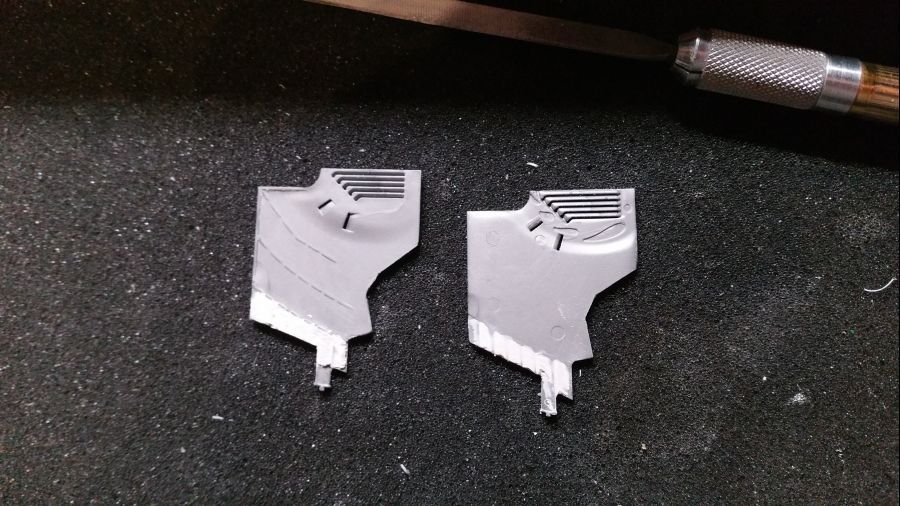 Eerst een laagje Zero Paints ZP-1007 Rosso F10, daarna een laagje Ferrari F2007. De laatste is een beetje doorzichtig. Zwart aan de binnenkant.
First a ;ayer Zero Paints ZP-1007 Rosso F10, then a layer of Ferrari F2007. The last one is a bit translucent. Black on the inside.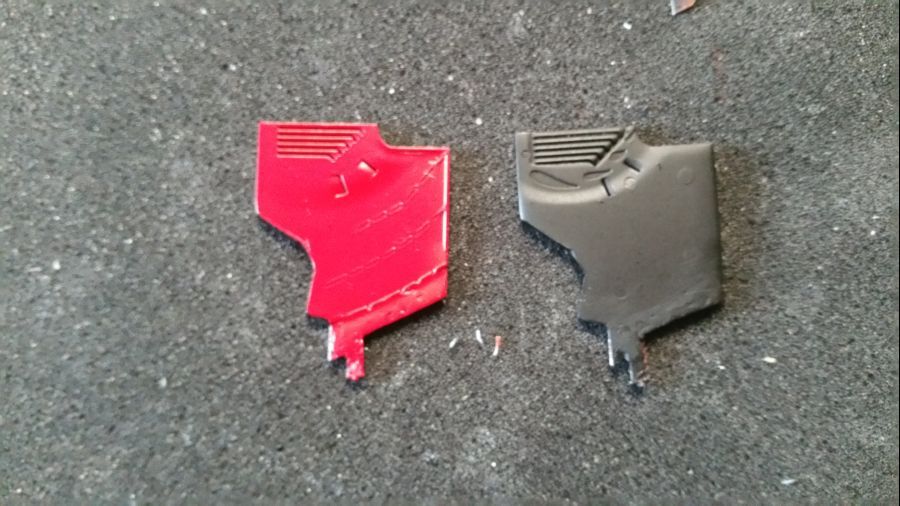 Dan de decals...
Next are the decals...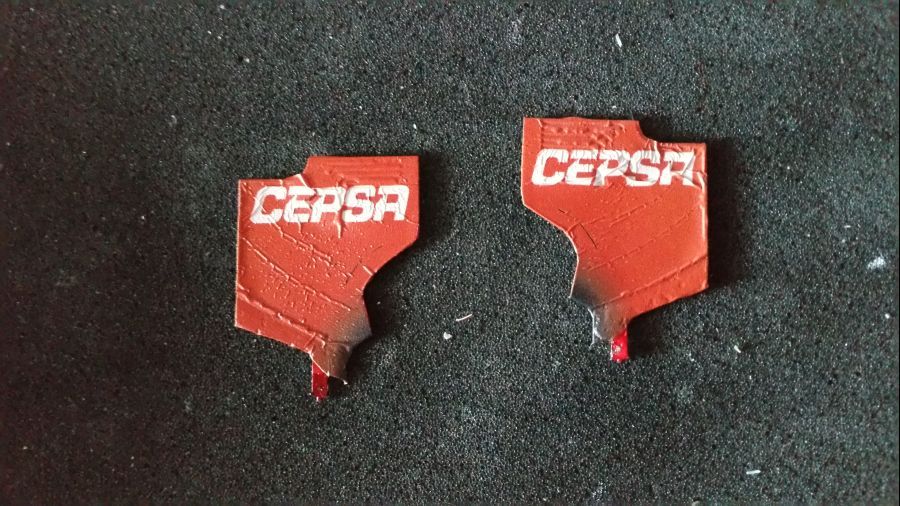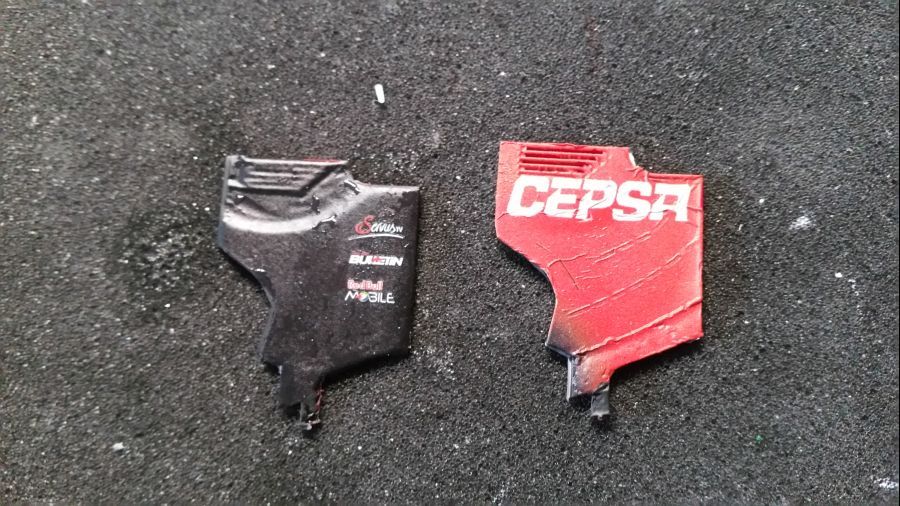 Meer onderdelen van de vleugel...
More wing parts...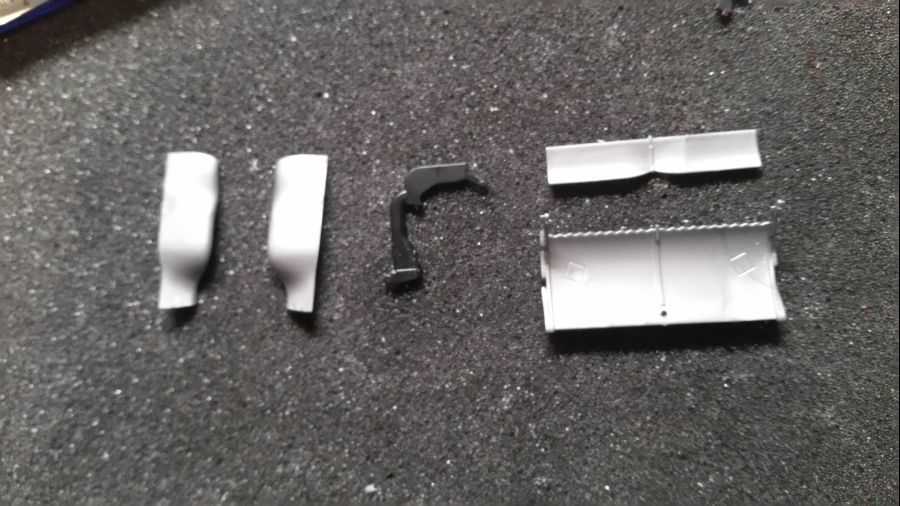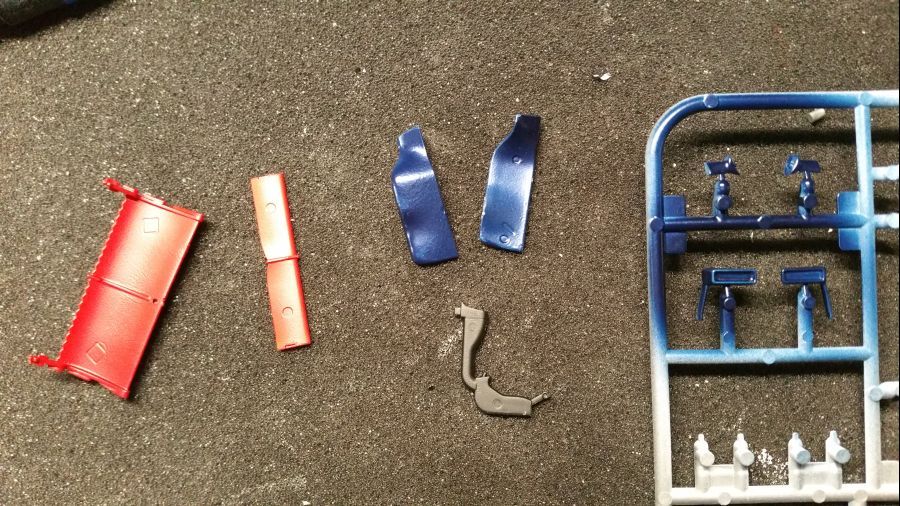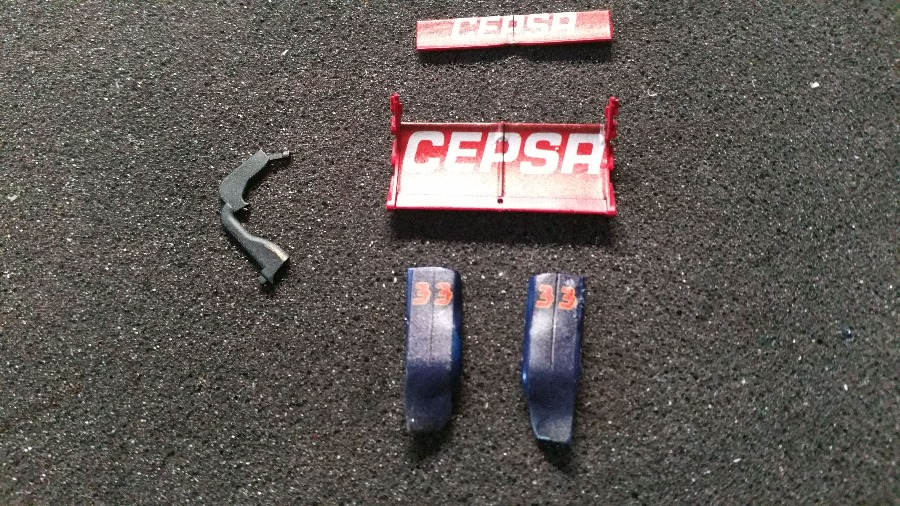 Zolang ik geen andere wielen kan vinden, gebruik ik gewoon die van de kit. Zodra ik betere tegenkom zal ik ze vervangen. Nu in ieder geval goud gespoten met Tamiya TS-21 Gold.
As long as i don't have better wheels, i will use those included in the kit. As soon as i find better ones, i will change them. For now they are painted with Tamiya TS-21 Gold.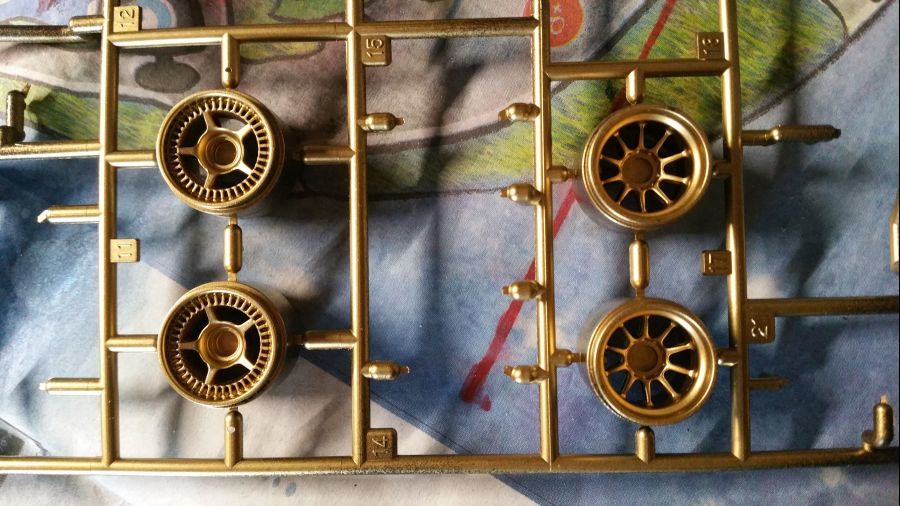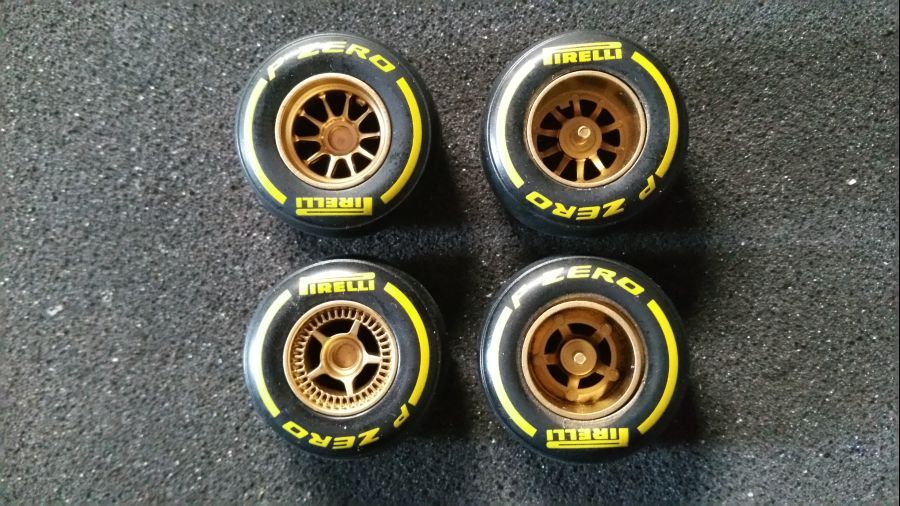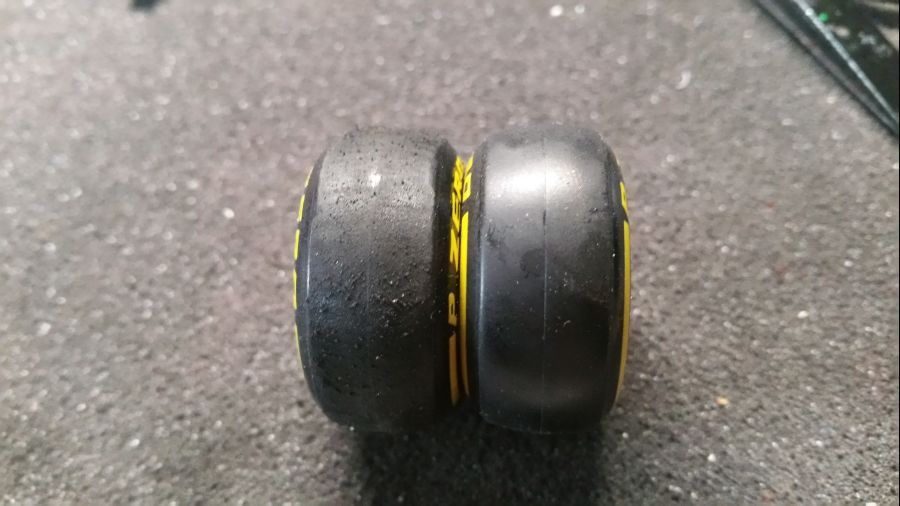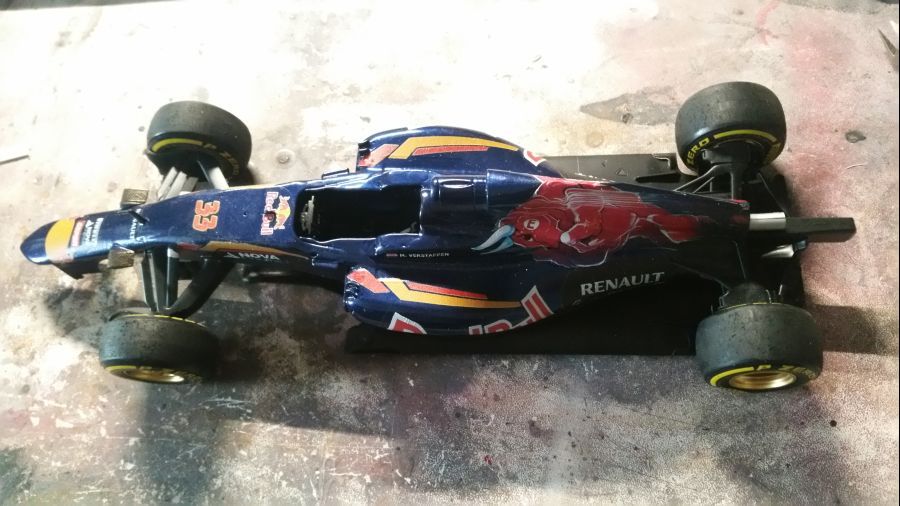 Nu moet de vleugel nog aangepast. Zoals je ziet aan de rode lijn ligt de vleugel lager dan de bodemplaat.
Now the wing needs some changes. As you can see when looking at the red line, the wing is lower than the floor.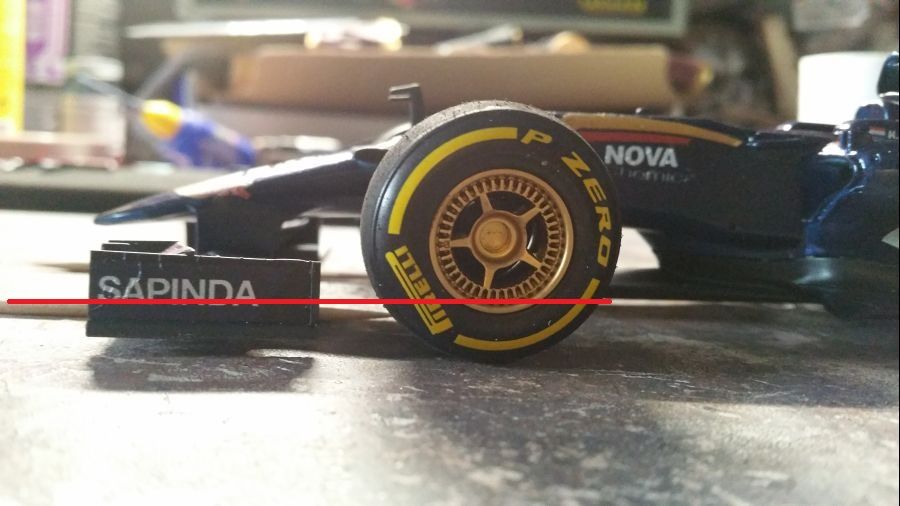 Bij de Toro Rosso STR10 moet deze juist hoger liggen. Daar ga ik een stukje van de 'poten' afhalen om dit te bereiken.
With the Toro Rosso STR10 this should be more high. Therefor i will shorten the 'legs' to get this effect.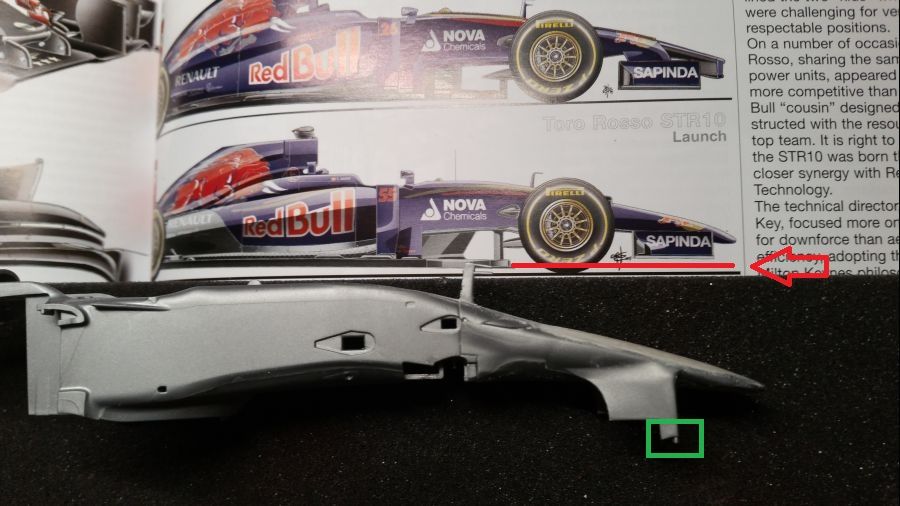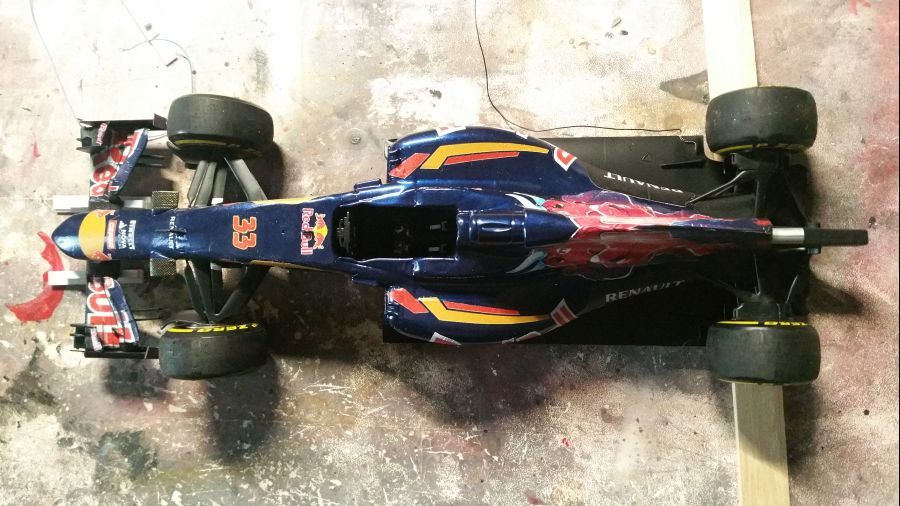 Veel beter, precies wat ik wilde.
Much better, exactly what i wanted.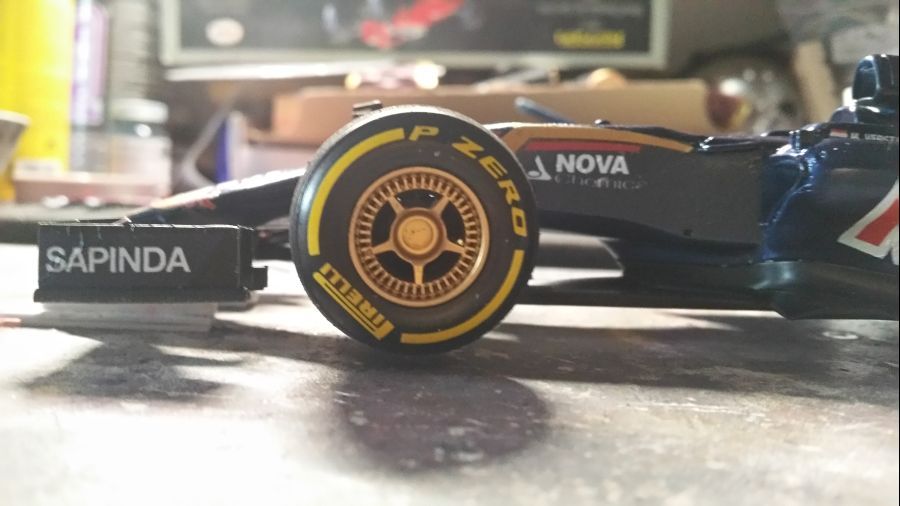 Dan verder met de achtervleugel... Nu kun je zien waarom ik de vleugel niet alleen aan het middenstuk wilde hangen en dus de 2 steunen van de platen heb behouden. Ik heb de onderkanten zwart gemaakt, zodat je ze amper ziet.
Next to continue with the rear wing... Now you can see why i didn't want to just use the middle support and have kept the 2 supports on the plates. I have painted the bottom parts black so you are hardly able to see them.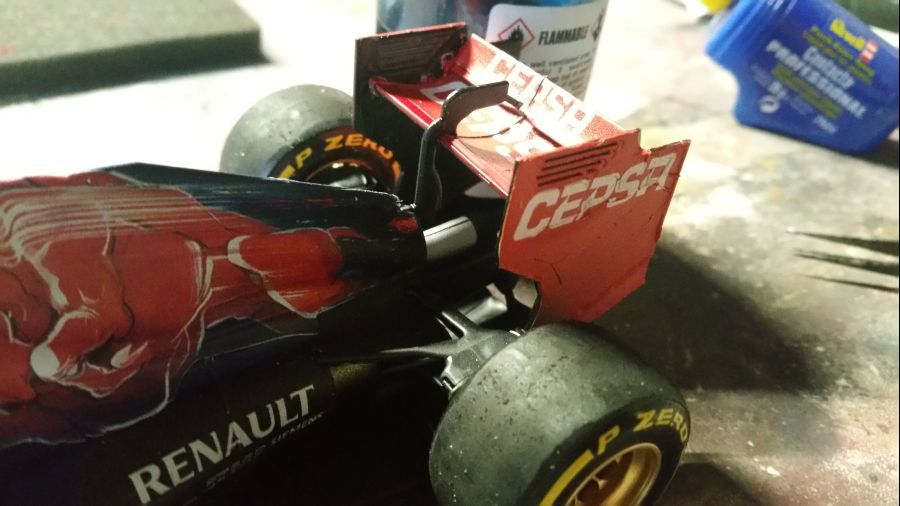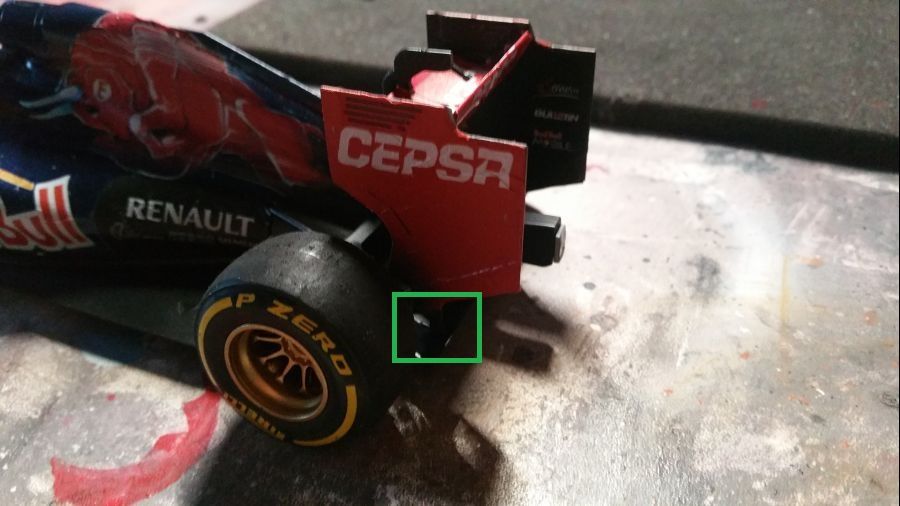 Het project nadert zijn einde. Nog wat kleine details zoals spiegels, wielmoeren, camera en de vleugels naast de side pods. 
The project is nearing the end. Just some small details like the mirrors, wheel nuts, camera and the wings next to the side pods.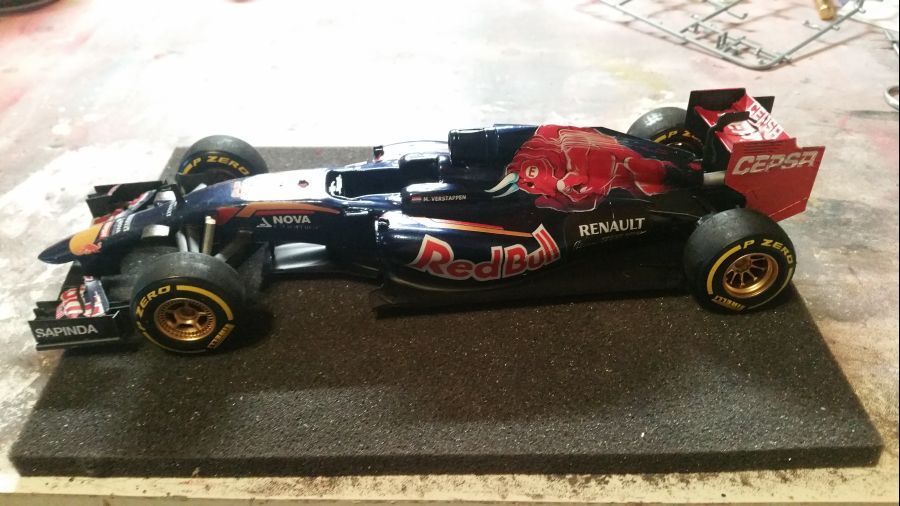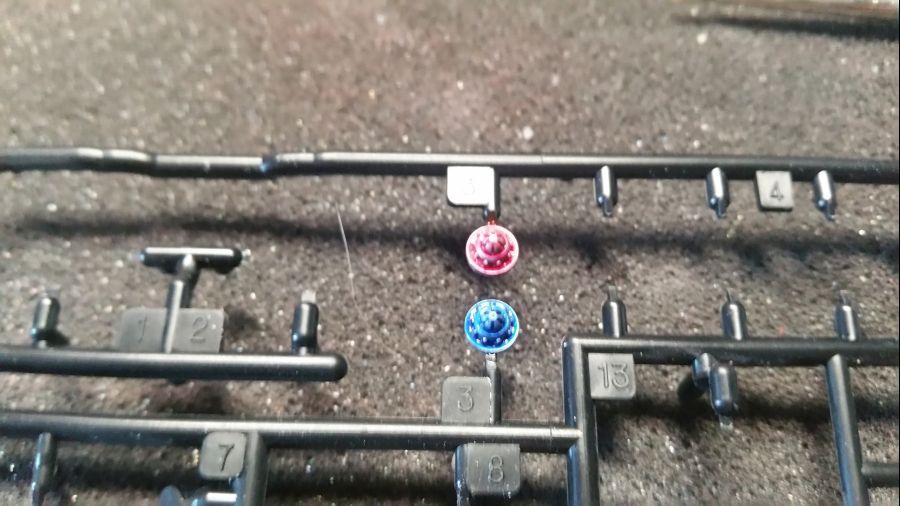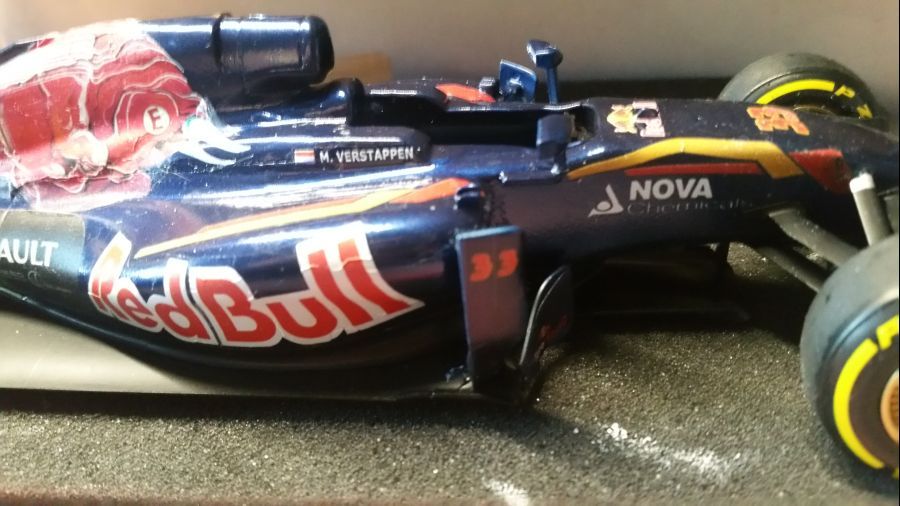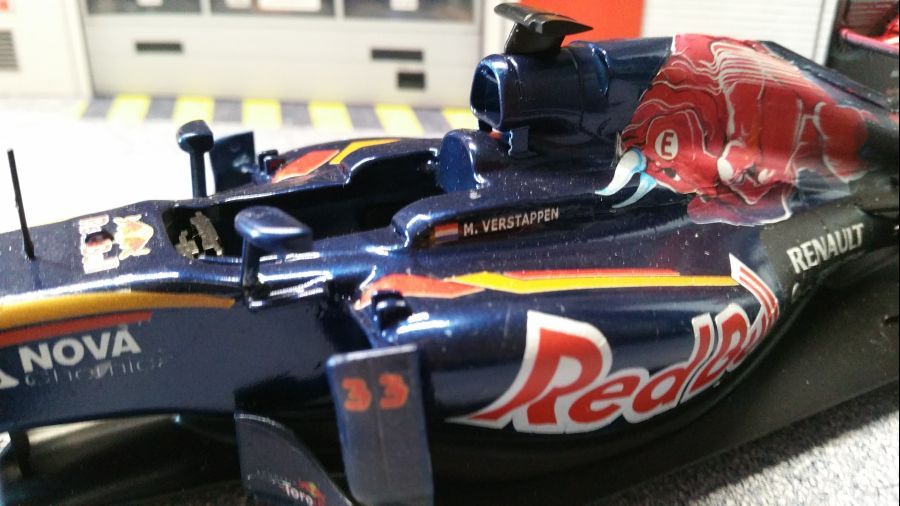 En klaar... Weliswaar niet 100% correct, maar ik ben er zeer blij mee. Wanneer iemand deze wagen alsnog in productie neemt, kan ik die altijd nog kopen.
And done... Although not 100% correct, i am very happy with this one. If a manufacturer decides to produce this one, i am always able to buy that one.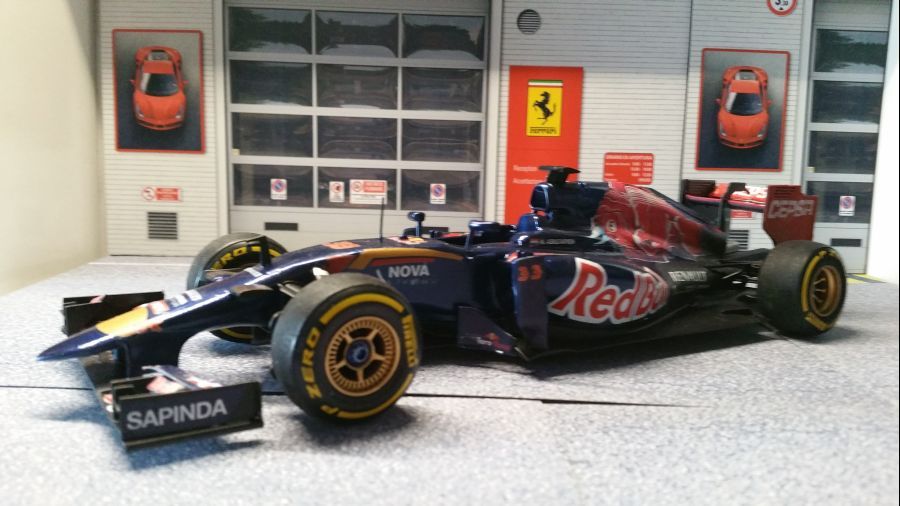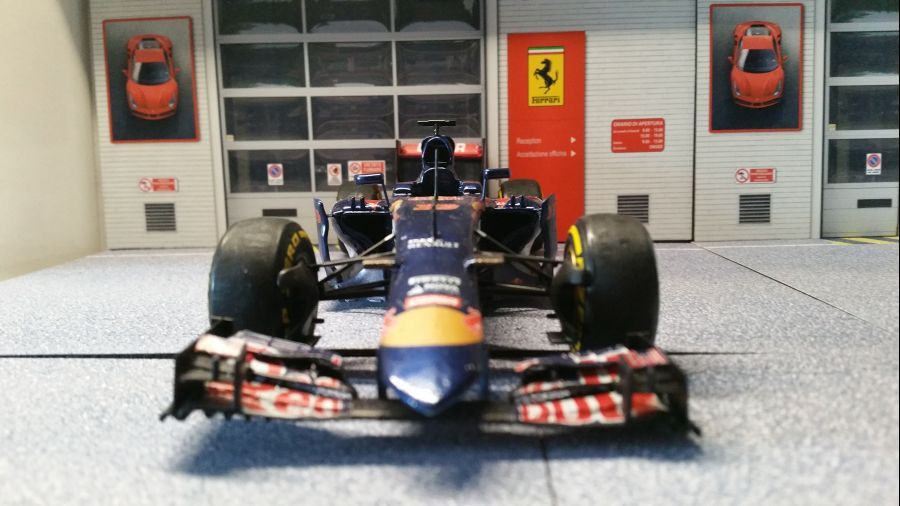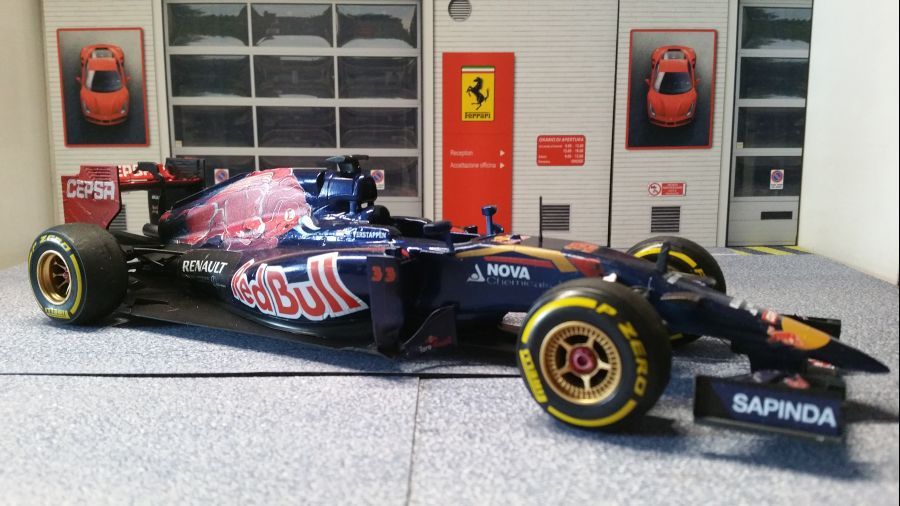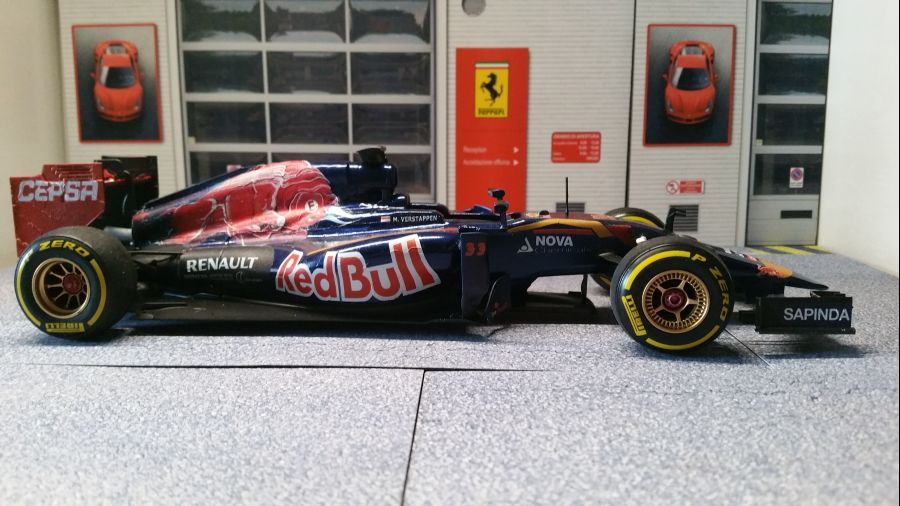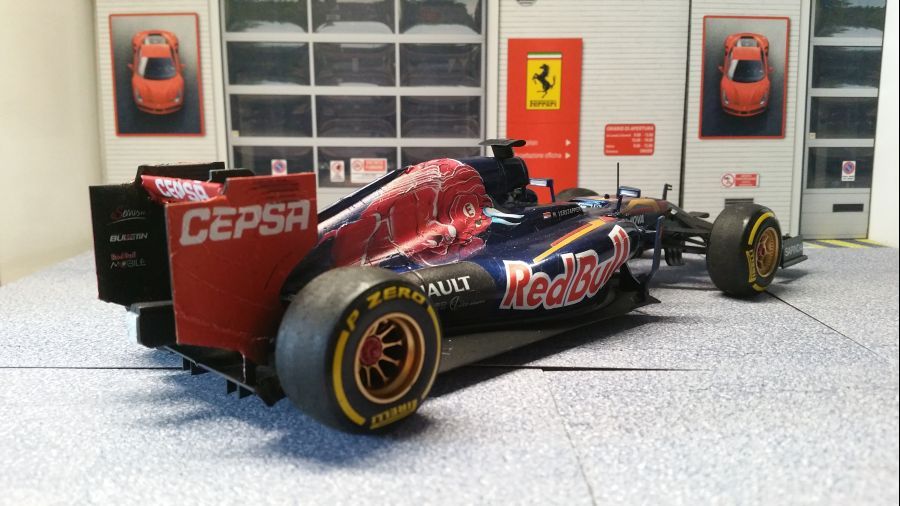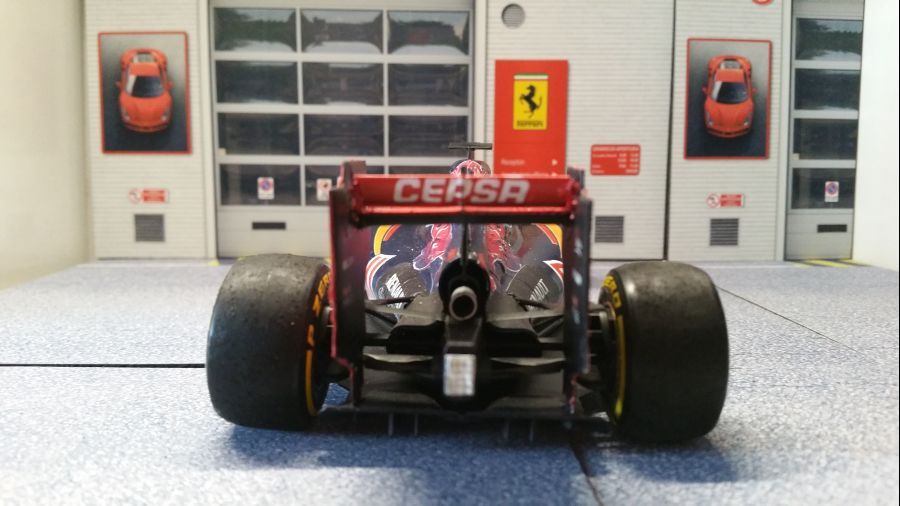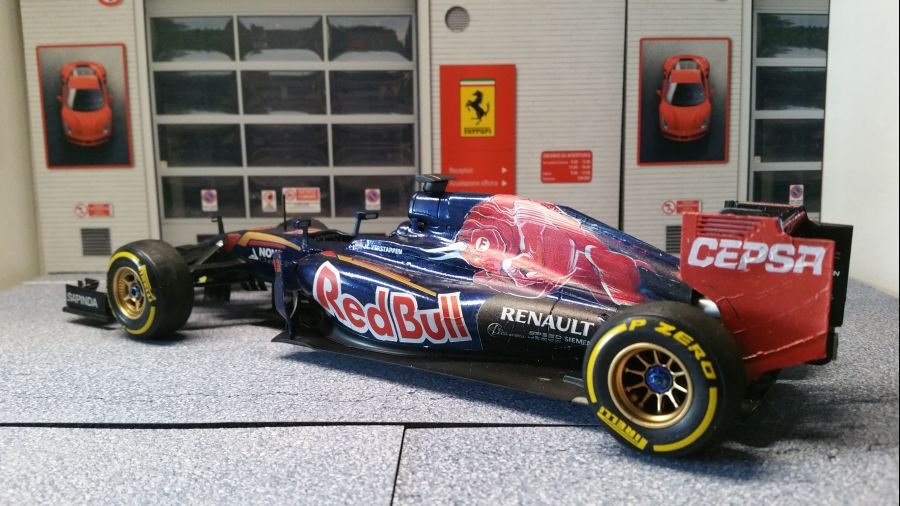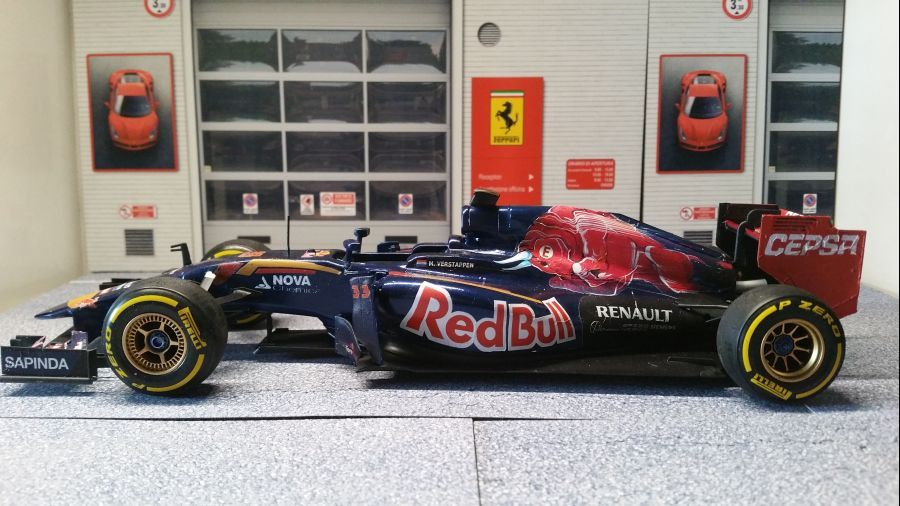 Een uitzondelijk goede kit mag ik zeggen. Ik heb natuurlijk aanpassingen gedaan voor de STR10, maar alles past perfect, zonder problemen. Goed werk van Ebbro.
I can say, a very good kit. Of course i made changes to create the STR10, but everything fits perfectly, no problems at all. Ebbro did a great job.