Ferrari Big (3)
Monday, 17 February 2020 08:16

Written by

Super User

Ik wil in mijn Ferrari 512BB Le Mans Charles Pozzi een zittende coureur zetten. Ik kan nergens een foto vinden van de coureur en zijn outfit in die tijd. Het wordt dus een fantasie figuur. Eerst de onderdelen van deze MFH figuur (kit nr. P-1081).
I want a sitting driver in my Ferrari 512BB Le Mans Charles Pozzi. I cannot find any pictures of the real driver and his outfit. So it will be a fantasy driver. First all parts of this MFH figure (kit no. P-1081.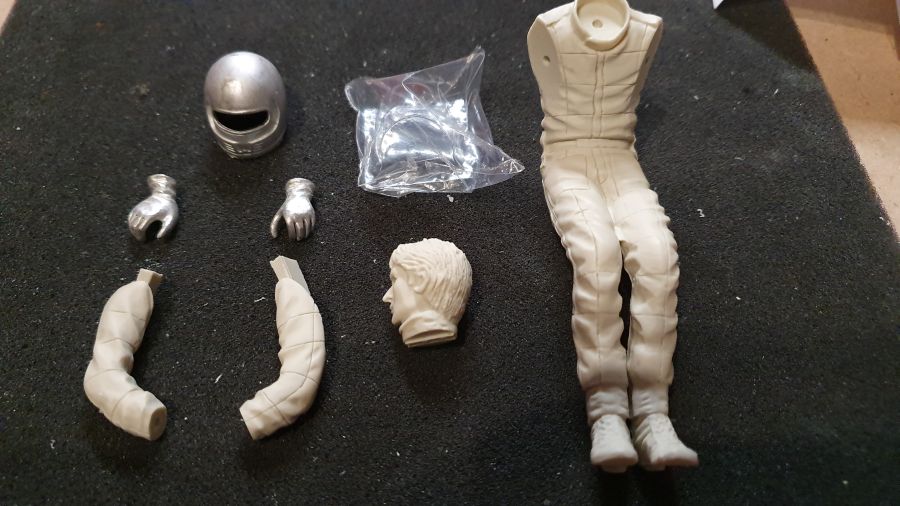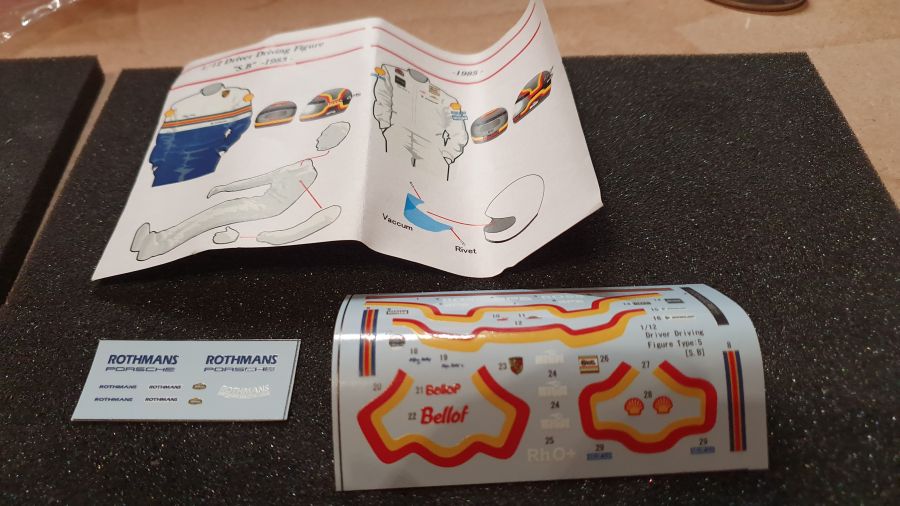 De body behoeft wat werk ter hoogte van de benen.
The body needs some work on the legs.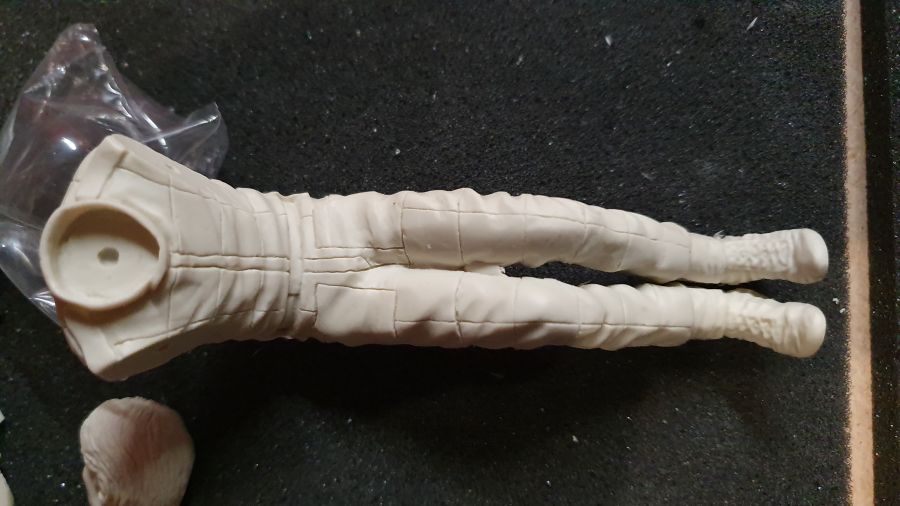 Ook even de stoel passen. Dat is ook niet optimaal.
Also a test fit to the seat. Not ideal.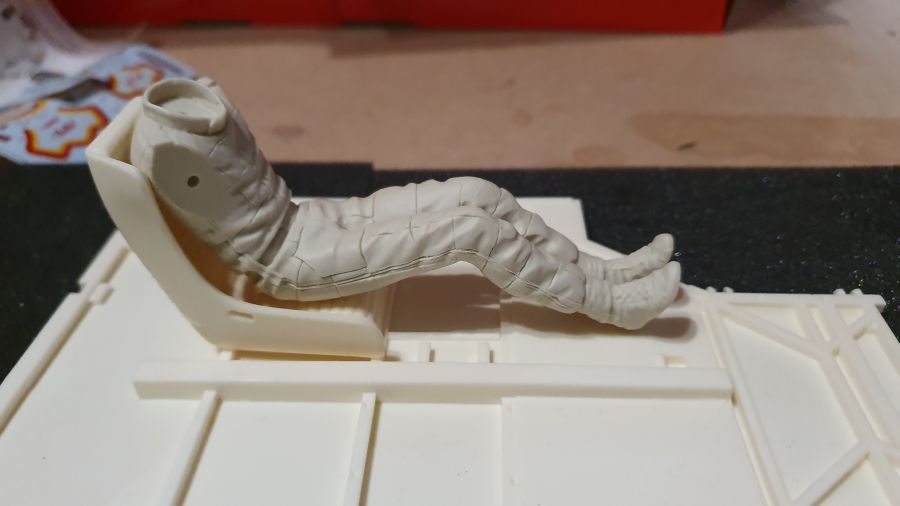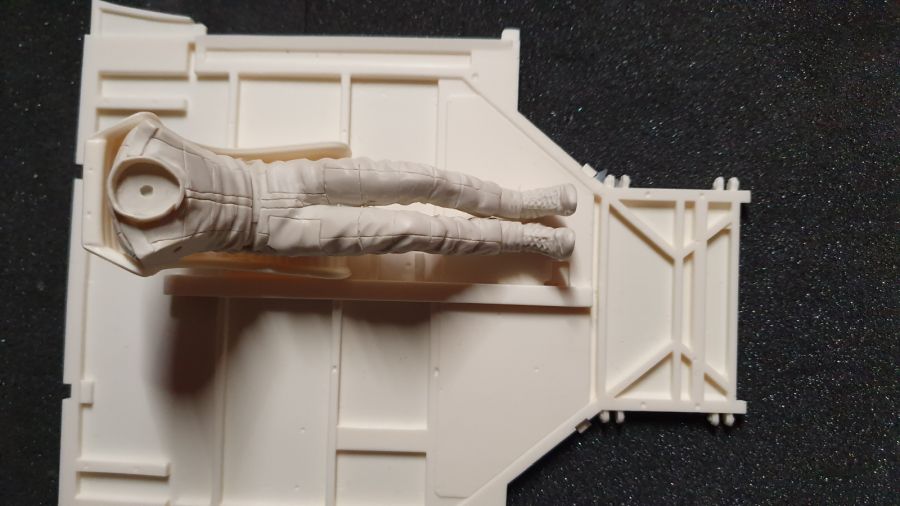 Het kan wel goed volgens mij, maar de benen moeten beter gepositioneerd worden. Dat was te verwachten, want het is een F1 figuur. Ik kon gewoon niets beters vinden.
I think it can be much better, but the legs need a good position. That was to expected as it's an F1 figure. I couldn't find anything better.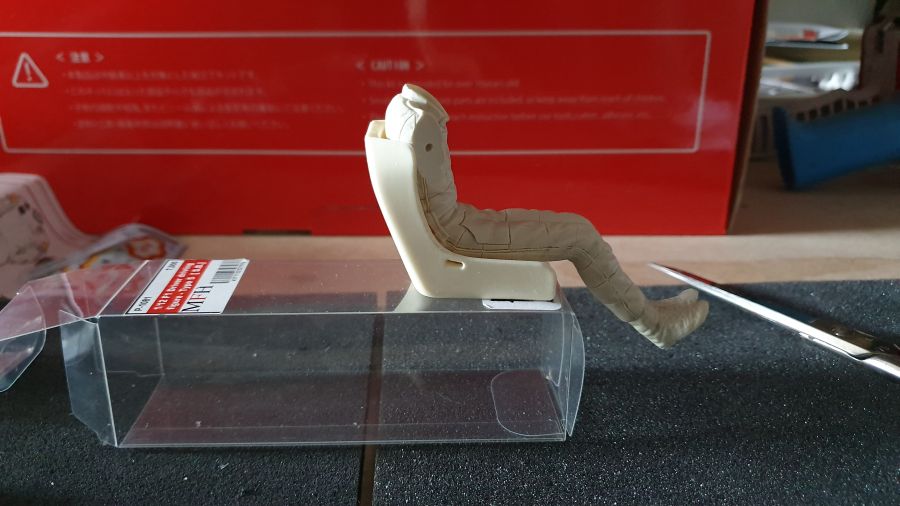 Het teveel aan kunsthars is verwijderd en gaten zijn geboord.
The excess resin has been removed and holes have been drilled.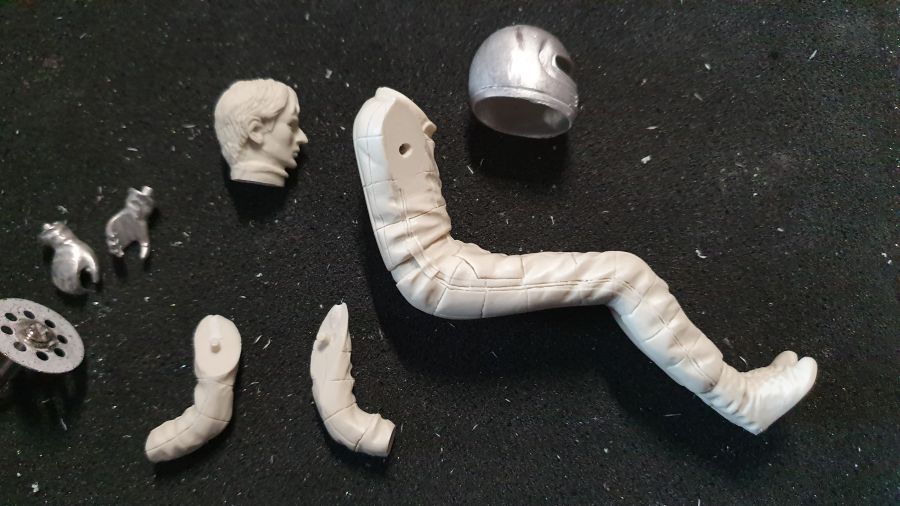 De insnijdingen worden gemaakt om de benen wat meer te strekken. 
The cuts are being made to be able to stretch the legs.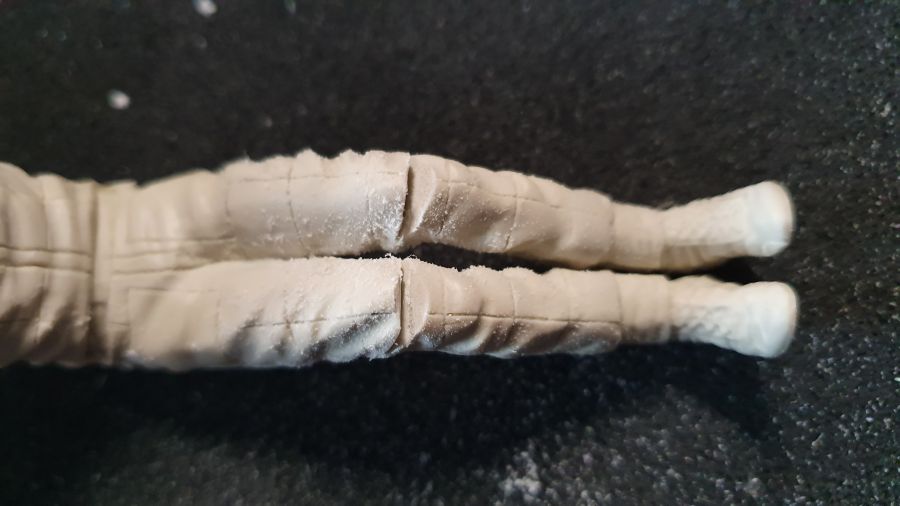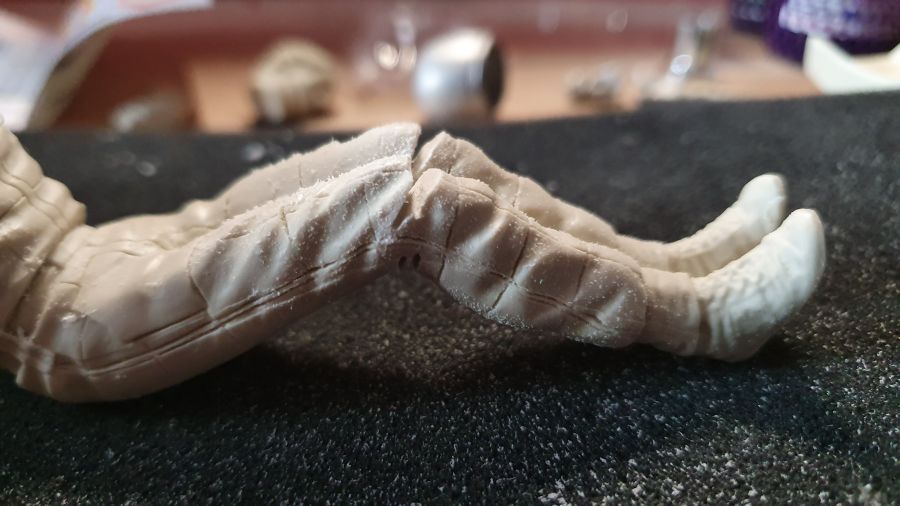 Helaas was het water niet daarna net heet genoeg. Of de sneden waren niet diep genoeg. De benen braken in ieder geval af. Geen ramp op zich... De houding is in ieder geval beter.
Unfortunately after this the water wasn't hot enough. Or the cuts were not deep enough. The legs broke off. No disaster... At least the position is better.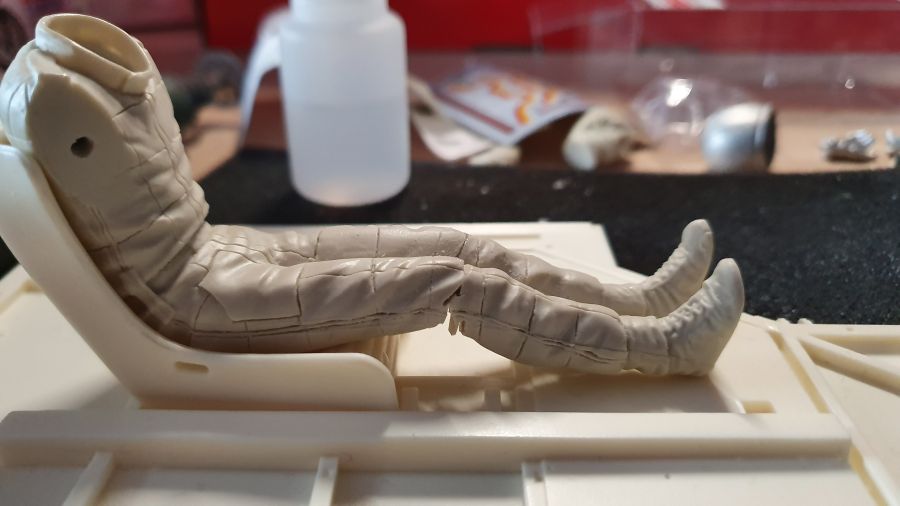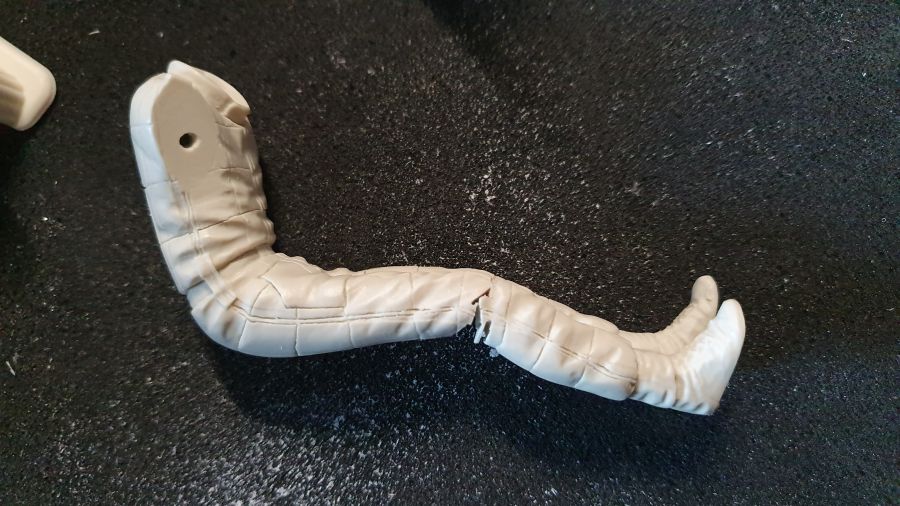 Het tandartsgereedschap komt erbij om te vullen.
The dentist tools are used for filling.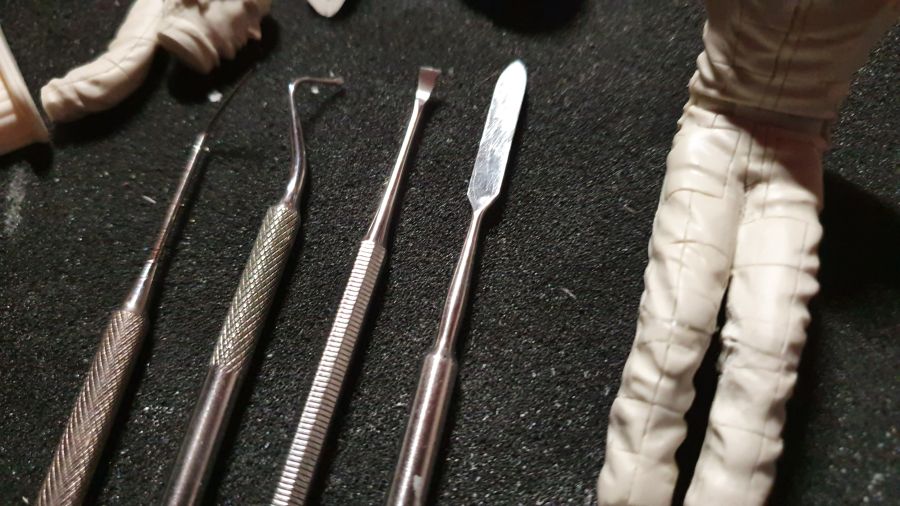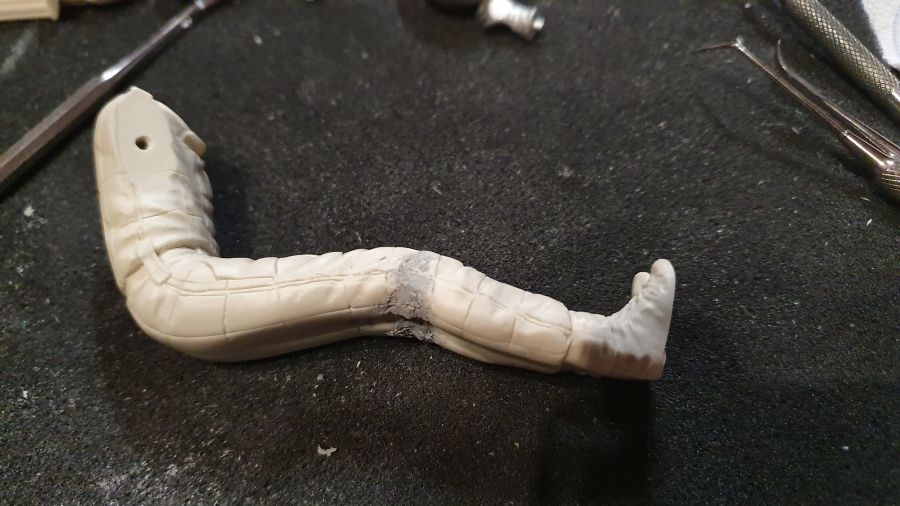 Dan modelleren met de nagelbewerkingslijpset.
Then modelling it with the nail polishing set.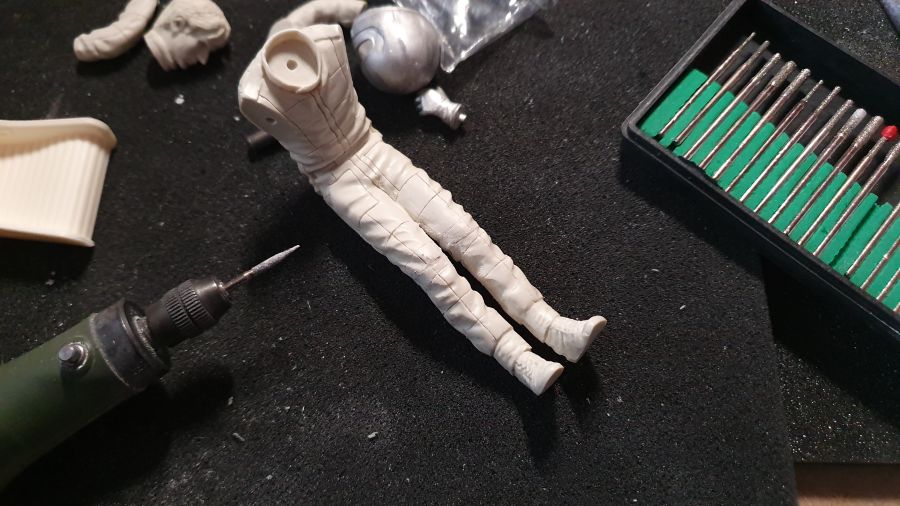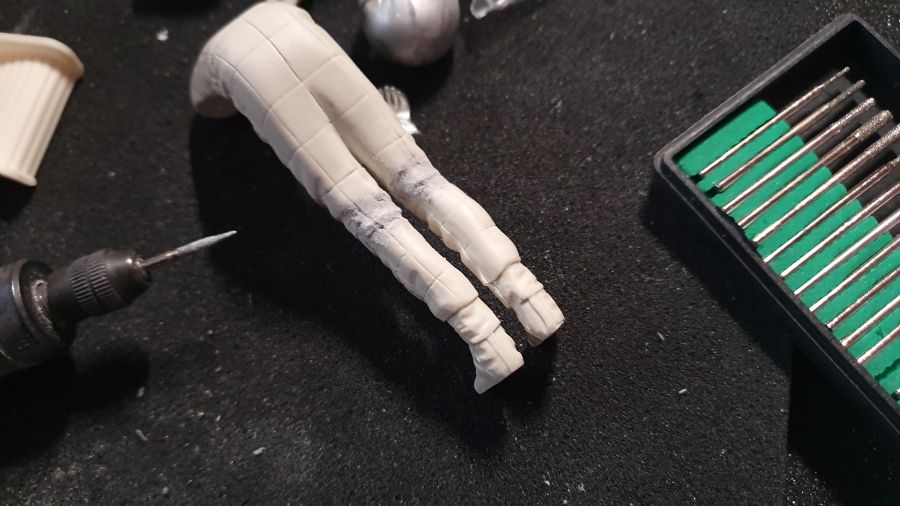 Beter! Nog wat ruimte over omdat de stoel nog op steunen komt te staan.
Better! Still some space because the seat will be higher on some supports.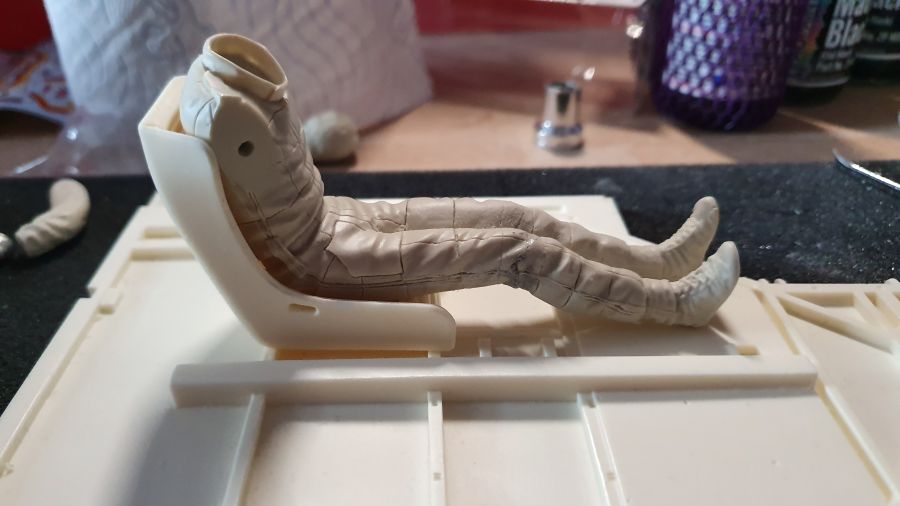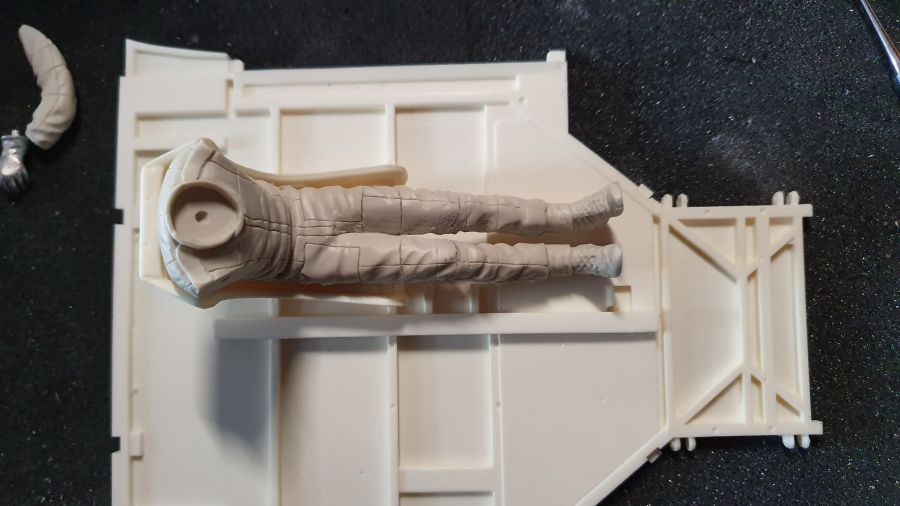 Nu bedenken of ik ga handverven of airbrushen...  Dit werk heb ik not nooit met airbrush gedaan.
Now thinking, or hand painting or airbrushing... I have never done this before with an airbrush.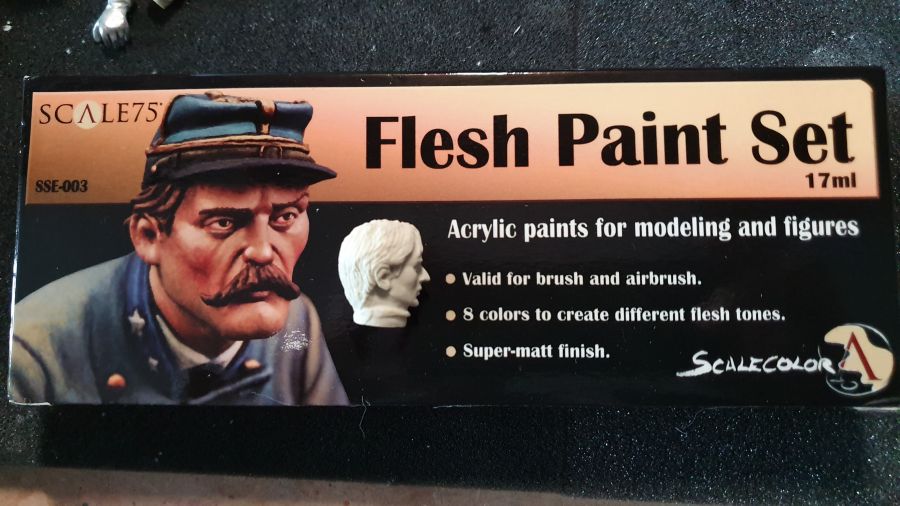 Een kurk en een cocktailprikker bewijzen weer hun dienst...
A cork and a toothpick show their service....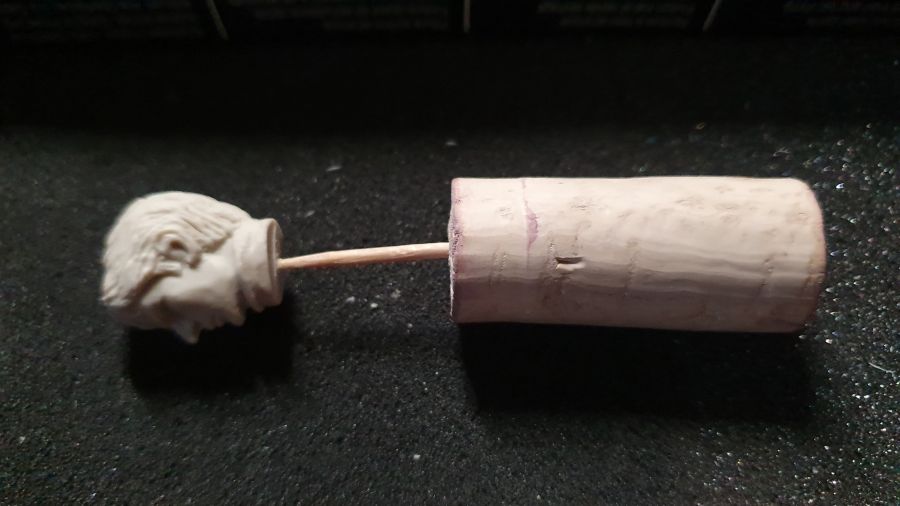 Oeps, net op tijd zie ik dat het glas erg beschadigd is. Allemaal scheuren. Maar goed dat ik niet loop te schudden met het metalen kogeltje erin. Het zou een bende kunnen worden.
Oops, just in time i noticed al kinds of cracks in the glass. Happy i am not shaking this with the metal ball inside. Could be a mess.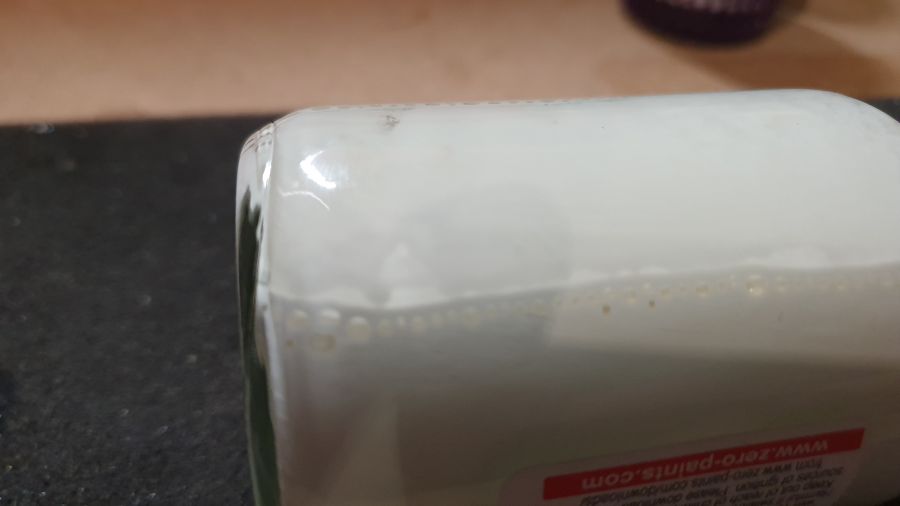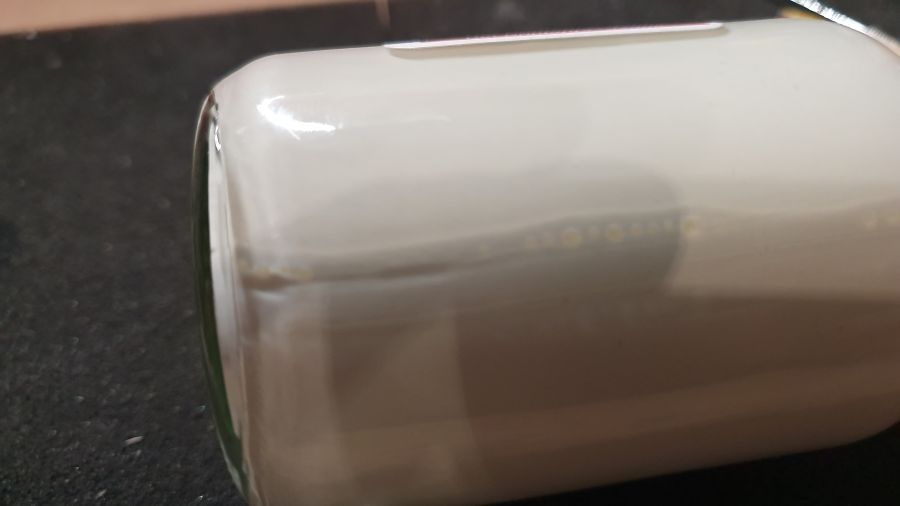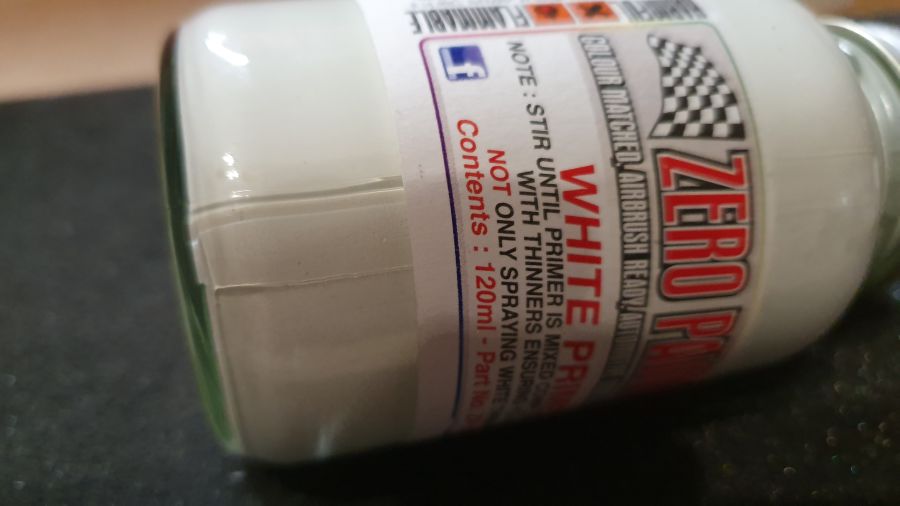 Alles zit nu in de primer.
Everything received a coat of primer.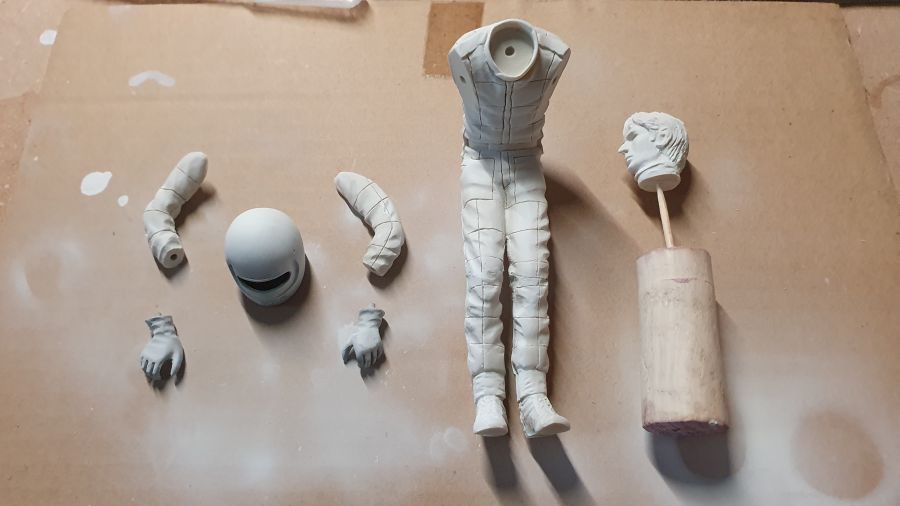 De naden van het pak worden zwart ingekleur.
The seems of the suit get a black paint.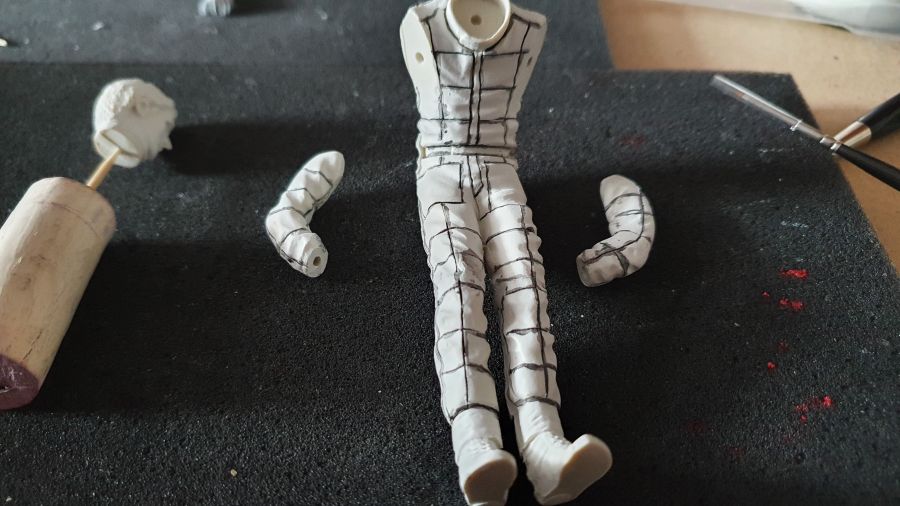 En het hoofd.
And the head.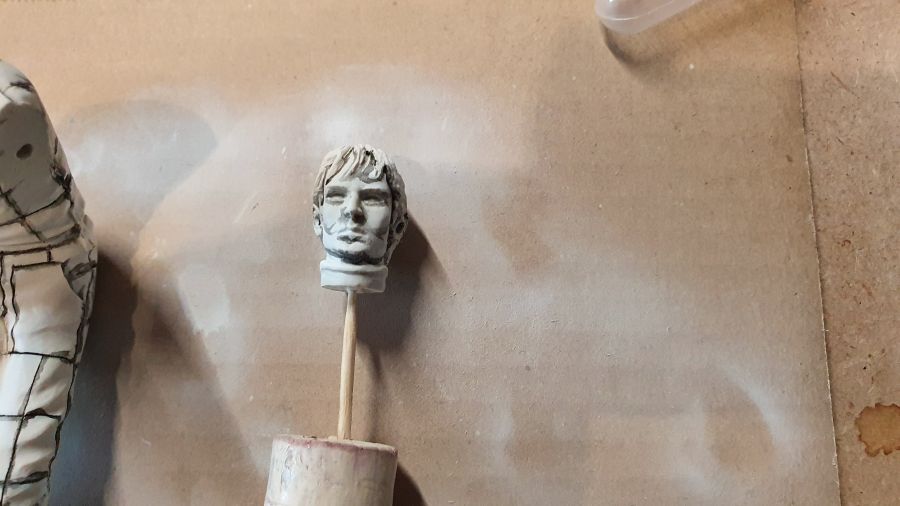 Gespoten met Valejo 889 Dark Prussian Blue.
Painted with Valejo 889 Dark Prussian Blue.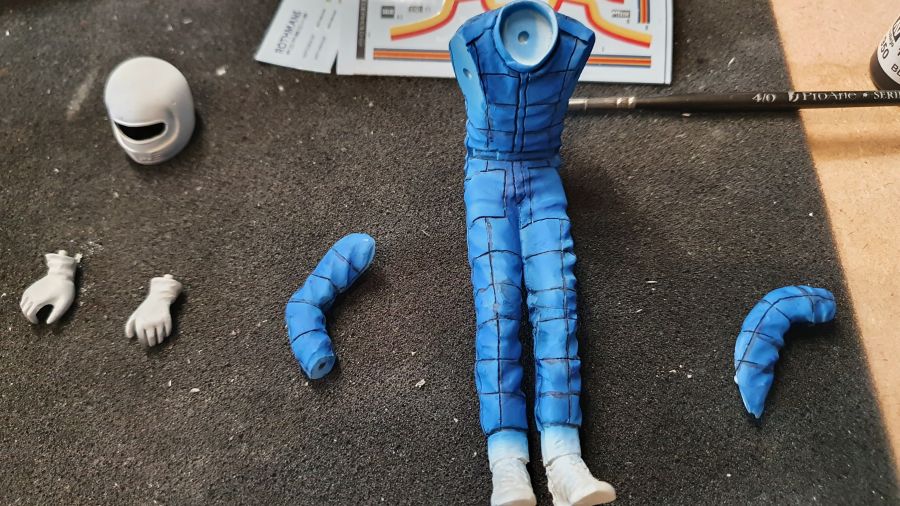 Nog een 2e laag en het hoofd voorbereiden.
A 2nd layer and preparing the head.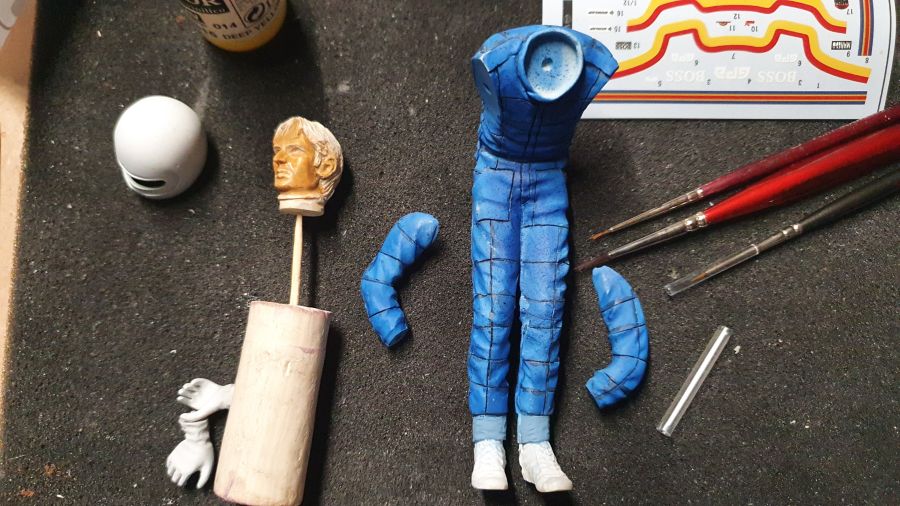 Het pak en de armen krijgen een wat donkerdere tint in de lager gelegen delen.
The suit and the arms get a darker blue colour in the lower areas.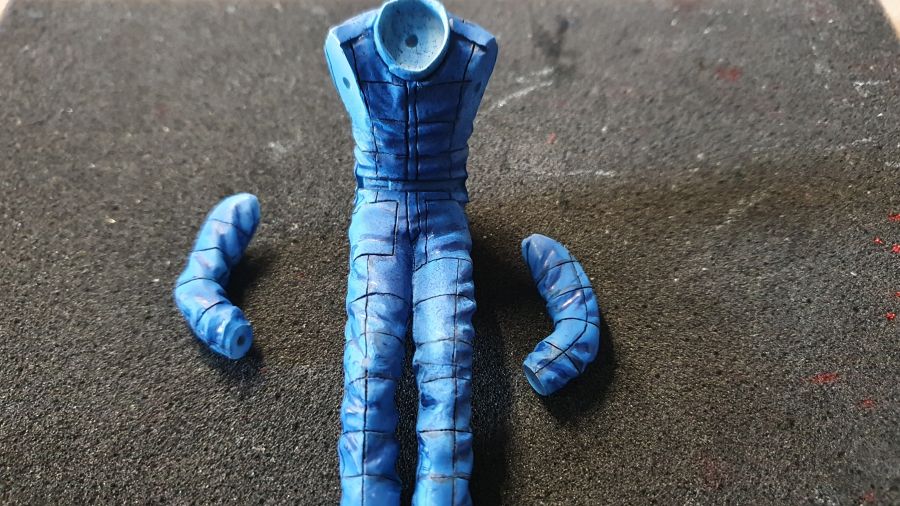 Het gezicht krijgt een lichtere vleeskleur op de bovenkant van de neus, jukbeenderen enz.
The face gets a lighter colour of flesh on the top side of the nose, cheek bones etc.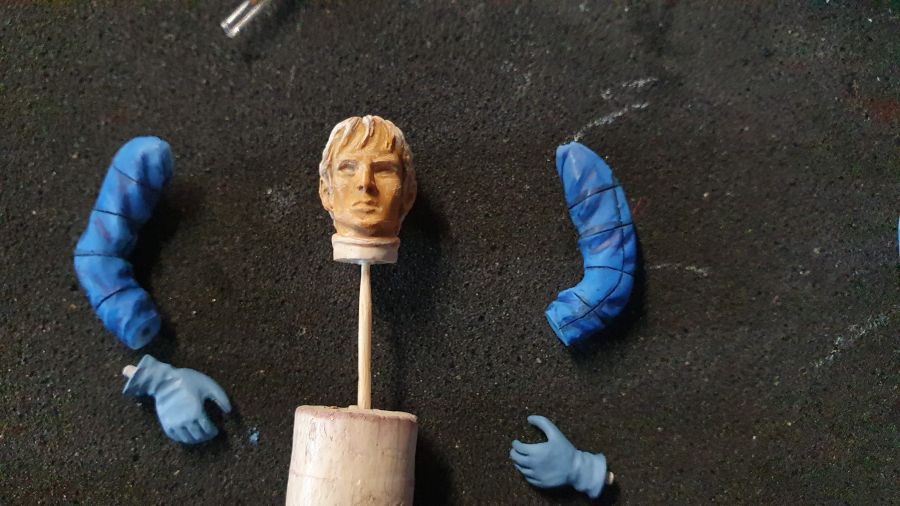 Dan de lichte plekken op het pak...
Next are the bright spots on the suit...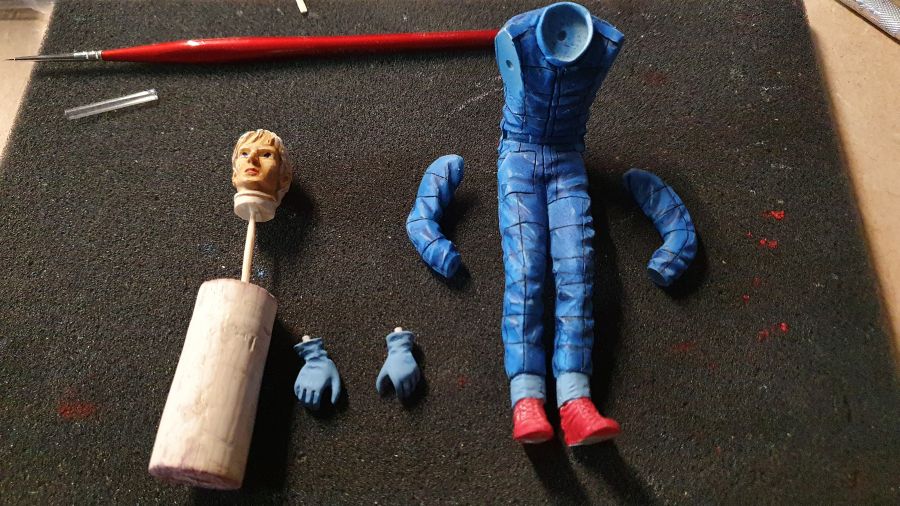 En de eerste stappen aan het haar...
And the first steps to the hair...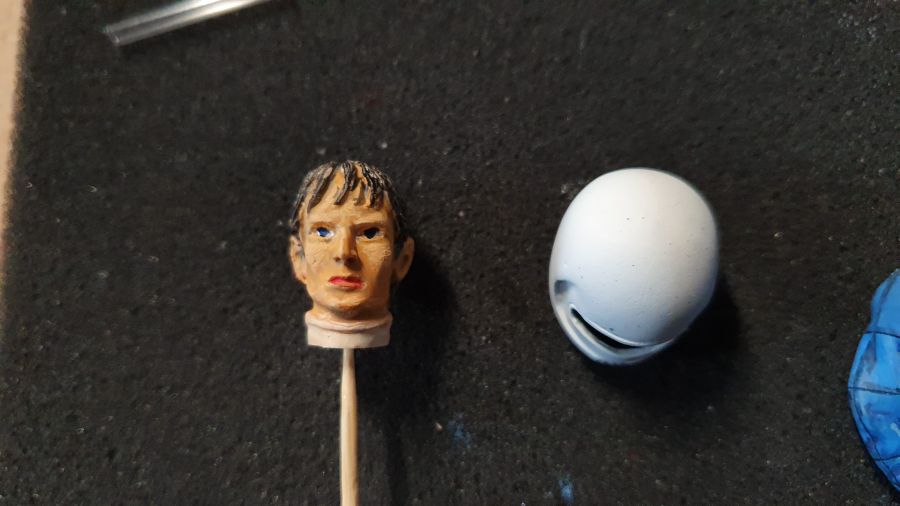 Na het zwart, 3 verschillende kleuren bruin en nog eens weer wat zwart.
After the black, 3 different shades of brown and then some more black.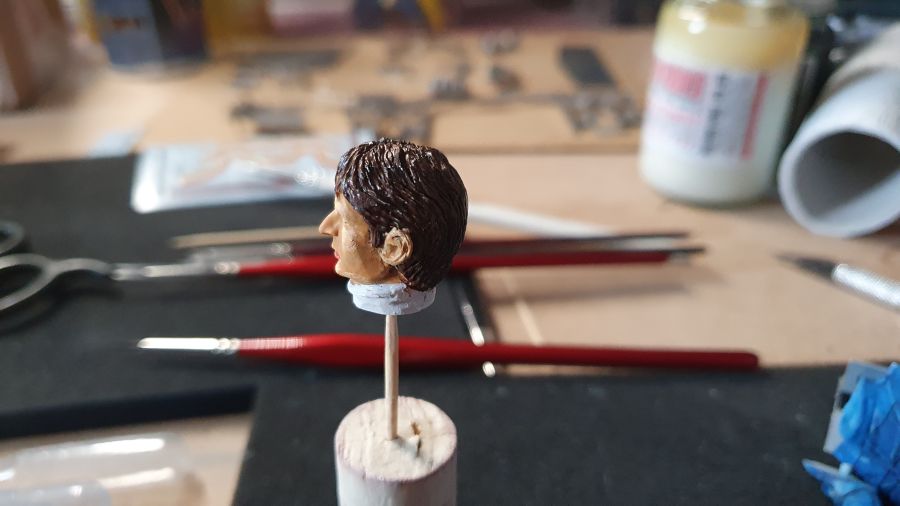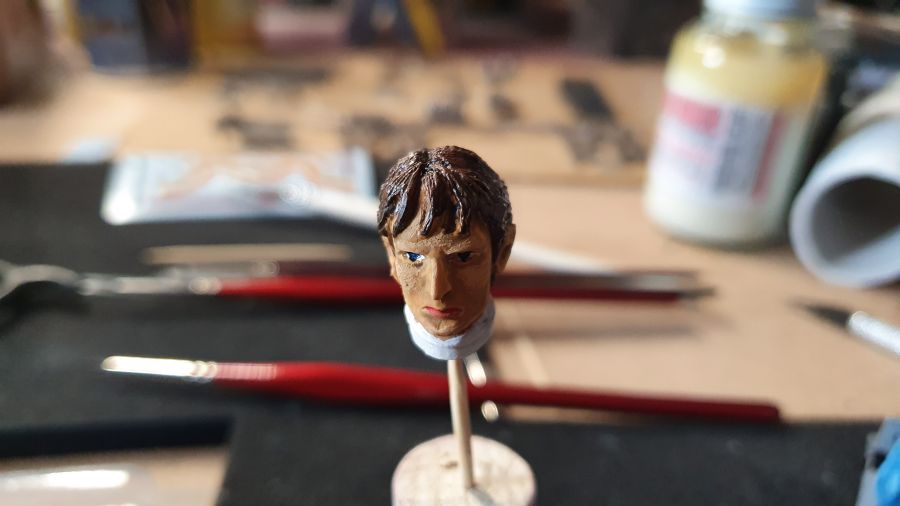 De positie van de handen komt later. Eerst moet de helm goed drogen.
The position of the hands will come later. First the helmet needs drying time.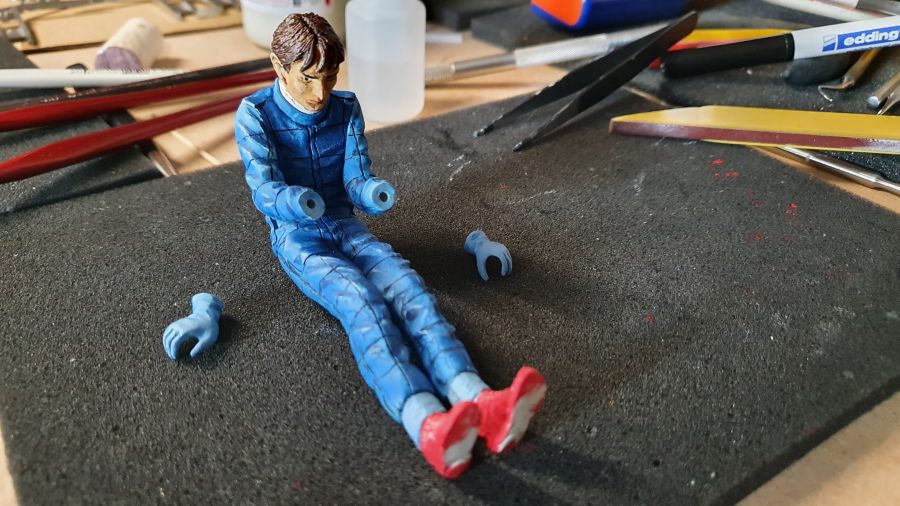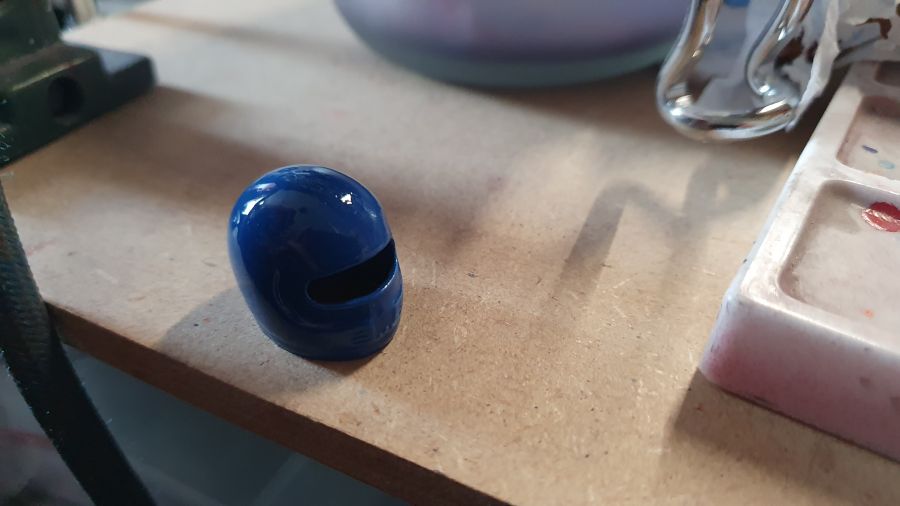 Ik maak een mal voor het knippen van het vizier.
I am making a template for cutting the visor.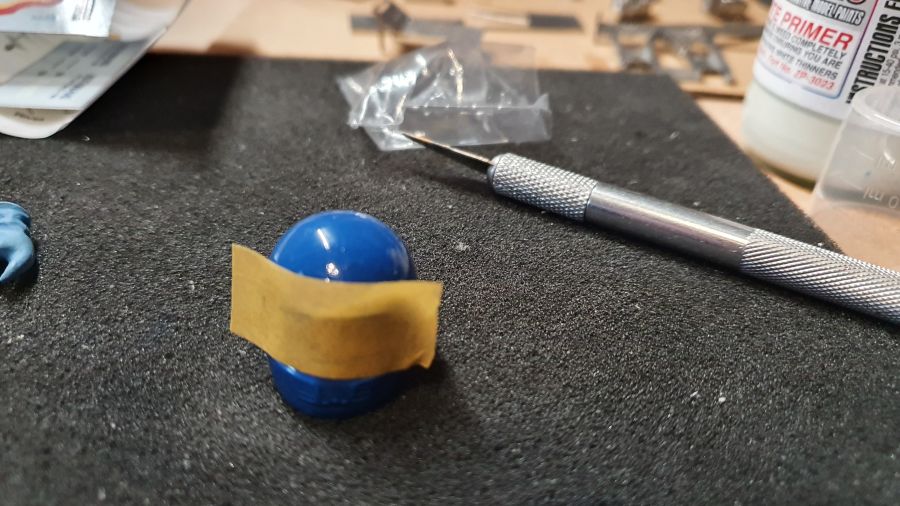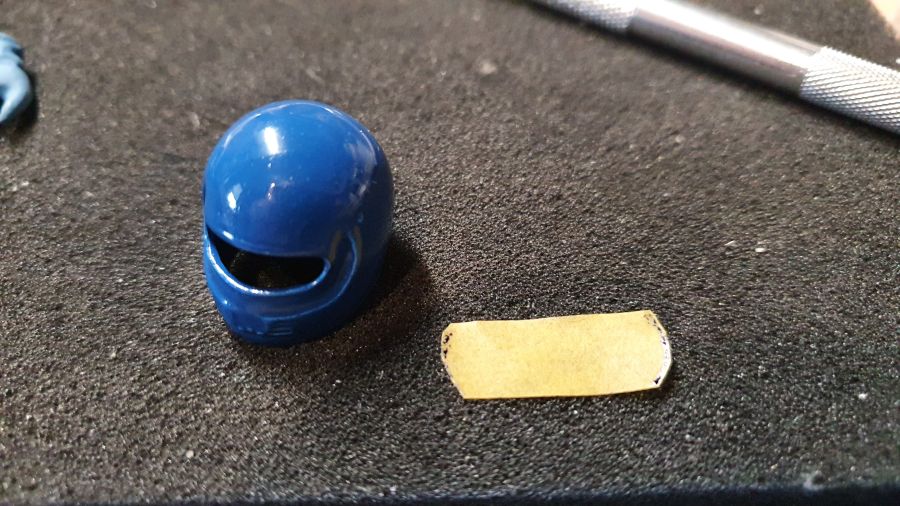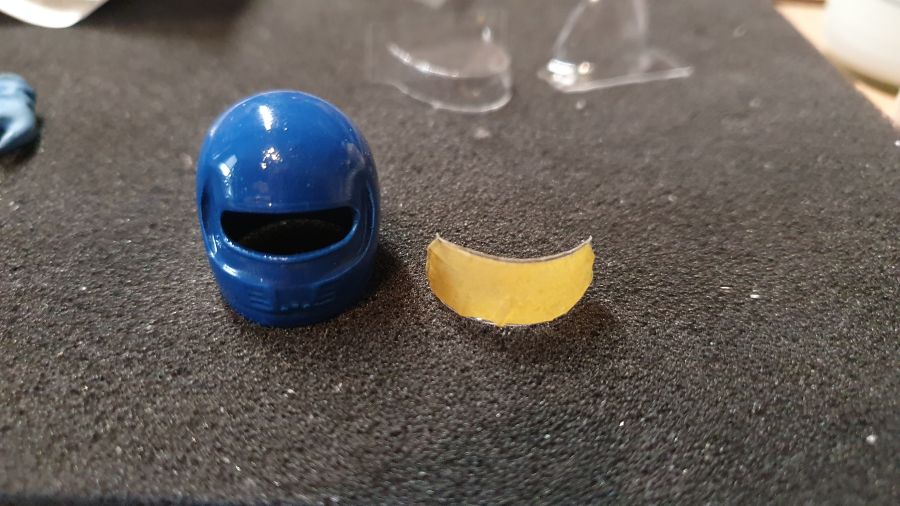 Dan plak ik wat decals naar eigen inzicht, omdat ik geen voorbeeld heb van de coureur uit die tijd. Ik weet niet zeker of ik het vizier moet plaatsen. Ik zie op foto's ook coureurs die geen vizier op de helm hebben.
Then i am adding some decals to my own view, as i don't have an example of the driver at that time. I am not sure if i will mount the visor. I see pictures of drivers that have no visor on their helmet.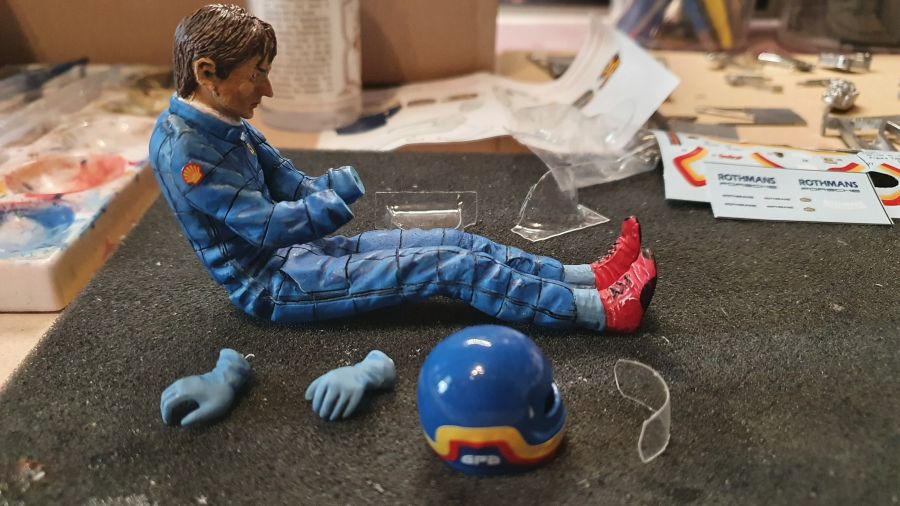 Ik heb contact gehad met een vriend. Deze geeft aan dat inderdaad zonder vizier werd gereden in de sportscars. Deze kan ik dus weglaten. Dit is een beetje het idee dat ik had.
I had contact with a friend. He acknowledges that in the sports cars the drivers had no visor. So i can leave it. This is the idea i had.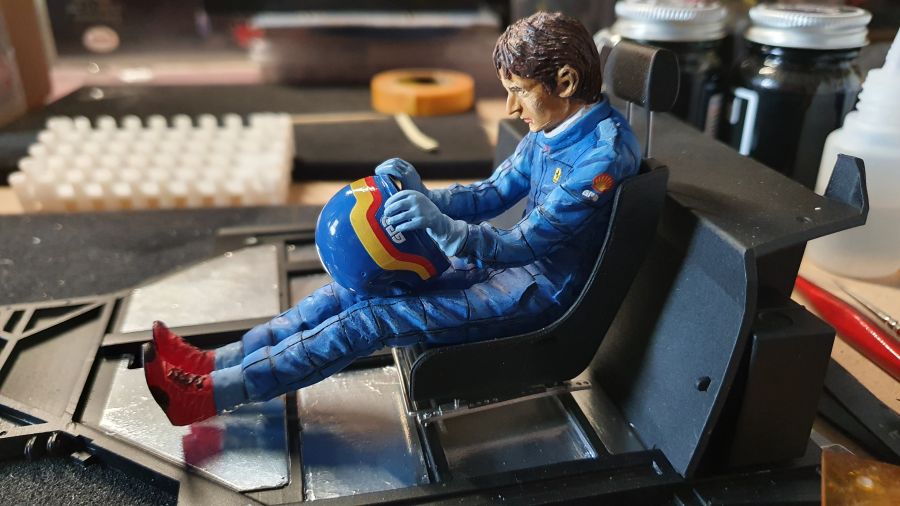 Monday, 10 February 2020 05:21

Written by

Super User
Link naar deel 1 / Link to part 1
Dan de voorkant alvast voor een deel in elkaar zetten.
Next is assembling the front partially.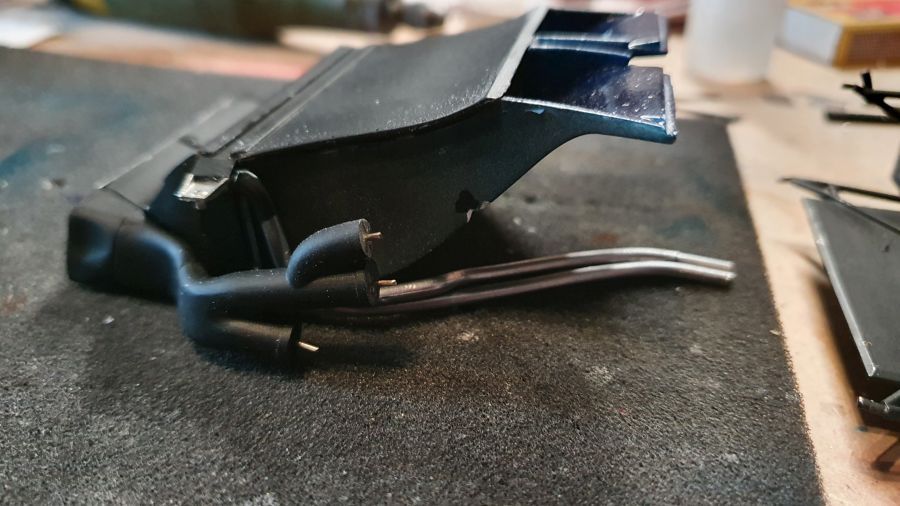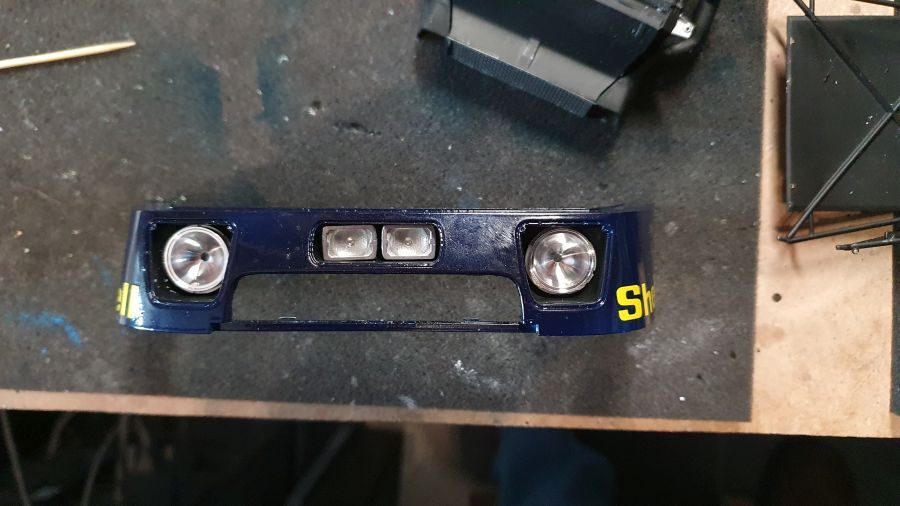 Een 'lampje' schoot door de kamer heen en weg dankzij het 'tapijtmonster'. Ik probeer nieuwe te maken van een drup superlijm.
A 'light bulb' flew through the room and gone thanks to the 'carpet monster'. I am trying to make new ones out of a drop of super glue.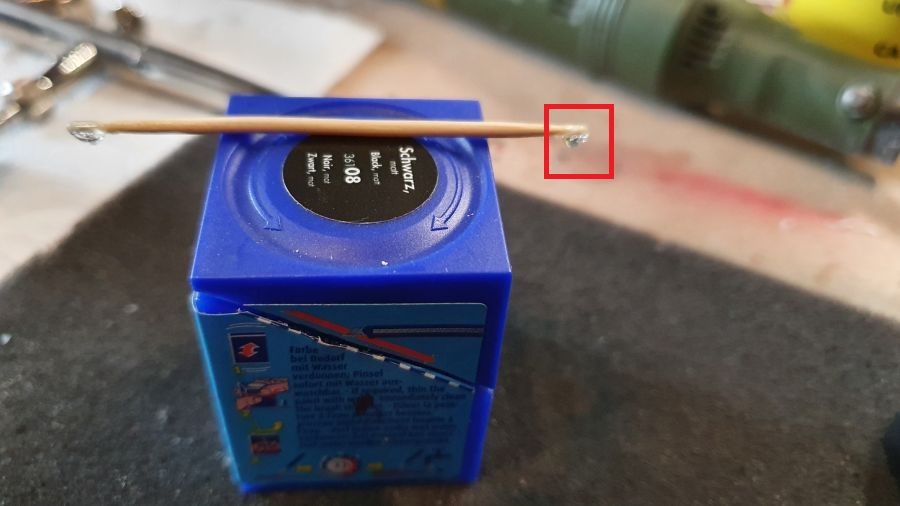 Dat werkte dus niet. Gelukkig kan ik weer een duik in de rommelkist maken... Ik maak de voorkant nog niet helemaal klaar in verband met het poetswerk dat nog gaat komen.
That didn't work. Luckily i can take a dive in my scrap box... I am not finishing the front as there will be some polishing work ahead.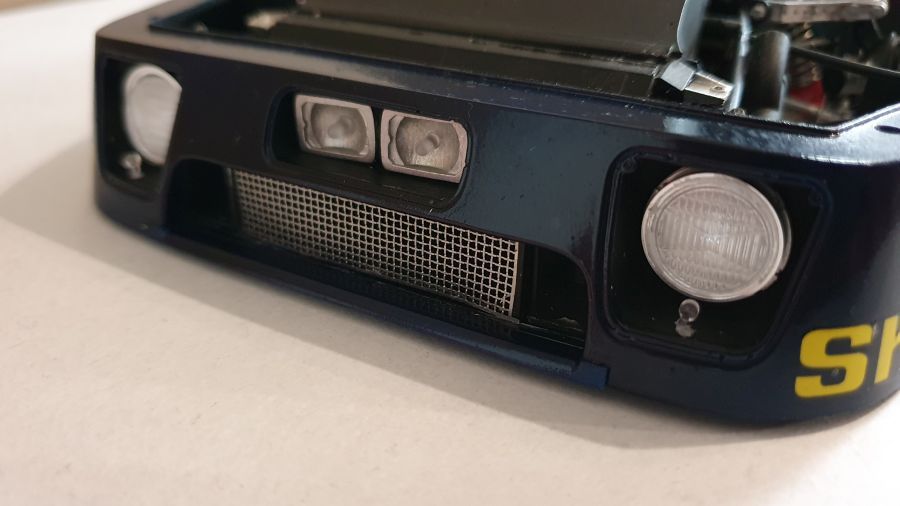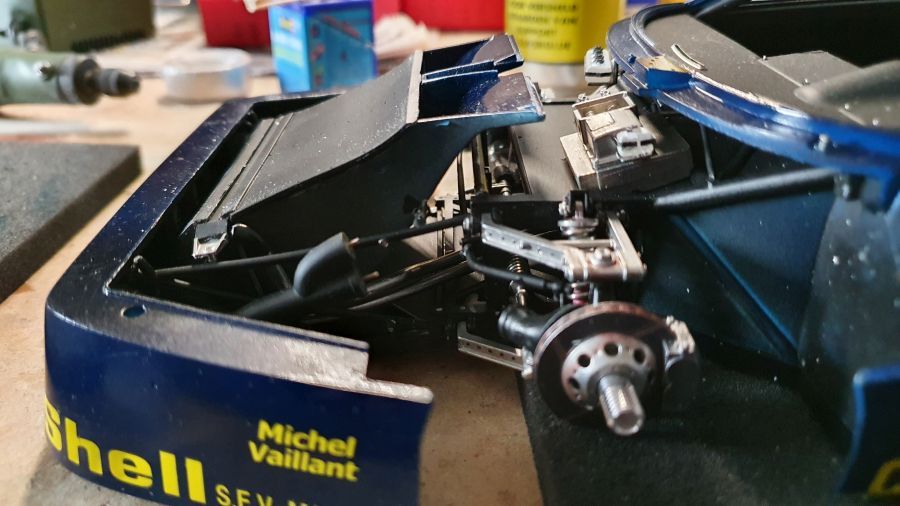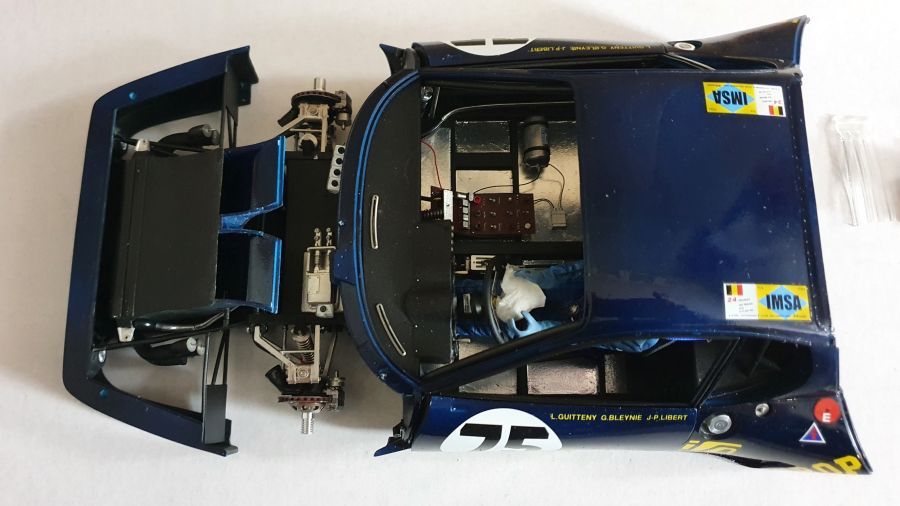 Nu eerst de wielkasten en slangen en dan wat detailwerk aan de voorkant waar MFH niet in voorziet.
Now first of all the wheelhouses and hoses and then some more detailing that MFH didn't provide.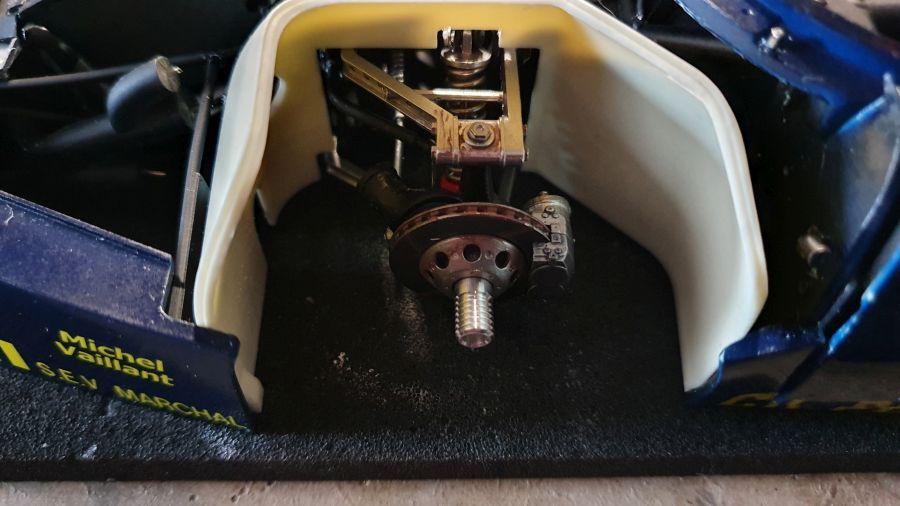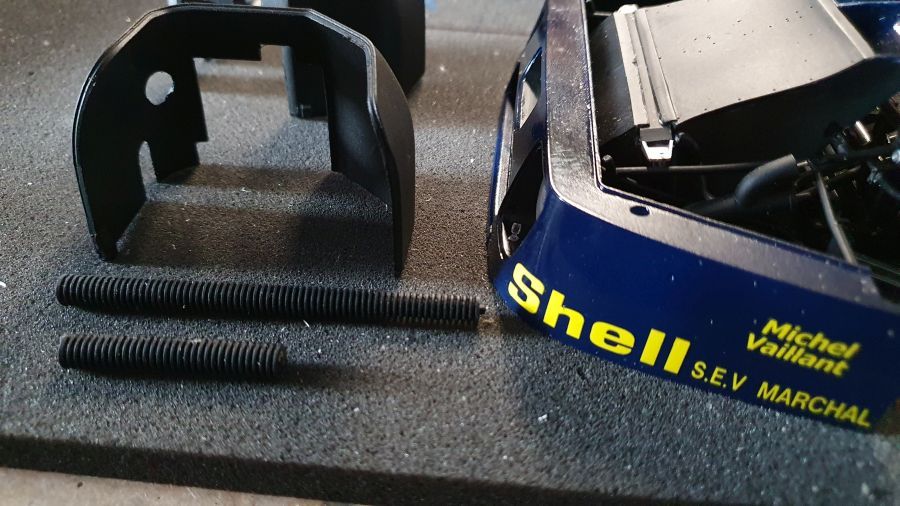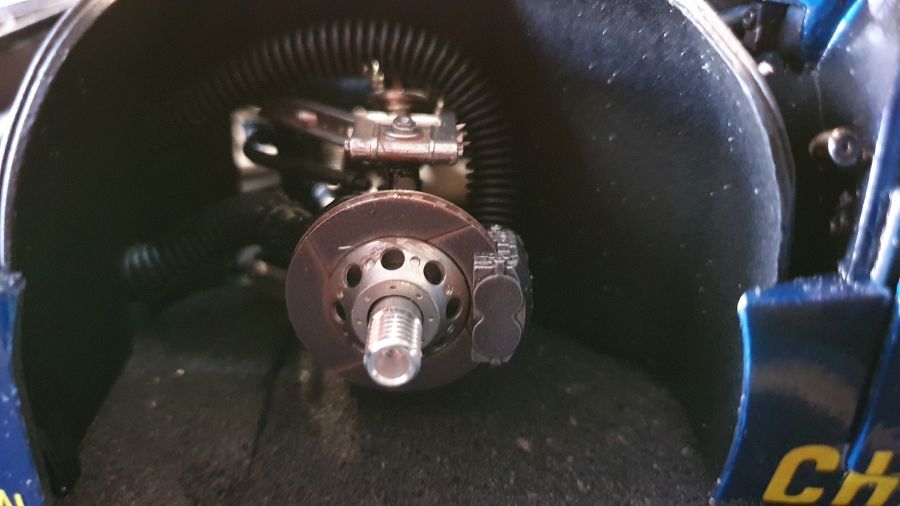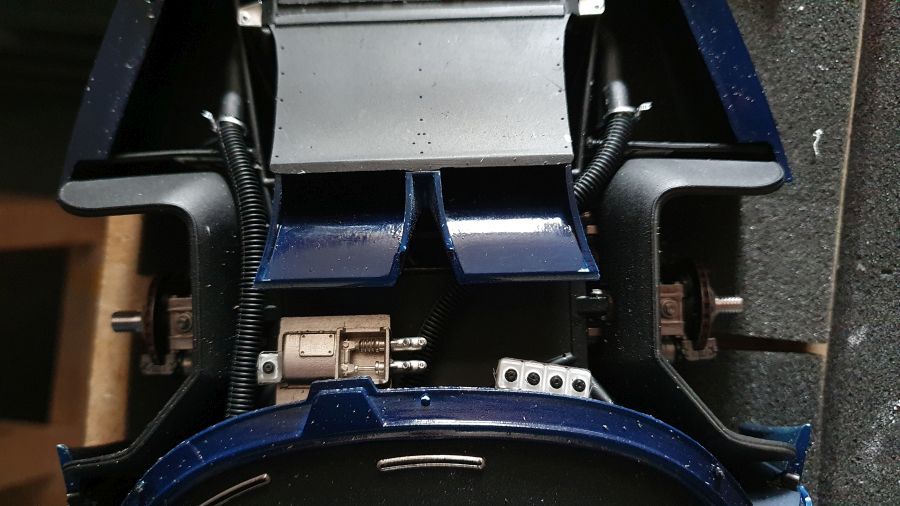 Meer soldeerballetjes geplaatst (0.55).
More solder balls added (0.55).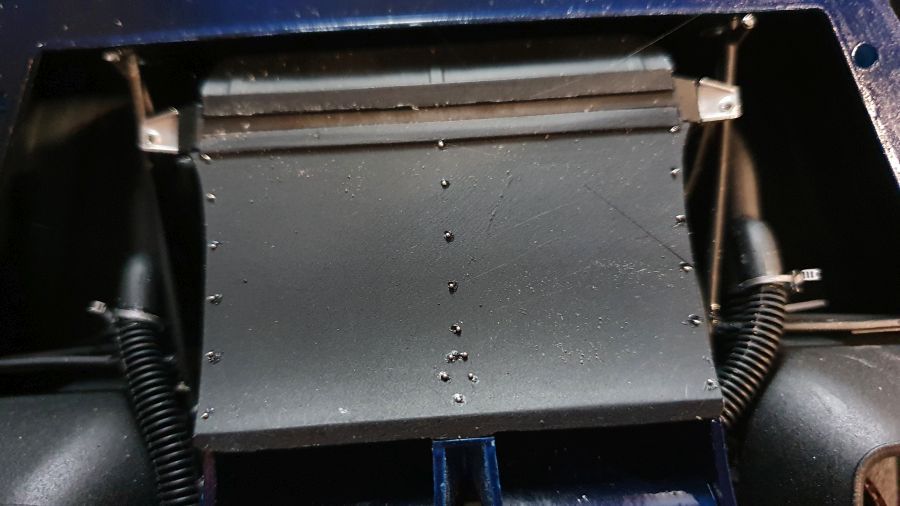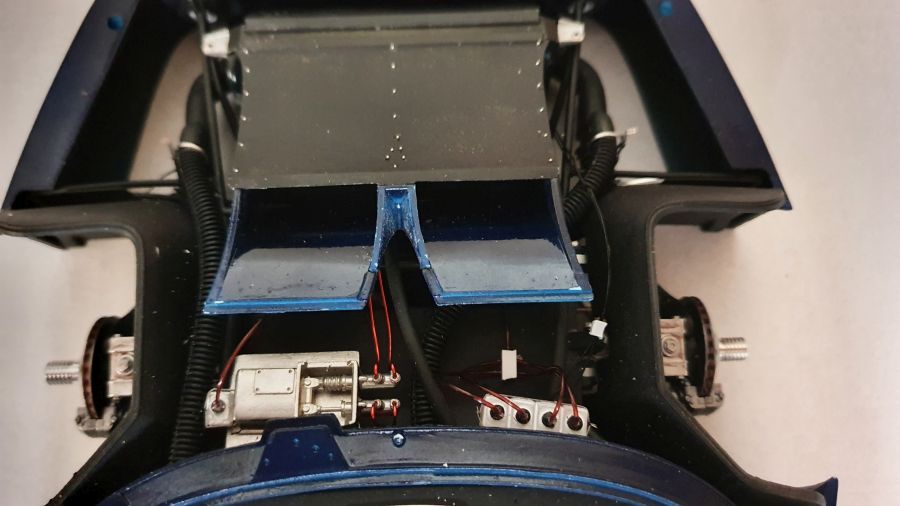 Nu de achterste helft. Verder met de motor...
Now the rear parts. To continue with the engine...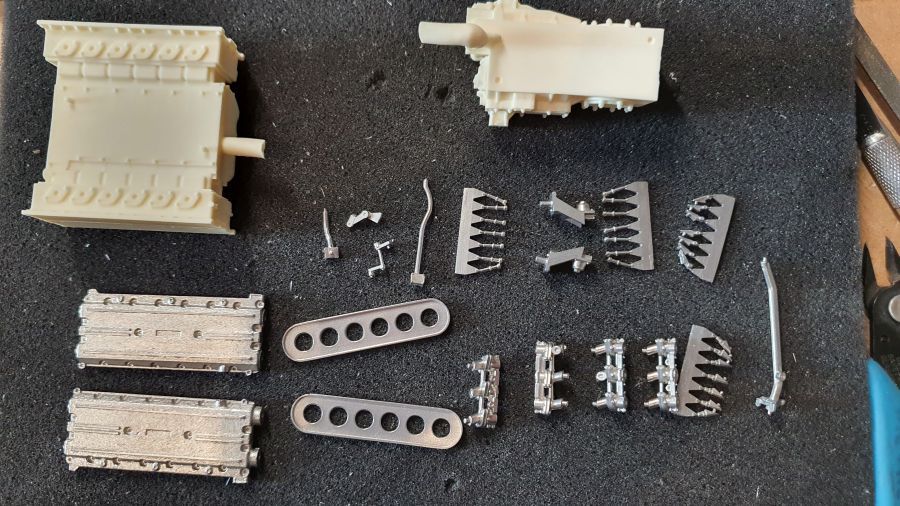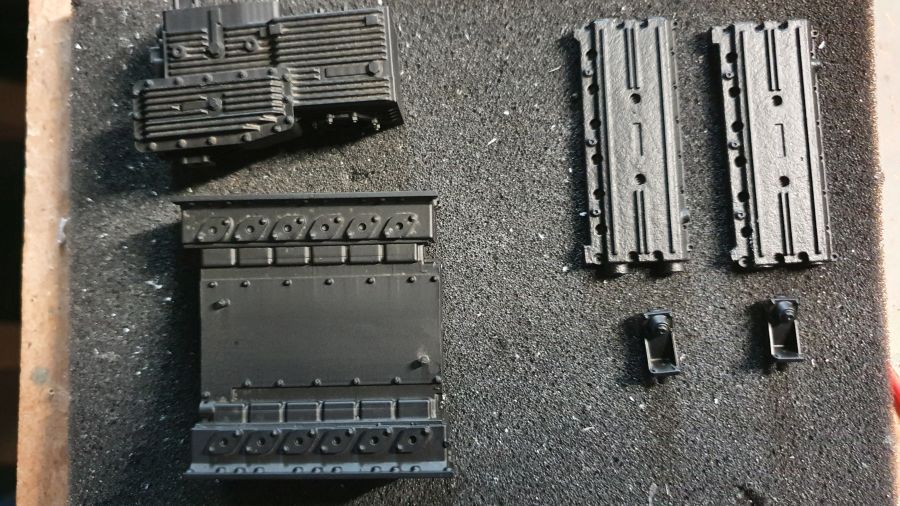 Ik gebruik medium aluminium voor de motor. Zero Paints ZP-M1003. Ik vind het toch te donker. Je kunt het niet goed zien op de foto, maar het is meer grijs.
I am using medium aluminium for the engine. Zero Paints ZP-M1003. I think it's too dark. You can't see it well on the photo, but it's more grey.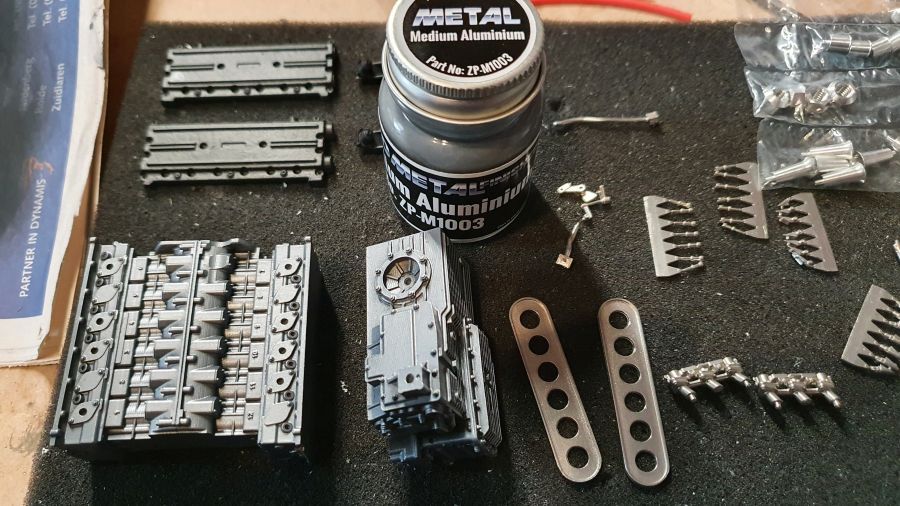 Bij nader inzien dus toch maar aluminium. Zero Paints ZP-M1009. Ik vind het beter.
On 2nd glance i will do aluminium. Zero Paints ZP-M1009. I think it's better.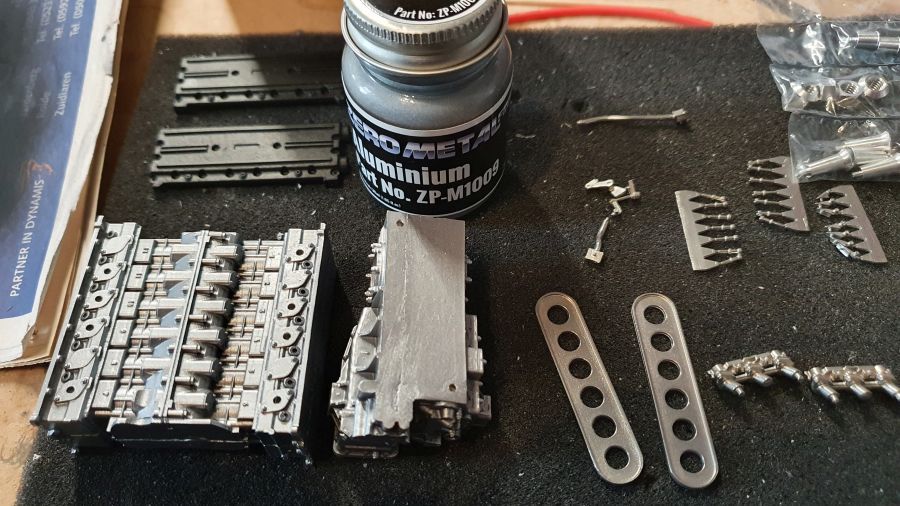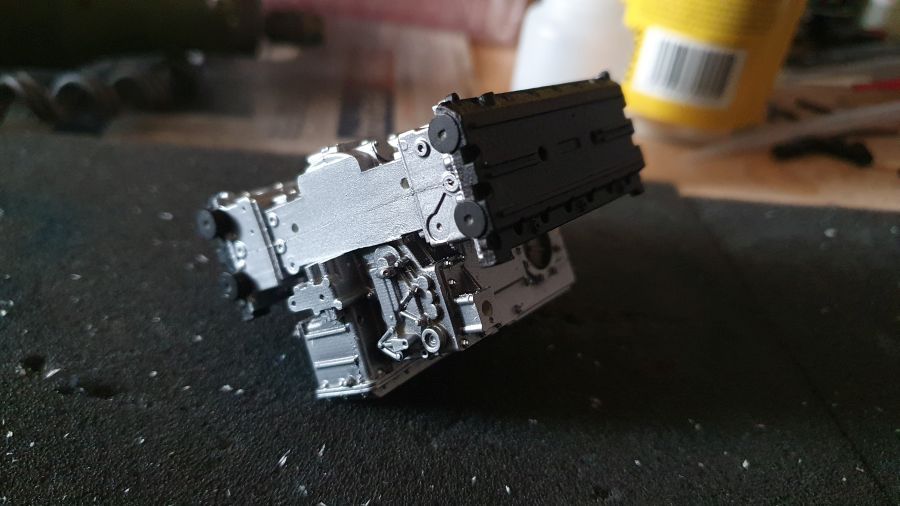 Dan de moeren plaatsen...
Adding the nutters...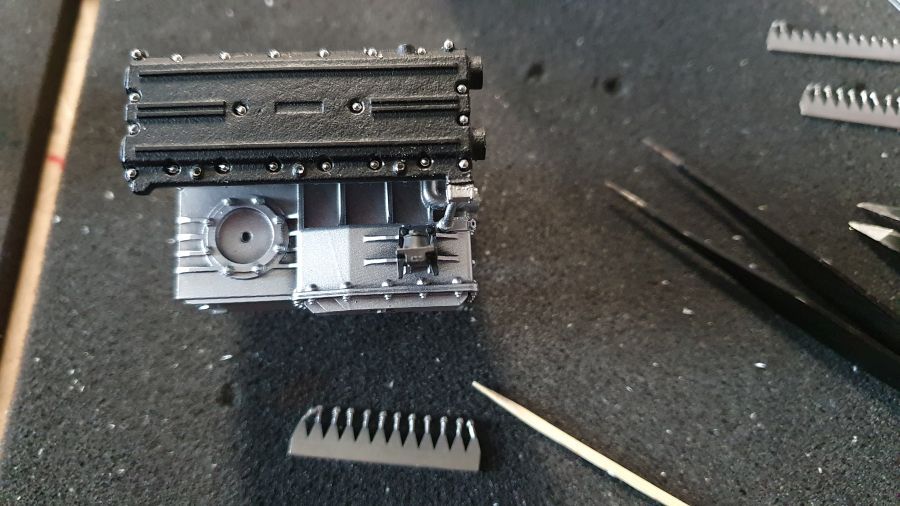 Dan de rest...
Then the rest...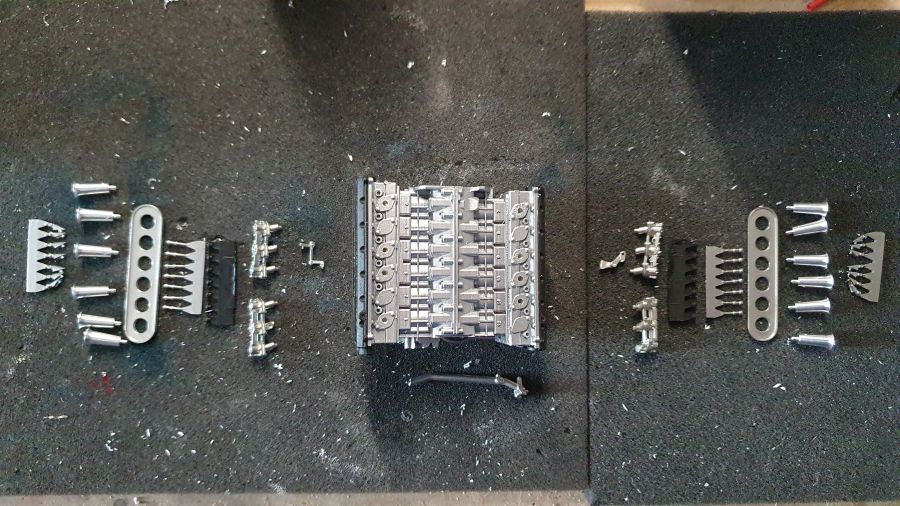 De rubbers moeten om de pinnen. De 1e gaat nog wel, maar daarna slaat het tapijtmonster weer toe.
The rubbers should go around the pins. The 1st is o.k., but then the carpet monster strikes again.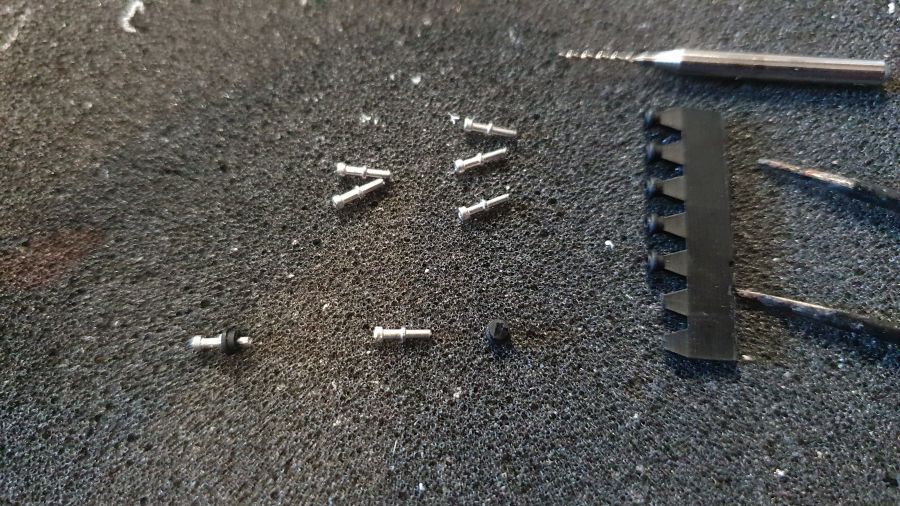 Ik ga het dan maar doen met krimpkous. IK denk dat dat best goed gaat.
I will then try using shrink tube. I think it's pretty o.k..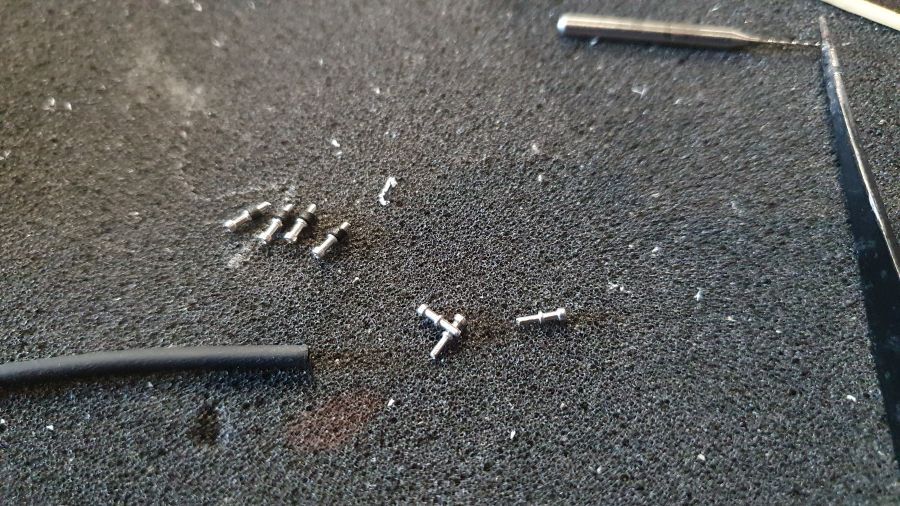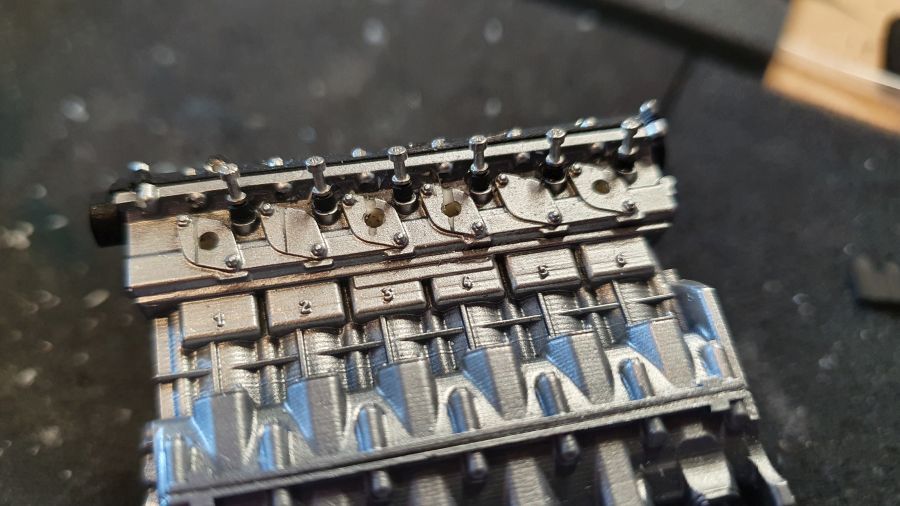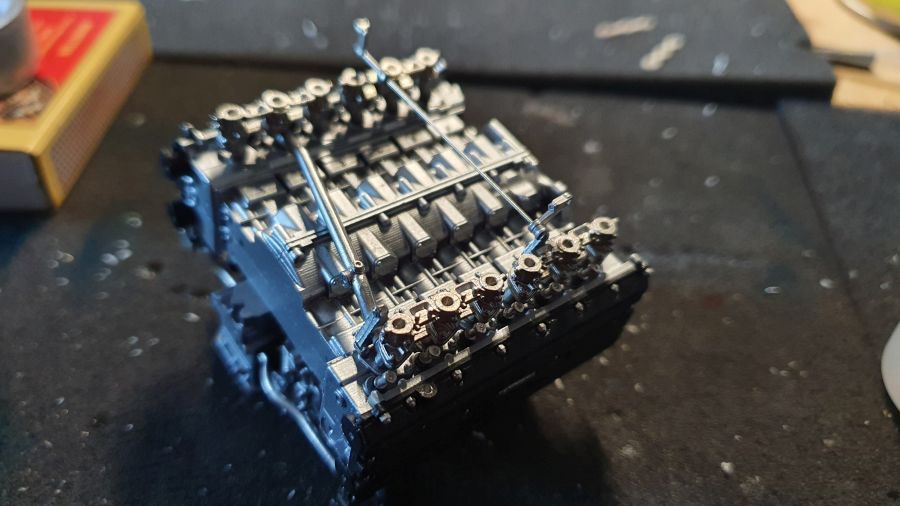 Monteer de injectie nadat de trompet door het gat is gestoken.
Mount the injection after sticking the trumpet through the hole.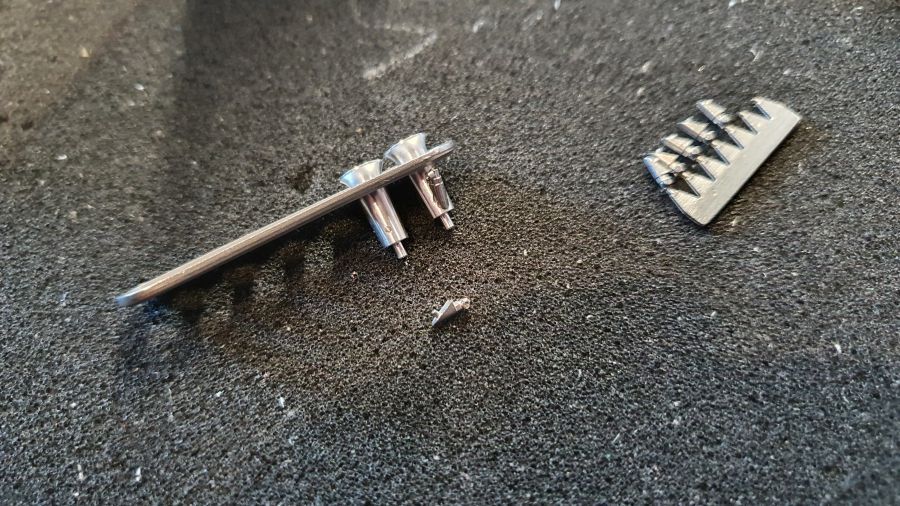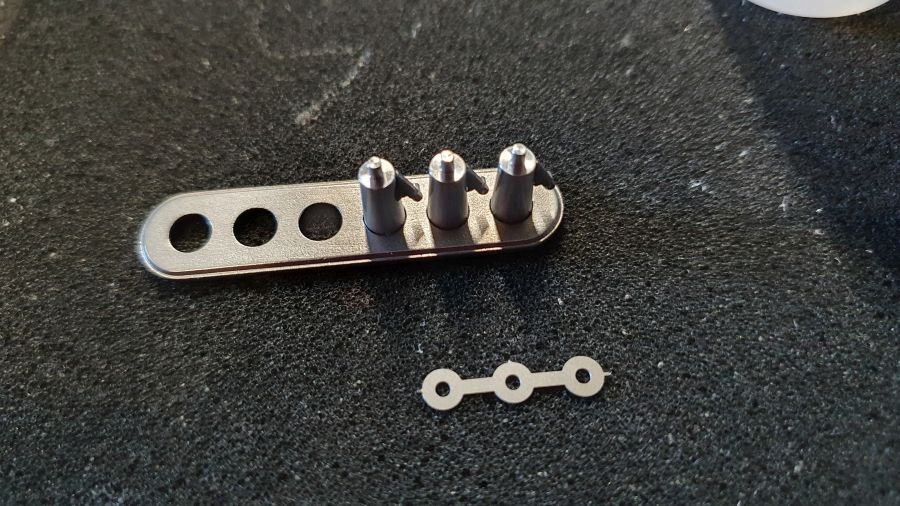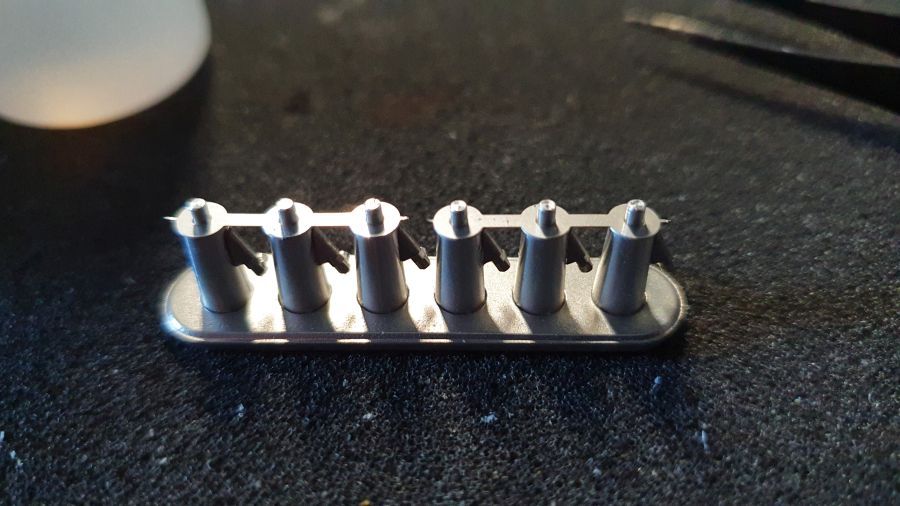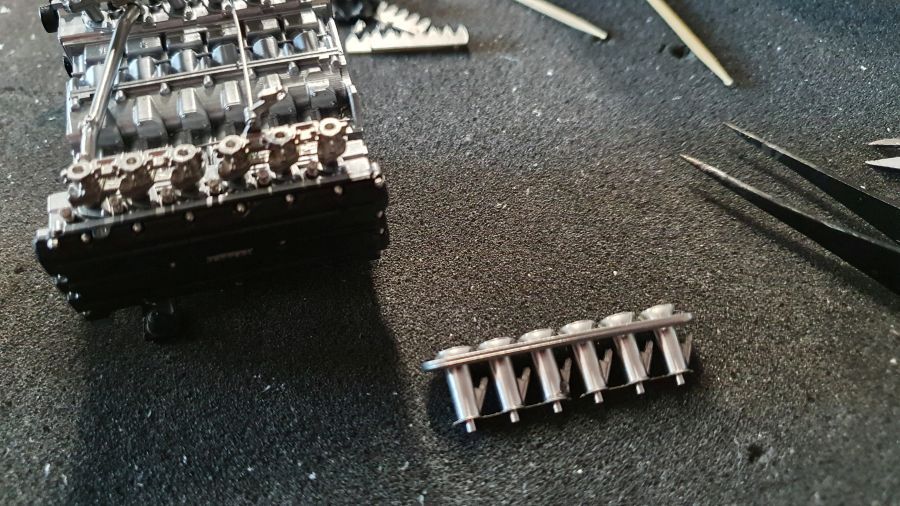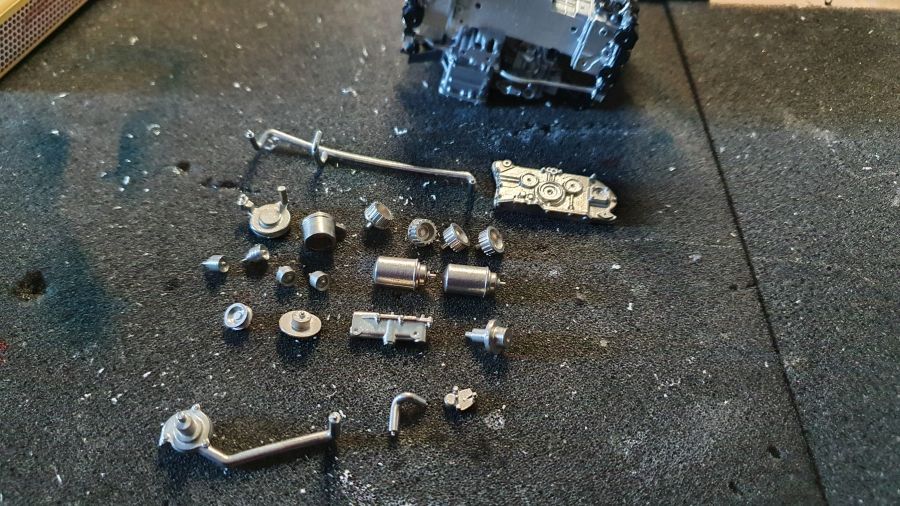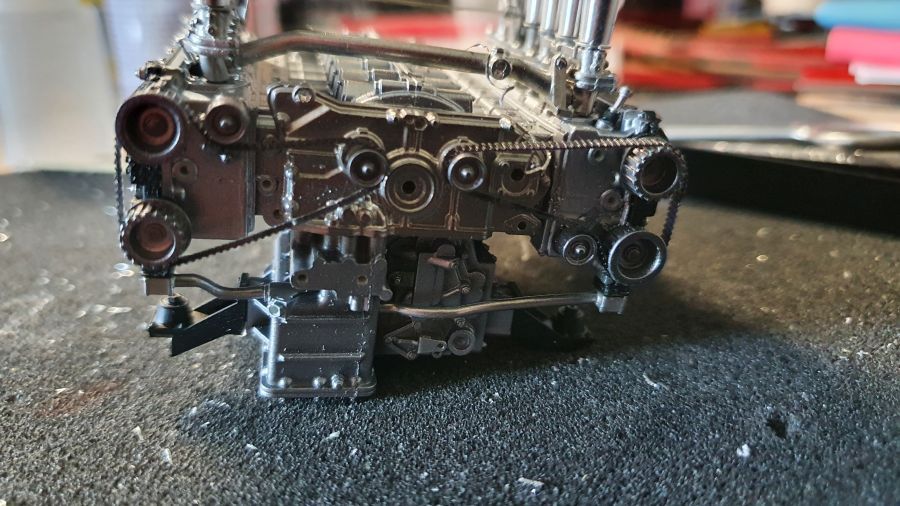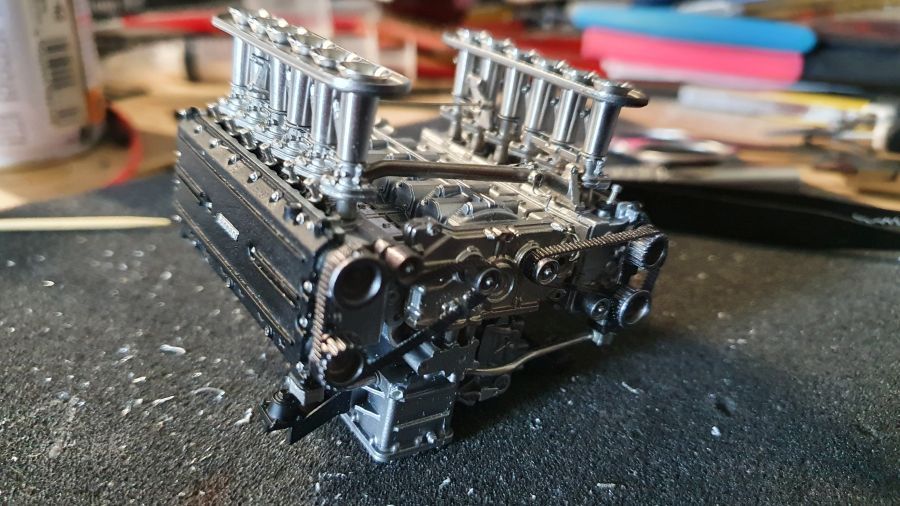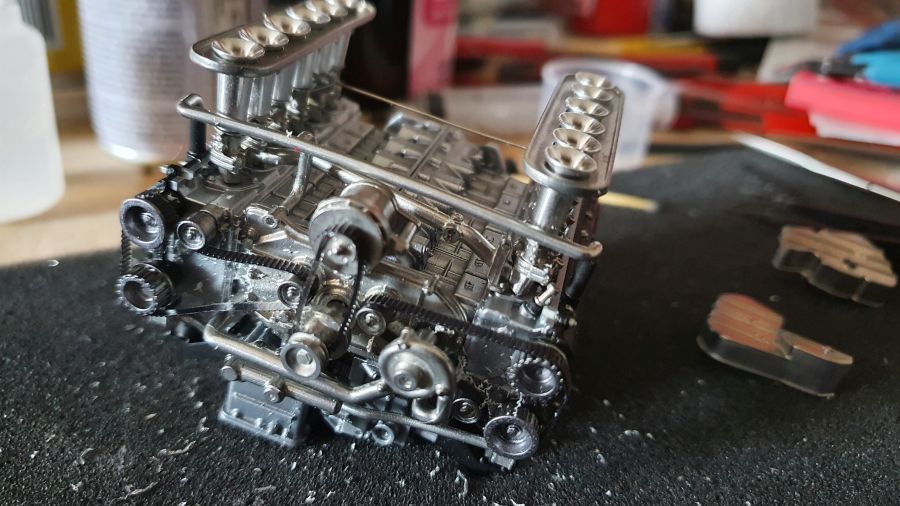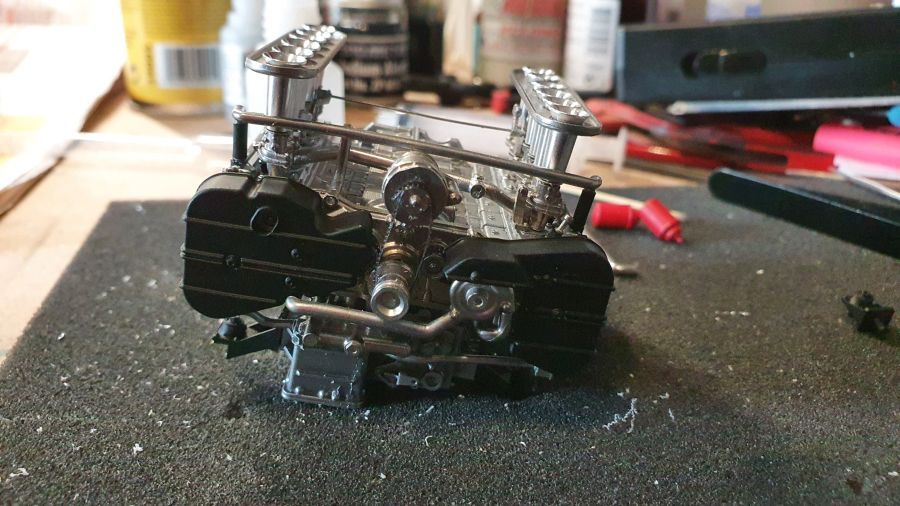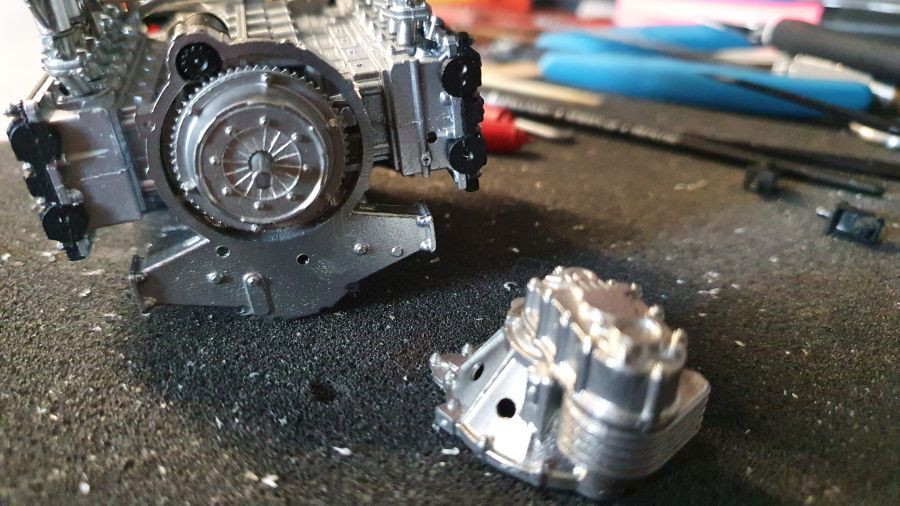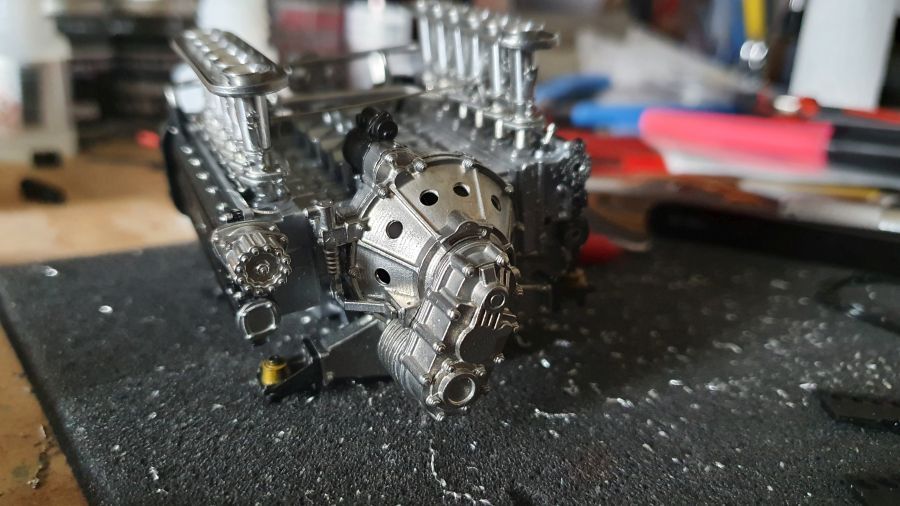 Door met de ontsteking...
On to the ignition...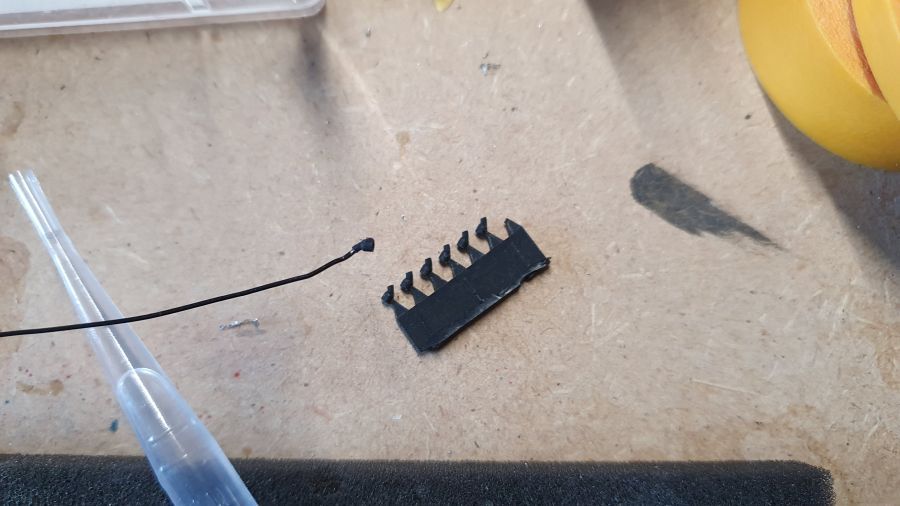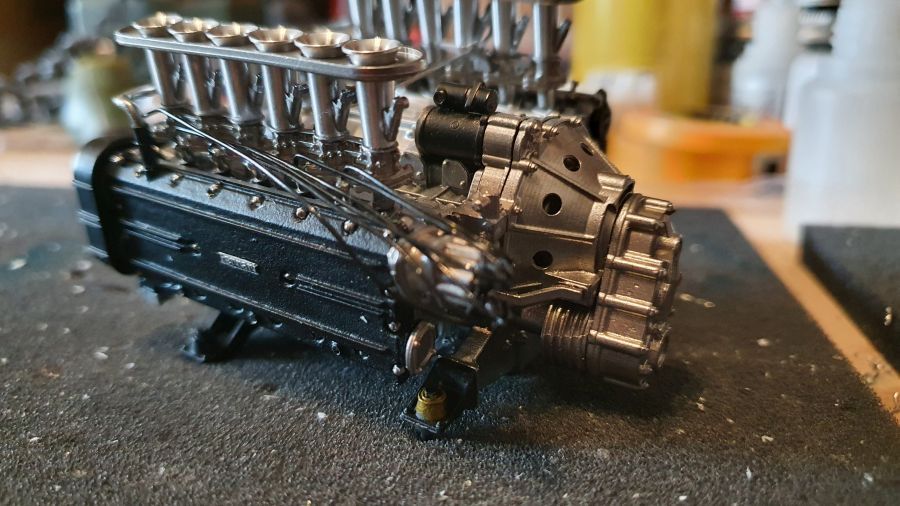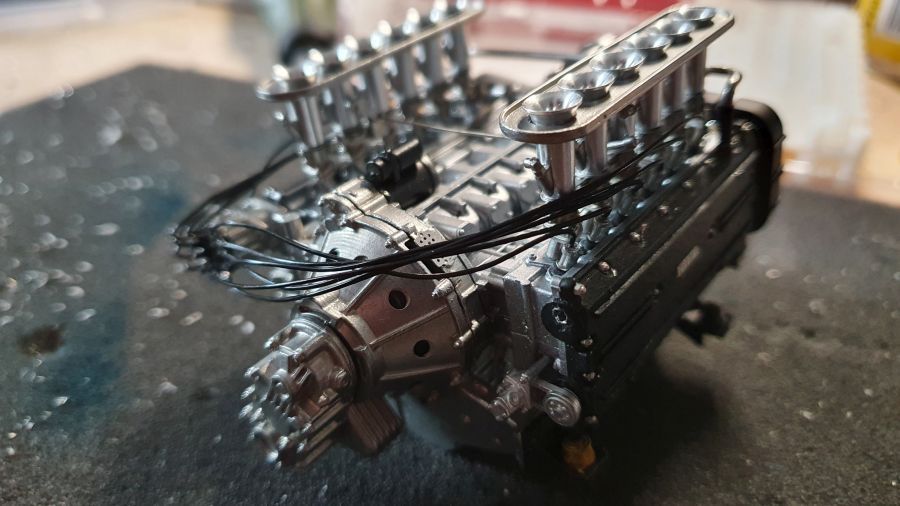 Er was niet genoeg draad voor de ontstekingskabels. Gelukkig had ik zelf nog een rol met dezelfde maat. Ik wil niet dat me dat overkomt met de benzineleiding. Ik vond nog 2 bosjes donkerbruin in mijn voorraad. Dat ga ik dus voor alle zekerheid gebruiken.
There was not enough length of ignition wire  in the kit. I was lucky to have a roll of the same size. I don't want this to happen with the fuel lines. I found 2 bunches of dark brown in my stash. I will be using this to be sure.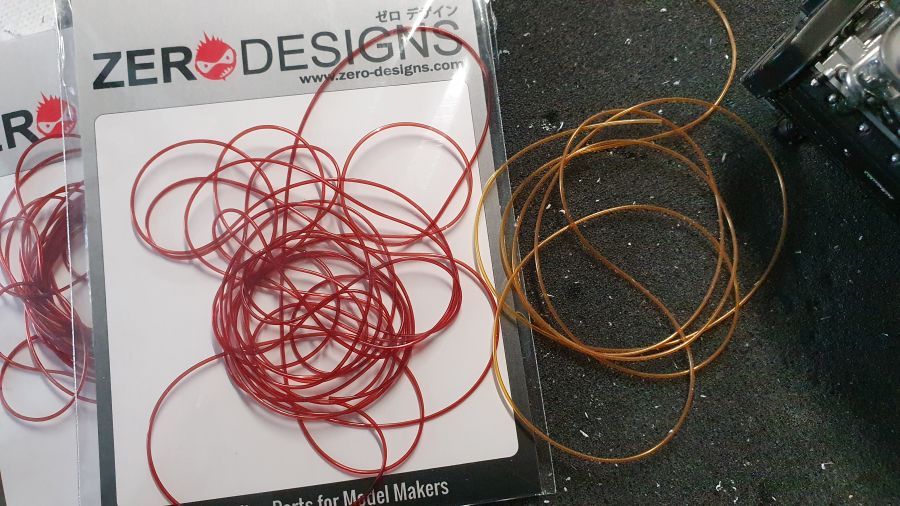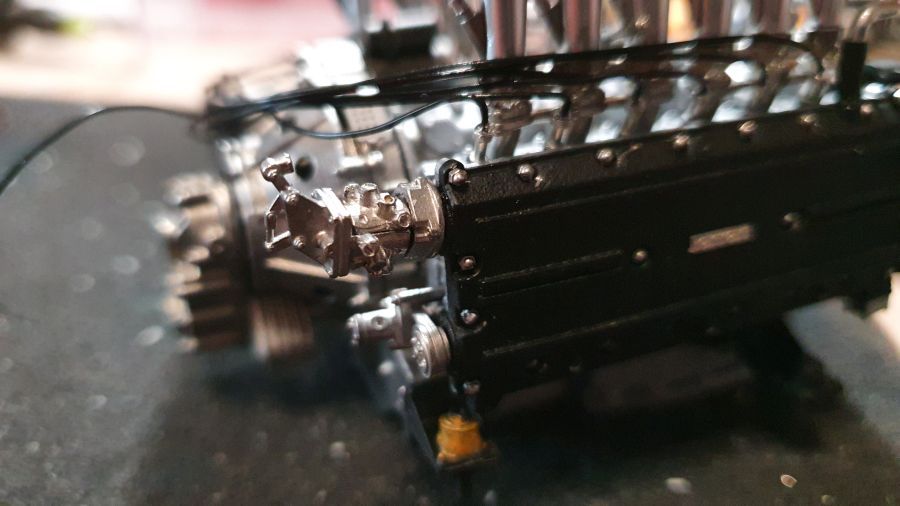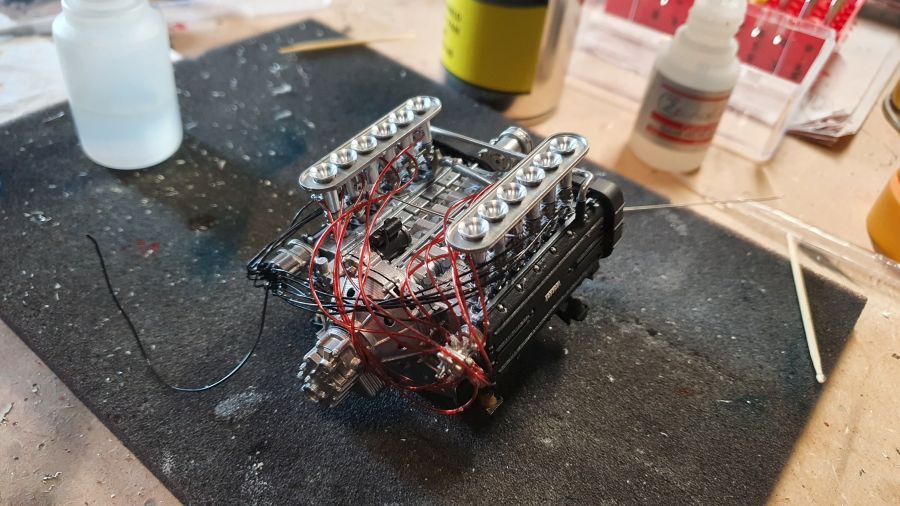 En wat orde in de chaos met een paar tie raps uit de rommeldoos.
And some order in the chaos with a few tie raps from the scrap box.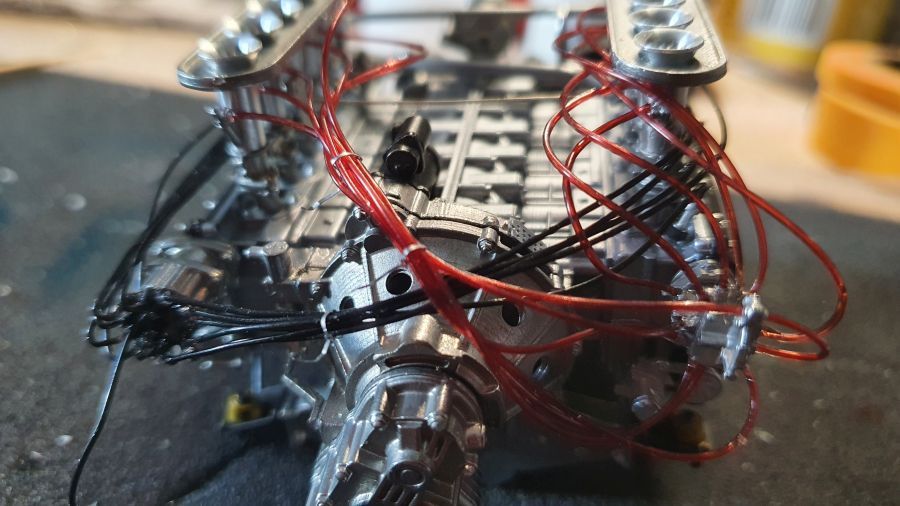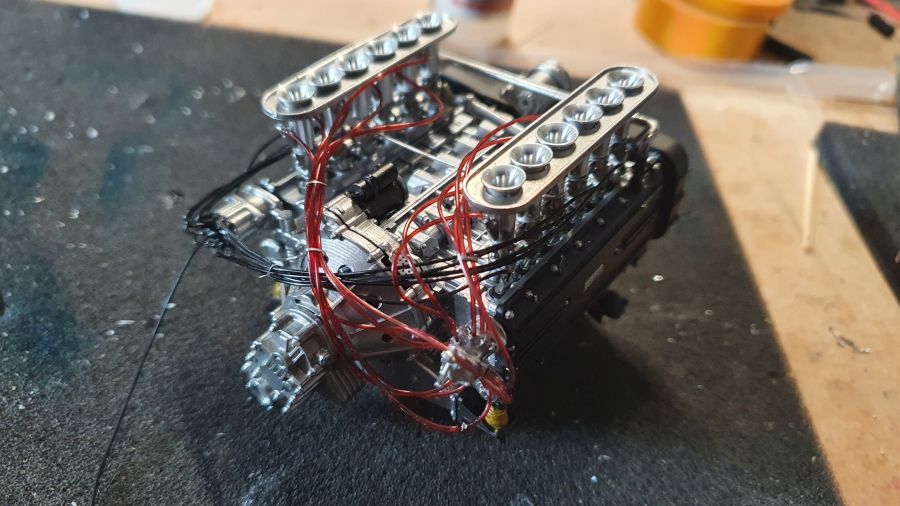 De volgende stap; de motorsteun.
The next step; the engine support.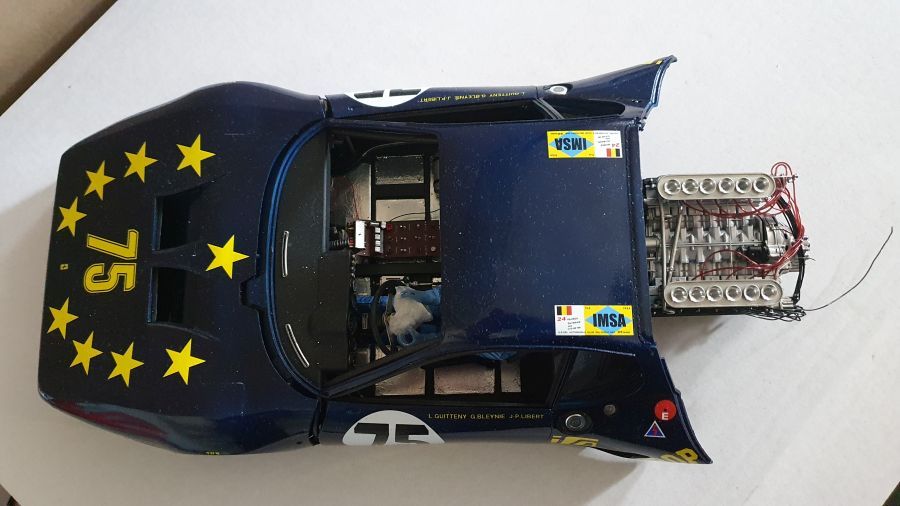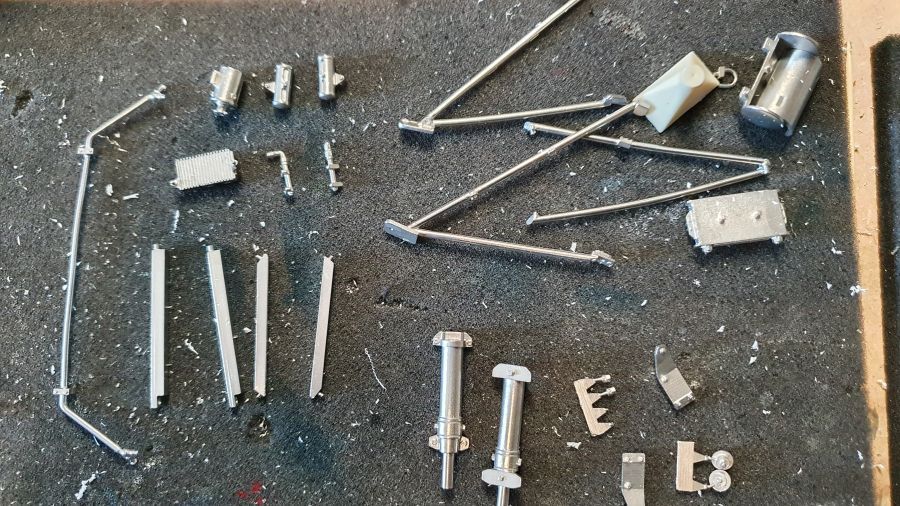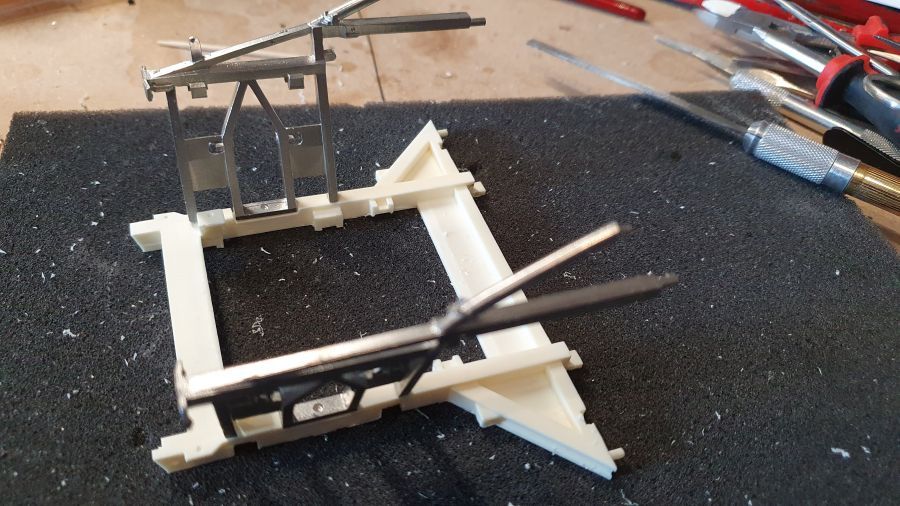 De motor past niet op het frame... Eerst maar aanpassen dus...
The engine doesn't fit the frame... So adjustments first...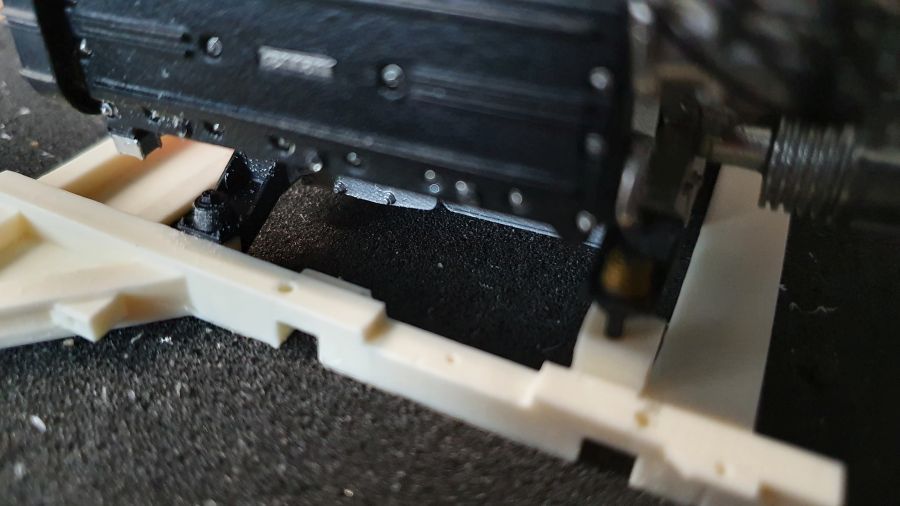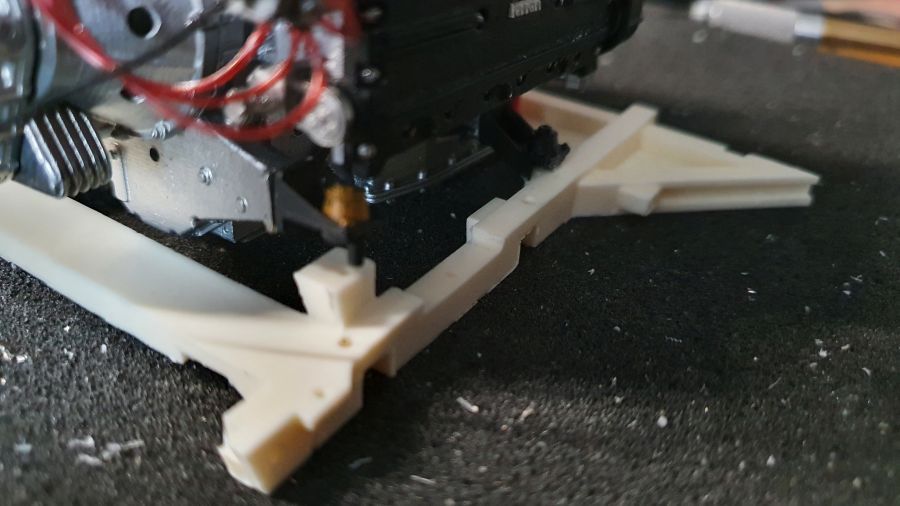 Het past nu, maar om dit aan de rest te monteren, dat gaat niet werken. Ik ga voor aparte bevestiging. Eerst het vloerdeel, dan de zijkanten.
It now fits, but attaching this to the rest, that will not work. So i will do separate mounting. First the floor part, then the sides.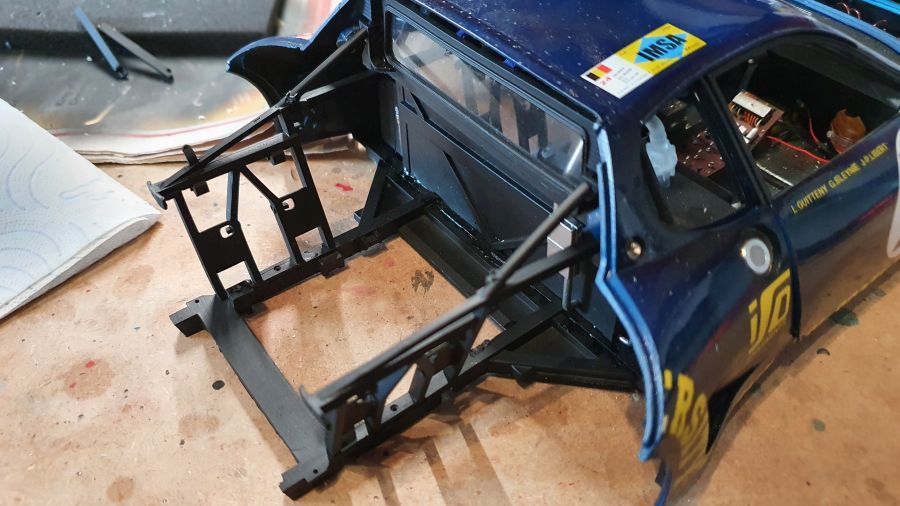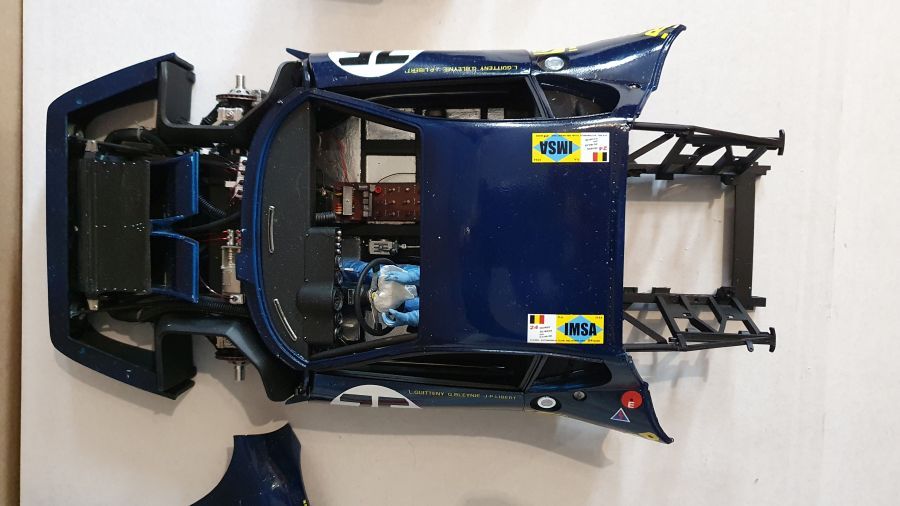 En dan het huwelijk...
And then the marriage...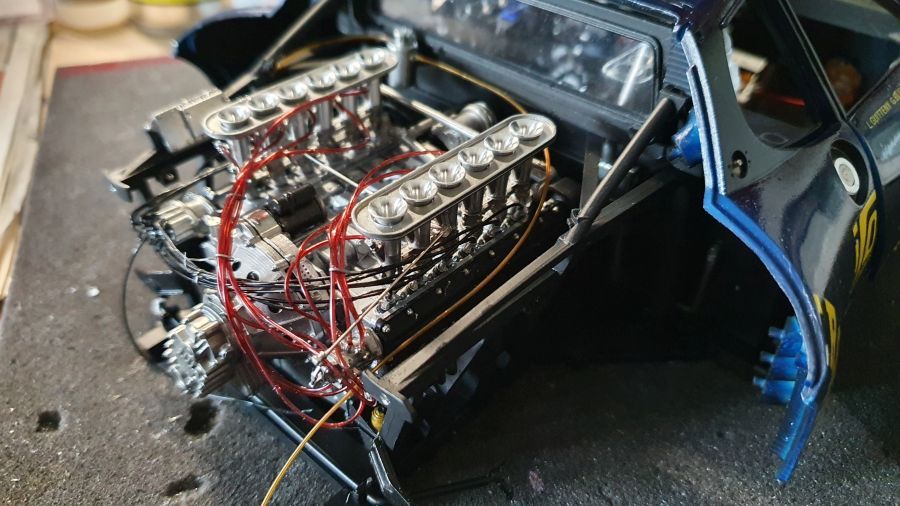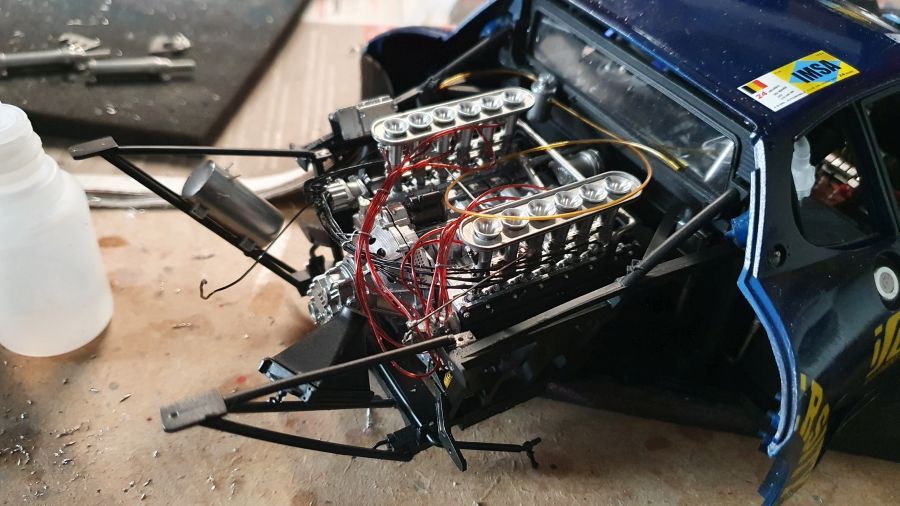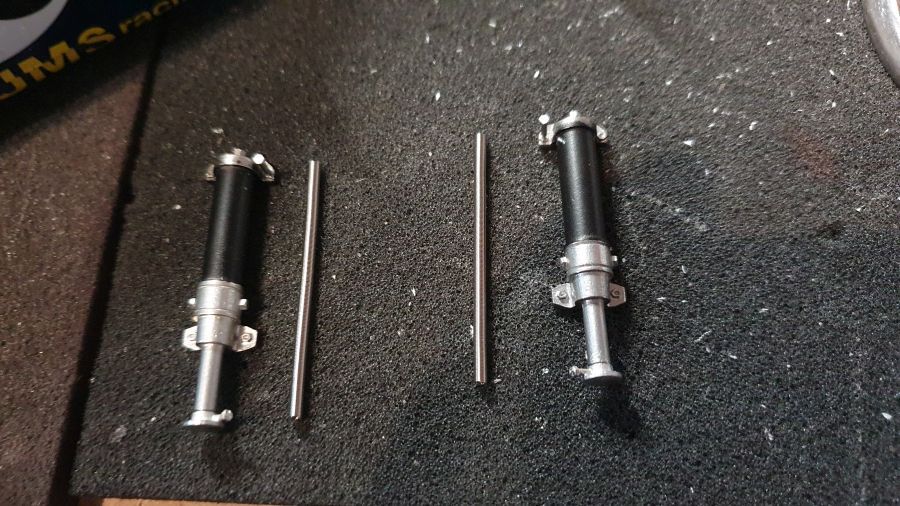 Dit past totaal niet, zit er mijlenver naast.
This doesn't fit at all, misses it for miles.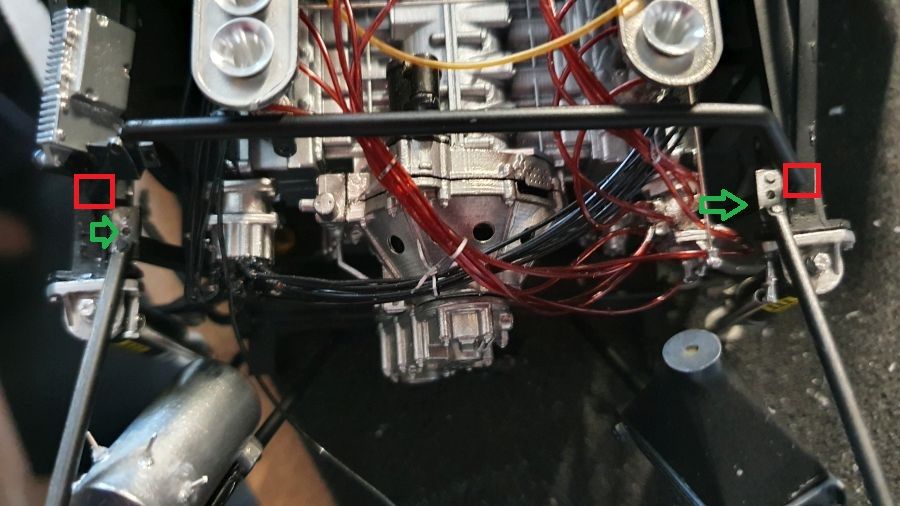 Nu geplaatst met wat improvisatie en meer bedrading toegevoegd.
Now attached with some improvising and more wiring and tubing added.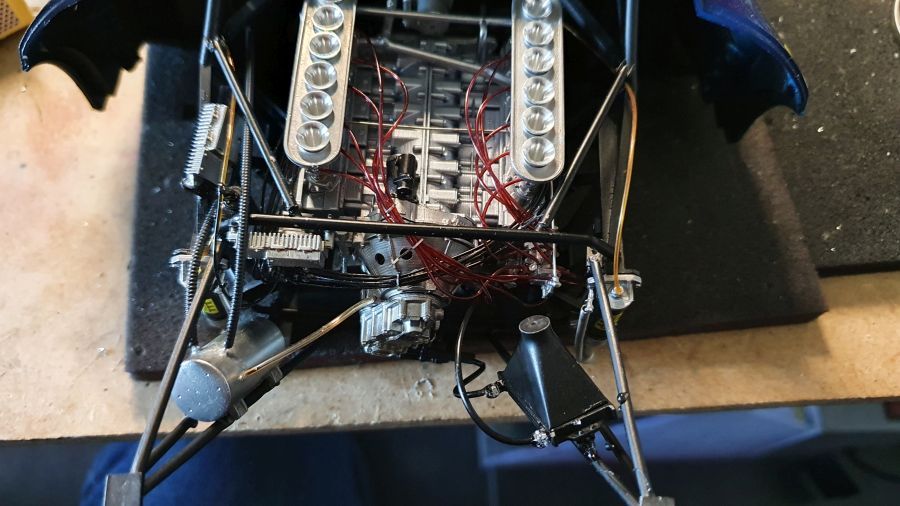 Dan het in elkaar zetten van de uitlaten en de achterwielophanging.
Next is the assembly of the exhausts and the rear wheel suspension.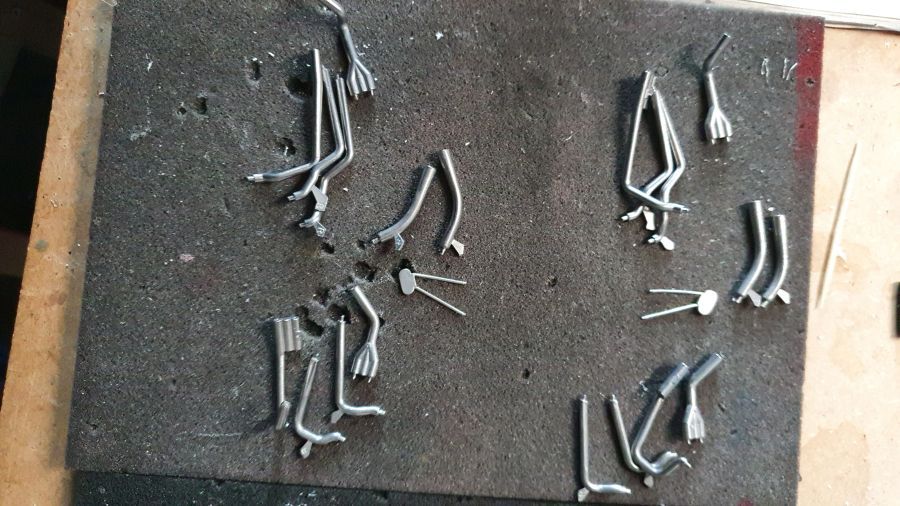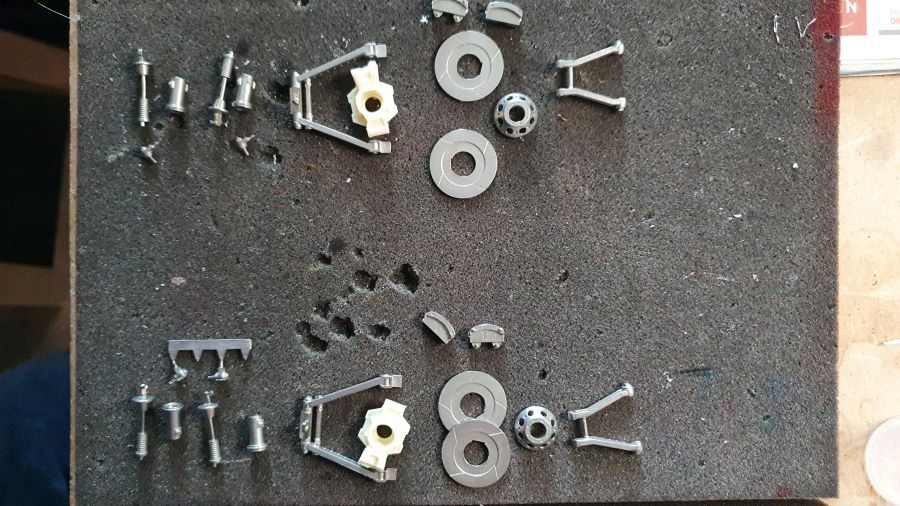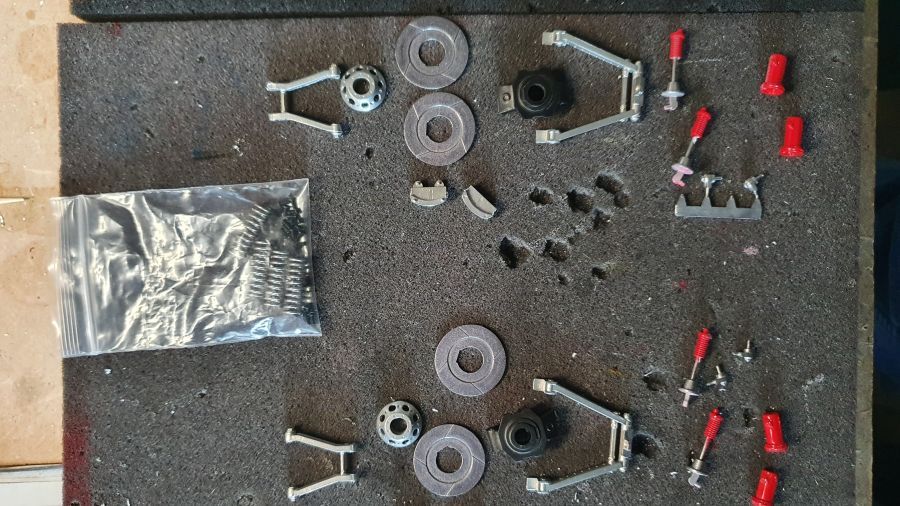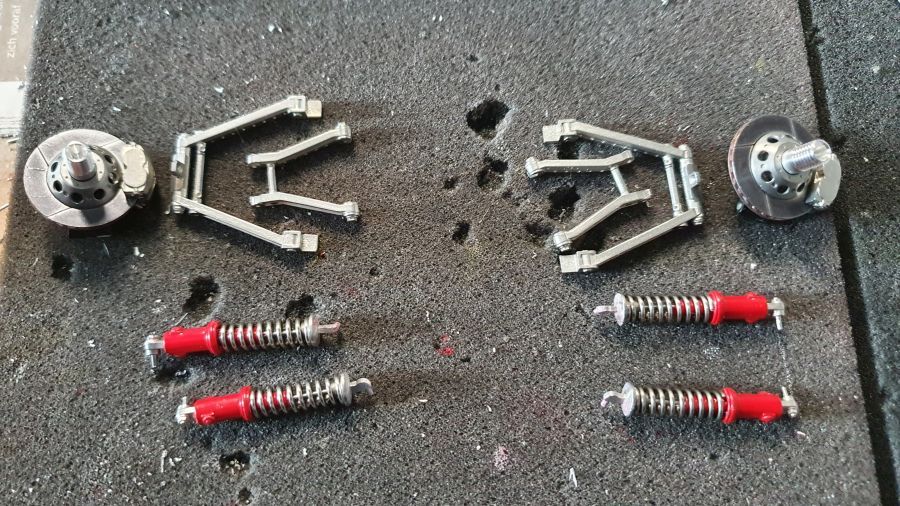 Nu naar de onderkant voor de uitlaten en de wielophanging...
Now to the bottom for the exhausts and the wheel suspension...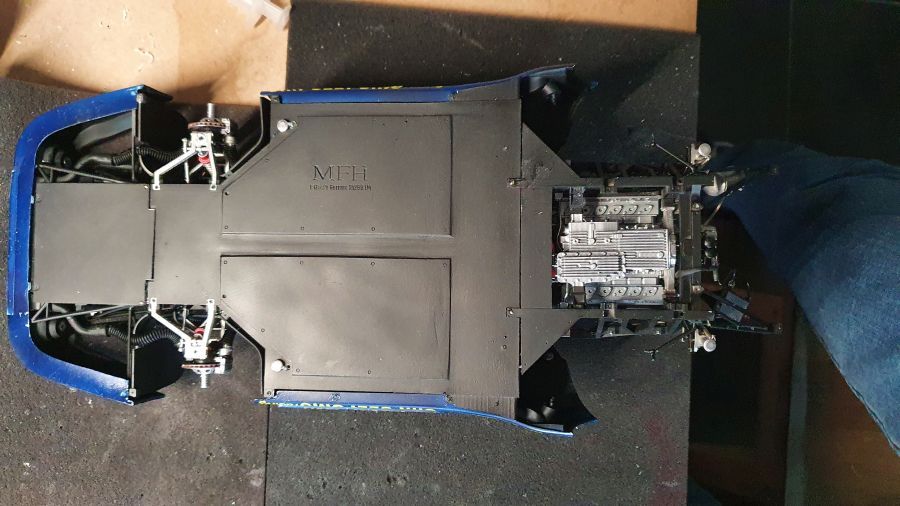 Testen...
Testing...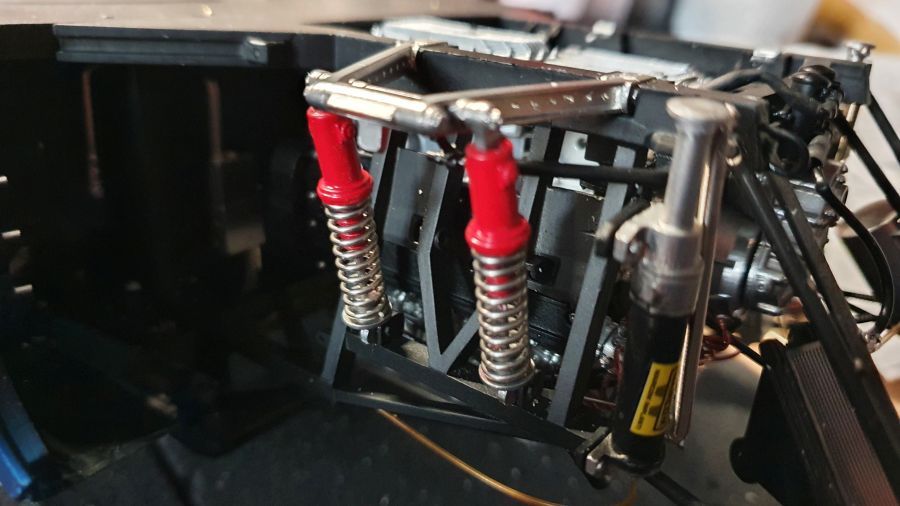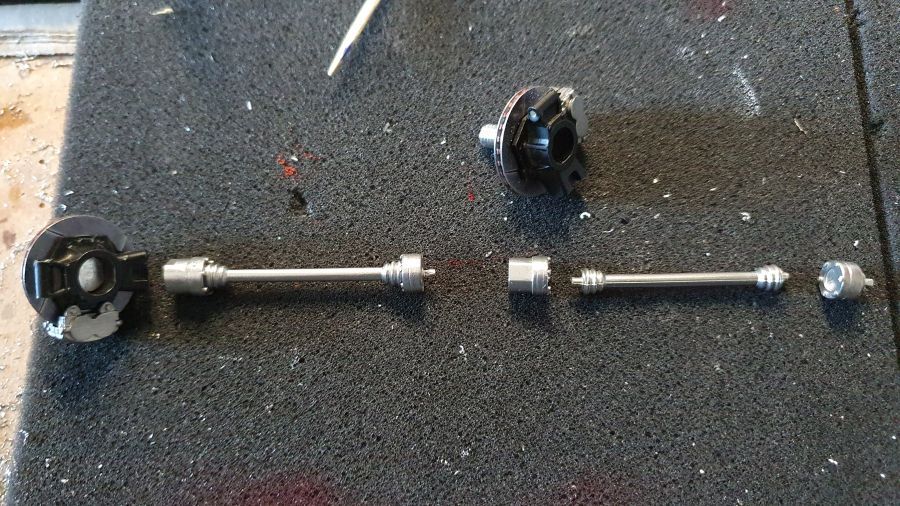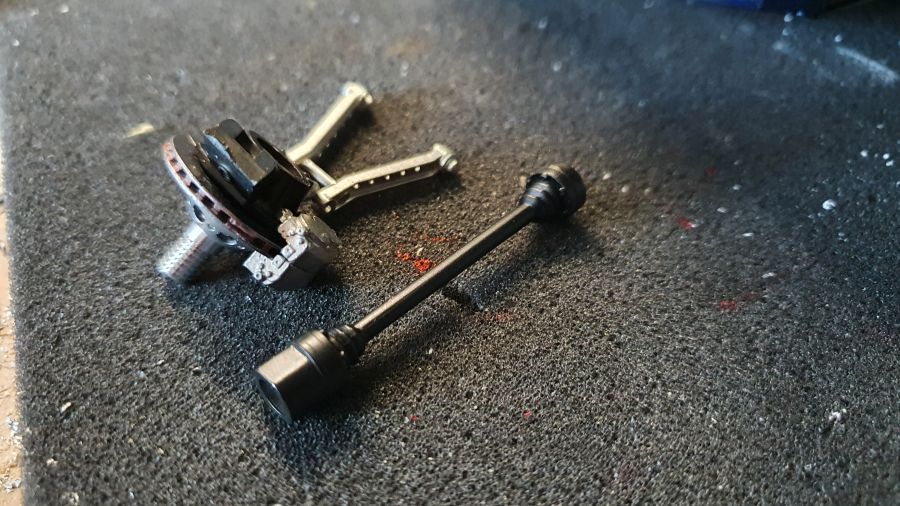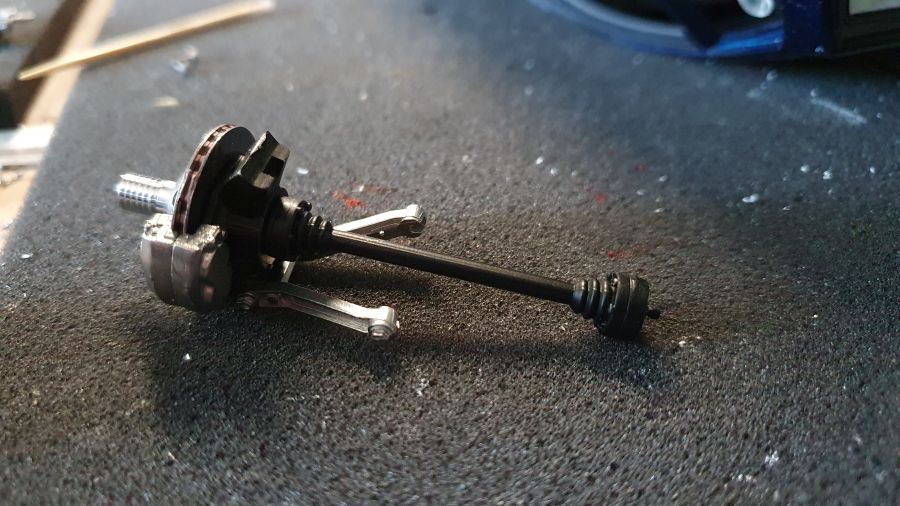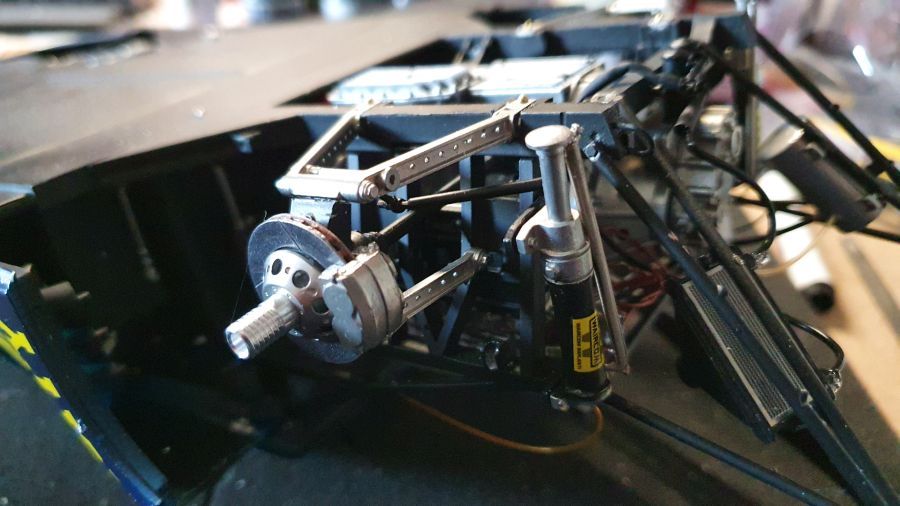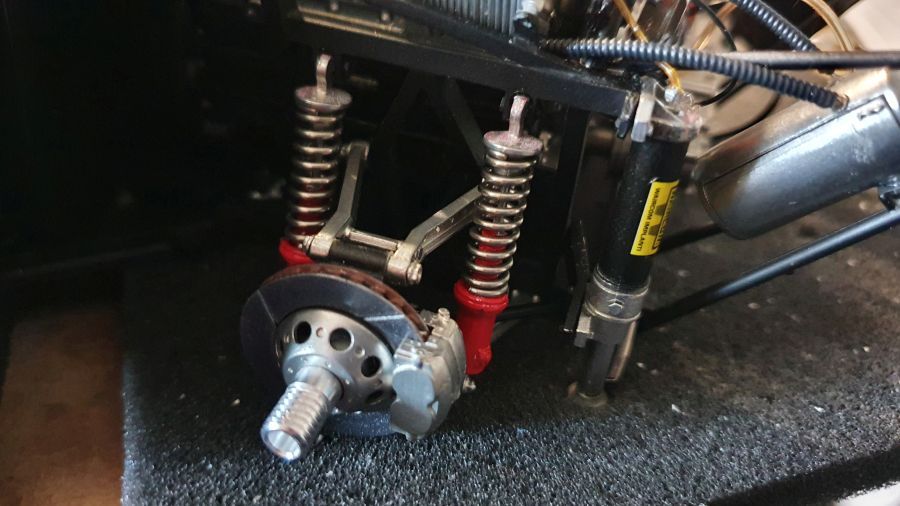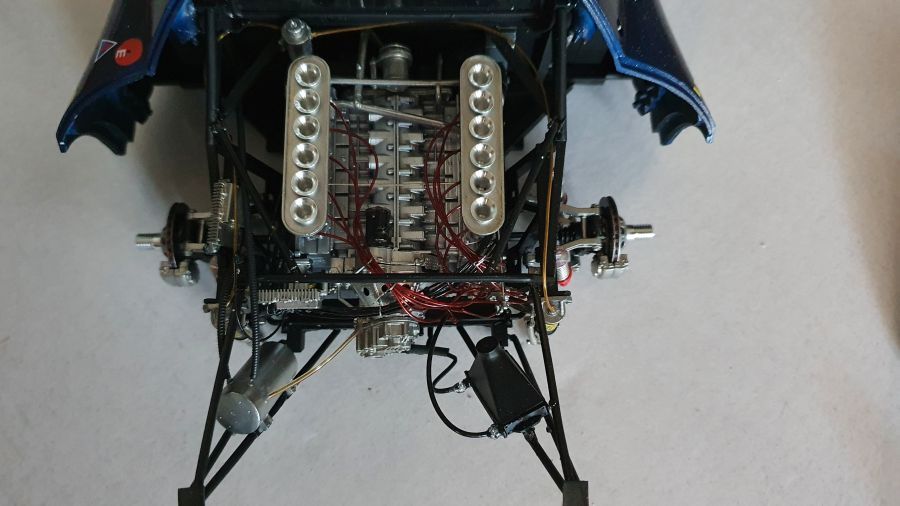 Door met de uitlaten. Ik heb vergeten de gaten te boren, dom, dus de pinnen wat inkorten. Dat zal wel goed komen.
Next are the exhausts. I forgot to drill the holes, stupid, so shortening the pins a bit. It will be o.k.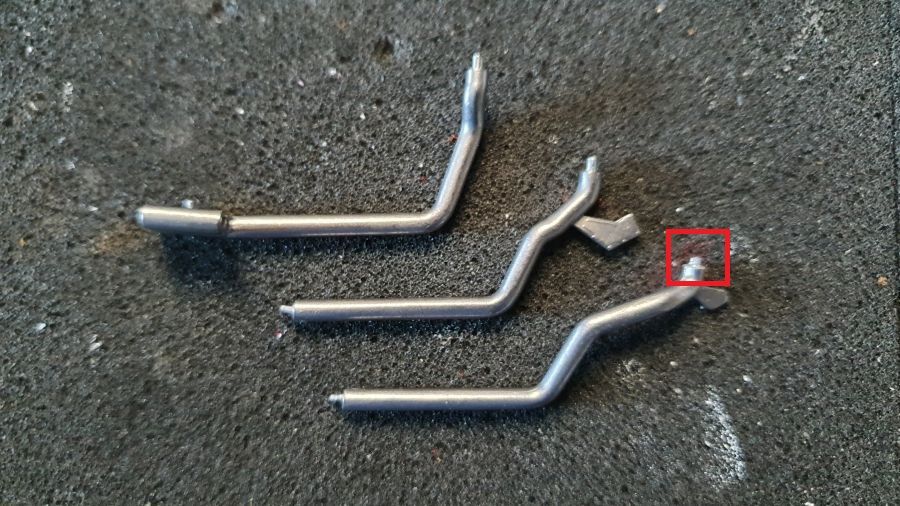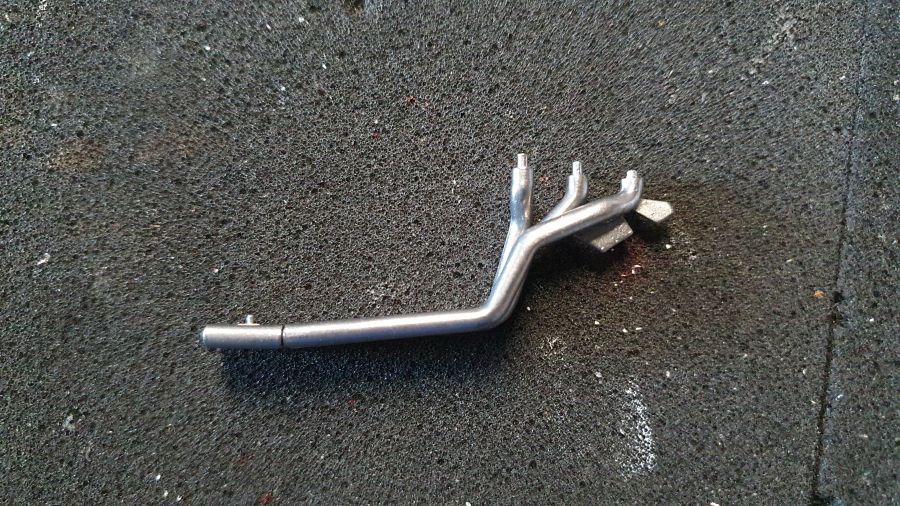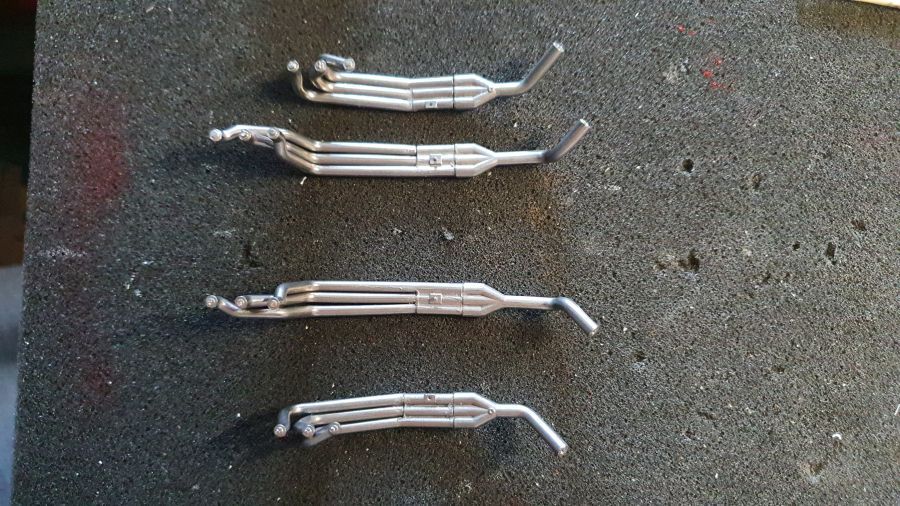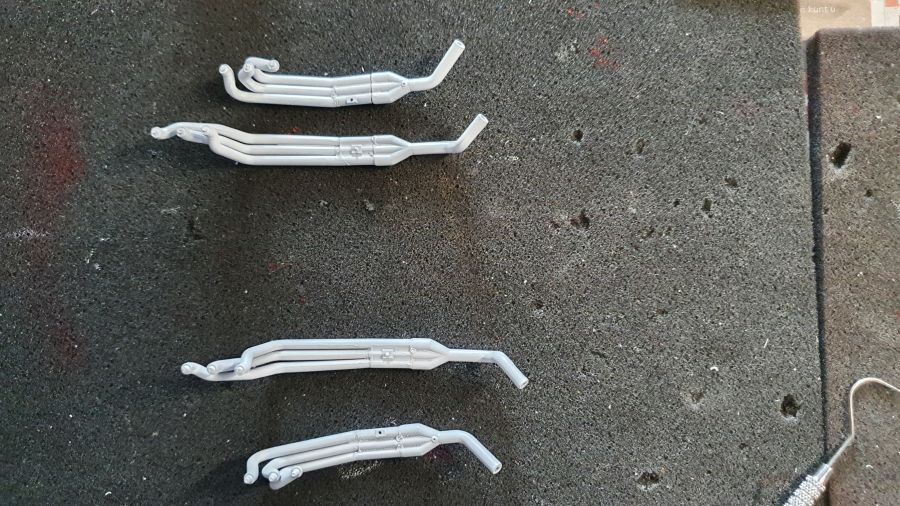 Ik ga de uitlaatdelen niet vooraf met elkaar verbinden. Eén deel moet onder de as door bevestigd, het tweede deel onder een chassisbalk. Ik denk dat het beter is de delen na elkaar te plaatsen.
I will not connect the 2 exhaust parts upfront. One part needs to go under the axle, the second part under a chassis beam. I think it's better to attach them separate.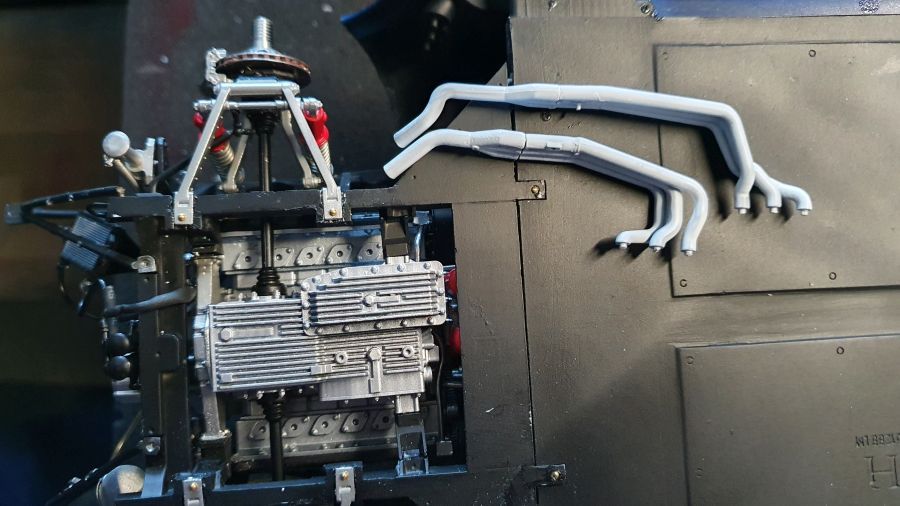 Passen...
Test fit...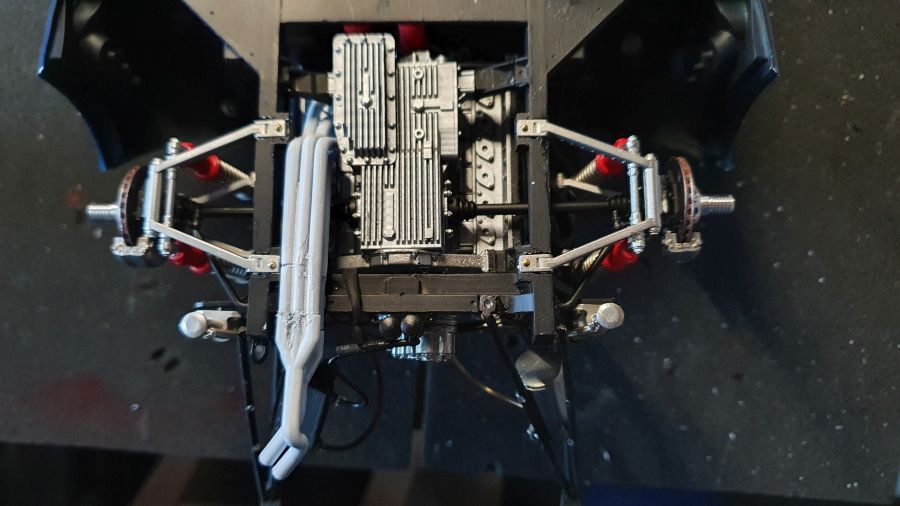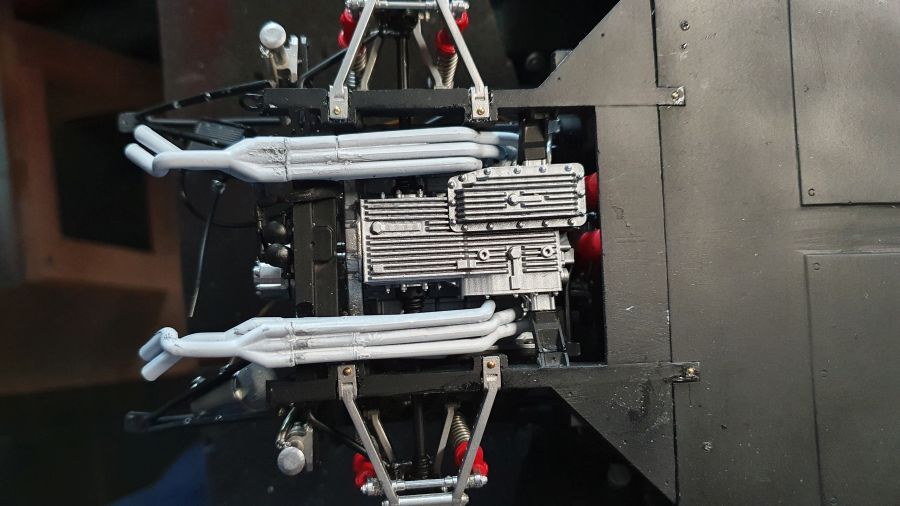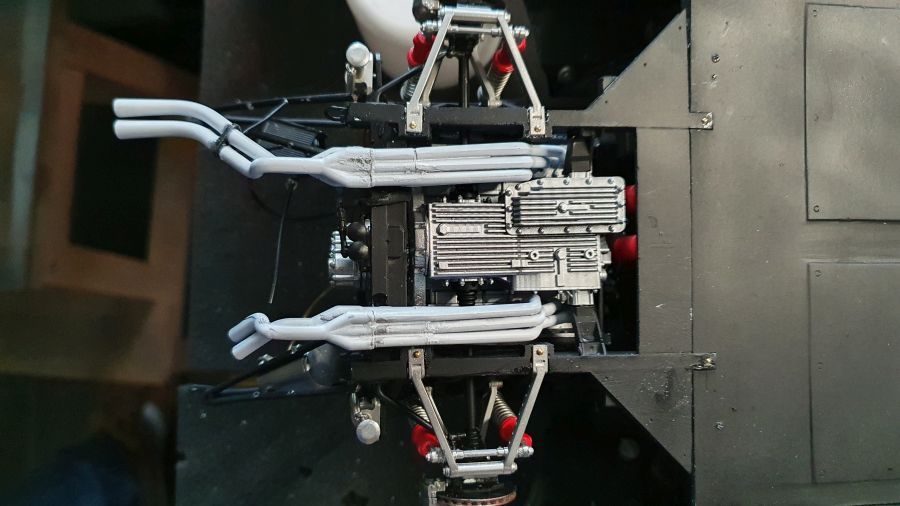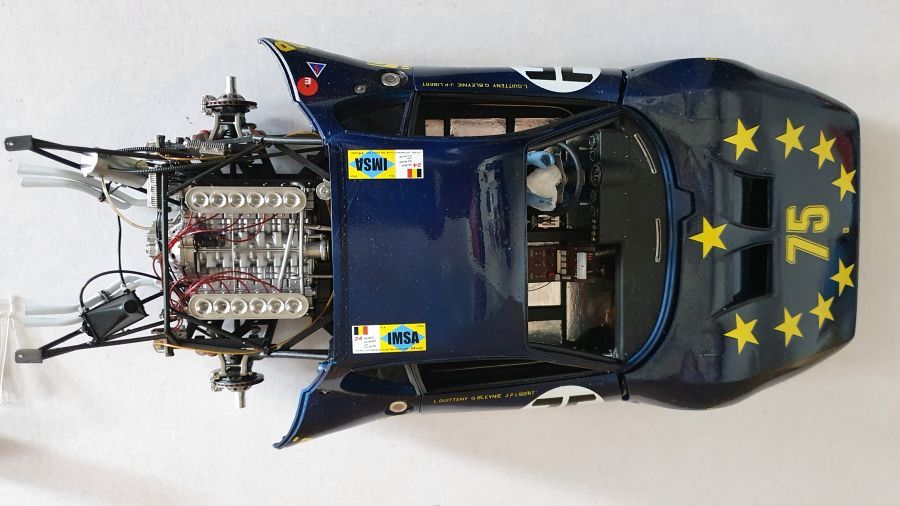 Dan is de rest van de achterkant aan de beurt.
Next is the rest of the back side.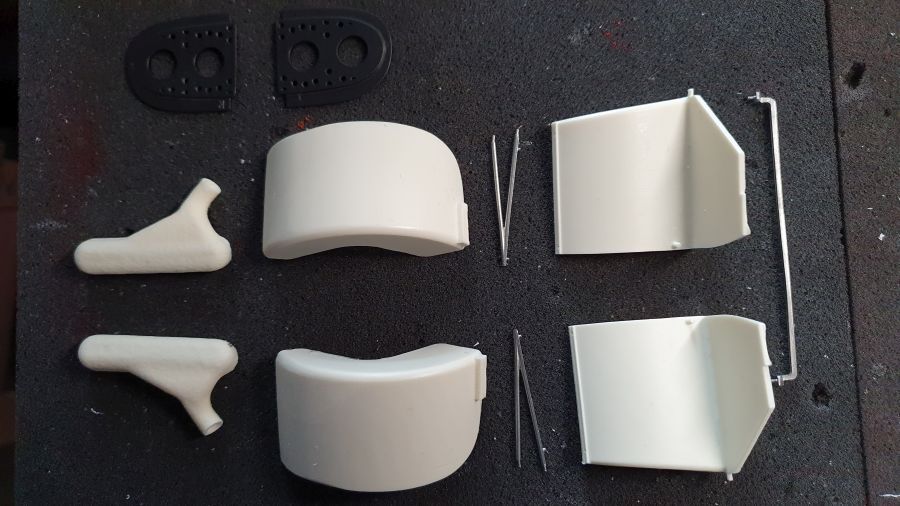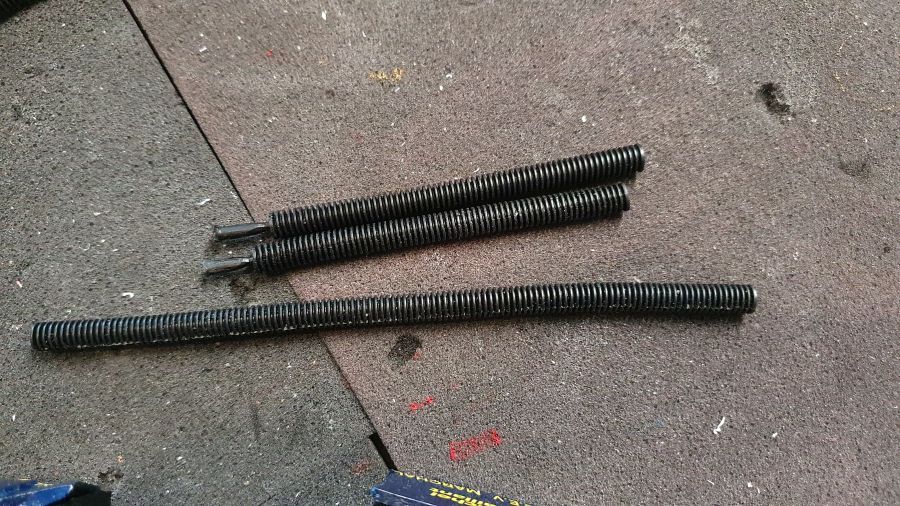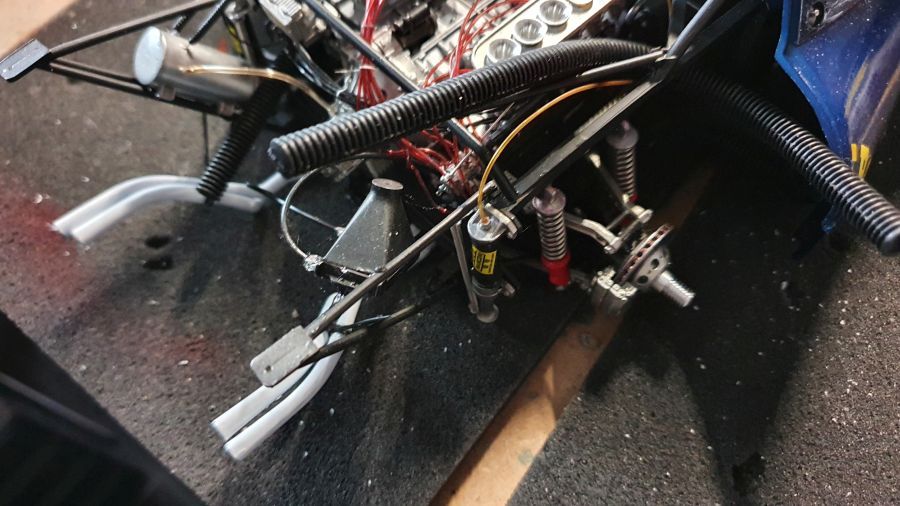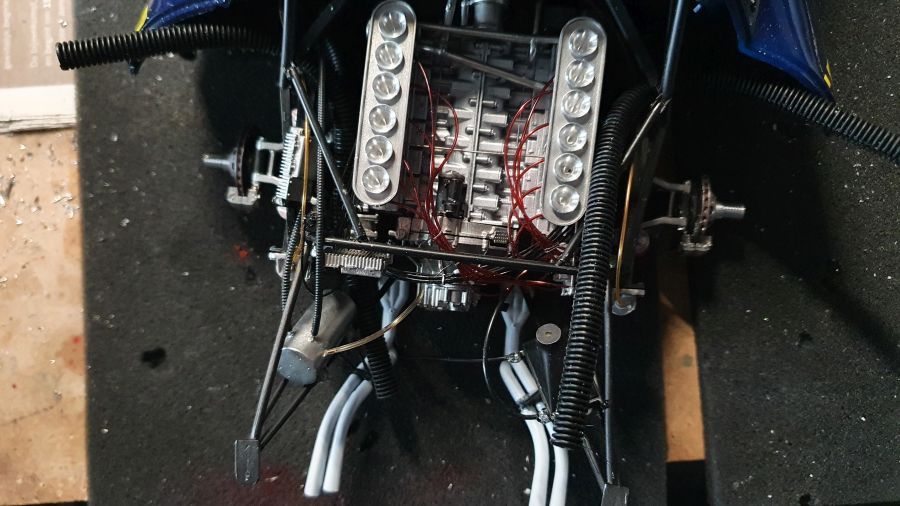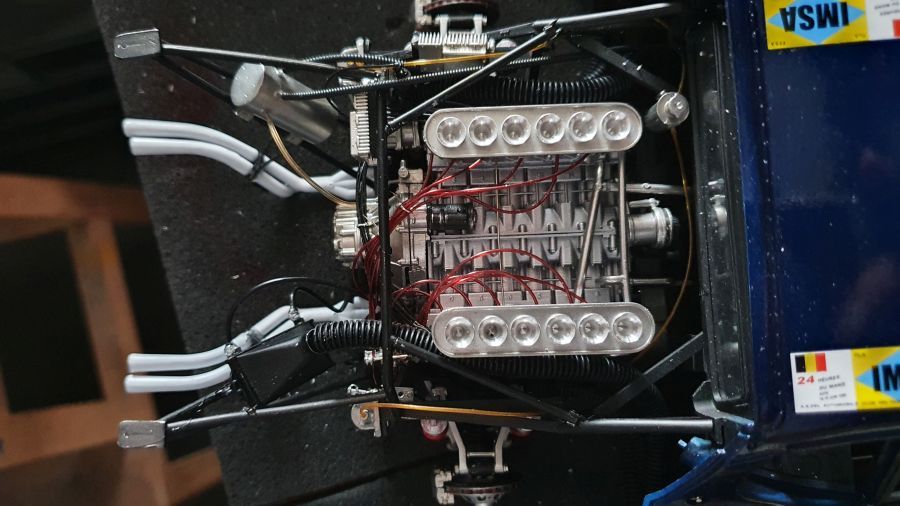 De spatborden zijn geverfd en kunnen geplaatst.
The fenders were painted and can be added.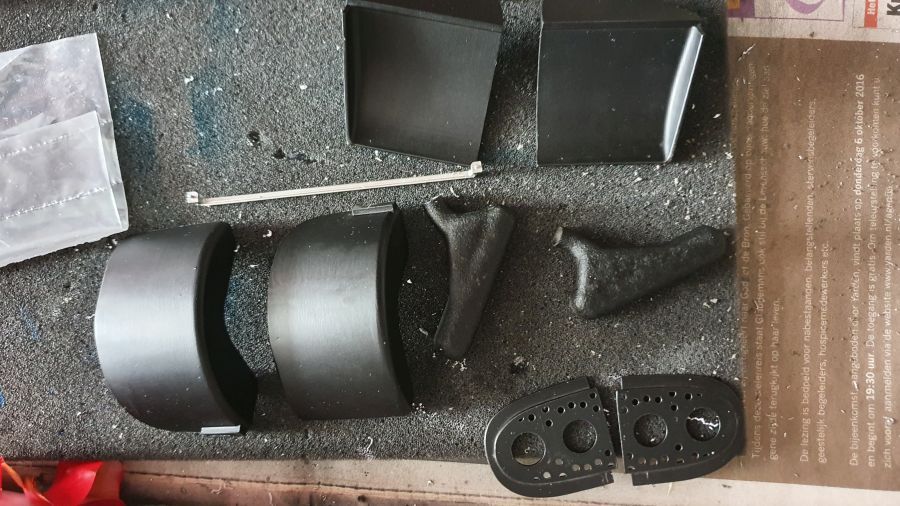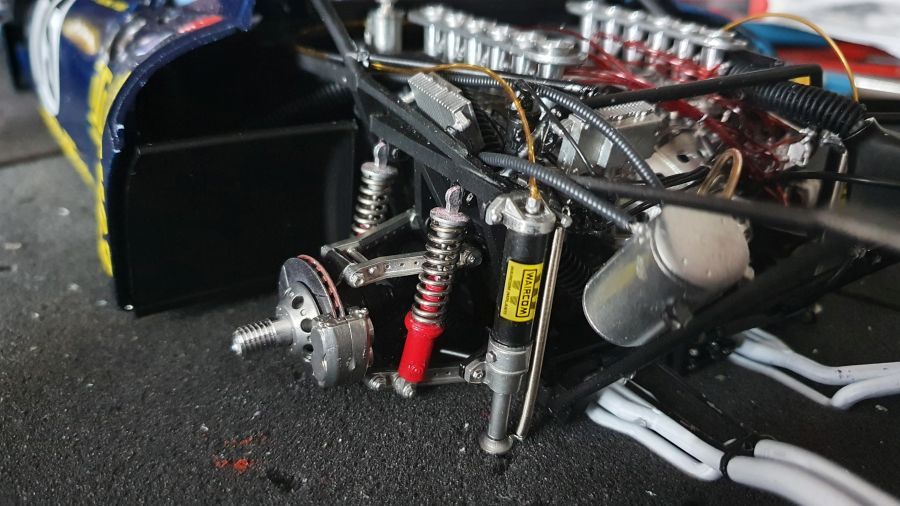 De bedekking op de inlaten.
The covers on the funnels.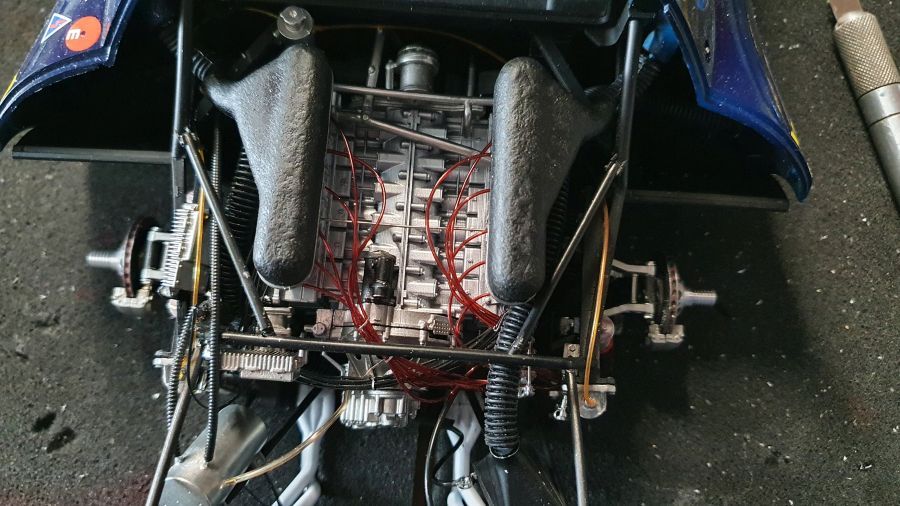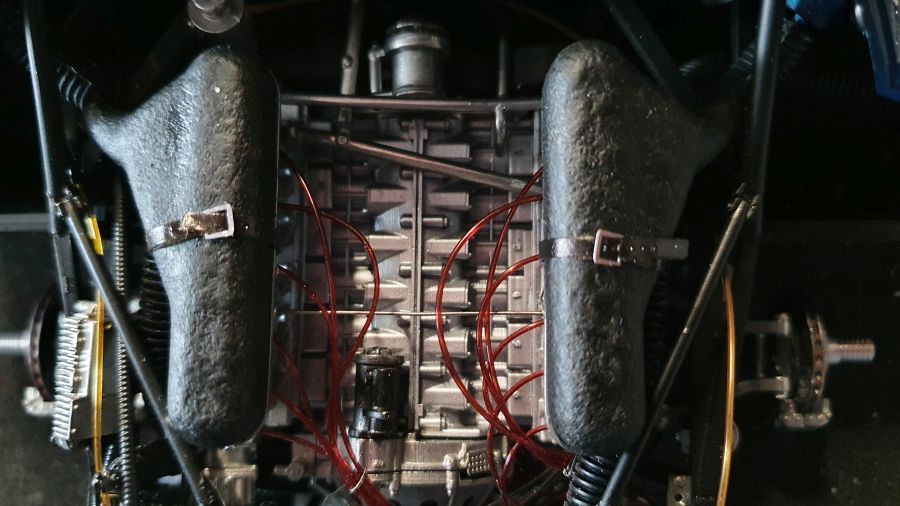 Door naar de snelsluitingen. Lastig spul.
On to the fasteners. Tough stuf.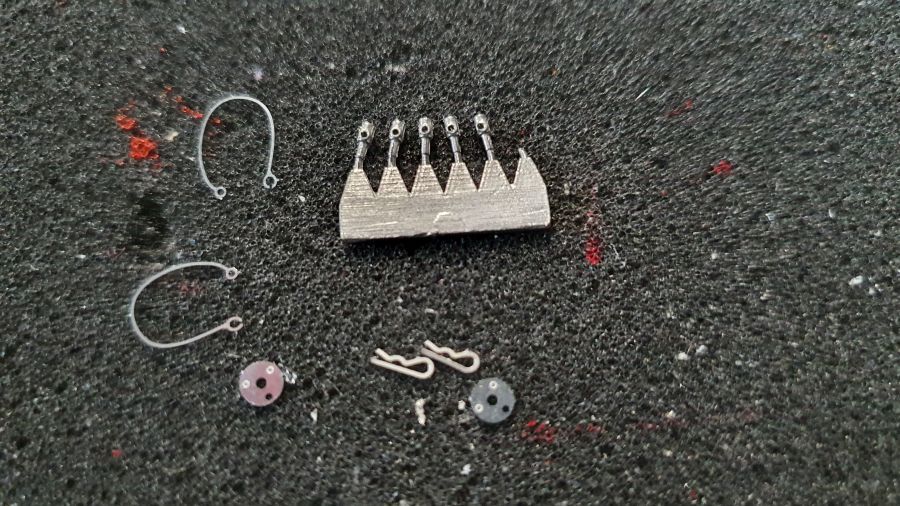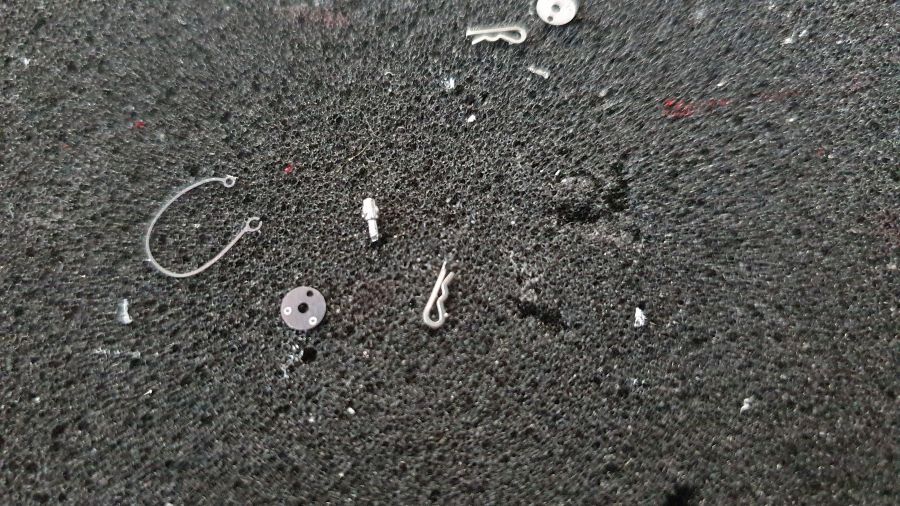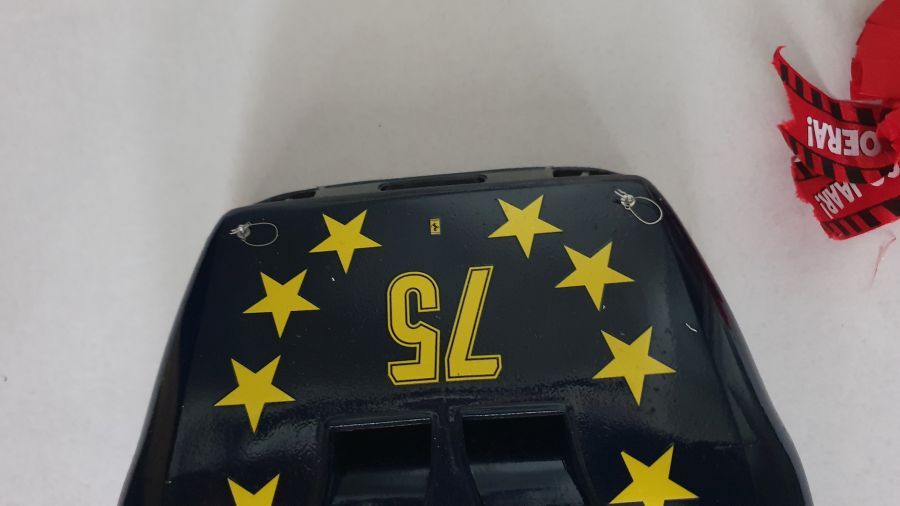 Dan de achterkant.
Next is the rear.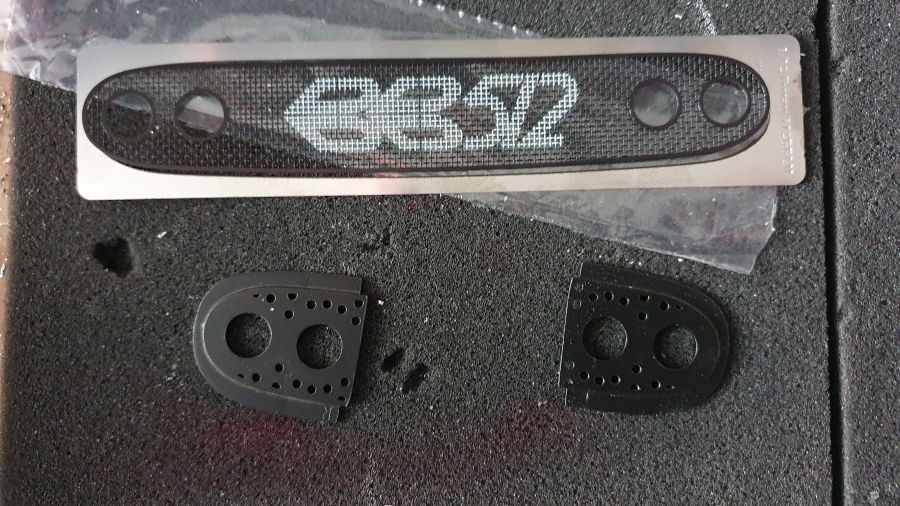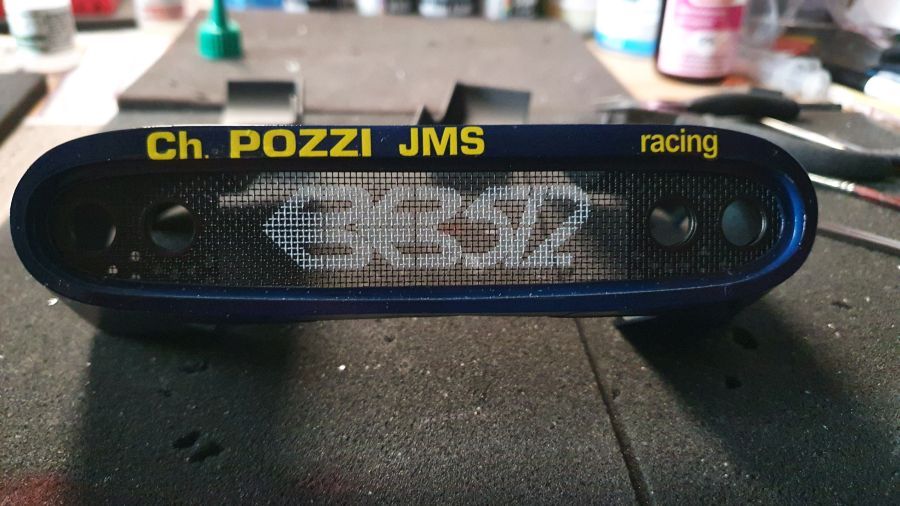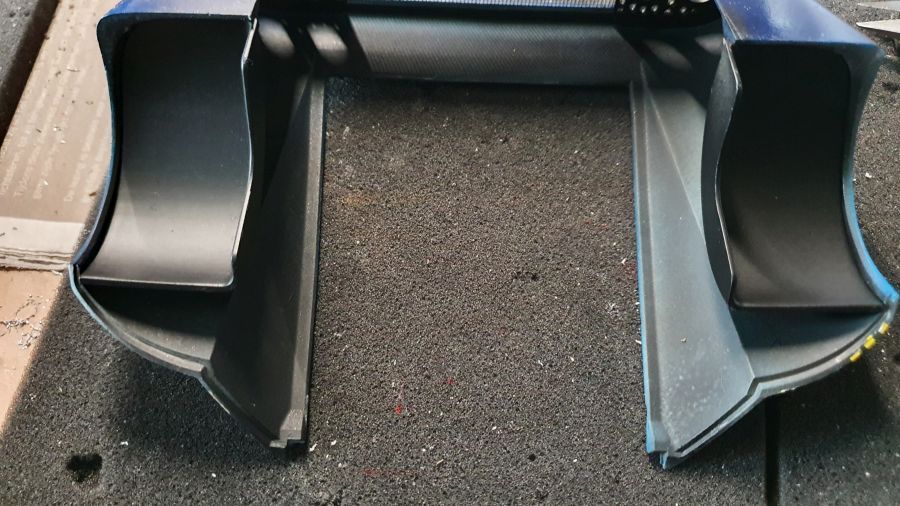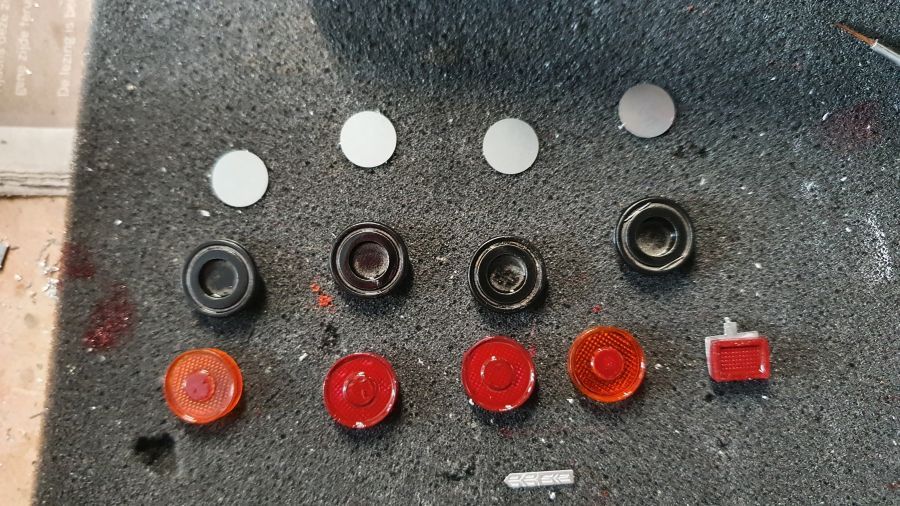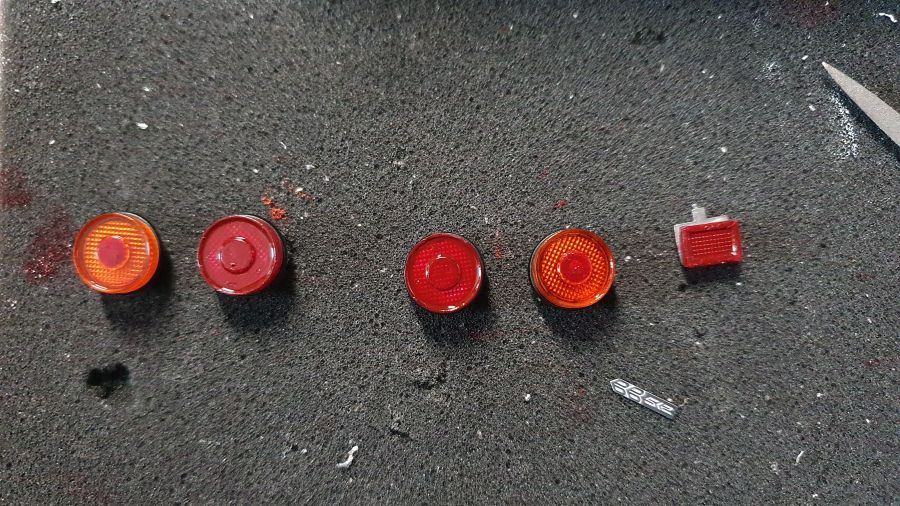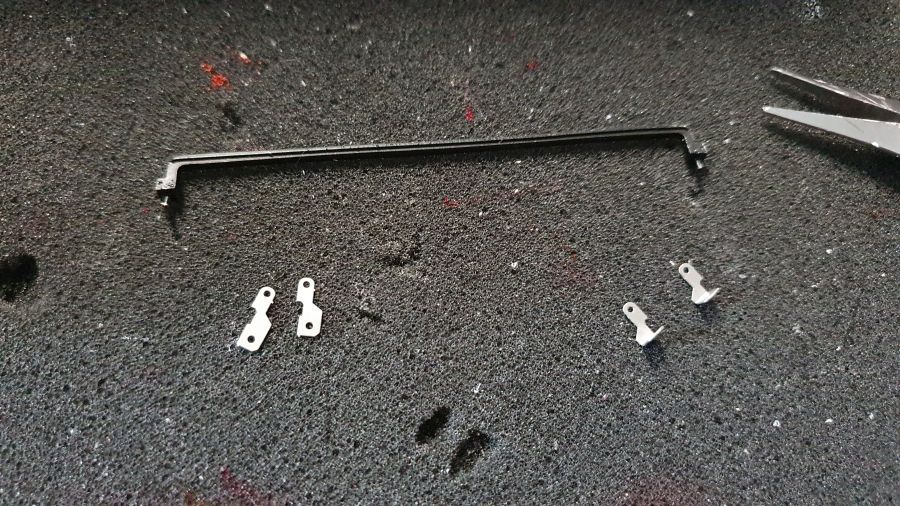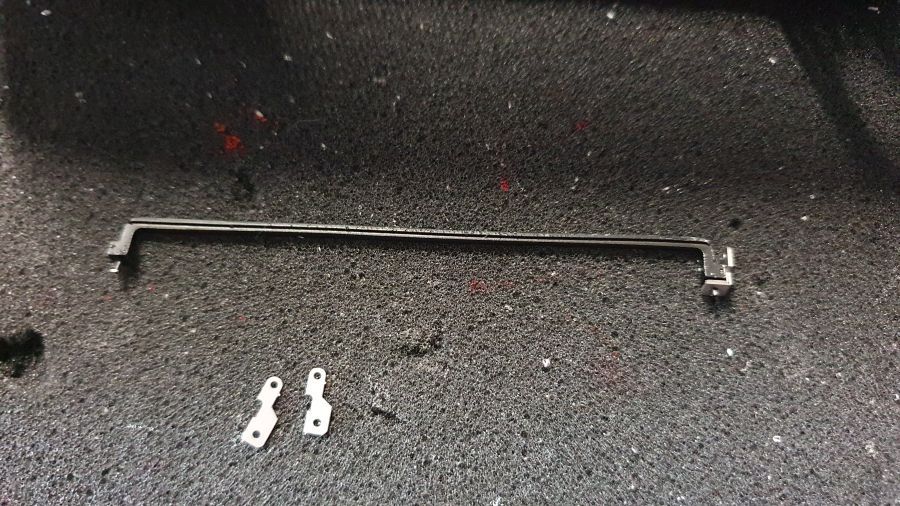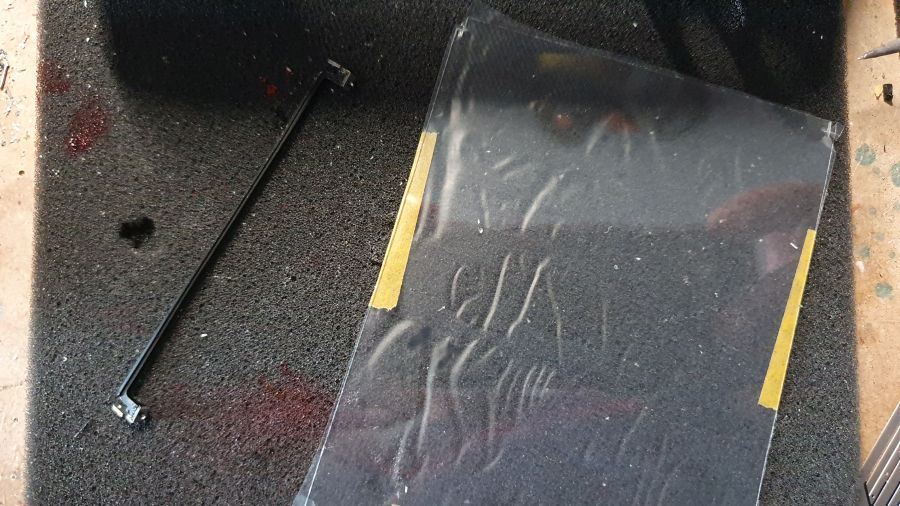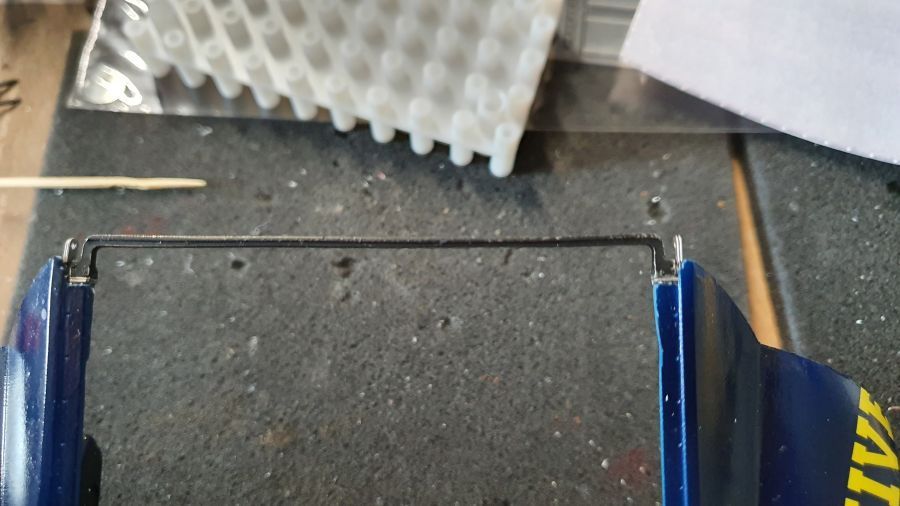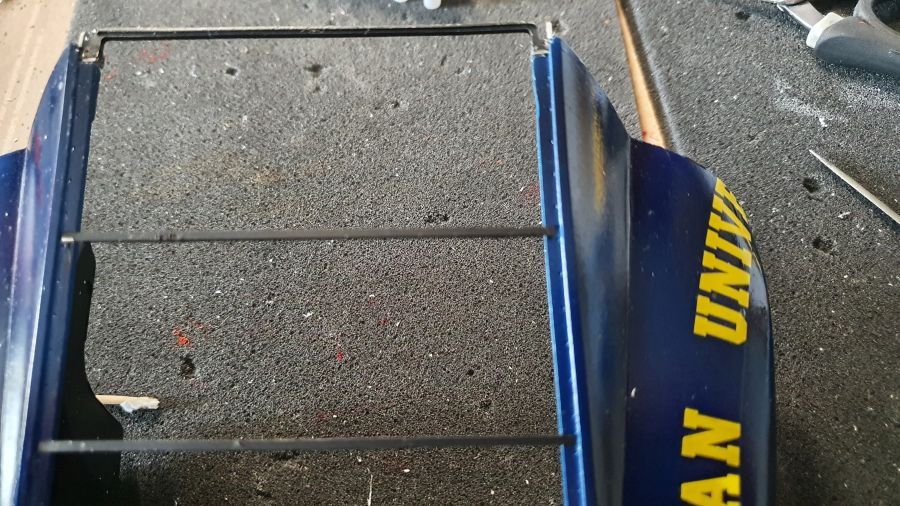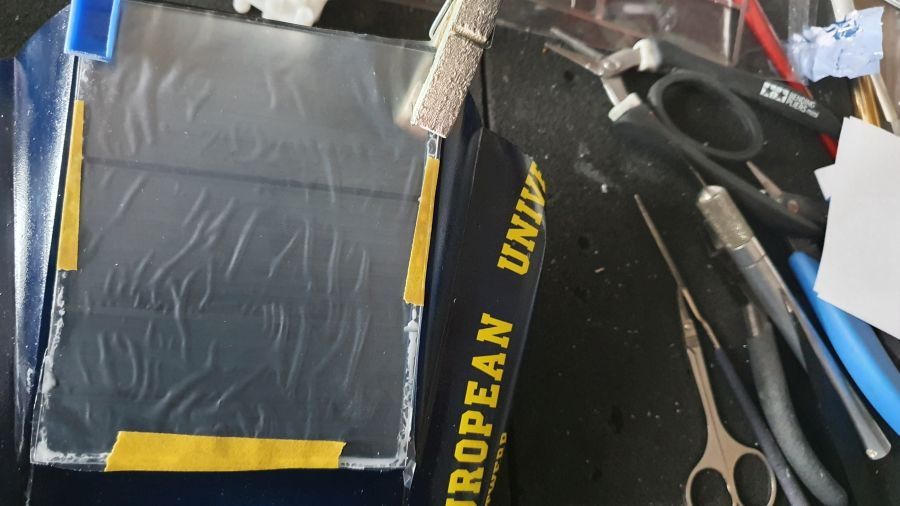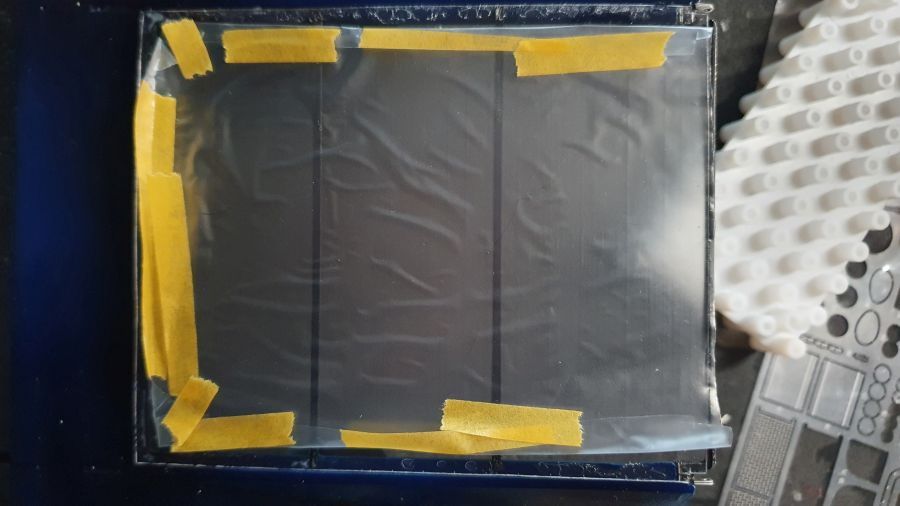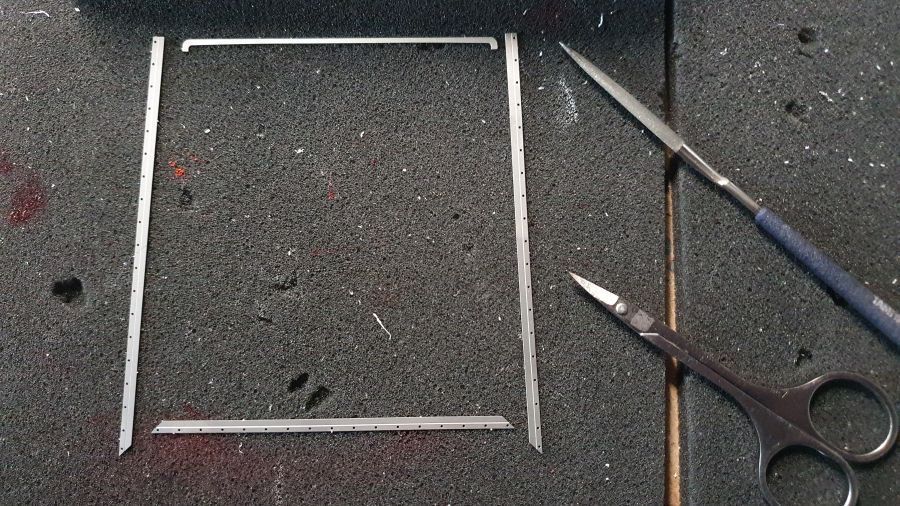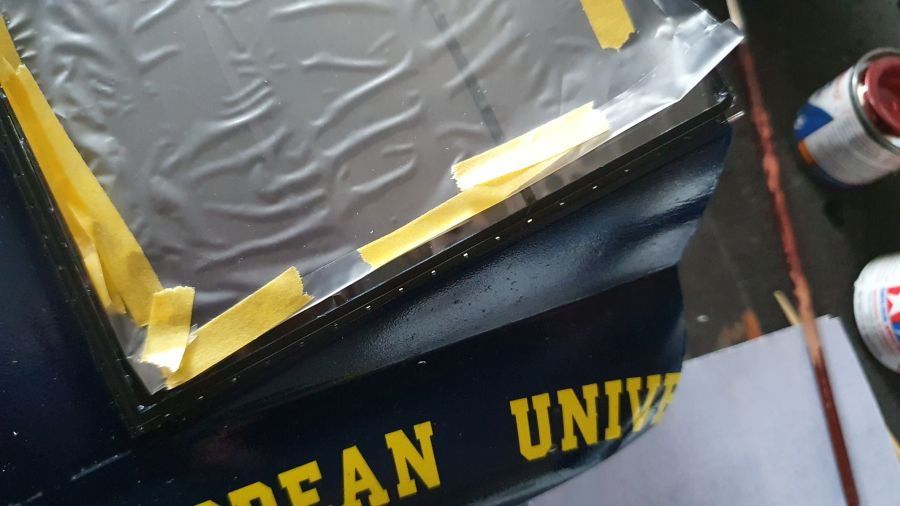 Gaatjes boren voor de popnagels.
Drilling holes for the rivets.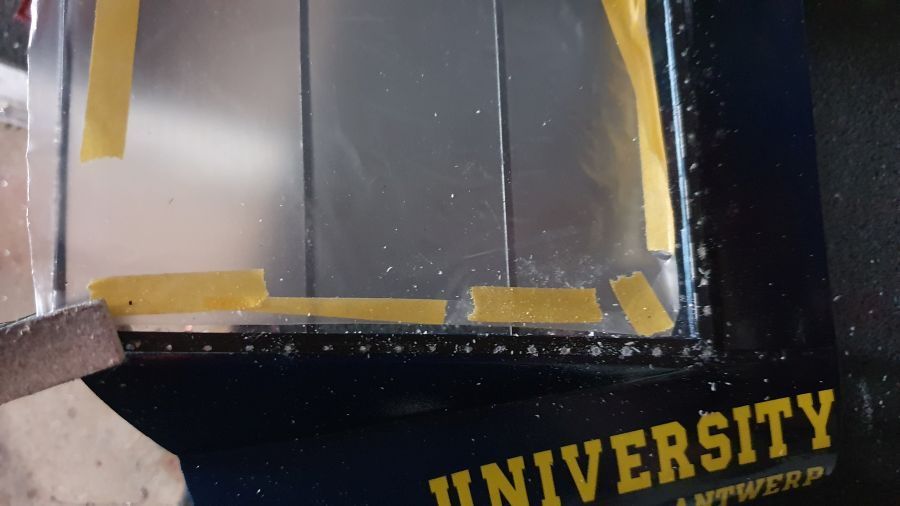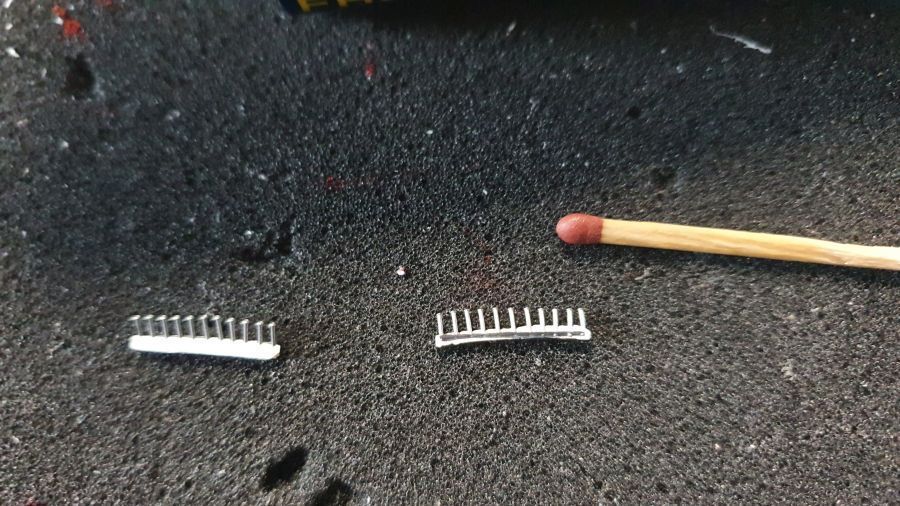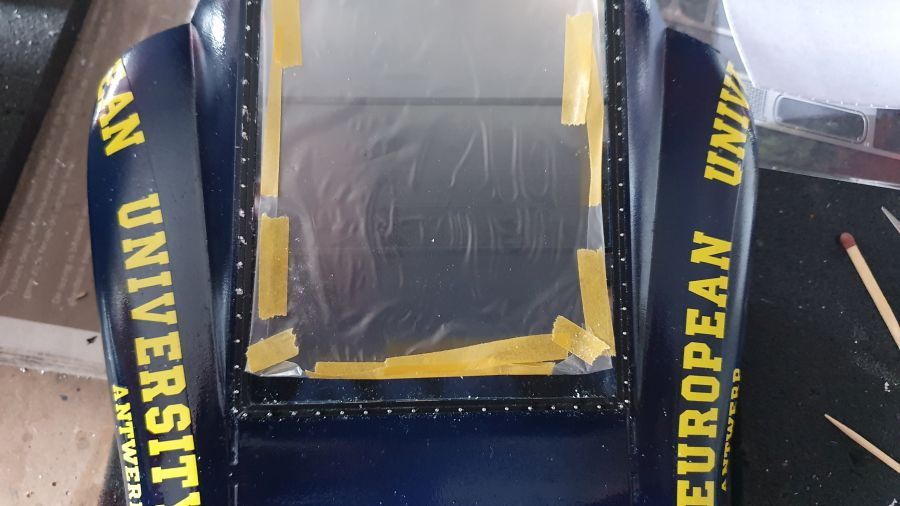 De achterlichten worden geplaatst.
The rear lights were added.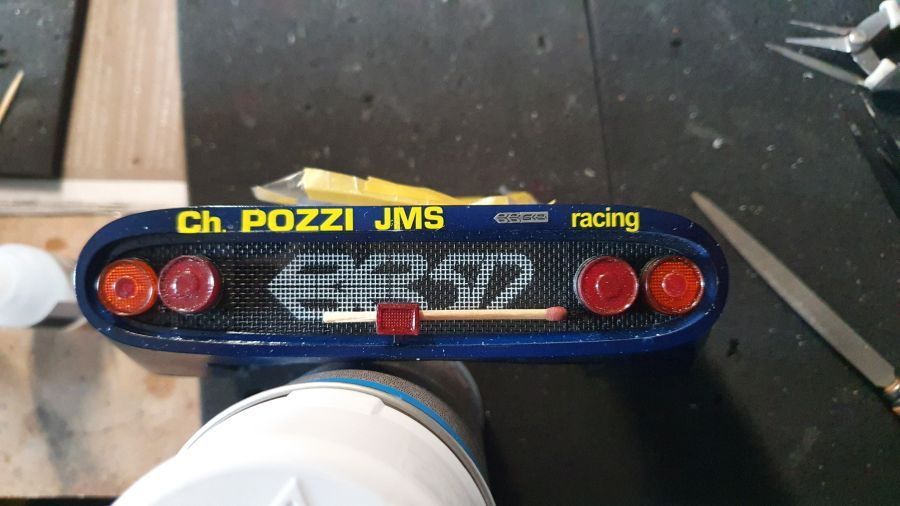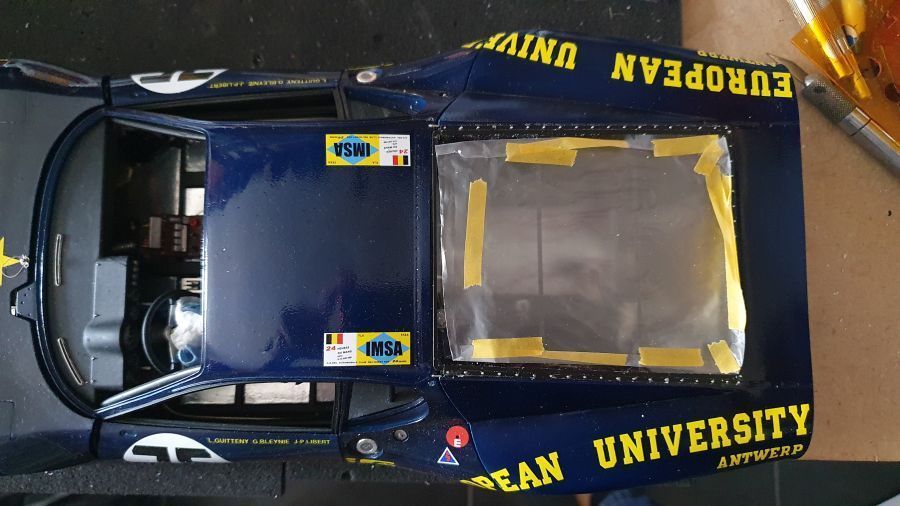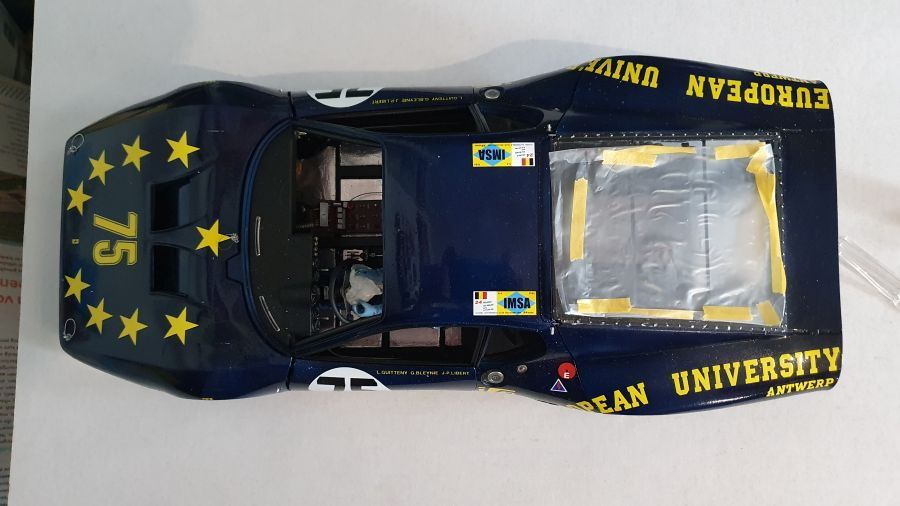 Na een kleine poll op Facebook is iedereen het erover eens. De keuze was zilver of gele velgen. Unaniem vielen de stemmen op de gele velgen.
After a small poll on Facebook everybody agreed. The choice was silver or yellow rims. Unanimous the votes were for the yellow ones.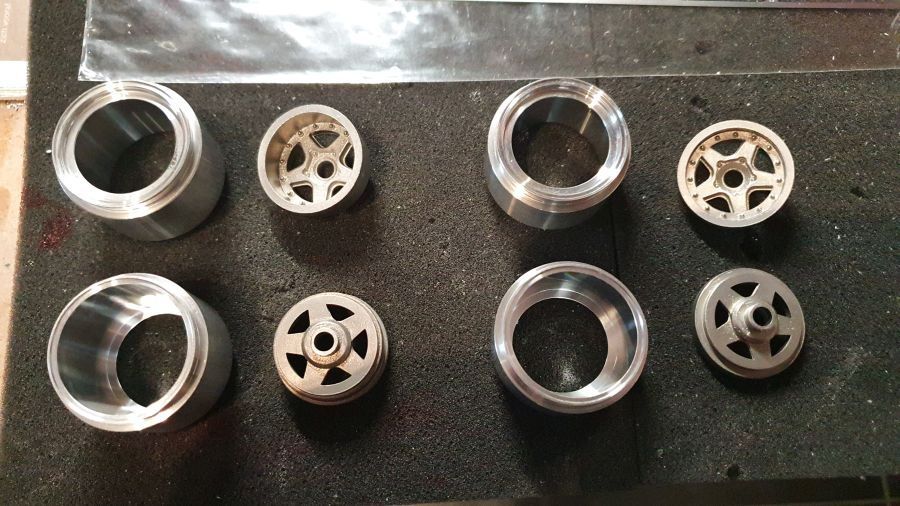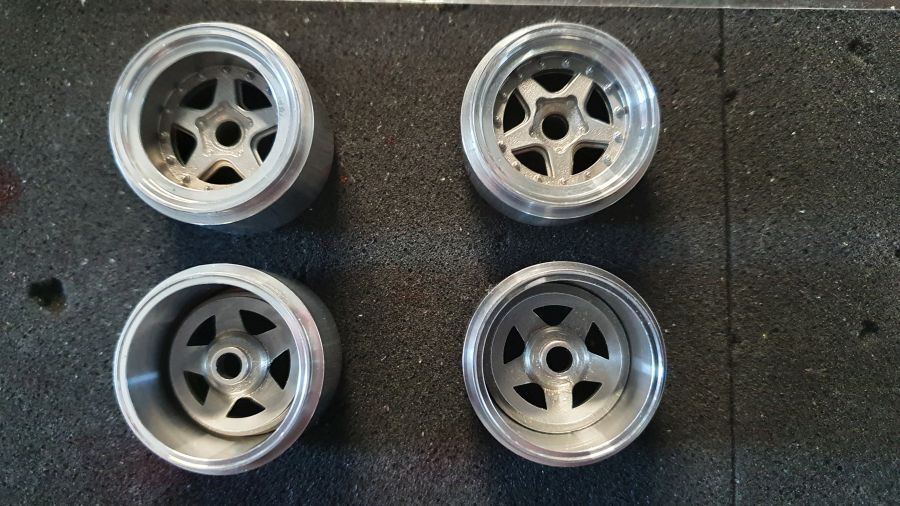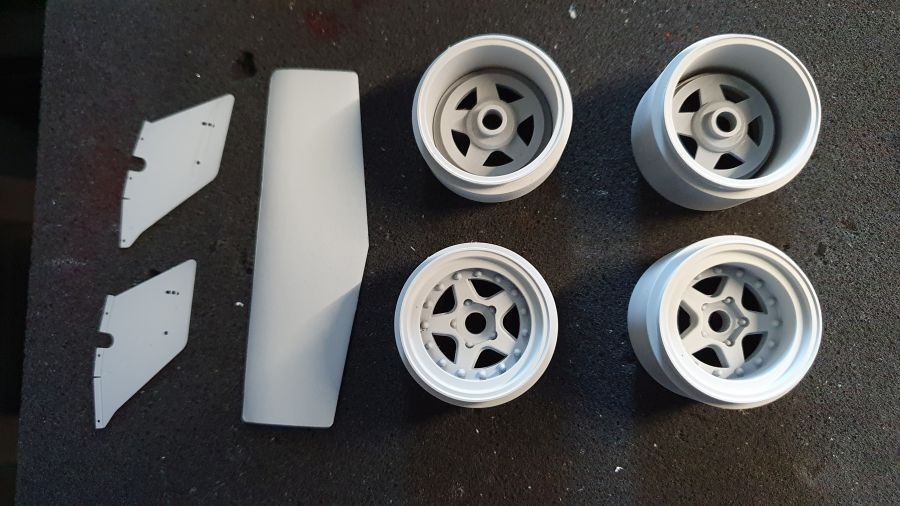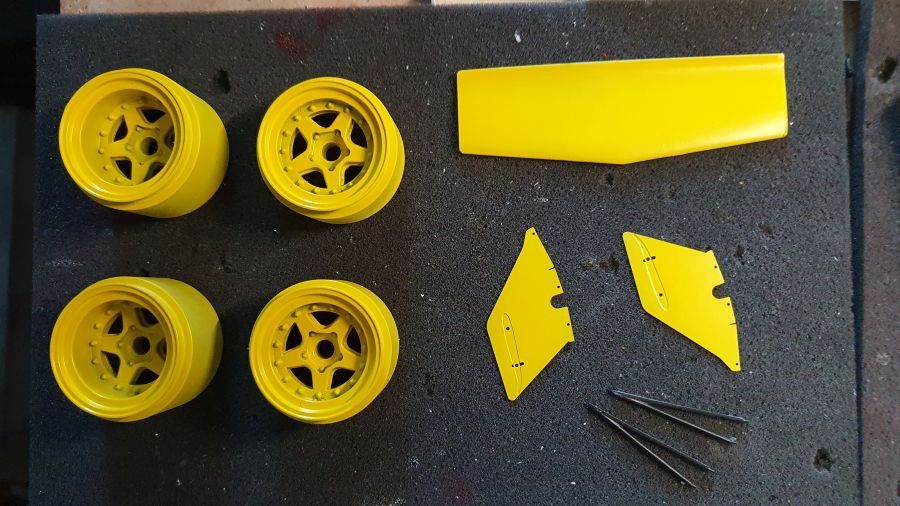 Nu laten drogen voordat de glanzende lak erop gaat.
Now let it dry before applying the clear gloss.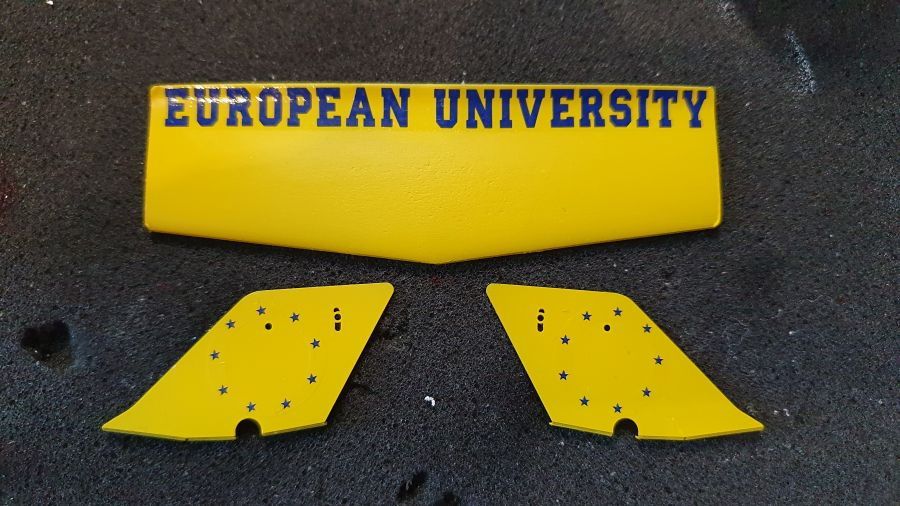 Dan de heldere lak.
Then the clear coat.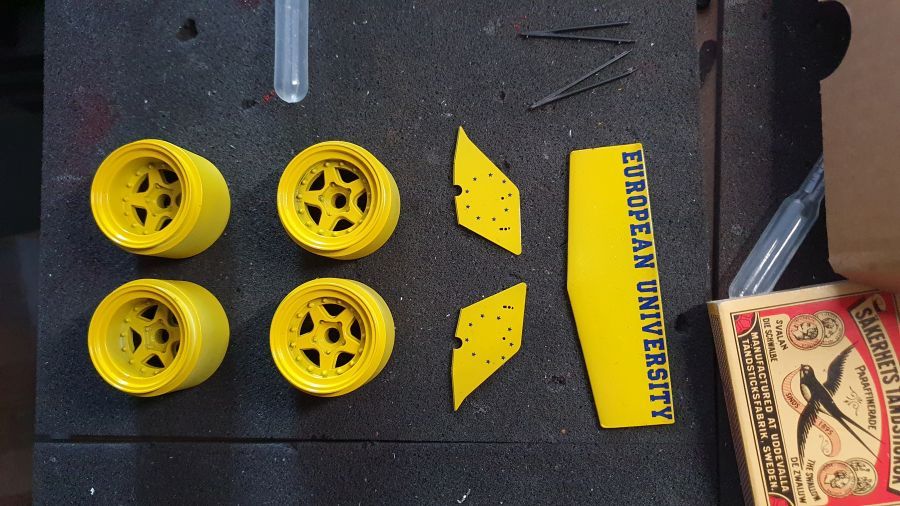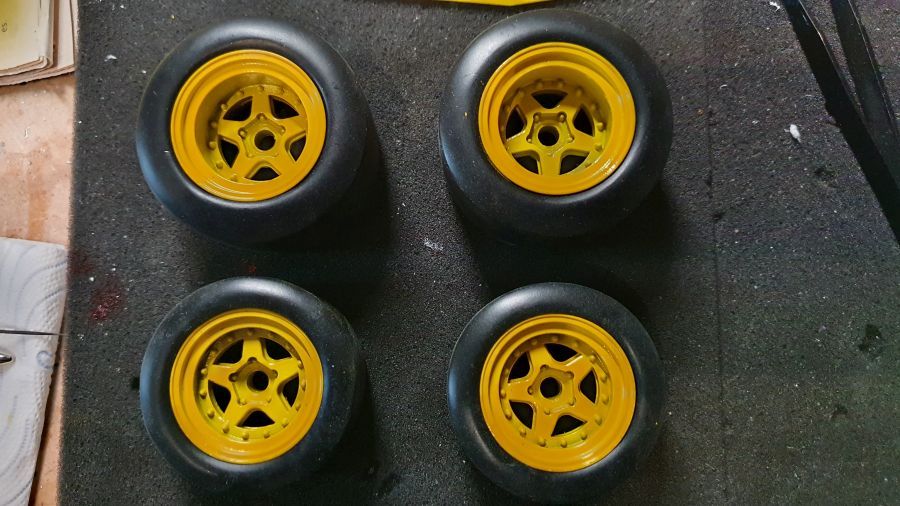 Wat 'vuil' aangebracht. 
Added some 'dirt'.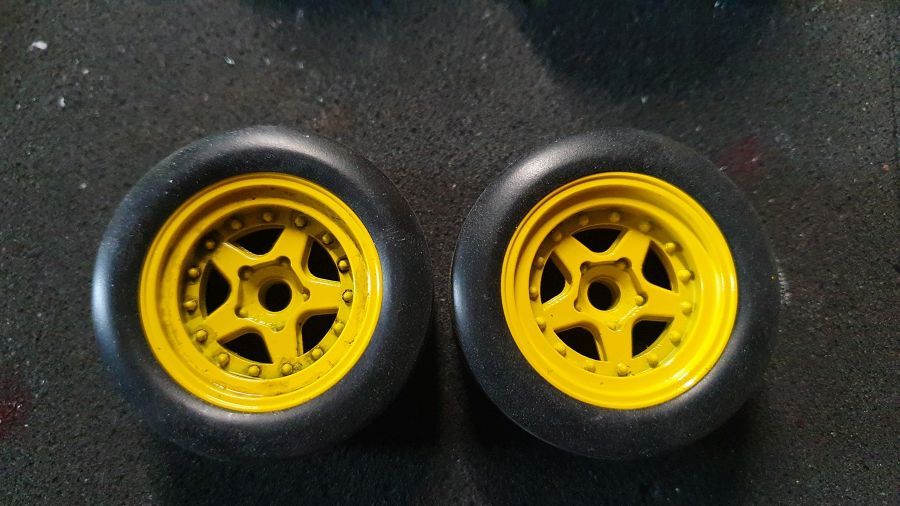 De glans van de banden halen.
Getting rid of the shine on the tires.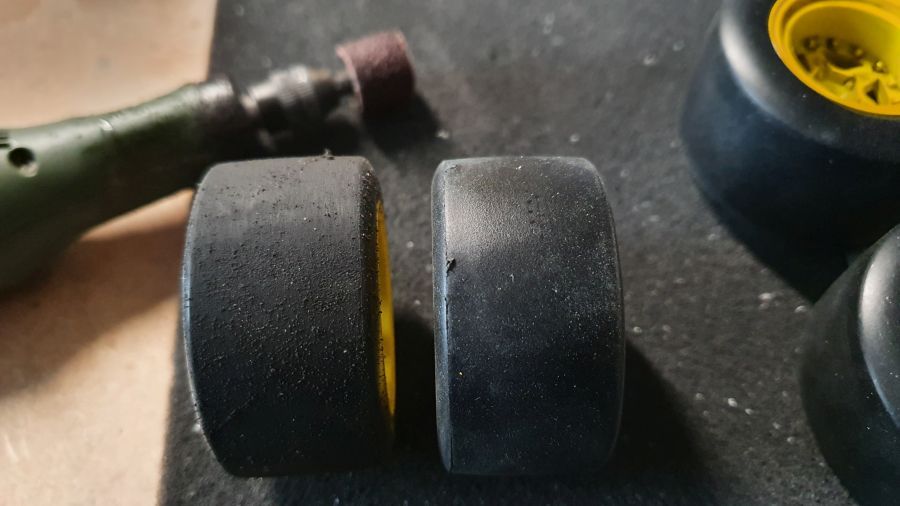 De ventielen plaatsen.
Adding the valves.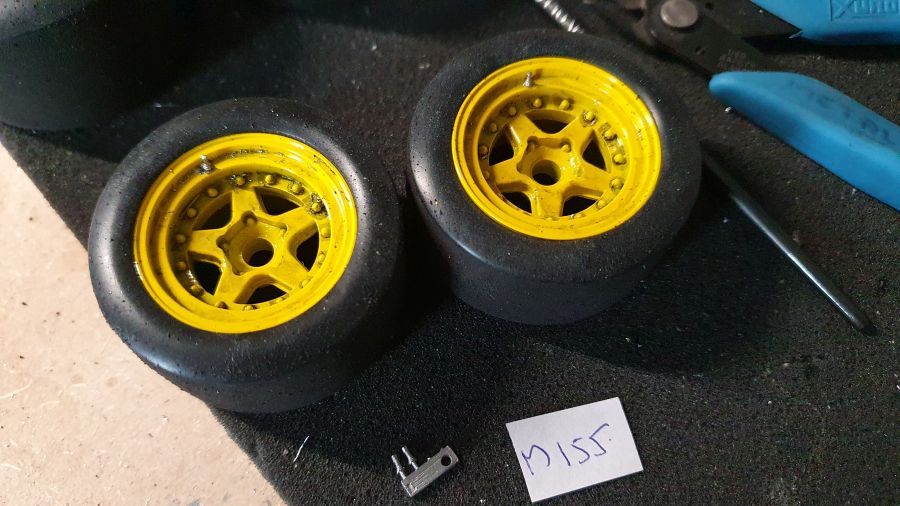 En op de wielen zetten.
And put it on it's wheels.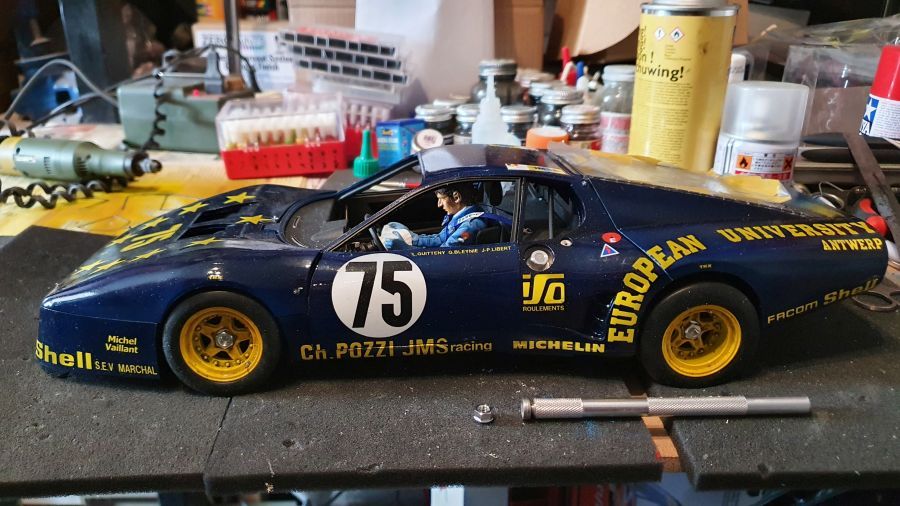 Dan de ramen. Eerst de achterste. Ik heb de raamlijsten gespoten, maar de achterste krijg ik met geen mogelijkheid geplaatst. Blijkbaar ben ik niet de enige, want bij de MFH-proefbouw zie ik ze ook niet.
Next are the windows. I painted the window rims, but i cannot mount the back ones. Probably i am not the only one, as i don't see them either on the MFH test build.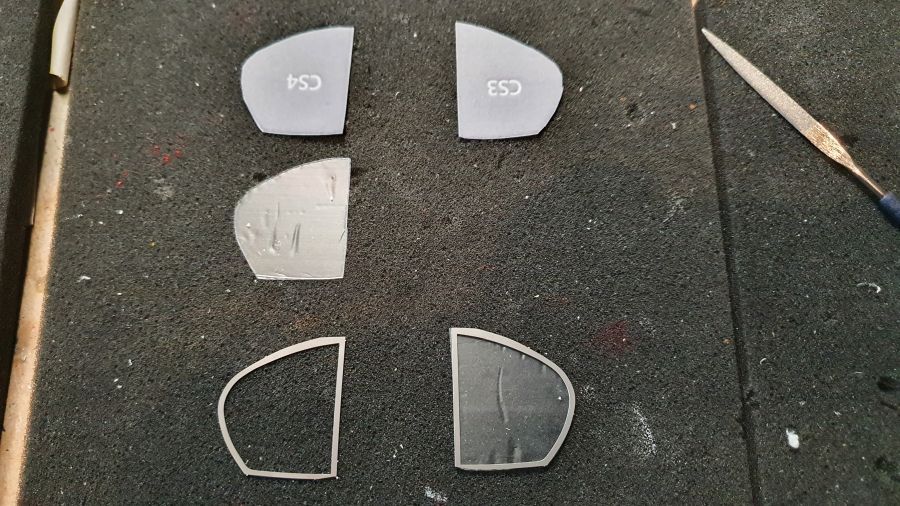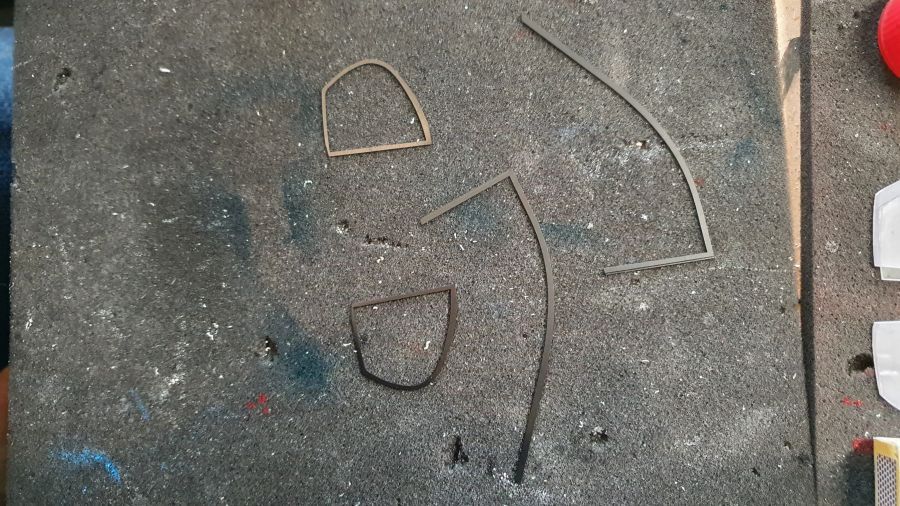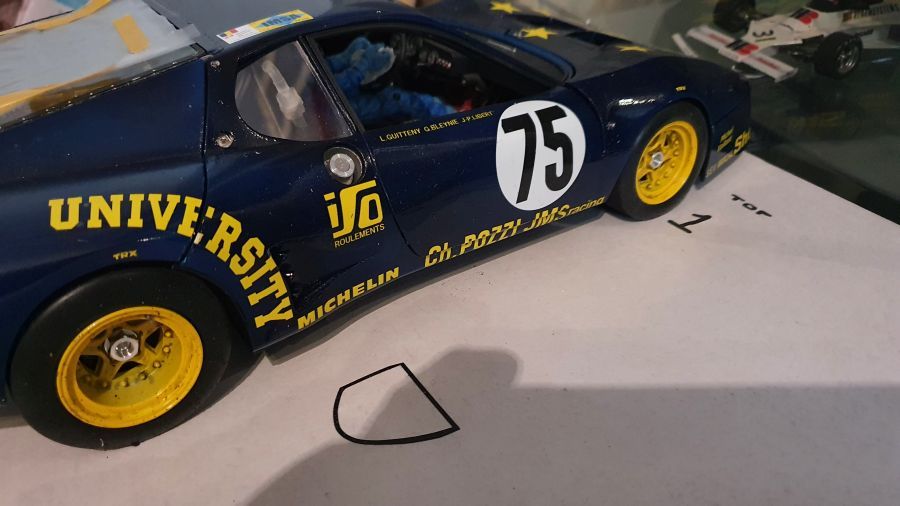 Door met de ramen van de deuren. Dit wordt een lastig karwei. Ik heb al modellen gezien waarbij de 'race ruitjes' maar niet zijn geplaatst. 
On to the windows of the doors. This will be a pita. I have seen models where the 'racing windows' were not added.
Om een of andere reden zitten er allemaal deukjes in de ramen. Slecht vacuum werk dat bij een controle naar voren had moeten komen. Ik baal er een beetje van. Het is duidelijk te zien bij het passen.
For some reason the windows have dents all over it. Bad vacuum job that should have been noticed during a quality check. I am really disappointed by this. It's very clear to see when doing a test fit.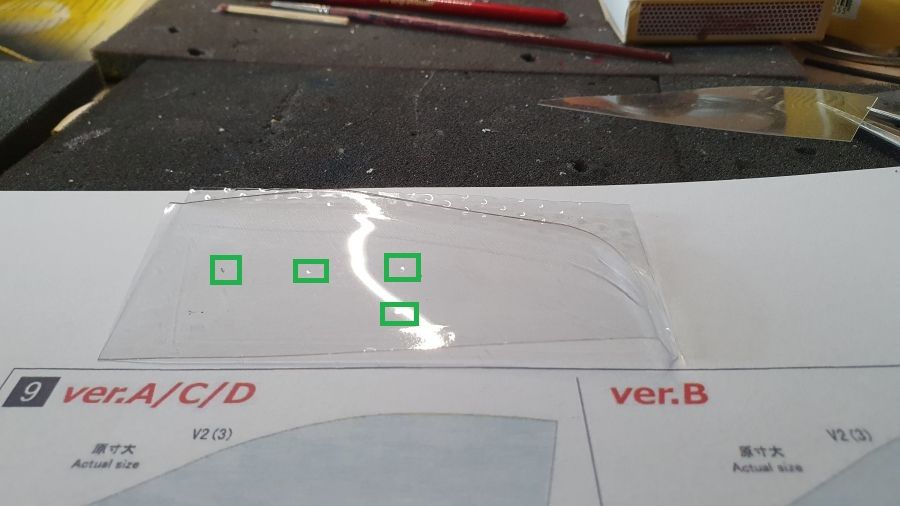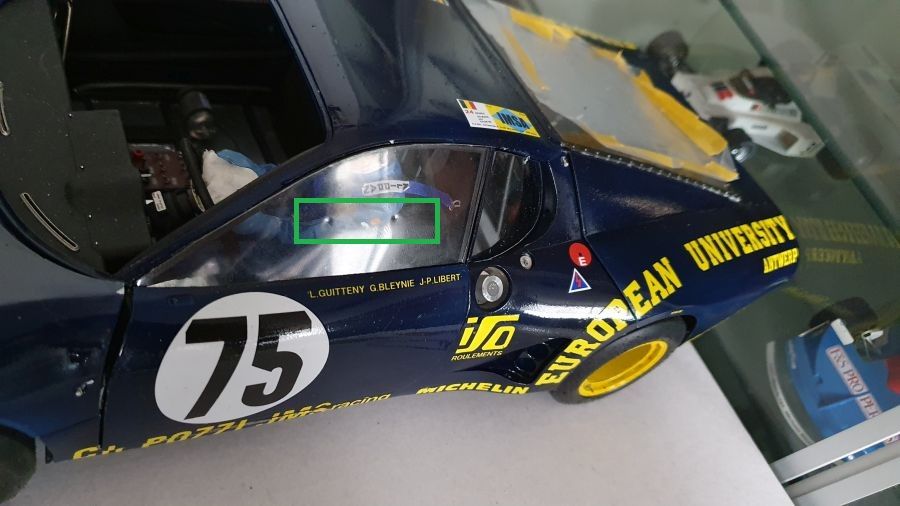 Uitgesneden. Nu een groter stuk glas aanbrengen met de 2 rails. Ik ga de rails lijmen, het lijkt me bijna niet te doen met de popnagels.
Cutting done. Now adding a little larger piece with the 2 supports. I will glue the supports, it looks too tough to use the rivets.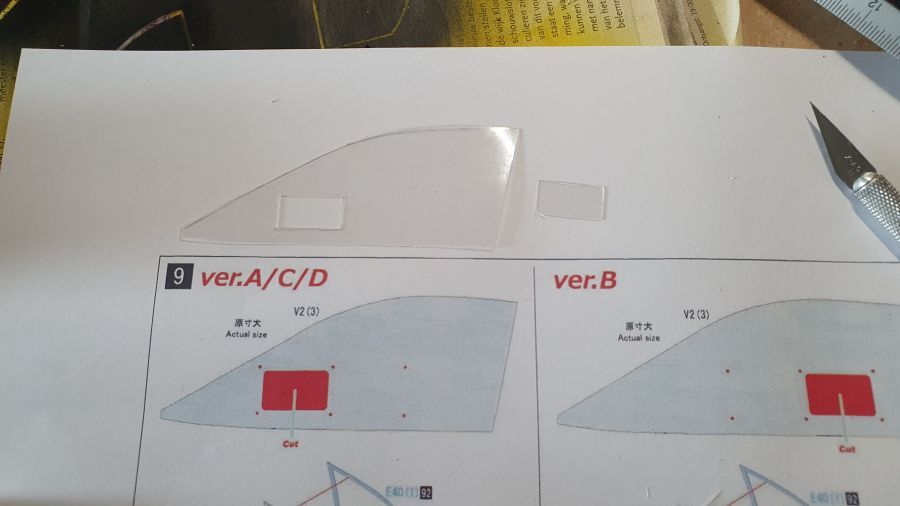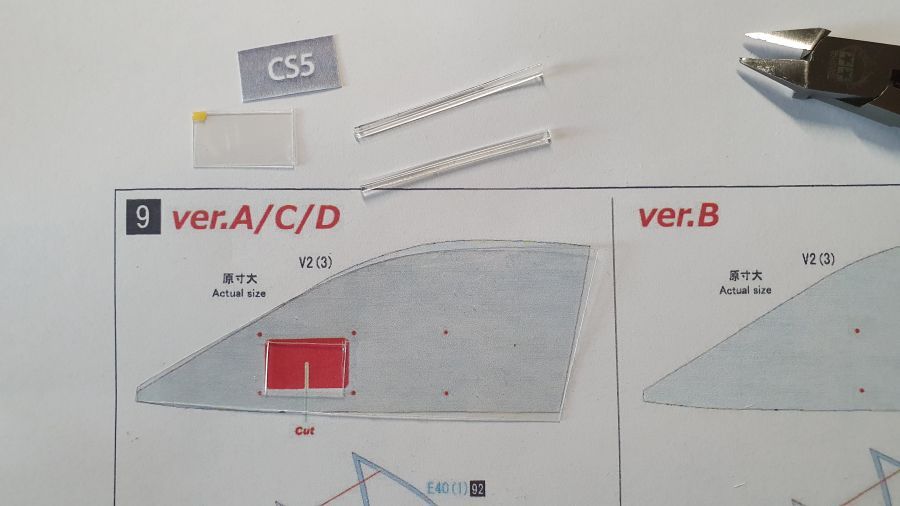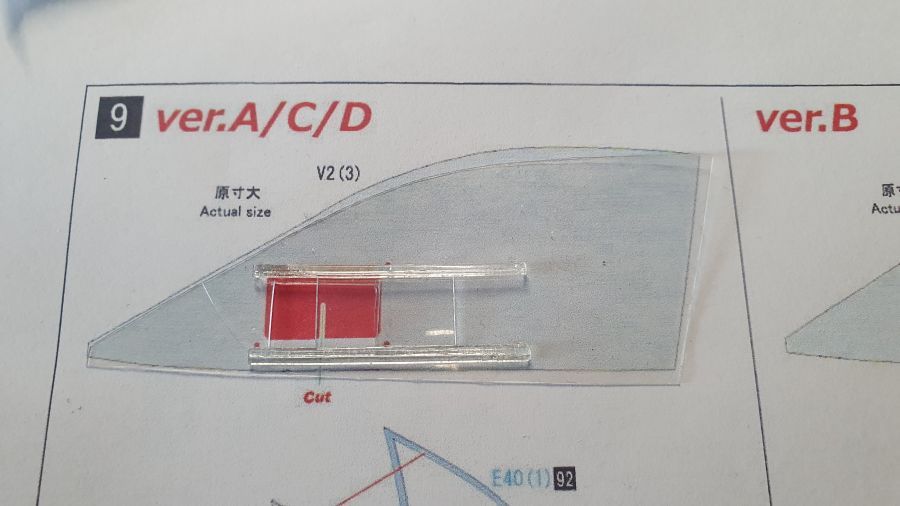 Ik ga de ramen plaatsen met behulp van glastape voor mobiele telefoons. Ik ga het eerst even testen op de 2 afvalstukjes. Daarna even bekijken of ik de 1 mm, 2 mm of 3 mm versie gebruik.
I will mount the windows by using glass tape for cell phones. I will test this on the 2 garbage pieces. Then see if i will use 1 mm, 2 mm or 3 mm tape.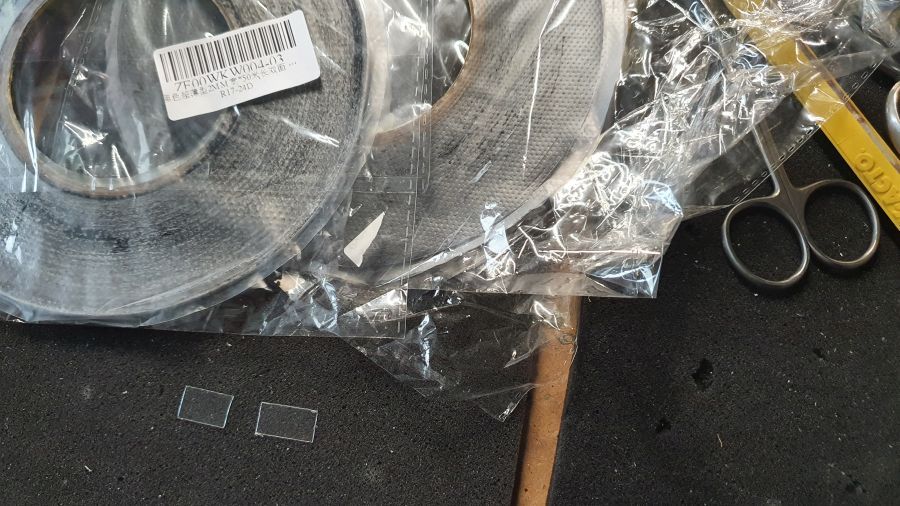 Ik heb uiteindelijk voor de 1 mm tape gekozen. Past mooi op de lijmranden van de body.
Eventually i chose the 1 mm version. It fits very nice on the window trims of the body.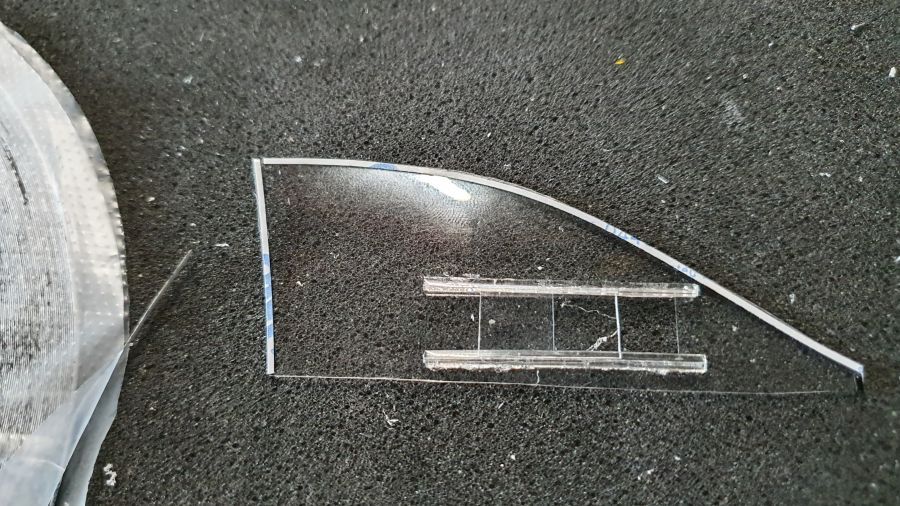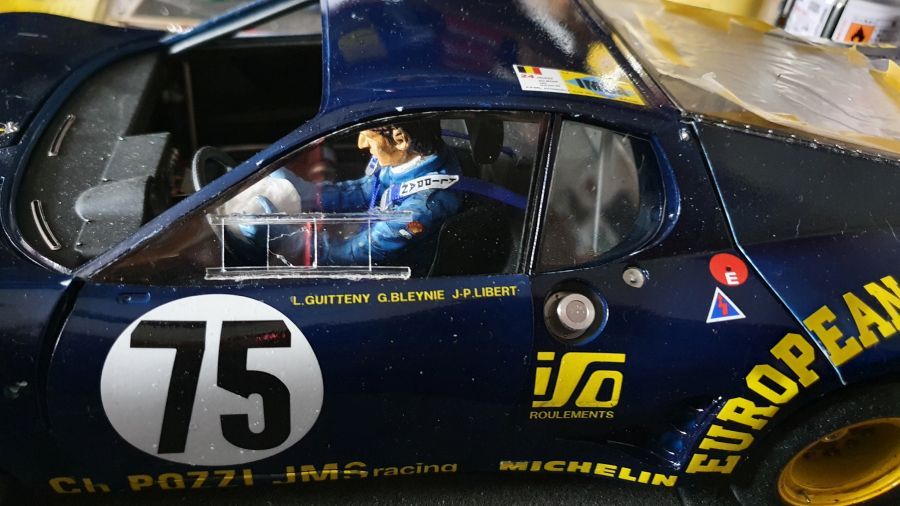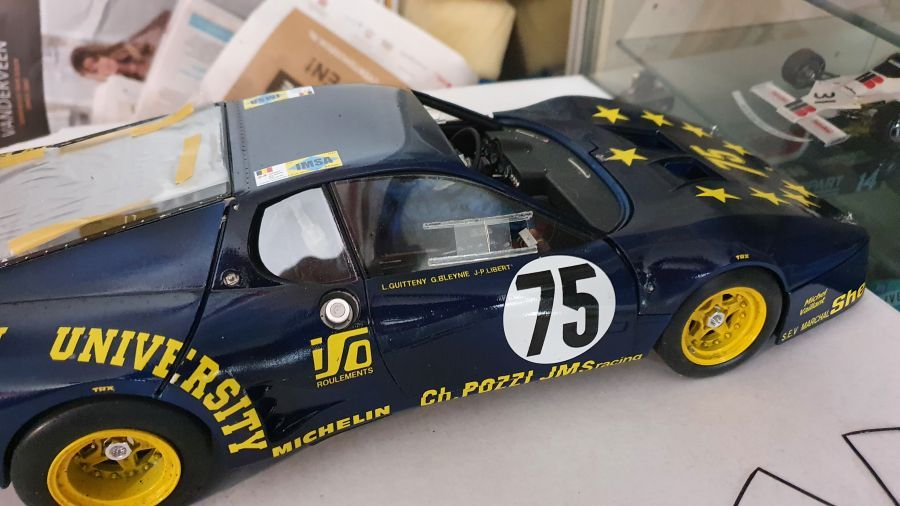 Ook op de voorruit.
To the front windshield too.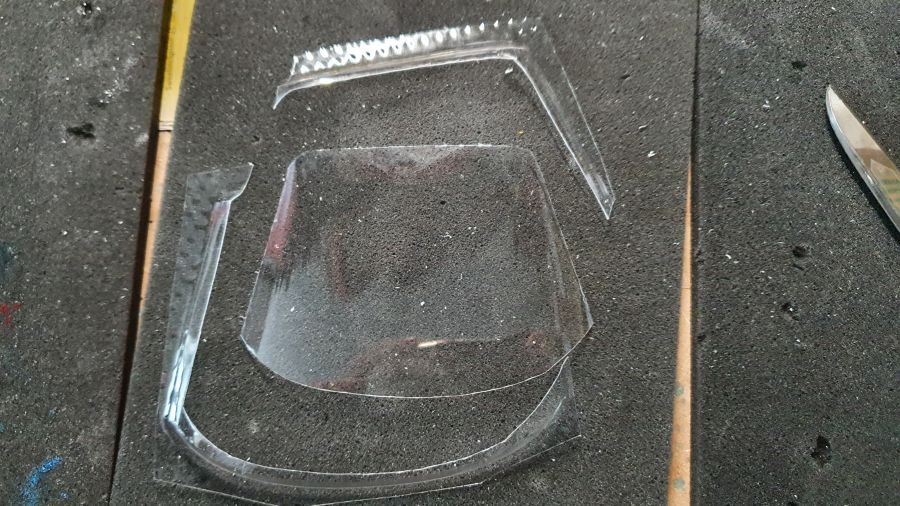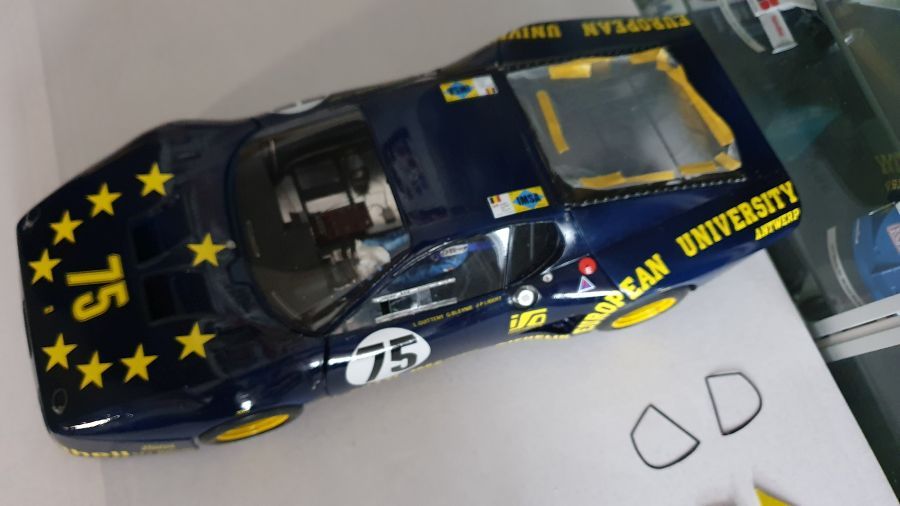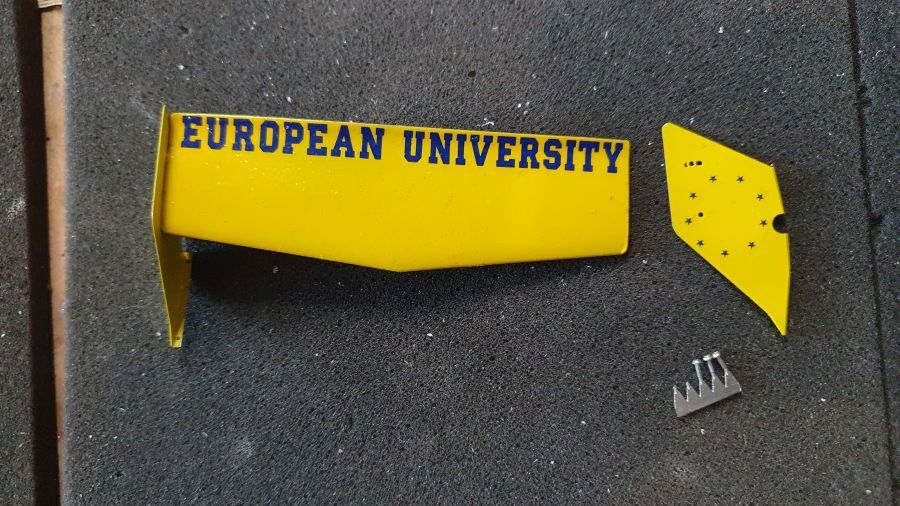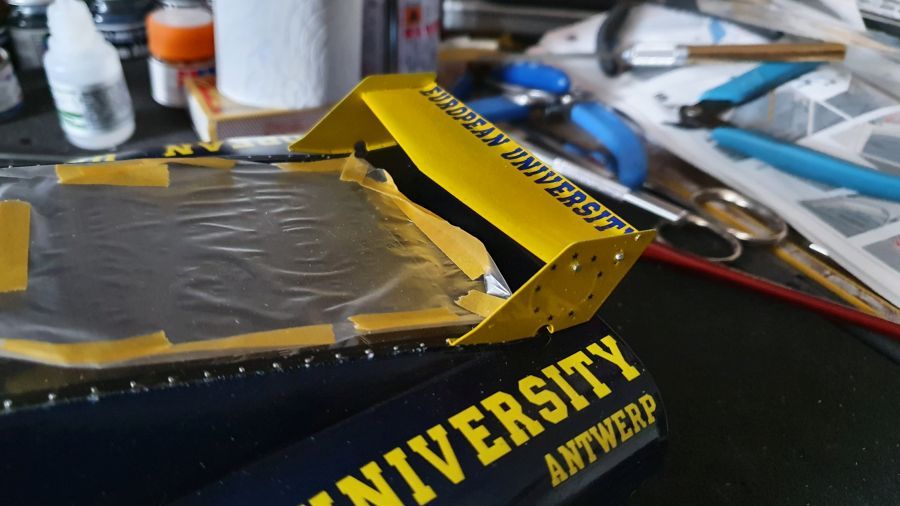 Na nog wat kleine onderdelen, beschouw ik deze voorlopig als klaar. Ik wil nog race-sporen aanbrengen, maar dat moet ik eerst even oefenen met mijn AK-Asfalt-Set. 
After some more small parts, i consider this one done for now. I will add some race dust, but first i have to try this with my AK-Asphalt-Set.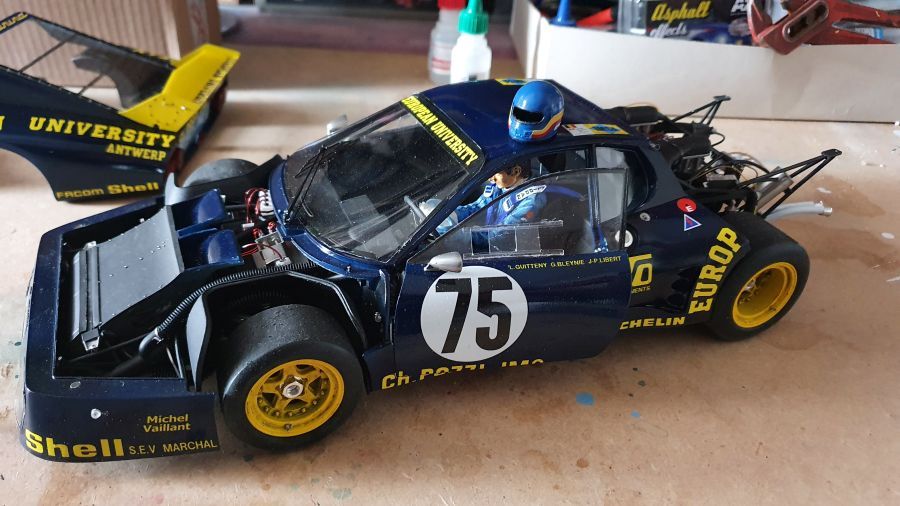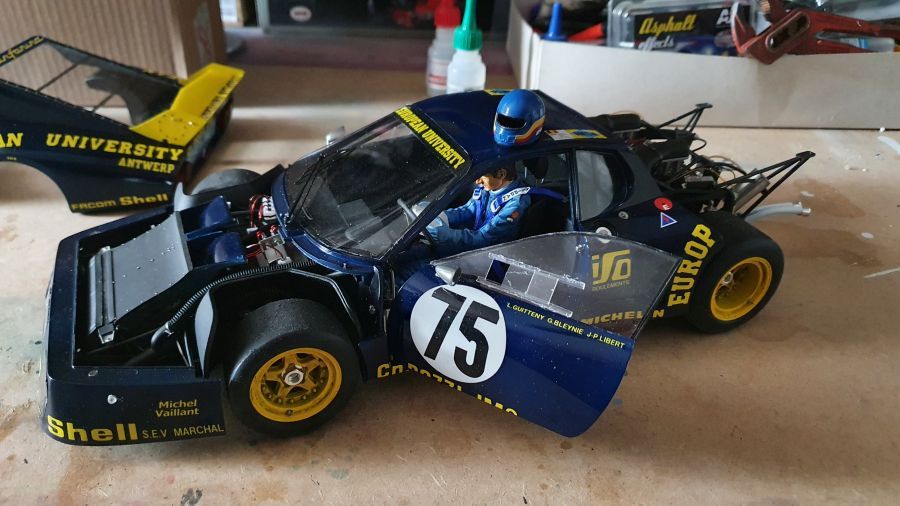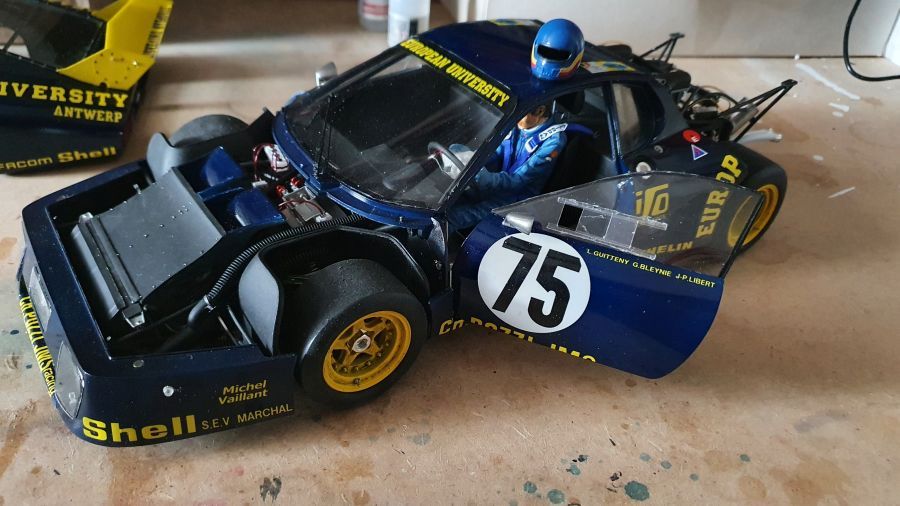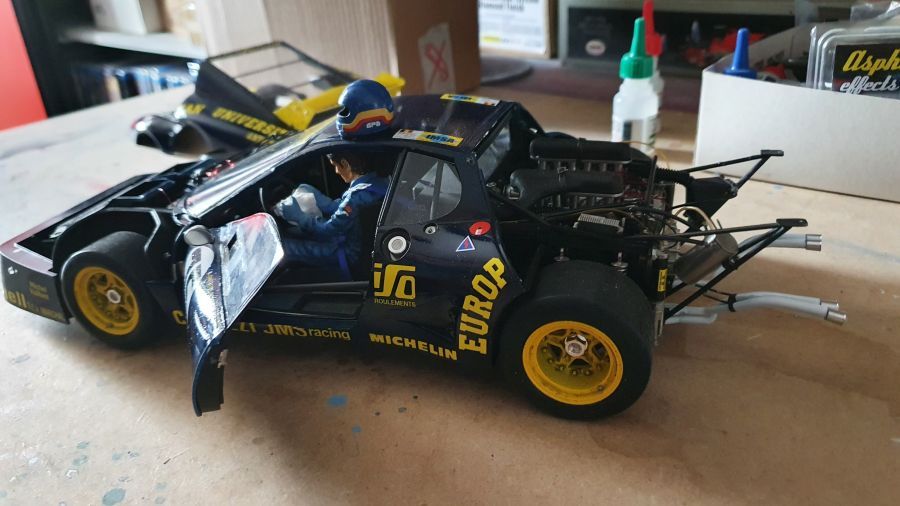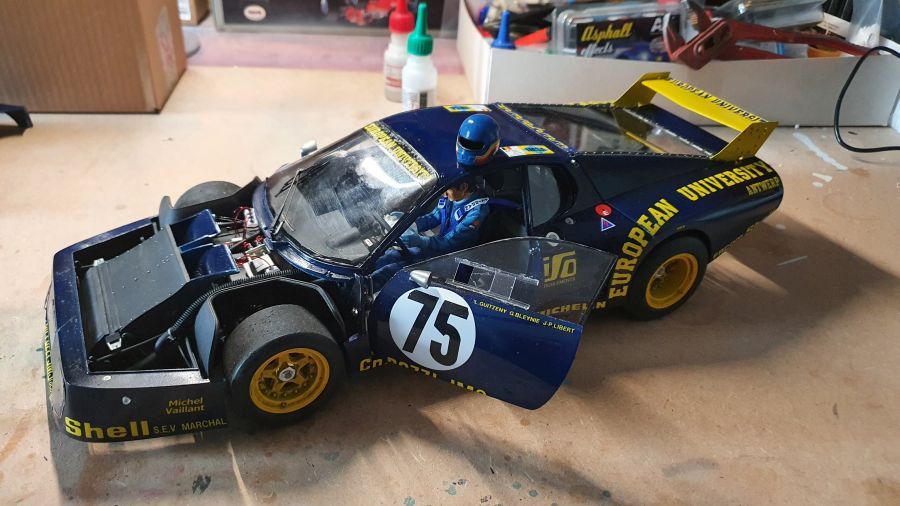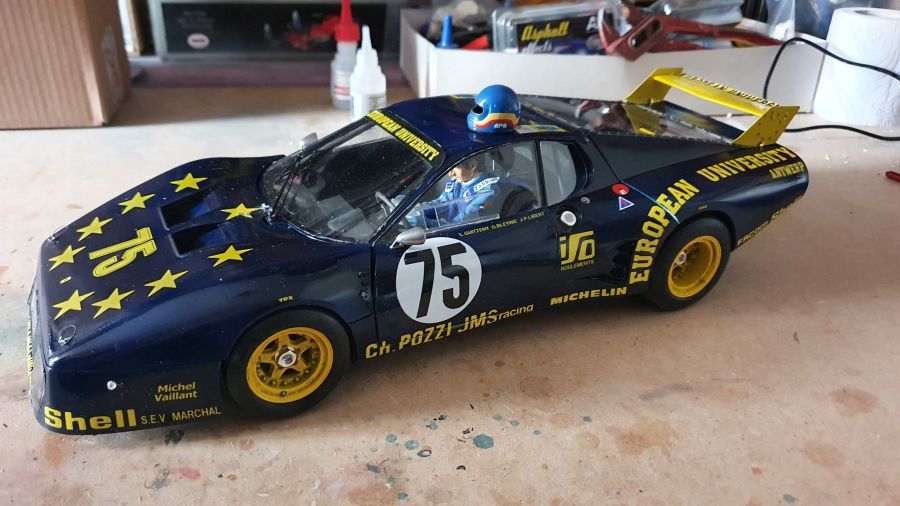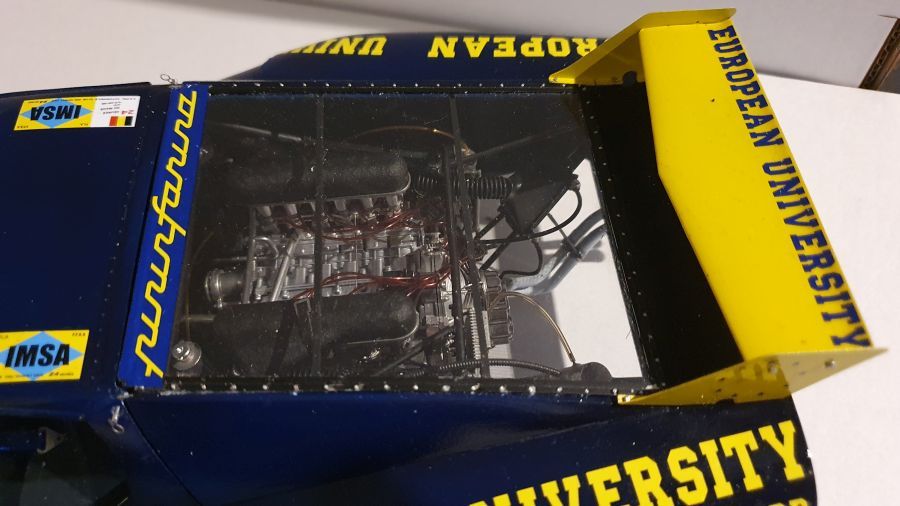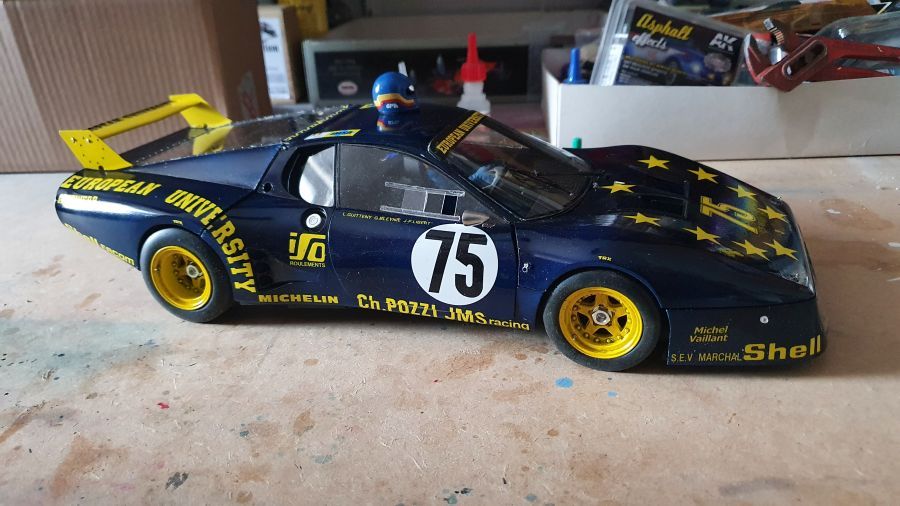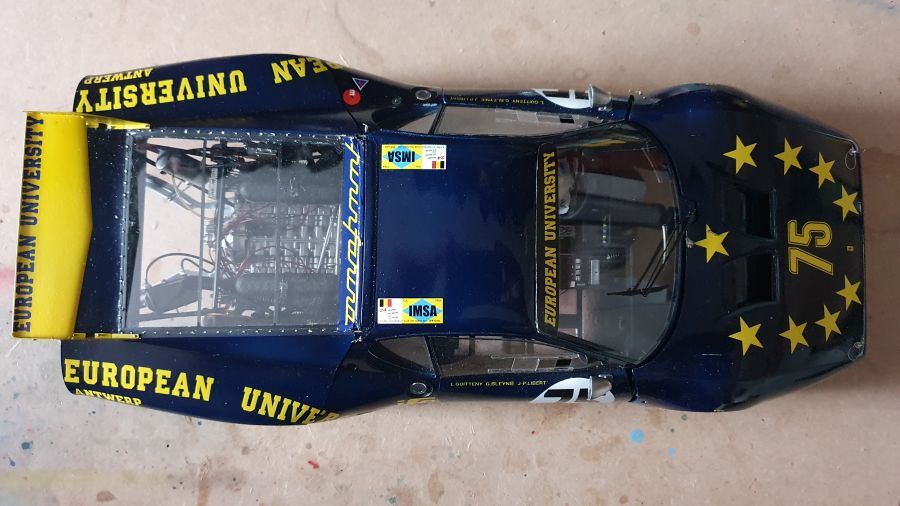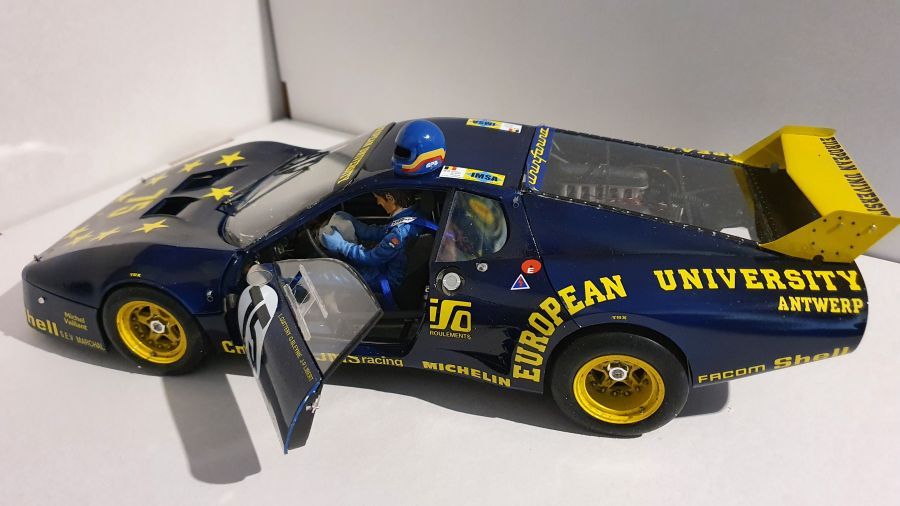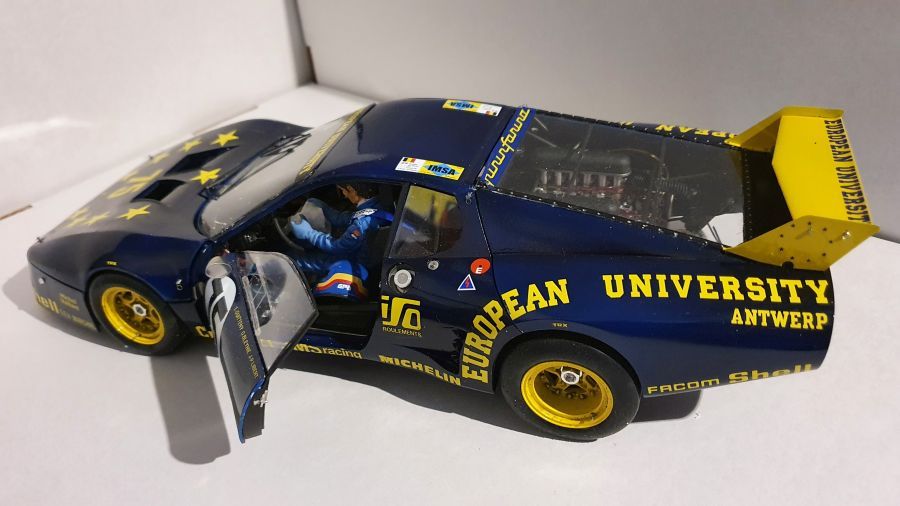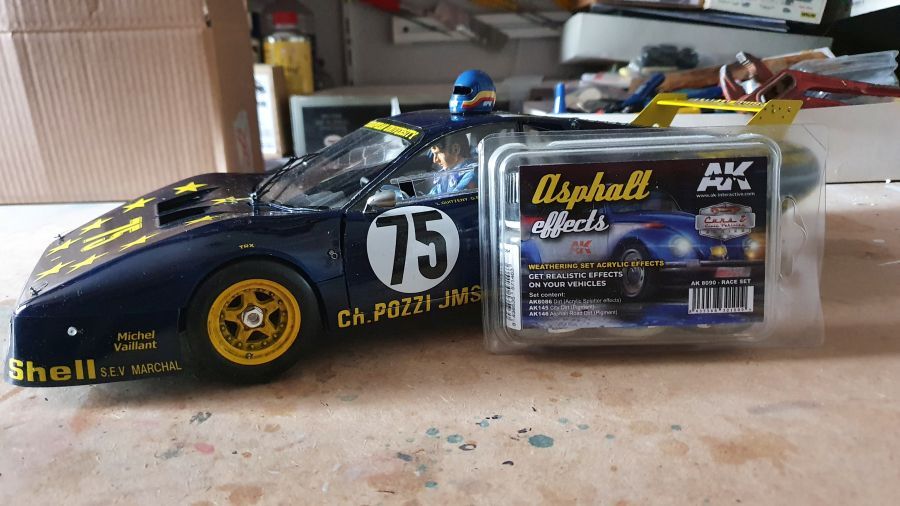 En het nieuwe onderkomen...
And the new housing...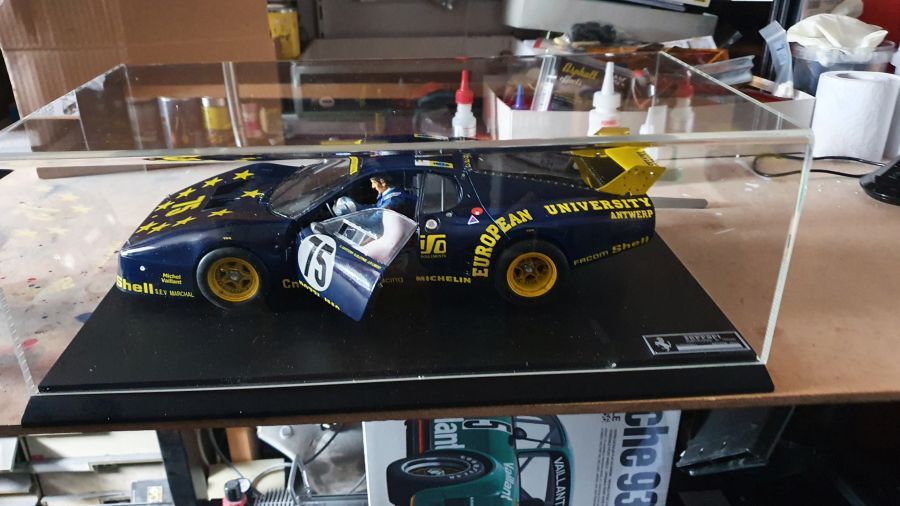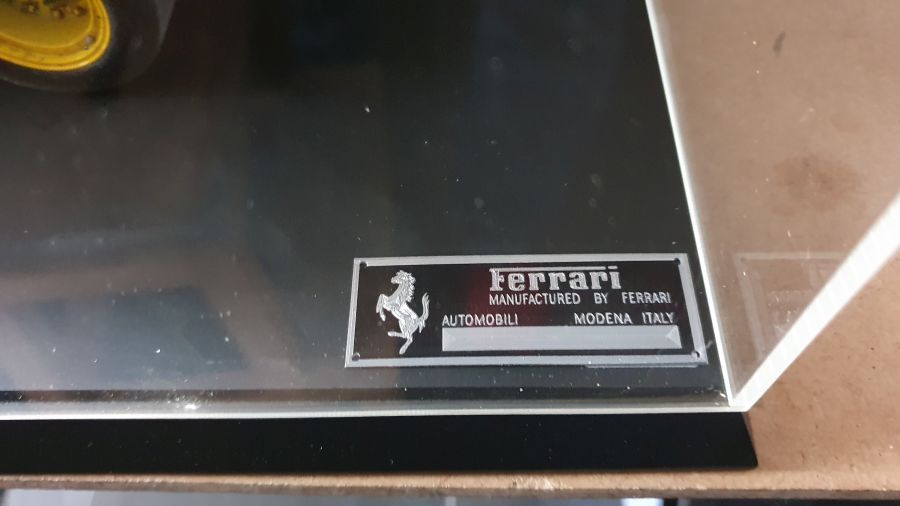 Thursday, 12 December 2019 12:06

Written by

Super User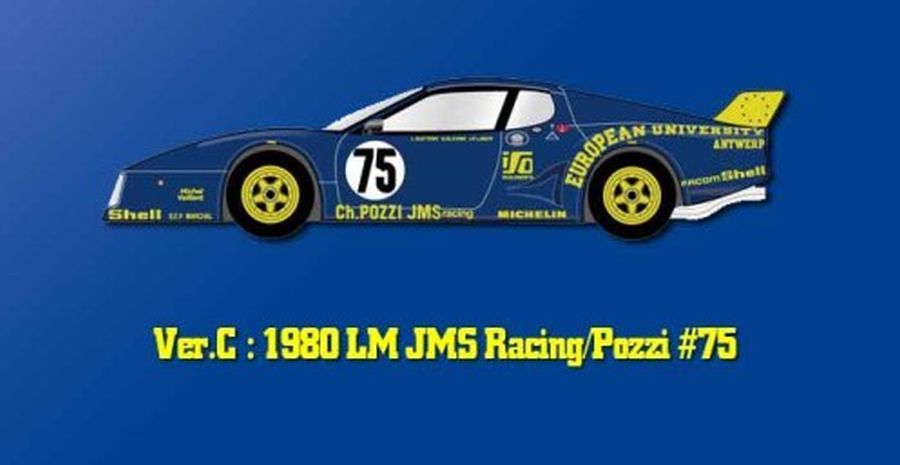 Dit moet hem worden. Mijn eerste 1/12 sinds lange tijd. Ik vind de 512BB LM prachtig om te zien. Ik maak dus de 1980 Le Mans versie van de Ferrari 512BB LM zoals bestuurd door Lucien Guitteny / Gerard Bléynie / Jean-Paul Libert. It's the kit from MFH (kit nr. K533). Eerst nog wat meer foto's verzamelen van de motor en interieur. Hier zijn de foto's van de inhoud van de kit. The magnetische polijstmachine zal wat overwerk doen.
This should be the one. My first 1/12 build since a long time. I think the 512BB LM is a beauty. I will make the 1980 Le Mans version of the Ferrari 512BB LM as driven by Lucien Guitteny / Gerard Bléynie / Jean-Paul Libert. It's a kit from MFH (kit no. K533). First gaining some more photos of the engine and interior. Here are the pictures of the kit content. The magnetic polisher will be doing some overtime.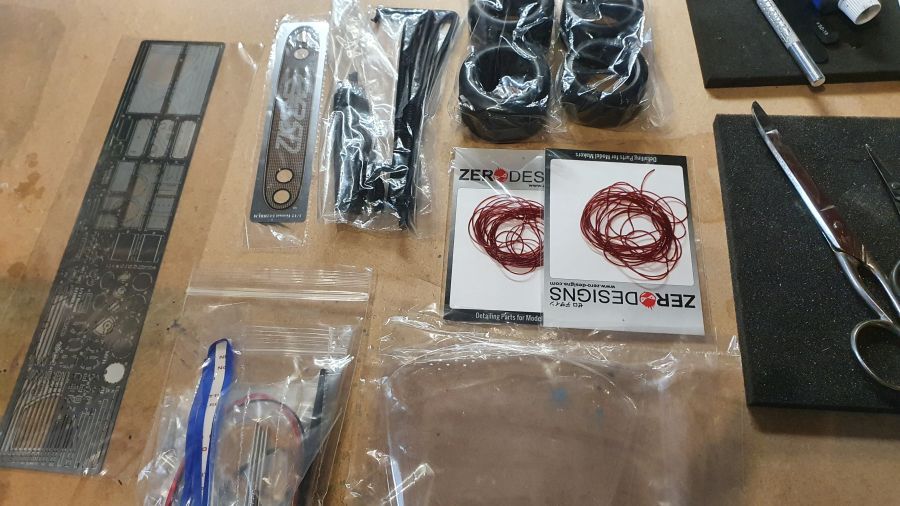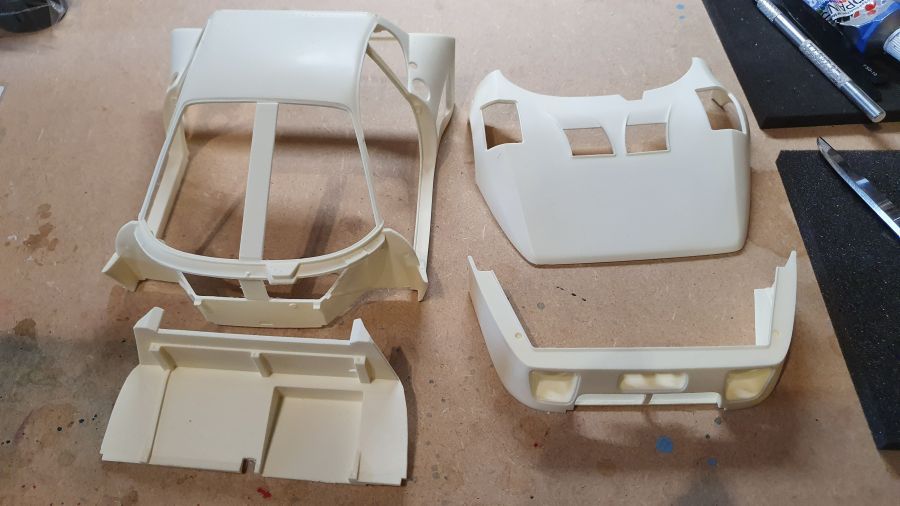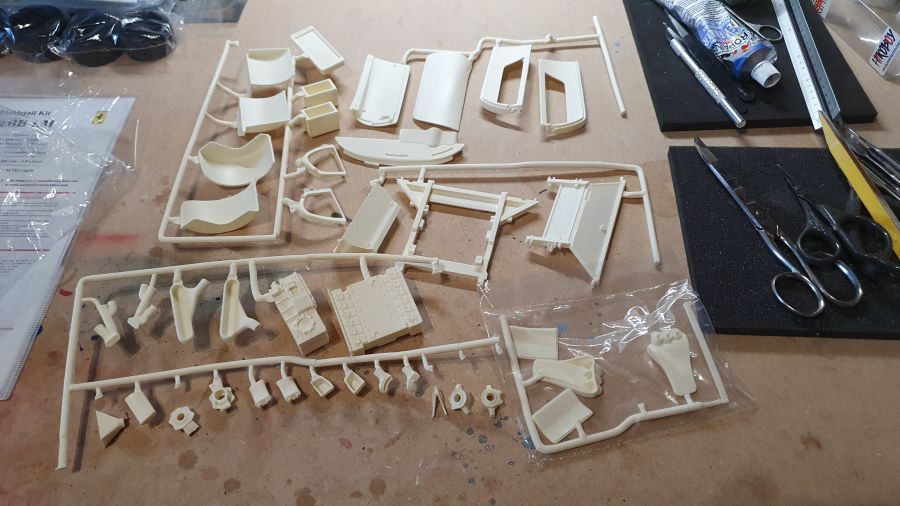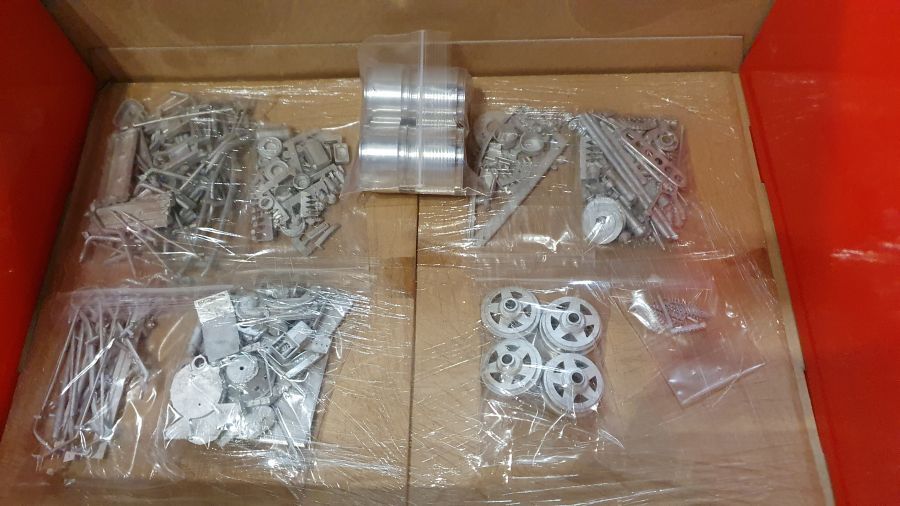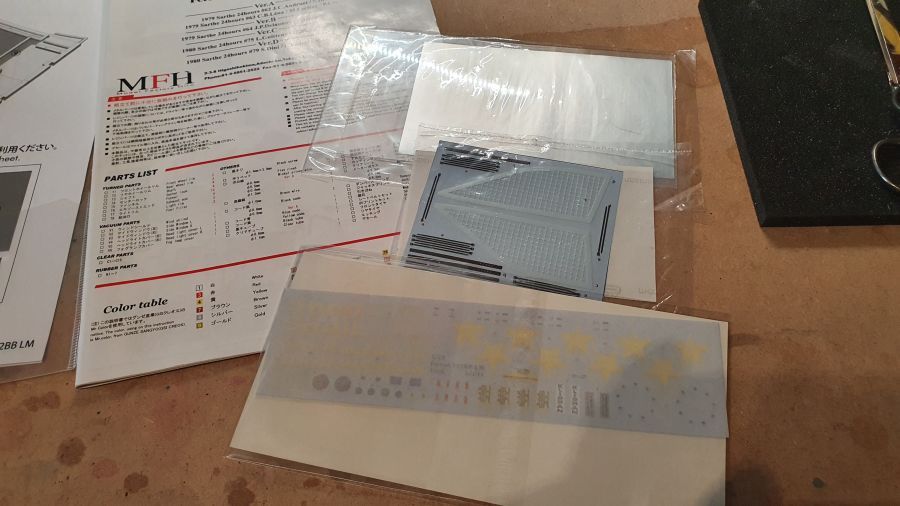 De stapel metalen onderdelen.
The pile of metal parts.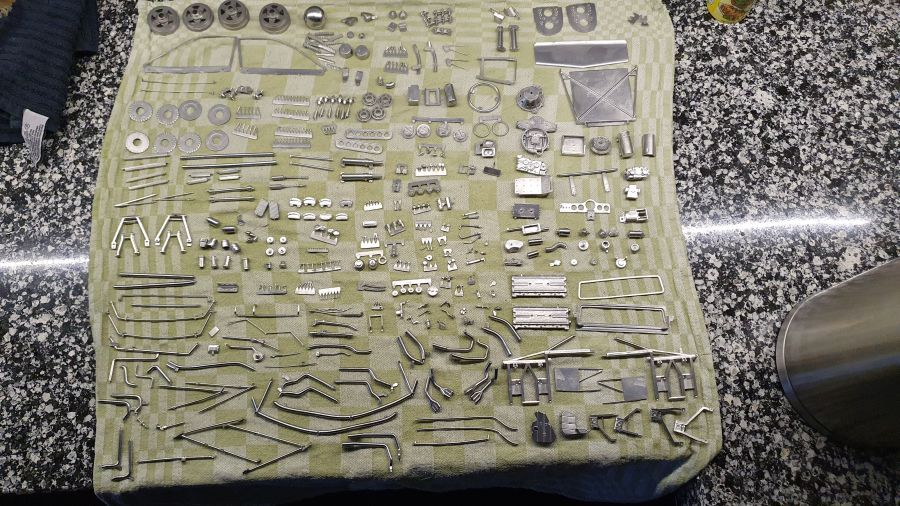 De meeste verf is binnen.
Most of the paints are in.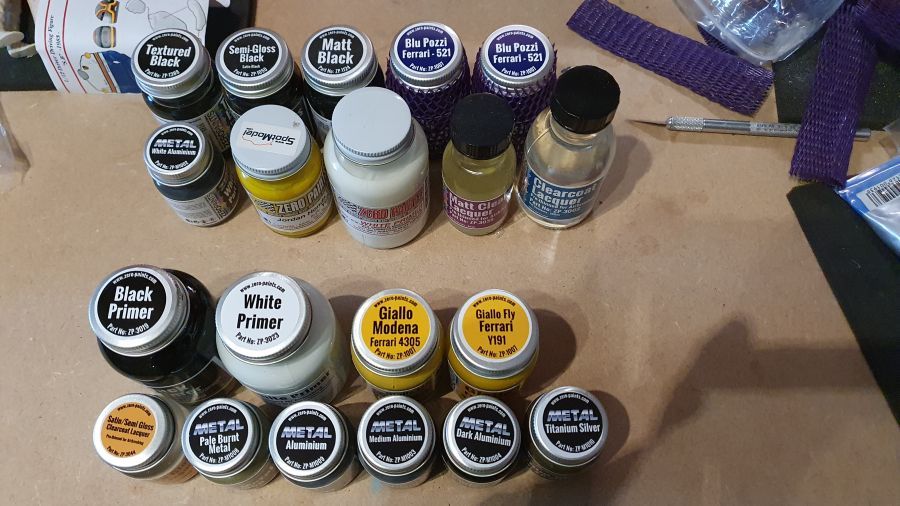 Besluiten welke kleur geel het beste bij de decals past. Ik ga voor de Zero Paints ZP-1086 Jordan Honda 198 Yellow.
Deciding which yellow fits the decals best. I will go for the Zero Paints ZP-1086 Jordan Honda 198 Yellow.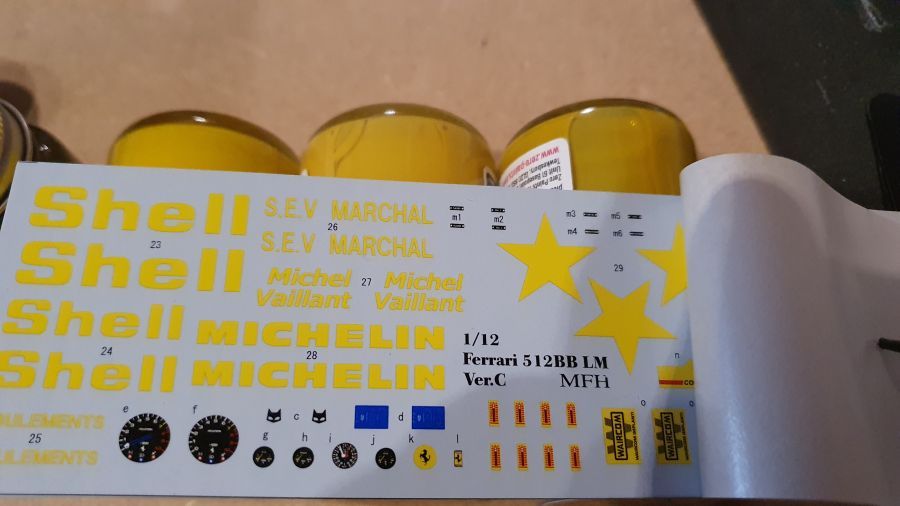 Eerst zijn de onderdelen gesorteerd op volgorde overeenkomstig de tekening.
First the parts have been sorted according to the instructions.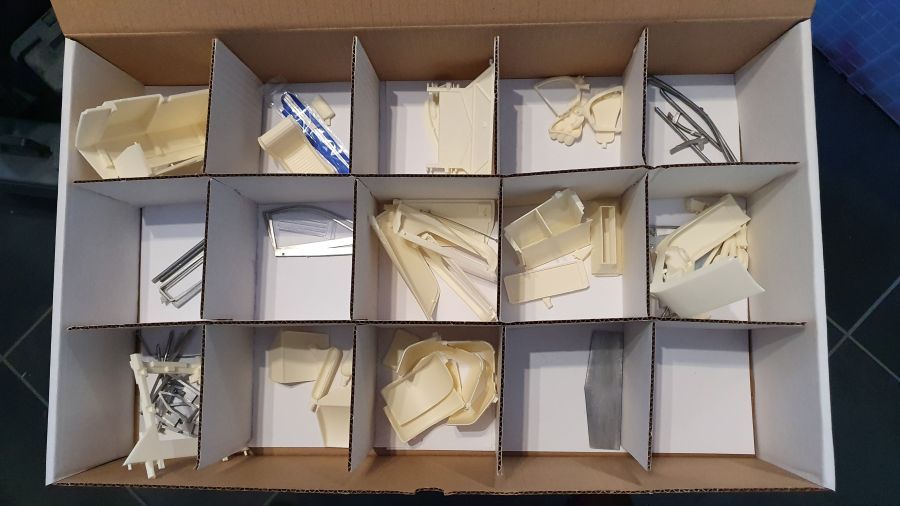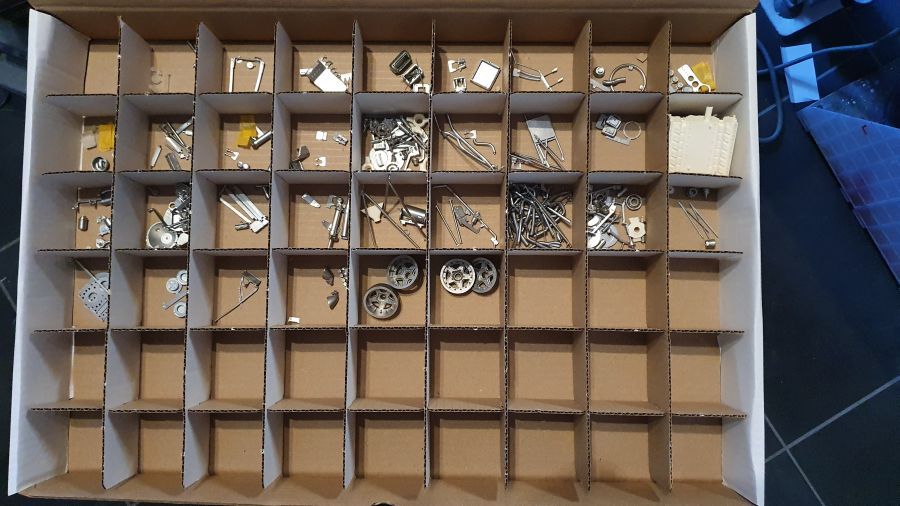 Kleurtest. Twee verschillende ondergronden.
Colortest. Two different primers.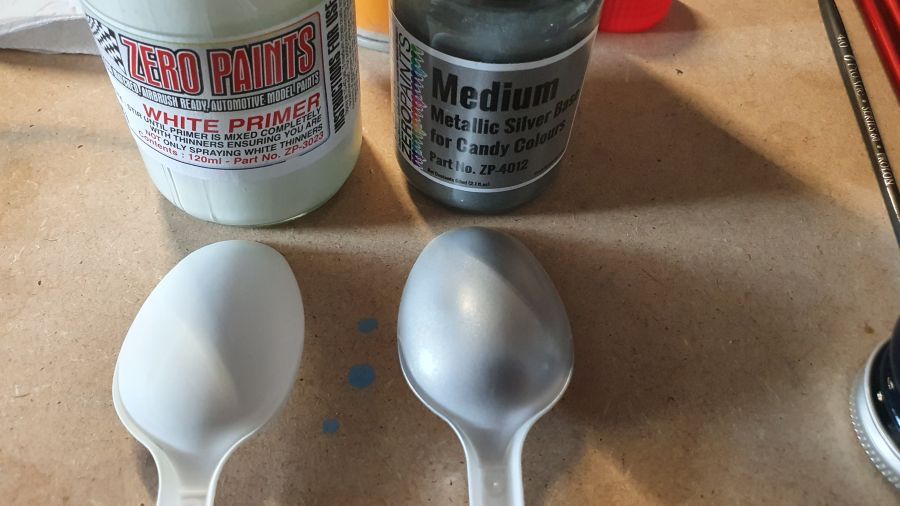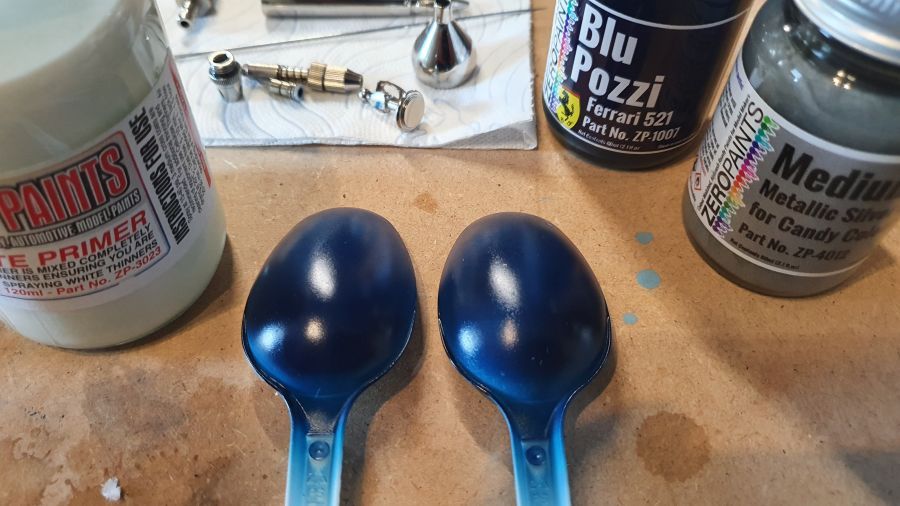 Het lijkt erop dat de verf op de rechter lepel te heet is. Ik ga nog een nieuwe test doen.
It looks like the paint on the right spoon is too hot. I will do another test.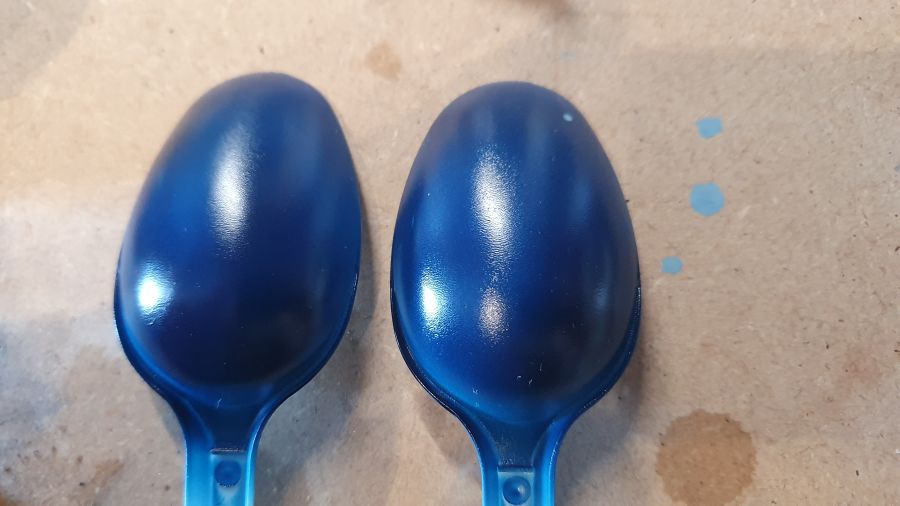 Tweede test. Eerst primer op beide lepels, daarna één lepel met het zilver en vervolgens beide lepels met Pozzi blauw.
Second test. First primer on both spoons, then one spoon with silver and then both spoons with Pozzi blue.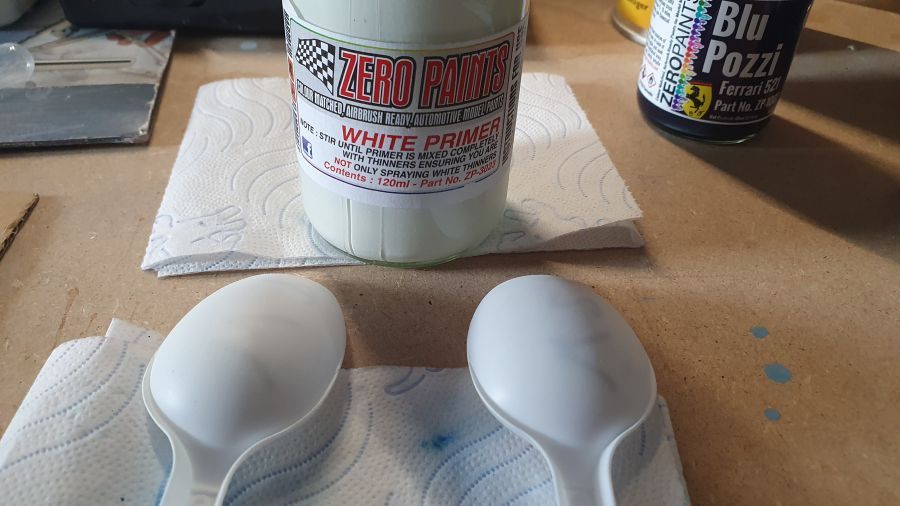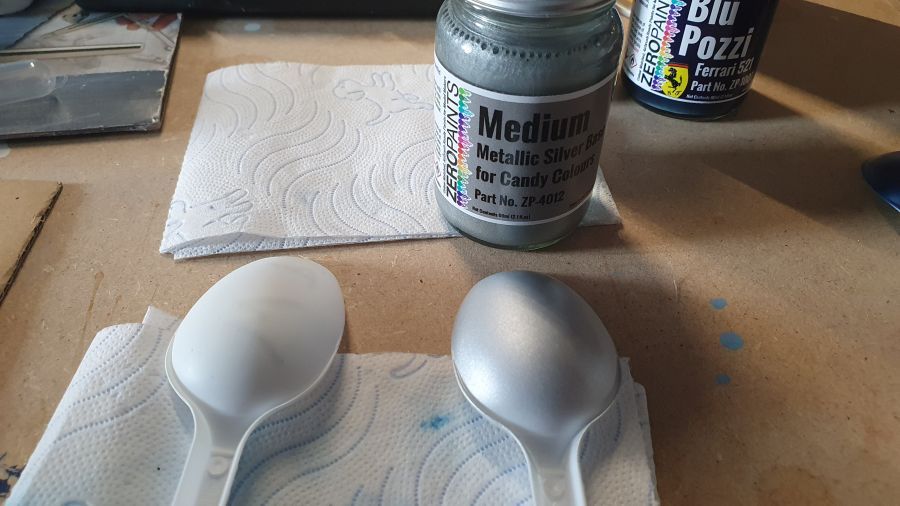 Eén laag.
One layer.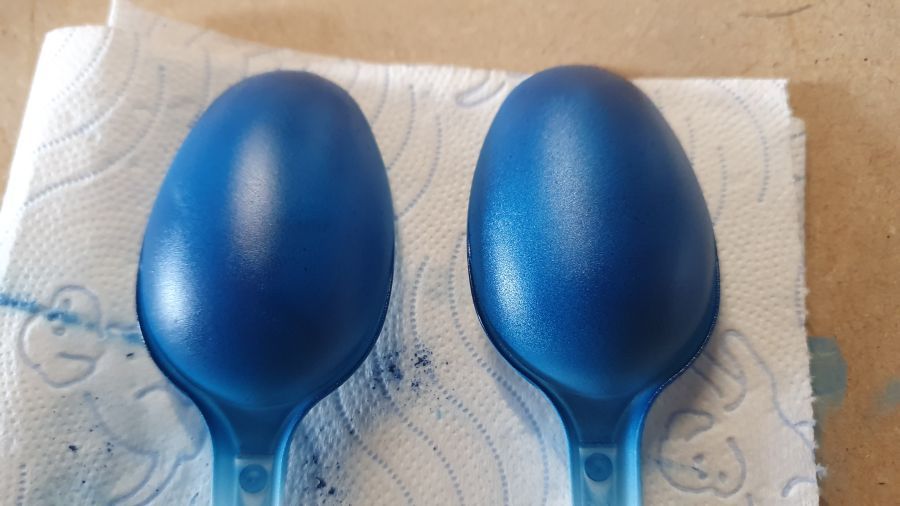 Tweede laag.
Second layer.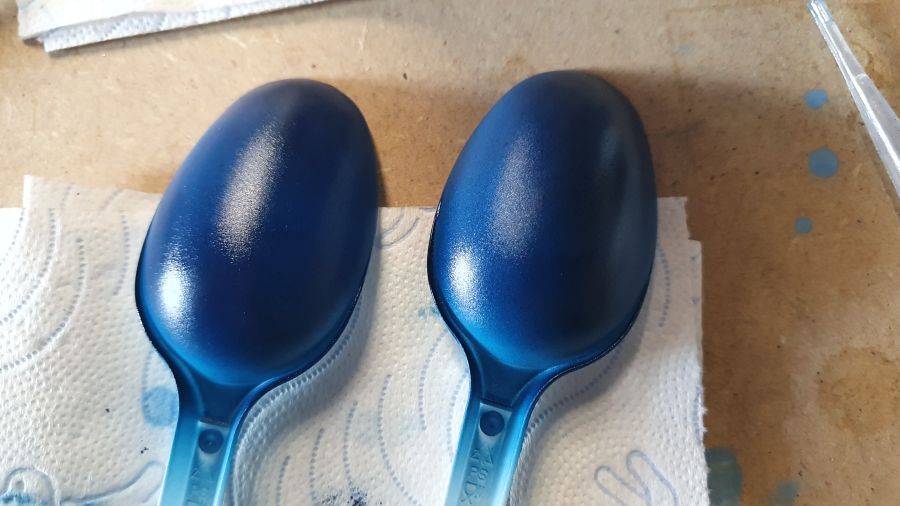 Eerst worden wat onderdelen behandeld met een ontvetter. Daarna goed laten drogen.
First some parts are being treated with a de-greaser. Then let it dry thoroughly.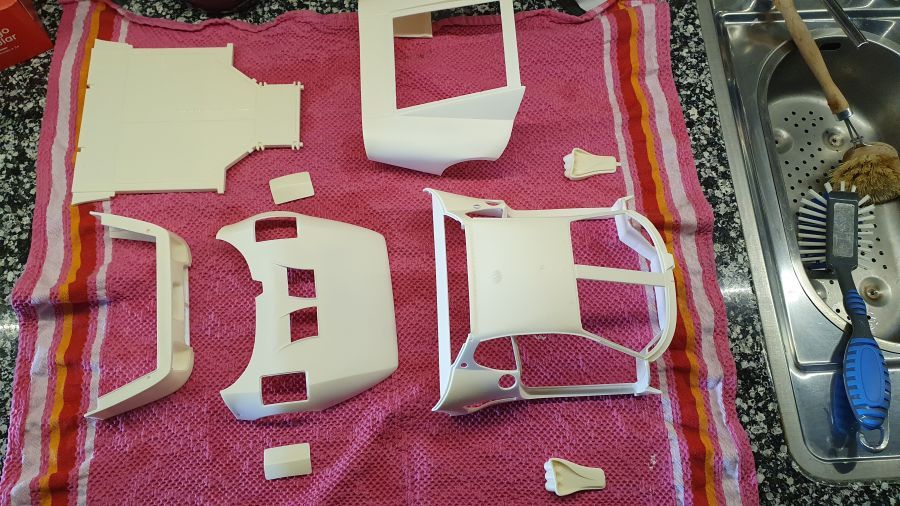 De voorkant krijgt alvast de vulstukken geplaatst. De kap moet glad worden, zonder dat deze luiken te zien zijn. MFH heeft hiervoor gekozen om meerdere verschillende versie te produceren uit dezelfde mal.
The front wil get it's filling pieces. The hood should be smooth, without showing these pieces. MFH chose to do it like this, so they can do multiple versions out of the same mold.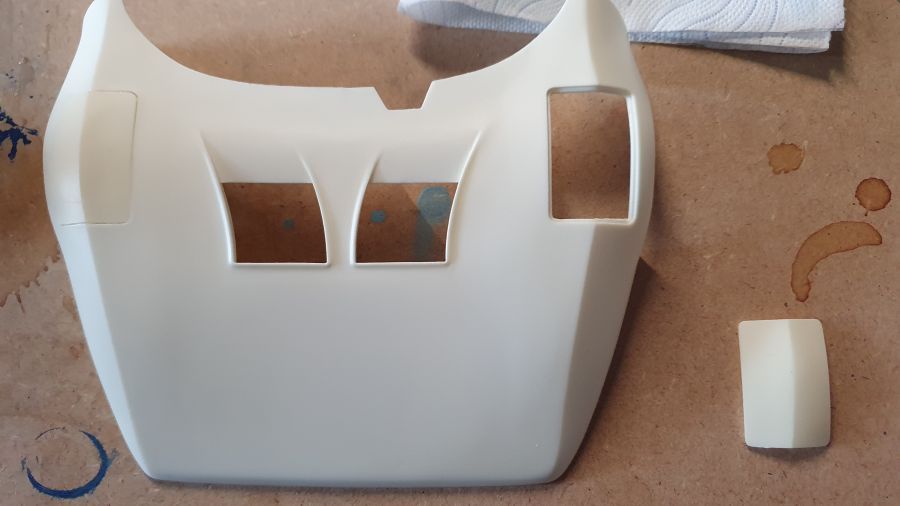 Daar gaat ie. De stappen gaan natuurlijk wat door elkaar, omdat ik soms verder ga met het ene, terwijl het andere moet drogen. Eerst zwarte primer op de cabinevloer.
There we go. The steps will be mixed, because i will work on one thing, while the other is set to dry. First black primer to the cabin floor.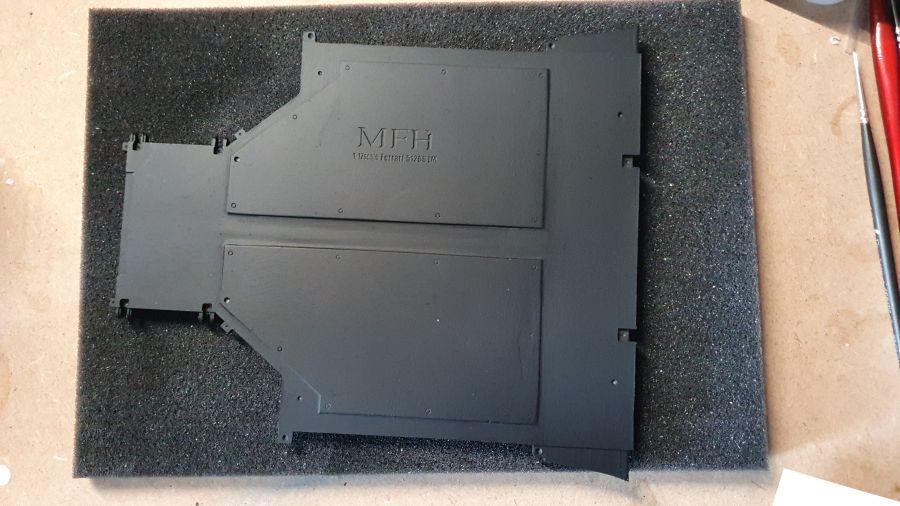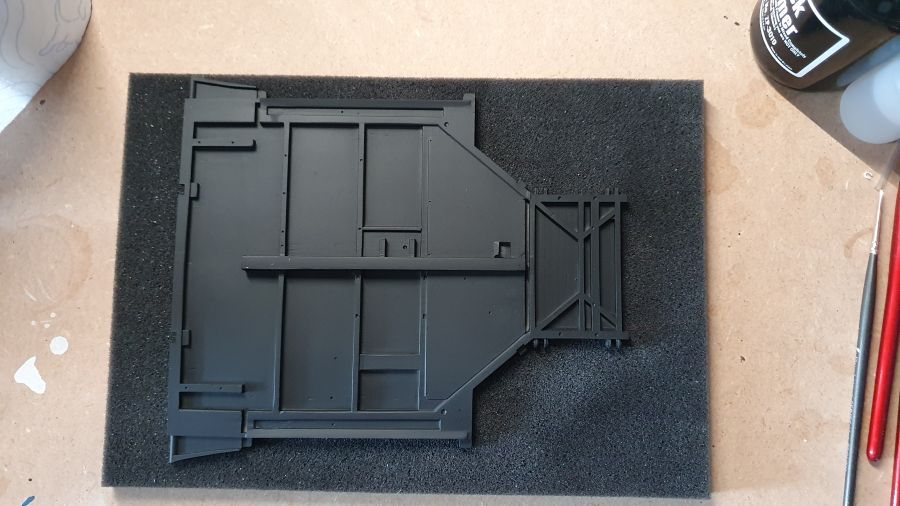 De kit bevat een template om het aluminium velletje (bare metal foil) te knippen. 
The kit contains a template to cut the aluminium sheet (bare metal foil).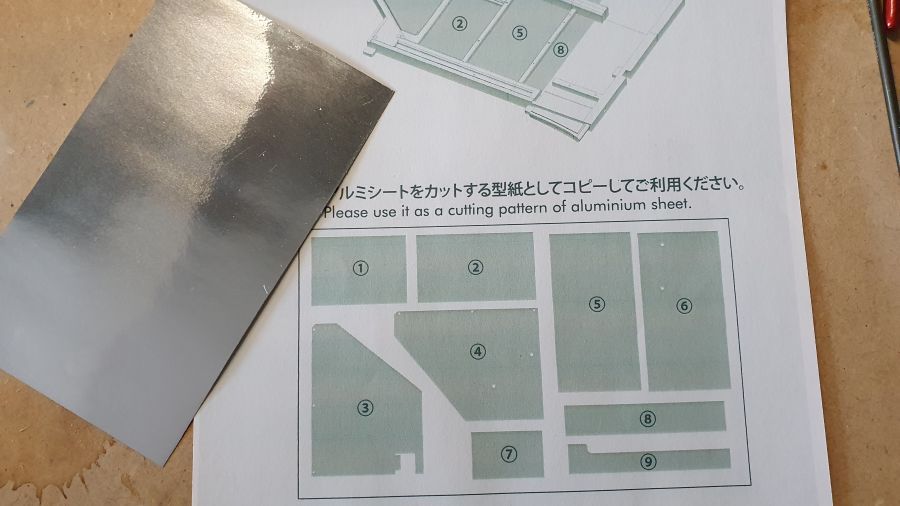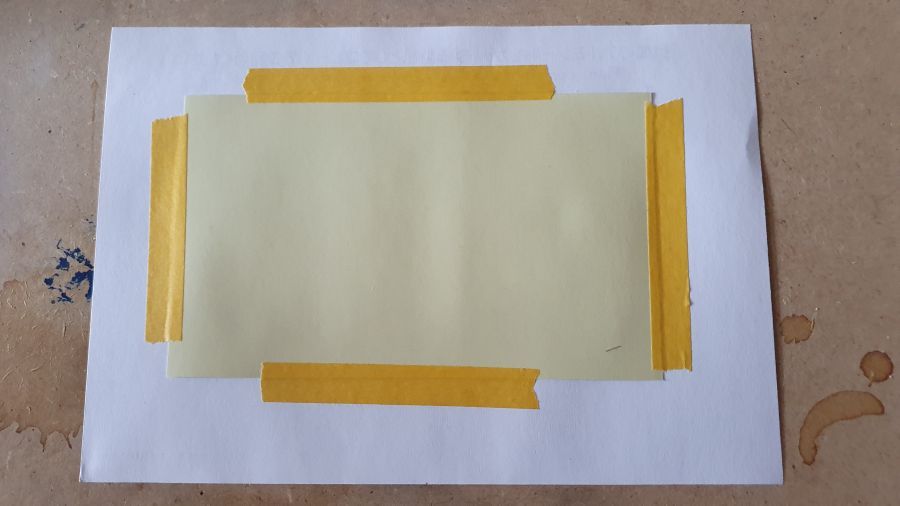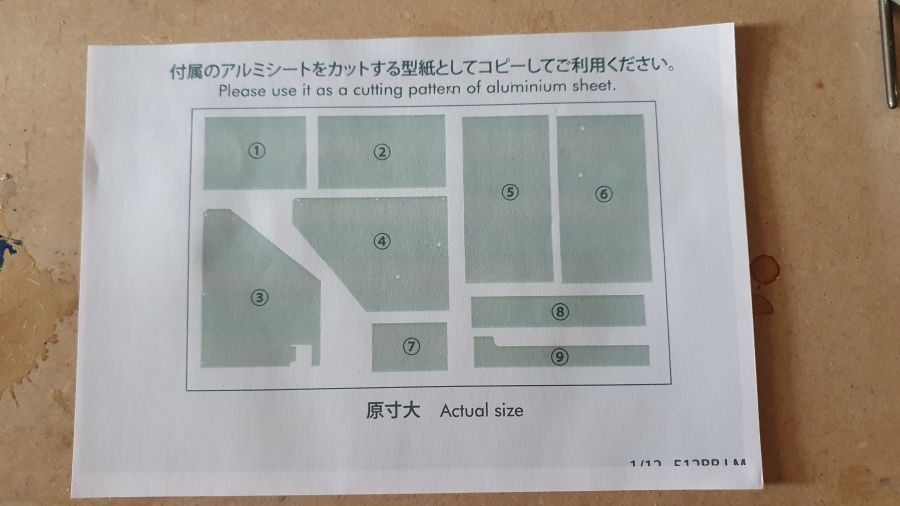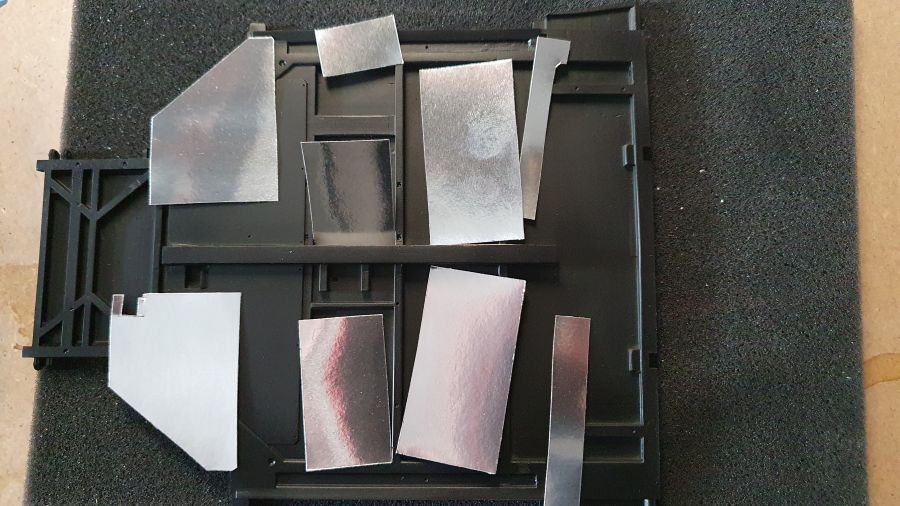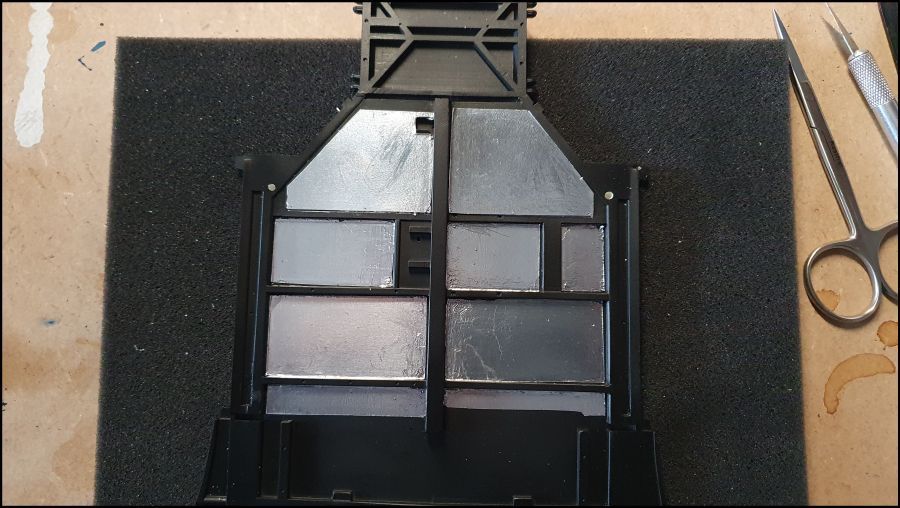 Het brandschot (benzinetank?) wordt gespoten met zwarte primer en daarna mat zwart. Het deel dat in de cabine komt spuit ik nog eens met structuur zwart .
The fire wall (fuel tank?) was airbrushed with black primer and then matt black. The parts that goes inside the cabin has then been sprayed with textured black.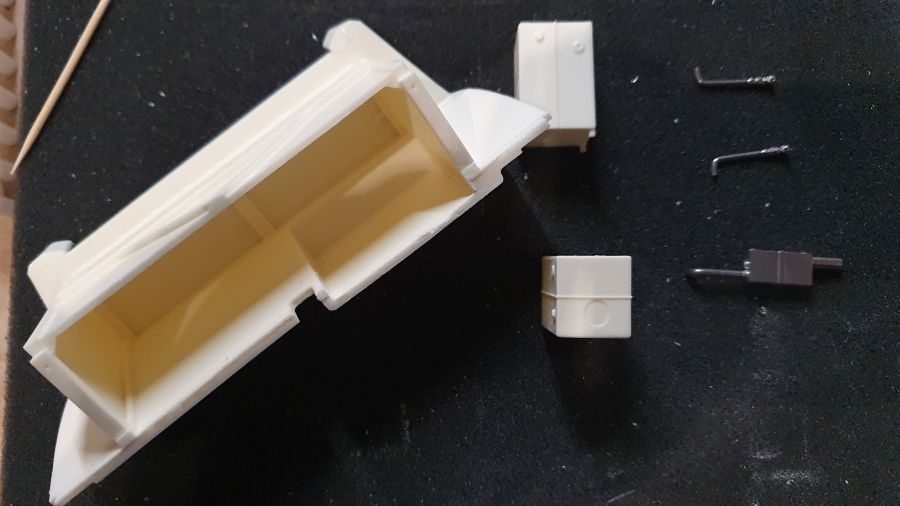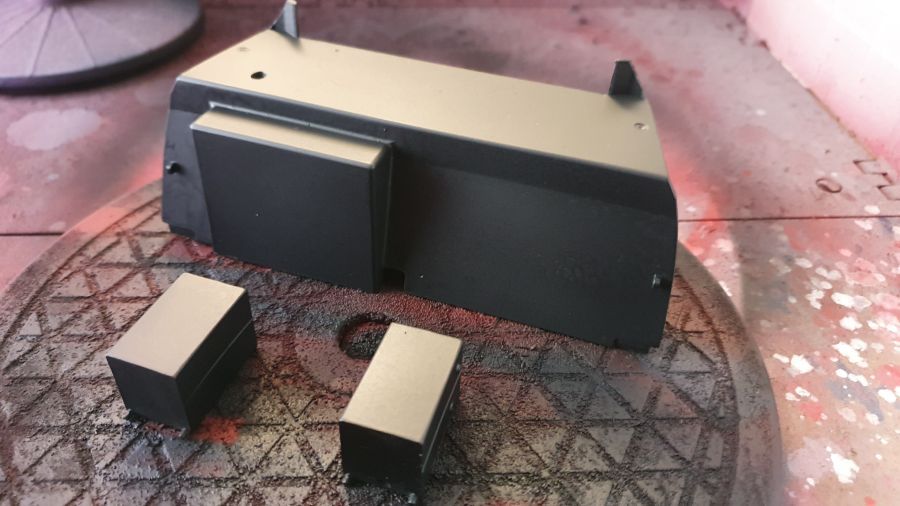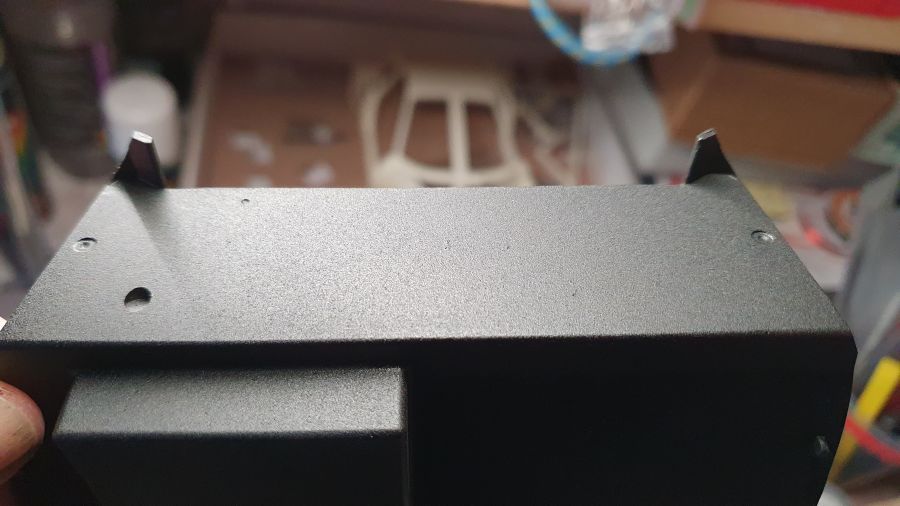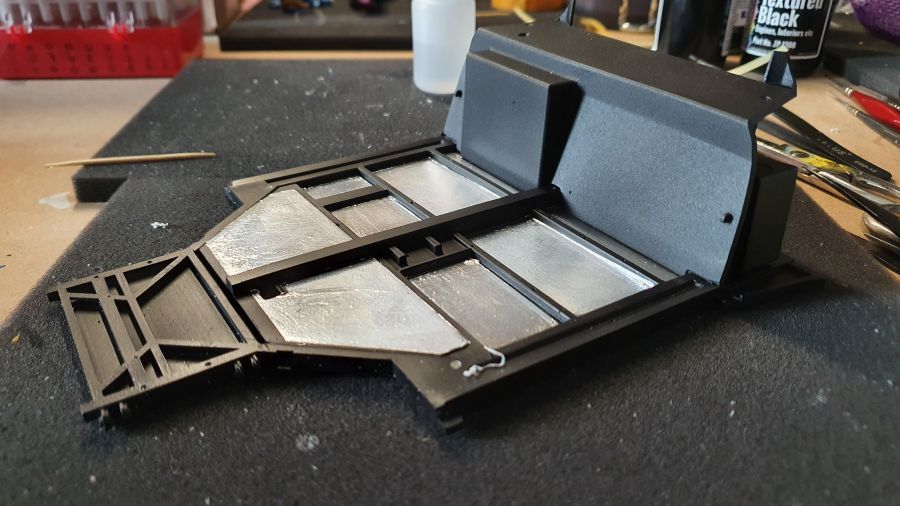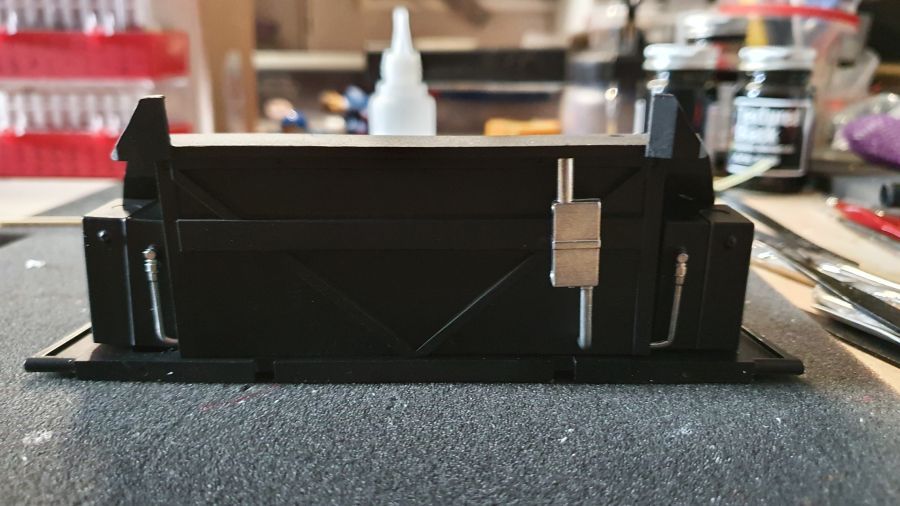 Assemblage van het benzinefilter.
Assembly of the fuel filter.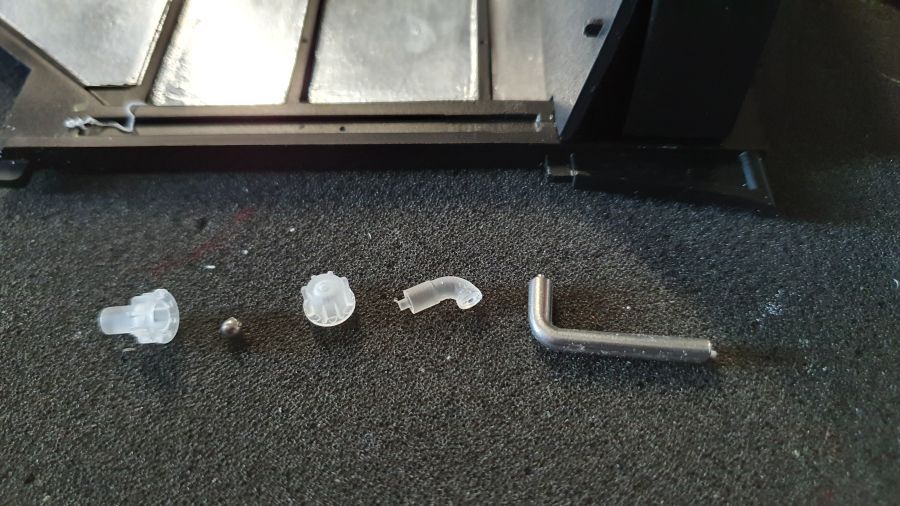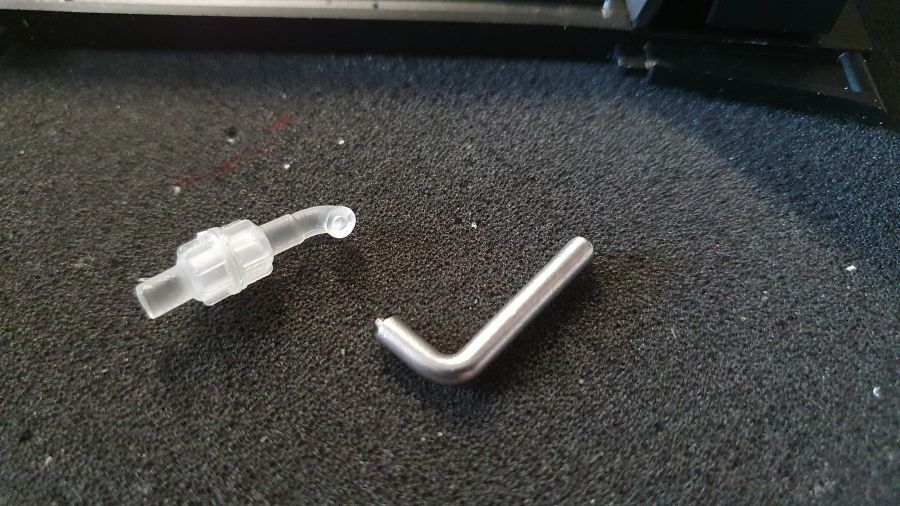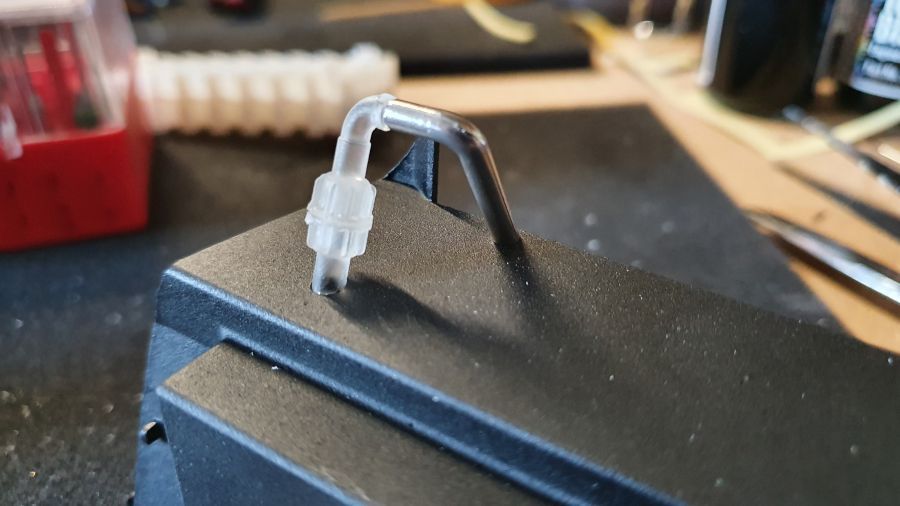 De stoel krijgt ook de textuur verf.
The seat receives the textured paint too.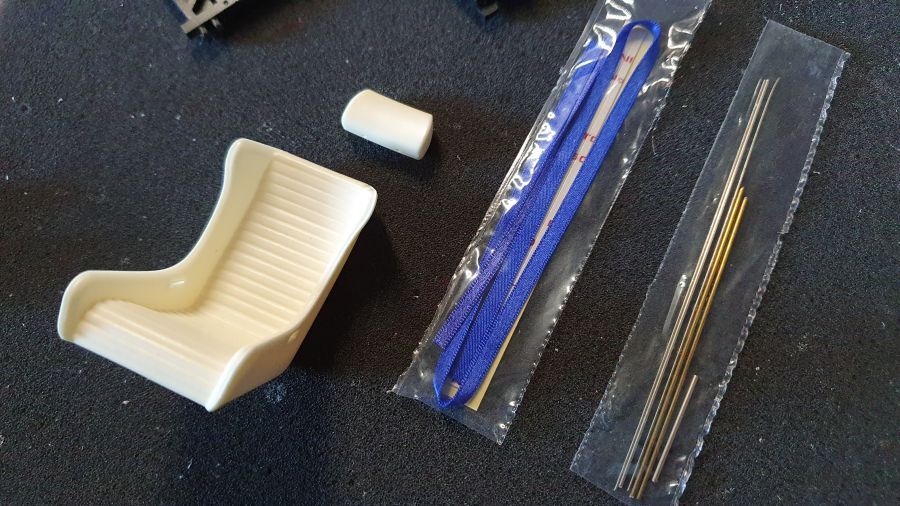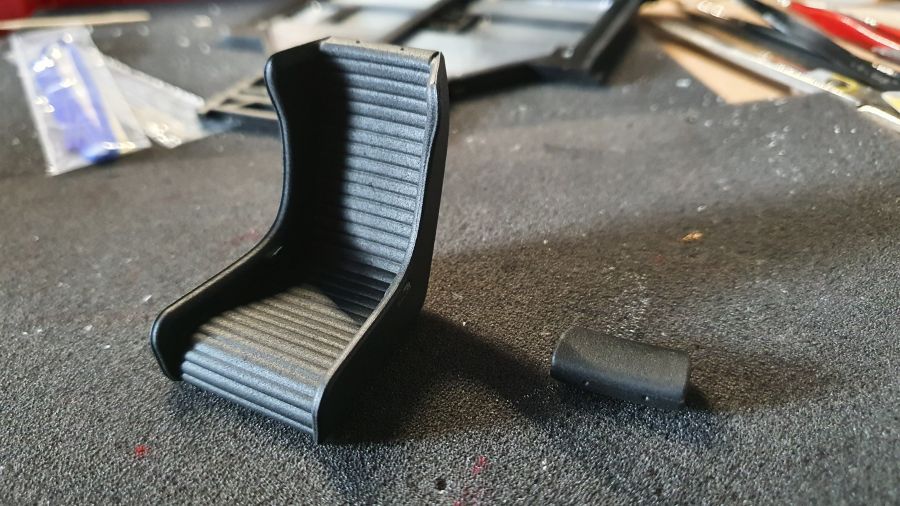 Dan moet de hoofdsteun bevestigd met de bekende stangen. MFH wil stangen van 4.3 cm? Dat lijkt me niet. Bovendien is er geen nikkel zilver draad van 1.0 mm doorsnee. Improviseren dus.
Then the head rest needs to be added with the supports. MFH wants support of 4.3 cm length? That's a bit too much. And above all there is no nickle silver wire with 1.0 mm cross cut included. So improvising.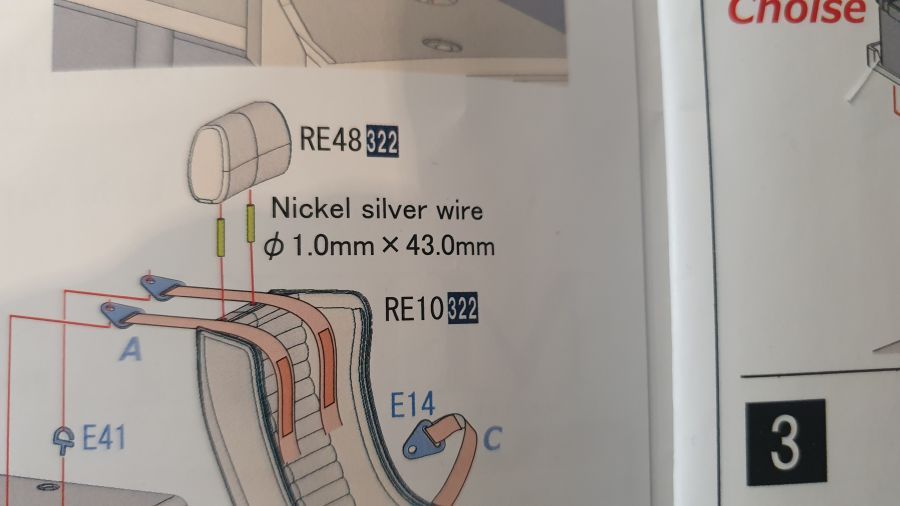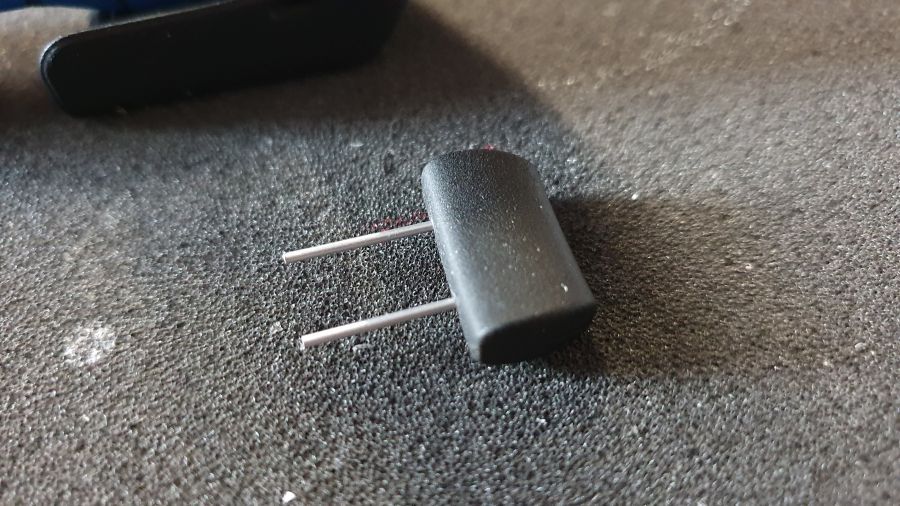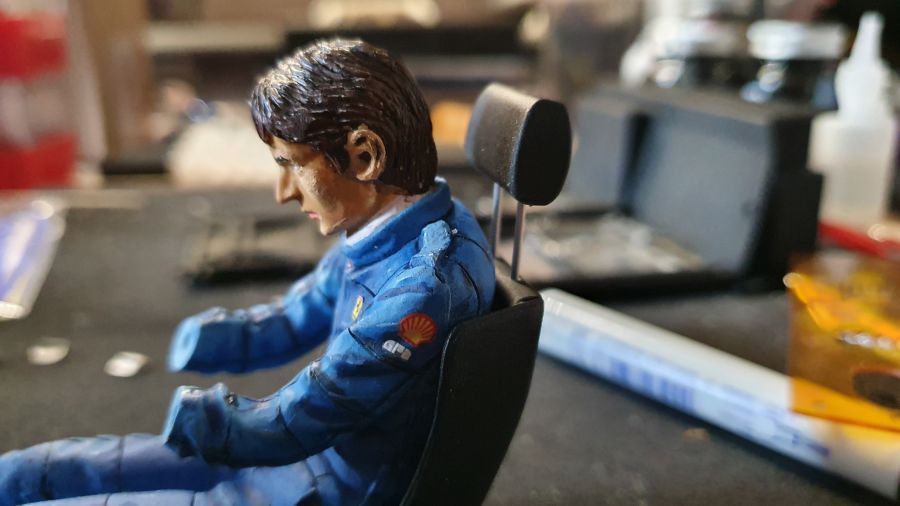 Dit is een beetje het idee dat ik had. Ik moet nog even zien of dat allemaal past met een dashboard en stuur.
This is about the idea i had. I need to see if this fits with a dash board and steering wheel.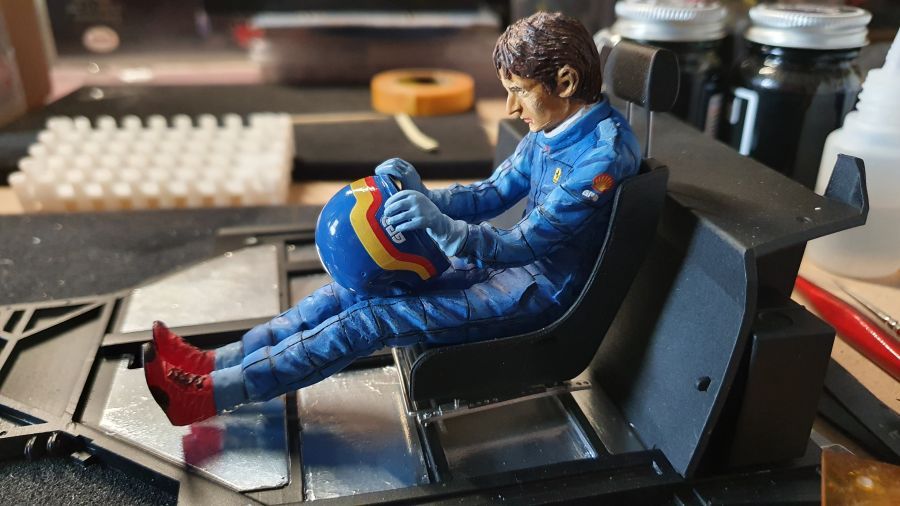 De stoel krijgt zijn bevestiging.
The seat gets it's mounting.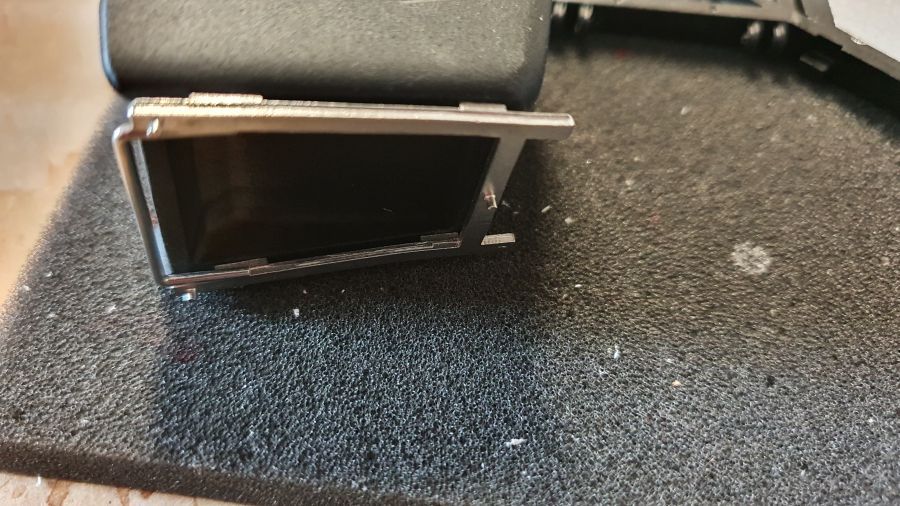 En testen. Het hoofd raakt net het plafond.
And testing. The head touches the ceiling.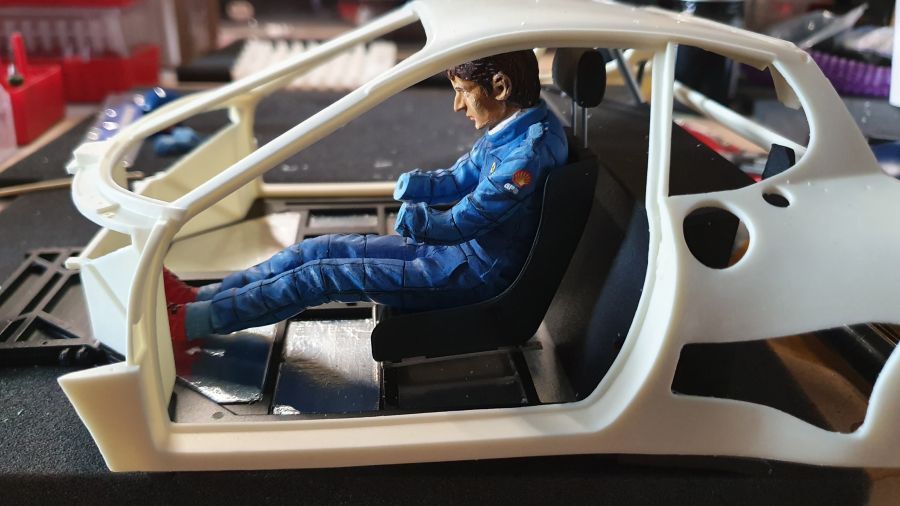 Dus maar even zijn kont bijwerken...
So adjusting his butt...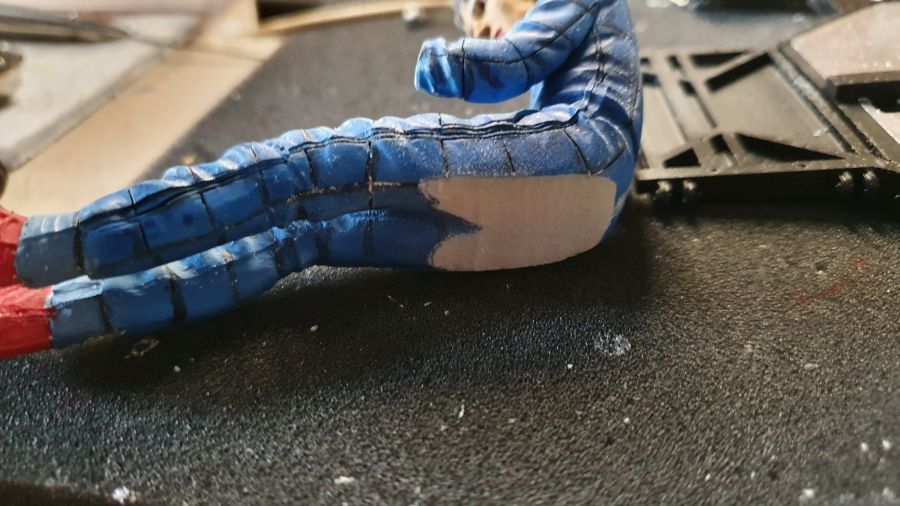 Veder met de gordels...
On to the belts...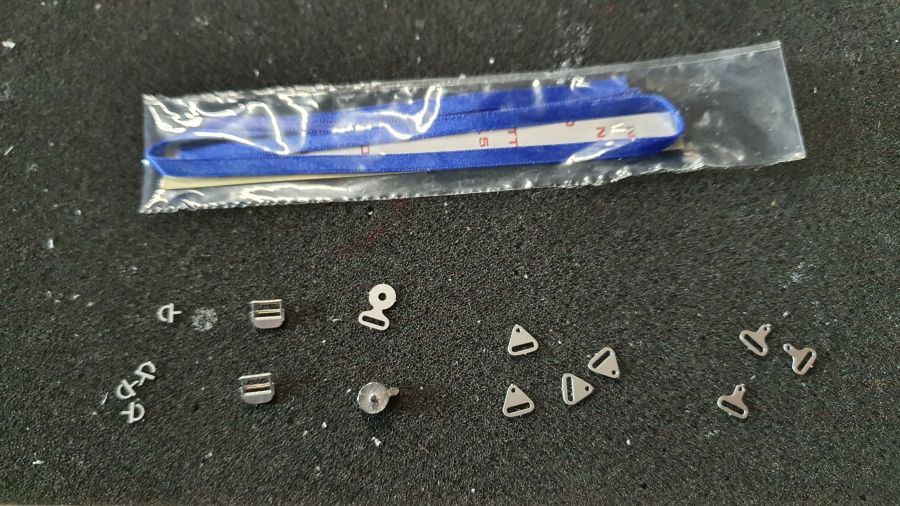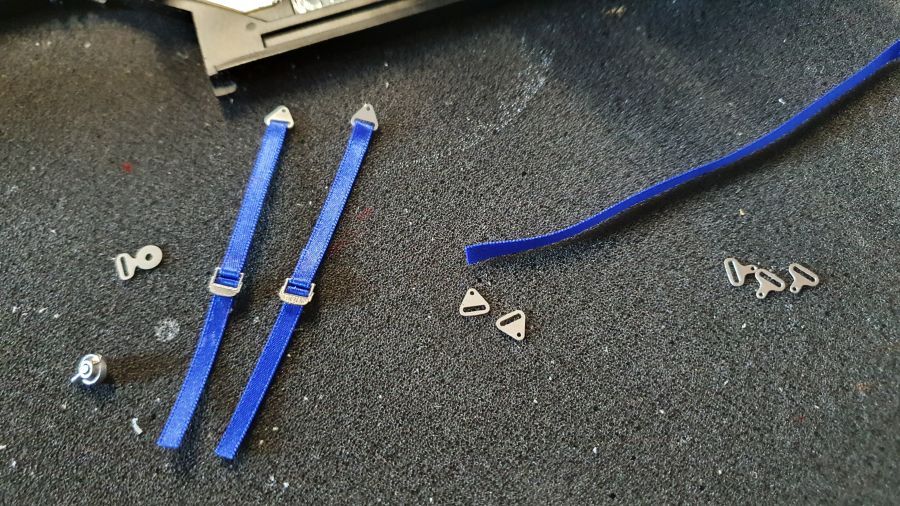 Even de lengte bepalen.
Determine the length.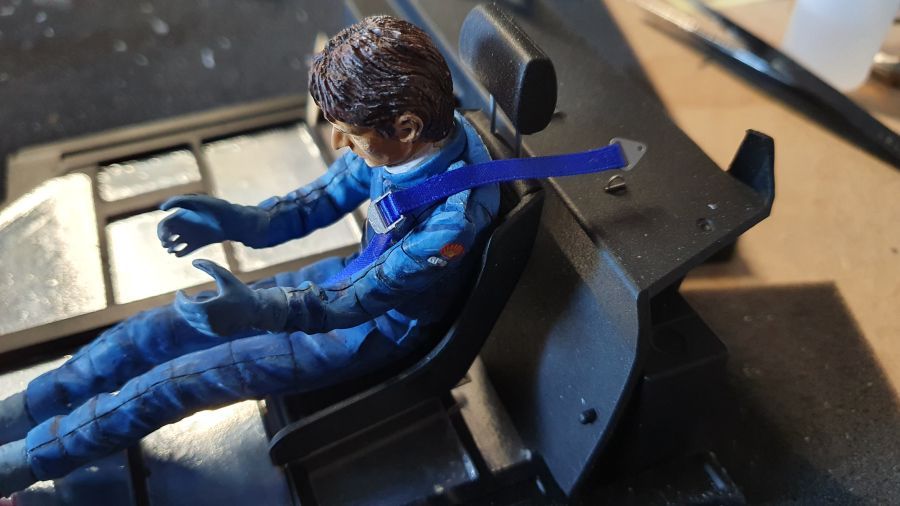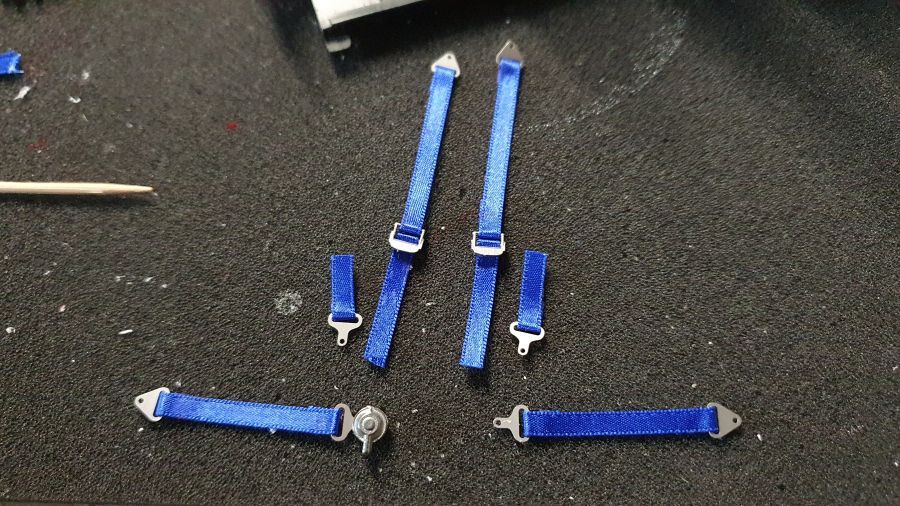 Dan door naar het schakelpaneel. De bovenkant (etched) wordt geverfd met een mix van bruin en rood.
On to the control panel. The top side (etched) is being painted with a mix of brown and red.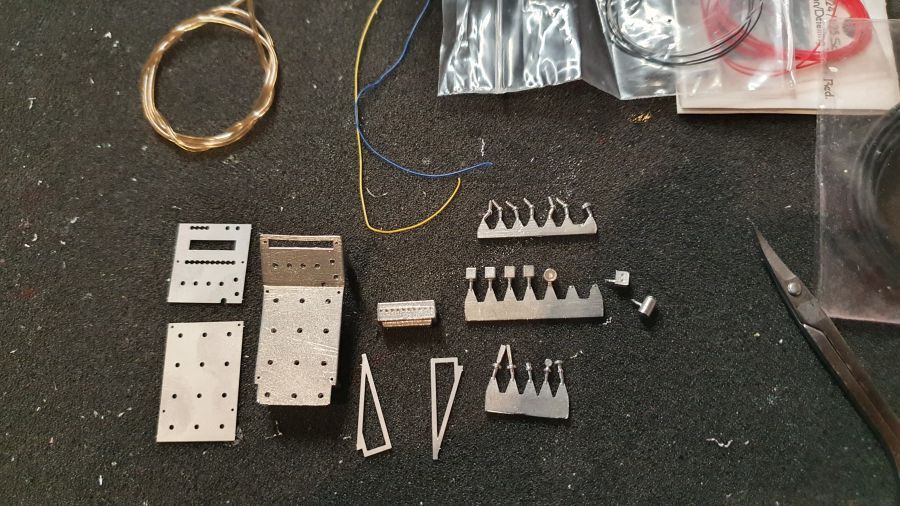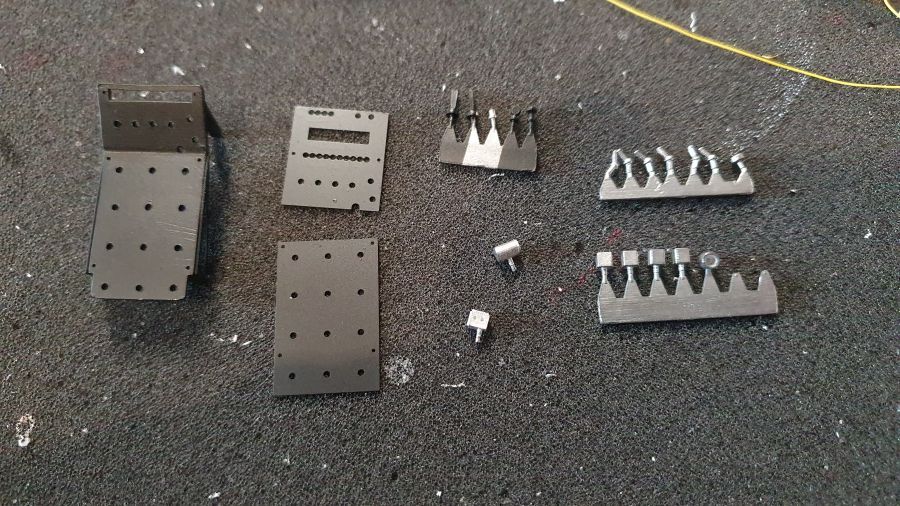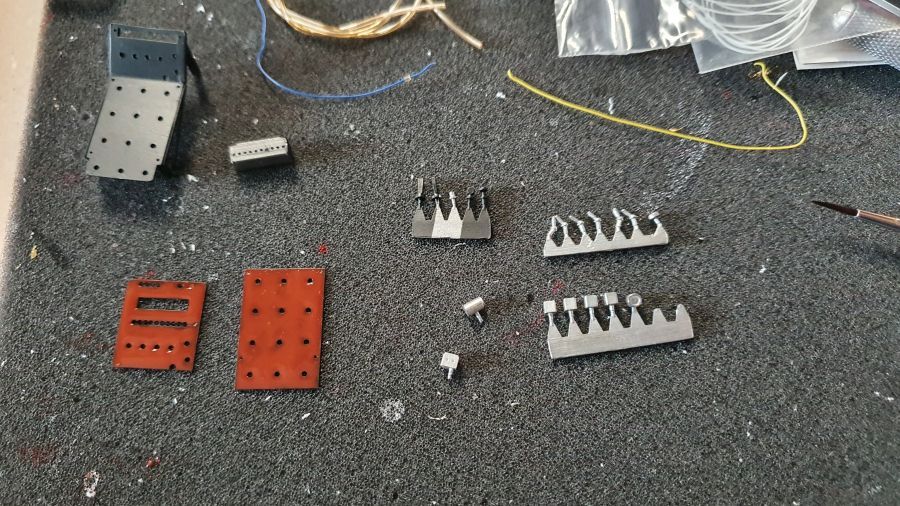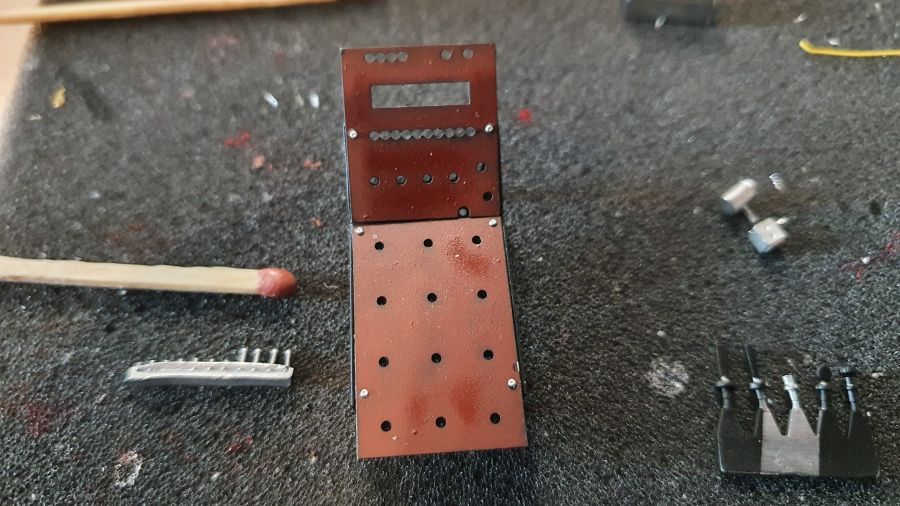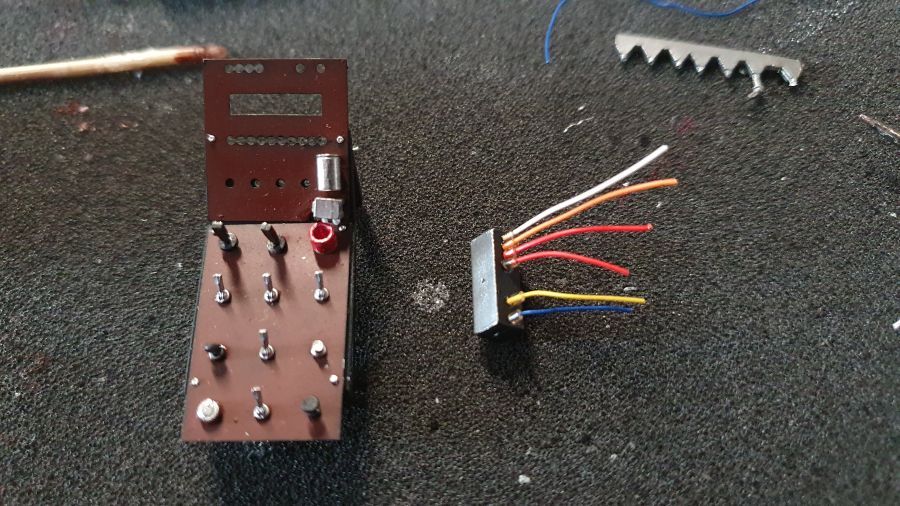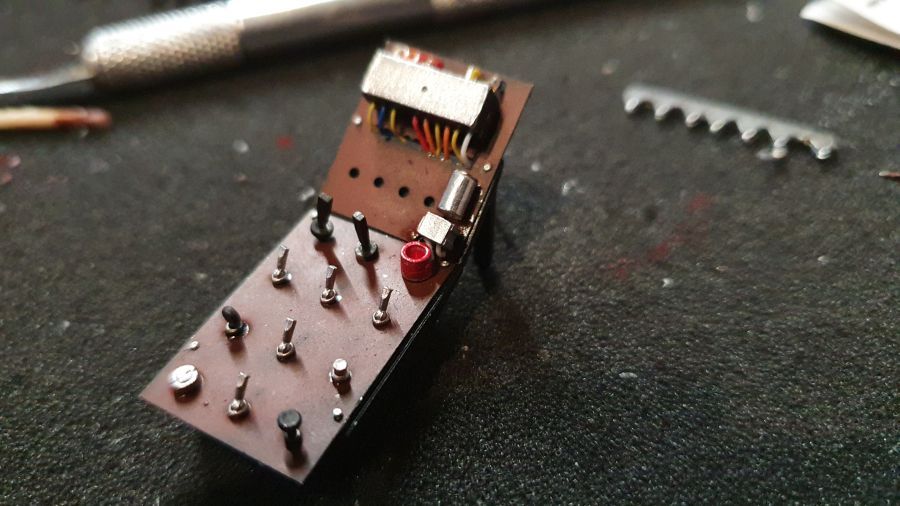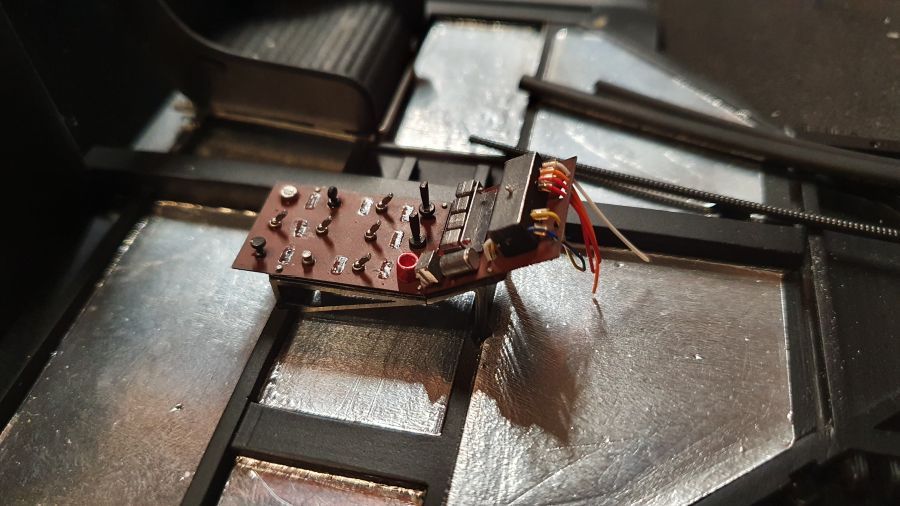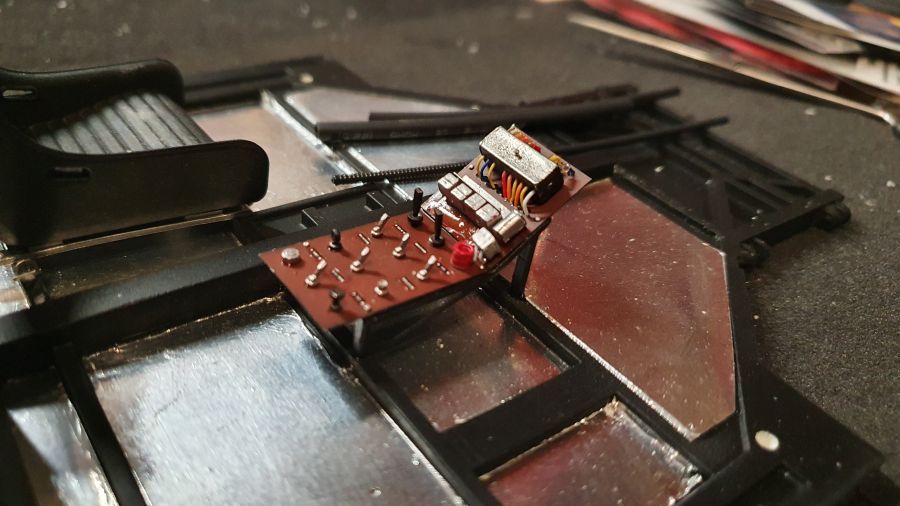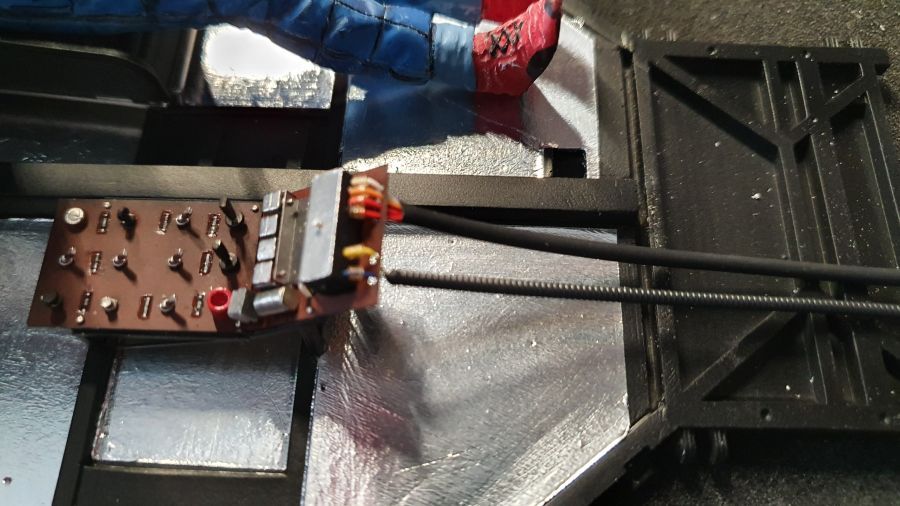 Meer onderdelen voor de binnenkant worden vast klaargemaakt. zoals de brandblusser en de accu.
More parts for the inside are being prepared, like the fire extinguisher and the battery.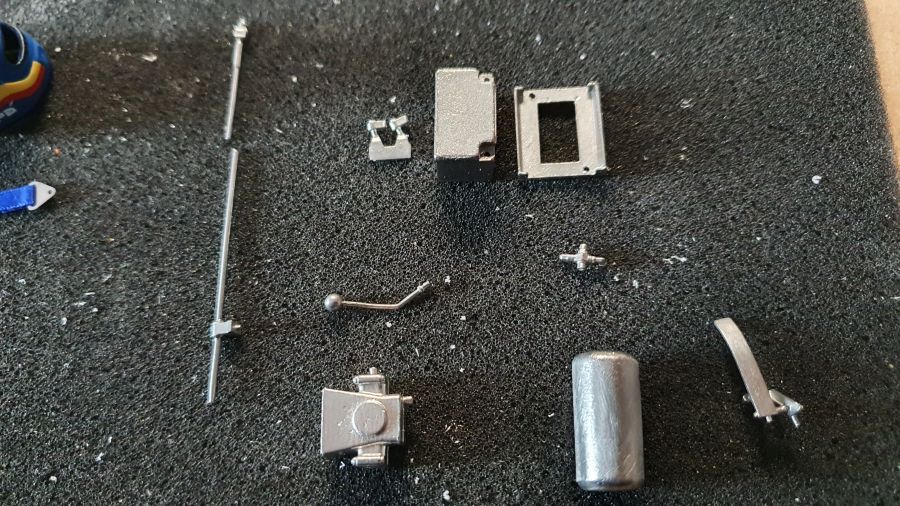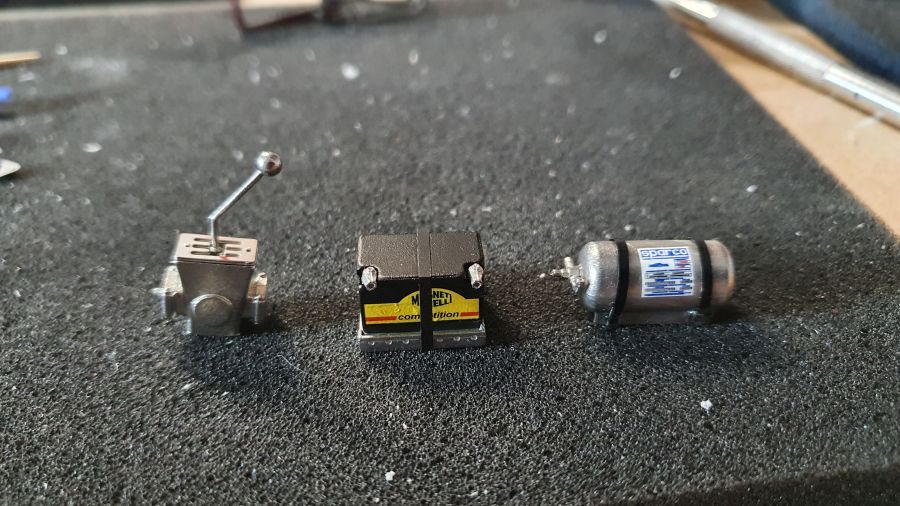 De stang voor de versnelling is kapot. Het bestaat uit 2 stukken die niet eens bij elkaar horen. Ik maak het op maat en verbind de stukken met een stukje krimpkous.
The rod of the shifter is broken. It has 2 pieces that even don't match each other. I will cut it to size and connect them with shrinking tube.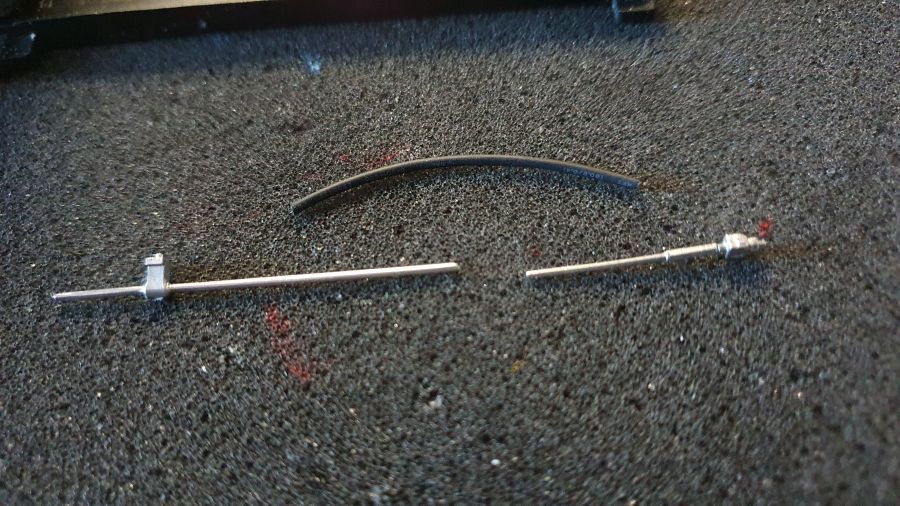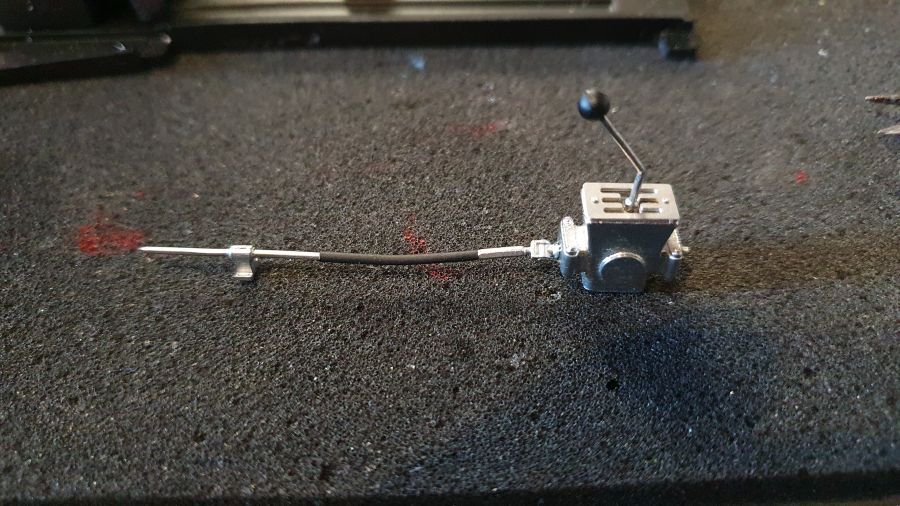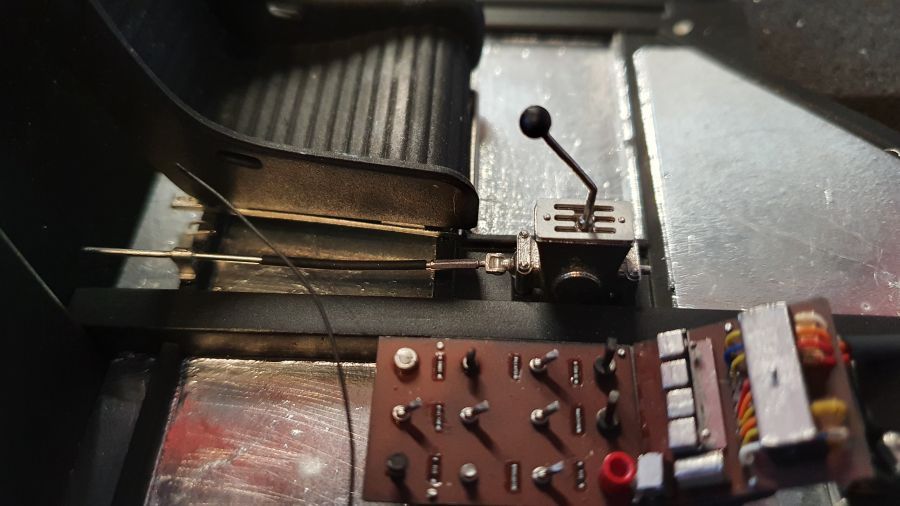 De accu en de brandblusser worden ook geplaatst, nadat bedrading is aangebracht.
The battery and the fire extinguisher were added, after connecting to wires.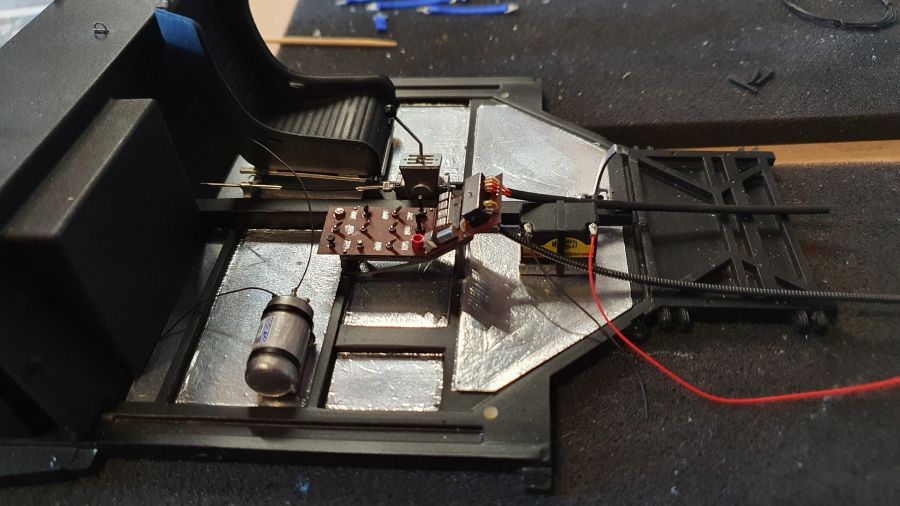 De naden vullen...
Filling the seams...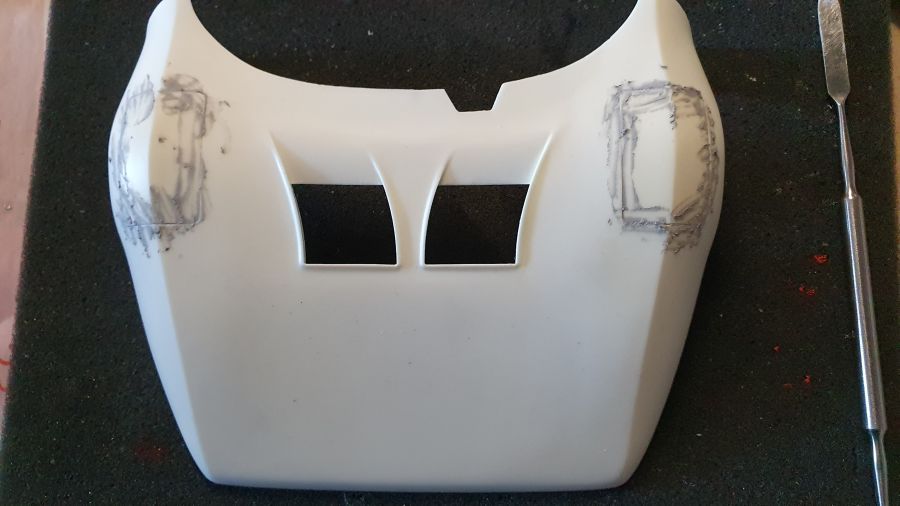 De steunen worden verwijderd...
Removing the supports...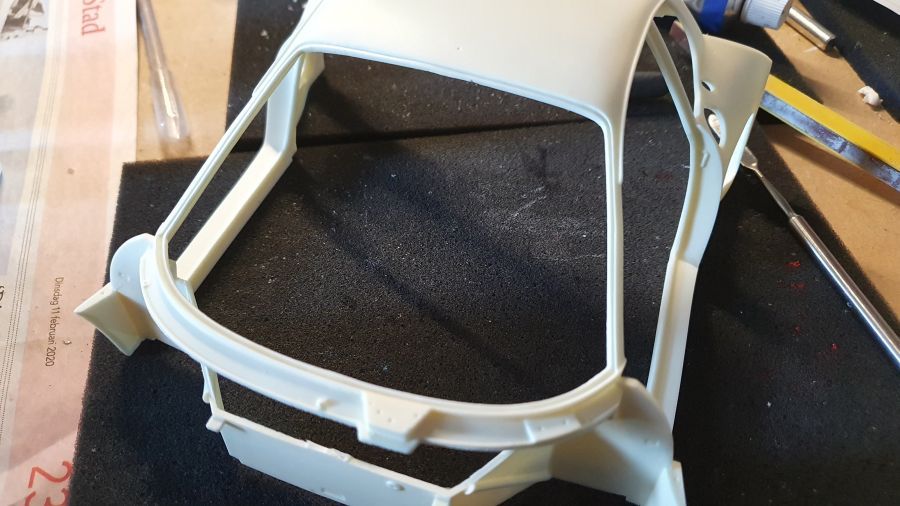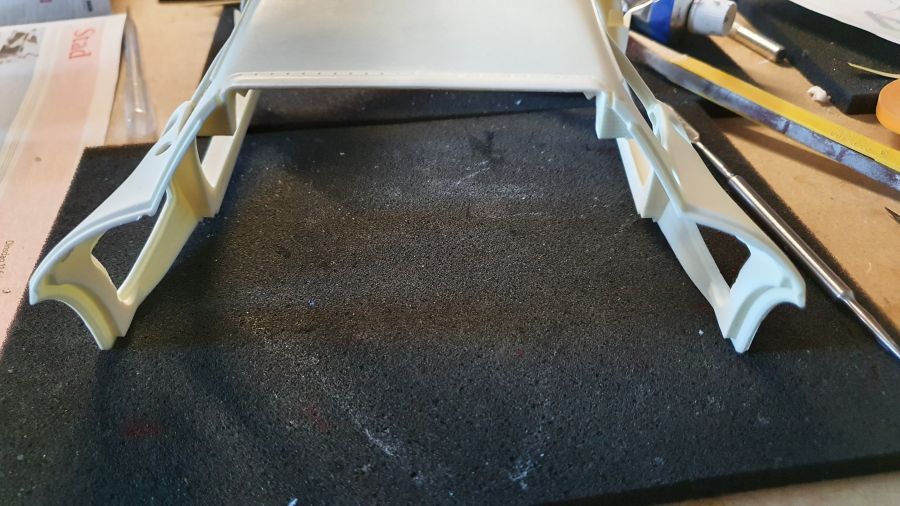 Dan schuren...
Now sanding...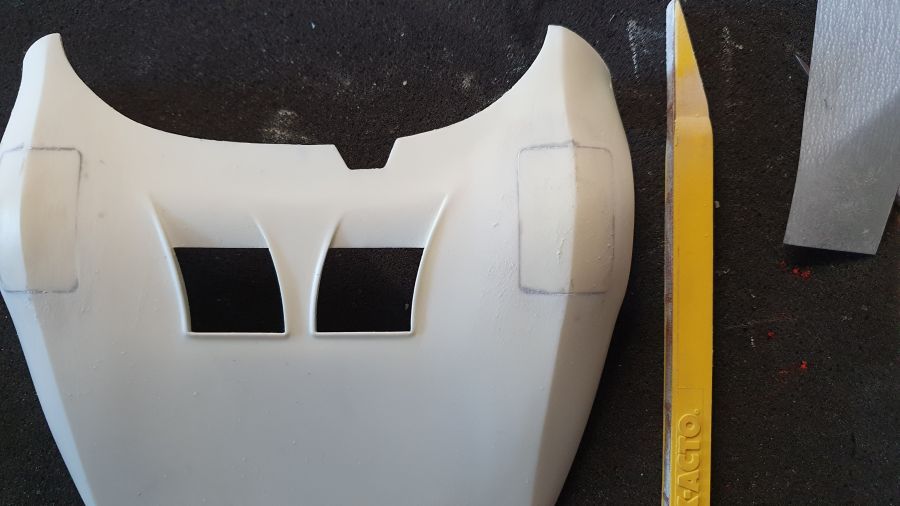 Hetzelfde voor de zijkanten.
The same goes for the sides.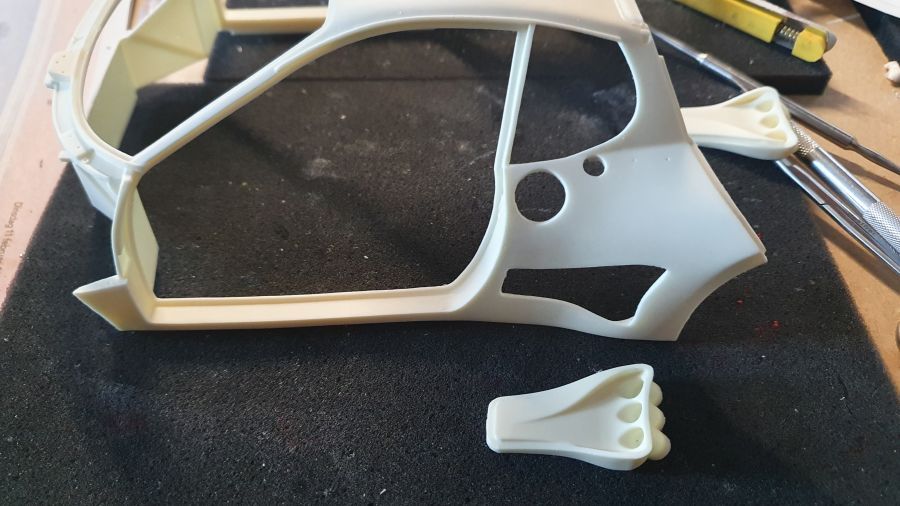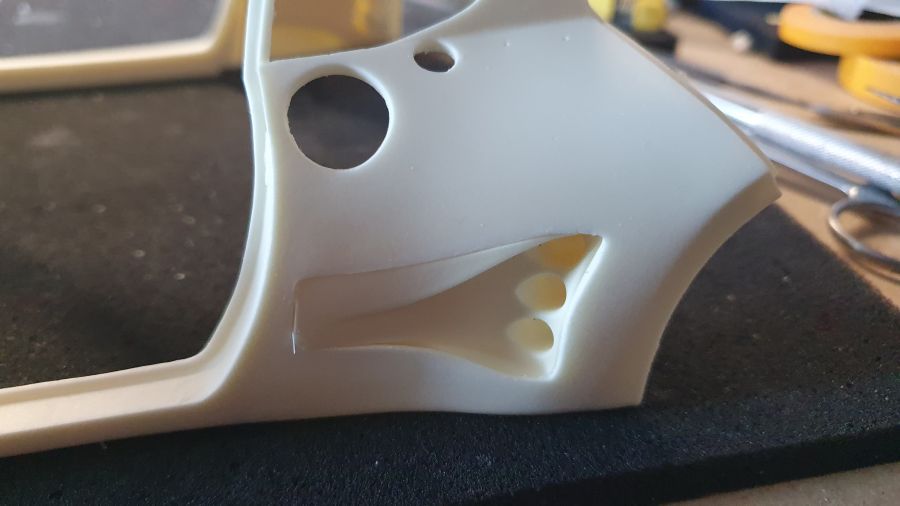 Test... Het beest.
Test... The beast.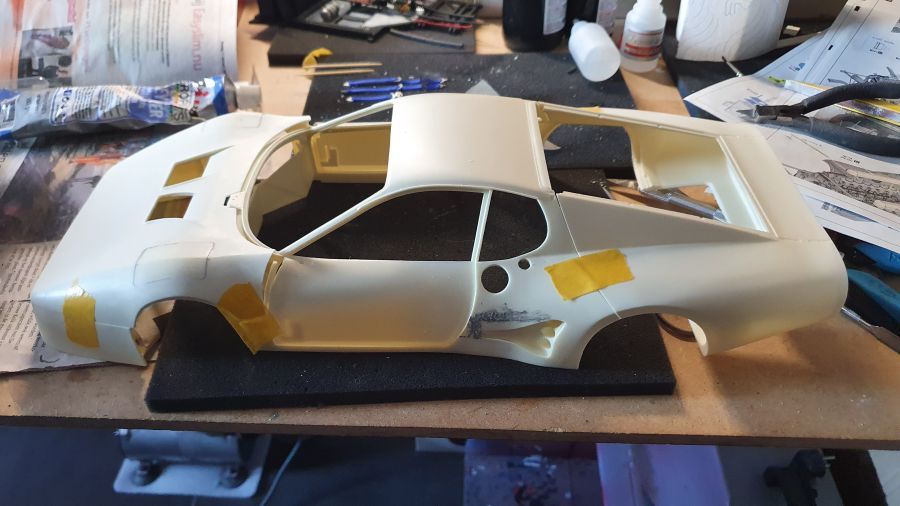 Alle onderdelen van de body zitten in de primer.
All body parts received the primer.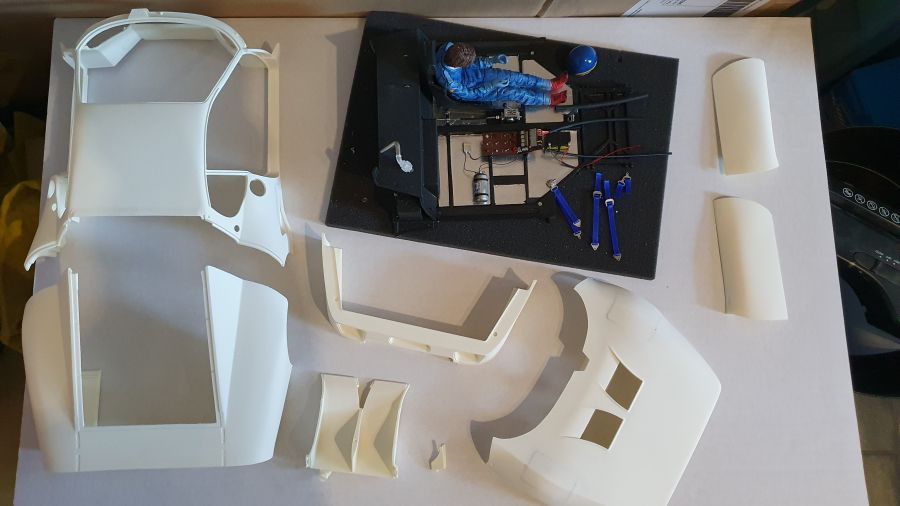 Ik heb besloten deze raamdelen van tevoren te plaatsen.
I decided to add these window parts up front.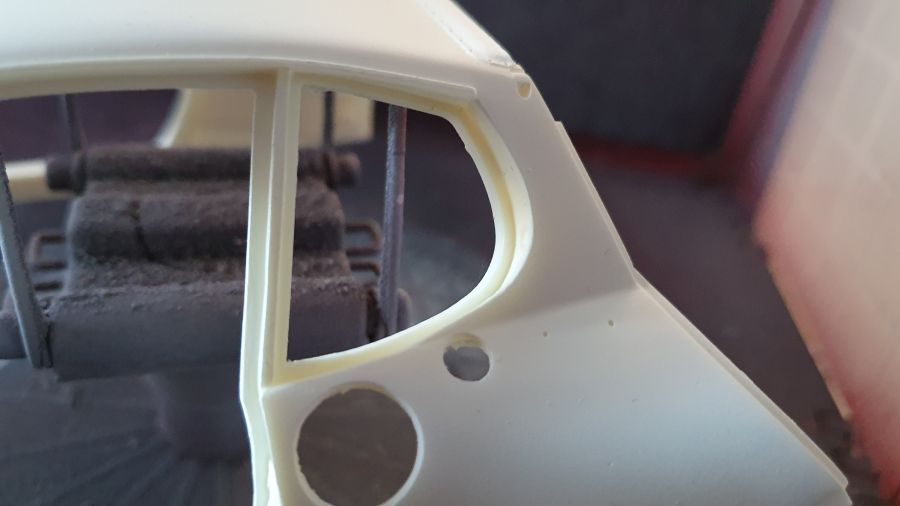 De laatste imperfecties...
The last imperfections...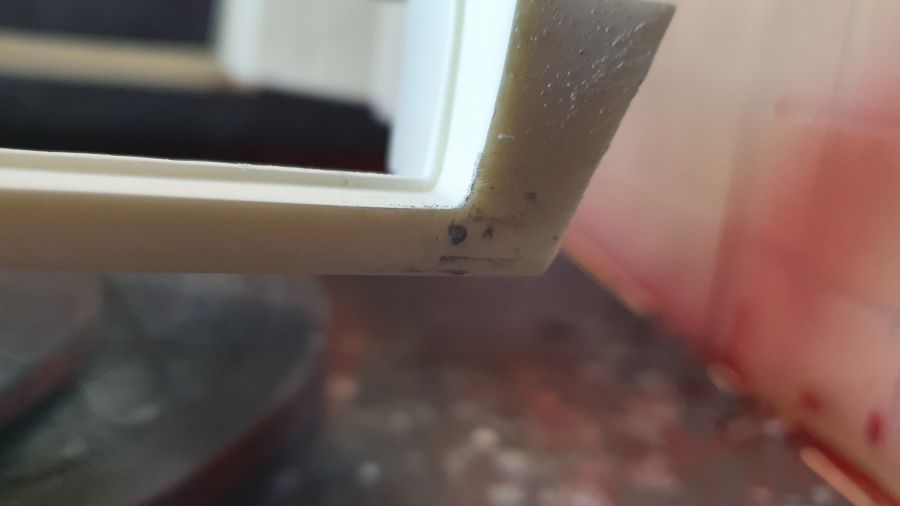 Dan het spuitwerk met Pozzi blauw...  Edit: de volgende keer moet ik wel iets bedenken om het stof een beetje buiten te houden.
Then the pain job with Pozzi blue... Edit: next time i need to think of something to keep the dust out a bit.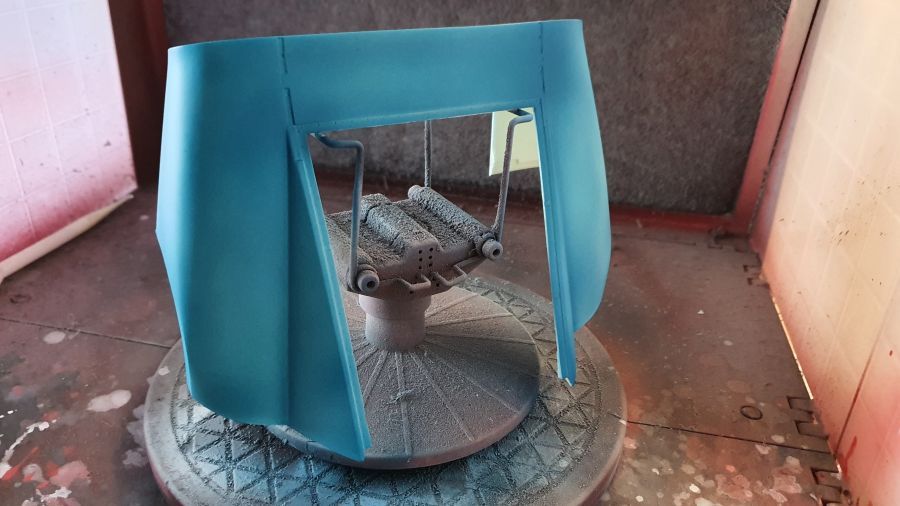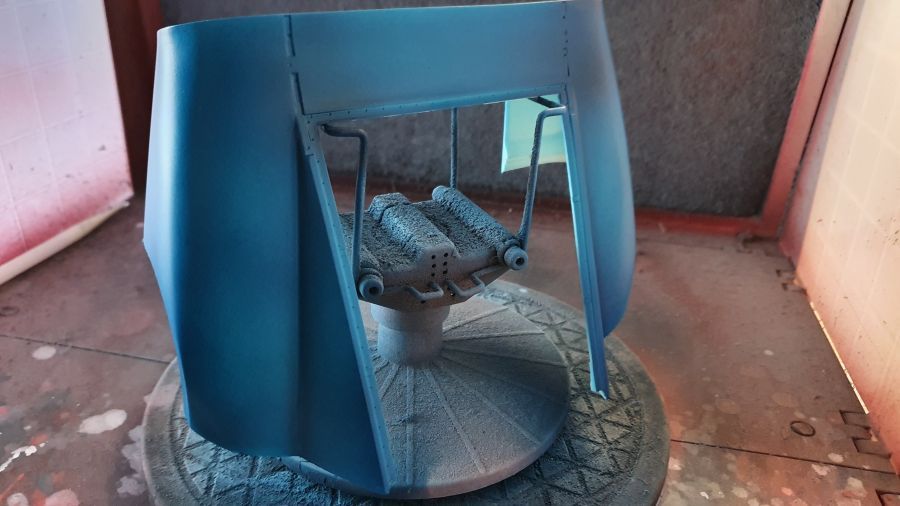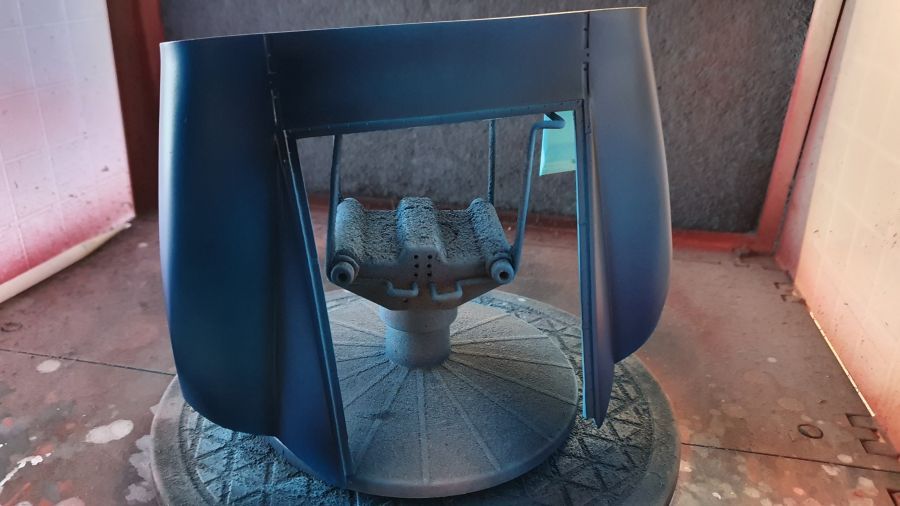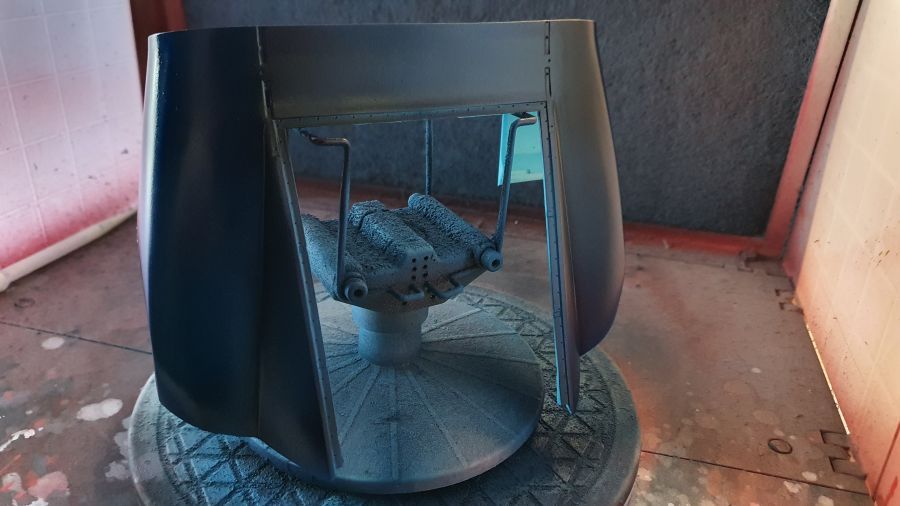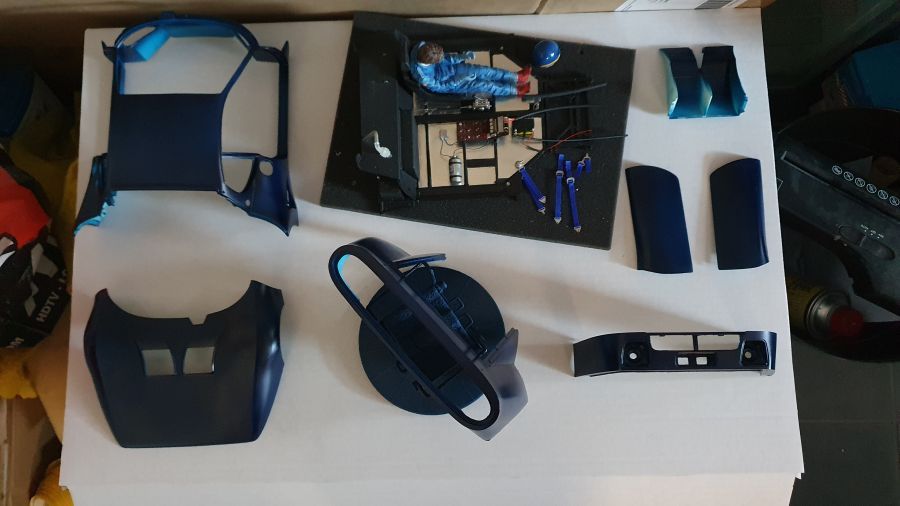 Dan Zero paints 2K clear... Nu een paar dagen laten rusten.
Next is Zero Paints 2K clear...  Now leave it alone for a couple of days.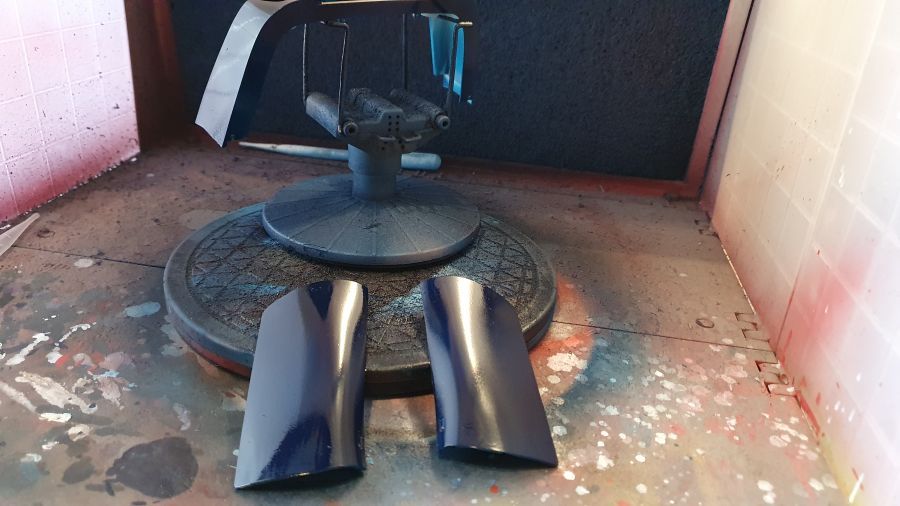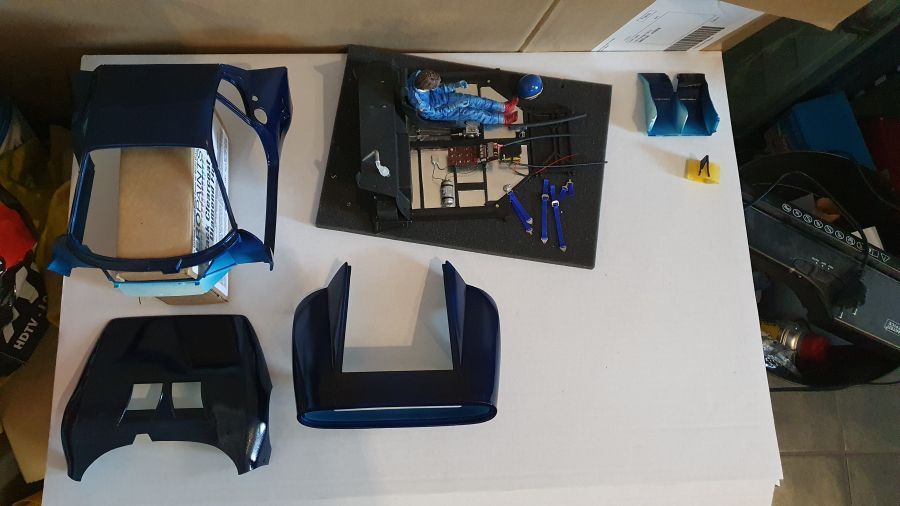 Licht schuren met korrel 8000.
Light sanding with grit 8000.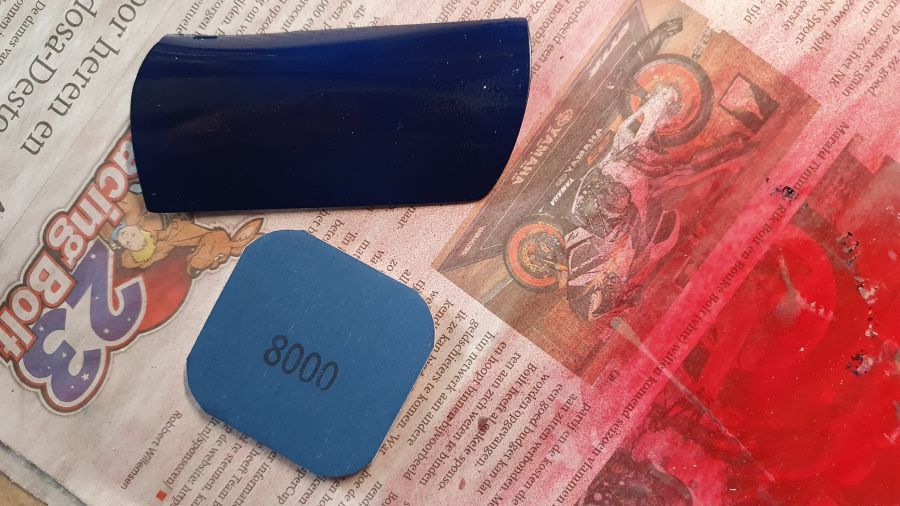 Dan weer terug naar de gordels.
Then back to the belts.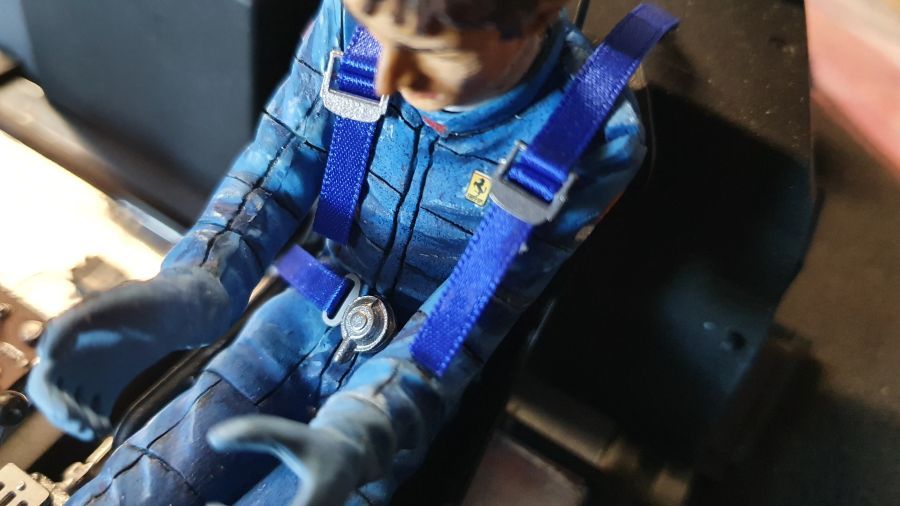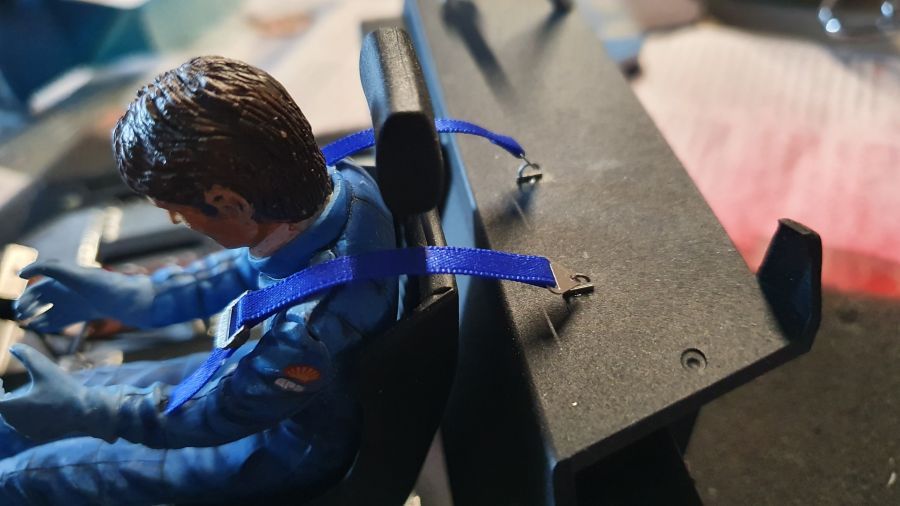 Alles op maat maken...
Making everything to size...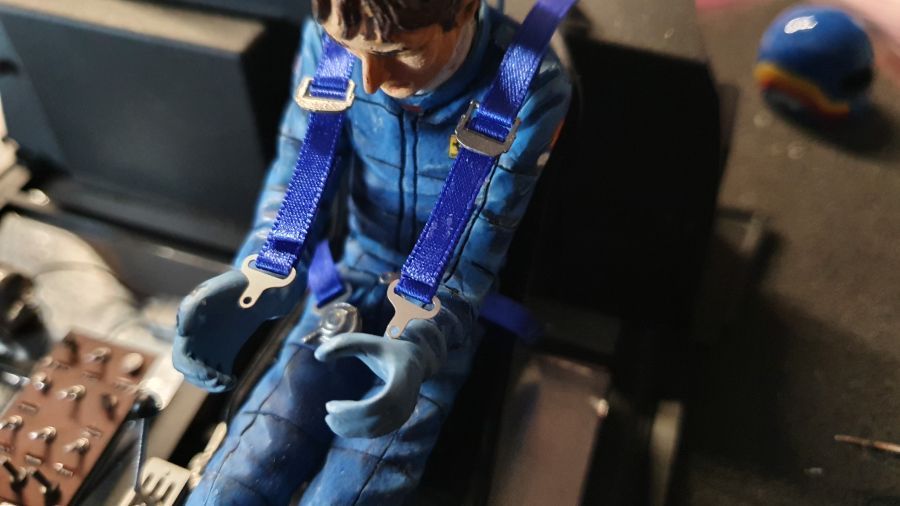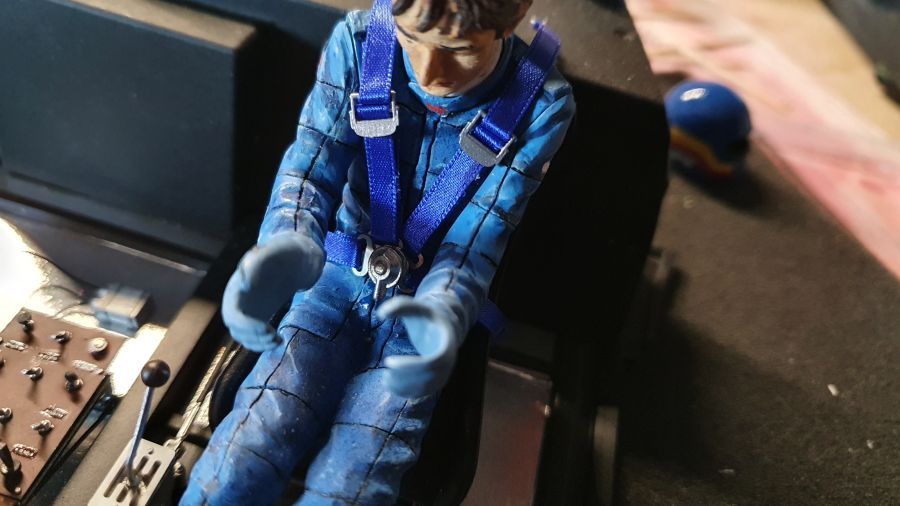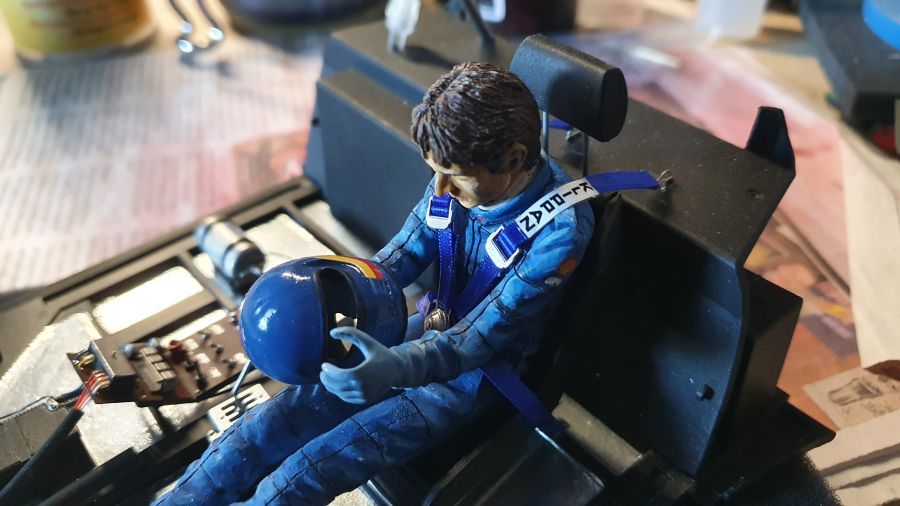 Testen of er ruimte genoeg over is voor het stuur.
Testing to see if there is still space for the steering wheel.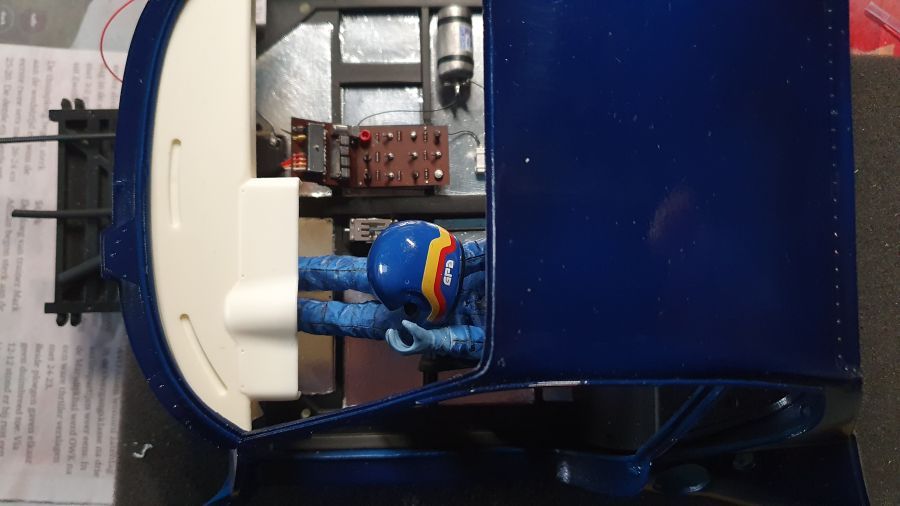 De binnenkant wordt zwart gespoten.
The inside is being painted black.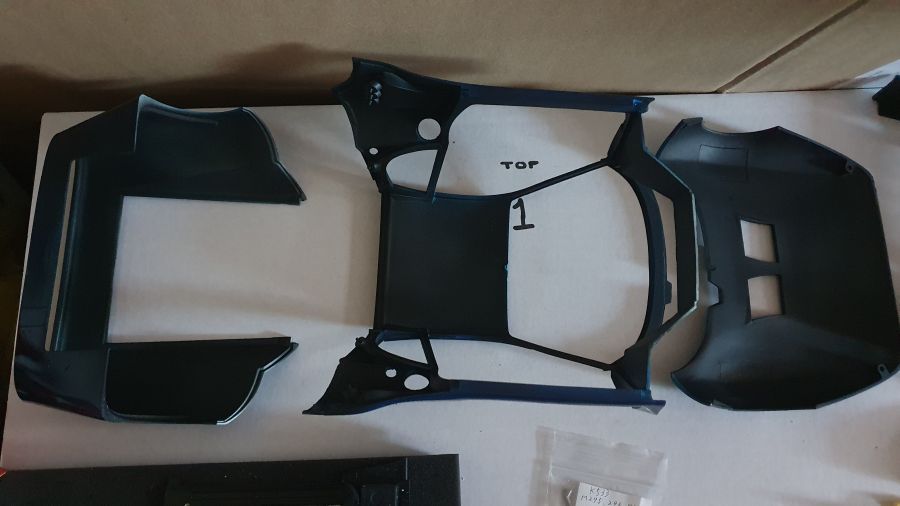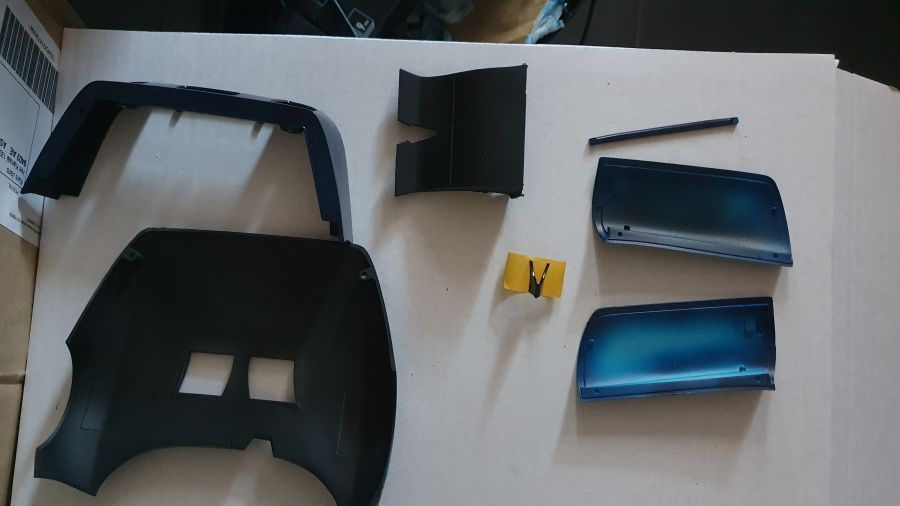 Het chassisdeel is zwart gespoten, het dashboard textuur zwart.
The chassis part has been painted black, the dash board was painted textured black.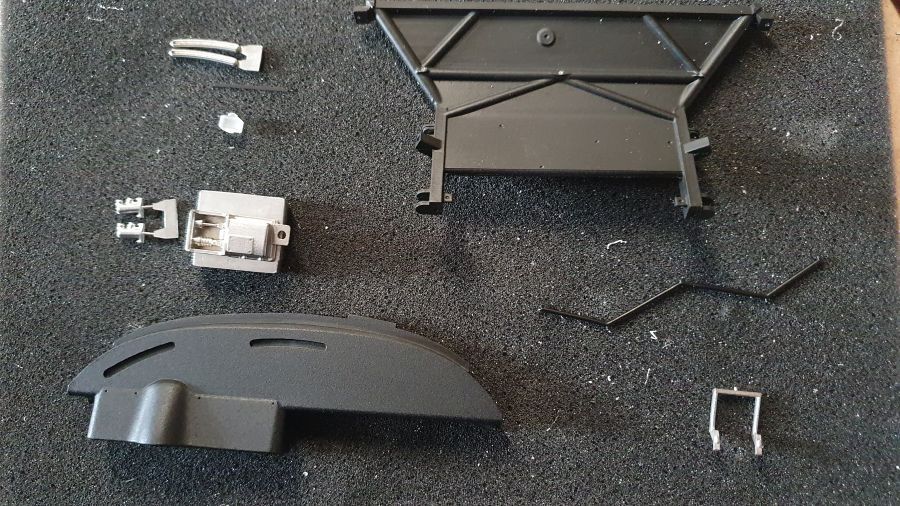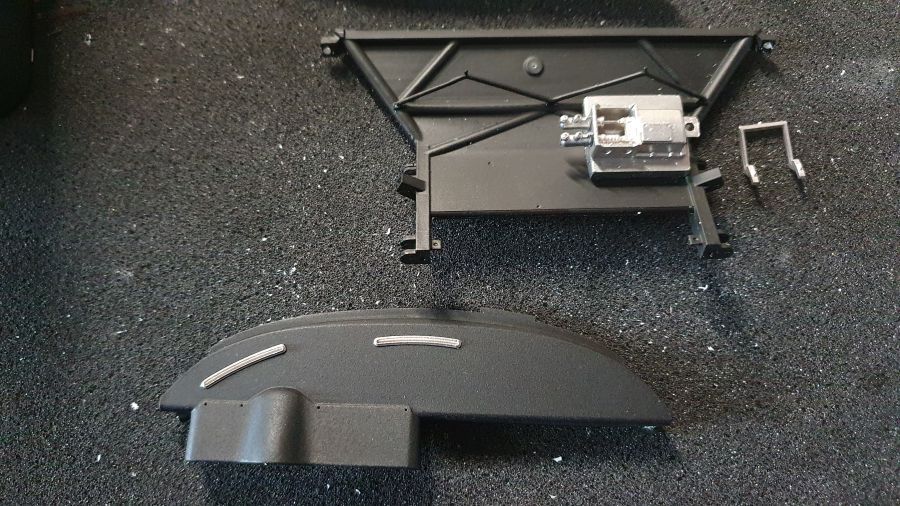 De pedalen moeten aan de onderkant bevestigd worden. Daar wacht ik nog even mee.
The pedals need to be added to the downside. I will wait a while before i do that.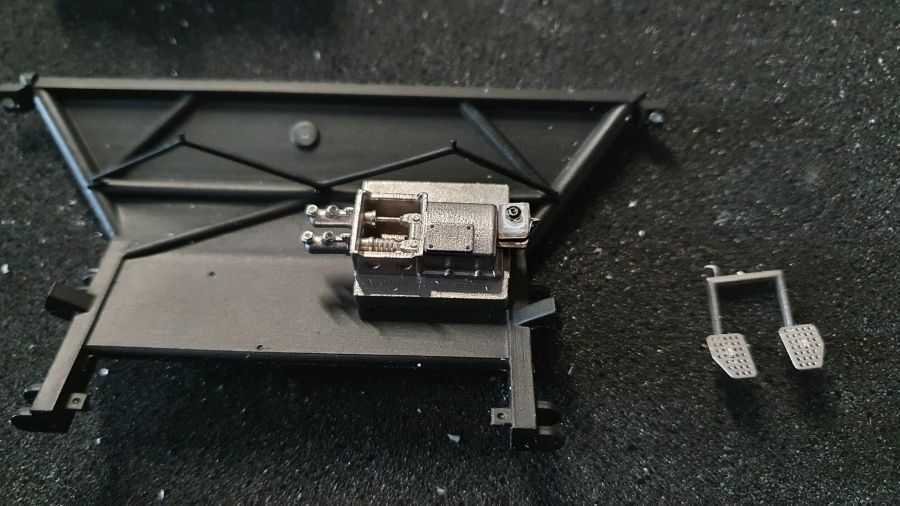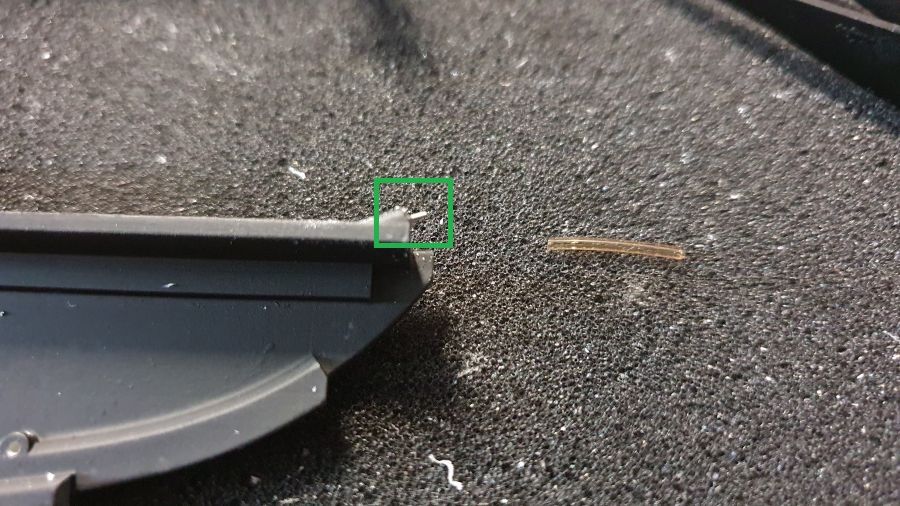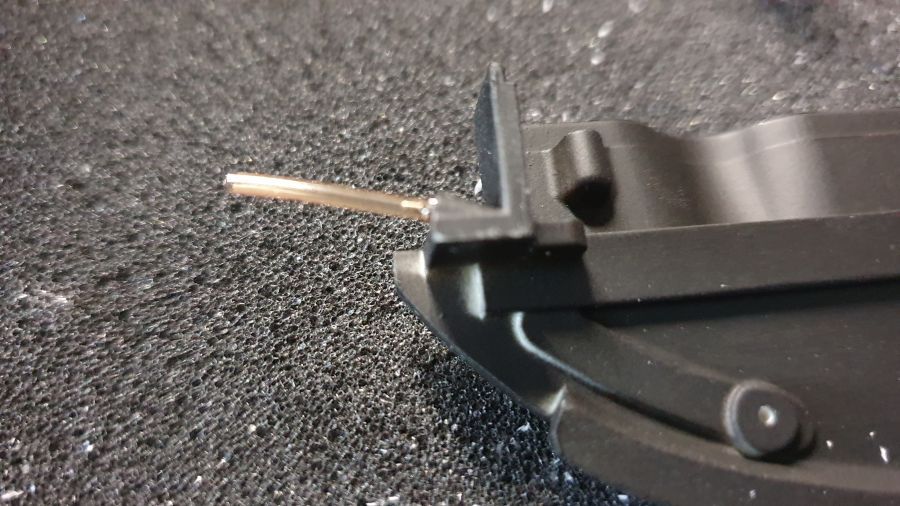 Dan de eerste decals...
Next are the first decals...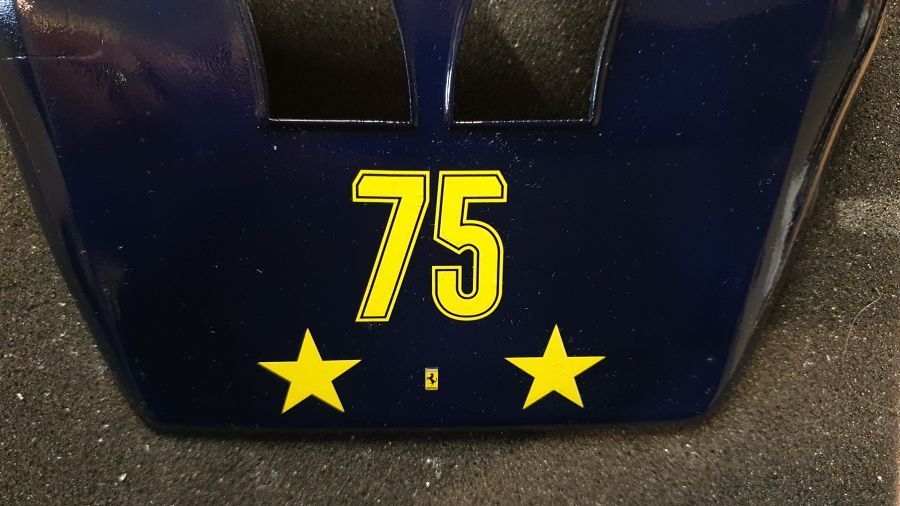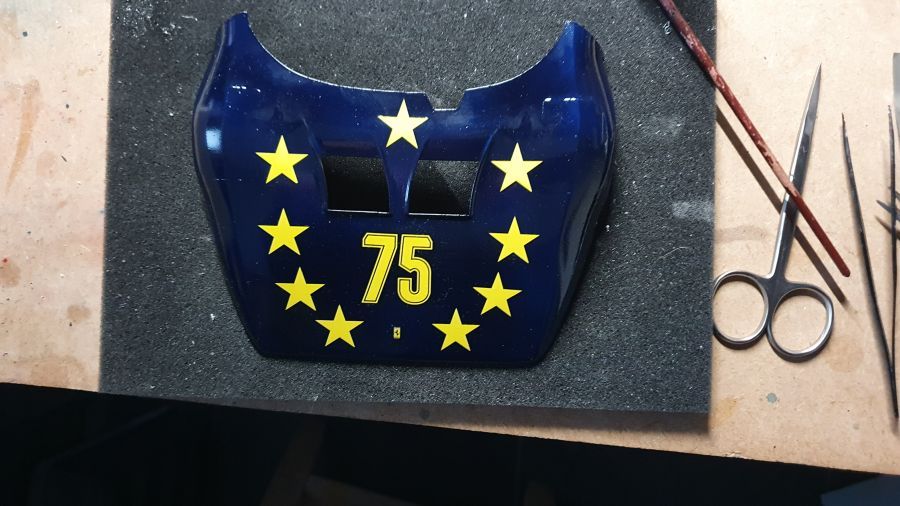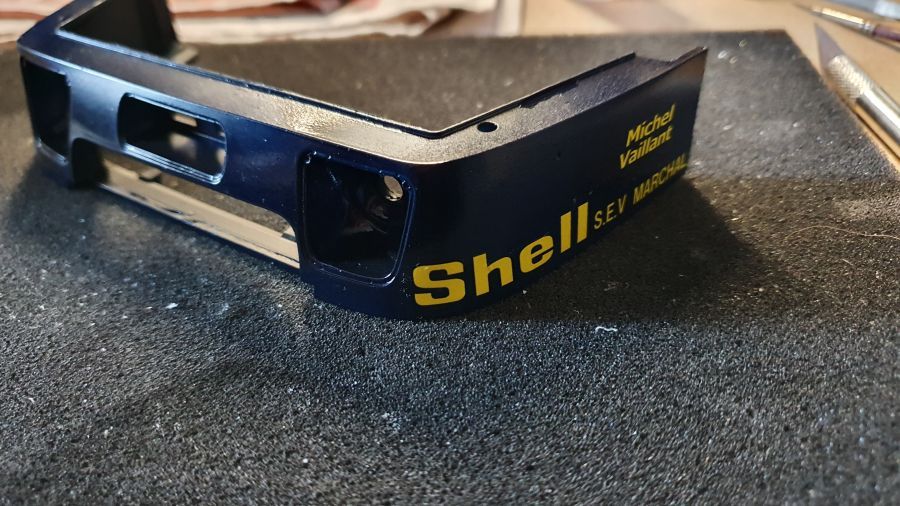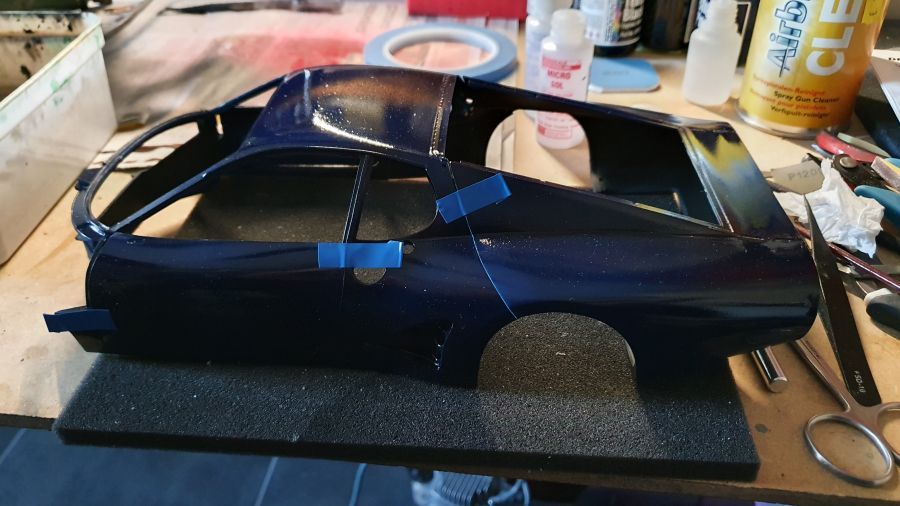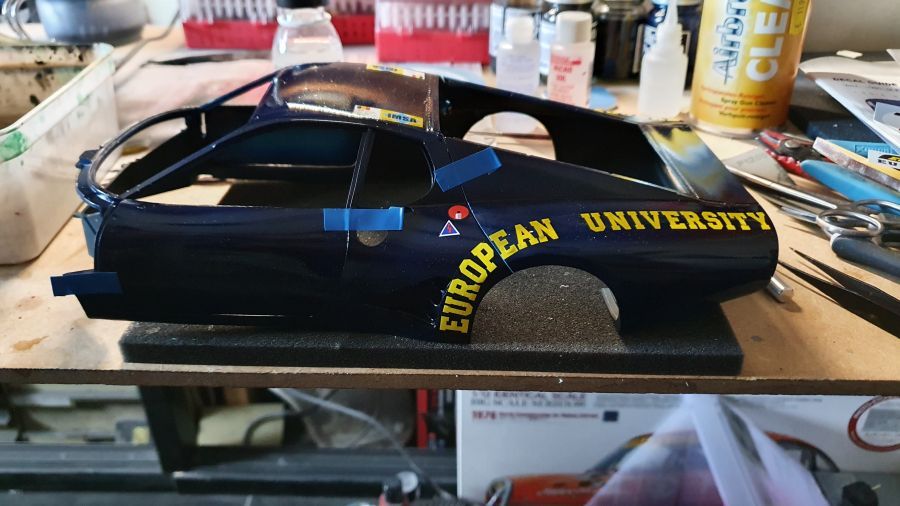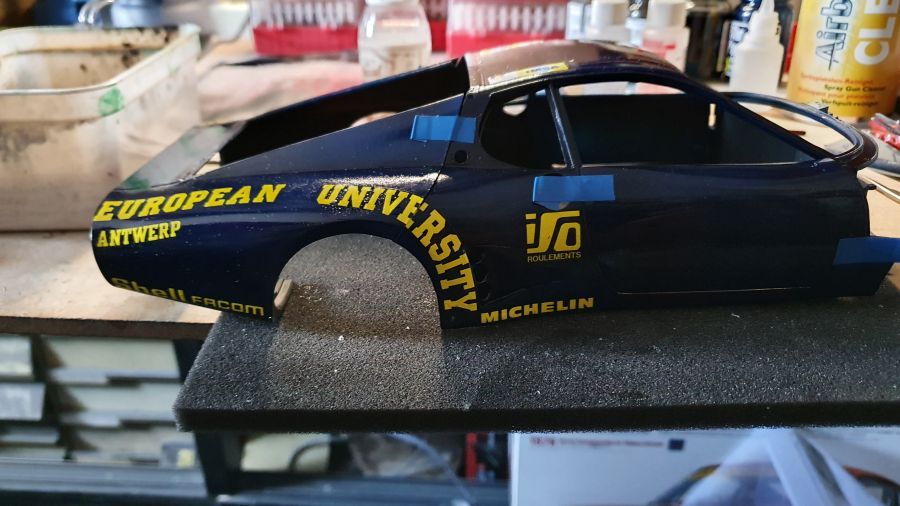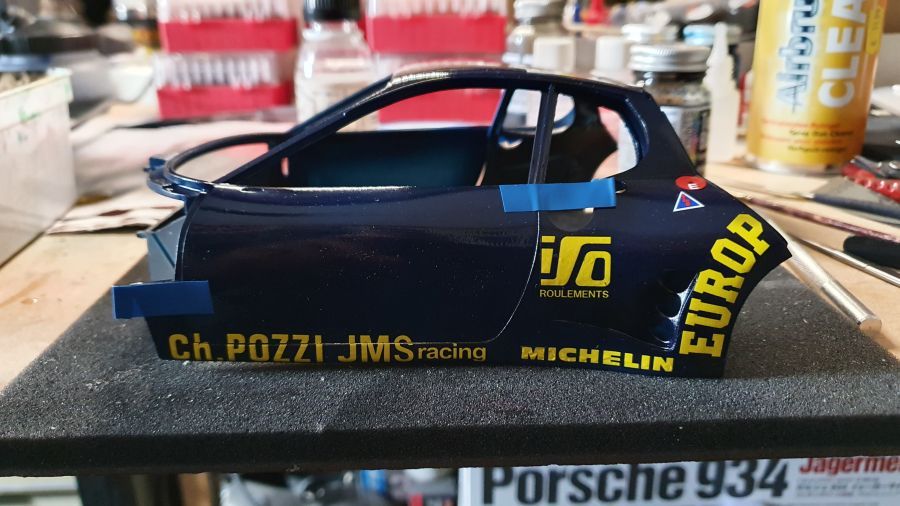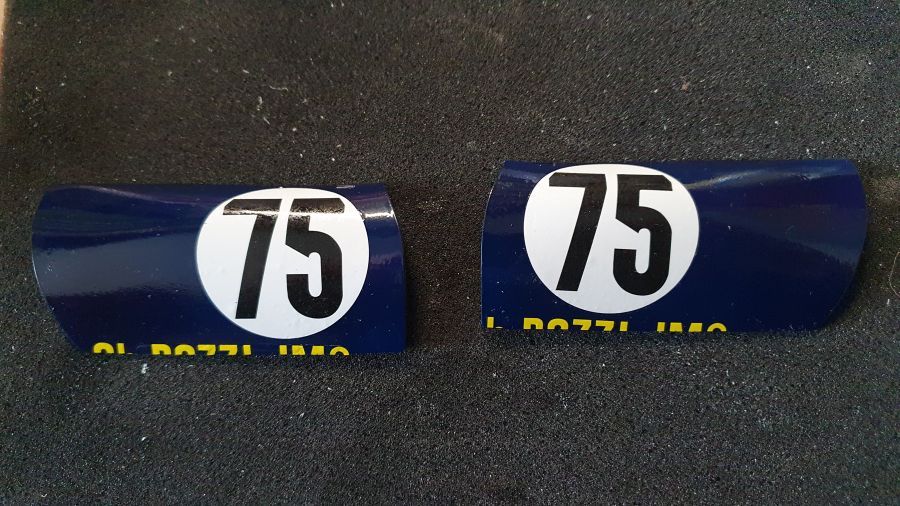 Terwijl dit grondig droogt, ga ik verder met het dashboard en het stuur.
While this dries thoroughly, i will continue with the dashboard and the steering wheel.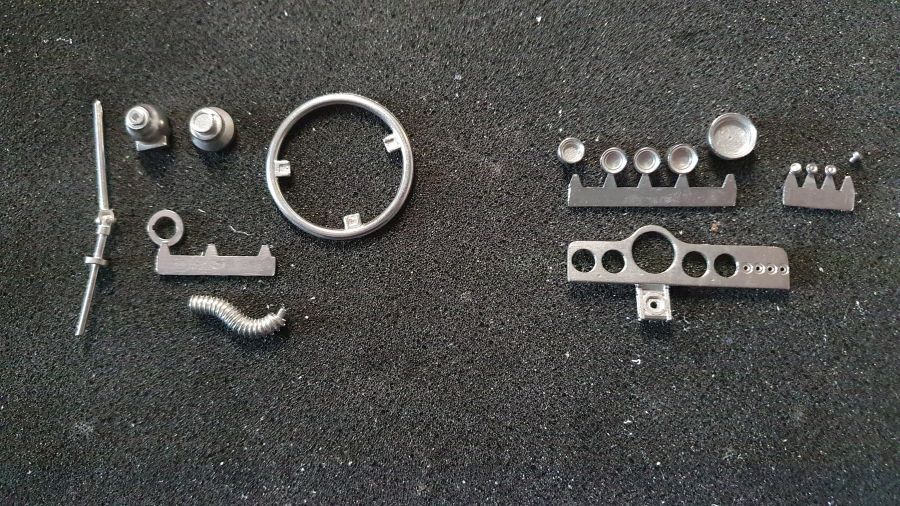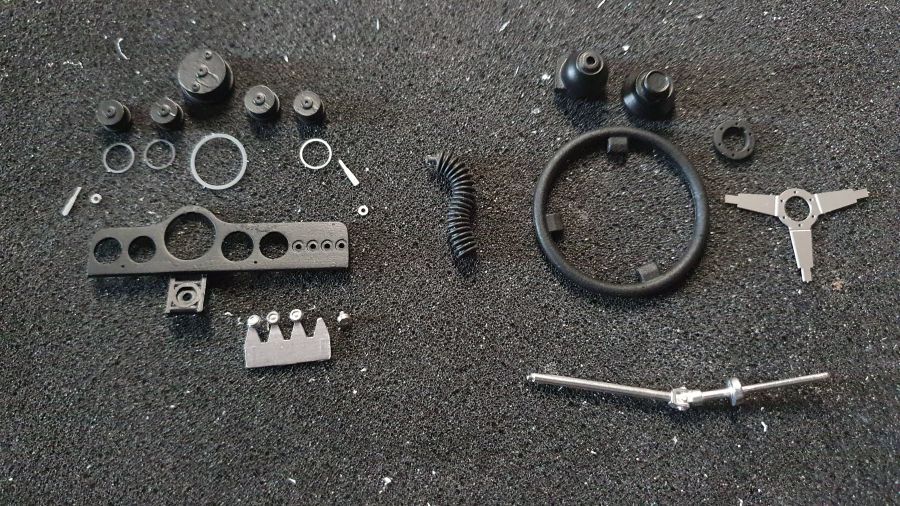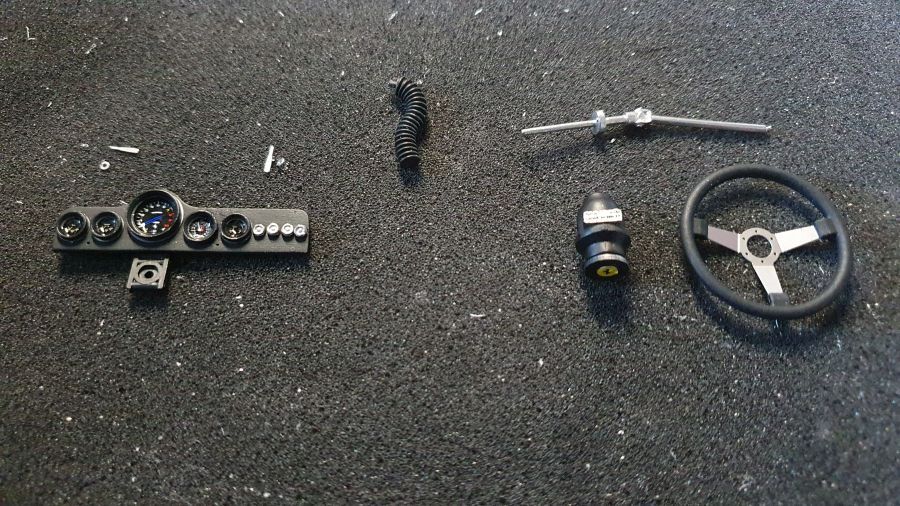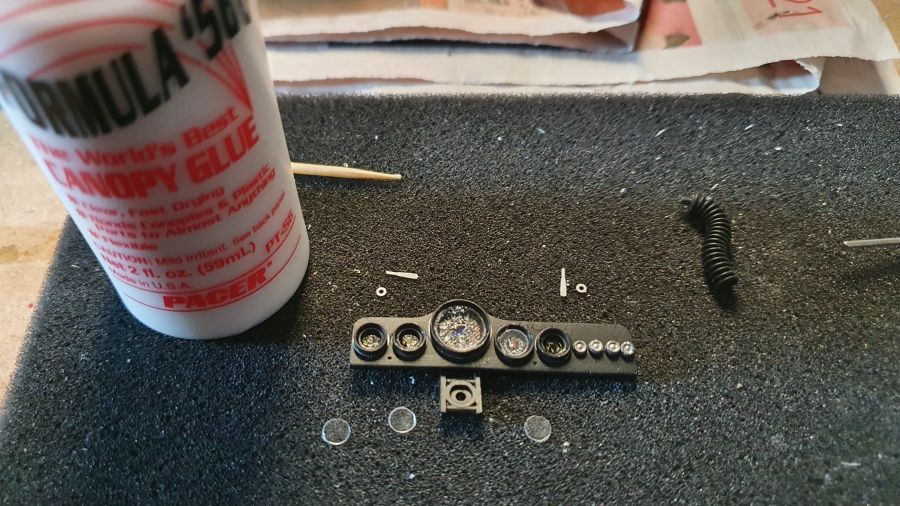 Ik gebruik de soldeerkogeltjes om schroeven na te bootsen.
I am using the solder balls to simulate screws.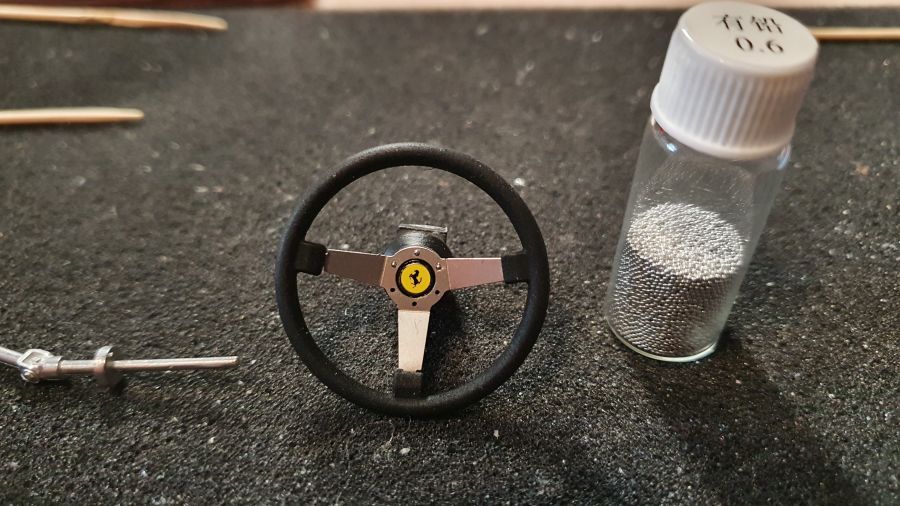 Dan voor mij 1 van de meest gevaarlijke karweitjes. Het aanbrengen van een laklaag over de decals. Dat gaat bij mij vaak fout. Eerst een paar 'mist coats' (naald 0.4), erg dunne laagjes dus. Na 3 laagjes nog steeds alles goed.
Then to me 1 of the most risky jobs. Applying clear coats over the decals. This often destroys my model. First a few mist coats (needle 0.4), so very thin layers. After 3 coats all still o.k.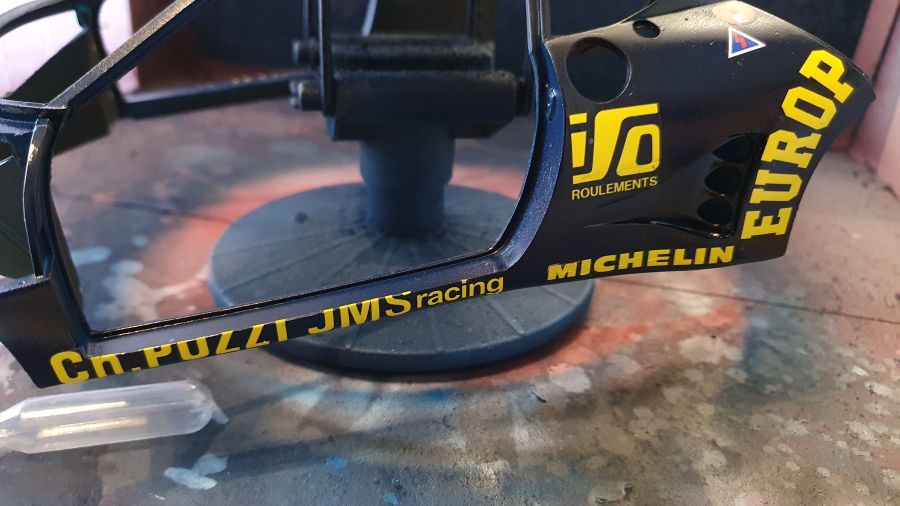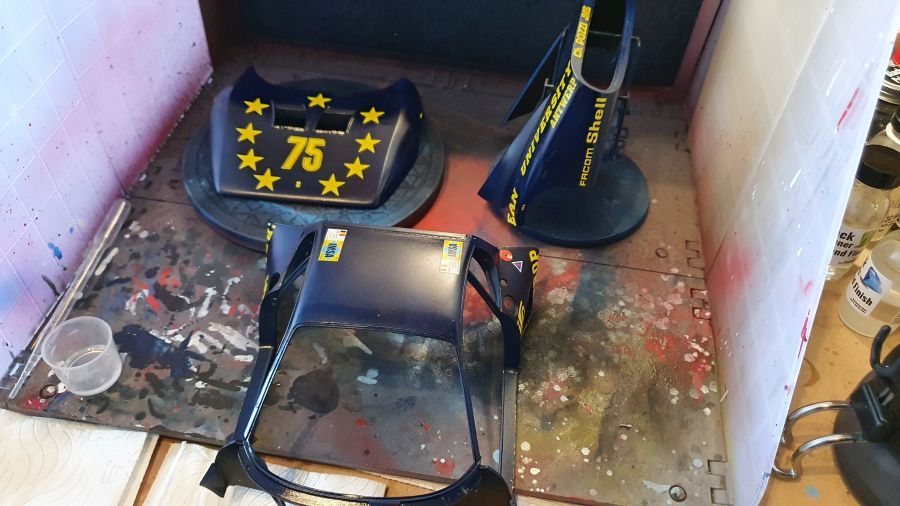 Dan een wet coat (naald 0.6), op een paar kleine stofjes na is alles goed gegaan. Dit moet nu minstens 48 uur drogen.
Then a wet coat (needle 0.6), besides some small dust particles all went well. This has to dry for at least 48 hours.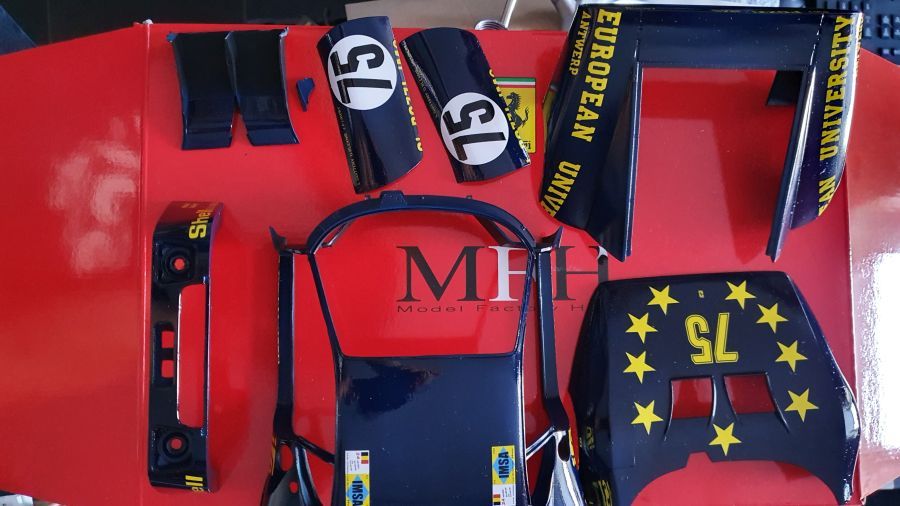 Wat klein polijstwerk...
Some small polishing...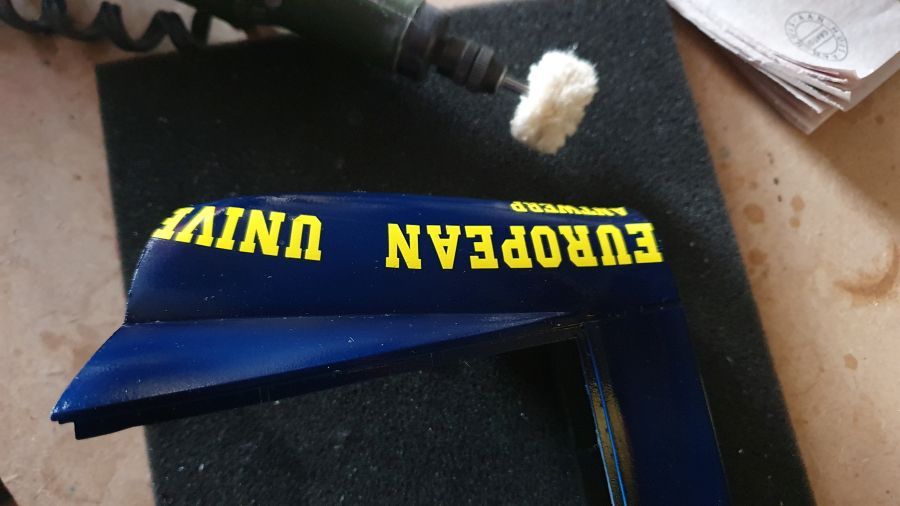 En weer verder...
And to continue...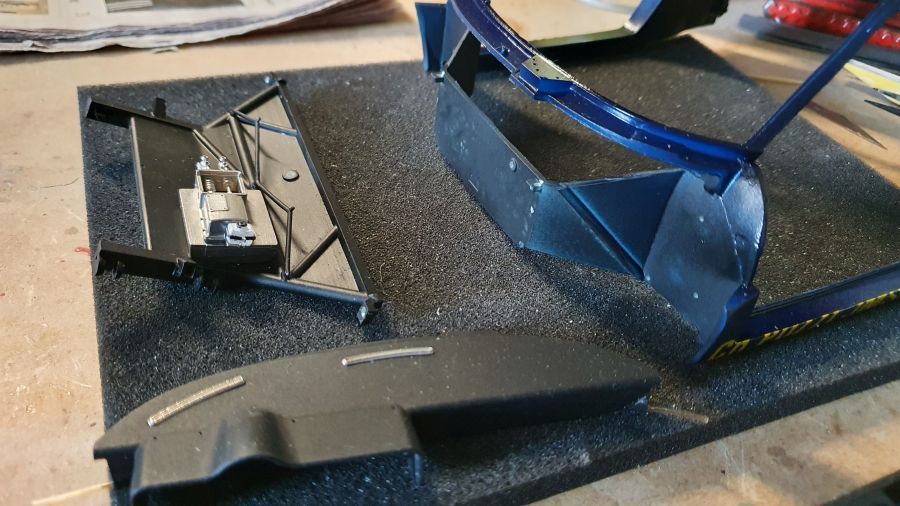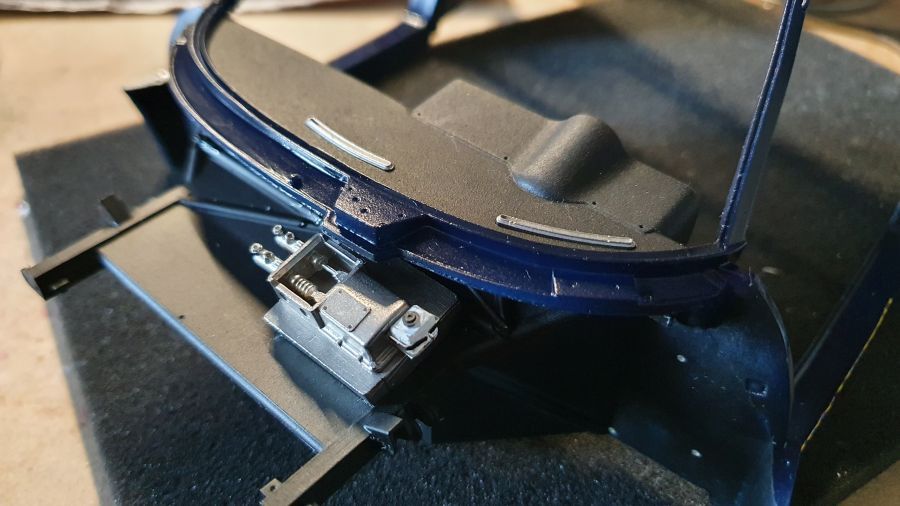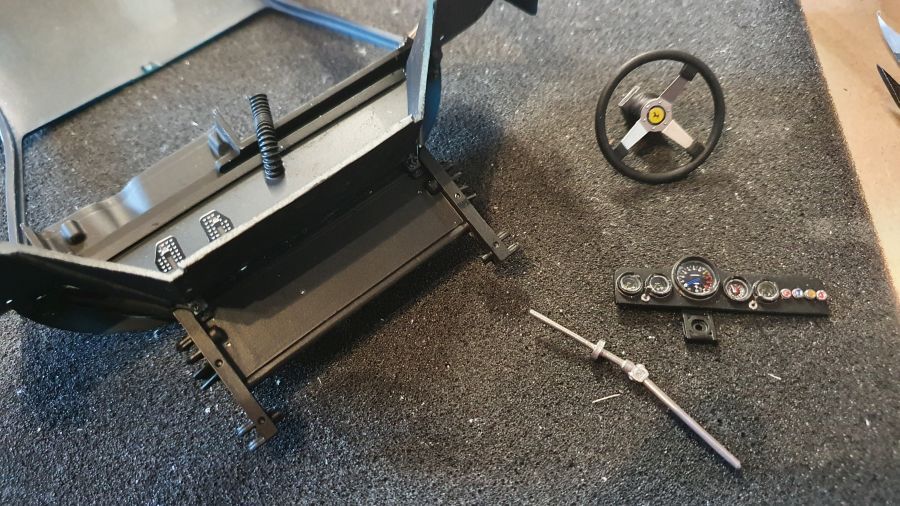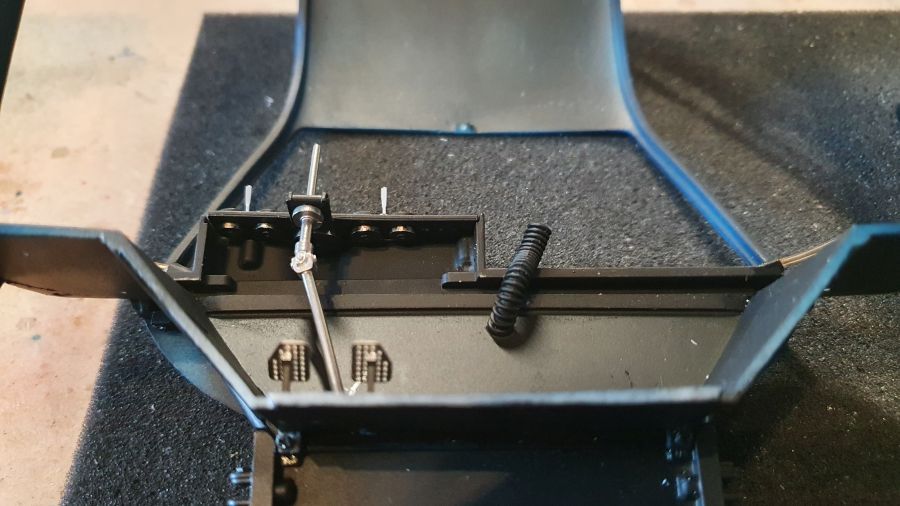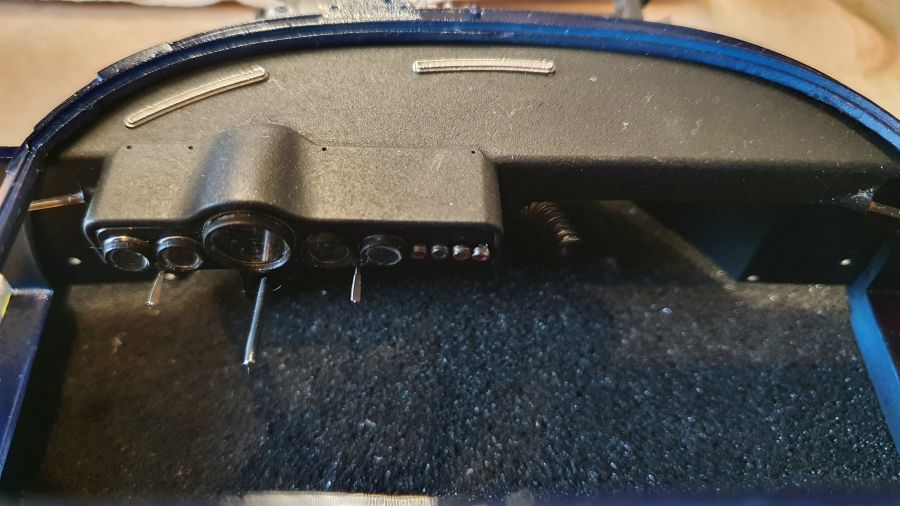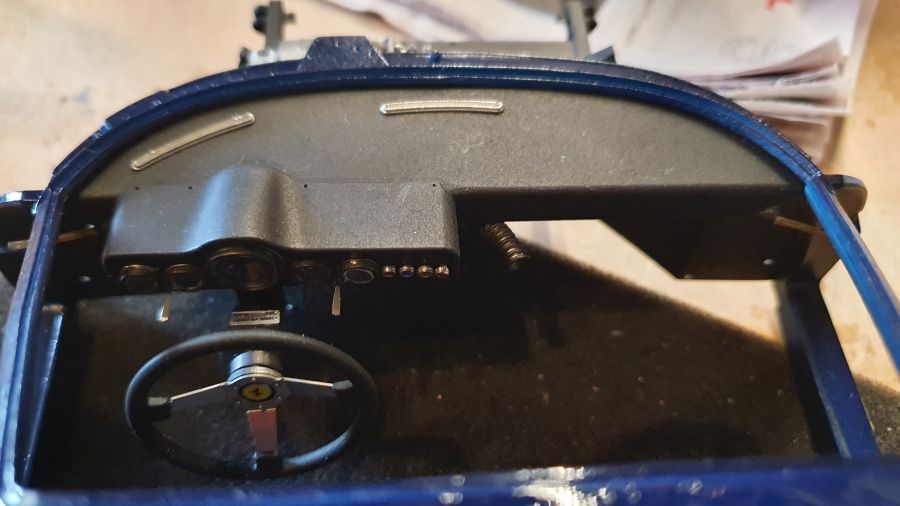 Ik ben blij dat ik de helm nog niet heb vastgezet. Het wordt toch wel wat krap. Misschien zo? Of zal ik kijken of ik een balaclava kan maken?
I am glad i didn't put the helmet into position. It will be tight. Maybe like this? Or will i see how to create a balaclava?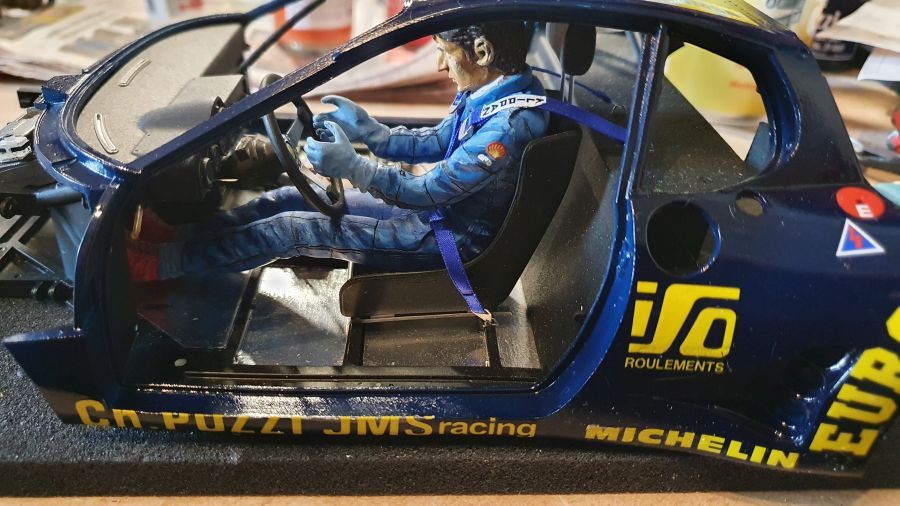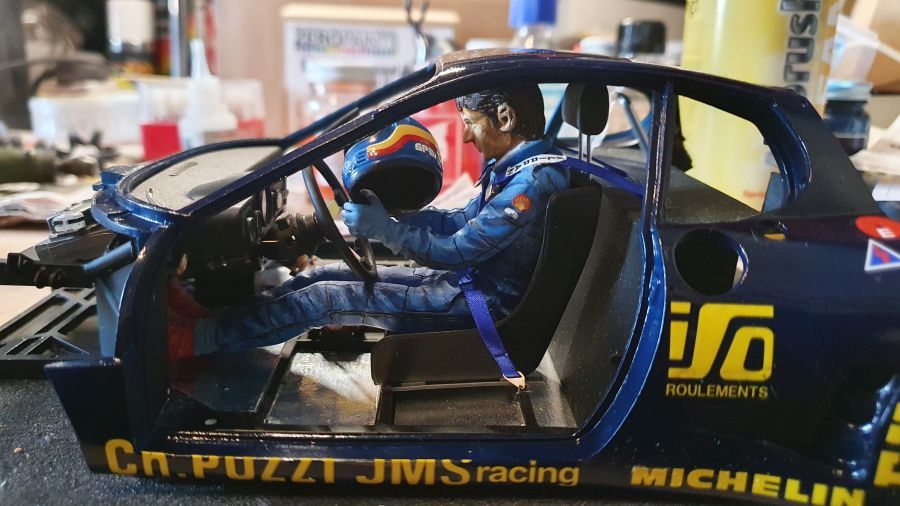 Even proberen een balaclava te maken. Laagjes tissue over een stuk rond gemaakt verpakkingsmateriaal en verdunde lijm. Het ziet er op deze foto's (sterk vergroot) slechter uit dan in echt
Trying to make a balaclava. Layers of tissue over a round piece of packaging material and diluted white glue. On this photos (much enhanced) it looks more bad than for real.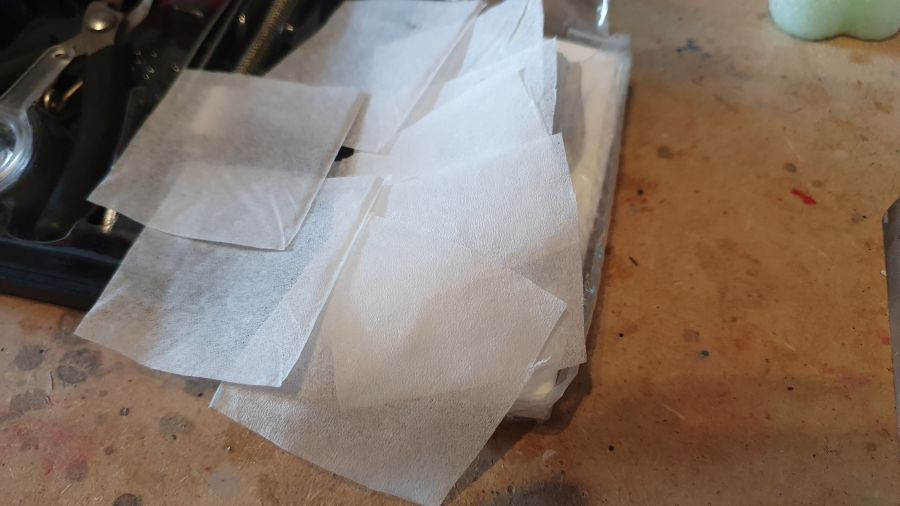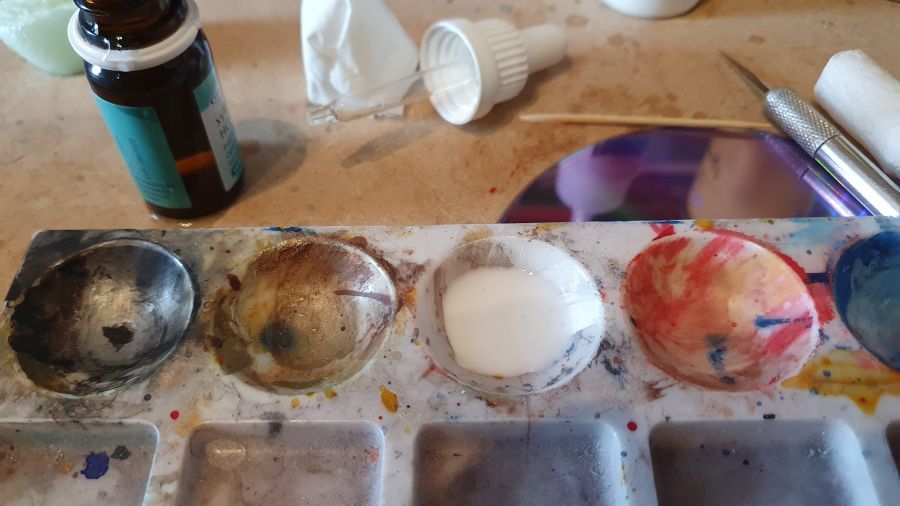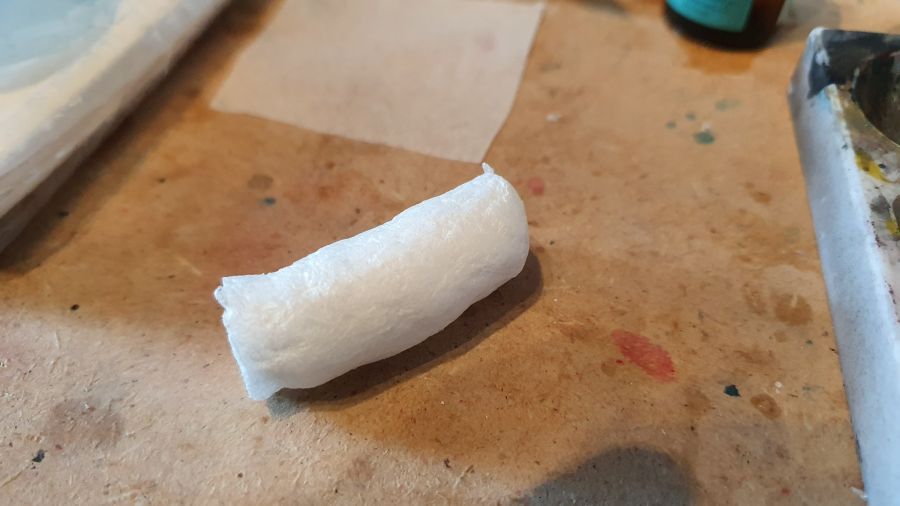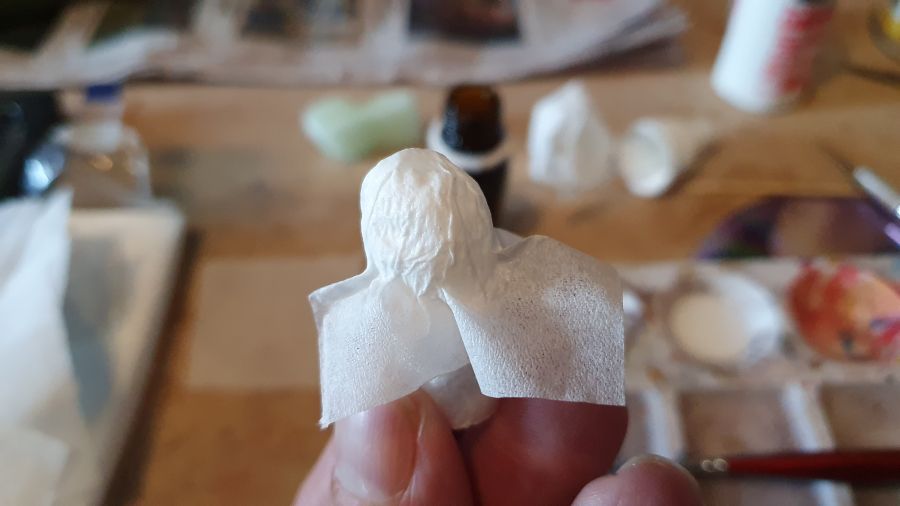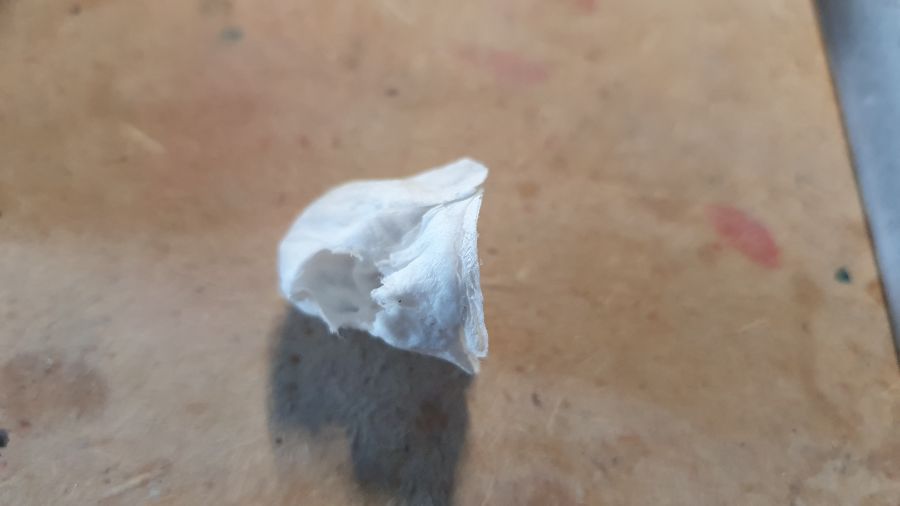 Testen... Beter?
Testing... Better?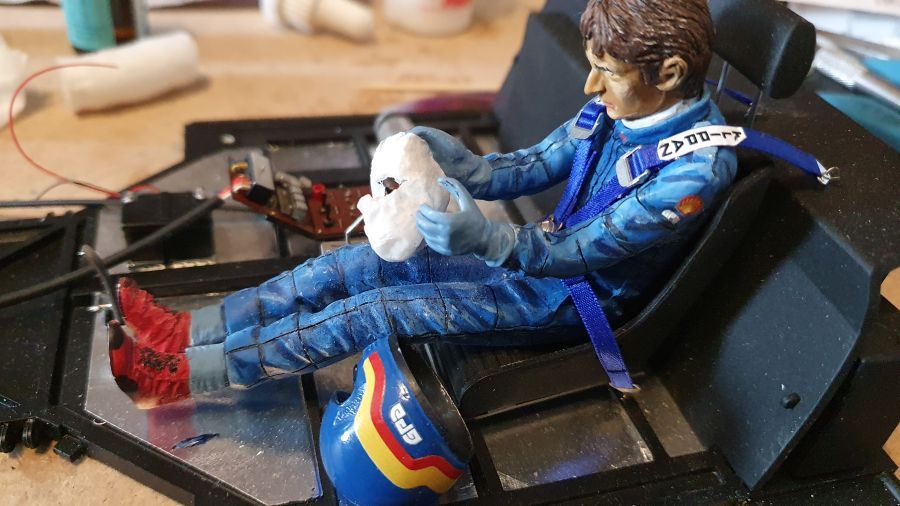 Verder met de vulopeningen...
On to the gastank openings...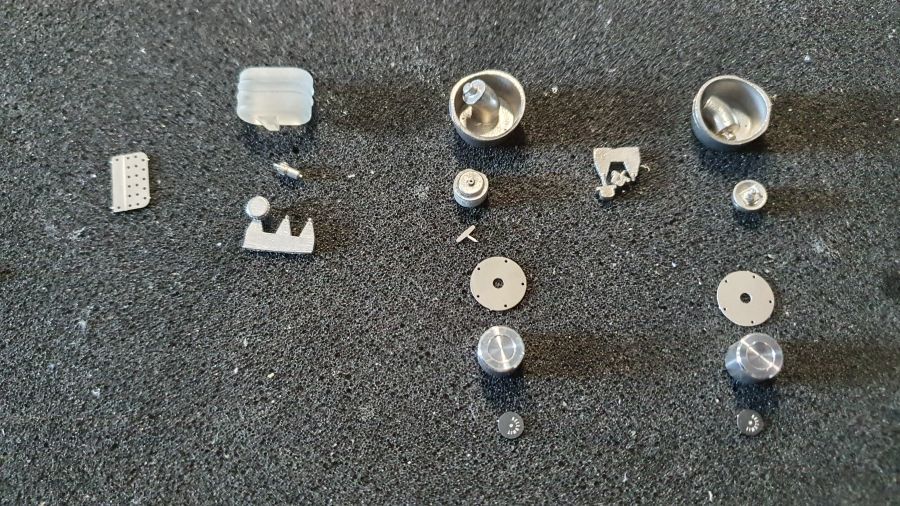 Ik gebruik 0.6 soldeerballetjes...
I am using 0.6 solder balls...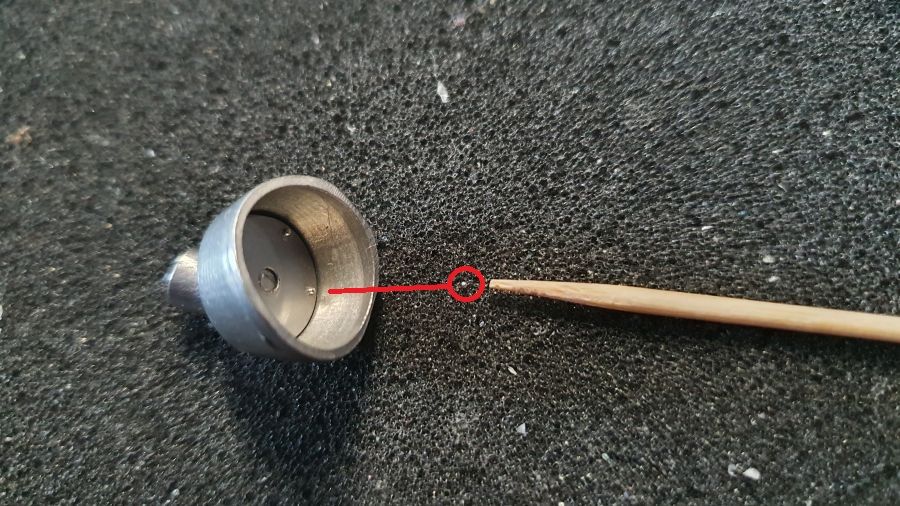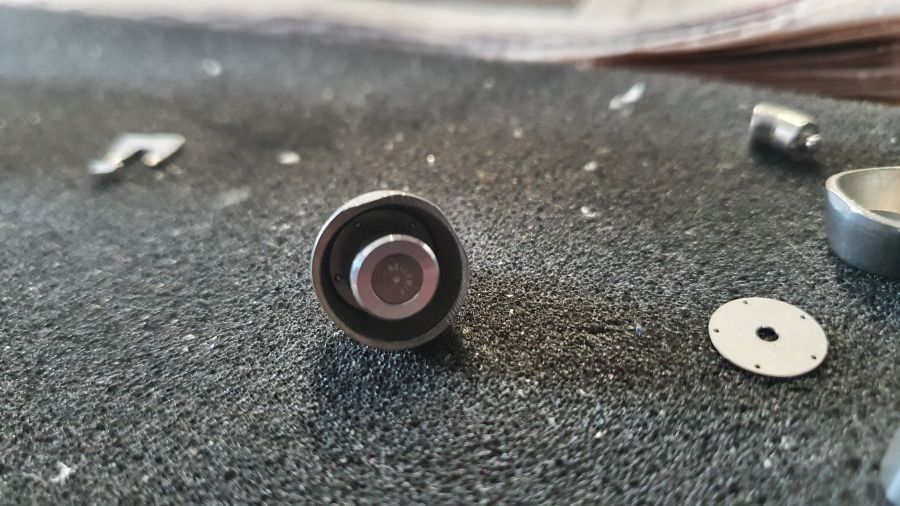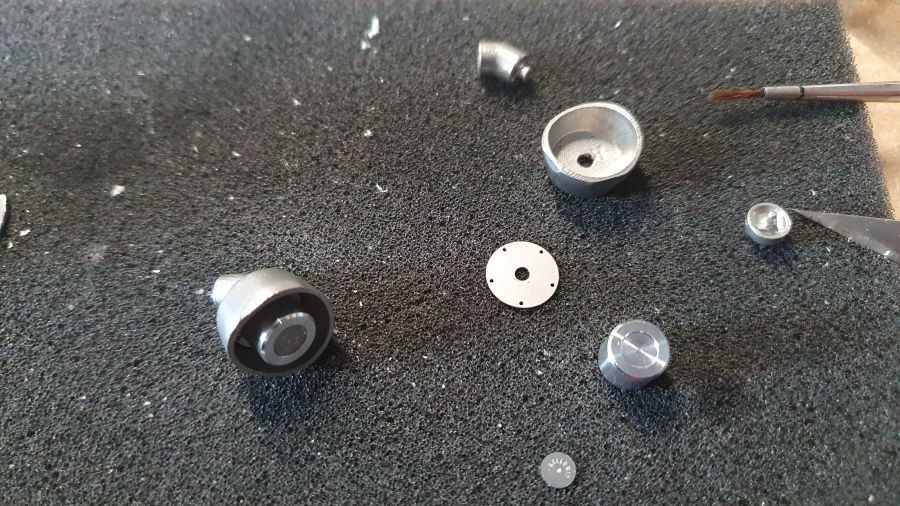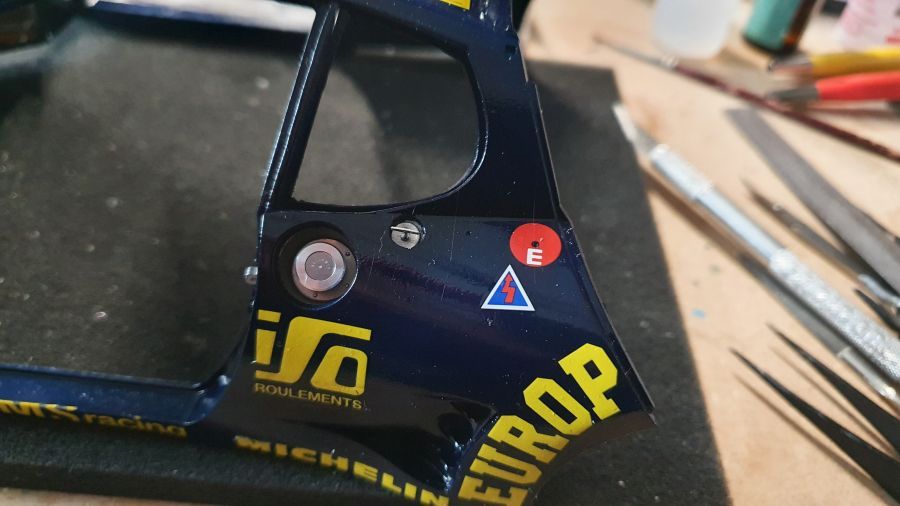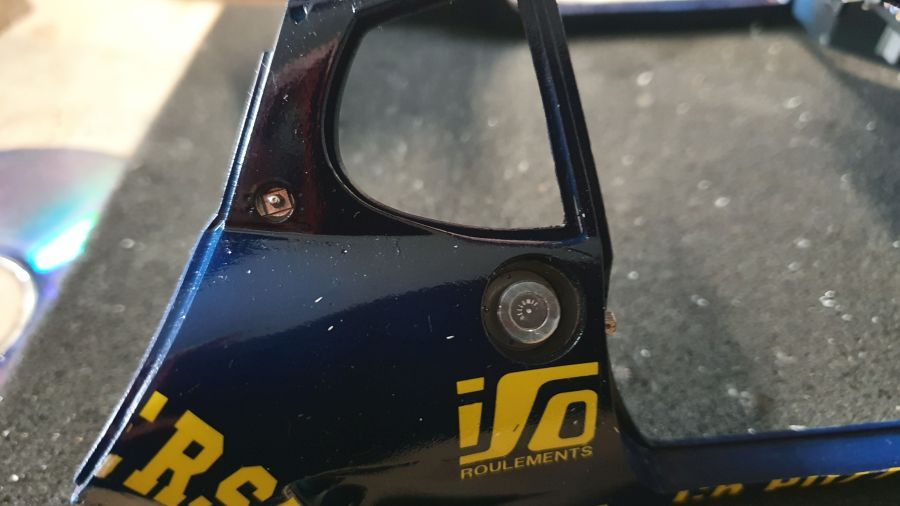 Even de onderdelen voor de kooi bij elkaar zoeken...  Eerst wat gaten boren...
Searching the parts for the roll cage...  First to drill some holes...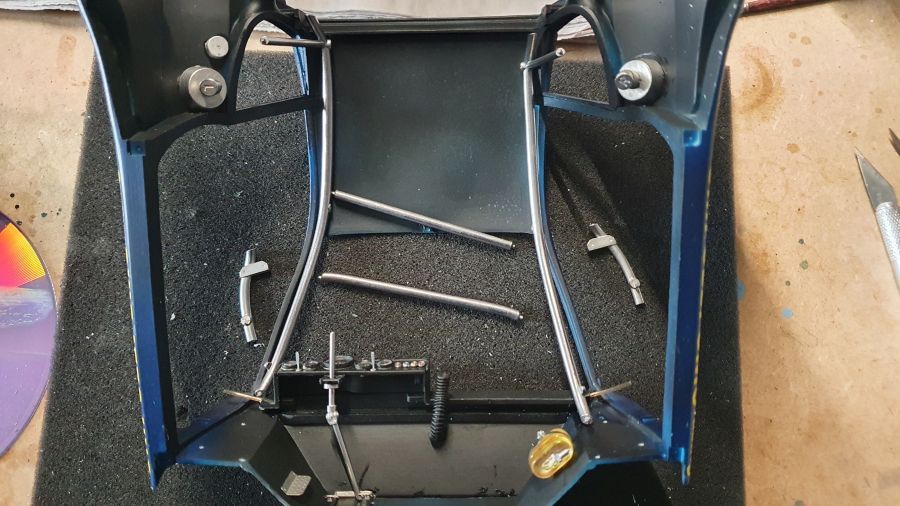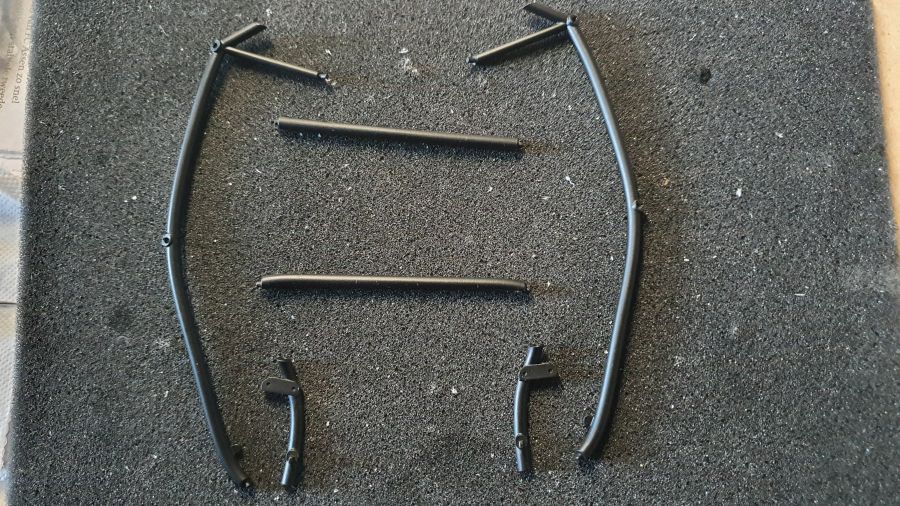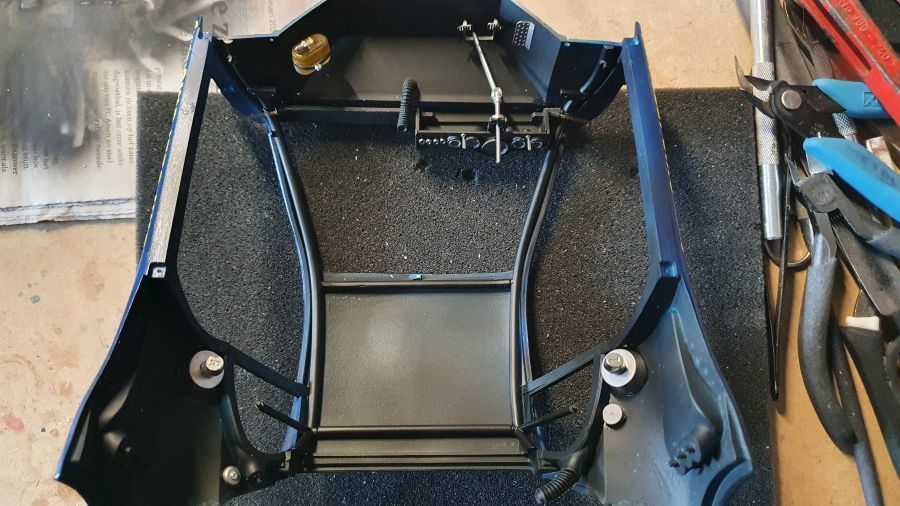 Meer werk aan de voorkant.
More work to the front section.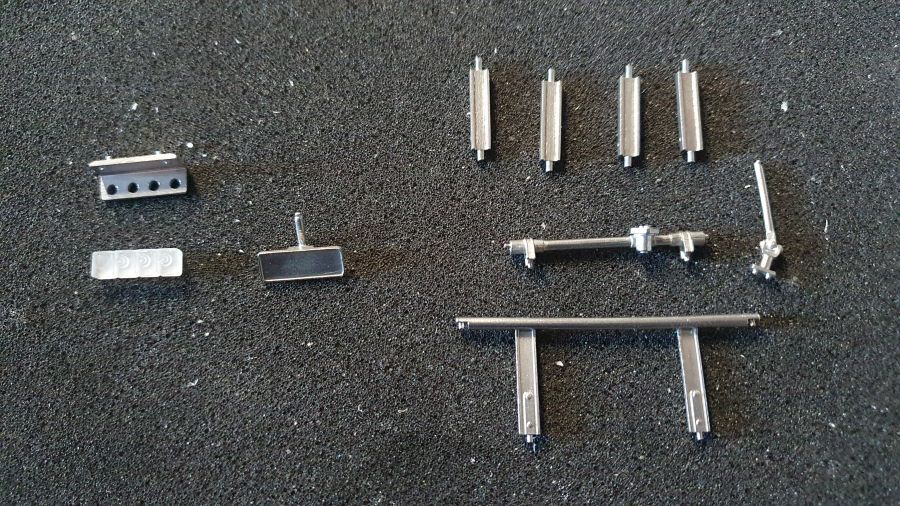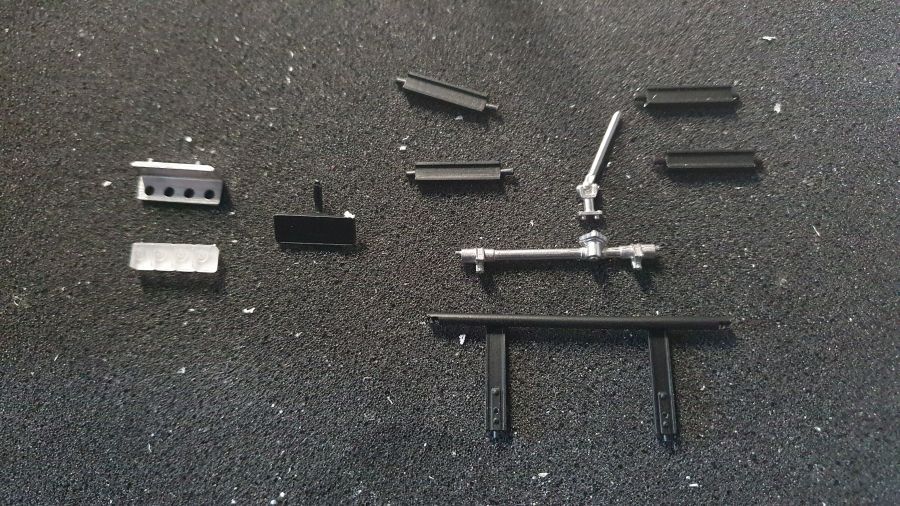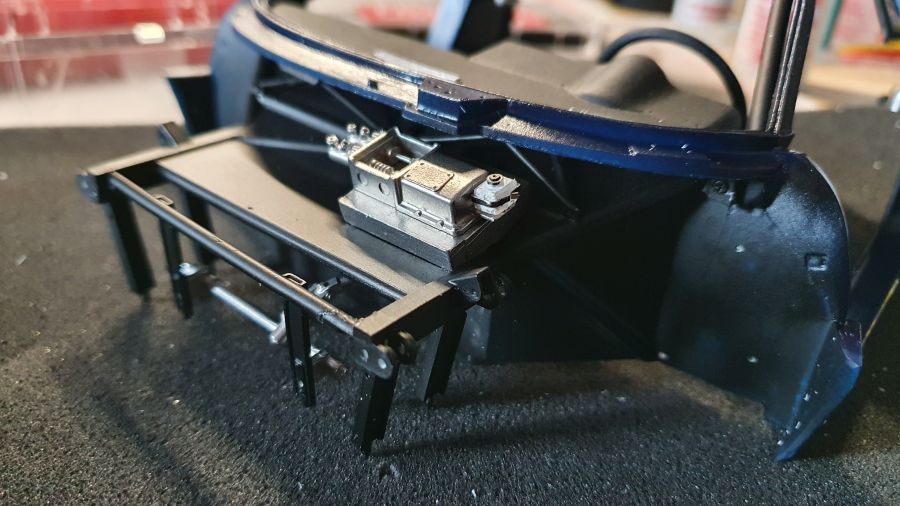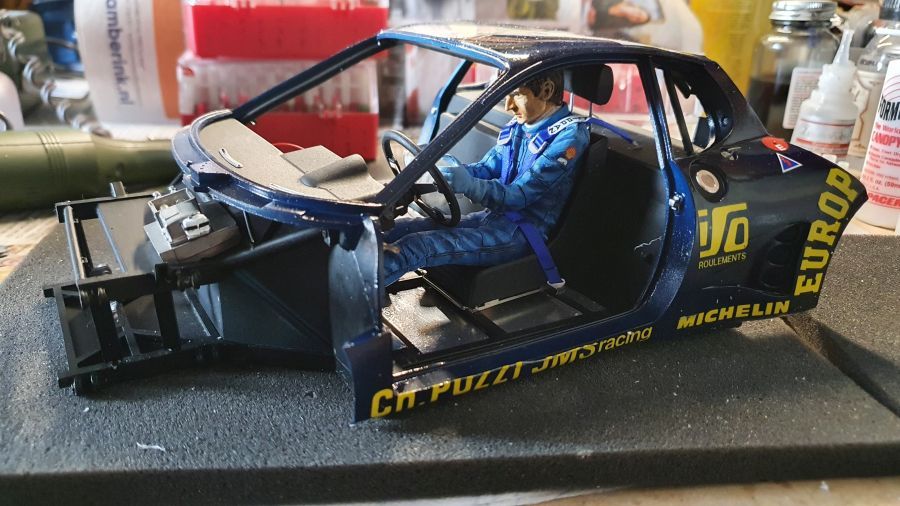 En weer verder...
To continue...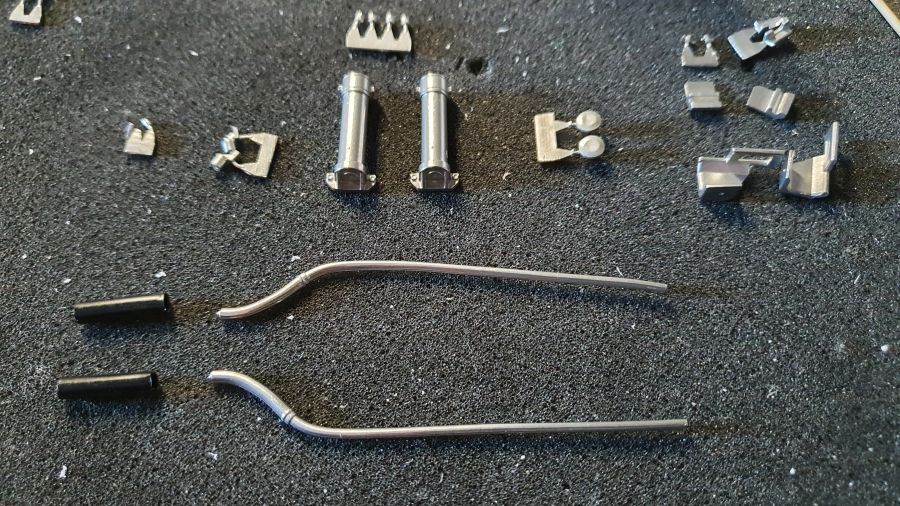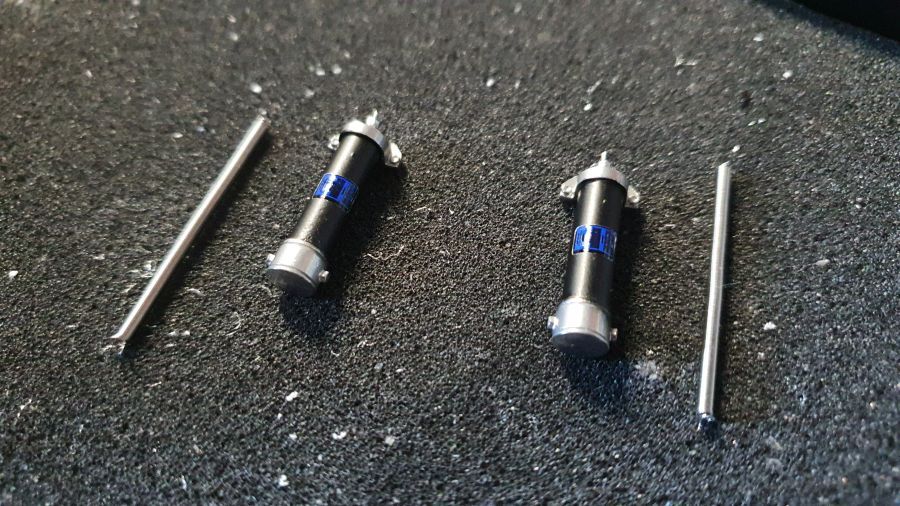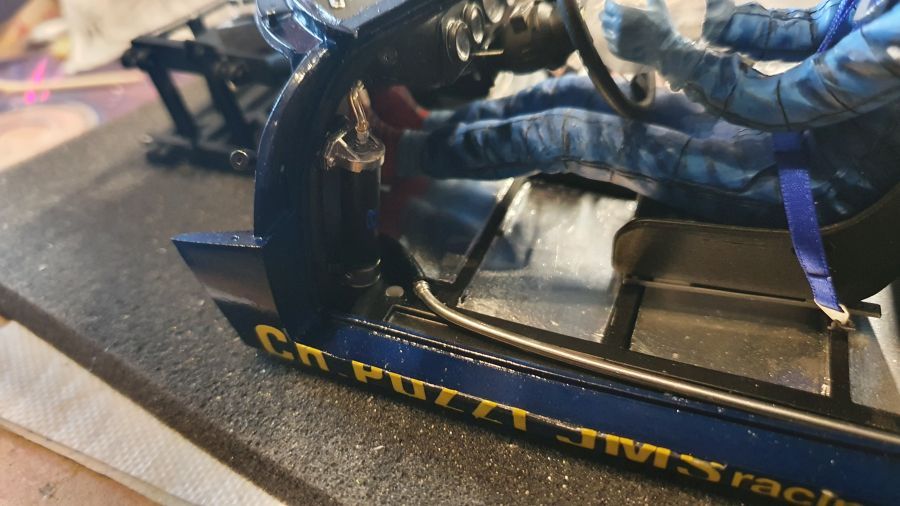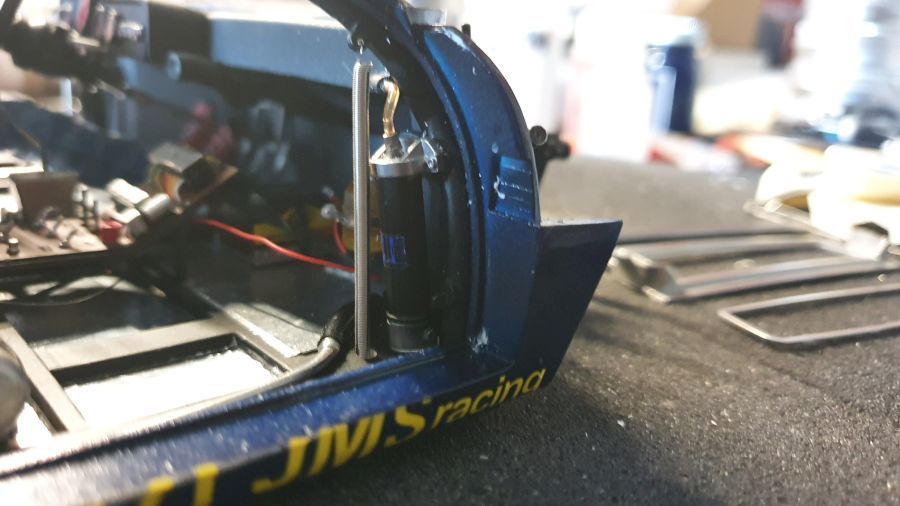 Door naar de deuren en het achterraam...
On to the doors and the rear window...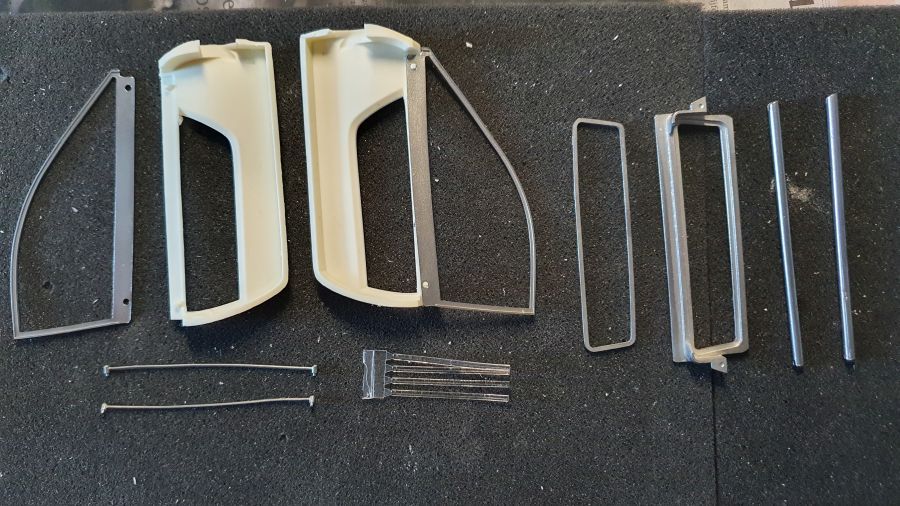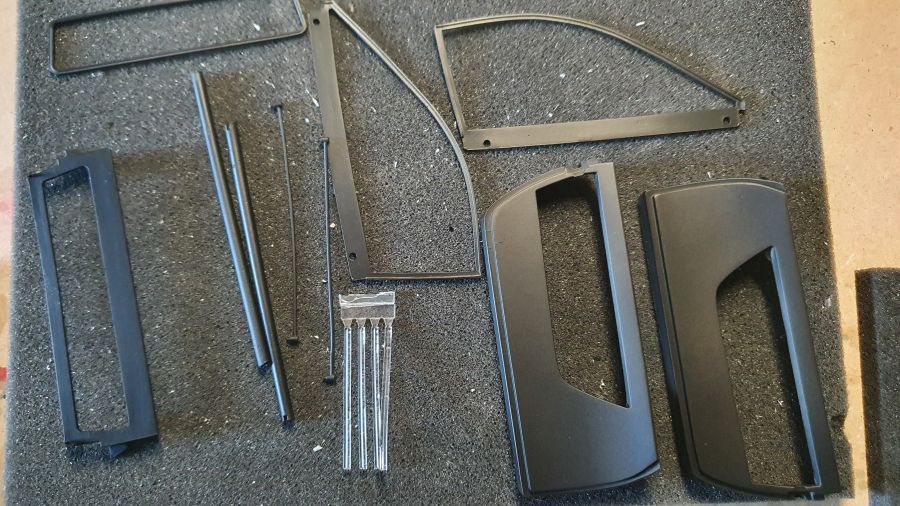 Dit moet scharnier moet soepel werken.
This hinge needs to work smooth.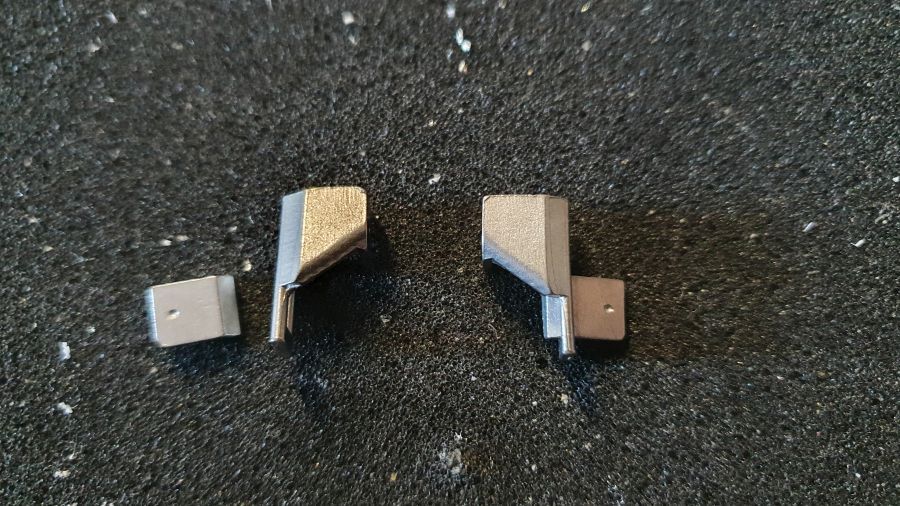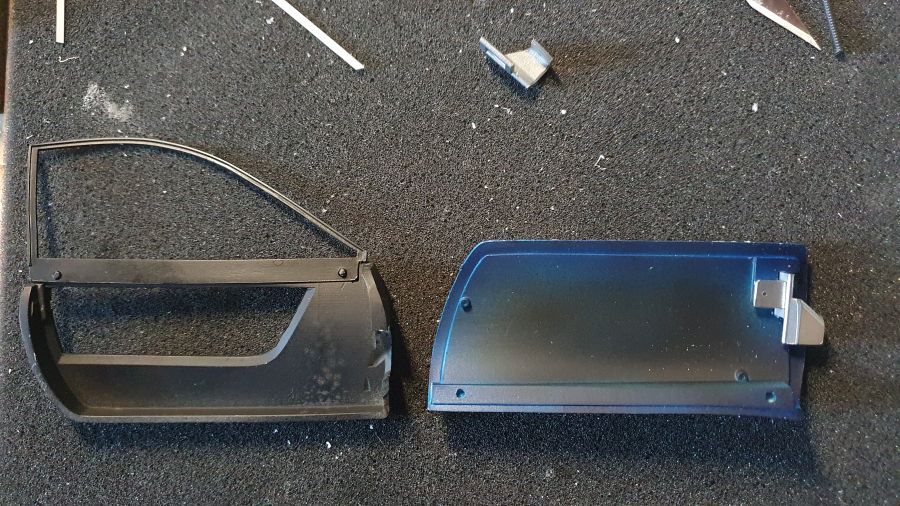 De deur moet passen gemaakt worden. Het metalen deel moet wat worden gebogen.
The door needs to be adjusted to fit. The metal part needs some small bending.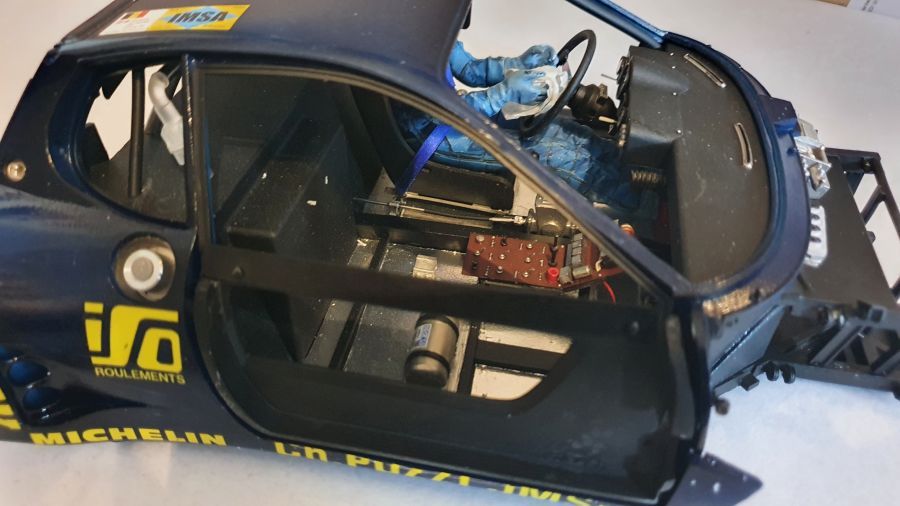 Schroefdraad tappen...
Tapping the thread for the screw...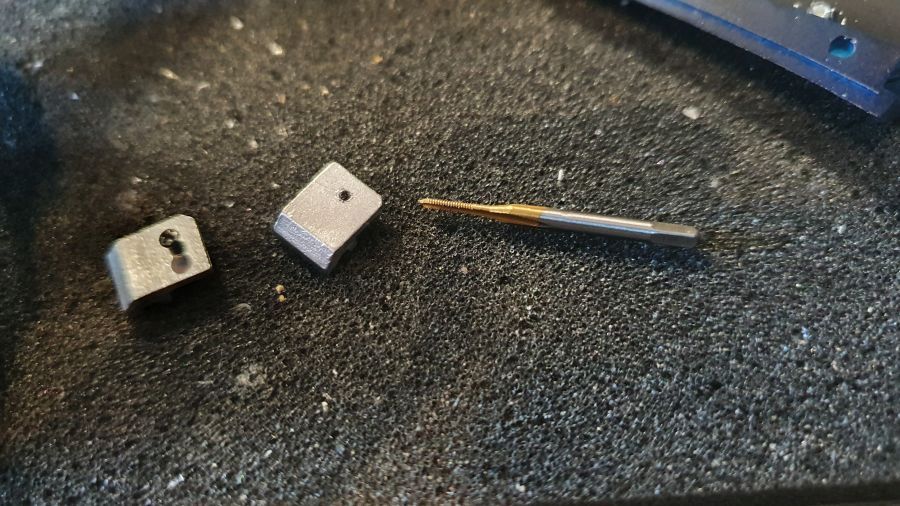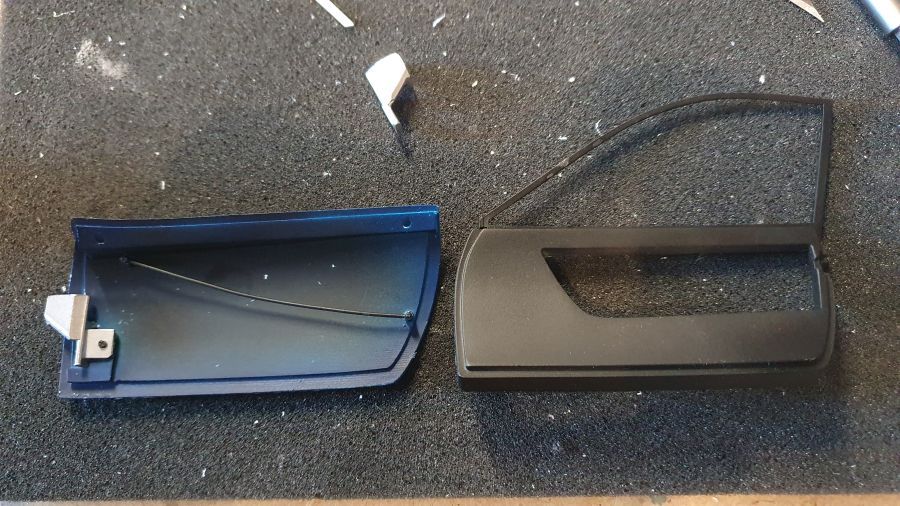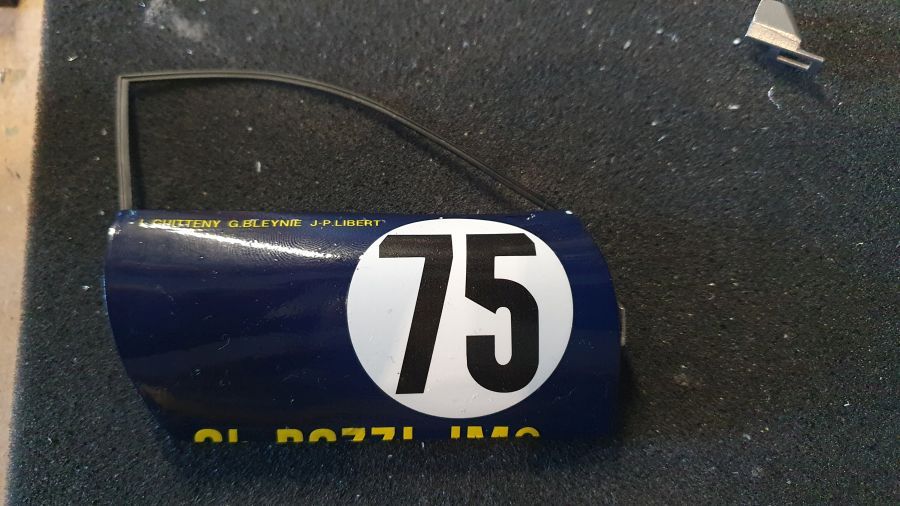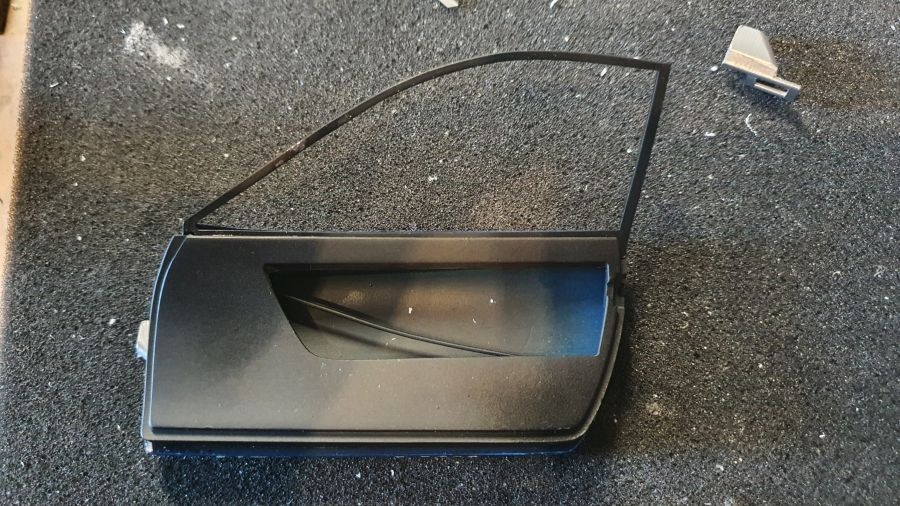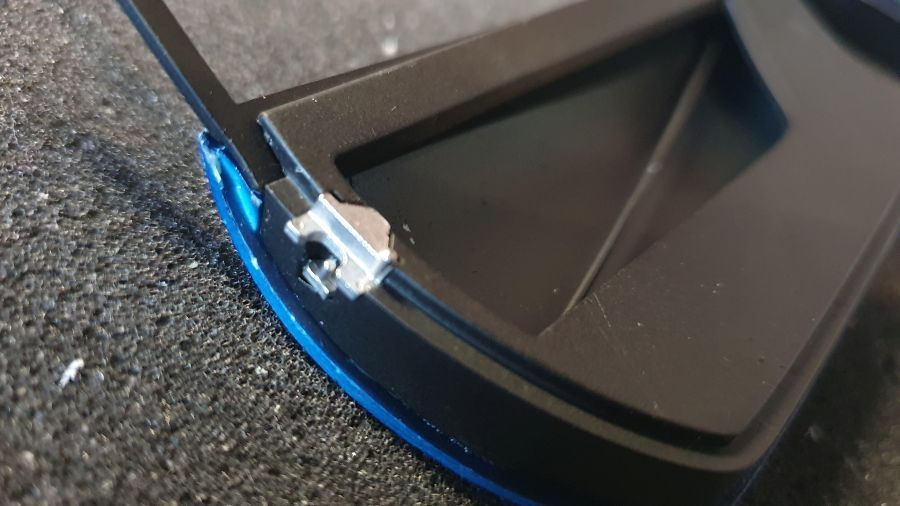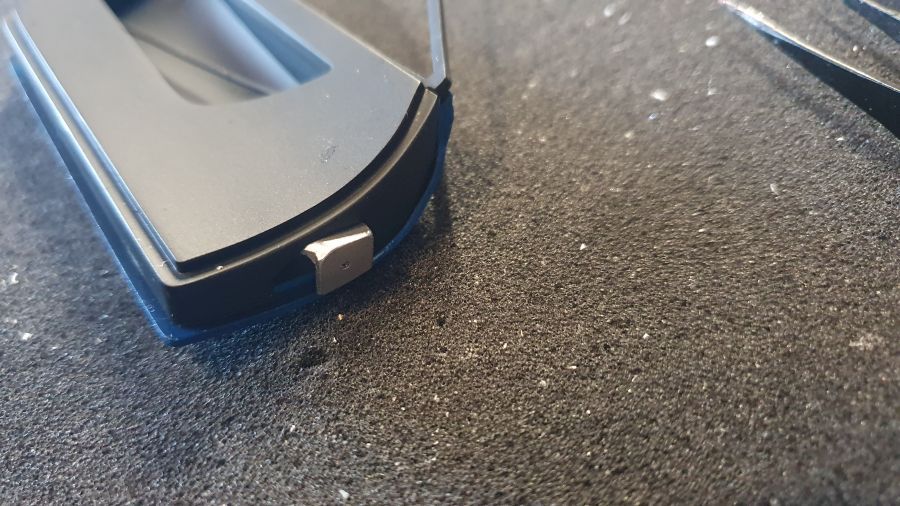 Ik was bang dat de deur niet zou passen, maar het valt toch mee. Wel zit 1 onderdeel in de weg om goed te sluiten. Ik heb dit verwijderd. Zo kan ik de rechter deur plaatsen. Deze wil ik gewoon sluiten. De deur aan de bestuurderskant blijft waarschijnlijk open.
I was afraid the door wouldn't fit, but it works. There is however 1 part that got in the way. I removed it. Now i can put the right door into place. This one i want to be closed. The door on the driver's side will probably stay open.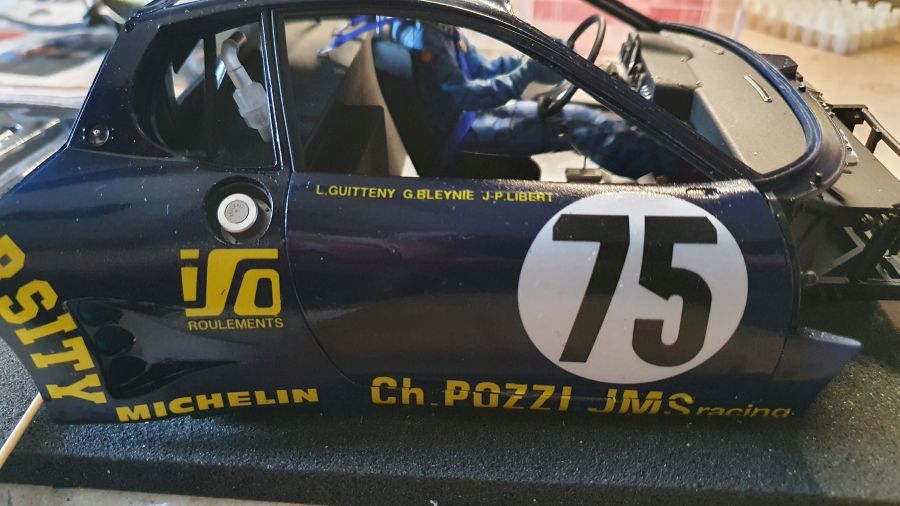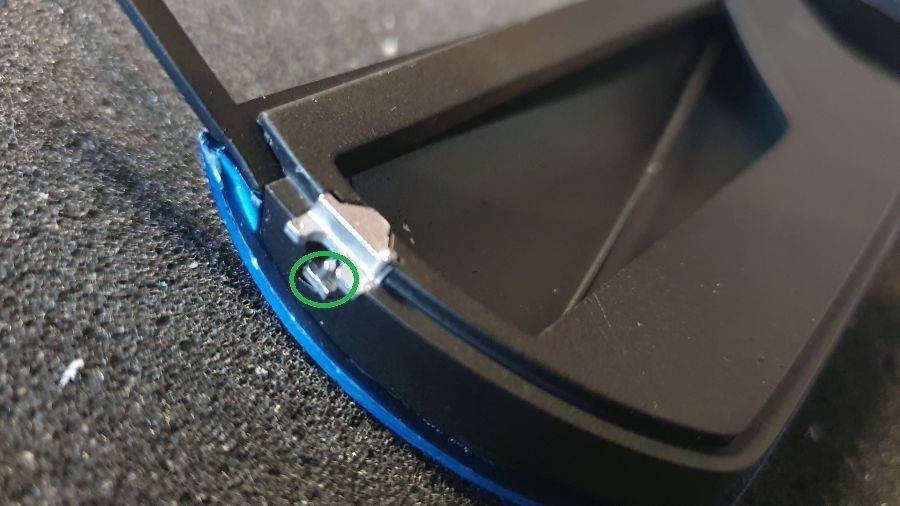 De deur aan de bestuurderskant is een ander verhaal. Ik krijg deze niet passen, wat ik ook probeer. Ik wilde deze waarschijnlijk toch al open laten, maar dat is nu definitief.
The door on the driver's side is a different story. I can't get it to fit, no matter what i try. I probably wanted to leave this one open, but now it's definitive.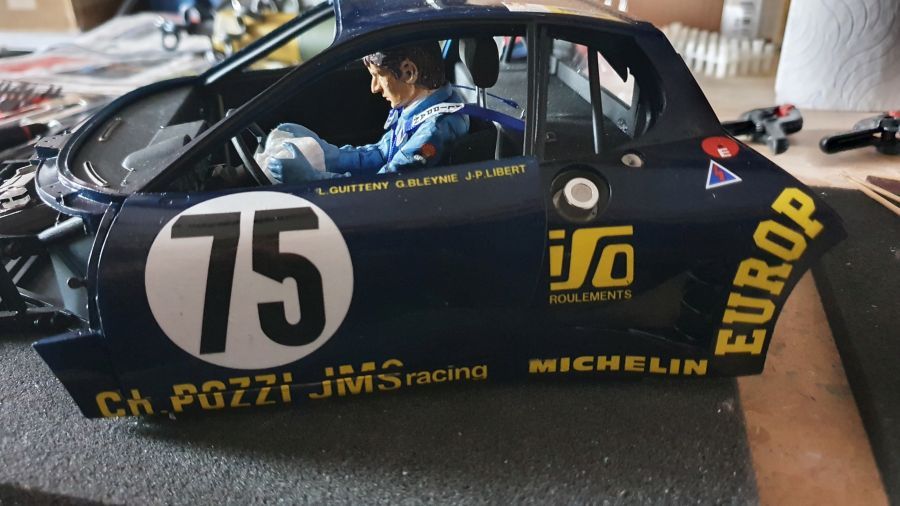 Dan maar verder met de voorwielophanging. Het glas komt later.
On to the front wheel suspension. The windows will come later.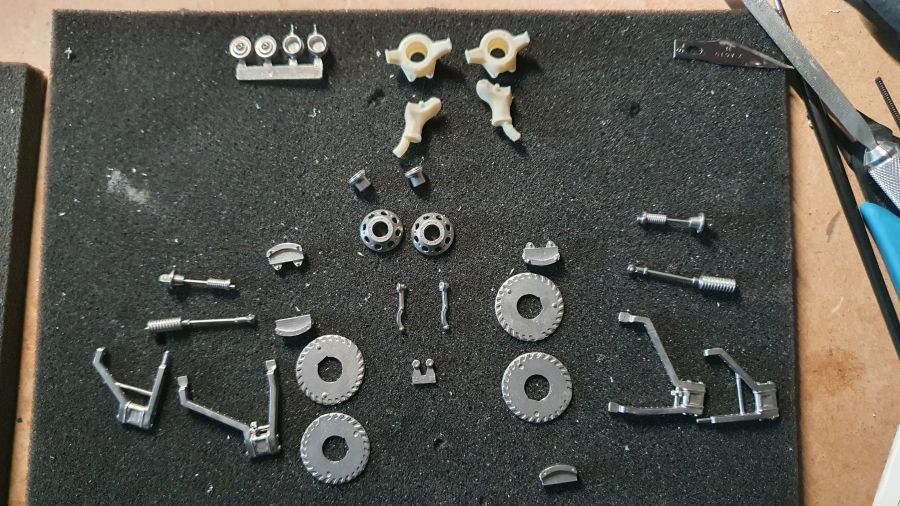 Eerst gaatje boren... Daarna alles spuiten en in elkaar zetten.
First of all drilling holes... Then paint everything and put it all together.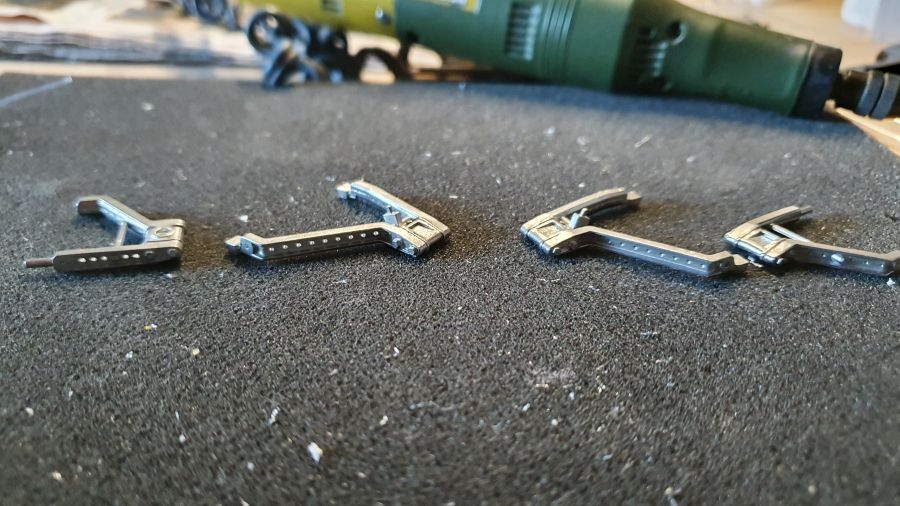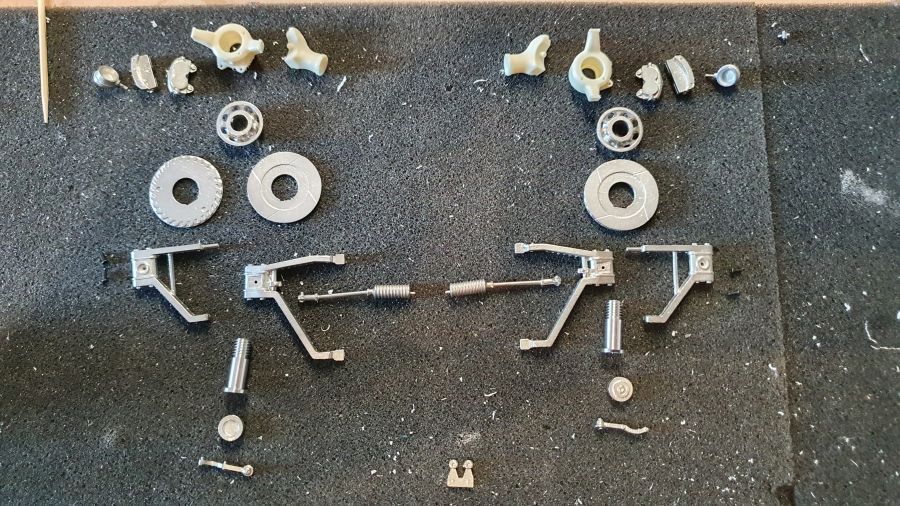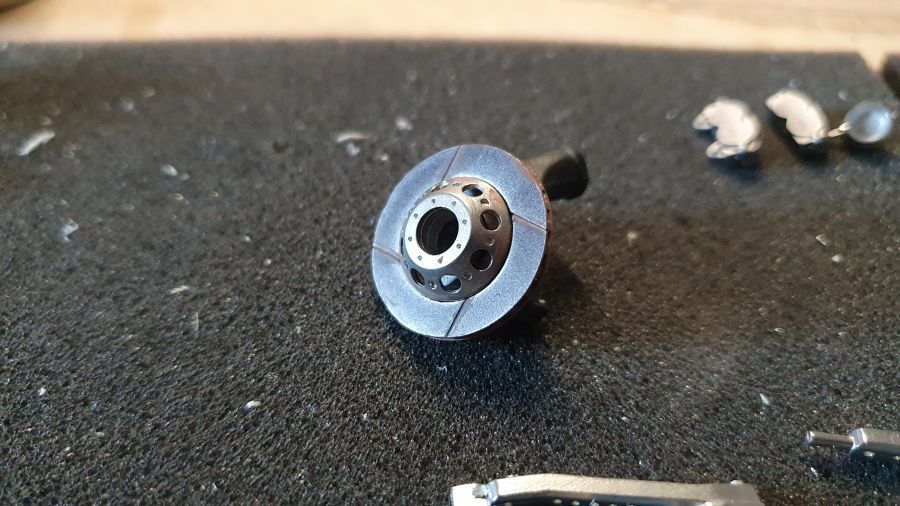 Wat roestkleur aangebracht.
Some rust color added.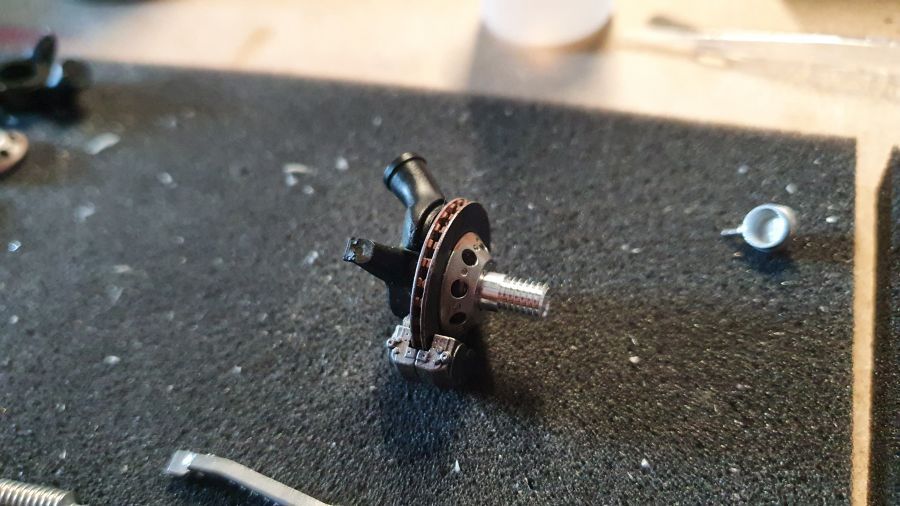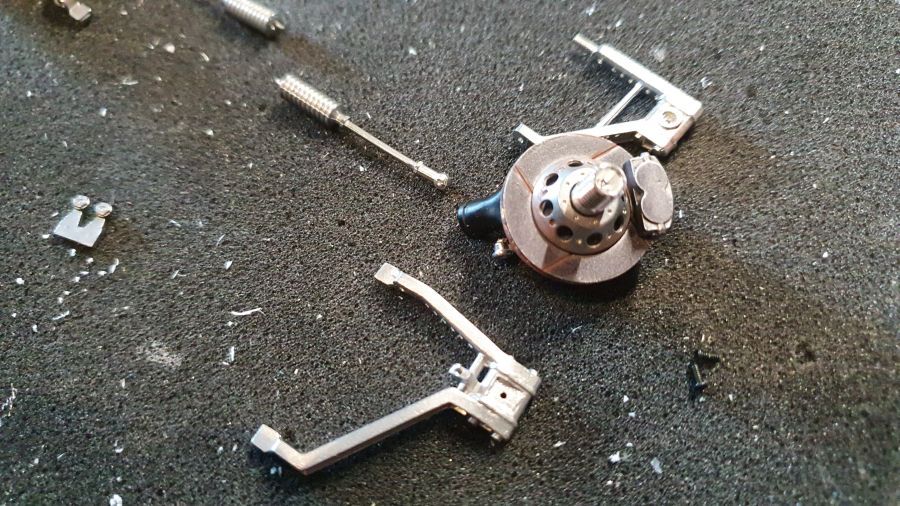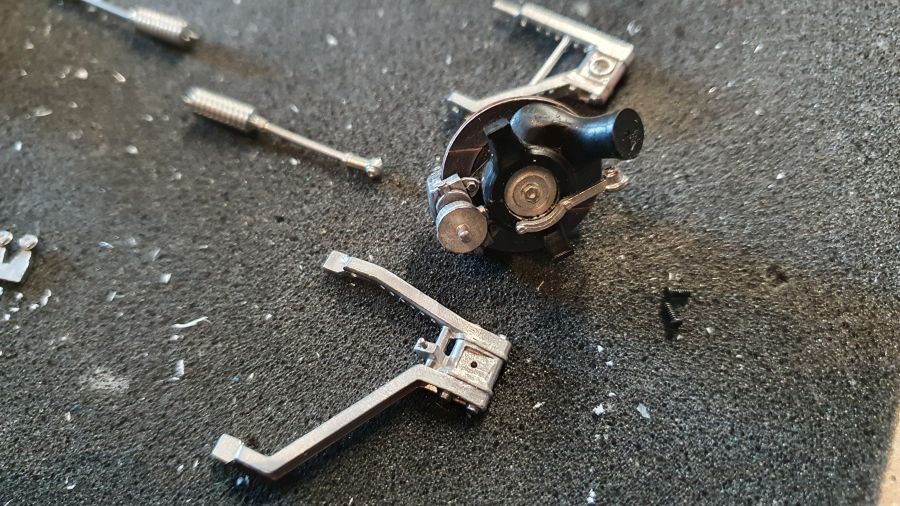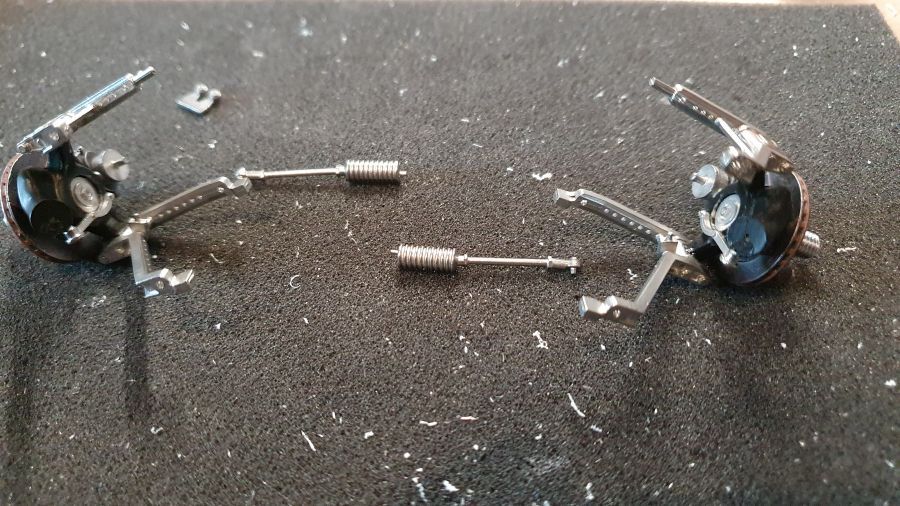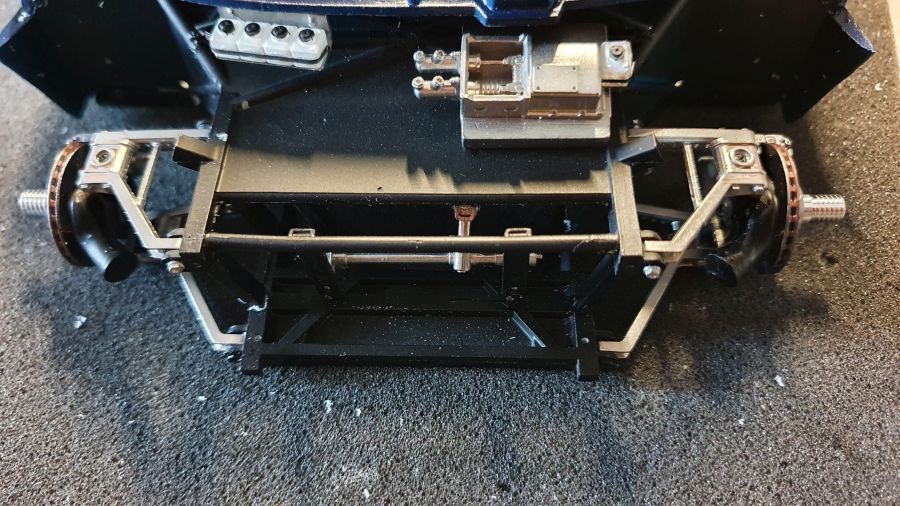 Dan eerst weer meer onderdelen spuiten.
Then more parts need to be painted.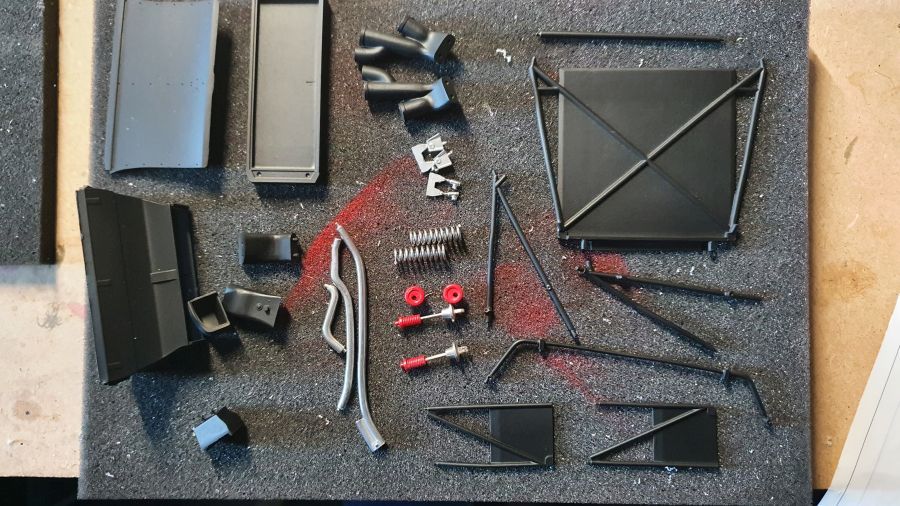 De luchtbox zet ik vast in elkaar.
The air box is being assembled.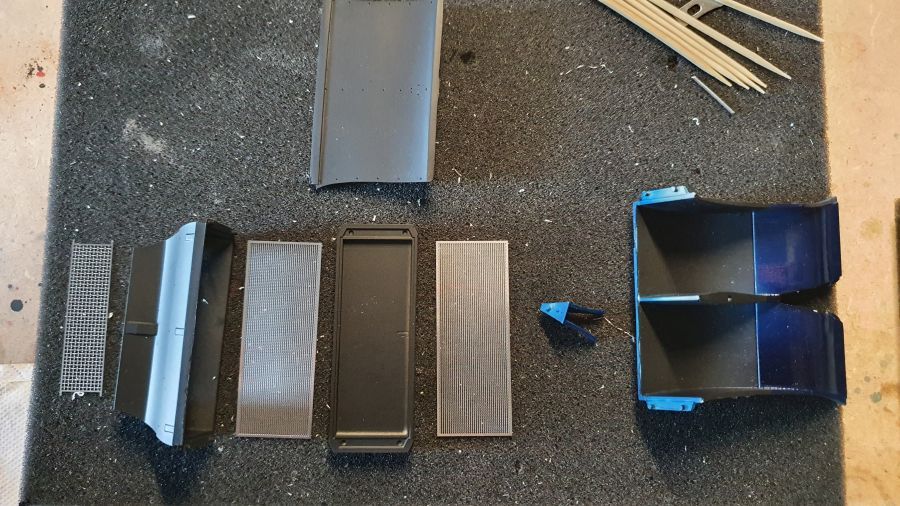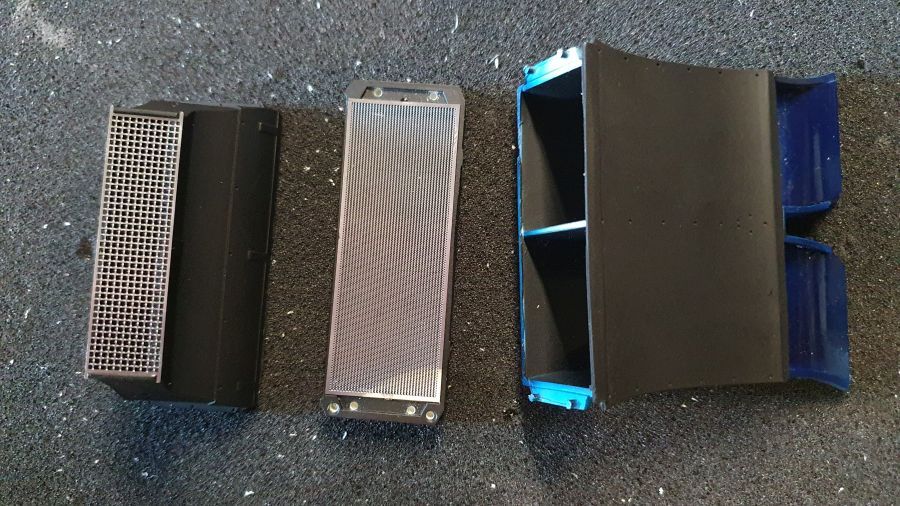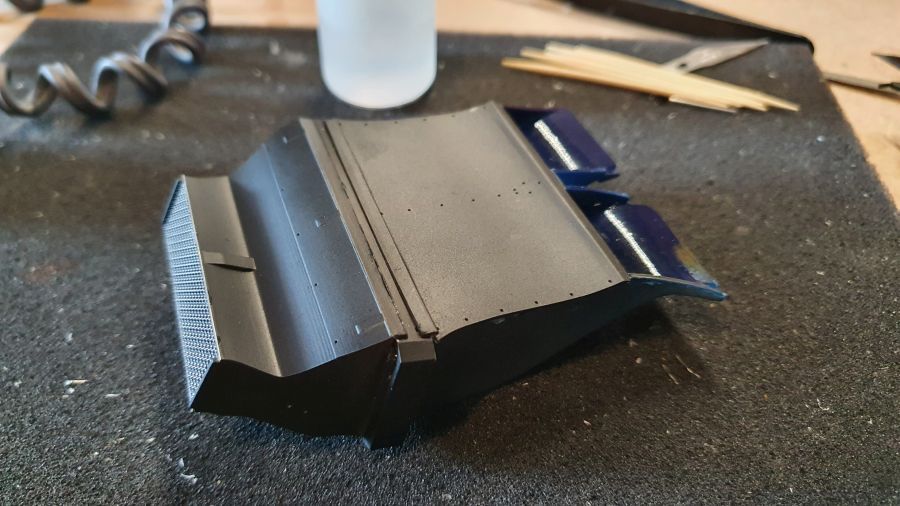 Dan de vering plaatsen...
Then the springs were added...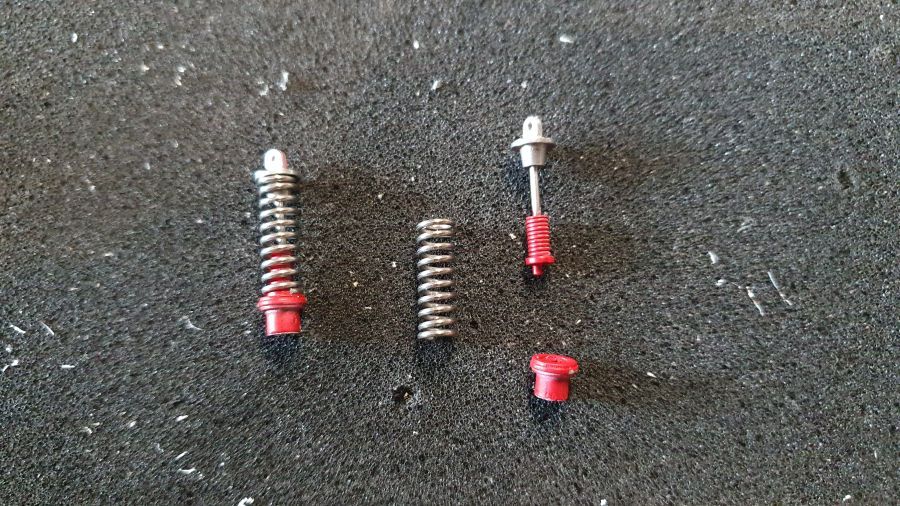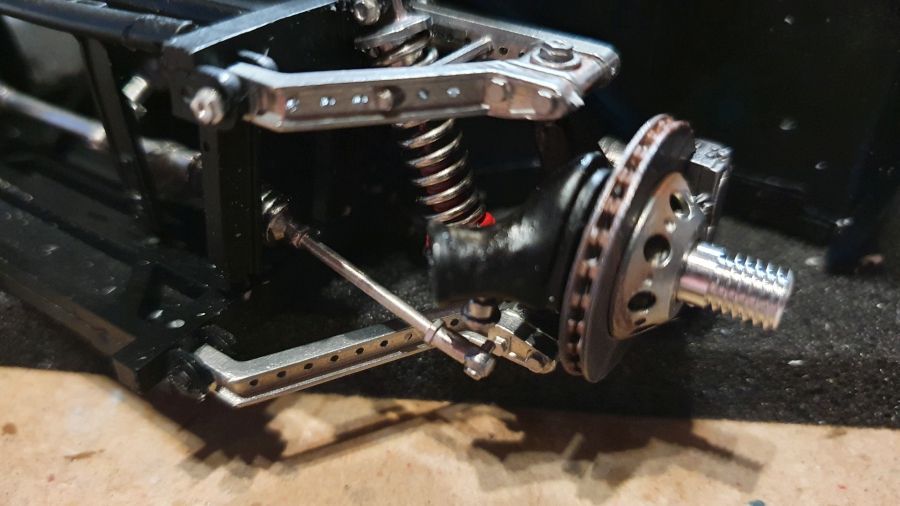 Ik doe het een beetje in een andere volgorde als de instructies. En ik ben blij. Dit vloerdeel had een groot probleem kunnen worden.
I am doing this slightly different from the instructions. And i am happy. This floor part could have been a big problem.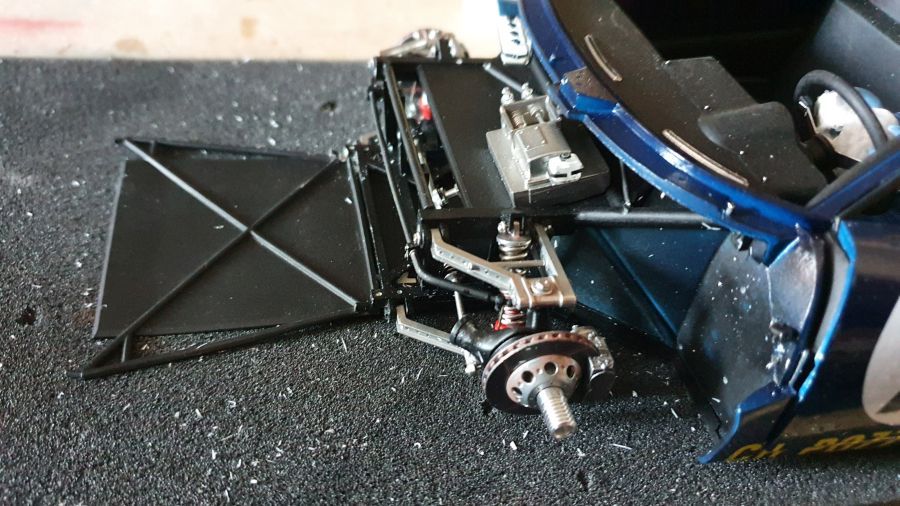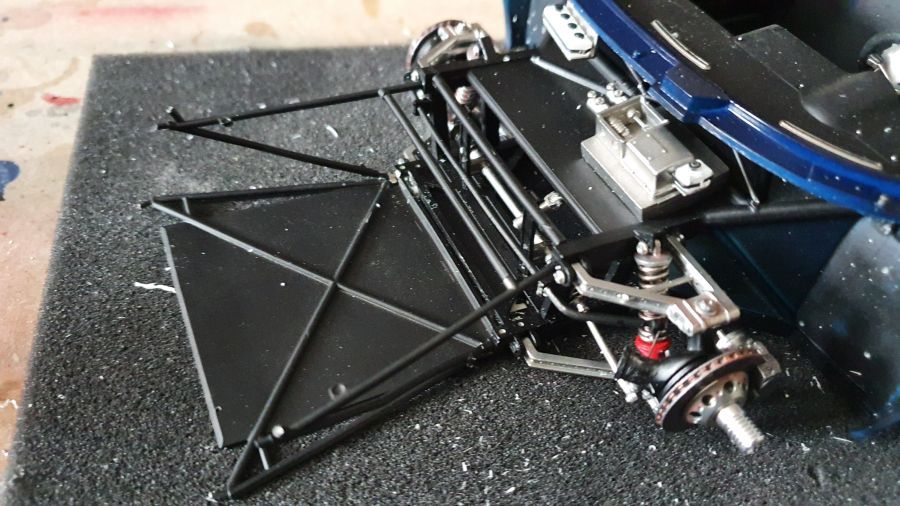 Het plaatsen van de luchtbox kan een probleem worden. Voordat je het weet past de voorkap niet.
Adding the air box might become a problem. Before you know it, the front cover will not fit.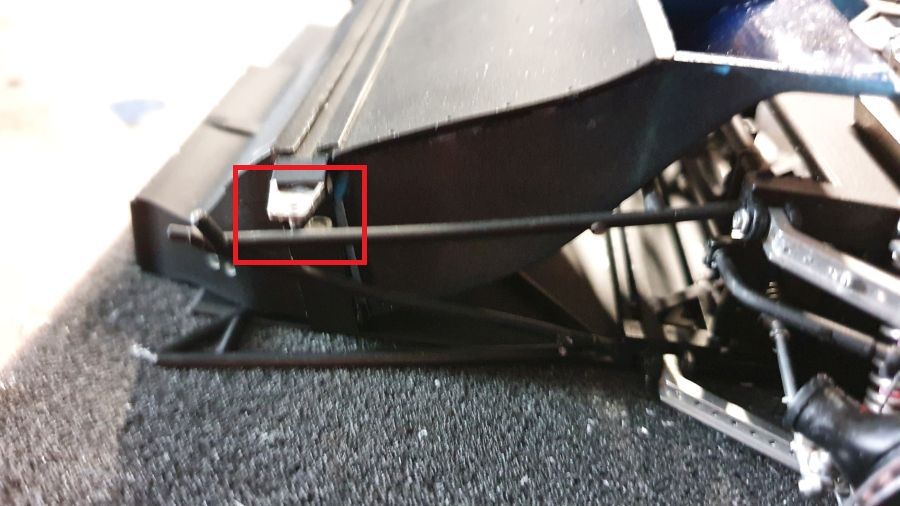 Volgens de instructies krijgen deze luchtinlaten een rooster. Op iedere Pozzi foto die ik heb is dit echter niet zo. Ik laat ze daarom weg.
According to the instructions these intakes get a mesh. On every Pozzi photo i have this is not the case. So i will leave them.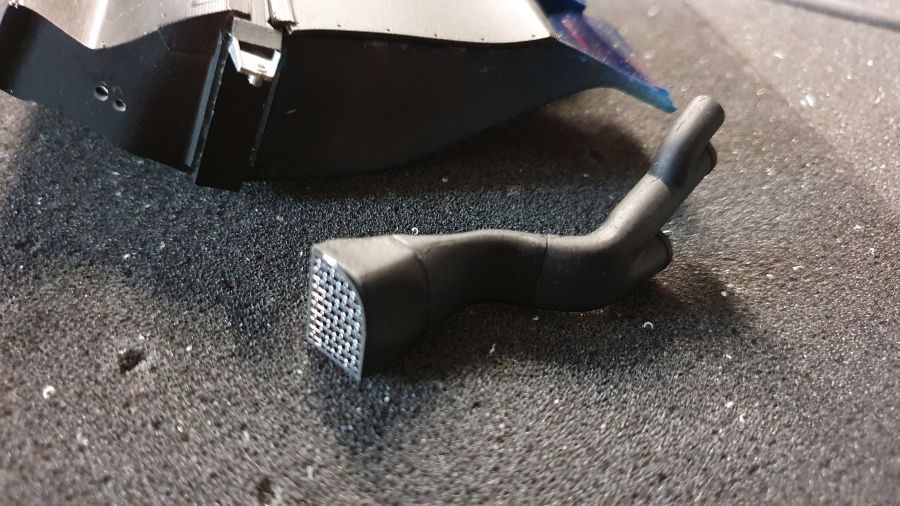 Bij een test blijkt dat de deksel inderdaad niet goed sluit, omdat de luchtbox iets te hoog is. Ik ga deze ietwat aanpassen en hoop dat het dan gaat werken.
On a test it was clear the cover doesn't shut the way it should, because the air box is a little too high. I will adjust it and hope it will work.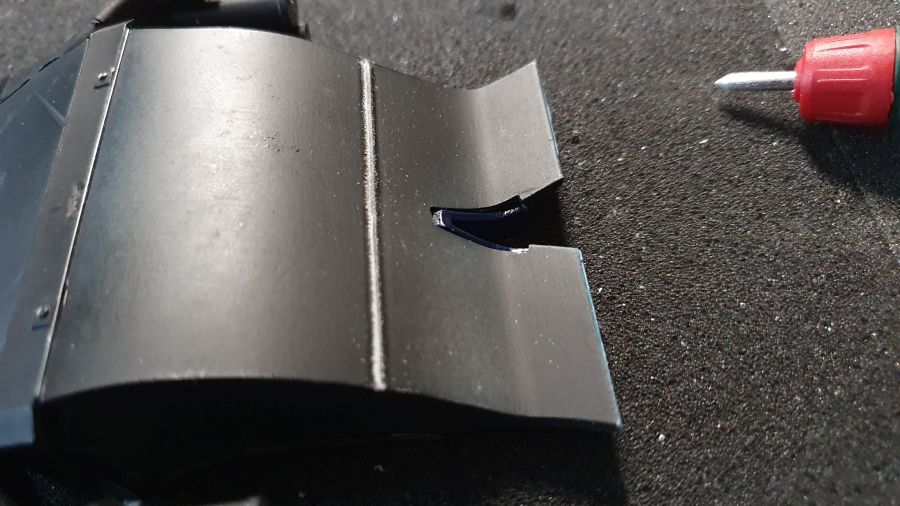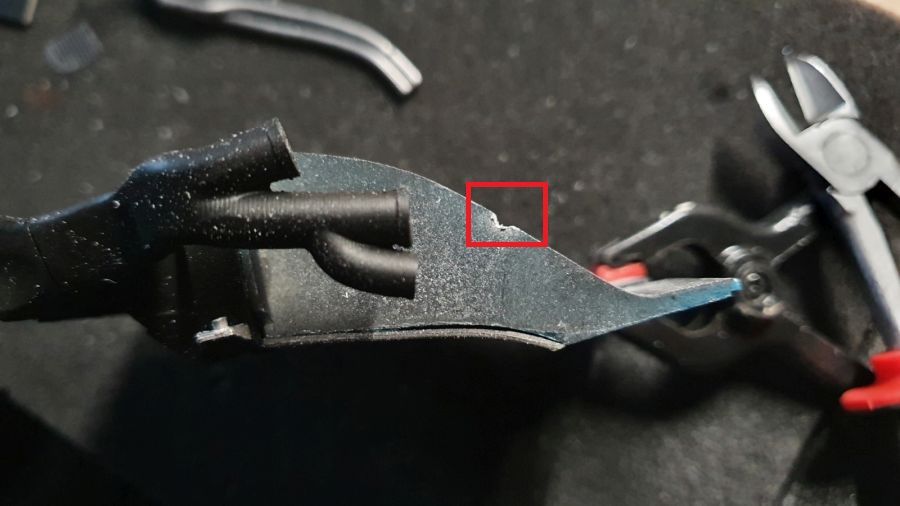 De voorkant staat een beetje uit lood... aanpassen dus....
The front has some tilt... needs adjusted...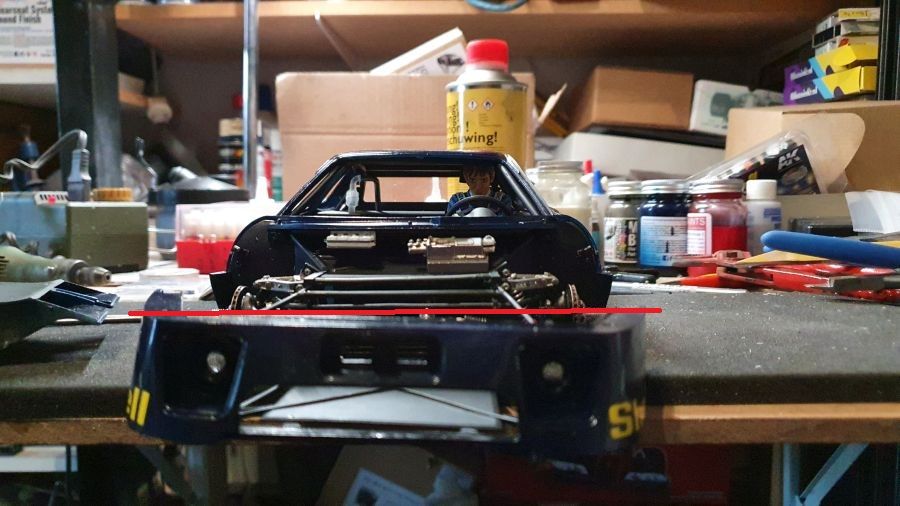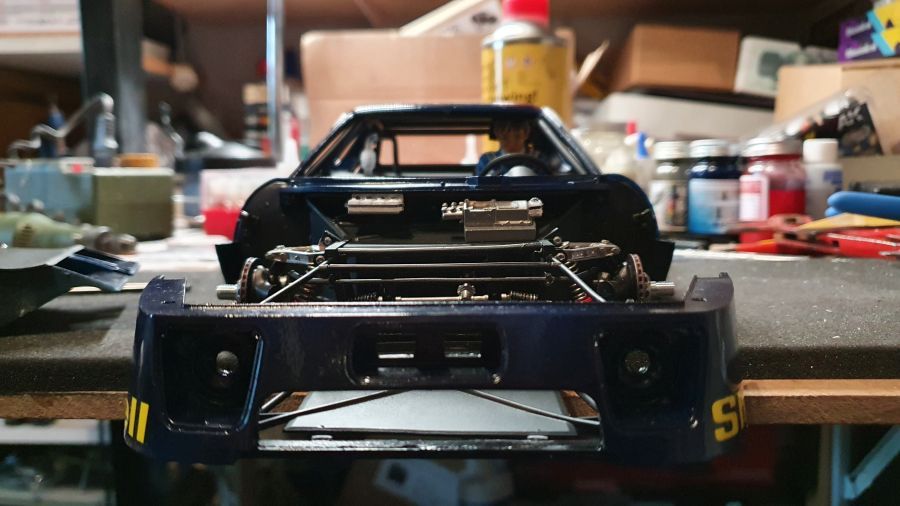 En zo moet de binnenkant er ongeveer in. En de kap past nu ook.
And this is how the inside should fit. And the cover fits too.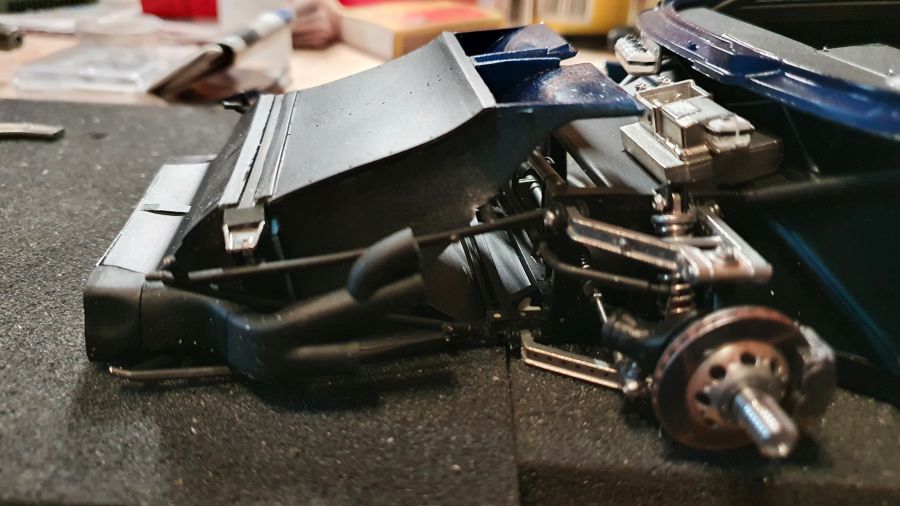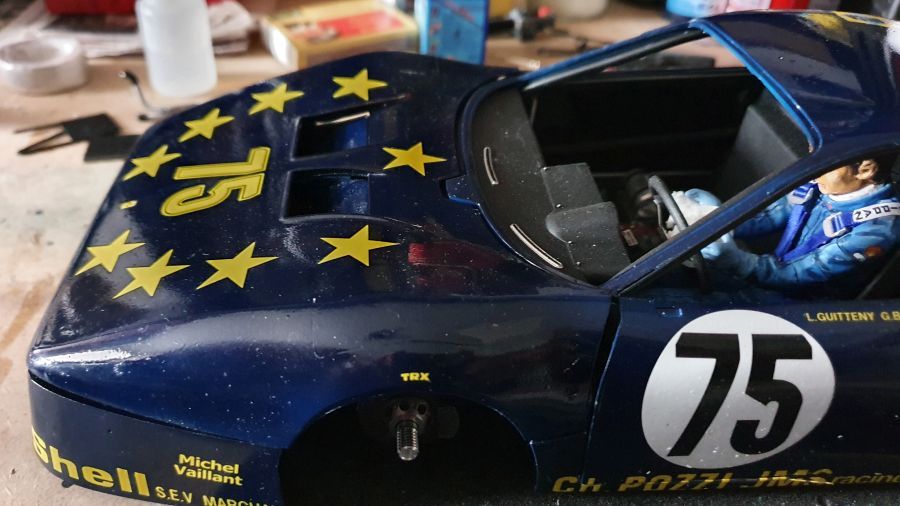 Om de website sneller te laden is dit project in tweeën geknipt (meer dan 300 foto's).
To load the website faster, this project has been cut in two (over the 300 photos).
Link naar deel 2 / Link to part 2