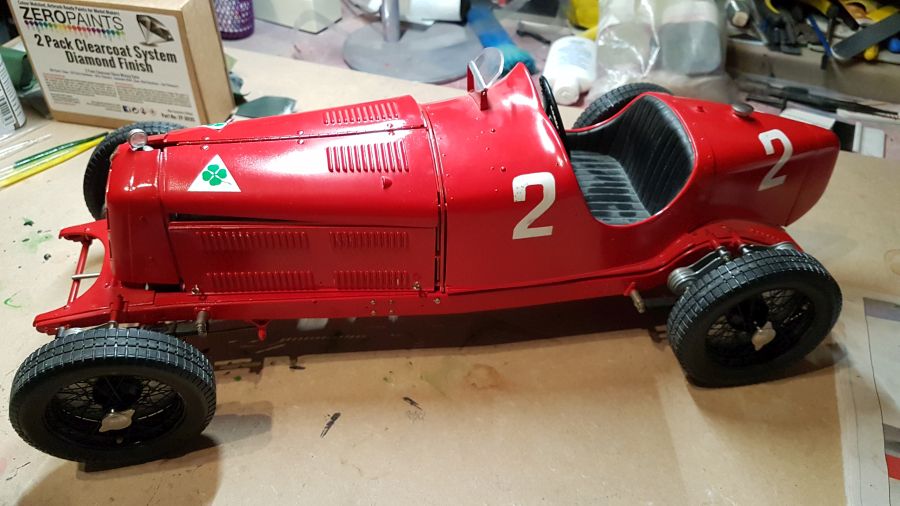 Deze moet gereviseerd worden...  Een Pocher 1/8 Alfa Romeo 8C 2300 Monzam uit 1931. Eens zien wat ik ervan weet te maken. Maar eerst alles uit elkaar halen.
This one needs to be revised... A Pocher 1/8 Alfa Romeo 8C 2300 Monza from 1931. Let's see what i can do with it. First of all dismantle is completely.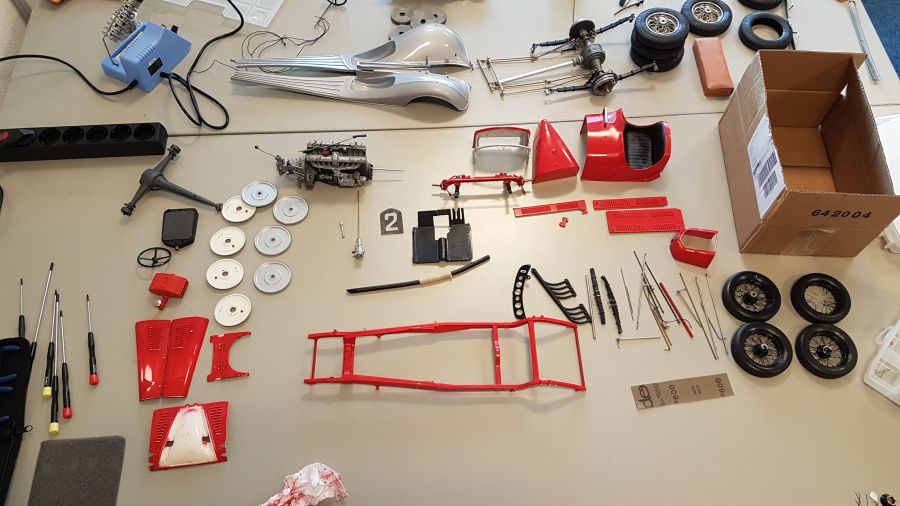 De rode delen zijn geschuurd en daarna in de primer gezet.
The red parts were sanded and painted with primer.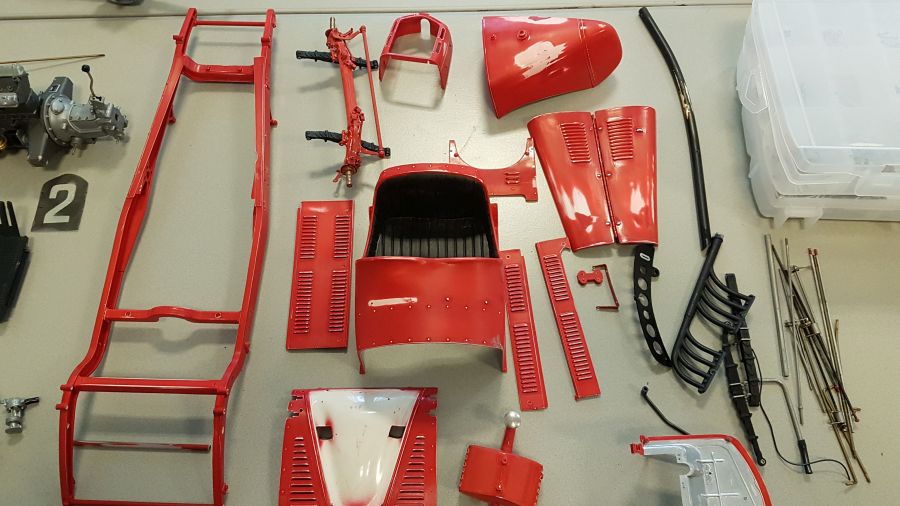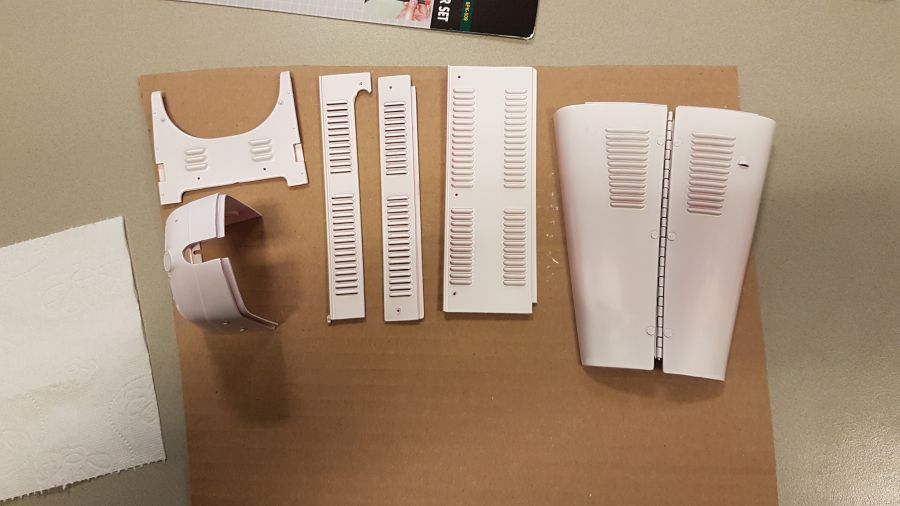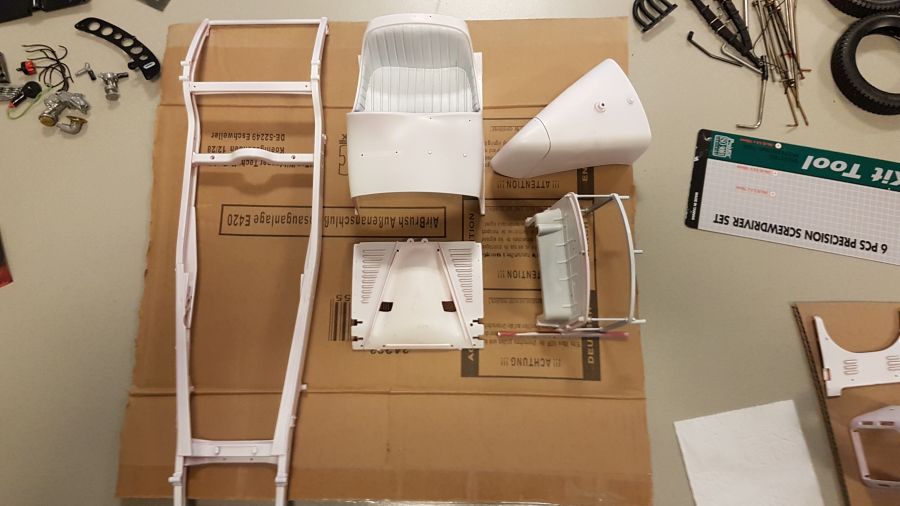 Wat motoronderdelen zijn gespoten met Alclad Steel en Alclad Dark Alumimium.
Some parts were painted with Alclad Steel or Alclad Dark Aluminium.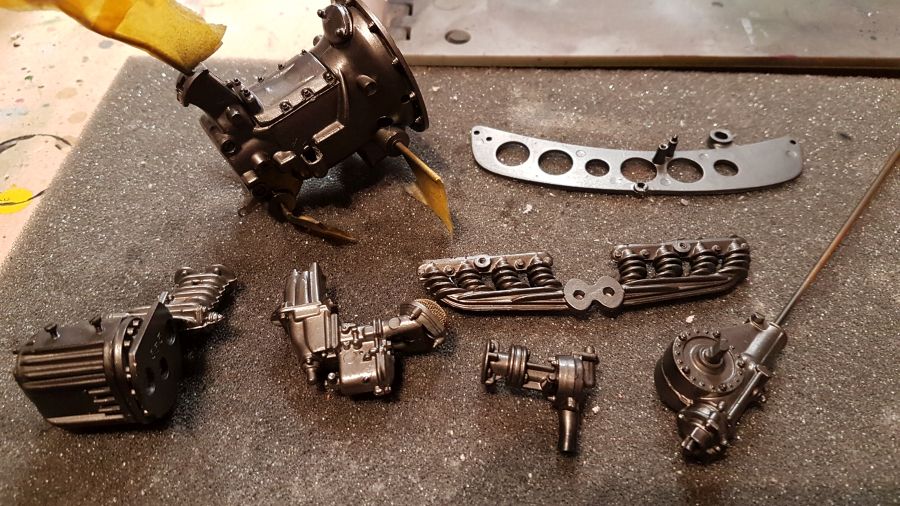 Ik wilde de klokken uitsnijden. Dat gaat niet lukken met dit apparaat. Dus de ouderwetse schaar erbij.
I wanted to cut the gauges with this device. That doesn't work. So it's the old pair of scissors again.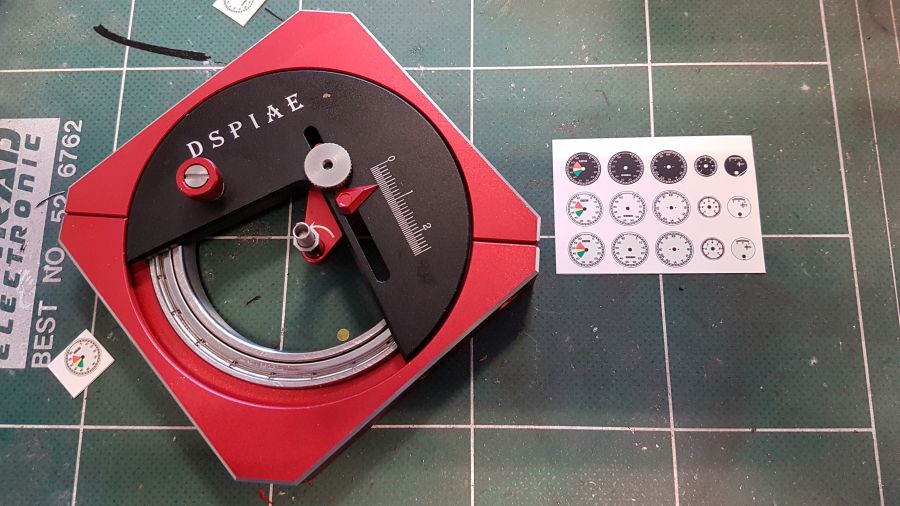 Het dashbord wordt weer in elkaar gezet.
The dash is being assembled again.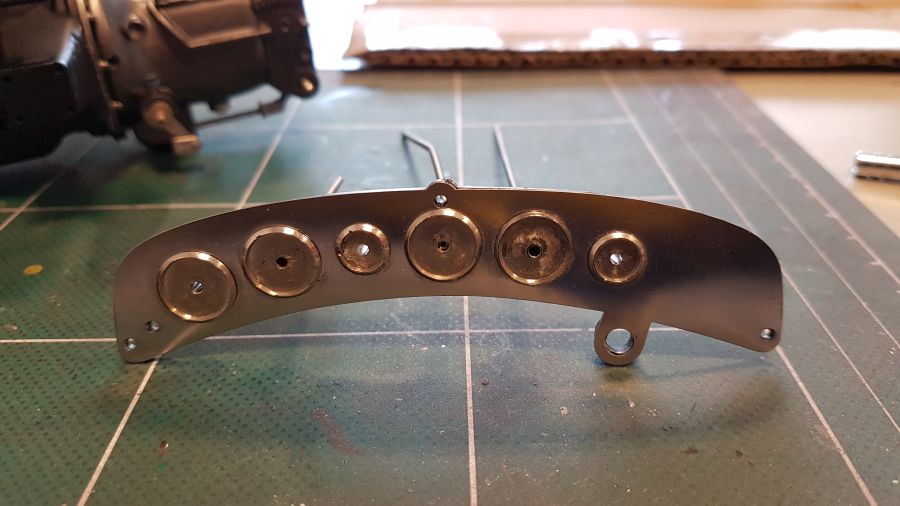 De motor ook..
The engine too..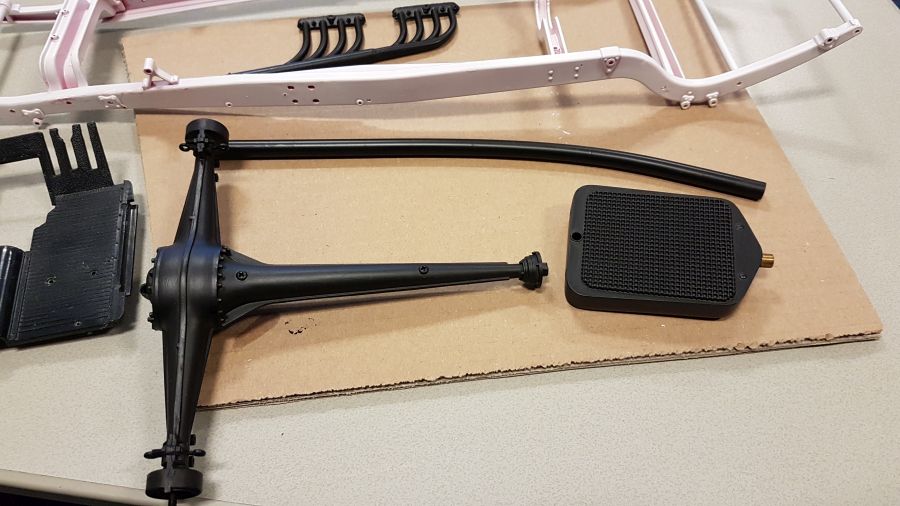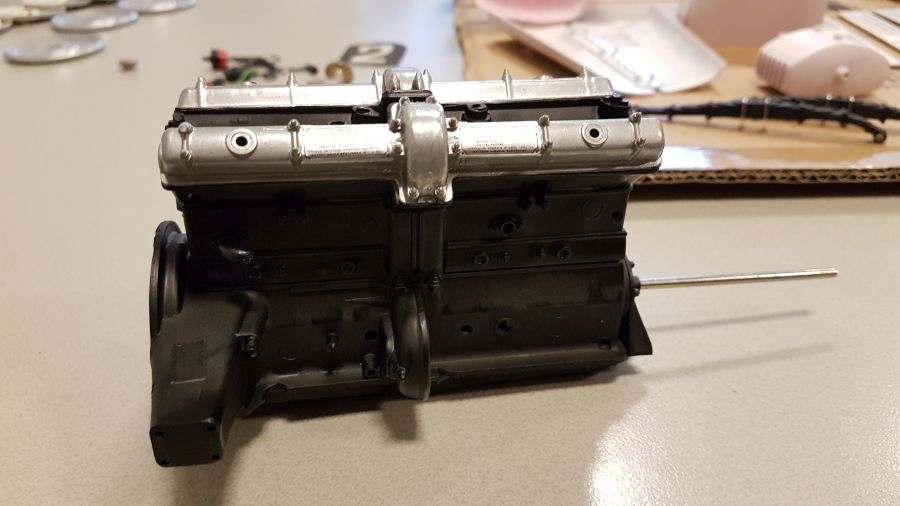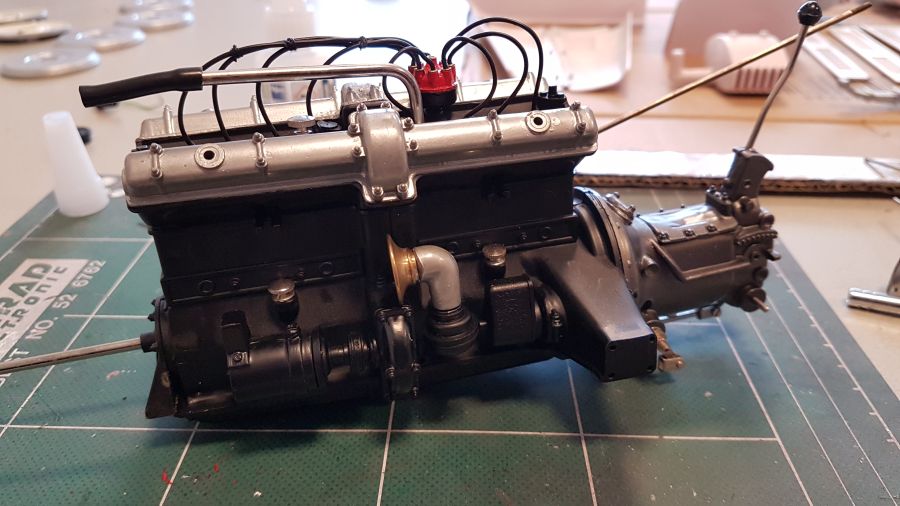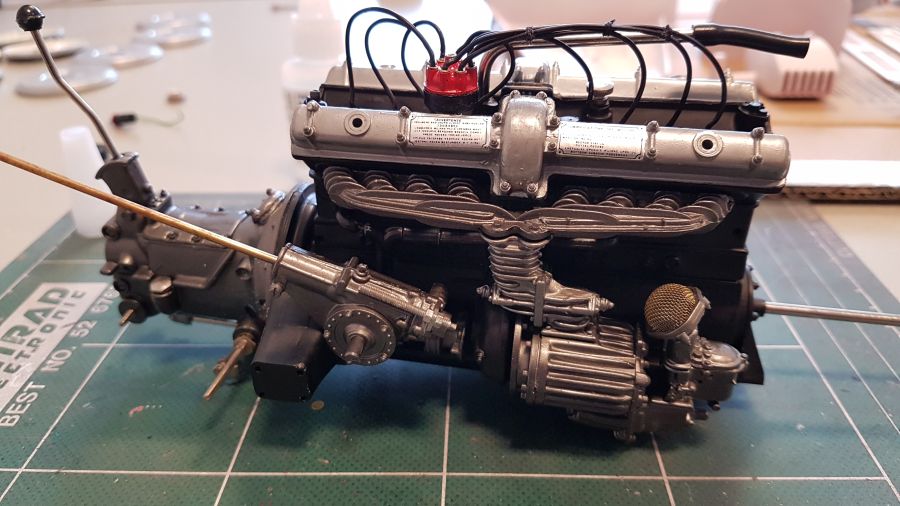 De wielen moeten zwart worden gespoten, dus eerst primer, daarna zwarte glansverf.
The wheels need to be black, so first of all primer, then gloss black.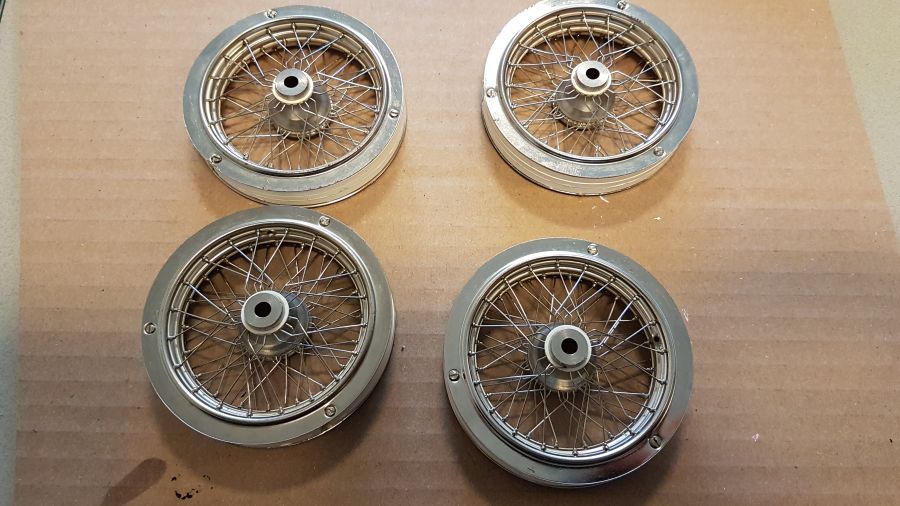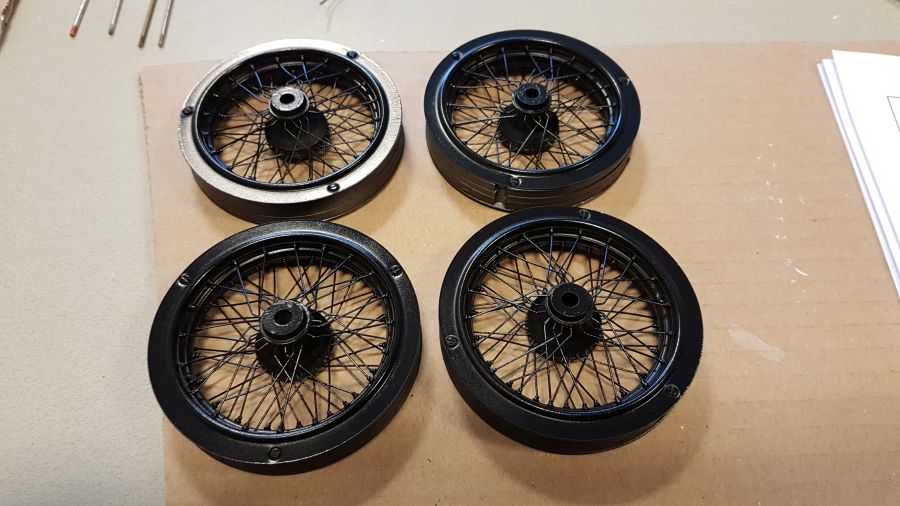 De banden worden verhit met een föhn om ze flexibeler te maken.
The tires are warmed up with a heater to make them more flexible.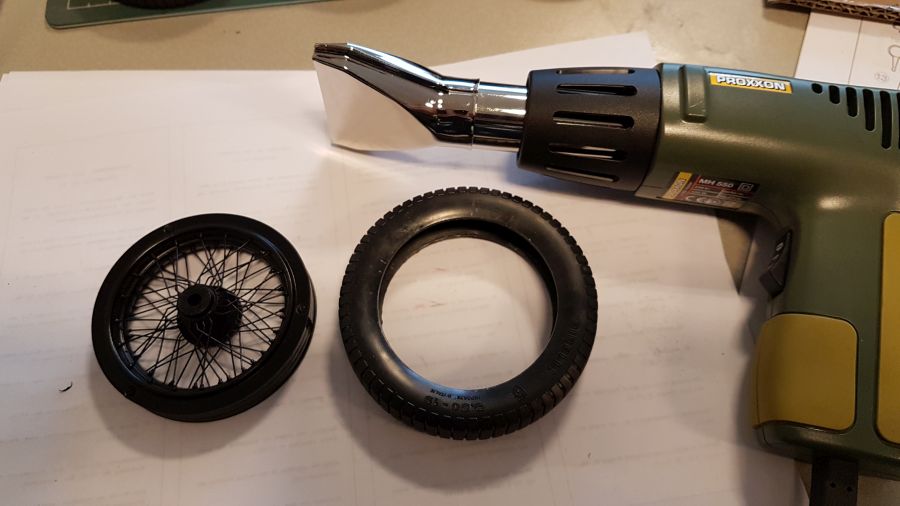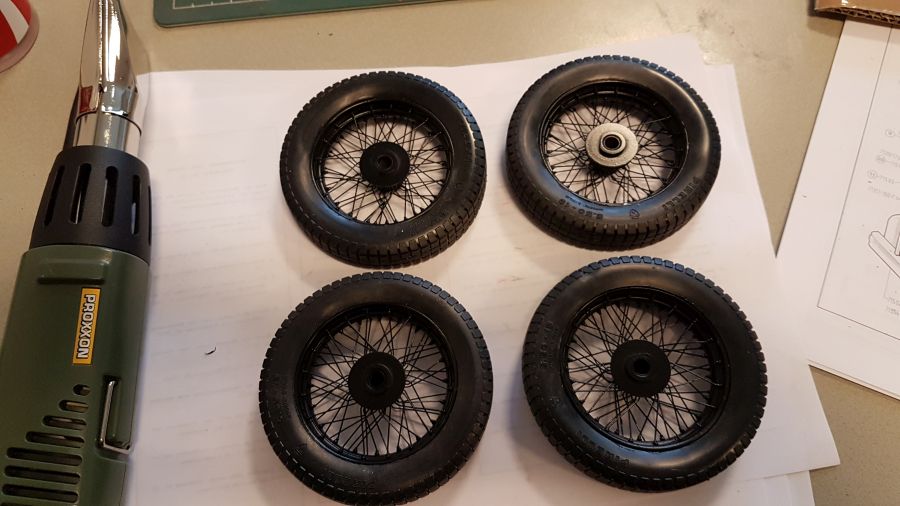 Het dashbord krijgt de meters en de wijzers.
The dash receives the gauges and the pointers.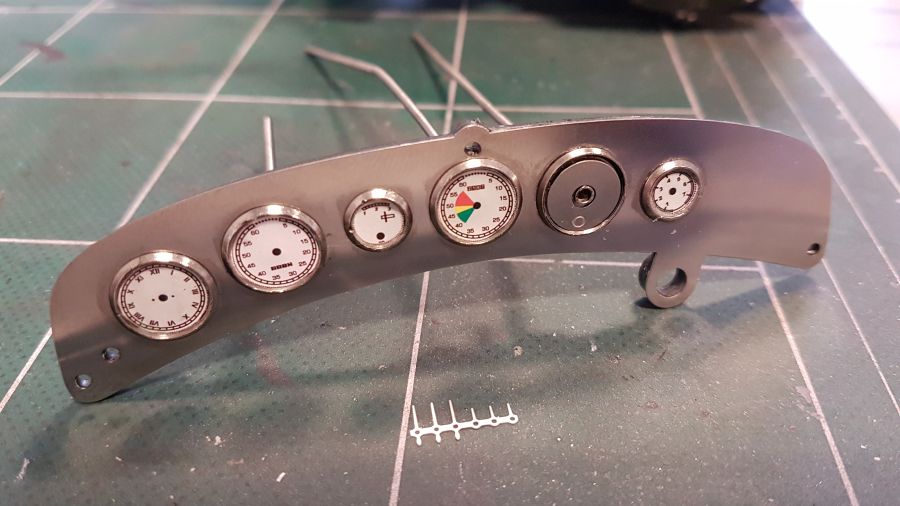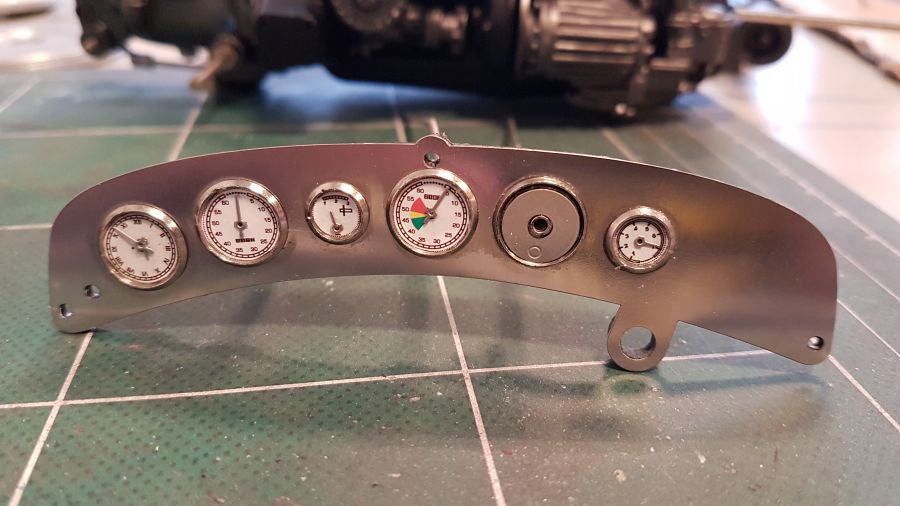 Eerst verder met de grille. Dit wordt een versie in British Racing Green, foto's laten zien dat het nr. 1 zou zijn. Even een template maken voor het spuiten.
First to continue with the grille. This is going to be a British Racing Green version, photo's show it's a no. 1 version. Now creating a template for painting.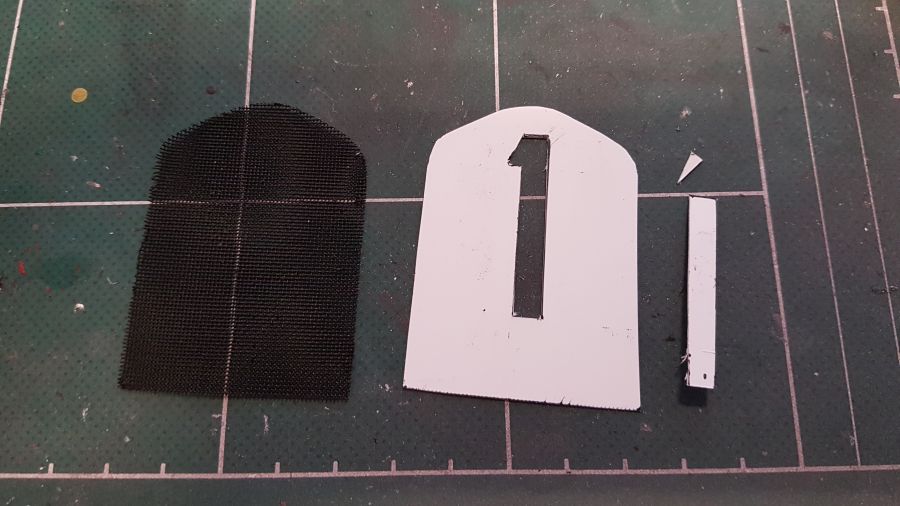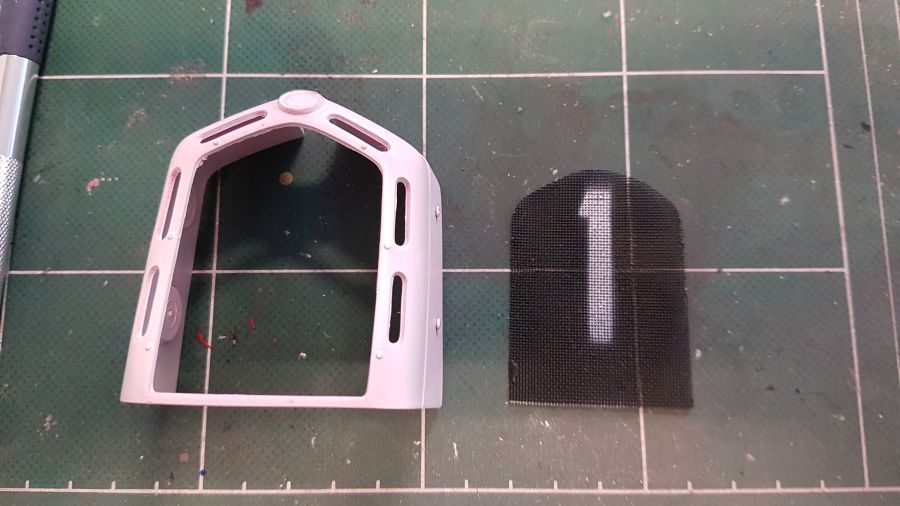 In die tijd reed men met een stuur van hout. Ik gebruik hiervoor AK Wood Weathering. Eesrt het geel en daarna een donkere wash.
At that time one drove with a wooden steering wheel. I use AK Wood Weathering. First soem yellow and then a dark wash.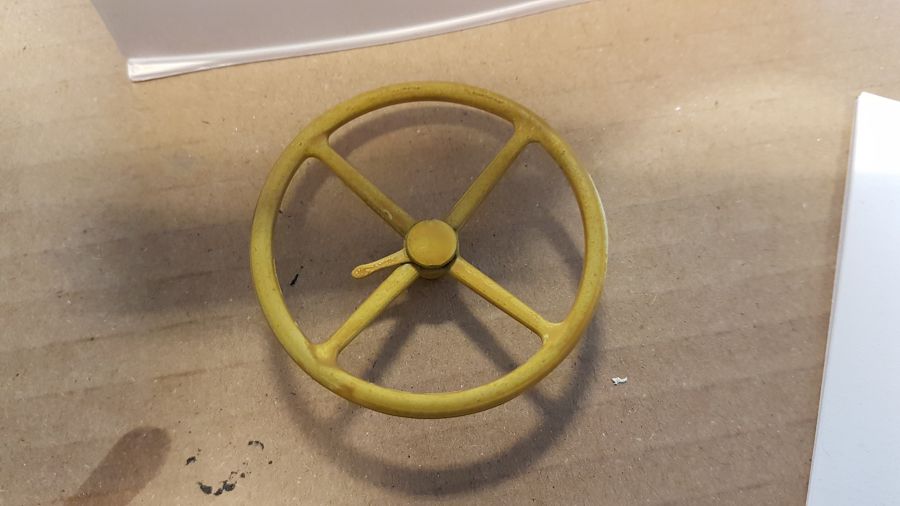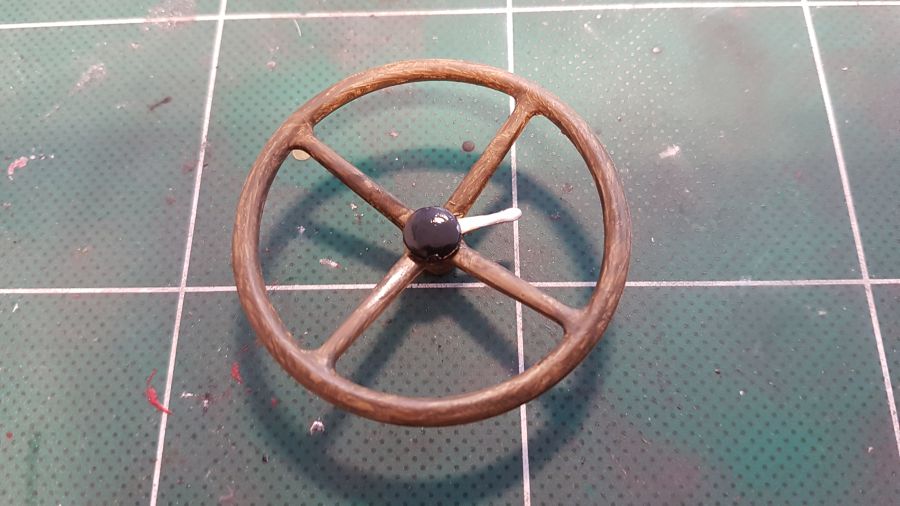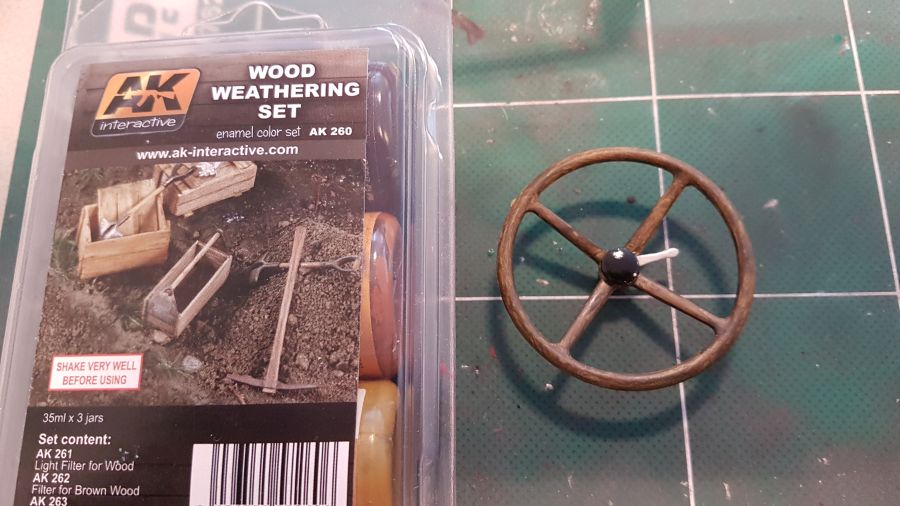 De achteras wordt voor een deel weer in elkaar gezet.
The rear axle gets assembled partially.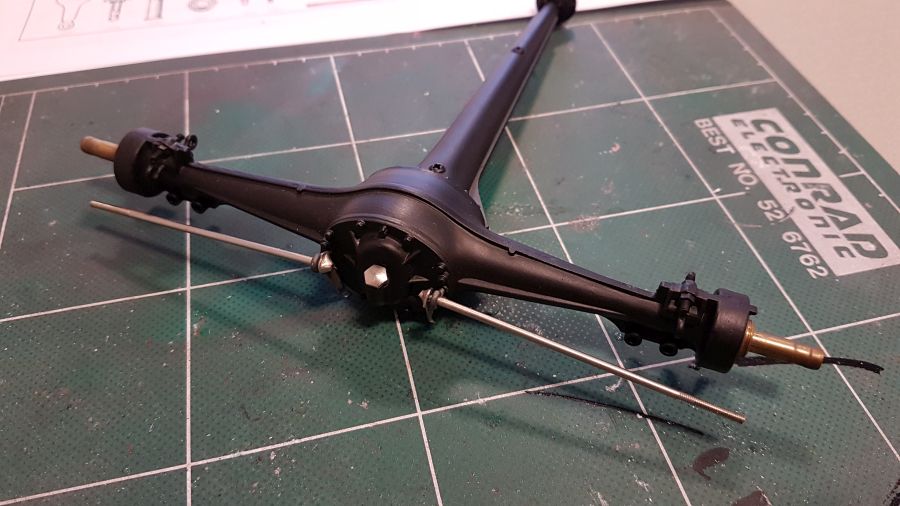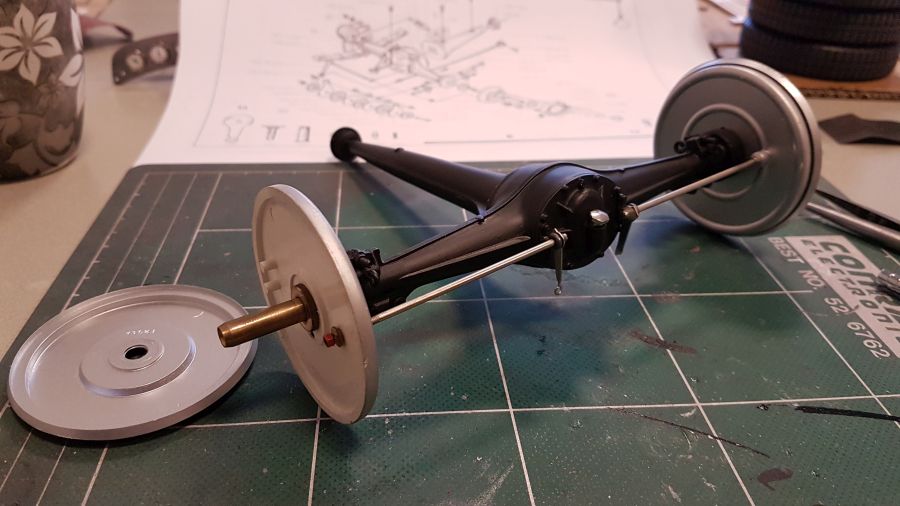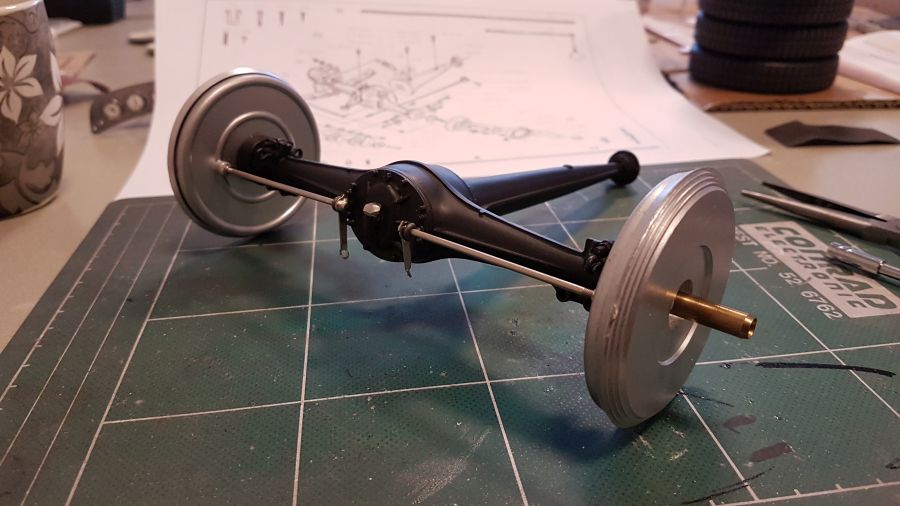 De zitting wordt mat zwart gespoten.
The seat gets a coat of mat black.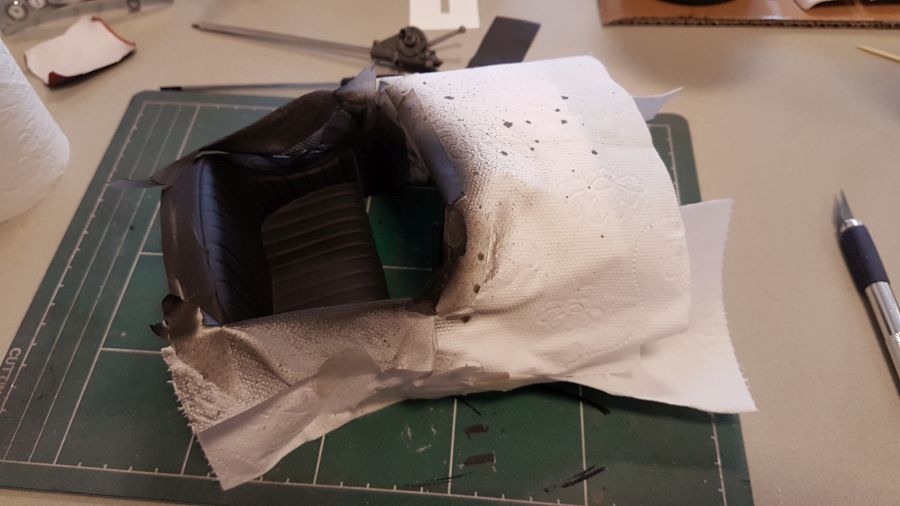 Tijd voor de kleur. British Racing Green (Bentley) van Gravity Paints. Ik kijk er eerst raar tegen aan. De verf blijft erop liggen alsof alles enorm vet is. Ik ben toch doorgegaan met spuiten. Uiteindelijk, na 4 lagen,  is alles goed gekomen.  De kleur is geweldig. Echt een oude British Racing Green met een wat zijdeglans effect. Perfect.
Time for some colour. British Racing Green (Bentley) from Gravity Paints. At first some panic. The paint adheres like everything is very greasy. But i did continue. In the end, after 4 layers, everything came out right. The colour is spot on. A very old British Racing Green with a semi-gloss look. Perfect.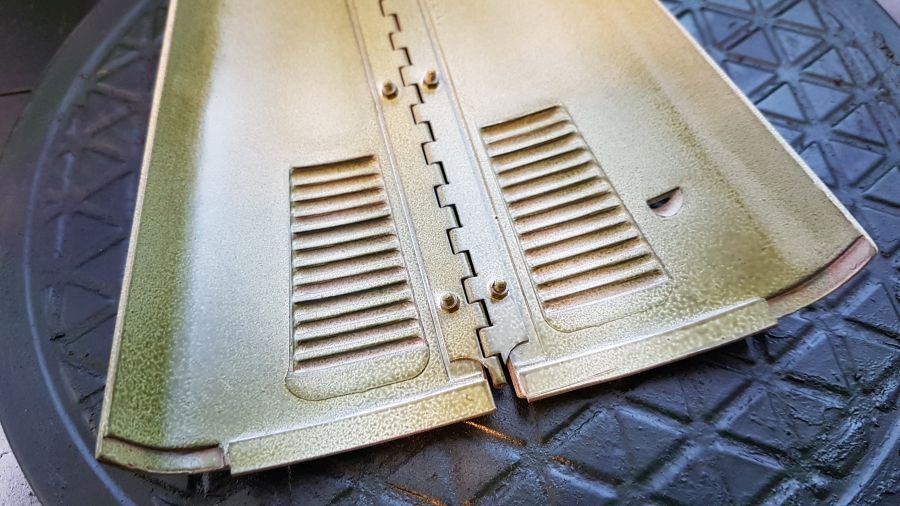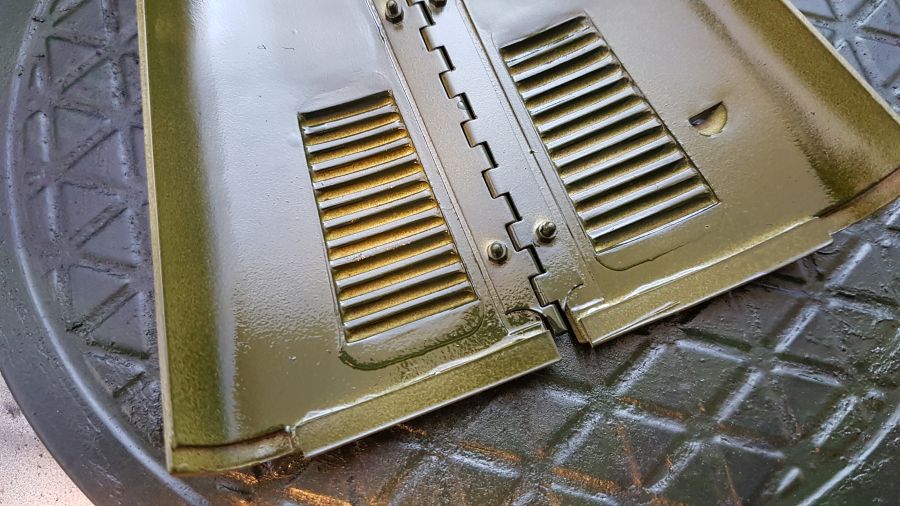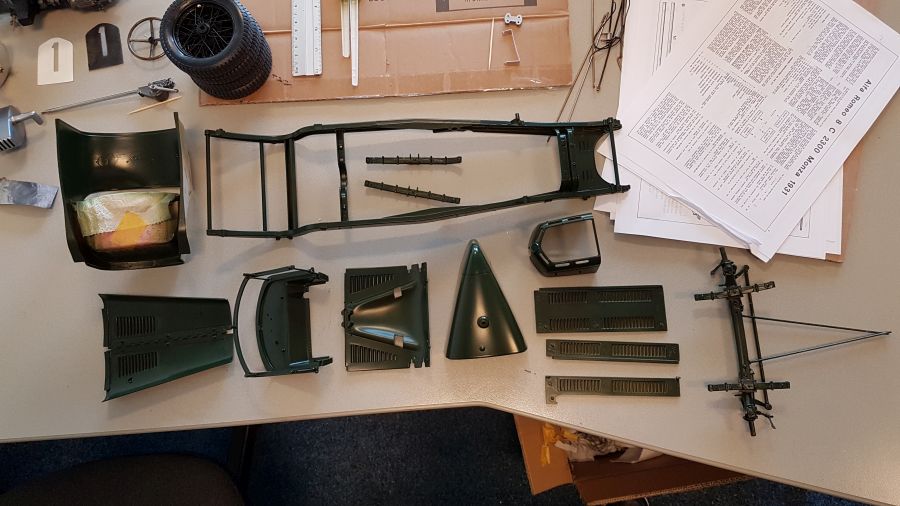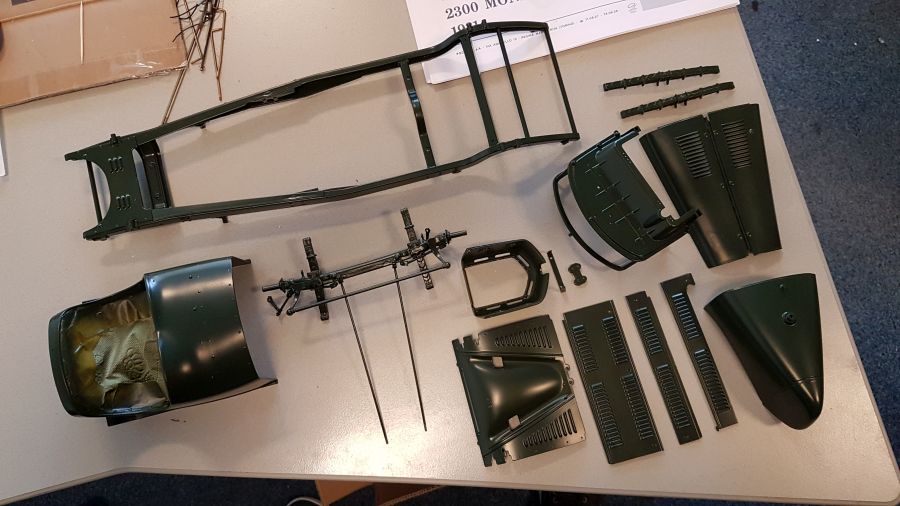 Ik ga 2 reserverwielen maken uit de oude velgen. Deze waren zwaar beschadigd, maar kalm aan ga ik de spaken er in zetten. Niet 100% goed, maar goed genoeg voor een reservewiel.
I am going to make 2 spare wheels out of the olde rims. These were heavily damaged, but slowly i am getting the spokes in. Not 100%, but well enough for the spares.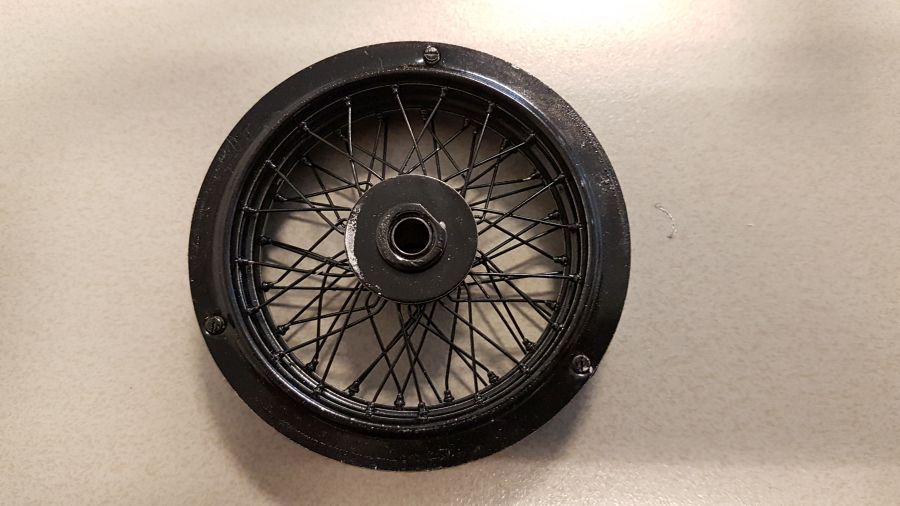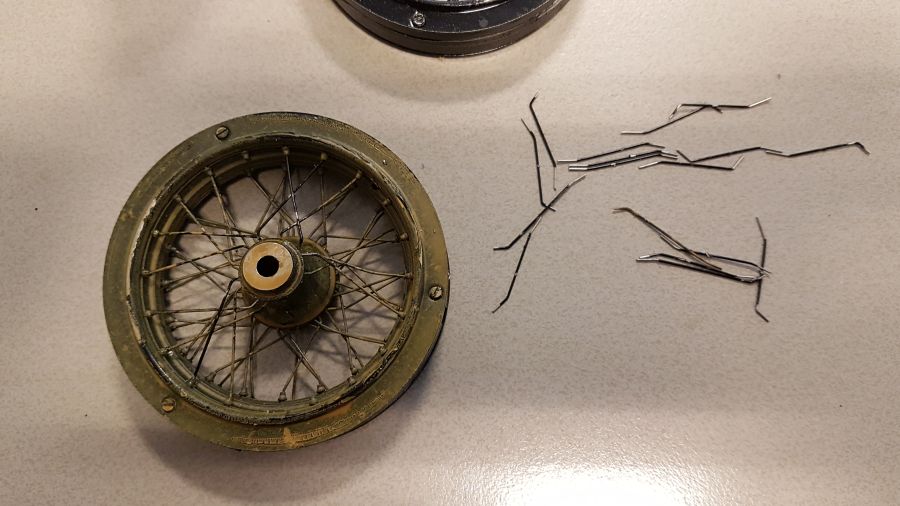 Dan langzaam alles weer opbouwen.
Then slowly combining everything again.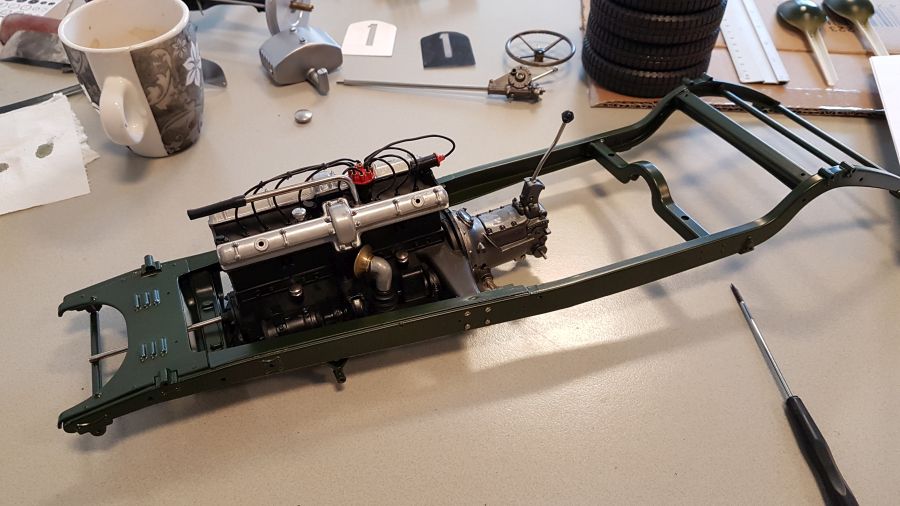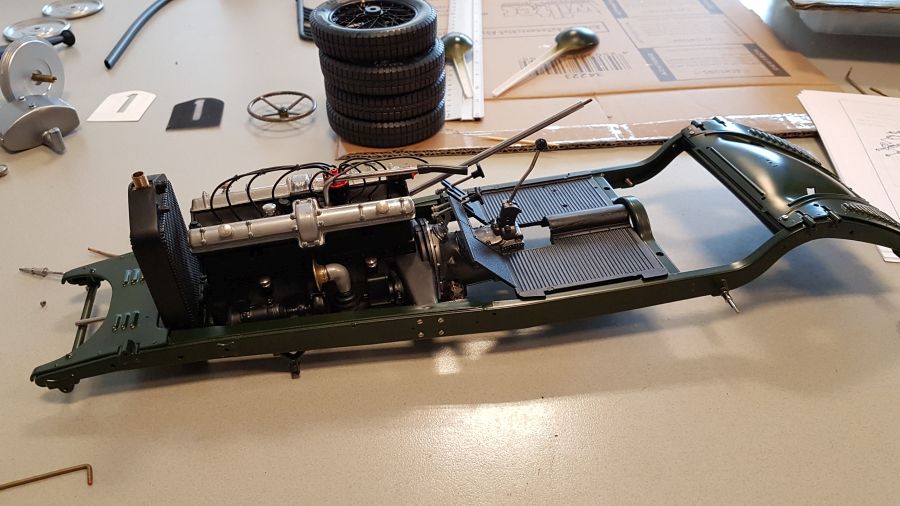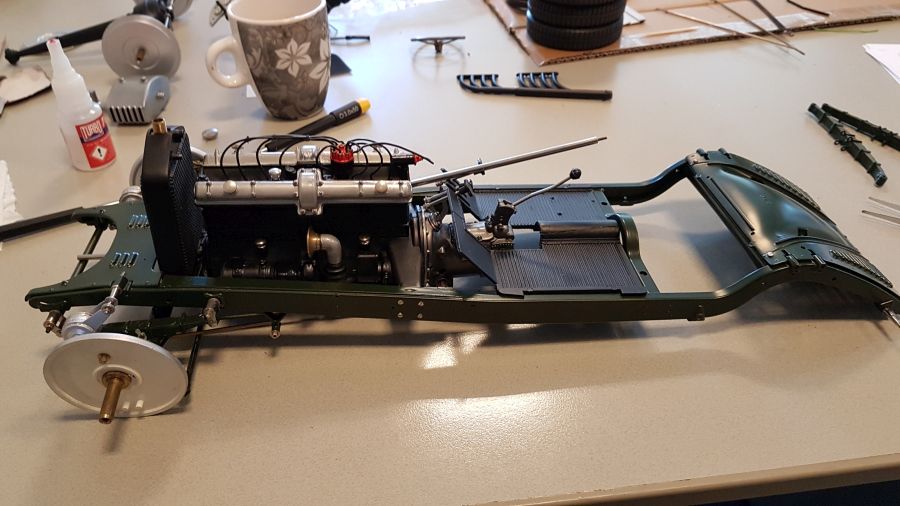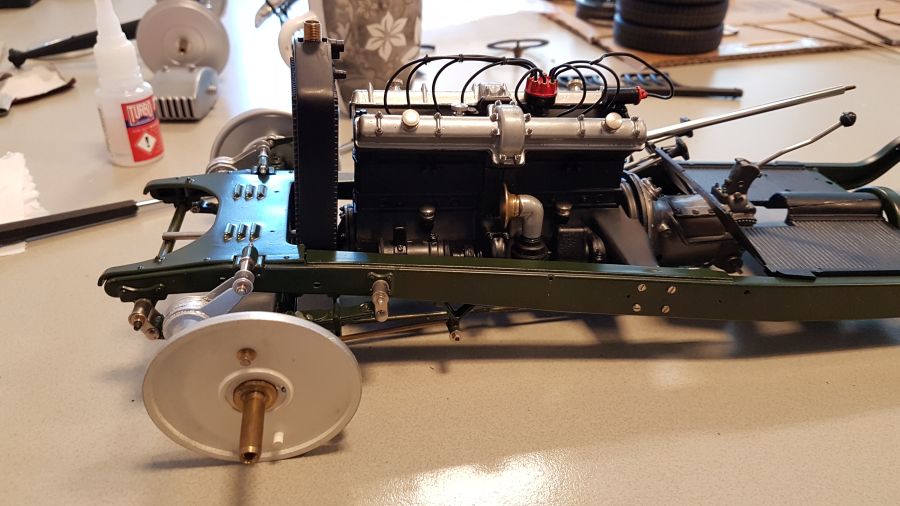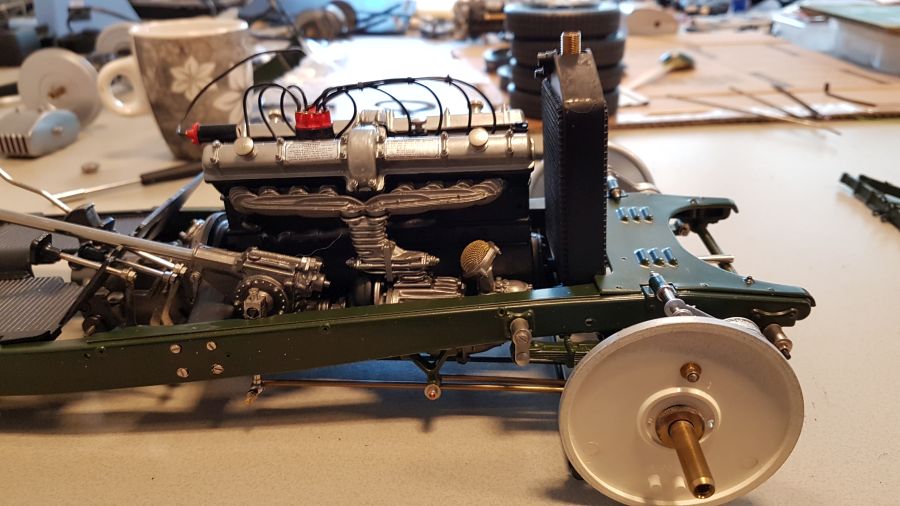 Het dashbord krijgt wat kabels...
The dash receives some wires...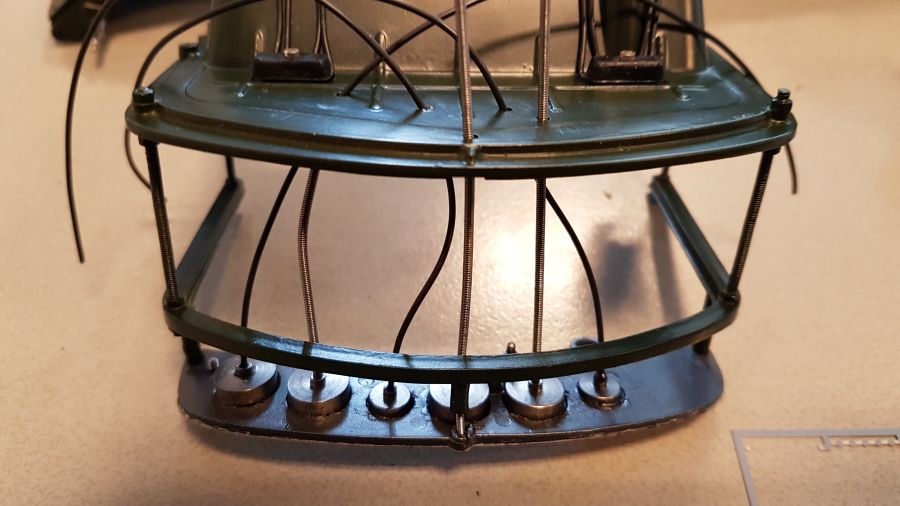 Het etched wordt wat bewerkt. Een paar delen krijgen zwarte gravering.
The etched is being worked on. A few parts get black paint on the engraving.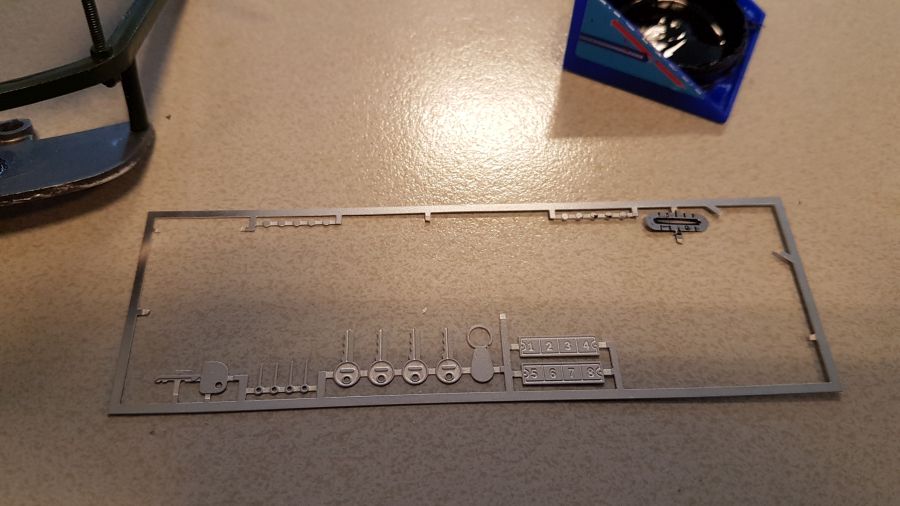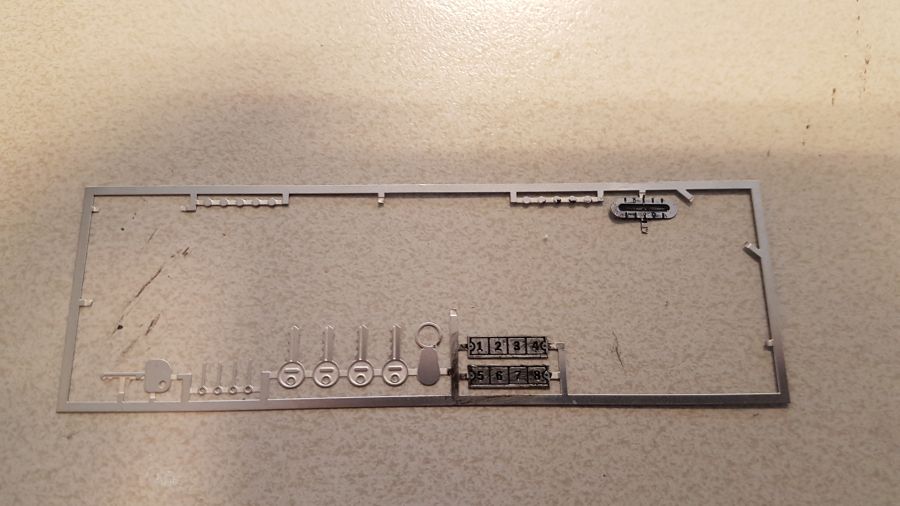 Meer onderdelen worden geplaatst...
More parts are being added...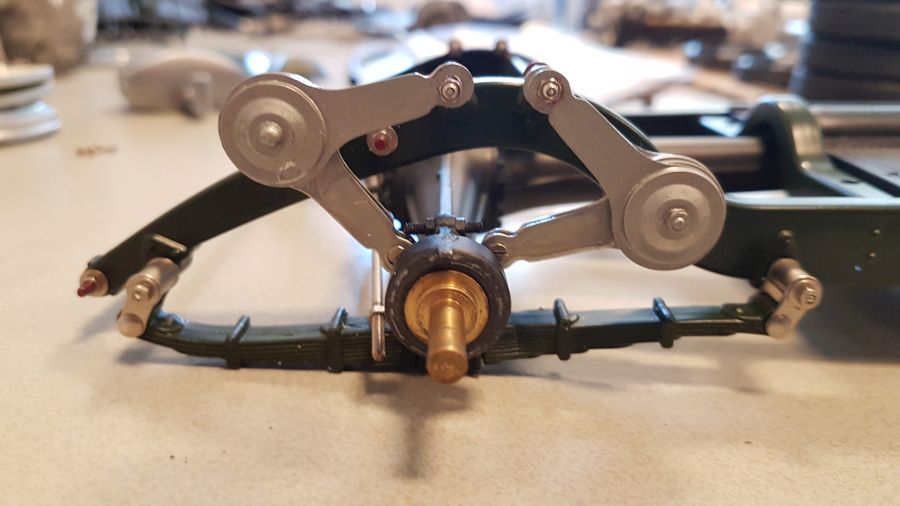 Het schot wordt een beetje lastig... Eerst even testen.
The bulk head is tricky... First some test fit.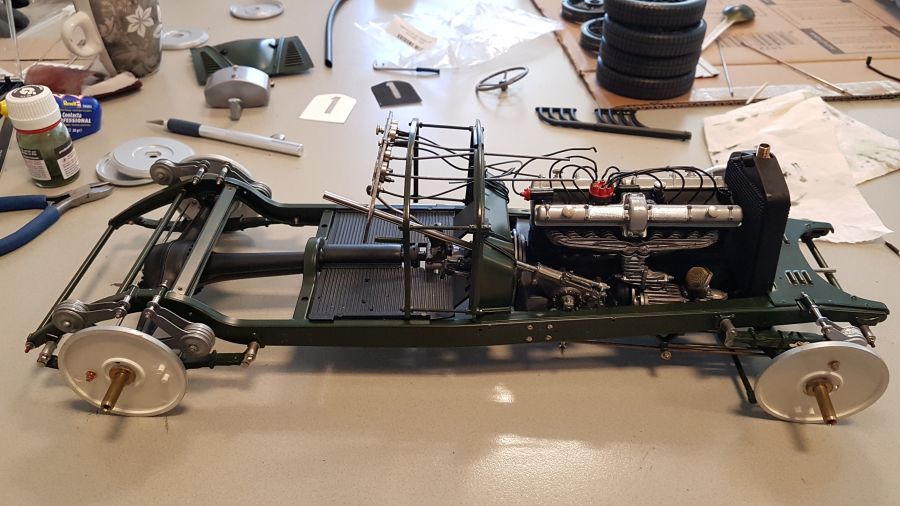 Niet volledig tevreden... Nog maar even verder kijken.
Not completely satisfied... Let's have another look.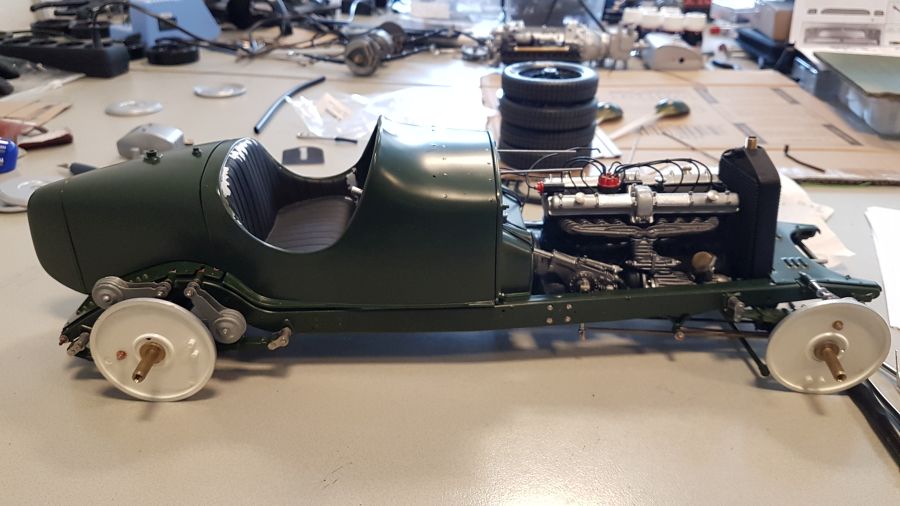 Helaas heeft de afplaktape wat verf meegenomen... Weer wat reparatiewerk.
Unfortunately the masking tape took some paint off... More repairs to do.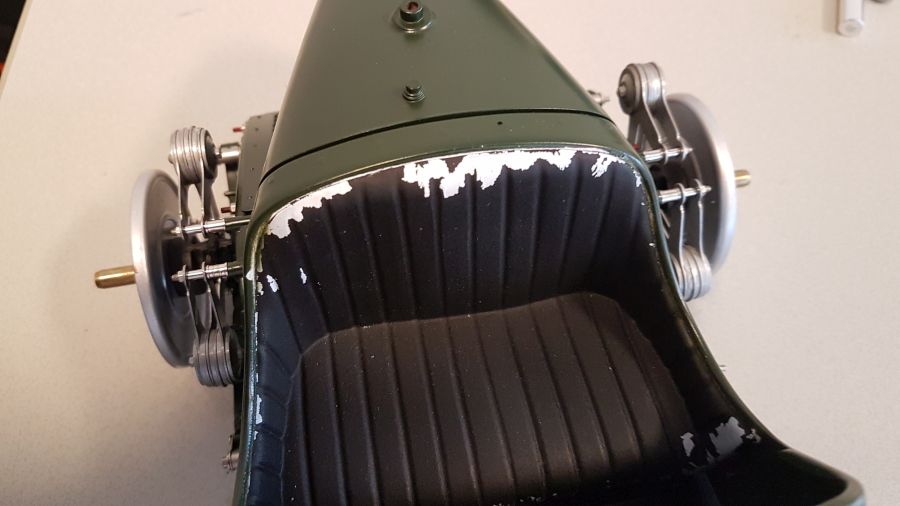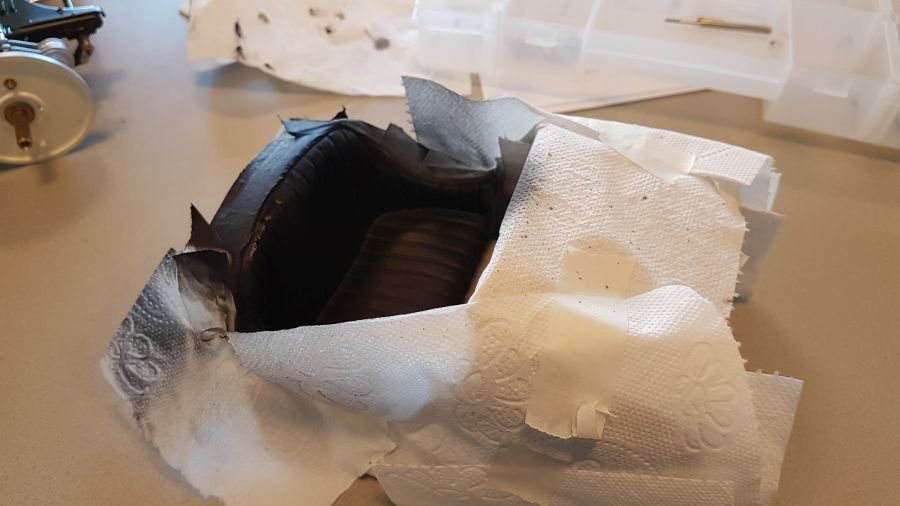 Daarna weer langzaam opbouwen... Steeds meer onderdelen worden toegevoegd.
Then slowly building it up again... More parts are being added.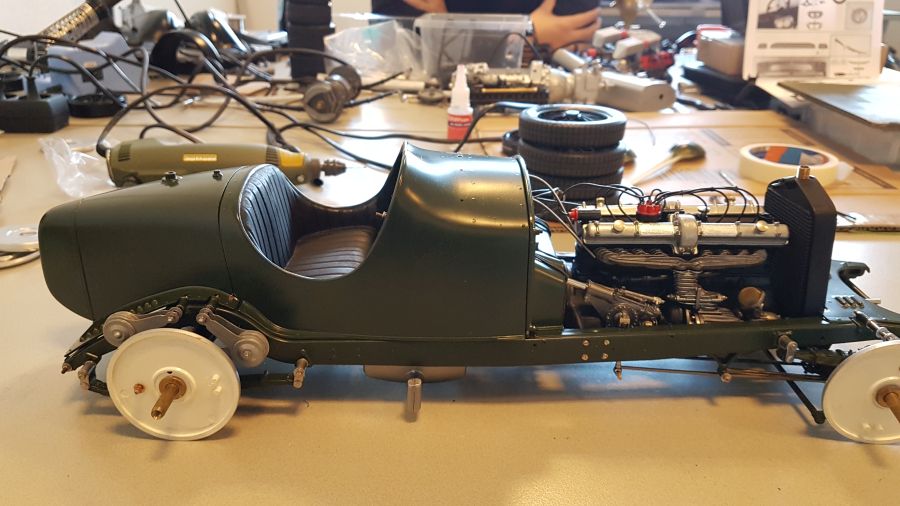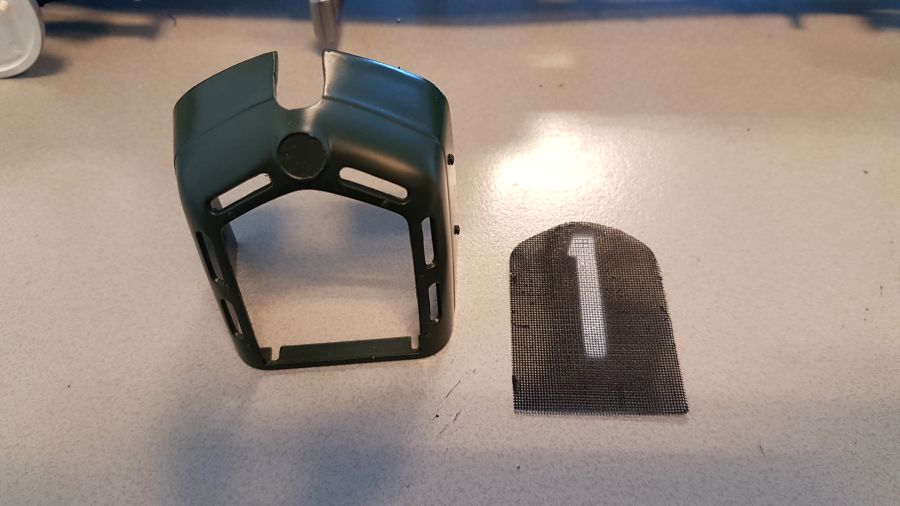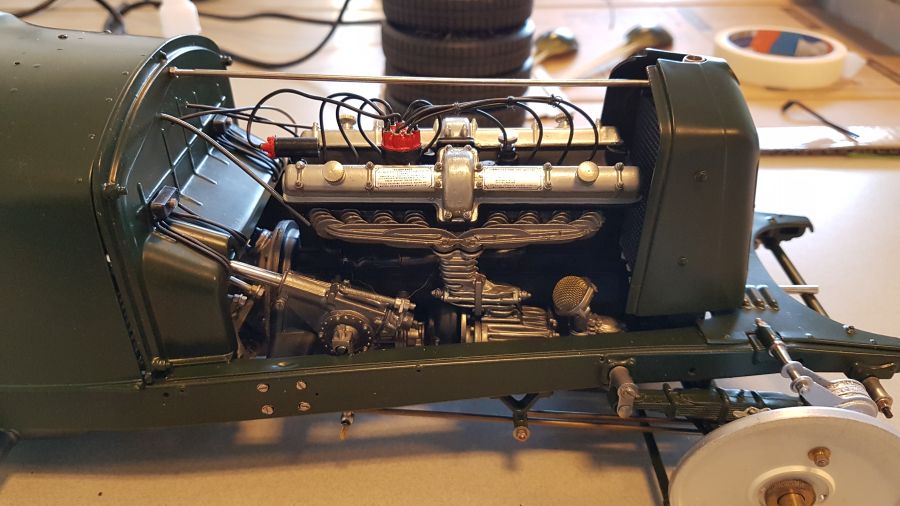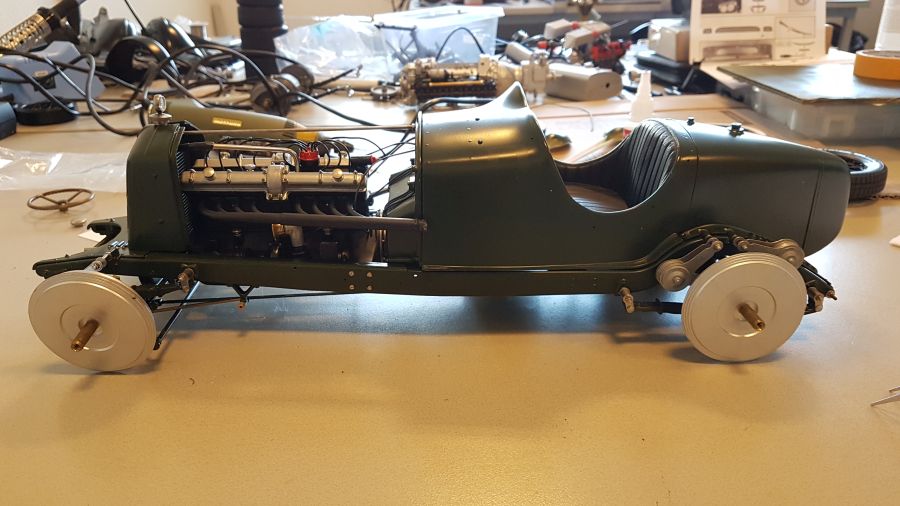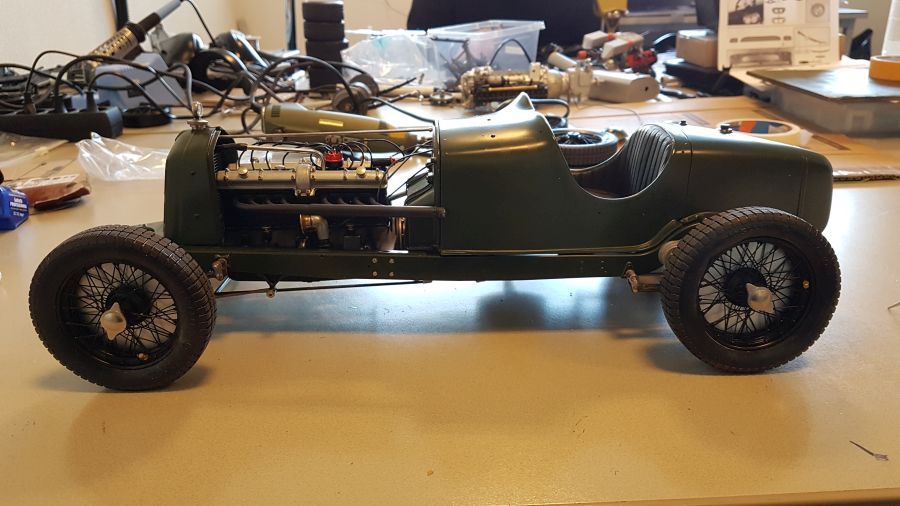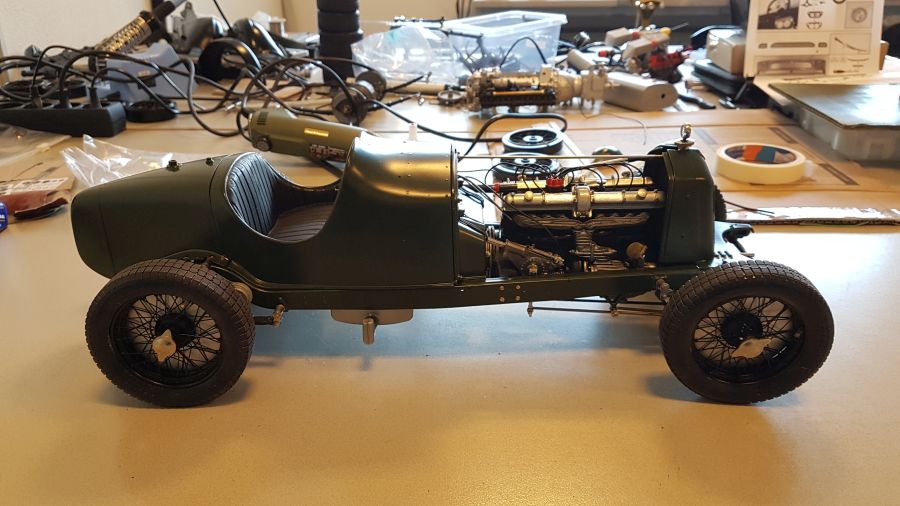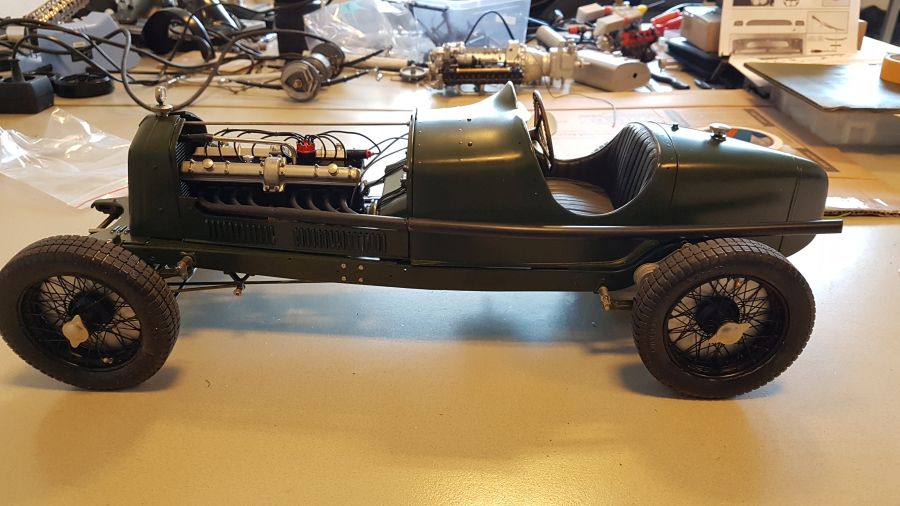 Een aantal onderdelen mist al bij het origineel gebouwde model, zoals scharnieren enz. Ik moet het er maar mee doen en hier en daar wat bedenken indien echt nodig.
A couple of parts are missing already on the original build, like hinges etc. I have to deal with it and do some scratch building when necessary.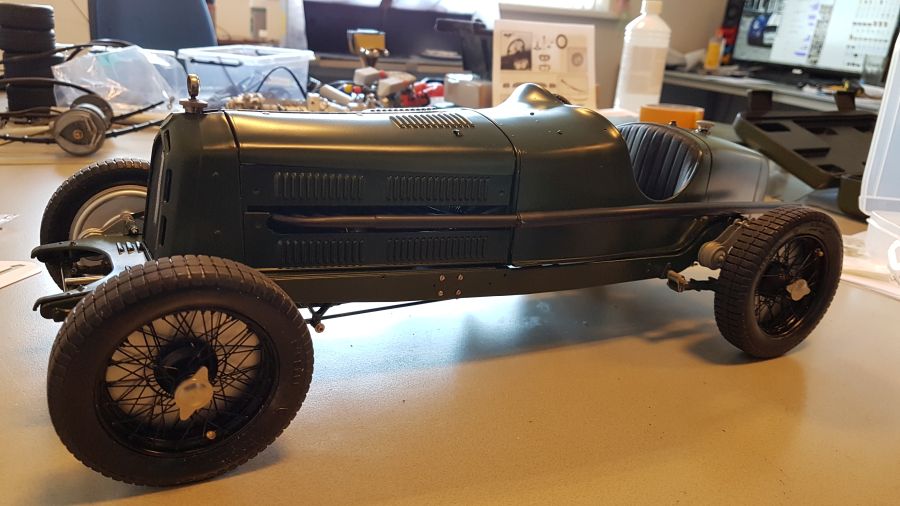 Nu eerst de riem maken die over de motorkap moet. Ik maak zelf wat gespen en gebruik een streepje leer.
Now i will make the belt that goes over the hood. I will make some buckles and use some leather.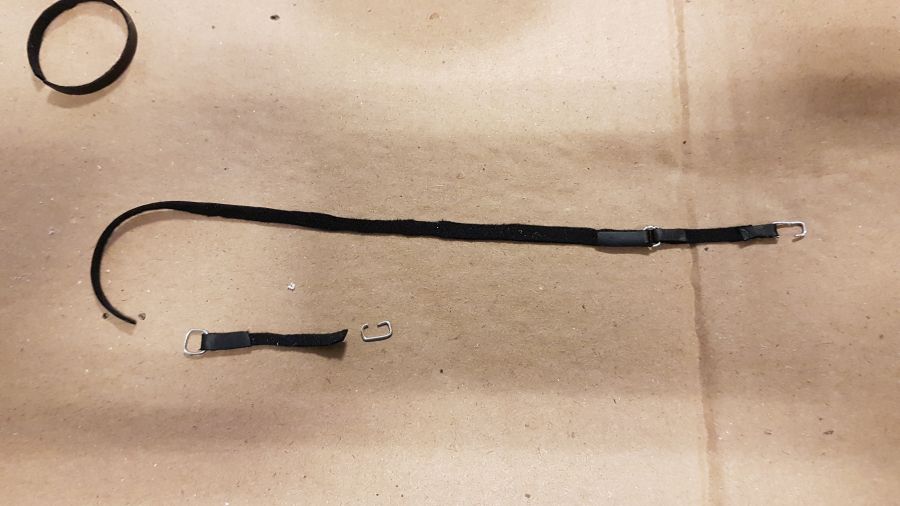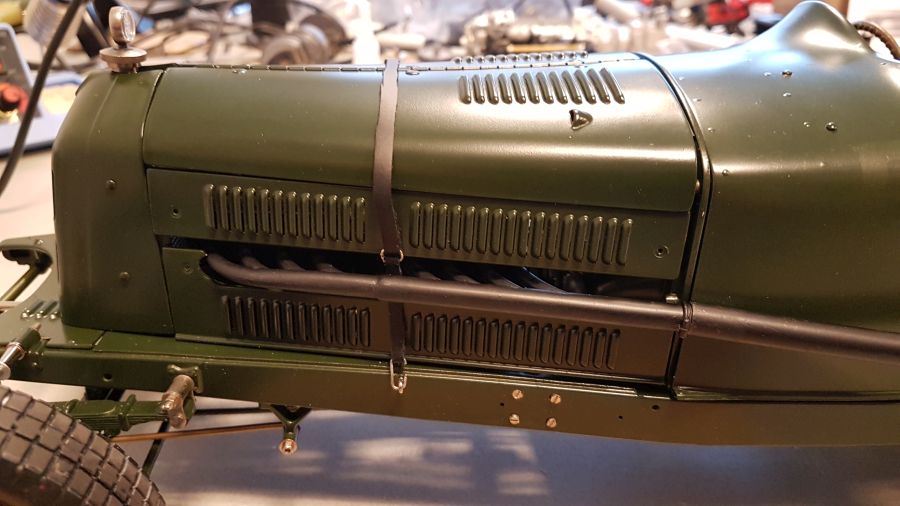 De uitlaat krijgt wat bescherming tegen brandwonden.
The exhaust gets some protection against burning wounds.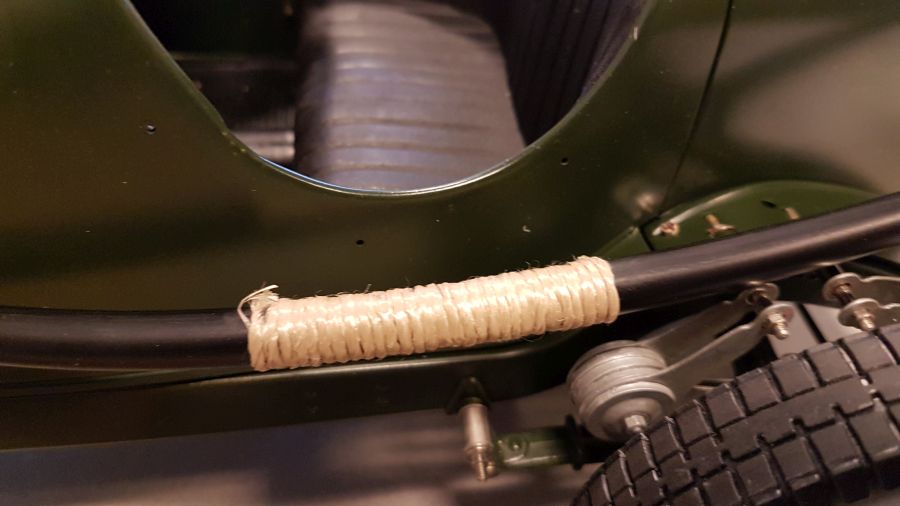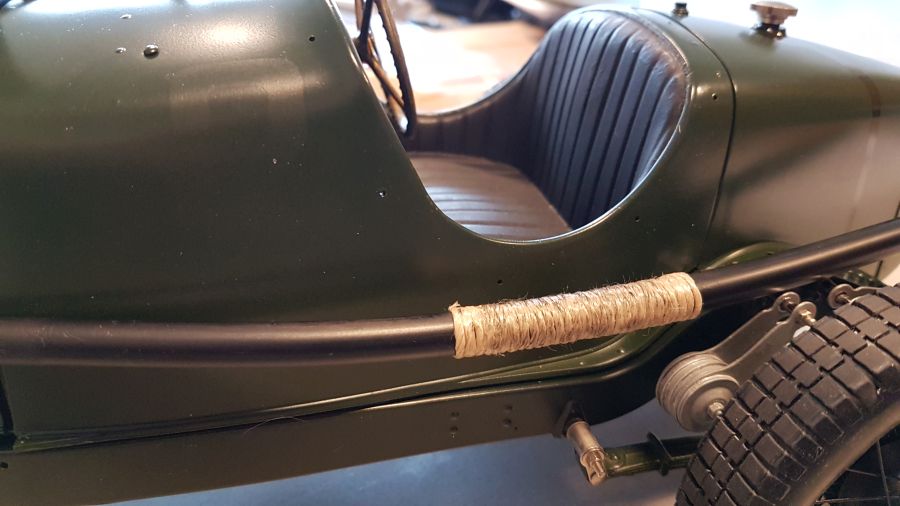 De afdeking wordt gelijmd. Helaas past het allemaal niet zoals ik zou willen, omdat er scharnieren missen. 
The hood gets glued. Unfortunately it doesn't fit like i want, but it's because hinges are missing.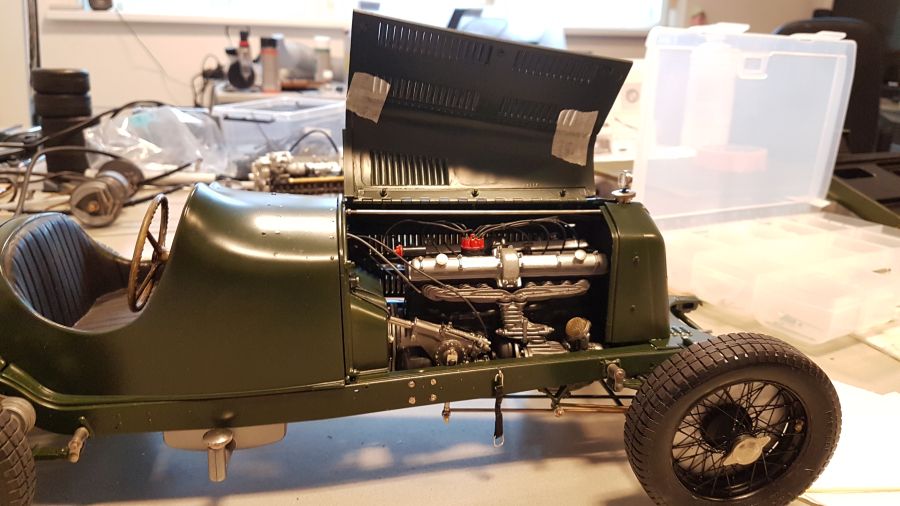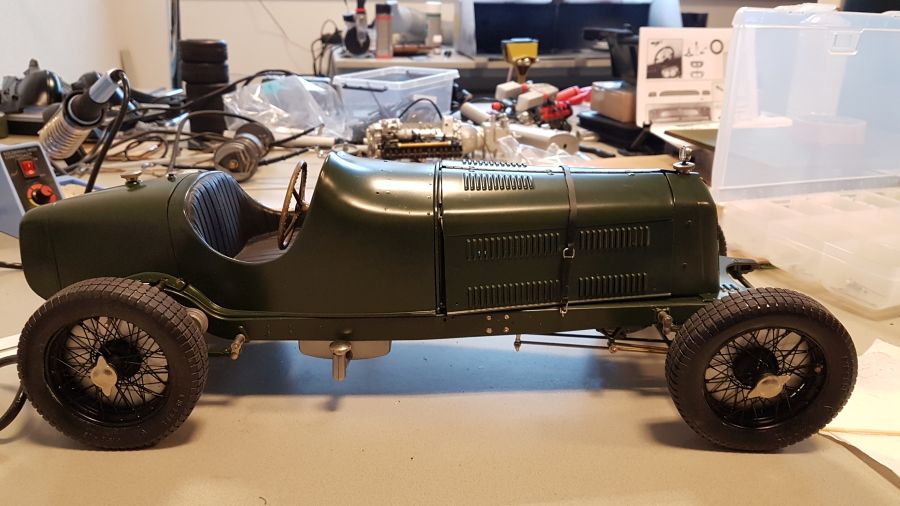 Het raam is beschadigd en wordt vervangen.
The window was damaged and is going to be replaced.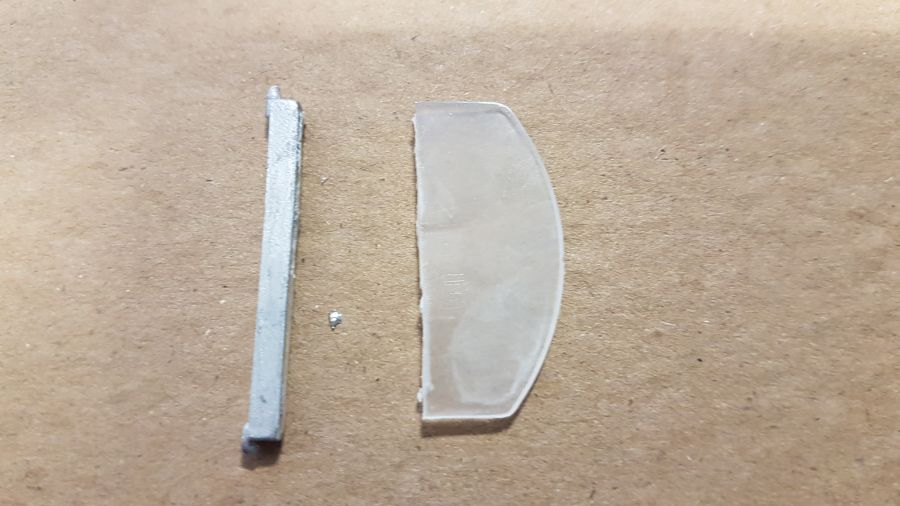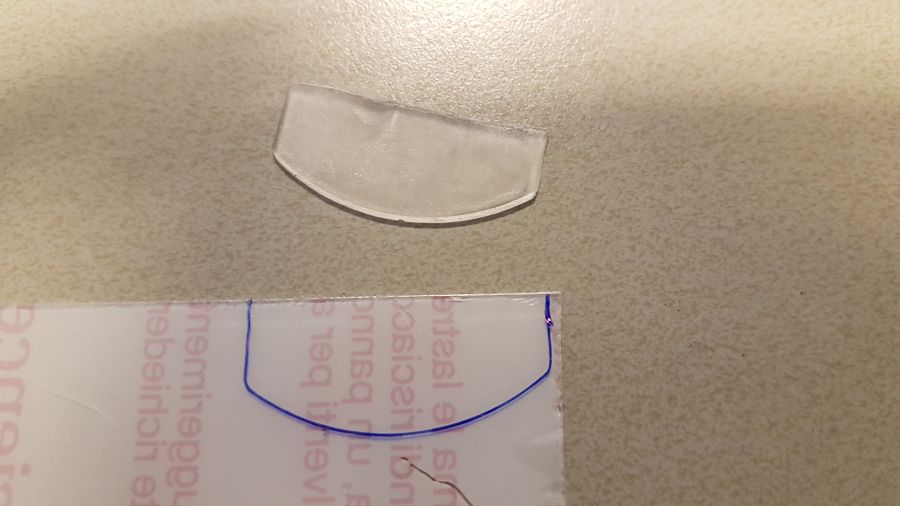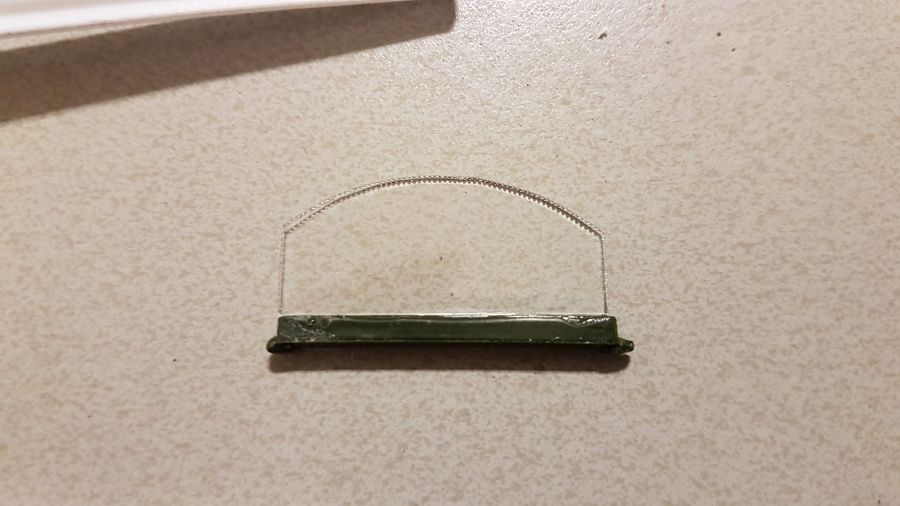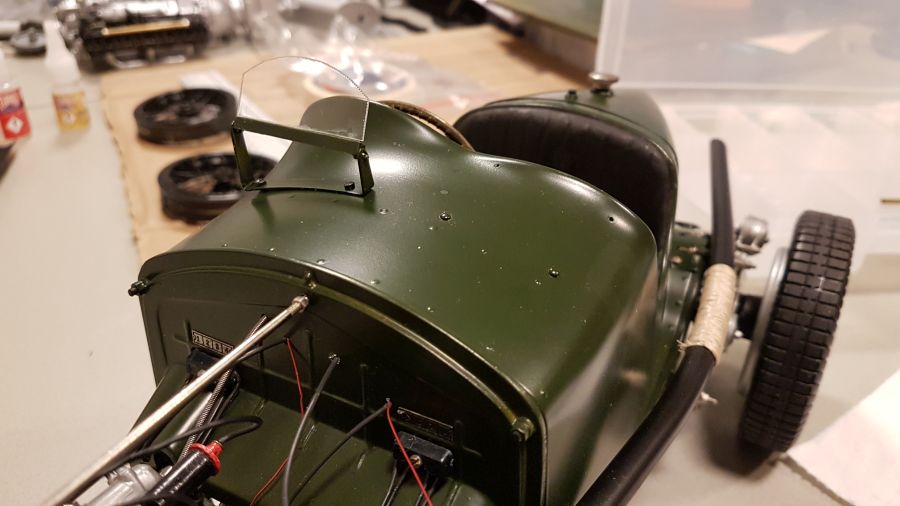 Dan een test op lepels voor benzine- en olievlekken.
Then a test on spoons for gasoline and oil stains.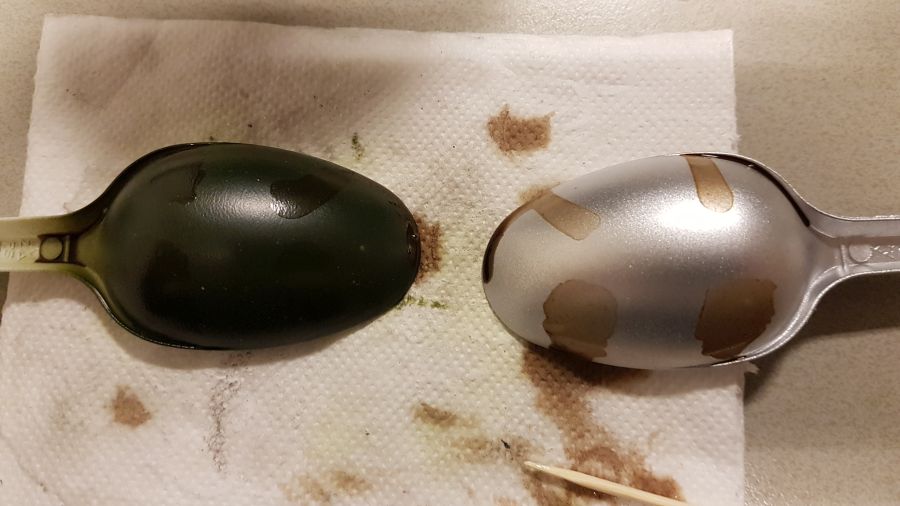 Dan aanbrengen. Eerst de olievlekken.
Then apply it. First the oil stains.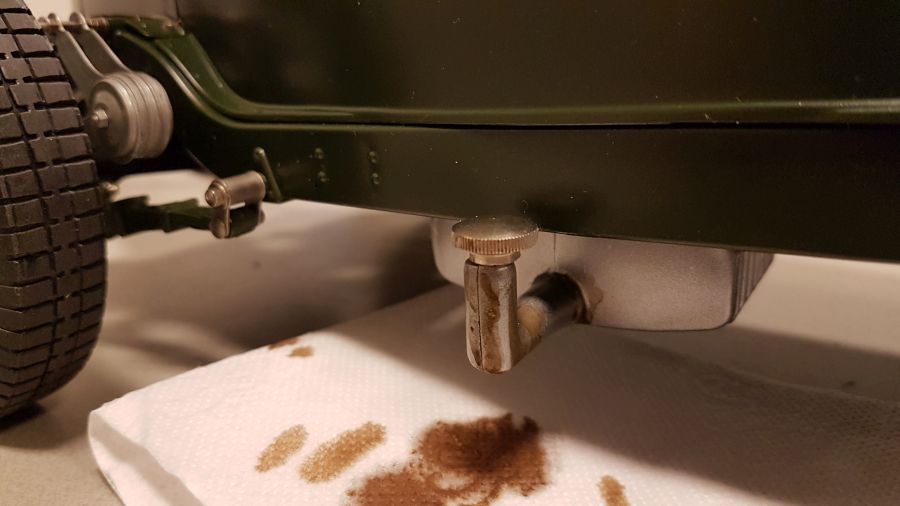 Dan benzine...  Grote druppels met een kwast en laat het dan uit zichzelf vloeien. Dan goed laten drogen.... morgen zien hoe het is geworden.
Then gasoline...  Big drops with a brush and then let it flow by itself. Then let it dry.... have a look tomorrow after the result.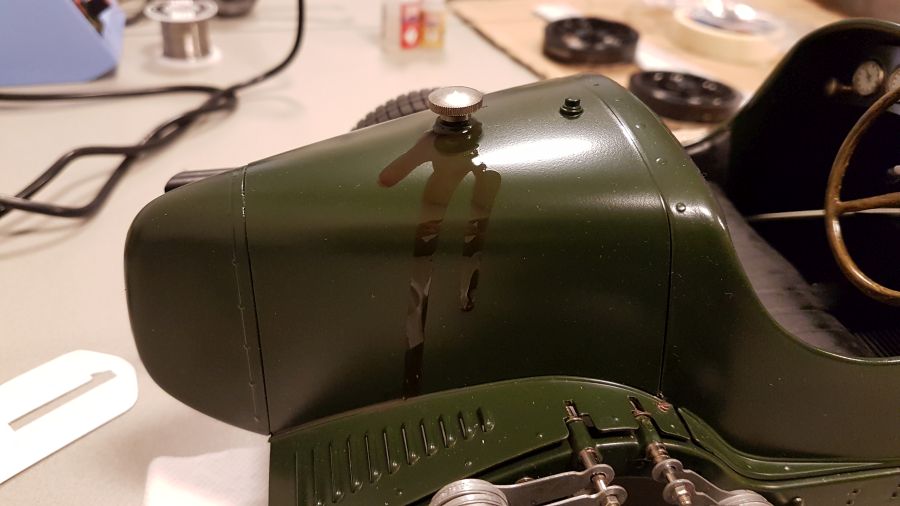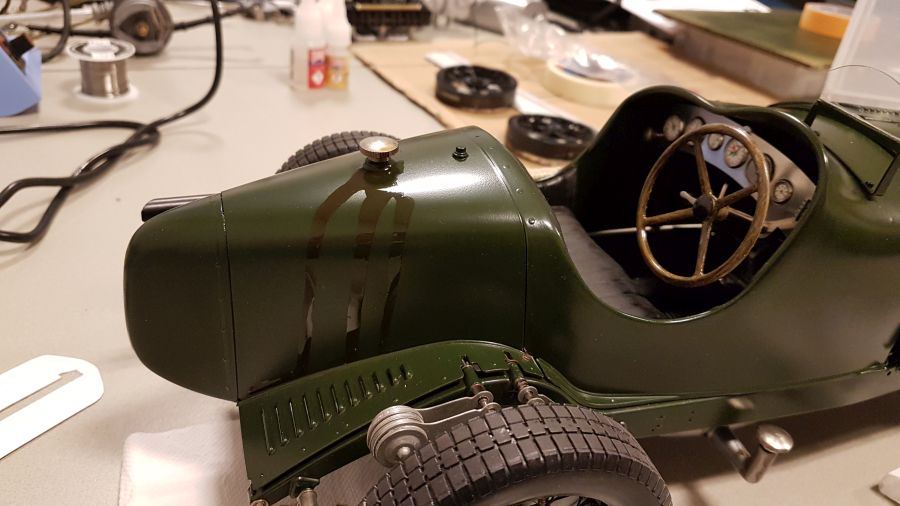 Ook onder de motorkap wat olievlekken...
Also some oil stains under the hood...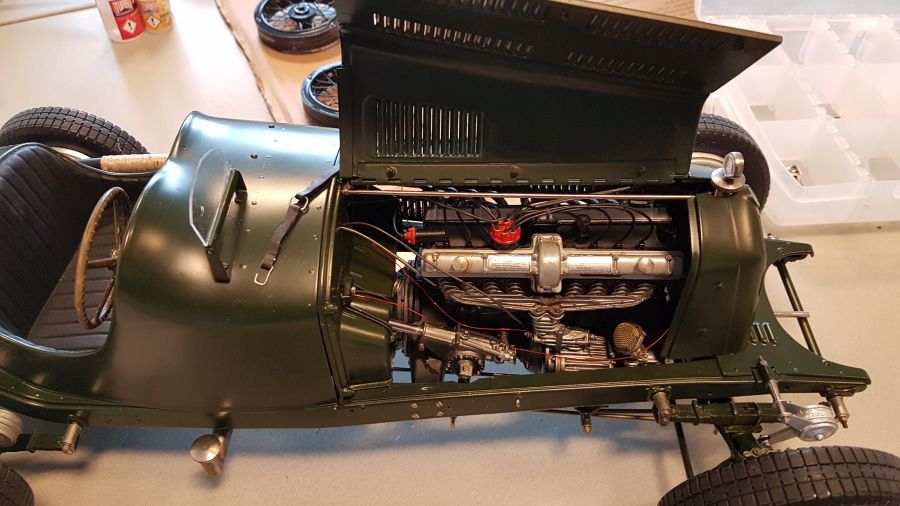 De stoel krijgt een meer gebruikt uiterlijk.
The seat gets a more of a used look.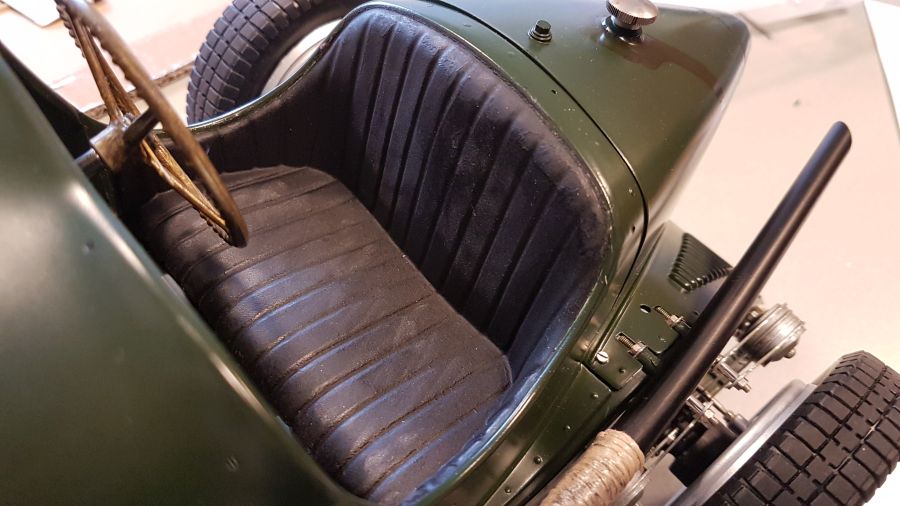 De uitlaat krijgt een geïmproviseerde steun.
The exhaust gets an improvised support.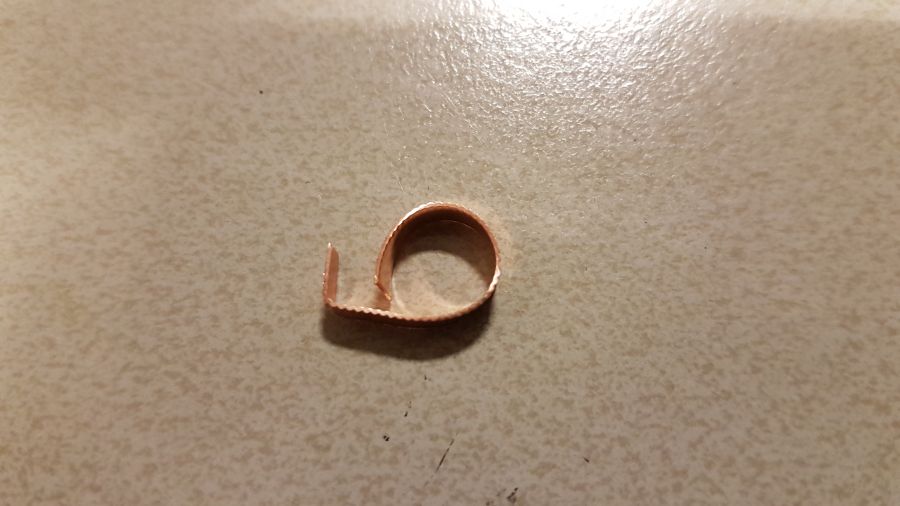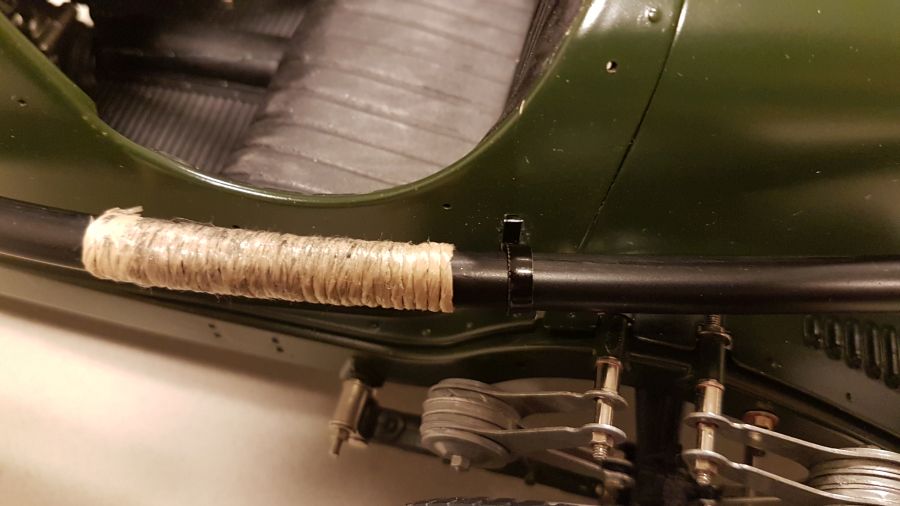 De benzinevlekken zijn mooi opgedroogd.
The gasoline stains dried up very nice.
Nog wat uitlaatvlekken aanbrengen. Op een foto van een rood model was het goed te zien.
Some stains because of the exhaust. On a picture of a red car it was clearly visible.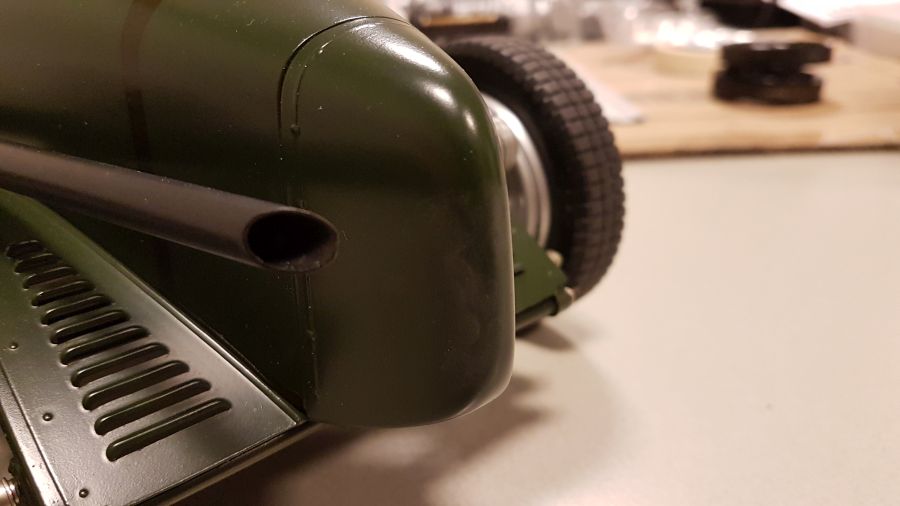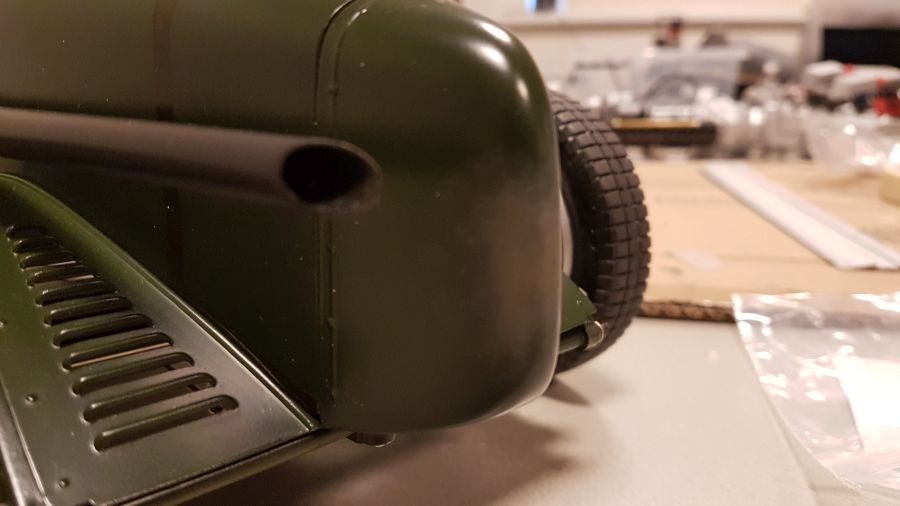 Nu nog even op de decals wachten en iets bedenken voor het maken van een steun voor het reservewiel.
Now wait for the decals and think of something to simulate a support for the spare wheel.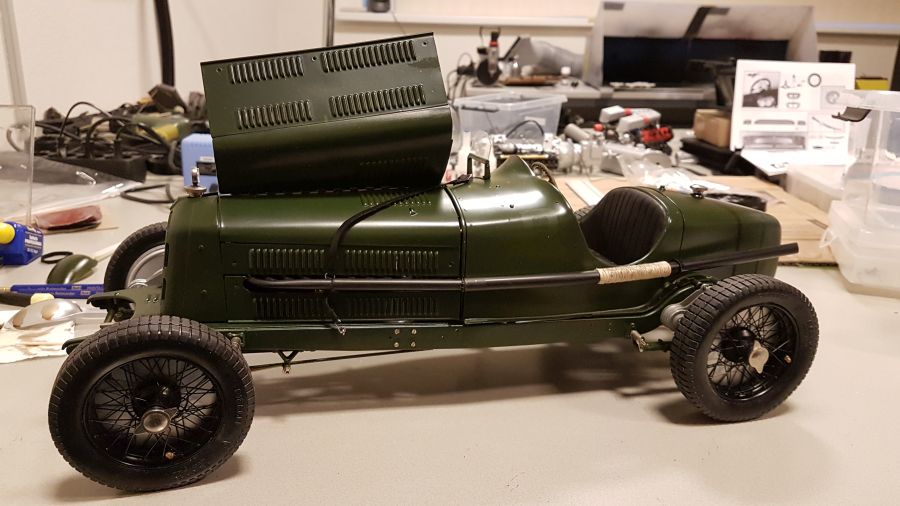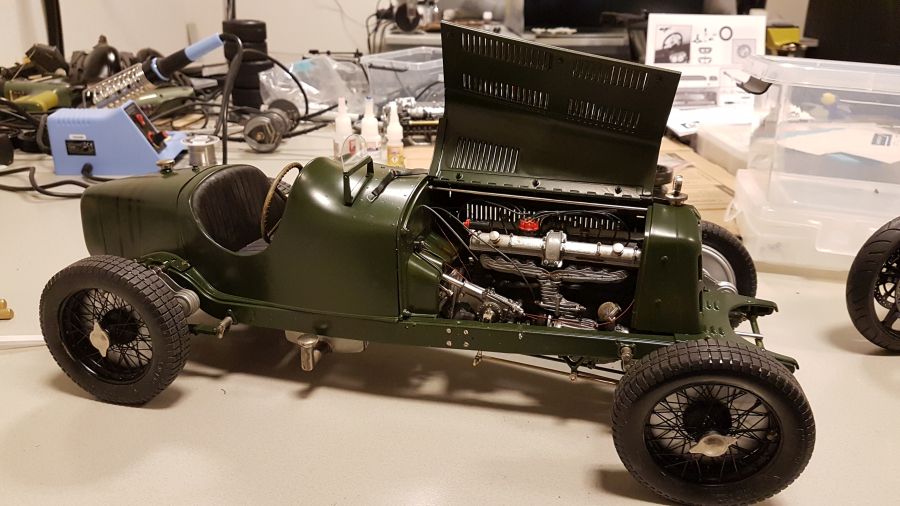 Vandaag de houder voor het reservewiel gemaakt. Meestal zie je op foto's de auto racen zonder daadwerkelijk wiel, maar met de steun.
Today i created the support for the spare wheel. Most of the time on pictures you see the car without wheel, but with the support.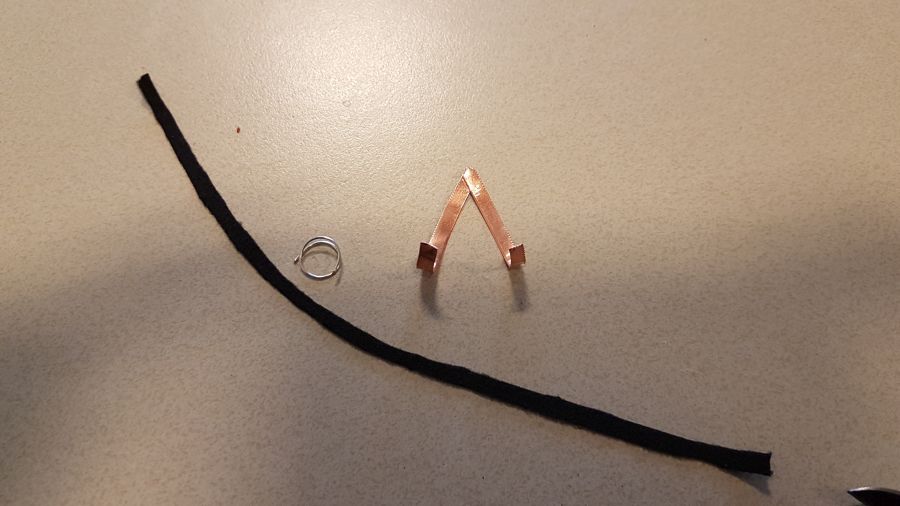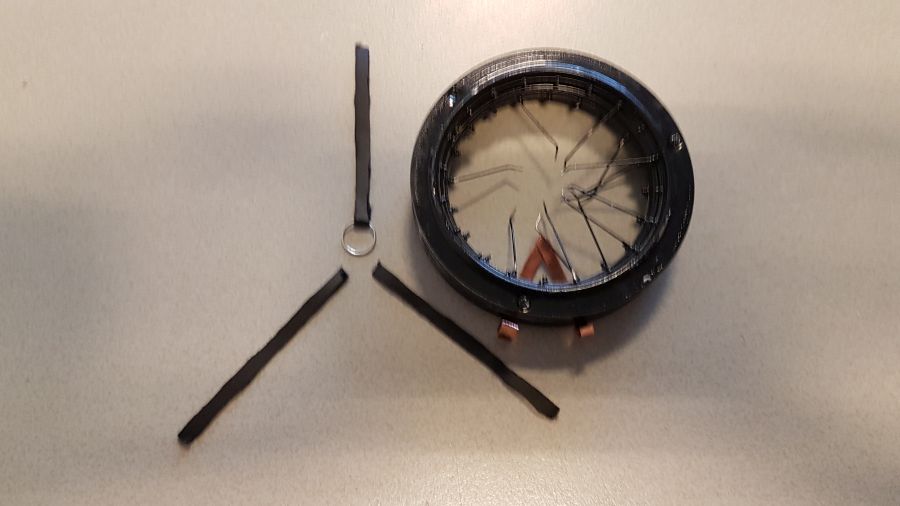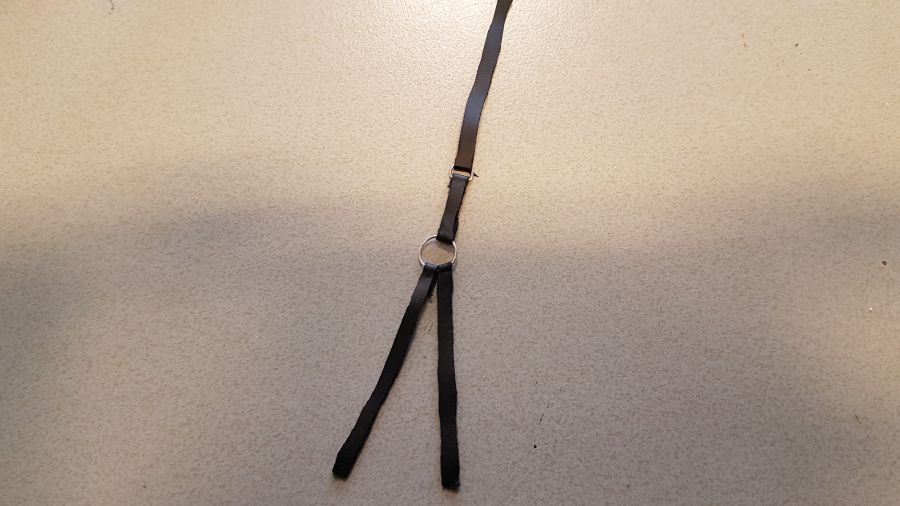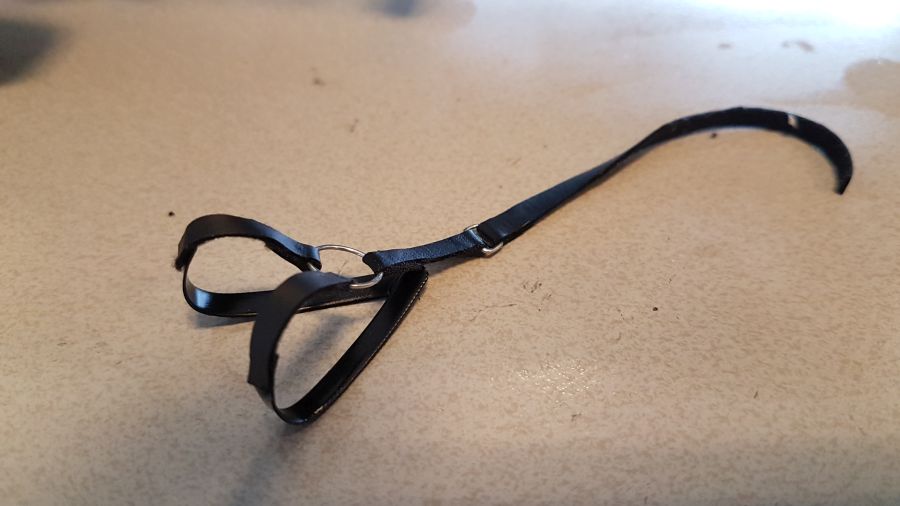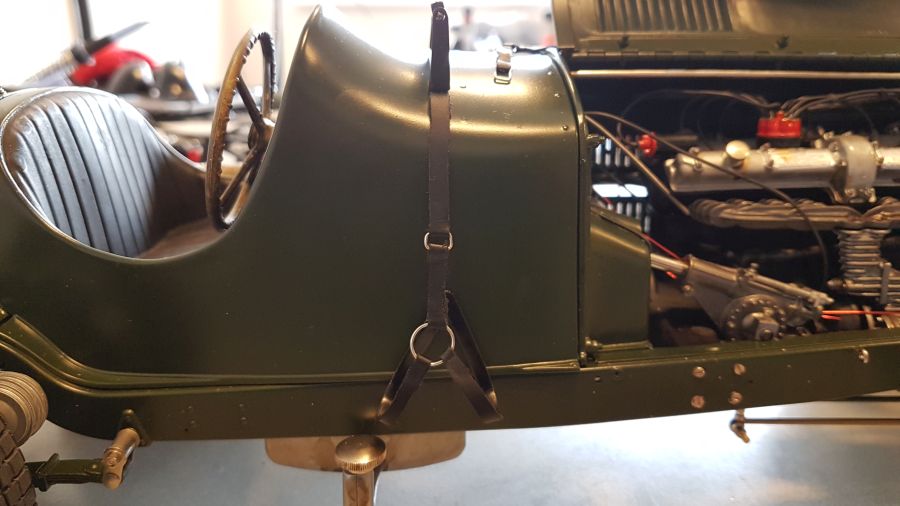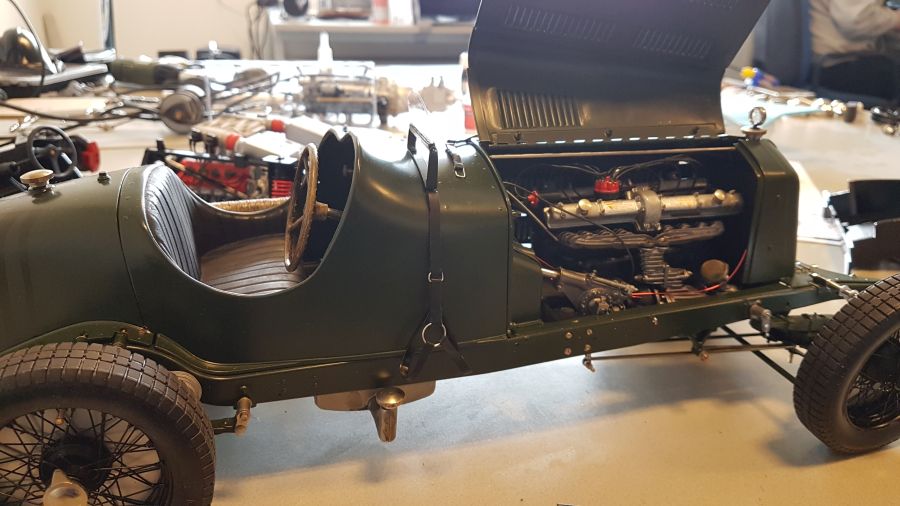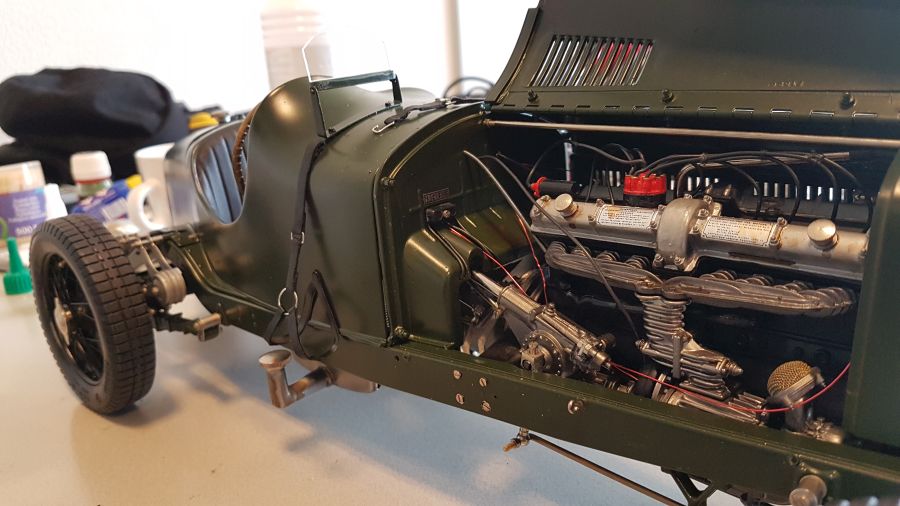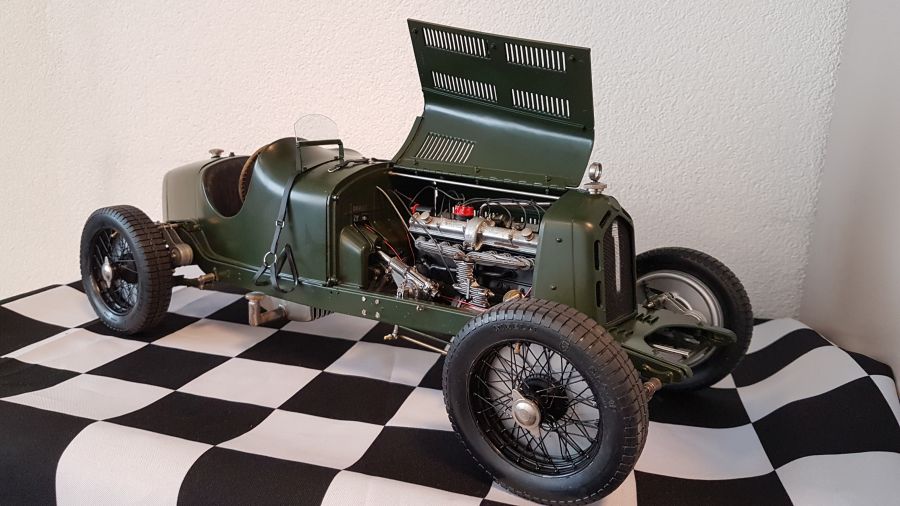 De decals zitten erop.
The decals were added.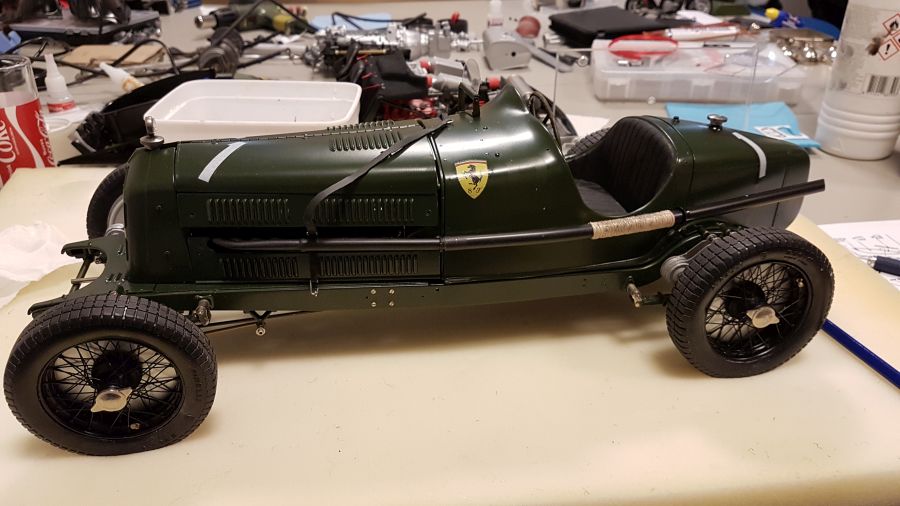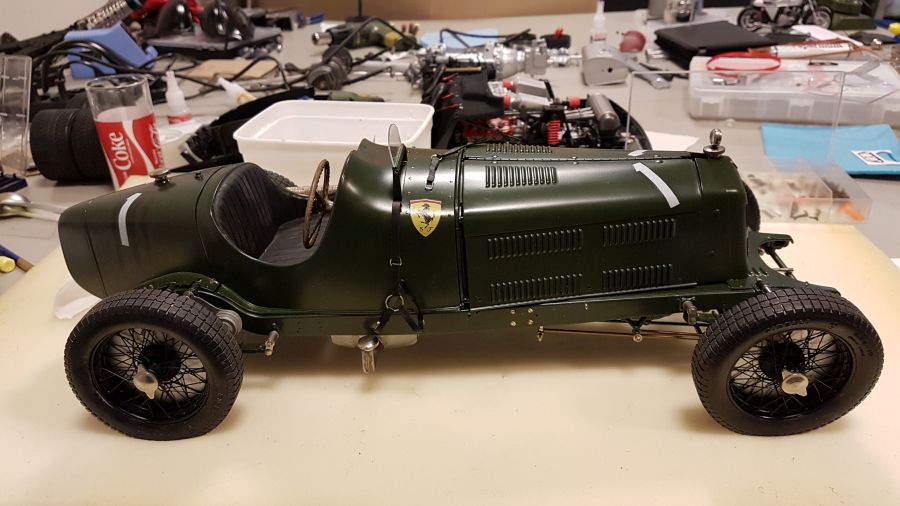 Aangezien de decals over de benzinevlekken zijn geplaatst, moet dit uiteraard bijgewerkt worden. Daarna is deze definitief klaar.
As the decals were applied over the gasoline stains, this has to be corrected. After this, this one is ready for sure.