LaFerrari scale 1/4
Voor deze modellen veel lof voor Sebastiaan. Hij is de man die de tekeningen heeft gemaakt / veranderd op zodanige wijze dat de auto 3D geprint kan worden en dat er min of meer een bouwdoos ontstaat. Zeer knap werk en tijdrovend! We hebben elkaar ontmoet op Facebook en hij heeft me gevraagd een auto voor hem te bouwen. Nadat de onderdelen zijn gespoten door een professionele spuiter, aan mij de eer om er iets moois van te maken. Dankjewel Sebastiaan voor het in mij gestelde vertrouwen om dit tot een goed einde te brengen.  Hier kunt u de bouw volgen van mijn 1e project in zo'n grote schaal. Ik ga uiteraard mijn uiterste best doen hier iets moois van te maken. Maar dat probeer ik eigenlijk altijd. Het is voor mij even wennen, zo'n grote schaal en aan het materiaal. In dit geval bestaat de kit uit zo'n 350 exclusief de slangen, schroeven, etc.
For these models a lot of kudos for Sebastiaan. He is the man who made / changed the drawings so they can be handled by a 3D printer so a kit comes out more or less. Very time consuming and a great job! We have met on Facebook and he has asked me to build a car for him. After being painted by a professional car painter, to me the honour to create something nice out of it. Thank you Sebastiaan for your confidence towards me to finish this into a great build. Here you can follow my 1st project at such huge scale. I will do my utmost to create something really nice. But in fact, that's what i always try to do. I will need to adapt to this huge scale and the material. In this case the kit exists of about 350 parts, hoses and screws not included.
Hier Sebastiaan met het gebouwde testmodel, voordat het naar de spuiter gaat. Dit om te testen of alles past. Na het spuiten kan er immers niet meer aan gevijld of geschuurd worden.
Here Sebastiaan with the test build before the car goes to the painter. This to be sure everything fits. After painting you cannot file or sand it anymore.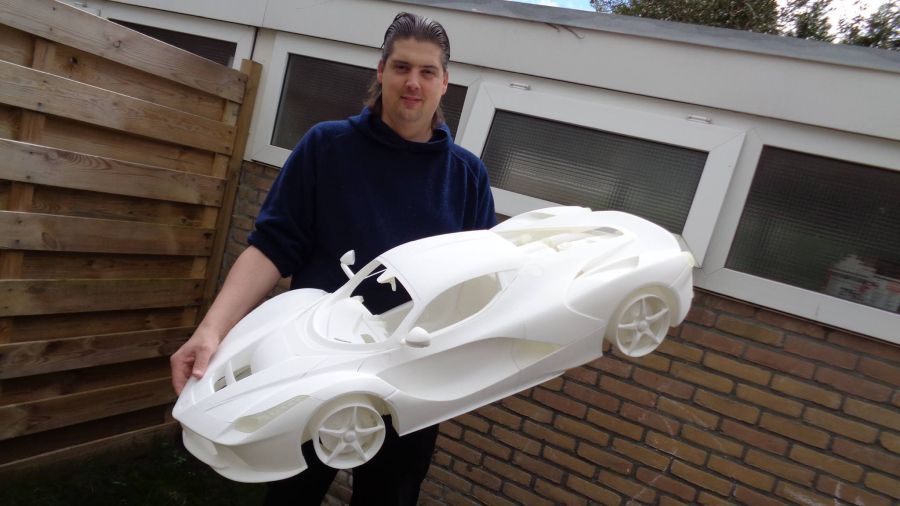 Geweldig detail van de banden.
Great detail on the tires.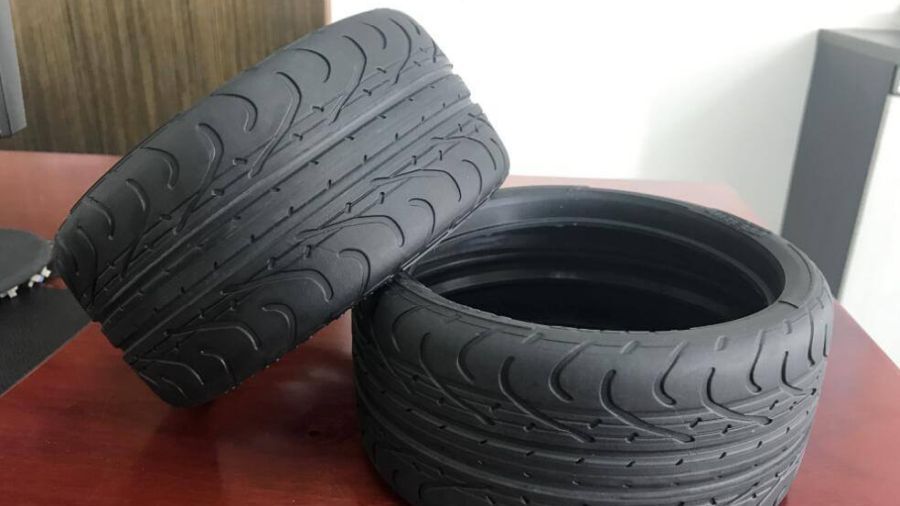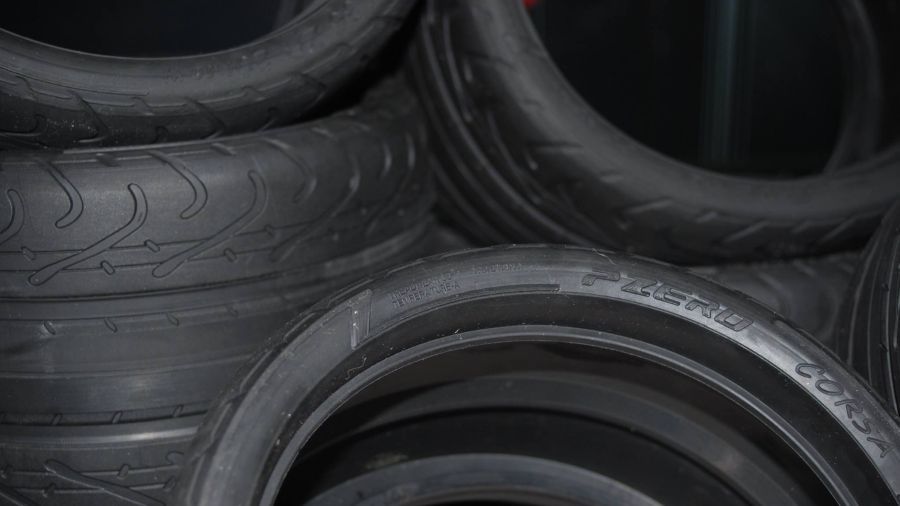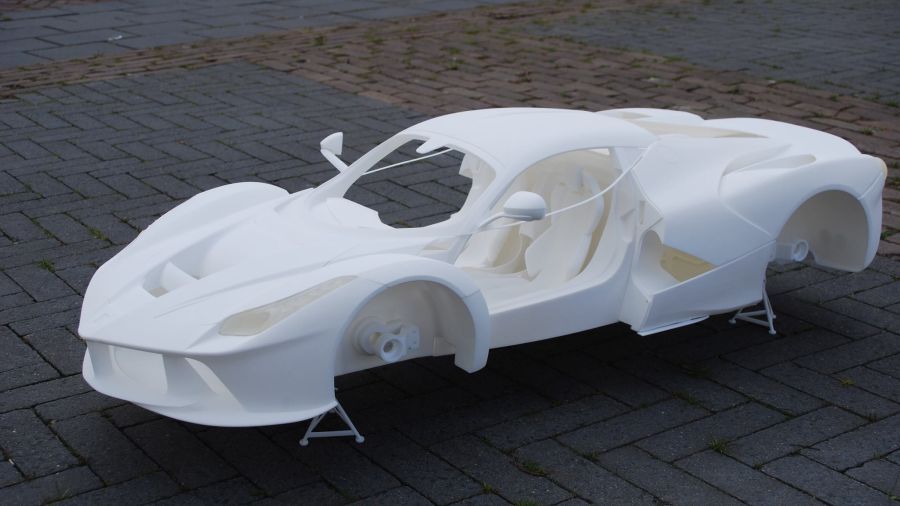 Nu wachten op de spuiter. De 1e wordt dus..... geel.
Now waiting for the paint job. So the 1st one is a..... yellow one.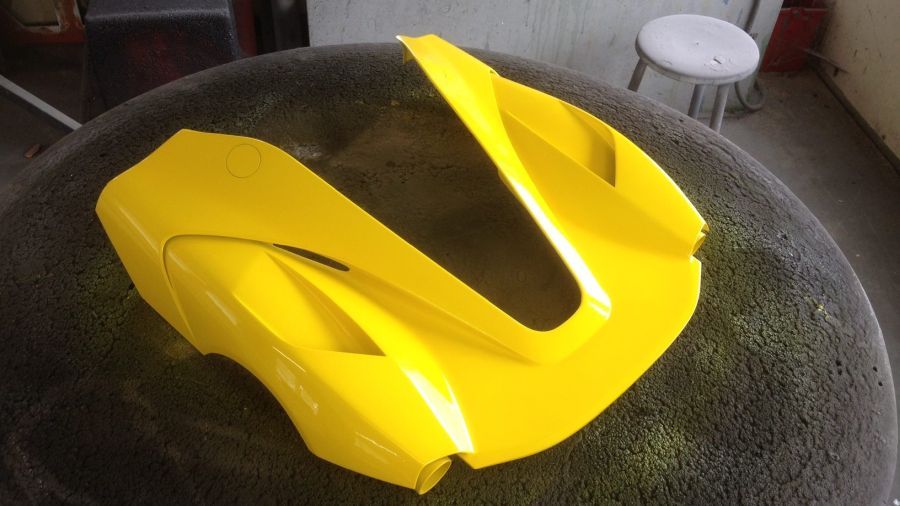 Vandaag op 25-7-2017 de eerste onderdelen binnen van Sebastiaan. Groot??
Today 25-7-2017 the first parts came in from Sebastiaan. Huge??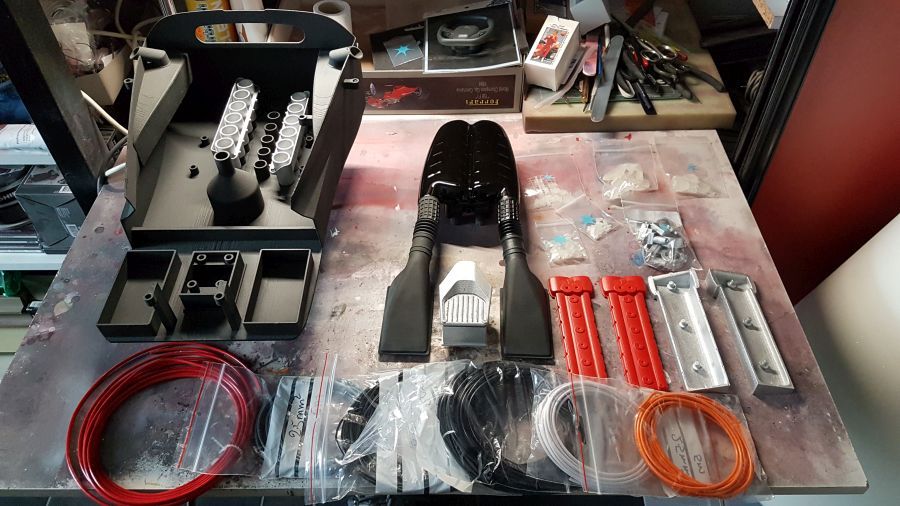 Eerst met het stuur aan de gang... Even wennen aan de schaal... Eerst mat zwart voor het hele stuur. Daarna heldere matlak erover en goed laten drogen. Anders laat de boel weer los bij het afplakken.
First working on the wheel... To get used to the scale... First of all matt black on the entire wheel. Then some clear gloss over it, and let is settle for some time. Elsewhere it will stick to the masking tape.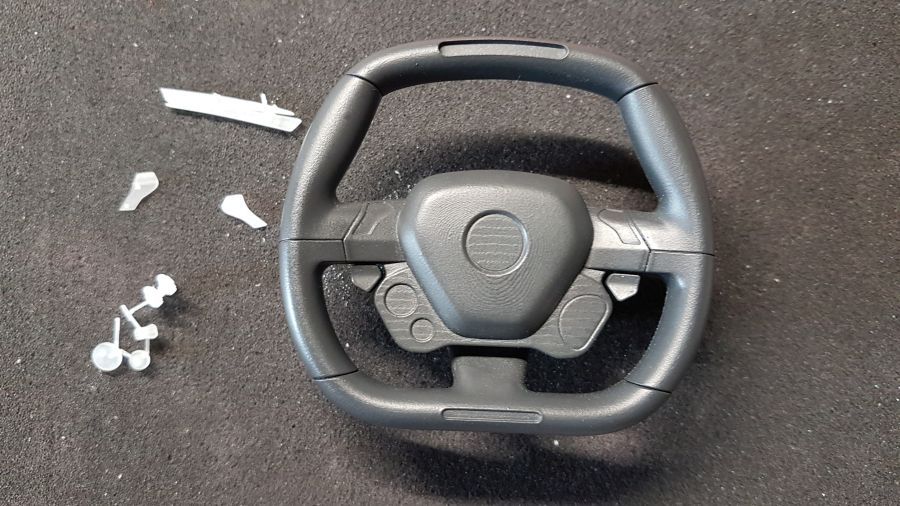 Intussen maak ik wat koppelingen alvast zwart.
In the meantime some connections get black paint.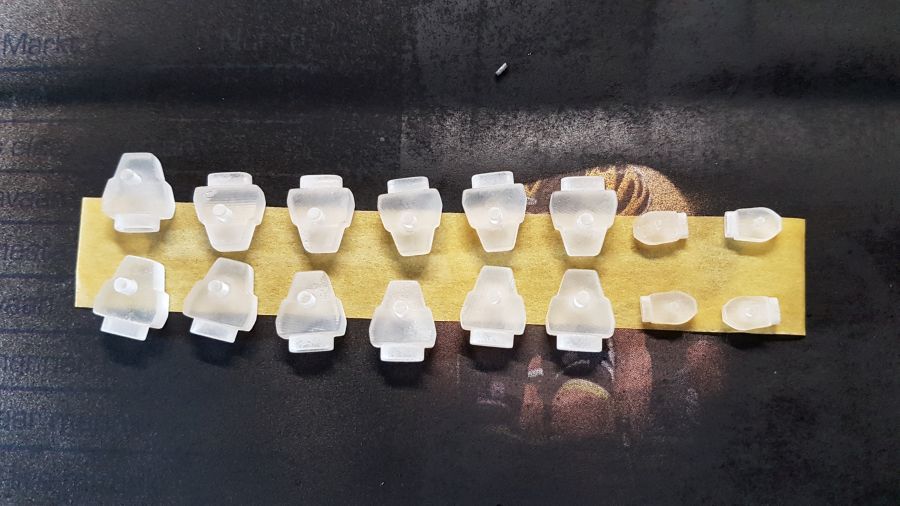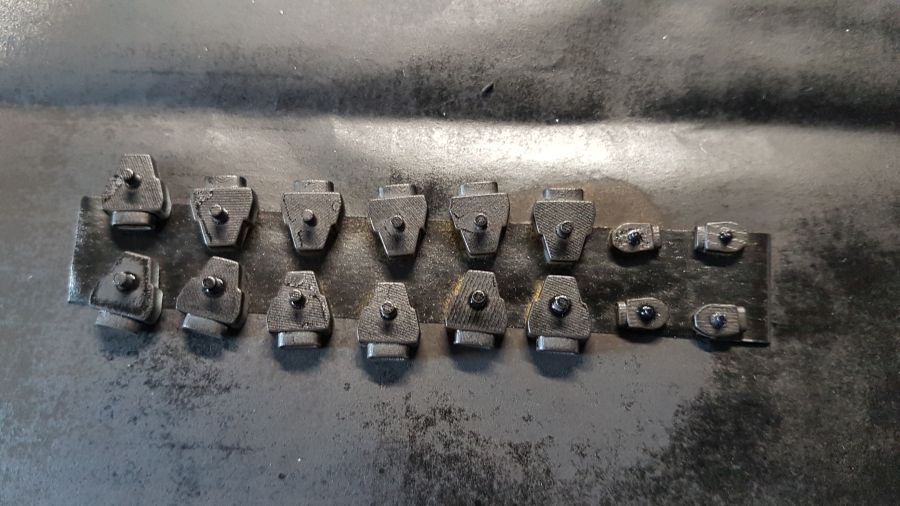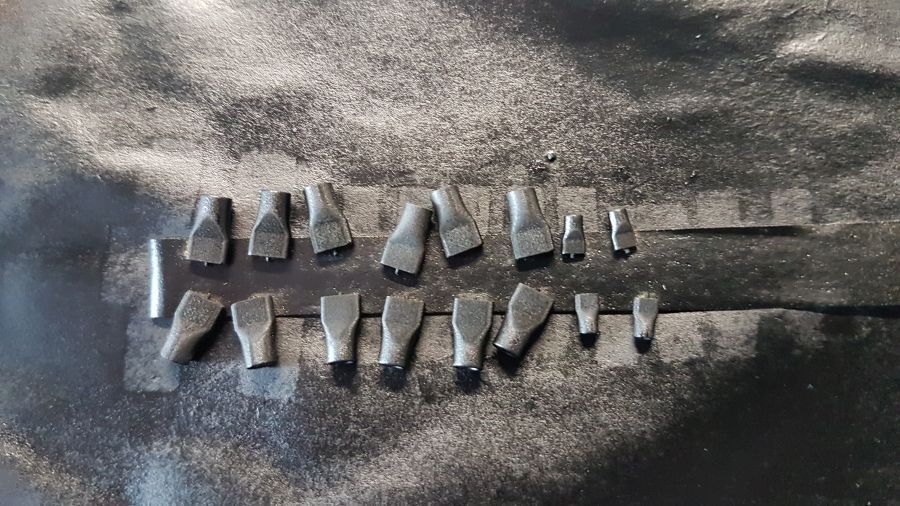 De koeling wordt voor een deel zijdemat zwart gespoten.
The coolers get some silk black paint.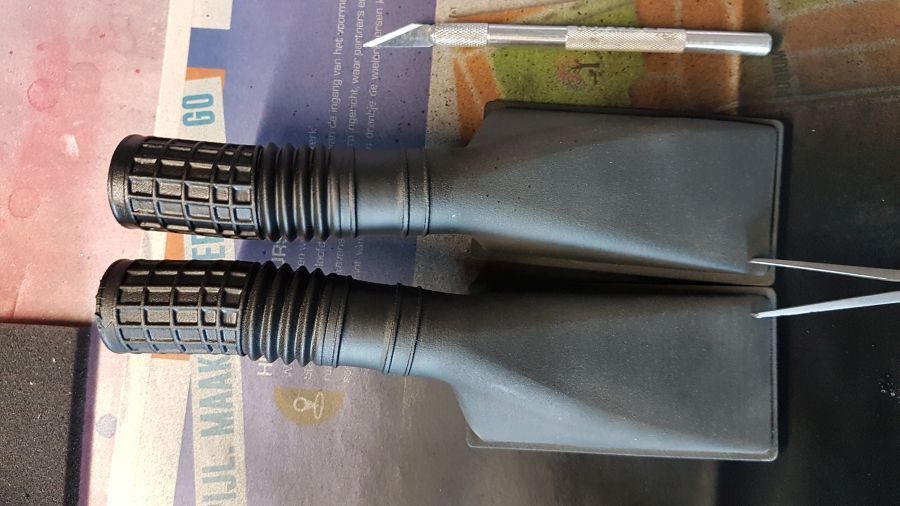 Deze tekeningen helpen enorm om te zien hoe de ontwerper het bedoeld heeft.
These drawings are of great help to see how the designer meant it to be.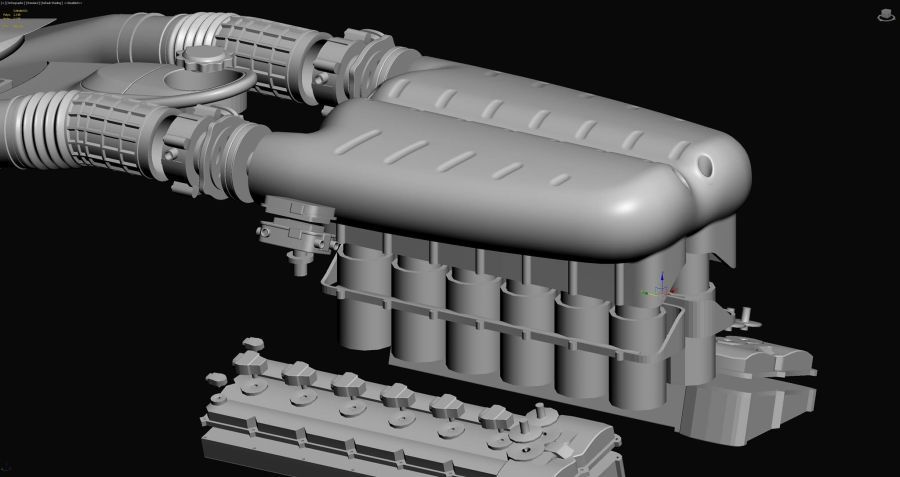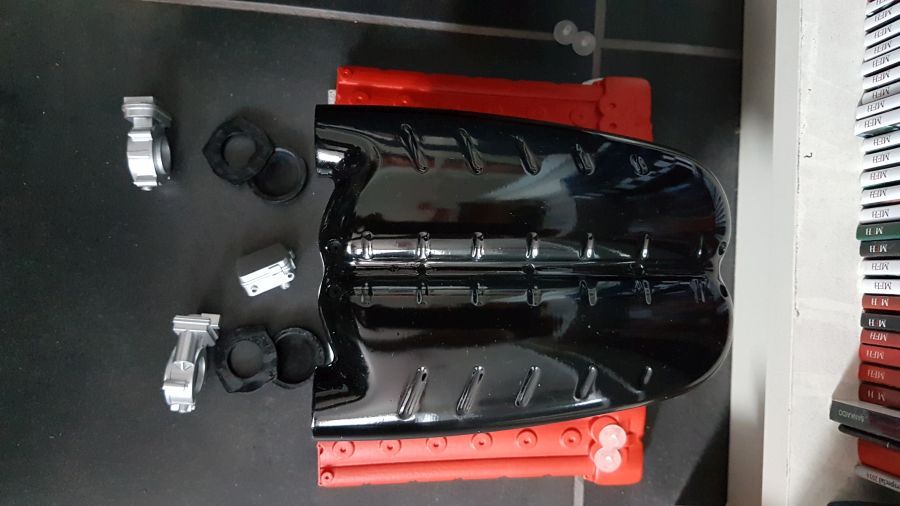 Weer verder met het stuur... een deel krijgt zwart glanzende verf.
To the wheel again... a part gets gloss black paint.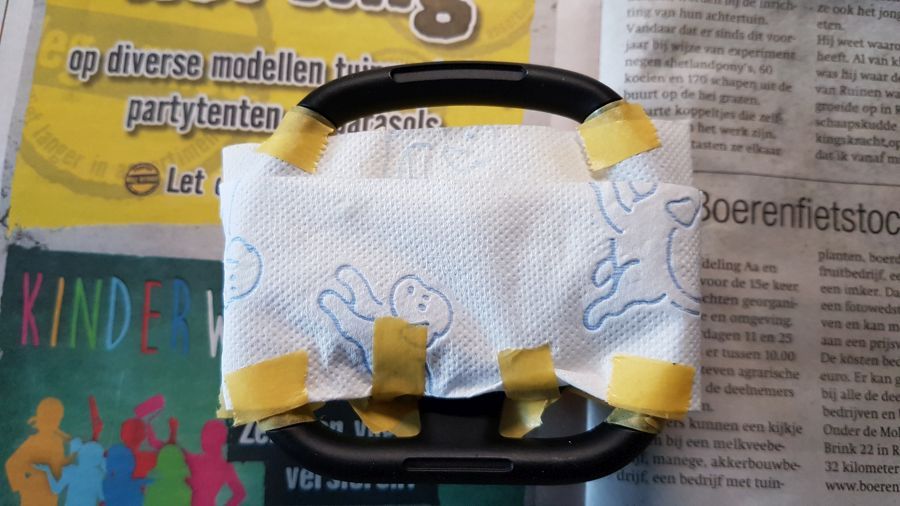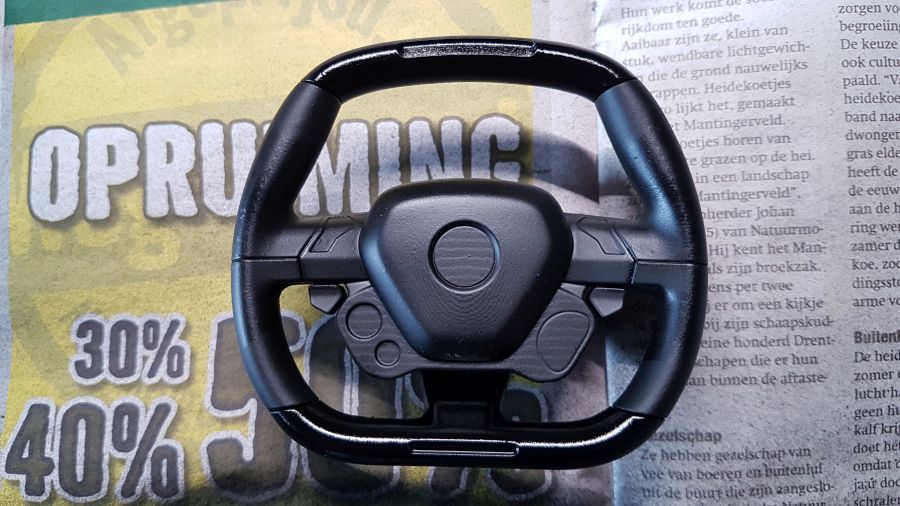 Dan aan de gang met de carbon decals... Erg lastig karweitje... Door alle rondingen is een vouwtje nauwelijks te voorkomen.
Then continue with the carbon decals... A tough job...  Due to all the curves it's not possible to avoid any wrinkles.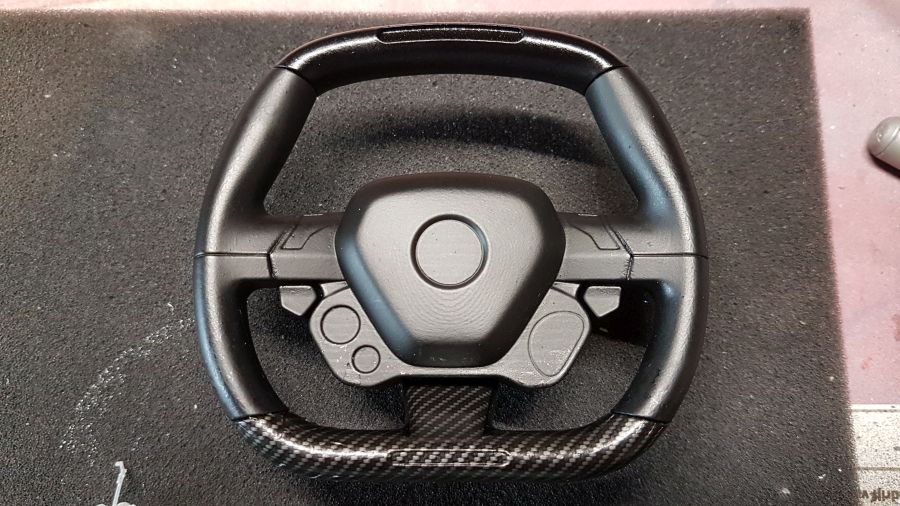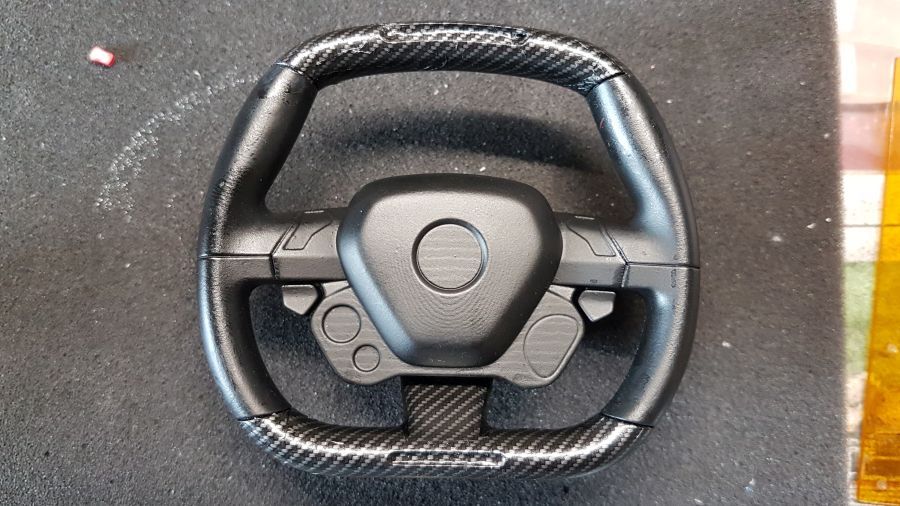 Terwijl dit allemaal droogt verder met de bovenkant van de motor. Dit deel is gespoten door een ander persoon, maar mist de rode streep. Sebastiaan wil het, dus....
While this all is set to dry i will continue with the top cover of the engine. This parts has been painted by another person, but it misses the red stripe. Sebastiaan wants it, so...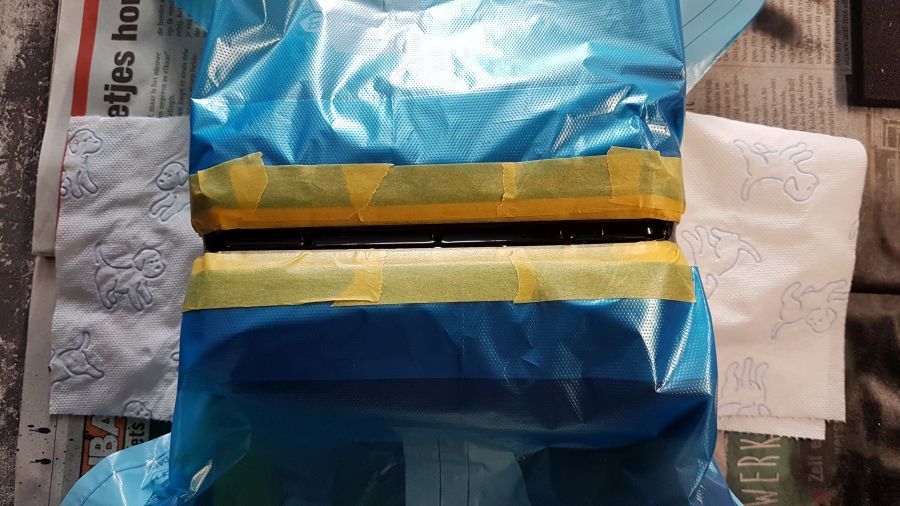 Niet blij met het resultaat. De soorten verf pakken niet met elkaar... 
Not happy with the result. The two kinds of paint don't match...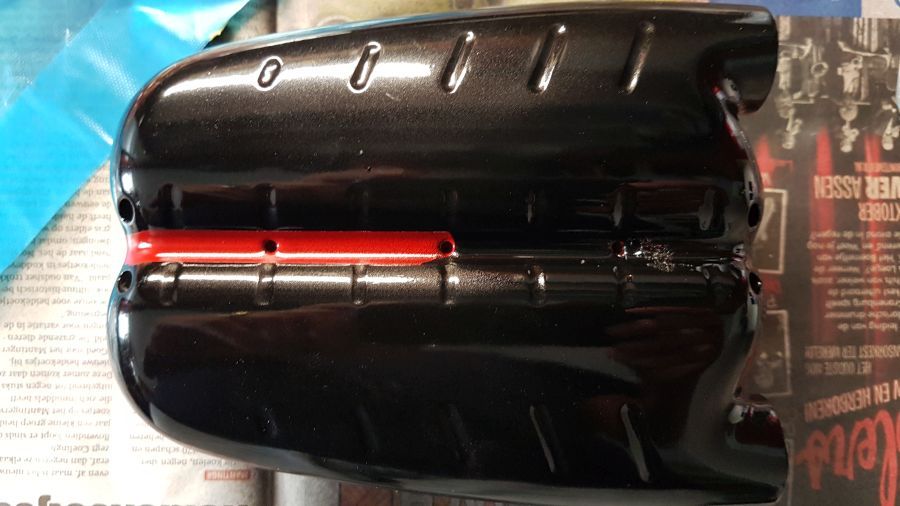 Opnieuw dus...
So a re-try...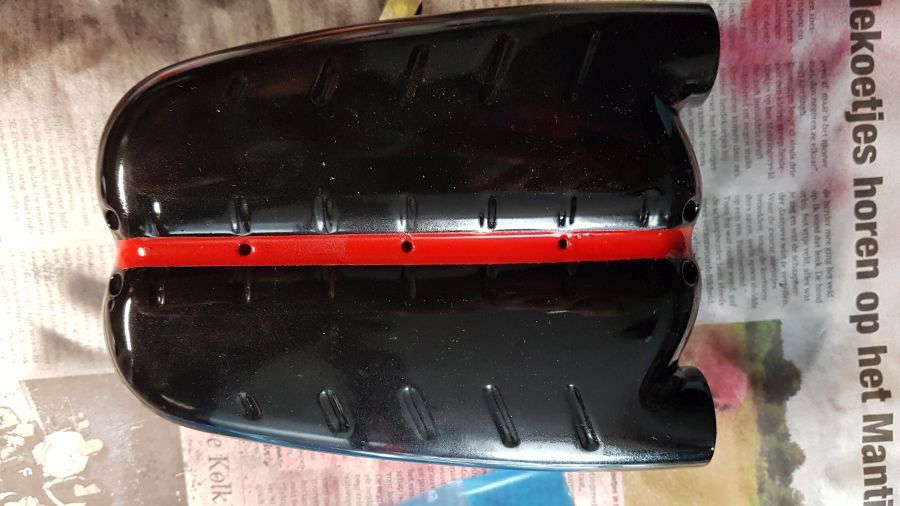 Test motorcompartiment.
Test fit engine compartment.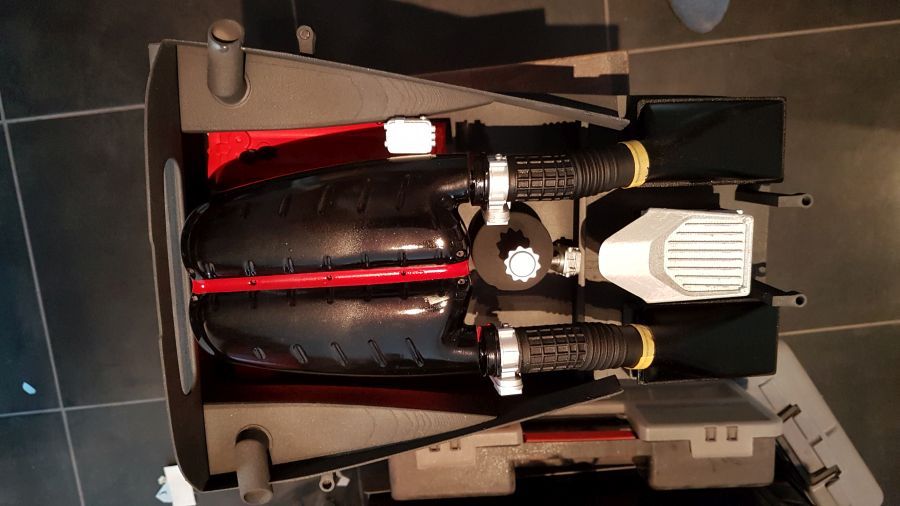 Dan het testen van de heldere glanslak over de carbon decals. Ik wil weten hoe dit uitpakt, dus ik gebruik Tamiya TS-13, Pledge vloerwas en Zero Paints ZP-3002. Met Tamiya en Zero Paints heb ik wel eens meegemaakt dat de decals worden aangetast. Tamiya geeft een goed resultaat.
Next is testing some clear gloss over the carbon decals. I need to know how this will do, so i use Tamiya TS-13, Pledge floor wax and Zero Paints ZP-3002. Tamiya and Zero Paints have eaten my decals before. Tamiya gives a good result.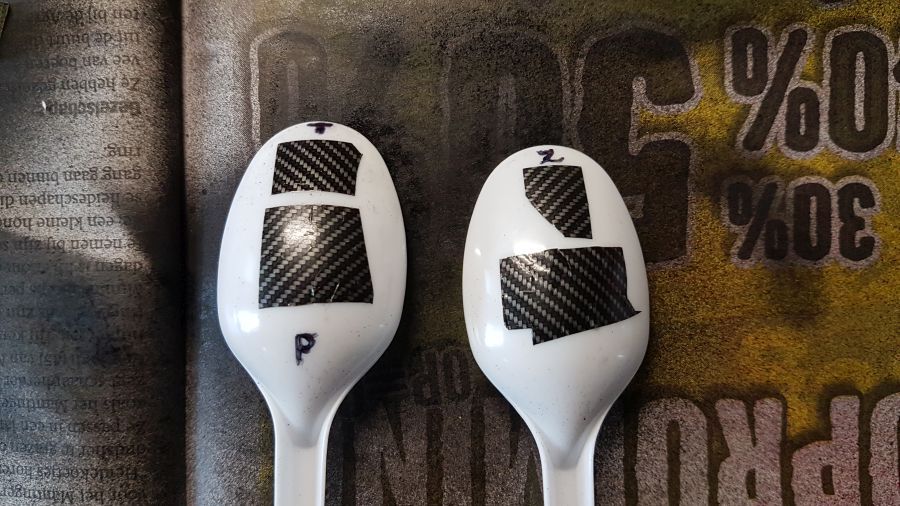 Na...
After...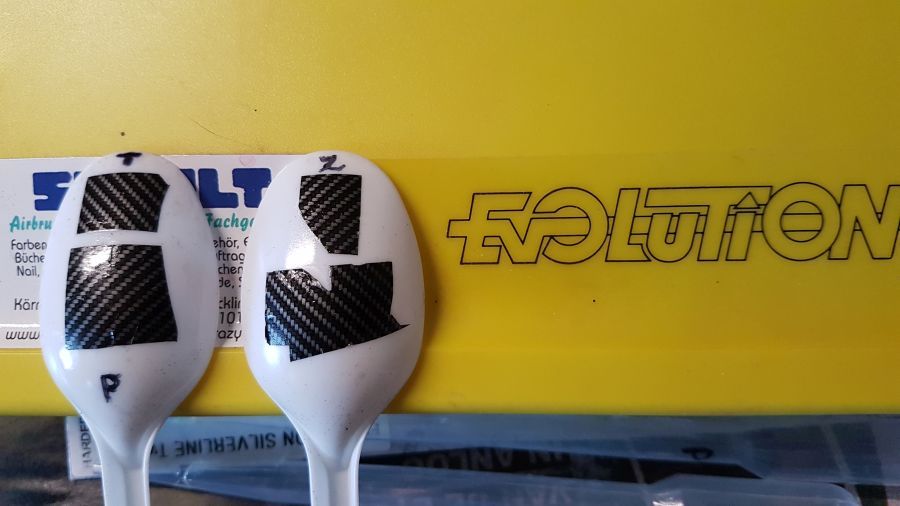 Dan templates maken voor een paar carbon delen van het stuur.
Next is making templates for a few carbon parts of the wheel.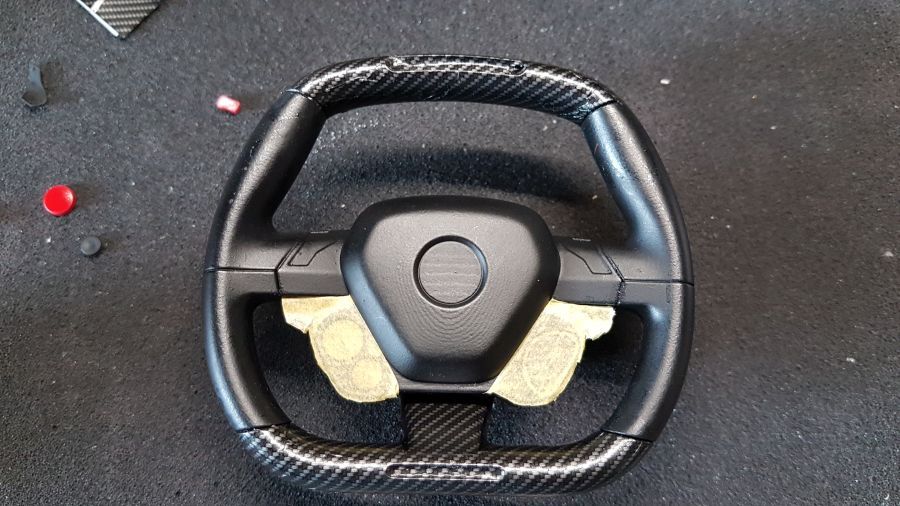 Het carbon op het stuur heeft een laagje heldere glanslak gekregen. Ik heb uiteindelijk Revell Aquacolor 36101 gebruikt. Ik zal het waarschijnlijk nog met een glanscoating van Novus Plastic Clear and Shine behandelen.
The carbon on the wheel received a layer of clear gloss. I uses Revell Aquacolor 36101. It will probably be receiving a treatment with Novus Plastic Clear and Shine.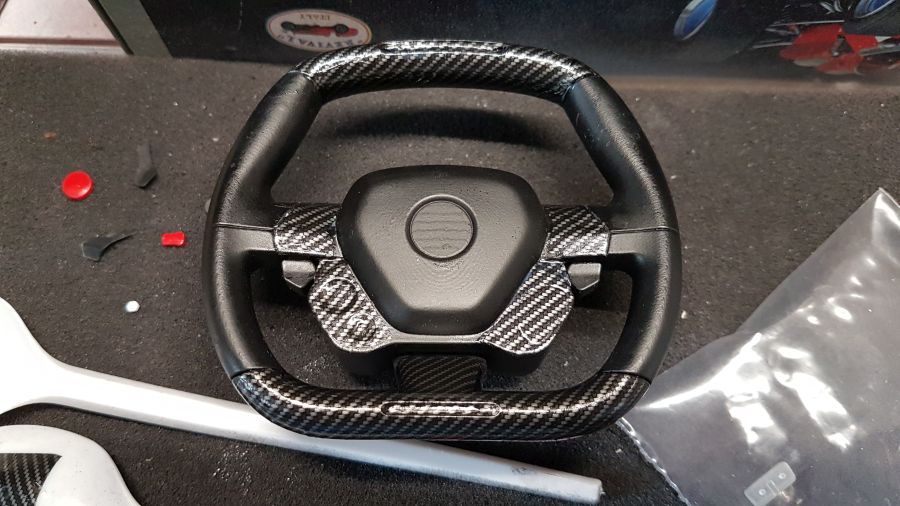 Onderdelen van de gordels en het bekende logo hebben ook hun kleur gekregen. Voor het chroom heb ik Alclad II gebruikt.
Parts of the belts and the famous logo also received some paint. For the chrome i use Alclad II.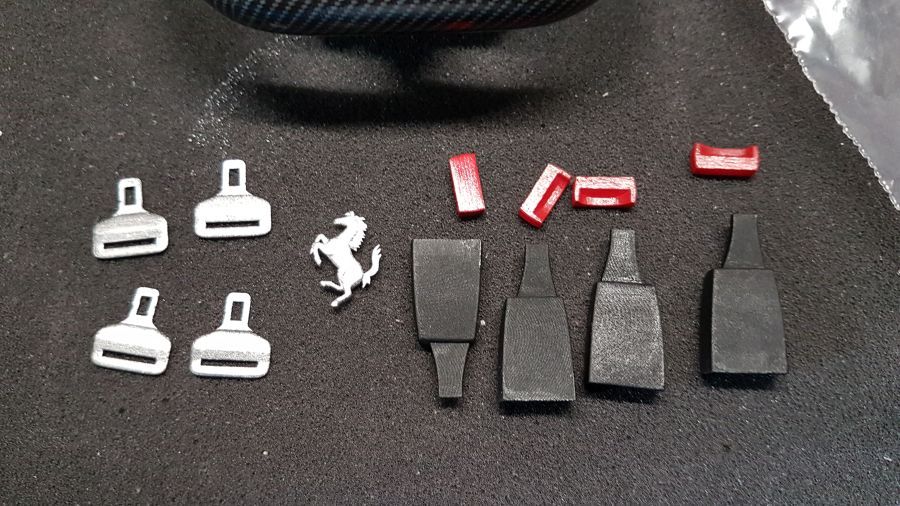 Nog een rode streep gespoten, voordat het carbon erop gaat. Dat carbon gaat een beetje lastig worden. De officiële carbon heeft lijnen recht naar beneden. De carbon waar ik het mee moet doen heeft een andere structuur. Ik ga het waarschijnlijk diogonaal plaatsen. Eerst maar afwachten totdat de vellen binnenkomen.
Another red line painted, before the carbon is being applied. This will be tricky. The actual carbon needed has straight lines. The carbon i have to deal with has a different look. I will probably apply it diagonal. Let's first wait untill it arrives.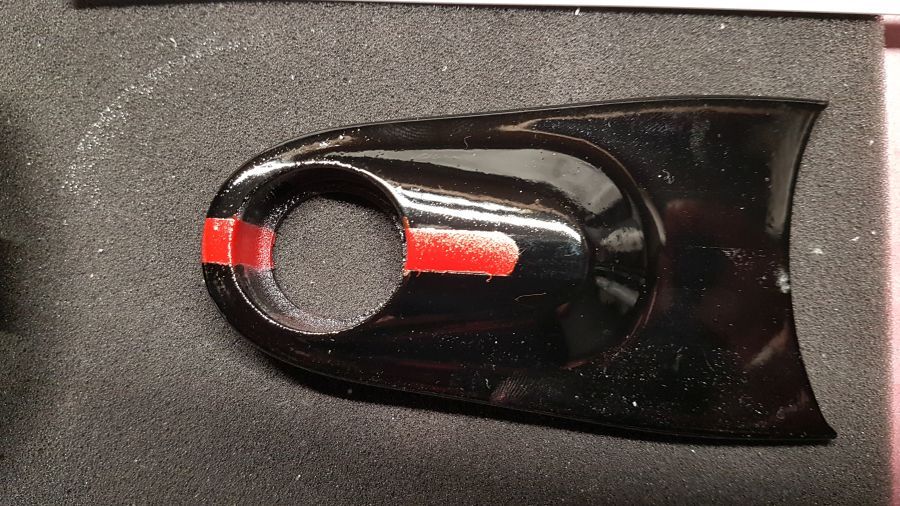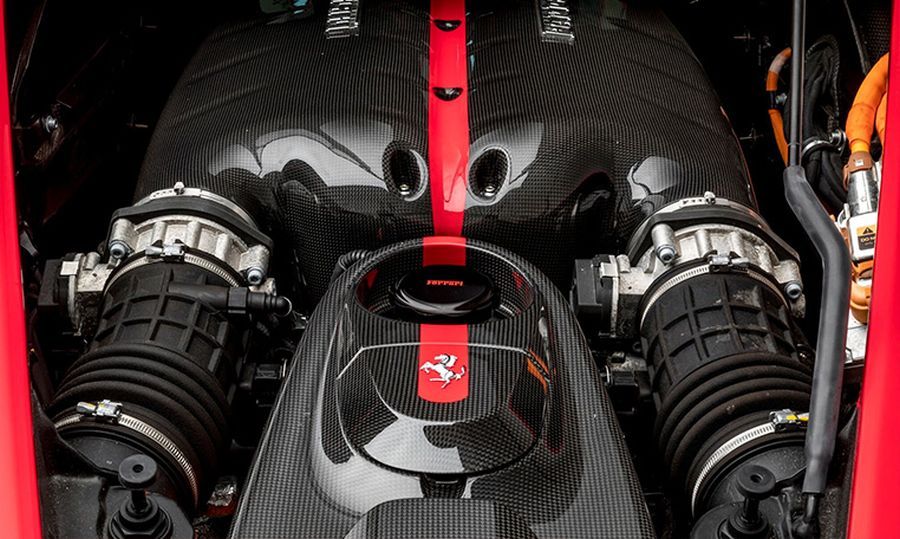 Intussen moet ik bedenken hoe ik het stuur nog wijzig. Ik moet op bepaalde delen een soort schuimrubber / stof zien te bereiken. Soms doen bouwers het met zaagsel, soms met iets als meel of talkpoeder. Ik heb ook nog wat kunstsneeuw.
In the emantime i have to think of something to change the wheel. I want to simulate foam  / fabric for some parts. Some builders use sawdust, or flower or baby powder. And i have some artificial snow.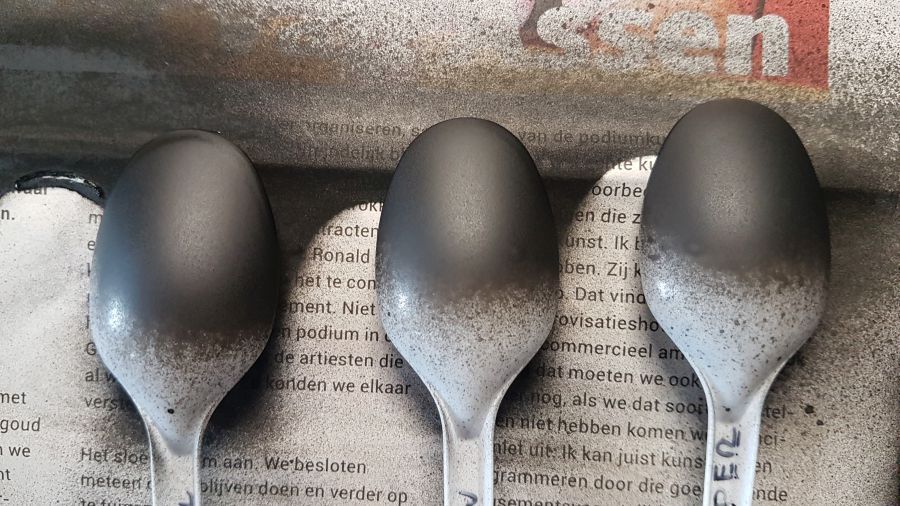 Ik heb meel en zwarte peper gebruikt. De sneeuw lijkt me te grof, dus dat ga ik zeker niet gebruiken. Ik denk dat ik voor de meel ga. 
I use flower and back pepper. The snow looks too unrefined, so that's not the thing. I think i will use the flower.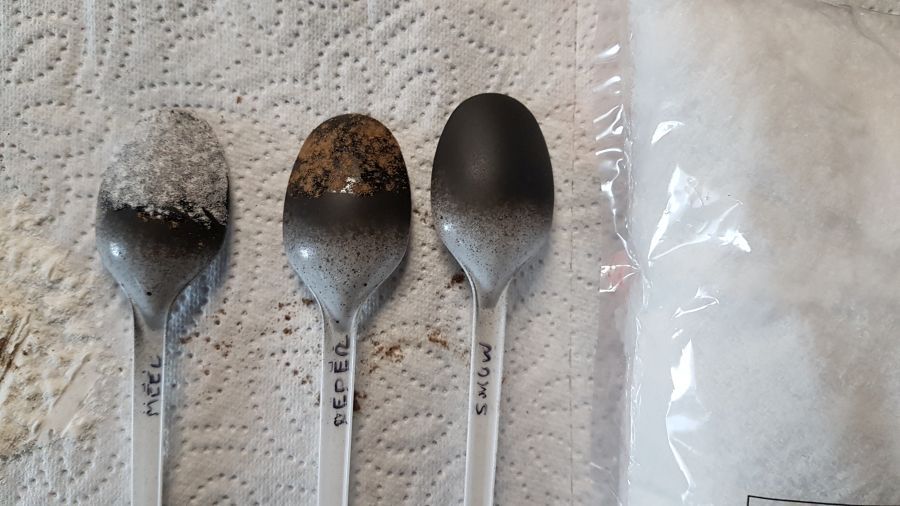 Het is wat lastig, want ik moet nu dingen afplakken, omdat het weer zwart gespoten moet worden.. Maar hopen dat de decals bij het verwijderen van de tape niet aan de tape blijven plakken, anders kan ik weer opnieuw beginnen.
It's a bit tricky. I have to mask some parts, because it needs black paint again. I cross my fingers the masking tape doesn't take away the decals when removed. Otherwise i can start all over again.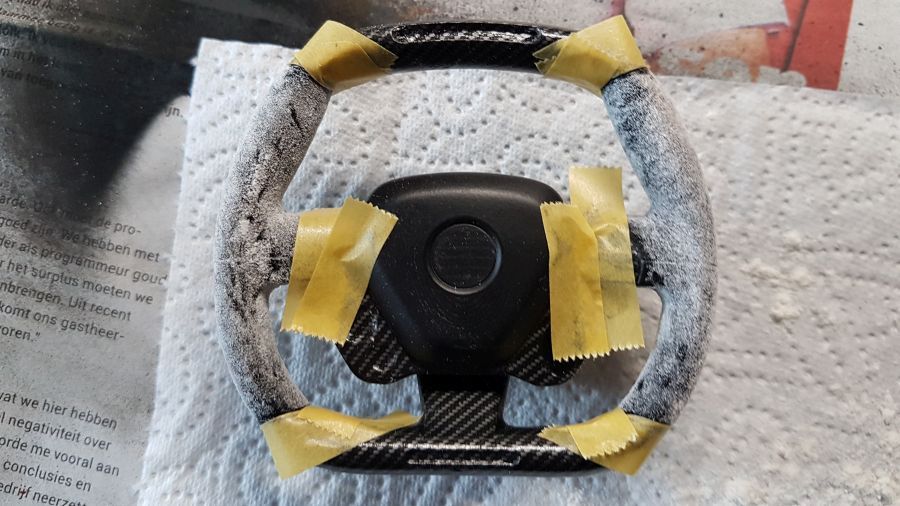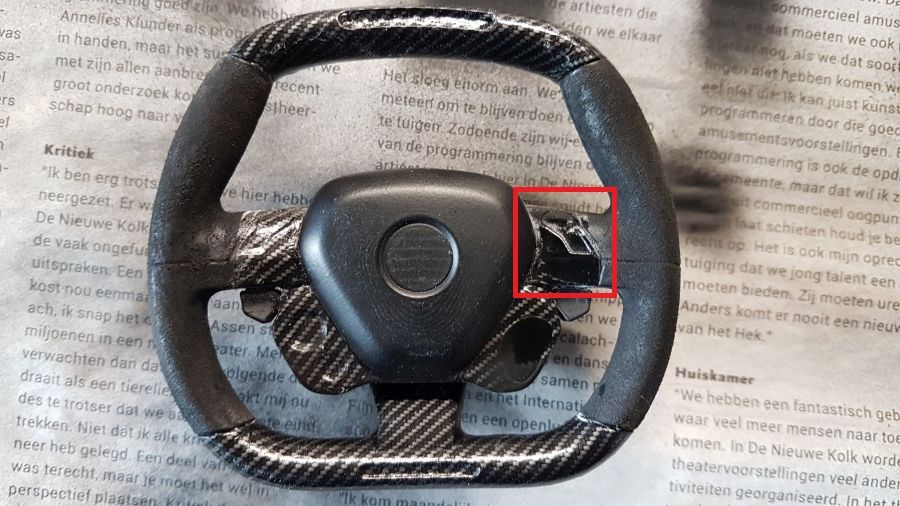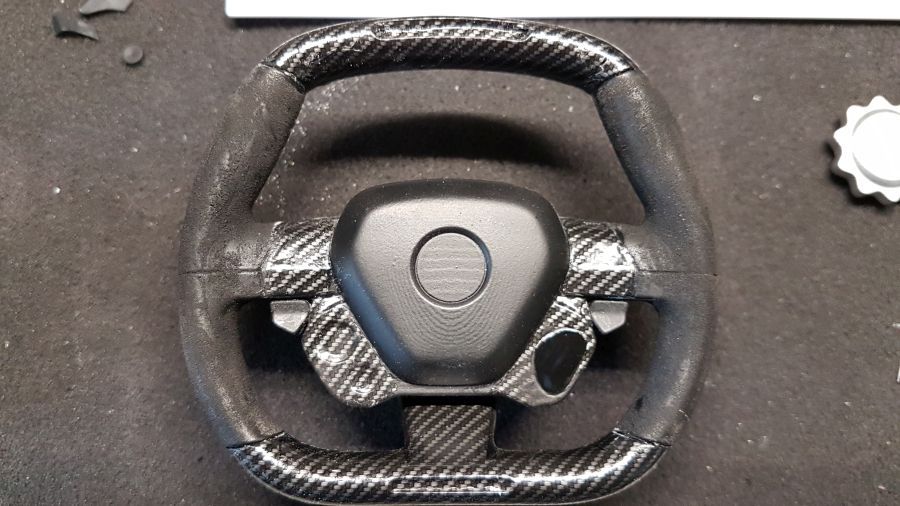 Wat glans op de carbon decals, knoppen plaatsen en nu wachten op de decals die nog moeten worden geplaatst. 
Some shine to the carbon decals, adding switches and now wait for the decals to be added.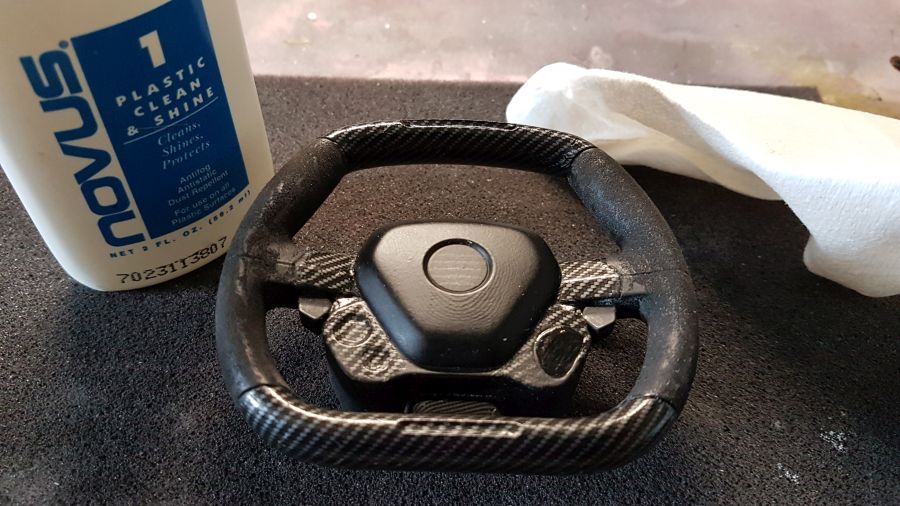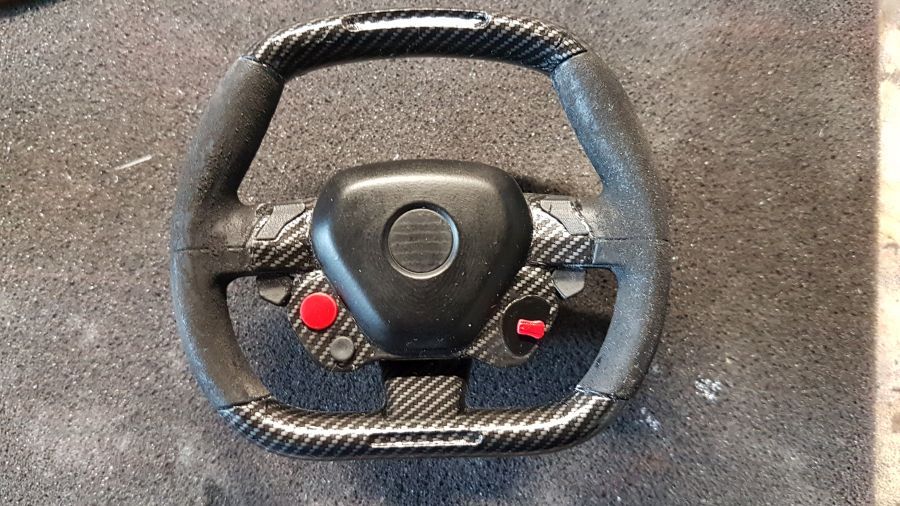 Nu verder met het motorcompartiment. De steunen voor de dome worden vast geplaatst. Een deel van de koeling wordt wat beter passend gemaakt. Ik ga hier niet teveel aan prutsen, want je kunt meer vernielen dan goed maken. Het nylon van de print is zeer lastig te bewerken. Het reageert niet of nauwelijks op het werken met een vijl.
Now to continue with the engine bay. The supports for the dome have been added. The part of the cooling have been worked on to have a better fit. I will not do too much about it, as you can destroy more than doing good. The nylon of the print is very tough to work with. It hardly reacts to the use of a file.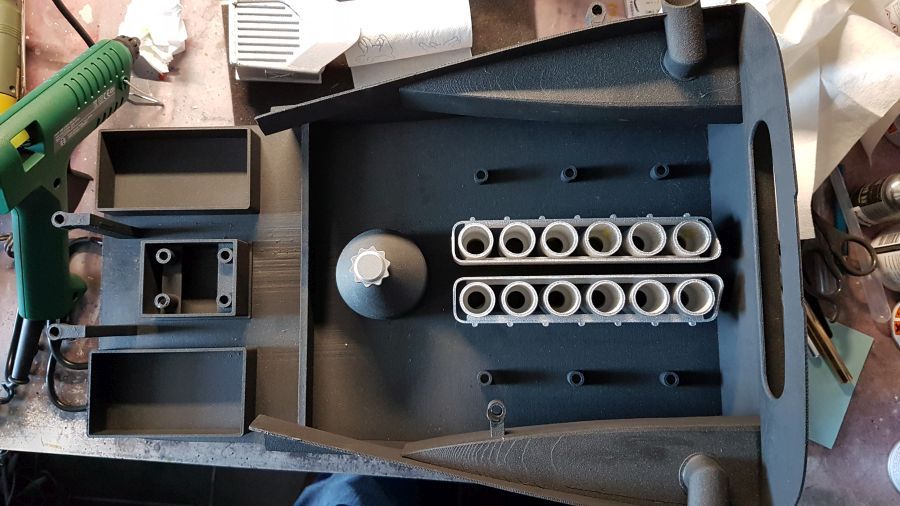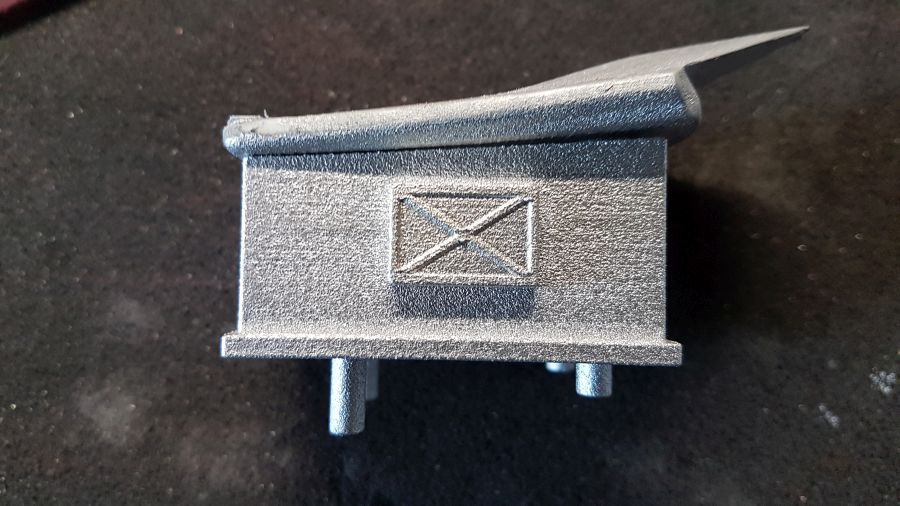 Helaas past de 2.5 mm kabel niet goed in de koppelingen. Jammer want de hechting van de lijm zou dan een stuk beter zijn. Ik ga wat improviseren met krimpkous. Ik weet niet of het werkt.
Unfortunately the 2.5 mm wire does not fit the connectors. It's a shme because the glue would attach much better. I will improvise using shrink tube. I don't know if it will work.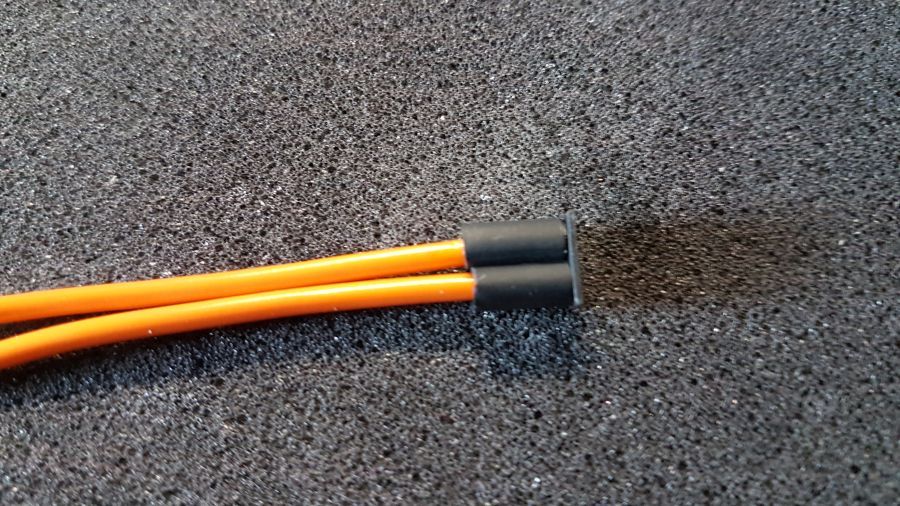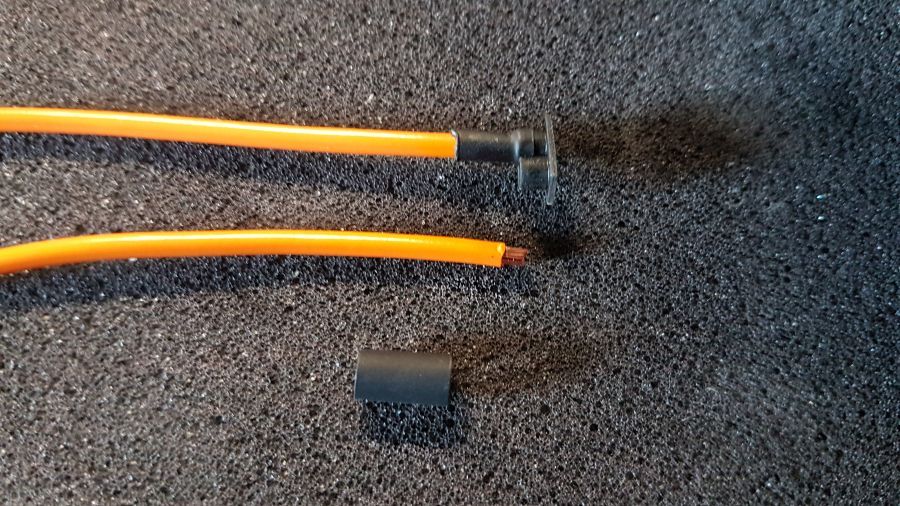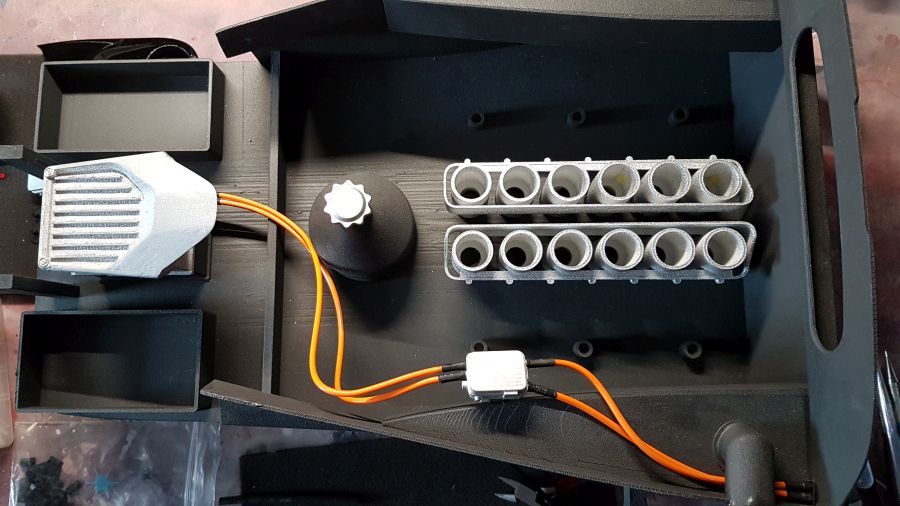 Ik maak vast wat kleine onderdelen om straks het motorcompartiment wat op te vullen. Wat Evergreen styreen met krimpkous.
I am making some small parts to be able to fill the engine bay. Some Evergreen styrene with shrink tube.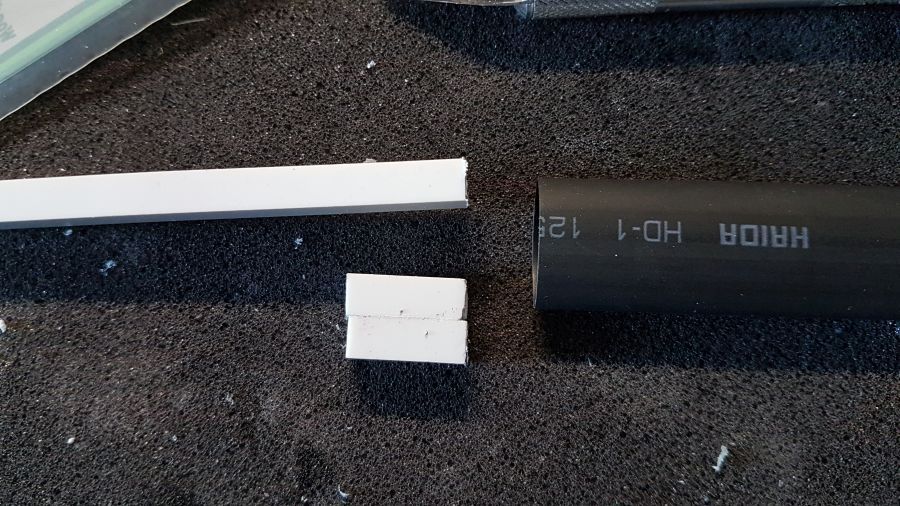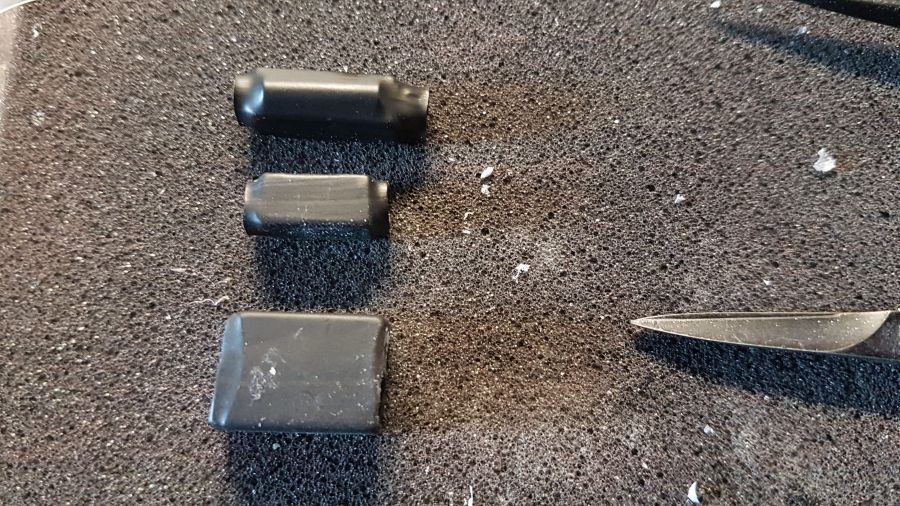 Nu een deel van de motor beplakken met carbon decals. Dit gaat niet eenvoudig worden. Op de echte Ferrari lopen de strepen in de lengterichting. Dat ga ik dus ook doen.
Now a part of the engine get the carbon decals. This is going to be tough. On the real Ferrari the lines are length wise. So i will do this too.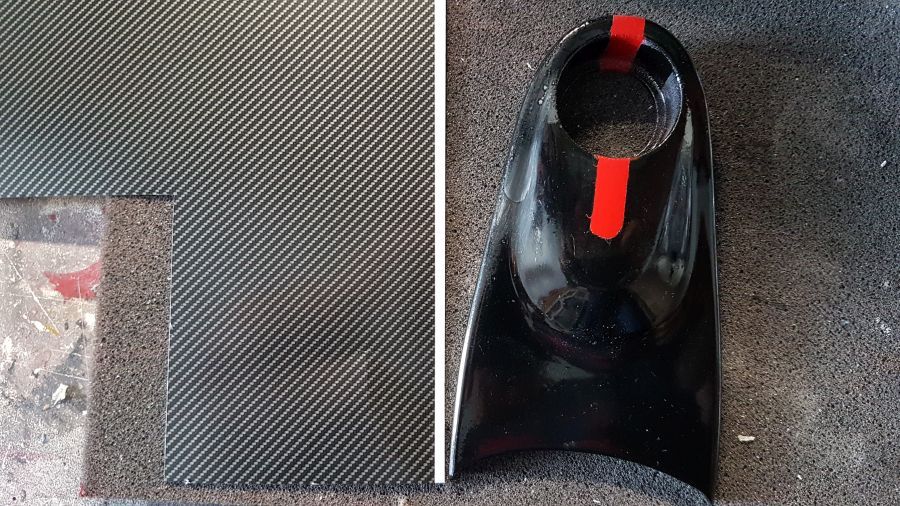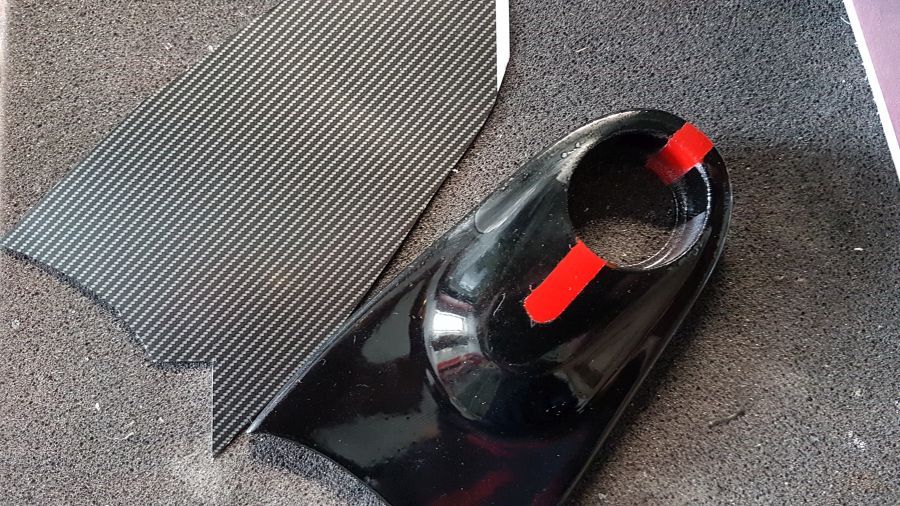 Ik probeer de decals in 3 delen te plaatsen om vervorming van de lijnen zoveel mogelijk tegen te gaan.
I will try to add the decals in 3 parts. This to minimise the risk of distortion.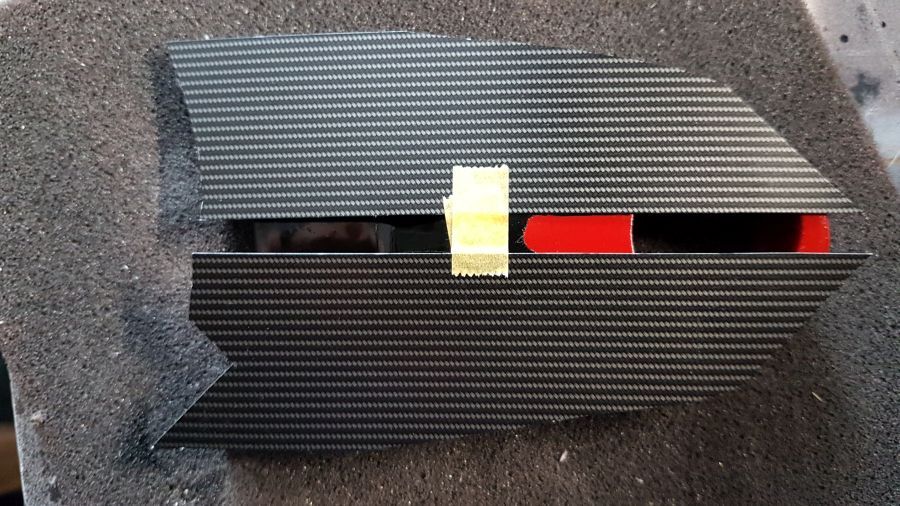 Chips... De decal is gescheurd. Eerst wachten op een nieuwe voorraad.
Chips... The decal was torn. First i will have to wait for some new ones.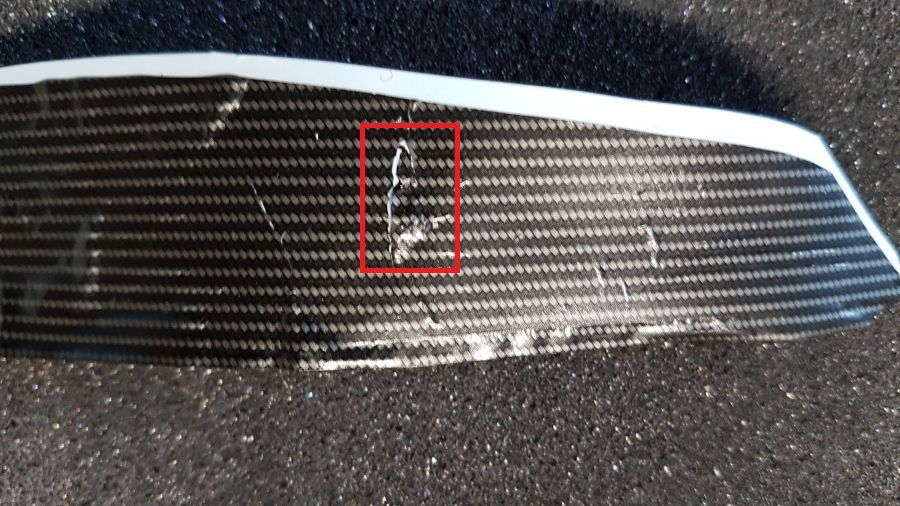 De decals zijn eindelijk binnen. Ik kan dus weer verder. Eerst ga ik nog wat correctiewerk aan de dome uitvoeren. Het zwart is niet perfect gespoten. Hierdoor is er een beschadiging zichtbaar onder de rode streep. Dat ga ik proberen te herstellen. Wat putty, schuren met korrel 2000, primer en rode verf zou het voor het overgrote deel moeten oplossen.
The decals are finally in. So i can continue. First i will do a correction to the dome. The black paint is not perfect. That's why there is damage visible under the red line. I will try to correct that. Some putty, sanding with grid 2000, primer and red paint should solve it for the bigger part.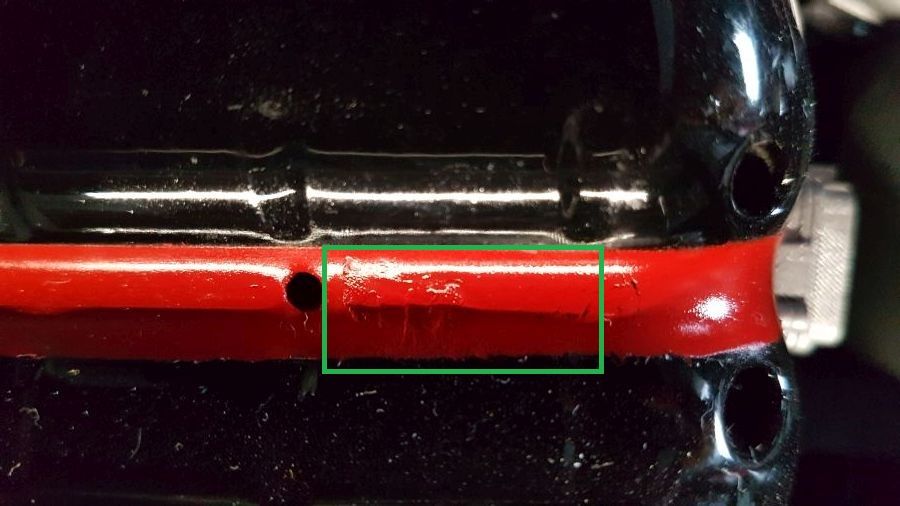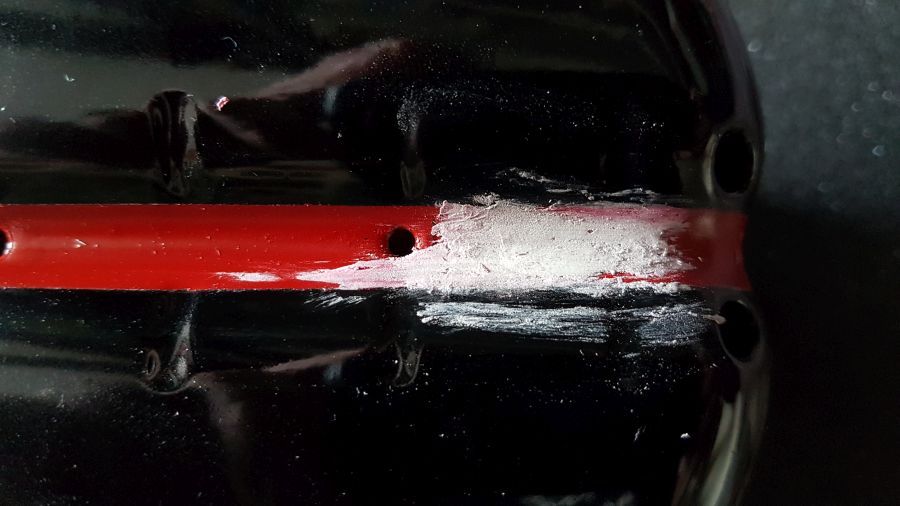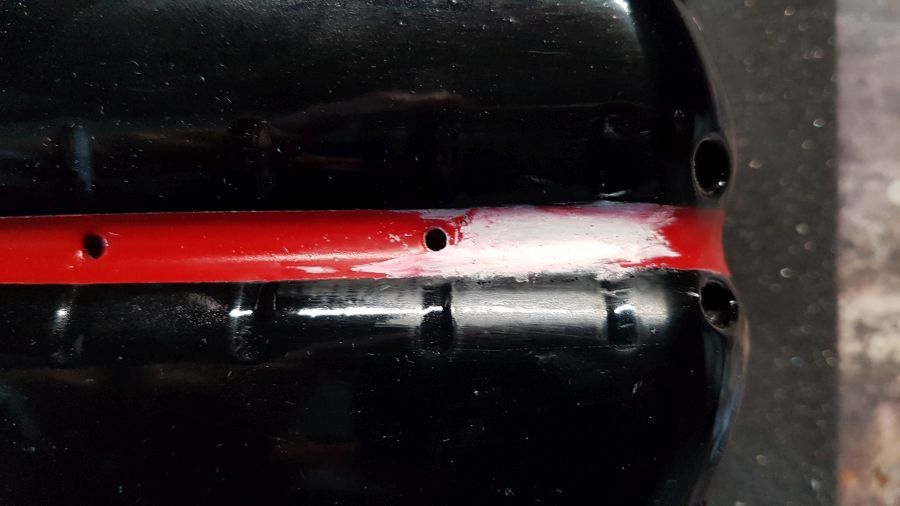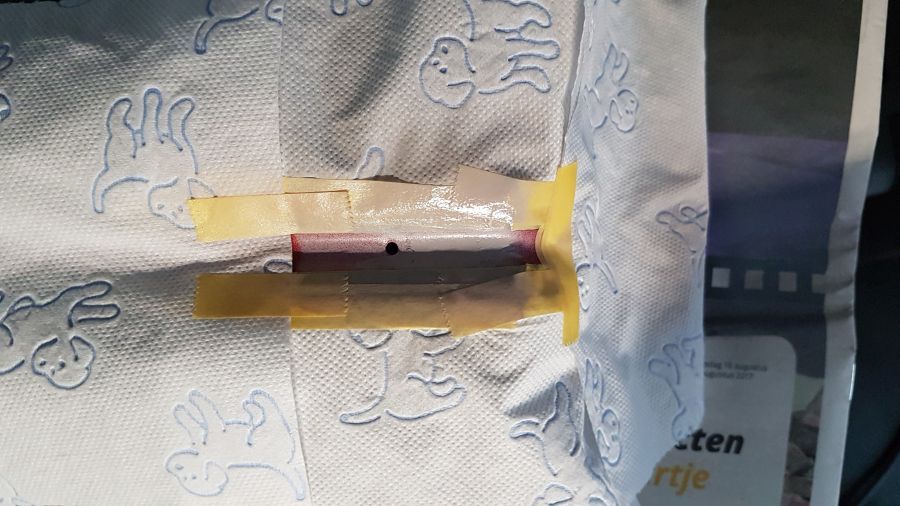 Let niet op het zwart. Dat wordt straks bedekt met Carbon Fiber.
Don't mind the black. That will be covered with Carbon Fiber.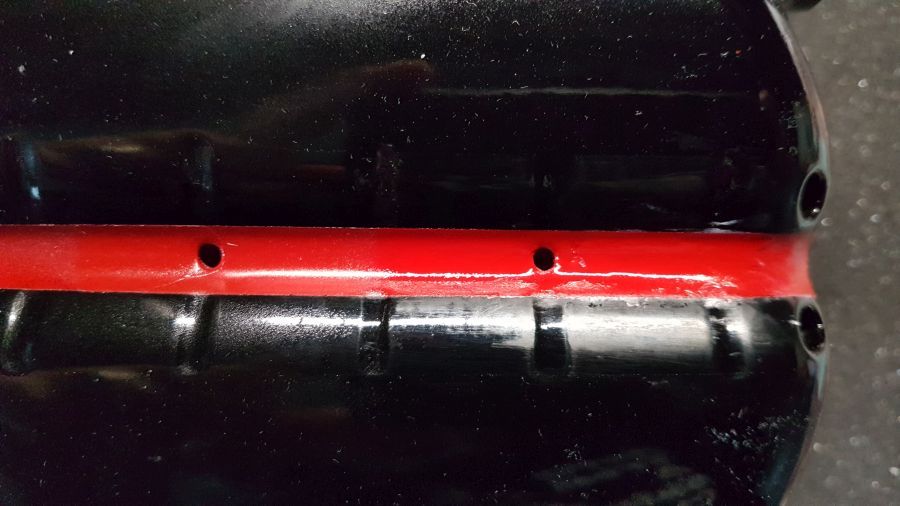 Meer onderdelen om aan te werken....
More parts to work on....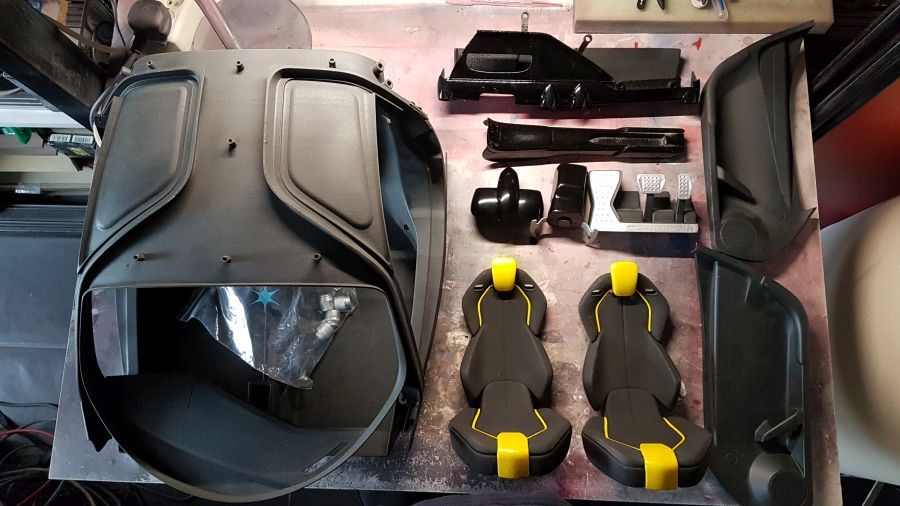 Eerst wat werken aan de stoelen. Het geel is niet mooi gespoten. Ik zal zien of ik dat kan verbeteren. Eerst maar wat schuren. Daarna afspoelen met water en laten drogen.
Some work to the seats. The yellow paintwork does not look good. I will see if i can improve some. First of all some sanding. Then flush with water and let it dry.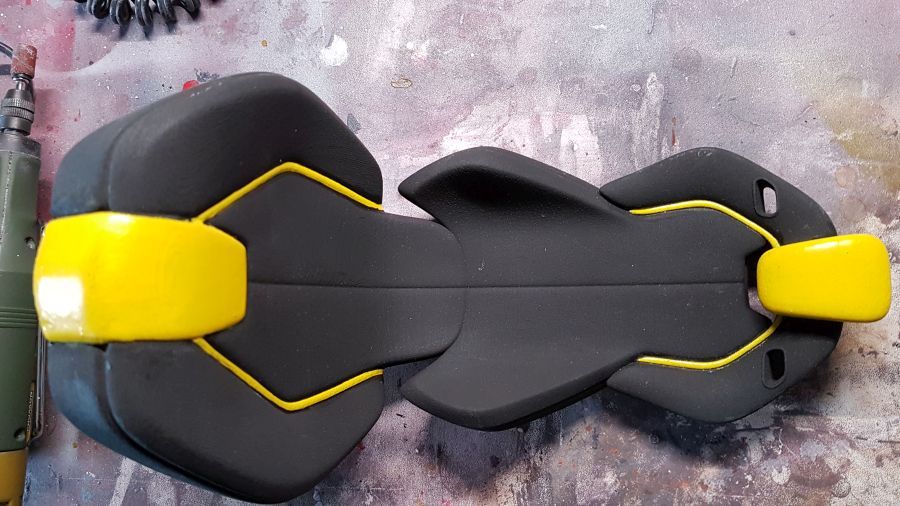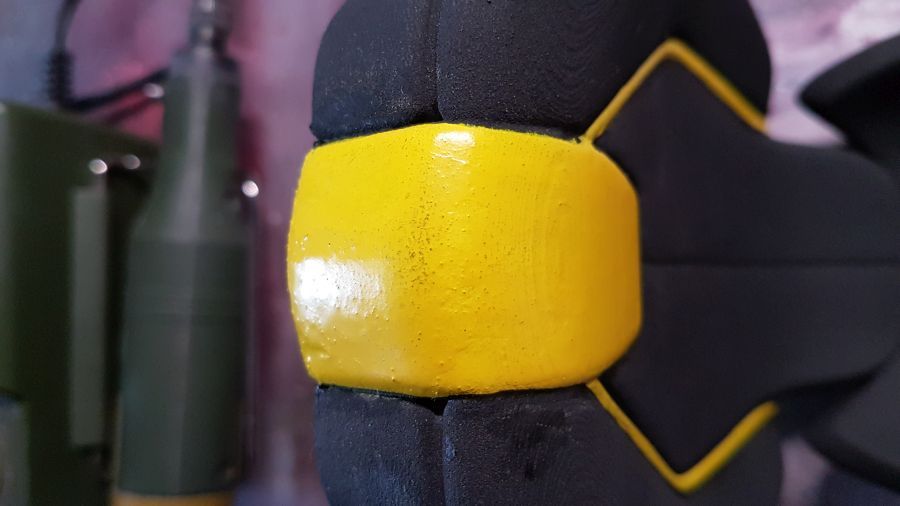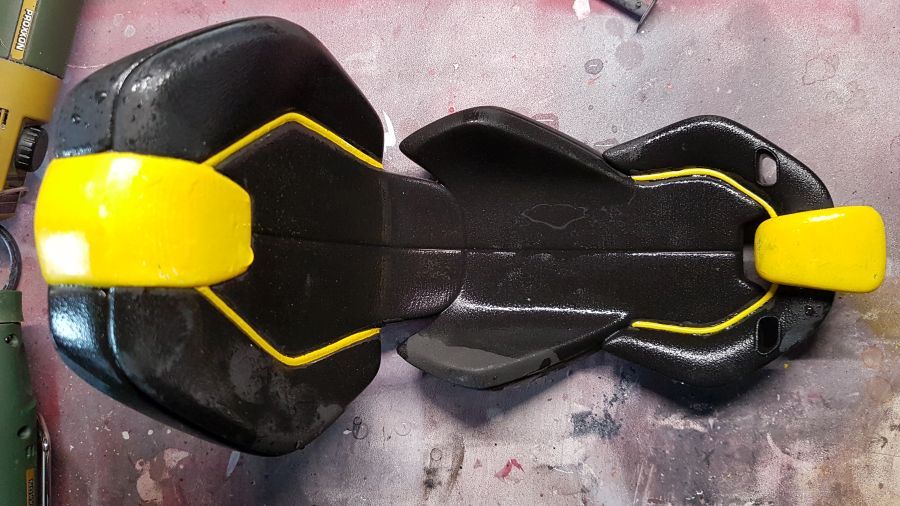 Terwijl het droogt ga ik verder met het dashbord. Dat moet echt meer glad gemaakt worden voordat de carbon decals erop kunnen.
While it dries, i will continue preaparing the dash. It should be more smooth before applying the carbon decals.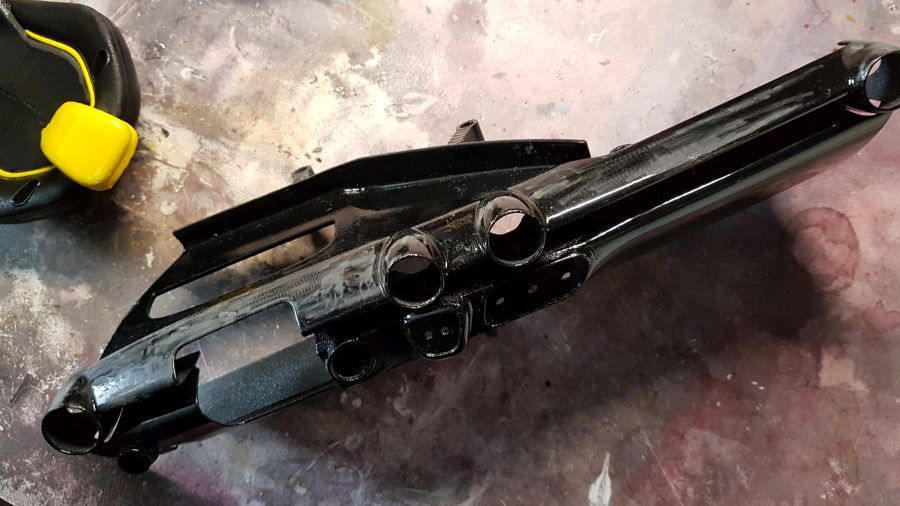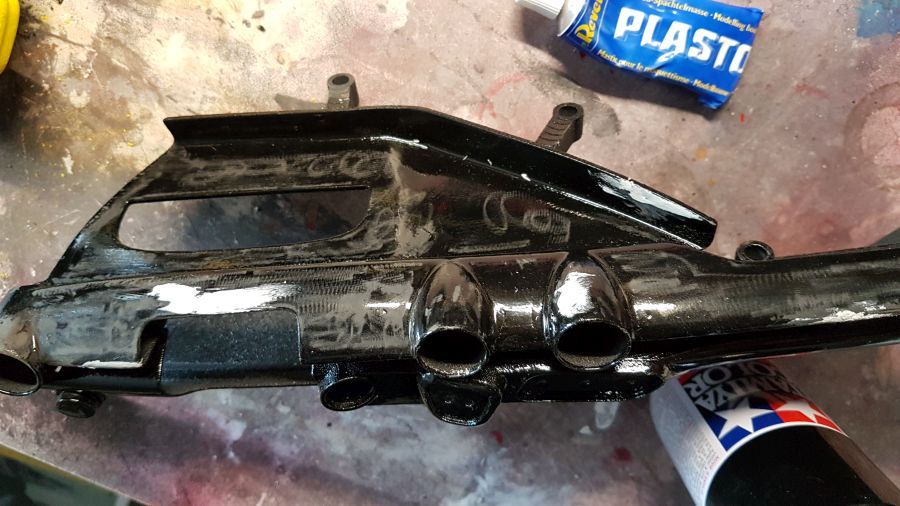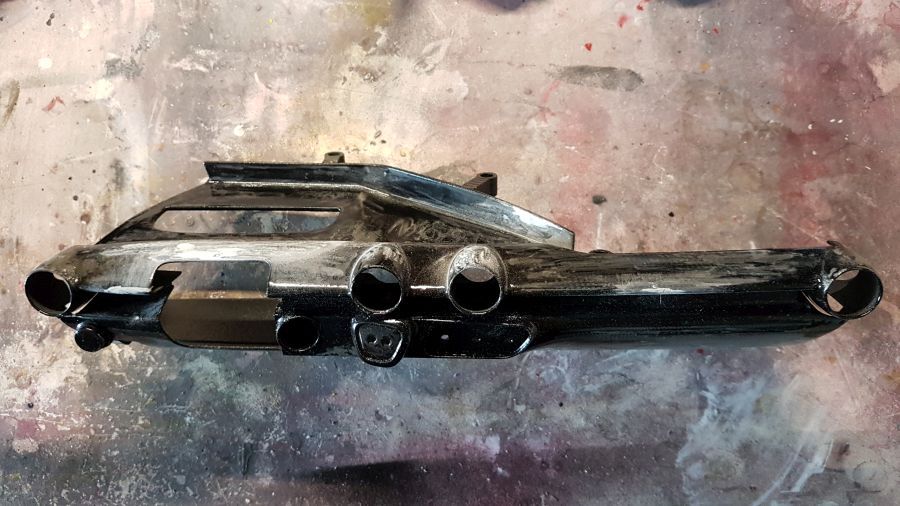 Terug naar de stoelen. Afplakken en opnieuw spuiten, het resultaat is misschien niet perfect maar zeker een stuk beter.
Back to the seats. Masking and painting them, the result might not be perfect but it's better for sure.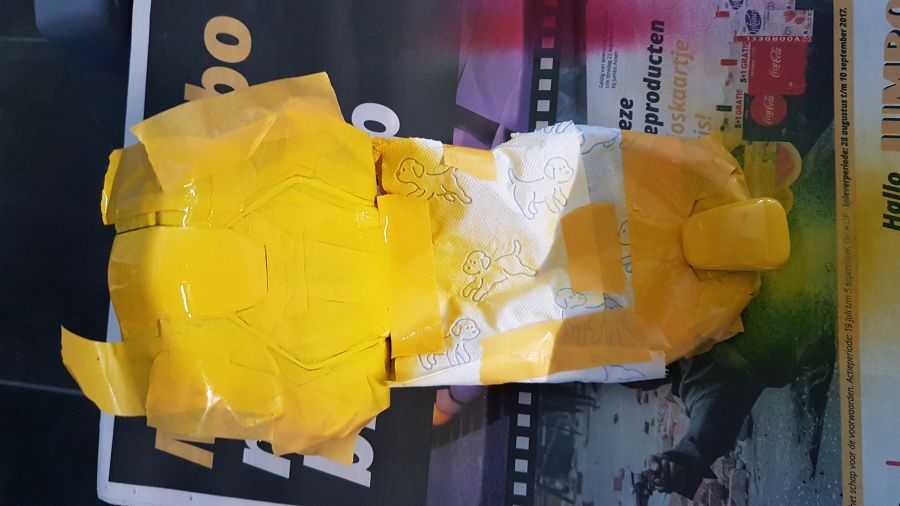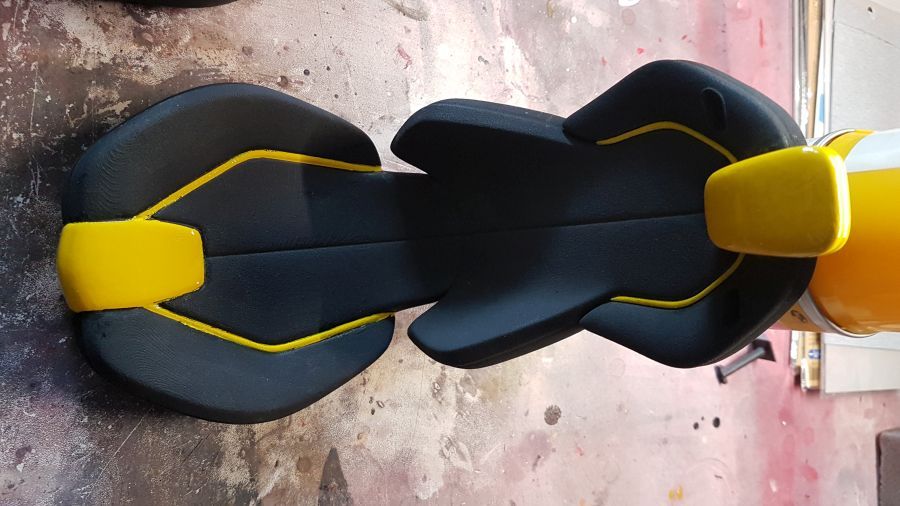 Tamiya zijdemat lak erover.... Motip autoverf houdt daar dus niet van...  Weer veel werk om het op te knappen.
Tamiya silk gloss lacquer over it.... Motip automotive paint doesn't like it...  Much work to repair this.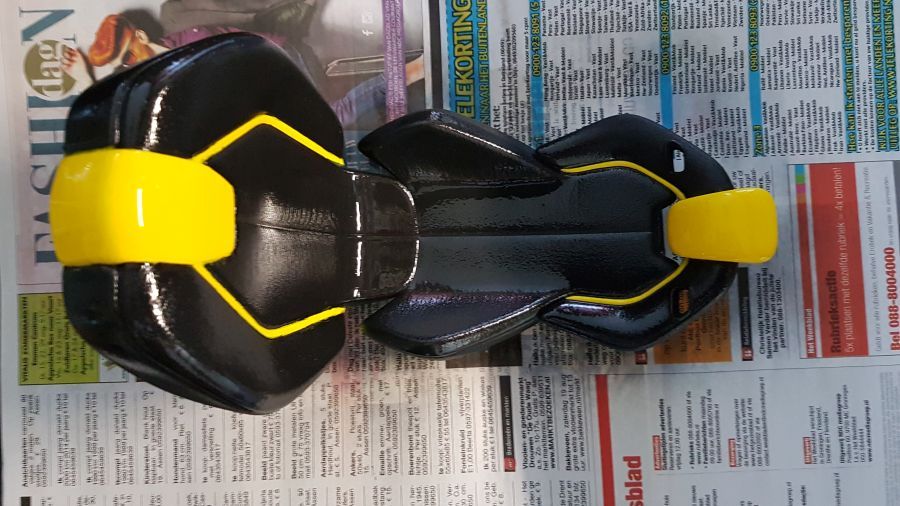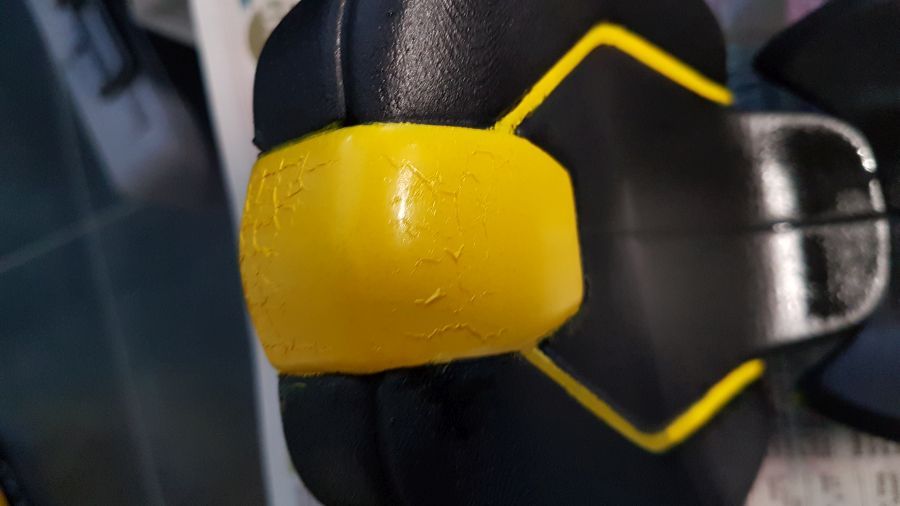 Terwijl de lak droogt ga ik eerst maar verder met de carbon fiber decals. Helaas moet ik het wel in delen aanbrengen. De grote vellen zijn niet handelbaar. Laat u niet misleiden door het licht. Ik maak gebruik van LED-licht en maak foto's terwijl de decalvloeistof nog moet drogen. Al met al een lastig karwei door de vele rondingen.
While the lacquer dries i will continue with the carbon fiber decals. Unfortunately i have to apply it in parts. The huge sheets are impossible to work with. Don't let the light mislead you. I am using LED-light and make pictures while the setting fluid still has to dry. All and all a tough job because of all the round shapes.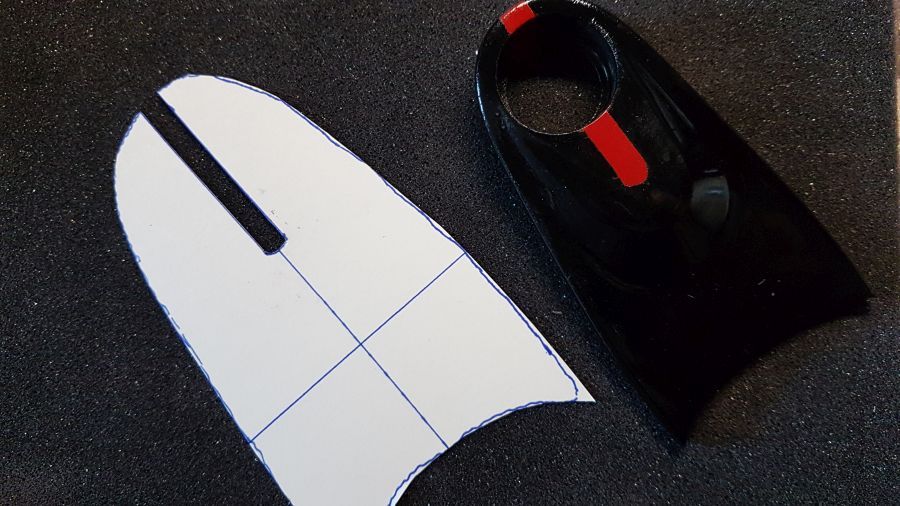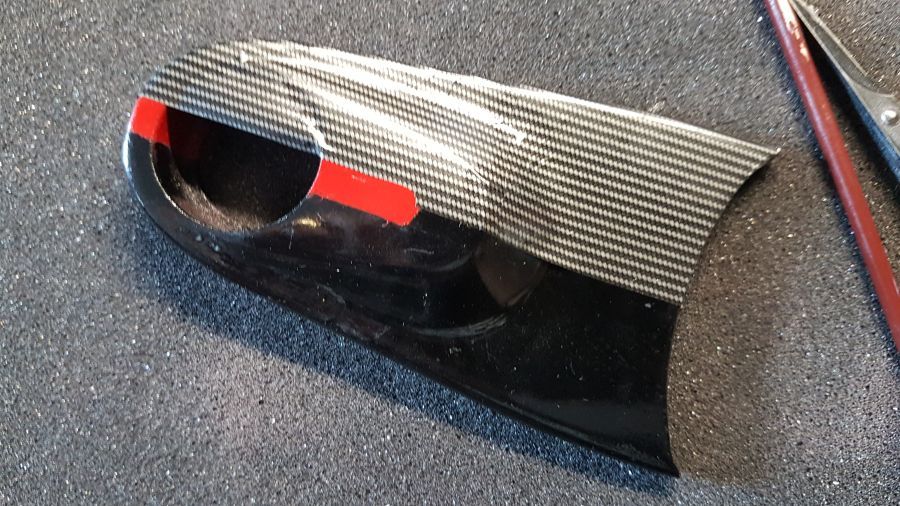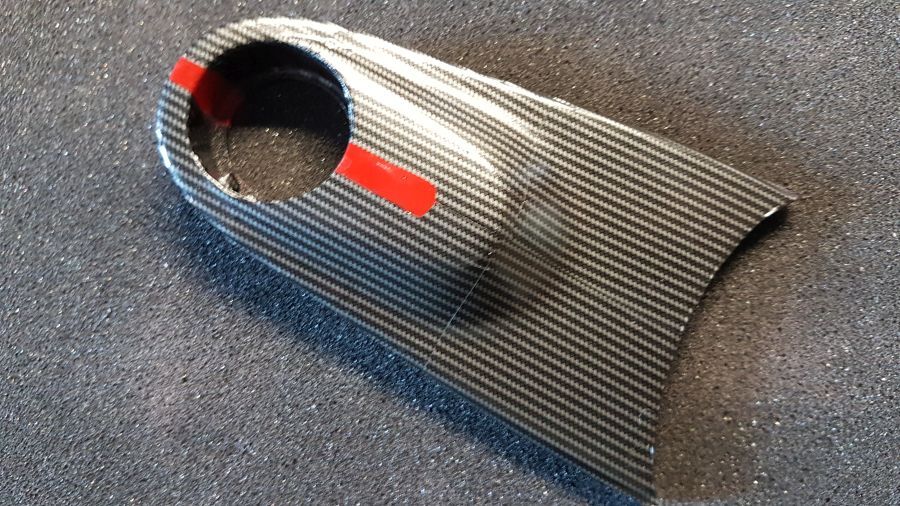 Terug naar de stoel. Het geel is geschuurd, opnieuw gespoten en daarna behandeld met een mattige lak.
Back to the seat. The yellow has been sandede, repainted and then a layer of matt lacquer was applied.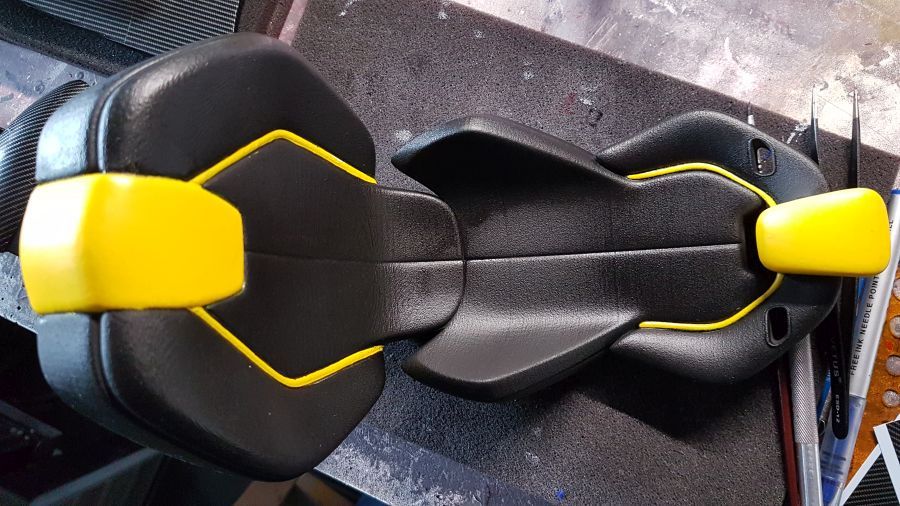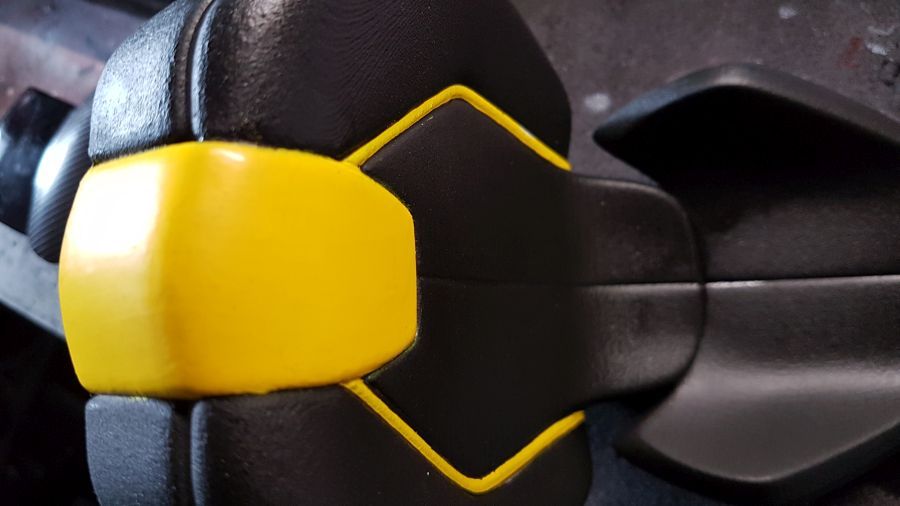 De schakelflippers achter het stuur hebben een carbon fiber look gekregen.
The flippers behind the wheel recieved a carbon fiber look.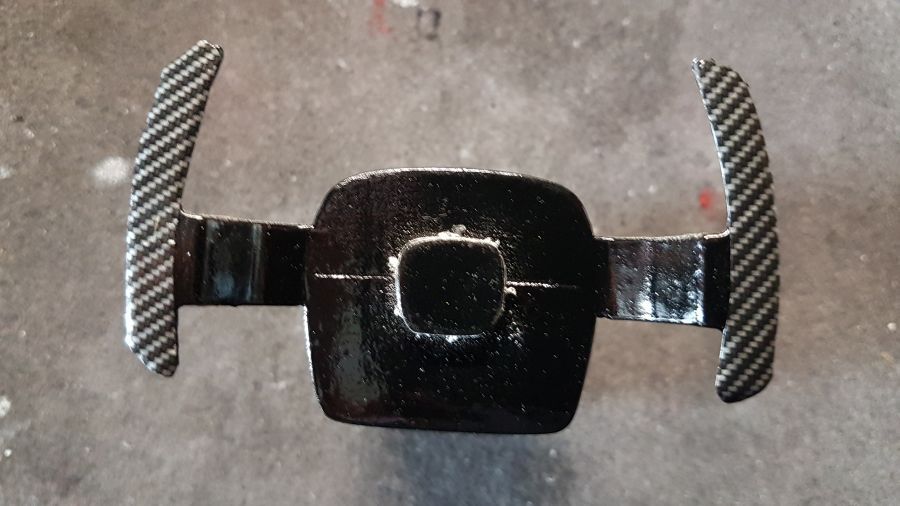 Dan het klokkenhuis. Let niet op het zwart. Dat zijn slechts watervlekken. Het aanbrengen va het carbon fiber is erg moeilijk. Doordat de rondingen alle kanten op gaan is het nauwelijks zonder een rimpeltje aan te brengen.
Then the dome for the gauges. Don't mind the black. These are only water stains. Because the curves go all the way it is hardly possible to apply the decal without some small wrinkles.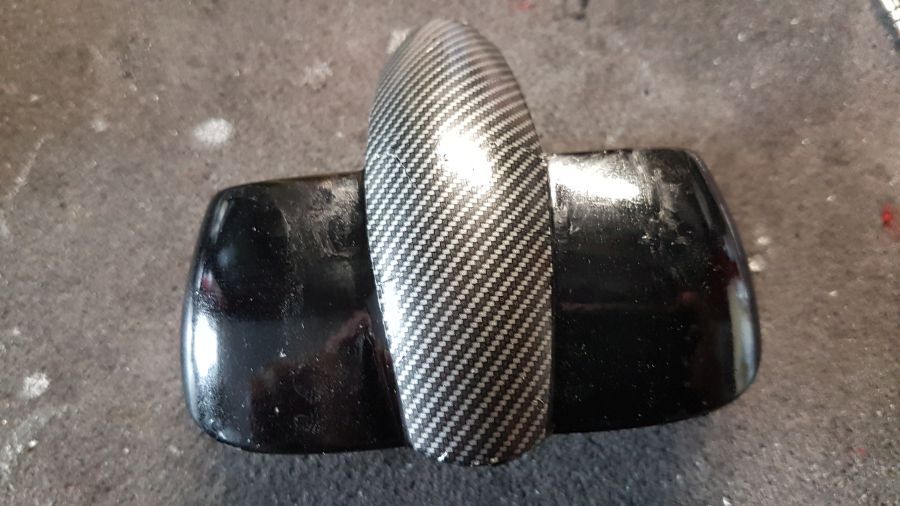 Het stuur is nu helemaal klaar.
The wheel is finished now.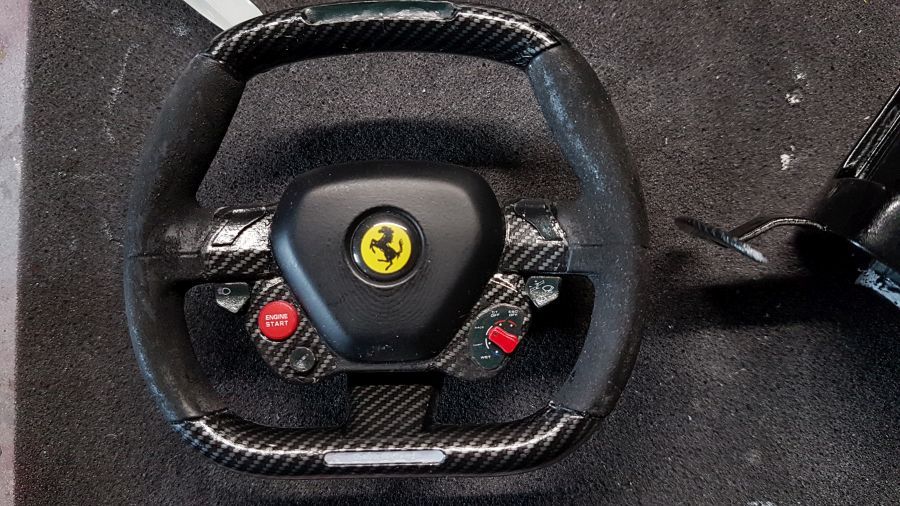 Dezelfde carbon fiber decals voor de dome...  Weer zeer moeilijk doordat de rondingen alle kanten op gaan. Nogmaals, laat u niet misleiden door het LED-licht.
The same carbon fiber decals to the dome... Again very tough because the curves go all the way. Again, don't let the LED-lights mislead you.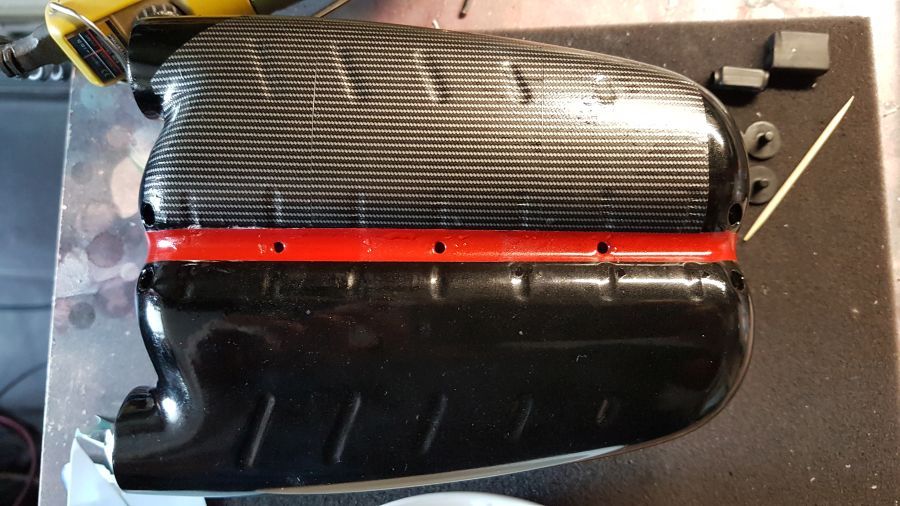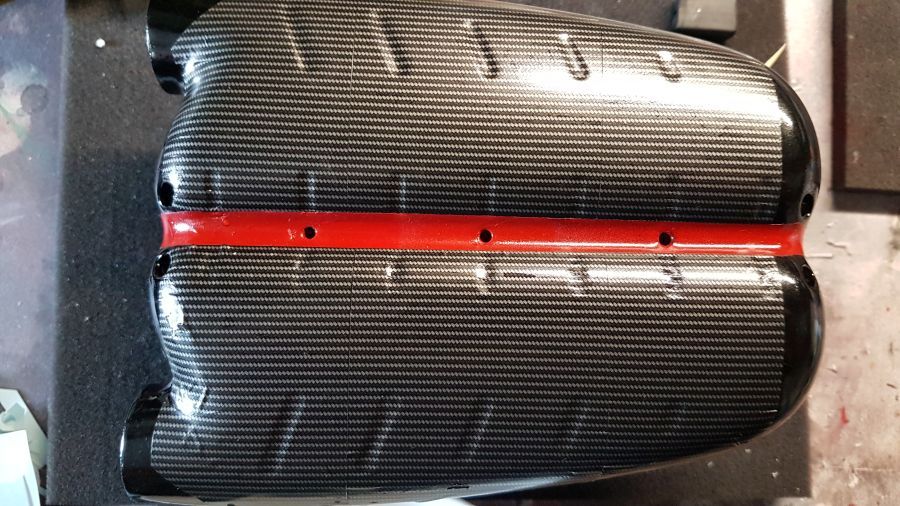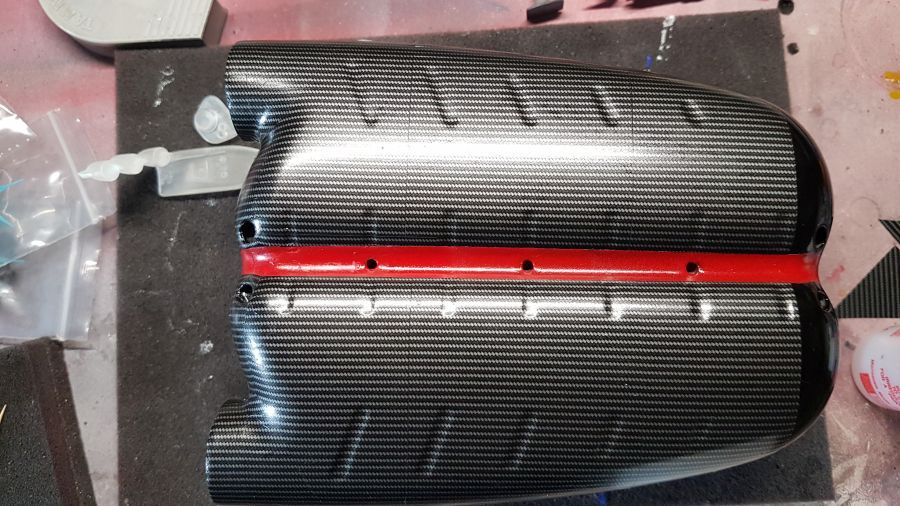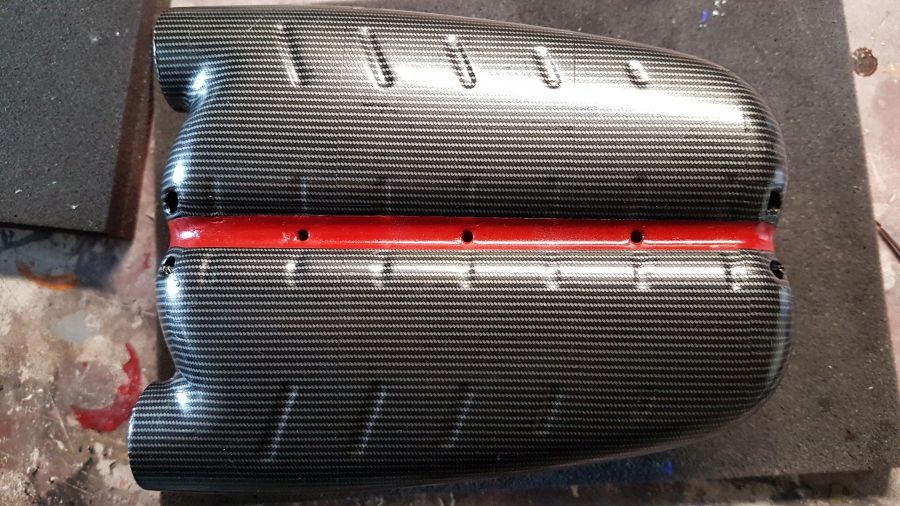 Dan is het tunnelconsole aan de beurt... Dit bewerk ik door middel van het maken van mallen.
Next is the tunnel console... I will create templates for this.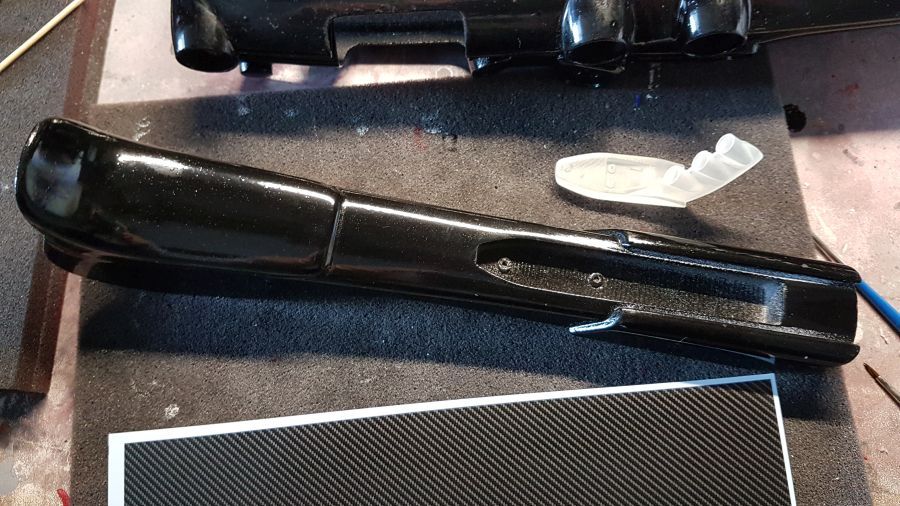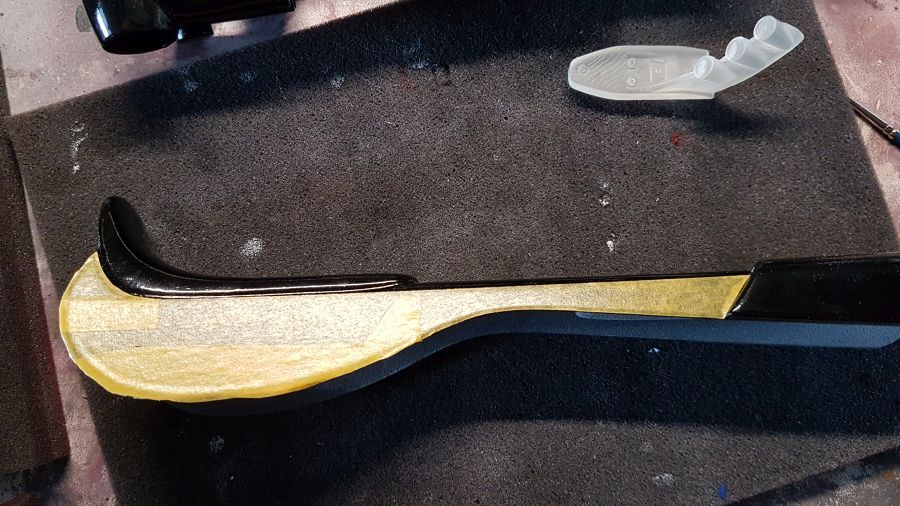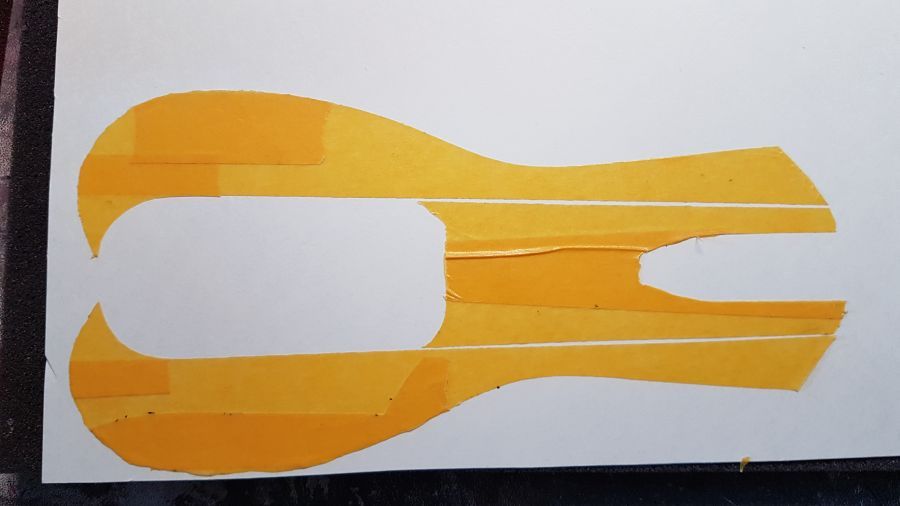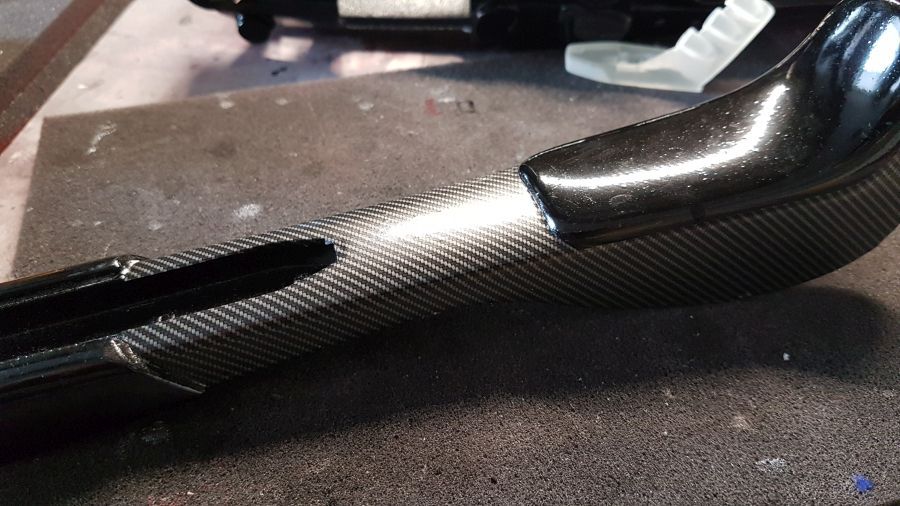 Voor het dashboard volg ik dezelfde procedure. Ook hier moeten de decals in delen worden aangebracht. Een lastig klusje met al die rondingen. Na 5:30 uur werk het resultaat. Wanneer de decals goed drogen, zal het alemaal wat meer glad eruit zien.
For the dashboard i will follow the same procedure. Here the decals need to be applied in parts too. A tricky job because of all the round shapes. After working 5:30 hours the result. When the decals get more dry, it will look all much more smooth.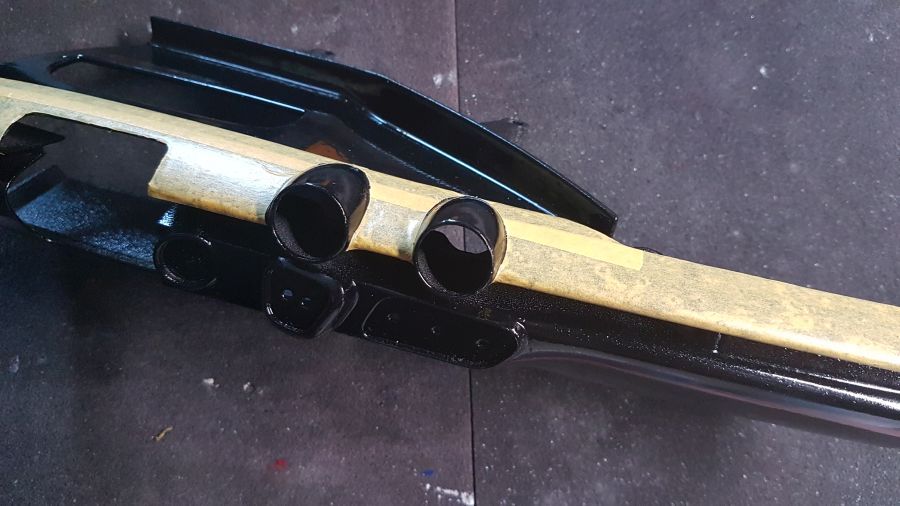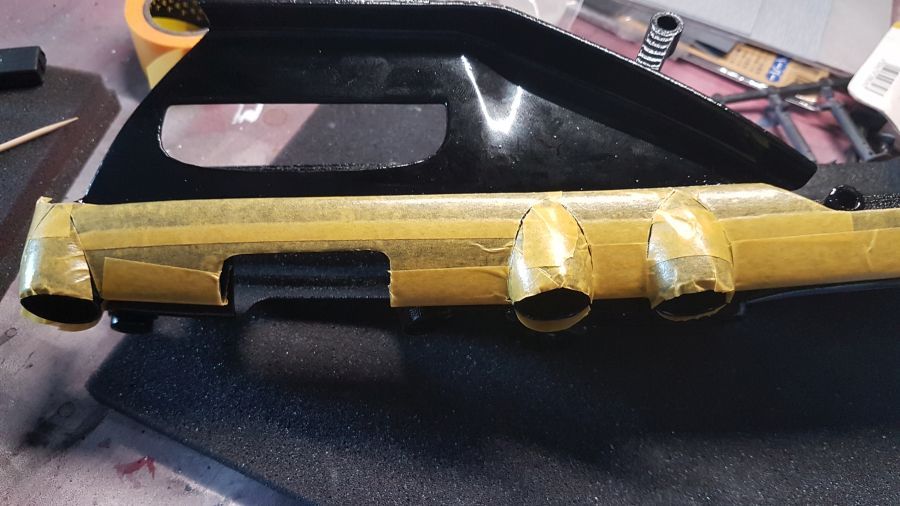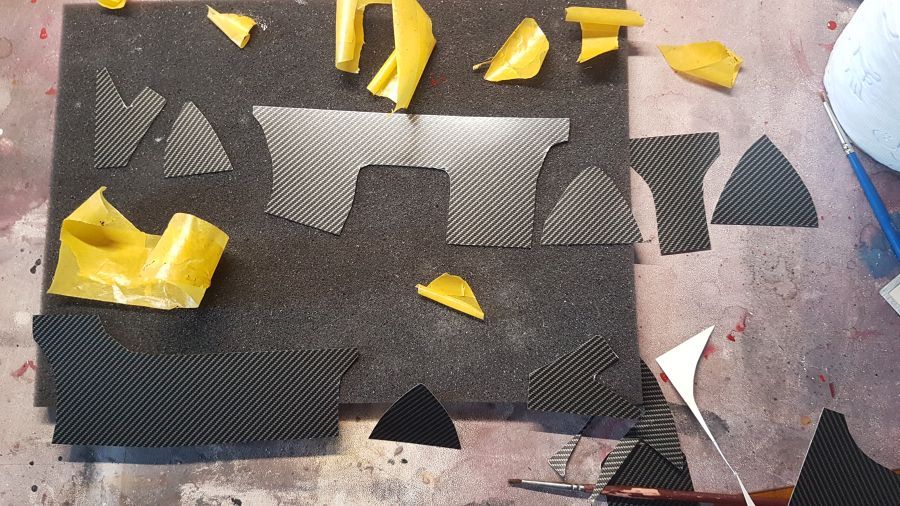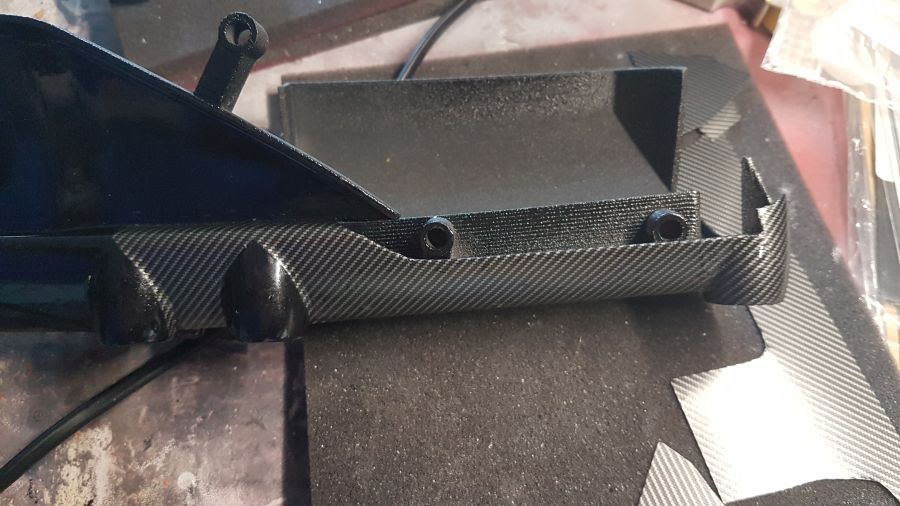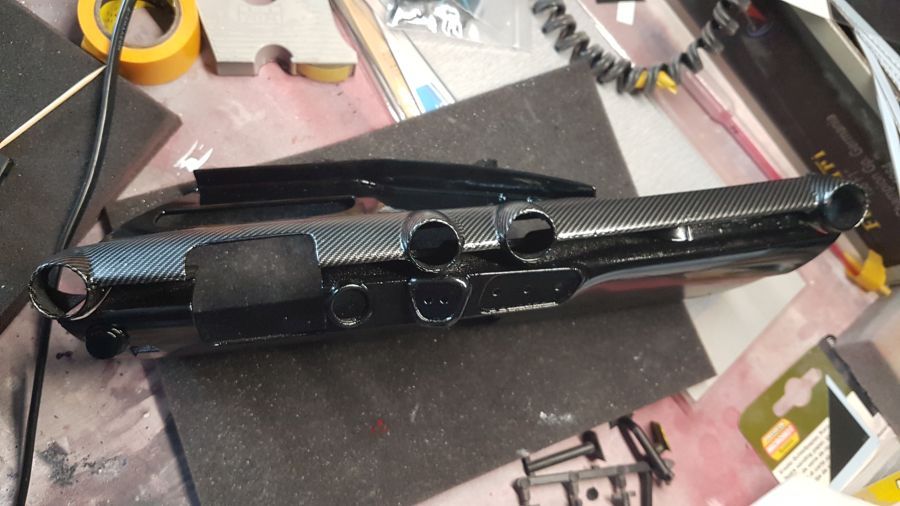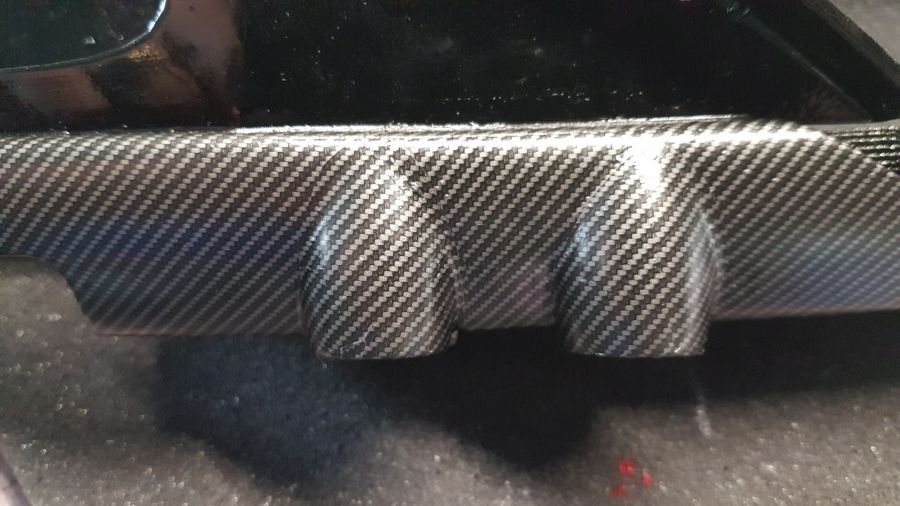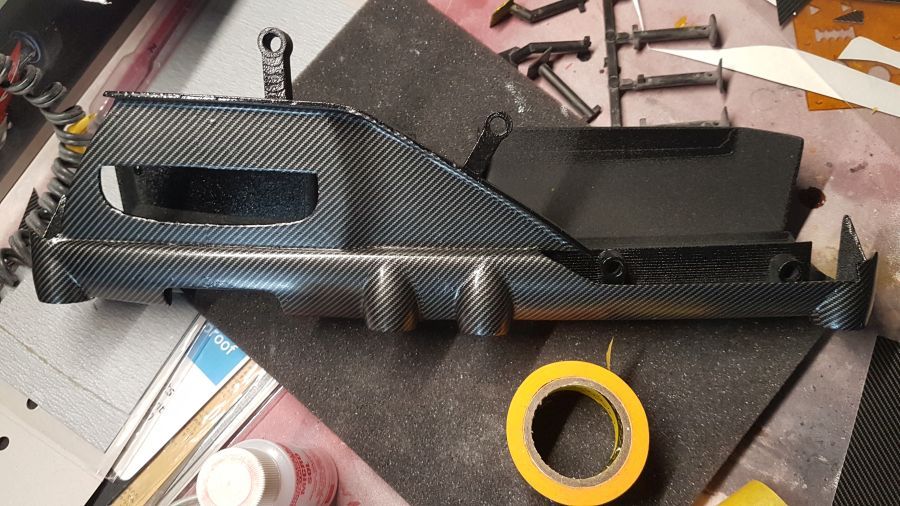 Dan het opstaande schakelpaneel.
Then the standing switch board.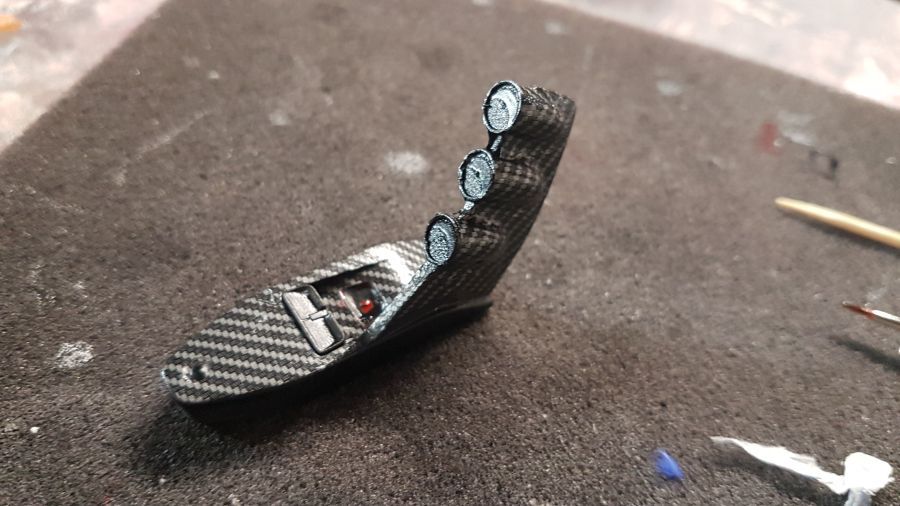 Vandaag een paar lagen blanke lak over de carbon decals. Ik gebruik nu de Zero Paints ZP-3002. De Tamiya lak raak ik voorlopig niet meer aan. Eerst een paar mist lagen en dan een natte laag.
Today i will apply some clear over de carbon decals. I will use Zero Paints ZP-3002. I will not be using Tamiya lacquer for a while. Fist a couple of mist coats and then a wet coat.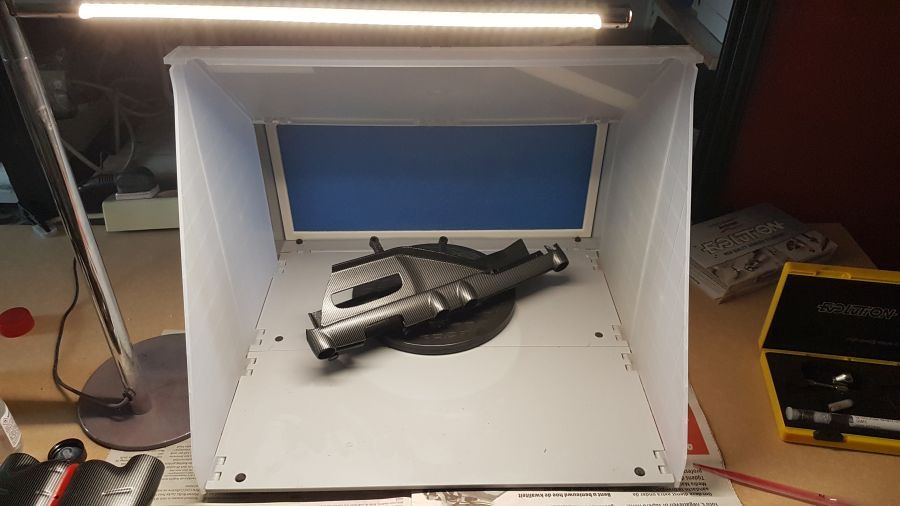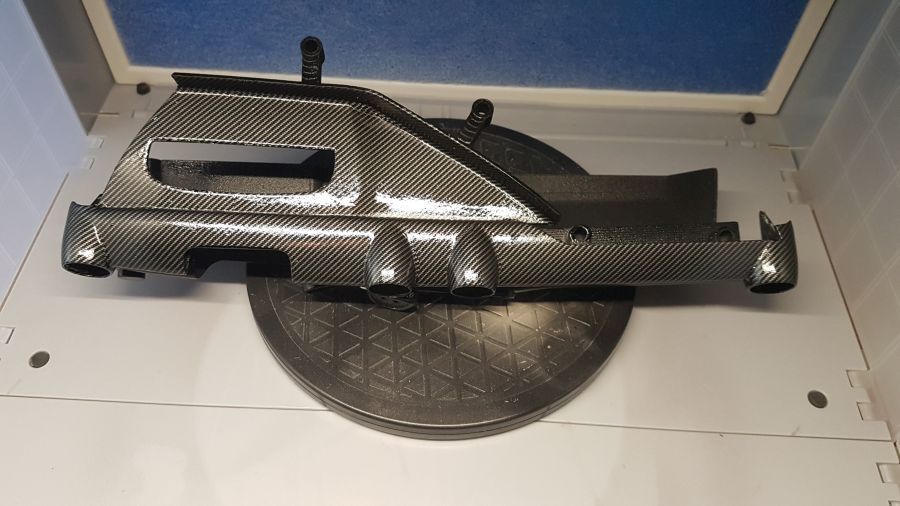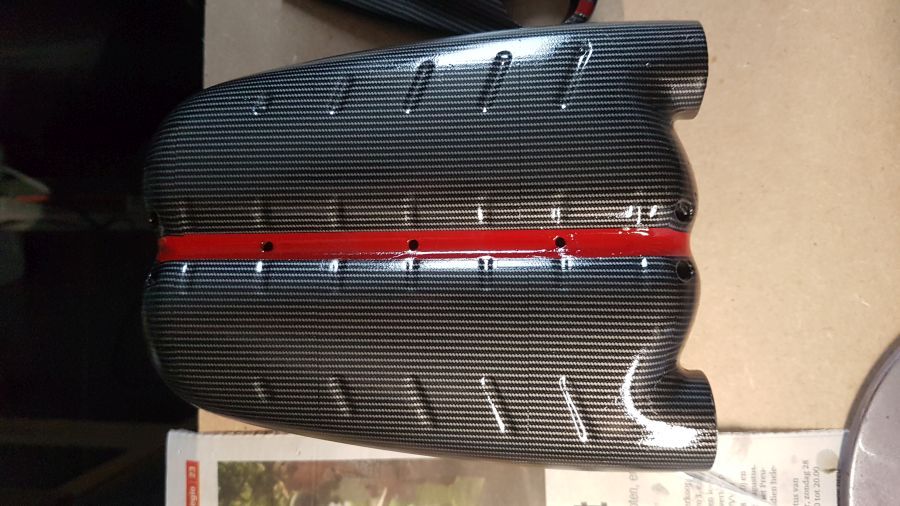 Nu ga ik eerst beginnen met6 het voorbereiden van de kleppendeksels.
Now i will continue and prepare the valve covers.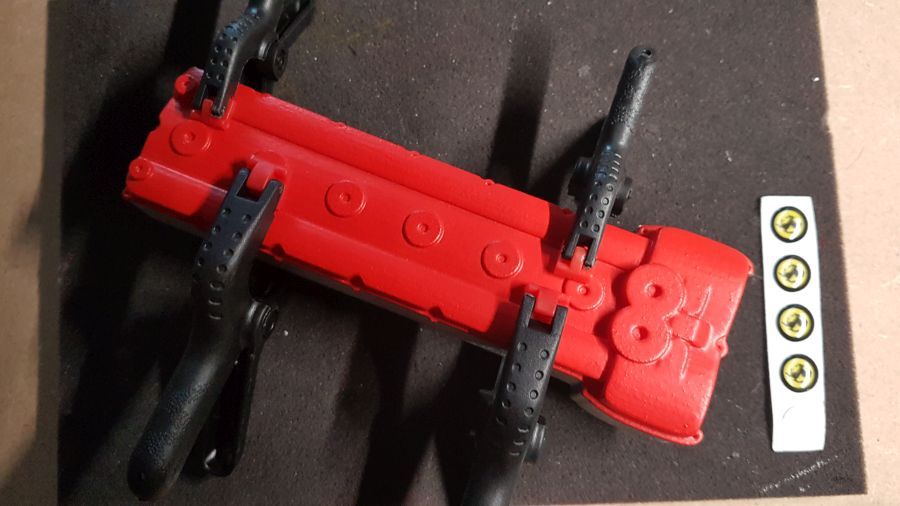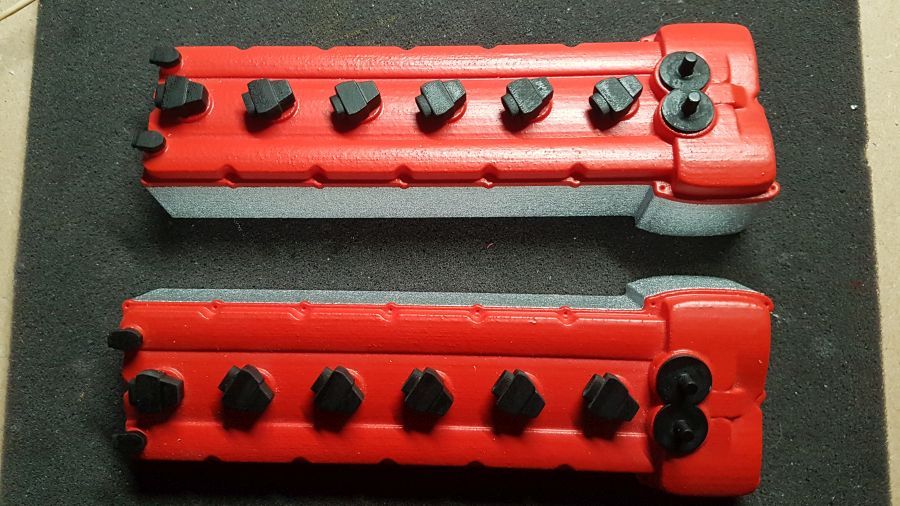 Wat extra decals aan de bedieningspanelen.
Some extra decals to the panels.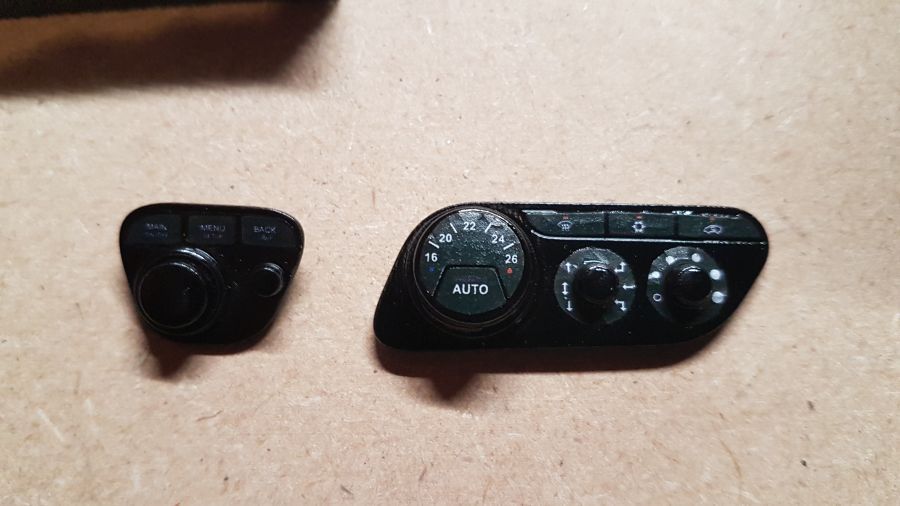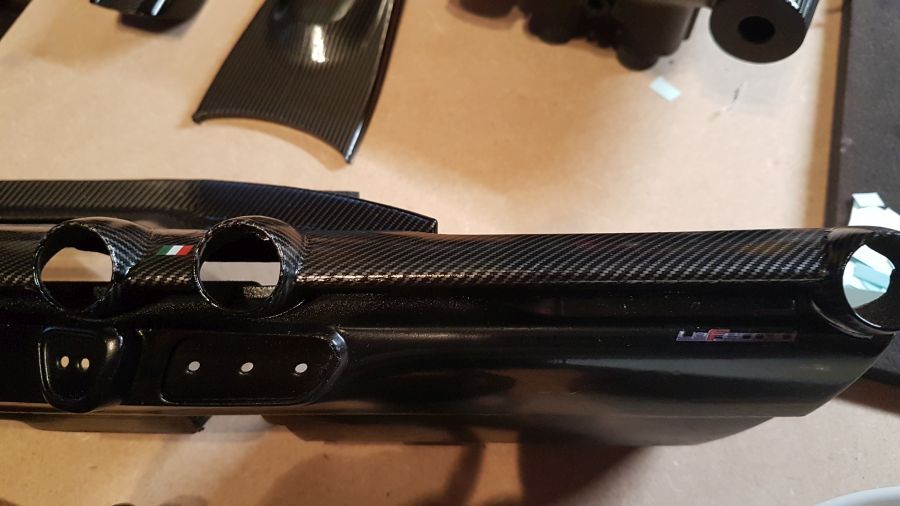 Om snelsluiters te simuleren gebruik ik een paar kleine tie wraps. Deze spuit ik zilver en worden dan geplaatst.
To simulate fasteners i use  some small tie wraps.  I paint them silver and add them.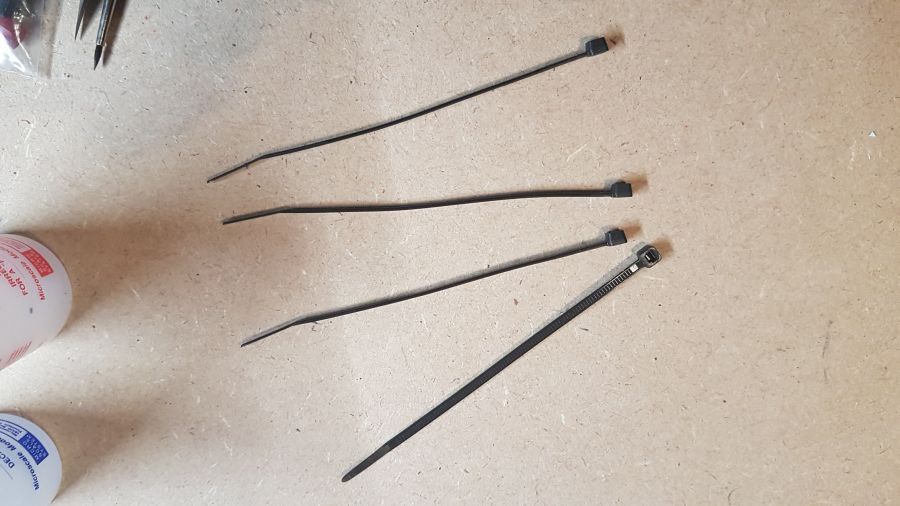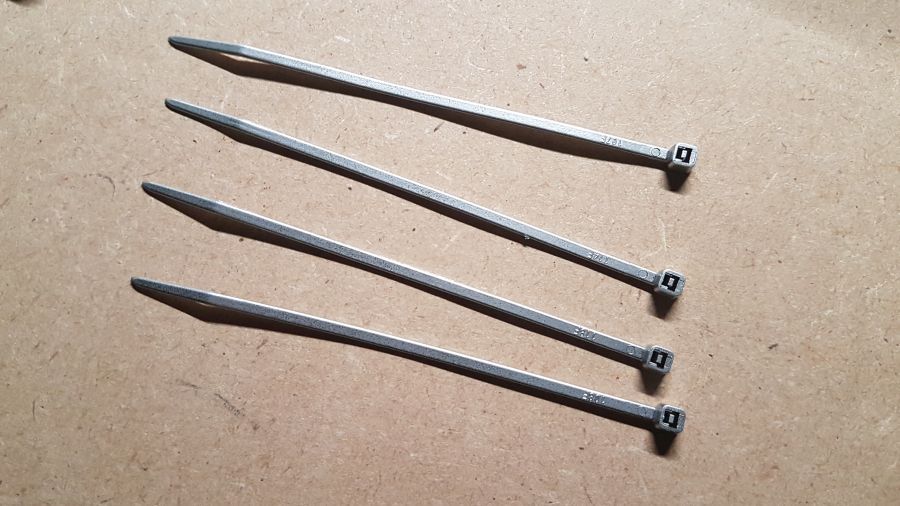 Het kleppendeksel krijgt wat extra details. Niet helemaal wat ik zocht, maar het moet maar. De volgende keer zorgen dat alle materialen op voorraad zijn. Ik twijfel nog of ik een zelfgemaakte moer er nog op moet plaatsen.
The valve covers get some extra detail. Not quite what i was looking for, but i will have to do. The next time it's better to have all materials in stock. I have doubts of adding the homemade nutter.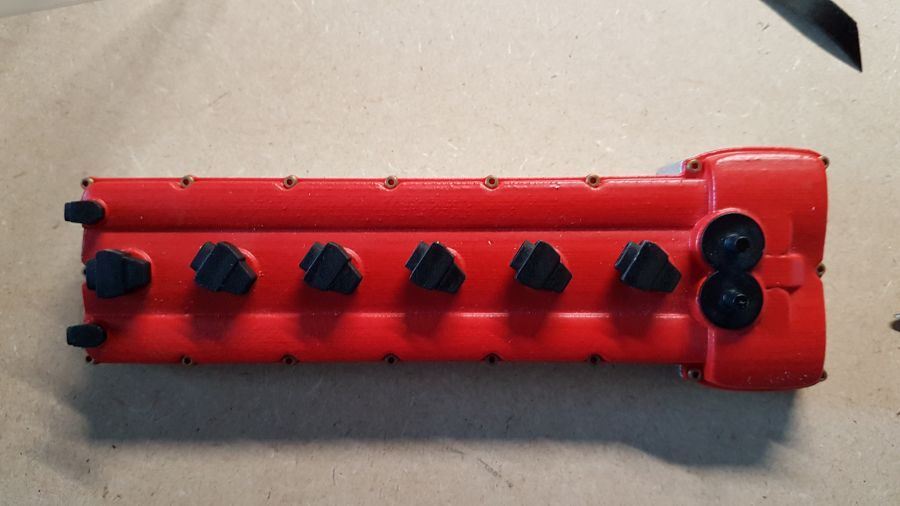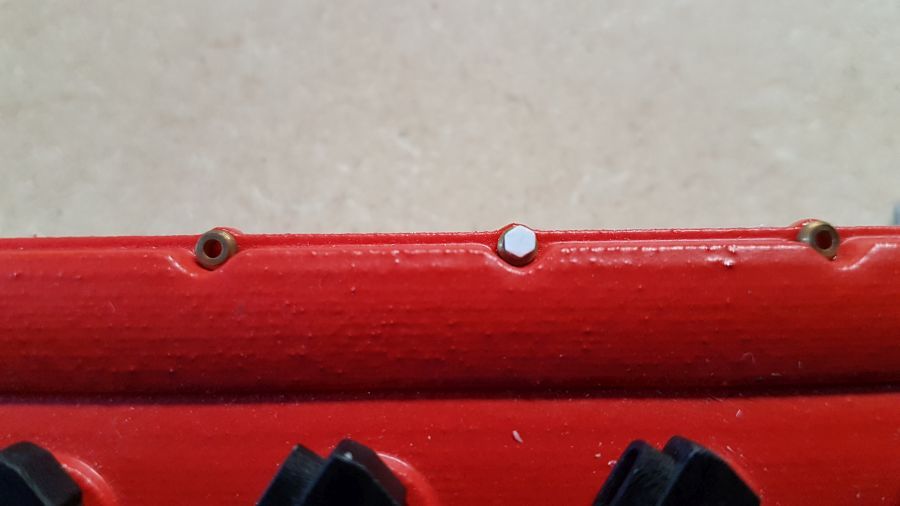 Na wat aanpassingen van de ventilatieopeningen, wordt alles in het dashboard geplaatst. 
After some small adjustments to the dashboard vents, everything gets mounted.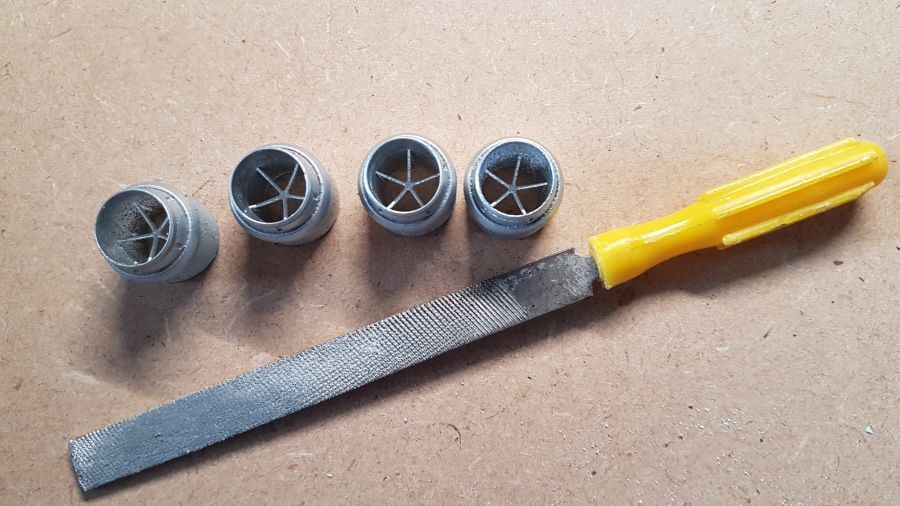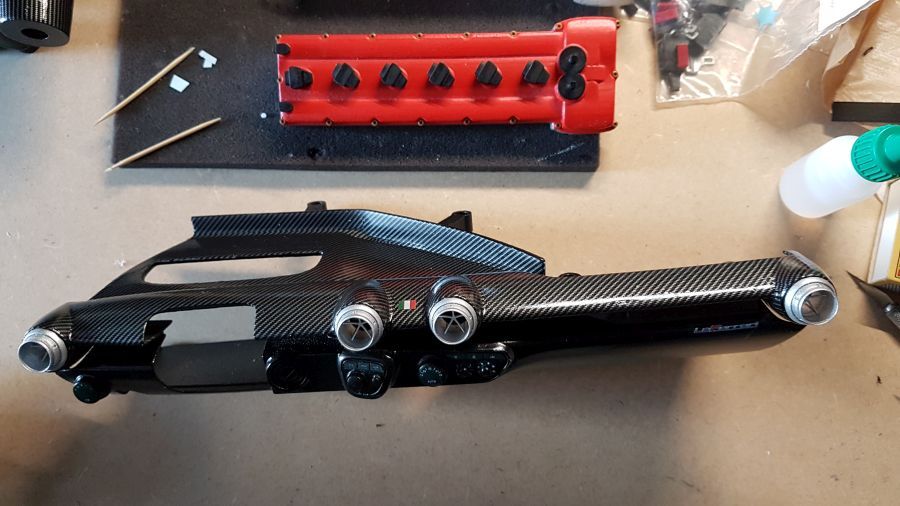 Het klokkenhuis en het middenconsole krijgen een meer leerachtig uiterlijk. Ik schuur het glanzende zwarte lak wat op en spuit er Tamiya Semi Zwart overheen.
The gauges housing and the middle console get a more leather look. I sand the gloss black a bit and spray it with Tamiya Semi Black.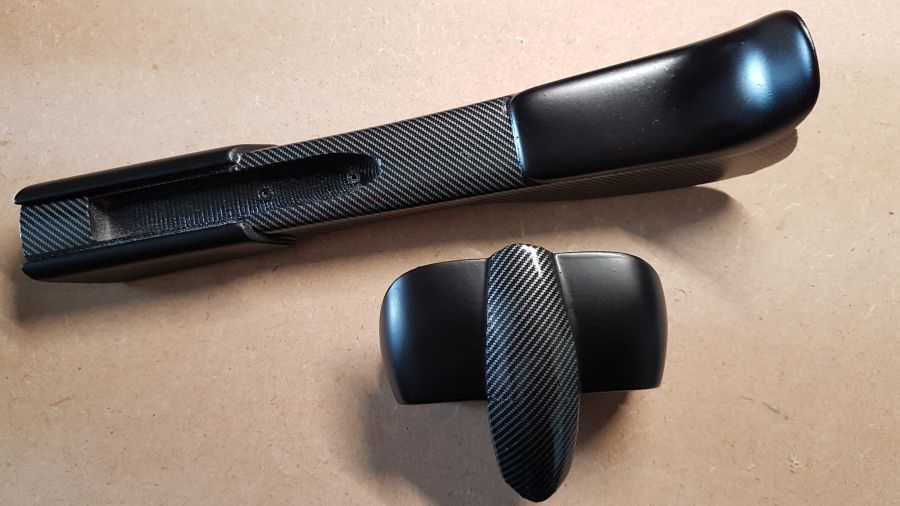 De stoelen moeten aangepast. Er moet een soort subframe gemaakt worden zodat ze hogerop komen. Het hoeft niets moois te zijn, want je gaat er niets van zien.
The seats need some adjustment. I need to create a sub frame for them, so they will be higher on the floor. Nothing fancy as you will not be able to see it.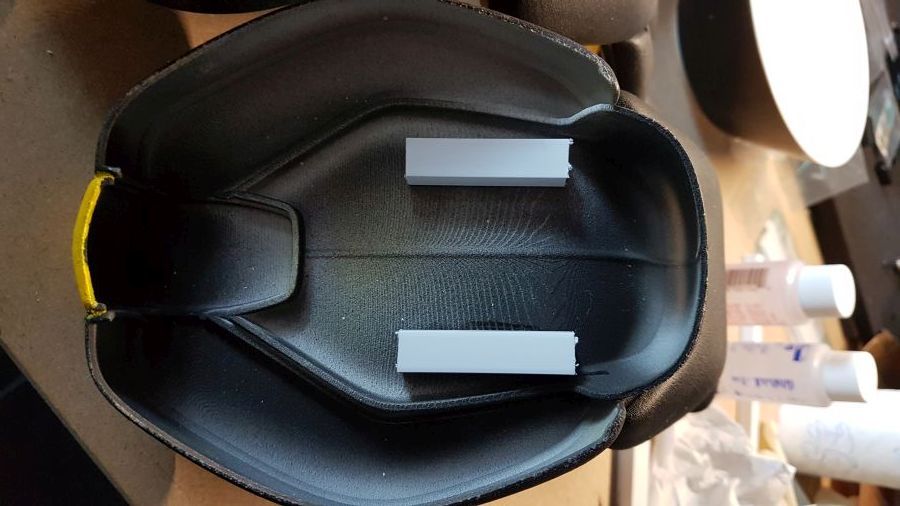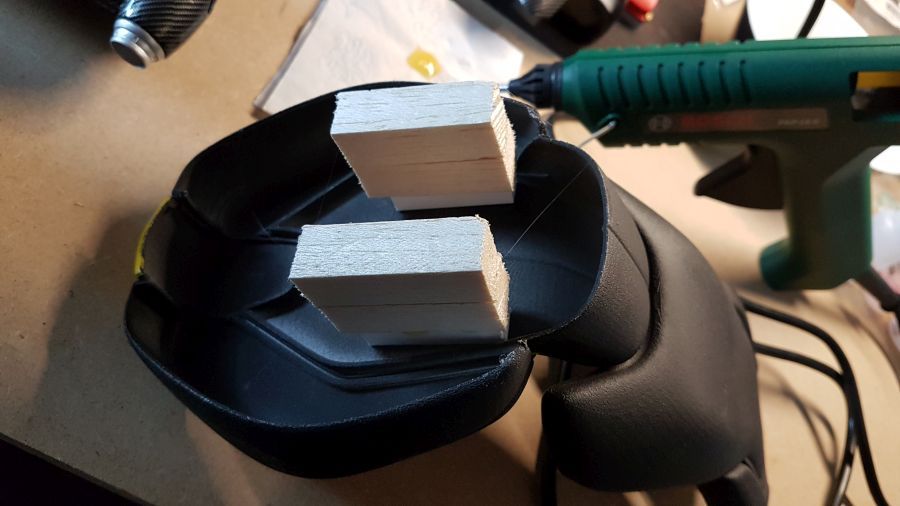 Een testplaatsing van het middenconsole om zeker te zijn dat de stoelen passen.
A test fit of the tunnel console to be sure the seats will fit.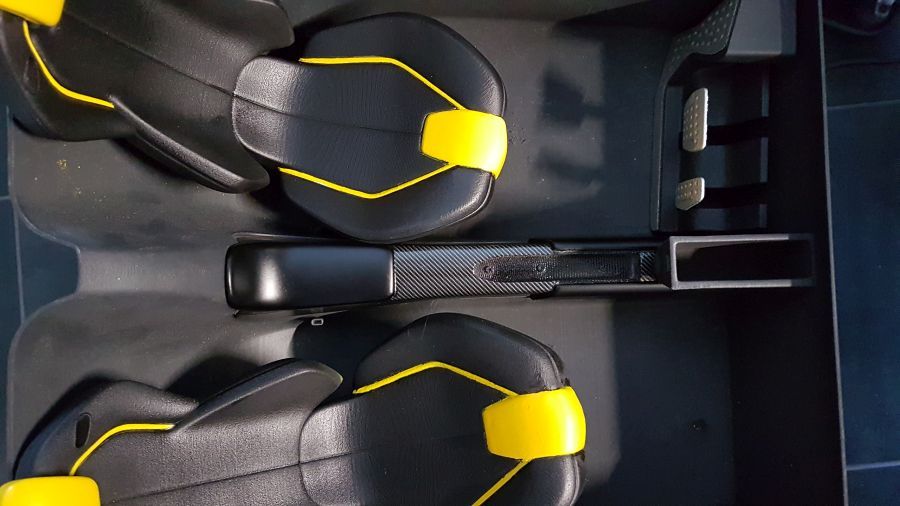 De deurpanelen krijgen nog wat carbon.
The door panels get some carbon.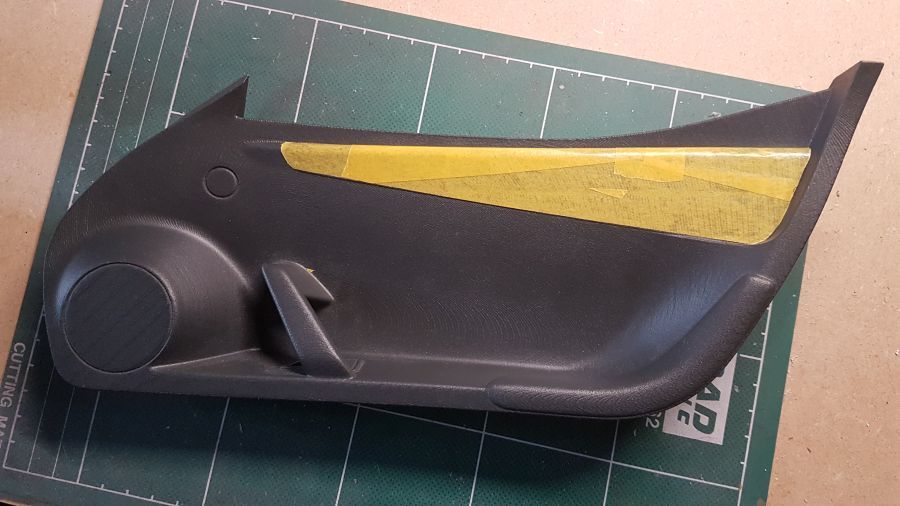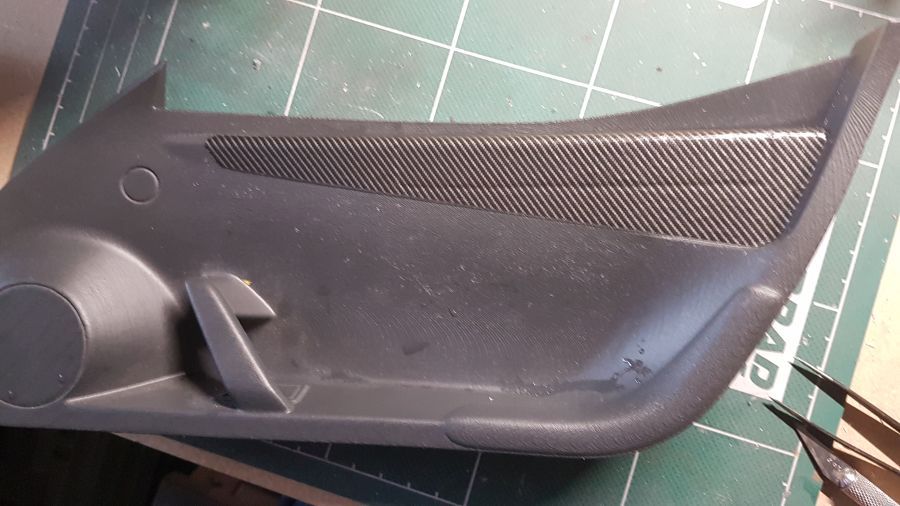 Voor de gordels maak ik nog wat gespen.
For the seat belts i will make some buckles.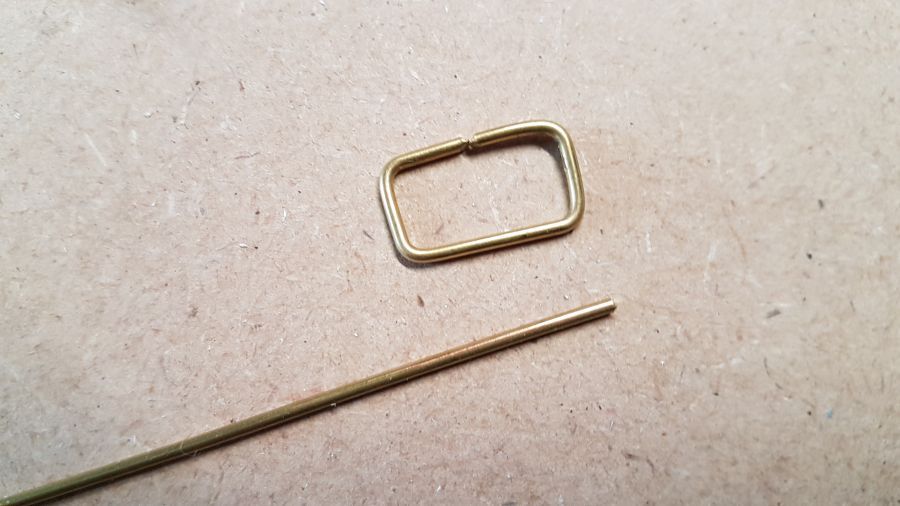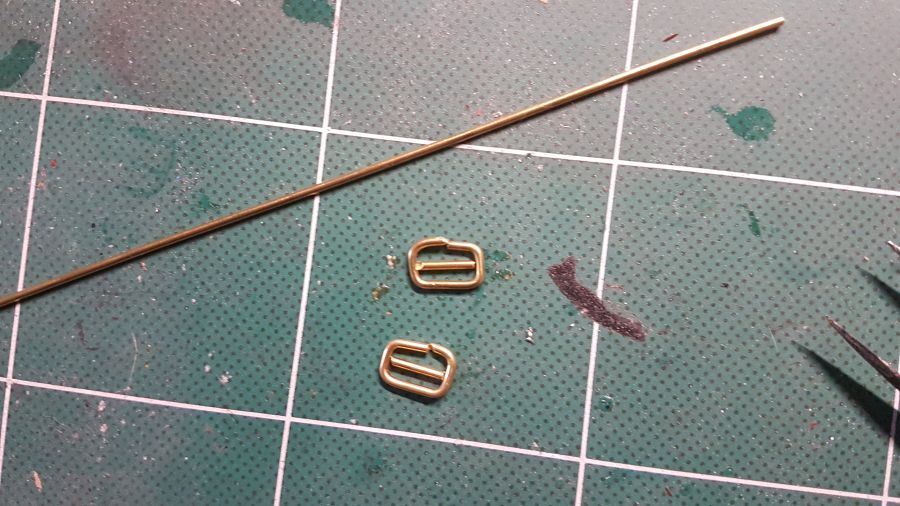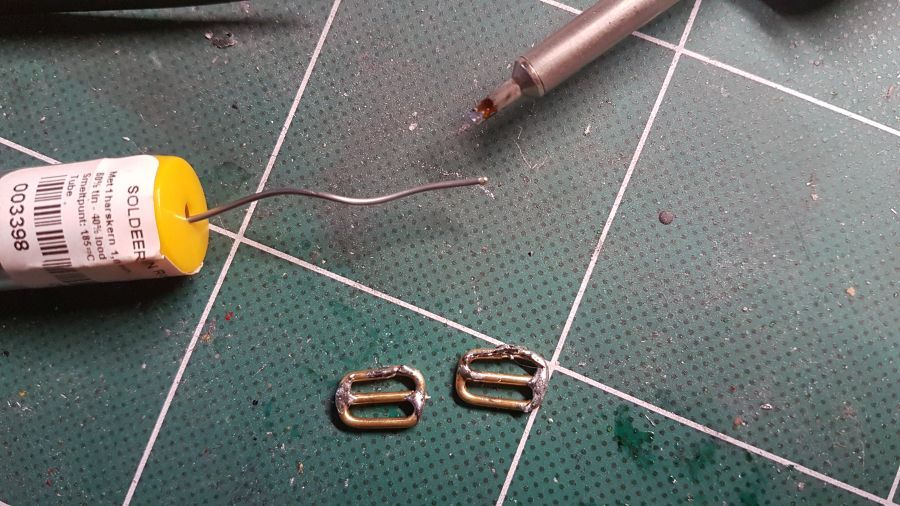 Het dakdeel krijgt vast sleuven voor het plaatsen van de gordels.
The roof part gets some slides to be able to attach the belts.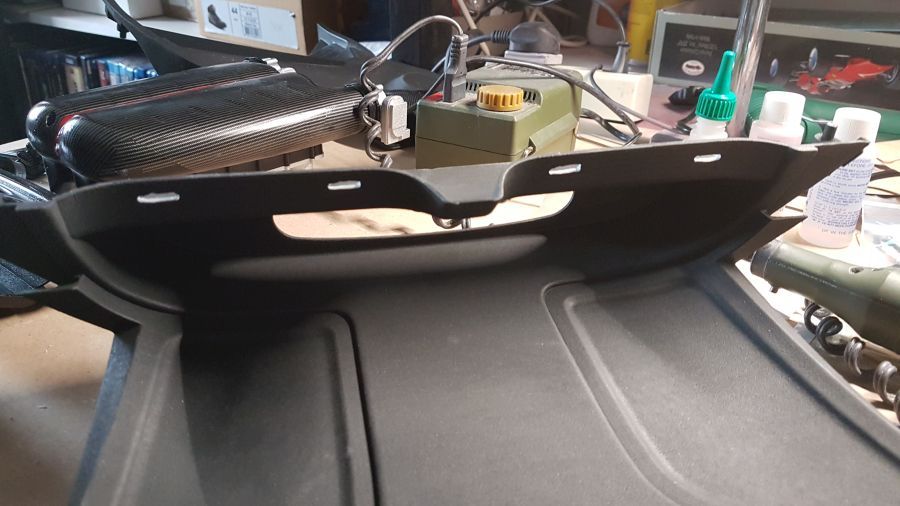 Het onderstel van de stoelen wordt zwart gemaakt.
The downside of the seats get some black.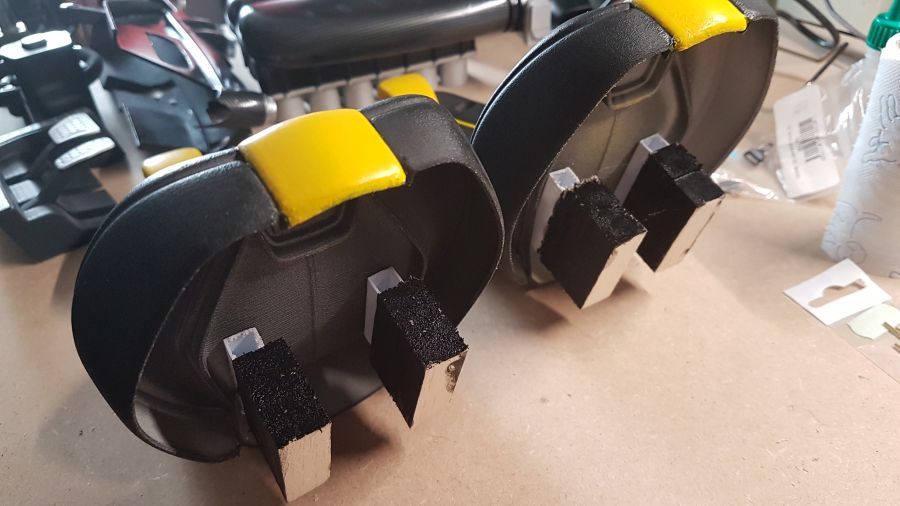 Voor het maken van de gordels moet ik wat bedenken.. dus even een testje. Ik heb in ieder geval 10 mm zijdelint gekocht om de gordels te maken. Het is lastig om op foto's te achterhalen hoe het zit met de gordels. Er lijken veel mogelijkheden te zijn voor deze auto. Een 4-punts lijkt mij het meest mooie. Even wat improviseren dus. Ik heb een klein sneetje in het dubbelgevouwen lint gemaakt en het gordeldeel daardoor heen gestoken. Lijkt niet gek.
To create the belts i need to think of something... so a small test. I bought some silk ribbon of 10 mm to create belts. It's a bit tough to see on pictures how the seat belts look like. It seems there are a lot of possibilities for this car. A 4-point belt is the most beautiful one in my perspective. So i need to improvise. I made a small cut in the double folded ribbon and pushed the belt part through this. Not bad i think.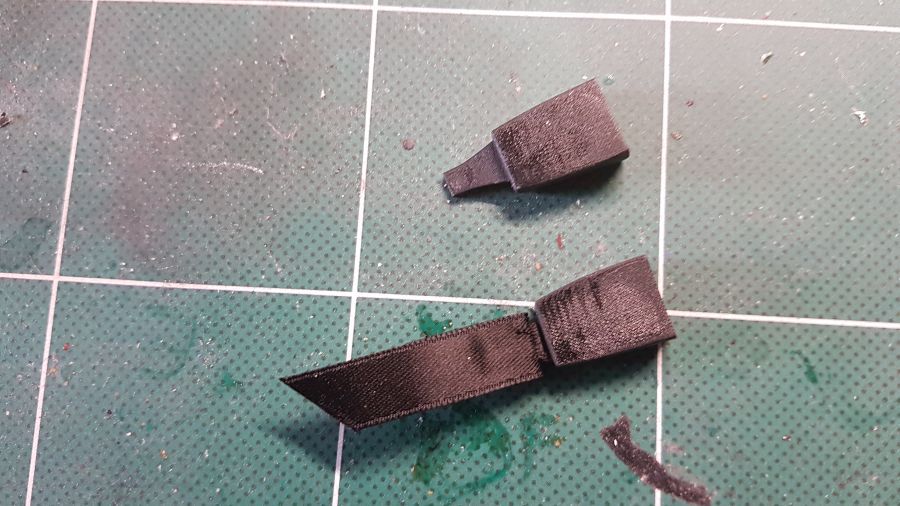 Eerst nu de banden die over de heupen heengaan...
First of all the belts that go over your hips...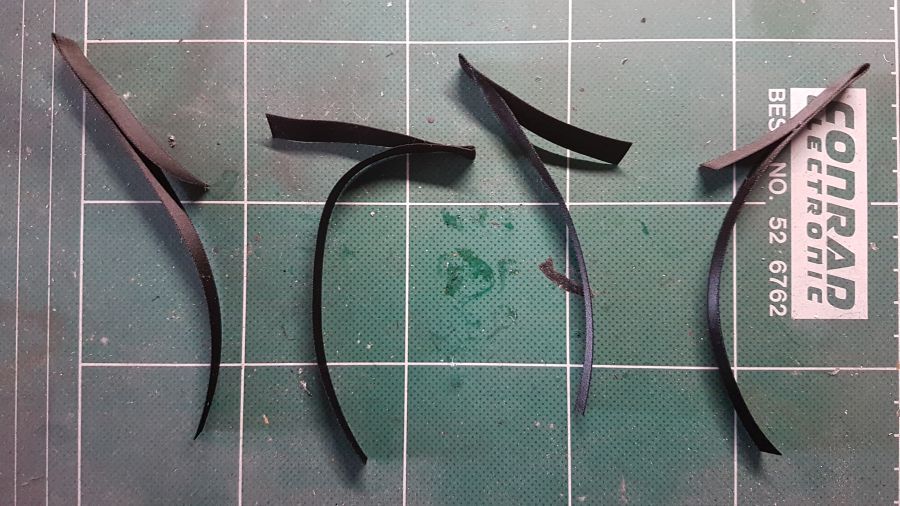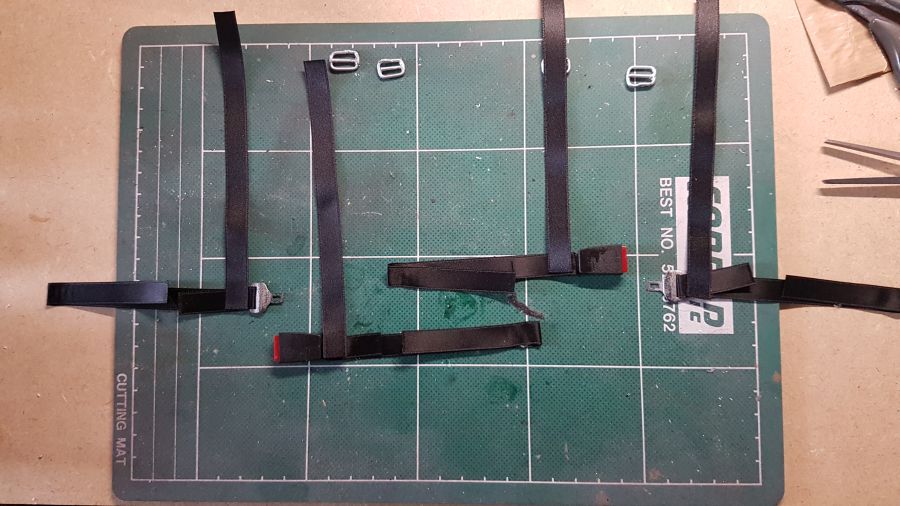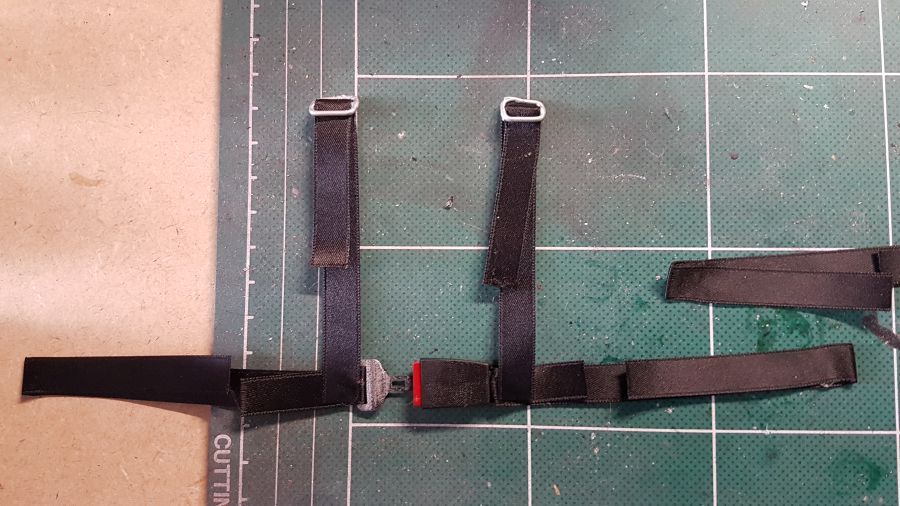 Resultaat met 2 meter lint...
Result with 2 meters ribbon...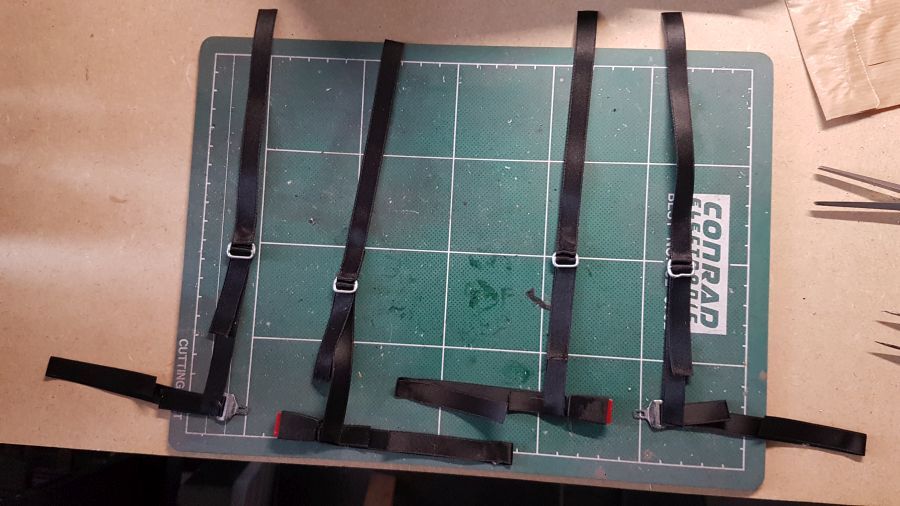 Dan de installatie van de gordels en de stoelen..
Next is adding the belts and the seats..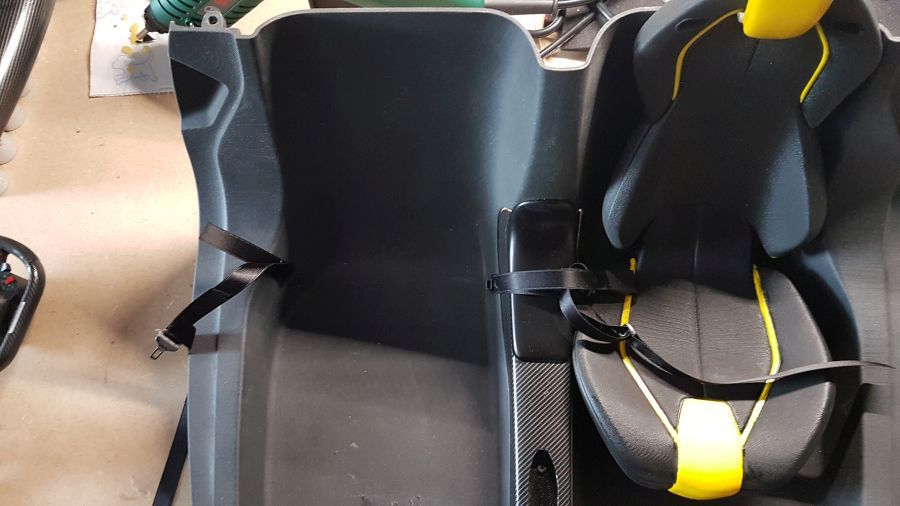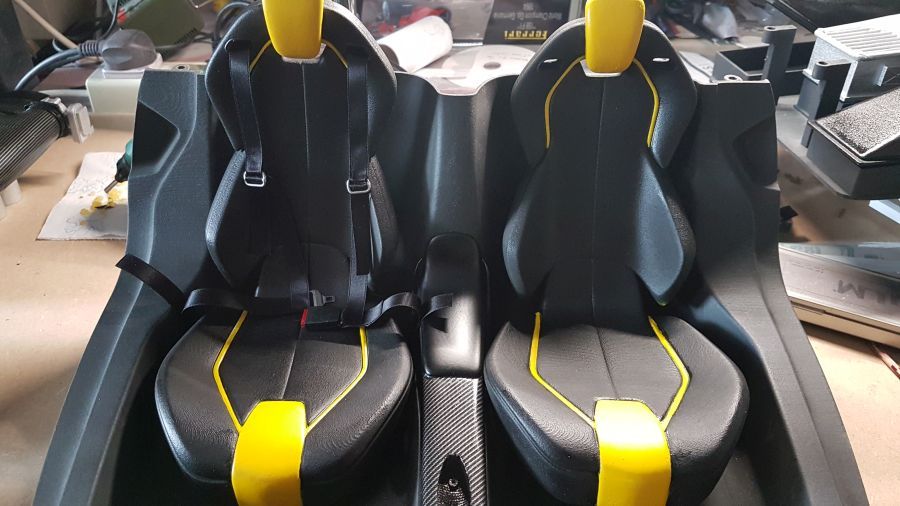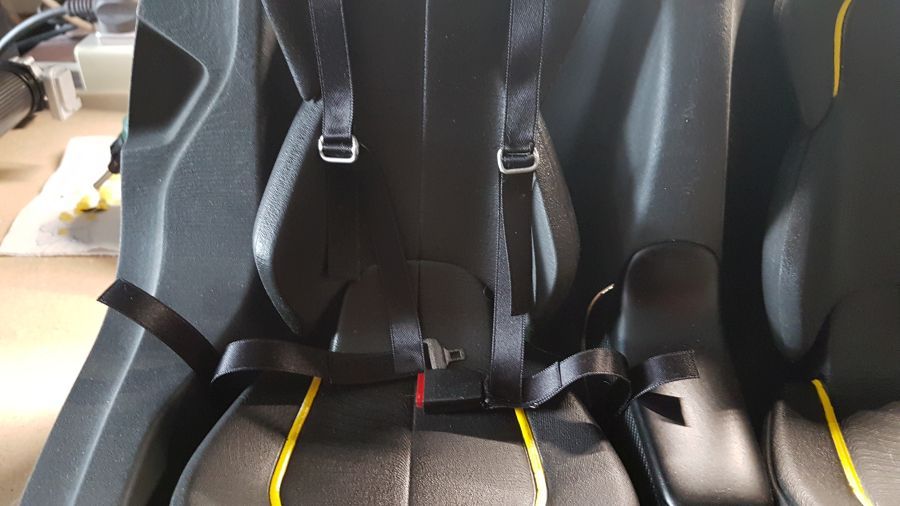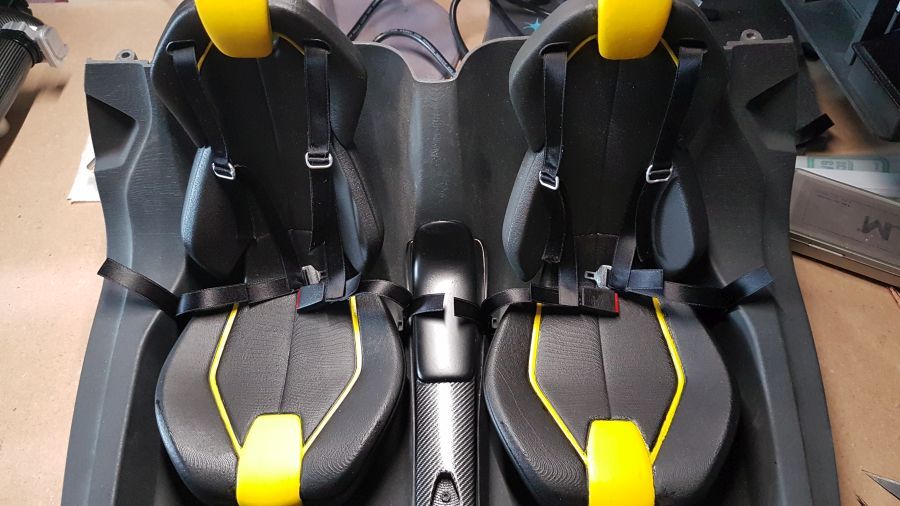 Testen van het dak en de stoelhoogte... perfect.
Test fit of the roof and the height of the seat... perfect.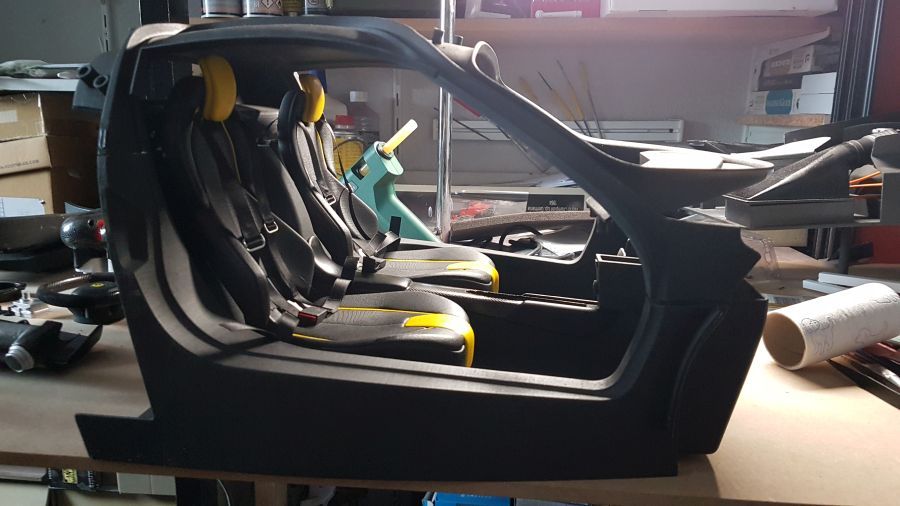 De stuurkolom en het klokkenhuis worden klaargemaakt.
The steering column and the gauges housing are being finished.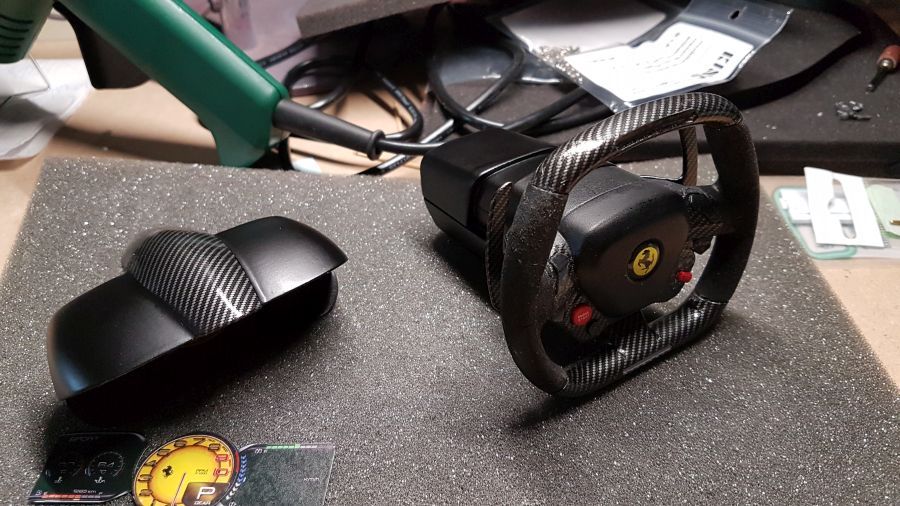 De kleppendeksels krijgen nog wat moeren...
The valve covers get some  nutters...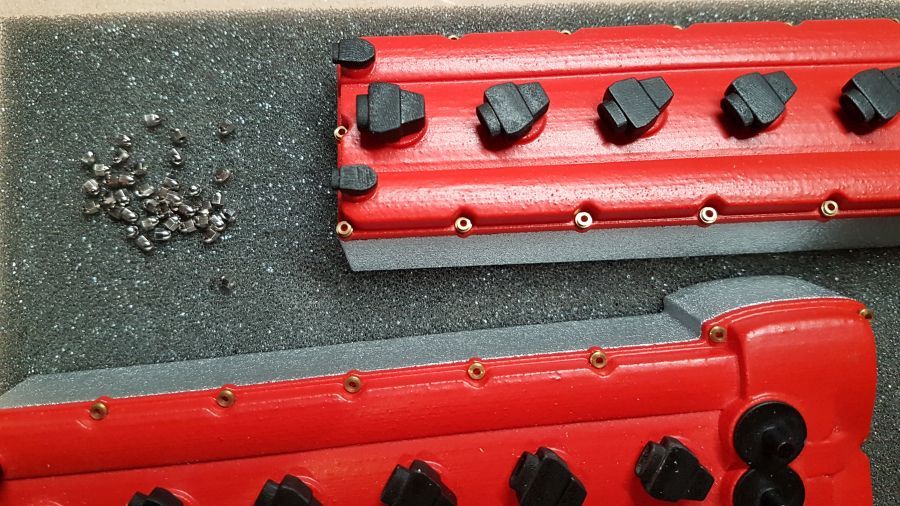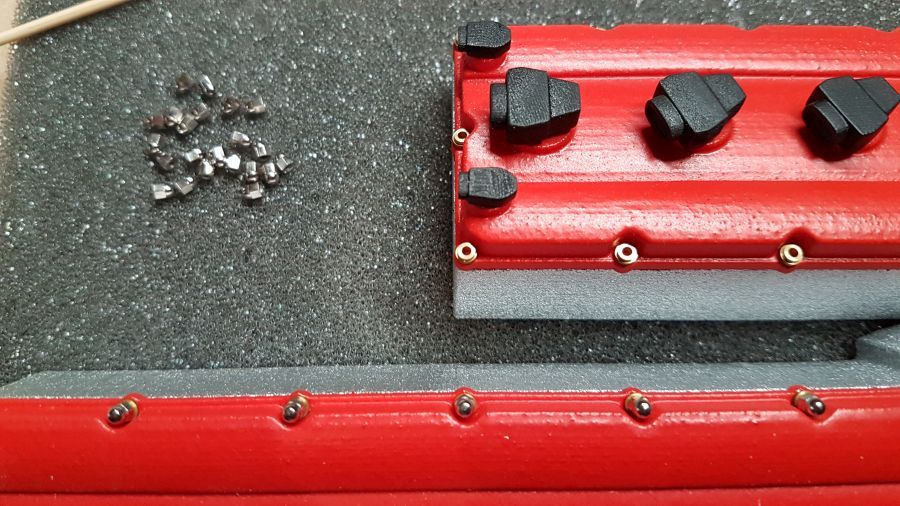 Dan worden ze geplaatst in de motorruimte.
Then they are mounted to the engine bay.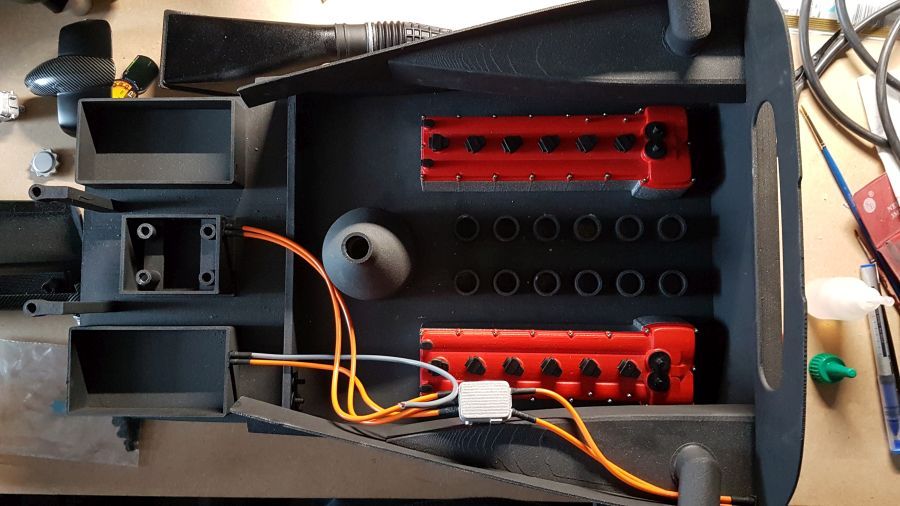 De kabels voor de kleppendeksels worden voorbereid.
The wires for the valve covers are being prepared.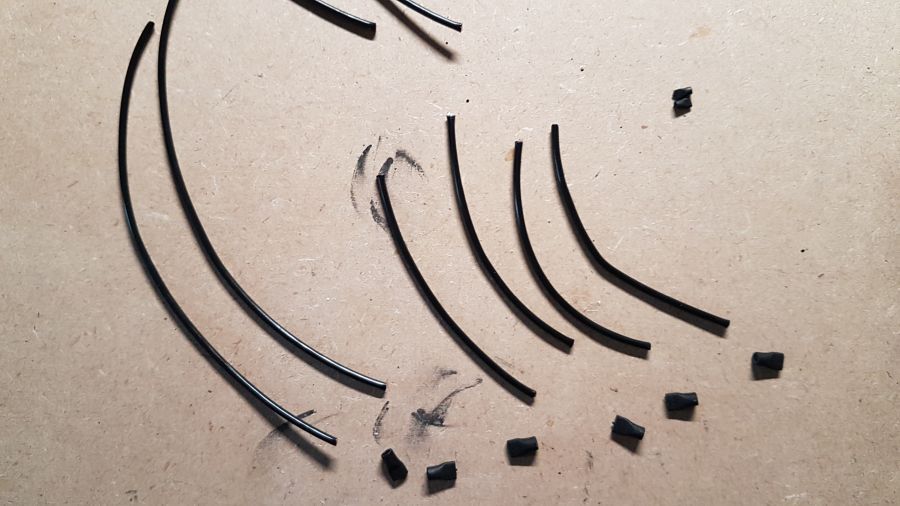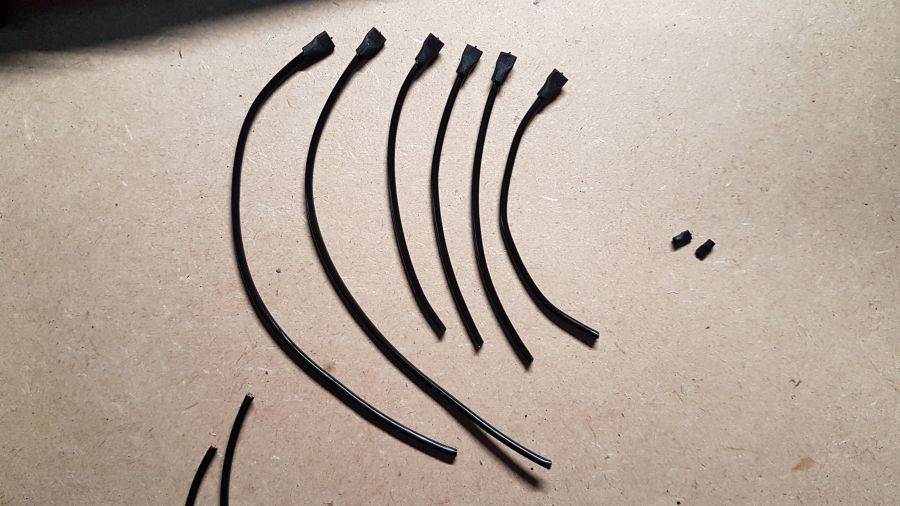 En geplaatst... Samen met wat slangen.
And added... Together with some hoses.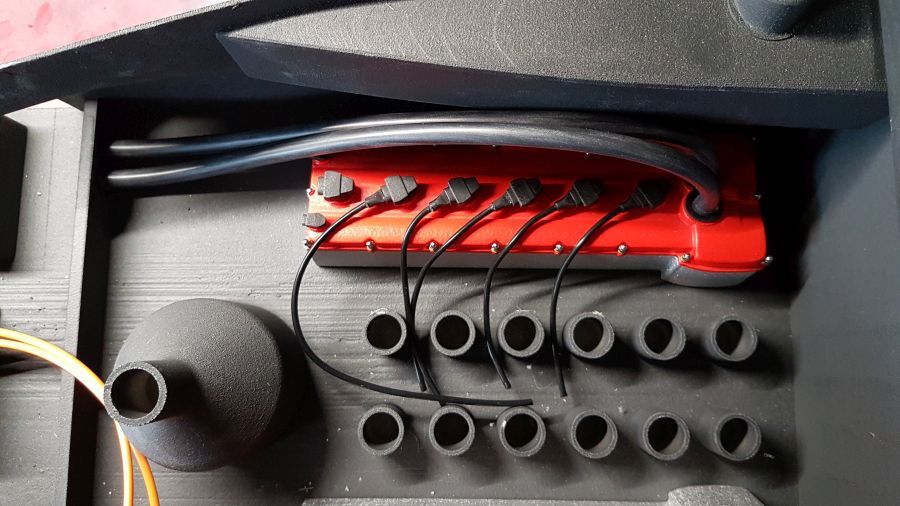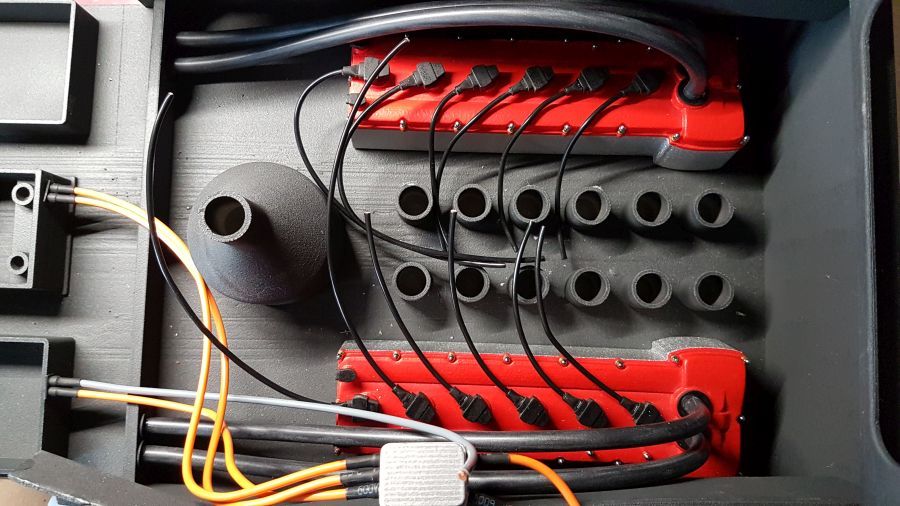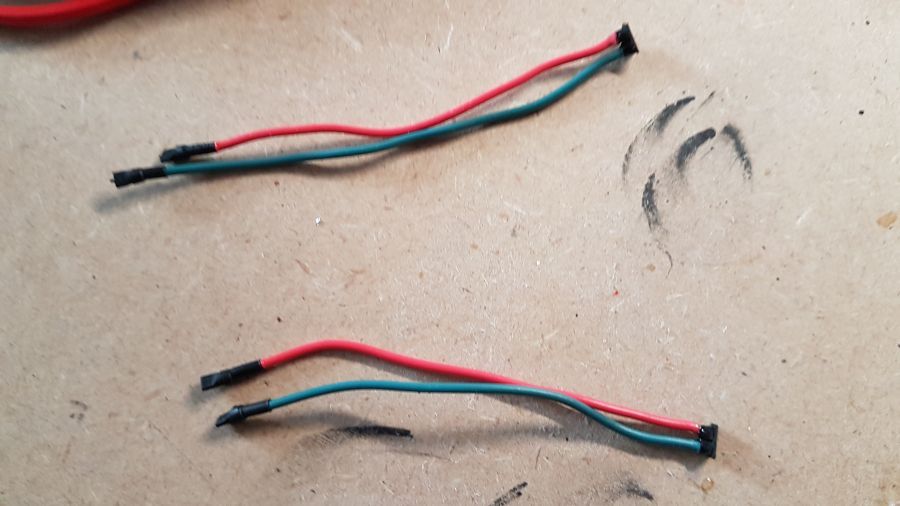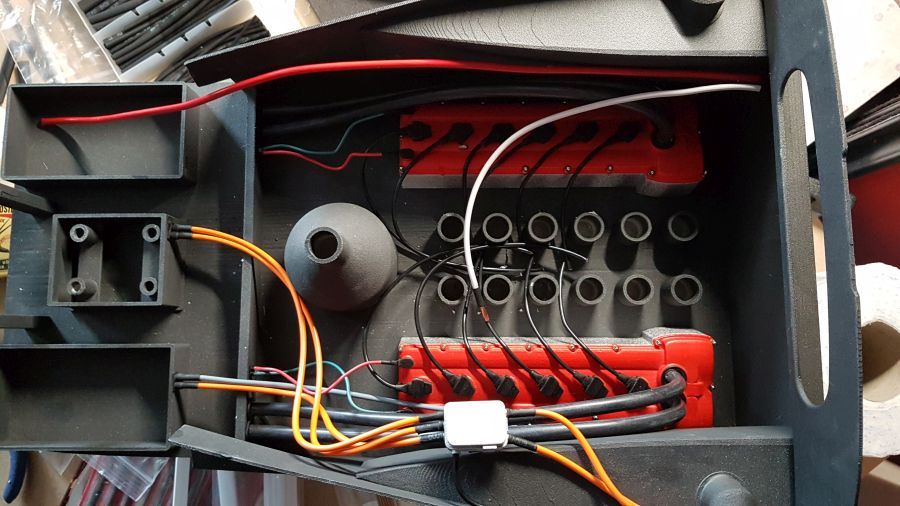 En na nog meer bedrading gaat de dome erin...
And after more wire the dome is added...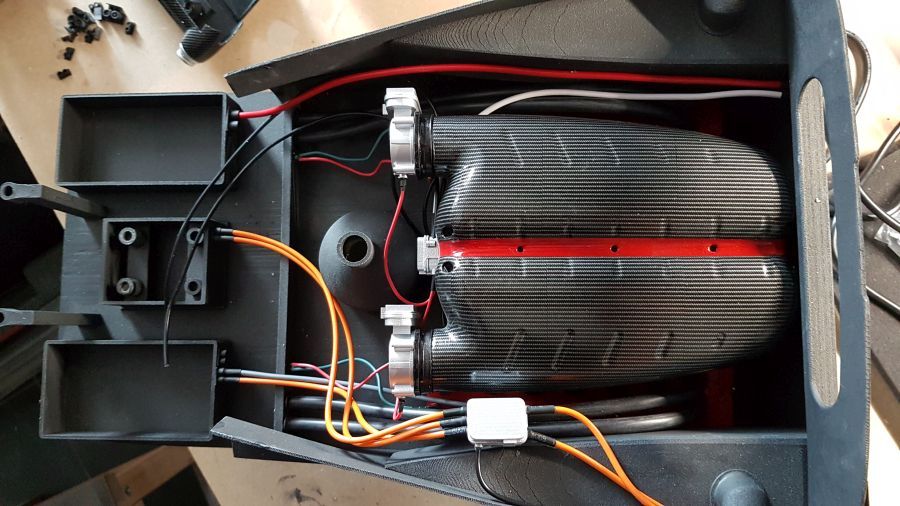 Volgens design zou de 2e dome bevestigd moeten worden aan de koeler (groen) en zo moeten zweven bij de oliedop (blauw). Dat werkt niet, de dome is veel te zwaar. Daarom ga ik 2 steuntjes plaatsen bij de olievuller.
According the design the 2nd dome should be attached to the cooler (green) and then float near the oil filling (blue). That does not work, the dome is far too heavy. So i will make 2 supports near the oil filling.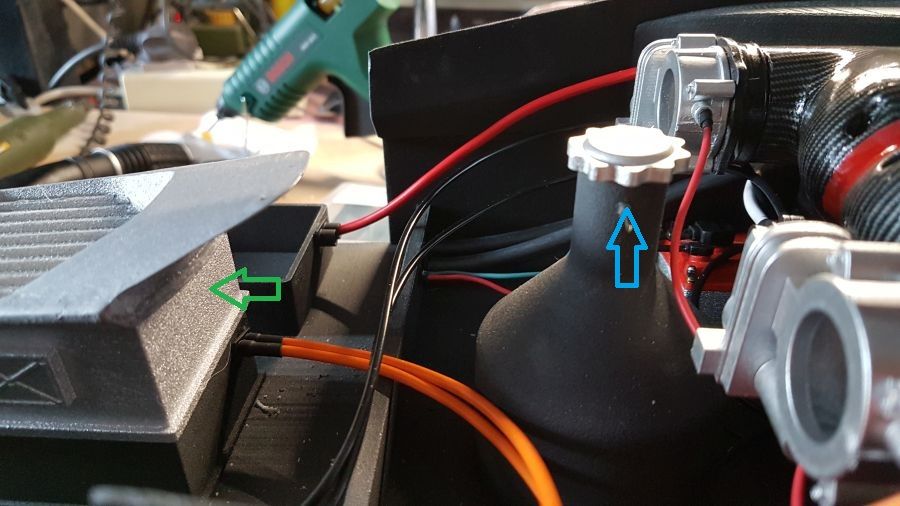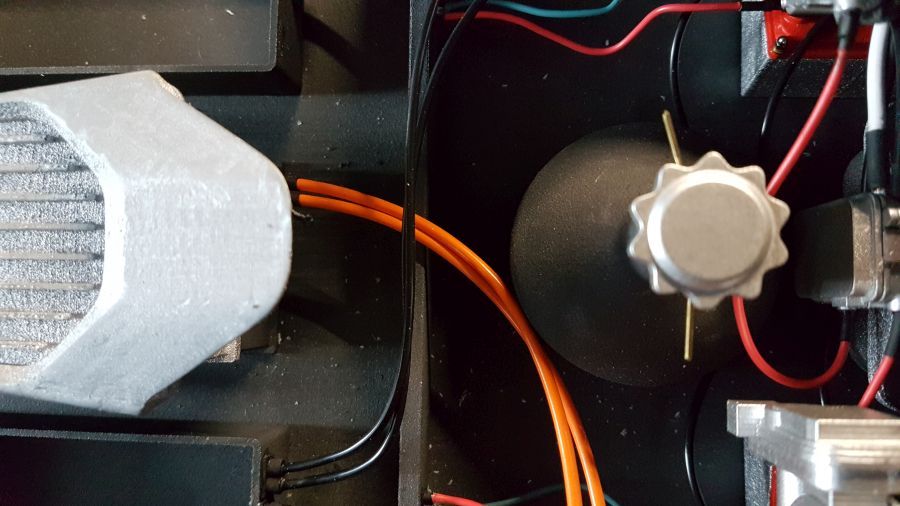 Even passen. De staafjes worden nog wat gecamoufleerd. 
Test fit. The supports will receive some camouflage.
En het motordeel is klaar. Veel bedrading is min of meer 'verstopt'. 
And the engine compartment is done. Much wiring is 'hidden' more or less.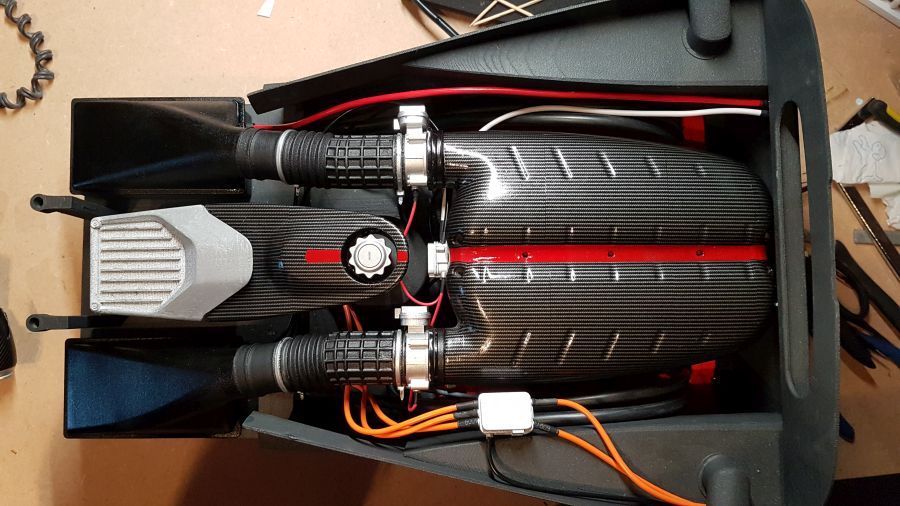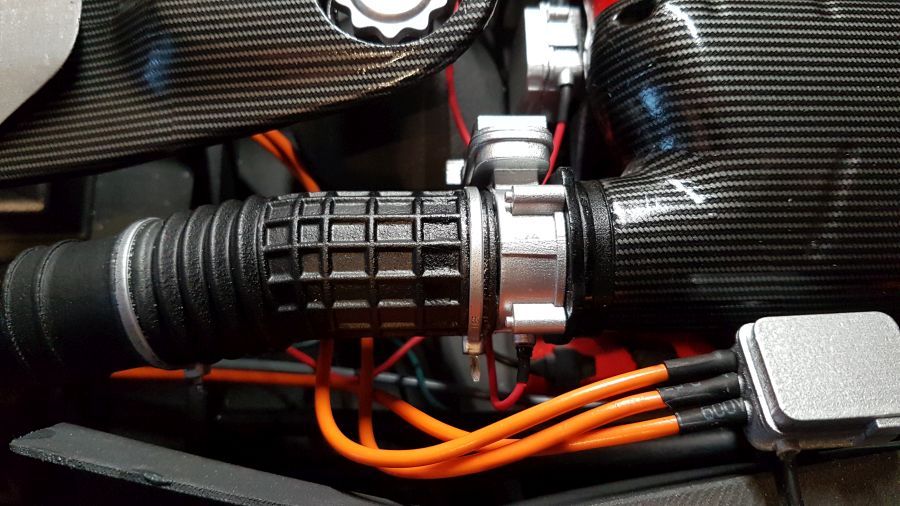 Meer passen.
More test fitting.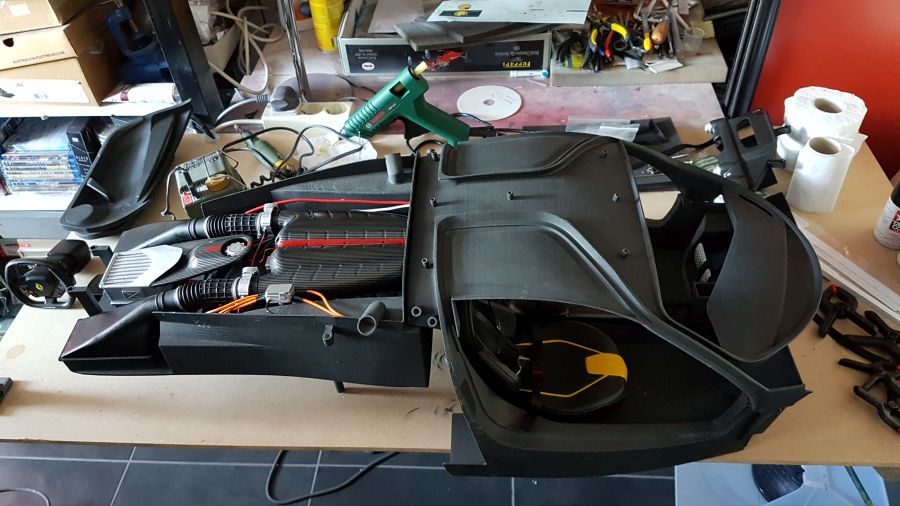 Er zijn wat kleine problemen bij het passen van het dashboard. Na wat metingen blijkt dat de opstaand pootje het probleem zijn. Dus even wat aanpassingen doen.
There are some small problems regarding the fit of the dashboard. After taking some measures it's clear the upstanding point are the problem. So i will make adjustments.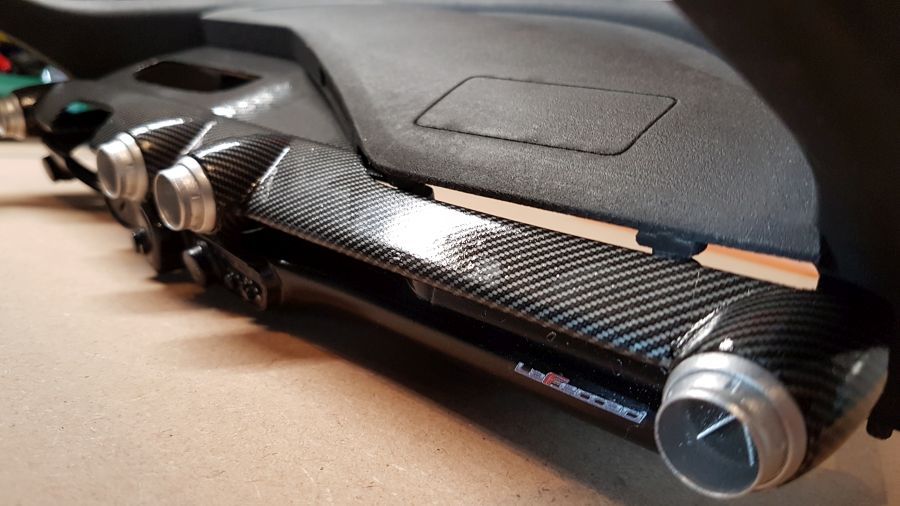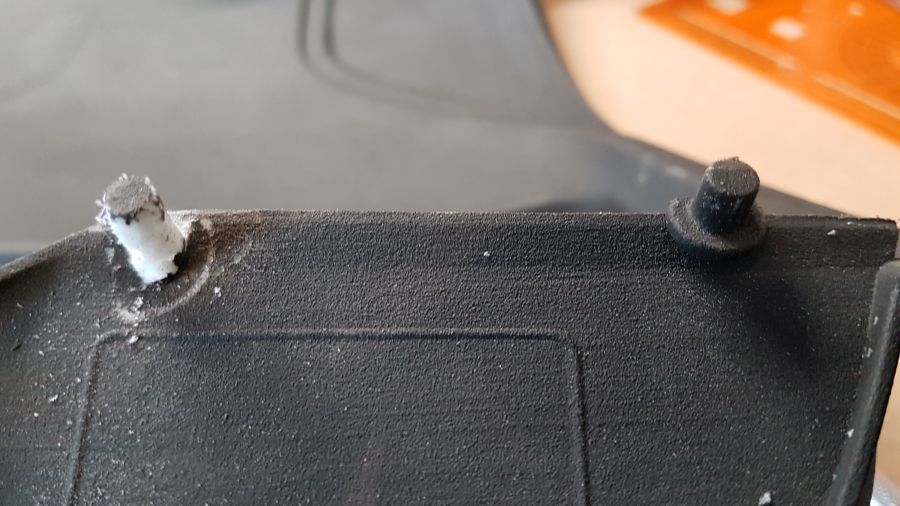 Beter? Beter!
Better? Better!
Het carbon van de deurpanelen krijgt ook een laag glanslak. Weer Zero Paints ZP-3002.
The carbon of the door panels get some clear gloss too. Again Zero Paints ZP-3002.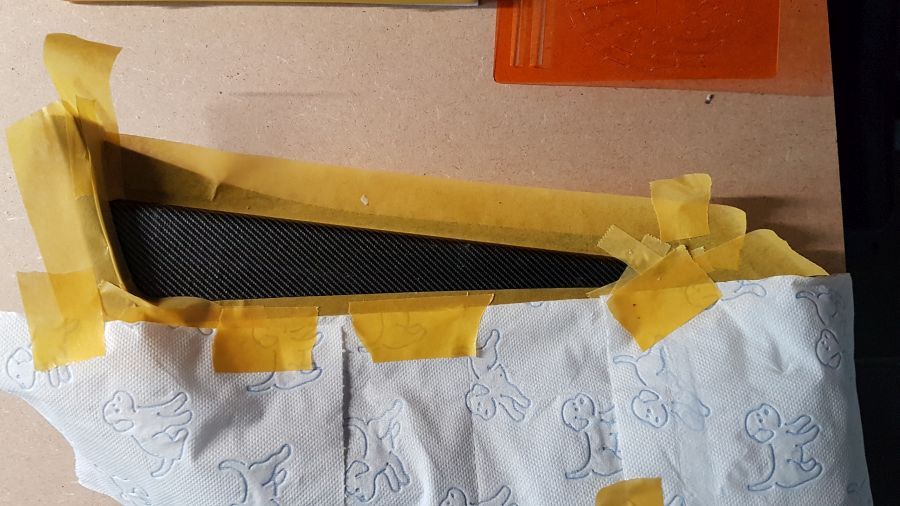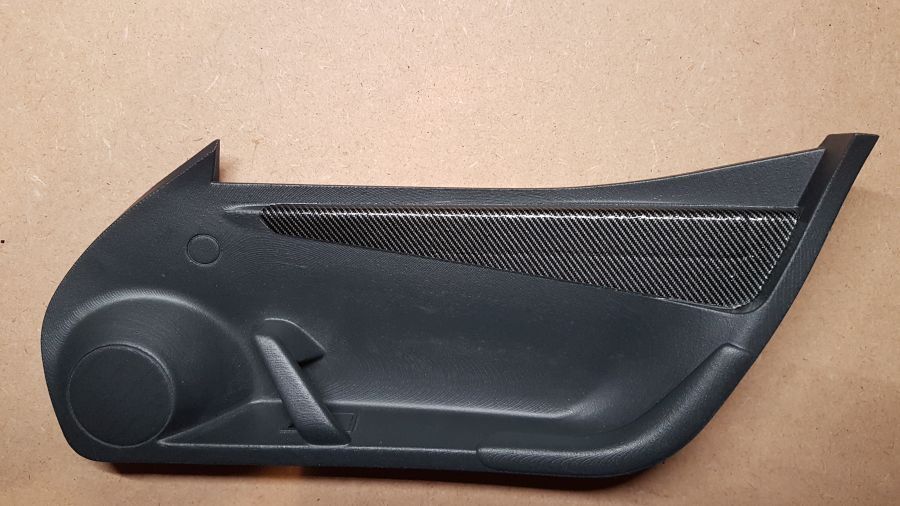 Dan speakers maken.
Next is creating speakers.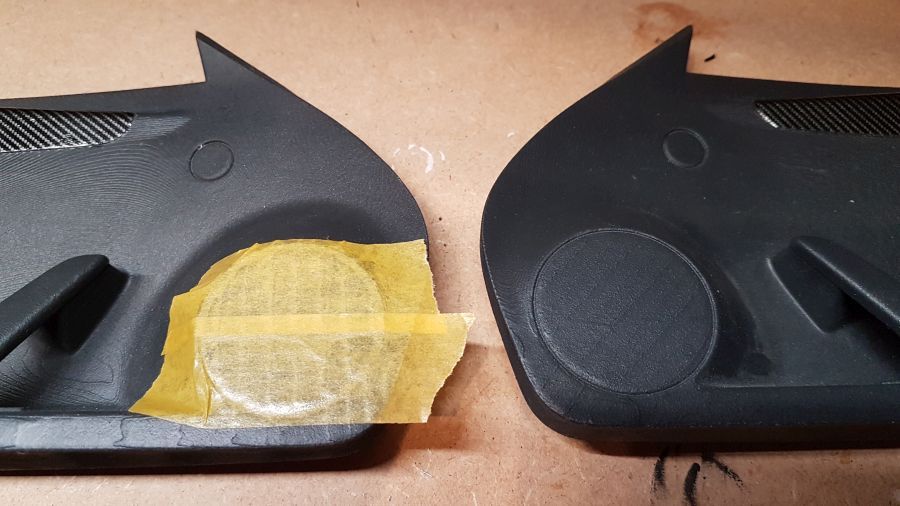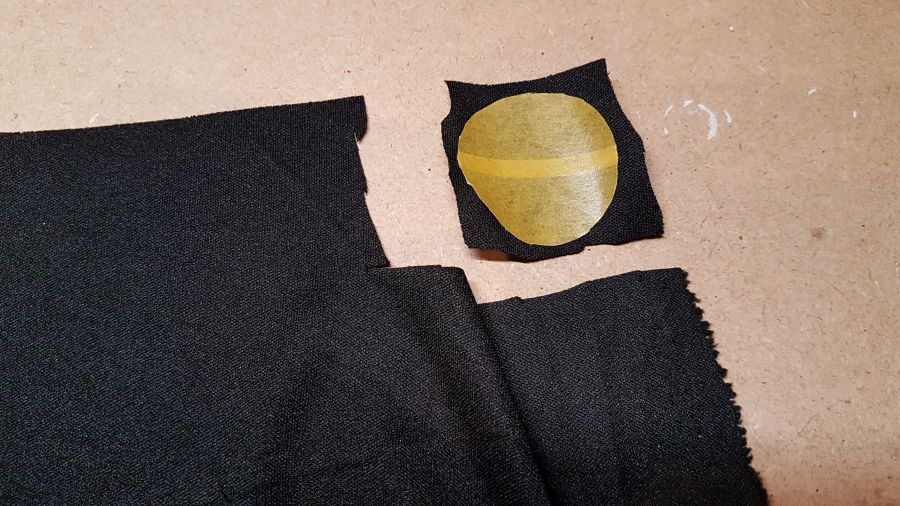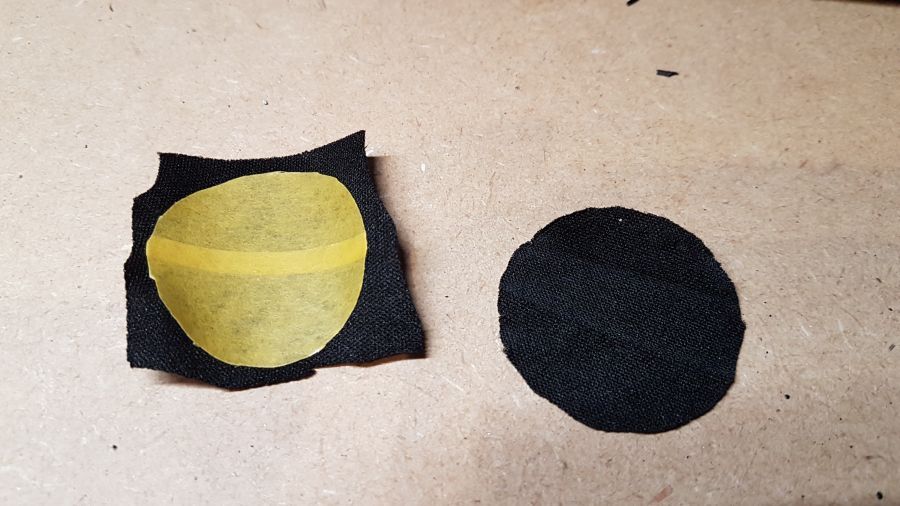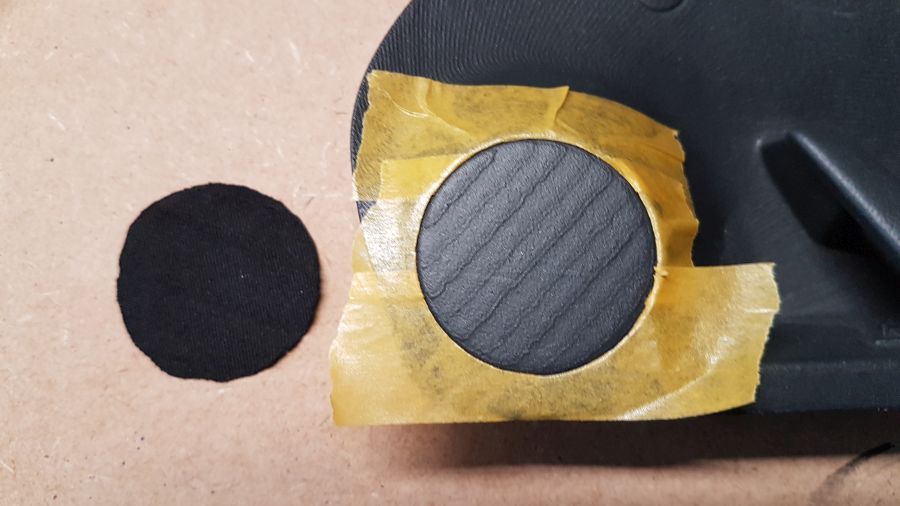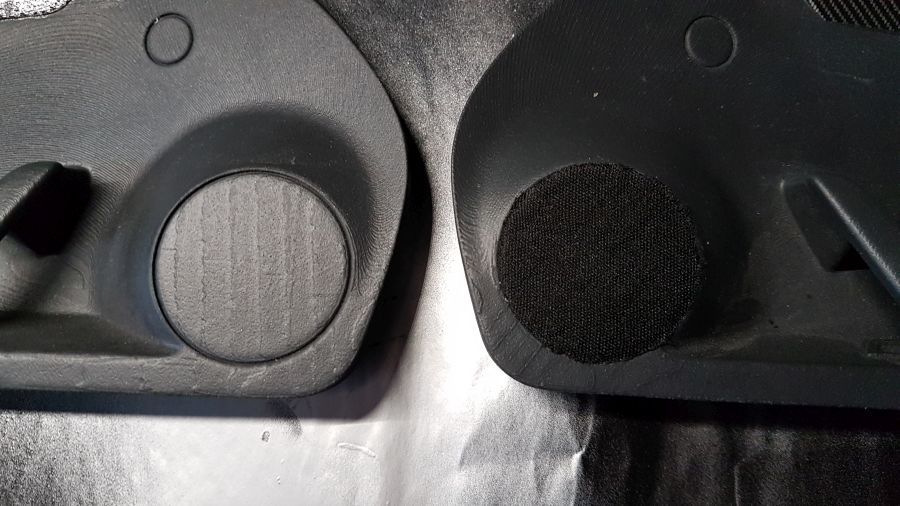 Nu een brandblusser zien te maken. Niet eenvoudig, maar ik wil het toch proberen. Ik gebruik een houder waar aluminiumfolie op heeft gezeten voor keukengebruik.
Now i will create a fire extinguisher. Not easy, but i will try. I will use the inside roll of aluminium roll for kitchen use.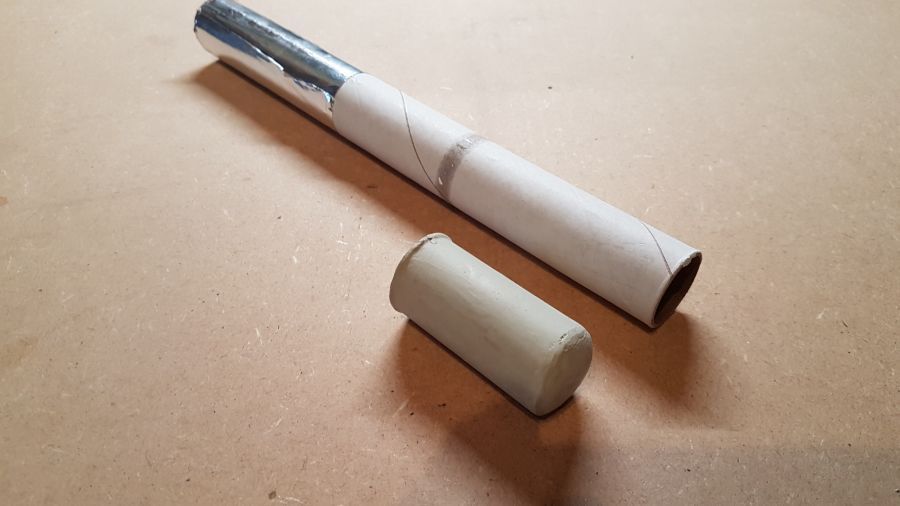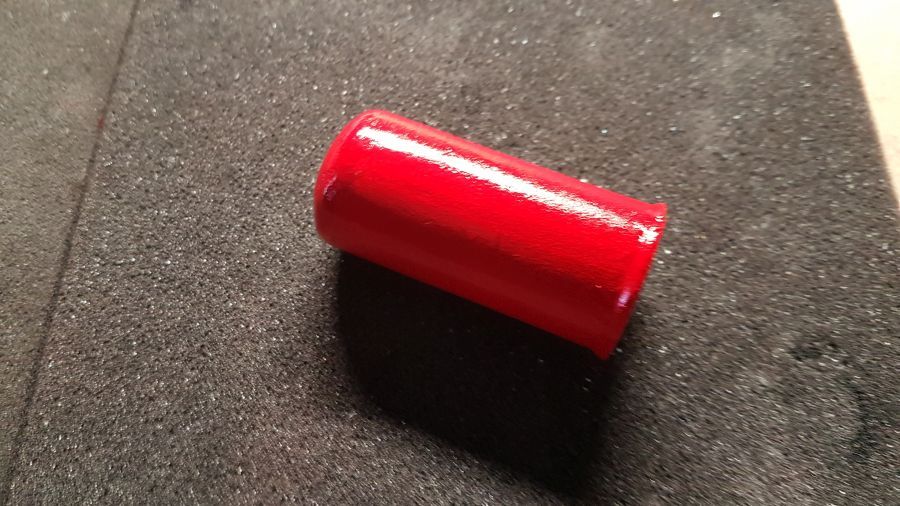 Nu wat stof rondom voor het maken van de houder...
Now some fabric around it to create it's container...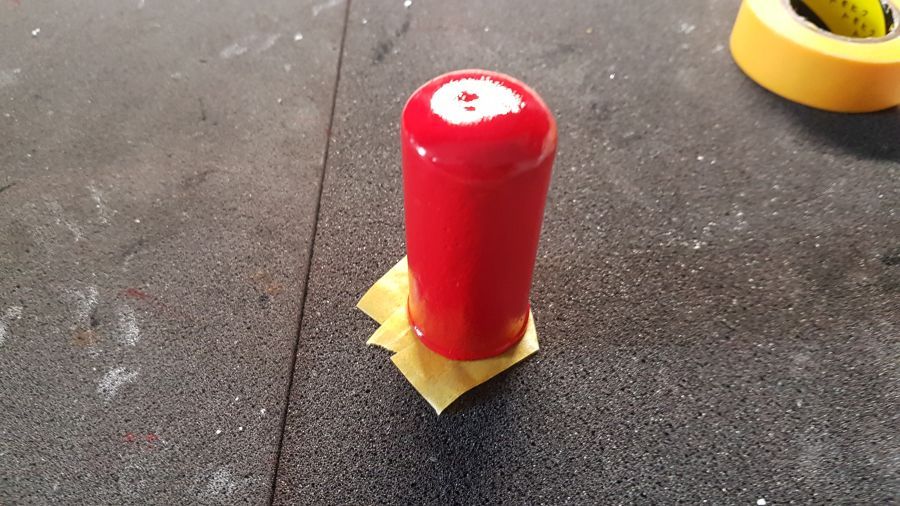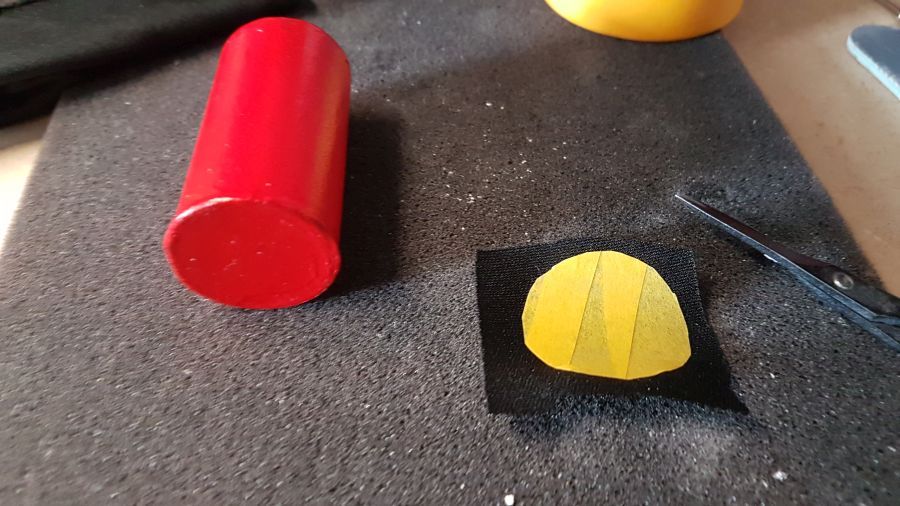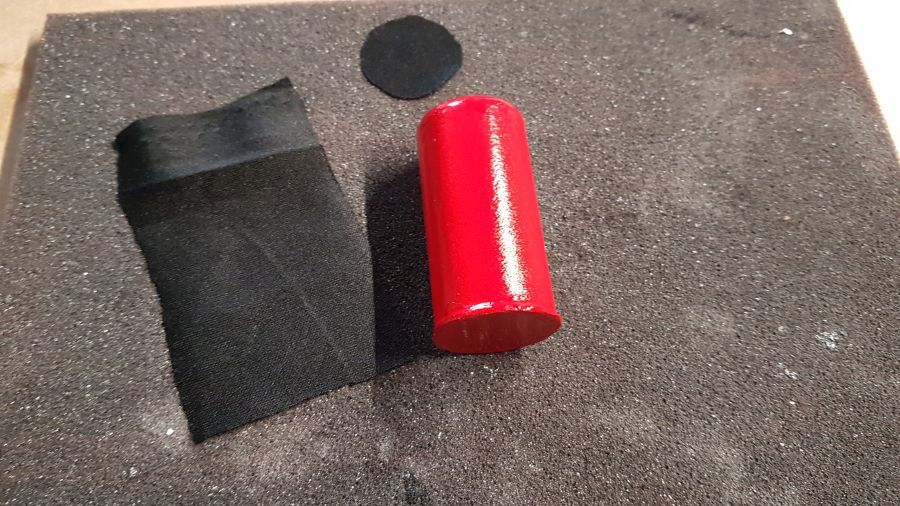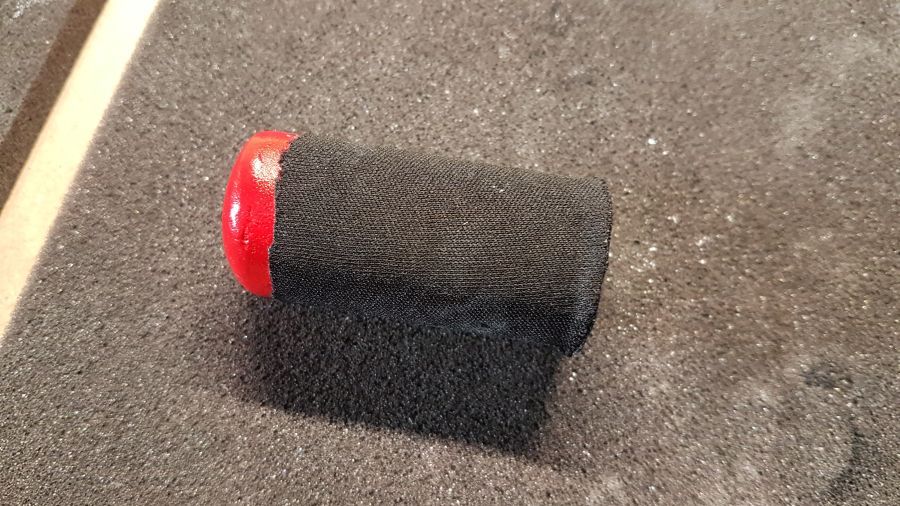 Dan de riemen...
Next are the straps...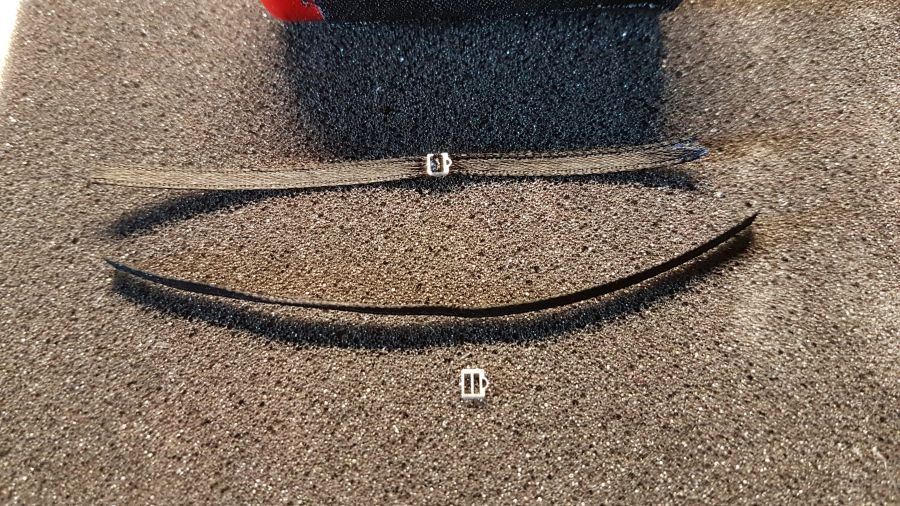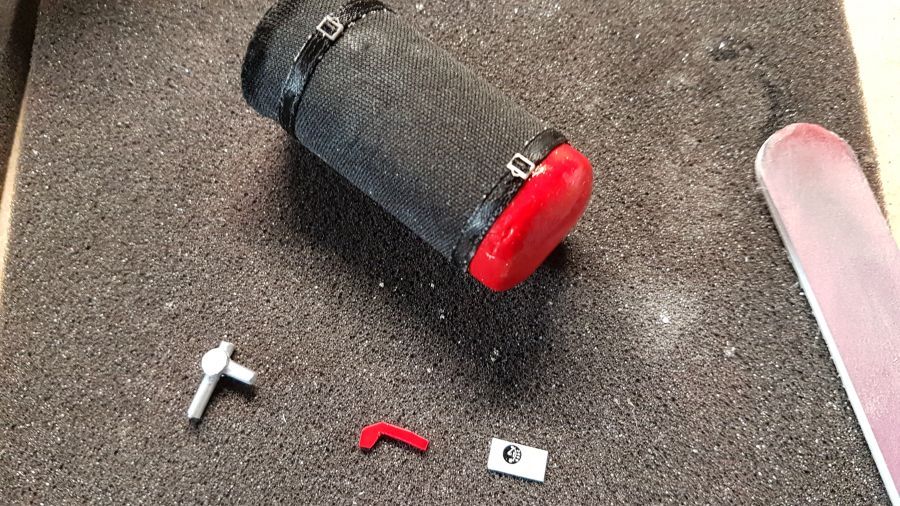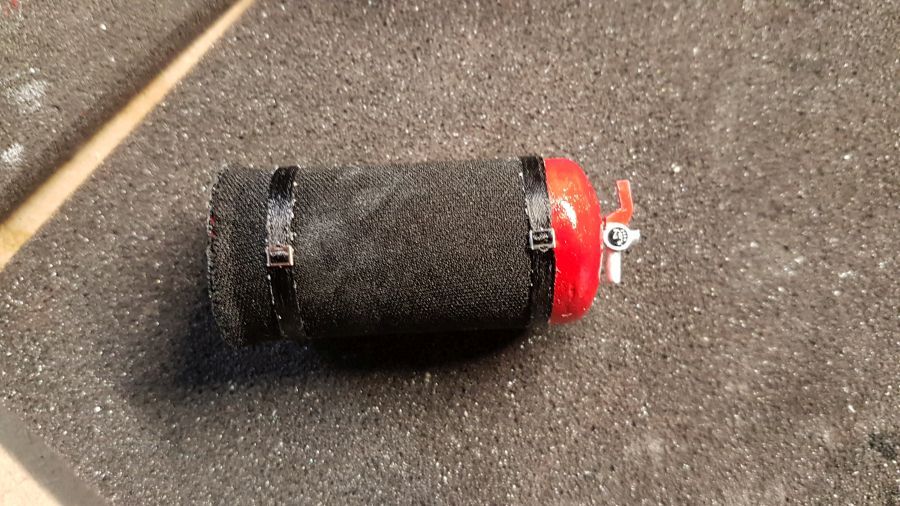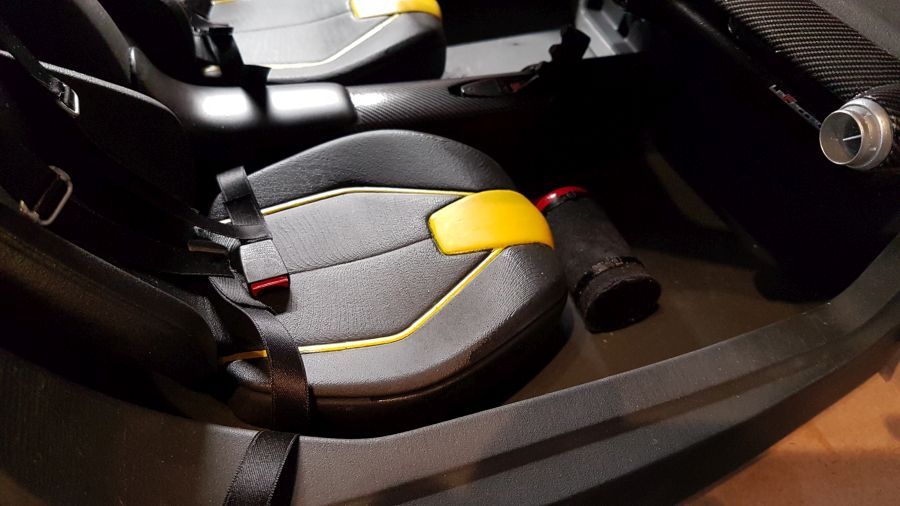 Nu is het tijd om de velgen aan te pakken. Sebastiaan heeft ze zilver gespoten, maar in een poll op facebook vond bijna iedereen (inclusief ikzelf) dat zijdemat zwart mooier zou zijn. Dus.... werk aan de winkel. Eerst spuit ik ze glanzend zwart en daarna gaat er met een zijdemat laklaag overheen. 
Now it's time to work on the rims. Sebastiaan painted them silver, but in a poll on facebook nearly everyone (myself included) voted that semi gloss black would be more suitable. So... a job to do. First i will paint them gloss black and then finish them with semi gloss lacquer.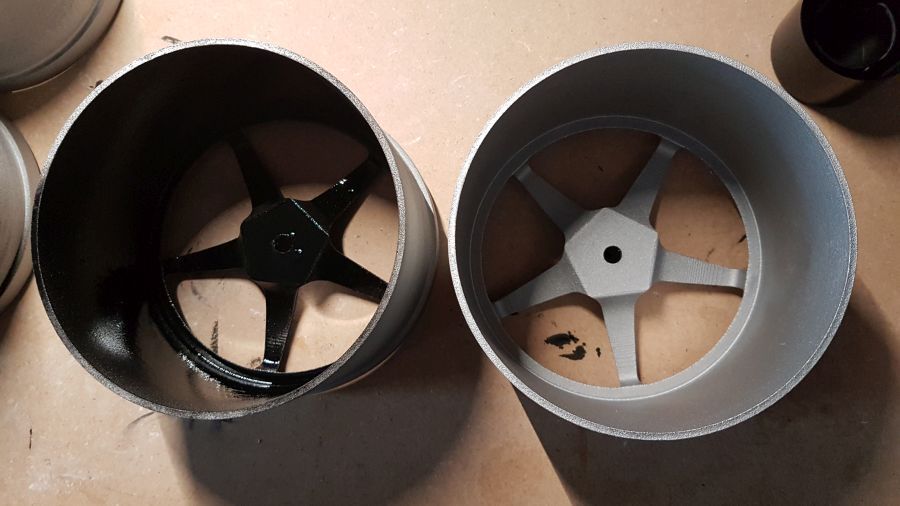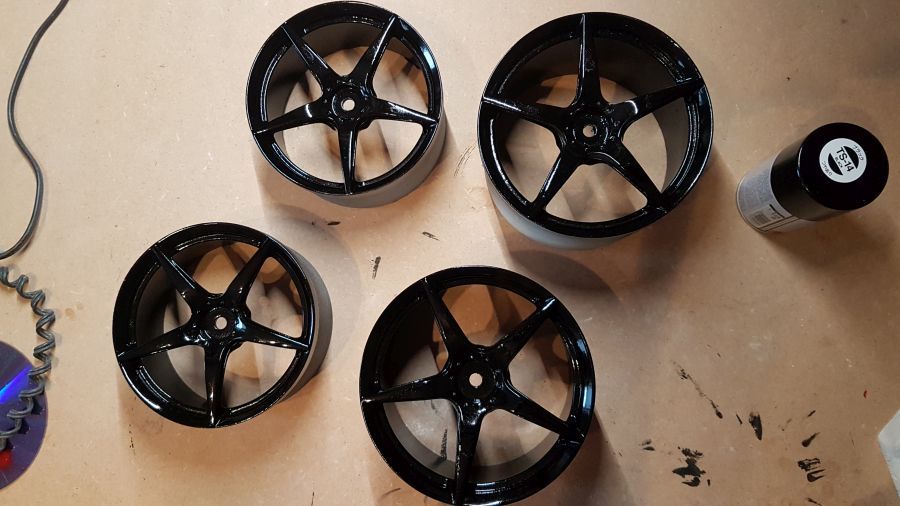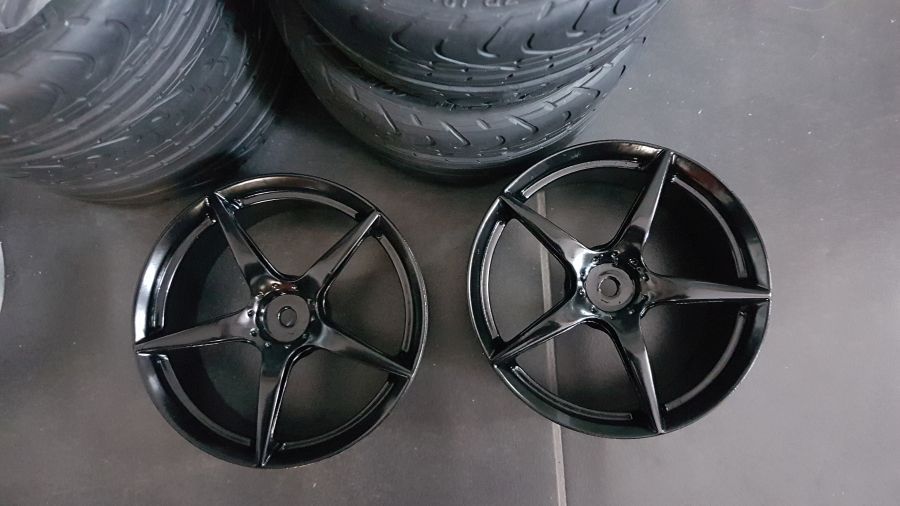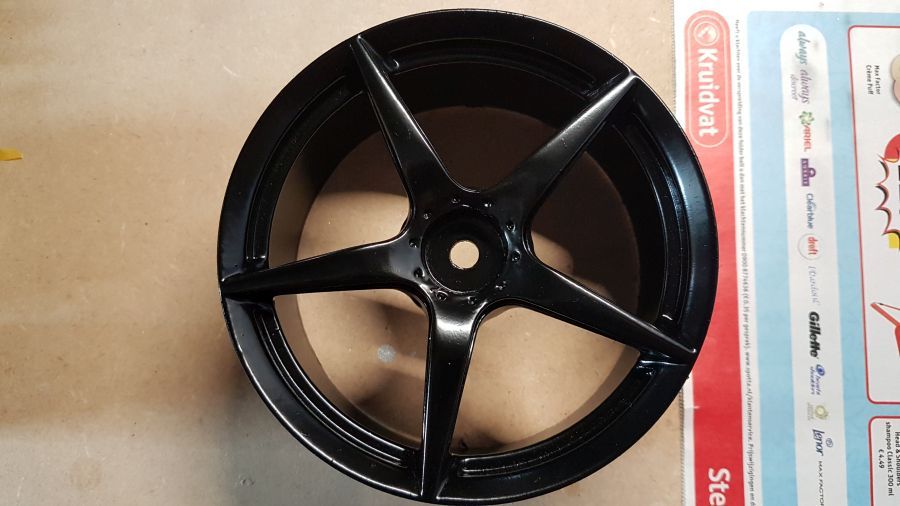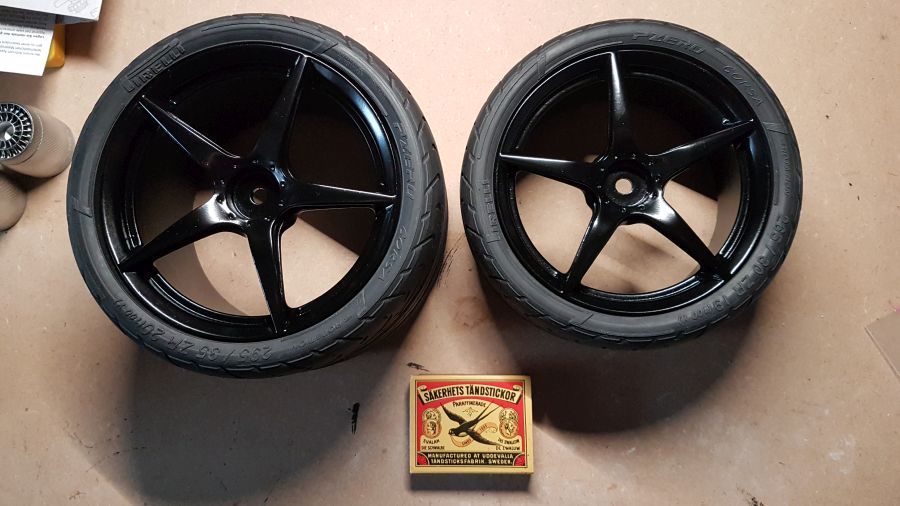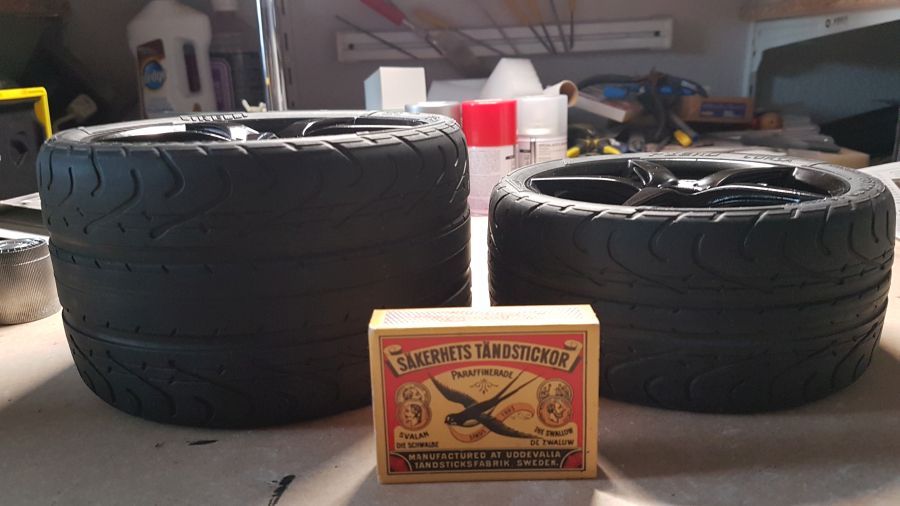 De achterlichten moeten van een chroomlaag worden voorzien. Voordat ik dat kan doen met Alclad II, gaat er eerst zwarte primer op en vervolgens glanzend zwart. Daarna pas het chroom.
The rear lights need to be covered with chrome. Before i can do this with Alclad II, i will apply black primer first and then gloss black. Only then i will start the chrome process.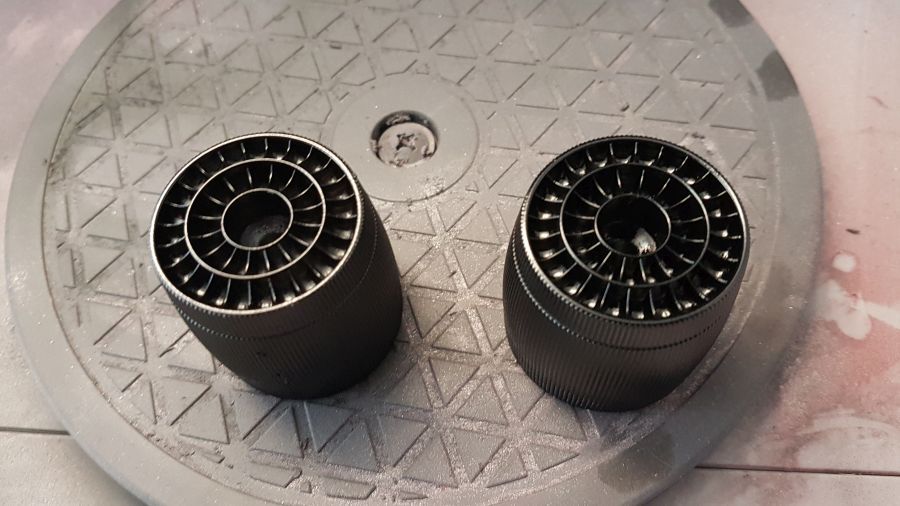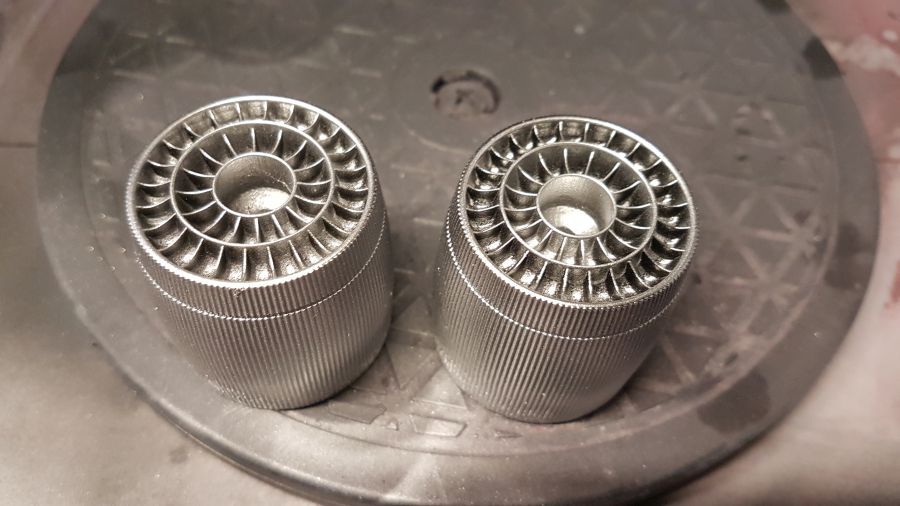 De body wordt gespoten met de echte Ferrari-kleur en is uiteindelijk klaar...
The body was painted with the real Ferrari colour and is ready after a while...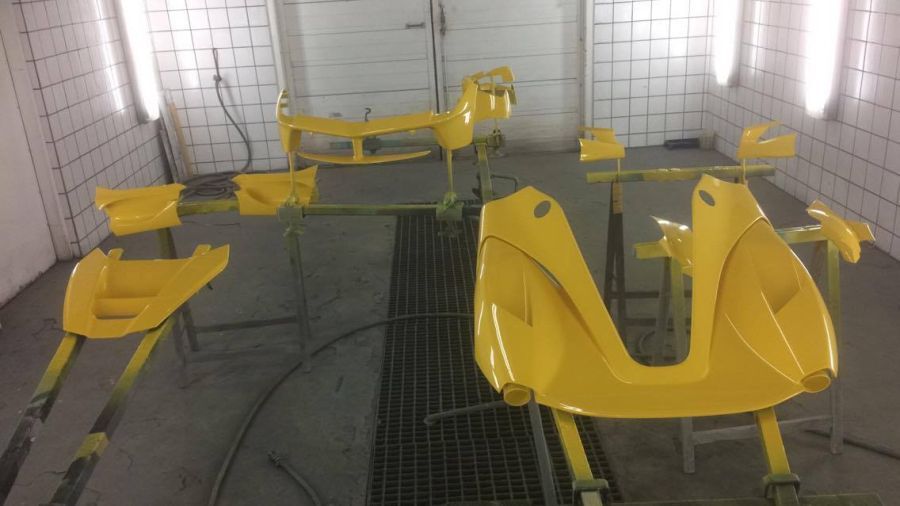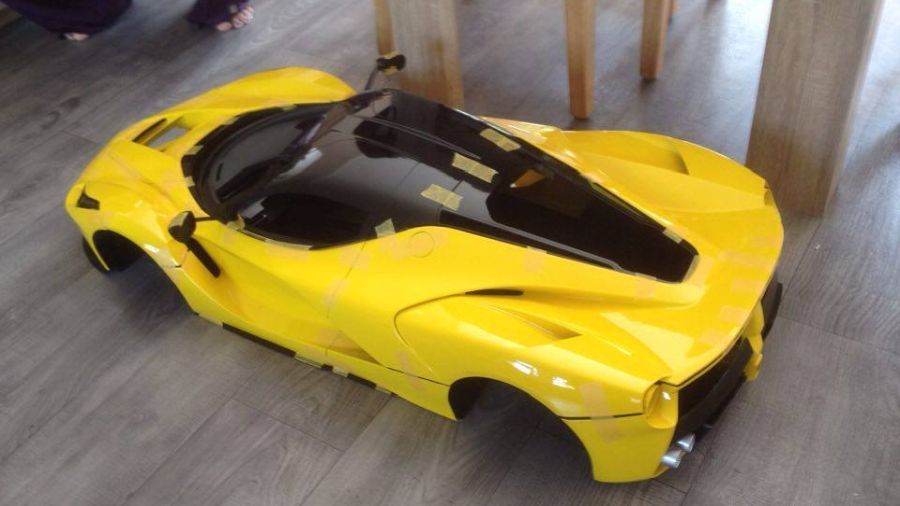 Body is nu bij mij thuis om het af te maken...
Body is now at my home to finish it...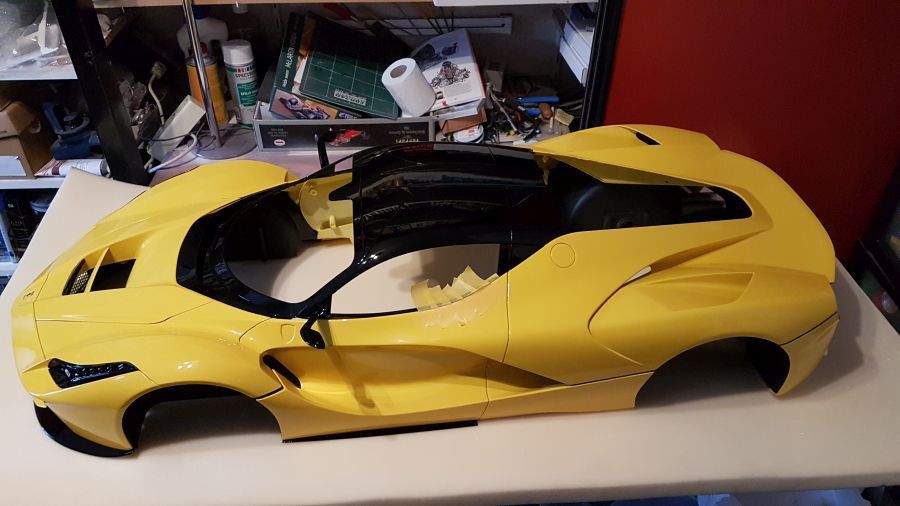 Dan het werk aan een rooster voor de voorkap..
Next is working on an intake for the front hood..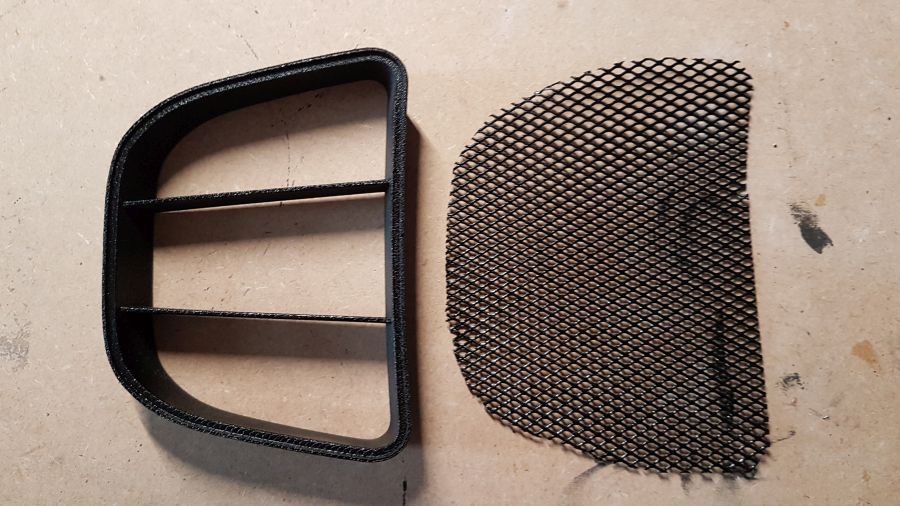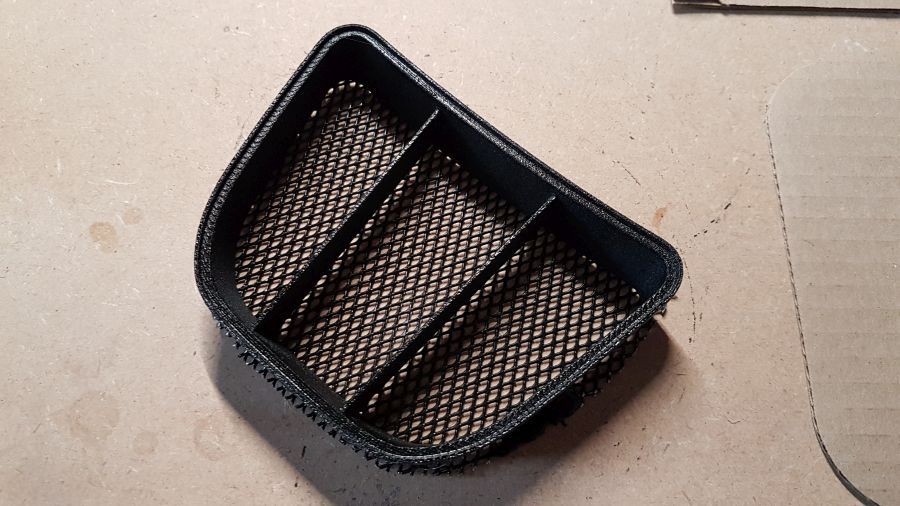 Door met het remlicht. Lastig karwei. Het remlicht is geprint met structuur. De rondjes moeten zichtbaar blijven. Mooi glad maken is er niet bij...
To continue with the brake light. Tough job. The brake light was printed with structure. The circles need to stay visible. To make it smooth is not going to work...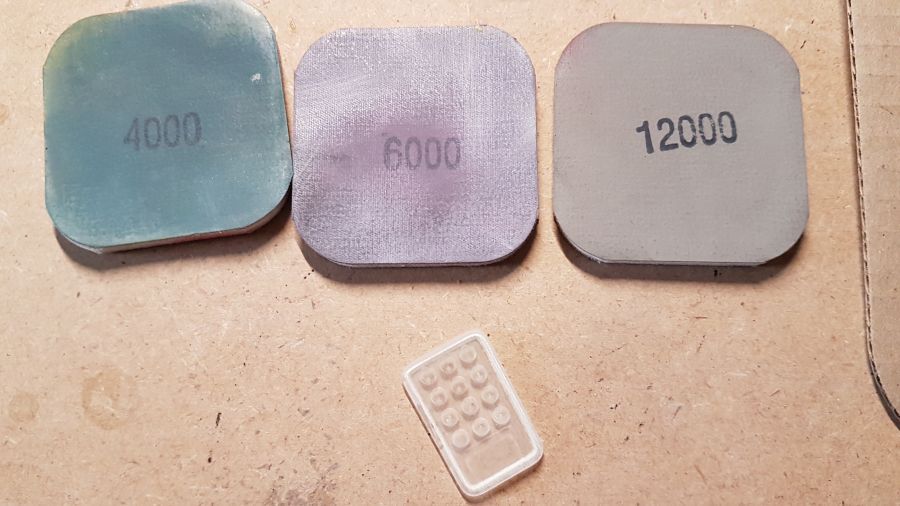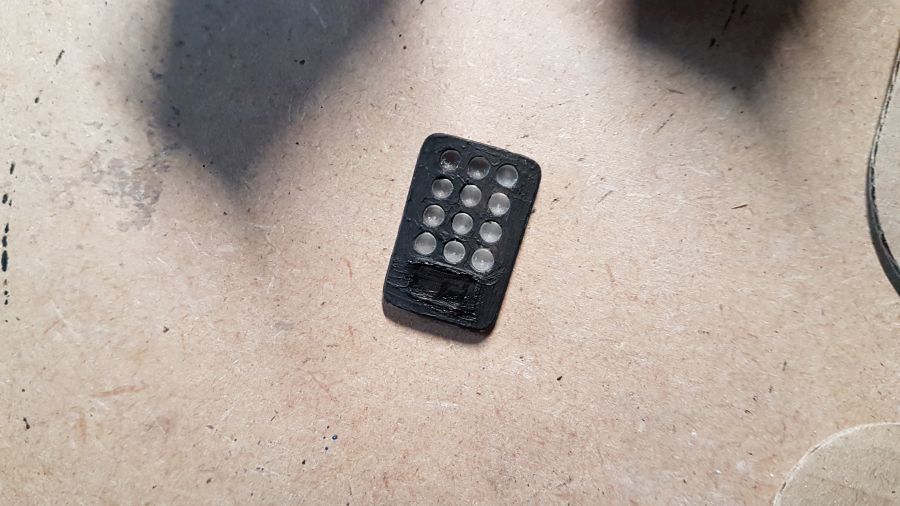 Afgekeurd dus. Weer schoongemaakt en iets anders bedenken. Misschien carbon fiber?
So disapproved. I cleaned it and have to think of something else. Maybe carbon fiber?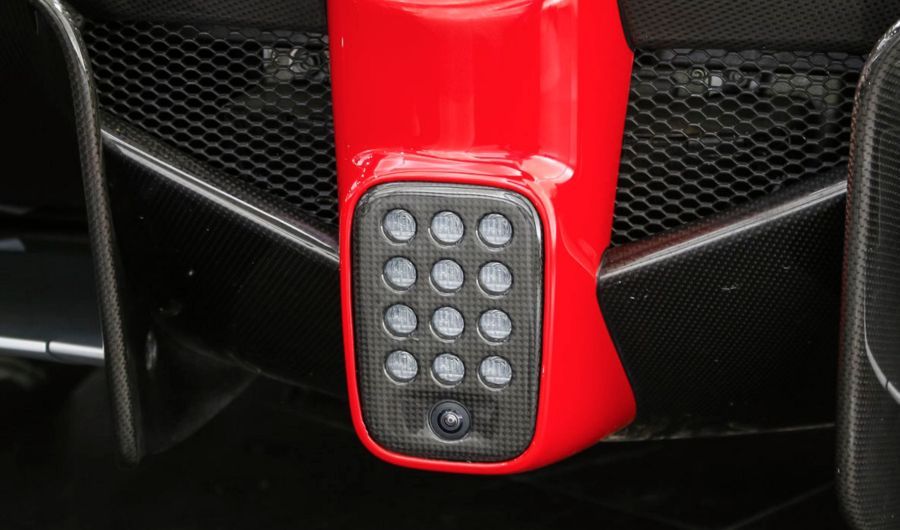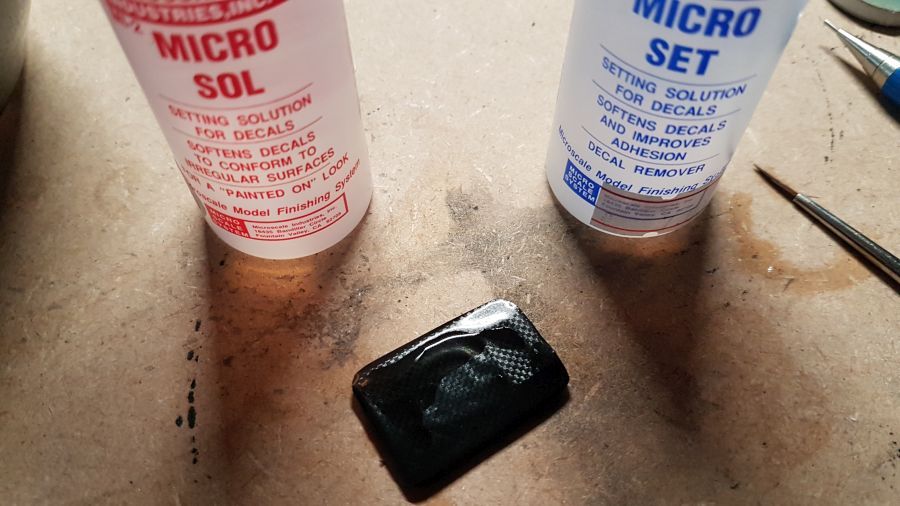 De decal blijft slecht plakken aan dit materiaal.
The decal sticks badly to the material.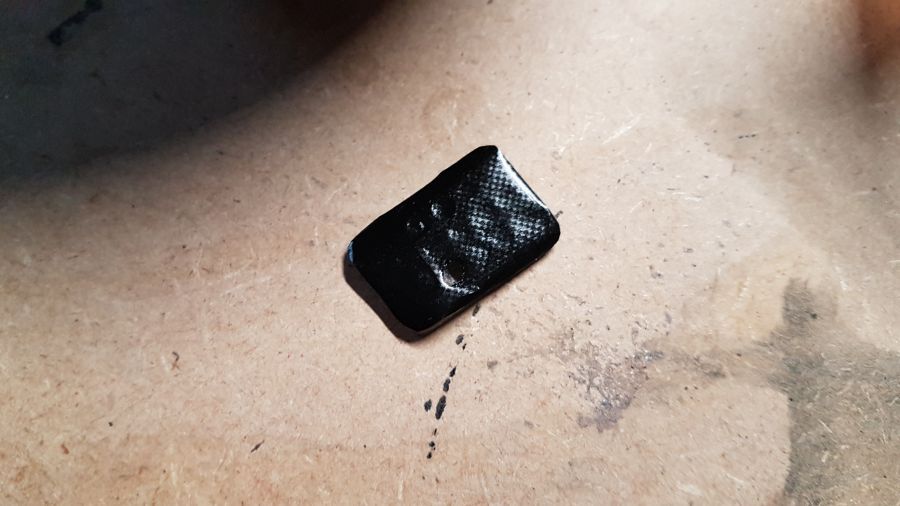 Nu de Micro Set en Sol goed laten drogen en dan de rondjes uitsnijden.
Now let the Micro Set and Sol dry and then cut out the round shapes.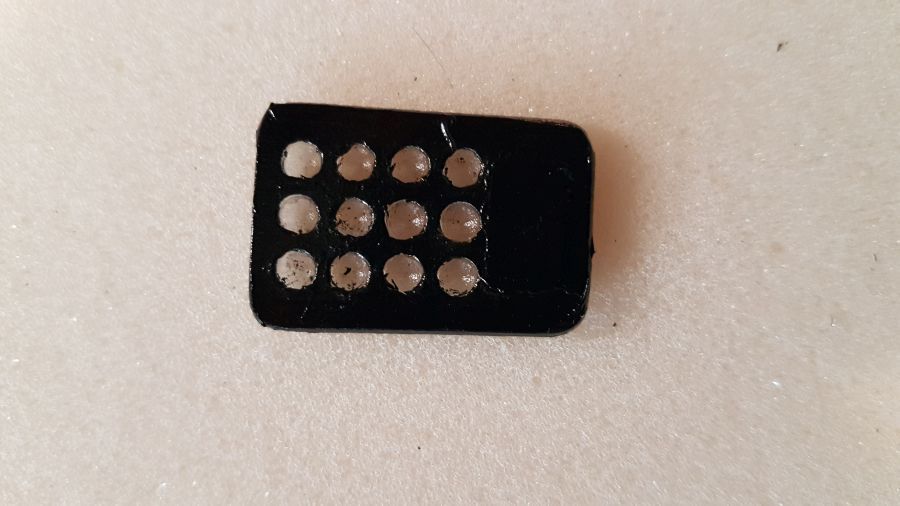 De roosters voor de achterklep maak ik door eerst een template te maken van papier.... Daarna is het een kwestie van knippen, buigen, spuiten en scherpe randen wat afzwakken.
The vent covers for the rear cover are being made by creating a paper template first.... Next it will be cutting, bending, painting and smoothen the sharp edges.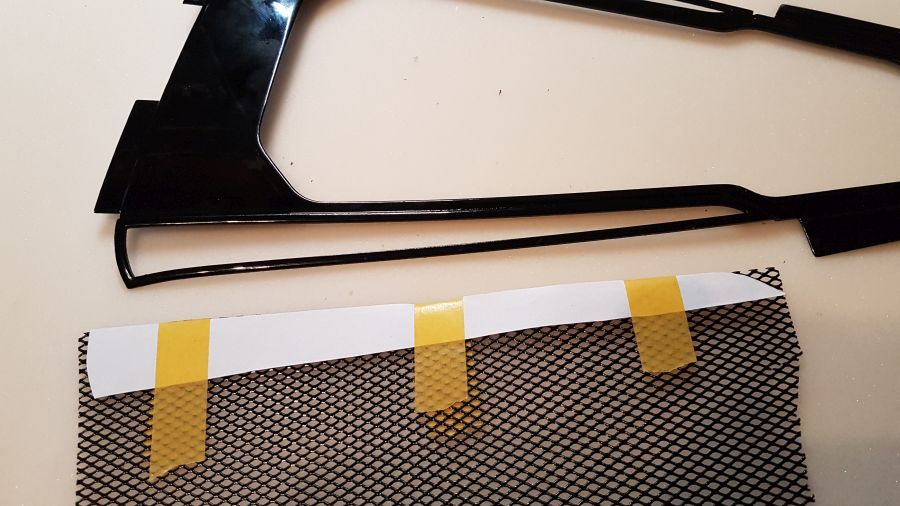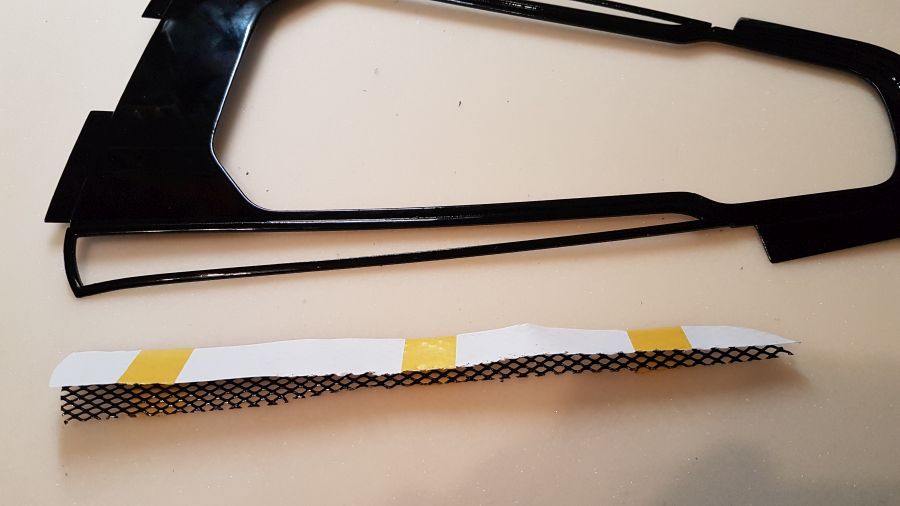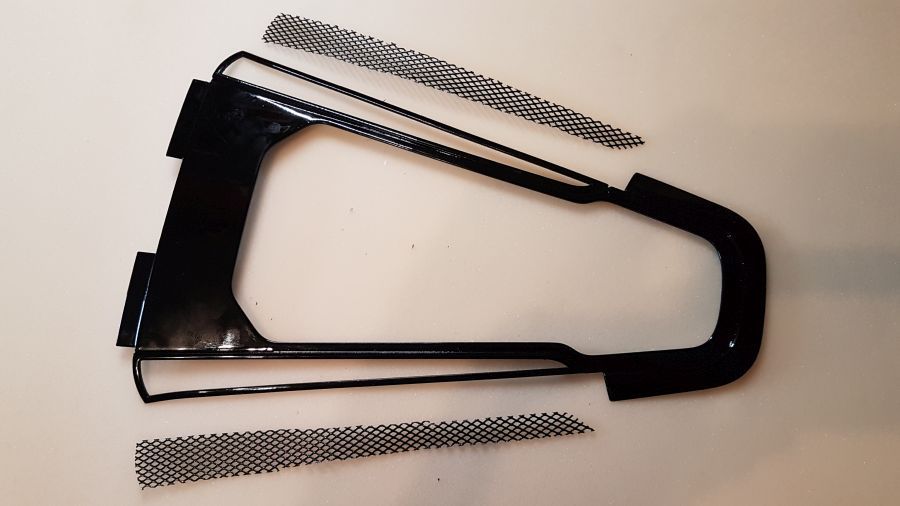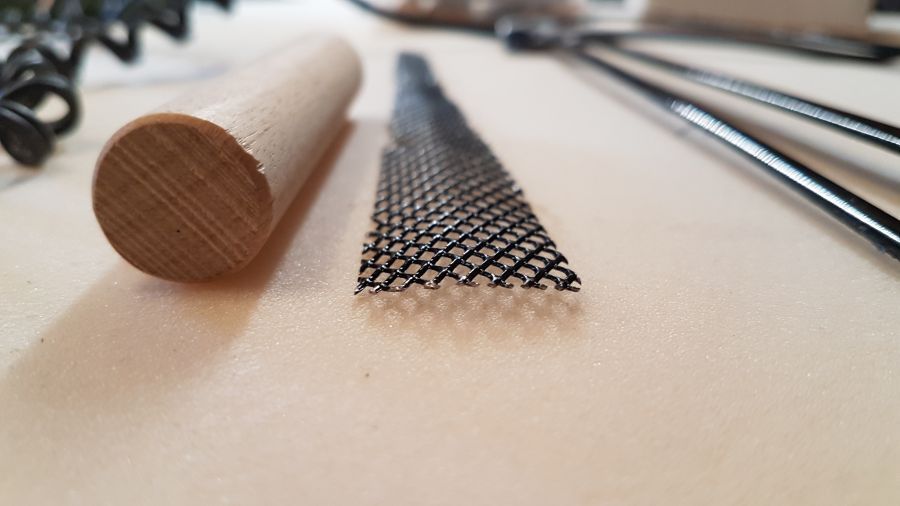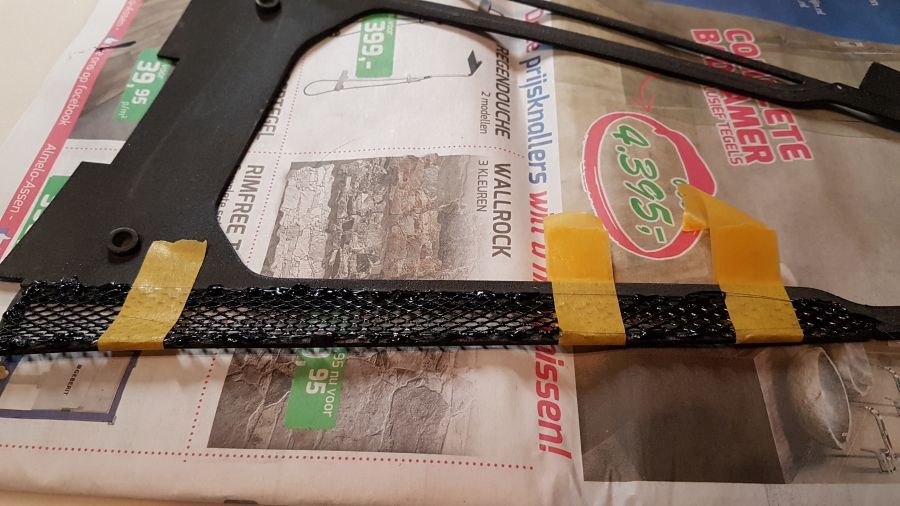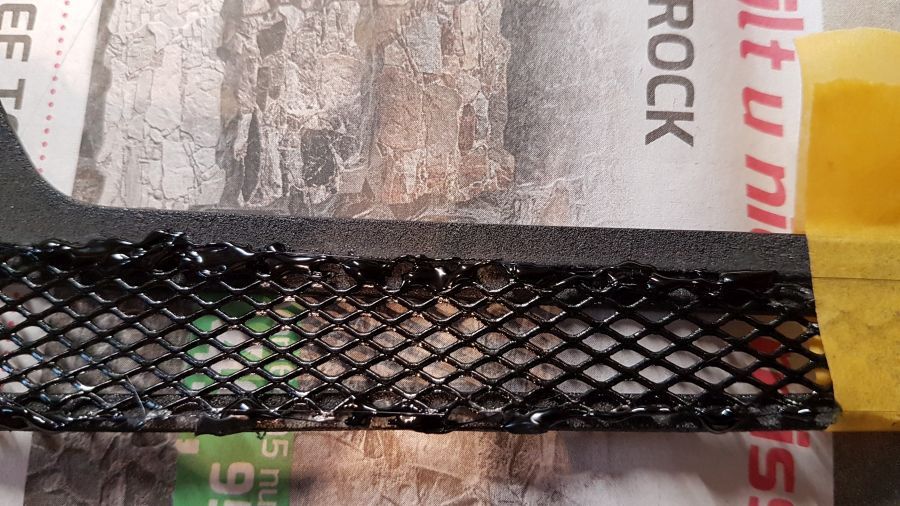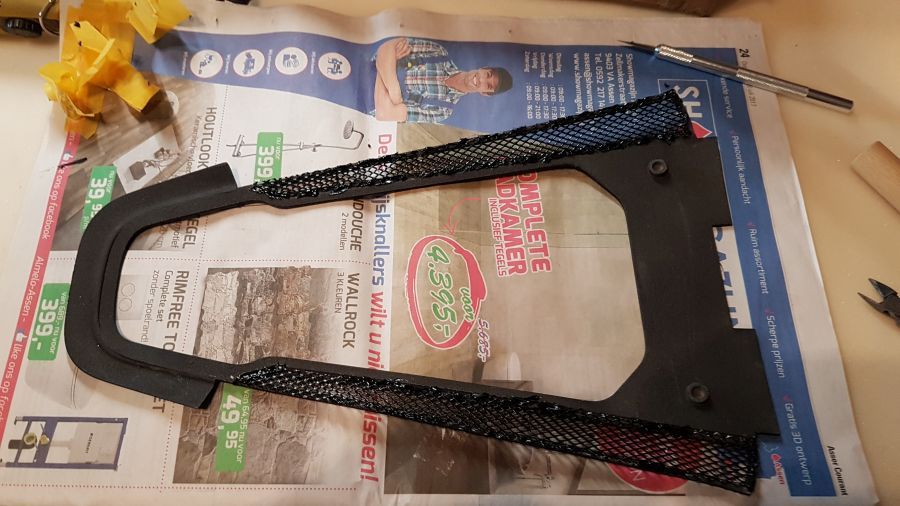 Dan de achterruit uitknippen met behulp van een mal. De ruit is een polyestersoort.
Then cut the rear window by using a template. The window is some kind of polyester.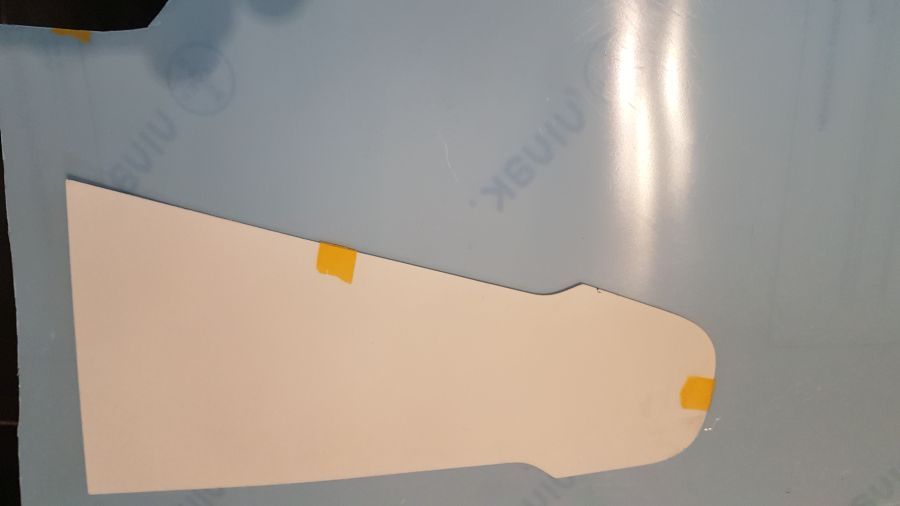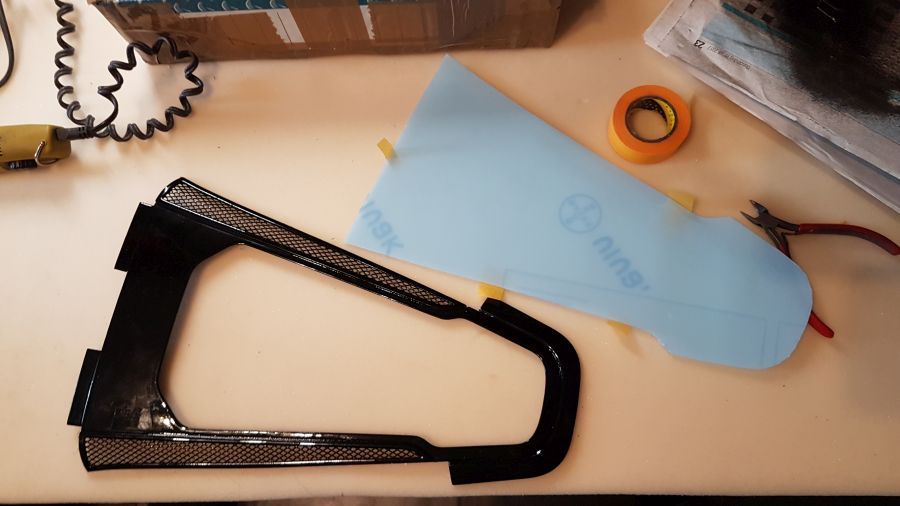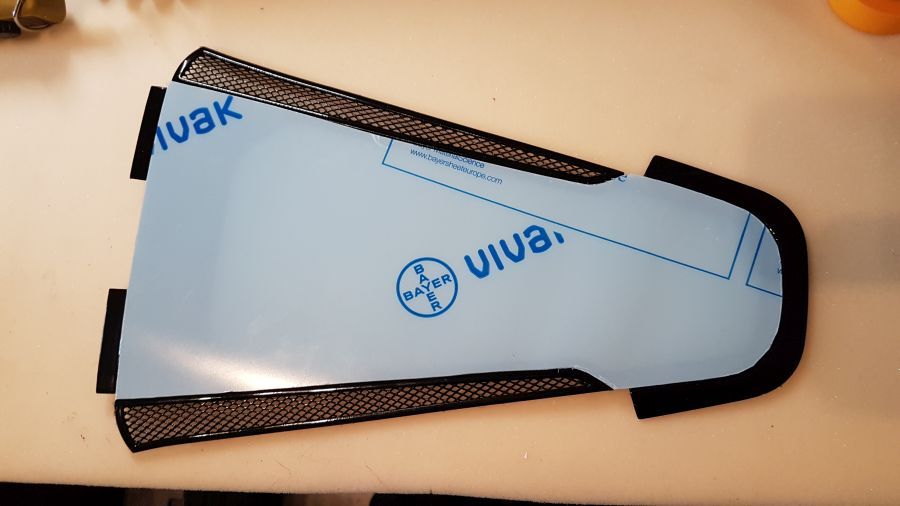 Nog een rooster maken met behulp van een mal. Deze is wat lastiger.
Creating another vent cover by use of a template. This one is more tough.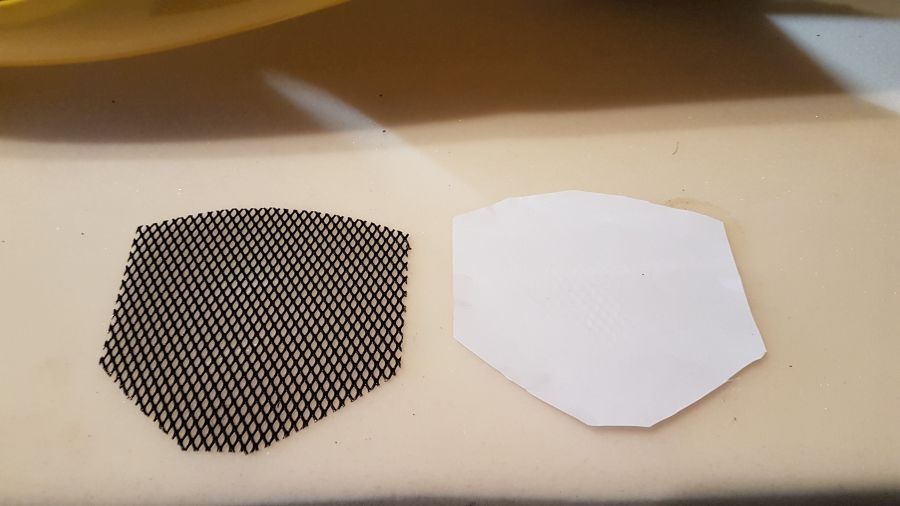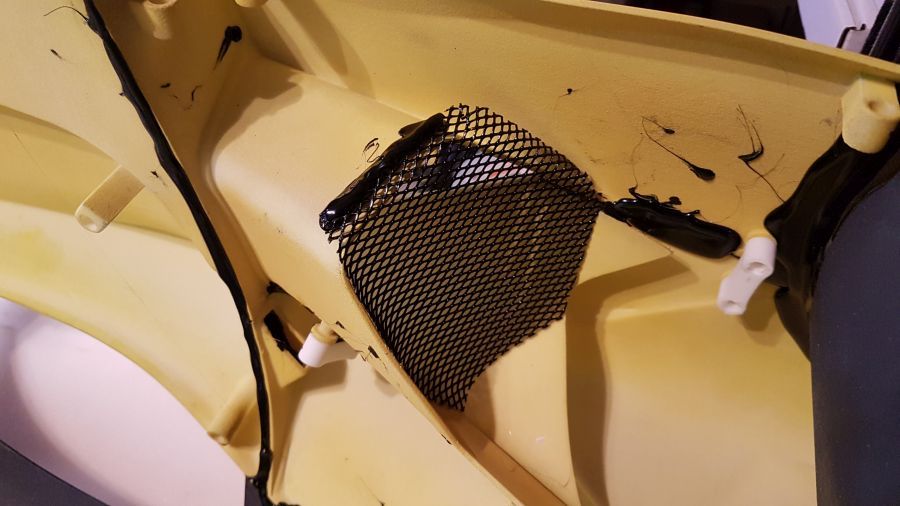 Dan wordt het tijd om de eerder gemaakte modules erbij te pakken.
Then it's time to get the modules that were made before.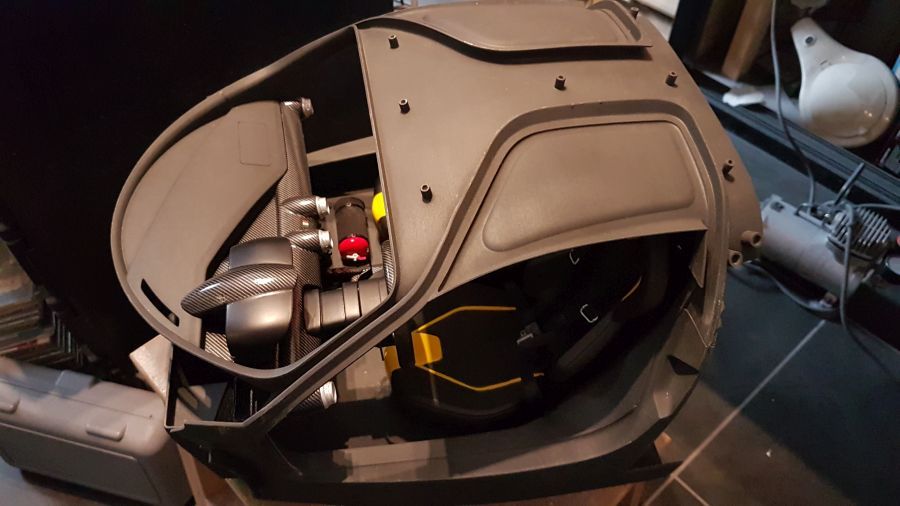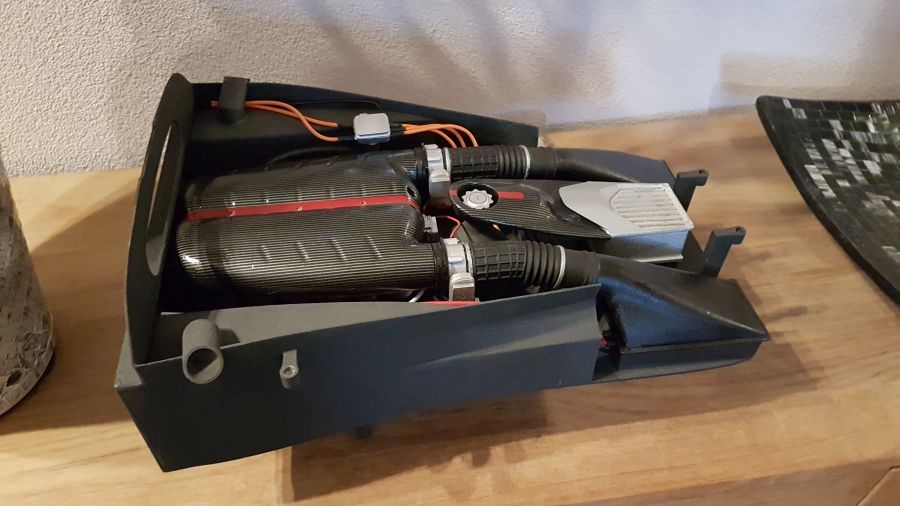 En nu maar duimen dat het allemaal nog past. Eerst de module van de motor.
Now cross your fingers everything still fits. First the engine module.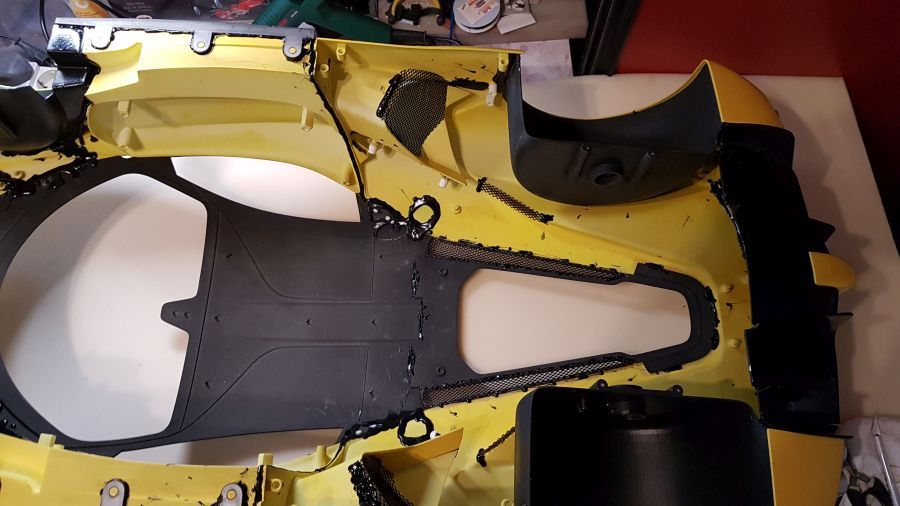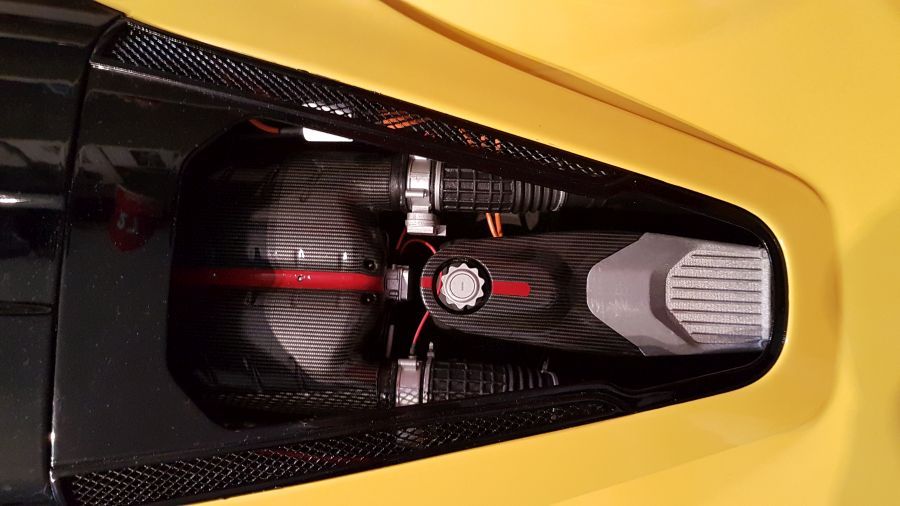 Even testen of de vloer nog past...
Test fit of the floor...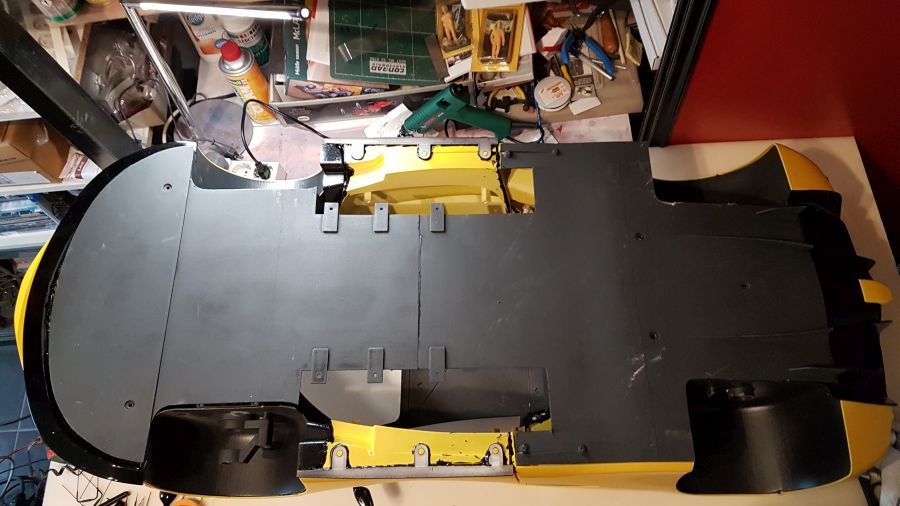 Dan de interieur module.
Then the interior module. 
Geplaats... Het passen had iets beter gekund, maar daar kan ik niets aan doen. Misschien dat het nylon toch iets vervormd is na het spuiten.
Attached... The fit could have been slightly better, but nothing i can do about it. Maybe the nylon got deformed a bit after the painting.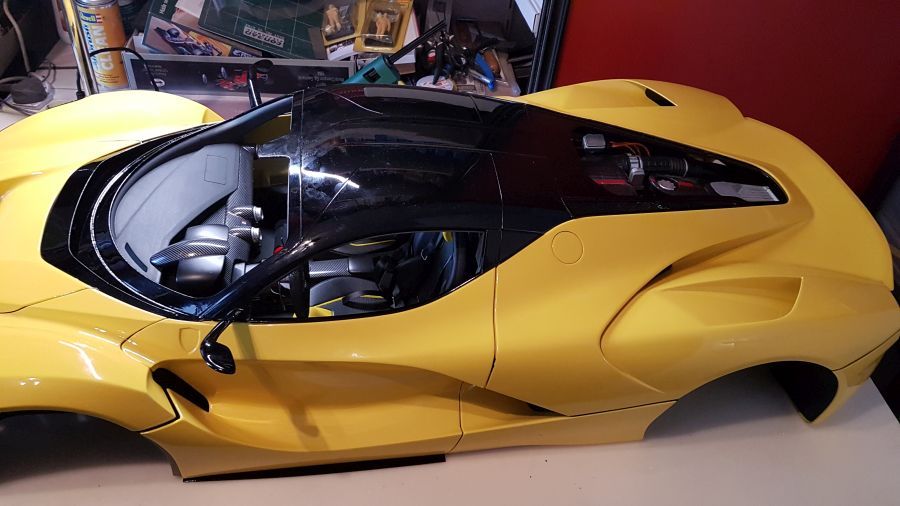 Dan de deurpanelen erin... Zeer lastig. Er is geen ruimte om ook maar iets te doen... Maar, ze zitten erin en maken zelfs dat de interieur module weer wat beter past.
Then the door panels... Very tough. There is simply no space to do anything... But, they are in and luckily they make the interior module fit better.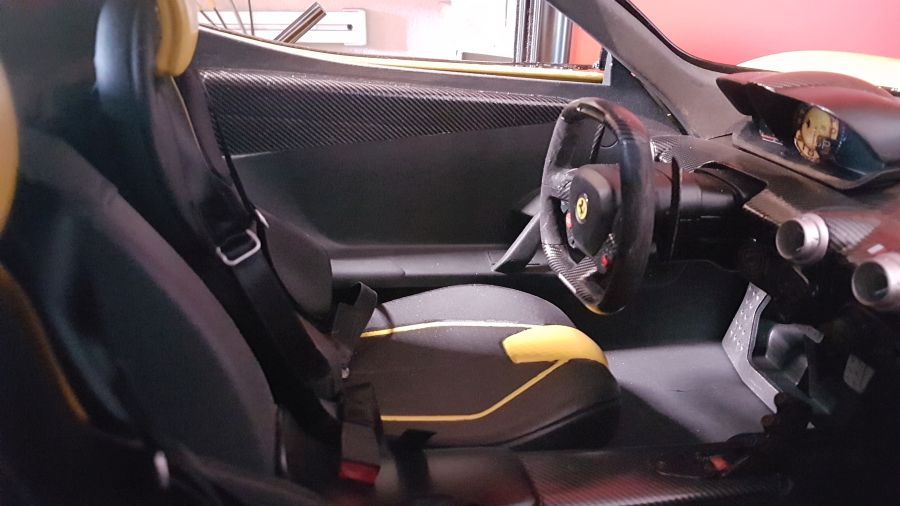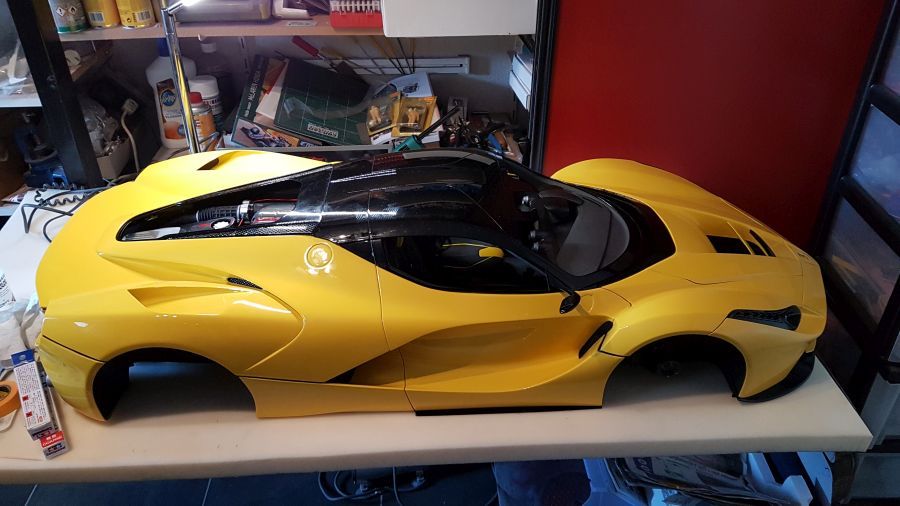 Door met het kleuren van de achterlichten. Weer geen eenvoudig karwei. Normaal breng ik de verf aan met een kwast, een beetje dik, laat het drogen en het is mooi rood. Dat gaat niet met deze maat. Dit moet echt gespoten worden. Het kleuren gaat zeer traag. Je wilt immers geen lopers in de verf? De 1e foto laat het zien na 5 keer spuiten, de 2e na 15 keer spuiten.
To continue with the colouring of the rear lights. Again a tough job. Normally i paint lights with a brush, a bit of a thick layer, let it dry and it's nice red. That will not work with these sizes. This really needs to be airbrushed. The colouring process is very slow. You want a smooth surface, right? The first picture after 5 times spraying, the 2nd after 15 times spraying.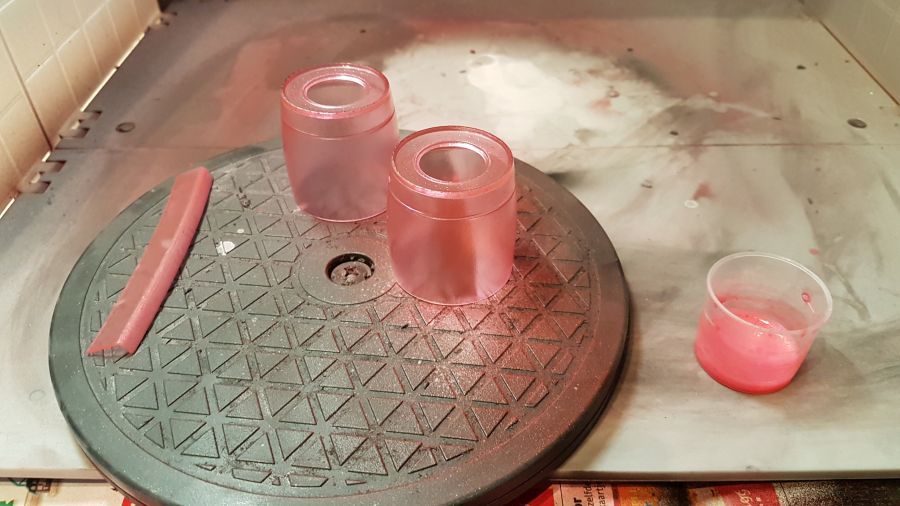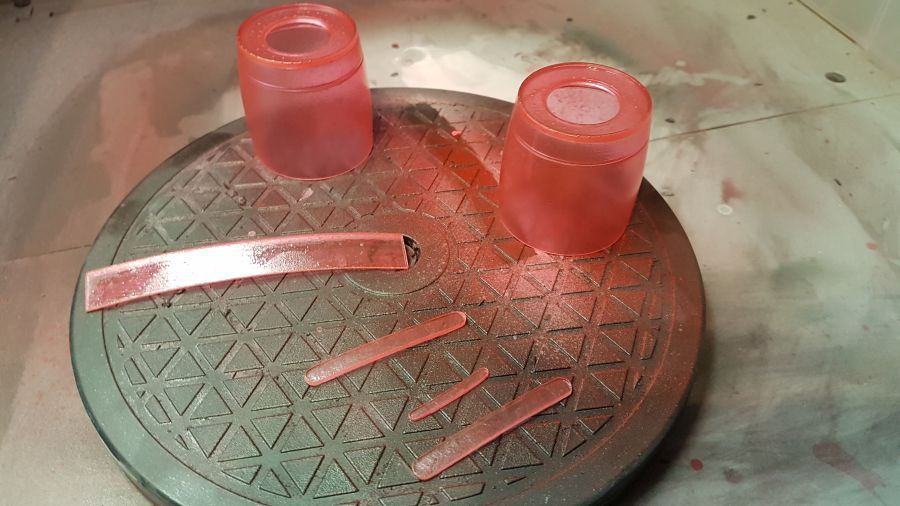 Na 25 lagen... Komt dichterbij..    Vandaag is Sebastiaan langs geweest. De lichten zijn afgekeurd. Waarschijnlijk veel werk om ze te herstellen en opnieuw te bewerken.
After 25 coats... Coming close..   Today Sebastiaan came along. The lights have been disapproved. Probably a lot of work to clean them and redo them.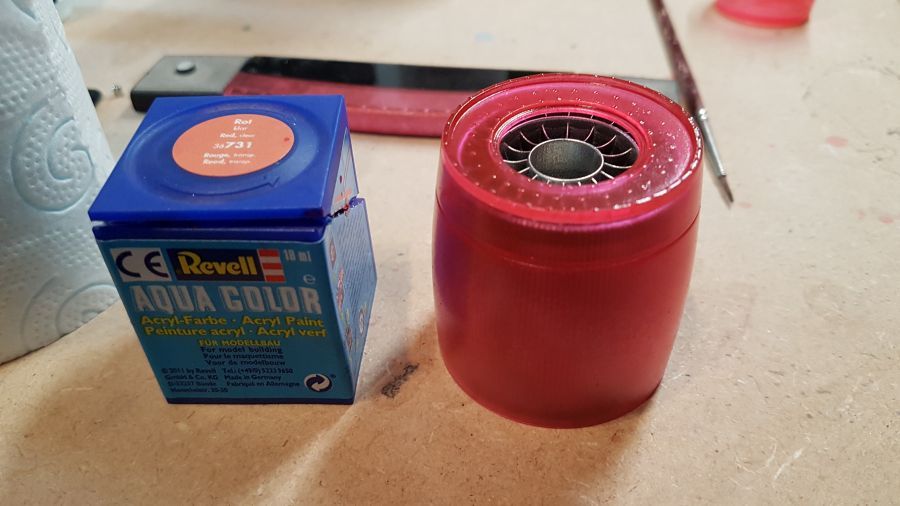 De spiegel is afgebroken bij het vervoer. Er moet een nieuwe houder gemaakt worden.  Dat is natuurlijk niet zo lastig.
The mirror was broken during transport. A new attaching point needs to be made. This is not difficult to do.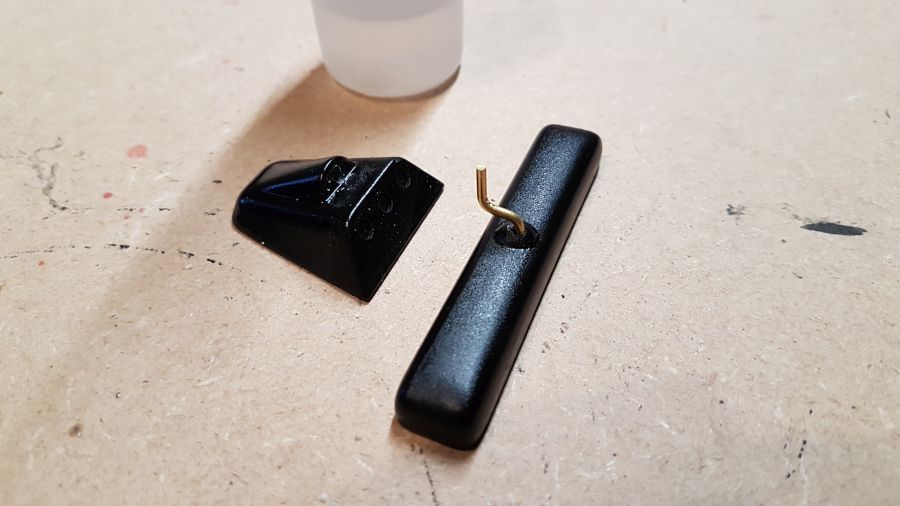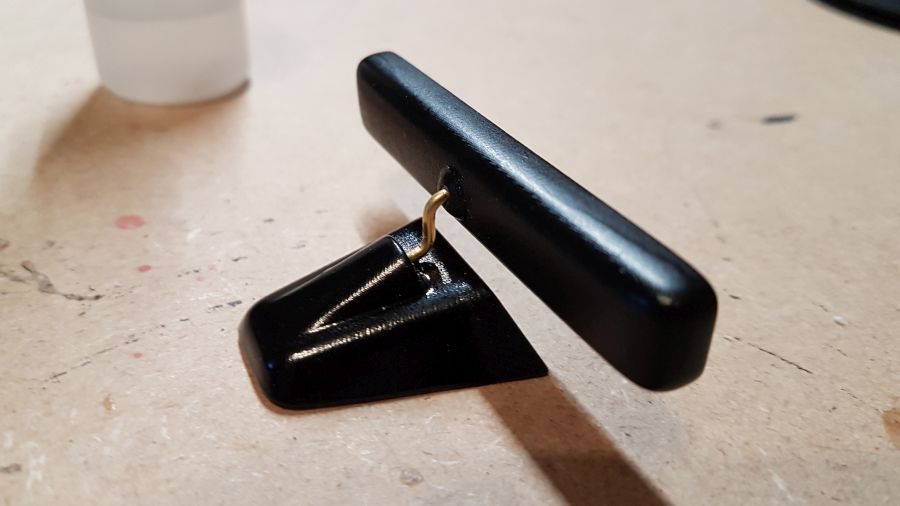 Dan de remschijven. Met die open velgen zou het stom lijken om gewoon de schijven van de printer te gebruiken. Op internet zag ik een foto van de schijven die ik als template kan gebruiken. De gaatjes moeten namelijk in een patroon worden geboord.
Next are the break discs. With these kind of open rims it would be stupid to use the discs as they are printed. On the internet i noticed a picture which i can use as a template. The holes need to be drilled in some kind of pattern.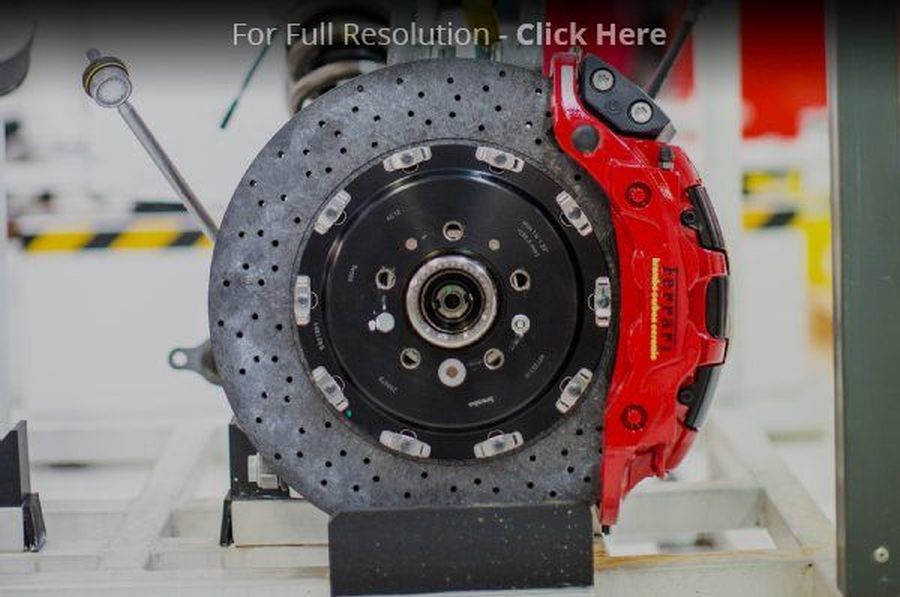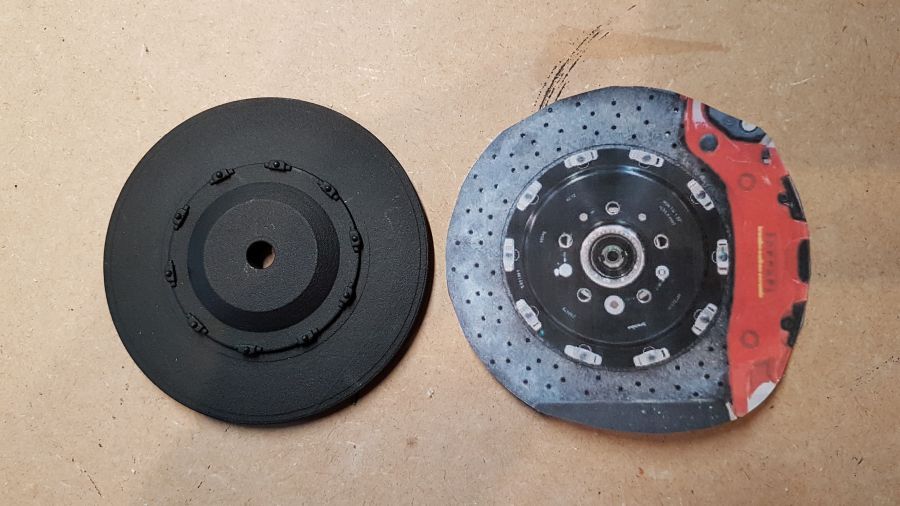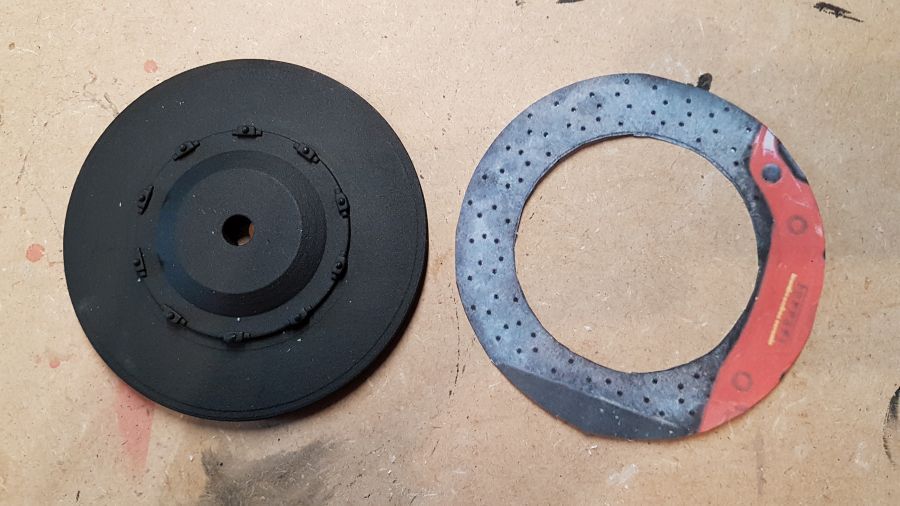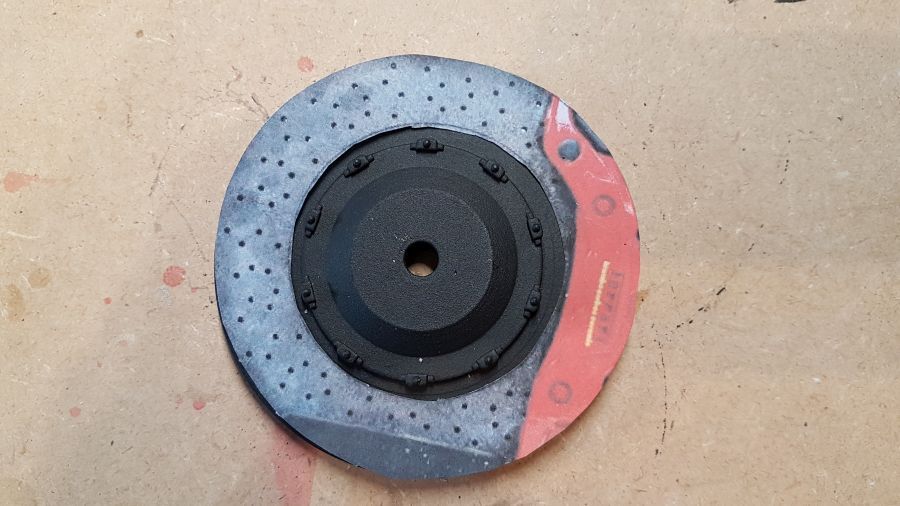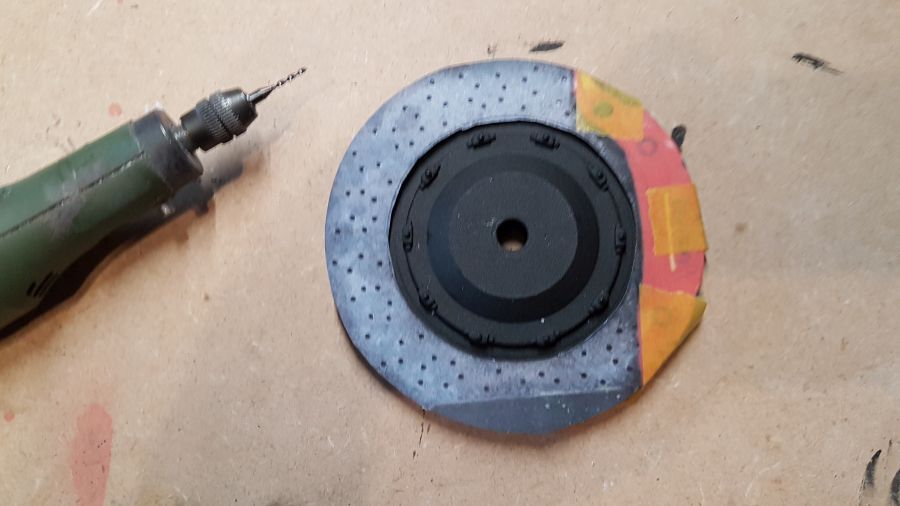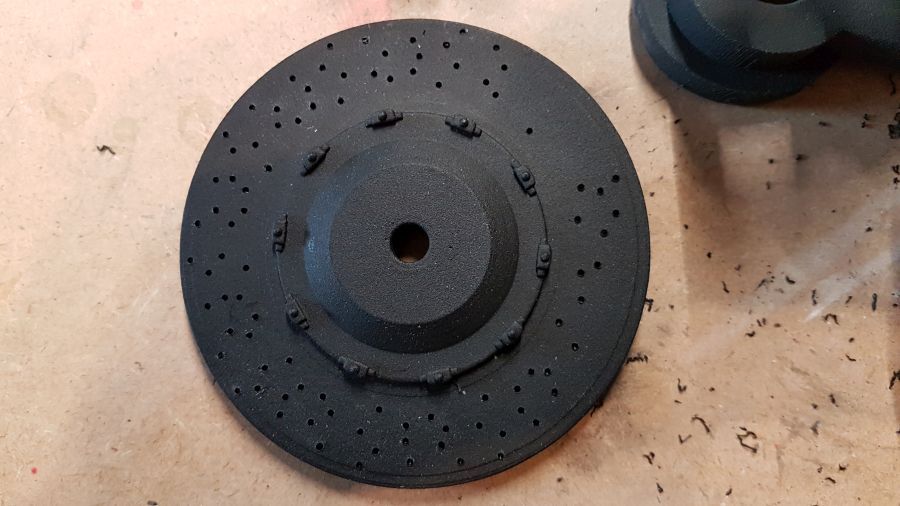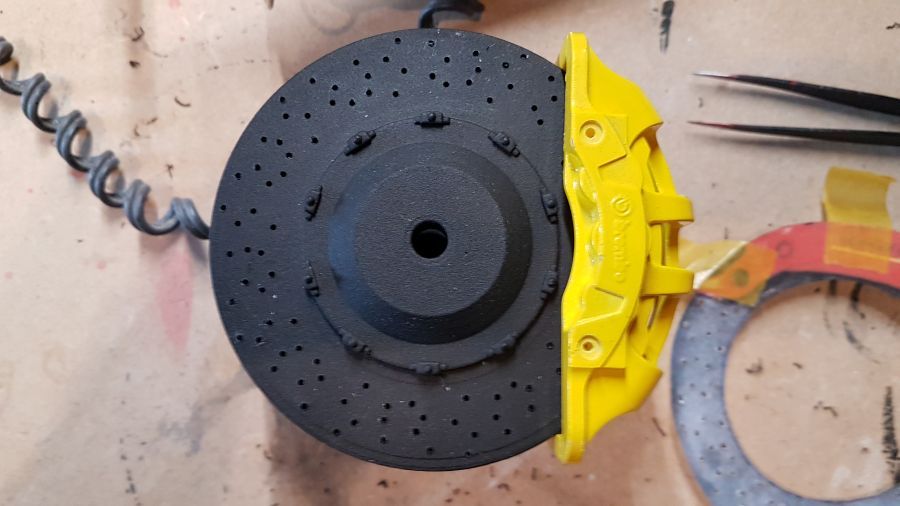 Vervolgens ga ik ze verven met Alclad II Magnesium door ze te tamponeren met een stukje wc-papier.
Then i paint them with Alclad II Magnesium by dabbing them with a piece of toilet paper.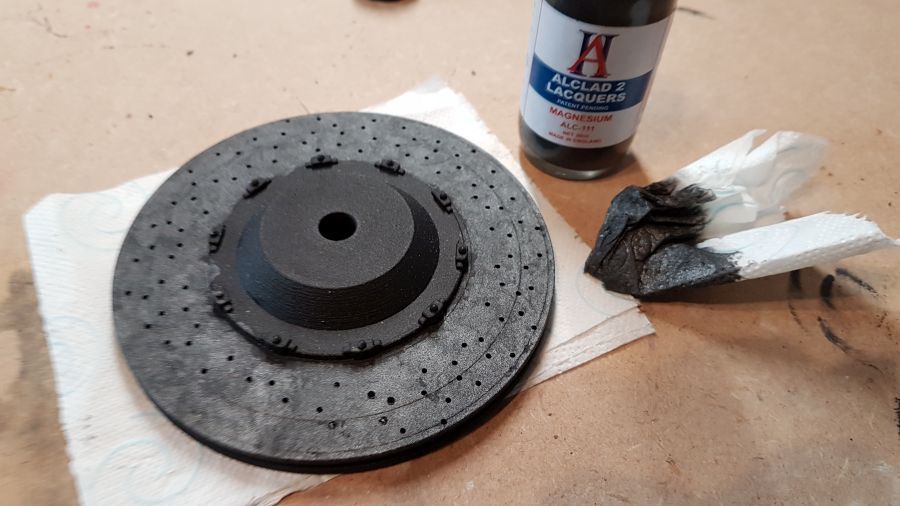 Dan krijgen de houders voor de assen de kogellagers en de remklauwen.
Then the keepers for the axles get their ball bearings and the calipers.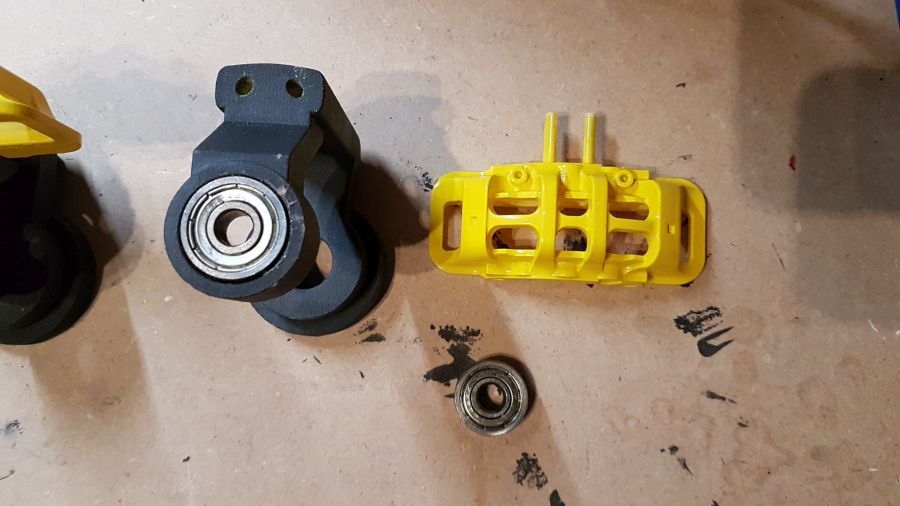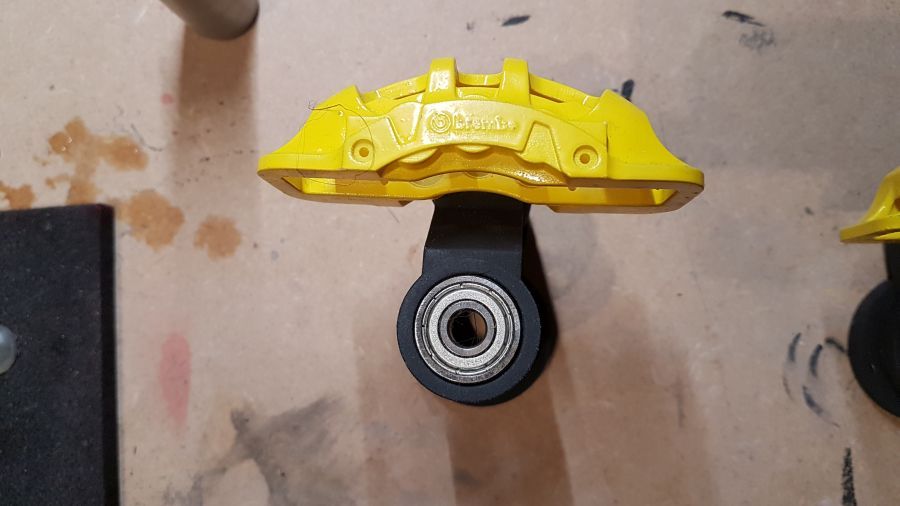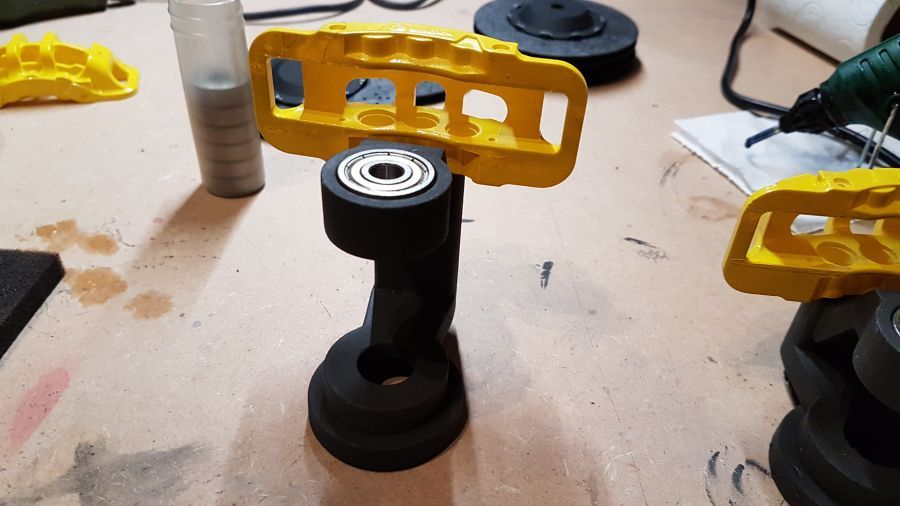 Dan even een passen met de remschijven en het passen aan de body.
Then a test fit of the break discs and testing attaching them to the body.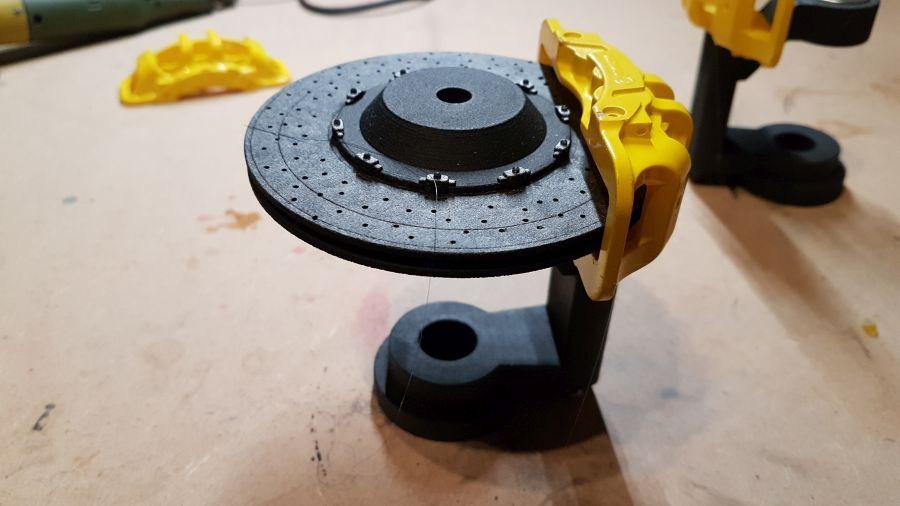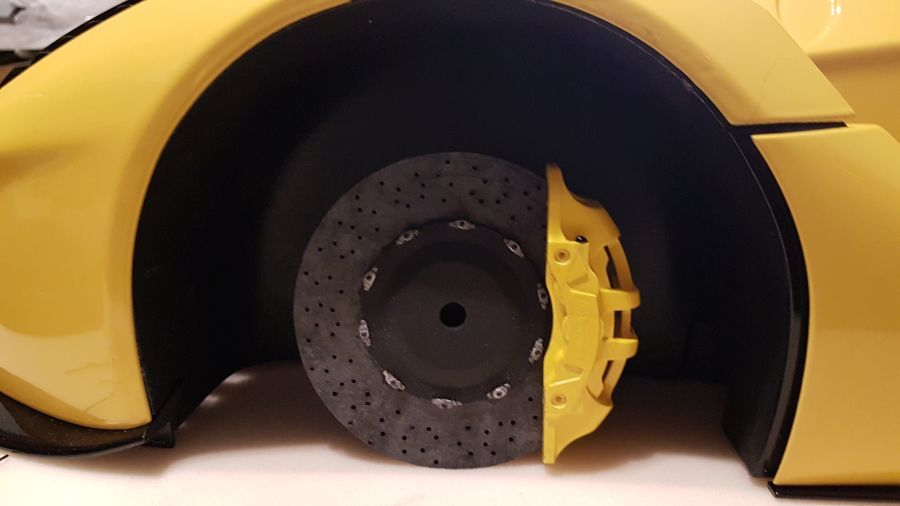 De assen worden op maat gemaakt.
The axles are cut to size.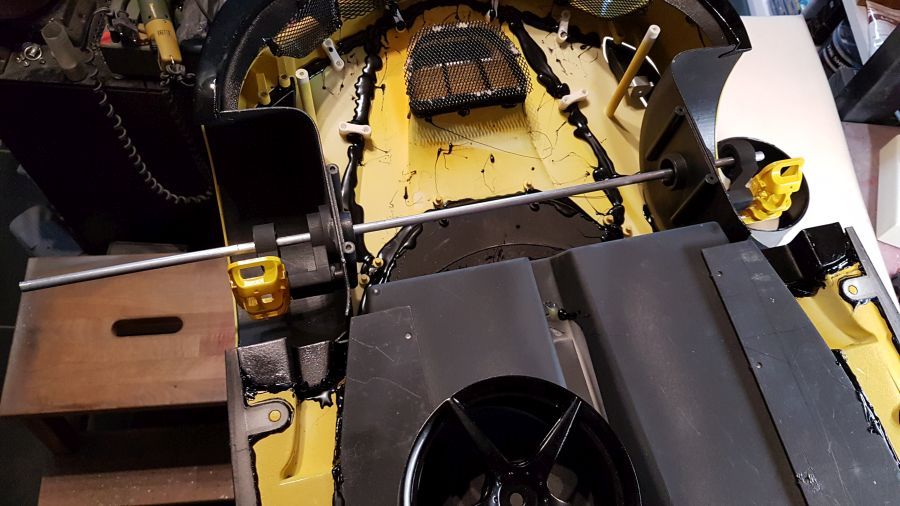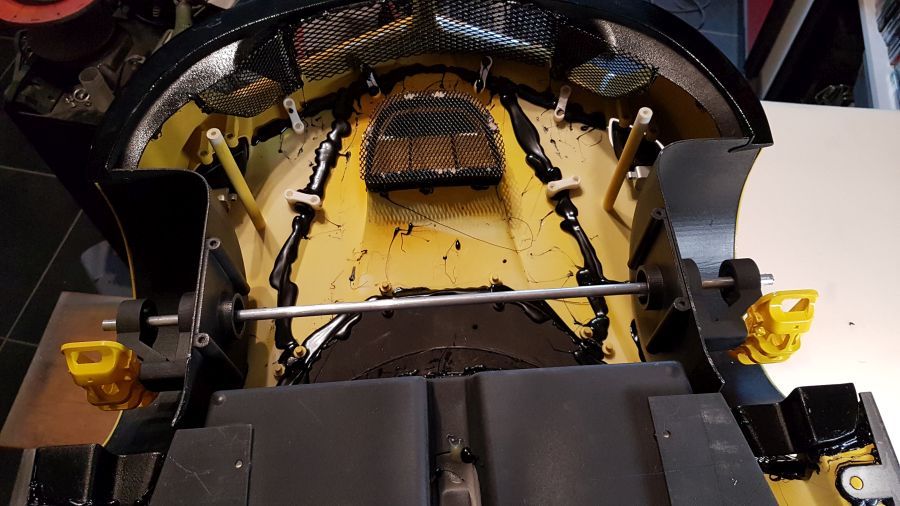 De remklauwen worden gepimpt.
The calipers are being pimped.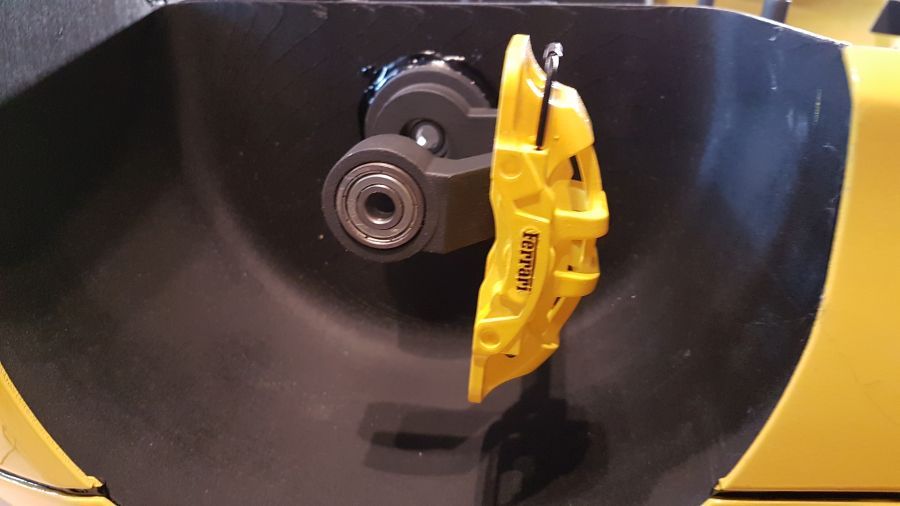 Omdat de achterlichten opnieuw moeten worden gespoten, ga ik ze eerst schoonmaken van de oude verf.
Because the rear lights need to be redone, i will clean them first from the old paint.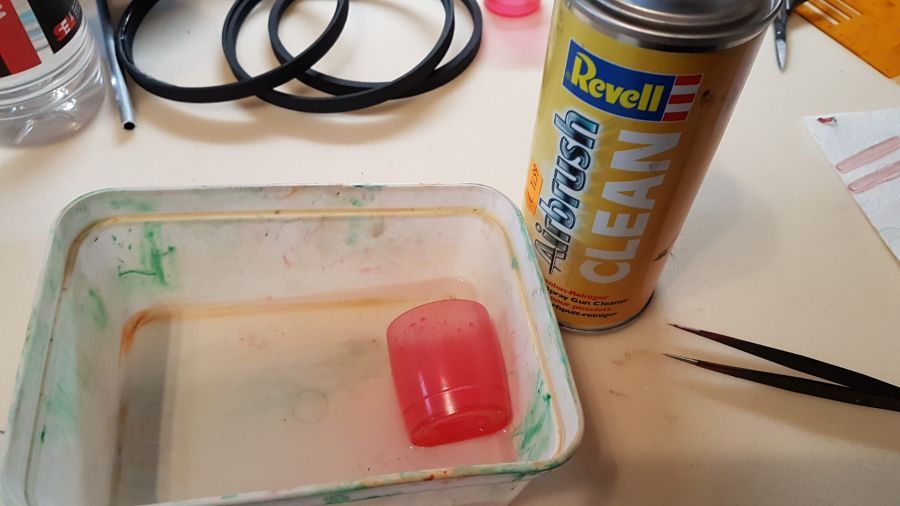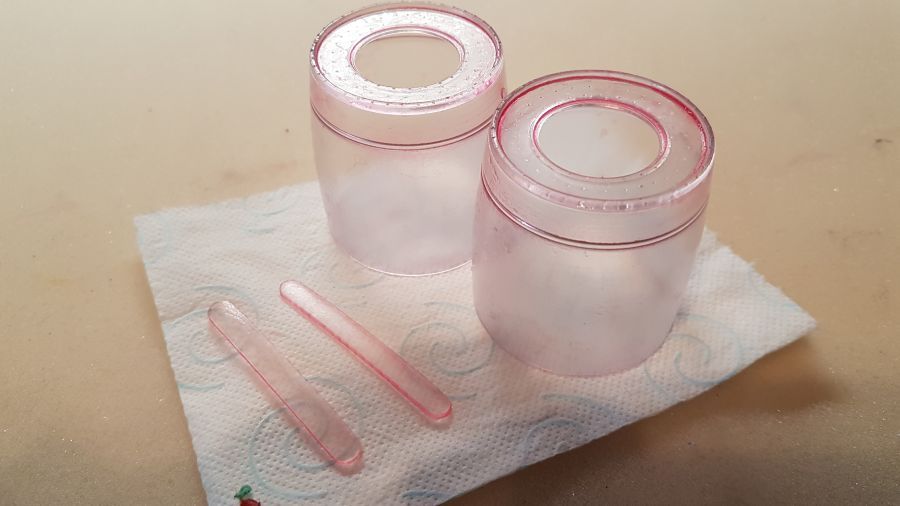 Test van Humbrol Clear vs Revell Clear. Even snel met een kwast aangebracht.
Test of Humbrol Clear vs Revell Clear. Simply applied with a brush.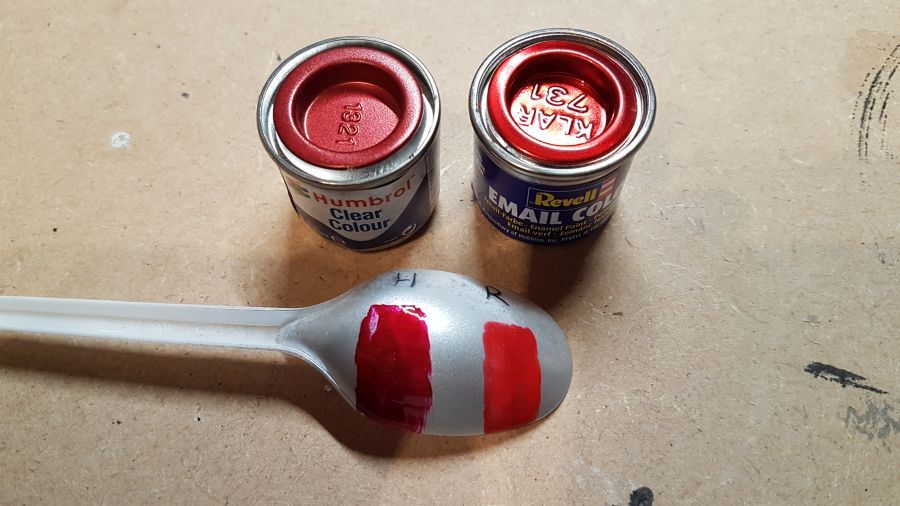 Dit is het resultaat met de Humbrol. Stukken beter denk ik. Ik hoop dat Sebastiaan nu tevreden is. Nog wel even wat schuurwerk aan de bovenkant.
This is the result with the Humbrol. Much better i think. I hope Sebastiaan is happy now. Still some sanding needed on the top.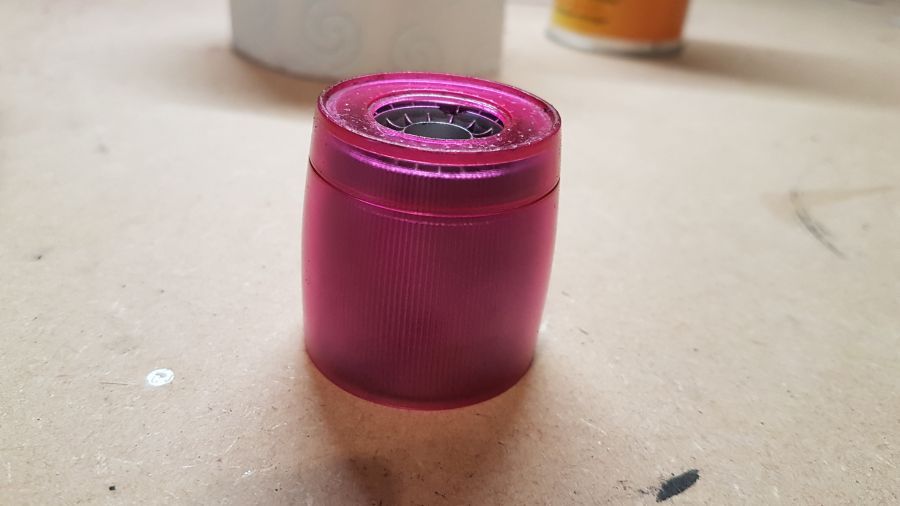 Ik heb nog een paar lagen rood gespoten, nu echt rood denk ik. Ik hoop dat ze nu goedgekeurd worden. Ik dacht nog even Tamiya TS-13 blanke lak te spuiten.... Blij dat ik het niet heb gedaan (zie proef links op lepel). De verf krijgt rimpels.
I sprayed a couple of more layers of red, now much better red i think. I hope they will be approved. I was thinking of spraying them with Tamiya TS-13 clear lacquer... Glad i didn't ( see test to the left on spoon). The paint wrinkles.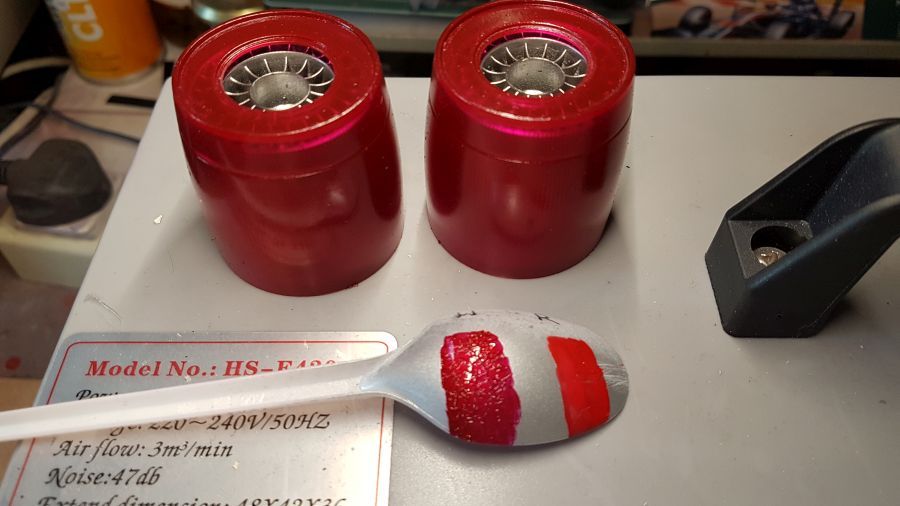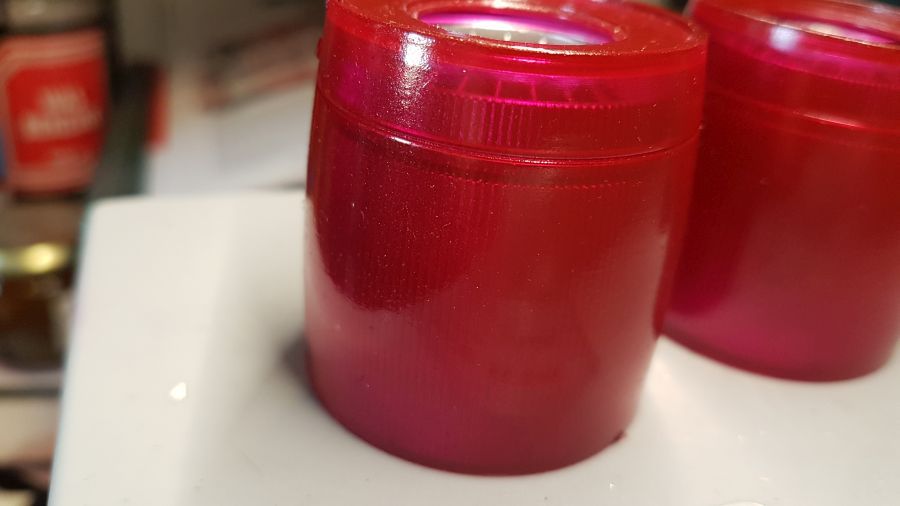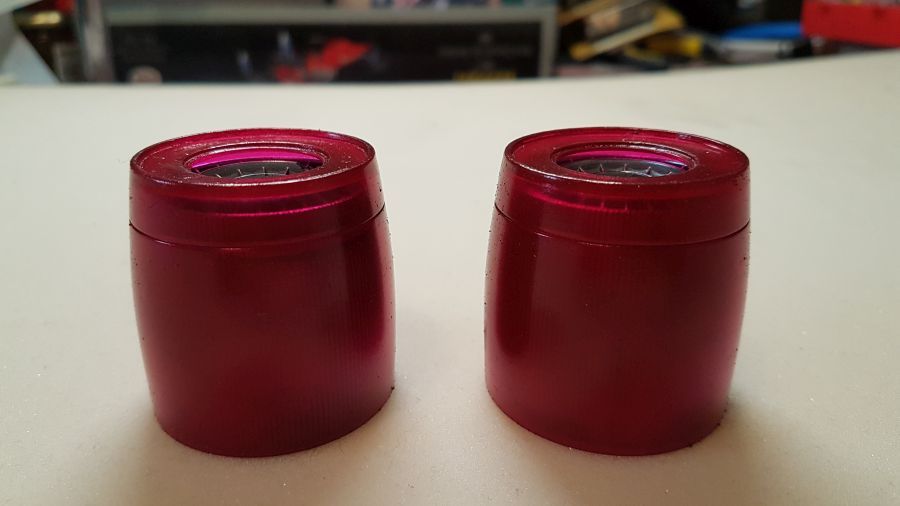 De banden worden op de velgen geplaatst.
The tyres are being added to the rims.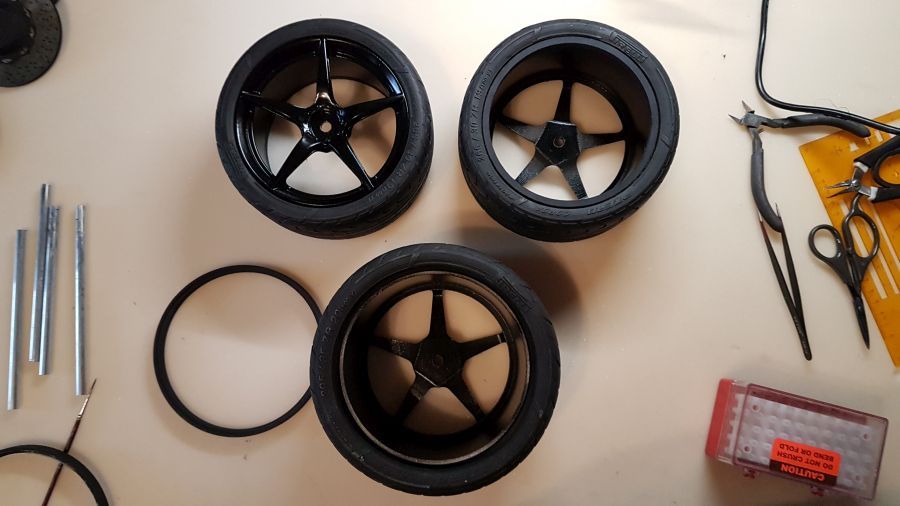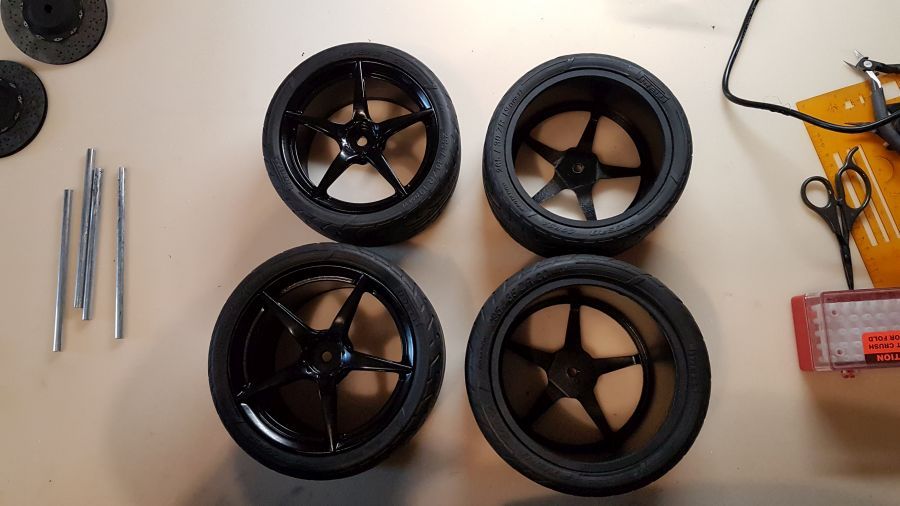 Daarna worden de draagarmen geplaatst, tesamen met de remschijven en de assen.
Then the suspension arms get attached. together with the break discs and the axles.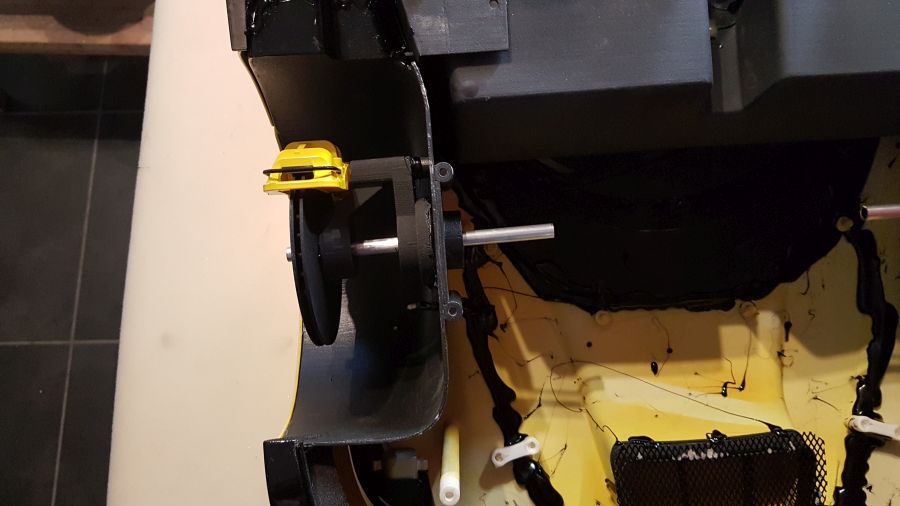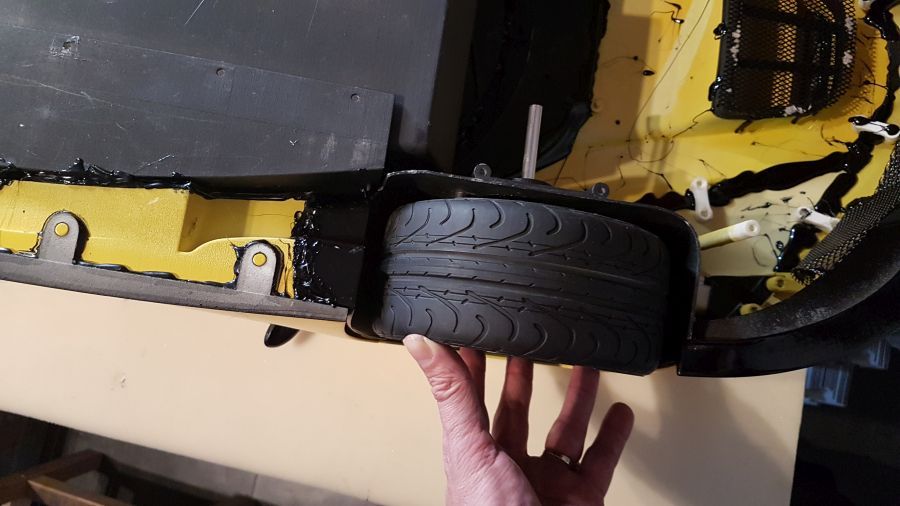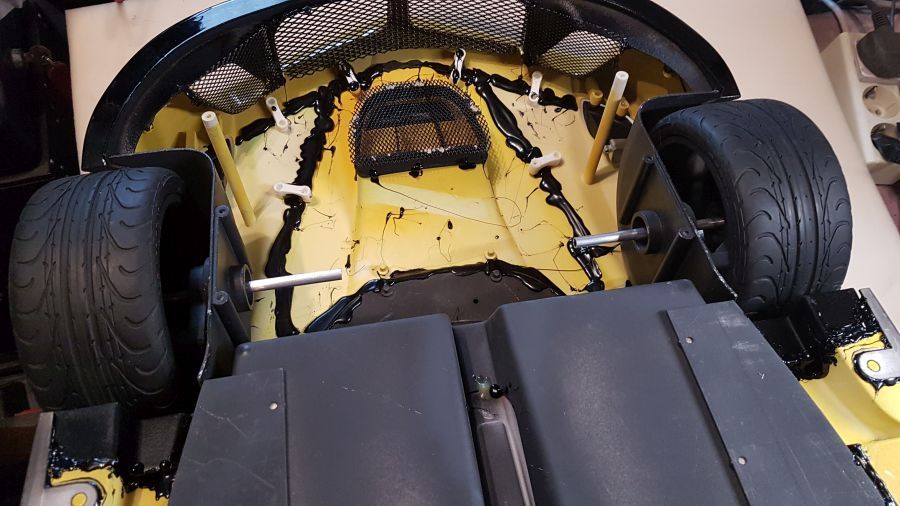 De assen worden gefixeerd met een nylon busje en een opsluitplaatje. Zo kunnen de wielen gewoon draaien. Niet dat dat ook maar enige zin heeft, maar Sebastiaan wil het graag. Helaas hoor je wel leiding van de remklauwen schuren.
The axles get mounted by a piece of nylon tube and a lock. Now the wheels can still turn around. It's of no use, but it's what Sebastiaan wants. Unfortunately you can hear the tubing of the calipers touch the rims.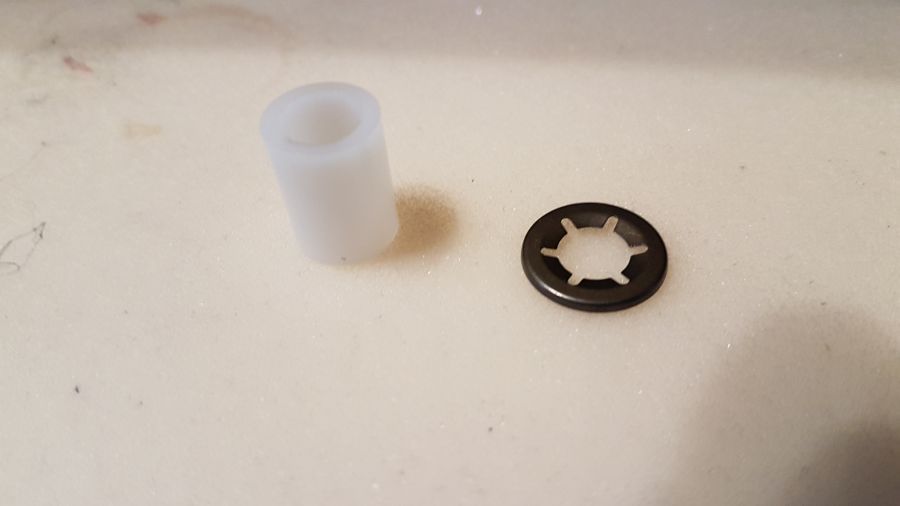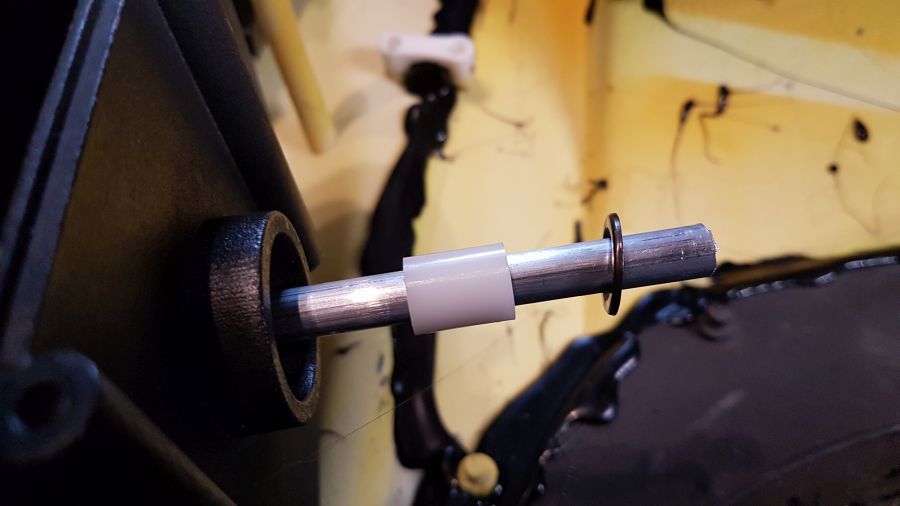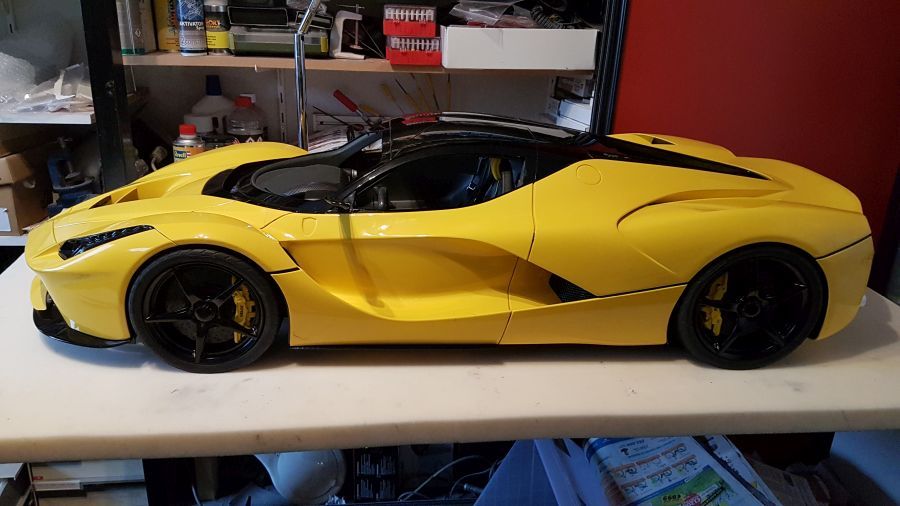 De draairichting van de banden is gecorrigeerd. Dank Sebastiaan.
The tyre profile has been corrected. Thank you Sebastiaan.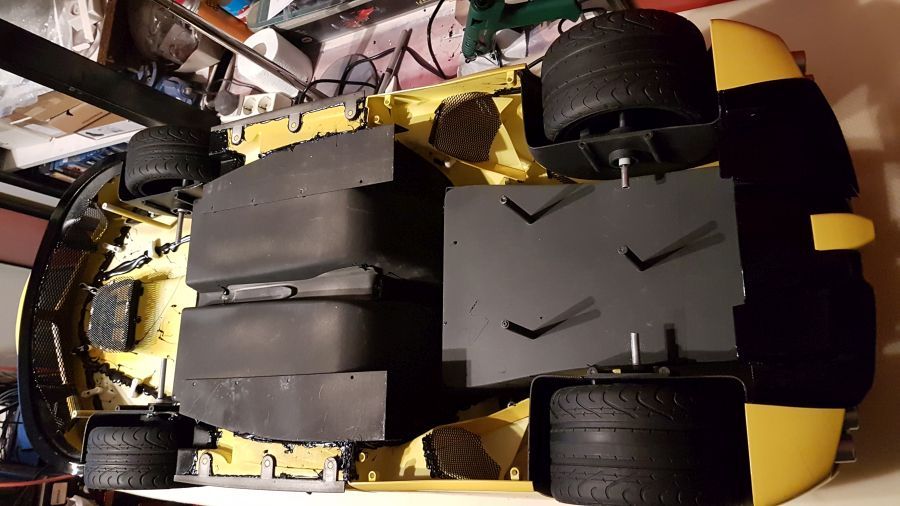 In overleg met Sebastiaan is besloten om de assen toch te fixeren. De wielen kunnen niet eer draaien, maar je krijgt meer stevigheid.
Together with Sebastiaan we decided to secure the axles. The wheels will not be able to turn around, but you get a much more stiff construction.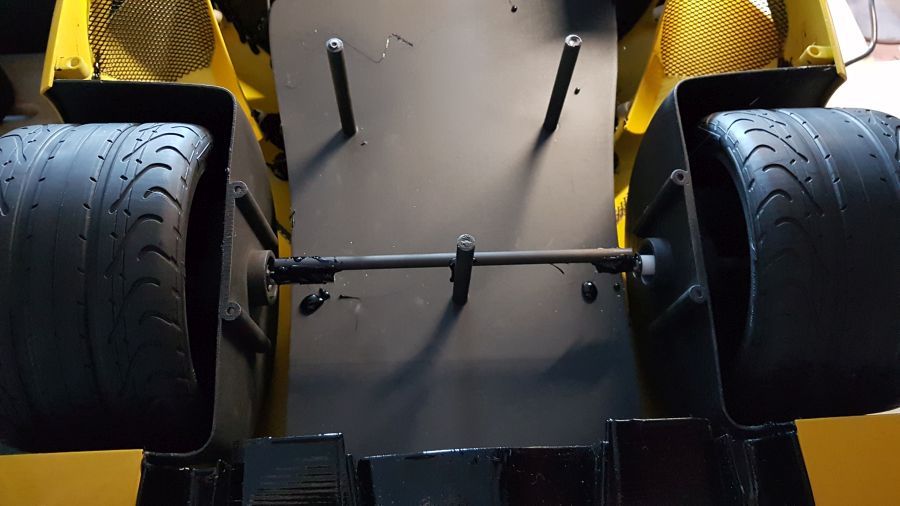 Er is een leveringsprobleem met de etched onderdelen. Daarom maar wat improviseren met betrekking tot de spiegels. Ik maak eerst een paar mallen....
There's a delivery problem with the etched parts. That's why i need to improvise regarding the mirrors. First i will make some templates....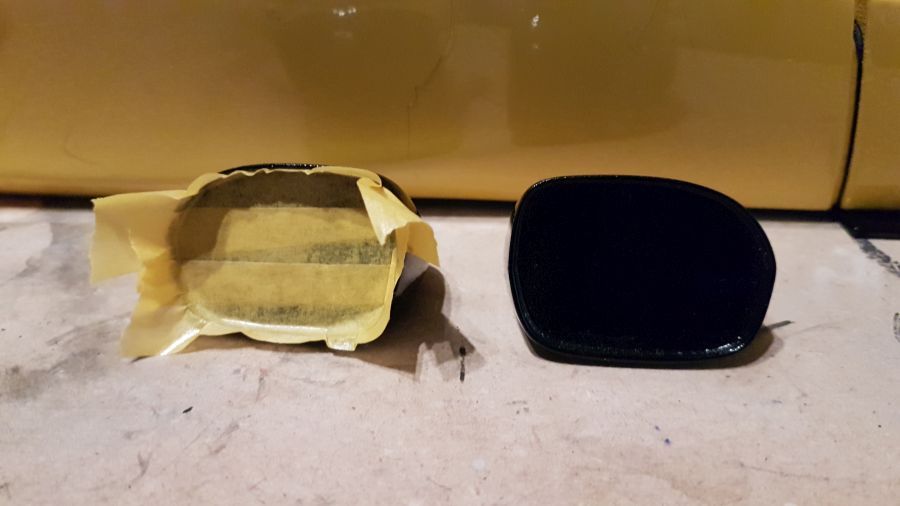 Deze knip ik uit op Evergreen styrene plaat.
These i wuill cut out of Evergreen styrene  sheet.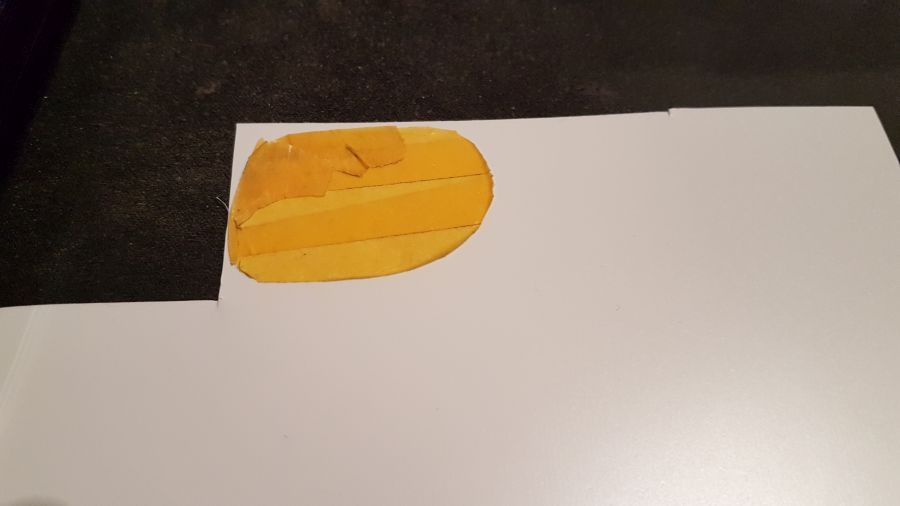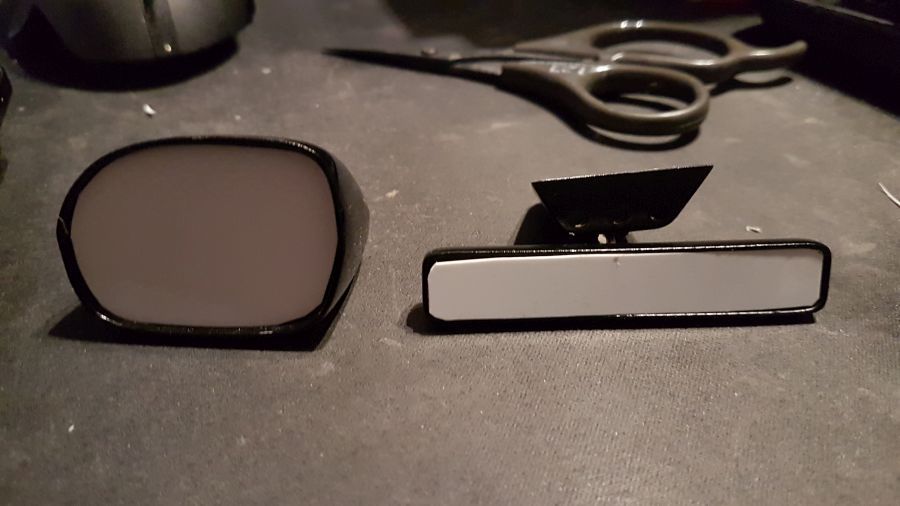 Ook zie ik een probleem met het plaatsen van de wielen. De wielkast rechts voor is minder diep. Dat scheelt 2 a 3 mm met links voor. Hierdoor steekt de velg wat uit. 
Also there's a problem with attaching the wheels. The wheelhouse on the right front is less deep. It differs 2 to 3 mm with the left front. This is why the wheel comes out a bit.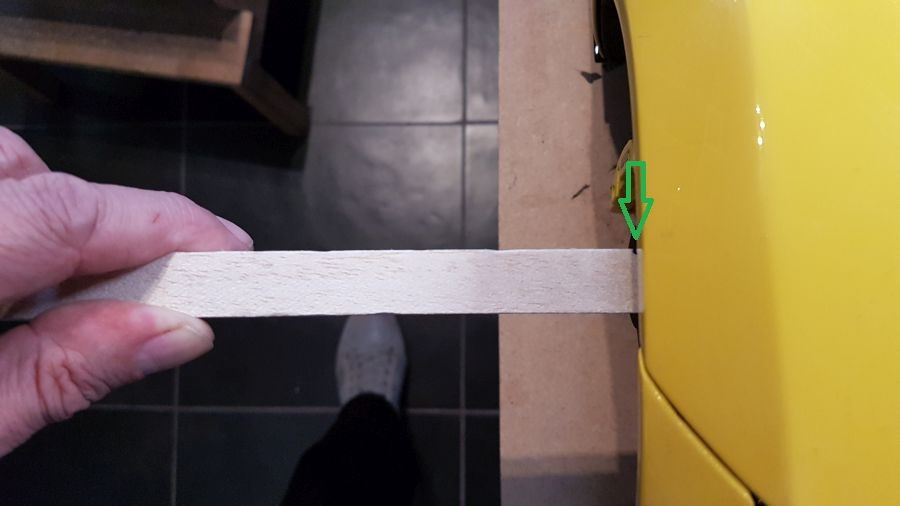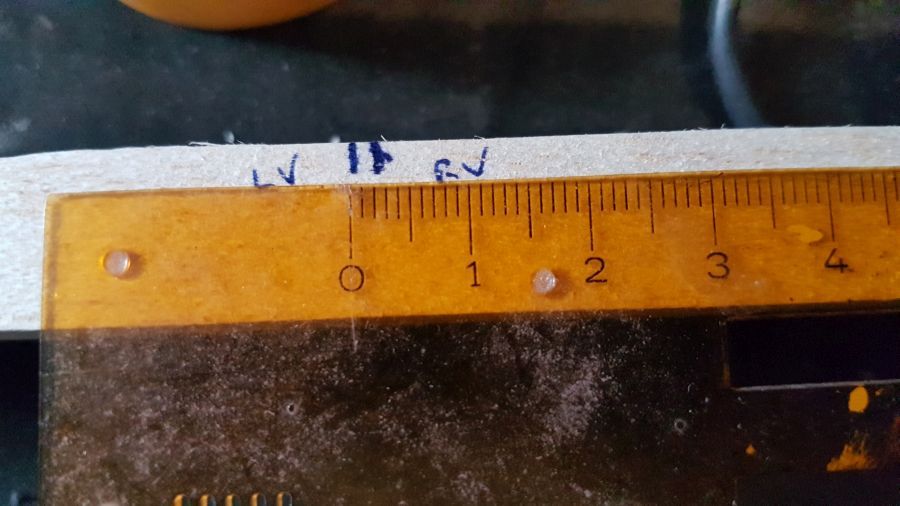 Ik heb het probleem gedurende het weekend een beetje kunnen oplossen. Het zou nu goed moeten zijn dus de wielen gaan eronder.
I managed to solve the problem a bit this weekend. It should be o.k. now, so the wheels get mounted.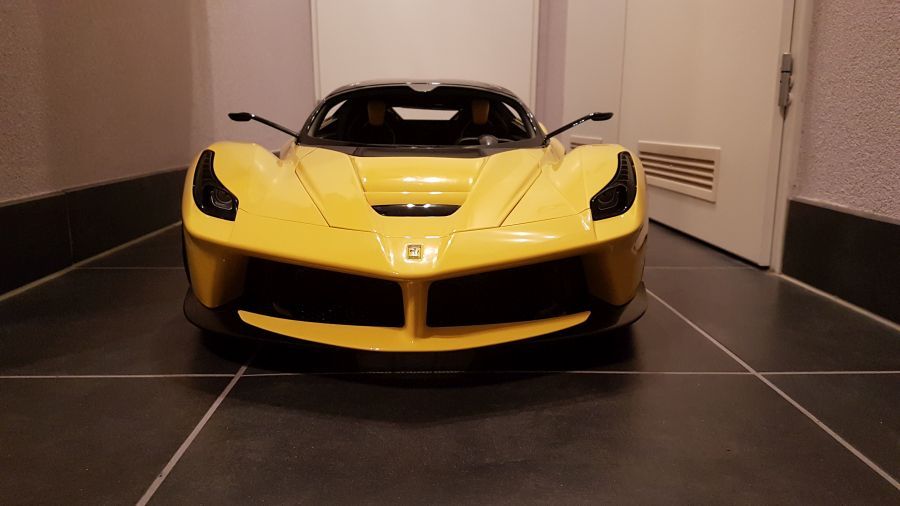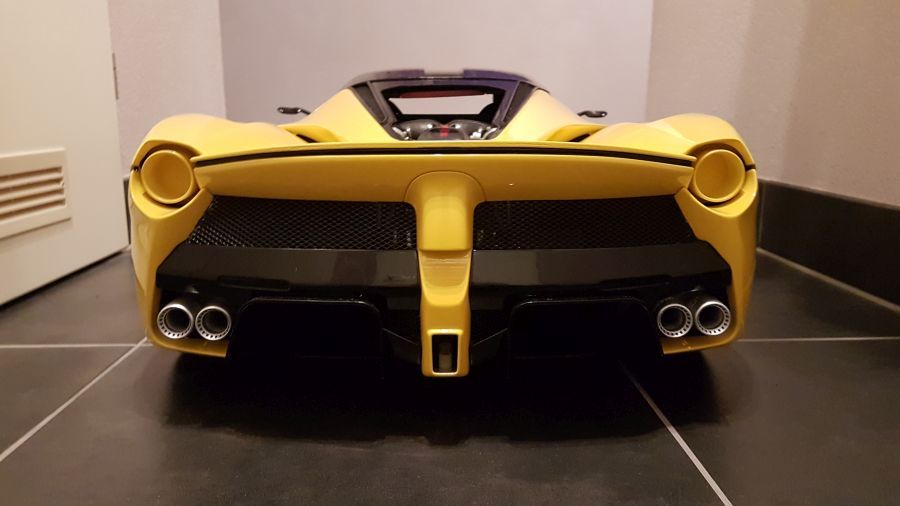 De achterlichten zijn akkoord bevonden. De witgekleurde delen worden met Micro Crystal Clear geplaatst. Deze lijm droogt mooi onzichtbaar op.
The rear lights have been approved. The white coloured parts are added with Micro Crystal Clear. When dry this glue is nearly invisible.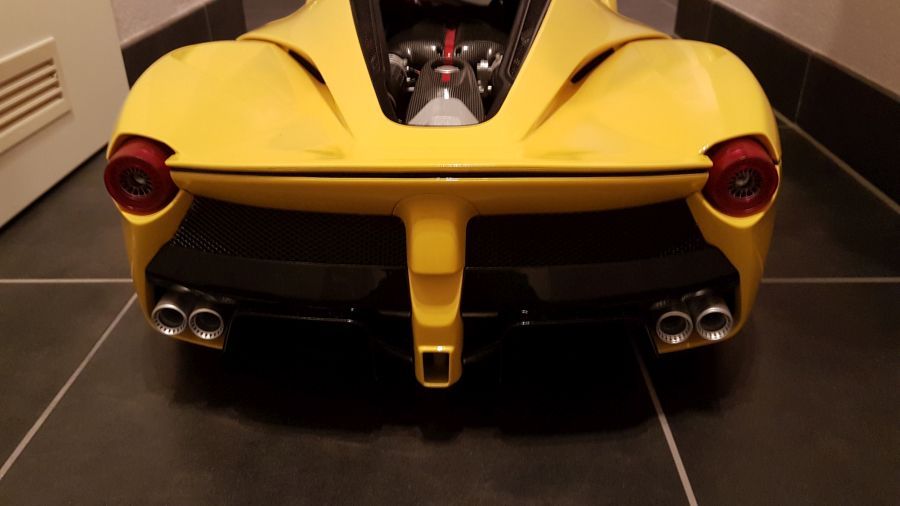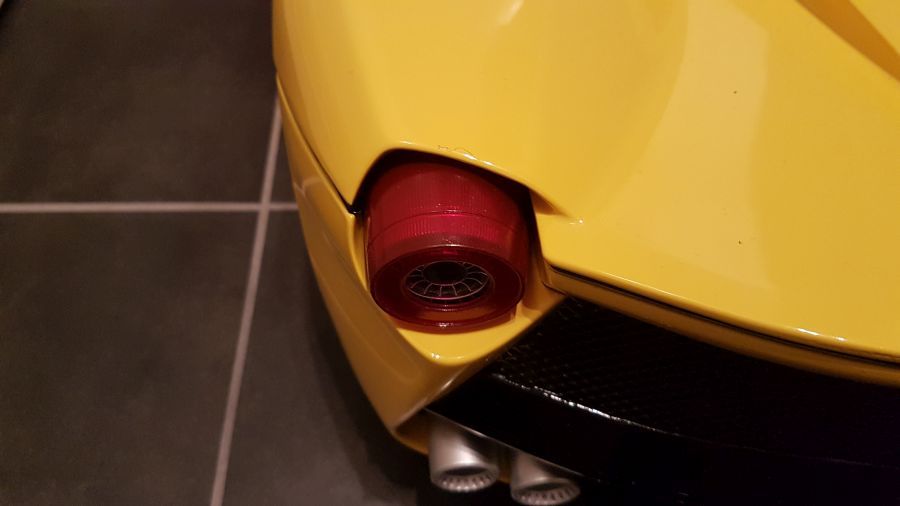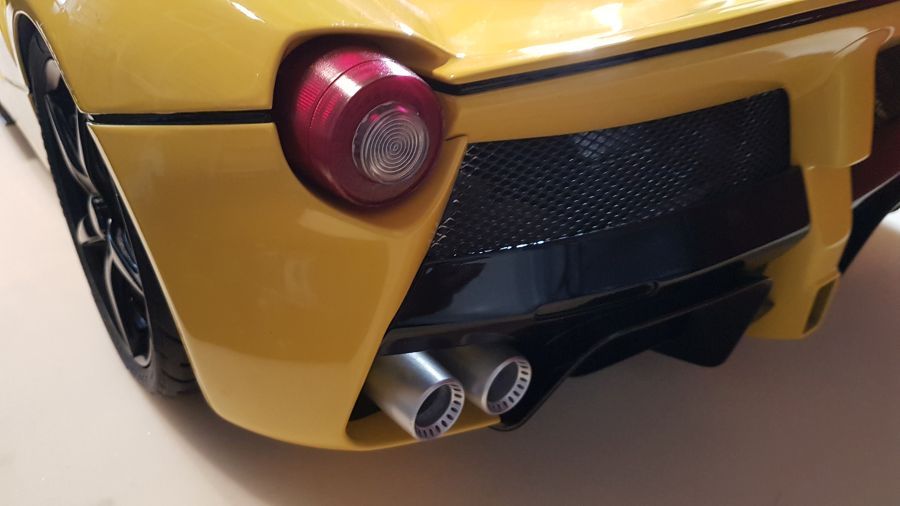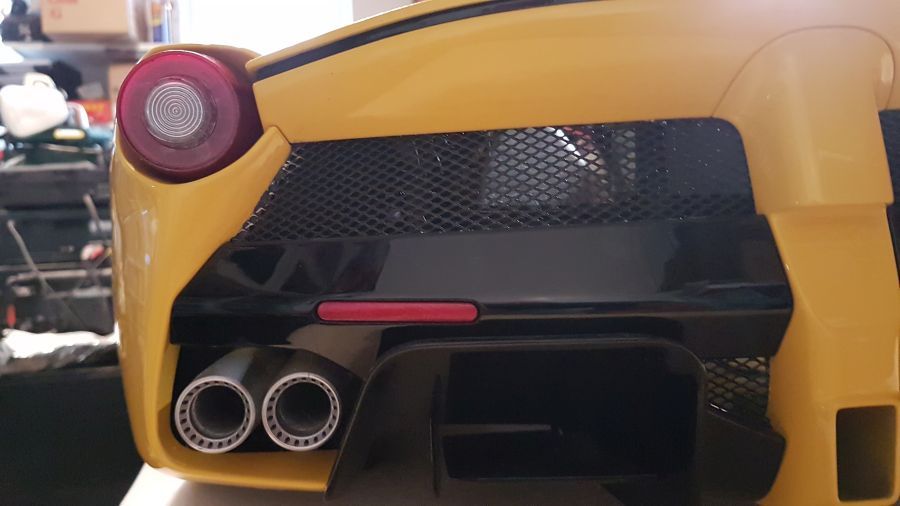 De progressie tot zo ver...
The progress until now...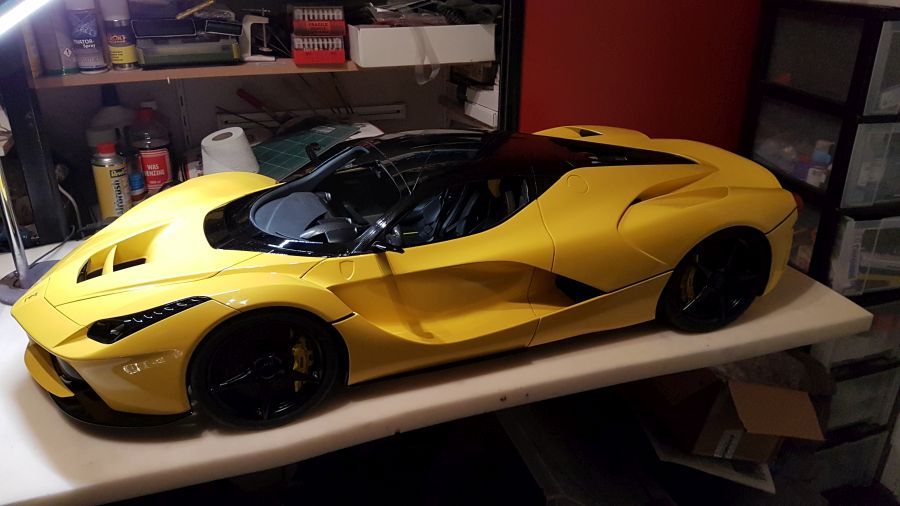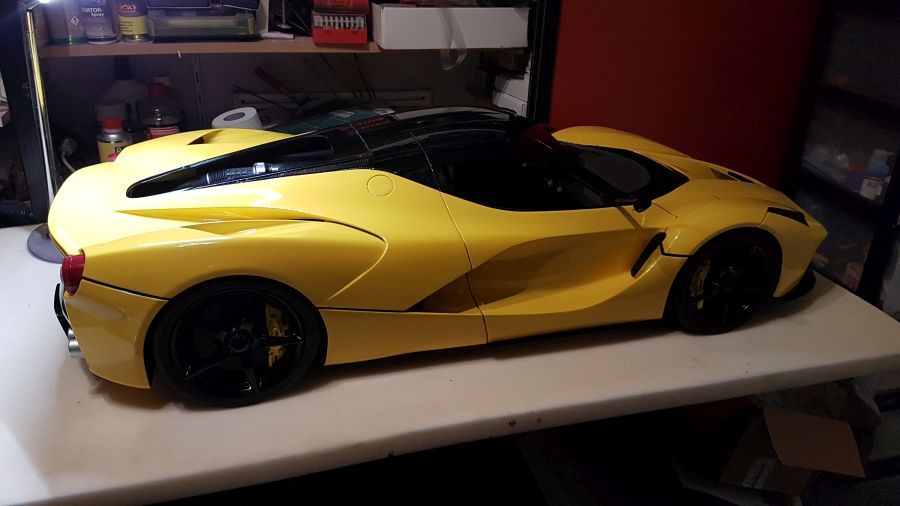 Voor de spiegel gebruik ik een chocolade wikkel..
For the mirror i use a chocolate wrap..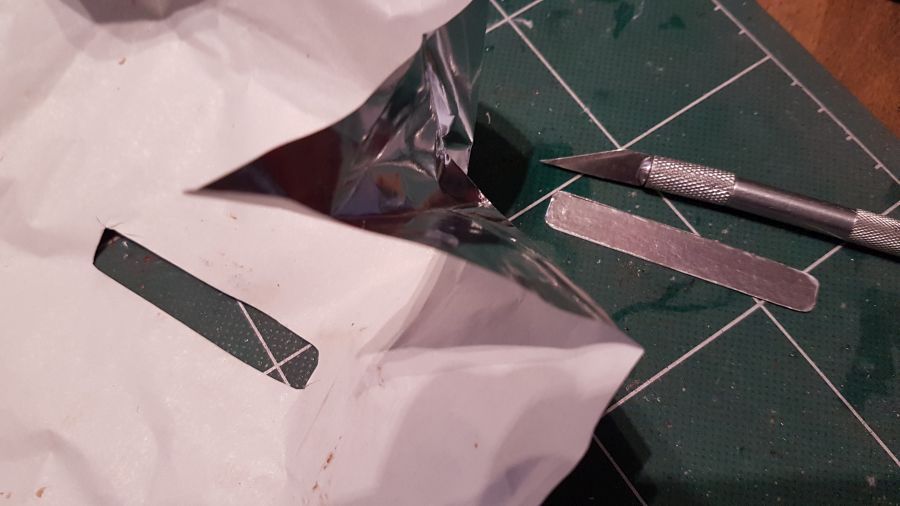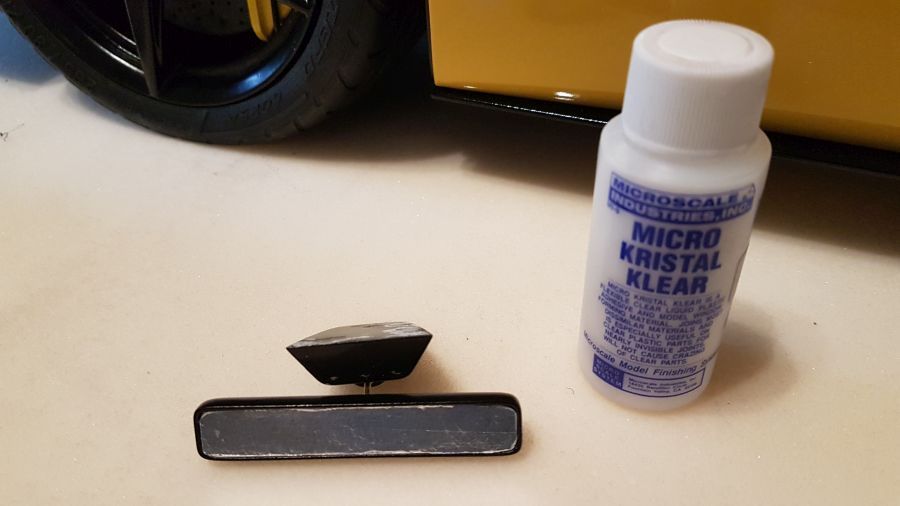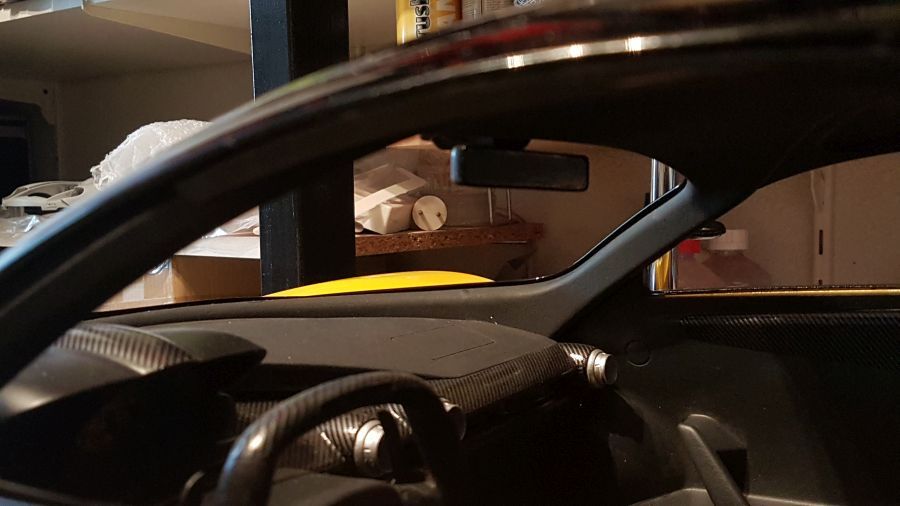 Tijd om de onderkant af te sluiten.
Time to close the bottom.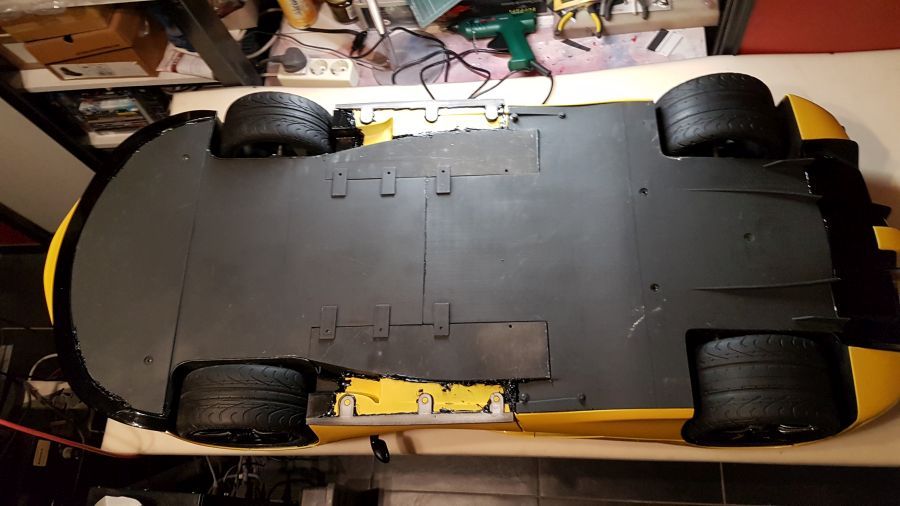 De spiegel is geprint van rhodium. Prachtige glans.
The mirror was rhodium printed. Super shine.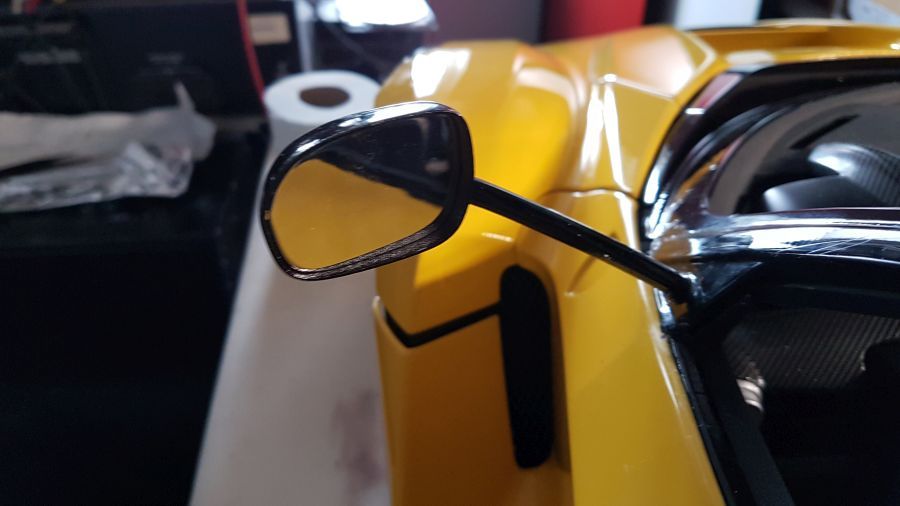 Sebastiaan wil wat professionele foto's maken.
Sebastiaan want to have some professional photo's.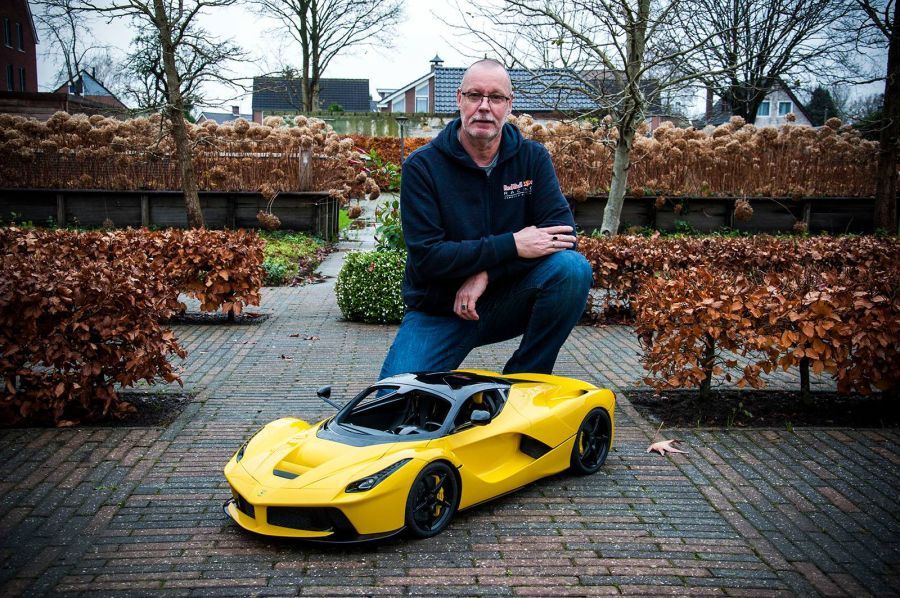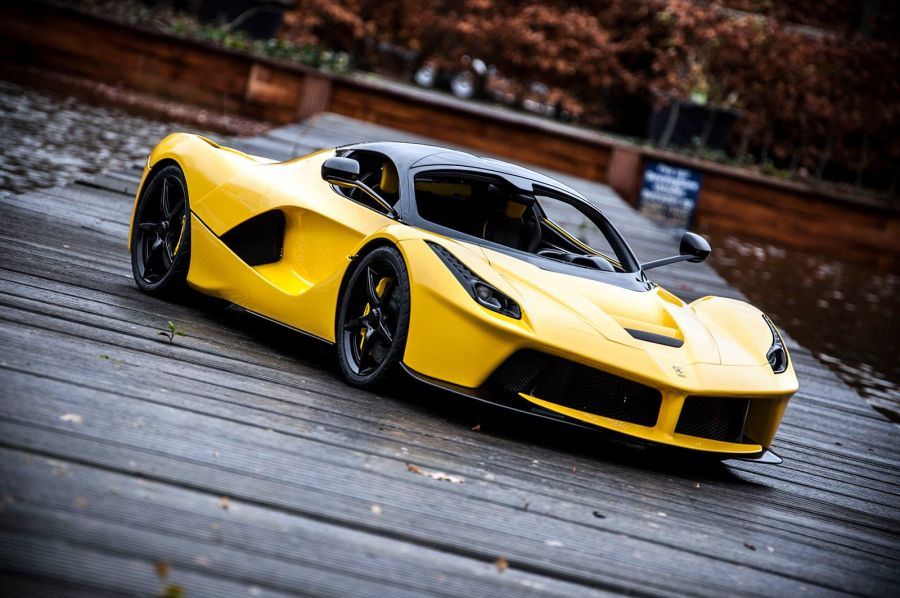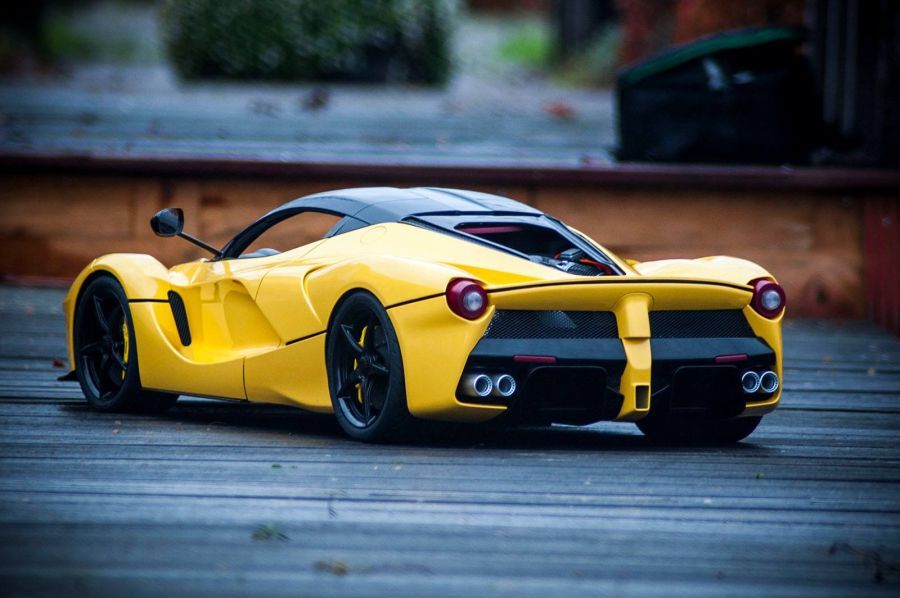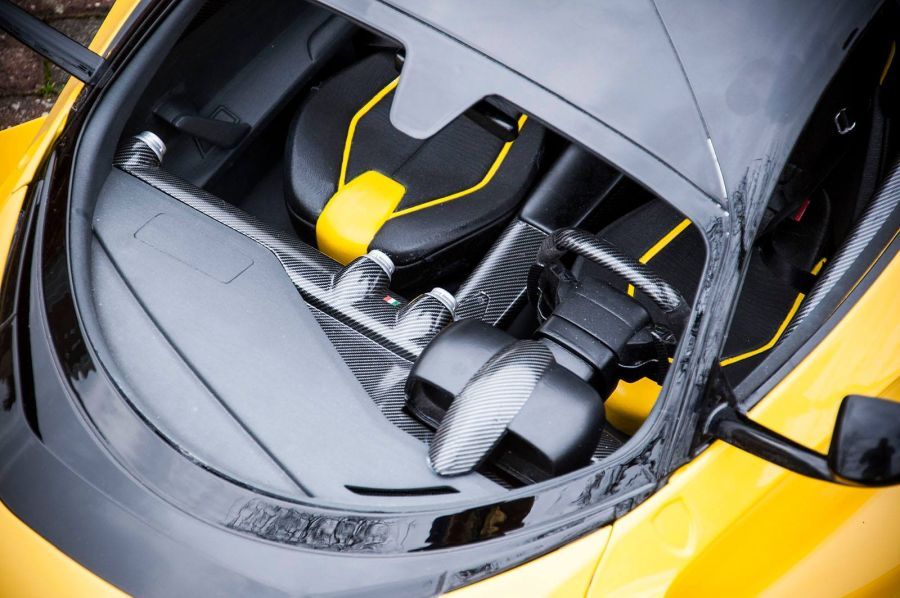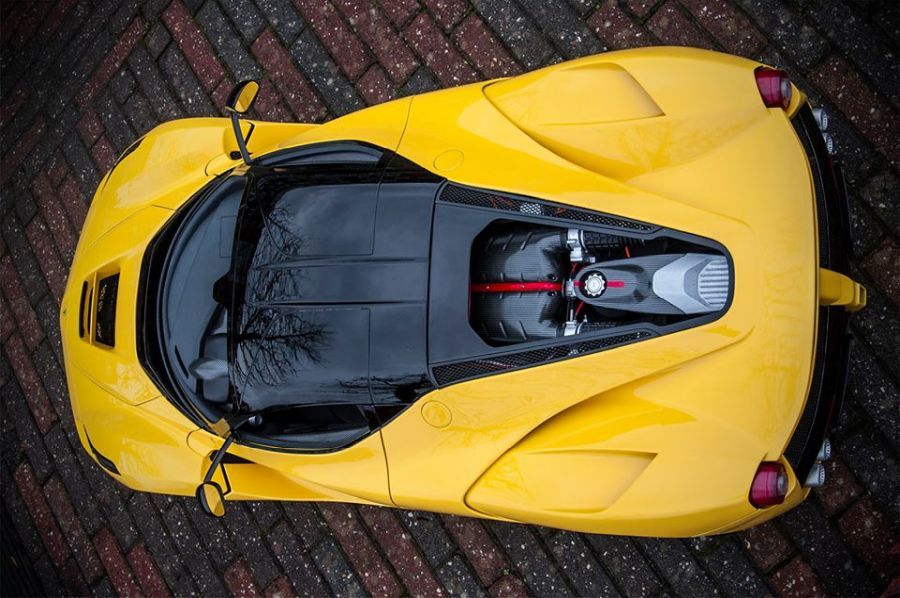 Voor de ramen zijn mallen gemaakt en vervolgens geknipt uit Vivak polyester plaat. Dit word helemaal aan het eind van de bouw geplaatst om krassen te voorkomen.
For the windows templates were made and cut out of Vivak polyester sheet. This will be added all at the end of the build to prevent scratches.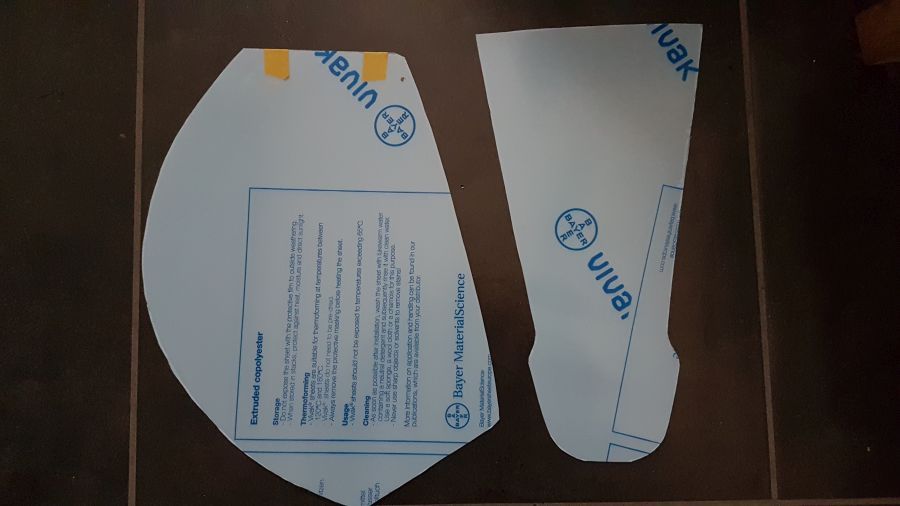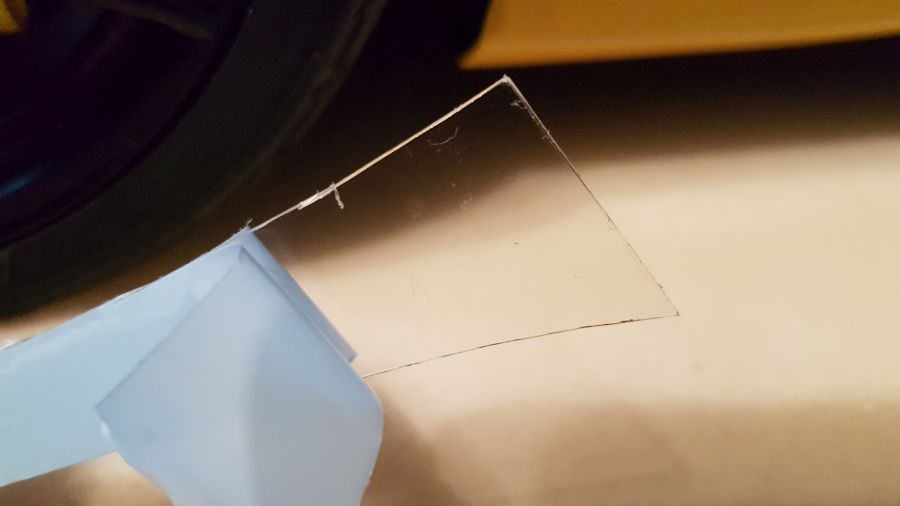 Het achterlicht heb ik al diverse keren over moeten doen... deze keer lijkt het gelukt. Nog wat klein werk.
I have redone the rear light several times... this time it appears to be o.k. Just some small work.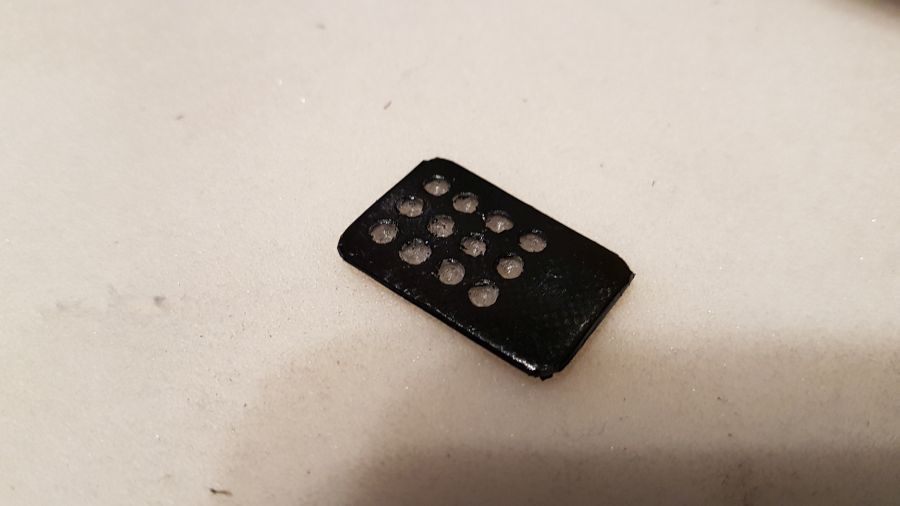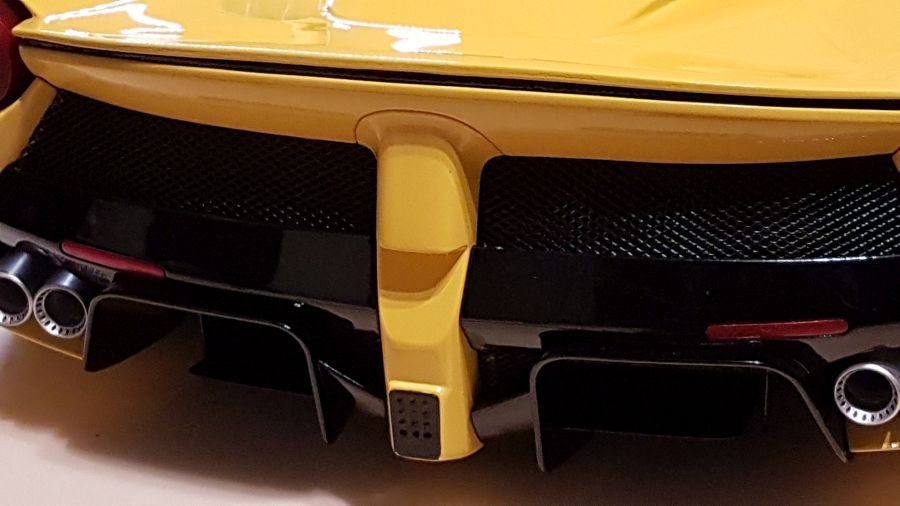 Het is nu nog wachten op een paar logo's.
Now it's waiting for some logos.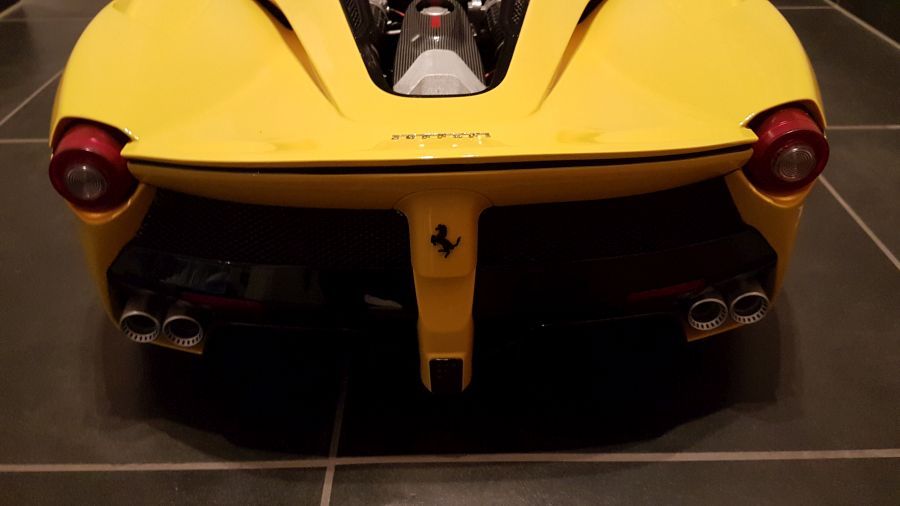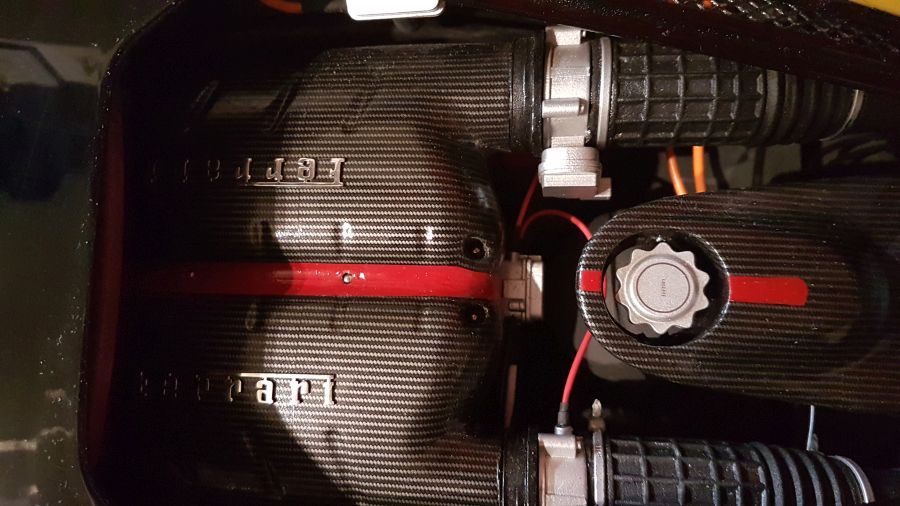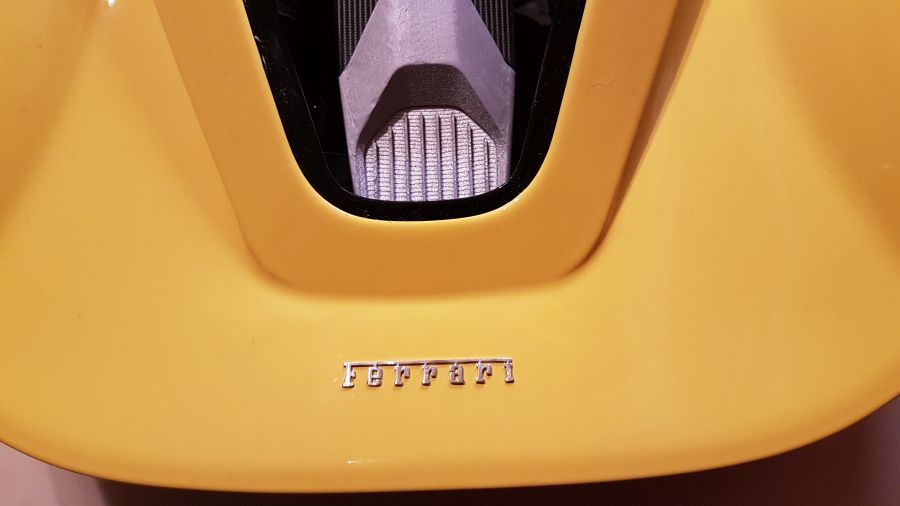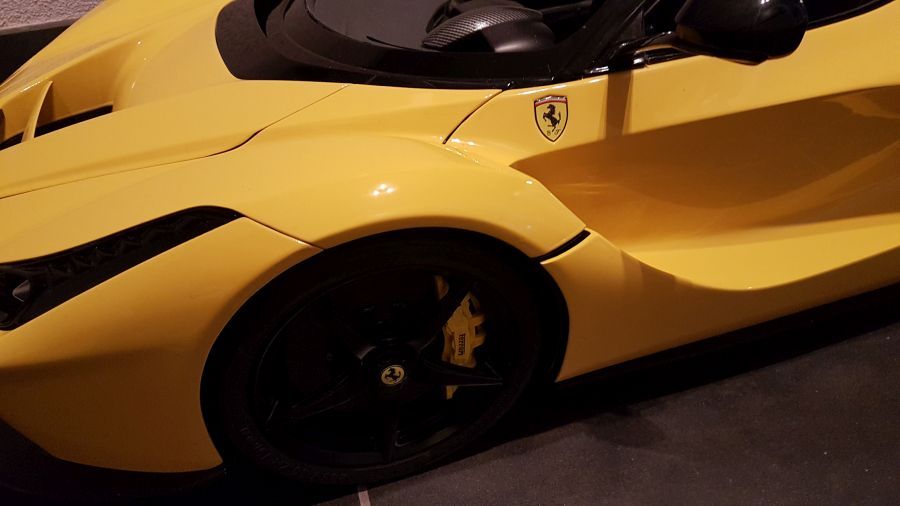 Tijd om het glas te plaatsen. eerst maar een proefje.
Time to add the windows. A test first.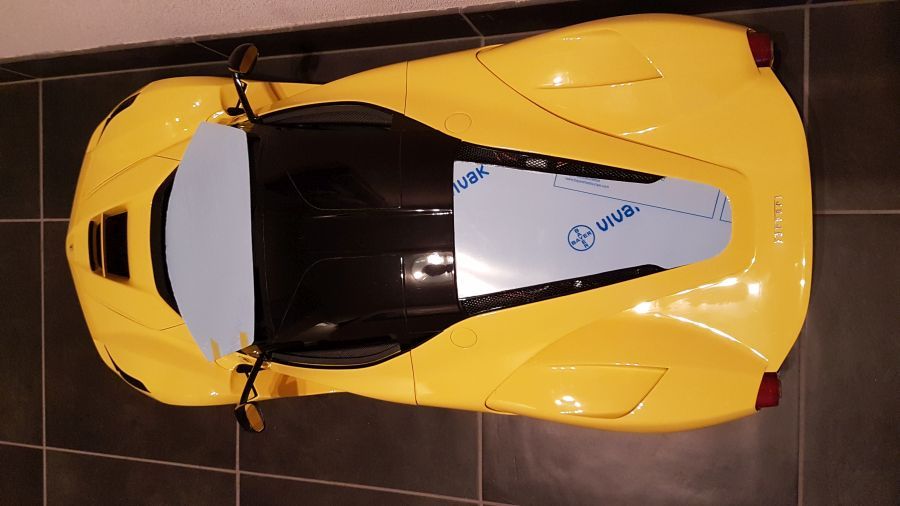 Eerst een paar lijmen testen voor het plaatsen van het glas.
First of all testing some glues to be used for the glass.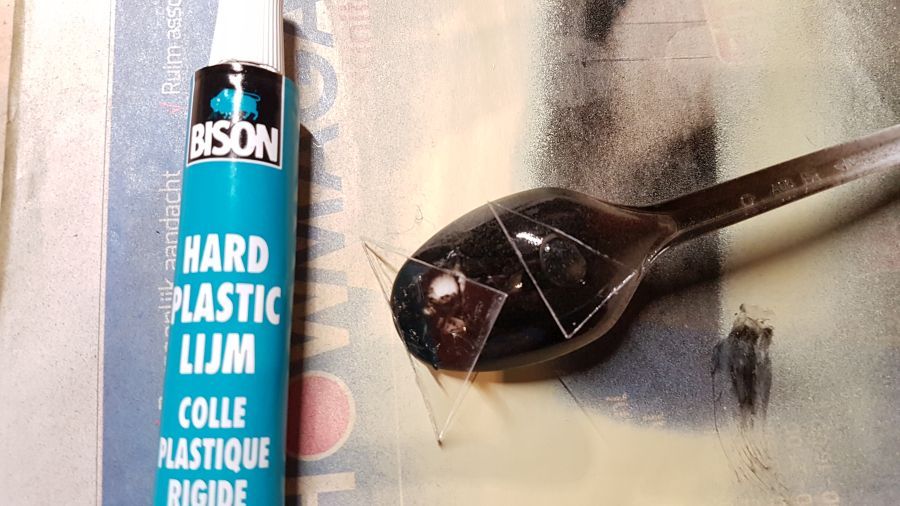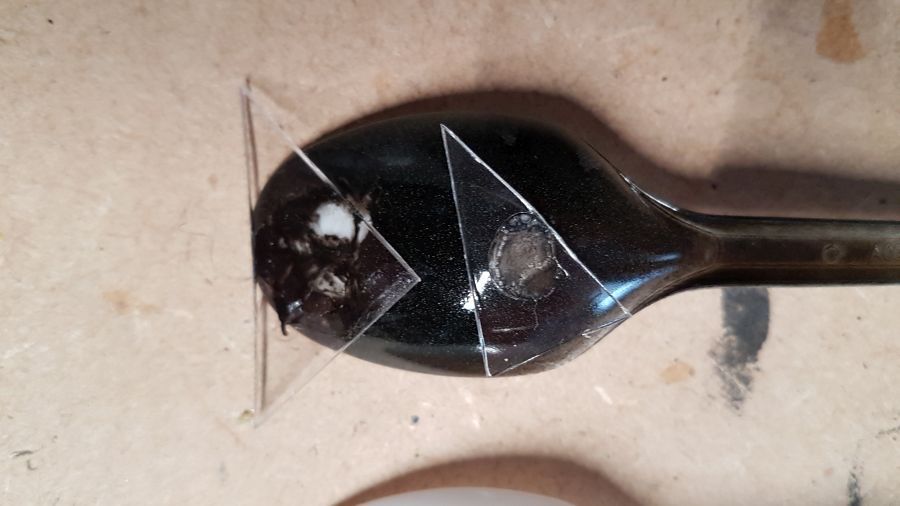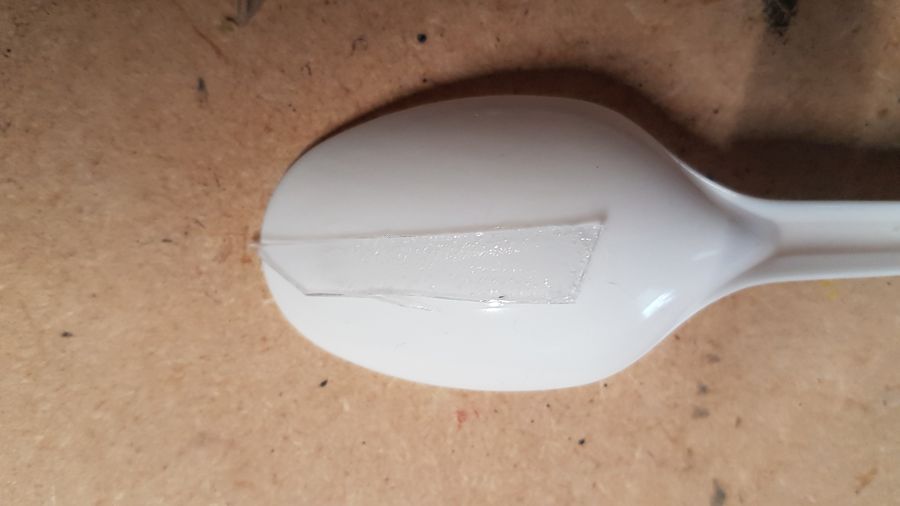 Dan gewoon Revell plasticlijm...  Ook niet echt goed....
Then some Revell plastic glue... Not good enough...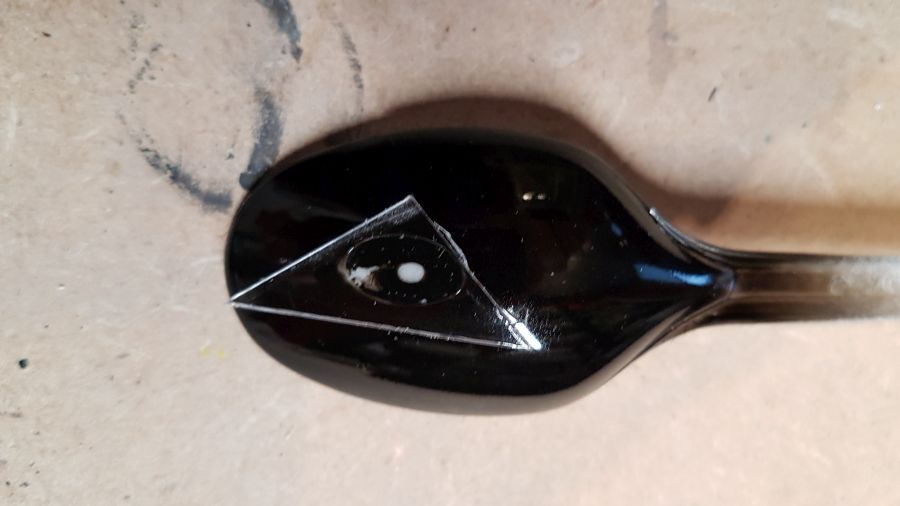 Sebastiaan heeft een superglue die het werk perfect doet. Hij neemt het vanaf nu over.... Update: helaas had Sebastiaan ook niet de oplossing. Altijd luchtbellen in de lijm, of niet bleef zelfs niet goed plakken.
Sebastiaan has a superglue that works perfect. He will take over.  Update: Unfortunately the solution of Sebastiaan did not work. Always bubbles in the glue, or it didn't even stick.
Vandaag (23-02-2018) heb ik het eindelijk opgelost. Nu kunnen we verder met het glas.
Today (02-23-2018) i finally solved it. Now we are able to continue with the glass.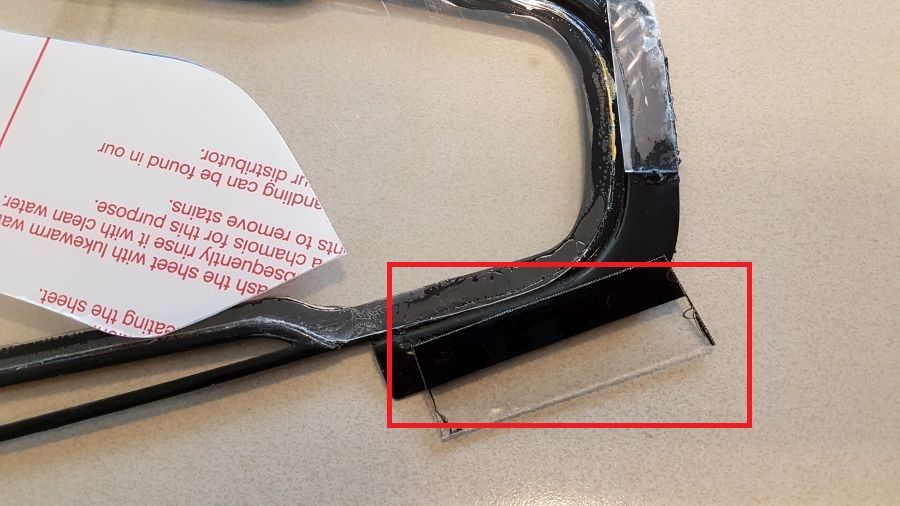 De roosters van de oude achtercover worden hergebruikt. Schoonmaken van alle lijmresten dus.
The mesh of the old covers will be re-used. So i need to clean them from glue residue.
De achtercover wordt gebruikt als template voor het raam. Ik snij de folie met een mes langs de binnenkant.  De folie van de buitenrand wordt dan verwijderd en de buitenrand wordt glanzend zwart gespoten.
The rear cover is use as a template for the window. I cut the foil on the inside. The foil on the outside ledge is then removed and the the ledge is painted gloss black.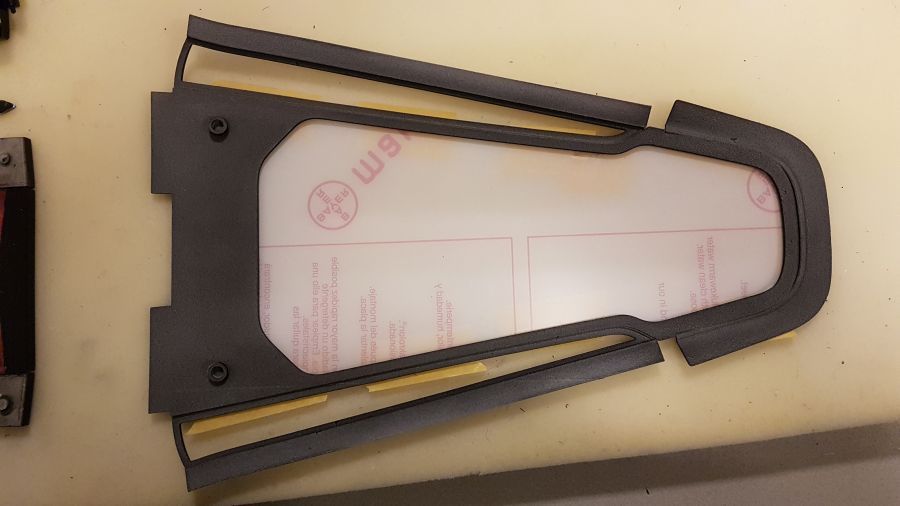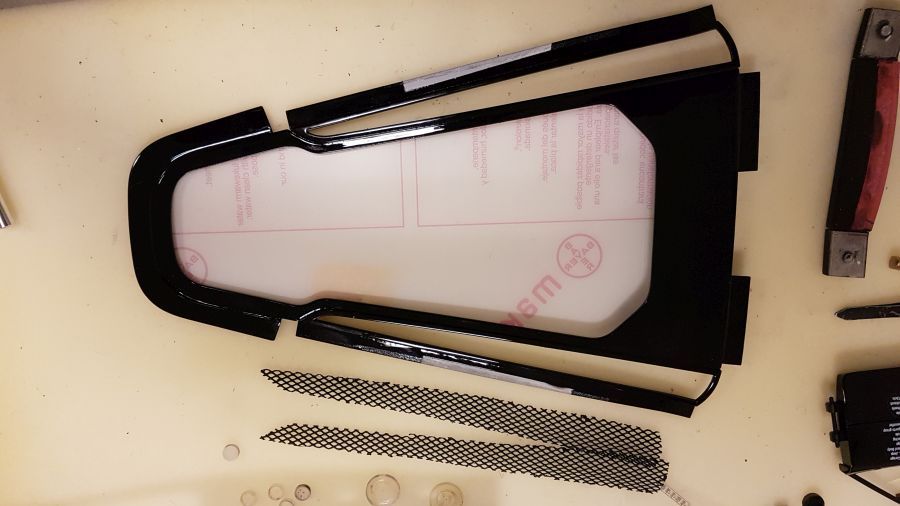 Dan wordt de binnenste folie verwijderd en is het raam klaar om onzichtbaar verlijmd te worden. Natuurlijk moet de folie aan de onderkant ook verwijderd worden.
Then the inside foil is removed and the window is ready to be glued invisible. Of course the foil on the downside needs to be removed too.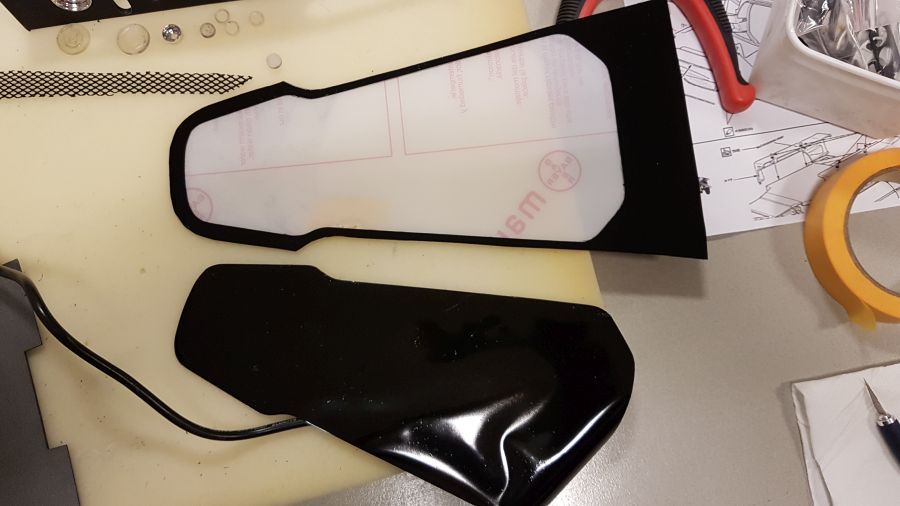 Om de cover buigbaar te houden wordt eerst het rooster erin geplakt en vervolgens wortd de cover in de achterzijde geplaatst. Het glas komt later.
The keep the cover flexible, first the mesh will be glued and then the cover will be added to the rear. The window will come later.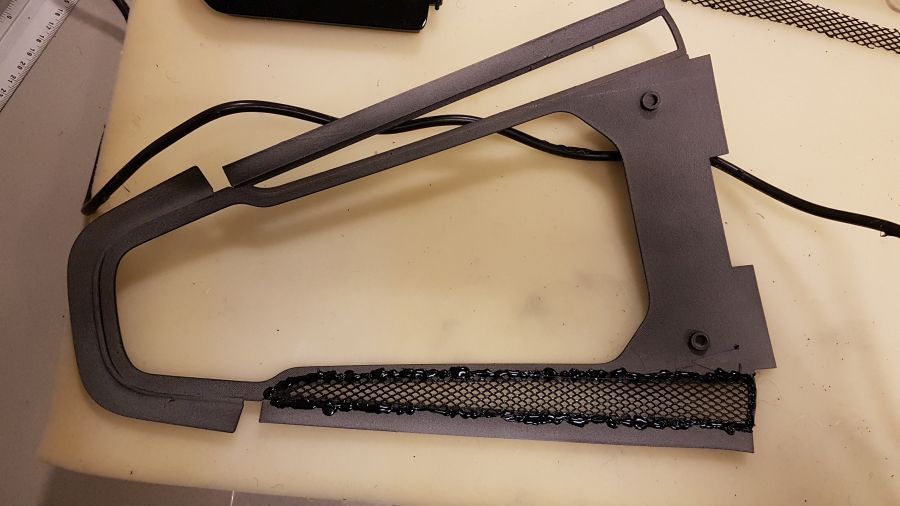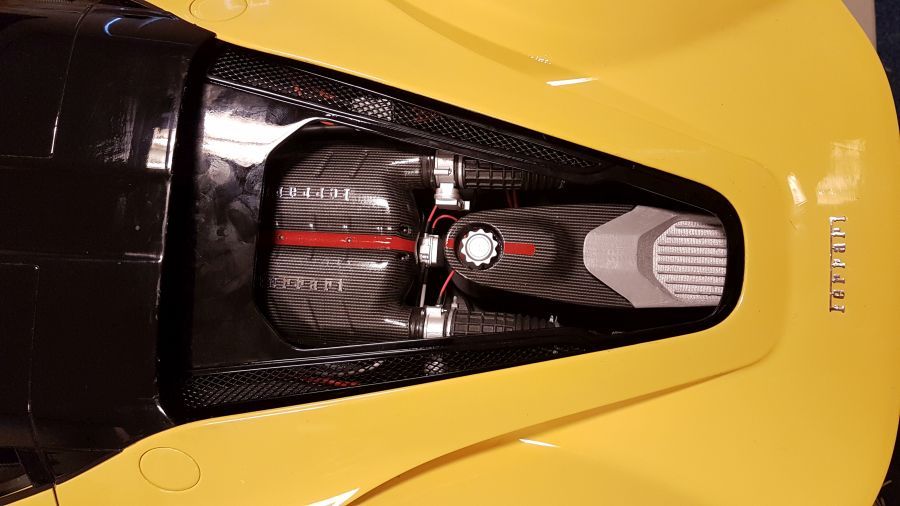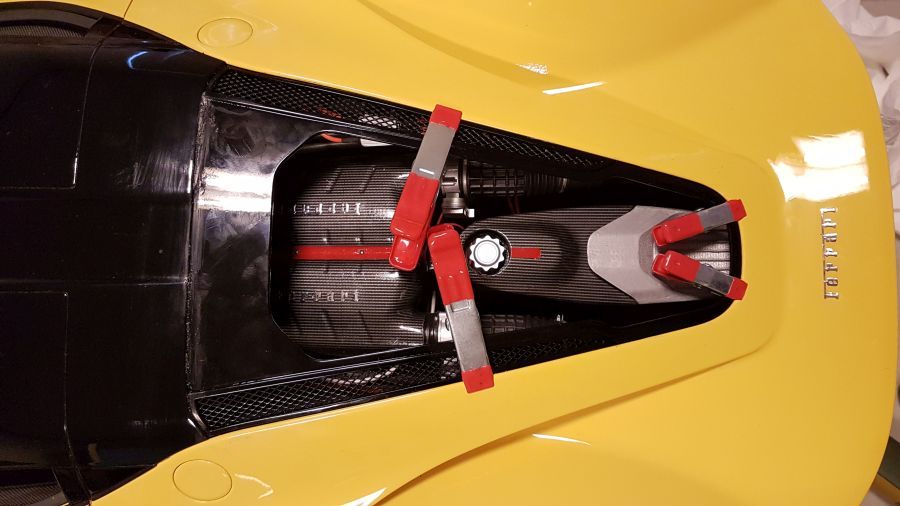 Terwijl de lijm droogt plaats ik het glas van de koplampen.
While the glue dries i am adding the glass of the head lights.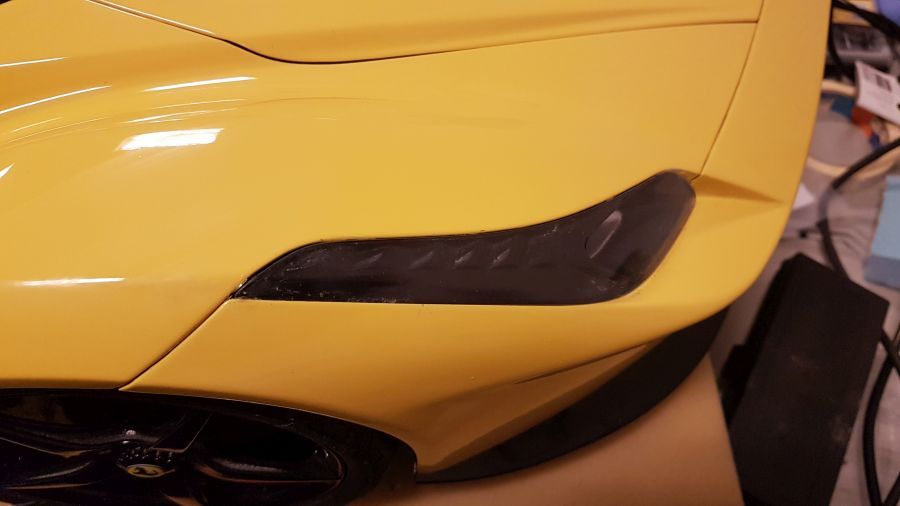 Dat ging niet goed. De lijm (Bison 2 componenten) wil op een of ander manier niet hard worden en tast de verflaag aan.
That didn't work well. The glue (Bison 2 components) doesn't want to get hard and attacks the paint.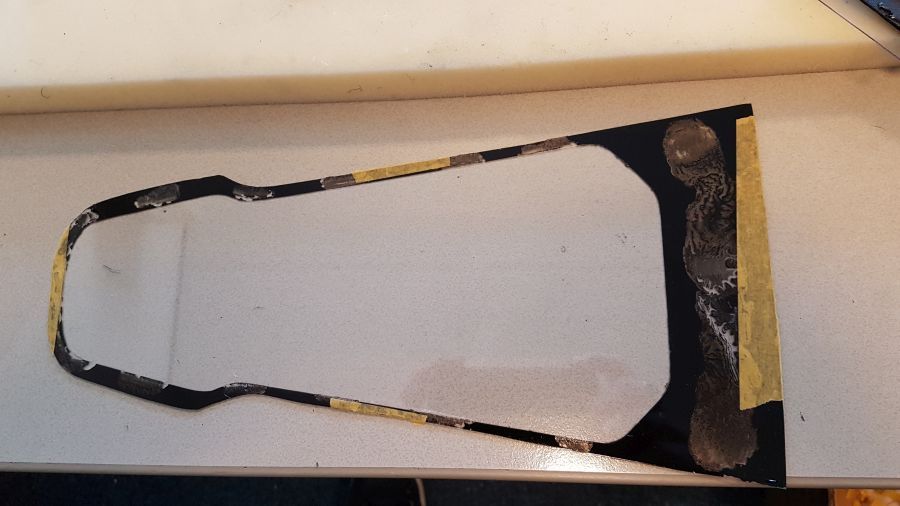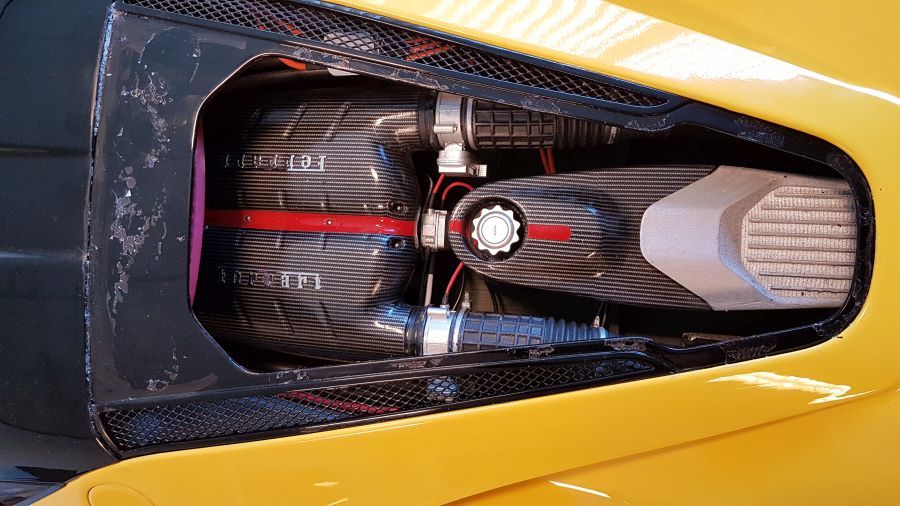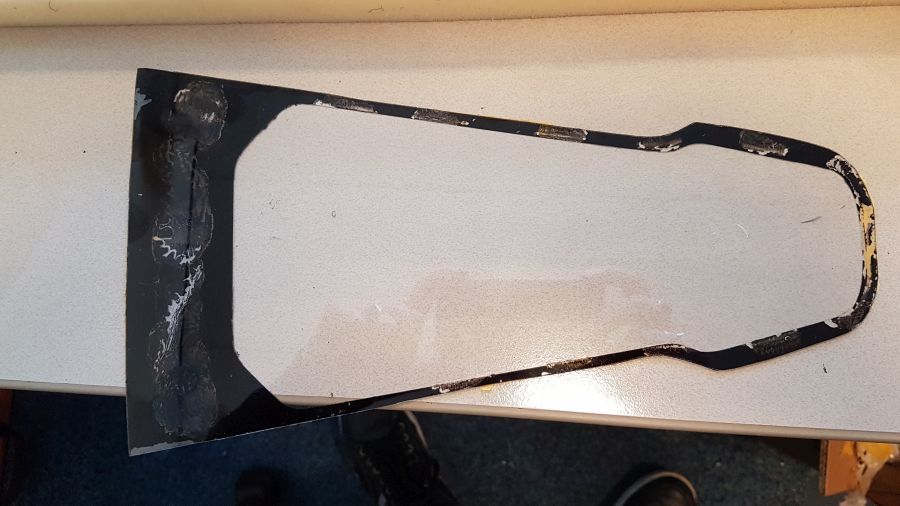 Nu gebruik ik dit deel als template om gaatjes te boren. Ik ga het raam bevestigen met popnagels.
Now i will use this part as a template to drill holes. I will attach the window by using rivets.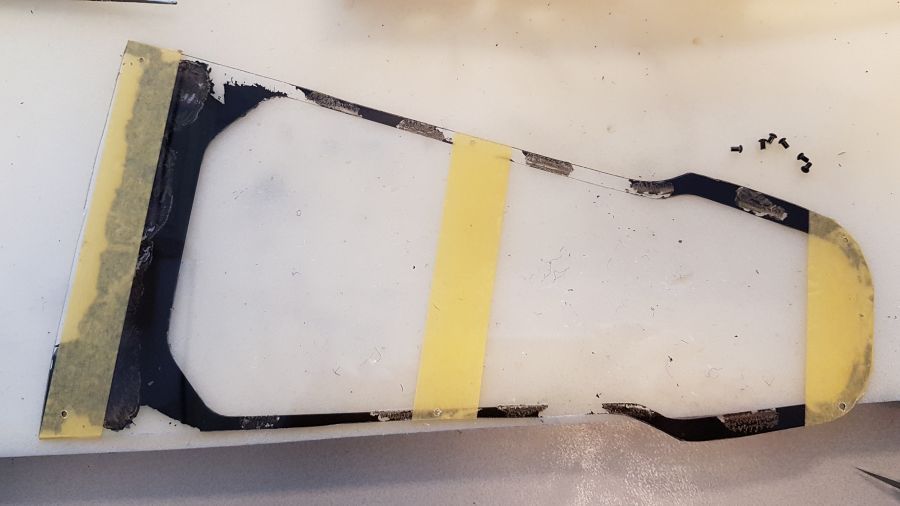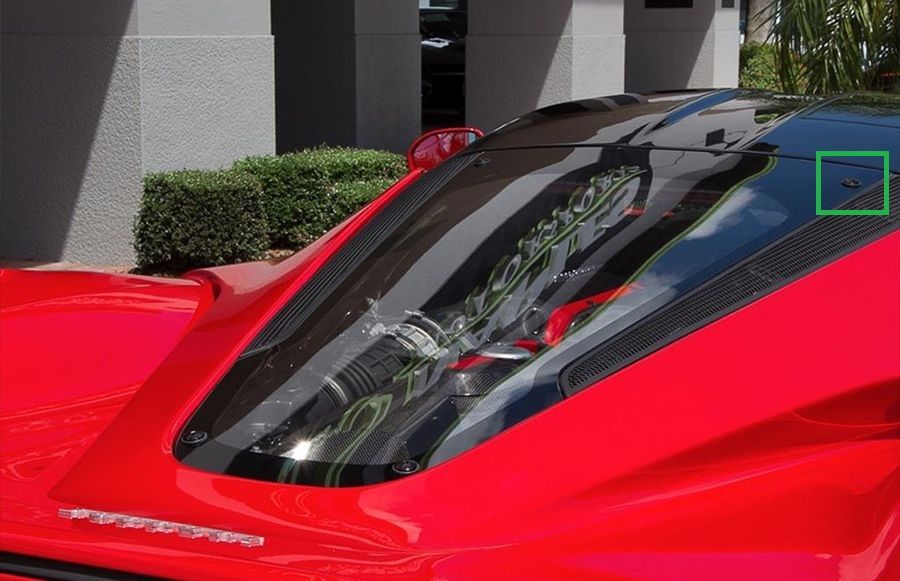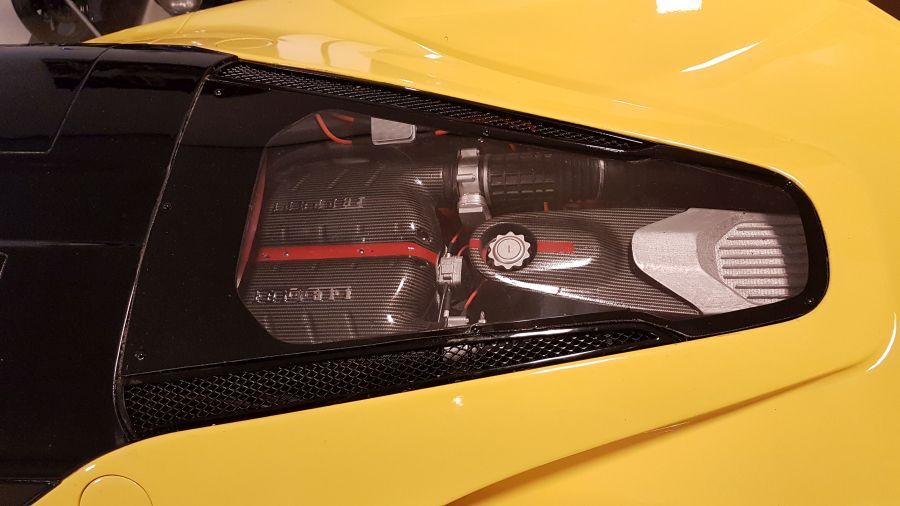 De voorruit kijgt dezelfde procedure. Niet het meest mooie, maar het kan niet anders. Dus ook nu een template gebruiken om de folie te snijden en het zwart te spuiten.
The front window gets the same procedure. Not the most beautiful one, but there is no other way. So i am also using a template to cut the foil and paint the black.
Klaar, maar niet perfect. Voor volgende wagens met een soortgelijke voorruit, moet er toch een betere oplossing komen.
Done, but not perfect. For a next car with a similar front shield, there needs to be a better solution.