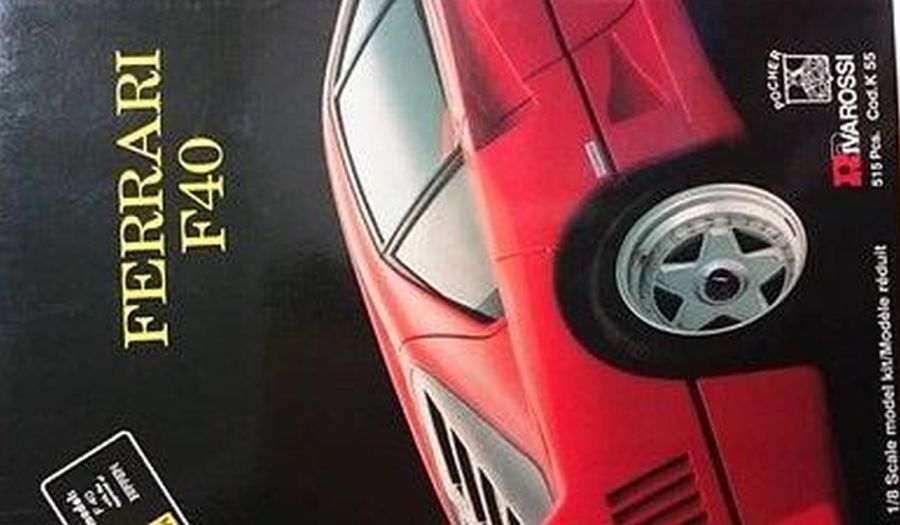 De schaal 1/8 Ferrari F40 van Pocher ga ik veranderen in een Ferrari F40 Monkey Garage versie. Ik heb helaas geen foto van het origineel gebouwde model. Deze is al door Sebastiaan gedemonteerd. Vervolgens heeft een autospuiter de body zwart gespoten. Sebastiaan heeft ook de motor voor het overgrote deel weer in elkaar gezet. Aan mij om hem weer verder op te bouwen.
The scale 1/8 Ferrari F40 from Pocher will be changed into a Ferrari F40 Monkey Garage version.Unfortunately i have no picture of the original build. This has been dismounted by Sebastiaan. A professional automotive painter painted the body black. Sebastiaan assembled the engine for the larger part. It's up to me now to rebuild the car.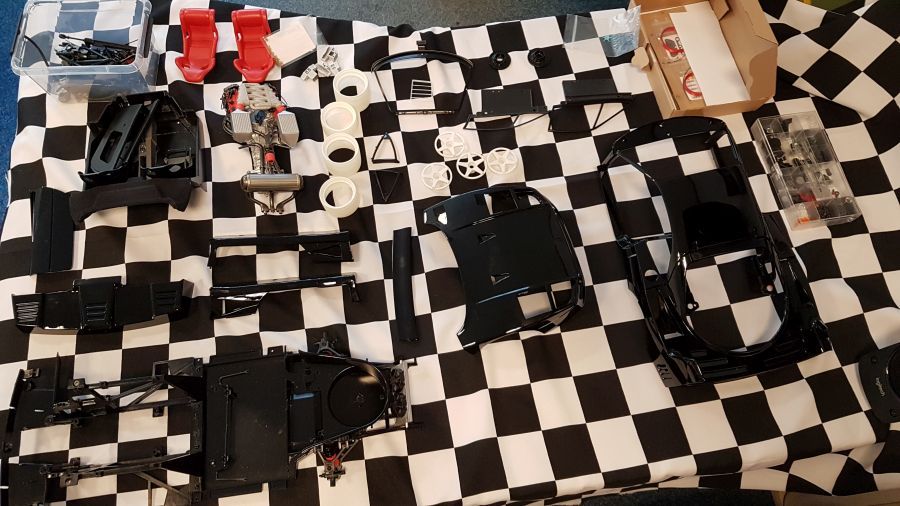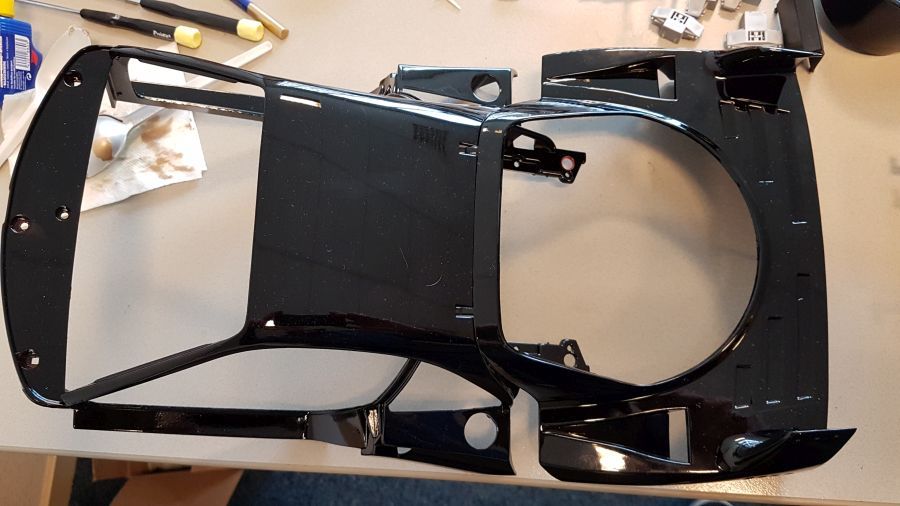 Sebastiaan heeft al het rooster in de achterkant geplaatst.
Sebastiaan already added the mesh at the back.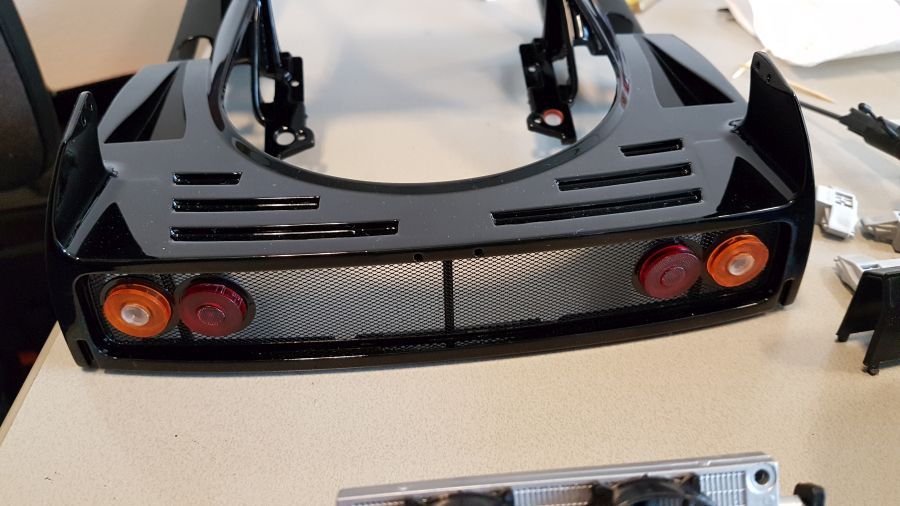 En de voorwielophanging...
And the front wheel suspension...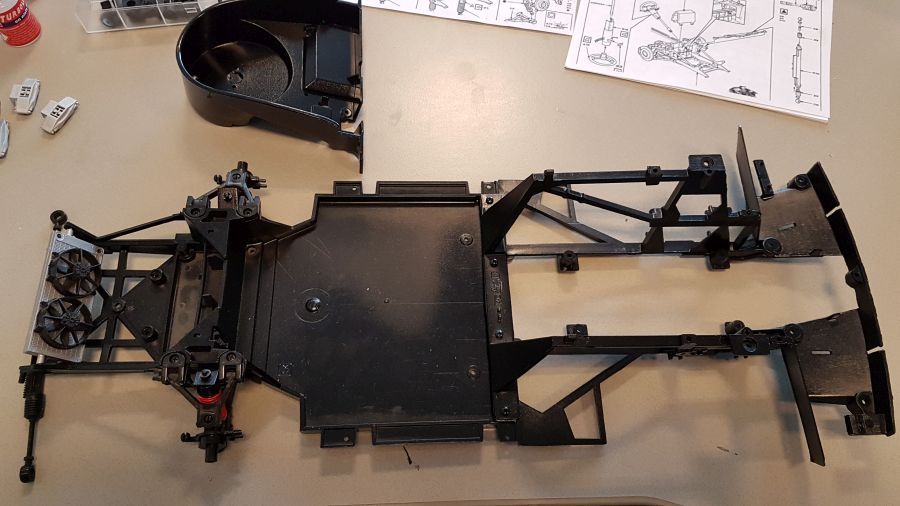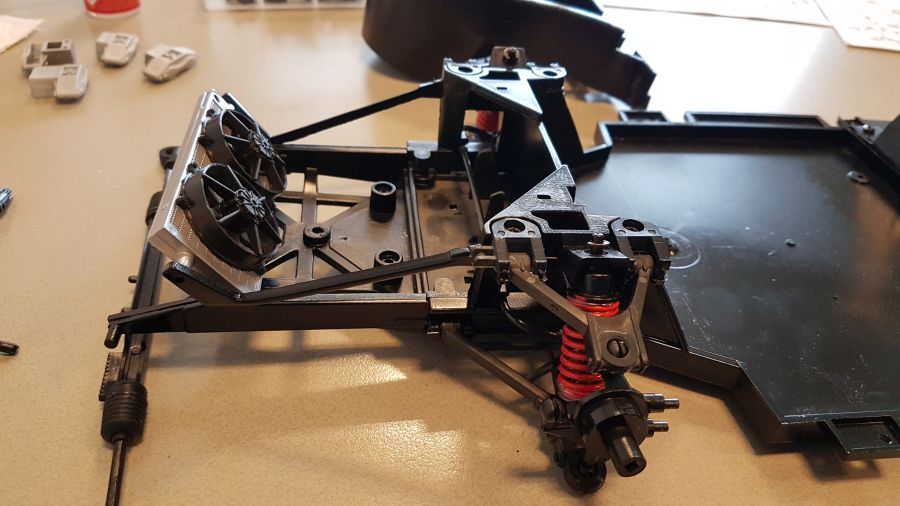 Nu ben ik dus aan de beurt...  Het stuur en de remklauwen moeten nog gespoten worden...
So now it's up to me... The steering wheel and the calipers need some paint...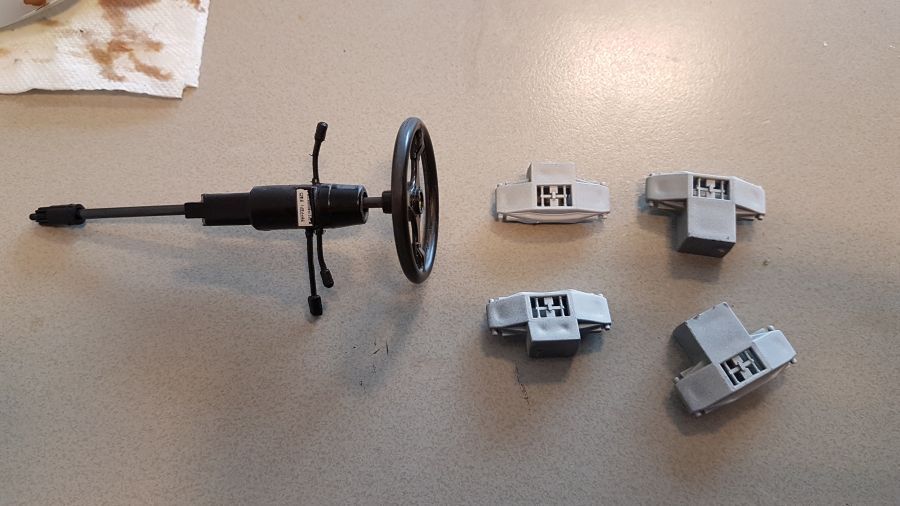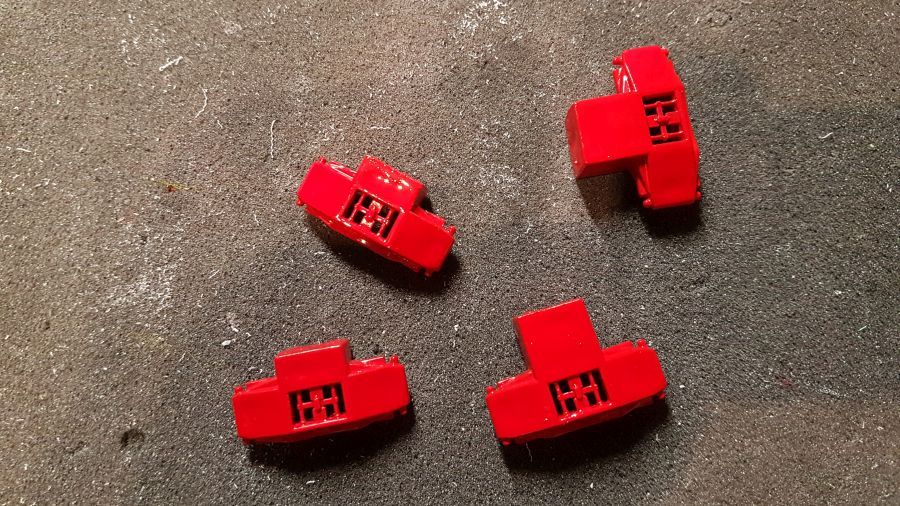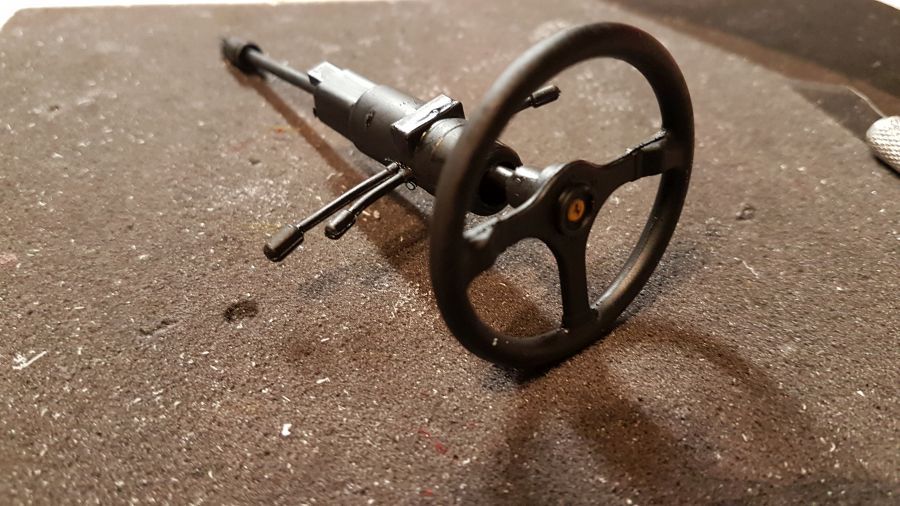 Door met de motor. De turbo's moeten nog geplaatst worden.
Next is the engine. The turbos need to be added.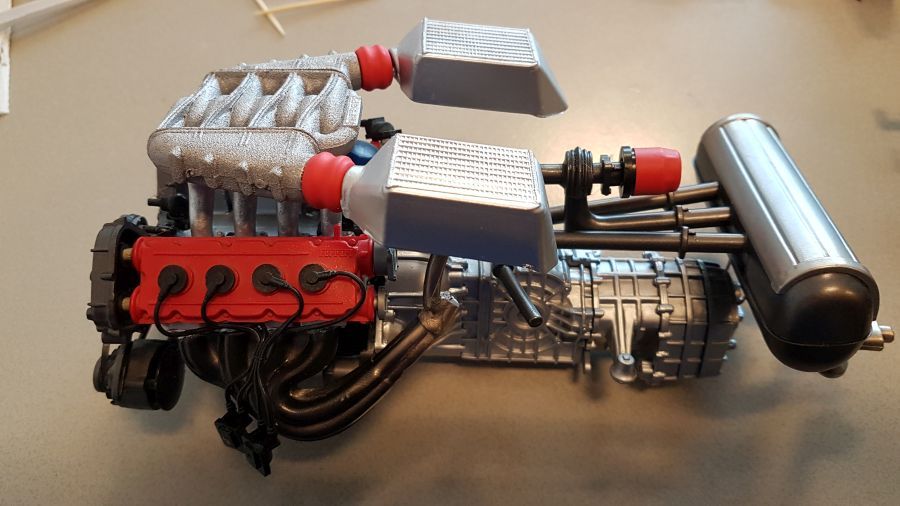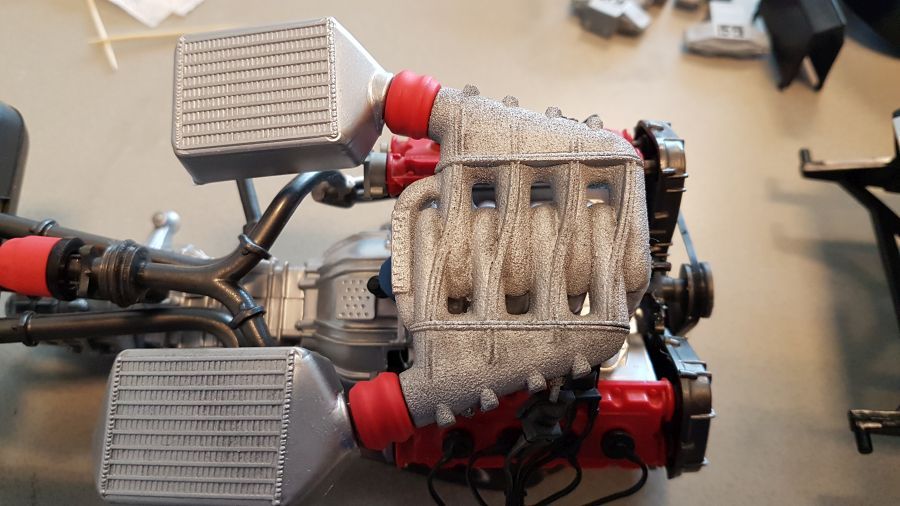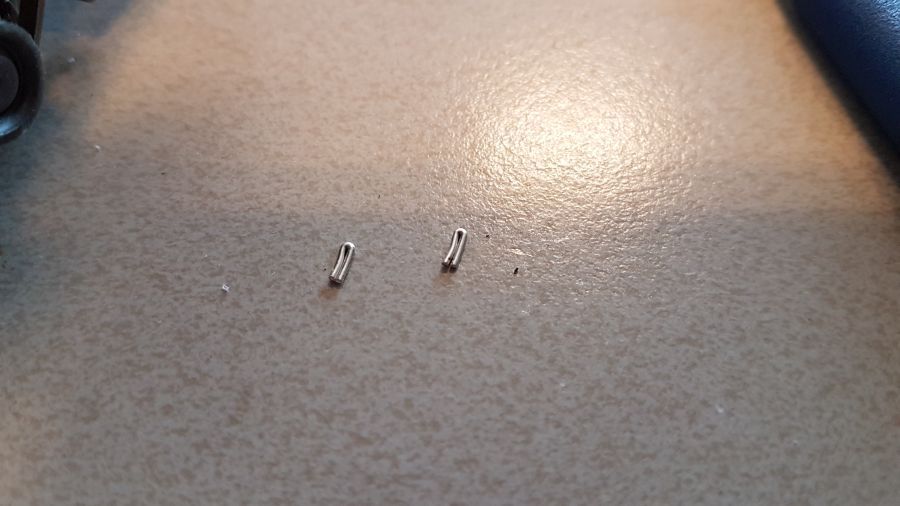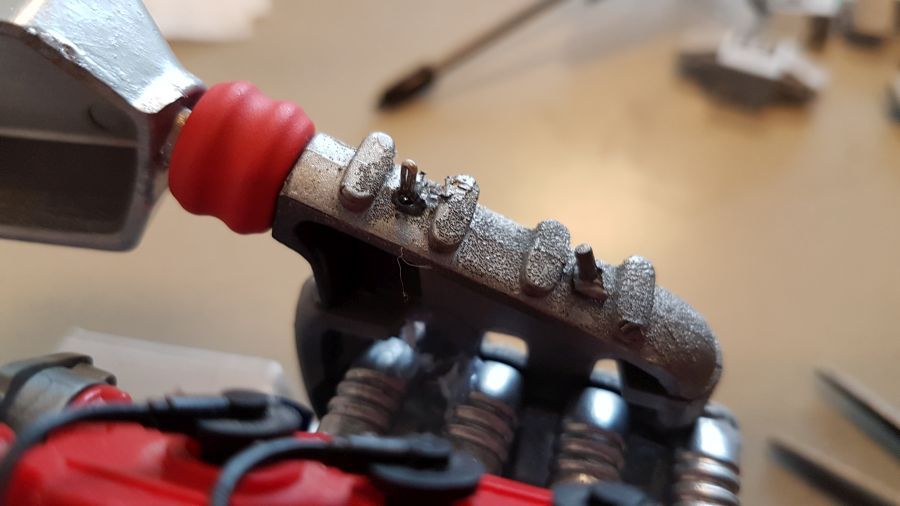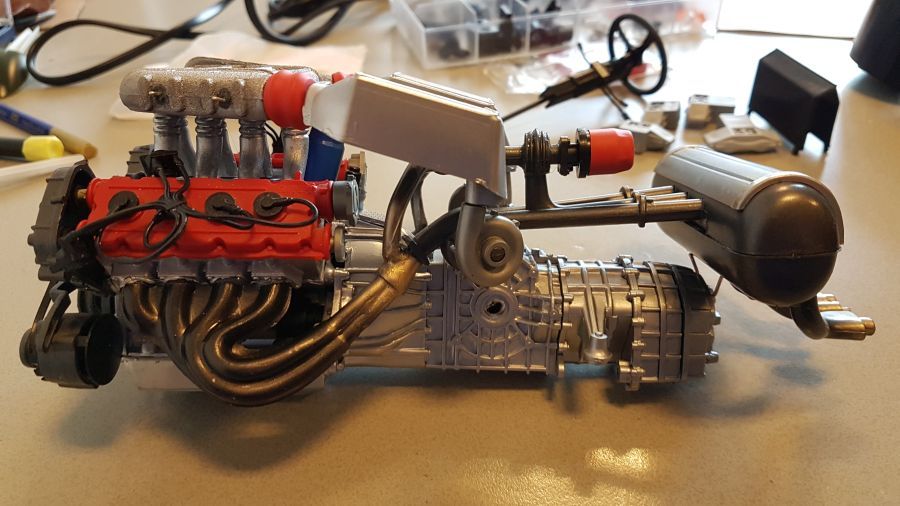 Dan kan de motor in het frame geplaatst...
Then the engine can be mounted to the frame...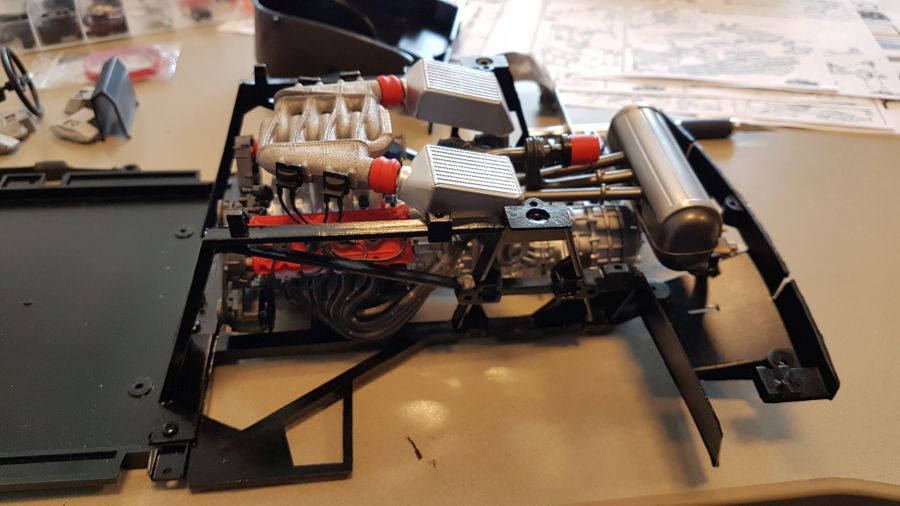 Even een test van de wielophanging, voordat de veren worden geplaatst.
A small test fit of the suspension, before the springs are added.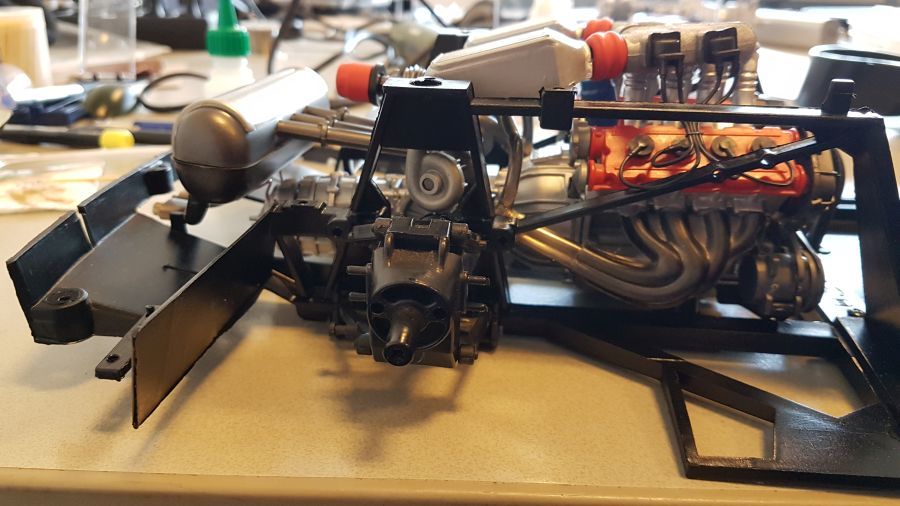 De uitlaatsierpijpen worden ontdaan van de chroomlaag.
The exhaust pipes get cleaned from the chrome layer.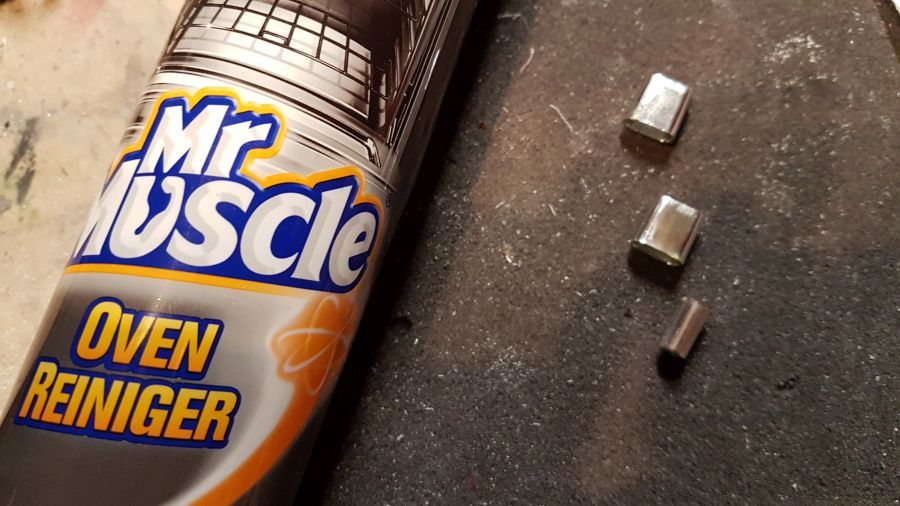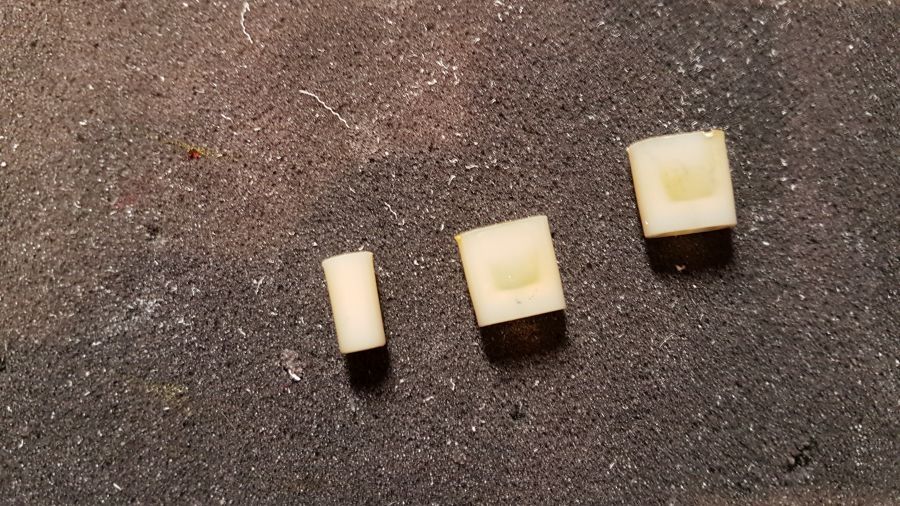 Tijd voor de voorwielophanging..
Time for the front wheel suspension..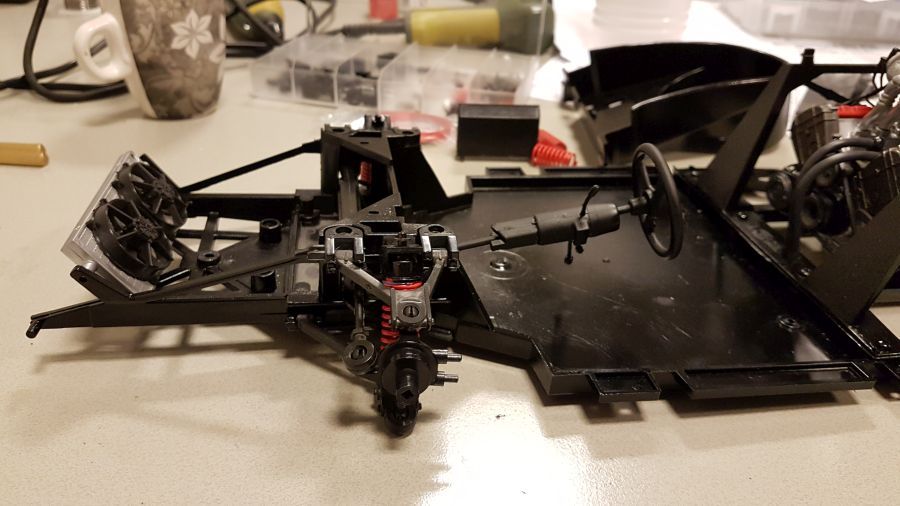 Helaas is de stuurinrichting beschadigd. Dit krijg ik niet meer werkend, tenzij ik er een hoop tijd insteek. De moeite niet waard in dit geval.
Unfortunately the steering construction has been damaged. I will not be able to get it to work again., unless i spend a lot of time. Not worth it this time.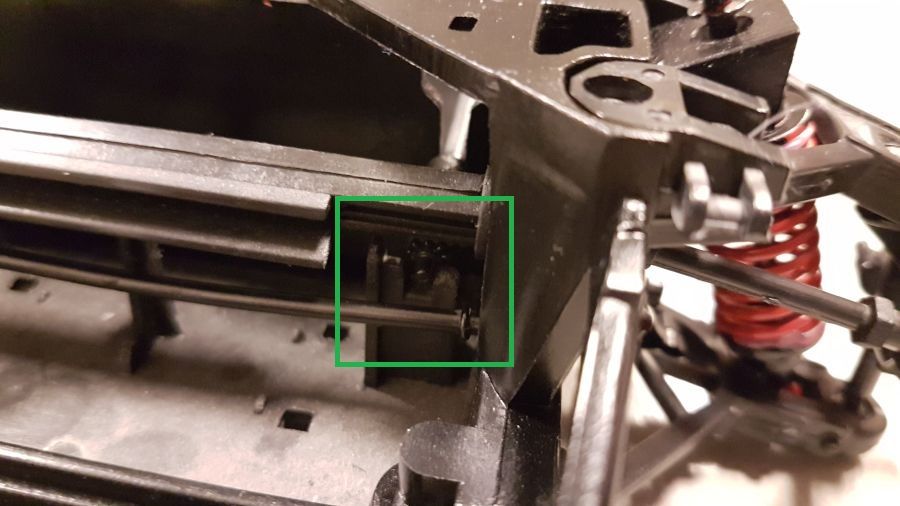 Dan de achterwielophanging.
Next is the rear wheel suspension.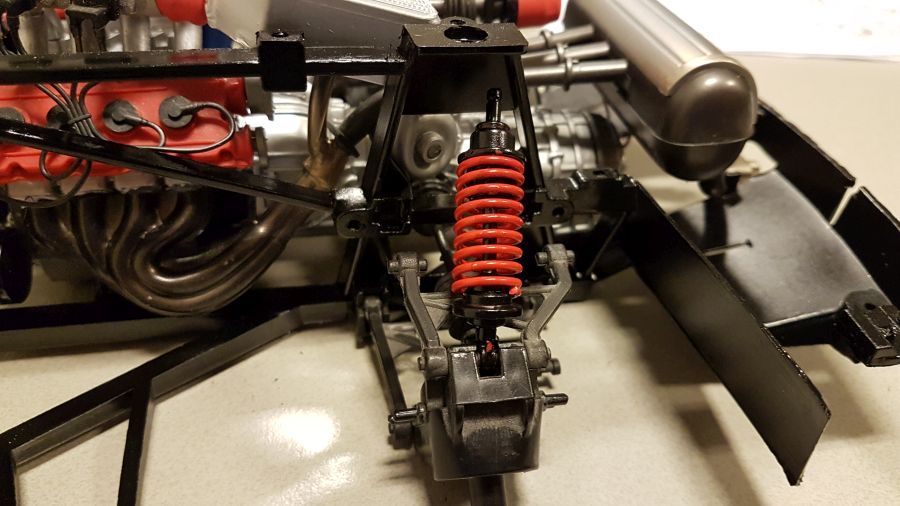 De remschijven krijgen wat etched delen.
The break discs receive some etched parts.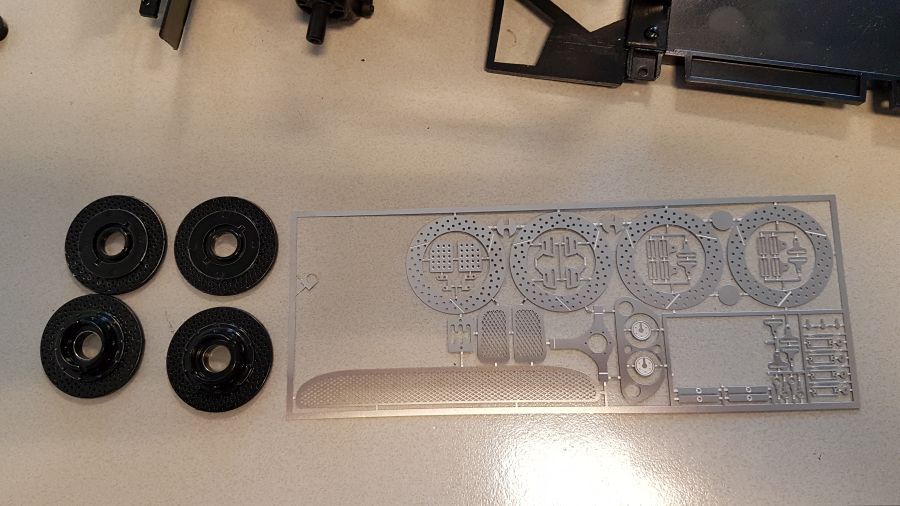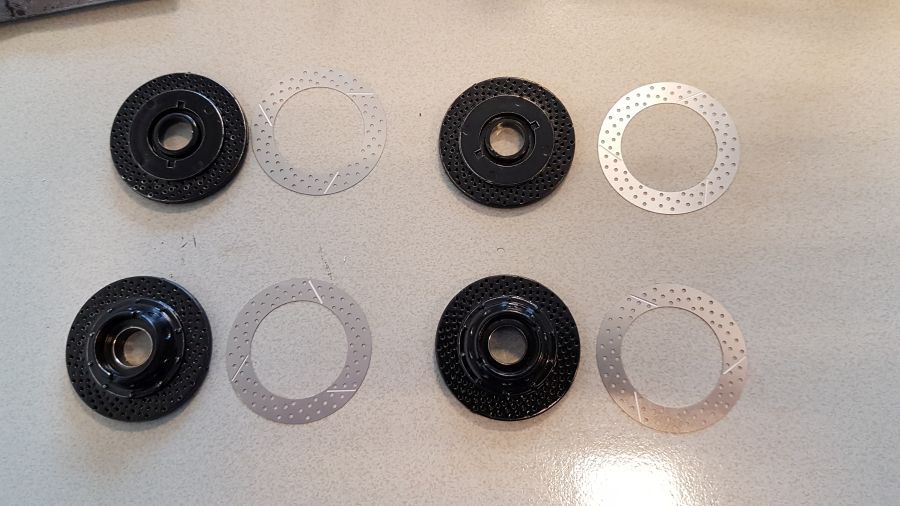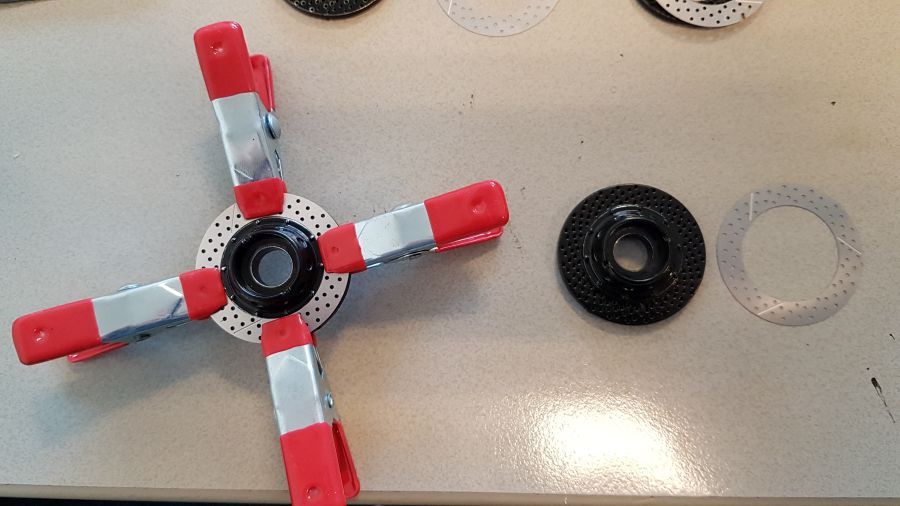 De velgen worden vervangen en krijgen schroefjes. Deze moet ik eerst aluminium spuiten.
The rims are being replaced and get small screws. I need to paint them aluminium first.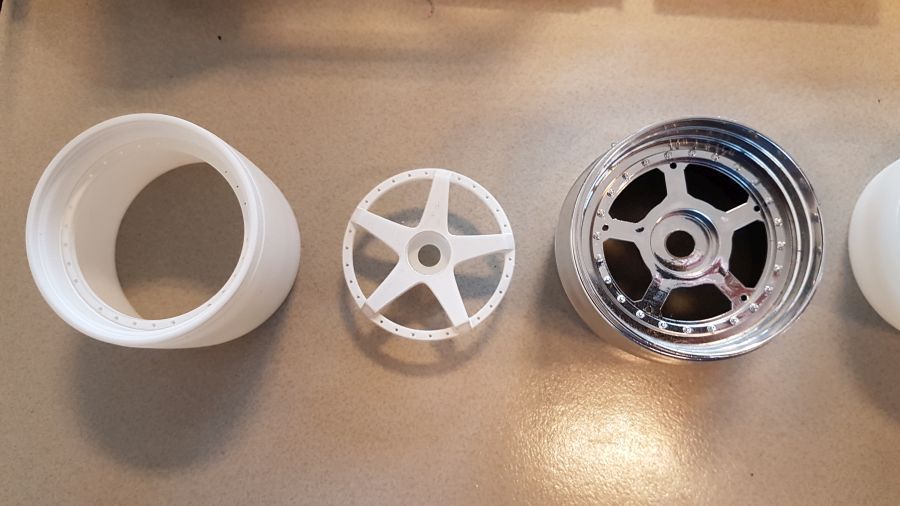 Ook het stuur krijgt een etched middenstuk.
Also the steering wheel gets an etched centre piece.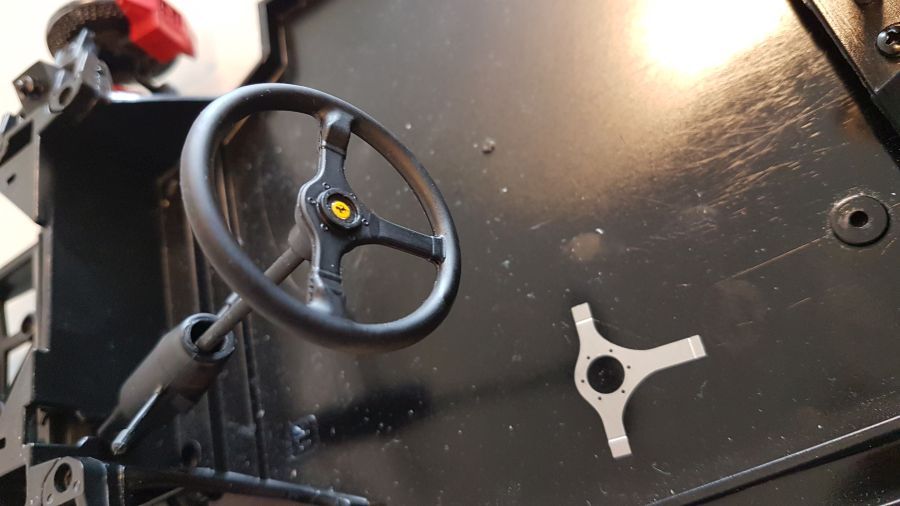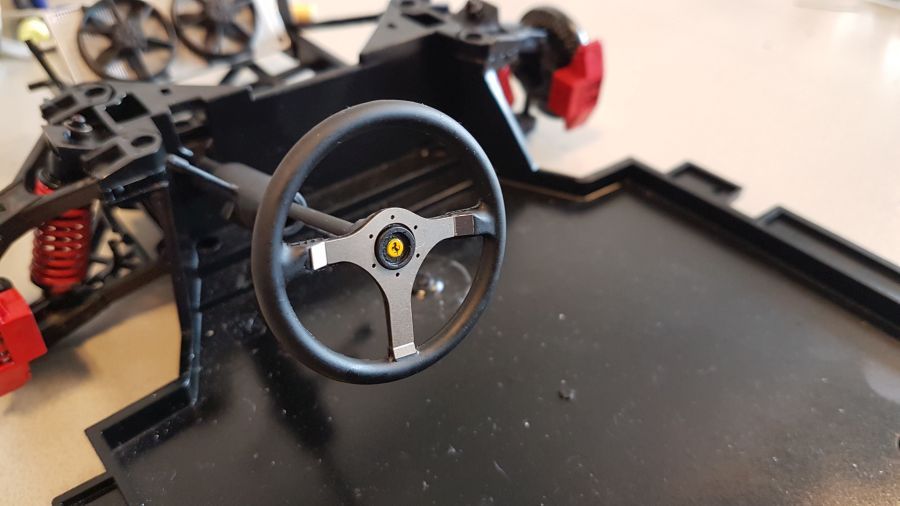 De uitlaat krijgt wat hitte vlekken.
The exhaust gets heat stains.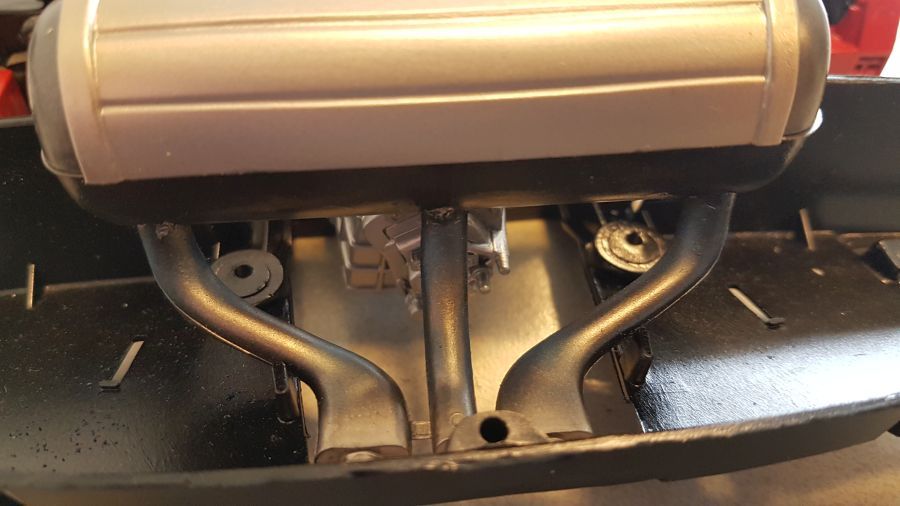 Dan kan het eerste stuk van de onderkant er weer op.
Then the first part of the lower body can be mounted again.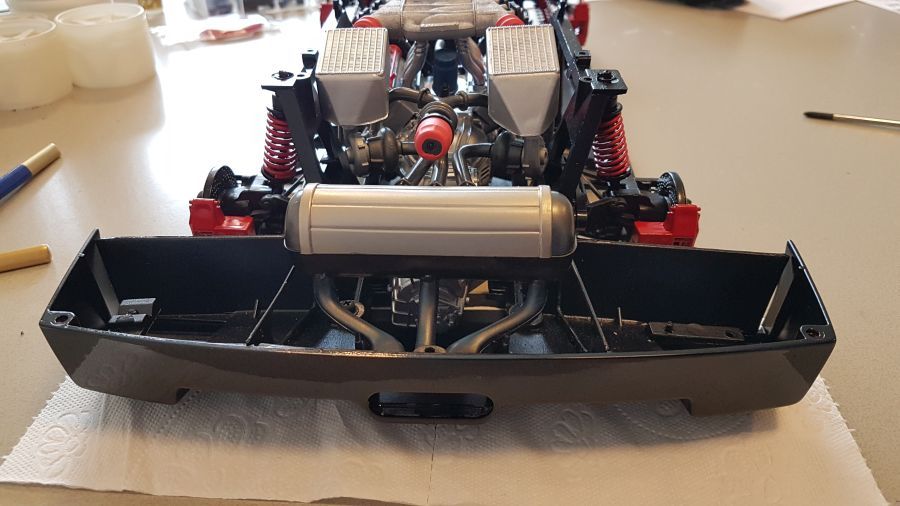 De coolers met de slangen zijn geplaatst.
The coolers with the hoses have been attached.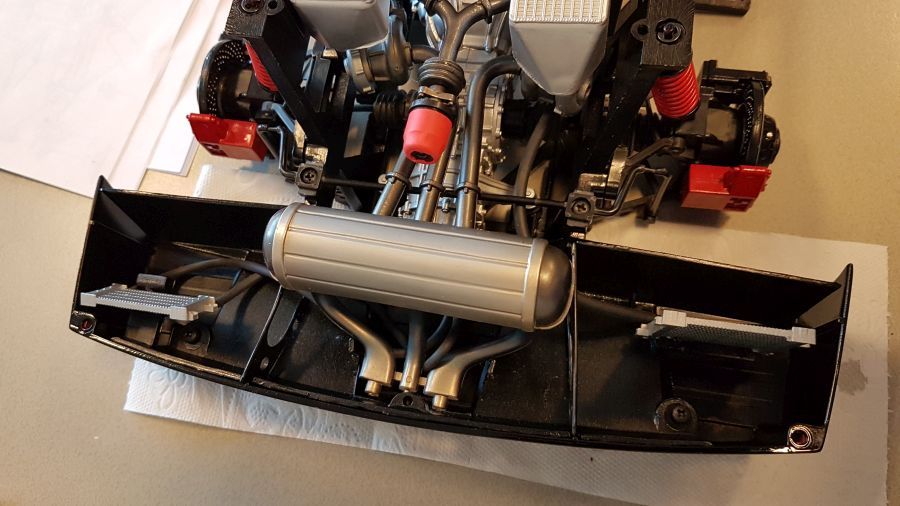 Sebastiaan heeft het achterste van het interieur bekleed met stof.
Sebastiaan has added cloth to the rear interior.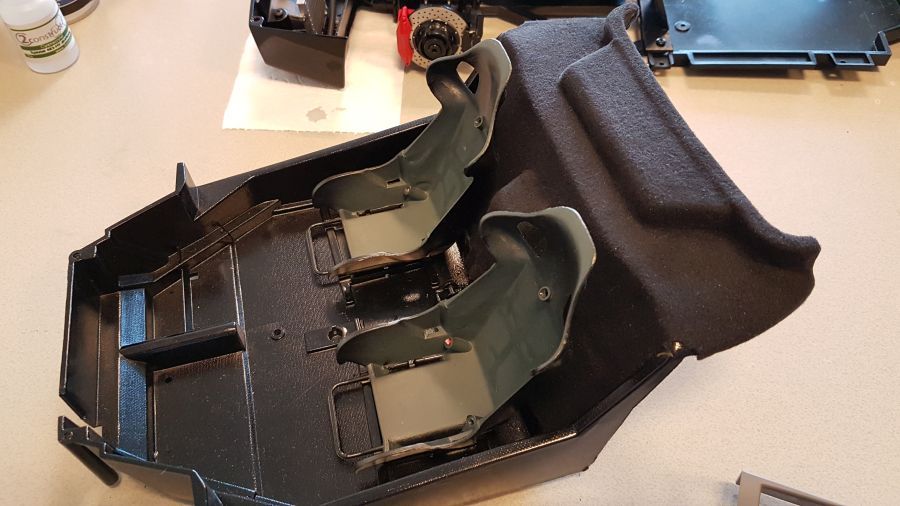 Het middenconsole is nu aan de beurt... Alles uit elkaar, een verfbeurt en etched delen.
Now lets turn to the console.  Everything taken apart, a paint job and etched parts.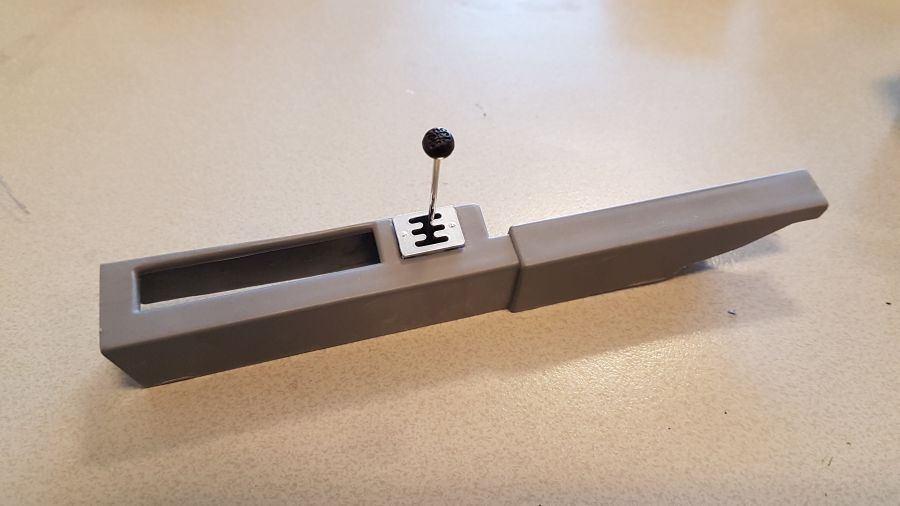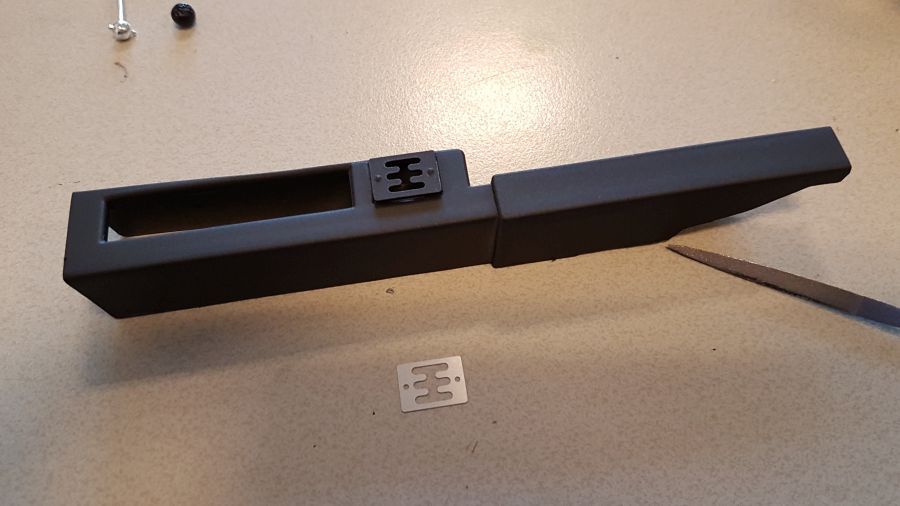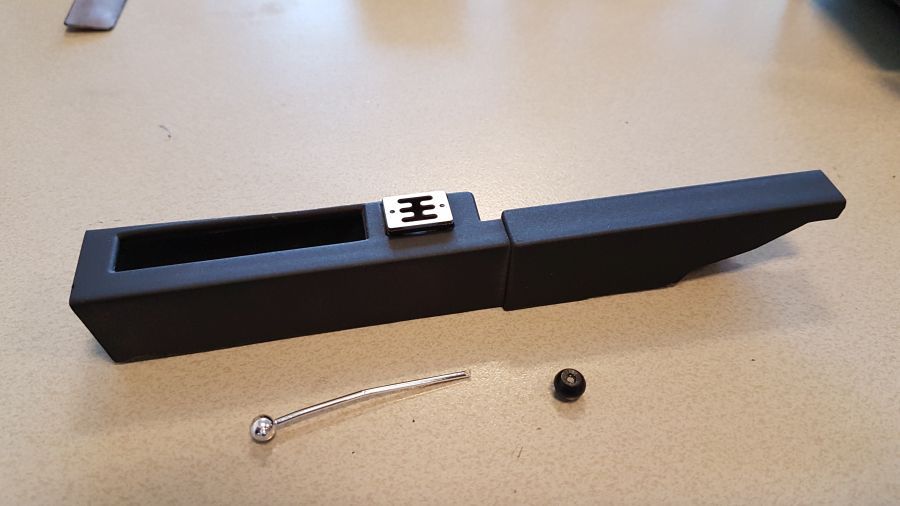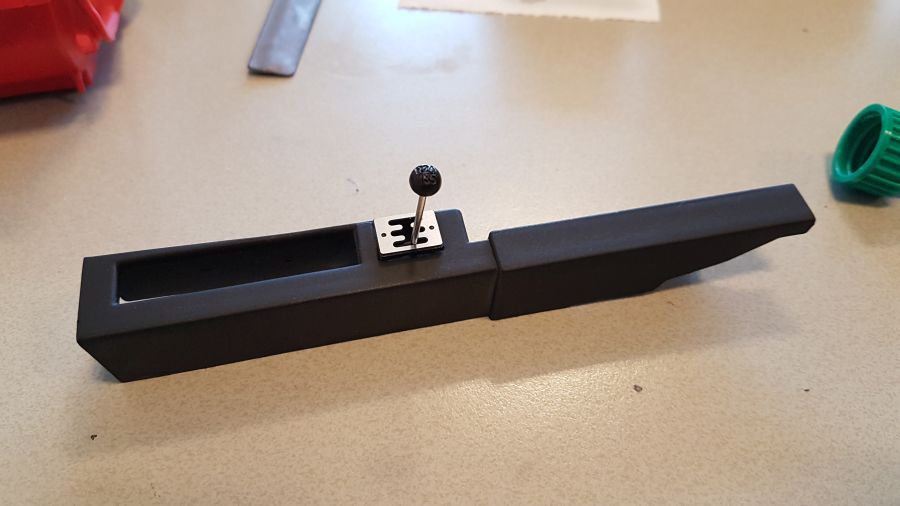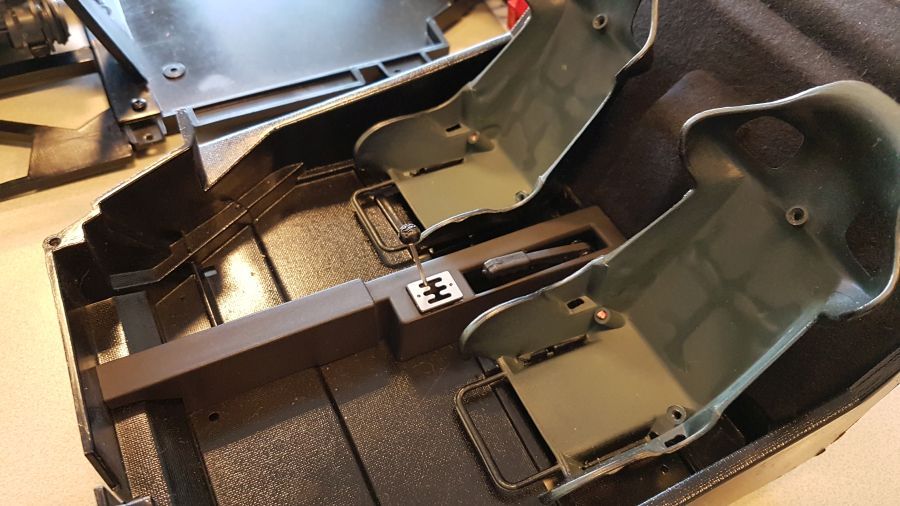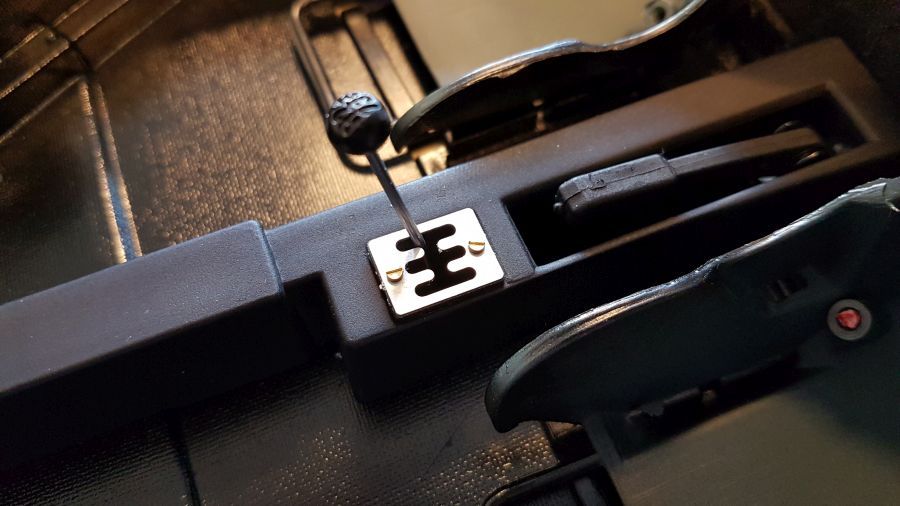 Hetzelfde voor de pedalen...
The same to the pedals...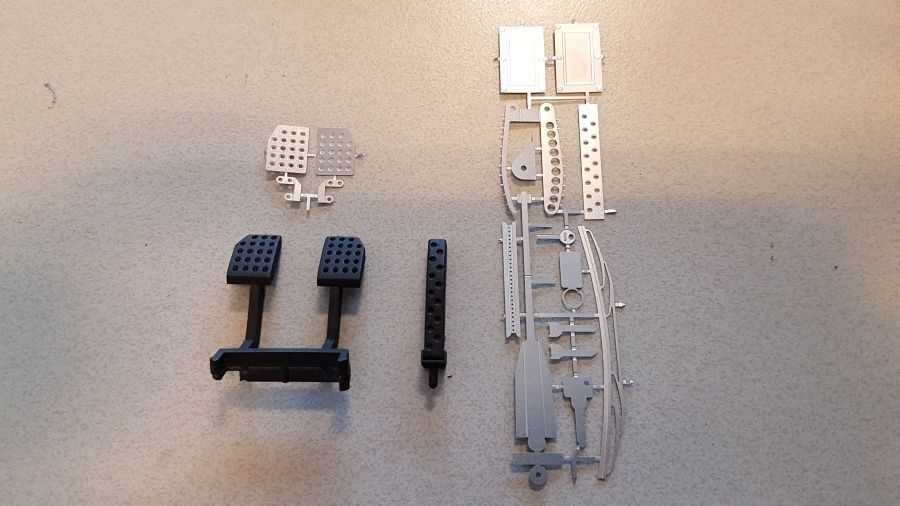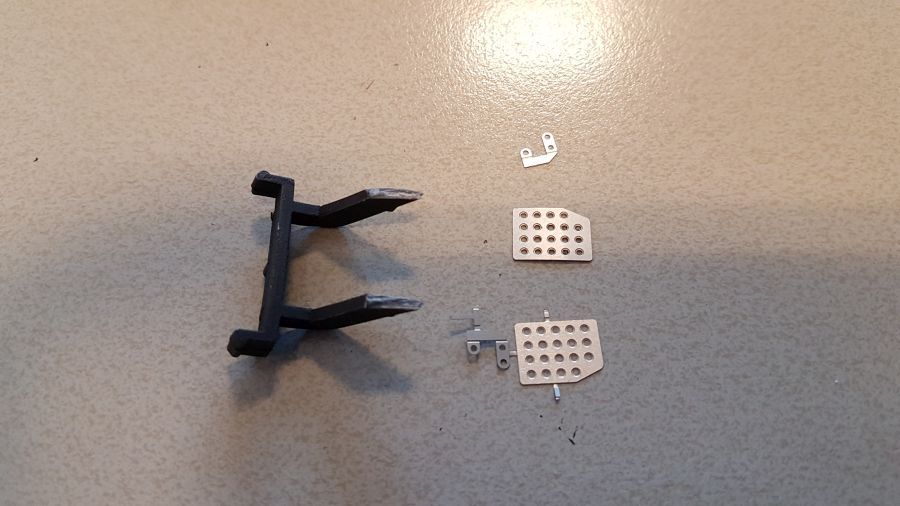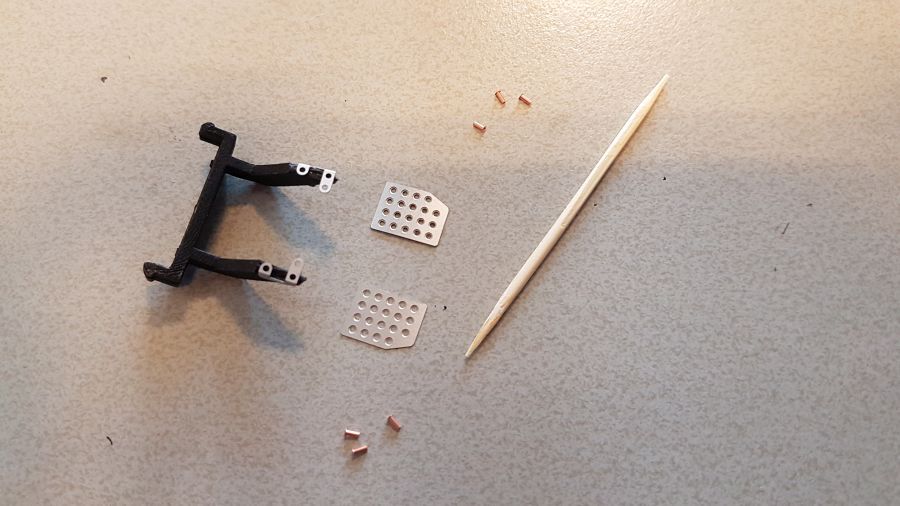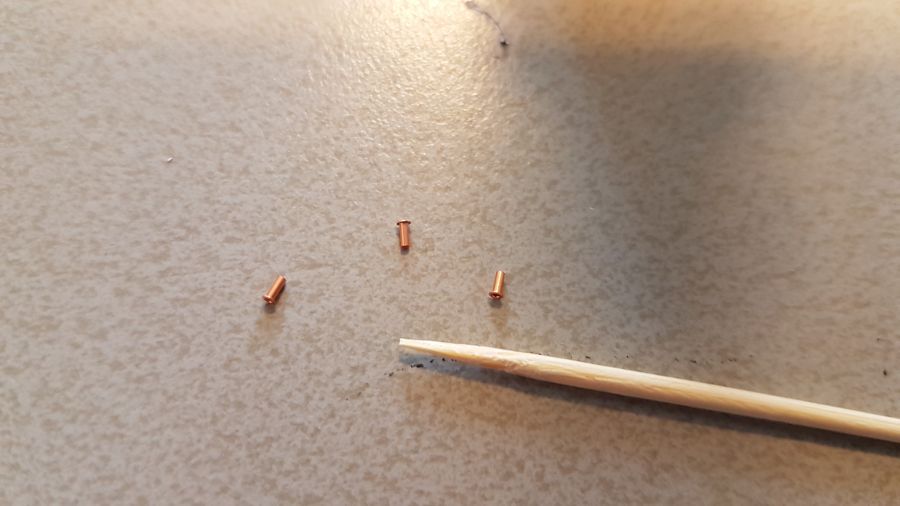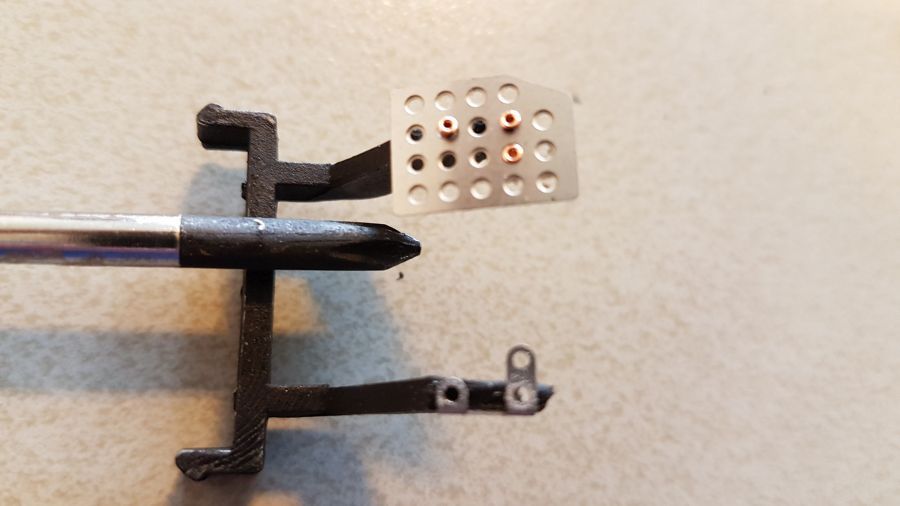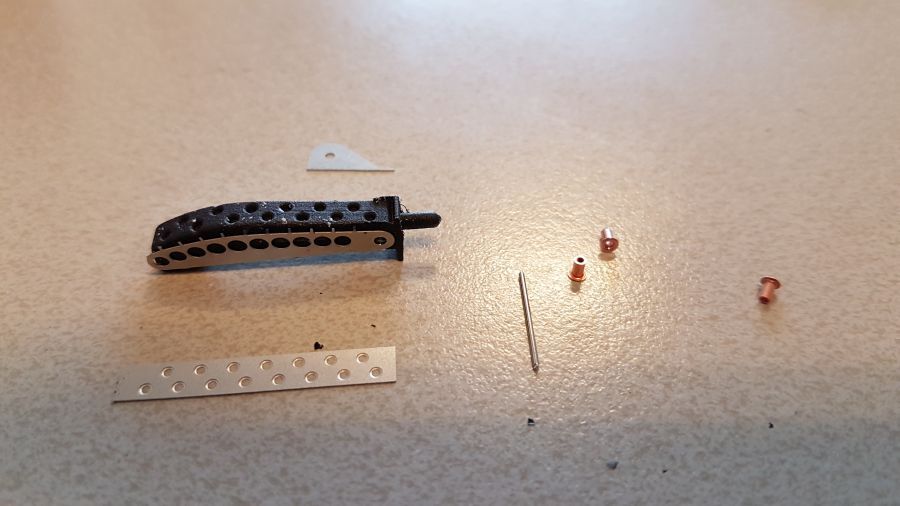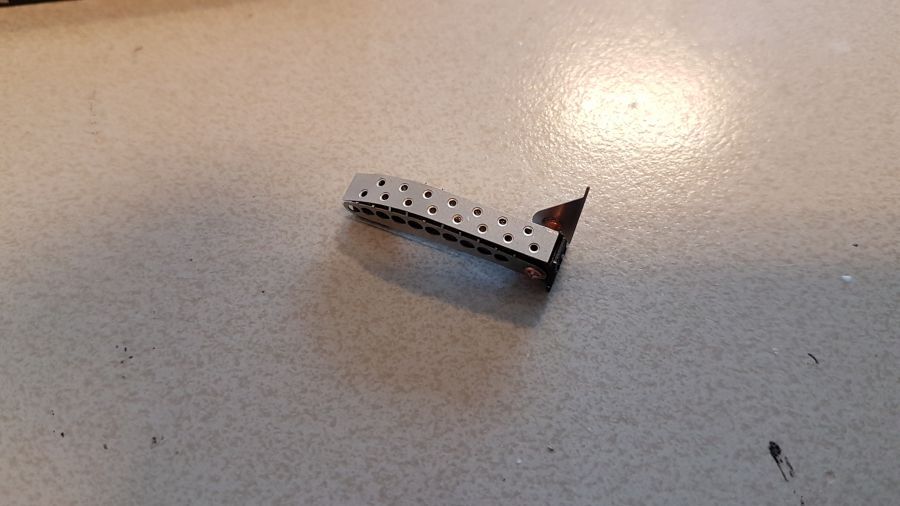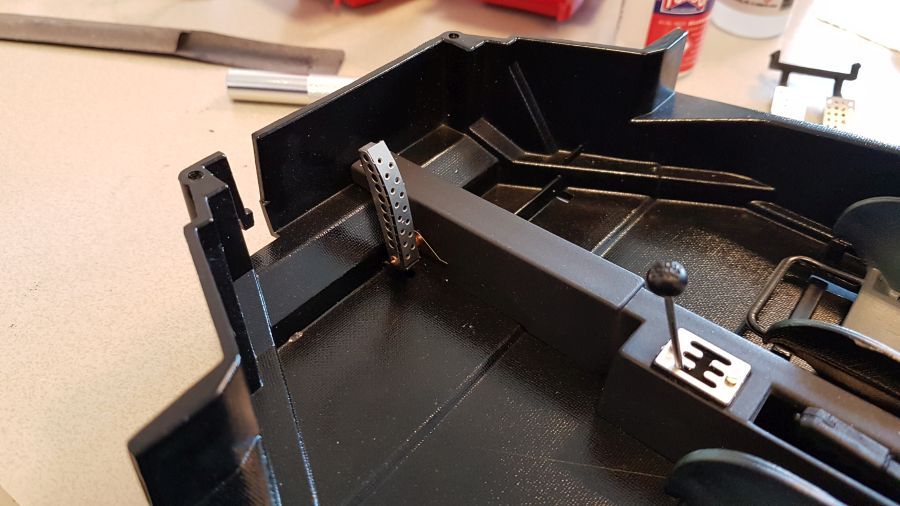 De bouw tot zover...
Progress until now...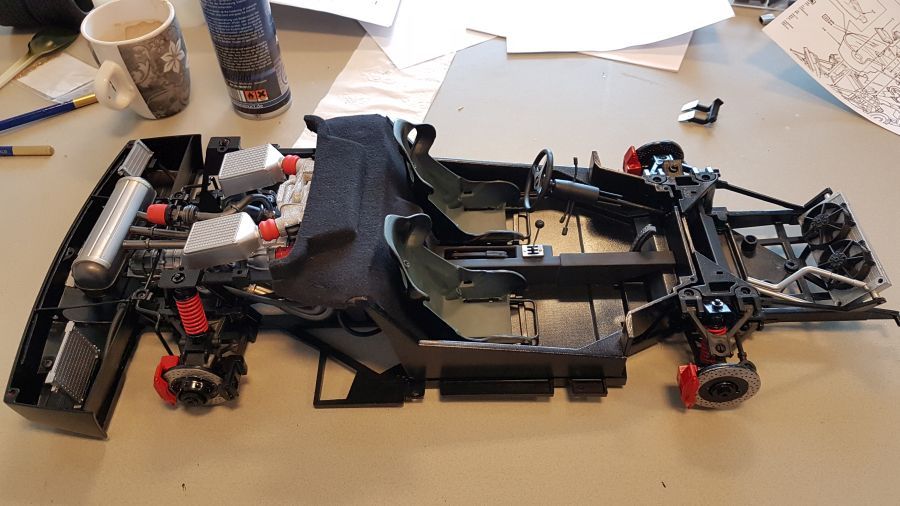 Nu verder met de voorkant. De reservoirs krijgen voor een deel een kleurtje aan de binnenkant zodat het lijkt of er vloeistof in zit.
Now to continue on the front. The reservoirs receive a partial paint on the inside to simulate fluids.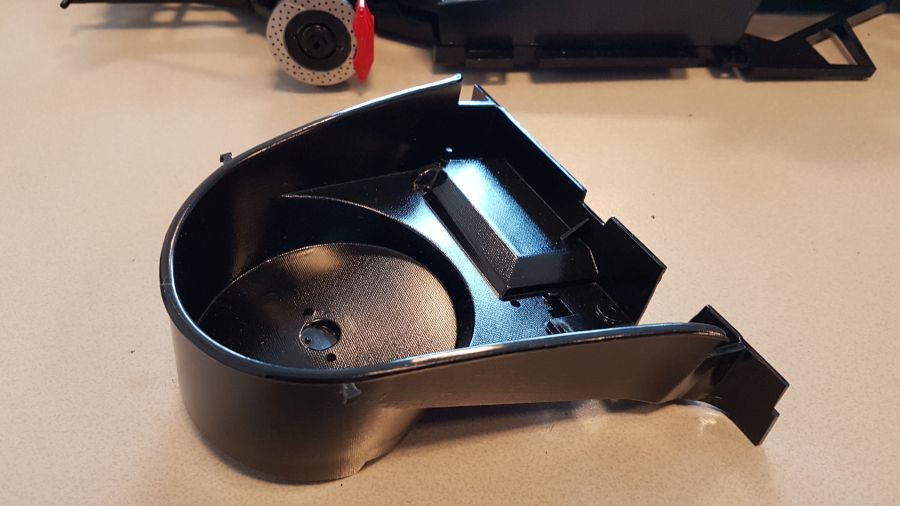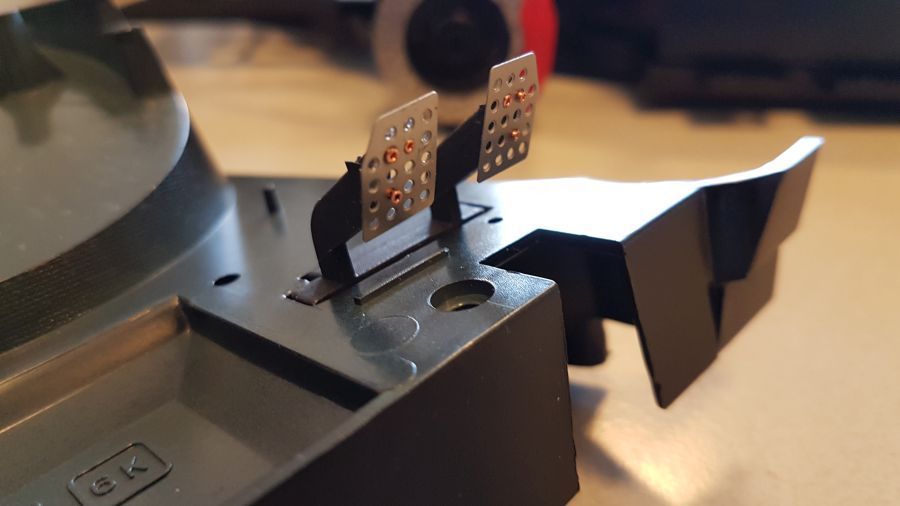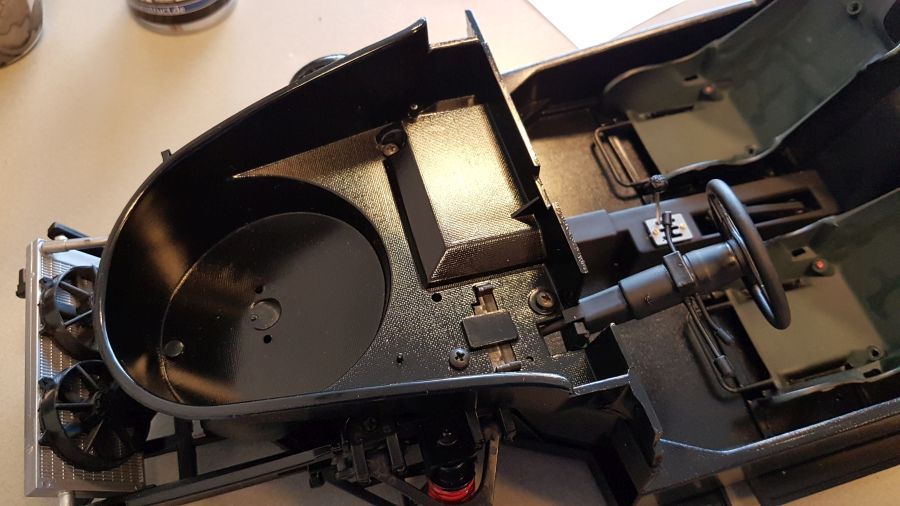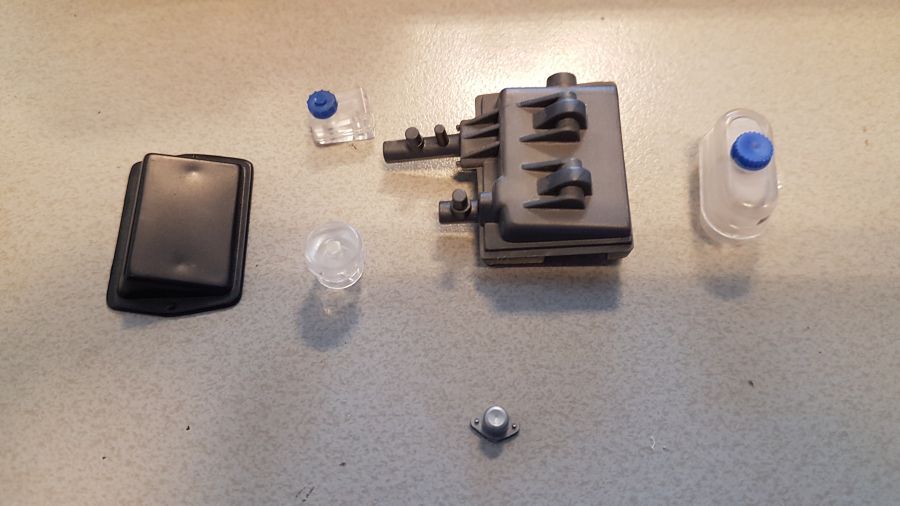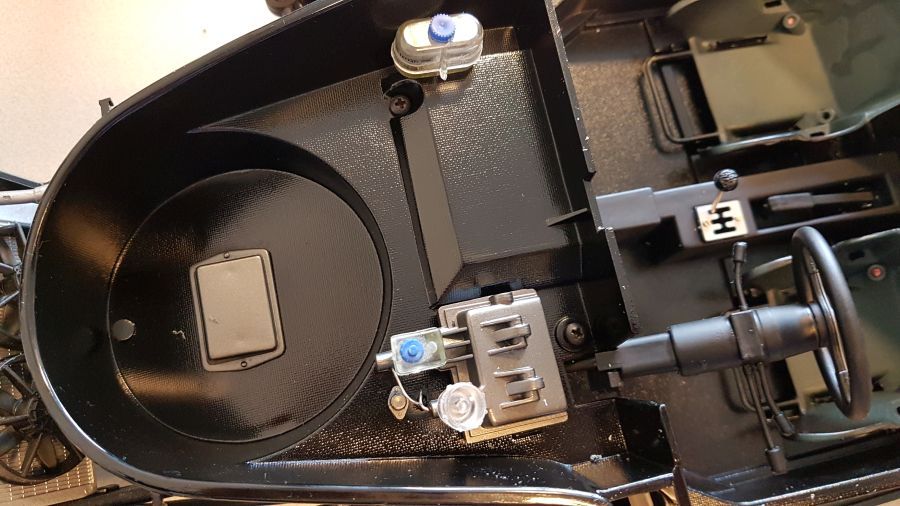 De stoelen zijn zwart gespoten. Later komen de gordels.
The seats have been painted black. The belts will come at a later time.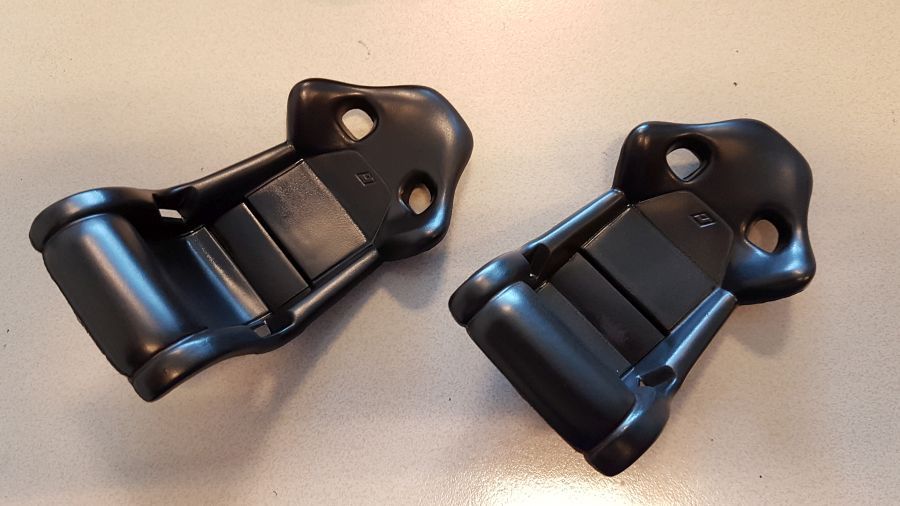 Het dashbord gaat uit elkaar, wordt gespoten, krijgt nieuwe klokken en etched onderdelen.
The dasboard is being dismounted, re-painted, receives new gauges and etched parts.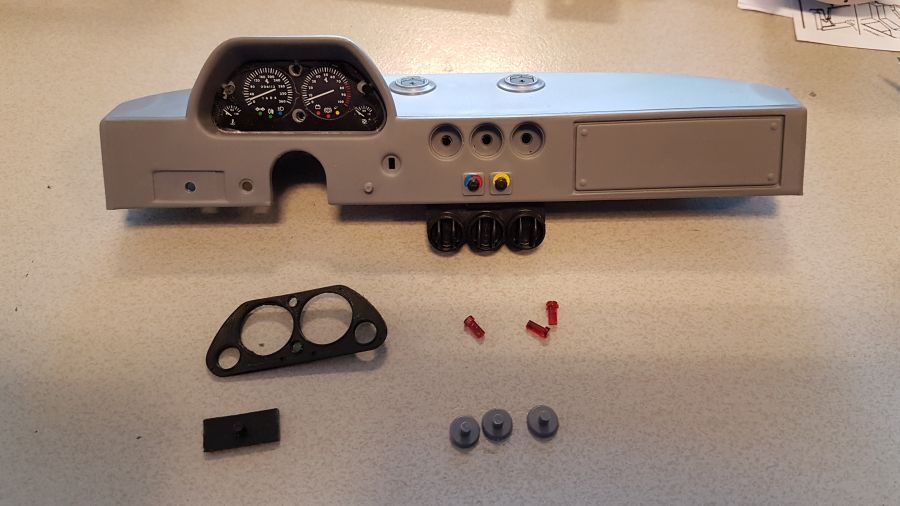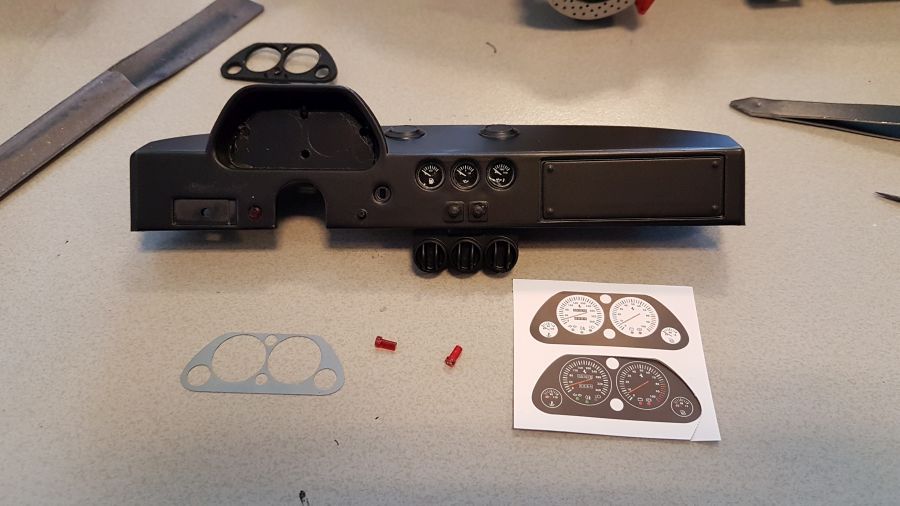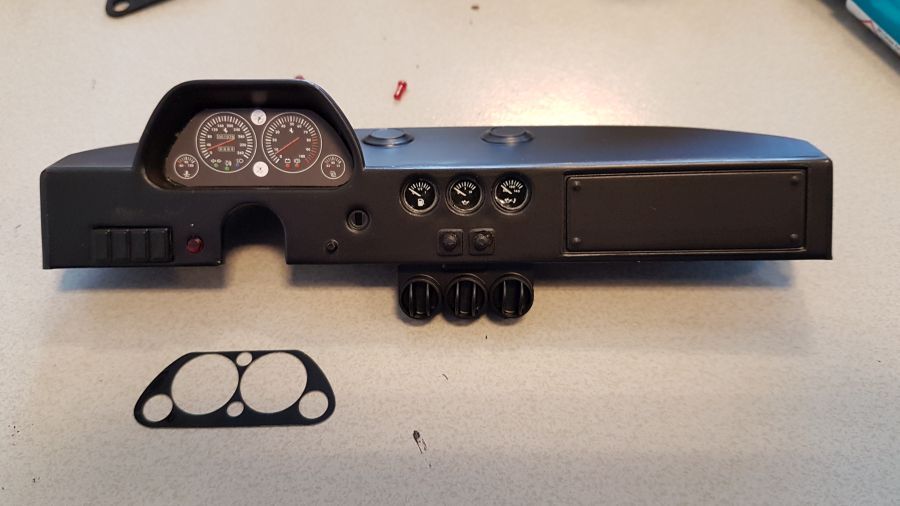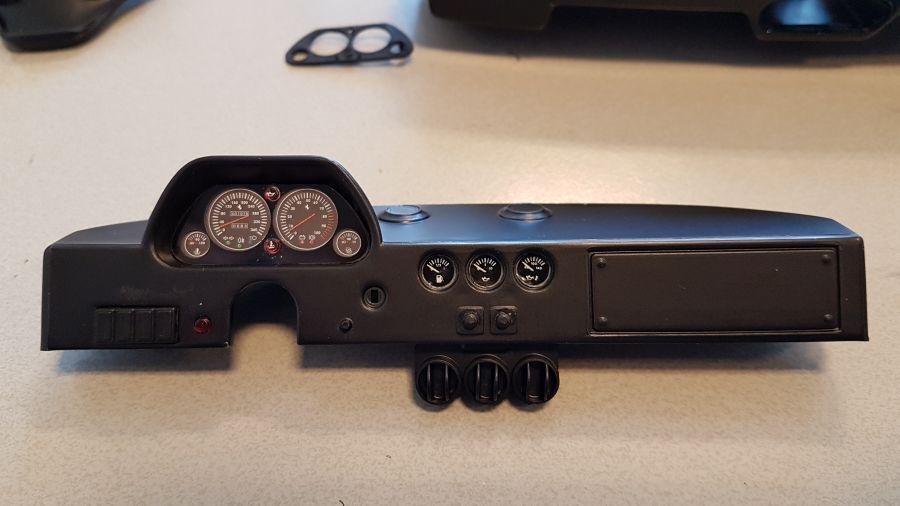 Zo ziet het nu uit...
This is how it looks until now...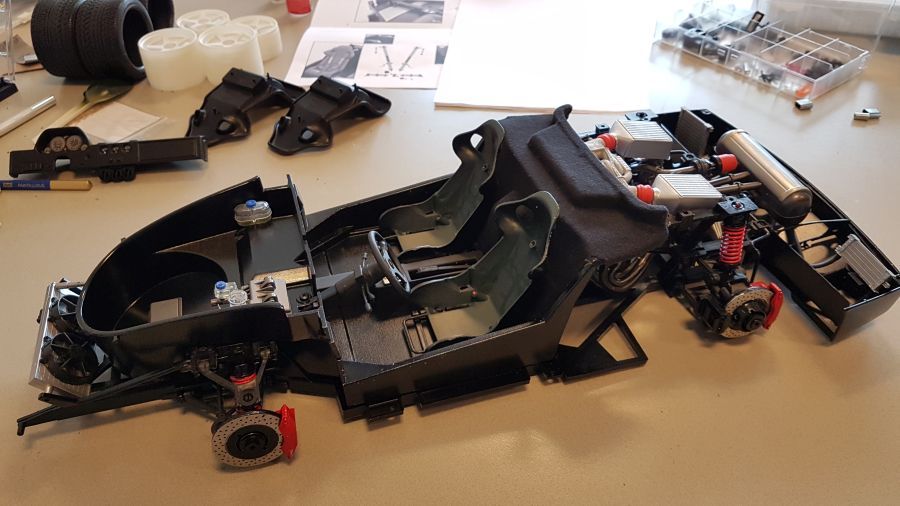 Niet de contactsleutel vergeten...
Don't forget the ignition key...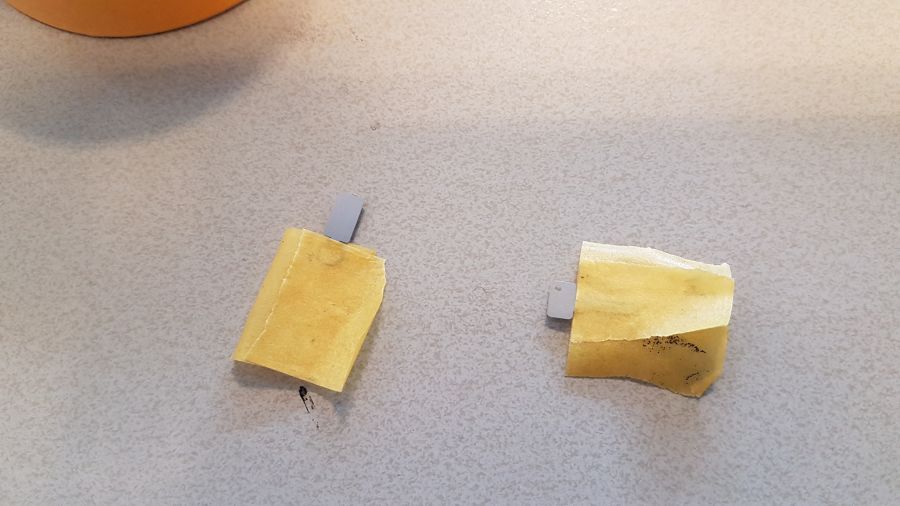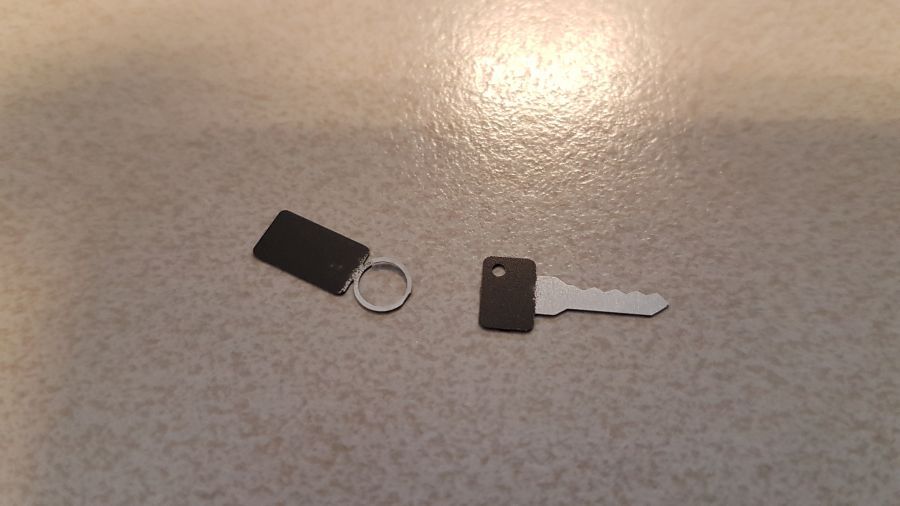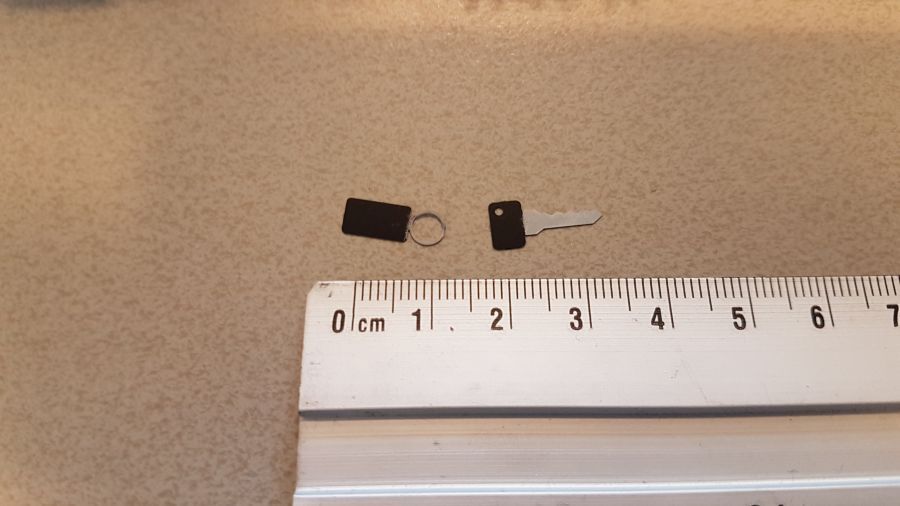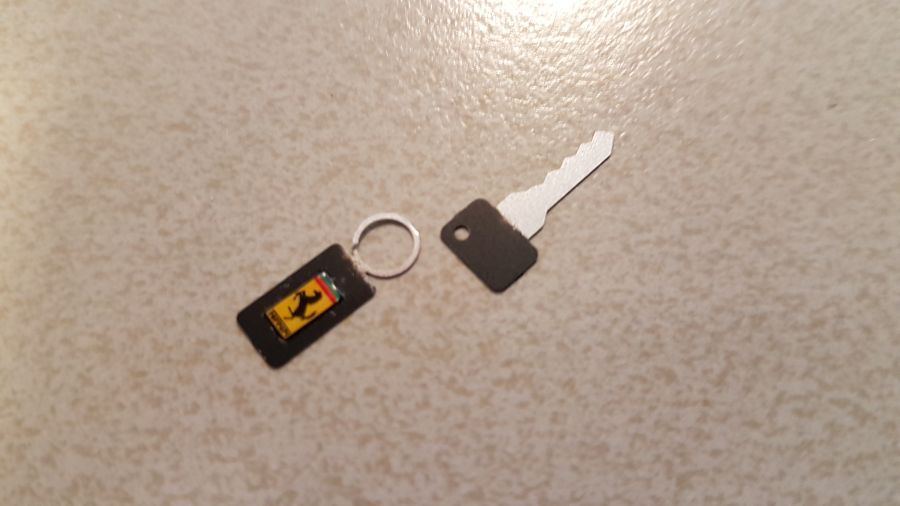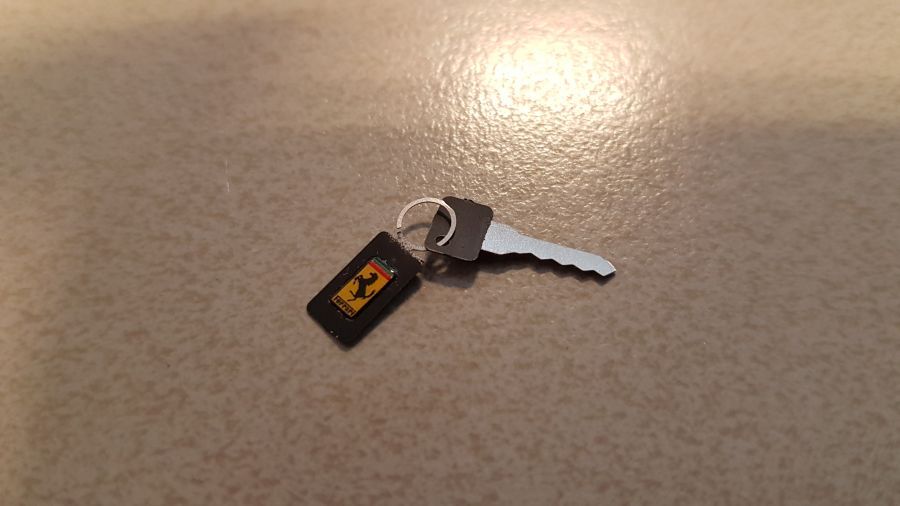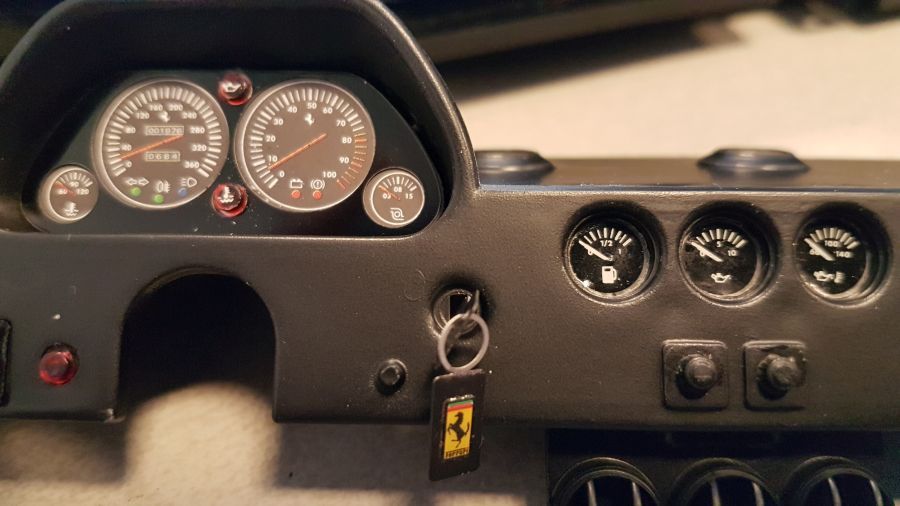 Verder met de stoelen en de gordels...
To continue with the seats and the belts...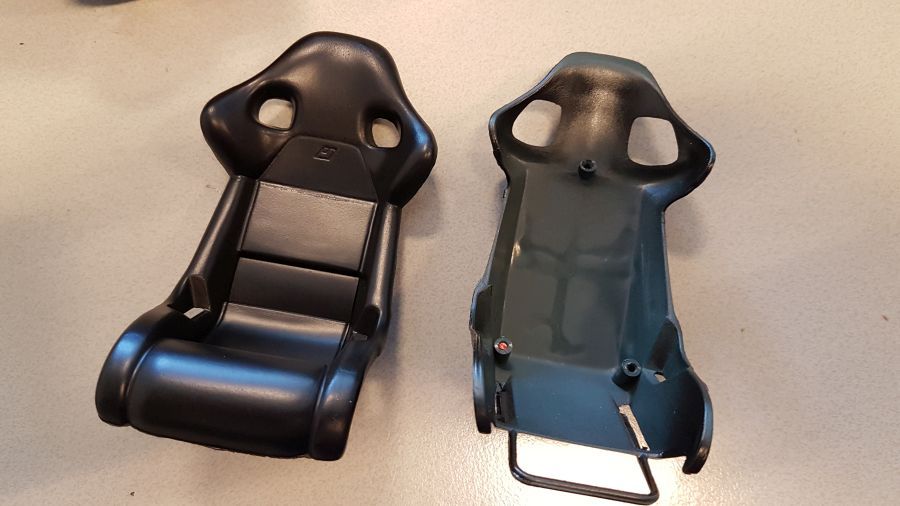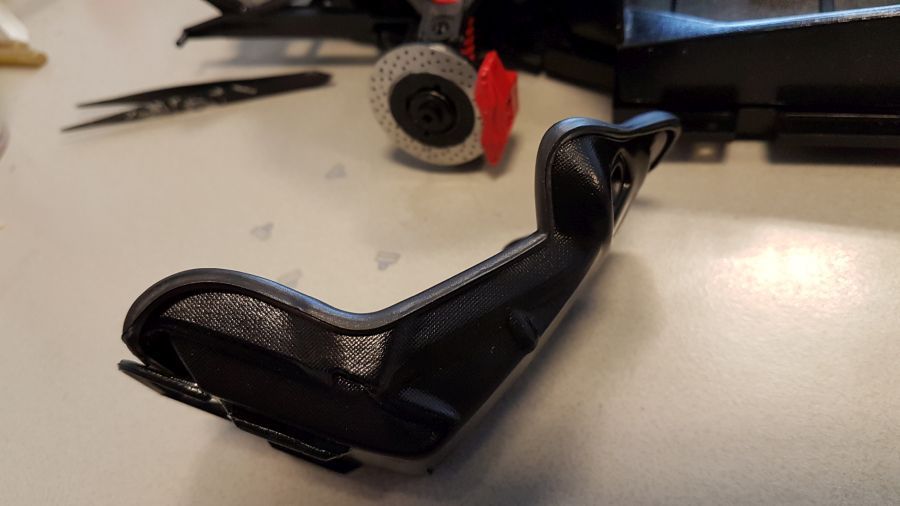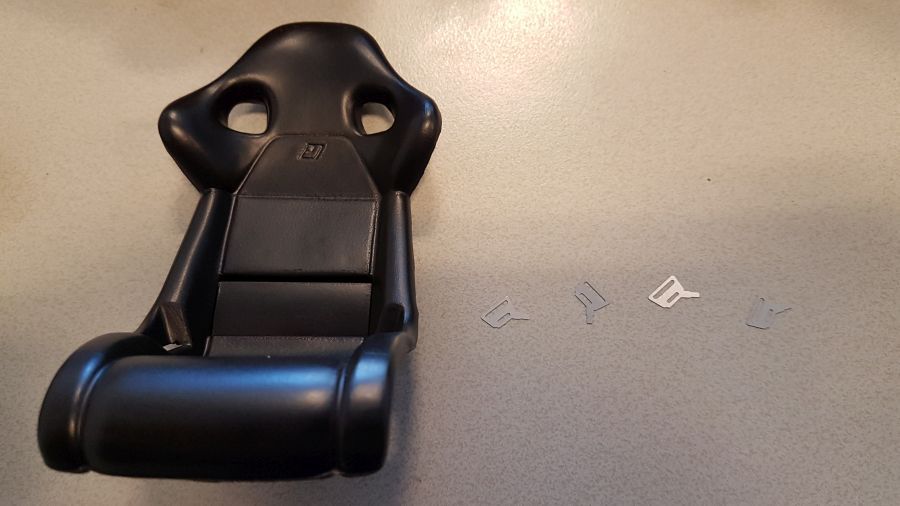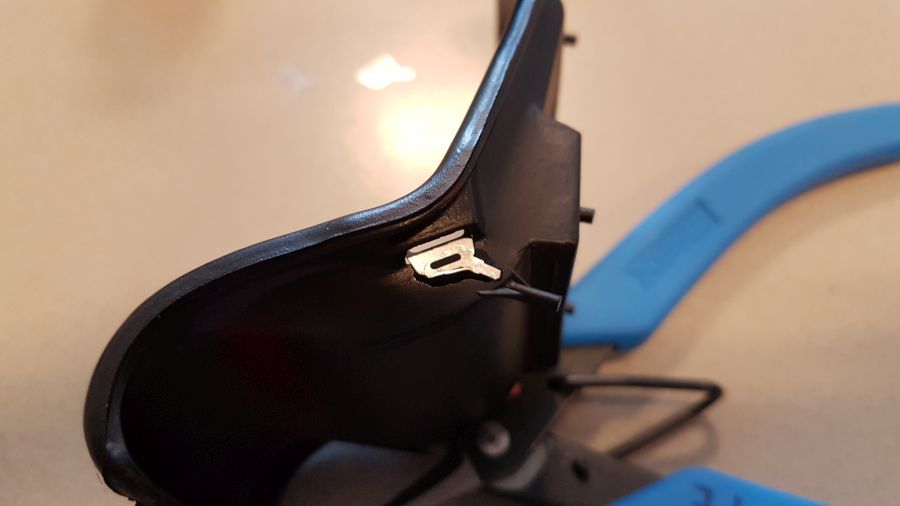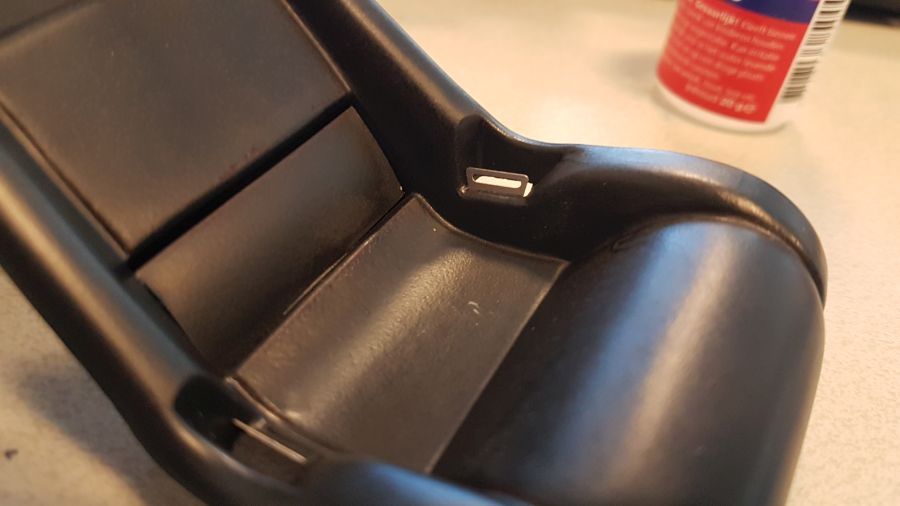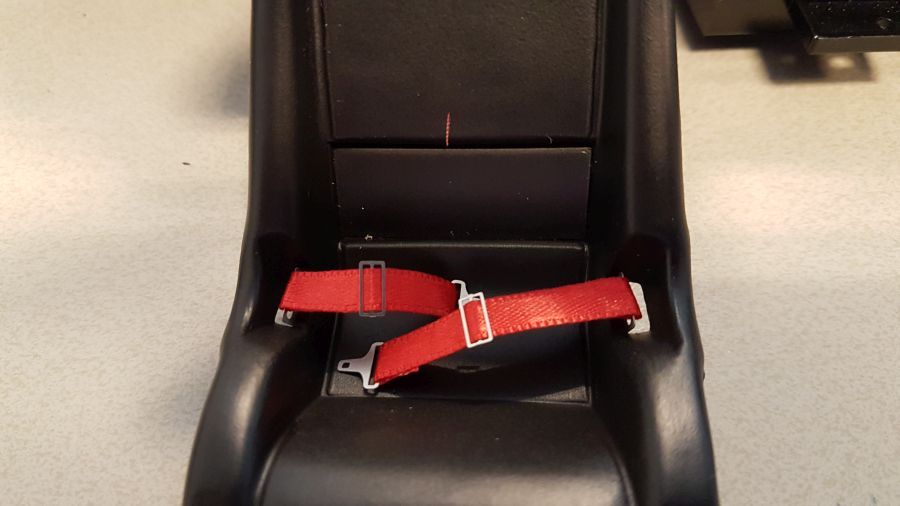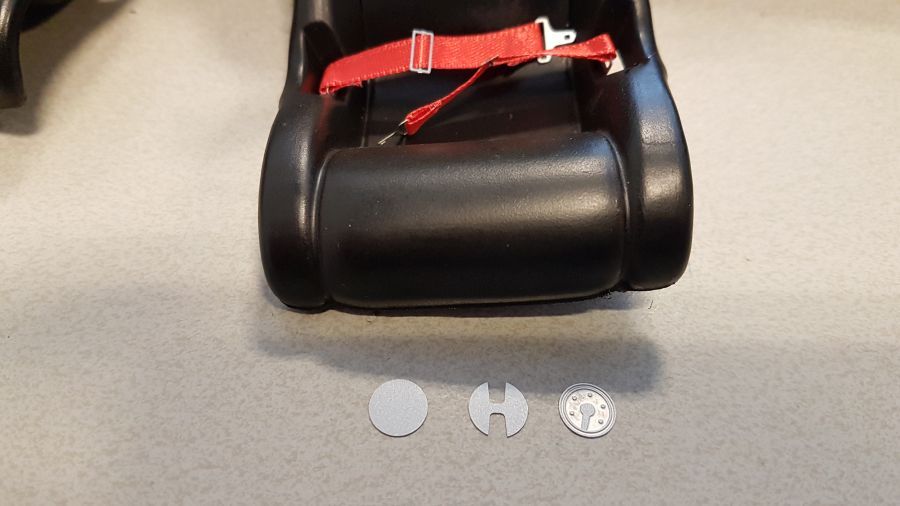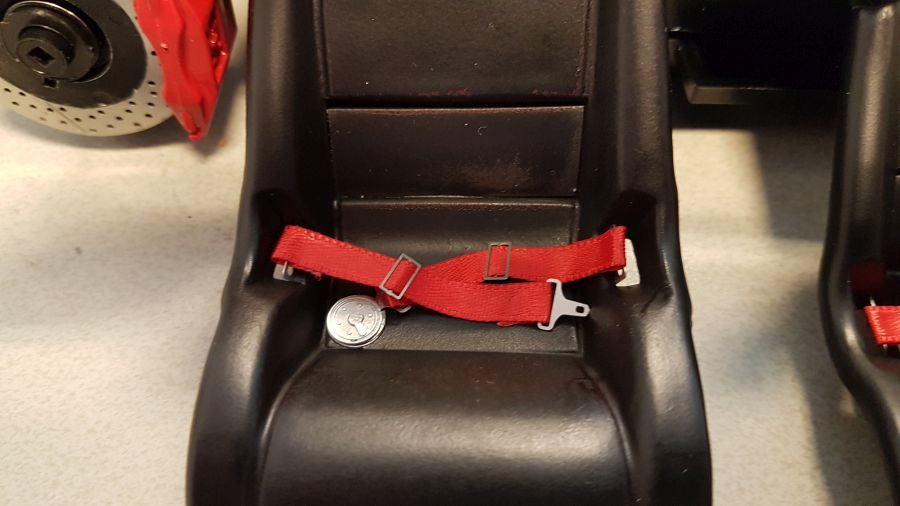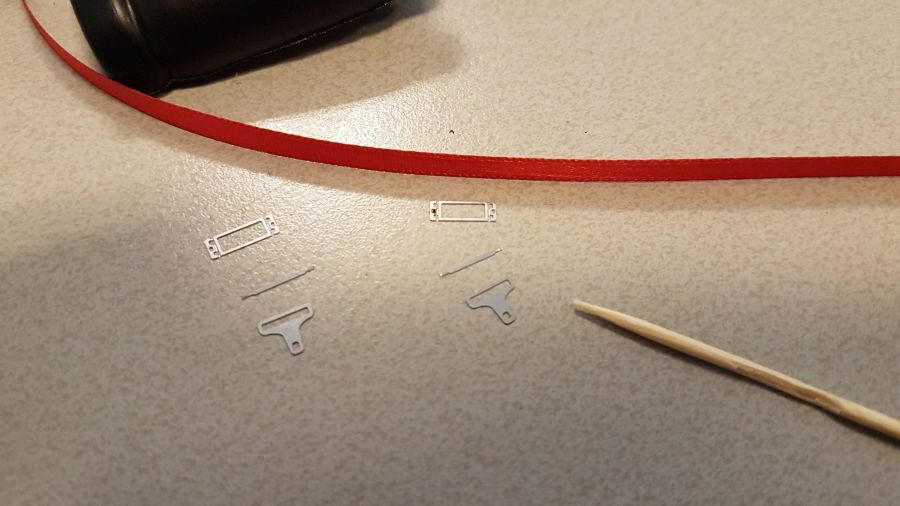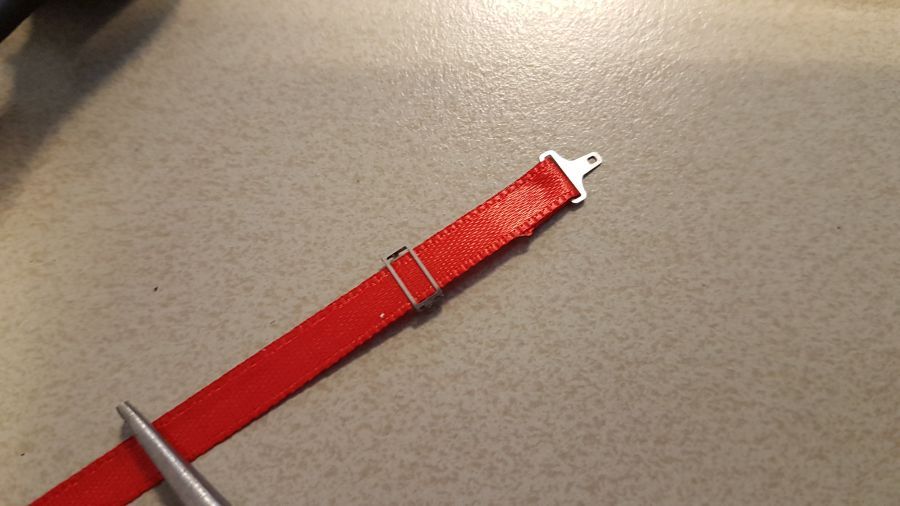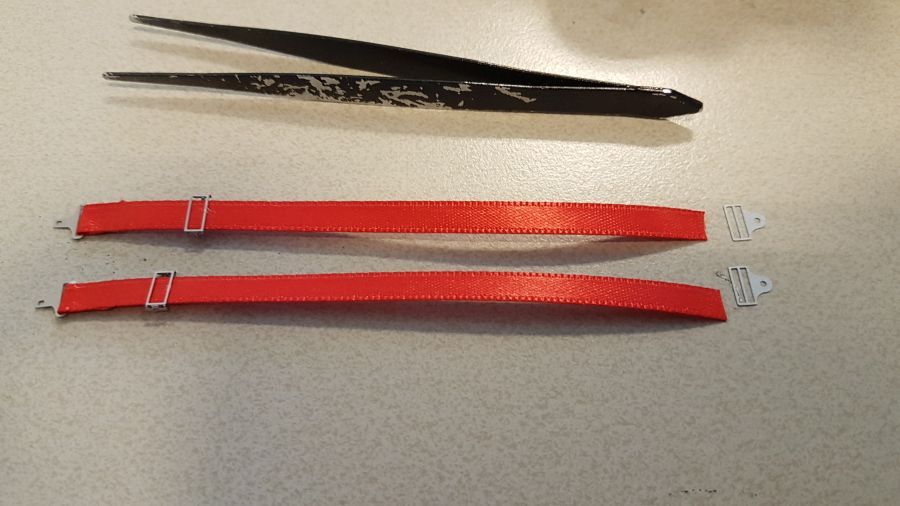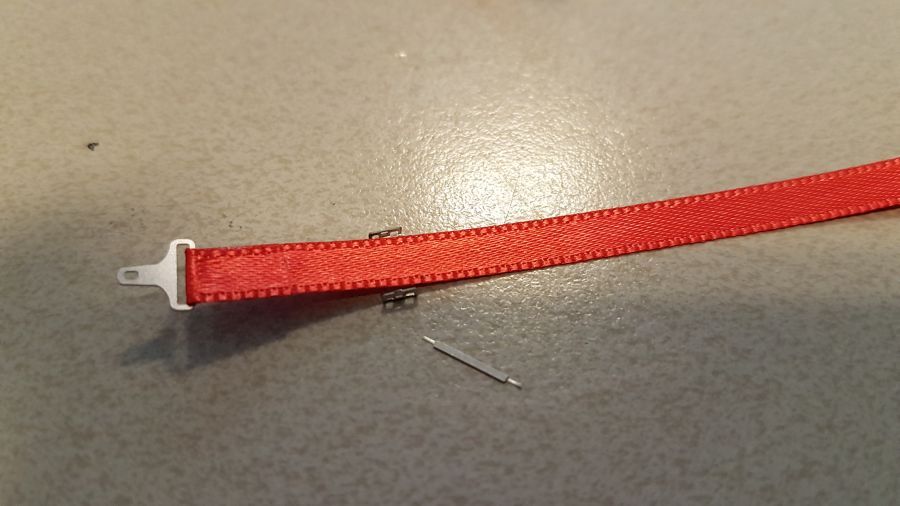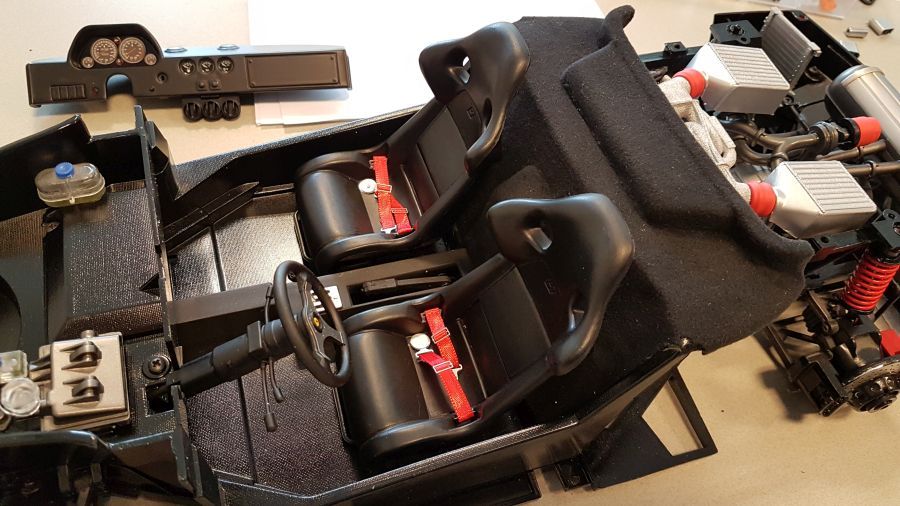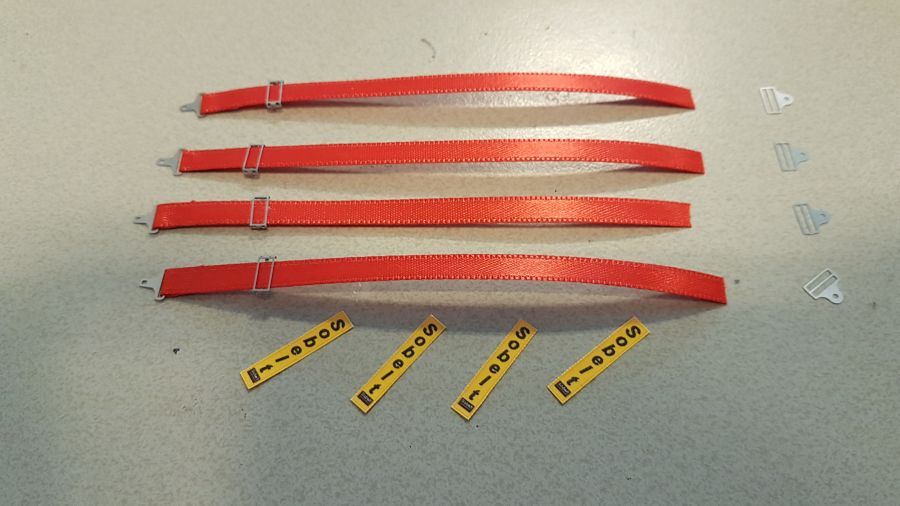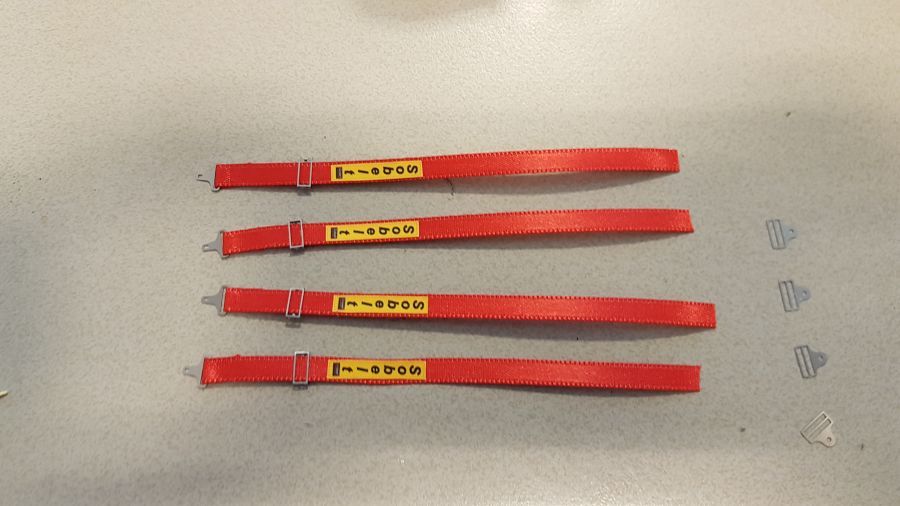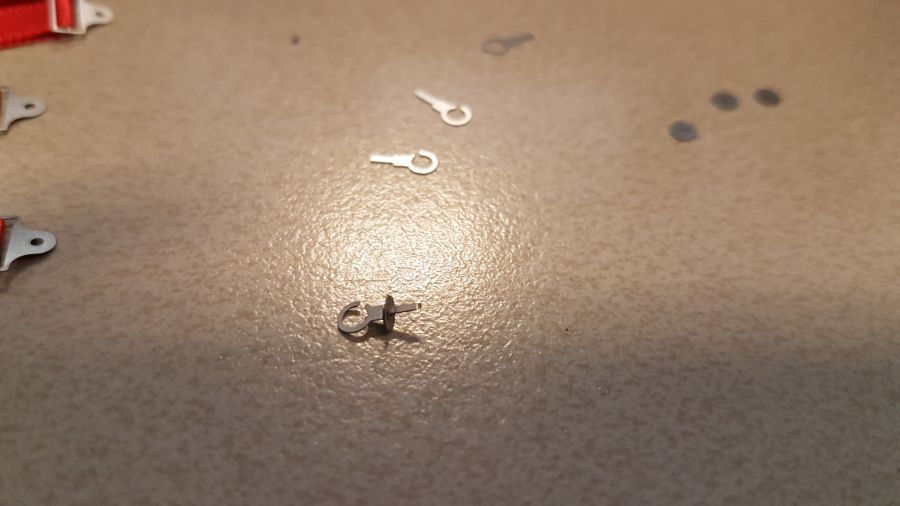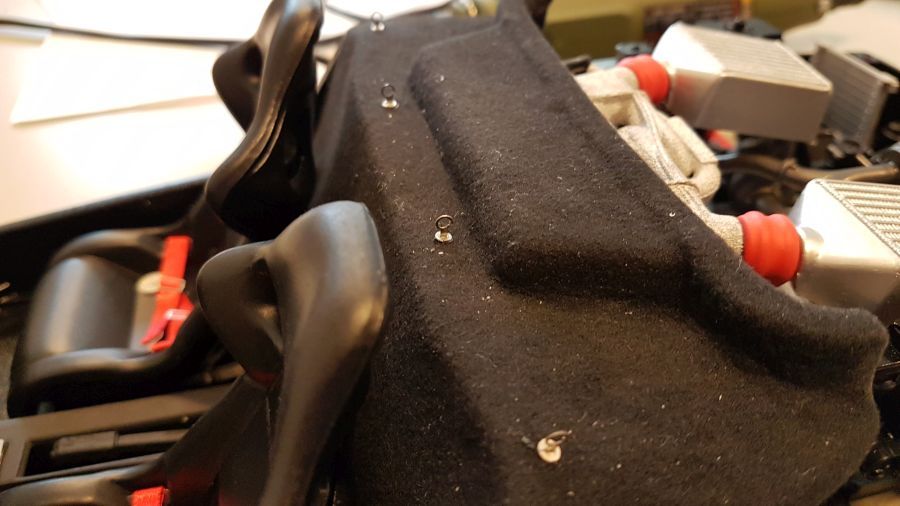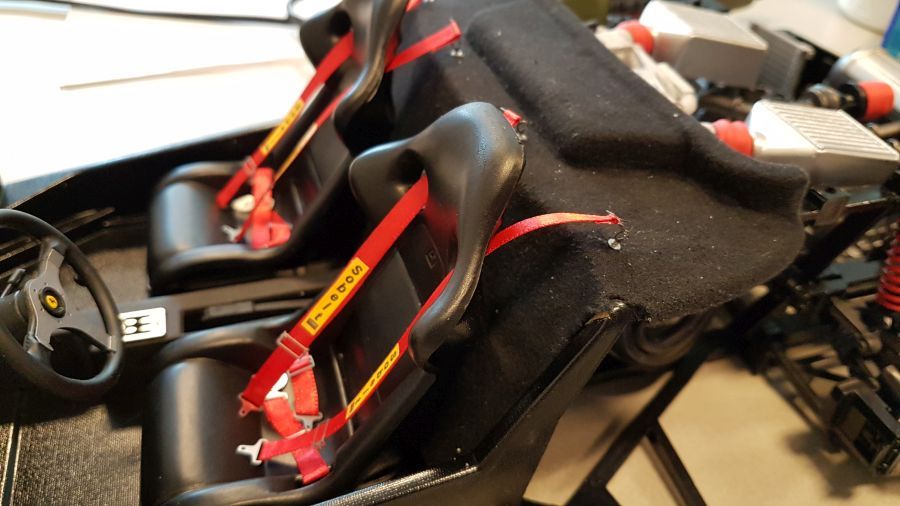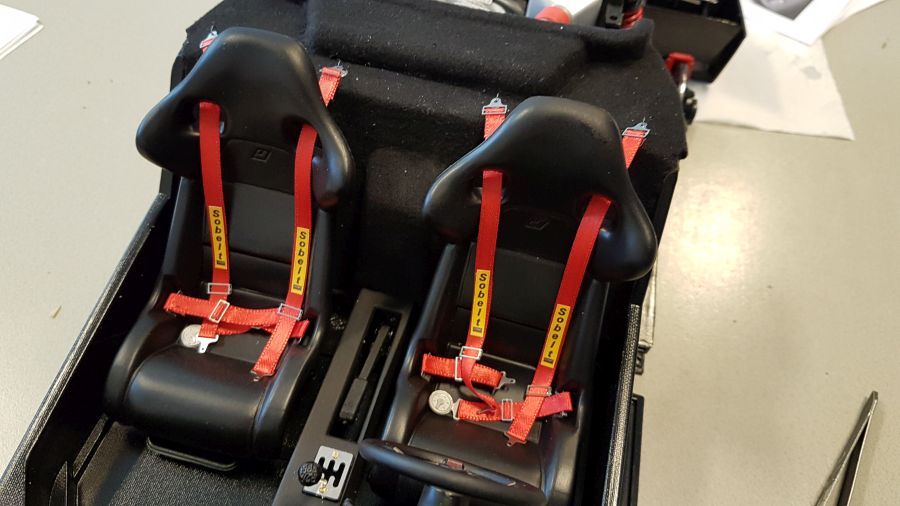 Dan het dasbord plaatsen aan het middendeel.
Then attaching the dash board to the mid section.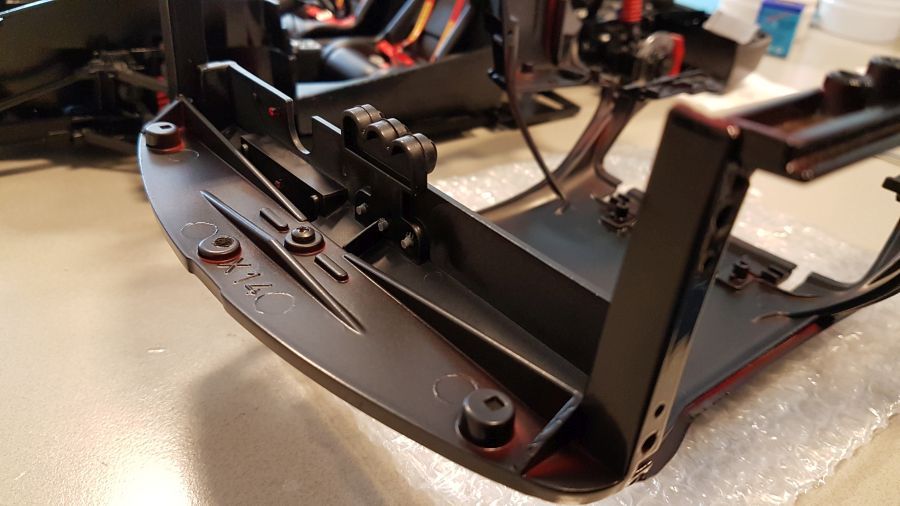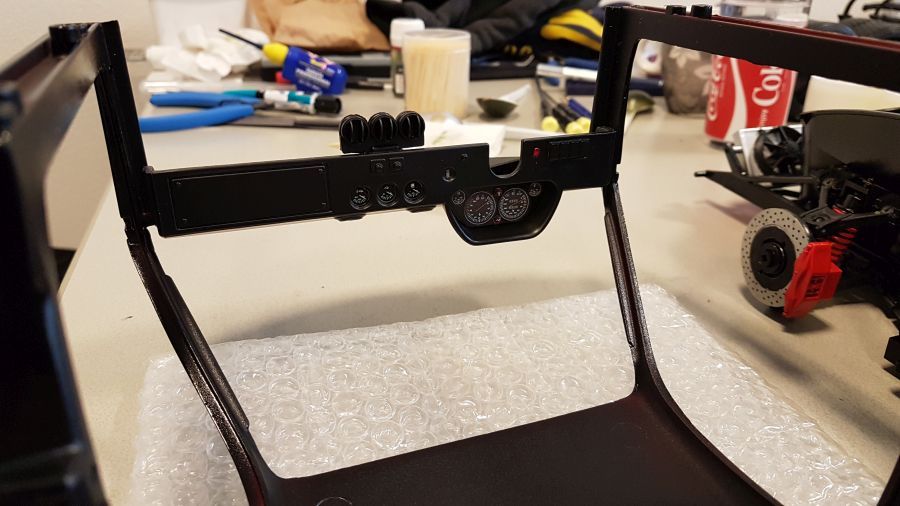 Het raam wordt gepolijst met korrel 6000, 8000 en 12000.
The window is being polished with P6000, P8000 and P12000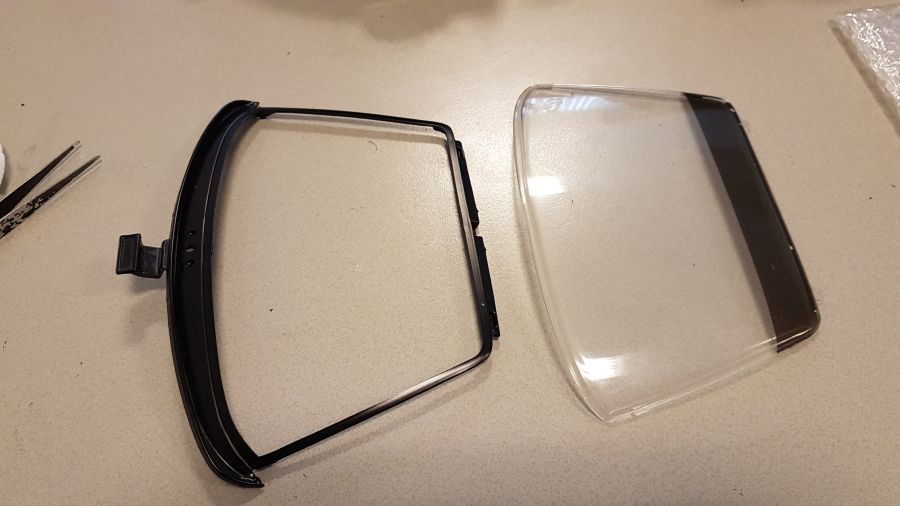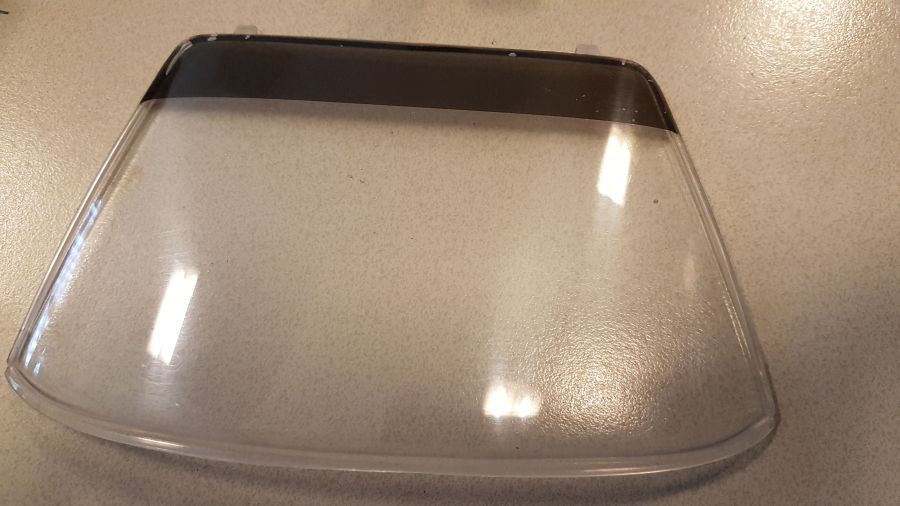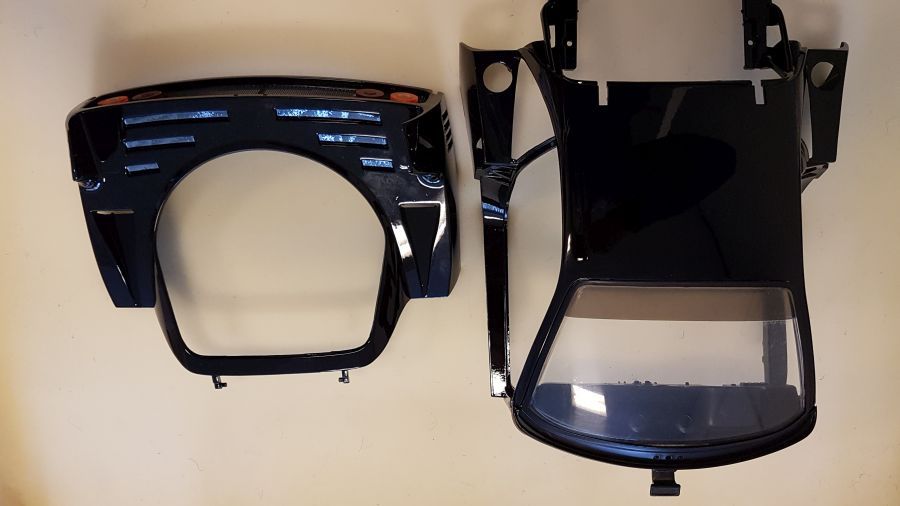 Daarna is het motordeksel aan de beurt... Wat meer zwart aan de binnenkant...
Then it's the engine cover which is next...  Some more black to the inside...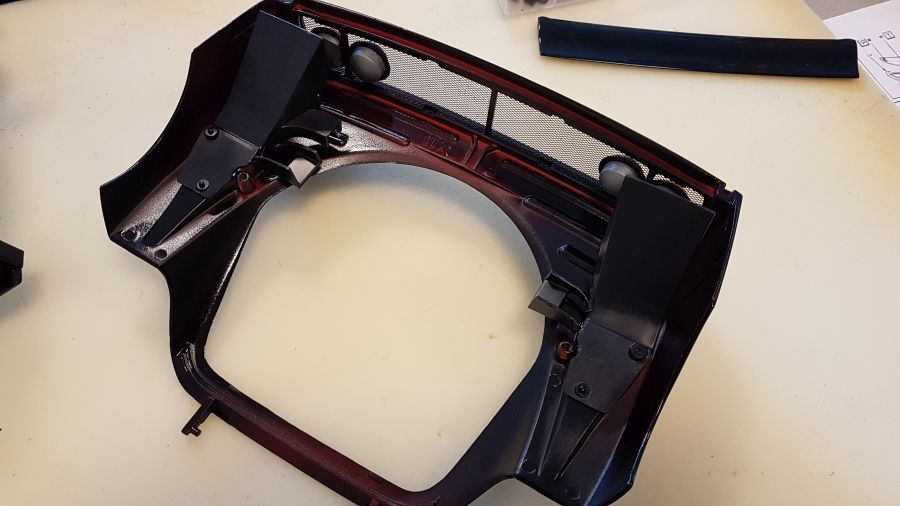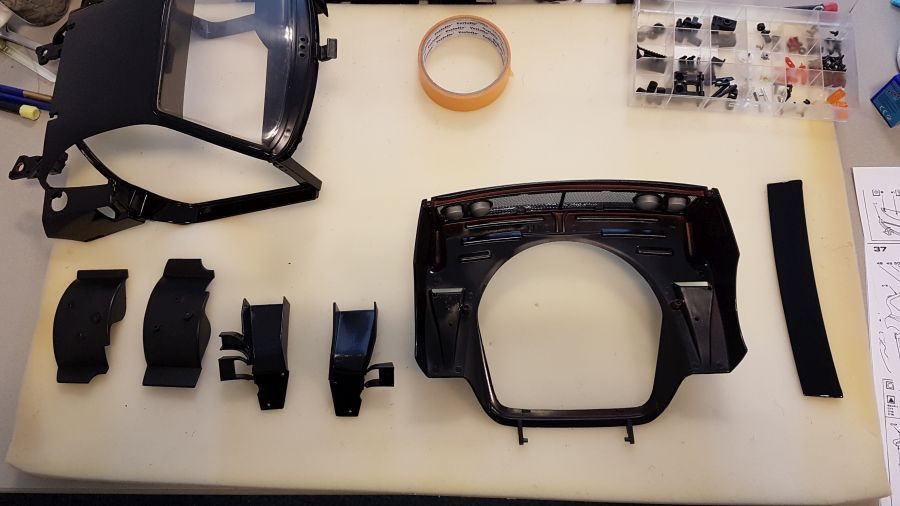 Nu eerst wat werk aan de velgen. De schroeven moeten aluminium gespoten. Dus eerst glanzend zwart en daarna Alclad II Aluminium. Dus 100 stuks spuiten en een paar voor het tapijtmonster.
First some work to the rims now. The screws need to be aluminium painted. So first gloss black and then Alclad II Aluminium. So painting 100 pieces and some for the carpet monster.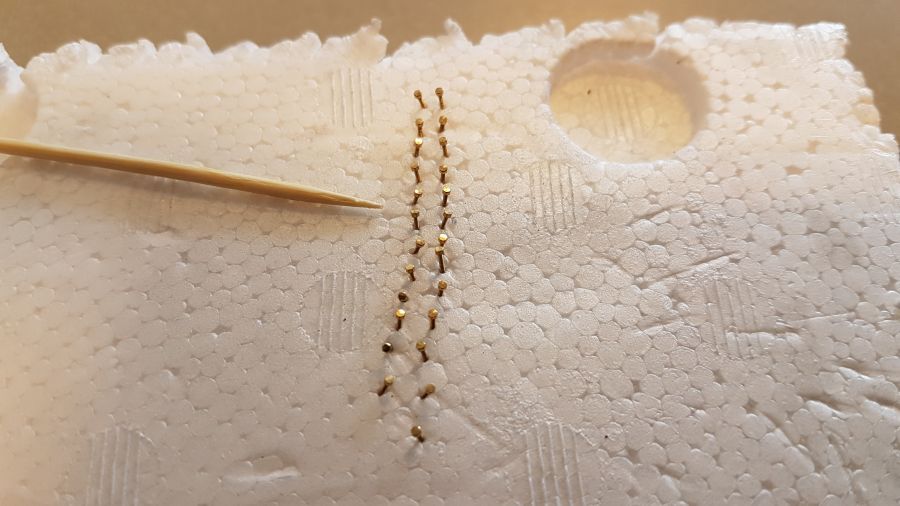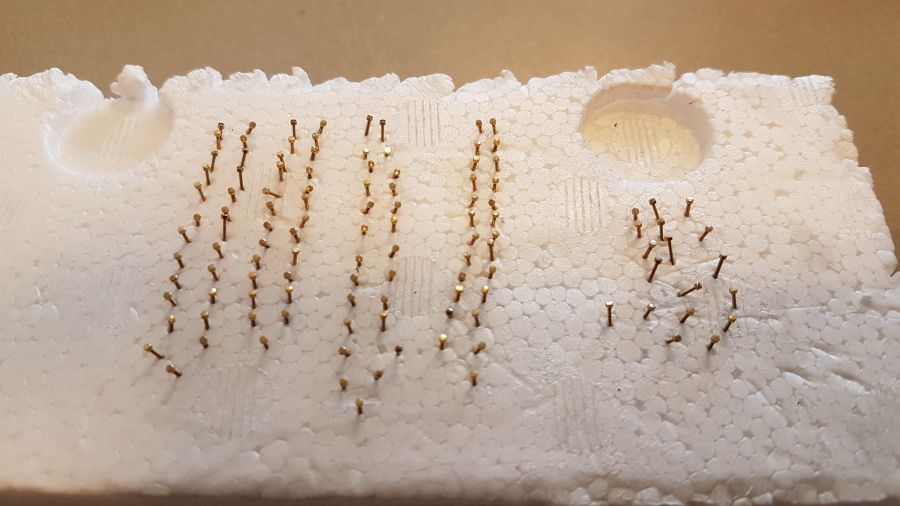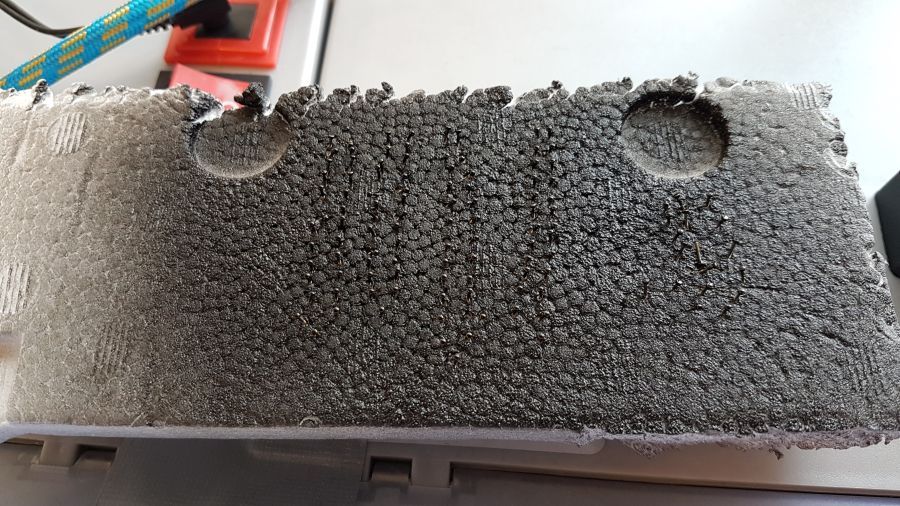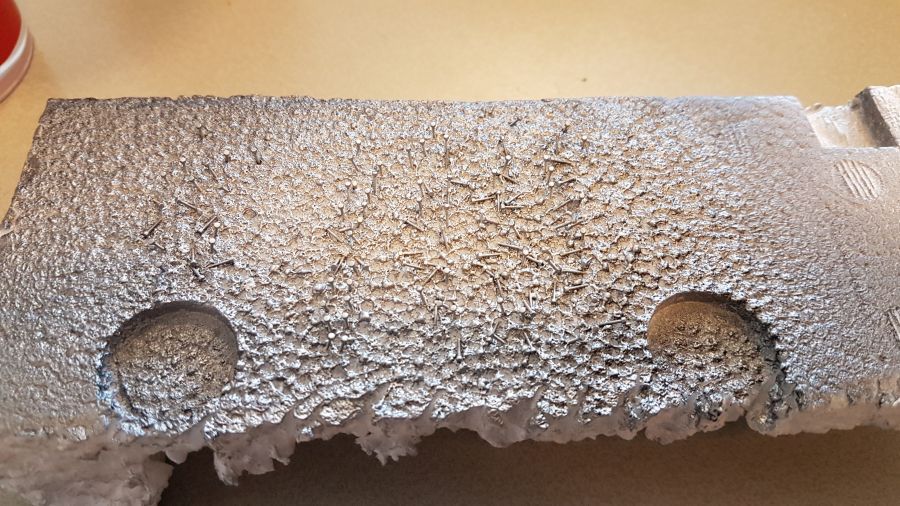 De velgen hebben een laag primer en daarna zijdemat zwart.
The rims received primer and then some silk gloss black.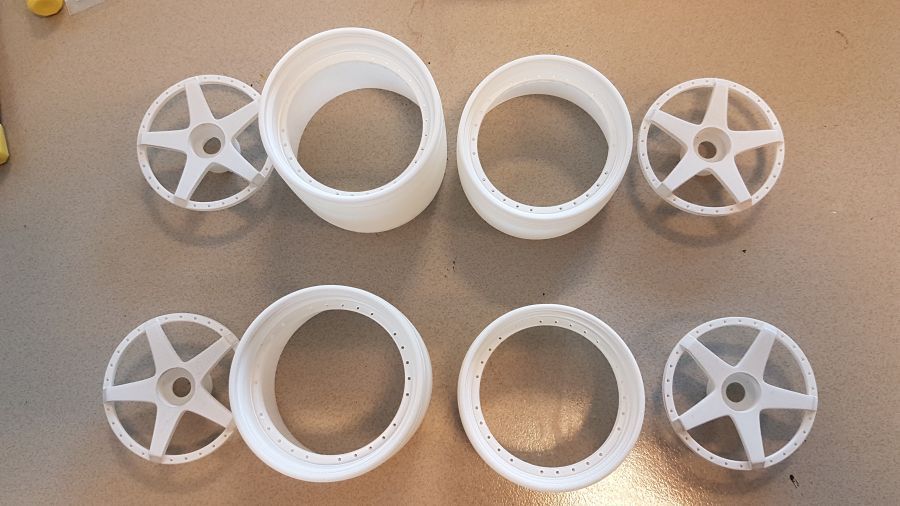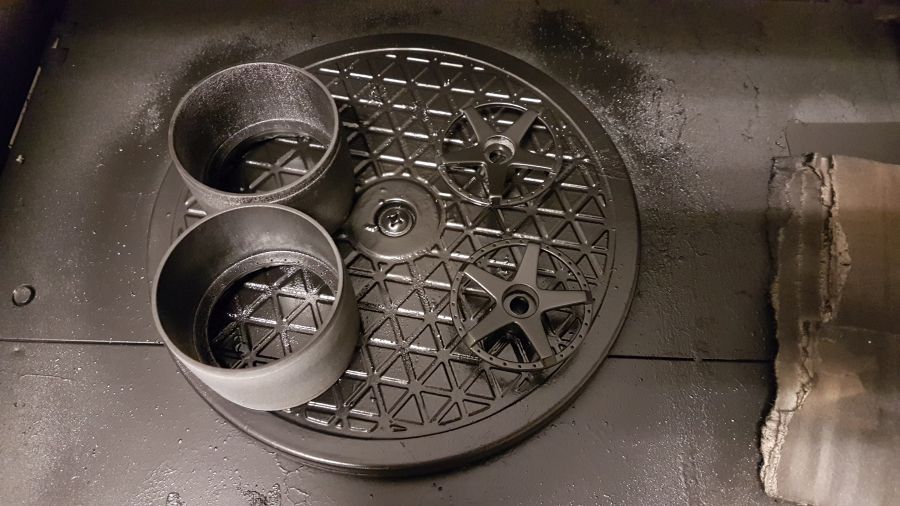 De schroeven worden geplaatst.
The screws are being added.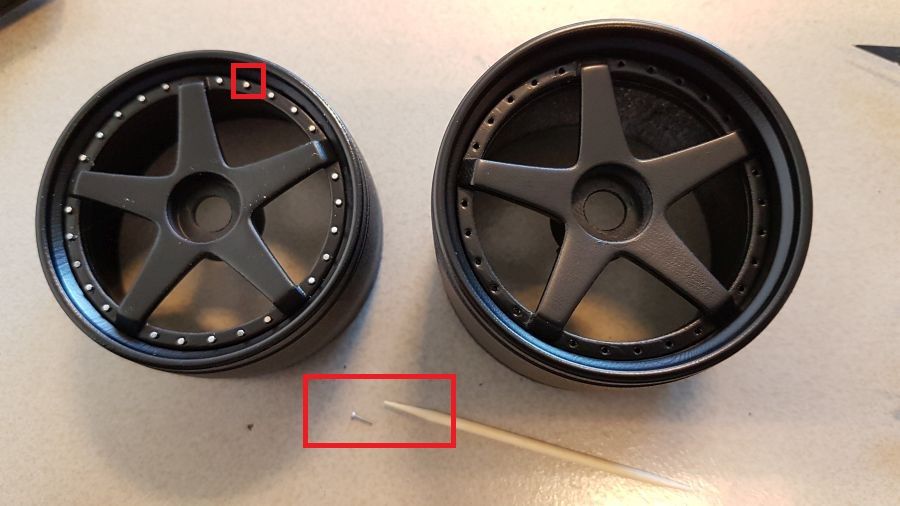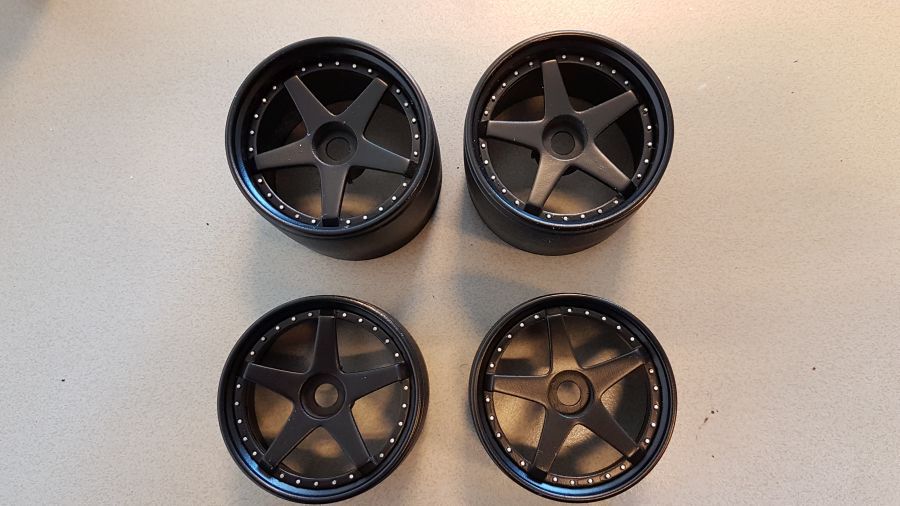 Dan weer verder met de motorklep.
Then to continue with the engine cover.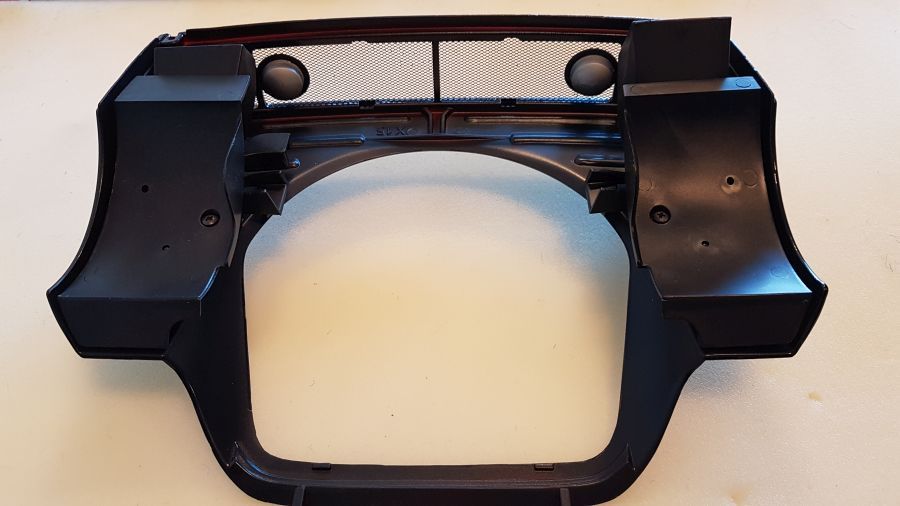 Ramen, raamomlijstingen en tankkleppen worden ook geplaatst.
Windows, window surroundings and tank covers are added too.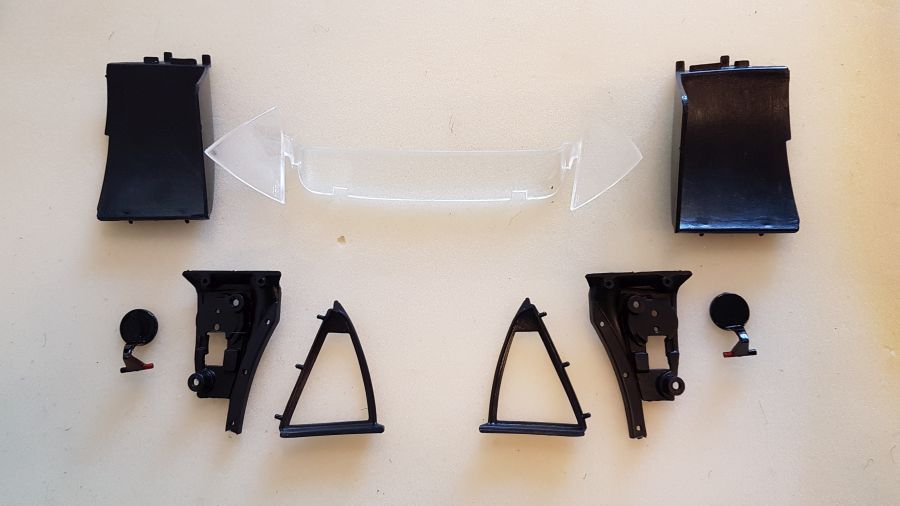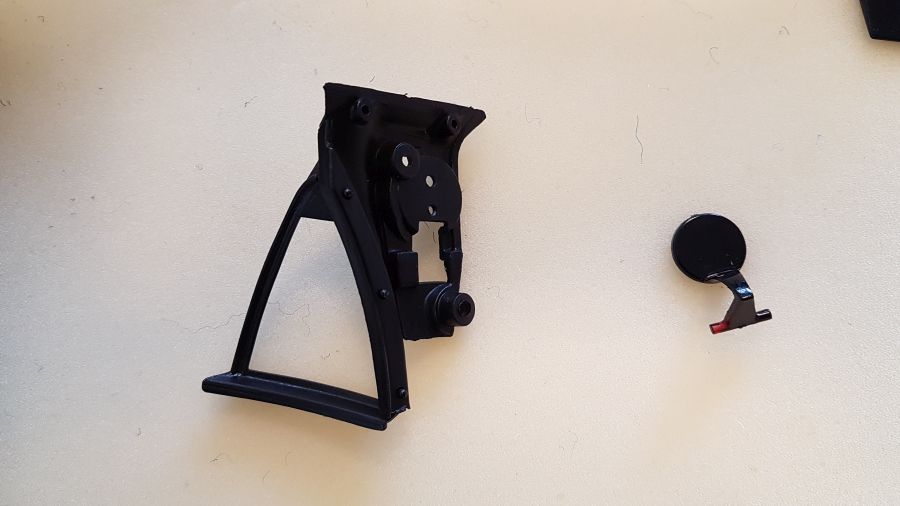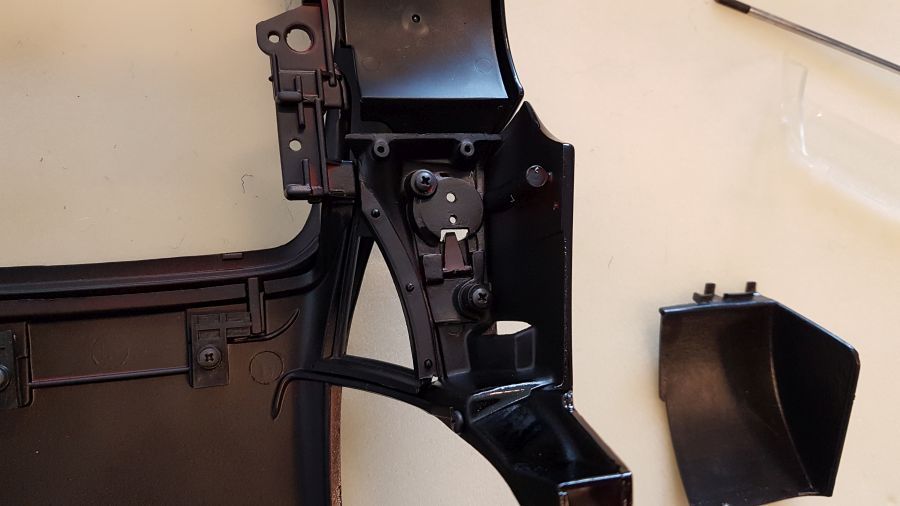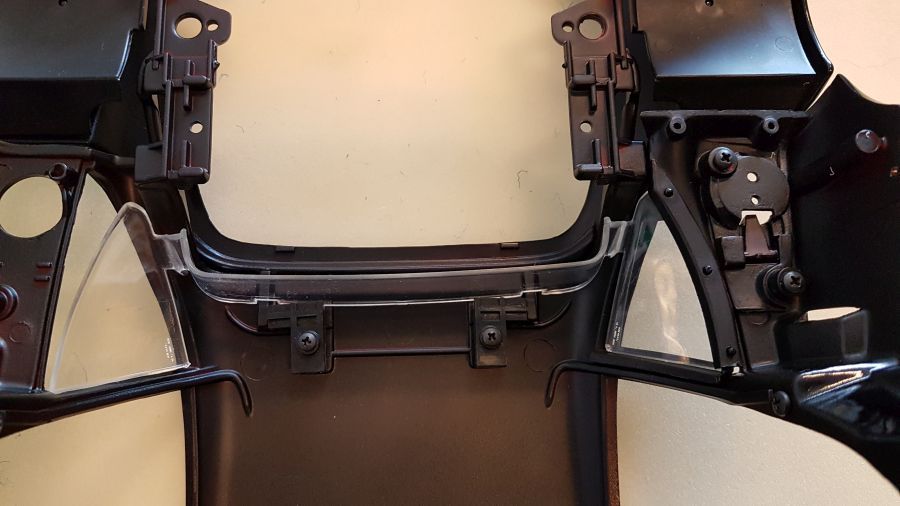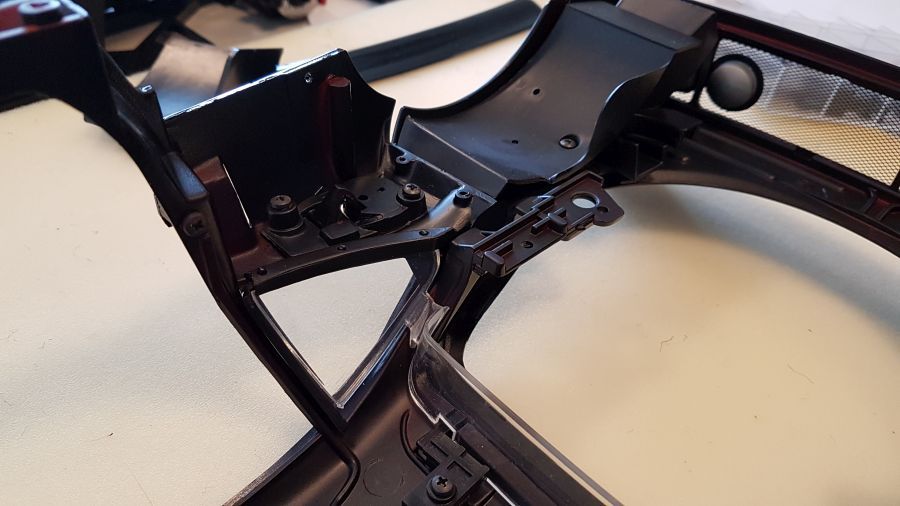 Dan gaat de bodem erop.
Then the floor was attached.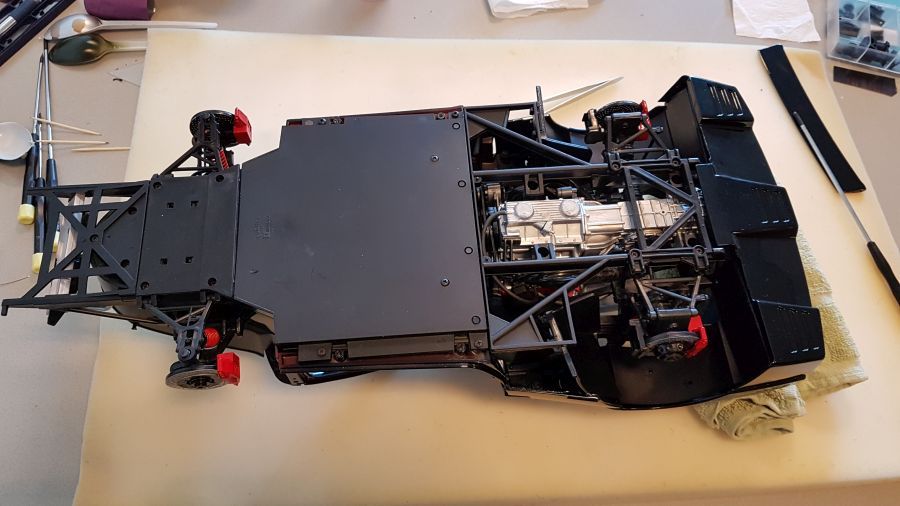 De ramen moeten geschuurd worden om de krassen weg te werken.
The windows need to be sanded to get rid of the scratches.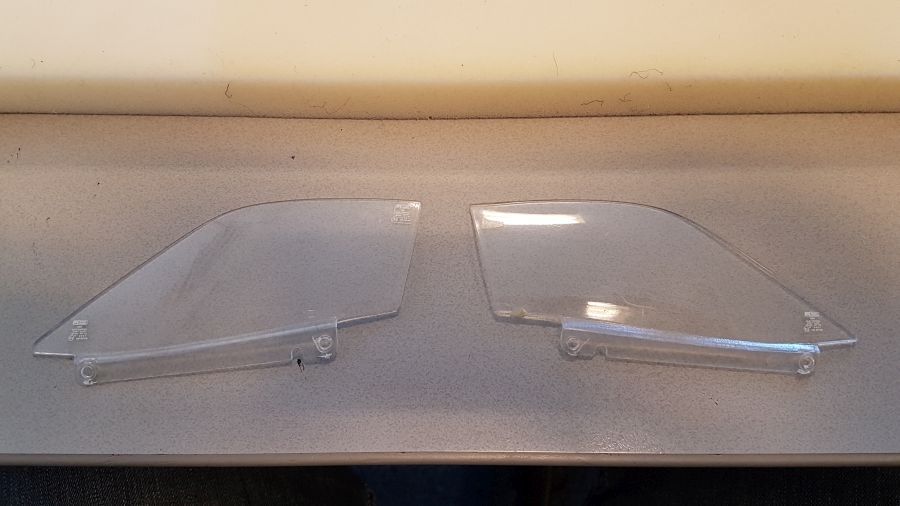 Deze ging even fout. Een nieuwe bestellen is de enige oplossing.
This one went wrong. Ordering a new one is the only solution.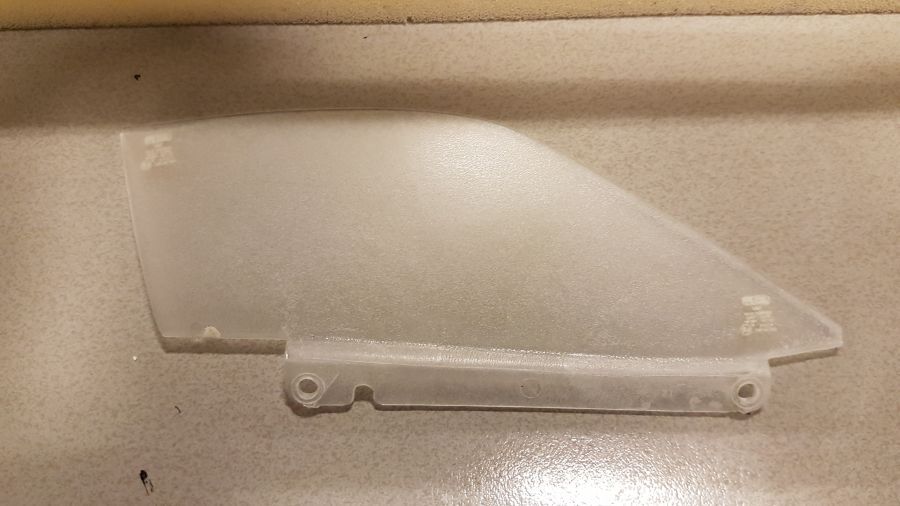 De tankopening plaatsen. De bouw tot zover.
Adding the tank openings. The build so far.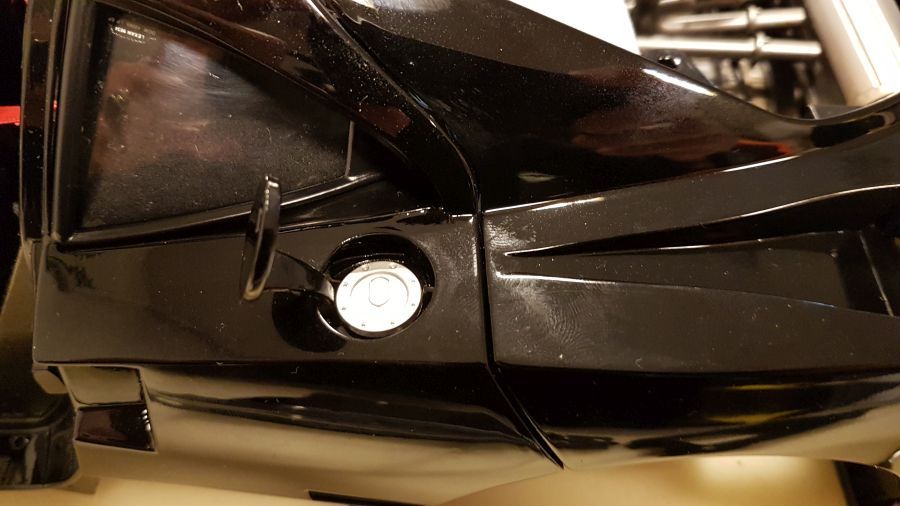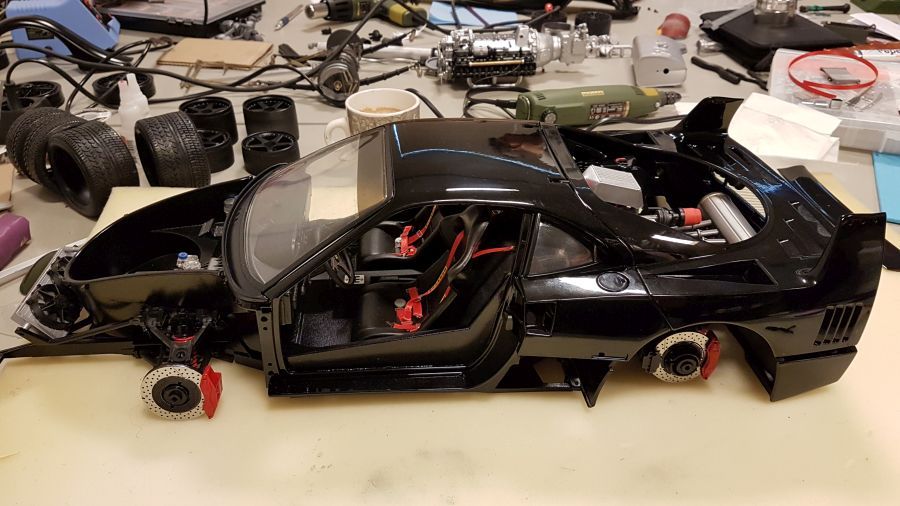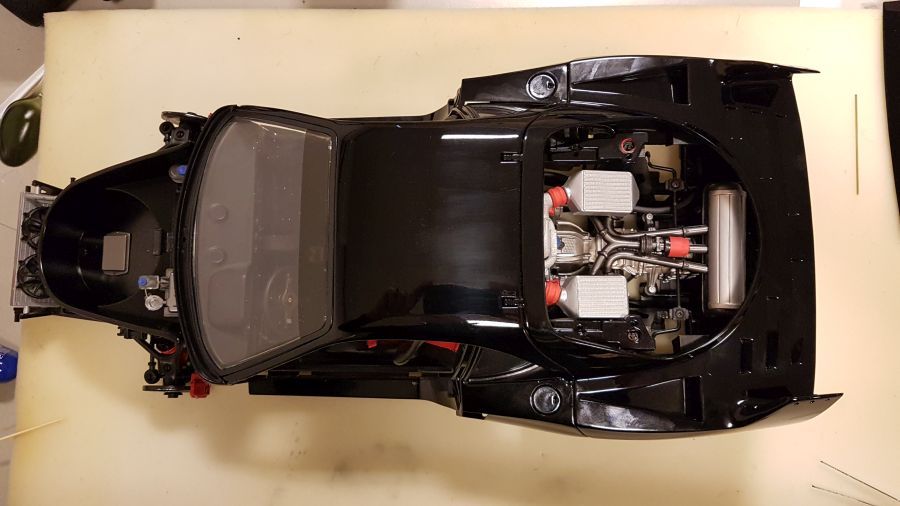 Verder met het samenstellen en plaatsen van de deuren. In ieder geval 1 deur kan vast geplaatst.
Continuing with the assembly of the doors. One door can be added.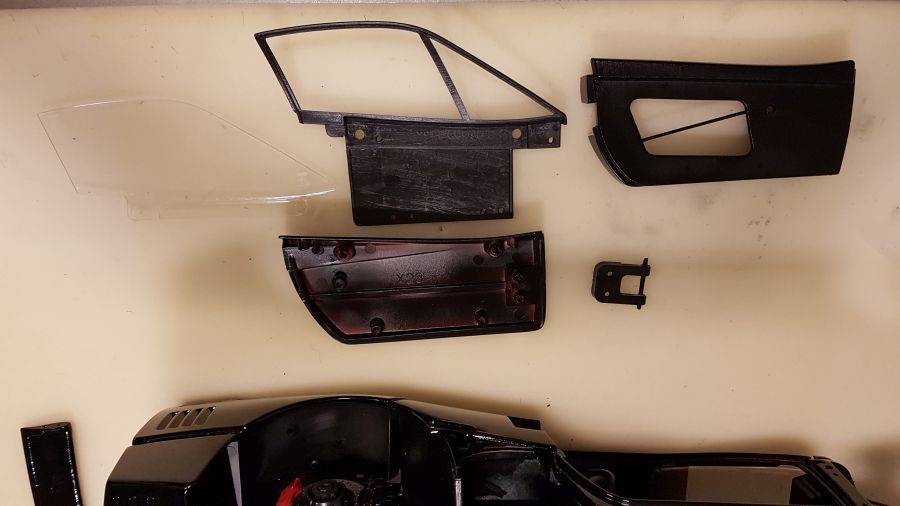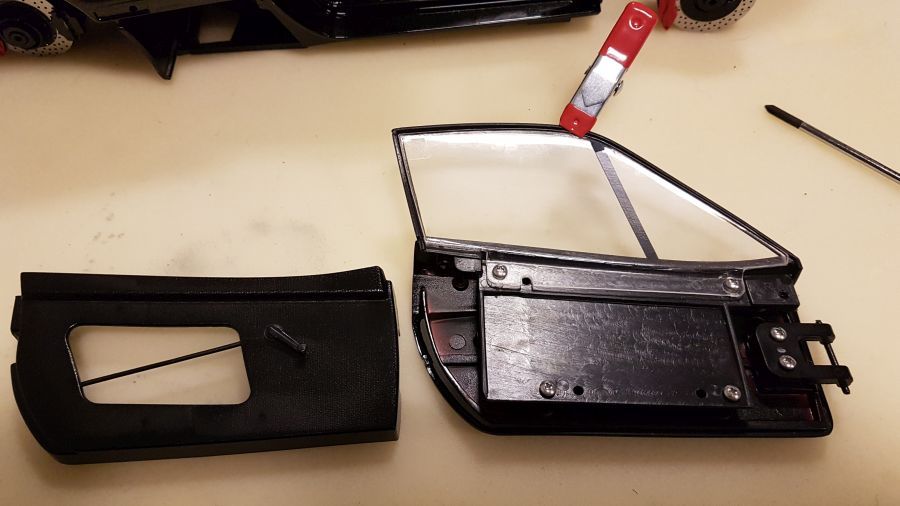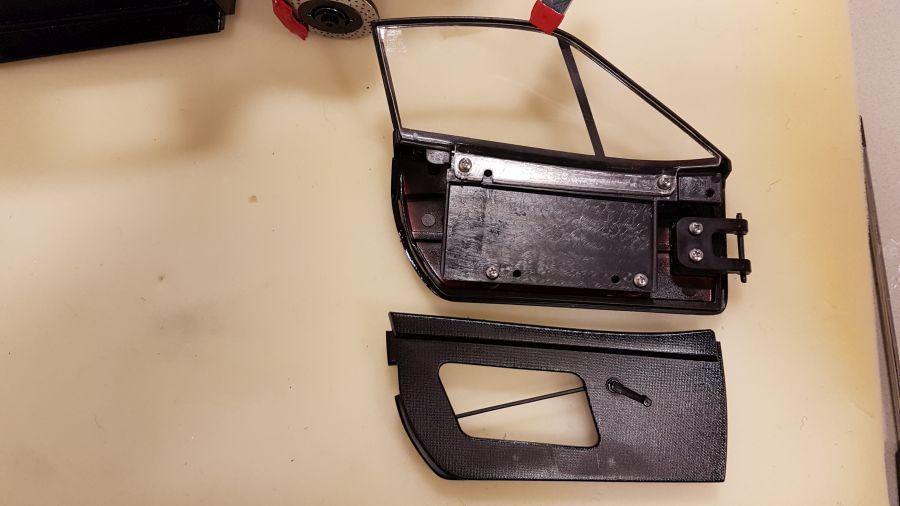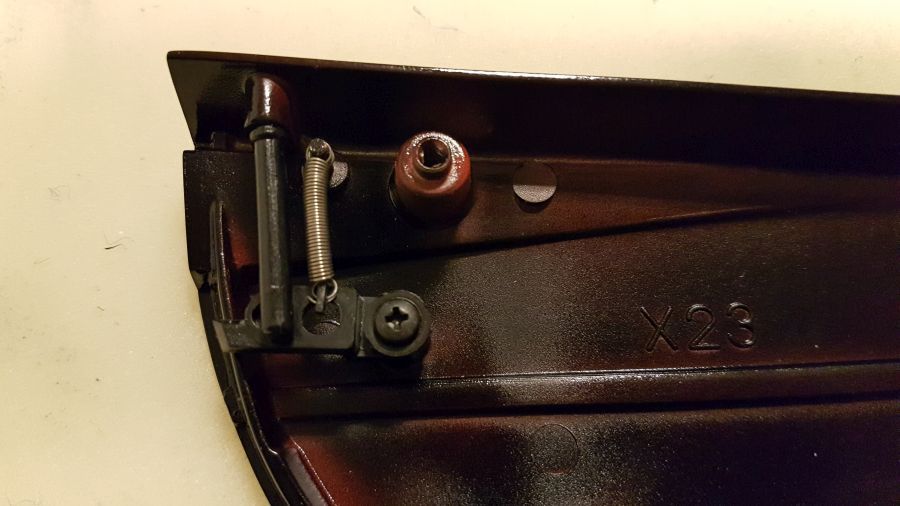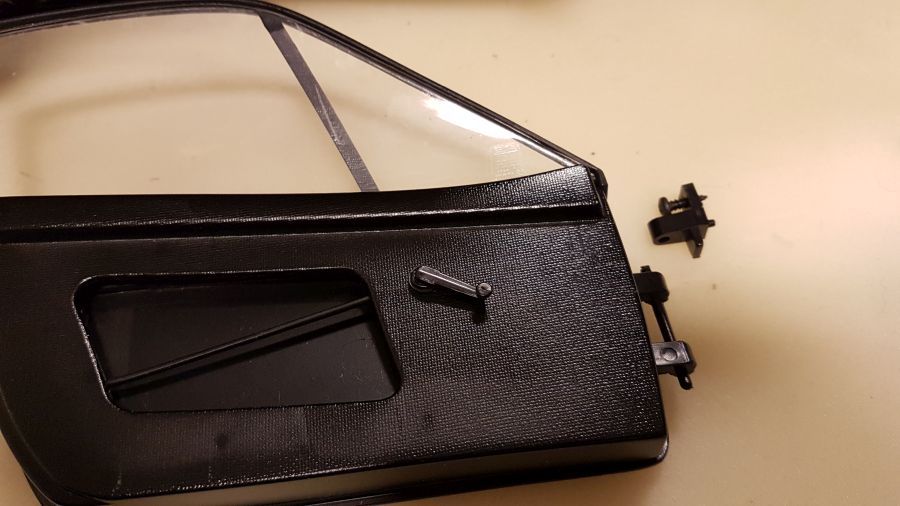 De deur wordt geplaatst terwijl de auto op de kop ligt.
The door is being mounted while the car rests on it's roof.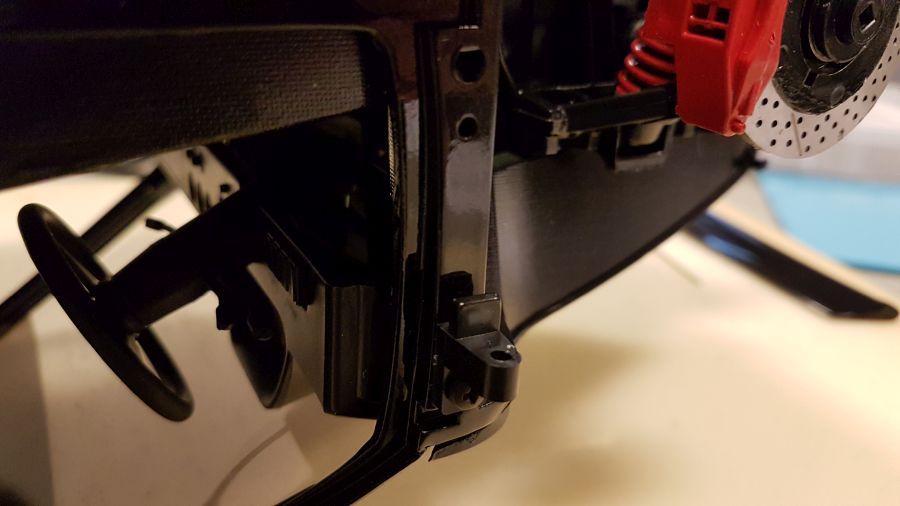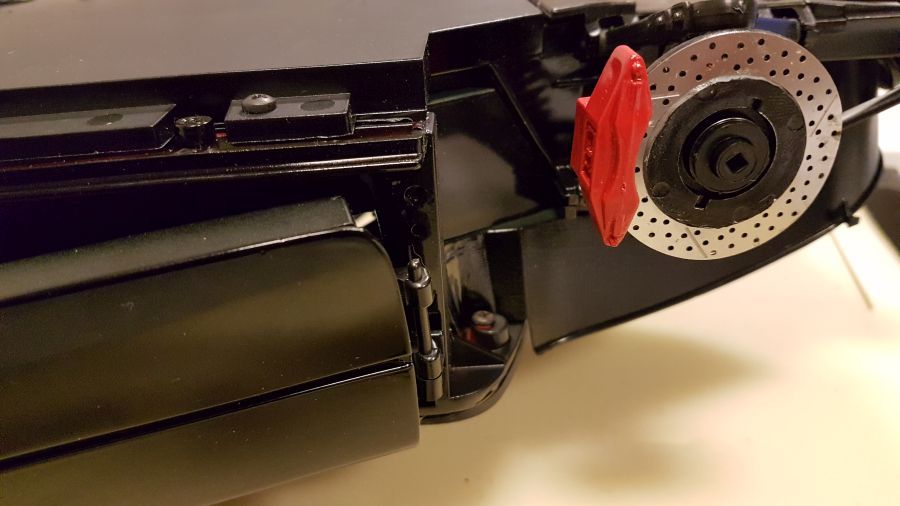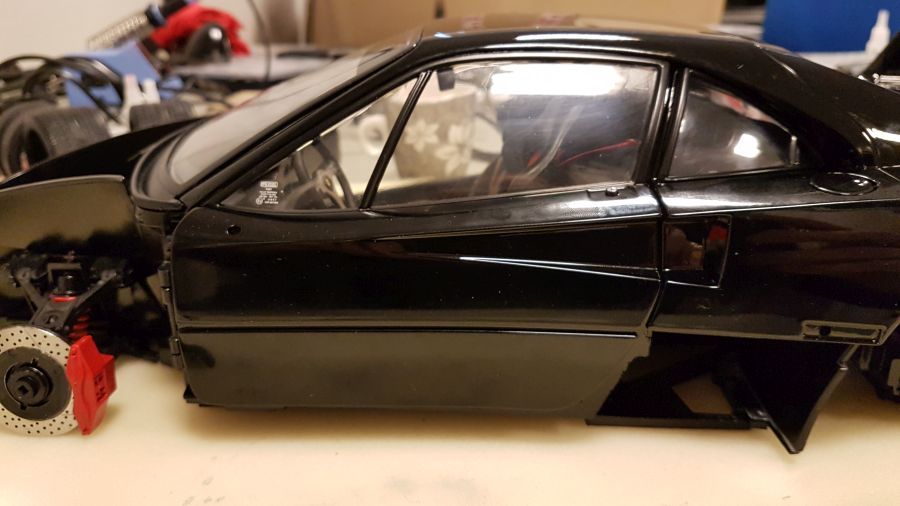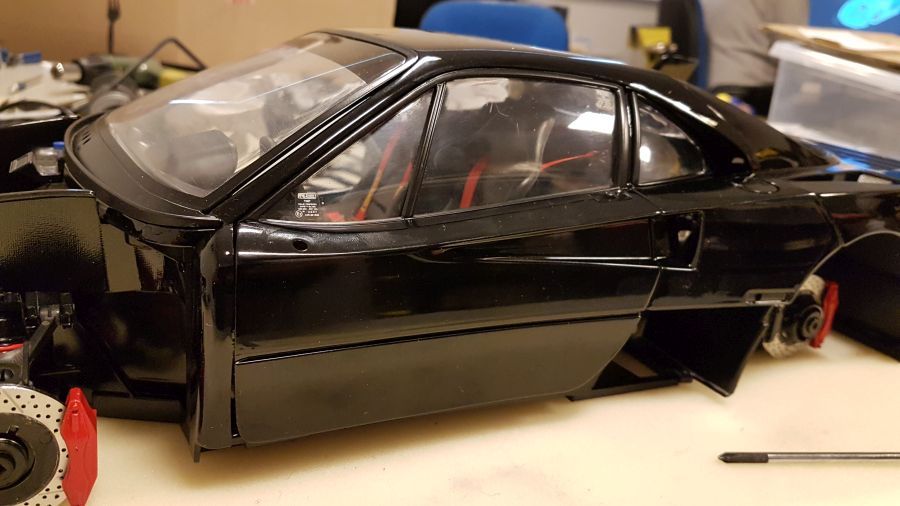 Dan de dorpel plaatsen.
Then the underside can be added.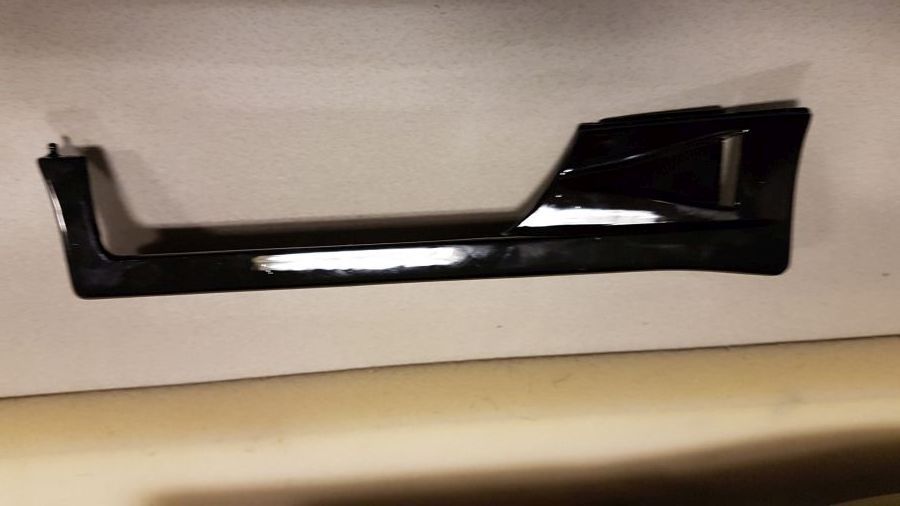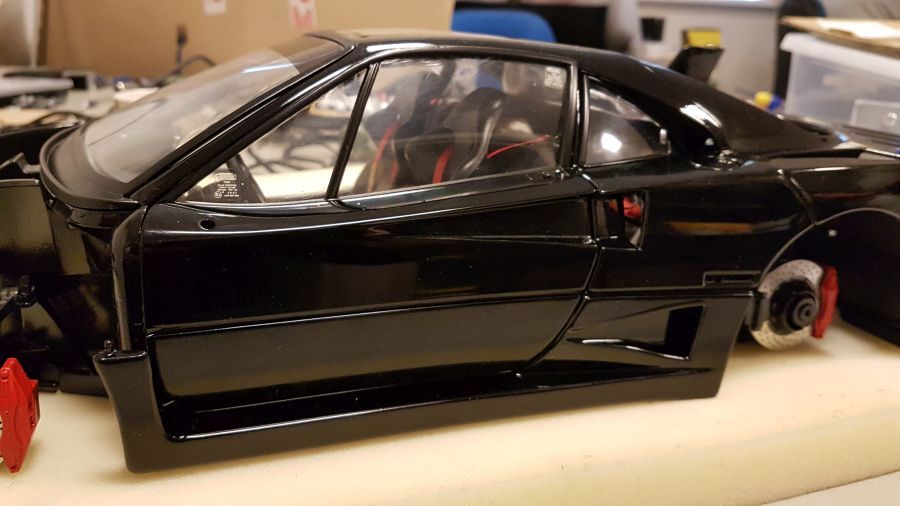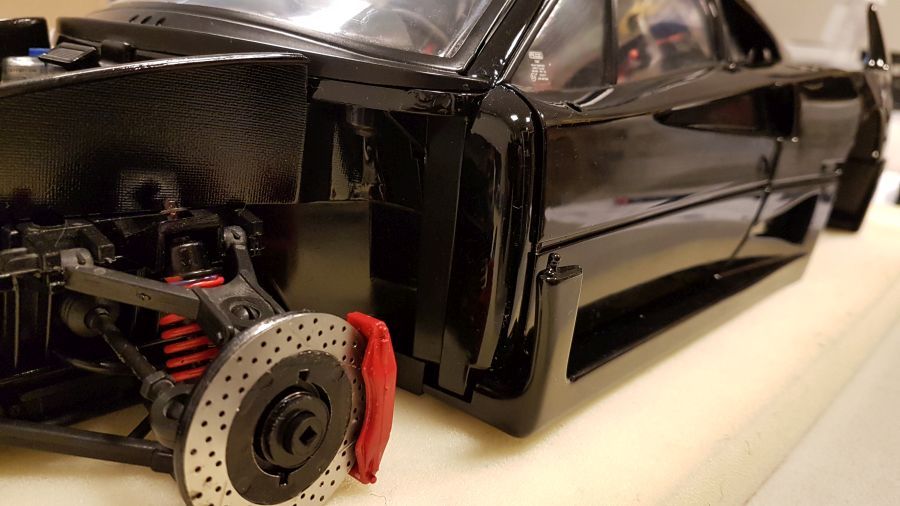 En testen.
And a test.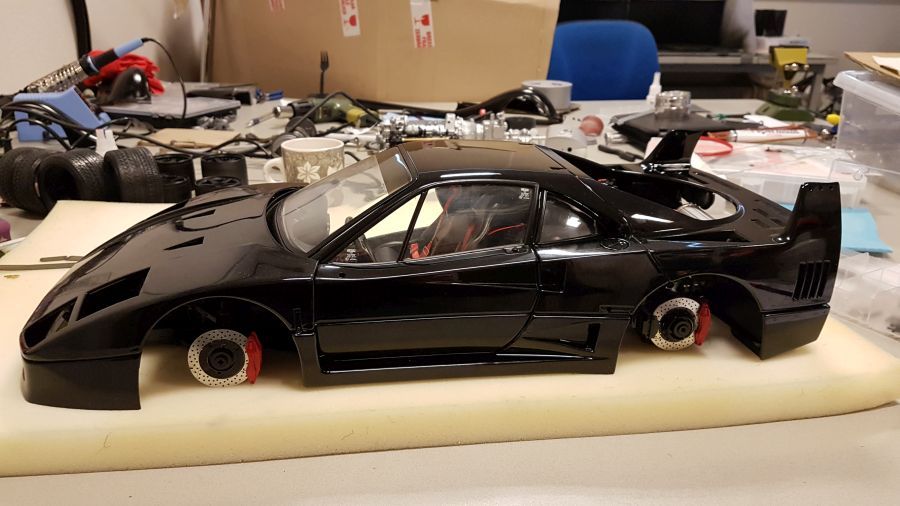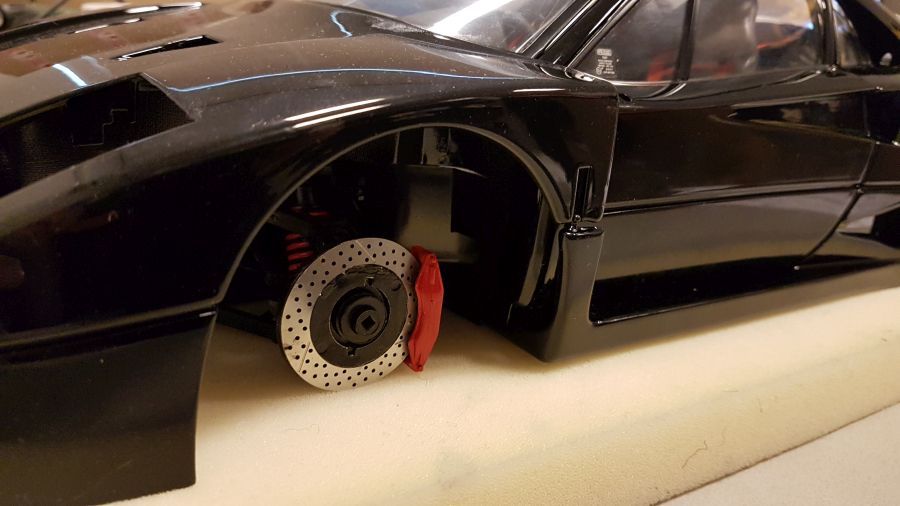 De banden gaan op de velgen. Wat opvalt is dat Pocher geen verschil heeft tussen rechter en linker banden.
The tires were added to the rims. I noticed Pocher has no difference between right and left tires.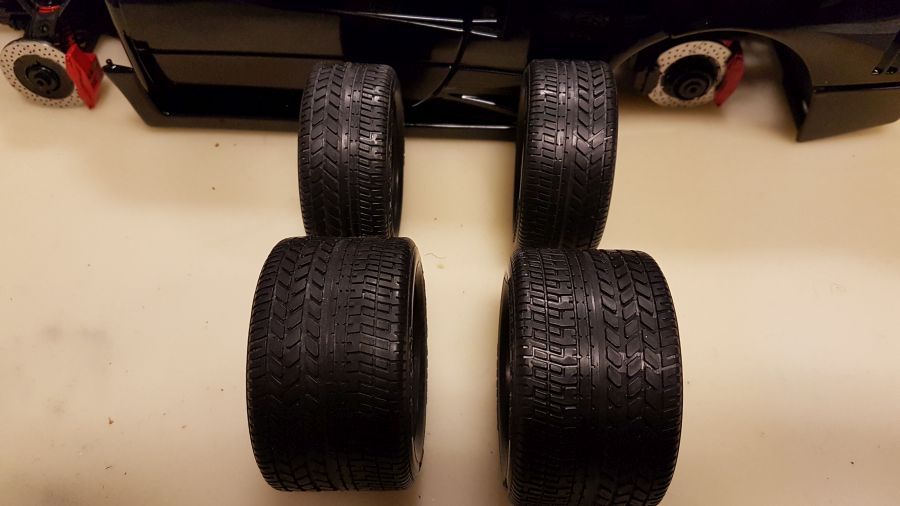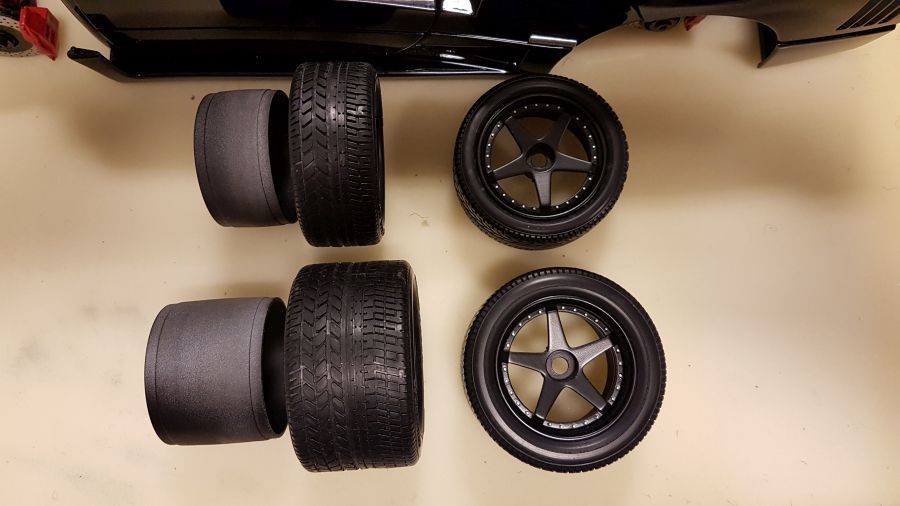 Test.
Test.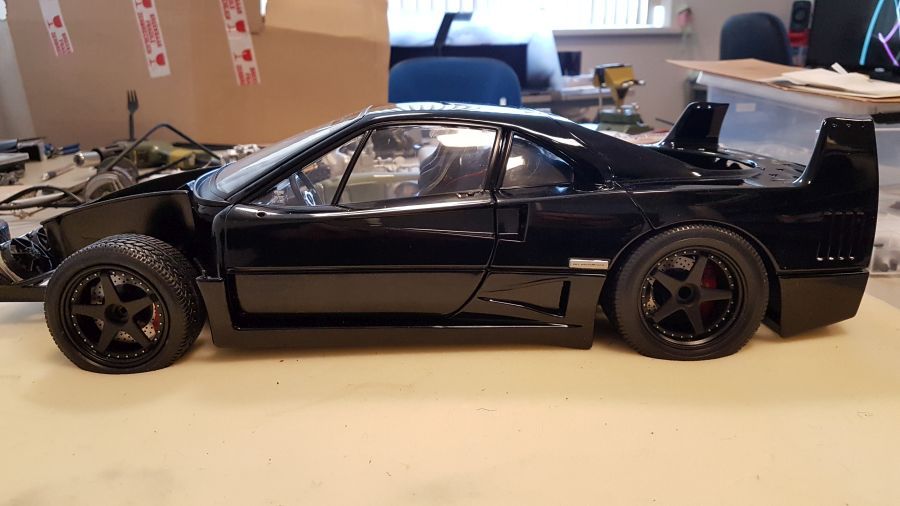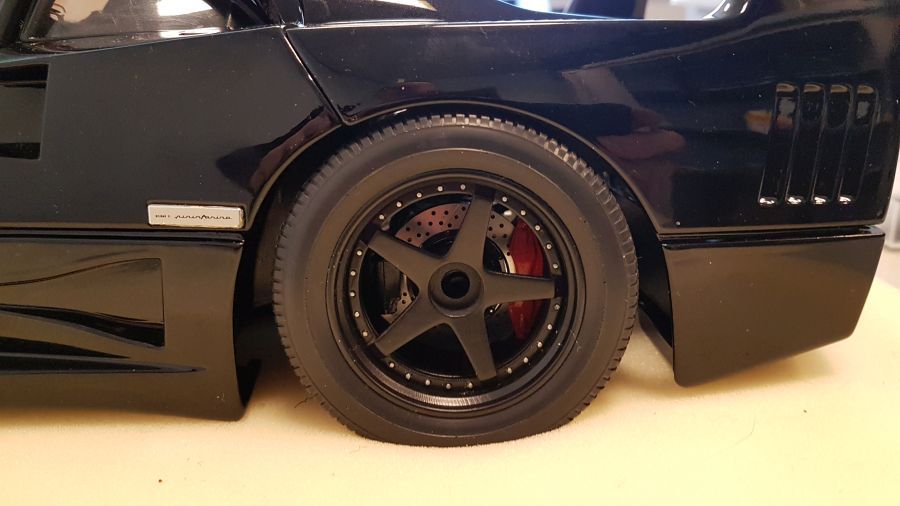 Het rooster voor de voorkant wordt zwart gespoten.
The mesh for the front side gets a black coat.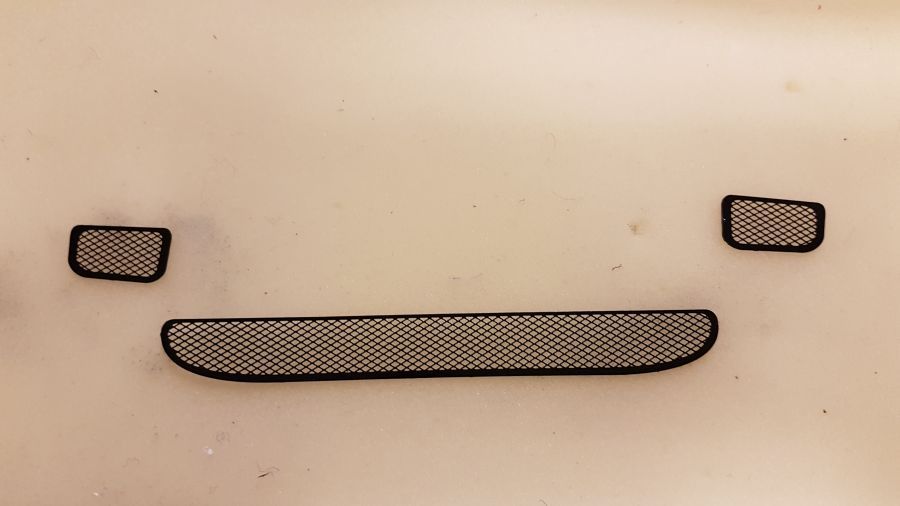 Voor het plaatsen van de achterspoiler moet ik wat improviseren. De originele pinnen zijn er niet.
For mounting the rear spoiler i need to improvise. The original pins are not there.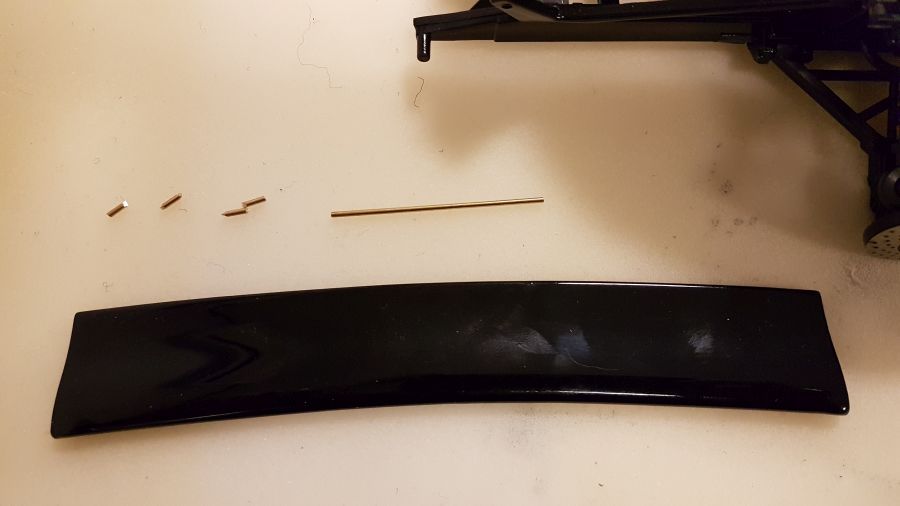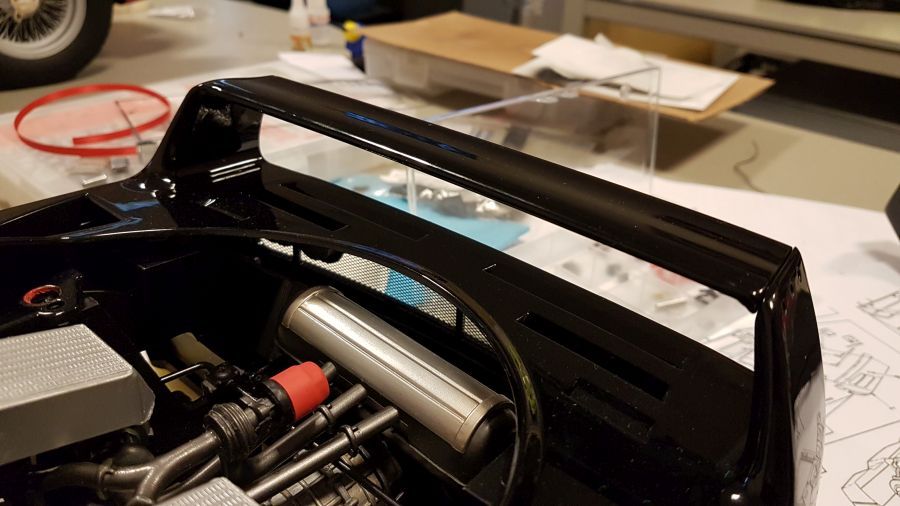 Pocher heeft geen verschil in linker- en rechterbanden.
Pocher has no difference between left and right tires.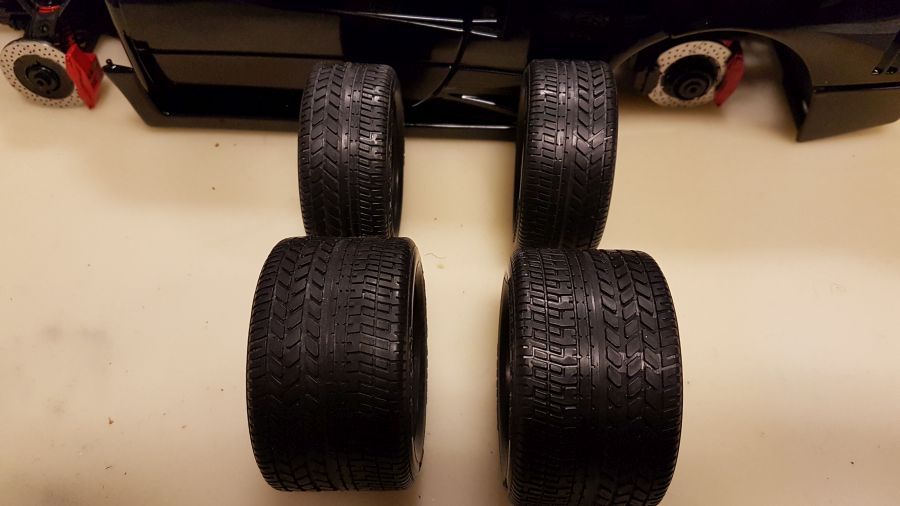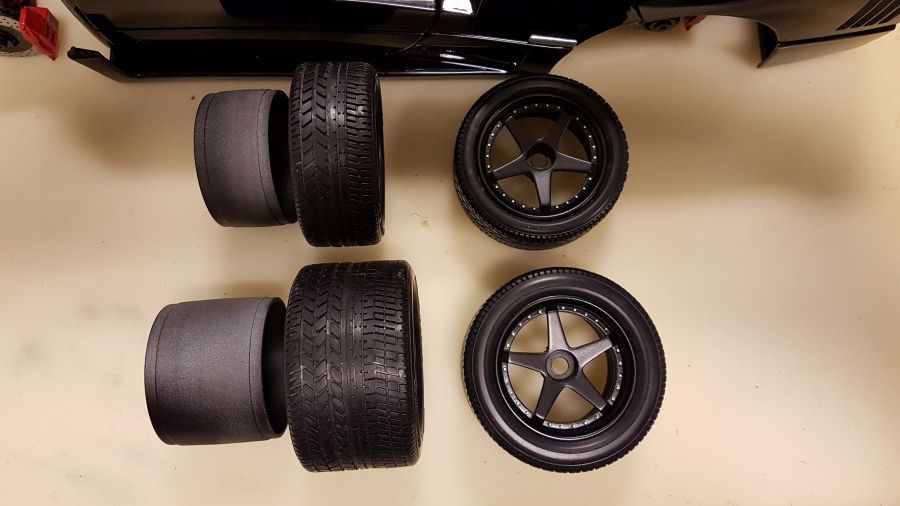 Testen...
Testing...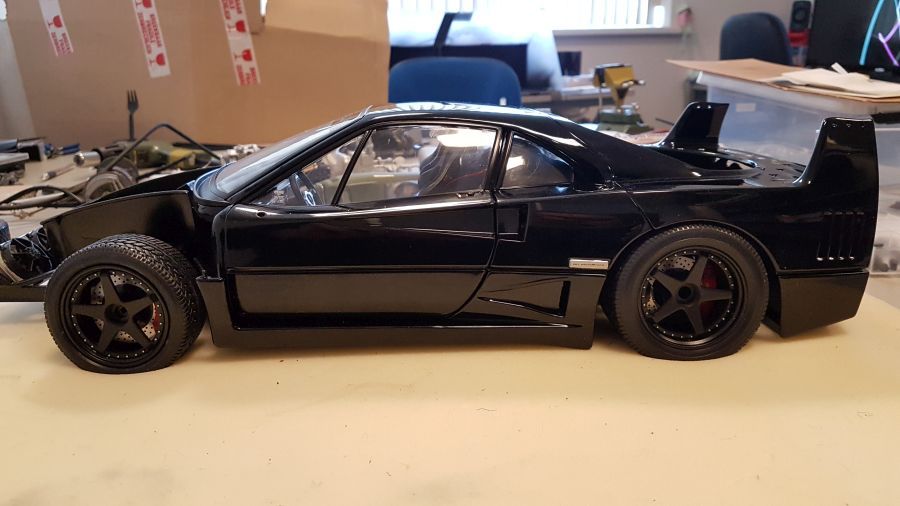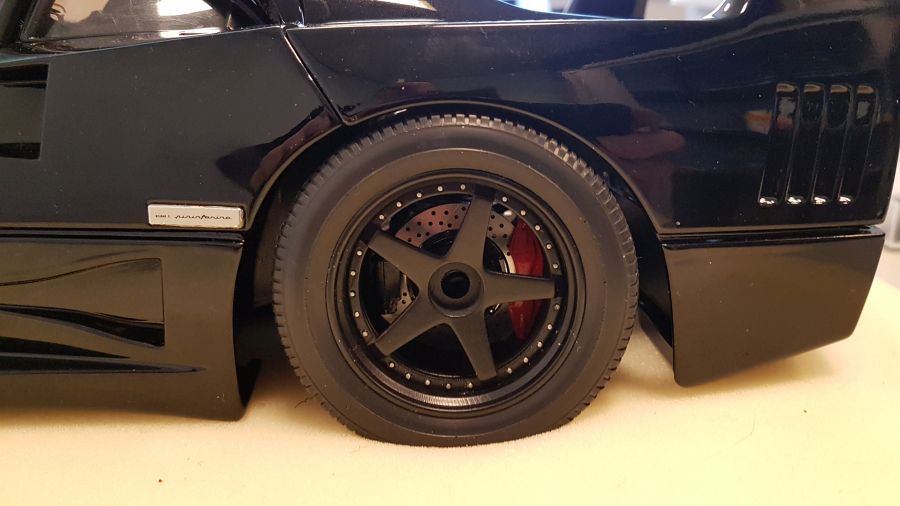 Het gaas wordt aan de voorkant geplaatst...
The mesh is being added to the front...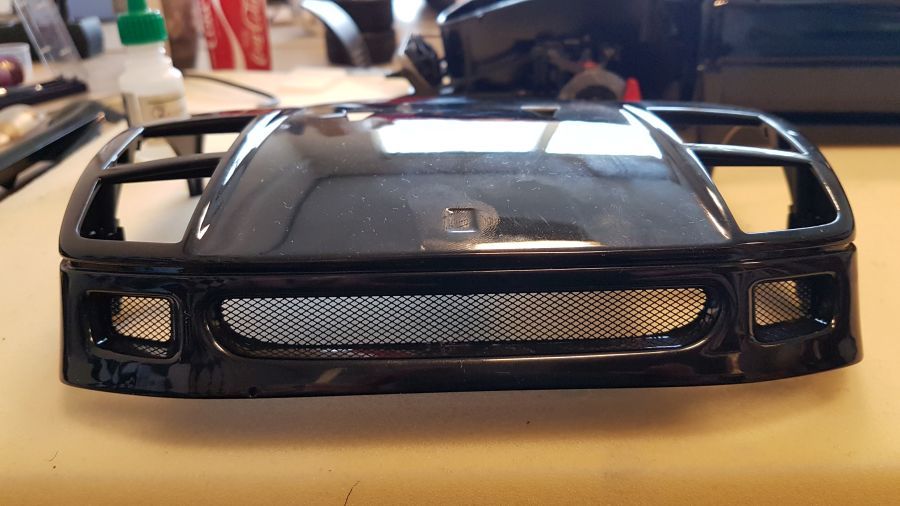 Verder met de lampen...
To continue with the head lights...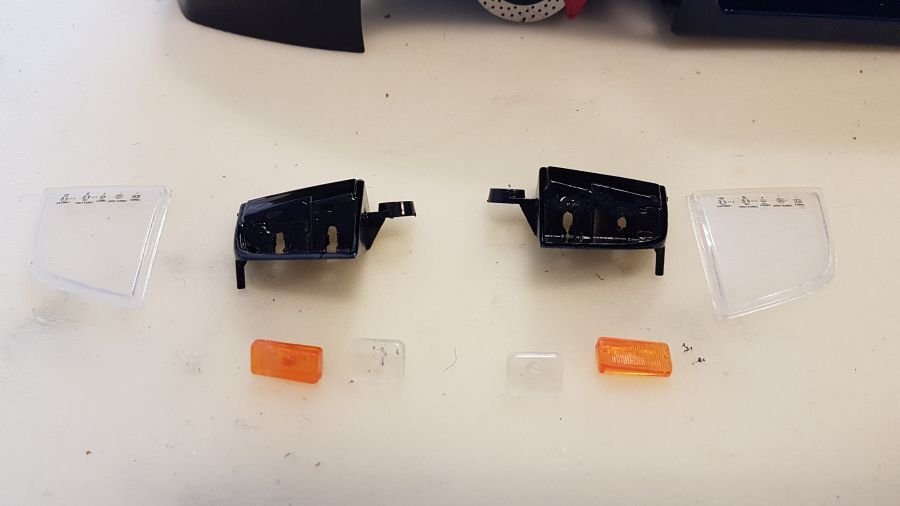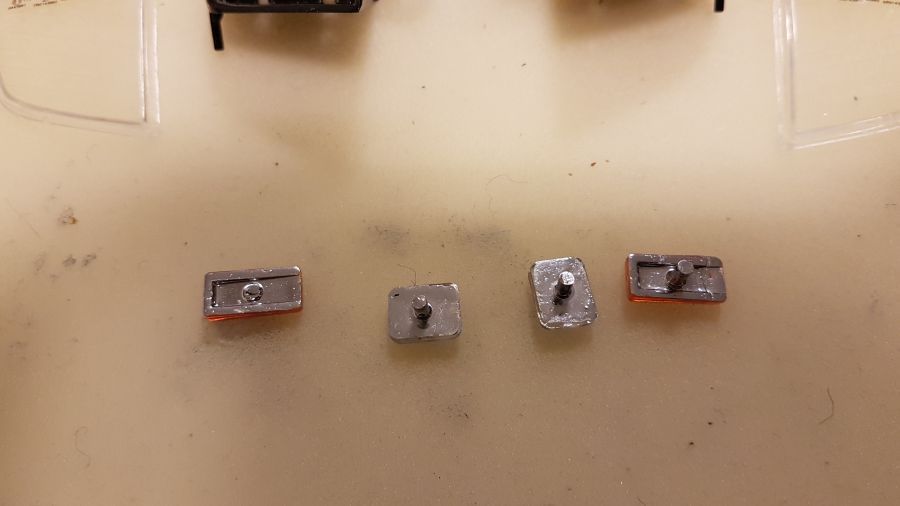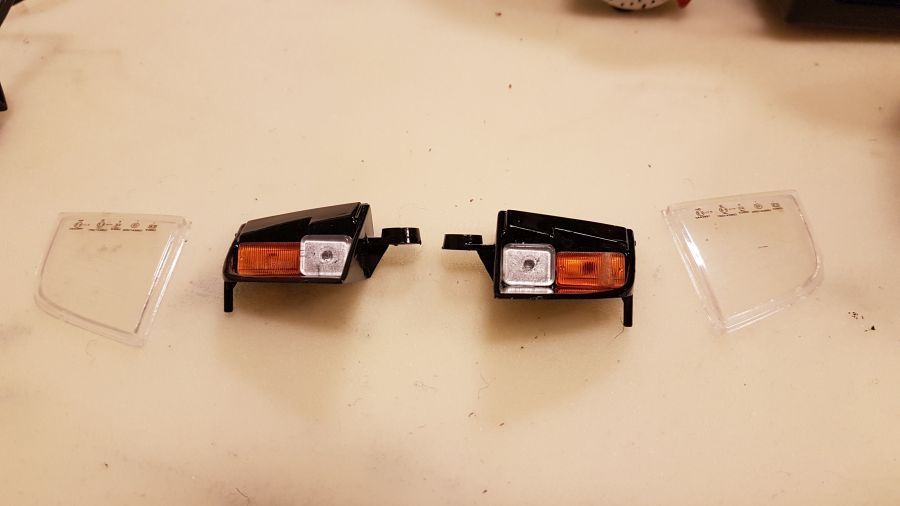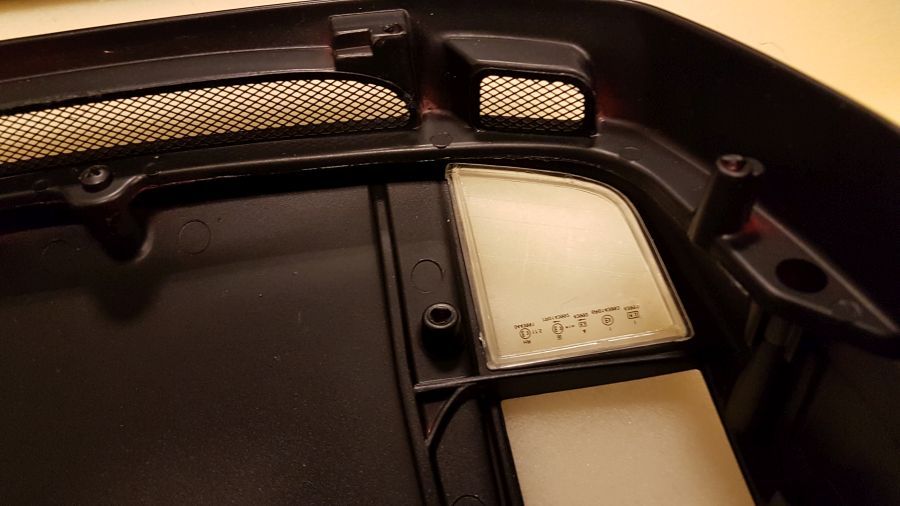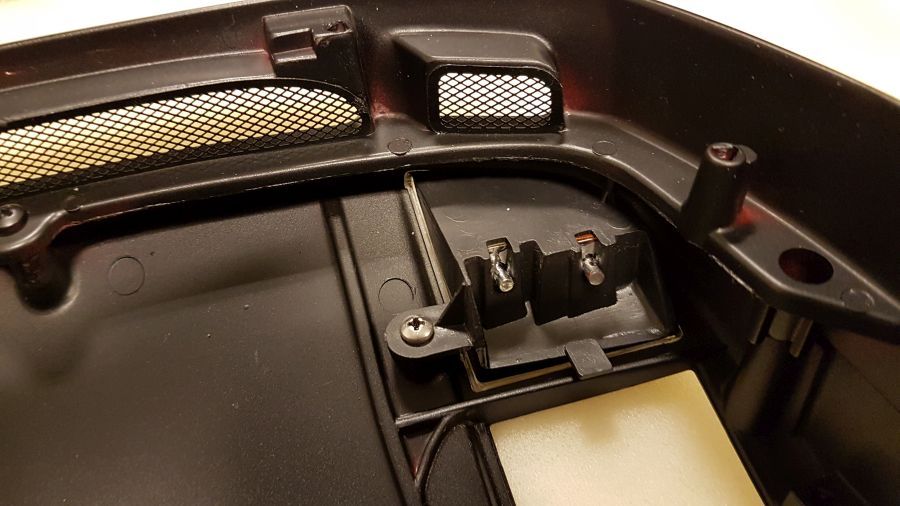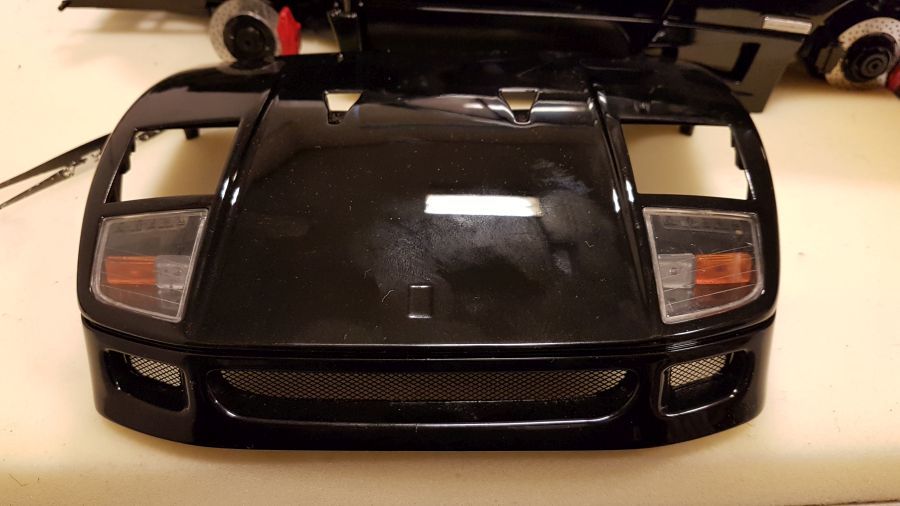 De achterwielen gaan er op...
The rear wheels are mounted...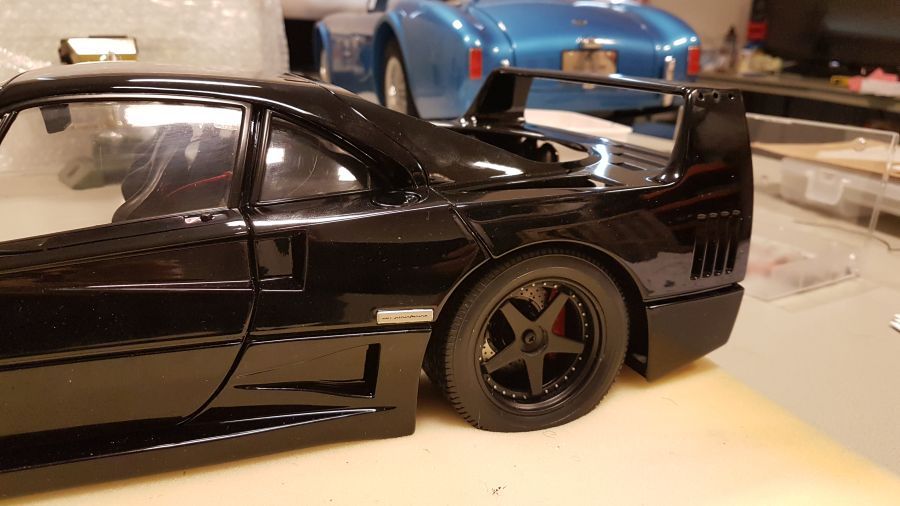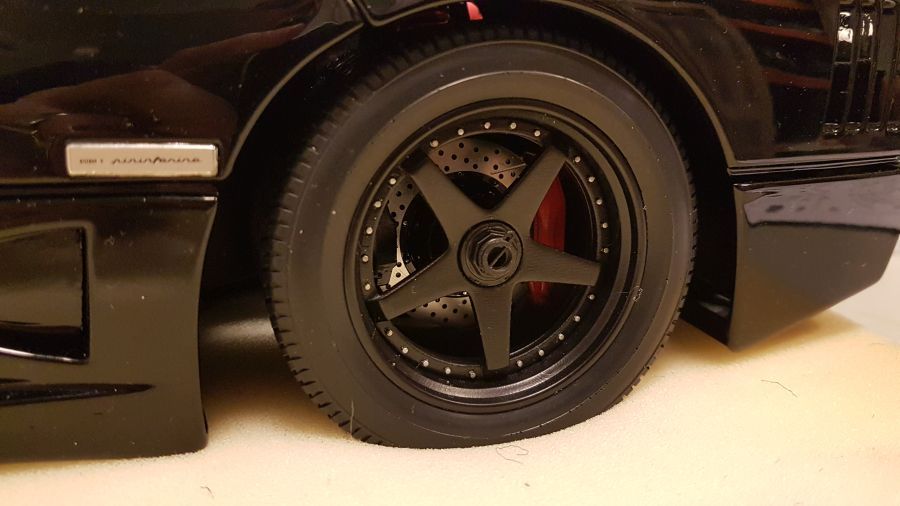 Het rode logo wordt aangebracht door rode verf door de 'geul' te laten lopen.
The red logo is created by letting the red paint flow though the 'trench'.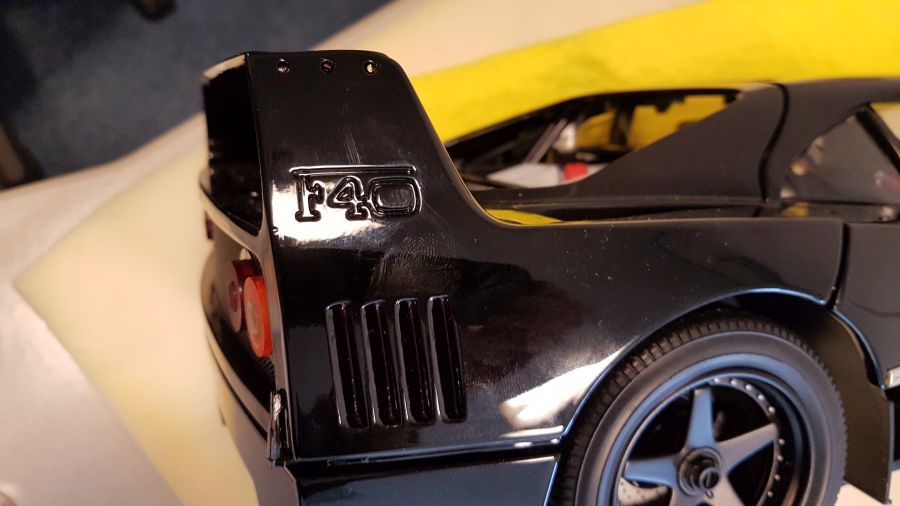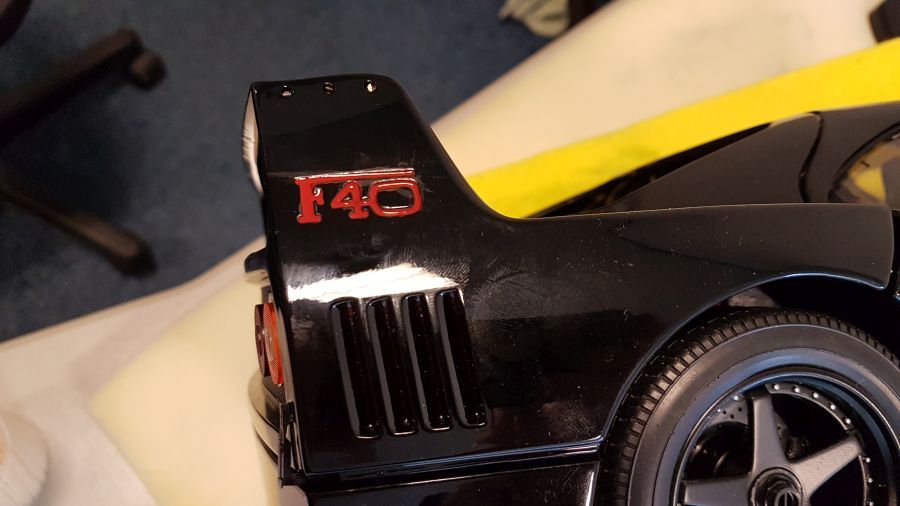 Dan verder met de ruitenwisser.
Next is the wiper.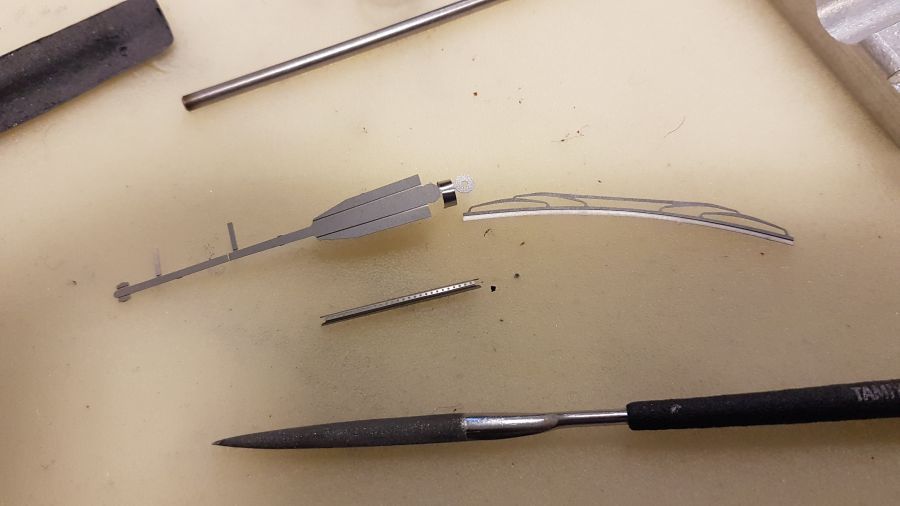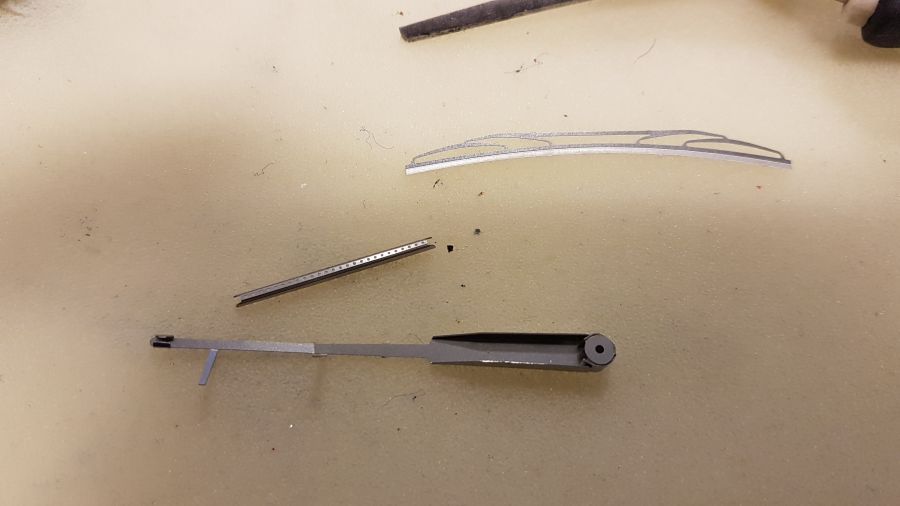 De roosters zijn 3D geprint, zwart gespoten en kunnen nu worden geplaatst.
The louvres have been 3D printed, painted black and can now be attached.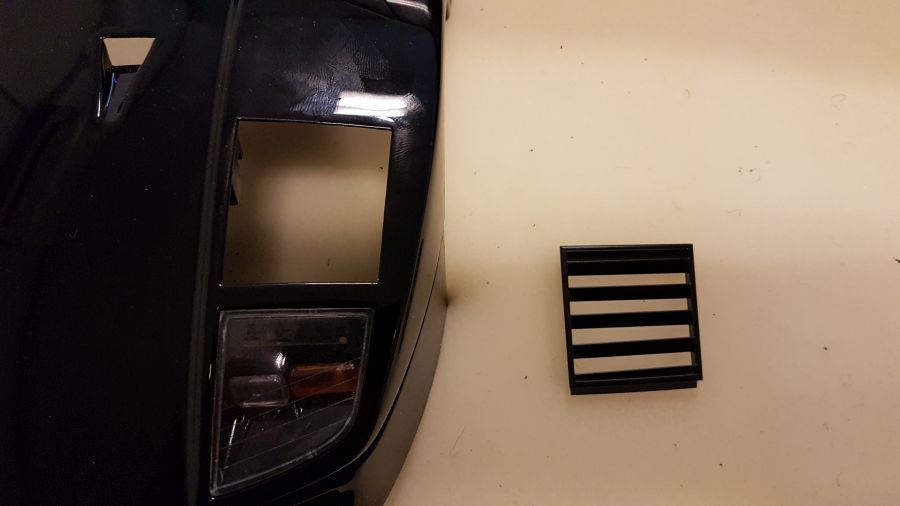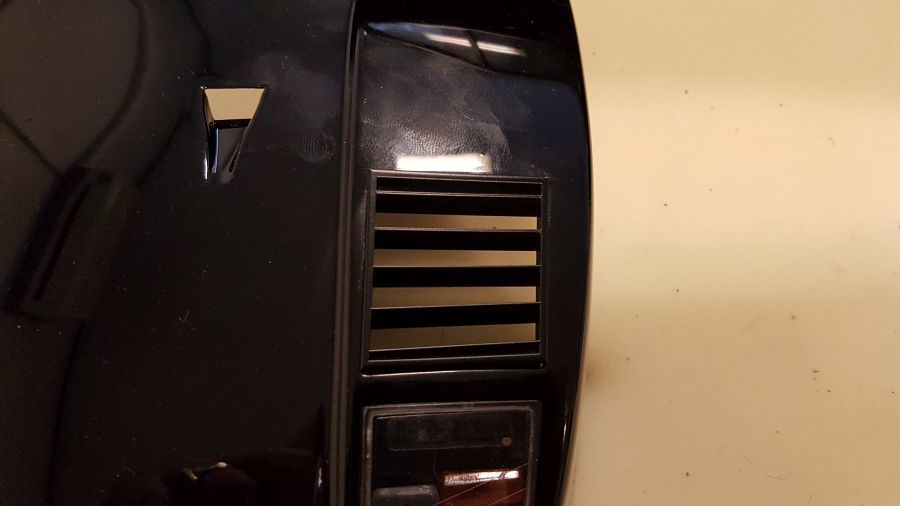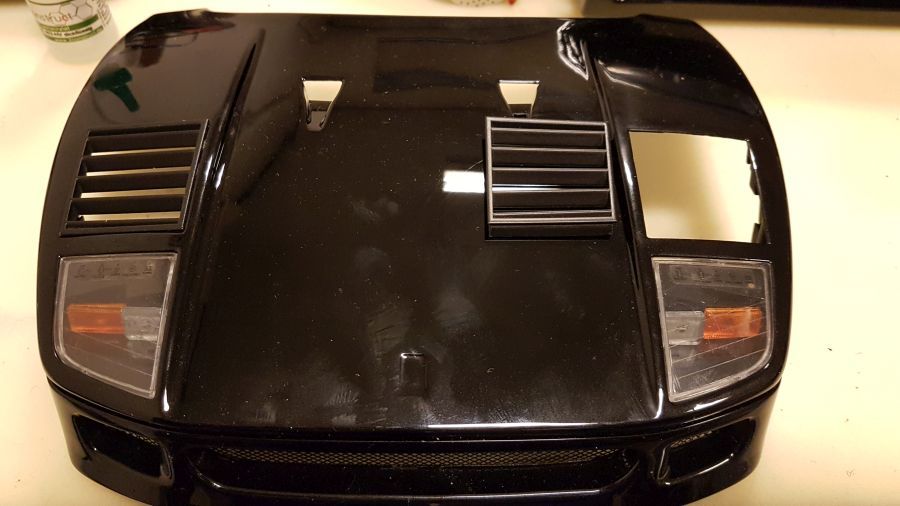 De ruitenwisser zit in elkaar en kan geverfd.
The wiper has been assembled and can be painted.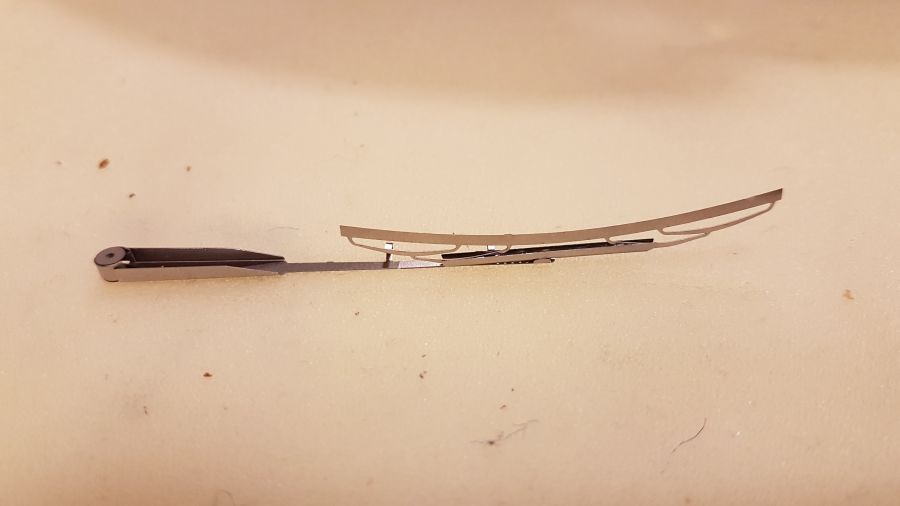 De spiegels moeten een nieuw glaasje. Ik gebruik bare metal foil als spiegel op een stukje pivak.
The mirrors need new glass. I use bare metal foil on a piece of pivak.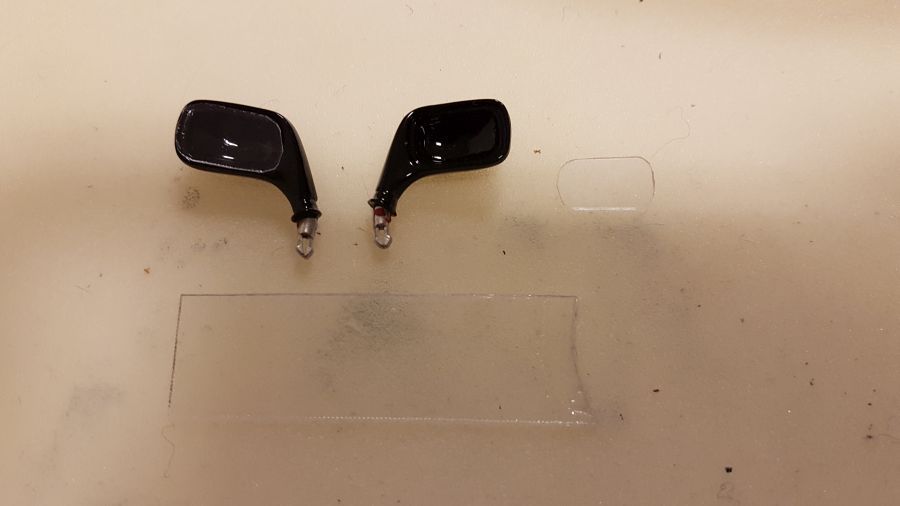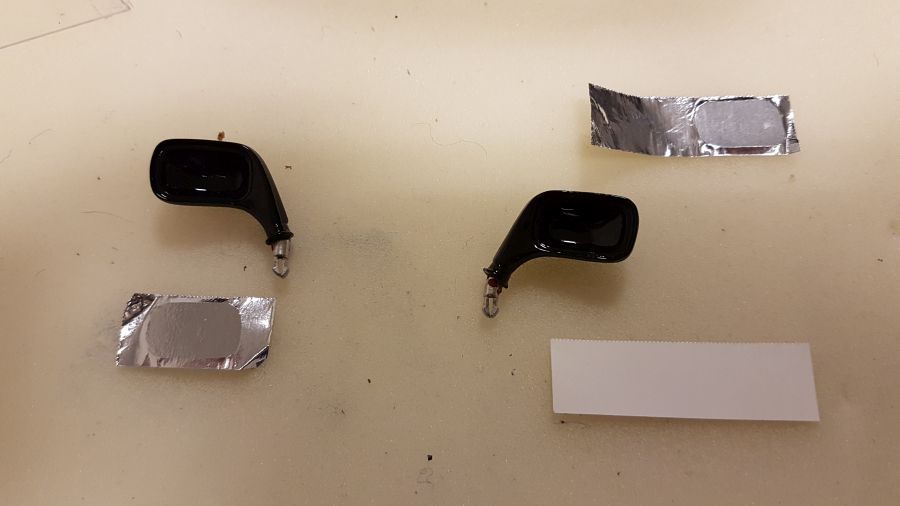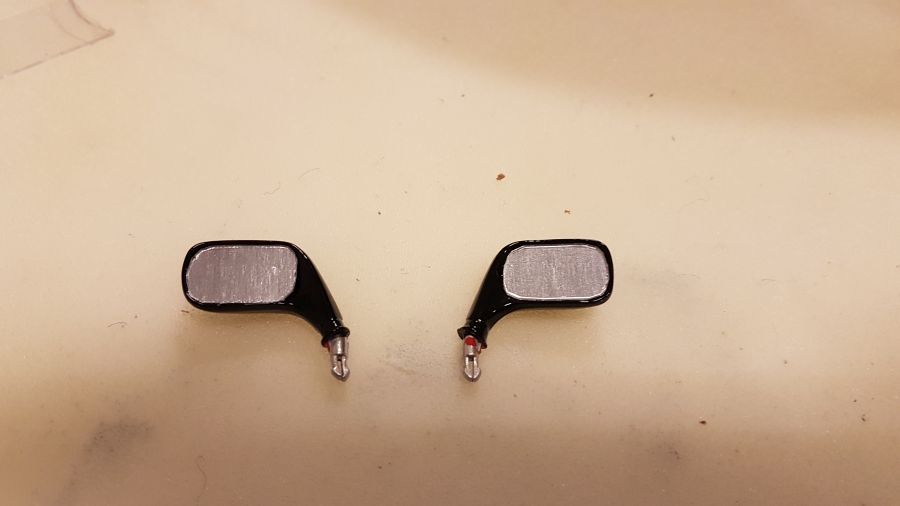 Ook bij de uitlaat plaats ik bare metal foil.
Also near the exhausts i use bare metal foil.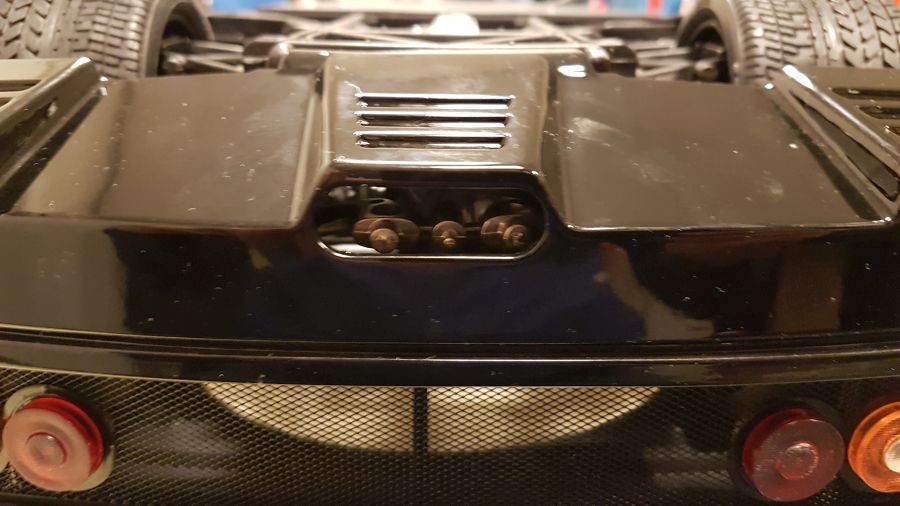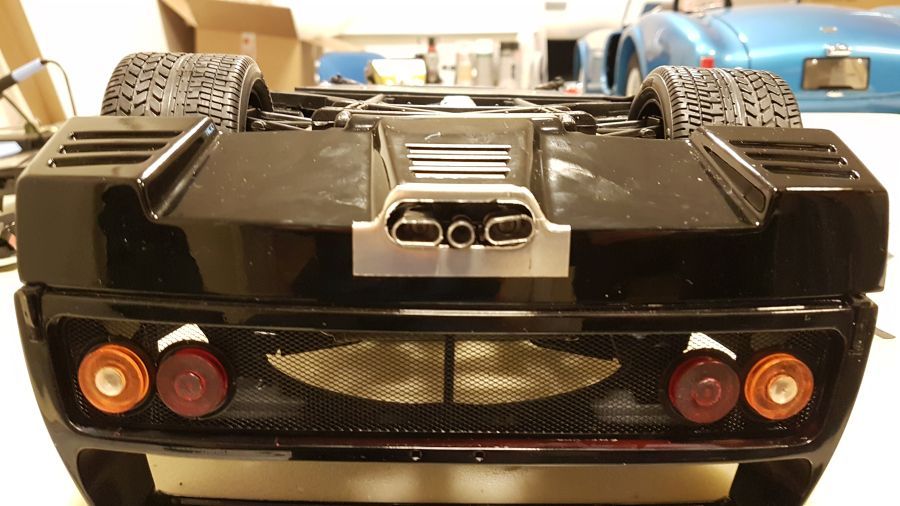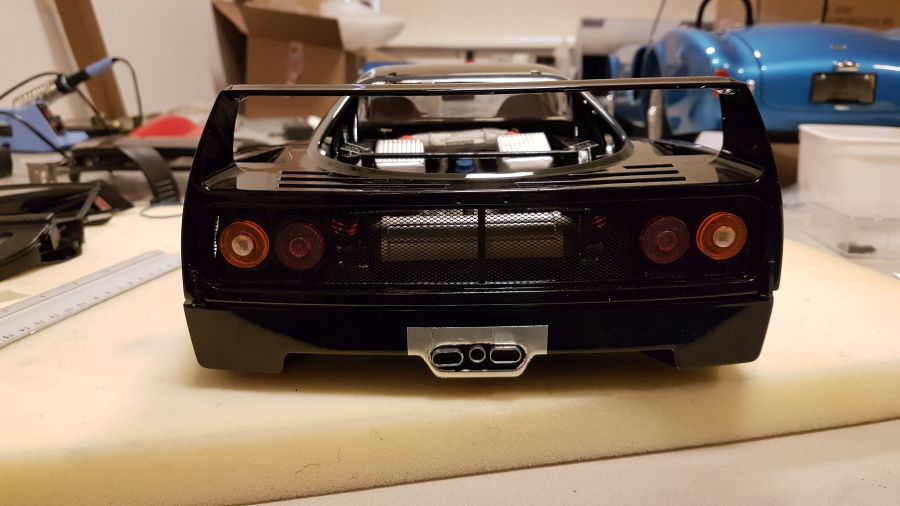 Tijd voor het logo.
Time for the logo.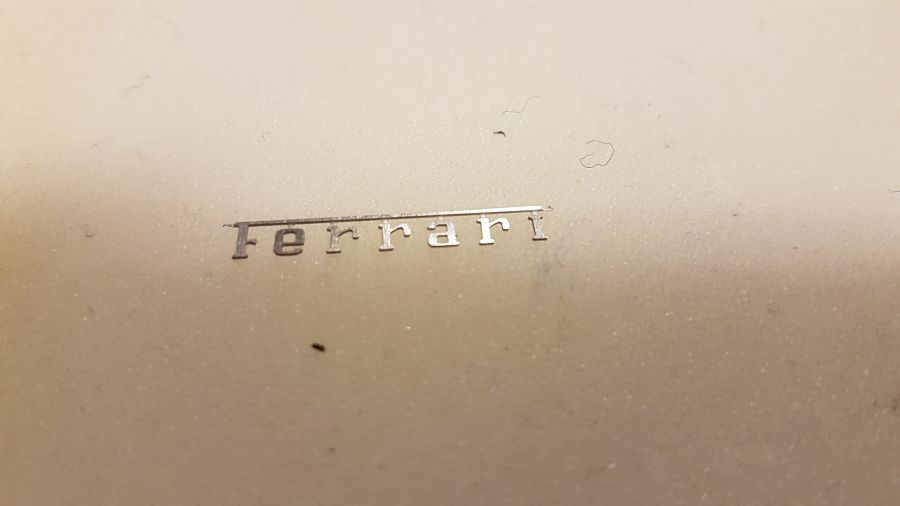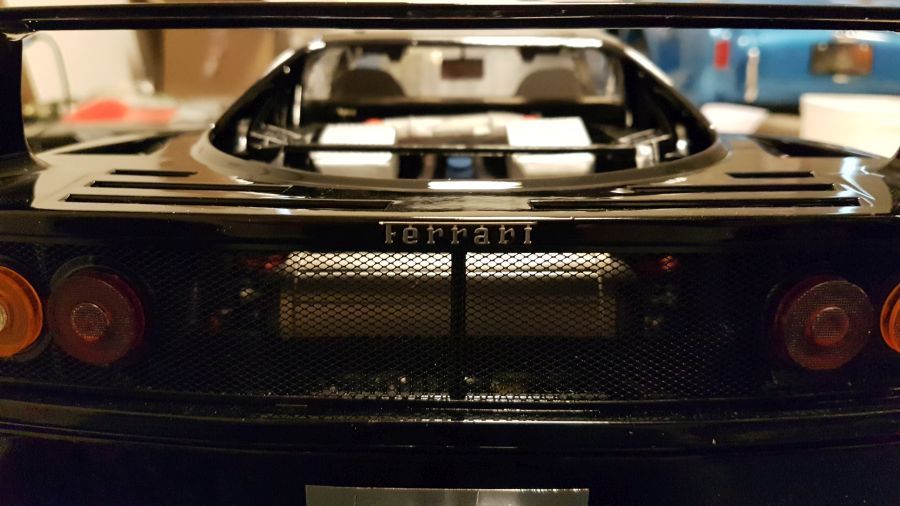 De voorkant gaat er vast op...
The front is being added...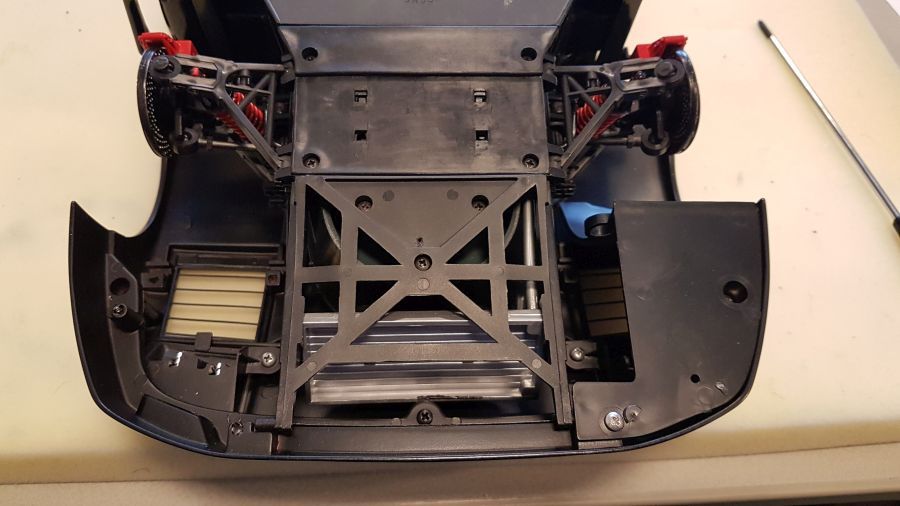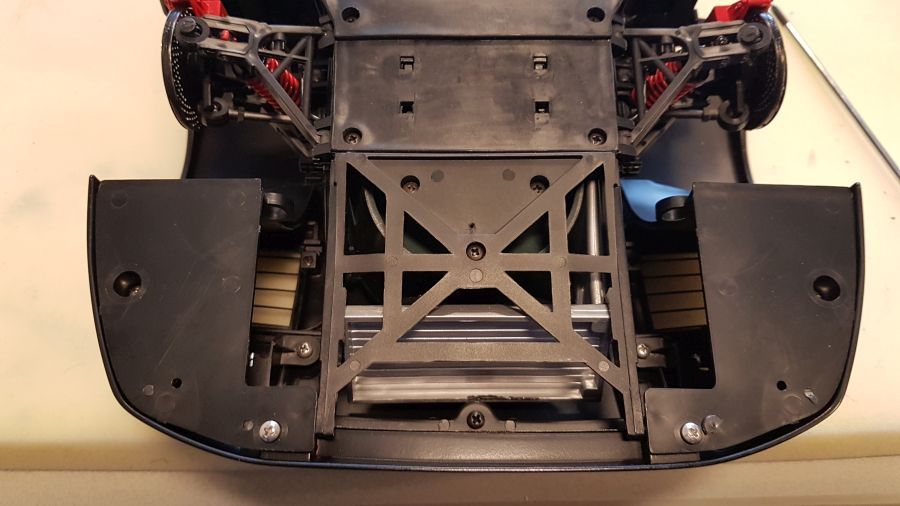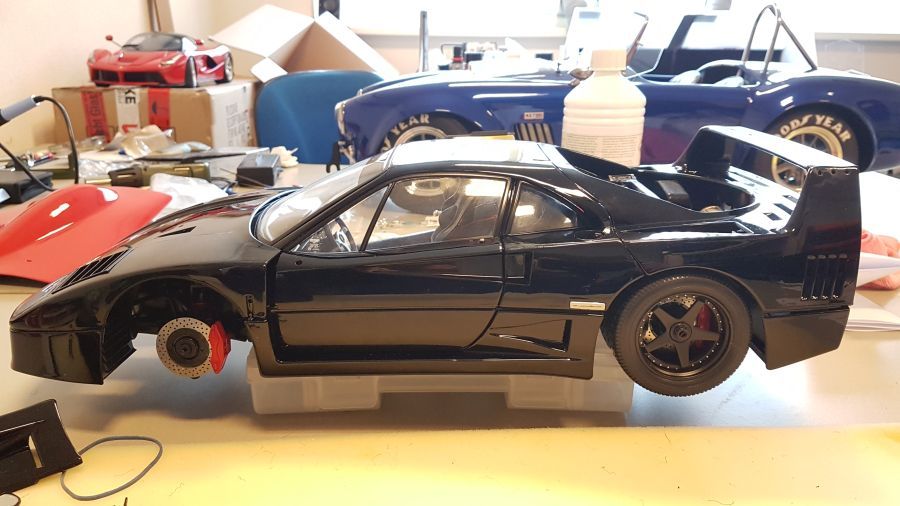 Dan het achterraam...
Then the rear window...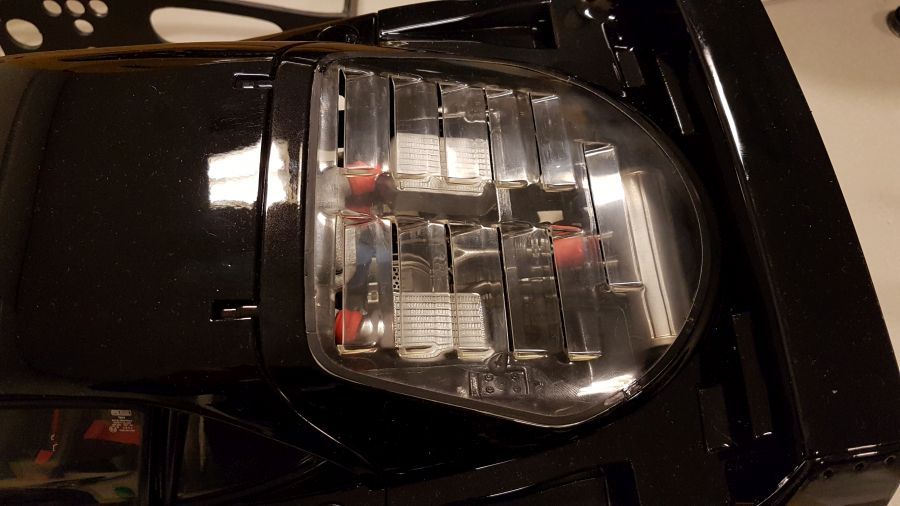 Wat decals kunnen geplaatst.
Some decals can be added.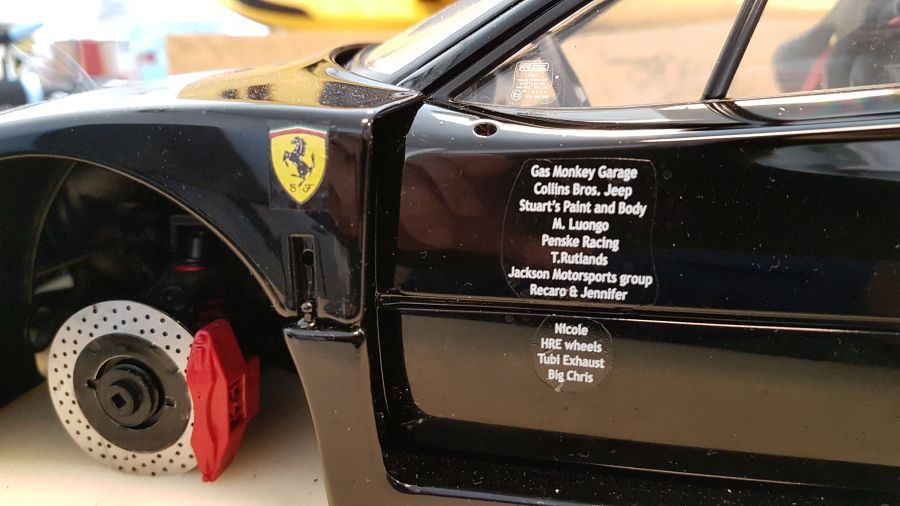 Eindelijk zijn de vervangende onderdelen binnen. De rechterdeur kan afgemaakt en geïnstalleerd.
Finally the replacement parts are in. The right door kan be finished and mounted.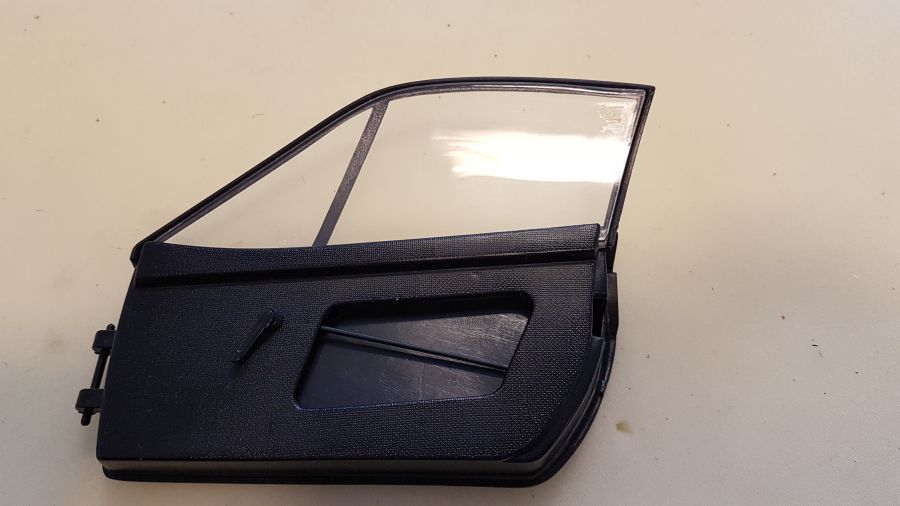 De voorwielen kunnen geplaatst.
The front wheels can be mounted.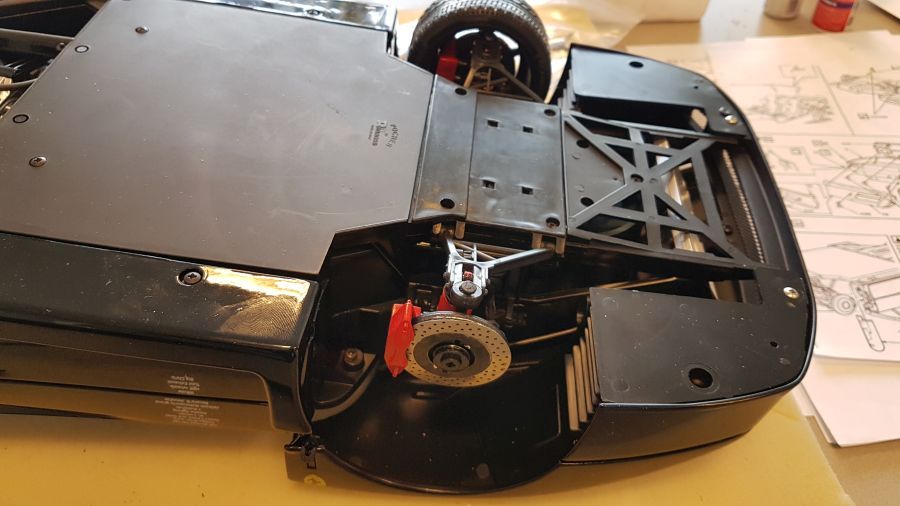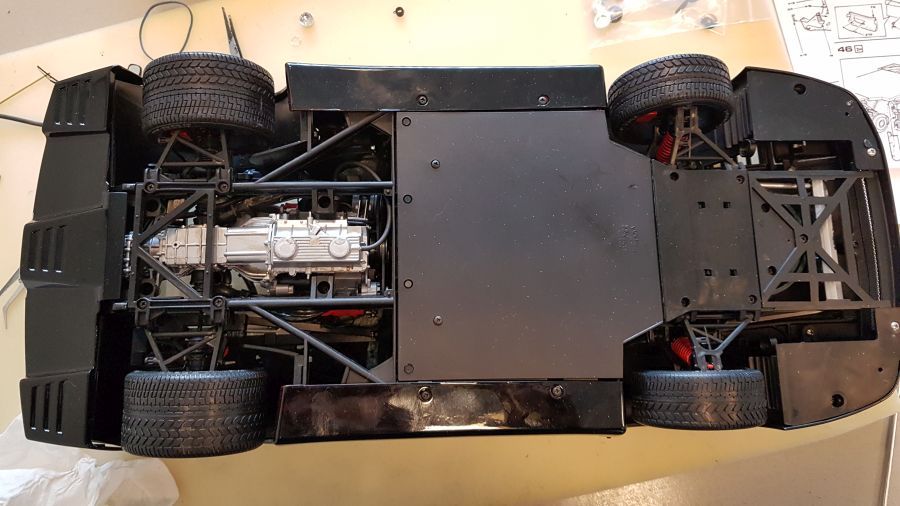 Ik mag deze als klaar beschouwen...
I am allowed to call this one done...